Coast Luxury Magazine
SUPER MODEL TO SUPER MOGUL
KATHY
OCTOBER 2022 $20.00 USD Fashion | Luxury | Profiles | Features | Shopping | Travel | Art | Design | Auto | Food | Health
IRELAND
Gold
Rolls-Royce Motor Cars NA, LLC, P.O. Box 1227, Westwood, NJ 07675-1227 Tel: 1-877-877-3735 www.rolls-roycemotorcars.com © Copyright Rolls-Royce Motor Cars. The Rolls-Royce name and logo are registered trademarks. ROLLS-ROYCE PHANTOM EXTENDED SERIES II
The Nature of Jean Schlumberger.
6 Metropolitan Magazine | metmagny.com
October 2022 7
SPO OKY SEXY BEAUTIES
Photographer: Luciana Pampalone
Makeup Artist: Kristina Foreman
Fashion Designer: Nabys Vielman
Model: Tracy Brank
Model: Nicole Mariano Model: Emma Kirkpatrick
8 Metropolitan Magazine | metmagny.com 25A
October 2022 9
Photographer: Luciana Pampalone
Makeup Artist: Kristina Foreman
Fashion Designer: Nabys Vielman
Tracy Brank
Nicole Mariano
Emma Kirkpatrick
10 Metropolitan Magazine | metmagny.com 25A
Model:
Model:
Model:
JASON KONRAD PHOTOGRAPHY
Model: Allison Mason
12 Metropolitan Magazine | metmagny.com 25A
October 2022 13
Photographer: Jason Konrad Model: Allison Mason
Photographer:
16 Metropolitan Magazine | metmagny.com 25A
Jason Konrad Model: Allison Mason
Photographer: Jason Konrad
Model:
Allison Mason
PUBLISHER'S
New York Fashion Week is a chance for some of our city's most talented creatives to dazzle the world with their unique vision. No stranger to dazzling others, Metropolitan's latest Cover Star, Kathy Ireland is a revered supermodel who has revolutionized branding and the home shopping experience. Kathy is as brilliant and kind as she is beautiful. We are so honored to celebrate this lconic Supermodel-turned-Supermogul and her ingenious partners at YourHomeTV. We look forward to introducing our friends, business partners and associates, and Metropolitan readers to YourHomeTV's dynamic streaming video platform in November with the launch of Metropolitan Lifestyles. Stay tuned!
Speaking of beauty, my latest endeavor, following up on the incredible success of Metropolitan Palm Beach, thanks to our devoted readers and new friends, is opening up a state-of-the-art MedSpa called Advanced Aesthetics featuring some of the top doctors, equipment, and treatments available. Palm Beach deserves a five-star MedSpa that provides regenerative medicine and advanced aesthetic solutions in a gorgeous facility run by top doctors.

Aiding Advanced Aesthetics in providing residents of Palm Beach with the very best way to look and feel incredible is a medical staff boasting various top doctors including Dr. Charles Pereyra, MD a leading clinical physician who has conducted extensive research in the use of regenerative medicine, anti-aging and stem cell therapy. Dr. Pereyra takes a regenerative medicine approach to healing injuries, wellness therapies and more.
The new Advanced Aesthetics MedSpa will be luxurious, cutting edge and top of the industry catering to successful individuals looking to get the most out of a happy, healthy lifestyle. We will have a gorgeous luxury lounge with a relaxing waterfall and juice bar that will offer espresso and champagne. Advanced Aesthetics' private clients will also be able to access the very latest in body sculpting, oxygen therapy,IV-vitamin therapy, hormone replacement therapy, lasers, laser hair removal, injectables, fillers, Botox, body toning and massage. In turn, there will be regenerative stem-cell topical creams available to address scars, hair loss, and wrinkles. I am not surprised that such thought leaders as Tony Robbins and Mark Cuban are both major proponents of stem-cell therapy as are many of today's elite athletes and celebrities.
Advanced Aesthetics MedSpa will be the very best anti-aging and healing facility in the Palm Beach area, Our MedSpa staff will provide the very latest technology, products and services to help everybody look and feel their very best. From body-sculpting to stem-cell therapy and non-invasive injectibles, Advanced Aesthetics will be the gold-standard in the health and beauty industry.
Enjoy!
20 Metropolitan Magazine | metmagny.com 25A
"The problem with beauty is that it's like being born rich and getting poorer."
—Joan Collins
NOTE
October 2022 21 californiaclosets.com @caliclosetsnyc GREENVALE 25 Northern Blvd, Greenvale 516.334.0077 CONNECTICUT 565 Westport Ave, Norwalk 203.924.8444 From simple to intricate designs, California Closets systems are custom designed specifically for you and the way you live. ©2021 California Closet Company, Inc. All rights reserved. Franchises independently owned and operated. CT HIC #0657205. Photo: Stefan Radtke.
EDITOR'S NOTE
October is here! A crisp breeze envelops Manhattan as Central Park trees begin to boast their vibrant reds, oranges, and yellows. The Yankees and Mets have New Yorkers excited about baseball. Our fall fashion issue provides an inside look at some of the stars of NYFW as well as a well-known face. Super-Model turned SuperMogul Kathy Ireland graces our covers. A mega-Influencer, Kathy Ireland,(kathyireland.com) has created a multibillion-dollar business selling home decor and thousands of products and top brands directly to consumers on platforms like YourHomeTV, which debuts next month.
YourHomeTV, we are excited to share, has reached out to create a partnership with Publisher Chase Backer's Metropolitan Magazine Group to develop Metropolitan Lifestyles, a new streaming channel launching soon that will focus on Fashion, Travel, Art, Fine Dining, Real Estate, Jewelry, Automobiles, Entertainment, Business, Thought Leadership, Philanthropy and so much more!
Metropolitan Lifestyles will look to continue to delight our readers and treat our new streaming channel audience to the very best in luxury content that can be found in Manhattan, The Hamptons, Palm Beach, and around the world. Episode 1 expected to launch during the holiday shopping season, will feature reports from many of our talented superstar contributors like the beautiful and brilliant Xen Sams, Mie Iwatsuki, Julianne Michelle, and Rachel Vancelette, as well as exclusive content from NYFW and the hottest celebrity events and charity galas. Metropolitan's advertising partners will soon benefit from a full branding integration that will be multi-level and reach more than 100M households globally. A solid partnership with Metropolitan Magazine and YourHomeTV is a recipe for success that will create buzz, amplification, true reach, ROI, and sales conversions for all our sponsors and stakeholders. Kathy Ireland has pioneered direct marketing to consumers with unparalleled sales results ($3.1Billion in retail sales in 2021) and customer service. Exciting stuff!
Meanwhile, Chase's luxurious new MedSpa, Advanced Aesthetics in Palm Beach already has the look of a fivestar facility that will feature cutting-edge regenerative medicine, stem-cell therapy, top doctors, and the best of the best. Would you expect anything less?
Enjoy the October issue!
It's a trick-or-treat bag full of goodies to put a smile on your face!
22 Metropolitan Magazine | metmagny.com 25A
Adam Kluger Editor in Chief Metropolitan/25A Metropolitan Palm Beach Metropolitan Lifestyles
"There are three things I've learned never to discuss with people: religion, politics, and the Great Pumpkin." -Linus
Jean Sclumberger bird perched on a Tiffany Diamond
Today, as an emblem of Tiffany & Co. and a figure who changed the world of jewelry, altering the possibilities of what can be designed from nature's sight and transformed into emblazoning pieces, Schlumberger's extraordinary wonders have continued.
Tarra Iziah In Der Muhlen IG: @tarra_iziah_in_der_muhlen Photography: Luciana Pampalone
October 2022 23
COVER
FASHION
TASTE
24 Metropolitan Magazine | metmagny.com 25A CONTENTS OCTOBER 2022
30 TAO WANG X NYFW 34 MIE IWATSUKI 38 IGNITE THE RUNWAY 40 VAULTED LACES
42 EL TURCO HEADS TO EAST HAMPTON 46 CHEF JESS LEWIS 48 OLD STOVE PUB PAGE 54 PAGE 34 KATHY IRELAND
Where peace of mind lives.
Where your financial well-being is priority one, backed by integrity, ethics and a passion for helping clients for nearly 40 years.
Where sound financial strategies create a solid basis upon which to grow wealth, for today and generations to come.
Where we take a side-by-side approach, building our own assets alongside yours.
Where relationships grow with your assets, because you're so much more than just your portfolio.
First Long Island Investors. Where you belong.
516-935-1200 w fliinvestors.com
2022
PROFILE
LESSING
IRELAND
LONG ISLAND INVESTORS
CARLOS
DEHNHARD
CALDWELL
SECURITIES
DENNIS GEIGER
RANCHES,
FOREST FARMS
WITH JULIANNE MICHELLE
WATT
ART FORM
HAPPINESS"
CHIHULY
LITERARY
SOCIAL
VILLES HUDSON
26 Metropolitan Magazine | metmagny.com 25A CONTENTS OCTOBER
52 MICHAEL
54 KATHY
60 FIRST
64 LOY
65 KAROLINA
66 PAUL
68 REVERE
70 ADAM
98 SOUTHWEST
FL 100 BLUE
102 SPOTLIGHT
104 ANNIE
62 "TOWARDS
-
SPOTLIGHT 72 ARTIST DALE
78 ARTIST JEN MILLER 80 ARTIST TAKUMA TANAKA 84 ARTIST GLEN JOSSELSOHN 86 FLEURS DE
SHOW 92 CONTEMPORARY ARTIST JUANO DIAZ
114 ANN LIGUORI FOUNDATION 116 THE PROSTATE CANCER FOUNDATION GALA 118 WAXMAN CANCER RESEARCH FOUNDATION 120 SOUTHAMPTON ANIMAL SHELTER FOUNDATION PAGE 86 PAGE 72
Assistant
Strahl
Editors
Sean Buttimer; Whitney Thompson; Maribel Alvarez; Lillian Langtry; Nicole Ashley Schubert, Norah Bradford
Lifestyle
at Large
L.
Art, Culture,
Vancelette; Douglas
Photographers
Correale; Maribel
Director
D.D. Rice, Paul Prince, Peter Elston, Johnny Angel,
Contributing Photographers
Jacques Malignon, David Scarola, Tara Quinn, Jason Konrad, Luciana Pampalone, Michael Gaida, Michael Paniccia, Jay Mathews, Filip Shobot, Chris Carroll, Lenny Stucker, Patrick McMullan, MA , Tom Fitzgerald and Pam Deutchman, Sandy Ramirez, Jan Klier, Mitchel Gray, Paul Prince,
and
Twitter.com/metmagny
please
28 Metropolitan Magazine | metmagny.com 25A Publisher Chase Backer Editor-in-Chief Adam Kluger Assistant Publisher Jaime Backer Art Director Lonee Telemaque
Editor Willy Nichter Sales Manager Jeffrey
Copy
Editor Elizabeth Langevin Luxury Editor Stephanie
Howitt Editor
|
Fashion Rachel
Evans Fashion
Jason Konrad Profiles Editor Alexandra Appino-Tabone Social Editor Clara Morgan Food Editor Andrea
Alvarez Digital Media
Nancy Molina Contributors Rachel Vancelette,
Harry White
Kristiina Wilson For advertisement info: 646-300-1852 Info@metmagny.com | metmagny.com Facebook.com/metropolitanmagazinepb |
Writers, models, musicians
photographers,
inquire. © Copyright 2021 by Metropolitan Magazine, All rights reserved. Metropolitan is published eleven times per year. Reproduction without permission of the publisher is prohibited. The publisher and editors are not responsible for unsolicited material and it will be treated as such and unconditionally assigned for publication subject to Metropolitan magazine's right to edit. JULY 2022 $20.00 USD Fashion | Luxury | Profiles | Features | Shopping | Travel | Art | Design | Auto | Food | Health DR. SHERRELL ASTON M.D. ADVANCED AESTHETICS
Gold
Coast Luxury Magazine
Manhattan, NYC, Milan, Sardinia
TaoWang
Debuts First Collection for Bosideng at NYFW
London and Shanghai, China based fashion designer Tao Wang (who is known for her namesake brand, TaoRayWang), working with Carine Roitfeld as creative consultant, debuted her first collection for Bosideng, the global leader in outerwear, during New York Fashion Week on Friday, September 9th at 7pm in the Gallery at Spring Studios. Having shown in New York, London and Milan to great acclaim, Bosideng returned to New York Fashion Week for the first time in three years to present its Spring/Summer 2023 collection, inspired by the characters in science-fiction novels, films and video games.
Wang redefines outerwear, combining her signature refined tailoring and sophisticated silhouettes with soft hi-tech fabrics, leather and wool-like material in unexpected forms such as peaked shoulders and fitted, quilted corsets and cropped jackets that are reminiscent of fine suiting but are rendered futuristically within Bosideng's iconic, down jacket universe. The collection is rendered in a striking palette of galactic black, liquid silver, cosmic blue and earthy brown. Leather harnesses, metal buckles and hand-crafted tassel embroidery details are woven throughout the collection, in an almost tribal feel that rounds out Wang's modernday warrior uniform that transcends traditional environments … one can envision the backdrop of a blisteringly dry desert or icy cold outer space. "I see outerwear in a different way - instead of covering the inner garb, it can be the integral outfit itself, both functional and stylishly expressiveeven sexy", notes Wang.
30 Metropolitan Magazine | metmagny.com 25A
Guests included fashion icon and editor Carine Roitfeld, model and influencer Beija Marie Velez, vocalist Consuelo Vanderbilt, filmmaker Susan Rockefeller, Swedish fashion model Alex Lundqvist and his wife Keytt, designer Phillip Bloch, and Vladimir Roitfeld, amongst others.
ABOUT BOSIDENG
Since its founding in 1976, China's premier outerwear brand, Bosideng, has been known for its cutting edge research and development focus, driving innovations in down quality, fabrics, process and manufacture, resulting in 313 patents and 23 technology programs.
Each down jacket of Bosideng has been tested by at least 62 technologists, through 150 procedures and in extreme environments. With superior construction, insulation performance and appealing design, Bosideng is now a global leader in down jackets and related apparel, spanning 72 countries, including the United States, France, Italy and the United Kingdom, where it has a flagship store. With brand/design collaborations with notable artists, fashion designers such as Jean Paul Gaultier and tech institutions such as NASA, Bosideng has become highly popular, 200 million consumers, as well as celebrities such as Ann Hathaway, Eileen Gu, Jeremy Renner, Kendall Jenner, Nicole Kidman, Scarlett Johansson and Chris Evans, amongst others.
For more information, visit www.Bosideng.com.
October 2022 31
"I see outerwear in a different way - instead of covering the inner garb, it can be the integral outfit itself, both functional and stylishly expressive - even sexy" -Tao Wang
Tao Wang
NEW YORK FASHION
32 Metropolitan Magazine | metmagny.com 25A
WEEK
October 2022 33
October 2022 35 MIE Label: Bosideng Photographer: Thomas Concordia Model: Mie Iwatsuki Hair-Makeup: Wray Villanova Stylist: Kara Erwin IWATSUKI
BO SIDENG
36 Metropolitan Magazine | metmagny.com 25A
October 2022 37
'IGNITE THE RUNWAY' HOSTED BY SOHOMUSE CO-FOUNDER/CEO CONSUELO VANDERBILT COSTIN SETS NEW YORK FASHION WEEK ON FIRE
By Ann Grenier; photo credits: SohoMuse
VANDERBILT HEIRESS INTRODUCED EXCITING NEW TALENT TO THE FASHION WORLD
SohoMuse, "the trusted source for creative professionals" co-founded by Consuelo Vanderbilt Costin, seventh generation heiress of shipping and railroad tycoon Cornelius Vanderbilt, in collaboration with Jez & LiveRocketStudios, attracted a 'swelligent' crowd from the worlds of finance, society, celebrity, fashion & tech.
SohoMuse is the premier online community for creative professionals. It is a destination for creative professionals to represent themselves, connect with each other, find work opportunities, learn, teach, and develop their careers. SohoMuse focuses on the main sectors of the Global Creative Industry: architecture and related services; creative goods and products; entertainment and digital media; fashion and fine arts and performing arts. Among the career roles in SohoMuse's target member base: writers; actors and performers; graphic and visual designers; illustrators; photographers; music supervisors; sound engineers; video/film and tv producers; creative directors and game designers. SohoMuse enables creatives to expand their networks and opportunities, source and hire top talent and collaborate with other creatives in one secure and trusted online environment, from anywhere around the globe.
Set in the sexy, all black, two story LiveRocketStudios event space at 199 Water Street in New York City, Founded by Mark Bozek (QVC & HSN fame, now online streaming pioneer) in the newly renovated Seaport Area, "Ignite The Runway' was presented in this "salon noire" which featured two circular staircases which proved to be a magnificent backdrop for this innovative manipulation of Fashion, Music & Art & Tech, succinctly woven into a tapestry of visual eye candy whereby each fashion designer & performer was introduced by their beautiful muse and Hostess of the evening (ala-Moulin Rouge), Consuelo Vanderbilt Costin (herself a Billboard Recording Artist) who dawned their creations as she introduced musical performances interspersed between each designer's debuting of their microcollections for SS23.
Participating Fashion Designers included: Victor de Souza, In Earnest by Byron Lars & Sheila Gray, Celestino by Sergio Guadarrama & Kade Johnson, Argenis and Manuel Tiscareno.
This unconventional manner of showcasing design collections emulated that of a cabaret or Broadway show rather than the traditional designer collective with a traditional runway. Guests marveled at the fashions, enjoyed the stellar performances from Tarralyn Ramsey-Pop-Gospel Singer, Sydney
38 Metropolitan Magazine | metmagny.com 25A
RUNWAY'
Palmier-Indie-Pop chanteuse, Mari Burelle, in addition to a special performance by the Joffrey Ballet School dancers who performed to songs by Lady Gaga.
On the 2nd floor, Sohomuse utilized the massive raw space to curate an art exhibition enlisting Israeli-born, nature-infusing artist, Rotem Reshef (Rotem exhibition curated by ArtStager) whose sprawling naturescape canvases gave the impression of being in a forest with compositions emulating fluid streams of consciousness which were actually painted with elements of flora which you could actually smell (gardenia). Juxtaposed against those were cutting-edge LED backlit cityscapes from artist Michael Victor, quirky illustrations from new artists, 18-year old Remy Rivers and model/artist Emma Deegan who also walked in runway shows. Afterwards guests were encouraged to join the afterparty which included the sounds of DJ Griffin.
Models at Ignite the Runway included Sophie Sumner, Alex
Lundquist, Coco Mitchell, Devon Ramirez and more and Event Sponsors included LiveRocket, Impact Partners, JPMorgan Private Banking and Ghost Tequila.
Sohomuse, since its inception, has taken the path less traveled by in supporting their global community of creatives and always serving up experiential evenings, online master glasses, topical symposiums which showcase the multiple verticals of creativity and highlight topical issues of the day.
Additionally, a trailer for an upcoming documentary concerning the history of the Vanderbilt family's interest in Fashion and how Consuelo is helping to connect the next generation of Creatives will be released at the Sugar Loaf Film Festival 2022.
For more information please visit www.sohomuse.com
October 2022 39
BEST OF THE UPPER EAST SIDE: COOL KICKS AT VAULTED LACES
By Olivia Wang & Sean Hope Kelly
Hey Alper, what sets your store apart from other sneaker collection stores?
We are a local mom-and-pop store, we are a small business. This has been my passion for years, to open a sneaker boutique shop. I've always had a passion for sneakers, I have over 10 years of authentication experience and sourcing out shoes. We are trying to bring people convenience so they don't have to travel all the way to lower Manhattan to get exclusive sneakers. That's our goal.
Do you have a favorite sneaker in your store? We can see you feature Nike Dunks, Kanye West's Adidas Yeezys, and a lot of Jordans.
We don't have it in the store but my favorite shoe and my strong passion for sneakers came from the Nike dunk low, these were called the purple pigeon SBs. I have a lot I like, but that's what got me into it when I was in 7th grade.
What is the rarest sneaker you have? Rarest? We have a bunch that are pretty rare in our
showcase box, anywhere from the off-white collection to certain Jordan 1's. We have a bunch in our showcase, about 25.
What's a trend you've seen rising lately in sneaker culture?
Definitely, Nike Dunks and Dunk low tops have come a long way in the last 3-4 years. Nike has revamped the Dunks, they used to have them a lot when I was in middle school and then stopped making them for a bit. Now they're back in full force. That's what really drove me to open a store, the way Nike has been making the Dunks again. That's what made me pull the trigger.
Do you have any favorite or least favorite trends in the sneaker market?
I think the beauty of sneakers is that anyone can style them however they want. There's no right or wrong way to style your shoes or pick the ones you like because it's all personal preference. That's the beauty of it.
40 Metropolitan Magazine | metmagny.com
October 2022 41
MIAMI'S
EL TURCO
HEADS TO EAST HAMPTON
By Harry White
The Hamptons are enjoying an exquisite culinary experience with the opening of an outpost of Miami restaurant El Turco. Truly divine and fully authentic Turkish inspired food is captivating guests out East this season with authentic Turkish menu selections served with a helping of renowned Turkish hospitality.
El Turco East Hampton is the result of a casual meeting between one of El Turco's founders and Frank Cilione, the longtime operator of the dual restaurant and nightlife venue on Three Mile Harbor Road in East Hampton. Soon thereafter, Mr. Cilione hired the original El Turco founders Nurdan Gur Yuzbasioglu, Gokhan Yuzbasioglu along with developer and visionary Cagri Kanver to assist in realizing their collective vision.
Located close to the heart of East Hampton at 44 Three Mile Harbor Road, the new El Turco has come alive in the stunningly well-
designed space recently opened. El Turco has created a chef's tasting experience that takes guests on a culinary journey with the best use of Turkish food reflective of the grand tastes and traditional expressions of the rich cultural heritage mixed with a modern presentation of bold flavors.
Created with high-quality meats, fine imported spices, and local seasonal ingredients, each dish on the menu is based on classic Turkish recipes, reimagined by the culinary team lead by Mr. Yuzbasioglu and talented Executive Chef Guney. Many dishes originate from the Aegean and Anatolian part of Turkey, as well as special selections from the Mediterranean and South-Eastern region.
Some of signature dishes include Roasted Beet Hummus, Kopoglu, Red Lentil Balls and Armenian style Pilaki. Main dishes that bring joy with just one bite will include such classics
October 2022 43
"...TURKISH FOOD
REFLECTIVE OF THE GRAND TASTES AND TRADITIONAL EXPRESSIONS OF THE RICH CULTURAL HERITAGE MIXED WITH A MODERN PRESENTATION OF BOLD FLAVORS."
as Ali Nazik Kebab - a smoked pureed eggplant topped with cubes of sauteed lamb as well as a traditional Mediterranean style grilled Sea Bass. The menu also features a variety of fresh summer salads and other tantalizing small plates such as Manti - small beef dumplings topped with garlic yogurt, sumac and dry mint.
El Turco offers a unique dining experience in the Hamptons. Every aspect of each course is rooted with the uniqueness of the incredible dishes paired with unique Turkish ingredients and flavor notes. The offerings are presented with wine pairings and cocktails to elevate the dining experience. Guests experience a remarkable level of professional and warm service infused with Turkish cultural values of hospitality. An eclectic range of live entertainment & curated music are featured as guests enjoy food and drinks. Whether already a familiar Miami patron who is Out East or a visitor from New York, everyone who visits falls in love with the Turkish hospitality of El Turco.
Dinner service takes place daily with the early evening seating showcasing more family-orientated meals. As the night progresses guests can expect a high energy yet tranquil dining atmosphere through until the early hours of the morning.
For those who like to entertain at home fear not - El Turco Catering is offering traditional Turkish Cuisine delivered to your home as well as take-out options including delivery by UberEats.
With the original Miami location receiving a Michelin rating after only fifteen months in business and achieving an OpenTable Diners' Choice Award for 2022, expectations are very high for El Turco East Hampton which recently was also awarded the OpenTable Diners' Choice Award for 2022.
Please visit www.elturcoturkishfood.com
44 Metropolitan Magazine | metmagny.com 25A
"THE OFFERINGS ARE PRESENTED WITH WINE PAIRINGS AND COCKTAILS TO ELEVATE THE DINING EXPERIENCE."
October 2022 45
ASK FOR BACI AL SOLE WHEREVER THE SUN WARMS THE HEARTS OF ROMANTIC!
www.BACIalSOLE.com
From Farm to Table AND IN YOUR KITCHEN
WITH FOUNDER OF 'CULINARY FARMSTEAD,' COOKBOOK AUTHOR AND CHEF, JESS LEWIS
Chef and Author Jess Lewis may be heralded for teaching, training and creating the most delectable 'im-pasta-ble' cuisine, but her farm-to-table approach in creating Mediterranean rustic dishes steeped in culture and history make her dinner parties and classes truly unique. There's something to be said for truly following your passion, tapping into an innate joy and celebrating your talents and creativity with the world.
"After many successful years in tech working as an engineer and investor, one passion always rose to the surface as a way to destress from my corporate life-- cooking and farmsteading.
Food and culture have really always been part of my life and was a way to create strong family and friendship bonds, but a few years ago, I started teaching classes and hosting farmto-table dinner parties on my farm. Seeing people learn about and connect with food on a different level has been very rewarding and has led to a successful business I now call Culinary Farmstead." -- Lewis
Take a closer look at her journey from a technical field to the culinary arts, and what Lewis has in store for others who are tip-toing around the kitchen with a curious culinary appetite and love for all things 'pasta-ble.'
46 Metropolitan Magazine | metmagny.com 25A
Cookbook Tok
Farmgood
Ancestral Bond & Beyond
Lewis is a trained chef, pastaia, cookbook author, modern homesteader, and outspoken food security activist. While her farm and home reside in North Carolina where she cultivates, cooks, and leads professional chef retreats, her roots dig deeper into the heart of Europe.
From a young age, Lewis tapped into her craft instilled through handson pasta-making with her beloved grandmother and great aunt in Sicily where she lived at the time. Since then, Lewis has fused her skill with the cuisines of her ancestors and has become one of the global experts in her field, teaching the art and history of pasta-making, as well as creating the very best medium for growing culinary gardens.
Ready to Serve
Cooking classes focused on Traditional Rustic Italian and Mediterranean, fermentation, cheeses, homemade charcuterie, advanced Certified Pasta Chef course, farm-to-table dinner 2 parties, artisan farm goods, and regenerative agriculture are just some of the unique offerings provided by Culinary Farmstead.
"I offer the only stand-alone Pasta Chef Certification course made for home cooks or traditionally trained chefs to help them become experts in one of the best comfort foods in the world - Pasta. My certification course covers history, regional influence (Italy and beyond), science, and, of course, the pasta making itself including everything from handcut pasta to ravioli and flavor/color variations." -- Lewis
Lewis' mission is to enable hopeful chefs, culinary aficionados and cooking newbies to dive in and enjoy the process from growing herbs to simple appetizers and preparing masterful meals.
In Store for More
Coming soon in January 2023, Lewis is launching a new course for beginners/intermediates who desire a deeper dive into making fromscratch pasta for their families and friends without having to take the more involved certification course.
"There's something quite lovely about making your own pasta. There's something even more lovely about watching and learning from Chef Jess. Her passion for melding grain and water is unmistakable. You'll go to learn how to cut noodles, you'll leave with a renewed commitment to the essence of food itself." -- M Cohen
Tap into all the 'pasta-bilities,' upcoming announcements, promotions, recipes, and more on CulinaryFarmstead.com and @ CulinaryFarmstead on Instagram.
October 2022 47
"FOOD AND CULTURE HAVE REALLY ALWAYS BEEN PART OF MY LIFE AND WAS A WAY TO CREATE STRONG FAMILY AND FRIENDSHIP BONDS, BUT A FEW YEARS AGO, I STARTED TEACHING CLASSES AND HOSTING FARM-TO-TABLE DINNER PARTIES ON MY FARM...."
- JESS LEWIS
Pasta di Parma
Sicilian Lemon Chicken
* Recipe & Food Prep * In-Person Classes & Parties * Remote Classes *
Product Sales * Packages/Bundles * Local Markets * Retreats * Podcast
EAST END DINING FAVORITE
Old Stove Pub
OPENS IN NEW YORK CITY
By Elizabeth Darwen
The iconic Hamptons dining staple Old Stove Pub has opened in New York City with the distinguished restaurant opening its doors at 1076 First Avenue in Midtown Manhattan at 59th Street this Fall. Whilst in many cases the trend has been for New York Restaurants to open an outpost in the Hamptons Old Stove Pub, which has been the local go-to dining destination for over 50 years in the Hamptons, is sure to establish itself as a new hotspot cocktails and dining destination in the neighborhood.
The menu boasts quite a medley of delectable dishes including, but not limited to, entrees like their savory prime steaks, succulent rack of lamb, and juicy roasted chicken; the freshest seafood plates such as branzino, salmon, scallops, and jumbo shrimp; a raw bar featuring fresh plump oysters and jumbo shrimp; and delicious sides like their creamed spinach and roasted cauliflower.
Owner Joseph DeCristofaro has brought the Old Stove Pub to New York City in 2022, at the perfect time as the Big Apple is re-establishing itself as the world's dining capital. For good reason, the successful eatery is legendary among culinary aficionados in the east and has attracted a regular clientele of celebrities, CEOs, families, and first dates.
The welcoming atmosphere DeCristofaro has created complements the needs of the foodie while appreciating the value
of an incredible atmosphere. The new Manhattan location offers quality steaks and entrees that will rival the best steakhouses in the city, as well as an immaculate setting with a comfortable dining room and outdoor seating.
With dinner service running daily on Tuesday through Sunday, guests can enjoy the steakhouse that carries a Mediterranean flair plus a full bar and specialty cocktail menu. Old Stove Pub will offer more than 20 wines by the glass, daily Happy Hour specials beginning at 4:00pm with a special bar menu and an extensive house martini and cocktail list. Plans do include opening for Brunch on Saturday and Sunday later this month.
Born and raised in Southampton, and part time Upper East Side resident, Joey DeCristofaro is a restauranter as well as a notable real estate developer. With an aptitude for home renovation and design, he quickly put together a team to revitalize the iconic Hamptons eatery and before long it was better than the original and has now brought that same focus and determination to Midtown Manhattan as Old Stove Pub will be a destination for foodies and locals alike.
With delightful entrees for dinner to fun and family-oriented brunches with live music, the new venue on First Avenue is sure to shine above the competition.
For more information, visit: www.oldstovepub.com
October 2022 49
SUPPORT TO YACHTS THROUGHOUT
FLORIDA AND THE GREAT LAKES
AND
RESERVATIONS
PROVIDING
SOUTH
CUSTOMS
IMMIGRATION DOCK
GUEST TRANSPORTATION
AIR CHARTER - OFFICE ASSISTANT - FUEL & WASTE MANAGEMENT BANKING - FREIGHT FORWARDING - BLACK CAR SERVICE Office: 954.908.7559 | Cell: 954.684.9456 | captdeb@americanyachtagents.com Port of Palm Beach, Berth One Suite 100 | www.americanyachtagents.net
INTERVIEW WITH
MICHAEL LESSING
PRESIDENT & COO, LESSING'S HOSPITALITY GROUP
By Adam Kluger
"Our mission is to continue the 130-year tradition of innovation and excellence, providing unique restaurant concepts, exclusive wedding venues, distinctive catering, and skillfully executed management," offers a friendly-but obviously quite busy-- Michael Lessing, President of Lessing's Hospitality Group
The hospitality conglomerate was founded by Maxwell Lessing in 1890 and is operated to this day by 15 Lessing family members. "The company has been going strong for six generations with most recently my son, Mike Jr. and my cousin Lawrence, coming on board." Lessing says.
The secret to the Lessing family's success?
"We've always focused on being a family business, says Lessing, "and we've built a culture that ensures you don't have to have the last name 'Lessing' to be a part of the family."
The Lessing family has provided food service to New Yorkers for over 130 years without interruption. Both the longevity and the success of this legacy company are unprecedented. For Michael, upholding and building upon the family legacy is a serious business that requires an extreme attention to team building and corporate culture.
"I have a great team around me. There's an incredible responsibility to running the family business and it's not just about keeping the business alive. It's about growing and diversifying. My job is to develop the company to be bigger and stronger so the next generation can continue to build the legacy."
Lessing's expanded their portfolio to Florida with the Pelican Club, Crane Club at Tesoro, Charlie & Joe's at Love Street, and most recently the Kravis Center for the Performing Arts.
"My family and I spend a lot of time in Florida, so the connection was already there," Lessing says. "We noticed many people visiting from New York and realized our name is well known in the area. Pelican Club and the four restaurants at Charlie & Joe's at Love Street in Jupiter all overlook a historic lighthouse. I don't think there's a better view in all of Florida."
In 2021, through a partnership with Ellen Hart Sturm in New York City, Lessing's Hospitality now operates the world-famous Ellen's Stardust Diner & The Iridium. The company is currently comprised of over 100 locations throughout the Northeast and Florida. Lessing's operates 21 wedding and catering venues, 20 full-service restaurants, 2 pop-up kitchen concepts, over 60 corporate and academic dining centers, and a historic inn.
No matter the state or venue, Lessing's Hospitality Group always strives to make sure that every employee and guest feels like family.
Website: www.lessings.com
52 Metropolitan Magazine | metmagny.com 25A
October 2022 53
KATHY
IRELANDCONTINUES TO AMAZE, ENHANCING GLOBAL AUDIENCE REACH VIA OTT-STREAMING CHANNEL, YOUR HOME TV™
By Adam Kluger
Super Model turned Super Mogul and global business leader, Kathy Ireland, continues to innovate and grow.
Kathy ireland® Worldwide (kiWW), described by WWD (Women's Wear Daily) as "the most valuable womanowned licensing business in American history." In 2021, License Global ranked her company, kathy ireland® Worldwide, as the #15 brand in the world, with total retail sales of $3.1 billion. Kathy is now expanding the company's global audience reach via the fastest growing segment in media today – streamed programming.
Before we introduce Kathy's latest venture, let's revisit her unparalleled accomplishments over the past 25+ years. First, Kathy is arguably the most successful
supermodel ever. In the 1980's, Kathy appeared in all leading publications including Cosmopolitan, Vogue, and 13 consecutive issues of Sports Illustrated, including 3 covers. Her 1989 cover delivered the alltime best-selling issue for Sports Illustrated. From standout model, Kathy strategically entered business. An entrepreneur at heart, she started her licensing business with kathy ireland® branded socks, then expanded into furniture, household goods, interior design/décor, diamonds, fashion, intimates, children's products and books, health & wellness, finance and education, and kathy ireland® Wedding & Resort destinations, which provide stunning wedding and business conference venues around the globe.
54 Metropolitan Magazine | metmagny.com 25A
Today, kathy ireland® Worldwide encompasses approximately 25,000 products and manages a vast network of brand partner relationships. Due to her amazing business savvy and success, Kathy has graced the cover of Forbes 3 times, SUCCESS magazine in 2019, and has traveled the world as a keynote speaker.
Kathy Ireland is also a compassionate advocate for many, serving as International Youth Chair for the National Pediatric Cancer Foundation (NPCF), Ambassador for the Elizabeth Taylor AIDS Foundation, received the International Religious Freedom Champion Award (for working to stop mass executions, rape, sexual enslavement of young women, and horrific genocide around the world as attacks on religious freedom), and opened kathy ireland® Recovery Centers in 2021 to treat Substance Use Disorder (SUD).
What's next for kathy ireland® Worldwide? Kathy's strategic vision continues. From new product designs across multiple business lines to Fintech, Kathy has a keen sense for where markets and media are going. Her talented team stays on the leading edge. They've capitalized on social media, online shopping, video/SMS messaging, and other engaging tech solutions to remain connected with their strong repeat customer base, and they discover new and innovative ways to showcase their products. Along the lines of innovation – enter Kathy's brand partner since 2018, Your Home Digital, LLC (YHD), based in Tampa, FL, and their CEO, Sean Stockell.
"Sean and Dana Stockell are extraordinary human beings. It is a great joy to work with them in the development of Your Home Digital, as the ultimate destination for everything related to that very special space … home. This OTT channel is another opportunity for YHD to connect with
56 Metropolitan Magazine | metmagny.com
families everywhere. We are thrilled with our current programs, sponsors and initial viewership. Some wonderful things are going to happen with this program!" says Ms. Ireland.
His digital agency has teamed with dozens of leading home industry brands since 2016, forming alliances and media affiliations to create and distribute infomercials, articles, press releases, and has executed digital marketing strategies that drive customer interaction, acquisition, and retention for major brands. Stockell and his team are most excited about their latest venture, a new OTT-Streaming channel, Your Home TV, which is scheduled to launch in November. You guessed it, kathy ireland® Worldwide will be front and center.
"Your Home TV will offer a unique model for both program partners and viewers. It's a non-subscription platform (FREE for viewers) which will offer an unparalleled, broad brush of programming." says Stockell. He adds, "Our channel will include a variety of family-friendly and lifestyle programs. Your Home TV will differ from large movie and documentary platforms, or limited-vertical streaming channels like HGTV or Disney. Instead, Your Home TV will offer program opportunities for creative producers at a lower cost of entry, providing an OTT gateway for talent and content often excluded by megachannels. We'll have compelling content which should appeal to broad audiences." Your Home TV programs will include fashion, food, home topics, music, sports, boating, automotive, real estate, business and finance, and lifestyle reporting on a variety of trends.
October 2022 59
WORLD TRAVEL AND SOUND INVESTMENT GO HAND IN HAND FOR CLIENTS OF FIRST LONG ISLAND INVESTORS
By Edward Palleschi, Executive Managing Director
Most people are not taking travel for granted anymore due to the impact of the pandemic. Numerous clients at First Long Island Investors, consisting of high-net-worth individuals and families are seeking out and going on vacations that provide unique, immersive experiences such as educational travel, expedition tours, adventure travel, and personalized trips. Our clients love to travel, desire to experience life, and want to be financially responsible as well. Our team of professionals assists clients to ensure travel expenses are appropriately budgeted as it relates to their financial plan and long-term investment goals. Working alongside our clients, we develop financial plans and strategies to meet liquidity needs, plan for taxes and estates, implement legacy and philanthropic initiatives, and consider broader life goals. Each client has unique challenges and objectives, which is why we strive to understand these goals so we can help our clients accomplish them, make their lives easier, and provide financial peace of mind.
Those clients whose travel dreams have become a reality are comforted knowing they have the financial flexibility to pursue a deeper, more enriching life. Establishing a level of trust with our clients is the key to making this possible. We've earned that trust in a unique way, by investing our own assets alongside theirs, thus when we say we understand our client's objectives, it is because we share them ourselves. My colleagues and I at First Long Island Investors have had a fondness for travelrelated experiences. We have also shared our personal satisfaction with contributing to a client's dream destination vacation becoming a reality.
Personally, I've been fortunate to have completed my goal of visiting all seven continents. I'm thankful for experiences that have spanned the globe, ranging from enjoying
a Yankee game in the Bronx with the family, on safari in South Africa, scuba diving the Great Barrier Reef in Australia, visiting the Colosseum in Rome, witnessing the Great Wall in China, observing the beauty of Iguazu Falls in Argentina to hanging out with penguins in Antarctica.
Experiencing the different continents has enabled me to better understand and appreciate the diverse cultures in the world around me. The best part of this goal is the journey along the way as traveling opens up your world, transforming and enabling you to grow personally and professionally. I believe traveling allows you to develop empathy and understanding, travel experiences are valuable in connecting with a wide variety of friends, family, colleagues, and clients.
An empathetic, holistic approach to wealth management does indeed resonate and establish a personal connection with our clients. Our clients can experience the freedom of travel even in uncertain times knowing and believing in our long-term approach to investing
and wealth management, with the goal of preserving, managing, and growing their net worth. With the proper financial planning in place, clients can better understand their ability to maintain a certain lifestyle under a wide range of market conditions. Foremost on investors' minds are rising interest rates, inflation, a possible recession, and the pandemic that continue to impact global economies. We believe that uncertainty, whether it be economic, political, or company-specific, causes investors to shorten their time horizons and ignore the long-term fundamentals of quality companies. When company-specific fundamentals are appreciated in the market again, our portfolio companies should perform well. A prudent asset allocation and a buffer of cash is our prescription for weathering the complexity of the current investment environment. Over the long term, earnings growth and increasing dividends have led to an appreciation in assets that's benefitted our clients for many years. We expect that this will continue to enable our clients to achieve both their investment and personal goals.
website: www.fliinvestors.com
60 Metropolitan Magazine | metmagny.com 25A
First Long Island Investors, LLC, founded in 1983, is an independent, employee-controlled full-service wealth management company, which focuses on achieving client investment goals to develop individualized investment plans.
Imagine the bliss of stress-free travel. You'll never again have to worry about your home while you're off on some idyllic trip. When you hire the ModernButler team to manage your home, you'll relax knowing we have it covered. And when you return, you'll experience that Five-Star luxury resort feeling with our exquisite attention to detail. From packing and organizing, staff training and arranging repairs, appointments and reservations, to that last minute cocktail party, we'll take care of everything, whether you're at home or away. To make your home your personal heaven, reach us at 561-310-3815 or Info@ModernButlerpb.com
October 2022 61
elite home management m ary Butler, Founder | m odernButler llC | i nfo@ m odernbutlerpb.com | 561-310-3815 We'll MA n Age Your ho M e. g o h Ave S o M e F un.
TOWARDS
TOWARDS HAPPINESS INTERVIEW WITH AUTHOR AHRON FRIEDBERG, MD FOR
By Adam Kluger
For starters, how do you define happiness? We all want to be happy but it seems kind of an intangible concept. We define happiness as satisfaction in certain basic areas of your life -- work, relationships (including familial and romantic), health and well-being (including as one ages). It's not some state of bliss or nirvana, but a dynamic state that you're continuously trying to improve. Therefore, the book's title is Towards Happiness, with the emphasis on moving in the right direction. Furthermore, happiness is unique to each individual. So, you have to determine what makes you happy and find your way toward it. Therefore, the book's subtitle is A Psychoanalytic Approach to Finding Your Way. Because a basic premise of the book is that you need insight and understanding about yourself to find your way, the approach is considered "psychoanalytic".
You're a psychiatrist in private practice in Manhattan and Clinical Professor of Psychiatry at Mount Sinai. My impression is that psychiatrists treat depression, anxiety, trauma. What makes your orientation or approach different? It's true that much of psychiatry is now based on diagnosing and treating symptoms, as in other areas of medicine. In psychiatry, the mind and its manifestations (what we think, how we feel) is based in brain functioning. So, in a general way, psychiatry is geared toward restoring the brain's imbalances, which corrects or at least reduces symptoms such as depression and anxiety. I'm a psycho-dynamic psychiatrist which means that in addition to diagnosing and treating mental illness, I try to help people feel better and more whole, personally and professionally. While considering diagnoses, I focus
on an individual's personal growth and self- betterment. The shared goal, like the ancient Greeks said, is to have a sound mind in a sound body. Making good choices for yourself, setting and working toward achievable goals, and having higher aims and purposes is integral to that achievement.
You break happiness into 5 distinct domains. Please tell us what they are and how they relate to one another. We cover the basics by defining 5 domains of happiness, which compose the chapters of our book: work and money, wellness and personal growth, sex and love, family and friends, and aging. These areas are essential to overall happiness. Of course, someone can be happy in one area, say work, and not another, say love. It's also interesting how the domains overlap, for example there's a story about how one member of a couple is so dedicated to her own career that their marriage falls apart. In a committed relationship, you need to take time for one another, prioritize your relationship, and resolve differences. In another story, a professional neglects his personal health and well-being, and thus has to reassess what's most important in his life in order to recover a sense of who he is. Mental health is basic to well-being, and you have to work at it.
So, what does satisfying work look like? Many people are unhappy with their jobs and would like to know. It's good to pursue work that gives you satisfaction. Not all jobs or careers offer that opportunity, but you can try to find one that does. It helps if your role offers you a chance to be creative, gain new skills and develop your abilities, and even do good in the world. If this isn't the case, you may still find aspects of your work that you like and can learn from. Work is called work for a reason: it takes effort and commitment. One of the main reasons people stay in their job is they like the people that they work with. A good supervisor or colleague can be part of what you look forward to in starting your day, and that you enjoy throughout it. It's harder to find meaning and a sense of purpose in your daily life if you don't gain self-esteem – or at least some decent financial return -- from what you do. So, apart from the monetary, there may be less tangible satisfactions that can be found at work. Most careers involve some interaction with other people -- you can connect with them and make the most of those relationships. Many jobs have some room for growth and learning, so you want to optimize that part as well.
Beyond a better diet and exercise, what does wellness mean? As a psychiatrist, I find that wellness has a significant mental health component. Of course, it's important to recognize that diet and exercise contribute to mental health, sometimes as much as psychopharmacology and psychotherapy. Healthful eating and physical activity are an integral part of treating depression and anxiety, or at least they should be for most people. Still, a person may be physically fit but unwell personally. That's a situation where psychotherapy—cognitive and behavioral approaches as well as insight and understanding—can play an important role. In one story in the book, an attorney is wracked by guilt for an error of judgment that he made a long time ago. He had to understand the context of what happened, take responsibility for the consequences, forgive himself and move on. We can't change the past, but we can learn from it and move on. As Heidegger famously remarked, "Learn backwards, move forward."
62 Metropolitan Magazine | metmagny.com 25A
LITERARY SPOTLIGHT true-to-life stories about real people and follows their literal pursuit of offer guidance by example. The stories follow the protagonists as they off, try again…there is a sense of real life, as well as of real drama. But from these relatable, immensely human accounts. The lessons are ones you see how each lesson was learned." Editor, International Psychoanalysis Friedberg has made an incredibly sensitive study of actual lived experience. In he demonstrates the imagination, courage, wisdom, and unflagging where it has been lost." Professor of Psychiatry, Icahn School of Medicine, Mt. Sinai Towards Happiness presents an engaging, insightful look at how we aspects of our lives: work and money, wellness and personal growth, sex aging. by Dr. Ahron Friedberg, a prominent Manhattan psychiatrist, to achieve greater happiness during challenging periods of their grew personally and professionally. Each chapter considers a core Friedberg's practice, demonstrating how patients worked through difficult, Throughout, there are useful summaries of key points. While candidly different, Towards Happiness offers practical examples that can enhance levels of happiness and reorient their lives towards a deeper capacity for insights into the compromises, sacrifices, and resulting degrees of success happiness, and will be of great interest to psychoanalysts, clinical psychologists, professionals. It will also be useful reading for anyone seeking to understand the own lives. Professor of Psychiatry, Mount Sinai School of Medicine. Editor, The Academy of Psychodynamic Psychiatry and Psychoanalysis. Book Editor, International Council of Editors of Psychoanalytic Journals. Served American Society of Psychoanalytic Physicians. Recent books include Two Minds in a Mirror (Routledge 2021) and Through a Screen Darkly: Pandemic (Routledge 2021). formerly a Senior Attorney in the U.S. government and Professor of English a Principal at ChildsPlay International, an organization that helps the benefits of play. She is the author of four books on cultural history, neuroscience, as well as co-author with Dr. Friedberg of Psychotherapy and Screen Darkly DEVELOPMENT 9 781032 276274 ISBN 978-1-03-227627-4 in range of digital formats Ahron Friedberg, M.D. with Sandra Sherman
HAPPINESS— A PSYCHOANALYTIC APPROACH TO FINDING YOUR WAY TOWARDS HAPPINESS— A PSYCHOANALYTIC APPROACH TO FINDING YOUR WAY Ahron Friedberg, M.D. with Sandra Sherman
LONG ISLAND DENTIST HONORS THE LIFE OF HER BROTHER BY PUBLISHING BOOK
ABOUT LIFE REFLECTIONS
By Adam Kluger
Jericho, New York-based dentist, Dr. Parul Dua Makkar has published a book co-authored by her late brother Dr. Manu Dua (also a dentist). Manu was diagnosed with oral cancer in July 2019 and passed away at age 34 on March 14, 2021. His book " Life Interrupted: Dr. Dua's Survival Guide" is meant to encourage readers to live life to the fullest, doing the things that bring them joy. "This book is a collection of deep introspective essays on everything from how to manage your fears, and transcend failure, to the true meaning of pursuing your dreams," said Dr. Parul Dua Makkar. "My brother believed that even in the worst of times and under the worst of circumstances, the human mind, body, and soul have a remarkable capacity to heal."
Life Interrupted: Dr. Dua's Survival Guide Paperback www.amazon.com/Life-Interrupted-Duas-Survival-Guide/ dp/1736058711/
Some excerpts from Life Interrupted include:
On the Ability to Endure
"That ability to endure can be broken down into what we perceive to be the reason for our suffering and our sense of hope in a tangible better future. Even when we are faced with the most trying of circumstances, what we are willing to endure and overcome is directly correlated with what we perceive to be the ultimate outcome of that suffering. That ultimate outcome is related to our sense of hope. As I have mentioned before, that level of hope does not in any way have to be realistic, but it has to be tangible enough in our minds that we may utilize it as a tool to endure the current circumstances."
On Fear
"From a societal standpoint we have evolved significantly as a civilization whereby most of our fears are less driven by a fight or flight ability to survive, and more of an emotional evolution where we create environments that both induce our fear and allow it to irrationally perpetuate without any real consequences other than the ones, we have convinced ourselves that theoretically may happen."
On Failure
"One must also note that although it is imperative to overcome the fear of failure, like most things in life moderation is key. We cannot confuse our repeated failures without actionable changes in our patterns as being constructive. In the words of Albert Einstein, "the definition of insanity is doing the same thing over and over and expecting different results"."
On Finding Eternal Peace
"We often try socially to impart our importance on to others, yet the irony of the fact is that it was a fruitless effort, evidenced most when you sit there helpless, temporarily displaced from your world in a form of time warp. Nothing matters at this moment, none of your
trivial daily tasks matter, as you are stripped of all ego and left in a meditative state. Often, we find this meditative state hard to reach during our busy lives, and it requires great practice and patience to reach such a state."
Dr. Dua's Survival Guide' is already a winner of the CIPA EVVY Award for Motivational/Inspirational books.
About Dr. Parul D. Makkar
Dr. Parul D. Makkar is the founder of P.D.M Family Dental on Long Island, New York. She completed her Bachelor of Science from the University of Central Oklahoma, Magna Cum Laude, and then DDS from University of Oklahoma College of Dentistry, in 2003. After relocating to New York from Canada, she then completed GPR training at Staten Island University Hospital. Dr. Makkar is the recipient of the Denobi Awards 2022 as well as LI Excellence in Healthcare 2022. Since losing her younger sibling (and fellow dentist) Dr. Manu Dua to oral cancer, Dr. Makkar devotes her time to educating doctors and patients alike about risk factors, prevention and advocating for early diagnosis
LINK: www.pdmfamilydental.com/
October 2022 63
MEET LOY CARLOS the 'Editor-in-Chief' of Real Estate Sales'
Taking on Manhattan's signature properties requires an editorial eye
By Peter Elston
oy Carlos doesn't market a property, he contextualizes it. Inspired by editorial photoshoots and magazine-style storytelling, Carlos says that he's reinventing property sales, and realizing record deals for his clients in the process.
It is an approach that has solidified his involvement with ultra-high end properties such as the newly listed triplex penthouse at 217 West 57th Street, which is listed at $250 million.
"Luxury is lifestyle," says Loy, a 30-year industry veteran, who made headlines when he left Corcoran's top team to lead Serhant's "Signature" division, which handles the firm's most exclusive properties. "So it's important to create a unique brand identity for each property that tells a story about the specific lifestyle it offers."
To create that narrative, he works with Serhant's in-house ID Lab and Serhant Studios to design a one-off "identity" for a listing or a building, where everything from the fonts, color schemes, background imagery, custom websites, property tours, editorial films, and email look-and-feel are dreamed up.
Instead of blasting a property across social media platforms, they consider where that property belongs. Some properties
might shine on TikTok, while some belong exclusively on Instagram. Others deserve more refined exposure in luxury broadcast, print or digital media — think specialty publications that cater to art, private jets, yachting, fashion and jewelry scenes.
Moreover, they don't take the usual canned listing photos you see on real estate portals. They style the property like a cover model and bring it to life with video, music, art direction, and people. "For any luxury product, packaging is everything," he says. "We don't just create for the sake of views. We envision the parties who make the deal, and reverse engineer our marketing to bring that into fruition."
Taking a targeted approach and taking the time to tell a story about a property, Carlos says, creates "drama, depth, narrative richness," and even sometimes "funky, cute humor." The cherry on the top?
"For each of our Signature listings, we create a custom book," says Carlos, who studied journalism at New York University and runs a lifestyle magazine with a global following. "It's painstaking. The whole process is, but it's the only way that you can express the level of luxury that a property offers to a buyer, in much the same way you differentiate ready to wear from haute couture, or in-season from last season."
It's a process that translates a media following into actual business, he says. But more importantly storytelling actually increases a property's value.
"It may not look like it from the outside, but a lot of New York's best properties have sold or are selling for far less than they should," Carlos says, who is currently listing a $29.5 million townhouse at 7 Sutton Square and $25 million penthouse at 993 Fifth Avenue. "That's because a lot of brokers push their clients to settle for less…just get it out there and hope for the best. But the last three deals I closed have all broken city records. That's the power of an editorial approach to real estate. From cave men drawings to today's social media, we're constantly reminded that storytelling is essential in communicating our idea of home."
About:
Loy Carlos is an entrepreneur, mentor, and industry thought-leader who has been advising clients and partners on the intricacies of real estate for more than 30 years. As the head of SERHANT. Signature, Loy leads a team of property experts that specialize in the high-end luxury market.
Loy has sold some of the most expensive apartments and townhouses in the city and has regularly posted record-breaking prices in various neighborhoods. His clients include permanent ambassadors and consulate generals, high-profile celebrities, investment bankers, advertising executives, executives of Fortune 500 companies, and presidents and board of director members of various chambers of commerce and other professional organizations.
For more information please visit: www.lavieclassique.com
64 Metropolitan Magazine | metmagny.com 25A
HOW TO MOVE FROM TRAGEDY
By Debra Wallace TRIUMPH to
Karolina Dehnhard is deeply passionate about family law and helping people live their best lives, and, as such, is making an indelible mark on each of her clients, as well as others around the globe. The internationally-acclaimed divorce attorney learned vital lessons early in life when she left her "beautiful life" in Poland after her mother's divorce. Her mother then provided her with a valuable life lesson by turning fear and a lack of language into a successful business and family life. A partner at Lindabury McCormick Estabrook & Cooper, P.C., Dehnhard, a dynamic and empowered attorney, helps people during the worst times of their lives -- divorce, disability, and death -turning tragedy into triumph.
As a true role model and changemaker, following in the footsteps of her pioneering mother she teaches her clients how to take control of their lives and set themselves up for success. Her motto is: "Prepare, Protect, Partner, and Prosper."
"You must stay part of your community and face the biggest challenge of all, showing up; you can't leave the table," advises Dehnhard. "You must stay consistent and relevant by aligning everyone to become part of the team that you will need to move forward and live your best life." A tireless advocate for women, Dehnhard is a legal force with more than a decade of experience. She turned the crisis of her own divorce, into a thriving career as a family law attorney and fierce matrimonial litigator.
She sees herself as much more than a family attorney; "I want to stay connected to my clients as a coach, advocate, mentor, and friend," she says. "This is not about being a dot on someone's radar and moving on. I know if you don't have someone bringing the
right people to the table, it can have severely negative results," Dehnhard explains. "I want to be a constant in my clients' lives." This is why she is also the founder of Divorce Dynasty, a "concierge platform" in which her clients have access to services from a myriad of carefully vetted professionals. These include attorneys, doctors, accountants, bankers, therapists, financial planners, realtors, insurance experts,
life coaches, wellness and beauty experts, private investigators, and even a matchmaker. They work collectively to address all of the various needs that arise during the divorce process. "I want to set up my clients for success by giving them a wrap-around of support," she says, "because I know that it is difficult to manage a seamless process at a broken time in your life."
The goal, "is to provide the education and empowerment that leads to outcomes in creating a happy new life. I do not want anyone to feel lost, unprepared, or stifled," Dehnhard explains. "Life is about relationships that will get you through the tough times; you vitally need that support system to start over."
Website: Karolina Dehnhard Website: Divorce Dynasty YouTube: Karoline Dehnhard Reviews Instagram: Karolina Dehnhard Facebook: www.facebook.com/ DivorceDynasty2020/
October 2022 65
"I WANT TO SET UP MY CLIENTS FOR SUCCESS BY GIVING THEM
A WRAP-AROUND OF SUPPORT," SHE SAYS, "BECAUSE I KNOW THAT IT IS DIFFICULT TO MANAGE A SEAMLESS PROCESS AT A BROKEN TIME IN YOUR LIFE." - KAROLINA DEHNHARD
"While having a stable of sponsors and guests made up of some of the most interesting and important executives, celebrities and all around polymaths, Xen understands the intersection of communities and mediums where radio and TV meet the internet. She understands the personal nature of it all and the importance of relationships she builds with her listeners and guests."
- Paul Caldwell
PAUL CALDWELL
Caldwell Soames, Inc is an American multinational conglomerate holding company headquartered in Houston, Texas. It's run by Chairman and CEO Paul Caldwell. The firm's principal activities are rooted in identifying and investing in good businesses at fair prices and adding value to those businesses over time.
Purpose in Business: To identify, add and deliver value for businesses and markets that fit within my specific industry and sector interests. Highly focused on growing our firm's asset portfolio value by investing in and acquiring valuable assets with high quality leadership at reasonable prices. These businesses are not easy to find. When we do we invest the required time, energy, effort and
capital to increase their asset value through what we call the IDT markets model. IDT is a strategic value creating approach to Innovating (I) for the purpose of creating Disruption (D) to existing norms for the purpose of Transforming (T) the way market constituents think about how they do things that matter.
Paul is an International Executive with broad experience in Investment Portfolio Management, Transaction and Strategic Advisory Management and International Market Development. Industry and Sector experience includes Consumer Packaged Goods, Global Payments, Online Marketing & Distribution and Transformational Technology Development (Fintech, Blockchain, Digital Assets).
66 Metropolitan Magazine | metmagny.com 25A
October 2022 67
Millenial Mom, IHeartRadio & TV Host 'A MOMENT OF XEN'
"People need banking, not banks. I love OGPAY for just that." -Xen Sams
Revere Securities is a global broker-dealer firm providing strategic and financial support to institutional investors, hedge funds, and individual investors. The firm's professionals are involved in all components of the sales and trading process and include extensive compliance and operational personnel. In addition, Revere Securities LLC provides differentiated corporate access, helping institutional clients gain access to management as a component of their investment process. The firm has industry focused sales specialists who possess "buy-side" experience; therefore, providing a sound, alternate perspective, to the investment process.
Kyle Wool is non-executive Chairman at Revere Securities. He is also a special advisor to Dominari Financial, Inc., a forwardthinking financial services company that creates wealth for all stakeholders by capitalizing on emerging trends across the sector and identifying early-stage future opportunities that will generate a high rate of return for investors.
"Beyond providing a platform to connect with an influential audience of key decision makers, Xen is a consummate professional who brings a high-level of financial industry intelligence to our conversations and elevates the experience for all involved."
- Kyle Wool
68 Metropolitan Magazine | metmagny.com 25A
en Sams is an NYC based Live Radio And TV personality currently hosting the top rated iHeartRadio show " A Moment of Xen" Saturday nights from 9 -10 PM Est. on 710 WOR / The Voice of New York/ iHeartRadio.
Covering Film ,Fashion, Pop-Culture, Cannabis, Health, Fintech And Cryptocurrency from the Millennial Mom's Perspective.
710 WOR /IheartRadio 's Tri-State weekly morning Drive listenership surpasses 1.1 million listeners MondayFriday. A MoMent Of Xen show is a quad platform show that has combined analytics of <12,000 listeners /hr.
As a live radio, live TV, and social media interactive show, AMOX prides itself on edutainment; catering to experts, CEOs, celebrities, influencers, media personalities, and public figures.
The show also appears live on Traverse TV Sundays at 1pm Est , and will be making it's streaming debut on Kathy Ireland's Your Home TV Platform.
Xen Sams and Her supervising producer, MayganThompson are proud to produce Metropolitain Lifestyle 's TV pilot , as well as assist in strategic branding and relationships with Your Home TV platform and Kathy Ireland worldwide.
Platinum sponsors: Animoca Brands, Revere Securities, Tempus Network/ Burkhan World, Caldwell Soames/ ogpay.com, Romulus Entertainment, Eldon Group Traverse TV,
Seasonal/Past Sponsors: Bice Cucina, Aikido Pharma, HighThere, CCP Digital, Ocean Casino Resort A/C, Helen Yarmak international, Sari Katz Celeb Cosmetic Injector
October 2022 69
Xen Sams; Photo cred: Melanie Amber Ruane
X
ADAM DENNIS GEIGER
By Nicole Quimbo
It's all up from here for NYC Theatrical Presentation company, Creode Inc. founder, Adam Dennis Geiger as he achieves ongoing success with his career in method acting and modeling. Geiger left his hometown in North Carolina at fifteen and made the big move to live and pursue his acting dreams in New York City. "That's what sets me apart... a lot of the time, too, is because I have this really pure, genuine drive to express myself and express my life journey and what I feel is my purpose through acting. And it's not because anybody influenced me to do it, it's because I saw something true in the art," said Geiger.
His passion for the visual arts and interest in method acting continued on through his studies at HB Studios, Stella Adler, and Lee Strasberg. He drew inspiration from actors such as Marlon Brando and James Dean with a raw communication style and an interest in philosophy and poetry. With his experience, Geiger recognized he wanted to approach his career and thought process through narrative communication to his audiences. "I had this different mindset where I could see things from a different perspective," said Geiger. "I watched a lot of movies that were inspired by method acting, a lot of old classics and old movies, and so, I knew that I understood what the characters on screen were representing."
Post-pandemic, Geiger involved himself in modeling and photography where he took this narrative concept in front of the camera and editorial magazines globally. "I was always interested in actual portrait photography of actors and whenever I got into doing modeling, it was first for that reason," said Geiger. "I knew that I had an essence in me."
What future projects does Geiger have going on?
"Right now I am coming out with a film production company that will be my entity to pitch to major studios, similar to what Adam Sandler or Kevin Smith did back in the day, how they made films and pitched to bigger studios. I'm launching Creode as a cinema entity and
have Creode Theater already established. I'm eager to use that as an opportunity to show myself as a brand and express genuine art through this. Upcoming, I'm excited to demo my concepts for two movies I've conceived, one about the West Coast of the U.S. and a bit global, and then one out of New York City."
What piece of advice does Geiger offer those who want to pursue method acting?
"I began by forming my theater company," says Geiger, "and I wanted to put on high-quality productions in the style of realism. So I would come up with the concepts, get so deep into the characters, and read these plays over and over again; that's one big piece of advice. It's just, that I would read these plays until the script would fall apart, and I would discover something the writer was trying to tell that was inside of myself."
IG: @adamdennisgeiger and visit www.creode.org
70 Metropolitan Magazine | metmagny.com 25A
ACTOR SPOTLIGHT
Where arts & culture are always in style.
Design your perfect day in Florida's Cultural Capital®. With iconic arts districts, stunning live performances and world-renowned museums, The Palm Beaches offer inspiration at every turn.
a
October 2022 71 Take
closer look at WhereCultureAlwaysShines.com
BOCA RATON MUSEUM
OF ART
@PALMBEACHCULTURE
JUNO BEACH
THE PIONEER OF GLASS ART ARTIST DALE CHIHULY
By Rachel Vancelette
72 Metropolitan Magazine | metmagny.com 25A
Dale Chihuly
Ethereal White Persian Pond Royal Botanic Gardens, Kew, London, England © 2022 Chihuly Studio. All Rights Reserved.
Dale Chihuly is a daring 'pioneer of glass' and has established himself as a larger-than-life voice in the field today. The artist continues to innovate and create new work daily with a distinct style of spectacular color saturation and organic beauty.
Creating sculptures since the late 1960s, Chihuly is best known for his large-scale architectural installations, smaller structures inspired by organic forms, and monumental chandeliers comprised of dozens of curling glass arms that radiate from a central core. The artworks appear worldwide, from private and public gardens to ceilings, floors, and walls; the enormous-scale sculptures often burst at the seams appearing in homes, parks, museums, private collections, and institutions worldwide. Chihuly's unique emphasis on light, color, asymmetrical, and curvilinear shapes captivate and evoke an outer-worldly celestial quality.
I first watched a large-scale chandelier sculpture installation of Chihuly while working for the Marlborough Gallery, 17th Street Sculpture Gallery in New York City. I was an associate director when the 17th Street Gallery was under the helm of Dale Lanzone. With decades of championing sculpture, he was instrumental in activations of public art from the early 2000s and shaped the new division of sculpture for the Marlborough Gallery NYC at the time. This curated group sculpture show presented artworks by Louise Bourgeoise (a large, magnificent fountain) and included other top gallery artists at the time, such as Alice Aycock. On this occasion, Chihuly's team flew in for a unique installation, spending days stacking each one-byone beautiful glass twirls of colored red and yellow glass to create a secure and stunning glass chandelier tower from floor to ceiling. The lighting and presentation mesmerized audiences and repetitive questions.... how did he do it?
October 2022 73
Macchia Forest, 2021 Desert Botanical Garden, Phoenix © 2021 Chihuly Studio. All rights reserved.
Photo by Nathaniel Willson
Many years later, it was an honor and pleasure to sit down for a Quickfire Interview to dive into the artist's creative process and take a closer look at the past, present, and future of the Chihuly studio.
What inspires you each day?
I find inspiration all around me, from objects to architecture, nature to classic film. Glass as a material has always inspired me…it's transparency, translucence…the powerful beauty of light streaming through it.
What advice would you offer to your younger self?
The life of an artist can be both challenging and thrilling. Not everything will work out the way you hoped, but the process of exploration and discovery is always interesting. If you're feeling frustrated, walk away and come back to the idea when inspiration returns. Trust your instincts and leave yourself open to the unexpected.
Traveling on a Fulbright Fellowship, you saw work in the Venini factory on the island of Murano early in your career. How did this impact your creative process early in your career as a glass artist?
It was at the Venini glass factory on the island of Murano where I first observed the team approach to blowing glass, which is critical to the way I work today. There, glassblowing is always a team process, with one lead gaffer being supported by others to create the ultimate vision. I feel fortunate to work with a very skilled and talented team of glassblowers, especially now that I do such large architectural projects
Photography by Danny Sit
and installations. Glassblowing is a very spontaneous, fast medium, and one must respond very quickly. My team allows me to do that.
Can you tell us something that would surprise us about your creative process?
A lot of people are surprised to learn that I love to paint. I started drawing to communicate my ideas to my glassblowing team, and over time, the practice of painting became more and more satisfying. I paint on heavy paper and transparent materials such as acrylic and glass, and use pencils, paint, coffee grounds and anything else that works to convey the vision.
How do you define your role in your studio process?
I am an artist and the founder of the studio which supports my projects. When I lost vision in my eye, I lost depth perception and could no longer be my own gaffer, so I had to approach my work in a different way. That's when the team process I learned in Venice became so critical. With a great team in place, I am able to communicate my concepts and provide direction much like a director on a film set does.
Following significant museum institution exhibitions and large-scale projects throughout your 50 years of creating art, can you tell what is most important to you for the audience to remember about your artwork after viewing it?
I want people to see something unexpected and beautiful, and to carry that feeling with them. Exposure to the arts can be incredibly
74 Metropolitan Magazine | metmagny.com
Golden Celadon Baskets, 2017-18 Taliesin West, Scottsdale, Arizona, installed 2021 © 2021 Chihuly Studio. All rights reserved.
Photo by Nathaniel Willson
liberating for one's imagination, and that is something I want everyone who views my work to experience. And maybe the experience will inspire others to pursue their own artmaking practice.
Your enormous impact on generations in the glass community is undisputed. Can you speak to us about how scale in your artwork has been an important factor throughout your major installations in complex and dynamic public projects?
Pushing the boundaries of glass has been a constant in my career ever since I saw the monumental glass sculptures of Libenský and Brychtová as a young man. The power of their work was undeniable, and that, combined with my experience as an interior architecture student, inspired me to create work that would change one's experience in a space. Over time, my work got larger, more technically challenging, more exciting to create, and the process drove me to pursue new opportunities to show it.
Your work has been included in over 200 permanent art collections around the world, in a few words what legacy do you hope to leave for the world?
Through art, anything is possible. As a child, I never imagined being an artist. It was only through my exposure to the arts in college, beginning with weaving glass shards into textiles, that I realized a passion for the material and for exploring its possibilities. Art is an amazing and healing practice, and whether you are creating gifts of art in your bedroom or museum installations in a studio, the experience is the same and it is liberating. Forget the rules, take risks, and invite others to see the world as you do.
Art Critic Barbara Rose once described the historical relevance of black works in glass and your important influence in the medium. Could you speak about your wide use of color, incorporation, and importance of black in your hand-blown glass sculptures?
When I first started working with glass, there were limited colors available, so the work was in muted, earthy hues. I incorporated more and more color into my work as new color became available and innovated new ways of adding color to achieve works that feature several colors – like the Macchia.
Black glass doesn't exist, so creating the visual impression of black required experimentation and it allowed me to explore color differently, accentuating contrast rather than translucency.
October 2022 75
White Tower Denver Botanic Gardens, Denver, CO © 2022 Chihuly Studio. All Rights Reserved.
Calendula Persians, 2017 Desert Botanical Garden, Phoenix, installed 2021 © 2021 Chihuly Studio. All rights reserved.
Photo by Nathaniel Willson
The expressive qualities of form, light and expressions in your forms audiences have noted they communicate a wide range of emotions, how do they impact you as an artist in completing a work in your studio?
Glass has always been a marvel to me–the fact that silica or sand can be transformed from a solid to a liquid to a solid just from fire. It endlessly inspires me to explore scale, transparency, and color in a way that no other medium allows.
Quickfire Interview Tips:
Chihuly's artworks can be found in top institutions including the Metropolitan Museum of Art, Whitney Museum of American Art, Dallas Art Museum, Victoria and Albert Museum, and Musée des Arts Décoratifs in Paris, among others. Chihuly has completed commissions for famous figures, including Bill Gates, Jerry Jones, Bill Clinton and many more.
Instagram @chihulystudio Website | https://www.chihuly.com
Instagram: @rvancelette Website: www.vanglobalart.com
ARTIST REVEREND JEN MILLER
Reverend Jen is a performer, painter, playwright, columnist, Troll Museum
Founder, underground movie star, screenwriter and director, open mic host, ordained Reverend and "Renaissance Elf." She is a former Nerve columnist and the author of six published books including Live Nude Elf (Soft Skull) and Elf Girl (Simon & Schuster.) Her handcrafted art books can be found in collections including the Whitney Museum of American Art, the MoMA Library, National Gallery of Canada, DIA Center for the Arts, the Warhol Museum and more. In 1994, she received a B.F.A. from the School of Visual Arts and has since shown her work in numerous group shows and solo exhibitions.
78 Metropolitan Magazine | metmagny.com 25A
October 2022 79
ARTIST TAKUMA TANAKA
A COLOR-INFUSED REBELLION
K QUICKFIRE INTERVIEW SERIES by Rachel Vancelette
nown for blurring the lines between high and low arts, Takuma Tanaka's bold aesthetic brings to life the characteristics of Japanese artistic traditions of post-war Japanese society while tapping into today's contemporary consciousness. The artist pays homage to the history of the Western canon of painting while maintaining the socio-cultural visual vernacular of his native Japan. The emotionally nuanced portrayals articulate life's joys and challenge societal views of the unique individual.
Tanaka's use of hyper neon and pop colors engage a profound "color-infused rebellion." The dual abstract expressionistsurrealist approach centers on both the 'seen' and 'unseen' compositional highlights of each landscape that contribute to a rich moderate human experience. Evocative scenes and the unique contemporary color definition provoke otherworldly experiences and engagements, providing vivid real-life compositions. The artist transforms traditional oral storytelling into a painting reality of quasi-archaeological discovery, tapping into volumes of our everyday contemporary cultural references. Synthesized stylized representations engulf bold mythological themes within a halo-like atmospheric vista in each composition. Tanaka uses a unique, complex visual language of graffiti, hyperrealism, cartoonish forms, and fantasy. The artist makes life-portraiture accessible to mass audiences using narratives reflecting his view of the contemporary desire to present critical issues involving humanity's survival.
Tapping into the societal trend of the newfound emergence of artistic self-reflection and investigating contemporary personal stories of his subjects, the artist embraces yet at the same rejects the ever-moving pop culture technological revolution. Tanaka's attempt to slow down the viewer to contemplate, engage and experience each artwork looks toward the importance of historical and contemporary portraiture traditions.
What advice would you give to your younger self or other young inspiring painters?
Just fight it out. I continue to do that today.
Takuma masterfully blurs the lines between the interpersonal practice of the individual and the outward engagement of present-day portraiture, landscape, and immersive
80 Metropolitan Magazine | metmagny.com 25A
abstraction. The paintings present distorted emotional time capsules of narratives echoing today's society. With rapid globalization and the emergence of new technology at the forefront of everyday life, Tanaka dives into global topics of violence, personal isolation, technological innovation, and humanistic personal diaries focusing on the ideas of the "actions" and "kindness" of humans toward the earth.
Tanaka's beginnings greatly influenced his involvement in the arts, as he began as a street artist while healing from severe mental illness at age 25. Continuing to respect the western canon of traditional painting, the artistic practice twists and reinterprets storytelling narratives. The processes that challenge each canvas's construction can be seen as almost sculptural relief and, other times, stainsoaked layering.
What artists have influenced you over the years?
The old masters to contemporary artists have influenced me. I have a particular affinity for David Hockney's artwork, and his works have taught many of us about the depths of technique and
the importance of art theory. I have also studied art theory under Blum & Poe's contemporary artist Kenjiro Okazaki who provided foundational discussions and ideas on robotics, landscape design, and architecture. The opportunity to study painting techniques and art theory of Eiryo Kanazawa and Yutaka Sasaki still influences my practice today.
The artist's creative studio practice was heavily influenced after being introduced to works by Jean Michel Basquiat by a close friend. In media interviews in Forbes, Yahoo, and other outlets, Tanaka noted his direct connection and influence of "the fighting spirit of Basquiat." The sheer act of art-making on the streets brings the relationship of art directly to the community at large.
Multiple painting series by the artist inspired by Rakugo Japanese tradition remain a traditional form of verbal entertainment today. The practice offers a lone storyteller sitting on a raised platform called a kōza. The conventional art of storytelling developed as entertainment for ordinary citizens during the Edo Period (1603–1868). At first, many different entertainers would perform the generally humorous
October 2022 81
82 Metropolitan Magazine | metmagny.com 25A
"I continue to be inspired by music and a woman's love. Evolution. I continue to use traditional style techniques and mediums to inform and inspire my artistic practice."
- Takuma Tanaka
monologues, but gradually specialists emerged. Rakugo artists depict long, complicated comical stories known as Rakugoka. Tanaka, heavily influenced by this storytelling tradition, activates new engagements of contemporary scenes "from street graffiti to a formal presentation at an art gallery," each canvas infused with new meta-narratives. The crafted canvas provides symbols, marks, and abstractions lingering in a surreal atmosphere. Heavily gestured strokes within the compositions reveal themselves in unexpected, elusive ways.
The artist contends with engaging real-life subjects by using paint to create an otherworldly environment while devising a hyper-real reality. Facing the topic of individual agency and apocalyptic futurist views, the infusion of colors merges the abstract into near realistic compositions for new optical engagement.
Traditional fine art techniques blended with the artist's natural approach to painting with fluidity and active motion surprises his audience.
What inspires you about the painting process? I continue to be inspired by music and a woman's love. Evolution. I continue to use traditional style techniques and mediums to inform and inspire my artistic practice.
At first glance, each artwork appears happy and bright; yet the artist continues challenging the viewers' interruptions of classic scenes, emotions, and landscape environments. With further investigation, the viewer will find new storytelling fantasy narratives tapping into powerful stories on humanity and our human condition. Tanaka is investigating, almost like a scientist, humanity's evolutionary DNA, revealing the simplicity of everyday human encounters and combining creative meta-narratives into dystopic scenes dealing with conflict, love, power, and justice.
Website www.takumatanaka.info | Instagram @takumatanaka23
Follow Rachel Vancelette on Instagram @rvancelette | Website www.vanglobalart.com
October 2022 83
Glen Josselsohn is a leading Contemporary Artist, who's unique style is a buzz with energy and movement which opens up the imagination, engages the senses and ignites a sense of curiosity within the viewer. Glen's Artwork has been recognised locally and international and he sells his artwork worldwide. Glen has painted for very exclusive Hotels, has been featured on many lifestyles television programmes and has had numerous editorials written in exclusive lifestyle and home magazines, Glen participated in the Miami Basel 2013. Glen has also commissioned art for many high end homes including the Penthouse of a Sheikh at the Michelangelo Towers. As for the content and the style of Glen's art, it's timeless and appeals to all.
84 Metropolitan Magazine | metmagny.com 25A
October 2022 85
''Glen Josselsohn's signature art offers the perfect solution to complement a modern and chic room''
Fleurs de Villes HUDSON SHOW DAZZLES
By Jill Brooke
Fleurs de Villes brought back their fab female icon show to The Shops at Hudson Yards with "FEMMES," a 10-day immersive, floral show that dazzled and entertained New Yorkers.
The installations with 10 ft tall jaw-dropping floral mannequins is free to the public and the Fleurs de Villes team of Tina Barkley and Karen Marshall hire the best local florists to create the traveling shows around the world.
Creating any of these installations requires days of work. Each flower is attached to a tube and delicately put into the mannequin so it lasts for the 10 days. Manipulating shape and considering colors as well as creating movement is all part of these talented florists' challenge.
Thousands of blooms are used for these creations to bring joy, merriment and awe to the public. There are also floral classes ranging from a kid-focused class to using dried flowers for arrangements as part of the festivities.
Participating florists in New York City included Villanueva Designs, Larkspur Botanicals, Polycarp Flowers, Alexis Denise Floral Design, Blooming New York, Central Florist, FDK Florals, Fleurs NYC, Flowers by Special Arrangement, Hactac Events by Denise A Grant, Lilac Shade Flower Co., Ora la Casa de las Flores, Rachel Cho Floral Design, Raven Hollow Guild, Rosehip, Starbright Floral Design, and WMF Floral &Design.
The icons interpreted included Eleanor roosevelt, Bella Abzug, Malala Yousafzai and actresses Bette Midler,
Eleanor Roosevelt
86 Metropolitan Magazine | metmagny.com 25A
Sarah Jessica Parker, Chita Rivera and JLO, singers Lady Gaga, Billie Holiday, Fanny Brice, Leontyne Price, writer Edith Wharton, artist Frida Kahlo and fashion designers Vera Wang and Gloria Vanderbilt. Of course the queens of the court - both British and tennisSerena Williams and Queen Elizabeth were also part of the line-up since this has been a year where they have been significantly featured in the news.
Who were the winners? As a judge, it was very hard to choose. But here were some of the winners.
The installation of Eleanor roosevelt created by Rachel Cho Floral Design charmed for its gradation of colors in the skirt which was very effective. Cho started with orchid petal leaves and then used grasses and eucalyptus. The stole with the cute fox on it was made from pampas grasses. Oh, and a fun detail is that the
October 2022 87
Jennifer Lopez
88 Metropolitan Magazine | metmagny.com 25A
Serena Williams
rest of the orchid flower was used for the shoes. Judges also liked the base which had roses mixed with grasses creating a refined and rustic look.
JLO's installation by Juan Villaneuva of Villanueva Designs - which won a previous Best In Show for a Cyndi Lauper installationwas the big winner. Villanueva, whose mother is a florist too in Texas, generously encourages his team to develop their own talents. This was the first attempt by Lena to create her own sculpture with Juan's supervision. The drape of the dress and the way the fresh live orchids were used as trim was very effective. Chinese evergreen leaf was the key ingredient to the dress and then layers of orchids.
Serena Williams ensemble was created by Alexis Denise Floral Design and utilized larkspur, Liatris, lisianthus and statice for the purple-themed dress.
Gloria Vanderbilt had subtle details that collectively impressed. Created by Rosehip, I loved the flip of Vanderbilt's hair using aspidistra leaves sandwiched together and the coat was made with gomphrena balls that were grown in the florists' farm in Rockland County. The shoes were made of peppercorns – cute right? And liked the design flourish on the dress with eucalyptus tips dyed white. Creativity that endures requires attention to detail.
The show was such a success that next year's show is already in the works and there will be a new one in Miami, Florida at Bal Harbor the first week of March.
October 2022 89
Website: flowerpowerdaily.com Instagram: @flowerpowerdaily_
Gloria Vanderbilt
"THE SHOW WAS SUCH A SUCCESS THAT NEXT YEAR'S SHOW IS ALREADY IN THE WORKS AND THERE WILL BE A NEW ONE IN MIAMI, FLORIDA AT BAL HARBOR THE FIRST WEEK OF MARCH. "
- JILL BROOKE
QUEEN ELIZABETH
90 Metropolitan Magazine | metmagny.com 25A
October 2022 91
INSPIRATION + VIVID COLOR
By Kate Shields
92 Metropolitan Magazine | metmagny.com
CELEBRATING THE LEGEND AND LIFE OF JEAN MICHEL BASQUIAT INTERVIEW WITH CONTEMPORARY ARTIST JUANO DIAZ
Artist Juano Diaz's artistic practice is executed by private commission and can be found in many high-profile international private and corporate collections around the globe. At the same time, this contemporary artist engages across multiple mediums, including photography, painting, and film (most often found with great splashes of vivid color!) and often found collaborating with some of the top creatives in their fields. Diaz›s practice of digital collage and painting are now appearing in multiple forms, including limited edition prints, major album covers and even unique limited series jigsaw puzzles. Art
collectors are now inquiring about the latest private commissions just before significant announcements of the latest international projects hit the wires and drop for the world to see!
Diaz's international artistic subjects come to life each year which include noted celebrities and friends of the artist, such as Madonna, Grace Jones, Pharrell Williams and many more. Mingling among the glitterati of art, fashion, entertainment and photography, Diaz has his mind set on new visions of the future. The critical launch of the international album cover
October 2022 93
- JUANO DIAZ
will bear his latest commissioned artwork, a new personal memoir, and the drop of his bespoke limited-edition art prints this month has him certainly on the way to reaching new heights. He sits down to discuss his latest inspirations and creative practice.
What inspires you?
Music, Color, Reading. I'm so inspired by art and mostly, I look to the past; I love the work of Gustave Dore, who was born in 1832. He illustrated the bible so beautifully. His etchings and illustrations can seem quite dark, depicting hellish beings yet, also full of stunning angels with rays of light around them. I was exposed to his work very early in my life by a nun who cared for me in a children's home in Glasgow when I was six years old.
Can you tell us about your career in art and what advice you would provide to your younger self?
I have worked as an artist even without making a penny doing it. I have put everything I have earned in day jobs back into my art to purchase canvas, paints, and digital software. I can't live without art; it's connected to my core. I just keep going and pushing myself to master my craft; if one person gets it, I'm happy, but ultimately, I'm doing it because I need to. If I could advise my younger self, I would say keep going, keep giving, and learn the business, lol.
You mentioned that "you want to bring out the soul" of your subjects. Can you tell us a little about your inspiration for your artwork ‹I Want to Be A Star, Not a Gallery Mascot' 2021, presenting Jean Michel Basquiat?
I love old black and white historical images. Sam Bolton, who originally shot the black and white photograph of Jean Michel Basquiat, is such a brilliant photographer. Sam has documented some of the most incredible historical figures in art. I wanted to make the image look like it was taken "now." I wanted to show Jean Michel Basquiat as a young, cheeky, genius spirit.
There was no better way than having him bursting through his own work, glowing with talent and wisdom. I love the quote that has been added to his hat and, in the end, made the image's title. It says so much about the art world and rings so true more today than ever.
Your artwork has been transformed into new special limited-edition art prints. Can you tell us more about this collaboration?
Rachel Vancelette was introduced to me by the amazing Robert Dupont (Warhol
Factory Boy), who has generously championed my work. Rachel is just so inspirational with the setup of her company Art X Puzzles. The platform is a genius way to support artists during this horrible pandemic and the world changes we are going through by promoting art and making limited edition high-end art puzzles. It is such a brilliant idea. I am so over the moon to be up there in the company with artists like Kenny Scharf.
I'm honored that Rachel has asked me to be the first limited edition run of art prints with my Basquiat image.
94 Metropolitan Magazine | metmagny.com 25A
"I CAN'T LIVE WITHOUT ART; IT'S CONNECTED TO MY CORE."
October 2022 95
ARTIST JUANO DIAZ
Can you tell us about your relationships and friendships with top performers, celebrities and international photographers, from which your subjects predominantly derive?
I first started out with my art viewed and seen by French artists Pierre et Gilles in Paris. Before I knew it, I modeled for them in 2007 in three of their iconic images, which went from there. I modeled for Thierry Mugler and other iconic figures in art and fashion, and once you get into that world, it's easy to access and meet well-known faces.
However, I simply reach out via the internet and ask the person I'm making an image of to take a photo of themselves on an iPhone or license vintage images directly from a photographer and re-imagine them. It would be fantastic to own a big studio and build a set, but I simply don't need it; everything is done remotely and with computers and paint. It is actually a quiet process which is bliss. But I'm honored to have been trusted with the images of some of these artists. For example, the amazing David LaChapelle recently collaborated with me for an artwork. I made an incredible image of him and think it is one of my favorite image I have made.
When did you first create art and who is your inspiration?
I was adopted from a children's home in Glasgow back in 1983. During my time there, from about age four to six, I would draw my mother's face over and over. A nun who looked after me shared bibles, for which one was illustrated by Gustave Dore. It sparked my love for illustration and art. When I was a kid, I would photograph myself and draw over the photo with paints
to change the way I looked and sometimes I would dress up as James Dean or Boy George, or an angel. I was so inspired to create. I think being put into care and being adopted gave me an obsession with my identity. 'Who was I?' This obsession developed into a love for portraiture and storytelling through images. I like to explore this in my work, ‹who are these people in the images?› I also like and enjoy giving clues within each piece.
Speaking to the last years of many changes due to the pandemic, has this changed your artistic practice?
Yes, it has made me look inward. I have just signed up with a prominent literary agent and have been writing my memoir about my life, including the stories of my adoption and art journey. Being in lock-down gave me that time to reflect on why I do this art. I also found myself during the pandemic reaching out to other artists more, just to simply talk art.
What are your future goals and hopes for 2022?
The goal is to have a solo show here in the UK and one in NYC. It's one thing having art online, but art has to be seen and one really has to see my work in person to appreciate it; that's the same for all art, really. That is the genius about owning original prints and editions; one gets to have art on your walls to appreciate in your home and in-person.
I have my new book coming out very soon and a film by the fantastic Sophie Fiennes. I'm also working with some major talents on album art, I can't say much about that, but you will all know when it arrives; it is pretty huge for me! I just want to keep making art and collaborate with unique talents to tell visual stories through art.
October 2022 97
"I THINK BEING PUT INTO CARE AND BEING ADOPTED GAVE ME AN OBSESSION WITH MY IDENTITY.  'WHO WAS I?'  " - JUANO DIAZ
By Lillian Langtry
Southwest Ranches Fla., is THE value proposition for ultra-high-net-worth people
ne of South Florida's best kept secrets is under the spotlight thanks to a recent swath of big ticket home sales to celebrity buyers, and record breaking real estate activity.
The Town of Southwest Ranches, a low-density, quaint equestrian community in Broward County — just 22 miles outside Miami and 15 miles from Fort Lauderdale — has long been an alternative to Wellington and a favorite hideaway for sophisticated, in-theknown estate level property hunters.
Now, sales in Southwest Ranches are heating up as the area gains traction with high-net-worth buyers looking for privacy, value, acreage and world-class estates within the regions
remaining farmland. Homes, custom made on order, rarely hit the market in the town, shielding prices from the public. But recently, custom-made estate 11 acres, built by Landmark Custom Homes, hit the market there at $54 million, demonstrating the area's unprecedented price growth.
Landmark Custom Homes, the area's leading luxury home builder, is behind most of these prominent estates, and offers turn-key building services via bespoke architectural designs from world class firms including Affiniti Architects of Palm Beach, Choeff Levy Fischman and CMA Design Studios in Miami. The builder is also the visionary developer behind Landmark Ranch Estates, the only gated community that has been allowed in the town, and the main catalyst in igniting interest in the area.
98 Metropolitan Magazine | metmagny.com 25A
Southwest Ranches, Florida is Establishing itself as "The Hamptons of South Florida"
Residents of Landmark Ranch Estates, the most prominent luxury estate community in Southwest Ranches have included "A list" Hollywood celebrities and top tier athletes as well as entrepreneurs and C-suite execs from varied business sectors.
"Southwest Ranches represents an unparalleled value proposition for ultra-high-net-worth people," says Douglas Elliman's Miguel Serrano, noting that the area is close to the region's two most used executive airports: Ft Lauderdale Executive and Opa Locka Executive. "It's like a Hamptons lifestyle in an almost unknown, secret location, and thanks to strict preservation rules that prevents future over-development it's going to stay that way. The town's informal motto is 'The pavement stops here!'"
Landmark Ranch Estates is composed of just 44 estate sites, ranging from 2 to 5 acres. Now, just five custom estate home sites remain available, with estate designs ranging in price from $8 million to over $30 million.
"A community like this can never be created again in Southwest Ranches," says Rick Bell, owner of Landmark Custom Homes,
who envisioned this area as one of the last bastions of rolling acreage in the whole tri-county area, buying some 150 acres nearly two decades ago prior to the town's incorporation.
"We're building custom homes for both equestrians and nonequestrians looking for tranquility, safety, great value, but most importantly, a different lifestyle from the beach or the convoluted urban areas," says Bell, noting that the most notable projects in the current pipeline boast over 30,000 square feet of construction on 5 to 10 acres sites.
As pricing continues to rise and inventory remains low across South Florida, high ticket buyers are looking beyond the intracoastal and usual ultra-luxury zip codes, while staying within reach of the important metro hubs of Miami, Fort Lauderdale and Boca. It's a trend that's turning suburban heavens like Southwest Ranches into Hamptons-style hideaways.
For more information please visit: www.landmarkcustomhomes.com
October 2022 99
Trina Johnson
BLUE FOREST FARMS:
MODERN WELLNESS SOLUTION
By Katherine Sloan
hether you're looking for something to help ease pain and inflammation, quell stress, combat insomnia or aid in increased energy, Blue Forest Farms has just what you're looking for. Blue Forest Farms offers CBD oils and tinctures that suit the individual. Think of CBD as your new go-to for physical and mental wellness. After all, it's time to revamp the medicine chest! CBD may become a revolutionary new way of thinking about health. Everyone has unique needs, wants, and, of course, certain issues that need a little improvement. While CBD can be used and administered in all sorts of different ways, choosing to take your daily dose by way of an oil tincture has become increasingly popular. You can start thinking differently about muscular aches and pains as well; toss out the smelly Aspercreme and Bengay because topical CBD creams and salves are the way of the future!
Because BFF's tinctures are carefully crafted with terpenes and cannabinoids that work well and synergistically together, you can find a blend appropriate for your specific needs with highly therapeutic effects. The topical ointments and salves are also wonderful because they go on smoothly and don't leave a medicinal odor. It's no secret that cannabinoids are improving the quality of people's lives. CBD oils and tinctures are, today, part of a well-balanced diet for many (ten percent of the United States). While cannabis will always be popular and now, thanks to progressive new laws, is ubiquitous, everyone can use this medicine how they see fit.
With a line of nine different cannabinoid oils and tinctures, each "has unique and special qualities, making it an individual experience," according to CEO and BFF founder, Trina Johnson. Why only nine cannabinoids, may you ask? Because there are hundreds! Johnson explains that they are just touching the surface and launching the tenth and eleventh CBD tinctures in the future to target inflammation (which is at the heart of weight gain and stress). And, if that wasn't enough, BFF also offers soft gels (that, when taken daily, are a complete replacement for over-the-counter pain killers) as well as beauty scrubs and serums.
Clients can also feel good about buying and using a product that is not only effective and trusted but sustainable and female-operated as well. Blue Forest Farms is a progressive company that has pioneered new ways of doing business in the hemp industry. This is refreshing because
100 Metropolitan Magazine | metmagny.com 25A
BFF does things a little differently; they offer a wide variety of CBD products that are finely attuned to each and everyone's needs because one size does not fit all. The CBD oil contains less than .03% of THC so you will never feel paranoia associated with being high, only advanced health benefits. Well-being by way of cannabis includes every advantage—from calm relief to alleviate your anxiety to increased focus.
One can conveniently purchase organic CBD oil online (and in person at Blue Forest Farms' shop on 47th street and Madison Avenue) for deep relaxation, increased concentration, mood uplift and all over balance. With BFF's mission being to, mainly, help alleviate pain and provide relief from all sorts of complaints using CBD, they work closely alongside clients to observe their life-changing journeys. Johnson is open and enthusiastic about her love of CBD and all the untapped benefits and mysterious healing opportunities of cannabis.
According to Johnson, "There was so much movement in Colorado in growth opportunities and, when I heard about CBD and the natural lifestyle, I was interested." She began working with David Asbury—one of the largest certified organic produce farmers in the country—and, while he focused on the farming aspect of CBD, she handled marketing and sales. Along with Asbury, Johnson works with her CGO (Chief Growth Officer), Zachariah Dorsett to create unmatched CBD and hemp products. Johnson explains that she, Asbury and Dorsett "believe in the industry and cannabis for medicinal purposes." They jointly own the farm, lab and the process of growing organic and vegan CBD. So, from the beginning with the very first seed, Blue Forest
Farms is completely engaged in every aspect of the growing and healing process.
The main idea with Blue Forest Farms is to trust the process. This can be a mantra in all aspects of life but is especially effective when dealing with wellness and synergy. According to Dorsett, "Most people are using CBD for anxiety, stress, physical pain, sleep and focus" but it is also used for other ailments and may be effective at creating a sort of homeostasis. It is really revolutionary for a business to care about the individual and still be invested in their original goal, which is the healing potential of cannabis. While the process of using and benefitting from CBD is subtle, it is extremely worthwhile.
So, what makes Blue Forest Farms different than their competitors? They have a genetics program that allows one to see nonpresenting traits in order to create good ones. They actually examine the phenotype and traits of the hemp so that the result is stable CBD that is also low in THC.
Inclusion and equity are also very important for Blue Forest Farms. Johnson is very concerned about the economic wellbeing of farmers and processors and thinks that people need a re-education when it comes to cannabis, hemp and CBD. With Blue Forest Farms' seed program (which did take a hit during Covid), they invested in the individual farmer, CBD genetics and the immense amount of work that takes. BFF is also progressive in that they have formed new alliances with communities of color (who have been disproportionately affected and incarcerated for cannabis) and are a powerful voice for sustainable building and clothing materials (i.e., hemp) that will not only help to improve our lives but the environment as well.
October 2022 101
"Most people are using CBD for anxiety, stress, physical pain, sleep and focus" but it is also used for other ailments and may be effective at creating a sort of homeostasis .
- Zachariah Dorsett
25A SPOTLIGHT with Julianne Michelle
THE MIRACLE WORKER DR. TOLGA BILECE
As medical insurance and costs skyrocket, more and more people are looking abroad to get cosmetic procedures by highly trained and experienced cosmetic surgeons, where the cost of having the same procedure with the same or higher quality results is only a small fraction of what it would cost here in the United States.
I had the pleasure of interviewing one of the world's most skilled plastic surgeons, Dr. Tolga Bilece. He may only be 34 years old, but many would argue the quality and precision of his work far exceeds the results of some of today's most famous world renowned plastic surgeons.
Dr. Tolga Bilece, who operates his esteemed and busy practice from Istanbul, Turkey. He was born in İzmir/ Turkey in 1988 to his father, a primary school teacher, and his mother, a homemaker. Dr. Bilece has two sisters, a nurse and a math engineer. Since
a young age, Dr. Bilece was fascinated by and wanted to learn about the processes of the human body and how things work inside us. This profound interest inspired Dr. Bilece to study medicine and become a doctor. Dr. Bilece graduated from Vefa High School in 2005 and enrolled in Cerrahpaşa Faculty of Medicine the same year. After graduating medical school, he completed the Specialization of Otorhinolaryngology and Head and Neck Surgery at Health Sciences University Bağcılar Training and Research Hospital between 2011-2016. Dr. Bilece worked at Mardin State Hospital and Bakırköy Dr. Sadi Konuk Education Research Hospital. He now operates his own clinic in Istanbul Ataköy, where he specializes in Rhinoplasty and Revision rhinoplasty surgeries, performing ultrasonic rhinoplasty using a piezo device. The Piezo method replaces the hammer and chisel nasal bone breaking technique with more precision and control, reducing the trauma and soft tissue damage, which may inadvertently occur in traditional rhinoplasties. The piezo device, which is used to reshape the nasal bones, transmits ultrasonic energy directly to the bone without damaging any surrounding soft tissue, resulting in less bruising and swelling and a more desirable outcome.
Dr. Bilece has a reputation for tackling very challenging cases. He credits his most challenging back to when he worked at a government hospital and had to perform a tracheotomy opening surgery on a 6 day old prematurely born baby. Dr. Bilece believes in always pursuing progress and improvement and recognizes that while he is more stressed by focusing on the things he did not achieve well instead of the things at which he excelled, his obsession for perfection helps him improve his skill.
The quality of Dr. Bilece's work speaks for itself. Numerous before and after photos can be found on his Instagram page @ drtolgabilece. An American patient traveled to Dr. Bilece to perform revision rhinoplasty after being rejected by numerous top surgeons in the US due to the challenging nature of the trauma in her nose. She was quoted $40,000 USD by a top surgeon, who later told her that her nose was essentially inoperable. Dr. Bilece performed the procedure for her for under $5,000 USD with an exquisite result.
Dr. Bilece has an excellent bedside manner and truly listens to his patients' desired outcome and goals. He strives to create what the patient wants aesthetically within reason versus imposing his own personal preference.
When I asked Dr. Bilece about future innovations in the field, he thinks the next innovation will be the ability to craft a 3D cartilage structure, that is custom made to perfectly fit as the patient desires.
In addition to facial plastic procedures such as otoplasty, bichectomy, blepharoplasty, Dr. Bilece also performs general ENT surgeries, as well as Botox and filling applications at very affordable rates by American standards.
Dr. Bilece is married and has a 3 year old daughter. In his leisure, Dr. Bilece enjoys reading and spending time with high school friends, talking about non-medical subjects.
www.en.tolgabilece.com
102 Metropolitan Magazine | metmagny.com
Photo Credit: Max Di Biaggio
Julianne Michelle
October 2022 103
Through the Lens
Whether it is a magazine cover, a charitable cause, or a special occasion, the photographers with Annie Watt.com make an occasion more memorable. Annie and her associate photographers embody the essence of professionalism, seamlessly moving through any assignment with finesse and an innate ability to capture the moment at its heart. To book a photographer, contact annie@anniewatt.com
104 Metropolitan Magazine | metmagny.com 25A
AKTION ART COLLECTION AT WYNN FINE ART GALLERY ON WORTH AVENUE
ANNIE WATT anniewatt.com
October 2022 105
25A AMERICAN HUMANE SPARKLES UNDER THE STARS WITH HUMANE HEROES AT CALISSA AND WOLFFER ESTATE VINEYARD
American Humane, the country's first national humane organization, held a "Loving Animals" salon dinner under the stars in Water Mill, New York on July 6 honoring the important role dogs play not only in our dayto-day life but also importantly on those days when life is a challenge.
During those moments, our furry best friends offer us the solace and comfort that sometimes can't be found anywhere else. "Our dogs are our best friends, always there to offer a warm hug or snuggle, an affectionate kiss and unconditional love – which is so critical to each of us," said Dr. Robin Ganzert, president and CEO of American Humane. "We are thrilled to gather so many people here at Calissa to shine a bright light on what our dogs mean to us, especially during our most difficult days."
Author, artist, and proud "dog dad," Topher Brophy, who gained international attention on social media through creative and imaginative photos of him and his dog, Rosenberg, provided his personal insight on struggling with mental health issues and how Rosenberg has helped make him a better person. Topher's story is detailed in his soon-to-be-released book, "Dog Dad," of which proceeds
benefit American Humane's 107-year-old rescue program, which last year, saved, sheltered, fed and protected more than 1 million animals. Gathering under the stars once more in Sagaponack, NY on July 13th, American Humane guests drank in the delicious views and wines on tap at the gorgeous Wolffer Estate Vineyard. Jean Shafiroff, an American Humane Board Member and local philanthropic leader, was paid special tribute to as a Humane Hero during the evening's festivities for all she does to help animals in need.
American Humane Board Members were also honored at Calissa on July 6 as Humane Heroes for their leadership of the prestigious charity. Honorees included Herb Krauss, Sharon Jablin, Dawn Assenzio, Marilyn Pelstring and Abigail Trenk.
Additional notables spotted at both events included American Human national ambassadors Caroline Harless and Leigh Anne Kazma, and Megan McCartney, Steven and Sandra K. Schoenbart, Amanda Stankiewicz, Lauren Day Roberts, Luciana Pamplone, and Mitch Kates and Kristen Baran amongst many others.
106 Metropolitan Magazine | metmagny.com
October 2022 107
108 Metropolitan Magazine | metmagny.com 25A
October 2022 109
HAMPTONITES COME TOGETHER IN SUPPORT OF AMERICAN HUMANE AT FIVESTORY SIP & SHOP AND 2ND ANNUAL DOGS ON THE DUNES BEACH BONFIRE
On July 8, fashion designer Kobi Halperin, Karen Murray's Fivestory and American Humane joined forces at a Sip and Shop in Southampton, New York to help attendees find their favorite new frock while raising awareness about American Humane's mission and enjoying a glass of sparkling. Guests spotted included Michelle Worth, Jean Shafiroff, Chrissy Oakes, Mitchell and Liz Rodbell, Lori Traub, Marilyn Pelstring, Abigail Trenk who all enjoyed meeting Karen Murray's adorable fur baby.
On Sunday, July 10, as the sun set over Quogue Beach, American Humane hosted its 2nd Annual Dogs on the Dunes event with 100 guests to raise awareness of this historic 145-year-old organization and its mission to be first to serve animals in need of saving, shelter and protection.
American Humane, the country's first national humane group, not only helps animals in need but also works alongside military members to reunite them with their military working dogs, after they are retired overseas with no way home. And, through its famed Pups4Patriots program, American Humane finds dogs in need of forever-loving homes
and trains them to be service animals for veterans suffering the invisible wounds of war – traumatic brain injury and Post Traumatic Stress.
Attendees enjoyed a stunning waxing gibbous Moon while dining al fresco on lobster rolls, hot dogs and fried chicken. After dinner, guests kicked off their shoes and enjoyed music and s'mores roasted over a beach bonfire in front of the stunning moonlit ocean.
"American Humane is honored to have brought together so many fabulous people in support of our efforts to save, shelter and protect animals in need and to bring home our brave military K-9s so they can be reunited with their beloved handlers," said Dr. Robin Ganzert, American Humane's president and CEO. "Supporters who attend our events, and generously contribute to American Humane, make it possible for us to save lives – often lives on both ends of the leash. We couldn't do this amazing work without them, and are proud to be making new friends here in the Hamptons so we can touch even more lives."
110 Metropolitan Magazine | metmagny.com 25A
Photos by Jill Nelson / AnnieWatt.com
October 2022 111
112 Metropolitan Magazine | metmagny.com 25A
October 2022 113
ANN LIGUORI FOUNDATION
BENEFITING CANCER RESEARCH AND CARE HELD AT THE MAIDSTONE CLUB
By Harry Brads
Photo credits: Neil Tandy
S 24TH ANNUAL CHARITY GOLF CLASSIC
ports Broadcasting trailblazer and award-winning Talk Show Host Ann Liguori hosted her 24th Annual Ann Liguori Foundation (ALF) Charity Golf Classic at the Maidstone Club in East Hampton, N.Y. The annual charity outing benefits notfor-profits that work in the field of cancer research and care including the Samuel Waxman Cancer Research Foundation, St. Jude Children's Research Hospital and East End Hospice in addition to mentorship programs to help aspiring sports media students.
Dan Pontecorvo, Global Director of Real Estate & Engineering, Jane Street Capital, was the 2022 ALF Business Honoree, and Alex Lifeson, Hall of Fame Guitarist, RUSH accepted the 2022 ALF Music Honoree Award during the Award's program.
"I'm delighted to say it was our best fundraising effort in 24 years," says Liguori. "Both of our honorees, Dan and Alex, our former honorees, participants, and our amazing group of volunteers and committee
members, contributed to the program's success. The iconic Alex Lifeson got Gibson Guitars to donate two gorgeous Les Paul Epiphone Guitars and personally signed them for the highest bidders! We auctioned off an incredible golf trip to Ireland donated by North West Coast Irish Links, a visit to Dundonald Links in SW Scotland and many other wonderful trips and items. My thanks to all who take part in our efforts and support our important mission."
Sponsors for the annual event included ABM, STRUCTURE TONE, PLATINUM, and Tommy & Shounda Foster. Donors for the charity tournament include Dooney & Bourke, DunDonald Links, Dunning Apparel, Dune Jewelry & the Hamptons Rope Collection, Eye King, FRENCH POOL TOY Wine, Golf in a Box, Hotel Indigo EAST END, Hubert Prive Golf Sculptures, IBKUL Athleisure Apparel, Linda Hartough, Hidden Links, North & West Coast Links Golf IRELAND, No Sweat, PEAKVISION Sunglasses, Pomp & Whimsy, SwingLube, TaylorMade and Tour Edge.
114 Metropolitan Magazine | metmagny.com
"This is a disease we are all too familiar with," says Liguori. "We are all directly or indirectly affected by this dreadful disease and anything we can do to fight cancer has been a mission of mine for decades since our family lost my Dad to cancer in 1981. We also lost my brother to leukemia when he was 22. My sister Jean, brother Dan and I, are committed to this cause forever."
"We were thrilled to honor Hall of Fame guitarist Alex Lifeson, who is a passionate golfer as well and so down to earth. And Dan Pontecorvo, our Business Honoree, is a shining light! And we so appreciate the support from our amazing sponsors, golfers, donors, and volunteers. And the golf community is so very generous, which we're so grateful for," adds Liguori.
In addition to Ann's philanthropic work, the broadcaster hosts a weekly 'Talking Golf' show on WFAN-NY, April –September, Sunday mornings, 7:00-8:00 AM, where she was the first woman to host a call-in sport's show. The 'Hey Liguori, What's the Story' show aired every week on WFAN for 24 years. Ann was also the first woman to host her own prime-time show on The Golf Channel. Ann's 'Sports Innerview' cable show aired weekly for 17 years as Ann interviewed the top legends in sports. And the 'Sports Innerview' radio show airs Saturday morning's on WLIW.
Ann recently was honored with the 'Winnie Palmer Award,' at the MET Golf Writers National Award's Dinner, previously awarded to Barbara Nicklaus, Nancy Lopez, Tom Watson, Ernie Els and Gary Player, to name a few.
Ann is the Global Ambassador for IBKUL Athleisure line (www.ibkul.com) and has collaborated on a jewelry line with DUNE JEWELRY called the Hamptons Rope Collection.
For more info on Ann, visit www.annliguori.com
October 2022 115
The Prostate Cancer Foundation's 2022 Hamptons Gala Ends the Summer Season in Style with Performances by Daryl Hall & John Oates and ABBA – The Concert
By Elizabeth Darwen
The Prostate Cancer Foundation (PCF) 22nd Annual Gala in the Hamptons took place at the Parrish Art Museum in Water Mill, NY. The summer benefit supported the Annual PCF Pro-Am Tennis Tournament and celebrated the millions raised and achievements made in the past 29 years through PCF. Founder Michael Milken and The Gala in the Hamptons weekend hosts and sponsors welcomed guests to enjoy, engage and be entertained while helping to fund groundbreaking discoveries in cancer research.
The gala began with a lively cocktail reception as distinguished guests and athletes entered the breathtaking Parrish Art Museum terrace – which is celebrating its 10th year at its new location. Total Sponsorships and ticket sales were valued at $1.3 million. In addition to this, the live auction was swift, raising more than $6.5 million for the Foundation's work of which the auction lots included a 4-day Home Run Challenge MLB package, 2 VIP access packages to the 2023 Billboard Music Awards in Las Vegas and closing out the night with the auction of a 2023 Fisker Ocean 1 SUV – not yet available to the public and one of only 5,000 to be produced globally. As the Owner of the Fisker Company described their extraordinary new vehicle, "All of our products must have four things that are either original – or better than anyone else in the marketplace".
The lavish dinner party gave way to special musical performances from multi-award-winning musicians Daryl Hall & John Oates and ABBA – The Concert. This celebration set the tone for the weekend leading up to the finals of the PCF Pro-Am Tennis Tournament.
Along with the activities associated with the PCF Pro-Am Tennis Tournament, guests were treated to by-invitation-only Milken Institute
Hamptons Dialogues that covered a range of current topics of interest in private homes throughout the Hamptons. The tennis tournament began on Saturday at private courts and concluded with the finals on the Sunday afternoon at the Shinnecock Tennis Club.
Notable Attendees included: Michael Milken, Deepak Chopra, Alex Rodriguez, Oliver Stone, Candace Bushnell, Katie Couric, John Paulson, Rob & Cindy Citrone, David Rubenstein, Kayrn Zucker
This year's participating tennis professionals included David Adams, Harrison Adams, Alex Bogomolov, Guillermo Canas, Adriano Biasella, Amer Delic, Jason Pinsky, Santiago Gonzalez, Treat Huey, JC Aragone, Don Johnson, Heinz Haas, Rick Leach, Scott Lipsky, John Lloyd, Ashley Fisher, Daniel Nestor, Robbie Koenig, Matwe Middelkoop, Jared Palmer, Cyril Saulnier and Max Schnur.
Proceeds from the weekend will support the Prostate Cancer Foundation's funding of the world's most promising cancer research, including PCF's Young Investigator program which has transformed how medical research is conducted over the past three decades.
Discoveries by hundreds of PCF investigators at more than 220 institutions have driven breakthrough treatments in prostate and more than 70 other cancers.
The Prostate Cancer Foundation, founded in 1993, is dedicated to discovering groundbreaking cancer research programs thanks to the steadfast commitment from the organization's members, research scientists and supporters.
For more information, visit www.pcf.org.
116 Metropolitan Magazine | metmagny.com 25A
Photo Credit: BFA, Patrick McMullan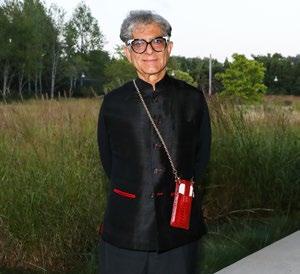 October 2022 117
THE SAMUEL WAXMAN CANCER RESEARCH FOUNDATION HOSTS MILESTONE 40TH ANNUAL GOLF TOURNAMENT
By Harry Brads
The SWCRF Annual Tournament Raised More Than $200,000 Towards Cancer Research Programs
The Fresh Meadow Country Club in Lake Success, NY was once again the scenic location for the Samuel Waxman Cancer Research Foundation's (SWCRF) 40th Annual Golf Tournament. More than 80 participants enjoyed spectacular weather for a competitive round of golf, followed by a dinner reception. More than $200,000 was raised and will be invested in collaborative cancer research programs.
The Samuel Waxman Cancer Research Foundation is an international organization dedicated to curing and preventing cancer. The Foundation is a pioneer in cancer research and its mission is to eradicate cancer by funding cutting-edge research that identifies and corrects abnormal gene function that causes cancer and develops minimally toxic treatments for patients. Through the Foundation's collaborative group of world-class scientists, the Institute Without Walls, investigators share information and tools to speed the pace of cancer research. Since its inception in 1976, the Samuel Waxman Cancer Research Foundation has awarded more than $100 million to support the work of more than 200 researchers across the globe.
Sadly, the incidence of cancer is increasing worldwide. It is estimated that 1.8 million Americans – or more than 4,900 every day – will receive a cancer diagnosis. In 2021, the SWCRF
directed more than $2 million in donor-supported funds to fund a record 53 research scientists at some of the world's leading research institutions. The SWCRF research programs are advancing science aimed at addressing more than 14 types of cancer. The foundation requires that those who receive research funding, collaborate with labs outside of their disciplines and institutions to speed up the pace of discovering new treatments.
Gary Jacob, Executive VP Glenwood Management Corp. and Dennis Herman, Chairman and CEO of Beekman International Center, Ltd., cochaired the SWCRF Golf Tournament. Mr. Jacob and Mr. Herman also are members of the SWCRF Board of Directors. The golf committee members were Frederick W. Barney, Jr., Robert Eichler, Michael Hight, James A. Ingram, Gerard F. Joyce, Jay Sullivan, Samuel Waxman, MD, and Ari Zagdanski.
For more information about the SWCRF research, visit www.waxmancancer.org.
118 Metropolitan Magazine | metmagny.com 25A
MELISSA DE LA CRUZ STUDIO
CELEBRATES THE LAUNCH OF MEL STUDIO WITH DISNEY PUBLISHING WORLDWIDE
By Lillian Langtry
Disney Publishing Worldwide, book industry professionals, media and well-wishers came together for the launch of Melissa de la Cruz (MEL) Studio at a reception held at Versa in New York City with special guests Melissa de la Cruz and Mariko Tamaki, author of one of the first Melissa de la Cruz Studio projects, Anne of Greenville.
Melissa de la Cruz is the #1 New York Times, #1 Publisher's Weekly and 1 IndieBound bestselling author of many critically acclaimed and awardwinning novels for readers of all ages. Many of her more than sixty books have also topped USA Today, Wall Street Journal and Los Angeles Times bestseller lists and been published in over twenty countries. De la Cruz's novel, The Isle of the Lost, the prequel to the Disney Channel
Original Movie Descendants, spent more than fifty weeks on the New York Times bestseller list, fifteen at #1. Descendants, starring Kristen Chenoweth and Dove Cameron, was the #1 cable TV movie of 2015, and #5 of all time, and its soundtrack the #1 bestselling album on iTunes. The series' subsequent books, Return to the Isle of the Lost, Rise of the Isle of the Lost and Escape From the Isle of the Lost, were also New York Times bestsellers for many weeks. The Disney Descendants books have sold over nine million copies.
Disney Publishing Worldwide partnered with New York Times bestselling author Melissa de la Cruz to launch a 360 media and publishing initiative
called Melissa de la Cruz Studio. Under this collaboration, Melissa de la Cruz works with new and established writers to develop new original stories, with the intention of this IP being developed into TV/Film content for The Walt Disney Company. Several projects from Melissa de la Cruz Studio are currently in development for Disney.
Accomplished author, Melissa de la Cruz is the founder and principal of Melissa de la Cruz Studio at Disney Publishing, which will create and package books in every genre and age range but with a special focus on middle grade and young adult, from a diverse group of new and established writers that will appeal to all the platforms across the Disney company for a global audience. The projects will reflect Melissa's humor and taste and range from adventure, romance and fantasy to contemporary stories.
Notable attendees included Disney SVP and Publisher Tonya Arguto, Disney Editorial Director Kieran Scott, 3Arts manager and producer Richard Abate, Sloomoo Institute founder Karen Robinovitz, Overbrook Management CEO Andrew Goffe, author Gayle Forman, influencers Aaron Paul and Jean Shafiroff and gender queer celebrity author Jason June (who has a forthcoming book from Melissa de la Cruz Studio).
For more information, please visit: https://melissa-delacruz.com
October 2022 119
SOUTHAMPTON
ANIMAL SHELTER FOUNDATION
& OPERATION WARRIOR SHIELD
COME TOGETHER IN A PARTNERSHIP TO PROVIDE COMPANION PETS TO SERIOUSLY WOUNDED VETERANS & THEIR FAMILIES
By Ann Grenier
O
peration Warrior Shield (OWS) and Southampton Animal Shelter Foundation (SASF) have come together in a partnership to provide companion pets for veterans through OWS' Operation Canine Companion program. The announcement was originally made during Southampton Animal Shelter Foundation's 13th Annual Unconditional Love Gala in Southampton.
Chaired by Jean Shafiroff, the event honored William Bratton, former Police Commissioner of New York City, and Jonathan McCann, founding President of SASF. The Honorary Chair was Georgina Bloomberg. The annual event has been the most important fundraiser for the shelter for over a decade, featuring a reception, seated dinner and dancing. A live and silent auction helped raise much-needed funds for SASF's animal residents and programs, as well as garnering enthusiastic support specifically for Operation Canine Companion.
Vietnam Veteran and Purple Heart recipient Chris Quirin was in attendance with his new canine companion, Layla, a yellow labrador retriever mix. Quirin is the first veteran through this partnership to be honored and presented with what he calls, "a precious gift to myself and my family. The love Layla adds to our family is immeasurable. We are in love with her."
"There is no denying the comfort, acceptance and genuine friendship a sweet pup like Layla shares with me, my wife Patrice, and everyone around her. We are truly appreciative for the opportunity to bring Layla into our lives," Quirin shares.
"We are excited to work with Chris as we grow this program," says Chief Master Sgt. Ed Schloeman, Founder and CEO of Operation Warrior Shield. "We thank Chris for his service and sacrifices, and we are honored to be able to provide such a beautiful and loving companion to him through our collaboration with Pat Deshong and Southampton Animal Shelter Foundation."
"Our goal is to provide specially trained, loving and supportive canine companions to veterans and first responders and their families who live with physical and emotional injuries incurred during their time in service," adds Schloeman. Schloeman says he partners with Deshong to provide resources and training so that both organizations can work together to match vets with shelter pets. "In addition, we are grateful to have the support and partnership of The Doris Day Animal Shelter Foundation, and Tunnel to Towers."
Bethann Carbone, CSO of Operation Warrior Shield explains, "We developed Operation Canine Companion because veterans are
120 Metropolitan Magazine | metmagny.com 25A
committing suicide every day. We know how important healing from trauma is. OWS' Operation Canine Companion pets provide safety, camaraderie, unconditional acceptance, and a unique emotional support that helps reduce the stress and challenges that our heroes face every day."
Deshong describes the pet selection process: "Not every dog qualifies to be a trained companion dog. Our trainers spend many hours evaluating each dog for their temperament in different environments, and how they might accept corrections and commands."
Deshong says that once a dog is selected, it receives basic training in commands such as "sit", "stay" and "down", and is brought to public areas such as shopping malls or city streets to help acclimate the dog to stressful environments so that the pet can accompany it's handler to provide companionship in a wide range of situations.
"Each dog will receive approximately 3-5 months of training," explains Deshong. "But our program is unique in that we place the dog in the veteran's home during most of that period, and we provide training instructions to the veteran/handler so they are active participants in training the dog as well. Because accepting a pet is a long-term commitment, we focus on setting the stage for the vet and their pet to develop compatibility and a partnership for the rest of their lives together."
According to the 2021 National Veteran Suicide Prevention report*, an average of 17 veterans commit suicide daily. Carbone explains, "It is in response to this tragedy that
Operation Warrior Shield reaches out to assist military and first responders and their families who are fighting a daily battle for improved quality of life, to help them find a path to inner and outer health and well-being."
Layla and Quirin made an appearance together recently in Times Square in New York city at the taping on the set of the popular TV show, Wonderama hosted by David Osmond. Quirin and Layla were joined on stage with Osmond and OWS team members, Chief Master Sergeant Ed Schloeman, Board Member Wilem Wong, CSO Bethann Carbone and Goodwill Ambassador, Errol Rappaport as Schloeman described the Operation Canine Companion program.
Operation Warrior Shield is currently planning their annual Healing for Heroes fundraising gala in November 2022 at the Water Club in New York City. This event will benefit Operation Canine Companion, as well as provide support for training in Transcendental Meditation and other effective stress-reducing programs.
*The U.S. Department of Veterans Affairs' 2021 National Veteran Suicide Prevention Annual Report is available online at: https://bit.ly/3wrB0aW
For more information, visit www.operationwarriorshield. org and follow @operationwarriorshield on Facebook
For more information, visit www.sasf.org and follow @ southamptonanimalshelter on Facebook.
October 2022 121
THE NEW ROLLS-ROYCE GHOST Rolls-Royce Motor Cars NA, LLC, P.O. Box 1227, Westwood, NJ 07675-1227 Tel: 1-877-877-3735 www.rolls-roycemotorcars.com
© Copyright Rolls-Royce Motor Cars. The Rolls-Royce name and logo are registered trademarks.