COVER PHOTO BY MATT LICARI
GOLD COAST LUXURY MAGAZINE
2022SEPTEMBER $20.00 USD Fashion | Luxury | Profiles | Features | Shopping | Travel | Art | Design | Auto | Food | Health END OF ISSUESUMMER
Rolls-Royce Motor Cars NA, LLC, P.O. Box 1227, Westwood, NJ 07675-1227 Tel: 1-877-877-3735 www.rolls-roycemotorcars.com © Copyright Rolls-Royce Motor Cars. The Rolls-Royce name and logo are registered trademarks. ROLLS-ROYCE PHANTOM EXTENDED SERIES II
6 25A Magazine | metmagny.com
The Nature of Jean Schlumberger.
September 2022 7
Model- Akiko Tokuoka Photographer-@nyc.performanceartist)GiancarloEspinosa(IG:@foreverstudiosllc)
(IG:
8 25A Magazine | metmagny.com 25A
September 2022 9
Photographer: Matt Licari
Photographer: Matt Licari
14 25A Magazine | metmagny.com 25A
"ICheers!had that familiar conviction that life was beginning over again with the summer."
Some of our new readers might not know, that the same fabulous gold coast mansions and parties that inspired The Great Gatsby, were also the original inspiration for 25A Magazine. The original Metropolitan Magazine, published from the 1800s to the mid-1920s featured Fitzgerald as a literary contributor, and before him, Teddy Roosevelt acted as the editor of Metropolitan Magazine too, during WW1. Politics, art, and fashion were all written about with the type of flair, integrity, and intelligence that we try to honor today with the current version of Metropolitan. As we look to doing some big things with the magazines in the future, let us not forget our past as we try to make the most of the present.
The end of the summer typically brings with it reflections of time spent with family and friends, travel adventures and carefree fun, with an eye toward the opportunities and new beginnings of Autumn. I'm particularly excited about a new state-of-the-art Med Spa in Palm Beach I am involved with (Advanced Aesthetics) that will provide regenerative stem-cell therapy for aesthetic solutions.
NOTEPUBLISHER'S
—F. Scott Fitzgerald, The Great Gatsby
This summer was marked by a renewed fervor to get out and about while supporting charitable causes, or just to, once again, enjoy the pleasure of the company of others. Simple things. A sense of normalcy. From New York City to the Hamptons, to Palm Beach and back, smiles and laughter returned to the art galleries and eateries, avenues and beaches, marinas, and front lawns. The sound of music and glasses toasting to the resilience and courage we found in ourselves and those around us. Our hard-working magazine staff hit the beaches, the bars, the galleries, and galas...and a good time was had by all.
As Fitzgerald wrote in The Great Gatsby, life was beginning over again with the summer.
September 2022 15 californiaclosets.com @caliclosetsnyc GREENVALE 25 Northern Blvd, Greenvale 516.334.0077 CONNECTICUT 565 Westport Ave, Norwalk 203.924.8444 From simple to intricate designs, California Closets systems are custom designed specifically for you and the way you live. Radtke.StefanPhoto:#0657205.HICCToperated.andownedindependentlyFranchisesreserved.rightsAllInc.Company,ClosetCalifornia©2021
Adam Kluger Editor in Metropolitan/25AChief Palm Beach
Morning found us calmly unaware Noon burn gold into our hair At night, we swim the laughin' sea When summer's gone Where will we be?
NOTEEDITOR'S
It's been a busy summer. The Hamptons has been a hotbed of art activity with copies of Metropolitan and 25A magazines getting scooped up quickly by loyal readers and curious newcomers.
- F. Scott Fitzgerald, This Side of Paradise
16 25A Magazine | metmagny.com 25A
Just some of the artists we are delighted to include in this issue are old friends William Quigley, Max Moran, Luciana Pampalone, and sculptresses Carol Eisner and Linda Heller.
While publisher Chase Backer continues on with his unmatched entrepreneurial vision, opening up a state of the art Med Spa (Advanced Aesthetics) in Palm Beach, Metropolitan Art expert Rachel Vancelette has been jetting all over the world to cover the very latest in the art market. At the same time, longtime Hampton's art and society contributor Debra Rothberg has been spreading the good word and rubbing elbows all over the Hamptons with her artist hubby George Shulman.
Music, fashion, art, beauty, big ideas and big announcements coming this fall on the expansion of the Metropolitan brand...a hot time in the city... to quote Jim Morrison and the Doors:
"Summer is only the unfulfilled promise of spring, a charlatan in place of the warm balmy nights"
Cheers!
Metropolitan
Speaking of old friends, Jerry Garcia who would have been 80 years old on August 1st, was an old friend of author and longtime Grateful Dead Publicist Dennis McNally. Music writer Eric Jaacobi caught up with Dennis recently to find out what he's been up to. My old friend, Ahron Friedberg, MD shares his thoughts on finding joy in the workplace in his must-read new book, "Towards Happiness."
Today, as an emblem of Tiffany & Co. and a figure who changed the world of jewelry, altering the possibilities of what can be designed from nature's sight and transformed into emblazoning pieces, Schlumberger's extraordinary wonders have continued.
Tarra Iziah In Der Muhlen
September 2022 17
Jean Sclumberger bird perched on a Tiffany Diamond
IG: Photography:@tarra_iziah_in_der_muhlenLucianaPampalone
32 EL TURCO HEADS TO EAST HAMPTON 36 BABY BRASA 38 CLAUDE'S AT THE SOUTHAMPTON INN BTS for cover shoot: Photographer Matt Licari COVER PHOTO
PAGE 50
TASTE BY MATT LICARI
18 25A Magazine | metmagny.com 25A CONTENTS SEPTEMBER 2022 PAGE 32 FASHIONCOVER 24 FLOWER POWER JET SET 58 THE RESERVE AT MAYAKOBA 60 THE SHIPYARD'S GRAND OPENING
Where your financial well-being is priority one, backed by integrity, ethics and a passion for helping clients for nearly 40 years.
Where sound financial strategies create a solid basis upon which to grow wealth, for today and generations to come.
516-935-1200 w fliinvestors.com
First Long Island Investors. Where you belong.
Where we take a side-by-side approach, building our own assets alongside yours.
Where relationships grow with your assets, because you're so much more than just your portfolio.
Where peace of mind lives.
46
72
82
62
117
ART FORM "TOWARDS HAPPINESS" - LITERARY SPOTLIGHT GRATEFUL DEAD'S DENNIS MCNALLY THE PARRISH ART MUSEUM'S NIGHT SOIREE ARTIST CAROL CALICCHIO ARTIST KASHA MCKEE THE KING/QUEENS OF THE ART WORLD CONTEMPORARY ARTIST JUANO DIAZ ARTIST ALEX COHEN PHOTOGRAPHER DANNY SIT ARTIST WILLIAM QUIGLEY ARTIST TAKUMA TANAKA ARTIST CAROLE EISNER
70
66
104
20 25A Magazine | metmagny.com 25A CONTENTS SEPTEMBER 2022 PAGE 82
96
106
74
118
SOCIAL RAND LUXURY MINTERSMARKET.COM MIAMI NFT LONGHOUSE RESERVE 2022 SUMMER BENEFIT HAMPTON DESIGNER SHOWHOUSE GREENWICH POLO CLUB ANN LIGUORI FOUNDATION SHE EVENT RAISES $1M FOR WOMEN'S HEALTH SOUTHAMPTON ANIMAL SHELTER
92
100
102
120
PROFILE LAURIE-BETH ROBBINS AMERICAN YACHT AGENTS MICHAEL LESSING OLIVIA NEWTON-JOHN MATT LICARI : NY PHOTOGRAPHER MOVIESMAKINGADIFFERENCE PEACE LOVE PODCAST TODD STEIN ANNIE WATT
42
44
PAGE 46
116
100
76
101
75
40
88
50
68
64
98
Jacques Malignon, David Scarola, Tara Quinn, Jason Konrad, Luciana Pampalone, Michael Gaida, Michael Paniccia, Jay Mathews, Filip Shobot, Chris Carroll, Lenny Stucker, Patrick McMullan, MA , Tom Fitzgerald and Pam Deutchman, Sandy Ramirez, Jan Klier, Mitchel Gray, Paul Prince, Kristiina Wilson
Contributing Photographers
Debra
22 25A Magazine | metmagny.com 25A
Elizabeth Langevin
Jason Konrad; Matt Licari; Luciana Pampalone
Sean Buttimer; Whitney Thompson; Maribel Alvarez; Lillian Langtry; Nicole Ashley Schubert, Norah Bradford
Fashion Photographers
Info@metmagny.com | Facebook.com/metropolitanmagazinepbmetmagny.com|Twitter.com/metmagnyWriters,models,musiciansandphotographers,pleaseinquire.
Lifestyle Editor
Hamptons Arts Contributor
AndreaAlexandraProfilesRothbergEditorAppino-TaboneSocialEditorClaraMorganFoodEditorCorreale;MaribelAlvarezDigitalMediaDirectorNancyMolinaContributors
Rachel Vancelette, D.D. Rice, Paul Prince, Peter Elston, Johnny Angel, Harry White
© Copyright 2021 by Metropolitan Magazine, All rights reserved. Metropolitan is published eleven times per year. Reproduction without permission of the publisher is prohibited. The publisher and editors are not responsible for unsolicited material and it will be treated as such and unconditionally assigned for publication subject to Metropolitan magazine's right to edit. 2022JULY $20.00 USD Fashion | Luxury | Profiles | Features | Shopping | Travel | Art | Design | Auto | Food | Health DR. SHERRELL ASTON M.D. ADVANCED AESTHETICS Gold Coast Luxury Magazine
AssistantEditor-in-ChiefChasePublisherBackerAdamKlugerPublisherJaimeBackerArtDirectorLoneeTelemaqueAssistantEditorWillyNichterSalesManagerJeffreyStrahlCopyEditors
Editor at Large | Art, Culture, Fashion Rachel Vancelette; Douglas Evans
For advertisement info: 646-300-1852
Luxury Editor
Stephanie L. Howitt
Manhattan, NYC, Milan, Sardinia
24 25A Magazine | metmagny.com 25A
FLO WER POWER
Fashion Designer: Nabys Vielman
Photographer: Luciana Pampalone
Makeup & Hair Stylist: Kristina Foreman
Assistant & Retoucher: Sherridon Poyer
Handbag designer: Brittany Minnes Praver
Models: Tracy Brank; Nicole Mariano; Cheyanne Metzger; Emma Kirkpatrick; Kayleigh Kirkpatrick; Queen Evangelina Araque-Gutierrez
Location: Home of Dave Warren & Luciana Pampalone
25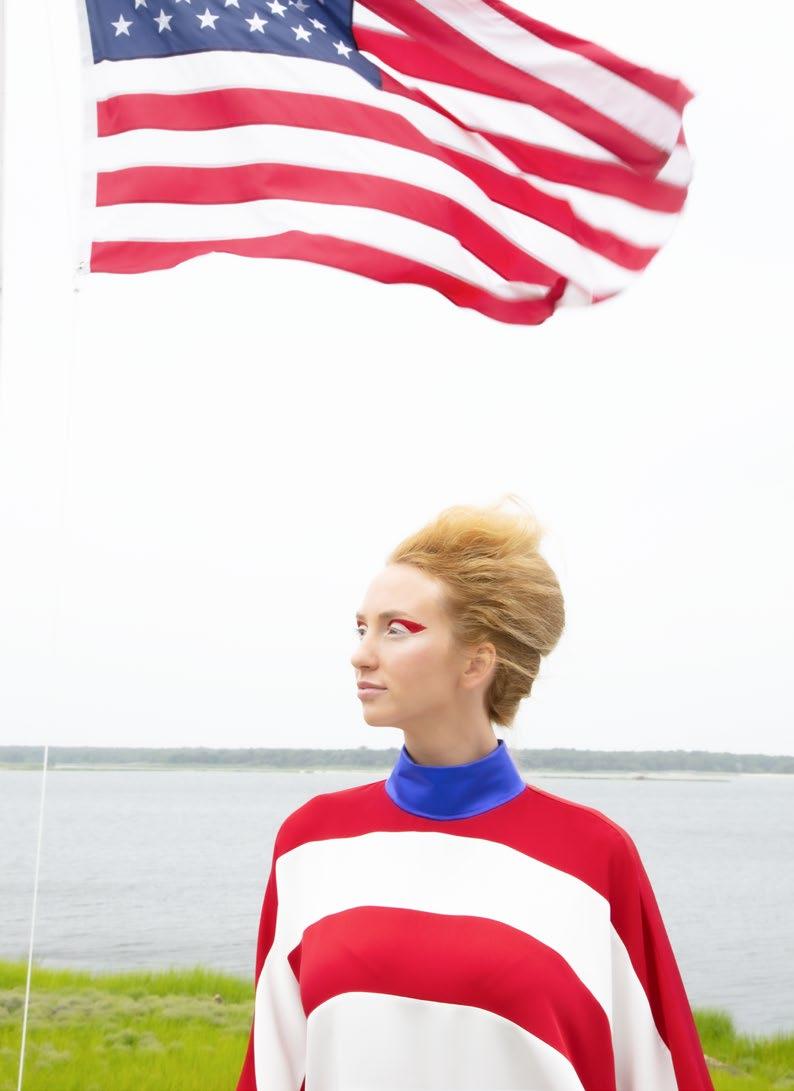 26 25A Magazine | metmagny.com 25A
September 2022 27
28 25A Magazine | metmagny.com 25A
September 2022 31
El Turco East Hampton is the result of a casual meeting between one of El Turco's founders and Frank Cilione, the longtime operator of the dual restaurant and nightlife venue on Three Mile Harbor Road in East Hampton. Soon thereafter, Mr. Cilione hired the original El Turco founders Nurdan Gur Yuzbasioglu, Gokhan Yuzbasioglu along with developer and visionary Cagri Kanver to assist in realizing their collective vision.
high-quality meats, fine imported spices, and local seasonal ingredients, each dish on the menu is based on classic Turkish recipes, reimagined by the culinary team lead by Mr. Yuzbasioglu and talented Executive Chef Guney. Many dishes originate from the Aegean and Anatolian part of Turkey, as well as special selections from the Mediterranean and South-Eastern region.
By Harry
Some of signature dishes include Roasted Beet Hummus, Kopoglu, Red Lentil Balls and Armenian style Pilaki. Main dishes that bring joy
September 2022 33
FLAVORS."PRESENTATIONMIXEDRICHEXPRESSIONSTRADITIONALOFTHECULTURALHERITAGEWITHAMODERNOFBOLD
MIAMI'S
he Hamptons are enjoying an exquisite culinary experience with the opening of an outpost of Miami restaurant El Turco. Truly divine and fully authentic Turkish inspired food is captivating guests out East this season with authentic Turkish menu selections served with a helping of renowned Turkish hospitality.
HEADSWhite TO EAST HAMPTON EL TURCO
Turco has come alive in the stunningly welldesigned space recently opened. El Turco has created a chef's tasting experience that takes guests on a culinary journey with the best use of Turkish food reflective of the grand tastes and traditional expressions of the rich cultural heritage mixed with a modern presentation of bold Createdflavors.with
"...TURKISH FOOD
T
REFLECTIVE OF THE GRAND TASTES AND
Located close to the heart of East Hampton at 44 Three Mile Harbor Road, the new El
Dinner service takes place daily with the early evening seating showcasing more family-orientated meals. As the night progresses guests can expect a high energy yet tranquil dining atmosphere through until the early hours of the morning.
Please visit www.elturcoturkishfood.com
34 25A Magazine | metmagny.com 25A
For those who like to entertain at home fear not - El Turco Catering is offering traditional Turkish Cuisine delivered to your home as well as take-out options including delivery by UberEats.
El Turco offers a unique dining experience in the Hamptons. Every aspect of each course is rooted with the uniqueness of the incredible dishes paired with unique Turkish ingredients and flavor notes. The offerings are presented with wine pairings and cocktails to elevate the dining experience. Guests experience a remarkable level of professional and warm service infused with Turkish cultural values of hospitality. An eclectic range of live entertainment & curated music are featured as guests enjoy food and drinks. Whether already a familiar Miami patron who is Out East or a visitor from New York, everyone who visits falls in love with the Turkish hospitality of El Turco.
With the original Miami location receiving a Michelin rating after only fifteen months in business and achieving an OpenTable Diners' Choice Award for 2022, expectations are very high for El Turco East Hampton which recently was also awarded the OpenTable Diners' Choice Award for 2022.
"THE OFFERINGS ARE PRESENTED WITH WINE PAIRINGS AND COCKTAILS TO ELEVATE THE EXPERIENCE."DINING
with just one bite will include such classics as Ali Nazik Kebab - a smoked pureed eggplant topped with cubes of sauteed lamb as well as a traditional Mediterranean style grilled Sea Bass. The menu also features a variety of fresh summer salads and other tantalizing small plates such as Manti - small beef dumplings topped with garlic yogurt, sumac and dry mint.
THE
ASK FOR BACI AL SOLE WHEREVER SUN
September 2022 35
WARMS THE HEARTS OF ROMANTIC! www.BACIalSOLE.com
By Ann Grenier
include Passion Fruit Salmon served with sautéed vegetable pineapple fried rice; Lomo Saltado with marinated grass-fed sirloin steak chunks, red onion, cherry tomatoes, scallions, cilantro & fingerling potatoes served with jasmine rice; and Spaguetti Huancaina in our traditional huancaína sauce made with Peruvian yellow pepper and white cheese with lomo saltado on top.
With an added value, a happy hour Monday to Friday afternoons brings further bliss and showcases such notable items as the colorful Pink Flamingo served with Tito's vodka, frozen Whispering Angel rose, watermelon purée, lime juice; the Coconut Margarita with Casa Amigos tequila, coconut and lime juice; as well as the Watermelon Picante with Habanero infused Cazadores tequila, watermelon juice, lime juice, tajin rim.
The romantic and lively establishment is a scrumptious setting where unique dishes are discovered. Awaken your senses in the most appealing way with such delights as appetizers of Chicken Empanadas with Flaky crust, manchego cheese, caramelized onions, chimichurri & rocoto aioli; as well as Crispy Rock Shrimp with Sriracha honey glaze, scallions, sesame seeds, served with chipotle
atin America is associated with warmth, color, movement, and sensuality. For the most voluptuous meal in all of New York City this summer look no further than Baby Brasa.
L BABY BRASA
Signaturemayo.entrees
36 25A Magazine | metmagny.com 25A
IS NEW YORK CITY'S OASIS
The food quality is complemented by the gorgeous venue. Art deco Tropical vibes surround you inside the dining room while the outdoor patio presents one the most fantastic foodie paradises in
FOR LOVERS OF PERUVIAN CUISINE
The Peruvian restaurant is known best as The Oasis of the Big Apple. The exotic and exquisite culinary experience found here has created a divine lifestyle for patrons to admire. A haven for the hippest of the in-crowd and the most glamourous trendsetters, dedicated loyalists and newcomers alike flock to the restaurant that serves up incredible dishes at this one-of-a-kind contemporary venue in The Village.
New York entrepreneur Franco Noriega launched the grand culinary adventure of Baby Brasa when he opened doors for the now landmark location. The former model turned international sensation and judge of Mexico's "MasterChef" has a vast and eclectic background, which includes establishing a renowned chef title with elite training at the International Culinary Center as well as launching a Beach Club in Ipanema Brazil.
September 2022 37
all of Manhattan. No need to run off to Miami or south of the border. Just step inside the grand gardens of Baby Brasa and be transported away. Over 200 people can be seated at a time to equally experience the electrifying magnitude of exuberance and haute cuisine.
Milan Kelez
The season may have temperatures falling steadily but at Baby Brasa they continue to soar as the foodie and nightlife scene of New York City congregates at this beautiful oasis.
Please visit https://www.babybrasa.com
Deeply rooted in the heart of The Village, the pulse of the city beats strong here. The attractive surroundings and superbly delicious dishes are only rivaled by a staff that passionately serves you steaming plates and carefully curated cocktails. To experience the vibe here is to have an affair of all the senses as they get elevated to glorious heights. This is not just another meal. This is a deeply rooted tropical heat wave full of feverish spice that makes you perspire with desire. When here you fully crave amazing food, spectacular drinks and a unique rhythmic vibe that will have your taste buds dancing all night long.
His well-known partnership with Milan Kelez at the restaurant has produced an outstanding list of memorable events and special evenings since the restaurant started operations in 2016. To party here is a golden gift granted by these two hospitality masters.
he Southampton Inn is once again living up to the crowning achievement of being the epicenter of prestigious hospitality in the Hamptons. The East End's favorite vacation spot is more than just a place to sleep over a weekend. The ultimate seasonal stay can be found on the grounds.
CLAUDE'S ADDS A NEW DIMENSION TO THE SOUTHAMPTON INN
Claude's is open daily for breakfast; lunch; weekend brunch and dinner Thursday through Monday.
To begin, the award-winning Claude's Restaurant showcases the talented skills of new Executive Chef, Giancarlo. Introducing a splendid new lunch and dinner menu to complement the restaurant's already delectable offerings, guests can expect
By Lillian Langtry
From immaculate sleeping quarters to a renowned restaurant, the charming Southampton Inn has something special for everyone. Here guests can enjoy family friendly and pet friendly accommodations that sparkle with the Hamptons traditional feeling of relaxed beachfront comfort.
Claude's Restaurant is proving a hit with diners and online restaurant booking website Opentable has made Claude's an Opentable Diners Choice Award Recipient for 2022.
25A
You can dine in style or simply enjoy a casual meal with delicious lunch sandwiches or a superb hot breakfast. There are also some of the finest salads in the Hamptons.
to dine on Wild Seafood Spaghetti, Oven Roasted Cod, Free Range Chicken and Prime Sliced Aged Sirloin Steak. This and more all to be enjoyed amongst new décor inside and splendid outdoor tables in a divine garden setting that is gently illuminated with twinkling lights at night.
T
38 25A Magazine | metmagny.com
Southampton Inn's beautiful grounds consist of several acres of manicured lawns and gardens. Amenities on the property include all-weather tennis court, a game room for all ages, croquet and horseshoe toss, and giant Connect 4 all offered near the 50' heated swimming pool. Guests can also enjoy complimentary towels, chairs and umbrellas for beach visits. Bikes can also be rented for joyful rides around the village at your leisure.
Best of all, the Southampton Inn's Close proximity to the Long Island Railroad and Hampton Jitney stops gives guests a simple opportunity of riding out from the city and then just taking an Uber or taxi just a few miles to the property. Then once there everything in the surrounding village is easy to walk to, including art galleries, spas and shopping. Even getting to the beach is easy as Southampton Inn has a shuttle service (in season) to take you to the world-class Cooper's Beach less than two miles away.
The appeal of Southampton Inn is even more defined when it comes to the one-of-a-kind property that creates a charming and relaxing stay. Rooms on the property make up a portfolio of elegant accommodations that feature 90 guest suites. In all the rooms guests find comfort in a spacious home away from home with individual temperature control, sparkling tiled bathrooms, refrigerators, and complimentary Wi-Fi. And to note, rooms are prepared and cleaned for arriving guests using cutting-edge sanitizing technology with Sterile-Bright™ UVC sanitizing lights.
September 2022 39
For more information on how to book a safe, fun, and comfortable visit to the Southampton Inn see www.southamptoninn.com
And the location of the property is truly ideal for any traveler looking to embrace all of the beauty of the region. Traditional activities to be explored in the Hamptons such as taking in the sun at nearby Coopers Beach or shopping in the village will always be highlighted during a trip out east. The Southampton Inn is an all-season haven.
Robbins ("LBR") is a writer, speaker, and evangelista of healthful exotic cuisine. Contact LBR directly: LaurieBethRobbins@gmail.com
With a "click" on Amazon, all colored sea salts can arrive in your kitchen; and as a woman who prefers to eat at home and lives by the mantra, "There's very little in life which a righteous steak dinner cannot fix," I am grateful that steak, and salt, may be salubriously savored.
Similarly, our earth's savory spice of life abounds in myriad forms. Exotic game meats - ostrich, elk, kangaroo, caribou, and more - are grassfed, lean, and packed with ambrosial and intoxicating flavor.
Jade Green Bamboo Sea Salt delivers antiinflammatory properties, and anti-allergen properties and is rumored to possess cancer preventative elements too, making its coarse rocks a healthful and colorful addition to entertaining.
MLaurie-Beth
Black, Gray and Red Sea Salts hold trace minerals (calcium, magnesium, and potassium) instead of straight sodium. As a result, blood pressure and swelling go down, taste heightens and a pop of color illuminates quite stunningly on our plates! Activated charcoal in the black salts and clay in the red, lend to our systems expelling toxins easier.
These choices of meat are ideal for RAW zealots, (like me), who prefer Carpaccio or Steak Tartare to anything so much as even
40 25A Magazine | metmagny.com 25A
eat is a four-letter word to those eschewing steak due to its sizzling connotations of unhealthiness. Salt is sprinkled into that forbidden camp for consumers en masse. Not all red meat is created equally.
When does that gastronomical treasure arrive? The key is to barely sear the luscious loot. Do not overcook your epicurean bounty of sultry steak! With numerous game picks packing less fat than fish, your meal will "dry out" if overcooked.
By Laurie-Beth Robbins
THE NAME OF THE GAME & THE SALT OF THE EARTH…
As health-conscious carnivores, we may opt for tasty procurements that our bodies will love. (Devoid of the inflammatory culprits, from feed to finish, commonly associated with beef and pork). A wide gamut of exotic game meats is sold online and shipped (frozen) to your door.
waved by torrid heat. A little drizzled oil, cracked pepper, and sensational SALT will do the trick for seasoning this gourmet gold! An enormous catalyst in changing our physique AND internal health composition, via food enjoyment without bloating and sordid health mayhem, is the bevy of nutritionally sound colored sea salts…
CollectiveBeachHennessy
DM us to book your service today @hennessybeachcollective
Then look no further - Hennessy Beach Collective is all you need for your luxury beach day. With cabanas, umbrellas and chairs to choose from as well as a wide variety of packages. Such as picnics, charcuterie boards, flamingo floaties, free bikinis and so much more! Date nights, bachelorette parties, proposals, picnics, large events, birthdays, and more! We got you covered!
Instagram: @hennessysisterss | @hennessybeachcollective | @hennessybikini
September 2022 41
Are you looking for the perfect Palm Beach getaway?
PROVIDING SUPPORT TO YACHTS THROUGHOUT SOUTH FLORIDA AND THE GREAT LAKES CUSTOMS TRANSPORTATIONRESERVATIONSIMMIGRATIONANDDOCKGUEST
AIR CHARTER - OFFICE ASSISTANT - FUEL & WASTE MANAGEMENT BANKING - FREIGHT FORWARDING - BLACK CAR SERVICE Office: 954.908.7559 | Cell: 954.684.9456 | captdeb@americanyachtagents.com Port of Palm Beach, Berth One Suite 100 | www.americanyachtagents.net
Lessing's expanded their portfolio to Florida with the Pelican Club, Crane Club at Tesoro, Charlie & Joe's at Love Street, and most recently the Kravis Center for the Performing Arts.
No matter the state or venue, Lessing's Hospitality Group always strives to make sure that every employee and guest feels like family.
T
The Lessing family has provided food service to New Yorkers for over 130 years without interruption. Both the longevity and the success of this legacy company are unprecedented. For Michael, upholding and building upon the family legacy is a serious business that requires an extreme attention to team building and corporate culture.
INTERVIEW WITH
"My family and I spend a lot of time in Florida, so the connection was already there," Lessing says. "We noticed many people visiting from New York and realized our name is well known in the area. Pelican Club and the four restaurants at Charlie & Joe's at Love Street in Jupiter all overlook a historic lighthouse. I don't think there's a better view in all of Florida."
Website: www.lessings.com
"Our mission is to continue the 130-year tradition of innovation and excellence, providing unique restaurant concepts, exclusive wedding venues, distinctive catering, and skillfully executed management," offers a friendly-but obviously quite busy-- Michael Lessing, President of Lessing's Hospitality Group.
"We've always focused on being a family business, says Lessing, "and we've built a culture that ensures you don't have to have the last name 'Lessing' to be a part of the family."
he hospitality conglomerate was founded by Maxwell Lessing in 1890 and is operated to this day by 15 Lessing family members. "The company has been going strong for six generations with most recently my son, Mike Jr. and my cousin Lawrence, coming on board." Lessing says.
"I have a great team around me. There's an incredible responsibility to running the family business and it's not just about keeping the business alive. It's about growing and diversifying. My job is to develop the company to be bigger and stronger so the next generation can continue to build the legacy."
In 2021, through a partnership with Ellen Hart Sturm in New York City, Lessing's Hospitality now operates the world-famous Ellen's Stardust Diner & The Iridium. The company is currently comprised of over 100 locations throughout the Northeast and Florida. Lessing's operates 21 wedding and catering venues, 20 full-service restaurants, 2 pop-up kitchen concepts, over 60 corporate and academic dining centers, and a historic inn.
44 25A Magazine | metmagny.com 25A
By Adam Kluger
PRESIDENT & COO, LESSING'S HOSPITALITY GROUP MICHAEL LESSING
The secret to the Lessing family's success?
September 2022 45
46 25A Magazine | metmagny.com 25A **We do not own the rights to these photos
Olivia Newton-John
SUMMER DAYS DRIFTING AWAY:
By Adam Kluger
Grease
O
According to IMDB, Olivia Newton-John grew up in both England and Australia. In 1954 (at age 5), her family moved to Australia but she returned to live in England more than a decade later after
September 2022 47
A talented British-Australian singer and actress, Olivia Newton-John teamed up with John Travolta in 1978 to create a big screen version of the Broadway musical Grease that smashed the box office and offered audiences memorable songs like, You're The One That I Want,(one of the best selling singles of all time), Summer Nights, and Hopelessly Devoted to You. The combination of the two stars dancing and singing together on the silver screen was... electrifying. Families lined up around the block at local movie theaters to see Grease over and over again.
When asked about the reasons why Grease was such a success, Olivia Newton-John replied, "I think the songs are timeless. They're fun and have great energy. The '50s-feel music has always been popular, and it's nostalgic for my generation, and then the young kids are rediscovering it every 10 years or so, it seems. People buying the album was a way for them to remember those feelings of watching the movie and feelings of that time period. I feel very grateful to be a part of this movie that's still loved so much."
REMEMBERING OLIVIA NEWTON-JOHN
livia Newton-John left us far too soon in August.
48 25A Magazine | metmagny.com 25A
winning a talent contest. In 1975, she moved to the United States where she had already become wellestablished as a pop and country singer. Best known as a singer, she had over 25 "Top 40" singles, more than half of which went "Top 10" on the US Billboard charts, including five #1 hits -- "I Honestly Love You" (1974), "Have You Never Been Mellow" (1975), "You're the One That I Want" (1978), "Magic" (1980) and "Physical" (1981). Well-known songs include "If Not for You", "If You Love Me, Let Me Know", "Let Me Be There", "I Honestly Love You", "Heart Attack", "Have You Never Been Mellow", "Summer Nights", "You're The One That I Want", "Hopelessly Devoted to You", "Magic", "Xanadu", "Physical" and "Twist of Fate". When MTV launched in the early '80's Olivia Newton-John scored her biggest hit with "Physical", which featured Newton-John in sexy workout attire putting oiled-up muscle men through their paces. "Physical" sold over two million copies and spent 10 consecutive weeks at #1 on Billboard's Hot 100.
**We do not own the rights to these photos
The four-time Grammy Award Winner was a platinum recording hit-maker who had global record sales of over 100 Million records. Newton-John, who battled breast cancer three times, was a tireless advocate for breast cancer research. She was also an activist for various environmental and animal rights causes. Newton-John was appointed Dame Commander of the Order of the British Empire (DBE) in 2020 for services to charity, cancer research, and entertainment.
September 2022 49
Pop Star Mariah Carey tweeted, "I first fell in love with Olivia's voice when I was a little girl and heard 'I Honestly Love You... Songs like 'Magic,' 'Suddenly' and 'Have You Never Been Mellow' showcased her beautiful airy tone and signature sound. And THEN there was GREASE. I was obsessed. I dressed up as Bad Sandy for Halloween in 5th grade and thought I was everything."
Hollywood's Suzanne Somers told the Daily Mail, "Everyone would want an Olivia Newton-John in their life... Olivia taught me not to be afraid when I was diagnosed with breast cancer. … Olivia provided great comfort for me when diagnosed 25 years ago. Her fight was my fight, as she won, I won."
John Travolta paid tribute to his beloved Grease co-star after learning news of her passing — "My dearest Olivia, you made all of our lives so much better. Your impact was incredible. I love you so much. We will see you down the road and we will all be together again. Yours from the first moment I saw you and forever! Your Danny, your John."
Olivia Newton-John's death brought immediate reaction throughout the music industry, Dolly Parton tweeted,"So sad to have lost my special friend Olivia Newton-John...So happy that our lives crossed paths. I know her voice is singing beautifully with the angels."
September 2022 51
intimate, raw on-location pictures, often trading between the specialized technique of large-format film and handheld digital cameras. This workflow allows him to seamlessly toggle between styles and deliver a variety of powerful work to commercial brands and editorial magazines alike. His lively personality and enthusiasm for the arts has enabled him to make compelling images of highprofile celebrities like Tom Hanks, Pete Townshend, R.E.M, Blondie, Elvis Costello, Kathy Griffin and many more.
By Adam Kluger
Since 2011 Licari has employed a dualist approach to imagery, creating both clean and crisp studio photographs alongside
NEW YORK CITY BORN-AND-RAISED PHOTOGRAPHER
Before entering the commercial and fashion industries, Licari received his BFA in Photography from SUNY Purchase worked in the image archives of the Richard Avedon Foundation and the Guggenheim Museum, as a photo-lab technician, and as a retoucher.
MATT LICARI
Matt Licari is represented by Rosana Gonzalo worldwide.
Licari lives in New York and regularly guest lectures at a circuit of NYC and East Coast universities and mentors photography students. He also skateboards and plays keys in a rock band in his spare time.
M
att Licari is a New York City born-and-raised photographer who has been making photographs since 2003.
Licari's early pictures depicted close friends, family and street scenes in his native neighborhood of The Bronx. This combination of intimate portraiture and peripheral environs remains a cornerstone of his work today.
52 25A Magazine | metmagny.com 25A
1 2 3 4 5
Shooting Tom (Hanks) and Sean (Lennon) were both rewarding, they were collaborative, communicative and receptive to trying things. We shot film on both shoots which was bold for them (because they can't see the results, so it requires a certain level of both confidence in oneself and trust in the photographer). Elvis (Costello) was also wonderful and playful. I enjoy most people I work with, actually.
Any favorite models or celebrities?
Tell us the back story to this gorgeous photo
September 2022 53
This image was made on a sweltering hot day in late summer in Southhampton, NY. We were playing off the swimsuits and the idea of leisure, luxury and simplicity - not over styled, not over lit (from a lighting standpoint), not over posed (we had models trade between poolside reclining and entering / exiting the pool until the actions became natural).
How did you get into photography?
I was and am a dedicated skateboarder, which was how I originally became interested in image making. Very quickly I found there was more to shooting photographs than action pictures, and people became my subject (and remains so, 20 years later).
Inspirations?
More than anything, my contemporaries, and those who create work without being noticed for it. In addition and separately from that category, I also regularly return to images by Jed Devine, Marshall Scheuttle, Joel Sternfeld, Sally Mann, Judith Joy Ross, Diane Arbus, Roger Fenton, etc. Perhaps more than imagery, music inspires me. Hard to describe how, but it is my main form of inspiration / art-intake.
Future plans?
In terms of photography, I am releasing a printed (and possibly digital NFT) coffee table book of a series I've been making on film for close to 4 years. This will release in mid to late 2023 and a portion of revenue will go directly toward non profit mental health resources. (Stay tuned / follow my socials for this). My old band also just reformed so catch me onstage making a fool of myself in the tristate area!
54 25A Magazine | metmagny.com 25A
Photography by Matt Licari
September 2022 57
Photography by Matt Licari
THE RESERVE AT MAYAKOBA
Developed by leading asset management firm Sancus Capital Partners in partnership with Inmobilia, one of the most important real estate developers in the Mexican Southeast, The Reserve at Mayakoba will offer exceptional privacy and enviable amenities across 66,408 square meters of landscaped grounds, footpaths and canals. Designed by the prestigious international architecture studio
ouglas Elliman Realty, one of the largest independent residential real estate brokerages in the United States, announced today that the Erin Boisson Aries Team of New York City, Mario Stocco of Florida and Francisco Rizo of Texas have been named the exclusive marketing and sales representatives for The Reserve at Mayakoba, a new collection of luxury residences within the celebrated Mexican Caribbean resort.
58 25A Magazine | metmagny.com
By Clara Morgan A LATIN BEAUTY
D
Located on 620 acres of pristine lagoons, jungles and beaches along the shores of the famed Riviera Maya, in Mexico's Yucatán
peninsula, the Mayakoba Resort is home to award-winning hotels, restaurants, spas and a PGA-sanctioned golf course, all designed to preserve and enhance the native landscape.
"The Reserve at Mayakoba is the culmination of the vision of two leading luxury real estate developers in the region, Sancus Capital and Inmobilia. This partnership, it's carefully planned architecture and Mayakoba's unsurpassed natural beauty make it the most exciting project in the Mexican Caribbean. Douglas Elliman's track record and experience in high end developments makes them the ideal marketing partner for such a unique property. We are very happy with this alliance and believe it is the right formula for success." Said Carlos Orozco of the Reserve at Mayakoba.
PleaseUSD.
Pricing for the residences range from $700,000 USD to $3,700,000
September 2022 59
visit https://bit.ly/3pxDwZz
L35 in association with Sepúlveda Arquitectos, the development will be completed in two phases and comprise eight towers of nine units, for a total of 144 residences.
In addition to providing residents with priority access to the resort's twenty-three restaurants, four spas and the Greg Norman-designed El Camaleón golf course, The Reserve at Mayakoba will offer independent entrances to the resort and additional security booth access to the residences. "The Reserve at Mayakoba exemplifies modern design in delicate balance with the natural environment," Carlos Orozco of the Reserve at Mayakoba. "Featuring innovative architecture conceived in response to its unique setting, the exciting new development will offer residents a truly unparalleled experience of the Riviera Maya."
G2D Group is dedicated to investing in Long Island's neighborhoods while providing contemporary, sophisticated tenant-focused developments.
walk-in closets, and in-unit washers and dryers. Other warm minimalist touches include LED lighting, modern bathrooms with stall showers and soaking tubs, and high ceilings. Some residences include private balconies with stunning views of the Peconic River. The Shipyard also offers a breathtaking spacious rooftop lounge, business center and private gym for residents to enjoy.
G2D GROUP ANNOUNCES THE SHIPYARD'S OFFICIAL GRAND OPENING
60 25A Magazine | metmagny.com 25A
RIVERHEAD , NEW YORK'S FIRST LUXURY RESIDENTIAL BUILDING
T
he Shipyard, located at 331 East Main Street on the boardwalk in the center of Downtown Riverhead, NY is a contemporary, four-story residential building consisting of 36 luxury units. The Shipyard is the newest premium property developed by the Huntington NY based G2D Group.
* For more information about The Shipyard, please contact info@g2dgroup.com or 631- 315-9633
The impressive, state-of-the-art complex boasts modern amenities and stellar conveniences. 24-Hour video surveillance, "Smart" Key Fob entry control from the resident's own mobile phone for added security, private parking lot, and concierge cleaning services - handyman, and dog walking. Premium interior finishes include slab stone backsplashes, Quartz countertops, Stainless Steel professionalgrade appliances, wine refrigerators,
Imagine the bliss of stress-free travel. You'll never again have to worry about your home while you're off on some idyllic trip. When you hire the ModernButler team to manage your home, you'll relax knowing we have it covered. And when you return, you'll experience that Five-Star luxury resort feeling with our exquisite attention to detail. From packing and organizing, staff training and arranging repairs, appointments and reservations, to that last minute cocktail party, we'll take care of everything, whether you're at home or away. To make your home your personal heaven, reach us at 561-310-3815 or Info@ModernButlerpb.com
elite home management m ary Butler, Founder | m odernButler llC | i nfo@ m odernbutlerpb.com | 561-310-3815 We'll MA n Age Your ho M e. g o h Ave S o M e F un.
September 2022 61
radford Rand and his team at renowned events company RAND Luxury produced a private charity brunch & concours in collaboration with Ferrari of Long Island. The exclusive, Invitation-Only concours was Sold Out weeks in advance and was hosted at the private Bridgehampton estate of Kenneth & Maria Fishel.
RAND LUXURY GATHERS OWNERS OF $50M WORTH OF FERRARI SUPERCARS TO COMMEMORATE 75 YEARS
B
The invited guests were greeted with "Ferrari" sparkling wine courtesy of Palm Bay, fine cuisine from Lessings and hand-rolled cigars from Cohiba. Bradford Rand said of the event, "The turnout has been amazing on this banner year for the prestigious Ferrari marque with some concours participants flying exemplary examples of this supercar from the West Coast."
A series of automotive connoisseurs and celebrity judges reviewed nearly 70 handmade Italian masterpieces in the concours led by Chief Judge Glenn Simon. In addition, The Hamptons Concours also featured new vehicles from luxury brands Including Aston Martin, McLaren, Porsche, Lamborghini and Bentley. The Winners of the Hamptons Concours 2022 were:
The Event benefitted The Breast Cancer Research Foundation (BCRF), which is dedicated to finding cures for cancer, and the Southampton Animal Shelter Foundation (SASF).
By Harry Brads
Photo credit: SocietyAllure.com & Patrick McMullan
62 25A Magazine | metmagny.com 25A
The annual event showcased one of the largest gatherings of collectible spectacular vintage and new Ferrari Motorcars the Hamptons has ever seen and the collection of vehicles present was estimated in value over $50 Million.
Notable Attendees included Rebecca Minkoff, New York Giants Mario Manningham, Dina and Ali Lohan, Ian Duke, Maria and Ken Fishel, Chloe Malas, Brian Mazza, Bianca Peters, Leesa Rowland, Ann Liguori, Frank Cilione, Chari Kanver.
Platinum Award: Ben Roberts (2002 575M)
RobCoin,
Prior Studios, Valmont & Cloud Water. Spirits Sponsors from Sazerac included: Buffalo Trace, Eagle Rare Single Barrel, Ferrari Sparkling Wine, Marie Brizard, Sazerac de Forge Cognac, Sazerac Rye, Scapegrace, Tromba Tequila, Tommy Bahama Spirits and Van Gogh Vodka.
Winner: Angelo Natale (2009 Scuderia Spider
Please visit: www.RANDLuxury.com
Future Collectors Award: ("Kids Choice Award" Presented by Chase Rand)
Winner: Brent Martini (1967 330 GTS)
Class III: (Ferrari 550, 575)
Best in Show Award: (Presented by Kenneth & Maria Fishel)
Class V: (F12, 812, SF90)
Platinum Award: Tom Papadopoulos (1962 250 GT Pininfarina Cabriolet)
Winner: Morgan Chen (2021 812 GTS)
The event sponsors included: Ferrari of Long Island, Icon Aircraft, Manhattan Motorcars, Ferrari Club of North America (Empire State Region), Aston Martin of Long Island, McLaren of Long Island, Audette Motorcycles, Morgan Stanley, Cohiba, DeLonghi, Emilie Heathe, Ferrari Owners Club (NorthEast Region), FORME, Kaleiya, Sports Car Market, MarocMaroc, Peter Elliot, Putnam Leasing, Rebecca Minkoff, Hagerty, Kitty Kat
September 2022 63
Class I: (Pre-1990)
Winner: Andres & Otto Gonzalez (2020 488 Pista)
Class II: (355, 360, F430)
Platinum"16M")
Winner: Glenn Simon (2005 575 Superamerica)
Class IV: (California, 450, 488)
Platinum Award: Christopher Polke (2020 488 Pista Spider)
Award: Ryan Friedman (1999 F355 Fiorano)
Platinum Award: Ron Reali (2018 812 Superfast)
Hagerty Spirit of Motoring Award:
Winner: Brent Martini (1967 330 GTS)
Winner: Sean Ramsammy (1992 512 TR –identical to the white Testarossa used in the hit TV Show, Miami Vice)
Winner: Bruce Vanyo (1950 195 Vignale)
A NON-PROFIT
By Paul Oliver Photography, Hair & Makeup by www.beautybymattmedia.com
64 25A Magazine | metmagny.com 25A
I
In the absence of any action by politicians, Diana and her team at MMAD started raising money for the victims and survivors of the cult Church that i spired that first film. A Church that forces its' followers into child marriage, forced labor and are often even starved out by their Church or excommunicated with little education or knowledge of the outside world should they fall into disfavor.
to make this her mission. Diana started MoviesMakingADifference, 501c3. Its' ambition was to produce inspiring and commercial films that highlight social ills and injustice and plow the proceeds back into the non-profit to benefit the victims of these issues. And that is exactly what MMAD does.
DIFFERENCEMAKINGMOVIESa
Bringing it in way under budget and ahead of schedule, the film she produced, "Cathedral Canyon", went on to win Audience Choice Award at the Palm Beach International Film Festival and Special Achievement at The Worldwide Women's Film Festival where much of the film's audience horrified to learn for the first time, the extraordinary story of what was going on in their own country and pitched in to help. This is how one person can decide to make a difference and galvanize others to do the
t is often said that people make their own change. They either change themselves to fit the world, or they try to change the world to fit them. Diana Davis falls into that courageous latter group. When she learned about the appalling situation of corruption and organized pedophilia hiding under the guise of a twisted religion that was, and is, rampant in the USA, she made a movie about it. She had never made a film before and had no money.....but she regarded these facts as minor obstacles.
Shesame.decided
"MMAD HAS FOUND SCHOLARSHIPS FOR DRUG/ALCOHOL TREATMENT PROGRAMS, JOB TRAINING, TRANSPORTATION, EMPLOYMENT AND DENTAL CARE."
MMAD has been able to fulfill their initial mission and go even further. They have found shelter and furnishings for those that became homeless after being expelled from the Church and being stripped of their possessions as a result. Diana's partner, Chip Williams, an addiction counselor, purchased a home as a Safe House for emergency rescues until they find proper placement. MMAD has found scholarships for drug/alcohol treatment programs, job training, transportation, employment and dental care. For others, one of the most important has been the ability to study for and achieve a GED since schooling was not available in the community. Diana often convinces the courts that these young people do not belong in jail when they escape and often end up in the hands of even more predators, often traffickers. When provisions are needed; personal hygiene items, blankets, sewing machines and fabric to help. MMAD also flies to other states to meet those left stranded by their so-called Church and offer them help. And then sometimes it is as simple as just taking the time to listen, talk, guide, inspire and be inspired, for some survivors to continue to forge ahead. Last year Diana stopped counting as she aided her 150th survivor.
September 2022 65
"Cult Cartel" Premiered on the Rooftop of the beautiful Ben Hotel in West Palm Beach last year. Donny Most was on hand along with first time star and ex-FLDS member Young Barlow, who portrayed a young man not unlike himself. A third film, "Carmelita" is entering it's preproduction stage and will be a murder mystery, tackling the very real atrocities on both sides of our Mexican border. The script has already earned accolades from former CEO of MGM Roger Birnbaum, and actors Danny Trejo and Emilio Rivera.
All this started by one lady determined to be MakingADifference.
By staying involved with the survivors long after the cameras stopped rolling, she had a devoted and talented team (28 of whom are the actual survivors themselves) who were ready for work as production started again. The first scenes of the sequel, 'Cult Cartel', were shot in and around Palm Beach before the production returned to Arizona to historically shoot inside the infamous town of Colorado City, a town where viewing movies had been banned, let alone one shot there. Donny Most - Ralph Malph of 'Happy Days' fame, Jud Tylor - Samantha from 'That 70's Show' and Winsor Harmon - Thorne from "The Bold & The Beautiful' star in the film and work coaching their remarkable cast members some of whom with no formal schooling, had difficulty reading the script.
The first essay in Towards Happiness, "The Context is Personal," talks about how the happiness that work can provide is different from other kinds of happiness, for example, the kind we feel in a romantic relationship. It's grounded in the knowledge that we are performing well and can feel good about what we're doing. So, even if we are not happy in another aspect of our lives, work may be a source of healthy self-esteem.
WAYYOURFINDINGTOAPPROACHPSYCHOANALYTICAHAPPINESS—TOWARDS ShermanSandrawithM.D.Friedberg,Ahron
Thoughconsequences.we'veall grown up with that famous line from The Godfather – "It's not personal. It's just business." – the fact is that work is personal, and an extension of who we are in relation to others.
Ahron Friedberg, M.D. with Sandra Sherman
find meaning in my work as a psychiatrist because I can follow the progress of the people whom I treat. Following their progress – often over several years – is a source of emotional feedback. It reinforces my sense that I chose the right profession, that is, one that calls on my need to be empathic, to listen, and help troubled individuals understand how to lead a more satisfying life.
The book includes a series of essays by Dr. Ahron Friedberg, prominent Manhattan psychiatrist, concerning how his patients sought to achieve greater happiness during challenging periods of their lives, and how as a consequence they grew personally and professionally. Each chapter considers a core topic through the lens of Dr. Friedberg's practice, demonstrating how patients worked through difficult, sometimes chronic personal issues. Throughout, there are useful summaries of key points. While candidly acknowledging that each life is different, Towards Happiness offers practical examples that can enhance readers' efforts to achieve greater levels of happiness and reorient their lives towards a deeper capacity for happiness.
Towards Towards Happiness, Dr. Friedberg has made an incredibly sensitive study of actual lived experience. In this collection of intimate portraits, he demonstrates the imagination, courage, wisdom, and unflagging effort necessary to create happiness where it has been lost."
The essay "Office Politics vs. Your Moral Compass" examines this effect. The point is that while we need to find work that pays, we should not lose sight of other considerations, such as whether we're comfortable doing what we do and feel right about compromises that we're called on to make. Actually, what we do affects us and the people around us. We can't dissociate ourselves from the
Towards Happiness offers honest insights into the compromises, sacrifices, and resulting degrees of success that characterize pursuing happiness, and will be of great interest to psychoanalysts, clinical psychologists, and other mental health professionals. It will also be useful reading for anyone seeking to understand the achievement of happiness in their own lives.
FINDING HAPPINESS IN WORK
Harold Bronheim, M.D. Clinical Professor of Psychiatry, Icahn School of Medicine, Mt. Sinai
TOWARDS HAPPINESS— A PSYCHOANALYTIC APPROACH TO FINDING YOUR WAY
Of course, it's important to earn a living. But in Towards Happiness, I take a somewhat different tack. That is, I argue that staying in a lucrative position only for the money can actually trip you up. It can make you feel awful.
of the American Society of Psychoanalytic Physicians. Recent books include Psychotherapy and Personal Change: Two Minds in a Mirror (Routledge 2021) and Through a Screen Darkly: Psychoanalytic Reflections During the Pandemic (Routledge 2021). Sandra Sherman, J.D., Ph.D., formerly a Senior Attorney in the U.S. government and Professor of English at two major universities. Currently, a Principal at ChildsPlay International, an organization that helps children around the world to realize the benefits of play. She is the author of four books on cultural history, and co-author of several books on neuroscience, as well as co-author with Dr. Friedberg of Psychotherapy and Personal Change and Through a Screen Darkly PSYCHOANALYSIS SELF DEVELOPMENT 9 781032 276274 ISBN 978-1-03-227627-4 Routledge titles are available as eBook editions in a range of digital formats
TOWARDS HAPPINESS –
LITERARY SPOTLIGHT
Happiness offers a series of true-to-life stories about real people and follows their literal pursuit of happiness. Their trials and travails offer guidance by example. The stories follow the protagonists as they try, make mistakes, brush themselves off, try again…there is a sense of real life, as well as of real drama. But more to the point, anyone can learn from these relatable immensely human accounts. The lessons are ones that you can actually use because you see how each lesson was learned." Arnold Richards, M.D. Founding Editor, International Psychoanalysis "In
Another essay, "Retirement," talks about a patient who retires without making provision for a continuing source of meaning and purpose. He flounders. The lesson is that throughout life, even when we have formally stopped working, we still need some attachment to an occupation that sustains our sense of self and our productive relationship to the world.
By Ahron Friedberg, M.D.
66 25A Magazine | metmagny.com 25A
Another essay, "The Right Fit," examines the struggle of some people to find work that provides meaning and purpose. Sometimes we need to try several professions until something feels right. It's normal. We shouldn't resist the need to find satisfying work, since what we do profoundly affects how we feel about ourselves. We can't be happy if we don't care about our work or it just doesn't feel like us, that is, if it doesn't call on our talents and may conflict with our convictions.
I
Ahron Friedberg, M.D. Clinical Professor of Psychiatry, Mount Sinai School of Medicine. Editor, The Academy Forum of the American Academy of Psychodynamic Psychiatry and Psychoanalysis. Book Editor, Psychodynamic Psychiatry Co-Chair, International Council of Editors of Psychoanalytic Journals. Served twice as National President
Drawing on a range of clinical cases, Towards Happiness presents an engaging, insightful look at how we define and achieve happiness in core aspects of our lives: work and money, wellness and personal growth, sex and love, family and friendship, and aging.
od Lippy, the polymath creative force behind the award-winning arts publication Esopus, recently released his latest musical project, Midterms, a six track EP following the recent release of the single "Bob" which features also on this project.
Lippy has also made a name for himself as a book designer (most recently creating the cover for Louis Menand's critically acclaimed The Free World (FSG); artist (earning a coveted MacDowell Colony Residency in 2018 to complete a series of drawings related to his work on Esopus); curator (responsible for exhibitions at White Columns and Pioneer Works, among other venues); writer for Artforum and other publications; and filmmaker, whose 2000 short film Cookies played at 20 film festivals around the world.
Midterms is the third album from Lippy following the wellreceived LPs Here We Are (2019) and Yearbook (2021), both produced by the legendary Kramer (Low, Galaxy 500).
Acclaimedly/3nrX5kU
The work led to a partnership with several New York city institutions including MoMA, New York Public Library, The Kitchen, and National Sawdust to create performances, exhibitions, lectures, and other events. The nonprofit corporation formed to serve as the umbrella organization for all activities, The Esopus Foundation Ltd., received major funding from organizations ranging from the NEA to The Andy Warhol Foundation.
Please visit https://www.todlippymusic.com/
By Harry Brads
September 2022 67
For a preview of "Happy Ending" one of the tracks on the newly released Album please follow this link https://bit.
TOD LIPPY
The other songs on the album deal with issues ranging from toxic television personalities and celebrity culture to armchair activism and apathy in general.
The message behind the rest of Midterms EP is anything but vague: "This country is grappling with a dark period of hyperpolarization, distrust in institutions, and economic instability," Lippy says. "Midterms is my attempt to come to terms with, and maybe even try to make some sense of, this reality."
MIDTERMS
artist Steve Keene, perhaps best-known for his iconic album art for bands like Pavement, The Apples in Stereo, and Silver Jews, has painted a series of 7 different covers on 50 chipboard sleeves containing the forthcoming lathe-cut 10" vinyl release of "Midterms" (out in August). The paintings include Keene's interpretations of the EP's original cover in addition to 6 images corresponding to each track on the release.
T
BRINGS MUSIC WITH
Lynch to musicians and composers like Kimya Dawson, Sharon Van Etten, and Carter Burwell.
Lippy has always been at the forefront of creating art that helps find meaning in life. Starting in 2003, he produced ESOPUS, the esteemed arts publication declared "a thing of lavish, eccentric beauty" by The New York Times. For his "one-man magazine," Lippy handled all design, editing, publishing, distribution, and selection of/interaction with contributors, ranging from writers like Karl Ove Knausgaard and Francine Prose to art world superstars like Jenny Holzer, Marilyn Minter, Anish Kapoor, and Kerry James Marshall, from filmmakers such as actor Lisa Kudrow and director David
It is important to note that Dennis is not just an encyclopedic reference to all things Grateful Dead. He's written several books, one of which being On Highway 61: Music, Race and the Evolution of Cultural Freedom. Many people, myself included, are fascinated by the people that surround musical movements. I asked Dennis to speak about the familial nature of the Dead's fanbase. This eventually led Dennis and I to speak about the regionality of music, something
is a universal language, he and I spoke about the fact that music takes on a dialect depending on where it is produced or performed. He recounted a conversation between the band members and a high Egyptian official wherein the official asked the band if the locations of their performances caused their music to change, to which Phil Lesh replied "exactly, that's why we want to play at the pyramids."
that permeates the Dead's vast catalog of live recordings. Many Grateful Dead fans can name a location and date wherein their favorite version of a song was performed. Each improvisation attracts different ears. The jam band idea is largely credited to the early American jazz musings of artists like John Coltrane. Funnily enough, Dennis told me that Jerry had once said "look, we weren't good enough to play it twice the same way, so we had to
CATCHING UP WITH THE GRATEFUL DEAD'S DENNIS MCNALLY
By Eric Jaacobi
68 25A Magazine | metmagny.com 25A
Someimprovise."saymusic
Although Dennis is still an active Grateful Dead historian, he has taken on a similar publicist role with other notable acts, Zero and the Phantom Blues Band. The former being the jam-band brainchild of legendary guitarist Steve Kimock, and the latter being a supergroup of elite session musicians that have recorded with The Rolling Stones, Jimi Hendrix, Joe Cocker, Taj Mahal, and many more.
M
uch lore surrounds the career of the Grateful Dead. Fortunately, us laymen can get a peek behind the acid-soaked curtains with the help of Dennis McNally. After speaking with Dennis it is clear that he is far more than the bands' former publicist, he is a member of the Grateful Dead family. His story is one that any young creative should look to for inspiration. Shortly after publishing a biography on Jack Kerouac, McNally sent copies to Jerry Garcia and Robert Hunter via the Dead's fan-mail address. Some might assume the copies of McNally's book were bound for the abyss, but one ended up in Jerry's hands and he thoroughly enjoyed it. McNally and Garcia met and chatted about the Kerouac biography at an audition for comedic skits that would be used in Dead Ahead, a concert film recorded at Radio City Music Hall. The skits in the film were co-written and hosted by Al Franken, yes, THAT Al Franken, but that's another story. Some of the Grateful Dead staff members suggested that McNally write a biography for the band and after some time as a dedicated documentarian, he was appointed publicist. It isn't easy to articulate the massive cultural impact of the Dead, but if anyone can do it, it's Dennis.
Artist Robert Cenedella (b. 1940) presents his newest painting, So Many Roads (2021), honoring the legacy of the Grateful Dead, the eclectic band that reimagined the way we listen to music by transforming numerous genres, like folk, bluegrass, jazz, country, and blues, into rock and roll.
ARTIST ROBERT CENEDELLA
So Many Roads Grateful Dead 1965-Forever 2021. 55" x 96". Triptych. Oil on Primed Linen Panel
September 2022 69
Also known as Grateful Dead 1965-Forever, this historic, mural sized painting is meant to be enjoyed by all Deadheads. Whether they are seasoned veterans who knew what it was like to be at a show over the past six decades, or newcomers who have just recently gotten onto the proverbial 'bus,' their interpretation of this painting will be unique in scope, but similar in awe.
Robert Cenedella (B.1940)
There have been studies showing that moving your body to the music is an immediate pick-me-up
Start with baby steps such as making your bed every morning. It seems so simple, yet it starts your day with a sense of accomplishment.
MARNI'S SEVEN TIPS ON IMPROVING MENTAL HEALTH:
DANCING
MENTAL HEALTH RESILIENCE
Website: www.peacelovemarni.com
70 25A Magazine | metmagny.com 25A
WITH MARNI GOLDMAN PODCASTPEACE LOVE
ROUTINE
NATURE
Marni Goldman is a Spiritual Life Coach and author of "True To Myself: Peace, Love, Marni." Goldman, the daughter of a drug-addicted mother, has survived a life of depression, ADHD, childhood PTSD, anxiety, and a leukemia diagnosis. Goldman works with people all over the world to help them transcend and heal emotional traumas.
1 2 3 4 5 6 7
GRATITUDE
Going outside and sitting in peace and quiet can be remarkable for your mental health. Listening to birds and looking at trees can bring a sense of calm.
Count your blessings every morning. Write down three things that you are grateful for and appreciate every little thing in your life (a home, car, family, etc). So many people walk around looking at what they don't have rather than appreciating everything they do have.
Have boundaries. There is nothing wrong with doing what's best for you. We all think we have to do something, probably the fear of not being liked or accepted.
If it disrupts your peace or your state of mind, you don't have to do anything you don't want to do.
LAUGHTER
It's an instant vacation. Whenever I was severely depressed, it's amazing how turning on my favorite comedy or watching a standup special instantly changed my attitude.
DON'T HOLD GRUDGES
Walking around infesting your body with negativity is not worth it. Forgiveness is always for you, not for the other person. That doesn't mean having a relationship, it just means letting go of the anger.
September 2022 71
Boz Scaggs with his still incredible voice is an artist that is meaningful today as he was back at the height of his career. Under purple, cool blue, white and orange lighting, one got the feeling last night at times that they were in New Orleans or Greenwich Village in a Jazz club; or back in time in Mississippi at a Rhythm and Blues club. What Boz Scaggs does so well is arrangements in his songs; his brand new song, "Miss Riddle" was a funky, Jazzy melody. While " Georgia " did not disappoint, it was "Look What You've Done To Me" and " Loan Me A Dime" that brought the house down. These two songs ooze just what Boz Scaggs's musical genre is, soulful, and meaningful and it resonates throughout the auditorium. They concluded with "Lido Shuffle" which was the one song all evening where he went through the motions and gave an uninspiring rendition but came back strong with " Lowdown" and ending on an even higher note with an old Chuck Berry song. For one hour and forty- five minutes Boz Scaggs gave a timeless performance proving that he can still perform at the highest musical level. His band too was deft in backing this musical genius.
BOZ SCAGGS
CRITIC'S CORNER
W
By Bob Massimi
illiam Royce "Boz" Scaggs was born in Canton, Ohio, and lived most of his young life in Plano, Texas. He was an early bandmate of Steve Miller in the Ardells and The Steve Miller Band. He began a solo career in 1969. In 1976 his breakthrough album "Silk Degrees" peaked at number two and produced hit songs like " Lido Shuffle" and " Lowdown ". Scaggs produced two more platinum albums in "Down Two Then Left" and "Middle Man". Scaggs took a recording hiatus through the 1980s, he returned to recording and touring in 1988.
At 78 years old, Boz Scaggs defies time. Last night at the Morristown Performing Arts Center it was Boz front and center. With different backing musicians than when I last saw him, Scaggs was on his game. Opening with "What Can I Say" under purple lighting, Scaggs delivered a brilliant opening statement. The evening's second song Jo Jo was and is a popular song amongst the audience.
The Parrish's 125th anniversary of the museum's founding and the 10th anniversary of the museum with its distinctive Herzog & de Meuron-designed building, with the recent celebration with the Midsummer Dance and Dinner, reuniting the support of community could you tell us about the key highlight of the event?
Photos by: Jessica Dalene; David Benthal
W
destination to local, national, and international audiences who will leave our museum feeling energized, engaged, and inspired by the talent in this region.
The Parrish will be a forward-thinking and arts leading institution focused on cutting edge artists while simultaneously being grounded and committed to revealing our illustrious past and the revision of our collections. We will continue to be an important
"
How do you envision the visitor experience of The Parrish Art Museum moving into the future?
We will focus on serving our diverse constituents in breadth and also in depth. We will engage our community stakeholders and civic leaders in discussions before establishing the exhibition and public program calendars to make sure we are meeting diverse visitors' expectations, that our audiences feel acknowledged and represented, and that we offered top notch, relevant content. For example, there will be some exhibitions that focus on the creative process of prominent artists and other exhibitions that focus on themes such as biodiversity and the environment—important, relevant issues to our East End residents.
Interview with Parrish Director, Dr. Mónica Ramírez-Montagut
I am inspired by the fact that the Parrish embodies a tremendous 125-year history of artists working in the East End ranging from late 1800s Impressionists such as William Merritt Chase and Modern American masters like Fairfield Porter, to the preeminent Abstract Expressionist artists such as Jackson Pollock, Lee Krasner, and Helen Frankenthaler, to groundbreaking pop artist Roy Lichtenstein, to incredibly relevant living artists such as Rashid Johnson, Jacqueline Humphries, Eric Fischl, and Cindy Sherman just to name a few. I am also enthralled by our building designed by the Pritzker Prize recipient firm Herzog & De Meuron and inspired by these artists' studios and their sensibility to the light in this region. The building allows for the visitor to look out to the meadow and the nature that inspired many of these artists. The Parrish is terrific destination offering access to excellent art, excellent architecture grounded in the nature and creative force of this region, and excellent education and interpretation programs that render the visitor experience like no other in the world.
By Rachel Vancelette
hat inspires you about the Parrish Art Museum mission?
For me the sense of community and a sense of enthusiasm and optimism for the future of this museum was the absolute highlight
What are some of your long-range objectives for the Parrish Art Museum?
ENGAGE, EDUCATE AND ENVISION THE PARRISH ART MUSEUM'S MIDSUMMER NIGHT SOIREE BRINGS CELEBRATION TO THE EAST END
72 25A Magazine | metmagny.com 25A
Can you speak to us about your key people and supporters of the Parish's mission, who continue to realize its success? How can one become involved?
The key to the Parrish's success and relevancy is to have broad community support all around. We are increasing the diversity and numbers of our board members who in turn will encourage their own communities to be more involved in the Parrish's programs and giving circles. It is important that we have this broad community of members and ongoing supporters at many different levels, which will ensure a more representative, sustainable future. We welcome everyone to become a member of the Parrish! Those who would like to be more involved can join the Director's Council and Director's Circle groups.
I believe making sure that accessibility is a priority is the best way to communicate to the public— particularly those visiting us for the first time (which is 60-70% of our visitors) and experiencing modern and contemporary art for the first time. We need to communicate to that audience—not only to those who are already experts in the field, which is how arts institutions have operating for a while. We must make an effort to be generous and provide a textured, rich, and inspiring visitor experience, one that feels relevant to visitors of all ages from different backgrounds, cultures, and abilities.
of the night. The feeling of coming together to elicit the positive transformation of our institution which will poise us to be an arts leading institution for the 21st century was palpable in the room. There was tons of momentum from coming together after tough two years, to gather, heal, and set off on a new, refreshed pathway that will serve, illuminate, and inspire us all.
ANOTHER JUSTICE: US IS THEM — HANK WILLIS THOMAS | FOR FREEDOMS (EXHIBITION PHOTOS)
September 2022 73
What is the key to success when communicating with the public?
What artists in 2022 are inspiring you?
With 12,000 sq. ft of exhibition space, how do you see the community playing a role in the museum's future programming and activities?
As mentioned, we will be engaging diverse stakeholders from different communities to discuss our ideas before we turn them into plans. And the deliverables on the walls of the museum will include more points of access for viewers, for example, more extended labels, videos showing the artists working in their studios, a bit more about our incredible history of artists in the East End and our remarkable building and contemporary architecture. The idea is that the visitor experience will offer something for everyone.
I am inspired by so many artists it is very difficult to narrow it down, but currently I am looking at the work by Sanford Biggers, Simone Leigh, Carmen Herrera, Diana Al-Hadid, Zilia Sanchez, Hung Liu, Betsabee Romero, Eddie Martinez, Enoc Perez—and the list keeps going…
74 25A Magazine | metmagny.com 25A
Beauty of Darkness is a new series created when pushed outside of my comfort zone to the outer edge of spacial time. It is when life calling is no longer a mystery but complete transparency of why we are here. Questions regarding our primal existence are answered through our everyday natural habitat. When suddenly the universe is shown in black and white without any hint of color. This series was first inspired when Carol was a child and a neighbor called her mother at 3:00am. The call was to announce that her rare queen of the night flower had blossomed and and would wilt before dawn. It only occurred every seven years and y mother had wanted us to experience it. It was an exciting moment together amongst friends and marvel over the mystery of nature. In her new series you will see love, loss, passion, depth texture and the beauty of darkness."
"BEAUTY OF DARKNESS" SOLO EXHIBITION FOR ARTIST CAROL CALICCHIO
September 2022 75
KASHA McKee launches a new body of conceptual photographs in iconic heart shapes. Within these heart shapes are objects that were chosen as symbols of the human element that are universally loved. From the love of family, country and adventure to the simple joy of marshmallow candy, this series of conceptual photographs send a message of unity.
Each piece is compiled of mesmerizing layers that tempt the viewer to stare and become a part of it. This is break through work for the artist who intends only to perpetuate authentic, contemporary art for the world stage.
"EVERYBODY HAS A HEART"
BY ARTIST KASHA MCKEE CONCEPTUAL PHOTOGRAPHY
W
76 25A Magazine | metmagny.com 25A
By Rachel Vancelette
atermill Center's "enchanted forest" welcomed art collectors, art lovers and art industry insiders for the summer's most anticipated outdoor event of the season. Mega dealers Marc and Arne Glimcher to fashion designer Nicole Miller, mogul Paul Miller (DJ Spooky), and jewelry mavin Helen King of Van Cleef & Arpels were all spotted at STAND: The 30th Anniversary of the Watermill Center Summer Benefit. Guests mingled and explored for discoveries of the latest artistic interventions, contemporary artists, performances and new art installations; the weekend soiree ushered in new assertions for renewal of spirit and creative adventures of discovery.
THE KING/QUEEN PINS OF THE ART WORLD
RE-EMERGED IN WATERMILL IN SUPPORT OF CREATIVES SERVING A CONTINUED ARTISTIC MISSION
September 2022 77
After a few years of a break on the annual Hampton's benefit calendar, guests and patrons revisited the inspiring "enchanted forest" with its unique performances and art extravaganza. The gala looking to reunite the worlds of the arts, design, theatre, and fashion (following the pandemic break of two years) is in support of Watermill's year-round artistic programming. The event honored Mario Barcadi and was curated by Noah Khosbin, presenting the art bonanza and art auction for guests to participate during scheduled performances. Capturing visitors and welcoming them to wander into the landscape to discover new artists, The Watermill Center remains a unique laboratory for the arts and humanities, providing a global community the time, space and freedom to create and inspire.
Founded in 1992 by avant-garde visionary Robert Wilson, The Watermill Center is an interdisciplinary laboratory for the arts and humanities situated on ten acres of Shinnecock ancestral territory on Long Island's East End. With an emphasis on creativity and collaboration, The Center offers year-round artist residencies and education programs, providing a global community with the time, space, and freedom to create and inspire. Honorary Chairs include a powerhouse list from the world of entertainment, arts and theater- Marina Abramovic . Pedro Almodóvar . Laurie Anderson . ANOHNI . Giorgio Armani . Mikhail Baryshnikov . Tony Bennett . Steve Buscemi . Lucinda Childs . Alba & Francesco Clemente . Alan Cumming . Willem Dafoe . Marianne Faithfull . Renée Fleming . Lady Gaga . Frank Gehry . H.R.H. Princess Caroline von Hannover . Steven Holl . Jenny Holzer . Nina Hoss . Anjelica Huston . Jim Jarmusch . Emilia & Ilya Kabakov Harvey Keitel . Jeff Koons . Annie Leibovitz . Edward Mapplethorpe . Charlotte Rampling . Charles Renfro . Isabella Rossellini . Salman Rushdie . Susan Sarandon . Richard Serra . Cindy Sherman . Sharon Stone . Rufus Wainwright & Jörn Weisbrodt . Tom Waits . Christoph Waltz
The Watermill Center's rural campus combines multifunctional studios with ten acres of manicured grounds and gardens, housing a carefully curated art collection, expansive research library, and archives illustrating the life and work of Artistic Director Robert Wilson. The Center's facilities enable Artists-inResidence to integrate resources from the humanities and research from the sciences into contemporary artistic practice. Through year-round public programs, The Watermill Center demystifies the artistic process by facilitating unique insight into the creative process of a rotating roster of national and international artists.
www.watermillcenter.org
78 25A Magazine | metmagny.com 25A
September 2022 79
80 25A Magazine | metmagny.com 25A
September 2022 81
By Kate Shields
CELEBRATING THE LEGEND AND LIFE OF JEAN MICHEL BASQUIAT INTERVIEW WITH CONTEMPORARY ARTIST JUANO DIAZ
82 25A Magazine | metmagny.com INSPIRATION + VIVID COLOR
rtist Juano Diaz's artistic practice is executed by private commission and can be found in many high-profile international private and corporate collections around the globe. At the same time, this contemporary artist engages across multiple mediums, including photography, painting, and film (most often found with great splashes of vivid color!) and often found collaborating with some of the top creatives in their fields. Diaz›s practice of digital collage and painting are now appearing in multiple forms, including limited edition prints, major album covers and even unique limited series jigsaw puzzles. Art
September 2022 83
A
collectors are now inquiring about the latest private commissions just before significant announcements of the latest international projects hit the wires and drop for the world to see!
Diaz's international artistic subjects come to life each year which include noted celebrities and friends of the artist, such as Madonna, Grace Jones, Pharrell Williams and many more. Mingling among the glitterati of art, fashion, entertainment and photography, Diaz has his mind set on new visions of the future. The critical launch of the international album cover
What inspires you?
will bear his latest commissioned artwork, a new personal memoir, and the drop of his bespoke limited-edition art prints this month has him certainly on the way to reaching new heights. He sits down to discuss his latest inspirations and creative practice.
Can you tell us about your career in art and what advice you would provide to your younger self?
You mentioned that "you want to bring out the soul" of your subjects. Can you tell us a little about your inspiration for your artwork ‹I Want to Be A Star, Not a Gallery Mascot' 2021, presenting Jean Michel Basquiat?
Factory Boy), who has generously championed my work. Rachel is just so inspirational with the setup of her company Art X Puzzles. The platform is a genius way to support artists during this horrible pandemic and the world changes we are going through by promoting art and making limited edition high-end art puzzles. It is such a brilliant idea. I am so over the moon to be up there in the company with artists like Kenny Scharf. I'm honored that Rachel has asked me to be the first limited edition run of art prints with my Basquiat image.
Music, Color, Reading. I'm so inspired by art and mostly, I look to the past; I love the work of Gustave Dore, who was born in 1832. He illustrated the bible so beautifully. His etchings and illustrations can seem quite dark, depicting hellish beings yet, also full of stunning angels with rays of light around them. I was exposed to his work very early in my life by a nun who cared for me in a children's home in Glasgow when I was six years old.
Your artwork has been transformed into new special limited-edition art prints. Can you tell us more about this collaboration?
- JUANO DIAZ
84 25A Magazine | metmagny.com 25A
"I CAN'T LIVE WITHOUT ART; IT'S CONNECTED TO MY CORE."
Rachel Vancelette was introduced to me by the amazing Robert Dupont (Warhol
There was no better way than having him bursting through his own work, glowing with talent and wisdom. I love the quote that has been added to his hat and, in the end, made the image's title. It says so much about the art world and rings so true more today than ever.
I have worked as an artist even without making a penny doing it. I have put everything I have earned in day jobs back into my art to purchase canvas, paints, and digital software. I can't live without art; it's connected to my core. I just keep going and pushing myself to master my craft; if one person gets it, I'm happy, but ultimately, I'm doing it because I need to. If I could advise my younger self, I would say keep going, keep giving, and learn the business, lol.
I love old black and white historical images. Sam Bolton, who originally shot the black and white photograph of Jean Michel Basquiat, is such a brilliant photographer. Sam has documented some of the most incredible historical figures in art. I wanted to make the image look like it was taken "now." I wanted to show Jean Michel Basquiat as a young, cheeky, genius spirit.
ARTIST JUANO DIAZ
September 2022 85
"I THINK BEING PUT INTO CARE AND BEING ADOPTED GAVE ME AN OBSESSION WITH MY IDENTITY.  'WHO WAS I?'  "
I first started out with my art viewed and seen by French artists Pierre et Gilles in Paris. Before I knew it, I modeled for them in 2007 in three of their iconic images, which went from there. I modeled for Thierry Mugler and other iconic figures in art and fashion, and once you get into that world, it's easy to access and meet well-known faces.
Can you tell us about your relationships and friendships with top performers, celebrities and international photographers, from which your subjects predominantly derive?
to change the way I looked and sometimes I would dress up as James Dean or Boy George, or an angel. I was so inspired to create. I think being put into care and being adopted gave me an obsession with my identity. 'Who was I?' This obsession developed into a love for portraiture and storytelling through images. I like to explore this in my work, ‹who are these people in the images?› I also like and enjoy giving clues within each piece.
- JUANO DIAZ
Speaking to the last years of many changes due to the pandemic, has this changed your artistic practice? Yes, it has made me look inward. I have just signed up with a prominent literary agent and have been writing my memoir about my life, including the stories of my adoption and art journey. Being in lock-down gave me that time to reflect on why I do this art. I also found myself during the pandemic reaching out to other artists more, just to simply talk art.
What are your future goals and hopes for 2022? The goal is to have a solo show here in the UK and one in NYC. It's one thing having art online, but art has to be seen and one really has to see my work in person to appreciate it; that's the same for all art, really. That is the genius about owning original prints and editions; one gets to have art on your walls to appreciate in your home and in-person.
September 2022 87
However, I simply reach out via the internet and ask the person I'm making an image of to take a photo of themselves on an iPhone or license vintage images directly from a photographer and re-imagine them. It would be fantastic to own a big studio and build a set, but I simply don't need it; everything is done remotely and with computers and paint. It is actually a quiet process which is bliss. But I'm honored to have been trusted with the images of some of these artists. For example, the amazing David LaChapelle recently collaborated with me for an artwork. I made an incredible image of him and think it is one of my favorite image I have made.
When did you first create art and who is your inspiration?
I was adopted from a children's home in Glasgow back in 1983. During my time there, from about age four to six, I would draw my mother's face over and over. A nun who looked after me shared bibles, for which one was illustrated by Gustave Dore. It sparked my love for illustration and art. When I was a kid, I would photograph myself and draw over the photo with paints
I have my new book coming out very soon and a film by the fantastic Sophie Fiennes. I'm also working with some major talents on album art, I can't say much about that, but you will all know when it arrives; it is pretty huge for me! I just want to keep making art and collaborate with unique talents to tell visual stories through art.
T ALEX COHEN
here is a distinctive dream-like quality that makes Alex Cohen's artwork stand out amongst the rest. Having zero experience as an artist whatsoever up until after college, he began using art as a form of therapy, to tap into his emotions and feel wholesome while producing something that was prolific and eyecatching. Alex - and others - soon discovered that he had a knack for visual art and what began as therapy, not only turned into a passion but also a professional career. His mind conjures eccentric idiosyncratic scenes that are unmistakably Alex Cohen.
PAINTING BACK TO LIFE AN INTERVIEW WITH
By Alexa Modugno
You became an artist without going to art school. How did you teach yourself?
With a flawless technique, you would never guess that Alex taught himself how to paint. Once he was able to tap into his true creativity, he was enthusiastically encouraged as his potential was realized and he continued to create with his tremendous growing talent. While at the start of his career his audience was limited, after some viral Instagram posts his art took off and in 2021 he was asked to do a live painting at an event at Art Basel 2021.
My first artistic love was filmmaking, and I took some courses in a while during my undergraduate studies. I saw how quickly it polluted my ideas and made me fall a little more and more out of love with the art form after each class.
that a "traditional" job would be more lucrative. However, once he found his artistic voice, Alex became sure that he chose the right path and he has become an inspiration to everyone who ever doubted themselves or to anyone who struggled to simply imagine their future.
I started painting for the first time in Art Therapy in rehab and fell in love with it instantly. The vibrations from the brush were
88 25A Magazine | metmagny.com 25A
Alex incorporates his personal experiences, growing up under immense pressure to thrive academically in a severe illiberal and demanding environment. He struggled with his mental health throughout childhood and adolescence, seriously hindering his ability to succeed in his studies. Once finally able to find his creative voice, art was the missing puzzle piece that resonated within Alex, completing his search for a life purpose. He believes that to create, is to let go of fears and past negative experiences, and Alex will continue to evolve, as he turns more and more heads.
Recently, Alex took part in a mural project in Phoenix, AZ where he cleverly and fantastically illustrated childhood dreams and perseverance. Alex chose the path of the artist while his parents anxiously insisted
September 2022 89
How would you classify your "style"?
Do you think anyone can be an artist and tell me why you like being an artist.
What was your childhood like and do you think if you were an artist it'd enhance it?
90 25A Magazine | metmagny.com 25A
Stylistically, I have no idea what category I fall under. However, I do know that what I enjoy doing the most is juxtaposing street art and "fine art", with the goal in mind to show viewers and myself that there are no such things as "higher art" forms. Any style can achieve my artistic goals and create an emotional response from viewers, which is all that I care about
Life is really about contrasts and dichotomies, what activities, foods, drugs, etc make you feel the most different from what you are already experiencing. When I first tried to get sober in 2018, I knew I needed to find an activity that got me from point A to point B without further jeopardizing my mental healthwhich was already in a fragile state - but what activity could have the same impact of drugs? Not just take me away from the pain and discomfort, but help me learn how to better live with that discomfort. Painting is a practice in learning how to screw up, not give up, and then trying to make that screw up into something beautiful. I find this relates to life in many ways.
at the end of the day. Did the painting make you feel or think about something? If it did either, then it has accomplished its goal. I love experiencing creating in different styles because it teleports me into different and oftentimes new worlds.
It relates to all of my art, if I hadn't had these issues in the first place, I probably wouldn't have ever felt "crazy" enough to pick up a paintbrush and try to make something out of it.
Don't listen to your parents.
Growing up, playing sports, and trying to be cool were always the most important things to me. I secretly always loved absorbing art in all of its forms, however, I was too scared of rejection to ever attempt it myself. I wish I just didn't give a f*ck about what other people thought and was just able to be myself, but we all know that's the hardest thing in the world to do when you're growing up.
Tell me a little about your issues with substance abuse and mental health and how it relates to your art.
What inspires you to create?
What's one piece of advice you have for your younger self?
the closest feeling I could get to taking drugs without actually taking them. I knew after my experience with film classes, I needed to protect the painting with all my heart from anything that could hurt it. In all honesty, I learned how to paint by doing it a lot and making a lot of mistakes. Looking at artists I admire, trying to emulate, making more mistakes, and then learning from those experiences.
It depends on what you think good art is. Some people classify good art as what most closely resembles a still photograph, whereas others care about what they are actually looking at, and what can't already be done by a camera. I think anyone can make "interesting" art and that it's just a matter of unleashing your mind. OCD is the common enemy that prevents most people from ever pursuing art and or feeling good about their creations. Once you can let go of perfectionism and accept that you are going to make mistakes, you open yourself up to a completely new world of artistic opportunity.
I don't paint because I want to, I paint because I have to. If I don't paint, to put it simply, I lose my mind.
September 2022 91
CAPTURING FLEETING MOMENTS IN SOUTHAMPTON WITH LIFESTYLE PHOTOGRAPHER DANNY SIT
By Rachel Vancelette
92 25A Magazine | metmagny.com 25A
Shooting across the world for magazines like Vogue, Harper's Bazaar, Glamour and Cosmopolitan, can you tell us more about the evolution of your photography over the years?
I have always tried to shoot "lifestyle" rather than posing my subjects for the session. I will instead try to capture their soul, a fleeting moment.
I hate being photographed. I get self-conscious and awkward.
Anything else you would like to add?
You opened your first photography studio in Houston, Texas, earning a nomination for American Photographer Magazine's Fashion Photographer of the Year; what advice would you give your younger self and other inspiring photographers?
What inspires you about the photographic process?
Keep shooting, all the time, every day, even if it is just a shot of a landscape or your dog; study, copy and follow the photographers you admire. Eventually, you will develop your own style as your vision is never going to be exactly the same.
What is something that may surprise us about you?
From subjects such as your favorite Hampton's surfing spot to images of your dog running freely down the beautiful beach, photographer Danny Sit, known for his international photography, is undoubtedly making a new mark.
and capture quiet moments. Sit's photography practice looks at capturing those unique fleeting moments and presents refreshing new subjects of both tranquility and beauty of all ages.
September 2022 93
Many of the models that I use to shoot for catalogs are now approaching fifty. We still inspire each other to continue the photography process. I'm working on a series of nudes… models over 50. I find beauty in every age. It's not boudoir photography, but we continue to have fun shooting!
As a resident of Southampton, can you tell us more about your local subjects, inspiration and practice since the pandemic?
The photographer known for traveling the globe for outlets such as Vogue, Harper's Bazaar, Glamour, Cosmopolitan, Seventeen, Grazia, and Marie Claire has decided to change the traditional narrative by slowing down to capture the moments of everyday life. His photography practice evokes creativity and spontaneity of the "now" along with incorporating his own unique fashion twist. His subjects continue to be snapped up by Hampton's local art collectors as his photography studio continues to welcome new clients to create engaging new memories
Shooting basically came to a standstill when the pandemic hit. A friend has a dog walking/boarding business, so I started shooting dogs. Again, I try to capture a feeling, even with the dogs.
Website | www.dannysit.com
Inspiration comes from being able to capture a feeling for the moment. something real, documenting a story…I want the viewer to be able to feel they were there inside the photography.
Photography by Danny Sit
"I have worked in the fashion industry for over 30 years and my biggest blessing as a photographer and creator was finding not just one muse but two, 28 years ago! To be able to collaborate and photograph the same two people who themselves are so intimately connected is an artist's dream. Our body of work is thousands of images deep now and when we shoot it's like a dance but one where you know every step yet it's still always a surprise. We met William Quigley 15 years ago at an exhibition of photos I had in conjunction with the release of a documentary I directed called Haiti: Hunger & Hope. I knew of Bill's work and was thrilled he would come to see me. The more I got to know the man, the more I realized that was the kind of person he was. kind, generous, curious, humble, and collaborative. Funnily enough I have always hoped we would do something special together and this collection of images is the perfect example of all the things I love. In this series of pictures you will find movement, dance, strength, intimacy, passion and drama combined with Bill's drawings, painting and doodling that represent to me, the mind, and soul, as if you were able to harness and illustrate your brain waves and emotions in ink. The
A
A collaborative dance on canvas through the eyes of photographer Nigel Barker and painter William Quigley
96 25A Magazine | metmagny.com 25A
"LET'S ALL HAVE A MEETING OF THE CHIN TWINS"
The intersection of this new work is reminiscent of Warhol's monumental ensembles with Basquiat, Picasso's stage sets for Diaghilev, or the ambitious scaled reverence enshrined in Abstract Expressionism such as the collaboration between Sir Cecil Beaton and Jackson Pollock. With The Chin Twins as the central characters, Nigel Barker and William Quigley create a new palette of possibilities that blurs the boundary between art and life; an interdisciplinarity collaboration viewers will continue to return to as a reference of contemporary conversation between these artists.
BEFORE HEADING TO THE EAST HAMPTON FIREWORKS:
B NY Gallery at 62 Newtown Lane, East Hampton, NY presents an artistic collaboration between legendary photographer Nigel Barker, movement artists The Chin Twins and painter William Quigley. The 2-week exhibition opened Saturday July 16th 6:00pm – 9:00pm in an industrial space turned gallery found at the back lot of Schenck Fuels until July 26th.
September 2022 97
Chin (b. 1975 Fairhope, Alabama), otherwise known as @ChinTwins, of Chinese, Irish, and Norwegian descent, started their careers straight out of high school. Discovered in Miami before successfully modeling in Milan, Paris, London and New York; working for magazines such as Vogue, Harpers Bazaar, Cosmopolitan, Allure and Elle as well as shooting campaigns and walking the runway for the biggest names in fashion like Yohji Yamamoto, Kenzo, Gaultier, Armani, Valentino and Gucci. As young girls both sisters shared a love for yoga, ballet, dance and jazz. Their passion for the arts gave them the grace and poise which was instrumental in their huge success in the fashion industry, often being asked to create shapes and poses that simply only they could achieve. Kimmy and Crissy now in their forties with 5 children between them, are arguably in the best shape of their lives. The creation of their first joint Instagram account in 2014 has grown into a community of followers 98K strong and growing fast. Many of whom tune in to the @ChinTwins for inspiration in mind, body and soul. They have also rekindled their modeling career with their
"I'm so grateful for the opportunity to work with Sarah Scribner, AB NY Gallery and artists on the caliber of Nigel, and the Chin Twins. Nigel, Crissy and Kimmy are giving, kind, humble, successful, down to earth, who do so much for others and absolute masters in their respected fields of photography and dance. Our alliance has challenged me to go beyond my own familiar visual vocabulary and create something uniquely special together. It's taken near 2 years to develop a concept that compliments the Twins incredible athletic versatility and eloquence and Nigel's amazing ability to stop time. The light and way he captures their difficult seemingly effortless movements in full motion immediately made me think of Matisse's 1909 painting Dance 1 and the monumental collaborations of Warhol, Clemente and Basquiat's as an impetus for scale. The intensity of their poses and confident clarity unveiled a whole new palette of color, shapes and possibilities that probably would never have been exposed otherwise. Our Collaboration has opened a window to wiggle in a new world where the choreography has emerged as a transient 4-piece ensemble merging paint, photography, and dance upon a vibrant 2-dimensional stage in a series of colorful, large scale, shaped performances on canvas." – William Quigley, June 2022
IG: @quigleyart | www.abnygallery.com/index.php/william-quigley
series is powerful yet ethereal, striking yet calming, very much like my two muses." – Nigel Barker, June 2022
newfound social media influence collaborating with Fashion brands like Wolford, Hanro, Cynthia Rowley, Mara Hoffman, Fleur Du Mal, La Perla and Pamella Roland to Athletic brands like ALO, Athleta, Carbon 38 and Nike. Now living over a 1000 miles apart their story remains intertwined as they emulate each other and continue daily to share their stories, motivating and helping this global community of likeminded people to think and move outside the box. Both certified RYT 200 Yoga instructors, these mothers, wives and sisters are taking the ever-evolving world of health, fitness and yoga by storm, and encompassing what it means to be modern women today.
Barker is on the board of JumpStart, the early education charity as well as a champion Ambassador for the Special Olympics, Ambassador for the Make A Wish Foundation and an Ambassador for United Nations Girl Up Initiative. He lives in Woodstock NY with his wife Cristen and two children Jack and Jasmine.
IG: Cristen@nigelbarkerandKimberly
IG, Twitter & FB: @chintwins | www.thechintwins.com
Nigel Barker (b. 1972 London, UK) is a renowned fashion photographer and TV personality who served as judge and photographer for 18 seasons on America's Next Top Model, the host of The Face with Naomi Campbell and the host and executive producer of Top Photographer currently in production for season 2. Barker's presence in the fashion and entertainment industry has resulted in an array of exciting projects including the creation of his own furniture line "The NB Collection", 2 coffee table books including the NY Times Best seller "Models Of Influence", a skate board collection with ShutNYC, 3 signature fragrances with Demeter, a unique custom NB Photobooth, the first ever specialty Gin & Tonic glass and many more innovative projects. He is also a Founder and partner in the new NYC/LA gym, The DOGPOUND. He is currently the Brand Ambassador and Creative Consultant for 21c Chicago - The Museum Hotel.
William Quigley (b. 1960 Philadelphia, PA) attended Philadelphia College of Art, University of Pennsylvania, Tyler School in Rome, and Columbia University Graduate School of the Art from 1980-87. Before attending graduate school his first show in 1985 right out of college was in a 2 person show with Andy Warhol at Henry S. McNeil Gallery in Philadelphia. His work has been exhibited internationally in prestigious group shows, art fairs and museums including Art Basel, Art Miami, Scope, Miro Foundation Mallorca, Beyeler Foundation Switzerland, Doug Cramer Collection, the Broad Collection, Philadelphia Museum of Art, Charles Craigg Santa Barbara Museum, LACMA and MOCA LA and galleries such as McNeil Gallery, Manny Silverman, Galerie Ferran Cano Spain , Ernest Beyeler in Basel, Pablo's Birthday NY etc. Currently he is working with Julie Keyes, Karl Hutter Fine Art and AB NY Gallery, which he founded in LA 1994. AB closed in 1996 and reopened 26 years later in East Hampton 2021. Although not having many major auction house records to date his work can be found in over 450 private and public collections, with the Tokita, Millner and Marber families owning over 30 pieces and quite a few supporters owning more than 10. In 2021 he partnered with crypto entrepreneur WAX founder William E. Quigley forming his brand Skrapper Punk. To date they dropped 3 successful NFT selling out over 2500 NFTs. The first Skrapper Babe Ruth, 714 NFTs sold out in less than a minute. Known for portraiture, his work consists of a wide exploration of abstraction using a variety of materials, subject matter, and text. Quigley's passion to help others runs just as deep as his desire to paint. He hopes to continue using his art and shows to raise as much awareness for those in need as humanly possible.
Takuma masterfully blurs the lines between the interpersonal practice of the individual and the outward engagement of present-day portraiture, landscape, and immersive abstraction. The paintings present distorted emotional time capsules of
Tanaka uses a unique, complex visual language of graffiti, hyperrealism, cartoonish forms, and fantasy. The artist makes life-portraiture accessible to mass audiences using narratives reflecting his view of the contemporary desire to present critical issues involving humanity's survival.
98 25A Magazine | metmagny.com 25A
What advice would you give to your younger self or other young inspiring painters?
Just fight it out. I continue to do that today.
nown for blurring the lines between high and low arts, Takuma Tanaka's bold aesthetic brings to life the characteristics of Japanese artistic traditions of post-war Japanese society while tapping into today's contemporary consciousness. The artist pays homage to the history of the Western canon of painting while maintaining the socio-cultural visual vernacular of his native Japan. The emotionally nuanced portrayals articulate life's joys and challenge societal views of the unique individual.
ARTIST TAKUMA TANAKA A COLOR-INFUSED REBELLION
QUICKFIRE INTERVIEW SERIES by Rachel Vancelette
- TAKUMA TANAKA
Tapping into the societal trend of the newfound emergence of artistic self-reflection and investigating contemporary personal stories of his subjects, the artist embraces yet at the same rejects the ever-moving pop culture technological revolution. Tanaka's attempt to slow down the viewer to contemplate, engage and experience each artwork looks toward the importance of historical and contemporary portraiture traditions.
I CONTINUE TO BE INSPIRED BY MUSIC AND A WOMAN'S LOVE. EVOLUTION. I CONTINUE TO USE TRADITIONAL STYLE TECHNIQUES AND MEDIUMS TO INFORM AND INSPIRE MY ARTISTIC PRACTICE.
K
Tanaka's use of hyper neon and pop colors engage a profound "color-infused rebellion." The dual abstract expressionistsurrealist approach centers on both the 'seen' and 'unseen' compositional highlights of each landscape that contribute to a rich moderate human experience. Evocative scenes and the unique contemporary color definition provoke otherworldly experiences and engagements, providing vivid real-life compositions. The artist transforms traditional oral storytelling into a painting reality of quasi-archaeological discovery, tapping into volumes of our everyday contemporary cultural references. Synthesized stylized representations engulf bold mythological themes within a halo-like atmospheric vista in each composition.
Tanaka's beginnings greatly influenced his involvement in the arts, as he began as a street artist while healing from severe mental illness at age 25. Continuing to respect the western canon of traditional painting, the artistic practice twists and reinterprets storytelling narratives. The processes that challenge each canvas's construction can be seen as almost sculptural relief and, other times, stain-soaked layering. What artists have influenced you over the years?
The artist's creative studio practice was heavily influenced after being introduced to works by Jean Michel Basquiat by a close friend. In media interviews in Forbes, Yahoo, and other outlets, Tanaka noted his direct connection and influence of "the fighting spirit of Basquiat." The sheer act of art-making on the streets brings the relationship of art directly to the community at large.
The artist contends with engaging real-life subjects by using paint to create an otherworldly environment while devising a hyperreal reality. Facing the topic of individual agency and apocalyptic futurist views, the infusion of colors merges the abstract into near
At first glance, each artwork appears happy and bright; yet the artist continues challenging the viewers' interruptions of classic scenes, emotions, and landscape environments. With further investigation, the viewer will find new storytelling fantasy narratives tapping into powerful stories on humanity and our human condition. Tanaka is investigating, almost like a scientist, humanity's evolutionary DNA, revealing the simplicity of everyday human encounters and combining creative meta-narratives into dystopic scenes dealing with conflict, love, power, and justice.
The old masters to contemporary artists have influenced me. I have a particular affinity for David Hockney's artwork, and his works have taught many of us about the depths of technique and the importance of art theory. I have also studied art theory under Blum & Poe's contemporary artist Kenjiro Okazaki who provided foundational discussions and ideas on robotics, landscape design, and architecture. The opportunity to study painting techniques and art theory of Eiryo Kanazawa and Yutaka Sasaki still influences my practice today.
realistic compositions for new optical engagement. Traditional fine art techniques blended with the artist's natural approach to painting with fluidity and active motion surprises his audience.
narratives echoing today's society. With rapid globalization and the emergence of new technology at the forefront of everyday life, Tanaka dives into global topics of violence, personal isolation, technological innovation, and humanistic personal diaries focusing on the ideas of the "actions" and "kindness" of humans toward the earth.
I continue to be inspired by music and a woman's love. Evolution. I continue to use traditional style techniques and mediums to inform and inspire my artistic practice.
QUICKFIRE TIPS
Website www.takumatanaka.info | Instagram @takumatanaka23
Follow Rachel Vancelette @ Instagram @rvancelette | Website www.vanglobalart.com
September 2022 99
Multiple painting series by the artist inspired by Rakugo Japanese tradition remain a traditional form of verbal entertainment today. The practice offers a lone storyteller sitting on a raised platform called a kōza. The conventional art of storytelling developed as entertainment for ordinary citizens during the Edo Period (1603–1868). At first, many different entertainers would perform the generally humorous monologues, but gradually specialists emerged. Rakugo artists depict long, complicated comical stories known as Rakugoka. Tanaka, heavily influenced by this storytelling tradition, activates new engagements of contemporary scenes "from street graffiti to a formal presentation at an art gallery," each canvas infused with new meta-narratives. The crafted canvas provides symbols, marks, and abstractions lingering in a surreal atmosphere. Heavily gestured strokes within the compositions reveal themselves in unexpected, elusive ways.
What inspires you about the painting process?
ARTIST CAROLE EISNER
100 25A Magazine | metmagny.com 25A
Carole Eisner has worked with scrap and recycled metal for 40 years creating elegant, abstract forms welded in steel. The artist's compositions reflect the surprising malleability she finds with metal. She works with "the debris of our civilization," reclaiming and reassembling disregarded fragments of buildings and bridges into art. Eisner's longevity as an artist is a testament to the natural marriage between her monumental outdoor sculptures and the climate of public spaces. Eisner received a BFA from Syracuse University. A life-long New Yorker, the artist splits her time between New York City and Weston, Connecticut.
Chiara (2013) Painted welded steel 80 x 40 x 32 inches
O
By Adam Kluger MEET TODD "TJ" STEIN
September 2022 101
n a recent summer evening, a fundraiser was held for Congresswoman Carolyn Maloney in Todd "TJ" Stein's UES apartment. Stein has lived in this same apartment building since he was a child. It's a rent-stabilized unit he now shares with his Mother (88) and father (91) (who fought in Madison Square Garden's Golden Gloves in the 1940's). You might call this situation unique and last year it became the cover story of The New York Times Sunday edition. The apartment, a convertible 3 bedroom, was buzzing with over 60 guests. The guest list included Brady Dalton Richards, a star of Broadway's Harry Potter and the Cursed Child, who took the night off to attend the event. Richards, a graduate of Syracuse University, was introduced to Stein through the alumni program set up by former alum, Aaron Sorkin. And, Richards wasn't the only performer who attended. Since Stein attended the elite Professional Children's School and has many famous friends, other folks who attended were Trini Alvarado, a schoolmate who appeared in numerous films, an opera singer, who appeared at the White House, as well as neighbors, childhood and college friends, and a few members of a local Democratic Club.
Stein was born, raised, and resides on the UES. He started in public school, later pursued acting in high school, and, while he was not as famous as some of his classmates like Sarah Jessica Parker, he was working in the industry. The party was beautifully catered by local small businesses. The Congresswoman greeted guests and stayed for photographs with many. Stein introduced Maloney and talked about how they first met at a UES rally. He said he was most impressed that "when Maloney meets someone, she always remembers them and that she will never quit fighting". His speech lasted a few minutes and then the Congresswoman spoke and mingled.
At the event, Stein handed Maloney a hat that she wore as they were photographed, that read Todd "TJ" Stein, Community Advocate. Todd is exactly that. His passion to help elders began soon after Thanksgiving 2018, when he returned from a business trip concerned about his father's well-being. He devoted the next year to help his father, Marvin who was wrongfully placed into guardianship, have his rights restored. Today, Todd's goal is to help others in need navigate the complex programs available, especially for seniors on limited income. Todd's parents are now good friends and are living together because of Stein's efforts - after 25 years of marriage and 30 years of divorce. He takes great care of his parents who both have 24-hour home health aides. Their story brought Todd's passion to a new level. He's a true advocate and leads by example!
UPPER EAST SIDE COMMUNITY ADVOCATE THROWS HIS HAT IN THE RING
Stein's goal is to run for District Leader in 2023 in AD 76. In addition to elder issues, his platform includes helping small business, affordable housing and advocating for cleaner and safer streets.After suffering a traumatic bicycle accident in 2020, he became a passionate advocate for safer streets for pedestrians and bicycle riders. For additional information, please visit
AtToddJStein.comtheendofthe evening, the fundraiser was a huge success. Stein is ready to help the community and bring solutions to the issues that are paramount to him.
"Having so many of the talented makers of our new artworks with us is in keeping with LongHouse's tradition of honoring makers" said executive director Carrie R. Barratt. "LongHouse is so fortunate to have such a wealth of talent and support in our community," offered co-president Dianne Benson. "You could feel the love and support in the air" added co-president, Nina Gillman.
ast Hampton's LongHouse Reserve celebrated its community of artists - past, present, and future - at their annual Summer Benefit, July 23rd. Titled ONWARD, a favorite expression of its founder Jack Lenor Larsen. Banished was the old-style sit-down dinner under a tent. Instead, LongHouse spread couches, canopied beds, rugs, and chairs throughout the garden under the stars, with five buffets bosting everything from poké bowls to a raw bar. The art auction proved a centerpiece, while multiple bands kept 300 revelers dancing till nearly midnight -- many of them sporting caftans.
102 25A Magazine | metmagny.com 25A
E
LONGHOUSE RESERVE
Among the artists attending were Cheng Tsung Feng, who traveled with his team from Taiwan, inviting guests to enter his bamboo pavilion, Fish Trap VI; Steven Ladd stood inside his piece (created with his brother William Ladd), Right Here, Right Now; Moko Fukuyama engaged us with her Hell Gate Keepers; and Fitzhugh Karol shared Friendship, his immense totems honoring the spirit of trees. Other work on the property for the first time included Bjorn Amelan's sumi
TheZajac.Summer
Benefit is LongHouse Reserve's largest event of the year, with all proceeds going towards their mission of teaching living with art in all its forms; this includes diverse educational outreach, community programming, and maintenance of the grounds to keep it open for all. Sponsors included Macari Vineyards, Springs Brewery, Baked by Melissa, Marders, Diversified Services Inc., Power Equipment, and Riverhead Building Supply. Music provided by The Cherry Bombs, Joy Jan Jones, Royal KhaoZ and Certain Moves, with choreography and movement from Hadam Sung.
2022 SUMMER BENEFIT
Guests included Alice Aycock, Tony Bechara and Desiree Von la Valette, Halim Bulos, Stacy Engman, Edwina von Gal, Dakota Jackson and RoseLee Goldberg, Anna Kulinova, Nathan Lane and Delvin Elliott, Stewart Lane and Bonnie Comley, Laura Lobdell, Fern Mallis, Jean Shafiroff, Leann Pei, Harry Santa-Olalla, Lee Skolnick, Barbara Slifka, David White (Mr.StarCity), Robert Wilson, stylish sister duo Tanya and Temidra Willock, and Victoria Wyman, as well as LongHouse Reserve Board of Trustees, Sherri Donghia, Dr. Derick George, Ayse Kenmore, Mark and Elizabeth Levine, Deborah Nevins, Peter H. Olsen, Suzanne Slesin and Michael Steinberg, and James
ink paintings and Alexander Polzin's Parthenope alongside permanent installations by Yoko Ono, Buckminster Fuller, and Willem de Kooning.
had the pleasure of sitting down with legendary restauranteur, entrepreneur, and star of the hit reality TV show, Serving the Hamptons, on Discovery Plus, Zach Erdem, to celebrate his success and discuss what's next! Zach is self-made and came to this country with little more than a burning desire to pursue the American dream and make a positive difference. I have known Zach for over 10 years, and his ambition, thoughtfulness, generosity, and professionalism have always impressed me. Zach not only hosted my cover party with 25A Magazine in 2011, but he also generously provided catering to our crew on the set of the feature film, Awakened, also starring John Savage, Steven Bauer, and Sally Kirkland in 2012. Zach's tenacity and hard work paved the way to acquiring more restaurants and clubs, building a trusted brand, and becoming a household name in the hospitality and entertainment industry with such gravitas that a TV show dedicated to Zach's work life at his coveted Hamptons' restaurant, 75 Main, was in high demand. In fact, Zach's show has been so popular, it was renewed for a second season to premiere on HBO March, 2023! I am truly so excited for Zach and what is to come!
to me. I do not like that word failure. It's better to call it training. We all have ups and downs. My greatest achievement is where I am today on my own. "
What may be surprising to most people is Zach's very humble beginnings. Zach was born in a CAVE (not a home or a hospital) in Erzincan/Turkey to his mother, a house lady, and his father, a farmer, as one of 6 brothers. After studying tourism, hotel management, and business in Edirne/Turkey, Zach moved to NY in 2022 with undeniable ambition to succeed in the restaurant and hospitality industry. Zach's very first job in this country was as a dishwasher at 75 main. He would later go on to own the restaurant, stating that his love of restaurants was always in his blood.
Reflecting on his career, his biggest challenges and achievements, Zach considered being fired from Nello restaurant to be his greatest challenge but also most significant learning opportunity, as this experience led him to achieve greatness. "My greatest challenge was getting fired at Nello restaurant. It was the best thing that happened
Zach has been close friends with the Kardashian family since before their show pioneered the American reality TV genre. He gave them access to all his places in the Hamptons to film when no one else was offering, and since then, they have provided Zach with invaluable advice on starring in a reality tv show, the business and the fame. Zach's advice to others who are about to embark on this path is to just be real and allow the rest to come.
I enjoy playing with animals, traveling the world, dining in restaurants, watching my show, and serving my customers is my biggest pleasure. What do you hope to achieve in the future, both personally and professionally?
What do you enjoy doing for pleasure?
I had most of the people at my restaurant already. I would love to meet Nelson Mandela.
I
SPOTLIGHT with Julianne Michelle
I achieved most of the stuff I wanted. My hope is for a peaceful world, NO war, no kids dying, and no hungry people in the world. Which celebrity patron left a most memorable impression on you? Alec Baldwin. I was a bus boy at 75 main years ago, and he was a customer. I did not know who he was, but they told me he was a famous actor. I had a conversation with him, and he told me I will own this restaurant one day. Here I am. If you could have anyone eat at your restaurant, living or dead, who would you choose?
September 2022 103
ZACH ERDEM: THE AMERICAN DREAM COME TRUE
Julianne Michelle and Zach Erdem
Be sure to check out some of Zach's other hot spots, AM Nightclub, Blu Mar, Summer House Nightclub Lounge, and Harpoon House Hotel!
While Zach told me he would love to have his own children one day, for now, he has a cat he loves very much. As for marriage, Zach believes this formality that can carry unnecessary expense and risk, so he rather just share his life with someone he enjoys without the strings attached.
By Debra HIGHLYRothbergANTICIPATED
REIMAGINED
This year it transformed a 1830s historic stately home and gardens generously provided by Victoria Meakin and David Feldman of New York City into a modern decorative masterpiece in only 5 weeks! Part of the Mayo Family Farm, the Showhouse property is surrounded by a nature preserve, part of the Peconic Land Trust, which protects Long Island's working farms and natural lands for communities to enjoy for years to come.
With renowned designers, Jamie Drake and Alexa Hampton as Honorary Design Chairs, features the work of top interior designers from the Hamptons, New York City and nationwide. The renovation features updates to the 7,500-sf main house, as well as the expansive surrounding property that includes stunning vistas over protected marshland.
"Funds that the Showhouse raises each year help support the robust network of services that Stony Brook Southampton provide to the community on the South Fork of Long Island." Robert Chaloner Chief Administrative Officer of Stony Brook Southampton Hospital Participated Designers include Amy Kummer Interiors, Baltimore Design Group, Barbara Ostrom Associates, Chad James Group, Collette Home, Courtney Sempliner Designs, Dee Ann Design, Donna Benedetto Designs, Elsa Soyars Interiors, Kim Tomasino Interiors, Laurie Duke Design, Leila Pinto Fine Art, The Lewis Design Group, LGC Interior Design, Mabley Handler Interior Design, Robert Brown Interior Design, Sea Green Designs, SilverLining, Inc., Sloane Luxury Interiors, and Tiffany Eastman Interiors.
or the past 22 years, the Hampton Designer Showhouse, has been the showcase for some of America's premier design talent and has raised nearly $2M for Stony Brook Southampton Hospital since its inception.
HAMPTON DESIGNER SHOWHOUSE
Open daily for public tours beginning Sunday, August 14, through Sunday, September 25, 2022, Monday through Sunday, 11:00am – 5:00pm (last admission 30 minutes before closing). Children six and under, infants, strollers and pets are not admitted in the Showhouse. Admission to the Showhouse
104 25A Magazine | metmagny.com 25A
The Hampton Designer Showhouse, located at 120 Edge of Woods Road in Southampton, NY,
RETURNED TO SOUTHAMPTON, NY
F
About Stony Brook Southampton Hospital
about the Showhouse and/or to purchase tickets to the Preview Party and/or daily tours, please visit
Design Sponsors Bevolo Gas & Electric Lights, Brown Jordan, The Corcoran Group, Cosentino, Design Within Reach JennAir, Ligne Roset, OMNIA Industries, Palm Beach Design Masters, P.C. Richard & Sons, Sherwin-Williams, The Tile Shop, Vaughan Designs, and York
The Hampton Designer Showhouse is produced by Hampton Designer Showhouse Foundation, Inc. (HDSF, Inc.). HDSF, Inc. is led and operated by a dynamic team of experts from the worlds of marketing, public relations, fundraising and special events production. They have combined their talents to produce what is now
ForWallcoverings.moreinformation
With 124 beds, Stony Brook Southampton Hospital (SBSH) is staffed by more than 280 physicians, dentists, and allied health professionals representing 48 medical specialties. A campus of Stony Brook University Hospital, SBSH offers a diverse array of clinical services, ranging from primary medical care to specialized surgical procedures, including cardiac catheterization, orthopedics and bariatrics. The sole provider of emergency care on Long Island's South Fork, Stony Brook Southampton Hospital is a Level III adult Trauma Center. The hospital includes The Phillips Family Cancer Center, a Heart and Stroke Center, Breast Health Center, The Center for Advanced Wound Healing, Wellness Institute, and 32 satellite care centers throughout the South Fork of Long Island. The hospital is the largest employer on the East End with more than 1,200 employees. To learn more, visit www.southampton.stonybrookmedicine.edu.
September 2022 105 is $40 and includes a copy of the Showhouse Journal. www.hamptondesignershowhouse.com or email info@hamptondesignershowhouse.com Social Media @HamptonDesignerShowhouse (Facebook), @HamptonDesigner (Twitter), and #HamptonDesignerShowhouse.
About Hampton Designer Showhouse
recognized as one of the country's most successful Showhouses. Hampton Designer Showhouse Foundation, Inc. is a 501 (c) (3) corporation. The Advisory Board Members of Hampton Designer Showhouse Foundation, Inc. includes Jamie Drake, Alexa Hampton, Tony Manning, Greg McKenzie, Brian Brady and Scott Sanders.
ANNIE WATT anniewatt.com
Through the Lens
AKTION ART COLLECTION AT WYNN FINE ART GALLERY ON WORTH AVENUE
Whether it is a magazine cover, a charitable cause, or a special occasion, the photographers with Annie Watt.com make an occasion more memorable. Annie and her associate photographers embody the essence of professionalism, seamlessly moving through any assignment with finesse and an innate ability to capture the moment at its heart. To book a photographer, contact annie@anniewatt.com
106 25A Magazine | metmagny.com 25A
September 2022 107
Author, artist, and proud "dog dad," Topher Brophy, who gained international attention on social media through creative and imaginative photos of him and his dog, Rosenberg, provided his personal insight on struggling with mental health issues and how Rosenberg has helped make him a better person. Topher's story is detailed in his soon-to-be-released book, "Dog Dad," of which proceeds
25A
During those moments, our furry best friends offer us the solace and comfort that sometimes can't be found anywhere else.
American Humane, the country's first national humane organization, held a "Loving Animals" salon dinner under the stars in Water Mill, New York on July 6 honoring the important role dogs play not only in our dayto-day life but also importantly on those days when life is a challenge.
"Our dogs are our best friends, always there to offer a warm hug or snuggle, an affectionate kiss and unconditional love – which is so critical to each of us," said Dr. Robin Ganzert, president and CEO of American Humane. "We are thrilled to gather so many people here at Calissa to shine a bright light on what our dogs mean to us, especially during our most difficult days."
108 25A Magazine | metmagny.com
AMERICAN HUMANE SPARKLES UNDER THE STARS WITH HUMANE HEROES AT CALISSA AND WOLFFER ESTATE VINEYARD
benefit American Humane's 107-year-old rescue program, which last year, saved, sheltered, fed and protected more than 1 million animals. Gathering under the stars once more in Sagaponack, NY on July 13th, American Humane guests drank in the delicious views and wines on tap at the gorgeous Wolffer Estate Vineyard. Jean Shafiroff, an American Humane Board Member and local philanthropic leader, was paid special tribute to as a Humane Hero during the evening's festivities for all she does to help animals in need.
American Humane Board Members were also honored at Calissa on July 6 as Humane Heroes for their leadership of the prestigious charity. Honorees included Herb Krauss, Sharon Jablin, Dawn Assenzio, Marilyn Pelstring and Abigail Trenk.
Additional notables spotted at both events included American Human national ambassadors Caroline Harless and Leigh Anne Kazma, and Megan McCartney, Steven and Sandra K. Schoenbart, Amanda Stankiewicz, Lauren Day Roberts, Luciana Pamplone, and Mitch Kates and Kristen Baran amongst many others.
September 2022 109
110 25A Magazine | metmagny.com 25A
September 2022 111
On July 8, fashion designer Kobi Halperin, Karen Murray's Fivestory and American Humane joined forces at a Sip and Shop in Southampton, New York to help attendees find their favorite new frock while raising awareness about American Humane's mission and enjoying a glass of sparkling. Guests spotted included Michelle Worth, Jean Shafiroff, Chrissy Oakes, Mitchell and Liz Rodbell, Lori Traub, Marilyn Pelstring, Abigail Trenk who all enjoyed meeting Karen Murray's adorable fur
HAMPTONITES COME TOGETHER IN SUPPORT OF AMERICAN HUMANE AT FIVESTORY SIP & SHOP AND 2ND ANNUAL DOGS ON THE DUNES BEACH BONFIRE
and trains them to be service animals for veterans suffering the invisible wounds of war – traumatic brain injury and Post Traumatic Stress.
Attendees enjoyed a stunning waxing gibbous Moon while dining al fresco on lobster rolls, hot dogs and fried chicken. After dinner, guests kicked off their shoes and enjoyed music and s'mores roasted over a beach bonfire in front of the stunning moonlit ocean.
Onbaby.Sunday,
July 10, as the sun set over Quogue Beach, American Humane hosted its 2nd Annual Dogs on the Dunes event with 100 guests to raise awareness of this historic 145-year-old organization and its mission to be first to serve animals in need of saving, shelter and protection. American Humane, the country's first national humane group, not only helps animals in need but also works alongside military members to reunite them with their military working dogs, after they are retired overseas with no way home. And, through its famed Pups4Patriots program, American Humane finds dogs in need of forever-loving homes
"American Humane is honored to have brought together so many fabulous people in support of our efforts to save, shelter and protect animals in need and to bring home our brave military K-9s so they can be reunited with their beloved handlers," said Dr. Robin Ganzert, American Humane's president and CEO. "Supporters who attend our events, and generously contribute to American Humane, make it possible for us to save lives – often lives on both ends of the leash. We couldn't do this amazing work without them, and are proud to be making new friends here in the Hamptons so we can touch even more lives."
Photos by Jill Nelson / AnnieWatt.com
112 25A Magazine | metmagny.com 25A
September 2022 113
114 25A Magazine | metmagny.com 25A
September 2022 115
T
Established in 1981, the Greenwich Polo club is considered as one of the top high-goal venues in the world. Greenwich Polo Club runs 10 matches almost every Sunday through September. Sunday High Goal Public MatchesGates open at 1:00 pm, the match begins at 3:00 pm and ends around 5:00 pm.
THE SPORT OF KINGS
The Season has already had many memorable contests and moments and in the past month and many more are to come with upcoming contests including;
Nestled in the beautiful backcountry of Connecticut, the Greenwich Polo Club has hosted many of the top tournaments in Polo, including the esteemed East Coast Open. It is also home to the acclaimed White Birch polo team, one of the most successful teams in history,
Sunday September 4th, 2022 - East Coast Open
GREENWICH POLO CLUB'S Spectacular Season Showcases
Each Sunday match is attended by thousands of spectators flocking from New York City, Fairfield and Westchester counties, to witness the highest caliber of polo while enjoying an afternoon with friends and family. Greenwich Polo Club has also hosted many dignitaries and celebrities and in 2013 Prince Harry chose Greenwich Polo Club to host the Sentebale Royal Salute Polo Cup.
having won the most high-goal polo tournaments of any team over the course of the past 25 years, including the US Open Polo Championship in 2005. Legendary teams and players including Mariano Aguerre, Facundo Pieres, Hilario Ulloa, Nacho Figueras and many others, converge on the club every year to compete for some of Polo's most prestigious titles.
Saturday, October 8th, 2022 – CS14*/2* Greenwich Show Jumping
116 25A Magazine | metmagny.com
he Greenwich Polo Club, one of the premier polo clubs in the world, hosted the East Coast Gold Cup Final 2022 between Teams La Fe (players: Louis Devaleix, Robbi Bibao, Agustin Palomeque and Lucas Diaz Alberdi) and Level Select CBD (Andrew Gundlachh, Enrique Zavaleta, Joaquin Panelo and Ezequiel Martinez Ferrario). The tournament saw four teams compete in the East Coast Gold Cup leading to its thrilling finale where Level Select CBD triumphed with a final score of 5-6.
Sunday September 11th, 2022 - East Coast Open Final
By Elizabeth Langevin
For more information, schedule and tickets please visit: www. greenwichpoloclub.com
Greenwich Polo Club's Official sponsors this Season include; Audi, Celebrity Cruises, Barados, Falcon Jets, Codiga 1530 Tequila, HSS Stamford, Societe Generale, Morano Group and Roller Rabbit.
For more info on the Ann Liguori Foundation, visit www.annliguori. com/philanthropy/
ports Broadcasting trailblazer and award-winning Talk Show Host Ann Liguori will be hosting her 24th Annual Ann Liguori Foundation (ALF) Charity Golf Classic on Thursday, September 22nd, 2022, at the Maidstone Club in East Hampton, N.Y. The annual charity outing benefits not-forprofits that work in the field of cancer research and care including the Samuel Waxman Cancer Research Foundation, St. Jude Children's Research Hospital and East End Hospice.
Sponsors for the annual event are ABM, STRUCTURE TONE, PLATINUM, and Tommy & Shounda Foster. Donors for the charity tournament include Dooney & Bourke, DunDonald Links, Dunning Apparel, Dune Jewelry & the Hamptons Rope Collection, Eye King, FRENCH POOL TOY Wine, Golf in a Box, Hotel Indigo EAST END, Hubert Prive Golf Sculptures, IBKUL Athleisure Apparel, Linda Hartough, Hidden Links, North & West Coast Links Golf IRELAND, No Sweat, PEAKVISION Sunglasses, SwingLube, TaylorMade and Tour Edge.
"We're thrilled to honor Hall of Fame guitarist Alex Lifeson, who is a passionate golfer as well. And Dan Pontecorvo, our Business Honoree, is a shining light! And we so appreciate the support from our amazing sponsors, golfers, donors, and volunteers. And the golf community is so very generous, which we're so grateful for," adds Liguori.
In addition to Ann's philanthropic work, the broadcaster hosts a weekly 'Talking Golf' show on WFAN-NY, April – September, Sunday mornings, 7:00AM – 8:00AM, where she was the first woman to host a call-in sport's show. The 'Hey Liguori, What's the Story' show aired every week on WFAN for 24 years. Ann was also the first woman to host her own prime-time show on The Golf Channel. Ann's 'Sports Innerview' cable show aired weekly for 17 years as Ann interviewed the top legends in sports. And the 'Sports Innerview' radio show airs Saturday morning's on WLIW.
"This is a disease we are all too familiar with," says Liguori. "We are all directly or indirectly affected by this dreadful disease and anything we can do to fight cancer has been a mission of mine for decades since our family lost my Dad to cancer in 1981. We also lost my brother to leukemia when he was 22. My sister Jean, brother Dan and I, are committed to this cause forever."
Ann is the Global Ambassador for IBKUL Athleisure line (www. ibkul.com) and has collaborated on a jewelry line with DUNE JEWELRY called the Hamptons Rope Collection.
By Harry Brads
S
Dan Pontecorvo, Global Director of Real Estate & Engineering, Jane Street Capital, is the 2022 ALF Business Honoree, and Alex Lifeson, Hall of Fame Guitarist, RUSH, will accept the 2022 ALF Music Honoree Award at the Award's Dinner that evening.
Ann recently was honored with the 'Winnie Palmer Award,' at the MET Golf Writers National Award's Dinner, previously awarded to Barbara Nicklaus, Nancy Lopez, Tom Watson, Ernie Els and Gary Player, to name a few.
ANN LIGUORI FOUNDATION TEES UP FUNDRAISING DRIVE
September 2022 117
Photo credits: Neil Tandy, Ann Liguori Foundation
Please visit northwell.edu/katz-institute-for-womens-health
rammy, Emmy and Tony Award-winning songwriter and performing artist Cyndi Lauper performed at Northwell Health's fourth annual Summer Hamptons Evening (SHE), which raised $925,000 for the Katz Institute for Women's Health. The event was held in Water Mill at the residence of Victoria Moran-Furman, who hosted alongside presenting sponsors Iris and Saul Katz, the benefactors of the Katz Institute for Women's Health, Eric Moran and celebrity event planner Larry Scott of Lawrence Scott Events.
Additional sponsors for the evening included: Lead Sponsors: American Securities Foundation/Michael G. Fisch, and Iris & Michael Smith; Premier Sponsor: Beth and Peter Hammack; and Champion Sponsors: Christie & Bob Donaldson, Alicia Grande and Grande Cosmetics, Dr. Paul Jarrod Frank, Alyssa & Todd Katz, Dayle & Michael Katz, Dr. Karen Kostroff & Dr. Jon Cohen, Karen & Dr. Lyle Leipziger, The Lipsay Family Charitable Foundation, Denise Neiditch Breger and Ruth & Michael Slade.
G
SHE Event Raises $1M for
"Women have been understudied, underdiagnosed and undertreated for too long," said Stacey E. Rosen, MD, senior vice president of women's health at the Katz Institute for Women's Health. "Our experts focus on the unique health needs of women and collaborate to create a new model to improve the health of women. We've launched a revolution in women's health."
By Clara Morgan Women's Health
Northwell Health is New York State's largest health care provider and private employer, with 21 hospitals, 850 outpatient facilities and more than 12,000 affiliated physicians. Northwell cares for over two million people annually in the New York metro area and beyond, thanks to philanthropic support from our communities with a team of some 80,000 employees – 18,900 nurses and 4,900 employed doctors.
118 25A Magazine | metmagny.com
The Katz Institute for Women's Health provides an innovative model of care, delivering an integrated approach to women's health and wellness. Supporters of SHE and the Katz Institute advance our Outpacing the Impossible campaign and become champions for women.
Photo credit: Northwell Health Services
Dr. Rosen joined Tara Narula, MD, associate director of the Lenox Hill Women's Heart Program and CBS News senior medical correspondent, to address attendees during the event, which was emceed by Rosanna Scotto, anchor of "Good Day New York" on WNYW-Fox 5 News.
Supporters of the event are raising health for the women in our communities — from Manhattan to Montauk. Northwell's Katz Institute for Women's Health has created the only network of experts — including clinicians, scientists and researchers — who are uniquely qualified to address the healthcare needs of women.
September 2022 119
Animal Shelter Foundation Board Members include Susan Allen, Beau Hulse, Wendy Wegner, Bonnie Klapper, Renee Schlather, Brigid Fitzgerald, Dorothy Frankel, Sarah Freedman, Jordan Lippner, Marcy MacMillan, DMV, William Matuska, and Lorraine Egan. Platinum Vice Chairs include Susan Allen, Allen Wyoming Foundation, and Leslie L. Alexander Foundation. Diamond Vice Chair Jonathan McCann and Martin & Jean Shafiroff. Corporate Chair, Stifel. Silver Vice Chairs Fiona & Stanley Druckenmiller, Lorraine, Bill & Lynn Egan, Karen & John Ferguson, Paul Herman, Beau & Patricia Hulse, Southampton Hospital Foundation, Bonnie Klapper & Lonny Schwartz, Mrs. Nicholas D. Mastronardi.
GIVES UNCONDITIONAL LOVE
T
Notable attendees included Bill Bratton, Jean Shafiroff, Jonathan McCann, Martin Shafiroff, Rikki Klieman, Pat Deshong, Rocco DiSpirito, Morgan Oliveira, Southampton Town Supervisor Jay Schneiderman, Magdalena Schneiderman, NYS Assemblywoman Rebecca Seawright, Jaclyn Brunckhorst, Greg D'Elia, Mayor Jesse Warren, Martyna Sokol, Jill Rappaport, Kim and Greg Dryer, Elizabeth Shafiroff, Debbie Bancroft, Ian Duke, Elena Gibbs, Lucia Hwong Gordon, Ann Liguori, Susie Wagner, Greg D'Elia, Nancy Stone, Terry Moan, Jonathan McCann, Dede Gotthelf, Eve Brookville and David
The Foundation's Host committee included Antonella Bertello, John Crawford, Rocco DiSpirito, Kim Renk Dryer, Elena Gibbs, Geri Garvin, Missy Hargraves, Asia Lee, Rolise Rachel, Randi Schatz, and Dawn
120 25A Magazine | metmagny.com 25A
SouthamptonHochberg.
he Southampton Animal Shelter Foundation's 13th Annual Unconditional Love Gala returned to the Hamptons on a beautiful evening on storied Gin Lane in Southampton, NY. The grand soiree was among the highlights of the summer season out East. Chaired by Jean Shafiroff, the event honored Jonathan McCann, founding President of SASF and William Bratton, former Police Commissioner of New York City. The Honorary Chair was Georgina Bloomberg. The annual event has been the most important fundraiser for the shelter for over a decade featuring a reception, seated dinner and dancing. In addition, a live and silent auction helped raise much-needed funds for the animals.
By Lillian Langtry
Jessica Strain along with the Team from the foundation including Executive Director Pat Deshong, Operations Director Beatrix Parash, and Director of Marketing, Nicole A. Tumilowicz.
SOUTHAMPTON ANIMAL SHELTER
The evening started off with a silent auction as well as a cocktail hour that included chilled, Summer in a Bottle rosè by Wölffer Estate Vineyards, freshly made Tito's Handmade Vodka and Uni Tequila cocktails, and passed hors d'oeuvres by Robbins Wolfe catering. Attendees were then treated to a three-course meal featuring James Beard Award Winning Chef, Rocco Dispirito's Tindle chicken parmigiano, an indulgent, plant-based dish.
Proceeds from this event directly supported the more than 5,000 animals who enter the SASF's doors each year. The Southampton Animal Shelter Foundation, a 501(c)(3) non-profit, open admission, no kill organization that relies on donations and grants from the community. From caring and finding homes for stray and abandoned animals to providing low-cost veterinary care and dog training so that animals can remain in their homes, the shelter has become a vital resource in our community. No animal is left behind.
Highlights of the live and silent auction items included: The Boca Raton, Sailhamptons with a Hinckley picnic boat, Atlantis Bahamas, Sun Valley Resort, Yacht Kingfisher, The Baker House 1650, London Jewelers, and artwork from Camilla Webster, Leila Pinto, Hakob Hakobian, and George Schulman. Other items included tickets to The
September 2022 121
In her address, Jean Shafiroff Chair of the Gala commented, "we were so pleased to honor Bill Bratton and Jonathan McCann. This year we welcomed both a number of long-standing supporters and in addition many new supporters. We also saw the attendance of many new young juniors – which is wonderful as they represent the next generation of animal lovers and supporters".
New York Knicks, Rangers, Mets, and Islanders, as well as tickets to a Billy Joel concert (to be attended in his private booth). The gift bags included a $250 serum by Clinical Skin, $100 gift card from Bionova, Aloisa beauty, socks by Bombas, Petralyte, Cafe Vitoria, Serenity Tea, Kim Renk Jewelry, Burlap & Barrel Royal Cinnamon, and glutenfree nut bread by Rocco DiSpirito. Generous restaurant donations were made by The American Hotel, Dopo La Spiaggia, Union Steak & Sushi, Union Burger, Page 63, The Bell & Anchor, Lulu Kitchen & Bar, Manna, and Sen Restaurants.
Please visit www.sasf.org
Rolls-Royce Motor Cars NA, LLC, P.O. Box 1227, Westwood, NJ 07675-1227 Tel: 1-877-877-3735 www.rolls-roycemotorcars.com
© Copyright Rolls-Royce Motor Cars. The Rolls-Royce name and logo are registered trademarks.
THE NEW ROLLS-ROYCE GHOST