TRADITIONAL
for the 21st century DESIGN
a perspective
all rights reserved no part of this publication may be reproduced in whole or part without priorconsent.written
DCOOPMEDIA, LLC
TRADITIONAL
written & edited by BRANDON A. SMITH with WOOD-MODE FINE CUSTOM CABINETRY DESIGN a perspective a dcoopmedia publication
for the 21st century
40
14 Timeless
30 Waterfront
34 A
28
22 Harbor
38 About
11
[ contents ] 5 12 Stockbridge
26 2014
36 2012
24
18 Conners/DeLia
17 Santa
20
Tanglewood Traditional Traditional Residence Point Drive DC Design House Townhouse Brand New Kitchen Wood-Mode Bowl Cottage Rita Cottage Coleman Residence Traditional Home Remodel Heirloom Black Beauty Designer Showhouse of New Jersey Santa Barbara Design House & Gardens Resources
32 2012
THE CHANGING FACE OF TRADITIONAL DESIGN FOR THE 21ST CENTURY FAMILY
6 [ an introduction ]
FEDERAL . GREEK REVIVAL .
Be it the primitive and grassroots-influenced Spanish and Mission styles that beckon to California's newborn years or the overly ornate and English-inspired Federalist and Regency fashions made popular by the founders of the 13 original colonies, traditionally inspired design and architecture reigns supreme. It maintains a sense of culture and permanence.
Even as the contemporary and transitional design aesthetics continue to rise in popularity, both go-to choices for homeowners and designers alike, it is those environments deeply rooted in regional heritage and old-world tradition that remain at the foundation of good taste and provide the basis for truly inspired interior and architectural design.
Yet it continues to be reinvented not only by the innovative spirit of designers, architects, and craftspeople, but also from the influence of technology, method, economy, and region.
The following pages represent an examination of this continued transformation, highlighting the classically influenced kitchen designs of fourteen creative design studios around the country. Their completed projects provide insight into the traits that make traditionally influenced styles as relevant today as when the designs that influenced them were first introduced.
GOTHIC . BEAUX ARTS
7
WITHOUT TRADITION, ART IS A SHEEP WITHOUT A
SHEPHERD. WITHOUT INNOVATION IT IS A CORPSE. [ sir winston churchill ] 8
CORPSE. 9
10
TANGLEWOOD TRADITIONAL houston . texas ] designed by KITCHEN & BATH CONCEPTS
[
CASE STUDY
Deeply carved yet functional pedestals. Ornamental-stacked moldings. Recessed cabinetry fronts. Reflecting the Renaissance-inspired mannerisms of Beaux-Arts architecture, each of these elements emphasize the interplay of light and shadow, lending an over-thetop nobility to this grand Texas kitchen. photos by Miro Dvorscak
POLITE FORMALITY 11
A TIE TO HERITAGE
12
It was the American Bicentennial that made the pared-down Colonial Revival style all the rage in the late-nineteenth century. A Massachusetts kitchen by Karen Beckwith brings together Shaker-influenced cabinetry and muted finishes with lighting modeled on the fixtures of twentieth-century schoolhouses and stainless steel appliances. Combined they become a contemporary nod to a timeless architectural style. photos by Scott Barrow
CASE STUDY
STOCKBRIDGE BOWL COTTAGE [ stockbridge . massachusetts ] designed by KAREN BECKWITH CREATIVE with SUSAN KOCHANSKI DESIGN, LLC
13
14
It is beneath the lofty ceilings of a Rice University residence that a confluence of architectural elements come together. Decorative treatments stack one atop the other, a reflection of the storyby-story approach to ornamentation that was once the foundation of the Neo-Renaissance style. The result of this departure from more classically structured methods of applying ornament is a grand cooking space enhanced by both an unstructured elegance and a comfortable, down-toearth presence.
TIMELESS TRADITIONAL
[ sister parish ]
photos by Don Hoffman
CASE STUDY
[ houston . texas ]
15
designed by CABINET INNOVATIONS
INNOVATION IS OFTEN THE ABILITY TO REACH INTO THE PAST AND BRING BACK WHAT BEAUTIFULGOODISWHATISWHATISUSEFULWHATISLASTING
Palo Alto's Santa Rita Cottage carefully mixes the Gothic-inspired elements of eighteenth-century architectural pattern books with the formal classicism of Colonial America. Hints of French ornament are apparent throughout and yet are cleverly worked into the overall aesthetic. The resulting combination of these varied themes becomes a romantic interpretation of photosutilitarianGeorgian-styledfunction.byTheresaM.Sterbis
SANTA RITA COTTAGE palo alto . california ] designed by PROJECT PARTNERS DESIGN with SELBY HOUSE LTD.
CASE STUDY
[
16
AIR OF ROMANCE
17
18
An impressive appearance and a sense of weighty permanence made Neoclassical architecture the preferred choice for both ambitious city planners and the architects who carried out their grandiose plans. Prominent columns in the Doric order and a dentiled cornice, not unlike the ornamental elements gracing turn-of-the-century public buildings, bring the same monumentality and a staid elegance to a New York kitchen, designed by Derek Pino.
photos by Sandra Kicman
CONNORS/DeLIA RESIDENCE [ clinton . new york ] designed by CONCEPT II
CASE STUDY
19
CASE STUDY COLEMAN RESIDENCE
UPDATEDTRADITIONALWAYSHASTOBE&PUSHEDFORWARD
20
[ la jolla . california ] designed by INPLACE STUDIO
Coastal California finds itself home to a multitude of design styles. An airy kitchen in the beach-side enclave of La Jolla, however, culls its inspiration from California's Spanish Colonial roots. Underneath a shallow barrel ceiling, an architecturally significant range hood and sparse columns comingle with classically inspired moldings and multi-paned glass cabinets. The curation presents vestiges of California's early Spanish heritage as well as a subtle nod to the glitz of vintage Hollywood. photos by Preview First
AFTER ALL, YOU WOULDN'T SEND A DÉBUTANTE TO HER 80TH BIRTHDAY PARTY WEARING HER ORIGINAL PARTY DRESS [ thomas jayne ]
21
22
CASE STUDY
HARBOR POINT DRIVE
[ longboat key . florida ] designed by RENAISSANCE DESIGN STUDIO
photos by Mark Borosch
Standing in stark contrast to the typical perception of traditional French design, a monochromatic kitchen in Florida eschews fussy ornament. With roots in the Second Empire, the delicate workspace instead highlights those elements with the most impact. A light color scheme, elongated upper cabinetry, and simple details are tied together with deeply patinated metal accents, providing evidence that French design needn't be fussy or over-the-top.
RESPECT FOR PAST GENERATIONS CANNOT BE SHOWN THROUGH IMITATION BY PROVING THAT WE HAVE THE POWER TO CARRY
BUT
THE DETERMINATION,OURHERITAGEHONORABLEWITHINTELLECT,&TALENT [ enis kortan ] 23
STAID PERMANENCE
24
CASE STUDY
Bypassing the general tendency to over-ornament the traditionally inspired kitchen, Abruzzo's Arlington Heights kitchen opts instead for purposeful ornamentation. Elegantly tapered curves and a deep-set coffer in an otherwise expansive ceiling plane emphasize the setting's determined elegance while furniture-like cabinetry set on footed plinths highlight a foundation of Regency influence.
25
TRADITIONAL HOME REMODEL [ arlington heights . illinois ] designed by ABRUZZO KITCHEN & BATH
One mustn't reject color entirely for the sake of a kitchen with traditional roots. A subdued shade of blue enhances the fine-tuned classical details made part of the 2014 DC Design House's Wine Room. Contemporary brass pulls work in contrast with the room's Federal styling to mimic the sophisticated symmetry of eighteenth-century American architecture. Together, the elements within the Wine Room combine to reflect the ornamental traditions of our nation's capital. photos by Angie Seckinger
CASE STUDY
26
2014 DC DESIGN HOUSE [ washington d.c. ] designed by AIDAN DESIGN
[ george santayana ]
THE ALLMENBESTINAGES
TRADITIONSCLASSICKEEPALIVE
27
[ daniel libeskind ] TO ARCHITECTUREMEANINGFULPROVIDE IS NOT ITARTICULATEBUTHISTORYPARODYTOTO 28
HEIRLOOM BLACK BEAUTY
A dramatic black finish and coffeetoned countertops emblazoned with a prominent grain both play significant roles in the medieval appearance of this heirloom setting imagined by Mario J. Mulea. Gilded lighting, Tudorstyled leaded glass, and a primitive overmantle sheltering a French range further reference the characteristics of Tudor Revival. In the case of this Long Island residence, the chef is truly the lord or lady of the manor. photos by Keith Scott Morton
[ long island . new york ] designed by KITCHEN DESIGNS by KEN KELLY
CASE STUDY
29
THE PAST HAS PRESENTTHEINFORMTO [ john turturro ] 30
Square footage is of no concern in the cooking space of a Blackrock townhouse. Embellished with ornament once found in turn-of-the-century Italy, professional-quality cooking equipment is ensconced in a furniture-like envelope. A reflection of its Palazzo aesthetic, a generous dose of formality is achieved with the confines of a compact footprint.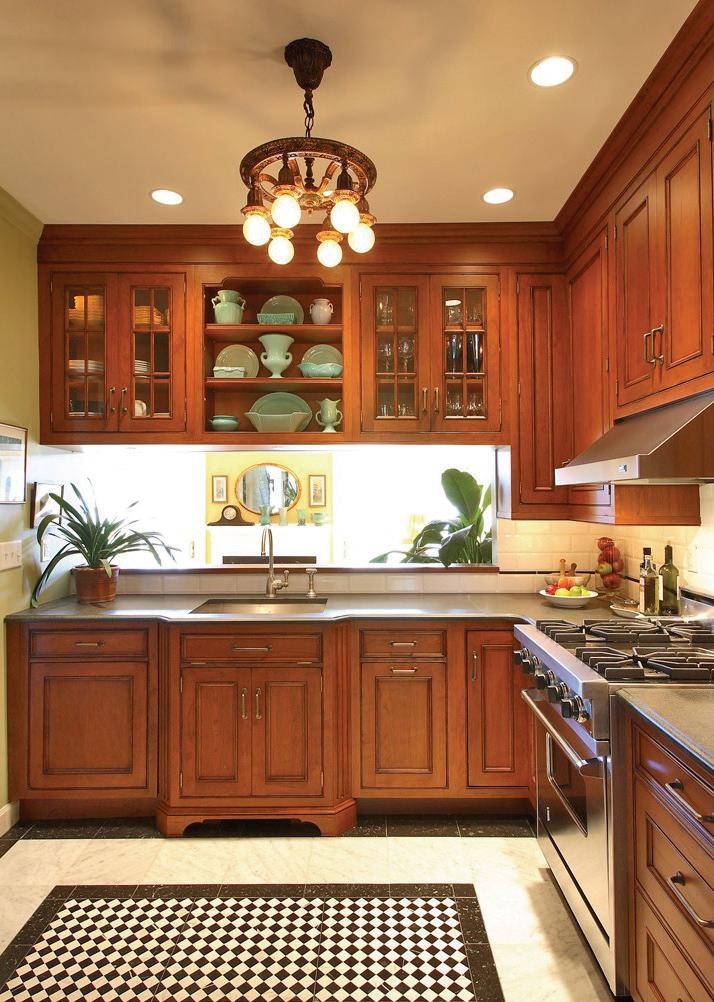 photos by John Olson
31
CASE STUDY
WATERFRONT TOWNHOUSE blackrock . connecticut ] designed by SHORE & COUNTRY KITCHENS
[
[ saddle river . new jersey ] designed by ULRICH, INC.
photos by Peter Rymwid
CL ASSIC O RDER
CASE STUDY
32
2012 DESIGNER SHOWHOUSE of NEW JERSEY
It is in the outfit of the modern-day open kitchen that one is faced with the particularly onerous challenge of balancing a desire for classic formality with the necessary function of a casual workspace. Monumental furniture-like workstations are further enhanced by a heavily layered cornice, together a loose interpretation of classic symmetry through visual uniformity. The resulting environment is a harmonious balance, equal parts graceful elegance and confident informality.
33
34
It was the innovations in American machining and carpentry after the Industrial Revolution that brought ornament to the farmhouse kitchen. The simple, elegant motifs of the ensuing Queen Anne and Eastlake aesthetics revitalize a Westlake kitchen providing a straightforward approach to ornamental expression. The vaulted environment is further enhanced by the inclusion of contrasting stone finishes and the overtly utilitarian farmhouse sink.
A BRAND NEW KITCHEN [ westlake . texas ] designed by THE KITCHEN SOURCE with VERANDA DESIGNER HOMES
photos by Terry Theiss
CASE STUDY
[ elsie de wolfe ] & WE CANNOT DO BETTER THAN TO ACCEPT THE STANDARDS OF OTHER TIMES ADAPT THEM TO OUR USES 35
36
CASE STUDY
Siegfried Giedion once quipped The backward look transforms its object . An impeccably precarious design for the 2012 Santa Barbara Design House & Gardens' kitchen finds strength in Giedion's reflection. It is here that a cornucopia of Italianate characteristics - over-sized corbels and applied decorative embellishments - is balanced atop a plinth of slender columns whilst crowned by an exaggerated cornice. In the presence of such royalty, the balanced structure becomes, instead, a comforting California envelope. photos by Dominique Vorillon
2012 SANTA BARBARA DESIGN HOUSE & GARDENS [ santa barbara . california ] designed by SHOWCASE KITCHENS & BATHS
GROUNDED OPTIMISM
37
SYNONYMOUS with LUXURY
The very best in American-made craftsmanship, Wood-Mode luxury products are the culmination of more than 70 years of precision workmanship and design leadership. Best known for its stunning, furniture-grade finishes and extensive customization capabilities, Wood-Mode delivers designer cabinetry with quality materials and personalized solutions to satisfy the most discerning www.wood-mode.comhomeowner.
FineWOOD-MODECustomCabinetry
38
39
40
RESOURCES
For more information about the case studies, designers, and products featured in this perspective, please refer to the following resource guide.
Please note that although the contact information provided is deemed accurate at the time this perspective was published, it is subject to change without notice.
ARCHITECTURALArchitectSOLUTIONS INC. www.dmglphotography.comRöHEwww.asi-design.comBuilder&WRIGHTBUILDERSwww.rohewright.comPhotographerMIRODVORSCAKCabinetryWOOD-MODEGrandTour Perimeter: Harbor Mist with Pewter Glaze on Maple Island: Matte Antique Sienna on Cherry Products Moldings, Trim - ENKEBOL MOULDINGS [ page 11 ] KAREN
5120 Woodway Drive Courtyard Suite 219 Houston, TX Backsplashwww.chamberspaintingandremodel.comwww.cabinetinnovationstx.com77056(713)461-6424ProjectDesignerNICOLEBRUNOMARINOInteriorDesignerDIANANULLBuilderPATCHAMBERSCHAMBERSREMODELING,LPPhotographerDONHOFFMANDONHOFFMANPHOTOGRAPHYwww.donhoffman.netCabinetryBROOKHAVENbyWOOD-MODE&WOOD-MODERestonRecessedCottageWhiteonMapleAntiqueLeatheronMapleProducts-ADR;Refrigerator-SUB-ZERO
CREATIVE
41 RESOURCES KITCHEN & BATH CONCEPTS
[ page 12 ] CABINET
7026 Old Katy Road, Suite 148 Houston, TX MICQUIwww.kitchen-concepts.com77024(713)528.5575ProjectDesignerMcGOWEN, CMKBD CID CAPS BECKWITH Po Box 737 Lenox MA SUSANwww.karenbeckwith.com01240(413)637.4479ProjectDesignerKARENBECKWITHAssistanceProvidedBySUSANKOCHANSKIKOCHANSKIDESIGN,LLCArchitectDAVIDPOTTERGREENRIVERDESIGNwww.greenrigerdesign.netBuilderGREGGWELLENKAMPWELL-KAMPENTERPRIZES,INC.www.well-kamp.comPhotographerSCOTTBARROWSCOTTBARROWPHOTOGRAPHYwww.scottbarrow.comCabinetryWOOD-MODEChathamRecessedEggshellonMaple INNOVATIONS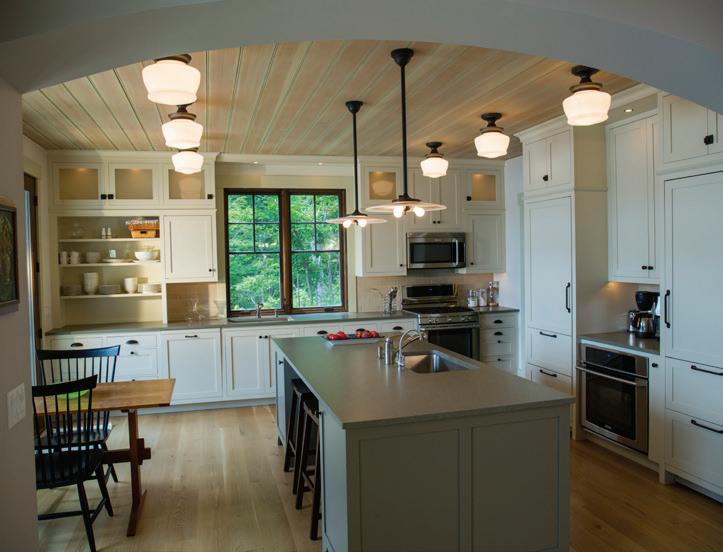 [ page 14 ]
42 CONCEPT II Fine Kitchens, Baths, Tile &Stone 349 W. Commercial St. #1540 E. Rochester, NY RefrigeratorBROOKHAVENwww.concept-ii.com14445(585)248.3510ProjectDesignerDEREKPINOPhotographerSANDRAKICMANwww.sandrakicman.comCabinetrybyWOOD-MODECustomfinishwithdistressingProducts-SUB-ZERO;Backsplash - NEW RAVENNA; Range - WOLF PROJECT PARTNERS DESIGN 37783 Glenmoor Drive Fremont, CA Perimeter:FERGUSwww.proj-partners.com94536(650)515.8863ProjectDesignerTHERESAM.STERBISakbdAssistanceProvidedBySELBYHOUSELTD.ELIZABETHHILLArchitectHEATHERYOUNGGARBERYOUNGARCHITECTSwww.fgyarch.comBuilderPETEMOFFATCONSTRUCTIONINC.www.petemoffat.comCabinetryWOOD-MODEEssexRecessedCustomGrayonQuarterSawn Oak Island: Heirloom Black on Maple with Espresso Glaze and ProductsDistressing Sink - ROHL; Refrigerator - SUB-ZERO; Dishwasher - BOSCH; Range - CORNUFE; Ventilation - BEST; Microwave - MIELE; Trash Compactor - KITCHENAID; Beverage Center - PERLICK [ page 18 ][ page 17 ] RESOURCES INPLACE STUDIO 7739 Fay Avenue La Jolla, CA Refrigeratorwww.healeycustomconstruction.comHEALEYwww.inplacestudio.com92037(858)454.7397ProjectDesignerALISONSMITH-DORVILLIERNICOLENELSONArchitectALISONSMITH-DORVILLIERBuilderJEFFHEALEYCUSTOMCONSTRUCTIONPhotographerPREVIEWFIRSTwww.previewfirst.comCabinetryBROOKHAVENbyWOOD-MODELewisburgInsetNordicWhiteonMapleVintageSlateonMapleProducts-SUB-ZERO;Countertop-CALACATTAGOLD;CounterStools-ONEKINGSLANE,KRAVET [ page 20 ]
[ page 26 ]
Cabinet Pulls - LEWIS DOLIN; Table - VICTORIA SANCHEZ OF VICTORIA AT HOME; CountertopHONED CALACATTA GOLD MARBLE FROM R. BRATTI; Wine Refrigeration - THERMADOR; Lighting - ROBERT ABBEY; Flooring - ARCHITECTURAL CERAMICS; Wall Finish - C2 PAINT
ABRUZZO KITCHEN & BATH
[ page 24 ][ page 22 ] RENAISSANCE DESIGN STUDIO 3900
1105 Remington Rd., Ste. E Schaumburg, IL
MOORE;-Countertop/Backsplashwww.renaissancedesignstudio.com34233(941)921.9393ProjectDesignerMISSIBARTArchitectCLIFFSCHOLTZCLIFFORDM.SCHOLTZARCHITECTSwww.cmsa1.comBuilderSTEVEMURRAYMURRAYHOMESwww.murrayhomesinc.comPhotographerMARKBOROSCHMARKBOROSCHPHOTOGRAPHYwww.borosch.comCabinetryBROOKHAVENbyWOOD-MODEEdgemontRecessedSquareNordicWhiteonMapleProducts-EUROPEANMARBLECOMPANY;Refrigerator&WineRefrigeratorSUBZERO;Range-WOLF;Paint-BENJAMINCabinetHardware-TOPKNOBS;Stools
POTTERY BARN
8935 Brookville Rd. Silver Spring, MD
Fixtures:Countertopwww.abruzzokitchenandbath.com60173(847)885.0500ProjectDesignerERIKAANDERSONProjectManagerHEATHERGROENLANDBuilderSMARTGROUPLTDCabinetryBROOKHAVENbyWOOD-MODESpringfieldRaisedCustomFinishonCherryProducts-QUARTZITEPRINCESSWHITE;Paint-BENJAMINMOORE;Hardware-SCHAUB;LightFRAMBURG;Appliances-RANGECRAFT,SUB-ZEROWOLF,DACOR,BOSCH Clark Road, Suite B-2 Sarasota, FL -
43 RESOURCES
AIDAN DESIGN
Devoncourtwww.aidandesign.com20910(301)320.8735ProjectDesignerNADIAN.SUBARANCabinetryWOOD-MODEPassageinTavernonCherryandSquareEdgeRegency in Vintage Navy on Maple Products
KEITH SCOTT MORTON BROOKHAVENwww.keithscottmorton.comPHOTOGRAPHYCabinetrybyWOOD-MODESpringfieldRecessedSquare
100 Chestnut Street Ridgewood, NJ
KITCHEN DESIGNS BY KEN KELLY
Heirloom Black with Brown Glaze and Distressing RangeProducts-CORNUFE 44
KEITHPhotographerSCOTTMORTON
[ page 28 ] [ Page 32 ] RESOURCES SHORE & KITCHENSCOUNTRY 1735 Post Road Fairfield, CT CountertopTuscanwww.shoreandcountrykitchens.com06824(203)259.7555ProjectDesignerBOBBLANCOPhotographerJOHNOLSONOLSONPHOTOGRAPHICLLCwww.olsonphotographic.comCabinetryWOOD-MODEEssexRaisedSunonCherrywithHandGlazingandDistressingProducts-HONEDABSOLUTEBLACKGRANITE;Refrigerator-SUB-ZERO [ page 30 ]
ULRICH, INC.
ByCountertopLIGHTING,PaintIsland:ARCHITECTURALMITCHELLwww.ulrichinc.com07450(201)445.1260ProjectDesignerJULIAKLEYMANInteriorDesignerTONYMANNINGMANNING&ASSOC.www.mitchellmanning.comPhotographerPETERRYMWIDPHOTOGRAPHYwww.peterrymwid.comCabinetryBROOKHAVENbyWOOD-MODESpringfieldRaised&RecessedPerimeter:LaceonMapleBrownwithBlackGlazeonCherryProducts-PRATT&LAMBERT;Lighting-W.A.C.CIRCALIGHTING,KICHLERLIGHTING;-COLONIALGOLDGRANITESuppliedDENTETRADINGCO.,INC,FabricatedbySTONESURFACES;Appliances-ELECTROLUX;Tile-CROSSVILLE,INC.;Sinks,Faucets-FRANKE;BarStools,DiningTable,DiningChairs-HICKORYCHAIR;Urns,Settee-MAITLANDSMITH;ValanceFabric-HICKORYCHAIR;Placemats,Napkins-SFERRA;Pedestal,Art-EURICA
26 Hillside Ave. Williston Park, NY www.kitchendesigns.com11596(516)746.3435ProjectDesignerMARIOJ.MULEA, CR
SHOWCASE KITCHENS & BATHS
45 RESOURCES
2650 Ventura Blvd. Camarillo, CA
Faucetswww.showcasekitchensandbaths.com93010(805)482-5144ProjectDesignerCHARLIERUTLEDGEInteriorDesignerMARYMcDONALDMARYMcDONALD,INC.www.marymcdonaldinc.comArchitectPETERBECKERPETERBECKERARCHITECTwww.peterbeckerarchitect.comBuilderPENNCOPROPERTIES,INC.www.penncoproperties.comCabinetryWOOD-MODESpringfieldRecessedPerimeter:NordicWhitewithHeirloomIsland:BlackwithEspressoGlazeProducts-WATERSTONEFAUCETS;CabinetHardware-TOPKNOBS;Sinks-KOHLER;Appliances-GEMONOGRAM;Backsplash-AKDO;Countertop-ITALIANCALCUTTA&CREMAFROMSTONEWEST;Lighting-CIRCALIGHTING;BarStools-POTTERYBARN;Table-CABANAHOMECOLLECTION;Chairs-JANUSETCIE;HostChairs-MR.BROWNHOME;Vases-S.R.HOGUE&CO.
1544 Slocum Street Dallas, TX www.verandadesignerhomes.comwww.thekitchensource.net75207(214)741.1912ProjectDesignerABBEYRAGSDALEBuilderBETTYBAKERVERANDADESIGNERHOMESPhotographerTERRYTHEISSTERRYTHEISSPHOTOGRAPHYwww.terrytheissphotography.comCabinetryBROOKHAVENbyWOOD-MODE&WOOD-MODEWinfieldRecessedSquareEdgeRegentRecessedInsetNordicWhiteonMapleProductsRefrigeratorPulls-TOPKNOBS
[ page 36 ][ page 34 ]
THE KITCHEN SOURCE
all photography, text, and graphics, unless otherwise noted, are copyright wood-mode,dcoopmedia.wood-mode
all rights reserved no part of this publication may be reproduced in whole or part without the prior written consent of dcoopmedia.
dcoopmedia, llc 3245 university ave. #1102 san diego, ca info@dcoopmedia.comwww.dcoopmedia.com92104
fine custom cabinetry, and the wood-mode mark are registered trademarks of wood-mode.
DCOOPMEDIA, LLC
L205-0316