सामहिक पिल
Samuhik Pahal
A Journal of Our Collective Action
March
Libraries in Schools and Communities
2023 |
3
6
Vol
Issue
This issue of Samuhik Pahal has been guest edited by PRAYOG (Professionals Alliance for Youths Growth), which is a Not For Profit organization and a Registered Public Charitable Trust. PRAYOG is striving to improve learning outcomes of students in rural areas.
Along with improving independent thinking and enhancing creativity of the students, it is also creating livelihoods for the youth.
CONTENTS Editorial 03 Celebrating Children's Libraries in India Resources Photo Essay Ground Zero Diverse Geographies, Diverse Libraries Siddhi Kalbhor Reflections & Opinions 05 09 13 31 28 30 36 Nurturing Ecosystem of Children's Literature and Reading for Pleasure in India Amrita Patwardhan Connecting the Dots Between Literacy and Reading Libraries' Critical Role in Children's Learning Keerti Jayaram Books, Digital Resources, and the Right to Read A Community Library's Response Zoya Chadha A Library Campus in Rural Bihar Anita Kumari, Kailash Pati and Ragini Sharma Starting A Community Library Syeeda Zainab Bookstores Across India Some Independent Bookstores for children's books Surya Prakash Rai Interview In Conversation with BlueJackal PRAYOG Team बाल साहित्य क हिमाण म एकलव्य सस्ा क अिभव और अन्तर्हटि विनीत रजन 18 24
Celebrating Children's Libraries in India
Over the ages, the library as a place has embodied the values of knowledge, reflection and lifelong learning. As library educators in present times, we can convey these vital aspects through our collections. We can also demonstrate our commitment to the values of inclusion, freedom, trust and openness by practising these values in the library as a place.
Such a library will always have a place in our hearts and minds.1 Libraries have never restricted themselves to be just places where books are stacked in shelves. They have become much alive and vibrant spaces today. And when it comes to children's libraries, we want to see them brimming with joy and enthusiasm. It is a matter of immense pleasure that we can say this about the children's libraries that have sprung across India. This is surely something we must celebrate.
A library must be a vibrant space with a diverse collection of books. It should give enough scope for the users to understand the world around them. It should also be dynamic, with a vision to reach out to its users and give enough scope for new users and readers. It must be welcoming, attractive and user friendly as well, while having a diverse collection and utilizing spaces optimally. These are some of the key attributes of a dynamic library space.
A good library begins with the library educator at the centre. The vision of the librarian needs to ally with the vision of the library. This vision also needs to be revisited at regular intervals.
Libraries should be social institutions with their objectives, functions and operations
aligning with the communities they serve. They cannot be fostered just by legislation or whims of philanthropists.2 A lot more effort is required to make them dynamic and interactive.
Children's libraries have emerged in diverse forms. These include community libraries, mobile libraries, and pop-up libraries. Most commonly they are found in school set-ups. They should be epicentres where children enjoy being surrounded by books, browse across bookshelves and experience the joy of finding their own books to read.
Taking ahead these experiences, libraries are engaging with children through a range of book related activities. They are encouraging them to become readers. They are introducing them to not just stories, but to complex themes as well.
Libraries are also providing a loving, compassionate ear to what children have to say. They are reaching the remotest of locations as well. They are envisioning to become safe spaces for children in conflictridden zones. They are setting the narrative for mental health and well-being of children and adults.
This reminds us of what Maya Angeleou has shared while saying how a library saved her own life as a child:
When it looked like the sun would not shine anymore
God put a rainbow in the clouds
Look at that — look at that!
That's a library — a library is a rainbow in the clouds.
Stories of such libraries instil us with hope.
3
Editorial
A large number of such libraries have started to evolve in India. One of the contributing factors have been the vibrant effects of library related courses and training programs. The rise in the publication of children's literature in the country is also a facilitative part of this process. The human element in the library set-up is very critical. Courses for library educators are enabling practitioners and educators to learn the art of library practice.
A lot of appreciation also needs to reach out to children's books' authors, illustrators, translators, publishers, and all those engaged in publishing diverse children's literature. There has been a significant increase in publishing critical children's literature across multiple age groups. The themes have also become diverse over the years. The content is evolving to become more inclusive.
These strands of children's literature leave behind a lot of curiosity, thoughts and excitement, for both readers and library practitioners. Many good books are also being translated to other languages. However, a lot of effort is still needed on this front. The publication of good books have definitely
added a spark to children's libraries. But given the size of our country and its diversity, much deeper thought is required to ensure that these books reach out to all the children.
This Samuhik Pahal issue has focused on two aspects: First, the views of a diverse set of people who are enabling libraries, and who have contributed with their thoughts and reflections on children's libraries. An effort has also been made to gather the ideas of authors, illustrators and editors on the publishing of children's literature. Second, there is a focus on library initiatives from across the country. These initiatives are opening up books for children, where words and illustrations act as songs for them.
These libraries are not just holding a collection of books that are sourced from outside and curated. They are also contributing to some wonderful creations in children's literature. They are becoming the voices of children and their communities. This is why such libraries are worth celebrating.
These children's libraries make space for every way of being. They uphold inclusion and diversity. Each of these libraries has its own story of origin, survival and thriving. Of course, they come with their own struggles and challenges as well. This gives us more reasons to share, learn and get inspired.
Let us first begin by getting to know them, and celebrate them. This could help us imagine and explore their immense potential and possibilities.
Endnotes
1. Mukunda, Usha. December 2021. 'Library as a place.' Teacher Plus
2. Rao, K.R., 1961. 'Library development in India.' The Library Quarterly, 31(2), pp.135-153.
4 Editorial
- PRAYOG Team
www.istockphoto.com/D. Talukdar
Nurturing Ecosystem of Children's Literature and Reading for Pleasure in India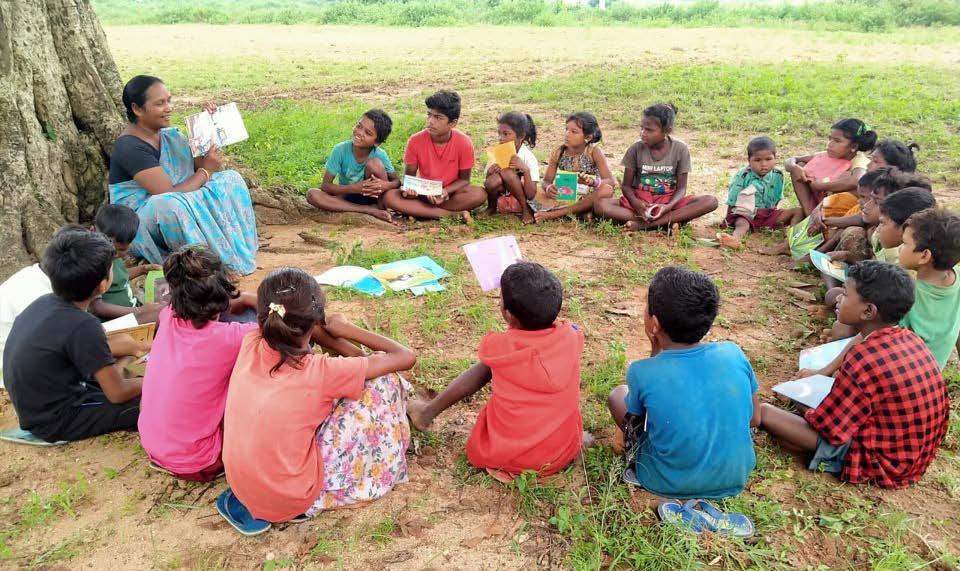 Amrita Patwardhan
Libraries, Children's Literature and the Reading Ecosystem
Children's literature and the library ecosystem in India have come a long way, over the years. Government of India, by setting up National Book Trust (NBT) in 1957, and Nehru Bal Pustakalay division for children's publishing, did signal the young nation's seriousness about promoting reading. It has contributed towards publishing of affordable books in multiple Indian languages and promotion of books through book fairs and other activities.
Children's Book Trust (CBT), also set up in the same year with the leadership of wellknown cartoonist Shankar, became a center
of publishing, professional development courses, especially focused on children. Despite this early start, followed by the promise of National Centre for Children's Literature at NBT in the early 1990s, as well as the earliest education commissions highlighting the importance of libraries for children, the ecosystem stagnated over the years.
The last two decades, however, have seen the resurgence of new players. This has contributed to the evolution of multiple dimensions of children's literature and the reading promotion ecosystem. This includes independent publishers focusing on children such as Tulika, Eklavya, Pratham Books and Jugnoo. Initiatives to promote libraries for
5
Reflection
Tata Trusts
Government school teacher doing a read aloud in Jharkhand
children, like Room to Read and Tata Trusts, have also emerged. Professional development efforts, such as the Library Educator's Course (LEC) in Hindi and English, are slowly and steadily building a much needed cadre of trained library educators. Finally, there is a widening pool of players recognizing books, authors and illustrators through awards in the space of children's literature, providing much needed visibility.
To develop the field of children's books and reading for pleasure, we need quality of collection, and ease of access to good books. We also need trained educators who help bring books alive to children, and avenues to disseminate books. All these are interconnected features.
This makes all these diverse and yet connected efforts critical elements for the ecosystem to grow and thrive. We have taken a few steps in the direction through combined efforts of many players. However, we still have a very long way to go in making reading for pleasure a reality for the majority of children in the country.
The Parag Initiative
Tata Trusts' Parag initiative has made a small contribution in identifying sectoral gaps in children's literature and reading promotion. It has tried to address them through work done in partnership with multiple stakeholders. These include publishers, non-profit organizations and academic institutions.
Work has focused on multiple strands. The initiative supports development of quality books in different Indian languages. It offers professional development courses for librarians, teachers, educators and illustrators. It has instituted awards and curated booklists in the form of the Parag Honour List. The work has also involved setting up and activating thousands of school and community libraries in some of the most remote regions in the country.
Supporting Book Development: Promoting Diversity and Equity
In the book development space, the Parag initiative has mostly worked with non-profit publishers such as Eklavya. The focus has been on developing their publication wing with a focus on books in Hindi. It has also tried to foster collaborative publications in a few other Indian languages, including nonscheduled languages.
It has partnered with Centre for Learning Resources with a focus on bi-lingual books and early readers. With Pratham Books, Muskaan and Anveshi it has worked on the 'Different Tales' series with a focus on childhoods of marginalized communities. With Tulika, the initiative has focused on select non-fiction books, and books on disability, among others.
Important collaborations have also taken place with Jyotsna Prakashan and Nav Karnataka on re-imagining classics from Marathi and Kannada in children's books. Similarly the initiative has worked with Moolagami Prakashan on early readers in tribal languages.
All this work has made us realize the need and challenges of working in multiple languages. Our effort has been to bring in a diversity in themes and representations of childhood, languages, and formats in
6
Reflection
Tata Trusts
Curated collections from multiple publishers, of various genres, and in regional and local languages
children's books. Another important goal has been to keep the prices affordable through book development support.
Developing Capacities, Enhancing Access
Professional development has been done through courses for library educators. These programs include the 'Library Educator's Course' (LEC) and 'Children's Library Course' (CLC) and the 'E-course on Introduction to Children's Libraries.' The initiative has also run a yearlong blended course for young illustrators through Riyaaz Academy with Ektara, Bhopal. The goal is to equip them to illustrate for children. Sustained investments in strengthening collections and professional development are central to activating library spaces in schools and communities.
During the COVID-19 pandemic, we saw sudden and prolonged closure of schools. Several efforts were made by many to explore online and digital means of reaching children.
We realized limitations of these formats both with respect to effectiveness and reach. The problems were especially compounded for young children in remote areas, where face to face local contact was most effective in engaging with children. We saw many ways in which partners and communities reached out to children.
Community volunteers in Gadchiroli, Maharashtra, the Kumao region of Uttarakhand, and in South Odisha, took books through mobile libraries to children in their hamlets. These volunteers traveled on foot, cycle or scooter once a week.
Home libraries were set up by active School Management Committee members in Khunti district of Jharkhand in their veranda. In Pali district of Rajasthan and Yadgir in north Karnataka, children, who were members of their schools' children's library committees, set up libraries.
Open access, locally made bookshelves were set up in Bahraich in Uttar Pradesh. These became places for children and adults to pick a book of their choice and return it on the shelf after reading.
All these adaptations in library access and work were possible due to prior investments in developing good collections of books in the school libraries which were opened up at the community level. Building a cadre of educators and community volunteers who believed in the power of books, open access and meaningful activities around books was also critical. It was these investments, done prior to the pandemic, which helped in running various forms of libraries during the pandemic. This highlights the importance of professional development efforts.
To aid this process of development, Parag has worked on a first-of-its kind, blended, Library Educator's Course. It has been developed and offered by Tata Trusts in Hindi and Bookworm in English. This course is building a cadre of library educators. The alumni of this course
7
Reflection
Libraries take many forms, here we see a mini library in a house within the community
Tata Trusts
now run libraries in schools and communities in diverse settings in multiple states of India.
Grooming a community of practitioners bound by a vision about vibrant libraries and the role these can play in transforming the reading experiences of children, teachers, schools and communities is critical. However, this is also a slow and difficult process. We need to work in this area to energize library spaces across the country.
Libraries, the Culture of Reading and Learning
Education Commissions and policies have repeatedly highlighted the need and provisioning of libraries. However, our education system, and the society at large, do not have easy access to functional, vibrant libraries for all children. We do not even miss not having such access. This is to do with our education system, which is dominated by recall-based examinations. Krishna Kumar, well known educationist, elaborates this phenomenon and why we have struggled to build a culture of reading and reasons why reading for pleasure has remained undermined in the country.
These challenges are real and need to be addressed. However, there are a number of emerging examples that give us hope. The post-pandemic world reminds us of the need to have multiple learning spaces for children. These spaces may be in schools, homes and in communities.
Libraries can potentially function as open, inclusive, safe and guided spaces for children. They can help them expand their skills, knowledge and motivation to learn and make sense of the world around. We have a growing number of professionals, organizations and networks who are championing this at multiple levels.
One of the key recommendations of National Education Policy 2020 is on building foundational literacy and numeracy (FLN) skills in children. This has now taken the
form of NIPUN Bharat mission. This policy goal is difficult, if not impossible, to achieve without functional libraries in schools and classrooms.
Learning to read with understanding, and being able to express one's thoughts and emotions through writing, is fundamental to FLN. Meaningful use of literature in class will go a long way in building desire, interest and competence in children. This will also help them become independent readers and writers. It will fuel overall development of children as well, through the world that literature opens up for its readers.
It is my firm believe that a cadre of trained library educators, who can select diverse reading material for children, help children connect their lived experiences with books, become examples of adults who draw joy and purpose though reading literature, will transform the landscape of reading for pleasure, one library at a time!
Amrita Patwardhan has been working with the education team of Tata Trusts since 2003. Her special areas of interest are early literacy, children's literature and tribal education. She has also worked as a primary school teacher and teacher educator.
Website: https://www.paragreads.in/
Email Address: apatwardhan@tatatrusts.org
Connect On:
8 Reflection
Tata Trusts
Connecting the Dots Between Literacy and Reading Libraries' Critical Role in Children's Learning
Keerti Jayaram
Within our programs, we consider being a thinking learner as having the ability to think independently. This includes the capacity to make sense of what one sees, hears or reads.
A thinking learner is also able to confidently articulate and express ideas, thoughts, feelings and opinions clearly through spoken, pictorial or written communication.
Children need to understand that words represent objects, places, people and a lot more. They also need to fathom that language grows through this process of symbolic representation. They must also get practice in writing as another mode of representing ideas, thoughts and feelings, etc.
Reading, Writing, Stories and Children's Inner Worlds
During the early years of our journey, we conducted a study. It involved 150 children in Grade 2. Only two children responded that they wanted to read and write to communicate with their friends.
All the other children in the study linked reading and writing with school and getting marks. Alternatively they associated them with obtaining 'good jobs'.
From this, it must be evident as to why we need to emphasize the links between reading and writing with talking. In the words of James Britton, " Reading and writing float on a sea of talk."
Why is Literacy Important? Where Do Libraries Fit In?
A child's inner world is full of stories. Children experience the world in the form of stories. Libraries build on this. They help develop relationships between written words, stories and children. They do this in multiple ways.
Libraries help connect reading and writing to children's inner worlds and experiences. They also enable beginning level readers and writers understand that the alphabet and letters are sound symbols that can be combined to create spoken words.
As a child begins to experience print and the written forms of words, she begins to understand scribbling, drawing and writing as various modes of communicating and expressing. When children make inner connections with written symbols and texts or pictures, it becomes a meaningful and relevant activity for them.
These elements play a critical role in making decoding a meaningful process. They also help establish connections between the spoken and the written forms of language. Words after all are a synthesis of sounds and symbols, which in turn form speech.
Lev Vygotsky says, "Writing is the written form of speech." But literacy is far more than just 'akshargyaan' or 'knowledge of letters'. And by this we don't deny the importance of akshargyaan. However, if the experience of a child is absent in the learning process, then it becomes a mechanical and meaningless rote learning activity.
9
Reflection
A beginning level reader often struggles to read and understand the printed words in a text. However, young children soon learn to connect and weave stories from pictures. They then gradually link the pictures to the text next to it.
Literacy or Stories? Which Comes First?
Children often do pretend reading. This is an important stage at which they realize that written words carry meaning. We all have faced this issue when introducing a text to a child. At times, we have felt that perhaps it is important to work on literacy first and then introduce texts and stories to children. However, this also increases the chances of missing out the stories.
Through our journey at Organization for Early Literacy Promotion (OELP), we believe both should go hand in hand. Both are important. A well-researched and exciting way of addressing this challenge is through read alouds.
Through read aloud sessions, children learn to engage with the structures and forms of written language. They are also enticed into the world of books and begin to want to read.
Our day begins with conversations with the child and read alouds. A good read aloud draws the child to the book and the world of reading. We practice three stages for a read aloud: pre, during and post reading. Each stage is important.
Many school teachers we work with have raised questions about the way we facilitate read alouds. They ask, why do we bring books, if children are not able to read? It has taken us a while to share and demonstrate that literacy is not just about reading and writing. More importantly, it is about making meaning through written words. talking, listening, discussing, reflecting, drawing, etc. All these are integral parts of this process.
In OELP, we use the Four Blocks Framework for building the foundations of literacy.
This framework allows dedicated time for read alouds, book talks and conversations, followed by building vocabulary, writing and expressing, and finally learning the script in meaningful ways. We try to create games and interesting activities to engage the children. Most of these are based on DIY, low-cost materials.
People ask, "What comes first for youreading or literacy?" I would like to quote Jim Trelease from his 'Read Aloud Handbook' here. In this book he mentions, "It is not just important for a child to learn HOW to read but equally important for a child to WANT to read."
I just wish if we could break barriers between libraries and classrooms. OELP tries to do this by bringing books and libraries into the classroom. We strongly believe that engagement with books and written texts, and literacy learning, go hand in hand. These are processes that strengthen each other.
Marginalization, Literacy and Children's Sense of Self and Belonging
We need to also understand that the world is not an equal space. What are the challenges for children growing within low literate communities?
Many children from marginalized castes come with poor self-esteem. They often arrive in classrooms with their own challenges and fears. The structured spaces of schools are an unfamiliar environment for them.
It is vital to make them feel a sense of belonging and acceptance. That needs to be the starting point. It is only when they are socially and emotionally comfortable that they begin to engage, absorb and make sense of what they see and hear in their classroom and its surroundings.
It is important to allow children to bring their real world experiences into the classroom. I remember a conversation in Grade 1 around a Tulika book, 'Gola ka Ghar'. As the
10 Reflection
conversation progressed to different types of homes, the children brought out the difference between 'a ghar' and 'a makaan'.
They claimed that they lived in 'ghars,' while their teacher and other 'bade log' lived in makaans. Even at this young age, this group of children were aware of their place in society, and the fact that they did not live in 'makaans'.
We believe that there is perhaps a missing link in NEP 2020. In OELP, we believe that foundational learning should precede foundational literacy. It is important to build each child's sense of self and belonging. We have found it necessary to inculcate this sense among children that they matter. This is essential if we want them to engage meaningfully with the process of learning.
Work done at Harvard Centre for the Developing Child has established that children need to feel safe and secure for learning to begin. Our education system often misses out on the 'sense of self'.
This is why practices like beginning with activities based on children's names works well in engaging beginning level children in classrooms. Such activities provide children with a sense of acceptance. These also make learning meaningful and fun.
Challenges of Working at the Interface between Libraries and Literacy
Having meaningful and engaging conversations has been a huge challenge for teachers in rural government schools where we work. We believe that conversation is significant for learning to happen. This goes both ways, where we talk to children as well as listen to them.
Conversations that happen in the classroom are often very shallow and mechanical. As a culture, we don't seem talk to/with children. Instead, most often we talk down to them. This is an area in which we have really struggled. We need to demonstrate and model
Reflection
engaging conversations. We also must build teachers' capacities on having meaningful and interesting conversations in classrooms. Videos of good conversations may be shown to teachers during their training.
When we talk about promoting reading among children, just giving books is not enough. This needs to be followed up with activities like buddy reading, word games, literacy games and discussions. All these are essential, so that we can use good children's literature to nudge questions, provoke thinking and spark dialogues.
Creating a Culture of Reading
As part of the efforts to build a culture of reading amongst children and the larger communities through libraries, OELP has taken two approaches. We discuss them below.
Potli Baba: Children go to the chaupaal with a bundle of books and read out stories to the elderly. Older people love children's books. They are extremely happy when children read out stories to them. They narrate stories to children, which they in turn write down and share in the library.
Kahani Melas: These are festive day events planned in government schools. During these melas, many activities related to books are undertaken by the children, their parents and community members. Teachers and parents are also involved in this process. All this helps to build a buzz around books. Children feel excited and enthusiastic as the ownership of the event is taken by them.
During summer vacations, we have at times worked on such book based kahani melas over a period 6–8 weeks. During this period, activities around story books are conducted periodically in the villages.
During these melas, children listen to stories from the elderly. They also collect local knowledge. They get to know about their villages' histories as well. This helps them
11
discover their own village and their people in a deeper way. All these activities culminate in a grand 'Kahani Mela' which brings all the book-based experiences together.
When children borrow books from our libraries and take them to their homes, they often come with demands that their mother has asked for a particular kind of book. Stories not only reach out to children but to the larger families as well.
The OELP team records the journey of the book and all those who have read the book. Many a times, these have triggered children to relate the story to their own contexts. For example, in their urge to know the history of their village, a group of children recently developed stories of monuments in and around their village. To give another example, a village map that was developed six years ago is now being redone, as children felt that a lot of local landscape has changed. So, history is not something carved on stones. It is what we create.
Through our experience, we have realized that the interest in reading and books is immense. The organization is now trying to involve adolescent girls to take leadership in the library program. There is a larger role of parents, schools and CSOs to ensure a child's learning journey. Parents' response, especially in low literate communities, is very high when they see their children read and write.
I remember little Ganga. Her parents were not very supportive of their daughter's education. However, one day when she wrote their name on the soil with a stick, they were completely speachless. They were so touched by seeing this. They could not believe that their little girl had learnt to read and write. Now Ganga's father is the one who persuades other parents in the village to send their children to school.
These examples have often encouraged the larger sections of these communities to send
their children to schools. We also try creative ways of involving parents. Sometimes children amaze you with their gestures, like making invitation cards for their parents to ensure their attendance to PTA meetings.
When it comes to reading, literacy and learning, there are many grey areas. There are no definite answers. It is not so easy to give primacy to one over the other. However, one thing is certain. There is a strong mutual connect between literacy and reading. Libraries play a very crucial role in strengthening this connect.
Keerti Jayaram is the Founder and Director of OELP (Organisation for Early Literacy Promotion). She has had more than 30 years of experience in elementary education as a teacher, teacher educator, curriculum developer, researcher and parent, and has interacted actively with the academic world as well as with the multiple worlds of education practitioners.
Website: https://www.oelp.org/
E-mail Address: oelpliteracy@yahoo.in
Connect On:
12
Reflection
OELP
Books, Digital Resources, and the Right to Read A Community Library's Response
Zoya Chadha
At the terrace of a building across the lane, a child appears. We hear him before we see him, as he peers down into the library's courtyard and calls out, "Hello!"
The librarian sorting books in the shade of the trees looks up each time. "Hello!"
This back and forth goes on for some time. The ritual of calling out across the lane resumes later in the day, and the next morning.
Each time someone calls out, the library responds.
This was in the winter of 2020 in Khirki Extension, New Delhi. The library branch was not then open. After having to vacate our old building, the new one was still being built. Its shelves were taking shape, books being
placed on them rapidly by librarians, so that members could access their right to read.
In March of that year, as the first nationwide lockdown was announced, we at TCLP had been forced to temporarily close our free community libraries. We worked immediately to build a new one that would be digital, that would be low-internet use, and as far accessible as it could be as an online library. We continued to agitate for the right to read in and through the internet, and responded to the changing and pressing needs of members as the pandemic wore on.
We have been running our digital library for three years now, and it is linked inextricably with the physical libraries. This relationship has been assailed with questions and challenges. In responding to these tensions, we have also had moments of sheer collective strength.
13
Reflection
TCLP
Members gaming together at the end of a Cyber Learning Workshop.
This practice of responding constantly to the changing needs of members is what gives direction to the work of a library.
Right to Read and the Internet
Free libraries, owned and run by communities, are a response to the way in which the right to read has been denied to people for centuries, and continues to be denied today. The denial of readingreading being not only the ability to decode documents of the past and the present, but also the ability to think through books about yourself and the world - is part of a larger structure of oppression that operates to keep people powerless in the face of inequality.
Free community libraries fight against this denial. They actively agitate against it and model a more equal world. They do so by centering dalit, bahujan, working class, female and queer readers and their own stories amidst this historical oppression.
In a world that is relying increasingly on technology, where digital media is embedding itself into the daily lives of many at a rapidly increasing rate, a library must respond in a way that centres access and justice. Access to the internet is itself exclusionary and gendered. It is marked by limited smartphone availability, network connectivity and prohibitive data costs.
Further, whose stories are heard and amplified on social media and digital platforms? Whose stories are narrated and archived for posterity? Who gets to access these stories and histories? When we think of the right to access the internet, we must examine how the same exclusionary structures that deny the right to read do not disappear when we move online. They only take on new forms.
As librarians, one way to understand the relationship between books in the physical sense and as digital resources is to ask ourselves what we are working toward. A
response to this is that we work so that everyone can use libraries and access books. And this includes particularly those who are oppressed on the basis of caste, class, gender identity, religion, disability and other structures. We are, in other words, working toward a more just and equitable world.
Then how can our online library and digital programing strengthen our work toward this better world? How can we apply the core value of welcoming all to the digital resources that we build?
Keeping these questions at the centre, we work with library members to share news, media and literature on online library channels. Three times a week, members receive read-aloud videos and audios, links, library news, national news, and community videos for all ages on their phones. If you can't come to the library to listen to a story that day, you will have a video or audio on your phone of one of your librarians reading it out.
Material is shared in a variety of formats to strengthen accessibility, and text captions contextualize the posts. The tool we use most widely as our online library channel is WhatsApp. It is a platform that very nearly all those with smartphones were already familiar with and accessed regularly. It also puts limitations on file size. This ensures that the library is cognizant of the amount of internet data that our members would use while accessing the online library posts.
When members cannot come to the library in person, they are able to access the digital library platforms. These include a website and a YouTube channel, for reading. In this way, our digital library - called Duniya Sabkistrengthens access.
During the multiple lockdowns in DelhiNCR, members frequently shared over call or text about listening with great interest to the Duniya Sabki channels. A member told a librarian over call that she and her whole family would sit down at night to listen
14
Reflection
to an audio story by Premchand together. Many members stayed connected from their villages. Schoolteachers heard about the channel from each other and stayed connected. They forwarded the audio-video stories and resources to their class WhatsApp groups.
Now that physical libraries are open and bustling, librarians often find themselves with members who want to discuss something they saw on the channel. Recently a librarian was pulled aside by a nine-year old member who summarized to her an entire story that she had recorded for the digital library. "In that story, you read out how the man sneezes so loud that everyone gets blown away. Sometimes, my sneezes are really loud too."
As we celebrated the farewell of another librarian from one physical branch to another, a young member moved to the front of the gathering and said, "You are amazing. You read such good stories with us. And your video of Makdi Ki Kahani was the best. I watched that one so many times."
Another day, an adult walked into the library for more information after someone forwarded him the library's post about an Aadhaar camp nearby. He wasn't a member of the digital or physical library. But he knew someone who was.
Charting Pathways for a Digital Library
Members have charted, from the very beginning, the trajectory of the digital library. All are regularly invited to put in requests for the kind of stories, media or resources they want on their digital library. This is a regular exercise in revising and testing the limits of the digital. It also helps understand how the online library works in tandem with the physical branches.
In keeping with the vision of the free library movement, audio-video resources developed by us respond to the needs and
interests of our members. Often we centre anti-caste narratives and dalit-bahujan literature, women and queer rights, adivasi struggles, disability inclusion, and people-led movements for justice across India and the world.
On the occasion of Manusmriti Dahan Diwas, the day Babasaheb Ambedkar burnt the book that codifies caste atrocities and the oppression of women, a colleague and I borrowed a book from the library's 'Against Caste' shelf and read up on it. We watched videos about this historic event and its continued impact, and a clip from a film on Ambedkar's life that re-enacted the day of the first burning.
Together, we put together an audio recording in which we connected this rejection of caste and gender discrimination with the work of the library movement. There is no space for caste and gender discrimination in the world we are building together. This was shared across our library channels, of which more than 2,400 families are a part.
This is one instance of how digital and physical resources work together to strengthen the library's vision. There are many more. Members of all ages often record their own experiences to share with the community - experiences of reading, of achievement, of struggle - so that the digital library is a space of resonance. It is a space through which we organize around shared rights and shared experiences.
To be asked to choose, then, between books and digital resources and to think of the two as a dichotomy is a forced opposition of things. Both of these must work together to support each other for the goal of real access and presence. Digital libraries and media cannot replace physical books and 'offline' libraries. To imagine a world where that happens is an exclusionary one where reading is the estate of a few. Nor can we dismiss digital resources and media as unnecessary
15
Reflection
or irrelevant. In our laptop learning program, we often ask members who the internet belongs to. The response is resounding and immediate: 'Everyone.'
Recently, a member walked in and shared that on the way to the library she had seen children, adults, and people of different ages taking turns to play a game on one phone. "I saw that and I thought, it's true about what we say in the library - that everyone should have the right to use technology."
Digital Rights in and Through Libraries
Essential government services are becoming increasingly digitized. These include vaccine booking systems, labour card registrations and central university admissions. Those who are already excluded from healthcare, education and other systems are at a greater risk. These online platforms should be rightfully accessible to everyone.
But they are made for only a certain kind of person. This is someone who is a fluent reader, non-disabled, English speaking, well-versed in digital technology, with a faultless internet connection, who is able to confidently approach these systems because they have already served him well in the past. Those who are left out of this conception of a user of government services are inevitably those already oppressed on the basis of caste, class, gender and disability.
Our response here as librarians is twofold. First, we must create a space where communities can collectively speak out against these exclusionary systems. Second, we must create spaces in the libraries where members can be supported to access these platforms. Our laptop access program in the TCLP branch libraries, for instance, gives members free access for leisure, entertainment, education, or accessing any such portal. We support members to learn to use laptops through a supportive interface with links and audio notes about different platforms, and also through workshops,
where we together think critically about digital and social media. What we work toward, then, is not only digital access, but also the different forms of digital presence.
During the lockdowns in Delhi-NCR, we ran online reading intervention classes with library members. Classes were held online. We delivered physical books to members for reading during and after classes. We also shared links to online websites and free resources.
For this particular intervention, our members were aged between eight and fifteen. They had limited access to the internet and were on their way to becoming fluent readers. They often asked why websites and apps with all the pretensions of being free and open to all actually allowed access only when one registered. Members were met with pages requesting they share their full names, their phone numbers, their email addresses, and more. Members asked, consistently - "Why are they asking us this? Why do we need to share this information?" These are pointed questions at both the lack of transparency about data privacy and the inaccessibility of the user registration step itself. They take us to larger questions about the ways in which companies and governments make certain choices with regard to technology that are both biased and exclusionary.
Library practitioners and activists must critically examine the increasing digitization in their own contexts, as it brings with it growing privacy, surveillance, and data concerns. As with systems like Aadhaar, we must make information about these very real concerns available while acknowledging that it is a necessity for many.
We cannot afford to disengage. This is a tension that we cannot resolve. We must acknowledge and work with this tension. For example, when we share information about a nearby Aadhaar camp with our members via our digital library channels, we would not only look at what the process is, but also how
16
Reflection
exclusionary it is. Further, we invite stories that are related to this exclusion. How can we build archives of these stories as we agitate against such systems?
We still run reading intervention classes. However, these now operate fully out of our physical library branches. It is a common sight to see members leave one room after their English reading intervention class and enter another for using the laptop access program to practise their language skills through one of the free resources we have curated. It is also common to see members watching music videos - at times singing along to the videos made by rappers from their own library community. Our digital resources and our books seem to be in constant conversation with each other.
Our laptop and internet learning curriculum in the libraries is a direct response to members of all ages who have expressed the need for it. We work with an ever-evolving set of questions. How can we challenge the inequities and injustices of the world as they take on new forms when we move online? How can we agitate for a free and just online world, while also building a space where the
internet can be used by library members powerfully for leisure, for education and for expression? How can our digital library curriculum support members to begin using the internet with the sense and strength of a collective community?
These are questions to which the answers are not easy, nor are they singular. As we continue to run libraries and work to build greater access and presence, we will respond to the changing, and difficult, realities of our time. A library is precisely that - a space that is always present for its community and members. A space that responds, while keeping the goal of justice and greater access at the centre.
Zoya Chadha is a librarian and educator based in New Delhi. She manages the digital library and digital learning curriculum at The Community Library Project (TCLP).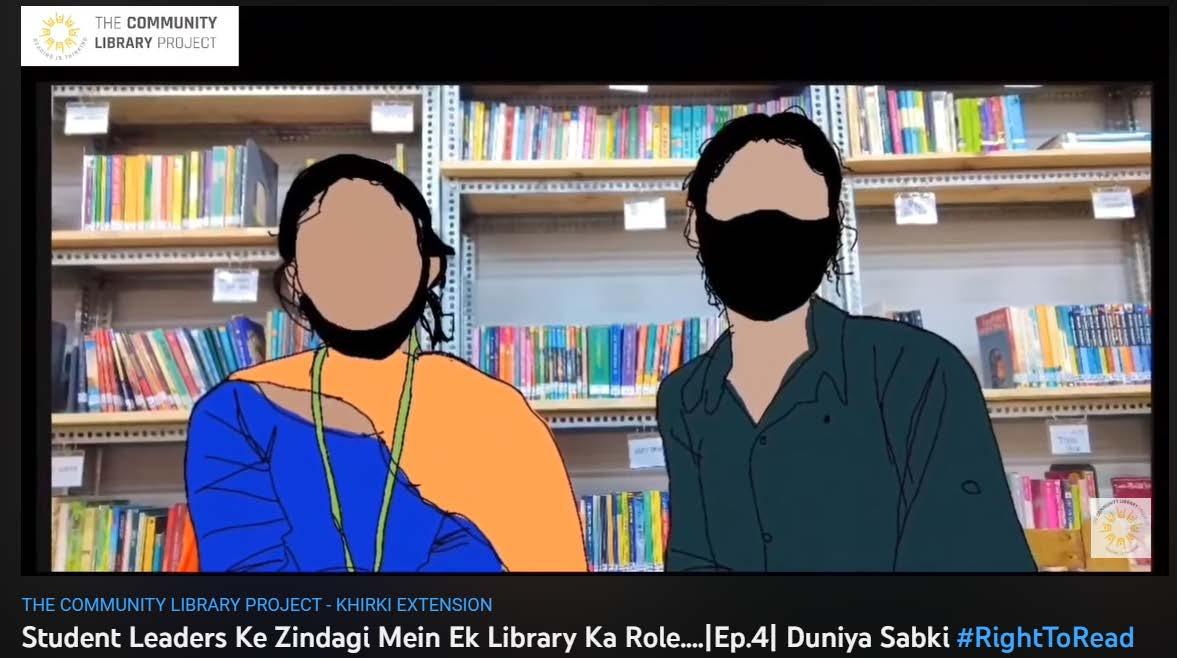 Website: www.thecommunitylibraryproject. org
Email Address: chadha.zoya@gmail.com
Connect On:
17
TCLP Reflection
Member video series: "Student Leaders ko Jaano" on YouTube
In Conversation with BlueJackal
PRAYOG Team
BlueJackal is an independent platform for engaging with, creating and publishing visual narratives, comics and picture books. It also initiates dialogue and learning within these contexts through interactive programs. It is run by Shivangi Singh, Shefalee Jain, Lokesh Khodke and Sharvari Deshpande. Shivangi and Lokesh participated in the conversation. While the interview was conducted bilingually in English and Hindi, the transcript has been translated to English.
Surya (Prayog): How did the thought to start this publishing house emerge? Why did you feel the need to start something new? Also, the name is very intriguing. How did it come up?
Shivangi (Blue Jackal): The beginning of BlueJackal was from a meeting with friends. We were all informally discussing our desire to move beyond individual art practices, studios and art galleries. In such spaces an artwork often just ends up getting displayed on walls. A very limited audience becomes the viewer. The first such meeting happened at Lokesh's and Shefalee's house in Delhi, sometime in 2015.
Then, all of us were working in our respective jobs as well as practising art. However, we wanted a space where we could collectively think and create something. Many of us who met then, had some experience of working as children's books illustrators. Publishing as a collective activity and engagement became one possible centre of interest.
This we thought would allow us to move beyond our studio practices, push us to think about the kind of stories we wanted to tell and also the kind of audience we wanted to reach. This was the beginning of what would eventually become BlueJackal.
We started off with 'Situation Comics,' which is an open call for participants to respond to a given situation/prompt, in the form of one-page comics. We propose a situation or a prompt based on a historical event or on a fabulation, which invites creative participation to unfold as a comic strip. Situation Comics has had three episodes, each of the open calls received a wide range of entries that also addressed the contexts of the artists who made them.
Our first 'Howl for Entries' (a play on 'Call for Entries') came from a need to reflect on Rohith Vemula's institutional murder and the poignant and strong last note that he left for all of us to grapple with. Rohith Vemula, a Dalit PhD scholar from University of Hyderabad, Telangana, India, wrote this note just before he was pushed to take his own life on January 17, 2016, due to caste-based discrimination within the university.
We received entries from a variety of artists. Their responses and concerns were diverse. What we loved was that people who were not formally trained in the Visual Arts also participated in this! It was so exciting to be able to build a platform where contributors can share their artworks while retaining complete ownership of it. One of the reasons to start the platform online was to go beyond the exhibition spaces we were familiar with. Another cause was that it was possible with limited funding.
Lokesh (BJ): Like Shivangi said, we were already connected to the world of books through publication houses like Eklavya Publication, Muskaan Publication, and with magazines like Chakmak (published by Eklavya, Bhopal). We had been conducting workshops with children as art educators
18
Interview
as well. And these experiences pushed us to ask certain pressing questions like, 'What is childhood?' Can it be defined? If yes, then what are the multiple ways in which this could be done?
We wanted to take these questions forward at BlueJackal. Therefore, our platform began evolving organically as well as consciously. Initially we were unclear about what our source of funding would be.
However, we did not stall work due to monetary constraints. We were aware of, and influenced by, zine culture and little magazine culture, as well as the graphic novel and comic culture of Delhi. So, this encouraged us to publish with limited means on cheap paper at affordable prices.
We wanted the name of our group/initiative to be something playful and yet thought provoking. We were discussing several names when the story of 'Ranga Siyaar' came up. The siyaar/jackal in this story is seen as a 'treacherous' and 'shrewd' animal, who 'deceives' the other animals with his accidently found blue coat. But looked at from another point of view, it is also a story of survival of the jackal in the treacherous and hierarchical forest.
The story also reminded us of casteist proverbs like "isne apni jaat dikha di" or "asli rang dikha diya." These imply that, one must not cross boundaries of given identities. And that if one does, then they will be shown their 'true' place. We wanted to keep with the idea of playful treachery, which for us is not manipulative but an adaptive means of survival.
Surya (P): So wonderful! This brings me to a question. Some books portray risky texts. Not risky because it should be kept away from readers, in fact all the more reason to read it. However, because it holds some complexity and hence is significant. We have to also think whether our readers are prepared to be opened up to these topics. So how do you
choose these topics? What are the challenges associated with these choices?
Lokesh (BJ): I suppose your question comes from the context of children's literature and what is appropriate or accessible to children. BlueJackal is not a children's book publication. But at the same time, we also don't want to keep children from reading our books. We have always wanted to break the boundaries between children's literature and the so-called adult literature. It is quite a challenging task, but also worth working toward.
Children come from diverse experiences and backgrounds. These give them different kinds and intensities of experiences and knowledge at various points of their childhood. It is unfair, when we decide to open content to them just on the basis of certain normative standards. These often come from people like us, who are mostly from a very limited upper middle class understanding of childhood. So, it is tricky to decide which themes should be opened to the children just by looking at their age.
Let's take the book 'Payal Kho Gayi' (Hindi), which has been published by Muskaan and Eklavya, as an example. It has been written by children from a basti and illustrated by Kanak Shashi. It was produced as part of a
19 Interview
BlueJackal
workshop conducted by Muskaan. Here, six to eight year olds from a small basti were asked to respond to a hypothetical situation. They were requested to imagine that their friend Payal had gone missing. Could they guess where she could be? Where would they look for her?
The children thought over this and also made some drawings. 'Payal Kho Gayi' was born out of these very thoughts and drawings of the children. Among the many possibilities that the children thought of, regarding where Payal could be, two can be seen on the inner side of the front and back covers of the book in the form of drawings. One shows Payal could be in prison and another shows a man abducting Payal in a car.
Now, many parents and teachers might argue that young children should not read this picture book. However, we must remember that there are many kinds of childhoods around us. Children from diverse backgrounds are exposed to multiple kinds of realities. Therefore, it becomes important to address these. How we could do this remains an important question to address. You can read an article on 'Payal Kho Gayi' by Shefalee Jain on the BlueJackal website.
Shivangi (BJ): In BlueJackal's latest set of books 'OCTA 2021: Two One Za Two, Two Two Za…' our effort was precisely this. We wanted to, together with other artists, think about the category of childhood through workshops. Childhood is very often viewed as 'good', 'innocent' and in need of 'protection.'
These stereotypes extend to children's book illustrations, where an 'ideal child' is often illustrated as - the fair skinned child, the obedient child, the gender conforming child.
To rethink these ways in which we define childhood, we invited 24 artists for these workshops. We gave them a prompt to help begin the process of this rethinking. The prompt was to bring one or more rhymes and proverbs from their growing up years, in their mother tongues. These were to be used as tools to critically rethink images and imaginations of childhood.
The discussions around these rhymes and proverbs opened a diverse picture of childhood for each of us during the workshops. 'OCTA 2021: Two One Za Two, Two Two Za…' brings together these reflections in the form of illustrated picture books, stories and rhymes. It compiles seven books of different sizes and formats into a book box.
Binit (P): We got a chance to read many of BlueJackal's latest books such as 'Chudail' and 'Dohri Zindagi.' These books touch upon various topics and themes which are so present in our daily lives and experiences. However, not everyone talks about them. I would like to know what inspires your choices of themes and topics while making books?
Lokesh (BJ): Thank You Binit, for sharing so elaborately on how you are reading, and also looking deeply into the books. It is very encouraging to hear this. It makes us want to continue to work in this area.
Actually, what you mentioned about layers of life is itself our inspiration behind creating them. If life is filled with so many layers, why keep touching just one repeatedly? Doing so creates a kind of opaqueness, where we fail to see the diverse layers of our own, and of other's, lives.
For example, while making 'Chudail,' I had thought that it must be a comic which is humorous. It must bring in a critical reflection
20 Interview
BlueJackal
on politics, culture, family and gender, in a way that these feel like a part of our daily lives. How can I try to put forth pertinent and thought-provoking questions to the readers, without generalizing them and yet not making them very remote and difficult to grasp.
Shivangi (BJ): Also, what is happening around us in post-2014 India is important. We want to reflect upon that. We want to do this through comics, stories and graphic narratives. It is not always necessary that the current state of things be expressed through journalism. It can be commented upon beautifully and effectively through stories too.
And, journalism is not what it used to be earlier. So, we make visual stories that are playful and poetic and are at the same time rooted in socio-political realities. Some examples of this are 'Letters to O' written by Lokesh, 'Ek Philistini Shayad Kahe' by Shefalee Jain and 'Laila Majnun' by Sharvari Deshpande.
Lokesh (BJ): Similarly, 'Dohri Zindagi' is a folktale from Rajasthan, retold by Vijaydan Detha and illustrated by Shefalee Jain. This story has been adapted earlier through plays. So, when Shefalee chose to work on it, she wanted to focus on the other, lesser visited layers of the tale through her illustrations.
Words build a story. As artists, we also bring a parallel reality to these words. This reality comes from our experiences. Sometimes these also come from the different times and geographies that we belong to.
So, when the two come together, the narrative need not always essentially portray just what the words are saying. Illustrations have their own way of opening up a different world, which may not have been written in words.
Take the example of 'Jani Mhane,' a work by Sharvari Deshpande, who is one of our team members. 'Jani Mhane,' written in Marathi, is originally a 12th century work. However, the
illustrations made by Sharvari are rooted in contemporary times.
Binit (P): Now that we have talked about stories inspired from daily lives, how are you thinking of writing them for children? Although some literature is classified as children's literature, we like to think that even adults can read and enjoy these works. How can these themes related to daily life be simplified and also be written for children?
Lokesh (BJ): We are always thinking about this. For example, Samanta Raita's story on the BlueJackal website, titled 'Moon on an Old Scooter,' has been designed as a web comic. It is folklore, retold in a contemporary way. If you look at this story, the structure is
rather simple. It contains a certain amount of light-heartedness.
However, it cannot just be seen as children's literature. It also becomes more significant when Samanta tells the story because he belongs to the Saura tribe from which the story emerges.
Shivangi (BJ): There is another such invited story, titled 'The Secret of Erdmannlistein' by Wanda Dufner, on our website. It comes from her own memory of going for a picnic as a child.
It also speaks of the loneliness some children face when they don't fit in. That is also as much a story for children as for adults.
21 Interview
BlueJackal
Both 'Moon on an Old Scooter' and 'The Secret of Erdmannlistein' were sent to us in response to a BlueJackal open call. It invited artists and contributors to bring legends, myths and folktales from their contexts and retell them in comic, picture book or visual story formats.
Lokesh (BJ): We try to look at many things while trying to represent or talk about challenging and difficult topics in children's literature. We are inspired by the many examples of other authors and illustrators around us.
Some time back there was a controversy over this book in Jharkhand. Antara released this book called 'Jwala Kumar and the Gift of Fire: Adventures in Champakbagh' by Hansda Sowvendra Shekhar.
'Jwala Kumar and the Gift of Fire' is a book for children and young adults like many others such as the 'Aditi and Her Friends' series by Suniti Namjoshi. It is a very interesting story about a dragon who is adopted and brought up by some children.
At one point in the story, the children have run out of food at home and are very hungry. The dragon catches some mice and roasts them with his breath and the children eat the mice happily.
The writer does not mention anywhere in the story that the children belong to the Musahar community. However, it is interesting to note how delicately the author has introduced a layer to the children's story.
Children from a different context can now understand or get exposed to different kinds of food that can be consumed by people either out of choice or by necessity!
Siddhi (P): This way of including insights of people through open calls is very interesting. Your team has many books which have been written and illustrated by the same person. How do these books come out differently?
Also, you have talked about simultaneously maintaining and dissolving the strategic boundaries between writers, illustrators and researchers. Please tell us more about that.
Lokesh (BJ): I think it keeps changing from book to book as to what kind of collaboration it is going to be. When we are writing a story by ourselves, then realities are different as compared to a retelling of a story.
Shivangi (BJ): Through our collective practice and work, we try to break the silos of being a single type of writer or illustrator or a researcher. Also, art is not something a selected bunch of 'qualified' people should be doing.
The contributors we invited were also not necessarily all artists. All of us from the team come from a visual arts background. We keep realizing that there are limitations to this too.
Surya (P): How do you see yourself in the future, let' say ten years down the line?
22
Interview BlueJackal
Lokesh (BJ): Not that we have a definite answer to this question. Still we try moving ahead with some shorter term goals. We also think about how and where we take not only our publications but also share our ideas and thoughts. In this regard, we sometimes do workshops with different organizations and age groups. During the past many years, independent comics, zines and picture book publishing has increased across India.
Many of us, who are collectives as well as individual makers and publishers across India, have come together to create a platform called 'Indie Comix Fest'. It is a space where independently published comic books can be showcased and sold. It also aims to create a community of creators and likeminded people. BlueJackal had been coorganizing the Delhi chapter of Indie Comix Fest since the last few years, along with a group of comics creators and publishers.
We also try to approach libraries, so that our books are read by many people. Most of the time it is done through word of mouth. Like how we reached Prayog, TCLP, Muskaan schools etc.
We are trying to reach the remote regions too, where work of social change is happening at the grassroots. So, we are eager to work in such places either through workshops, books and the content created by us.
Surya (P): What suggestions would you give to other organizations, libraries, educational spaces or individuals working with children's literature, especially when one is beginning to explore this area? It becomes very tough to just share a booklist only because we have curated it. Our context and purpose may or may not be the same or best suited for some other place. So, what would you do in such a situation?
Shivangi (BJ): First, I think we ourselves need to learn from organizations about their processes as how they build their collections and prepare lists of books that needs to
be added. What should be the screening process? I have to personally say that we should have an online resource list that could be accessed by anyone. This list will have information about the latest releases or the books available in each genre or theme, for example the latest books released under the theme of gender in children's literature and so on.
I feel this would be a very unique and interesting way to explore different collections under different categories and then select the books that we want to have in our collection. In some ways this type of categorization is already done by different libraries on an organizational level. However, it would be really nice to have a platform where this type of categorization and listing is done on a larger level for us to learn and explore.
Lokesh (BJ): I would like to add that often children take interest in multiple things and disconnected areas simultaneously. And a library can be an amazing place where this aspect can be playfully engaged with.
Surya (P): We are also learning by making mistakes. For example, whenever we decide that a book should be in a particular category or it is related to a particular thing, but then after sometime we revisit it and we might then decide that now this belongs to some other theme. So, in this way, we buy books from different publications, we read them and then decide about the age group, theme and genre it can be categorized under. This learning has evolved from various places and sources.
23
Interview
BlueJackal
कहासन‍या सलखा करती थिी और ‍य जो सलखन का शौक थिा
मरी अिनी सशक्ा क साथि साथि चलता रहा। ्नातक क बाद मरी सदलच्िी लॉ िढ़न म थिी क‍योंसक ‍यह एक ऐसा सवर्‍य थिा जो
मझ कानन को जानन-समझन म मदद करन वाला थिा। दसरा, उस
वकत लड़सक‍या लॉ कम ही िढ़ा करती थिीं। आज स लगभग बाईस
साल िहल मानव असधकार हमार दश म उभर ही रहा थिा। इसक
साथि ही मसहलाओ को लकर दश म नए-नए कानन और सदशा-
सनदश भी आए थि। लखन की बात कर तो मन मसहलाओ स जड़ी
काफी कहासन‍या सलखी ह जो अलग-अलग
चल रह थि। एक तरफ लॉ की िढ़ाई और दसरी तरफ
मीस्‍या म सब-एस्टर क रि म काम। छह
को ध्‍यान म रखा जाता ह? साथि ही सजस बाल सासहत्‍य की बात की जा रही ह उसक सलए बच्चों को
और कहा शासमल सक‍या जाता ह?
: िहला ‍यह सक सासहत्‍य बच्चों को सोचन-सवचारन का
मौका दता हो, दसरा रचनात्मकता और कल्िनाशीलता को जगह
दता हो और तीसरा उसम नसतकता का िाठ सीध तौर िर न हो।
सजस तरह का बाल सासहत्‍य एकलव्‍य प्रकासशत करता आ‍या ह
और कर रहा ह उसम एक सवसवधता दखन को समलती ह। सजस तरह स बच्चों म, उनक बचिन म सवसवधता िाई जाती ह वही सवसवधता सासहत्‍य म भी सदखनी चासहए। इसी बात को ध्‍यान म रखत हए एकलव्‍य द्ारा प्रकासशत सकताबों म आिको ऐस बच्च भी समलग जो आमतौर िर मख्‍यधारा की सकताबों म सवरल ही
दखन को समलत ह। सजन बच्चों क सलए सकताब सवकससत हो रही
ह उनकी सज़न्दगी क द्द्, उनक ररशतों, उनक सघर्षों को सासहत्‍य
म शासमल करना जररी ह और हम इसका प्र‍यास करत ह।
कई बार ‍यह दखन क सलए सक
24 Interview एकलव्‍य फाउण्शन मध्‍य प्रदश म स्थित गर-सरकारी स्थिा ह जो सिछल चालीस वर्षों स सशक्ा क क्त्र म नवाचार का काम कर रही ह। इसक साथि ही ‍यह बाल सासहत्‍य और सशक्ा सासहत्‍य सवकससत करन का, हासश‍याकत समदा‍यों क बच्चों की आवाजों को बाल सासहत्‍य म जगह दन का और सवसवधतािर सासहत्‍य सवकससत करन का प्र‍यास भी कर रही ह। बाल सासहत्‍य को सवकससत करन क अनभवों िर एकलव्‍य क प्रकाशन टीम की सद्‍य दीिाली शकला स प्र‍योग टीम की ज़नब और सससधि न सवाद सक‍या। ‍यह आलख इसी बातचीत िर आधाररत ह। ज़िब : दीिाली जी हम आिक सफर क बार म जानना चाहग। आिकी लॉ की िष्ठभसम ह, आिन मानव असधकार म ्िशलाइजशन सक‍या ह और कछ साल ित्रकाररता भी की ह। इन अनभवों न आिक काम को और एकलव्‍य म आिक अभी तक क सफर को कस प्रभासवत सक‍या? दीिाली : ‍यह िरा सफर काफी
रहा ह। एक सम‍य म
वह
रोमाचक
काफी
अखबारों और िसत्रकाओ म प्रकासशत हई। मज की बात ‍यह ह सक मरी िढ़ाई और नौकरी साथि-साथि
सप्रट
साल तक सप्रट मीस्‍या स जड़न क बाद म इसी क्त्र म आग काम करन का सोच रही थिी। उन्हीं सदनों एकलव्‍य फाउण्शन क बार म िता चला। मन समिादकी‍य टीम स जड़न क सलए आवदन सक‍या और मरा च‍यन हो ग‍या। शर-शर म एकलव्‍य का माहौल मर सलए एकदम न‍या थिा। ‍यहा हा‍यराककी नहीं थिी, उस तरह स ््लाइन नहीं थिी जसी सप्रट मीस्‍या म होती थिी। सकताबों को बनान क कछ सह्स मर काम स जड़त गए। धीर-धीर स्रिपट को िढ़न स लकर उसका समिादन, उसकी स्जाइन को लकर सचत्रकार क साथि चचा, लखकों क साथि फी्बक, अनबन्ध ‍यह सब काम मर रोजमरा क कामों म शासमल होत गए। एक समिादक क तौर िर खद िर काम करन और खद को बहतर करन का काम तो थिा ही। एकलव्‍य म एक और बसि़‍या बात ‍यह होती ह सक ‍यहा समिादकी‍य टीम लगातार सासहत्‍य को लकर बात करती ह सजसस हम सवसभन्न नजरर‍यों को जान िात ह। इसस िढ़न का च्का भी बढ़ा। दो साल तक समिादकी‍य टीम म फलोसशि करन क बाद ‍यह लगा सक ‍यहा आग भी काम करना चासहए क‍योंसक काम करन की आजादी ह, टीम का सह‍योग ह और सबस बड़ी बात सक काम म मजा आ रहा ह। धीर धीर साल बढ़त गए। और आज जब म अिन सफर को िीछ मड़कर दखती ह तो ‍यह महसस करती ह सक ‍यहा काम का ससरि‍य और सकारात्मक माहौल, सशक्ा को लकर सवचार और दशन मझ कहीं अन्दर तक छ ग‍या ह। ‍यहा काम करन की आजादी ह, मौक ह और अगर आि िहल लत ह तो सफर आि काफी आग बढ़ सकत ह। मन ग‍यारह साल तक समिादकी‍य टीम क साथि काम सक‍या। उसी दौरान मझ ‍यह महसस हआ सक सजन बच्चों क सलए हम सकताब बनात ह वो इन सकताबों को कस दखत-समझत ह, एक िाठक क तौर िर उनकी प्रसतसरि‍या क‍या होती ह, समदा‍य म िढ़न का माहौल नहीं ह तो सासहत्‍य क साथि जड़ाव बनान म उन्ह सकस सक्म की सदककत आती ह, इन सब मद्ों िर काम सक‍या जाए। उसक बाद ही मन रीस्ग और लाइब्री म काम शर सक‍या और सफलहाल इस काम को कर रही ह। इस तरह स मरा िरा सफर ही रोमाचक रहा ह। हसहधि : बच्चों क सलए बाल सासहत्‍य प्रकासशत करत वक्त सकनसकन सबन्दओ और सवर्‍यों
कस
दीपाली
बच्च कहानी क साथि और सचत्रों क साथि खद को कस जोड़ रह ह, मन स्रिपट को बच्चों क बीच िढ़कर उसक बार म चचा भी की ह। एकलव्‍य क फील्् का‍यरिमों म लगातार ऐस बच्चों क साथि काम होता ह जो आसदवासी समदा‍य ‍या वसचत समदा‍यों स ह। उदाहरर क तौर िर, सिछल 4 साल स बाल सासहत्‍य क सनमार म
स्थिा क अनभव और अन्तर्सटि विनीत रजन
एकलव्‍य
दतीं।
सजस तरह स सशक्ा समझ, सोच-सवचार करन, तक करन को
सवकससत करती ह, वस ही सासहत्‍य
की ‍य समभावनाए तब ज‍यादा होती ह जब बच्च सकसी कहानी को िढ़कर उसक बार म सोच, उस लकर अिन सवचारों
सकसी िात्र स
महसस कर ‍या उसक सकसी ऐस सह्स िर बात कर जो
िसन्द आ‍या ‍या नहीं
बच्च जब उस कहानी को िढ़ रह हों तो उस लकर कहीं ना
कहीं उनक मन म कछ सवाल आए, कछ सजज्ासा प्रकट हो। हमन
अिन बचिन म जो खलगीत गाए ह, उसम सजस तरह की तकब-
सन्द‍या और शबदों का खल थिा, घटनाए
िररवार, उनक समदा‍य म जो
कछ भी घट रहा ह वो सब कछ उनक सासहत्‍य म भी आना चासहए।
दसरा िात्रों का ससरि‍य होना भी जररी ह, मतलब जो भी कहानी ह
उसक िात्र खासकर बच्च सकसी सम्‍या स सकस तरह स जझकर
समाधान की तरफ जा रह ह ‍यह कहानी म शासमल होना चासहए।
अगर हम सवसवधता की बात कर तो हम िाएग सक गाव म ‍या सफर
शहर म रहत हए भी बच्चों क बचिन म सकतनी सवसवधता ह। इस
सवसवधता
हसहधि : आि सजन सवसवधताओ की बात कर रही ह उनक अलावा भी भारत म अनक सवसवधताए ह, िररवश ह, तो उन सब को ्थिान
दन क सलए आि लोग क‍या प्र‍यास करत ह?
दीपाली : हमार दश म भौगोसलक और सा्कसतक सवसवधताए
काफी ह। एकलव्‍य न इस ओर कछ कोसशश की ह, जस— लोक कथिाओ, कहासन‍यों का सकलन, गोण्, िरधान शली और भील शली म सकताबों म सचत्राकन, खलगीतों क सकलन आसद। इसक अलावा अलग-अलग स्थिाओ द्ारा सवकससत सकए गए सासहत्‍य को सहन्दी म अनवासदत करक प्रकासशत करन का प्र‍यास भी सक‍या ग‍या ह। 'बमब… टस स
25 भोिाल क आसिास जो गाव ह वहा िर एक रीस्ग प्रोजकट चल रहा थिा उसम बड़ी सख्‍या वसचत समदा‍यों क बच्चों की थिी। अगर हम सहन्दी भार्ी इलाक की बात कर तो िढ़न का माहौल समदा‍य म न होना एक चनौती ह, दसरा बच्चों क सलए बाल सासहत्‍य की उिलबधता भी एक मसला ह। ्कलों म सकताब ह लसकन लाइब्री का ससरि‍य सचालन एक और बड़ा मद्ा ह। ऐस म जब आि बच्चों क सासहत्‍य को सवकससत करन की प्रसरि‍या म शासमल होत ह तो ‍यह ध्‍यान रखना महत्विर होता ह सक आि सजन बच्चों क बार म सवचार कर रह ह उन्ह िाठ‍यि्तक क अलावा िढ़न क मौक बहत ही कम समलत ह, िररवार म भी िढ़न का माहौल नहीं होता ह, तो ऐस म बच्चों क सासहत्‍य म सकस तरह की सकताब शासमल होनी चासहए? क‍योंसक िाठ‍यि्तक क जो िाठ ह व सकसी एक नजररए स चीजों को दखन और समझन क मौक दत ह और उनम कहीं न कहीं नसतकता िर जोर होता ह। िाठ‍यि्तक अिन अनभव स सीखन का, सकसी िररस्थिसत म हमन जो सोचा उस िर और ज‍यादा सोच-सवचार करन का मौका नहीं
क िररवश
क मौक
को अिन सासथि‍यों ‍या व‍य्कों क साथि साझा कर, अिन सकसी अनभव को उसस जोड़ िाए, उसक
उन्ह
िसन्द आ‍या, इस बाबत एक रा‍य बन और उसम ससखान का आग्रह न हो। उसम ‍यह ि‍याप्त गजाइश हो सक
आिको अिन आसिास
को दखन, उस िर सवाल करन, उस िर सचन्तन करन
दता ह। सचन्तन
जड़ाव
थिीं वह हमारी सज़न्दगी स घला-समला थिा इससलए वो हम ‍याद रह गए। समभव ह सक आज जब हम उन खलगीतों क बार म गहराई स सोच तो उसम कछ सदककत नजर आ सकती ह िर सफर ‍यह भी सवचार करना होगा सक सबकी िररस्थिसत‍या और अनभव अलग-अलग होत ह। इससलए बच्चों क जीवन म, उनक आसिास, उनक
को कहासन‍यों म सदखना जररी ह। कहानी क सवर्‍य म भी सवसवधता की जररत ह, ‍यानी सबकी आवाजों सबक प्रसतसनसधत्व िर ध्‍यान सद‍या जाना चासहए। ‍य सासहत्‍य सजन बच्चों क सलए ह वो कहीं ना कहीं उन कहासन‍यों म, सकताबों म इस सवसवधता को दख और समझ ऐसा हमारा प्र‍यास रहता ह। मन दखा ह सक जब बच्च ऐसा सासहत्‍य िढ़त ह तो उसस जड़ िात ह। उस िर बच्चों की आिस म बातचीत होती ह सक मर साथि ‍य घटना हई ह, मर दो्त क साथि ऐसा हआ ह, मन अिनी मा को भी कभी-कभी ऐसा व्‍यवहार करत दखा ह जसा कहानी म ह। जब बच्च इस सासहत्‍य को िढ़त ह तो कहासन‍यों िर चचा होन क साथि-साथि ज्र, समाज म व्‍याप्त अन्‍य कई प्रकार क भदभाव िर भी चचा होती ह और बच्च ‍यह सब समझ िात ह। धम को लकर भी ‍यह समझ बनती ह सक हमारी तरह और लोगों क भी धम ह सजनक बार म जानना महत्विर ह। ऐसी चचाओ स बच्चों म एक शासमसल‍यत (inclusivity) की भावना आ िाती ह। जस म अगर काचा इलय‍या की 'मा' कसवता का सजरि कर तो उसम उन्होंन एक मा क सघर् और उसकी ताकत को दशा‍या ह, ‍या सदलर बड़य‍या की कहानी सजसम बच्चा दख रहा ह सक मा को एक ऊची जासत क व्‍यसक्त क आन िर अिनी चपिलों को कस रखना ह, ‍या ईरानी कहानी 'कीसम‍या' सजसम एक बच्ची मौत को चकमा द रही ह। मौत जस सवर्‍य िर ‍यह कहानी िढ़न वालों को एक अलग नजरर‍या दती ह। Interview
मस न होन वाला गधा' सकताब इसका एक उदाहरर ह। कोसशश ‍यह भी ह सक सकताबों का अनवाद दसरी भारती‍य भार्ाओ म भी हो और सासहत्‍य उन िाठकों तक भी िहच। इसक सलए भी सम‍य-सम‍य िर कोसशश की गई ह। श्‍यल और Eklavya
दीपाली : बड़वानी, मध्‍यप्रदश क आधारसशला ्कल क बच्चों न
अकाल को लकर अिन समदा‍य का एक
और उनकी सज़न्दगी को करीब स दखा। इसस जो सकताब
क साथि महत्विर मद्ों िर सवाद करती ह और लगातार उनक साथि काम करती ह।
ज़िब : प्रकाशक
क जीवन म झाकन और उनक सघर् को
समझन का मौका दता ह। तसलका की सकताब भी सवसवधता स भरी ह।
हसहधि : अभी क बाल सासहत्‍य ‍या प्रकाशकों क बार म आिक क‍या
सवचार ह? क‍या आि उनका ध्‍यान सकन्हीं खास सवर्‍यों िर कसन्रित करना चाहगी?
दीपाली : बाल सासहत्‍य म इन सदनों काफी कछ
क सकलन, कसवताए, नाटक, सवर्‍यगत सकताब, जस—ज्र िर, िहचान िर आसद सभी शासमल ह। ‍यह काम दो तरह स हो रहा ह, एक तो कई स्थिाए इस सासहत्‍य को सवकससत कर रही ह, जस सदल्ली म अकर स्थिा बच्चों क लखन िर काम कर रही ह। इनक द्ारा प्रकासशत सकताब 'बालबीती' लॉक्ाउन क अनभवों को सामन रखती ह। इस तरह क प्र‍यासों स बच्चों का सलखा हआ सासहत्‍य लगातार बाल सासहत्‍य म शासमल
हो िा रहा ह। सवशर् जररत वाल बच्चों िर कहासन‍या आ रही ह
जो आिको इन बच्चों क बार म सोचन का एक अलग नजरर‍या
दती ह और िरानी सोच को तोड़न म मदद करती ह। प्रकसत और
कसवता का एक बसढ़‍या मल 'ओ िड़ रगरज़' सकताब म सदखता ह। इस सकताब म दी गई नचरल रग बनान की गसतसवसध कवल गसतसवसध भर नहीं ह बसल्क ‍यह कदरत को गहराई स महसस करन का मौका दती ह। इन सदनों सबग बक भी प्रकासशत हो रही ह जो बच्चों को कहानी और इसक सचत्रों क साथि एक सफर िर ल जाती ह। चकमक िसत्रका क साथि-साथि पलटो जसी शानदार िसत्रकाए भी प्रकासशत हो रही ह। कल्िवक् स्थिा न ि‍यावरर को लकर बहत अच्छा गर-कथिा सासहत्‍य सवकससत सक‍या ह। इस सबस एक उममीद बनी रहती ह सक चाह खल हो ‍या मौत ‍या सफर प्रम जस सवर्‍य हों, िहचान का मद्ा हो ‍या सफर ज्र का, इन सभी िर सकताब आएगीं।
खासतौर िर सशक्ा और सासहत्‍य को लकर जो अलग अलग सोच
ह उसम बहत सार ऐस धाग
26 Interview
क काम जारी ह।
वा्तसवकता
कस रखा जाता ह? कछ हद तक आिन इसक बार म िहल बता‍या ह, िर क‍या आि उसम कछ और जोड़ना
नॉन श्‍यल, दोनों ही भार्ाओ म सामग्री-सनमार और अनवाद
हसहधि : जब सकसी समदा‍य िर सकताब सलखी जाती ह, तब उसकी
का ध्‍यान
चाहगी?
्ॉक‍यमटशन सक‍या। कई सालों िहल जब अकाल िड़ा थिा उस वक्त लोगों न क‍या खा‍या, क‍या सामग्री इ्तमाल की थिी, सदन कस गजर, इन सब को उन्होंन दज सक‍या। जब ‍यह िाण्सलसि प्रकाशन क सलए टीम क िास आई तो उस वक्त इस बात को लकर काफी चचा हई सक इसको कस स्जाइन कर। ‍यह भी बात हई सक इसक सलए सचत्रकार को आधारह सक सजन बच्चों क सलए बाल सासहत्‍य सवकससत सक‍या जा रहा ह उन तक ‍यह िहच। सकताबों का इ्तमाल मज क सलए िढ़न क सलए, सीखन-ससखान क सलए कस सक‍या जाए इसक बार म उन सशक्कों, असभभावकों क साथि काम करन की कोसशश की जाती ह जो बच्चों क साथि काम करत ह। सकताब बच्चों की िहच म हों और उन्ह िढ़ा जाए ‍यह भी महत्विर ह। बच्चों को उनकी भार्ा म सासहत्‍य िढ़न का मौका समल, इसक सलए हम प्र‍यास कर रह ह। सासहत्‍य अिन िाठकों क सलए सखड़सक‍या और दिर दोनों का ही काम करता ह इससलए ऐसी कहासन‍या आग भी सवकससत की जाएगी। इसी तरह नॉन सफकशन म भी सवसभन्न तरह की सामग्री हो इसक सलए भी हम काम कर रह ह। कछ प्रकाशक लगातार बसि़‍या सासहत्‍य प्रकासशत कर रह ह। इकतारा की सकताब काफी अच्छी ह। उनम सवसवधता ह, न कवल सवर्‍यों की बसल्क सवधाओ की भी। म्कान स्थिा द्ारा सवकससत बाल सासहत्‍य भी बच्चों
ऐसा भी रचा जा रहा ह जो बहत बसढ़‍या ह। इसम ‍यात्रा सववरर (travelogue), उिन्‍यास, अनभव, कहासन‍यों
ह सजनक ससर एक-दसर स समलत ह। बाल सासहत्‍य म कसवताओ म भी एक बदलाव सदखता ह, जस, सशील शकल की कसवता—'‍य सारा उजाला सरज का', को िढ़कर आि बहत कछ महसस करत ह। सहन्दी म नाटक काफी कम ह, सशला ्कल क बच्चों क साथि कछ सम‍य सबताना चासहए, समदा‍य को भी जानना समझना चासहए। नसगस सजन्होंन इसको स्जाइन सक‍या उन्होंन बच्चों और समदा‍य क साथि चचा की, उन्ह जानासमझा
त‍यार
रही। प्रकाशन का‍यरिम म समिादकी‍य टीम क साथि ही स्जाइन टीम भी ह जो सचत्रकारों
हई वो समदा‍य, अकाल की स्थिसत को समझन म मददगार
होन क नात आि अिन दास‍यत्व को कस दखती ह? बाल सासहत्‍य म प्रकाशकों की क‍या भसमका होनी चासहए? दीपाली : एकलव्‍य स्थिा सशक्ा क क्त्र म काम करती ह सजसम बच्चों, सशक्कों और समदा‍य क साथि काम करना शासमल ह इससलए स्थिा सासहत्‍य की जररत को अलग-अलग नजरर‍यों स समझ िाती ह। बाल सासहत्‍य म सभी आवाजों को जगह समल, इसक सलए तो हम काम कर ही रह ह। इसक साथि ही ‍यह भी जररी Eklavya
ह, सभी क सलए ह। इससलए लाइब्रर‍यन/ससाध्‍यकता
भी उसस जड़, िढ़न का एक एक माहौल बनाए ‍यह बहत जररी
उदाहरर क सलए एक सकताब ह 'बोरवाला' सजस एक रीस्ग
िढ़ रही थिी
ह
सक सभी क द्ारा बाल सासहत्‍य का िढ़ना और उस िर बातचीत
क मौक समलना बहत जररी ह। क‍योंसक अगर बच्चों की सकताबों की बात कर तो उसकी समीक्ा भी काफी कम दखन को समलती ह इससलए अलग-अलग
दीपाली : मान लीसजए कोई कहानी आई ह और उसम कछ ऐस मद् ह सजन िर लखक को िनःसवचार करन और चीजों को थिोड़ा और खलकर दखन की जररत ह, तो इस बार म लखक क
ह और ‍यह कहानी लगातार फलशबक म जाती ह। इसक सचत्र एकदम अलग ह तो ‍यह सकताब थिोड़ा ठहर-
लखक, सचत्रकार को खोजना इसम कई चनौसत‍या आती ह और ‍यही असल म समिादकी‍य टीम की
भसमका ह जो एक साथि चचा करत ह, काम करत ह और तब जाकर
कोई सकताब बनकर त‍यार हो िाती ह।
हसहधि : आि लोग ि्तकाल‍य िर काम करन वाली स्थिाओ को
अिन प्रकाशन स कस जोड़ िात ह? ‍यसद कोई नई स्थिा ‍या िहल
हो जो बच्चों क ि्तकाल‍य ्थिासित करना चाहती हो तो आि
लोग उन्ह कस सह‍योग करत ह?
दीपाली : इसम दो-तीन तरीक स सह‍योग सद‍या जाता ह। एक तो ‍य सक कहीं कहीं कछ साथिी बच्चों क सलए ि्तकाल‍य सचासलत करन को लकर इच्छक होत ह तो उनका क्मतावधन करना, सकताबों क बार म उनकी समझ को और बढ़ान क सलए का‍यशालाए करना, उनको एकलव्‍य क फील्् का‍यरिमों म शासमल होन का अवसर दना तासक वो दख सक सक फील्् िर कस काम हो रहा ह। दसरा जो बाल सासहत्‍य एकलव्‍य न प्रकासशत सक‍या ह उसकी सची को उनक साथि साझा करना। इसक अलावा इसको लकर भी प्र‍यास होता ह सक ि्तकाल‍य कवल एक एक्चज की जगह न हो बसल्क वो एक ससरि‍य लाइब्री हो और उसम तमाम तरह की सकताबों को
लकर चचाए, गसतसवसध‍या हों। इसम जो साथिी उत्सक होत ह वो
आत ह। एकलव्‍य क
27 Interview इन िर सकताब आनी चासहए। गसतसवसध‍यों की सकताब भी जररी ह। लमबी कहासन‍यों क साथि ही छोटी कहासन‍या भी हों तो िाठक बनान क सफर म मदद समलगी। तमाम बच्चों तक इन कहासन‍यों क िहचन क साथि ही ‍यह भी जररी ह सक लाइब्री म बच्चों क साथि काम करन वाल लोग भी इन कहासन‍यों स जड़ क‍योंसक बाल सासहत्‍य कवल बच्चों क सलए नहीं
ह।
फसससलटटर
और हम दोनों उसक बार म बात कर रह थि। उन्होंन कई बार कहा सक उन्ह उस कहानी की भार्ा समझ नहीं आ रही। सफर बात करत करत हम एक ऐस मोड़ िर िहच जहा उन्होंन अिन गाव म सकसी सवसक्प्त इन्सान को लकर अिन अनभव साझा सकए। वह एक ऐसा मोड़ थिा जहा स कहानी क साथि उनका जड़ाव होना शर हआ क‍योंसक वह कहानी एक छोटी बच्ची और एक सवसक्प्त इन्सान क बीच क ररशत को दशाती ह। तो मझ लगता
माध्‍यमों स बाल सासहत्‍य िर चचा भी बहत जररी ह। ज़िब : एक सकताब की रचना म लखक, सचत्रकार, अनवादक और प्रकाशक को एक साथि समलकर काम करन म क‍या-क‍या चनौसत‍या िश आती ह? आि उनका सामना कस करत ह और काम को आग कस ल जात ह?
साथि सवाद करना और सजन िाठकों क सलए ‍यह सकताब ह, व कस उसको दखग, इसकी तरफ लकर जाना एक चनौती होती ह। इसी तरह की चनौती का सामना सचत्रकारों को भी करना िड़ता ह। उन्ह कहानी क म् क मतासबक सचत्र बनान होत ह। अगर कहानी सकसी खास इलाक की ह तो कस सचत्र होन चासहए इन बारीसक‍यों का ध्‍यान रखना जररी होता ह। सचत्रकार को ‍यह ध्‍यान दना होता ह सक सचत्र कवल कहानी म सलखी हई बातों को ही न दशाए बसल्क उस भी दशाए जो मल िाठ म न हो तासक सचत्र कहानी की बारीसक‍यों को सकताब म ला सक क‍योंसक बहत बार हम सचत्र भी िढ़त ह। ‍यह एक और चनौती ह जो सचत्रकारों क साथि काम करत सम‍य स्जाइन टीम क समक् िश आती ह। इसक अलावा िरी दसन‍या म बाल सासहत्‍य म सकस प्रकार का काम चल रहा ह उसम स उमदा सासहत्‍य को ििना, िढ़ना, लखकों को ििना, उनक सलख हए को िढ़ना, ‍यह भी उतना ही महत्विर ह। इसीसलए सम‍य लगाना भी जररी होता ह क‍योंसक आि अच्छा सासहत्‍य लगातार िि रह होत ह। एक सकताब ह 'जल्द बहत जल्द' जो तीन िीसढ़‍यों की कहानी
कर सोचन क मौक दती ह और आिक साथि अलग तरह स सवाद करती ह। इस तरह का सासहत्‍य जो शा‍यद आिक िररवश का न हो आिको दसन‍या म चल रही चीजों स जोड़न म मदद करता ह। तो अच्छ सासहत्‍य को तलाशना,
का‍यरिम को जानन, सासहत्‍य को िढ़न, चचाए करन, सकताबों स जड़ाव बनान, कौन-सा सासहत्‍य अिन िररवश म ल जाना चासहए इस िर सझाव दना, उनका प्रसशक्र करना इन बातों म हम उनकी मदद करत ह। Eklavya
STARTING A COMMUNITY LIBRARY
Here are some pointers that can be thought of before we start a community library and when we run it. Running a community library is possible with low resources. Quality must be ensured and thinking about the following points may be helpful.
BUILDING A DIVERSE COLLECTION
Diverse children's literature has to be included for different age groups of children. You may start with a small number of books, say 50-100. But these have to 'good books.' And then regularly keep on building the collection, as the children's reading evolves. Ensure that there is diversity in terms of themes, genres, age-groups, etc. in the collection.
LOCATION
Explore for the location from the community itself. Engage children –they will help find the space for the library.
CONSENT
Consent of the community is a must to start a library. You may engage children, parents, members of local self-governance institutions, retired teachers, and village elders, etc., and include their feedback.
PEOPLE IN THE LIBRARY
PURPOSE
Brainstorm on the vision of this library and also your reasons to start one in this particular community. Does your library aim to enable chuildren access diverse books? Is it for fostering the joy of reading? Does it aim to connect to literacy? Or is your goal a mix of all of these or any other purpose based on your experience and context? Know your children and context first and then define the purpose.
Who would be running the library? A library educator takes up shaping the library as a part of meeting its vision. Finding local youth for this role and nurturing them should be thought of.
28
01 03 02 04 05
INVOLVE
Encourage active involvement from the community, and incorporate their art, songs, folklore and other cultural elements into the library's work.
CARE
Care for the children, the library space and the books is very important. Children should always feel welcome in the space. For space, try to make it as vibrant and open as possible. Books should be cared for. Cover all the books, maintain their records, and set-up a 'book hospital' for their repair.
LIBRARY CALENDAR
Design a calendar for the library and prepare a session plan. A yearly calendar is always helpful. And you must plan for the library sessions.
ENGAGEMENT ACTIVITIES
Children need to be engaged through activities to open up the collection and to enable them to read and understand. More focused engagement in vulnerable communities is required. Activities can include browsing games, read alouds, storytelling, book talks, paired readings, book discussions, book displays, etc. Lending of books to children should be definitely included as a part of the library's activities.
INTERACTION
The library must be an interactive space. There is a need to work on enabling children and the community to interact with the library's collection and space. Interactions within the library space and also from outside their context, like sessions by educators from different libraries, can be thought of.
29 Resources
06 07 08 09 10
HARYANA
Gurgaon : Koolskool
RAJASTHAN
Jaipur : Lokayat Prakashan
GUJARAT
Ahmedabad : Books for You, Gandhi Ashram Book shop, Om Books Stores
MAHARASHTRA
Mumbai : Butterfly Books, Comet Media Foundation, Creative Learning Aids, Kahani Tree, Kitab Khana, People's Book House, Wayword and Wise
Pune : Enlit Kids, Pagdandi
GOA
Anjuna : Champaca
Margao : The Dogears BookShop
Panaji : Burrow by Bookworm, That Book Store
KARNATAKA
Bengaluru : Blossom Bookhouse, Champaca, Funky
Rainbow, Lightroom, The Bookworm, The Rabbit Hole
BOOKSTORES ACROSS INDIA
SOME INDEPENDENT BOOKSTORES FOR CHILDREN'S BOOKS
DELHI
Delhi : Bahri and Sons, Eureka! Bookstore, IPDA, Pratham Books, The Bookshop, The Full Circle Bookstore and Café Turtle
ASSAM
Guwahati : Aank-Baak, Anwesha Books, Assam Prakashan Parishad, Banalata, Bandhab, Bani Prakashan, Panchajanya, Purbayan Publication
Ghaziabad : Pupilio
UTTAR PRADESH
MADHYA PRADESH
Bhopal : Eklavya's Pitara, Ektara, Muskaan
BIHAR
Patna : Books En Amee, Tricel
ODISHA
Bhubaneshwar : Walking Bookfairs
WEST BENGAL
Kolkata : Bahrisons Booksellers, Chuckervertty Chatterjee & Co Ltd, Creative Caterpillar, Katha-O-Kahini, Shishu Sahitya Samsad, Storyteller
TELANGANA
Hyderabad : Parijatham at Saptaparni
Secunderabad : Manchi Pustakam
PONDICHERRY
Pondicherry : Freeland Bookstore
TAMIL NADU
Chennai : Higginbothams, Tulika Bookstore, Odyssey book store
KERALA
Trivandrum : DC Books, Modern Books Store
We are thankful t o Amrita Nair (Apnis h ala), Baidehi Sengupta, Harit ha (ASWA), Kushal Dat tani, Nay an Meh rotra, Parismita (NEET), Pravin Madur, Radha Gopalan Thejaswi Shivanand, Tolesh (Kalpa kta ) and tulikabooks.com/info/where-t o-bu y, indiebookshops.in/list -of-bookshops/ , who helped us a lot with their inputs. Lookout f or NBT and CBT book stores wh ic h h ave a wide network all acros s th e country.
A Library Campus in Rural Bihar
Anita Kumari, Kailash Pati and Ragini Sharma
PRAYOG is a library-based organization. Started in 2013, it works in Bihar's Gopalganj district. Its vision is to ensure that every child has access to diverse children's literature. The organization tries to ensure that children are able to understand texts and share the joys of reading. Its outreach is in government schools and community sites.
Libraries become what they are, because of the people involved. The way they engage and open up their collection to children are important factors, so are interactions and utilization of spaces, etc. In October 2022, PRAYOG started a library campus that also aims to function as a resource centre. Its goal is to facilitate interactions and engagements, on books and libraries, within and outside the library community as well.
The teams' collective efforts have helped in shaping this up. Children from nearby villages are members of the library. The library as a space, and its collection, is opened to them through engagements in various activities like book displays, book talks, library games and read alouds, etc. Individuals and groups from different organizations and various
geographies of Bihar, and from diverse contexts, visit this space to take away some of the doables for children's libraries in their own sites and programs. Working with children, they are able to see how libraries are helpful in engaging with children right from their early education stage. These visitors also learn and explore ways to start and run libraries of/on their own.
The campus has also become a hub for the organization's capacity building exercises. PRAYOG strongly believes in building its own capacities first. Some of the focus areas now are engagements with children and their contexts, and evolving the library for and with them.
Partnerships are a critical element of PRAYOG's work. It invites different kinds of partners to the campus. Some partners help with technical support. Some others are collaborators. A few others support financially. The organization tries to engage all these different kinds of partners in the library space in a spirit of mutual learning. All this is perhaps reflective of the work of PRAYOG's diverse team. Each member brings in their diverse experiences. The team collectively works together to make this a vibrant space.
31 Photo Essay
The Prayog team works together to make the library a collaborative space to exchange ideas
The library campus cum resource center is imagined as a space where interactions on books and libraries are facilitated
The library hosts a diverse collection of books
32
Photo Essay
Engagement with partners
33
Essay
Dialogues within the team
Photo
Libraries as learning spaces
This page and the succeeding one: Children hailing from nearby villages are members of the library. The Prayog team engages with the children through various activities like book displays, book talks, library games, read alouds, etc.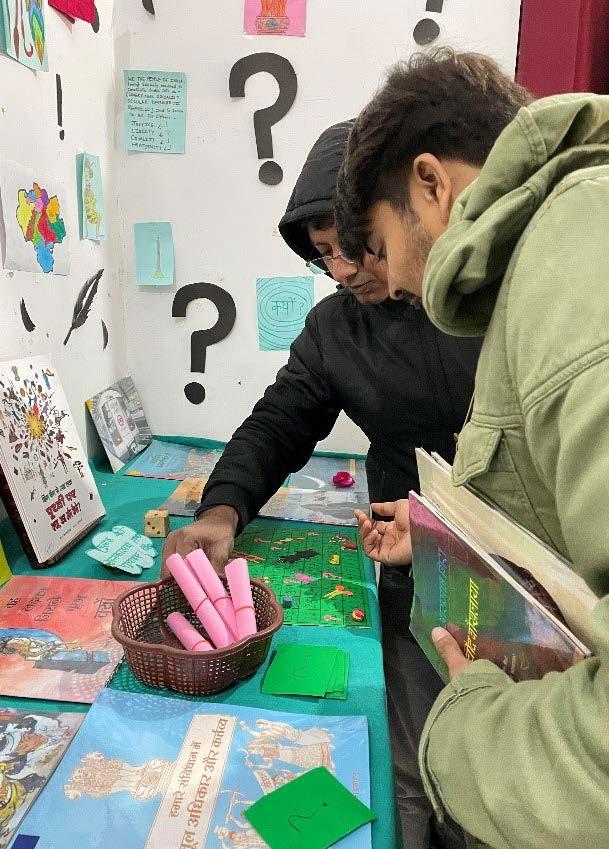 34
Photo Essay
35 Photo Essay
Diverse Geographies, Diverse Libraries
Siddhi Kalbhor
What does a library mean for the different children across the country? What has been the role of libraries in creating safe learning spaces in the face of disruptions caused by the COVID-19 pandemic and other adversities?
How does a library take shape in a community? What are the struggles and challenges of libraries across the different geographies of India?
In this article we try to cover the experiences of different organizations working with children and communities through their library initiatives in distinct geographies. Each of these organizations gives us a different picture of the possibilities that libraries offer.
Libraries run by these CSOs are turning into open, creative and engaging spaces of learning for children. They are collaborating with communities and schools to promote the culture of reading, and to make learning processes child-centred. In this piece, they share what it takes to sustain a library when the community has a major role to play in it.
Ayang Trust
Ayang Trust is a non-profit organization, based in Majuli, Assam. It runs the Hummingbird School, a community based progressive school. The CSO tries to reach as many children as possible through engagements with the community and formal school processes.
However, during the pandemic, the education programs were discontinued, as schools were closed. Children also faced disruptions in their learning.
Therefore, Ayang felt the need to directly engage with the community to create access to spaces and resources for the learning of children. They envisioned a community library as a response. The vision being to bring social change for villages through a mission of Seeding Enquiry, Empathy and Dialogue (SEED) in children, youth and adults by using books as tools.
Ayang establishes community libraries in collaboration with villagers through a participatory approach. Communities provide the space and form a Library Management Committee (LMC). Ayang provides a curated set of books. It also trains a local library educator (Xopun Sarathi) and the LMC members.
The 'Xopun Sarathis,' i.e., 'Dream Charioteers,' are trained and supported in seeding reading as a cultural practice and to meaningfully engage with the children and the youth.
"Taking ahead the concept of a community library initially, we piloted it with four villages in Majuli in November 2021. Based on our observations and learnings, processes and systems to start engagement with another 16 villages were designed. Gradually, over eight months of engagement with these 20 villages, our community library model has evolved," shares Team Ayang.
The democratic and participatory process of setting a community library involves elaborate dialogues and discussions with the villagers. It emphasizes on understanding the context of the village.
This process also highlights the role of a community library in the villages' growth and
36 Ground Zero
development. However, the major challenge that Ayang witnessed in the initial phases was related to the villages' hierarchical social structure.
These hierarchies are based on caste, class and gender. People from the same dominant groups are being selected for various roles in the libraries. Considering the challenges, the Ayang team is trying to make the processes more inclusive in nature. Presently, it is looking forward to experiment with the idea of equal participation of Ayang and the villages in the selection processes, at least in the initial period. It is envisaged that gradually complete ownership will be transferred to the villages.
A Xopun Sarathi engages with the children through a variety of library activities. 'Reading aloud' is the core activity of the library sessions. It enables a space for children to think, reflect and connect to different aspects of stories, and develop an interest in reading.
To introduce children to new titles, themes, authors and vocabulary building, the Xopun
Sarathis engage with children through fun-filled and enjoyable library games. These include treasure hunts, word games, snakes and ladder, and musical books, etc. Based on their understanding, learnings and experience, Ayang has been able to map out four major components of the community library model. They think these aspects are significant for its success. We discuss these below.
Accessibility to the library: A village library should have adequate infrastructure and reading resources such as books and other stationeries. The library should be open for at least 20 days a month. This functioning should be supported by trained Xopun Sarathis and LMCs members.
Usage of the library: Children must be able to borrow at least two books a month. They should also be facilitated to share their experiences with their peers. Also, 70% of the registered children should visit the library at least 15 days a month.
Community ownership and sustainability: Ayang believes that a village's reading culture
37 Ground Zero
Ayang Trust
A Xopun Sarathi conducting activities with children
can only be developed when villagers come together and run their library instead of an organization running it. So, in their two years of engagement with the village, they try to develop this sense of ownership in the village. The goal is that when Ayang gradually terminates the support, the library can still function on its own. The visible indicators of community ownership and sustainability would be financial ownership of the library by the village and active engagement by the youth and LMCs members with the library.
Merits of reading: Ayang believes that a reading culture will develop when the village understands the merits of reading. This can be observed from community participation and support in the library's processes. One indirect indicator can be financial contributions made by families to sustain the library. A family would contribute money only when it thinks that it's an important activity.
Currently, twenty community libraries have been established by various communities in Majuli. By the end of February 2023, 20 other villages were preparing to start their own community libraries.
However, the journey of reaching out to these number of villages has not been easy. Ayang has developed the whole process in a two-year project with clear objectives and activities. They are continuously learning and innovating through these processes and structures.
Ground Zero
Through their SEED project, AYANG aims to establish 200 libraries in rural Assam. These are envisaged to be owned and sustained by the villages themselves. The team expects that this will create a ripple effect. The goal is to inspire more and more rural communities across Assam to establish and own the functioning of, thriving community libraries. These institutions are envisaged to be at the forefront of social change. Further, the successful practices that come out of this endeavour could be a guiding model across rural India.
North East Education Trust (NEET)
North East Education Trust (NEET) runs a community library in Guwahati for children, youth and community members. The goal is to make children and other people to come together to engage and express through their heads, hearts and hands.
As the entire world went through upheavals during the COVID-19 pandemic, children were affected as well. The pandemic gave access to mobile phones and internet to many children. However, it ended up keeping them over-involved with phones. It also made them habitual to stay indoors. Postpandemic changes in children's behaviour and choices are something the NEET team is still struggling with.
Saradi, a team member shares her recent experience with young readers, "After the re-opening of the library, we could observe a kind of growing gap among the children
38
Ayang Trust NEET
Stakeholders' engagement in a village
and the library. They were losing interest in reading books and in taking part in library activities. Earlier, they would come to the library without any fear of judgement. They used to share about their worries and problems directly with their educators. Even though they never expected anything out of their educators, they had a certain faith and a feeling of friendliness. Due to this, they openly shared what they had to.
However, after the pandemic, children started using cell phones as an escape from problems and the issues they faced in their day-to-day life. They started maintaining a distance in the library. The same set of children who were active participants earlier, started being irregular."
On realizing this issue, we started taking extra interactive sessions. We also went on regular community visits to invite children. We started interacting with their parents on a regular basis as well. Throughout this process we added a new rule of 'no mobile during library sessions' for the children. With the passage of time, we now observe a positive change among regular library participants. However, we still have a lot of work to do."
rZamba Trust
rZamba Trust started in 2015 as a volunteer group of friends and began working in government schools. While doing this work, they got to experience what it is like to work in a place like Kargil. This remote region is on the country's border. Here climatic conditions are difficult with respect to terrain. The sociopolitical conditions are also different. All these factors affect people's lives.
To address the region's issues, rZamba began intensive engagement in education since 2018-19. Saldon, from the rZamba team, shares that their program is currently called 'Wholistic Child Wellbeing Program.' As a part of this initiative, they try to bring in all the stakeholders on a common platform. The goal is to develop a common understanding of
Ground Zero
educational leadership, as a collective. They also want to move towards ensuring a better future for their children.
As a part of this program, they have had intensive engagements with government schools in terms of pedagogical intervention. As a part of this process, project-based learning is encouraged into classroom curriculum.
Apart from that, they are also focusing on creating good library spaces. They want to foster libraries as places of growth, and develop the involvement and appreciation for libraries among all the stakeholders in the communities they work with.
rZamba's current focus is on foundational learning years. A library space is introduced to the children studying in nursery to class 3. The objective is to be able to generate their interest in books and reading so that they become life-long learners. rZamba ensures the inclusion of books catering to their learning needs. For example, some might contain more pictures and less words, depending on the children's class, age group and learning levels. Currently their focus is mainly on bringing more and more learning material for children up to Class 3.
While speaking about the challenges, Saldon shares, "Unfortunately, there is very less contextual children's material when it comes to Ladakh, especially in terms of story books. We don't get a lot of stories from Ladakh. Most of them are in oral form. We try to get diverse books, which may not exactly be related to Ladakh's context. However, the story and the background does help in relating, connecting the children, as a mirror at times."
Community youth facilitators work in schools for the entire day. With the help of teachers, they are trying to ensure that a library period/ library session happens in every class. They also work to enable various kinds of library activities. They engage with the teachers
39
through library sessions. They also try to build their own capacity and figure out how to pass this on to the community after three years of intensive engagement.
What really works for rZamba is the value of co-creation that they emphasize on, be it with communities, the children or with the teachers. For example, they develop a sense of ownership when they cover a library book or make their own library card. Another thing that has helped to draw children towards books is by introducing simpler books at first. These may be picture books or books with very few words. Children can relate to such texts.
rZamba's team helps the children read, letting their peers listen to them and feel appreciated for what they are doing in the library. All these things have created a shift. Children now feel confident about themselves. They may or may not be doing very good right now. However, they have the ability to become good readers in the future.
Saldon shares that they face challenges related to resources, connectivity and funding, as they live and work in remote areas. Current education structure also stands as one of the barriers in reaching out to children through libraries. The way schools and education are structured, these do not give much importance to libraries.
The rZambateam struggles with seeking cooperation from teachers. Even though they are convinced that libraries are important, they are also stuck in loops. It needs a lot of motivation for them to go beyond their comfort zone and pick up a library book or use library sessions as a way to teach something from the curriculum.
Library practices used by rZamba have the potential to make the curriculum interesting and engaging for children. However, the main challenge remains as to how to make this method a part of the curriculum.
Ground Zero
Saldon further shares that there is a need for systemic interventions in order to achieve this. The rZamba team is also engaging with the Directorate of School Education to sustain this intervention. Currently rZamba works with 10 village communities. Here they have signed MoUs with the Village Education Committees. They are also collaborating with the local administration for a more systemic approach.
LECIN
Let's Educate Children In Need (LECIN) is a non-profit organization, started in 2015. Their work focuses on early childhood education and free library programs. They first began their library work in 2019 in Baalwadis. However, later due to the Covid-19 pandemic, they began setting up pop-up libraries in different villages. This was the beginning of their community library program.
Since 2022, LECIN has been able to reach out to 800 children through the Free Community Library Program. This initiative serves communities along the Yamuna River in Delhi and Uttar Pradesh (UP) and a village in Shamli district in the latter state.
Although LECIN works in and around the National Capital Region (NCR) Delhi, the communities it works with are highly secluded from the rest of the world. They live in difficult riverine catchment areas of the Yamuna. Many children in these communities hadn't seen picture books before the organization started its interventions.
At present, 150 to 160 members are connected with the library in the villages. Out of this, 90 -100 children (2.5 - 18 years old) come on a daily basis. On an average, 50-60 books are issued/returned daily.
LECIN's Khoj program (free community library) aims to include people of all classes, castes, religions and genders. Its goal is to promote 'Reading Readiness' and 'Joys of Reading' through the library, a library which
40
is run by and for the community. Library activities like read alouds, storytelling, games, book talks, events, songs, poems, drama and other physical, cognitive, art, and language activities are included in the library sessions.
Ankush, a team member, shares that once they asked the children in a library session, "What is a library for them?" So, a child said, "The library gives them a place to say what we have to say." Another said, "Here we study, dance and sing." An older child said that he gets information about the world in the library and that it is fun to listen to stories.
Another team member, Nupur, shares about two of the biggest challenges that have come to the fore. "As the houses in the communities were not owned by them always, getting a closed, covered space for the libraries is difficult. During the rainy season, the water level of River Yamuna rises. Due to this, many people migrate upstream. So, running our libraries in such an environment becomes very challenging. We have had to keep the library closed during the monsoons."
Also, seeking the support of the parents in the community was a bit tricky. As instead of going to a library, if their child helps in the field, it would be more of more immediate
financial benefit for them. To tackle this, the organization also started taking sessions with parents for raising awareness among them.
This has led to many elder participants to also enter the library. These often did not know how to read and write. They started attending the sessions. This generated their interest in libraries. They have now begun to understand stories through pictures. Sometimes they would start narrating the whole book by themselves. After this, the libraries have become more inclusive to include all age groups.
Taking these learnings and engagement with the community further ahead, LECIN has had a series of discussions and meetings. They were mainly based around questions likeWhat kind of library do they (the villagers) want? What all should it comprise of? From these conversations they came to know about their expectations from the library. These include games, newspapers, activities for children, including the older ones, due to which other members could also join the library. The main learning has been that more the number of people from the community who join the work, the more meaningful and effective is the change that can happen.
41
Ground Zero LECIN
Read aloud session by Ms. Kanchan in LECIN's Free Community Library
At the same time, there should be something for everyone in the library. If the solution to the problems of the community also comes up during discussions of the community library, then it becomes a process filled with fun, love and ownership.
Makkala Jagriti
Makkala Jagriti (meaning 'Awakening of Children') is a Bengaluru-based organization founded in 2003. Its goal is to create a valuebased social movement to empower children and their communities. Libraries are one of the critical components of its holistic development and learning program. Their library is aimed at all children in the 6-14 years age group. They strengthen school libraries with creative ideas, activities, and methodologies, where school teachers are involved in the library activities. Key components of their library work include the following.
Reading for pleasure: Children have 'Reading Time' where teachers/facilitators and children sit with a book of their own choice and read it for half an hour or so. Teachers/facilitators could see that this activity impacts students' focus. It also helps to imbibe the habit and love for books.
Foundational literacy: The organization tries to bridge gaps in children's foundational literacy skills. It tries to do so through access to books at different levels and support from facilitators. Diverse books help children improve foundational literacy skills like identifying letters, the alphabet, spelling, orthography, word writing and sentence formation.
Read aloud: Teachers engage with children through read-aloud activities, where they read stories aloud to children.
Building interest in science and mathematics: Efforts to generate children's interest in science and math are made through attractive and easy-to-use books.
Beyond these, libraries are also spaces where children learn different skills and positive behavioural traits such as trust, collaboration, concentration and reflection, etc. Participation in library activities nurtures children's sense of wonder and curiosity as well.
Like many other library initiatives across the country, the Makkala Jagriti team feels that there are struggles when making teachers feel the importance of library activities for children. In the conventional school set-up, libraries are often thought of as spaces for quiet reading.
However, at the same time, they see some hope and opportunities for breaking the myths around libraries. They are trying to recreate libraries as interactive spaces full of engaging activities centred on books and children. They are also working toward creating libraries as a medium for children's holistic development. This involves creating model library activities to inspire school teachers and showcase it in the process.
In Conclusion
Organizations working through libraries have realized that this journey of starting a library and sustaining it in a visionary way needs much ideation, constant remodelling and persistence. The COVID-19 Pandemic pushed them to explore ways to engage with children and keep going.
They have exemplified how an initiative takes good shape and flourishes, when the community is actively involved and takes full ownership. Their stories give us hope and inspiration to keep imagining and exploring the myriad possibilities libraries offer to children and their communities.
You can reach out to the organizations featured in this story at: Ayang Trust- deendayal. ayang@gmail.com; NEET- parismitagogoi@ hotmail.com; rZamba Bridge- rzambajkl5@ gmail.com; LECIN- ankush.lecin@gmail.com; Makkala Jagriti- vivekss@makkalajagriti.org
42
Ground Zero
Wipro Foundation is a public charitable trust set up for corporate citizenship and Corporate Social Responsibility (CSR) initiatives of Wipro.
To read previous issues of Samuhik Pahal please visit: https://issuu.com/wiprofoundation
For more information, visit: http://wiprofoundation.org/
Guest Edited by: PRAYOG
Cover Photo Credit: PRAYOG
Designed by: Bindu Creative PRAYOG
Disclaimer: The information in the document is made available based on internal data and other sources believed to be true and are for general guidance only but which may have not been verified independently. While every effort is made to ensure the accuracy and completeness of information contained, Wipro Foundation takes no responsibility and assumes no liability for any error/ omission or accuracy of the information or claims for damages, including exemplary damages, arising out of use, inability to use, or with regard to the accuracy or sufficiency of the information contained. Views expressed by authors are their own and do not represent Wipro Foundation's views. Recipients of this material should rely on their own judgments and conclusions from relevant sources before making any decisions.