107 Sea View Avenue, Osterville, MA 02655 HR Department: (508) 681-4906
ABOUT WIANNO CLUB
On April 1, 1916, the Wianno Yacht Club purchased the Cotocheset House hotel and formed the Wianno Club, a private, memberowned, seasonal club located on 156 acres overlooking Nantucket Sound in Osterville, Massachusetts. Today, Wianno has grown to include nearly 650 members, 450 of whom are stock holding.
Wianno Club has provided the perfect setting for all manner of gatherings for over one hundred years. Generations of families have selected this uniquely charming place to create treasured memories and celebrate anniversaries, family reunions, and annual vacations. Also a popular site for weddings, it is not uncommon for the Club to host the reception of a bride or groom whose parents and grandparents also held their own receptions at Wianno.
Each summer, members of all ages look forward to returning to Wianno Club to partake in longstanding traditions. The Club maintains a conservative family environment and follows a strict code of ethics and appearance.
In 1979, the Wianno Club was placed on the National Register of Historic Places by the US Department of the Interior.
LOCATION
Wianno Club is located on Cape Cod in the village of Osterville, Massachusetts. Osterville is 70 miles (about an 1.5-hour drive) from the city of Boston and Logan International Airport. New York City is 260 miles south of Cape Cod (about a 5-hour drive).
The Club is within a twenty-minute walk from town, where you can find multiple dining options, convenience stores, boutique shops, banks, library, post office, public transportation and more. The closest beach is less than a five-minute walk away.
Seven miles away is the larger village of Hyannis, with access to tourist attractions, a mall and other shopping options, restaurants and bars, transportation center with buses going to Boston, New York and all over Cape Cod, two ferry services to Nantucket and Martha's Vineyard and much more. Cape Cod in general has so much offer. It is one of the most popular tourist destinations in the country.
EMPLOYMENT
In the peak season (May - October), Wianno Club employs about 230 team members over 16 departments.
Our employees come from all over the world. We accept H2B and J1 internship and Work & Travel program participants.
Our season starts in the beginning of May and continues until the middle of October with H2B petition dates from May 9 - October 14 (in country).
The Golf Course is open from the middle of March through the end of November (weather dependent).
A list of available positions and the option to apply can be found on our website, wiannoclub.com under the Careers tab.
DINING
Each year, Wianno Club staffs its Food and Beverage operation with a team of 75 seasonal employees. Our Executive Chef has been recognized with multiple awards by the American Culinary Federation.
We have five distinct dining outlets in addition to a banquet operation where we execute functions for 12-600 people. In total, the Food and Beverage team serves over 6,000 meals weekly for members and staff.
Seaside Café is one of the Club's busiest outlets. It features ocean-front dining in a casual atmosphere.
The Terrace Room is a tranquil bar and lounge where members can enjoy craft cocktails and a limited dining menu.
The Golf House Restaurant is a free-standing operation that provides lunch service to our golfers and guests. It is also a site for private parties and member events.
The Sea View Room is the flagship of the Wianno Club dining experience. It offers an upscale casual dining experience where crisp service and contemporary cuisine converge with sweeping views of Nantucket Sound.
The Main Dining Room is the most elegant room at the Wianno Club. It has been the setting of unparalleled dining experiences since 1916, including nightly fine dining, grand buffets, and daily breakfast for members and hotel guests.
CULINARY PROGRAM
The passion for cooking and delivering exceptional culinary experience to our members is a staple of our Culinary Program.
Our Culinary Team is committed to excellence in everything they do. Creating a positive and safe work environment, treating everyone with dignity and respect, providing opportunities for development and education are some of the Team's guiding principles.
GOLF
Wianno Club has an 18-hole Donald Ross golf course. The par-70 course measures 6,042 yards and hosts 13,000 rounds annually.
The Golf Program is run by 18 team members. Our golf professionals are often recognized in the industry for their skills and commitment to the game of golf.
The golf course is maintained by 25 employees. Designed with rolling terrain and a challenging layout, it is known as one of the most superior golf courses on Cape Cod.
TENNIS
Wianno Club has nine Har Tru Tennis courts, two Paddle Tennis Courts transitioned into Pickleball courts in the summer.
Members follow the tradition of wearing all white attire as part of the Tennis Dress Code as they participate in clinics, point score competitions, and tournaments.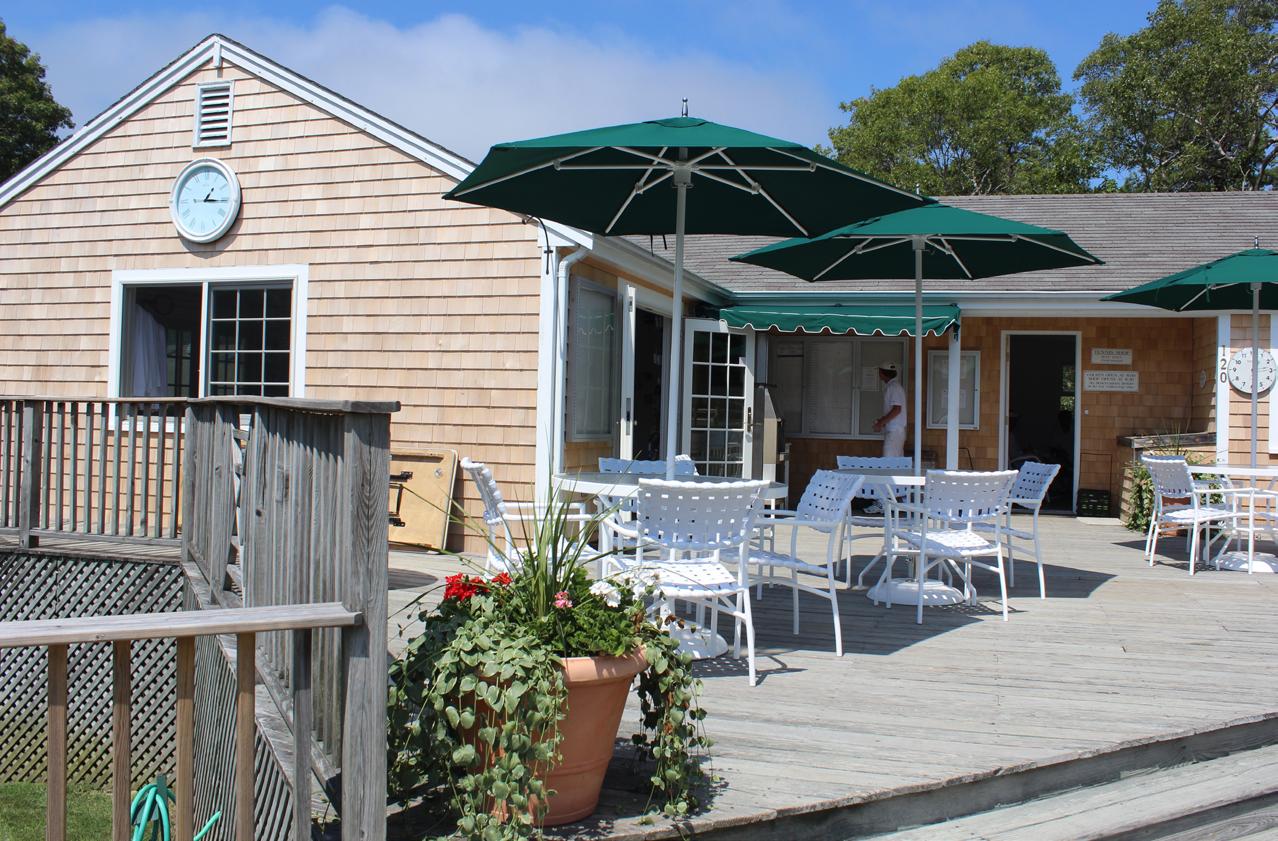 BEACH
Wianno Club has ocean-front and lake-front beaches on the same property.
Our fresh water beach is on the shore of Crystal Lake and is often used as part of the Club's Junior Activities program.
Both beaches are for member use only, but there are two public beaches within walking distance of the Club for employees to enjoy.
ROOMS
Wianno Club has 47 guest rooms located in our Main Clubhouse and cottages on site. Every room offers a unique layout. Most rooms have unobstructed views of Nantucket Sound.
Wianno Club hosts an average of 3,100 room-nights per year.
BENEFITS & AMENITIES
Bonuses
• Sign-on Bonus of $250 to all full-time, seasonal, hourly team members after 30 days of employment.
• Referral Bonus of $200 for the referrer after the referred employee completes 30 days of employment. The name of the referrer needs to be listed on the new employee's application.
• Retention Bonus to all seasonal, hourly employees of $1 for every hour worked between March 1 and the end of season.
Housing
Wianno Club's on-campus dormitories are home to almost 90 employees in season. Singles are available, but most rooms are shared (2-3 people per room). Most bathrooms are shared (2-4 people per bathroom). All rooms are furnished including a television, air conditioner and a refrigerator. Bedding and towels are provided.
Limited off-campus housing is available. There is a $50 per pay period (two weeks) dorm maintenance fee, which employees can select to be deducted from their paychecks. A $100 refundable deposit applies. All utilities, cable television, and Wi-Fi are included in the fee. There are five laundry areas with washers, dryers, irons, and ironing boards.
A staff recreational building is equipped with computers, printer, cook top, Ping-Pong table, television, living room furniture, and a restroom.
Meals
The Culinary Department provides three meals per day at the Staff Cafeteria in the Main Clubhouse.
Fitness
We have a fitness area equipped with a 3 stack multi-gym, flat to incline bench, 3 tier dumbbell rack, rower, endurance LED treadmill and an endurance elliptical.
The area around the Club offers a great setting for joggers with a 5k loop through town.
Golf and Tennis
Employees are welcome to use the Golf and Tennis facilities after hours. They are just asked to provide advance notice to the Tennis/Golf Professionals and to follow the respective dress codes.
Benefits
Wianno Club offers paid sick time to all seasonal employees. Additionally, health and 401K benefits are available to eligible employees.
Transportation
Wianno Club provides a shuttle service to and from off-site housing and to local shopping and recreation to resident employees who don't have other means of transportation.
Career
Wianno Club is the ideal place to learn and advance in your career. Our managers are respected in their fields and eager to provide valuable advice, coaching, and mentorship.
CONTACT Anthony DeFelippis Director of Food & Beverage E: anthony@wiannoclub.com P: (508) 681-4950 Michael Pillarella, CEC Executive Chef E: chefmichael@wiannoclub.com P: (508) 681-4905 Phillip Rezende Guest Services Manager E: phillip@wiannoclub.com P: (508) 681-4944 Maria Chamberlain HR & Communications Manager E: maria@wiannoclub.com P: (508) 681-4906