Whitworth University
Where You Belong
At Whitworth, it starts with people. Our community. The promise that you don't have to go it alone. We are with you as you discern your calling, connect to a career, and discover who you're meant to be.
#1
32% Best Value
(U.S. News & World Report)
TOP-TEN MILITARY FRIENDLY SCHOOL
(Viqtory Media)
1,992 undergraduate students
10:1 student-faculty ratio
33 43 states and countries represented
incoming students from Black, Indigenous and People of Color communities
# 3 Best Regional University in the West
(U.S. News & World Report)
90%
92% of classes with fewer than 30 students
90%
24/7 campus security
A "BEST IN THE WEST" UNIVERSITY
(Princeton Review)
"There were a lot of factors that contributed to my decision to attend Whitworth, but ultimately it came down to the 'vibes' I got when I visited campus, and the quality of the forensics team here. I was going back and forth between this school and another one in the PNW, but when I came to Whitworth's campus and interacted with the students, there was this inviting energy that was unparalleled to other schools that I had visited prior."
Chauncella Koulibali, psychology
2
3
Brock Peterson, biology
"Whitworth felt like a great fit to me because of the small class sizes and tight-knit community. Also, I wanted an environment that understood my Christian motives for doing science."
Discover Who You're Meant to Be
At Whitworth you'll find a confident yet unpretentious community. Our active student life and residence hall programs get you involved, inspire you to lead and help you grow.
STUDENT CLUBS
Black Student Union, Gaming Club, HOLA (Heritage of Latino Americans), Polynesian Club, PreMed Club, Student Investment Group, Ultimate Frisbee and dozens more.
THE ARTS
Got a heart for the arts? Students of all majors participate in more than 20 instrumental and vocal ensembles, and multiple theatre events and art exhibits.
INTRAMURALS FOR ALL
Whether for fun or for the coveted championship T-shirt, students enjoy participating in intramural sports like volleyball, basketball and pickleball.
ATHLETICS
The Pirates compete in 21 NCAA Division III sports and have won the trophy for the best overall athletics program in the Northwest Conference for 12 of the past 14 years.
Women's sports: Basketball, Cross Country, Golf, Indoor/ Outdoor Track & Field, Lacrosse, Soccer, Softball, Swimming, Tennis, Volleyball
Men's sports: Baseball, Basketball, Cross Country, Football, Golf, Indoor/ Outdoor Track & Field, Soccer, Swimming, Tennis
4
Life in Spokane
WEATHER 26-88°F | 4 SEASONS
METRO POPULATION
781,497
MOUNT SPOKANE
30 MINUTES AWAY
A nearby destination for hiking, skiing, snowboarding and mountain biking.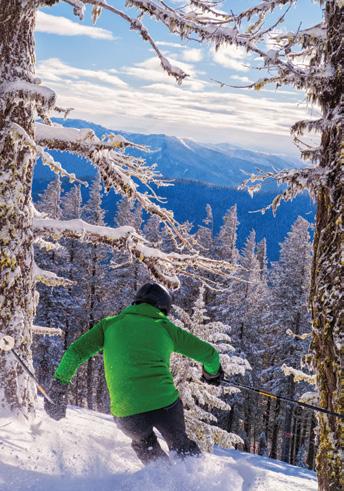 GREEN BLUFF
15 MINUTES AWAY
A favorite spot on fall weekends – apples, pumpkin donuts and corn mazes!
DOWNTOWN
15 MINUTES AWAY
Catch a show, take a scooter around Riverfront Park, skate the Ice Ribbon, go shopping, and get your fill of great food and local art.
5
©Aaron Theisen
This Might Change Your Life
Your Whitworth education is your ticket to dozens of opportunities around Spokane, in the U.S. and around the world. Whether you participate in a service-learning program, an internship, a semester-long exchange program or a monthlong faculty-led course abroad, Whitworth will equip you to navigate these experiences with skill and understanding while earning credits that count toward your degree. You'll enter the workforce with skills that set you apart.
60+
Number of countries in which Whitworth students may study abroad
8
"My professors connected me with the right combination of study abroad and internship opportunities that ultimately helped me build both hard and soft skills and grow a professional network in my field. As a result, I had multiple political and government job offers and interviews lined up before I had even graduated – something I would not have been set up for without faculty that knew me, cared about me, and encouraged me to take the leap."
A FEW PLACES WHERE RECENT GRADS ARE WORKING
Lockheed Martin Space
Eli Min '21 software engineer
Garmin
U.S. Department of State
Madi Binyon '21 hardware test engineer F5 Inc.
See where more of our grads are working in our career booklet! whitworth.edu/career-booklet
9
Ryan Grady '21 mechanical systems engineer
Jillian Hines '20 investigative case specialist
Simone Marrujo '22 research associate
Parse Biosciences
Hannah Sabio-Howell '18
$1,000 Visit Scholarship for participating in a qualifying visit
Take the Next Step
VISIT
Choose a visit day throughout the year to join one of our visit programs. whitworth.edu/visit
 APPLY FOR FREE
Apply at whitworth.edu/apply or using Common App.
 FILE YOUR FAFSA
The FAFSA is the best way to get the money you need for college through Whitworth, state and federal grants, work-study and loans. The FAFSA application opens Dec. 1. studentaid.gov
Whitworth partners with students to help them access every resource available to pursue their college dreams and maximize the return on their investment.
100%
of incoming students receive financial aid
2023-24 COSTS
Tuition: $49,600 | Fees: $1,320
Room and meals: $13,700
$38,620 Average scholarships and grants for 2022-23 first-years
$17,000-$30,000 University Scholarship automatically awarded to admitted students
10

Whitworth University is committed to delivering a mission-driven educational program that cultivates in students the capacity to engage effectively across myriad dimensions of diversity. Whitworth University is committed to the fair and equal treatment of all students in its educational programs and activities. The university does not discriminate against students based on race, color, national origin, sex, gender identity, sexual orientation, religion, age, or disability and complies with all applicable federal or state non-discrimination laws in its instructional programs.
TRAVEL REIMBURSEMENT
Learn more about how travel costs can be reimbursed for admitted seniors and transfers to make a campus visit: whitworth.edu/travelreimbursement
ADMISSIONS APPLICATION DEADLINES
FIRST-YEAR STUDENTS
Nov. 15 | Early Action I
Jan. 15 | Early Action II
March 1 | Regular Admission
TRANSFER STUDENTS
Fall Semester
Jan. 15 | Early Action I
March 1 | Early Action II
July 1 | Regular Admission
Spring Semester
Dec. 1 | Regular Admission
11
MAJORS & PROGRAMS
Choose from 100+ majors and programs, or design your own major based on your academic interests and career goals. whitworth.edu/majors
Accounting, BBA
Air Force ROTC
American Studies, B.A.
Applied Mathematics, B.S. –Data Science, Mathematical Economics, Mathematical Finance
Applied Physics, B.A. Army ROTC
Art & Design, B.A. – Graphic Design, Two-Dimensional (Drawing/Painting, Printmaking), Three-Dimensional (Ceramics, Sculpture, Glass)
Art Education, B.A.
Art History, B.A.
Asian Studies
Athletic Coaching
Bioinformatics, B.S.
Biology, B.A., B.S.
Biophysics, B.S.
Business Management, BBA
Certificate of Vocational
Development in Nursing
Chemistry, B.A., B.S. –Biochemistry, Physical Chemistry
Chinese Communication, B.A.
Communication & Culture
Communication & Technology
Community Health, B.A.
Computer Science, B.A., B.S. –Business, International Project Management, Network Systems
Criminology & Criminal
Justice, B.A.
Dance
Early Childhood Education
Economics, BBA
Editing & Publishing
Education, B.A. – Elementary, Secondary, Special Education Education Studies, B.A.
Engineering, B.S.
Engineering – Dual Degree Transfer Program
Office of Admissions | 509.777.4786
English, B.A. – English/ Language Arts, Literature, Writing Studies
English Language Learner
Environmental Science, B.S.
Environmental Studies, B.A.
Film & Visual Narrative
Finance, BBA
French & Francophone Studies, B.A.
Front-End Design
Development, B.A.
George Whitworth Honors
German
Graphic Design, B.A.
Health Science, B.S.
Health Science, B.S. –Pre-Athletic Training
Health Science, B.A. –Pre-Occupational Therapy
History, B.A.
History/Social Studies, B.A.
Human-Computer Interaction, B.A.
Individually Designed Major –B.A., B.S.
Information Technology
International Studies, B.A. –Political Science Emphasis, History Emphasis
Journalism & Media Studies, B.A.
Kinesiology, B.A.
Latin American Studies
Law & Justice Leadership
Marketing, BBA
Mathematics, B.A., B.S.
Medieval & Early Modern Studies
Music, B.A. – Composition, Instrumental Performance, Jazz Performance, Music Ministry, Piano Pedagogy, Piano Performance, Voice Performance
Music Education, B.A. –Choral, Instrumental
admissions@whitworth.edu | whitworth.edu/admissions
Peace Studies, B.A.
Philosophy, B.A.
Physics, B.A., B.S.
Political Science, B.A.
Pre-Chiropractic
Pre-Dentistry
Pre-Law
Pre-Medical Technology
Pre-Medicine
Pre-Nursing
Pre-Occupational Therapy
Pre-Pharmacy
Pre-Physical Therapy
Pre-Physician Assistant
Pre-Veterinary
Psychology, B.A.
Public History
Reading Instruction
Sociology, B.A. – Global Sociology, Social Analysis, Social Work & Human Services
Spanish, B.A. – Language & Literature, Spanish Education
Speech Communication, B.A.
Strategic Communication, B.A.
TESOL (Teaching English to Speakers of Other Languages)
Theatre, B.A.
Theology, B.A.
U.S. Cultural Studies
Visual Communication
Women's & Gender Studies
12