Our first edition 10 years ago
Ten years ago, we decided it was time to showcase the incredible people, events, and natural beauty of our community. We were told our dream was silly. People with more experience, more know-how in the publishing industry, more skill, said it would never work.
But the thing about dreamers is that "little" things like logic, reality, and roadblocks are simply minor inconveniences. So we did it anyway.
In September 2013, our first edition - with no name - arrived at 500 homes in the Caulfeild area. This, the 58th edition, will be delivered to over 5000 homes between Dundarave and Lions Bay. All editions are now online too, reaching a much greater readership than we ever imagined.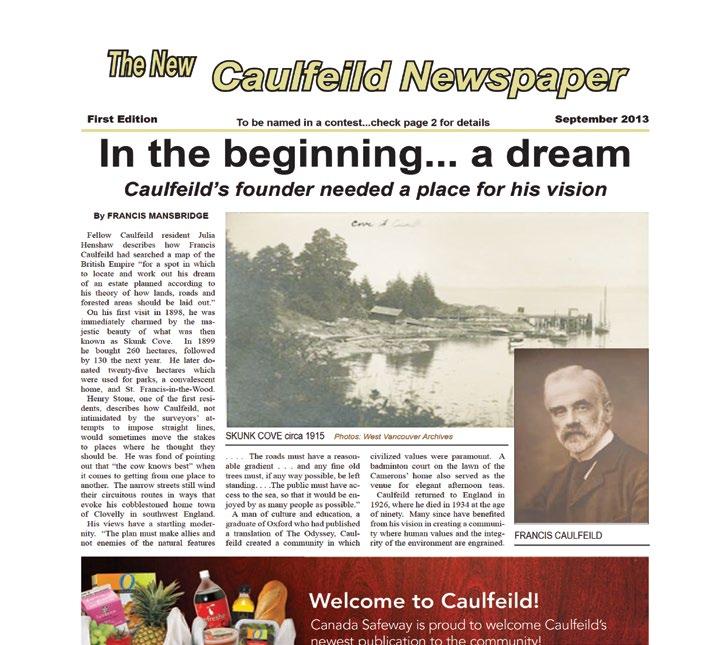 We thank our many contributing writers, loyal advertisers and supportive readers for making these 10 years possible. We could not have done it without all of you.
Chris, Lindy, Penny, Melissa
58
No.
Shedding light on the communities from Lions Bay to Dundarave
CANADIAN FITNESS PG 3 IN THIS ISSUE BE ACON THE the penny mitchell group penn y & stephanie mitchell 604 - 816 -7825 • 604 - 812 - 7158 penn ymitchellgroup@gmail.com TM
We are grateful to live and work on the unceded traditional territories of the Coast Salish peoples.
Chris
Stringer Publisher chrisstringer @westvanbeacon.ca
Lindy Pfeil Editor lindypfeil @westvanbeacon.ca
Penny Mitchell Promotions
pennymitchell @westvanbeacon.ca
Melissa
Baker
Creative Director melissabaker @westvanbeacon.ca
Please note that all contributing writers for The Beacon retain full rights and that the full or partial reproduction of feature articles is unauthorized without the consent of the author. Personal opinions, beliefs and viewpoints expressed are solely those of the respective contributors and do not necessarily reflect the opinions, beliefs and viewpoints of the Beacon, the publisher or the editorial and creative staff.
Submissions for The Beacon
The Beacon is delivered bi-monthly to 5000+ households between Lions Bay and Dundarave. For submission guidelines and queries, please e-mail the Editor: lindypfeil@ westvanbeacon.ca
Please note that all submissions are subject to space constraints and editing. For advertising queries, please e-mail the Director of Marketing: pennymitchell@westvanbeacon.ca
For all other queries, please e-mail the Publisher: chrisstringer@westvanbeacon.ca
All editions of The Beacon (beginning in September 2013), can also be read online at: www.westvanbeacon.ca.