1REPORT IMPACT 2021-22
TABLE2 CONTENTSOF Succeeding Together.....................................................................................................3 Year in PrioritiesLookingResearchResearchResearchResearchWE-SPARKIgniting2021ResearchOurOurAboutMessageReview........................................................................................................................4fromtheBoardofTrustees.............................................................6theInstitute..............................................................................................................7Team...................................................................................................................................8ResearchCommunity.......................................................................................10ActivityofCorePrincipalMembers.......................................11GrantCompetitionResults.......................................................................12DiscoveryGrantRecipients.............................................................13GrantsProgram..................................................................................14DrivesDiscoveries&ProvidesSolutions........................16SupportsHealth&Wellness......................................................20TrainstheNextGeneration........................................................22ImprovesHealthOutcomes&SavesLives.................24Forward............................................................................................................26for2022-2023.......................................................................................27wesparkhealth.com@wesparkhealth@wesparkhealthwesparkhealth.com@wesparkhealth
WE-SPARK Health Institute is physically located on land and surrounded by water honoured by the Wampum Treaty; agreements between the Anishinaabe, Haudenosaunee, Lenni, Lenape and allied Nations to peacefully share and care for the resources around the Great Lakes.
We are committed to providing equity, diversity, inclusivity, and support – all components of an environment that enhances excellence, innovation and creativity. We aim to develop and support policies and practices that strengthen the research community, as well as the quality, social relevance, and impacts of our research. Igniting discovery, succeeding together, living better.
We acknowledge the presence of the People of the Three Fires Confederacy (Ojibwe, Odawa, Potawatomi and Huron/Wendat) and the importance of reconciliation. Health research, care and training benefit from a deep appreciation of the past and present healing practises of Indigenous people. WE-SPARK recognizes the urgency for all areas of health to meet the needs of the Indigenous communities across Canada. As such, we are dedicated to meaningful consultation, building respectful relationships and the continued learning and education required for positive action toward reconciliation.
Succeeding Together
3
WE-SPARK Health Institute is supported by an innovative research partnership between Hôtel-Dieu Grace Healthcare, St. Clair College, Windsor Regional Hospital, and the University of Windsor. WE-SPARK brings together health research strengths, expertise, and infrastructure from across the Windsor-Essex region. Since our formal launch in March 2020, we have grown to over 860 members. We accelerate and strengthen collaborations and provide tools and resources needed for local health research and training to excel.
Year4 in Review We began our third year on May 1, 2021 with 677 members. Since then, we have grown our membership by 27%. With the COVID-19 pandemic still impacting the community, we continued to host most of our events virtually and engaged with over 700 participants. We were thrilled to end the year with an in-person event, Cheers to Hope, to celebrate the successes of the health research community. We used new strategies to connect with our community through social media *Funding reflects the grant activity of the 30 Core Principal Members $14,850,000 Total External Funding* 860 Members 14 WE-SPARK Grants Awarded ($280,000) 8 Staff 32 ClinicalTrials 3,000+ **OnlyInvolvedPatients/ParticipantsinResearch**includesfreshtissue,clinicaltrials&REDCapparticipants
5 and shared our members' successes through mainstream media engagement and newsletters. We launched our WE-SPARK app to support rapid communication and new collaborations between our researchers. Our WE-SPARK office added three new staff members and took on nine interns. We hosted our 4th WE-SPARK grants competition and awarded over $280,000 to local research projects. Our Core Principal membership grew to 30 researchers, and we increased total external research funding by 67%. We are succeeding, together, in growing health research excellence and will continue to focus on the positive impact that research has on our local community. Research changes lives. 24 Events Hosted 730 Participants 42 StudentmembersNetwork 9 Interns 3 Professors of facilitatedPractice 13 ProfessorshipsClinicalFacilitated 42,000 Unique Website Visits 8,250 EngagementsNewsletter 87 Times MainstreaminNews 1642 Followers 12,855 Engagements 1.5 million Reach Social Media
Message from the Board of Trustees
6
During our first two years, we dedicated our efforts to establishing a strong common vision of a thriving and engaged research community. We focused on uniting our strengths to develop programs and processes that would allow us to drive advancements in health, now, and into the future. This year, we continued to build upon our individual organizational strengths while working together to find efficiencies and advance discoveries. In the span of three short years, we have achieved remarkable results. This year alone, we awarded $287,000 in grants, attracted over $14 million in external funding to our region, increased our membership to 860 members, and established a robust student network. In addition, we hired personnel that support our research community, took a lead role in developing the University of Windsor's Masters in Translational Health Sciences Research program, and developed a plan with Invest WindsorEssex to connect and grow industry engagement in health research. These, and many other accomplishments highlighted in this report demonstrate our commitment to the health of our region and the values of WE-SPARK Health Institute - Accountability, Excellence, Collaboration, Innovation and Sustainability. We truly are succeeding, together.
Robert Gordon University of Windsor President & Vice-Chancellor
David Musyj Windsor Regional Hospital President &
7 About the Institute
Patti France St. Clair PresidentCollege
Bill Marra Hôtel Dieu Grace Healthcare President & CEO
CEO Since inception in 2019 and formal launch on March 7, 2020, WE-SPARK Health Institute has worked to bring together health research strengths across our region. Together we are pursuing a vision of a thriving and engaged community driving advancements in health. What We Do Enhance the health, well-being, and care of people through transformative research and knowledge translation. We accomplish this by: • Accelerating research activities and facilitating connections. • Building a critical mass of health researchers. • Providing local research funding opportunities. • Offering research workshops, services, and consultations. • Engaging student volunteers. • Hosting events to engage community members in research. • Establishing infrastructure capacity. Quarterly reports highlighting our metrics can be found at: www.wesparkhealth.com/our-impact Why Local Research Matters Research outcomes have a global benefit, but there are additional impacts felt when research is funded locally. Local research: • Keeps our health professionals and educators current. • Attracts and retains the brightest students and professionals. • Brings cutting-edge infrastructure, diagnostics, and treatments to our region. • Increases access to clinical trials in Windsor-Essex. • Reduces the number of patients that must travel out-of-town for care. • Improves health outcomes for our community. Research saves lives. Budget & Funding WE-SPARK is funded by contributions from four Institutions totaling $500,000 (Expenses: salaries, internships, operating costs, and grants program). The WE-SPARK Grants Program is also supported by donations from organizations and individual community members.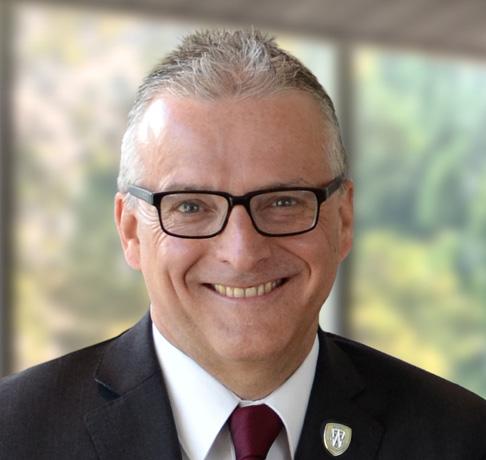 KarenStaff8Metcalfe Assistant Director Adriana Grande Knowledge Translation and NUCLEUS Coordinator Linda Hudson-Chapman Administrative Assistant Kyle Lago Translational Research Associate Cathy Mombourquette Special Projects – Media Relations Devinder Moudgil Medical Student Research Associate Christopher Ng-Fletcher Innovation Research Associate Ryan Palazzolo Student Network Coordinator NellieInterns/StudentshipsBordignon Vaccine Hesitancy – Special Project Mohamed Farjalla Data Management Eddie Grimmett Cancer Education Amy Llancari Cancer Education Zoë Millar Caring for the Caregiver – Special Project Sydney Reid Vaccine Hesitancy – Special Project Jaclyn Ruta Vaccine Hesitancy – Special Project Kaviya Selvaperumal EDI – Special Project Madhu Yadiki Engage Program Our Team Our team is comprised of dedicated and passionate people who are committed to working together to enhance the health, well-being, and care of people in our community. LisaExecutiveLeadershipCommitteePorter WE-SPARK – Executive Director Nicole Sbrocca (Chair) Windsor Regional Hospital Alison Murray Hôtel Dieu Grace Healthcare Jennifer Voth Hôtel Dieu Grace Healthcare Caroline Hamm Windsor Regional Hospital Heather Pratt University of Windsor Chad Sutherland University of Windsor Peter Wawrow St. Clair College Karen Metcalfe WE-SPARK
9
WE-SPARK Alison Murray Hôtel Dieu Grace Healthcare Heather Pratt University of Windsor Nicole Sbrocca Windsor Regional Hospital Monica Tighe/ Monica Staley Liang St. Clair College Karen Metcalfe WE-SPARK (Co-Chair)PeterTranslationKnowledgeWawrow St. Clair College Dora (Co-Chair)Cavallo-Medved University of Windsor Dave Andrews University of Windsor Linda DiRosa Hôtel Dieu Grace Healthcare Jody Ralph University of Windsor Indryas Woldie Windsor Regional Hospital Lisa Porter WE-SPARK Karen Metcalfe WE-SPARK AdrianaNucleusGrande (Chair) WE-SPARK Renee Biss University of Windsor Arezoo Emadi University of Windsor Jackie Fong University of Windsor Wendy Foote St. Clair College Phil Karpowicz University of Windsor Kyle Lago WE-SPARK Krista Naccarato Windsor Regional Hospital Michelle Nevett University of Windsor Ken Ng University of Windsor Christopher Ng-Fletcher WE-SPARK Ming Pan Windsor Regional Hospital Lisa Porter WE-SPARK Jody Ralph University of Windsor Chad Sutherland University of Windsor Peter Wawrow St. Clair College Community Engagement Marla Jackson (Co-Chair) Hôtel Dieu Grace Healthcare Chad Sutherland (Co-Chair) University of Windsor Dora Cavallo-Medved University of Windsor Roseann Danese St. Clair College Allison Johnson Windsor Regional Hospital Karen Metcalfe WE-SPARK Research Development Caroline Hamm (Co-Chair) Windsor Regional Hospital Ingrid (Co-ChairQemountil Jan. 2021) University of Windsor Jennifer (Co-ChairVothas of Jan. 2021) Hôtel Dieu Grace Healthcare Chris Abeare University of Windsor Jessica Bennett Windsor Regional Hospital Balraj Jhawar Windsor Regional Hospital Jody Ralph University of Windsor Simon Rondeau-Gagne University of Windsor Peter Wawrow St. Clair College Lisa Porter WE-SPARK Karen Metcalfe WE-SPARK
LisaGovernanceCommitteesPorter(Chair)
10Our Research Community Everyone in our community has a role to play in health research. WE-SPARK members are a network of people dedicated to improving the health and wellness of our region. Our research activities are driven by our Core Members, people who work in the research field and are actively engaged on a daily basis. However, essential to our progress are those working behind the scenes to elevate research activities including healthcare providers, educators, students, volunteers and supporters. 860 Members:CorePrincipal are funded by provincial or national health projects, or lead a clinical trial30 Core Associate are actively engaged in research but do not yet hold provincially or nationally funded projects or are leading clinical trials. 178 Affiliate Researcher are associated with health research or healthcare locally or beyond; including administrative support 247 Affiliate Students post-secondary students in any discipline with an interest in health research304 Community Members / Ambassadors individuals or organizations interested in the health landscape in Windsor-Essex101 Researchers onewithaffiliationformalahavewho institutionspartnerfourourof
11 Research Activity of Core Principal Members Biomedical Sciences Dora MunirLisaPhillipCavallo-MedvedKarpowiczPorterRahim Chemistry & Biochemistry Marcus Drover Drew OtisJohnYufengSimonKennethMarquardtNgRondeau-GagnéTongTrantVacratsis Computer Science Luis Rueda Electrical & Computer Engineering Arezoo Emadi Mitra Mirhassani Kinesiology Francesco Biondi Matthew Krause Sara Scharoun Benson Paula van Wyk Mechanical, Automotive & Materials Engineering Jalal Ahamed Jill Urbanic Nursing Noeman Mirza Cancer Program Caroline Hamm Ming Pan Psychology Jessica Kichler Dana KendallCharleneLanceMenardRappaportSennSoucie Social Work Adrian JayashreeGutaMohanty Awards/Recognitions16 Grants 38Awarded Peer Talks/PresentationsPublications,ReviewedBooksandChapters120Given92 Students496Trained Clinical32Trials Active Collaborations207 External Grant $14,850,000Funding Patients/Participants3,000+Involved* *Only includes fresh tissue, clinical trials & REDCap participants Core Principal Members 30 The successes here reflect those of our 30 Core Principal members who hold national/provincial funding or lead an investigator-initiated clinical trial
122021 Grant Competition Results Behind each Project Lead is a team of people from diverse backgrounds and experiences. WE-SPARK focuses on funding projects that bring together experts from the four supporting institutions, and collaborators across the region, province, nation and world! $287,000 Funding Disbursed 14 GrantsWE-SPARKAwarded 50+ CollaboratorsInvolved InstitutionsCollaborating11
Kathy Pfaff Improving the holistic health, social support, and healthcare utilization of the LGBTQ+ people experiencing cancer
Naomi Levitz Exploring the lived experiences of Windsor-Essex County's Street Involved .
Noeman Mirza Exploring the role of Designated Care Partners pre and postdischarge.
Sponsored by WE-SPARK and University of Windsor (Office of the Vice President, Research and Innovation; Faculty of Engineering; Faculty of Human Kinetics)
Igniting Discovery Grant Recipients
Drew Marquardt Realizing Boron NeutronTherapy.Capture Francesco Biondi Developing a machine vision eye-blink detection application for the monitoring of Zoom fatigue.
Sponsored by
Rosanne Menna Children's Technology and Media Use During the COVID-19 Pandemic.
Munir Rahim Improving prognosis and therapy for people with colorectal cancer.
Sponsored by Sponsored by Jalal Ahamed Development of an innovative and cost-effective sleep monitoring tool to better understand breathing related sleep disorders.
Matthew Krause Exploring the mechanismspathophysiologicalunderlyingpoormusclerepairinaginganddiabeticmyopathy.
Jennifer Voth Exploring the implementation of a family navigation service in WindsorEssex
Sahar Khan Using mobile technology to identify potential neurocognitive change in cancer patient
S. Rondeau-Gagne Developing treatmentsnewforGlioblastoma.
Hali Sitarz Empowering and educating nursing students to intervene in the poverty landscape.
P. Moradian Zadeh Development of an AI-based platform to address social isolation and improve health in community dwelling seniors.

14WE-SPARK Grants Program The WE-SPARK Grants Program is designed to support local health researchers at all stages of their career. All grants are adjudicated by a rigorous external peer review process. The program began in 2020 and since then 52 projects have been awarded totaling $776,725 in local grant funding. Research takes time but we are already seeing the impact of this investment. In just 2 years, these projects have leveraged the local funding into an additional $1.8 million in national grant funding. IN 2 YEARS, LOCAL FUNDING LEVERAGED INTO $1.8 MILLION IN NATIONAL GRANT $776,725 Local Grant Funding Awarded 52 Projects 2020 Program Launch 2 YEARS Research Time
FUNDING HAS BEEN year we had the opportunity thank donors personally at Cheers to Hope, our annual fundraising event. donors provide the funding that fuels local research year special thanks goes to: the QR Code to watch our "Thank You For the value of research, our impact, and how our supporters make the
WE-SPARK
15
projects. This
our
difference.
Scan
Your Support" video highlighting
critical
to come together to celebrate research and
INTO AN MILLIONADDITIONALGRANTFUNDING This
below
Project: Implementing and Evaluating a Compassionate Community Intervention to Improve the Holistic Health, Social Support, and Healthcare Utilization of the LGTBQ2+ People Experiencing Cancer
Funder: Windsor Cancer Centre Foundation, Seeds4Hope Program Team lead: Dr. Kathy Pfaff
16 Research is an ongoing process that builds on the discoveries of the past. Several decades of research have led to the understanding that rather than being one unique condition, cancer is a group of diseases that require different approaches for their diagnoses and treatments. In Year 3, the WE-SPARK Cancer Research Program (formerly known as the Windsor Cancer Research Group – WCRG) continued to support interdisciplinary research projects. One newly funded study is a social intervention to improve the quality of life of LGBTQ2+ persons experiencing cancer. This pilot project utilizes an implementation science framework and has a strong team with multiple collaborators and organizations.
Co-Investigators: Shelley Evans and Drs. Jamie Crawley, Edward Cruz, Michael Boroughs, Jody Ralph, Suzanne McMurphy, Debbie Sheppard-Lemoine.
Collaborators: Janet MacIsaac, Dr. Caroline Hamm, Deborah Sattler.
Research SpotlightProvidesDiscoveriesDrives&SolutionsonCancer
17 Over Year 3, our core members were awarded $650,000 in new cancer research funding, adding to the $5.3M in current cancer funding held locally. There are additional benefits when research is funded locally, including bringing cutting-edge infrastructure to the community, elevating the knowledge of all healthcare providers, and attracting and retaining the brightest professionals.
Photo: Discoveries and the next generation. / Student Tiana Visconti working on a translational health project as part of a research team in the Essex Centre of Research (CORe), University of Windsor.
When funded locally, research also delivers the latest innovative treatments to local patients, with data showing that those treated in institutions with active research programs have improved outcomes. In 2020, the Cancer Research Collaboration Fund provided the initial support to a local study on the cancer patient enrollment in clinical trials. Since then, the project has received more than $150,000 in additional national funding.
Project: Identify Barriers to Cancer Patient Clinical Trial Enrollment and Develop Interventional Education Program for Windsor-Essex Funder: Cancer Research Collaboration Fund Team leads: Drs. Caroline Hamm and Dora CavalloMedved Collaborator: Dr. Abdulkadir Hussein
Project: Unpacking the Complexity Within Indigenous Communities Responding to Displaced Climate Change
The COVID-19 pandemic and its associated restrictions exacerbated the impacts of climate change issues on the health and well-being of Indigenous peoples from the Tl'etinqox and Qwelminte Secwépemc communities.
18
In Year 3, a local project based on Indigenous research methodologies received national funding to study (1) the complex interplay of climate change, the COVID-19 pandemic, gender and intersectional perspectives, and health; (2) the impact of such complexity on Indigenous peoples' response to climate change refugees or evacuees; and (3) potential sustainable community-led solutions for the current and future pandemics and health emergencies.
Refugees in Central British Columbia During the Covid-19 Pandemic Funder: Canadian Institutes of Health Research Team leads: Drs. Darlene Sanderson and Noeman Mirza Co-Investigators: Drs. Roderick McCormick and Johanna Sam Research
IndigenousProvidesDiscoveriesDrives&SolutionsPeoples
19 In Year 3, Hôtel Dieu Grace Healthcare developed the COVID-19 Recovery Program, a comprehensive assessment to diagnose, treat, and rehabilitate individuals with complex and multiple medical, functional, and psychosocial issues related to COVID-19 infection. Individualized education, treatment, and other types of support were provided by interprofessional teams of health professionals in an outpatient setting. The collected data during the evaluation stage seeks to impact decision making with regards to rehabilitation services for the recovery from COVID-19 infection among members of our region.
Project: COVID Recovery Program Evaluation
Funder: Hôtel Dieu Grace Healthcare Team lead: Dr. Jennifer Voth Project Team: Jason Petro, Sonya Vani, Rosie Pipitone-Middleton, Jenniffer Clifford, Janice Dawson, Bianca Pirillo, Rachel Gough, Marla Jackson.
Photo: Providing solutions to support all. / COVID-19 Recovery Program at Hôtel Dieu Grace Healthcare.
Spotlight on COVID-19
Photo: This is why research matters. / Dereck Lau, local high school student, health advocate and brain tumour survivor sharing his thoughts about the importance of health research.
Project: Exploring the Implementation of a Family Navigation Service in Windsor-Essex Funder: WE-SPARK Health Institute Team lead: Dr. Jennifer Voth
20
Spotlight on Mental Health
To understand the impact that social determinants can have on health, a number of our researchers focus on screening, nutrition, activity, and stress management. Often, some of the best solutions arise through longitudinal studies carried out by collaborative teams.
Co-investigators: Drs. Jessica Kichler and Kendall Soucie Collaborators: Terra Cadeau, Marla Jackson, Jeanne Lucier
Research Supports Health & Wellness
Only 31% of children and young people with mental health and/or addiction disorder diagnoses receive formalized mental health services or supports. Help-seeking is often hampered by a combination of multiple factors, which, in turn, affect the scope and availability of resources. Most current service planning at a community level is based on past utilization, meaning that only those who receive service get counted as "needing" it. Family navigation programs (FN) have recently emerged as one of the solutions. In Year 3, a collaborative team of WE-SPARK members launched an exploratory study to "fine tuning" a FN in our region.
21 Homelessness is correlated to a low sense of community belonging, which can lead to hopelessness, lower mental well-being, and drug use. In Year 3, we supported a local project that is using storytelling and personal narratives to help identify opportunities to increase meaningful activity among individuals experiencing chronic homelessness and/or those recently housed.
Funder: WE-SPARK Health Institute, Igniting Discovery Grant Program Team lead: Naomi Levitz Co-investigator: Elizabeth Strutt-Macleod Collaborator: Allison Prieur
Project: Exploring the Lived Experiences of Windsor-Essex County's Street Involved
Tissue repair is essential to maintain optimal body function. In diabetic myopathy in type 1 diabetes mellitus (T1D), this repair is compromised, and it is not yet well understood why. In Year 3, a local research project received an award to study the role of the sphingolipids, a family of biologically active signaling lipids, which are influential to the muscle repair process, insulin signaling, and vascular function, all negatively affected in diabetes.
Project: Role of Sphingolipids in Muscle Repair and Function in Humans and Mice; Role of Type 1 Diabetes in Sphingolipid Levels
Funder: Faculty of Human Kinetics and Office of Research and Innovation Services, University of Windsor Team lead: Dr. Matthew Krause Co-investigator: Dr. Anthony Bain Physical Well-Being
Research Trains the Next Generation In Windsor-Essex, our multi-disciplinary health training landscape spans from clinical and postdoctoral fellows to medical students and graduate and undergraduate students.
Communicating research findings also includes being sensitive to the specific needs and cultural differences of each community, especially in times of challenge and vulnerability. In Year 3, the Students Igniting Vaccine Confidence Program received a national award to continue inspiring trust in COVID-19 vaccines. The project engages a multidisciplinary and diverse team of postsecondary students to design activities, translate information, and educate all members of Windsor-Essex on this topic.
Our unique local partnership offers multiple opportunities for students to develop their interests, create connections, and improve career prospects while making a difference. We closed Year 3 with over 300 affiliate students, including 52 volunteers who are available to our research community to support their projects. In the past year, a total of 3,200 hours were logged by our student network. & Leadership Skills
Communication
22Student SuccessesNetwork
Infrastructure & Training
23
In the past year, researchers acquired new and essential equipment to create the best learning environments for students. From a multi-user high throughput flow cytometry system for drug discovery to an atomic force microscope that allows for imaging of almost any type of surface, cutting-edge infrastructure is key.
The new Master of Science in Translational Health Science program closed Year 3 with a flourish. The first cohort, comprised of 20 students, successfully enrolled in the program in April and began classes in early May.
The Schulich - UWindsor Opportunities for Research Excellence Program (SWORP) is a unique grant opportunity for our local medical students to conduct research under the supervision of a University of Windsor faculty member. Over Year 3, 10 awards were given to 17 students in total.
One of the SWORP projects will be used to inform a larger, prospective study on the prevalence, risk factors, and health consequences of violence against paramedics that is currently underway in Ontario. The study is supervised by Dr. Elizabeth Donnelly from University of Windsor and led by medical student Robert Bradford.
Our local health researchers received a number of infrastructure grants. Dr. Drew Marquardt, from the University of Windsor, is part of a pan-Canadian team that received a $14M grant from the Canada Foundation for Innovation to expand Canadian research involving Neutron Scattering, including e cigarette and vaping-associated lung injury (EVALI) as well as cancer.
Medical Student Training
Photo: It's all about teamwork. / Instructors and students from St Clair College's School of Health Sciences ProgramWindsor at St Clair College.
Project: Laying the Groundwork for Improved Psychological Preparedness and Adaptation of Canadian Nurses Working During Healthcare Crises: Simulated Training to Improve Resiliency of Nursing Groups (STRONG) Funder: CIHR Team lead: Dr. Dana Menard Co-investigators: Amanda McEwen and Drs. Kendall Soucie, Jody Ralph, Laurie Freeman, Debbie Rickeard, Marian Luctkar-Flude, and Jane Tyerman.
Collaborators: Dr. Erika Kustra and Nick Baker Research is the vehicle that informs best practices, supports evidencebased decision-making, and improves health outcomes. Embedding research in clinical care, supporting clinician-led projects, and building multi-disciplinary, cross institutional research teams offers considerable hope for patients who are treated at our local hospitals every year.
Protecting the Front-Line
24
The COVID-19 pandemic has led to increased levels of depression, anxiety, traumatic symptoms, and burnout among front-line workers, including nurses. While we are experiencing staff shortages due to such devastating impacts, enrollment in Canadian nursing programs is higher than it was pre-pandemic. After receiving an Igniting Discovery Grant in Year 2, a multidisciplinary team built on their findings and received national funding to develop a training program to prepare nursing students to work during this pandemic and/or other healthcare crises. The STRONG program will be piloted locally and at partner sites, ensuring its utility and applicability across nursing programs.
Research Improves Health Outcomes & Saves Lives
Photo: Attention, beach goers! / Photo taken by Dr. Chris Houser for the project "Socially and Physically Based Surf Warning System to Improve Beach Safety."
Very little was known about the impact the COVID-19 virus had on babies that had been exposed before being born. The lack of evidence meant variability in the clinical management of those affected. In 2020, Mount Sinai Hospital developed a study to fill this gap.
ObservationalMulti-centre Study Unique System for Beach Goers
Locally, WE-SPARK member Dr. Sajit Augustine has led this study, contributing to the data being collected in Ontario, potentially driving recommendations for changes in identification, support, interventions, and follow-up.
25
Project: Surveillance of Short and Long-term Outcomes of Infants Born to COVID-19 Positive Mothers.
Sponsor: Mount Sinai Hospital Principal Investigator: Dr. A. Kharrat, Mount Sinai Hospital WRH Site Principal Investigator: Dr. S. Augustine WRH Research Team (as of July 2021): Jennifer Lenz (Occupational Therapist). The economic burden of drowning fatalities in Ontario is the largest within the Great Lakes area ($38M). Last year, local researchers partnered with community organizations in Bruce County to create a real-time dynamic warning system to protect Great Lakes beach users from drowning. The system uses automated beach activity cameras, sensors, meteorological stations and artificial intelligence. It has already started working at Station Beach (Kincardine, Ontario).
Project: Socially and Physically Based Surf Warning System to Improve Beach Safety Funder: Mitacs Team lead: Dr. Chris Houser Co-investigators: Drs. Dana Menard and Kendall Soucie
26Looking Forward
In our first three years we established a strong common vision, united our strengths and accelerated our research activities. During a global pandemic, we continued to expand and build efficiencies within our health research ecosystem, made diversity and inclusion a priority and supported researchers at all stages of their career. We leveraged technology to enhance collaboration, grew our research network and ended our year by hosting a celebratory event that reminded our community of the impact of health research and what can be accomplished when we focus on succeeding together.
As we look forward to Year 4, we will continue to support the people that drive health research in our community and accelerate research ideas to become successfully funded projects. With the new hospital system moving forward and a joint commitment to a health innovation hub, WE-SPARK is focused on growing health innovation and critical infrastructure, creating an environment that is attractive to the brightest minds and demonstrating the importance of health research for the economic development of our region. I look forward to: Igniting Discovery, Reaching New Heights, Living Better Lisa A. Porter, PhD, Executive Director Distinguished Professor, University of Windsor
Photo: Let's keep looking forward. / Dr. Ming Pan using artificial intelligence in the radiation planning process for cancer patients.
27 Priorities for 2022-2023 toContinueOrganizationalEffectivenessquarterlyreportingandtrackingthatleadstheyearlyimpactreportMonitorandadaptbudgetreportingImplementafundraisingplanDevelopMOUsbetweenWE-SPARKinstitutions,asneededReviewcurrentterms,policiesandreportingmechanismstoidentifyandrespondtochangingneedsImplementthenextstrategicplanningcycle researchbuildHostExcellenceResearcheventsthatcollaboration,growteamsandsupportprofessionaldevelopmentthatmoveslocalexcellenceforwardContinuetohosttheWE-SPARKGrantcompetitionstosupportlocalresearcherstoelevategrantsuccessatthenationallevelProfileandtracksuccessesofCoreMemberstoelevatetheacademicprofileofWindsor-EssexProvideopportunitiesforresearchmentorshipProvideacentralhubforresearchprocessesandsystemnavigationProvidesupportforexternalpeerreviewInitiateandcontinuetoevolvetheEquity,DiversityandInclusion(EDI)actionplan mediarefinetheeventsCreateEngagementCommunityworkshops,seriesand/orthatengagecommunityandbuildtheprofileofWE-SPARKShowcaseresearchfacilitiesandprojectshappeninginthecommunityMaintainsocialmediapresenceandengagement,whilecontinuingtomessagingtotargetaudiencesBroadencommunityunderstandingofWE-SPARKthroughrelations,ournewsletterandspeakingengagements,locally,regionallyandprovinciallyContinuetoevolveourwebsitecapabilitiesandreachImplementtheWE-SPARKEngageProgramtoinvitethecommunitytojoinourresearchefforts managementExpandTranslationKnowledgethestudentresearchnetworkandintegratewithexistingstudentprogramsandservicesatSt.ClairCollegeandtheUniversityofWindsorExpand,promote,andstreamlineofourHealthResearchResourceHubExpandandpromotetheKnowledgeTranslationToolkit,includingtoolsforcommercialization,andincreaseawarenesstoourresearchcommunitySupportstudentexperientiallearningandnoveltrainingopportunitiesandprofessionaldevelopmentinhealthresearchDevelopandimplementaplanforincreasingengagementwithindustryandcommunitypartners Build (existinglargeforexpandSupportCapacityanduseofdatasharingplatformsourresearchersCreateresearchecosystemmapstofacilitateclearreportingandcommunicationpathwaysforWE-SPARKmembers,staffandcommitteesFacilitatejointfundingplanforinfrastructuregrantsbycreatingmulti-institutional,multi-disciplinaryteamsinpreparationforgrantcompetitionsExploreandevolveinfrastructureplanningandacapitalplan,includingaresearchinfrastructuremapofSouthwesternOntarioImplementtheNucleusplan,includingcollectingkeycorefacilitymetricsanddevelopingpromotionalcontenttoinformourmembersandthecommunityaboutresearchinfrastructureandfutureneeds)
Original Graphic Design: Megan Pidgeon, Marketing & Media Intern, St. Clair College.
Statistics reflect the WE-SPARK 2021/22 fiscal year ending on April 30, 2022.
@@@@wesparkhealth.comwesparkhealth@uwindsor.cawesparkhealthwesparkhealthwesparkhealthwesparkhealth
Special thanks to Emily G. Espinoza-Lewis for her contributions in the production of this report.
All still photos unless otherwise indicated are sourced from the "Thank You For Your Support" or "Frame the Future" Video (WE-SPARK Health Institute)."