9 minute read
GNT CLOTHING
CLOTHING
Range of fishing clothing developed to perform at its best on the roughest conditions. The accurate selection of details and fabrics allows us to create garments with innovative design and technologically advanced. Designed with the very latest in material technology. The highest comfort level, breathability and thermal insulation well as freedom of movement are guaranteed along the whole range.
GNT TECNIK MAX BREATH SUIT
Lightweight suit designed for comfortable fishing in any weather condition, structured with highly breathable and waterproof fabric, characterized by great flexibility to facilitate movement and casting action. The jacket is wide and short enough not to hinder the possibility of sitting on the seatbox, with a practical, adjustable extension hood and with a wide band covering the zipper, preventing the passage of cold air. Large diagonal-opening pockets, two inner pockets; practical pectoral bellows, closed with Velcro bands. Adjustable amplitude cuffs. The trousers are equipped with elasticated suspenders and waistline, to always dress perfectly; in addition to the two classic zipper pockets, they offer two extra ones on the sides of the thighs. The leggings can be opened to facilitate the insertion of the feet in the boots and their low end is adjustable by Velcro bands. Large Trabucco logo on the back side.
Perfect in the intermediate seasons, this light and soft jacket completely protects against wind and light rain. The presence of sizes 3XL and 4XL in the range is surely in a position to satisfy any user, also offering the adaptability of the cuffs, via Velcro bands. The two classic zipper pockets are flanked by a side-opening pocket, equipped with a rubber membrane to ensure the water tightness, protecting documents or the mobile phone. The soft inner lining makes it particularly comfortable. Large Trabucco logo on the back.
049-38-100 8APENTD*bggggb+ M 049-38-200 8APENTD*bggghi+ L 049-38-300 8APENTD*bgggif+ XL 049-38-400 8APENTD*bgggjc+ 2XL 049-38-500 8APENTD*bgghai+ 3XL 049-38-600 8APENTD*bgghbf+ 4XL
GNT TECNIK SOFTSHELL JACKET
049-39-100 8APENTD*bgghcc+ M 049-39-200 8APENTD*bgghdj+ L 049-39-300 8APENTD*bggheg+ XL 049-39-400 8APENTD*bgghfd+ 2XL 049-39-500 8APENTD*bgghga+ 3XL 049-39-600 8APENTD*bgghhh+ 4XL
GNT TECNIK BODYWARMER
This ultralight, but warm and protective garment at the same time, has been designed to offer a hooded alternative to the classic bodywarmer. It can be worn over a sweatshirt in the middle seasons or in the early hours of the morning; it can integrate a raincoat when the rain is accompanied by the wind; it can also be used while driving the car, given the complete freedom of movement for the arms. In addition to the two normal zipper pockets, it offers a small pocket for documents and mobile phone, designed with a practical side opening. Large Trabucco logo on the back.
Lightweight as a feather, this excellent vest is a valid alternative to the Pro Softshell when temperatures become much more rigid. The generous padding includes air chambers that achieve a high level of insulation, while a refined touch of elegance is generated by the thin bands of reflective fabric, visible during night fishing. Anti-wind raised collar; two large pockets on the front and a small zippered pocket for storing documents or a mobile phone. Large Trabucco logo on the back.
During spring and autumn it can be worn alone, while during the winter becomes an intermediate layer, to be combined with a softshell jacket. It 'a soft, warm and comfortable micro-fleece polo shirt, brushed and anti-pilling, available in five sizes with a generous 3XL. Extremely practical garment, suitable for any moment of the fishing day, including the car trip, when the arm's freedom of movement is essential. A classic vest redesigned according to current style, produced from water repellent softshell fabric and equipped with a raised windproof collar. In addition to the document and mobile phone's pocket, the product offers two front zipped pockets, internally padded to perform the function of hand warmers and two additional internal pockets. Large Trabucco logo on the back side.
049-37-100 8APENTD*bggabc+ M 049-37-200 8APENTD*bggacj+ L 049-37-300 8APENTD*bggadg+ XL 049-37-400 8APENTD*bggaed+ 2XL 049-37-500 8APENTD*bggafa+ 3XL 049-37-600 8APENTD*bggagh+ 4XL
GNT PRO BODYWARMER
049-35-200 8APENTD*bebgee+ L 049-35-300 8APENTD*bebgfb+ XL 049-35-400 8APENTD*bebggi+ 2XL
GNT PRO SOFTSHELL VEST
049-32-100 8APENTD*bdejji+ M 049-32-200 8APENTD*bdfaab+ L 049-32-300 8APENTD*bdfabi+ XL 049-32-400 8APENTD*bdfacf+ 2XL 049-32-500 8APENTD*bdfadc+ 3XL
GNT PRO MICRO FLEECE
049-28-100 8APENTD*bcaech+ M 049-28-200 8APENTD*bcadhd+ L 049-28-300 8APENTD*bcadia+ XL 049-28-400 8APENTD*bcadjh+ 2XL 049-28-500 8APENTD*bcaead+ 3XL
GNT PRO WTP SUIT
Dedicated to the most committed match angler, whose season lasts twelve months, this suit comes off sharply from the rest due to its great wearability, breathability, lightness and freedom of movement. This last feature makes it ideal also for the enthusiast boat angler and for the surfcaster of a certain level, who on the beach has the best opportunities during the cold season. The garment is produced in a special anti-tear fabric that is used in the gliding sector for its qualities of lightness and strength, coupled with a transparent membrane that increases its resistance to abrasion. All joints are thermo-taped for complete waterproofing, while air circulation inside the jacket is ensured by a mesh fabric lining and two zippered windows, located under the armpits. The product consists of two items, not available separately. The jacket is equipped with a raised wind proof collar and a hood with a built-in visor, adjustable and foldable backwards with a Velcro fastening; two zippered pockets plus a small pocket for documents or a mobile phone. The cuffs of the sleeves are adaptable by means of practical Velcro bands. The bib and brace has the same general characteristics of the jacket; the straps are adjustable and fastened by clips; the knees are equipped with protective inserts, while the legs have a long zipper to be opened when wearing boots. Two front zipped pockets, protected by an eyelid; Velcro bands to adjust the width of the trousers at waist height.
Soft hooded sweatshirt jacket, great for the match angler and for the hobbyist in all fields of sport fishing. Ideal in all seasons to protect yourself from the humidity of the early morning or from sudden gusts of wind when you are on the boat, it fits perfectly without hindering the freedom of arm's movement. The elasticated cuffs and the possibility to adjust the closure of the hood prevent the cold air from passing inside. In case of cold temperatures, the onion style protection can be achieved by combining the jacket with the GNT Pro Micro Fleece; in those cases, the hand-warming pocket placed on the front is appreciated.
049-34-200 8APENTD*bebfja+ L 049-34-300 8APENTD*bebgag+ XL 049-34-400 8APENTD*bebgbd+ 2XL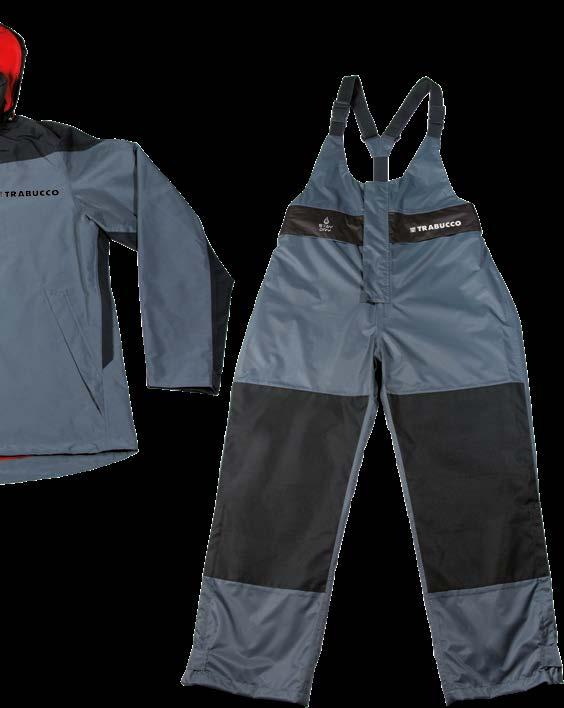 GNT PRO ZIP HOODY
049-31-100 8APENTD*bdejfa+ M 049-31-200 8APENTD*bdejgh+ L 049-31-300 8APENTD*bdejhe+ XL 049-31-400 8APENTD*bdejib+ 2XL 049-31-500 8APENTD*bffcdi+ 3XL
GNT TECNIK THERMO FLEECE
At the first contact, it immediately conveys a feeling of warm protection and entices you to try it. It is a super thermal sweatshirt, created with fabric of a certain consistency, but still soft, with the new mixed colour that attracts attention. The front zipper allows it to be fully opened, and continues on the raised neck. Three zip pockets: two classic and a smaller one for documents. Also available in extremely large sizes, it has all the logos, including the large one on the back, finely embroidered to add fashion and last long time.
A classic polo shirt, equipped with short zipper and raised neck, which is one of the ideal solutions to dress a competition fishing team, where everyone finds the right size because the 3XL and 4XL are also available. The large Trabucco logo on the top area of the back side leaves free a large space on the grey field, to print or embroider the team's logo. The cuffs are stretched for complete comfort.
GNT TECNIK SWEATER 049-41-100 8APENTD*bgidhf+ M 049-41-200 8APENTD*bgidic+ L 049-41-300 8APENTD*bgidjj+ XL 049-41-400 8APENTD*bgieaf+ 2XL 049-41-500 8APENTD*bgiebc+ 3XL 049-41-600 8APENTD*bgiecj+ 4XL
049-43-100 8APENTD*bgiedg+ M 049-43-200 8APENTD*bgieed+ L 049-43-300 8APENTD*bgiefa+ XL 049-43-400 8APENTD*bgiegh+ 2XL 049-43-500 8APENTD*bgiehe+ 3XL 049-43-600 8APENTD*bgieib+ 4XL
GNT PRO SOFT SHELL
Light and strong technical jacket, suitable for fishing at low temperature, wind or under light rain. Made with breathable fabric, keeps warm and dry inside, giving the user total freedom of arm's movement. The adjustable hood, featuring a visor, is extremely practical. Very wide range of available sizes.
• Material: 100% lined Soft Shell • Water repellent and Windproof • Breathable • Elasticated cuffs • Double sided zippered pockets • Welded mobile phone pocket • Adjustable hood with visor
049-30-000 8APENTD*bcaeba+ S 049-30-100 8APENTD*bcaddf+ M 049-30-200 8APENTD*bcadec+ L
GNT PRO FLEECE
Designed for a demanding angler, this beautiful zip jacket offers a package of high grade technical features. First of all, the upper part, coloured in black, is made from Softshell fabric, which makes it actually rainproof (Stay Dry). The raised collar and adjustable cuffs with a Velcro band help prevent cold air from getting inside, in case of wind. Two zippered front pockets plus a document pocket complete the set-up, while a large Trabucco logo on the back side adds a sporty touch.
049-33-100 8APENTD*bebfdi+ M 049-33-200 8APENTD*bebfef+ L 049-33-300 8APENTD*bebffc+ XL 049-33-400 8APENTD*bebfgj+ 2XL 049-33-500 8APENTD*bebfhg+ 3XL
GNT TECNIK THERMO HOODIE
Thin and light hooded jacket, designed for the intermediate seasons but equipped with an adjustable amplitude hood to cope with any sudden changes in temperature. Designed in the classic black and red colours of the GNT logo, it offers the two zippered closed pockets and a wide choice of sizes. Large Trabucco logo printed on the back. 049-42-100 8APENTD*bgggaj+ M 049-42-200 8APENTD*bgggbg+ L 049-42-300 8APENTD*bgggcd+ XL 049-42-400 8APENTD*bgggda+ 2XL 049-42-500 8APENTD*bgggeh+ 3XL 049-42-600 8APENTD*bgggfe+ 4XL
GNT TECK POLO SHIRT
Polo shirt made by cotton, extremely comfortable also in the hottest days. 049-44-100 8APENTD*bhdbfh+ M 049-44-200 8APENTD*bhdbge+ L 049-44-300 8APENTD*bhdbhb+ XL 049-44-400 8APENTD*bhdbii+ 2XL 049-44-500 8APENTD*bhdbjf+ 3XL 049-44-600 8APENTD*bhdcab+ 4XL
GNT TECK T-SHIRT
049-46-100 8APENTD*bhfhei+ M 049-46-200 8APENTD*bhfhff+ L 049-46-300 8APENTD*bhfhgc+ XL 049-46-400 8APENTD*bhfhhj+ 2XL 049-46-500 8APENTD*bhfhig+ 3XL 049-46-600 8APENTD*bhfhjd+ 4XL