1 minute read
FLUOROCARBON & SOFT PLUS
WIND-ON LEADER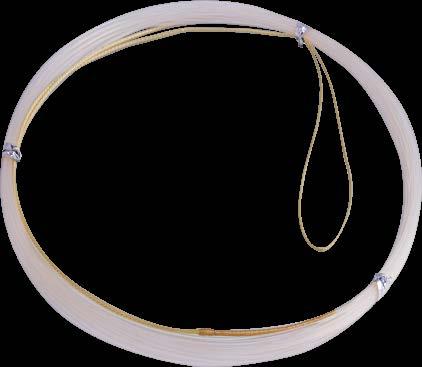 • Big Game leaders made from XPS Fluorocarbon and Dyna-Tex braid • Great reliability and perfect bait presentation • Loop to loop connection with reel line • Length of 10 meters, individually packed
• Nano-technological sinking line created to make Big Game leaders • Multi-layer structure with outer Fluorocarbon skin • Remarkable softness with consequent knot strength • Very low stretch and no memory • Extreme resistance to abrasion
1
Pass main line bimini loop through end loop of wind-on leader.
2
Pass wind-on leader through bimini loop.
3
Pull ends to line up loops. Leave room to pass through leader.
4 5
Pass wind-on leader trough both loops. Slowly and evenly pull lines apart... bringing loops together.
6
The finished double loop to loop connection.
10m 053-21-030 8APENTD*abjihf+ 0.58 15 30 5 053-21-050 8APENTD*abjiic+ 0.68 24 50 5 053-21-080 8APENTD*abjijj+ 0.92 37 80 5 053-21-100 8APENTD*abjjaf+ 1.02 46 100 5 053-21-130 8APENTD*abjjbc+ 1.22 61 135 5
SOFT PLUS LEADER
100m 053-09-300 8APENTD*bdjjaa+ 0.30 11.94 26.32 10 053-09-350 8APENTD*bdjjbh+ 0.35 15.80 34.83 10 053-09-400 8APENTD*bdjjce+ 0.40 20.15 44.42 10 053-09-450 8APENTD*bdjjdb+ 0.45 24.28 53.53 10 053-09-500 8APENTD*bdjjei+ 0.50 27.50 60.63 10 053-09-600 8APENTD*bdjjff+ 0.60 35.50 78.26 5 053-09-700 8APENTD*bdjjgc+ 0.70 38.20 84.22 5 053-09-800 8APENTD*bdjjhj+ 0.80 41.70 91.93 5