Spring 春天 2023
Welcome to the March/Spring 2023 edition of Total Licensing China.
As always, the magazine is published in Chinese and English and includes insights into the rapidly growing Chinese marketplace. China is, without doubt, an extraordinary country and one that has probably the greatest potential in terms of consumer products.
One in five people is now Chinese and this statistic shows no sign of slowing down. China is also one of the oldest countries with a history believed to go back as far as 6000 years BC. The country is rich in creativity and invention – from the first earthquake monitor to ice-cream, the crossbow and, of course tea – now a staple right around the world. Interestingly, this issue has a broad emphasis on brands - luxury, automotive and fashion rather than purely entertainment properties.
The magazine is published in time to be distributed at Licens-
ing China, the Shenzhen show held alongside the major buying shows - Toy & Edu China and Baby & Stroller. Of course the last three years shows such as Licensing China have been sporadic – allowing for China's zero Covid policy which the country pursued for some considerable time, resulting in significant lockdowns of different cities and areas. Fortunately, the policy has now been reversed and this year will be the first where the show takes place fully post-pandemic on the dates originally planned – the 7 to 9 April at the Shenzhen World Exhibition Convention Center.
We hope you enjoy this issue and find it useful. If you have suggestions for subjects you would like us to cover, or would like more information, of course just let us know. We look forward to hearing from you.
English 中国人 News from the Chinese market 4 6 The V&A in East Asia 10 8 China Market Stats 13 13 Licensing Matters Global 14 16 Miffy - Cutest Bunny of 2023!................................................................. 21 ................................................................................... 46 Cover Story: Emoji Celebrates 10 Years ................................................. 22 ................................................................................... 42 Peter Rabbit and the Year of the Rabbit ................................................ 28 ................................................................................... 24 The Potential of Chinese Auto Brands .................................................... 34 ................................................................................... 36 The World of Global Trademark Licensing............................................. 38 ................................................................................... 32 Tencent Video - a Profile............................................................................. 40 ................................................................................... 30 Collaborations from IMG ........................................................................... 41 ................................................................................... 41 What Kids Want in China - a Brandtrends Report ............................ 44 ................................................................................... 44 Spring 春天 2023 Co-Publisher Editor-in-Chief Francesca Ash francesca@totallicensing.com Co-Publisher Jerry Wooldridge jerry@totallicensing.com Editorial Director/ Editor Rebecca Ash becky@totallicensing.com Office Manager Helen Bowerman helen@totallicensing.com Subscriptions and Circulation www.totallicensing.com Japan Agent Roger Berman, ZenWorks rmb@zenworks.jp Total Licensing China is published as a special issue of Total Licensing magazine. Total Licensing Ltd 4 Wadhurst Business Park Faircrouch Lane, Wadhurst East Sussex, TN5 6PT UK Tel: +44 1892 782220 www.totallicensing.com Printed in China. © 2023 Total Licensing Ltd Spring 春天 2023
/totallicensing @totallicensing /totallicensing /totallicensing 3 TOTAL LICENSING CHINA
Francesca
Ash Jerry Wooldridge Co-Publisher Co-Publisher
NEW FASHION LINE FOR HARVARD
Licensing Matters Global has secured a new partnership across mainland China, Hong Kong and Korea for their client the University of Harvard, a member of the Ivy League. The agreement with young adult, kids and families fashion brand, GU, will deliver a Harvard apparel range across the territory.
The Fall '22 and Winter '23 collection, which launched in December, comprises 15+ SKUs and includes a sweat hoodie, sweat dress, padded varsity jacket, sweatpants, sweatshirts, hoodies and pullovers. The range is on-sale both online and offline in GU's shops across the region.
Brokered by Licensing Matters' Asia team, the new agreement with GU is a second partnership with Fast Retailing Co., the sister brand of Uniqlo who first launched a range of apparel lines in Summer 22.
A SERIES OF CO-BRANDED COLLABORATIONS FOR COCA-COLA
Licensing programs amplify Coca-Cola®, one of the most beloved and favorite brands among new generation, with multiple series of co-branded collaborations across Greater China, covering major online and offline marketplaces.
Coca-Cola partnered with leading streetwear brand AAPE BY A BATHING APE®, to launch a collection in December 2022 to celebrate AAPE's 10th anniversary. The collection covered Coke, Sprite and Fanta products and was sold in 20+ AAPE stores and E-commerce sites.
In addition, Coca-Cola launched a Coca-Cola novelty collection with China's influential fitness and lifestyle platform KEEP. The "COKE® RUN" campaign attracted over 700,000 views and 30,000 fans participated in the running campaign. On top of co-branded collaborations, consumers in China have favored the Coca-Cola apparel products since the introduction of the Coca-Cola Tmall fashion flagship store in 2021.
In 2022 December, Coca-Cola opened the first physical fashion retail store in China in Chengdu, a city with both stylish characteristics and consumption potential. The new store is 130 square metres in size. The store's design incorporates modern elements while paying tribute to the brand's heritage, helping to provide consumers with a one-of-a-kind shopping experience.
The store offers a range of fashion apparel, accessories and novelty items as well as a variety of Coca-Cola beverages. A collaboration with BE@RBRICK and their representative Georgia Green was featured during store opening period to bring further excitement to the lifestyle space.
ROUTE 66 IN GREATER CHINA
The legendary and iconic brand Route 66® is now available for licensing programs, in the Greater China region. Route 66 has been a presence through most of the twentieth century to the present day and witness to American history. It's not about nostalgia but of structured retrospection. A brand with instant heritage, Route 66 is a phenomenon rare and unrepeatable; a spirit that lives on today. Journey with us and rediscover the sense of freedom and adventure that the open road used to bring. Route 66 is about the feel good and the constant. It's about rediscovering the thrill of a journey, of music, of literature and of movies. An untarnished American icon, the brand is the embodiment of independence and freedom. Route 66 has quintessential American imagery embedded in the branding and communicates a way of life. The brand is available in categories – class 32. Beer, Low Alcohol, No Alcohol beers, Energy Drinks, Soft drinks and Flavoured Waters. These products are ready to go.
TOTAL LICENSING CHINA 4
CHEF CLUB 进入中国
ChefClub由Lang氏兄弟于2016年创立,旨在通过创作有趣的内容, 将枯燥乏味的厨房变成为充满乐趣的地方。 ChefClub现已成为全 球排名第一的烹饪教学频道,平均每月的全球收视率已达二十亿五 千万。
为了激发人们走进厨房的兴 趣,ChefClub创立了细分频道 ChefClub Kids,利用滑稽可爱的卡通 形象为亲子提供寓教于乐和沉浸式体 验烹饪的平台。 同时,ChefClub团队 设计师为儿童开发了多个产品系列, 满足ChefClub社群中日益增多的消费 需求。ChefClub Kids已准备好让中国 的孩子们享受烹饪的乐趣,并在厨房 里变得更加自主。
ChefClub和ChefClub Kids在中國的 商标授权业务已陆续展开。该品牌期 待在炊具、厨房用品、食品和饮料、家 电、出版、商场品牌活动、媒体公关等" 关键品类"寻找合适的合作伙伴。 如需更多信息,请联系我们。
WINSING 连续剧获奖
经过激烈的竞争,去年底,Winsing Animation 的 3D 动画作品 Team S.T.E.A.M. 脱颖而出,在 2022 年中国 IP BANK 奖上被评为十 大动画系列。 该奖项表彰具有原创内容以及传播力和影响力的动 画。
中国 IP Bank 奖是中国最具商业价值的知识产权行业奖项,是实现 跨国界多行业融合的文化创意奖项的先驱。
除了奖项,Team S.T.E.A.M.! 还获得积极成果。为了扩大该品牌日益 增长的全球影响力,Winsing Animation 还参加了 2022 年 ATF,并
于 12 月推出了更多动画 作品。
在电影节方面,有两部
动画长片以 Winsing
的旗舰 IP 为特色,
即 GG Bond: Ocean
Mission 和 GG Bond:
Dino Diary,这两部长片
入选香港紫荆国际电影 节入围名单。
此外,以新空间为主题
的 Gogobus: Space Journal 是一部全新的
电视剧,以 Winsing 获奖
的 IP Gogobus 为主角,已在中国各大电视频道和 30 多个在线门户
网站上首次亮相。
紧随其后的是备受期待的动画系列第 5 季 GG Bond:Racing。新一
季 GG Bond 将带孩子们进入顶级方程式赛车的激烈世界。
任命
LMG 宣布,Keren Cheung 加 入他们,担任其所有公司的亚 太地区业务顾问。Keren 是一位 经验丰富的亚洲爱好者,她在 Hasbro 和 Disney 都有多年的 经验。
作为香港人,她于 2007 年搬到 上海,最初加入 Disney,升任 电视和媒体营销执行董事。随 后,她加入 Hasbro,担任大中 华区授权高级总监,之后成为 Hasbro 中国区经理。
Keren 热衷于将团队聚集在一 起,并擅长优化团队中个人的产 出。作为业务顾问,她将与集团 管理层合作,帮助扩大 LMG 在 亚洲的网络,并寻找和谈判新的 热门 IP。 当被问及为什么要接受这一挑 战时,Keren 表示:"我很高兴能 参与应对亚洲 LMG 挑战。我们 已经取得了巨大的进步,但仍有 许多机会等着我们去抓住。LMG 提供一种定制的战略授权方法, 这是市场的一个关键区别。"
6
授权概览中国
访问 Total Licensing 以获得所有 授权信息
MOULIN ROUGE ENTERS CHINESE MARKET
Moulin Rouge, the iconic brand known for its extravagant costumes, dazzling lights, and mesmerizing performances, is entering the Chinese market to develop a licensing program.
The brand has partnered with licensing agency Licensing Matters Global to help bring the excitement of Moulin Rouge to Chinese consumers.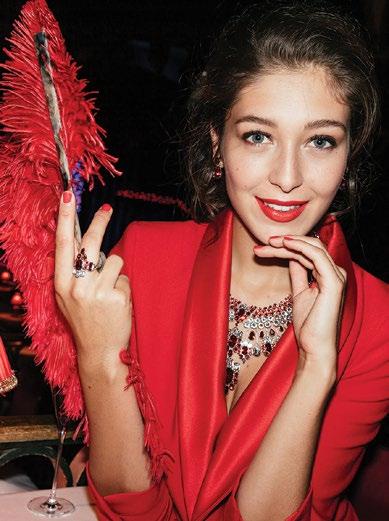 The goal of the brand is to forge strong and lasting partnerships with local players to infuse a spectacular mood in a wide range of high-end products starting with fashion, accessories, cosmetics and extending to home décor. Moulin Rouge also aims to bring the Parisian art de vivre and joyful way of celebrating in China through immersive experiences.
Since its creation in 1889, the Moulin Rouge has always been an invitation to live and share all the emotions and effervescence of a unique party extravaganza.
Starting life as a popular cabaret and dance hall, the venue became an iconic music hall in the Roaring Twenties, and then a theatre where numerous famous French and international artists stepped out into the limelight.
Today, more than 60 artists from 17 nationalities are on stage every night performing the "Féerie" revue show in Paris, while the Moulin Rouge spirit has spread globally through entertainment and cultural contents a well as lifestyle products offerings.
TOIKIDO AND GAGGLE DEBUT GOOSE GOOSE DUCK
Gaggle Studios' Goose Goose Duck is an exploding flock of players, a very fastgrowing community of avian assassins and duck hunters eliminating a million+ geese in a day. Choose from more than five built-in game modes including Classic, Halloween-inspired Trick or Treat, tactical Draft mode, sneaky Dine & Dash, and fast-paced Goose Hunt to complement any player's style. Experience multiple maps and use gold to obtain in-game items such as a cute mermaid fin, cozy cow PJ hood, regal silver crown or a floating puppy.
Innovative entertainment company, Toikido, has partnered with Gaggle Studios to bring the brand to life for the fast-growing army of birders. Toikido are fast becoming the go to for games looking for a global merchandise and toy presence. With the depth of character in the game Goose Goose Duck plays perfectly into Toikidos hands and experience.
Darran Garnham, Founder and CEO at Toikido, said, "We love passionate studios owners with a passionate community of fans and with Gaggle and Goose Goose Duck we have both. The second we met the team we knew we could bring something special to life for the fans. With new content each month and fresh updates this is a retail dream to keep things fresh and alive at retail."
Gaggle CEO Shawn Fischtein, added: '' Players have been clamouring for realworld merch and we couldn't be more thrilled to have found the perfect partner to bring it to them! We're absolutely ecstatic to be teaming up with Toikido!"  Gaggle Studios, Inc. is an indie team of industry veterans with an impressive background in everything from mobile app development to location-based amusement. Gaggle Studios uses strategy and party tactics to build a community to further their mission of changing the way people play together forever. Toikido develops and creates merchandise for the world's most exciting brands, executing with a global reach, producing and connecting with fans of brands.
SMITHSONIAN LAUNCH CHARACTERS
China Bridge Content, a New York-based content and consulting firm founded by 12-time Emmy Award-winning creator Josh Selig, was selected by the Smithsonian Institution's National Museum of Asian Art in Washington, DC, to create original animated characters to help enhance the museum experience for families. China Bridge and the Department of Conservation and Scientific Research at the National Museum of Asian Art will be working together to create family-friendly original characters who will both entertain and educate museum visitors about the various aspects of conserving works of art. The China BridgeNational Museum of Asian Art project team is developing potential future uses for the characters, like appearances in animated videos, books, games, toys and graphic novels as well as on the museum's website and outreach materials.
TOTAL LICENSING CHINA 7
2022 年,V&A(英国 Victoria and Albert Museum)在全球范 围内推出了各种产品类别的首次 亮相。V&A 屡获殊荣的授权计划
为被授权方和零售商提供了几乎 无限的设计灵感来源,使其能够 实现其高级国际商品计划的持 续增长。
V&A 在时装、儿童服装和家居用 品领域推出了九项新合作,实现 了强劲增长。
除此之外,V&A 的天猫旗舰
店现在还推出了 200 多种新 的和独特的产品,以博物馆档 案中的丰富内容为灵感,增强 了被授权方可以访问的各种
商品。包括维多利亚时代艺术
家 Sir John Tenniel 的作品, 他为 Lewis Carroll 的 Alice's Adventures in Wonderland
所作的备受喜爱的插图在 V&A
的展览 Alice:Curiouser and Curiouser 在整个 2022 年期间 巡游了东亚。
一代又一代的孩子都受到了
Alice in Wonderland 的启 发,Sir John Tenniel 的迷人插 图至今仍与以往一样重要,因为 它们继续激励着品牌和客户。
Alice 的创意好奇心体现在 V&A 与 Mido House 的合作中。
Nature"系列的声明作品
聚焦于 1897 年法国艺术家
Maurice Pillard Verneuil 和
Eugène Samuel Grasset 的
作品集"L'Animal dans la Décoration"中的装饰,他们鼓 励设计师重新评估 动物和植物 形态在装饰美学中的地位。
Hopeshow 和 V&A 之间的每一 次合作都为激发每个人的好奇 心和鼓励发现提供了机会。该系 列产品在网上、商店销售,并于 9 月在北京成立了一家专门的 V&a 快闪店。
V&A 的天猫店从新艺术主义艺
术家 Alphonse Mucha 作品中
的时尚花卉和有机形式中汲取 灵感,推出了一系列时尚珠宝, 灵感来自他为法国印刷公司 Champenis 创作的最著名的平 版画。1896 年的"Zodiac"是 一个充满神秘符号的空灵设计, 采用先进的珠宝技术重新打造, 赋予了 Mucha 立即可识别的风
格,使珠宝集成为艺术与时尚的 完美融合。
自然世界是日本美学的中心,艺 术家们继续与自然合作,创造出 卓越的和服。
与 Kyoto Marubeni 的新合
作,将传统的日本纺织技术与
Heygate Mackmurdo 和 Lewis Foreman Day。然后,他们着手 将 19 世纪的印花转变为一系列 纺织品,包括和服、披肩、围巾 和手提包。Kyoto Marubeni 精 心而美丽地重新绘制了独特而 丰富的工艺美术图案,将拱形树 枝和精致的花朵优雅地放置在 丝绸和服和配饰上。
V&A 探索时尚、美容和艺术之间 正在进行的对话,与 Healer B 合作,于 2021 至 2022 年间在 韩国和日本推出护肤、身体护理 和化妆品品牌"V&A Beauty"
。V&A Beauty 的产品和包装涵 盖了不同的时代和风格,以博物 馆档案为灵感,以复杂的图案和 摄影为特色。2022 年,首尔的 四家 V&A Beauty 商店在顶级 百货公司 Shinsegae、Hyundai 和 Lotte 成功开业。还推出了 快闪店,其中包括位于首尔现 代的一家体验店。该品牌的成 功让 V&A Beauty 登上了《W Magazine Korea》杂志,并与韩 国名人 Monika Shin 合作推出了 《Vogue Korea》。计划在 2023 年推出新产品,同时在东亚进行 进一步的国际扩张。
Alice 和她的朋友 Cheshire Cat、Hatter 和 White Rabbit 以 现代多彩的图案 为背景,在高支 棉质背景下进行了细致的刺绣。
从 Alice 的奇幻世界到迷人
的 自然世界研究 ,女性品牌
Hopeshow 的灵感来自 V&a 系列中的一系列新奇的 新艺术
作品 。Hopeshow"Fantastic
William Morris 等创意运动天才
设计师的工艺美术时代的图案
融合在一起。Kyoto Marubeni
与 V&A 的研发团队一起工作,从 博物馆的档案中挑选了 Morris 著名的花卉面料和壁纸,并挑
选了一些他充满活力的设计,
如 Pimpernel 和 Cray,以及
他同时代的设计,例如 Arthur
V&A 成立使命的一个重要部分 是向所有人提供其世界级的收 藏,以支持创意产业,激发想象 力并激励下一代,并通过他们在 日本、香港和韩国的工作,以及 与中国的 Alfilo Brands 和天猫 合作,他们继续通过新的产品系 列和零售体验为东亚各地的人 们带来 V&A 的奇迹,2023 年将 推出许多令人兴奋的产品。
授权概览中国 8
The V&A (Victoria and Albert Museum, London) made some exceptional debut launches across the globe in a variety of product categories in 2022.
The V&A's award-winning licensing programme offers an almost infinite source of design inspiration for licensees and retailers, enabling it to achieve its ongoing growth of its high-class international merchandise programme. The V&A saw strong growth with the launch of nine new collaborations in fashion, children's apparel and homewares.
Alongside this, the V&A's Tmall flagship store now features over 200 new and unique products, enhancing the wide range of merchandise inspired by the rich content from the museum's archive that licensees have access to. Including work by the Victorian artist Sir John Tenniel, whose much-loved illustrations for Lewis Carroll's Alice's Adventures in Wonderland were in the spotlight as the V&A's exhibition, Alice: Curiouser and Curiouser, toured East Asia throughout 2022. Generations of children have been inspired by Alice in Wonderland with Sir John Tenniel's enchanting illustrations still as relevant today as they ever were as they continue to inspire brands and customers alike.
women's brand Hopeshow was inspired by a se lection of fanci ful Art Nouveau work from the V&A's collection. Statement pieces from Hope show's 'Fan tastic Nature' range focused on decoration from the 1897 portfolio 'L'Animal dans la Décoration' by the French artists Maurice Pillard Verneuil and Eugène Samuel Grasset, who encouraged designers to reevaluate the status of animal and plant forms in the aesthetics of ornamentation.
Each collaboration between Hopeshow and the V&A provides an opportunity to spark everyone's curiosity and encourage discovery. The range was sold online, in-stores and formed part of a dedicated V&A pop-up store in Beijing during September. Taking inspiration from stylised floral and organic forms in the work of Art Nouveau artist, Alphonse Mucha, the V&A's Tmall store features a line of fashion jewellery inspired by his most famous lithograph for the French printing firm, Champenois. 'Zodiac' from 1896 is an ethereal design full of mystic symbols, which have been recreated with advanced jewellery technology that brings to life Mucha's instantly recognisable style, making the jewellery set the perfect fusion of art and fashion.
The natural world is central to Japanese aesthetics and artists continue to work with nature in the sublime art form of producing outstanding kimono.
of his exuberant designs such as Pimpernel and Cray, as well as designs by his contemporaries, such as Arthur Heygate Mackmurdo and Lewis Foreman Day. They then set about transforming the 19th century prints into a collection of textiles including kimono, obi, scarves and handbags. By carefully and beautifully re-drawing distinctive and richly detailed Arts and Crafts patterns, Kyoto Marubeni has gracefully positioned arching branches and delicate flowers onto silk kimono and accessories. Exploring the ongoing conversation between fashion, beauty and art, the V&A collaborated with Healer B to launch skincare, bodycare and cosmetics brand 'V&A Beauty' in Korea and Japan throughout 2021 and 2022. V&A Beauty's product and packaging embraces different eras and styles, featuring intricate patterns and photography inspired by the museum's archives. 2022 saw the successful launch of four permanent V&A Beauty stores in Seoul in top department stores Shinsegae, Hyundai and Lotte. Pop up stores were also launched including an experiential store in Hyundai Seoul in Yeouido. The success of the brand has seen V&A Beauty featured in W Magazine Korea, as well as a collaboration with Korean celebrity Monika Shin for Vogue Korea. New product launches are planned for 2023, alongside further international expansion in East Asia
Alice's creative curiosity is reflected in the V&A's collaboration with Mido House. Given a modern, colourful twist, Alice and her friends the Cheshire Cat, the Hatter and the White Rabbit feature in detailed embroidery against a high-count cotton background
From Alice's fantastical realm to enchanting studies of the natural world,
A new collaboration with Kyoto Marubeni resulted in the fusing of traditional Japanese textile techniques with patterns from the Arts and Crafts era by talented designers of the creative movement, including William Morris. Working alongside the V&A's research and development team, Kyoto Marubeni selected Morris' famous floral fabric and wallpapers from the museum's archive and picked out some
An important part of the V&A's founding mission was to make its worldclass collection available to all, to champion the creative industry, spark the imagination and inspire the next generation, and through their work in Japan, Hong Kong and Korea, as well as with Alfilo Brands and Tmall in China, they continue to bring the wonders of the V&A to people across East Asia through new product ranges and retail experiences, with many exciting launches to come throughout 2023.
TOTAL LICENSING CHINA 10
LMG为舒尔推出首个 授权项目
(LMG) Licensing Matters
Global 作为舒尔-全球领先音频 设备制造商-的授权代理公司,协 助其锁定了首个商标授权项目。
在该项目中,被授权商是在音乐 器材箱包和配件领域颇有声誉 的品牌之一。
早前,LMG与舒尔达成战略合作 协议,代表舒尔品牌在全球范围 内寻找"关键品类"的授权战略 合作伙伴,而这些合作伙伴应与
PLAYBOY 中国公司成立
PLBY Group,Inc. 是 Playboy 和 Charactopia Licensing Limited (一家代表中国多个全球品牌的 Fung Retailing 品牌管理公司)
的所有者,该公司最近宣布,他们已签订股东协议,成立 Playboy 中国公司,这是一家合资企业,将在中国部分市场共同拥有和运营 Playboy 品牌的消费品业务,包括中国大陆。 Playboy 中国合资公司将专注于重振中国市场 Playboy 服装业务 的各个方面,包括在线和线下零售战略、产品设计和分类,以及面 向多代受众的品牌营销。总部位于上海的合资公司团队将寻求在 Playboy 目前的被授权方名单和在线店面的基础上,增加新的合作 伙伴,并通过 Playboy 品牌在中国尚待开发的新产品类别实现增长。
Playboy 将保留 Playboy 中国公司的过半数所有权,合资团队将与 美国 Playboy 服装团队密切合作,确保 Playboy 品牌在全球的统一 形象和定位。
"Playboy 中国合资公司秉承了 PLBY 从传统授权模式向选择性 拥有和运营的商业模式的演变,以在我们的业务中最大程度提高 Playboy 品牌的价值,"PLBY 集团首席执行官 Ben Kohn 表示,"通 过这家合资企业,Playboy 在中国的业务将从 Charactpia 出色的运 营团队以及与 Fung 集团的关系中受益。"
Playboy 作为中国授权品牌已有 30 多年的历史,现已成为中国主要 的男女服装和配饰品牌。
舒尔拥有共同的品牌理念 - 即" 打造品质卓越的产品"。
此次联名项目把两个在各自领 域创新前沿的品牌汇聚,实现共 赢,正是LMG帮助舒尔达成以上 授权战略目标的第一步。
舒尔成立至今已有100年的历 史,其以卓越的品质及可靠的麦 克风和音频解决方案在全球范 围内赢得了"行业标杆"的声誉。 舒尔坚持创新的精神以及高品 质的产品使其成为音乐、内容创 作、剧院、电影和广播等领域的 首选品牌。
此次联名项目意味着被授权商, 这家在音乐器材箱包及配件行 业拥有20多年经验并多次获奖 的公司,将为舒尔的音频产品线 开发一系列配件产品。
舒尔将持续在全球范围内(包括
"凭借 Playboy 通过授权在中国建立的基础,再加上其品牌激活 和产品设计,将 Playboy 与世界各地的新一代消费者联系起来,现 在是在中国建立国内运营团队的正确时机,"Fung 零售执行董事
Brian Lee 表示,"凭借这一新的结构和我们经验丰富的当地运营 团队,Playboy 业务在这一关键市场的产品和生活方式类别中有望 加速增长。"
TRUE AND THE RAINBOW KINGDOM 中国代 理商
Guru Studio 已指定 Reesee Entertainment 作为其热门学前系列
True and the Rainbow Kingdom 的中国代理商。Reesee 将管理所
有授权和推广类别,包括服装、出版、配饰和游戏,以及广播电视和 数字媒体。
去年秋天,阿里巴巴集团的优酷流媒体服务推出了这部受欢迎的电 视剧,并与其他广播合作伙伴合作,随后推出了一个强大的授权计 划。
"我们很高兴能将 True and the Rainbow Kingdom 这部引人入胜 的冒险故事带到中国,"Reesee M&L 内容副总裁 Cici Zheng 表示, "我们相信,令人兴奋的故事讲述和真正可爱的角色将受到中国市 场的热烈欢迎。"
在中国以外,True and the Rainbow Kingdom 已经建立了一个 庞大的全球粉丝群,目前已在 Netflix 上在全 球播放了四季。在 YouTube 上,该系列已累 积了超过 10 亿的播放量.主要玩具合作伙伴 United Smile 已经在加拿大、美国、英国、新 加坡和澳大利亚等多个地区推出了一系列玩 具。该节目在加拿大的 CBC Kids、英国的 Tiny Pop、巴西的 Gloob 和西班牙的 Clan TV 等主 要线性网络上也表现出色。2020 年,该剧还获 得了 Daytime Emmy Award 幼儿动画节目杰 出导演奖提名。
授权概览中国 11
访问 Total Licensing 以获得所有 授权信息
CHEF CLUB ENTERS CHINA
Chefclub was founded in 2016 by the Lang brothers, with the mission of transforming the kitchen into a place for sharing and fun through the creation of entertaining, inspiring and accessible content, products, and services. Today, Chefclub is the world's leading food-themed studio and entertainment brand, with over 2.5 billion views per month worldwide.
In order to bring everyone together in the kitchen, Chefclub has also developed an immersive and educational universe for children, Chefclub Kids, led by wacky and adorable characters. Chefclub Kids is ready to bring the kids of China into the fun of cooking and to become autonomous in the kitchen. Chefclub has developed several ranges of products for kids, brought together by Chefclub's growing community and inhouse designers.
Chefclub and Chefclub Kids are ready to start their licensing program across the territory. The brand looks forward to engaging with licensees in cookware, kitchenware, food and drink, electronic appliances, publishing, location-based entertainment, media collaborations and others. Licensing Matters Global is Chef Club's agent in China.