Autumn/Fall 2022
News from Poland 149
............................................
Gary Pope Column 143 Products of Change 152
.................................................
......................................................
What's trending in the Middle East 136
El Ocho updates 115
Comment 10
Exhibitor Highlights 36
...........................
....................................................
Global news 12
The world of Magic Light Pictures 79
Jazwares bring Squishmallows to BLE 81 Brands and Retail Conferences unveiled ................ 82
.................................................
Interview: Kennedy Publishing 26
8 63 139
Black Lives Matter 42
Licensing Japan show report.................................... 112 Hong Kong Show review 138
Europe
ETS: A profile 24
Falcon's Beyond ties in with Melia Hotels 108
........................
Spider-Man at 60! 111 European fashion retailing 128
Caravanserai latest 118 News from the marketplace 120 Anderson Entertainment: Go! 125
Pokemon dressing for success 104
China's Winter Olympic brands 154
Cover Story: Rainbow 86
Global
Sustainable manufacturing 106
Boat Rocker sails into BLE 62
Grisu and MeteoHeroes from Mondo .................... 90
Karma's World from 9 Story 58
Nostalgic fan favourites 110
Smiley: an ambassador for change 66
What's trending in Poland and Czech............ 150
Middle East
Interviews: Moonbug 36
The Rise and Rise of LBE ........................................... 32
Brand licensing and The Metaverse 88 Banijay and Web 3.0 89
......................................
Carole Postal celebrates 25 Years 126
..........................................
Universally stylish! 72
.............................................
Millimages teams with Caroline Mickler 92 Might Mike writes again! 100
MIPCOM preview 132
Moshaya: YouTube content creator ........................ 134
EasternCurrentEurope:situation in Ukraine 146
.......................................................................
Diversity, Equality & Inclusion.................................. 139
The £250k swim! 96
Asia
Horror is not just for Halloween ............................. 94
............................
........................................
Studio 100 travels in time 74
Hybrid Meta: New Model for Web 3.0.................. 102
BBC Studios' hot dogs! 80
What's On 158
Catching up with ITV Studios 84
Anna Knight talks BLE 22 34
.............................................
72 126 66 80 BoothLicensingTotalVisitatBLEF160!
Rubies: New licenses and a focus on D & I ............ 57
.................................
Asmodee - over 300 brands 70
North America
Xilam at Brand Licensing Europe 83
From digital food to cooking content 98
TF1 Licensing: live experiences and fashion 75
CEE/Russia
Regular Features
Moonbug: disrupting kids' entertainment ............... 63
Spain:Overview 114
Interview: Ketnipz 145
Brand Licensing Europe
Penguin Ventures: ambitions for 2023 78
...................................
The Little Prince 38
Retail Monster - retail giants! 68
Legally Speaking 156
Interview: Jeremy Zag.................................................. 60
................................
...................................................................
..............................
Of course from a European perspective, Brexit actually has certain advantages. Previously UK li censees were able to sell into all EU countries. Now this is different – the UK has to specifically add an EU country to their agreement. This, over all, benefits local licensees as larger UK licensees will not directly compete with them.
euro area and 8.3% in the EU, before easing in 2023 to 4.0% and 4.6%, respectively.
Across the Atlantic in the US, the forecast is similar. The Federal Reserve forecasts that 2022 GDP growth will come in at 1.3 percent yearover-year and that 2023 growth will slow to 0.2 percent year-over-year.
Over 250 exhibitors from the UK, Europe and beyond will take part in the three day event which attracts retailers and buyers such as El Corte In gles and Primark and all points in between.
All of this said, the licensing business is continuing to develop and expand. Consumers are still buying licensed products and whilst a large amount of entertainment has shifted from theatrical to streaming, this has allowed brands to emerge and thrive from different sources.
Brand Licensing Europe this September takes place at a time of huge change in the UK - com ing only two weeks after the UK appointed a new Prime Minister and King Charles III was appoint ed following the sad death of Queen Elizabeth II.
Russia's war of aggression against Ukraine continues to negatively affect the EU economy, setting it on a path of lower growth and higher infla tion compared to earlier forecasts.It is projected that that the EU economy will grow by 2.7% in 2022 and 1.5% in 2023. Growth in the euro area is expected at 2.6% in 2022, moderating to 1.4% in 2023. Annual average inflation is projected to peak at historical highs in 2022, at 7.6% in the
Well now that most of us are vaccinated and boosted, finally, after two very long years, the pandemic seems to be on the back foot.
Total Licensing will, as always, be at Brand Licens ing Europe. If you get a moment, do visit us on our booth (F160) – we'd love to see you and hear your latest news! Looking forward to seeing you at ExCel!
Even China is seeing economic growth slowing sharply this year. Experts predict GDP to expand 4.4% in 2022 and 5.2% in 2023 – a marked down turn from previous years.
Brand Licensing Europe, which takes place this September, is happening against a backdrop of ever-higher inflation, industrial unrest, a major squeeze on consumer spending and, if that wasn't enough, supply chain issues affected in the UK and Europe by Brexit and the war in Ukraine.
Francesca Ash Jerry Wooldridge Co-Publisher Co-Publisher
We can all breathe a sigh of relief…. Or can we? Not really! The impact of the pandemic will be felt for years, if not decades to come.
In terms of supply chains, a combination of the Russia Ukraine conflict with renewed COVID-19 lockdowns in China compounded an already dif ficult supply chain situation.
Existing restrictions imposed on Russia and the potential for further restrictions continue to impact fuel costs, contributing to the wider supply chain crisis. While freight markets have limited direct exposure to Russia and Ukraine, global logistics will have to contend with an increasing number of risk factors, including restrictions to airspace, uncertainty on the future path of consumer demand and ongoing bottle necks related to China's COVID-19 response.
In the EU, after a soft patch, the economic ex pansion is set to regain pace in the second half of this year and remain robust over the forecast horizon. Following a strong recovery by 5.3% in 2021, the EU economy is now forecast to grow by 4.0% in 2022, as in the euro area, and by 2.8% in 2023 (2.7% in the euro area).
© 2022 Total Licensing Ltd All illustrations are reproduced by permission of their owners. No part of this magazine may be copied or quoted without permission from the Publishers first. Total Licensing Ltd does not warrant or assume any legal liability for the accuracy or legality of contents, images or advertisements submitted to the magazine. Opinions of the contributing writers are their own and do not reflect the opinion of Total Licensing Ltd.10TOTAL LICENSING LTD 4 Wadhurst Business Park Faircrouch Lane, Tel:UKTN5EastWadhurst,Sussex6PT+44(0) 1892 782220 Fax: +44 (0) 1892 enquiries@totallicensing.comwww.totallicensing.com782226 Co-Publisher Francesca Ash francesca@totallicensing.com Co-Publisher Jerry Wooldridge jerry@totallicensing.com Editorial Director Rebecca Ash becky@totallicensing.com Japan Agent Roger ZenWorksBerman, rmb@zenworks.jp Office Manager Helen Bowerman helen@totallicensing.com Member of With thanks to those who contributed to this issue
With its big comeback on television almost two decades after its last live-action adaptation, the reboot of the franchise Zorro is an event like no other. Secuoya Studios revisits the adventures of the famous masked vigilante for Prime Video (USA, Latin America and Spain). Set in the 1830's in Los Angeles, the interna tionally renowned production, Zorro, is a modern adaptation of the adventures of one of the greatest heroes of all time, adapting it for a new generation.
Actor Miguel Bernardeau, known for his role in the Spanish series Elite, will play the lead role, Don Diego de la Vega, joined on screen by Mexican actress Renata Notni, in the role of Lolita Marquez. Dalia Xiucoatl (Nah Lin), Emiliano Zurita (Monasterio) and Joel Bosqued (Samael) complete the cast.
The series is divided into 10 episodes, directed by Javier Quintas (La Casa de Papel) and José Luis Alegría, and written by Carlos Portela (Velvet Collection). Valérie Vleeschhouwer, Mediawan Rights Managing Director: "We are proud to be the international distributor of this powerful and original new version of "Zorro," an iconic and timeless hero. It clearly points out our ambition to sup port strong and high-end productions Sergioworldwide."Pizzolante, President Secuoya Studios Commercial & Distribution said, "Throughout our creative develop ment process for Zorro, our intention has been to create a best-in-class story of this global superhero, a premium pro duction meant to be enjoyed by audiences around the world. To that end, we could not have asked for a better distribution partner than Mediawan Rights, a fast-growing player with a proven track record in the global distribution space who understands and values the powerful IP that is Zorro."
Zorro is a production of Secuoya Studios with John Gertz (Zorro Productions, Inc.), AndyKaplan (KC Global Media), Sergio Pizzolante (C&T Mobs), Jesús Tor res and GlendaPacanins (NoStatusQuo Studios) as executives.
The British Toy & Hobby Association (BTHA) has announced that Toy Fair 2023 has sold out four months ahead of the show opening, with all exhibition spaces including the Greenhouse, now with waiting lists.
After another successful show earlier this year, the BTHA is delighted with the number of re-bookings for 2023 as well as a significant number of new appli cations. The show will be welcoming exhibitors from large renowned brands, through to mid-size and smaller innovative start-ups, many of which can be found in the popular Greenhouse in the Grand Hall.
Breathe Live Explore is available for licensing globally in health & fitness, apparel, accessories, home décor, pa per products, and other categories.
TOTAL LICENSING 12 NEWS
Jewel Branding & Licensing has an nounced its global licensing repre sentation of Breathe Live Explore, a creative brand founded in 2019 by Nigerian artist Oris Eddu. Breathe Live Explore embraces the joy of slow living through designs that stem from a place of mindfulness and active Withinparticipation.  afewshort years, Breathe Live Explore has garnered the attention of customers around the world and major retailers including Target, who prominently feature Oris Eddu in their Artist Series celebrating art and culture. Other collaborations include Oasis, Crate&Kids, Sand + Fog, and PacSun. The brand has also built a loyal social media following of over 20,000 fans. Oris creates lush prints and vibrant florals through a lens of optimism. Art has always been Oris' form of rejuvenation and meditation, and through Breathe Live Explore, she strives to transform her expressions into designs that inspire others to breathe, live and explore every day.
Mediawan Rights will be the international distributor of the event series, Zor ro produced by Secuoya Studios, one of Spain's leading production companies. Filming of the series began on 25 July and will run until the end of the year. This is one of the most ambitious projects ever shot in Spain.
TOY FAIR A SELL-OUT
"We are very excited to represent Breathe Live Explore by Oris Eddu, and to expand this inspiring brand into multiple new key categories, and territories around the world," said Samira Henley, VP Brand Licens ing at Jewel Branding. "Breathe Live Explore is all about sharing positivity, mindfulness, love, acceptance, adven ture, and self-care through vibrant design. These are such important messages to communicate, especially now with so much stress, uncertain ty and division in this world."
The prestigious annual show, which is back for its 69th year, is taking place from the 24th-26th January 2023 at Olympia London. With 250 exhibiting compa nies in attendance, occupying the Grand and National halls on both levels, the toy industry is gearing up for one of the busiest shows to date!
BREATHE LIVE EXPLORE
Names joining the ranks for Toy Fair 2023 include Hasbro, Moose Toys, LEGO, Basic Fun!, Dolu, Funko, Kidicraft, Rubies Masquerade, Rainbow Designs Ltd, Mood Bears, Juratoys UK Ltd, PLAYMOBIL, Magformers, movies inc, John Ad ams Leisure Limited, among many others.
DISTRIBUTOR ANNOUNCED FOR NEW ZORRO SERIES
Melbourne-based Merchantwise has been appointed as the Australian and New Zealand sub-agent for WildBrain's portfolio of brands.
The Moomins, created by Tove Jansson, celebrates 80 years in 2025. For the anniversary year Moomin Charac ters have decided to turn their focus back on where it all began: 80 years ago, at the end of the Second World War when Tove Jansson's first story about the Moomins was published. Moomin Characters and Right & Brands will be offering partners and licensees new anniversary marks and artworks as well as slogans and other communication assets. Several major projects for the anniversary year are already in the works and we look forward to adding more as we approach 2025.
Merchantwise will work closely with WildBrain's leading licensing agency, WildBrain CPLG, to capitalise on exciting licensing partnerships across Australia and New Zealand to
MOOMINS READY TO CELEBRATE
14 NEWS
TOTAL LICENSING
WildBrain, a global leader in kids' and family entertainment, is home to some of the world's most loved brands, includ ing Teletubbies, Inspector Gadget, Chip and Potato, Straw berry Shortcake and In the Night Garden.
MERCHANTWISE APPOINTED AUSTRALIAN AND NZ LICENSING SUB-AGENT FOR WILDBRAIN BRANDS
Additionally, at BLE, Rights & Brands will showcase a wide selection of other brands, such as the joint works of As trid Lindgren & Ilon Wikland (The Brothers Lionheart, Ronja, the Robber's Daughter, Lotta on Troublemaker Street and more), artist couple Carl & Karin Larsson, Norweigan brands PURENorway and Mauris of Norway, Finland's most successful children's books author Mauri Kunnas, and the works of iconic designer Stig Lindberg.
further build upon each brand's unique profile and pres ence in LicensingAustralia.opportunities will be sought and secured with partners across a variety of categories, including apparel, collectibles, homewares and promotions. "We are beyond thrilled to be representing WildBrain's incredible portfolio across Australia and New Zealand. Known the world over for iconic brands like Strawberry Shortcake, Teletubbies, In the Night Garden and Inspector Gadget, WildBrain truly is home to some of the most loved kids and family properties. We can't wait to create and develop strategic licensing partnerships in the two mar kets," said Merchantwise's Managing Director, Kerryn Mc MaartenCormack.Weck, EVP & MD, WildBrain CPLG added, "Mer chantwise's expertise and knowledge in these regions makes them an ideal partner for us to continue to grow the presence of our beloved WildBrain brands. There is sig nificant opportunity to connect with both new and exist ing fans across our portfolio and we're looking forward to building impactful consumer products partnerships".
Ghostforce premiered in Latin America on Discovery Kids on December 6th, 2021, except for Brazil, which premiered on May 6, 2022. For the period January to July, 2022, Ghostforce ranked in the top #5 on the platform in Brazil and Mex ico among the kids 4-8 demographic. It is also performing well over the channel average in a variety of countries across the region. A special themed-episode of Ghostforce will air during Halloween. In Europe, the series airs on the Disney Channel and Disney+ (excluding France where is airs on TF1) and in the US on Disney XD. It is gaining spectacular ratings, especially in Germany, France, and Eastern Europe. Toys from ZAG Play and Playmates will feature action figures of the main heroes and a collection of boo capsules that will play on the col lectivity of the ghosts. Licensing agreements are already signed for publishing, apparel, and costumes, among others, and specifically in Brazil, ZAG signed View Cosmetico for health and beauty, and Dermiwil for backpacks.
ZAG recently exhibited at Licensingcon Brazil (August 31 - September 1) for the first time this year to showcase its brands, including the globally popular property Miraculous™ – Tales of Ladybug and Cat Noir, a co-production with Grupo Globo. Also launching at the convention was the new animated series, Ghostforce™, which launched on Discovery Kids. ZAG shared its brand plans for the properties at an exclusive licensing summit on the first night of the event. "The Latin American region offers many opportunities to grow our brands, and Brazil in particular is an important and strategic market for ZAG," com mented Angela Cortez, VP Licensing, Latin "BrandAmerica.awareness for Miraculous is high in Brazil at 88%, according to a recent report by Brand Trends in April 2022, that also indicates an 80% purchase intent for the brand. Our strategy is to expand the prod uct line beyond kids to the young adult market, and to parents who watch the show and connect with the series emotionally with their children.The main categories for this segment will be clothes, fashion bags, accessories, and gifts.
In Brazil, Miraculous has remained the #1 series for girls for four consecutive seasons with a 48/52 overall audience split of boys and girls. Co-production partner Globo leads the licensing activities for Miraculous. In Brazil alone, Mi raculous sold US$120 million at retail with more than 30 licensing partners.This year, numerous new products will be available at retail, including dolls and fash ion dolls, costumes, games, collectibles, fashion items, eco-luggage, health, and beauty products, and more, launched with partners Novabrink, Grow, Multikids, Xalingo, Fathers and Sons, Kameleon, View Cosmetics, and May Macarons, and many other products. Season five of Miraculous starts to roll-out this fall and the stakes have never been higher!
And Ghostforce, an original come dy-action series for kids and families about high school teens turned superheroes who defend their city from the ghastly ghouls haunting it, is a property that has been garnering exceptional ratings on Discovery Kids Brazil and across Latin America overall," continued Cortez. "We have a good deal of enthusiasm already from licensees for this property that has broad family appeal. Our target market for consumer prod ucts is kids 6–12 years-old with a focus on key categories including toys, cos tumes, accessories, back-to-school products and more. Our plan is to have a soft launch of the property for Halloween 2023."
TOTAL LICENSING 16 NEWS
ZAG SHOWCASES BRANDS IN BRAZIL
NetEase Games and MGM today an nounced the first crossover event between NetEase Game's mobile video game Vikingard and the studio's hit television series Vikings. Debuting 23/August, the first in-game integra tion will feature thrilling content and exciting themed events related to season 1 of Vikings that allow play ers to experience the journey of the legendary Ragnar Lothbrok.
The Vikings franchise and Vikingard have both become true global sensa tions and the two will meet for the first time in one of the biggest gaming events of the year. Those who have dreamed of fighting alongside heroes from the Vikings universe will finally have the chance through a series of special in-game integrations that will combine Vikings with Vikingard!
The first Vikings themed integration into Vikingard will allow players to recruit and battle alongside Vikings characters Ragnar, Lagertha, Rollo, and Floki. These characters have been recreated in stunning detail through Vikingard's art design, allow ing players to admire them as they fight their way through foes. Once the first in-game integration is com plete, these four Vikings characters will accompany and help players in their quests to seize territories and attack cities. Players can join and ad vise Ragnar on his path to become King, or they can invite Ragnar, La gertha, Rollo, and Floki to visit their own tribes and receive insight into their respective journeys. Players can even befriend these Vikings icons and earn exclusive rewards, allowing them to treasure the memories of thejourney together.
"The Vikings franchise has exploded in popularity around the world, and we look forward to bringing our dedicated fans a new and exciting way to experience epic Vikings ad ventures with this series of Vikingard in-game integrations," said Robert Marick, Executive Vice President of Global Consumer Products and Ex periences at MGM.
VIKINGS LAUNCHESGAME
18 NEWS
inspired merchandise is on the way as well, including a global children's apparel program from Lefties, Grupo Erik's collection of Cuphead accessories in includ ing calendars, planners, folders, tote bags in Spain/Portugal and Cuphead plush figures from Tomy available worldwide.  Domestically, fans will find Cupheadinspired apparel from Philcos, Nendoroid collectible figures from Good Smile Company, costumes from Fun.com, Funko's Delicious Last Course POP!, a new line of toys and collectibles from Toynk and the latest Youtooz collectible, The Devil's Pawn limited-edition print, dropped August 20.
TOTAL LICENSING
"We're thrilled to be working with such wonderful partners for Pan tosaurus" said Denise Deane of Edutainment Licensing.
With new international agents and a range of consumer products launches in the market, the brand continues to be a fan favorite with a continually growing social Studiopresence.MDHR's eight-time platinum-selling video game, Cuphead, has been a global sensation since its 2017 release.  Cuphead, partnered for licensing and entertainment with King Features, a unit of Hearst and home to some of the world's most popular entertainment charac ters, is building upon its successful, multi-territory presence with new licensing agents — DOCE in Chile and J&M Brands in Benelux — who will work alongside King Features to bring unique Cuphead offerings to more fans across the globe. New merchandise inspired by Cuphead, Mugman, their friends and foes, is also in development. Launch es for The Cuphead Show! include a second curated collection of pins and tees from iam 8bit, more Jade City Foods hot sauce fla vors, and new apparel, home goods, and
The new Read Aloud video featuring Actor and NSPCC Ambassador for Childline Natalie Dormer, has been licensed by digital content agency Little Dot Studios for their own You Tube channel Wizz.
NEW DEALS FOR PANTOSAURUSNSPCC'S
Global gaming phenomenon Cuphead is celebrating a year of massive success, from debut of the acclaimed series The Cuphead Show! in February, to the June 30 release of the highly-anticipated video game expansion Cuphead: The Deli cious Last Course — which has already reached at platinum status.
"The past year has been monumental for the Cuphead brand, with the de but of The Cuphead Show! on Netflix, the Cuphead: The Delicious Last Course game expansion, and many new exciting partnerships capturing the attention of people around the world," said Carla Silva,  VP/GM, global head of licensing, King Features.
MoreavailablecialLesson (8x8) Book)tationepisodes, Sweeton TheChildren'sfrom Randomtwoditionally, therePlanet inware from ForbiddengiftUK/Eire.AdwillbenewbooktitlesHouseBooks basedCupheadShow!Temp (LittleGoldenand ThePianoandaspe-apparelcollectionvia Amazon.Cupheadgame-
In the digital category the Pantosau rus and the Power of Pants ebook can now be found on Pickatale, a leading mobile audiobook and storybook app for children aged 0–12
The NSPCC's Talk PANTS campaign, featuring friendly dinosaur Pantosau rus, helps parents have simple con versations with their children to help keep them safe from abuse.
CUPHEAD CELEBRATES YEAR OF SUCCESS
Edutainment Licensing is delighted to announce new licensees for the NSPCC's Pantosaurus licensing pro Specialistgramme. apparel licensee, Poetic Brands have partnered for a wide variety of clothing, including kids day wear, nightwear and swimwear.
"It's exciting to see the brand's continuous growth with the help of our partners who create engaging and thrilling product experiences for fans that share the adventurous spirit of the Cuphead characters. We are looking forward to the second drop of episodes and hope fans tune in to social for the event."
"The NSPCC have been protect ing children for over 100 years and licensing provides a simple route to partner with one of the best known and loved charities in the UK. Pan tosaurus provides a wonderful op portunity for licensees, retailers and their customers to help keep many more children safe - with every pound raised helping fund the fight for every childhood."
Cause-related marketing pioneers Louis Kennedy have partnered for Pantosaurus plush with sound chip featuring the PANTS theme song for the promotional category.
Paul Frank began in 1995 in a small Huntington Beach garage when Paul Frank himself began sewing custom wallets as gifts for his friends, featuring characters such as Julius and Skurvy. These characters rapidly became pop culture icons, known and loved by generations, continuing to create smiles all over the world to this day.
WITHEXPANDSMOONBUGDEALBBC
The collection is scheduled to start launching in the fall of 2022 and will be avail able in the EU, UK, US, Japan, Taiwan, and South Korea, among other territories.  Boyhood is a Danish design company, designing and producing modern design objects deriving from fantastic boyhood ingenuity. The collec tions are developed by designer Jakob Burgsø who creates the objects in high-quality natural materials, mainly oak and leather, from a proud Scandinavian tradi tion of craftsmanship. Boyhood objects not only look amaz ing, but they also inspire happy memories of good times and put a nostalgic smile on your lips.    "Being a young man in the 90s that had followed and loved the Paul Frank universe makes this project fantastic. It was a great honor being asked to bring Julius the Monkey to life in wood. I can't wait to show Julius to the world, it has become a masterpiece. The result is beyond my expectations and we have defi nitely made a classic design collectible that will bring joy to many generations", said Jakob Burgsø, Designer and Founder of Boyhood.
"Futurity Brands & the Paul Frank team are incredibly excited to partner with Boyhood.The chance to collaborate with such a talented artist like Jakob doesn't come around often, and Julius has never looked better! The craftsmanship put into this work is astonishing, and the finished product reflects that", says Michael Puglisi, Licensing Manager at Futurity Brands.
TOTAL LICENSING
recently in Las Vegas. am so excited to have this new partner for our client Bob Ross, The Joy of Painting," noted Cynthia Mod ders, CEO of Firefly Brand Manage ment. "GBD prides itself ments,theirrecognizedtionssustainableon providingsoluandishighlyforaccomplishlikerecycling
"I
This agreement marks the first pub lic service partnership for Blippi Wonders in Europe. The show will be available on the BBC from Sep tember 2022.
Futurity Brands' Paul Frank is collaborating with famed Danish designer Jakob Burgsø, founder of the design company Boyhood. The collaboration sees Boy hood produce wooden Julius the Monkey design collectibles in Burgsø's sig nature style, uncanny in their resemblance to the most iconic of Paul Frank characters.The partnership, which possibly will see Boyhood bringing other Paul Frank characters to life, has been brokered by Futurity Brands' European agent Plus Licens.
Firefly Brand Management has signed with GDB International, Inc, the global leader in the paint recycling industry, to produce a new line of Bob Ross of latex interior paints and Wood deck paint stain.  GBD intro duced the line of Bob Ross branded latex and deck paint at this year's consumer mer chandise show, ASD Show, which took place
BOB ROSS BRANDED LATEX
"We are thrilled to extend our part nership with the world's most re spected public service broadcaster and bring more Moonbug content to families across the UK," said Gina Costelloe, Senior Director of Dis tribution & Content Partnerships EMEA, Moonbug Entertainment, "Since our initial agreement last year, viewership has been strong and we look forward to seeing how our partnership continues to grow."
over 118 million gallons of latex and oil paint with utmost scrutiny.  Con sumers can now get their Bob Ross "creativity-on', moving their painting from the canvas to the walls!"
JULIUS THE MONKEY COLLABORATES WITH DANISH DESIGNER
20 NEWS
"What makes Bob-Ross paint stand out from the pack is the exceptional coverage, ultra-rich color with out standing resistance against scuffs, scrubs and stains," says Sanjeev Bagaria, GDB's CEO. With its innovative colors and richness, Bob-Ross paint can make your wall into a master piece painting."
Moonbug Entertainment Ltd, a Candle Media Company, today an nounced a new agreement with the BBC to share new content and IPs with its audiences.
The agreement includes the relicense and new episodes of the show Co Comelon as well as Digley and Dazey. It also includes new IPs to the BBC including Blippi Wonders, Little Baby Bum, Gecko's Garage, and Lellobee City Farm which will be available on BBC iPlayer. Gecko's Garage will also be available on CBeebies.
forward to exploring how smart contract technol ogy can help amplify and celebrate an
extraordinary legacy of entertainment and storytelling," said Misan Harriman. "As an NFT enthusiast and an avid supporter of emerging artists, Misan aligns with Paramount's core values and how we want to approach Web3," says Pam Kaufman, President and CEO, International Markets, Global Consumer Products & Experiences, Paramount. "Misan's wealth of experi ence and artistic eye are incredible re sources to our team as we expand our Web3 offerings to serve our audience with differentiated products."
PARAMOUNT APPOINT MISAN HARRIMAN FOR WEB3 BUSINESS
to photographing high profile celebrities, including Meghan Markle & Prince Harry, Jay-Z,Tom Cruise, Angelina Jolie,
Paramount Consumer Products has announced that world-renowned photographer, entrepreneur, and social activist Misan Harriman will serve as creative advisor for its growing Web3 business. As an advisor, Harriman will bring his expertise as an artist and a pioneer in the creation and collection of NFTs to consult on Paramount's established partnerships in the Web3 space with plans to curate his own collections for the company in the Earlierfuture.  this year, Harriman founded Culture3, a platform to elevate di verse and eclectic voices to exhibit the creative vitality of Web3 artistry, the innovative and genuine use cases being developed by Web3 builders, and the fortertainedily"Theecosystem. createcelebrateArttion,forArtthealsoonmentedcommunitiesmeaningfulaugbyandbuiltWeb3.HarrimanrecentlycuratedfirstPermanentCollection(PAC)theTezosFoundafeaturingDigitalGalleriesthatartiststhatintheTezosParamountfamofbrandshaveentheworldgenerations.Ilook
MINI was the main sponsor at this year's gamescom in Cologne. In collaboration with Pokémon, MINI showcased the MINI Concept Aceman with the exclusive Pokémon Mode at the world's biggest gaming event, playfully enriching the lives of MINI fans with fun and variety.
Rihanna and George & Amal Clooney, Misan is a photographer of extraordi nary range. In 2020, Harriman became the first black man to shoot the cover of British Vogue's September issue. In July 2021, he commenced his ap pointment as Chair of the Southbank Centre, London. Misan is an outspo ken activist supporting Diversity and Inclusion in the workplace. He is also a mental health campaigner with a keen interest in Dyslexia and Neurodiver sity. Misan is currently exploring how Web3 can help democratize meritbased opportunity for disadvantaged artists on a global scale.
MINI and Pikachu stand for a light-hearted, curious ap proach to challenges, which is also reflected in the ve hicle concept of the MINI Concept Aceman. To celebrate gamescom, the vehicle was equipped with an exclusive "Pokémon Mode". In it, either the iconic Pokémon Pikachu or the famous Poké Ball took over the OLED display as the new central instrument when operating the Experience Mode toggle. Through advanced projection technology, the animation extends across the dashboard, front doors and apron projection. Gamification plays an increasingly impor tant role in MINI's distinctive design in the future, offering customers a unique experience.
MINI AND PIKACHU AT GAMESCOM
TOTAL LICENSING 22 NEWS
Harriman is a world-renowned pho tographer, entrepreneur and social ac tivist. From documenting historic mo ments in history, including the Black Lives Matter movement in London,
The announcement comes as pro duction is underway on Harri man's Protest & Progress docuseries. Set to premiere on Paramount+ in 2023, Harriman travels around the world to uncover the stories behind some of the most powerful images and art forms that have defined a moment and a movement. Produced by Paramount's causedriven studio, VIS Social Impact, which is a part of Content for Change, the series will aim not only to educate on the importance of protests, but inspire audiences to remember their voice matters.
Mini Pet Pals is an outstanding Gruppo Alcuni brand. In co-production with Rai Kids, this ETS LICENSING NEW HYPE & CLASSICS
Supportpartnerships.for
In the preschool area there is a remarkable collaboration to develop IMC Toys brands such as CRY BABIES where ETS added know-how and introduced new concepts with the result of gaining new licensees and /or new extensions for old existing licensees.
New launches from PON PON in kiosks and Bookstores, sticker albums to be launched by PANINI, Carnival Costumes & Party items by CIAO and SIAD, Kiddie rides by DEDEM are reinforcing the licensee offering from many other licensees already in the market.
time SIMBA TOYS GROUP is going to launch a toy line in Italy and France while the remaining top five European markets will follow in Spring 2023. The strengths of the TV series are new designs of characters making them tridimensional but at same time very fluffy and almost tactile. This makes them very different from all characters already in the market.
This new concept combined with a new Cry Babies Style Guide specifically addressed to fashion market is going to push CRY BABIES in terms of fashion and fashion accessories
TOTAL LICENSING
ETS is an independent licensing boutique agency operating mainly in Southern European Countries. The agency was successful in the past in Preschool Properties (managing Eone's IPs in Italy) but after a couple of years the profile was completely changed.
Catching the opportunities from the Milano Licensing Day and Brand licensing Europe, ETS will present their latest concept born in IMC TOYS - BFF by CRY BABIES - a new concept in the fashion dolls arena that performed as the No. 1 Toy sold in Spain during its first launch month and is now rolling out in main European markets.
The main changes of course were a combination of the Preschool, Publishing and Toys & Games market knowledge combined with an understanding of new target audiences and new brands launching.
in Italy and involving Fun Parks as well as summer resorts and commercial malls.
the line is granted by IMC TOYS for marketing and advertising including Digital support, KITOONS YouTube channel and broadcasting of TV episodes on Free TV & Netflix (7 episodes x 30 minutes) and another block ready for Q3/Q4 2022. As a result, ETS is granting licensees strong experiential activities
A big launch next month will be OGGY OGGY, the preschool prequel from successful brand Oggy. The TV series is already on air via Netflix but starting in September it will be broadcast on the top free TV channels in the main European Atmarkets.same
the toys and games category where PIPPI LONGSTOCKING already has a presence through MICKI TOYS, CIAO, MULTIPRINT, CLEMENTONI and others.
at the moment, there is overwhelming enthusiasm in anticipation of the brand-new Mini Pet Pals & Mini Dinos series, currently in production and expected to air in 2023!
brands represented by ETS, Talking Tom & Friends from Outfit7 is going from strength to strength. The brand is a global smash hit across gaming, entertainment, and licensing.
popular pre-school TV series is aired in over 130 world countries, including the US and
ahead, the future is even brighter. Outfit7 is continuing to pursue its pioneering development strategy for the brand, further integrating the digital and physical worlds with its 360-degree brand experiences and engaging its massive worldwide fanbase.
globally popular mobile game, My Talking Angela 2, has had a stellar first year, becoming the #1 game by downloads worldwide in summer 2021, and recently surpassing 300 million downloads.
In recent months ETS organized a PIPPI LONGSTOCKING exhibition inside the Pitti Bimbo trade fair in Florence and at around the same time the new musical PIPPI AT THE CIRCUS, produced by ABBA's legendary musician Björn Ulvaeus, premiered in OneStockholm.oftheleading
of licensing, Mini Pet Pals offers exceptional opportunities considering that the series revolves around universal values like friendship, respect for nature and the environment. All with a perfectly charming, fun-filled backdrop.
ETS is supporting PIPPI LONGSTOCKING as a core license, an evergreen brand perfect for every target age. ETS are searching for new licensees in areas such as apparel and fashion accessories, to join partners in
terms of entertainment, Outfit7's Talking Tom & Friends content has been viewed over 97 billion times, and continues to have a significant presence on YouTube, with over 93 million subscribers and counting. It also regularly comes top in broadcast ratings in countries such as the UK and LookingItaly.
InChina.terms
To celebrate the game's first anniversary this summer, the multinational mobile gaming company released a special game update, as well as a brand new original song and music video from the game's superstar character, Talking Angela. A catchy anthem about friendship, "Shine Together" has had an incredible debut, with 10 million global views in just a Meanwhile,week.in
The new Mini Pet Pals Start School is the second most popular children's show on Italian TV, with 26 additional episodes on the Andway.
To date, the Talking Tom & Friends mobile games have been downloaded over 19 billion times worldwide. And Outfit7 itself has been in the Top 10 publishers in the world list on iOS and Google Play by the number of game downloads for eight consecutive years (2014Outfit7's2021).
TOTAL LICENSING
Tell us a bit about Kennedy! We're now official veterans of the children's magazine category, having been publishing our bestselling titles for over seventeen years! We've seen phenomenal growth in the past de cade, particularly over the last few years. In fact, since the company's in fancy in 2005 with a portfolio of just two titles, we're extremely proud to be able to say that we're now the third-largest children's magazine pub lisher in the UK, with a portfolio that boasts not only a houserangesuccessfulofin-titles, such as Pink, but also standalone licensed magazines for some of the most well-known children's brands, includ ing Barbie, Peter Rabbit, Baby Shark, Fireman Sam, Mr Tumble and WWE. Our young readers are at the core of everything we do and ensuring that we produce content for them that is engaging, educational and exciting is the driving force behind our business. How has business been over the last couple of years?
another standout success in this cat egory. When we acquired it back in 2018, it was seeing double-digit sales declines. We immediately refreshed the design, editorial and gift offering, tapping into Barbie's key themes of imaginative and aspirational play to ensure the title appeals to girls living in today's world. And it's clearly paid off as we've seen 90% sales growth! Parents will always be keen to reduce the amount of screentime for their children and the magazines in our Pri mary Girls portfolio use children's fa vourite characters to encourage them to explore and learn through a vari ety of imaginative activities. Magazines can be such a vital tool in encouraging children to engage with reading and writing, so we're passionate about en suring all our titles deliver top quality educational content combined with innovative design to support and en
The experts in children's magazines!
We're sending an extended team to BLE this year and can't wait to see all the new brands being showcased! We'll be devoting time to catching up with our existing partners on new enterprises in the pipeline, as well as forging relationships with new licen sors to discuss potential ventures. We are always on the hunt for the next big breakthrough characters which we can bring to our readers in magazine format. The magazine market contin ues to be hugely competitive so we will be looking for those characters that will truly stand the test of time, with the power to entice and excite our readers with great storylines. What do you find are some of your most successful lines at the moment?
Catching up with:
Sophie Rowlands, Licensing Director at Kennedy Publishing fills us in on the expertise, history and values of the company that keeps it thriving in challenging times
portfolio that continues to thrive both for new in-house launches and acquisitions. This wouldn't have been possible without the resilience, agility and dedication that is achieved by all areas of the business pulling together. Our willingness to innovate in a rap idly changing market will continue to underscore our success for years to come.
TOTAL LICENSING 26
We're really proud of how we've pulled together as a team and weath ered the turbulence of the past few years. Not only has our industry faced the challenges of the pandemic like ev eryone else, but we are also dealing with the continued squeeze on space for magazines at retail. Combine that with shipping delays and paper and print increases and you have a perfect storm! However, whilst the sector may be down year-on-year, at Ken nedy it's a different story. We remain ahead of the market with a growing
And what are your plans at BLE?
Pink magazine has been at the fore front of our portfolio for the past 17 years and it's as loved by readers to day as it was when we launched. Ensuring every issue has the most popular character content combined with gifts that encourage children to use their imaginations to play creatively has been key to the title's longevity. This success gave us the confidence to expand our Primary Girls portfolio and it now includes 19 titles. Barbie magazine is
TOTAL LICENSING
include Asembl Brands Pty Ltd for Australia, New Zealand, Bulldog Li censing for the UK, Asiana Licensing for South Korea, Plus Licens AB for Europe, Mediogen Ltd for Israel, PPW
new music tracks performed by the influencer herself. This project is the latest triumph in a year full of successes that include the release of Charlotte M.'s latest single "Best Friend", a real fan favourite, and her third book "La Mia Vita Segreta," published by Fabbri Editori.
Bored of Directors has already devel oped and implemented a global con sumer products strategy, marketing
Salati Prezios has brought special Charlotte M. crisps to supermarkets; inside each bag are colourful Charlotte M. stickers; Cerealitalia, with the Dolci Preziosi brand, came out with an Easter egg for Easter 2022 and already has plans for an Epiphany stocking in January 2023.
In addition, last May Charlotte M. was a guest at Leolandia, the children's amusement park, for a very exciting special appearance for her fans – known as flamingos – including songs and meet-andgreets.
Brand Central, the exclusive global licensing agency for Bored of Direc tors, has announced it has appointed 7 leading international sub-agents for the Bored Ape NFT collective. Work ing together with Licensor, NFIP Hold ings, Brand Central and the network of sub-agents have already begun signing partners and engaging global retailers.  The Bored of Directors' Sub-Agents
Produced by Notorious Pictures and directed by Ema nuele Pisano, the film, to be released in early 2023, tells the story of young Charlotte, in her first year of high school, dealing with adolescence and much more with her hallmark creativity and spontaneity. In the film the flamingo oasis near her grandmother's country home, a place she loves, is about to close due to lack of funding. So, together with her inseparable companion Sofia and other friends, she decides to organize a fundraising event to save the oasis: a school dance. But things don't go entirely to plan –especially after the arrival of a new boy in town.
"Our goal from the outset was to put together a team with the best of the best in their respective expertise. From my co-founders, Jamie George and Harris Lipton who have been active in Web3 since its inception to the Brand Central team, everyone has provided their unique voice and expe rience which has been pivotal in bring ing the Bored of Directors to where it is now. I am extremely excited to grow the team to include such great partners around the world and look forward to bringing the Bored of Di rectors lifestyle across the globe." said Alex Locke, Co-Founder & Managing Member of Bored of Directors. Brand Central and their sub-agent partners will be announcing the first of many licensees shortly.
campaign and a full style guide of cre ative, showcasing the Bored of Direc tors lifestyle.
"We put together a phenomenal net work of leading agents in their terri
The young content creator, who has been a hit on the web since 2016 with numbers exceeding one million on TikTok and YouTube, is now the star of the soon-to-be released Charlotte M. - The Flamingo Party film.
In fact, the film will include two
Mitama meanwhile has launched a collection of Charlotte M. accessories under the heading Glitter, with stationery items that include notepads, a transparent glitter case and six-colour pen, a slime kit in two colours, a secret diary (with lock), a water bottle and a super fashion bag.
She's also a licensing star. Giochi Preziosi has created a line of backpacks, pencil cases, a diary and stationery based on Charlotte's unmistakable style for the back-to-school 2022 market, while Easy Shoes has launched a spring/sum mer 2022 collection of sneakers in four different colours; a new collection is due for the autumn/winter season.
Sports & Entertainment for China, and The Business Hub Group for Mexico, Brazil, Peru, Chile, Colombia, Venezu ela, Ecuador, Central America (Panama, Nicaragua, Costa Rica, Guatemala, El Salvador, Honduras) & Dominican Re public.
FIRST FILM FOR CHARLOTTE M
MDL in Italy report that the first film from the hugely pop ular YouTuber and TikTokker Charlotte M. is on its way!
NEW SUB-AGENTS FOR THE BORED APE NFT COLLECTIVE
Like the content that has made her popular, the film is about the real life of teenagers, dealing with themes such as great friendship, intense first loves, and above all self-ac ceptance. These reflect the themes that Charlotte M. her self deals with in an accessible, relatable way for her young audience, not just in her social media content but also in the books and comics she has written and devised, and of course her songs.
tories who have best in class relation ships with both licensees and retailers and understand how cutting edge, pop culture brands can drive successful consumer products," said Ross Misher, CEO of Brand Central.
28 NEWS
Four deals were closed and a few others already under negotiation will bring Panini licensed products to Brazil from mid-2022.
Owned by the largest company in the sector of luggage repair in Brazil and with 100% of its products made by recycled plastic bags, Kameleon is also a new Panini licensee in Brazil for bags and travel bags, which be came available at the end of August. Moreover, the representation agree ment with Vertical Licensing has been renewed with the aim to incre ment and widen the presence of Pa nini merchandising products in Brazil.
PANINI INPROGRAMLICENSINGBRANDLANDSBRAZIL
"PAWEntertainment.Patrolhas been a force in the kids' licensing business since the series was launched in 2013," says Venetia Davie, Vice President UK, Ireland, Israel, ANZ, of Paramount Consumer Products. "These beloved pups continue to drive excite ment for new products in every aisle and with Play Pouch, we now offer a PAW Patrol storage solution that doubles as a play mat – this is sure to please parents and children alike!"
In the near future, a broader range of licensed products from Panini will be available in the Brazilian market. This is the first result of the representa tion agreement signed between Pa nini S.p.A. and Vertical Licensing, the designated agency representing the Panini Brand in the territory.
The collection will feature a wide range of items such as shirts, pants, sneakers and bags, and will be launched in Brazil and Argentina in Festcolor,November.company specialized and leader of the party goods market, has launched in July a dedicated Panini party kit with more than 60 items varying from balloons, flags and decorative supplies. A colorful and joyful line for a Panini birthday Ofner,experience.acompany specialized in man ufacturing sweets, snacks, chocolates and ice cream, being also a reference for introducing remarkably perfect packages ideal for gifts, will launch a promotion with a gift-with-purchase mechanic, gifting Panini branded footballs with 4 different exclusive designs. The promotion is set to launch in September.
The Australian creators of the original Play Pouch, in partnership with Imagina tion Entertainment, have announced they have secured licensing rights for Paramount's hit animated preschool series PAW Patrol. The brand-new PAW Patrol Play Pouch provides a place to play, is easy to pack away and offers a compact and portable toy storage solution, perfect for PAW Patrol pup figurines and rescue vehicles (sold separately).
Consumers can expect to see the PAW Patrol Play Pouch at retail in all key territories this year.
Kids will be delighted to live out the adventures they are familiar with from the Paw Patrol episodes and movies on the Play Pouch. When the action is over and the rescues are complete, pack up is easy: by simply pulling on the ropes, the pups and their vehicles are gathered neatly inside and easily stored away inside the Play Pouch.
Grupo Dass, one of the biggest sportswear and sporting goods com pany in Latin America, will develop a Panini collection of apparel and ac cessories with the brand Umbro.
"As the North American distributor for Pouch Australia, we are proud to be working with the Paramount Consumer Products to bring together the mas sively popular PAW patrol brand with the brilliant Pouch Australia product of fering.The product will be available in North America to customers this summer and sure to be a hit with kids and parents" says Shane Yeend, CEO of Imagination
TOTAL LICENSING 30 NEWS
NEW PAW PATROL PLAY POUCH
The natural synergy between Play Pouch and the PAW Patrol brand is sup ported by the collectible toys that inspire self-guided play for children. "We are delighted to partner with Paramount and we are so pleased that the Play Pouch will encourage young children to further explore the themes of teamwork, com munity service and rescue that are presented in the Paw Patrol content." say Kate Campbell and Kate O'Donoghue, co-founders of Pouch Australia.
The PAW Patrol Play Pouch features the adorable faces of the PAW Patrol pups on the outside and the action packed village scene from Adventure Bay on the inner. When open for play, the roads that loop around the beach, buildings and lookout tower of Adventure Bay, spark imagination and prompt engagement through play.
LBE news, Chessington World of Adventures Resort and Sony Pictures Entertainment recently announced 'World of Jumanji'. Set to open in spring 2023, this £17m de velopment marks the world's first themed land for the box office hit Jumanji film franchise and the single largest investment in the history of the renowned UK resort.
unique translation of the format that lends itself ideally for an entertain ment partnership with longevity. The partnership with Carnival corporation has been there for years and is recently extended for the entire fleet of Princess Cruises, Aida Cruises and Costa cruises. The show comes to life throughout the cruise with kara oke talent search, mentor sessions, blind auditions, the iconic "I Want You" chairs, three charismatic Coaches and ultimately a finale performance where a guest vote to choose the winner and the captain takes place in the red chair.
ITV has recently announced several partnerships across this sphere, in cluding The Voice of the Ocean which is a long-term partnership with Car nival corporation, bringing the ex citement and spectacle of TV's most popular singing competition to the high seas, live and on-stage. This is a
The rise and rise of LBE
In the UK ITV has the popular 25,000 sqft I'm A Celebrity Jungle Challenge leisure destination with an exciting mix of physical and mental challenges including climbing walls, high ropes, zip line and leap of faith jumps while visi tors race against each other to collect Instars.other
the development, creates the perfect immersive starting point for guests as they prepare to take on a whole host of challenges. Whilst the iconic and unmissable Jaguar Shrine struc ture looms 55ft tall, keeping a watchful eye out over all who enter as it awaits the return of the curse-lifting Jaguar's Eye jewel. More details about the wild rides, adventurous attractions and drama-filled experiences guests can expect to discover in the 'World of Jumanji' are set to be shared over the coming months.
More and more brands are reaping the benefits of live events and locationbased entertainment, knowing that consumers want to interact and share experiences with their favourite IP.
TOTAL LICENSING 32
The news follows a multi-territory ex clusivity agreement between the Resort operator, Merlin Entertainments, and Columbia Pictures Location Based Entertainment, that was announced earlier this year. The scale of these plans forms part of Merlin's broader global strategy to engage and work with leading IP and brands across its global estate. It is also a pivotal step in the studio's larger global strategy to grow and expand location-based entertainment. The market leading studio are looking at how it can fur ther utilise its strong global film and TV brands to create opportunities for audiences around the world to immerse themselves deeper into the studio's stories.
Saudi Arabia, offers fine dining in a unique ambiance. The Red and Blue kitchens serve up modern lunch and dinner menus including Gordon Ram say's most talked about signature dish Beef Wellington and the mouthwater ing Sticky Toffee Pudding.
The project brings together enter tainment and industry experts from around the world as they create a world-first experience that deep dives into the adventurous, action-packed stories seen in the box office hit Ju manji films. For those who think they are brave enough to enter the world, a first look at some of the proposed de signs gives an exciting glimpse at what to expect. The impres sive entrance portal, which is shrouded in the ominous and overgrown Jumanji jungle that dominates
Gordon Ramsay's Hell's Kitchen Res taurants, a partnership with Caesars entertainment in the USA, Dubai, and
In this big BLE preview, we talk to Anna Knight, Informa Markets SVP Licensing, interview some first-time exhibitors and look at exhibitor highlights, what's on and what to look out for….
Total Licensing, a proud media partner of BLE, will be on stand F160
So good. We have a fantastic number and array of exhibitors and visitor reg istrations. Keep an eye on Map Your Show to keep up to date with who will be on the showfloor. Plus, the content we have lined up for the industry this year is first class, and I can't wait to see it activated, I know our attendees will love it.
What's on in the License Global Theatre?
Can you believe that industry will soon gather once again for what promises to be an incredible Brand Licensing Europe?
What are your highlights?
We have branded and category-spe cific catwalks with SEGA and Mattel owning catwalk shows, and others fo cused on Brands & Lifestyle Collabs, Kids, F&B, Entertainment Collabs, Cul ture & Unity and Sustainability. They are going to create such a wow factor
Day Three is dedicated to spotlighting sustainability and DE&I initiatives to drive meaningful change. And we are partnering with Licensing Internation al, Products of Change & Black Lives Matter Licensing to bring this to life. PoC will host in-person and online free sustainability drop-in clinics. CEO and founder Helena Mansell-Stopher will host a one-to-one session with Catrina O'Brien, Head of Retail Eur Asia - Licensing Consumer Products, to talk about Hasbro's sustainability journey.
It's BLE Time!
20-22 September 2022 Excel, London
"The content we have lined up for the industry this year is first class, and I can't wait to see it activated..."
The fashion theme. 100%. It's been on our wish list for years, and it's even better than I imagined it could be. I'm also incredibly proud of our Day Three focus on sustainability and D,E&I. The big activation that everyone needs to see is the BLE Fashion Catwalk. We have nine catwalk shows over three days, featuring Mattel, SEGA, NBC Universal, Sony Interactive, IMC Toys, 9 Story Media, Kornit, Wildbrain CPLG, Perfetti Van Melle and Pink Key Licensing to date.
for the show.
TOTAL LICENSING 34
Anna Knight
Do not miss Mattel President and COO Richard Dickson presenting the opening day keynote – 'Barbie x Fashion' – (Tuesday 20 September at 1pm!) The day two keynote is the 'Leaders panel: building a post-pan demic retail & licensing strategy'. And day three's keynote forms part of our
Anna, you must be excited about the upcoming show! How are things looking?
We'll also have fashion displays throughout BLE to showcase addition al partnerships and collaborations, and the show entrances will be taken over by Mattel, Paramount, SEGA, Hasbro, CAA-GBG and Products of Change to immerse visitors as soon as they ar rive at the event.
sustainability and DE&I day: 'The Good Fight: How Purpose Breeds Success'. What new brands can visitors ex pect to meet?
A little bird told us you've introduced new elements to help firsttime visitors to make the most of the BLE experience…
Your little bird would be right! We are hosting free Orientation Sessions and Show Tours on Tuesday and Wednesday mornings – meet at 09:30am in the License Global Theatre. These audiences will also benefit from the Licensing U programme in part nership with Licensing International.
part of WildBrain's 360-approach to IP management across production, distribution and consumer products.
First-time exhibitor at the show, Moonbug's Duncan Tate, Global Head of Hardlines, Consumer Products, explains why now is the ideal moment.
Further beloved WildBrain brands in clude Chip & Potato, In the Night Gar den and Inspector Gadget.
Our licensing programme has experienced rapid growth since its launch in 2020 and the business has already developed a strong port folio of over 300 licensees spanning global, regional & local partners, to tap into country specific trends. With this portfolio of best-in-class licensees we will continue to foster these meaningful relationships with new categories and brands plus, by attending BLE, it will provide a great platform to build and explore new partnerships and opportu nities for our brands.
What IPs will you be showcasing to retailers and manufac turers?
At Brand Licensing Europe our main focus will be CoComelon, Blippi and Little Angel. In addition, we will preview some of our exciting new and existing properties including Little Baby Bum, Lellobee and Oddbods.
How do you see the consumer products programme devel oping for Cocomelon, it's such a massive brand already? CoComelon continues to go from strength to strength. It is the most streamed kids show on Netflix and on YouTube CoComelon is the #1 kids channel in the world with an average of 3.3bn monthly views and over 150m subscribers with market leading products in categories
such as plush, role play and vehicles.The master toy line from Jazwares launched in late 2020. Since the initial launch we have expanded our offering with many new categories. The programme has delivered several top awards, culminating in CoComelon being awarded the Best Licensed Brand (entertainment, character) at the 2022 Licensing Expo in Las Vegas.
Why is this the perfect time to make your BLE debut?
And now, for some EXHIBITOR
Classic brand Peanuts will also feature following WildBrain CPLG's recent ad dition of rights in India and Asia Pacific, building on its long-standing Peanuts licensing relationship across EMEA.
Around 30 (15%) of our exhibitors are first timers this year. These include DFB – German Football Federation, AM Experience, Balance Pictures, Che fclub, Dreamcatcher Licensing, Fanat ics, Formula E, Hang Ten, Jazwares, Le Petit Prince Licensing, Moonbug, Nelly Jelly World, Ownic NFT Cards, Bean Team and Zayzay Group. We have also offered free of charge exhibiting space to Ukrainian businesses and have two exhibitors confirmed: Readymade Li cense and UAF – Ukranian Football Federation.
WildBrain CPLG has significant growth ambitions for ASPIRE, the dedicated home for the agency's Cor
The wider EMEA territory has huge potential, as the show continues to grow in viewership and in local language channels, in this very di verse and important region.
Anything you'd like to titilate our readers with?
Little Angel is Moonbug's first acquisition since becoming part of Candle Media and it is one of the fastest growing kids' channels on YouTube. We are close to announcing our master toy partner for the brand and will be developing an innovative and truly unique preschool offering that ties to the core themes and attributes of the show. We are excited to launch the brand and continue the development across new categories through 2023 and beyond.
Is there anything else you would
TOTAL LICENSING 36
WildBrainHIGHLIGHTS...CPLG
like to add?
We have a number of new and existing brands that we plan to launch a consumer products programme for in 2024 and beyond.We recent ly signed Just Play as our global master toy licensee for some of these much-loved IPs. The agreement will see Just Play develop an extensive range of toy products. The portfolio of brands will include preschool favourites such as Little Baby Bum and Lellobee City Farm.
The enduringly popular brand contin ues to grow, with fresh collections and new content on Apple TV+.
is celebrating its milestone 50th anniversary year and will be heading to BLE 2022 following a rapid period of growth. The agency has recently unveiled expansion across Asia Pacific, with new local offices in Singapore, Taipei and Seoul, and an expanded team in Shanghai; launched its new ASPIRE division for Corporate & Lifestyle brands; and has continued to accelerate the global success of its representation portfolio, including WildBrain-owned properties, Straw berry Shortcake and Teletubbies, as
Yes! Don't forget the networking. We'll have four branded cafes and bars offering immersive experiences, product installations and additional meeting space. Everyone is welcome to join us for opening night drinks on the show floor on 20 September from 5:00pm – 7:00pm and the exhibitor drinks reception on 21 September at the Novotel from 5:00pm – 7:00pm. And, also, next year's dates are 4-6 October 2023."
Since 2015, we have been developing the Chinese market, which fell in love with The Little Prince at first sight and now accounts for 30% of our international sales. In India, on the other hand, where the book has also fallen into the public domain, there is still everything to do, which offers great prospects.
Prestigious brands like Reeds Jewelers will ac company us through the 80th anniversary of "The Little Prince," and we will very soon be able to announce very large international part ners for 2023. We have 350+ licensees in the world, and the phone just keeps ringing for more.
"The Little Prince" has been here for almost 80 years and will still be there in 80 years, so we are constantly looking to renew ourselves with new products that correspond to the high-end image of the Little Prince.
WBD will also be embracing the WB 100th in 2023 through exclusive mer chandise, collabs and mashups, fan ex periences and even a peek inside the vault. It will be a complete celebra tion of the amazing stories, characters and worlds Warner Bros. Discovery is known for.
We are always looking for new licensees in markets and countries where we are currently not present enough.
The powerhouse BLE line-up for Warner Bros. Discovery will in clude exciting content from across the DC franchise including film, televi sion and animation offerings; new and exciting developments from within the Wizarding World and Animation fran chises, including fan favourites, Looney Tunes, Scooby-Doo, Tom and Jerry, Cartoon Network's "The Powerpuff Girls," Adult Swim's "Rick and Morty" and more; new offerings from our lead ing real life brands across Discovery, Eurosport and Animal Planet as well as new introductions to HGTV and Food Network that capture our audiences passions for sports, sustainability and lifestyle; and HBO's highly-anticipated,
The book is a worldwide phenomenon, with five million copies sold every year. Nowadays, "The Little Prince" book is in the public domain in most countries in the world (except France and the United States, in particular), and its fame has exploded along with the number of editions and translations published in these countries.
TOTAL LICENSING
The Little Prince will celebrate its 80th birthday in 2023 and the brand is stronger than ever.
We may have thought we had reached a maximum of products and projects a few years ago, and yet the growth of the brand is still there and is only expanding exponentially.
At BLE, we'll be able to gather our licensing agents from all over the world for the first time in three years and will be looking for new opportunities and to meet new partners. The Little Prince already represents more than 350 licensees and 15 licensing agents worldwide. I, Thomas Rivière, will be there as the brand man ager of The Little Prince and great grandnephew of Antoine de Saint Exupéry, with Olivier d'Agay, Head of the Estate Saint Exupéry, and David Jol ly, Marketing and Communication Manager.
"House of the Dragon" launching on HBO Max, which gives fans a look at House Targaryen 200 years before the events of "Game of Thrones."
What are you hoping to get out of being there?
I also dream of other nice partnerships in sectors where we are not yet present. Everything related to travel, for example, starting with beautiful luggage or perfumes. It has to be in the world of Antoine de Saint Exupéry, like our partnership with IWC, because these are aviator watches. I always have ideas for new products, but I want to do them with real Little Prince enthusiasts. Le Petit Prince is an iconic story with global appeal.
And what does your ideal consumer products programme would look like for Le Petit Prince?
The Little Prince is a trendy, fashionable and young brand and licens ees have understood this very well. For example, our licensee, The Beast (China), follows the trends while keeping their visual identity and product quality. They invest a lot in photo shoots and always have polished visuals, videos and product sheets.This is typically the kind of product we are looking for in our brand.
acters have decided to turn their focus back on where it all began: 80 years ago, at the end of the Second World War when Tove Jans son's first story about the Moomins was published. Moomin Characters and Rights & Brands will be offer ing partners and licensees new anni versary marks and artworks as well as slogans and other communication assets. Several major projects for the anniversary year are already in the Additionally,works.
First-time exhibitor, Thomas Rivière, brand manager, The Little Prince/Le Petit Prince, sat down with Total Licensing for a pre-show interview.
porate & Lifestyle brands.
With this in mind, we are looking to expand in those countries where The Little Prince has been known more recently, reinforcing this real worldwide phenomenon.
Rights & Brands will showcase a wide selection of other brands, such as the joint works of Astrid Lindgren & Ilon Wikland (The
Who are you hoping to meet at the show? And who from LPP will be at BLE?
Anything you'd like to tease ahead of the event?
This is your first time exhibiting at BLE - why now?
38
The Moomins, created by Tove Jansson, celebrates 80 years in 2025. For the anniversary year Moomin Char
A new 2D preschool TV animated series will be broadcast worldwide in 2023! It will be called "The Little Prince and Friends" and will feature two children who begin a fabulous journey through the stars with the Little Prince and his fantastic crew, the Fox and the Rose. Each episode highlights a strong value of the Little Prince.
Licensing Management International (LMI) announce they are "pleased to be exhib iting at BLE this year on stand A118. After what has been an
HP Sauce, Heinz Beanz, Lea & Perrins and Heinz Tomato Soup. The agency is also excited to welcome Lucozade En ergy, Lucozade Sport and Ribena from Suntory to the Metrostar portfolio. Another big feature of BLE22 for Metrostar is Elmer35; the launch of Elmer the Patchwork Elephant's 35th anniversary licensing programme. The agency will be showcasing new assets, announcing new partners and brand events – and anticipating a personal appearance from Elmer himself! Finally, Metrostar is delighted to be able to welcome to BLE its interna tional agents and partners working on The Jockey Club and Grand Na tional brands. There are exciting new developments in this heritage lifestyle programme and the agency is looking forward to announcing these and celebrating them together. Suntory Beverage & Food GB&I, the UK's third larg est soft drinks manufacturer behind Lucozade Energy, Lu cozade Sport and Ribena, has appointed Metrostar as its licensing agency to manage brand extensions for its port folio of drinks. This is the first time the brands have been available for licensing oppor tunities.
TOTAL LICENSING 40
with The Frida Kahlo Corporation, Anne Stokes, Collection, Brandal ised, Pets Rock and some others for different territories, the agency has also welcomed newcomer the Span ish fashion designer Custo Barcelona. With over 40 years of presence at in ternational cat walks and with a very distinct design style, the Custo brand can reach well beyond apparel, into home decor, gifting, jewelry, fragrance and many other categories. Recently the agency has increased the number of DTR agreements in differ ent territories.
Metrostar will be showcasing a num ber of food brands for the first time, in person, at Brand Licensing Europe 2022.These include Kraft Heinz favou rites such as Heinz Tomato Ketchup,
'interesting' couple of years for every one, and the industry as a whole we are really looking forward to getting back to the show floor and meeting 'face to face' with new and existing Thelicensees."company specialises in licensing classic Brands and portfolios on a global basis and continues to rep resent British Motor Heritage for the classic car marques including Austin, Austin-Healey, Morris, MG and Wol BSAseley.have now commenced distribu tion of a new GOLD STAR bike de signed in Birmingham the home of the original BSA motorcycles. Recent classic properties now repre sented by LMI include Benny Hill,The Carry On movies, The Rubbish World Of Dave Spud, The Little Prince and Laurel & Hardy. Also Tarzan, ZORRO, with a plethora of new movies and TV shows planned along with Highclere Castle and the Shakespeare Birthplace Trust are also part of the LMI port LMIfolio. will be featuring new products licensed by International Space Ar chives and hosting existing and poten tial licensees as well as its network of international agents.
This year will see Walker Books showcasing a trinity of enduring global children's brands in their care.
Brothers Lionheart, Ronja, the Rob ber's Daughter, Lotta on Troublemaker Street and more), artist couple Carl & Karin Larsson, Norweigan brands PURENorway and Mauris of Norway, Finland's most successful children's books author Mauri Kunnas, and the works of iconic designer Stig Lindberg. Rights & Brands is also introducing two new brands: Kjell Aukrust, creator of Flåklypa Grand Prix, and Arnie Alligator, the lively musical alligator who has over 150 million views on YouTube. BLE 2022 coincides with the celebra tion of Art Ask Agency's 20th an niversary as an independent brand licensing Remainingagency.focused on partnerships
With over 110 million copies sold in dozens of languages worldwide, the international appeal of Michael Rosen and Helen Oxenbury's We're Going
So, the four brands include three incredible designers in their own right. We have Anita Quansah, an accessories designer whose pieces combine African tradition with a westernised mind. She's part of the Africa Show at the V&A. Her designs are very high end. Then we have Sibu, a founder of Jaded Life fashion label, he is a Black designer but also comes from LGBT+ community. He has been creating amazing fashion pieces out of Levi's waste denim - he brings value to Levi's waste whilst helping to save the planet. His brand ethos is all about sustainability. He's actually show casing his collection at London Fashion Week and then it's coming straight onto the BLE runway. The last designer is Bunmi, who is a bridal and haute couture designer, her pieces are beautiful, she loves to design pieces in bold colours. And the fourth brand is, of course, Black Lives Matter, and we will see the Fashion UK collection on the catwalk.
But, can I also say, you don't need the full shebang, you can just start with one thing – that's still progress.
You introduced Black Lives Matter to lots of people for the first time at BLE 21 and you also had a stand on the show floor. What did that presence achieve for you?
Walker Books has solidified and ex panded partnerships with licensees and international agents throughout 2022 and into 2023 to maintain and develop the global reach of these brands proving their lasting appeal and making them an en ticing option for prospective licensees. Metro Goldwyn Mayer's (MGM) continues to expand and evolve the licensing strategy for its roster of
Saphia Maxamed, Founder, Black Lives Matter Licensing, talks candidly to Total Licensing about the support for the BLM movement at the show.
We've been in conversations with almost every retailer we saw at BLE, including about seven buyers from ASOS who put us in touch with their D&I team. We're also having conversations with Tesco and Primark and HMV. In fact, HMV wanted everything immediately, they are thinking of an impactful activation.
I keep hearing people saying, 'we need to do things properly,' 'it takes time', and I get that it's not easy to figure out a proper, credible product offering.
We know it's not overnight. We understand that. We're in it for the long haul.We want these to be conscious, deep and meaningful actions. It abso lutely can't be a logo slapping job. And, since BLE, everyone wants to have those deeper conversations.
I have seen incredible examples of businesses getting D&I right and do ing it authentically, where they've partnered with Black licensees on a brand featuring Black characters, and that result is a credible licensing programme.This is progress. And, yes, there is progression from where we started to where we are now, and I think the more people start seeing products created in this way out in retail, the more it will happen.
For example, Black people are discriminated against for our hair because nobody understands it. So that could be something you focus on. Or our body shape. We get labelled as plus size when we're not. We're just dif ferent. We don't fit into jeans in this country because technologist don't know how to work with our body.
on a Bear Hunt, Sam McBratney and Anita Jeram's Guess How Much I Love You and Lucy Cousin's Maisy has never been greater, and their messages of adventure, nature, fun and love have never been more important
Being able to talk about the Black Lives Matter movement at BLE was so impactful. On its own, that support was incredibly profound, thanks to BLE and the Informa team who threw all their weight into it.
Where is the licensing industry when it comes to D&I? Are we progressive? Are we behind other industries? How much more needs to be done?
In addition, we have incredible performances from beautiful African drum mers, contemporary dancers from the LGBT+ community, and Cardi B and Idris Elba's DJ, DJ Longers. It is definitely not to be missed.
Why do you want people to visit you on the stand?
Having a platform like BLE meant I could speak with conviction and be vulnerable and share the message to join us on the journey. During the show, we had so many people coming to us asking for help. Those kinds of conversations give us a whole new way of planning our movement. We started thinking, 'if somebody can't take the license, maybe they can do consultation with us' – it's still supporting the movement and allowing us to move forward positively together.
TOTAL LICENSING 42
On a personal level, it's still very emotional. All of a sudden, we're having to speak with conviction about everything we've been through. We have to be, "Oh, yeah, it's all good now." And that's hard. It is really emotion ally charged for anyone to go through, not just me. It's an awkward, un comfortable and painful conversation to have, but it's a conversation that needed/and still needs to happen.
I would say it's behind. Progress is slow. I am not going to sugar-coat it.
To have a conversation with us. It's as simple as that. Let's talk about how you can make a difference, and we'll support you, whichever level you want to come into the movement.
You're back at BLE this year, and you have a stand, but you're also planning the Culture & Unity catwalk… Yes, it is super exciting. BLE are putting so much thought and effort into this – they want it to be done correctly. So, this partnership is an incred ible chance not only to showcase what Black Lives Matter can look like in an M&S store, for example, but we can also showcase these amazing Black designers who can give retailers an idea of what product from a Black owned brand can do in terms of consumer products.
iconic entertainment properties. At BLE MGM is set to unveil exciting plans and initiatives, along with special sneak peaks for Pink Panther, Wednes day, Killer Klowns, Vikings: Valhalla and Overmore.the years, MGM has built a large roster of licensees and other strate gic partnerships in the apparel, acces sories, gaming, home and collectibles categories, as well as live events and location-based experiences, and is continuing to expand programs for its broad portfolio. MGM will focus on showcasing licensing programs for
That's so good, because sometimes you find people are full of conviction in the moment, but many don't follow up with an action.
Iginio Straffi's reimagining of one of the greatest children's novels of all time, Pinocchio, burst onto TV screens in Italy last Autumn and onto CBee bies earlier this year in May. Pinocchio and Friends is comical, light-hearted and wholesome with new characters, locations and storylines, brought bang up to date for today's young audi ences. The licensing programme is off to a great start with two strong mas ter toy partners in Giochi Preziosi and Flair GP already onboarded, with more partners to be announced dur ing September; this bright series is al ready a Rainbow success story thanks to its global appeal and strong brand
Friends, Tom Gates & Williams Racing. Story.1888 also offers creative & mar keting services, whilst Spotlight.1888 offers retail services & consultancy within the licensing industry, creating a true full service offering under True Purpose Enterprises.
Rainbow is back at BLE having had a fantastic year across all the brands it will be showcasing at this year's mar ket. Italy's leading provider of original children's content and third-party IP management of aspirational brands, Rainbow has spent the past year se curing best in class broadcast and IP partners for its properties, delivering events for consumers to enjoy and be directly enriched by live experiences and see licensing agreements deliver
Sinceheritage.its
The client list includes: Ab bey Road, Barratt, Batter sea Dogs & Cats Home, Ben Eine, Blippi, British & Irish Li ons, Clean Kitchen Club, Co comelon, Cozmo & Friends, Emily Burningham, Flip Out, Hackney Dave, I Like Birds, Jimbobart, Little Angel, Mis sPrint, Moomin, Moonbug Entertainment, Moulin Rouge, Mum snet, Official Charts Company, Percy The Park Keeper, Rachel Ellen Design, Samaritans, Sindy, St Andrews Links, Star Stable, Super Sema, Team GB, The Raccoons, The Repair Shop, Toad &
their deep portfolio of iconic films, in cluding Pink Panther's 60th anniver sary launching late next year and the debut of Wednesday, a series based on Wednesday Addams, on Netflix later this year. MGM is also putting the spotlight on the second season of Vikings: Valhalla on Netflix and its classic horror portfolio with films like Killer Klowns.
premiere on Netflix in Spring 2021, Fate: The Winx Saga live-action drama, became an overnight Netflix global ratings winner. For Winx Club there is a dual licensing strategy which targets the core audience of young children, plus an additional one for young adults who were the original fans and grew up with the animated series.
The Point.1888 matches brands with retailers and man ufacturers to create powerful new products with purpose that boost revenue and brand affiliation. The brand agency creates products and partner ships that do what's best for brands, manufacturers, retail ers, and consumers across ev ery category.
outstanding results at retail. This year's Rainbow stand will focus on the eighteen-year children's animated success brand Winx Club, the spin-off Netflix teenage drama Fate: The Winx Saga, artists Lucia Heffernan and Jack Ottanio, environmental ani mated series Summer & Todd: Happy Farmers and the latest pre-school hit currently airing on both RAI Italy and CBeebies, Pinocchio and Friends.
TOTAL LICENSING 44
focused on promoting literacy, educa tion, self-confidence, and the wonder ful possibilities of a child's imagination through the works of Dr. Seuss. The creative, whimsical world of Dr. Seuss and its characters have inspired generations of readers and continues to be a true pop culture and entertainment phenomenon, with major successes both on the page and on the screen.
The leading lifestyle duo, Style Sis ters, will be at BLE promoting their new licensing ranges and Lisle will be looking to expand this into new cat egories for 2023 that build upon the continued brand growth of the last 18months including kitchenware, wall paper & Art-designpaints.brand
At the 2022 Brand Licensing Europe, Dr. Seuss Enterprises will continue to celebrate the importance of literacy and creativity with the roll out of new product lines, programs, and initiatives, as well as growth of their entertain ment and content portfolio.
46
Tetris, the original gaming brand which will be celebrating its 40th anniversary in 2024 is a key focus in creating aspi rational licensing opportunities.
In children's entertainment, Lisle are meeting with potential new partners for Milkshake! hit, Milo, as well as the CBeebies recent ratings success Pi nocchio and friends from Rainbow Group, as well as long-standing preschool favourite, Masha and the Bear. Newcomers to the portfolio: artist Lucia Heffernan, Happy Nappers, EX GB Olympian surfer Laura Crane and mumpreneur Lillie Farrow who will launch her brand Lil's Kitchen are also a strong focus at BLE.
Kate Smith Com pany will be heading to the UK and attending BLE for the first time fol lowing their sell-out success at retail in 2021 and so far in 2022; the very personable Kate Smith is excited to engage with potential licensees along side Francesca Lisle and build upon the successes with Moonpig, Hallmark and Carousel.
Lisle Licensing is back at BLE 2022 with a client portfolio which will showcase its successes in IP sectors for which it is already renowned such as gaming and pre school brands, but also its growth in lifestyle, art & design, as well as family brands.
Hasbro continuously looks for new ways to innovate and expand its ex tensive portfolio of brands across all licensing categories. And BLE 2022 is no exception, with an impressive lineup of announcements and displays at the booth showcasing several exciting new ventures for the diverse set of brands including a fully realized Peppa's Clubhouse come to life for an immersive Transformersexperience.willspotlight the allnew animated kids' series, Transform ers: Earthspark, launching this fall, the highly-anticipated feature film premiering June 2023, Transformers: Rise of the Beasts, and the first Trans formers and My Little Pony hotel in Shanghai coming soon. With My Little Pony, the brand's 40th anniversary kicks off in 2023 complemented by a slate of content continuing to drop on YouTube and Netflix throughout the year. Following this summer's reveal of the first-ever Dungeons & Drag ons toy line, the brand will highlight what fans can expect to see as we approach the March 2023 Dungeons & Dragons: Honor Among Thieves theatrical release. Everyone's favorite cheeky pig also has a big anniversary coming up in 2024 with Peppa Pig cel ebrating 20 years following this year's successes - from content releases like Peppa's Club, to the opening of the first U.S. Peppa Pig theme park in Florida and several other activations and partnerships, including a Jubileethemed clothing range in Tesco, special treats from B Bakery and publishing titles from Penguin. NERF continues to make headlines with "Murph," the brand's first-ever mascot introduction, alongside major LBE openings with the NERF Action Xperience centers and first-ever NERF theme park land. Monopoly has some thrilling brand collaborations in store following the award-winning Monopoly Lifesized Experience in London and another winning McDonald's promotional pro gram.
Over the past two and a half decades, Dr. Seuss Enterprises has built a for midable reputation by inking hundreds of licensing deals in virtually every category and ramped up its global entertainment presence with several projects in development at the world's most respected studios and publishers.
Rainbow's Summer and Todd: Happy Farmers, brings entertaining sto rylines to young audi ences. Rainbow manages the European licensing programme for interna tionally acclaimed artist Lucia Heffernan
TOTAL LICENSING
Dr. Seuss Enterprises, which has been a leading global children's en tertainment company since 1993, is
Campaigns will include Dr. Seuss' Birthday; The Lorax; and there are new partnerships with Hershey's, Ton ies and more. In addition to the grow ing CP program, the Dr. Seuss brand is continuing to grow its digital, publish ing and experiential portfolio.
Bulldog Licensing is readying its hand-picked portfolio of brands as the industry prepares to return Excel. Consisting of iconic evergreen prop erties such as Care Bears, Popeye and Sesame Street, as well as British insti tution, the Royal Astronomical Society, new and exciting brands like Odo, Magic Mixies and Gus the Itsy Bitsy Knight, and key lifestyle names such as ROUTE 66 and Guide Dogs, the Bull dog Licensing portfolio reaches every demographic with products covering all Thecategories.loveable bears of Care-a-Lot are celebrating their 40th Anniversary in 2022, and the brand remains as popular as ever, with a 98% awareness among adults and children.
A brand which embodies inclusivity, support and strength, is Guide Dogs. Bulldog is building a consumer prod ucts programme for the charity which helps people living with sight loss to live actively, independently, and well. The campaign is aimed at owners, sup porters, dog lovers and families, and focuses on a wide range of products including pet products, apparel, acces sories, travel, homeware, gifting, col lectibles and stationery.
A newcomer is Gus – The Itsy Bitsy Knight which airs daily on Tiny Pop and is produced by Technicolor Ani mation Productions and co-produced by PGS Entertainment, with toys from Mattel launching this Autumn. Bulldog will develop a licensing programme based on apparel, accessories, statio nery and gift, and publishing.
Rocket Licensing will present brands such as The Very Hungry Cat erpillar, Beano, The Elf on the Shelf and Little People, Big Dreams, along with pop culture kawaii brand Fuzzballs, blockbuster entertainment brands Dune, Godzilla, Vikings Valhalla, Rocky and ESA (The European Space Agen cy), which unlocks the growing excite ment around the new age of space
kindness. Just Play are launching a new master toy range in 2023 and sales continue to be very strong across softlines for all ages.
TOTAL LICENSING 48
ROUTE 66 is recognised around the world and offers its licensing partners a wealth of resources. Designs include over 360 original, iconic artworks, and over 125 photos under the ROUTE 66 Style Guide, giving the vintage, adven turous feel that the brand inspires.
New and making a huge entrance to the consumer products scene is Moose Toys' toy sensation, Magic Mix ies. The magical cauldron exploded onto toy shelves last Christmas, catch ing the attention of the nation, and selling so quickly that it became the highest grossing SKU in Moose Toys' history, with stock selling through as soon as it hit stores. Since launch, Moose Toys has expanded the brand with the introduction of Magic Mix ies Mixlings, with a playset to follow this year, along with a range of games. Bulldog has so far announced a part nership with Aykroyds TDP, who will create a range of children's nightwear, underwear and swimwear based on the magical Superheroesproperty.arethe order of the day for the globally popular hit brand, Miraculous - Tales of Ladybug and Cat Noir. The series, which airs daily on Pop in the UK and is available for streaming on Disney+ and Netflix, fol lows the adventures of two Parisian teenagers, Marinette and Adrien, who magically transform into superheroes to save their city from evil. ZAG will launch the fifth season of the se ries later this year, with an animated US$100+ million feature film to follow. Sesame Street is still a favourite among adults and children alike. Ses ame Street-branded content still airs daily on Tiny Pop with Elmo's World, Super Grover 2.0 and Smart Cook ies, and continues to attract new fans with its messages of love, respect, and
Rocketexploration.was recently appointed UK licensing agent for the iconic rabbit, CelebratingMiffy. its 85th anniversary in 2023, the world's longest running comic, Beano, is set for a nationwide 360 campaign. The Elf on the Shelf brand has become a global phenom
The instantly recognisable ROUTE 66 is a US lifestyle property boasting a wide range of licensees, with more than 750 products, available in multiple countries. The brand has a strong UK fashion presence with partners Brand Alliance and Bulldog and is now ex tending the licensing campaign with partners in ancillary categories for the legendary highway which once linked Chicago to the American West.
TOTAL LICENSING
enon which millions of families now enjoy every year.
Slated for 2024 is the latest entry in the Monsterverse/Godzilla vs. Kong franchise form Legendary Entertain ment. More details on production and licensing programs will be announced in the coming months approaching the March 15, 2024, release of the film.
From video games to makeup palettes, Creative Licensing's ongoing partner ships with best-in-class licensees con tinues to excite customers for classic film IP such as The Terminator, Rambo, Halloween, Total Recall, Bill and Ted, Evil Dead 2, and Re-Animator.
Since founders Thomas, Axel and Jonathan Lang made Chefclub's first croque-monsieur video in their kitchen – they have come a long way: three Digital Brand of the Year Awards (France, Germany); partnerships with PLUTO TV (US, LatAm, Spain, UK, France) and Samsung TV France; ani mation series in development; content on proprietary, FAST and Social plat forms worldwide; 700,000+ cook books and 250,000 cooking kits sold; and a 50-piece TEFAL cookery range. Chefclub's mission is to bring families together in the kitchen, empower chil dren to cook at a much earlier age, promote the nutritional and mental
Armed with an impressive roster of over 200 catalog titles, comprised of notable films from STUDIOCANAL, Revolution Studios, Compass Interna tional, and more, Creative Licens ing connects fans to films through a diverse assortment of licensed con sumer product offerings.
On behalf of Sagoo Brands, the pair will be showcasing gen Z favourite Kawaii brand, Rilakkuma, as well as the iconic Emily the Strange brand from Rob Reger.
50
The Beatles, Yellow Sub marine, Stanley Kubrick's iconic films The Shining, A Clockwork Orange, Full Metal Jacket, and 2001: A Space Od yssey, The Masked Singer™ and The Masked Dancer, Fifty Shades of Grey, Horrid Henry, Toxic Waste Hazard ously Sour Candy and the latest Caro line Mickler Limited signing, Molang, the kawaii digital sensation – and a brand very much for our time.
In six years Chefclub has established itself as a leading food entertainment brand and content creator for fami lies, generating a whopping 2.5 billion monthly views, and 100 million sub scribers. With half of its followers in the US and UK - Chefclub is thrilled to exhibit at BLE for the first time!
Caroline Mickler Limited will bring a range of brands that under line the diversity and originality of its Theyportfolio.include
On behalf of Pink Key Licensing, the pair will be focusing on iconic food and drink brands, including Kellogg's, Pringles, SLUSH PUPPiE, Peperami, Quorn, Vimto, Bel Brands (including Laughing Cow and Babybel), and Pan Am's vintage archive.
For personality brands, the stand will play host to movie icon Charlie Chap lin, as well as celebrated genius, Ein stein, both on behalf of Ben Group Inc. From the small screen, and for a younger audience, will be popular pre school property,True and the Rainbow Kingdom, specified categories for dino lovers with Gigantosaurus, and brand new superhero animation, Petronix Defenders, on behalf of bRand-Ward.
national book brand by author Tim Marshall, is Prisoners of Geography, published by Elliott & Thompson.
Kirsty Guthrie of KJG Ltd, and Mag gy Harris of BlueSkye Licensing, who operate as a hybrid licensing sales agency, are readying for their return to the Theshow.BLEspotlight for the duo show cases their wide portfolio of wellestablished and successful brands covering a range of categories from preschool to food, movie icons to Kawaii, and authors to art.
The globally renowned cultural in stitution of the Frank Lloyd Wright Foundation, focuses on developing the Frank Lloyd Wright design legacy, and will join Kirsty and Maggie's stand at BLE. Frank's century old inspiration for living sustainably through truly brilliant architecture, home and garden design, is as relevant today as it was during his Joininglifetime.the stand fresh from its shortlisted nomi nation in the prestigious Hen ries awards, is Snowtap, a beau tiful and witty artwork brand, which draws in spiration from the natural world and features ani mals with quirky captions in a per fect partnership. Last but by no means least, the bestelling inter
At BLE, Chefclub is excited to meet new partners to share the incredible success it has had in France in mar kets where fans are already poised and waiting to further enjoy this unique brand.
Los Lunnis, an animated series cre ated by RTVE in 2003 and broadcast on Clan in 2005, was the number one children's brand in Spain for many years. The main Spanish manufacturers in all sectors of licensing (toys, pub lishing, textiles, cosmetics, household goods, etc.) acquired the rights to the Lunnis and obtained very important sales figures.
health benefits of good eating habits, and provide new and unique platforms for the universal enjoyment of food.
tail. Across EMEA and in the UK, the line hit shelves this summer across all major retailers.
TOTAL LICENSING 52
Independent licensing agency Start Licensing will be showcasing its port folio of rights which includes Aardman and their brands such as Wallace & Gromit, Shaun the Sheep, Chicken Run and Morph. Start also work with leading US based Art & Design agency Jewel Branding representing a number of their artists in the UK and Ireland.
These include Kendra Dandy and her eyecatching Bouffants and Broken hearts
Licenseesbrand.for this brand include Cooneen, Blueprint Collections, UK Greetings, Surface View and an ex clusive gift product range for Boots. Other artists are Etta Vee and Nikki Chu. Start also represent Nadiya Hus sain and Jane Devonshire. Nadiya has a fast growing licensing programme
The launch is supported by an inte grated marketing campaign encom passing TV and VOD advertising, digi tal and social advertising, influencer marketing and PR activations, as well as meet and greet retail events where little 'rancheroos' can meet Jon and Blitz in real life.
Love Monster, The Next Step and Daniel Spellbound will have a strong presence on the Boat Rocker stand.
Boat Rocker's distinctive portfo lio of kids and family properties is supported by robust licensing plans, ensuring that great storytelling can transcend television and engage with its audiences in as many creative ways as Stompingpossible.to success internationally, Dino Ranch is a unique and imagina tive combination of two pre-schooler passions – dinosaurs and cowboys. A hit on Disney Jr US since launch in Jan 2021 and sold to over 170 countries and available in 15+ languages including SuperRTL Germany, Gulli France, Boing Italy and Tiny Pop UK; the latest to come on board in April this year and already proving to be a huge Internationally,hit. all new content will roll-out from Q1 Master2023 toy partner, Jazwares, has added acres of imaginative play to the ranch, with an exciting line that spans fig ures, vehicles, plush and playsets. Roar some retail roll-out continues in the US with strong inline statements at Tar get and Walmart this Fall, alongside other major stores and ecommerce re
BBC has appointed us El Ocho as agents for Bluey. This Christmas there will be Bluey toys in Spain as well as other categories that the agency are already negotiating. The goal is for Bluey to be the favourite series of children in Iberia. And Boat Rocker has entrusted El Ocho to manage Dino Ranch, a children's series that will premiere on Clan in September. Dinosaurs continue to be children's favourite animals and Dino Ranch tells the adventures of the cowboy kids with their dinosaurs.
El Ocho, as a licensing agency with almost 20 years working in the Ibe rian market, specialises in preschool brands and has managed to position them at the top of children's programming with the fundamental help of Clan tv.
Edutainment Licensing has an
54
The NSPCC's Talk PANTS campaign, featuring friendly dinosaur Pantosau rus, helps parents have simple con versations with their children to help keep them safe.
Plus Licens is one of Europe's leading independent licensing agencies with headquarters in Stockholm, Sweden. With over 40 years of experience in the licensing business Plus Licens has acquired top industry know-how by introducing and building some of the world's leading brands for its various Plusmarkets.Licens' stand will be located in the Brands & Lifestyle section, where they will be showcasing several properties
whilst Jane's Hassle Free Gluten Free brand has been a publishing success. Start's portfolio also includes iconic comic character Asterix. Start also represent The Ashmolean Museum which has a fabulous collection of art and artefacts. The Ashmolean is the world's first public museum. Start also represent Britvic Soft Drinks portfo lio for licensing which includes Tango, Robinson's and R Whites. Start's rep resentation also includes Club and Mi Wadi leading soft drinks brands in Ire land. Start have also developed a very successful collectibles programme for the Spirit of Concorde design brand. Santoro will be showcasing a wide portfolio of brands at this year's show with particular focus on evergreen brand Gorjuss. All new Gorjuss col lections will feature heavily including Fairground and Through The Looking Glass - an extension of the popular Wonderland range. Gorjuss continues to perform as one of the top girls' brands across Europe with Italy and Greece remaining strongholds while the Balkans emerge as an impressive new market with collectible cam paigns insight for 2023 and beyond. Leading licensees include Benneton, Panini, Deagostini, El CorteIngles, Na kas, AznarInnova, Safta, MarMar, Graf fiti, Balocco and Joumma. Alongside Gorjuss, Santoro will launch a 'first look' at noughties brands JeliDeli and Tutti-Cuti.
including the University of California Los Angeles (UCLA), both the number one research university and the most applied-to university in the United States. This comes as no surprise with UCLA's diverse campus, competitive athletics teams, and renowned Cali fornia lifestyle that creates an enviable, optimistic, and creative environment. Paul Frank is the beloved Southern California brand founded in Hunting ton Beach in 1995 by the American cartoonist, artist, and fashion design er of the same name. Perhaps Paul Frank's best-known character is Julius the Monkey, the modern pop culture icon whose face has adorned products worldwide. Julius and his many friends, such as Clancy and Skurvy, all come
TOTAL LICENSING
nounced new licensees for the NSPCC's Pantosaurus licensing pro Specialistgramme. apparel licensee, Poetic Brands have partnered for a wide vari ety of clothing, including kids daywear, nightwear and swimwear. Cause-relat ed marketing pioneers Louis Kennedy have partnered for Pantosaurus plush with sound chip featuring the PANTS theme song for the promotional cate gory.In the digital category the Panto saurus and the Power of Pants ebook can now be found on Pickatale, a leading mobile audiobook and storybook app for children aged 0–12.
The new Read Aloud video featuring Actor and NSPCC Ambassador for Childline Natalie Dormer, has been li censed by digital content agency Little Dot Studios for their own YouTube channel Wizz.
also represents animated content from a select number of third party producers, including LoveLove Films' Pop Paper City, a preschool ad venture craft show aimed at 4-6 year
The key brands that they are focussing on are established titles like The Voice Franchise, Hell's Kitchen, Love Island, I Am a Celebrity … Get Me Out of Here!, The Chase, A Year on Planet Earth and Schitt's Creek. But they are also actively exploring opportunities for new IP like Ten Year Old Tom and Physical that are available via Apple TV.
by, Olympia Le Tan, The Bradford Ex change and Danilo. They will be look ing for further partners across all categories at BLE.
When she and Rocky hatch a little girl called Molly, Ginger's happy end ing seems complete. But back on the mainland the whole of chicken-kind faces a new and terrible threat.
Theolds. team are developing a licensing and retail programme for the show which launches on Milkshake! later this year.
This promises to be a busy BLE for the Motul campaign.
In the series, Lloyd is always accompa nied by his best and only friend, Aba cus Woodlouse, PB, and eccentric tagalong, Cornea Butterfly. Together they explore the strange world beyond the compost bin, where there is no short age of lessons for Lloyd to very nearly Aardmanlearn.
They include Sunrich Toys & Hobby, which designs and manufactures the highest-quality scale model cars for the global hobby market; Fire De sign for fire extinguishers; and, most recently, Depancel, the celebrated watchmaking brand for the Pista 24 MOTUL Edition, a feature-rich motorsport-themed watch.
tution that's known worldwide. In cre ating products, a licensee can use spe cific works of art or themes from the collections displayed at the museums, including renowned paintings, objects, photographs, and more.
The series follows the adventures of Lloyd B Fly, a housefly and the middle child of 451. Lloyd lives with his par ents, his little sister PB and their 224 maggot siblings inside a compost bin they call home.
Motul has also appointed a global li censing agent, ASPIRE by WildBrain CPLG, as well as agents for Japan, South Korea, Australia and New Zea Atland.BLE Motul will be highlighting its impressive first year as a lifestyle brand and discussing plans to build on this success with growth throughout 2023.
Lifestyle and motoring brand Motul has announced that, for the second
The newest addition to Plus Licens' portfolio are the famous apes from Bored of Directors, a collection of 11 Bored Ape Yacht Club NFTs that can be licensed across multiple product categories. Bored of Directors is a great spin-off of the Bored Ape brand, with vibrant and unique images, per sonalities, and graphics.The NFT space is a lucrative market, and Plus Licens see this as a rare opportunity to of fer licensees the chance to license the NFT phenom spurned on by the origi nal Bored Apes.
year running, the brand will be the sponsor of the Motul Café at the Brands & Lifestyle Bar during Brand Licensing Europe.
New collaborations include a part nership with fashion-forward apparel company Erve.
The film sees Ginger and all the chick ens living the dream in their peaceful island sanctuary, far from the dangers of the human world.
TOTAL LICENSING 56
Since the campaign formally launched just over a year ago, it has attracted a number of major licensees across a range of categories.
ITV Studios controls the brand li censing rights to some of the most beloved IP in the world. From scripted, to reality and game shows, the diverse portfolio offers commercial opportu nities in multiple categories.
from the idyllic community of Planned Pines, and nowadays they can be seen appearing in new, exciting collabora tions. Recent such collaborations in clude shoes by Unlimited Footwear Group and Julius collectibles from Danish design company Boy Thehood. University of makesPrizeoveralumniseumslarwith800-yearsteepedCambridge,initsrichhistoryitsspectacuUniversityMuandlistofincluding110Nobelwinnersitaninsti
Aardman report that The Shaun the Sheep brand continues to flour ish through much-loved content and successful licensing programs that bring Shaun's adventures to a whole new generation of international fans. The brand is further supported by an ever-growing portfolio of exciting at tractions and live experiences around the Theworld.teamhave been developing 'Shaun the Sheep One Farm' – an initia tive that brings Shaun's charm to the themes of food, farming and the en vironment – offering a fun approach to exploring and understanding where food comes from.
Currently in production is the eagerly anticipated sequel, Chicken Run: Dawn of the Nugget, coming to Netflix in 2023. The team is developing a strong licensing and promotional programme for the film, with Macmillan Children's Books confirmed as global master publishing partner.
The brand team are also focussing on a special licensing programme for classic characters Wallace & Gromit celebrating 30th anniversary of Nick Park's Academy Award-winning film Wallace & Gromit: The Wrong Trou Productsers. is already in devleopment with current licensing partners Horn
For Ginger and her team - even if it means putting their own hard-won freedom at risk – this time, they're breaking Alongsidein!their known franchises, the studio will be pushing their brand new CGI/2D comedy series Lloyd of the Flies (52 x 11'), which launched on CITV on 19th September 2022.
The show, which is aimed at 7-11 year olds, shines a light on the weird, won derful, and sometimes bizarre world of insects and their behaviour.
As an inclusive and innovative com pany, Rubies strives to create a world where everyone can express them selves equally and enjoy the wonders of dress-up. All children, no matter their ethnicity, condition or level of ability, deserve the chance to partici pate in the magical world of roleplay and dress-up. Rubies have been at the forefront in the industry for champi oned diversity and inclusion for years. Its fundamental to their business ethos to always be forward thinking through important changes with gender neu tral packaging and terminology, invest ing in photography to have a deeper li brary of images and working with new modelling agencies to expand model
Oneselection.recent
Diversity and Inclusion
Rubieschildren.believes
Rubies New Moon Knight License
Just like Steven Grant in Marvel's brand-new Disney+ series, anyone can now embrace their superhero alter-ego with Rubies Moon Knight
As the relationship between Marvel
The Rubies adaptive range is available to order from rubiesuk.com.
and tested on a select fo cus group of partici pants in last year's Superhero Se ries Powered by Marvel, an annual event that launchedThesignsboardacrosstivewithsponsor,Rubiesposifeedbacktheonthedeandfeatures.newrangethisyearwith
and Rubies continues to grow and strengthen, it reflects the joint success with the development, release and promotion of multiple characters and superheroes who have been revital ized for or never seen on the screen before. The latest of these, Moon Knight, is an electrically charged and revitalizing series with a lore that is intricately laced through both Marvel and Ancient Egyptian history. Rubies simply can't wait to see the reception for their Moon Knight costumes as they are simply like nothing that has ever come before them.
Knight costumes from Ru bies feature the titular superhero in his costume, inspired by the original comic book heritage of the character. They feature a jumpsuit, mask and cape and will be available in children's Thesizes.costume, which features a highly detailed all over print straight out of the streaming series, is a perfect fit for Halloween. By combining the legends of Ancient Egypt and popular Hallow een characters and motifs like mummies with superheroes, this costume is guaranteed to be a massive hit on the spookiest night of the year.
a choice of characters from Marvel, DC and Star Wars that are instantly recognisable and highly inspiring to
Thecostumes.Moon
addition to Rubies impres sive portfolio has been the release of a brand-new range of adaptive cos tumes, specifically designed for chil dren with limited mobility. The cos tumes are unique due to a variety of features to ensure they are optimised for ease of wear, accessibility and fit ting. These features include hook and eye closures, discrete flaps for any ab dominal tubes and more.
TOTAL LICENSING 57
that representation matters and are continuously working towards creating a space where ev eryone feels seen. Children and adults of all ethnicities and abilities can trans form into their favourite characters and see themselves represented instore on packaging, in marketing and social media as well.
To ensure the collection provided comfort and inclusivity with the key demographic, the costumes were tried
Marvel's Moon Knight is available to stream exclusively on Disney+. Rubies licensed costumes will be available to order soon from rubiesuk.com.
toy collection in collaboration with Mattel that featured dolls and doll ac cessories, role play toys, and a Karma styling head.  These new product launches were paired with next-level summer marketing campaigns that garnered massive impressions.   June began with Karma's World at tending the 2022 Essence Festival, the largest African American music and cultural festival in the world. Karma's World hosted a panel with show in spiration Karma Bridges and Karma's World head writer Halycon Person, introducing the Karma's World styling head on the convention floor. Karma Bridges also received a Crown Act award celebrating the work Karma's World has done in creating positive representations of Black beauty.  July kicked off with an appearance at San Diego Comic Con where Karma fans got to enjoy a delicious Karma's World ice cream truck activation. Featuring music from the series and photo-taking opportunities with char acters Karma and Switch, it garnered 47k+ social impressions, delighting over 3000 fans.
It's been a huge summer for Karma's World, with product launches in cat egories, including toys, publishing, ap parel, accessories, kid's electronics, home, back-to-school, and more, and an upcoming hair care line in Septem ber. July 17, 2022, saw the series' big gest launch yet, with the release of a
TOTAL LICENSING 58
In August, Karma's World hosted a toy launch event, Kick It with Karma's World, at New York City's most iconic toy store FAO Schwarz. This event celebrated the newly launched Mattel toy collection in store with product demos, shopping, activations, give aways, and roller skating at Flippers Roller Boogie Palace.This all happened to the sounds of the Karma's World
9 Story Media Group's Netflix series Karma's World first premiered in 2021 and has exploded in popularity since its release. The show follows 10-yearold aspiring rapper Karma Grant as she uses her talent and heart to inspire her friends, family, and community.  Developed by 9 Story Media Group and inspired by Executive Producer Chris "Ludacris' Bridges, Karma's World has released three seasons of content since its premier, earning 3 NAACP Award nominations, a 2022 Humanitas Prize nomination for head writer Halcyon Person & writer Kellie R. Griffin, and winning a 2022 Rockie Award for Best in Animation, Children (5-10).
9 Story Brands has also established partnerships with 50+ best-in-class licensees including Mattel, Scholas tic, Universal Music Group, Crayola, Panini, Egmont, and more. Karma's World products are now available at retailers across the United States (Target, Walmart, Amazon), Canada (Toys R Us, Walmart, Amazon, Indigo. com), and the United Kingdom and Ireland (Smyths, ASDA/George, The Entertainer, Character.com, Very, Ma talan), with upcoming lines in Spain (El Cortes Ingles) and Australia (Big W) coming September 2022.
Karma's World Had a Busy Summer of Retail Activations
soundtrack, with DJs spinning the mu sic that is a key part of the series.  Kick It with Karma's World featured an appearance from Karma's World Executive Producer Chris "Ludacris" Bridges, as well as featured cast tal ent and licensee partners. The event garnered 150,000+ social impressions and 41+ million media impressions, featured on The Today Show, TMZ, New York Live, and more.  Karma's World also attended Mar tha's Vineyard African American Film Festival, hosting a screening and panel discussion. It was moderated by author and activist Marley Dias, who spoke with Karma's World head writer Halcyon Person and the series Ms. Washington voice actress Dawnn Lewis. They discussed the importance of creating socially relevant program ming for children, and the way Karma's World is speaking to that need.  To end the summer, Karma's World will visit Karma fans around the United Kingdom with an interactive bus tour. The Karma's World tour bus will be making stops at select ASDA/ George locations for kids to get to know Karma and interact with prod ucts and the brand firsthand.   This string of activations leads up to the anticipated release of Karma's World Season 4, which features Keke Palmer in an exciting guest role as part of the season's three-part finale. You can watch Season 4 of Karma's World on Netflix, premiering on September 22, 2022.
In July we appointed Luca Bonecchi as Head of Consumer Products for ZAG Play Europe (excluding Germany and France). He has an impressive back ground in consumer products and character licensing, and we're pleased to have him on board. He joins our ZAG Play licensing leaders Lisa Foster, SVP Licensing, North America, Angela Cortez, VP for LatAm, and Carlotta Caracciolo, VP, Middle East and Africa. Our gaming division is led by Elinor Schopps, VP of Games & Interactive Experiences, and Hyde Schram is Vice President, Global Promotions. The new toy division is led by Helena Perheentupa, our former Licensing VP for Central, Eastern, Northern Europe and Russia, who is tasked with creating imaginative and complementary prod ucts to those of our licensees, for ex ample toy products that due to econ omies of scale, are not viable at the regional level for licensing partners,
In August we announced a new Mi raculous Happy Meal promotion with McDonalds that will run across most of McDonalds 6,000+ restaurants across Europe from August to Sep tember. We're delighted that this new promotion will feature sustainable
Founder and CEO, ZAG
What is your focus at this year's BLE?
but with global retail placement, we will reach critical mass to manufacture them. Together with our partners, the new ZAG Play toy division will offer fans a wider range of inventive and original toys for fans to engage with our brands.
ZAG is attending BLE 2022 following an incredible two years for flagship brand Miraculous™ - Tales of Ladybug and Cat Noir, a modern-day story of two young, magical, transforming iconic super-heroes featuring a blend of genres from action to superhero to comedy and romance; and we will also be presenting the newest series, Ghostforce™, an original comedy ac tion series for kids and families that follows three junior high school students who form a secret team to de fend their city from the ghastly ghouls haunting it.
JeremyInterview:Zag
Most recently we announced the launch of ZAG Play that focuses on developing engaging stories beyond the screen into brands that inspire the new generation to discover their true character. ZAG Play includes our licensing and merchandising, promo tions and gaming businesses, and a newly launched toy division, all led by Julian Zag, EVP Global Operations and Head of ZAG Play.
You have had a lot of exciting an nouncements over the past few months – can you highlight some of them for us?
TOTAL LICENSING 60
be launching the Ghostforce toy line featuring figurines of the major he roes and a collection of boo capsules, and will play on the collectivity of the ghosts.
We've also signed a co-production agreement with SAMG for 7 animated TV movies. ZAG and SAMG have coproduced several hit projects over the last 10 years including ZAG and ON Kids and Family's globally popular Mi raculous™ – Tales of Ladybug and Cat Noir; Ghostforce, Power Players and Zak Storm, and this new agreement solidifies the ongoing relationship be tween the two companies.
We also just signed a license with Schreiber Foods for Ladybug and Cat Noir to become the first licensed characters to appear on Walmart's Great Value Low-Fat Yogurt Smooth ies. As a kids' brand, it's important to ZAG that we communicate positive messages to children, including the importance of healthy eating. Be ing healthy is crucial to their growth and we are delighted that Schreiber Foods and Walmart are harnessing the superpowers of our heroes to bring tasty and healthy treats to families across the U.S.
ZAG is also ramping up production and we have the partners and facilities to make this happen, including the opening of our state-of-the-art stu dios in Paris this month. We recently signed an agreement with Cross Creek Pictures to co-produce ten animated, live-action and hybrid format feature film projects, all based on ZAG's IP. One of the titles will be a Ghostforce live-action movie developed alongside Michael Gracey, the director of The Greatest Showman; and we also have Ladylion, an animated musical to be developed in collaboration with global wildlife ambassador Dean Schneider, who inspires and educates his millions of followers across the globe about the beauty and importance of our planet's wildlife.
TOTAL LICENSING 61
This summer we also saw the first performances of our Miraculous Live Tour in Latin America, starting with Buenos Aires and Rosario in Argen tina, and coming to Brazil in June next year. This musical theatre show will also launch in France in October, and Italy in March 2023.
We are in pre-production on our ani mated musical Melody, which I will di rect, and Katy Perry will co-write and perform the songs for the film.
Other exciting new deals for Miracu lous include an exclusive global deal with Emoji Company to create mul tiple product lines that will feature unique emoji® x Miraculous™ brand icons; a global deal with Tel Aviv based PMI for a line of collectibles, impulse,
What other projects can we ex pect to see from ZAG in the coming year or two?
stationery, and school supplies; and a pan European deal with TCC Global as the exclusive loyalty partner. These new partners join existing global and pan-regional partners including Play mates, Ferrero, PEZ, Swatch's Flik Flak, Epopia, Spread Group, Crayola, InSpirit Designs, and Rubies.
We now have over 450 licensing part ners around the globe. And we have several new global partners who we will be announcing later in the year. What are the licensing plans around the Miraculous theatrical movie?
Miraculous Ladybug and Cat Noir: The Movie—the origin story to the TV series will be supported amongst other initiatives by an expanded toy line from ZAG Play and Playmates; the launch of the first Miraculous Console Game, Miraculous: Rise of the Sphinx, published by GameMill Entertainment for XBOX, Playstation and Nintendo Switch; a new mobile game from ZAG Games; and several co-branded part nerships to be announced very soon! When will the toys for Ghostforce from ZAG Play and Playmates be available, and what other licens ing plans do you have?
premiums in the form of Miraculous activity packs!
Since launching last summer in Europe on Disney EMEA, Ghostforce has been earning spectacular ratings which is translating to increased demand for branded merchandise. Rubies, Blue Ocean, Panini, and Edel will bring Hal loween Costumes, magazines, books and more to the market later this year in Europe. In the U.S., Ghostforce is available on Disney XD, and in Latin America, on Discovery Kids. In spring 2023, ZAG Play and Playmates will
Daniel Spellbound (20x22') - An exciting new CG-animated series about a young tracker, Danny who is a merchant of magical goods in modern-day New York City. Targeting boys 8-11, the Netflix series has all the magical ingredients to become a huge success following its premiere on the streamer this Autumn.
A home for creative visionaries, Boat Rocker tells stories and builds iconic brands across all genres and mediums.
TOTAL LICENSING 62
Dino Ranch (104 x 11') - Stomping to success internationally, Dino Ranch is a unique and imaginative combination of two pre-schooler passions – di nosaurs and cowboys. A hit on Disney Jr US since its launch in Jan 2021. The 'preswestoric' adventures of the Cassidy family, as they tackle life on their ranch and dinosaur sanctuary, have been delighting audiences across the world. Sold to over 170 countries and available in 15+ languages includ ing SuperRTL Germany, Gulli France, Boing Italy and Tiny Pop UK; the lat est to come on board in April this year and already proving to be a huge hit.
Find Boat Rocker at stand Stand C204.
Boat Rocker Sails to Success at BLE
Series two premiered in the US this summer and includes a 22 minute tentpole special, backed by 4 support ing themed episodes. Internationally, all new content will roll-out from Q1 Master2023
Love Monster - The adventures of huggable hero Love Monster as he navigates life as the only monster in
The Next Step - The UK's bestloved reality dance drama for tweens, The Next Step has become a global phenomenon as it warms up for an incredible eighth series premiere on CBBC this Autumn. New themed workshops, based on the latest series' choreography will also launch at Pine apple Studios.
Since going public last year, this inde pendent, integrated global entertainment company has delivered a mate rial step-up in its content creation and enjoyed a remarkable period of global Boatgrowth.Rocker's distinctive portfolio of kids and family properties is support ed by robust licensing plans, ensuring that great storytelling can transcend television and engage with its audienc es in as many creative ways as possible.
toy partner, Jazwares, has added acres of imaginative play to the ranch, with an exciting line that spans figures, vehicles, plush and playsets. Roarsome retail roll-out continues in the US with strong inline statements at Target and Walmart this Fall, along side other major stores and ecom merce retail. Across EMEA and in the UK, the line hit shelves this summer across all major retailers. The launch is supported by an inte grated marketing campaign encom passing TV and VOD advertising, digi tal and social advertising, influencer marketing and PR activations, as well as meet and greet retail events where little 'rancheroos' can meet Jon and Blitz in real life.
Dino Ranch, Love Monster and more will be at the show
Fluffytown, continues to be a huge success for CBeebies and iPlayer. The pre-school favourite has recently made his debut instore and online at The Entertainer and Golden Bear's toy line continues to sell on Amazon alongside publishing (Harper Collins) and dress-up (Amscan).
Meet the EntertainmentDisruptingCompanytheKids'IndustryatBLE!
Moonbug Entertainment is an award-winning global entertainment company behind some of the most popular kids' titles in the world such as CoComelon, Blippi, Little Angel and Little Baby Bum.
TOTAL LICENSING 63
"The andpillars:licensingMoonbugstrategyisbasedontwoexcellenceaccessibility."
TOTAL LICENSING 64
With a digital and audience first approach, the company has built its portfolio of properties through the acquisition of popular kids' IP born originally in the digital space. By le veraging Moonbug's creative and pro duction expertise, these properties have grown from much-loved YouTube shows into global entertainment fran Andchises.the goal? To be a natural part of every child's upbringing, regardless of geography, culture or background. By inspiring and engaging children with fun and responsible storytelling, Moonbug's shows encourage kindness,
In order to allow children to expand the shows' storytelling beyond the screen, Moonbug launched its licensing
compassion and resilience in its view ers. And these values are resonating across regions with Moonbug shows gaining 9 billion monthly views globally on YouTube.
programme back in 2020. Since then, it has experienced rapid growth and the business has already developed a strong portfolio of over 300 licens ees spanning global, regional and local partners, to tap into country specific Moonbugtrends. is exhibiting for the first time at BLE this year and will be ex ploring new partnerships and op portunities for its brands. In terms of properties, there will be a particular focus on the CoComelon, Blippi and Little Angel brands. In addition, visitors can expect to learn about some of the exciting new and existing properties including Little Baby Bum, Lellobee City Farm and Oddbods. Moonbug's Top Properties CoComelon is a fun, hit show about childhood, celebrating the big mo
ments for little kids. It has also proved to be a very successful pre-school licence in the toy sector and contin ues to go from strength to strength. CoComelon is the #1 kids YouTube channel in the world with an average of 4.3bn monthly views and over 152 million subscribers. When it comes to Consumer Products, the property boasts market leading products in categories such as plush, role play and Onevehicles.of CoComelon's first licensed product ranges was the master toy line from Jazwares, which launched in late 2020. Since then, the company has expanded its offering with many new brands and categories. The pro gramme has delivered several top product awards, culminating in Co Comelon being awarded the Best Li
At BLE the licensing team will be seeking out fresh opportunities in FMCGs and Apparel, Nursery and Baby Products as well as meeting with retailers and other potential partners. To find out more or to book an appointment with the Moonbug team at BLE 2022, visit www.moonbug.com or licensing@moonbug.com.email
Growth Potential Moonbug has an extensive IP portfolio, 29 IPs at present, some of which might be familiar to the general public and some which are still in their infancy. As expected, there are several new and existing brands for which the com pany will launch a consumer products programme in 2024 and beyond. The company recently signed Just Play as their global master toy licensee for some of their IPs. The agreement will see Just Play develop an extensive range of toy products. The portfolio of brands will include preschool fa vourites such as Little Baby Bum and Lellobee City Farm. This partnership reflects Moonbug's ongoing commit
TOTAL LICENSING 65
Blippi has experienced incredible mo mentum with continued distribution expansion bringing the content onto new platforms as well as the launch of new content formats, such as the Blippi Wonders animated show. Moon bug is currently working closely with Jazwares, the master toy partner for Blippi, as well as expanding selected products and categories that have worked well to date.
Blippi is a show that encourages chil dren's natural curiosity about the world around them. The show takes viewers on the ultimate playdate to learn about vehicles, animals, profes sions, the natural world and so much more. This is a pre-school license that is perfectly matched for key play patterns as well as other categories across Softlines and FMCG.
ties to the core themes and attributes of the show.
censed Brand (Entertainment, Charac ter, Toy Brand) at the 2022 Licensing Expo in Las Vegas.
Little Angel is Moonbug's first acqui sition since becoming part of Candle Media and it is one of the fastest growing kids' channels on YouTube. This animated preschool show is an ir reverent comedy about the wacky and fun reality of growing up. The show has been captivating families around the world with its humour, catchy and upbeat songs, and nursery rhymes. Moonbug will be announcing the mas ter toy partner for the brand soon. The company is excited about the in novative and truly unique preschool offering that is being developed, which
ment to bringing new opportunities to their fans to interact with their beloved characters and extend the storytelling to the home environment through imaginative play. Other IPs include My Magic Pet Mor phle, Supa Strikas, Go Buster, Playtime with Twinkle, Gecko's Garage, ARPO, Oddbods and many more.
The Moonbug licensing strategy is based on two pillars: excellence and accessibility. The company continues to onboard best-in-class partners and licensees capable of developing and delivering the best possible products to consumers, wherever they are, at an affordable price point. This enables its consumers to have meaningful re lationships and touchpoints with the brands they love and to continue the storytelling into their everyday lives. In alignment with the internationalisa tion of its properties, Moonbug is also expanding the geographical reach of its products, which will be a key focus for 2023.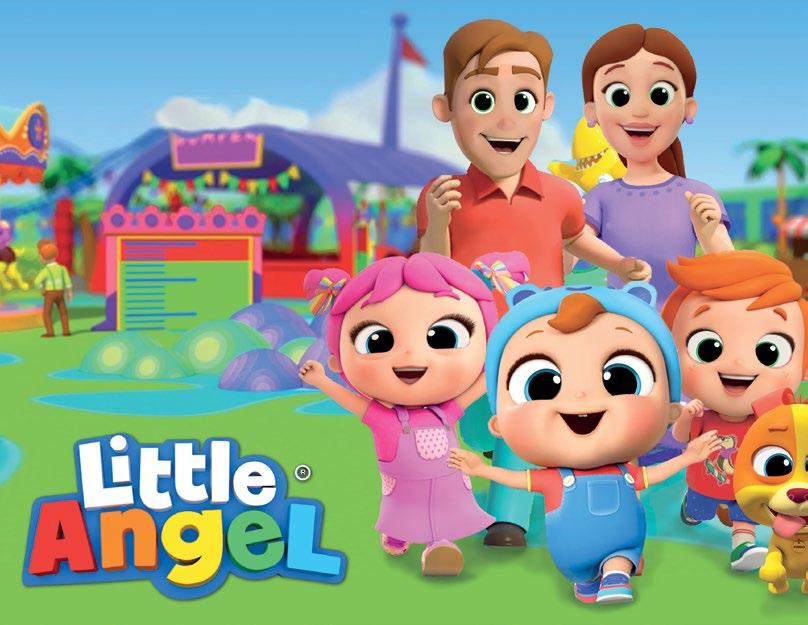 inspired the world to 'Take The Time To ThisSmile'. ambitious
66
From the very beginning, Smiley's mis sion has been to spread good news with its founding mantra, 'Take the Time to Smile.' Fast forward half a century, and the brand has done just that. The 2022 anniversary saw Smi ley amplified across the globe, filling the world with smiles through unique artists-edition collaborations along side some of the world's most relevant brands in fashion, design, beauty and Projectingfood.  the icon of defiant optimism across the globe, Smiley kick-started 2022 with a fly-poster campaign and projections across cities from Sydney to LA to deliver a Global Street Art Manifesto of Positivity. These activa tions were magnified by PR, marketing, OOH, and guerrilla advertising – and
anniversary campaign saw the brand brought to life in 98 pop up stores across 18 countries, over 60 limited edition collaborations launched in over 10,000 stores, over 3,000 media features and a social me
In its 50-year trajectory as an icon of popular culture and the subversive underground, the brand continues to be a recognised beacon of positivity.
SMILEY
dia footprint of 45million and over 200 influencers with a combined reach of 60million plus sharing their love for the brand with their audience. In do ing so, the brand once again delivered a culturally relevant message of opti mism via a fully immersive brand expe rience both on and offline, increasing global brand love and awareness.
AN AMBASSADOR FOR CHANGE
Ambitious,ranges." authentic,
Put simply, Future Positive® is an ex tension to Smiley's mission of creat ing a happier, kinder, more conscious
world. It's a first-of-its-kind initiative, working with global brands to tackle worldwide social and climate injustice through transparent and sustainablyproduced products.
By offering a platform to showcase those that align with the Future Posi tive® mindset, The Smiley Company will become an ambassador for re sponsible brands, positioning itself as a committed stakeholder in society.
with UN SDG Goals, that kick-starts meaningful engagement with consumers to build a social legacy. Smiley Movement aims to inspire positive change in society by addressing urgent societal and environmental problems, through a cross-media platform of news, videos, events and awards that connect the non-profit sector to the broader public. More than ever, the people in our world are ready to be empowered, take purposeful action, and build hope for a brighter future –and that's exactly what the movement aims to support.
It aims to elevate sales and recogni tion by supporting changemakers in the brand extension community.
Speaking about the campaign, Nicolas Loufrani, CEO comments; "The Future Positive® campaign will bring together the most future-thinking brands and manufacturers to develop sustainable lifestyle products. We want to be a positive force for change in the licens ing industry. Within 5 years we have committed that 100% of our licensees will have a sustainable offering in their
and forwardthinking, Smiley continues harnessing the power of the smile leading the world toward a future we all want to be part of.
In 2023, CEO Nicolas Loufrani is making The Smiley Company a global leader for responsible brands, driving Future Positive® businesses forward through an immersive 360° campaign.
paign that emphasises the planet and its inhabitants.
But it won't stop there. Charity is a huge part of transforming our world for the better, as Smiley knows well. This summer, it embarked on a shared mission with The Bicester Collection to support women and children with a charity collaboration. 'Take the Time to Smile' and DO GOOD saw limitededition products raise funds for chari ties supported by The Bicester Collec tion's DO GOOD programme.
Whilst this campaign amplified positiv ity to the masses, it also elevated Smi ley's purpose and helped to remind global citizens of how a simple smile can change perspectives and lives.
For the past three years, this brand mission has been realised through Smi ley Movement, a not-for-profit aligned
DO GOOD is its initiative focused on supporting 10 charities that promote and progress the self-empowerment of women and children, both locally and globally.  The campaign, running through to October, launched in all The Bicester Collection's Villages in Europe and China. Guests visiting The Bicester Collection were invited to 'Take the Time to Smile and DO GOOD' with all sales directly sup porting the charities.
Smiley
So what's next for Smiley? Following the success of the multifaceted 50th anniversary, 2023 onwards will see a double down on the positive energy generated, with a future-thinking cam
And Smiley's feel-good messages and smile-worthy moments were evident throughout The Bicester Collection's sunny open-air settings, through an exciting programme of art, music, food, and retail theatre.
Building on this vision with Future Positive® Smiley's 360° campaign will bring together the most future-think ing brands to curate a range of sus tainable lifestyle products, infused with brand experiences and charitable giving opportunities. It'll be an ambitious but necessary endeavour to execute this forward-thinking campaign that aims to inspire environmental solu tions and drive ecological transition.
TOTAL LICENSING 67
"A lot of the groundwork has been done for them and it also works fan tastically well for our clients, as we get more robust proposals and forecasts." And who are some of your clients?
TOTAL LICENSING 68
"We have the broadest retail relation ships across buyers, merchandisers, trading directors, marketing - all the contacts across all of the major retail ers. Which is absolutely invaluable to all of our clients."
"In the UK we are working with Mat tel, Crayola, Sega and more. We drive
the ranges, work closely with the li censees and we really own that retail relationship for them. On the licensing side we are predominantly kids' enter tainment and gaming, with EA, Gear box and others expanding our reach."
"When the business first started – as with every new business – we had to seek new business, but now in a very short space of time, Retail Monster is very much in demand and we are be
"Our USP sits squarely within the retail relationships that we have. We work with clients to oversee their re tail and marketing for licensing, which means we act on behalf of their con sumer products teams to drive their programmes to retail.
"Absolutely! People know we are the experts to come to."
Tell us about the gaming side!
GiantsRetailThe
Your clients must really like this!
Retail Monster – exhibiting for the first time at Brand Licensing Europe this year – was founded in 2016 by Mike Connolly. Sitting down with Gemma Witts, Managing Director International, and Liesa Dornan, VP International Licensing and Brand Manage ment, Becky Ash finds out more about the company, its strategies, and why the moniker Monster is entirely apt as it expands around the globe in a 'mammoth' way.
Gemma and Liesa explain further: "Mike Connolly, who set up Retail Monster in the USA, came from a background including Disney Consum er Products, then in 2017 expanded Retail Monster into the UK, to repli cate the success in the States. It really is all in the name – we are a licensing agent of course, but everything we live and breathe by is retail.
"We work with the gaming companies on a completely international basis. Gaming is so interesting because it can be broken down into so many, many sub-categories, and we try to help the buyers understand all the differ
So building a reputation as a go-to agent for retail?
What sets Retail Monster apart?
And how does this circular ap proach work within licensing?
ing approached all the time to bring the successful strategies we use to our clients."
"We go to retail first with a brand –guage their interest, what the hook would be for that brand or IP. We know what the range would look like, and we create the 360-degree mar keting campaigns. We effectively give licensees an order book and 'grease the wheels' for them."
ent levels that come under the gaming umbrella."
Asian retail can be complex and nuanced - partnering with the right people means we are stronger as a unit.
business and the ethos behind it?
"The other major area that we have moved into organically is franchise management – work ing with clients through every thing from content, licensing, marketing, social strategies –across the entire brand man agement. Also working with a number of production houses as well – some of the studios need the help to take their fantastic IP from the screen and into retail."
What's really working for you at the moment?
What about some of your lifestyle brands?
"We very quickly expanded into Eu rope, building the licensee base and retail network across the G5 – and we have now expanded into Asia! Using the power of the brands in our remit, including EA and Shelby – which are extremely strong in Asia.
"We have formed strategic relation ships with several Asian agents – we know our strengths and we are abso lutely stronger as a whole. This way you have the unique expertise from people who know the markets – and the relationships are very reciprocal.
TOTAL LICENSING 69
"Retail Monster really is unique with its mixture in invaluable experience, 360-degree strategy – we are om nichannel, across bricks and mortar, digital, our team 'speak Amazon', ecommerce, which has enabled us to facilitate our partners and help them to manage their businesses. The team have incredible backgrounds, with many coming from Walmart, Target, Sainsbury's and so on, so Retail Mon ster really brings unique expertise to its clients."
Gemma WittsLiesa Dornan
"On the kids' entertainment side, a big property for us is Karma's World – it launched on Netflix and the CP line went live in the middle of July. Mattel is the master toy partner, and there are huge programmes and plans lined up in the next few months. It really has been a dream to work with generating great interest from retailers – there is a very wide programme building with Asda. It is a property that is very con temporary, very now, born in diversity and inclusion. It is what the retailers want but it is also a wonderful proper ty, tying in with self-expression, dance, all things that girls enjoy.
"The other major ones for us are Cry babies from IMC which has had a fan tastic launch of the toy line and mov ing into the licensing programme, this will launch very early next year, in cat egories including apparel, accessories, publishing and back-to-school.We also have classic favourite Chuggington."
Now, tell us about expansion plans for Retail Monster.
Can you sum up in a few words your passion for the
"This is a real eclectic mix! From Cray ola to Harlem Globetrotters! There is a real demand from UK retailers for American Sports brands. We also have Shelby, the classic car brand."
ables shows the Asmodee licensing program is widening across markets, bringing products to a broader spec trum of fans.
In July, interviews confirmed two projects in the works for statues and busts. Dream Figures, based in Spain, are working on a line of Arkham Hor ror statues and, although we have not seen a huge amount of detail so far (we expect further details will be an nounced by Asmodee Entertainment as part of BLE), looking at Dream Fig ures previous lines it is safe to assume these will be epic centre pieces for fans to proudly display and enjoy. There is also a line of Twilight Imperium stat ues from Silver Fox Collectibles in the pipeline, with an initial launch planned for four pieces between 1/8 and ¼ scale, bringing characters from differ ent factions within the game universe to life in full, 3-dimensional glory.
Asmodee Entertainment
Unlocking the licensing potential for board game fans
Something for everyone
TOTAL LICENSING 70
Tabletop Gaming –the growing licensing craze There was a time when the term 'tabletop gaming' would have us think ing of characters like those in The Big Bang Theory, a group of thirtysomething single males rolling strange shaped dice and pushing model dwarfs around a mat. Over the past decade, however, the hobby has grown signifi cantly, with family games like Dobble
The Dobble graphic novel will be first released in the US sporting the North American brand name "Spot it!".
Iconic game mascot Dobbly and his friends embark on a beautifully illustrated adventure which will also feature elements of the game experience itself.
Licensing teams across the globe are preparing for Brand Licensing Europe, the biggest European licensing show of the year, and the folks Asmodee Entertainment Limited are no excep tion. As part of the Asmodee Group, one of the global leaders in boardgame publishing and distribution, the team have access to a wealth of options for licensing with a huge portfolio of over 300 brands, including family favourites Dobble, Ticket to Ride and CATAN through to boardgame hobbyist titles like Arkham Horror, Twilight Imperium and Legend of the Five Rings. With this catalogue of intellectual property, it is no surprise to see licensed products headed for the shelves as more and more partnerships are announced. We take a look at what Asmodee Enter tainment have been doing since their first exhibit at Brand Licensing Europe 2021.
For those fans who are not quite ready to host a ghoulish statue in the centre of their living room, Asmodee Enter
and Ticket to Ride being household names in many parts of the world with dedicated slots on the shelves of mainstream supermarkets and high street stores. The pandemic has re kindled the love of gaming for many. With families looking for alternatives to screentime during lockdown con sumers have reached out beyond the world of Monopoly, and with the in troduction of Asmodee's Print & Play initiative players were able to discover new favourites without leaving their living Althoughrooms.restrictions have been lifted in many countries, more households and friend groups than ever are mak ing time to enjoy these games togeth er. And with this ever-growing fanbase comes demand for additional prod ucts. Enter Asmodee Entertainment Limited! After initial successful part nerships with the likes of Hot Topic for t-shirts and Dark Horse for artbooks, Asmodee cemented itself as having a brand portfolio with transmedia ap peal by announcing deals with Radar Films, who aim to bring Werewolves of Millers Hollow to the big screen, and Hourglass Escapes who launched the Mystery at Innsmouth escape room based on the Arkham Horror game. And the latest wave of press releases and interviews discussing projects like cookbooks, statues and metal collect
At the centre of any fanbase are the hardcore fans, and tabletop gaming is no exception. These hobbyists thrive on games set in deep worlds with deeper narratives, games like Twilight Imperium and Arkham Horror that embrace intricate gaming mechanics and take several hours at a time to play. With players willing to dedicate their free time to these titles, it is un derstandable that demand for licensed products is not just about quality but that unique desirability. Fans of these games want that something extra, something they can show off to their social circles who are also playing these games – an extra trophy that goes beyond winning the round.
TOTAL LICENSING 71
As if all these announcements were not noteworthy enough, it was con firmed earlier this year that Asmo dee Group has joined the Embracer Group. With head office in Sweden, the Embracer Group spans over 40 countries. The Group announced re cently it would be adding to the ex isting franchises, which includes Saints Row, Goat Simulator and World War Z, with its acquisition of Middle-earth Enterprises which has licensing rights
With that fitting wrap-up we leave the Asmodee Entertainment team for this issue.
release later this year. This story fol lows Dobbly, the lovable anthropomorphic mascot from Asmodee's best seller Dobble (known as Spot It! across North America) on an adven ture, solving puzzles and making new friends as he goes. This funny tale with colourful artwork will have fans of all ages entertained.
The cover art of the latest game in the Twilight Imperium franchise "Twilight Inscription" illustrates several key factions of the universe.
Find the team on the BLE Match maker or pop by their stand in the centre of the hall at B221.
to The Lord of the Rings and The Hobbit among others. With all these exciting projects across the Group, we asked one of Asmodee Entertain ment's Licensing Managers, Alexander Thieme, what can we expect to see from Asmodee Entertainment at the "Aftershow? the successes of the past year, we're very excited to be exhibiting again at Brand Licensing Europe. With Exploding Kittens joining our broad spectrum of Brands this year, family brands like Dobble, CATAN and Tick et to Ride expanding and much, much more going on, there will be lots to talk about. I can't give too much away here yet, but there will also be project updates and sneak previews for at tendees to see what we have been up to, and our very own Dobbly will be making a guest appearance over the course of the show, happy to join self ies and photobomb the odd shot of the fair itself. We are open to all cre ative licensing opportunities, so if you have an idea or want to see how table top gaming could widen your audience come and meet us at stand B221, we'd love to talk. Some of the greatest li censing cooperations started with a simple chat and the words 'Mmh, just out of curiosity…'."
What's next from Asmodee Entertainment?
The announcements did not stop there. In May, the team announced that fan favourites Ticket to Ride and CATAN, which has sold more than 40 million copies across 40 different countries, will soon be coming to din ing room tables in a way never expe rienced before. With cookbooks from Ulysses Press, these titles will be filling kitchens with wonderful smells and delicious tastes, as well as the levels of joy one would expect from the social aspects of cooking and gaming com Thebined.younger
tainment's most recent press release announced their partnership with the award-winning gift and collectibles li censee, Fanattik. Covering titles like Ticket to Ride, which has sold over 10 million copies, as well as some of Asmodee's other big titles including Arkham Horror, Twilight Imperium and Legend of the Five Rings, this deal will see beautiful metal collectibles hitting pop culture retailers across the UK and Europe. These products will appeal to all level of fans as more subtle yet equally stunning additions to their homes.
audience are also ca tered for, with the Double Trouble graphic novel from ABLAZE due to
The Ghoul Priest is one of the most iconic monsters in the Arkham Horror card game, one of the many games of this franchise.
It is clear that by licensing to these wider, and in some cases niche, mar kets Asmodee has established itself as an owner of lifestyle status brands that mass market audiences can en joy, whilst offering the collectability status that hardcore fans will engage with. Asmodee prides itself on having a 'Game for Every Gamer', and it would appear the team at Asmodee Enter tainment are trying to expand on that to include a licensed product for every audience.
it was announced that Reebok's ear lier Jurassic Park-inspired footwear and apparel collection from last year had been nominated for Best Licensed Collaboration at the 2022 Licensing International's Excellence Awards –Reebok's Dominion-inspired collec tion just launched in August.
UNIVERSALLY STYLISH!
remains one of NBCU niversal's strongest licensing categories. The company has worked with high-end de signers and luxury brands, mid- and mass-market retailers, independent fashion houses and streetwear brands that TikTokers and celebs love, throughout North America, EMEA
"Movies and fashion have always been natural partners," says Marc Low, Se nior Vice President and General Man ager, Global Lifestyle at NBCUniver sal, "but that partnership has evolved over the years and become far more sophisticated. It used to be about slap ping logos on t-shirts. Today – for us at least – it's about choosing our partners carefully and working closely to produce ranges that put fashion first. We want these collaborations to resonate with consumers and bring them joy, whether they're indulging in a "nostalgia moment" or simply de claring their fandom of a movie or TV show."Apparel
TOTAL LICENSING 72
NBCUniversal has long been at the forefront in fashion licensing, with its blockbuster and classic properties –from Minions to Monsters – providing an endless source of inspiration for designers. Total Licensing takes a clos er look at its latest fashion collabs, and at how the company stays at the cutting edge of an ever-evolving industry
The partnership between fashion and celluloid goes back a long way. The film industry in the 1930s and '40s used couture to "sell" movies, enticing viewers to cinemas to see the latest designer gowns as worn by their fa vourite starlets. Later, in the 1960s and '70s, fashion companies came to re alise that using movie and pop culture iconography offered a powerful way to grow brand awareness, and fashion licensing as we know it was born.
an extensive range of casualwear and accessories paying homage to the Ju rassic franchise, including a first-ever collection with female-fan apparel company, Her Universe; U.S. swim wear retailer Chubbies produced a bold and bright collection of men's dino-branded swimwear; while in the kidswear sector, Copenhagen-based Molo unveiled a Jurassic World cap sule collection that brings the movie's spectacular dinosaurs vividly to life on T-shirts, sweatshirts, shorts, hoodies, bomber jackets and more. Meanwhile,
and Asia. "The fact that we have such a wide reach is testa ment to the cultural resonance and the sheer scale of our portfolio of enter tainment properties, which stretches back more than 100 years," says Marc. "Our brands are popular globally, and we have a wealth of experience in bring ing successful fash ion collaborations to market, from initial conception to retail."
The release of Universal Pictures and Amblin Entertainment's Jurassic World Dominion this summer saw a host of dinosaur-inspired fashion col lections taking over the stores. Pop culture retailer Hot Topic dropped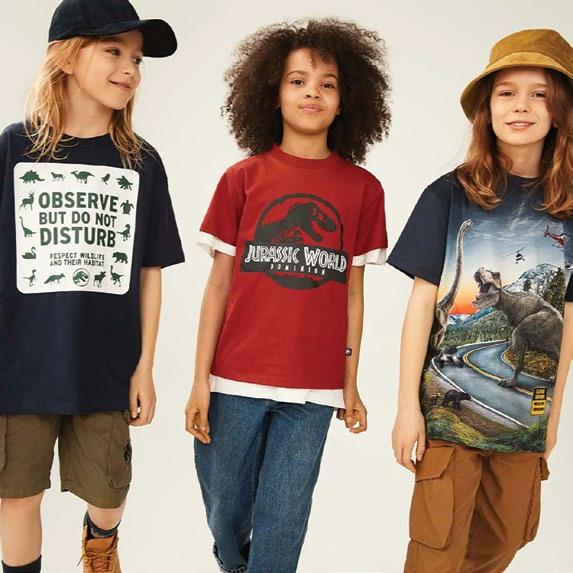 "The Jurassic World franchise is glob ally recognised, and it appeals to all ages," says Marc. "The original Jurassic Park was watched by today's adults when they were kids, and they still ex ert a strong emotional pull. Now their kids are watching the original movies as well as the Jurassic World movies, and we've also extended the franchise with animated series Jurassic World: Camp Cretaceous, which means the brand is drawing in new fans around the world all the time. From a fashion licensing point of view, the opportuni-
ties are constantly evolving, which is very Summer'sexciting."other smash hit, Universal Pictures and Illumination's Minions: The Rise of Gru, also captured design ers' imaginations. Stand-out fashion
"OurKhalifa.partners
for a multitude of UBD properties, including Kung-Fu Panda, Minions, and Woody Woodpecker. At the luxury end of the market, Jere
TOTAL LICENSING 73
a Good Luck Trolls capsule collection for Moschino as well as a horrorthemed Moschino resort collection that took place at the Universal Stu dios Hollywood Backlot revealing pieces inspired by Dracula, The Mum
my and other Universal Classic Mon sters. But perhaps the ultimate hom age to NBCUniversal's storied history came from Gucci in its Love Parade collection, which featured key pieces emblazoned with the classic 'Universal Studios Hollywood' logo, including a crystal cotton sweatshirt and crystal embroidered denim jacket.
"Universal has an incredible history, certainly," concludes Marc, "but we're constantly innovating, continually cre ating – and that's equally true of the fashion industry. It's about celebrating the past while looking to the future, and we think we've got the balance just right."
come back again and again for repeat collections, and work with multiple NBCUniversal proper ties," explains Marc. Japanese label Milkboy, for example, has paid fashion homage to both Good Luck Trolls and Universal Pictures and Amblin Enter tainmen's E.T. hasbasedwhileWorldandBackrangesHypetheStuffRichieforearlieranOIOISouthExtra-Terrestrial;theKoreanbrandhasproducedE.T.rangeandcollectionsFelixtheCat,Rich,HotandCasperFriendlyGhost;hasreleasedbasedontotheFuturetheJurassicfranchise,Singapore-UrbanRevivocreateddesigns
of release, and Japanese graphic artist Verdy's second Minions cap sule collection, featur ing his signature VICK character alongside the mischievous Minions on skateboards, hoodies, caps, T-shirts and more – selling out within 24 Blockbustershours. may guar antee headlines, but NBCUniversal's Vault, the home of its classic properties across film and TV for more than 100 years, has also long been a trea sure trove for designers seeking in spiration. Felix the Cat, the first-ever animated movie star, was the star of a recent collegiate-inspired collection from Levi's, appearing on vintage-style preppy pieces including rugby shirts and varsity jackets. Similarly, heritage comic-book character Hot Stuff: The Little Devil has been made the star of a contemporary streetwear collection from California-based Broken Promis es, a brand beloved of celebs including Miley Cyrus, Machine Gun Kelly and Wiz
moments included Lyrical Lemonade's Minions collection of letterman's jack ets, tees, hoodies, scarves and acces sories – selling out in mere seconds
Studio 100 Group company in co-production with ZDF German Television Network in association with Studio56
SomethingAnimation.
Targeted at kids 6-10 years 100% Wolf – The Book of Hath is produced by Flying Bark Productions in association with ABC Australia and SUPER RTL, and Perth based production company Siamese is co-producer.
The mighty Vegesaurs (20 x 5') will be making their debut at this year's BLE and MIPCOM 2022. Produced by independent Australian producer Cheeky Little in association with the Australian Broadcasting Company (ABC), France TV and Studio 100, the comedy-adventure, CGI animated series is based on a concept created by Gary Eck and Nick O'Sullivan and targeted at upper pre-schoolers aged 4 to Vegesaurs7.
strange is going on in Centopia: The primeval continent of Centopia is floating back to the Head Island. At the same time other un known islands with unknown inhabit ants are drawing nearer…with their kind or evil intentions…
and me is a fantasy, adventure series with a mix of live action and 3D animation targeted at girls 5 – 10 years of age. It's produced by m4e a
Freddy and the Howlington pack go paw to paw with ancient dark magic in an epic battle through time and space to save Milford, Werewolves, and the world as we know it.
Werewolves joining normal human society has not worked out well for Freddy and his ex-Howlington bud dies. The Night Patrol has been rel egated to desk jobs and the Way of the Wolf has all but been forgotten. But when strange creatures start ap pearing in Milford and a powerful sorceress from the distant past threat ens his very existence, this fluffy pink were-poodle leads his friends through another series of hilarious action ad ventures and proves he is 100% Wolf.
Media will also be offer ing Season Four of the internationally popular and highly successful brand and fantasy-adventure series TV series Mia and me (26 x 23') and Season Two of the comedy-adventure CGI series 100% Wolf – The Book of Hath (26 x Mia22').
are the juiciest and crunchi est creatures ever to rule the planet in a colourful prehistoric era. The young Tricarrotops Ginger lives in Vegesaur Valley, a little garden of Eden bathed in sunlight with nutrient-rich soil, lush
Pea-Rexes. The stories lean into relatable themes for upper pre-schoolers like mealtime, sharing, friendship and Whatplay.
STUDIO 100 MEDIA TRAVELS IN TIME WITH VEGESAURS!
vegetation and even temperatures… A perfect patch that a rich ecosystem of the Vegesaurs call home. Each episode is a standalone mini-adventure driven by Ginger and her friends, the baby
Makes It Stand Out? A fresh and unique take on the dinosaur genre with characters you can only find in this show. Vegetables were never so much Studiofun!100
TOTAL LICENSING 74
TOTAL LICENSING 75
France and Fashion are two items which have always gotten along. And that's something the TF1 Licensing Team knows well! Very lucky to have some great evergreen brands, TF1 Licensing has been expanding on the fashion side with amazing collaborations and cobrandings.
Barbapapa universal identity. A French collaboration, which has spread widely and globally, especially in Asia, where the range has been a great success!
But back on fashion, with a sustainable twist. TF1 Licensing's long-lasting partner and major actor in the licensed textile industry Sun City has been innovating a lot on the field
great partnership confirming the place of Barbapapa as major brand in the licensing industry.
Focus on Fashion:
with the brand Ushuaïa. As part of TF1's heritage brands, Ushuaïa invites the public to travel, to discover the world, but also to protect it. Related to the channel Ushuaïa TV and the program Génération Ushuaïa, it has attracted many partners who are willing to create products with a sustainable dimension. Sun City is one of them. In 2021, they created several ranges of textile and accessories with sustainable fabrics and production processes to show a wide audience that it is possible to help protect the
Live Experiences and fashion are the focus at this year's BLE
With BLE coming up very soon, it's time to discover what's new on the TF1 Licensing's side.
Earlier in 2021, Patou, from the LVMH Group, has chosen Barbapapa for a new collection combining pop and nostalgia available all over the world and in France at Le Bon Marché (famous Parisian department store). A proof that Barbapapa appeals to adults as much as children. This cobranding was accompanied by a large social media campaign, adding the Lifestyle to
Barbapapa is a 360 brand, and this has been much highlighted by the BarbaLouvre partnership. Indeed, in 2021-2022, the Barbapapa entered the most famous museum in the world, the Louvre. This major partnership started with a book telling a story of the Barbapapa family taking place inside the museum, then grew bigger with the launch of a range of cobranded BarbaLouvre products. In this arty collection the Barbapapa family appears re-creating the famous pieces of art from the Museum such as Mona Lisa embodied by Barbabelle. Sweaters, t-shirts, jewels, but also notebooks, pens and a memory game are still available at the Museum shop, the online shop and the Galeries Lafayette Haussmann and online. And to conclude this partnership, a bit of Live Experience has been added to this wonderful recipe with the Barbapapa workshops inside the Louvre Studio during the Summer. Children were able to play with their favourite characters on a giant memory game, a giant colouring poster, but also stop motion workshops and a meet and greet with the mascot. A
environment with style! TF1 Licensing is really proud of this partnership and is committed to take the textile licensing industry further. This is how TF1 Licensing also partnered up with Label Chaussette on the brand KohLanta (the French version of the Survivor format) for 100% Made in France socks. A real success with a sold-out range of products, proving once again that fashion can go with Licensing… and sustainability!
76
m² and will be ideally located within the brandnew Leisure Centre of Mulliezownedestatemixedbycentre,Flandre"-"AUSHOPPINGthePromenadedeshoppingmanagedNhood(arealoperatorbytheFamily
Many more Live Experience projects are developmentundersatthe moment so stay tuned for more TF1 Licensing's good news and visit the Team at Brand Licensing Event, Booth C220!
Focus on Live Experience:
Another strategic pilar of TF1 Licensing's developments is the Live
TOTAL LICENSING
cruise offers an alternative way to visit Paris on the Bateaux Parisiens boats with Ladybug and Cat Noir. For the first time in France, fans are able to enjoy a unique experience combining treasure hunts and immersive theatre in the company of their favourite heroes. A one-hour trip along the Seine to learn more about the most beautiful monuments Paris has to offer. A wonderful experience created in partnership between les Bateaux Parisiens (Sodexo group), TF1 Spectacle and TF1 AfterLicensing.the success of the first TFOU Parc launched in September 2021 at the Evry 2 shopping centre, the TFOU Parc family is expanding with the opening of a new indoor park in December 2022. Even bigger than the first one, it will cover 3,700
For 3 years now, TF1 Licensing has met a strong demand from the public for fully immersive experiences thanks to the development of Live experience
The Smurfs are also very fashionable, aren't they? In 2020, they were in a wonderful cobranding with Supreme for a streetwear collection of clothes and accessories. Those products were sold in France at Le Bon Marché, along with special products made for the occasion. This cobranding has attracted the biggest stars of the era, such as the soccer player Neymar and soccer world champion Paul Pogba, who showed that it is really fashion to wear blue. And that's why the Smurfs are part of many apparel partnerships, last year with the French brand Don't Call Me Jennyfer and more recently with brands such as Romwe or Pull & Bear. Some really exciting fashion cobrandings with the Smurfs will soon be revealed, so stay tuned!
Experience. Launched in June 2022 the Miraculous Cruise is the upmost experience for the Miraculous fans! The first immersive, playful Miraculous
Association). Result of a unique collaboration with TF1 Licensing, the announcement of this second opening is in line with Indoor Park Entertainment's ambition to create a national network of indoor leisure parks immersing the public in the fun and crazy world of the TFOU brand and its Hoofs band!
Itprojects.started with the opening in 2020 of the first Camping Paradis vacations. This network of camping grounds under the colours of the TV show counts today 75 spots, over 700 000 vacationers and keeps getting bigger and stronger. After only 2 years of existence, it has received the prestigious label of French people Favourite Brand in the camping category. A huge success TF1 Licensing is proud to be part of with its partner Les Vacances Camping Paradis.
The World of The Snowman™ will be paying tribute to author-illustrator Raymond Briggs this year following his recent and sad passing. The World of The Snowman™ is marking two an niversaries this year: 40 Years of The Snowman animation and 10 Years of The Snowman and The Snowdog. Penguin Ventures will ensure that this magical brand continues to be a core part of yearly festive family celebra tions. During 2023 they are focus sing on themes of travel, mindfulness and dreams, we anticipate a multitude of commercial opportunities for our 2023partners.will see the 100-year anniver sary of Cicely Mary Barker's exquisite Flower Fairies™ These beautiful il lustrations will be showcased on the
Eric Hill's loveable Spot continues to appeal to families around the world with recent audience insights demonstrating even greater global brand awareness and affinity. In 2023 Penguin will be exploring themes of friendship, kindness and wellbeing– promoting Spot as the ideal companion for little ones' first experiences, targeting parents and carers of 0-4 year olds.
TOTAL LICENSING 78
Rabbit even more prominently in the cultural landscape.
stand to offer inspiration for potential collaborations throughout next year and would translate beautifully in lifestyle, homeware and fashion spaces to name a few.
Penguin Ventures commented, "We look forward to meeting with licens ees and partners to involve you in our plans and to discuss opportunities across product, experiences, and the digital landscape at BLE. Stand C170."
Penguin Ventures, the licensing and consumer products division of Penguin Random House, will be showcasing its portfolio of iconic literary brands and characters at BLE 22.
Off the page and on an adventure!
Penguin Ventures shares 2022 highlights and ambitions for 2023
2022 has been a big year for Penguin Ventures with some key anniversaries that have elevated its IP. Peter Rab bit™ celebrates his 120th birthday throughout 2022 with a high profile, purpose-driven campaign that has en abled Penguin to bring this iconic, clas sic character to new and diverse audi ences via the new initiative, Grow with Peter Rabbit launched in partnership with Meanwhile,Grow2Know.looking ahead to 2023 there is a unique opportunity with the Year of the Rabbit, during which the company will continue to expand The World of Peter Rabbit. The familyfocussed campaign will position Peter
Can you tell us about the progress of Pip & Posy?
Pip and Posy is consistently in Milkshakes!'s top three rated shows and the feedback from the team there and at Sky Kids has been wonderful. We are delighted that a second series has been commissioned for 2023.
Lastpractices.year we joined Products of Change who have helped us develop sustainability strategies and improve the quality of our products without hitting margins.
TOTAL LICENSING 79
Key challenges continue to be around manufacturing costs and logistics.
It's taking much longer to get stock into distribution centres which is throwing traditional product develop ment timelines out of kilter. However, times of disruption can also bring op portunities for licensees and retailers as it forces them to step out of their comfort zones and find new ways of doing things.
The whole company is engaged in minimising the negative impact we have on the environment. We use a 100% green energy provider, couriers that offset all emissions and electric vehicles where possible. Our produc tions are now Albert certified, which is the industry body for sustainable
How do you keep The Gruffalo brands fresh and try to find new ways to connect with audiences?
We are also launching a sustainable packaging style guide to help licensees lessen the impact of their packaging. This area is rapidly developing and we are keen to adapt as technology and infrastructure improve. MAGIC LIGHT PICTURES
Sustainability is important to you – how is this reflected across the business?
The Smeds and the Smoos features the cosmic adventures of two families on a far-off planet who always avoid each other. It has a wonderful voice cast including Sally Hawkins, Adjoa Andoh, Bill Bailey, Meera Syal and Rob ToBrydon.celebrate the launch of the film on BBC One, Aurora have developed a beautiful set of plush and Sainsbury's will launch a range of nightwear. We also have a gift line launching with Star TheEditionsChristmas broadcast slot on BBC One has become so synonymous with our Donaldson/Scheffler adaptations that each year it gives us an oppor tunity to represent all of the charac ters through retail ranges. Sainsbury's, M&S and NEXT will all have fabulous multi-character collections launching this A/W.
On the licensing front we have signed our first phase of licensees in Amscan, Ravensburger, Tonies and Star Editions and are now excited to present the property at BLE and appoint licensees across more categories throughout the Autumn.
What do you think are the biggest challenges or opportunities in the changing retail landscape?
We had a clear strategy when we launched the licensing programme in 2009, to create an evergreen brand by focusing on quality and authenticity
with every product and live experi ence that we produce. We work with brilliant partners across all categories, particularly in live events with partners such as Mer lin, Twycross Zoo, Forestry England and Royal Botanic Gardens, Kew and Wakehurst. These events are key in creating additional touchpoints for audiences to interact with our brands outside of the books and films.
BAFTA-winning 2022/23.storeoutlinesAidanHeadPipasAxelillustratedJuliawrittenbasedcharacterhugely-popularmanagesMagicproductionbrand-buildingOscar-nominatedandandcompanyLightPicturesthebrandsonbooksbyDonaldsonandbyScheffler,aswellpre-schoolseriesandPosy.ofLicensing,Taylor-Gooby,what'sinforitsbrandsin
This Autumn we're introducing chil dren's apparel to our existing range at lifestyle retailer Joules and have just launched a new range with retail gi ant Primark. We also have a Room on the Broom trail at Wakehurst Gar dens at October half term and Zog Trails with Forestry England. In 2023 we are launching plasters with TSL, a babywear line with Baby Mori and a home-baking range with Fiddes Payne.
The World of
What exciting collabs/events have you got coming up for the Gruffalo brands this year?
Can you tell us more about your tenth TV adaptation of a Donaldson/Sheffler book –The Smeds and the Smoos –for Christmas 2022?
New series of Bluey and Hey Duggee have recently debuted on Disney+ and BBC iPlayer respectively and are the standout brands on offer from BBC Studios, in a portfolio which also in cludes Doctor Who, Top Gear, Only Fools and Horses and BBC Earth.
third series recently launched
TheCentre."launch
The much-loved preschool hits have benefited from a licensing strategy built on BBC Studios global infra structure and a network of broadcast ers, agents, and licensees around the
Bluey'sworld.
BLE offers a chance for BBC Studios to showcase its winning brands and the formula for success which is root ed in its quality content and global reach.
BBC Studios' hot dogs aim for best in show!
BBC Studios have signed up an impres sive roster of global partners including master toy partner Moose Toys and master publisher Penguin Random House as well as multi-territory deals with Crayola, Hasbro, Ravensburger, Stor, Amscan International Lim ited and VTech.
Towers Re sort. Later this year we'll be taking Hey Duggee The Live Theatre Show on tour around the UK, following a Christmas run at London's Southbank
on Disney+ around the world, fol lowing a premiere on ABC in its na tive Australia. The show's fanbase has grown rapidly since launching in 2018 and the licensing programme is still relatively young with products launch ing in the US in 2020, UK last year and expansion in EMEA throughout 2022
Award-winning children's animation series Bluey and Hey Duggee are the biggest draw for BBC Studios licensing programme at BLE.
Andrew adds: "The rollout of Hey Duggee is led by broadcast partners and we have appointed leading broad casters including Clan and France 5 (in Spain and France) with the consumer products programme following that
of BBC Studios' new Kids & Family division will also deliver a new pipeline of content which will rely on the same global infrastructure and international reputation in order to drive new business.
TOTAL LICENSING
Andrew Carley, Di rector, Global Li censing at BBC Stu dios, says: "We have great partners on board for Bluey, who understand the DNA of the brand and are commit ted to the same values as us. This goes as much for our regional licensees and licensing agents as for our global partners. We recog nise that longevity is built on ensuring the CP programme captures the unique essence of the TV show.
now on its fourth series and with a recently announced theatre tour beginning in December, also has a solid platform for growth, but is more
80
"With our existing infrastructure of multiple international licensing offices, relationships with leading licensing agencies and regional licensing special ists, BBC Studios is ideally placed to build long-term global licensing pro grammes, and that's what we're doing for HeyBluey."Duggee,
Q4 product launches for 2022, sup ported by some of the biggest names in consumer and lifestyle products. Partners include Bioworld, with a fan tastic range of branded apparel and accessories, Character World with a cosy range of bedding, HarperCollins Publishers offering the Squishmallows Collectors Guide, Aykroyds and TDP Textiles with nightwear, loungewear, swimwear and underwear collectively and Crackerjack UK Ltd launching Squishmallows lip and nail products.
Recognisingusers.
Since Squishmallows' debut in 2017, the brand has become known for its ultra-soft feel and adorable designs, delighting fans of all ages with the Squishmallows' unique and lovable personalities. This year Squishmallows took the US toy industry's top honour, the Toy Association's coveted overall
JAZWARES SQUISHMALLOWSBRING®TO BLE
the brand's vast global audience and multi-generational ap peal, Jazwares created its premiere Squishmallows global licensing programme last year in the US and following its success the UK will debut an extensive UK pro gramme with some very exciting Q3/
On social media Squishmallows con tent has officially squished through the roof, generating over 7 billion video views on TikTok and @squishmallows (and related hashtags) tagged in more than one million Instagram posts. Additionally, the Squishmallows social me dia channels have ballooned to more than 827,000 followers and nearly 100 global and local Facebook groups have been created by fans. In the metaverse, recently launched Squishmallows on Roblox continues to surprise and delight fans of all ages ascending to the #1 toy game by con current players with a massive 5.3m registered unique
TOTAL LICENSING 81
UK Squishmallows sales have doubled in 2022, achieving mind-blowing rates
of sale of over 100 at toy specialists whilst ranking as the 2nd fastest grow ing property on UK NPD. The brand is set to double sales again moving into 2023 with over 250+ new Squishmal lows entering the UK market. Incred ible results in the toy aisle are fur ther fueled by out-of-aisle activations across all major retailers supported by a robust marketing campaign where the UK's biggest TikTok stars showcase their Squishmallows squads.
Attendees of BLE are encouraged to experience the Squishmallows lifestyle at stand B200.
Jazwares, a global leader in toys and li censing celebrating 25 years of innova tive play, is heading to BLE, Stand B200, with its hugely successful plush brand TheSquishmallows®.teamwillbe snuggling up to new UK licensing partners, to create mean ingful product extensions for UK fans and collectors, as Squishmallows con tinues its evolution into a powerhouse lifestyle brand.
Toy of the Year award, while also hit ting the monumental milestone of 125+ million plush sold globally.
"We have also confirmed dates for our Summer 23 conference which will take place on the English Riviera in Brighton on the 28th and 29th June. I have organised a VIP Black Tie and Posh Frocks dinner on Day One at the Metropole Hotel, and to end the conference there will be a party on Brighton Pier with Fish and Chips and drinks. I'm sure it is going to be lots of fun. Both conferences are now on sale and if you are an international retailer or licensee the event is free for you to attend. I look forward to seeing you all next year," adds Ryan.
seum in Euston London on the 18th and 19th January 2023. Two days of brands including – Mattel, Battersea Dogs Home, Retail Monster, SEGA, Warhammer, Start Licensing, Kelebek Media, Acamar Films Boat Rocker Stu dios and Penguin Ventures."
82
Brands and Retail UK Conferences firmly cemented in the UK Manufacturing and Retail calendar
TOTAL LICENSING
ger with 38 brands taking part over the two days. I was able to tweak the format slightly and brought in a Re tail Buyers panel – with ebay, ASDA, character.com and Boots giving their thoughts on the UK retail business. The support I received from the event sponsor, 'Fabacus' a great new retail and licensing tech company as well showed that a NEW event was needed and that change is good some
As VIP screening conferences go, the Brands & Retail conferences couldn't be more VIP. Setup in early 2022 by Ryan Beaird – a UK industry IP expert and licensing industry junior veteran – Brands Retail UK is designed for brands to present in a targeted way to a room full of key decision makers. The audience is curated with only senior executives from Retail and UK manufacturers that partner with brands for consumer products.
"When I first pitched the concept and conference to Paramount, Hasbro, Mattel, SEGA and others it became apparent the industry had needed this type of conference for years. We launched the first event in January 2022 and the support was incredible. I made a decision on stage in my open ing speech that we due to such high demand from brands wanting to pres ent new IP's, existing IP's or corporate updates to their key partners that a summer conference was needed," says Ryan Beaird, CEO Imaginators Events
Thetimes."diversity in brands taking part made it even more exciting for retailers like Tesco, ebay, Sainsburys, Boots, Vanilla Underground and more. We had the V&A, the Football Association, Licensing agents such as Retail Mon ster, Start Licensing and Lisle Licensing. There are too many to mention but the breadth of content the audience was watching is what made it a great "Soevent."now I am delighted to announce our 2023 events which will be even bigger but still have a VIP element." "Brands Retail UK Winter 2023 will be at the Wellcome Collection Mu
"I have only 18 fifteen-minute presen tation slots so if you are an interna tional brand reading this and want to target the UK market in a very direct way Brands Retail UK conference is perfect for you."
"TheLtd. summer 22 event was even big
Oggy Oggy's colourful universe has also grown into the digital sphere with a website featuring fun activities for fans and a dedicated YouTube channel with exclusive short episodes, music and dance videos inspired by digital trends. The YouTube channel will also be the home of exclusive video content featuring toys from Simba's new range, encouraging children to discover their favourite characters that will soon be available in toy aisles. The brand can also be discovered on Instagram, where Xilam Animation has created a dedicated account, as well as via an Eshop launching Autumn 2022. Also featuring is Lupin's Tales, a comedy series for upper preschoolers, which airs internationally in over 15 countries and has sustained impressive success in China.The series
Following2022. Xilam's new master toy partnership with the Simba Dickie Group, the first Oggy Oggy toy range will launch in stores across France, Germany and Italy for Christmas 2022, with an extension into main European markets in 2023. The collection spans plush, figurines, playsets, accessories and vehicles inspired by the world of Oggy Oggy for children aged 3–6 years. Xilam is currently looking for further partners to expand the brand's licensing programme across games, gifting and apparel.
Xilam will also bring new properties
For Zig & Sharko, Xilam has established a robust digital presence, which includes over 27M subscribers and 13.5B views on YouTube, 1.3M fans on Facebook and 1M followers on TikTok. Its recently launched spinoff The Adventures of Bernie has also made its own digital mark, already gaining 450k subscribers and 50M views on YouTube. Xilam is looking for partners in plush, toys and games, educational apps and accessories to expand the brand's merchandise offering.
TOTAL LICENSING 83
Alongside this is Where's Chicky?a short-form non-dialogue comedy series produced by Xilam's Cube Creative. The series is targeted at a cross-generational audience and sees an adorable little chick turn up in a new environment or discover a new object in every episode. Where's Chicky? has established an impressive YouTube presence, accumulating 3.4M subscribers and 5B views to date with particular success in the Americans and Asia, the first seeing combined lifetime views of 1.8B and the latter achieving 138M lifetime views in Indonesia alone. In China, Where's Chicky? was 2021's number one most viewed slapstick across all VOD platforms, and number two for best international kids' series on Tencent Video, accumulating 3.5M views across all platforms for its second season. Now, Where's Chicky? also has a rapidly expanding linear and SVOD platform line-up, which includes FRANCE TV (France), Sky Kids (UK), YLE (Finland), TV Astro (Malaysia/ Brunei), GMA Philippines and Radio Canada to name a few.
Space Goofs and Ratz to BLE, which are available on Netflix and both have enthusiastic fan communities. The series have also found popularity on TikTok, earning over 6B views coupled with an engaging challenge for Ratz dubbed #RATZ. Xilam is building retro lifestyle inspired merchandise programmes for both brands targeted at young adults and millennials.
In addition, Xilam has also built a robust presence for the brand on social media and Where's Chicky? has now generated over 1.6M followers on TikTok with 6.8M likes on the platform. Xilam is looking to expand its merchandise offering with a focus on plush, toys and games, educational apps and accessories partners.
BLE slate is Oggy Oggy – a preschool spin-off from its iconic and internationally loved Oggy and the Cockroaches franchise. The first season debuted globally on Netflix in August 2021 and launches on key European free-to-air broadcasters including Channel 5 (UK), Super RTL (Germany), Frisbee (Italy) and France Télévisions (France) from early Autumn
Xilam Animation will be exhibiting at BLE 2022 - Booth A130. Please contact Licensing@xilam.com for any enquiries.
Also starring in Xilam's BLE line-up is internationally renowned animation comedy Zig & Sharko, which saw its lovable characters sailing the seven seas in its latest season. Launching September 2023, the brand-new fourth season will surprise its dedicated and engaged audience, as they watch Zig, Sharko and Bernie make their way back to their island, accompanied by Marina who fans will see growing her very own legs thanks to magical sandals.
Rounding out Xilam's BLE offering is the classic and much loved Oggy and the Cockroaches franchise, following the worldwide debut of its freshly designed reboot series Oggy and the Cockroaches: Next Generation on Netflix in July this year. The brand has also achieved a committed digital following, with 21M subscribers and 11B views on YouTube, and over half of these originating from dedicated audiences in India.
XILAM AT BRAND LICENSING EUROPE
Academy Award® nominated French animation studio Xilam Animation will be bringing a distinctive and colourful slate of new and refreshed brands to BLE 2022, as well as showcasing them to new and existing partners over the coming Headliningmonths. Xilam's
is co-produced with Youku and was ranked as the fifth best performing international series of 2021 in China across all VOD platforms in terms of views and performance. Alongside the launch of 26 new shorts this Christmas, a second season is currently in production in which viewers will follow the precocious wolf-cub into the brand-new territory of the cosmos. Xilam is looking for international partners to expand its merchandise offering across toys and games, publishing, apparel and more.
nerships include global online slots with Netent, a Hard Seltzer beverage Hell's Seltzer range and most recent a Metaverse partnership with The Sand box where fans of the show can visit the first-ever virtual restaurant, create new dishes, win competitions, collect recipes and compete for the chance to make it to Head Chef. Additionally there will be Hell's Kitchen-themed assets, including limited edition Gor don Ramsay avatars, that will be avail able down the line for players and cre ators to include in their own original experiences.
Love Island has obviously been causing a storm recently, on television and social media! How do you capitalise on this with con sumer products?
When working with established brands like The Chase, or Schitt's Creek, we know the dedicated fan base very well, so we know who we are catering to.This makes it easier for us to tailor licensing propositions that appeal to fans to what we know the fans will like. Schitt's Creek attracts new audiences of cult fans every day due to its own brand of quirky hu mour, light hearted and warm story lines. Over the past years ITV Studios has built a robust licensing program around Schitt's Creek in key catego ries as books, board and card games such as UNO and Schitt's Creeks Monopoly (their best-selling title of 2021) but also loungewear, t-shirts and Forsleepwear.newer properties like Ten Year Old Tom or Physical, there is the bene fit of being new and exciting and being more top of mind in the conversations around the coffee machine at work. How important is the LBE sphere to you and is this something you will be exploring further in the future?
With ITV's extensive catalogue of over 90.000 hours and some of the most beloved global brands, we see potential for creating live and virtual experiences with all kinds of different shows. We have so many brands that work extremely well in location-based entertainment.
tralised approach (which is essential in ITV Studios ambition) to diversify revenue streams and create meaning ful ways for viewers to connect with our brands beyond broadcasting.
Love Island is a tremendous success in the UK and is growing fast globally. It has become a reality phenomenon with the show dominating social me dia and drawing audiences across the globe, with Greece becoming the 23rd territory to commission the format. The brand has become very appealing for global licensees that want to access the Gen Z & millennial audience that is interacting with the show both on air and via social media. Highlights include a global beauty collection with Revolution Beauty launched spring 2022 and dedicated merchandise (including the famous water bottle) that is sold directly to consumers via e-shops tied into the local shows. Our digital partnerships are very im portant too, such as Love Island The Game with Fusebox, with a stunning 20 million downloads, and Hotel Hide away that offers players access to custom Love Island content for their avatars and even hang out at the Love Island villa.
There is a really diverse brand portfolio including The Chase and Schitt's Creek. How do you tailor the licensing programmes around each one?
Likewise, can you outline more about Hell's Kitchen and some of the interesting partnerships you hold for the brand?
In 2020 ITV Studios reorganised the international distribution and com mercial business into three centres of excellence; Creative Network, with all creative labels that create new for mats, Global Distribution, responsible for distributing all scripted content and Global Entertainment that distrib utes all formats around the world and is responsible for the brand & licens ing activities across the IP of the entire organisation. This allows for a cen
Could you outline the properties and ip that ITV is focusing on, at BLE and beyond?
TOTAL LICENSING 84
Lucie Stoffers, Head of TotaltalksITVEntertainment,GlobalLicensing,BrandStudiostoLicensing
Catching up with ITV Studios
ITV Studios controls the brand licens ing rights to some of the most be loved IP in the world. From scripted, to reality and game shows, the diverse portfolio offers commercial opportu nities in multiple categories. The key brands that we are focussing on are established titles like The Voice Fran chise, Hell's Kitchen, Love Island, I Am a Celebrity … Get Me Out of Here!, The Chase, A Year on Planet Earth and Schitt's Creek. But we are also actively exploring opportunities for new IP like Ten Year Old Tom and Physical that are available via Apple TV.
ITV Studios Brand & Licensing –can you tell us more about this dedicated arm and how it fits in with the overall strategy of ITV Studios?
Hell's Kitchen is one of our evergreen titles that has long lasting partnerships with for example Caesars Entertain ment for Gordon Ramsay's Hell's Kitchen restaurants in the USA, Dubai, and Saudi Arabia and four new loca tions expected to open in 2023. The Red and Blue kitchens serve up mod ern lunch and dinner menus including Gordon Ramsay's most talked about signature dish Beef Wellington and the mouthwatering Sticky Toffee Pudding. Furthermore we have successfully launched a cookware range at Macy's, a spice range with Spiceology and sev eral hot sauces. Other exciting part
Fate: The Winx Saga, burst onto the screens of Netflix subscribers in January 2021, Rainbow had already worked to re-strategise its licensing programme for the brand: for the young adult audience who grew up alongside the fairies, and also today's young audiences, there is now a dual licensing strategy which focuses on both the Young Adult target (the original brand-fans), and today's new fanbase who are growing up with the series eighteen years down the line. For the young adult target strategy, the licensing programme focuses on fashion apparel and make-up with colourful and magical palettes which align with the world's most famous fairies. The younger licensing strategy remains loyal to the original licensing programme and a focus on apparel, accessories, dress-up and stationery. Fans of the new live-action series Fate: The Winx Saga are naturally drawn towards the young adult market alongside fans who grew up with the original animated series.
TOTAL LICENSING 86
strategy, managed by Rainbow for both the live-action series and the original animated series, and aligns with the broadcast successes to sustain fan Evenloyalty.before the new live-action series,
An Outstanding Year for Content Powerhouse RAINBOW
The live-action Fate: The Winx Saga, premiered on Netflix in January 2021 in 190 countries and fast became one
It's been another outstanding year for the Italian content powerhouse Rainbow. Not only has their evergreen brand Winx Club been a transformational success from an 18-year animated production to a modern-day live action teen success on Netflix, Fate: The Winx Saga, but also firmly rooted itself in the world of global art for consumer product transitioning, as well as having another pre-school hit in the making. Beyond the magical fairies' Winx brand global ratings success as a Netflix liveaction series, there's a reborn classic story, produced in CGI animation, which Iginio Straffi has brought back to life for a new generation of young children, Pinocchio and Friends. In less than a year it's become a ratings hit in both Italy (Rai YoYo) and the UK (CBeebies), with licensing partners supporting the brand following signings of master toy partners in both Sustainabilitymarkets. continues to sit at the forefront of the licensing industry and Rainbow's animation production, Summer & Todd Happy Farmers, continues to gain traction with broadcast and licensing partners. Lastly, two independent artistic licensing brands are also making waves in Rainbow's licensing portfolio; Lucia Heffernan and Jack Ottanio are both renowned in their own fields of artistic expertise, with Rainbow taking the helm at guiding their brands beyond
canvas and into consumer products that appeal to consumers across the Let'sworld.catch up on each brand and learn more about their growth and licensing successes this Overyear.the past eighteen years the original Winx Club brand has become an IP which has not only maintained a global appeal with today's young children who want to follow the stories of the much-loved fairies, but also retained an unprecedented level of popularity with the original fan-base who were there at the beginning and stayed loyal as they grew into young adults, and the Winx storylines themselves developed. Those fans remain as dedicated today as they were back in 2004 and helped secure Winx Club as one of the most successful children's properties of all time; this was clear from July's celebrations at the renowned Giffoni Film Festival in Italy, where a stunning screening event and celebratory party took place for long-standing fans and celebrities, with countless influencers joining the exclusive programme, and plenty of online buzz and content Thisgeneration.ishardly surprising, given that Winx Club continues to be distributed in more than 150 countries, and has racked up 8 animated TV series, 2 original animated series co-produced with Netflix, 3 animated feature films, countless live shows, and international musical events in its 18-year history. And this doesn't include the new liveaction series, Fate: The Winx Saga. The global Winx brand is supported by a robust and ever-evolving licensing
Pinocchio And Friends' success was anticipated by 2021's premieres at Giffoni Film Festival, at ITTV Los Angeles, Lucca Comics and Games, and the 78th edition of Venice Film Festival where Iginio Straffi and the costume character were greeted with rapturous applause. Produced by Rainbow in collaboration with Rai Ragazzi and Indian top-quality partner Toonz Media Group, the series has achieved exceptional ratings on RAI YoYo in Italy and CBeebies in the UK, with the next broadcast partner to launch being Discovery Kids across Spanish-speaking markets and Latin America in early 2023. As the show expands and reaches new audiences globally, it was also named the "Best 3D Animated Series" at ANN Animation Express in Mumbai.
already signed up to the imaginative world of Pinocchio including Mondadori, Ravensburger, Dolfin, Fashion UK and Ciao, all assuring a great start to a licensing programme that will no doubt grow as a result of BLE meetings, as well as Toy Fairs in both London and Nuremberg in early Amongst2023. the news, Rainbow has also acquired two new important licenses revolving around the creative arts. The Group is representing Lucia Heffernan and Jack Ottanio, two internationally renowned artists with very different styles that transfer easily into the consumer products landscape and will appeal to lovers of the modernist art movement; those who enjoy taking a quirkier and more humorous outlook on conventional art with animals will embrace Lucia's passion for the natural world; meanwhile Jack's vision for an insight into today's world of pop-art will translate into vibrant consumer products campaigns. Both brands have licensing growth, particularly in home textiles, ceramics, and lifestyle with a 2023 market focus on European Lucia'smarkets.work will be showcased during an exhibition that starts in September, ends in October, and takes place in Rome, Italy, with 40 original exhibits on display that are inspired by her love for the animal world; this will be supported with a merchandising area for the duration of the exhibit and Lucia attending the vernissage. An online shop also launches in September to cater for visitors to the the event, but available for worldwide shipping.
TOTAL LICENSING 87
of the most watched teen series of the year. Before the end of the first season, a second one was announced and premiered on 16th September '22, with eight new episodes, new storylines and of course, cast members we've not met before. Following the announcement of the new YA core target licensing strategy, Rainbow onboarded a partnership with fashion franchise Bershka, part of the Inditex Group in 2021 but also with brands such as Hot Topic, and Dollskill. The launch of Fate: The Winx Saga and its resounding success also led to the development of exciting deals for Rainbow as it was named global exclusive CP licensor of the brand. A stunning make-up range launched on 1st September 2022 as part of a new partnership with NYX Professional Makeup to create a collection inspired by the Netflix series. It features a pigmented 10-color shadow palette with three ombre blushes, designed after the main character, Bloom Peters' notebook she uses throughout the series; six lip glosses infused with micro-duo chrome pearls, each shade representing a different fairy power and a highlighter duo with a cloud-like, putty consistency, resembling fairy Theredust.
A raft of Italian and UK partners have
Rainbow offers exclusive products ranging from apparel and lifestyle, through to collector toys, setting new trends in the Winx Club iconography with dedicated style guides and limited editions, shipping worldwide. https:// Apartwinxclubshop.com/itfromhisfairies, Iginio Straffi, the founder of Rainbow and creator of its evergreen Winx brand, has always aspired to revitalize the much-loved timeless and classic novel about the wooden toy who always wanted to be a boy, Pinocchio. As an original Italian story, it's only natural that a modern-day adaptation came from a well-respected producer of children's content who also grew up in Italy. Iginio Straffi had long envisaged to set the classic in modern times and create new adventures and locations, as well as new characters (such as Freeda, the pirate doll who becomes one of Pinocchio's greatest friends) and storylines that appealed to today's global young audiences.
Master toy licensing partners, Giochi Preziosi (Italy) and Flair GP (UK) both have ranges launching in Spring/ Summer 2023 with a roll-out strategy which includes playsets, action dolls and plush; Giocchi Preziosi will invest significantly in the development of this new line, as well as in marketing and communication activities to support the launch and raise brand awareness.
are a lot of deals coming up, as the Winx brand's licensing appeal goes from strength to strength, with the strategically managed programme led by TheRainbow.WinxClub Official Store is the latest news from Rainbow. The online shop developed and managed by
TOTAL LICENSING 88
The metaverse has opened up a world, full of both opportunity and risk. It is not, however, a new world, but one that's already being explored by curi ous brand owners. Just last year, super brand Nike teamed up with gaming platform Roblox to create Nikeland - a virtual world in which they could increase brand awareness and access new channels to sell their wares. Ava tars could kit themselves out in Nike apparel and compete in virtual games. According to Nike, Nikeland was ac cessed by more than 6.7 million peo ple Whileworldwide.brandgiant Nike may have tran sitioned into the metaverse without any ill-effect, there is a word of warn ing for brand owners, licensors and li censees wishing to follow them… Developments in technology often create risks for brand owners, and the metaverse will be no exception. In a similar way to the development of on line marketplaces, the metaverse will provide a new means though which rights can be infringed. Unscrupulous people and businesses could set up shop in this new world selling coun terfeit virtual goods for their own gain. Avatars could be walking the streets in worlds such as Second Life, wear ing goods that have been sold to them without permission from the IP owner. We know that this type of thing can be a difficult battle in the real-world and the virtual world of the meta verse creates more questions, some of which are yet to be tested and it may take some time before we see the full extent. It is even more important now though, to make sure your IP provides protection in both worlds. Trademarks provide the ability to stop unauthor ised use, but a mark protected across Europe may not prevent it being used by a business in China for virtual goods,
Wynne -Jones, delves deep into the world of Brand Licensing and the Metaverse.
and sold to an avatar operating in the metaverse from the United States. Under the current law, the European marks could only be used to stop un authorised use targeted at consumers in Europe. These are things IP owners should now be thinking about. Existing trademark protection may be robust enough for goods and services in the real world, but it's possible that it won't prove as tough in the meta verse which is why brand owners are looking to future proof their IP. Nike were savvy enough to obtain new trademarks for the Nike name, the swoosh logo and the name Nikeland that specifically covered virtual goods and Likewiseservices.inlicensing, thought should
Liam AttorneyTrademarkCharteredPeters,at
"Developments in technology often create risks for brand owners, and the metaverse will be no exception..."
Brand Licensing & the Metaverse: The Opportunity and Risk
be given to the terms of any license agreement: does the licensee have rights to operate in the metaverse or only the real world? When Nike teamed up with Roblox, Nike's trade mark protection ensured that Roblox required a license to use the brand within the platform and the agreement resulted in a significant win for both Ascompanies.themetaverse continues to grow and develop, it's important that brand owners be proactive in ensuring their portfolio is adequately protected and that they monitor the metaverse for unauthorised use. This approach will allow for early identification of infringement and help to minimise long term damage. Businesses can develop this capability internally, or it can be Theoutsourced.metaverse is exciting, but it's also risky… so expert advice on whether your IP is geared up for this brave new world is essential!
Owain Walbyoff, Chief TotaltalksOfficer,CommercialBanijaytoLicensing
watch, and there have already been some great activations in this space from the likes of Coca-Cola, Gucci, Nike and Samsung.
Welcome to The Metaverse
TOTAL LICENSING 89
As we further explore this market, like all other areas of business, IP retention is key, to ensure we can exploit our brands effectively. And we diligently strive to protect the quality and au thenticity of our brands in this space. Whether it's a product, a live experi ence or an NFT, our audiences have high expectations, and any brand ex tension must reflect and compliment their on-screen experience.
As this space continues to evolve, with our catalogue of globally-loved brands, we want to be at the forefront…and have some fun along the way! Watch this space for exciting proj ects we have launching in the coming months.
As Banijay's Chief Commercial Officer, I am responsible for the group's over arching commercial strategy, managing all teams under the commercial division, Banijay Brands, across merchan dising, brand licensing, gaming, gam bling, music and secondary rights. As a team, we are constantly exploring the latest trends and striving to identify new licensing opportunities for our IP. We've all heard the latest buzzwords – Web 3.0, the metaverse, NFTs… but do they really offer a tangible op portunity for brand owners monetise their BanijayIP?is the world's largest indepen dent content producer and distribu-
The metaverse has the potential to unlock new and unique opportuni ties for our IP, giving our consumers a much deeper connection with the TV brands they love, free from the constraints of physical location. From setting up virtual environments to live events and experiences, the potential to drive consumer engagement, is incredibly exciting. We have already dipped our toe in the water, with our first NFT drop earlier this year.The Mr Bean digital collectibles were launched
We must acknowledge that investing in such a new cat egory is not without risk. As we have seen, crypto currency can be extremely volatile, but we are working with the best partners to safeguard us.
with Metaverse specialists FOMO Lab, via their marketplace, The Avenue. Re leased in a fluctuating and challenging space, it was great to see such a posi
tive response for the brand which has a great following in the metaverse. And we are speaking to a number of different businesses in this category, closing deals at the moment, so watch this space for more announce ments coming soon!
tor, which boasts a catalogue of more than 4000 titles and 130,000 hours of content. From Mr Bean to Black Mir ror, Deal or No Deal and MasterChef, our stable of IP is unrivalled, and puts Banijay Brands in the enviable posi tion of having world class brands at our fingertips. The shows themselves reach huge international audiences, and the appetite from our global audi ence to engage with them beyond the screen is phenomenal. Banijay Brands is fully committed to creating deeper connections between consumers and brands, and we are heavily exploring all things Web 3.0, to understand how we can bring audiences new experiences with our IP. Decentralised platforms are emerging as the new disrupters in the market and definitely ones to
rather than a fire-breathing dragon when he grew up?
In the coming months expect to hear a lot about a Mondo TV show starring a little fire-breathing dragon called DoesGrisù. that name sounds familiar? It should. This show, due to air in 2023, is based on the classic animation cre ated by Nino and Toni Pagot – and still fondly remembered in many countries years after his first TV appearance. Grisù was first seen on TV in the 1960s in mini-episodes for an Italian bedtime show as well as a commer cial for mints which, as you might have guessed, were used to bring the little dragon's fire-breathing under control. When his creators decided to expand the cute young fellow's TV slot to a full-length show, they had an idea: what if Grisù wanted to be a firefighter
also a series with strong mer chandising potential as part of a 360° strategy that will include multiple plat forms and social media. Mondo TV holds the exclusive rights for the de velopment of the licensing programme on a global level and is already working on the development of a network of agents. The show and character also has clear potential for promotional initiatives and, of course, educational ones: schools and fire brigades, among others, may find Grisù helpful to their work on fire prevention and care for the environment.
Grisù is back and MeteoHeroes are flying high at BLE 2022!
It was a promising concept and one that was ideal for the beginning of the 1970s, when new television slots dedicated to children and young peo ple were opening up and original ideas were getting noticed.
TOTAL LICENSING 90
And now Grisù is coming back to TV screens. The little dragon is returning to delight a whole new generation in a brand-new 3D CGI TV show for 4-7-year-olds co-produced by Mondo TV, ZDF Enterprises and Toon2Tango and launching in the autumn of 2023.
At BLE 2022 Mondo TV is highlighting a new production that heralds the return of a classic character: Grisù the little fire-breathing dragon who wants to be a fire fighter. This year will also see the return to BLE of the very popular environmentally-themed Mondo TV animated kids' show MeteoHeroes, an innovative cartoon that can now boast a global reach.
In Italy, Grisù was the first kids' series to be broadcast on Rai Due in the new children's slot on TV2 Ragazzi, on 3 December 1976. It then travelled across Europe and found audiences as far afield as Africa, Latin America and the Middle East. And Grisù is still fondly remembered today – he's even become a fire brigade mascot in most of Italy, and parts of Switzerland, Aus
For Mondo TV, Grisù was ideal – a storyline that even today is still highly original and a character with a positive attitude and values that still resonate in the 2020s: determination, kindness, helping others and a concern about the ZDFenvironment.Enterprises will be responsi ble for the worldwide distribution of the audiovisual rights (excluding Italy, France, Spain and China, which will be handled by Mondo TV). Also con firmed are broadcasting agreements with ZDF in Germany and Rai YoYo in ThisItaly.is
tria and Germany.
The character will, of course, live in the world of today's children, but what made him popular in the first place hasn't changed. He is still sensi tive, courageous, enthusiastic and de termined. The fundamental values of friendship, altruism and honesty rep resent the pillars of the storyline.
As awareness grows 2023 will see significant expansion of the licens ing programme, taking advantage of a
The stars of MeteoHe roes and their exciting adventures have also inspired a vide ogame. MeteoHeroes – Saving Planet Earth has been available worldwide on PlayStation® and PC (STEAM plat form) from 28 February. It is expected to start launching in retail stores in Autumn/Fall 2022.
In April, the second season of MeteoHeroes (52 episodes x 13') has just had its world premiere on Cartoonito in Italy.
And there's even more big news for fans of the show: the first two (of four) 26-minute TV movies arrive on Car toonito in September and October.
reach that now extends to nearly 180 countries and 22 languages. The continuing growth of MeteoHe roes shows how its themes of respect for nature and saving the planet have enormous resonance for young view ers, as do its six relatable, diverse young heroes– one from every con tinent. Grisù will touch on similar themes as well as saying something about family relationships and positive Butvalues.entertainment remains key to Mondo TV's success, and both shows are beautifully designed and produced with the universal appeal of humour, adventure and fun underpinning the serious messages. And of course, they star a fire-breath ing dragon and six kids who can change the weather. What could be better than that?
In fact, now in its third successful year, MeteoHeroes is the only cartoon in the world dedicated entirely to cli mate and environmental issues.
In Italy MeteoHeroes is among the most successful Cartoonito children's series. It has enjoyed similar success in Spain on Clan as well as in Hungary on M2 and this year has arrived in Poland, in addition to multiple Latin American and lusophone markets. Meanwhile in the US, thanks to the exclusive part nership of the show's co-producers with mega hit-maker Kenn Viselman (Teletubbies, Thomas the Tank Engine) it recently made its broadcast debut with an Earth Day Special.
BLE will also see Mondo celebrate the continuing success of the six stars of the popular environmentally themed animated kids' show MeteoHeroes, co-produced by Mondo TV and the leading Italian weather forecast ing centre Meteo Operations Italia (MOPI). These six superpowered kids who can control weather phenomena are undoubtedly benefiting from inter est in climate and environmental is sues among young people.
The videogame even had a major part to play in the Campus Experience Football and Responsible Gaming camp, an opportunity the Real Madrid Foundation offers boys and girls aged 9 to 12 to combine their two passions – football and gaming – in a responsi ble way and with a strong educational component. In fact educational initia tives – especially initiatives related to the environment – are part and parcel of the MeteoHeroes offering.
TOTAL LICENSING 91
Marina Narishkin: "We have some fantastic production news with a hot new television series in the works! We are honored to have been selected by renown Cartoon Forum Europe to present our fantastic new show called "Welcome to Permacity! (working title)" the same week as BLE. Watch this space, more to come…
TOTAL LICENSING 92
Marina Narishkin: "Caroline Mickler and her team are a full-service licens ing agent who brings one of the keen est knowledge to brand building in the UK. Marina – we've known each other for 25+years and I've always wanted to work again with Caroline. I was so impressed with her bringing a Scandi property to the UK and even launch ing a flagship store in London."
Caroline Mickler: "I have a very clear vision for Molang, My appreciation of the cute and very appealing look of Molang, inextricably linked with its fo cus on kindness and gender neutrality
MN : "Two key words to describe Mil limages are family and Start-up mode. Communication and agility are the key DNA of Millimages. Despite being one of the oldest animation studios left in Europe that is still independent after 31+ years, each of our 7 business units functions as a start-up. From the digi tal marketing business to ecommerce
is, I believe, now an absolutely ideal time to catapult the brand to the fore front of the Gen Z population." You operate out of Paris, London and Shenzhen – how do you co ordinate between the three and do you plan to open anymore global offices?
The big licensing news is having agreed with a fantastic professional and her team to take over the licensing busi ness in the UK for Molang. We are happy to make this announcement with Total Licensing always on top of the scoops, right in time for BLE. Our new UK agent is Caroline Mickler." So tell us about the work you will be doing together?
You have an incredible amount of content from your programming. Can you outline which are the priorities for licensing in the coming year? Is Molang still your flagship property and what are the plans for the brand going forward?
Milimages and Micklera Dream Team for Molang
MN: "We are constantly making ex clusive and tailor-made content for TikTok, Instagram, DouYin and other platforms around the world like our Japanese Facebook page and Chinese and Korean messenger apps. We make hours of materials, films and posts per week. We've now hit 23 billion views on Giphy.com, and also 61 mil lion views on Tiktok! A number that's growing sometimes by a 1 million a week. Molang has so much affectionate ties with the public from Indonesia to Mexico and around the world that we're just starting!"
to the Chinese office and Licensing, they have P&L to manage, testing and learning how to build the businesses. The, each Agent becomes an integral part of the family.We are learning with each new member how to integrate them into the mix."
Tell us some latest news from Millimages!
Marina Narishkin, General Manager, Milimages, and Caroline Mickler, Managing Director, Caroline Mickler Ltd. give a joint interview to Total Licensing about their recent partnership for Molang
Total Licensing, Total Brand Licensing, Total Licensing China, Total Licensing Australia For more information, or to subscribe free of charge, visit www.totallicensing.com
BLE continues to be an extremely im portant show for MGM and each year its importance is elevated. This year, more than ever, BLE will be critical in connecting with our existing and new licensees and retailers. Historically, we would meet with most of our EMEA customers at Licensing Show / Las Vegas, but that was not the case this past year due to Covid. So, we look forward to reconnecting with those customers in London.
Robert thingsappetitetheMGM,andConsumerPresidentExecutiveMarick,ViceGlobalProductsExperiences,talksBLEandworldwideforallhorror...
MGM Studios is fortunate to have a strong property portfolio that has res onated with consumers globally. Their popular ity starts with great storytelling, broad con sumer appeal and com pelling characters. With this strong foundation, we rely on various cre ative design approaches, marketing and social media support to keep our I.P. in pop-culture relevance. Whether its PINK PANTHER'S YouTube following (10 billion views and 18 million subscribers) or ROCKY'S positive
DNA to keep its fans motivated dur ing tough times, consumers around the world look up to MGM IP as a beacon of inspiration, and nostalgia they want to share with their friends and family. Our contemporary and trend-right designs also help reimagine the brand for new generations.
At BLE, MGM will be pursuing a threepronged approach in highlighting our properties. First, with our upcoming new releases, we will provide exciting new content and marketing updates for our latest franchise extensions including WEDNESDAY, CREED III and VIKINGS: VALHALA. Second, we will share franchise updates on some of our evergreen franchise programs including PINK PANTHER, MIDNITE MOVIES and SCI FI STORIES. Finally, we excited to announce a new licens ing program around TEEN WOLF. How do you maintain the popularity of all the top IPs?
brand instead multiple individual prop erties. The benefit to the consumer is that it offers them a chance to ex plore other horror properties that they might have forgotten. Europe is quickly catching up to the US interest with anything horror. Our European licensing partners are taking notice with our horror titles such as KKFOS and are committing now. I expect that this year year's BLE will see a surge in horror program licensing. By this time next year, MGM will have roster of horror licensees similar to the US. Do you find, with genres such as sci-fi and horror, that you localise licensing programs, depending on the country/region?
The world seems to be going crazy for all things horror and MGM is of course perfectly tied in to deliver this! Can you give some examples, both of IP and consumer product offerings, that are fitting into this trend?
Only to the degree that a property resonates more in one region versus another. Within our genre programs we try to discourage property cherrypicking and instead focus on licensing the portfolio. In this case, we look to license our horror properties under MIDNITE MOVIES or our science fic tion properties under SCI-FI STORIES umbrella brand and encourage licens ees to take on multiple properties, they then select the ones that make the most sense for their market.
What was once a genre that was rel egated to just October, has now be come a year-round business. MGM has one of the richest horror cata logues around including, CANDY MAN, POLTERGEIST, CARRIE, AMI TYVILLE HORROR, THE SILENCE OF THE LAMBS and dozens more. What triggers a horror IP to rise to the top and elevate to pop-culture status is tough to predict. I suspect that it's the chills and emotional thrills of the film storytelling, when nurtured over time, translates to a pop-culture winner. Take for example, KILLER KLOWNS FROM OUTER SPACE (KKFOS). Next year, the film will be celebrating its 35th anniversary, but it only found its audience five or so years ago. Each year the licensing pro gram got bigger and bigger. Today, I am proud to say that KKFOS has a growing roster of over 26 licensees, across 10 categories. including video games, gift & novelty, costumes, locationbased entertainment and more. And can you outline how you have done this in the US, and now the expansion into Europe? Because each horror property can resonate to a different consumer, MGM CP has taken a portfolio ap proach and bundled all of its horror titles, under the MIDNITE MOVIES branding umbrella. This strategic ap proach has allowed us to sell, market and promote the offering under one
Firstly, can you outline the activities MGM will be revealing at BLE – and how important the show is to the company?
Horror... not just for Halloween!
TOTAL LICENSING 94
SwimChannelEnglishRelay
TOTAL LICENSING 96
board was that we would not have left port had these weather conditions been predicted. We were swimming in a Force 5." Please do not try this at Therehome…were other problems. At 3.07 am, Terry Lamb texted the small group of late-night Light Fund Challenge supporters following the race on a specially organised WhatsApp stream with the following words: "Seasickness. Cold. Dark. Tired. And now the jelly fish are about! And making their pres ence known."
It wasn't the ideal start for the two teams taking part in this year's Light Fund English Channel Relay Swim fun 'NEWSFLASH:draiser… Swim postponed to 12:00am (00:00) on Wednesday 29th June 2022 due to bad weather off the French coast.'
The didn'tweatherimprove but the 12 haveanyonechallengeaItinlevelraisingaheadfundraiseryear'stakingswimmerspartinthisLightFundwentanyway–arecordofdonationstheprocess.was,however,muchtougherthancouldimagined. We present the inside story of the 2022 Light Fund
The Quarter of a Million Pound Swim
But at least it wasn't dark anymore. By then the sun was rising. The sec ond stint for the teams began shortly after 5 am. But the seasickness didn't stop, and a third swim was still some way Withinoff.
A challenging, and possibly danger ous relay race involving two teams of six people swimming from Dover to France, each of them due to be in the water on at least two and sometimes three separate occasions, was now on
the next two hours, however, the messages of support started to
Of all these issues the seasickness –both on and off the boats – was the toughest. Most of the swimmers were very seasick from an early stage. And most were still recovering when their second swim (and, in the case of half the swimmers, third swim) came up. But they knew that once they were in
months of swim training, fitness training, cold water training, medical assessments and bouts of covid, all of which they had to fit around regular work, child care, family demands and dwindling social life, twelve members of the licensing industry were forced to cool their heels by the sea. But not for long. Next day they were off, led by Stephen Gould and Ian Down, the respective team captains, striking out in the pitch black of night 40 minutes ahead of schedule at 11.19 pm on 29 June in what were still dif ficult weather conditions. The teams were, however, assured by the experienced and trustworthy pi lots of their two tiny support boats – High Hopes and Optimist – that the weather would improve. It didn't. As Gould says: "At the fifth swimmer changeover after four hours of swim ming, the official acknowledgment on
the water they had to keep going. The rules, laid out by the Channel Swim ming & Piloting Federation (CS&PF), the governing body for English Chan nel swimming, are strict about people not helping you. If someone puts a hand out and helps you back onto the boat your whole team is disqualified.
At 4.06 am the late-night WhatsApp followers saw this message: "We've entered the world's busiest shipping lane: 600 tankers and 400 ferries pass through here every single day. It's be ginning to get very busy."
Afterhold.
Onlythought.two swimmers of the 12 had ever done anything like this before. And only four others were of an open water swim ming standard that would be deemed capable of attempt ing an English Channel relay – even in decent conditions. In fact as Kevin Langstaff said: "I trained in water down to 3.0C, swam multiple 5K events and covered over 275 km of training within only 18 months to prepare.Two years ago I couldn't swim front crawl." There had been dangerous and de manding Light Fund challenges before of course but as Gould puts it, "this time there was no hiding place. We each saw and heard what no colleague should ever have to witness or en dure. The show only went on if each swimmer also did their timely turn regardless of their disposition. Not to do so meant instant disqualification."
By this time, so many licensing indus try employees were following the race that not much work was getting done. Not that their bosses minded; in fact in one or two cases the boss was actu ally in the water.
"Swimming the Channel with the conditions that we had was brutal. It feelandmanyunforgettablewasforsoreasons,goodbad!However,Iincrediblyproud to be able to call myself a Channel swimmer."
So many licensing industry people were following minute-byminute the race that not much work was getting done!
By 10.30 am France was in sight – not close but definitely visible. The messages of support poured in, and the chorus of encouragement got almost hysterical as land approached – which it did, just under four hours later.
Let's not forget either that everyone who wasn't suffering in the water was sharing a miserably small deck area on two tiny support boats for two thirds of an entire day. No wandering down to spacious bunks or dining in the mess for this lot. They also pushed the fundraising over the £250,000 target in time for The Li censing Awards where the challenge's many sponsors and donors received a formal – and fulsome – thank you at one of the biggest annual gatherings of the licensing community. All sponsors who supported the swim were name checked in a special challenge event film Lookingpresentation.back,the team response, even weeks later, was still of relief – and slight horror. As Gould, a very experi enced cold and open water swimmer, explains: "Two relay swim teams racing each other across the English Chal lenge was never going to be straight forward or without drama. However,
By 8.00 am messages of support were coming in on WhatsApp at a rate of four or five a minute – over 300 had arrived by 9.00 am. Many were accom panied by donations that would go to a range of beneficiaries, including, ap propriately enough, the RNLI. Mean while the seas were getting choppier, the ships appeared to be getting bigger and, of course, most of the swimmers were feeling unwell and had barely slept at all.
Katie Price agrees. "Swimming the Channel with the conditions that we had was brutal. It was unforgettable for so many reasons, good and bad! However, I feel incredibly proud to be able to call myself a Channel swim Butmer."this challenge undoubtedly caught the imagination of an entire industry, and perhaps that, above all, made it worthwhile. As the teams put it: "To all of those who supported us we thank you most sincerely. Without you, this would have been a barren and no doubt futile endeavour. Your endorse ment of us – and belief in us – through kind and generous sponsorship helped us dig deep and find reserves when the light of hope was fading." But perhaps the incident that brought home the scale of the challenge was a touch more prosaic. Two magnums of chilled Champagne were taken to France to celebrate the channel cross ing. One was returned unopened. This may be the first and last time that anyone from the licens ing industry turns down a drink!
Seasickness - in and out of the water, jellyfish, waves the size of houses, and swimming in the world's shippingbusiestlanewere just some of ChannelcompletedEverestpeopleNochallenges.thewondermorehaveclimbedthantheEnglishSwim.
At 2.26 pm UK time the long-awaited message came through: Rhys Flem ing was the first swimmer to touch French soil. The High Hopes team did it in 14 hours and 56 minutes! WhatsApp went mad. Jason Goonery made it to land for the Optimist team not long after – in 15 hours and 24 minutes. The flood of congratulations Manycontinued.people following the race on
none of us could have predicted the raw ugliness of what we actually got and yet managed to achieve. It was not text book, it was not pretty, and it was undoubtedly a challenge above and beyond even our worst expectation."
TOTAL LICENSING 97
WhatsApp were marvelling at an extraordinary feat, but few were aware that it was even more impressive than they
The event's Just Giving page is still open. If you want to show your appreciation of this astonishing feat (or donate even more than you have already), just follow the relayswim2022https://www.justgiving.com/fundraising/thelightfundenglishchannellink:
multiply as normal people got out of bed and marvelled at the short film clips and photos the swim squad had compiled of apparently tiny swimmers in a vast expanse of water. Some also followed a link to the boat tracker set up by CS&PF to see who was winning. This was, after all, a relay race.
Chefclub is a great example of the meteoric rise of brandsdigital
to a direct demand from viewers for cookbooks of the popular and fun recipes. To date Chefclub has pub lished 25 cookbooks which have sold over 700,000 copies. They have been supplemented by cookery product ranges including a 50-piece Chefclub by Tefal range, spices and condiments, as well as cookie cutters, measuring cups, utensils and knives made for chil dren.To emphasize the Chefclub expe rience even more, they are launching a first live event tour across France this fall with the European leader in shop ping centers, Klepierre Shopping Malls. And finally, the huge popularity of the animated Chefclub Kids mascots provided the perfect foundation for the company's new animation series launching at Mipcom. The series is in spired by the immersive uni verse of the Chefclub Kids' channel, where entertaining recipes, zany kitchen charac ters and specially made uten sils for little chefs have helped cooking become a new form of playtime that brings the whole family together.
At first, the appeal of their videos led
Marie-Laure Marchand, SVP Global Consumer Products and Business Development, commented, "Our origins as a digital brand provided us with an incredibly useful in teractive relationship with our audience. Our social media outlets supply an ongoing dia logue with our fans and allow us to respond almost in real
With three Digital Brand of the Year Awards, over 20 different shows, and its unique positioning between food and entertainment, Chefclub is a prime example of the vast and varied power of digital brands, and their potential to move into the physical world of licens ing, publishing, live events, and anima
98
Foundedtion. in 2016 by Thomas, Jonathan and Axel Lang, the global food-themed entertainment brand for families has grown into a hugely successful brand, with the mission of bringing families together in the kitchen, a real-life ex tension of their digital entertainment. Today, Chefclub is a 100-person cook ery content studio, with ten in-house kitchen production sets. Their videos generate 2.5 billion views per month on social media (half in the US), and air on leading FAST and AVOD platforms like Pluto TV in the US, UK, Spain, France and Latin America, and Samsung TV Plus in France and Swit zerland. Chefclub's online leadership opened the door to a host of ancil lary opportunities, chief among them are publishing, consumer products and live events.
time to their preferences and tastes. The instant data feedback that social offers is especially valuable when you have – like we do – a full time studio dedicated to creating content, as well as publishing and consumer product development in-house. Thanks to this up-to-the-minute feedback loop, we can provide unique food & family con tent to a growing number of partners with ever-growing needs, which in turn provides us with more opportu nities for licensing. For example, our wacky, loveable and identifiable Che fclub Friends' characters have paved the way to new hybrid and animated series for kids, and our new animated series, launching at Mipcom, will be a key pillar for brand building."
TOTAL LICENSING
From Digital Food Brand to Cookery Content Studio
Intrepid journalist pug Mighty Mike is super excited to attend his first BLE, so he's roped in a few industry pros to share their plans, and where to go to eat, drink and be merry!
home. Seeing the wonderful product everyone has in vested in and feel ing the energy and excitement around the show is not something that can be replicated online. This year, Acamar Films' CEO Mikael Shields will be pre senting our exciting new content plans for Bing, as well as an extensive look into Bing's enduring relevance and how the series supports healthy child hood development. Our live events and promotions team have been busy, and with our audience keen to get out and about with their families, it'll be a great time to share the exciting ways we are connecting with our audience worldwide."
TOTAL LICENSING
Maxine Lister, Head of Licensing, Natural History Museum: "I always enjoy BLE and am looking forward to this year being back in full swing - I always find this such a vibrant and positive show and it will be great for us all to be back together again. We have just completed our new toy and apparel strategies for the licens ing programme, so we are very excited to showcase these at BLE and to sign new partners. Also, this is the first year of Emma Russell our new UK Senior Licensing Manager is on the NHM stand (B263) I am excited to have grown the team and what opportuni ties this will bring. We also have TSBA (A261) our international agent featur ing us on their stand so also looking forward to extending our programme globally over the next couple of years."
100
ful planning in place for 2023, and we can't wait to showcase an exciting and full slate at our Keynote. This year we return with even more fantastic projects to tout, showing Hasbro's brand-building capabilities and how we create the best play and entertain ment experiences for fans around the world. We hope to demonstrate the strength of Hasbro's combined port folio and content slate, while support ing licensees and partners with smart and innovate business plans for 2023. We look forward to having our showgoers experience our fun Peppa's Clubhouse activation as an extension of our booth!"
Marianne James, Vice President, Licensed Consumer Products, EMEA and Asia at global play and entertainment company, Hasbro.
Top colleagues...topthoughtsofreportatimeatMightypuparazziMikeisitagain-thisdeliveringruffinggoodaheadBLEwithfromindustry
Laura Clarke - Licensing Director, EMEA at Acamar Films: "We're delighted to be back at BLE, it's an event we really look forward to. It's a great opportunity to have faceto-face meetings with our partners, agents, new contacts and of course retailers, which has proved challeng ing with more people working from
Mighty Mike Writes Again!
Maxine
"It's fantastic to be back at BLE. Licens ing is such a community-led industry. We have much to celebrate as an in dustry – from exceptional content like Stranger Things, to the return of the atrical events, to innovative product
Jon Spalding, Senior Manager Consumer Products, Mattel UK
LauraMarianne
"We are super excited to be back at one of the biggest licensing shows of the year. Right now is a pivotal time to shape and influence our industry in a post-COVID era against a challenging economic backdrop. We are looking forward to getting valuable and mean ingful time with our partners, which is much needed. We have such thought
Catch up with Mike at BLE!
Marianne James: "Just about any where I'd be able to catch up with old friends and colleagues wherever that might be!"
launches that excite consumers. BLE is a great moment to come together, celebrate our industry and keep it fresh for the future. We are excited to bring people up to speed with the exciting things happening at Mattel – from our content and franchise-first transfor mation news, to our consumer prod ucts growth plans. There is so much to talk about, from the Barbie movie, to the return of Monster High and ex pansion on Hot Wheels and Fireman Sam."
"We're so excited to be back for BLE this year. Last year it was wonderful to have the industry back together and this year is set to be even better. We have exciting new launches (including announcements at the show!) which we will be discussing with licensees and retailers, as well as bringing new news for our portfolio of strong ev ergreen properties. It is always a very busy but incredibly valuable few days being able to meet so many partners at once."
When not running around pestering execu tives for their valuable insight on licensing, Mighty Mike stars in his own slapstick TV show, produced by leading animation studio TEAMTO. His hilarious antics trying to im press Iris, the gorgeous dog next door, while protecting his owners' home from two co lossally disruptive raccoons, has earned him devoted audiences worldwide. Mike stars on: CITV (UK), Universal Kids (USA), France Télévisions, Super RTL (Germany), Family Channel (Canada), Boing/Cartoonito (EMEA, LATAM, APAC), YLE (Finland), VRT (Belgium), KRO-NCRV (Netherlands) and many more. This is Iris (Sarah Lawrence, not the poodle next door!) manages licensing in the UK.
Lister: "The area around Excel has changed so much over the years, there are some great restau rants and bars around the area, also Canary Wharf is not that far at all via the DLR and one of my favourite plac es there is the Alchemist cocktail bar."
Vicky Miller, Licensing Director, Bulldog Licensing
Jon Spalding: One of my favourite things to do is jump on the Cable Car which takes you to 02. It's always in credible to see London from this far. A great way to kick-off an evening."
To see, eat, drink and do near MaxineExcel...
TOTAL LICENSING 101
More about Mighty Mike...
Laura Clarke: "If you are in the area already, are missing nature or need
Vicky Miller: "Last year we had a great dinner at The Ivy Canary Wharf – a good spot not too far from the show."
some quieter thinking space amid all the hustle and bustle, visit Thames Barrier Park - a 10 min walk. The wave-like design of the hedgerows is really unusual, and you get a great view of the Thames Barrier. The kind of place Bing and Flop would enjoy!"
JonVicky
When Hybrid Meta contacted Total Licensing, we were intrigued by their new business model that seemingly found a way to bridge the gap between traditional licensed apparel and the rise of the Web3 movement that has both captivated and confused audiences in recent times.
Hybrid describe themselves as the worlds first eco-system for officially licensed apparel that combines physical and metaverse fashion using blockchain authentication. Hybrid work with Big Picture Licensing to sign the global brands for the model and has already secured four iconic licenses to launch wave #1 drops from Q4. We had a Q&A session to find out more with their CEO and cofounder, Ben Nolan.
and provenance. Every single item produced comes with a 'fingerprint technology' code (similar to QR) embedded into the design that proves the product is rare, real, authentic, official, and sustainable.
TOTAL LICENSING 102
to be able to own a limited-edition apparel product of their favourite brands. All products made by Hybrid are strictly limited-edition using highend sustainable materials from our dedicated smart factories.
Brands and talent will be able to offer limited-edition products that have unequivocal authenticity
Total Licensing (TL): So what is Hybrid Meta and how does the model work?
Ben: Hybrid will bridge the gap between the Web3-savvy community and mass-market audiences by offering both a physical AND a digital product. We plan to onboard regular consumers and fans each week through live drops at prices which are inclusive for all fans
TL: So what exactly are consumers buying, the physical product or the digital version?
Hybrid Meta: The innovative new modelbusinessforWeb3
Ben: They are buying both. As massadoption of metaverse platforms has yet to take place, obviously the physical product is going to be the main driver for now and will resonate with audiences, but with each sale of the physical product we give the consumer a digital version of the same item that they eventually might want to use in a metaverse, social media or gaming environment.
TL: What will compel the consumer to purchase one of your pieces?
the same, but each one will have its own individual point of difference that ensures every single item is unique, rare and collectable. Fans will be able to own a true one-of-a-kind piece whenever they purchase from Hybrid, and our blockchain authentication process means that this uniqueness is provable and unequivocal.
TL: Does that mean they will be able to sell the product in the fu ture?
"Hybrid will bridge the gap between the Web3savvy community and mass-marketaudiences..."
TL: Who manufactures the apparel and what type of quality is it?
Ben: Between $50 USD and $250 across a selection of apparel items, the average RSP will be $99.
TOTAL LICENSING 103
Ben: It is our aim to ensure their digital 'wearable' is compatible with the most popular metaverse platforms as the industry grows. Once the user owns the digital version, we are able to create additional versions and 'airdrop' them for free to their digital wallet so they can use them in a growing list of platforms.
TL: What is the price point of your products?
Ben: We do. We are currently at the final stages of development and production of our own label, of which the base garments will be made ultrapremium with fashionable styles and cuts, with sustainable materials in strictly ethical working conditions. All of this information will be available when consumers scan the code on their item, so they know that they are supporting more sustainable and ethical fashion processes.
TL: Is the digital version compatible with metaverse platforms and if so which ones?
Ben: Hybrid have created a design studio and production infrastructure that enables us to create a variation on each design in any given limitededition drop. The artwork would be
Ben: Yes, the Hybrid marketplace, due to launch early 2023 where fans can purchase and trade their unique pieces with other super fans and collectors. www.hybrid-meta.com
Mathieu Galante
Pokémon Stand B121 at BLE
A good collaboration needs to be au thentic to Pokémon's values and truly understand our amazing, diverse au dience. We do everything possible to ensure that our products resonate with fans, allowing them to connect more closely with the brand. This has been rewarded with strong retail sales across our various partnerships. We also like to surprise our fans with our collaborations and the way we present and promote them. Long
You have had another hugely successful year for Pokémon across multiple categories but you have seen a big expansion in fashion. How do you explain that?
champ and Clarks, for example are brands you wouldn't immediately as sociate with Pokémon.  We like to keep Pokémon fans old and young on their toes and remain current and relevant, whilst still preserving Poké mon's original essence. This willing ness to adapt and reinvent has served the Pokémon brand well over the last 25 years and will hopefully see it flour ish long into the future.
The great thing about Pokémon is that we are always looking for innovative new ways to connect with our gen eration-spanning audience and always looking for exciting new partners. Our broad global appeal means that we can work with a wide range of brands,from high street to designer - as we look to provide our fans of all ages and nationalities with more enjoyable Asproducts.wellas
Dressing for Success
We strive to create covetable col laborations with huge appeal and col lectability, which are innovative and ground-breaking but at the same time remain true to Pokémon's DNA.
How do you look for new partners to work with?
Cohen, Clarks, Converse, Criminal Damage, Jeremy Scott, Iceberg, Irregu lar Choice, and Longchamp and we are constantly looking for new brands to work with who have a standout pres ence in their fields.
The world of Pokémon is constantly evolving and the introduction of new characters who become instantly recognisable characters, such as Pikachu and Jigglypuff, have made it one of the most powerful brands in the world of licensing, particularly in terms of how it can reinvent itself, whilst still em bracing its heritage.
TOTAL LICENSING 104
Also, as a leading global entertain ment brand, Pokémon has a fan base like no other - straddling cultural and geographical boundaries, as well as generations. To continue to expand its reach and engage with all its fans, the franchise has had to develop a dynamic and evolving licensing programme to keep creating new encounters with OurPokémon.success is not only due to the iconic colourful and playful Pokémon characters that continue to offer in spiration, but also in the diversity of our collaborations and the effort and creativity we put into managing them. From collaborations with brands such as Axel Arigato, affordable lines with online retailers such as ASOS and popular ranges with high-street giants like Zara and H&M, we put everything into our partnerships throughout the
process– from initial product design to PR and promotion.
being hugely popular with children Pokémon has huge cult and retro appeal, which allows us to re ally develop and diversify our fash ion spread. Over the year's we've produced ground-breaking fashion collaborations spanning apparel, foot wear and accessories for both adults and Fromkids.affordable product ranges to aspirational lines with cutting-edge collaborators and luxury partnerships - each collaboration is considered for creative and design capabilities and their distribution reach. We've had many successful collaborations includ ing with Adidas, Axel Arigato, Billion aire Boys Club, Bobby Abley, Charli
What makes a good Pokémon collaboration?
The Pokémon Company International's Licensing Director EMEA Mathieu Galante discusses the iconic brand's fashion strategy
TOTAL LICENSING 106
The UK has seen a reduction in greenhouse gas emissions since 1990. However, despite the Ten Point Plan, there is still a long way to go if the United Kingdom is to achieve net zero by 2050. Thankfully, companies in the manufacturing industry are working towards combatting the climate crisis.
The climate crisis is at the forefront of public discussion. The UK government is working towards a pledge to reduce carbon emissions and achieve net zero emissions by 2050. To do this, the government has presented the Ten Point Plan for the Green Industrial Revolution.
emissions by contributing to offsetting projects. These projects can encom pass work such as forest conserva tion and renewably energy expansion.
Manufacturing accounts for a huge amount of carbon emissions. Accord ing to the Office for National Statistics, manufacturing was the fourth highest industry contributing to greenhouse gas emissions between 1990-2020.
Taylors of Harrogate: carbonneutral Yorkshire Tea
This technique allows companies to calculate how much carbon offset ting they need to achieve to balance out the emissions they cannot avoid.
A manufacturing company founded in the UK; Siemens has sites across the Thiscountry.includes Electrum manufacturing sites in Wythenshawe and healthcare manufacturing facilities in Swords. Sie mens manufactures a number of in tegral products and systems, such as traffic lights, gas turbines, and medical Siemensscanners.recycles 92% of its materials and has an amazing 0% landfill waste capacity in Newcastle. The company has also spearheaded multiple national projects, including the Keele Univer sity Smart Energy Network Dem onstrator. This is the largest grid in Europe. The project positively affects 350 buildings on campus and reduces 4,000 tonnes of carbon dioxide emis sions per year.
Quorn: recycled packaging and reducing the use of plastic
Quorn is a manufacturing company based in Stokesley, Yorkshire. The UK company, which produces meat-free food alternatives, is committed to tackling carbon emissions one bite at a time. In fact, switching just one meal to Quorn mince is said to save the same amount of greenhouse gases as it takes to charge a phone for three Theyears.food manufacturing industry is responsible for 26% of global green house gas emissions. Livestock farm ing accounts for 14.5% of all emissions alone. In an effort to reduce its car bon footprint, Quorn calculates its carbon emissions from farm to fork.
This includes the ingredients, factories, packaging, and transport it uses during the process. Quorn pieces produce a minuscule 0.22kg of carbon dioxide per serving. To put meat-free products into perspective, UK chicken produc es 5kg of carbon dioxide per serving. Moreover, Quorn has committed to reducing plastic waste within the food manufacturing industry. As of 2019, Quorn has removed all black plastic from products. Additionally, the com pany has created ready meal PET trays made of 80% recycled material. How ever, plastic packaging is important to the hygiene and safety of a food prod uct, so it cannot always be avoided. To ensure it minimises its impact on the environment, Quorn collaborates with RECOUP and WRAP UK Plastic Pack. There is a long way to go before the UK can achieve carbon neutral ity. Whether the nation achieves net zero by 2050 is down to the govern ment's cooperation with UK compa nies. Manufacturing companies are an important part of this. Now, corpora tions are responding to the climate crisis more than ever. Companies are achieving carbon neutrality, expanding turbine power, and recycling plastic waste. How will your business continue to lead the way in sustainable manufacturing?
Here, with some insights from David Taylor at the commercial LPG division at Flogas, we explore how manufactur ing companies are reducing their car bon emissions and helping to lead the UK towards a net zero future.
David Taylor, Commercial LPG division, Flogas
The UK government is said to be in vesting £160 million into the blade factory. The investment will double the factory's size and provide a total of 1200 jobs across the whole facil ity. The company's current project, the 1.4GW Hornsea Two, powers the equivalent of 1.3 million homes. Siemens' turbines are utilised in the North Sea and around the world, powering a future free from harmful greenhouse gas emissions.
Sustainable Manufacturing: Three UK Businesses Working Towards a Net Zero Future
Taylors combats the climate crisis in many ways.The company aims to make all of its plastic packaging recyclable, reusable, or compostable by 2025.
As well as this, Taylors began reduc ing its carbon emissions in 2015 and has since announced in 2020 that the company is completely carbon neutral In order to achieve this, the business measured the average volume of car bon dioxide that was emitted into the earth's atmosphere at every stage of its production line.
Companies that use this method make up for their day-to-day greenhouse gas
Siemens UK: zero waste in Newcastle and wind turbine energy
As well as this, Siemens is committed to expanding the use of renewable energy. The company created a wind turbine blade factory in Hull, which is the nation's largest offshore wind manufacturing facility.
This plan will allow the private sector to thrive in a way that is beneficial for the environment. By 2030, the government will invest £90 billion and support 44,000 jobs within green industries.
Taylors of Harrogate is a family-owned business based in Yorkshire, England. The company produces a number of products, including a wide range of teas and coffee. Its most notable product is Yorkshire Tea, which was voted the best cup of tea by Brits in 2021.
As a company, Taylors prides itself on prioritising people and the planet. Fol lowing this ethos, they build lasting relationships with their suppliers and sustainably source their ingredients.
In collaboration with the Kenya Tea Development Agency, Taylors has en couraged over 7000 farmers to plant almost 2 million trees. This is carbon offsetting, as the trees absorb carbon dioxide and balance greenhouse gas emissions.
products," says Carolina Verdugo, AVP, BeanstalkLATAM. has honed its operational practices over 30 years to drive busi ness growth and brand saliency across markets. In addition to the agency's best practices in licensee prospect ing and management, Beanstalk offers comprehensive legal and financial services to support the development and growth of its clients' licensing program. "The Beanstalk LATAM team leverages the agency's foundational re sources and applies their knowledge of the region, market-by-market, to identify, educate and develop long-
term licensing partnerships with the best-fit manufacturers for clients. Ideal manufacturing partners for licens ing understand the value of licensing a brand, abide by the terms of the agreement, have strong retailer relationships, a commitment to innova tion, and are aligned with pursuing a comprehensive brand and marketing approach alongside the brand owner," says Ivonne Feliciano AVP, Business Development and Marketing, LATAM. Beanstalk LATAM is also leveraging the power of its parent company, Om nicom, to find synergies between li censors and licensees, develop unique retail solutions, and deliver innovation across categories.
Beanstalk LATAM: At the Intersection of Corporate Brands and Licensing
TOTAL LICENSING 107
"To develop a successful licensing pro gram in LATAM, a localized strategy by country or region, depending on the brand's presence, must be established. We have done this for the clients we are currently working with, as well as new clients we are onboarding to LA TAM. The strategies will always ladder up to global brand goals and objectives while considering the local brand perceptions and nuances that will deter mine consumer acceptance of licensed
LATAM, the licensing model is widely used across the enter tainment, sports and celebrity spaces, but less so with corporate brands. Li censing International's Global Survey demonstrates that corporate brand licensing in LATAM grew 25% from 2019 to 2021 with major gains across the region and significant double-digit growth in Brazil (+25%), Chile (+39%) and Colombia (+50%). Beanstalk LA TAM focuses on the intersection of corporate brands (the licensing of company names, logos, trademarks or brands, e.g., Black & Decker, Baileys –two of Beanstalk's clients) and retail dynamics where licensing can serve as a solution to build long-term brand awareness and consumer loyalty, find and gain new consumers, and build a presence in new channels of distribu tion, all while generating incremental revenue and protecting trademarks. With great licensing opportunities across LATAM also come challenges. The majority of countries in LATAM may speak one language but there are
Beanstalk LATAM is currently working with Beanstalk's global clients across hard goods, gaming, food and bever age and FMCG categories to develop (or further develop in some cases) the licensing programs in the region.
In its 30th year, Beanstalk continues to expand its expertise in corporate brand licensing across the world with a specific focus on further enhancing opportunities for its clients across the LATAM region. A key pillar of Beanstalk's success has been its abil ity to identify growth opportunities for its global clients. "Whether the opportunities are extending into a new category, distribution channel or country, our team understands the brand's goals and finds the right mar ket opportunities for our clients," says Beanstalk President and CEO Allison ThroughoutAmes.
regional and country differences in culture, economies, legal and political structures, market and retail dynam ics, consumer attitudes, shopping hab its, trends and many other factors. All these factors play into the potential success a brand owner can achieve with licensing their brand in LATAM. This is in addition to the process of educating some partners on the basics of licensing, specifically with manufac turers. Manufacturers that specialize in product categories outside of en tertainment, sport and celebrity ex tensions are at the beginning of the licensing learning curve and are be ginning to understand the value that licensing a brand for their product line delivers. Licensing provides manufac turers an advantage over competitors by diversifying their product offering (price point, quality, positioning, etc.), attracting new consumers, gaining ad ditional retail space and diversifying their revenue streams.
Ivonne Feliciano, AVP, plansaboutTotalMarketing,DevelopmentBusiness&tellsLicensingBeanstalk'sinLATAM
Falcon's Beyond is a leading fully inte grated global entertainment develop ment company specializing in intellec tual property creation and expansion. We're headquartered in Orlando, Florida and, since our founding in 2000, have been involved in the master plan ning of more than $100 billion worth of development projects, producing award-winning entertainment experi ences, and creating exceptional media content and experiential technology for worldwide audiences.
Tell us about the 360-Brand Ex pander methodology.
Now, our company is laser-focused on a mission that we believe is truly
plish this extraordinary feat by imple menting a unique 360-degree brand expander methodology to activate and grow both proprietary and part ner IP concurrently across all forms of entertainment.
Cecil Magpuri, CEO, talks to us aboout the unique expansion and creation capabilities of Falcon's Beyond.
TOTAL LICENSING 108
To transform existing, traditional IP deployment channels, Falcon's has
developed an unprecedented 360-de gree IP expander methodology that enables us to partner with brands and unleash the power of physical and digi tal story immersion, concurrently. And, ultimately, we believe this will take fandom to a whole new level. Think of this methodology as a catalyst that activates an IP concurrently across all forms of entertainment – compressing the timeline for IP monetization.
With our methodology, we intend to activate IPs across ALL forms of en tertainment – episodic series, films, books, video games, consumer prod ucts, themed entertainment destina tions, resort experiences, and loca tion-based attractions. Essentially, we want to help our partner brands be
Above and Beyond
Can you give us a brief history of Falcon's Beyond, how it came into being, and the ethos behind the company?
unprecedented: activating intellectual property simul taneously across all forms of consumer entertainment – media content, consumer products, and hardest of all, themed Weentertainment,location-basedallatonce.intendtobethefirstto accom
We're quite bullish on this methodol ogy. Renowned brands have already recognized the unique expertise we bring, and the opportunities we can deliver, and are partnering with us to ignite their IPs across the transmedia spectrum. In just the last few months, we have announced significant partnerships, including with Moonbug Entertainment to expand its CoCom elon and Blippi Brands into immersive entertainment, Epic Story Media to supercharge our Katmandu brand, and BRON Studios to co-develop and coproduce various projects.
Which forms of entertainment do you cover?
ing leisure hotel companies, just an nounced a new resort brand, Falcon's Resorts by Meliá, and a new entertain ment destination brand, Falcon's Beyond Destinations. You recently announced the plans to become publicly listed in a short-time frame – what does this mean for the company going forward?
Falcon's Beyond turns imagined worlds into reality, and we are thrilled to be partnering with the FAST II team as they join with us in this transformative transaction to become a publicly trad ed company. Falcon's Beyond intends to use the funds raised in this transaction to continue to scale globally, build out the company's brick-and-mortar experiential entertainment operations and enhance our proprietary content. The announcement represents an exciting new chapter that will enable Falcon's Beyond to accelerate growth in its high-performing core markets, expand into new ones and rapidly de ploy IP across all verticals in the global entertainment industry. Furthermore, Falcon's Beyond also plans to continue to build upon our successful track record of delivering highly profitable theme parks, resorts and attractions with patented technologies, feature films, episodic series, consumer prod ucts, licensing and merchandising.
On July 12, 2022, Falcon's Beyond announced its entry into a definitive merger agreement with FAST II, a special purpose acquisition company (NYSE: FZT), that is expected to result in Falcon's Beyond becoming a publicly listed company on Nasdaq. Upon the closing of the transaction, the new combined company will be named "Fal con's Beyond Global" and is expected to be listed on Nasdaq under the ticker symbol "FBYD." The transaction is expected to close in either the second half of 2022 or the first quarter of 2023.
resortainment.
TOTAL LICENSING 109
"...Creating paradigm,game-changingaanda new category all together: resortainment..."
Can you give some examples of your award-winning immersive experiences?
Beyond and Meliá Hotels In ternational, one of the world's lead
everywhere a consumer can experi ence them.
A great, real-time example of this ap proach is the work we are doing to expand our own Katmandu brand. Since its opening in 2007, Katmandu Park in Mallorca has introduced mil lions of guests to its whimsical worlds of imaginative possibilities. Now, we are reimagining this beloved IP and bringing it to life in multiple ways: as a cutting-edge new theme park in Punta Cana, Dominican Republic opening by late 2022 or early 2023; through an original AVOD/SVOD animated series; in a Roblox multi-player online game; through a collectible trading card game; and of course, through a collec tion of consumer products. And, in years to come, consumers will experience even more Katmandu Parks across the world. Through an exclusive joint venture with Meliá Ho tels International, one of the world's largest leisure hotel groups, Falcon's will bring Katmandu theme parks to many other global leisure markets. It's important to highlight that this JV with Melia gives Falcon's a significant advantage in the IP expansion field: through it, we have unparalleled access to important real estate operated by this dominant hotel company. Subse quently, we can and will incorporate entertainment and IP into the guest experience at their high-end proper ties across the globe, which not only creates a game-changing paradigm, but a new category all together:
Falcon's Beyond's business segments' list of client and IP collaborators in cludes Walt Disney World, Universal Studios, SeaWorld Parks & Enter tainment, Atlantis, Marvel, National Geographic, NASA, AT&T, Lego, Hard Rock, Formula 1, Lionsgate, Cartoon Network and Microsoft, among oth Falcon'sers.
Featuring beloved characters, such as Snoopy and Charlie Brown, the Peanuts comic franchise has seen sig nificant growth in recent years. At the height of its popularity, Peanuts was read by a huge fan following, with a readership of 355 million across 2,600 newspapers. This means the, now ret ro, license provides consumers with the perfect gift for family members and friends who were originally cap tivated by Charles M. Schultz's unique cartoon, made famous in the 1960s.
KISS
fect gift for new and old fans alike. As consumers continue to rekindle past loves, nostalgic licenses, especially those with long-term, dedicated fans, will continue to grow. Not only do they provide an ideal option for giftgivers buying for colleagues, friends, and family, but they demonstrate the market's continued shift towards com forting, nostalgic licenses over more modern alternatives.
Gremlins
Fan Favourites: Three Unique Nostalgic Licenses Driving the Gifting Sector in 2022
A perennial seasonal favourite for re tailers around the Christmas period, the Gremlins has developed a strong following since it first hit our screens in 1984. The film's unique take on the Christmas genre with its horror and comedy influences was unlike anything shown before when it first launched, and is one of the reasons the film remains a classic today. With original viewers now having families of their own, products featuring the film's iconic character, Gizmo, offer the per
TOTAL LICENSING 110
The renowned American rock band, loved for its outlandish outfits, face paint, and breath-taking performanc es, KISS, is also witnessing renewed interest from its die hard following and new audiences alike. In 2019, the band announced its End of the Road World Tour to say a final goodbye to its global fans. With the tour still on going, the band's exceptional fanbase has been responsible for the license booming in the last two years, with all KISS products personally approved by Gene Simmons.
Those of us in the licensing industry know that the nostalgia market has grown substantially in the previous decade. With modern life proving challenging in so many ways, people across the world are increasingly find ing comfort in old favourites, including TV shows, films, and music from their childhood. This is driving retail sales across the board, with demand for li censed products from gift-givers and fans themselves at an all-time-high. Here, Konrad Hoeing, CEO of Aquarius, one of NMR's flagship brands, explores some of the nostal gic brands that are driving the gifting sector right now.
Peanuts
A recent collaboration was Marvel's Spider-Man: Miles Morales x adidas Originals Superstar shoe. The limitededition footwear collaboration was available as a physical product release and appeared in-game as part of Miles' personal sneaker collection.
Paul Gitter, Senior Vice President, Marvel Franchise talks us through this milestone and what is in store for the next 60 years...
Spider-Man is celebrating his 60th this year – it's a major milestone for one of Marvel's favourite characters…
Spider-Man at 60
Spider-Man has excited fans for the past 60 years and we love seeing new generations connect with the charac
"Spider-Man has excited fans for the past 60 years and we love seeing connectgenerationsnewwiththecharacter."
Paul: It is an exciting time for the icon ic Super Hero and to celebrate the 60 year legacy, Marvel recently launched its "Beyond Amazing" campaign. Now through the end of 2022, SpiderMan fans can celebrate with all-new products, special events, pop-up expe riences, retail activations and so much
Theter.
amongst Gen Z audiences, both male and female, with the help of support ing characters like Miles Morales - a relatable, multi-cultural teenager who also happens to have some pretty cool powers. In many of our retailers across EMEA, we now sell as many Miles Morales designs as we do Peter Parker/Spider-Man ones.
PlayStation, Insomniac and Marvel Games are also bringing Marvel's Spi der-Man Remastered and Marvel's Spi der-Man: Miles Morales to PC for the first time. Gamers should also gear up for the 2023 release of Marvel's Spider-Man 2, developed by Insomniac Games, in collaboration with Marvel Games, exclusively for the PlayStation 5 console.
Is the pre-school audience key to Spider-Man's success?
For context, the series follows Peter Parker, Miles Morales and Gwen Stacy who form Team Spidey and embark on heroic adventures to protect their community. The show encapsulates key heroic Marvel characteristics in cluding the importance of teamwork and problem-solving, and has proved to be a phenomenal way to introduce pre-schoolers to the Super Hero powers of friendship and cooperation in order to help others in need. How are you engaging other new fans in Spider-Man with products?
Our continued collaborations with innovative brands helps us to expand our offerings and reach new audiences across platforms.
TOTAL LICENSING 111
Throughout the end of the year, we are continuing to celebrate "Beyond Amazing" with new products, includ ing collectibles from Hasbro, Funko, and Overothers.thenext two years, fans can ex pect more from "Marvel's Spidey and his Amazing Friends" and the brandnew animated series "Spider-Man: Freshman Year," premiering exclusively on Disney+ in 2024.
What future plans do you have for Spider-Man?
continue to expand and evolve the Marvel lifestyle brand, it was im perative that we kicked-off "Beyond Amazing" with a collaborator that mirrored Spider-Man's charisma and timelessness. We worked with KITH to produce a Spider-Man inspired col lection for kids and adults, and built an immersive pop-up in Queens. The in-demand collection quickly sold out. These new products supplement our existing merchandise, such as: apparel, accessories, collectibles, toys and com ics, as well as our original games con tent.
Disney Junior original series, "Marvel's Spidey and his Amazing Friends," is the first full-length Marvel series for pre-schoolers and it's our number one growth property in the 2-5 age category. It's also ranked in the top 5 for all pre-school TV series among Boys 2-5 – after only premier ing one year ago. We just launched Season 2 and we're currently in pro duction on Season 3.
Fans have so many ways to engage with Spider-Man beyond our content and products - through Marvel HQ on YouTube, live entertainment, digital and social media, and lifestyle events around the globe.
Asmore.we
Why do you think the character remains popular after all these years?
Spider-Man is a legend who's remained a pop culture staple for 60 years. Whether it's a Marvel super-fan who loves Spider-Man's new adventures, a collector who identifies with the nos talgia factor, a kid who sees themselves in the ordinary teenager who develops superpowers, or a pre-schooler who is learning about the beloved character for the first time by watching "Marvel's Spidey and his Amazing Friends," we're able to reach fans of all ages with our expansive slate of content and prod Aucts.recent study found that there are more than five million Google searches for Spider-Man every month. Our data shows that he is the #1 sponta neous favourite character for all Boys under 12 years old across EMEA, and Spider-Man is the #1 most liked char acter for all children aged 4-12 years Weold. are also seeing our franchise grow
bition entrances
Another Successful Conclusion of Japan's Largest Licensing Trade Show
- Social distancing was Backedensuredup by the success of the past twelve years, LICENSING JAPAN has become a must-attend show for those involved in licensing business. If you are considering ex hibiting, please contact Show Management as soon as possible. Exhib iting space is filling up quickly. (Booth reserva tion is on a first-comefirst-served basis.)
Online Registration: em=header&em=pressTL_atmn22_shttps://regist.reedexpo.co.jp/expo/CTK/?lg=en&tp=inv&ec=LEX&/visitor-eng.licensing.jp@rxglobal.com
For Press Inquiries (Coverage on the show, Media Partnership etc.) visitor-eng.licensing.jp@rxglobal.com
18F Shinjuku-Nomura Bldg., 1-26-2 Nishishinjuku, Shinjuku-ku, Tokyo, 163-0570, Japan
Online Registration:
TEL: +81-3-3349-8507 / FAX : https://www.content-tokyo.jp/en-gb/about/lj.html?co=pressTL_atmn22_s_en+81-3-3344-2400
LICENSING JAPAN Show Management
- Requirement for all exhibitors & visitors to wear a mask
em=header&em=pressTL_atmn22_shttps://regist.reedexpo.co.jp/expo/CTK/?lg=en&tp=ex&ec=LEX&/licensing-e.jp@rxglobal.com
- Hand sanitisers at all the exhibition entrances
ATTN: Akira Kono (Mr), Myunggu Lee (Mr), Ayumi Senoo (Ms), Mami Atarashi (Ms) RX Japan Ltd.
LICENSING JAPAN Show Management, RX Japan Ltd.
LICENSING JAPAN 2022 was held taking safety measures following the guidelines of the government, munici palities and the exhibition industry as -sociation.Temperature measurement with thermography devices at all the exhi
The Character & Brand Licensing Trade Show was successfully held from June 29 – July 1, 2022, at Tokyo Big Sight, Japan. Over 1,200 proper ties gathering from all over the world were showcased and attracted 44,643 visitors. LICENSING JAPAN has firmly established itself as an ideal place for quality in Japan and one of the world's leading market for licensed products. To contribute to the even greater success of international exhibitors, LICENSING JAPAN offers a "Match ing Tour," in which Show Management invites key licensees/licensing agents to Japan and arranges meetings with Exhibitorsthem. were delighted to meet with potential business partners and have face-to-face meeting at their booths. Visitors were all keen to dis cuss with exhibitors about merchandising, media adaptation, introduction for sales promotion/advertising, etc., and 297 appointments were conduct ed by this service in the 3-day show period. On-site, lively meetings were conducted at every single booth.
TOTAL LICENSING 112
TEL: https://www.content-tokyo.jp/en-gb/about/lj.html?co=pressTL_atmn22_s+81-3-3349-8507
For Visiting (Visitor Registration for the 2023 show)
For Exhibiting
1 Amazon.es 2
11
15 Ebay.com 16 Manomano.es 17 Alcamp.es 18 Wish.com 19 Zara.com 20
Spain - Overview
It's estimated that more than 47.4 mil lion people live in Spain, which makes it the 9th biggest country in the world. Slightly more than 46% of all Spanish people is between 25 and 54 years old. According to data from 2011 more than 28 million Spanish inhabitants have access to the internet.
(classified by No of visits) Elcorteingles.es Carrefour.es Lidl.es Ikea.com Finac.es Druni.com
Population aged 0 - 14 15.23%
Population (2022)
7 Leroymerlin.es 8 Mediamarkt.es 9 Decathlon.es 10
12 Booking.com 13 Pccomponentes.com 14
Having declined during 2020 due to the economic shock of the pandemic, retailing current value sales in Spain rebounded only partially in 2021, with demand continuing to shift from physical stores to ecommerce – albeit at a slower pace then in 2020. In recent years, e-commerce has been growing in popularity across the globe.
GDP Per Capita $36,200
114 Turnover in Spain for 2020 in Million € Rank Retailer Turnover No Storesof 1 Mercadona 26,745 1,621 2 El Corte Ingles 10,432 350 3 Carrefour 8,368 1,136 4 Eroski 5,377 1,162 5 Inditex 4,700 1,319 6 Lidl 4,866 630 7 Auchan 3,575 386 8 Consum 2,543 839 9 DIA 2,167 4,236 10 Media Markt 2,011 107 Top websitesecommerceinSpain
Population aged 15 - 24 9.00%
3 Allexpress.com 4 Amazon.com 5 Ebay.es 6
47,163,418
OVERVIEW
users in Spain bought online, with an average expenditure, per capita, of around 2,250 euros that same year. However, it is anticipated that there will be moderate growth in retailing this year supported by the anticipated post-pandemic economic rebound. The share of overall retail sales ac counted for by ecommerce will con tinue to expand.
In 2020, nearly 80 percent of internet
TOTAL LICENSING
El Ocho not only focuses on children's brands, but also works with youth and adult targets. Within these sectors they can highlight two anime brands such as Dragon Ball owned by Toei Animation and  My Hero Academia, owned by Crunchyroll.  Dragon Ball is one of their icons even after almost ten years representing the brand.
Regarding promotions, El Ocho are currently in conversations with top companies from the food category in Spain to license Dragon Ball on different snacks, water and pastries.
The agency has currently been appointed as agents for Bluey, owned by the BBC, and Dino Ranch, owned by Boat Rocket. Their goal will be to build a powerful licensing program so that children can enjoy the characters through licensed products.
After almost 20 years' experience in Iberia, El Ocho agency continues to increase its portfolio selecting those brands it considers to have big potential to develop into wide licensing programs.  El Ocho has always stood out as an agency specialising in preschool brands, positioning itself as the number 1 in Spain and Portugal with brands such as Los Lunnis, Pocoyó, Peppa Pig and PJ Masks.
Following growth in this anime trend over the last year, My Hero Academia positioning itself as another brand. A significant detail that demonstrates this growth and taste for anime is that leading national and international retailers have requested both brands, creating truly attractive and innovative collections. Pull & Bear, Lefties and Zara from Inditex Group this summer launched models for boys, girls and adults with Dragon Ball and continues to increase their collections with new references for FallWinter. Karactermania and Grupo ERIK have developed a great stationery collection with My Hero Academia which will be launched in time for a BTS campaign.
El Ocho Licencias y Promocio nes is a licensing agency with over 20 years of experience. We are positioned as one of the best independent licensing agencies in Iberia, running some of the most success full licensing programs in the market.
Pilar Licensing,Fernández-Vega,Marketing& Promotions Director El Ocho Licencias y PromocionesCanyou
TOTAL LICENSING
We partner with the best manufacturers to create the best prod ucts that offer unique experiences to consumers through brands.We have close relationships with TV broadcasters to have the best pro gramming and create brand awareness engagement. We meet regu larly with key category buyers from top retailers in Spain to ensure they are aligned with the brand strategy. We listen to market needs and work closely with the best partners: owners, licensees, retailers, PR agencies, Meet & Greet agencies and TV.
What were the first properties you represented?
Can you tell us about some of the most successful licensing programs you have organised over the years?
As I mentioned be fore, and as soon as we started working in our agency, in 2003 RTVE ap Interview
We put hard work and passion into every licensing program we create. We select, build and develop brands carefully. We look for IPs that add value, we develop them and create a long term licensing strategy based on a steady progress that does not rush products to retail. We transform licenses into evergreen brands that are loved by all.
The first major preschool brand in our catalogue was Los Lunnis, owned by RTVE.  We started working with it in 2003, positioning it as the number one brand in Spain for more than 5 years.   As for the young adult target, in 2003 we also represented Mafalda, a publishing brand. After 20 years we continue to work with the main national and international textile retailers (Inditex Group, El Corte Inglés, Carrefour, Alcampo, Tendam, etc). In our early years, we also represented important and wellknown brands such as Pocoyó, Pokémon, Mr. Bean, Shaun the Sheep and many others.
tell us some of the background to El Ocho? When was the company created and why?
El Ocho works with each of the brands it represents as if it were the only brand in its catalogue, and this is probably what dif ferentiates us from other agen cies. The whole team studies each brand in depth, and from there, we prepare a strategy that we try to fulfil in order to position it in our markets. The agency puts all its efforts into each brand, making it unique and setting achievable and real objec tives. Throughout these almost 20 years we have demonstrated our work as an agency by positioning many brands in top positions in the licensing market: Lunnis, Pokémon, Pocoyó, Peppa Pig, PJ Masks, Mafalda, Dragon Ball, MasterChef, etc
pointed us as licensing agent for Los Lunnis. It was the nº 1 brand for several years, achiev ing a very important licensing programme and licensing all the most important product categoAnotherries.
Where are you looking to expand? Where will the company grow next?
What makes El Ocho different from other agencies in Iberia?
TOTAL LICENSING
As long as we select the best brands, the agency will grow expo nentially. We just want to focus on the brands we represent and make them powerful and long-lasting, ev ergreen brands.
great success was Poké mon, positioning it as one of the most important brands of the moment and our agency as num ber 2 in the European market.  We should not forget to mention another great success, Pocoyó, and finally Peppa Pig was the nº1 and still is one of the most important children's brands in Spain.  El Ocho managed Peppa Pig from 2010 to 2020, and we signed more than 100 contracts in Spain and Italy. And finally, one of our greatest success stories is Dragon Ball, a brand that we have been managing since 2015. We currently have more than 30 companies licensing Dragon Ball products.
These are difficult times for the li censing sector, so we must be cau tious and measure our steps care fully. Our objectives are to select the best brands, the ones we trust and know we can work on thor oughly in our territory, Iberia, and with our agency team.
and kids are available in retail stores
Popeye, the spinach-eating sailorman, is also flexing his fashion muscle this year with new collections from popu lar and trendy fashion powerhouse, Inditex (Zara, lefties,…) and Tendam (womensecret,…) All collections of Popeye-style apparel for men, women
Theworldwide.Little
Miffy, the global Dutch icon appealing to both kids and adults has proven to be a worldwide success in all fashion,
We manage properties that are appealing to consumers because they are recognized worldwide with the highest percentage of spontaneous Ourawareness.portfolio might not be top of mind among buyers, but we can state that they are top of mind among con sumers.
Prince was published for the first time in New York in 1943 so 2023 is time to celebrate the 80th anniversary! A beautiful opportunity to celebrate this event all around the world with exhibitions, shows, a new animated Tv series, new licensees and new awesome products!
TOTAL LICENSING
But the world, and so the market, keeps moving its own way and licens ing, within that new environment, has proven to be a solid asset that allows companies to keep growing and selling Itprofitably.isnoteasy - the cost of transporta tion is crazy, the Far East is no longer the solution to manufacture, costs have increased dramatically, it is much harder to access consumers online, the different platforms have changed the way we look at the screen, the properties are not the same, there are new consumers, and their attitude and their needs are different. But, still, new opportunities are show ing up and it is our job to find them. We, at Caravanserai, have learned to surf on top of the wave because the wave is far too big and fast to avoid it. We have learned we need to be flex ible to incorporate new trends, the new rules, the new inputs, the new consumers, to our way of licensing.We have no time to complain because we have plenty of work.
It is all about properties that are ap pealing to consumers because the consumer likes them and wants them.
We all thought that nothing would be worse than the pandemic, but we were wrong. The war in Ukraine has proven it.
118
Popeye and Olive Oyl, The Little Prince, Miffy, Sophie la Girafe, Peter Rabbit, is there anyone who does not know these brands?
looks forward to meet ing new and existing clients at BLE this September.
And now we have also added Cuphead, Roadsign and Pat the Dog to catch the interest of younger audiences. Cuphead, Mugman and other fan fa vorite characters are jumping off the screen and onto the runway with new apparel for adults and kids. Available at Zara stores worldwide, the collec tion features t-shirts, sweatshirts and shorts with designs inspired by the highly celebrated game's classic anima tion style. Stay tuned for much more to Caravanseraicome.
celebrate the continued relevance and appeal of the brand amongst children and families by ensuring Peter Rabbit remains a relatable icon for the next Existinggeneration.for over 59 years and with more than 55 million products sold since her creation, Sophie la girafe® is the first baby toy and the must-have at birth. In France she is part of the establishment and is now sold in more than 87 countries with an outstanding celebrity and fondness worldwide.
TOTAL LICENSING
design and baby categories with great and one of a kind products.
With over 250 million books sold, a No 1 blockbuster family movie and an Emmy award winning children's TV se ries, Peter Rabbit has become a global consumer brand with international awareness, loved and trusted by gen erations for 120 years!
2022 marks Peter Rabbit's 120th Birth day and Penguin Random House Chil dren's will be using this milestone to
TOTAL LICENSING 120
every year and currently has over 36 million However,subscribers.Pocoyo's transmedia appeal goes even further, as it has surpassed 92 million downloads of its apps and become a social media superstar, with several million followers on Facebook, Instagram and TikTok. This notable projection has brought with it excellent commercial results for current license holders. Among others, it is worth highlighting the ex cellent reception enjoyed by the toy line launched by Bandai. In addition, this has opened the doors to a new collaboration with traditional licens ees like Clementoni, and the expan sion of current deals with large retail ers like El Corte Inglés. Pocoyo has a massive and fiercely loyal audi ence which generates significant opportuni ties to develop a broad range of new licences in children's segments, including education, toys and garments. In parallel to Pocoyo's success, Zinkia con tinues to work on the launch of new proper ties, such as the pro ductions "Yanco, Dina and the Dinosaurs" and "Ghost Bros," which will soon be available in the licens ing market.
Sophie la girafe has been accom panying babies in the USA for over 20 years, and became a license 11 Duringyears ago. these 11 beautiful years, Sophie la girafe has developed many products around the world to cover all of baby's needs. Expanding her family in Spain and Portugal from France had beco me too restraining, which is why she looked for an agent based in Spain or Portugal. The goal of the Spanish and Portuguese agent is to support her in carefully developing new categories of high-quality products that could ap peal to babies and parents alike.  Sophie la girafe has now been sup ported in Spain and Portugal by Ca ravanserai since April 2020. Her wish was to join with the best quality agents. After two years now, this partnership as proven to be great. Thanks to Ca ravanserai one licensee have recent ly joined Sophie's family. Micuento, a brand specializing in customizable books. Micuento launched its person alized book with Sophie la girafe in November in Spain, France and Italy.
BLE 2022 coincides with the celebra tion of Art Ask's 20th anniversary as an independent brand licensing agency.
Pocoyo, the series created by Span ish production studio Zinkia, will celebrate its 20th anniversary in 2022 in excellent form. The animated char acter has not only managed to garner a loyal global audience, but contin ues to grow and expand its interna tional presence through important broadcasting agreements. Thus, the latest season of the series, its fourth, is having a magnificent reception by channels around the world, includ ing Spain's TVE, Panda and RAI, which have premiered the new episodes to great acclaim. Capitalising on the wave of expectation generated, Zinkia has already begun the production of new episodes which will be available in early Pocoyo2023.has become established as one of the most outstanding brands in the children entertainment indus try. Alongside the four seasons of the series (52x7), Pocoyo has a 25-minute short "Pocoyo and the Space Circus," the production "Pocoyo: your first film," and 45 pieces of special content, over 80 songs and numerous different derivative products.
NEWS FROM IBERIA
The series is currently present in 25 VoD platforms and in September Disney+ will incorporate it to its of fering in several European countries. Pocoyo is also available in HBO Max and Cartoon Network in the USA and LatAm, as well as the EMEA region and multiple territories through Amazon, Netflix and Rakuten, among others. In addition, it can be streamed via You Tube, where it reaches new milestones
Some specific Spanish highlights are: the Frida Kahlo brand with Spain's leading supermarket chain Mercadona. This collaboration has been going for some years now with products specifi cally for their well assorted personal care section. Other retailers featuring Frida Kahlo, the iconic women's brand, are El Corte Ingles that carries prod ucts from Grupo Erik, a long-standing partner, as well as apparel in the Green Coast section. El Corte Ingles also stocks Frida Kahlo books, stationery and gift items.
The Anne Stokes Collection has high end figurines by Spanish licensee Dream Figures who are about to launch their second collection this Au tumn and Heraclio Fournier/Bicycle, a local long standing Anne Stokes Col lection partner with worldwide distri bution of their very popular poker and tarot decks.
For Brandalised, alongside the estab lished distribution of merchandise in cultural retailers such as FNAC in Spain, Art Ask has major news with a new DTR collaboration with iconic fashion brand, GUESS? Inc, with world wide distribution in their own stores, franchise stores and GUESS online, including Spain where GUESS is very popular, which will launch in October
TOTAL LICENSING 121
After2022.
Also strong in the Spanish market is DTR partner EMP, with EU and UK distribution, who launched their Anne Stokes x Gothicana apparel and acces sories collection at the end of 2021. After the success of the first campaign, the second launch will take place this Autumn 2022.
represented brands actually have not changed much over the re cent years. They stay focused on partnerships with The Frida Kahlo Corpo ration, Anne Stokes Collection, Bran dalised, Pets Rock and some others for different territories.
A newcomer for art ask agency and for the licensing arena this year is the Spanish fashion designer brand Custo Barcelona. They will present Custo for the first time at this BLE. With over 40 years of presence on international cat walks and with a very distinct design style Art Ask believes the Custo brand can reach well beyond apparel, into home decor, gifting, jewelry, fragrance and many other categories.
This year also saw the in-store Frida Kahlo promotion, targeted at kids, at large book store chain La Casa del Li bro. A giant Frida Kahlo from licensee Kalidoscopio was placed in stores for photo opportunities and colouring activities for children.
three years of not exhibiting at BLE Art Ask is very excited to finally go back and meet and greet all their partners in person and to increase their network of contacts with new brand owners, licensees and retailers.
Edebé Licensing have a number of new properties they are bringing to Iberia market.
Iconic Fraggle Rock Characters, with their new series Fraggle Rock, Back to the Rock on Apple TV is a key brand for Edebé. Several licensing agree ments have already been signed includ ing plush, slippers, and different agree ments are being negotiated for DTR Fast AfterFashion.thesuccess of the Dakar licens ing program, ASO has relied on Edebé Licensing to build the Tour de France brand Licensing program in Iberia. The company is already in advanced ne gotiations for licensing agreements in the categories of lifestyle apparel, chil dren's bicycles, accessories, etc. Marking the 30th anniversary of its creation, a licensing program is being built in the form of a tribute to Tois. PANINI, with its Tois album sticker, has been the first to launch a collection in the market with resounding success, and is already preparing new releases. And a DTR deal has been signed for Fast Fashion, while new deals are be ing finalized for gift and accessory cat Inegories.terms of existing licenses, Santoro continues to be a top license, with the iconic Gorjuss still very present in the market and consolidating itself as a classic property, including key li censees such as El Corte Inglés, Safta,
With headquarters in Barcelona, Spain, The company works worldwide with a well-established network of promi nent licensees. They pride themselves in maintaining long term relationships, both with brand owners and licensees and being unique in our approach to lifestyle licensing in order to help our customers to stand out and be distinc Theirtive.
SuperMasked is an animated super hero saga developed by the Spanish studio Maya Studio that will show kids that you don't need to be perfect to be a superhero. A mix of comedy and epic battles, the Supermasked characters have one primary defectthey don't know how to use their superpowers.
Produced by CyberGroup Studios, and with 3 seasons available, the TV series has been reaching a huge audience in Spain, through a multi platform broad casting (CLAN TV, Disney Junior, Net flix, Youtube).
Over and above that, a collaboration with sugar free energy drinks is being planned for Christmas 22, and Panini has signed on for a range of collect ables for February 23, and is develop ing several publishing formats. United Essentials is also on board developing a fresh range of apparel products.
Consumer Product Connection represents the rights for Gigantosau rus in Spain.
A playset is now being developed for the Christmas Campaign with more developments for 2023.
TOTAL LICENSING 122
AlsoLadelle.noteworthy is the Brigitte Bar dot license, which has enjoyed excel lent sales results in categories such as lingerie, Fast Fashion, and cosmet ics, among other categories in other countries, and in Iberia, Edebé will soon announce new licensees for fast fashion, stationery and accessories for personal care. In addition, a strawber ry cream beverage has been created by Spanish licensee Espadafor.
Aznar Innova, Planeta De Agostini and Stor, among others, which continue renewing and refreshing their collec tions with a very good reaction in the marketplace. Mirabelle is another of the Santoro Properties that has en joyed a great reaction in the market. Safta have recently renewed their BTS license, together with Benetton, and many others. Also noteworthy is the successful performance of the Poppi Loves property, especially with the sta tionery collection and BTS developed by OnDOHE.adifferent note, Catalina Estrada is performing very well Internation ally. Catalina Estrada has more than 60 licensees and the latest deals in clude Gibson puzzles (puzzles), Cu atro Gotas (umbrellas, fans, shopping bags, mugs), Loyalty programs, Free Spirits (fabrics) among others. In addi tion, Edebé has signed stationery, tea pots and cups with Australian licensee
A strong licensing program is already established in the market, with several product categories launched including Jakks Pacific as Master Toy, the official video game with Bandai Namco, Pa nini for sticker albums and magazinea, Clementoni, Ravensburger, Stor, Ap parel with United Essentials, Ediciones Fortuna with the local version of the book collection, Toimsa with bikes, and a great cosmetic set at Merca dona partnering with Jugavi. On top of that, a new toy range from United Smile (whose local distributor will be confirmed soon) is being developed based based on the second season to be launched in Q2 2023!
The strategic toy develop ment partner, Eolo Toys, through its local Master Toy, Color Baby, launched the first toy products in June in all the best retailers. The Stretchy Figurines won the
Gold medal at the 2022 independent Toy Awards, in the Novelty category, and have been launched with a huge marketing campaign (TV, Digital,Youtu bers, Influencers etc).
Two seasons of 10 episodes each are being produced to strengthen the brand, broadcast on Clan TV´s digital platforms, and several Youtube chan nels (Clan, Color Baby, Trackatoon). In addition, a fighting app game is avail able on both iOS and GooglePlay.
Color Baby is now launching in Portu gal, having reached an agreement with Cartoon Network to broadcast the Whilecontent.Consumer Product Connection is developing the licensing programme in Spain, it has appointed several subagents around the world as the prod uct range will be available globally dur ing Carlos2022-2023.Biern has joined the DeAPlaneta Entertainment team as Content and Distribution Director of the Kids & Family division. Reporting directly to  Diego Ibañez, Chief Brand Officer, Carlos Biern will accelerate the company's trajectory, enlarge the DeAPlaneta Kids & Family portfolio of quality animated series with original productions, coproductions and acquisitions and position the brand
tainment and licensing business which includes online promotions, marketing and social media activities, magazines as well as retail events.
The mother company Ypsilon Films is a leading Barcelona based distribution company which acquires and markets iconic international brands and high profile programming via partner ships with production and distribu tion companies for the exploitation of Television and SVOD rights in Iberia as well as for the TV sale of selected programs in Europe, Israel, The Middle East, Latin America and Asia. Ypsilon offers a line up of major animated brands, family movies and kids game
tween the international partners and the local broadcasters in order to se cure the best slots for the property, building a strategy for licensing and publishing across multiple platforms with the producers and licensees. Ypsilon manages key relationships with TV networks, SVOD platforms, master toy companies, licensees and retail ers, illustrators, fashion designers and influencers, negotiates and structures the deals including all commercial, fi nancial, legal and artwork follow up.
Carlosglobally.Biern, former President of DI BOOS (the Spanish Federation of Ani mation and Visual Effects Producers), has vast experience as a creator, exec utive producer and business developer for animated series. His credits include some of the top award-winning copro ductions in Europe, North America and Asia. Over the past decade, Car los Biern led creative and commercial, audiovisual, digital, interactive and merchandising teams at renowned animation companies including BRB Internacional (Spain) and Toonz Media Group, (a leading multinational with animation and interactive studios in India, Ireland, Spain, Turkey and New CarlosZealand).Biern will use his global view of content development and management, and his Asian market experience to expand DeAPlaneta Entertainment's reach into new and growing markets in both production and distribution. He will also pay particular attention to digital IPs targeting young audiences, plus videoon-demand platforms and immersive Carlosenvironments.Biern declared, "It's a dream to join an international team with so much experience and success in the creation and expansion of family brands. Our mission will be to create and identify major successes capable of merging digital and the latest cre ative trends, without ever losing sight of our core interactive audience."
Roberto Mitrani is Co-Founder of Yp silon Films and CEO and Co-Founder of Ypsilon Licensing. The team brings a solid domestic and international mar ket experience in television and SVOD distribution, new media rights exploi tation, brand management of iconic
shows maximising the IP revenue and developing tailor-made brand man agement solutions for the property. Television sales include Miraculous Ladybug, Alvinnn!!!&The Chipmunks, Hey Duggee, Beyblade Burst, Petronix Defenders, Pinocchio, Little Prince, Iron Man, Strawberry Shortcake, Care Bears, Octonauts, Monchhichi, Jungle Bunch and many more.
The latest brands managed by Ypsilon Licensing are Hey Duggee and Bey blade Burst. .
Ypsilon Licensing was born as a joint venture between Ypsilon Films and Multitrade Group in order to expand global opportunities in the kids enter
Diego Ibáñez adds:  "Carlos Biern is one of the most experienced European producers in the field of international animation, having worked in both the public and private sectors. His incor poration into the Kids & Family team is a great boost at a time of major growth for DeAPlaneta."
Ypsilon Licensing manages licens ing and publishing rights of animated brands in Spain and Portugal in coordination with the right holders de veloping a comprehensive long term business plan which includes online and offline cross promotion, social media and retail events. The company operates as a bridge be
properties, sales and acquisitions of television brands, co-productions, financing and Executive Production of animated series and live action films with international partners such as Universal Studios, Endemol, Viacom, Warnermedia, The Walt Disney Com pany and BBC Films among others.
TOTAL LICENSING 123
on TV channels and OTT platforms
They share the goals and vision of our international partners and clients and we are committed to the success of each property.
The three seasons of BBC's Hey Dug gee were sold by Ypsilon Films to Clan TVE, Amazon and HBO in Spain. Canal Panda Spain was already onboard. The brand has been on air since September 2020 in the leading family channel Clan reaching the number one spot among all preschool series in the 1st and 2nd quarter as per TVE ratings breakdown. Ypsilon Licensing has brought on
The team has recently secured an ar ray of new local deals for the brand, including toys and games, back-toschool, gifts and accessories.
Moreover, the recently announced launch of the live-action Sonic the Hedgehog 3 movie, due to hit cinemas in December 2024, has brought new promotional partners on board, creat ing a very robust licensing program for the world-renowned blue hedgehog. Another important local focus is Hello Kitty and the Sanrio Friends characters. In 2024, Hello Kitty will celebrate its 50th an niversary milestone and there are already a number of partners signed across a vast array of categories including, Famosa, Claudio Reig, Col orbaby and Toimsa for toys and games; Stor and Nerthus for homewares; Safta and Angel Europa for back-to-school and paper prod ucts; Joumma Bags for travel accesso ries; Macadamia, Flexmetal and Euro carnavales for partyware; and Dixon for pet Alongsideaccessories.this,Airval, Lorenay and Ce pillería Bamar are on board for health & beauty with; ABC Parts for car ac cessories; Industrias Plásticas Igor and Calzados Ria for footwear; Kids Li censing and Merka for gifting; Personal World for mobile accessories; Lladró for porcelain figures; Dolci Preziosi and Risi for confectionery and cook ies; as well as Editorial Bruño for publishing. Key fashion retailers also continue to launch designs from these beloved brands, including Zara, Lefties, Cortefiel, Springfield, Pull&Bear and WithinBershka.its
WildBrain CPLG Iberia has be come home to a robust slate of clas sic brands, with an increasingly strong line-up of properties with a rich heri tage, including Peanuts, Pink Panther, Sesame Street, Hello Kitty, Sonic the Hedgehog and Ghostbusters. WildBrain CPLG Iberia is a hub of experts with extensive local knowledge and un derstanding on how to grow and extend these classic brands into new areas, with the team continu ally evolving and delivering long-term revenue for partners. Across its clas sic property portfolio, WildBrain CPLG has secured an array of longterm partnerships with leading fash ion retailers, such as Zara, Bershka, Pull&Bear, Stradivarius, Lefties, Mango and Women's Secret.
board the leading toy company Bizak which distributes the Golden Bear toys and Educa Borras, Stor and Safta are already onboard. Ypsilon Licens ing co-ordinates all operations and long term strategy among Clan, BBC Studios, Bizak and new licensees will be announced soon. A comprehensive marketing campaign online and offline is launched nationwide with the sup port of BBC Studios.
WildBrain CPLG Iberia's representa tion portfolio continues to expand, and the team has recently welcomed new partners, including the wellknown brand that inspires creativity, Crayola.
Lifestyle property line-up, WildBrain CPLG Iberia continues to enjoy significant success with Harvard and Yale university brands in the re gion. In the fashion category, key part ners include Pull&Bear, Zara, El Corte Inglés and Stradivarius, and additional cross-category partners have been secured, including Grupo Erik for pa per products and gifts, and Artesania Cerda for apparel and accessories.
In Spain and Portugal, the team con tinues to grow the merchandise of fering for MGM's Pink Panther, which celebrates its 60th anniversary in 2024, with campaigns and marketing activity launching in the region from June 2023. New partners for this classic brand in clude Dohe for stationery and back-to school items, Artesania Cerdá for ap parel and accessories, and Desigual for a global fashion range targeting wom en and girls. These new partners build on the existing long-term partnerships with Women'Secret for sleepwear and loungewear; Bimbo for the iconic "La Pantera Rosa" pastry; Zara, Lefties and El Corte Inglés for fashion apparel; Fu niglobal for costumes; La Ibense for ice cream desserts; and Grupo Moya for plush figures.
124
The 6 seasons ADK's series Beyblade Burst is managed by Ypsilon Films with the Free to Air TV network Boing in Spain. Hasbro is worldwide Master Toy and the success of the property is beyond expectations with the 6th sea son on air and more to come. Ypsilon Licensing manages
The iconic Sonic the Hedgehog con tinues to take centre stage in the team's entertainment property roster with the launch of the new SEGA and WildBrain IP Sonic Prime, which will see the all-new animated series debut ing on Netflix at the end of the year.
dia and and ADK. Ypsilon Films man ages the TV opportunities.
TOTAL LICENSING
birds: Danger Zone. The co-operative card game was developed with award winning designer Andrew Harman and is available to buy from the Gerry Anderson store or via Asmodee and Spiral Galaxy at independent game Instores.addition to the game, Anderson En tertainment has been busy working on new stories from the world of Thun derbirds through a range of audio dra mas. Adapted from the pages of TV Century 21 comics of the 1960's the ranges launch with 'Thunderbirds ver sus The Hood' released in September, with further releases so be announced in the coming months.
tant, and by delving deeper into the archives while retaining the key ele ments, we can entertain, inspire and excite a whole new generation of Plansfans." include moving further into the
The audio dramas, adapted from the pages of TV Century 21 comics of the 1960's the ranges launch with 'Thun derbirds versus The Hood' released in September, with further releases so be announced in the coming months.
The vast library of content in particu lar is a stronghold for the company, with unexploited IP ready for the off.
TOTAL LICENSING 125
From the beginning, when Gerry An derson made his first foray into pup petry in 1957, to signing an expansive cross-category deal with ITV in 2020, Anderson Entertainment, says Jamie Anderson, MD, has a wealth of IP at its fingertips.
"There is a real appetite from fans for new and exciting ways to engage," explains Jamie. "Nostalgia is so impor
The company recently announced its first steps into the world of card games with the launch of Thunder
ences and heritage IP to explore the universe of licensing.
Gerrytainment."Anderson's successful career spanned 60 years. Released a decade after his death, the documentary Ger ry Anderson: A Life Uncharted draws on exclusive access to over 30 hours of previously unpublished interviews, in order to share the untold stories that defined his life and body of work. Available to air on BritBox, the docu mentary exemplifies the true depth of the body of work, the creativity behind Gerry and his son Jamie, and the potential to create new worlds of fans.
Fans – new and existing – are abso lutely key to Anderson Entertainment. With nearly 200,000 combined fol lowers and a monthly reach of five million, there are over 3000 hours of E-commercecontent. is also an extremely im portant part of the business, with over 30,000 e-commerce customers.
experiential sphere; further content creation and development; and in creasing visibility in markets such as Latin America and Japan. Space: 1999 and UFO are just two of the that, as Jamie comments: "… are under-used but again, there is a real appetite for all shows that come un der the umbrella of Anderson Enter
Of course, Thunderbirds is still the jewel in the crown, but, as Jamie com ments: "We are not resting on our Creating,laurels!" developing, producing and nurturing properties to engage the huge global fanbase is the ethos be hind the company. Now, with direct to consumer and licensing operations 'a-go', Anderson Entertainment brings together its cult following, new audi
These full cast audio dramas feature impressionist Jon Culshaw taking on the roles of Jeff Tracy and Parker, alongside a full recast of the original voices – all handpicked by Jamie An derson, Gerry's younger son, to em body the qualities and energy of their 1965 counterparts
Anderson Entertainment: Go!
Back in June 1997, when entertainment entities and licensing agencies were almost all headed up by men, Carole Orgel Postal founded CopCorp, (Carole Orgel Postal, aka COP) one of the first ever licensing agencies headed by a woman. In the quarter century since, Carole has enjoyed licensing success with non-media properties such as Jim Benton's It's Happy Bunny™ (a fivetime LIMA Award winner – including a 2008 Special Merit Award for Licens ing Creativity) and also with entertain ment properties such as Downton Abbey (2015 LIMA Award winner for Best Film, Television, or Entertainment Live-Action licensing program), Out lander, and Samurai Rabbit: The Usagi Chronicles, as well as social media ce lebrity Boo, the World's Cutest Dog™, comic book series Usagi Yojimbo, and other well-known brands such as Lit tle House on the Prairie, Ringling Bros. and Barnum & Bailey, Precious Moments among others.
Spotlight Licensing, helmed by Carole Postal, is celebrating an incredible 25 years in the business. We caught up with Carole and her team to discover some of the 'secret sauce' that has led to the successes of the last quarter of a century in business...
first women to launch her own licens ing agency and the leader of a team – including Senior Vice President Jodi Gottlieb and Director of Marketing Ken Wong – which has now been together more than 20+ years: since shortly after the founding of her agen cy. The company has since evolved into Spotlight Licensing and Brand Manage ment (launched in 2017 following the passing of CopCorp co-founder Bob Postal, Carole's husband and a licens ing pioneer in his own right). Carole comments: "I can look back over 35+ years in the industry! I was one of the first women to open her first licensing agency - back in a very different time, time when emails were just starting!" Prior to starting out on her own, Carole was in the area of entertainment licensing for nearly 20 years, with Ripley's BELIEVE IT OR NOT, Turner Home Entertainment (now Warner Bros/Discovery) and Sesame Street. "I didn't start my com pany with OPM (other people's mon
Carole is proud of being one of the
TOTAL LICENSING 126
Carole Postal Celebrates 25 Years as head of her own licensing agencybefore women were doing that!
ey) and with any clients… it was just me, with a little assist from Mr. Postal, – I must say, people kind of scoffed. It's hard to believe now, but there weren't many women doing it on their own 25 years Together,ago."this team has built a repu tation for finding, championing, and strategically positioning lesser-known, niche, or specialty properties for li censing success. Their work has be come a testament to how new and innovative approaches to licensing – including the emergence of "trend" licensing for non-media propertiescan help smaller, lesser-known proper ties successfully co-exist and compete with mega-corporate brands in the world of licensing.
"Carole and the team at Spotlight Li censing have been a dream to work with for the past 25 years. Carole has a keen eye for discovering talent and properties while they are still incubat ing and has the vision and know how to bring them to their full potential. I always credit Carole for seeing the potential of Hot Topic back in the early years when it was a small little alternative retailer, she opened doors for us in licensing that led to immense success and it being leader in the li
"I am so pleased that Spotlight are commemorating their 25th year in service, and I look forward to working together for many years to come." The team also add this magic touch to shows such as Outlander, Poldark and Victoria, all Masterpiece Theater, pe riod piece, historical dramas. Not the norm for licensing success for sure! Carole strongly believes licensing is an industry which brings a little bit of the magic of entertainment into homes and brings smiles and happiness to people of all ages, depending on the focus of a particular property. She is also a champion of the idea that those lucky enough to be in the business of licensing – an industry made up of "stuff" – and have an opportunity and responsibility to share with those less fortunate, so in addition to her work as an agent, Carole's career has also included much charitable work. She currently serves on the Executive Committee and Board of Directors of Delivering Good (formerly Fash ion Delivers/Kids In Distressed Situa tions), a Licensing International charity of choice dedicated to getting new product donations to those in need. Delivering Good's annual Women of Inspiration Luncheon, which Carole has co-chaired for more than a de cade, honors outstanding women who have distinguished themselves in the worlds of licensing, fashion, entertain ment, real estate, and philanthropy. Carole was formerly on the Board of Directors of the Museum of Comic and Cartoon Art. Carole also served on the initial Advisory Board to what evolved into the Brand Licensing Show, as a LIMA officer from 1989-94, and as a member of LIMA's Executive Board from 1994-98.
One of the most successful brands
Carole comments: "Being a licensing agent is partly being a soothsayer! You need to look at things going on in the industry and predict the future. That is something that comes with experi Sheence."first
"It was live-action, set in the Edward ian era, with a relatively unknown cast – all things that do not go together to make the perfect licensing cocktail!" However, as Carole puts it, she 'had to have it'. Again, there were a few raised eyebrows in the industry. That was, of course until the first deal hap pened (calendars), and the deals did not stop. At one point, Downton had 45 Carolelicensees.attributes part of this success to the unique talent that she and the team have for the touch of bringing British properties to America. For example, some of the interest ing deals made were a range of roses named after the characters; an entire tableware and homeware line, garden ing tools; and even a custom copyrighted lace. Every product has to go through the personal eyes of Jodi Gottlieb. Her sense of product allows clients to feel extra relief that every single product, regardless of size and cost, will be excellent!
cense industry still today," says Cindy Levitt, Senior Vice President Licensing of Mad Engine, and former SVP and GMM at Hot Topic .
came across Downton Abbey on a visit to the UK ten years ago –when colleagues were raving about a fantastic period drama that the coun try was obsessed with.
Gareth Neame, CEO, Carnival Films and the Executive Producer of Down
"The licensing industry is so relation ship focused,' Carole adds. 'The live events, such as Licensing Expo and Brand Licensing, are so important, as many of us have been colleagues for decades, seeing each other through the highs and lows of this business. It has been very difficult not to see and hug people over the last few years, so to be able to come together again –this time in London this September, this is enormous! We can do business again the old-fashioned way."
Jodi comments: 'Working at a licens ing agency with such a diverse brand portfolio means staying on top of trends; talking to many different types of manufacturers, retailers, and intel lectual property owners; as well as handling a wide range of responsibili ties. The excitement of putting that all together to create great products is what keeps us going!"
ton Abbey, congratulates Carole and her team on her 25 years running the successful agency: "Carnival Films has had the pleasure of working with Car ole and the Spotlight team for over ten years now, creating inspired licens ing opportunities for Downton Abbey. The success of our partnership is, in large, due to Spotlight's meticulous at tention to detail, their dedication to their clients new and old, and their ex ceptional passion for the brands they work with.
Carole and the team have worked on is Downton Abbey.
"I can look back over 35 years in the industry! I was one of the first women to open her first licensing agency..."
TOTAL LICENSING 127
Carole says: 'Jodi and Ken have been with me for well over 20 years each – we are known as a team, and we have the stability of being a team. We get more done! We learned the busi ness from grassroots. We three have a profound experience – we are not just 'Carole Postal started 25 years ago' – we are the team, which makes the Kencompany.'comments: "Thinking of things that have changed over the years like technology, the team has not!"
Empowering sustainable choices
In the UK, Harvey Nichols has launched a new resale drop off des tination in its Knightsbridge store, in partnership with Kids O'Clock. Cus tomers can drop off their children's pre-loved clothing, and receive a £20 voucher to spend on the new Harvey
llb-mba-98231636in/utku-tansel-www.linkedin.com/Spendingonclothingandaccessories is mostly discretionary, and fashion is one of the key areas that consumers cut back on during the pan demic. So, it was not surprising that it was one of the industries impacted most negatively by COVID-19. Reduced demand for clothing and the temporary closure of shops during the COVID-19 pandemic has impacted predominantly storebased retailers hard, reflected in revenues of the leading clothing and footwear retailers, with ecommerce sales insufficient to offset falling store revenue.
Nichols childrenswear floor in return. US fashion retailer Urban Outfitters launched Nuuly Thrift, a second-hand garment platform, giving consumers the opportunity to resell unwanted clothing items. Nuuly Thrift will be a sister platform to Nuuly Rent, the sub scription rental service for women's clothing launched by the brand in 2019. Online fashion platform Zalando launched a maintenance and repair service platform as part of its strategy to extend the lifespan of at least fifty million pieces of clothing by 2023 and reduce textile waste. In cooperation with the retail app Save Your Ward robe, Zalando offers customers a digi tal platform through which they can repair clothes and shoes. Consumers can go to selected local workshops and tailors for this, but the collection and return of repaired items is handled by Zalando's own logistics service. The service is initially being tested in Ber lin and Düsseldorf, but is expected to be rolled out to more markets in the Infuture.June 2021, Sellpy, the second-hand fashion platform backed by Swedish retail group H&M, launched in an other 20 European countries (Spain, Denmark, Finland, Belgium, Czech Re public, Estonia, Croatia, Hungary, Italy, Luxembourg, Latvia, Poland, Slovenia, France, Lithuania, Portugal, Bulgaria, Ireland, Romania and Slovakia). The rapid expansion comes just months after Sellpy, which launched in Sweden in 2014, entered Austria and the Neth erlands in early 2021 and Germany in Inmid-2020.January 2021, online retailer Very launched a second-hand partnership with fashion re-sale platform Re-Fash ion encouraging customers to donate unwanted clothes to be re-sold on the Re-Fashion resale site to give them a second life.
TOTAL LICENSING 128
At the same time, it has expanded its eco-friendly product offering, launch ing a sustainable denim collection for women, men, and children and most recently in September 2021 intro ducing Alter Made, a new sustainable brand aimed specifically at eco-con scious consumers. The company said that the new brand is centred around sustainable and ethical initiatives and its launch was due to customer de mand for more responsible fashion. Products in the range are made by local experts from sustainably sourced materials and designed to be long-last ing and high quality.
An increasing number of fashion re tailers are producing their own ranges of sustainably- and ethically-produced garments. For example, Mango has es tablished as one of its key objectives to increase the proportion of sustainable fibres in its collection, which is why, by 2025, 100% of the cotton used in its garments will be sustainably sourced.
Hand-in-hand with second-hand is the growing awareness of individual con sumption on the planet, which is lead ing to a desire to minimise the impact on the environment.This area looks to be one with great prospects for retail ers with agreement with 46% in Spain, 45% in the UK, 41% in Germany, 40% in Italy and 33% in France saying they have not bought sustainably-made clothing, but would be interested in doing so.
One of the most prominent trends in retail at the moment is the increas ing popularity of buying vintage or second-hand clothing. We have seen a plethora of launches from retailers of all kinds vying for a space in this mar ket. Over one-third of French con sumers said they have used secondhand clothing apps to buy clothing. In addition, our research highlights that while one-third of Spanish and 29% of Italian consumers have not done this in the last 12 months, they would be interested in doing so in future dem onstrating the considerable potential for growth in this area.
UK retailer Marks & Spencer has an nounced its plans to become net zero by 2040, starting with a 34% carbon
Second-hand takes off
cost. Secondly, the drive to create a more sustainable fashion market, with brands increasingly under pressure to create more looped systems and be clear in the ways they are improv ing processes. Finally, 'thrifting' has also become a fashion trend in itself, with some younger shoppers eschew ing the fast-fashion draw in favour of repurposing items to create a more unique style.
casualloungewearclothing,tionresultingmoreconsumersMoreover,spenttimeathome,inareduc-inthedemandforexceptforandmorestyles.
European Fashion Retailing:
Nevertheless, as highlighted in Mintel Clothing Retailing - Europe – 2021 report, emerging trends and shifts in consumer behaviour, including the ris ing popularity of second hand, grow ing sustainability awareness, increasing tech usage as well as booming online sales, create unmissable opportunities for Fromretailers.supermarkets to sports good retailers, fashion has always been a fo cus for development for a number of different non-specialists increasing the competition for specialists. However, the biggest effect has been the tremendous growth in online shopping. The ongoing pandemic has accelerated growth in the online market overall by several years even in markets where online shopping for clothes was al ready an established behaviour, engag ing more people and forcing retailers to up their game. This underlines how crucial it is for clothing and footwear retailers to have a comprehensive, competitive online presence, particu larly as there can be no certainty when it comes to the prospect of further re strictions.
By Utku Tansel LLB, MBA
There are three drivers behind these initiatives. Of course, there is a value element to second-hand purchasing, particularly in the premium and de signer segments, allowing access to brands and styles but at a much lower
A New Dawn Brought by Shifting Consumer Priorities
The pandemic has accelerated developments in this area as retailers and brands have had to find ways to engage with their customers while shops were closed and enhance the online shopping experience.
In Spain, leading Spanish brand Zara has rolled out an augmented reality experience in some of its flagship stores including Barcelona whereby customers using the Zara app on their phones can see models walking around the store and wearing clothes which they can then select and buy. It has also launched Store Mode, a function on the Zara app, that includes Click & Find, which uses geolocation to allow shoppers to find specific items in-store, and Click & Try, which allows shoppers to book fitting rooms which are accessed using a QR code.
In September 2021, H&M launched its H&M Recycled Denim collection which is the brand's most recycled collection to date. The products are made out of 100 per cent recycled fabrics, threads, labels and pocketing.
This highlights how both fashion retailers and brands need to make sustainability a growing focus while en suring that their approach to becoming more sustain able covers all areas of their business. Using more sustainable materials for clothes and footwear that are less damaging for the environment is part of this journey. It will require retailers to invest in the latest innovations as well as in long-term partnerships with companies creating next-generation materials made from plants and textile waste.
emissions reduction by 2025, and a planned in crease to 55% by 2030, as part of its wider decarbonisation process. The move comes as a re launch of its 2007 Plan A scheme, and includes colleague initiatives, and the launch of its Green Network site, aimed at encouraging sharing ideas and innovations. Also covered is the launch of re wards for its Sparks customers for 'shwopping' pre-loved clothing; they can also receive a free treat through a QR code by donating clothes to InOxfam.Spain, leading fashion company Inditex has made sustainability its number one priority, an nouncing that all of its Zara collections will be made from 100% sustainable fabrics before 2025, with its other brands, including Massimo Dutti and Pull&Bear, to follow suit.
TOTAL LICENSING 130
Fashion retailer Primark announced that it is ex tending its clothing recycling service called 'Tex tile Takeback' to Austria, Ireland and Germany in October 2021, The scheme, which was launched in the UK in 2020, will be rolled out to 73 stores across Europe. Textile Takeback enables custom ers to recycle clothing and textiles, such as bed sheets and towels, from any brand, via collection boxes in stores which are then either reused, recycled or repurposed. Since its launch in the UK, Primark has prevented 23 tonnes of clothing and textiles from going to landfill.The company is targeting all the clothes it sells to be made from recycled/more sustainably sourced materials by In2030.March 2021, Benetton revealed its new store concept in Florence, Italy featuring intensive use of sustainable materials and state-of-the-art, en ergy-saving technologies.The new store is part of a major sustainability project that the company is carrying out to consolidate best practices and im prove its environmental and social performance throughout the supply chain. The 160-square meter, single floor boutique makes ample use of upcycled natural materials.The shop interiors are made with new materials created from textile industry scrap while the window displays make use of sustainable solutions that reduce the use of resources. Customers can choose from the wide range of Benetton sustainable garments in or ganic, recycled or BCI (Better Cotton Initiative) cotton, regenerated nylon, natural fibres, such as linen, and other sustainable materials. Overall, consumers increasingly want to know more about the products they buy, where they are from and how they are made. Indeed, Mintel's
Our survey for Mintel Clothing Retailing - Europe – 2021 report confirms that some 39% of Spanish respondents and 31% in Italy said they have not tried on clothing items online virtually (eg using sizing tools, augmented reality) over the past 12 months, but would be interested in doing so in future. 16% of shoppers in both the UK and Spain have already tried clothing items virtually over the past 12 months.
With non-essential stores being forced to shut for large periods of 2020, retailers have tak en the opportunity to expand into new store launches during 2021.
H&M collaborated with actor John Boyega, creating a menswear collection available in selected stores and online from the end of October 2021. Pieces included are made us ing sustainable materials and includes cotton that is recycled from textile production waste, post-consumer waste or organic, as well as recycled nylons and polyesters. The collection includes a patchwork denim jacket made up from collected denim and remade, as well as an organic cotton striped shirt and 100% recycled cotton jeans. As the brand celebrates its centennial year, Gucci unveiled pop-up stores across three major cities in Eu rope, namely Berlin, Milan and London. These neighbourhood-centric temporary spaces aim to offer multidimensional experiences to visitors, with each store reflecting the city it is sited in. Each location stocks a selection of Gucci 100 ready-to-wear, footwear and acces sories, as well as a Gucci café. As these popups look to mirror their respective home city, each contains elements specially designed for the location. Gucci Circolo Berlin, which was located in the historic building Berlin-Kreuz berg, focuses on the house's ties to music, with an interactive photo booth as well as listening lounge. The London site centres around a cu rated bookstore. In September 2021, Adidas by designer Stella McCartney released its newest AW21 collection and Earth Explorer campaign, as part of a continuing collabora tion.The launch includes a number of sustain able material innovations, with items either using materials with a minimum of 40% recycled content, or an upper containing at least 50% parley ocean plastic. The collection also includes a Sleeping Bag Puffer Jacket which uses 100% recycled polyester, as well as WIND.RDY fabric, which is designed to protect against weather conditions. British lifestyle brand Barbour has collaborated with luxury British interiors House of Hackney for the first time to launch a womenswear collec tion for autumn/winter 2021, coinciding with the tenth anniversary of House of Hackney's natural world inspired designs. The collection will be available in selected stores and online, and features three of House of Hackney's distinct floral prints, together with Barbour's traditional heritage style.
The emergence of the virtual world
Some examples include Ralph Lauren's partnership with Zepeto, a social networking and avatar simula tion app to launch an exclusive virtual fashion collec tion. The app lets users dress their own avatars in the new collection and socialise in the virtual world using customizable 3D avatars.
Fashion & Sustainability: Inc Impact of COVID 19 –UK, 2020 report found that 37% of consumers care more about where fashion items come from now than before the outbreak.
In October 2021, leading fashion retailer H&M launched virtual in-store fitting features into a num ber of its stores in Berlin and Hamburg. As part of the initiative, customers are given a free virtual avatar, with their exact body measurements in the scanner of the store which allows them to try on around 30 items from a new collection.
The tech-driven experiences sit well with consum ers' increasingly digitally-led habits, giving them the hassle-free online experiences they have come to ex pect from ecommerce, but the ability to see, touch and experience the product in person before com mitting to the purchase.
Retailers experiment with new formats/collaborations to cre ate a point of differentiation
RivierathetoBack
olds, Margot is an extremely obser vant little girl but sometimes a little too emotional. So, when she sees a laser beam from outer space land on the water tower in the middle of the night, she prefers to tell herself that she was dreaming. But two cruel aliens have landed and want to enslave the population of Aquaville!!!
Sinking Ship Entertainment will bring Phoenix Rise, a series produced by BBC Kids & Family that Sinking Ship to MIPCOM. Channeling the spirit of the classic 80s film The Break fast Club, Phoenix Rise is a bold, new school drama series that champions the underdog. This coming-of-age se ries follows six students who form an unbreakable bond as they navigate the trials and tribulations of school life. For them school becomes a hope ful place, a chance to finally right the
100 Media will also be offer ing Season Four of the internationally popular and highly successful brand and fantasy-adventure series TV series Mia and me (26 x 23') and Season Two of the comedy-adventure CGI series 100% Wolf – The Book of Hath (26 x Mia22'). and me is a fantasy, adventure series with a mix of live action and
3D animation targeted at girls 5 – 10 years of age. It's produced by m4e a Studio 100 Group company in co-pro duction with ZDF German Television Network in association with Studio56
17-20MIPCOM15-16MIPJUNIOROctoberOctober
The world will once again converge in Cannes for MIPCOM and MIPJunior. Here, we offer a snapshot of some of the top properties on show.
Studio 100 will debut Vegesaurs (20 x 5') at this year's MIPCOM 2022. Produced by independent Australian producer Cheeky Little in association with the Australian Broadcasting Com pany (ABC), France TV and Studio 100, the comedy-adventure, CGI animated series is based on a concept created by Gary Eck and Nick O'Sullivan and targeted at upper pre-schoolers aged 4 to Studio7.
TOTAL LICENSING 132
TargetedAnimation.at kids 6-10 years 100% Wolf – The Book of Hath is produced by Flying Bark Productions in association with ABC Australia and SUPER RTL, and Perth based production company Siamese is co-producer.
Last but not least, Jasmine and Jambo are two friends who share a passion for music. They love music so much that everything they do is related to it. And, they live in the perfect place: Soundland a surreal land where music reigns.
Dandelooo has announced it will present several shows. Our Piggy tops the list, created and based on the book by Jaromir Plachy (nominated for the Golden Pinwheel, Young Illustrators Competition Award 2021) and distrib uted by Dandelooo. It is a 2D Anima tion aimed at 2 – 5-year-olds Just like the youngest children Our Piggy is discovering and learning about the things around him. It is the most interesting in the everyday things that turn into what they are in his imagi nation. Billy the Cowboy Hamster is another offering, produced by Dan delooo and Atmosphere Media (Bel gium). Growing up in the Wild West and raised on the ex citing stories told by his father, Billy with his cowboy outfit has a burning desire to hit the Margottrail!and the Space Robot will also be heading to Cannes. Aimed at 6-11-year-
Oneuniverse.night, while playing video games at the Louvre, Kiran falls through a portal into the world of mythology. Now Kiran has been tasked with help ing Odysseus get back to Ithaca with the help of goddess Leuki, as she tries to escape from her life in the Under Paris-basedworld. production company Prime Entertainment Group re turns to this year's MIPCOM with a plethora of new Hollywood en tertainment programs, documentaries, and seriesanimatedthatcontributes to and enrich es their already expansive catalog. Highlights begin with Prime's hit se ries "Close up" (120 x 26 minutes) which features inspiring portraits of famous actors and actresses that are chronicled by celebrity experts and il
"Runes" follows 12-year-old William, heir to the throne of Normandy. After his father's death, William seeks refuge in the village of Baligan, incognito as a peasant boy called Hugo. After stumbling upon a cave, he discovers ancient runes that unleash mysterious magic and a terrible threat, Loki, God of chaos.
action-adventure series NEXT LEVEL: ODYSSEY – mixing the world of gam ing with mythology for the first time will be presented at MIPCOM with
wrongs of the past as they navigate, and ultimately, find their place in the Theworld.company will also bring Odd Squad, Alma's Way, and Dino Dana, the current chapter in Sinking Ship's award-winning dinosaur franchise. Dino Dana follows a feisty 10-year-old 'paleontologist in training' who eats, sleeps and breathes dinos. Together with her sister Saara and her trusty field guide, Dana embarks on a new adventure with each episode find ing her up close and personal with a multitude of dinosaurs. The brand cur rently includes a tv series with four seasons (52 X 22)', a feature film, digi tal games, publishing program (Mango Publishing), toy line (Safari Ltd), a mu seum experience, and a podcast.
a full animatic. Liv Albert, the popu lar and edgy Canadian author and podcast hostess of "Let's Talk About Myths, Baby!" provided expert and fun insights into the series' ancient Greek
lustrated through exclusive interviews. The selection expands with a trilogy of documentaries directed and pro duced by the award-winning Kuperburg sisters of Wichita produc tions, Clara, and Julia. "Dorothy Ar zner" (1 x 52 minutes) explores the life of Hollywood's first female direc tor, a pioneer of women in cinema. "The True Story of the Barry more's" (1 x 52 minutes) is the chron icle of four generations of the Bar rymore dynasty throughout the rise and falls that have marked American cinema history. The third instalment in the collection is "Carry Grant", a documentary detailing the incredible life of Hollywood's greatest and most charming actor.
TOTAL LICENSING 133
Prime is excited to preview their latest animated children's series "Runes" (26 x 22 minutes) at this year's MIPCOM.
TeamTO has announced that its
"A long time ago we wanted to make an animated show, so it was like a dream coming true, and look where
"I'm very selective when it comes to partnerships. The most important fac tors, for me, are professionality and support. So, when the Spacetoon team reached out to me, they were highly professional, and supportive, the achievement we made couldn't have been done without them."
Interview YouTube Content Creator, Moshaya in partnership with Spacetoon
"The Moshaya Family animation has opened new doors for us, we've reached new audiences who did not know us before. They discovered us through Spacetoon, and that's actually really cool."
134
of the most famous franchises in the region.
You've signed a long-term partnership with Spacetoon, tell us your thoughts about this collaboration?
we are now. We have two seasons of our animated show, and we are very proud of this achievement."
Moshaya has recently participated in Summer Toy Festival in Jeddah, and talked about his partnership with Sp acetoon, which began in 2019, and re sulted in the first Arab animated show to be produced based on an influ encer's life. The partnership expanded later to cover a product and toy line, turning the influencer's name into one
The Saudi YouTuber, who's name rose into fame in 2010, is now a fa ther of 4, he has over 25 million sub scribers on his 2 YouTube channels, an Animated show, and a toy line.
Total Licensing caught up with, Mosha ya, one of the biggest YouTube content creators in the Middle East region at Summer Toy Festival in Jeddah, while he was visiting the Moshaya Family Corner, that was branded by the fran chise, and full of fun activities for all family members to enjoy.
What were the first thoughts you and your family had when you heard about the idea of turning your life adventures into an animated show?
MIDDLE EAST
What experience has the animation show introduced you to?
How pleased are you with the franchise The Moshaya Family animated show?
"I'm very happy with the results, and completely satisfied with our col laboration. I would definitely advise all my fellow content creators to do so, if they had the chance because Sp acetoon actually helps us grow in new areas."
"I cannot find words to describe my feelings towards this, you need to be here in the Moshaya Family activity corner to see the amazing achieve ments. People have found the same toys that they used to see in our You Tube videos, in the corner, so they were extremely happy."
Markettcom's mission is to partner with international brands and intellectual properties owners to expand and grow their business in the MENA region through building partnerships, managing licensing projects, developing licens ing/content business, helping in retail development, and developing products' strategies and implementing them in the region.
Markettcom's team is working to help global brands to build and grow a strong presence in the MENA region and to increase their revenue from diverse streams including consumer products, Location Based Entertainment, live events and promotional deals through long market knowledge and great local partners and clients.
MIDDLE
a partnership to hold a Moshaya Fam ily event, an in-store event held in Toys R Us, Toy & Surprise, Baby Story, and Hi Kids stores. The event has included activities with Moshaya family mascots and introduced new toys from the line, for the first time. Additionally, a Toys R Us truck, filled with the new est Moshaya toys, toured the cities of Saudi Arabia, giving the kids a once in a lifetime chance, to shop some toys for free from the corner of their streets.
In the Riyadh Toy Festival and more recently the Summer Toy Festival, how do you feel when you see the Moshaya Family activity corner, meeting your character's mascots and your fans live on stage.
Created in 2021, by Amer Bitar, prior to which he headed up the licensing business at WWE Middle East for 6 years and Ammar Jabri, an entrepreneur who created a successful premium and promotion business called Jabs Trad ing that becomes a leader in the promotions industry in the region, Mar kettcom is a Dubai-based licensing agency with offices and partners in the entire MENA region, specializing in representing intellectual property's rights in the Middle East North Africa.
"All of them are very happy because Spacetoon is helping YouTubers to get in new fields such as animation, toys, and live shows, and that is wonderful."
Tell us more about the support and feedback you have mostly heard from your fellow youtubers and friends.
EAST
Remarkably, The Moshaya Family Ani mation recorded over 600 million impressions on seasons 1 and 2, and won the SMARTIES user-generated/ Influencers marketing gold for 2022. The show successfully brought many popular brands that were indirectly in tegrated, such as Al Maraei SAMACO Toy, Herfi, and Toy Triangle in its two Lately,seasons.Toy Pro, and Toys R Us, signed
Markettom represents a few brands such as: ARTiSTORY, Blaupunkt, Super Wings, Fa tafeat, Food Network and others and it partners with global leaders to grow their business in the MENA re gion such as: Alpha Group, Discovery Inc., Licensing Matters Global, On Kids & Family and others.
TOTAL LICENSING 135
• 10 to 14 years old: Lego is most popular brand; Netf lix is the most salient and ranks #2 on favorite list
When it comes to profiling, the gender difference is more significant than the age differential, with the excep tion of the largest players.
TOTAL LICENSING 136
• 15 to 25 years old: Marvel is most popular brand; Netflix ranks #2 on salience, #3 on favorite list
And among girls:
• 7 to 9 years old: Barbie is most popular and favorite brand; Lego ranks #2 on favorite
A group of powerful competitors controls the market. The most frequently mentioned brand is Tom & Jerry, followed by Disney, Spider-Man, and Batman. Numerous leading characters round out the ensemble and deliver reliable performances.
And among girls:
• 15 to 25 years old: Tom & Jerry is most popular brand; Netflix most salient and #2 on favorite
• 3 to 6 years old: Pororo is still #1 on popularity, sa lience and favorite; Disney Princess is the most appealing
For information about email us: khan@brandtrends.combrandtrends.comphilippe.guinaudeau@ormaha.
• 3 to 6 years old: Spider-Man is most popular, appealing and favorite brand; Disney is the most salient in mind
The main challenge in Saudi Arabia is competing with strong brands that serve several markets. To have any chance of succeeding in this country, you must have an extensive presence. Maintaining attention and establish ing the brand's positioning over time should be made easier by expanding the content and spreading the brand over other categories.
In details, the main trends among boys are:
For a better overall success in the United Arab Emirates, brands should concentrate on determining their posi tioning among various targets. The expanding influence of platforms, even in these particular times, may present a chance to support brand visibility and maintain a successful strategy.
• 7 to 9 years old: Pokemon then Pikachu are most popular brands; Lego is still the most favorite brand
• 15 to 25 years old: Squid Game is most popular brand; Marvel is most appealing and favorite
• 0 to 2 years old: Tom & Jerry keeps its leadership on popularity, appeal and favorite; Disney is the most salient in mind
In details, the main trends among boys are:
• 10 to 14 years old: Marvel is #2 on popularity and most favorite brand; Lego is the most appealing one
The market in the United Arab Emirates is very com petitive.The decrease in known brands since April 2020 (-12%) demonstrates a disinterest in the licensing land scape. Additionally, the market is very diverse in terms of player sizes as well as age and gender. This makes it dif ficult for brands to sort through the clutter. A group of dominant brands controls the market. The most frequently mentioned brand by children is Lego, while Marvel, Spider-Man, Tom & Jerry, and Disney are close behind. Disney often performs better among girls whereas Marvel and, to a lesser extent, Spider-Man are even stronger among boys. Success of Tom & Jerry and Lego has been proven to transcend gender and age. Sec ondary players perform at a similar overall level, with their positioning being good against a particular target and weak against the others. If YouTube continues to be the most popular streaming platform, Netflix becomes a serious competitor. Even more people would have access to content, which would spur brand competition. While focusing on age and gender, Lego and Tom & Jerry performs well across targets while Netflix is settling its influence.
• 7 to 9 years old: Tom & Jerry is most popular and ap pealing brand; Lego is the most favorite brand
While focusing on age and gender, Tom & Jerry and Disney performs really well across targets leading to a stronger positioning, able to sustain the brand along time.
• 10 to 14 years old: Super-heroes keep leadership on popularity, salience and favorite; Lego is still the most appealing brand
• 0 to 2 years old: Baby Shark loses and is #5 on popu larity; Tom & Jerry is now most popular and appealing
disclosesBrandTrendsthe key trends in Licensingthemarket
the most popular brands, characters and licenses, around the world,
• 15 to 25 years old: Frozen is still most popular brand; Marvel is most favorite brand
Saudi Arabia is a highly concentrated market, thus there are very few opportunities for a brand to stand out from the Thecompetition.numberofbrands that youngsters up to the age of 14 are familiar with has decreased by 7% since April 2020, indicating a reduction in interest in entertainmentrelated content.
•brand3to 6 years old: Cocomelon settles its performances and is #3 in popularity; Lego is the most favorite brand
• 0 to 2 years old: Baby Shark is most popular and ap pealing brand; Cocomelon is #2 on popularity and most •favorite3to6 years old: Tom & Jerry is most popular and ap pealing brand; Barbie is most favorite one, while Frozen loses footprint
MIDDLE EAST
• 10 to 14 years old: Lego is #2 on popularity, #1 on ap peal and favorite; Marvel and Disney rank #2 on favorite
•brand7to 9 years old: Frozen is still most popular and ap pealing brand but looses on favorite; Pororo is the most salient brand
What is trending in Saudi Arabia?
more
What is trending in the UAE?
• 0 to 2 years old: Pororo keeps its leadership on all KPIs; Tayo the Little Bus increases on awareness while keeping good proximity and is #2 on popularity
He Yizan, Founder and CEO of ARTiS TORY, said technology would have a profound impact on people's lives, and many cultural and art institutions were now actively embracing new technolo gies. He believed the convergence of art and technology would become a new trend for cultural and art licens ing in the future.
TOTAL LICENSING 138
Speaking at the conference, Maura Regan, President of Licensing Inter national, said that following two years of unparalleled change brought by the COVID-19 pandemic, consumers put greater focus on life and cultural ex periences. She said the global licensing community should capture opportuni ties arising from this consumer behav iour shift, expressing confidence that the licensing industry will continue to grow in line with consumer market trends in over the next two years.
toral cooperation and keep abreast of the latest market trends and op portunities. This year the conference addressed topical issues in such ar eas as non-fungible tokens (NFTs), the metaverse, brands crossover, arts and culture licensing, art technology, blockchain gaming, location-based en tertainment (LBE) experiences, en vironmental, social and governance (ESG) in licensing and more.
TV withthemeventsharedCommunicationTOKYOthattheenabledtoconnectpotential
At the "China Opportunity" session, one conference highlight, Gao Zheng, Director General, Bureau of Inter national Exchange and Cooperation (Department of Hong Kong, Macao and Taiwan Affairs) of Ministry of Cul ture and Tourism of the People's Re public of China, said Hong Kong has been playing an important role in the development of the country's cultural industry. The conference would fur ther promote business collaboration between international and Mainland Chinese enterprises, and at the same time cement Hong Kong's unique role as an international licensing hub. Jacky Chung, HKTDC Director, Mainland, said the National 14th Five-Year Plan supported Hong Kong's development into an arts and cultural exchange hub that connects the mainland to the rest of the world. This will further enhance the city's function as a trade centre for international IP and a globally recog nised licensing hub.
partners worldwide and explore busi ness opportunities together. Yellow White Stone also said taking part in ALC helped them gain more experi ence and exposure.
The 11th Asian Licensing Conference (ALC), organised by the Hong Kong Trade Development Council (HK TDC), ran successfully from 27 to 29 July. The three-day online event fea tured 22 thematic sessions where 34 industry experts from different sec tors addressed participants. More than 25,000 viewers from 42 countries and regions joined the discussions along side physical participation at five satel lite conferences in Chongqing, Dalian, Hangzhou and Shenzhen in Mainland China and Jakarta in Indonesia. The
All ALC sessions were broadcast via the event's online platform.
Over three event-packed days, the ALC addressed numerous topical is sues, offered fruitful content to par ticipants and generated business op portunities for industry players. The event served as a prelude to the 20th HKTDC Hong Kong International Li censing Show (HKILS) and the 12th Asian Licensing Conference (ALC) to be held from 27 to 29 April 2023. More details of these events will be announced in due course.
The recent Asian Licensing Conference explored latest trends and forged new business opportunities. 34 industry experts shared insights with 25,000+ online viewers.
three-day event generated nearly 140 one-on-one business matching meet ings online, connecting global licensing players with potential partners to help them explore business opportunities. One-stop platform connects li censing partners to global opportunities Hong Kong is maintaining its position as an international intellectual prop erty (IP) and licensing hub that links international licensors and licensing agents. The ALC provides a one-stop platform where leading global brands and licensors can explore cross-sec
Brand Forum builds business connections
The inaugural Brand Forum took place alongside the conference, featuring a number of established Asian brands such as BANDAI NAMCO, CAP COM, DNP, Fuji Television, TV TOKYO Communication, Minto, San-Byte, Sony Creative, Poplar Publishing and Tsub uraya. Brand representatives shared their stories and were connected with other participants to explore poten tial partnerships. In addition, 45 Hong Kong homegrown brands under the DLAB banner presented their creative characters, animations, products and gaming designs. The online exhibition showcased more than 100 instances of IPs, fully dem onstrating the power of licens ing and creativity in the region.
"Feature us and our stories because we are interesting people, not because we will make you look like you are being inclusive."
were shamed every time we watched a film - reminded of how society sees us: bitter, evil, hopeless.
I didn't know ambulatory wheelchair users existed until I became one. I didn't know any other students who were excluded like I was. I remember how excited I was when I read RJ Pa lacio's 'Wonder'- another kid who was homeschooled, another kid who was treated differently. I also remember how disappointed I felt that the main character of the Netflix show 'Never Have I Ever' was in a wheelchair for five minutes and then was magically cured by a hot boy. This is why good representation, not just any represen tation, is so necessary. For some dis abled children, good representation is the difference between being able to explain their life and what is happening to their body, and being trapped in a state of confusion and isolation. It's the difference between finding a diagnosis and treatment in a year or waiting a decade. For non-disabled children, it could be the difference between being terrified of disability, or making friends with a disabled child. Over 15% of the world's population are disabled, yet only 3.1% of characters on-screen have a disability. In children's televi sion representation is even worse - less than 1%. So, when Zodiak Kids & Family approached me to work on incorporating disabled characters into their children's television shows, I was
Here, as well as some of the interesting ways in which the in dustry is changing, below, we are given a unique and fascinating insight into the life of one young woman, who has written exclusively for Total Licensing on her work as a disability consultant, inspired by her own life experiences.
ecstatic. I am now working every day to give children the authentic disability representation that I never had. There has been a positive change in content creation since I was a child. Something that I still find incredu lous is that Instagram only introduced auto-captioning this year for live vid eos and stories. Captions are not only useful for d/Deaf and hard of hearing folk, but anyone with sensory issues, like neurodivergent people, and also people with chronic migraine, or any one who wants to watch something at night without waking their partner!
Diversity, equality and inclusion (DE&I) are some of the most trending and important topics in the media entertainment industry. But it's far from just box-ticking and being seen to be doing the right thing. It is about a collective conversation – and the actions that follow, meaning that representation of all members of society across content, across platforms, becomes the norm. Embracing diversity means some are leading through example, where as some entertainment brands, ip and creators want to try and make a difference but are unsure how to go about it. Some media news outlets go out of their way to decry and even mock anything they perceive as 'too PC' or use the term 'woke' as a pejorative. Slowly but surely, however, some are leading the way to change....
TOTAL LICENSING 139
You see, there are very few villains that are not disabled, and very few he roes who are. What does that tell dis abled children? How does that make non-disabled children feel about us?
I grew up thinking I wouldn't make it to my twenties. This is partly because I was a 10-year-old in such extreme pain, I couldn't imagine getting through another month let alone a decade but it is also because I hadn't seen an adult like me. There are very few disabled people in the media, and practically zero invisibly disabled people, so no wonder I was terrified of my future. This is why I created Tea with HB, to change attitudes towards disability, and make sure no disabled person had to feelas isolated and scared as I was.
I make educational infographics, pod casts, videos, and blog posts, and in doing so I created the community I never had growing up. Tea with HB is a safe space for non-disabled, disabled, chronically ill, and neurodivergent people across the globe. It's for anyone who dreams of a better world.
Diversity, Equality & Inclusion
My name is Blossom, and I am a 21-year-old disabled writer, artist, and consultant, as well as the founder of Tea with HB.
Many of us never saw ourselves in the characters of our storybooks, we weren't the protagonist of our favou rite television shows. Some of us had to watch as a non-disabled actor 'put on' our disability, whilst for others, we
Changing the Narrative
ill children are accused of 'faking it' or not being 'ill enough' to use a mobility aid. As it is, chronically ill people are likely to fall through the cracks of every system, no financial support, no appropriate healthcare, no understanding or recognition in the education system, or the workplace. There are still lots of people who think the word 'disabled' is a negative term that only applies to wheelchair users. This is a direct result of lack of repre
It also improves Search Engine Opti misation for brands and content creators alike! It is often forgotten that when you design for disabled people, you improve things for everyone. So, although this is a very late accessibil ity feature, and it's not even available in every country or language, it does mean things are slowly becoming more accessible.
sentation, and highlights why authentic representation is so crucial for both disabled and non-disabled people. It's why we need disability consultants on every project for successful diversity and inclusion!
Passionate people such as Blossom, and companies around the globe, like Rubies, are striving to make the world a better place, where everyone can ex press themselves equally and see themselves represented - not just as a box ticked.
140
Creators and brand owners need to hire disabled people. The reason my role as a disability consultant is so important is because you can't au thentically represent something you haven't experienced, but you can use my resources and network at Tea with HB to understand those experiences. Feature us and our stories because we are interesting people, not because our mobility aid will make you look like you are being inclusive. Performa tive representation is not helpful to anyone. Only 1% of the population use a wheelchair, and 80% of disabled peo ple have invisible disabilities, but the general public would not know that because this is not portrayed in the media. When so much disability repre sentation in the media is a paralysed person in a wheelchair, chronically ill people in real life are given dirty looks or yelled at when they use a wheel Chronicallychair.
Rubies have been at the forefront in the industry for championed diversity and inclusion for years. It's fundamen tal to their business ethos to always be forward thinking through important changes with gender neutral packaging and terminology, investing in photog raphy to have a deeper library of im ages and working with new modelling agencies to expand model selection. One recent addition to Rubies im pressive portfolio has been the re lease of a brand-new range of adap tive costumes, specifically designed for children with limited mobility.The cos tumes are unique due to a variety of features to ensure they are optimised for ease of wear, accessibility and fit ting. These features include hook and
On a wider stage, we've seen improve ments in representation with Mattel's 'Fashionista' Barbie range, including dolls with hearing aids and dolls who use wheelchairs! There has also been much more awareness raised for how disabled people are treated within the entertainment industry - from Jack Thorne's MacTaggart lecture, to Triple C's fantastic work in making sure dis abled people are given the chance to tell their own stories.
Blossom www.TeawithHB.comGottlieb "All children, no matter ofthetodeserveorethnicity,theirconditionlevelofability,thechanceparticipateinmagicalworldplay..." Rubies
All children, no matter their ethnicity, condition or level of ability, deserve the chance to participate in the magi cal world of play.
TOTAL LICENSING
To ensure the collection provided comfort and inclusivity with the key demographic, the costumes were tried and tested on a select focus group of participants in last year's Superhero Series Powered by Marvel, an annual event that Rubies sponsor, with posi tive feedback across the board on the designs and features.
The new range launched this year with a choice of characters from Marvel, DC and Star Wars that are instantly recognisable and highly inspiring to Rubieschildren.believes that representation matters and are continuously working towards creating a space where every one feels seen. Children and adults of all ethnicities and abilities can trans form into their favourite characters and see themselves represented instore on packaging, in marketing and social media as well.
Another company who could be re garded as a pioneer in the D&I move ment is Sesame Workshop, who is building on Coming Together, an on going initiative to nurture children's positive and healthy race, ethnic, and cultural identities and sense of belong ing, with a new four-episode series called Tamir on the Street. Available exclusively on Sesame Street's You Tube channel, the series stars Sesame Street character eight-year-old Tamir as he creates his very own YouTubestyle show where he learns more about the friends and neighbors in his community by asking big questions. In the first episode, when Tamir asks, "What does it mean to believe in yourself?" his Sesame Street friends Cookie Monster, Ji-Young, and Charlie show him the many different ways to build confidence and self-assurance, from practicing a challenging skill to expressing yourself in your own
LEGOs Matthew Ashton
"The starting point for this was my feeling that we, as a society, could be doing more to show support for each other and appreciate our dif ferences. Being LGBTQIA+ myself, I knew I needed to step up to the plate and make a real statement about love and inclusivity, and generally spread some LEGO love to everybody who needs it. Children are our role models and they welcome everyone, no mat ter their background. Something we should all be aspiring to.
"Children are naturally curious about one another and how they are the same and different from each other. They ask a lot of questions," said Akimi Gibson, VP and Education Pub lisher, Sesame Workshop. "Tamir on the Street models the power of ask ing and following your own questions, and helps parents guide their child to be smarter, stronger, and kinder. Coming Together provides parents with in sights to the tough questions children may have about race, ethnicity, and Asculture."Blossom iterates earlier in this article, people don't just want to see themselves represented because of their disability, their race, their sexuali ty.They want the characters on screen to be as well-rounded as they are. Mattel, makers of Barbie, recently un veiled an inclusive range of dolls - in cluding one with hearing aids and the first Ken with the skin condition vit iligo. Mattel commented it wants chil
"So, I think by taking small steps and having products like "Everyone is Awesome" out there and people rep resenting the LGBTQIA+ community, it allows everybody to see that things do get better over time and there is a place for everybody. That's what's been so important to me in getting this set out with a message that we can be really proud of."
eye closures, discrete flaps for any ab dominal tubes and more.
"I was constantly told by different adults around me what I should and shouldn't play with, that I needed to behave like a 'real boy' and to toughen up. I was dissuaded from doing the things that came most naturally to me. I think many of the adults around me were doing all of this to try to protect me from getting bullied, but I was ac tually fine with all the kids at school. All of that has had an impact on me in many ways; it was really exhausting
LEGO is another front-runner in the foray into inclusive support and en couraging everyone to embrace their Matthewdifferences.Ashton, Vice President of Design at the LEGO Group, explained why he designed the Everyone is Awe some LEGO set.
unique manner. Future episodes, released monthly, will explore other child-centered ques tions from "What are our friends' family traditions?" to "How can we be a good friend?" These topics are part of the Coming Together education framework addressing self-worth, so cial awareness and empathy, and family traditions and history.
and kicked my confidence.
"I was constantly told by different adults around me what I should and shouldn't play with."
TOTAL LICENSING 141
"We'vebetter."
• Collect and contribute data on
TOTAL LICENSING 142
report looks closely at different areas of diversity, including gender, race and ethnicity, LGBTQ+, disability, social mobility and age. By beginning to track progress in these areas, as well as highlighting examples of good practice, the report aims to play a part in driving positive change in the sector.
•diversityCreate a respectful and inclusive work environment
been working hard on de veloping new Tonies that aim to edu cate, inspire and entertain little ones covering important topics from our LGBTQ+, non-White and other mar ginalised communities and we plan to make all our Tonies more inclusive to reflect our diverse and brilliant society. We know we've got more work to do but we've got big plans and to gether with our partners, independent experts and people who know their stuff we're going to continue making sure we're always getting better."
• Appoint Diversity and Inclusion •ExecutivesImprove recruitment practices to remove bias
can "Butbe.wait, there's more! We're thrilled that we get to partner with some brilliant people like Mermaids, BLM Licensing and Deilight who are doing some impressive work in underrepresented communities. They're gener ously sharing all their know-how with us and together we're making our stories – and our Tonies – better and
• Support career opportunity and progression for all
"I am excited to see what the future holds once greater diversity achieved."inclusionandis British ConsortiumRetail
Recently, 55 leading retailers in the UK have signed up to a Diversity and Inclusion (D&I) charter led by the British Retail Consortium (BRC) and pledged to take decisive action to im prove diversity practices across the retail industry. Businesses will focus on oversight, recruitment, progression, reporting, inclusivity and responsibility. Signatories pledge to:
dren to "see themselves reflected" in the Barbie dolls and to encourage play with toys that don't resemble them to help them 'understand and celebrate the importance of inclusion. This is not just about a child with a hearing aid playing with a doll which has a hearing aid – as important as that is. It is for his or her friends to play with the doll as well, to grasp from an early age that everyone is dif ferent and that everyone has different Instrengths.positive news there are many ex amples of brand owners and creators, manufacturers and licensees, taking small, or big steps, toward making a AtdifferenceTonies, the company comments: "We've changed up our Creative-To nies so that when you buy a Toniebox Starter Set from our website you're able to select a Creative-Tonie in one of three different skin colours. And that's not all, with the help of different costumes, the Creative-Tonies make it possible to discover new charac ters and we hope that every child will find a Creative-Tonie they can identify "Additionally,with. we've been carefully se lecting our content, relaunching Ton ies with more inclusive language and removing ones that don't quite meet our standards. "We've been working with a network of writers, voice-over artists, experts and contributors from all different backgrounds to make sure we're as inclusive and welcoming as
"Nonetheless, I am confident about the road ahead. The first step to achieving change is acknowledgement and understanding of where the chal lenges lie. Now, we must act. I am proud to see so many retailers pledge to better their businesses and create equal opportunities for all and I am excited to see what the future holds once greater diversity and inclusion is Likeachieved."the strong movement towards sustainability in the licensing industry, none of this need be about 'naming and shaming' those who are seen not to be making any effort towards chang ing the conversation; rather, bringing stories and characters to life from all aspects of society and celebrating our differences.
• Ensure all line managers are responsible for supporting equity in the Theworkplacechartercomes at a pivotal mo ment, with a report launched by the BRC, The MBS Group and PwC show ing more work is needed to create a fully diverse and equitable retail indus Thetry.
Helen Dickinson OBE, Chief Executive of the British Retail Consortium, said: "Retail revolves around the customer, and to serve the needs of a diverse country, we need a diversity of ideas, experiences and backgrounds across our businesses. Five years ago, the BRC set out a vision for Better Jobs and aspired for retail to be a Diversity and Inclusion leader. The data collect ed by PwC and The MBS Group in our Diversity and Inclusion in retail report shows there is so much more to be done if we are to reach this goal.
One of the best bits of BLE for me is having a listen to people that re ally know their onions. Strategies, in sights, understanding, advice – if you need inspiration and you work in this world, there's no better place to be enthralled. A day or two well spent, I'd Andsay.if you'd like to join me, Allana Holmes of Hunter Price and Kid sKnowsBest's Sian Rider for 'Follow ing the Money: How the New Age of Consumers Spends' on September 21st, we'd love to have you. We'll be exploring how to get closer to Gen A, Gen Z, and Millennials – a lovely practical session with lots of usable takeaways – how to really get to grips with TikTok, YouTube, Instagram and Snapchat, how to choose the right influencer, and what really makes the consumers tick…all good stuff. Hope to see you there!
Children's media consumption (across TV and films) must be more inclusive
What to watch out for at BLE…. Are you heading to the rescheduled BLE this month? If you haven't registered yet, get to it. It's set to be packed full of brand owners big and small, great inspiration, discussions and debate. There's also the amazing character parade on the first couple of days and I personally can't resist a selfie or two…anyway… It's been an industrious twelve months for the licensing industry. Two interests of mine, Diversity & Inclusion and Sustainability have broken through from 'nice to have' to now 'essential to have', and that has to be a good thing. The future is in our hands, and we must take responsibility for it –the good news is that the stories we tell and the product we make are an excellent way to do that. As ever change is happening in front of our eyes – Metaverse, Web3,VR, AR, NFT…the list goes on. These things are here to stay. They're platforms that are providing a new framework for our industry and whilst we're still in a state of flux, the landscape is starting to settle. As BLE opens its doors, we'll see even more ground-breaking initia tives that take advantage of this brave new world emerge. Of course, there will always be the constants that have always been so – but perhaps they'll be presented in new guises – co-viewing, self-expression and children getting older younger and so on.
The survey – carried out across 2,001 parents of children (aged 5-15) in the UK and USA – paints a picture of rising concerns from parents over screen time, yet also acknowledges how they appreciate the benefits of digital play. There is however a desire from parents for more inclusive gaming, media and toy attributes.
of diversity and inclusion amongst children and their parents – and what this looks like in the media, games and toys that they engage with.
So what's going to be excitingly new? The IRL experience is the dominant theme for me. Despite all that lovely technological malarky, the fundamen tal need of us humans to do things for real is actual the thread that seems to be coming through loud and clear. The world has finally caught up with Joe Pine when he said in 1998 that: "Com panies must understand that they make memories, not goods." Brands are finally becoming brave enough to start their consumer product journeys with a physical experience of some kind the rise of the LBE is not slow ing down. Over the summer I've had so many conversations with people about how brands are coming to life in more meaningful and memorable ways – worth keeping an eye on what Falcon's Creative Group are doing in
Key issue: 74 percent of parents agree that their child learns about people who are different from them through the media they consume – yet alarmingly, 49 percent say that this media features many negative
TOTAL LICENSING 143
particular, with amazing live activations coming this way soon.
The greater need for diversity and inclusivity across children's toys, games and media Kids Industries (Ki) launched a new report recently exploring the concept
Our regular columnist Gary Pope, CEO and Co-Founder at Kids Industries and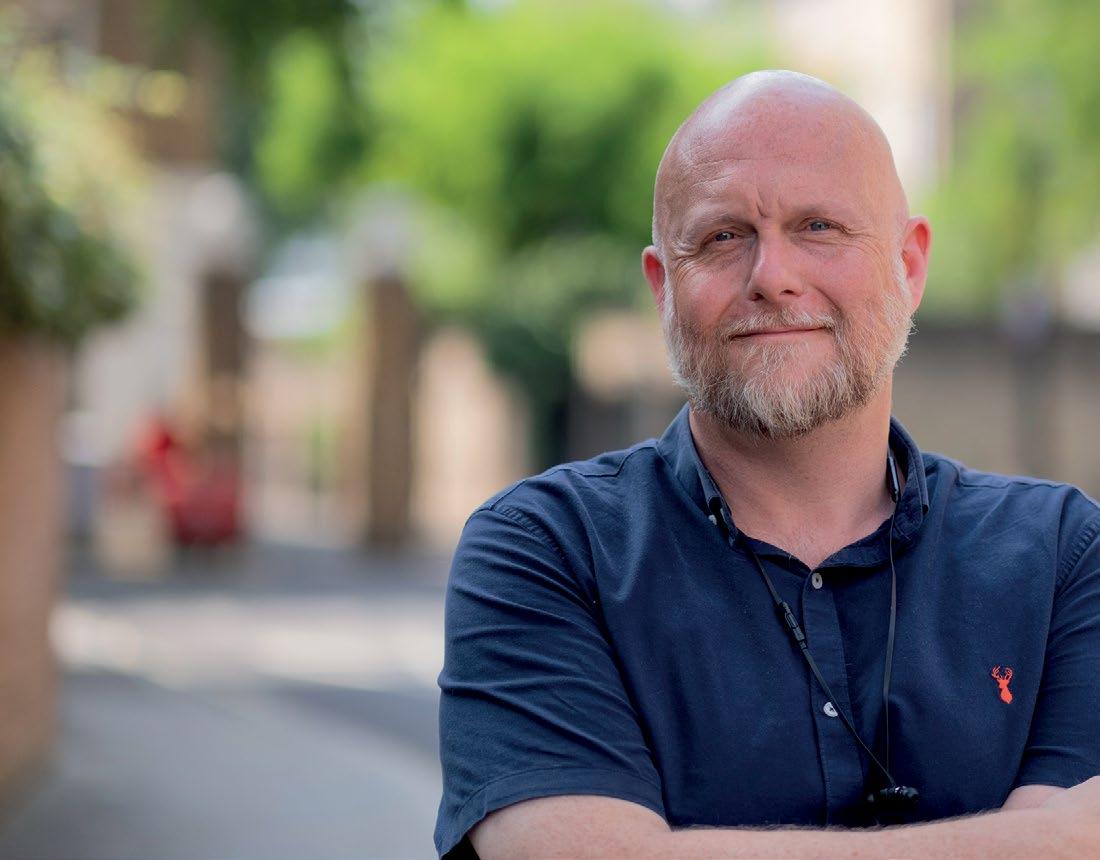 talksProductsCommissionerChildren'sforofChange,toTotalLicensingaboutBLE,andthefactthatDiversity&InclusionandSustainabilityareessentialtoanybrandownerandcontentcreator.
What parents notice: Almost three quarters of all parents questioned said that their child enjoys watching and listening to stories about characters who look or are different to them (67 percent in the UK, 79 percent in the US) and 64 percent said their child would like to see more characters who are like them in the media.
• Parents want to see more positive role models (41 percent) in video games and have opportunities to play alongside with their children as a family (37 percent)
In terms of representation, 26 percent of parents want to see equal gender representation (22 percent in the UK and 30 percent in the US) and 29 percent expressed a desire for more ethnically diverse characters –again, higher amongst US parents – 33 Betterpercent.disability representation was requested by 23 percent of parents and 12 percent would like to see increased LGBTQ+ representation.
When it comes to the toys their children play with, parents are looking for skills support the most
What parents notice: 46 percent of all parents feel that screen-based play is good for their children's development (42 percent of UK parents versus 49 percent of US parents). 57 percent of parents also recognise that digital play is relaxing for their child and 56 per cent say that it puts them in a good mood (rising to 62 percent amongst US parents – UK sits at 51 percent). They also feel that digital play expands
Nothing is more important than pro tecting and promoting a child's right to play and making those play experi ences the very best that they can be is essential and something that the industry needs to give serious consid eration."
the things their children are able to see and do (56 percent). 52 percent felt that it enables their children to be more creative or imaginative also. Key issue: Over four out of five par ents (84 percent) feel that their chil dren spend too much time in front of screens – consistent across all ages (5-7 - 83 percent; 8-11 – 85 percent; 12-15 – 84 percent). They're also con cerned that screen-based play leads to less socialisation (42 percent) and feel that it limits the things their children can see or do (17 percent).
What parents notice: 74 percent of US parents reported that their child watches content with subtitles or closed captions (CC) – with 24 percent choosing to use them all or most of the time. This compares with 54 percent in the UK using subtitles or CC and nine percent using them all of the time. Half of US and UK parents (50 percent) of parents said that their child needed subtitles/CC to enjoy media content.
Moving forwards: Parents would like more opportunities to play as a fam ily (37 percent – 39 percent in the US and 35 percent in the UK) and 31 per cent are keen to see new & innovative ways to play and interact.
• 22 percent of parents want to see no differentiation between "girl" and "boy" toys
Having games that include better disability representation is of interest to 18 percent of parents and 11 percent would like to see better LGBTQ+ representation.
Parents want to be involved in children's video games
TOTAL LICENSING 144
Key issue: Just 64 percent of all parents say that subtitles/CC for their child's media are always accurate and high quality – rising to 70 percent in the US. Furthermore, access is limited – just 46 percent of UK parents said that all of the media their child loves has a subtitle/CC option, compared to 63 percent of US parents.
Our research indicates that 67 of parents feel their children's schools are good or excellent when it comes to their diversity and inclusion policies and approaches which shows there is much more work to be done. We must listen to children and parent voices and ensure their needs and wants are reflected in the toys, games and media that they consume.
stereotypes of different groups (42 percent in the UK, rising to 56 percent in the MovingUS).forwards: Just over half of all UK and US parents (53 percent) would like to see more positive role models in the media. 41 percent would also like to see more storylines that explain real-world issues to children – a similar figure as those who would like more 'soft' education content e.g. problem solving (43 percent). Programmes that involve traditional education e.g., maths skills appealed to 38 percent of parents.
• 41 percent of parents want to see storylines that explain realworld issues explore in film and TV content
Gary Pope commented: "Play underpins everything that our children will become – it is as Maria Montessori said: 'The work of the child.'
What parents notice: Parents would like more opportunities to play as a family (38 percent) and 35 percent would like to see toys that focus on imagination. Another important observation was that parents are looking for toys made from materials that are better for the planet (33 Keypercent).issue: Parents are busy people and 21 percent say that they struggle to always find the time to play, watch, or do things with their child that they enjoy (rising to 27 percent amongst US parents; 16 percent in the UK). With that in mind, parents are keen to support their children's skills development and 40 percent would like to see more toys that help with traditional education e.g., maths and the same number would like more toys that help with 'soft' education
e.g., problem solving.
Again, there's a strong desire for more positive role models in the games their children play (41 percent) along with support for games that provide soft' education e.g., problem solving (37 percent) and traditional education e.g., maths skills (31 percent).
Moving forwards: In terms of representation, parents would like to see no differentiation between "girl" and "boy" toys (22 percent) and an increase in positive role models (37 Morepercent).ethnically diverse toys were a desire for 22 percent and 17 percent wanted to see better disability representation. Better LGBTQ+ representation sat at nine percent. Subtitles or closed captions (CC) appeal to both disabled and nondisabled children.
Glue read my mind as I've been wanting to broaden into the li censing and collaborations space in a bigger way for quite some time. I'm incredibly proud of the collabora
It's astonishing to me seeing what began as a self-help project evolve into something so universal and relatable.
It was an incredibly pleasant surprise when I received the email from Glue broaching the subject; we had been working together on a project with Paramount's, Teenage Mutant Ninja Turtles where I was a judge on the Prospect 100 Design Competition Itpanel. feltlike
Can you tell us more about your partnership with Glue Creative Thinking?
It's been incredibly helpful having Glue as our agent in this space, from their initiative and intuitive thinking, epic contacts and organised strategy plan ning; everything is seamless and com ing together at a pace we couldn't manage by ourselves with everything else we have to look after internally.
and just keeping kindness front of mind. I do believe this is very preva lent within the content creators space right now, and it will most likely only grow from here!
How relevant is Ketnipz to the ongoing global conversations about mental health?
On the subject of mental health awareness, what more could done, do you think, by content creators, to ensure inclusivity for all?
More and more brands are becoming aware of the great impact this kind of messaging has – whether that's for consumerism or not – it's still great this message is being spread to all walks of life.
Tell us more about Ketnipz, the mental health bean, and how it came about!
TOTAL LICENSING 145
When it comes to Ketnipz, we try to think of our work as an antidote to all the negativity that comes with social media. If the feed is showing you all sorts of doom-and-gloom, we want to be the post that makes you to laugh and escape all of that for a minute or Itwo. really believe that the things we con sume regularly online play such a huge part in shaping our moods - so the im pact of creating positive and uplifting content is immeasurable.
tions Ketnipz has been a part of so far and I'm excited to see where we can go with Glue's stella black book and strategy building!
Which brands have you worked with to date?
Ketnipz a very strong social platform – how do you cre ate social media content to relate to your audience?
I've had the honour of already working with Instagram, Snap, Apple, Samsung Mobile, Armani Exchange amongst many others, and with Glue we have some really exciting conversations in works across apparel, lifestyle, beauty, food & confectionary, consumer products… you name it! We're launching into the are na with some big names that we can't wait to share with you!
The team is a joy to work with and we're really grateful for the foresee able years working alongside them to grow the Ketnipz brand and the posi tive impact our bean has across the globe.
Most likely, whenever we experience kindness from a stranger we recipro cate that kindness and pay it forwards; content creators have wide platforms to support this kind of messaging of
And of course the partnership between Glue Creative Thinking and Ketnipz?
Ketnipz, the globally recognised bean and mental advocate,healthknown for its friendly and relatable comics on Instagram, has chosen toandKetnipzHarrycaughtTotalcollaborations.licensingtoCreativeGlueThinkingrepresentUKandbrandLicensingupwithHambley,FounderIllustratorfindoutmore.
I began Ketnipz back in 2016 as a way to cope with burnout from school and other pressures in my life at the time. It was a bit of a silly project to begin with and I really didn't expect it to go much further than my bedroom, but something about the Bean must've struck a chord!
I'd like to think very relevant; from our ongoing collaboration with Instagram on the Kind Comments Campaign - Ketnipz' message of positivity and mental health awareness has grown and grown exponentially.
At first, many licensees cut their mar keting budgets and froze most of their projects. Nevertheless, now many are renewing their activities. For ex ample, our licensee Beletage Company launched an apparel collection with our licensed brand 'Mavka.The Forest Song' in June. We have many products in active development in different categories such as jewelry, stationery, toys, publishing, and others. We have new contracts and incoming inquiries
Licensees
Licensing in Eastern Europe
146
Long story short – we try to balance, we keep working, we have got new licensees, new properties in the mar ket and companies are launching new products. At the same time, licensees have shrunk marketing budgets and customer purchasing power has de Butcreased.positive attitudes are especially valuable in Ukraine right now, so brand licensing is still demanded.
Fast-growing inflation due to a sig nificant devaluation of the Ukrainian hryvnia (the exchange rate before the war was 28 UAH/USD, in August it is 40 UAH/USD), fuel price increase (+43%), stock destruction, goods shortages, etc have made lives much more expensive. The Consumer Price Index by the end of 2022 is expected to be over 18% (in 2021 it was 10%). Furthermore, some people lost their jobs, and many have had their salaries cut. Customer purchasing power has Atdecreased.thesame
ducers have added Ukrainian symbolic to their product design as well. In the meantime, customers have banned brands that come from Russia – there are even special apps, websites and chatbots to identify such brands eas ily. Now we are witnessing a lack of happiness in people's ordinary lives. Hence, they buy goods that bring hap piness and try to enjoy every moment of their life as much as it is possible now because people remember that life is finite. And as long as the licensed products bring joy, they are in demand.
By Tetiana Ruban, CEO of Ukraine`s Nerd agency (part of FILM.UA Group)
War – Work – Life balance
By the way, there are no holidays in Ukraine anymore, so all days except Saturday and Sunday are working days. Those who work do it much harder because this is our economic frontline – we must produce the GDP, pay taxes, and bring foreign currency in because we need to be able to supply our army and those who have lost their homes. There are many employees of Ukraini an companies, including licensees, who have moved abroad but keep working
time, consumers are supporting Ukrainian producers and trying to choose their products. Lo cal illustrators that make patriotic art have launched capsule licensed collaborations with small producers of souvenir products (mostly t-shirts, eco bags, cups etc). Usually, these are non-profit partnerships with dona tions for the Armed Forces. Many pro
sirens can be heard several times a day. In addition to work, many are volunteering. In most cases, it`s fundraising and supplying the neces sary goods for the Ukrainian Armed Forces. They have many needs start ing from apparel to cars and drones. Ukrainians are donating every single day. Moreover, we understand the dan ger of this war and we spend weekends learning tactical first aid, tactics, and shooting.
remotely, so in most cases, the teams are the same as before the war.
Consumers
Current situation of the brand licensing market in Ukraine
"In the territory under Ukrainian control, far from the frontline, life looks like normal. People work, walk, go to cafes and cinemas. At the same time, there is always the danger of missile strikes."
There are 640 damaged buildings in Kyiv alone as a result of bombard Airments.raid
TOTAL LICENSING 147
which is a good sign that brand licens ing is in demand. Also, many Ukrainian producers started exporting to Eu ropean countries and there is a vast opportunity to acquire brand licensing rights for new territories.
As a result, online sales have grown. The most popular and efficient way is by using the website. Many sell via Instagram and online ads play a major role in this. Big companies even use their apps for selling products and ser vices. Even during wartime, Ukraine has a fast and convenient delivery sys tem that helps a great deal. A custom er receives product the next day after it had been shipped. Therefore, many companies have shifted their focus on online sales more than ever before.
You can read articles about Mavka in Animation Magazine, Variety, Kid screen, AWN etc. 'Mavka.The Forest Song' is a 3D animated feature film for kids and families with a core tar get audience of girls 4-14 years old. The expected international release is set for 2023. 'Mavka.The Forest Song' is a 100% Ukrainian product created by the animation studio "Animagrad" (FILM.UA Group). Animagrad's team returned to the movie's development just days after the beginning of the war. The film will have theatrical premieres in most of the European countries, Canada, MENA and some other ter ritories in 2023. There are many new contracts even during the war. For in stance, this summer Universal Pictures Content Group acquired all Frenchspeaking territories distribution rights for this film. The Nerd agency team represents the' Mavka.The Forest Song' licensed brand worldwide and now we are negotiating collaborations
Retail
Charity brand to support Ukraine
Malls have some difficulties with traffic because of the range of shopping mall bombardments. 24 malls were targeted by the Russians. One of the worst was a missile strike into Vin nytsia Shopping Center in July with a huge number of victims. After this case, people try to avoid offline shop ping in crowded places. Nevertheless, the malls are open.
Nerd agency team (Tetiana Ruban, Olena Kuraksa, Anton Karpeka) with volunteers (Ilona Kitaeva, Ro man Kritskiy, Iryna Gromova, Olena Kuzmina and Nataliya Avramenko) has developed a new licensed brand 'Call me Ukraine'. The creative concept was born around the key values that ordinary Ukrainians proved during the first months of the war. These stories and heroes narrate the new collective image of what the Ukrainian values are and what the spirit of Ukraine is. The brand is based on real but ex traordinary events. For example, a man stopped a tank with his bare hands; a woman saved disabled dogs from occupied Irpin in a Kyiv suburb; a farmer pulled an enemy tank by his tractor; a lady disabled a surveillance drone with a jar of homemade preserved toma toes and so on. All the characters and objects are illustrated especially for licensing. The main colors are blue and yellow as per the Ukrainian flag.
'Mavka.The Forest Song', the most anticipated brand from Ukraine
Food retailers, regardless of the fact that they have lost dozens of stores, are some of the most stable. They keep launching and developing loyalty programs including the licensed ones. Instead of normal discounts for pans and other practical goods, all the pro grams now are emotional with gami fication, characters, and brands. There is strong competition between food Shoppingretailers.
with companies in apparel, publishing, foods, beverages, and other categories internationally. In Ukraine, we have licensees that produce toys, publish ing, stationery, apparel, jewelry, foods, and other products. In addition to that, there will be a new licensed food retail loyalty program with Mavka in Ukraine. The brand impresses with its unusual and beautiful visual environ ment and enjoys very good feedback. We expect 'Mavka.The Forest Song' to be the first Ukrainian entertainment brand with a strong international li censing program.
good sign is our closer over all partnership with European coun tries, the UK and US. In June, Ukraine was granted EU candidate status. 2023 is going to be a recovery year. People and companies have already adapted to the situation and are get ting back on track. I would like to highlight that Ukrainian businesses and people have been through many cri ses before, which has made them very flexible and decisive with strong cri sis management skills. So, we will see the results of counter-crisis actions of companies next year.
With the 'Call me Ukraine' brand we want to attract attention to Ukraine in a positive way and fundraise to get closer to our victory.
The circumstances pushed Ukrainian producers, brands and agents to try to establish themselves abroad, especially in CEE region, and we have already seen the first positive results.
TOTAL LICENSING 148
The licensees will transfer royalties di rectly to the charity funds that support Ukraine. This approach ensures trans parency. Moreover, in some countries companies that donate to charity get tax discounts. As we understand that the social responsibility theme should be suitable for a company/brand, we picked a range of recommended funds that cover different areas. Licensees can donate to the army, medicine, women, kids, veterans, refugees etc.
For foreign companies it is more dif ficult to evaluate the situation. Therefore, we do not see activity of right sholders who work directly without local agents. Nevertheless, we feel great support from our partner right sholders. This year we signed an agent contract with a South Korean com pany Roi Visual for the animated series Robocar Poli and became an exclusive licensing agent in Ukraine. Also, Nerd Agency now can represent Robocar Poli in CEE region for a number of cat egories, and we continue negotiating with some other brands that we want to get into our portfolio for Ukrainian and CEE markets.
Not so long ago, many brands grant ed rights for Ukraine, Eastern Euro pean countries, and CIS countries to Russian agents. And, particularly in Ukraine, such brands were frozen for licensing – there were no deals and even if a licensee wanted to have such a brand, there were dozens of obsta cles. We see the trend that many re
creased. Nevertheless, many citizens have moved from occupied territories to other parts of Ukraine, so the im pact of this factor is not critical.
Some Ukrainian companies have al ready started exporting products (including licensed products) to new Anothermarkets.
Foreign rightsholders
I hope that all international brands leave Russia and save their brand reputation. We see a great opportu nity to work with new rightsholders that were blocked before and we have enough strength and resources to rep resent the brands not only in Ukraine but in CEE and some CIS countries.
spected rightsholders are leaving Rus sia despite the market size (which is by the way shrinking thanks to sanctions).
Prospects and forecast
2022 is a difficult year for the Ukrai nian licensing market. From 24th of February till May the economic activ ity of licensees was much lower. However, starting in May, companies renewed product development and launches, and later they got back to new deals and negotiations. People are coming back to Ukraine. Half of those who evacuated from Ukraine have come back. The back-to-school period is a new wave of returns by mothers with kids, who are the main consum ers of licensed products.
It should be said that business is not operating in the temporarily occupied territories, so the market size has de
The crucial thing is that 98% of Ukrai nians believe in our victory and keep it in mind. All the plans and actions are being made with this assumption. After Ukraine`s victory, there will be a lot of private and public investment, which will fuel economic growth. Being one of the biggest countries in the region (with 42 million people and 603,7 square km), with investment, good partners, high spirits, and people's will to reconstruct the country, Ukraine will become a very attractive market. Therefore, we should prepare the ground for this now. And we are very grateful to all who support Ukraine.
Captain Smart
TOTAL LICENSING 149
On the boxes of Captain Smart products, consumers find a set of icons depicting the key skills. The icons allow parents and educators to quickly identify which practical skills the child can gain while playing with the chosen product. They offer both multilingual versions of Captain Smart as well as fully localised editions. Captain Smart products are sold in 11 markets and all Captain Smart products are manufactured in Poland.
Godan S.A.
The publisher of the Captain Smart series, Edgard Publishing House, has been successfully operating on the domestic market over 25 years now and is known for its high-quality publications for independent language learning, as well as state-of-the-art psychological self-help books. They work with a quickly expanding group of publishers, retailers and distributors from several European countries and are keen to cooperate with new partners all over the world. Captain Smart is a series of captivating games, puzzles and toys that support child development through creative play, tailored to address the needs of children from birth to 11 years of age. All the products support the development of key abilities, such as concentration, observation, memory, creativity and logical thinking.
Godan S.A. is a company with more than 30 years of history and experience in selling party products in Poland and worldwide. Their offering is mainly distinguished by a wide choice, interesting designs, but also the availability of a multitude of licensed products. In particular, the following should be singled out: DISGUISE costumes and accessories, behind which stand such brands as Disney, Marvel, Lego and many others; PROCOS tableware, Qualatex balloons and many others.
NEWS FROM POLAND
In May 2022 Polish publisher Media Services Zawada launched two categories of products based on Cry Babies Magic Tears brand from IMC Toys dedicated to girls: books and magazines.Thanks to well-known and up to date content avail able on YouTube as well as on Netflix, delightful artwork and a close marketing cooperation with toy distributor (TM Toys), MSZ expects huge success. The initial sales data confirms the forecast and strength of this license. Media Service Zawada is the only kids publisher in Poland engaged in publishing both books and magazines. All the company's activities and products are centered around kids, offering entertainment, education and happiness. With every year, and with every book they build mem ories with their licensing partners. Only top licenses, nationwide channels of distribution and a wide range of marketing activities using all available tools guarantee MSZ long-term success.
Almost 30 years of experience in the licensing business helps them to identify new trends and create the high est quality portfolio aimed at their target group. Their team is always up-to-date with market news and kids' needs. Their product range includes Peppa Pig, Paw Pa trol, L.O.L. Surprise! and Cry babies Magic Tears. They work with the best licensors for example Paramount, Hasbro, MGAE, Mattel, Warner Discovery, Canal+ and IMC Toys.
Media Services Zawada
In detail, the main trends among boys are:
And among girls:
• 3 to 6 years old: Peppa Pig strengthens proximity and is #3 on popularity; Paw Patrol keeps its lead ership on popularity, salience and fa
•shortly10 to 14 years old: Lego raises on awareness and preference and is now #1 on popularity; Frozen and Mine craft are the most in mind
What is trending in Poland and the Czech Republic?
• 7 to 9 years old: Mickey Mouse is the hottest brand and ranks #3 in popularity; Disney raises in preference and should appears in top popularity
off, the number of brands that kids would be familiar with has re mained stable over time (+2 percent vs. April 20), demonstrating a persis tent interest in the entertainment area. When considering the perfor mances of the brands as well as age and gender distribution, the market is very diverse. The most frequently named brands are Lego and Marvel, al though only Lego is popular with both boys and females, young and old; while Marvel appeals to more boys than girls. The remainder of the market is made up of numerous smaller busi nesses who have an equal impact on all brands. While focused on age and gender, brand results significantly vary amongst targets. Boys aged 0 to 2 are a strong market for Bing Bunny, whereas boys aged 7 to 14 are a strong mar ket for Pat & Mat, the Czech animated series.
For brands in Poland, developing a rel evant positioning among a core target and then expanding it to a larger audi ence may be a suitable strategy. This can be achieved by gradually introduc ing new topics and/or categories to create interest and raise awareness.
erence and ranks #1 on popularity; Mickey Mouse is the hottest brand
The appeal of entertainment brands varies depending on the target mar ket and provides numerous chances for brands to choose their positioning. However, it is by establishing their po sitioning that they can increase their influence among a larger audience.
• 15 to 25 years old: Marvel is most popular and favorite brand; Lego is #2 on popularity
• 15 to 25 years old: Scooby-Doo is the most favorite brand; Netflix is the favorite one
The target profile is linked to perfor mances while focusing on age and gen der. No player has had a lot of success in any one of the targets. Paw Patrol and Peppa Pig win among 0 to 6, Lego starts performing with kids aged 7+.
10 to 14 years old: Pat & Mat ranks #1 on popularity; Minecraft is the most salient in mind
larity and favorite; Paw Patrol is still #1 on popularity, salience and favorite
• 3 to 6 years old: Lego is most popular, appealing and favorite brand; Spider-Man is the most salient
•vorite7
• 0 to 2 years old: Peppa Pig settles its performances and is #2 on popu
• 0 to 2 years old: Bing Bunny is front of mind and preference and ranks #1 on popularity; Mickey Mouse is the hottest brand
TOTAL LICENSING 150
to 9 years old: Lego keeps its hegemony, except on salience; SpiderMan is the most salient in mind
Firstence.
• 3 to 6 years old: Frozen is the most known and appealing brand; 3 brands reach similar levels of prefer ence: Frozen, Peppa Pig and Paw Patrol
• 7 to 9 years old: Pat & Mat gains on awareness and attitudes and ranks #1 on popularity; Minecraft is hottest brand and most salient in mind
Poland presents multiple opportuni ties for brands to create successful strategies. Children can now name more entertainment brands than they could in April of last year, a +7% gain that shows a rising interest in enter tainment-related content.
The Czech Republic is a dynamic market that has opportunities for brands to cut through the clutter by provid ing relevant content to a focused audi
And among girls:
• 3 to 6 years old: Paw Patrol keeps its leadership on popularity, appeal, sa lience and favorite; Lego ranks #2 on •favorite7to
• 0 to 2 years old: Bing Bunny is the pref
The Czech Republic
In detail, the main trends among boys are:
Poland
• 0 to 2 years old: Peppa Pig settles its performances and is #1 on popu larity and#2 on favorite; Paw Patrol is most favorite brand
The market is very varied in nature of player size as well as age and gender. As a result, a brand may more eas ily compete with already-established players and provide consumers with a positioning that is relevant to them. The most popular brand that chil dren spontaneously mention is with out a doubt Lego. The brand is wellpositioned among girls and across age groups, even if guys seem to favor it slightly more.
9 years old: Lego is the most favorite brand; Frozen is the most ap pealing and hottest brand
• 10 to 14 years old: Frozen is most popular and favorite brand; Barbie is the most salient in mind
BrandTrends discloses the key Licensing Market trends.
For more information about the most popular brands, characters and licenses, around the world, email khan@brandtrends.combrandtrends.comphilippe.guinaudeau@us:ormaha.
• 10 to 14 years old: Lego is most popular, appealing and favorite brand; Batman is the most salient in mind
When a small but engaged group of Products of Change members gath ered in London last month for the first in-person Circular Economy 101 Workshop something special hap pened – and I'm not just referring to the spectacular disappearance of the lemon drizzle cake.
While much of the battle lies in disas sociating recycling from people's per ception of the circular economy, think ing in terms of circularity isn't as big a leap as it may first appear. The success the online marketplace
With its focus on retaining products and materials at their highest value state, the circular economic model challenges producers and manufac turers to eradicate waste by design; whether this is through the materi als they use which can then return to the Earth in a regenerative process at the end of their life, or in the business model adopted that means products remain in the value stream and out of the waste stream.
A long, hot summer through which warnings of wildfires and drought peppered our national news coverage week by week went some lengths
Ahead of its own focus on sustainable fashion at Brand Licensing Europe this month, Products of Change explores circularity in couture and culture
to bring the importance of climate change action a lot closer to home than many of us may have found com fortable. Gradually we are beginning to realise the impact of climate change on our waking lives.
eBay has seen with Pre-Loved Fash ion is a great example. Even before its sponsorship tie-up with the cult TV series Love Island, eBay UK had re ported one Pre-Loved sale every sec ond of 2022 so far. Thanks to the suc cess of its partnership with the eighth season of the reality TV show, we can only expect to see its continued popu larity with the younger generation. Most recently, eBay UK has taken its next step in its mission to 'change the way people shop for clothes,' having signed Love Island contestant Tasha Ghouri as its first Pre-Loved Ambas sador. It's not only a huge first for the series that has historically seen its contestants go on to form strong ties with the fast-fashion space, but the lat est in a series of big wins for circular ity in fashion.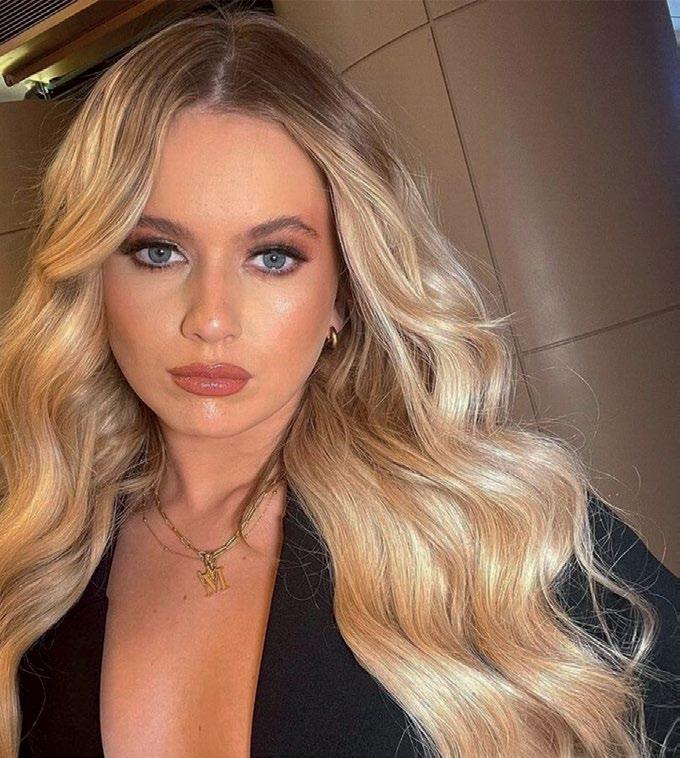 TOTAL LICENSING 152
Tasha Ghouri
And fashion is, of course, inextricably linked to our own industry. So much so that it will be the main theme of Brand Licensing Europe this year, with no fewer than nine fashion shows scheduled to take place across the show's three days this September. Among the collections to be hitting the catwalk will be some of our in-
As a society, we know that decarboni sation is essential if we are to preserve the future of this planet for genera tions to come. As a species, we also recognise that we have a rather large problem with waste.
The session, it is safe to say, had suc cessfully helped delegates flip their mode of thinking from linear to some thing more circular and take home with them the root understanding of an economic model that can benefit people and the planet at the same time. And it's all to do with our per ception of waste.
Licensing for the Fashion Conscious
Within the space of the three-hour Workshop in which the basic prin ciples of the Circular Economy were explored amongst a group made up of product specialists from Topps, Talking Tables, Tesco and more, a new level of creative thinking was unboxed.
Junk Kouture is a television fashion competition for students throughout which participants design, create, and model fashion collection made from recycled items. As a platform, it is all about showcasing the possibilities for endless creativity that the circular re use model harbours. As a tool for edu cation, it's yet another means of en couraging the coming generations to reassess their relationship with both fashion and waste to find and retain the value in products and items that may have come to the end of their first life.
already making headway in bringing circular principles to the licensing pro cess. Its print to order system means that it produces only what is sold, de signing out waste from the very beginning. The fact that Teemill is gradually and very surely growing its licensing portfolio – its latest tie-up being with Products of Change member, The RSPB – is a great testament to the awareness growing within the licens ing sector of sustainability through Whatcircularity.comes
Housed on the Isle of Wight, the sustainable fashion expert Teemill is
dustry's own pioneers of sustainability, including Primark Cares, Hasbro, Smiley and many others. But that isn't all. Products of Change will also be bring ing Junk Kouture to the halls of Lon don's ExCeL to showcase the creativ ity and innovation that can be applied to the second-hand market.
It is as Caroline Petit, Deputy Director, United Nations regional information Centre for Europe told us herself, that "sustainability is not a limitation to fashion, but rather a trigger for bring ing real creativity and passion into the Soindustry."where does this leave licensing? It's a great question. When it comes to applying circularity to what has been traditionally a linear, money-making industry we are looking at a bit of a blank canvas, aren't we? But that is a blank canvas filled with potential, and there are already companies helping to signpost the way.
something similar in the pursuit of circularity? These are the questions already being ruminated on. To make sure you're a part of the circularity in licensing conversation, be sure to drop by the Products of Change Sustainability Café at Brand Licensing Europe this year and check in with the team in person or online to learn how you can help drive posi tive change across this endlessly creative industry.
Junk Kouture
TOTAL LICENSING 153
Products of Change is a global educational hub driving sustainable change across consumer product markets and beyond.
next is an exciting pros pect to consider. We operate in an age of subscription models when our biggest entertainments are delivered through monthly memberships and communities are nurtured with con tent and conversation from our larg est IP owners. Does the licensing in dustry have the potential to shift to
www.productsofchange.com
The market environment provides opportunities for the licensing industry.
top 10 cyber slang phrases of the year, among which "metaverse" ranked the fifth place. As an emerging concept, it will significantly change the way of pre senting IP entertainment experiences and selling goods in the future. In 2021, a few cultural and entertainment com panies achieved the digital presenta tion of IPs with blockchain technology.
From the perspective of the licensee industry, the integration between chil dren, two-dimensional world and life necessity categories and IPs will be more promising.
In China, the brand licensing industry is created, derived, realized, protected and facilitated by IPs to form an eco system. Changes in each link of licen sors, licensees, related service provid ers and consumers will have an impact on the licensing industry as a whole, and form development trends and op portunities in the future.
toys and derivatives closely as sociated with animation, gaming and two-dimensional IPs will continue to maintain their strong growth momen tum. Besides life necessities, which cover a wide range of products such as clothes, food, beauty products and consumer electronics, will achieve the emotional communication with ordinary consumers through the in tegration with IPs. In addition to mer chandising and LBE licensing, more and more retail distributors and platforms can directly obtain IP licensing, instead of just serving as sales channels for licensed products. This means that the direct-to-retail (DTR) licensing model is becoming increasingly important.
According to the China Licensing In dustry Report 2022 by the CTJPA Brand Licensing Council, the total re tail sales of licensed consumer prod ucts reached RMB 137.4 billion in 2021 in China, an increase of 24.2% year-on-year. The annual royalty reve nue totaled RMB 5.32 billion, up 28.2% from 2020.
CHINA'S BRAND LICENSING INDUSTRY Beijing Winter Olympics and Paralympics
The combination of toys, clothes and science and education products in the children's category, as well as IPs will
TOTAL LICENSING 154
From the perspective of the IP in dustry, consumers pursuing novelties will further promote co-branding and integration among IP contents. IPs of different types and styles will explore the co-branding cooperation to bring new concepts and ideas to respective brand cultures and design styles, thus complementing each other and be coming increasingly popular.
The popularity of Bing Dwen Dwen and Shuey Rhon Rhon has played a positive role in China's brand licensing industry, which was reflected in indus try, publicity, copyright protection and other aspects.
A growing number of channel forms such as franchise stores and collection shops as well as e-commerce plat forms have all found ways to attract young consumers through IP coopera tion, and empowered their proprietary products through IP licensing.
By Charles Sun, Licensing Team China Toy & Juvenile Products Association
Contact: tjpa-china.orgcharles_sun@
In 2021, China's GDP increased by 8.1% from a year ago, ranking it among the world's major economies in terms of economic growth. China's brand li censing industry as an emerging business model for crossover integration is on the rise and continues to main tain its rapid development.
Beijing Winter Olympics and Paralympics presents the demonstration effect to China's brand licensing industry
Below: LinaBell, launched by Shanghai Disney resort in September 2021, has become famous.Picture from the official Disney website
In December 2021, China's National Language Resources Monitoring and Research Center issued released the
make the maternal, infant and chil dren's consumer market more attrac Trendytive.
In terms of industry, it is reported that the Beijing Organizing Committee for the 2022 Olympic and Paralympic Winter Games has developed almost 5,000 franchised products, covering non-metallic products such as badges and key rings, precious metal products, apparel and accessories, silk products, ceramic products, stationery, stuffed
From the perspective of the entire li censing ecosystem, the emergence of new digital technologies will promote innovation in the way of presenting IPs and experiences and selling products.
Paralympics reached RMB 226 million in 2021. According to the financial result fore cast for the first quarter of 2022, the company ex pected its profits to reach RMB 90-100 million in Q1, an increase of 217.82253.13% year-on-year.
In terms of copyright protection, the Beijing Winter Olympics and Para lympics showed a high degree of IP protection, and strengthened the copyright publicity. On the morning of February 14, 2022, a special press con ference was held strengthening the IPR protection for the Winter Olym pics at the 2022 Beijing Media Center. To successfully host the 2022 Bei jing Winter Olympics and Paralympics, the Chinese government has posi tively strengthened the IPR protection, and has obtained good results, according to Zhang Zhicheng, a spokes person of the China National Intellectual Property Adminis tration, who spoke at the conference. Besides, many media publicized copyright protec tion topics associated with the Winter Olym pics were announced to the public.
The hot sales of products have driven the production chain and retail. Ac cording to the official website of the Beijing Winter Olympics and Paralym pics, there were 29 franchised manu facturers, 58 franchised retailers and 164 retail stores for franchised prod ucts during the games, including Anta Sports, Yuanlong Yato, Harbin Cultural Industry Investment Group, Wangfujing, Beijing Caishikou Department Store Co., Ltd., China Sports Industry Group and other prestigious compa Yuanlongnies.
In terms of publicity, through
TOTAL LICENSING 155
Theers.
positive role that the Beijing Winter Olympics and Paralympics have played in China's brand licens ing industry involves not only boost ing derivative sales and exploring joint marketing modes, but also attracting more attention to licensing from the public and raising people's awareness of copyright protection, thus providing new impetus for China's brand licens ing
Fromindustry.September
15 to 17 this year, li censors of animation, films, museums, art and other categories gathered again at the 15th session of the China Licensing Expo (CLE) at Chengdu, Si chuan Provence, to promote the con tinued development of the licensing business. After 15 years of develop ment, China Licensing Expo is widely recognized as the most effective chan nel to understand the licensing mar ket, promote brands, and expand the licensing business in China and Asia.
Yato released financial re sults, showing that revenue from sou venirs of the Beijing Winter Olympics and Paralympics exceeded RMB 59 million in 2020, and revenue from fran chised souvenirs and precious metals of the Beijing Winter Olympics and
In terms of IP brand licens ing/co-branding, according to the official website of the Beijing Winter Olym pics and Paralympics, there were 11 official partners and 11 official sponsors who have all used Winter Olympics elements and mascots. Through their co-branding with the Winter Olympics elements and mascots, they launched a number of marketing activities that have raised their brand awareness and boosted
the hot sales of Bing Dwen Dwen, professional concepts such as IP de rivatives and IP licensing have become increasingly popular, and attracted the attention of all the people. This will play a positive role in developing and expanding licensed product consum
toys and toys made of various mate rials, handicrafts, jewelry, electronics and accessories, intelligent wearable devices, home textiles, bags and suit cases, ice and snow sporting goods, commemorative stamps and philatelic items, commemorative coins (notes), and other categories.
For years, in my standard license agreements, I have included a provision in the disputes provision that requires any party seeking to litigate or arbitrate disputes to first engage in structured mediation as a pre-condition before commencing such an action.
THE BUSINESS OF LICENSING
By: Gregory J. Battersby
understand that there is a real possibility that they could lose the case. Once the mediator gets that message across, the parties become more openminded, making a reasonable settlement possible.
www.gbiplaw.comgjbattersby@gbiplaw.com
BOOK AVAILABLE!
While direct conversation seems to have become a lost art, it can be very effective in resolving disputes with the result that the conflict will be quickly and, hopefully, inexpensively resolved.
The most effective mediators frequently scare each of the parties enough to "soften them up" to consider settlement, i.e., highlighting the weaknesses of their cases. That way, they
who are bound to follow very tight guidelines relative to approvals, etc., will occasionally step out of line, and a licensor will, rightfully, call them on it. These are only a handful of possible disputes regularly occurring in the licensing field.
of_licensingtotallicensingworld.com/site/business_https://www.
The provision states: The parties agree that before initiating any litigation or arbitration under this provision, they shall first submit the dispute to mediation before [identify mediator] and engage in a good faith effort to resolve such dispute. If, after engaging in such good faith efforts, they cannot resolve the dispute, then and only then can they initiate such an action.
Courts will typically provide mediation services to settle cases that have been filed, frequently using magistrates to conduct such a hearing. Some magistrates are excellent, others not so much.
Licensing has has exploded into a $250+ billion worldwide industry at retail and generates more than $7 billion in royalty income for those property owners who are savvy enough to license their properties for a wide variety of consumer products.
25 Poplar Plains Rd. Westport, CT 06880 (203) 454-9646
When a dispute occurs, the parties will typically exchange letters with increasing nastiness until an impasse is reached. Then the provisions of the disputes clause come into play. It might require litigation or arbitration to resolve these disputes.
Mediation - A Very Effective Way to Resolve Licensing Disputes SpeakingLegally
About 8 years ago, lawyer Gregory J Battersby and licensing veteran Danny Simon introduced the first Basics of Licensing book. They published a revised version a couple of years later and followed it with a Licensee edition and then finally an International edition. Recognizing that there was a degree of commonality between these editions, Battersby and Simon concluded that it was time for the definitive work on licensing, hence, The Business of Licensing which combines the best of all three prior editions and takes the subject to the next level. This book takes the reader through the nuts and bolts of how to conduct a licensing program and handle many of the problems that it might face There is a substantial amount of reference material. They have included an expanded history of merchandising, and an extensive collection of the forms that any licensing professional may need which they intend to provide to purchasers with electronic access to the forms via Dropbox.
forces the parties to talk to the other party directly rather than having their attorneys lob threats and accusations.
156
Gregory J. Battersby
Licenseeslicensee.
Disputes in licensing matters are not new. They have occurred since the infancy of the industry. For example, CFOs of licensors will have an entirely different understanding and interpretation of the definition of net sales than the CFO of the
The Complete Business of Licensing is available at a cost of $39.95 ($34.95 for LI members).
Mediationlicensees.
The Essential Guide for Intellectual Properties
Several groups offer mediation services—the various arbitration associations, JAMS which typically employs retired judges and skilled attorneys, and a host of private mediators.
TOTAL LICENSING
There is an adage in dispute resolution—the best settlement is one that neither party loves.
As anyone who has ever been involved in litigation or even arbitration knows, such forms of dispute resolution are time-consuming, lengthy, and, above all else, expensive. The wheels of justice grind slowly, and, typically, the only real winners in any dispute are the lawyers. For example, I have been personally involved in an infringement action that has gone on for 17 years, cost collectively more than six million in legal fees, and resulted in a seven-figure judgment. I might live to see the outcome of the case, a case that could have, should have, been settled at the beginning for a mid-five figure number.
Battersby Law Group, LLC
It is helpful to find a mediator familiar with the dispute's subject matter. For example, finding a mediator with licensing experience will frequently shortcut many extraneous issues in a licensing dispute and help the parties find a solution. In contrast, court-appointed mediators may have far more experience in other areas and not truly understand the unique issues facing licensors and
There is an effective and relatively painless way to resolve disputes called mediation. Mediation differs from litigation or even arbitration in that the parties meet and discuss the issues in the presence of a neutral third party whose objective is to get the parties to understand the issues, compromise, and reach a workable settlement.
Bologna Children's Bookfair
April 27 - 29 www.hktdc.com/fair/hklicensingshow-en
April 5 - 7 www.londonbookfair.co.uk
March 21 - 24 www.bolognachildrensbookfair.com
Licensing China (Shenzhen)
April 4 - 6 www.miptv.com
TOTAL LICENSING 158
Jan 11 - 18 www.americasmart.com
Jan 25 - 27 www.toyfair.co.uk
Cartoons on the Bay
March 30 - 1 April www.licensing-china.hk.messefrankfurt.com
Licensing World Russia
Feb 2 - 6 www.spielwarenmesse.de/toys/trade-fair
Australian Toy Fair
Kidscreen Summit
Feb 19 - 22 www.toyfairny.com/
Licensing Expo
Brand Licensing Europe
Annecy Festival
July 6 - 8 www.en.licensingexpochina.com
June 13 - 18 www..annecy.org/home
Feb 14 - 17 www.magicfashionevents.com
British Toy & Hobby Fair
Dec 3 - 8 http://www.cartoonsbay.rai.it/en/ CES
www.brandlicensing.eu
Feb 14 - 17 www.summit.kidscreen.com/
Paperworld
New York Toy Fair
London Book Fair
Magic Las Vegas
March 6 - 9 www.toyfair.com.au
Jan 29 - Feb 1 www.paperworld.messfrankfurt.com
Licensing Expo China
Nov 17 - 19
9 Story Entertainment 49 ADK Emotions .............................................................105 Asmodee 43 ATF 151 Australian Toy Hobby & Licensing Fair 99 BBC Studios .................................................................... 55 Beano Productions ........................................................ 17 Boat Rocker 9 Brand Licensing Europe 159 Bulldog Licensing 41 Caravanserai ..................................................................119 El Ocho Licencias 115, 116, 117 ETS Licensing 24, 25 Hybrid Meta 33 Jazwares ........................................................................... 37 Kennedy Publishing ........................................................ 27 King Features 15 Konami 49, 51 Licensing Japan 113 Magic Light Pictures ...................................................... 39 Millimages ........................................................................ 31 MIPCOM 131 MIP Junior 129 Mondo Entertainment ................................................ 6, 7 Moonbug Entertainment 2, 3 NBCUniversal 21 Paramount 4, 5, 160 Penguin Ventures ............................................................ 53 Pokemon .......................................................................... 19 Rainbow Productions 14 Rainbow SpA 1 Retail Monster 35 Rubies ............................................................................... 23 Sanrio 95 SEGA Europe 47 Smiley 13 Studio 100 ....................................................................... 85 TF1 Licensing .................................................................. 77 Toy Fair (UK) 157 Wynne-Jones 29 Xilam 45 Zag .................................................................................... 11 List correct at time of going to press
Atlanta Gift Market
March 1 - 3 www.licensingworld.ru
Jan 5 - 8 2023 www.ces.tech
Korea Character Licensing Fair
May 23 - 25 www.licensingexpo.com
Nov 25 - 28 www.characterfair.kr
Nuremberg Toy Fair
Hong Kong Int. Licensing Show
MIP.TV