Summer 2023
INTERLITHO LICENSING
INTERLITHO LICENSING is an art licensing agency well established since 1955 and based in Germany. We sell to customers worldwide and have a library containing over 100.000 images which are constantly added to by our freelance designers and suppliers.
INTERLITHO's portfolio is easily available to see and select from the categorised website where you can search by keywords, artists and numbers. You can create a lightbox and save your selection, you can download it and you can share it with INTERLITHO LICENSING for availability checking or with others.
The painted designs cover all styles and mediums and are licensed around the world on products ranging from puzzles, crafts, greeting cards and stationery, calendars, giftware and tableware. They cover the whole range of traditional, contemporary, cute, whimsical, seasonal and everyday in American and European style.
INTERLITHO LICENSING also holds a large collection of photographic images which is constantly extended. The designs are developed in cooperation with our customers to suit their specific demands and needs. New designs and photographic images are immediately available as high resolution data and so permit fast and inexpensive adaptation to your particular products, sizes and specific products requirements.
The designs and images are created in close cooperation with designers and artists worldwide. We work with them together from the concept to the sketch over the colour composition up to the finished commercial design. Thus, a continuous flow of eye catching modern and advanced designs as well as of traditional designs can be assured.
We are present at a number of events throughout the year including Las Vegas Licensing Expo, Atlanta Gift Show and Christmasworld/ Creativworld and Ambiente in Frankfurt as well as Nuremberg Toy Fair and ISM in Cologne.
For more information please visit : www.interlitho.com or contact: Anke and Andreas Klein at  designs@interlitho.com +49-221-9405830
TOTAL Art Licensing 4
Welcome to the Summer 2023 edition of Total Art Licensing! After nearly three very strange years where no trade fairs took place and the magazine was online only, it is delightful to not only be publishing in print and online versions but to welcome back Surtex.
After a hiatus of a few years, Surtex returns to NYC this May – the show has been the premier surface design and specifically art licensing marketplace for over 35 years and is delighted to welcome back previous exhibitors as well as a host of new, exciting talent.
From a magazine perspective, we're delighted to be media partners with Surtex and enjoy distribution of this issue at the show. This issue includes a major Surtex preview giving visitors an opportunity to see what's on show and make appointments with exhibitors.
And the fun doesn't end there! In June, the magazine will be winging its way to the Mandalay Bay in Las Vegas where it will be distributed at Licensing Expo – the licensing industry's premier annual event.
We very much hope you enjoy this edition.We'd love to hear more about your licensing activities so do, please, keep us up to date. In the meantime, we want to wish all our readers a happy and joyful Summer.
Francesca Ash, Co-Publisher
In the Spotlight...
Jerry Wooldridge, Co-Publisher
TOTAL Art Licensing Summer 2023 Summer 2023 Co-Publisher Francesca Ash francesca@totallicensing.com Co-Publisher Jerry Wooldridge jerry@totallicensing.com Editorial Director Rebecca Ash becky@totallicensing.com Office Manager Helen Bowerman helen@totallicensing.com Subscriptions www.totallicensing.com TOTAL LICENSING LTD 4 Wadhurst Business Park Faircrouch Lane, Wadhurst East Sussex TN5 6PT UK Tel: +44 (0) 1892 782220 www.totallicensing.com © 2023 Total Licensing Ltd Total Art Licensing is published twice each year. All illustrations and images are reproduced by permission of their owners.
Interlitho - art since 1955 4 Art Licensing news ................................... 10 The World of Howard Robinson 12 Wain's World - An Innovative Agency 16 JQ adds Fantasy Category ....................... 18 Greg & Co - latest news 19 Surtex Exhibitor Preview ........................ 22 Total Art Galleries 33
6 Angela Corti ................................................................... 34 Art House Designs ...................................................... 35 Blue Mesa 7 Brand Licensing Europe 43 Clara Jean 34 Creative Concepts 35 Donna Elias ..................................................................... 38 Elizabeth Stirling ........................................................... 36 Este Macleod ................................................................. 34 Giordano Art 39 Greg & Co 11 Howard Robinson 1 Image by Design 36 Inspire Art & Design .................................................... 40 Interlitho ........................................................................... 5 JQ Licensing .................................................................8, 9 Larisa Hernandez 41 Lemonade 37 Licensing Expo 31 London Portfolio 33 Lou Patrou ..................................................................... 39 MGL ................................................................................ 38 Pam Casey ..................................................................... 41 Sagebrush 33 Surtex 44 Suzanne Cruise 37 Wain's World 2, 3 List correct at time of going to press. Advertisers /totallicensing @totallicensing /totallicensing /totallicensing
PURA SIGN WITH METROPOLITAN MUSEUM
Smart fragrance company Pura recently announced their collaboration with The Metropolitan Museum of Art in New York to introduce a collection of six fragrances. The scents were developed to enable customers to experience art across time and cultures through fragrances inspired by extraordinary pieces at The Met.
The Pura smart fragrance diffuser plugs into any wall outlet and uses wifi and Bluetooth technology to connect to an accompanying app that allows customers to adjust fragrance intensity, set schedules and timers, switch between scents, and more with fragrances that are clean and safe. Founders Richie Stapler and Bruno Lima designed Pura to be a sleek enhancement to any room while capturing the power of fragrance to make life better and more memorable.
When creating the scents, Pura's Chief Fragrance Experience Officer Mara Dumski said, "We were so excited to work with The Met to develop scents connecting back to their inspiring collection of art. Aiming to evoke moods and tell a story, our collaboration offers an entirely new way to experience The Met collection of 5,000 years of art while also creating a sense of home and personality through art-inspired fragrance."
"As fans of Pura, we are excited to launch this unique home fragrance experience which adds a new dimension to art appreciation," said Josh Romm, Head of Global Licensing and Partnerships at The Met. "Art has the power to create connections and transport people across time and place, and this program provides a new and exciting opportunity for fans of The Met to experience art, history, and cultures of the world from the comfort of home."
All compatible with the signature Pura smart fragrance diffuser, the fragrances included in this collection are Blue Water Lotus, Egyptian Sandalwood, Bamboo Forest, Spiced Woods, Terracotta Rose and Perfume Immortelle.
FIRST LICENSE FOR THE ART OF DRAG
Art licensing and design company The London Studio has announced the first licence award for its playful, funny and ever-so-slightly-subversive new brand, Art of Drag.
Independent publisher Flame Tree Publishing will produce a calendar, jigsaw and notebook inspired by this unique art brand, to be distributed globally by Flame Tree and its distributors, including Simon & Schuster for the USA. Art of Drag takes inspiration from famous artworks and cultural female icons which The London Studio then replaces with drag artists – to stunning and memorable effect! Each original Art of Drag artwork features a beautylicious Drag Queen, created by an award-winning independent art house of LGBTQ+ artists and allies. These works reimagine and subvert famous artworks and genres, and, like the queens themselves, every single one is a masterpiece! These beautifully illustrated reimaginings stretch from street art to the Renaissance – and everything in between.
The 2024 calendar launched at Spring Fair, closely followed by the jigsaw and notebook. They will be on sale at independent gift shops,
EXPENSION FOR ASHMOLEAN
The Ashmolean in Oxford has announced the unveiling of new additions for licensing partner, Surface View. Inspired by the Japanese art of Kinpaku (gold leaf), this new range reflects the natural beauty of Japan using imagery from silk panels, gold leaf screens and delicate textiles. "Our partnership with Surface View has been running for more than eight years, and we are delighted with the refresh," says Declan McCarthy, Head of Publishing & Licensing.
Founded in 1683, the Ashmolean is the world's first public museum and houses over million objects World-famous collections range from Egyptian mummies to contemporary art, telling human stories across cultures and across time. Surface View combine innovative technology and imagination to create bespoke printed wall coverings, wall art and window treatments.
book shops, selected fashion retailers and gallery gift shops from later this year. The range will target a core market of young adults, but The London Studio expects a strong secondary market among teens and tweens, for whom drag is now very much part of mainstream British culture.
Frances Bodiam, Managing Director of Flame Tree Publishing, says: "We are so excited to be publishing Art of Drag and working with Soula at The London Studio. The artwork is gorgeous and fun and works so well with the rest of our gift and calendars programmes. They will be a truly wonderful source of inspiration for the 2024 calendar, jigsaw and Flame Tree notebook planned for later this year."
Kirsty Guthrie from KJG Ltd who consulted for and managed this deal on behalf of The London Studio, alongside Maggy Harris from BlueSkye Licensing, comments, "I was over the moon when Flame Tree loved the Art of Drag designs I showed them. They immediately saw a fabulous product range in the offing! The 'va va voom' art and wonderful products combine perfectly to glam up anyone's day – and will do just that when they launch later this year."
Founder and director of The London Studio, Soula Zavacopoulos, adds: "Flame Tree is very well known for its incredible art licenses and the high quality of its products, so I'm very proud to announce Flame Tree as our first global licensee for Art of Drag. And there's much more to come from this brand. The potential for Art of Drag-inspired printed products is huge. After all, who wouldn't want a bit more glam in their daily life?"
Awareness of The London Studio and its work is growing fast. Its success in greeting cards and gifts now extends to a fast-growing list of international retailers and licensed publishers. It has also launched a number of specially created lifestyle brands appropriate for apparel, gifts, homeware, stationery and more.
TOTAL Art Licensing 10
When Liz Wain founded Wain's World, her licensing and product development agency, it was the culmination of a 35+ year career in design, manufacturing and marketing. Total Art Licensing talked to Liz to find out more.
We asked Liz how she started her art and design journey. "Actually I was very young. For my 6th grade graduation, I was allowed to choose wallpaper to decorate my bedroom. It took me months to find exactly what I wanted – much to my mother's growing frustration! Then a few Years later, I had a hard time finding sheets I liked for my college dorm room. After receiving my BA in economics and city planning, I decided to forgo an MBA and enrolled at Parson's School for Design in New York City to study surface pattern design."
A couple of years later I started a company where I designed and manufactured bed, bath and table linens. Barney's of New York bought our line. And Bergdorf Goodman followed. I developed my linen collection into a lifestyle brand with a hold in more than 1200 luxury retailers worldwide. Licensing the Liz Wain brand followed allowing my designs to be sold through mass and specialty retailers right across the country."
Years later, I led retailer and manufacturer crea-
tive teams where we developed licensed brands and consulted for known brands such as Kathy Davis."
And this was just the beginning. In 2003, Liz took her expertise and talents to new market sectors. The Bradford Exchange leveraged Liz's keen sense of design and merchandise to introduce the Thomas Kinkade Collection of Fine Jewelry – a business that continues to thrive today. Over the intervening years, Liz became Chief Creative Officer for Chinese quilt supplier Nostalgia Home Fashions and then joined Enesco as Director of Design and Business Development. In 2014, she joined retailer Things Remembered as Creative Director.
With 360-degree experience in licensing, starting Wain's World as an agency was an organic professional extension and Liz sees her career as a fun-filled adventure. Her career in design and manufacturing has touched so many industries from home furnishings, textiles, housewares, apparel, jewelry and accessories, not to mention personal care, stationery, gifts, seasonal collectibles and paper products.
"Above all, the design process is fun," she explained. "Throughout my career, my most successful ventures have come from the collaborations and partnerships where we have the most fun." Layer in mutual respect and hard work, you have a winning formula for success.
Today, Liz represents more than twenty artists. So how does she go about selecting an artist to join her successful roster? "First and foremost, I look for a fresh artistic voice and point of view. The artist must have a signature look that I believe we can use to develop a broad range of products. Because of my experience in manufacturing and retail, my goal with an artist is to present a manufacturer with an end-cap that they can take to the retailer."
Working in partnership with her artists, the manufacturers and retailers is key to success, explains Liz. "We always work hand-in-hand with our partners, identifying key growth opportunities and implementing strate-
gies that drive revenue and increase profits."
Currently, Wain's World's artist brands create collections for stationery, agendas, tabletop, decorative home, fabric, paper party, giftwrap, greeting cards, home textiles, apparel, housewares, giftware, garden and more.
A lot has happened since Liz set up Wain's World back in 2019, just before the pandemic hit. Signing ten new artists, Liz is excited by the opportunities that they present. "Each artist has a distinct signature look which I truly believe will translate onto wonderful product lines."
This year she is bringing her enthusiasm to New York and exhibiting at Surtex – her first trade show as Wain's World. "I am truly passionate about creating great products. Working with our talented team of creatives, artists and manuafcturers brings me joy. Seeing products at retail that they create makes me proud." she explained. "We're bringing a fresh perspective and design integrity to Surtex this year."
As Liz explains, the adventure continues!
LATEST ARTIST SIGNINGS LEAH BISCH
Leah Bisch is an accomplished illustrator, designer, painter and hand letterer. Known for her lush and expressive floral compositions and signature lettering style, Leah works hand-in-hand with retailers and manufacturers alike creating coordinated collections of products. Inspired by nature, Leah constantly sketches botanicals and greenery.
TOTAL Art Licensing
Leah Bisch
CLAUDIA B
Claudia Bianchi of Claudia B Design loves the creative process of coming up with design solutions for her clients. Known for her signature florals, festive seasonal patterns, and joyful abstracts, she shifts across watercolors, oils, and digital design. She is inspired by nature and her spectacular garden.
JULIET MEEKS
Artist and surface designer Juliet Meeks describes her work as "a little nostalgic with a modern twist". Her days are spent creating colorful, expressive works in watercolor, acrylics, and gouache in the studio. Her floral and geometric patterns grace a range of products, including accessories, textiles, and stationery.
DEBORAH VELASQUEZ
Award-winning artist and designer Deborah Velasquez creates colorful and energetic art inspired by her love of nature and the simplicity of line. In addition to working in gouache, watercolor and printmaking, Deborah creates art digitally.
AMY HALL
Fine artist Amy Hall loves to paint, design and doodle. Amy's creative career includes 20 years of experience in the textile industry, dedicating much of that time to overseeing the manufacturing of specialty products in Europe and Asia.
KATHERINE HERRELL
The whimsical Illustrator and designer Katherine Herrell has always loved art. Her signature approach combines traditional mediums, such as gouache, watercolor, and colored pencils, finessed with a hint of technology. Katherine's playful designs, which she calls folky florals, often feature vibrant colors, flowers, enchanting animals, and uplifting phrases.
BETH SCHNEIDER
Beth Schneider is a talented surface pattern designer known for clean, fresh art with a fun, playful twist. Her florals and unique geometric patterns, all created in coordinating color palettes, are applied to products ranging from modern boho fabric to block print stationery.
THE PAPER CURATOR
Cecily Moore, creative mind behind The Paper Curator®, works with pattern, texture, lettering and bright colors. Her artwork, hand-crafted for the modern creative, is often a compilation of watercolor, acrylic, marbling, pen and ink, and even embroidery. Stationery Trends magazine named Cecily one of 2020's Top 10 Designers.
CORINNE HAIG
Corinne Haig is the artist, illustrator, and designer behind Corinne Haig Designs. She creates bright, uplifting artwork that resonates with consumers and retailers. Corinne's subject matter includes washy florals, coastal images, expressive animals, and colorful patterns.
Claudia B
Deborah Velasquez
Beth Schneider
Juliet Meeks
Amy Hall
The Paper Curator
Katherine Herrell
17
Corinne Haig
TOTAL Art Licensing
JQ LICENSING LLC ADDS FANTASY ART CATEGORY
JQ Licensing, LLC is excited to announce the addition of a new category of represented artists that can create any type of Fantasy or non-Fantasy art images you may require. This new category provides a wide range of options for Licensors in need of highquality and unique art pieces.
By adding this new category to its portfolio, JQ Licensing, LLC is now able to provide solutions to people who are looking for art that portrays mythical creatures and other fantasy elements. The company's roster now includes some highly talented artists who specialize in creating beautiful art pieces with a fantastical bent. From Dragons, Bigfoot, Fairies, Mermaids, Ocean, Epic Worlds, Sci-Fi, or other, these artists can bring your ideas to life with their exceptional skill and imagination.
Not only does this new category offer an exciting selection of artwork, but it also helps Licensors get the exact type of Licensed Art since the images are created exclusively for them and the market categories they sell through.
For those wanting to see thousands of custom-developed JQ Licensing designs as well as the many talented artists we represent for Art Licensing, you can log into our password-protected website at www.jqlicensing.com. All of our custom images are located in the JQ Design Portfolios as well as in the individual artist portfolios, featuring their represented images.
TOTAL Art Licensing 18
GREG & COMPANY ESTABLISHED PARTNERSHIPS AND NEW OPPORTUNITIES
"Out with the old, and in with the new" is a phrase that doesn't totally align for Greg & Company. Instead, they believe that it should be "in with the old, and in with the new", and take the time to celebrate new relationships with manufacturers and Licensees, while simultaneously further stimulating previously existing partnerships. The year 2023 has been off to a strong start for Greg & Co., with many new deals already underway with both new and existing Licensees, and the promise of many more to come.
With a design archive spanning almost 700 images, Greg & Co. has proven to be timeless and continuously relevant across a variety of categories, including cross-stitch and garden flag companies. In addition to previously existing designs, Greg Giordano, Owner and Managing Operator of Greg & Company, has enjoyed collaborating with NobleWorks Cards to create two new greeting card collections featuring vintage trucks and dogs in both holiday and everyday settings.

While the opportunity to work with new companies and manufacturers is an integral part of the business, 2023 has also proven to be a great year to continue collaborating with previously existing Licensees. "Gibsons have published Greg Giordano's work as jigsaw puzzles for many years now and his designs are always very popular and sell for many years", explains Emily Charles, Product Development and Licensing Manager at Gibsons Games. "We released a new puzzle, 'Birdsong by the Stream' in January. We made a bit of a last minute
request of Greg towards the end of 2022 and he delivered a brilliant puzzle image in record time, which enabled us to launch it earlier than expected and achieve excellent sales for the start of the year. We have another new one launching in April and Greg is working on a third puzzle image at the moment that we plan to release in July." By introducing new images to a variety of manufacturers, which will be featured on apparel and home decor products, Greg & Co. continues to show their dedication to fostering and developing already established relationships.
These connections have provided Greg & Co. with countless opportunities over the years, such as creating artwork for Legacy Publishing Group that has been featured in three calendar collections ("Heartland", "Nostalgic Main Street", and "Heartland Blessings"), or working with a variety of non-profit organizations which has led to Giordano's success and status as a key player in that arena for over 20 years.
The puzzle market continues to be an enormous success for Greg & Company. Collaborating with a variety of puzzle companies across the U.S. and Europe has allowed Giordano to create almost one dozen new puzzle images this year. Allegra Vernon, Creative Director at Cobble Hill Puzzle Company, believes Giordano's success is attributed to many things: "Greg's work is perfect for puzzles. He combines timeless subject matter, contemporary execution, and a strong understanding of composition and storytelling. His work is so consistently in our
For more information about Greg & Company, please visit their website: www.GregGiordanoArt.com.
For licensing opportunities, please contact Licensing Manager Jessica Fritsche at jessica@ greggiordanoart.com .
top ten – and our selection of his work has grown to such an extent –that we should really just rebrand and be called "Greg & Company Puzzle Company".
With so much already underway, Greg & Co. has enjoyed the momentum that 2023 has brought, and is looking forward to capitalizing on the energy of the industry. As they plan to attend several trade shows in the upcoming months, they feel that there will be many more licensing opportunities to come.
Keeping with their motto of "in with the old, and in with the new," Greg & Company is looking forward to continuing to seek out new partnerships while maintaining the strong relationships that have been built over the years.
TOTAL Art Licensing 19
Lisa Larsen Studio and Ceaco Team up to Make Puzzles!
Lisa Larsen Studio artist Stephanie Peterson Jones and Ceaco have forged a successful licensing relationship designing and manufacturing puzzles.
When Lisa Larsen first showed Jane Taylor of Ceaco her studio's portfolio, Jane stopped at an illustration of a camper in a mountain setting by Stephanie Peterson Jones, formatted as a greeting card for Asheville, NC, where she lives. This single camper illustration has since turned into an ongoing story of campers and food trucks in locations across the USA and around the world. Stephanie continues to dream up and illustrate new settings with fabulous detail, perfect for puzzle enthusiasts. The line now includes 16 puzzles with 3 more currently in the works.
Stephanie loves to create art that expresses joy. "I feel incredibly privileged to be making art that is in sync with my heart," she
says. "When I sit down with my coffee, fountain pen, and watercolors early each morning; imagery flows from my sleepy self, and those images often are the beginnings of my designs and illustrations."
The success of this line can largely be attributed to the artist, agency, and manufacturer working closely together to understand what puzzle lovers are enjoying and to continue to develop new concepts to fill that demand.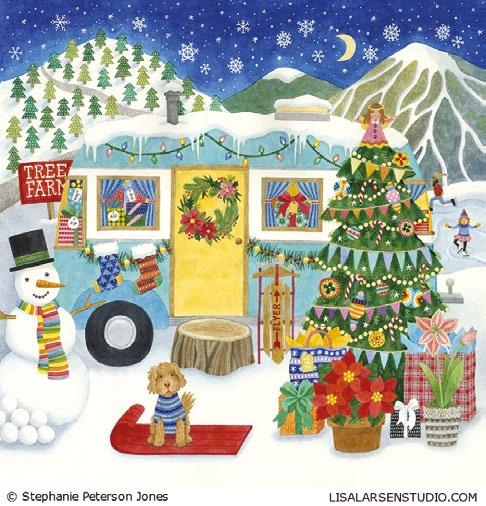 Jane Taylor of Ceaco Puzzles says, "Working with Lisa and Stephanie is an absolute pleasure. I believe that Stephanie's willingness to take time to brainstorm new ideas and adjust her artwork to make the best possible puzzle friendly art has definitely had a direct correlation to the success of the puzzles. The subject
matter of campers and food trucks in various locations combined with her whimsical style and vibrant color palette mean that there is something for everyone. We look forward to bringing more puzzles to the market with new themes and varying piece counts."
Lisa Larsen Studio is a licensing agency specializing in designs for various markets such as games, home decor, social expression, fabric, apparel, education, editorial, and gift. We pride ourselves in finding the perfect match between our clients' needs and the creations of the artists we represent.
For more information about product design and licensing from Lisa Larsen Studio, please visit http://www.lisalarsenstudio.com
For more information about Ceaco puzzles, please visit http://www.ceaco.com
TOTAL Art Licensing
20
Art Licensing Portfolio Launches Licensing Workshops for Artists
Art Licensing Portfolio, otherwise known as ALPS, launched a workshop based program for artists and surface designers who are interested in growing their licensing business. It was founded by art agent Lisa Larsen from Lisa Larsen Studios.
Designed for quilters and sewists in mind, Wild at Heart is a wonderful representation of Eulalia's mixed media art practice and hand lettering. This collection consists of colorful animal patches and fabulous coordinates that make creating quilts and bedding for a child's room a snap. Not only that, it contains directions for sewing a soft children's book!
The ALPS program offers self-paced monthly workshops over a twelve month period for artists to create artwork for specific industries and products. The workshops provide a structure for designers to learn about various industries who license work, create new art, organize it in an enterprise level portfolio management system, and present it to manufacturers. The program has grown to include monthly workshops, marketing, agency support and coaching, as well as community support.
In 2023, several new artists joined the ALPS group. ALPS is happy to welcome the following artists to the artist roster: Joselyn Martinez, Tricia Mutobe, Mary Claire Scholl, Barbara Abbatiello, Brenda Bird, Lori Ann Battaglia, Jess Diks, and Francesca Calvi.
The ALPS portfolio management system provides a searchable database of art available for licensing. Manufacturers can request an account and browse the artist portfolios as well as request additional information right in the system. ALPS also exhibits as a group in various industry trade shows. Companies who license artwork are welcome to connect with ALPS for their art submission calls and to review artist portfolios.
For more information about joining the ALPS group as an artist, please visit http://artlicensingportfolio.teachable.com For more information about viewing artist portfolios, please visit http://www.artlicensingportfolio.com
Lisa Larsen Studio and P&B Textiles collaborate on new Wild at Heart Fabric Collection
Mixed media artist Eulalia Mejia from Lisa Larsen Studio and art director Alicia Dujets from P&B Textiles collaborated on the design of a fabric collection featuring Eulalia's colorful wildlife!
P&B Textiles said, "Her pattern-on-pattern style of art is unique and perfectly delightful. Jungleanimal motifs combine with a clear color palette to create designs that any child will love. The soft-book panel is simply adorable! You're sure to want several to make for the little ones in your life. The block panel provides a starting point for a unique quilt design. We're offering a super-fun quilt design by Gina Gempesaw as a complementary pattern. BONUS: The tonal, speckle print is so wonderful that we're offering it in (35) colors in our new Cosmos basic collection!"
Eulalia Mejia is an illustrator, graphic designer and mixed media artist living in the rural mountains of Colombia, South America, with her two dogs, two cats and boyfriend. Eulalia's journey in surface design began after working for more than 10 years as an in-house graphic designer for fashion companies and freelancing for silk screen printing studios. As a way to explore her love for illustration and patterns, she started combining her curiosity for traditional media, with her passion for digital work. She developed a personal style that is bold and expressive, mixing sophisticated color palettes with whimsical characters creating unique and joyful designs.
For more information on licensing Eulalia Mejia's art, please contact Lisa Larsen Studio at http://lisalarsenstudio.com.
To order the Wild at Heart collection by P&B Textiles, visit their website at: http://pbtex.com
TOTAL Art Licensing 21
RETURNS TO NEW YORK CITY THIS MAY!
SURTEX is the global sourcing destination for retailers, manufacturers and licensees seeking unique art for commercial use. And, the leading surface design & art licensing marketplace is back in NYC this May in a new location, the Metropolitan Pavilion in Chelsea.
Held over two days (May 9 and 10), upwards of 150 exhibitors covering a wide variety of art and design styles will be present.
SHOW DATES AND TIMES
Tuesday, May 9 10:00 am – 6:00 pm
(Welcome Reception 5:00 pm – 6:30 pm)
Wednesday, May 10 10:00 am – 4:00 pm
SHOW SECTORS
As in previous years, the show is divided into a number of sections:
ART & BRAND LICENSING
A comprehensive display of diverse artwork, images, properties and brands that connect licensees and retailers worldwide. The sector features seasoned licensors, as well as newcomers.
ATELIER
A distinct section of surface and design studios from around the globe that sell the most trendforward surface designs across a wide variety of product categories.
ATELIER & LICENSING
A new specialty section designed for seasoned and new licensors and design studios that license and sell their surface designs to unlimited product categories.
DESIGN DISTRICT
A cost-effective exhibit area exclusively designated for individual artists and studios that are first and second-time SURTEX exhibitors.
RESOURCEHUB
A supplier service for companies offering resources for artist services, including technology & design tools, industry media outlets, trend spotting and more.
EXHIBITOR PREVIEWS
Information from some of this year's Surtex exhibitors.
A Fresh Bunch
A Fresh Bunch is an artist agency, founded back in 2010.
The company represents fifteen artists from around the globe with art available for purchase or license.
Amanda Klein Co
Amanda Klein creates art and design for home furnishings, textiles, paper products, stationery, greeting cards, tabletop housewares and giftware.
22
Arena Books Associates
Arena Books Associates LLC is a full-service book producer offering books, paper crafts and more.
Ari Bombari
Ariane Nijssen is a surface pattern designer from Fremantle, Australia. Her designs are available for licensing and her work features paper cut motifs and textures that she makes from hand printed paper. Her designs can be used on stationery, kids fashion and décor including bedding and wallpaper.
Art House Design
Since 1992, Art House Design has been active in licensing designs and sales of art for the stationery, paper products and textile industry. They sell copyrights of a wide range of artwork and photographic images for use on products such as jigsaws, painting, bedding, textiles, wallpaper, greeting cards, calendars, wrapping paper, back to school products and more.
Artistic Designs Group
ADG represents a group of talented artists and designers who share their commitment to building long-term working relationships with licensees.
Artshine
Artshine is a Sydney based licensing agency representing a diverse, fresh and on-trend portfolio of Australian artists.
Artsy Fartsy Life
Artsy Fartsy Life was formed in 2018 and features the art of Tara Jacobsen a surface pattern designer. Her artwork is suitable for a range of products including greeting cards, fabric projects, office supplies, journals and more.
Artwork Portfolio Ltd
Artwork Portfolio produce art and design for chilren's merchandise, decorative accessories, home furnishings, wallcoverings and more.
Artxtiles
Artxtiles was founded with a vision that beautiful art should be a functional part of everyday life. Artist and designer Sarah Sczepanski transforms her monotype prints into modern textiles for the home.
Avril Loreti
Avril Loreti is a designer and illustrator who creates vibrant and modern artwork inspired by the everyday world. Her art combines her love for crisp colour palattes, snappy geometrics and bountiful florals.
BeeMine Designs
BeeMine Designs create whimsical, quirky, happy designs and use bright, bold colours. Their art is suitable for children's merchandise, craft and hobby, paper products, stationery, greeting cards and giftware.
Brenda Manley Designs
Brenda Manley has 23 years specializing in the surface design industry as an art agent, art director, licensor, licensee, art buyer, designer and production artist for a paper goods manufacturer. Today she represents a group of talented designers spanning the globe who create surface pattern designs for home décor, apparel, gift and stationery. They license, flat fee, sell and welcome commissions.
Bridgewater Moss
Design
Bridgewater Moss have over 20 years experience developing trend forward prints for fashion, home and paper. They create art for apparel fabrics, home furnishings, paper products and wallcoverings.
Bruce Park Licensing
Bruce Park Licensing is new to the industry but not to fine art publishing They are offering thousands of quality images suitable for a wide range of products.
Chalet Flow Art
Chalet Flow Art specialises in creating abstract paintings that are both colorful and eclectic. The designs are derivations of paintings and, therefore, no two are the same. The art can be used on a wide variety of different products and services.
Cherry Design Partners
Cherry Design Partners was established in 2006 by Deborah Shapiro and Vittoria di Rosa. They are located in New York They provide original artwork serving creative professionals in all areas for print design of allover patterns and pasted graphics. In addition to their own collections, they represent studios from the UK and Spain for women's, menswear and childrenswear.
Christy Michelle Studio LLC
Christy Michelle Studio is a design studio creating artwork for fashion and home stationery. Art includes florals, animals and abstracts.
Clara Jean Design
Clara Jean Design is a modern design team focusing on versatile style and creativity. They use every medium from watercolor to digital design in order to satisfya diverse clientel. All of their designs our 100 percent hand created and they boast their ability to create custom designs for all surface design needs, including, apparel, greeting card, wall art, and home decor.  They specialize in animal art and have several styles to choose from, including line art, digital, watercolor and more. They also focus on watercolor florals, great for apparel and home decorating and also children's designs, great for infant blankets and other apparrel. Several styles of wall art are available that include watercolor abstracts and children's wall art.
Clare Martin Design
Clare Martin is a surface pattern designer and illustrator living in Western Australia. Her inspiration comes from shapes, colours and patterns found in nature. Her aim is to create playful, happy surface designs full of colour, layers and textures that make people smile and feel good.
Cody Alice Moore
Cody Alice Moore is an artist, illustrator and surface designer with a style that is graphic, whimsical and lively
She has over 15 years of experience and worked on art and design projects for logos, magazine articles, books, patterns for wallpaper, fabric, giftwrap, wall art, greeting cards, photo cards and many different types of photo gift products.
Colwill & Waud
Colwill & Waud is an established international design studio creating original artwork.
Cynthia Jacquette Art and Design
Cynthia Jacquette creates illustrations and patterns, floral, season, children's lettering and
TOTAL Art Licensing 23
maps. Designs are suitable for craft and hobby, home furnishings, paper products, publishing, stationery and greeting cards.
Danielle Arden O'Malley Art
Danielle Arden O'Malley is a Los Angeles illustrator and designer specialising in soft, dreamy, weird and whimsical children's art.
Diane Harrison Designs
Diane Harrison Designs creates an array of artwork for home textiles, packaging, apparel and kids. Art is suitable for children's merchandise, craft and hobby, home furnishings, textiles and wallcoverings.
Dominika Godette
Dominika Godette is an illustrator and surface designer from the Czech Republic. Her art is suitable for apparel fabric, paper products, stationery, greeting cards, wall décor and giftware.
Donna Elias Studios
Donna Elias is an award-winning watercolor artist specialising in beach art and giftlines including her acclaimed 'Great American Lighthouses' collection, the colorful 'By The Seaside' series and her personalized beach art.
Gelsinger Licensing Group
Gelsinger Licensing Group is the exclusive licensing agency for Dona Gelsinger and her library of artwork spanning over 30 years. The business was founded in 1994 and what started as a small publishing company evolved into a licensing agency providing designs for manufacturers around the world. Today the agency is operated by Dona's son Jesse who joined the company in 2003.
Gerry Murray Designs
Gerry Murray Designs is exhibiting at Surtex for the 9th year. The company is a team of artists who have been licensing for over 10 years and collectively offer a strong and visually exciting portfolios. They supply art for stationery, gift, novelty, home décor, greeting cards, fabrics, ceramics and interior markets. They offer outright purchase, a commission facility and a growing license portfolio.
Girl Gang
Girl Gang is a French design studio working with Asos, Brooklinen, American Gr, Target, Crocs and more.
Glitter Power Club
Glitter Power Club create artwork for textiles, stationery and interiors around the world.
Gridsmith Studio
Founded in 2022, Gridsmith Studio is a Seattlebased photographer who converts elements from images into grids for surface pattern design.
Group Four Design Studio
Group Four Design Studio is an international resource for the design of printed textiles, embroidery, t-shirt graphics and all aspects of surface design for the fashion, home and gift industries. Group Four's products include original designs, vintage textile inspiration, and fashion and color forecasting services.
Image Conscious
Image Conscious is a San-Francisco based art publisher one of the largest wholesale art suppliers worldwide and license exclusively to wall décor and product manufacturers. Comprising the work of some of the world's finest contemporary artists and photographers, their line offers a curated selection of high quality, original images.
Inspire Art Licensing
Inspire Art Licensing represents talented artists worldwide, specialising in designs for paper products, homewares and fabric. They operate on a flat fee, license or outright sale basis.
Elizabeth Stirling Designs
Established in 1995 by Gillian Stirling, the studio, based in Leicester UK began as a textile and wallpaper design agency. With a reputation for traditional, beautifully painted art, they forged close links to industry both in the UK and the US. Over the next 27 years, they embraced the use of digital art which, with their hand painted work, gives the studio a unique look and adds variety to the collection which features seasonal art for all products such as gift packaging, stationery, textiles and ceramics.
Howard Robinson
Howard Robinson is one of the most licensed artists in the worldwide and the creator of the multi award-winning 'Selfies' brand. Howard is described as the artistic master of adorable animals, both wild and tame that brim with personality, the kind that makes a person smile. Working in the Art Licensing industry for over 36 years his delightful images can be found reproduced and giving joy to many, on numerous products throughout the world.
Jane Mosse
Jane Mosse established her design studio in 1986 and has become renowned for her collection of diverse and innovative patterns which are produced by a team of highly creative designers.
The studio's expertise and emphasis on quality and colour means that it is one of the most up to date and dynamic companies of its kind in the world.
is known for her color
24
TOTAL Art Licensing
Jill McDonald Design Illustrator, surface designer and sometimes author Jill McDonald
Donna Elias Studios
Howard Robinson
Inspire Art Licensing
packed, playful art. She received a BFA with a textile major from Rhode Island School of Design.
She has been navigating a freelance art career since 2004 with her husband & business partner Antonio. (An architect in his previous life). Jill has years of experience working on a wide array of products including kids and baby bedding, fabric and scrapbooking collections, puzzles, games, greeting cards, and books.   She is the author/ illustrator of the popular early learning series Hello, World! which continues to grow.
Jilly P Studio
Jilly P is a print designer creating art for fabric, greeting cards, stationery and toys.
Joachim
'Mozayhic' McMillan
Joachim McMillan is a Grenadian who is a selftaught artist. He uses an impressionistic style and brings a vibrant and unique artstyle that explores the energy of life through color and texture. He is known for the Mozayic brand which first began in 2012, first as a style of painting and then evolved to include a trendy and artistic fashion brand.
Kate Rhees
Since 2013 Kate Rhees has produced art and design for craft and hobby, home furnishings, textiles, paper products, stationery, greeting cards and giftware.
Katy Dika
Katy Dika is a Providence, RI based soft goods & surface designer with nearly two decades of professional design experience.  She draws influence from many areas including entomology, mid-century commercial art, and patterns that occur in nature. She enjoys working with clients including startups, mentoring budding designers, and bringing great products to market. Past clients include Fabricut/Iris Apfel, Pyrex, Talbots, Chadwick's, Coldwater Creek, Summer Infant, Good Baby/Evenflo, Sylvania/Ledvance, Fit & Fresh, Dorel Juvenile Group, Empower Fitness, Natco Home and many others both large and small.
Kerstin Stock Art
Kerstin Stock is an alumni of the Rhode Island School of Design and specializes in bright colors, distinct shapes, patterns and interesting lines. Her work connects people with each other and the world by featuring animals, community and nature.
Kettlen Rose
Kettlen Rose is a Parisian illustrator who uses different mediams including pencil, gouache, collage and ink. Inspired by her own childish spirit, every artwork is a new opportunity to share an imaginative, fun and poetic story. Her drawings are recognized by strong color palettes, vibrant textures and narrative characters.
Lauren Fisher
Lauren Fisher produces punchy hand-drawn surface design inspired by nature. She produces art for children's merchandise, decorative accessories, stationery, greeting cards and wallcoverings.
Lauren Wan
Lauren Wan is a British trained designer and artist and creates contemporary and sophisticated original art for brands covering fashion, tabletop, home furnishing, stationery and fine art. Lauren's inspiration is mostly from her travels and has been documented in many of her sketchbooks from the English countryside to Caribbean beaches, harbor views of Hong Kong and street corners of New York City. Products include children's interior decor for Laura Ashley, high-end bedding for Calvin Klein, tabletop for Lenox, Wedgewood, Royal Doulton, Waterford, Villeroy & Boch, Monique Lhuillier, Vera Wang and Anthropologie. Stationery was created for Barnes & Noble, Dayspring, Crane Paper and Peter Pauper Press. In the apparel industry, clients include Ralph Lauren, Oscar De La Renta, Vogue, Victoria's Secret, Tommy Hilfiger, Macy's, Garnet Hill to name a few.
Lizzie Clark Designs
Founded in 2016, Lizzie Clark Designs creates patterns with purpose and a view to bringing art to life and beauty to the function of every day. Her art is suitable for home furnishings, paper products, textiles, tabletop, housewares, wallcoverings and giftware.
Lolita Garcia Textiles
Since 2021 Lolita Garcia Textiles have been designing textiles for the home with art suitable for home furnishings, textiles and wall décor.
London Portfolio
London Portfolio is a New Jersey based design studio specializing in creating artwork for the paper products and textile industry. Their collection is the creative effort of 25 worldwide artists who create a variety of novelty and conversational designs for Valentine's Day, Easter, and Christmas,  as well as everyday themes and
categories. All of the designs are original and available for sale or license. They encourage our customers to visit the website frequently because we are always adding new designs.
Lovely Bird Designs Studio
Lovely Bird Designs LLC is a print and textile studio based in New York City founded by Michele B Gibson.
They specialise in placement and all-over print design for the home furnishings, paper products and apparel industry. They design original lines from start to finish and have been designing for more than twenty years.
Lylove Studio
Lylove Studio is a leading textile design studio, based in New York City. They specialise in creating original prints for a variety of industries such as fashion, childrenswear, swimwear, activewear, accessories, paper goods and home furnishings. Designers Stephanie Daniele and Jessica Sancilardi founded the studio in 2005.
Marci Chorpash Illustration
Marci Chorpash Illustration specialise in children's book illustration, hand lettering, stationery and greeting cards. Marci is a Los Angeles based illustrator who also teaches art in various elementary schools.
Michele Frusciano Art
Michele Frusciano is an artist who specialises in handpainted watercolor with twenty years experience as an illustrator and graphic designer. Her art is suitable for home furnishings, textiles, paper products, stationery, greeting cards, tabletop, housewares and wallcoverings.
MilkyRosa
Founded by Nina Schindlinger, MilkyRosa is a design agency that develops strategies and specialises in branding strategy, brand design and product design.
TOTAL Art Licensing 25
London Portfolio
MoMo Acrylic Paintings
Ocllo Mason lives in the Lakes region of New Hampshire with her family. She has been involved in the art world for many years and specialises in acrylic paints because of their flexible nature. Her artwork is available for licensing and Top Flight has featured many of her designs on their notebooks. In addition, QT Fabrics has fun four lines of fabrics with her designs in repeat.
MW Designs
Founded in 2021, MW Designs creates organic, complicated, unique abstract designs, full of movement.
Nerida Hansen Creative
Nerida Hansen Creative is a contemporary and collaborative agency providing unique and original textile, surface pattern design and illustration for global retailers, fashion brands, products, editorials and more.With a focus on industry and designer resources, they are advocates for a thriving global community of creatives.
Odile Studio
Odile is a surface design studio that creates original artwork that has an organic sensibility that is both contemporary and iconic, catering to the fashion and interior home markets. They create and sell original artwork from their own collection that can be seen by appointment, but also love to collaborate directly with clients to create exclusive unique artwork as well. The studio was founded by Ryan Dill in 2018 after working for 15 years in the fashion industry in NYC. The studio is currently located in Brooklyn, New York.
OGR International
Old Guys Rule was founded in 2003 and produces art for licensing on apparel, children's merchandise, decorative accessories, packaging, paper products, publishing, stationery, greeting cards, wall décor and giftware.
Pacific Pattern
Elizabeth Edwards is a pattern designer and illustrator celebrating bold shapes and colors, the seasons of the year and nature. Pattern Licensing and illustration clients include Alice + Ames, Toki Mats,Vivie & Ash, Hazel Village, Little Stocking Co, Hadley Girl, Pinhole Press and more.
Pam Casey Designs
Pam Casey designs and illustrates for products, picture books, greeting cards, paper goods, fabric, textiles, apparel, housewares and magazines. She is also working on a few book projects.
Pattern Market
Founded in 2022, Pattern Market is a collective of three individual freelance print designers, joined together to create an exciting and varied print portfolio. With decades of experience working for a huge variety of clients worldwide, Linda, Helen and Nina produce art suitable for apparel, children's merchandise, hobby and craft, decorative accessories, home furnishings, textiles and much more.
Patternfield Software Pty Ltd
Based in Australia, Patternfield Software is a platform connecting buyers with designers to sell and license designs. At Patternfield App, they have built a global community of established and emerging artists for product managers, art directors & business owners to discover. It's a virtual trade fair, bursting with talent that is easily searchable and it costs nothing to enter.
Picnic Art Co
Picnic Art Co features the art of four surface designers – Chamisa, Kristina, Melissa and Leeza who share their love to design. They have worked with a number of companies including Pier 1, Scholastic, Trade Joe's, Putnam, Simon and Schuster, Little Sleepies, Eccolo and more.
Pink Light Studio
Pink Light Studio is a licensing and design agency servicing manufacturers and retailers by creating artwork for their products. We specialize in creating artwork for everyday and seasonal products such as stationery, home decor, food packaging, textiles, gift packaging, accessories and ceramics. Pink Light is proud to represent 40 amazing artists from around the world!
Prints of Orange
Prints of Orange is a textile design studio based
in Connecticut, USA. They represent multiple designers from around the world. Their team delivers original, fresh, energetic and trend driven designs for fashion, home furnishing, accessories and paper good markets.They have a large collection of hand painted prints and digital art work presented on paper and fabric. They are also available for custom designs, re-coloring and commissioned projects.
Reagan Hayhurst
Reagan Hayhurst is an abstract painter, metal artist, lifetime doodler and curious creative explorer. She produces surface pattern designs, illustration artwork, jewelry and a wide variety of stationery.
Renee Graef Illustration
Renee Grael Illustration is now licensing her art after illustrating more than eighty books for children. Ms. Graef's accomplishments have been honored by the Society of Illustrators-Los Angeles and the State of Wisconsin's House of Representatives, among other groups and her work has been exhibited in numerous solo shows. Renée splits her time between Los Angeles, California and Milwaukee, Wisconsin.
Reserved Studio
Reserved Studio has a full collection of exclusive textile designs for all markets. They pride themselves in making easy files for all their clients and creating trend forward prints for anyone from mass market to high end markets.
Sarah Janke
Sarah Yanke is a surface designer who specialises in original patterns for the creative home. These patterns are created in house and are one of a kind. Sarah is inspired by her travels and countries she has been lucky to call home – from India to Romania and Germany. Patterns and colors range from floral neon wallpaper to Scandinavian home furnishings she found on her trips to Switzerland.
See Creatures Design
See Creatures is a surface design studio based in Brighton in the UK. Founded in 2014, by Artist and Print Designer, Dan Walters. His 20 years' experience in the surface pattern design industry has enabled the studio to grow worldwide. Joined by his partner Sarah Kelly as Studio Manager in 2016, and a small team of talented and experienced in-house designers a year later, the studio has grown and continues to produce high quality, unique, curated and inspiring collections for kidswear, menswear, womenswear,
26
TOTAL Art Licensing
Pam Casey Designs
active, products and swim. Alongside surface pattern design, they also create large murals, design interiors, art direct projects and design brand identities for a range of clients.
Shannon McNab
Shannon McNab has been creating original, spirited patterns and hand lettering for products since 2016. Shannon lives in Dublin, Ireland and creates designs for gift wrap, home décor, bolt fabric, crafting and more.
Sketch and Paws
Sketch and Paws, an online boutique featuring all types of illustrated dog-themed gifts, began with one sketch of one fabulous set of paws. Those paws belonged to Coaly, the beloved Great Dane that was memorialized in the original Sketch and Paws logo. Coaly's person, digital artist Whitney Niesz, currently raises two Great Danes, Olive and Odin, while creating new products to expand the rebranded Sketch and Paws storefront.
Sketch and Paws' first book, Dog Breed ABC's, sold through its first printing; it was written by Melinda George, designed by Jess Caskey, and featured illustrations by Whitney Niesz. Whitney followed that up with an all-season, dog-themed greeting card line. Harper, Whitney's toddler daughter, inspired her to create ABC flashcards, a playful learning tool that weaves together alphabet practice and fun facts about dog breeds. Toys, prints, gifts, and custom sketches of custom dogs are also part of the pack at Sketch and Paws.
Studio Allestra
Studio Allestra features the art of Stella Chang. Her original works on paper combine watercolor and ink in multilayered compositions illustrating fantastical and whimsical subject matter. Chang creates digital prints derived from these originals, adding in more details and textures. She has developed a sculptural practice combining 3D printing and glass/ aluminum metal prints to create conceptual and unusual sensory experiences for viewers. Her recent NFTs bring life to her drawings through video and collaborations with musical artists, resulting in works that are not bound by time or space.
Studio Ngong
Established in Germany in 2021, artist Anne Thomsen is a creative conservationst, surface designer and fine artist. She has worked with the David Shepherd Wildlife Foundation, Endangered Wildlife Trust, Grévy's Zebra Trust, Giraffe Conservation Foundation, Zambian
Primate Project, Save the Rhino International and the Wildlife Kids and Chui Mamas of Ewaso Village in Laikipia County, Kenya. Studio Ngong is an online shop that sells sustainable and ecofriendly products featuring whimsical wildlife and nurturing nature.
Tana Bana
Tana Bana designers create original, repeatable, vector artwork for various surface design needs.
Textured Home
Textured Home by Jennifer Lambein specialise in licensing designs for fabric, fashion, wallpaper, stationery, decor and table top.
The Brand Liaison LLC
The Brand Liaison is a leading licensing agency representing top brands in Fashion, Celebrities and Art including Casa Zeta-Jones, Daymond John, Christopher Knight, David Tutera, Robert Irvine, designer art brands Laura Ashley, Amy Coe, Stephen Joseph, LaurDIY, graphic artists
Barbarian by Barbra Ignatiev, Mary Engelbreit, Debra Valencia, artist Dolan Geiman, Assaf Frank photography, leading brands Russ Berrie, Carte Blanche, Hotchpotch, The  Happy News, Jimmy The Bull,  and fashion brands FUBU, B.U.M. Equipment, Route 66, Gloria Vanderbilt, and iconic Bill Blass, and more.
The Patterned Peacock
Dana Saulnier, The Patterned Peacock, is an illustrator of animals, toys, holiday art, patterns and more. She licenses her art to several markets and her work can be found on wrapping paper, gift bags, greeting cards, wall art, invitations, fabrics toys and more. Clients include American Greetings, Gina B Designs, Jaftex, Keen, Mpix, Ooly, Storytime Toys, Stupell Industries and Tree-Free Greetings.
UshaDesigns
Usha Mishra is a full-time artist, illustrator, and surface designer with a deep passion for adding colorful, decorative touches in my world. Nothing makes her happier than changing up a room with bright and cheery accents or hosting a party with festive serving ware and homemade food. Most recently she has been working on collections of repeat patterns suitable for home decor, fabric, tabletop, party paper, and more.
Victoria Bright
Victoria Bright is a surface pattern designer inspired by the quirky modern aesthetic of the 1960s and 1970s. Her designs feature modern
geogmetric artwork with a retro funky flair, suitable for home décor, fabrics and more.
Wain's World
Founded in 2018, Wain's World is a first time exhibitor at Surtex. Wain's World is an innovative licensing and product development agency committed to delivering original, trend-right creative content to manufacturers and retailers.
Wild Apple Graphics Ltd
Wild Apple was founded in 1990 and has worked with hundreds of artists. Each month they release hundreds of images to customers across the globe and are one of the longeststanding art publishers in North America. Their art collections are sold as prints and wall decor globally and licensed onto beautiful home decor products including dinnerware, fabric, rugs, kitchenware, stationery and more.
Yuno Design Studio
Based in South Korea, Yuno Design Studio specialises in creating designs for wall coverings as well as patterns for various surfaces.
Zoe Jo Studio
ZOE JO Print Studio creates collections of exclusive artwork for the apparel, home, and paper industries. They are a boutique design house, inspired by a belief in the beauty and magic of the artist's mark, it's brushstroke, and the novel imperfection of something that is made by hand.   Their Print Studio also specializes in creating custom artwork.
To subscribe to Total Licensing, Total Art Licensing and more, visit www.totallicensing.com
TOTAL Art Licensing 27
Wain's World
NEW YORK'S LOU PATROU FINE ART BECOMES A BRAND
then isolates the main characters and also pulls designs from within the paintings to further develop into licensable design concepts.
011 is a women's fashion brand that originated from a design Lou developed for a painting. The design, a silhouette of an outer-space cartoon girl, became a stylish stand-alone icon.
Hank & Sylvie first appeared as a matching set of large black & white pencil drawings in 2010. Colorized iterations were later created with changeable features and limitless backgrounds. Fans started asking for Sylvie stickers & buttons
and Hank tee shirts. Almost overnight the brand materialized with a contemporary yet kitschy feel to it. This began his entry into licensing.
PATROU, the core brand, is all about his contemporary fine art and him as an exhibiting artist. The brand has a massive and ever-growing catalogue of 100's of images. The original paintings and drawings can be further combined and manipulated into all sorts of derivatives, configurations, singles and patterns. As his portfolio expands with new original artworks, new designs and concepts are born for licensing.
Lou Patrou, a New York based exhibiting fine artist has been drawing and painting faces and figures since the mid 1960s and has a portfolio of work that spans over four decades.
Out of his fine art, Lou has created three unique brands for apparel and lifestyle product ranges. Unlike licensing artists who create computer illustrations for license, Lou draws and paints first as fine art to be exhibited in galleries. He
Lou feels that as a working artist, it's all about creating new work in his studio and exhibiting in galleries. His fine art comes first, and if a painting or drawing later inspires offshoots or new concepts for licensing applications it's icing on the cake.
In recent news, Lou Patrou has joined forces with licensing professional Jeannine Lafèbre (pictured) to represent his brands and artworks in Europe as master agent.
Jeannine Lafèbre: "The first time I set eyes on Lou's portfolio I immediately saw the potential for product development and collaborations; original, arty, edgy, colourful & attractive, yet not over-exposed. A perfect fit with the current interest in art licensing. I am super excited to explore opportunities and contribute to Lou's success in licensing across Europe, together with the network of dedicated local agents that I am currently signing up for this purpose."
www.patrou.com
www.hankandsylvie.com
http://www.011co.com/
TOTAL Art Licensing 28
ELIZABETH STIRLING DESIGNS EXHIBITING BACK AT SURTEX...
Elizabeth Stirling Designs is excited to announce their return to the Surtex trade show on May 9th and 10th at the Metropolitan Pavilion, NY. As the premier event for sourcing and licensing original art and design for a variety of products, including home decor, textiles, and stationery, the show offers a welcome return to in-person meetings.
It has been over 30 years since Elizabeth Stirling Designs first exhibited at Surtex, and in that time the studio has continued to evolve and remains one of the foremost suppliers of quality commercial artwork. Their designs are known for their unique style, with a focus on bright colors and bold patterns. The company has built a reputation for creating designs that are both modern and timeless, with a strong emphasis on quality and attention to detail. Encompassing a wide subject range, their work is regularly seen in the likes of Walmart, Dollar Tree, Christmas Tree Shops and Big Lots. Elizabeth Stirling Designs is looking forward to reconnecting with existing customers at the show as well as taking the opportunity to meet some new faces. They plan to unveil a range of new, seasonal collections that reflect the latest trends in stationery, textiles and home goods, and will be showcasing their extensive collection of designs available for license or outright purchase. Their unique style and commitment to quality make them a standout in the industry, and their presence at the show is sure to attract a lot of attention. We can't wait to see what they have in store for us this year!
To book a meeting please contact Gillian Stirling at www.estirlingdesign.com.
ROYAL NAVY
National Museum of the Royal Navy in the UK has signed new licenses with US based Ampersand Book Studio and UK jewellery company Hepburn & Hughes. Both licences are remarkable as they are using historic and highly sought after wood originating from HMS Victory.
HMS Victory,Vice Admiral Lord Nelson's flagship at the Battle of Trafalgar, is undergoing a major conservation project costing £35 million. The ship was built and launched at Chatham dockyard in 1765.
She was severely damaged at the Battle of Trafalgar in 1805, which also claimed the life of Lord Nelson. She had a major refit in 1806 and there followed a series of refits, repairs and modifications during the 19th century. Following service during the First World War, she was finally put into dry dock in 1922. Work commenced to bring her back to her former condition and to preserve her as a museum ship.
Preservation and restoration was complex. By the time of the 200th anniversary of Trafalgar in 2005 much work had been done to preserve and make her safe.This work continues, precious wood and materials – called 'arisings' are removed, conserved and stored and replaced with appropriate and sympathetic material where needed.
Ampersand Book Studio, based in Tucson, AZ, create hand crafted books, journals and bookrelated art prints. They combine traditional letterpress printing with the best artisanal materials from around the world to craft heirloomquality limited editions. Ampersand will create a fine press edition of Patrick O'Brian's novel 'Master and Commander' and will create covers made from authenticated wood taken from HMS Victory.
...AND SO IS BRENDA MANLEY
Brenda Manley Designs represents international artists, illustrators, lettering specialists surface pattern and textile designers.
Their roots span the globe from Canada, El Salvador, Germany, Mexico, the Netherlands, Portugal, Saudi Arabia, United Kingdom, and the USA. They create incredible illustrations and collections for home decor, apparel, gift and stationery, packaging and more.
Clients include American Greetings, the Canada Post, Camelot Fabrics, Demdaco, IG Design Group, Hallmark, Lenox, Little Sleepies, Peter Pauper Press, Primitives by Kathy, Raz Imports, Roland Foods, TJX, Trader Joe's, and Workman Publishing to name a few. They license, flat fee, sell out right and welcome commissions.
Contact:  brenda@brendamanleydesigns.com. www.BrendaManleyDesigns.com
Hepburn & Hughes, a UK company based in Kent and Derbyshire, use wood and copper 'arisings' originally sourced during the bicentenary of the Battle of Trafalgar in 2005. They have created a unique and interesting range of sterling silver pendants, cuff links and rings by upcycling the precious material from HMS Victory.
TOTAL Art Licensing 29
THE FOGGY DOG COLLABORATES FOR NEW LINE OF PET ACCESSORIES
The Foggy Dog, a leading provider of stylish and functional pet products, and Simplified, Emily Ley's lifestyle brand focused on creating tools that equip, empower and inspire busy women to simplify their lives, have announced an exciting new collaboration aimed at bringing Simplified's celebrated and modern designs to pet parents everywhere. The partnership between The Foggy Dog and Simplified brings together two beloved brands with a shared commitment to making life easier and more enjoyable.
Launched March 31, 2023 on TheFoggyDog.com, the collaboration introduced a range of fun pet accessories, including bandanas, bowties, collars, waste bag holders, and scrunchies, featuring Simplified's joyful signature designs.
"I've been a fan of The Foggy Dog  for years, but when we welcomed our puppy Walter into our family last year, I couldn't wait to make a big purchase for him," said Emily Ley, "The Foggy Dog's dedication to quality and to spreading love and care to shelter pups mirrors the  heart and soul of Simplified. It was a dream to connect with Rose and her team to design a collaboration for stylish pups everywhere!"
Rose Shattuck, founder and CEO of The Foggy Dog added, "We are so thrilled to be able to bring Simplified's iconic, joyful patterns to our pet accessories! I am a long-time admirer of Emily and the brand she built, so when she reached out about a collaboration after getting her adorable pup Walter, I jumped at the chance to work together." This collaboration was brokered by Jewel Branding & Licensing, Inc., Simplified's global licensing agent.
WILDLIFE ARTIST JEREMY PAUL
Image by Design have announced that renowned wildlife artist Jeremy Paul has joined their art agency.
Born in Accrington, Lancashire, UK Jeremy had a successful career in marine biology before becoming a professional Wildlife Artist. After receiving a Doctorate for research, his work took him to live in Spain and some of the most beautiful and remote areas of the British Isles. This was his first experience of true wilderness and abundant wildlife and it was here that he
started painting seriously. A completely selftaught artist he works in acrylics, developing the painting in many layers of paint with extensive use of underpainting and glazes to alter the tone and atmosphere of the work.
"My aim as a wildlife artist is not merely to illustrate but to impart the atmosphere of the setting and the feel of wildlife in its natural environment. I spend many hours in the field observing wildlife and looking for settings and lighting to inspire an idea for a painting. My greatest thrill so far has been following tigers in the wild and helping raise funds for their conservation through my paintings."
Jeremy has travelled extensively to study the subject he loves. He has had many one-man exhibitions and his work features in public and private collections around the world. His has won accolades from the David Shepherd Wildlife Foundation, Wildscape Magazine and BBC Wildlife Artist of the year to name a few.
VAN GOGH APPAREL
Men's brand Buttercloth is teaming up with the Van Gogh Museum to launch a limited apparel collection featuring Vincent Van Gogh's artworks.
The collection explores the more than 35 selfportraits of Van Gogh through short sleeve button-up shirts, long sleeve button-up shirts, short sleeve t-shirts, and short sleeve polos.
Buttercloth's founder and designer Danh Tran said he aimed to capture the spirit of Van Gogh's innovation and his love for the craft in the eyecatching collection.
Marijn Veraart, head of global licensing Van Gogh Museum said, "Buttercloth has beautifully captured the spirit of Van Gogh's paintings throughout this collection with eye for detail and inspired by Vincent Van Gogh's love for nature, Buttercloth designed a beautiful limited edition we are all very proud of."
FRANK LLOYD WRIGHT AND NEW BALANCE
Kith has announced an official partnership with the Frank Lloyd Wright Foundation–the New Balance Made in  USA 998 - Broadacre City, a silhouette celebrating its 35th anniversary and Wright's revered architectural sketches. The Frank Lloyd Wright Foundation, named after the visionary architect, aims to inspires discovery and an appreciation for an architecture for better living through meaningful connections to nature, the arts, and each other. The Foundation is headquartered in Scottsdale, Arizona at Taliesin West, Frank Lloyd Wright's last winter home and studio. The campaign is shot on location and features Taliesin West staff members.  The Ronnie Fieg & Frank Lloyd Wright Foundation for New Balance Made in USA 998Broadacre City features a classic mesh upper, alongside pigskin suede overlay panels, adding a varied sense of texture to the design.The model is offered in two unique colorways, highlighting creamy white alongside earthy brick red, warm apricot, and olive green–hues pulled from the architectural sketches and models of Wright's futuristic city concept, Broadacre City.
TOTAL Art Licensing 30
Did you know?
A few random art facts
Art used to be an Olympic event
The founder of the modern Games, the Baron Pierre de Coubertin, was enamoured with the idea of the true Olympian being a talented artist and sportsperson. Thanks to him, between 1912 and 1948 medals were given out for sportinginspired masterpieces of architecture, music, painting, sculpture and literature.
Banksy stuck his own work to the wall in the Tate Modern Museum
The prank was soon undone by its inadequate glue, but for a few hours Crimewatch UK Has Ruined the Countryside For All of Us was hung in one of the world's most famous museums. It also inspired Andrzej Sobiepan, a Polish art student, to a similar feat in 2005, where for three days he successfully passed off his work as part of the National Museum's collection.
owned, and the last version was given to the Munch Museum.
One of Picasso's pieces was deemed immoral.
Picasso's abstract depiction of five prostitutes from Barcelona was called immoral during its release in 1907. Over 100 sketches and studies were used before the artist set his vision onto canvas. In some incarnations, one of the prostitute figures is depicted as a man.
Van Gogh has only sold one painting during his lifetime
During his time, Van Gogh struggled as an artist. Only one person has ever bought his paintings from Van Gogh himself during the time he was alive. This painting was sold in Brussels for 400 Francs only a few months before he passed away.
Da Vinci was ambidextrous.
Leonardo da Vinci was known to be able to write with one hand while simultaneously drawing with the other. Researchers were able to conclude this by observing certain writings in his works that were mirrored or written backward on one side and normal on the other.
The Mona Lisa has her own mailbox in the Louvre
The Mona Lisa receives literally hundreds of love letters. In fact artist Luc Maspero in 1952 dived off a hotel balcony because "for years I have grappled desperately with her smile. I prefer to die."
The color wheel predates the United
States
Sir Isaac Newton invented the colour wheel in 1706 by refracting white sunlight into its six colours. The realisation that light alone was responsible for colour was radical, and the wheel proved especially useful for artists, who could now easily observe the most effective colour complementation.
The Starry Night was painted in a psych ward
Vincent van Gogh painted the piece during his stay at the Saint Paul de Mausole Psychiatric hospital in Saint Remy. The painting depicts the town he saw through his room window along with his additional visions.
The sculpture of David was originally going to be a statue of Hercules
The marble slab that was originally planned to be used by Agostino di Duccio was cut 3 years early by Michelangelo into the David statue. Michelangelo began working on the sculpture in 1501 and completed it in 1504.
There are 4 versions of The Scream
Edvard Munch painted four different versions of the famous painting, The Scream. The first version was painted in 1893 and was exhibited in Oslo. In the same year, a pastel version was also made. The third version was said to be privately
Salvador Dali was convinced that he was his dead older brother
Nine months after the death of his older brother, Dali believed that he became his reincarnation. He continued to live on with this belief for years while conducting strange acts. Dali is known for once showing up to deliver a speech wearing a scuba diving suit.
New York once opened a new exhibit that featured the last works of Henri Matisse. During the period of the exhibit, not the staff nor the visitors noticed that one of the works, Le Bateau, was hung upside down. This mistake was not noticed until 47 days later.
The Le Bateau was hung upside down at the NY Museum of Modern Art
TOTAL Art Licensing 32
33
34
35
36
37
38
39
Summer 2023 TOTAL Art Licensing Smart fragrance company Pura recently announced their collaboration with The Metropolitan Museum of Art in New York to introduce collection of six fragrances. The scents were developed to enable customers to experience art across time and cultures through fragrances inspired by extraordinary pieces at The Met. The Pura smart fragrance diffuser plugs into any wall outlet and uses wifi and Bluetooth technology to connect to an accompanying app that allows customers to adjust fragrance intensity, set schedules and timers, switch between scents, and more with fragrances that are clean and safe. Founders Richie Stapler and Bruno Lima designed Pura to be sleek enhancement to any room while capturing the power of fragrance to make life better and more memorable. When creating the scents, Pura's Chief Fragrance Experience Officer Mara Dumski said, "We were so excited to work with The Met to develop scents connecting back to their inspiring collection of art.Aiming to evoke moods and tell story, our collaboration offers an entirely new way to experience The Met collection of 5,000 years of art while also creating a sense of home and personality through art-inspired fragrance." "As fans of Pura, we are excited to launch this unique home fragrance experience which adds a new dimension to art appreciation," said Josh Romm, Head of Global Licensing and Partnerships at The Met. "Art has the power to create connections and transport people across time and place, and this program provides new and exciting opportunity for fans of The Met to experience art, history, and cultures of the world from the comfort of home." All compatible with the signature Pura smart fragrance diffuser, the fragrances included in this collection are Blue Water Lotus, Egyptian Sandalwood, Bamboo Forest, Spiced Woods,Terracotta Rose PURA SIGN WITH METROPOLITAN MUSEUM Art licensing and design company The London Studio has announced the first licence award for its playful, funny and ever-so-slightly-subversive new brand,Art of Drag. Independent publisher Flame Tree Publishing will produce a calendar, jigsaw and notebook inspired by this unique art brand, to be distributed globally by Flame Tree and its distributors, including Simon & Schuster for the USA. Art of Drag takes inspiration from famous artworks and cultural female icons which The London Studio then replaces with drag artists to stunning and memorable effect! Each original Art of Drag artwork features beautylicious Drag Queen, created by an award-winning independent art house of LGBTQ+ artists and allies. These works reimagine and subvert famous artworks and genres, and, like the queens themselves, every single one is a masterpiece These beautifully illustrated reimaginings stretch from street art to the Renaissance and everything in between. The 2024 calendar launched at Spring Fair, closely followed by the jigsaw and notebook. They will be on sale at independent gift shops, book shops, selected fashion retailers and gallery gift shops from later this year. The range will target core market of young adults, but The London Studio expects strong secondary market among teens and tweens, for whom drag is now very much part of mainstream BritFrances Bodiam, Managing Director of Flame Tree Publishing, says: "We are so excited to be publishing Art of Drag and working with Soula at The London Studio. The artwork is gorgeous and fun and works so well with the rest of our gift and calendars programmes. They will be a truly wonderful source of inspiration for the 2024 calendar, jigsaw and Flame Tree notebook planned for later this year." Kirsty Guthrie from KJG Ltd who consulted for and managed this deal on behalf of The London Studio, alongside Maggy Harris from BlueSkye Licensing, comments, "I was over the moon when Flame Tree loved the Art of Drag designs showed them.They immediately saw fabulous product range in the offing! The 'va va voom' art and wonderful products combine perfectly to glam up anyone's day and will do just that when they launch later this year." Founder and director of The London Studio, Soula Zavacopoulos, adds: "Flame Tree is very high quality of its products, so I'm very proud to announce Flame Tree as our first global licensee for Art of Drag. And there's much m to come from this brand. The potential for Art of Drag-inspired printed products is huge. After all, who wouldn't want bit more glam in their daily life?" is growing fast. Its success in greeting cards and gifts now extends to fast-growing list of international retailers and licensed publishers. It has also launched number of specially created lifestyle brands appropriate for apparel, gifts, homeware, stationery and more. FIRST LICENSE FOR THE ART OF DRAG The Ashmolean in Oxford has announced the unveiling of new additions for licensing partner, Surface View. Inspired by the Japanese art of Kinpaku (gold leaf), this new range reflects the natural beauty of Japan using imagery from silk panels, gold leaf screens and delicate textiles. "Our partnership with Surface View has been running for more than eight years, and we are delighted with the refresh," says Declan McCarthy, Head of Publishing & Licensing. first public museum and houses over million objects World-famous collections range from Egyptian mummies to contemporary art, telling human stories across cultures and across time. Surface View combine innovative technology and imagination to create bespoke printed wall coverings, wall art and window treatments. EXPENSION FOR ASHMOLEAN 25 A Fresh Bunch is an artist agency, founded back in 2010. The company represents fifteen artists from around the globe with art available for purchase Amanda Klein creates art and design for home furnishings, textiles, paper products, stationery, greeting cards, tabletop housewares and giftRETURNS TO NEW YORK CITY THIS MAY! SURTEX is the global sourcing destination for retailers, manufacturers and licensees seeking unique art for commercial use.And, the leading surface design & art licensing marketplace back this May in new location, the MetropoliHeld over two days (May 9 and 10), upwards of 150 exhibitors covering wide variety of art and design styles will be present. SHOW SECTORS As in previous years, the show is divided into number of sections: ART & BRAND LICENSING A comprehensive display of diverse artwork, images, properties and brands that connect licensATELIER A distinct section of surface and design studios from around the globe that sell the most trendforward surface designs across wide variety of product categories. ATELIER & LICENSING A new specialty section designed for seasoned and new licensors and design studios that license and sell their surface designs to unlimited product categories. DESIGN DISTRICT A cost-effective exhibit area exclusively designated for individual artists and studios that are first and second-time SURTEX exhibitors. RESOURCEHUB A supplier service for companies offering resources for artist services, including technology & design tools, industry media outlets, trend spotting and more. SHOW DATES AND TIMES Tuesday, May 9 10:00 am 6:00 pm (Welcome Reception 5:00 pm – 6:30 pm) Wednesday, May 10 10:00 am 4:00 pm EXHIBITOR PREVIEWS Information from some of this year's Surtex exhibitors. TOTAL Art Licensing The Foggy Dog, a leading provider of stylish and functional pet products, and Simplified, Emily Ley's lifestyle brand focused on creating tools that equip, empower and inspire busy women to simplify their lives, have announced an exciting new collaboration aimed at bringing Simplified's celebrated and modern designs to pet parents everywhere. The partnership between The Foggy Dog and Simplified brings together two beloved brands with a shared commitment to making life easier and more enjoyable. Launched March 31, 2023 on TheFoggyDog.com, the collaboration introduced a range of fun pet accessories, including bandanas, bowties, collars, waste bag holders, and scrunchies, featuring Simplified's joyful signature designs. "I've been fan of The Foggy Dog  for years, but when we welcomed our puppy Walter into our family last year, couldn't wait to make big purchase for him," said Emily Ley, "The Foggy Dog dedication to quality and to spreading love and care to shelter pups mirrors the heart and soul of Simplified. It was dream to connect with Rose and her team to design collaboration for stylish pups everywhere!" Rose Shattuck, founder and CEO of The Foggy Dog added, "We are so thrilled to be able to bring Simplified's iconic, joyful patterns to our pet accessories! am long-time admirer of Emily and the brand she built, so when she reached out about collaboration after getting her adorable pup Walter, jumped at the chance to work together." This collaboration was brokered by Jewel Branding & Licensing, Inc., Simplified's global licensing THE FOGGY DOG COLLABORATES FOR NEW LINE OF PET ACCESSORIES PAGE 46 TOTAL ART LICENSING Image by Design have announced that renowned wildlife artist Jeremy Paul has joined their art Born in Accrington, Lancashire, UK Jeremy had successful career in marine biology before becoming professional Wildlife Artist. After receiving Doctorate for research, his work took him to live in Spain and some of the most beautiful and remote areas of the British Isles. This was his first experience of true wilderness and abundant wildlife and it was here that he started painting seriously. A completely selftaught artist he works in acrylics, developing the painting in many layers of paint with extensive use of underpainting and glazes to alter the tone and atmosphere of the work. "My aim as wildlife artist is not merely to illustrate but to impart the atmosphere of the setting and the feel of wildlife in its natural environment. spend many hours in the field observing wildlife and looking for settings and lighting to inspire an idea for painting. My greatest thrill so far has been following tigers in the wild and helping raise funds for their conservation through my paintings." Jeremy has travelled extensively to study the subject he loves. He has had many one-man exhibitions and his work features in public and priHis has won accolades from the David Shepherd Wildlife Foundation,Wildscape Magazine and BBC Wildlife Artist of the year to name a few. WILDLIFE ARTIST JEREMY PAUL Men's brand Buttercloth teaming up with the Van Gogh Museum to launch a limited apparel collection featuring Vincent Van Gogh's artThe collection explores the more than 35 selfportraits of Van Gogh through short sleeve button-up shirts, long sleeve button-up shirts, short sleeve t-shirts, and short sleeve polos. Buttercloth's founder and designer Danh Tran said he aimed to capture the spirit ofVan Gogh's innovation and his love for the craft in the eyecatching collection. Marijn Veraart, head of global licensing Van Gogh Museum said, "Buttercloth has beautifully captured the spirit of Van Gogh's paintings throughout this collection with eye for detail and inspired by Vincent Van Gogh's love for nature, Buttercloth designed a beautiful limited edition we are all very proud of." VAN GOGH MENSWEAR Kith has announced an official partnership with the Frank Lloyd Wright Foundation–the New Balance Made in  USA 998 Broadacre City, silhouette celebrating its 35th anniversary and Wright's revered architectural sketches. The Frank Lloyd Wright Foundation, named after the visionary architect, aims to inspires discovery and an appreciation for an architecture for better living through meaningful connections to nature, the arts, and each other.The Foundation is headquartered in Scottsdale, Arizona at Taliesin West, Frank Lloyd Wright's last winter home and studio.The campaign is shot on location and features Taliesin West staff members.  The Ronnie Fieg & Frank Lloyd Wright Foundation for New Balance Made in USA 998 Broadacre City features a classic mesh upper, alongside pigskin suede overlay panels, adding varied sense of texture to the design.The model is offered in two unique colorways, highlighting creamy white alongside earthy brick red, warm apricot, and olive green–hues pulled from the architectural sketches and models of Wright's futuristic city concept, Broadacre City. FRANK LLOYD WRIGHT AND NEW BALANCE TOTAL Art Licensing PAGE 32 TOTAL ART LICENSING Art used to be an Olympic event The founder of the modern Games, the Baron Pierre de Coubertin, was enamoured with the idea of the true Olympian being talented artist and sportsperson.Thanks to him, between 1912 and 1948 medals were given out for sportinginspired masterpieces of architecture, music, painting, sculpture and literature. The Mona Lisa has her own mailbox in the Louvre The Mona Lisa receives literally hundreds of love letters. In fact artist Luc Maspero in 1952 dived off a hotel balcony because "for years have grappled desperately with her smile. prefer to die." The color wheel predates the United States Sir Isaac Newton invented the colour wheel in 1706 by refracting white sunlight into its six colours. The realisation that light alone was responsible for colour was radical, and the wheel proved especially useful for artists, who could now easily observe the most effective colour complementation. Banksy stuck his own work to the wall in the Tate Modern Museum The prank was soon undone by its inadequate glue, but for few hours Crimewatch UK Has Ruined the Countryside For All of Us was hung in one of the world's most famous museums. It also inspired Andrzej Sobiepan, a Polish art student, to similar feat in 2005, where for three days he successfully passed off his work as part of the National Museum's collection. The Starry Night was painted in a psych ward Vincent van Gogh painted the piece during his stay at the Saint Paul de Mausole Psychiatric hospital in Saint Remy. The painting depicts the town he saw through his room window along with his additional visions. The sculpture of David was originally going to be a statue of Hercules The marble slab that was originally planned to be used by Agostino di Duccio was cut 3 years early by Michelangelo into the David statue. Michelangelo began working on the sculpture in 1501 and completed it in 1504. There are 4 versions of The Scream Edvard Munch painted four different versions of the famous painting, The Scream. The first version was painted in 1893 and was exhibited in Oslo. In the same year, pastel version was also made.The third version was said to be privately owned, and the last version was given to the Munch Museum. One of Picasso's pieces was deemed immoral. Picasso's abstract depiction of five prostitutes from Barcelona was called immoral during its release in 1907. Over 100 sketches and studies were used before the artist set his vision onto canvas. In some incarnations, one of the prostitute figures is depicted as a man. Van Gogh has only sold one painting during his lifetime During his time,Van Gogh struggled as an artist. Only one person has ever bought his paintings from Van Gogh himself during the time he was alive. This painting was sold in Brussels for 400 Francs only few months before he passed away. Da Vinci was ambidextrous. Leonardo da Vinci was known to be able to write with one hand while simultaneously drawing with the other. Researchers were able to conclude this by observing certain writings in his works that were mirrored or written backward on one side and normal on the other. Salvador Dali was convinced that he was his dead older brother Nine months after the death of his older brother, Dali believed that he became his reincarnation. He continued to live on with this belief for years while conducting strange acts. Dali is known for once showing up to deliver speech wearing a scuba diving suit. The Le Bateau was hung upside down at the NY Museum of Modern Art New York once opened new exhibit thating the period of the exhibit, not the staff nor the visitors noticed that one of the works, Le Bateau, was hung upside down.This mistake was not noticed until 47 days later. Did you know? A few random art facts TOTAL Art Licensing The magazine devoted to the art and design licensing sector. www.totallicensing.com /totallicensing @totallicensing /totallicensing /totallicensing 40
41
Autumn/Fall 2022 Summer 2022 Winter 2022 Winter 2023 Spring 2023 BRAND LICENSING TOTAL A TOTAL LICENSING GROUP PUBLICATION Incorporating Total Art Licensing BRAND LICENSING TOTAL A TOTAL LICENSING GROUP PUBLICATION Incorporating Total Art Licensing BRAND LICENSING TOTAL SUMMER 2022 A TOTAL LICENSING GROUP PUBLICATION Incorporating Total Art Licensing BRAND LICENSING TOTAL A TOTAL LICENSING GROUP PUBLICATION BRAND LICENSING TOTAL AUTUMN/FALL 2021 A TOTAL LICENSING GROUP PUBLICATION Summer 2022 Spring 春天 2023 March 2023 October 十月 2022 Autumn/Fall 2022 Magazines covering all sectors of the Licensing Industry For more information visit www.totallicensing.com or email jerry@totallicensing.com or francesca@totallicensing.com