Tidewater TimesOctober2022
Tom & Debra Crouch Benson & Mangold Real Estate 211 N. Talbot St., St. Michaels · 410-745-0415 Tom Crouch: 410-310-8916 Debra Crouch: dcrouch@bensonandmangold.comtcrouch@bensonandmangold.com410-924-0771 www.SaintMichaelsWaterfront.com PRIME COMMERCIAL PROPERTY ON ROUTE 33: Just outside the town limits of Easton...1.2 acre property with 276 ft. of road frontage. "GC" Zone (General Commercial) allows a wide variety of commercial/retail/business uses, including a garden center, offices or building contractor. Great visibility. High traffic count. $875,000
11
2 Stock from Three Stores Available for Delivery Including Chaddock • Century • Lillian August • The Ralph Lauren Home Collection jconnscott.com J. Conn Scott 6 E. Church St. Selbyville, DE 302 · 436 · 8205 Showhouse 27 Baltimore Ave. Rehoboth Beach, DE 302 · 227 ٠ 3780 Interiors 19535 Camelot Dr. Rehoboth Beach, DE 302 · 227 ٠ 1850 Since 1924
Taylors Island Trek: Bonna L. Nelson . . . . . . . . . . . . . . . . . . . . . . . . . . . . . 25
Features:
Departments:
Changes - Coming Again - A Work Progress: Roger Vaughan . . . . . . . . . . 149
. .
Tidewater Gardening: K. Marc Teffeau . . . . . . . . . . . . . . . . . . . . . . . . . . . 81
C. Albert Matthews Centennial: Tracey F. Johns . . . . . . . . . . . . . . . . . . . . . . . . 59
Proofing: Kippy Requardt
Vol. 71, No. 5 October 2022
Caroline County ~ A Perspective . . . . . . . . . . . . . . . . . . . . . . . . . . . . . 55
3
Publishers' Note . . . . . . . . . . . . . . . . . . . . . . . . . . . . . . . . . . . . . . . . 9
St. Michaels Map and History . . . . . . . . . . . . . . . . . . . . . . . . . . . . . 95 Oxford Map and History . . . . . . . . . . . . . . . . . . . . . . . . . . . . . . . . . . . . 101
From Seaman to Admiral - Doug Fears: Michael Valliant . . . . . . . . . . . . . . 67
Deliveries: Nancy Smith & Brandon Coleman P. O. Box 1141, Easton, Maryland 21601 410-714-9389 www.tidewatertimes.com info@tidewatertimes.com
. .
About the Cover Artist: Erick Sahler . . . . . . . . . . . . . . . . . . . . . . . . . . . . . . . 7
Editor: Jodie Littleton
October Tide Table . . . . . . . . . . . . . . . . . . . . . . . . . . . . . . . . . . . . . . . 43
Lest We Forget: A.M. Foley . . . . . . . . . . . . . . . . . . . . . . . . . . . . . . . . . . . . . . 93
Easton Map and History . . . . . . . . . . . . . . . . . . . . . . . . . . . . . . . . 57 Dorchester Map and History . . . . . . . . . . . . . . . . . . . . . . . . . . . . . 79
Tidewater Times is published monthly by Bailey-Farwell, LLC. Advertising rates upon request. Subscription price is $35 per year. Individual copies are $4. Contents of this publication may not be reproduced in part or whole without prior approval of the publisher. Printed by Delmarva Printing, Inc. The publisher does not assume any liability for errors and/or omissions.
Memories and Nostalgia and Stuff: Helen Chappell . . . . . . . . . . . . . . . . . . 11
Tidewater Kitchen: Pamela Meredith . . . . . . . . . . . . . . . . . . . . . . . . . . . . 111
Anne B. Farwell & John D. Farwell, Co-Publishers
Published Monthly
Death of a Dink: Rick Klepfer . . . . . . . . . . . . . . . . . . . . . . . . . . . . . . . . . 129
4
5
6 902 Talbot Street, St. Michaels, MD 410-745-5192 · 410-822-8256 · Mon. - Fri. 8-5, Sat. 10 - 4 higginsandspencer.com · higginsandspencer.hdwfg.com The finest in home furnishings, interior design, appliances, floor coverings, custom draperies and re-upholstery. Voted Best Interior Design Services and Furniture Store on the Shore!
He learned his craft as a teenager, apprenticing for a Salisbury screen printer and studying with Chesapeake Bay maritime painter C. Keith Whitelock. Sahler graduated from the University of Maryland Baltimore County with a bachelor's degree in visual arts. He has created artwork for clients across the Eastern Shore since 1983. In 2015, he was elected to the Society of Illustrators in New York. He was recently featured in a Chesapeake Bay magazine cover story and this year was commissioned to create an illustration celebrating the 50th anniversary of Gateway National Recreation Area.
You can find his work in shops in Cambridge, Easton, Oxford and St. Michaels, or at ericksahler.com.
"Most of my illustrations are com posites of multiple subjects ~ a sky, a building, a car ~ photographed at different times and places," said Erick Sahler, this month's cover artist. "But this image ~ the dreadlocked Kevin Waddy working atop a Chesapeake Bay deadrise in front of the oldest building in Oxford ~ is exactly as it appeared at the Crockett Bros. Boatyard in October 2019. It was a visual gift from the gods that I am grateful to have witnessed, captured andTheshared."piece, called "Crockett Bros.," is one of more than 120 Delmarvathemed illustrations the artist has created since launching Erick Sahler Serigraphs Co. in 2011.
Sahler is a Salisbury, Md., native.
7
About the Cover Artist Erick Sahler
8
Here at Tidewater Times, we have always prided ourselves on being a family. Now, we want to celebrate an addition! On September 17, the Far well family welcomed a new daugh ter when our son, Ben, married Alyssa Shaffer. We couldn't be happier.
Celebrating 70 Years!
* * * Publishers' Note:
Hugh and Evelyn Bailey 1952
~
Our writers and advertisers worked hard to help us get this issue completed so we could attend the festivities. Special thanks to all.
9
This year, Hugh and Evelyn Bai ley, our former publishers, would have celebrated their 70th wedding anniversary. John and I marked 30 years together earlier this year. Congratulations to the newlyweds!
John and Anne Farwell 1992
~
Ben and Alyssa Farwell ~ 2022
~ Anne Farwell
10 Pools • Outdoor Entertaining Areas • Landscaping 410-266-8700 www.olmobros.com Create your outdoor oasis!
of a Proust novel. Sights, people, places, scenes from my childhood on drift into my conscious or un conscious mind like things from a movie trailer. What I used to scoff at as a kid has now become the karma bus. It's slow, but it makes a lot of stops. And it doesn't take much to trigger it.
by Helen Chappell
Every once in a while, I find myself going back to places where I once lived or breathed or both. Sometimes, something as simple as being triggered by the scent of something like vanilla sends me into a scene from my checkered past that's frozen in my brain. For one second, I'm 10 again and my mother is making one of her lemon meringue pies. For a woman who hated to cook, she could kill with just one slice of that pie. I couldn't make a meringue if my life depended on it, but she could.
Memories and Nostalgia and Stuff
Eventually, it was so bad I ended
Last winter, I took a fall and fractured a vertebra. The consequence was so painful and so dire I had to have help because I could barely make it to the bathroom without feeling a sharp, shooting pain, like a power drill moving into my pelvis. I was literally bedbound.
Other flashbacks are more brain fog than real. As I get older, the past comes back to me with all the force
11
So, I spent a lot of time wander ing through the dreck of my life because I had nothing else to do except watch daytime TV and Face book.From time to time, I have re turned to the places I've lived. But the one place that draws me back is the Neck District, where we had Ross Range Farms on Ross Neck.
Representing National & Award-WinningInternationalArtists
While I was bedbound and stoned on painkillers, I had a lot of time to think and remember. This is how I knew I am old: when you're old, you can remember every sordid detail about your past (except for names and stuff you need), but you're re ally fuzzy about the present and ter rified of the future.
Real Proustian drama, with Reese's Cups instead of madeleines.
Memories and Nostalgia
Looking forward to seeing you!
up in rehab at a place we'll call The Pains and we'll leave that cross between a prison and a convent boarding school for another time.
12 7B Goldsborough St., Easton www.studio443-988-1818Bartgallery.com
During the Depression, and before he married my mother, my father bought three farms on the neck and combined them into one place. He liked gunning and fishing and breeding Hereford cattle, so that's what he did. He was a surgeon in Pennsylvania, but this was his get away
Look for the OPEN sign!
Thenplace.he married my mom, who also liked gunning and fishing, but Herefords, not so much, and by the time my brother and I came along,
Daniel"Exhale"byRobbins
13 13 Goldsborough Street ♦ Easton, Maryland 410.822.2211 ♦ Open Mon. - Sat. 10-5 www.dwellinganddesign.com Unique Home Furnishings & Interior Design Services
14
15 slaydens.com | slaydensllc@gmail.com PROTECT WATERPROPERTYYOURFROMEROSION CALL TODAY FOR A QUOTE LIVING410.310.4516SHORELINESRIP-RAPEXCAVATING & HAULING LLC MHIC # 133669 | MD MARINE CONTRACTOR #366(E)
16 4632 Ocean Gateway Queenstown, Maryland Across from the Prime Outlets Complimentary design Solid wood cabinets in stock Mention this ad to receive 25% off custom cabinets. www.arkadiasurfaces.com · 410-656-4214 Exceptional Designs, Stunning Spaces
17
18 we were pretty much established at The Farm, as we called the place. Down in Hudson was John Lew is' store. When I was growing up, it was a typical country general store. A little bit of this and a little bit of that, everything from work gloves to hand-dipped ice cream, with a big potbellied stove and Mr. and Mrs. Lewis slicing meat and selling bait and gas. Tin signs for CocaCola and Salada tea on the dusty windows. A glass case of candy. A particular smell I know but can't define that drags me back to my childhood.Allthe watermen and farmers used to come in there in the eve ning and sit on two benches on opposite sides of the door. From their perches, they'd gossip and gripe and tell bigger and better lies. They were very much in the Shore tradition of being able to tell a good story. Memories and Nostalgia 410-770-4374 Find your style at Lizzy Dee
19 22 North Washington Street, Historic Easton www.shearerthejeweler.com410-822-2279 22 North Washington Street, Historic Easton shearerthejeweler.com410-822-2279
Helen Chappell is the creator of the Sam and Hollis mystery series and the Oysterback stories, as well as The Chesapeake Book of the Dead . Under her pen names, Rebecca Baldwin and Caroline Brooks, she has published a number of historical novels.
of my childhood are long gone. The marshes are sinking, and new sparkly weekender houses are built up on stilts. They'll never know what it was like back then. But I will.Thank
20
I believe that's where I got my start as a writer. I listened and learned. I also read a lot, which I doubt those guys did, but I did learn storytelling down there.
My father would just sit right down among the men and commence to tell his set of bigger and better lies, and it was a grand hoedown.Asa
It's very well done, and the owner and proprietor, Jake Spedden, serves great food and sells some convenience store goods. When we were there, the place was packed with happy, hungry customers, and I'd like to go back.
You can whine and gripe about how much things have changed, but I'd rather see a homey eatery than a building with so much history torn down and replaced with yet another McMansion.Theplaces
My father may have been an educated and successful man, but he was born and raised a North Carolina boy, and the crew, known as Lewis University ("Where You Learn About Yourself"), welcomed him as one of their own.
you, John Lewis' Store. I did learn about myself.
Memories and Nostalgia
girl, I, of course, was forbidden to participate in these activities, but I could get Mrs. Lewis to scoop me up an ice cream cone, and I could lurk, invisible, on the sidelines and absorb the atmosphere.
then is long gone. It passed through several hands, and when my friend Ann Foley and I went down to the Neck District recently in search of a sentimental journey, the old store had been converted into a restaurant. It's not the ghost of what it once was, but it's got a new life.
Lewis' Store as we knew it back
THE WEBER HOUSE - An historic home in the charming and extremely popular community of Fairbank. Built in the late 1800's this home has been carefully preserved, updated, and expanded providing comfortable living areas from the great room to the master suite with sitting room and office. Double porches on the water side, pier and boat ramp. A large outbuilding provides a spacious workshop area plus a studio apartment w/full bath and kitchenette. Main house has wood floors throughout, 4 bedrooms, 3 ½ baths, living room with fireplace, great room, separate dining, two screened porches and private patio area. 2.5 ac. $1,295,000
21 WINK COWEE, ASSOCIATE BROKER Benson & Mangold Real Estate 211 N. Talbot St. St. Michaels, MD 21663 410-310-0208 (DIRECT) 410-745-0415 www.BuyTheChesapeake.com(OFFICE)winkcowee@gmail.com
22
23 Cheri Bruce-Phipps m +1 443 994 2164 Annapolis Brokerage 209 Main Street, Annapolis, MD +1 410 280 5600 | ttrsir.com Cheri Bruce-Phipps IS EXCITED TO JOIN TTR SOTHEBY'S INTERNATIONAL REALTY cheribrucephipps.ttrsir.com m 443 994 2164 | cbrucephipps@ttrsir.com 17 Goldsborough Street Easton, MD 21601 O: 410-673-3344 Cheri Bruce-Phipps m +1 443 994 2164 cheribrucephipps.comcbrucephipps@ttrsir.com Annapolis Brokerage 209 Main Street, Annapolis, MD +1 410 280 5600 | ttrsir.com Cheri Bruce-Phipps TTR SOTHEBY'S INTER N A TIONAL I N ANNA PO L I S Cheri Bruce-Phipps m +1 443 994 2164 cheribrucephipps.comcbrucephipps@ttrsir.com Annapolis Brokerage 209 Main Street, Annapolis, MD +1 410 280 5600 | ttrsir.com Cheri Bruce-Phipps TTR SOTHEBY'S INTER N A TIONAL I N ANNA PO L I S IN TOWN LIVING AT ITS BEST! This beautifully renovated, 2 bedroom, Craftsman style floor plan, large master suite, Georgia heart pine flooring, Dacor & SubZero appliances. Large detached garage/workshop Whether you prefer walking to town or watching the many this home offers it all! Offered at $489,900
24 Waterfront Estates, Farms and Hunting Properties also available. Kathy 410-924-4814(C)Christensen·410-822-1415(O ) Benson & Mangold Real Estate 27999 Oxford Road, Oxford, Maryland 21654 kccamb@gmail.com · www.kathychristensen.com -
Rare Offering - Easton model end unit condo with fabulous waterfront balcony overlooking the Choptank River and 18th fairway. Located in the Residences at River Marsh adjacent to the Hyatt Chesapeake Bay resort in Cambridge. 2 bedroom 2 bath condo with en-suite primary bedroom offering water views & great light! Open floor plan, large entry foyer, spacious kitchen with Corian counters, lots of cabinets, table space, bar and living/dining combo. Separate laundry and assigned parking. This unit also had a deeded-conditioned storage unit. $459,000
Prime building and location in the heart of St. Michaels! High traffic area with good visibility. Property consists of 4,700+/- sf 2-story building with fenced courtyard and private off street parking. Zoned commercial, most recent use is restaurant with seating on first and second floor, bar and patio. New roof and siding in 2022. Possible owner financing and other opportunities. Many potential uses. $1,385,000
Taylors Island has been an occasional destination. The western Dorchester County island is a historic water-focused and agricultural community encircled by the Chesapeake Bay to the west, the Little Choptank River to the north, Punch Island Creek to the south and Slaughter Creek to the east. The island is located opposite Calvert Cliffs on the western shore of the Bay. Inviting and delightfully named tidal coves and creeks abound, including Oyster, Cators, Hoopers and Chapel coves and Buzzard Island, Saint John, Jacks and Davis creeks.
25
Bonna L. Nelson
Taylors Island Trek by
Exploring the Eastern Shore's quaint, historic towns and villages, its unique remote islands and its spectacular waterfront vistas has been a passion of ours since before we became "Come Heres" in 2005. My husband, John, and I used to take weeklong driving expeditions to the Shore each summer or voyage by boat, anchoring in protected creeks and coves along the edge of the Chesapeake Bay's eastern coastline. We have always found peace, beauty and tranquility in our wanderings, along with culture, history, welcoming folks and delicious food!
Historic building ca. 1800 in the heart of historic downtown Easton with high traffic count. Approximately 5,600+/- square foot storefront that has multiple potential uses including retail/showroom, restaurant, or office space. This beautiful and longstanding brick and mortar is right off of the Harrison St. and Dover Road intersection and shares the street with ice cream shop, antique dealers and the Avalon Theatre, drawing in day and night time foot traffic. Second floor has classic charm with the exposed brick and metal tiled ceiling and offers potential for many different layouts.
26 EASTON | $1,250,000 | www.25EastDoverStreet.com BENSON & MANGOLD REAL ESTATE Chuck Mangold Jr. - Associate Broker C 410.924.8832 O 410.822.6665 chuck@chuckmangold.com · www.chuckmangold.com 31 Goldsborough Street, Easton, Maryland 21601
Lovely brick colonial situated on expansive double lot in the heart of historic Easton. This 4 bedroom, 3.5 bathroom home is brimming with classic charm from the side entry leading into the traditional "warming room", to the period details found throughout including light fixtures and doorknobs. The kitchen is modern yet retains vintage appeal as it has new stainless steel appliances, durable laminate flooring and refinished original cabinetry with refurbished handles. Custom moldings and millwork found throughout the home add a touch of elegance. Each bedroom has direct access to an updated bathroom. New HVAC added to the second floor. Sunroom with wall of windows provides abundant light. Detached two-car garage and ample parking with circular drive. This stunning home is an absolute must see if you love classic charm with modern amenities. Just blocks from downtown Easton's shops, restaurants and entertainment.
27 BENSON & MANGOLD REAL ESTATE Chuck Mangold Jr. - Associate Broker C 410.924.8832 O 410.822.6665 chuck@chuckmangold.com · www.chuckmangold.com 31 Goldsborough Street, Easton, Maryland 21601 EASTON | $1,295,000 | www.214SouthWashingtonStreet.com
Routeevents.16/Church
Creek Road becomes Taylors Island Road near the small Dorchester County town of Woolford. The Woolford Store, touting itself as "Your Snakehead & Sika Headquarters" and home of the 2022 Snakehead Championship Se
28
Just 16 miles from Cambridge, Dorchester's county seat, and reached by taking Route 50 to Route 16 east, Taylors Island is an inviting, quiet, scenic day trip along the Bay.
Taylors Island Trek
European settlement in the area dates to 1662, when John and Thom as Taylor received land grants for the area and named it Taylors Folly, according to sources that include the Grace Foundation of Taylors Island, MD, a historical and building pres ervation organization, and publications by the Heart of the Chesapeake Country Heritage Area. The Taylors' name lives on close to 400 years later in one of Dorchester's earliest communities.Loblollypines, cedar and oak forests and tidal marshes grace the island land mass, which is ap proximately eight miles long and two miles wide. On our last visit, I noticed there weren't as many "ghost forests," those areas of dead trees killed by saltwater encroachment, on Taylors Island as I have witnessed on Hoopers Island and in other Shore areas.
We always enjoy a stop at Emily's Produce, a seventh-generation farm with a produce stand, on a Route 16 trip. On a recent stop, we bought fresh-picked peaches, beefsteak tomatoes and corn and had some laughs watching kids and goats frolicking in the petting zoo area. Em ily's is known for its fresh seasonal vegetables and fruit, baked goods, homemade foods, flowers, you-pick patches and activities for kids. Check emilysproduce.com for days, hours and
29
30 Brand New Single Family Homes Leasing Now! An Active 55+ Community in Bridgeville, Delaware
31 Stylishly Coastal! 106 Heritage Shores Circle, Bridgeville, DE 19933 (302) 281-1235 • www.coastalrun.com Contact Our Leasing Professionals Today! Leasing by the award-winning management company, Allen & Rocks, Inc. providing exceptional resident services since 1948. Open Floor Plans & Upscale Finishes for Luxury Living Gourmet Kitchens • Entertainment Sized Porches & Patios 2 Car Garages with Driveways • 1 Level Living or Loft Styles Maintenance Free Living Resort Amenities Right At Your Door Step! 45 Minutes to Rehoboth Beach Large Pond with Kayak Launch Dog Park • Walking Trails • Indoor & Outdoor Pools • Club House Woodworking Shop • On-Site Casual & Fine Dining • Conceirge Planned Events Health, Wellness & Fitness Center Pickle Ball & Tennis Courts Exclusive Access to the Finest Community Amenities Included in Your Lease Resort Living and So Much More
Our next stop was Palm Beach Willie's (PBW) Fine Food & Spirits, a floating waterfront restaurant, and Slaughter Creek Marina at the foot of Slaughter Creek Bridge, the entry point to Taylors Island. PBW was our introduction to Taylors Island years ago. Staffed on weekends by
ries, is another fun stop on the trek. This old-fashioned country store advertises that it has everything you need to catch a snakehead or bag a Sika deer. They also sell sandwiches, including snakehead fish sandwiches for $7. We weren't really ready to try them, but maybe next time? Check out hours and the menu at woolfordstore.com[Publishers'. Note: Snakehead sandwiches are delicious!!]
32
Continuing on Taylors Island Road, we passed another small town,
Taylors Island Trek
Madison, located on Madison Bay off the Little Choptank River. The lovely harbor is home to watermen's workboats, both clammers and crabbers, while the town boasts churches and a restaurant as well as residences. We made a note to try the Maryland Blue restaurant on Madison Canning House Road on a future trip. They offer "fresh caught and fresh grown." Sounds good to me.
33
Gorgeous 120-acre farm with over 2000' shoreline just minutes from Oxford. 6 BR home offering complete privacy, big views of the Choptank River and Island Creek, waterside pool, and protected pier. $5,250,000
Fabulous property overlooking the Tred Avon River with an open floor plan & beautiful details throughout. Waterside pool, guest apartment, 3 car garage, & large pier w/ 6'MLW. $2,950,000
4190 Evergreen Rd., Oxford, Md
26631 North Point Rd Easton (Under contract in 6 days)
Just minutes from downtown Easton, this immaculate 4 bedroom, 3-1/2 bath home is sited on a beautifully landscaped 1/2 acre+ lot. The first-floor rooms are open and airy, with windows overlooking the gardens and sliding doors opening to the deck. High ceilings in the entry, living room, and breakfast room accentuate the feeling of spaciousness. Large first floor primary suite, plus 3 BRs, large studio/playroom/hobby space, and 2 more baths upstairs. Will go quickly at $785,000
Taylors Island Trek
Sotheby's International Realty® trademark Sotheby's International Realty Affiliates LLC. Each office is independently owned and operated. TTR Sotheby's International Realty fully supports the principles of the Fair Housing Act and the Equal Opportunity Act.
to
manager of both PBW and the marina, shared in an interview with WBOC News that the barge with building was brought from Florida to Taylors Island in the 1960s. It served as a Coast Guard station before becoming a restaurant. Around 2009, it became PBW, a place specializing in local food, good music, specialty drinks and amazing sunsets.
Joan Wetmore c: 410-924-2432 o: Easton,17joanwetmore@msn.com410-673-3344GoldboroughStreetMD21601
34
perpetually pleasant local schoolteachers, this friendly, quirky and casual restaurant and bar served delicious fresh seafood, including our favorites, spicy Maryland crab soup, plump backfi n crabcakes and homemade fries with skins on. The outside tiki bar and dining area were a big draw, too. Folks came by car, motorcycle and boat from both eastern and western shores to enjoy the food, the water views and frequent liveSadly,music.a storm last winter sank the PBW restaurant on a barge into Slaughter Creek. Remnants can be seen from the driveway and pier. After the sinking, Daniel Glynn,
is a licensed
35
lift are available, and the marina is open seven days a week.
The weapon was captured by lo cal citizens when they surrounded a British vessel trapped in the ice near the mouth of the Little Choptank River close to James and Taylors islands. The "Becky Phipps" was named after a misspelled version of the name of the British captain of the
Slaughter Creek Marina has plenty to offer boaters on the Shore. Just four miles from the Bay off the Little Choptank River, the marina offers a long list of amenities, including deep water boat slips, fuel dock, ship's store, boat and recreational rentals, pool and bath house. Slip rentals, dry dock storage and a 25-ton travel
Happily, when I called Daniel Glynn, he shared that there are plans to reopen PBW in the spring of 2023 via food trucks and a tiki bar on the property surrounding the large palm-festooned patio next to the pool. To learn more, call 410-2210050 or visit slaughtercreekmarina. com. We look forward to seeing Daniel and crew at the reopening.
Just over the Slaughter Creek Bridge on the right side of Taylors Island Road is a sheltered his toric cannon, the "Becky Phipps." I learned from the Grace Foundation of Taylors Island (gracefound.net), which maintains both the island's historic structures and graveyards and an extensive collection of Taylors Island history, that the cannon is a relic of the War of 1812.
36
Taylors Island Trek
37
There was a new kid in town at our next stop ~ well, actually, a new kid in another old structure. Boats & Hose Restaurant and Bar is located in the former Island Grille restaurant, which was previously the Taylors Island General Store. Built in 1916 and flooded in 2003, the building was renovated in 2004 before housing a restaurant. Located on Chapel Cove, it also houses a post office and a bait and tackle shop. I love the repurposing of old structures.
38
Taylors Island Trek
polished wood floors and bar, old Singer sewing machine-based tables and walls covered with antiques, marine-related décor and decoys both warm and inviting.
Boats & Hose, named for its neigh bors ~ a marina and a fire depart ment ~ is owned by Jay Newcomb, the former owner of Old Salty's on Hoopers Island. We were greeted warmly by some familiar faces of Old Salty's staff who are now working on Taylors Island. We found the richly
The peaceful drive on Taylors Island takes you past historic homes, churches, graveyards and schools, as well as forests and marshes alternating with farm fields, residences and glimpses of waterfront. Many of the historic properties are listed on the National Register. We find it a tran quil and attractive outing.
tender, Lieutenant Mathew Phibbs, and Becky, a Black woman who had been captured by the British to cook for them. The crew and officers were forced to surrender, and their vessel and munitions were captured.
Many of the dishes from the Old Salty's menu are included on the new menu at Boats & Hose: crab dishes, soups, oysters, steaks, even that new Shore delicacy, snakehead…yum. They may have live music on the weekends. Hours are 10 a.m. to 8 p.m. Thursday to Saturday and noon to 6 p.m. Sunday. The restaurant can be reached at 410-901-1070.
39
40
If you are a fan of historic schools and churches, Taylors Island is the place for you. I think that Hoopers Neck Road should be renamed
Farther along Taylors Island Road, you pass the stately Ridgeton Hall, a National Historic Register structure. Built in 1859, the beautiful and well-maintained property has belonged to the Neild family since 1956. The Neilds are officers of the Grace Foundation and founders of the Dorchester County Historical Society's Neild Museum. The family manages the property, farmland, a vineyard and a winery and contributes to the community through the efforts of the Grace Foundation.
"Church and Schoolhouse Road" after the many historic churches
Taylors Island Trek
41
42
IS.
TILGHMAN:
CLAIBORNE:
ST.
KENT NARROWS:
CHESTERTOWN:
12:2411:4810:4612:1111:1710:079:008:001:162:123:013:344:265:055:436:237:067:538:459:441:111:532:323:103:494:305:146:016:547:518:551. Sat. 2. Sun. 3. Mon. 4. Tues. 5. Wed. 6. Thurs. 7. Fri. 8. Sat. 9. 31.30.29.28.27.26.25.24.23.22.21.20.19.18.17.16.15.14.13.12.11.10.Sun.Mon.Tues.Wed.Thurs.Fri.Sat.Sun.Mon.Tues.Wed.Thurs.Fri.Sat.Sun.Mon.Tues.Wed.Thurs.Fri.Sat.Sun.Mon. AM AMPM PM 12:4611:3210:3512:2511:039:578:56-1:292:273:224:135:025:486:337:178:028:499:40-1:392:263:103:524:345:166:016:507:428:409:43
EASTON
11:23am11:3810:4312:2911:5911:5911:0410:079:088:036:515:314:092:582:011:041:452:343:344:425:526:587:588:549:48-12:0312:501:472:56 HIGH LOW Campbell's has three locations to serve you in Oxford, MD BACHELOR POINT 410.226.5592 JACK'S POINT 410.226.5105 TOWN CREEK 410.226.0213 Restoration H Repairs Haul-Outs H Slip Rentals Dry Storage H Yacht info@campbellsboatyards.comSalescampbellsboatyards.comCertifiedCumminsDealer
SHARP'S LIGHT: 46 minutes before Oxford Dogwood Harbor same as Oxford POINT: 5 minutes after Oxford 10 minutes after Oxford 25 minutes after Oxford MICHAELS MILES R.: 47 min. after Oxford LANDING: 1 hr. after Oxford 1 hr., 29 min. after Oxford 1 hr., 29 min. after Oxford LANDING: 2 hrs. after Oxford 3 hrs., 44 min. after Oxford www.tidewatertimes.com 12:3510:4910:1712:5411:3011:0110:299:549:158:337:476:555:574:533:441:502:473:444:405:336:217:047:428:168:489:189:481:342:343:344:34
CAMBRIDGE:
43
TIDE TABLE OXFORD, MD OCTOBER 2022 3 month tides at
CENTREVILLE
WYE
ANNAPOLIS:
44
45
46
BethlehemEpiscopalMethodistChurch
We stopped to walk around the churches and school clustered on the Grace Foundation property, lo cated along Hoopers Neck Road and included on the National Register of Historic Places. We admired the dramatic white Victorian Gothicstyle Grace Episcopal Church with its deep-pitched roof and soaring steeple, built circa 1873 and still used occasionally for services. Next to Grace, we peeked through the
The last two churches on that roadway include the Lane Methodist Episcopal Church. The lovely white-sided church, its red door flanked by two narrow windows, was built circa 1897 to serve the island's Black community. Regular services were discontinued at Lane in the 1980s when the con gregation moved to the historic African-American New Revived Methodist Church, established in
Taylors Island Trek
windows of the tiny Chapel of Ease Episcopal Church, built in the early 1700s and the first church built on the island. The small white building was moved to the Grace Foundation site in 1951 and was restored but is no longer in use.
The Old Schoolhouse, circa 1780s, is located nearby. Measuring 15 feet to a side, it was built with hand-hewn timbers and handmade nails and was moved to the grounds of the historic Grace Foundation site on Hoopers Neck Road from the north end of the island. It is believed to be the first schoolhouse in Dorchester County.
and schools that dot the thorough fare. According to the Heart of the Chesapeake Country Heritage Area literature and the Grace Foundation, the circa-1917 Taylors Island School closed in 1974. It served as a museum for a time and is now in need of restoration.
47
The last church on Hoopers Neck Road is the lovely Bethlehem Methodist Episcopal Church, also known as the "Old Brick Church" for the sturdy red brick exterior. Built circa 1857, it is listed on the National Register of Historic Places. The church and its graveyard across the street are now owned and preserved by the Grace
For all of your insurance needs, choose an agent you can trust.
In addition to embracing vari ous faith traditions with numerous churches, Taylors Island offers an abundance of attractions for residents and visitors interested in outdoor recreation. Crabbing, fishing, boat ing, kayaking and other water-ori ented pursuits can be experienced by launching a boat at one of several boat ramps, using water sports rentals or arriving from the water by boat.
To the delight of birders, purple martins, swifts, ospreys, heron, egrets, pelicans, bald eagles, hawks, buffleheads, mallards, canvasbacks,
48
ThereFoundation.isnoshortage of churches on Taylors Island. It is also home to the Chaplain Memorial Methodist Church on Bay Shore Road, circa 1889. The wood-framed building has been in continuous use since that time. Nearby, Oak Grove Method ist Episcopal Church is tucked into the woods on Smithville Road. The brown-framed church with a steeply pitched roof dates to the 1870s.
1876 on nearby Smithville Road, Taylors Island.
Taylors Island Trek
49
scaup, plovers, sandpipers and seagulls can be spotted in marshes and mudfl ats along the shore at low tide and sometimes from the road. An especially good spot for birders is the Taylors Island Wildlife Management Area on the southeast end of the island, much of which can only be accessed by boat. The island is also
home to raccoons, muskrats, river otters, the Delmarva fox squirrel and both Sika and white-tailed deer.
Bonna L. Nelson is a Bay-area writer, columnist, photographer and world traveler. She resides in Easton with her husband, John.
Like a Good Neighbor, State Farm is there.
today! Licensed:
50 Megan Holotik, LUTCF Megan Holotik Ins. Agency Inc. 722 Cambridge Marketplace Blvd. Cambridge, MD 21613 O: 410.228.2665… You can text us! Fax 410.221.0809 megan@meganholotik.com www.meganholotik.com
Taylors Island Trek
Right coverage Right price Right here in town.
®
Here's the deal. The right insurance should help you feel confident and comfortable. the right good neighbor for that. Call me Maryland
I'm
& Delaware · NMLS#1287757 MLO #1287757
Mon-Fri 9 a.m. to 5 p.m. Evenings & Saturday by appt.
In our close to 18 years on the Eastern Shore, little has changed on the Bay islands, at least from our day-tripping perspective, other than the everchanging dining spots ~ and that is just fi ne with us. We capped off our trek to Taylors Island by buying a dozen fresh soft shell crabs from a local waterman to fry up later and eat with our Shore tomatoes and corn from Emily's. Mmmm, heavenly.
51 For All Your Eastern Shore Real Estate Needs Robert Fitton, II Specializing in Luxury Homes, Land and New Construction 101 N. West Street, Easton, Maryland 21601 Cell: meredithfineproperties.comrobertfittonbright.comOffice:703-577-1747410-822-2001robertfitton.com
Fletcher C. RealtorBauman

52 Waterfront · Acreage · Homes · Estates
Serving Both Sides of the Chesapeake Bay For the Service you Expect, and Deserve
We look forward to the future at this new home and the relationship we continue to build with Fletch. We will continue to use Fletch for all future real estate endeavors as we know he has our back and supports his clients until the end. ank you, Fletch, for improving our lives."
"We have worked with and known Fletcher C. Bauman for years. He has helped us purchase now three homes in the MD area. Fletcher (Fletch) continues to be a fantastic realtor, extremely responsive, professional, and a go-getter.
- e Fritz Family
My wife and I just sought out and purchased a small home on the Eastern Shore of MD. Fletcher was the rst person we called, and we were able to get into the house immediately and made an o er shortly a er. As the process was challenging from the seller's side, Fletch did his job and helped alleviate the stress of the buyer's side. We ended up getting the home and are enjoying it immensely.
101 N. West Street, Easton, Maryland 21601 Annapolis, FletchMFP@icloud.comMarylandCell:410.263.2000Oce:410.822.2001
53
54
OPEN ADVENTURESAUTUMNFORVisitCaroline.org
Celebrate Fall in Caroline County! Explore the 10-acre corn maze and pumpkin patch at JZ Farms' Fall Fest through Oct. 30, race in the Howl-o-Ween 5K in Ridgely on Oct. 22, or head to Federalsburg for their Madness on the Marshyhope Blue Catfish Tournament & Festival on Nov. 5! See these events and more at VisitCaroline.org. We're open for you, if you're
Martinak State Park by Maureen Theresa
Denton, the county seat, was situated on a point between two ferry boat landings. Much of the business district in Denton was wiped out by the fire of 1863.
Caroline County is the very definition of a rural community. For more than 300 years, the county's economy has been based on "market" agriculture.CarolineCounty was created in 1773 from Dorchester and Queen Anne's counties. The county was named for Lady Caroline Eden, the wife of Maryland's last colonial governor, Robert Eden (1741-1784).
Preston was the site of three Underground Railroad stations during the 1840s and 1850s. One of those stations was operated by Harriet Tubman's parents, Benjamin and Harriet Ross. When Tubman's parents were exposed by a traitor, she smuggled them to safety in Wilmington, Delaware.
Following the Civil War, Denton's location about fifty miles up the Choptank River from the Chesapeake Bay enabled it to become an important shipping point for agricultural products. Denton became a regular port-ofcall for Baltimore-based steamer lines in the latter half of the 19th century.
Federalsburg is located on Marshyhope Creek in the southern-most part of Caroline County. Agriculture is still a major portion of the industry in the area; however, Federalsburg is rapidly being discovered and there is a noticeable influx of people, expansion and development. Ridgely has found a niche as the "Strawberry Capital of the World." The present streetscape, lined with stately Victorian homes, reflects the transient prosperity during the countywide canning boom (1895-1919). Hanover Foods, formerly an enterprise of Saulsbury Bros. Inc., for more than 100 years, is the last of more than 250 food processors that once operated in the Caroline County region.
Points of interest in Caroline County include the Museum of Rural Life in Denton, Adkins Arboretum near Ridgely, and the Mason-Dixon Crown Stone in Marydel. To contact the Caroline County Office of Tourism, call 410-479-0655 or visit their website at www.tourcaroline.com .
55
Caroline County – A Perspective
Linchester Mill, just east of Preston, can be traced back to 1681, and possibly as early as 1670. The mill is the last of 26 water-powered mills to operate in Caroline County and is currently being restored. The long-term goals include rebuilding the millpond, rehabilitating the mill equipment, restoring the miller's dwelling, and opening the historic mill on a scheduled basis.
56
of the Eastern Shore" and was honored as number eight in the book "The 100 Best Small Towns in America." With a population of over 16,500, Easton offers the best of many worlds including access to large metropolitan areas like Baltimore, Annapolis, Washington, and Wilmington. For a walking tour and more history visit https:// tidewatertimes.com/travel-tourism/easton-maryland/.
"ColonialdistinctionEastonnificance,itsstored.preservedhomes,andperiodgracedlinedfascination.anduniqueturalbusinessspecialtycenterpieceEastonDowntownistodayaoffineshops,andcul-activities,restaurants,architecturalTree-streetsarewithvariousstructuresremarkablecarefullyorre-Becauseofhistoricalsig-historichasearnedastheCapitol
57
The County Seat of Talbot
settlementsearlyEstablishedCounty.aroundreligiousanda court of law, Historic
Easton Map and History
58
The company started as the James Matthews tin shop. James's son, C. Albert, took over at a young age and created the family-owned and operated plumbing, heat-
TraceybyF. Johns
The business began in 1922 ~ the same year the Avalon Theatre opened it's doors and the Town of Easton purchased its gas plant. During this time, a single-track
Photo from the Talbot Historical Society's Laird Wise Collection.
railroad was still in operation, while Ford Model Ts motored along Easton's streets and a fleet of skipjacks plied the Chesapeake Bay for oysters. Galvanized steel was coming into use as a replacement for lead plumbing, and prohibition was on the rise.
59
C. Albert Matthews Centennial
C. Albert Matthews, Inc. is celebrating its 100th anniversary this year, with a history that runs through five generations of family, businesses and homeowners relying on the home services company's reputation and high standards for excellence.
MatthewsJohnand
60
and investing in the community.
"Many people know us for one area of expertise and then come to rely on us to take care of all their home mechanical and system needs," he says. "We have built sustaining relationships over the decades with our customers, contractors and others that care about our community. They are like a
John Pritchett ~ whose maternal grandfather is C. Albert ~ now represents the fourth generation of family ownership and opera tion. John's nephew Shaw serves as vice president, and daughter McKenna works part time to make the fifth generation of family serv ing Mid-Shore residents.
Pritchett says the company sustains itself as one of Easton's cornerstone businesses by always evolving with consumer demand
"Responding to ever-changing technology is fundamental in ev erything we do," says Pritchett. "We've continued to evolve over the years, and now we're providing electrical, plumbing, HVAC, generator and water purification services to our residential clients.
Shaw Pritchett
C. Albert
ing and air conditioning business known by customers throughout the Mid-Shore today.
61
The company was much larger in the 1970s and '80s, when it focused on commercial services. It began in the '90s to shift toward residential services, which now makes up 100% of the business. The untimely passing of family members also led to some consoli dation through the '90s period.
When asked what advice he'd
C. Albert Matthews
Pritchett began working in the business in 2000. He had just completed a year of work for a mu -
tual fund company after earning a degree in finance at Salisbury University. He says he takes pride in coming to work every day and seeing trucks that bear his grand father's name. The current team of 70 employees will celebrate the 100th anniversary with special luncheons and other commemora tive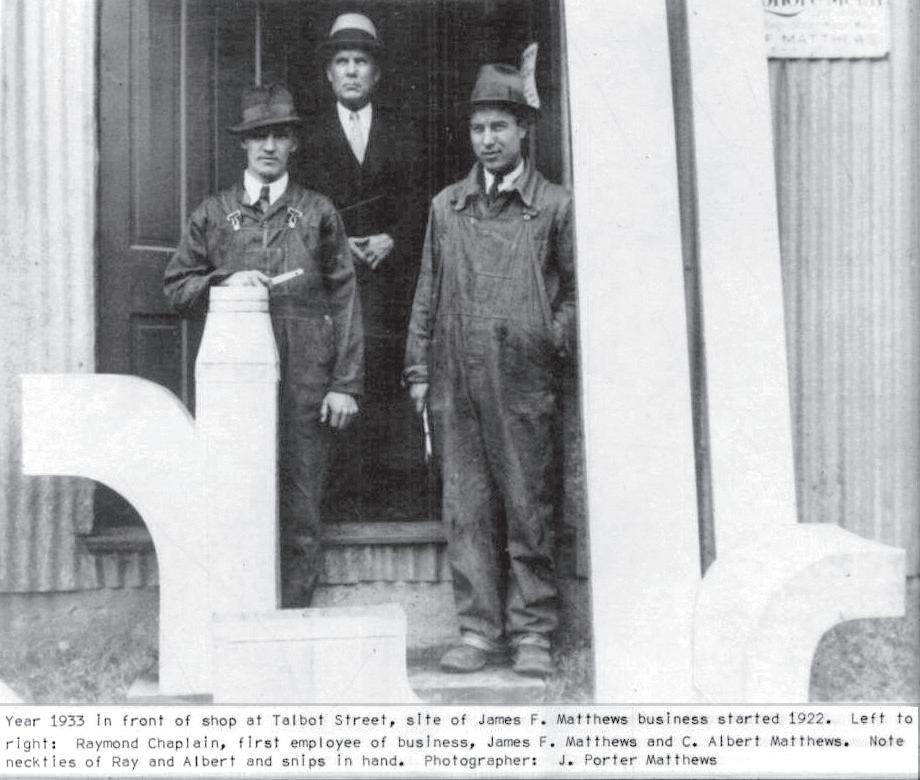 "I'mevents.dedicated to being a good steward of this company," Pritch ett says. "I have to be. I'm carrying the torch, and it needs to be kept bright and strong."
part of our family and a staple to our services."
62
63 Serving the Mid-Shore from the Easton Airport 20, 40 and 60-minute rides - by reservation only yalo .com 410-770-5253 · 410-310-2626 Come Fly With Us! Award-Winning1942300hp.Stearman Silver Queen Gi Certi Availablecates
"If you believe in something and put your hard work in, it will come to reality, especially for small businesses," he says. "And you can help create community by giving back and investing in your com munity in meaningful ways. Small businesses run by local people will always add to the charm and allure of our towns. We've certainly kept to our roots in that manner."
give to others wanting to run a small business with 100-year lasting power, Pritchett says you need to have patience and overcome challenges by making sure it's something you can do with passion and resolve.
19 Goldsborough St. · www.curlicuethestore.com443.746.3095
Giving back to the community is a priority that will carry through
Pritchett says the most joyful parts of his work include being with such a hard-working and dedicated group of people.
"I love our team and being a
64 410.251.2838 Tidewatercleaningservice.com Reliable & Flexible • Locally Owned & Operated • Background-Checked Security Cleared • FREE ESTIMATES • Excellent Customer Service C LEANING S ERVICE "Leave" your cleaning to us!
C. Albert Matthews part of this fantastic organization and community. It's an honor to carry on the family name through our continued dedication to excellence."
Tracey Johns is a storyteller, engaging local, regional and national audiences through her words and photography. She has worked in communications, marketing and business management for more than 30 years, including non-profit leadership. Tracey's work is focused on public and constituent relations, along with communication strategies, positioning and brand development and project management.
the company's centennial. C. Albert Matthews has sponsored youth sports for decades, including softball, Easton Little League and Talbot Soccer Association teams. Company leadership has served on numerous committees and boards, with team members volunteering for events throughout the year. And when it comes to fundraising, the company holds a special place in their hearts for the Talbot Humane Society.
65
66
From Seaman to Admiral: Doug Fears
as he and his family are now living in Wittman. This is a homecoming a lot of people in my family are happy about ~ Doug's grandfather and my grandfather were brothers who grew up in Oxford.
67
MichaelbyValliant
The Coast Guard Cutter Taney , a 327-foot ship built in 1936, is notable for being the last warship still floating that fought in the attack at Pearl Harbor. Taney was retired from service in 1986 and is now a
Doug Fears grew up on the East ern Shore. In 1982, he enlisted in the Coast Guard and spent his first tour at sea on the U.S. Coast Guard Cutter Taney . Forty years later, Doug has retired as a twostar admiral and head of the Joint Interagency Task Force, which set the annual record for drug interdic tion, intercepting more than 300 metric tons of cocaine. Doug's sea story is coming back to the Shore,
After his enlisted tours, Doug went on to complete the Broadened Opportunity for Officer Selection and Training (BOOST) program, after which he went to the Coast Guard Academy. He had eight tours of duty at sea, three as command-
It was October 1982 off Cape Hatteras, NC. There was a sailboat with seven people on it who needed to be rescued. The cutter lowered its motor surf boat with a small crew to get the family off the sail boat. The ocean was so rough that the rescue boat disappeared from view as soon as it hit the water.
Admiral Doug Fears Doug and his mates onboard the Taney.
CO of Diligence
museum ship in Baltimore's Inner Harbor. Vice Admiral Fred Midg ette was a shipmate of Doug's on his tour on Taney . At Doug's retire ment ceremony, Midgette shared a story from their time together.
68 Benson & Mangold Real Estate 24 N. Washington St., Easton, MD www.Jbent-MidShoreHomes.com21601 Call ~ Text or email For All of Your Real Estate Needs! Jim SalespersonBentGRI21601 C: 410.924.0901 ◆ O: JimBent@goeaston.net410.770.9255
During the course of rescuing the family (and a cat) safely, the motor surf boat was destroyed, and the Taney had a cat on board for about a week after. This kind of story is typical of a day in a life of a Coast Guard cutterman, and of the early days of Doug's career.
69 GLENNSHIRE CAVALIERS 443-775-9209 · GlennshireCavaliers.Com AKC Breeder: Vera Karelian World Traveler
ing officer of cutters, including one of the first National Security Cut ters, Hamilton. He went to graduate school at Harvard, M.I.T., the Naval War College and the Center for Strategic and International Studies; he had three assignments on the Na tional Security Council staff, for two different presidents, at the White House; and he has lived in Guam, Seattle, San Diego, Key West and ev ery state on the East Coast except for Georgia and New Hampshire.
Doug's can-do attitude and work ethic were cited by Vice Admiral Midgette as two of the things that made him successful. The third thing was, and remains, faith.
Aboard the Diligence
"At different points in my career, I didn't think I could do what I was being asked to do, but somebody made me do it, and I found that I could, and the confidence that came with that has been invaluable," Doug
Admiral Doug Fears said. "As far back as boot camp, I can remember every day I thought about quitting, but I would tell my self I would do it tomorrow, and that tomorrow never came."
"Things I think about when it comes to what has made Doug suc cessful ~ the first is attitude and heart," Midgette said. "You simply won't meet a person with a better attitude or heart than Doug Fears. Doug is a walking example of a cando attitude. The second thing Doug has is an incredible work ethic, kind of like an ice hockey nut. Doug has spent a career taking on the most
70
71
Doug with his father Jeff and grandfather Jerry, with Nana Louise looking on.
Admiral Doug Fears
The relationships Doug has cherished were on display at his retire ment ceremony, which was held at National Community Church, the church the Fearses attended when they lived on Capitol Hill in Wash ington, DC. The ceremony was pre
difficult, high-visibility, high-con sequence jobs in the Coast Guard, and he has done it with a dedication that is second to none. He's been our nut Coast Guard hockey fan. And finally, Doug has a strong and abiding faith. Doug's faith has been a good and deep well, and the thing about a deep well is that you always have enough water to give someone else a drink. Of the many things that Doug excels at, relationship is the thing I think he excels at the most."
72
sided over by Linda Fagan, the Commandant of the Coast Guard, and was a packed house of hundreds of people, from family and friends to the highest ranking military officers and political leaders. The guests of honor were his family ~ his wife, Kate (from West Ocean City); sons Joshua and Noah; his mother, Car olie Valliant Patton; and brother JeffFamilyFears.
was a theme, as Doug shared his biggest influence for joining the Coast Guard: his mater nal grandfather, Jeremiah (Jerry) Valliant."Mygrandfather was a Coastie during World War II, he was may or of Salisbury during the 1950s, he lived a good life and was just a tremendous example to me. If it weren't for him, I would never
73 a mid-century modern gallery 22-A North Harrison Street, Easton, MD | 443-239-6668 Visit Thu.-Fri. 11am-4 pm | Sat. 10 am-4 pm | 11am-3 pm or by appointment the modern bulldog email: themodernbulldog@yahoo.com instagram: @themodernbulldog website: www.themodernbulldog.net etsy: TheModernBulldog.etsy.com
There is a contrast to advising the president in matters of homeland or national security. Both are positions Doug has held. In those positions, he was one of many players presenting information.
The last ship Doug commanded was Hamilton , only the fourth of the 418-foot National Security Cutters, the Coast Guard's largest and most technologically sophisticated
Admiral Doug Fears ships. Being the commanding officer brings with it authority and responsibility."JosephConrad had a quote about being a ship captain that said essentially the captain is the only person on the ship who, in time of peril, can turn to no other," Doug said. "It's a position of special trust and confidence ~ the organization has to trust you to take a multimillion-dollar ship to sea and take care of it and the crew. If anything bad happens, it's on the captain."
74
"It's one of the great benefits of being in a military organization that moves you around every couple years ~ each of the two types of po
"We got the president's signature on over two dozen strategy and pol icy documents of significance and substance, and in those cases, you are trusted to put things together in a way that covers all bases and pres ents information clearly and objec tively. When it comes to national security, you are talking about things that are matters of strategy and policy. Being a ship's captain, you are charged with matters that are operational and tactical."
In the 40 years Doug served in the Coast Guard, only a hand ful of people advanced from sea man to admiral. It's not something that happens, generally speaking. Doug's jobs have ranged from being commanding officer of cutters to advising the President of the Unites States on matters of national and homeland security.
have joined the Coast Guard," Doug shared. "His wife, Louise, Nana as we called her, was a steadfast sup porter. She died about 20 years ago, and she was an avid crossword puzzler. The last thing she said to me, from her hospice bed ~ she squeezed my hand, she told me that she loved me and, in her crosswordese, she said to me, 'A-D-M,' and that's an abbreviation for admiral. So she had some sense as to where we were going."
Doug is grateful for a career that has allowed him a breadth of expe riences and challenges.
Aboard the Hamilton
75 410-822-3130 | EASTON, MD C DAYTONARCHITECT.COM WINNER OF A 2022 ANNAPOLIS HOME MAGAZINE BUILDER AND FINE DESIGN AWARD
76
"In our 26 years married, Doug's time underway on patrol spanned four ships and over four years total at sea," Kate said. "Every return to home port was met by the crew's family members waiting on the pier with eager anticipation and excitement. This time, 'return to home port' adds a deep peace rooted in our Eastern Shore heritage as we dream toward planting our future here."
Admiral Doug
Now the Fears family starts a new chapter of their story. Moving to Wittman from Key West, their oldest son, Joshua, is in high school, and their youngest, Noah, is in elementary school. Doug and Kate get to be home at the same time, enjoy their own (smaller) boats and figure out what's next, professionally speaking."Onthe
one hand, I'm a retired two-star admiral, and on the other, I've been the homeland security and counterterrorism advisor to the president. I'm not sure what direction I'll go yet, but I knew I didn't want to get old in Washington."
sitions, strategy/policy and seagoing jobs, can wear you out, but in different ways."
Fears
Doug's career and his family life to this point have revolved around going to sea. And coming home. It's a pattern Kate has come to know well. The coming home this time has a special significance.
Michael Valliant is the Assistant for Adult Education and Newcomers Ministry at Christ Church Easton. He has worked for non-profit organizations throughout Talbot County, including the Oxford Community Center, Chesapeake Bay Maritime Museum and Academy Art Museum.
77 421 Race Street, Cambridge, Maryland Now open Daily · Closed Tuesdays 443-205-4325
78 Open Wednesday through Saturday 525 Poplar Street, Cambridge 410-228-0321 · www.thomassfinejewelry.com 22 North Washington Street, Historic Easton shearerthejeweler.com410-822-2279 Locally Handcrafted Fine Jewelry Featuring designs by Lynn Stavdal Engagement Rings EstateUniqueJewelryGifts Unique Sterling & Gold Jewelry Jewelry Repair Watch Repair & Battery Replacement Custom Design • Engraving Ring Sizing Cleaning & Polishing
79
MapDorchesterandHistory
Dorchester County is known as the Heart of the Chesapeake. It is rich in Chesapeake Bay history, folklore and tradition. With 1,700 miles of shoreline (more than any other Maryland county), marshlands, working boats, quaint waterfront towns and villages among fertile farm fields – much still exists of what is the authentic Eastern Shore landscape and traditional way of life along the Chesapeake.
For more information about Dorchester County visit https://tidewatertimes.com/travel-tourism/dorchester/.
80 KDB LANDSCAPES designed • built • managed Easton, MD · www.kdblandscaping.com410-822-1683M.H.I.C. #91521
Fall Clean-Up and Planting
shorter daylight hours of October signal the time to start preparing the home landscape and garden for theNowwinter.isthe time to dig up plant ings of summer bulbs ~ dahlias, gladiolus, tuberous begonias and
81 byGARDENINGTIDEWATERK.MarcTeffeau,Ph.D.
The change in seasons is now be coming apparent. Fall has arrived, and there is a certain "nip" and fragrance in the air. The days are growing shorter, and the decidu ous shrubs and trees are coloring up. The cooler temperatures and
82 Tidewater Gardening SALES - PARTSwww.riodelmarent.comSERVICE410-822-8866Rt. 50 at Rt. 565, 2 mi. South of EastonLOOK FOR US IN OUR NEW Rt.SalisburyTheLOCATION!formerPewterbuilding,50-2milessouthofEaston RIO DEL MAR ENTERPRISES
cannas ~ and store them for win ter. These plant parts require winter protection if they are to be used year after year. As soon as frost blackens the tops of dahlias, cut them back, dig them up and let them dry in the sun for a day. Af ter they are dry, carefully clean off
The best conditions for curing are temperatures of 85–90° F and a relative humidity of 40–50%.
the excess soil and store the tubers in baskets or flats of peat moss or crumpled newspaper. Gladi olus corms should be lifted with the tops on and allowed to ripen or cure for several weeks. Discard any plants that appear diseased, crippled or mottled.
Circulating air through and around the corms by means of a fan will hasten the curing process, which usually takes about two weeks. When they are dry, separate the old, shriveled corms from the new ones and discard them. Reweave some of the old husks, and cut the tops back flush with the new corm.
83 Licensed & Insured 0%financing Enjoy every aspect of doWehome…yourcanitall!
If you planted tuberous begonias outside in pots, let them dry by withholding water or wait until the leaves turn yellow. Then either remove the tubers from the pots or bring the entire pot in and store it in a cool, dry location away from frost and freezing temperatures. If you planted the tubers in beds, dig them and let them dry naturally. When they are dry, cut the tops back and store them in baskets or boxes of peat moss or crumpled newspaper. Tubers of caladiums are dug and stored the same way as those of tuberous begonias.
84 Tidewater Gardening FRANK E.DAFFIN, INC. Quality Builders Since 1936 fedaffin@atlanticbb.netfrankedaffininc.com410-822-2364 MHIC MHBR#1857#877
We make construction work and renovations to your home fun and exciting, as well as easy and stress-free.
Frankly, cannas are not among my favorite summer-flowering plants. To me, they tend to look ratty toward the end of the growing season. If you have them, how ever, their rhizomes should not be dug until the tops have been killed by a light frost. To store, cut the stems off the plants and use a garden spade to dig up the rhizome clumps. Allow the clumps to dry, and then store them with soil still clinging to the rhizomes in an area where they will not freeze. The best storage temperature for these bul bous plants, except for caladiums,
Separate your corms or cormels from the parent corms if you want to increase your supply of a particu lar cultivar. Store the corms on wire mesh trays or in mesh bags. A pair of discarded pantyhose or a fine mesh onion bag will work well. Hang the bag to allow for good air circulation and to keep the mice out.
85
As the first frost hits and plants start to die, pull out the annuals and cut back the herbaceous plants and perennials. Dirty flower beds harbor insects and disease that will overwinter in the stems and roots if your plants are allowed to remain in the ground. In addition, flower beds full of old, dead plants detract from the neat and clean appearance of your home. Shred the plant material with a shredder
or lawn mower and place it on the compost pile. If your flower beds are primarily annuals, a steel rake is a useful tool not only for raking up the debris but for pulling out the dead or dying plants. If your perennial beds are interplanted with annuals, it is best to hand pull the annuals, trim back the perennials with a sharp pair of lawn clippers and clean out your garden with a lawn
pansies have arrived at the garden centers, encourag ing gardeners to add some color to their fall landscape. Flowering cabbage and kale also offer gar deners plants that are both color ful and long lasting. While many flowering plants, including garden mums, lose their flowers and/or
is 40–50° F during the winter. Caladiums must be stored at temperatures above 60° F. Temperature is a critical factor in the proper storage of this plant. Check occasionally for rot or mice damage. Discard those that have rotted, and control mice by placing mouse bait in the storage area.
Mumsrake.and
Tidewater Gardening
Flowering cabbage and kale are divided into groups based on the shape of the leaf. Cultivars with smooth leaf margins constitute the flowering cabbage group, while those with divided or "fringed" leaf margins are considered flowering kale. These plants are very showy and come in a variety of colors, with each series normally includ ing white, pink and red cultivars. The ornamental cabbages and kales look much the same as their edible cousins, but the ruffled foliage is
While a sudden cold snap can be deadly, light and moderate frosts will intensify the brilliant coloring of these plants. In fact, the color ful pigmentations do not appear until after prolonged cool weather and several frosts. When purchas ing ornamental cabbage or kale, look for a plant with a short rosette-type stem. Generally, plants allowed to become root bound in their pots will not get much larger after they are planted, so it may pay to buy the biggest plants you can find, even though they may cost more. Ornamental cabbage and kale should be planted in a sunny location in rich, moderately moist, well-drained soil. The plants will reach 6 to 12 inches in height, so you will want to space them 12 to 18 inches apart.
color after several frosts, flowering cabbage and kale will intensify in color and may last until next spring if we have a mild winter.
The "flower" of ornamental cabbage and kale consists of the central leaves of the plant. After several days of night temperatures below 50° F, the leaves lose their chlorophyll and reveal coloration that ranges from white to pink to red. It will take two to four weeks to devel op intense coloration from the start of cool night temperatures.
86
In the vegetable garden, October is cleanup time. Remove any dead or dying plants, and compost the debris if it does not contain dis ease problems. Use a shredder if available to cut up the plant debris before placing in the compost pile.
much fancier and more colorful.
87 Focus-Construction, Ltd. 208 E. Dover Street Easton, MD 410-690-490021601 Focus-Construction.Net PE #32293 · MHBR #5448 · MHIC #94387 · EPA NAT #122843-1 · MD ESCC #42952
If you are thinking about planting ornamental shrubs and trees, consider selecting some accent plants that will add autumn color to the landscape. Trees that turn red include Aronia, dogwood, red maple, red or scarlet oak and sour wood. Shrubs with spectacular fall foliage include viburnum, fothergilla, hydrangea, blueberries, Itea
ered with straw or hay mulch cover. A good general cleanup of the home orchard and small fruit plantings, removing any old, dried-up and diseased fruit, will go a long way in reducing possible fruit disease problems next spring.
A final weeding of your strawber ries, blueberries and raspberries is recommended in October. Strawberries covered with a spun-bound ed polyester material after the first or second hard frost and uncovered in spring just before flowering will increase fruit production by 60% when compared with plants cov
October and November are generally considered the best months to plant trees and shrubs. Garden centers and nurseries usually stock a good selection of woody plants now. There are some exceptions to this practice, however, that you need to know about. Dogwood, tu lip poplar and pin oak trees and evergreens should not be dug up and moved (transplanted) in fall, as they will usually fail to establish a root system.
This will encourage faster decom position of the plant material. If you do not have a shredder and have only a small amount of materials, run it over with the lawn mower. This works very well if you have a bagging mower. Then rake up the cut material or empty the bag into the compost pile.
88
Tidewater Gardening
If the ground is dry and workable and the garden site is not subject to soil erosion, consider doing a fall plowing and letting the ground lay exposed over the winter. Latefall tilling can help control insects such as corn borer, corn earworm, cucumber beetle, squash bug and vine borer because it exposes overwintering insects to winter condi tions. It also makes soil preparation easier in spring. Another alterna tive is to mulch the entire garden in fall with straw to a depth of 4 to 6 inches. Then, in the spring, only pull back the mulch in the areas that you plan to plant. You will need to do this a couple of weeks before planting, however, to give the soil time to warm up.
89 410-819-9363 28825 Llanda Road, Easton, MD 21601 Eddie Ford Fresh mushrooms delivered weekly! Door to door, to your store, and more. Chesapeakemushrooms@gmail.comFreshmushroomstoday.com
A-Fordable Tree Service, LLC is a full service tree company serving the Eastern Shore, Annapolis and Delaware. We use state-of-the-art equipment and use the most skilled tree removal technicians in the industry while providing an a ordable cost to the customer. Tree Demolition/PoolStormStumpRemovalGrindingTreeTrimmingDamageCleanupPropertyMaintenanceGrassCuttingRemoval REQUESTYOURFREEQUOTE410-820-5030 Toll Free: 28825-Awww.a-fordabletreeservice.com855-755-TREELlandaRd.,EastonMD21601 For New Customers
FULL SERVICE TREE COMPANY
90
91 BUILD YOUR DREAMS
and Amsonia. Tree species that I would not recommend planting include fast-growing trees such as Bradford pear, silver maple and Lombardy poplar, which tend to
Marc Teffeau retired as Director of Research and Regulatory Affairs at the American Nursery and Landscape Association in Washington, D.C. He now lives in Georgia with his wife, Linda.
If you buy container-grown trees be sure to spread out the roots in the planting hole. With balled and burlap stock, cut the twine around the ball and cut away the nylon or burlap wrapping. Do not spread the roots of balled and burlaped trees and shrubs. Be sure to keep all newly planted or transplanted trees and shrubs watered during dry periods this fall. Happy Gardening!
Tidewater
Gardening
produce weak branches that break or split in storms.
92
neric representation (akin to Tal bot Boys, but non-controversial) and a third subject is not even human.Additionally, in recent years, a bronze likeness of Harriet Tub man has been created, a theatri cal image recreating her guiding a young girl to freedom. The statue traveled from her native Dorches ter County to New York and is now back again. If all goes as planned, by the time this hits print, Beacon of Hope will be installed at the Dorchester County Courthouse in
The extent of recent talk concern ing statues befits a Neo-Renais sance. Meanwhile, all has been quiet in Dorchester County as communities near and far wrestle over controversial statuary: its background, symbolism, appropriate location. Dorchester has had too few statues to trigger a ruckus. (Recent murals gracing Cambridge buildings have generally been well received.)
At this writing, of honorees standing in-the-round within the county, only one is a specific, historic, native son; one is a ge
93
Lest We Forget A.M.byFoley
94
For a walking tour and more history of the St. Michaels area visit https://tidewatertimes.com/travel-tourism/st-michaels-maryland/.
St. Michaels Map and History
95
On the broad Miles River, with its picturesque tree-lined streets and beautiful harbor, St. Michaels has been a haven for boats plying the Chesapeake and its inlets since the earliest days. Here, some of the handsomest models of the Bay craft, such as canoes, bugeyes, pungys and some famous Baltimore Clippers, were designed and built. The Church, named "St. Michael's," was the first building erected (about 1677) and around it clustered the town that took its name.
would be more appropriate. Tub man's father, a freeman named Benjamin Ross, worked as a woodsman in forests outside Madison. He taught his daughter the lore of their surrounding countryside and skills that later empowered her and those she guided north. Alas, Harriet's legal status followed her enslaved mother's rather than her free fa ther's. His life lessons enabled her
Lest We Forget to free herself by escaping alone to Canada.Notcontent with saving herself, she repeatedly risked her freedom to return and liberate others. When the Civil War promised emancipation for all, she served as a nurse at Old Point Comfort, near the mouth of the Chesapeake Bay, before ven turing even deeper into Confederate territory to scout for Union troops. Harriet Tubman eluded capture on every return to slaveholding Mary land, Virginia and the Carolinas. After enslavement was abolished, she lived out a life of service to humanity in Auburn, New York, where she opened her home to indigent elderly.Talbot County abolitionist Frederick Douglass contrasted his fame with her career. Douglass wrote to Harriet Tubman: "Most that I have done and suffered in the service of
96
Cambridge, to be followed by Tub man's likeness on U.S. $20 bills. Perhaps $10 bills, "sawbucks,"
97 The CRAB CLAW RESTAURANT Specializing in choice, fresh Chesapeake Bay seafoods served in the informal Eastern Shore style by people who know seafood best! 410-745-2900 · www.thecrabclaw.com ®
our cause has been in public, and I have received much encouragement….You, on the other hand, have labored in a private way….I have had the applause of the crowd while most that you have done, [few have] witnessed…" Called the Moses of Her People, in her modesty, Har riet Tubman told a fellow conductor on the Underground Railway that she returned "only where God" directed.Elsewhere in Dorchester, the sin gular statue of a native son, Thomas Holliday Hicks, governor of Maryland from 1858 to 1862, stands inconspicuously inside the Cambridge Cemetery. His life spanned mem bership in several political parties, known and unknown: Whig, Dem-
Hicks was elected in a raucous campaign and served one term, which saw the opening of Civil War hostilities and a violent encounter in Baltimore, where a local mob attacked troops from Massachusetts. Hicks' position on slavery was somewhat ambiguous, to put it kindly, but he is credited with preventing Maryland from "going South." Hicks saved Maryland from suffering the fate of Virginia, which became, by default, the war's pri mary battleground. One Battle of Antietam was one too many.
our guests outstanding amenities to enhance your
We
The Unity Washington Cemetery outside Hurlock holds another human form represented in county statuary: a generic representation of a soldier. Leaving Hurlock toward Waddell's Corner on Route 331, one soon comes to a memorial commemorating local foot soldiers who served the United States in World War I. (At the time, they thought of their conflict as The War to End All Wars, not needing a numeral.)
trip. Start your day off with complimentary continental breakfast, then enjoy time on the patio.
ocratic, American ("Know-Noth ing"), Constitutional Unionist and Republican.
St. Michaels Inn offers Maryland coastal retreat business
or
Valid On New Reservations Only
Local donations and years of fundraising events financed in stallation of this representation of a doughboy. Before the term G.I. gradually replaced it during World War II, doughboy was the popular nickname for infantrymen, whose valor in trench warfare bore the
Lest Forget
98 St. Michaels Inn 1228 S. Talbot Street, Saint Michaels, Maryland 21663 410-745-3333 • www.stmichaels-inn.comreservations@stmichaels-inn.com
Fall Into St Michaels 15% Off Book Now for Waterfowl Festival Weekend
99 Open 8 a.m. 410-745-5111Daily 410-745-5777 Corner of Talbot & Carpenter Sts. Breakfast · Lunch · Dinner Specials Pool Tables Upstairs Wednesday Night Trivia Thursday · Open Mic Night Entertainment Fri. & Sat. Food · Fun · Revelry www.carpenterstreetsaloon.com"Hot"Sauces · Drinks Chocolate · Lottery Carpenter Street Saloon A St. Michaels Tradition
100
Oxford is one of the oldest towns in Maryland. Although already settled for per haps 20 years, Oxford marks the year 1683 as its official founding, for in that year Oxford was first named by the Maryland General Assembly as a seaport and was laid out as a town. In 1694, Ox ford and a new town called Anne Arundel (now Annapolis) were selected the only ports of entry for the entire Maryland province. Until the andcharmingtobaccoroundedshippingasenjoyedRevolution,AmericanOxfordprominenceaninternationalcentersurbywealthyplantations.Today,Oxfordisatree-linedwaterboundvillage with a population of just over 700 and is still important in boat building and yachting. It has a harbor for watermen who har vest oysters, crabs, clams and fish, and for sailors from all over the Bay. For a walking tour and more history visit https://tidewatertimes. com/travel-tourism/oxford-maryland/.
The StrandTilghman St. Market St. HighSt. OxfordEastSt.DivisionSt.RoadRobesBenoniAve.PleasantSt.Hbr.Ct.SouthMorrisStreet Bachelor PointRoad Pier St. E. Pier St. BonfieldAve.ThirdStreetJack'sPt.Rd.St.2ndFirstStreetW.DivisionSt.CarolineSt.WestSt.TredAvonAve. MyrtleAve. RichardsonSinclairSt.St.StreetSouth TownCreek Rd. WilsonSt.StewartAve. NortonSt. MillSt.JeffersonSt.BanksSt.FactorySt.Morris St. CommunityOxfordCenter OxfordPark BellevueOxfordFerry T r e d A v o n R i v e r Town Creek Oxford To Easton 333 8 1 2 3 7 9 10 11 13 15 16 17 18 19 4 65 12 14 © John Norton
Oxford Map and History
101
protected
102 BOOKSELLERS 202 Morris St., 410-226-0010Oxford 31 Years in Business We Know Books! Fall Hours: Fri. to Mon. 10-3 *Listen Fri. mornings on WCEI 96.7fm *20% off your book clubs' books *Books of all kinds & Gifts for Book Lovers *Special orders & Book Gift Baskets *Online ordering & e-newsletter @ www.mysterylovescompany.com Happy Halloween Grab some spooky books before the goblins get you
Lest We Forget
The pedigree of one last Dorchester County honoree, Don Pedro, can
An Honor Roll lists 38 "boys from Hurlock District who answered their country's call." Their names are in separate groups, two names starred among the first 24 and one starred among the second group of 14. The tribute was erected in 1930. Eighteen years later, former World War I artillery officer Harry S Truman signed the order integrating the armed forces.
brunt of violence in what was also referred to as The Great War dur ing the 1920s and '30s. The marble doughboy stands watch over a period cannon barrel and shot.
produced fibers longer, thicker and softer than any others. To protect the kingdom's monopoly, a smug gler caught herding Merinos across the Spanish border was subject to death. Late in the 1700s, Spanish kings relented and bestowed Merinos on several of their European peers. Thus, the breed gradually be came more available.
In this country, according to A Guide to the Old Line State, "No importation of these superior wool bearers is recorded in [America] till 1793, when William Foster of Boston smuggled two Merino ewes and one ram aboard Captain John Atkin's ship the Bald Eagle. Shortly after their arrival Foster went to France and left the sheep with a
103 314 NORTH MORRIS STREET ٠ OXFORD ٠ 410 226 5111 WWW.ROBERTMORRISINN.COM Open for Dinner Wednesday through Saturday, Lunch Wednesday through Saturday, Brunch Sunday & Breakfast seven days. THE ROBERT MORRIS INN 1710 OXFORD MD
be traced back further into antiquity than those of these humans. Don Pedro was an 18th-century ram, progenitor of a historic line of Merino sheep with royal con nections. He also had ties to our Founding Fathers and to giants of American industry. Dual likenesses of Don Pedro stand on either side of the entrance to the late T. Coleman du Pont's former estate on the Choptank River, now Horn Point Laboratory of the University of Maryland Center for Environmen talMerinoScience.sheep originated during the Middle Ages in Spain, where royal decree forbade their export. Though they were smaller than a common sheep, a Merino's fleece
"Don Pedro, who also cost $1,000, was the only survivor of four Merino rams shipped from Spain by E.I. du Pont…" Having ar -
Discussing Monticello efforts to
rived in 1801, Don Pedro is credited with establishing the first American Merino flock. His importation coin cided with lingering tensions with Britain, fostering a patriotic wish for independence in wool production as well as in governance. Even Thomas Jefferson donned woolen homespun, shedding dandified fashions he had acquired in Paris.
Lest Forget
We
104 S. Hanks Interior Design Suzanne Hanks Litty Oxford, shanksinteriordesign@gmail.comMaryland 410-310-4151
man named Craigie ~ who ate them and pronounced them delicious. Years later Foster encountered Crai gie at an auction where Craigie was paying $1,000 for a Merino ram. . . .
For a time, Delaware's economy became swept up in "Merino Mania," but their price plunged as herds increased. Nevertheless, along with E.I. du Pont's other ac complishments, he retained pride in his Merinos. He had Don Pedro's likeness carved posthumously in wood, from which statues were cast to be mounted on the gateposts of his Delaware estate.
gain woolly independence, Jefferson wrote to John Adams shortly before the War of 1812: "We con sider a sheep for every person in the family as sufficient to clothe it, in addition to the cotton, hemp & flax which we raise ourselves. For fine stuff we shall depend on your Northern manufactures."
105 A Gift Shop Featuring Locally Made Artisan Crafts & Artwork 111 S. Morris St., Oxford MD www.treasurechestoxford.com410-924-8817 Wed. ~ Mon. 10 AM to 5 PM, closed Tues. · treasurechestofoxford@gmail.comTheTreasureChestJewelry by Joan's Gems  Local Artwork Handmade Pottery and Mosaics Port of Oxford Merchandise  T-shirts & More! Furniture Painting Classes Available, Register Online
E.I. du Pont shared his prized sheep with Thomas Jefferson, a student of animal husbandry whom he had befriended years before, when the Virginian was ambassador to France. Following his time as president, Jefferson was victimized with counterfeit Merinos, so he greatly appreciated receiving some of Don Pedro's progeny. When he learned Don Pedro had died in 1811, Jefferson wrote du Pont a letter of condolence.
With the passage of time and of
du Pont's Delaware estate, so they were moved to Maryland.
Early in the 1900s, T. Coleman foresaw economic benefits to be reaped through overland motor transport. To prove the point, with a spirit of philanthropy, he proposed building a highway at his own expense from Selbyville to Wilm ington, which he would donate to the state when completed.
Naturally, his upstate offer in 1908 to personally spend $4 mil lion on a project dedicated to im proving economic life in lower Delaware made the locals nervous. Despite their resistance to his char ity, he obtained 400-foot rights-ofway for virtually the length of the state. In 1911, mule-drawn wagons
generations of du Ponts, even so distinguished a ram as Don Pedro couldn't stand in the way of the Age of the Automobile. Like so many today, the twin Don Pedro statues were forced to relocate to a different gate. The rams stood in the way of widening the road past T. Coleman
106 Lest We Forget Tidewater Residential Designs since 1989 TIMOTHY B. TBKEARNSDESIGN.COMKEARNS·410.226.5100
10/14 - 16 - Scottish Highland Creamery – final weekend of the season. Come get your favorites during Customer Appreciation Weekend.
October 2022 Calendar
10/2 - Cars and Coffee - Free; 8:30 -10:30. Oxford Community Center, www.oxfordcc.org ; 410-226-5409
10/8 - Chris Noyes Concert - Live music by Chris Noyes. $15/pp, 6 p.m., Oxford Community Center. Reserva tions at oxfordcc.org/events/
10/9 - Pancake Breakfast - Oxford Volunteer Fire Dept. 8 to 11 a.m.
10/10 or 10/14 - Faux Pumpkin Painting Class - learn how to use Dixie Belle chalk mineral paint to paint and seal a faux pumpkin for your porch or home. Pumpkins will be embellished with shimmery décor waxes and fall leaves. All materials provided. $36, 5:30 – 7:00 p.m. The Treasure Chest, 111 S. Morris St. For more info or sign up, go to www.treasurechestoxford.com or call 410-924-8817
10/13 - Speaker Program - Down on the Farm: A Retrospective View - Tot O'Mara and Bill Eason discuss growing up and farming fifty years ago. Tractor and sunflowers out front! Presented in partnership with Oxford Museum. 5:30 to 6:30 p.m., free with cash bar. Oxford Community Center. RSVP at oxfordcc.org
10/31 - Pope's Halloween Costume Party - Special dinner, DJ, prizes. Pope's Tavern, 504 S. Morris St. 410226-5220 for reservations.
107 Oxford Business Association ~ portofoxford.com
10/22 - Annual 5k Run/Walk for Mental Health - Oxford Community Center and the Christopher Foundation for Life 2nd Annual 5k Run and 1-Mile Walk for Mental Health. Raise money for Eastern Shore mental health pro grams. 8 a.m., Oxford Community Center. Register at oxfordcc.org or runsignup.com/occ5kformentalhealth
All month – Rooted in the Land: A Tribute to Eastern Shore Farmers- Renowned photographer, Edwin Remsberg, tells the story of multigenerational family roots in ag riculture and pays tribute to the farmers of the Eastern Shore. Free. Fri – Mon, 10 a.m. to 4 p.m. Oxford Museum, 100 S. Morris St. www.oxfordmuseummd.org
10/1 - Rummage Sale - Fire Dept Auxiliary, 9 a.m. to Noon at Oxford Fire Station
10/20 - Securing Your Digital Life - How to keep computers, web-based accounts, and smartphones secure, avoid viruses, what software and methods to use (or not) to protect from attack. 5:30-6:30 p.m., free with cash bar. Oxford Community Center
10/11 - Blair Hope, Dog Whisperer and Wendy Grubbs - Secrets to healing and communicating with your pets. Maybe go home with an adopted senior dog. Find out more at Blairhope.com; wendybrescue.com - 5:30 to 6:30 p.m., free with cash bar, Oxford Community Center
Capsize open thru October: Thur. 4-9 -Prime Rib night with wine pairing; Fri. & Sat. 11-9: Sun. Brunch 10-2 Check restaurant and shop websites or facebook for current days/hours.
Oxford Business Association
10/27 - 11/6 - Tred Avon Players present Savannah Sipping Society – performance times vary. Tredavonplayers.org for more info and tickets.
10/1 - Book Mart - Oxford Library, 8 a.m. to 2 p.m.; Market St, Oxford.
10/5 or 10/26 - Bring Your Own Piece Furniture Painting Class - Bring a small piece such as a small table, plant stand, footstool, picture frame, bread box and learn how to paint it with Chalk Mineral paint. $65, includes 4 oz. jar ofpaint.5:30-8:30 p.m. The Treasure Chest, 111 S. Morris St. For more info or sign up, go to www. treasurechestoxford.com or call 410-924-8817
10/20 - Beginner Chalk Mineral Paint Class – Learn how to use Dixie Belle chalk mineral paint and sealers to paint furniture, picture frames, home décor items too! You will be painting practice boards, applying paints, glazes & sealers. $45, all materials provided. 5:30 to 8 p.m. The Treasure Chest, 111 S. Morris St. For more info or sign up, go to www.treasurechestoxford.com or call 410-924-8817
Pope's Tavern now serving breakfast on Sat. and Sun., 8:30 – 11:30.
Perhaps such aspects of history need to be, if not celebrated, at least left standing as reminders. Every work of art poses something of a Rorschach test, reflecting the observer's point of view as much as its creator's.
Forty-some years ago, A.M. Foley swapped the Washington, D.C., business scene for a writing life on Elliott Island, Maryland. Tidewater Times has kindly published portions of one upcoming work, Chesapeake Bay Island Hopping, along with other regional musings. Foley's published works are described at www.HollandIslandBook.com.
By the time this premier highway was completed in 1923, breeding sheep in Delaware had long since declined, but Sussex and Kent County farmers with other products found themselves with access to new, lucrative markets in Wilmington, Philadelphia and New York.
Should we not display the whole story ~ more statues rather than fewer. Warts and all. The general feeling is there's a huge difference between statues on, say, the Gettysburg battlefield and those erected on government property during Jim Crow. It's a complicated issue...you make your own final decision.
108 Pamela P. Gardner, AIA, LLC 311 N. Aurora St., Easton · 410-820-7973 · www.pamelagardneraia.compam@ppgaia.com
Lest We Forget
began clearing a path across the rural countryside that culminated in Delaware's Routes 13 and 113 (the Dupont Highway).
109
110 MaryFarwell13@gmail.com (catering coordinator) PrivateEvents&Catering MommaatMaria'sinTrappe Book Your Perfect Holiday Party, Meeting or Gathering Large, Small or Any Occasion Fine Dining or Pizza and Burgers Starting in October ~ Join Us For Football Sundays! 410-476-6266
The Great Pumpkin
We caught our first cool fall breeze this week. Do you know what that means? It's pumpkin time! I love baking with pumpkin in fall and winter (or anytime I need a house full of happy smells), and these recipes are a great way to transform a can of pumpkin puree into a delicious soup, snack, breakfast or dessert.
111
Pumpkin imparts delightful color, creamy moist texture and a mild, earthy flavor to a multitude of dishes, both sweet and savory. It also adds a wealth of nutrients, notably topping the charts as a source of beta carotene, which is an anti oxidant form of vitamin A.
I like to stir pumpkin puree and warm, sweet spices like cinnamon,
These have a dense, creamy texture and a hint of sweetness. However, don't hesitate to use canned pumpkin. It's nutritionally com parable to fresh cooked, and it can help you keep this wonderful food at your fingertips whenever you're inspired!
These muffins are easy to make and are naturally sweetened with unsulfured molasses rather than refined sugar!
1 cup all-purpose flour 1 cup whole wheat flour 1 teaspoon baking soda 1/2 teaspoon sea salt 1 teaspoon ground cinnamon 1/2 teaspoon ginger 1/2 teaspoon nutmeg 1/4 teaspoon ground cloves 1/4 cup packed dark brown sugar 3 tablespoons unsulfured molasses 1/4 cup canola oil, expeller pressed
nutmeg and cloves into oatmeal, rice pudding, pancake and waffle batter and the muffin recipe that follows. As mentioned, you can also use it in savory dishes. Cube fresh pumpkin and roast it as a side dish, or add it to chicken or vegetable soup, pasta dishes and macaroni and cheese. In the form of pie, pumpkin is a Thanksgiving favorite. I won't be leaving the table without my share, but it's a shame that most people relegate this delicious squash to that one dish just once a Whenyear.using fresh pumpkin, be sure to choose small ones that are sold as sugar or pie pumpkins.
A Taste of N. St.
Washington
Moist Pumpkin Muffins
Tidewater Kitchen
Italy 218
112
Easton (410) www.piazzaitalianmarket.com820-8281
Chantilly, VA: 703.263.2300 Gaithersburg, MD: 240.650.6000 Takoma Park, MD: 301.608.2600 York, PA: 717.845.6500
adu.com
1 teaspoon vanilla 1/4 cup buttermilk 1/4 cup pumpkin seeds
full, and sprinkle each with the pumpkin seeds. Tap the pan on the counter to remove air bubbles. Bake until a wooden toothpick inserted in the center of a muffin comes out clean, about 20 minutes.
1 large egg 1 cup canned pumpkin
Let cool on a wire rack for 15 minutes. Run a knife around the muffins to loosen, and unmold. En joy warm or let cool completely on a wire rack before storing in an airtight container in the refrigerator for 3 days or in the freezer for up to 3 months.
Gingersnaps and crisp apple slic es complement this smooth spiceflavored dip.
113 Easton, MD: 410.819.8900 Annapolis, MD: 410.267.7110 Mechanicsville, MD: 301.274.2570 Linthicum, MD: 410.789.8000
Preheat the oven to 400° F. Coat a 12-cup muffin pan with cooking spray. In a medium bowl, whisk to gether both flours, baking soda, salt and spices. In a large bowl, whisk together the sugar, molasses, oil and one of the eggs until combined. Add the other egg and whisk well. Whisk in the pumpkin and vanilla. Stir in the flour mixture in two batches, alternating with the but termilk, just until combined. Pour the batter into the prepared muffin pan, filling each one two-thirds
Pumpkin Pie Dip
Tidewater
Pumpkin Pecan Pie
Beat cream cheese and sugar at medium speed with an electric mixer until smooth. Add pie filling, cinnamon and ginger, beating well. Cover and chill for 8 hours. Serve with gingersnaps and apple slices.
Kitchen
1 15-ounce can pumpkin pie filling 1 teaspoon ground cinnamon 1/2 teaspoon ground ginger
This pumpkin pecan pie combines two favorite pies in one so the whole family can agree on one dessert! You can make this pie a few days in advance, which is a great
1 8-ounce package cream cheese, 1softenedcuppowdered sugar
114
115 410-310-5070 125 Kemp Lane, Easton Plenty of Off-Street Parking The Holidays are just around the corner, and you can get 15% off everything ... Come On In! 15%discountwiththisad! Pleasant Scents Boxed Note Cards & Framed Chesapeake Maps Fun Jigsaw Puzzles Fine Custom Framing
de-stressor if you are planning to serve it for a big holiday.
1/4 cup sugar
1/2 cup dark corn syrup
116
1 unbaked 9-inch pastry shell
On a lightly floured board or between two pieces of waxed pa per, roll dough to an ⅛-inch-thick circle. Transfer to a 9-inch deepdish pie plate. Trim crust to ½ inch beyond rim of pie plate and flute edge. Chill while preparing filling. Preheat the oven to 425° F.
1 teaspoon flour
2/3 cup whole milk
2 large eggs
2 large eggs
1 tablespoon flour 1 teaspoon vanilla 1/2 teaspoon sea salt 1/2 cup chopped pecans 1 cup pecan halves
1/4 cup packed brown sugar
1 teaspoon pumpkin pie spice or 1 teaspoon ground cinnamon, 1/2 teaspoon ginger, 1/2 teaspoon nut meg and 1/4 teaspoon ground cloves 1/4 teaspoon sea salt 2/3 cup canned pumpkin
Pumpkin Mushroom Soup
2 tablespoon 100% pure maple syrup (not pancake syrup)
You can use winter squash instead of pumpkin.
Tidewater Kitchen
Beat eggs in a bowl, then add corn syrup, brown sugar, maple syrup, flour, vanilla and salt. Pour over filling. Sprinkle with chopped pe cans and cover with pecan halves. Return to oven for 35 minutes or until set. Cool on a wire rack and store in the refrigerator.
In a bowl, beat eggs, sugars, flour, pie spices and salt un til smooth. Mix in pumpkin and gradually beat in milk. Pour into prepared pastry shell. Bake in preheated oven for 10 minutes. Reduce temperature to 350° and bake 15 minutes longer. While pie is baking, prepare pecan topping. Remove from oven and follow in structions for adding pecan top ping.
2 tablespoons brown sugar
Pecan Topping:
2 pounds sliced mushrooms
2 large onions, chopped
1/2 stick butter
4 cups chicken or vegetable broth
117 pulseandbeatspilates.com410-690-73598626Brooks,DriveEaston,MD21601
1/4 cup honey
1/2 cup flour
Meltmilkbutter
As this cake bakes, it fills the house with a wonderful spicy aro ma! It is delicious even without the frosting.
3 teaspoons curry powder
2 15-ounce cans pumpkin
2 cups
and oil in a heavy saucepan. Add onions and mushrooms and sauté for several min utes. Add flour and curry and cook for several more minutes. Add the chicken stock, pumpkin and honey, bring to a boil, then simmer for 15 minutes.Stirin light cream and milk, and bring back up to temperature to serve . Garnish with freshly sliced mushrooms just before serving.
Pumpkin Cake Squares
4 tablespoons olive or grapeseed oil
come try a free class
2 cups light cream
1 cup canola oil, expeller pressed 1 15-ounce can pumpkin
1 teaspoon ground cinnamon
Beat the cream cheese and butter in a bowl with an electric mixer until light and fluffy. Beat in the con fectioners' sugar, orange zest and orange juice, and beat for 1 ½ min utes. Spread over the cooled cake. Makes 2 dozen squares.
Kitchen
1/2 teaspoon ground ginger
1 cup flour 2 teaspoons baking powder
1 cup pecan pieces
Preheat oven to 350° F. Sift the flour, baking powder, salt, cinnamon, ginger and nutmeg into a bowl. Add the raisins and pe cans and toss well. Beat the eggs in a large bowl with an electric mixer until frothy. Add the sugar and beat for 2 minutes. Beat in the oil and pumpkin. Add the dry ingredients, folding just until moistened. Do not over-mix. Pour into a greased and floured 9 x 13-inch baking pan. Bake for 30 to 40 minutes. Remove to a wire rack to cool completely.
1/2 teaspoon nutmeg
118
Orange Cream FrostingCheese
6 ounces cream cheese, softened 5-1/3 tablespoons butter, softened 1 16-ounce package confectioners'
1sugartablespoon grated orange zest 4 teaspoons orange juice
1 cup golden raisins
4 1-3/4eggscups sugar
2 teaspoons baking powder
1 teaspoon sea salt
Pumpkin Puff Pancakes Great for company!
Tidewater
2 cups flour
119
1 cup canned pumpkin puree
120
For more of Pam's recipes, visit the Story Archive tab at tidewatertimes.com.
2 teaspoons lemon juice
1/2 cup unflavored yogurt
In a small bowl, whisk together the flour, baking powder, baking soda, salt and nutmeg. Set aside. In a large bowl, whisk together the eggs and melted butter. Add the
1/4 teaspoon sea salt
1/2 teaspoon baking soda
1/8 teaspoon grated nutmeg or 1/4 teaspoon ground nutmeg
1 teaspoon vanilla
Warmed maple syrup
Tidewater Kitchen 104SIMPATICOSTMICHAELS.COMRAILROADAVE.·410-745-0345Free Wine, Olive Oil, Food Tastings and 10% Locals Discount Every Day Save the Date: Columbus Weekend Celebration Special Wine Tastings & Activities October 8th Gift A Piece Of Italy With One Of Our Fabulous Gift Baskets! A wide range of Italian Wines & Spirits, Foods, Cheeses, Sweets, Olive Oil & Balsamics, Ceramic Dinnerware & More LocallyDeliverWeandShiptoo!
pumpkin, yogurt, sugar, lemon juice and vanilla. Blend in the dry ingredients, and mix gently until just evenly moistened. Drop by heaping tablespoonfuls onto a hot greased griddle. When firm and lightly browned, flip and cook the other side. Serve immediately with warmed maple syrup. Serves 4.
A longtime resident of Oxford, Pamela Meredith, formerly Denver's NBC Channel 9 Children's Chef, has taught both adult and children's cooking classes. She currently resides in Easton.
2 tablespoons sugar
2 tablespoons butter, melted
2 large eggs
121 AMISH COUNTRY FARMER'S MARKET 101 Marlboro Avenue, Easton, MD · 410-763-8002 www.lancohandmadefurniture.com
Lahoma Collection
For more than a decade, Lancaster Legacy has been creating quality hardwood furniture in Lancaster County, Pennsylvania. As a family-owned business, we take special pride in every piece we build, and we continuously strive to bring our customers the nest handcra ed furniture available.
122
123
124 Slot Dock 10' x 14' • Kayak Docks • Re-Decking • Pressure Wash & Seal • Boat Lifts, PWC Lifts • Gangways • Solar Dock Lighting • Floating Piers • Rowing Docks • Kayak Racks • Ladders • Dock Boxes • Piling Caps Perfect for Kayaks and Paddleboards
125
126
127 Custom Homes, Renovations, Remodeling & Additions Quality Craftsmanship & Attention to Detail Prompt Personal Service Complete Residential Architectural Design Services MHIC Lic. #74140 · MHBR #8895 410-829-5171 · www.coastaldesignbuild.net StormCleanWorkDamage&Up
128
129
unlike that of an old English pub. She did have one deficiency, however ~ she did not come with a din ghy. This was a matter that needed to be resolved if I was to use the boat as I wished.
Death of a Dink by Rick Klepfer
I thought that a classic wooden dinghy would be just the thing to complement the classic form of the yacht. The broker in the transaction learned of this inclination and strongly suggested that an in flatable dink would be much more practical. He explained that an
Thirty-some years ago, I managed to put together the resources to buy a proper cruising yacht. She was a sweet and capable six-ton British cruising cutter, recently brought over to the United States by her original owner, who had fitted her out in the most pleasing way. Her hull was finished in a deep green, the sails were of tanbark-colored Dacron and her snug accommodations, with varnished bulkheads, rich fabrics and gimballed oil lamps, created an atmosphere not
Being an accomplished oarsman, and having already spent too much money on boats, I eschewed the motor and decided that I would row until it proved impractical. The dink and its oars and pump fit snugly in a canvas bag ~ provided you had the patience and muscle power to wrestle them in. But it did fit easily into one of the cockpit lockers on the cutter, as the broker had assured me, and this is
inflatable could be folded up and stored in a cockpit locker instead of cluttering up the decks or house top. He went on to expound on the virtues of a rubber boat, including the advantage it had in not mar ring the topsides of the cutter every time I rowed up to it. His persuasions began to influence me, and I decided to consider them.
On the first weekend cruise, out from her slip in a Bohemia River marina, I had the opportunity to see what the Avon could do. One thing it could do was to squeak . The movement of the wooden oarlooms in the rubber oarlocks made a pronounced squeaking noise at every stroke. My two grade-school daughters thought this was hilari ous and immediately christened the boat "Squeaky." I acquiesced to this, and the name stuck.
where it would live for most of the 34 years that I owned that sailboat.
I found that Squeaky rowed ac ceptably well and that there were other attributes that I had not en visioned. The best of these, in my daughter's opinion, was that it could be upended and hung over
The date of acceptance of the yacht was drawing close, and the matter of the dink had not yet been decided. I went to a yacht chandler in Philadelphia and had a look at inflatables. After get ting over the sticker shock of what these little pieces of rubberized fabric cost, I decided on an Avon Redcrest boat ~ a nine-foot model, constructed of something called "Hypalon" and capable of accommodating a small outboard motor. Avon was a British manufacturer, and so it seemed complementary to my British sailboat.
130
Death of a Dink
131 MADE EASY BY 803 GOLDSBOROUGH ST., EASTON, MD | 410.819.8666 JAMIEMERIDA.COM BOUNTIFUL 10AM – 5PM 20% OFF MENTION THIS AD FOR YOUR ORDER
The dink rowed well enough that if I were to find that I favored a place in an anchorage other than the one we were in, I could row around to the bow of the cutter, pull the anchor into the dink, and
Death of a
the cutter's rudderhead, whereup on it could serve as a slide from the aft deck to the water. My job be came to pour buckets of bay water over it, to facilitate my daughter's rapid downward trajectory. Many gleeful hours of dingy-sliding were had, until the girls became of an age where the practice became to them embarrassing, and they be came more interested in the boys on adjacent anchored boats.
tow the boat to a better spot. This, of course, required settled weather to accomplish. Fitted with a float ing polyethylene painter, the dink could be easily towed, without wor rying about what damage might be done if she were to smack into the cutter's stern. While I would have preferred a wooden dinghy from a style standpoint, I never regretted choosing the Avon. Since I didn't want to have the expense, noise, maintenance, and stink of an out board motor, I rowed it for all the decades I owned it.
132
The most unusual task put to Squeaky was as part of my work as a marine artist. I had observed that the historical paintings of the sailing ships of a few hundred
Dink 410-822-2205 Call for a free estimate! BAILEYRIPRAPMARINECOMPLETECONSTRUCTION·MARSHCREATIONSDOCKS·BOATLIFTSHeavyDutyandShallowWaterSTONEREVETMENTS baileymarineconstruction.com BAILEY CONSTRUCTION,MARINEINC. A 5th Generation Company - Since 1885 MD H.I.C. Lic. #343
133
Death of a Dink
134
"Imperial boarding the pilot at the Ben Franklin bridge"- acrylic on canvas. One of the paintings facilitated with Squeaky's assistance.
years ago were mostly portraits of the commercial working water craft of the era. I saw few artists painting present-day commercial shipping, and so I set out to fill this gap. I sought commissions from ship owners and, each time I received one, I would set off to whichever port the vessel was located and take photos and make sketches. Oftentimes I needed to get out on the water to have an un encumbered view of the ship. This
is where Squeaky came into play. I could fold the dink up, lash it to a backpack frame, and walk to a place where I could inflate her, launch her, and then row to where I needed to go. This would not have been possible if I had a hard dink. Decades later, when we took a four-year journey on a trawleryacht we owned, Squeaky came along to extend her experience to include powerboats. During these years, she could either be carried in the lazarette, or inflated and slung on the swim platform, for easy ac -
135
136 A full range of tax and accounting services: · Individual and Business · Estates and Trusts · Non-Profits WEAVER, MAVITY, SHORT ASSOCIATES, LLC 117 Bay Street, Suite F, Easton, MD • 410-820-8400 daley_weaver@verizon.net Call us for a consultation today! Since 1982
137
Tidewater TimesDecember2021 Rules
Deadline for Submission is
Criteria: ◆ Photo must pertain to the Mid-Shore with a Winter/Christmas Theme ◆ Portrait/Vertical Orientation ◆ Room at the top for the Name and Date (Tidewater
Death of a Dink
138
high res photo and
◆ October 20th to info@tidewatertimes with "Photo Contest" in the line.
Tidewater Times December Photo Contest and Photo Times Dec. 2022)
subject
cess. We used her to explore many creeks and shallow bays along the way, and occasionally put her to the task of working a stuck anchor free or doing maintenance on the big boat's topsides. She was capable of ferrying folding bicycles ashore or acting as a big rubber fender when needed. Whatever the chore, she accomplished it without complaint.
2022 Cover
For all the decades of hard use, the dinghy held up well, and with a minimum of maintenance. She was probably the most cost-effective and useful boat I have ever owned. By careful use, she never needed a patch, or a fitting replaced. After decades of faithful service how-
·
139 114 North West Street | Easton, MD 21601 410.820.4426 | www.easternshoretitle.com "Why settle for less when you can settle with the best!" e Mid-Shore's Leader in Real Estate Title Services EASTERN SHORE TITLE COMPANY Melissa Grimes-Guy Photography Mullins & Sons, Inc. Automotive Repair Shop 410-822-5528 30343 Kates Point Rd. Trappe, MD 21673 3 Generation Family Run Auto Service Shop with over 31 years experience. Offering a wide variety of services to include but not limited to: Brakes, Diagnostics, Tire Rotation, Rv & Trailer Repair, Heating, and Basic Services. Specializing in ReasonableTransmissions.Rates!
Death of a Dink
140 ever, Squeaky came to a sad end. While between big boats, I had her stored in the shed behind our house. When I went to inflate her for some project I was working on, I was shocked to find that the mice had gotten to her.
Not satisfied with chewing a hole in the bottom, which would have been relatively easy to repair, the mice had also gnawed a large hole in the side tube ~ right where it joins the bottom. This wound proved to be fatal. As an additional indignity, the mice had filled the tube with their winter cache of birdseed. I shook out the birdseed as best I could, but no matter how I tried, I could not get a patch to hold in this awkward location. I even resorted to trying roofing cement, but nothing would hold. I couldn't understand how it was possible
141
142 Cambridge, MD. FLOORING,410-228-902221613RUGS,TILE,FABRICS,WALLPAPER,CABINETS&COUNTERTOPSEXPERIENCEPROFESSIONALHELPPLEASEBESAFETHISFALLCambridge,MD.21613
Death of a Dink
Rick Klepfer is an avid sailor, oarsman and traveler and has written about his sailing adventures, including such places as the Norwegian Arctic, the Southern Caribbean, the South China Sea and the Coast of Maine. He now resides in Cambridge .
that Squeaky had survived winters in a mice and squirrel-infested barn in Maine for years but had not lasted two years in a mostly secure shed here. I have had a few more dinks since Squeaky but none to match her in utility and sheer pluck. I miss the sound of her oars chirping in the locks.
10/15 - Jukebox Saturday Night 10/16 - David Sedaris 10/20 - The Hustle Souls
143 410-822-7299
10/12 - Bela Fleck & Abigail Washburn
10/7 - The Black Opry Revue Friday 10/8 - Rock Bottom- Kiss Tribute
10/22 - Judy Collins at the Avalon Theatre
The Met: Live in HD (1 p.m. Avalon Theatre) 10/22 - Medea by Chrubini 11/19 - La Traviata by Verdi 12/10 - The Hours by Puts
More
40 E Dover St, Easton, MD 21601 information at www.avalonfoundation.org
10/14 - The Wailers (Dance Floor Open)
10/21 - SOS Sink or Swim ABBA Tribute Show
UPCOMING SHOWS
Serving Caroline, Dorchester, Kent, Queen Anne's & Talbot Counties
The Mid-Shore Community Foundation connects private resources with public needs in order to enhance the quality of life throughout the Mid-Shore Region. We provide tools that enable donors to easily and effectively support the causes they care about - immediately or via bequest. 102 East Dover Street Easton, Maryland 410-820-817521601www.mscf.org
144 410-822-7716 7 S. Washington St., CrackerjacksToys.comEastonJazzminton! Still plenty of time to get outside and hit birdie!that 4930 Bucktown Road, Cambridge · 410-228-3090 info@baywateranimalrescue.org · www.baywateranimalrescue.org The Mid-Shore's premier No Kill Shelter Come Adopt!
145
146 CARRIER 360 ° ENERGY AUDIT WATER PURIFICATION SYSTEMS PLUMBING-HEATING-AIR GEOTHERMAL-SOLAR-NEWCONDITIONINGINSTALLATIONELECTRICAL-REPAIR&MAINTENANCE EFFICIENCY-SAFETY-COMFORT WWW.CALBERTMATTHEWSINC.COM410-822-0900C.ALBERTMATTHEWSWhere Integrity Meets Innovation INC. 307 S. Aurora St. Easton, MD 21601 Capt.justin@gmail.com609-602-7523 Estate & Yacht Management Upper level estate and yacht care Licensed and Insured Justin Greenberg MHIC #05-148765
147
148 CRONSHAW CARPENTRY MHIC #76923 We Specialize in www.cronshawcarpentry.comRemodeling!scronshaw@goeaston.netSCOTT CRONSHAW 8304 GANNON CIRCLE, EASTON 410.822.0981 office 410.310.4168 cell
Chapter 12: Cape Horn
Roger Vaughan
149
been enough to rouse the entire crew. Led by Andy, the off watch had rushed on deck. To everyone's horror and amazement, they found themselves peering over the side at a container. Like a growler (a hunk of an iceberg about the size of a pickup truck), only one corner of the container was showing above water. The rest of the 40-foot-long steel box that weighed nearly three tons empty was partially visible beneath the surface. It was an ugly sight, lurking like a monster, menacing in its unlikely lair: a random disaster waiting to happen to some unsuspecting craft. Mostly full of water in addition to whatever was being shipped in it, there was no guessing what it actually weighed. All American's keel had gently en countered the dread object, and the boat had nearly come to a stop as it bumped its way along its girth.
"I'll never complain again about not having any wind," Larry Ko legeri said quietly, staring dumbfounded at the thing that was wallowing obscenely in the calm waters.
Changes:
Coming Again A novel inbyprogress
Crouse was steering when All American struck something. It wasn't a hard hit. Having been drifting through a windless hole for more than six hours, a very rare condition considering their posi tion, the boat had barely been mak ing headway. The crew was a week into the leg they were sailing in the South Pacific Ocean. They were halfway between Auckland, New Zealand, and Cape Horn, a distance of 4,500 miles. They were about as far from land in any direction as possible on planet Earth, and afloat on the surface of roughly 5,000 feet of water. Talk about isolation. Colliding with anything in that location was cause for alarm. It wasn't a whale, always a threat. Hitting a whale would have produced a much bigger shock. Whatever they'd hit had a definite metallic resonance to Andyit.
woke from a sound sleep with a start. The keel! He leapt out of his bunk and grabbed a flashlight. It was around 2 a.m. and very dark. The slight contact had
150
151 McMartin&BegginsFURNITUREMAKERS Custom Design, Benchmade Furniture & Expert Restoration Visit our showroom in Wittman or at www.McMartinBeggins.com 410.745.5715 Maple, Walnut and Fiber Baskets A Sorted Affair
152
153
Eric was shooting video. "Even ten. Our good luck," he said, "all the numbers are on the side we can see. We'll soon know who this thing be longs to. They lose 10,000 of these things overboard every year. Can you"Ourimagine?"good luck," Jan Sargent said, shaking his head. "I'll say. Put out a bulletin with a waypoint and the time," he said to Eric. "Let everybody know it's in the area."
de résistance of the race. It would be their second engagement with the planet's most challenging place to sail, let alone race ~ a thousandmile-wide swath of two-mile-deep ocean encircling the globe between 60 degrees south and Antarctica. The fact that weather is unimpeded by any continental land mass, not even a decent-sized island, makes these waters whimsically and dangerously active. Gale force winds, storms, very large waves, even bliz zards romp centrifugally around the Southern Ocean. The boys had sustained a good whomping in a previous leg that had finished in Freemantle, Western Austra lia. That beforeforboatknockdown,spinnakerwiththelyingonitssidenearlyaminutethesailhad
"Imagine hitting that at twenty knots," Damaris said.
*
Ask any of them about their primary motivation for coming on the race and the answer would likely be the same: tackling the Southern Ocean. Just as mountaineers have their wish lists of ultimate places to climb ~ Annapurna, K2 ~ ocean racers check off major events like Sydney/Hobart, Fastnet and Transpac. But racing in the Southern Ocean stands atop the list. If you are just slightly out of your mind,
The restart in Auckland had been uneventful other than the visit from a fast 40-foot cruis er that had chased All American down an hour later. The boat had come in very close astern, much to Sargent's concern, until he saw the bikini-clad woman pressed against the cruiser's bow pulpit waving a present and shouting for Teddy Bostwick. Amid heavy commentary from his mates, Teddy went to the stern and accepted the gift without mishap. The cruiser quickly backed away with cries of "come back, Ted dy…I'll miss you" drifting across the water, cries the crew would take up unmercifully for the rest of the race. The crew was heading for a bout with the Southern Ocean, the pièce
154
AgainThe
been cut free, was one of those frightening sailing moments they could never forget. They had girded themselves for another invasion of this No Man's sea.
crew was heading for a bout with the Southern Ocean
Coming
155
All American's brush with the container was the subject of conversation for several days. It was such a frightening near-miss. What could have been ~ the boat holed
156
What in hell got into her to slow us down so we didn't get ripped apart by that "Drugs,"thing?"Damaris said. "She must have been high."
"Seriously, you have to ask why," Stu persisted. "You do. We're not a bunch of choir boys. We're freaking sailors. We live selfish lives driven by the desire to be at sea. We're like those Joseph Conrad sailors who get in trouble when they're ashore
you can tackle the Southern Ocean double-handed on the Barcelona World Race, which is nonstop. If one is truly beyond hope, he or she can enter the single-handed Vendée Globe Round The World race, also nonstop, most of which is spent in the Southern Ocean. A much more reasonable way to experience the Southern Ocean is to be part of a full, seasoned crew on The Race, with stops every one to six thou sand miles to have a few hot showers, experience a new port, socialize, and eat some fried chicken. And it's more fun to celebrate the screaming reaches and share the inevitable breakdowns, the often brutal weather and vari ous other crises that probably will occur with a trusted and capable team of similarly overenthusias tic sailors. For years afterward, one can celebrate ~ reconfirm! ~ the adventure over a pint with another gonzo bloke who was there. But even with strong mates on ei ther side, a barroom brawl is still a barroom brawl. Heading into the Southern Ocean will always increase one's heart rate.
and sinking quickly beneath their feet, serious injuries, the mast having come down, or many days in a life boat, if the thing even inflated ~ chilled their dreams. Once they have put their lives in Mother Nature's hands, ocean sailors are superstitious creatures. Collectively, the crew kept wondering why they had been spared. It came up on Andy's watch one night. All American had finally escaped the little local doldrum and was heading south at a reasonable pace. It was quiet on deck, cold but relatively comfortable. Stu Samuels had put it best. "Mother Nature simply isn't that friendly," he said, "or that empa thetic with us humans who are savaging her planet with carbon dioxide and floating containers.
with strong mates on either side, a barroom brawl is still a barroom brawl.
Coming AgainEven
"Naw," Caskie said. "It's Jan. She loves Jan."
"I think it was Sam," Andy said. "Sam must have paid her a visit. He had a way with women."
157
"Christ," Stu said, "don't let Mother know that!"
158
"There was one time both my wife and my girlfriend were preg nant," Damaris said.
Coming good, the bad, and the ugly all get cooked in the same pot.
"And that is why we're here," Stu said.For a while, they listened to the water burbling past the hull, looked at the stars and contemplated their own missteps.
Once they hooked into the low, the sailing was both exhilarating and, at the same time, exhausting. Damaris seemed to have put them in just the right place where they encountered a strong low and were able to stay in it. They were on the south side of the Southern Ocean, but not dangerously so. Go too far south and there would be ice to contend with. To keep the more ir rationally ambitious crews from choosing that route in the interest of finding more wind, the race com mittee had set a southern limit. The
*
for more than a couple days. Un less we're jibing the chute or trim ming the backstay, we're basically irresponsible wayfarers who drink too much and shirk normal responsibilities. Why'd she save our sorry asses?"
Nobody spoke for a while.
"I purposely made a bad call," Andy said. "Port starboard situation, out to get my pretend father, said we could make it when I knew we couldn't. At the last second, I told him to tack."
The thought of Damaris being married made Stu laugh. "'Least you didn't have any kids."
"Come on, guys," Sargent said. "Everybody's got skeletons. It's all random. The good, the bad and the ugly all get cooked in the same pot. I just hope we haven't used up our luck."
They hadn't. Mother Nature blew away the calm with a more expect ed, freshening westerly that would peak at around 25 knots with higher gusts, driving All American toward Cape Horn with a vengeance. They had come out of Auckland and head ed southeast, the smart strategy for picking up westerly storm tracks, or lowpressure systems that would push them in the right di rection. They had run into the calm spot along the way.
"I stole a car once," Kolegeri said. "I was drunk. Needed a ride. Hit a pole. Walked away."
"I got married," Damaris said. "Knew it was a bad idea. Did it anyway. Disaster."
AgainThe
"And he did," Stu said."Yeah, but he might not have. Would have wrecked boats, killed people. Unforgivable. Stupid."
159 Give Us a Call COMMERCIAL & DIGITAL PRINTING of your print world Be the KING Give Us a Call COMMERCIAL & DIGITAL PRINTING of your print world Be the delmarvaprinting.com410-912-0980 Give Us a Call COMMERCIAL & DIGITAL PRINTING of your print world Be the Official Printer O f Tidewater Times
Sargent related how a doctor had done a sleep study with a solo round the world sailor. "His auto pilot went out on him, and he had to steer for almost 30 hours in big following
many voices never stopped shouting, laughing, hollering, and screaming.
crew had seen a couple large bergs several miles off to starboard, but nothing closer. A bow watch for growlers was on constant one-hour shifts, and nothing had been spotted. But they all knew sustaining speeds of around 20 knots day after day had to be putting a nasty strain on boat and gear.
Coming AgainTheboat's
The racket the boat made as it tore its way over and through the seas was extraordinary. Down below might have been a high-volume echo chamber for a sound effects disc of car crashes and construction sites. It took a while to comprehend that a sudden violent sound did not necessarily mean something had been broken or damaged. But there was always the chance that it did.
and slammed and the ordeal of pumping one's bilge in the midst of all that became torturous.
Thefast.rigging
was checked routinely. Places where chafe could occur were examined frequently. Jib sheets had been changed several times. Many days of being constant ly red lined had a certain numbing effect on the crew. One could imagine the thrill of hitting 20+ knots on a 60-footer for a few hours. After days of it, the routine of being constantly soaked and cold, struggling to stay upright on the deck, trying to get any sleep as the boat surged
Every sailor on board harbored unspoken anxiety about their boat's ability to handle such extreme, sustained conditions. Crewmen off watch collapsed below on sail bags in their foulies. If they were needed on deck, there would be no time to dress. "My uncle," Dave Zimmer said to Sargent as he spooned another glop of freezedried mystery "food" into his mouth during a meal grabbed while sitting on wet sail bags, "was a fighter pilot. Nam. He could fall sleep anywhere if he had ten minutes because that's how uncertain it was between mis sions. That horn would go off, and they'd scramble. I never quite understood. Now I get it."
The water never stopped fly ing, the boat's many voices never stopped shouting, laughing, hol lering and screaming as the boat planed down 15- to 20-foot waves, slammed into rogue seas and kept trying to take scary knockdowns. The work never stopped. The helmsmen held everyone's well-being in their hands. After an hour at the helm they were toast, such was the effort to keep All American upright and in the groove, both safe and
160
161 Island Furniture Studio A Sea of Possibilities 112 Hess Frontage Rd., Grasonville, MD 21638 Exit 45A o Rt.50 | 410.304.2161 @islaandfurniturestudio | islandfurniturestudio.com OCTOBER SALE up to 20% storewide
An hour later, with Cape Horn abeam off to port, Sargent produced a bottle of vodka that was passed
bottom rises from 10,000 feet to several hun dred feet in just a few miles.
"This is Cape Horn? Where's all the heroics, man?" It was Larry Kolegeri, obviously unimpressed.
162
Fifty miles from Cape Horn, the low that had carried them ran out of gas. The afterguard of Damaris, Jan Sargent and Andy had been slowly aiming the boat farther north, by all accounts the most favorable approach to Cape Horn. When the sun had risen on their fourteenth day out of Auckland, there it was, the stubby profile of Cape Horn. Rising less than a thousand feet, Cape Horn is an inconsequential peak among South America's many giants. What it lacks in physical stature, it makes up for in desig nating a world-famous land's end. Some of the roughest seas in the world can be found there, along with the gales that help create them. Drake Passage, between Cape Horn and the Antarctic Peninsula, is where the Southern Ocean is at its narrowest. As it approaches the Cape, the ocean bottom rises from 10,000 feet to several hundred feet in just a few miles, a steep profile that creates mountainous seas. But not this day.
"I'll take it," Damaris said. "You wanna see muscle? Watch the vid eos. There are plenty. The best one was shot by a guy named Irving Johnson in 1930. Famous sailor and story teller. He had one of the first movie cameras, eight millimeter. Amazing dude. Climbed to the topm'st of the 400foot schooner he was on and shot the waves, greybacks he called them, decks awash. They were in a 150-mile-per-hour storm. Wrote a book about it."
"We could leave you here in the RIB if you want the experience," Sargent said. "I'm told there's a gale here every three or four days."
"More good luck," Sargent said
seas. He told the doc he went into some stage of sleep for three to four seconds when he was planing down the face of a wave, and would wake up when he was sailing up the back of the next one. The doc said that had probably saved him."
"All right," Larry said, "so I'll watch the videos."
Coming AgainTheocean
quietly, training his binoculars on Cape Horn. The sun was out, the sky was clear. It was blowing 8 to 10 knots. The boat was quiet, plod ding along at the speed of the wind. The crew had organized the boat. It was drying out below. Everyone was up, not wanting to miss this magic moment.
"This is like going to watch the Jets play and discovering Joe Namath is out sick, if you know what I mean."
163
Coming AgainThe
164
mains'l ripped apart that night, fourteen hours after rounding Cape Horn.
around. Some of it was dutifully poured into the sea as a gesture of respect for Neptune, one of Mother Nature's heavies.
to Damaris as they were fighting with the sail, struggling to pull the wet luff down out of the mast groove a few inches at a time. "It's crazy, but having this happen is a relief. I knew the Old Lady was screwing with us. It could have been the mast. I'll take this."
The brutal work began. Dick Hooper, who had replaced RD, su pervised the operation. He handed out sail needles, palms and waxed thread. The main had ripped from the outer edge toward the mast about half way up. The tear had in creased to fifteen feet or more by the time the crew had gotten the sail down. The idea was for the men on deck to bring the torn edges to gether with patch material, tacking it together every four inches or so. The crew worked in pairs, one pass ing the needle through the sail, the other retrieving it on the other side and passing it back through. Then it was hauled below to Hooper, who would finish the job on a sewing machine. Those who weren't sewing sat on the sail to keep it from sliding into the sea because while the reduction in boat speed had made the motion less violent, the spray less constant, the weather had not changed. Thanks to frozen fingers trying to manipulate the heavy sail needles on an unsteady platform,
"I hear ya," Damaris said. "Should have given her the whole bottle."
The mains'l ripped apart that night, fourteen hours after rounding Cape Horn. It took all hands nearly a half hour to wrestle the sail down, organize it on deck and raise the storm trysail, which would at least provide some headway. "I hate to say it," Larry Kolegeri said
Six hours later, sailing north up the coast of Argentina, they got hammered. They'd opted to sail inside the Falkland Islands that lie about 400 miles offshore in hopes of picking up a more southerly slant to the wind. That had not worked out. The wind had stayed west, smack on the beam and honking, with gusts over 30. The main was reefed, and still the end of the boom was drag ging in the water in the gusts. Stu was driving, sailing deeper than he wanted, to take the strain off the gear. The seas were also beamon, and large. Finding a fast path through the waves was a challenge for the helmsman, a matter of com ing off a bit to surf down the face of one wave and not getting smacked when he came up over the top of the next one. If he nailed it three waves out of every five, he was racking up hall of fame points.
165
Coming
Chapters 1-11 can be found at www.tidewatertimes.com
"I'm just glad to be here," Sargent said. "Glad I'm able to buy him a case of rum."
the patches were soon liberally spotted with blood. The darkness didn't help. It was an exhausting, uncomfortable process.
166 723 Goldsborough St. · Easton · 410-822-RIDE(7433) Townie Path Go! 10D EQTownie Go! 5i EQ
The world deserves a better e-bike and Electra has cracked the code, combining comfort, stability and performance in one stylish package. Ready? Where will you Go!
The repair to the main took six hours: six hours when All American's speed was reduced to eight knots. Six hours when they knew the other boats were doing twice that, or more. The wind abated a bit as dawn broke, but getting the main back up was still a struggle. At the helm, Andy would bear off to get headway, then bring the boat close to the wind at which point there would be lots of feeding of the luff rope into the mast groove and cranking of the halyard. After
"Looks pretty good," Dave Zimmer said, examining the patchwork."Looks to me like another case of rum," Sargent said. He was right. On the twenty-second day out of Auckland, when they had a good view of the finish line off Punta del Este, Uruguay, there was Ram Bunctious at the dock.
Again
half a dozen repetitions, the sail was up and trimmed.
167 410-463-1730 jmoore@bensonandmangold.com 27999 Oxford Road, Maryland410-822-141521654 www.bensonandmangold.comwww.themarylandshore.com
SOLD
Tilghman Island - $290,000: Well maintained 3 BR, 2 BA rancher on dead end street. Open floor plan, new roof 2019, heat pump, all appliances, and fenced backyard. Perfect getaway close to St. Michaels.
Chesapeake by Del Webb – Offered at $500,000Immaculate McDaniel model on corner lot with patio, pergola. Fireplace, sunroom & 1st floor primary bedroom suite. Community amenities.
This is a great time to list your home. Our inventory is low and we have buyers looking for their dream home. Please call me for a no obligation Comparative Market Analysis.
SOLD
Oxford – Offered at $1,500,000: Sited on a beautiful 1.77 acre lot on the Choptank River, this home features a large great room, spacious eat-in-kitchen, 4 bedrooms, 3 baths, den, office, rec room, carport, deck and patio. Sunset views, private pier and sandy beach. New septic 2019 and HVAC replaced 2020. Close to historic town of Oxford, marinas and restaurants and minutes from Easton.
Hambleton Meadows - Offered at $490,000: This Cape Cod style home is on 2.32 acres between Easton and Cambridge. 4 BRs, 3.5 BAs, living room/office, dining room, family room with gas fireplace, sunroom, walk-in attic storage, 2 car garage, detached shed, and more. Kitchen has been recently remodeled with quartz countertops and stainless appliances. Located in the desired Trappe School District.
168
114 Goldsborough St., Easton, MD 21601 410-822-7556 · 410-310-5745 www.shorelinerealty.biz · SHORELINEbob@shorelinerealty.bizREALTY "MEETINGHOUSE COVE" Highest quality estate set on unique 17 acre point with both sunrise and sunset waterfront views. Morning coffee, evening drinks. Water views from every room. First floor bedroom. Modern kitchen. Pool with extensive hardscape. Manicured grounds. Charming 2 bedroom guest house, tennis court, dock, two garages accommodation six cars. Unshared drive. Ten minutes from the many amenities of St. Michaels. First time offered. $3,975,000
aqua74.com