HOLIDAYCELEBRATION.ORG
HOSTED BY SUZANNA GUZMÁN & CANDICE HEIDEN
L.A. COUNTY ARTISTS SHINE A LIGHT ON THE HOLIDAYS
THE 63RD ANNUAL L.A. COUNTY HOLIDAY CELEBRATION
The Emmy® Award-winning L.A. County Holiday Celebration joyously returns to The Music Center's Dorothy Chandler Pavilion to celebrate its 63rd anniversary with a free, live in-person holiday spectacular. The annual event features 22 music ensembles, choirs and dance companies from the many neighborhoods and cultures that make up Los Angeles.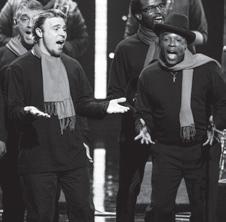 APPLICATION PROCESS
The performers for the Holiday Celebration are selected via an annual public application process, which opens in April and concludes in August. Interested performing groups complete an application and provide video of their performances with their applications. This year, selections were made during an extensive review process by The Music Center. Reviewers endeavored to select participants who reflect the diversity of Los Angeles. Visit holidaycelebration.org to learn more and apply. Applications open in April 2023.
Provided by the artists: ADAAWE, California School of the Arts - San Gabriel Valley Vocal Arts Ensemble, Gabrielito y La Verdad, Our Lady of Angels Children's Chorus, Pacific Ballet Dance Theatre, Quartet Nuevo, Reverb Tap Company, Shivam Arts Dance Company, Sista Jean's Blues Machine, Sound of China Guzheng Ensemble, Squad Harmonix, Temper Tantrumand Voices of Reason. Photos by Timothy Norris for The Music Center: Daniel Ho & Hālau Hula Keali ʻi o Nālani, Gay Men's Chorus of Los Angeles, Kayamanan Ng Lahi, Las Colibrí, Lorenzo Johnson & Praizum, MUSYCA Children's Choir, Pacifico Dance Company, Palmdale Choral Union and Urban Voices Project.
WE'D LOVE TO KNOW WHAT YOU THOUGHT ABOUT THE HOLIDAY CELEBRATION. PLEASE SCAN THE QR CODE WITH YOUR PHONE TO COMPLETE OUR BRIEF SURVEY.
ADAAWE
TAKE THE SURVEY
Daniel Ho & Hālau Hula Keali'i o Nālani
Kayamanan Ng Lahi
Las Colibrí
Lorenzo Johnson & Praizum
MUSYCA Children's Choir
Our Lady of the Angels Children's Chorus
Pacific Ballet Dance Theatre
Pacifico Dance Company
Quarteto Nuevo
Sista Jean's Blues Machine
Sound of China Guzheng Ensemble Squad Harmonix
of Reason
Temper Tantrum Voices
Urban Voices Project
California School of the Arts San Gabriel Valley Vocal Arts Ensemble
Gabrielito y La Verdad
Gay Men's Chorus of Los Angeles
Reverb Tap Company
Shivam Arts Dance Company
Palmdale Choral Union
LOS ANGELES COUNTY BOARD OF SUPERVISORS ABOUT THE CELEBRATION
As Los Angeles' largest multicultural holiday celebration, the 63rd Annual L.A. County Holiday Celebration is presented by the Los Angeles County Board of Supervisors. An example of the county's commitment to equity and inclusion, this joyous performance provides Angelenos of all ages an opportunity to come together on December 24 to experience and honor the dynamic, rich cultures of Los Angeles. During the free show, many diverse L.A.-based artists — including community-based and professional choirs, music ensembles and dance companies — showcase their talent, artistry and traditions on The Music Center's Dorothy Chandler Pavilion stage. The three-hour production features instrumental music, song and dance performances.
HISTORY
The L.A. County Holiday Celebration was founded in 1959 by the late Kenneth Hahn, who served as supervisor of the Second District of Los Angeles County from 1952 to 1992. An advocate for the arts, Supervisor Hahn developed the idea of a free daylong concert along the lines of a neighborhood talent show. When pioneering arts leader Dorothy Buffum Chandler asked Supervisor Hahn to support her plan to build an arts complex in Downtown Los Angeles, Hahn agreed, as long as the performing arts center would open its doors to the public for free every Christmas Eve. While The Music Center was under construction, the holiday show was held at the Los Angeles Sports Arena, and, in ensuing years, in the supervisors' hearing room. Once The Music Center's Dorothy Chandler Pavilion opened in 1964, the show was held in the new 3,100 seat auditorium, where it has continued to delight audiences of all ages for six decades.
Over the years, the supervisors from all five county districts have supported the event. Today, the Board of Supervisors includes the Honorable Hilda L. Solis, First District; the Honorable Holly J. Mitchell, Second District; the Honorable Lindsey P. Horvath, Third District; the Honorable Janice Hahn, Fourth District, Chair; and the Honorable Kathryn Barger, Fifth District. The show was produced for many years by the Los Angeles County Arts Commission, now known as the Los Angeles County Department of Arts and Culture. There are 15 arts commissioners named by the Board of Supervisors.
They include: Helen Hernandez and Leticia Rhi Buckley (First District); Pamela Bright-Moon, Patrisse Cullors and Randi Tahara (Second District); Constance Jolcuvar, Madeline Di Nonno and Rosalind Wyman (Third District); Anita Ortiz, Eric R. Eisenberg and Sandra P. Han (Fourth District); and Alis Clausen Odenthal, Liane Weintraub and Jennifer Price-Letscher (Fifth District).
While more than 4,000 people traditionally attend the Holiday Celebration at The Music Center in person, the show reaches all over Los Angeles County and beyond with a live broadcast on PBS SoCal and online at holidaycelebration.org, pbssocal. org/holidaycelebration and kcet.org/ holidaycelebration, with an encore broadcast on PBS SoCal at 6 p.m. and on KCET at 11 p.m. KCET will re-broadcast the show on Sunday, December 25, at 6 p.m.
The 60th and 62nd Annual L.A. County Holiday Celebration were named winners of a 2020 and 2022 Los Angeles Emmy® Award for Live Special Events & Programming. The same Emmy-winning team, led by the program's 28-year producer and director Kenneth Shapiro, developed this year's program, which is a production of The Music Center and PBS SoCal in association with CDK Productions.
Holly J. Mitchell
SUPERVISOR, SECOND DISTRICT
Lindsey P. Horvath SUPERVISOR, THIRD DISTRICT
Hilda L. Solis SUPERVISOR, FIRST DISTRICT
Janice Hahn, Chair SUPERVISOR, FOURTH DISTRICT
Kathryn Barger SUPERVISOR, FIFTH DISTRICT
holidaycelebration.org 1
HOSTS
SUZANNA GUZMÁN
Suzanna Guzmán is a mezzosoprano, TV and radio host and principal soloist with orchestras and opera houses around the world. Fresh from a sold-out run of Ventura's Rubicon Theatre Company's critically-acclaimed production of In The Heights in the role of Abuela Claudia, Guzmán reached international attention for the title role in Bizet's Carmen, ("Fire-breathing, singing actress, devastingly sexy." TIME magazine). She is a champion of premiere works, creating The Dutchess for the Kennedy Center Menotti's Goya, Paula in Daniel Catan's Florencia en el Amazonas, Lucha for the Industry Opera's Hopscotch and Sheila for Eric Whitacre's Gift of the Magi, to name a few.
Honors include two-time L.A.-area Emmy® Award winner (2019 & 2021) for Co-Host of the L.A. County Holiday Celebration on PBS SoCal, a Grammy nod for the 2006 Best Classical Recording with the Southwest Chamber Music and a Helen Hayes Award Best Actress nod for Mother in Amahl and the Night Visitors , directed by Giancarlo Menotti. Guzmán is host of the KCET weekly TV series Open Call directed by Bohdan Zachary. She is a 2022-2023 Los Angeles Opera Legacy Ambassador, holds an Honorary Doctor of Music from Occidental College and received the 2015 Lifetime Achievement Award from the Nederlanders for service to arts and community. Guzmán's future engagements include a world premiere of Nick Benavides's Carvana de Mujeres for Opera America in New York.
CANDICE HEIDEN
Candice Heiden, a Southern California native Latina, began
creating and expressing herself through movement from an early age. Growing up in the local skating rink, Heiden found herself competing at six years old as a classicallytrained roller and ice figure skater. She eventually became a five-time Team USA member, World Games silver medalist and 17-time U.S. National champion. Her passion for roller skating has led to amazing opportunities working both in front of and behind the camera internationally as a skate/stunt coordinator, movement coach, choreographer and celebrity skate trainer.
Heiden has worked with a number of popular artists and celebrities including Salma Hayek, Owen Wilson, Kevin Hart, Leslie Jordan, Gwen Stefani, Snoop Dogg, Alicia Keys, Maroon 5, Katy Perry, The Kardashians, Tommy Hilfiger, Norah Jones, and Sigala and Nile Rogers. Her work has also been featured on shows like The Masked Singer, America's Got Talent , Conan, Jimmy Kimmel Live, Stranger Things, Physical, Goliath and in films like Bliss, Valley Girl, and "she's so bringing roller skating to Bollywood" in The Archies, releasing in 2023.
PROGRAM
3:00 p.m.
GABRIELITO Y LA VERDAD
Matt Amper, Derrick Elliot, Dr. Richie Gajate, Arturo Solar, Ernesto Valenzuela, Eric Jorgenson, Sean Billings, Gabriel Gonzalez
WHAT YOU WON'T DO FOR LOVE
By
Bobby Caldwell
AGUA DE CLAVELITO
By Miguel Alfonso Pozo
MUSYCA CHILDREN'S CHOIR
Dr. Mikhail Shtangrud, Choir Director Pianist: Dr. Anna Krendel
Drums: Beto Hale
Wyatt Allen, Ashlyn Arthur, Payton Arthur, Uma Atri-Benjamin, Samaya Bansal, Samuel Belik,
Joshua Blond, Emília Brown, Jacqueline Cassidy, Sophia Doerr, Julia Glukhovsky, Jacob Gurevich, Ani Haladjian, Shant Haladjian, Sasha Hale, Ava Joshi, Chrysilia Kallis, Evelyn Leano, Jameson Leano, Dylan Lee, Luke Luker, Brody Makua, Olivia Miranda, Francesca Montalbano, Diya Prakash, Akai Ramos-Cantalupo, Keira Richley, Chloe Ruelas, Jessica Ruelas, Jadon Sand, Maya Shtangrud, Natalie Shtangrud, Destry Smith, Sadie Stallcup, Olivia Stilwell, Lusineh Summer Nasrollahi, Calista Suzuki, Victoria Suzuki, Renata Trakhtenberg, Ajax Voukydis, Katherine Wiseman, Zoe Yang, Andrew Zhuravka
CHRISTMAS TIME IS HERE (A CHARLIE BROWN CHRISTMAS)
By Vince Guaraldi and Lee Mendelson
WONDERFUL CHRISTMASTIME
By Paul McCartney
TEMPER TANTRUM
Emeroy Bernardo, Brandon Burciaga, Lauren Jose, Krystle Vergara, Jamey Dettman, Rebecca Rose, Kyla Raya, Tiffany Hsu, Noelle Funtanilla
POP SONG MEDLEY
VOICES OF REASON
Katie Sharp, Director / Conductor / Composer Yuri Schutzer, Organizer
Soprano: Katie Sharp, Christine Jones, Diane Hart
Alto: Robin Andrews, Jenny Hanner, Erin Keith Tenor: Yari Schutzer, Hunter Ackerman, Leonard Cachola
Bass: Daniel Graves, Al Swarthout
EVOLUTION
By
Frederic Handel
ATHEISTS DON'T HAVE NO SONGS
By Steve Martin
ADAAWE
Joselyn Wilkinson, Co-Artistic Director
Lead Vocals: Bridget Graham, Phylliss Bailey Brooks
Vocals, Percussion: Monique Afenjar, Joselyn Wilkinson, Anindo Marshall Vocals, Drum: Dez Glover
Bass: Cynthia Gillet
Guitar: Eric Walsh
DRUMMER GIRL SIKIYA
By Anindo Marshall
KAYAMANAN NG LAHI
PHILIPPINE FOLK ARTS
Barbara Ele, Artistic Director
Ave Jacinto, Administrator
Musicians: Joel Jacinto, Peter Green,
Josiah Timbol, Homer Dulu
Dancers: Robert Almanzor, Tinette Sumiller, Alex Macayan, Frank Lozier, Toni Pasion, April Mascardo Dulu, Renee Canullas, Jaana Baker, Justin Manalang, Kevin Sulla, Aspen Aragon, Melanie Rae, Samantha Saldana, Nica Apeles, Avery Fuqua, Corina Stephenson, Melody Macias Maura, Adrienne Jopanda, Evy Canullas, Imogen Baker
A NEW BEGINNING
By Justin Ramos & Kayamanan Ng Lahi
SQUAD HARMONIX
Laura Saggers, Director
Lauren Shay, Erin Sterling, Cameron The Beatboxer, Olivia Wren, Noah Stone, East Luka, Simone, Zander Smiles
I'LL BE HOME FOR CHRISTMAS
By Walter Kent CHRISTMAS CAN CAN By Offenbach SLEIGH RIDE By Leroy Anderson
QUARTETO NUEVO
Damon Zick, Leader
Soprano Saxophone: Damon Zick Guitar: Kenton Youngstrom Cello: Jacob Szekely
Percussion: Felipe Fraga
ROMANIAN CHRISTMAS CAROLS
By Bela Bartok
4:00 p.m.
OUR LADY OF THE ANGELS CHILDREN'S CHORUS
Cristopher "Pete" Avendaño, Choir Teacher
Accompanist: Paul Concepcion St. Genevieve School: Mia Caceres, Kailyn Canoza, Theresa DelaRosa, Monica Gil, Flor Luna, Abby Palma, Jemila Silang, Sofia Yen, Lily Tran, Anjelia Donnelly, Sophia Canoza, Jolene Gonzales, Daila Sakamoto, Chayra Sercena, Shayla Villareal, Samantha O'Donoghue, Andrea O'Donoghue, Emily O'Donoghue, Natalia Guzman, Jacob Remo, Vincent Yim Immaculate Heart of Mary School: Chenille Bauzon, Mikaela Rosas, Athena Martinez, Andreielle Tenorio, Anthea Tenorio, Mikaela Pineda, Niamh Ortiz, Scarlet Delangel, Inigo Razo, Bianca Razo, Elijah Balcita, Kourtney Vallesfino, Kirsten Vallesfino, Maicom Razon, Maelie Razon, McKayla Reig, Spencer Generoso, Shay Generoso, Xandi Fabian, Nate Fabian
SPARKLING STARS SHINING IN THE LIGHT
By Nancy Raabe
IT DON'T MEAN A THING
By Irving Mills & Duke Ellington Arranged by Mac Huff
ANTIPHONAL DECK THE HALLS
By Greg Gilpin
PACIFIC BALLET DANCE THEATRE
Natasha Middleton, Director / Choreographer
Clara: Adele Pomerenke
The Nutcracker Prince: Aramis Hermes Snow Queen: Victoria Aletta
Snow King: Eduard Sargysan
Lead Snowflake: Arisa Tanihata, Kozue Kasahara
Snowflakes: Emika Davis,Alicia Kashaki, Linda Watts-Silva
LAND OF SNOW
By Pyotr Ilyich Tchaikovsky
CALIFORNIA SCHOOL OF THE ARTS -- SAN GABRIEL VALLEY VOCAL ART ENSEMBLE
Katherine Powers, Director Vocal Arts Conservatory Tyler McGeough, Director
Instrumental Music Conservatory Kirk Averitt, Music Director Vocal Arts Ensemble
Vocal Arts Ensemble: Kaylah Albarran, Izzy Arce-De La Vega, Vanessa Edwards, Hailey Mata, Abbey Miller, Felicity Robles, Sophia Thompson, Marina Weisenberg
Instrumental Music Conservatory Jazz
Ambassador Combo: Trumpet: Ronald Geraci
Trumpet: Jewels Joyal
Tenor Saxaphone: Benjamin Gorbea Trombone: Alexander He
Piano: Justus Alfaro
Guitar: Zaire Franklin Bass: Sean Walters-McDonald Drums: Lucas Vocelka
THIS LITTLE BABE
By Benjamin Britten
THIS TIME OF THE YEAR
By Brook Benton & Clyde Otis Arranged by Mark Hayes
THE SOUND OF CHINA GUZHENG ENSEMBLE
Cynthia Hsiang , Director Cynthia Hsiang, Carol Chang, Cookie Zhao, Kathy Lei, Luffy Ling, Audrey Li Zeng, Jen Yen, Serena San
TAKE ME HOME COUNTRY ROAD
By Bill Danoff, Taffy Nivert and John Denver
LORENZO JOHNSON & PRAIZUM
Lorenzo Johnson, Founder / Director
Lorenzo Johnson, Lisa Carter, Loretta Smith, Marion Williams, Brittany Armstrong, Alessandria Howard, Melanie Hill, Marion Williams, Kayla Griffin, Loraine Johnson, LaTesha Mitchell, Skylar Griffin, Imani Duhi, Daniel Jackson, Maurice Johnson, Chandler Johnson, Xavier Smith, LaPorsha Thompson, Timothy Monya, Hannah Long, Ajani Harris
Musicians: Brandon Forte, Kacye Thompkins, Patrick Young, Gabriel Feldman
WHO COULD IMAGINE A KING
By Mervyn Warren & Hallerin Hilton
REVELATION 19
By Stephen Hurd
OH COME ALL YE FAITHFUL
By John F. Wade
DANIEL HO & HĀLAU HULA KEALIʻI O NĀLANI
Daniel Ho, Director
Keali'i Ceballos, Kumu Hula / Director
Guitar: Daniel Ho
Drums: Randy Drake
Cello: Danna Xue
Pīkake Dasaad, Nanea Divinagracia, Makaio Divinagracia, Ekana Divinagracia, Kūlia Green, Lika Hirakami, Dean Inokuchi, Kuleana Inouye, La'akea Iwataki, Ka'iulani Kimura, Cheryl Kono, Keahilani Kobata, Hi'ilei Kyosai, Kēhaulani Matsuura, Lilinoe Matsuura, Brian Mendoza, Kim Miyori, Kanoelani Morikawa, Jorge Rivas, Hōkūlani Seidner, Kiele Smith, Junko Tan, Remi Tan, Taisei Tan, Kamalei Tanaka, Kanani Toji, Alayne Yonemoto, Martika Yuille
THE LITTLE DRUMMER BOY
By Katherine Kennicott Davis
Translated into Hawaiian by Mary Kawena Pukui
KA PUA O KA HIKINA
By Daniel Ho & Amy Ku'uleialoha Stillman
THE URBAN VOICES PROJECT
Leeav Sofer, Artistic Director, Piano
Kate Richards-Geller, Associate Director
Bass: Adam Levy
Drums: Cassius Paxton
Choir: Ana Riera-Pepe, Ande Kims, Andrea Kaye, Carol Gerard, Christopher Mack, Cwiss.e.r.doll, Iron Donato, James Jennings, Kerlyn Paul, Lorinda Hawkins-Smith, Marilyn Irizzary, Matt
Horns, Roni Perlut, Stephanie Bell, Scottie Clapson, Tom Grode, Princess Jazmyn, Leanin' Lena
HANG YOUR LIGHTS
EVERYDAY WILL BE A HOLIDAY
holidaycelebration.org
PACIFICO DANCE COMPANY
Adriana Astorga-Gainey, Founder, Artistic Director & Choreography
Vanessa Castillo, Matthew De León, Carlos Escamilla, Jessica Escobedo, Jesenia Gardea, Victoria Gómez-Alvarez, Juan Guzmán, Alina Isabel Hernández, Clarissa Hernandez, Monica Hernandez Leyva, Genesis L., Esmeralda G Magaña, Jorge Montes, Zarene Marie Núñez, Ciani Núñez-Murillo, Andrea Osuna, Tizitl Ramirez, Uriel Ramirez, Landyn Slominski, Christy Tablas, Kailey Tapia, Noe Villagrana, Samantha Zendejas ORGULLO OAXAQUENO
5:00 p.m.
PALMDALE CHORAL UNION
Michael McCullough, Director
Chamber Singers Roster: Samantha Acosta, Alan Chavez-Garcia, Cristofher Franco, Brittany Garcia, Rebecca Greear, Mario Martinez, Jeanmae Maupin, Belen Mendez, Kiera Presnell, Lydia Rodriguez, Sean Rodriguez, Joshua Ruano, Grace Wiggins, Trisity Wood
Sunday Night Singers Roster: Lance Azusada, Hannah Balassa, Gissell Beccera, Ritchie Beccera, Aaron Fairbanks, James Flores, Marc German, Victor Hernandez, Christopher Lemus, Carlos Martinez, Jose Meza, Roxanna Monge, Keren Moreno, Julissa Ramirez, Veronica Sifuentes, Victoria Sifuentes
DING DONG MERRILY ON HIGH
By George Ratcliffe
Woodward
MARY HAD A LITTLE BABY
By Stacey V Gibbs
JOY TO THE WORLD
By Derric Johnson
IT'S THE MOST WONDERFUL TIME OF THE YEAR
By Edward Pola & George Wyle
SISTA JEAN'S BLUES MACHINE
Vocals: Sista Jean McClain
Guitar: Carlyle Barriteau
Bass: Hilliard Wilson
Keyboard: Ed Neal
Drums: Billy Butler
MERRY CHRISTMAS BABY
By Charles Brown, Lou Baxter, & Johnny Moore
ALL WRAPPED UP FOR XMAS
By
Jean M McClain & Carlyle Barriteau
REVERB TAP COMPANY
Leah Silva, Founder / Artistic Director
Alessandra Panetta, Ariel Tello, Bella Silva, Caroline Cocker, Dylan Shube, Jenn Huang, Fiona Sartain, Jordan Cruz, Jordan Lassiter, Kai-Lynn Fortner, Leah Silva, Liz Doubrovsky, Mia Canosa-Carr, Megan Reta, Presly Dillon, Riley Goodman, Rio Gomez, Ryan Maw
SHIVAM ARTS
Sonal Kumar Turakhia, Director
Sonal Kumar Turakhia, Amika Dayal, Shibani Mohanty, Clarita Corona RAAG N OLE
GAY MEN'S CHORUS OF LOS ANGELES
Lou Spisto, Executive Director & Producer
Matthew Alexander, Andy Bender, Tony Castellanos, Marcus Connaghan, John Dennehy, Lawrence Dizon-Weisberg, Albert Epstein, Justin Estoque, Chris Etscheid, Thomas Franklin, Jason Frazier, James Phillip Gates, Donald Giddings, Rob Gordon, Ernest Harrison, Gary Hayashi, Tom Hietter, Dennis Hunter, Jack Inman, Silvio Kersten, James Lau, Lucio Maramba, Jon Mauren, Tim McMurray, Glenn Miller, Paul Miller, Jeff Mueller, Samuel Petre, Jan Redondo, Tim Reynolds, Jeff Roy, Edward Salm, Richard Shive, Bob Sieber, Lee Stickler, Kirk C. Tellier, Amelia Thompson, Ben Tritle, A. Lee Walkup, David Werthe
THIS IS CHRISTMAS
By Donny Hathaway
HALLELUJAH CHORUS
By G.F. Handel Arranged by Quincy Jones SLEIGH
RIDE
By The Ronettes, Leroy Anderson & Mitchell Parish
LAS COLIBRÍ
Suzanne Garcia, Director Silvia Palomino, Alyson Montez, Patricia Martin, Suzanne Garcia, Yesenia Lopez, Nancy Sanchez, Ana Chavira, Jessica Ulloa
NAVIDAD Y AÑO NUEVO / BLANCA NAVIDAD
By Chucho Navarro / By Franz Xaver Gruber & Joseph Mohr SILENT NIGHT / NOCHE DE PAZ By Irving Berlin
* Program times and artists are subject to change.
63 RD ANNUAL L.A. COUNTY HOLIDAY CELEBRATION
PBS SOCAL
SATURDAY, DECEMBER 24
3:00 P.M. – 6:00 P.M. (LIVE) SATURDAY, DECEMBER 24 6:00 P.M. – 9:00 P.M.
KCET
SATURDAY, DECEMBER 24
11:00 P.M. – 2:00 A.M. SUNDAY, DECEMBER 25 6:00 P.M. – 9:00 P.M.
STREAMING LIVE ON PBSSOCAL.ORG, KCET.ORG & HOLIDAYCELEBRATION.ORG
Interested in performing in the 64th annual L.A. County Holiday Celebration on December 24, 2023, or know a group or artist who might like to perform? Opportunities are available for anyone who lives in Los Angeles County. Applications will be available in April 2023. Visit holidaycelebration.org in the spring for more details. SCAN
THE QR CODE TO TAKE THE HOLIDAY CELEBRATION SURVEY!
RACHEL S. MOORE
President & CEO
HOWARD SHERMAN
Chief Operating Officer
Executive Vice President, TMC Ops
WILLIAM TAYLOR
SOFIA SAENZ
Marketing Coordinator
DANIELLE BLISS Marketing Coordinator
JASON CLARK Director, Production
TIM CONROY Head Carpenter ROBERT DEVIS House Manager
DENNIS HOLBROOK Master of Properties
WITH SPECIAL THANKS TO
Chief Financial Officer
Senior Vice President, Finance
JOSEPHINE RAMIREZ
Executive Vice President, TMC Arts
VALENTINE GELMAN
LOS ANGELES COUNTY BOARD OF SUPERVISORS
HILDA L. SOLIS
SUPERVISOR, FIRST DISTRICT
HOLLY J. MITCHELL
SUPERVISOR , SECOND DISTRICT
LINDSEY P. HORVATH
SUPERVISOR , THIRD DISTRICT
JANICE HAHN, CHAIR
SUPERVISOR, FOURTH DISTRICT
KATHRYN BARGER
SUPERVISOR, FIFTH DISTRICT
LOS ANGELES COUNTY
FESIA DAVENPORT
Chief Executive Officer
Senior Vice President, Advancement
BONNIE GOODMAN
Senior Vice President, Marketing & Communications
SHELBY BOAGNI
Senior Vice President, People & Culture
NICK SCHWARTZ-HALL Co-Executive Producer
LETITIA FERNANDEZ IVINS
Senior Director, Civic Strategies and Partnerships
PATRICK TRAYLOR
Associate Producer/ Production Manager
LILY ALIA
General Manager
JASIRA WOODS Senior Coordinator
U-JUNG JUNG Coordinator
DUNCAN CRABTREE-IRELAND
National Executive Director, SAG-AFTRA
BETH MILLMAN
Executive Director, Entertainment Contracts, SAG-AFTRA
STEVEN MEICKE
Senior Director, Entertainment Contracts, SAG-AFTRA
LISA KYLE
Senior Signatory Business Representative, Entertainment Contracts, SAG-AFTRA
AMERICAN FEDERATION OF MUSICIANS
STEPHANIE O'KEEFE
President, AFM Local 47
DIANE LAUERMAN
Assistant to the President Business Representative MPTF Administrator, AFM-Local 47
Dylan Kant, Ivonne Herrera, Joy Diaz, Carolina Garavito, Chris Tobin, Andres Giraldo, Andrew MacDuff, Island Gutierrez, Nikki Cole, Brianna Romero, Anna Morrison TMC Arts Production Assistants
CAROLYN VAN BRUNT
Vice President, Guest Services, & ADA Coordinator
CHERYL BROWN Vice President, Advancement
LISA DUCORE
Assistant Vice President, Marketing & Brand Communications
MELISSA TAN
Assistant Vice President, Ticketing & Marketing Strategy
GIL DIAZ
Manager, Media Relations
HILLARY LITHERLAND
Social Media Strategy and Content Manager
GLENN ROBINSON
RYAN LEBETSAMER Head Electric
BEDROS OHANIAN Director of Security and Life Safety
SCOTT POLLACK Captain, Security
TODD REYNOLDS Head Audio
LEE SMILEK Head Wardrobe
SHARON STEWART Director, Scheduling & Events
LILIANA GONZALEZ, ISMAEL TENORIO Events Operations Managers
KENNY VALERA, CAROL NGUYEN Assistant Production Managers
CONSULTANTS SET MEDIC LA COVID Testing Services
THE SIGN LANGUAGE COMPANY ASL Interpretation
TIMOTHY NORRIS, WILL YANG Photography
Thanks to Performances Magazine for its support of the L.A. County Holiday Celebration.
CDK PRODUCTIONS
KENNETH SHAPIRO Executive Producer/Director
NICOLE ALEXANDER Co-Producer
DEREK BROWELL Co-Producer KATIE LYMAN Writer
LETICIA LEON
Production Designer
SIMON MILES Lighting Designer
JOHN MARTINEZ Screens Producer
KRIS SHEETS Coordinating Producer
JILL DOVE Associate Director
DENNIS MEYER Production Manager
VICTORIA ZIKA
Production Supervisor
YETTI STEINMAN, MARY VALENTE Script Supervisors
KRIS CLAVER Production Coordinator
SHIRAN STOTLAND Technical Director
PETER BAIRD Production Mixer
JOSH MANVILLE House Mixer
PETE KUDAS Monitor Mixer
GREG KESLAKE Booth A2
DANNY CRUZ, GEORGE MENES, MIKE STEELE, JENNIFER VANNOY-ROUNSAVILLE Audio Assistants
CHRIS GRAY Video Control
DANNY BONILLA, DAVID CARLINE, JORGE FERRIS, ALEX HERNANDEZ, ED HORTON, ANDREW JANSEN, SCOTT KAYE, STEVE MARTYNUIK, JOHN PERRY, DAMIEN TUFFEREAU, DANNY WEBB Camera Operators
MITCH BRYAN EVS Playback
HARLAN MOEN Video Recordist
CHRISTINE BURTMAN Electronic Graphics BOB MAGEE LED Technician
ZAC CROMWELL Lighting Director/Programmer
ADRIAN DICKEY, MATT COTTER Media Programmers
MATT MINKOFF Lead Utility
ALBERT ALAIMALO, ADAM BARKER, BILL GRENIER, SCOTT SPIEGEL, DRORY YELIN Camera Utilities
ANTHONY HERNANDEZ, ANGEL PAGOURTZIS, GEORGE VALENZUALA
Jib Techs
THOMAS RYDEN, SILVIO GILLESPIE Communications
JASON CELEK, HUGH HEALEY, LARA JESSEN Technical Supervisors
ALLISON IRETE Backtimer
JOHN COX, SEAN WHELAN, STEVE EMERSON Teleprompter
BOOEY KOBER
ROBERT PAGNOTTA
Business Representative
— Theatre Local 33
Marketing Manager
STEPHANIE KAO
Manager, Web Content & Digital Analytics
MARIELLE SHROCK Marketing Specialist
VAL PEREIRA Graphic Design
MADISON PRICE Art Director
STEVE HOLLANDER, DANI FARRELY, MURRAY SEIGEL, RAN LOWE Stage Managers
Editor
ROSETTA GARCIA Make-Up/Hair
ELIZA DONNELLY, NOAH HOLLANDER, BRYCE THOMAS Production Assistants
BROADCAST PARTNER
INTERNATIONAL ALLIANCE OF THEATRICAL AND TV STAGE
holidaycelebration.org CREDITS
AMERICAN FEDERATION OF TELEVISION AND RADIO ARTISTS
EMPLOYEES
RACHEL S. MOORE
President & CEO
HOWARD SHERMAN
Chief Operating Officer
Executive Vice President, TMC Ops
WILLIAM TAYLOR
Chief Financial Officer
S enior Vice President, Finance
SHELBY BOAGNI
Senior Vice President, People & Culture
JOSEPHINE RAMIREZ
Executive Vice President, TMC Arts
VALENTINE GELMAN
Senior Vice President, Advancement
BONNIE GOODMAN
Senior Vice President, Marketing & Communications
STAFF
Carlos Acosta
Kevin Acosta
Jordan Adelman
Belby Aguillon
Michelle Alfonso
Lily Alia
Emmanuel Alvarez
Eric Amaya
Shawn Anderson
Shane Anderson Bennett Anderson
Jared Batty
Debra Beadle
Flaviano Biligan
Danielle Bliss
Suzanne Boyett
Alvin Broussard
Cheryl Brown
Emmanuel Campos
Cristabel Campos Ruiz
Laura Canon
Patrice Cantarelli
Devon Caranicas
Monique Carroll
Anthony Castaneda-Guzman
Henry Castellanos
Caroline Chang
Todd Charles
Hector Chavez
Hillary Chisum
Jason Clark
Brianna Clemente
Timothy Conroy
Dewell Cooper Jr
Andrew Corral
Christine Cox
Daniel Cristante
Gil Diaz
Ramon Deleon
Eric Denmion
Robert Devis
Julia Diamond
Victor Diaz
Lisa Ducore
Patrick Duzenbery
Ara Ekserjyan
Nancy Elizarraras
Ruben Enriquez
Jesse Espinoza
Greg Flusty
Taylor Ford
Brian Foreman
Michael Frazier
Jeri Gaile
Marisol Garcia
Nick Garcia
Jose Godinez
Isaac Gonzales Jr
Roberto Gonzalez
Jonathan Gonzalez
Liliana Gonzalez-Ibarra
Erica Goodrich
Veronica Green
Rosalind Grush
Nicholas Hall Cesar Hernandez
Dennis Holbrook
Susan Hutcheon
Steven Issa Letitia Fernandez Ivins Marcus James Alejandro Jamet Mekhi Johnson Shawn Jones Damon Joseph Rada Jovicic U-Jung Jung Maria Justo Emmet Kaiser Stephanie Kao Andrew Kayano Lisa King
Ryan Lebetsamer Christian Lee Jane Lin
Hillary Litherland Brian Lizarde Francisco Loayza Ruben Lopez Vincent Lopez
Robert Lowe Wilfredo Loza
Gregory Lucas Cristina Lucio Clifton Lum Juan Macias
Michael Mancillas
Delia Martin
Victoria McElroy Jason McGuire Jamie McMurry Mayra Medina Rudy Mejia Tomas Mendez Brian Mendoza Katherine Miller
Alexander Mochizuki
Dave Modisett
Corisa Moreno Traci Mueller
Jairo Muneton
Luis Munoz
Mohammed Nessari
Jonathan Ng Kirman Ng
Georgi Nikolov
Oscar Nunez
Aurora Nunez
Bedros Ohanian
Oleah Olaguera
Elia Ortega
Daniel Outten
Adrian Padilla
Lorena Panfilo
Jemealia Patterson
Danilo Perez
Jose Perez Ceballos
Colin Perkins
Joshua Pimentel
Scott Pollack
Callie Pratt
Lisa Quang
Jose Quintero
Cynthia Rauch
Jose Regalado Garcia
Ricardo Renteria Kevin Reyes Todd Reynolds Gill Riggs
Dawn Robinson-Patrick Carlos Rodas Karla Rodas Ismael Rodriguez Mary Romero Alex Romero Cinda Rosenberg Ebony Ruffin Spencer Saccoman Sofia Saenz Vivian Sanchez Juan Sanchez
Eduardo Sandoval
Jose Santillan
Allen Sasso
Gloria Lozano Schaffer
Charles Seals
Laurie Selik
Marielle Shrock
Gonzalo Silva
Jonathan Silva Mary Sinclair
Robert Smith
Giovanni Soltero Michael Soto
Aaron Staubach
Sharon Stewart
Isaiah Stewart
Marcell Stuart Johnson
Kenneth Talley
Melissa Tan
James Tan
Melanye Taylor
Ismael Tenorio
Andrew Toledo
Edward Too
Patrick Traylor
Thomas Treadway
Angela Tsai Monk Turner Hector Tzul Jessica Vad Carolyn Van Brunt Edgar Vasquez Jonathan Vasquez Bernice Vega Brandon Villalobos Linda Walker Martin Wechsler Lawrence White Jeanice Williams Jasira Woods Sandra Wright Keith Wyffels Carolina Xique Carolina Zamora
THE MUSIC CENTER