Welcome to St. Paul's Community College
Fiona McDonnell Principal
St. Paul's Community College is situated in the heart of Waterford city providing quality teaching and learning in top class facilities. It is a progressive school, offering a comprehensive range of subjects and choices to both boys and girls of all abilities. St. Paul's Community College is a multi-denominational, co-educational school providing an inclusive learning environment for all. We recognise and respect each student as an individual, embracing a variety of learning and teaching styles and aspiring to encourage each student's unique skills and talents.
The transition to second level is a major step for all primary school pupils but, one which, we find young people negotiate with great skill and enthusiasm. All our procedures, policies and practices are geared to helping students make as smooth a transition as possible. This move is supported by our 'Moving-Up' programme where all staff are focused on supporting the young people with their transition into post primary school.
St. Paul's Community College is a post primary school of Waterford Wexford Educational Training Board (WWETB) with the core values of Respect, Accountability, Learner Focus and Quality are at the centre of everything we do.
Our student body representatives are very proactive in the school in the respective roles of Mentors, Student Council and supporting fellow students. Our Parents' Council, like our Student Council, is actively involved in policy-making and very energetic in co-ordinating some school events.
As Principal, I am tremendously proud of the hard work and achievements of all at St. Paul's Community College. It is the sense of teamwork generated at St. Paul's by all its people that makes our school such a vibrant and energetic place to be.
Mr. Keith Bailey Deputy Principal
Welcome to St. Paul's Community College. Our school offers a very wide range of subjects to both Junior and Senior students. Our aim is to nurture each students unique talents by treating them as individuals and embracing all learning and teaching styles. We are keenly aware of the importance of a smooth transition from primary to secondary school, and as such, place particular emphasis on making sure our 1st years feel welcome, safe and happy. As a past pupil of St. Paul's, I have experienced first-hand the wholistic education provided by the wonderful staff in our school. Their dedication and willingness to go the extra mile for their students is evident throughout all aspects of school life within St. Paul's. For those considering attending St. Paul's Community College, I look forward to welcoming you into our school in the near future.
2
Mrs. Tina Woods Deputy Principal
A very warm welcome to St. Paul's Community College. By choosing St. Paul's as the secondary school for your son or daughter, you are choosing a school that will help your child reach their full potential in a happy, safe, positive and nurturing environment. Our curriculum is modern and student centred and we are not only concerned with what our students learn but how they learn. Our school's culture and ethos is committed to providing opportunities to enhance the physical, mental, emotional and social wellbeing of our students. Student wellbeing and successful learning are inextricably linked. Our aim is to develop the whole person and to equip them to take their place in society and to lead fulfilling and happy lives. The journey through secondary school is a very important one, as your son or daughter will enter the doors as a child but leave as an adult. I truly hope that you will entrust your child to us as they embark on this journey and I look forward to welcoming them through our doors in September 2023.
Mission Statement
St. Paul's community college is a multi-denominational, co-educational school providing an inclusive learning environment for all.
We recognize and respect each student as an individual, embracing a variety of learning and teaching styles and aspiring to encourage each students' unique skills and talents.
St. Paul's Community college encourages the involvement of parents through home school contacts and through the involvement in the development and growth of the Parents Council.
3
ETB schools are state, co-educational, multi-denominational schools underpinned by the core values of:
• Excellence in Education
• Care
• Equality
• Community
• Respect
Our Core Values (WWETB)
The core values that guide ETB schools in providing our service are:
EXCELLENCE IN EDUCATION
LEARNER CENTREDCARE RESPECT COMMUNITY
St Paul's Community College's whole school behaviour expectations are a list of 3 brief statements that describe the skills, characteristics and attitudes that everyone in the school community strives to demonstrate at all times. They are derived from our school ethos and core values of a SAFE POSITIVE CARING COMMUNITY (SPCC)
In collaboration with our school staff and students we decided on that our overall expectations would be to Be Respectful, Be Responsible, Be Ready. These expectations are explicitly taught to all our students
Whole school behaviour expectations are applicable across multiple settings e.g. in our classrooms, corridors, toilets, lockers and canteen,
4
Wellbeing
In St. Paul's Community College, we want to empower and teach our 1st year students aspects of well-being skills. As a secondary school in the heart of a large community, we feel that it is our responsibility to develop our students' lifeskills, with particular focus on "staying well". Developing these skills facilitates students to recognise the importance of planning to achieve their targets/goals and how to cultivate characteristics such as confidence, resilience, commitment, and connection. Well-being is a part of every student's timetable in our school, and it gives our students a daily opportunity to reflect and take time for themselves. Students in St. Paul's Community College are given the opportunity to flourish in whatever way possible; this is echoed throughout the school by our ethos, "providing an inclusive learning environment for all". We offer our students a wide range of extra-curricular activities, to support their wellbeing such as mentoring and leadership programmes, clubs, and various sports.
5
The NCSE Behaviour for Learning Classroom
The NCSE (The National Council for Special Education) supports St. Paul's Community College by providing an Interdisciplinary team.
An additional Behaviour for Learning teacher is allocated to St. Paul's providing a classroom enriched with programmes designed by NEPS, Speech and Language Therapists, Occupational Therapists and NCSE Research Advisors.
The continuum of support is intensive with individualised interventions provided for a small number of students with extra student mentoring supports provided at a whole school level. The key Areas provided develop a wide range of knowledge, skills, and attitudes. A focus is put on Behaviour for Learning Social & Emotional Literacy, Well-being Literacy, Numeracy, Language & Learning.
Therefore, students get to be involved in a wide range of group supports such as the ALERT, WHY TRY, PEOPLE SKILLS, MOVEMENT MATTERS and many literacy programmes such as CATCHUP Literacy and Vocational Enrichment Programme (VEP).
We are delighted to have such a successful addition to our school that benefits both the students and teachers.
Pastoral Care
The school has a pastoral care team that looks after the well-being and induction of students. Those with roles involved in pastoral care include:
» Principal
» Deputy Principals
» Year Heads
» Class Tutor
» Class Teacher
» Guidance and Counselling
» Home School Liaison Officer
» JCSP Librarian
» School Chaplain
» Special Education Needs Teams
» Check and Connect programme
» HUB (ASD Programme)
» First Year Induction 'Moving Up Programme'
» Junior Certificate Schools Programmes (JCSP)
We offer a range of supports to help students settle into and thrive in the Post Primary Sector including Homework Club and Supervised Study, Extra-Curricular Activities, Clubs, Wellbeing classes and Library facilities.
ACADEMIC COMPETENCE
SOCIAL, EMOTIONAL & BEHAVIOURAL COMPETENCE
SCHOOL SUPPORT (for a few)
Individialused and Specialised Support
SCHOOL SUPPORT (for some)
Response to Groups and Individuals
WHOLE SCHOOL AND CLASSROOM SUPPORT (for all)
Preventative and Proactive Aproaches
6
Core Subjects
Option Subjects
Civics,
Additional Subjects
Extra-Curricular
We offer a wide range of extra-curricular activities in the college. Students are encouraged to view the world around them and appreciate the contribution they can make throughout their school life and beyond. As part of this, students get involved in many competitions, charitable events and fundraising activities throughout the year including:
7
English History Irish Science Mathematics
Social and Political Education (CSPE) Career Guidance Social, Personal and Health Education (SPHE) Environmental and Social Studies Physical Education (PE) Wellbeing Religious Education Computer Studies Choir Library I.T. Coding
Business Studies Materials Technology (Wood) French Metalwork Technical Graphics Music Home Economics Art, Craft & Design Geography Spanish MANAGING MYSELF BEING CREATIVE MANAGING INFORMATION & THINKING STAYING WELL COMMUNICATING BEING LITERATE BEING NUMERATE WORKING WITH OTHERS K E Y S K I L L S School Bank Apprenticeship Chef Make a Book Basketball Artifice Exhibition Hurling Rugby Gaisce Junk Kouture French Club Operation Transformation Mentoring Young Scientist In Harmony Concert SoccerChoir Musical Talent Show Homework Club Comhairle Na Nóg Community Work Student Council Athletics Library Gaelic Football Cpr Training Maths Club Photography Our Curriculum | Junior Cycle
Student Voice and Leadership Student Council
The Student Council comprises of representatives from each year group and plays a vital role in providing a voice for our student body. These students work together throughout the year to discuss and debate issues to enhance the school. They work closely with the school leadership team and play a vital role in developing school polices as well as playing an important role in all aspects of school life.
Student Mentors
(TY students paired with first years)
At the beginning of the year each first year class is paired with two to three transition year mentor students that help them settle into school. The mentors visit the first years regularly and offer support and guidance.
Digital Leaders
The Digital Leaders Programme offers leadership opportunities to students with a passion for technology. Student representatives from Junior Cycle year groups support all student within the school to resolve any ICT issues they face by sharing their knowledge and skills.
Parents Role/Voice
The Parents' Association plays a vital role within our school as it provides parents with the opportunity to voice their opinions and ideas with regards to their children's education. The Parent's Association works with the principal, staff, and the Board of Management to build an effective relationship between the home and school. Collaboration between the home and school is important because with positive and active partnership the student achieves the best that education can offer.
8
School Meals
Fresh Today supplies breakfast daily from 8:158:45am and hot lunches with a choice of three, one vegetarian choice. these meals are served daily to every student free of charge.
School Lockers
All students are provided with lockers to allow them to store their books and equipment. Students have access to lockers before class begins in the morning, at break and lunch times. This reduces the weight of heavy school bags for students.
9
The School Day
Monday Tuesday Wednesday
08.50 09.48
09.48 10.46
Art - B2 Ms. Walsh
Materials Technology - C8 Mr. Ryan
Civic, Social & Political Education - L4 Ms. Cullen
Mathematics - L4 Mr. Kearns
Music - Mus Room Ms. Larkin Irish - L4 Ms. Bolger
Art - B2 Ms. Walsh 08.50 09.48
Science - S3 Ms. Brennan 09.48 10.46
Friday
Business Studies - L4 Mr. Roche
History - L4 Ms. O' Keeffe
Wellbeing - L4 Tutor Wellbeing - L4 Tutor Wellbeing - L4 Tutor Wellbeing - L4 Tutor 10:46 11.01 BREAK 10.58 11.13 BREAK 11.01 11.59
10.46 10.58
11.13 12.11
12.11
13.09
13.09 13.49
Science - S3 Ms. Brennan History - L4 Ms. O' Keeffe
Business Studies - L4 Mr. Roche Science - S3 Ms. Brennan
Music - Mus Room Ms. Larkin
Information Technology - S7 Ms. Cahill
LUNCH 13.49 14.47
English - L4 Mr. Roche English - L4 Ms. Browne
14.47 15.45 Physical EducationPE Hall Ms. Drohan Mathematics -
Coding - S7 Ms. Cahill
Mr Kearns Religious Education -
Ms. Cullen
Irish - L4 Ms. Bolger 11.59 12.57
Materials Technology - C8 Mr. Ryan
English - L4 Ms. Browne
Music -
Room Ms. Larkin
Mathematics - L4 Mr. Kearns
Art - B2 Ms. Walsh
Creative and Performing Arts Music
The Music Department at St. Paul's Community College is host to a vibrant, creative, and welcoming learning environment within the school community. Music is a subject offered through all programmes - Junior Cycle, Transition Year, Leaving Certificate Applied and Established Leaving Certificate. Music education aims to develop the three core areas of learning –performing, composing, and listening – through a series of interrelated musical activities. This is supported further by students' involvement in extra-curricular Music activities such as our school musical and talent shows
Artifice
Each year students from our school take part in Artifice and produce a wealth of vibrant and imaginative works that form part of a final exhibition at Lismore Castle Arts. Artifice is an innovative education project devised by Lismore Castle Arts in collaboration with schools throughout Co. Waterford.
St. Paul's School Musicals and Talent Shows
The school has achieved high commendations for the shows it runs. Musicals and talent shows draw on the many talents of our students from those who are singing and dancing to those who provide backstage support. Having recently produced Grease and Sister Act we look forward to our future productions in St. Paul's Community college.
10
Thursday
L4
L4
Mus
Music Generation
Music Generation Waterford is part of Ireland's national performance music education programme. It provides an exciting opportunity for young people to engage with performance music education led by a team of highly skills musicians. This unique programme offers students the opportunity to access subsidised music lessons and music instruments such as flute, clarinet, saxophone, and trumpet during the school day. If you would like more information about the after-school Music Hub email: musicgenerationwaterford@wwetb.ie
STEM
In St. Paul's Community College, we have a fantastic team that work together to promote Science Technology Engineering and Maths or STEM. In our new science labs, we have new equipment that has transformed how we can teach science to students. This has also allowed students to pursue their own interests in science with extracurricular activities such as Space Week, Science Week, or the BT Young Scientist, to name a few. Our technology and engineering department work closely together to develop students IT literacy using coding and digital media studies. Students can then make practical use of these skills with MicroBits to create any number of projects such as live score boards, robotic arms and so much more. These skills are enhanced by our keen involvement in Engineering Week which sees many activities in our school and in WIT. Finally, our maths department does wonderful work promoting the subject and applying practical examples of maths in everyday life. Extracurricular opportunities are also afforded to students like the Maths Olympiad that was successfully undertaken by several First-Year students last year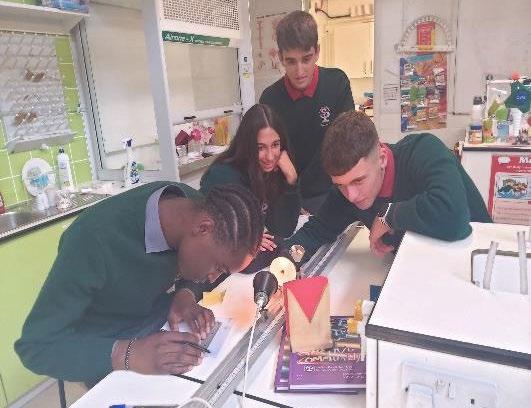 11
12 Browne's Road, Waterford 051-355816/051-355817 stpaulscc@wwetb.ie www.stpaulswaterford.ie