THE ARTFUL MIND
JON ISHERWOOD
Photography By Bobby Miller
The Fine Art of Printing Fine Art.
Studio
"
"
· Giclée and Photo Printing · Digital Reproduction of Paintings · Photo Restoration and Repair
Drop-off & Pick-up Available in Great Barrington, MA and Millerton, NY
located in Mount Washington, MA l berkshiredigital.com l 413 644 9663
The prints have amazing clarity and are absolutely beautiful reproductions of the original works. Clients are amazed with the quality.
– Virginia Bradley
Playa Santa 22 — Virginia Bradley
Sean
THE ARTFUL MIND JANUARY 2023 • 3
Elevated digital photography and media services for the visual arts
in meeting the imaging needs of visual artists,artisans,and galleries in a variety of mediums, including sculpture, jewelry and furnishings. Contact: sean.hutcheon@gmail.com • 215-534-6814 www.seanhutcheon.com
Hutcheon
Specializing
HAPPY VALENTINE'S DAY! FEBRUARY 2023
Visual Artist
THE ARTFUL MIND VIRTUAL GALLERY ...36 ESTEBAN VALDÉZ
42 ASTROLOGY FOR CREATIVES On the Future of Art from an Astrological Perspective With Deanna
47
|
SOMETHING FOR OVER THE COUCH— The Old Goat
19 ...48 THE ARTFUL MIND Publisher Harryet Candee Copy Editor Marguerite Bride Third Eye Jeff Bynack Advertising and Graphic Design Harryet Candee Contributing Writers Richard Britell Deanna Musgrave Contirbuting Photographers Edward Acker Tasja Keetman Bobby Miller ADVERTISING RATES 413 ‐ 645 ‐ 4114 artfulmind@yahoo.com issuu.com | Instagram FB Open Group: ART GALLERY for artful minds The Artful Mind Box 985 Great Barrington, MA 01230 YFI: ©Copyright laws in effect throughout The Artful Mind for logo & all graphics including text material. Copyright laws for photographers and writers throughout The Artful Mind. Permission to reprint is required in all instances. In any case the issue does not appear on the stands as planned due to unforeseeable circumstances beyond our control, advertisers will be compensated on a one to one basis. All commentaries by writers are not necessarily the opinion of the publisher and take no responsibility for their facts and opinions. All photographs submitted for advertisers are the responsibility for advertiser to grant release permission before running image or photograph. 2 • FEBRUARY 2023 THE ARTFUL MIND
JON ISHERWOOD Sculptor INTERVIEW BY H CANDEE PHOTOGRAPHY BY BOBBY MILLER 20 JULIE SHAPIRO
INTERVIEW BY H CANDEE 28
Author INTERVIEW BY H CANDEE
Musgrave February 2023
RICHARD BRITELL
FICTION
CHAPTER
Lyn Horton
"The subject of my work is lines and how they behave in either two or three-dimensional form. Flowing through one body of work to another, the lines have appeared consistently since my first
THE ARTFUL MIND FEBRUARY 2023 • 3
https://www.instagram.com/lynhortonphotoart
https://lynhorton.net Grasses 3, 2021, colored pencil on black rag paper, 22 1/4″ x 60″ Cascade 3, 2017 colored pencil on black rag paper, 60" x 22" 70" Square drawing Black on White, 2014 pigmented Pen on Rag Paper
solo exhibit in California in 1974."
http://www.crossmackenzie.com
4 • FEBRUARY 2023 THE ARTFUL MIND
THE ARTFUL MIND FEBRUARY 2023 • 5
Ghetta Hirsch
6 • FEBRUARY 2023 THE ARTFUL MIND
"Soundless" Oil on Canvas, 2022, 24 x 30 inches
her at
Visit her
Home Studio Visits by appointment: 413. 597. 1716 ghetta-hirsch.squarespace.com
Follow
https://www.instagram.com/jenniferpazienza/
website http://www.jenniferpazienza.com/ https://beaverbrookartgallery.org/ Contact her jennpazienza@gmail.com
Photo credit: John Leroux
Books by Roselle Kline Chartock
The Jewish World of Elvis Presley
"Roselle Chartock's book is a jewel - a deeply informed account of Elvis' relationships with Judaism and the Jewish world."
— Larry Geller, close friend of Elvis' and one of the Jewish members of his "Memphis Mafia"
Windsor Mountain School
A Beloved Institution
"Windsor Mountain School holds important lessons for schools today… [including] the importance of honoring every student's individuality."
—Deval Patrick, Former Governor of Massachusetts
About the Author:
Roselle Kline Chartock is a Professor Emerita of Education and a full-time artist and writer.
Books available from Amazon.com and local bookstores.
Books also available from and signed by author. Contact at: 413 446-0859 or roselle.chartock@gmail.com
THE ARTFUL MIND FEBRUARY 2023 • 7
3rd floor 75
St Pittsfield MA 914. 260. 7413 markmellinger680@gmail.com
Eagle Building
South Church
- Collage -
MARK MELLINGER Paintings
Construction
NEW YEAR'S EVE. BERLIN 1926. Acrylic on canvas. 2015
Erika Larskaya
"Confinement 17" mixed media on paper, 36"x24"
"Draft" mixed media on paper, 16"x12"
"As an abstract artist, I search for ways to represent the invisible, subtle, and unexpressed. I am driven to lay out fleeting and intangible experiences on physical surfaces".
—Erika Larskaya
"Rush" mixed media on paper, 16"x12"
Erika Larskaya Studio at 79 Main St. Torrington, CT www.erikalarskaya.art
8 • FEBRUARY 2023 THE ARTFUL MIND
Lipkowitz
robert wilk
THE ARTFUL MIND FEBRUARY 2023 • 9
| 510
Street
NY
John
Jlipkowitz1@aol.com
Warren
Gallery, Hudson,
SCHOOL Hamilton, MA rwsculpture.com
PINGREE
Sally Tiska Rice
BERKSHIRE ROLLING HILLS ART Clock Tower Studio 302, 3rd floor 75 South Church St, Pittsfield, MA (413)-446-8469 sallytiskarice@verizon.net www.sallytiskarice.com
10 • FEBRUARY 2023 THE ARTFUL MIND ilene Richard "A strong design, playful interplay of color and pattern and a narrative quality are what makes my work truly my own."
| ilenerichard5535@gmail.com | 978-621-4986
www.ilenerichard.com
Bleeding Heart, Acrylic Inquire about one-on-one personal critique sessions | Commissions Available by Artist The Clock Tower, Studio 316 75 So Church St, 3rd floor, Pittsfield, MA Solo Violin Classical Cello https://www.sharonguyart.com APRIL RANCH OIL ON PANEL 10 X 8 INCHES Luminous Landscapes Sharon Guy U
CAROLYN NEWBERGER
Ruby Aver
THE ARTFUL MIND FEBRUARY 2023 • 11
rdaver2@gmail.com | 413-854-7007 Instagram: rdaver2. Rhubarb Tango Oil on canvas 16" x 20"
Alonzo King Lines Ballet: Azoth, Jacob's Pillow, 12x18 inches
cnewberger@me.com www.carolynnewberger.com 617. 877.5672
From the
of the Sketchbook... rwsculpture.com RED/PRECARIOUS urbanite theatre, sarasota, fl robert wilk
pages
JENNIFER PAZIENZA
Summer Skies, 96 x 144 inches, oil on canvas traveled far and wide before joining the permanent collection at New Brunswick, Canada's provincial art gallery, Musèe des beaux arts - Beaverbrook Art Gallery in Fredericton. Touring New Brunswick beginning with the University of New Brusnwick Art Centre, the Saint John Art Centre, Gallery Colline and the Andrew and Laura Mc Cain Art Gallery. She traveled to University of Maine, Presque Isle, Lee, Massachusetts appearing at Good Purpose Gallery and Saint Francis Gallery in South Lee. In 2018, her longest journey took her to Miami during Miami Art Week.
Considering where we stand in relation to the rest of the natural world is essential to experiencing the diptych Summer Skies. The visual tension between ridge and river below, and spacious skies above leads to questions about the material and spiritual, what is before us, what is beyond us, and what in life is permanent. While hiding its shadow side in plain sight, the power of Summer Skies resides in its open invitation into light and love. I am honoured to have it included and to have her placed in relationship to the Grandfather Akwiten Canoe, crafted in the 1820s with wood from the New Brunswick forests.
Jennifer painted Summer Skies from her studio on Keswick Ridge, the unceded territory of the Wolastoqiyik (Maliseet) peoples. Jennifer Pazienza - www.jenniferpazienza.com; jenniferpazienza or IG @jenniferpazienza
GHETTA HIRSCH
Winter is for Still Life! This is Three for One, an 8"x10" oil painting on wood panel. There is something restful and nurturing to arrange fruit on a counter and decide to paint them before eating them. The fact is: you cannot procrastinate on this kind of project. You must hurry to paint the fruit before it changes color and shape.
A serious three-day assignment is presented to you. Paint it or eat it. The reward for keeping to the task? You get to eat the pears and the painting stays around forever… although this one is still home for a reason: I offered the painting for purchase on Instagram, and it did not sell. There is something elegant about pears and the dancing of these three "belles" on my wall is charming. So, I decided to share them with you on this February day.
Another bonus of still life painting is the skill practice. The patient immobility of the subject forces you to use all your technical ability to reproduce what you see to the upmost detail. A wonderful review of color mixing, value, cast shadows, and other details is taking place at high speed, and when we finally allow ourselves a bite of the fruit… well…. "visual sense" heightened by "taste" is something grand. Do try it. What a reward.
You can still see these pears on my wall. Call me for a visit to my studio in Williamstown. Check my website for more art pieces and information.
This winter, look for my work at the Southern Vermont Arts Center in Manchester, Vermont and at The FutureLabs Gallery in North Adams, Massachusetts.
Ghetta Hirsch - 413-597 1716, ghetta-hirsch.squarespace.com
Life is sometimes hard. Things go wrong, in life and in love and in business and in friendship and in health and in all other ways that life can go wrong. And when things get tough, this is what you should do.
Make good art.
Neil Gaiman
LYN HORTON
No simple explanation for what I do as an artist exists. Any explanation would involve codifying a state of mind, a way of life, a means to see, a principle of understanding, a consciousness of totality.
My intentions become a question of how to comfort the audience by alerting it to what can be perceived in my work without my help. My work tells the tale that is as much about the viewer as it is about me: it invites the viewer to come in and be exposed to its energy and to discover all aspects of what is seen, to be placed in a state without dimension, to be without history, to focus the mind, to rest the soul, to bond with the eternal, which, I, as the artist, can only indicate.
Moments are fleeting. We know we have been through them because we somehow make memories of them. Yet, it is for this reason that I imagine my memories so that you can look at those imaginations in proximity to an immutable, timeless, indescribable holiness that takes me through this life.
https://www.instagram.com/lynhortonphotoart http://www.crossmackenzie.com https://lynhorton.net
12 • FEBRUARY 2023 THE ARTFUL MIND
GRASSES 3, 2021 DETAIL 2, 22.25 INCHES H X 60 INCHES W
MARKER ON
LYN HORTON,
COLORED PENCIL AND
BLACK RAG PAPER HOPPER
LYN HORTON, INSTALLATION, VELVET AND LANYARD, BERKSHIRE COMMUNITY COLLEGE FACULTY SHOW, 1981
ONE, 8 X 10
ARTFULMIND@YAHOO.COM
SUMMER SKIES, 96 X
144
INCHES, OIL ON CANVAS
THREE FOR
INCHES, OIL ON WOOD PANEL
RICHARD ALAN COHEN
FINE ART PHOTOGRAPHY
I create landscape images to highlight my reverential relationship with the environment through which I walk daily. My process begins with the discovery and exploration of a subject, and then moves on to imagining what the image could become. I see landscape as an invitation to the viewer to enter imaginary worlds, ones which may suggest past or future visions, offshoots of the moment that the shutter clicked. I take natural details of streams, waterfalls, moss rocks, and decaying tree trunks and put them in new contexts building imagined landscapes and new worlds. These provide a larger perspective that emphasizes the importance of climate change to even the smallest niches within nature. I give my images an otherworldly appearance to impart distance from the ordinary reality in which these spaces are threatened by global warming and to pay them respect as places of beauty.
I use perspective and scale to magnify tree stumps into craggy cliffs and small waterfalls and streams into mountain cascades. I pause at natural wonders to make images of them to preserve their existence and enlarge their importance as records of what natural beauty can be. I wish to set apart their beauty from threats of climate change by keeping their settings pristine, their surroundings otherworldly, their scale majestic.
As I have unbound myself from representing reality, I have freely expanded the time of the image far beyond the duration of one shutter click, compositing pieces of the landscape with satellite views, stars, and galaxies. A great advantage of making art is the ability to recapitulate reality. A photograph is an opportunity not to copy nature, but to allow the imagination to take one to new places.
I print my own images using archival methods to last, with technical excellence, and in limited editions to increase its value. My work is exhibited in national and international galleries and is exhibited in national and international galleries and has been acquired by noted collectors.
Richard Alan Cohen - Richard@richardalancohen.com, www.richardalancohen.com, Instagram: @richardalancohen
THE MAGIC FLUKE
The Magic Fluke Company designs and builds innovative musical instruments in the Berkshires. Dedicated to our community using locallysourced materials whenever possible, our instruments are engineered with modern methods and materials for quality sound, play-ability, and legendary durability. In addition to our renowned Fluke, Flea and Firefly ukuleles and banjos, we offer an acoustic/electric travel fiddle, electric bass, five string banjo and mandolin. Customized top printing and laser engraving is available as well as repairs of most stringed instruments.
The Magic Fluke - factory and showroom on Rt. 7, Sheffield. Hours: M-F 9 to 4:30 or call for an appointment, 413-229-8536
BRUCE PANOCK
The core of my work is landscape. But it is only the beginning. I use the landscape to help me share how I see what is around me. My work incorporates my dreams, how I see the social conflict that is part of our lives today, how I see what we are doing to our earth.
Though due to my health I am relegated to the digital darkroom, I refer to the photographers and methods used in the past, whether film photography, wet plate methods, or such other methods as were used. Among the photographers who have inspired me are Anne Brigman, John Gossage, Jerry Uelsmann, Dorothea Lange, and Sally Mann. I also refer heavily to Japanese Brush Painting, and the Abstract Expressionists.
Bruce Panock - 917-287-8589 www.panockphotography.com bruce@panockphotography.com
robert wilk
THE ARTFUL MIND FEBRUARY 2023 • 13
PLANES AND SURFACES, PHOTOGRAPH
10 MAUVES
rwsculpture.com
Private Collection, Lenox, MA
14
•
FEBRUARY 2023 THE ARTFUL MIND
MARK MELLINGER
Practicing art for 60 years and psychoanalysis for 40, Dr. Mellinger's careers concern language, spoken and unspoken and what transcends language. In painting, collage and constructions of wood and iron he is drawn to the physicality of materials.
Eschewing predictability, Mellinger explores the possibilities of materials and media. Our lives and our world are dissolving. We must cherish our experiences for all they're worth.
I've moved my studio into an exciting new artist's collective in the Berkshire Eagle Building, 75 South Church St, 3rd floor, Pittsfield. Mark Mellinger - 914-260-7413 markmellinger680@gmail.com
ERIKA LARSKAYA
Confinement and Breakaway examine the mental state of struggle to make sense of our environment, both physical and psychological. I incorporate childlike drawing to represent nonconformity; the unadulterated state before we get confined by rules, commitment, insecurities, and other "add-ons."
"I distress and repair parts of the painting, as we do within ourselves. The drawings of floor plans and elevations, which I use as a starting point, create a sense of enclosure, which I expand by continuing the lines outward, breaking the structural pattern. This alters the sense of confinement, breaking away from the [rigid, static] norm".
Erika Larskaya - https://www.erikalarskaya.art/
THREE CLARINETS
ILENE RICHARD
Ilene Richard is an amazing artist who has been living in the Berkshires for the past 5 years. The artist has exhibited her work in various galleries from Florida to Vermont and is a member of Rockport Artist Association and the National Association of women artists.
Recently, she has decided to move her studio to the Clock Tower in Pittsfield, MA. This new studio will offer her more space and better lighting, which will allow her to create even more beautiful artwork. Ilene is looking forward to having a place where she can work undisturbed and share her art with others. She is also excited about being part of the Clock Tower community and getting to know the other artists who are working there. If you're in the area, be sure to stop by and check out her studio.
Ilene Richard - 978-621-4986 www.ilenerichard.com,ilenerichard@gmail.com ,
robert wilk
THE ARTFUL MIND FEBRUARY 2023 • 15
WWW PANOCKPHOTOGRAPHY COM BRUCE@PANOCKPHOTOGRAPHY COM
BRUCE PANOCK Open Field, Photograph
917-287-8589
rwsculpture.com
RED/KITCHEN
Private Collection, Lenox, MA
WAKING UP TO A NEW DAY FROM BREAKAWAY SERIES MIXED MEDIA ON CANVAS, 36"X48"
INDUSTRY MARBLE AND FOUND IRON
LONNY JARRETT
My initial memory of awakening to the creative impulse was hearing the first chord of the Beatle's, Hard Day's Night when I was six years old. At that moment I knew something big was happening and I had to get on board! I began studying at the Guitar Workshop, the first guitar school in America. I've performed music most of my life and currently play jazz fusion with my band Redshift.
My interest in photography blossomed as an electron-microscopist publishing neuro- and molecular- biological research out of UMASS/Amherst and the Albert Einstein College of Medicine in the Bronx in my early 20s.
As a life-long meditator, martial artist, musician, and photographer everything I engage with comes from the same unified intention toward engendering the true, the good, and the beautiful. In my landscape and nature photography I endeavor to capture the light that seeps through everything.
Lonny JarrettCommunity: Nourishingdestiny.com
Books: Spiritpathpress.com
Art: Berkshirescenicphotography.com
Teaching: Lonnyjarrett.com
MARY DAVIDSON
Mary Davidson has been painting on a regular basis for the last 16 years. Davidson's paintings are a two-dimensional decorative visualization of line, color, design, shape, patterns, and stamping. As you begin to study the paintings, you will find the foreground and background tend to merge, with overlaid patterns. "I love the intense complexity and ambiguity of space and dimension.". The effect can be startling: the longer you look at the piece, the more you see.
Davidson's New Hat series consist of 70 paintings. "I start with a basic drawing, building with color and shape, coming to life with gesture and flow. As the title suggests, the hats are important, and the millinery designs emerge. There is much joy in their creation and my passion for playful designs is reinforced by their bright colors, linear rhythms and patterns leading our eyes around and through the painting. My newest series is even more abstract, with an even stronger emphasis on design. I do like to use stamping, along with painting, because I love the result. When I finish with a painting, I adhere the canvas with mat gel to gator board, creating a nice tight surface. My paintings are always framed." Mary Davidson - PO Box 697, South Egremont, Massachusetts; 413-528-6945 / 413-717-2332; mdavidsongio@aol.com, marydavidson83155@gmail.com www.davidsondesigncompany.net
SEAN HUTCHEON PHOTOGRAPHY
I'm a fine-art and product photographer based in the Hudson Valley and New York City, NY.
My imagery stems from a background in filmmaking, writing and music. I got my start in the early 2000's and have numerous awards for my short films and my photography has been showcased in numerous group and solo shows throughout the years.
In 2005, I relocated from Bucks County, PA to NYC where I have thrived in the photo industry as a product and on-figure photographer for numerous clients such as: Amazon Fashion, Tumi Luggage, New York and Company, Bloomingdales, Macy's, Target, Ralph Lauren, Fairway Markets and Labucq.
At the end of 2021, I started a new venture as a fine-art and furniture photographer who has shot a variety of mediums for Christie's in NYC, Stair Galleries and Naga Antiques in Hudson, NY. In my spare time I enjoy working on my personal photography, playing guitar, spending time at my house with my partner, and going on hikes with my Border Collie.
Sean Hutcheon -Please contact me directly for projects or to inquire about purchasing my work. sean.hutcheon@gmail.com
16 • FEBRUARY 2023 THE ARTFUL MIND
LANDSCAPE PHOTOGRAPH
MY NEW HAT SERIES #5
@
.COM
ARTFULMIND
YAHOO
RICHARD ALAN COHEN
Fine Art Photography in Limited Editions
"Working in unique ways with elements of the landscape that highlight a reverential relationship with the environment."
www.RichardAlanCohen.com Richard@RichardAlanCohen.com Instagram: @richardalancohen
THE ARTFUL MIND FEBRUARY 2023 •17
Discovered World-1, 24 x 48 inches World View-8, 20
20 inches Discovered World 2, 24 x 48 inches
x
SHARON GUY LUMINOUS LANDSCAPES
I am inspired by scenic areas that have beautiful light, especially early in the morning and later in the evening before dark. Once I find a place that inspires me, I visit often, and make small plein air studies, sketches and reference photos. Some of my outdoor paintings are finished works, and some will be used as studies for my studio paintings. My technique involves using a personal, expressive style, with vibrant colors and some abstraction. I look for big shapes and patterns in nature and I try not to cover them up with too many small details.
My nature art helps me feel more balanced and less stressed. There is something very healing about going out into the woods or walking barefoot on the beach. The paintings that come out of these experiences give my collectors a sense of serenity and help them remember their favorite outdoor places. I like to use my art to bring the beaches, mountains, and forests into people's homes and offices.
Sharon Guy - 941-321-1218 sharonguyart@gmail.com https://www.sharonguyart.com
nyuk-nyuk
THE BOX

THE BOX is a Hudson-based studio and atelier open to the public on Saturday, Sunday and on social events like Valentine's Day. The work developed, shown, and shared by THE BOX attempts to take the next small step in the revolution of art forms. It is managed and run by Matthew Francis and digital veteran Guy Nouri, best known for ATARI Paint, EA Movie Maker, and GTECH Videosite.
Matthew Francis was born in the steel city home of the Steelers and Andy Warhol. He grew up in a small community of artists and fashion where his first 'art' experience at 5 years of age was transforming his bedroom into a prehistory cave smothered in graffiti.
After his father took his sharpie collection away, he found solace from his high school art. He was encouraged, despite his troublesome ways and he kept drawing hammerheads and underwater life. This escalated until it came to the attention of the local congressman who helped him receive a congressional art award. He was the youngest in his region to receive the honor.
Skipping past spray paint, drugs, pretty girls, and being the campus Peter Parker and the music scene in SXSW, he landed in LA. There he got hooked up with a disciple of Peter Beard and found a place to be. Whatever he was…turned out to be the music fashion and media world.
He was used to scrap booking which he still does, but he never went to art school. Instead, he just started doing events and making really good videos with people, like Schwayze and the Red Bull crowd. Fortunately for us he was rescued into Hudson where he is now his own brand of media star.
He is currently partner in THE BOX on Warren Street. It is curated by Guy and Matt in conjunction with PAX the Princeton Art eXchange. It is owned by HAT, an official Hudson company for encouraging wide speciation of the new tech and newer Art. HAT Hudson Art Technology founded, 2018.
THE BOX - 454 Warren St., Hudson, NY at Nolita's Café and Gallery.
JOHN LIPKOWITZ
It was nearly twenty-five years ago, in the summer of 1998, that my wife Nina and I were first introduced to travel in the Polar regions and, for both of us, the magic began. Only a year and a half before, on a trip to East Africa, practically on the Equator where daylight and darkness balanced equally year around, had my serious interest in nature and wildlife photography really begun. Now we were on a trip to the North Pole by icebreaker, where during summer daylight never ceased, and mind and body had to adapt to vastly different circumstances.
Since that trip I have been to various parts of the Arctic nearly a dozen times (Nina several less) and we have been to Antarctica and various subAntarctic islands on the South American and Australian-New Zealand sides. I am, clearly, an addict. The combination of ice, perpetual daylight (in their respective summers) and wildlife (most especially for me, the polar bears), is at once both magical and compelling. My cameras have changed, I am health-challenged, but my curiosity remains intact and my addiction refuses to abate.
The covid period was a near photographic desert as my photography and travel have become seamlessly interlocked. One without the other a near impossibility for me, I struggled to find compelling subjects and dreamt often of future travel even as one trip after another was cancelled or deferred.
Finally as 2021 waned, Lindblad Expeditions, with a covid protocol in place, announced a resumption of their program. An Antarctic trip we had first booked in 2019 for travel in December of 2020 was finally going to go in February 2022. A trip I had booked for myself to Svalbard in Arctic Norway where I had already been six times, and was originally scheduled as the maiden voyage of a new polar class ship for April 2020 was finally to go in May 2022. As we were finishing our February Antarctica trip Russia invaded Ukraine and Lindblad had to rapidly revise its scheduled itineraries to avoid Russia and its proximity. One of those changes involved scheduling two very early season trips to Svalbard in late April with the expectation of polar bears on sea ice before the ever earlier summer melt. Nina, who was not coming on my already booked Svalbard trip six weeks later, offered to come if I booked both early trips - how could I refuse. This image is my favorite from that Svalbard trip.
John Lipkowitz -
Jlipkowitz1@aol.com
18 • FEBRUARY 2023 THE ARTFUL MIND
GUY NOURI
MATTHEW FRANCIS
SPRING, IS HERE
POLAR BEAR CLIMBING OUT PHOTOGRAPH
© Andrea Feldman
THE ARTFUL MIND FEBRUARY 2023 • 19 the art of maryann yarmosky 413-441-6963 / Instagram • Facebook maryannyarmoskyart.com MARY DAVIDSON www.davidsondesigncompany.net Studio appointments, please call 413-528-6945 KEITH AND MARY ORIGINAL ARTWORK FOR SALE STUDIO/GALLERY, SOUTH EGREMONT, MA Stamped Abstract Series #16 KATE KNAPP, STILL LIFE ELEANOR LORD Visit www.eleanorlord.com PASTEL FRONT ST. GALLERY KATE KNAPP Feb 3 – 26, 2023 Warren Street Gallery 510 Warren St, Hudson New York Gallery hours: Open by chance and by appointment anytime 413. 274. 6607 (gallery) 413. 429. 7141 (cell) 413. 528. 9546 (home) www.kateknappartist.com Front Street, Housatonic, MA
JON ISHERWOOD SCULPTOR
"Recent sculptures represent the next development of my ongoing artistic dialogue with form, technology, and the associative sensations of imagery and shape. In my work, forms are compressed, distorted, or squeezed and made more intimate by subtle adjustments of scale. Carved lines contour the surface to emphasize the form's growth, creating the illusion of expansiveness and provoking associations of patterning, layering and veiled imagery."—Jon Isherwood
Harryet Candee: When I look at the sculpture you have created for Broadway Blooms, I hear music. A symphonic force materializes. One that unravels and draws me in, and encouraging me to use all of my senses. What do you, as the creator of this series, imagine viewers to experience? What direct message are you sending forth to them?
Jon Isherwood: Interestingly, when I was first invited to consider installing sculpture along Broadway NYC, I took the subway up to 79th Street. Coming up out of the ground, I was immediately struck by the abundance of manicured plantings in the center medians of Broadway. The question was how could I compliment those manicured areas? Walking down to Lincoln center, I had this flash memory of attending a ballet performance there and seeing the bouquets of flowers that were thrown onto the stage at the end of the performance, how they landed on the stage randomly yet
significant in the gesture. So, the questions and reflections developed from those initial thoughts and observations.
Flowers fascinate us in part because of their delicacy and ephemerality; by transposing their fragile forms into marble, the oldest and most durable of sculptural materials, I hoped to inspire viewers to pause and wonder at the productive tension generated by the delicate form and impermeable material. Like real flowers, my installation on Broadway was going to be ephemeral, but I hoped that my artistic offering to the city would be remembered long after the sculptures themselves moved on.
I hoped that the imagery would be accessible to the many people who navigate those intersections in their daily lives. Flowers are imbued with a universal symbolism and can create wonder and joy in their discovery. Placing them in a series of locations across neighborhoods, I hoped to promote
a sense of interconnectedness in spaces that can otherwise feel impersonal, anonymous, and alienating. The natural forms were to offer a visual and psychological relief from the roads, traffic, and architecture in which they are situated – sites of beauty and respite from the built environment. Why do we give flowers? The act can convey love, celebrate accomplishments, offer comfort in grief, repay hospitality, or simply beautify a space and bring personal joy. Beyond their universal appeal, flowers carry diverse cultural meanings: From the imbued spiritual symbolism of the lotus flower, to the holiday tradition of poinsettias, and the association of roses with love. Across time and space, flowers reflect one's connection to community and to one another. Nature gifts us flowers, a spontaneous eruption of beauty that brings joy and wonder, and in return we offer them to one another. The exploration of the idea of the gift was central. The simple fact we all were
20 • FEBRUARY 2023 THE ARTFUL MIND
Interview by Harryet Candee Portraits of the Artist by Bobby Miller
PHOTOGRAPH BY BOBBY MILLER
working through a devastating pandemic also played a big role in the potential messaging and personal translations of the sculpture.
Have you ever dedicated a sculpture you've made to an artist because of how much he meant to you?
JI: No, I wouldn't say I have directly, but the still life/ flower studies paintings of Edouard Manet particularly"white Peony" was a big influence on the Broadway Bloom work and in some ways there is a certain homage to those works.
It wasn't until the 1990s when you shifted from working in metal to working with marble?
JI: Correct.
What course of events led you to go from metal to marble?
JI: There were a lot of issues in play. I had started
out studying textile design at Leeds college of art in the UK. The thought was there would be a pathway towards a job in the textiles industry. I soon found my way towards an interest in the materiality of products. One afternoon I found approx. 50 empty cardboard packing sleeves that had been the protective covering for florescent tube lights. After cutting stacking connecting the material together, I found myself making these strangely torso-like figures. I was accepted into the sculpture program at Canterbury college of Art and one of the first projects that was set by the professors was to Model the figure in clay; I found myself making hollow life-scale torsos. That moment of being able to effect the outer surface and simultaneously shape from the inside was inspirational. The next move was to take that method of working into steel: cutting, shaping, and forging steel plate into body-like columns. So, my work at art college primarily focused on steel: finding ex-
pression in found materials. Some years later, after looking at the Elgin Marbles at the British Museum in London, I was inspired to push more fluidity into the forms I was working with. I introduced concrete, modeling and shaping concrete over the steel. Tying to assimilate and sense of the weight and gesture of the body through handmodelling the concrete. The move to marble was an odd chain of events. One day a collector came to my studio with an invitation to work in stone. First, I thought this was completely the wrong direction to go in but after several conversations and exchanges we struck a deal that I would make three pieces in stone with the option to completely destroy them if I didn't feel that they provided any opportunities.
In what ways is working in stone a new medium for you?
Continued on next page...
THE ARTFUL MIND FEBRUARY 2023 • 21
Broadway 157th The Gifting Angel Photo: Jeff Goldberg Esto
72nd Broadway A Gift Between Two Fantastico Marble Photo: Jeff Goldberg Esto Broadway 117th -Columbia University As always Yours Photo: Jeff Goldberg Esto
JI: The process in stone is the complete reversal of working in metal.
What did you have to learn differently in order for marble to work for you?
JI: The very clear difference between constructing a sculpture and working in marble is that marble in my case suggested a reductive process: carving, cutting, removing material to find form.
Steel and concrete were additive processes.
Did you happen to say, something like, at some point, 'Ah, the world of marble! It is strabiliante to work with!'
JI: The beauty of marble is that it reveals itself slowly over time and you work the surface and shape it and come to a final polish or final soft finish. It's a material that reveals its beauty through those processes: the veining, the color, and oddly its transparency into its organic forming. The hand/ touch is so important, its your third eye!! You are looking at and feeling a surface simultaneously-- a kind of circular feedback to the brain to secure the intended expression.
When I found that I could bring texture and pattern to this material was when I knew that marble and
22 • FEBRUARY 2023 THE ARTFUL MIND
JON ISHERWOOD | SCULPTOR
Given and Recieved 2020-21
Verde Rameggiato Marble, 33 x 55 x 43 inches
Right: Rosso Cardinale Marble, 39 x 70 x 31 inches
Photo: Jeff Goldberg Esto
As the Earth Laughs 2021 Left: 2021, Rosa Portogallo Marble, 35 x 74 x 37 inches Right: 2021, Breccia Viola Marble, 31 x 55 x 29 inches Photo: Jeff Goldberg Esto
stone were the materials I wanted to work with.
I am looking at Arctic Shift, as well as, As the Earth Laughs, both marble sculptures and most beautiful in their differences. I am wondering, what direction were you going in with each of these pieces? Maybe they are not to be compared. But I find the contrast in shape and form very similar and so very different that curiousity allows me to wonder about their relationship to one another.
JI: Arctic Shift came about through a collaborative process of researching the concerns of the 8 countries who are members of the Arctic Counsel. The torus shape identifies the coastal profile of those countries, and the predictions of changing coast lines due to sea-rise over an 80-year period. Comparatively, The Earth Laughs is a combination of two floral forms and the petals grow out and reach out from a center. So with Arctic Shift, with the void in the center, is about the potential loss of the Arctic ice cap. I hope that the gesture and growth of The Earth Laughs expresses a more optimistic potential.
Is all your sculpture made by your hands?
JI: All of the works start from my hand, and the shaping and forming of clay to make a very gestural shape. These forms go through an extensive translation from 3d scanning, 3d modeling, 3d printing, remodeling, scaling. Finally, tool paths are developed for 7-axis robotic carving, and then once the forms have been roughed out the very final stage is back to my hand to finish carve, shape and polish the work.
Can you go a little into explaining what process is involved in creating texture onto the skin of a stone sculpture? At what point in the process does this take place?
JI: In around 1998, I was invited to work in clay at the University of N Carolina at Greensboro, and I found myself pushing the clay onto textured surfaces. I remember being encouraged to climb up a ladder and throwing giant balls of clay at plastercast forms. The clay picked up incredible detail from those surfaces and that seemed to provide a clear association with my early studies in textile design. The question next was how does that translate into a sculptural form? I was given the opportunity to scan those surfaces and through a 3-D modeling program, apply them to a digital
model. Computer Numerical Control (CNC) processes allowed the translation of those surfaces to a5 axis stone milling machine, and the cutting and carving into the marble those patterns.
Have you ever mixed two different kinds of marble or other stone to make one sculpture?
JI: Yes. Most recently I was commissioned to make a piece for the Verona Stone Theater, and I used a combination of a dark marble and light marble. First the material was stacked and layered, and then I cut and milled into the surface. I think it's the beginning of a new series and I am excited to explore it further.
Would you ever consider returning back to making contemporary sculpture from metal again? You can't go back, you can only go forward, so they say, and I imagine that if you did, you would enthusiastically be investigating new ideas and ways to interpret your art?
JI: It's an interesting question because now I am working on a new collaborative project for the new US consulate in Chiang Mai, Thailand. One of the pieces will be a combination of stainless Continued on next page...
THE ARTFUL MIND FEBRUARY 2023 • 23
Artic Shift 2016-18 Carrara White Marble 120 x 120 x 80 inches USA Embassy Oslo, Norway Photo: Jon Isherwood
24 • FEBRUARY 2023 THE
MIND JON ISHERWOOD | SCULPTOR
ARTFUL
Arctic Shift 7 Axis Robotic Milling Photo: Jon Isherwood
French Mist 7 Axis Robotic Milling Photo: Jon Isherwood.
steel and glass and the second is a 62-foot ceramic mosaic.
Tell us about your educational offerings that take place in Italy?
JI: In 2005 I founded a "not for profit" organization called The Digital Stone Project. For six years, we provided opportunities for artists to explore stone carving using CNC technologies here in the US. In 2012, I developed a relationship with Garfagnana Innovazione, Italy in which we now for the last 10 years offer a month-long residency for artists, designers, and architects to explore carving marble with robots using marble from the region in Tuscany, and work together in outdoor studios at the foot of the Apuan Alps in dialogue and exchange.
Do the students pick out their marble in a quarry?
JI: Artists have a choice of the marble they would like to work with. The marble available is the marble of the region. Since the preliminary robotic carving is completed before the participants arrive, the stone is selected in dialogue with the technologists at Garfagnana Innovazione: photographs, marble type, densities, specificities of the material are shared. The marble isn't quarried for
them but there is much to choose from in the Quarry stock yards.
Is it a dangerous trip to get down to the bottom of the quarry?
JI: When the participants visit the quarry, we are always guided by the quarry manager and a geologist. Everyone is required to wear safety gear and they would never encourage us to visit if there were any potential dangers. The roads up to the quarry are very winding and always a spectacular view down to the coastal towns of Pietrasanta and Carrara.
Digging out marble must be exciting fun. Do you enjoy this as part of the overall process?
JI: When selecting marble for a project, one visits the extensive marble supply companies in Carrara and Pietrasanta. It's like shoe shopping-- there are so many choices. At this point you are selecting from quarried marble that is in large blocks and that has been transported there from the mountain quarries.
How do you decipher if a piece of stone is right to work with? What characteristics do you look for when starting to find a piece of marble?
JI: Obviously, size and proportion are essential. One examines a block to understand the direction of the veining, and how the form you are making will fit into that block.
The stone distributors have an interesting process where they spray the blocks with water, which helps you see the true coloration once the marble is polished. They also let you climb on top of the block (which is usually about 6 feet tall and 8 feet long, 6 feet deep), they let you look at all sizes and will even lift it up with a crane so you can inspect the bottom surface. It's incredibly challenging because you're trying to imagine or project a form into the dense material block.
Can you show us the difference in your sculptures that work better with different kinds of stones?
JI: The best example might be the floral forms made for Broadway allowed for more colorful and flamboyant, dynamic veining to enhance the floral concept. A more architectonic, vessel-like form needs to have a less busy coloration so that you see the form more singularly.
Is there a difference in your state-of-mind when you are commissioned to do a piece of art, and Continued on next page...
THE ARTFUL MIND FEBRUARY 2023 • 25
New Beginnings Swanson Red Marble 18 x 16 x 17 inches Photo credit Jon isherwood
Siren 2010-13 White Marble 79 x 29 x 24 inches Photo: Michael Fredericks
when you create art for yourself?
JI: Yes, absolutely. When you are working on a sculpture for the public realm, you have a different responsibility to communicate to a larger collective audience. I have learned that I have to collaborate in these instances with all of the varying stake-holders.
From the perspective of being a teacher, lecturer, what would your first few introductory classes in sculpting be about? In what ways can you introduce relatable parts of art history and commentaries into your class?
JI: Over my career as a professor, teaching at various institutions, my intro class would always be titled: "What is Sculpture?". The intention here was always to introduce materials, processes, and related histories. I think the traditional context of working form the figure and still life are very valuable as you are asked to respond to form and objects you see before you. But I have always tried to re direct the approach from the "go to" tra-
ditional materials.
My all-time favorite project is to give each student a long stem wine glass with a flower in water. The request is to simply transpose this information using the material provided: one 16 ft long pinewood 4" x 2" into a sculptural form twice their height. All tools in the woodshop allowed for the fabrication. It's so exciting to see how people translate the transparency of the glass, the differing opticality of the stem in the water and then of course the flower and petals.
Tell us about what it was like working with Anthony Caro and what did you learn from this man that was considered to play a pivotal role in the development of 20th c sculpture?
JI: It was an incredible opportunity in that I was brought into the professional world of a very established artist; I learned how the studio works, I learned how communications occur with galleries and collectors. But foremost was working directly on the sculptures and absorbing Tony's aes-
thetic, getting to travel all over the world, and looking at great art with a great artist.
What did he teach you that you will always remember?
JI: You tend to the studio like it's your job. Don't live and work in the same place, Secure a daily 9 to 5 routine. Working in series allows you not to be precious; it allows variations to occur when you are pursuing a certain theme, and through risk you must trust yourself.
What is the significance of art to you?
JI: I think it's very straightforward and simple. I think that for those who choose to make art, one is making that decision because this ever-developing language is the clearest available and has the most potential to express your feelings, your emotions, your ideas, your thoughts.
What kinds of investigative art projects have you been busy with that you can tell us about?
26 • FEBRUARY 2023 THE ARTFUL MIND JON ISHERWOOD | SCULPTOR
Fibonacci Duet 2020 Red Granite 50 x 79 x 64 inches Photo credit: IFMM
Fibonacci Duet 2020 Grey Granite 90 x 55 x 55 inches Photo credit: IFMM
JI: I feel like I am always in experimental mode. I made a series prior to the work I just mentioned above that was laminated plywood. The cheapest plywood you can buy and its produced incredibly dynamic forms. I have experimented with 3Dprinting distorted honeycomb cells that are then filled with colored resins which were carved into.
In some ways I was trying to make a composite marble.
My screen-printing process has been complex in that it has involved embossing, hand cut stencils, using photo processes to translate imagery, collage, and lamination. I love the tactile process of screen-printing.
Has travelling to parts of the world, such as China, given you a broader perspective on ways of making your art? And what might some of those ways be?
JI: All travel has been significant and influential. In my student days, traveling to through Europe; spending time in Cyprus; then professionally trips
to China, Japan, Cambodia and most recently Thailand and my many trips to Italy, carry great influence. Not only is it the artwork one sees, but the experience of differing cultures and identities.
You are considered to be a very seasoned artist with a very long resume. Tell us, what in your opinion, was the height of your art career so far?
JI: Tomorrow, I hope!!! But I must add that the opportunity provided by Anne Strauss and the Broadway association/ NYC parks to exhibit my work along eight locations from Lincoln center to 157th Steet was incredibly rewarding. Everyone I spoke with over the 18-month period the work was up were so welcoming and expressed thanks for the installation. That kind of response from those communities of people was heartwarming.
Is it not amazing how we can get a big idea going from a small flame? Not knowing where the idea will come from but knowing it will develop eventually. It becomes a challenge when an artist is
in limbo, between projects and not knowing what to do next. How does an artist conjure up ideas for the next project?
JI: When I was in art college, a professor once said to me, "It's likely you'll only have one idea. And the beauty of that lies in the simple fact that you have a lifetime to explore it."
The Broadway Blooms came out of a desire to explore the idea of the "gift" I know more than ever now that that's my only idea!! www.jonisherwood.com
THE ARTFUL MIND FEBRUARY 2023 • 27
R
Progressioni 2022 Marble 66 x 60 x 18 inches
Photo: Jon Isherwood
In Bloom 2021-22 Silkscreen Print 22 x 30 inches
Photo: Jon Isherwood
MARGUERITE BRIDE BERKSHIRES
IN WATERCOLOR
Have you visited 51 Park Restaurant in Lee lately? I have just installed a new exhibit of 18 Berkshire scenes, on both floors of the restaurant. Included is a variety of original watercolors, and repros on stretched canvas too. I selected images that are the reason why we love the Berkshires so much…..Lee Common in Winter, Red Lion Inn, some old mills on the Housatonic, quaint village scenes of Otis and Becket, and Hancock Shaker Village, to name a few. All are for sale and can be taken right then and there. Go for it, there is something for everyone! Seasonal replacements will be happening…. well…seasonally.
We painters who live in the Berkshires are really very lucky. There is always something inspiring to paint just by looking around outside. The inspiration never stops, no matter the season…. the iconic spots we all know and love, bucolic hillsides and landscapes, funky downtowns with their unique buildings, marketplaces, rivers, lakes….if it doesn't move I have probably painted it. If you are interested in seeing more of these paintings, please visit the "Berkshires" gallery on my website.
Do you have special occasions in your future? Anniversary? Wedding? Graduation? Retirement? Selling a home and downsizing? A custom watercolor painting of a wedding venue, a home or other special location is a treasured gift. Marguerite Bride – Home Studio at 46 Glory Drive, Pittsfield, Massachusetts by appointment only. Call 413-841-1659 or 413-442-7718; margebride-paintings.com margebride@aol.com; Facebook: Marguerite Bride Watercolors. Instagram: @margebride.
BERKSHIRE DIGITAL
Since opening in 2005, Berkshire Digital has done fine art printing for artists and photographers. Giclée prints can be made in many different sizes from 5"x7" to 42" x 80" on a variety of archival paper choices. Berkshire Digital was featured in PDN magazine in an article about fine art printing. See the entire article on the BerkshireDigital.com website.
Berkshire Digital does accurate hi-res photoreproductions of paintings and illustrations that can be used for Giclée prints, books, magazines, brochures, cards and websites.
"Fred Collins couldn't have been more professional or more enjoyable to work with. He did a beautiful job in photographing paintings carefully, efficiently, and so accurately. It's such a great feeling to know I have these beautiful, useful files on hand anytime I need them. I wish I'd called Fred years ago." - Ann Getsinger
We also offer restoration and repair of damaged or faded photographs. A complete overview of services offered, along with pricing, can be seen on the web at BerkshireDigital.com
The owner, Fred Collins, has been a commercial and fine art photographer for over 30 years having had studios in Boston, Stamford and the Berkshires. He offers over 25 years of experience with Photoshop, enabling retouching, restoration and enhancement to prints and digital files. The studio is located in Mt. Washington, but drop-off and pick-up is available through Frames On Wheels, 84 Railroad Street in Great Barrington, MA (413) 528-0997 and Gilded Moon Framing, 17 John Street in Millerton, NY (518) 789-3428. Berkshire Digital - 413 644-9663, www.BerkshireDigital.com
SALLY TISKA RICE
Sally Tiska Rice was born and raised in the beautiful Berkshires. She is the youngest of four children. Sally lives in a rural town with her husband, and pets, where she is inspired by her surroundings.
As a young girl she would sit with her father as he designed and drew many blueprints. This was the start of her love for art in all its forms. While painting and drawing she feels spiritually gratified and relaxed. She is a spine injury survivor that finds her creative nature healing.
Sally focuses on blending and layering to achieve depth and dimension. She also experiments with light and color to create a piece that will be enjoyed. Sally employs many different techniques into her paintings, using acrylic, watercolors, oil paints, pastels, as well as mixed media.
Her love to travel has given Sally opportunities to further her understanding of art in all its forms. She has been able to visit many areas in the Northeast, ranging from the majestic mountains to the scenic shores. Sally has enjoyed art abroad while in Italy, Greece, Spain and the Caribbean as well. These experiences have encouraged her knowledge and appreciation of the history of art throughout the world.
Sally uses spontaneity to compose artwork. She also creates many beautiful commission art pieces for customers internationally. Her commission pieces are usually created from one or more images that the customer has chosen to blend together to form a one of a kind piece of art. Sally also has many customers that have purchased fine art prints.
Call to set up a studio appointment at the Clock Tower Business Center, 75 South Church Street, 3rd floor, studio 302, Pittsfield, Massachusetts.
Sally Tiska Rice - 413-446-8469 http://www.sallytiskarice.com, http://sallytiskarice.com/STR/The_Artist.html, https://www.facebook.com/sally.t.rice, https://mobile.twitter.com/RiceTiska, https://www.linkedin.com/in/sally-tiska-rice-cpo5230777a/, https://www.instagram.com/sallytiskarice/ https://pixels.com/profiles/sally-rice.
28 • FEBRUARY 2023 THE ARTFUL MIND
NORTHERN CARDINALS, WATERCOLOR
ARTFULMIND@YAHOO.COM Join us ... Promote your art here!
LEE COMMON, WATERCOLOR
THE ARTFUL MIND FEBRUARY 2023 • 29 LONNY JARRETT FINE ART PHOTOGRAPHY Berkshirescenicphotography.com 413‐298‐4221 Lonny@berkshirescenicphotography.com
JULIE SHAPIRO VISUAL ARTIST
"The process of making continues to interest and challenge me. In my studio I find a compelling conversation and exchange. It is this dialog and the ongoing questions it suggests that continues to draw me in." —Julie Shapiro
Harryet Candee: I would like to demystify the work that you do by looking at your paintings, drawings, paper pieces, and printmaking. I would like to know how does your art making represent you in all your complexity?
Julie Shapiro: Does it represent me in my complexity? That's a big question. Certainly I am intimately tied to my art making and the pieces I produce are reflections of a multitude of experiences, thoughts and actions. I spend a lot of time in my studio, working and looking. Outside of the studio there are many things I cross paths with, visual and conceptual, that in one way or another find their way into my work. The hands on making that takes place in the studio, the working back and forth between different mediums, between accident and control, between intuition and historical knowledge, between reexamination and self-critique. all feed into my work.
Repeated shapes overlapping within atmospheres, lines and color clearly distinguish your work. Can you tell us more about, Temporary, please. How does this piece fit or differ compared with other works you have done?
JS: This piece takes on some of the ideas I'm working with. Broken connections and different kinds of alignment, the unexpected within the assumed, shifts as form and color meet up or don't, as drawing and color cross over and under or collide, these are ongoing parts of my work. That there is a relationship between parts, but that there is a deviation from the expected logic.
In different media I find different ways of putting together related but separate configurations, with the work on paper, as in this piece, it usually includes cutting and pasting.
What preliminary stages do you find most familiar
to you when beginning a new piece?
JS: Most familiar are the materials. I don't have one set way to begin a piece. Some pieces are started by assembling the surface that I will be working on, others start with a panel or stretched canvas that I'll work on. Some pieces are started with hand made stencils, some with freehand drawing, some working from imagery of another piece which may be finished or in progress.
Through your formal training and studies as a student, what practices and principles in Art do you steadily apply presently to your work?
JS: I don't know that there is much that I regularly apply. There are certainly specific experiences that I remember. For example, I remember working on a painting that included pink and green, the teacher looked at it, and said to me something along the lines of … "this is not
30 • FEBRUARY 2023 THE ARTFUL MIND
Interview by Harryet Candee Photographs Courtesy of Artist
Red Window, 2018 Carborundum Aquatint 19.5" x 19.5"
color…this is color…" and he pointed to several colors next to each other that had subtle but distinct variations in tone and hue. I don't think this was meant to say that was the only kind of color, but that it was something to notice, not push aside and that it could be as powerful as two colors across the color wheel. Or at least, that has been my interpretation. Someone did look at a painting once and tell me that I didn't need the horizon line, I did take it out of that piece. I've had the opportunity of working with many different artists and I've had a lot great teachers. One of the things that made graduate school so important was there would be several professors whose work one deeply respected coming into the studio, all looking at the same pieces of work and telling you different things. There was a lot of important information in those critiques, but it also made me realize that in the long run, I had to make the decisions. There are many painting/art conventions that one learns and becomes familiar with, but gathering them together doesn't necessarily make an exciting painting, or an interesting experience
in it's making.
What work would you consider of yours to be exploratory, challenging and new for you?
JS: Using new materials is one way to open up new explorations. This was the case when I first begin the paper pieces about 10 years ago. However, I find even with those materials with which I'm most familiar, there are always discoveries to make. I bring ideas to a piece, but I also like to find ways in the making to take me out of habits. Within the making of a piece I am always trying to keep the work open and challenging myself. The continuing questioning and surprises with the making is what keeps me excited and interested
I am thinking of all the steps involved in the printmaking process. Woodcuts and intaglio printmaking are what I have found to be very absorbing and challenging for me. I love the complex steps involved, the relationship between the papers, press, and, what is left up to nature, and what you can actually control. I have never done carborun-
dum aquatints, though. Can you explain the process and the outcome you strive for with Red Window, 2020?
JS: Carborundum aquatint is a very painterly medium. It is actually a collagraphic process where one draws on the plate with a combination of acrylic medium and carborundum. Carborundum is the grit that one uses when grinding down stones in lithography. There are many variations including the choice of acrylic medium, the quantity of carborundum added to the medium, and the kind of plate one uses, plexiglass, or prepared mat board. Plates can be reused and reinked so they work well for monoprints or a limited edition, but the drawing doesn't hold up over numerous printings or cleanings.
Red Window, is a two plate carborundum print, the plate that was printed first was inked with a warmer/oranger ink, the second plate with a slightly cooler/bluer/red ink. The overall red tone is the result of the plates being slightly larger than the size of the paper, so that the ink goes over the full sheet. Continued on next page...
THE ARTFUL MIND FEBRUARY 2023 • 31
Temporary 2020 Graphite, Colored Pencil, Acrylic / Gouache on collaged monoprint 30" x 16"
32 • FEBRUARY 2023 THE ARTFUL MIND
|
Julie Shapiro
Visual Artist
44"
42"
Near/Far
2017 Oil on Panel 16" x 16" Bale 2013 Oil on Canvas
x
The overall red color is plate tone, the result of the ink that remains on the plate after wiping, where there isn't any drawn image.The plate tone is a physically thin layer of ink and therefore transparent, the overprinting of these plate tones gives a rich and light filled red that is an important part of the print. I'm interested in the multiple readings as the overlapping drawings visually resist each other and then merge, both in terms of image and visual location.
In printmaking, what do you find to be most tedious, challenging and satisfying for you?
JS: I guess the most tedious part is cleaning plates. I think what is most challenging are some of the technical aspects. Though at the same time, the "accidents" caused by some of those difficulties is part of what excites me about the medium. I get excited by the seemingly endless possibilities that one can try, particularly in monoprinting. Not only can one imagine a change in color, or a second, third, fourth… plate printed in a different color, or upside down or over only half of the print already begun, but one gets to try out some of these possibilities in a physically tangible and actual print. Printmaking as a medium also has a unique wonderful range of mark making from extremely fine through rough and tumble and scratchy. There is also a particular kind of color and light, taking advantage of the white of the paper, in some ways similar to a watercolor.
How did you find your way to printmaking?
JS: I did some wood cuts when I was growing up, so I was first introduced to printmaking by my mother who used to print her own linocuts for holiday cards. At some point I was given a silkscreen set and learned in an informal way how to make screen prints. My more formal introduction came when I went to college. I knew I wanted to be an art major and started taking studio courses right away. Some time during my first year as an undergraduate, an art advisor or teacher suggested that I take a printmaking course so that if I liked it, I would have four years with access to a print shop. I followed through on the suggestion and started taking printmaking courses, both intaglio and lithography.
How did you find your way to painting? What is your approach all about?
JS: First I think, I grew up with a mother who was an artist and in a house that was full of various materials. My father also did some watercolors. I started taking art classes when I was quite young and then when I went to high school I had an amazing art teacher. She was a serious and very good painter. In her class I did my first large paintings...4x5', my first paintings from the figure and also learned some basic color theory. I took art classes outside of school and went to an arts camp. When I was applying to college, I knew I wanted to be an art major. I got my BA in studio
art at UCSC, set up a studio, worked on my own for a couple of years and then decided to apply to graduate school. I left California for the east coast and received an MFA from Yale in Painting/Printmaking.
Tell us about Near/Far and also, Bale.
JS: Bale is one of the earlier paintings that I did after I began to use stencils as one of my tools. These stencils were made by tracing my paper pieces. I often store the paper pieces pinned up and overlapped on my studio wall. This painting began in response to one of those arrangements. Two large stencils were used as a starting point. Stencils were brought back in as the painting developed, along with freehand drawing, wiping out and repainting, focusing on the whole and also individual areas. In Near/Far, one can also see the use of stencils, though in a different way. The white configuration with the pale pink drawing within it establishes a strong foreground presence. Though the blue paint was put on as a final "layer", its placement and relatively darker color pull it back from the viewers space. Additionally, the blue, in my mind refers to the sky, which we may experience looking at it through other forms such as windows or tree branches. This experience offers a connection to one of my ideas in the paper pieces, the awareness, and/or inclusion of what is behind the paper piece and how we perceive that. Continued on next page...
THE ARTFUL MIND FEBRUARY 2023 • 33
Studio walls, Julie Shapiro, 2022
Near/Far refers to my perception of ideas of location and positions in the painting, both visually and conceptually.
When you stand back and look at your work, what are you concerned with mostly?
JS: There are so many concerns in looking at a painting, and I think they change as a painting develops. The first concern is primarily to get down an opening statement. This may be an idea I am working with, or perhaps a simple experience that sets off a spark. Often there is a direct relationship to previous pieces. A myriad of other things may also enter into the piece, perhaps the late afternoon light in late summer, a textile show I saw at a museum, or something I read. As the painting develops there is a conversation between my initial aims, how I read the painting as I step back and look, and how the painting develops in actuality. There are times when I want to continue to assert the idea that I began, and other times when I look at the piece and tell myself that it's time to let go a bit and follow a suggestion that the paint-
ing seems to be demanding. Whichever direction. I always try to keep it open, to not "clean it up" too much, to not fuss around.
Before starting a new work, do you warm up with any drawing exercises, or anything that gets your conceptual plan in the right direction?
JS: I don't have a warm up as such. I start pieces in different ways. In part this depends on medium. Sometimes I start with freehand drawing, sometimes I'll start with the configuration from a previous finished piece or a piece in progress, sometimes I'll start from a stencil I've made, or perhaps a surface that I have collaged together.
Paper on paper, white paper shapes on paper surface that I see you create, would this be more of playful form of artmaking for you? Kudzu, for example, to me is playful and lively in many ways that it moves and creates shadows. How does this medium work its way into your spectrum in relation to the other mediums you also seem to be very involved with?
JS: The first paper pieces I made were about 10 years ago. I needed a break from what I was doing and at that time was thinking a lot about the relationship of the piece to its location. I did a couple of pieces with cutouts that I placed over the window so that one would see the landscape through the piece. That led into the cut paper pieces. I think of them as drawings with paper. They continue to be part of my studio practice. Many are white, but some use paper that I have painted in a single color before starting, some use old prints, some are paper that I have drawn on as the form has developed. I am definitely attracted to white pieces in front of white walls, the shadows the pieces cast and how that changes through the day. Working with the white paper also accentuates the overlaps and piecing together of the paper within the larger form. Along the way, I have traced some of the paper pieces and cut them out of a single piece of paper which I then use as a stencil, a tool, in my paintings, drawing and prints.
34 • FEBRUARY 2023 THE ARTFUL MIND
|
Julie Shapiro
Visual Artist
Kudzu 2018 Paper and Archival Glue 31" x 21"
Carrying Over 2022 Oil on Canvas 30" x 22"
15.5" x 14.75"
Which artists do you follow, and why?
JS: I follow artists for many reasons, I like to see how artists deal with different issues, how they physically make a painting, how their work changes over time. I follow work of my friends and colleagues and I follow work of artists who have for one reason or another caught my eye along the way. To a certain point I like to have an idea of at least a fraction of what is going on in the commercial art world, so I keep and eye on that too. Sometimes I'll go see work of particular artists, sometimes I'll wonder through a gallery neighborhood in NY going to galleries that I am familiar with, seeing work by names I'm familiar with, and peeking in to see if there's something that catches my eye.
I might have an idea about something, and look at how other artists worked with that, or work that is related to what I am thinking about. Some of the artists do work that is closer to my own and some quite different. Right now the stack of books by my studio chair includes; Joan Mitchell, Georgia O'Keeffe, Elizabeth Murray, Terry Winters,
Frank Stella, Philip Guston, Morandi, Hokusai, Jack Whitten, Robert Ryman, Rothko, Clare Falkenstein, The Complete Pompei and the Crown Point Press Magical Secrets about Printmaking series. These books include some of my favorites, but so there are so many more.
What are you presently working on and what is that all about?
JS: Most recently I've been working on multipanel paintings or single panel paintings that have visible, simple geometric divisions. This in part comes out of some of the work on paper I've been doing over the last couple of years and also from a series of prints that have been an ongoing project with a printer in NYC. Working on multiple panels allows me to physically separate the paintings, work on them individually, put them back together or even exchange a panel. I try to approach the one panel pieces with drawn divisions in the same way. This becomes a tool to accentuate the unexpected connections, openness and surprises that interest me in both the making and the
"resolution" of a piece. One of the surprises for me in the recent work is that some of the multipanel paintings have become single panel paintings in a configuration that I haven't ever used in starting or resolving a painting, a long vertical rectangle. The idea of disrupting presumption remains important in the current work. julieshapiro2@gmail.com
THE ARTFUL MIND FEBRUARY 2023 • 35
R
Crossway 2022 Mixed Media on Collaged monoprints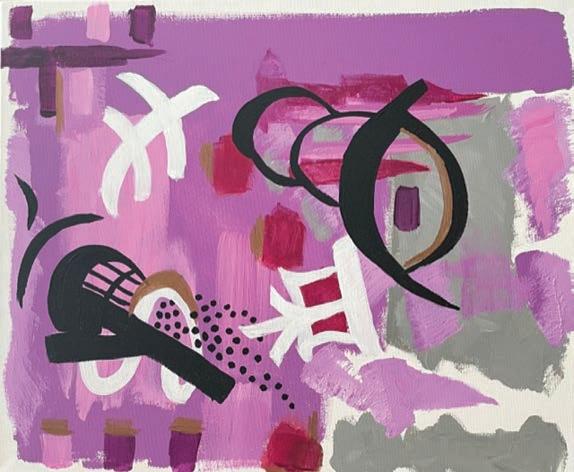 36 • FEBRUARY 2023 THE ARTFUL MIND THE ARTFUL MIND VIRTUAL GALLERY 2.2023 RUBY AVER Ruby Aver 413 854 7007 rdaver2@gmail.com Instagram and Facebook Formal Attire Only Acrylic on canvas 18"x 24" Message from the Grapevine no. 2 Acrylic on canvas 20"x 24" Message from the Grapevine Acrylic on canvas 18" x 20"
Each image is part of a limited edition. There are several sizes available.
Each piece is priced according to size.
Images are unframed and printed on Hahnemuhle archival papers.
Bruce Panock: 917-287-8589 www.panockphotography.com bruce@panockphotography.com
THE ARTFUL MIND FEBRUARY 2023 • 37
BRUCE PANOCK
Outside
Photograph Leaves and Door post Photograph
Fleeting Memories Photograph
38 • FEBRUARY 2023 THE ARTFUL MIND MARK MELLINGER Mark Mellinger : 914-260-7413 The Clock Tower Business Center, 3rd floor, 75 South Church St, Pittsfield, MA markmellinger680@gmail.com
Acrylic on canvas. 60" x 48" 2012.
CRUSADE.
INDUSTRY, Marble and found iron
FRANZI AND A BOY IN E.L. KIRCHNER'S DRESDEN STUDIO 1910 Acrylic on canvas. 2015
THE ARTFUL MIND FEBRUARY 2023 • 39
Carolyn Newberger: 617-877-5672 cnewberger@me.com www.carolynnewberger.com CAROLYN NEWBERGER Catharsis, Cleo Parker Robinson, Jacob's Pillow, 12 x 17 inches Swing Out, Jacob's Pillow, 12 x 9 inches Trinity Child, You Lost Water, Jasmine Hearn, Jacob's Pillow, 12 x 9 inches
From the pages of the Sketchbook...
"It's up to you to decide who my ladies are and what they are thinking. They only came to me with the first stroke of a brush and a little paint. I don't know their stories or where they hale from. I only know that they now exist, and some will love them, and some will not. Such is the life of a woman."
-Mary Ann Yarmosky
40 • FEBRUARY 2023 THE ARTFUL MIND
•
Instagram
MARY
Mary Ann Yarmosky: 413-441-6963 myarmosky@comcast.net
Face Book
maryannyarmoskyart.com
ANN YARMOSKY
The Saxophone Player Acrylic on paper 14"X 17"
The Priestess Acrylic on canvas 16"X 20"
Out of The Blue
508—237—9585 By appointment Only THE ARTFUL MIND FEBRUARY 2023 • 41
ESTEBAN VALDÉS
Author
Interview by Harryet Candee Photographs Courtesy of Artist
I was born in México City on November 27, 1960. I am an independent writer, Spanish and English teacher. Growing up among actors, singers, musicians and art in all its forms influenced my life very strongly. I was especially influenced by my father who was a comedian and actor. My project of writing a book about the behind-the-scenes life he led, has been a highly inspiring, challenging, and satisfying experience for me at this point of my life.
Harryet Candee: While in the Yucatan, I met you while you were walking your dog along the beach. How's life for you living on this beautiful island? Esteban Valdéz: I have always lived in a simple way and enjoy nature and people, so Isla Mujeres has exactly what I need: Beautiful sights, sunsets, starry skies and great people, friends and places.
Where else have you lived?
EV: I have lived in different parts of the world including Barcelona and Aspen, Colorado, but I would choose to live here on this calm and quiet, beautiful island.
What were your impressions when you were visiting America?
EV: I have great memories from my visits to America. Most of my trips there were long-term vacations. I also had the chance to temporarily work as a caretaker in Aspen, Colorado. I would say my favorite locations in the states are Califor-
nia, New Mexico, New York and Colorado.
I know you're enthusiastic and always ready to take on different projects and doing them all to the best of your abilities. What motivates you to have such a full plate, Esteban?
EV: "There is more happiness in giving than there is in receiving." The essence of this famous proverb is what motivates me in everything I do. When I say or do something, and it has a positive effect on people, it makes me happy. Like with a dish I cook and share, or when I give encouraging advice, or even a therapeutic massage I give and do not ask for money in return.
Where does your source of inspiration come from?
EV: Ever since I was a teenager, The Sermon of the Mount, has been a powerful influence in my life and has helped me in many ways, including with everyday decisions I must make. Also, where
I get my inspiration from comes from an excerpt from Mahatma Gandhi's autobiography, and I quote:
For a bowl of water give a goody meal;
For a kindly greeting bow thou down with zeal; For a simple penny pay thou back with gold; If thy life be rescued, life do not withhold. Thus the words and actions of the wise regard; Every little service tenfold they reward. But the truly noble know all men as one, And return with gladness good for evil done.
You also just came out with your first book about the life of your father, Ramon Valdéz, called, Con Permisito Dijo Monchito. Can you tell us what this book project meant for you?
EV: Many of us have talents we are not aware of until we are faced with a challenge or, dare to open our wings to fly over a cliff that scares us. I never considered myself a writer, but when I
42 • FEBRUARY 2023 THE
MIND
ARTFUL
Photo: H. Candee
started writing— and flying, it was so beautiful for me. I opened my wings like a frigate bird and let the wind of inspiration keep me afloat.
Was this one of your major life achievements so far?
EV: There is a famous saying: "Have a child, plant a tree, write a book." So, yes! Writing this book has indeed been one of my greatest achievements for me.
You must have learned a great deal about your father, especially now from an objective point of view. How does the light shine on him now in your eyes?
EV: My father was a very loving person, but at the same time, had a very strong Mexican "male" personality. He could be very kind, but also didn't hide when he didn´t like something or, someone. Before he became rich and famous, he always did his best to provide for us. He had many different
jobs in his lifetime, such as farming, carpentry, driving, painting, a cooking, and more. Everything he did, he did with passion. From sipping coffee, to taking a puff of a cigarette, to drinking his favorite Cuba Libre (Rum Bacardi and Coke with some lime drops), he enjoyed life to its fullest. I remember when he would listen to the music of Chuck Mangione, he would also be singing and playing along on his guitar — at full blast!
I am guessing you came from a large family? Please tell us a little about them.
EV: Yes. My dad had three wives and ten children. My mother was his second wife, and I have four siblings. My mother was very beautiful. She was a famous singer in a trio. My parents met at one of her shows. She also was in some movies. My parents were married in 1958.
In what language was the book written?
EV: It was first written and printed in my native
language, Spanish. So far, it has been now been translated into Portuguese. It will be launched in Brazil this February, and I hope it will be a great success. Brazilians love my father.
There is a real art to studying language. It's a beautiful art. Wouldn't it be amazing to be able to read the oldest of languages, like Sanskrit? What languages do you speak?
EV: Yes! It would be amazing being able to read Egyptian codes or manuscripts. Spanish is my mother´s tongue. English is my second language. I also speak Portuguese, some French and a little Mayan.
Are there any plans for your book to be translated into English?
EV: Yes, I am working hard on that now, and hope it will be ready by this coming summer.
Continued on next page...
THE ARTFUL MIND FEBRUARY 2023 • 43
Esteban, childhood days
Esteban's parents wedding
Artist rendition of Ramon Valdéz and Esteban Valdéz, on right. All photographs on this page courtesy of Esteban Valdéz
Why do you think your father gained so much popularity as an actor and comedian in Latin America?
EV: The main reason my father gained so much popularity as an actor and comedian is because of the roles he portrayed in the 70s TV sitcom, El Chavo del Ocho as Don Ramón, it was also very similar to who he was in real life. For example, the clothes he wore when he left the house were also the same clothes he would wear on the show. People identified with him. Like not having a job, owing house rent, being a single father, always having to come up with creative solutions to make ends meet, all was true to life for him.
What was El Chavo del Ocho about?
EV: El Chavo del Ocho, was a sitcom and ran about 290 episodes in seven seasons, from 1970 to the 1990s. It included eight main characters, children and adults all living in a small humble neighborhood. Every episode would be a different situation. The protagonist in El Chavo del Ocho, a boy, would always be getting into mischief with his friends.
What were some important events that launched
your father's career as a comedian and actor?
EV: My father´s first comedy movie, Calabacitas Tiernas (1949) was during the time of the Golden Era in Mexican cinema. His brother, Germán Valdés, "Tin Tan" was already a movie star and had invited my father to participate, not only in that movie, but in many other movies as well. In time, he met the actor, writer and TV Producer, Roberto Gómez Bolaños, who later invited him to be a part of his production cast in 1969, El Chavo del Ocho
What research was necessary for this book happen?
EV: I had to research places, dates, people and circumstances regarding my father´s life before he was born. I went back in time to my great-grandfather, the 1800s. In order to make sure the accuracy of the information was correct, I had to interview many people, and parts of Mexican history as well.
What kind of expectations did you have when you went to promote your book in Brazil? Were you pleased with the outcome?
EV: Everywhere I went in Brazil, I saw murals painted of my father's face in character, Seu Madruga (Mr. Dawn) and Don Ramón. There are businesses and restaurants named after him. I found t-shirts and souvenirs for sale portraying his character everywhere I went. There is a Harley Davison Moto club in Rio de Janeiro named after him,, called "Madruga´s Riders". The logo they use on the back of their vest is an amazing design and depicts my father's face as a skull. Elated to meet me, I was given a leather vest they printed my name on the back, and had named me an honorable of Madruga's Riders.
You were also an actor. Tell us about that career?
EV: I started my short acting career as a TV commercial model. In 1980, I had a role in the movie, Caveman which was a United Artists production, filmed in Mexico. The cast was amazing: Ringo Starr, Dennis Quaid, Barbara Bach and Shelley Long. I played the role of Folg Jr. I also had a role as the Apostle Peter in the musical Jesus Christ Super Star.
What did you love or hate about acting?
44 • FEBRUARY 2023 THE ARTFUL MIND
ESTEBAN VALDÉS | AUTHOR
The motorcycle group, Madruga's Riders. Esteban Valdéz, 3rd from left. Brazil
Photo: Courtesy of Esteban Valdéz
EV: I loved acting on stage in a theatre because you can see or hear the reaction of the audience right there. …There is nothing I can say I hated about show business.
Is there any profession you would take on if given the opportunity?
EV: I guess being a pilot is something I always wanted to be, and still something I would do if I had the chance. Since I love animals, my second choice would be to work as a veterinarian.
If you could change anything in your life, what would that be?
EV: I cannot think of anything specific I would change about my life, but I wish my parents had lived longer.
Tell us about some of your plans for 2023?
EV: Produce a documentary based in my book. Travel to Argentina, Perú, Chile and Colombia for presentations and distribution of my book. Finish the translation into English.
How would you describe your personality?
EV: Sociable. (I love being with people and friends); Friendly. (I am a good listener and there anytime for my friends when they need me); Generous. (Always share what I have); Quiet. (Some times I like time by myself).
If you were granted three wishes, what would they be?
EV: 1-Be able to fly. ( like Superman) 2-To have my own house. 3-To travel around the world, non-stop.
What part of world history interests you?
EV: I am really amazed how ancient civilizations were able to build amazing wonders like the pyramids in Egypt and of those in Teotihuacán, Mexico, or the Chinese wall. In art history, I have admiration for Leonardo Da Vinci and Vincent van Gogh. My favorite artist of all is
Dalí.
Is there a lyric from a song or poem that reflects your thoughts on life, love and happiness?
EV: Imagine, written by John Lennon is one of my favorite songs. I believe every word of it. I be-
lieve someday, the earth will be a better place to live, and that the world will be as one. ... Now: "You may say I´m a dreamer, but I´m not the only one….!"
THE ARTFUL MIND FEBRUARY 2023 • 45
Salvador
Thank you, Esteban!
Movie Poster, Cast member, Esteban Valdéz - top right, and bottom left. Photos: Courtesty of Esteban Valdéz
"My jacket! My name!"- Esteban Valdéz, Brazil
Sidewalk art, Ramon Valdéz
RUBY
AVER STREET ZEN
Growing up on the South Side of Chicago in the 60s was a history rich and troubled time. As a youth, playing in the streets demanded grit. Teaching Tai Chi for the last 30 years requires a Zen state of mind. My paintings come from this quiet place yet exhibit the rich grit of my youth. Movement, shape and color dominate.
Ruby Aver - 413-854-7007 rdaver2@gmail.com, Instagram: rdaver2
DANCE HEGINBOTHAM, JACOB'S PILLOW, 12 X 18"
CAROLYN NEWBERGER
Watercolor painting, mixed media, and a practice of drawing from life form the body of Carolyn Newberger's work, with an emphasis on human connections and experience.
An avid and award-winning artist in her youth, Carolyn returned to art after an academic career in psychology at Harvard Medical School. Her work has received many awards, including from the Danforth Museum of Art, the Cambridge Art Association, Watercolor Magazine, and the New England Watercolor Society, of which she is a signature member.
Many of Carolyn's performance drawings and plein air paintings accompany reviews and essays she writes, often in collaboration with her husband, Eli, for "The Berkshire Edge," a publication of news, arts and ideas in Western Massachusetts. Carolyn Newberger -617-877-5672, www.carolynnewberger.com cnewberger@me.com
MARY ANN YARMOSKY
From the moment we are born we long for a way to be heard. For some words suffice, for others there needs to be a deeper form of expression.
That is how artists are born. Where one might send their message through an instrument in the form of music, another might write poetry or prose. Still others speak in something more tangible through painting, photography, pottery, or sculpting. Words only bring us so far…art is the language of longing…a longing that is never fulfilled.
I have always found expression through art. At the age of five I began speaking through the piano that sat waiting expectantly in our den, an instrument that brought me peace throughout the years. Later I took to creating through fashion design, dreaming up and constructing costumes for the Boston Opera Company and outfits for the fashionable elite of Newport, Rhode Island. From there my path took many twists and turns as I lived a life as a wife, mother, caretaker and pursuant of a professional career.
It was when my youngest son passed away unexpectedly several years ago that my longing to be heard returned with a vengeance. Words did not suffice. There are no words to express that kind of grief and longing for what is lost. On that journey of anguish, I met other women who had or were experiencing their own kind of pain. I marveled at their resilience and ability to go on despite different kinds of loss or simply dealing with the uphill complexities of life's challenges. Through paint and a bit of canvas I began to recover my voice, but it's not just my voice. The women I create in paint are a composite of the many amazing women I have met and continue to meet. I paint their humor, their joy and their hidden heartbreak and longing. These women do not exist except on canvas and their stories are yours to imagine. Hear them.
Mary Ann Yarmosky-maryannyarmoskyart.com
46 • FEBRUARY 2023 THE ARTFUL MIND 55 PITTSFIELD/LENOX ROAD ROUTE 7, LENOX MA 413-637-9820 chocolatesprings.com Escape into Chocolate™ SERIOUS HOT OR ICED CHOCOLATE GOURMET GELATO AND TREATS HAND CRAFTED IN THE BERKSHIRES OPEN 7 DAYS A WEEK
LADY AND HER CATS. ACRYLIC ON CANVAS 16" X 20"
DIAGONAL FLYING ACRYLIC ON CANVAS, 20 X 20"
Astrology for Creators
(February 2022)
On the Future of Art from an Astrological Perspective
Deanna Musgrave
Astrology is as much about observation as it is forecasting. When an astrologer keeps a record of what happened during a transit, it could be used as a possibility for what could occur next time those planetary combinations occur. Since I began writing this column in October 2022, I have been talking about how Mars in Gemini (August 20, 2022 – March 25th, 2023) would be igniting polarities in the collective media. What I was surprised by was the impact of this transit for creativity and the arts.
In observing the collective's response to this Mars Retrograde, I have decided that I will prioritize Art as one of the aspects connected with Gemini. This sign isn't always associated with Art and if you do a google search about "what careers are best for Gemini" you won't often see artist on the list. Gemini is associated with the throat, arms, and hands so it denotes singing, playing a musical instrument, talking, and writing but, this can also be drawing and painting or any creative activity done by hands. We all have Gemini somewhere in our chart and it can take on many manifestations.
Mars is associated with passion and war-like measures and, with Gemini being associated with Art, it can literally be interpreted as intense passion about or attacks on art. In looking at the collective, the Mars in Gemini period brought forth environmental activists throwing soup at Vincent van Gogh's "Sunflowers" in late October 2022. Afterwards, there were copycat protests of black oily liquid being poured on Gustav Klimt's "Death and Life" or Maple Syrup on Emily Carr's "Stumps and Sky" in November 2022.
Mars in Gemini also brought forth a polarizing debate around Artificial Intelligence (AI) versus Human made art. As an example, in September 2022 the Colorado States Fair gave their award for best digital artwork to an AI-generated work using a program called, Midjourney, where an artist gives prompts to an AI system to create an image for them. This created a stir and debate in social media about whether this should be considered art. Many artists see this as a threat to artistry whereas others feel it is an advancement in artistic tools.
During the Full Moon in Gemini conjunct the Mars Retrograde in December 7-8, 2022, we saw many changing their profile pictures with the Lensa App which many artists have pointed out steals from human artists through it's "stable diffusion." While the creators make the argument that it is akin to learning and being inspired by another's style as a human might, artist have pointed out that the system copies so directly that it even replicates pieces of the artist's signatures. Some of these same living artists have started posting side-by-sides of their art against the eerily similar ones that are AI-generated without their consent or compensation.
Regardless of your position for or against AI gen-
erated art, I think we could all agree that AI is evolving at a fast rate that challenges boundaries and that it might be at least prudent to have this issue examined by the justice system for ethical considerations. Aside from the issues around copyright or creative ownership, there have been reports of the technology being used to alter images of children that have been posted online to show them as if they were naked or sexualized. While we could attribute these actions as being influenced by Mars in Gemini it is important to outline that we are still responsible for our choices and what we support.
My initial feeling was that the AI Art energy was attached to the Mars Retrograde and that it would shift after January 12, 2023 when it went direct and then even more once it leaves Gemini in March 2023. While I anticipate some sort of shift, such as maybe the first lawsuit from an artist against this company and some boundaries being put in place, in looking at the longer-term astrology, I think there may be more to contend with when it comes to tensions between Human and AI Art.
One of the transits coming up that I feel signals more restrictions or struggle for the Arts is Saturn moving into Pisces on March 7, 2023 to February 16, 2026. Pisces is associated with the arts, spirituality, the illusionary and sometimes escapism through drugs/alcohol so, we are about to experience many Saturnian lessons in these areas. I anticipate that between 2023-2026 Saturn is going to bring up a lot of restrictions, as well as hard and practical lessons for those involved in creativity, the arts and spirituality. Saturn is not to be feared but, understood that the blessings come after processing anything that needs to be learned.
The other transit I am revisiting in context of Human Art versus AI Art is Pluto in Aquarius which is a longer transit of 20 years. We will get our first peek in March 23, 2023– June 11, 2023 but, it moves into Aquarius for 20 years in 2024. While my last column talked about the possibility of this transit heralding the fall of capitalist institutions and the rise of the people, now I am considering that maybe it is also about power shifting to technology, which includes AI. While I was hoping that the AI Art issue would pass after the Mars in Gemini transit, upon further reflection, we will have a longer-term Saturn in Pisces struggle with the arts between 2023-2026 as well as, a Plutonian Death and Rebirth in Aquarius from 20242044. Pluto is also a planet that shouldn't be feared but, understood as creating death and transformation experiences for the purpose of discovering power. It may be the case that the rise of AI through the Pluto in Aquarius transit will force humanity to come into full knowing of what being a human means and where its power is sourced. With this being 20 years, this Plutonic transformation will not happen overnight (so buckle up and get ready to do the work).
Why should this matter to everyone?…because Art is where it all starts. In my experience, positive social movements often start at the level of the arts but, so too can negative ones. The power of technology can be used for the positive if it remains a tool to support artists, rather than replace them. The AI Art threatening to take the place of human artists is just the beginning of the infusion of AI into everything and, while some aspects of this could be positive, the evolution of technology could move too fast for us to consider the consequences and perhaps boundaries/limits should be considered. We must recognize that there is so much we don't understand about what it means to be human and our biology/DNA. For those who resonate with the concept that there is an aspect of us that is immortal consciousness, how is that connected to our physical body, biology, and DNA? Could that
connection be altered by merging with AI through transhumanism?
When AI can do everything that requires a skill that a human can do, what is left that humans can do that is outside the realm of AI? When you answer that question then we may find out what the core of being human means and this could be where the future of Art is. Remember that there have been many copies made of artists such as Rembrandt but, we still travel miles to see the original and those with the resources will pay high value for what is the real thing. There is something unseen in the work of originals that seasoned art critics, curators, artists, and energy sensitive people can sense. I think about Malcom Gladwell's book "Blink" where he begins by describing an artifact that a curator can sense is a fake within seconds. I experience something similar when I look at AI generated art or the new Lensa selfies. I feel a lack of warmth that I have come to associate with artwork that has power. I can logically tell myself that these images are beautiful and done with skill but, there is also something missing for me that I see as a unique human energy, power, and life. I wonder if it is possible to develop this sense to know from instinct, intuition and the body what is human made art full of consciousness and what is purely AI Art. To me the core of being human is Art and I have this sneaking suspicion that the future of Art will depend on developing this sense to know the difference. Many art critics, curators and artists already have this sense. How this awareness is developed will be different for everyone as, we each find our connection to consciousness in our own unique way. For me, it was nurtured through my work as an artist, energy worker and channel. I have witnessed such energy having real physical impacts on the world through the arts. I feel it is possible to have this unseen power within a digitally made artwork but, in my observation, it must be sourced from a human who is connected to their consciousness and power. It is my opinion that such work will be needed for this 20-year transit of Pluto into Aquarius so, that we get to Pluto in Pisces in 2044 without the human part becoming extinct.
I see hope in the astrology as after 2044 Pluto will move into Pisces which signals a death and rebirth of, as well as power moving towards art and spirituality. The last time Pluto was in Pisces was during the Romantic Era of Art at the end of the 18th century into the beginning of the 19th century where spirituality and humanity's connection to nature became the focus. I wonder if we will go down a journey with AI during the Pluto in Aquarius 20-year transit of 20242044 which will bring the collective to realize what the unseen in art is and that this is a power that is connected to being human that will be deeply explored with Pluto in Pisces from 2024 - 2068. For this reason, this unseen human energy is something we will need to foster, nurture, and protect in the coming two decades. Until then, I think we will need those creatives who are sensing the negative version of where this could go to embody that human power in your art and protect it so, it doesn't become extinct. So, when I have young people asking me "Should I bother going to art school because AI can now do it all for us" I answer with a resounding "YES!"
Deanna Musgrave is an artist, energy worker, channel, astrologer and hypnotist. You can contact her through her websites at:
www.deannamusgrave.com www.artisthehealer.com
THE ARTFUL MIND FEBRUARY 2023 • 47
Something For Over The Couch
PART 19
"The Old Goat"
Suddenly I had the obvious answer to a question I never asked myself. My visit to Nena's restaurant, and her involuntary tears falling into the soup she was stirring when she recognized who I was, made it abundantly clear that she had been in love with my Father. But was he in love with her, and did it contain the answer to his death?
I left the kitchen and went into the dining room of the restaurant, as Nena's tears continued to drop into the soup she was stirring with her wooden ladle.
I ask you, what kind of a conversation could I have had with that woman. She had recognized me as the son of a man she had been intimate with, a man now dead three years. When it comes to memory, time is distance, and both time and distance obscures and finally obliterates the past. Three years is just perhaps sufficient to heal the wounds of love, unless some chance encounter brings everything again to the fore, such was my visit to the restaurant for Nena, and also for myself. So a conversation might have commenced but it was not to be, at least not that afternoon.
My mind began the task of reconstructing the conversations between Nena and my Father, three years ago as I sat waiting to depart. He was doing his rounds of collection for the insurance company, and often those visits took half an hour or more. He was simply being polite. His conversations with Nena were all in Italian, of which I knew not a word, and I was not old enough or interested enough to notice those sounds, pauses, and facial expressions that tell more of a conversation than the words alone would convey. And even so, the modulation of the voice, and its music would have certainly been edited, and passed through a filter because of my presence.
What does a child know, and what does a child understand of such a conversation? They understand not a word, and because they understand no words, they manage to eventually understand everything that matters.
As I was heading for the door, the voice of the old goat, the harmonica playing drunk, accosted me with his new name for me saying "Don't go Van GoGo, don't I know you from someplace? Aren't you that insurance salesman's son who died in such tragic circumstances? And right upstairs," he said, pointing to the ceiling
with one hand, and crossing himself with the other. To my surprise I crossed myself as he had done, but it was an involuntary spastic gesture. I tried to walk past him, but he took hold of the sleeve of my coat and tugged on it twice to command my attention. Perhaps you might like to see the room in which he had his 'heart attack', he said, screwing up his face, as if he was having trouble focusing his eyes.
I did not have to answer this question, and so he pulled me out into the entryway, still holding on to my sleeve. In the entry was a narrow staircase leading to the second floor, and I followed him up the stairs as he led the way, looking over his shoulder twice to make sure I was coming. At the top of the stairs there were two doors facing each other across a landing. My guide stopped for a moment and pointed to the left and said "This is my place, please come in."
The old goat's apartment did not look like he was expecting visitors. It has more the look and the smell of those barred cells in a zoo where large animals live out their lives pacing from one wall to the other. The furniture was of the same Depression era as in the restaurant. I would like to describe my host's refrigerator, and let that description stand for the entire room. It was one of those old, stoop shouldered models which was probably white years ago, but now was a tobacco brown color. The handle had accumulated a black halo of flecks of food and grease. It was the kind of stain on an object that is testament to thousands of greasy meals eaten in silence, without even a television for company. The refrigerator, like missing and rotted teeth, especially the ones in the front center, stand as mute testimony to a failed life beyond redemption. And though it is a life failed beyond salvation, still, about once a year, an attempt is made to wash the stain from the refrigerator, but I do not think the goat ever made any attempt to tidy up, never dusted anything, or even swept the floor. He was the type of man that no one could love, except perhaps some long suffering daughter.
In the center of his room was a small table, one obviously used for all his meals, and he invited me to have a seat, but there was only one chair at the table. He offered the chair to me with a gesture, and seated himself on the edge of his sofa, a yard away, and, hunching forward in my direction, looked at me expectantly, as if he was my guest, rather than I his. "Beer," he said, after a long pause, "perhaps you will have some beer?"
To this I agreed, to be polite, even though I had never tasted any. At that he jumped up and opened his antique patinated refrigerator, and took out from the interior a quart bottle, half full and dark brown, without any label. Somehow, the brown bottle was shocking to me, perhaps because of my upbringing. I didn't even know that beer was sold in such a bottle.
Then for the first time in my life, I took a sip of that alcoholic beverage and thought, wondering to myself, 'It tastes like urine, why would people drink urine?' Ignoring my revulsion I drank it down, one little sip at a time. Meanwhile, as I struggled to drink the beer, my host said nothing to me, and after a while even picked up a magazine and began to absentmindedly look through its pages. I was reminded of Nena's remark 'Just ignore him, he is out of his mind,' and the absurd-
ity of sitting there drinking his beer was so odd that I became restless and thought of simply leaving. Finally he began to say something. "Don't believe what the doctors are saying about blood clots." he said, looking up from his magazine. Don't believe it, don't believe anything the doctors tell you, have you been vaccinated for polio?"
"No, I have not." I replied.
"But it is the law, you have no choice, they will force you."
"No, they won't because I have…because there is a religious exemption."
"So, you have the religious exemption then, because of your religion?"
"Yes."
"So then, you are one of those people who believe in God, and I suppose you think you are sitting there in my chair, at my table, because God has some plan for you, and if when you leave you trip and fall down the stairs that is also part of His plans. Is that what you think then?"
Suddenly this stranger had thrust himself by accident directly into the vortex of my mixed up life. The fact that I was not vaccinated for polio, even though I knew a friend in grade school who was a ruin because of it, never entered my head as part of any system of beliefs. In my house polio, like black persons, and the mafia were never mentioned as if they didn't even exist. But now some stranger was asking me to confront all the contradictions of my life, but he was not a person I would ever be inclined to confide in. I was more likely to pour out my soul's distress to some stranger on a bus, than talk about my life to an old drunk I had only just met.
But having caught me with a hook, he was hoping to reel me in but was interrupted by the door opening and Nena herself walked into the room with a try. On the tray were two bowls of chili. She put one in front of me and the other she handed to the old man on the sofa. After that she went to the sink and began washing the dishes. It was obvious then, that she was the daughter, and she washed the dishes because he knew she would have to.
So then I said, "I am here to find out about my Father's death, which you said you would tell me about, didn't you?" I said this loud enough so that I was certain Nena would hear me over the water running in the sink.
"Yes, I will tell you all about it. Your father had a heart attack right there in that chair you are sitting in, the very same chair. I think it was painless because all that happened is that his head banged down onto the table, and he fell over onto the floor chair and all."
"That's not so Pop," Nena said from the sink, turning off the water, but not turning around.
"That was Uncle Ned who died in that chair two years ago, and not Dicky's father. I told you he is out of his mind," she said, turning around and addressing me directly. Then I watched her as she made a painful effort to curb her emotion, a knife in one hand, and a washcloth in the other.
—Richard Britell
Parts 1 - 18, at Spazifineart.com (short stories)
48 • FEBRUARY THE ARTFUL MIND
EDWARD ACKER PHOTOGRAPHER Time Flies • Get Pictures EdwardAckerPhotographer.com 413-446-8348