Geno Brownlee A Hero In His Community
MEMPHIS ® Jan./Feb. 2023 Volume 3 Issue 9
My Dreams Are Windows To My Freedom
I am a self-proclaimed dreamer. Many of the things I possess or may be involved with, at some point, I probably dreamed about it. Being physically fit, I dreamed about losing all the weight I was carrying around while stuffing my face with food. Singing in the church choir, I dreamed about it, while practicing in my car over one of WOW Greatest Gospel productions.
In short words, I will typically act on something if I dare to dream about it. I have used the gift to dream while sinking in some of my lowest moments. I wanted more, and dreaming of something better made it almost feel like I was there. I learned that there is power in what we dream about.
In that same breath, my dreams have been filled with thoughts of hope and sometimes regret. If I could turn back the hands of time, I would. If I could reverse some of the experiences of my life, I would. If I had the ability to reach back into my past and open some of the doors that were shut and close some that I walked through, I would. One might ask me why, and my response is quite direct; I would if I could.
Now, it's not my intent to sound as if I do not appreciate the life God has blessed me with. My message is quite the opposite. I love my life and all that has helped to make it what it is. Still, I wish I could have avoided some unnecessary experiences. However, I am wise enough to know that everything has been necessary. It is all part of God's plan for me.
Acknowledging and accepting where and how my life began instills a sense of reality into my heart. Dreaming of places where I wish I could be also encourages me to keep striving for that which is greater.
My message is simple. Life is but a whisper, and I refuse to get lost in the chaos and confusion. There is way too much for me to do, and if I never achieve all that I dream of, I will remain enthusiastic about what tomorrow promises. Tomorrow, if it comes, is provided by God. And when God blesses me with another day to live, He also blesses me with another day to dream and get to work.
www.huamimagazine.com
Terry L Watson Publisher
Terry L. Watson Writer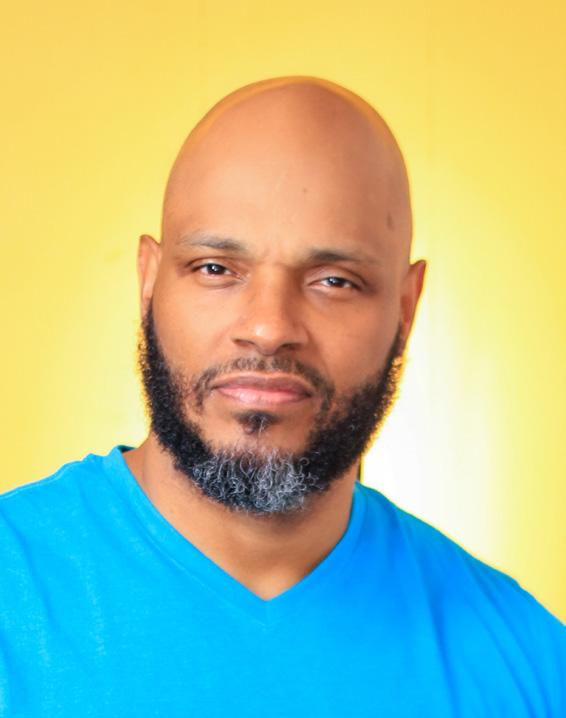 Monica Montgomery Writer
Dorjea' McClammey Writer Joy Rogers Writer
Tamara Smith
Still Shots Photography Photographer Katrena Wize Photographer
Inquiries
4
Above To Visit Our
General
huami.memphis@gmail.com Email Want To Advertise? Call 336-340-7844 Mykel Media Company LLC Greensboro, NC 2023 All Rights Reserved Scan The QR Code
Website terry.editor@yahoo.com 336-340-7844 A Letter From The Editor
Terry L. Watson
A Hero For His
Community
Michael Arnett
When a man looks good, he feels good. Learn more about his product made just for the beard.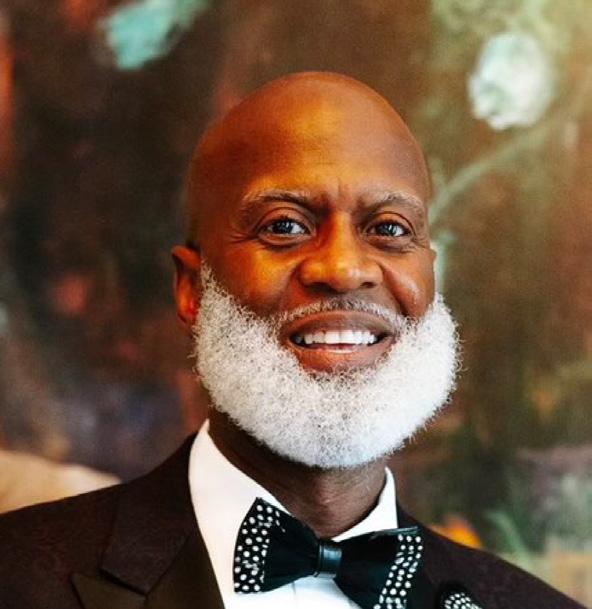 Charleston, SC
Kim B. Miller
Learn more about her journey of becoming the top spoken word poet. She is brillantly spoken.
Newport, VA
She is committed to helping others in her community. Learn more about how this career business woman. Lousiville, KY
JAN./FEB. 2023
CONTENTS 6
Juliana
It Better Javion
27 28
Geno Brownlee
MEMPHIS
On The Cover Also Featured Huami Magazine Cutest Baby
Jackson Love Made
Whetstone
24 36 14 18 10
Footsteps To Follow Shaunelle Foster The Dixon Group Ryan and Cherri Dixon
Monnai McDowell
Geno
Brownlee A Hero In His Community
By DorJae' McClammey Photos Provided by Geno Brownlee
Community Activist, Geno Brownlee is committed to doing his part to change the narrative for the youth in Memphis, TN. A South Memphis native, Geno has a ground-level perspective of the inner workings of Tennessee's second-largest city. Most importantly, he understands the challenges that young citizens in his community face and refuses to sit on the sidelines. Geno has jumped into the heart of the matter, with hope and purpose as his sidekick.
Geno is a father, independent artist, children's book author, motivational speaker, and visionary of Changing Lives Global Foundation. Through his foundation, Geno focuses on changing the lives of kids and young adults across the mid-south.
Growing up in a tough city like Memphis made Geno want to bring light to his community. He admits that he never imagined being a children's book author. "It all started when I went viral on the social media platform TikTok for creating a new dance. In no time, the video gained over four million views. I eventually used this engagement to promote my song," he says. The name of his song is called, "Saucy", and its focus is to encourage young kids to dress for success, and to stay in school, and achieve good grades. It is also a tool used to prevent bullying.
Geno made his first official school visit at Levi Elementary in Memphis on September 21, 2021. To date, he has performed for and hosted motivational seminars at over 132 schools and has been featured on local news stations countless times. He has written five children's books, including "One Day the Sun Will Shine" and "A Superior Christmas with 901 Nazcar and Friends".
Through Changing Lives Global Foundation, Geno has developed the Stop the Bullying Workshops, which are 15 to 20-minute sessions designed to teach kids and young adults about the different types of bullies. He's spoken to kids from the daycare level up to the college level. What's more impressive is that Geno's words have spread across the country, from the mid-south to Atlanta, GA, and Cleveland, OH.
He is unequivocal and purposeful about helping youth and his work has given him a chance to connect with some big names in the entertainment industry, including T from Superior, Hadrat Faatimah, MoneyBagg Yo, Glorilla, Bankroll Freddie, Dee Mula, Marcus Ward Sr., Penny Hardway, Zach Randolph, Reagan Garland, and more.
Memphis - Jan./Feb. 2023 HuamiMagazine.com 7
The journey for Geno hasn't always been easy. It has come with a few challenges here and there. Growing up, neither of his parents was in his life, and while building his foundation, many people continued to leave. He shares, "I faced a lot of people quitting on me, giving up on me, and telling me no. But when adversity sets in, that's when I'm at my best. When things get hard for me, I go harder."
Geno finds inspiration in serving his community and by improving child literacy one day at a time. "I sometimes believe the youth in my community are being steered in the wrong direction. By being a positive role model for them and leading by example, I want to show them what can be possible if they strive for more," he says. "I also want to show my own kids how to succeed." How is he doing that? One way is by developing the Changing Lives Global Foundation into a family business and enlisting his seven-yearold daughter, Brooklyn, as his manager.
In the future, Geno plans to do more for the youth in Memphis and the United States. He is currently working on four new books and taking the Changing Lives Global Foundation on tour. He will also take his Stop The Bullying Workshops to 32 more states nationwide.
Geno's advice for others who may follow a path similar to the one he has is clear. "You're going to go through some pain, but I promise God will use it to make you stronger. He has a purpose for you, so don't give up. It will be a rocky road to success, but you must keep going when things get hard. Success will not come easy."
To learn more about Geno Brownlee and all his excellent work, please follow him on Instagram and TikTok. You may also contact him directly via email.
h
HuamiMagazine.com Memphis - Jan./Feb. 2023 8
"I sometimes believe the youth in my community are being steered in the wrong direction. By being a positive role model for them and leading by example, I want to show them what can be possible if they strive for more."
Project Community Center
By Terry L. Watson Photos Provided by Monnai McDowell
With a population of nearly 630,000, Louisville, KY, is regarded as the biggest city in the bluegrass state. Of that number, African Americans make up 28%, invoking a presence full of culture, history, and promise. One of Louisville's prominent residents has made it their lifes' journey to give back and create opportunities for others.
Quintina Monnai McDowell is the founder of Project Community Center Inc., a 501(c)3 nonprofit organization whose mission is to bring urban projects from the West End and the East End of Louisville together using an intergenerational approach to become the center of success for everyone. To accomplish this, the organization uses the following principles; Creative and Performing Arts, Health and Wellness, Education and Leadership, and Services for families and Military Veterans.
Monnai was born and raised in Louisville, KY. She's a mother of four children and a two-time business owner. She has a passion for children and health and wellness. Additionally, she has two degrees, one in Business Administration and one in Human Resources. Monnai enjoys meeting new people, spending time with family, and connecting with others.
Another thing Monnai enjoys is sharing her testimony of how she began her traditional lifestyle journey. "I've had some challenges along my journey, but I've overcome many of them. I've been married and divorced. I've been at my lowest, and I've mentally quit on myself. I felt like I lost just to only realize that it was a test of my faith, and that I had to lose to win. One thing I am proud of is that I never physically gave up. I've always been a fighter at heart and I love hard. I'd rather blame myself than blame anyone else. I don't have any regrets in my life. Everything happened according to God's will, not mine. I thank God everyday for what He has already done, what He's doing now, what He's about to do."
Memphis - Jan./Feb. 2023 HuamiMagazine.com 11
Some of the services offered by the Project Community Center are Business Entrepreneurship, Financial Literacy Mentoring, Belize Cultural Dance, and Health & Wellness. "We have implemented a health and wellness program through our nonprofit. It helps to educate children about health and wellness and how to build a healthy immune system. We also provide a transitional lifestyle program that prepares them as they mature and make lifestyle decisions and choices," Monnai says.
One other business Monnai has produced is Sea Moss by J. Cortez. Like her nonprofit, this brand came to life in 2020. She says, "For three years I kept running from the dream that kept chasing me. I finally prayed to God and I ask "what is your dream for me?" Then it was revealed. One day, I was talking to my brother on the phone, telling him I want to start my own nonprofit. Not realizing that I was manifesting my vision. Then I wrote it down. Thereafter, I started it with three children. Soon I had 63 children. The next year came and I had 150 children. All these blessings without a permanent location to call our own. While we still don't have a permanent location to call our own, we plan on having 300 plus children during our free summer camp this year. We're excited and can't wait to see what God does," she says.
It is evident that Monnai is walking in her calling, and while walking purposefully, she has acquired a greater appreciation of love for others. "I love engaging and educating everyone about health and wellness and connecting with others spiritually. I am a huge giver and love to see everyone become successful. I love all my children, and my passion involves them. I've always believed that if I could help or change one person, I could change or help many," she shares.
Like most business owners, Monnai has faced some challenge along the way. She says, "One challenge I've faced in business is "trust". It's hard for me to trust anyone. I had to learn how to overcome that obstacle in my life, especially in business. I was listening to a motivational clip from DMX and he explained trust. "Trust a person to be who they show you they are. Trust a snake to bite you, trust a thief to steal from you, and trust a liar to lie to you". I wanted trust, but I had to also show that I could be trustworthy. I'm a very loyal person, so when trust is betrayed, it's hard to trust again. In business, I had to learn how to trust without implementing emotion. What I mean by that is, removing my feelings from my business by separating the two. Business is business, it's not personal. This could be a challenge for givers because you'll always have to watch out for the takers."
As life continues for Monnai, she plans to continue serving the Louisville community with great products and services via her brands. She also plans to continue to be a blessing to others and expand her organization in other states. "My passion is worldwide. I'm not saved to sit. I am saved to serve. Therefore, whatever path God has for me, that's the path I'm taking," she says.
Please visit their websites to learn more about the Project Community Center and Sea Moss by J. Cortez.
12
h
For three years I kept running from the dream that kept chasing me. I finally prayed to God and I ask "what is your dream for me?" Then it was revealed."
www.pcclouisville.org
TheBeardedOne.
By Terry L. Watson Photos Provided by Michael Arnett
The saying goes that when a man looks good, he feels good. Budding entrepreneur Michael Arnett of Charleston, SC, has set his sights on ensuring it becomes a reality for all men who desire it.
The 59-year-old father, husband, caretaker, and retired Police Officer is a native of Harlem, NY, but was raised in the Bronx. Living in a melting pot, Michael saw different nationalities and cultures of people. That experience helped him grow as an individual. He says he was determined to escape his environment and see the world.
His story is that of someone who has persevered despite what his surroundings presented to him. He shares, "I lived in public housing (the PJ's) for 25 years. I come from a two-parent household, along with two other siblings. We had great examples as parents; my father was a Police Officer, and my mom worked as a Secretary. My parents always told me to work hard, and that anything is possible. My dad told me I could be better than him and that nobody was going to give me anything."
Michael always loved fashion. After graduating from vocational high school in 1981, he enrolled at a community college. He attended school full-time and worked full-time. His major was graphic arts and advertising. Michael successfully received his associate degree in 1985. "After college, I worked several jobs but wasn't satisfied. In 1987, I joined the US Air Force, served for five years, and spent time in the Gulf during Desert Storm. After leaving the military, I worked until I became a police officer and was accepted into the academy in 1997. I later retired in 2018 and started on a mission of entrepreneurship, fueled by my love for fashion and to be different," he says. In 2020, Michael relocated to his current home in Charleston to care for his mom.
Memphis - Jan./Feb. 2023 HuamiMagazine.com 15
Today, Michael is the owner of TheBeardedOne., a clothing apparel company that produces T-shirts, Hats (Bucket and Farmer), and Hoodies. Michael's clothes are geared toward the Bearded community and cater to individuals with mustaches, goatees, etc.
Michael says TheBeardedOne. began after he grew a beard in late 2017. "I began to think about how to incorporate my beard into my business model. After going back and forth, I figured out how to make it happen in December 2020."
While he has a genuine love for fashion, Michael says he also finds enjoyment in being different. "Fashion is what you make it! I have made a business out of fashion, and because I am the owner, I can do what I want and not answer to anyone," he says.
Like most small business owners, TheBeardedOne. has faced its share of challenges. Michael says some have been finding a way to navigate through a saturated T-shirt market and rough economy. He has also had to deal with operating with limited resources. "I have overcome the saturation by offering different and unique clothes of good quality. I have found good quality clothing and still profit from my prices. With limited resources, I have attended more networking workshops and located events that allowed me to vend and showcase my apparel," he says. Michael is also a member of the cigar club, Good Times Gang. That connection, he says, allows him to network with people from all over the country.
While his journey has been a little challenging, Michael says he wouldn't change much about the way things have happened. "I would not change anything. The trials and tribulations are a part of life. You can grow from them or fall back and blame everyone else for your misfortunes. My advice to others who may follow in my footsteps is to keep God first in everything you do. You must have a plan, execute, network, and bring the love of what you do to your business. Stay focused and cut back folks that don't have the same energy as you. And don't be scared to let the world know you are here," he says.
Living in New York prepared Michael for life at an early age. Moving forward, he plans to continue to grow his brand. He also hopes to purchase a van and convert it into a mobile store. He also hopes to have a storefront to display his apparel and help out other local fashion-based companies by displaying their apparel in his store. h
HuamiMagazine.com Memphis - Jan./Feb. 2023 16
Instagram @TheBeardedOne.
Brillantly Spoken
Speaking Life through Spoken Word
By Monica Montgomery Photos Provided by Kim B Miller
As children, we have all been asked that daunting question… "What do you want to be when you grow up?" If you had asked Kim, she might have said many things, but a Spoken Word Poet wasn't it. Today she's a published author, teacher, and mentor of poets young and not so young. Kim B. Miller is an award-winning spoken word poet and Prince Williams County's first black poet laureate for 2020-2022. Kim B. Miller is a wife and mother of four who found her voice in poetry. Now, she's inspiring others to do the same.
Born in Brooklyn and raised in Roosevelt, New York, Kim's childhood did not indicate who she would become.
"We lived in the projects of Bed-Sty, Brooklyn, New York. I was so young at the time that I don't have many memories from then," Kim shares. "I do remember that there was a chain-link fence on the side of our building, and my parents constantly warned my sister, brother, and me not to jump over the fence. I was usually the hard-headed one, but my sister jumped the fence. She landed on her face, busted her mouth open, and knocked some teeth out. I remember having to run upstairs to get my mother. There was so much blood," Kim recalls.
It's usually rare and exciting or traumatic events that small children remember. In Kim's case, it was the sight of her sister sprawled, bleeding and missing teeth, and the loss of her brother. "The other memory I have of that time was when my brother died," Kim explains. "I was five years old, and I remember the long walk down the hallway towards the door where my mother stood screaming. I had never heard her scream like that before," Kim shared. "I kept saying it's okay, mommy. I didn't know what she was screaming about, but I wanted her to feel better. Soon after that, we moved to Long Island."
Memphis - Jan./Feb. 2023 HuamiMagazine.com 19
With Kim's artistic prowess, you would assume that her gift and love for poetry were cultivated at a young age. That couldn't be further from the truth. "My parents were amazing people, but they weren't artists. My father was a retired Lieutenant Colonel in the United States Airforce, and my mother is a retired LPN (Licensed Practical Nurse)," Kim explained. "They were supportive, but I was never interested in being a poet. In fact, I didn't read poetry before starting to write it."
Growing up, Kim loved math, but English. Spelling was her Achilles heel. "I was a wiz with math, but I was horrible at spelling as a kid. So, making a career as a poet, achieving Poet Laureate? No, not possible. It was the furthest thing from my mind," Kim laughed.
After high school, Kim received a B.S. from the Rochester Institute of Technology. She majored in business and minored in retail management. Again, writing poetry was nowhere on her radar. Then divine inspiration hit. "I believe my gift and its timing came from Jesus, but I didn't understand it then. I am a Christian, and I believe God is a poet," Kim confesses. So, after hearing from God, she started writing. "I didn't go to school for it. I didn't research poetry or listen to poets like Nikki Giovanni or Mya Angelou. The only thing I recognized and appreciated as poetry were bible verses. So when God spoke, I started writing."
The first time Kim shared her poetry, she decided to go big or go home. Kim took her faith in her new God-given talent to Harlem. "I went to a bookstore called Hueman Bookstore in Harlem. It was like the Apollo for poetry at the time. Lots of people would have said, don't do this! But this popped into my head, so I went for it," Kim explained. "This wasn't where you go up and read your poem and sit down. No, you received constructive feedback from the host. This isn't the norm, but I thought it would be interesting."
Having never experienced this kind of performance art, Kim wasn't used to the intimacy, and the connection artist have with their audience. "Because it was a bookstore, and other things were going on, there was a lady behind me, and she talked to me the entire time I was up there," she explained with a laugh. "She kept saying things like, 'You betta tell 'em, sis. You betta break that down.' She actually made me laugh while at the same time helping me see that the things I was saying affected her. I connected with my audience, or at least that one person. That was encouraging to me."
Fueled by the positive critiques she received from the host and the prodding of the audience, Kim fell in love with the Spoken Word artform.
A New Yorker at heart, Kim moved to Virginia in 1997 to give her family a fresh start. "My best friend moved down here first. She and I are virtually inseparable, so she started trying to convince me to move. At first, it was a hard no. She tried to entice me with the cost of living being so much lower here, but it could have been free at the time. I wasn't moving!" Kim laughs, remembering how emphatic she was about not moving. After one visit, Kim was sold.
Continuing to explore the world of poetry as a spoken word artist, Kim did something else she thought she never would. She authored her first book. "In 2007, I wrote my first book called, 'How to Love Your Kids, More Than You Hate That Man.'" As a divorcee with children, Kim encountered a lot of hurt and bitter women who were allowing their anger toward their ex's to keep the fathers from their children.
"I would hear, he's never gonna see these kids again, and bump him; they don't need him anyway. I was like, hey, I get it. I didn't want to see my exhusband again, but he still had kids, and they loved and have a relationship with their father. I wanted to let them know that their children aren't pawns in their game of crime and punishment," she says.
HuamiMagazine.com Memphis - Jan./Feb. 2023 20
As an outspoken advocate for paternal rights, Kim works to help families understand their new normal. "I tell people, it's not about you. It feels that way because you are the one that was hurt, cheated on, or whatever the case may be. But when it's all said and done, you must put the children first," Kim shared. Including 'How to Love Your Kids, More Than You Hate That Man,' Kim has written five books. Three are poetry and one limited edition journal. All of which can be found on her website.
After moving to Virginia, Kim pursued her newfound passion for poetry. She was starting to study poetry and all of its different genres. Kim settled on spoken word because of the performance aspect. "I enjoy the theatrics and the engagement of Spoken work," Kim explains. As a spoken word artist, Kim always sought opportunities to practice and hone her craft. She started studying poetry and its different genres when she found the Spirits & Lyric Poetry Slam.
"I'd never done a poetry slam before, but I saw it, and I was like, okay, let me try that. What can I say? I had this feeling I should go for it. To my surprise, I hit the trifecta. They listened, they got it, they liked it," Kim explained. There were preliminary levels Kim had to win to earn a place in the poetry slam. As she progressed through each level, she had to pinch herself.
"It finally came down to just one other woman and me, and I didn't expect them to call my name. So, when they did, I didn't react. It took a minute for it to sink in. I didn't win the actual slam because the poets I was up against were serious and seasoned, but sharing the stage with those amazing artists was worth every moment."
Kim has won several awards and garnered accolades and recognition from her community. She is a speaker and facilitator and is well known for her skill at writing haikus. She is often called on to mentor young students in the local school system. But the accomplishment she cherishes most is becoming Prince Williams County's first Black Poet Laureate.
"I joined the Prince William County's arts council in 2018. I then learned that they had a poet laureate. I decided to submit my work and wasn't selected," Kim sighs. "I will be honest and say I was beyond disappointed. I was plain salty. I decided I wouldn't try it again." Looking at the previous winners, Kim learned there hadn't been a black winner. "I concluded that maybe they weren't ready for a poet laureate who looked like me. Although the submission was blind, because I write from my perspective as a black female, it would have been hard to miss the tone," Kim explains.
For the first time, Kim decided she wouldn't pursue the challenge. Then she heard that still, small voice that started her on this journey. The voice led her to the bookstore in Harlem and the poetry slam stage in Virginia. "With a made-up mind, I didn't enter the following year. I figured obedience had gotten me this far, so I wasn't going to stop following God now. But at the last minute, I heard Jesus says, 'Go ahead and do it.' I entered and won," she said.
Kim never believed this path was possible because she struggled with English and writing as a kid. She says to students, "Don't let your current situation determine your future. I was a kid who couldn't spell, and now I perform in front of schools and colleges. If I had allowed my limitations to stop me from becoming who I am today, I would be lost. Don't let what you see now stop you from dreaming and pushing to make those dreams a reality."
I didn't go to school for it. I didn't research poetry or listen to poets like Nikki Giovanni or Mya Angelou. The only thing I recognized and appreciated as poetry were bible verses. So when God spoke, I started writing."
www.kimbmiller.com "
It's All About Her Love For Kids
By Dorjae' McClammey Photos Provided by Shaunielle Foster
Who has a bigger heart than Shaunielle Foster? She is the founder and CEO of Footsteps to Follow, a non-profit organization based in Guilford County, NC, that focuses on special needs children and the inclusion of the buddy system for standard children.
A native of New York, Shaun, as she prefers to be acknowledged, has cemented her "footstep" in the modeling industry and is highly sought after for her creative expertise and fashion savvy.
Modeling is something that Shaun grasped at the young age of three. Soon she was appearing in commercials and print ads. Living in a city that never sleeps offered her opportunities at every corner. However, these opportunities did not focus on just modeling but allowed her to branch out and explore different arts, such as dancing and performing arts. Growing up in multiple industries, she felt the need for modeling would let you express who you are regardless of what the person is wearing. And the rest is history.
"It all began in 2009 with a simple conversation. My friend and I were discussing their child who had special needs. While talking, they realized there were no opportunities available for the young person to participate in the fashion and model world without being stigmatized. At that moment, the idea for Footsteps to Follow came to life," Shaun says.
For Shaun, it is all about loving her kids. The open platform that Footsteps To Follow have gives children ages with special needs between the ages of two to 18, a sense of inclusiveness in the fashion world. With bi-annual fashion shows during April and October, they can forget their disabilities and enjoy themselves. Shaun's mentoring program, "The Buddy System," allows them to be matched and create life-long friendships with other children who don't have the same setbacks or illnesses.
Memphis - Jan./Feb. 2023 HuamiMagazine.com 25
Another project Shaun has her hands in is a workshop called 'Stytches.' It allows the kids to create their own garments and showcase them during the fashion show that Footsteps To Follow produces. She has also created various partnerships with her community members to ensure the kids in her program and her community are receiving everything they need. One partnership is with the local HBCU, North Carolina A&T State University. Together, they pair each of her kids with a mentor from other local non-profits. Another program called 'Wrapped Up In Music' serves kids who are patients in local hospitals.
Shaun's love doesn't end there. She has been a foster parent for seven and a half years and has fostered over 290 children. "I felt like it was necessary to be able to be more than just a bridge gap for so many children," she says. She has also found a way to get her family involved with her programs. Her son Kingzton, a young KidPreneur and model, has created an all-natural self-care line called "Kingz Korner." He has all-natural lip therapy, bath bombs, awareness suds, and more. The colors of his logo are dedicated to his mother and represent all she has done for kids in the foster system. "Green is for missing children, blue is for adoption, and yellow is for unconditional love." Shaun also has launched 'Fatz15', a clothing line dedicated to her daughter Daisha who she calls Fatz because she barely weighed five pounds at birth.
Although there have been challenges along the way, Shaun says she is unphased about them. "I always find the silver lining. It's not about the challenge; it's about finding the solution," she says. As for the future, she is working on acquiring a brick-and-mortar location for her programs.
For anyone looking to follow in Shaun's remarkable footsteps, her advice is to be authentically you; there is only one. "Follow your hopes, dreams, and heart, and be passionate about what you do. Doing so will not feel like work."
To learn more about Shaunielle Foster and Footsteps to Follow, please contact them directly. h
HuamiMagazine.com Memphis - Jan./Feb. 2023 26
Cutest Baby
The daughter of Brianna Jackson Granddaughter of Ed & Raquel Browning Great Granddaughter of Annie Browning & Lisa
To submit photographs to be placed in the Huami Magazine Cutest Baby feature, please send a detailed email to huami.cutestbaby@gmail.com
MAGAZINE
Juliana Marie Jackson
Love Made It Work
By Monica Montgomery Photos Provided by Chris Kelly of KB Photography and Smitha Lee Photography
At home, casual, with life whizzing around her at the speed of light, Javion (Woods) Whetstone is in control. Mrs. Whetstone, as of November 19, 2022, is a beautiful and vibrant thirty-seven-year-old wife, mom, and entrepreneur. Javion Whetstone is a life coach and the founder of the nonprofit organization "More Than a Mother."
This organization offers women with vision, goals, and passion the opportunity to thrive in a supportive community. Women ready to overcome the fear of being able to balance more can find transparency, encouragement, strategy, and a community of powerful women capable of achieving the support needed.
Because of her focus and dedication to helping women and families thrive beyond the fray, Javion has received many accolades and awards. She was awarded the 2020 Women of Excellence award. Then in 2021, she was recognized as one of Greenville's Best and Brightest Under 35. At a glance, Javion makes being a mompreneur look easy. But Javion will be the first to tell you it's not.
At age thirty-seven, Javion is an active mother of eleven… I'll give you a moment to let that sink in. Married to her first husband at the age of fifteen, Javion officially started her journey of motherhood. But she had been in training for it all her life. Javion assumed the role of mother and caregiver before the age of ten years old.
"I grew up in an abusive household because my mom struggled with addiction. To survive and take care of myself and my baby sister, I had to grow up fast," Javion said. "My mother was often incapacitated, so I cared for her too. I'd stay up late waiting for her to come home because I knew she would need help. She often came home having soiled herself or with cuts and wounds that needed addressing. I had to bathe her and put her to bed. My mother was regularly assaulted because of her lifestyle," Javion explained.
Memphis - Jan./Feb. 2023 HuamiMagazine.com 29
At an early age, Javion knew all too well the struggles of motherhood. As a child or "dependent caregiver," she had to be creative and resourceful to meet her family's basic needs. "I did what I had to do to feed my sister and me. As a child not of legal working age, I had few options. We lived in the Bronx, New York, then, and I used to bag groceries at a store called Associates. I collected and recycled cans. I flipped food stamps for cash. I would steal laundry detergent at the laundromat when people turned their backs so I could wash our clothes. Basically, I found ways to get money."
Javion lived in an intense and constant mode of survival. To escape the daily struggle and cycle of abuse and neglect, Javion took the opportunity to leave New York. But it wasn't the solution she hoped it would be. Javion searched for structure and stability, but most of all, peace. Unfortunately, that is not what she found.
"I moved to Clinton, North Carolina when I was twelve to live with my grandparents and three siblings. What I found there was a family with a lot of buried trauma. I learned that the toxicity I experienced from my mother was generational. I didn't understand that at the time because it was hidden behind a thick vale of religious misinformation," Javion explained.
"My grandfather was a deacon in the Apostolic church. This religion was extremely restricting and controlling, especially toward women," Javion recalls. "Women weren't allowed to wear pants, makeup, jewelry, or anything ornate. We were taught that men are the absolute authority and not to be challenged. We were being groomed to be submissive wives and dutiful mothers. We were told that's what God ordained."
A few years after Javion moved to North Carolina, her mother followed. She met a young minister during a weekend visit to her mother's house. This was the man she would later marry. "I was fourteen, and he was seventeen when we met. We had this instant and then unexplainable connection. I understand now that it was a trauma bond."
According to verywellmind.com, "trauma bonding is the attachment an abused person feels for their abuser, specifically in a relationship with a cyclical pattern of abuse."
Raised by an abusive mother, then moved to an oppressive and abusive home with her grandparents, the trauma bond was familiar to Javion. Although she didn't know why she was drawn to this person, Javion did understand the need to have someone who understood what she had gone through. They found solace in each other.
The Whetstones
HuamiMagazine.com Memphis - Jan./Feb. 2023 32
"Because we both suffered through childhood abuse and neglect, we found comfort in our connection. He was my safe place, and I was his. I was convinced nobody could be who we were for each other."
The couple was forced to marry when Javion became pregnant a year after they met. "Because we weren't married, much shame poured on us. So, after speaking to my pastor and grandmother, he asked me to marry him." Javion quickly said yes. "I wholeheartedly loved him. There was no doubt in my mind that we were meant to be together. We were good for each other… until we weren't."
Marrying young wasn't uncommon in the denomination Javion's family subscribed to, and hiding abuse was part of her family's history. "Four months after we were married, we had our first baby. We had a baby every ten months after that," says Javion. Her eleven children range in age from twenty-one to six months.
Always an excellent student, Javion tried to continue her education. When she married and began having children, traditional schooling became a problem. "I missed more days than I attended, so I got my GED," she explained. "Then I wrote to the state for permission to enter college at sixteen. My request was granted, but not long after starting, dinner was late once, and my husband forced me to quit."
Abusers maintain their hold on their victims by destroying their self-worth and keeping them isolated. "If someone had told me then I was pretty, I wouldn't have believed them because I had been conditioned to believe I wasn't by the man who vowed to love and protect me," Javion explained. A significant part of Javion's commitment to her nonprofit is giving women the support they need to succeed and pursue their dreams. "I love my children and wouldn't trade them for the world. And despite being young, I was married when I had my children. That didn't keep people from treating me as a pariah," she said, recalling the embarrassment she was made to feel because she had so many children. This societal shame Javion experienced made it hard to ask for help.
During the eleven years, Javion was married to her first husband; she suffered frequent physical, mental, and emotional abuse. "Image was everything to him. He was a young man in the church who went on to pastor because of his talent and charisma. Everyone loved him, and he loved being loved. The issue was that he had unresolved wounds, pent-up anger, and hurt because of his childhood. I was the closest person to him, so I was the focus of his rage."
Memphis - Jan./Feb. 2023 HuamiMagazine.com 33
Javion reached out for help within her organization, but the counsel she received left her wanting. "I remember going to my spiritual leader and asking him when was it okay to leave an abusive marriage. He told me, 'Only when you get to the point that you think he will kill you.' I thought, who wakes up knowing that day would be the day they would die?"
After years of abuse, humiliation, and infidelity, Javion had come to the end of her rope.
Javion and her husband were on their way to a speaking engagement when they were in an accident. "This was the turning point for me. It was after the loss of my son, and I was numb," she explained stoically. "After the accident, my husband left me in the car at the scene of the accident to go preach. When he came to the hospital, he was confronted by the doctor about his choice to leave me there. He was embarrassed, and I would pay the price." After this episode, Javion knew it was time to leave for good.
Twenty-six and pregnant with her ninth child, Javion was starting over. "That transitional period in my life was hard. I knew nothing about life or relationships. All I knew how to do at the time was be a mother and take care of a household. And I was good at it," Javion confessed. "We struggled in the beginning. I have been homeless, lived-in shelters, and trusted the wrong people. I've suffered through other bad relationships while trying to figure out who I was."
Although she never turned her back on God, Javion was imbittered towards people. "I had to deal with my bitterness, hurt, confusion, and shame. I had been so dependent on a man to confirm my identity and my worth that I felt lost without it. But in the end, it was purposeful because it made me redefine my relationship with God."
Purpose has brought Javion full circle. Sharing her life and testimony with women and helping them find their voices has helped her see God's plan for her life.
"In the process of finding myself, God told me that I was more than a mother." Initially, Javion struggled with this because since stepping out on her own, Mother was her definition. "God said there was more to me," Javion explained. Trusting God, Javion sought out the more.
Through her nonprofit "More than a Mother," Javion and her team help other women understand that truth. The organization maintains projects throughout the community, such as Love in Action. Love in action is a mobile washing station for the homeless. They host the annual Mom Bosses Tea party and the Domestic Violence and Breast Cancer Awareness Gala.
Their 2023 initiatives include six-month care packages for "Dependent Caregivers." These minors, like Javion, have found themselves as the primary caregiver in their homes. They also hope to start "Help Him Heal." A program to help men deal with childhood trauma.
Sitting next to her sleeping six-month-old baby girl, Javion says her quiver is full. She is done having children, but I have a feeling she's just getting started giving birth. Acting as a midwife and birthing coach to the dreams of women from every walk of life will inspire her to continue to be More than a Mother.
HuamiMagazine.com Memphis - Jan./Feb. 2023 34
www.iammorethanamother.org 864-982-7831 h
"In the process of finding myself, God told me that I was more than a mother. I initially struggled with that because mothering was all I had known since childhood. But God said there was more to me."
The Dixon Group
By Terry L. Watson Photos Provided by Ryan Dixon
It's been said that it takes two to make a thing go right. In the case of Ryan and Cherri Dixon, that assertion couldn't be more accurate. Together, they make up the Dixon Group, which operates under the RE/MAX Champions Realty The Dixon Group Greensboro, NC. This full-service realty brand provides professional real estate services for purchasing or selling Commercial, Residential, and Investment Properties throughout North Carolina.
Ryan is a father, grandfather, and husband to Cherri. He is also a Greensboro native and James B. Dudley High School graduate. He is a proud U.S. Air Force veteran who served for 20 years. Some of his deployed locations were Iraq, Kuwait, Cuba, and Australia. He shares he met Cherri at his first military duty assignment at Charleston Air Force Base in South Carolina.
Cherri is a native of the Bronx, NY, and moved to Charleston, SC, during her grade school years. She is a devoted mother, grandmother, and wife to Ryan and says she loves traveling with Ryan, meeting new people, and giving back to the communities they are a part of. In addition to the brand she is building with Ryan, she works as a Human Resources Specialist for the United Postal Service. She pursuing a Bachelor's Degree in Workforce Education Development and one in Human Resource Management from Southern Illinois University. Together, Cherri and Ryan have six children, and two grandchildren.
Ryan and Cherri say they love witnessing a family's happiness when buying their firsttime home or a forever home. "We both were inspired to pursue Real Estate mainly because many of our close family and friends have succeeded in this field. We also love being business owners and helping people achieve their dream of home ownership. We love seeing entrepreneurs' dreams come when they purchase an investment or commercial property. Most of all, we love working as a husband-and-wife team and building a foundation for our family and a business for future generations."
Looking forward, Ryan and Cherri plan to expand. They hope to accomplish this with their children joining their business and also venturing out to other states. "Our goals for 2023 is to get more face-to-face contact with potential clients, network, and promote our business. We also want to increase our sales and see more smiling faces, knowing that we helped someone buy or sell a home," they said. To learn more about The Dixon Group, please contact them directly.
37
h
www.ladyespecs.com
ExclusiveSpecsForMen and Women