astoryofpassionforcircusarts 68
This year marks the 25th anniversary of the founding of Sarasota's very own Circus Arts Conservatory, an institution with one foot in a historic past and both eyes set firmly on an ambitious future. Twenty-five years ago, Dolly Jacobs and Pedro Reis joined forces in an effort marked by a shared, artistic passion and translated through a high-flying romance. In an interview with SRQ Magazine's Executive Publisher Wes Roberts, Dolly and Pedro reminisce about how they found the circus, how they found each other and how their innovative approach to education has reinvigorated an appreciation for the circus arts within our community and internationally. For a town that in many ways was built by the circus through John and Mable Ringling, there couldn't be a more exciting torch for these two innovators to carry forward.
summer sizzlers 21
As the traffic eases and the temperatures rise, the heat turns up on the local list of fun and adventure. From sunset cruising to fireworks and music, and from delectable dining to terrific theater and even a workout guaranteed to bring on the sweat without the sun, these summer sizzlers are just what you need to spice up the season.
Contents
july/august 2023
srqist 10
Tekmara, a Sarasota-based startup creates the world's first self-sustaining gardens at sea. Repair the Sea is bringing easily compostable cutlery to faith-based organizations in Sarasota. Biker and fitness fanatic Mark Hughes is taking a 4,200-mile ride to remember this summer. After operating for years out of a 16-foot box truck, custom clothier Tweeds Suit Shop opened its first brick-and-mortar store in downtown Sarasota. Professor Dr. Joseph Dituri attempts to set a world record for living undersea for 100 Days.
culture city 61
The Hat Theater Collective premiers its first production of The Ballad of Old Manatee this spring.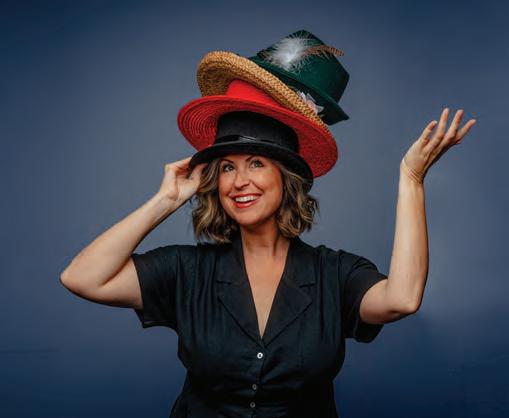 forage 82
Tzeva's eclectic Mediterranean menu reimagines hotel dining. At JPAN, Daniel Dokko and his team blend age-old sushi traditions with modern presentation.
good hero 90
Boys & Girls Clubs of Sarasota and Desoto Counties President and CEO Bill Sadlo says he makes all decisions in the best interest of the children.
Cover: Circus icons Dolly Jacobs and Pedro Reis share the story of the Circus Arts Conservatory as the organization celebrates its 25th anniversary, photographed at the Circus Arts Conservatory Big Top at University Town Center by Wes Roberts. Previous page: Enjoying the glow of the sunset at The Bay. For more Summer Sizzlers, turn to page 21. This page: Tzeva's charred octopus, Tweeds opening up their brick and mortar boutique and Danae DeShazer of the new Hat Theatre Collective.
31 ENCORE | BEST OF SRQ LOCAL SHOWCASE OF 2023 WINNERS
SPECIAL SECTION IN PARTNERSHIP WITH WITH SARASOTA COUNTY AND VISIT SARAOTA COUNTY DISCOVER NATURAL SARASOTA COUNTY: FEATURED PULL-OUT MAP TO LOCAL AND STATE PARKS 79 FEATURED SCHOOL | UNIVERSITY OF SOUTH FLORIDA, SARASOTAMANATEE contents july/august 2023 6 | srq magazine_ JUL/AUG23 live local
63
JULY/AUG 2023
CEO / PRESIDENT / EDITOR IN CHIEF LISL LIANG
EXECUTIVE PUBLISHER
WES ROBERTS
SENIOR VICE PRESIDENT, STRATEGIC PARTNERSHIPS AND ENGAGEMENT
Ashley Grant
ACCOUNTS + CLIENT SERVICE AND DEVELOPMENT DIRECTOR
Robinson Valverde
SENIOR SALES AND BUSINESS DEVELOPMENT EXECUTIVE
Suzanne Munroe
SALES AND BUSINESS DEVELOPMENT EXECUTIVE
Nichole Knutson
Rob Wardlaw
VP OF PHOTOGRAPHY + VIDEO
Wyatt Kostygan
MANAGING EDITOR
Barbie Heit
CLIENT MARKETING+ DIGITAL PROGRAMS MANAGER
Gabriella Alfonso
DIGITAL MARKETING + EVENTS MANAGER
Megan Mitchell
CONTRIBUTING ART DIRECTOR + SENIOR DESIGNER
Virginia Jankovsky
EDITORIAL ASSOCIATES
Dylan Campbell
Rachel Constant
Laura Paquette
MARKETING INTERN
Miranda Moreta
CONTRIBUTING EDITORS + ARTISTS
Andrew Fabian, Phil Lederer, Jacob Ogles, Kate Wight
SRQ MEDIA
ADVERTISING
GROWMYBUSINESS@SRQME.COM
941-365-7702 x1
SUBSCRIPTIONS
SUBSCRIBE@SRQME.COM
941-365-7702 x2
GET SRQ DAILY
The magazine in your hands offers enormous insight into our community, but the most informed in our community follow our constant coverage of Sarasota and the Bradenton Area in SRQ Daily. The electronic newsletter is a must-read in thousands of inboxes. Check our special editions: Monday Business Edition, Tuesday Foodie Edition, Wednesday Philanthropy Edition, Thursday Family and Education Edition, Friday Weekend Edition and the much-discussed Saturday Perspectives Edition, featuring a diverse range of opinions from the region's top pundits and newsmakers. SIGN UP ONLINE AT SRQMAG.COM/SRQDAILY
ORIGINS OF "SRQ"
The "SRQ" in SRQ magazine originates from the designated call letters for the local Sarasota Bradenton International Airport. "SR" was the original abbreviation for the airport before the growth in total number of airports required the use of a three-letter code. Letters like "X" and "Q" were used as filler, thus the original "SR" was revised to "SRQ," much as the Los Angeles airport became "LAX." As a regional publication committed to the residents of and visitors to both Sarasota and Manatee counties, SRQ captures the place that we call home.
LOCAL PUBLISHERS OF SRQ MAGAZINE, LIVING LAKEWOOD, ROCKETKIDS, SRQ TOP DOCTORS MEDICAL RESOURCE GUIDE, SRQ ELITE TOP ATTORNEYS PROGRAM, SRQ HOME & DESIGN, SHE ROARS, LIVING BRADENTON AREA, LOVE LOCAL GUIDEBOOK AND SRQ DAILY.
SUBSCRIBE TO THE PRINT AND DIGITAL EDITION Join our readers in the pleasurable experience of receiving SRQ magazine in your mailbox every month during season and bimonthly during the summer. To reserve your subscription, provide your information and payment online. You can set up multiple addresses, renewals and special instructions directly through your online account. When you subscribe online, your first print issue will arrive in your mailbox in 6-10 weeks. Subscribe online at SRQMAG.COM/SUBSCRIBE. Contact us via email at subscribe@srqme.com
Vol. 26, Issue 256 Copyright © 2023 SRQ MEDIA. SRQ: Live Local | Love Locall. Sarasota and Bradenton Area is published 10 times a year. IMPORTANT NOTICE: The entire contents of SRQ are copyrighted by Trafalger Communications, Inc. Column and department names are property of Trafalger Communications, Inc. and may not be used or reproduced without express written permission of the publisher. SUBSCRIPTION: Subscriptions to SRQ are $36 for 20 issues. Single copies are $4 at area newsstands.
331 South Pineapple Ave., Sarasota, FL 34236 | Phone 941-365-7702 SRQMAG.COM / @SRQMAG
STORIES ABOUT THE LOCAL PEOPLE, PLACES AND EXPERIENCES THAT DEFINE OUR HOMETOWN