{Nashville's Finest} July/August 2023 ten dollars slmag.net
IN VERONA
3805 GREEN HILLS VILLAGE DRIVE, NASHVILLE, TN 37 215
LOVE
lipman group
RE/MAX HOMES AND ESTATES
river landing's finest
Located in the highly sought-after community of River Landing, this stunning Franklin home is sure to impress. The grand foyer greets you warmly upon arrival, while the highly favored floor plan allows you to flow seamlessly through the house. Conveniently situated on the main level, the primary suite shines with a double-sided fireplace and a relaxing spa-like ensuite. Additional features include a first-floor guest suite, office, and media room with a wet bar. The true heart of this home rests in the outdoor living space with a covered back porch and an expansive patio complete with a built-in barbecue island, fire pit, and six-person hot tub, all overlooking a lush back yard.
5 BR | 5/2 BA | 5,276 SF | $1,899,900
Connie Nichols | 615.210.6620
grand green hills gem
A true gem in beautiful Green Hills, it is no wonder this elegant two-story home was under contract before coming on the market. Better still, it sold for $100,000 over the asking price. Outstanding millwork, gleaming hardwoods, and high-end finishes throughout are ready to welcome their new owners. An entertainer's dream, the kitchen is highlighted by double ovens, a Sub-Zero refrigerator, and abundant counter/prep space. The lavish primary suite, on the main level, boasts a beautifully curated bathroom with a fully built-out walk-in closet. Just in time for warmer weather, the sunporch offers a lovely setting to enjoy dewy summer mornings and sweet summer nights.
5 BR | 4/2 BA | 4,809 SF | $2,400,000
Larry Lipman | 615.364.3333
elevated west end living
Conveniently located in the West End neighborhood, this luxurious like-new condo boasts endless high-end features and is move-in-ready, all you need is just your clothes. Expansive windows allow for natural light to saturate each space while hardwood and marble floors guide you throughout seamlessly. The open concept offers the opportunity to host both large gatherings and more intimate soirees. Each bedroom has an ensuite bathroom, walk-in closet, and private balcony, perfect for an evening retreat. Everyday living is elevated with firstclass amenities, including a full-time concierge, fitness center, and vast rooftop terrace with 360-degree views.
3 BR | 3 BA | 2,504 SF | $1,245,000
Larry Lipman | 615.364.3333
110 31ST AVENUE NORTH #401 • NASHVILLE
4303 LINDAWOOD DRIVE • NASHVILLE
RE/MAX HOMES AND ESTATES, LIPMAN GROUP 2002 Richard Jones Road, Suite C-104, Nashville, TN 37215 | 615.463.3333 | Each RE/MAX office is independently owned and operated. lipmanhomesandestates.com
319 GILLETTE DRVE • FRANKLIN
dreamy rustic living
"Stunning" hardly begins to describe this peaceful estate, located in tranquil Wilson County. Once inside, the open concept allows for the living room, dining room, and kitchen to come together effortlessly, connected by gorgeous English white oak floors, a wood-burning fireplace, exposed beams, and beautiful lighting. Built for a chef, the kitchen will captivate your deepest desires for dreamy rustic living. Custom soft close cabinets constructed from knotty alder coupled with leathered granite countertops offer the perfect combination of luxury and comfort. The spacious primary suite includes a private deck overlooking the property's 6.68 green acres.
3 BR | 3 BA | 3,870 SF | $1,299,000
Ricky Haynes | 615.708.2264
all-brick garden club beauty
This immaculate all-brick cul-de-sac home is sprinkled with elegance throughout. Natural light floods the foyer, pouring into the formal dining room beautifully. The kitchen includes room to accommodate informal dining while opening to a more casual living space. The great room sits grandly awaiting guests with soaring ceilings and an impressively detailed fireplace. The lower level of the home features a walk-out basement with a private bedroom, bathroom, kitchen, home theater, and recreation room that leads to a covered patio with a separate entrance. There is so much more to see in this incredible six-bedroom Williamson County home.
6 BR | 5/1 BA | 5,983 SF | $1,500,000
Mona Wilson | 615.400.0708
build in leiper's fork
This listing is a unique opportunity to acquire 10.66 lush acres in exquisite Leiper's Fork. Two acres of cleared land sit ready for you to build the home of your dreams. The tract has already been soil mapped for a five-bedroom home, with preliminary plans drawn for a barn to the left of the house. So much rich potential lie here for serene, beautiful, and quiet living. The treed land behind the clearing is perfect for enjoying nature, hiking, and hunting. Plus, the location puts you close to the Natchez Trace Parkway, one of the area's most coveted roads, and just minutes from everything in Leiper's Fork and Downtown Franklin.
10.66 ACRES | $899,000
Maria Holland | 615.289.6056
0 PARKER BRANCH ROAD • FRANKLIN
3004 CORAL BELL LANE • FRANKLIN
11970 CENTRAL PIKE • MOUNT JULIET
CONNIE NICHOLS LARRY LIPMAN RICKY HAYNES MONA WILSON MARIA HOLLAND
Nashville, meet Fifth Third Private Bank.
Oh, you've already met!
Some of these faces may look familiar to you. After all, these proven experts have an average of over 20 years of financial service experience. Providing unparalleled local market knowledge, they've come together for one purpose—to help empower and propel your business into the future.
To get in touch, contact Paul Anderson at Paul.Anderson2@53.com
Left to right:
Fifth Third Bank, National Association, Member FDIC. 7284079 @KATHYTHOMASPHOTO
BRADLEY PINSON, GENCY KIRK, JASON HILL, PAUL ANDERSON, CHRISTY HEINBOCKEL, CRYSTAL WILCOX, JOSHUA DAWSON, EMILY BRATTON
YANNICK LEBRUN | dancer
BRINGING ART TO LIFE NASHVILLE DESIGN COLLECTIVE 510 MERRITT AVENUE | SUITE 301 NASHVILLE, TN 37203 615-763-5725 ARTISTICTILE.COM
SHOWN IN: HIP HERRINGBONE MIRROR MOSAIC
THE JOSEPH, A LUXURY COLLECTION HOTEL, NASHVILLE 401 KOREAN VETERANS BOULEVARD, NASHVILLE, TENNESSEE 37203 THEJOSEPHNASHVILLE.COM 615.248.1990 | @THEJOSEPHNASHVILLE A HOTEL FOR THE DISCERNING TRAVELER. NASHVILLE AT ITS MOST REFINED.
17
Every Picture Tells A Story
July/August 2023
75 14 Publisher's Letter 17 Every Picture Tells a Story 27 Sow the Seeds of Adventure at Southall 30 Happy Place 33 Odds-on Favorite 38 How the West Is Worn 40 Singular Sensations 46 It's a Duesy 48 Mighty M 50 Summer Stunner 52 Coloring Outside the Lines: Orange and Yellow Wines 54 Steering in the Right Direction 60 Summer Time 62 Of Note...Beachy Keen 69 Excitement at Every Turn 72 Belle of the Mansion 75 Ask the Expert: Margaret Ash 79 Peachy Keen 83 Old World Charmer 104 Chukkers for Charity Returns on the cover: MARGARET WALTEMATH ASH OF MARGARET ASH DESIGN Read her advice about visiting Round Top in "Ask the Expert" on p. 75. 8 slmag.net
Fender Musical Instruments Corporation. Telecaster, with a Fender Esquire neck, played by Keith Richards, 1953. Collection Rumble Seat Music, Nashville. Part of Storied Strings: The Guitar in American Art at Frist Art Museum May 26-August 13.
Lenny Kravitz wears the Reverso Tribute Duoface Tourbillon in Pink Gold ($139,000; jaeger-lecoultre.com).
July/August 2023
Summer Time 88 Sophisticated Society 91 Rock the House Tiffany Circle Spring Gathering 92 Iroquois Steeplechase 93 Boots & Bubbles Hermitage Spring Outing 95 Swan Ball Auction Party 96 Nashville Design Collective 98 Michael Kors at Adele's Swan Ball Jewelry Preview 99 Swan Ball Patrons' Party 100 Swan Ball 102 Centennial Park Conservancy Big Band Party 10 slmag.net
Photo by Richard Phibbs.
60
Fresh faces, expanded experience and capabilities
time to build. That's why we're dedicated to earning your trust with reliable and unparalleled expert advice every step of the way.
usbank.com/privatewealth
Member FDIC. ©2023 U.S. Bank 992003 (6/23)
CW LUXURY TRAVEL
PUBLISHER
Dave Mahanes
EDITOR - IN - CHIEF
Melissa Mahanes
Copy Editor
Brit Hoyt
CONTRIBUTORS Writers
Margaret Ash
Colin Dennis
Natalie Forehand
Shawn Haile
Andre James
Dave Mahanes
Melissa Mahanes
Kari Sims Vaughn
Bridget Williams
Claire Williams
Features Editor
Carolyn Smith Bryant
Travel Editor
Christy Waller
Photographers
Charlie Mahanes
Melissa Mahanes
We want you to be thrilled to receive your issues of Sophisticated Living Nashville—if we have your mailing address incorrect or wish not to receive the magazine, please email us at nashville@slmag.net.
CONTACT US
Melissa: 615.308.9294 / melissa@slmag.net
Dave: 615.495.4250 / dave@slmag.net
nashville@slmag.net
SOPHISTICATED LIVING MEDIA
Christy Waller (615)496.5910
christywaller@travelxperts.com
Insta: cwluxurytravel1
Independent Affiliate of Travel Experts
Virtuoso Affiliate
Eric Williams, CEO
Bridget Williams, President
Greg Butrum, General Counsel
Jason Yann, Art Director
Sophisticated Living® is published by Mahanes Media Group, LLC and is independently owned and operated. Sophisticated Living® is a registered trademark of Williams Media, Inc. All Rights Reserved. Sophisticated Living® is published six times a year. All images and editorial are the property of Mahanes Media Group, LLC and cannot be reproduced in whole or in part without written permission. SOPHISTICATEDLIVINGNASHVILLE.NET
To those of you who have read some of my earlier publisher's letters, you may know music has always been an important part of my life, and record collecting is a big part of my appreciation of music. It's something that's in my DNA.
In the late 1940s, my dad was the lead singer and upright bass player in a big band based in Kansas City. He was also a passionate record collector and audiophile. He had a collection of over 10,000 vinyl LPs in impeccable condition, filed neatly in his music room, including Miles Davis 78s that he played on his Thorens turntable through a McIntosh stereo system. My mom was a modern dance major who also loved music. Over the years, I have been amazed at how we consume music has changed over the years and, in my opinion, not always for the better.
When I was a toddler, I had a record player in a box where I spun 45 and 78 recordings by Captain Kangaroo and Popeye. I would play them so much I would frequently burn out the tubes in the unit. When I was nine, my dad gave me his copy of Sgt. Pepper's Lonely Hearts Club Band, because, being a jazz guy, he didn't like it. From then on, I started collecting my own records. The first was Rubber Soul by the Beatles, purchased at the Cain-Sloan department store in Green Hills for $3.64. After purchasing a new album, I would slap it on the turntable, and while listening to it, read every liner note and stare intently at the album cover while listening to the album from start to finish. That was my way of absorbing the whole experience because they weren't making music videos back then! When I was at Duke and low on album-purchasing funds, I used to take a dollar meal ticket, buy a Coke for 20 cents, and pocket the change. I would do this enough times until I had enough money to splurge on whatever new release I was jonesing for and drive nine miles down the road to score the album at School Kids Records in Chapel Hill. I eventually accumulated a sizeable collection of over 1,000 vinyl albums.
When CDs came along, I was slow to adapt as I was very committed to my vinyl ritual. I didn't buy a CD player until 1990, after which I spent the first few years replacing the vinyl versions of my favorite albums with their CD counterpart. When I first listened to Sgt. Pepper's on CD, I could hear instrument parts that I had never heard before. I learned very recently from a conversation with Henry Juszkiewicz, former CEO of Gibson Guitar (and an old boss), that when an album is mastered for vinyl, they remove certain low frequencies; otherwise, these low frequencies would make the needle jump off the record. Hence, you are losing some sound quality with vinyl. At this point, I probably have over 1,500 CDs, and my collection continues to grow thanks to Amazon—I still miss the old record/CD stores like HMV and Tower Records where I could spend hours going through their inventory.
Today, with Apple Music and Spotify, you don't have to buy albums anymore. You can stream them for free, or for a small membership fee. For me, it's just not as fun as owning the physical album with the photos and the liner notes—I appreciate actually holding it in my hands. With streaming, when a song is compressed into an MP3 file, some information is truncated to save file size so there is some loss of sound quality, particularly in the dynamic range. I appreciate that vinyl has been making a big comeback in recent years. Some people say the sound is warmer than CDs. However, I still prefer the sound quality of CDs, and still buy them so I can own the music. Guess I'm old fashioned in that way, and I'm fine with that.
dave@slmag.net From the Publisher 14 slmag.net
PROVIDENCE INTERIORS Unique Finds + Designs 2209 Bandywood Drive Nashville, TN 37215 615.307.1600 www.providenceinteriors.com Insta: providenceinteriors
"ONE SOU RCE for Architectural Design & Remodeling." willscompany.com 6606 CHARLOTTE PIKE, SUITE 201 NASHVILLE, TN 37209 615.352.1228 CELEBRATING 3O YEARS photo: ALYSSA ROSENHECK
EVERY PICTURE TELLS A STORY
The Frist Museum brings the art of the guitar center stage
Written by Melissa Mahanes with Frist Art Museum staff / Photos courtesy of Frist Art Museum
Storied Strings: The Guitar in American Art is the first exhibition to explore the instrument's symbolism in American art from the early 19th century to the present. Featuring 125 works of art and 35 musical instruments, the exhibition demonstrates that guitars figure prominently in the visual stories Americans tell themselves about themselves—their histories, identities, and aspirations. The guitar—portable, affordable, and ubiquitous—appears in American art more than any other instrument, and this exhibition explores those depictions as well as the human ambitions, intentions, and connections facilitated by the instrument—a powerful tool and elastic emblem.
Organized by Dr. Leo G. Mazow, the Louise B. and J. Harwood Cochrane Curator of American Art at the Virginia Museum of Fine Arts, Storied Strings explores fascinating connections and contrasts that show how guitars figure prominently in the visual stories
Americans tell about themselves. Works by artists such as John Baldessari, Thomas Hart Benton, Lonnie Holley, Dorothea Lange, and Annie Leibovitz and seminal instruments by Fender, Gibson, and C. F. Martin & Company show how guitars have served as symbols of American history, cultural attitudes, identities, and aspirations. For the presentation at the Frist, notable instruments and other artworks drawn from Middle Tennessee collections are on view, reflecting Nashville's internationally renowned status as Music City, a mecca for outstanding guitarists and socially impactful music.
The exhibition begins with "Leisure, Culture, and Comfort: Nineteenth-Century America" with exceptional examples of families and individuals enjoying and posing with guitars in home and studio settings, showing how the guitar makes its way into the home as a cultural endeavor and form of entertainment alongside reading, writing, and art.
slmag.net 17
Lonnie Holley. The Music Lives After the Instrument is Destroyed, 1984. Burned musical instruments, artificial flowers, and wire; 33 x 36 x 3 in. Collection of Souls Grown Deep Foundation
The section entitled "Iconic Women of Early Country Music" features photographs of Lulu Belle, Maybelle Carter, Loretta Lynn, and Kitty Wells, as well as associated objects and videos of several of these musicians in performance. Another section showcases "Cowboy Guitars", with videos of Roy Rogers, Tex Ritter, and others playing western-tinged country music in the early-to-mid 20th century. This section highlights Thomas Hart Benton's final study for his massive painting The Sources of Country Music, a permanent fixture at the Country Music Hall of Fame and Museum, just down the street from the Frist. This section acknowledges the origins of the cowboy look and shows its expanded legacy in today's country by LGBTQIA+ musicians such as Orville Peck.
"The guitar's role in giving voice to people across America is acknowledged in artworks and recordings that show the cultural impact of blues and folk music, born of the injustices, hopes,
sorrows, and joys experienced by poor and working-class people, especially people of color and migrant workers," writes Frist Art Museum chief curator Mark Scala in the exhibition's program. "Over a third of the works in the exhibition are by Black artists or depict Black musicians. An extraordinary example is Romare Bearden's luminous collage Three Folk Musicians (1967), which shows the merger of two worlds—the European guitar and the African banjo, a synthesis that is still at the core of much Americana music." The social message in this section is clear— whether in Elizabeth Catlett's I Have Given the World My Songs (1947), a searing depiction of a Black woman playing guitar in front of the scene of a lynching, or Danny Lyons's photograph of Bob Dylan at the Student Nonviolent Coordinating Committee (SNCC) office in Greenwood, Mississippi, the guitar can be seen as a symbol of resistance to an uncaring world.
1 2 4 3 18 slmag.net
This page: Sue Hudelson. Julie, 2006. Archival pigment print; 22
16 in. Courtesy of the artist
Opposite page:
x
1. Thomas Hart Benton. Jessie with Guitar, 1957. Jessie Benton Collection. ©2023 T.H. and R.P. Benton Trusts. Licensed by Artists Rights Society (ARS), New York
2. Thomas Cantwell Healy. Charlotte Davis Wylie, 1853. Oil on canvas; 44 x 38 in. Collection of Charlotte Boehmer Fraisse, from the Estate of Mary Swords Boehmer
3. Michael C. Thorpe. Sister Rosetta Tharpe, 2021. Fabric; 46 x 33 1/4 in. Private collection, courtesy of LaiSun Keane, Boston
slmag.net 19
4. Charles White. Goodnight Irene, 1952. Oil on canvas; 47 x 24 in. Nelson-Atkins Museum of Art, 2014.28. ©The Charles White Archives
From paintings of street buskers to photographs of Dolly Parton on a tour bus, the section "Making a Living" looks at how the guitar's affordability and portability have made it the people's instrument, allowing for a modest living or great financial success. The close, personal attachment many players have to their instrument is examined in the section "Personification," with subjects cradling or hugging their instruments like children, lovers, or even extensions of their bodies.
Iconic electric guitars such as a 1953 Fender Telecaster and a 1958 Gibson Explorer—some of which were played by the likes of Keith Richards and Eric Clapton—shine in the section titled "The Visual Culture of Early Rock and Roll." The real star, however, is Sister Rosetta Tharpe, the Godmother of Rock and Roll who influenced Elvis Presley and others in the 1950s; she reigns in a striking quilt by Michael C. Thorpe and a video performance installed nearby.
The final section, "Aestheticizing the Motif," explores the inherent beauty of guitars in works like John Baldessari's graphic
set of six hand-painted print collages and Kaki King's video performance of her song "Surface Changes," which shows an innovative combination of musicianship and visual art for the 21st century. Storied Strings offers visitors an opportunity to explore the guitar's cultural significance, its impact on American art, and the diverse ways it has been enjoyed and utilized by musicians and artists over the years.
Several key objects in the exhibition are on loan from the Country Music Hall of Fame and Museum, and throughout the summer, a series of programs featuring live performances and exhibition tours will be offered by the neighboring museums. Reciprocal admission for Frist and CMHoF members will be offered on select dates. sl
Storied Strings: The Guitar in American Art / May 26-August 13, 2023
Frist Art Museum / 919 Broadway, Nashville, TN 37203 / (615) 244-3340 / fristartmuseum.org
Hours: Monday, Friday, and Saturday 10:00am-5:30pm, Thursday 10:00am-8:00pm, Sunday 1:00pm-5:30pm, Closed Tuesday and Wednesday
Waden S. Fabry. Kitty Wells, 1954. Silver gelatin print; 14 x 11 in. Collection of George Gruhn, Gruhn Guitars, Nashville, TN
Otto Hagel. Odetta, 1958, Gelatin silver print; 13 5/8 x 10 5/8 inches. Center for Creative Photography, University of Arizona: Hansel Mieth/Otto Hagel Archive, 98.117.66. © Center for Creative Photography, The University of Arizona Foundation
Al Aumuller. Woody Guthrie, half-length portrait, facing slightly left, holding guitar, 1943. Gelatin silver print; 8 1/8 x 8 6/8 in. Prints and Photographs Division, Library of Congress, Washington D.C.
20 slmag.net
Photographer unknown, Black and white half-length portrait of the Carter Family. Pictured are (L-R) Maybelle Carter, A. P. Carter, and Sara Carter, ca. 1928
3805 Green Hills Village Dr, Nashville, TN 37215 STORE5a.com I @STORE5a SELL I CONSIGN I TRADE GIVING LUXURY
SECOND LIFE
A
Enjoy Your Day... OakwoodCleaners.com Couture • Wedding Gowns • Environmentally Non-toxic © HAAR 2022 Ask about our Free Pick-up & Delivery (Restrictions apply) Nashville | 615.620.6095 • Hermitage | 615.885.1281 Choose the difference!
Leader in luxury
who he is.....
Jacob Watkins is the owner and broker of Corcoran Reverie, a luxury real estate brokerage specializing in the luxury home market in the greater Nashville area and across Northwest Florida from Destin to Panama City and the coastal communities along 30A.
As a husband and father of two, ages 3-1/2 and 2, Jacob is anchored by his family and driven to create a legacy for them that will stand the test of time. When he isn't at work, Jacob can be found boating, bird hunting and spending time with his family, enjoying all that Florida's South Walton lifestyle has to offer.
how he le ads.....
With a keen understanding of the nuances of new construction development, as well as a true love of spreadsheets, Jacob can often be found on job sites or around the conference table leading groups of agents who are interested in or currently developing their own real estate. His ability to break down pro forma's in the competitive, second home market of 30A, and help his agents do the same, allow his expertise to trickle down to the next generation of real estate professionals. Like all of Corcoran Reverie's leadership, Jacob's commitment to providing the highest level of luxury training to the agents is what fuels his drive for success.
how he sells.....
Since starting in real estate nearly a decade ago, Jacob has intentionally remained inquisitive and continues to better himself and in turn, his career, through consistently challenging himself and learning. Observant by nature, Jacob realized that if he created his strategies from bits and pieces from the best in business along the way, he could create something great. Having constructed and sold his own real estate at every stage of his career, he has bought and sold over $1B in real estate, and helped countless clients achieve their real estate goals along the way.
how he lives.....
Jacob's charismatic personality along with his career accomplishments have earned the respect of his industry colleagues across the globe. His philanthropic work includes serving several not-for-profit groups including Destin Charity Wine Auction, a local event that raises millions of dollars for local charities and The Sonder Project, who's focus on education and fresh water empowers impoverished communities through highimpact, sustainable development in West African countries.
live who you are moment
"Leave a legacy behind that you can be proud of. The work we do today will be the foundation of a successful tomorrow," says Jacob, "so be sure that everything you do is done to the the very best of your ability. Build something your children will remember and be proud of."
MEET THE MAN BEHIND THE REVERIE.
40 BURTON HILLS BLVD, STE 230 | NASHVILLE, TN | 615.250.7880 5410 E CO HWY 30A, STE 103 | SANTA ROSA BEACH, FL | 850.231.5030 CORCORANREVERIE.COM © 2023 Corcoran Group LLC. All rights reserved. Corcoran & the Corcoran logo are registered service marks owned by Corcoran Group LLC. Corcoran Reverie and Corcoran Group LLC support the principles of the Fair Housing Act & the Equal Opportunity Act. Each office is independently owned & operated. FL Broker License #BK662303 | TN Broker License #257893
Wealth can be complex — they see the big picture
The professionals on your Nashville Private Bank Team bring a long-term perspective to your wealth management needs, along with extensive knowledge and resources.
Having served generations of local families, Bank of America Private Bank's trust and investment management relationships are supported by the strongest standard of integrity, trust and accountability: the fiduciary standard.1
We provide personalized wealth strategies for you and your family, along with broad-based investment management that's backed by our Chief Investment Office and the resources of Bank of America.2
1 Bank of America, N.A., and U.S. Trust Company of Delaware (collectively the "Bank") do not serve in a fiduciary capacity with respect to all products or services. Fiduciary standards or fiduciary duties do not apply, for example, when the Bank is offering or providing credit solutions, banking, custody or brokerage products/services or referrals to other affiliates of the Bank.
2 The Chief Investment Office ("CIO") provides thought leadership on wealth management, investment strategy and global markets; portfolio management solutions; due diligence; and solutions oversight and data analytics. CIO viewpoints are developed for Bank of America Private Bank, a division of Bank of America, N.A. ("Bank of America"), and Merrill Lynch, Pierce, Fenner & Smith Incorporated ("MLPF&S" or "Merrill"), a registered broker-dealer, registered investment adviser, Member SIPC and a wholly owned subsidiary of Bank of America Corporation ("BofA Corp."). Investing involves risk, including the possible loss of principal. Past performance is no guarantee of future results. Bank of America Private Bank is a division of Bank of America, N.A., Member FDIC and a wholly owned subsidiary of BofA Corp. Trust, fiduciary and investment management services are provided by Bank of America, N.A., Member FDIC and a wholly owned subsidiary of BofA Corp., and its agents. Investment products:
Are Not FDIC Insured Are Not Bank Guaranteed May Lose Value
© 2023 Bank of America Corporation | MAP5697780 | PB-655-AD | 05/2023
Your Nashville Private Bank team delivers deep acumen and the highest fiduciary integrity.
Find out how our team can help meet your wealth management needs. Visit us at privatebank.bankofamerica.com or call 615.749.4322.
The stunning and secluded private estate on 4.1 acres offers a contemporary and open floor plan featuring high ceilings with an abundance of windows and natural light. Notable features of the home include a media room, billiards area, wine cellar, enormous workout room with sauna & steam shower, geothermal, full home generator, and a three-car garage. The heated saltwater infinity pool with separate spa lead to a private pool house with nano doors, full bar, and bath downstairs with private guest suite and bath upstairs.
Jennifer and Alison Cooke
MLS: 2526823 |
at $2,799,000
Upon entering home there is an abundance of windows and natural light that is surrounded by the peaceful stillness of Green Hills. Meticulously constructed with no detail overlooked, the notable features of this home include a chef's kitchen, dog station, storm shelter, oversized media room, and a three-car garage. The open concept floor plan embraces the homes outdoor livability opening to exterior patios and decks with ample space, making this the ideal home for entertaining and gatherings.
trusted resource
sophisticated home buyers and sellers who want to make intelligent
decisions in
greater Nashville area or anywhere in the world through their International networks. T hey are committed to exceptional client care, are skilled negotiators, and are deeply knowledgeable about the local market and Nashville lifestyle.
Corcoran Reverie | 40 Burton Hills Blvd, Ste 230 | Nashville, TN, 37215 | o 615.250.7880 ©2023 Corcoran Group LLC. All rights reserved. Corcoran & the Corcoran logo are registered service marks owned by Corcoran Group LLC. Corcoran Group LLC and Corcoran Reverie support the principles of the Fair Housing Act & the Equal Opportunity Act. Each office is independently owned & operated. FL Broker License #BK662303 | TN Broker License #257893 luxury that refuses to blend in luxurious everyday living modern luxury
an elevated real
masterpiece Providing
estate experience.
are the
for
real estate
the
3500 Stokesmont Rd, Nashville, TN 37215
Offered
4 Bedroom | 4 Bath | 2 Half Bath | 5,540
SqFt
5 Bedroom | 6 Bath | 2 Half Bath | 11,486 SqFt
960 Overton Lea, Nashville, TN 37220 MLS: 2530847 | Offered at $10,500,000
Jennifer Cooke, REALTOR ® m 615.406.4844
Alison Cooke, REALTOR ® m 615.397.4676 thecooketeamtn.com
The Elegance of Europe... Café Intermezzo 205 Demonbreun . Nashville cafeintermezzo.com 3 locations in Atlanta since 1979
SOW THE SEEDS OF ADVENTURE AT SOUTHALL
Discover 325 acres of possibility, just outside of Nashville
Photos courtesy of Southall Farm & Inn
Set amid the lush hills of historic Franklin, Tennessee, Southall is a 325-acre resort, near Nashville, with an inn and cottages, dining and spa experiences that draw on the land, and a working farm at the heart of it all. The beautiful landscape provides ample opportunities for nature-inspired pursuits with trails to hike and bike, a picturesque lake with water sports, and even a challenging ropes course for the more adventurous. But that's only the beginning. At Southall, you'll find a celebration of inventive cuisine, wellness experiences that nourish body and soul, and outdoor adventures that fuel the fun.
EXPAND YOUR HORIZONS Whether you're in search of relaxation, adventure, or simply time with loved ones, Southall provides just what you need. With experiences for couples, families, colleagues, and more, Southall is a captivating destination where people can gather, connect, and explore. It offers culinary experiences, tours of the working farm, orchard, greenhouses, and more adrenaline-fueled adventures. For those looking to adopt a slower pace, an afternoon lounging by the outdoor heated pool provides the perfect respite.
slmag.net 27
SAVOR NATURE'S BOUNTY Southall captures the sense of wonder that comes from connecting with the land and eating food that was grown and harvested just steps away. It celebrates the bounty of each season, allowing the flavors of fresh, seasonal produce from our farm to take center stage in thoughtfully crafted dishes. With a deep connection to the land, Sojourner serves an array of enticing offerings, creating immersive and transcendent dining experiences designed to honor our surroundings.
EMBARK ON A JOURNEY TO WELL-BEING Reflecting the nurturing essence of the land surrounding it, The Spa at Southall offers a blend of time-honored techniques and modern therapies that bring the body back into balance, along with a soothing mineral pool and calming herbal medicinal garden. Inspired by the therapeutic properties of botanicals and other nourishing ingredients cultivated on the farm, the spa instills a deep sense of well-being. Cultivate something special at Southall. Visit southalltn.com. sl
Inn
2200 Osage Loop, Franklin, TN 37064 / (615) 282-2000 28 slmag.net
Southall Farm &
/
Where the Land Connects Us All
Outside of Nashville in historic Franklin, Tennessee, Southall is a 325-acre resort with an inn, one-of-a-kind cottages, dining and spa experiences inspired by the land, and a working farm at the heart of it all. A place to gather, connect, and explore, Southall offers a wealth of nature-inspired activities that foster a deep appreciation for the land. From tours of our working farm, orchard, and greenhouses to culinary experiences, such as cooking demonstrations and seasonal tastings, Southall will ignite your curiosity and invite you to pursue new passions.
Adventure awaits with an array of activities, ranging from hiking and biking to a challenging aerial ropes course. Beautiful Lake Mishkin provides a picturesque setting for fishing, kayaking, stand-up paddle boarding, and more. Grounded in wellness, Southall will guide you to find balance with mindful pursuits that nourish the soul. Here, you'll enjoy a celebration of inventive cuisine, wellness experiences, and outdoor adventures that immerse you in nature.
Join us on the journey. Visit www.southalltn.com or call to learn more.
DISCOVER SOUTHALL SOUTHALLTN.COM 615-282-2000 | FRANKLIN · TN
HAPPY PLACE
Ophelia's Pizza + Bar sets the stage for fun and some delicious Italian fare
Ophelia's Pizza + Bar is an exciting new addition to downtown dining offering an intimate, old-school Italian experience with contemporary touches throughout the restaurant's menu and design. Ophelia's is 5th Street Group's second spot in Nashville alongside sister property Church and Union.
The new pizza restaurant and bar at the foot of the iconic L&C Tower boasts an inviting open-air patio with seating for over 50 guests. The patio, embellished with classic white umbrellas, lush greenery, and bustling views of downtown, provides a private outdoor dining experience that is a first-of-its-kind on 4th Avenue.
The 3,383 square foot restaurant seats 60 guests inside and a 10-seat bar highlighting a robust old world wine list and classic cocktails. The eclectic interior features a festive gallery wall with over 600 hand selected art pieces, many from the collection of co-owner Patrick Whalen's first bar, The Basement. Photos of team members' European travels hang alongside antique photos taken by Whalen's grandfather. Tiffany-style ceiling pendants and cognac-colored leather banquettes create a sense of sophisticated relaxation, while a sprawling map of Rome lines the back wall.
"When we started working on the concept behind Ophelia's Pizza + Bar, we were really inspired by the classic Shakespearean tragedy, Hamlet," says Whalen. "We wanted to reimagine European dining traditions and bring it to downtown Nashville's dynamic atmosphere."
"Ophelia's Pizza + Bar is a celebration of Italian cuisine. We have created a menu that caters to locals and visitors who are seeking a dining experience that combines the city's character with
playful and classic flavors," said Chef Partner Jamie Lynch, a twotime Top Chef Alumni. "Our dishes are fresh takes on traditional favorites, and we're thrilled to bring another really great dining option to 4th Avenue in downtown Nashville."
Guests can expect an American-Italian inspired dinner menu from 5th Street Group Chef Partners, Lynch and Executive Chef Adam Hodgson. The menu features hearty antipasti including an imported salumi e formaggi selection, whipped goat cheese with house-made focaccia, crispy and tender-crusted Neapolitanstyle pizzas with delectable options such as freshly shaved truffle and "Nashville hot,"—ghost pepper salt and hot honey. The classic American-Italian entrées include a lasagne bolognese large enough to share chock full of meatball pieces, cheese and creamy bechamel, pastas, and decadent dessert selections such as tiramisu and a cannoli sundae from the in-house pastry team. Chefs Lynch and Hodgson import many of their ingredients straight from Italy, as well as incorporating locally sourced products such as local favorite Gifford's Bacon and Strange Honey Farm out of Del Rio, TN.
Following dinner service each Friday and Saturday, both the indoor and outdoor spaces will transform into a true downtown hotspot. The After Dinner Party will kick off at 10:30pm and last until 3:00am, and will offer VIP cocktail service and leave with a two latenight to go pizzas from 1:00-3:00am. Now that's a happy ending! sl
Ophelia's Pizza + Bar / 401 Church Street, Suite 101, Nashville, TN 37219 / (615) 864-0977 Hours: Tuesday-Sunday 5:00pm-10:00pm plus late-night on Friday & Saturday, closed Mondays Reservations: www.opheliasnashville.com / Instagram: @opheliasnashville
30 slmag.net
Written by Melissa Mahanes / Photos by Sam Weinick
slmag.net 31
Committed to Doing First-Class Business in a First-Class Way Morgan Stanley Private Wealth Management was created specifically to help our most affluent clients address the complex, multigenerational challenges of managing significant wealth. Deeply committed to meeting the needs of exceptional individuals, families and foundations, we work with our clients to help enhance their lifestyles, create enduring legacies, and capitalize on the opportunities generated by a constantly changing world. The Patnaik Group at Morgan Stanley Private Wealth Management Raj K. Patnaik, CEPA Managing Director, Wealth Management Private Wealth Advisor 3102 West End Avenue, Suite 200 Nashville, TN 37203 615-269-2441 raj.patnaik@morganstanleypwm.com advisor.morganstanley.com/the-patnaik-group Morgan Stanley and its Financial Advisors or Private Wealth Advisors do not provide tax or legal advice. Individuals should seek advice based on their particular circumstances from an independent tax advisor. © 2022 Morgan Stanley Private Wealth Management, a division of Morgan Stanley Smith Barney LLC. Member SIPC. PWM001 CRC 4983572 10/22
ODDS-ON FAVORITE
Written by Claire Williams / Photos courtesy of Badrutt's Palace Hotel
After making a bold bet with a group of summer English guests to stay in the Swiss town of St. Moritz for the fall season, claiming it to be more agreeable than London, Johannes Badrutt and four Brits who stayed behind would found not only the birth of winter tourism but also put this mountainous town on the map. Some 30 years later, in 1896, Caspar Badrutt followed his father's ambitious footsteps by opening Badrutt's Palace.
Although more than a century has passed, the chateau theme of the Palace remains but on a much grander scale. Most guests arrive in St. Moritz via the Bernina Express, more lovingly known as the Little Red Train, a UNESCO World Heritage Property. The storybook journey wends past villages built on mountainsides and snow-capped peaks while powdery snowflakes fall so gently that it's possible to imagine yourself inside a snow
globe. The pampering begins at the station, where a smartly uniformed Badrutt's Palace chauffeur awaits to whisk you away to the hotel in a Rolls Royce.
It's a short ride up the mountain to the heart of St. Moritz. The scale of Badrutt's Palace is hard to appreciate from the city center: 10 restaurants, three bars, a nightclub, a spa, and an array of other offerings await behind its spinning doors. On the other side, you're greeted by grand wooden vaulted ceilings, with antique and authentic pieces adorning the space, and floorto-ceiling windows to make sure you never miss the beauty of the land that made those English linger longer way back when. Constantly evolving, Badrutt's has carefully crafted a grand hotel that exudes the glamour and glitz you expect from St. Mortiz while also celebrating the local styles and heritage of the area.
slmag.net 33
Almost 160 years after a bet by Johannes Badrutt created a winter tourism renaissance, Badrutt's Palace continues the family legacy that started it all.
As a historic hotel, there are no cookie-cutter rooms; each tells a unique story. In fact, Alfred Hitchcock famously drew inspiration for The Birds from one of them, and the Palace named room 501 the Alfred Hitchcock suite after his 34th visit. Guest rooms offer opulent touches, including spectacular wooden moldings on the ceilings, antiques, art, and even local crystals in the chandeliers. The marble bathroom in my suite was nearly as large as my Paris apartment!
Guest experiences abound in all seasons. In winter, the obvious main attraction is skiing. As a novice, I appreciated the expertise of the ski pro in the Badrutt's Palace on-site ski shop, although my bunny-ski skills were a far cry from the Olympic athletes she's outfitted for more than 17 years. She aptly demonstrated her prowess by guessing the correct size of our needed gear with a cursory glance.
Having skied only once before, as we ascended the mountain with seasoned skiers, I was worried my flashy ski suit would be the only thing going for me. Spending the morning with Pierre, one of the Palace's resident instructors, quickly allayed my fears. Having worked worldwide with beautiful people like Claudia Schiffer, Pierre remarked that people who've been skiing for decades will still hire him to continue the relationship they've built over the years.
After a day of busting down black diamonds or sticking to the more sedate slants of the bunny slopes, Badrutt's Palace's Paradiso is one of the hottest tickets in town. Paradiso sits at the apex of the après experience with a sprawling mountain-view terrace, spectacular food and wine, and a seasonal Gucci-branded lounge. Seizing the moment definitely calls for some fur accessories and bling. While my slope skills don't qualify me to participate in a stylish 007-esque pursuit down the mountain, I did my best to exhibit the effortless glamour of a Bond girl while at Paradiso.
One of the other main attractions of St. Moritz is shopping, and Badrutt's has that covered, too, with its prime location on Via Serlas, the world's highest luxury retail street. They recently opened a Golden Goose storefront on the property, allowing shoppers to create the ultimate souvenir: a shoe from scratch. Just across the street, Badrutt's Palace partners with the likes of Gucci, Louis Vuitton, Cartier, and more locally-known European brand Fusalp (their Emilio Pucci ski suit might make you want to rethink taking more ski lessons) to cater to any and all shopping fantasies. There's even the possibility of arranging private shopping at any point, even at two in the morning. During this past ski season, Louis Vuitton opened a second-of-its-kind branded Khazastan-inspired yurt pop-up. Guests of Badrutt's Palace receive special access to this one-of-a-kind shopping extravaganza.
34 slmag.net
Spa wellness garden and pool
Living room of the Helen Badrutt Suite
Paradiso. Photo by Steve Herud
St. Moritz Suite
The Grand Hall at Badrutt's Palace
slmag.net 35
Badrutt's Palace balcony view
36 slmag.net
The Gucci room at Paradiso
Like their shopping experiences, Badrutt's dining options cater to all palates and appetites. A short walk across the street from the hotel leads you to the center of the village and the 364-year-old Chesa Veglia. This former Swiss farmhouse specializes in authentic Italian pizza, elegant French cuisine, and rustic Swiss specialties (and where truffle is never lacking). For an even more authentic experience, you can ask for a private candlelit dinner in the wine cellar of the original Badrutt family farmhouse. The prices of the rarest among the 30,000 bottles it holds rival the Rolls Royce that brought me to the hotel.
What had been the hotel's tennis hall, the first in Europe, is now La Coupole-Matsuhisa, which offers Japanese-Peruvian delicacies by chef Nobuyuki Matsuhisa, or as many know him, the man behind the infamous Nobu empire. The star-studded roster continues with King's Social House, helmed by Michelinstarred chef Jason Atherton. The food is just as spectacular as the
after-party, when the restaurant transforms into a nightclub, with table service consisting of sparklers and Dom Perignon. Finish off the night in the Renaissance bar, where you can pair your cocktail from their choice cigar collection and truly feel like the James Bond villain.
They say the new statement pieces are experiences; material objects are briefly exciting, but adventures stoke the fire of our memories for a lifetime. The highlight reel from a stay at Badrutt's Palace encompasses moments big and small, from indulgent treatments in an underground spa with a heated outdoor infinity pool so you can watch the snowfall to a simple touchpoint of a musician playing the harpsichord every morning at breakfast every carefully crafted encounter creates unforgettable moments. And if that wasn't reason enough to return, the property is building a new addition across the street to ensure that coming back again and again is a safe bet. sl
slmag.net 37
Chesa Veglia restaurant
HOW THE WEST IS WORN
Fine jewelry inspired by the rich heritage, culture, and landscape of the American West.
Compiled by Bridget Williams
38 slmag.net
Jill Heller squash blossom vintage silver and turquoise necklace (jillhellerjewelry.com). Jenna Blake beaded necklace ($4,800; jennablake.com). Turquoise nugget necklace Seaman Schepps ($17,500; seamanschepps.com). Nunchaku earrings from Nak Armstrong ($1,275; nakarmstrong.com). Penacho ring from Colette ($4,770; colettejewelry.com). Marlo Laz Southerwestern ring ($2,400; marlolaz.com). Cece Jewellery A Traveler's Tale ring ($10,600; cecejewellery.com). Signet ring with turquoise Hibiscus medallion from Nouvel Heritage ($5,600). Available through Reis-Nichols in Indianapolis, Ylang Ylang in St. Louis and nouvelheritage.com. David Yurman Petrvs horse amulet in 18K yellow gold ($1,450). Available through Diamond Cellar in Columbus, Moyer Fine Jewelers and Reis-Nichols Jewelers in Indianapolis, Davis Jewelers in Louisville, and davidyurman.com. One-of-a-kind Leo necklace from Emily P. Wheeler ($26,000; emilypwheeler.com). Effy 925 sterling silver and 18K yellow gold diamond bracelet ($1,365; effyjewelry.com). Jacquie Aiche Thunderbird cuff bracelet ($17,500; jacquieaiche.com). Fancy yellow diamond solitaire from Albarré Jewelry in St. Louis ($22,000; albarre.com). Karina Brez Fearless Feathers ring ($1,900; karinabrez.com).

slmag.net 39
SINGULAR SENSATIONS
Superb stones that hold their own.
Compiled by Bridget Williams
40 slmag.net
Opposite page, clockwise from top left: Yvonne Léon grey diamond solitaire bracelet ($3,179; yvonneleon.com). Anita Ko emerald heart chain bracelet ($2,975; anitako.com). Harakh Sunlight collection earrings with .72ct colorless rose-cut diamonds ($5,000; harakh.com). Bondeye Jewelry Calming Clear Shield bracelet ($790; bondeyejewelry.com). Nana Fink blue heart pendant with hand-carved emerald ($3,100; nanafink.com). Shay Colombian emerald solitaire studs ($8,860; brokenenglishjewelry.com). Ashley Zhang mint green tourmaline bubble pendant ($2,000; ashleyzhangjewelry.com). Ramona Albert Bloom ring with aquamarine ($7,700; ramonaalbert.com). Marco Bicego Petali Collection extra large flower ring ($4,900). Available at Diamond Cellar in Nashville and Columbus; Reis-Nichols Jewelers in Indianapolis; Davis Jewelers in Louisville; Simons Jewelers in St. Louis, and at us.marcobicego.com. Sidecar engagement ring with 4ct emerald-shaped diamond from Phillips House ($150,000; phillipshouse.com). Kassandra Nicholson ruby teardrop earrings ($1,820; kassandranicholson.com). This page, clockwise from top left: Akaila Reid Ridge Edge solitaire ring ($32,920; akailareid.com). Tejen Collection Iconic Collection 5mm diamond capstone split ring (tejen-collection.com). Sorellina Cigno cocktail ring with 4.50ctw opal ($9,000; sorellinanyc.com). Rebel Black ring from Thelma West (thelmawest.com). Verragio Renaissance-973-R Two Tone ($3,000, excluding center stone). Available through Genesis Diamonds in Nashville, and at verragio.com. Shahla Karimi Mid-Century Kahn emerald ring with cigar band (from $2,290; shahlakarimi.com). VRAM Chrona demi ring with bicolor tourmaline (vramjewelry.com). Chris Ploof tension setting ring in 18k yellow gold and stainless steel Damascus, setting for .20ct diamond ($4,550, excluding center diamond; chrisploof.com). Continuity ring with .50ct diamond from White/Space ($6,650; modaoperadi.com). Unheated 7.20ct lavender sapphire solitaire from Albarré Jewelry in St. Louis ($24,000; albarre.com). Ray Griffiths Crownwork ring with bezel set Aquaprase ($4,170; raygriffiths.com).
slmag.net 41
NEWSWORTHY
It was love at first bite on my inaugural trip to New Orleans. However, in my case, the ardor was auditory rather than gustatory. Having arrived after midnight due to a frustrating series of airline snafus and eager to make up for lost time, I set out just after sunrise to stroll the empty alleyways of the French Quarter. Much to my surprise, as the first rays of sunlight latched onto the Romeo spikes found on the posts supporting the ornate iron galleries that serve as launching pads for countless beads, street corner musicians had already set up shop to tickle the ears of tourists. While I couldn't discern whether they were extreme early birds or hanger's-on from the prior evening's revelry, I appreciated the distinct sense-of-place soundtrack for my wandering.
After working up enough of an appetite to justify grabbing a bag of warm beignets from Café Du Monde that I'd intended to enjoy in The Eliza Jane's large and lushly landscaped open-air courtyard, I spent the rest of my walk back to the hotel vigorously dusting the evidence of my early indulgence—a preponderance of powdered sugar—off of my ill-chosen black leggings.
Opened in 2018, The Eliza Jane is fashioned from seven 19th-century warehouses that, in past lives, included manufacturing Peychaud's Bitters, publication of The Daily Picayune, and a nondescript Comfort Suites. A two-year renovation stripped away the genericness imposed by the most recent inhabitant to reveal the pleasing patina of the past, including exposed brick, masonry
arches, and metalwork. Located on what was once known as "Newspaper Row," where no less than seven different papers were published in the late 1800s, only one—The Daily Picayune— was the first major newspaper in the country to have a woman at the helm. That woman, Eliza Jane Nicholson, is the hotel's namesake.
Born into a well-to-do Mississippi family in 1843, Eliza Jane sought more from life than marriage and motherhood, so she moved to New Orleans. After submitting several poems to The Daily Picayune under the name of Pearl Rivers, she was hired as the literary editor, earning $25 a week. She went on to marry the paper's owner, Colonel Alva Holbrook, who had sold the paper only to repurchase it after the new owners pushed it to the brink of bankruptcy. Before he could complete the turnaround, Col. Holbrook died, and on the paper's front page on March 26, 1876, Eliza Jane, just 26 years old and $80,000 in debt, announced herself as the owner. She implemented changes to appeal to a broader readership, including adding sections on international news, a society column, and pieces of fiction by notable writers such as Rudyard Kipling and Mark Twain. Her astute business sense and a willingness to surround herself with capable and creative colleagues made the paper one of the most successful in the region. She remained at the helm with George Nicholson, her second husband and the paper's business manager, until they both succumbed to influenza in 1896.
Written by Bridget Williams
42 slmag.net
The Eliza Jane Hotel pays homage to a Big Easy publishing icon
A communal table in The Press Room.
Photo by Taggart Cojan Sorensen
slmag.net 43
The Press Room is a popular gathering spot day and night.
Part of The Unbound Collection by Hyatt portfolio, the 196-room hotel is a short walk from the French Quarter. In my tworoom Editor's Suite, in what was the newspaper's offices, Stonehill Taylor designers opted for an eclectic, homey style executed in jewel tones with a clever mish-mash of unique accessories and art, plush upholstery, and wallpaper. Near the beverage station, classic bentwood Thonet chairs pulled up to a round table accentuated by a vintage typewriter holding a personalized welcome note, to which I added my own hunt and peck addendum. A brushed brass finish on the suite's lighting and bath fixtures encapsulates the forward-looking retro trend.
My suite's wet room took full advantage of the soaring ceiling height by placing a soaking tub in front of a floor-to-ceiling arched window dramatically dressed with drapery. At press time, the property was developing a bespoke line of lime-basil-scented bath amenities, including bath salts, room spray, and velvety hand cream. Eventually, they plan to have these and their line of cocktail bitters (more on that later) for sale in a lobby boutique.
With only one full day on my first visit to The Big Easy, I called on New Orleans Legendary Walking Tours for a half-day jaunt around the city's highlights. After learning of my affinity for a good yarn, especially when it involves ghosts, Dane Rhodes, my guide and a card-carrying SAG member, put on quite the performance. He also peppered his talk with stories of New
Orlean's most notable women, including Mother Henriette DeLille, Micaela Almonester, Rosa Keller, Baroness de Pontalba, Mahalia Jackson, and Leah Chase (all of whom are worthy of a Google search to learn their stories). "New Orleans would not exist without badass women," Dane remarked emphatically.
Our half-day tour ended with lunch at Gris-Gris on Magazine St. (grisgrisnola.com). While Gris-Gris means "bewitch" in Creole, and the restaurant is decked out with Voodoo memorabilia and motifs, it was their chicken and andouille sausage gumbo washed down with a frozen King Cake frozen cocktail that put a spell on me. Chef-owner Eric Cook is a native of New Orleans and a combat veteran who served six years in the United States Marine Corps.
Having checked both King Cake (aboulangerienola.com) and gumbo off of my culinary checklist, I couldn't complete my stay without making a stop at Central Grocery on Decatur Street (cemtralgrocery.com) for an authentic Muffuletta sandwich and Hansen's Sno-Bliz, which has been slinging snoballs since 1939. At the latter, the combination of soft-shaved ice, condensed milk, and flavored syrups made in-house from family recipes created a delightful velvety treat.
After depositing my leftover Muffuletta in my hotel room, I headed down the street to the Sazerac House for a tour to learn about one of the city's most famous exports. New Orleans'
The Press Room, the Eliza Jane's lobby lounge.
44 slmag.net
Photo by Taggart Cojan Sorensen
pharmacist Antoine Amédéé Peychaud is famously known for inventing the cocktail in the mid-1800s. His blend of whisky, absinthe, bitters, and sugar, known as the Sazerac, and served in an egg cup called a "coquetier," was initially intended for medicinal use. The well-executed and engaging three-floor museum offers a fascinating deep dive into New Orleans' cocktail culture. Don't ask for the 200-year-old Peychaud's recipe; it's under lock and key as securely as the famous 11 herbs and spices in my home state's famous fried chicken.
Back at the Eliza Jane, Michael Glassberg, Lead Bartender at The Press Room, is developing a proprietary line of bitters for use in the bar based on knowledge gleaned from reading The Standard Manual of Soda and Other Beverages, published in 1897. "Bitters are like a finishing salt for cocktails," remarked Glassberg, who also leads Bitters 101 courses for guests wanting to learn more about creating bitters and crafting cocktails with these herbaceous liquids.
With its library-inspired setting and unique architectural flourishes, the Press Room is a hub of activity day and night. While the cocktail program skews towards a Francophile bent to complement Couvant, the hotel's French brasserie that's located in the former Peychaid Bittners factory, Glassberg says he relishes the occasional challenge from clientele who hail from around the
world. Complementing the building's history as a welcoming space for women writers, the Press Room is home to monthly "Dear Eliza Jane" author talks in partnership with The Garden District Bookshop.
At Couvant (couvant.com), Executive Chef Ryan Pearson, who cut his teeth working at Restaurant Daniel in New York City before returning to his hometown, explained that the menu looks like what would result if a French-born chef was dropped into New Orleans. Pearson employs a minimal waste, snout-to-nail approach in his kitchen, and I regretted not having more time to sample Couvant's decadent and delicious fare. I did, however, partake of duck and waffles for breakfast and enjoyed a feast fit for a queen at dinner: Provençal flatbread, classic gougères, a beet salad with locally procured strawberries, tagliatelle topped with mushrooms from a family-run small farm in Saint Francisville, Louisiana; côte de boeuf with a black garlic bordelaise, and brioche-crusted veal.
Walking (more like wobbling) out of dinner at Couvant, which followed a "to die for" day of over-indulging in New Orleans' culinary delights, I recalled a framed quote by Insta-poet Atticus that I'd spied in a shop window earlier that day that read, "I hope to arrive to my death late, in love, and a little drunk." To this, I'd add, "completely stuffed." sl For
more information about the Eliza Jane, visit theelizajane.com.
A frozen king cake cocktail at Gris-Gris Brioche-crusted veal at Couvant.
Duck and waffles for breakfast at Couvant
slmag.net 45
The makings of a classic Sazerac cocktail on display at Sazerac House.
IT'S A DUESY
A gathering dedicated purely to elegance and design amidst the grounds of the storied Villa d'Este in Lake Como, Italy, the Concourso d'Eleganza was held for the first time in 1929.
Awarded by a Jury, Best of Show went to a 1935 Duesenberg SJ Speedster styled in the coachwork design by Gurney Nuttin and owned by William Lyon of the United States.
In addition to the trophy, the victor received an 1815 Chronograph crafted by A. Lange & Söhne with a hand-engraved Concorso d'Eleganza Villa d'Este crest on the hinged cuvette.
Gary Cooper, Clark Gable, Greta Garbo, James Cagney, and many other stars of the silver screen drove a Duesenberg during the 1930s. In 1880, the company's founders, Fred and August Düsenberg, emigrated from Westphalia, Germany, to the USA. Speedy successes in motorsport and a small series of exclusive models quickly made them a household name. The marque's crowning glory came in 1932 with the extravagant SJ model. As much as 320 hp was available when the supercharger kicked in, propelling the colossal car to around 140 mph. Speaking to the quality of its vehicles, the turn of phrase "it's a Duesy" arose in the popular lexicon as a general indication of luxury.
Beyond the top prize, the participants and competing vehicles at the Concorso battled it out for victory in individual categories. The Coppa d'Oro prize awarded by Public Referendum went to a
1961 Ferrari 250 Syder California with
coachwork
by Pininfarina/ Scagliette and owned by Jonathan Hu, Keybridge Collection of Hong Kong. Helmut Käs, Head of BMW Group Classic and President of the Concorso d'Eleganza Villa d'Este, presented the Trofeo del Presidente to Rob Walton of the United States, owner of a 1968 Ford GT 40. BMW Group Classic brand ambassador and star tenor Jonas Kaufmann presented the Trofeo Il Canto del Motore for best engine sound, as chosen by the Jury to a 1970 Porsche 917 K to Christophe Count d'Ansembourg of Belgium.
Pagani's Huayra Codalunga, boasting Bronzo Aymara livery with an exposed carbon fiber finish, exclusive vintage leather and upholstery, and fine Loro Piana fabric, won the Design Award in the "Concept Cars & Prototypes" category, an award created in 2022, besting stiff competition that included Bugatti's W16 Mistral.
"The Huayra Codalunga is a tribute to Italian coachbuilders and race cars from the 1960s, cars that I love so much and that take me back to when I was a child," commented Horacio Pagani, Founder & Chief Designer. "We are happy to have won this award the first time we have participated in the most exclusive and historical classic car event in the world, in a category that represents the link between the automobile's glorious past and its exciting future." sl The 2024 event is scheduled for May 17-19.
Written by Andre James
The coveted Best of Show trophy at the Concourso D'Eleganza
Villa d'Este
went to a 1935 Duesenberg SJ Speedster.
46 slmag.net
William Lyon behind the wheel of his 1935 Duesenberg SJ, awarded Best of Show
Photo by Gudrun Muschalla
Best of Show timepieces by A. Lange & Söhne.
Photo by Gudrun Muschalla
Bugatti W16 Mistral Pagani Huayra Codalunga
slmag.net 47
The Coppa d'Oro prize went to a 1961 Ferrari 250 Syder California
At its global debut at Auto Shanghai this past April, BMW solidly demonstrated the seamless interaction of its XM Label Red's electric motor with a V8 engine. The company shifted gears at Coachella Valley Music and Arts Festival a few weeks later by assembling a global team of like-minded next-generation artists and cultural creators to express themselves alongside boldly styled Sports Activity Vehicle.
"Our goal is to be at the heart of where the creative magic happens – and Coachella is an excellent platform to foster new conversations with emerging talents as well as established artists," said Stefan Ponikva, Vice President Brand Communication, Brand Experience. "BMW wants to enable artists – musicians, designers, actors, storytellers – to express themselves and engage with our brand and the first-ever BMW XM."
The company's claims are not mere hyperbole as the 738hp Sports Activity Vehicle, expected to cost in the neighborhood of $186k, can sprint from a standstill to 60 in 3.7 seconds, making it the most powerful BMW M road vehicle ever made. Top speed is electronically limited to 155 mph or 175 mph when the optional M Driver's Package is specified.
The M HYBRID system of the BMW XM Label Red blends the virtues of electrification with the traditional qualities of a high-revving 8-cylinder combustion engine with M TwinPower Turbo technology. The 4.4 liter V8 engine alone produces 577 hp at 5,600 rpm – a 94-hp increase over the unit in the standard BMW XM. Peak torque is 553 lb-ft – an increase of 74 lb-ft over the standard model – and is available from 1,800 to 5,400 rpm.
Drawing energy from a high-voltage lithium-ion battery integrated into the underbody, the electric motor also employs innovative technology to deliver a noticeable increase in power. The permanently excited synchronous motor is integrated into the 8-speed M Steptronic transmission together with its power electronics and helps to provide precise throttle response and nearly instantaneous power delivery. The electric motor, which enables an estimated electric-only range of about 30 miles at speeds up to 87 mph, contributes up to 194 hp to the maximum system output of the BMW XM Label Red, along with 206 lb-ft of torque.
The Combined Charging Unit of the M HYBRID system enables AC charging at up to 7.4 kW. The high-voltage battery
Written by Andre James / Photos courtesy BMW Group
MIGHTY M
48 slmag.net
With a 738-hp plug-in-hybrid powertrain, the 2024 BMW XM Label Red is the most powerful member of the BMW M family.
takes just 3.25 hours to be replenished from zero to 100% charge. In addition, predictive heat management reduces charging times by preconditioning – warming or cooling – the HV battery. The charging cable stows away in a weekender bag secured in the rear cargo area using a carabiner-belt combination in M tricolor.
The M xDrive all-wheel-drive system is rear-biased, imparting the BMW XM Label Red a dynamic sense of agility and poise, especially in 4WD Sport mode. An electronically controlled differential lock in the rear axle further enhances traction, agility, and directional stability.
Standard equipment for the BMW XM Label Red includes adaptive M suspension Professional – featuring electronically controlled dampers and active roll stabilization with Active Roll Comfort to eliminate body roll on one side of the vehicle – and Integral Active Steering. The M Sport braking system comprises six-piston, fixed-caliper brakes at the front and single-piston, floating-caliper units at the rear.
Distinguishing exterior features of the BMW XM Label Red include an available Toronto Red metallic accent band
instead of the standard black. The use of red also extends to the model badges and the wheel inserts. The BMW XM Label Red is fitted as standard with 23-inch light-alloy wheels, with 22-inch wheels available as a no-cost option. The surrounds for the BMW M kidney grille and diffuser elements are finished in Black high-gloss.
Customers can select either Brooklyn Grey metallic or choose from more than 50 BMW Individual special paint finishes at no additional charge. In addition, the new BMW Individual Visualizer (bmw-m.com) is available from the start of orders for the BMW XM Label Red to help customers with the paint selection process.
The bold design continues inside the cabin with a rear passenger area modeled after a luxurious lounge, complete with diamond quilted BMW Individual Vintage Merino leather seats set beneath a three-dimensional sculptural prism headliner containing 100 separate LED lights.
Production of the 2023 BMW XM Label will begin in August of this year at the company's plant in Spartanburg, South Carolina. sl
slmag.net 49
SUMMER STUNNER
Thirty years after the presentation of the Boxster concept car, Porsche will launch the most powerful version yet of the popular mid-engine roadster: the new Porsche 718 Spyder RS, which will celebrate its public premiere on June 8 as part of a livestream event in Stuttgart-Zuffenhau marking 75 years of Porsche sports cars (youtube.com/@porsche). The following month, it will appear at the Goodwood Festival of Speed in England (goodwood.com).
"With an engine taken directly from racing, the 718 Spyder RS offers a driving experience like no other," says Kjell Gruner, President and CEO of Porsche Cars North America. "Slicing around a tight corner with the top off and the engine soaring to 9,000 rpm is an experience you will never forget."
The new 718 Spyder RS is a counterpart to the 718 Cayman GT4 RS. The same lightweight powertrain with high-revving engine characteristics also powers the Porsche 911 GT3 Cup racing car. The four-liter six-cylinder boxer engine generates up to 493 hp and 331 lb.-ft. of torque. Combined with a short-ratio seven-speed PDK transmission, the engine catapults the twoseater roadster from 0-60 mph in 3.2 seconds. Compared to the
previous 414 hp 718 Spyder without the 'RS' designation, the 718 Spyder RS boasts an additional 79 hp and accelerates to 60 mph 0.5 seconds quicker toward a top track speed of 191 mph. In addition, paddle shifters on the steering wheel allow drivers to keep their hands on the wheel even when shifting gears manually.
Weighing slightly more than 40 pounds, the exceptionally light soft top of the 718 Spyder RS makes the engine's iconic and instantly recognizable sound an even more stirring experience. A standard lightweight stainless steel sport exhaust system and distinctive combustion air inlets on the sides behind the headrests further heighten the effect.
Consisting of two parts—a sunshield and a weather protector— the single-layer soft top can be used with the sunshield alone. Both are entirely removable and stowable in the vehicle.
Sporty character defines the inside of the car, too, with a Race-Tex-covered GT Sport steering wheel with yellow 12-o'clock marking, standard full bucket seats made of lightweight CFRP in a carbon-weave finish, and perforated Race-Tex seat centers in a contrasting color with a black background. Available exterior colors
Written by Andre James / Photos courtesy of Piaggio Group
50 slmag.net
The 2024 Porsche 718 Spyder RS is the most potent version of the popular mid-engine roadster.
include four standard and three metallic paints, including the new Vanadium Grey Metallic and the special colors Arctic Grey, Shark Blue, and Ruby Star Neo.
An optional Weissach Package is defined by forged magnesium wheels, titanium sport exhaust tailpipes, an exposed carbon fiber hood, carbon fiber combustion air scoops on the sides, and a carbon fiber Gurney flap on the rear spoiler. Inside the cabin, the upper part of the dashboard is covered with Race-Tex, while the seat headrests boast embroidered "Weissach" logo.
Owners of the Porsche 718 Spyder RS have exclusive access to a handcrafted chronograph by Porsche Design, and made by the Porsche watchmaking operation in Solothurn, Switzerland. Designed to match the configuration of the car, the case is made of titanium, the dial is made of carbon fiber and the strap is made of vehicle leather. The rotor on the back reflects the respective wheel design on the 718 Spyder RS.
The new 2024 Porsche 718 Spyder RS carries an MSRP of $160,700, excluding $1,650 for delivery, processing, and handling. Arrival at U.S. dealers is expected in spring 2024. sl
slmag.net 51
COLORING OUTSIDE THE LINES
For many, the world of wine is mainly monochromic: white, red, and pink. As a result, vino drinkers may think that the world of spirits gets to have all the fun experimenting with colors and flavors. However, you may be surprised to learn that there is a long history of colorful winemaking.
In the red winemaking process, colors ranging from pale ruby to deep garnet result from allowing the juice from the crushed grapes to macerate with skins. Winemakers tinker with the maceration period, which can be anywhere between three to 100 days depending on what effect they want the skins to have on the wine, such as creating a rosé from a short maceration period, increasing wine flavor, tannin, or the viscosity (the body) because many flavor and phenolic compounds come from the grape skin. Contrarily in the white winemaking process, the skins are customarily discarded, giving white wines completely different characteristics, mouthfeel, and flavor.
Orange wines are an outlier. More technically referred to as "skin-contact wine" due to the winemaking process, orange wines are essentially white wines that take a page from the red wine-making book; counter to their moniker, citrus fruit is not part of the equation. Instead, the skins of the white grapes ferment with the juice to impart the wines with a range of colors ranging from medium amber to deep copper. Voila, orange wine!
Georgia (the country, not the state) is considered the "cradle of wine," with the archaeological record crediting wine creation to the people of the South Caucasus in 6,000 BC. Although it's enjoyed a resurgence for the past few decades and is a product of almost all of the world's wine-producing regions, orange wine has been among Georgian winemakers' métier for many millennia. Slovenian and Italian-made are also well-known, with new world wine regions, such as Australia, South Africa, and the United States, following suit.
While orange wines come from various grapes, they're often described as robust and full-bodied with a great depth of flavor,
akin to red wine, due to the grape skin contact, with the bonus of boasting the refreshing qualities of white wine. Common tasting notes include bruised fruit like apple, honeyed aromas of jackfruit (a fleshy tropical fruit), juniper, sourdough, dried orange rind, and savory flavors like hazelnut and apricot.
Notable orange wines include an Italian orange pinot grigio. The Italians use the word to Italian pinot grigio made in an orange wine style, known for honeysuckle, stone fruit, and citrus flavors.
For a complete departure from Italian riesling presents a tartness that is off-putting to some and endearing to others whose palate prefers complex sour flavors. The 2019 Orange Riesling from Bannister Wines in California's northern Sonoma County has flavors of quince, pomelo, tart apple, and allspice that will evolve with bottle aging (bannisterwines.com/ shop/2019-orange-riesling). Whereas other wines have limitations, orange wines like Bannister's Riesling fill the space of wines that pair well with more exotic and spicier cuisines.
Gerard Bertrand's Genora Orange wine from the south of France, made from four white grape varieties, presents aromas of white flowers, candied fruits, and white pepper. The wines' freshness pairs perfectly with aperitifs, cheese platters, and Indian and Asian dishes (en.gerard-bertrand.com/en/products/genora).
Another memorable wine on the color wheel is orange's cousin: yellow. Also known as "vin jaune," yellow wine is white wine exclusively produced in the Jura region in eastern France from the local grape variety, the Savagnin. Only four regions or appellations d'origine contrôlée (AOC) are authorized to produce it: Arbois, Côtes du Jura, Château-Chalon and Etoile. Legend has it that a winemaker found a forgotten barrel in his cellar and opened it to find "the Gold of Jura."
Today the process is not one you should wait around for: after fermentation, the wine is kept for six years and three months in oak barrels without "topping up," meaning that the wine that
52 slmag.net
slmag.net 53
STEERING IN THE RIGHT DIRECTION
Hotel Drover is the centerpiece of the revitalized Mule Alley in the Fort Worth Stockyards
Written by Bridget Williams
I'm fairly certain that it's part of our collective DNA as Americans to have some modicum of affection for the lore and legend of the American West. I am not immune to these fascinations, part of which spurred an early and enduring interest in Southwestern archaeology, an unwillingness to part with a childhood collection of American West knick-knacks, and a wholehearted willingness to don a cowboy hat and boots when given a chance. The opportunity arose a few months ago during a visit to the Hotel Drover in the heart of the historic Fort Worth Stockyards National Historic District.
The anchor of the award-winning Mule Alley, a collection of 100-year-old horse and mule barns wonderfully refurbished and repurposed for entirely different types of horsing around, Hotel Drover is a chic cathedral of cowboy culture, whose name honors the pioneering spirit of Texas cattle drivers. Best exemplified by a signature neon cowboy installation by Austin artist Evan Voyles, varying and carefully calculated kitsch sprinkled throughout the indoor and outdoor public areas and the 200 guest rooms and spa suites pulls the heartstrings and adds a kick-off-your-boots welcoming spirit to the rustic-luxe design that belies the hotel's relative newness.
Far from cookie-cutter, Hotel Drover employs antique and bespoke pieces to encapsulate a distinct sense of place. From a signature scent with notes of fine leather, campfire, mango, and pepper (and coming soon to a branded candle); to Hotel Drover-
branded leather check-in booths; hand-forged chandeliers; Los Poblanos lavender-scented bath amenities sourced from a small maker in New Mexico; Rose Ann Hall hand-etched glassware in the restaurants; contemporary artwork; and lounge chairs upholstered in cowhide and dripping with fringe, the design artfully engages all of the senses. For me, it's the minor touches that attest to a hotel's attention to detail, and the chilled eucalyptus-scented towels in the workout room were the perfect post-workout olfactory pick-me-up.
Each spacious guestroom is unique, with most being in either a Texana, Frontier, or Republic style. Our Texana room was chockfull of vintage cowboy and cowgirl imagery, embossed leather, distressed wood, and a lively-tiled bathroom with a stainless steelskirted soaking tub—a perfect blend of fun and fancy.
In the Hotel Drover's "backyard," a $4 million investment in landscaping alone makes this a verdant and quiet oasis that makes the hustle and bustle of nearby Mule Alley seem miles away. Among the amenities are a refreshing pool; an arbor-covered private event space where Executive Chef Grant Morgan offers "adventurous" seven-course dinners; firepits with available s'more and mobile bar service; and an acoustic stage complete with seasonally changing murals of pin-up style cowgirl paintings by a local artist that's the site of the Drover Unplugged music series.
54 slmag.net
The lobby of Hotel Drover
Private dining is available in the Hotel Drovers "backyard."
slmag.net 55
Providing shady respite from the hot Texas sun, the Hotel Drover's "backyard" is a multi-functional space.
The Lucchese Fireplace Suite at Hotel Drover
Sweet and spicy bacon at 97 West
56 slmag.net
The first step in designing custom boots at the Lucchese boutique in the Hotel Drover's lobby is having your foot traced to ensure a perfect fit.
At the entrance to 97 West, whose design pays homage to Wild West outlaws, dueling vintage prints of Tonto and the Lone Ranger with weapons drawn flank the entry. The menu features elevated ranch classics and reimagined comfort foods. Their brunch is stellar, with our favorites being the brunch taco board, sweet and spicy bacon (served "clothesline style" above jalapeno cornbread, and a decadent giant cinnamon roll served piping hot in a cast iron pan. The Lobby Bar, The Backyard, and The Courtyard at 97 West all offer chic spaces for sipping seasonallyinspired craft cocktails.
It's just a short walk down Mule Alley to Exchange Avenue, where twice a day, drovers parade longhorn steer, fascinatingly aware of the awe-inspiring span of their hood ornaments, down the street that's often lined three-deep with onlookers. An initiative conceived around the 150th anniversary of the city's founding, Fort Worth is the only city in the world to own a herd and employ full-time drovers. "It's important to remember that we're a cow town," said Ed Brown, the lead ambassador for the Stockyards. His entertaining and enthralling historical tours of the area touch on lore, legends, and why it came to be known as "hell's half-acre." As
he spoke, my head filled with hazy images of crushed red velvet and whiffs of stale tobacco and whisky breath.
The entirety of The Stockyards is a playground for grownups, with scores of dining, shopping, and entertainment options. From embellished boots and cowboy hats to colorful embroidered dresses, big hair, and shiny belt buckles, the predominant style among the throngs milling around the several-block area is the antithesis of "quiet luxury." Highfalutin folks flock to the Lucchese boutique in the Hotel Drover's lobby (lucchese.com). Here, specially trained staff offer the company's only "sole to scallop" custom boot experience that begins with an in-depth foot tracing and consultation. Options for personalization are limitless, making the experience of designing these wearable works of art akin to a tattoo that you can take off.
Proper Supply Co. (@propersupplycofw) offers another highstyle souvenir. General Manager and Creative Director Christina Falconer uses steam and know-how to hand-shape a beaver fur felt hat into your chosen style (I opted for a classic Cattleman crease). A self-taught hat shaper, Falconer cut her teeth at the rodeo, and under her direction, the shop showcases an eclectic mix of upscale cowboy couture. "I love being the voice of artisans," she remarked.
slmag.net 57
The Veranda Bar at Hotel Drover
The patio at Second Rodeo Brewing in Mule Alley
An available and locally-inspired in-room amenity at Hotel Drover.
The Fort Worth Stockyards employs a team of professional drovers to lead the twice-daily longhorn parade down Exchange Avenue.
Photo by Glen Ellman
58 slmag.net
At Proper Supply Co. General Manager and Creative Director Christina Falconer uses steam and know-how to hand-shape a beaver fur felt hat into your chosen shape.
Proving that the world is indeed a small place, during our private hat party, Taylor Samuels, owner of Los Almas Rotas mezcal bar in Dallas, was on hand and offered me a "ranch water," a Texas-style tequila or mezcal highball made with lime and Topo Chico. As we chatted, he casually mentioned that he, too, was from my hometown of Louisville. "You might know my dad, Bill," he said casually. That would be Bill Samuels, Chairman Emeritus of Maker's Mark. So, of course, I asked why he opted for a south-ofthe-border spirit over Kentucky's most famous export, to which he replied, "Agave is a terroir spirit that makes mezcal more interesting because every batch is unique."
One thing is for sure in The Stockyards: you won't go hungry. Chef and entrepreneur Tim Love is the drover of dining here, with six distinct outlets: Paloma Suerte (palomasuerteftx. com); Tannahill's Tavern & Music Hall, where Hotel Drover has a dedicated balcony suite (tannahills.com); the alfresco Love Shack Burgers (loveburgershackfortworth.com); Lonesome Dove Western Bistro (lonesomedovefortworth.com); the White Elephant Saloon, famous for hosting Fort Worth's last gunfight (whiteelephantsaloon.com); and Caterina's (caterinasftx.com). Each of Love's outlets is a highly personal expression of his passions and affection for his friends and family.
Generating as much buzz as its elevated Italian cuisine are the jackets-required, phone-banned policies at Caterina's. Love, who said he got in a "huge" fight with his wife over the no phones policy, said the idea came to him after being seated next to an influencer at a restaurant in Miami who made a big spectacle filming their entire meal. Phones are placed in a neoprene case and locked at the door.
To assuage the anxiety of being so close and yet so far, patrons are presented with a complimentary glass of rosé Prosecco.
"Italian food is my favorite to cook," said Love, adding that he appreciates the focus on few and fine ingredients paired with proper technique. The high-ceilinged dining room at Caterina's is intimate and lively. Sitting in what was a hayloft, it was fun to peer over and see a sea of cowboy hats. Not content with resting on his celebrity chef laurels, Love said he frequently works the line in his various restaurants to keep his skills sharp. He's also recently dipped his toque into fashion, launching the Love Collection in Tannahill's Tavern's Goods and Chattels shop (goods-chattels.com).
Appropriately attired with new boots and a hat, we further immersed ourselves in cowboy culture with a stop at John Wayne: An American Experience (johnwayneae.com), a 10,000-squarefoot museum dedicated to the life and films of The Duke with 400 pieces of personal and professional memorabilia. Just outside The Stockyards is the National Cowgirl Museum and Hall of Fame (cowgirl.net), the only museum in the world dedicated to honoring women of the West.
The crowning event of our extended weekend stay was the Stockyards Championship Rodeo (fortworthstockyards.com), the world's only year-round rodeo every Friday and Saturday night. As this was literally my first rodeo, I was enthralled by the athleticism of horse and rider and totally swept up in the energy of the packed house.
As we reflected on a whirlwind visit, the Texas-sized hospitality most resonated. It's a way of doing business that Ed Brown aptly summed up by remarking, "We don't have tourists; you're our guests." sl For more information, visit hoteldrover.com.
An available and locally-inspired in-room amenity at Hotel Drover.
slmag.net 59
Photo by Lola Hardisty
mus m ertime
Grand Seiko limited-edition SBGZ007 with Caliber 9R02 ($79,000). Available through Richter & Phillips Jewelers in Cincinnati, Moyer Fine Jewelers in Indianapolis, Davis Jewelers in Louisville; Diamond Cellar in Nashville; Clarkson Jewelers in St. Louis, and grand-seiko.com.
Breitling Top Time B01 Ford Thunderbird with Breitling Manufacture Caliber 01 and "squircle" sundials ($8,450). Available through Richter & Phillips Jewelers in Cincinnati, Moyer Fine Jewelers and Reis-Nichols Jewelers in Indianapolis, Clarkson Jewelers in St. Louis and breitling.com.
To mark the second Miami Grand Prix this past May, IWC Schaffhausen released a version of its Pilot's Watch Chronograph 41 MercedesAMG PETRONAS Formula One™ Team with a "Miami Pink" rubber strap ($8,350). Available through Reis-Nichols Jewelers in Indianapolis, King Jewelers in Nashville, Simons Jewelers in St. Louis and iwc.com.
OMEGA 43 mm 150M Seamaster Aqua Terra Worldtimer in steel and integrated green rubber strap with grey stitching ($10,200). Available through Richter & Phillips Jewelers in Cincinnati, Moyer Fine Jewelers in Indianapolis and omegawatches.com.
Cartier Santos-Dumont watch, large model ($6,000). Available through Diamond Cellar in Nashville, Simons Jewelers in St. Louis, and cartier.com.
60 slmag.net
The 42 mm BR 03-92 PATROUILLE DE FRANCE 70TH ANNIVERSARY from Bell & Ross is intended to celebrate the anniversary of the Patrouille de France, an elite unit of the French Air and Space Force, founded in 1953. Limited to 999 pieces ($4,100). Available through Diamond Cellar in Columbus, Moyer Fine Jewelers in Indianapolis, King Jewelers in Nashville, and bellross.com.
TAG Heuer Monaco chronograph, 39 mm in titanium ($11,250). Available through Diamond Cellar in Columbus, Moyer Fine Jewelers and ReisNichols Jewelers in Indianapolis, Davis Jewelers in Louisville, King Jewelers in Nashville, Clarkson Jewelers in St. Louis and tagheuer.com.
Rolex Oyster Perpetual 36 mm 'Celebration" with calibre 3230 ($15,100). Available through Richter & Phillips Jewelers in Cincinnati, Diamond Cellar in Columbus , Reis-Nichols Jewelers in Indianapolis, Davis Jewelers in Louisville, Clarkson Jewelers and Simons Jewlers in Nashville & St. Louis and rolex.com.
Black Bay GMT 41 mm from Tudor Watch with Manufacture Calibre MT5652 ($3,975). Available through Richter & Phillips in Cincinnati, Diamond Cellar in Columbus, Reis-Nichols Jewelers in Indianapolis, Davis Jewelers in Louisville, King Jewelers in Nashville, Simons Jewelers and Clarkson Jewelers in St. Louis and tudorwatch.com.
The Histories American 1921 from Vacheron Constantin reinterprets a model launched more than a century ago for the American market ($30,400; vacheron-constantin.com)
The center of the dial on the Patek Philipps 5531G is adorned with a cloisonné Grand Feu enamel motif. Available through The Diamond Cellar in Columbus & Nashville and patek.com.
slmag.net 61
Of Note... Beachy Keen
Compiled by Colin Dennis
62 slmag.net
This page, clockwise from top left: Yves Delorme Mahe beach towel ($170; usa.yvesdelorme.com). Plisy portable lamp from DIABLA's Urban Garden Collection (from $320; 2modern.com). La Maison dar Dar Baladi Tutti Orange pendant light ($450; pro.lamaisondardar.com). Christian Fishbacher pillow cover ($198; fischbacher.com). IOSIS Landes Aurore decorative pillow ($140; iosis.fr). Ruff & Tumble 'Beach' dog drying coat (from $68.95; ruffandtumbledogcoats.com). Lele Sadoughi Soft Sunset checkered straw hat ($125; lelesadoughi.com). Chehoma sea flag side table (chehoma.com). Jonathan Adler left-facing Flow table lamp ($595; jonathanadler.com). OTOTO crab spoon holder and steam releaser ($20; ototodesign.com).
Borneo wallpaper mural from Isidore Leroy (from $1,068; isidoreleroy.com)
Sensi Studio Trinado lampshade hat ($189), halter maxi cover up ($297), and mini Mochica bag ($270; sensistudio.com)
Sense Studio Dumont hat ($306), oversized boyfriend shirt ($264), low waist pants ($186), straw carryall ($474; sensistudio.com)
slmag.net 63
Invented by a group of Australian divers, Air Buddy is a small, battery-powered tankless dive compressor that floats on the surface and follows along as you dive. The system provides 55+ min of dive time at a maximum depth of 12m (for single diver) or 6m (for buddy divers), following about 5h battery recharge from a wall socket or a 12V DC outlet ($1,688; airbuddy.com).
Of Note... Beachy Keen
Crafted entirely in teak and rust-finished metal the OUT-FIT compact outdoor gym from Ethimo and Studio Adolini is designed for use in the outdoors, from the beach to private terraces ($18,900;
Seal gown from the Hydra collection by Liz Martinez (lizmartinez.co.il/hydra-collection/)
Yves Delorme Bahamas bedding collection (usa.yvesdelorme.com)
ethimo.com)
64 slmag.net
Sophie Allport melamine cocktails plate, bowl, tumbler and tray (from $11; sophieallport.com).
ENJOY THE SPERRY'S EXPERIENCE DELIVERED RIGHT TO YOUR DOOR! WE SELL WHAT WE SERVE VISIT WWW.SPERRYSMEATS.COM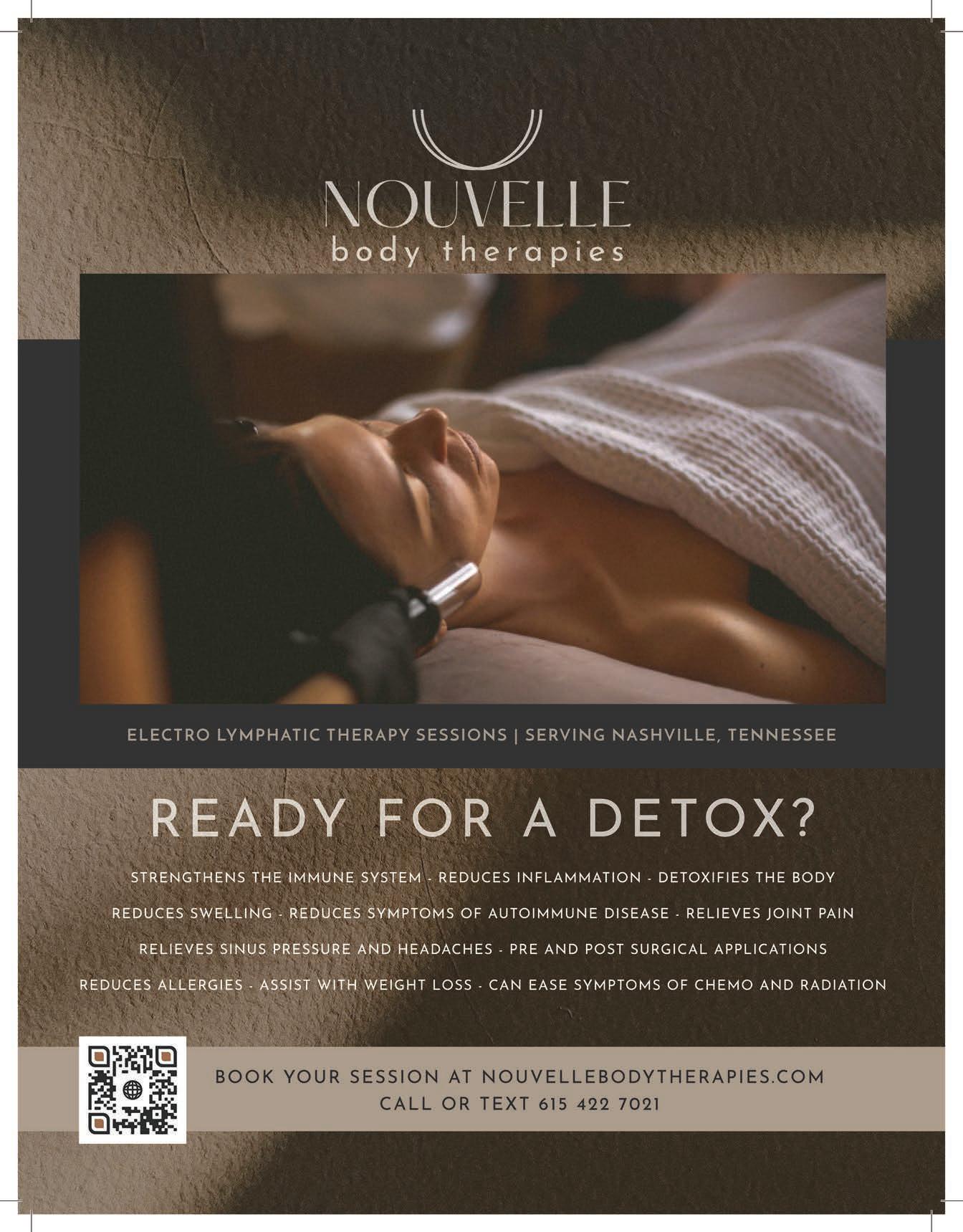 C M Y CM MY CY CMY K
Magical. Majestic. Memorable. Be immersed in a dazzling world of LIGHT: BRUCE MUNRO
All images by Bruce Munro (British), on loan from Bruce Munro Studio.
Presented by Made possible by THE ANN & MONROE CARELL FOUNDATION Hospitality Sponsor Cheekwood is funded in part by Leadership support is provided by Barbara & Jack Bovender Major support is provided by Katie & Kevin Crumbo Lisa & David Manning
Photography by Serena Munro. © 2023 Bruce Munro. Whizz Pops, Ramandu's Table, Fireflies, Forest of Light.
IN PREMIUM STYLE!
INDYCAR RACING THROUGH THE STREETS OF NASHVILLE IN PREMIUM STYLE
NetJets Club RPM
Presented by Flatrock Motorclub
Experience unmatched trackside views and VIP treatment, including paddock passes, driver appearances, guided pit tours, premium food prepared by Kristen Winston Catering, open premium bar, concert access, AC lounge, and more.
TICKETS AVAILABLE AT MUSICCITYGP.COM
EXCITEMENT AT EVERY TURN
Big Machine Music City Grand Prix is ready to get hearts racing and toes tapping
Nashville is shifting into high gear preparing for the 3rd Annual Big Machine Music City Grand Prix, August 4-6. The actionpacked weekend features the NTT INDYCAR SERIES, Indy NXT, GT America, GR Cup, the Big Machine Spiked Cooler Trans Am TA2 Series, and Stadium SUPER Trucks. For these exciting three days, the streets of downtown will come alive with the sounds of music, food, and racing; all spun into a festival experience only Music City can deliver.
Race fans and music lovers alike will have the chance to experience the best and brightest international drivers on the track and incredible talent on multiple music stages. This year's musical lineup includes some of the top acts in the world: Motley Crue's Vince Neil, Chris Janson, Gavin DeGraw, Flo Rida, Jay DeMarcus, Brian Kelley, and many more.
"The biggest misconception of our event is that someone has to be a race fan to attend. We truly have something for everyone. Multiple music stages with incredible live music, a new family fun zone, an interactive fan zone, and highly
entertaining non-stop racing action offer so much for the festival goer," said Liz Allison, Executive Vice President of Big Machine Music City Grand Prix. Allison and the executive team have been instrumental in expanding the Grand Prix into Nashville's premium motorsports and music festival.
"We are thrilled to bring back one of Nashville's premier sporting events this summer," said Jason Rittenberry, President & COO. "We listened to our fans and have made some exciting changes that will enhance the overall festival experience. This will be our best race yet."
CLUB RPM For the ultimate all-inclusive Big Machine Music City Grand Prix hospitality experience, The NetJets Club RPM, presented by Flatrock Motorclub, is the very best way to spend the weekend in premium style. Located trackside in Turn 3, Club RPM has dynamic views, air conditioning, paddock access, driver meet and greets, concert access, an open bar, and catering provided by Kristen Winston, who caters many premium events city-wide.
slmag.net 69
Written by Melissa Mahanes / Photos courtesy of BMMCGP
70 slmag.net
Due to Club RPM selling out in 2023, the structure has expanded in size and increased the number of tickets available for this year's event. This unmatched motorsports club experience offers climate-controlled indoor & outdoor viewing with openseating options of high tops, sofas, comfortable lounging areas, closed-circuit race coverage, and private restrooms.
"The care in planning and attention to detail in Club RPM is second to none. From the decor, level of service to the food offerings and everything in between, we take pride in our carefully curated premium club," Allison tells Sophisticated Living.
Club RPM guests will also have a unique opportunity to use their exclusive IndyCar Paddock Pass to get up close and personal with drivers, their cars and pit crews, as well
as concert access. The pass is also transferable to friends and family members from one day to the next (not within the same day), making it a flexible option for making the most of the weekend's festivities. Club RPM will be a once-in-a-lifetime experience under the stars and lights of downtown from your own private clubhouse.
From Club RPM to the new Family Fun Zone and all the music and food trucks, this is a festival you don't want to miss. sl
CLUB RPM: Ultimate 3-day Premium Hospitality is $2,850 per person (fees additional)
EAST CLUB: 3-day all-inclusive (includes paddock pass, concert access, food, beer & wine) is $1,449 per person (fees additional)
TURN 9 CLUB: 3-day all-inclusive (includes paddock pass, concert access, food, beer & wine) is $849 per person (fees additional)
Ticket options are available at www.musiccitygp.com/tickets. Other premium hospitality options can be purchased by calling (615) 270-8705 or via email at tickets@musiccitygp.com.
slmag.net 71
BELLE OF THE MANSION
Dave visits with the new CEO of Belle Meade Historic Site & Winery
I first met Sheree Kelley and her husband, Alton, when I joined the Board of Belle Meade Winery in 2009 when the winery began. Alton was President of Belle Meade Mansion, and Sheree was Manager and eventually CEO of Belle Meade Winery. Sheree is also celebrated for her entertaining prowess and popular cookbooks. Over the years, I have come to admire Sheree's drive, creativity, leadership, and warmth. I am proud to count her as one of my friends. Recently, Sheree was appointed CEO of Belle Meade Historic Site & Winery, succeeding Alton, who passed away unexpectedly last year from a brief illness. I had the pleasure of catching up with Sheree shortly after she assumed her new role.
Dave Mahanes: Sheree, you and Alton were such a great team and couple; how did you meet?
Sheree Kelley: Alton and I met when I became the Regional Director of Tourism for the State. As I went about the 13 counties of South Central, Tennessee in this new position, I was asked daily, "do you know Alton Kelley, the Executive Director of the Middle Tennessee Visitor's Bureau? He has the greatest knowledge of tourism and marketing, and you need to meet him." Finally, after about the 100th person said that I picked up the phone and called him and the rest is history. Now, Alton has a little more colorful story, something about this woman in a mini skirt ascending his spiral staircase to his office on the square in Columbia…of course he did.
DM: What inspired you to transition to CEO of Belle Meade Historic Site & Winery?
SK: I wanted to see Alton's legacy continue. As the CEO of the Belle Meade Winery and the untimely death of Alton, the Board felt it would be a seamless transition. There were many projects and ideas in the making, and I want to see those come to fruition. We have come a long way, and I hope to keep us on track for many years to come.
DM: Where do you see Belle Meade Historic Site & Winery going in the future?
SK: I am enthusiastic and honored to serve as CEO of Belle Meade Historic Site & Winery. I am grateful for this opportunity to lead the site forward and thankful to Alton for his leadership
and guidance, which has been instrumental in making Belle Meade what it is today.
DM: How did you and Alton come up with the idea for a winery at Belle Meade Mansion?
SK: As a non-profit, fundraising became increasingly difficult. Alton said, "so we're going back to the soil, because that's what built this place." There was no other non-profit doing this so that is what made us so unique. This was the beginning of the planning process which took over two years to maneuver our way through all the bureaucracy. As the tourism director for the region, I began to see wineries popping up all around. I had developed a relationship with Brian Hamm at Keg Springs Winery in Hampshire, Tennessee, and he became the perfect fit for a lasting relationship as our wine producer.
DM: How did you come to write your two cookbooks, Servin' Up Summer and Breads and Spreads? Are there any more planned for the future?
SK: Breads & Spreads was my first cookbook to produce and was dedicated to my maternal grandmother, Grandmommie. "For all the Saturdays of lessons cooking, baking, canning, gardening, and sewing. For the Sundays of family and friends around the dinner table— your love and knowledge to never be forgotten." Being the keeper of family recipes and lore, I wanted to combine all the information as a keepsake for my family as well as anyone who loved southern cooking. Servin' Up Summer came about with my love of gardening and canning. My Granddaddy Johnson, Papa Rose and Daddy always had a garden. Every summer was spent pickin', shellin', shuckin', snappin', freezin', cannin', cookin' and then enjoying the fruits of our labor. And yes, I am working on a Christmas cookbook next.
DM: What do you like to do in your spare time?
SK: My sweet little granddaughter, Rose, is the joy of my spare time, along with cooking, baking, gardening, and reading. I want to learn to play pickleball sometime soon.
DM: Thank you, Sheree, for sharing your time and talents. Have a great summer. sl
Belle Meade Historic Site & Winery / 110 Leake Avenue, Nashville, TN 37205 (615) 356-0501 / VisitBelleMeade.com/ info@visitbellemeade.com/ Open Daily: 9am–5pm
72 slmag.net
Interview by Dave Mahanes / Photo Courtesy of Belle Meade Historic Site & Winery
slmag.net 73
Whether a vacation or staycation, discover a new level of Nashville. Cheers a gre experience! PRIVATE EVENTS | WINE & FOOD PAIRINGS | BOURBON EXPERIENCES |LIVE MUSIC | PATIO SPACE WWW.BELLEMEADEWINERY.COM 615-356-6164
ask the MARGARETexpertASH ON ROUND TOP
Written by Margaret Ash / Photos by Margaret Ash and Mackenzie Smith Kelley
Interior Designers are known for their exclusive design resources, typically available only "To the Trade." Luckily, several reputable antique markets across the country and in Europe are accessible to designers and the public alike. If you enjoy combing through aisles of knick-knacks and grandma's rocking chairs, or if you want bragging rights having out-purchased a line of designers for the perfect vintage piece, Round Top Antiques Fair is the place for you. With foresight and a few inside tips, you can figure out quickly what pieces at Round Top are well worth the thrill of the chase.
Round Top Antiques Fair happens three times a year and attracts over 2000 vendors in 27 venues. The scene is nothing short of intimidating to the newcomer, from its expanse of 11 miles to the regular sightings of celebrities and famous designers—Emily Henderson and Joanna Gaines are regulars. I also recently ran into Suzanne Kasler and Marie Flanigan at The Compound.
The most sought-after venue is Marburger Farm Antique Show. Marburger typically opens midweek and draws quite the crowd (imagine hundreds of designers lining up an hour early waiting for
the ribbon to be cut and a stampede of shoppers to commence). Marburger will always be a fruitful endeavor, with the best of the best vendors securing their booths year after year. Most vendors offer designer discounts because they know that once they establish a relationship, they will continually source from them for their clients. Plan to arrive at 8:00am before the 9:00am opening and expect to speed-shop through the one-of-a-kind furniture, accessories, clothes, silver, china, and jewelry. If you are going to do high-volume shopping, I recommend creating adhesive tags that say "SOLD" + your business name + cell phone + Venmo. The vendor can send you a Venmo request, and you can keep your momentum going to the next booth. When you buy a ticket to Marburger, it is good all week. If you are there for the "deal," I highly recommend circling back on the show's last day. Vendors only want to pay for shipping once and are more likely to slash furniture prices in your favor.
After years of learning the secrets of Round Top and finding my community there, I'm sharing the perfect itinerary to ensure you come away with stories and objects you will cherish.
slmag.net 75
DAY ONE: MARKET HILL
• Nomadic Trader: His gorgeous rugs cover this location. A second booth at Excess offers surprises like an incredible copper tub I discovered for a client.
• Architect's Daughter: Graceful and classic iron outdoor furniture paired with antique garden urns by a Southern-born, California curator who understands high hospitality and laid-back style in any climate.
• Alma Art + Antiques: A one-stop shop for cool vintage furniture and commissionable abstract art!
• Props: Klint Griffin, a Native Nashvillian has a shop in Leiper's Fork you can visit anytime, but most of his inventory goes to faithful clients like Kelly Wearstler at Round Top each season. He shares his space with neon sign artist Matt Houser of Liquid Fire Neon, making this the perfect bachelor-pad-meets-honky-tonk respite.
DAY ONE: THE ARBORS
• M.Naeve: Houston-based interior designer with a keen eye for one-of-a-kind vintage pieces with a focus on textures and materiality.
• Devon Liedke Pop-up: Former buyer for Paloma Contreras in Houston, who moved to Barcelona and designed a new pottery line worth collecting. She returned to her home state of Texas to debut her collection.
DAY TWO: BLUE HILLS
This 26-acre property is comprised of 100,000 square feet of shopping space and over 60 curated vendors. This venue is known
for their parties at night. They have late night shopping; dinner in the hayfield; and vendor led parties under the stars.
• Antonio Joseph: An Atlanta-based vendor with a great curation of English, French, and Italian antiques.
• French Blue: The best venue to find the perfect chest for your home.
• Hibiscus Linens: An influencer out of Houston with handembroidered linens. She often shares her booth with up-and-coming fashion designers.
• Houses & Parties: Wow, this booth is a jaw-dropping experience. They also throw great parties. Shop their party collections, tabletop, and offbeat gifts.
DAY TWO: BIG RED BARN (Cash or Check only. ATM on site)
• The Box Shop: This husband-and-wife team offer a great collection of Majolica pottery and every kind of decorative box made from tortoise shell, tramp art, and quills.
• Fionda Art & Antiques: Another great source for tramp art mirrors and boxes.
DAY THREE: THE COMPOUND, THE WHITE BARN; EXCESS I & II:
• Eneby Home: This Nashville-based couple has a trade-only showroom in Nashville, but if you are not a designer and want to see their inventory of masculine mid-century pieces perfect for any bachelor pad, you must see their well-curated space open during Round Top at The Compound. They also have an excellent restaurant, bar, and live music every day.
• Laurier Blanc: Uncovered treasures and unique finds. They have a great collection of European antiques.
76 slmag.net
Margaret Ash (Margaret Ash Design), Ed Gage (Co-founder of Marburger), Kacy Ellis (Kacy Ellis Design), Natalie Lindsey (Preserve Antiques) Elements of Time
• Scott Kerr Art: A beautiful collection of abstract art. I found myself between Marie Flanigan and Suzanne Kasler sourcing art for clients from this gallery.
DAY FOUR: MARBURGER
• Uncommon Objects: The best collection of silver and turquoise jewelry I have ever seen. The owner Ed Gage was the original co-founder of Marburger. His stories about the show will keep you entertained for hours.
• Preserve Antiques: This is a group of mothers and daughters who go in each year to sell their curated antiques and vintage clothing.
• Well Sourced by Emily: Everyone's favorite Vanderbilt graduate who now travels across Europe finding pieces that every Southern woman will swoon over!
• Battersea & Mudlark: Tossing an eclectic salad of European and American objects and furniture via San Francisco and San Antonio. Something you might peek at under a carnival tent. Eye popping curiosities, things you cannot unsee.
• DinnerpARTy: A mix of post-modern furniture and abstract art.
• Good Weather: I once spotted a chair from the preview Instagram post of @marburgerfarm the night before opening day and made sure I was at the front of the line so I could buy it!
• Line Curve Modern: The whole vibe is Chris Stapleton-meetsRobert Redford and they realize that their mutual friend is Matthew McConaughey...
DAY FIVE: COLE'S AND ZAPP HALL
Round Top has a prom every year at Zapp Hall that is not to be missed. Wear a vintage gown or overalls, anything goes (in fact, some
people come barely dressed at all). There is a live band and there is so much fun to be had.
• The Boot Guy: George will tell you everything you need to know about vintage cowboy boots, what famous cowboy wore what, who designed which motif and why. My first time at Round Top I had zero cowboy boots, now I have 7 because buying from George is like buying a piece of old master art.
• Pixie and the Moon: A great spot for vintage clothing. All the best vintage clothing vendors are at Zapp Hall, you cannot go wrong with a pitstop here.
• Elements of Time: Tami Steiner-Aizenstat from Miami features a wonderful collection of fine jewelry, exquisite watches and luxury handbags from Hermés, Cartier, Van Cleef & Arpels, and Louis Vuitton.
Shopping at "The Show" as it has been known in the 50 years since its founding, is an opportunity to collect as many memories and connections to cherish as you do heirlooms. There are opportunities to savor food, music, and friendships while you redesign your space and let a new setting reimagine the possibilities in your life. So, check out Round Top and kick up your heels (or boots)—happy hunting! sl
Welcome home! Margaret Waltemath Ash has returned to her hometown after living in New York City, Los Angeles, and San Francisco for the past 16 years. After launching her own design firm in 2015, Margaret Ash Design opened its first retail store on Sacramento Street in San Francisco in 2019. Margaret Ash creates one-of-a-kind homes for celebrities, tech CEOs and friends and family across the globe from beach houses in the Hamptons and Kiawah, South Carolina; Mountain homes in Park City, Utah; and destination homes in Mexico; as well as family residences up and down the California coast. She splits her time between her San Francisco office and her new home base of Nashville, TN where she plans to raise her son in the community, she credits her vibrant upbringing and love of antiques and sourcing across the globe.
Texas Antique Week / October 23-28, 2023 Marburger Farm Antique Show / 2248 South State Hwy 237, Round Top, TX 78954 roundtop-marburger.com
slmag.net 77
MARBURGER (Mackenzie Smith Kelley)
Let's be a part of your part story Enjoy Every Moment AT THE OLD OAKS FARM HISTORIC EVENTS & LODGING VENUE NESTLED ON THE BORDER OF TENNESSEE & KENTUCKY BOOK NOW BY VISTING THEOLDOAKSFARM.COM | 270.604.5164
PEACHY KEEN
The Peach Truck spreads sweetness around Nashville one peach at a time
Written by Melissa Mahanes / Photos by Bailee Mulder
When Stephen Rose moved to Nashville in the summer of 2010, he immediately recognized that something was missing—a delicious, juicy peach like the ones he grew up with in Fort Valley, Georgia. The 1400-acre Pearson Farm was only five miles from his childhood home and owned by family friends. So, beginning in 2012, Stephen and his new bride Jessica loaded up their 1964 Jeep Gladiator, now fondly known as The Peach Truck, with Pearson Farm peaches and brought the "best peaches in the country" to Nashville. And, with that, their business was born.
Jessica and Stephen sold their first peaches on 12 South outside Imogene + Willie and at local farmers' markets. As Steven & Jessica's family grew, so did The Peach Truck—they now have a presence in 60+ booths across Nashville, 25 state tours, nationwide shipping, and more. Jessica describes The Peach Truck as a labor of love for peach-hungry customers and the community. "Every single peach is thought about more than anyone knows," she says. "We want to fulfill our promise of providing the best peaches and giving farm-toporch produce, resources, and education to the community."
Since starting their company, The Roses have attracted a quarter of a million followers on social media and have delivered more than 4.5 million peaches to tens of thousands of customers in 48 states, making them one of the largest peach distributors in the world. With The Peach Truck Cookbook, the couple brings the lusciousness of the Georgia peach, the savory and sweet charms of Southern cooking, the story behind their success, and an insider's guide to the Nashville food scene to readers everywhere.
The Peach Truck continues to sell outside the normal boundaries of fresh produce retail. And while you can find them at the Nashville Farmers' Market, 12 South Farmers Market, and all markets in
between, they also set up shop at restaurants (including The Juice Bar, Hattie B's, and Martin's Bar-B-Que) and local shops (including Flower Mart, Cindi Earl Fine Jewelry and, of course, Imogene + Willie), which truly integrates them into the community.
City House was their first restaurant partnership, and now you can find The Peach Truck's peaches listed on menus at Husk, Pinewood Social, The Catbird Seat, The Wild Cow, Graze, Five Daughters Bakery, Marché, Margot, Burger Up, Lockeland Table and Dozen Bakery, to name a few.
"We want to have the best team, which we do; we want to have the best product, which we do. Now, we have to ask ourselves, 'How do we go that extra mile for the customer?'" To that end, The Peach Truck continues to expand its business at every turn. Their website is home to mouthwatering peach recipes; they are taking peaches on the road to hit 126 stops in Tennessee, Kentucky, Ohio, Indiana, and Pennsylvania with their Freestone Tour; they ship boxes filled with 13 hand-picked fresh Georgia peaches to out-of-towners across the country; they are educating people not only about peaches and their many varieties, but also the produce world at large; and, they will spend the off-season consulting with small businesses and sharing their experiences in building a successful company.
This summer, The Peach Truck will travel between more than 30 pop-up locations, so you only know where they'll turn up if you visit thepeachtruck.com or follow along on Instagram for their locations and hours of operation: @thepeachtruck sl
The Peach Truck has four permanent locations where customers can purchase bags and boxes: Nashville Farmers Market, 900 Rosa L. Parks Boulevard Rivergate Summer Store, 1000 Rivergate Parkway Cool Springs Summer Store, 1925 Mallory Lane Green Hills Summer Store, 2126 Abbott Martin Road
slmag.net 79
Stephen + Jessica Rose
PEACH PANZANELLA SALAD
Panzanella is beloved in it's birthplace of Tuscany for its delicious simplicity. Leave it to juicy Georgia peaches to give this simple summer salad a tasty summer refresh! Typically made with grilled day-old bread and tomatoes tossed with a light vinaigrette with fresh basil leaves, this recipe swaps out peaches for tomatoes for salad that's perfect for summertime dinners and picnics. Salting and draining the peaches produces extracts delicious juice to use as the base of the vinaigrette. Stale, rustic bread holds up best in this recipe, but if you have fresh bread, you can dry it out a bit after slicing by placing it in a 200 degree oven for 15-20 minutes - or simply leaving it on the counter overnight.
Serves 8
8 fresh peaches
2 tsp kosher salt, plus more for seasoning
1 lb rustic sourdough or ciabatta loaf
¾ cup extra virgin olive oil, divided
2 medium garlic cloves
1 small shallot, minced (about 3 T)
2 T balsamic vinegar
½ tsp dijon mustard
½ cup packed fresh basil leaves, roughly chopped
Freshly-ground black pepper
Wash and pit the peaches. Cut into bite-sized pieces and place in a non-reactive mixing bowl. Toss the peaches with 2 tsp of kosher salt before transferring to a colander and placing that colander inside the bowl to collect juices. Set aside to drain, tossing occasionally, while you prepare the remaining ingredients.
Preheat grill to medium-high. Slice the bread into 1-inch thick slices. Place garlic cloves on a cutting board and, using the broad side of a chef's knife, press on the garlic to break them open a bit. Rub the slices of bread with the crushed garlic and brush lightly with olive oil. Discard garlic cloves. Place the slices of bread on your preheated grill and toast until both sides are lightly charred, about 2-3 minutes. Remove from the grill and tear into bite-sized chunks.
Remove the colander of peaches from the bowl of juice. Place the colander with peaches in the sink while you prepare the dressing. Add the shallots, vinegar and dijon to the bowl with the peach juice. Whisking vigorously, drizzle in the remaining olive oil.
Combine grilled bread, peaches and dressing in a large bowl. Add the basil leaves and toss to combine before seasoning to taste with salt and freshly-ground pepper. Allow to sit for 30 minutes before serving, tossing occasionally, until the bread has absorbed all the dressing. sl
80 slmag.net
Recipe courtesy of The Peach Truck Cookbook
CLEMENTINE HALL
NASHVILLE'S BOUTIQUE WEDDING & EVENT VENUE
Photo by Sowing Clover
You can be a part of United Way of Greater Nashville's work by joining the Tocqueville Society with your $10,000 annual gift. Since 1981, Tocqueville Society donors have been working hard to ensure that no one lives in poverty, everyone's basic needs are met, all kids learn and succeed and families are healthy and strong.
To learn more about this visionary group of philanthropists, scan the QR code below.
Together, we're building brighter futures for every person in our community.
OLD WORLD CHARMER
Peach and Pine bring new life to a historic homestead
Written by Natalie Forehand / Photos by Caroline Sharpnack
When a soon-to-be-married couple discovered this historic property on 200 acres of rolling hills in Watertown, TN, they knew they would need a team of expert designers to help bring their vision to life. They quickly enlisted husband and wife duo Chandler and Jeremy Quarles of Peach and Pine Interiors, who have a deeprooted passion for historic homes. Chandler, the lead designer for Peach and Pine, knew this was a special project from the start. "It's common to come across preserved historic homes in a major city, but finding something this old in the country was unique," she said.
The house, built in 1900 and almost 6,000 square feet, was in poor shape when the homeowners found it, despite having undergone previous renovations. In hopes of bringing back the history of the property, Peach and Pine partnered with Prestige Remodeling to gut the interiors down to the studs and built it from the ground up with the framework of the old structure.
Because only a small portion of the house was salvageable from a materials perspective, and previous owners had made changes that took away from the history, Chandler worked with the clients to envision things that could have been authentic to the home. The team utilized specific colors, hardware, and antiques, including the cabinet in the dining area, which was from around the time of the building of the home.
As true homesteaders, the clients were inspired by European interiors and requested a European Farmhouse that would be functional for their growing family. They were months away from their wedding when they began the project with Chandler. By the time the renovation was complete two years later, they were expecting their first baby. With the primary goal being a gathering spot with an extensive area to entertain, Chandler prioritized the central kitchen and scullery, providing ample room to host.
slmag.net 83
84 slmag.net
slmag.net 85
Adding another unique feature, Chandler worked with the clients to transform the former pantry into a nursery right off the primary bedroom. As young homeowners, the clients were unsure of what the future would hold but knew growing their family was important to them. The nursery would allow a quiet and restful space until the child was older and could move into one of the upstairs bedrooms. The property boasts acres of green grass and blue skies as far as the eye can see. Chandler wanted to stick to this natural color palette by implementing hues of blue and green for the accent color throughout. In addition, they used natural materials such as white
oak wood to further hone in on the desired aesthetic. When it came to furnishings, they selected long-lasting pieces with performance fabrics to stand up to the inevitable wear and tear from children, pets, and guests. Custom cabinetry by Harpeth River Woodworks and one-of-a-kind custom carpentry pieces by Kyle Levy of Broken Compass Woodworking can be found throughout the home, providing the desired old-world charm. After two years of creative solutions, the project resulted in a historically inspired, comfortable home with muted colors perfect for its young residents. sl peachandpineinteriors.com / Instagram: @peachandpineinteriors
86 slmag.net
Uniting the Wine Community to Fund the Fight Against Cancer Nashville Wine Auction Presents Tickets on Sale Now at NashvilleWineAuction.com 44th Annual l'Eté du Vin - featuringBarton Family Wines July 27–29, 2023 July 27–29, 2023
and Sponsors
Ms. Denise Cummins
July
15
SOPHISTICATED SOCIETY
Presented by
BEYONCÉ: RENAISSANCE WORLD TOUR at Nissan Stadium
21 JAZZ UNDER THE STARS at Cheekwood at 7:00pm
21-22 FULL MOON PICKIN' PARTY at Percy Warner Equestrian Barn at 6:00pm
22 DIGGING IN: SPICING UP GARDENING at Hermitage from 10:00am-11:30am,Tickets: thehermitage.com
22 ED SHEERAN +-=÷x TOUR at Nissan Stadium
27 NOURISH, A DINNER & CELEBRATION OF THE NASHVILLE FOOD PROJECT at Montgomery Bell Academy at 6:00pm (Patrons arrival at 5:30pm) Tickets: thenashvillefoodproject.org/nourish-2023
27-29
28-29
THE 44TH ANNUAL L'ETE DU VIN celebrating Chateau Leoville Barton and Barton Family Wines (see p. 87) Co-chairs: Rob Turner and Jay Jones
GEORGE STRAIT, CHRIS STAPLETON AND LITTLE BIG TOWN at Nissan Stadium
August
4-6
BIG MACHINE MUSIC CITY GRAND PRIX (see p. 68)
7 Tennessee Breast Cancer Coalition's 27th ANNUAL CELEBRATION OF LIFE GOLF CLASSIC at Bluegrass Yacht & Country Club, Hendersonville. Registration: celebration-of-life-golf-classic.perfectgolfevent.com
11 FULL MOON PICKIN' PARTY at Percy Warner Equestrian Barn at 6:00pm
11-13 Tennessee Breast Cancer Coalition's 50th MUSIC CITY TENNIS INVITATIONAL at Vanderbilt University Currey Tennis Center. Registration: www.tbcc.org/musiccitytennis
12 NAVIGATING THE PARKINSON'S PATH EXPO benefiting Peterson Foundation for Parkinson's at Gordon Jewish Community Center at 8:00am (petersonforparkinsons.org/)
12 LUKE BRYAN: COUNTRY ON TOUR 2023 at Bridgestone Arena at 7:00pm
13 BROADWAY BRUNCH benefiting Nashville Repertory Theatre at Wildhorse Saloon at 10:30am
Co-chairs: Nancy Peacock and Connie Richardson-Deidicker (see p. 90)
19 BLACK ARTS BASH at Cheekwood at 9:00am
24 PENCIL BACK TO SCHOOL Breakfast at Belmont Curb Center from 7:00am-8:30am
2023 Event Chairs:Todd Figler, AllianceBernstein; Jacky Gomez, Asurion; and Jacqueline Hayes, Crayons & Marketers (Tickets: pencilforschools.org)
25-27 SONGWRITERS UNDER THE STARS at Cheekwood at 7:00pm
25-12/31 THE POWER OF RESILIENCE at Frist Art Museum
September
7 HUMMINGBIRD HAPPY HOUR (Friends of Warner Parks)
8 SUNSET SAFARI at Nashville Zoo at 6:30pm
Honorary Chairs: Barbara and Greg Hagood, Sally and Jim Hunt, Robin and Richard Patton,Tara Scarlett and Michael Peacock
Host Committee Chairs: Julie and Adam Dretler, Alice and Max Goldberg, Tickets: nashvillezoo.org
8 BLUEGRASS UNDER THE STARS at Cheekwood at 7:00pm
8-17
NASHVILLE REP'S DOLLY PARTON'S 9 TO 5 THE MUSICAL at TPAC's Polk Theater (various times)
9 27th ANNUAL CHUKKERS FOR CHARITY benefiting Saddle Up! and Rochelle Center at Riverview Farm
9 MAD HATTER benefiting Sexual Assault Center at The Joseph Nashville at 6:00pm
Co-chairs: Nealy Glenn and Cameron Simmons (see p. 97)
9 OPENING NIGHT: BÉLA FLECK with The Nashville Symphony at Schermerhorn Symphony Center at 7:30pm
15 FULL MOON PICKIN' PARTY at Percy Warner Equestrian Barn at 6:00pm
15-12/31
MULTIPLICITY: BLACKNESS IN CONTEMPORARY AMERICAN COLLAGE and RAQIB SHAW: BALLADS OF EAST AND WEST at Frist Museum of Art
16 PICNIC FOR THE PARKS at Watkins Park (see p. 94)
88 slmag.net
Big Machine Music City Grand Prix slmag.net 89
SUNDAY, AUGUST 13, 2023 TICKETS AVAILABLE AT WWW.NASHVILLEREP.ORG/BROADWAYBRUNCH NASHVILLE'S AWARD WINNING PARTY RETURNS BEST CHARITY EVENT -NASHVILLE SCENE BEST ARTS EVENT - NFOCUS MAGAZINE BEST ENTERTAINMENT - NFOCUS MAGAZINE
ROCK THE HOUSE
The C. Wright Pinson Hospital Hospitality House hosted its 11th annual fundraiser, "Rock the House" at City Winery. Live music from Dallas Remington and the ever-popular Soul Incision helped raise funds for maintaining PHHH's facility to provide families in need of overnight housing and support services while family members are hospitalized in the Nashville area. (April 28)
TIFFANY CIRCLE SPRING GATHERING
Karen Moore and Rowena Cuffe hosted the Red Cross' Tiffany Circle members for cocktails and dinner at the Cuffe's Brentwood home. Guests gathered to hear from Dr. Michael Jordan, VP Service to the Armed Forces and International Services for the American Red Cross. (May 3)
2 1 3
Photos by Melissa Mahanes
5 4 1 6
Rock The House 1) Jimmy and Kim Holbrook, Susan and Chris Holmes 2) Jake Estes, Eleanor Smith, Lauren Lowe, William Holbrook 3) Frank and Kay Condurelis, Kay and Ken Emigh 4) Joyce Wells, Dan Slipkovich, Sandra Robinson, Lisa Slipkovich, Todd Robinson, Anona Johnson, Dr. Wright Pinson, Dick and Sharalena Miller, Debbie and Dennis Jacobs 5) Anna Myers, Becky White, Robin Smith, Shannon Day Tiffany Circle Spring Gathering 1) Katie Crumbo, Karen Moore, Rowena Cuffe, Sheila Shields 2) Dr. Michael Jordan 3) Red Cross Regional Executive Director Joel and Cheryl Sullian, Patsy Brown, Mary Patton 4) Louise Bryan, Kathi Whalen 5) Spencer and Carli Patton, Tracy and Bill Wade 6) Frank and Maxine Majors, Joanne Sowell
Courtesy of PHHH
2 3 4 5 slmag.net 91
IROQUOIS STEEPLECHASE
The weather certainly cooperated for an exciting day at the races benefiting Monroe Carell Jr. Children's Hospital at Vanderbilt. Record crowds of over 25,000 had an enjoyable day of racing and fashion, all for a great cause. (May 13)
7
Photos by Melissa Mahanes
2 1 3 4 5 6 8
1) Zachariah Hendrix, Massimo Casali 2) John and Ashton Montgomery, Tyler and Victoria Barnes, Philip and Ashley Breeding, Amanda and Charlie Ramsay 3) Jack Lovell, Charlie Mahanes 4) Susan Andrews, Chandler Hardy 5) Robb McCluskey, Barry Grider 6) Caroline Clark, Josie Nielson 7) Greg Gilley, Keni Henderson and Asher 8) Sam Simmons, Shawn Factor, Shelton Houston of Gus Mayer
92
slmag.net
HERMITAGE SPRING OUTING
Andrew Jackson's Hermitage hosted Luncheon on the Lawn where guests welcomed glorious weather in their spring finery and listened to Keynote Speaker Jonathan Pliska, landscape historian and author of A Garden for the President: A History of the White House Grounds. (May 17)
BOOTS & BUBBLES
Nashville Dolphins held their 10th annual Boots & Bubbles Clay Classic and Crawfish Boil at the Nashville Gun Club presented by the Tennessee Titans. After the shooting portion of the day, guests enjoyed an all-you-can-eat crawfish boil provided by Louisiana Seafood Company. O.H. Ingram River Aged Whiskey hosted a whiskey tasting, and The Carolyn Smith Foundation awarded a matching grant of up to $25,000. All proceeds from this event benefit the 300+ special needs individuals the organization serves here in Middle Tennessee. (May 5)
1 Courtesy of The Hermitage
Courtesy of Nashville Dolphins
2 3 1
Hermitage Spring Outing 1) Jonathan Pliska 2) Marees Choppin, Sallie Norton 3) Lynn and W.L. Gray 4) John L. Nau, Event Chair Dara Russell 5) Irwin Fisher talking to Jonathan Pliska 6) Belinda Ann Berry and Thomas Barrett 7) Barbara Rogers, Suann Davis, Sarah Reisner, Suzanne Malone, Lael Kiesling Boots & Bubbles 1) Jackson Vroon, Kyle Mcphee, Mary Jo and Kevin Graffagnino, Taylor Vroon 2) Rob Eakin, Treanor Granbery, Gardner Lee, Bill Eakin, Jake Wallace 3) All-you-can-eat Crawfish Dinner 4) Northern Lights-Jabe Burges, Mike Godwin, Will Pellerin
4
2 3 4 5 7 6 slmag.net 93
invites you to
Saturday, September 16 4-7pm at Watkins Park
Celebrating 183 parks and 27 commnity centers.
Nashvilleparksfoundation.org/picnic
sponsors
SWAN BALL AUCTION ' PARTY
The Swan Ball Auction Party was held at Belle Meade Country Club with silent and live auction of 23 domestic trips, 19 international trips, 21 unique experiences and 21 fabulous treasures. Delicious bites and summer cocktails were enjoyed both indoors and outdoors on a beautiful spring evening raising funds for Cheekwood. (May 17)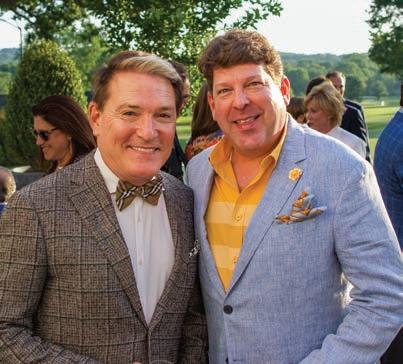 1 6 3 2 5 4
Photos by Charlie Mahanes
9 10 11 8 7
1) Carolyn and Steve Taylor 2) Allison DeMarcus, Sally Nesbitt 3) Bob Deal and Jason Bradshaw 4) Rene Chevalier, Rose Grindstaff 5) Dara Russell and Michael Bussard 6) Auction Chairs Natalie Clements, Amy Keith, Delia Darst 7) Richard White, Abby Granbery, Matthew Dobson 8) Melissa Mahanes, Lucy Duvall, Stephanie Bailey, Collins Hooper 9) Tom and Mary Gambill 10) Auction Party Chairs Barbara Burns, Julie Haley 11) Steven and Mary Jo Shankle, Ben Shankle
slmag.net 95
NASHVILLE DESIGN COLLECTIVE
The Nashville Design Collective Design Awards presented by Bentley and published by Traditional Home was held to recognize industry leaders at the inaugural event held at their trendy WeHo complex, which touts twelve leading designer showrooms. Upon arrival, guests were transported in luxury Bentley SUVs to the party entrance in style. Roy Marcus, Brand Ambassador for Artistic Tile held red carpet interviews at the entrance. (May 18)
Photos by Peyton Hoge
2 3 1 4 5 6 7 8 9 10 11
1) Kathy Anderson, Katie Stix and Rozanne Jackson 2) Robin Rains and Peter Frampton 3) Roger Higgins, Aimee and Aaron Kinssies 4) Awards Judge Tony Baratta and Traditional Home Editor in Chief Jill Waage 5) Event Chair Richard Anuszkiewicz 6) Julie Kimbel and Drew Siburt 7) Jason Owens and Robert Shipley 8) Matthew McManus, Gena Dorminey, Shane McCarty, Matthew Quinn and Anne Puricelli 9) Mallika Wallace, Kaylee Chatham, Colleen Ramme and Carly Anderson at Artistic Tile 10) Kayleigh Tucker of Bentley Nashville 11) Nashville Design Collective Award Recipients
96 slmag.net
MaD Hatte
31st Annual benefiting
Sexuаl assault cente
SATURDAY, SEPTEMBER 9th
THE JOSEPH NASHVILLE
CO-CHAIRS: NEALY GLENN & CAMERON SIMMONS
Event sponsorS
AMAZON . SURGERY PARTNERS
KRAFT & COMPANY, PLLC
HCA HEALTHCARE . DIVERSIFIED TRUST
PUBLIX SUPER MARKETs CHARITIES SAINT ELLE
THE CORDELLE . THOMPSON RESEARCH GROUP
SOPHISTICATED LIVING
This year's Mad Hatter will be special! visit nashvillemadhatter.org to learn more & reserve your tickets TO PURCHASE TICKETS TO MAKE A DONAtiON
MICHAEL KORS AT ADELE'S
SWAN BALL JEWELRY PREVIEW
Photos by Michael Kors
1 2 5 3 4
Photos by Peyton Hoge
2 1 3
Michael Kors visited Nashville to cohost an intimate dinner at Adele's alongside Nordstrom's Rickie De Sole in celebration of the launch of Michael Kors Collection at Nordstrom. Many of Nashville's most fashionable posed for pictures in Kors' fashions and enjoyed an intimate dinner at Adele's. (May 31) Michael Kors at Adele's 1) Hannah Brown 2) Karen Elson 3) Taylor Hill 4) Kimberly Perry 5) Rickie De Sole 6) Michael Kors 7) Justin Anderson, Brandi Cyrus, Kristin Cavallari Swan Ball Jewelry Preview 1) Swan Ball Jeweler Verdura Belperron's Jim Haag 2) Susan and Bob Falk 3) Jewelry Chairs Mamie Murphy and Graham Meadors 4) David and Swan Ball Chair Elizabeth Dingess 5) Jewelry Party Host Julie Stadler
6 7 4 5 98 slmag.net
Julie Stadler hosted official Swan Ball jewelers Verdura and Belperron at her home. Guests "oohed" and "aahed" at the timeless and elegant designs from the official Fifth Avenuebased jeweler. (June 1)
SWAN BALL PATRONS' PARTY
Kathryn and David Brown welcomed Swan Ball patrons to their beautiful Belle Meade home where cocktails were enjoyed poolside alongside The Nashville Jazz Workshop. Guests walked to dinner through the Gavin Duke-designed Moon Gate into a spectacular tent designed by Jenny Richter Events and the Tulip Tree in shades of green and white and touches of rattan. Entertainment was provided by Ashanti Floyd (AKA the Mad Violinist) and a delicious dinner was prepared by Kristen Winston. (May 31)
1 6 3 2 5
4
Photos by Peyton Hoge
9 10 12 11 8 7
1) Jimmy and Jamie Granbery, Patrons' Party Co-Chairs Pamela and Bob Jackson 2) Anne Russell, Cheekwood President and CEO Jane MacLeod 3) John Rosen, Swan Ball Co-Chair Ashley Rosen, Patrons' Party Co-Host Steve Fridrich 4) Connie and Tom Cigarran 5) Greg and Collie Daily 6) Ann and Matt Dobson, Sylvia and Doug Bradbury 7) Mark and Elizabeth McDonald, Sissy Wilson, Brady Wardlaw 8) Dorothy Earthman, Swan Award Recipient Tooty Bradford, Bryan and Katie Bradford 9) Ben and Tricia Carswell 10) Patrons' Party Co-Hosts Edie Johnson and Kathryn Brown with Jewelry Party Host Julie Stadler 11) Julie Gordon, Melanie Baker 12) Kathy and Norm Thomas
slmag.net 99
SWAN BALL
Page and Windrow Event Planning brought "the outside in" with an elaborate garden-themed tent, with tables set with stunning floral tablecloths with floral design by FLWR. Ironwork details referenced the historic gates designed by Philip Kerrigan. This was a beautiful backdrop for all of the glamorous ladies and gentlemen who filled the tent with colorful gowns and spirited conversation. Guests enjoyed a spectacular meal by Kristen Winston, entertainment from superstar Idina Menzel and danced to Big Swing and the Ballroom Dancers. (June 3)
1) John and Co-Chair Ashley Rosen, Co-chair Elizabeth and David Dingess 2) Kyle Young and Sarah Sperling 3) Alberta and Bob Doochin 4) Amy Liz and John Riddick 5) Auction Chairs Natalie Clements, Delia Darst, Amy Keith 6) Angela Bostelman and Tom Kaczmarek 7) Barbara and Greg Burns 8) Barby and Govan White 9) Donna and Marc LaGasse, Janice and Randy LaGasse 10) Bari and Cory Beasley 11) Carol and Darryl Yochem 12) Chuck and Cindy Lassing 13) Dave and Jenny Briggs 14) Gene Kamarasy and Lee Robinson
1 2 3 4 5 6 7 8 9 10 11 12 13 14 100 slmag.net
Photos by Charlie Mahanes
15) Jessie and Treanor Granbery 16) Lisa and John Campbell 17) Late Party Chairs Francie Corcoran and Murray Dick 18) Melissa and Dave Mahanes 19) Peggy and Randy Kinnard 20) Sandra and Larry Lipman 21) Kevin Crumbo, Betsy Wills, Rick and Vanessa Morris, Katie Crumbo, Ridley Wills 22) Rene and Tommy Carter 23) Randy and Davonna Wachtler 24) Scott and Frances Tyrone 25) Spencer and Meredith Karney 26) Steve and Mary Jo Shankle 27) Steven and Marci Houff 28) Josh and Brooke Trusley, Winston and Dania Justice
15 16 17 18 20 21 22 23 25 26 27 28 24 19 slmag.net 101
Photos by Charlie Mahanes
CENTENNIAL PARK CONSERVANCY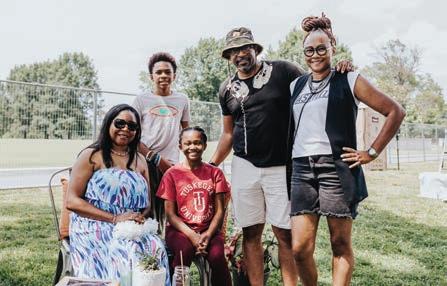 Centennial Park Conservancy hosted its first annual Donor and Member Appreciation Day at Musician's Corner. Supporters of the event were treated to private VIP seating at the afternoon concert, as well as charcuterie boxes from Storyboard Charcuterie, cupcakes from Ivey Cakes, and cocktails from Red Line Whiskey and Bravazzi Hard Italian Sodas. (June 10)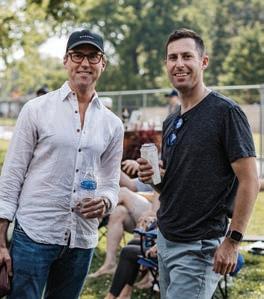 BIG BAND PARTY
Classic car show exhibitors from Exposition of Elegance: Classic Cars at Cheekwood and members of Cheekwood's 1929 Club (Cheekwood's top donors) enjoyed a special performance from the Nashville Jazz Orchestra and wandered the grounds admiring the more than 50 impeccably maintained antique cars (including a vintage Good Humor Truck!) and noshing on hors d'oeuvres and cocktails. (June 17)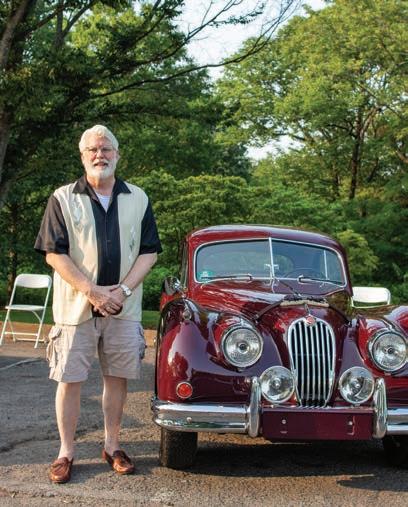 7 1 2 4 3
Photos by Jason Bihler
Photos by Charlie Mahanes
2 4 3 5 6 1
Centennial Park Conservancy 1) Eric Cook, Conor Duggan 2) John Tumminello, Nancy Floyd 3) Niccole Jackson, Rameses Cox-Bey, Gabrielle Cox-Bey, Ram and Yolanda Cox-Bey 4) Stuart Speyer, Sylvia Rapoport 5) Hope Stringer, Nancy Peterson Hearn 6) Josephine Darwin, Wendy Buntin 7) Frannie Corzine, Cathy Brown Big Band Party 1) Andy Lees 2) Cheekwood's Hilary Chang, Elizabeth Sheets 3) Cheekwood Board Chair Barry Stowe, Katherine Crosswaithe 4) Tom and Lori Colamaria 5) Karen Moore, Donna Joyner 6) Dixon Witherspoon, Anna Witherspoon
6 5 102 slmag.net
THE PREMIER GUIDE FOR INFLUENCING SOPHISTICATED GIVING IN NASHVILLE Reserve your space today. Contact Dave Mahanes | 615.495.4250 | dave@slmag.net CHARITY REGISTER 2024
104 slmag.net