MEETCARACRYE FOURTHMAKINGGENERATIONHERMARK APR/MAY SLOLIFEMAGAZINE.COM2019
THE DREAM TEAM 2226 Beebee St, San Luis Obispo, CA 805.543.6844 prpco.com cfd Design Web Apparel Mail Print Promo
APR/MAY 2019 | SLO LIFE MAGAZINE | 3 MODERN•CLASSIC•JEWELRY1128GARDENSTREETSANLUISOBISPOWWW.BAXTERMOERMAN.COM
4 | SLO LIFE MAGAZINE | APR/MAY 2019 S L O T snar i t let s em tummoc e easily fmor school to mylocal internsh i p . Cal Poly Art and Design Department | Art Director: Shaina Kim, Designer: Briana Jackson | Photographers: Ally Evans, Noelle Merrihew, Ysabel Sullivan slotransit.org 1 Find your route 2 Enjoy the ride 3 Reach your destination
Floor
A home
An
Natural
sustainability in mind? We can
Close your eyes. What do you see? to ceiling windows with endless vistas... plaster walls with exposed beams... open space with warm, cozy woods... stone and reclaimed planks... lines details... built with do that.
Smooth
APR/MAY 2019 | SLO LIFE MAGAZINE | 5 BUILDALLEN.COM | 805.884.8777 | LICENSE #503300 REMODELS | CUSTOM HOMES | ESTATES
and minimalistic
Modern
APR/MAY 2019 | SLO LIFE MAGAZINE | 7 GENERAL BUILDING CONTRACTORS . LANDSCAPE CONTRACTORS 805.704.7559 License 731695
181 TANK FARM ROAD . SUITE 140 . SAN LUIS OBISPO . CA . 805-543-7600
10 | SLO LIFE MAGAZINE | APR/MAY 2019 SLOLIFE magazine 40 CONTENTS Volume Apr/MayNumber1022019 CARA CRYE This fourth generation local walks us through a day in the life as CEO of a longtime Central Coast business. Publisher's Message OnInfothe Cover In Box20181614 Briefs Check out the latest news highlight reel. Timeline We take a look at local events from the past two months. View A looming winter storm didn't stop MARK NAKAMURA from capturing the scene from Terrace Hill. 302624
Family
Keeping fresh and healthy along with quick and easy top-of-mind, CHEF JESSIE RIVAS shares this Asian inspired salmon dish.
Just in time for spring picnics, JAIME LEWIS makes the pilgrimage to our locally owned and operated delis to find the perfect sandwich for noshing.
Looking for a wine to match our California sunshine, ANDRIA MCGHEE takes in the crisp flavor of dry Riesling.
Looking for something to do? We've got you covered. Check out the calendar to discover the best events around the Central Coast in April and May.
12 | SLO LIFE MAGAZINE | APR/MAY 2019
Kitchen
| CONTENTS
I f you have ever wondered what makes a beer, well, a beer, you've found the right guy. Get ready to drink it in as BRANT MYERS explains it all.
As the soccer MVP at San Luis Obispo High School, senior BRANDEN DOLEZAL is ready for the bright lights of the stadium.
Happenings
Ready to play, PADEN HUGHES takes a trip to Atascadero to check out their newest spot for family fun.
CHRISTOPHER and BAMBI BANYS reveal the rustic details and ornate design of their hacienda-style home.
3638343254 70667684869094
Always keeping our finger on the pulse, we researched and analyzed the latest findings that keep us ticking.
New to the helm as President and CEO of the San Luis Obispo Chamber of Commerce, JIM DANTONA is ready to settle into the role.
On the Rise
Health
Q&A
Dwelling
Look no further for insight into the local housing market as we share the year-to-date statistics of home sales for both the city and the county of San Luis Obispo.
Now Hear This
Real Estate
Brew
Punk rock roots keep STEVEN BURT an active part of the local garage band scene.
Wine Notes
Taste
A few hours later, the shadows would again fill the lower half of the doorway, and the blankets would be lifted as three little ones burrowed their way into the middle. Each time, I would be pushed a little farther out, each time congratulating myself for holding my ground with the bed sales guy. Those four inches were coming in handy, as kids were doing what kids do in the middle of the night: push, pull, spin, kick, cuddle, elbow, and roll. It has been reported that Eskimos have 50 different words for "snow" and, if that is true, I have at least that many to describe "sleep." You never knew what you were going to get one night to the next. But, one thing was for certain, when you woke in the morning, everyone would be somewhere different than where they started. Except for me, I always clung to my four-inch sliver of prime turf.
I raced down the hallway where I found my boys wide-eyed in shock after their wrestling arena had collapsed below them. Bending down on my hands and knees, I could see that the middle of the frame had snapped, and since the edges remained intact, the mattress took the form of a taco shell. That night, and for many beyond, we piled into our newly christened "taco bed," only this time, I had lost that four-inch strip of prime territory because I would roll, just like the rest of us, into the middle of everything—the best memory of all.
Get the story within the story by going to GrowWithTom.com and subscribing to Tom'sBombs to receive the next installment.
Over the years, the king-sized piece of astronaut foam became the headquarters for fort-making, Barbie-styling, board game-playing, and later, wrestling. Somewhere along the line, our boys were exposed to WWE, which stands for World Wrestling Entertainment. The emphasis should be on the word "entertainment," because it is really nothing more than a giant soap opera for muscle-bound alpha males wearing tiny speedos. Many hours were spent on that old bed mimicking Randy K. Orton's signature attack, the dreaded RKO. It was one RKO, in particular, that was embedded deep into the Tempur-Pedic's memory. I cannot remember who was on offense, it was either Donovan or Harrison, but the familiar refrain, "RKO!" was shouted out followed by the equally familiar thud on the mattress. Only, this time, it was also accompanied by a massive crash-boom.
Tom tom@slolifemagazine.comFranciskovich
Live the SLO Life!
14 | SLO LIFE MAGAZINE | APR/MAY 2019
A month or so ago, I replaced our bed. It had a good run, at least ten years, but it had started to falter lately. I was surprised by the emotions that welled up when they hauled off that misshapen old mattress down the hallway toward its ultimate resting place.
Any kid who wants to sleep with Mom and Dad are welcome, and pretty much every night we could count on at least one of them joining us at some point, usually all three. A debate rages among young parents as to whether or not a "family bed" makes sense, but for us, we would not have had it any other way. And we did try. When our first-born was still a toddler, we would walk her back to her own bed over and over again in the dead of night. But, she was more determined than us and kept walking right back. After a while, she wore us down. When the little shadow would appear in the doorway, we would reflexively lift blankets, she would climb in, and we would all fall asleep. It seemed innocent at the time, but then the cycle would repeat with each new kid who became mobile enough to join us.
Taco Bed
I would like to take this opportunity to say "thank you" to everyone who had a hand in producing this issue of SLO LIFE Magazine and, most of all, to our advertisers and subscribers—we couldn't do it without you.
| PUBLISHER'S MESSAGE
When we went to the bed store, the salesman attempted to talk me into upgrading our queen-size bed to a California king. Taking measure of my six feet and three inches, he noted the extra length, which would allow me to stretch out my full frame. Expertly detailing the difference between the California king, which is longer, and the standard king, which is wider, he informed me that, in my case, it was better to have those extra four inches added to the length rather than to the width. The bed sales guy did not know my family very well. That extra real estate, those extra four inches of width, when you have five people sleeping in one bed, is the equivalent of a city block in midtown Manhattan.
My family was in expansion mode when we bought that bed, with our third child on the way. Temper-Pedic was the new thing back then; it was made of memory foam "originally developed by NASA for its astronauts," according to the sales guy. If it was good enough for astronauts, it would be good enough for the five of us. I say "the five of us" because we've always had an open bed policy.
That old memory foam—if it had any sort of memory anywhere close to what the sales guy claimed—could recite lines from Doctor Seuss and Goodnight Moon, as just about every day ended with family bedtime stories right there on the Temper-Pedic. With everyone piled in, they would be ushered off to dreamland along with the "three little bears sitting in chairs" and the "cow jumping over the moon." One by one, their breathing would slow into that ancient rhythm of nocturnal bliss. And, one by one, I would carry them back to their own beds. Goodnight noises everywhere.
APR/MAY 2019 | SLO LIFE MAGAZINE | 15 SHOWROOM HOURS MON-FRI 10-5, SAT 10-3 SLMARBLE.COM, 5452 ENDA RD TILE SHOWROOM & NATURAL STONE SLAB YARD CUSTOM COUNTEROP FABRICATION & INSTALLATION
16 | SLO LIFE MAGAZINE | APR/MAY 2019
CONTRIBUTIONS
SUBSCRIPTIONS
CIRCULATION, COVERAGE, AND ADVERTISING RATES
Ready to live the SLO Life all year long? It's quick and easy! Just log on to slolifemagazine.com/subscribe. It's just $24.95 for the year. And don't forget to set your friends and family up with a subscription, too. It's the gift that keeps on giving!
Alzheimer's & Dementia Care Homes
David Lalush
VanessaNakamuraPlakiasSvenWilhelm
LETTERS TO THE EDITOR 4251info@slolifemagazine.comS.HigueraStreet,Suite 800 San Luis Obispo, CA 93401
SLOLIFE magazine
Sheryl Disher
Assisted Living
Independent Living
CONTRIBUTING PHOTOGRAPHERS
The opinions expressed within these pages do not necessarily reflect those of SLO LIFE Magazine. No part of this publication may be reproduced in whole or in part without the express written permission of the publisher.
Paden
Caroline Attwood
Mark
Tom Franciskovich
ADVERTISING
CONTRIBUTING WRITERS
NOTE
Nicole Pazdan, CSA,
Complete details regarding circulation, coverage, and advertising rates, space, sizes and similar information are available to prospective advertisers. Please call or email for a media kit. Closing date is 30 days before date of issue.
PUBLISHER
If you would like to advertise, please contact Tom Franciskovich by phone at (805) 543-8600 or by email at tom@slolifemagazine.com or visit us online at slolifemagazine.com/advertise and we will send you a complete media kit along with testimonials from happy advertisers.
AndriaJaimeHughesLewisMcGheeBrantMyersJessieRivasShawnStrong
Ingrid Hofstra
Elder Placements realizes the IMPORTANCE of listening to the client, in order to find the appropriate:
Letters chosen for publication may be edited for clarity and space limitations.
Contact us today for FREE placement assistance. (805) elderplacementprofessionals.com546-8777
Have some comments or feedback about something you've read here? Or, do you have something on your mind that you think everyone should know about? Submit your story ideas, events, recipes, and announcements by visiting us online at slolifemagazine.com and clicking "Share Your Story" or emailing us at info@slolifemagazine.com. Be sure to include your full name and city for verification purposes. Contributions chosen for publication may be edited for clarity and space limitations.
CREATIVE DIRECTOR
4251 S. HIGUERA STREET, SUITE 800, SAN LUIS OBISPO, CALIFORNIA info@slolifemagazine.comSLOLIFEMAGAZINE.COM (805) 543-8600 • (805) 456-1677 fax
Let their experienced Certified Senior Advisors take you on a tour to find the Retirement Home or Community that fits your loved ones Medical, Financial and Social needs, at NO Cost to you.
APR/MAY 2019 | SLO LIFE MAGAZINE | 17 Sierra Vista Birth & Baby Fair for New & Expecting Families Nursing Nook • Car Seat Checks • Baby CPR • Raffles • Birth Center Tours • Local Birthing Resources • Kids Play Area • Prenatal Yoga Meet local birth & baby professionals who can help you navigate the journeys of pregnancy and parenting! Gain access to important local resources and businesses available to you and your growing family. Meet physicians, doulas, midwives, massage therapists, photographers, lactation consultants, childbirth educators and more! May 18, 2019 10am–2pm 1010 Murray Avenue, San Luis Obispo Baby Friendly SierraVistaBirthCenter.com Tour Our Birth Center: (844) 367-0832 365On-SiteObstetrician&NICU
WITH CARA CRYE
garden because, honestly, that is one of my favorites. And, I think it's one of the trendiest things at the moment. People are discovering the cactus. It's very hip and now; it's what you are seeing people use inside and outside their homes.
I noticed this purple magnolia, I think that's what it was. They had just got it in their nursery. It was incredible, just glorious, so beautiful. It doesn't even look real. I'm going to go back to buy one myself, if they don't sell out.
BEHIND the scenes
She had a great rapport with all of her employees, you could tell they genuinely liked each other. A lot of fun banter and joking around. Everyone was happy working there, including Cara. It was just a really nice workspace; nice environment.
18 | SLO LIFE MAGAZINE | APR/MAY 2019
We met at her office in the administration part of the building. And the first thing I noticed as I walked by was her incredible view; just spectacular. She's got all these windows framing the rolling green hills in the distance. It's very rural looking even though she's very close to the city. I would say it's one of the best places in the world to have an office. It was lovely, but unintimidating. Just a nice space. It felt very welcoming.
A SNEAK PEEK
BY VANESSA PLAKIAS
SLO LIFE | ON THE COVER
a place for modern living.
and MANH CHAU
BURJ
20 | SLO LIFE MAGAZINE | APR/MAY 2019
SIEM REAP, CAMBODIA us with you!
KALIFA, DUBAI, UAE KEYSTONE, COLORADO NOVA SCOTIA, CANADA KESTRIN (6), PIPER (4), and EVERLY (1) 1. LOREN EYLERSLO NEWCOMERS
SLO LIFE readers: Send us your photos the next time you're relaxing in town or traveling far and away with your copy of the magazine. Email us at info@slolifemagazine.com
Take
Hey,
JOHN
| IN BOX
PHANTOM RANCH, GRAND CANYON
BREESE, SHIN, and SVENDSEN FAMILIES
ALINA REA and NIKO ZEN CIMBUR
PULA, CROATIA
TAHITI
APR/MAY 2019 | SLO LIFE MAGAZINE | 21
RICK SANTOS AND LISA RIVERA
AMY OLIN and SONJA WIECK
Woo-hoo! It's a whole lot of fun visiting family and friends in Europe, but even better when SLO LIFE Magazine comes along.
YOSEMITE VALLEY
Follow SLO LIFE on Facebook: Visit facebook.com/slolifemagazine
Trekking with you!
Please send your and comments to info@slolifemagazine.com
photos
us
Visit online at slolifemagazine.com
Letters may be edited for content and clarity. To be considered for publication your letter should include your name, address, phone number, or email address (for authentication purposes). HOLLYWOOD CONNECTION CROCODILE TEMPLE, NILE RIVER, EGYPT | IN BOX JIM and SALLY BROOKS-SCHULKE NEW ZEALAND BOB and VICKI SMILEY VIENNA, AUSTRIA AMY KARDEL and FRIENDS The SLO Life gets R.A.D. with Studio @ Ryan's American Dancers at the Hollywood Connection Dance Competition in Burbank, California.
22 | SLO LIFE MAGAZINE | APR/MAY 2019
SachaREALTOR®Steel Because you deserve the very best. Let The Avenue guide you home.
BartREALTOR®Topham REALTOR®Naran Denise Silva REALTOR®Topham
Mukta
APR/MAY 2019 | SLO LIFE MAGAZINE | 23 THE AVENUE CENTRAL COAST REALTY REAL ESTATE | PROPERTY MANAGEMENT | IN-HOUSE MARKETING 1333 JOHNSON AVE, SAN LUIS OBISPO, CA 93401 | (805) 548 2670 | THEAVENUESLO.COM Amy Owner/REALTOR®DaaneChrisOwner/BrokerEngelskirger
KellyeREALTOR®Grayson
REALTOR®BellisarioDougREALTOR®Cutler
JedOwner/REALTOR®Damschroder

Krissy
#7
The average salary for teachers in the Coast Unified School District, which puts them among the top earners in San Luis Obispo County and equal to many in the San Joaquin Valley. However, with median housing prices well over $600,000 versus approximately $250,000 in Fresno, for example, the disparity is putting a strain on the district's ability to attract and retain teachers locally.
The number of years after her death in 1957 that Julia Morgan finally received an obituary in The New York Times as part of its "Overlooked" project. Morgan was the first woman to become licensed as an architect in California and she went on to design Hearst Castle in San Simeon, the Monday Club in San Luis Obispo, and close to 800 additional projects.
The host of CBS's "Let's Make a Deal," Wayne Brady, sang in a song he made up off-the-cuff on the air after game show contestant Shawn Fuggs, a Santa Maria Police Officer, gushed about the great weather in his hometown.
The amount of the fine the City of San Luis Obispo will begin assessing those who are apparently tossing confetti in the air for a selfie shot on top of Terrace Hill without cleaning up the mess afterward.
Rick Stollmeyer, CEO of Mindbody, assured the Tribune in an interview after his company was acquired by San Franciscobased venture capital company Vista Equity Partners for $1.9 billion.
land"There'samagicnamedNipomo…"
The number of gallons of rain that has fallen so far on San Luis Obispo County during an expectedly wet season, which is enough to fill two million Olympic-sized swimming pools, as well as end the eightyear drought.
65,155 $561
62
24 | SLO LIFE MAGAZINE | APR/MAY 2019
Rainn Wilson, who played the character Dwight Schrute on the hit show "The Office," commenting on Facebook about Bubblegum Alley during his recent visit to San Luis Obispo.
$77,006
"THANKFULLY no one was injured!"
Scout Coffee Co. of San Luis Obispo wrote on their Instagram page after posting a photo showing the damage done at their Foothill Boulevard location when a truck slammed into their shop at approximately 8 a.m. on a Saturday morning, just before opening for the day.
"There is a wall of gum. Just FYI."
The number of applications Cal Poly received for its 2019 freshman class for the approximately 5,000 spots available, which fell just short of last year's record set at 65,507.
leaving.""We'renot
660,253
SLO LIFE
A new report issued by the National Association of Home Builders put the San Luis Obispo-Arroyo Grande-Paso Robles area in seventh place on its least affordable places to buy a home list. Each of the top ten least affordable places were in California, and of the 237 areas surveyed, Elmira, New York was identified as the most affordable.
| BRIEFS
C O M M E R C I A L & R E S I D E N T I A L
Citing the hardship caused by $30 billion in potential claims by victims of California wild fires, PG&E bowed to pressure from creditors and opted to cancel $130 million in bonuses to its employees. The company, which entered bankruptcy in January, also admitted that its equipment was the likely cause of the Camp Fire. Local policymakers continue to watch the bankruptcy proceedings very closely, and with great trepidation. The utility had previously agreed to an $85 million settlement with a variety of San Luis Obispo County entities as part of its decommissioning of the Diablo Canyon nuclear power plant. Since the agreement had been ratified into state law, experts remain "cautiously optimistic" that the funds will ultimately come through as planned.
FEBRUARY '19
2/21
Around the County
2/27
2/1
The S an Luis Obispo Board of Supervisors rejected a proposal by Clerk-Recorder Tommy Gong to "increase voter enfranchisement and participation." Citing the cost totaling $164,000, the vote broke along familiar lines pitting the conservatives against the liberals: John Peschong, Debbie Arnold, and Lynn Compton voted "no," while Adam Hill and Bruce Gibson voted "yes." Had it passed, a variety of changes would have been implemented, including expanding mailing ballots to everyone and keeping polling centers open for ten days (while also closing some) and was designed to make it more convenient for working people to vote.
| TIMELINE
2/24
2/1
26 | SLO LIFE MAGAZINE | APR/MAY 2019
San Luis Obispo M ayor Heidi Harmon issued a statement encouraging "mayors across the U.S." to consider "breaking up" with Amazon. Later, she attempted to walk back the statement and insisted that the Tribune had mischaracterized her statement as a call to boycott the ecommerce giant. Later, she wrote an op-ed piece in the paper which stated, "I want to clarify… that I did not use the word 'boycott;' that was the Tribune' s word choice." To which the paper's editorial board responded in a piece titled "In blaming the media, SLO Mayor Heidi Harmon is sounding a lot like Donald Trump," where they argued that she was, in fact, calling for a boycott, and said, "She used the terms 'quitting' and 'leaving' and 'break up,' and she invited mayors across the nation to join her in ditching (our word – not hers) Amazon."
Plains All Am erican Pipeline applied for permits to rebuild its 124-mile pipeline across much of the Central Coast, which would allow ExxonMobil to restart its offshore oil production that came to a halt following the oil spill north of Santa Barbara four years ago. Last year, Plains was convicted of several crimes related to the spill, including a felony count for its failure to properly maintain the line, failing to report the spill, and for killing wildlife. The plan has again created friction between local environmentalists and multinational oil companies, and the debate is expected to intensify when public hearings begin.
The County of San Luis Obispo entered the first year of its contract with Wellpath, which will administer health care services at the County Jail. The first year is expected to cost tax payers approximately $6.5 million and will employ between 40 and 50 medical professionals. Sheriff Ian Parkinson initiated the outsourcing of health care at the jail following increasing incidents of inmate neglect, including the high profile death of Andrew Holland two years ago, who had been strapped to a restraint chair for 46 hours.
SLO LIFE
A lawsuit was filed against Animal Kingdom Pet Shop alleging a "puppy laundering" scheme. In addition to the pet store, which has locations in Pismo Beach, Grover Beach, and Santa Maria, the suit filed by the non-profit dog advocacy group Bailing Out Benji and the Animal Legal Defense Fund, an Iowa operation called Bark Adoptions was accused of participating in the scheme where pure bread dogs are "kept in small and squalid cages to give birth to a constant inventory of puppies for retail sale." A state law passed in 2017 mandates that pet stores acquire their dogs, cats, and rabbits for sale from non-profit animal shelters or rescue groups.
3/12
Downtown SLO, formerly the Downtown Association, announced its plan to hire eight downtown ambassadors, which would include the one it already has on staff, to greet visitors, collect trash, report crimes, and connect the homeless to services. The program's expansion, currently in the planning stages, would require an assessment of downtown businesses to finance the $800,000 per year needed to fund the operation. A petition must be completed before the assessment, known as the initiative for a Property-Based Business Improvement District (PBID), can go to a vote by the property owners within the downtown boundaries.
MARCH '19
After nearly four years of closure due to structural safety concerns, the Avila Beach Pier is expected to partially reopen in the coming months. The Port San Luis Harbor District general manager Andrea Lueker said that the pier was found to be structurally sound in a recent assessment up to "bent 58," a section approximately halfway down the wooden pier. The hope is to reopen to that point ahead of the busy summer season. In 2015, when large crowds of onlookers gathered on the pier to watch the visiting whales, harbor officials noted unusual swaying in the structure and decided to have it analyzed. The findings determined that it was unsafe, however, the follow-up load capacity study determined that the structure could, in fact, handle foot traffic to a greater degree than previously thought.
APR/MAY 2019 | SLO LIFE MAGAZINE | 27
3/1
3/18
3/5
3/19
The Board of Supervisors unanimously ratified a landmark plan for the promotion of affordable housing in San Luis Obispo County. With a variety of funding mechanisms in place, the supervisors are looking to generate between $2 and $4 million annually to make homes more affordable. This summer, county staff are expected to present a range of revenue options to pay for the program, including an affordable housing bond, a transient occupancy tax, and a sales tax increase. According to Supervisor Adam Hill, "We have a massive affordability problem, and this county has not been a part of solving it."
Following California State Park's admission that it was unable to reduce the emissions coming from off-road recreational vehicles at Oceano Dunes, Ted Cabral, one of nine commissioners on the Off-Highway Motor Vehicle Recreation Commission, went on a five-minute rant during a public hearing in Palmdale where he accused of the mitigation efforts of the San Luis Obispo Air Pollution Control District of being "stupid" and needing to be "pushed back against" and "told to stand down." He argued further that the park should be expanded claiming "this is a state property," which is not true. The land is actually owned by the County of San Luis Obispo and leased to State Parks. The Board of Supervisors, as the landlord, could prohibit off-road activity to protect the health of its residents. The air downwind of the riding area, the Nipomo Mesa, is sometimes recorded as the worst in the country.
28 | SLO LIFE MAGAZINE | APR/MAY 2019
S M BHGREHAVEN.COM
ARROYO GRANDE
CountryORCUTTliving and grandeur have officially united to produce this luxurious colonial style estate nestled in the rolling hills of the esteemed Oakhill Estates Community. Boasting an abundant 5100 sq ft, this 5 bedroom, 5 bathroom luxury home located on over an acre truly reflects the union of traditional architecture with modern efficiency and upgrades. The gourmet kitchen features incredible upgrades including a new Wolf range, Sub-Zero refrigerator, butlers pantry, wine room, farm sink, and custom walnut center island. Additional features include solar infrastructure, double offices, a sunny informal breakfast room with fireplace, formal dining room, English pub style bar, bonus storage area, gazebo, greenhouse, and exceptional outdoor entertaining area including a built-in BBQ and spa. GAVIN PAYNE, BROKER/OWNER, LIC. #01381849 805.550.3918
A rare opportunity to find such a unique property! Two homes with year round creek and a short distance to downtown. Remodeled 2 bedroom, ¾ bath home is adorned with beautiful accent tiles, hammered copper farm-style sink, stainless steel appliances, and a sunny kitchen nook. The main/back two bedroom home, is entered via the second story patio with a built in gas BBQ.
www.5866OAKHILL.com
Property Website: www.1990Corbett.com
Experience panoramic views of Edna Valley wine country from this 3376 sqft French Farmhouse style home. Located on 10+ acres, quality features throughout include newly refinished hardwood flooring, whole house reverse osmosis system, new exterior paint, high ceilings, open floor plan, French doors throughout, lush landscaping, and yellow pine accents throughout.
Located in one of the prime banana belt areas of SLO, this classic 1950's home is built for living and truly lends the buyer many options to create a home of their dreams or invest in student housing. Rare investment opportunity is ready for your inspiration, design, and expertise. Bring your contractor and your Pinterest account!! Bright and spacious living with a beautiful fenced yard.
SAN LUIS OBISPO
Property Website: www.2605Flora.com
Better Homes and Gardens Real Estate Haven Properties 547 Marsh Street, San Luis Obispo, CA 93401 805 Main Street, Morro Bay, CA 93442 805.592.2050
SAN LUIS OBISPO
MARHTA TORKINGTON BROKER ASSOCIATE, LIC. #00975466 805.888-9522
TERRY REALTOR®,GILLESPIELIC.#01815083 805.459.2022GAVIN BROKER/OWNER,PAYNELIC. #01381849 805.550.3918
Property Website: www 1232Iris.com
E X P E C T B E T T E R
APR/MAY 2019 | SLO LIFE MAGAZINE
212FOOTHILL.COM
LINDA ViewSanLuisObispoHomes.comLINDA@HAVENSLO.COMBROKER805.801.5914BUTLER•LIC#00597458
FOR SALE: 4577WAVERTREE.COM FOR SALE: 6 260INDEPENDENCE.COM UNDER CONTRACT
It's the lifestyle you deserve… enjoy the spectacular ocean views from this 3 bedroom, 2 1/2 bath move-in ready, opulent home in prestigious Rancho Pacifica. Nestled in the foothills above Shell Beach, it is just minutes from beaches, world-class dining and winer ies. Attention to detail is evident in this grand home with the feel of a Tuscan villa - beautifully appointed free-flowing main floor with hand-scraped wood and travertine flooring, high ceilings, expansive windows, chef's kitchen with top of the line Thermador professional appliances and granite counters, custom lighting, home theatre system with media closet, 3 fireplaces, wine cellar and luxurious master suite on the main floor with jetted tub and oversized closet.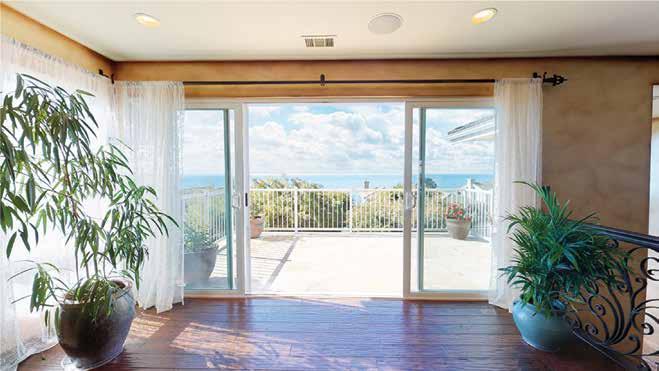 COMPLETEW
30 | SLO LIFE MAGAZINE | APR/MAY 2019 | VIEW
With sunshine drenching his hometown, he looked down at his watch and noted the time: 3:46 p.m. Snapping away, he captured the landscape you see here looking north toward Cerro San Luis and Bishop Peak, which is actually the panoramic composite of four shots stitched into one. As he became lost in the subject squared-up in the viewfinder, something told him to have a look behind. Wheeling around in place revealed a soupy, angry darkness, traveling at a brisk pace, chewing up the landscape as it sped toward the photographer. Pivoting, he captured the giant after it had swallowed Tower Hill whole, leaving a tiny rainbow in its wake.
Checking the time again, it was 4:33. Then, at 4:34, it happened. Nakamura struggles to find the vocabulary that is mostly missing from
The long-time local photographer monitored the storm throughout the day, attempting to time his ascent of Terrace Hill where he would post up at his favorite spot to watch his city transform into a Winter Wonderland. After trudging along the old, familiar path, Nakamura planted the tripod into the ground next to the bench and fastened the Canon 5D Mark IV into its proper place. Then, as if a fisherman casting a line into the depths of San Luis Bay, he waited.
hen Mark Nakamura checked the weather forecast the morning of February 19th, he could not believe his eyes: Snow was expected to dust San Luis Obispo County later that afternoon. Snow.
PICTURE
Whatever was falling from the "pitch black clouds" wrapping their burly arms around Nakamura, it was certainly different than the normal experience atop his usual perch overlooking the city. And, that is why he remembers it: 4:34, February 19th, snow, or sleet, or whatever it was, appeared for a rare and very short visit, a moment captured in time. A moment marking the climax of winter, the turning point in the story where the plot is resolved, the resolution arrives at last—and the picture is complete.
Central Coast vernacular. "It started raining; then it was kind of a slush. I don't know if it was snow, really, but it was rain; and then hail, then some snow mixed all together. I guess they call it sleet."
APR/MAY 2019 | SLO LIFE MAGAZINE | 31
SLO LIFE
PHOTOGRAPHY BY MARK NAKAMURA
Jim, let's take it from the top. Where are you from?
Please, go on… We both ended up transferring to Sacramento State to study political science. We did some work up there after graduating. Then, we eventually came back to Southern California. But, we always had this dream of moving to San Luis Obispo, which is where my wife's mom lives. Over the years, as we visited her, we came to fall in love with the place. So, one day, out of the blue, my mother-in-law calls me and said, "Hey, they're looking for a new chamber CEO up here. Would you be interested in doing this kind of work?" And I said, "Yeah, absolutely! I work almost exclusively with chambers. I understand their issues. I understand how they work. I've never actually worked in one, but I'd love the opportunity to tell them why I would be super helpful." So, I learned about the opportunity and submitted my resume because of my mother-in-law. And, that's one of great things about this community: there's two degrees of separation max, right?
32 | SLO LIFE MAGAZINE | APR/MAY 2019
| Q&A
Speaking of spouse, let's hear about how you met your wife. Sure. We met at Moorpark Junior College. We had a political science class together. I was one of those typical baseball guys sitting in the back of the classroom with my hat on—it was this bright red Philadelphia Phillies hat. Now, pay attention to this hat because it will become important to understand this story. So, I'm sitting way in the back and she walks in and settles into a seat toward the front. I was pretty taken by her the minute she walked in. The class ended and I went to my second class, and then she walks in again, and once again she finds a seat toward the front of the class. So, over the course of a few days, maybe it was a couple of weeks, I slowly
Let's close with the question we like to ask: What would people be surprised to know about you? So, okay, I'm a huge fan of musicals. You may not expect that, but coming from a political background there is this element of performance and theatrics. There's that old saying, "Politics is the entertainment industry for ugly people." It's really true. All politicians love the spotlight and there is absolutely a parallel to theatre. I remember seeing my first musical when I was around five. It was Jesus Christ Superstar, which is sort of a rock-opera. I liked it so much that my parents got me the record and I played it non-stop. Whenever there was a great show in L.A., I would go see it. I love live theatre. People are usually surprised to hear that because I am such a huge sports fan and would never guess that I wander around the halls singing songs from musicals. They say, "What? Was that you?" Yep, that's me.
THAT'S ME
After just a couple of months into his new role as the President and CEO of the San Luis Obispo Chamber of Commerce, JIM DANTONA stopped by the office to introduce himself. In addition to a deep dive into topical issues, such as the decommissioning of Diablo Canyon, uncertainty surrounding the acquisition of MindBody, and workforce housing, we were also treated to a wide-ranging conversation getting to know him on a personal level. Here are some highlights…
I was actually born in Granada Hills, moved to Simi Valley when I was around eight, and spent most of my life there. I was, and still am, a sports fanatic, especially baseball. My dad was a chief of staff to a state senator, so I was around politics very early in my life. After I blew out my arm, I thought that I wanted to get into politics also. My long-term goal was to become a politician myself. That never came to fruition, but I ended up doing a lot of private sector work, working in human resources and accounting up in Sacramento, Folsom; and, then later, I ended up becoming the chief of staff to three different elected officials around L.A. where I spent much of my time interacting with local chambers of commerce.
SLO LIFE
Did you ever run for office? I did, actually. In 2000, I ran for a local park board seat, which was during the Bush-Gore debacle. My race was between me and another woman, and we were separated by just three votes. We actually had a recount going on the same time Florida was doing their recounts. So, the local papers were playing up the Bush-Gore thing, only it was Dantona-O'Brien. I ended up losing that race by a couple of votes, but it didn't dissuade me. I was determined to keep trying. About three years ago, I decided that I was going to run for state senate. And the more I got into it, the more I realized that it just was not for me. I decided to back out of the race before it ever really started and have waved off the idea of ever becoming an elected official. You know, it's a very difficult time for anybody that runs, and particularly for your spouse, no matter who you are, or at what level.
started to make my way toward where she was sitting. One day, I'd move up a couple of seats. The next day, another one, continually heading her way. As she would tell this story later, she remembers seeing this red hat closing in over her shoulder as she thought, "Oh, great." One day, I finally made it to the desk behind her, and she said to herself, "Well, he's made that much effort, so I guess I can say, 'Hi.'" I mustered up the courage to say something and we started talking.
APR/MAY 2019 | SLO LIFE MAGAZINE | 33 Call us today for your consultation 805 541-1790 www.KarenScottAudiology.com Or see Karen for a hearing test… Pick up your toys Did you hear what Isaid?just
PUNK ROCK ROOTS
BY SHAWN STRONG
| NOW HEAR THIS
"To me, punk rock is the freedom to create, freedom to be successful, freedom to not be successful, freedom to be who you are. It's freedom." – Pattie Smith
had with the artist.
My entire reason for being there was the bassist of the group, Steven Burt. I'd met Burt through mutual acquaintances and he was originally introduced as a part-time professor in the business department of Cal Poly and an accountant/finance executive working at a local business in SLO. To say the least, his performance in this band was surprising and inspiring. Despite his suit-and-tie professional life, Burt never let the dream die and his punk rock spirit was alive and well, spitting in the face of the soul-crushing demands of the daily grind. I was immediately drawn to this apparent disconnect between Burt's two lives and this detachment ultimately steered the resulting conversations I
At the top was a scene straight out of a punk rocker's fantasy: a group of four musicians mercilessly battering their instruments and singing/ yelling at the top of their lungs. It was chaos. Yet, the thumping bass pedal and peeling guitar licks were perfectly in time and the group was completely in sync. My entrance was hardly noticed as the group roared through their song; a single nod toward the fully stocked beer fridge in the corner of the room was the extent of the acknowledgement I received. As I took a seat at the mixing board, the band set into the outro of their song and into a full minute of riotous noisemaking. When the last chord was struck, a moment passed as the din faded away to nearly deafening silence, immediately followed by raucous laughter as the group delved into a discussion about the positives and negatives of their performance, giving praise when possible but pulling no punches when it came to critiquing each other. It was a living, breathing rock band hidden away in a dark corner of the San Luis garage band scene.
Burt's history was straight out of an issue of Rolling Stone . He enrolled in college at Cal Poly back in the '80s when punk rock was starting to expand and San Luis Obispo itself was home to a flourishing hardcore punk rock scene. He soon became a member of the underground bar scene that was made up of some of SLO's most unique venues that are now, unfortunately, defunct. Throughout his college days, and for years after, Burt toured SLO County and travelled up and down the California coastline playing with other local musicians as well as bands that had become household names within the alternative music scene. Remarkably, this dedication Burt and his fellow musicians had for the relatively small local scene drew the attention of some of the biggest names in punk rock history, including Black Flag, Bad Religion, Social Distortion, and Dead Kennedys, just to name a few.
Burt opened a beer and chuckled to himself as he began to describe the October 10th, 1985 concert put on by the derelict Bay Area band Dead Kennedys in SLO's very own Veterans Hall. Several local bands were set to open that night when the concert was cut short in what could only be described as one of the most punk rock events to ever take place in San Luis Obispo, as concertgoers and local police clashed in the streets, causing over ten thousand dollars in damage. Even as he told the story of people he knew who were arrested or injured during the chaos, a smile never left Burt's face, and in his tone I couldn't help but feel a sense of pride.
pulled into a dark parking lot outside a row of seemingly empty warehouses and stepped out of my car. It was late at night and not even the crickets were awake as I scanned the building numbers looking for any sign of life. I finally arrived at number three and
SLO LIFE
APR/MAY 2019 | SLO LIFE MAGAZINE | 35
I
This Cal Poly professor's stories about San Luis Obispo's hard rocking
Los Angeles born, SLO County raised, SHAWN STRONG's passion for the local music scene and artists that have created it, fuels his writing and drives his commitment to living the SLO LIFE.
put my ear to the door trying to confirm that this was the studio I was looking for. Silence. My tentative knock was met with no response and I wondered if I had made a wrong turn somewhere. As a final effort, I decided to try the doorknob before officially giving up on my mission. The handle turned easily and suddenly I was hit with a wall of sound that filled the previously tranquil parking lot and business park I'd been wondering through. I stepped past the threshold and walked up a heavily worn staircase not knowing what to expect.
past painted a drastically different portrait of the city compared to now, similar in many ways to Burt's own story within the city. And while some of the rougher edges may have been smoothed over for them both, the passion and the angst and the spirit lives on in Burt, whether it's during jam sessions with local musicians he's befriended along the way or while playing shows with his San Jose-based band, The Boneshavers. The serene rolling hills and relatively peaceful living in San Luis Obispo feels a far stretch from the rollicking, unruly times of the past, but in a hidden warehouse in a dark corner of a remote business park, Burt and the boys are keeping San Luis Obispo rockin'.
We met some friends there and it provided a whole other level of experience. I could enjoy a conversation with my friend while our kids
Just a twenty minute drive from San Luis Obispo, off the Traffic Way exit in Atascadero, Hop's Bounce House is celebrating one year since opening in Spring 2018.
Jump for Joy
bounced and played to their hearts' content. The thing that struck us was how clean and well considered the layout was planned. There were antimicrobial air purifiers throughout, multiple hand sanitizer stations, and the owner, Laurel Shepherd, informed me that every night all the bounce houses and toys are sanitized.
rain this winter pushed us to broaden our search for fun things to do as a family beyond San Luis Obispo, and we discovered Hop's Bounce House. Located in the heart of Atascadero's downtown, their commercial building is filled with nearly a dozen colorful bounce houses and includes a section exclusively for toddlers. It's big enough to be inspiring for the bouncing enthusiast, yet intimate enough for moms of multiples to feel like they have a good shot at keeping a line of sight on their kiddos.
and drinks (with some parameters) and rent and deliver bounce houses throughout the region. And, of course, it's a hot spot for birthday parties, which have their own rooms for enjoying cake and presents.
W
My daughter was in heaven—this is her kind of place. She can climb up big slides by herself and make new friends along the way. I appreciate that parents are welcome in the bounce houses to assist and play with their kids—particularly in monitoring younger children on the bigger bounce houses where older kids are playing.
hatever birthdaydaughter'smyfirstparty
SLO LIFE
| FAMILY
Curious how they got the idea for an indoor bounce house play center, I spoke with Shepherd and she shared, "We really wanted to design a space for families to come together, no matter the ages of their kids, and enjoy spending time together. It can be challenging to find one place where kids of various ages can all enjoy activities together."
lacked, her second birthday made up for in spades—all because of a bounce house. Since then, we have lined up weekly for the bounce house at Farmers' Market and read "Five Monkeys Jumping on the Bed" one too many times. One of the best things about kids is their unbridled enthusiasm for anything they love. It's contagious. I'm six months pregnant with baby number two and even I can't stay out of the bounce houses, because it's too fun to
Themiss.persistent
36 | SLO LIFE MAGAZINE | APR/MAY 2019
Weekday mornings Hop's is a popular meet up spot for stay-at-home-moms with toddlers in tow, afternoons tends to have an elementary school crowd, and on the weekends entire families join in on the fun.
Hop's sells day passes as well as monthly memberships, which are certainly worth it if you plan to come more than three visits in a month. They allow outside food
BY PADEN HUGHES
PADEN HUGHES is co-owner of Gymnazo and enjoys exploring the Central Coast.
SPOTLIGHTSTUDENT
| ON THE RISE
SLO LIFE
I would want to meet Walt Disney because he was such a creative person.
What is going on with you now?
My parents have influenced me the most because they provide lots of opportunities and push me to be better.
I do not like waking up early because I love my sleep.
What are your plans for college?
What recognition have you received?
I am playing club soccer with my team from Santa Barbara, and getting ready to head off to college in the fall.
I love soccer, and over the summer I am an avid wakeboarder.
What is your favorite memory of all time?
What are your interests and hobbies?
38 | SLO LIFE MAGAZINE | APR/MAY 2019
Either still playing on the soccer field or working as a physical therapist or chiropractor.
My freshman year we played soccer against Arroyo Grande and I scored two goals.
For high school, I have won League three out of four varsity years and am a three-time MVP. I won Cal South National Cup as well as Far West Regional in Hawaii.
Where do you see yourself in ten years?
What is something that no one knows about you?
What do you dislike the most ?
If you could meet anyone, who would it be?
I am very bad at video games.
I signed to play soccer at UCSB.
Branden Dolezal
Seventeen-year-old San Luis Obispo High School senior and future Gaucho is poised to score on the soccer field as he heads to UC Santa Barbara this fall.
Introduce us at slolifemagazine.com/share
Know a student On the Rise?
Who has influenced you the most?
APR/MAY 2019 | SLO LIFE MAGAZINE | 39 Your Local College Planner! Helping Students Plan & Prepare for College Offering PSAT, SAT, ACT test prep, student positioning, career planning, and guidance throughout the entire application process. NOW enrolling for your Junior and Senior year! Local, Ethical & Accountable 805.440.4178 | EliteCPP.com ™ Call Today and mention SLO LIFE for your FREE one consultation!hour Sleep Under the Stars, Connect with Nature, Be Creative Overnight camp Boys & Girls 1st - 11th grades 360 acres near Paso Robles swimming . hiking . arts & crafts . outdoor cooking . tomahawks . backpacking . nature exploration drama . archery . skits . songs . games . nightly campfire . team building . leadership development www.campnatoma.org | 805-709-2569 | info@campnatoma.org 2019 Sessions June 23 - 29 June 30 - July 6 July 7 - 13 July 14 - 20 July 21 - 27 July 28 - August 3 August 4 - 10 FAMILY CAMP - JUNE 21-23 Since 1941
IT TAKES A VILLAGE
PLAKIAS
| MEET YOUR NEIGHBOR
The history is murky, but this much is known: Many years ago, someone living in Portugal's tiny island chain, The Azores, heard a story about a vast land of opportunity called America, which had a tiny village on its western shores where the fish practically caught themselves. One by one, they arrived in Cayucos. And they stayed and farmed and fished and built and started businesses. Today, their industrious heritage lives on in their descendant, CARA CRYE, who is now two years into her tenure as the CEO of San Luis Obispo-based Farm Supply Co. When she was a 19-year-old Cal Poly student, she began working at the company as a part-time salesperson, and many roles and two decades later, the board of directors unanimously selected her to lead the 69-year-old company into the future. Here is her PHOTOGRAPHYstory…BYVANESSA
And, how did you get started there? So, when I needed to get a job, I worked for family throughout high school because I was really involved in FFA and sports and whatnot. But, when I went to Cal Poly, my parents said, "You need to get a job outside of family business." So, I told them, "Well, I think I want to work at Farm Supply." I left for a year after high school as a state officer for FFA and then came back to attend Cal Poly. That's when I asked Mr. [Jim] Brabeck, our former CEO, for a job. I worked on our sales floor for about five years while I was going to school. And then, Jim and my other boss Karen asked me to think about what I wanted to do at Farm Supply after I graduated.
I actually moved back to Morro Bay. What I realized is I'm a coastie at heart. I'm not a big beach person, but I'm really drawn to the ocean. I like to be close to the ocean. My background, my family's background, my mom's side of the family is in agriculture, which I feel very passionate about. My dad's side is in construction, so we have deep roots in both of those industries locally. I tell everyone, truly I live this idyllic life in Morro Bay, kind of sheltered under that big rock out there.
How did you feel when you got the news? While all of this was happening, my Vo, which is Portuguese for "grandfather," was 93 years old and battling cancer. He was a man of few words, a really tough guy, and he didn't tell any of us what was going on; but, we knew. Vo was really the one who gave me my love of agriculture. He grew up in Cayucos, and farmed sugar beets right on the ocean. He also got into cattle ranching. More than anything, he loved to work. He loved the land. He was happiest when he was working, which he did every day right up until the end. Just before he passed away, he felt very strongly about going to his ranch to see his cows one last time. So, we were talking—it was a Sunday evening—and he said, "I've gotta get to the ranch." I said, "Well, Vo, I can take you out there tomorrow." He was still of sound mind, enough to know that tomorrow was a workday, tomorrow was Monday, and nothing gets in the way of work for our family. So, I said, "Well, let's go tomorrow," and he goes, "Don't you have to work?" I said, "No, Vo, I don't have to work. I work for a good company, and family comes first; they'll understand. So, if you want to go to the ranch, I'll drive you."
What did you tell them? I really thought that I was going to have to move out of the area at that time to find a job somewhere and develop a career, but they created a marketing coordinator position for me. I didn't go to school for marketing. I had very little knowledge about it, but what they cared about was that I knew about our company, and I cared about Farm Supply and its success, and that I had a passion for it. So, they let me learn along the way, which I really appreciated. I was our marketing coordinator for about 13 years, and then we restructured the company
L
around the time our former CEO and CFO were looking to retire. I became the VP of Communications for a couple years, where I really got to focus on public relations, training, and all those things that I'm really passionate about. And, then, almost two years ago now, our board asked me to become the next CEO, which has been a tremendous honor, as well as quite a responsibility as the leader of this 69-year-old company that plays such a central role in our community.
There appears to be two themes: work and small town. Why the small town? I love living in a small town. I love it that I know people in the supermarket, at the restaurant, at our store. I like that familiarity. Really, my passion is people. What makes people tick? Where did their journey begin that got them to the place that they are today? But, you know, our community is changing. When Farm Supply first opened its doors 69 years ago, it was to service the local dairies. Today, the only remaining dairy in our community is now at Cal Poly. But, I don't think we should be afraid of change. I remember a conversation I had with a customer at Farm Supply probably ten years ago now. He had just moved to the area and I said, "Well, welcome to the Central Coast. I think you made a great choice." And he says, "Well, I'm here now and I don't want anyone else to show up." I thought to myself, Oh, gosh, that's not particularly the right attitude, because my family's not saying that and we're fourth generation to this county. We could be really bitter about all of the growth or the types of people that moved in, but we're not. We want to be open-minded.>>
What were you like growing up? I was a quiet kid, but I will say that the turning point in my life was being in 4-H. So, I'm a product of 4-H and FFA, and I love that I can support those programs as an adult, because truly, they're the greatest youth leadership development programs on Earth. I mean, they really are, considering the kind of skills they teach kids. For me, at the age of nine, I started doing these demonstration days. Funny things like "what's in the sewing box" and how to dehydrate fruits, and that really opened up this whole world for me of public speaking and leadership. I'm really grateful for that. So, as a kid, I would say I was kind of quiet early on, and then I found my voice and it didn't stop.
What did he say? I'll never forget. He was leaning back in his recliner not feeling well, and he looks up at me says, "Don't get cocky—they could still fire you." He had never said anything like that to me in my whole life, and so I laughed out loud for a second. Then I said, "Well, Vo, I'm not getting cocky. I just work for a good company." I felt so fortunate, because he was really the one that started me on my journey with Farm Supply, that he was able to know that I had been promoted to CEO before he passed away. That was really our last big conversation, and I feel that it's a good message because it's like, you have the privilege of being in this really important position, but don't forget where you started, right? My dad also pounded a similar thing into my brother and I growing up. I remember having some friends that were very prideful, always bragging about their accomplishments. My dad would say, "If you're really good at something, people will know. You don't have to tell them." I really do agree with that, and I know that, most of all, it is so important to stay true to whoever you are and whatever your cause is, whatever the work you do.
APR/MAY 2019 | SLO LIFE MAGAZINE | 43
et's start from the beginning, Cara. Where are you from? Okay. I'm a fourth generation native of San Luis Obispo County. Born at the old General Hospital. I grew up my entire life, really, in Morro Bay. Had short stints living in San Luis Obispo, Los Osos, Santa Margarita, and then a couple years ago
When did you first set foot in Farm Supply? I started going to Farm Supply as early as I can remember with my grandparents, who are members of our co-op. On the weekends, when we were heading to their ranch, we'd stop in to get supplies that we might need. My grandfather might need some fence posts, or some feed, or supplements, or maybe an herbicide to spray some weeds that day. So, Farm Supply has had a really special place in my heart since I was a young person, and what I loved about it most is the way people treated me. When you're a kid, I don't know if you remember this, but when you're a kid not all adults are nice to you, right? For some adults, you're just an annoying little kid and they don't have a lot of patience for that. At Farm Supply, the people were always nice to me.
44 | SLO LIFE MAGAZINE | APR/MAY 2019
their land, because it is a passion for them. We also have farmers and ranchers that are doing it full-time and are just amazing stewards of the land here locally; but, it's not easy. Weather is always a challenge. You never know what Mother Nature is going to do. And, beyond the rain and water, you have some real challenges when it comes to labor and regulation. Farm Supply has had to evolve with these things along with our customers over the years. That's why you'll see different product mixes coming into our store. It is very retail focused, not only for our agricultural customers, but also for everyone locally. We want to create a space that will have something for everyone, within reason, and will continue to play an important role in the community.
Let's talk about the challenges that come along with development. On the Central Coast, there are quite a few challenges. Along with the urbanization of our community, just being able to be viable in agriculture is always difficult. Quite a few of our members do, at this point, have Monday through Friday 8-to-5 jobs in addition to the work they do on
We have talked a lot about work. But, what do you do when you're not at Farm Supply? Well, I like to help my family. So, I'm with my family a lot. I have one living grandmother still here, so that's great. I have a nephew now, and he's the greatest thing that's ever happened to me. I like to be around him as much as I can. We just celebrated his second birthday yesterday. I'm really lucky growing up in a small town, and the fact that my best friends are truly some of my best girlfriends that I met in kindergarten here. I really enjoy spending time with them. I think in life, it's a lot better going through when you have really meaningful relationships and people to spend it with, so that's really important to me. I like hiking. We have so many great spots that we can hike. Going
>>
How do you balance those competing philosophies? So, with all of the development we are seeing, the community is not as small as it used to be when I was growing up. I'll be honest, I miss that. I really like knowing everyone here. That's not possible now because there's been an influx of a lot of new people coming in. I'm always going to open my arms to those folks and welcome them into our community. I would just ask that they show up and have respect for the flavor of San Luis Obispo County and understand why we're rich in the type of people that we have here; the quality of life, the kind of a slower pace of living, community, and family. So, am I concerned about all of the development that's taking place with all of these housing developments? Yes. I am concerned, because I'm concerned about infrastructure and how we're making all of that happen. I'm concerned about do we have the resources for families moving in? On the flip side of that, I like that it is adding diversity to our community. I think that's important. I think it's important for the culture, but I really just want people to respect this community and what it's about.
APR/MAY 2019 | SLO LIFE MAGAZINE | 45 Graham helped my wife and I nd our rst "starter" home and again our second "forever" home. Graham was always on our side as we made o ers, negotiated price, and all the other hassles of trying to close on a property. He was there to support us whenever needed and never tried to push us to make decisions we were not comfortable with. My wife and are glad to know Graham and call him our realtor and friend. – Garrett Otto, San Luis Obispo 3196 South Higuera Suite D, San Luis Obispo, CA 93401 805.459.1865www.ccreslo.com|CalBRE #01873454 graham @ ccreslo.com " " Local, honest expertise for home buyers and sellers 115+ transactions closed in the last seven years CultivateSomethingMeaningfulwww.GardensbyGabriel.comlic.#887028805-215-0511
on little weekend trips to visit friends I haven't seen in a while. I like volunteering. I feel strongly about giving back to the community that's given so much to me. So, I'm at lots of different events on the weekend, either volunteering or there as a guest. I help an auctioneer occasionally do bid spotting. That's really fun. So, you know, causes specifically 4-H, FFA, youth and agricultural, but then we have so many great causes in our community. I also help in my brother's business when I can. He has a construction company and some rock quarries locally.
Please, continue the thought… I think I'm a really self-aware person, but that has taken a lot of years of being cognizant of that and making myself aware. And I don't hit it out of the park every day, that's for sure, but I really try and work on that, because I think that's the way I can show up being the best version of myself and helping others be the best version of themselves. I want to get to the place in my journey as a leader of really building people to their potential, and I think it would be pretty cocky, as my grandfather would say, for me to say right now that's where I'm at, because I'm not. I'm new in my leadership journey. Life's too short not to do what you're passionate about. That's why I feel so lucky in my role,
46 | SLO LIFE MAGAZINE | APR/MAY 2019 >>
conversation with someone. That's really been lacking, and I'll tell my own friends if I see them on their phone, I'll say, "Hey, if there's someone more important that you want to talk to, we can meet again another time." So, they know that with me now. They know that I'm giving my undivided attention. We don't need social media or any of that when we're talking face-to-face.
Sounds like you really are a people person. So yeah, you're right, in my free time it really is about connecting with people. My life's moving pretty quickly, but I don't want it to go so quickly that I miss things. So, I try and stay grounded and be very selective about who I spend my time with, because I have some really special people in my life that I don't get to see as much as I'd like to. So, I would say that I'm very calculated about who I'm with and giving them time and not having my phone in front of me. I think people have forgotten about how rich it is to have a one-on-one
APR/MAY 2019 | SLO LIFE MAGAZINE | 47 Visit our kitchen and bath showroom for the remodel of your dreams—with the environment in mind. Contractor's License 940512 111 South Street San Luis Obispo (805) slogreengoods.com543-9900 Visit our kitchen and bath showroom In-House Designers Custom FlooringWineCountertopsCabinetsCellars
How do you connect the dots between being present—right now, present-tense—and the past? Well, I think people really need to think about heritage and how they got to where they are today and be grateful for their ancestors and the lives that we're living. We still have, in Cayucos, we haven't the last couple of years, but we have big Portuguese celebrations. The [Cayucos Veterans] Hall has been condemned up there for a while now, so we really want to celebrate our heritage, and it's fun. We're so grateful to be Americans, obviously. There's no other country that I would want to be living in or to have been born in, but I think it is important to know where you came from. To know where your roots are.
because I know plenty of people that, some of my best friends actually, that have great jobs and go to work every day, but they're not satisfied and they don't like it. I try and tell them, "Gosh, I get that you're making all this money and you have these great benefits, but you're wasting how many years of your life?" I couldn't do that. I just couldn't do it, so I feel bad for them, and that affects every aspect of their life, right? How they're showing up with their family, how they're being present on all levels.
48 | SLO LIFE MAGAZINE | APR/MAY 2019
SLO LIFE
I definitely don't take for granted the life that my great-grandparents gave me because they decided to come here; to go after the American Dream, and the promise of a better life. That's what they were looking for. I just think it's a reminder of what perseverance does and wanting a better life for your family, and not just thinking of yourself, but thinking of others.
Okay, let's wrap it up by getting some last thoughts on family. When I was born, I still had three of my great-grandmothers, and so I do have some memories with them. And, so, yeah, family and roots just run deep for me. And, I am so grateful for my family because I know that I didn't get here on my own. One of my co-workers used to joke with me, she was like, "Cara, it really takes a village with you, doesn't it?" And I'd say, "It does, and I don't apologize." You know, very few people are able to get where they are on their own. And, in those cases, I completely bow to them and respect them, because I'm not sure how they do it. But, in most cases, all you can do is push yourself to do the best that you can. Everyone has a story—and there are always people that help you get there.
APR/MAY 2019 | SLO LIFE MAGAZINE | 49 SAN LUIS OB I S P O COUNTY FRIDAY, M AY 17, 2019 Free Food. Great Giveaways. Ready to Ride? View the entire Bike to Work Day map on the following pages! BIKE TO WORK DAY IS A PROGRAM OF: Presented by: Change up your commute and bring more energy to your day! Gear up for Bike to Work Day on Friday, May 17th. Bike to work and stop at any Bike to Work Day station shown on the following pages for free food and exclusive giveaways! rideshare.org/btwd
50 | SLO LIFE MAGAZINE | APR/MAY 2019 LosOsosVa 101 1COUNTY,OBISPOLUISSAN CALIFORNIA STATIONEVENING=STATIONMORNING=andcommuteyourupswitchnotWhy yourwithconnecttochoicethemake onstationanytooverPedalcommunity? th17MayFriday,belowmaptheforfree fun!oftonsandgiveawaysgreatfood, RoblesPaso OsosLosAtascaderoBayMorro 1 2 3 4 5 6 7 11 12 17MAYFRIDAY,TH,2019
APR/MAY 2019 | SLO LIFE MAGAZINE | 51 AM*7-9STATIONS,MORNING noted)otherwise(*unless DrillingScientific1 RoblesPasoDr.,GatesRollie3003 CycleryK-Manw/HospitalStateAtascadero2 AM*)(6:30-9AtascaderoReal,CaminoEl10333 ChamberBayMorrow/BayMorroofCity3 BayMorroSt.,Harbor595 LibraryOsosLos4 OsosLosAve.,Palisades2075 PolyCal5 AM*)(7:30-9:30PolyCalUnion,University SLOofCity6 SLOSt.,Palm990 HealthBehavioral7 AM*)(7:30-9SLO#T,St.South277 WholesaleCostco8 SLOWay,RanchFroom1540 Sunrun9 SLOLn.,Fiero775 CycleryTrinityw/Associates&TaylorGaring,10 GrandeArroyoSt.,ElmS.141 PM4-6STATIONS,EVENING FestBikeGardensSunken11 AtascaderoMall.,W5942 StudioOverTen12 SLOSt.,Marsh539 ServicesSocialCountySouth13 GrandeArroyoAve.,GrandE.1086 ValleyRd. 101 227 1 Arroyo Grande Grover Beach BeachPismoLuisSan Obispo 8 9 1013 rideshare.org/btwd
Visit sloshift.org for a community calendar of bike events ALL YEAR! During the month of May, Rideshare provides sponsorship funds to financially support Bike Month events that promote bike culture in our region. Get your business, organization, or group involved! Learn more at sloshift.org .
TH
Work or School and Win ELECTRIC FOLDING BIKE SWEEPSTAKES Stop
BIKE TO Coffee , MAY11
DON'T FORGET, MAY IS...
Visit
your mobile
BIKE TO COFFEE, SATURDAY, MAY 11! rideshare.org/co image on device of
BIKE TO
COMMUTER CHALLENGE Log your smart commute trips at iRideshare.org to compete against other teams and workplaces for special awards. Trips by bike are worth double the points!
Bike to at any Bike to Work Day Station on the map (see previous pages) and enter your name for a chance to win an electric folding bike! One winner will be announced on Facebook Live (@Rideshare) the evening of Bike to Work Day.
SUPPORT BIKE TO WORK DAY! Make a
Bike to Work Day, the Back 'N' Forth Club and Safe Routes to School are programs of SLOCOG/SLO Regional Rideshare. For more information, visit rideshare.org or call 511.
ee and show the
SATURDA Y
Join schools across San Luis Obispo County in celebrating National Bike to School Day. Students, parents and teachers are all invited to participate. To learn more, please visit SLOSafeRoutes.org
RIDESHARE.ORG S U OB O COU R DAY MAY 1 019
at any of the shops listed for special discounts and freebies - just for riding your bike! Visit rideshare.org/co ee for the most up-to-date list
52 | SLO LIFE MAGAZINE | APR/MAY 2019 #LETSGETVISIBLE win Prizes!
BIKE TO SCHOOL DAY COMPETITION Schools with the most participation on Bike to School Day (May 8th) will win a new bike maintenance station for their school. Details at SLOSafeRoutes.org. SCHool Day
-WEDNESDAY, MAY 8, 2019$10 pledge and get a 2019 Bike to Work Day t-shirt! Visit rideshare.org/store
participating shops! Red Dirt Co ee House (AG) Dark Nectar Co ee (Atasc.) Red Bee Co ee (GB) Morro Bay Co ee Co. (MB) Spearhead Co ee (Paso) Blackhorse Co ee (SLO-all) Merry Hill Co ee (Templeton)
APR/MAY 2019 | SLO LIFE MAGAZINE | 53 Speak Your Best! with Deborah Lee 805-994-9977 | SPEAKYOURBEST.COM Keynotes . Signature Talks . Presentations TED Talks . Videos . Storytelling . Motivational Speaking Webinars/Teleseminars . Workshops & More recognition, and more! All welcome.levels
| DWELLING
HACIENDA
PHOTOGRAPHY
ANTIGUA BY DAVID LALUSH
hen Christopher and Bambi Banys first set foot in the Spanish Hacienda-style home nestled into 11 acres on the south end of San Luis Obispo, they knew it was the one. Love at first site is an age-old phenomenon occurring between two people described by poets and artists and authors, but in this case, it was a place—a place called Hacienda Antigua.
>>W
It has been said in different words and in different ways that those things we give our attention to, those things we nurture, they grow.
56 | SLO LIFE MAGAZINE | APR/MAY 2019
APR/MAY 2019 | SLO LIFE MAGAZINE | 57
58 | SLO LIFE MAGAZINE | APR/MAY 2019
A year's long quest ensued, with many trips to the southwest and Mexico in an effort to procure building materials and to coax still more inspiration from the architecture. No different than Thomas Jefferson's construction of Monticello, the owner-builder, Wes Armstrong, a now-retired San Luis Obispobased dentist, the process, for him, was one of transformation and transcendence. An opportunity for a legacy. >>
Prior to the arrival of the Banys family, there was a laser-like focus and attention to detail.
Every beam, every drawer pull, every single tile in the authentic Saltillo floor, received the strictest scrutiny. Imagine a military drill sergeant inspecting his troops. Not a hair out of place. That was the level of commitment the previous owners had to the project. After all, when you are the owner and the builder, you want it to be right. You want to manifest the vision. And that, they did.
ENJOY THE RIDE ARCHITECTURELANDSCAPEINTERIORSMEDIA
A good team knows how to work hard but also how to step away to enjoy and appreciate the people they work with.
Our in-house pit master Neil working his magic at our quarterly team BBQ.
Our TEN OVER family puts in long hours because we love what we do. But, we also know how to kick back and enjoy the TENOVERSTUDIO.COMride.
Life was generally good in the Bay Area, but something was missing. They weren't sure what it was until they spent a long weekend in San Luis Obispo with some family friends. "We wanted a place where>>
60 | SLO LIFE MAGAZINE | APR/MAY 2019
In November of 2016, the Banys family bought the property with a commitment to care for it in the same way the Armstrongs did. They were so taken with the style and design that they negotiated to have the furniture included, much of it custom-made, in the transaction, as well. The only significant change they have made, since the new owners are not "horse people," (they joke that, instead, they are "beer people") is the repurposing of the horse arena as an outdoor event center, the addition of a custom bar complete with taps for their homebrew, and a game room for their two kids, 9 and 12 years old.
While Armstrong and his wife fashioned the property, which is adjacent to The Equine Center, as much for their horses as for them, when Mrs. Armstrong was no longer able to ride as she once did, the couple knew it was time to hand it off to the next generation. Because of the love and attention put into the creation of Hacienda Antigua, it is not something that can be described as a commodity to sell. Unlike corn, or oil, or pork bellies, the property had developed a soul, a beating heart. At least that is the only language that can be used to describe it.
APR/MAY 2019 | SLO LIFE MAGAZINE | 61 2ND PRIZE $599 VALUE STANDKITCHENAIDOF®MIXER 3RD PRIZE $399 VALUE FOODKITCHENAIDOF®PROCESSOR 4TH - 12TH PRIZES $59 VALUE KITCHENAIDOF®HANDMIXER Preliminary Rounds Finals GRAND PRIZE KITCHENAID® STAINLESS 5STEELBURNER CONVECTION RANGE WITH BAKING DRAWER 12 PM SATURDAY MAY 11TH, 2019 ALL ENTRIES WELCOME MUST BE 18 YEARS OF AGE SATURDAY, APRIL 13TH 2019 JUDGING @ 12 PM @ PASO ROBLES IDLER'S HOME SATURDAY, APRIL 27TH 2019 JUDGING @ 12 PM @ SANTA MARIA IDLER'S HOME SATURDAY MAY 4TH 2019 JUDGING @ 12 PM @ SAN LUIS OBISPO IDLER'S HOME $2,849 VALUE OF Celebrating 35 Years! 2015 Monterey Street San Luis Obispo, CA KSGB900ESS WWW.IDLERSHOME.COM/APPLE-PIE-CONTEST EST. 1984 APPLE PIE CONTEST
Thecurriculum.paceof
our kids could play," said Bambi Banys, "we wanted room to breathe." The timing was right, and the pieces came together quickly, and before they had sold their current residence, they had begun moving into Hacienda Antigua. First, they spent Thanksgiving there, then Christmas, then New Year's. The family never looked back. Although the couple continues to spend two days per week working in the Bay Area where Christopher has a law office and where Bambi is a pediatric cardiac nurse at Stanford, the family has been busy planting roots into San Luis Obispo's fertile soil. And the kids play a central role in those efforts, to the point where Hacienda Antigua is planning to host a 600-person dinner for the families of the SLO Classical Academy where students and their parents will be treated to a medieval-themed feast to accompany their history
62 | SLO LIFE MAGAZINE | APR/MAY 2019
conversation quickens, however, when the subject turns to beer-making. Much like the Armstrong's obsession with details, no stone has >>
APR/MAY 2019 | SLO LIFE MAGAZINE | 63
64 | SLO LIFE MAGAZINE | APR/MAY 2019
Whether beer, or horses, or houses, it all comes back to one thing—love—it always does. And it is that love that
been unturned when it comes to homebrew. In fact, it was the quest for the perfect, locally grown hops that led to experimentation with growing their own. The first harvest was not bad, the second season was really good, and now the third planting will be available commercially. Through the process of trial and error, the Banys family unwittingly added "farmer" to their resume and Hacienda Antigua Farms was born. Of the bounty, the proud green thumb, Bambi Banys gushes, "They are fantastic. They grow fabulously here." The couple, who plans to sell their excess bounty to local microbrewers, has aspirations to open one of their own soon.
so often drives us to do the things we do. The caring and nurturing the Armstrongs put into Hacienda Antigua is clear, as is the caretaking by the Banys family. Of all people, it was the boxer, Muhammad Ali, who perhaps captures the sentiment best when he said, "So, we don't stay here, we're just trustees, we don't own nothin'." Trustees. For a property as impossibly magical as Hacienda Antigua, that's the best you can hope for—loving it and nurturing it for the next caretaker. SLO LIFE
DAVID LALUSH is an architectural photographer here in San Luis Obispo.
APR/MAY 2019 | SLO LIFE MAGAZINE
Average Selling Price Sales Price as a % of Asking Price Average # of Days on the Market 2018 $650,000$729,000189.16%88 2019 $694,3006$692,83399.79%28 +/500.00%-4.76%6.59%99.10%-68.18%
countryclub
foothillblvd
2018 $797,9388$798,561100.08%19 2019
$900,2506$875,98397.30%63 +/-25.00%12.82%9.70%-2.78%231.58%
Total Homes Sold Average Asking Price
Total Homes Sold Average Asking Price Average Selling Price Sales Price as a % of Asking Price Average # of Days on the Market
2018 $1,119,20714$1,117,39199.84%117 2019 $724,38010$718,52599.19%58 +/-50.43%-35.70%-35.28%-28.57%-0.65%
Total Homes Sold Average Asking Price Average Selling Price Sales Price as a % of Asking Price Average # of Days on the Market
Total Homes Sold Average Asking Price Average Selling Price Sales Price as a % of Asking Price Average # of Days on the Market 2018 $749,4836$751,667100.29%19 2019 $748,625$761,838898.27%43 +/126.32%-0.40%33.33%1.65%-2.02%
downtown
Total Homes Sold Average Asking Price Average Selling Price Sales Price as a % of Asking Price Average # of Days on the Market
® | SLO CITY SLO LIFE
johnsonave
Total Homes Sold Average Asking Price Average Selling Price Sales Price as a % of Asking Price Average # of Days on the Market
66 | SLO LIFE MAGAZINE | APR/MAY 2019
SOURCE: San Luis Obispo Association of REALTORS
*Comparing 01/01/18 - 03/24/18 to 01/01/19 - 03/24/19
lagunalake
cal areapoly
Total Homes Sold Average Asking Price Average Selling Price Sales Price as a % of Asking Price Average # of Days on the Market 2018 $1,065,9923$1,057,99299.25%17 2019 $1,210,0002$1,175,00097.11%67 +/294.12%-33.33%13.51%11.06%-2.14%
ESTATEREAL NUMBERSTHEBY
2018 $1,050,000$1,050,0002100.00%31 2019 $855,000$882,500296.88%31 +/-15.95%0.00%-18.57%-3.12%0.00%
2018 $709,82512$704,10099.19%29 2019 $921,000$832,7296110.60%29 +/-50.00%17.31%30.81%11.41%0.00%
farmtank
APR/MAY 2019 | SLO LIFE MAGAZINE | 67 We are proud to welcome Phyllis Wong & Luana Gerardis to our team! NMLS ID #2611 (Nationwide Mortgage Licensing System www.nmlsconsumeraccess.org) Donna Lewis CA-DOC245945, Dylan Morrow CA-DBO1461481, Margaret Koepsell CA-DBO704130 Donna Lewis NMLS # 245945, Dylan Morrow NMLS # 1461481, Maggie Koepsell NMLS # 704130, Luana Gerardis NMLS # 1324563, Phyllis Wong NMLS # 1400281 Applicant subject to credit and underwriting approval. Not all applicants will be approved for financing. Receipt of application does not represent an approval for financing or interest rate guarantee. Restrictions may apply, contact Guaranteed Rate for current rates and for more information. Most Guaranteed Rate Flex products are available for 30-year fixed rate loans only. 43% debt-to-income (DTI) required. Minimum FICO score requirements may apply. Not all applicants will be approved for financing. Receipt of application does not represent an approval for financing or interest rate guarantee. Restrictions may apply, contact Guaranteed Rate for current rates and more information. Dylan Marrow VP of Mortgage Lending O: (805) 335-8699 C: (805) dylan.morrow@rate.com550-9742 Donna Lewis Branch Manager/VP of Mortgage Lending O: (805) 335-8743 C: (805) donna.lewis@rate.com235-0463 1065 HigueraSuiteStreet,100 San Luis Obispo, CA 93401 Rate.com/offices/sloMaggieKoepsell VP of Mortgage Lending O: (805) 335-8742 C: (805) 674-6653 maggie.koepsell@rate.com Phyllis Wong VP of Mortgage Lending O: (805) 335-8743 C: (805) phyllis.wong@rate.com540-8457 Luana Gerardis VP of Mortgage Lending O: (805) 329-4087 C: (707) 227-9582 luana.gerardis@rate.com•30or40yrfixed, interest-only options • Minimum FICO score requirements vary • 90% LTV option for loans up to $3 million Jumbo loans just got bigger & better! Our GR Flex program offers a wide array of flexible jumbo options to meet your needs. Our suite of new GR Flex programs includes: New team members. Same great service. Same low rates. Our team just keeps getting better

68 | SLO LIFE MAGAZINE | APR/MAY 2019 | SLO COUNTY SLO LIFE Arroyo CountywideTempletonSantaSanPasoPasoPasoPasoPismoOceanoNipomoMorroLosGroverCrestonCayucosCambria/SanAvilaAtascaderoGrandeBeachSimeonBeachOsosBayBeach(InsideCityLimits)(North46-East101)(North46-West101)(South46-East101)LuisObispoMargarita BY THE NUMBERS 2018 5203020547432690233359117316201553522 2019 46549205461671192826596167010249614 REGION NUMBER OF HOMES SOLD 2018 104113396255n/a55428553555232698670531618656 2019 1478048486283693865601175453945540497811659 AVERAGE DAYS ON MARKET 2018 $1,012,000$1,160,931$574,368$781,627$704,015n/a$495,387$605,512$697,225$672,161$484,455$966,275$509,218$486,281$599,071$725,367$915,540$463,800$730,208$673,850 2019 $1,200,000$1,203,883$548,870$791,140$920,186$913,429$536,995$635,607$756,000$616,943$662,500$1,367,066$511,596$504,150$532,767$582,686$893,047$398,083$574,171$678,290 MEDIANPRICESELLING SOURCE: San Luis Obispo Association of REALTORS ®*Comparing 01/01/18 - 03/24/18 to 01/01/19 - 03/24/19 REAL ESTATE San Luis Obispo, CA 93401 Contact me today to learn more. Your Local Trusted Mortgage Advisor Mortgage Advisor NMLS Sanblerner@opesadvisors.com3957231212MarshSt.,Suite1LuisObispo,CA93401 Ben 805.441.9486Lerner © 2019 Opes Advisors, A Division of Flagstar Bank | Member FDIC | Equal Housing Lender * Top 1% Mortgage Originator | Mortgage Executive Magazine * Contact me today to learn how I can help you purchase or refinance your home.
APR/MAY 2019 | SLO LIFE MAGAZINE | 69 Jason Vork DRE 805-440-459301031282743SERRANO DRIVE . SAN LUIS OBISPO . $949,000 Beautiful describes this property, Hardwood and Tile flooring, Maple counter tops with numerous built-ins including kitchen and through out the home, updated bathrooms, numerous skylights, rear patio is low maintenance with mostly brick pavers, hot tub, pond with waterfall. Walking distance to down town, Property must be seen to appreciate. Contact listing agent for a personal tour.
For years, the protocol for the medical community when it came to assessing risk for myocardial infarction, was to ask patients to fill out a form called the Heart Disease Risk Assessment. After checking "Yes" or "No" to a series of questions, such as "Do you currently smoke?" and "Does your diet consist of high-fat foods?" a probability is calculated. Answer yes too many times, and your odds of heart attack go up. This methodology for assessing risk arose from the Framingham Heart Study of 1948. But, it's 2019. Since then we have done all sorts of cool stuff, like invent the Internet, and electric cars, and Starbucks, and Pokémon. Why can't we just look at our own Widowmaker to see if there are any problems? Turns out, we can. >>
arteries supplying vital fuel to our heart, particularly the big one ominously nicknamed the "Widowmaker"?
score?yourwhat's
H
The simplest, least "science-y" way to explain how a heart attack happens is the pipes supplying fuel to the pump get clogged. If it were to happen to a house the sink would back up, we'd call Roto-Rooter, they'd do their thing, the pipes would be cleared, and away we go. When the arteries that supply the oxygen-rich blood to our heart become blocked, the vital organ begins to suffocate, gasping for breath, flailing around frantically trying to keep going—that is a heart attack. So, why don't we monitor the level of blockage in the
70 | SLO LIFE MAGAZINE | APR/MAY 2019
| HEALTH
ere's a not-so-fun fact: The leading cause of death in the United States is heart disease, it claims more people per year than all of the cancers combined. For far too many, who otherwise appear healthy, strange symptoms that may include something that feels like indigestion, jaw pain, upper arm pain, and perhaps cold sweats, precedes a shocking outcome: myocardial infarction, otherwise known as a heart attack.
72 | SLO LIFE MAGAZINE | APR/MAY 2019
Do you remember that old T.V. commercial back in the day that showed a bunch of eggs being let out of prison? Well, it turns out the recidivism rate for eggs is quite high. They are being incarcerated in huge numbers once again. We all know that eggs are high in cholesterol, and many years ago there was a link made between high cholesterol and heart disease. Eggs are bad, lock away eggs and throw away the key. But, increasingly, this ideology is being challenged as doctors and researchers ask, "Why are people with low cholesterol also dying of heart disease?" Here's the deal: Eggs are high in cholesterol, yes. Nutritional studies, including one just released recently, consistently villainize the fatty substance known as cholesterol. But, opponents to the philosophy argue that we need the stuff, as it is a major component of all living cell membranes and it is critical for organ health and balanced hormonal function. Besides, the majority of our cholesterol did not come from the omelet you had for breakfast, but instead was made by your own liver. Those same opponents to the cholesterol dogma that has led to the American food pyramid among other things, also point to research showing that it is actually those carbohydrate-rich grains, which comprise the largest portion of the pyramid, that are the causing spikes in triglycerides and low-density lipoprotein (LDL), otherwise known as the "bad cholesterol."
Cholesterol Revisited
How it Works
A coronary CT calcium scan, which is used to calculate a calcium score, is safe, effective, and affordable—seriously, people, out-of-pocket, without getting any insurance companies involved, you're looking at something like $150. The way it works is pretty cool, but you have to understand a little bit of physiology first. This would not pass for hard science, but we're just two friends talking here. The bottom line is that when your body develops arterial plaque—forget about how that happens for now—a significant part of that plaque is made up of calcium. That calcium, which, calcifies, or hardens, becomes clearly visible on a CT scan unlike the soft tissue around it, particularly the heart which is, thankfully, always moving. The result is an image where arterial plaque shows up as little white dots on the monitor. The more white that appears, the higher the odds of heart disease.
The amount of white that pops up on the technician's computer screen is then measured and translated into an Agatston score, or calcium score. A score of zero means no plaque, and anything over 400 means there is some significant blockage. By the way, Agatston is the same guy who invented the "South Beach Diet" and is one of the doctors who make up a group called the "Calcium Club." It should be noted here that the Calcium Club is not universally loved within the cardiovascular medical community, as those club members have been outspoken in pointing out that the simple $150 scan is exponentially less expensive than the alternative: coronary stents, a surgical procedure which may run as high as $50,000 and even more depending on the length of hospital stay. The Calcium Club members argue that widespread adoption of the calcium scan would lead to a dramatic decrease in the need for coronary stents because other preventative measures could be implemented ahead of the need for surgical intervention and, considering that 1.8 million stents are implanted in Americans each year, it would drive down overall health care costs significantly.
Know the Score
APR/MAY 2019 | SLO LIFE MAGAZINE | 73 Love your legs again and wear shorts with confidence! 880 Oak Park Blvd., Suite Arroyo201Grande , CA 93420 805.473.VEIN (8346) Kenneth Spearman, M.D. Timothy Watson, M.D. VARICOSE & SPIDER VEIN TREATMENT Covered by most NoLocalNoinsurancehospitalizationanesthesiadowntime info@ccveins.comwww.ccveins.com TAKE A 1-MIN. SELF SCREENING TEST If you checked any of these symptoms, call today for a FREE consultation! Two locations in SLO: Downtown at 672 Higuera & Marigold Shopping Center Yoga Sculpt Barre Aerial Yoga Showers Infrared Heat Intro Special! 30 days unlimited classes for $39 w w w s l o y o g a c e n t e r c o m ecotoneslandscapes.com805.927.0374LIC#767033Specializing in Spring Scenes EST. 1999
REMINDER
While sitting in a waiting room is a given for anything related to modern medicine, the actual scan only takes about 10 to 15 minutes. All in, count on an hour. In most cases, the cost should be about $150 (without insurance, but could run as high as $400). We did a quick search for calcium scans on the Central Coast, and nothing turned up, so it is unclear as to whether or not any exist locally. They are found in abundance, however, in the Bay Area as well as Southern California. Plan for a fun side trip during the next trek to Disneyland! In all seriousness, the process is so easy. They'll ask you to strip down and put you in a hospital gown and maybe one on of those hairnet thing-a-ma-bobs, then you'll lay down on this big table which rolls you assembly-line like into a huge tube. The person in the room will tell you to take a deep breath and lie still—yeah, right; you'll want to freak the freak out!—as the giant tube snaps a whole bunch of selfies. Then, after a couple of super long minutes, the assembly line rolls you right back out. That's it! You're done, and you can head back to the Magic Kingdom.
We do not wear white coats to work here at SLO LIFE Magazine, and we aren't mathematicians and got a C- for the frog dissection assignment in high school, but we share this information with the best of intentions, in the same way we would during a conversation with a friend. So, take what we have to say with a grain of salt, except don't do that because it might be bad for you!
What to Expect
Careful with the Pills
SLO LIFE
Those same guys, the Calcium Club, urge caution with calcium supplements. And, since supplementation has become an American obsession—if you have any doubt about that claim, take a walk around Costco to see how many feet of valuable aisle space is dedicated to them—it may be, in some cases, a really bad idea. For older women concerned about thwarting osteoporosis, in particular, it may be a better idea to make a big salad than to swallow those big white, chalky pills. One serving of collard greens, for example, provides more calcium than a glass of milk, plus it has all of those miraculous, natural enzymes that help that calcium actually find its way into the bone. The alternative, a whole lot of supplemental calcium floating around the bloodstream, the club members theorize, serves only to accelerate the synthesis of arterial plaque. This is something worth looking into, because although heart disease is often thought of as a "man's disease," it is actually the leading cause of death among women—five times more deadly than breast cancer.
1551 Bishop Street Suite D-420 San Luis Obispo slodentalpractice.com805.547.7010 facebook.com/slodental New Patient Special $99 Exam, X-Rays & Standard Cleaning DISBEL MANSILLA, DDS ALEJANDRO ECHEVERRY, DDS We have THE EXPERTISE. We have THE TOOLS. And YOUR WARRANTY stays intact. Mention this ad to RECEIVE $10 OFF your next service. MAINTAINING EXCELLENCE FOR 40 YEARS San Luis Obispo 805.242.8336 Santa Maria 805.316.0154 RIZZOLISAUTOMOTIVE.COM We Service ALL Makes and Models.
It's also a pledge of neighborhood loyalty. Most of these delis started as corner grocers, before the dawn of supermarkets. Today, not much has changed; High Street Deli serves southern SLO, while Gus's Grocery serves the northeastern edge. Live in the Anholm? You're likely a Lincoln Market & Deli fan. (Interestingly, none of these businesses reside in the downtown core. See fierce independence, above.)
o grasp what makes San Luis Obispo truly great, look no further than its sandwich culture. Nothing speaks more to this town's core values than how it smooshes protein and produce between two slices of bread.
Want to really live the SLO Life? Grab a sandwich and head for the patio.
SANDWICHESSeriouslySLOFood
For starters, each of the three sandwich shops I visited for this column (as well as other stalwarts like Ben Franklin's Sandwiches and The Broad Street Giant Grinder) prides itself on fierce independence. They're all owner-operated, meaning the sale of every sandwich supports real people who live here and fight the good fight of small business ownership.
Delis also act as community hubs. Witness their full patios, lines out the door, and the multiple hours customers spend
>>
BY JAIME LEWIS
JAIME LEWIS writes about food, drink, and the good life from her home in San Luis Obispo. Find her on Instagram/Twitter @jaimeclewis.
T
Ready to taste the real San Luis Obispo? Bring your appetite.
76 | SLO LIFE MAGAZINE | APR/MAY 2019 | TASTE
hanging out. Ordering a sandwich in SLO is never just ordering a sandwich; it is a vote for connection, a gambit on the good life.
TALLE Y FARMS THERE IS TO EAT alwaysfresh!time FRESH FROM OUR FARM Variety of Seasonal Local Fresh Fruits and Vegetables in Every Talley Box 2 BOX SIZES Flexible Schedule • Convenient Pick Up Home Delivery TalleyFarmsFreshHarvest.comAvailable Become a Member at CHANGING LIVES ONE BOX AT A TIME
1019 Morro Street . San Luis Obispo
APR/MAY 2019 | SLO LIFE MAGAZINE | 77 Gear up for spring and enjoy a little sunshine at Summerland Co.
LINCOLN MARKET & DELI
Those components include long family-style tables and a comfortable patio, quaffable beverages, an alternative grocery, gifts and sandwiches, of course.
"Weroll. started this as a special. At the time, Dutch crunch bread was new," she says, referring to the popular sandwich bread brushed with rice flour for a crackled top. "It was hard because it was more expensive, but we committed to it. Then we got requests to bring it back, and now it's a regular menu
Hicks brings me one of LMD's signatures: the Anholm Sweet Home. Roast beef, bacon, red onions, arugula, goat cheese and fig marmalade burst from inside a Dutch crunch
78 | SLO LIFE MAGAZINE | APR/MAY 2019
"Firsttasty. and foremost it's all about the feeling that people have when they're here," says Becky Hicks, who has owned the business with her husband, Mike, since 2013. "All the components add up to that experience."
Myitem."first bite hits on multiple levels: creamy cheese, chewy bread, tender beef, piquant arugula. It's a serious start to my sandwich crawl—one worth lingering over. >>
At this hopping neighborhood staple, a mural of Abraham Lincoln holding a sandwich and beer admonishes guests to "Be excellent to each other and party on, dudes!" This encapsulates the Lincoln Market & Deli (lincolnmarketanddeli.com) experience: inclusive, fun, and
OPEN 7 DAYS A WEEK FOR BREAKFAST, LUNCH + DINNER 848 Monterey Street, downtown SLO | mintandcraft.com |
Whether you are looking for a quick bite or a leisurely dining experience on our sunny downtown patio, Mint + Craft is a convenient choice for fresh, highquality foods and goods. The Mint Mercantile is SLO's best kept secret for foodie-inspired finds, hand selected wines, and gift boxes for many occasions.
Mint + Craft is a fast casual café and mercantile that features innovative, handcrafted, market-fresh foods and locally and regionally made artisanal wares.
APR/MAY 2019 | SLO LIFE MAGAZINE | 79 3076 Duncane Lane . San Luis Obispo 805 549 0100 Fresh Food + Fresh Finds
When his order comes up, I take a gander at his sandwich. In true Gus's fashion, it teems with shredded lettuce, sprouts and veggies. To reach nirvana, I tell him, all it needs are a bag of chips, a beer, and a sunny afternoon. >>
GUS'S GROCERY
The most popular sandwich at this quaint, checker-floored market (aptly named "The #1") comprises fried chicken strips, jack cheese and barbecue sauce, served hot on a French roll and finished with ranch dressing and the works. Sound good? It is, and it was all owner Shannon Koester's idea.
"I make sandwiches the way I want to eat them," she says, confessing she eats sandwiches about five days per week.
80 | SLO LIFE MAGAZINE | APR/MAY 2019
A man walks into the deli and orders a turkey sandwich on Hush Harbor baguette. Shannon tells me he's a regular, so I ask him what brings him back to Gus's Grocery (gussgrocery.com) day after day.
"The patio," he says immediately. "It's the best patio in town."
APR/MAY 2019 | SLO LIFE MAGAZINE | 81 Saving energy never goes out of style AUDIO • VIDEO • LIGHTING • CLIMATE CONTROL • SURVEILLANCE • SHADES (805) 245www.abovegradeautomation.com540-5116HigueraStreet,SanLuisObispo Check with your gas and electric provider for available rebates!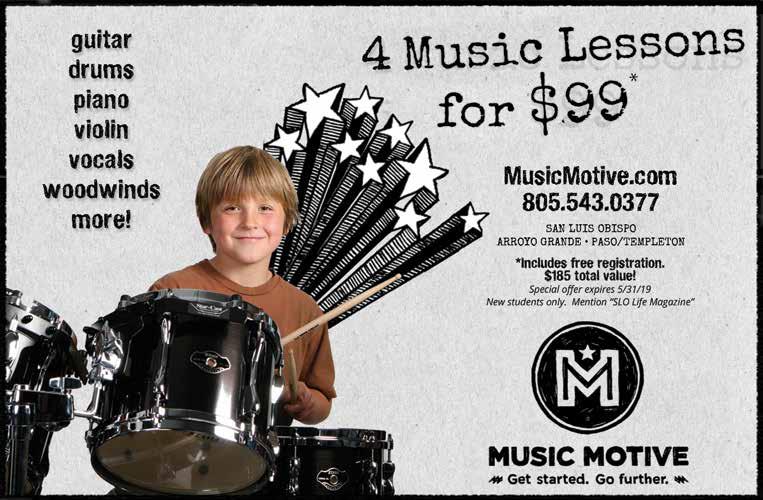 Fierce independence never tasted so good.
82 | SLO LIFE MAGAZINE | APR/MAY 2019
Everything at High Street Deli (highstdeli.com)— from the breakfast burrito (aka "Breaky Blunt") to the tee-shirts (one of which reads "EAT HIGH") and even the owner's name (Randy "Doobie" Coates)—stays confidently on-brand. When I walk in, Black Sabbath pipes over the airwaves and an army of smiling employees bustles behind the counter.
Coates builds me the daily special, the "Cali Gold," which is melted brie, smoked turkey, honey mustard, bacon, avocado and the works on squaw bread. Gooey and savory, the contents meld into the soft, sweet bread, then onto my hands and down my arm.
HIGH STREET DELI
SLO LIFE
"I love feeding people," says Coates, who has owned the shop for 20 years. "For me, everything revolves around food." He tells me excitedly about his newest venture: a casual California bistro in Baywood, overlooking the estuary. "People told me I was crazy to open a deli here [on High Street]," he says, laughing. "Now they think I'm crazy to open a restaurant in Baywood."
Ever wonder how "Monterey Jack" cheese got its name? Originally a product of the California missions, it was called queso blanco pais. When Mexico sold California to the U.S. in 1948, an "Jack's(ratherastoMontereythousandsDavidbusinessmanopportunisticnamedJackpurchasedofacresinanddecidedmarketthecheesehisown,callingitcunningly)Cheese."
OOEY GOOEY HISTORY
APR/MAY 2019 | SLO LIFE MAGAZINE | 83 SCIENCE AND CHRISTIANITY Explore spiritual law and hear examples that illustrate that law in action. International speaker, Mary Alice Rose, is a practitioner and teacher of Christian Science healing and a member of the Christian Science Board of Lectureship. "The Science of Christianity" Saturday, May 11th at 2:00 p.m. First Church of Christ, Scientist 1326 Garden Street San Luis Obispo CA 93401 ph 805·466·6737 fx 805·466·6739 semmesco.com 7900 El Camino Real, Atascadero, California 93422 Semmes Homes: Built with purpose. At Semmes & Co. Builders, we are guided by environment. CA LICENSE #962529 FEATURED PROPERTY: Modern Farm House, Arroyo Grande visit us on HOUZZ As pioneering green builders on California's Central Coast, we believe in building responsible, healthy and inspiring living spaces – just as we've done since 1978. 2976 INDUSTRIAL PARKWAY . SANTA MARIA 805-570-0019 . HANSDUUSBLACKSMITH.COMHANSDUUS@GMAIL.COMDUUSHANSBLACKSMITHINC Creators of bench built lighting fixtures by local artisans. The jewelry for your home.
A perfect dish for a busy schedule without sacrificing health or taste—cabbage, cilantro, carrots, and oranges give this salmon dish a lovely pop of color—and flavor!
BY CHEF JESSIE RIVAS
84 | SLO LIFE MAGAZINE | APR/MAY 2019 | KITCHEN
WEEKDAY SALMON
SLO LIFE
3 oz sake or 2 oz vodka
In a small saucepan add miso, sake, honey, brown sugar and soy sauce. Simmer on low just until sugar is dissolved. Add 2 tablespoons of butter as you take it off the heat and let rest.
JESSIE'S TIP:
4 cups cabbage
1 ½ Tbs brown sugar
WEEKDAY SALMON
2 Tbs kosherbuttersaltand fresh cracked pepper
With a pastry brush, coat salmon with the sauce. Let rest at room temperature while preparing salad.
¼ bunch thai basil julienned
2 carrots julienned
½ cup light miso
JESSIE RIVAS is the owner and chef of The Pairing Knife food truck which serves the Central Coast.
3 Tbs organic honey
2 Tbs vegetable oil
In a medium sized mixing bowl add cabbage, carrots and orange segments with juice. Mix in cilantro, thai basil and green onion. Dress with rice vinegar, olive oil, salt and pepper
Serve salmon on top of coleslaw salad or with your favorite rice.
2 Tbs dark soy sauce
Black cod and/or scallops can be substituted for the salmon. And, you can always add more or other citrus to the salad such as grapefruit.
!
Preheat broiler to high. Once oven is hot, place fillets in oven with the flesh side up. Cook for 3 minutes. Take salmon out and cover with rest of sauce. Cook for 3-4 more minutes until done.
4 5 oz pieces of salmon or ½ wild salmon, skin on ¼ cup oil
4 green onions cut on bias
Season fillets with kosher salt and fresh cracked pepper ( yes it does make a difference ). Put fillets on a small cookie sheet.
APR/MAY 2019 | SLO LIFE MAGAZINE | 85
½ bunch cilantro roughly chopped
1 orange ( segments and juice only )
¼ cup rice vinegar
| WINE NOTES
>> ANDRIA MCGHEE received her advanced degree in wines and spirits from WSET in London and enjoys travel, food, wine, and exercise as a means to enjoy those around her.
Though you may know them for their vegetable box, Talley vines produce quality grapes. Sometimes this vintage is produced off-dry which, as opposite as it sounds, means a touch sweet. This year struts a dry wine that smells floral and tastes lemony with a slight pineapple flavor. I tasted a slight olive oil flavor a bit after the wine had left my mouth. Could this be in invitation to drink with some white fish cooked in lemon and caper sauce? I think so.
Don't let these long, slim bottles fool you! Once known for sugar laden wines, these dry Rieslings are loved as a refreshing drink, swimming with flavor, and light on sweetness.
GIVE RIES A CHANCE
In 1982, Oliver Talley began a Vineyard at the very end of Orcutt Valley Road where he found great sloped hills which is a fantastic situation for growing great wines. Riesling was near to his heart. He planted it on a plot of land that was special enough to give his own name: Oliver's Vineyard. To this day the tasting room shows views of vines with a classic warm and friendly Californian environment.
Originating from Rheingau, Germany, Riesling is used widely all over the world to produce dry, not sweet, crisp, clean and refreshing wines. I once had a teacher that said that Germany makes the most beautiful Rieslings but you will have to go there to experience them because they drink all the good ones and ship all the rest, the sweet ones, to other countries. Save that international ticket people! You get to experience something special right in your backyard. Our own Edna Valley is reinventing this old grape's reputation. Take a look at these dry and sometimes slightly sweet goodies just a stone's throw from your front door.
Talley Vineyard // 2017 Bishop's Peak Riesling // $24
86 | SLO LIFE MAGAZINE | APR/MAY 2019
BY ANDRIA MCGHEE
APR/MAY 2019 | SLO LIFE MAGAZINE | 87 onlivetoarteclectic,smart, 1599 Monterey Street | 805.544.5900 | sloconsignment.com (at the corner of Grove Street, across from Pepe Delgados) Open Monday - Saturday 10-6pm EDNA VALLEY PIONEERS • SINCE 1973 10 MIN FROM DWNTN SLO • CHAMISALVINEYARDS.COM Join us for a tasting of our world class Chardonnay & Pinot Noir Join us at the #MaleneScene - our 1969 Airstream mobile tasting room and picnic grounds, just 10 minutes from Downtown SLO. Dedicated to Rosé Inspired by Provence • Made in California 805.235.3338 • malenewines.com
Claiborne and Churchill 2017 Dry Riesling Edna Valley// $22
Imagine two artists who see the same landscape, use the same paints and paint brushes yet the two canvases end up so different. These wines are two different products. This one has lovely floral nose when you swirl it in your glass. I adore how the minerality and acidity, the elements make your mouth water, balance the citrus and stone fruit flavors. Parker-Garcia, a San Luis Obispo native, strives to reflect the positive aspects of grapes of a vintage in the wines he produces. Have it with a nice meal to really let it fly! I'm going to try it with crab cakes or chicken l'orange.
Wolff Vineyard 2015 Dry Alsatian Style Riesling // $22
88 | SLO LIFE MAGAZINE | APR/MAY 2019
Likeaway.the
Despite a challenging year of unpredictable weather in 2017, this year's Riesling is shining. The grapes for this wine are grown on the same plot of land as Talley's (Oliver's Vineyard- remember those awesome hills?). The interesting thing is that the two wines are different. This is the influence of winemaker Coby Parker-Garcia in the winemaking process.
owners of Claiborne and Churchill, this wine is inspired by the wines from Alsace, France and why they labeled this wine Alsatian. The region is well known for their Riesling grapes, located just south of Rheingau, Germany. Their Riesling has the typical floral nose and crisp acidity but leaves me with a warming feeling. No, it's not the alcohol that I mean. It's the tropical notes that make me think of warming cold bones on a beach in Hawaii. The citrus takes me back to the orange blossoms of my Southern California youth that bloomed in the spring. They were so intoxicating. It has a touch of sweetness which is well balanced. This is a fun wine.
This winery is a charmer. No wonder they thrive mostly on club memberships and visitors, which is truly impressive. From the view on that little hill which the wine tasting room sits upon, you can see the sprawling vines from Wolff and neighboring vineyards as well as those beautiful sister mountains. Even seeing storm clouds rolling through when I visited just took my breath
The Central Coast is making great European wines so easily accessible. My hope is that you give Riesling a try. You'll get a light, crisp wine with some fun, uplifting flavors. Other lovely varietals from same regions as Riesling are Gewürztraminer (pronounced Gev-ertstrah-meener), or Grüner Veltliner, traditionally from Austria that have similar crisp flavors. My prediction is that Grüner Veltliner will be an up and coming favorite. Grab a bottle of any of these from the tasting rooms directly or from your local shops and grocery stores. I spotted a couple at Central Coast Wines on Higuera, Bev Mo and even Slo Provisions! Here's to trying new or already beloved wines. Cheers! SLO LIFE
APR/MAY 2019 | SLO LIFE MAGAZINE | 89 Call: (805) 548-0800 Text: (805) corey@stollmeyerlighting.com440-9945 Lighting Design New Construction . Remodeling LED Recessed Lighting . Smart Control Interior . Exterior . Landscape www.stollmeyerlighting.com2304SHOWROOMBroadStreetSanLuisObispo.parkinginback. Book AppointmentConsultationLightingYour Your Central Coast Lighting Experts
W
In the beer world, an adjunct is anything added to the brewing process in a supplementary role. The list is wide and ranges from the aforementioned grains, any variety of fruits, vegetables, spices, sugars, syrups, honey, and animals (oyster stout or lobster saison anyone?). It's been the Wild West for craft brewers over the past few years with fads or niches to be chased. Some breweries are looking to highlight a locally sourced ingredient for the ultimate farm-to-table drinking experience or push the boundaries with a radically different flavor or texture. The most widely used type of adjuncts would be the use of non-standard grains ranging from rice to kernza.
Why would a brewery use rice or corn in their beers? Well, there are two main reasons and they boil down to just plain good business. Government subsidies have lowered the cost of American grown corn and rice to the point where if you want to sell a mass-produced beer at a competitive price you could cut out the timeconsuming process of malting your barley by using trucks full of rice or syrup made of corn (not to be confused with high fructose corn syrup). It also has the added
hat makes a beer, beer?
four hundred years later. These days you would be hard pressed to find a beer that had just these four basic ingredients, and with the highly publicized war between a macro-brewer that uses rice calling out a macro-brewer that uses corn, adding non-standard ingredients to beer has become a hot topic and a national trend. Let's delve deep into the fascinating world of: Adjuncts.
101BEER
>> | BREW
According to the Germany Beer Purity Law of 1516 beer can only contain water, barley and hops. They failed to mention the most important ingredient, since they didn't know about yeast yet, but to be fair, they were wrong about the definition of purity even BY BRANT MYERS
90 | SLO LIFE MAGAZINE | APR/MAY 2019
APR/MAY 2019 | SLO LIFE MAGAZINE | 91 WIRELESS INTERNET FOR THE CENTRAL COAST NO CONTRACTS . NO DATA LIMITS INSTALLATION ONLY $99 805.556.4065 | peakwifi.com Serving the Central Coast since 1964 805-549-8000 hamonohd.com Lic#390619
I've already ranted about pouring beer into the proper glassware but let me tell you about the clear beer bottle and how it ticks all the boxes for how a beer can go bad. Steel caps stamped over a glass bottle might stop the beer coming out but it doesn't prevent air from coming in, that clear glass can't prevent light coming in any more than a picture window, and being brewed and stored in a country notorious for hot temps warms your beer up just so. All three factors can oxidize and accelerate off-favor production even before you pop the top. In a truly genius marketing campaign the manufacturer decided that instead of addressing the issues, they would wedge a lime in the top and instantly you can't smell the beer but only a sweet citrus aroma and a taste of the tropics. In regards to the notorioius orange slice, it was marketing too.
The divide between brewers and drinkers is a fine line that the marketing department can tip toe around or tread heavily upon, but much like any art form, it's best to leave the art to the artist. In other words it's okay to have fruit in your beer, just not on your beer, any more than it's okay to use paint on a canvas but not okay to draw mustaches on the Mona Lisa. And, for the love of beer, if it doesn't taste good to begin with...don't drink it!
Fruit adjuncts have been wildly popular over the past few years adding a more impactful flavor to craft beers by either flavoring it with fruit such as an apricot pale ale or emphasizing the subtle hop aromas of an IPA with the complementary addition of mango or pineapple extract. This has a two-fold approach of allowing beers to become more accessible to entry-level drinkers who would normally be turned off by hop bitterness, and it allows brewers to expand their creativity through a more robust line-up due to the near limitless flavor combinations. All acceptable reasons, especially bolstered by the historical use of fruit by the Belgians in their famous styles such as the cherry-laden Kriek or raspberry Framboise ales. So, back to that orange slice in your hef or the lime in your Mexican (German) lager. Picture a white sand beach with turquoise waters and a clear, long neck bottle of beer in your hand. What's in the top of that bottle but a lime. Pure tropical bliss. However, it has a much more sinister past than a garnish to liven up your vacation.
SLO LIFE
Back at the beginning of the latest craft beer boom, a macro-brewer got sneaky and decided to craft an "American" hefeweizen which lacked much of the subtle flavors of it's German counterpart. Add to that a bit of marketing genius and the advent of an orange slice on your glass to get attention in a crowded market would soon change the craft beer scene for decades to come. Oranges and their peels contain loads of oil, the villain to beer's aromatic foamy head
BRANT MYERS is a 13-year veteran of the Central Coast craft beer industry who enjoys sharing his passion with anyone who doesn't put an orange in their hefeweiezen.
92 | SLO LIFE MAGAZINE | APR/MAY 2019
superhero. If you have a mass-produced beer that doesn't smell as magical as the original, then just kill the part that smells and replace it with a garnish. Heathens.
bonus of producing a drier finish and a lighter color. Everything you want in your cheap domestic lager. On the other end of the spectrum is the hottest craze of 2018-2019, the New England Style IPA. Often referred to as haze or juice, this ale utilized flaked wheat to provide a smoother mouthfeel and soft, pillowy texture to your normally transparent IPA. A process familiar to the German beer style of hefewiezen. Speaking of which, let's have a frank and earnest discussion about that slice of orange on the top of your glass.
APR/MAY 2019 | SLO LIFE MAGAZINE | 93 No matter what your fortunes are, Dr. Daniel will give you the smile you need to make your dreams come true! Specializing in Smiles Dr. Daniel Orthodontics 1356 Marsh Street . San Luis Obispo (805) 543-3105 . drdanielortho.com
APRIL
EROICA CALIFORNIA
April 12 - 13 // tickets@calpoly.edu
Join in on the fun to raise funds for Woods Humane Society—choose from over 80 local wineries, breweries, and olive oil producers. Visit any of the participating Wine 4 Paws tasting rooms and enjoy the bounty of the Central Coast while supporting a great cause.
After Friday's Poly Royal Rodeo festivities, enjoy a concert by Chancey Williams and the Younger Brothers Band, and on after Saturday's events, take in the concert by country music star Casey Donahew. Grab your boots and head on over for an evening of family fun!
April 5 - 7 // ceroicacalifornia.com
April 13 // charlespaddockzoo.org
A Party for the Planet offers Earth Day activities that are full of fun and purpose and enjoyable for all at the cost of regular zoo admission.
This world-renowned vintage cycling event has four routes of various lengths that showcase the best cycling in the area. As the only Eroica event in the USA, Eroica California is the perfect opportunity to experience the history of cycling first-hand in a stunning location. This region will soon enter every cyclist's bucket list when Eroica California showcases Cambria in 2019 for the very first time.
The Poly Royal Rodeo is back and for the third straight year will be held in Alex G. Spanos Stadium. As always, it'll be fun for the whole family! Come out and enjoy a tribute to western heritage and watch college rodeo's finest athletes rope and ride their way into the history books of one of the greatest college rodeos in the world. A concert follows both performances this year and is included with a ticket to the rodeo on that night.
Celebrate a fun day for children of all ages, with interactive adventures, hands-on activities, exhibits by sustainability-conscious businesses, as well as demonstrations and workshops on native plant gardening, food waste composting, water conservation, beekeeping, and more.
April 6-7 // wine4paws.com
79TH ANNUAL POLY ROYAL RODEO
A PARTY FOR THE PLANET
WINE 4 PAWS
94 | SLO LIFE MAGAZINE | APR/MAY 2019 | HAPPENINGS
SAN LUIS OBISPO ALEX MADONNA EXPO CENTER
APR/MAY 2019 | SLO LIFE MAGAZINE | 95 E XP O Home & Garden
May 4th & 5th, 2019 SATURDAY & SUNDAY 10am - 4pm Seminars and Workshops all GardenOverFreeweekendAdmissionFreeParking100Home&Professionals $5inspiredexpos.comWineTasting-benefiting
DIRTY CELLO
RODEO AND THE CRUCIBLE
SLO COLOR BLAST FUN RUN
April 14 // slocolorblast.com
YOGAMUSIC FEST
April 27 - 28 // slomarathon.com
1 2 3 4 5 6 7 8 9 10 11 12 13 14 15 16 17 18 19 20 21 22 23 24 25 26 27 28 29
The SLO Color Blast Fun Run is a non-competitive 5k run/walk where runners are covered in a multicolored array of special dust. The Fun Run was conceived to help fund scholarships in honor of SLOHS soccer player Alex Maier (#23) who was killed in a tragic car accident and to promote a day of fun, friends and family.
96 | SLO LIFE MAGAZINE | APR/MAY 2019
April 20 // sloma.org
April 26 // slomarathon.com
April 21 -22 // pacslo.org
Come experience #EnduranceTownUSA in the Spring with our our annual road running festival weekend. Full Marathon, Half Marathon, 5k and 2 kids races plus a FREE festival of music, art, food to celebrate! Proceeds benefit Jacks Helping Hand and various other local non-profits. 5,000 athletes of all levels from around the world walking and running on closed roads in the most beautiful undiscovered Central California Coast.
Join Civic Ballet for Drew Silvaggio's contemporary retelling of Agnes De Mille's celebrated ballet, Rodeo. Silvaggio's Rodeo is a love story set against the backdrop of the trying times of the great American Dust Bowl. Rodeo focuses on "Cow Girl" and the "Head Wrangler" of Burnt Ranch. The former, explores the world of identity and roles she must fill to rope in what she ultimately wants. Rodeo: Featuring music from; Aaron Copeland, Garth Brooks, Dolly Parton, Skeeter Davis and other good ole' country favorites. Rodeo is suitable for all ages.
From China to Italy, and all over the U.S., Dirty Cello brings the world a high energy and unique spin on blues and bluegrass. Led by vivacious cross-over cellist, Rebecca Roudman, Dirty Cello is cello like you've never heard before. From down-home blues with a wailing cello to virtuosic stompin' bluegrass, Dirty Cello is a band that gets your heart thumping and your toes tapping.
Featuring local DJs, Yoga workouts: include Sweaty Strength Yoga, Dance Party Yoga, & Vinyasa Flow. Vegan, Gluten Free and Hot Yummy Food, Beer, non-alcoholic drinks and Whalebird Kombucha for sale.
SLO MARATHON, HALF MARATHON + 5K AND KIDS RACE FESTIVAL
APR/MAY 2019 | SLO LIFE MAGAZINE | 97
98 | SLO LIFE MAGAZINE | APR/MAY 2019
MIRACLE MILES FOR KIDS
MAY 3 MAY 19 THROUGH Call (805) 786-2440 slorep.org SENIOR DISCOUNT Mon & Tues 10 to 2 . $15 1351 Monterey Street . San Luis Obispo (805)783-2887 . clippersbarber.com Dr. Arnie Horwitz HEALTHY RELATIONSHIPS Are you feeling overwhelmed and confused? I can help. Specializing in - Relationship Conflicts - Parenting & Self-Esteem - Separation and Divorce - Personal Life Planning - Grief and Loss - Career Uncertainty Therapy/Counseling/Coaching Dr. Arnie Horwitz • 30 yrs. 805-541-2752Experiencewww.doctorarnie.com SUBSCRIBE slolifemagazine.comTODAY! live the SLO LIFE!
Come celebrate the best that Classic California has to offer. Enjoy three days of unforgettable events that embrace the love of California's traditional surfing lifestyle and culture along with exceptional wine and food. Experience Central Coast wines, artisan brews, local California farm-fresh and seaport-inspired cuisine, as well as great music, art, and the amiable coastal community. Wine, Waves & Beyond events take place at several scenic venues throughout Pismo Beach and at the Fremont Theater in San Luis Obispo.
May 11 // give.fcni.org
May 3 - 5 // winewavesandbeyond.com
MAY
WINE WAVES & BEYOND
This beautiful 10K (6.2 miles) race course runs along the water's edge from Morro Rock to the Cayucos Pier. At any given time, there are over 900 children in foster care in San Luis Obispo and Santa Barbara counties who need support and services. Family Care Network partners with the community in Miracle Miles for Kids 10K to help meet these needs. Miracle Miles for Kids was created to raise funds that allow us to fully support the crucial needs of children, youth and families impacted by trauma. Last year, over 2,500 people participated—all working to make a difference.
SHABANG REBORN
Bringing love for live music to the central coast, Shabang is an annual music festival that was born in San Luis Obispo's backyard. What started as a few friends and a guitar has become a celebration of life, music, and breathtaking scenery, all driven by a mission of bringing music to the forefront of San Luis Obispo's community.
May 16 - 19 // pasowine.com
The 37th Annual Wine Festival includes a selection of Winemaker Dinners at area restaurants on Thursday, and select wineries will feature their Library, Reserve, White/ Rosé, and Futures complemented by fresh and local gourmet bites on Friday. Start your morning on Saturday with a fun and educational Winemaker Seminar where more than 70 wineries come together in the Paso Robles Downtown City Park to showcase their wines during the Grand Tasting.
PASO WINE FESTIVAL
May 4 // shabangslo.com
1 2 3 4 5 6 7 8 9 10 11 12 13 14 15 16 17 18 19 20 21 22 23 24 25 26 27 28 29 30 31 | HAPPENINGS