Southern Jewish Life
August/Sept. 2023
Volume 33 Issue 7
Jewish Life
Southern
P.O. Box 130052 Birmingham, AL 35213
2 August/Sept. 2023 • Southern Jewish Life
Long-time readers have heard that when this publication began over three decades ago, the idea was that it should not devolve into page after page of "they hate us, and there are fewer of us for them to hate."

And yes, we endeavor to be a celebration of the vibrant Jewish life found in our Southern communities.
But in the last few years, it has been a challenge. We all know that antisemitism has risen nationally, and our region is not immune. The type of story that was an occasional oddity has now become all too frequent.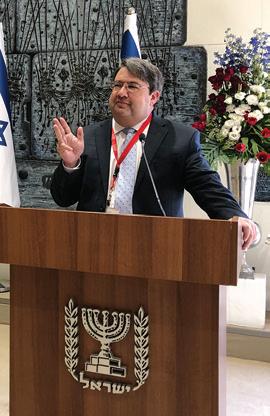 We'd reported on the occasional swastika or antisemitic slur. But bricks thrown through synagogue windows? And a shooting outside a Jewish school?
And that's just in this month's issue.
Now, the Memphis shooting was not an antisemitic act, as it was perpetrated by a member of the Jewish community who had serious issues. That also shows how we must not have a knee-jerk reaction when there is an incident, but wait until facts are known.
When you see a headline about a shooting at a Jewish school, it is only natural to figure there has to be antisemitism at work. We saw immediate reactions flood the Internet, with advocacy groups making assumptions. We can't do that — credibility is incredibly important when it comes to fighting antisemitism.
While our antennae are finely tuned to the possibility, not everything is antisemitic. I remember warning the mainstream media about that when there was the rash of bomb threats against JCCs in 2017. As it turned out, it wasn't "Trump's America" or anti-Zionists-not-antisemites — it was a disturbed teen in Israel, of all places.
Likewise, the lit propane tank at Temple Beth-El in Birmingham last year was assumed to be an antisemitic attack, but police interviews with the suspect
Brunch Saturday - Sunday, 11- 3pm
Tuesday: Taco Tuesday and $5 Margaritas
Wednesday: 50% off botttle wine and $6 Wings
Thursday: Ladies night: $3 off for Sushi, $4 House wine and $5 Mojito
Sunday: Sushi Special $11
August/Sept. 2023 • Southern Jewish Life 3 shalom y'all To subscribe, email subscribe@sjlmag.com SJL Online: sjlmag.com Southern Jewish Life is an independent Jewish periodical. Articles and columns do not necessarily reflect the views of any Jewish institutions, agencies or congregations in our region.
Asian-Inspired Cuisine. Locally loved. 2808 7th Avenue South #117 • Birmingham Umamibham.com (205) 201-4337 Umami Birmingham
every day
Happy Hour 3pm - 6pm
Maccabi USA leader praises Birmingham Games