theColoursincity 2
COLORS IN THE CITY 3
These beautiful solid colors, which transform Berlin every summer into a dream city, inspired us to create this issue.
COLOR BLOCKING - the deliberate juxtaposition of bold hues - has long been a part of fashion (see our article about it by Marie Jaster) and also runs through our fashion collection with new patterns from sisterMAG Patterns. In this new issue, we have created 10 new sewing patterns and 5 different crochet projects. Crochet has exploded in popularity on TikTok and Instagram across generations, and we at the sisterMAG team are no exception. On the cover, you can see that crochet plays an especially important role for this issue. Whether it's an oversized "Granny Square" as a top (see page 62) or a shell stitch from a vintage Schachenmayr crochet book - there's been a lot of crocheting in the team over the last few Somonths.ifyou're looking for the right wool, we recommend our DIY tour through Berlin: We have compiled a list of craft stores, haberdasheries and stationery stores for you and saved it on Google Maps. But before that, you can make your own perfect companion for this city tour, because 5 DIY bags are waiting for you in our handbag special. Our favorite it-piece? The crocheted Sisters Tote Bag from Ioana aka @vanille_ist_schwarz. We'll be crocheting this one next!
sisterMAG 65 | 2022 Toni, Thea & sisterMAG Team DEAR READERS, EDITORIAL
Bright green, radiant blue and glistening yellow - the colors of a city in summer!
Yours,
Content 10 Our cover model We talk to our cover @vintage_dahlingmodel 16 #sistermagpatterns Our sewing community & product testers 22 Perfect Match We show beautiful city shots by photographer Sivan Askayo and matching sisterMAG Patterns outfits 42 My Sewing Story We talk to @18nulleins.deConstanze 46 Why we have to crochet A cultural History of Crocheting 54 A slow craft in a fast fashion world 4
sisterMAG 65 | 2022 56 Crochet The latest trend hitting social media and runways 60 The 1x1 of Crochet How to start and what you'll need 66 Granny squares Crochet top tutorial 70 Portrait of crochet artist @ loupystudio 78 DIY Crochet frog teething ring 80 Crochet books & ressources Theme Crochet 88 Crochet Instagram Accounts Some lovely accounts to check out TABLE OF CONTENTsisterMag 65 56 COLORS IN THE CITY92 Color blocking Let's be bold with colors 98 Colors in the city Our new fashion collection 120 The Portrait - Co&Amor A label for Colombian handmade bags with a social conscience 130 DIY Handbags Add a pop of color to your outfit with our handmade ideas 144 Street Art Public space as Canvas - Street Art around the world 152 DIY Tour Berlin 178 YoutubesisterMAGChannel 5
sisterMag 65 TEXT PROOF TRANSLATION& HAIRMODELS&MAKE-UP CONTRIBUTORS Marie Jaster beige.de Madison Jones @m.adisonjones LaceyJo Hunter @laceyjohunter Carolin Kralapp @caromilon Dr. Michael Neubauer @dottore.mick Nadja Wieser Thorsten Brueckner Tessa Saville Alex Kords Pete Bruce Manon AmieLaceyJoMadisonWilhelmJonesHunterLisaWolfKajaHäusslerMcCracken Lisa @vintage_dahling Sofia Alina @sofiaalina92 Tina Fischbach tina-fischbach.de Katharina Handel katharinahandel.com STYLING DIYS & ILLUSTRATION Sivan Askayo @sivanaskayo Gabriela Morales @gabimogo Cristopher Santos @csantosphoto Sebastian Jauregui @howreggee Francisco Jauregui @franja54 Evi Neubauer @neu1bauer Marie Darme @casa_malo PHOTO & VIDEO sisterMAG Team Ezbah Ali, Marie Darme, Toni Sutter, Thea Wittemann Louise Gouet @ louisegouet Ioana Toma @ vanille_ist_schwarz 6
sisterMAG 65 | 2022 65-1 trousersPleatedwith2pockets 65-10 Wide blouse with big collar and pockets 65-3 Short crochet sweater in small shell stitch 65-11 Irregular plate skirt with plug belt 65-5 sweaterCrochet"Grannysquares" 65-13 Jacket double breastedwaistedand 65-7 Swinging SixPanel Skirt 65-4 Wide shorts with cut waistband 65-12 Viscose or tencel swing dress with feather trim 65-8 Blouse with dropped shoulder and bellows pockets 65-2 Pleated skirt with cuff FEATURE SEWING PATTERNS Many thanks to the whole team who created our beautiful fashion line and our new cover. You can find our Cover outfit in our @sistermagpatterns Online Shop. OUTFIT Evi Neubauer MODEL Lisa / Vintage Dahling FOTOGRAF Cristopher Santos HAIR & MAKEUP Katharina Handel OUR COVER COLORS IN THE CITY
DIYS 8
sisterMAG 65 | 2022 INSPIRATION FOR MORE PROJECTS … SUBSCRIBE OUR YOUTUBE CANAL @SISTERMAG #sistermagdiy@sistermagpatterns@sister_mag #sisterMAGhandmade pinterest.com/sistermag PaintedToteSistersMini-bagBag Painted shopper Flowery crochet Crochet teething ring Tech crochet COLORS IN THE CITY 9
Model: Vintage Darling Photos: Cris Santos Fashion: Evi Neubauer 10
vintage_dahling COLORS IN THE CITY 11
COVERMODEL OUR
What was your first contact with sewing? Do you work in the arts industries? One of my lasting childhood memories is of my mum's treadle on her Singer sewing machine. She's nearly 85 and still sews every day. We used to come home from school and know what her mood was by how fast the treadle was going!
What was the first garment you ever made? I can't remember my first garment ever, but since I re-discovered sewing, the first dress I made was the pintuck dress by Yoshiko Tsukiori. I love Japanese design. Where do you find inspiration for your sewing projects? Inspiration usually comes from the fabric; I see something and usually know immediately what I want to do with it. I love nostalgic romantic lines, I particularly an empire line. I think I was born in the wrong era!
When and how did you start sewing? Are you self-taught or did you take courses? I have always been creative. I sew, write, and dabble in mixed media art in my spare time. I am a self-taught sewist - I have no memory of mum teaching us, we kind of absorbed it I think! I studied textiles at school and came back to it later on in life.
12
How do you find your sewing fabrics? What do you have to pay attention to when using pre-used fabrics? Where do you find pre-used and reclaimed fabrics? As often as possible I like to use vintage fabrics, which I tend to source from vintage fairs, charity shops, and sometimes Instagram sellers. I particularly like using vintage floral curtains, especially Sanderson. You have to be careful with vintage fabrics. You need to check for moth damage, if you have enough for the design you want to make (unlike a new shop bought fabric, you can't get more if you miscalculate), and if it's robust enough to cope with being repurposed. I have made a garment before only for the fabric to tear on its second outing as it was too fragile. On the design fault, sometimes you can work with it as a feature. I loved the design fault on the vintage Sanderson fabric I used to make sisterMAG Patterns coat 52-3 . Sometimes the fabric finds me. It is not unknown for a stranger to knock on my door and offer me curtains from her grandma's house. I always say yes!
52-3 Cottoncoat vintage_dahling COLORS IN THE CITY 13
You're a big lover of vintage garments. Do you have a favorite piece? Does it have a story? I really love wearing vintage. Every piece has a history and a story to tell, and you'll most likely never see another like it. Nothing haunts us like the vintage we didn't buy. My favorite believer in serendipity, I think things often find the right home. Regarding vintage shops, I bought the pink dress from a shop called Vintage Stuff , and the other one I can remember was actually a charity shop with some really great vintage called Zweimalschon . 14
vintage_dahling COLORS IN THE CITY 15
16
@poshpilar COLORS IN THE CITY 17
Michaela made our 48-6 Blouse with an oversized collar and pearl buttons in a colour-blocking style. The 57-3 Jogging pants / loungewear pants made of jersey that Jacquie made are ideal for being at home and going out. frolleinchenx3@ sew_many_bobbins@ #SISTERMAGPATTERNS 18
The 40-3 Pleated high-rise wide trousers sewn by Heike are the perfect staple for every wardrobe. This version of our 52-1 Boxcut linen blouse (or dress) with pointy collar was made by Rebekka with a stunning mix of colours. Robyn made the 60-8 Wide blouse with volants in this stunning pumpkin colour. stitchesbyrobyn@ @gemeine_wildrebe @meee_made COLORS IN THE CITY 19
sunbirdsews@ bornellafabrics@ sewmuchtodesign@ seasidecoloursandshapes@ Tanya made our 50-5 Flared tiered top in a colourful fabric that makes us all excited for summer. Lou's 52-3 Cotton coat (unlined) is sure to turn heads wherever you go. Deepa crafted our 54-1 Wide blouse with embroiderysmockingin a vibrant magenta that puts us all in a summer mood. Maike made our 61-4 Hooded soft shell coat the perfect companion also for rainy,20weather.windy
Lori made our 52-1 Box-cut linen blouse (or dress) with pointy collar in a beautiful plum colour. The 59-4 Jersey top with bow tie straps is perfect for spring and summer especially with the beautiful details like the colorful straps thatadded.Amy Sara's version of our 48-2 Chambray blouse accents.withonwhimsicalfeaturesbirdsadenimfabricbrownbutton Christine made both our 60-8 Wide blouse with volants and our 60-5 Pleated flared skirt with wide waistband and combined it in this beautiful outfit. girlsinthegarden.sews@ smittenwithstitching@stienmakes@ @stichgold.design COLORS IN THE CITY 21
PEREF Photos: SIVAN ASKAYO Outfits: SVALA WAGNER & THEA WITTEMANN CLOTHING from SISTERMAG PATTERNS 22
23
FECT COLORS IN THE CITY Match
We are combining the most colorful photos from Israeli photographer and long-time sisterMAG friend Sivan Askayo with the perfect outfits using sisterMAG Patterns sewing patterns. Our travels span from Lisbon to Buenos Aires, from Milos in Greece to the French Riviera. Enjoy and we can't wait for your colorful outfit inspiration! Let us know tagging @sistermagpatterns on Instagram or TikTok!
RIVIERAFRENCH #90C6C2 24
sisterMAG 65 | 2022 Mint Julepto wear LITTLE TREASURES Our cozy jacket 12-2 is transformed into a cool city look by using a neo pren fabric and an exciting color! BELT Handmade everything! The velvet belt is handmade. HAIR GRIP Curved hair grip in a trans lucent acetate with clouded speckles and gold toned hardware from Other Stories, $19 SANDALS Aspyn Sandals in Mint Steve Madden , 99,99€ BAG My Little Box not only offers beauty products but often you get these thiskeepsakeslittlelikepurse.Youcansubscribehere: 12-2 COSY JACKET Our jacket transformed for a colorful city look! SHOP PATTERN 25
WatermelonFeeling LISBON #FCAEA1 26
WatermelonFeeling 32-1 BACKLESS DRESSSHOP PATTERN HEADBAND Alice-style headband in a glossy, ruched finish, from Other Stories , $25 BAG Little bags that hold a lot are the best! Hand bag from Furla, similar styles here PUMPS Mint-coloured classic pumps from Silvia Rossini PHONECASE withfrominitials Allogio EARRINGS Gold-toned chain drop earrings accented with glass stones, from Other Stories , $25 27
sister-mag.com Colors ofthe City 29-5 PARKA DRESS Oversized parka dress with drawstring CROCHET BAG Handmade crochet shopper made out of raffia SHOPSHOPPATTERNPATTERNSCARF Leopard pattern for the win! EARRINGS Round earrings made out of metal via hm.com , €6,99 PUMPS Blue pumps with elastic band from via yoox.com , €172 28
PORTO #ADC5F2 29
AIRESBUENOS #DC6D26 30
sisterMAG 65 | 2022 COLORS IN THE CITY Floral Embossed Open Hoop Earrings from s, $25 MetropolitanJungle PUMPS Pointed kitten heels from Other Stories , $129 PHONE CASE Silicone case in Orange BACKLESS DRESS 37-3 SHOP PATTERN 31
RIVIERAFRENCH #D7BDD1 32
sisterMAG 65 | 2022 COLORS IN THE CITY 40-1 CREPE DRESS With crossed straps on the back SHOP PATTERNPUMPS Electra Recycled Polyester Toe-Loop Heeled Sandals, Charles & Keith , €79 LILACGOLDANNIERING from aleyolé , €49 SCARF Leroy Scarf from Diane von Furstenberg Zalando , €179 SCRUNCHIE via Other Stories , €7 Trust in Contrast 33
LISBON #FFF8AA 34
sisterMAG 65 | 2022 COLORS IN THE CITY Mediterranean Palette 15-2 LAMPSHADE SKIRT Voluminous & pleated SHOP PATTERN SANDALS Toe Loop Strappy Heeled Sandals in Yellow, Charles & Keith , €55 NAIL POLISH Electrifying pink, dries fast & vegan by expressie HANDBAG Julia Crossbody bag with acrylic chain by JW PEI , €69 35
LAPTOP CASE #sistermagdiy SEE VIETNAMPATTERN #588CB3 36
sisterMAG 65 | 2022 Mix andMatch 62-4 DUNGAREES Loose-fit with a buckle in the front SHOP PATTERN SANDALS Tommy Hilfiger via Zalando , €89,90 SUNGLASSES Model Allen from , ab €110 NAIL POLISH Unforgettable summer color: tangerine tease from essie 37
RIVIERAFRENCH #82DBBE 38
sisterMAG 65 | 2022 For Window Shopping 57-4 WIDE-FITTED OVERALL with lapel collar SHOP PATTERN SUNGLASSES Angular Cat Eye Sunglasses from Other Stories , $29 EARRINGS Orbita earringsdropfrom Swarovski , €175 CLASSICBALLERINASBRAIDED from Crickit via Zalando , €134,95 SATINTROPICALPRINTSCARF from Other Stories , €49 39
RIVIERAFRENCH #FBC878 40
sisterMAG 65 | 2022 COLORS IN THE CITY BAG The famous Pasticcino Bag from Weekend Max Mara is special in any colour and pattern! Find yours here. BALLERINAS from PrettyBallerinas via Zalando, €143,95 61-2 RAGLAN BLOUSE with piping 65-4 WIDE SHORTS WITH CUT WAISTBAND New sewing pattern! SHOP PATTERN SHOP PATTERN SunflowerVibes 41
42
One What was your first experience of sewing? Do you come from a family of tailors? My first attempt at sewing started with a set of white bedsheets, but it wasn't until many years later that I found out one of my grandmothers was a seamstress. Two When did you start sewing? Did you teach yourself to sew, or did you attend a course? I think I was somewhere between 12 and 15 when I sat myself down at my mother's sewing machine and just tried it out. When I did my apprenti ceship out in the industry in Garment Making, I could already sew pretty much anything. That was where I le arned about industrial production. After the Garment Making appren ticeship, I went abroad for a few ye ars as a production support worker. When I returned to Germany, I went self-employed to pursue my passion for sewing. In 2014, my husband and I started a retro label: 18nulleins . 18nulleins is the altitude (1801 metres) of our local mountain where we live here in Bavaria. That was the inspiration for the retro mounting climbing gear. Three What was the reason, what made you start sewing? I've always looked for that bit of something extra in the clothes that I wear because didn't want to look like everyone else. I had no choice but to sew things or change them to bring my ideas to life. "Upcycling" is the word. I'd already been doing this for about 45 years, long before there was even a word for it. I changed and altered everything that came my way, even dyeing some. Four What was the first piece that you made yourself? A long-sleeved overall made from bedsheets with silver press studs. The first time we checked out Constanze's website, 18nulleins.de , we were immediately captured! Our eyes were met with a label for retro mountain hiking apparel made exclusively from traditional, natural Alpine fibres inspired by climbing gear from the 1930s and '40s. We wanted to know more, so we organised an interview with Constanze to talk about her sewing story.
COLORS IN THE CITY 43
Five What's the next sewing project on your to do list? I want to expand my vintage style ladies clothing line, 18nulleins Ladies. So, what's next is getting the Autumn-Winter 22/23 samples ready and then developing new ideas for next spring. Six Where do you find inspiration for your sewing projects? For me, it's a real mixture. I'm interested in a lot of different things: old books, everyday life, and a lot of vintage and retro Instagrammers as well. Seven Which are your favourite social media channels for sewing? At 53, I still like to flick through "old school", "analogue" books and magazines, but I do use Instagram. It just makes sense, as a label, to be active on there.
I started using Prym press studs very early on, probably around the beginning of the '80s.
Eight What is your favourite fabric or material? Having tried a lot of things out now, these last few years I've become more and more fond of natural materials like 100% wool, linen, and cotton. Especially here in the Alpine region, wool has a part to play in the typical cardigan. In our retro mountain hiking gear, we also only use materials that were available at the time (in the 1930s and '40s), such as natural fabrics, even though viscose fabrics were actually around back then. For the women's line, it's a little different; some of the fabrics also have an elastic element to them. 44
@18nulleins.de You would like to tell us your story and how you started your handicraft? Write us an email at mail@sister-mag.com COLORS IN THE CITY 45
46
47
A Cultural History of Crocheting The current crochet boom probably has less to do with the fear of chilly offices and homes and more to do with the hype surrounding handmade items during the Corona Lockdowns. Also, the awareness of unique handmade items has certainly contributed to the boom in crochet. In our article, we cover the beginnings of crochet, the major boom phases and some techniques you may have not heard before! 48
TheCrochetBookNinthSeriesbyBranchardiere, Patternfrom1850,viaantiquepatternlibrary.org
49
Crochet got its start around the world as practical reasons gave rise to the desire to protect your body with fibrous material. Historically, ancient Egyptians manufactured interwoven nets and containers. These refined methods were not far off from the idea of producing something wearable using similar techniques! People have been knitting since the 13th century, but knitting itself is not easy. While knitting, two needles have to be kept under total control, as well as securing the meshwork, as is the case with crocheting.Theingenious and in many places demonstrable idea was that with a hook at the end of a needle you can pull the wool thread through the next stitch, and in doing so create a robust, woven material. But no one is quite sure when and where crochet got its start. The word comes from croc, or croche, the Middle French word for hook, and the Old Norse word for hook is krokr. To crochet, needles have to have hooks, and if you believe the professionals, crocheting is much easier to learn than knitting. You have to master 4 different stitches: Chain stitch, Single crochet stitch, Double crochet stitch and the Half-double crochet stitch. While these stitches may be challenging as a beginner, your first hat will be finished before you know it with patience, good wool, synthetic fibers, or even silk. Towards the end of the 17th century, crocheting gained momentum in many countries. Crochet variations and expertise were initially passed on orally until the first printed instructions appeared in women's magazines in the 19th century
. beginningsThe 50
This changed when Mademoiselle Riego de la Branchardiere published the first book on crochet in London in 1847, reaching its 17th edition by 1875. She revolutionized the world of crochet and the fashion of the Victorian era. Suddenly ladies wanted to wear the "homemade" lace with the designs from her books. At the turn of the 20th century, crochet was in. At the turn of the 20th century, crochet was prospering. Patterns were created in great numbers, and crochet schools formed. Queen Victoria promoted crochet by having scarves with the British coat of arms crocheted during the costly Boer wars in South Africa at the end of the 19th century.
19th centuryIn the Eleonore Riego de la Branchardière was born in 1828 and only 18 years old when she published her first book. She had been involved in advanced needlework since her youth. With an Irish mother and a French father, perhaps this very balancing of cultures allowed her to easily assimilate into English society and become a star of needlework.Image digitized by the University of Southampton Library Digitisation Unit via https://onlinebooks.library.
When crochet was used to make lace inexpensively at the beginning of the 19th century, the nobility distanced themselves from this "adulterated" commodity. Crochet was considered a status symbol of the middle class, and "unrefined" for the nobility.
Printed
upenn.edu COLORS IN THE CITY 51
Crocheting in 20th century At the beginning of the 20th century, it was simply expected that every woman, regardless of status, mastered this needlework technique. However, crochet fell a little into oblivion during the two world wars - simply for the reason that crochet requires much more wool. Therefore, the urgently needed warm clothes for the front were knitted exclusively by daughters and women.
Crocheting experienced another golden age in the 1960's during the Flower Power Era. The youth were committed to the idea of a better, more beautiful, fairer, friendlier and cleaner world and expressed this externally with a colorful and joyful crochet wardrobe. "Granny squares" which are still popular today, were born. You can create Granny squares with a wide variety of color and wool specialities or even with leftover materials. Another remnant of the 60s and 70s crochet boom? Crocheted covers for toilet lids, chairs or even toilet paper rolls!
52
COLORS IN THE CITY 53
Crocheting uses more wool than knitting, making crochet products heavier but also sturdier. Because the stitching pattern is wider, crochet proverbially "flows around the body."
I think the uses for knitting or crocheting are becoming more and more mixed. Nowadays for example, sweaters or scarves are crocheted, whereas historically, products like these were created through knitting. Crocheting and knitting can even be combined in what is known as "Tunisian crochet". The crochet needle with the hook must be much longer than the regular needle in order to accommodate a larger number of knitting stitches. Until today Until this day there are no industrial crocheting machines. Crocheting remains a rigorous handcraft. But maybe that's what we long for; it is not streaming or scrolling on social networks that provides feelings of satisfaction, but holding something tangible, that you made yourself, in your hands. That is the precursor to happiness. Originally, a purely practical consideration, i.e. crocheting to protect oneself from the cold, crocheting has become a joyful way to save yourself from the idleness of the modern age. And so today, just as two or three hundred years ago, crochet rounds suddenly come together again, indulging in their hobby over coffee, tea and cake at home or in a café. In addition to manual dexterity, the creativity necessary for fashion and color design, and the joy of prioritizing personal time, crocheting can put the brakes on all of the unnecessary hustle and bustle of modern life. You could almost say that it is healthy to crochet, besides - it also warms you up!
A slow craft ain
54
sister-mag.com
Crochet is a skillful practice that results in such unique, handmade pieces. Beyond its aesthetic beauty, the emotion and time that a creator spends designing, planning, and creating a piece also enhance its beauty. It is an art form that requires deep thought and expression with the tangible result being entirely a product of its creator. After experiencing a surge in popularity over the past couple of years, mass production of trendy crochet from big fast fashion brands followed suit. However, machines are physically incapable of creating intricate details and stitches typical to crochet. They can only create knitting stitches that may resemble crochet but do not compare to the art of a handwoven piece. In contrast, handmade crochet allows buyers to know exactly what labor is going into their crocheted clothing – a major benefit for consumers looking to shop sustainable. Additionally, a handmade piece is one-of-a-kind and completely unique from the pieces everyone else is wearing. That is a true advantage of crochet; it allows for infinite possibilities of self expression and creativity that can often be lost in larger brands. In a world of increasingly mass produced clothing, crochet provides a great opportunity to express your individual sense of style . Because of mass production's limitations with crochet, the best way to consume it is to make it yourself or purchase from small, hand-made brands . Supporting these smaller brands is a great way to contribute to black small businesses and ethically trend-fast-fashion-copy-designs
Why it is so especially important to pay attention to the origin of crochet pieces … about intellectual theft and the worth of handmade.
https://www.refinery29.com/en-gb/crochet-
ain
sisterMAG 65 | 2022 by L ACEY-JOHUNTER
dnaNOSIDAMJNOES purchase their designs, which are often copied by larger brands. Unfortunately, crochet designs by small businesses and creators are often stolen by large fast fashion brands. Design stealing is a major problem in the fashion industry that can be especially painful for crochet artists who have strong emotional connections to their art and the amount of time they put into creating and designing it. In an article by Refinery29 * regarding the inability of crochet to be ethically mass produced by fast fashion brands, @loopystudios, who is our crochet artist feature, details her experience with having her designs stolen by large brands. Many crocheters feel great accomplishment and emotional connection to their pieces and are deeply hurt when a fast fashion brand targets them. They are especially disappointed due to the hours that they know should take to make that piece well and how much monetary value it should cost to adequately pay Thus,workers.learning to crochet yourself or supporting small crochet artists is a way to avoid contributing to fast fashion and garment worker exploitation. Crocheting is a great way to support ethical labor and environmentally conscious fashion while also sporting a unique piece of wearable art. fast fashionworld
COLORS IN THE CITY 55
LaceyJo HUNTER|Madison JSENOOld NEW PLATFORM craft Why Crocheting took Social Media by storm and what trends are worth following. 56
Crochet ties into several currently popular aesthetics referred to as "coconut girl," "craft core" and "coastal grandma" which all mean pretty much exactly how they sound. These aesthetics are an interesting facet of TikTok; they often become very popular and showcase different ideal lifestyles that people aspire to obtain. Each aesthetic includes makeup styles, food and drinks, hobbies, living locations, and clothing styles that correspond with that particular aesthetic. Coconut girl is a Y2K summer vibe that uses lots of pastels, hibiscus prints, and seashell necklaces. Craft core plays more on the actual hobby aspect; it is composed of people doing their own sewing and crafting, most popularly embroidery and Finally,crochet.therecently coined coastal grandma aesthetic refers to a life filled with slower leisure activities like walks on the beach, gardening, and going to flea markets.
Going into the summer of 2022, the current craze of crochet clothing and accessories compliments a laid back, beachy aesthetic. However, it has taken on many different styles over the past couple years, fitting into several aesthetics. The crochet social media spotlight first took off on TikTok as a quarantine hobby. The hashtag #crochet now has 41.9 million mentions and 8.1 billion views on TikTok, according to a Glossy article. Namely popular were recreations of the infamous JW Anderson color block sweater worn by Harry Styles, which were eventually released online for free by the company after the immense attention they received. From here, crochet videos quickly evolved into more unique designs. However, as everything else, they do not stray far from the trends.
COLORS IN THE CITY 57
sisterMAG 65 | 2022
@pyperloops Coastal grandma is accompanied by a predictable attire of beachy hats, button downs, worn-in jeans, and crochet. The point is, crochet fits into so many different trends and categories, present in several of these Tik Tok aesthetic cycles. While categories of clothing and accessories may appear more standard, the silhouettes and colors used are certainly not. The fun part of crochet is that many people make it themselves rather than buying it from a fast fashion store. This leaves limitless opportunities for creativity and customization. We've begun to see trends stem from individual people with their handmade clothes rather than the typical designers and brands, though they definitely still have a strong influence in this space, notably with more widespread trends. In fact, during Spring 2022 Fashion Month, crochet generated $16.6 million in media impact value for collections*. For example, crochet has crossed paths with trends like bustier and corset tops. NEMROFaltesHANDWERK–neuePLATT@gabbythegranny fashions-go-to-summer-style/*https://www.glossy.co/fashion/why-crochet-is-@pyperloops@pyperloops 58
sisterMAG 65 | 2022
As with any other trend, celebrities like Styles have great influence. Another fashion icon, Emma Chamberlain has hopped on the bandwagon. Several of her posts over the past year have sported various kinds of crochet: tops, matching sets, dresses, and swimwear cover-ups. Also, due to its functionality as a breathable, but cozy clothing, crochet is fitting for all seasons. In the winter, large cardigans, pants, and scarves may prove more popular. We've seen small granny square pants and patchwork cardigans really take off. However, in the summer we see matching skirt and top sets, bucket hats, shirts, bags, and even swimwear. Many of these have been done In the summer, crochet really plays into the beachy, carefree vibe. As with most things fashion, these ideas are not necessarily new; fashion house Missoni has been creating crochet swimwear for years. Now, with so many brands hopping on the trend, there is a plethora of designs within this category of crochet.
@gabbythegranny@gabbythegranny @pyperloops@pyperloops COLORS IN THE CITY 59
While the crochet being sold by designers and brands is very popular, you may want something more unique, sustainable, and customized to you. Crochet is a hobby that many people are able to easily pick up. In fact, it became a super popular quarantine hobby at the beginning of the Covid-19 pandemic. From this, many people who originally started crochet as a casual hobby grew skilled enough to crochet their own clothes and accessories, and even open small Instagram or Etsy stores for their work. 1x1 Crocheting
of
G o Godnews!owendos! 60
The
COLORS IN THE CITY 61
Now, what do you need to get started? Luckily, we have it all figured out. Here are the basic supplies you need: 1. 2. 3. 4. 62
2. SEWING SCISSORS or YARN CLIPPERS . (This scissor set comes with a fabric tape measure, too: Scissor Set from Amazon)
6. Sharp-tipped and blunt-tipped DARNING NEEDLES to sew the end pieces together and to end the seam. Yarn weight may change the size of needle you need.
4. LOCKING STITCH MARKERS help to pause a project and keep it in place. (this stitch marker set also comes with needles: Stitch Marker Set from Amazon)
3. YARN. A light colored, #4 medium-weight (also called worsted-weight) yarn is best for beginners because it's easy to hold and the stitches are visible. Inexpensive acrylic yarn is generally a go-to. #4 Acrylic Yarn
1. A CROCHETING HOOK. The hook sizes correspond to the size of yarn you use, so this is important to think of when buying a hook. With over 30 sizes to choose from, it can be overwhelming. Most beginners opt for a mid-size hook or a variety pack to start. Additionally, the sizing is labeled in metric measurements as well as US sizes. These Clover hooks are typically recommended for beginners: Clover Hook from Amazon
5. TAPE MEASURE is essential if you want to crochet something a certain size. Crafting tape measures are super flexible so they can fit around the project.
COLORS IN THE CITY 63
Who can be your go-to Teachers? 64
1. The Crochet Crowd on Youtube posts tutorials daily on basic techniques. Mikey, the host, has 1.12 million subscribers and posts interesting designs to crochet. This channel has so many easy/ beginner options.
4. Happyberry Crochet has 872,000 subscribers and has a specific playlist on the channel for learning basic stitches and techniques.
2. Naztazia, aka Donna has 1.2 million subscribers and great colorful, fun patterned tutorials.
Teachers? COLORS IN THE CITY 65
3. Bella Coco has 1.17 million subscribers and has direct, easy to follow tutorials. Her beginner guides are a great place to start. SarahJayne, owner of the channel, uploads weekly.
5. Marly Bird with 292,000 subscribers, has a great, extensive crochet playlist that begins with basic beginner videos and has progressively harder tutorials included.
sister-mag.com Materials : » 3,25-4 mm crochet hook » Wool » Scissors » Sewing pins TOPCROCHET SQUARESGRANNYLARGE Photos: Gabriela Morales // Project: Antonia Sutter Crochet Top Granny 66
» Next we crochet an air stitch and 2 rods between the next rod of the first rod ring. We continue until we have crocheted 12 double sticks. Again, close this ring with a chain stitch in the first two air stitches.
Begin : » Omit the air stitches in the blue ring.
Tutorial COLORS IN THE CITY 67
» Change color again and now start the next ring, which consists of 3 groups of sticks. We start again with 2 air stitches and crochet 2 sticks between the air stitches of the previous ring. Crochet an air stitch and now 3 sticks in the air stitch of the previous ring. Continue like this until the ring is closed. We have now crocheted 12 triple stitches. Again, close this ring with a chain stitch in the 2 air stitches of the first triple stitch.
sisterMAG 65 | 2022
» Change the color and start with 2 air stitches, crochet 2 sticks into the air stitch of the previous ring. Connect the next triple stitch with an air stitch. In this ring the square is formed, so we crochet the next triple stitch into the next air stitch of the previous ring. Now we crochet 3 air stitches and one triple crochet into the same air stitch of the previous ring. Now, crochet 2 triple sticks each in the air stitches of the previous ring - always connected with an air stitch. The next corner is made in the same way as the previous one: three crochet sticks in the air stitch
» Start with an air stitch ring of 6 stitches. Using the same yarn, crochet 11 double crochet stitches in this ring and close this first ring of double crochet stitches with a sl stitch.
» The next ring consists of 12 double stitches. Take a new color and start again with 2 air stitches. Now, crochet a chopstick between the chopsticks of the first ring. This is our first double crochet.
» In the following, after each ring crocheted, like the one just described, we change the color. The number of rings to achieve the total size of the granny square specified in the pattern depends on the thickness of the yarn used. & back pieces
of the previous ring, 3 air stitches and another three crochet sticks in the same air stitch. Continue crocheting like this until the ring is complete and we have 4 corners. The ring is closed again with a chain stitch.
68
sister-mag.com
» The front and back pieces are worked identically. The pieces are joined by a chain stitch. The thread when joining the parts must always go inside.
Front
» Shoulder and side seams are closed where the neckline and the armhole are crocheted around with solid stitches. If you want, you can crochet a waistband using solid stitches depending on your needs and size.
COLORS IN THE CITY 69
withEVVIA GONZALESakaloupystudio Art: Evvia Gonzales @loupystudio // Interview: Lacey Jo & Madison 70
This phrase, written in the Instagram bio of Norwich-based crochet studio @loupystudio, sums up Evvia Gonzales' small business approach to crochet. Evvia single-handedly runs the loupystudio crochet business and corresponding Instagram account, which chronicles her unique, free-form crochet and knit creations. As loupystudio has grown, Evvia now sells some of these pieces in her online shop through periodic drops. Because of the onewoman nature of the brand, Evvia crafts every piece herself with "contentment and happiness brewed into each piece."
"Not a brand, just a girl."
COLORS IN THE CITY 71
Here at sisterMAG, we admire Evvia's creative, unconventional approach to crochet, so we knew that she would be a perfect creator to discuss the art form with. Here's Evvia Gonzales talking about loupystudio and her approach to crochet:
withEVVIA G
ONZALESakaloupystudio
How did you get started with crochet? How long has it taken to reach the level you are now?
Evvia's journey with crochet began from a young age, but she revisited the hobby more seriously beginning in 2021. At the age of six or seven, Evvia first learned to crochet a basic square from her grandmother. She then dabbled in crochet again during high school when she was "really stressed out with exams and needing a bit of an outlet. I was just making some little acrylic bralettes at the time. Then, the most serious bout of crochet has been since the British winter lockdown last year… I've been crocheting or knitting very recently non-stop for probably averaging like 10 to 12 hours a day, which is kind of ridiculous. I've put in an awful lot of hours since last year, but I definitely had a bit of an understanding of how the whole thing worked from before."
sister-mag.com
What was the first crochet piece that you worked on? Do you still have it? Because Evvia's journey with crochet has ebbed and flowed over time, her answer depends "on which season of crochet we're talking about. I definitely have no idea where that first [crochet square] that I made when I was six or seven went even though I remember it so clearly. It was this really beautiful chunky merino yarn in these pastel pinks and greens, and it was lovely. I remember it so vividly. Next, all of my acrylic bralettes are And this passion resonates with customers – Evvia has built a base on Instagram of 45.8k followers who keep up with her latest designs. Although her pieces may look like work out of a contemporary art museum, they are all wearable and intended to be reworn and loved by their eventual owner.
72
sisterMAG 65 | 2022 gone… kind of as they should be. I think it's a great entry point, but I don't think I would be too pleased to have to look back at those. In the last year's resurgence, I think one of my first pieces was this little vest that I made with some acrylic yarn that I just had found somewhere in my house and using just the one crochet hook that my sister had given me because I couldn't leave the house at all because of the lockdown… I don't COLORS IN THE CITY 73
think I have that anymore, but I was quite proud of it. I used a little granny stitch, which was the first and last time I tried to use a granny stitch. It was very nice with a lot of brown and tan colors. It was a funny little piece."
How would you describe your personal style in your own words? "I would say that my personal style is definitely focused around things 74
How have you seen your style and designs change over time as you've become more skilled at crochet? " I feel like I have been able to kind of focus more on the freehand side of things. I remember when I was first starting, the biggest issue for me was actually just construction of garments rather than crochet skill because I don't really have a fashion background... The only way I would be constructing garments would be kind of just thinking about clothes that I owned and then mimicking those shapes, so that they would fit the body. With time, I've been able to do a lot of trial and error obviously and see what things fit my body and other bodies and then really move on from there. That's given me a lot of freedom with different styles and being able to just use these crazy freehand crochet motifs, which has been really rewarding."
COLORS IN THE CITY 75
sister-mag.com that make me very excited. Over the last year or so, I've gotten such an appreciation for different types of yarns and fibers. I'm currently working on this piece where I'm using this super chunky, handspun merino – and hand-painted merino – that's all made with coppery, rusty colors, and I could not be more excited about that. I feel like in my crochet style I'm just trying to use the strangest little combinations where I could just stare at a garment for ages, and that definitely comes into my personal style as well. I almost exclusively shop on eBay… I always try to find bizarre little designs from the 90s or 2000s, where I'm just so enthralled and captivated by the pieces. It's definitely whatever makes me excited." A big part of loupystudio is valuing sustainability and using recycled or vintage yarns. Where and how do you source your materials? 76
"Mostly on eBay. Especially before I was really building a collection of fibers, I would just spend hours and hours and hours every day looking because you do have to search quite hard to be able to find the true vintage fibers. There's an influx of new yarns on eBay, so you have to be really discerning about whether you're just buying from a yarn shop or somebody's grandmother's attic. I mess with the grandmother's attic stuff because especially when the fibers are from the 80s, 90s, the quality is really high if you're able to know what you're looking for. With a lot of vintage mohairs, you just really can't get those colors, that quality – especially with the chunky stuff anymore. Outside of eBay, I do a lot of thrift shopping at my local Norfolk charity shops, and I'm always able to find really cool handspun yarns… I'm also trying to get more into buying from local farms around here – it's something I'm dabbling in a little bit. It's a little hard to get things that fit my price point and the colors that I want, but I'm trying to push to be a little more earthy tones in some of my pieces, and that's where those yarns will be."
VEhtiwVIAGONZALES
sisterMAG 65 | 2022
aka loupystudio COLORS IN THE CITY 77
sister-mag.com Materials : » 3.25 – 4mm crochet hook » Black embroidery thread » Green worsted weight yarn » Fiberfill stuffing » Scissors » Sewing pins » Yarn needle » Stitch markers (optional) » WoodTEETHINGRingFROG CROCHET RING Photos: Gabriela Morales // Project: Ezbah Ali DIY 78
»
Tutorial COLORS IN THE CITY 79
» Row 5. [sc x 3, inc] x 6 (30) » Row 6. sc x 30 (30) » Row 7. sc x 30 (30)
» Row 1. magic circle with 6 sc stitches (6) Body: Using green yarn. » Row 1. magic circle with 6 sc stitches (6) » Row 2. inc x 6 (12) » Row 3. [sc, inc] x 6 (18) » Row 4. [sc x 2, inc] x 6 (24)
» Row 8. sc x 30 (30) » Row 9. sc x 30 (30)
» Row 10. sc x 30 (30)
» Row 2. inc x 6 (12) » Row 3. sc x 12 (12) » Fasten off with a slip stitch. Leave a long tail for sewing onto the frog's body. Black eye: » Using black yarn.
sisterMAG 65 | 2022 Wood cover : » Using green yarn. » Row 1: Begin with a crochet chain with 20 stitches » Rows 2 to 5: Single Crochet for 4 rows » Cut the thread (leave a tail for sewing at the end). Eyes (make 2) » Using green yarn. » Row 1. magic circle with 6 sc stitches (6)
» Put the fiberfil in it.
» Row 11. sc x 30 (30)
» Sew the hole closed and weave in the ends. Putting the Pieces Together » Now that we've completed the eyes and body of our frog, it is time to sew all of the pieces together. Using sewing pins, pin the eyes into place. We placed the eyes about 1.5 rows to the left and right of the top of the body.
» Row 12. [sc x 3, dec] x 6 (24)
» Row 13. [sc x 2, dec] x 6 (18) » Row 14. [sc, dec] x 6 (12) » Row 15. dec x 6 (6)
» Now it is time to sew the mouth onto your frog! For this step you will need your yarn needle and black embroidery thread. Thread your needle with the black embroidery thread. Fix the body on the ring: » Use tail of the Ring Attachment to secure bottom of snout to the front of the ring and the tail of the head to secure to the center top of the Ring Attachment.
BOOKS & RESOURCES Once you have understood the basic concepts of crochet, there are almost no limits to the projects. Since crochet also makes it easy to implement three-dimensional designs, the variety of projects ranges from garments to small cuddly animals or bags. We can by no means claim to be complete, because the world of crochet books and instructions is so confusing that you will find no end (and no beginning) once you have started your research. LEARNANDSTARTTO CROCHET The Book:Crochet by DK Publisher Over techniques130 and stitches Crochet: by-stepcompleteThestep-guide by DK techniquesEssentialPublisher CROCHET 80
sisterMAG 65 | 2022 FASHIONSQUARESGRANNYCrocheted sweaters Simple stitches, great designs 100 Crochet Tiles: Charts and Patterns for Crochet Motifs Inspired by Decorative Tiles Stitch your own collection of stunning crocheted tiles with this selection of crochet patterns inspired by ceramic tiles by Susan Huxley Granny Square Flair 50 Fresh, CrochetVariationsModernoftheClassicSquare Modern Crochet Sweaters by Janine Myska @ knitsnknotswpgbyVariousartists by Shelley Husband COLORS IN THE CITY 81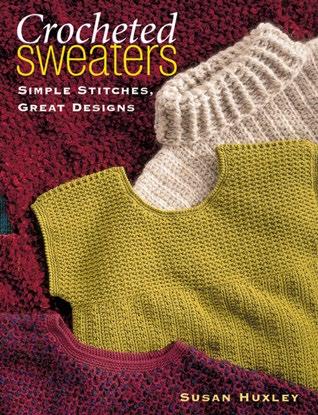 sister-mag.com STYLISH SUCCULENTS to crochet 15 colourful cactuses and other pol plants to make for your home DIY Crochet Basket How To Make a Coil Crochet Basket for Beginners by Sarah Abbondio @ sarahabbondio by Frederick WilliamsINTERIOR Crocheted Wreaths for the Home: 12 Gorgeous Wreaths and 12 Matching Mini Projects for All Year Round Patterns and Designs for the Minimalist Maker MODERN CROCHET Patterns & Designs for the Minimalist Maker by Anna Nikipirowicz @ annanikipirowicz by Debrosse@debrosse_nyc 82
sisterMAG 65 | 2022 ACCESSORIES&BAGSThe Tunisian Crochet Handbook A Beginner's Guide 100 flowers to knit & crochet A collection of beautiful blooms for em bellishing clothes, accessories, cushions and throws Japanese Wonder Crochet A Creative Approach to Classic Stitches MODERN CROCHET STYLE 15 colourful crochet patterns for you and your home, including fun sustainablebymakesToniLipsey@tlyarncrafts by Lesley #LesleyStanfieldStanfield by NIHON VOGUE by Lindsey Newns @ nihonvogue_handmade @ lottieandalbert.co.uknihonvogue.co.jplottieandalbert 83
sister-mag.com THE SKIRT KIDS Dinette - Fruits, légumes, douceurs au crochet by Laetitia Dalbies @ laetitiadalbies Whimsical Stitches A Modern makers Book of Amigurumi Crochet Patterns by Lauren Espy @ amenagerieofstitches HOW TO OCEANFARMANIMALSCROCHET&PETS&&WILD 25 Mini Menagerie Patterns per book by Kerry Lord @ toft_uk 84
sisterMAG 65 | 2022 AmiguruMe Eats: Make Cute Crochet Foods by Allison Hoffmann CROCHET CUTE BABY OUTFITS Crochet Items for Your Babies 25 Crochet Baby Blanket Patterns by Daisy Farm Crafts KIDS@ craftyiscool @ daisyfarmcrafts Super cute crochet for little feet 30 stylish shoes, booties and sandals to crochet for babies. von Vita Apala @ monpetitviolon COLORS IN THE CITY 85
sister-mag.com Domestika On the platform Domestika you can find numerous courses - from how to get started to advanced patterns SISTERMAG YOUTUBE & SISTERMAGYOUTUBEPATTERNS Stole crochet in Checkerboard pattern TUTORIALCROCHET DIY YOUTUBE CHANNEL TO THE COURSES RESOURCESVIDEO 86
sisterMAG Pinterest Do you already follow our Pinterest sisterMAG channel? A collection of crochet related patterns from sisterMAG mom and designer Evi Evi's " Crochet " -Board on Pinterest sisterMAG Issue 5 Instructions: Crochet stole in checkerboard pattern We also show you a free crochet stole tutorial to make yourself! sisterMAG Community Board for knitting and crochet projects PINTEREST INSPIRATION FOLLOW US COLORS IN THE CITY 87
sister-mag.com @doeanddeercrochet@laetitiadalbies@holafabric @toft_uk@littlegoldennook@wollplatz CROCHET IN THE WORLD OF INSTAGRAM 88
sisterMAG 65 | 2022 CROCHET COLORS IN THE CITY 89
sister-mag.com CROCHET 90
sisterMAG 65 | 2022 @elevenhandmade @ninastime@alimaravillas@amourfou_crochetCROCHET @debrosse_nyc COLORS IN THE CITY 91
Fall/WinterAlbertaFerretti2020 Spring/SummerMiuMiu2021 Spring/SummerCeliaKritharioti2022 92
It is a time to be confident. This confidence is best expressed through color, and COLORBLOCKING is back! This fashion trend is not new or old, it is timeless. Every couple of years or so, it finds its way back into our closets. We are not talking about Hippie-Chic or the carrot pants of the 1980s, but the ever-popular COLOR-BLOCKING fashion trend. Here, one need not guess what lies behind it, as the name says it all: combining two or more different, and often contrasting, colors to make a statement. Ever heard of it? It would not be surprising if you have.
TEXT: MARIE JAS TER
MenEgonlabSpring/Summer2023 COLORS IN THE CITY 93
In 2011 the colorful look saw its first revival and it frequented the runways, the streets, as well as highstreet clothing stores. The reason for this was not just due to Raf Simons, Jil Sander, Prabal Gurung, and Miuccia Prada, who featured several flashy outfits in their collections, but it was also due to the great recession of 2008. For it not only put the world economy into mourning, but also into fashion: everything became black, sleek, and very conservative. I dare someone to say that the fashion trend could not read the zeitgeist... In 2010 things returned to normal and the elation was high. So high, in fact, that designers who had been known for their neutral tones for decades, delved deep into the color spectrum. They even utilized neon colors for the first time since the 1990s, bringing about a comeback. The trend was instantly snatched up by the fashion scene. In 2011, the street-style circus started popping up in front of the fashion week tents. Naturally, street style photographers were drawn to bright
Spring/SummerNatanlooks2021Fall/WinterCarolinaHerrera2022 94
of red and violet. But just a moment, was colorful fashion only being discovered in 2011? That of course was not the beginning of the trend, but rather a resurfacing. Although people have always been drawn to use color in fashion, the technology for dying fabrics in bright colors did not exist for hundreds of years. Tyrian Purple was derived from purple dye murex glands, yellow dye was derived from saffron, and indigo turned into a shade of blue. However, those who have ever tried using beetroot, onion peels, and Co. to dye or tie-dye clothing at home know all too well that it is far from achieving neon colors. In the mid-1960s, color technology had advanced greatly. One person took full advantage of this, creating an iconic garment that may be considered today as the premier color-blocking piece to make the runway: Yves Saint Laurent. In his 1965/1966 Fall/ Winter collection, he created the Mondrian dress, inspired by artist Piet Mondrian. It became a worldwide sensation, and serves as a milestone in fashion history regarding all things "Fashion meets Art." Mondrian was known for his use of primary colors, so Saint Laurent happily combined yellows, blues, and greens in his six dress
COLORS IN THE CITY 95
Mondrianvariations.fashionfrom Paris, dresses made by Yves Saint. Laurent, the models Hague Muni cipal Museum January 12, 1966 Spring/SummerRobertoCavalli-2023
Stephen Burrows top & skirt, Fall/ Winter 1971. Adnan Ege Kutay Collection 96
However, Saint Laurent was not THE designer who brought color-blocking to the extreme. Stephen Burrows, the US-American designer, secured that title. He became famous for his colorful clothing in the early 1970s in New York, which was greatly inspired by the disco era. The thin jersey fabrics molded to the contours of its wearers and this freedom to dance in them was of particular importance to him. Stars such as Diana Ross and Cher were quick to appreciate these designs. His fashion was so successful that he battled it out as an American Couturier against the French designers in the "The Battle of Versailles Fashion Show" which was held in Versailles in 1973. He became the first Afro-American designer to gain worldwide fame, and won the "battle". Numerous awards followed. Sadly, however, the fashion label could not sustain itself due to racial prejudice in the USA at the time.
sister-mag.com
However, there is no better time than now for a relaunch of Stephen Burrows. In 2021 and 2022 one thing in particular was seen on the runways again: color. Similar to the 2010s and after the recession two years ago, there are continuing reasons to want to make a statement with color. Whenever we experience difficult times, in either the past or the present, we gravitate toward the past with a sense of euphoria, security, and nostalgia.
sisterMAG 65 | 2022
It is more than understandable that many people would want to go back to the wild disco era and rainbow fashion, rather than coping with the current world situation. Is that the reason for Brandon Maxwell, Christopher John Rogers, Miu Miu, Valentino, and Bottega Veneta rediscovering color-blocking? Yes, definitely.
Spring/SummerValentino–2020 Fall/WinterDivision–2022 COLORS IN THE CITY 97
The person who walks through the streets in a good mood wearing two-or-three contrasting colors surely attracts a smile or two. This does not just foster a good mood, but confidence as well. Surely, we can all use this confidence and optimism right now. If an outfit helps achieve this, then that is surely the most beautiful lesson fashion has to offer. It is so much more than just clothing.
98
sisterMAG 65 | 2022 COLORS IN THE CITY FASHION COLLECTION the CityColors in SEWINGDesignsPATTERNS: EVI NEUBAUER Model: SOFIA ALINA Photos : SEBASTIAN JAUREGUI Videos : FRANCISCO JAUREGUI Makeup & Hair : TINA FISCHBACH Production : THEA WITTEMANN Bags: VANILLE IST SCHWARZ & CO&AMOR 99
sister-mag.com 65-1 Entry-leveltrousersPleatedwith2pocketsmodel 65-10 Wide blouse with big collar and pockets 65-3 Short crochet sweater in small shell stitch 65-11 Irregular plate skirt with plug belt OverviewPattern 65-8 Blouse with dropped shoulder and bellows pockets COLO 65-2 Pleated skirt with cuff 100
sisterMAG 65 | 2022 COLORS IN THE CITY 65-5 sweaterCrochet"Grannysquares" 65-13 Jacket double breastedwaistedand 65-7 Swinging SixPanel Skirt 65-4 Wide shorts with cut waistband 65-12 Viscose or tencel swing dress with feather trim O R S I N T H E CITY 101
sister-mag.com 65-1 102
sisterMAG 65 | 2022 COLORS IN THE CITY 65-1 Pleated trousers with two pocketsEntry-level model EASY SIZES 34-50 (EU ) | 4-20 (US) The pleated pair of pants; it is one of the favorite pieces in our wardrobe. Looking for a cut that is chic and feasible for all sewing levels? We found it at a beautiful Spring Couture fashion show. This pair of pants is not too wide, but not too tight, comfortable and chic – just how it should be. This pattern can be sewn from a wide variety of fabrics and colors, so you can sew a pair of trousers for every occasion and in every hue. SHOP NOW 103
sister-mag.com 65-3 65-4 104
sisterMAG 65 | 2022 COLORS IN THE CITY 65-3 Short crochet sweater in small shell stitch SIZES 34-50 (EU ) | 4-20 (US) Catering to our newfound love for Crocheting, this is a real showstopper using a technique called "small shell stitches". As the written instruction for this A lovely pair of summer shorts with the silhouetteinalreadywaistbandintegratedthepattern.Theiswide with a fitted waist. 65-4 Wide shorts with cutEASYwaistband SIZES 34-50 (EU ) | 4-20 (US) DOWNLOAD HERE SHOP NOW 105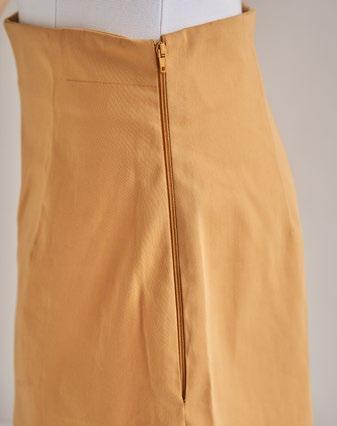 65-5 sweaterCrochet"GrannySquare" SIZES 34-50 (EU ) | 4-20 (US) The "Granny Square" has celebrated an unprecedented revival in the crochet community. It is produced by working in rounds from the center outward. They resemble coarse lace. We took the Granny Square and changed it in order to create a new look. Instead of using multiple small squares, we have made the sweater out of one giant one. Best thing: the color choice is up to you! FIND INSTRUCTIONS HERE 106
sisterMAG 65 | 2022 COLORS IN THE CITY 65-5 107
65-7 Swinging Six Panel skirt EASY SIZES 34-50 (EU) | 4-20 (US) SHOP NOW 108
sisterMAG 65 | 2022 COLORS IN THE CITY
A six-panel skirt, ankle-length and flowy. Its construction gives it a heavy, elegant drape. What's so special about this model? Again, we've combined the waistband into the sewing pattern, which makes it not only easy to sew, but also comfortable to wear.
65-7 109
sister-mag.com 65-8 110
sisterMAG 65 | 2022 COLORS IN THE CITY 65-8 Blouse with dropped shoulder and bellows pockets MEDIUM SIZES 34-50 (EU ) | 4-20 (US) A fashionable piece in every closet that serves as a mixture between blouse and blazer and can serve as an elegant business staple or casually worn with jeans for any outing. The bellows pockets are added on pockets in a distinctive and voluminous style with decorative triangle-shaped seams at the top. The blouse gets it shape from dropped shoulders and a very low sleeve line. SHOP NOW 111
sister-mag.com 65-10 112
sisterMAG 65 | 2022 COLORS IN THE CITY 65-10 Wide blouse with big collar and pockets SIZES 34-50 (EU ) | 4-20 (US) This detailed wide and long-sleeved blouse is more suitable for advanced sewers. Most striking is the big sailor collar, a deep-cut square which falls down the back, tapering in a V-neck to a point at the front. Furthermore, the blouse features patch pockets and classic sleeve slits. ADVANCED SHOP NOW 113
Circular skirts are incredibly popular for a reason! Many designers try to transforming a classic circular skirt into a contemporary and chic version. We designed one that is easy to sew and can be customized to fit the fabric you have. Plus, it can "grow with you." The skirt can be longer, and you can also cut and insert the front and back side parts as often as you like. Thus you get an incredibly wide skirt, which you can't achieve with a usual circular skirt cut. We have closed the waistband with a pin buckle, incorporating a modern feature from streetwear fashion. NOW
65-11
Irregular plate skirt with plug belt 34-50 (EU ) | 4-20 (US)
SHOP
EASY 114
SIZES
sisterMAG 65 | 2022 COLORS IN THE CITY 65-11 115
The new favorite fabric of the sewing community: "Tencel" or Modal - similar to viscose made from the bevel Lynocell. The raw material origin of the fiber is wood (mostly eucalyptus). Due to the closed cycle, the production of the fabric is particularly environmentally friendly. This is also the biggest difference to viscose, for the production of which new, sometimes environmentally harmful, chemicals are used again and again. Due to the special properties of the easy-flowing fabric, we have developed a cut for an airy dress, which brings out the light fall of the fabric particularly
65-12 Viscose or tencel swing dress with feather trim SIZES 34-50 (EU ) | 4-20 (US)
sister-mag.com
EASYwell. SHOP NOW 116
sisterMAG 65 | 2022 COLORS IN THE CITY 65-12 117
sister-mag.com 65-13 Jacket double breasted and waisted SIZES 34-50 (EU) | 4-20 (US) ADVANCED 65-13
The crowning glory of our collection is this fitted, doublebreasted button-up blazer with contrast color details. An advanced masterpiece with flap pockets, a fold-in welt pocket and a large lapel collar. With this cut, we dare to look ahead to the upcoming cooler season. We've been familiar with the extremely wide shoulders on jackets and coats for quite a while, what's new is the waist of the blazer. This changes the silhouette, away from the oversized, to the figure-hugging! So we have to sew again ourselves and can not simply help ourselves in the closet of the man ;).
118
sisterMAG 65 | 2022 COLORS IN THE CITY SHOP NOW 119
rPTheotrait 120
sisterMAG 65 | 2022 WELCOME PIA, WE WOULD LOVE IT IF YOU'D INTRODUCE YOURSELF A LITTLE BIT. WHO ARE YOU AND WHAT DO YOU DO?
My name is Pia Steinhage and I'm the founder of " co&amor ", an ethical fashion brand selling Colombian craftwork. After my degree in International Management and Business Development, I worked as an Online Marketplace Manager for a fashion group in Hamburg. However, in 2020, I wanted to create and develop something myself. With some financial support from a successful crowdfunding campaign, I founded a part-time startup, co&amor. At the moment, we sell handbags and hats, and everything is
INTERVIEW COLORS IN THE CITY 121
WHAT IS THE PHILOSOPHY BEHIND CO&AMOR?
HOW DID YOU COME TO FIND YOUR LOVE FOR COLOMBIA?
My love for Colombia began when I spent my semester abroad in 2015 in Barranquilla, the fourth largest city in the country. In particular, the peoples' nature and lust for life inspired me from the beginning.
sister-mag.com handmade by the indigenous Wayuu people. WHO ARE THE WAYUU? The Wayuu are a group of indigenous people who live in northern Columbia and Venezuela. In Columbia, they live in the La Guajira desert, which is one of the few places in the world where the sea and the desert actually meet. The peoples' age-old traditions include making diverse types of handicrafts, which are transformed into bags and hats. Unfortunately, they often sell them for less than they're worth just to secure their livelihood. Daniela, my business partner, is committed to fair and ethical working conditions and pays them at least double the market value.
122
By treating those making the products fairly and ethically, and making sure that the customers are consciously supporting this, we want to positively contribute to the development of the fashion industry. That is co&amor's vision. We deliver transparency to customers, with fair prices and humane working conditions for our producers. Columbia is a country full of talented craftspeople who preserve the country's traditional, culturally rooted techniques. Everything co&amor sells is ethically handmade. It's important to us that as we distribute the products, we also spread love for the country of Colombia, as the name represents:co is the country code for Colombia and amor is Spanish for 'love'.
The Colombians are warm, helpful people and being friendly towards one another is very important to them. Whether that's in a taxi, at the shop, or on the university campus, you always meet smiling people who are open and interesting to talk with.
HOW DOES SOURCING THE BAGS WORK? HOW DO YOU KEEP IN TOUCH
sisterMAG 65 | 2022 Wayuu Art CO&AMOR COLORS IN THE CITY 123
sister-mag.com WITH DANIELA? ACTUALLY, TELL US WHO DANIELA IS ;) I receive the bags from my friend and business partner, Daniela. We met back when I was on my semester abroad in Colombia and later, our business relationship developed. She is one of the indigenous Wayuu people, herself, and after her degree she started her own business supporting her people to show the true value of their work. She now works alongside over 50 Wayuu artists and ensures their livelihood through fair pay. We buy our products from her, wholesale. That way, we can either default to their designs or we can also implement our own design ideas. CO&AMOR 124
sisterMAG 65 | 2022 " my business partner, is committed to fair and ethical working conditions " COLORS IN THE CITY 125
HOW ARE THE BAGS MADE? IS THE TECHNIQUE CLOSER TO CROCHET OR WEAVING? WHAT MATERIALS ARE THE BAGS MADE FROM?
126
The first, more traditional type is more time intensive and leads to a stronger fabric. The second type came about over the years in order to reduce the production time. The crocheting is done mostly by the women. By the time they hit puberty, the technique has already been passed from woman to woman. Some of the bags, and all of the hats, are weaved from the leaves of the Iraca palm tree. This type of craft is mainly done by men. They can create amazing designs by painting the palm leaves and the bag handles are either braided or weaved from cotton. It's very important to us to offer all of the different art styles as that's the only way to preserve all of their traditions and ensure that the Wayuu people have a future. the leaves of the Zum anderen Some of the bags areandIracaweavedpalmtree.allofthehats, SHOP
The bags are all handmade. The technique has been passed from generation to generation as an integral part of the Wayuu culture. There are three different methods that the Wayuu use to make the products. One way involves designs that are crocheted with cotton, like our SONRISA bag. Here, the cotton is either single stitched ( UNA HEBRA is Spanish for " one thread ") or double stitched ( DOS HEBRAS is Spanish for " two threads ").
sister-mag.com
bagsfrom COLORS IN THE CITY 127
sister-mag.com AND DO YOU HAVE A SAY IN WHAT DESIGNS YOU GET IN YOUR SHOP? I choose all of the designs that come into the shop myself. I either rely on the designs developed by Daniela or offer up my own ideas. Up to now, the Wayuu artists have been able to implement all of my suggestions. Daniela is eager to connect new trends with all of the older traditions. WHAT IS YOUR DREAM FOR CO&AMOR? WOULD YOU LIKE TO ADD MORE BESIDES BAGS TO THE RANGE? 128
COLORS IN THE CITY 129
WHAT IS YOUR PERSONAL FAVOURITE DESIGN? That's a hard question to answer, I love all the bags. I carry the UNA HEBRA in white and gold most often; I love the design so much and I use it all year round. For beach holidays, I always have a colourful version of the SOL bag with me because they're a perfect match for the beach.
My dream is that co&amor will be the go-to place for Colombian crafts and more products will be added to the range. Later this year, I'll be offering co&amor's first home decor items like placemats as well as autumn fashion pieces and hand-embroidered dresses and jackets. In the future, these ranges will be expanded to cater for children and men as well. This is how co&amor can, and will, help the people of Colombia.
sisterMAG 65 | 2022
Daniela is eager toolderconnectnewtrendstraditions.withallofthe
130
Handbags are the perfect way to add a piece of your personal style to any look. Add a pop of color to your work outfit or personality to a casual outfit with our HANDMADE ideas. We have prepared five options for you to get creative and stand out in style! COLORS IN THE CITY 131
sister-mag.com BAGTOTESISTERS by Ioana VANILLE IST SCHWARZ 132
GREAT START TO CROCHET Materials » Crochet hook size 4 » Approx. 200g raffia with Run length approx. 250 m Don't worry, the bag that Ioana from Instagram account "Vanille ist Schwarz" has designed for us is suitable for both beginners and advanced crocheters. Inspired by some very famous fashion brands, she created the DIY version for you, in different levels of difficulty: 1. A plain and more simple variation ( #easysisterstotebag ) 2. A more sophisticated version ( #fancysisterstotebag ) with triangular design at the front 3. You even have the possibility to create your own design using the sketch on page x and crochet it just the way you like it ( #mysisterstotebag ) Each bag is crocheted in one piece, from the bottom up - without the hassle of sewing lots of threads in between. So, let's go! #EASYSISTERSTOTEBAG#FANCYSISTERSTOTEBAG click here to go to the shop createdExclusivelybyIoanaforsisterMAGPatterns.@vanille_ist_schwarz COLORS IN THE CITY 133
sister-mag.com by Marie DARME-RIZZO CROCHETTECH 134
sisterMAG 65 | 2022 INSTRUCTIONS Materials » Crochet hook size 4 » Approx. 4x350g Trapillo, in 4 different colors Dimensions for a Macbook 15' (35cm x 25cm) 1. Crochet 74 chain stitches in orange (2 rows) 2. Change color and crochet 6 rows of single crochet (UK)/double crochet (US) 3. Change color and sc (UK)/dc (US) 9 rows in yellow 4. Exchange color and sc (UK)/dc (US) 6 rows in pink 5. Swap color, and sc (UK)/dc (US) 4 rows in gray 6. The whole piece is then folded and sewn together at the sides - it couldn't be easier :). CHAIN SINGLE CROCHET (US) TUTORIAL 9.8in)|25cm(approx.rows28 sidethisSew Sew this side 74 ch (approx. 71cm | 28in) This workaiscrochetmulti-colorlaptopcaseperfectforaddingbitofjoytoyourday. COLORS IN THE CITY 135
sister-mag.com by Louise Gouet SHOPPERPAINTED 136
HELPFUL TIPS FROM LOUISE Materials » Printed template » Acrylic paint for elather » Handbag / shopper » Brushes » Marker (e.g. from Po sca) 1. First, "deglaze" the leather/PU material before painting by wiping the bags with rubbing alcohol. Removing the shiny finish helps the paint adhere better. 2. Less opaque colors may need more coats than others. 3. Paint a first coat of white to make the colors brighter. 4. It's best to paint several thin layers rather than lay the paint on thickly. 5. Mix colors to get the perfect shade! 6. Make sure each layer is dry to the touch before painting another coat or details on top. Downloadtemplate here Totes are all the rageso try to find one that's different from the rest! This DIY scenic Parisinspired tote will brighten up your look and have people asking where you got it. COLORS IN THE CITY 137
sister-mag.com BAGMINIPAINTED by Louise Gouet 138
Materials » Printed template » Acrylic paint for elather » Handbag / shopper » Brushes » Marker (e.g. from Posca) Downloadtemplate here The second design by illustrator Louise reminds of city views of Amsterdam. Again, you can get creative and choose your favorite colors! COLORS IN THE CITY 139
sister-mag.com by the sisterMAG TeamCROCHETFLOWERY 140
sisterMAG 65 | 2022 INSTRUCTIONS EASY FLOWER by Wollverstand THE OLIVIA FLOWER by Hooked by Robin EASY FLOWER 2 by Maschenanschlag Materials » Crochet hooks size 3 & 4 » Yarn in different shades of beige » Shopper made of fabric material » Very thick needle for sewing on 1. For this canvas shopper we needed about 50-60 flowers. However, with the help of the Youtube videos linked below, it was quite easy! 2. Use different yarns and flower sizes to add as much variety to the design as possible. 3. Don't hide the thread at the end, use it to sew the flowers onto the bag. TUTORIAL This is the cutest neutral DIY tote to add to your collection. These beautiful crochet flowers add a delicate and unique touch that will elevate any look - casual or professional. COLORS IN THE CITY 141
CREATIONS We wanttosee your 142
FOLLOW AND TAG US IN YOUR WORK! #SISTERMAGDIY COLORS IN THE CITY 143
sister-mag.com STREET ART AROUND THE WORLD PUBLIC SPACE AS A CANVAS 144
sisterMAG 65 | 2022 Art is not only confined to themuseums and galleries of theworld. We might find it thenext time we set foot in thestreet. Street art has beenincreasingly recognised as aunique art movement since the2000s and has been steadilydistributed via social media.It comes in many shapes andsizes and brings art back topublic spaces, where we can admire it for free. Huge muralsare now being commissionedworldwide, leaving no trace ofthe former illegal graffiti thatadorned the sides of buildings.Street art found its place inthe commercial art scene along time ago. That's why we'retaking a look at internationalstreet artists who've madeour streets that much morecolourful and exciting! Street Art TEXT: CAROLIN KRALAPP COLORS IN THE CITY 145
sister-mag.com E L T O NO ELTONO French artist Eltono likes to call himself a wanderer, a stroller and an observer. He pays keen attention to everything that's unfolding around him, and uses the unpredictability of his surroundings as tools for his art. His colour-intense compositions can already be found in over 90 places, amongst those, on the island of São Vicente in Cape Verde in 2017, and in 2018 on an inner-city tram that travelled through Angers in France, drawing the gaze of pedestrians. In his artistic work he deals with the questions and problems that arise when exhibiting public art, such as street art, in privatewww.eltono.comspaces.@eltonolabPhoto:ThierryBonnet –Ville d'Angers 146
S T L E
sisterMAG 65 | 2022
And, just as his art travels the entire globe, his murals show flowers and plants from around the world. The artist also portrays the versatility of flowers and plants on a smaller scale on canvas in his studio, and those make it into international galleries and museums.
@pastelfd P COLORS IN THE CITY 147
Francisco Diaz Scotto (Pastel)
The work of Argentinian artist, Francisco Diaz Scotto , who works under the name Pastel, is decidedly floral. His largescale pieces adorn public spaces around the world, for example, Buenos Aires in Argentina or Ghent in Belgium.
sister-mag.com K A S I N K H
www.kashink.com@kashink1 148
Kashink French artist, activist and performer, Kashink , questions gender stereotypes and the meaning of identity in her artistic works. As an act of selfempowerment and activism, the artist has, since 2013, always worn a painted-on moustache. She began her series "50 Cakes of Gay" in 2012 in Paris at a time when protests were increasingly arising in the country against same-sex marriage. At Art Miami 2013, she placed her colourfully wrapped political message on the Wynwood Walls no less than 50 times. It is an ongoing project with which she commits to promoting samesex marriage and equal rights for homosexuals. Her wedding cakes have since made it all the way to America, Morocco, Estonia, Germany, England, and Greece. She's already made a name for herself in Berlin with one of her cakes.
sisterMAG 65 | 2022 Louis Lambert (3ttman) Louis Lambert, working as an artist under the name of 3ttman , is a key player in the contemporary urban art scene in Madrid. In the French artist's work, the line between art and craft blurs. You can recognise the punky graffiti roots, but with distinct, clear shapes and colours with an overarching pop style. At the Urban Art Festival 2020 in Tenerife, for example, he daubed the Canarian countryside onto a wall with the title "Platanera". In Marseille in 2021, he covered a wall, depicting the city as a boat to highlight that the global community all found themselves in the same boat, the same difficult situation, due to the Coronavirus pandemic. www.3ttman.com@3ttman3 T T M A N COLORS IN THE CITY 149
M A D C MadC German born artist, Claudia Walde , better known as MadC , began using spray paint as a teenager, and over the years, developed into somewhat of an authority on graffiti and the street art scene. Her dynamic, handpainted, gaudy murals convey the intense expressive power of art www.heni.com@mad_c1 that pieces of such great size can have. At the same time, the artist succeeds in capturing the shapes and colours with tremendous movement and energy. It feels like her pieces go beyond the boundaries of the object and carry on through the streets. MadC also travels the world with her paints in her bag. The artist is currently also increasingly embracing the digital spaces, expanding the boundaries of street art and selling her work as NFTs (non-fungible tokens) - the newest trend in the art market.
150
sister-mag.com
Irma Penna To round off this street art journey, here's another example from the public spaces of Berlin, which is also just a stone's throw away from the sisterMAG editorial office. In an otherwise rather inconspicuous place in Pankow, Berlin, a real masterpiece of a mural stretches across the façade of Number 20 Wollankstraße.
M
COLORS IN THE CITY 151
sisterMAG 65 | 2022
www.irmapenna.com I
Inspired by the painter, Alfons Mucha, the Spanish artist, Irma Penna , paid homage to Art Nouveau paintings on the wall here. It shows the soft colours of an unknown female figure, surrounded by flowers, wrapped in a flowing, glossy gown.
thewithcapitalGermany'sthroughtourA 152
COLORS IN THE CITY 153
For issue 65, we're going back to our roots. When we launched sisterMAG in 2012, our first travel feature in London was about "do-it-yourself" stores ( you can find the feature here ). As lovers of handmade things, when we travel we are always on the lookout for beautiful haberdashery and wool stores, craft stores, and stationery stores. For the new beginning of this series, we decided to start in our "home" city of Berlin. You can find here a big map with all stores and addresses that we have compiled with the help of the sisterMAG team and community. You can easily download it to your cell phone while exploring the different neighborhoods of the German capital. Of course, this list is never finishedwe're always adding to the Google Maps page. Write to us if you know another spot in Berlin that should be on our list! Have fun exploring!
sister-mag.com For many years now, City West has been the focus of urban development and, thus, home to a wide variety of businesses. City West can also keep up when it comes to "Do it Yourself" - both with large chains like idee, where you know what to expect, but also with small owner-operated stores that invite you to browse and discover. 1 2 3 4 12 5 9 6 7 15 816 14 10 154
sisterMAG 65 | 2022 Fabric stores & haberdasheries 1. Hüco Stoffe 2. Schneidersitz 3. Stoff-ideen Berlin 4. YAVAS Schneidereibedarf 5. Knopf & Schnalle Crafting & Materials 6. StempelBar 7. idee.Creativmarkt Wilmersdorfer Straße 8. Paint your Style Charlottenburg 9. Perlenbar 10. idee.Creativmarkt Tauentzien straße 11. Hobbyshop Rüther 12. boesner Charlottenburg Stationery 13. Papeterie Moranga 14. KaDeWe Schreibwarenabteilung Wool & Yarn 15. Wollschlößchen 16. Lalaine Marion Lange-Köhler1113 Vintage & Antique Shops on Suarez Street Stuttgarter Platz SPITZE COLORS IN THE CITY 155
Fewer and fewer specialty stores for haberdashery can be found in Berlin. That's why the small store "Schneidersitz" on Pestalozzistrasse is a real gem. The rooms are packed to bursting with borders, sewing threads, zippers, buckles and, above all ... buttons! This store is worth a visit, because you can find treasures that classic department stores no longer carry.156
sisterMAG 65 | 2022 COLORS IN THE CITY 157
 Antik-Center Berlin 158
 SPITZE – Store for historical clothing, textiles and accessories on Suarezstraße Charlottenburg|  Antik-Center Berlin  thomas klotz Upcycling & DIY  For a little breather and coffee break: Café AUDRÉY Amtsgerichtsplatzat  Blumen & Ideen Store directly at the corner Bismarckstraße / Suarezstraße COLORS IN THE CITY 159
sister-mag.com 1 2 3 4 11 6 7 8 9 10 Of course, our tour also takes us through Berlin-Mitte and Prenzlauer Berg. Here we find not only the beautiful stationery and papeterie store LUIBAN near the Volksbühne, but many more stores that are worth a visit: Stationery 1. LUIBAN papeterie 2. R.S.V.P Papier in Mitte 3. Papier Concept 4. Polly Paper Crafts & Materials 5. boesner Prenzlauer Berg Wool, yarn & fabrics 6. handmade BERLIN 7. FRAU TULPE STOFFE 8. KNIT KNIT Berlin 9. Yarn Over Berlin 10. Klinta Wolle 11. Loops Wolleladen 160
sisterMAG 65 | 2022 5 COLORS IN THE CITY 161
DOUBLE PAGE: LUIBAN stationery and writing materials in Rosa-Luxemburg-Straße162
COLORS IN THE CITY 163
164
COLORS IN THE CITY 165
In Kreuzberg, our tour leads to the traditional wool store Fadeninsel . Here you can find everything you need for crocheting or knitting: Wool in all varieties and colors, needles, instructions and books, hosiery, buttons and much more. Marita, the owner, is so knowledgeable about the beginnings of the thread island in 1985. At that time, the store was not located far from the Adalbertstraße. In 1 2 3 4 Schreibwaren 1. Grüne Papeterie Basteln & Materialien 2. modulor 3. CYM Kunst- und Zeichenbedarf Wolle & Garn / Stoffe 4. Fadeninsel berlin 166
COLORS IN THE CITY 167
2002, Fadeninsel then moved to Oranienstrasse 23. Behind the colorful store is a huge warehouse, because as Marita explains, "For a big knitting or crochet project, we always want to have enough wool in any quality there." You really still have to stop by (or call) Fadeninsel, too, because there is no online store. "You have to touch and feel wool" - and you can do that in abundance in the well-stocked Kreuzberg handicrafts168store!
COLORS IN THE CITY 169
170
Garn & Wolle 1. WOLLEN Berlin Basteln & Materialien 2. ZEICHEN-CENTER EBELING Töpfern / Kurse 3. Clayer's Collective 1 2
We could never leave out Wedding. In addition to the beautiful wool store WOLLEN Berlin (somewhat hidden) directly at the S-Bahn station Wedding, our way also leads further north along Wollankstraße. There, at the height of the St. Elisabeth churchyard, is the Clayer's Collective … "The light is especially beautiful in the evening!" We were able to confirm this sentiment as we entered the "Clayer's Collective" around 5 p.m. on a Friday afternoon, which opened in April 2022. The ceramic workshop in Berlin's Wedding district is bathed in warm sunlight, painting long shadows on the walls. 3
COLORS IN THE CITY 171
172
@clayers.collective COLORS IN THE CITY 173
Stefanie Kromrei and Sharman Riegger warmly welcomed us into their workshop, which they had renovated and retrofitted themselves. A "joint project" had been their dream for a long time. Then suddenly the opportunity arose for them to take over the pottery workshop in Wedding from the previous owner ("Pottery to the People"), Sharman had already started giving classes there three years ago. For Stefanie and Sharman, the project was a jump into the deep end, as they both quit their jobs and concentrated one hundred percent on Clayer's.
Shaman completed a three-year ceramic apprenticeship straight out of school. He lost sight of ceramics for a long time due to his art studies and painting, however, the desire to sculpt clay, loam, and water remained. Stefanie studied architecture, but worked as an art director for a long time in the film industry. Approximately three years ago, she discovered her love for ceramics. She worked in "Clayer's" workshop and was responsible for marketing. She is the designer behind the scenes at Clayer's! But what is Clayer's Collective actually? First of all, it is a club. Members are allowed to utilize the space for their own works. These are hobby ceramicists, but also professionals who make small batches. There are classes, and a pottery firing service for everyone 174
How did the two get into ceramics?
modeling at home; clay for home use is made available. The Clayer's Collective classes are tailored to beginners, but also to the more experienced students who are looking for a challenge. There are technically difficult tasks such as teapots and large bowls. Some work is done using a potter's wheel, but hand modeling at the workbench is also taught. Of course, one can see and acquire Sharman's creations at Clayer's Collective, and those that require a snack after visiting Clayer's Collective can admire Sharman's hand-molded teapots at the newly opened Lobe Lokal whilst enjoying a drink.
COLORS IN THE CITY 175
We hope you enjoyed our little trip through four neighborhoods in Berlin. The complete map with destinations - including Makramée store in Neukölln or destinations in Steglitz can be found on Google Maps. There you will find over 50 location pins and can easily display them directly on the map or save them to Google Maps. We are looking forward to the next destination that we can explore with you in the sign of DIY! Do you live in a city that we should definitely explore with you? Then let us know and write to mail@sister-mag.com ! 176
COLORS IN THE CITY 177
Where can you find more Patterns?sisterMAG Subscribe to our Youtube @sisterMAG!channel Tag us to be featured #SISTERMAGPATTERNS#SISTERMAGDIY YOUTUBE CHANNEL We have playlists full of great videos that go beyond just showcasing our patterns – everything from home decor ideas, DIY inspo, and photography tips. Of course, we have sewing content too! 178
SUBSCRIBE NOW Often these videos teach you how to embellish things you already own like our DIY Pom Poms that you can add to your bags or DIY Tassel Earrings to spice up your favorite outfit. This is a great place to go for a quick and easy project! Check out our behind the scenes videos where we really give you a peek into the process of producing the content you see here! COLORS IN THE CITY 179
SUBSCRIBE NOW Our second channel, @sistermagpatterns , is exactly where you should go for visual instruction of our patterns ! We take you stepby-step through different details of our patterns, like showing how to do a double sided welt pocket , to ensure that you can see exactly how it should look. These tutorials are super quick, most being just around 5 minutes! Check them out! YOUTUBE CHANNEL 180
Tag us to be featured #SISTERMAGPATTERNS#SISTERMAGDIY Step by stepVideos COLORS IN THE CITY 181
Marketing Antonia Sutter (Marketing Dir.)
Contributin (Text) Marie Jaster, Madison Jones, LaceyJo Hunter, Carolin Kralapp, Michael Neubauer, sisterMAG Team
Translation & Proof Nadja Wieser, Thorsten Brueckner, Tessa Saville, Alex Kords, Pete Bruce, Manon Wilhelm, Madison Jones, LaceyJo Hunter, Lisa Wolf, Kaja Häussler, Amie McCracken, sisterMAG Team by Carry-On Publishing GmbH, Gustav-Meyer-Allee 25, 13355 Germany. Re-use the GmbH no liability mail@sister-mag.com
publisher. There is no liability for unsolicited manuscripts and Thephotographs.Carry-On Publishing
Berlin,
Operations Theresa Baier, Marielouise Engel, Irene Günther, Christina Rücker, Lisa Wolf
or guarantee for the accuracy, currency and completeness of the information provided. All information is provided without warranty. Contac t:
sister-mag.com SISTERMAG – JOURNAL FOR THE DIGITAL LADY www.sister-mag.com
Chief editor Theresa Wittemann, Antonia Sutter
of content is only allowed with written permission of
Management Antonia Sutter, Theresa Wittemann, Alex Sutter Sales Alex Sutter (Sales Dir.)
assumes
IMPRINT 182
Published
Design Theresa Wittemann (Art Dir.) , Ezbah Ali, Marie Darme, Gabriela Morales, Alina Tahir, Ilaria Trombí, Svala Wagner
Fashion Eva-Maria Neubauer (Fashion Dir.)
editors
editors
Contributin (Photo & Video) Sivan Askayo, Gabriela Morales, Cristopher Santos, Sebastian Jauregui, Francisco Jauregui
sisterMAG 65 | 2022 FOLLOW US ON INSTAGRAM TO DISCOVERMORE!183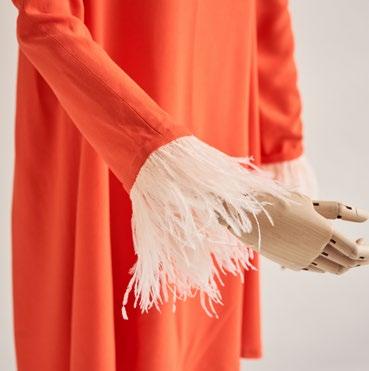 @sistermagstudio@sistermagpatterns@sister_mag sistermagpatternssister.magazin sistermagpatternssister_mag 1