our 14th annual
FooD &Drink issue
Passionate farmers on a mission, travel-inspired treats and perfect patios for dining alfresco this fall PAGE 64
BLOOM WHERE YOU'RE PLANTED
The Allen family cultivates kale, onions, peppers, sugar snap peas and so much more at Faithfull Farms.
CHAPEL HILL • CARRBORO • HILLSBOROUGH • ORANGE COUNTY SEPTEMBER/OCTOBER 2023 CHAPELHILLMAGAZINE.COM
CHAPEL HILL
SEPTEMBER/OCTOBER 2023
CHAPELHILLMAGAZINE.COM
EDITOR Jessica Stringer
EDITORIAL
EXECUTIVE MANAGING EDITOR
Amanda MacLaren
MANAGING EDITOR, CHATHAM MAGAZINE
Morgan Cartier Weston
SENIOR STAFF WRITER
Anna-Rhesa Versola
EDITORIAL ASSISTANT
Leah Berry
EDITORIAL INTERNS
Joelle Adeleke, A. Oishii Basu, Ben Crosbie, Anna Wesley Dubach, Teresa Fang, Sinclair Holian, Mila Mascenik, Lena Miano, Olivia Paul, Haley Pineles, Sydney Ross, Ginny Smith, Sara Mac Wood and Martha Zaytoun
CONTRIBUTORS
James Dupree, Leah Josephson
ART
CREATIVE DIRECTOR
Kevin Brown
GRAPHIC DESIGNER/PRODUCTION COORDINATOR
Lindsay Scott
GRAPHIC DESIGNER
Khadijah Weekes-Nolan
PHOTOGRAPHER
John Michael Simpson
ADVERTISING
For advertising inquiries, email advertising@chapelhillmagazine.com
Melissa Crane melissa.crane@trianglemediapartners.com
Kem Johnson kem.johnson@trianglemediapartners.com
Lauren Phillips lauren.phillips@trianglemediapartners.com
Lucinda Poole lucinda.poole@trianglemediapartners.com
Dana Statkun dana.statkun@trianglemediapartners.com
DIRECTOR OF CREATIVE OPERATIONS
Ashlin Acheson
CORPORATE
FOUNDER/CHAIRMAN
Dan Shannon
PRESIDENT, TRIANGLE MEDIA PARTNERS
Ellen Shannon
PRESIDENT, TRIANGLE DIGITAL PARTNERS
Rory Kelly Gillis
VICE PRESIDENT OF FINANCE & ADMINISTRATION
Amy Bell
ACCOUNTING ASSISTANT AND ADMINISTRATION MANAGER
Cassady Orsini
VICE PRESIDENT/PUBLISHER, CHATHAM MAGAZINE
Chris Elkins chris.elkins@trianglemediapartners.com
PUBLISHER, HEART OF NC WEDDINGS
Jenna Parks
HEART OF NC WEDDINGS MANAGING EDITOR/DIGITAL CONTENT SPECIALIST
Renee Ambroso
CREATIVE DIRECTOR, TRIANGLE DIGITAL PARTNERS
Sally Scruggs
SEARCH MARKETING MANAGER
Lizzie Jones
DIGITAL OPERATIONS MANAGER
Brian McIndoo
DIGITAL GROWTH STRATEGIST
Morgan Cartier Weston
DISTRIBUTION
Matt Bair
2 chapelhillmagazine.com September/October 2023 nctheatre.com • 919.831.6941 TICKETS START AT JUST $35, BUY NOW! Dates, shows, artists, and venue subject to change. ELF-THEMUSICAL, RENT, ONCE ON THIS ISLAND, and Lerner and Loewe's CAMELOT is presented through Music Theatre International (MTI). All authorized performance materials are also supplied by MTI. www.mtishows.com CURTIS BROWN PHOTOGRAPHY MARTIN MARIETTA CENTER, RALEIGH
Chapel Hill Magazine is published 6 times per year by Triangle Media Partners 1777 Fordham Blvd., Ste. 105, Chapel Hill, NC 27514 | 919–933–1551 Subscriptions $38 for 2 years – subscribe at chapelhillmagazine.com
The University of North Carolina at Chapel Hill 101 S. Columbia St. at Franklin St. Chapel Hill, NC 27514 919-966-5736 | ackland.org July 21 – October 8, 2023
Jean-François-Pierre Peyron, French, 1744-1814, Académie: Seated Male Nude, 1780, black chalk on off-white laid paper, 14 3/8 xx 20 7/8 in, (36.5 x 53 cm). The Horvitz Collection, Wilmington.
56 Turning the Page Mipso talks overcoming doubts, embracing change and calling North Carolina home on the eve of the release of their "Book of Fools" album
58 Fall Arts Guide
Can't-miss concerts, events and more
FEATURES
32 A Magic Carpet Ride Reflections on The Persian Carpet's journey as its owners prepare to close the showroom and pivot their business
38 Falling for Randolph County Must-try autumnal experiences in the heart of North Carolina
90 Into the Woods
The Kersh family found a hidden gem in the wilderness during lockdown
DEPARTMENTS
6 Letter from the Editor
10 About Town Events not to miss
22 Noted
What we've heard around our towns …
82 Dining Guide
114 Pet Resources
A guide to area vets, animal hospitals, groomers, boarders, pet sitters and dog parks
PEOPLE & PLACES
12 Women of Achievement Lunch
16 2023 Business Excellence Awards
17 Project Graduation
18 Blue Ribbon Mentor-Advocate Fundraiser & Graduation
WEDDINGS
118 Campbell & Krakow
120 Aumiller & Stewart
CONTENTS SEPTEMBER/OCTOBER 2023 CHAPELHILLMAGAZINE.COM VOLUME 18 NUMBER 5 PAGE 48 PAGE 64
THE FOOD, DRINK & FARMS ISSUE 64 Whisking Success Two siblings team up to bake treats inspired by their travels 68 Perfect Patios A few favorite alfresco spots 72 Where She Belongs Meet a young Asian American leader preserving her cultural heritage through farming 78 Cultivating Community Faithfull Farms is a sustainable oasis nurturing faith and bountiful harvests FALL ARTS 42 Making Some Noise A closer look at a few pieces from the inaugural Uproar Festival of Public Art 48 Center of Attention A professional actor and director sets the stage for a new community theater 54 A Modern Day Wanderer Meet a local software engineer who performs annually at the Carolina Renaissance Festival
PHOTOGRAPHY BY JOHN MICHAEL SIMPSON
Redefine retirement.
The
TERRACES
HURRY — PRESALES HAPPENING NOW!
New contemporary apartment homes for retirement. Learn more at forestduke.org/TheTerraces.
BECOME A CHARTER MEMBER TODAY!
KEEP GROWING SM
Vibrant living. Continuing care. In the heart of Durham. 800-278-9729 / forestduke.org/TheTerraces
Rising from the Ashes
On a balmy summer evening, as my Painkiller cocktail at The Crunkleton took hold, I ducked out of the West Franklin Street bar for some relief. I needed something sweet after dinner at Carolina Brewery, so I practically skipped a few doors down to Mediterranean Deli where I filled a box full of goodies: a slice of cheesecake, a lemon bar and my favorite, walnut baklava. My friends were posted up in the back of the bar when I returned; selfish me did not share the baklava.
Four weeks later, a fire that started in Med Deli's roof destroyed the restaurant and damaged adjoining businesses Simply Audrey, DB Sutton & Co., Moshi Moshi and Tropical Smoothie Med Deli owner Jamil Kadoura has made philanthropy a core part of his business for years. "This community is just a beautiful community that believes in itself, and it believes in others, and it believes in outsiders," he told Chapel Hill Magazine two years ago. Jamil raised $18,000 in one day for hurricane recovery in Haiti, held another fundraiser for flood relief in Pakistan and amassed $26,000 in 2 ½ hours for Syrian refugees, just to give you a few examples. "I called on the community, and the community came" during these efforts, he said. And when Jamil needed the community to show up, this time for his own restaurant and employees, they did – and then some. The GoFundMe set up to help pay wages to his affected employees had raised more than $210,000 from over 3,000 donors as of press time. You certainly can't keep a good man down, and Jamil and his team were right back in the game a week later with catering orders. But I know I'm not alone in awaiting the reopening of this cherished restaurant, hopeful that it returns even bolder and better than ever.
As we see within Med Deli's story – and what we hope you'll discover in these pages – local restaurants, bars and farms play a crucial role in our community's vitality, and it's with great joy that we shine a spotlight on them in our Food, Drink & Farms issue every year. So join us as we raise a toast to the heart and soul of our towns. CHM
FOLLOW US
Photography by John Michael Simpson
ORGANIZE THIS!
Neat Freak
Professional Organizing's Perri Kersh shares behind-thescenes tidy tips from her own stunning home on page 90!
KIDFRIENDLY FAVES
More than a dozen parents share their go-to restaurants for family meals.
OUR FULL FALL ARTS GUIDE 'Tis the season for new exhibits, plays, live music and more.
6 chapelhillmagazine.com September/October 2023 LETTER FROM THE EDITOR
ON THE COVER

jessica.stringer@chapelhillmagazine.com
  
(919) 806-3638 FOLLOW US @MaxHugoInteriors MAXHUGOINTERIORS.COM New Construction Renovation & Remodeling Decorating Design Consultations Custom Window Treatments Hunter Douglas Centurion Gallery VIVIDLY INSPIRED INTERIOR DESIGN
LOVE IN VERONA
ABOUT TOWN
EVENTS NOT TO MISS
The Gala
secufamilyhouse.org
SECU Family House at UNC Hospitals hosts its annual gala at Bay 7 in the American Tobacco District in Durham. All proceeds from the event will support Family House guests and help provide lodging, transportation and meals for those patients who would otherwise have to travel great distances to receive life-saving treatment at UNC.
Hog Day
Sept. 15-16
hogday.org
Dating back to 1983, Orange County's largest and oldest event will return this year for two days of food and beverages, live music, handmade crafts, a 5K run and kidfriendly activities. All of the proceeds will support schools and nonprofits in the county.
Dining for Others
Sept. 21, 6-9 p.m.
mowocnc.org
Purchase a ticket for an evening of food, drinks and fun to support Meals on Wheels Orange County, NC and its mission of alleviating hunger and reducing social isolation and loneliness among older adults in the area. The event, hosted at The Barn at Union Grove Farm, includes games, raffles and an auction.
A Tasteful Affair
Oct. 1, 6-8 p.m.
rmhch.org
The Ronald McDonald House of Chapel Hill hosts its signature tasting event at The Barn of Chapel Hill at Wild Flora Farm, complete with a silent auction, live entertainment, a raffle and local food and beverage samples throughout the afternoon. All proceeds go toward helping the organization support children who are experiencing medical challenges and their families.
TABLE's Empty Bowls
Oct. 8, 3:30-6:30 p.m.
tablenc.org
Join TABLE for its 11th annual fundraiser at the Carrboro Town Commons, featuring dinner and desserts, as well as live music and your choice of a handcrafted bowl made by
local artists. This year, the organization hopes to exceed last year's proceeds of $40,500, furthering its efforts to provide healthy meals to the children of Orange County.
Salt & Smoke
Oct. 28, 2 p.m.
saltandsmokefest.com
After a three-year hiatus, Acme Food & Beverage Company is set to bring back its annual afternoon affair, hosted at The Barn at Sonark Media, with barbecue, oysters and roasted clams from Shooting Point Oyster Company, along with Southern sides and sips. Live music performances, magicians and games will accompany the fare. CHM
10 chapelhillmagazine.com September/October 2023
Compiled by Martha Zaytoun EVENTS ARE SUBJECT TO CHANGE; CHECK WITH ORGANIZERS PRIOR TO ATTENDING
SEPT. 22
Held this year at Bay 7 in Durham, the SECU Family House at UNC Hospitals Gala raises critical funds for the nonprofit during a night of drinks, dinner and dancing.
PHOTO BY KATE POPE PHOTOGRAPHY
Chapel Hill is open to everyone... Small businesses, innovators, artists, industry leaders, collaborators, entrepreneurs, inventors, researchers, and dreamers. Visit our NEW website to connect with us! open2.biz We are committed to making Chapel Hill a vibrant, inclusive, and sustainable place to work, live, play, and shop.
Women of Achievement Lunch
Chapel Hill Magazine, Durham Magazine and Chatham Magazine hosted the annual Women of Achievement Luncheon at The Carolina Inn on June 8. The event celebrates the outstanding female community leaders featured in our publications. Attendees enjoyed networking and mimosas followed by lunch and dessert catered by Crossroads Chapel Hill. Keynote speaker Kim Jeffs, founder and CEO of Soma and Soul, utilized her expertise in trauma work
12 chapelhillmagazine.com September/October 2023 PEOPLE & PLACES
1 Speaker Kim Jeffs, founder and CEO of Soma and Soul.
2 Brooke Spach and Laura Gelblum, director of Preschool at the Chapel of the Cross and a 2023 honoree.
1 2 3
3 Chatham Magazine 2023 honoree Sera Cuni and Triangle Media Partners' Anna-Rhesa Versola.
SEPTEMBER 20 | MEMORIAL HALL
THE PHILADELPHIA ORCHESTRA WITH YANNICK NÉZET-SÉGUIN, MUSIC AND ARTISTIC DIRECTOR, FEATURING DAVID KIM, VIOLIN
SEPTEMBER 21 | MEMORIAL HALL
THE PHILADELPHIA ORCHESTRA WITH YANNICK NÉZET-SÉGUIN, MUSIC AND ARTISTIC DIRECTOR, FEATURING WU FEI, GUZHENG, AND SHANIR BLUMENKRANZ, OUD
On the 50th anniversary of its historic trip, the first American orchestra to perform in modern China explores the unifying power of music and examines what it means to be a cultural ambassador.
OCTOBER 14 & 15 | MEMORIAL HALL
RIMINI PROTOKOLL
100% THE TRIANGLE
Reconsider what it means to be from the South with this statistics-driven performance, featuring 100 non-actor representatives of NC's Research Triangle.
CHECK OUT THE ENTIRE 23-24 SEASON AT CAROLINAPERFORMINGARTS.ORG
The Orchestra kicks off the season with musical selections from Anna Clyne, Pyotr Ilyich Tchaikovsky, and Florence Price.
Women of Achievement Lunch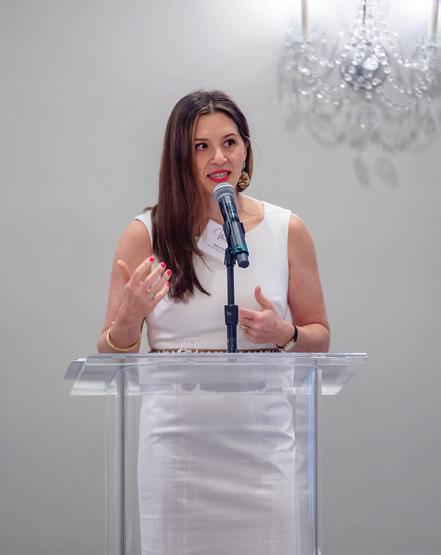 CONTINUED
to guide an enlightening discussion of personal boundaries. Triangle Digital Partners President Rory Gillis and Triangle Media Partners Vice President Chris Elkins then recognized the 2023 magazine honorees and encouraged attendees to get involved in mentoring programs, especially those catered toward young girls. By Leah Berry | Photography by John Michael Simpson CHM
4 2023 honoree Nora Spencer, founder and CEO of Hope Renovations, and Triangle Media Partners' Jessica Stringer.
5 Durham Magazine 2023 honoree Dr. Lisa Amaya-Jackson and Elizabeth Poindexter.
6 Triangle Digital Partners President Rory Gillis.
7 Past honoree and Carrboro Town Council member Barbara Foushee and 2023 honorees Anissa McLendon of E3 Camp, Laurie Paolicelli of Chapel Hill/Orange County Visitors Bureau and Deborah Stroman, UNC professor and equity strategist.
8 Chatham Magazine 2023 honoree Abbie Lee Roehm of Paces and Roehm Architecture, past honoree Jessica Murley and Triangle Media Partners' Lauren Phillips.
9 Kara Pittman, Nina King and Christy Graves of Chapel Hill Toffee, a 2023 honoree.
14 chapelhillmagazine.com September/October 2023 PEOPLE & PLACES
4 7 8 9 5 6
Chronic stress can cause symptoms such as fatigue, cognitive weariness, emotional exhaustion, lack of interest, low motivation and decreased energy, and may also lead to the development of mental illnesses or physical health conditions.
Kim Jeffs, MA, LCMHCS, SEP, founder of Soma & Soul, offers mental health counseling and somatic coaching for women to treat the impact of long-term stress and trauma on women's health. She also provides leadership consultation and
Here's a reality check: 89%
of
Three years following the onset of COVID-19, the impact of the pandemic on mental health remains substantial – not only at home, but also within the workforce. Increased symptoms of anxiety and the consequent physiological changes that occur with high levels of stress and trauma are impacting women at higher rates than men.
coaching for women as well as international personal growth retreats. Kim was the co-founder, along with her husband Dr. Patrick Jeffs, of the first trauma clinic in the state of North Carolina, which is located in Chapel Hill, under new ownership. Kim and Patrick also opened The Resiliency Solution, which offers coaching and consulting on workplace resiliency. As a mental health entrepreneur, Kim continues to explore ways to help women heal from the effects of anxiety, trauma and chronic stress so that they can flourish in their personal lives and careers.
Kim Jeffs, MA, LCMHCS, SEP Founder, Somatic Therapist & Coach
the workforce has experienced burnout at least once this past year.
SPONSORED CONTENT
919.525.4037 thesomaandsoul.com
2023 Business Excellence Awards
Members of The Chamber for a Greater Chapel Hill-Carrboro hosted a luncheon ceremony at Post 6 on June 16 to celebrate 21 exceptional businesses and three community leaders. Annual award winners are given special bee sculptures in honor of their achievements in the Chapel Hill-Carrboro business community. Awards handed out included the businesswoman of the year – won by our own Ellen Shannon –  best university-born business, best nonprofit and more. Photography by Barbara Bell
4
16 chapelhillmagazine.com September/October 2023 PEOPLE & PLACES
Photography CHM
1 La-Tasha Best-Gaddy and Creighton Blackwell, chief community impact and public affairs officer at Coastal Credit Union (winner of the Black Business Alliance Businessperson of the Year).
2 Elie Abou-Rjeileh, co-owner of Olmaz Jewelers (winner of Micro Enterprise Business of the Year), and Vijay Adkin.
3 Dwight Bassett and Ramesh Dahal, owner of Momo's Master (winner of New Business of the Year).
Trinita Carlton and Jennifer Player, president and CEO of Habitat for Humanity of Orange County (winner of the Innovation Award).
5 Triangle Media Partners' Lindsay Scott, Dan Shannon, Businesswoman of the Year Ellen Shannon and Khadijah Weekes Nolan.
6 Robert Saunders and Fred Stipe, board chair of South Orange Rescue Squad (winner of Large Business of the Year).
1 2 3 4 5 6 7
7 Justin Brown, Alex Brandwein, owner and founder of Brandwein's Bagels (winner of the Young Professional of the Year) and Lori Doherty.
Project Graduation
The 31st annual Project Graduation took place from 10 p.m. on June 10 to 4 a.m. on June 11 at UNC's Student Union. The nighttime event offered Chapel Hill-Carrboro City Schools graduating seniors and their guests the chance to celebrate their graduation in a safe – and phone-free – environment. This year's party featured food, music, a casino, prizes, a photo booth, dancing and more. As a community event, the yearly party is put on through the support of CHCCS families and local businesses.
1 Back row: Chapel Hill High School parent co-chair Teresa Kilgallen, Chapel Hill High School graduate and student co-chair Emily Kilgallen and East Chapel Hill High School parent co-chair Donna Cook; Front row: Carrboro High School graduate and student co-chair Sarah Neal and East Chapel Hill High School graduate and student co-chair Langley Maciejewski.
2 Carrboro High School rising senior Sydney Manning with graduates Caida Stanelle, Rachel Vandersea, Isabel Fargo, Iris Eyster and Anna Buleza.
September/October 2023 chapelhillmagazine.com 17 PEOPLE & PLACES
Photography by Tina CoyneSmith CHM
1 2 Investments Financial Planning Risk Management Chapel Hill, NC Fiduciary Since 1982 919.968.2977 2023
Blue Ribbon Mentor-Advocate Fundraiser & Graduation
A fundraiser for the Blue Ribbon Mentor-Advocate (BRMA) program was held at the home of North Carolina Senator Graig Meyer and Kym Meyer on May 27. BRMA matches volunteers with scholars of color in the Chapel Hill-Carrboro City Schools system in order to support, guide and encourage scholars through grades 4-12 and their first year of post-secondary education as they face challenges such as cultural barriers, educational resources and systematic discrimination. The program provides scholars with college scholarships, college and career preparation, academic support, mentoring and more. The fundraiser raised $1,000 for each of the 70 BRMA participants. A week later, seniors of Blue Ribbon were celebrated and scholarships were announced on June 4 during a graduation ceremony at the Dean E. Smith Center Compiled by Olivia Paul CHM
1 Tammi Thomas, Nemani Burris, Karida Giddings, Sara Levine, Jamauria Burris and Terrence Foushee.
2 Trilce Marquez, Lorie Clark, Liz Vail and Eugenia Floyd.
3 Madeline Blobe, Allison Worthy and Sarita Allen.
4 Jorge Pineda-Flores.
5 Emma Richie and Lorie Clark, coordinator of student leadership & engagement & BRMA.
6 Emely Martinez-Medrano.
18 chapelhillmagazine.com September/October 2023 PEOPLE & PLACES
1 2 3 4 5 6
Gentle. Respectful. Simple. FOR OUR BODIES AND THE EARTH Serving Durham, Orange, and Chatham Counties, and Surrounding Areas Why Choose Aquamation? Simple & Gentle Endswell offers one simple package, including eco-friendly water cremation, a process that is gentle and respectful, for our bodies and the planet. Affordable Endswell's aquamation package costs $2500 and includes transportation, paperwork, aquamation, and the return of remains in an ecofriendly urn. No CrossContamination Endswell ensures the purity and integrity of the final product by rinsing the aquamation machine and powering it off between cycles. Environmentally Friendly Aquamation uses a fraction of the energy as flame cremation and produces no toxic gasses or greenhouse gas emissions. Honoring Life Endswell is committed to honoring the families and individuals it serves with dignity, respect, and remembrance. endswellcremation.com 919.907.9777 407 Meadowlands Dr, Hillsborough, NC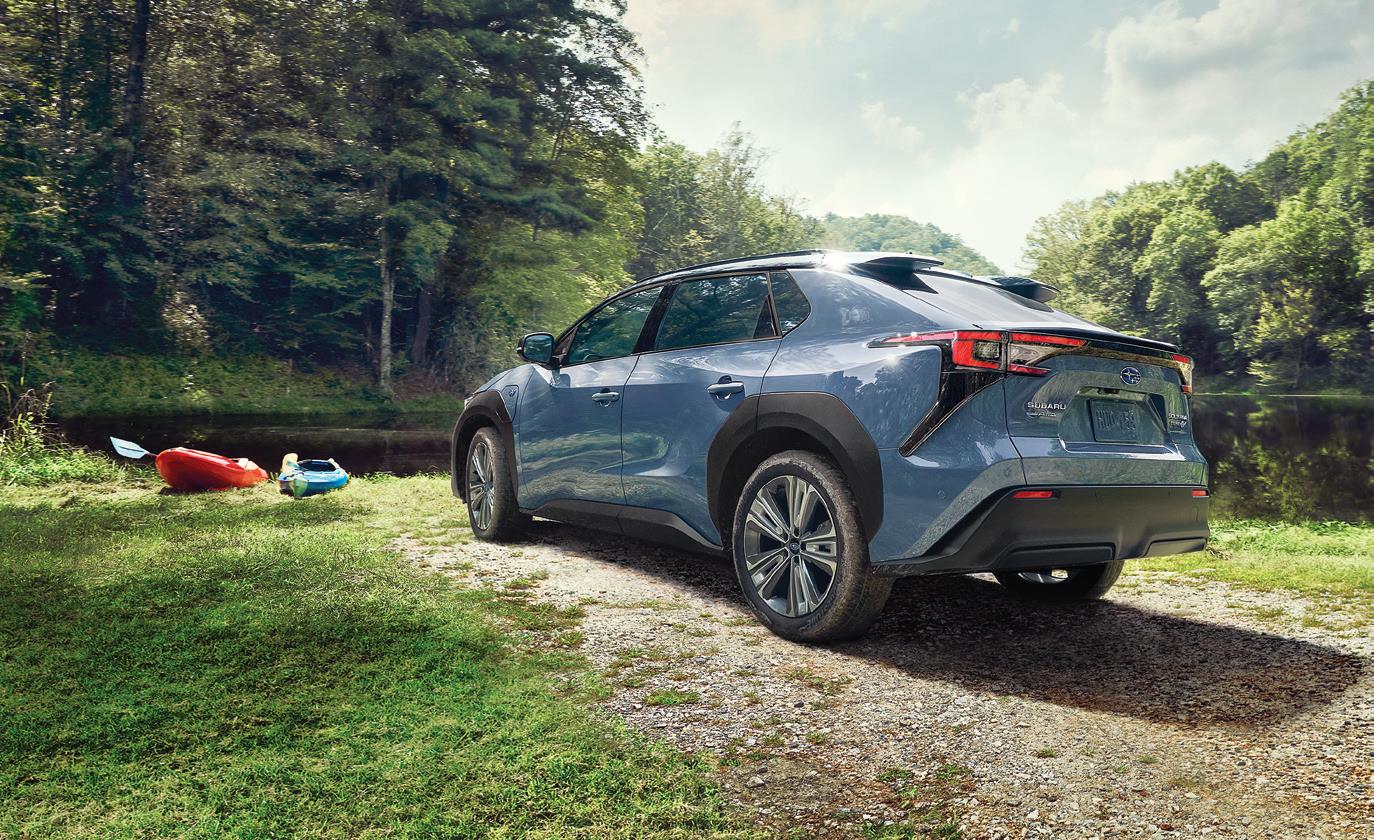 100%eleCtriC SUBARU SOLTERRA AVAILABLE AT HENDRICK SUBARU SOUTHPOINT Savethegreen, whileBeinggreen! 100%eleCtriC BMW iX AVAILABLE AT BMW OF SOUTHPOINT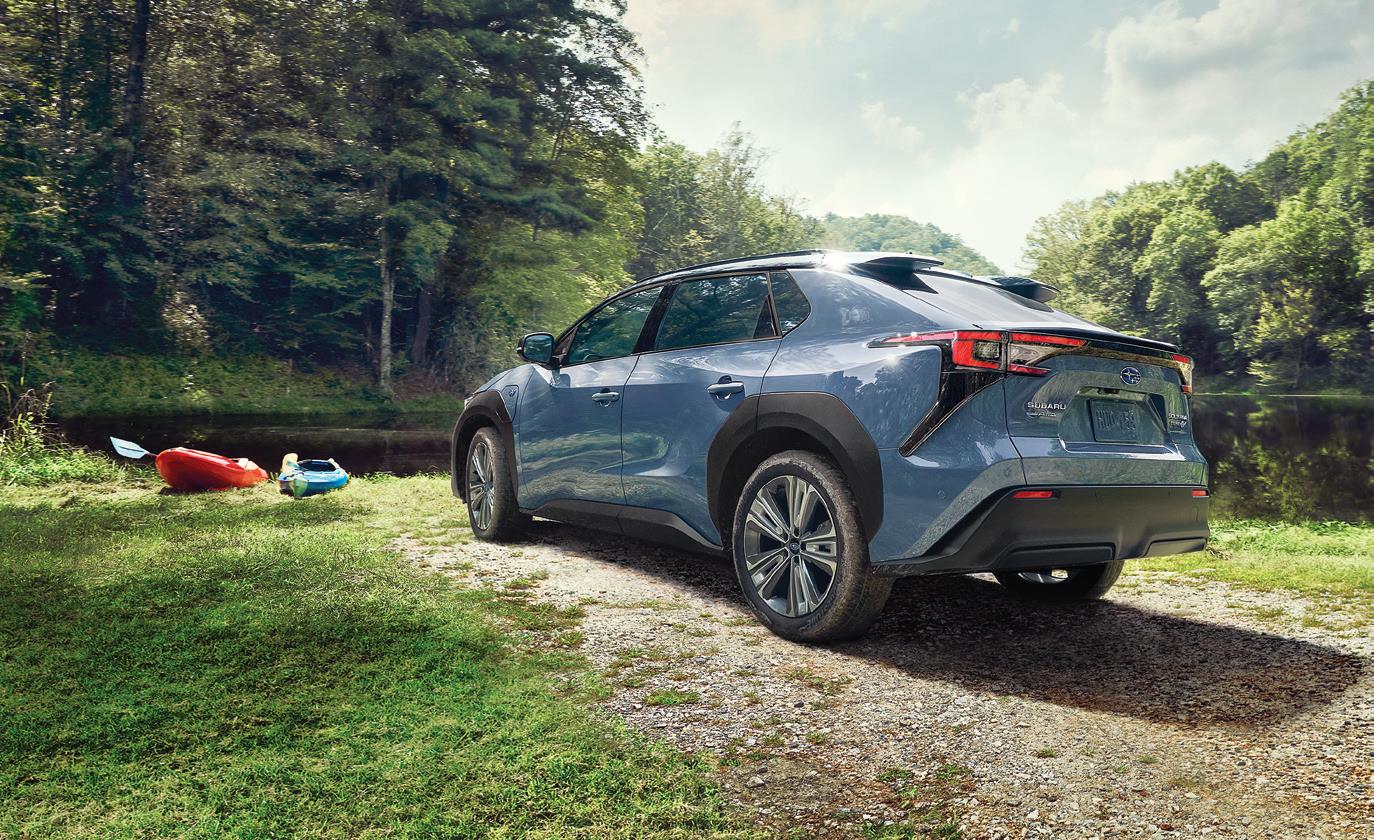 225KentingtonDrive,Durham,nC27713 919.354.7767 henDriCKSouthPoint.Com *ColliSion Center on the Corner of hwy 70 & Page rD. SALES & FINANCING Mon - Fri 9am - 7pm Sat 9am - 6pm SERVICE & PARTS Mon - Fri 7am - 6pm Sat 8am - 5pm COLLISION CENTER* Mon - Fri 7:30am - 6pm Sat & Sun Closed great offerS on alleleCtriC vehiCleS! we're offering KBB value + $500 on your traDe! we will Buy your vehiCle without you Buying from uS! 100%eleCtriC PORSCHE TAYCAN AVAILABLE AT PORSCHE SOUTHPOINT go eleCtriC! athenDriCKSouthPoint automall (intheheartofthetrianglearea)
NOTED .
COMINGS AND GOINGS
Healing Paws Veterinary Hospital welcomed Dr. Kayley Peters to their team in June. Kayley is a Chapel Hill native, who received her undergraduate degree from UNC and Doctor of Veterinary Medicine from N.C. State. As a high school student, Kayley worked as a veterinary assistant for Healing Paws during the summers.
The Chapel Hill Downtown Partnership named Rebecca Mormino, former assistant director of external affairs at UNC's Kenan Institute of Private Enterprise, as its new executive director on July 21. During her four years at the Kenan Institute, she was pivotal in amplifying the institute's mission to a global audience, reshaping its brand identity and conceptualizing and launching its translational research initiatives. Her new role is effective Aug. 14.
In July, Kevin Belanger was selected as the new public works director for the Town of Carrboro. After graduating from the University of New Hampshire, where he
WHAT WE'VE HEARD AROUND OUR TOWNS …
received a bachelor's degree in civil engineering, Kevin spent 24 years working for the New Hampshire Department of Transportation. "In my 27 years [working as a civil engineer], I have seen all the good public works employees can do, and I'm excited to come work with the Public Works team in Carrboro and continue that great work," Kevin says.
The Chapel Hill Town Council appointed Chris Blue as the new town manager
in July. Chris assumed the permanent role on Aug. 1 and has more than two decades of service with the town, including serving as the interim town manager since Jan. 1 and 12 years as the chief of police. "I am so appreciative to the Council for their trust in me and to our amazing team for their support, guidance and leadership over these last few months," Chris says in a town press release. "I look forward to seeing what we can accomplish together for our community in the months and years ahead."
Jo Anna Walker started a new position as a loan officer for
TRIAL BY FIRE
During his first month as Chapel Hill Fire Department fire chief, Jay Mebane oversaw the response to the fire that destroyed Mediterranean Deli, Bakery and Catering and impacted DB Sutton & Co., Moshi Moshi, Tropical Smoothie Cafe and Simply Audrey. Jay, pictured far
with
Integrity Home Mortgage Corporation in November 2022. She has been a loan officer for eight years and has found Integrity to be "a good fit" with "a wide variety of loan options and [an] amazing operations team."
After leading Orange County Schools for nearly four school years as superintendent, Monique Felder parted ways with the district effective Aug. 2.
22 chapelhillmagazine.com September/October 2023
Compiled by Martha Zaytoun and Mila Mascenik
PHOTO BY RORY GILLIS
right, surveys the damage
David Sutton, Karen Cunningham and Jamil Kadoura.
PHOTO BY SHOT BY ALINA
PHOTO BY TRACY THOMPSON WITH THOMPSON TEAM PHOTOGRAPHY
In a statement released with the news, she said, "I will remain the district's biggest cheerleader as I root for our community to use the blueprint we created together to continue our rise."
The Dermatology & Laser Center of Chapel Hill welcomed board-certified physician assistant and U.S. Army veteran Amy Rodriguez (pictured above on the right, with DLC's Dr. Chris Adigun) in June. After earning a Bachelor of Science from the U.S. Military Academy and serving six years of active duty, Amy began working as a dermatology medical assistant. She then returned to school to become a physician assistant, graduating from Wake Forest University's Physician Assistant program in 2016 with a master's in medical science. Since earning her degree, she has
worked at UNC Campus Health Services, helping students with illnesses, injuries and skin conditions.
The Orange County Board of Education named Kristin MattisonWilliamson as the new principal of Pathways Elementary School Kristin, who was previously the assistant principal at Central Elementary School, will start her new position on Oct. 1. Jalen Brown has taken his first role as principal of A.L. Stanback Middle School. And finally, Tenisha Williamson is the new principal of Gravelly Hill Middle School
GIVING BACK Coldwell Banker
Howard Perry and Walston held its annual fundraising event, Pig Out For The Cure, benefitting the UNC Lineberger Comprehensive Cancer Center and the Mary Anne Long Patient and Family Resource Center, on May 3. Participants had the option of pre-ordering barbecue plates from any of the agency's six HPW Foundation Triangle locations or attending the community picnic event held at Great Meadow Park.
In June, Orange County Animal Services received a $25,000 grant from Petco Love, which will be used to improve shelter veterinary care and community animal programs.
BIZ BRIEFS
SHARE YOUR NEWS! Submit noteworthy items, from award and scholarship winners to new book and album releases.
NEWS BITES
• 50Kitchen, a fusion-style restaurant serving a blend of traditional Southern fare and Asianinspired cuisine, opened in Blue Dogwood Public Market. After closing the original location in Boston, owner and head chef Anthony Caldwell hopes to bring the same food inspired by his diverse upbringing in Dorchester, Massachusetts, to Chapel Hill. The menu features items ranging from chicken and waffles and gumbo to jambalaya egg rolls and smoked banh mi.
In February, boardcertified art therapist Bridget PembertonSmith opened Bridges Art Therapy at 205 Lloyd St., Ste 203 in Carrboro. Bridget offers therapeutic art services to individuals, including children with physical disabilities, atrisk adolescents, adults with mental illnesses, older
• After 20 years of producing local cheese, pork and beef for the residents of Orange County, Chapel Hill Creamery will be sold to Reverence Farms
September/October 2023 chapelhillmagazine.com 23
PHOTO BY BRIANA BROUGH
of Alamance County.
Flo Hawley and Portia McKnight, the owners of Orange County's last dairy farm, will continue to operate the business for the next three years, at which point the new owners will take over daily operations.
• After transitioning from a lunch spot to a private event space, Mel's Commissary and Catering has returned to its roots, serving Southern sandwiches and sides from Tuesday to Friday. Owners Melody Bowers and Al Bowers have also introduced an afternoon drinks and snacks menu for the after-work crowd. Stop by for a sandwich or evening brew or rent the space to host a private event.
adults, refugees and immigrants. The individual and group classes are intended to help each person discover their strengths and healing potential.
Kindred Heart Animal Hospital opened a new location at Governors Village in July. Like their original location in Carrboro, the new spot will provide veterinary services and care to pets in the Chapel Hill area.
With more space to work with, the staff is "hoping the addition of this new space will expand treatment opportunities and decrease wait times."
The newly renovated downstairs space at Chapel Hill medical spa Aesthetic Solutions "has been years in the making" and is now complete.
WHAT AN HONOR Chapel Hill native and distinguished singersongwriter
Loudon Wainwright III will be inducted into the North Carolina Music Hall of Fame on Oct. 19. A Grammy winner with more than 20 albums, Loudon has made a name for himself as a musician and has taken roles in several films and TV shows, including "Big Fish" and "G-Force," throughout his career.
Mortgage Executive Magazine named Robby Oakes, managing director at CIMG Residential
24 chapelhillmagazine.com September/October 2023 NOTED
NOTED
In July, Chelsea FC topped Wrexham AFC by a score of 5-0 at Kenan Memorial Stadium in Chapel Hill in front of a soldout crowd of 50,596 fans. A portion of every ticket sold for the historic match was donated to UNC Children's Hospital's Pediatric Hematology-Oncology Clinic.
Mortgage and Robby
Oakes Mortgage Team, the No. 10 mortgage originator in the country. Since joining the company in 2003, Robby has been the top producing loan officer every year and is also the
No. 1 mortgage loan officer in the state. Hailing from Chapel Hill, Robby attended UNC and spends time in both Chapel Hill and Morehead City with his family.
Elizabeth Cheek celebrated 30 years of working as The Carolina Club's general manager in June. "So much has changed over the years, but one thing that has remained at the heart of
HILLSBOROUGH
Historic sites...and historic fun!
Only 20 minutes from Chapel Hill
everything we do is building camaraderie and relationship with, and among, our loyal club members," Elizabeth says. "I am passionate about our club and will work to propel us forward in 2023 and beyond."
• Big Spoon Roasters released a vegan and gluten-free limited batch nut butter on July 1. The Bourbon Pecan Peanut Butter the local company's lineup of other nut butters and snack bars made with quality ingredients. The special edition spread will be available until Sept. 30.
• The Carolina Inn launched a beer collaboration with Carolina Brewery on Aug. 25. The "Beer-Centennial Lager" is a rich golden German-style brew with a malty flavor
September/October 2023 chapelhillmagazine.com 25
NOTED

Winner of the 2022 Genes in Space contest, Pristine Onuoha, a recent graduate of East Chapel Hill High School, saw her biology research experiment head to space during the launch of a commercial resupply service mission to the International Space Station in June. Her project attempts to establish a method of measuring DNA length in space, which is not currently feasible with the techniques that are used on Earth. Moments before launch, Pristine was quoted as saying,
"It's honestly a dream come true. This idea started off in my head, and now it's going to be a reality pretty soon, so I'm
East Chapel Hill High School
congressional district, sponsored by the Congressional Institute.
Teresa's submission, "Small Businesses in My Hometown," illustrates "88 storefronts from [her] memories to commemorate the past, celebrate the present and welcome the incoming small businesses."
Alumni, family and friends of the UNC men's baseball team recognized Joe Bray, photographer and longtime supporter of the team, by naming the camera well at Boshamer Stadium in his honor. The Rams Club's Brian Chacos and Brian Bersticker planned the project alongside Joe's daughter, Christy Graves, and raised nearly $75,000 in donations from Diamond Heels, past and present. Over the last 30 years, Joe has captured tens of thousands of photos during
MEET BOARD-CERTIFIED ORTHODONTIST
Dr. Katya Skillestad, DDS, MS
Personal Treatment, Custom Smiles
We Always Leave You Smiling
Dr. Skillestad grew up just south of Charlotte, North Carolina, but she was actually born in the former USSR and came to the United States as a baby She even speaks fluent Russian! As a board-certified orthodontist, she is passionate about providing the best care for everyone who visits her o ce. Her current professional interests include complex Invisalign cases and orthodontics in conjunction with TMJ replacement.
Education & Experience
At Smith & Heymann Orthodontics, we believe a beautiful smile has the power to change your life. During your initial visit to one of our state-of-the-art offices, our team will ensure your time is informative and comfortable, utilizing the latest technology. You'll leave with a detailed, custom-designed treatment plan in hand, ready to choose which
treatment is
Dr. Skillestad attended UNC, where she earned her undergraduate and dental degrees, and graduated with top honors. From there, she went on to study orthodontics at Texas A&M University, where she was named the Resident of the Year by the Journal of Clinical Orthodontics, and won the American Board of Orthodontics' Resident Case of the Year award.
Dr. Skillestad is certified by the American Board of Orthodontics, something less than 30% of orthodontists achieve
Outside of the O ce
Our team is proud to serve our community as Invisalign Diamond+ providers. That means we are among the top 1% of Invisalign providers in the nation. We have the expertise to help you achieve the smile of your dreams without the use of metal braces and wires. Call us today for your complimentary consultation with Dr. Dempsey Smith, Dr. Gavin Heymann,
Dr. Skillestad, her husband, Garrett, and their toddler, Nina, reside in Chapel Hill with their two dogs, an adorable mutt and an energetic German Shorthaired Pointer. In her spare time, Dr. Skillestad enjoys reading, frequenting local playgrounds with her daughter, and growing her impressive collection of board games.
NOTED
the inn's centennial celebration ahead of 2024.
• Chef Sera Cuni
PHOTO BY CORNELL WATSON
Chapel Hill 1506 E. Franklin St, Suite 304 Chapel Hill, NC 27514 Durham 2919 Colony Rd Durham, NC 27705 Mebane 1107 S. 5th St., #200 Mebane, NC 27302 Roxboro 424 N. Madison Blvd., St., A Roxboro, NC 27573 919.493.4911
TO P 1% INVI SA LI GN PR OV IDER 2023 D IAMON D+
END YOUR PAIN WITHOUT DRUGS OR SURGERY TODAY 5821 Farrington Rd, Ste 202, Chapel Hill, NC 27517 919-307-6688 ignitechapelhill.com @ignitechapelhill THANK YOU CHAPEL HILL! VOTED BEST CHIROPRACTIC OFFICE! BACK AND NECK PAIN // HEADACHES // SCIATICA // NEUROPATHY // KNEE PAIN // PLANTAR FASCIITIS  COLD LASER THERAPY // NON-SURGICAL SPINAL DECOMPRESSION // SHOCKWAVE THERAPY 2022 2023 LimitedTimeOffer Any$49ConsultExam, NecessaryX-raysUsualvalue$197 Federal and Medicare restrictionsmayapply.
game days, which he then posted to his Flickr account and shared with players and their parents for free. On May 11, two hours before Joe threw the first pitch in the Tar Heels' game against N.C. State, he was presented with a plaque that showcased the many donors who contributed in his honor, which will be mounted to the newly minted Joe Bray Camera Well.
his years of work, Johnny was awarded the Order of the Long Leaf Pine.
After serving a year as interim director, Jonathon Smith was named the permanent Orange County Cooperative Extension director in June.
The North Carolina Botanical Garden announced the retirement of Johnny Randall, the director of conservation programs, in June. Johnny worked for more than 40 years on conservation efforts, protecting plants and natural areas and encouraging those in the community to appreciate the natural environment. For
In June, former fire chief Vencelin Harris was awarded the Order of the Long Leaf Pine, the highest honor that the governor's office presents to North Carolina residents who have provided extraordinary service to the state. Vencelin, pictured with Insurance Commissioner and State Fire Marshal Mike Causey, his daughter, Sydney Harris, and his wife, Danita Harris, retired in July after more than 28 years with the Chapel Hill Fire Department.
The 2023 Special Olympics North
Carolina Summer Games took place from June 2-4 in Raleigh. The following Orange County participants won: Brandon Barbaro, Tucker Barlow, Anna Christine Coleman (pictured above right), Markell Donald Corwin, Clare Curran Feole, Zachary James Fields, Derek Todd Flake, Abbey Marie Goodwin, Brandie Grady, Olivia Megan Hadley, Nickalas Daejon Harris, Justin Nicholas Jarmusz, Kimberly Helen Kelly, Julia Eileen Kenney, Joey Allen Kessler, Larissa Kiefer, Joey Krylow, Scott Lambeth, Stephanie Steffie Madden, Alexandre Frederick MartelMatt, Zion Amir Martin, Gabriel McBride, Lela Shanta Noel, Curtis Nold, James Obie, Brian Michael O'Donnell, Jonathan Henry Pardus, Ahmed Afab Rehman, Adam Michael Ricci,
Lucia Maria Romano, Frank Ricky Sampson, Dakota Bly Shaw, Victoria Jean Shore, Rubens Marin Shundi, Hunter Stanford, Alexis Beth Teplin, Peri Coulais Thomson, Preston Thomas Uhlenberg, Maxysm Hanusey Van Name, Steven Watts, Daniel Weiss and Allison "Al" Wright.
IN MEMORIAM
Kim Tesoro, the former CEO of the Hillsborough/ Orange County Chamber of Commerce and owner of Hot Tin Roof, passed away on July 19 after battling cancer. As the CEO for six years, Kim helped repurpose the organization to function as a go-to resource for businesses, particularly during the COVID-19 lockdown. She is remembered for her impactful work for the Town of Hillsborough and service to the community. CHM
28 chapelhillmagazine.com September/October 2023 NOTED
PHOTO BY BRADLY DICK, NCOSFM
PHOTO COURTESY N.C. COOPERATIVE EXTENSION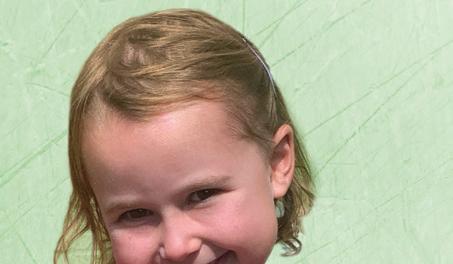 September/October 2023 chapelhillmagazine.com 29 SIP. SAVOR. SOCIALIZE. April 7 to October 27 | 5 to 8 p.m. CARINN-4061 Fridays On The Front Porch_CH Mag_Halfpage_M1_hires.pdf 1 5/4/23 10:24 AM 100% of Proceeds Feed Local Kids Ticket includes: Soups from Local Chefs • Live Music • Handcrafted Pottery Bowl SUNDAY• OCTOBER 8 3:30 PM • CARRBORO TOWN COMMONS Buy Tickets @ 11th Annual TABLEnc.org 2023 Empty Bowls Presenting Sponsor SHANNON KENNEDY BROKER 919.448.6664 shannon.kennedy@sothebysrealty.com
Meet the Newest Doctor at Aesthetic Solutions!
Aesthetic Solutions is known for expertise in aesthetic medicine, providing a comprehensive array of aesthetic services such as injectable treatments, laser resurfacing, body contouring and medical grade skincare. They pair clinically proven treatments with a highly skilled, compassionate team of healthcare professionals. Recently, we sat down with the newest member of the Aesthetic Solutions team, Dr. Lisa Ishii.
Tell us about your background
I started my education in Georgia, where I earned my Bachelor's Degree and completed Medical School. After that, came my Dermatology Residency at Vanderbilt University. I knew I wanted hands-on experience, and so the advanced fellowship training in laser and cosmetic dermatologic surgery through the American Society of Dermatologic Surgery (ASDS) was the perfect fit.
What made you choose aesthetic dermatology?
Aesthetic dermatology is a unique field in medicine where I can combine my passion for patient care with artistry and creativity. I love that I get to collaborate with my patients to achieve their goals to look and feel their best! There is truly nothing better than seeing someone's confidence restored with treatments focused on natural results.
What Inspires you?
I am inspired by my mentors and colleagues every single day. Especially in a field that is rapidly evolving like aesthetic dermatology,
A word from Aesthetic Solutions founder, Dr. Sue Ellen Cox: Aesthetic Solutions has been waiting many years to find the perfect physician to add to our practice. We have been searching for someone with an artistic eye, deep understanding of anatomy, and most importantly a passion for natural results. I am looking forward to working alongside Dr. Ishii!
getting to collaborate with others in the field to exchange ideas and techniques is rewarding.
What are you looking forward to most joining the Aesthetic Solutions team?
Dr. Cox and the team at Aesthetic Solutions are so well regarded, I am beyond thrilled to have the opportunity to continue my career here. I look forward to meeting the team, joining the aesthetic community in the Triangle, and bringing a few new treatments to the practice. I'm excited to work with and grow the incredible practice that Dr. Cox has built over the years.
Tell us about some of the treatments you'll bring with you to Aesthetic Solutions
I've spent the last few years studying the art of more aggressive laser therapies. I love being able to provide dramatic results without the need to undergo surgery. Full-face ablative CO2, multimodality laser layering, and ThermiRF are a few of the procedures I'll be bringing to Aesthetic Solutions. These treatments are best for patients with more advanced aging concerns who aren't quite ready to explore surgical options.
SPONSORED CONTENT
Q&A with Dr. Lisa Ishii
REQUEST A CONSULTATION aesthetic-solutions.com   5821 FARRINGTON RD #101, CHAPEL HILL, NC 27517 GIVE US A CALL 919 296 8787 | SEND US YOUR QUESTIONS info@aesthetic-solutions.com
a magic carpet ride
Reflections on The Persian Carpet's journey as its owners prepare to close the showroom and pivot their business
The Persian Carpet doors to the public after nearly 50 years. This iconic landmark, with a camel in each bay window, straddles the Durham County-Orange County line, standing sentinel over travelers on the corner of I-40 and started as a small dream for owners and Nelda Lay grew into a diverse and thriving business renowned locally and internationally for its dedication to the art of fine rug weaving.
Doug, "a country boy" from Mississippi, and Nelda, "a Southern belle" from Baton Rouge, Louisiana, met at Louisiana State University in 1958 when he passed through a class registration line where she was working. Doug was instantly smitten and got right back in line, patiently waiting for a chance to ask her out. Nelda's datebook was already full for every football game that semester, but she found an opening for him. On one of their first dates together, she agreed to ride through a bayou in a flat-bottomed boat, clutching a burlap sack that she was instructed to open each time Doug grabbed a bullfrog from the banks with his bare hands and thrust it in the bag – a decidedly more interesting outing than a football game.
32 chapelhillmagazine.com September/October 2023
process, he visited every region of the country, learned about rug-weaving traditions and began to collect rugs himself. Friends soon offered to pay him to bring rugs back for them. Nelda started joining him on these trips, and after the couple moved to Chapel Hill in 1973 when Doug accepted a professorship at UNC, they decided to import a few more rugs, rent a corner at the Country Squire Antiques Center and see where things went. They opened in October 1976 with a stack of 15 rugs imported from Iran; Nelda says she sold one rug during the first month and so was able to pay next month's rent. From there, they expanded into the large back room, then into an addition on the northside of the building and finally took over the entire space when Whitehall Antiques moved to Franklin Street.
The Persian Carpet was named for the primary type of rug available in 1976: the one-of-a-kind, hand-knotted rug from the region of ancient
Persia. "In the early days when we started, it was mainly one-of-a-kind pieces," Doug says. "That's all that was available at that time. It has evolved and is dictated by the designer industry now." As customer demand for decorative handmade carpets grew in the '80s and '90s, and Iranian goods were embargoed from entering the U.S., the handmade rug market changed completely: Rugs began being made in programmed designs that could be replicated and produced in various sizes for the wider market, so customers could order rugs in the right size for their homes, an option that would have been impossible in earlier days because each rug was unique. Styles also began to vary. You could walk into The Persian Carpet and go home with a minimalist, tone-on-tone contemporary-style rug. The product was still a high-quality handmade rug, but it was vastly different from the purely traditional designs to date. Business grew. 
September/October 2023 chapelhillmagazine.com 33
Nelda Lay and Doug Lay started The Persian Carpet with 15 imported rugs and rented out a corner at the Country Squire Antiques Center in Chapel Hill.
PHOTO BY GARY USHINO
Over the years, Doug and Nelda traveled together to all the major rug-producing countries of the world – China, India, Pakistan, Nepal and Turkey. They built long-lasting relationships with experts in the looming industry; learned how and where different types of carpets were woven; discovered rug artisans who made quality products that their North Carolina clientele would appreciate; handselected every item for their store; and also spent nights in the desert, rode on camels and elephants and the auto rickshaws known as tuk-tuks and ate foods they had never encountered back at home in Louisiana. It was these firsthand experiences that deepened their adoration for each other and for the craft they've since grown to love and share with thousands.
The business influenced the setting for their family life as well. Their daughters, Christin Lay Hemmens grew up in the store, jumping on rug stacks and working on weekends and summer breaks. "When we used to have sales, we did mailers," Cynthia recalls. "My friends and I would sit at the kitchen table and hand-address the envelopes, put the stamps on, and mail them out."
The store was open seven days a week, so family life was built around store hours; vacations around buying trips and trade shows. "We were open every day for years, maybe 18 years," Nelda says. "Oh,
closing on Sundays, and it's only been in the last year that we've closed Saturdays." Nelda was primarily in charge of running the store for the first 17 years, until Doug retired from his professorship in human anatomy at UNC in 1993 and joined her.
Rugs touched every aspect of the family's life. Their home was filled with colorful and beautiful weavings. They hosted friends emigrating from Iran after the revolution and learned the art of Persian cooking.
34 chapelhillmagazine.com September/October 2023 THE PERSIAN CARPET
They hired multitudes of Durham and Chapel Hill high school students to turn stacks and haul carpets, forging friendships with families across the community.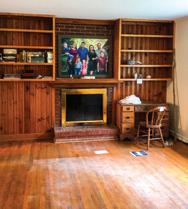 As the years passed and the business evolved, Doug became certified in appraising Asian-sourced rugs and a respected expert on handwoven rugs who lectures nationwide on the subject. Nelda became an accounting whiz and the mastermind behind the financial side of the business. Christin and Cynthia moved away, came home and moved away again. Somewhere along the way, Doug found his inner artist and applied his keen eye for color and knowledge of rugs to designing his own collections of carpets. He started with a collection of antique reproductions that were based on his personal assemblage of rugs. The collection was a success in the international rug market, but not a financial success for the company because it was virtually impossible to enforce trademarks over the designs.
Informed by this experience, Doug and Nelda decided to focus on specialty, niche collections where they could be a big fish in a small pond and copyright their designs. In 1996, they released the Arts and Crafts collection, designs drawn from British Arts and Crafts, Celtic revival and American prairie-style genres. They have released more than 60 designs in this collection over the years; today, they are known as the premier producer of handmade Arts and Crafts-style rugs. "We get to do so much fun stuff with the designing and then go into India to work with our producers," Cynthia says. "We've built this network of accounts and people we know all over the country who buy from us and know them all personally. I find that very satisfying. "
They launched a new branch of the company in 2008 called Southwest Looms, which is the official licensee for Pendleton Woolen Mills and translates Pendleton's iconic trade blankets into three collections of rugs that are popular in the Southwestern, luxury lodge and rustic home decor industry.
In 2016, Doug and Nelda were approached by the U.S. Agency for International Development to support economic enterprise in Afghanistan. They attended a conference in Dubai where they were introduced to rug producers from northern Afghanistan and formed a rug-weaving partnership with a
September/October 2023 chapelhillmagazine.com 35 BudMa hews.com 919.929.0203 e Bud Ma hews team can help in every step of your design/build process from the initial consultation to the nishing touches on your home renovation. Whether you're remodeling a kitchen or bath, redesigning your home for aging in place, upgrading your appliances, or HVAC systems, Bud Ma hews Services can help you build a be er home. HVAC • Plumbing • Electrical • Appliance Repair • Design/Build • Renovations Helping You Build a
er Home A er Before 2023
Be
LEFT AND RIGHT Nelda and Doug, respectively, in The Persian Carpet showroom.
producer that helps support 200 families in several villages near Mazar-i-Sharif. The new collection, called "Classic Revival," harkens back to the couple's original love of Persian, Turkish and Caucasian designs.
Today, Doug and Nelda's daughter Cynthia continues to grow the company's wholesale business with her parents' guidance. She moved back to Chapel Hill permanently in 2002 and has overseen the design, production, importation, marketing and distribution of the specialty collections ever since. "My mom and I sat in that office until this October," Cynthia says, gesturing across the showroom, "with the backs of our chairs touching. I don't know how we did that. But we put a lot of stuff to rest." Both mom and daughter laugh. According to her family, Cynthia inherited her father's artistic, visual projection and her mother's business acumen. Her sister, Christin, moved home in 2009 to help with the launch of Southwest Looms. She lives and works in Texas and flies in regularly to support her family and the business.
"We basically have three businesses here: our retail, our wholesale and our cleaning," Cynthia says. "And we run all of those with a staff of eight people, with two of those being my parents ..." Doug chimes in, finishing her sentence, "... who are old and tired and worn out," he laughs.
With that in mind, The Persian Carpet will close its doors to the public on Sept. 1. "We'll lock the door, put a sign on the front and close up the windows, and we'll spend the next 10 days preparing for a store closing sale," Cynthia says. But the business isn't closing for good, instead transforming into
These two unlikely people with no business background made this thing, and it's still going.
– Cynthia Lay McLaren
The Persian Carpet Curated. "We're going to reopen our front room," Cynthia says. "It's going to be a to-the-trade interior designer showroom because that business is much more efficient and easier to manage, and you don't have to carry such a massive amount of stock since you can order off of samples." She'll continue to spearhead the Arts and Crafts, Afghan and Southwest Looms collections. Doug will continue to design rugs, and Nelda will run the office. And they'll still offer rug-cleaning services. But the retail store will close, a transformation the family says is bittersweet. "These two unlikely people with no business background made this thing, and it's still going," Cynthia says.
Between them, Doug and Nelda have traveled the entire length of the Great Silk Route, flown more than 1 million miles on rug-buying trips, and imported more than 70,000 rugs from India, China, Pakistan, Afghanistan, Turkey and Nepal, all while maintaing their sense of humor. "It's exciting because the new part of the business where we design the rugs is really growing and really booming," Cynthia says, "and there's so much potential there. We'll be able to just give our undivided attention to that."
Doug and Nelda echo the sentiment. "We've had wonderful contacts all over the Middle East and Asia who have been wonderful to work with," Doug says.
"We've had a good product," Nelda adds. "We've enjoyed it, and we've not let it become stagnant. And we've had wonderful customers … and a good, loyal staff." – as told to Jessica
Stringer CHM
UNPARALLELED ARTISTRY EXTENSIVE EXPERIENCE INNOVATIVE TECHNOLOGY
Finn Plastic Surgery is a comprehensive aesthetic practice serving patients seeking a variety of services, from minimally invasive treatments and physician-prescribed skin care to surgical procedures of the face and body. This year, Drs. Finn and Elkins-Williams welcomed another surgeon to the team, Justin C. Sowder, MD. Dr. Sowder is double board-certified in facial plastic surgery and otolaryngology. He performs a full range of cosmetic procedures including facelift, rhinoplasty, blepharoplasty and browlift, in addition to nonsurgical procedures including injectable treatments and laser skin resurfacing. FPS offers unparalleled artistry, extensive experience, and innovative technology. Schedule your consultation with Finn Plastic Surgery, and rest assured knowing you have chosen the practice voted "Best of Chapel Hill" for 12 years in a row!
36 chapelhillmagazine.com September/October 2023 THE PERSIAN CARPET
1390 ENVIRON WAY, CHAPEL HILL, NC | 919.933.9522 | finnplasticsurgery.com Cosmetic Surgery • Lasers • Skin Care • Injectable Treatments 2023 WINNER 2017 2021 2022
HAIRCUTS COLOR BALAYAGE SMOOTHING TREATMENTS FACIALS & SKIN CARE 919.929.2209 EAST 54 3110 ENVIRON WAY CITRINESALONNC.COM BEST SALON Thank you Chapel Hill for your continuous support! VOTED BEST OF CHAPEL HILL BY READERS OF CHAPEL HILL MAGAZINE 2010-2023
falling for Randolph County
Must-try autumnal experiences in the heart of North Carolina
By Lena Miano
38 chapelhillmagazine.com September/October 2023
Photography by John Michael Simpson
scape to this charming destination nestled just south of Greensboro for an unforgettable fall weekend getaway filled with family-friendly adventures and a vibrant downtown culture.
Start your visit at the North Carolina Zoo in Asheboro, where you'll encounter a fascinating array of animals from across the globe. Wander through the captivating treehouse trails, enjoy a whimsical ride on the carousel or embark on a Zoofari tour of the Watani Grasslands through October. Keep your eyes peeled for the newest additions to the zoo family, an adorable baby chimp named Gombe and sand cat kittens Amira, Cleo and Jabari.
Grab a bite to eat at The Table, also in Asheboro, and enjoy a sweet treat from its bakery or sip on a seasonal coffee or tea. You'll find Four Saints Brewing Co., renowned for its exceptional craft beers, just around the corner. Try the Potter's Clay Amber Ale, a brew that originated as part of a campaign to support potters using artisan-crafted beer mugs. Then stroll down Sunset Avenue to peruse gifts and specialty home decor pieces inside Antiques and Geeks Collectibles and By Minkology.
Immerse yourself in the charm of yesteryear as you traverse the 54-foot Pisgah Covered Bridge, one of only two historical covered bridges in the state, located within the picturesque Uwharrie National Forest. This architectural marvel serves as a testament to a time when horse-drawn wagons graced the roads, offering a glimpse into a bygone era.
Just a hop, skip and a jump away from the bridge lies Seagrove, known as "the handmade pottery capital of the United States." This quaint countryside town is home to the largest community of potters along the
ESeptember/October 2023 chapelhillmagazine.com 39 TRAVEL
LEFT Grace Johnson, Elias, 10 months, Jonah-Leigh, 3, and Maven-Beau, 4, watch the elephants as they graze within the 40acre Watani Grasslands habitat at the North Carolina Zoo.
TOP RIGHT Downtown Asheboro is lined with a variety of shops and eateries, providing daylong activities for both visitors and residents.
RIGHT Ben Owen III owns Ben Owen Pottery in Seagrove. His family helped jumpstart Jugtown Pottery, the brand that brought national attention to the area in the early 1900s.
LEFT Crystal King, owner of Crystal King Pottery in Seagrove, offers a selection of unique jugs, soaps and candles. Her family is renowned for their mastery of crafting distinctive face jugs. ABOVE Joshua Batten, 6, Titus Batten, 5, and Philip Batten, 2 – under the watchful gaze of their mom, Emily Batten (far right) – get a better glimpse of the wildlife and forestry on one of the Zoo's bridges.
40 chapelhillmagazine.com September/October 2023 TRAVEL
Eastern Seaboard. Explore the rich history of pottery at the North Carolina Pottery Center, where you can admire remarkable works of art and gain insights into the craft's evolution. Crystal King Pottery owner Crystal King offers hands-on classes to create your very own face jug – a design that her family has perfected over two generations. And don't miss the chance to visit the prestigious Ben Owen Pottery, founded by Ben Owen III, a descendant of the celebrated Owen family, whose salt-glazed creations played a significant role in Seagrove's pottery legacy. Make sure to mark your calendar for the 16th annual Celebration of Seagrove Potters Festival Nov. 18-19, 2023 – an event that kicks off the Christmas season for local potters.
Escape into nature at Millstone Creek Orchards in Ramseur, which hosts story times and fruit-picking afternoons, ax throwing, a pumpkin patch and more. On Saturdays and Sundays in November, Millstone Manor crafts specialized luxury picnic packages catered by The Black Lantern Tea Room and Bakery – an indulgent experience that will leave you feeling pampered and content. The whole family can find their own brand of excitement at Kersey Valley Attractions, from thrilling ziplines and ax throwing to exhilarating escape rooms and outdoor bowling, as well as the captivating Maize Adventure in the fall, which features a charming train ride, a mega slide, a treehouse adventure and many more engaging activities. And if you dare, visit its spine-chilling Spookywoods Haunted Attraction on weekends toward the end of September, throughout October and the beginning of November.
The town of Randleman also hosts the highly anticipated 10th Annual N.C. Food Truck State Championship at Commerce Square Park on Sept. 9. Peruse a tempting array of farm-fresh vendors in the morning at Timken Farmers Market, and witness the state's finest food trucks compete for prestigious prizes and bragging rights alongside live musical entertainment.
As your day draws to a close, treat yourself to a dinner or unwind with a libation at The General Wine and Brew in Seagrove. This charming establishment is owned by the town's mayor, David Fernandez, and his wife, Alexa Modderno, who are, naturally, both potters themselves and showcase their work at Seagrove Stoneware Pottery. CHM
Feels Like Family
Chris G. Adigun, MD is a board certified dermatologist and a recognized leader in dermatology. She is known for her expertise in laser and aesthetic dermatology as well as her warm, compassionate and down-to-earth personality. Dr. Adigun's team is comprised of top notch, dermatology-trained professionals, offering the latest technology and treatments.
There is a reason DLC has been voted Best of Chapel Hill and Best of Chatham every year since we opened the doors. It's simple, DLC treats everyone like family!
Chris G. Adigun, MD, FAAD
Karlee Wagoner, ANP-BC
Diana Walker, PA-C
Amy Rodriguez, PA-C
Jenny Jahoo, LME
2023 2022
September/October 2023 chapelhillmagazine.com 41
2022 Voted Best Of Chapel Hill 2017-2023 Voted Best of Chatham 2019-2022 10441 US 15-501 N, Suite 100 Chapel Hill, NC 27517 919.942.2922 dlcofchapelhill.com TRAVEL
RIGHT The 54-foot Pisgah Covered Bridge in southern Randolph County gracefully spans the West Fork Branch of the Little River, which winds its way through the Uwharrie National Forest. Designated as a Randolph County Historic Landmark by the county's Preservation Commission, this charming bridge stands as the sole remaining covered bridge in the county.
"Half a Chance" by Chieko Murasugi and Barbara VanDewoestine
Designed by Chieko Murasugi and sewed by Barbara VanDewoestine, "Half a Chance" is an abstract work with four quadrants of colorful lines. Two of the quadrants were intentionally planned by Chieko, whereas the location of the lines in the other two were generated using a computer randomization program. This combination of ordered and randomly created lines resulted in an illustration of chance. "It's a piece that reminds us, you know, that chance and intention both play parts in our lives," Chieko says. She and Barbara have worked together since 2021, sewing various fabrics into abstract designs and making ideas come to life. A few days before Uproar started, Chieko worked with Sam Williamson and Michael Waller to get her piece up on a building on Court Street in Hillsborough. 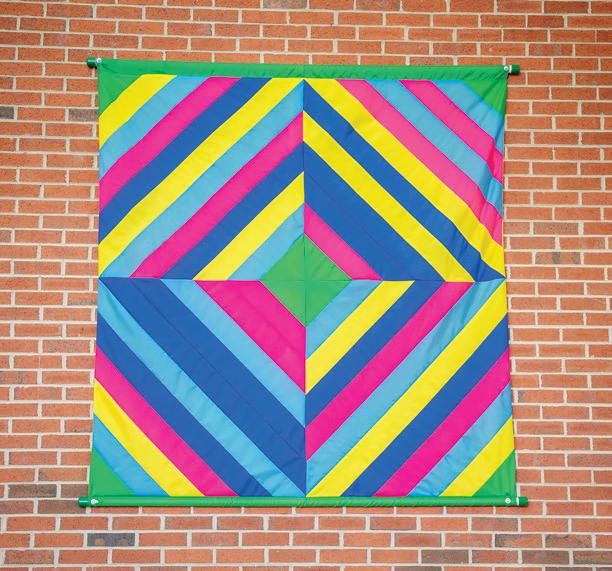 MAKING
SOME NOISE
Years in the making, Uproar Festival of Public Art kicked off in July with 60 larger-than-life works around downtown Chapel Hill, Carrboro and Hillsborough. Here, a closer look at a few.
By Lena Miano Photography by John Michael Simpson
42 chapelhillmagazine.com September/October 2023 FALL ARTS
September/October 2023 chapelhillmagazine.com 43
"Perpetual Bond" is a commentary on a relationship of love that lasts forever. Created by Durham-based TJ Christiansen out of reclaimed steel plates, the depiction of two West African giraffes represents a mother and child while calling attention to the vulnerable species. The pieces occupied the green space in Carolina Square for a month.
Using only triangular wood pieces and paint, Durham-based Paint by S (otherwise known as graphic designer and muralist Sara Bordner) produced a sign that says "Ambition is a Verb" when read from the left and "Bet on Yourself" when read from the right, creating an optical illusion on the lawn of the Hillsborough Visitors Center.
44 chapelhillmagazine.com September/October 2023 FALL ARTS
It's fitting that this 6-foot-tall totem pole was displayed in front of the Hillsborough Arts Council as it consists of individually created works by select members of the ClayWorks Potters Guild. Artists Russell Knop, Cely Chicurel, Barney Dale, Lisa Gramann, Lee Deimer Jones, Karen Stevens Fisher, Belinda Hardin, Denny Hood, Carolyn Miller, Lynne Griffin and Saijun Xue each created part of this diverse yet cohesive structure known as "Totem of Potter's Creed."
Artist Nyssa Collins created a long-extinct mammoth statue from bamboo and hemp twine. Located at the Hargraves Community Center, "Ambassador of the Eons Mammoth" represents the rise and fall of millions of years of fauna that have since left without a trace with the arrival of humans.
September/October 2023 chapelhillmagazine.com 45 . See for yourself.

While many of Durham illustrator and sculptor Aaron Earley's sculptures are composed as sorts of science fiction trophies, combining source materials paired together in a quantity of three, with a focal piece at the top, "this piece ["Ethmoid" in front of Gray Squirrel Coffee Company] in particular is an abstracted representation of an anatomical model of the human nose," he says.
Hillsborough's Michelle Spaulding
weaved a colorful dream catcher out of acrylic yarn and plastic hoops to symbolize her artistic journey. The artwork, hoisted above the door at the Orange County Historical Courthouse, is patterned with unique circles made of ribbons, each one representing a different person and phase. CHM
46 chapelhillmagazine.com September/October 2023
FALL ARTS
DRS. GHAFFARPOUR, HART, AND MCGLOHON ARE PANKEY AFFILIATED DENTISTS 2010-2023 Compassionate Prevention and Pursuit of Excellence. Tomorrow's Dentistry Today, with a Personalized Care Let our Team Solve the puzzle to your beautiful and healthy SMILE . 104 N. Elliott Rd, Chapel Hill, NC 27514 | 919.942.7163 | StudioGDentist.com Come Experience the Gentle Side of Dentistry Studio G is Now Welcoming New Patients! Preventive, Restorative & Cosmetic Dentistry Mandy Ghaffarpour, DDS, T. J Dakermanji, DMD & Alexandra Yarborough Hart, DDS, FACP NOW OFFERING PROSTHODONTICS SERVICES
A professional actor and director sets the stage for a new community theater
Carrboro welcomes a new landmark on East Main Street this fall – the Center Theater Company moves into the space vacated by The ArtsCenter, which migrated into its new location on Roberson Street in late August. The new community theater was founded in 2021 by Utah native Jenny Latimer, 39. Jenny grew up singing and performing in church-based theater productions. By age 17, she had signed with an agency in New
CENTER OF
48 chapelhillmagazine.com September/October 2023
FALL ARTS
ATTENTION
September/October 2023 chapelhillmagazine.com 49
PHOTO BY ANNA-RHESA VERSOLA
The Center Theater Company cast of Disney's "Newsies Jr." sing "Carrying the Banner" on stage at The ArtsCenter in Carrboro in May.
By Anna-Rhesa Versola
York City and started acting professionally, eventually originating the role of Cosette in the 25th anniversary national tour of "Les Misérables."
Jenny split her time between Chapel Hill and New York City for several years before the pandemic began. "I was doing a show ["Sideways The Experience"] in New York when everything shut down," she says. Jenny settled into the pandemic quarantine with her boyfriend in Chapel Hill. "I didn't want to be alone in New York. I was scared. And then, of course, COVID-19 lasted way longer than any of us thought."
Chapel Hill was a welcome homecoming for Jenny, who earned a Master's of Fine Arts in acting from UNC in 2020, where she gained confidence in directing. (She was also a company member at PlayMakers Repertory Company, starring in shows such as "Twelfth Night," "My Fair Lady" and "She Loves Me" and served as assistant director in "Sherwood: The Adventures of Robin Hood.") Naturally, Jenny, as the eldest of eight kids (and, at last count, aunt of 20 nieces and nephews), corralled her friends' children to rehearse and perform in backyard productions as a fun way to entertain themselves during the shutdown.
"And that's how it really started, by doing "A Midsummer Night's Dream" with this small group of kids," Jenny says. Over the next two years, Jenny's theater company grew its classes and camp offerings in a 2,500-square-foot space off of Garrett Road in Durham. Today, Center Theater Company is ready for its new location inside the 20,000-square-foot building that was once a Piggly Wiggly grocery store in Carrboro.
"You know, I worked a lot of different jobs," Jenny says about her cumulative experience leading up to this opportunity as a creative entrepreneur. "It's been a total labor of love, and I'm very grateful that we've had so much support. That's been the most overwhelming and great part of it all: that people really want this. "
Jenny is eager to invest herself and her career into the youth and the community. "I have so many connections now in North Carolina. I want this to be my artistic home," she says. Her goals go beyond applause. Jenny wants to pass on the life lessons she's learned through theater.
"Self-esteem – it's hard work and showing up," she says. "Your selfesteem is going to come from that, and it's gonna give you purpose. So do it. … You have to be so present with the people around you. And
50 chapelhillmagazine.com September/October 2023 FALL ARTS
Jenny Latimer, founder of Center Theater Company, brings fresh energy to the space formerly used by The ArtsCenter. Jenny, who toured nationally with "Les Misérables" as Cosette, moved from New York to North Carolina and wants to make this area her artistic home.
It was a huge leap of faith starting this community theater. I'm so grateful for all the spaces in Chapel Hill that have opened their door to us along the way."
PHOTO BY JOHN MICHAEL SIMPSON
Fri, Sep 22 – Sun, Sep 24 Ocean Filibuster Sun, Oct 1 | 8 PM Imani Winds Sat, Oct 14 | 7 PM Conspirare Choir Experience. Create. Explore with us. arts.duke.edu View our 2023-24 Season
Presents Coming Up
Photo: Ocean Filibuster by Maggie Hall
I can just see the joy that brings, especially these kids for a couple of hours a day. They are really connecting with the people around them. And [theater performance] is not something AI is going to take anytime soon. I think there's lots of benefits in doing this art form. Most of the kids probably wouldn't do this professionally, but it's a path for joy and connection."
In May, the cast of "Newsies Jr." performed on The ArtsCenter stage. Some of the kids may return in late fall to the same physical location but this time it will belong to Center Theater Company. The company will stage a youth production of "Robin Hood" in November followed by its first major production, "A Christmas Carol." Jenny rattles off a list of people she is pulling together to create a professional level production: Tim Seib (director), Tracy Bersley (choreographer) and Joanna "Jo" Sisk-Purvis (music).
"It was a huge leap of faith starting this community theater," Jenny says about expanding productions to include adults. "I'm so grateful for all the spaces in Chapel Hill that have opened their door to us along the way." CHM
52 chapelhillmagazine.com September/October 2023 FALL ARTS
ABOVE LEFT Leila Tooloee, 12, sings "Just a Pretty Face" in the role of Medda Larkin. ABOVE RIGHT Madeline Paul, 12, plays Katherine Pulitzer, an aspiring journalist who defies her father to support the striking newspaper boys and girls. BELOW The Newsies belt out the finale.
PHOTOGRAPHY BY ANNA-RHESA VERSOLA
PHOTOGRAPHY BY ANNA-RHESA VERSOLA
September/October 2023 chapelhillmagazine.com 53 Celebrating 75 Years of the College of Design Leading by Design
For eight weekends this fall, Norman Chislom, 42, will push away from his office desk and become a performer at the Carolina Renaissance Festival in Huntersville, North Carolina. The software engineer at Investors Title (a financial services company in Chapel Hill) goes by the name of "Keplar, The Wanderer."
From Sept. 30 until Nov. 19, Norman will change into a period costume, slip into a different persona and play the mandolin, the Indian tabla drum and the oud, which is an Arabic lute.
Norman and his wife, Rebecca Moses, were teenagers in Charlotte when they first started going to Renaissance fairs together. "At first, it was kind of a lark or something that would be funny," Norman says about his audition 10 years ago. "I thought I might try this out and maybe do it for a season or so."
After landing the chance to perform, Norman applied his computer handle, Keplar, to a fictional character based on his own West African and Egyptian ancestry mixed with English and Welsh background. "There's kind of a disbelief at first," Norman says of people finding out about his hobby. "But to people who know me, it kind of makes sense. We're kind of in a weird intersection of a cosplay event and a historical reenactment. I joke with my wife about how I saw a medieval assassin and a character from "Star Trek" having lunch together. That's a very common occurrence [at the festival]."
Daughter Victoria Chislom, 13, loves the fairs. "She's asking me every year if she's old enough to audition," he says. "She's interested in fantasy, fairies, magic and things of that nature."
The atmosphere at a Renaissance festival encourages attendees to interact with characters and performers. "You can talk to anybody in the village, like my character," Norman says. "[Visitors] really become interested when it clicks that the whole [experience] is very interactive. And the people I work with are just very passionate about bringing the [Renaissance] world to life. That definitely keeps me coming back year after year." CHM
A MODERN DAY WANDERER
By Anna-Rhesa Versola
54 chapelhillmagazine.com September/October 2023 FALL ARTS Meet a local software engineer who performs annually at the Carolina Renaissance Festival
Photo courtesy of Ron Tencati
Bartone Interiors www.bartoneinteriors.com (919) 679-2303 Bespoke | Sustainable | Timeless
TURNING THE PAGE
Mipso talks overcoming doubts, embracing change and calling North Carolina home on the eve of the release of their "Book of Fools" album
I know there was a brief period of doubt once you guys really started traveling and gaining national recognition. Tell me a little about that feeling and how you overcame it.
Jacob Sharp That's a great question. I mean, it's probably important to set the time: [We] met when we were 18-yearold high school seniors; now we're 33. All of us are really tight friends and [have been] tight collaborators for 13 years. I think [in] any relationship like that, we're always changing, and we're not always changing in the same directions at the same speeds. So the challenge of keeping any group together is if you can really see somebody for who they are now, free from who they were, and make space for those changes, and see how those changes still line up with you.
But I think one of the cool things about our band now is not just the new music we're making but the history that we have with one another. We're like this family that knows one another so intimately musically and offstage, too. And I think that the songs that we make together – and the shows that we put on – show that, and ideally, do it with open arms that make you feel like you're in the family for the night, too.
Joseph Terrell We've been doing Mipso full time for 10 years this fall. We've seen a lot of changes in the music industry. What it means to be a musician is so different than 10 years ago, and we struggle with that a lot. What we think is the most relevant is finding something in yourself that's really true emotionally and then sharing it with people. Whether it's to write a song or just to talk and share food, or to play a concert. I think there have been some moments where we've looked at the landscape of what it means to be a professional musician, and I don't think our love for playing music together has changed, but it's easy not to love what it is that's asked of you.
Tell me a little about the album "Book of Fools."
Joseph There are some moments of real intensity and some real energy. It feels a little bit more rock 'n' roll than the stuff we've done in the past. But also, the process of making it was pretty easygoing and really filled with trust. It's the kind of record we only could have made now, having been a band together for a long time. Instead of making a record where we plan it all out beforehand and piece together all the parts perfectly, we were like, "Let's get into a great room with a couple of great friends and turn the mics on and see what happens."
Jacob It was [a] much longer process. We recorded last year in two different cities and two different studios. But that was after almost a full year of getting together and having writing retreats where we were just sharing ideas. And it wasn't always music. Sometimes it was just sharing, on a personal level, about where we're at. Up until the pandemic, we were on the road together three-quarters of the year for eight years straight. Then COVID-19 happened, and some of us are living farther away than we used to. There is almost a process of getting to know one another again, and I think the songs show that. The musicality [and] the energy is turned up. It's like when people joke about turning the amp up to 1, I feel like we kind of did that on the record.
If you could describe this album in one word, what would it be?
Joseph If it had to be one word, it definitely would be "music." Because I would hate for anyone to misunderstand what it is, and that's music. If I can get a whole phrase, I would say, "really good music."
Jacob I remember that on the last album that came out in October 2020, we talked a lot about how we felt like it was the record that was the most us, like the most Mipso, [and] we finally found ourselves. I feel like this one, we're still us, but we're also stepping out a little bit.
Mipso released their newest album, "Book of Fools," on Aug. 25, so we talked to band members Jacob Sharp and Joseph Terrell about the creative process, their tour musthaves and the significance of staying true to their musical heritage.
What do you hope all people can take away from your music, either the upcoming album or just your overall music in general?
Joseph I feel like we make sense here. We're from North Carolina, [and] I'm proud to be from North Carolina. I think the music that we make comes from people who have really lived and breathed this place. I hope when people listen to our music, they feel a connection to this beautiful Piedmont place that we love.
Jacob A lot of these songs, regardless of how they're musically packaged, talk about some of what we've been talking about in this conversation. The world is changing around us, and we're more connected than ever. But I
56 chapelhillmagazine.com September/October 2023 FALL ARTS
As told to Sydney Ross Photo by Calli Westra
Mipso members Wood Robinson, Joseph Terrell, Libby Rodenbough and Jacob Sharp.
think it's also maybe easier than ever to feel alone. I think some of the songs are like a reminder that people are feeling the same things that you might be feeling, even when you feel it in isolation, and there's strength in that shared experience.
Do you have a favorite song on the album?
Joseph I really think of it as a whole batch. It's like a 10-course meal. They all inform one another, and I'm so proud of all of them and how they make sense when they're sitting next to one another.
Jacob I really listened to the album recently for the first time in a while, and I'm not sure if I'm saying this is my favorite from a writing perspective, but the journey of the song, the opening track, "Starry Eyes/Book of Fools." We really took a trip on that one, and I'm really excited for people to hear it.
What's a must-have in your suitcase when you're out on tour?
Jacob My AeroPress coffee on the go. It's the same way I make coffee at home. Part of what's hard about touring is you lose all routine and all sense of home and stability. And I make the same coffee every morning, no matter where I'm at.
Joseph I've had the same bag that carries all my toothpaste and toothbrush and soap and stuff since I was 18. I don't even like it particularly that much, but just the fact that I've had it that long really makes me feel situated to have that same piece of leather.
Any spots you're particularly excited about visiting while on tour?
Jacob My favorite part about touring is I love to eat, and there's so many places. I book all of our hotels, so pretty soon, I'll be looking at maps of where we're staying [and] where we're driving by. We haven't played in Montreal in a couple of years, and it's a place where we've had some great shows. It's
just great memories together, [and] it's such a unique city. It's like the New Orleans of Canada. There's no other place in the world like it. And I'm really pumped that we're playing The Orange Peel in Asheville, since I grew up near Asheville. That's where I saw a lot of my heroes play, and every time that's on the calendar, I feel really humbled and grateful. I know a lot of friends will be there, so I'm excited about that one for sure.
Is there anything else you would like to add?
Jacob Joe talked about how we're all from North Carolina; that's where we grew up. That's where the band kind of grew up, too. It still is home, and I think the music speaks to that. We're kicking off the album release tour with four North Carolina shows. We were looking at lots of different options, like playing in a bigger venue or a festival or whatever. But there's too many places that we couldn't miss. A number of these are the cities we've been to, [ones] we've played the most and the longest, and also the venues we have deep connections with [like] the Cat's Cradle in Carrboro. That's a true OG hometown show for us. Then the Lincoln Theatre in Raleigh, Neighborhood Theatre in Charlotte and The Orange Peel in Asheville are all special spots where we've both had some of our more important shows that marked different eras and also where we played with people through the years who have been mentors and friends. So I'm really pumped that we have such a big North Carolina shout-out to get this whole party rolling. It'll feel like almost a whole year of playing shows that are centered around this new music, and it feels right that it started with four nights in North Carolina in our favorite cities.
Joseph I guess I just like to remind folks one thing I love about our band is that we are people with different ideas, different ways of singing and writing, and Mipso is when we four get together. A lot of bands have one centerpiece, and that's a cool way to do it, too. But I love that we are a collaborative process through and through. CHM
September/October 2023 chapelhillmagazine.com 57 919 . 410 . 6148 lwcares.com info@lwcares.com Memory care specialists • Award winning management • Care continuum providers & Customized Home Care & Care Home Elder Care Solutions
• View more than 80 master drawings from 1770 to 1830 at Ackland Art Museum's "Reform to Restoration: French Drawings From Louis XVI to Louis XVIII" exhibition. Themes include patriotism, love, conflict and despair from an era of political and social upheaval in France. July 21 - Oct. 8; ackland.org
• The Frame & Print Shop presents an exclusive staff art show featuring eclectic pieces from paintings to woodwork made by their own employees. Aug. 3 - Sept. 21; frameshopchapelhill.com
• Experience the 23rd season of North Carolina's favorite awe-inspiring puppet show, Paperhand Puppet Intervention, joined this year by Grammynominee storytellers Nnenna Freelon and Pierce Freelon. Nnenna is the show's writer, narrator and vocalist while Pierce joins the cast as composer, performer and puppeteer. Accompanied with live music, this unique, larger-than-life performance "Where Our Spirits Reside" is sure to inspire viewers of all ages. Weekends Aug. 4 - Sept. 17; paperhand.org
• Browse local art at FRANK Gallery featuring pieces from artists R. Scott Horner, Kaidy Lewis, Susan Filley, Joe Grant and emerging artist Polina Varlamova. The opening reception will be held Aug. 11. Aug. 8 - Sept. 23; frankisart.com
• Margaret Lane Gallery presents multiple fall collections; scenes of majestic mountains in "The Mountains Are Calling," depictions of nature's intricacies with "Beauty in the Details," traditional American art pieces in "Patterns of the Land," vibrant fall hues in "Autumn Palette" and images of the night sky with "Star Light, Star Bright (I Wish)." Aug. 20 - Sept. 24, Sept. 27Oct. 22, Oct. 18 - Nov. 26, Oct. 25 - Nov. 19, Nov. 22 - Dec. 31; margaretlanegallery.com
• Hillsborough Gallery of Arts first hosts "From The Mind's Eye," featuring oil paintings by Chris Graebner, landscape paintings by Marcy Lansman and distinctive blown glass by Pringle Teetor, followed by "Reciprocus," showcasing collages by Pat Merriman, abstract paintings
Can't-miss concerts, events and more
Compiled by Ginny Smith
FALL ARTS GUIDE
by Ellie Reinhold and mixed media sculptures by Lynn Wartski. Finally, "The Art of Giving" presents giftable art for the holiday season. Aug. 22 - Sept. 24, Sept. 26 - Oct. 22, Nov. 14 - Dec. 31; hillsboroughgallery.com
• Visit the heart of Chapel Hill and experience downtown live with musical performances at venues like Imbibe and Top of the Hill. September - November; downtownchapelhill.com
• Check out various styles of live music, ranging from covers of Grateful Dead favorites to a Carolina Jazz Orchestra performance, every weekend at Southern Village during their Sunday music series. Sundays in September; southernvillage.com
• Higgins & Myers Custom Framing and Fine Art Gallery hosts a preview of Orange County Artists Guild 29th annual open studio tour with a reception held on Oct. 7. Sept. 1 - Nov. 1; higginsandmyers.com
• Enjoy live music and discounted wine as La Vita Dolce continues their Wine Down Wednesday. Wednesdays through October; southernvillage.com
• PlayMakers Repertory Company presents Lynn Nottage's "Clyde's," a bittersweet comedy that tells the story of a sandwich shop owner and her ex-convict kitchen staff's pursuit to create the perfect sandwich. Sept. 6-24; playmakersrep.org
• Peel Gallery presents Amy Herman's "how to dry a knife" photography collection. Her work embraces a surreal intimacy that examines both the power and deception of memory. Opening reception to be held on Sept. 8. Sept. 6 - Oct. 1; peel.gallery
• Southern Village Green hosts a Party on The Lawn with live music, ice cream, beer tents and face painting. Sept. 9; southernvillage.com
• Learn about rich historical traditions that are native to North Carolina and beyond with Mary D. Williams as she visits The ArtsCenter Sept. 9; artscenterlive.org
• Learn crochet in a beginner-friendly workshop at My Muses Card Shop and stitch your very own crochet wallet. Sept. 10; mymusescardshop.com
• Southern Village hosts an evening of special Friday night ukulele music from Far From Done on the village green. Sept. 15; southernvillage.com
• Experience opera, music and the sights and sounds of Venice at the exclusive cinematic event, "Renée Fleming's Cities That Sing: Venice," presented by Silverspot Cinema Sept. 16; silverspot.net
• Enjoy local music and food and connect with neighbors at the new Live at Legion community concert at 1714 Legion Rd Bring blankets and chairs for lawn seating. Sept. 16; chapelhillarts.org
• Immerse yourself in traditional Appalachian music and culture with a performance from the Sugaree String Society at The ArtsCenter. Sept. 16; artscenterlive.org
• Learn the art of sashiko stitching at Peel Gallery's Japanese embroidery workshop led by River Takada and create your own embellished garment. Sept. 17; peel.gallery
• Enjoy the free-flowing process of watercolor painting at My Muses Card Shop's beginnerfriendly workshop. Sept. 17; mymusescardshop.co
• Experience the relationship between art and the natural world at the 35th annual "Sculpture in the Garden" exhibit at the North Carolina Botanical Garden. Sept. 17 - Dec. 3; ncbg.unc.edu
• Carolina Performing Arts welcomes the Philadelphia Orchestra to honor the 50th anniversary of their historical concert in the People's Republic of China, a pivotal moment of cultural peace and exchange. Iconic works, such as Beethoven's Symphony No. 6, will be performed. Sept. 20 - 21; carolinaperformingarts.org
• Enjoy a night of open mic and karaoke at Southern Village Sept. 21; southernvillage.com
• Your Neighbors, an indie pop-rock group from Nashville, visits Local 506 during their 2023 U.S. tour. Sept. 21; local506.com
• Carolina Waves present "Tuning In To Tomorrow: The Next Wave of Radio" at Carolina Performing Arts, joining industry leaders, technological pioneers and creative minds as they unpack the past, present and future of radio broadcasting. Sept. 23; carolinaperformingarts.org
• Explore the depths of power and divine energy in My Muses Card Shop's "Durga Yantra Workshop" with Abhi Sivadas Sept. 24; mymusescardshop.co
• Artists Barbara Tyroler, Dan Gottlieb and Daniel Johnston showcase their work at FRANK Gallery with an opening reception on Oct. 13. Sept. 26 - Nov. 11; frankisart.com
• Margaret Lane Gallery presents "Something to Say," a collection of art from residents at Orange Correctional Center. See and "hear" their messages, expressed through a range of mediums and styles. Sept. 27 - Oct. 15; margaretlanegallery.com
58 chapelhillmagazine.com September/October 2023 FALL ARTS
• The newly incorporated Center Theater Company hosts Lucky Street Comedy for a night of family-friendly improv. Sept. 29; centertheatercompany.com
• Connect with local artists with unique exhibits, family-friendly art activities, a market for makers and a drum circle at Last Fridays & The Art Walk in downtown Hillsborough. Sept. 29, Oct. 27; hillsboroughartscouncil.org
• Cat's Cradle hosts The National Parks, an indie pop quartet from Utah known for melding folk music with catchy melodies. Since emerging in 2013, the band's discography has netted more than 150 million streams. Sept. 30; catscradle.com
• Listen to the soulful melodies and powerful vocals of Jess Klein at The ArtsCenter as she performs new releases from her album "When We Rise." Sept. 30; artscenterlive.org
• Check out Saltire Gallerie's African art exhibit and sale with themes of global reaches of art and art worlds, from traditional to contemporary arts. October through December; saltiregallerie.com
• Cassilhaus' fall photography exhibition will feature work from The Film Photo Award winners, a prestigious endowment to photography students working with analog film. This exhibition runs as part of the Triangle's Click! Photography Festival. Oct. 1 - Dec. 31; cassilhaus.com
• The Carrboro Music Festival returns for the 26th year, showcasing local artists featuring a variety of music styles. Oct. 1; carrboromusicfestival.com
• The Orange County Arts Commission presents the seventh annual Paint it Orange plein air paint-out and wet paint sale, featuring original pieces from 60-plus artists from around the Southeast. Artists will spend three days painting iconic scenes of Orange County with a reception and party to follow on Oct. 6 at Eno Arts Mill Gallery Oct. 4-6; artsorange.org
• In conjunction with the Click! Photo Festival, Peel Gallery presents Michael Galinsky's Decline of Malls Across America photo gallery from the early '90s and their accompanying publications. Signings, a carousel slideshow and movie screenings throughout the month will be featured. Opening reception to be held Oct. 13. Oct. 4 - Nov. 6; peel.gallery
• Experience the eighth annual Bluegrass Festival at historic Moorefields with music from Vintage Blue, Pickard Mountain, Nixon Blevins and Gage, The Carolina Cutups and The Bathtub of the South. Bring chairs and blankets for lawn seating on the idyllic 70-acre historical site and enjoy food and beverages. Oct. 7; moorefields.org
• Calico Studio hosts their Fall Makers Market where attendees can shop for art, pottery, jewelry and photography from more than 20 local artists and vendors at 1141 Smith Level Rd Oct. 7-8; calico-studio.com
• Dwarf Star Studios showcases numerous local bands at On the Green Music Festival at the Southern Village Green Performances include The Unsustainables, WhoIAre, The Yardarm and Burns and are free for all to enjoy. Oct. 8; southernvillage.com
• PlayMakers Repertory Company puts on a production of William Goldman's adaptation of Stephen King's "Misery," a tense thriller that follows a writer being held captive in the home of his biggest fan. Oct. 11-31; playmakersrep.org
• Experience "Rimini Protokoll: 100% The Triangle," an immersive anthropological performance illustrating what the future holds for our area. Presented by Carolina Performing Arts, the production features 100 statistically-chosen non-actor participants and gives audience members the ability to bridge gaps with the community. Oct. 14-15; carolinaperformingarts.org
• Come out to Franklin Street for Festifall Arts Market & More for the return of Chapel Hill's beloved arts festival and check out local artisans, vendors and musical performances. Oct. 14, 21, 28; chapelhillarts.org
• Ventriloquist Steve Brogan brings an unexpected comedic experience to The ArtsCenter with hilarious puppet characters and improvisation. Oct. 14; artscenterlive.org 
2023/24 SEASON CHAPEL HILL
MEMORIAL HALL, CHAPEL HILL
Opening Night
Beethoven
Symphony No. 2
THU, SEP 28 | 7:30PM
Carlos Miguel Prieto, conductor
MOZART: Overture to The Abduction from the Seraglio
BEETHOVEN: Symphony No. 2
MENDELSSOHN: Symphony No. 4, "Italian"
Holiday Pops
TUE, NOV 28 | 7:30PM
Join your North Carolina Symphony at this festive concert full of holiday favorites you know and love.
Concert Sponsor: Galloway Ridge at Fearrington
Dvořák Cello
Concerto
THU, JAN 25 | 7:30PM
Carlos Miguel Prieto, conductor
Alban Gerhardt, cello
DVOŘÁK: Cello Concerto
BRAHMS: Symphony No. 4
Ravel & Rodrigo
THU, APR 11 | 7:30PM
Carlos Miguel Prieto, conductor
Pablo Sáinz Villegas, guitar
DEBUSSY: Prelude to the Afternoon of a Faun
RODRIGO: Concierto de Aranjuez
BERNSTEIN: On the Waterfront
RAVEL: Boléro
Concert Sponsor: The Forest at Duke
September/October 2023 chapelhillmagazine.com 59 ncsymphony.org
919.733.2750 Dates, programs, artists, venues, and prices subject to change.
|
Guarantee your seats— subscribe today!
ALBANGERHARDT
MIGUELPRIETO
CARLOS
PABLOSÁINZVILLEGAS
• The UNC Clef Hangers visit the Southern Village Green with special guests Durhambased The Seven Deadly Bibs. Oct. 15; southernvillage.com
• Local 506 hosts Be Your Own Pet, the midaughts punk band sensation from Nashville who return to town on tour amid a 14-year hiatus, along with the release of a new album, "Mommy." Oct. 18; local506.com
• Cat's Cradle presents Gus Dapperton, a rising star in the world of retrospective indie. His single "Supalonely" with New Zealand singer Benee went viral amid lockdown, and newest releases are continuing to grow Gus's momentum. Oct. 18; catscradle.com
• Attend Triangle Youth Ballet's annual masquerade gala with dinner and a performance of "Paquita" to support local dancers at Chapel Hill Country Club Oct. 21; triangleyouthballet.org
• Catch an exclusive early glance into the work of 80 plus Orange County artists participating in this year's Orange County Artists Guild open studio tour at the OCAG Open Studio Tour Preview Show at Hillsborough Gallery of Art, to get an inside look at which studios attendees may want to visit. Oct. 24 - Nov. 12; hillsboroughgallery.com 
BLANK CANVAS
When massive redevelopment came along at University Place, FRANK Gallery began searching for a new place to call home after five years at the mall. FRANK staff and board set their sights on an empty storefront in Carrboro. After a month of adding more lighting, gray accent walls and artwork slots in the back, FRANK Gallery reopened on March 28 at East Main Square
"This new space is really the best of both worlds," Natalie Knox, FRANK's gallery director, says. The Carrboro spot is airy and bright like the mall showroom but has the industrial feel
FRANK Gallery fills the walls of its new home in Carrboro
By Lena Miano
and proximity to downtown of the gallery's original site on Franklin Street. While the old indoor space at the mall faced other stores, the new location's expansive windows let sunshine shine through.
Natalie added that the extra space in the back will allow artists to host classes and workshops – an opportunity that was not available previously. The gallery is able to host more shows for its 24 member artists and has partnered with neighbors like IZA Whiskey & Eats for a reopening celebration. "We are excited about the promise of being in this artfilled space and community moving forward," Natalie says.
60 chapelhillmagazine.com September/October 2023 FALL ARTS home · auto · business · farm · long term care · life insurance · group & individual health Contact our team of experienced agents today for a full evaluation and best options for your business and family. www.HighAndRubish.com · (919) 913-1144 · 6015 Farrington Road, Suite 101, Chapel Hill, NC 27517 For All Your Insurance Needs HR 2023
FALL ARTS GUIDE cont'd
triangleyouthballet.org
Signature Cocktail
Plated Dinner and Dancing
Kevin van Sant Band
Raffle
Auction
The Triangle Youth Ballet is a 501(c)(3) nonprofit and a member of the NC Center for Nonprofits
The Triangle Youth Ballet admits students of any race, color, nationality and ethnic origin to all programs and activities.
FALL ARTS
FALL ARTS GUIDE cont'd
• Two-time Grammy nominee and mandolin virtuoso Sierra Hull brings her signature bluegrass sound to the Carolina Performing Arts stage. Oct. 27; carolinaperformingarts.org
• Check out an evening of exclusive fall premieres from Triangle Youth Ballet. Performances include "Danse Macabre," "Night on Bald Mountain," "The Yellow Wallpaper" and "Paquita" at East Chapel Hill High School Oct. 28; triangleyouthballet.org
• Open new conversations about making social change through the arts with Carolina Performing Arts's artist-in-residence Toshi Reagon during "Meet You at the Crossroads IV" held at Current ArtSpace + Studio Nov. 3-4; carolinaperformingarts.org
• Explore communication through painting in "Black White and 'Read'' All Over," with various artistic styles that challenge viewers to face the impact of digital interaction. An opening reception will be held Nov. 10 at Higgins & Meyers Custom Framing and Fine Art Gallery Nov. 4 - Jan. 31; higginsandmyers.com
• Learn how area producers and beatmakers use cutting-edge tools to build a song during Respect the Producer, presented by The Underground Collective held at Carolina Performing Arts' Current ArtSpace + Studio Nov. 8; carolinaperformingarts.org
• Honor Veterans Day at the Southern Village Green with a free special performance from Durham Community Concert Band. Nov. 11; southernvillage.com
• Check out some of Orange County's best eats offered up by an array of local food trucks and nonprofits at the Thanks + Giving Food Truck Rodeo and community picnic at 1714 Legion Rd. Nov. 12; chapelhillarts.org
• Experience FRANK Gallery's holiday show with exclusive pieces from gallery and guest artists. Nov. 14 - Dec. 31; frankisart.com
• PlayMakers Repertory Company puts on "Much Ado About Nothing," a witty, modern twist on a classic Shakespearean production. The performance centers around a quirky love story and provides plenty of heartbreak and hilarity to go around. Nov. 15 - Dec. 3; playmakersrep.org
• Stellar Circuits, a progressive metal band from Winston-Salem, comes to Local 506 amid the release of their new album, "Sight to Sound." Nov. 17; local506.com
• Center Theater Company showcases its talented youth cast in a production of the classic story of Robin Hood. Nov. 17-19; centertheatercompany.com
• Celebrate independent cinema and Southern culture at the 18th Carrboro Film Fest hosted at The ArtsCenter, where the best Southern short films of the year will be showcased. Nov. 17-19; carrborofilm.org
• The semi-annual Arts on Market at Southern Village offers art and gifts for sale from local artists, artisans, bakers and makers, plus live music. Nov. 19; southernvillage.com
• Triangle Youth Ballet continues its traditional performance of the classic Christmas tale, "The Nutcracker," with live music by the Tchaikovsky Virtuosi at the Hanes Theatre at Chapel Hill High School Dec. 1 & 2; triangleyouthballet.org
• Center Theater Company presents the beloved holiday tale, "A Christmas Carol," on stage Dec. 6-17; centertheatercompany.com
• Experience Carolina Performing Arts' Big Band Holidays, presented by the Jazz at Lincoln Center Orchestra with Wynton Marsalis and Ashley Pezzotti, just in time for the holiday season with soulful arrangements of cherished classics at Memorial Hall Dec. 9; carolinaperformingarts.org
• Carolina Performing Arts presents Dorrance Dance: Nutcracker Suite, an exclusive holiday tap dance set to a festive jazz score from Duke Ellington and Billy Strayhorn. Dec. 13; carolinaperformingarts.org CHM
62 chapelhillmagazine.com September/October 2023
FOR MORE THAN 50 YEARS, the practice of Oral and Maxillofacial Surgery Associates has been trusted to provide specialized care in the Chapel Hill, Durham, and Sanford communities. Our four board certified oral and maxillofacial surgeons provide the highest quality of patient care with the latest diagnostic and treatment tools available to assure patient safety and comfort.
Drs. Sacco, Vandersea, Ruvo and Serlo practice a full scope of oral and maxillofacial surgery with expertise ranging from corrective jaw surgery to wisdom tooth removal.
CHAPEL HILL 501 Eastowne Drive, Suite 110 Chapel Hill 27514 919.929.2196
DURHAM 2823 North Duke Street Durham 27704 919.479.0707
SANFORD 109 Dennis Drive Sanford 27330 919.775.1615
DENTAL IMPLANTS • BONE GRAFTING • WISDOM TEETH • FACIAL TRAUMA • CORRECTIVE JAW SURGERY • PRE-PROSTHETIC SURGERY • ORAL PATHOLOGY • SLEEP APNEA OMSANC.COM
DEBRA M. SACCO DMD, MD
BRIAN VANDERSEA DDS
ANDREW T. RUVO DMD, MD
ADAM D. SERLO DMD, MD
SUCCESS
Two
siblings team up to bake treats inspired by their travels
$
By Martha Zaytoun Photography by John Michael Simpson
uring the pandemic, twins Caroline Eckblad and AJ Eckblad were living in the Joo Chiat area of Singapore and found it hard to connect with their neighbors.
To remedy that, they started East Coast Kids Bakery, which shares a name with nearby East Coast Beach. They whipped up treats to sell, made handmade flyers and distributed
64 chapelhillmagazine.com September/October 2023 FOOD &drink (
whisking
%
Lemon-poppy tea cakes, cream cheese confetti cookies and the all-time favorite chocolate chip cookies are three recent offerings of East Coast Kids Bakery.
September/October 2023 chapelhillmagazine.com 65
them in letter boxes around the neighborhood, one of the country's best foodie destinations. "We saw that it was a great way to connect with the community and assimilate," Caroline says. They followed the lead of their mom, Ginny Eckblad, who is an experienced cook and loves to experiment in the kitchen. "We like cooking with her because she teaches us a lot of tricks," Caroline says. "Like if an eggshell drops into the egg, don't chase the eggshell around. Use another eggshell to retrieve it. They're somehow attracted to each other."
When the family moved to Chapel Hill in summer 2022, their at-home business moved with the rising juniors at East Chapel Hill High School. "We wanted to continue our passion for baking and also share [foods] from our international travels," Caroline says of continuing their venture stateside.
Their extensive experience abroad serves as an inspiration for much of their baking. The Paris-born pair had moved to Singapore – where their mom hails from – when they were 7 years old. "She wanted us to know Singapore, be with our Singapore family as well as travel in Asia," AJ says. They then moved to Chapel Hill in order to acclimate to the United States before college and "to ride bikes and go skiing more often," which wasn't possible in flat Singapore.
Each bake sale they host has one treat each from three different categories: an all-time favorite, a creative and an international dessert. "An all-time favorite could be chocolate chip or oatmeal raisin [cookies]," Caroline says. "A creative could be something like a Fluffernutter, which is peanut butter and marshmallows, or confetti cookies." Some of their international creations include ube cookies, which are made from purple yams, and "matcha namas."
In May, Caroline and AJ hosted a pop-up sale on Franklin Street, offering Tea Hill customers chocolate chip cookies, ube cookies and a trio of Sanrio character cookies to accompany their bubble teas. "Surprisingly, a lot of people liked the ube cookies," Caroline says, which was unexpected since it was most people's first time trying the Filipino treat. The sale accomplished one of their main goals in bringing their bakery to Chapel Hill: "To share our travels with our community … and neighborhood," AJ says.
The pair host their online bake sales twice a month, giving them a week to generate all the creative pieces, such as trying new recipes and
designing flyers, and then another week to just bake. They have enjoyed the experience of working with each other in a professional capacity, each pitching in to make the bake sales successful. "Because there's so many different things we have to do for our big sales … we kind of do a little bit of everything. But we definitely play to our strengths, like Caroline making all the visuals, [including] the flyers and the [thank-you] cards, [while] I'm working on the route for deliveries," AJ says.
Since the twins always deliver on foot – or by bike – they take a break during the summer months when it becomes too hot to carry out their deliveries. They spend their break testing recipes, resting and hanging out with their friends. Recently the twins have been experimenting with savory items including corn cookies, sourdough bread and caramelized onion bread in addition to sweet ones like blueberry bagels and cherry clafoutis.
Before deciding which desserts they will make for the coming sale, the twins head to the local grocery stores and ride their bikes to the Carrboro Farmers Market to find ingredients that are in season. In addition to incorporating local, organic ingredients – such as Lady Edison salami or organic sprinkles from Weaver Street Market – Caroline and AJ make sure that they are using quality ingredients. She says, "We go by this saying that, 'If we can't pronounce it, then we don't include it in our cookies.'"
In the fall, the twins will start baking again. Now that they have established themselves, their ambitions for the bakery have grown. In addition to planning a pop-up bake sale in August, Caroline and AJ would love to create a baking club at school to be able to reach their school community. If the idea is approved, they will form a group where, once a month, their classmates can learn new recipes.
"Many of our school friends don't have access to nice treats at school," Caroline says. "There are many clubs that do charity for groups outside of school, but none for our own school. We thought it would be nice to give to our own school community."
According to Caroline, the bakery has been successful in Chapel Hill not only because they have gained traction with their sales, but because it has given them the opportunity to meet so many new people. "We have a lot of people who continually buy from us," she says. "We are really touched by their encouragement." CHM
66 chapelhillmagazine.com September/October 2023 FOOD &drink (
$ %
ABOVE Caroline takes the hot dog brioche buns out of the oven. BELOW Caroline and AJ put a handwritten note in every order. The boxes are made by a small business in Canada.
2023 25 years in downtown Carrboro. Delicious never goes out of style. 110 E. Main St, Carrboro NC | 919.929.2263 | acmecarrboro.com DOWNTOWN CARRBORO. UPTOWN DRINKS. 118 E MAIN ST. ATLASCARRBORO.COM WEEKLY DRINK SPECIALS SUNDAY BEER & A BUMP curated $4 shot & a glass of beer tequila for the win charles dickens night. olive or twist because hump day. because $6 our latest concoction + friday jr MARGARITA MONDAY $7 MARTINI TUESDAY $9 WHISKEY WEDNESDAY R & D & U $8 MONDAY TUESDAY WEDNESDAY THURSDAY
perfect PATIOS
A few favorite alfresco eateries
$
By Mila Mascenik and Jessica Stringer Photography by John Michael Simpson
% One family-friendly hidden gem
ith only a half-dozen tables inside the tiny El Restaurante Ixtapa in Hillsborough, the outdoor garden is the place to be. "With small kids, [we're] always really worried about making a mess of places we go," parents Molly Chadbourne and Mike Everhart say. "So it's nice to go places that have good outdoor seating and are really fast." They love Ixtapa for its lush tropical plants and picnic tables galore, and their kids enjoy
68 chapelhillmagazine.com September/October 2023 FOOD &drink (
September/October 2023 chapelhillmagazine.com 69
Gladis Munoz brings dinner out to Michael Everhart, Jack Everhart, 1, Maybellene Everhart, 5, and Molly Chadbourne.
exploring the huge field in the back with toys and a play area. "We have a 5-year-old so she can leave the table and go play and do her own thing," Molly says. Plus, the menu is full of "really authentic food" as well as items for eaters like their 1-year-old, who might be feeling picky on occasion. "He got chicken tenders and fries," Molly says. "We also love getting coconut juice; it's a whole coconut that they cut open and you put in a straw." While parents finish off their Modelos, kids can work on their coloring. "They make it feel really kid-friendly, even though it's a really nice restaurant," she says.
One we can't wait to frequent again
The patio was crucial to Mediterranean Deli during the pandemic. "The outside dining really was a big thing for us," Jamil Kadoura told us during last year's round table with fellow restaurateurs. "We have about 40 seats in the front of our restaurant. Without it, I don't know what it would have been like – it was just a gift from God that we had that much space on the outside."
The West Franklin Street fire this July might have destroyed the inside of the restaurant, but Jamil
and his staff got right back to catering a week later using other kitchens. So for now, we'll contentedly eat our catered Med Deli lunches in our frigid air-conditioned offices, dreaming of the day we can once again enjoy a falafel pita on the patio and say hey to a half-dozen people we know.
One we want to try
Peek into the windows at the soon-to-open Ay Por Dios! on West Franklin Street, and you're met with bold neon signs, striking banquettes, greenery hanging from the ceiling and rich wood accents. It's a vivid Miamiinspired fever dream of the best kind, the kind of trip we don't want to end. Outside, the shaded patio that once housed Kipos has also gotten a makeover. It's now a Oaxacan oasis that will be the perfect backdrop for the menu with three kinds of mole, sushi (yes, you read that right!) and fresh cuisine cooked up by a chef from Tijuana and another from Spain. Come for the food, and stay for the extensive tequila offerings. At press time, owner Edy Barahona was aiming for an August opening. Cheers to that! CHM
70 chapelhillmagazine.com September/October 2023 FOOD &drink (
ABOVE Ay Por Dios! was slated to open on West Franklin Street in August in the former Kipos building that now features a revamped outdoor space.
% $
BELOW LEFT Jamil Kadoura in front of the 40 seats outside of Mediterranean Deli.
September/October 2023 chapelhillmagazine.com 71 100 BREWER LANE, A, CARRBORO 984 234 0572 BELLTREECOCKTAILCLUB.COM 2023 Belltree Cocktail Club Experience the new and improved open at 5pm daily AND FOLLOW US   VOTED BEST PLACE FOR A COCKTAIL
where she BELONGS %
Meet a young Asian American leader preserving her cultural heritage through farming
$
By Anna-Rhesa Versola
sar Ree Ree Wei, 25, has big ambitions for herself and Transplanting Traditions Community Farm, the Chapel Hill nonprofit organization she leads as executive director. She helps preserve her cultural identity through education and agriculture on the 8 acres off of Jones Ferry Road where other refugees from Burma (also known as Myanmar) can gather and build community.
"We love our food," Ree Ree says about growing fruit and vegetables familiar to refugees from Burma. When she was a child, she remembers how her family would drive to High Point or Greensboro to find Asian food markets that would sell produce like bitter melon or water spinach. Such items were not available in local grocery chains in Chapel Hill or Carrboro but could be found in the Triad area where many Southeast Asian immigrants and refugees settled in the state. North Carolina has the fourth largest refugee population from Burma, according to a 2016 Centers for Disease Control and Prevention report.
The Farm
In the early 2000s, a garden project by the Orange County Partnership for Young Children, a Smart Start initiative, primarily served children of the Latino immigrant community and then
Simpson
included arriving refugees from Burma. By 2010, Kelly Owensby founded Transplanting Traditions Community Farm and formed a grant-funded partnership with the Triangle Land Conservancy to lease the property for agricultural purposes.
Today, 25 refugee farmers from Burma grow seasonal fruit and vegetables, including varieties popular in Asian cuisine but difficult to find in local grocery store chains. "Every farmer gets their own number of beds based on the size of their operation," Ree Ree says. "One or two farmers have almost an acre. Our smallest farmers have about two beds because they are only growing food for themselves and their families." Ree Ree says there is also a food access program for part-time farmers, like stay-at-home moms who cannot spend entire days farming but still need to generate a small income by selling produce.
Resettlement
Ree Ree was born in a refugee camp in Thailand in 1998 after her parents and two older sisters had escaped military skirmishes that have plagued Burma for decades, making it "the setting of one of the longest-running civil wars in the world." Two more siblings were born in that camp, too.
She was 8 years old when she and her family landed in Chicago in 2006 to begin a long resettlement process in the United States. At first, they were sent to Columbia, South Carolina, but seven months later they were moved to Chapel Hill where her youngest sibling was born.
72 chapelhillmagazine.com September/October 2023 FOOD &drink (

Photography by John Michael
ABOVE Yellow squash, cucumber, Thai eggplant and sweet potato greens. RIGHT Paw Moo, Ree Ree Wei and Ha Na stand in one of the vegetable patches by the marigolds.
$
September/October 2023 chapelhillmagazine.com 73
Navigating between two vastly different worlds, Ree Ree and her siblings have come to appreciate her family's challenging journey to build a new life for themselves in North Carolina. Ree Ree says her generation wants to change the narrative about refugees from Burma. "Instead of calling us Karen (pronounced kah-REN), we want to go back to the root and say we are K'nyaw (pronounced kah-NYAW) because that's how we would say it in our native language," she says about the name that the ruling government in Burma imposed on the ethnic minority group. There are 111 different ethnic languages in Burma, and the K'nyaw people are the largest ethnic minority group.
The Future
Ree Ree graduated in May 2021 with a bachelor's degree in community and justice studies at Guilford College. "In my view, my major helped me think and see things differently in that we are a community, [so] we have to act together as a community," she says.
Ree Ree knows she is young to become the leader of the organization, but she had been at Kelly Owensby's side for 11 years in different roles. Despite a lot of paperwork, Ree Ree enjoys envisioning exercises with the farmers, asking them what they want to see in five years. Another important aspect to her role is challenging preconceived notions about Asian and Asian American stereotypes. She asks of the future: "What do young people need or want? What do we hope the newer generation, and the many generations that will be born in a new country, need to learn about our culture and our heritage through food?"
Ree Ree says British colonization and civil war in Burma caused many refugees to lose access to their own land. "It's like losing a piece of who you are," Ree Ree says. "And then going through the ethnic cleansing and the genocide is just so much that right now, [I] – and so many people my age – want to learn more about [our country's] history. But where are the books to read about that? What happened before colonization? What were my ancestors doing? What were their practices?"
To answer these questions, Ree Ree wants to expand educational and cultural programs at the farm and to widely share the customs and traditions of her family's ancestral homeland. "For me, where I belong is hard to say," she says. "I don't want to say I'm from Burma, because I wasn't born there, but there's a lot of spiritual connection. I was born in Thailand, but in a
74 chapelhillmagazine.com September/October 2023 FOOD &drink (
%
$
ABOVE One of the many high tunnels used by the farmers at Transplanting Traditions. BELOW Paw Moo harvests sweet potato greens.
September/October 2023 chapelhillmagazine.com 75
"Everything starts from the ground. You have to be [comfortable in the] uncomfortable in the work that you do, putting yourself out there. And, it's really beautiful."
$
ABOVE Ree Ree is dressed in a traditional top from Burma. BELOW LEFT Vine-ripened tomatoes are ready for harvest. BELOW RIGHT One of the farmers, Ha Na, and her husband built a bamboo storage shelter.
Roselle,
Potato
and Lemon Grass Soup by farmer Tri Sa
Serves 2-4
• 1 bunch roselle greens
• Lemon grass (white part, chopped)
• 4 Tbsp. olive oil
• 1 big onion, chopped
• 1 bag of new potatoes, diced
• 4-6 cups vegetable or chicken broth (or water)
• Salt and pepper, to taste
• Torn lemon basil (optional)
Pull the roselle leaves off their stem and chop them. Prepare the lemon grass by peeling off the outermost layers and cut off the top portion of the stalk. (Save these pieces to add to stock or to steep in boiling water for a tea.) The remaining core of the stalk should be whitish and fragrant. Chop this up.
In a pot over medium heat, heat olive oil and add the onion and a pinch of salt. Cook, stirring occasionally, until tender. Add roselle greens and stir until wilted. Meanwhile, in a separate pot, boil about 4 cups of well-salted water (or broth) and toss in the chopped potatoes. Next, add the lemon grass to the liquid. Once the potatoes are fork tender, take the soup off the heat and add the cooked roselle and onion and torn lemon basil (if using). Stir and season with salt and pepper to taste. Serve warm or chilled.
These farmers first met at Tham Hin Refugee Camp in Thailand. Ha Na (left) is Ree Ree's great-aunt and Paw Moo (right) was one of the nurses when Ree Ree was born.
refugee camp, you are considered stateless. When I went off to college, there were community groups of people who are from Burma, but I don't feel I fit in. It was just so different. And, I don't feel I belong in Chapel Hill and Carrboro. At Transplanting Traditions, I can speak my language. I feel the most belonging here."
Ree Ree shares news about her siblings: Her eldest sister stays home to care for her kids. One sister is in college. Another sister is the farm's youth and children program coordinator (a position Ree Ree once held, too). Her brother is starting his own parttime microgreen business and also does tattoo art. Her youngest sister is still in high school.
She turns her attention back to the plants in the field and points out a favorite among farmers at Transplanting Traditions – the roselle, a member of the hibiscus plant family. "It's a sour plant that is used in a lot of savory dishes and many people will cook and make soup. They'll make chili paste, and then some people will eat the leaves, too. But my favorite is the bud. It's sweet and tart, and I love it. My sister's gonna make [soup] tonight so I'm going to her house." CHM
76 chapelhillmagazine.com September/October 2023 FOOD &drink (
CATERING OF ANY OCCASION, PLEASE GIVE US A CALL! ITALIAN PIZZERIA III The Place to Be! 508 WEST FRANKLIN STREET, CHAPEL HILL | 919.968.4671 | italianpizzeria3. com    CHAPEL HILL FAVORITE FOR 43 YEARS BEST PHILLY CHEESE STEAK IN THE TRIANGLE 2023
you, Chapel Hill, for your support this year and for voting us Best Pizza & Best Restaurant Catering!
are grateful!
FOR
Thank
We
Produce harvested at Transplanting Traditions*
Amaranth Greens
Arugula
Beets
Bitter Melon
Bok Choy
Bravo Radishes
Broccoli
Brussels Sprouts
Butternut Squash
Cabbage
Cantaloupe
Carrots
Cauliflower
Celery
Cherry Tomatoes
Cilantro
Collards
Cucumber
Daikon Radish
Edamame
Eggplant
Fennel
Gai Lan (Kai-lan)
Garlic
Garlic Chives
Garlic Scapes
Ginger
Green Beans
Green Garlic
Hakurei Turnips
Italian Basil
Kohlrabi
Leeks
Lemon Basil
Lemon Grass
Lettuce
Lime Leaves
Long Beans
Mint
Napa Cabbage
Nasturtiums
New Potatoes
Okra
Onions
Parsley
Pea Shoots
Pennywort
Pumpkin Shoots
Radishes
Red Russian Kale
Roselle Buds
Roselle Greens
Ruby Streaks Mustard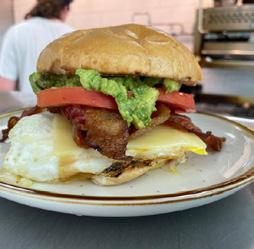 Greens
*bolded are the ones available in September/October
Salad Mix
Scallions
Shishito Peppers
Spinach
Spring Onions
Strawberries
Sugar Snap Peas
Summer Squash
Sweet Peppers
Sweet Potato Greens
Sweet Potatoes
Swiss Chard
Tatsoi
Thai Basil
Thai Chili (Hot)
Thai Pumpkin
Tomatoes (Slicers)
Toscano Kale (also called Dinosaur Kale)
Tsoi Sim
Tulsi (Holy) Basil
Turmeric Root
Water Gourd
Water Spinach
Watermelon
Watermelon Radish
September/October 2023 chapelhillmagazine.com 77 BREAKAWAYCARRBORO@GMAIL.COM 410 N. GREENSBORO STREET | CARRBORO Happy 1 Year Birthday Breakaway Carrboro! Thank you Carrboro and Chapel Hill. We are so grateful to be a part of the community. Best Breakfast | Best sandwich Best New eatery/bar breakawaync.co | 984.234.3296 We look forward to many more years serving you! 2023
Artist: Kela Kexel
Cultivating COMMUNITY
Faithfull Farms is a sustainable oasis nurturing faith and bountiful harvests
$
By James Dupree Photography by John Michael Simpson
had no intention of being a farmer at first," says Howard Allen, owner of Faithfull Farms, as he stands in front of his eight 100-foot high tunnel greenhouses, each with gorgeous green bountiful rows of produce. Although his career in farming may not have been planned, Howard is no stranger to working with food. For 20 years, Howard worked as a classically trained culinary and pastry chef for various eateries in the Triangle, most notably The
78 chapelhillmagazine.com September/October 2023 FOOD &drink (
"I %
September/October 2023 chapelhillmagazine.com 79
The Allen family –Amaya, Howard, Cole and Ronniqua – with the fruits of their labor.
Carolina Inn. He also taught as an adjunct instructor for 10 years in the culinary arts at Alamance Community College, the same institution where he trained.
Then Howard received what he believed to be a message from God. "The voice inside said to build a farm," he says. "I asked why, and the response was, 'It would be needed in the future.'" A man of faith and a regular attendee of Life Church (located not far from East Chapel Hill High School), Howard took the message to heart. However, faith wasn't the only thing that spurred Howard's change in career. "As a child living in Jamaica," he says, "I would walk out the front door and have fresh fruits and vegetables at my disposal. So, I wanted to give my family some sense of what I had growing up." He and his wife, Ronniqua Allen, have a 16-year-old daughter, Amaya Allen, and a 12-year-old son, Cole Allen.
In July 2017, Howard followed his calling and walked away one year into his position as executive chef with Reverence Farms Cafe in Graham. "I took a 95% pay cut and started from scratch," he says. The Life Church leadership believed in Howard and his skill to implement his vision. With permission to use the church's 9-acre plot of land off of Old Greensboro Road, he got to work and in 2018, Faithfull Farms officially launched.
The farm uses a regenerative farming system, going beyond the traditional standards for organic growing. "Everything we embody is about faith, community, healing and being one with the land," Howard says. "Our rightful place is to be stewards of the land, to leave it in the same state or a better state than it was given to us." Crop rotation, intercropping (where multiple varieties of edible plants are grown together) and the inclusion of composting worms and insects help to promote good soil health and fertility without disturbing the overall natural state of the land. Between each high tunnel house are ditches filled with wood chips to help control stormwater runoff from the houses. The retained moisture in the wood chips is then absorbed by the crops' roots. "[The wood chips] also add a good balance of fungi and bacteria to the soil," he says. "We try to focus on how we can create a symbiotic environment that requires less and [also] less effort by the farmer."
Apart from Howard, the farm has four employees who keep the business running yearround. Crops are rotated on a seasonal basis as the high tunnels are not heated in the winter. Typical produce includes cucumbers, lettuce,
kale, onions, peppers, sugar snap peas, carrots, beets, hakurei turnips and arugula. The fruits of their labor are then sold at the Carrboro Farmers Market on Wednesdays and Saturdays, and at the Pluck Farm Farmers Market on Thursday evenings. Their produce is also sold wholesale to Weaver Street Market and made available through Tall Grass Food Box, a local subscription-based grocery service.
Since its humble beginnings, the farm has become a land of opportunity for Howard, his family and many others. Daughter Amaya is in the beginnings of her flowercutting and bouquet business, using one of the houses to grow eucalyptus, strawflowers, sunflowers and marigolds, to name a few.
"It's a rite of passage in our family for you to have an understanding of how to run a business before leaving home," Howard says. Amaya is also working on hosting workshops in the next year where visitors can tour the farm and learn how to cut and make bouquets. Son Cole is still working on ideas for his entrepreneurship.
"[Cole] grows and sells fruit for the farm, but he likes video games and YouTube, so we're figuring out something that [fits within his interests]," Howard says. "Parents on family farms are often trying to force what they did onto their kids, rather than let them create new opportunities. I want my kids to find a place for their calling and their skills."
In 2021, Ronniqua left her position as a senior technologist for Labcorp to maintain the family's 2 ½-acre homestead less than a mile from the farm. Using her background in microbiology, she grows produce in their two 50-foot high tunnel houses and multiple planting beds. Each week, Ronniqua produces 60 trays of microgreens for sale at farmers markets. She also focuses on natural healing methods by growing medicinal herbs for essential oils. When she doesn't have her hands in the dirt, she works on advertising the farm's event space, a farmhouse with covered patio, picnic tables and a great view of the landscape. "She loves to do those things," Howard says. "This land was her platform to find her calling."
80 chapelhillmagazine.com September/October 2023 FOOD &drink (
% $
ABOVE Howard demonstrates his regenerative soil practice in the greenhouse. BELOW Amaya's favorite thing to do on the farm is to grow flowers.
The farm also partners with The Gathering Space, a Durham-based counseling service that brings clients to the farm and uses one of the high tunnels to plant seedlings, later transitioning their herbs and vegetables to planter boxes. "They have access to the farm, and we make no contact with them so that they can have therapeutic healing in a wholesome environment," Howard says.
He uses the farm for consulting both new and experienced farmers on implementing replicable growing systems similar to its own. The idea is to help existing farms and agribusinesses thrive and to help jump-start new, local farms.
In the next five years, Faithfull Farms plans to expand its growing beds and focus on perennial fruit production, including blueberries, blackberries and strawberries. "We're always having fun and trying new things and bringing people in who have new ideas," Howard says. CHM
September/October 2023 chapelhillmagazine.com 81
$
ABOVE Cole picks tomatoes from the greenhouse. LEFT Ronniqua harvests microgreens to be packaged and sold at the market.
DINING GUIDE
INCLUDES RESTAURANTS, DELIS AND BISTROS IN CHAPEL HILL, CARRBORO, HILLSBOROUGH AND NORTHERN CHATHAM COUNTY
CHAPEL HILL
East Franklin Street
1922 Coffee cafe with grab-andgo options. 140 E. Franklin St.; carolinacoffeeshop.com
Bandido's Mexican Cafe Burritos, salads, quesadillas, tacos. 159 ½ E. Franklin St.; 919-967-5048; bandidoscafe.com
Basecamp Restaurant and bar serving small plates and a variety of international dishes. Open for dinner and Sunday brunch. 105 E. Franklin St.; 984-999-4970; basecampchapelhill.com
Bonchon Korean fried chicken. 205 E. Franklin St.; 984-234-0788; bonchon.com
Capriotti's Sandwich Shop Hot and cold subs, hand-pulled meats, 12-hour roasted turkey and quality cheeses. 127 Franklin St.; 919-240-4025; capriottis.com
Carolina Coffee Shop Casual American cuisine for breakfast, lunch and dinner. 138 E. Franklin St.; 919-942-6875; carolinacoffeeshop.com
Cosmic Cantina Burritos, salads, quesadillas, tacos. 128 E. Franklin St.; 919-960-3955; cosmiccantina.com
Dame's Chicken & Waffles Chicken, waffles, schmears. 'Nuff said. 147 E. Franklin St.; 919-240-4228; dameschickenwaffles.com
Down Time Craft beer, pizza, tacos, wraps, paninis and more. 201 E. Franklin St.; 919-240-7008; downtimechapelhill.com
Epilogue Books Chocolate Brews Independent bookstore and Mexican-style chocolatería. 109 E. Franklin St., Ste. 100; 919-913-5055; epiloguebookcafe.com
Four Corners American fare, nachos, wings, pasta. 175 E. Franklin St.; 919-537-8230; fourcornersgrille.com
Hibachi & Company Hibachi- and teriyaki-style dishes. 153 E. Franklin St.; 919-903-8428; hibachicompany.com
Imbibe Bottle shop and restaurant serving pizza, salads and appetizers. 108 Henderson St.; 919-636-6469; 108henderson.com
Linda's Bar & Grill Local beer, sweet potato tots, cheese fries and burgers. 203 E. Franklin St.; 919-933-6663; lindas-bar.com
Möge Tee Bubble tea shop offering cheese foam fruit tea, fresh milk tea, fruit parfaits and fruit yakult. 151 E. Franklin St.; 984-234-3278; mogeteechapelhill.com
Momo's Master Made-to-order Himalayan dumplings. 110 N. Columbia St.; 919-903-9051; momosmaster.com
Pirate Captain Ramen, seafood, smoothie bowls. 163 E. Franklin St.; 919-968-2098; piratecaptainch.com
Sup Dogs Creative hot dogs and sides like jalapeño popper tots and funnel cake sticks. 107 E. Franklin St.; 919-903-9566; supdogs.com
Sutton's Drug Store Old-fashioned diner known for its hot dogs, burgers and sandwiches like "Roy's Reuben." 159 E. Franklin St.; 919-942-5161; suttonsdrugstore.com
Time-Out Southern comfort food 24 hours a day. 201 E. Franklin St.; 919-929-2425; timeout247.com
Top of the Hill A Chapel Hill brewery that also offers American food like burgers and flatbreads. 100 E. Franklin St.; 919-929-8676; thetopofthehill.com
Tru Deli & Wine Bar Build-your-own sandwiches and wine. 114 Henderson St.; 919-240-7755; trudeli.com
Wheat Chinese noodles, rice dishes, desserts. 143 E. Franklin St.; 919-240-4155
Yaya Tea Japanese cafe with a variety of bubble teas and imported snacks. 157 E. Franklin St.; 919-914-6302; yayatea.com
West Franklin Street
411 West Fresh pasta, seafood and pizzas inspired by the flavors of Italy and the Mediterranean, with a healthy California twist; outdoor dining. 411 W. Franklin St.; 919-967-2782; 411west.com
*DETAILS ARE SUBJECT TO CHANGE. CHECK RESTAURANT WEBSITES AND SOCIAL MEDIA CHANNELS PRIOR TO VISITING.
ADVERTISERS HIGHLIGHTED IN BOXES
Blue Dogwood Public Market Food hall with individually owned food stalls including Asian fusion, a bottle shop and a nutrient-dense weekly pre-order menu. 306 W. Franklin St., Ste. G; 919-717-0404; bluedogwood.com
Blue's on Franklin North Carolina barbecue, burgers, hot dogs, sandwiches and salads. 110 W. Franklin St.; 919-240-5060; bluesonfranklin.com
Boro Beverage Co. Locally made kombucha and craft sodas on tap. 400 W. Rosemary St., Ste. 1005; 919-537-8001; borobeverage.com
Brandwein's Bagels Classic New York bagels and breakfast sandwiches. 505 W. Rosemary St.; 919-240-7071; brandweinsbagels.com
Bul Box Flavors and dishes inspired by Asia in handcrafted signature boxes with limitless customizability. 200 W. Franklin St. #130; 919-240-4159; bul-box.com
Buns Gourmet burgers, fries and shakes made from fresh ingredients. 107 N. Columbia St.; 919-240-4746; bunsofchapelhill.com
Carolina Brewery The Triangle's oldest brewery restaurant features Carolina cuisine. 460 W. Franklin St.; 919-942-1800; carolinabrewery.com
Cat Tales Cat Cafe A two-story coffee/ beer/wine cafe home to 12 adoptable cats. 431 W. Franklin St., Ste. 210; 843-345-5289; cattalescatcafe.com
Chimney Indian Kitchen + Bar Traditional Indian dishes and unique options like pista korma and lobster pepper masala. 306 W. Franklin St., Ste. D; 984-234-3671; chimneyindiankitchen.com
CholaNad Restaurant & Bar Contemporary and traditional South Indian cuisine. Catering available. 310 W. Franklin St.; 800-246-5262; cholanad.com
Al's Burger Shack Gourmet burgers and fries. 516 W. Franklin St.; 919-904-7659; alsburgershack.com
Ay Por Dios Oaxacan food. 431 W. Franklin St.; 717-802-0745
Beer Study/Boot Room Bottle shop with in-store drafts and growlers to go, plus soccer pub and sandwich shop. 504 W. Franklin St.; 919-240-5423; beerstudy.com
Crossroads Chapel Hill at The Carolina Inn New American cuisine and seasonal specialties; all ABC permits; outdoor dining. 211 Pittsboro St.; 919-918-2777; crossroadscuisine.com
Crumbl Cookies Baked-from-scratch, home-delivered cookies featuring six different flavors each week. 133 W. Franklin St., Ste. 50; crumblcookies.com
82 chapelhillmagazine.com September/October 2023
The Dead Mule Club Sunday brunch, tacos and barbecue. 303 W. Franklin St.; 919-969-7659; deadmule.squarespace.com
Franklin Motors Beer Garden A rooftop and fully licensed ABC bar. The Roquette at Franklin Motors serves hand-cut fries and sliders. 601 W. Franklin St.; 919-8697090; franklinmotors.net
Heavenly Buffaloes Chicken wings and vegan wings with more than 25 rubs and sauces. 407 W. Franklin St.; 919-914-6717; heavenlybuffaloes.com/chapel-hill
Italian Pizzeria III Pizza, Italian entrees, calzones and subs. The "place to be" in Chapel Hill for 41 years. 508 W. Franklin St.; 919-968-4671; italianpizzeria3.com
Kurama Sushi & Noodle Express Dumplings, salads, noodle dishes. 105 N. Columbia St.; 919-968-4747; kuramasushinoodle.com
Lantern Pan-Asian cuisine. 423 W. Franklin St.; 919-969-8846; lanternrestaurant.com
Lapin Bleu Bar meets art gallery. 106A N. Graham St.; 919-969-7157
La Résidence French-inspired cuisine. 202 W. Rosemary St.; 919-967-2506; laresidencedining.com
Le Macaron French pastries. 140 W. Franklin St., Ste. 120; lemacaron-us.com
Mama Dip's Kitchen Traditional Southern specialties, brunch and dinner classics like fried chicken and Brunswick stew. 408 W. Rosemary St.; 919-942-5837; mamadips.com
Mediterranean Deli Offers healthy vegan, vegetarian and gluten-free Mediterranean options. 410 W. Franklin St.; 919-967-2666; mediterraneandeli.com
Merritt's Grill Famous BLTs, breakfast sandwiches, burgers. 1009 S. Columbia St.; 919-942-4897; merrittsblt.com
Might As Well Bar & Grill Bar favorites. 206 W. Franklin St.; 984-234-3333; chapelhill.mightaswellbarandgrill.com
The Northside District Specialty cocktails and international small plates. 403 W. Rosemary St.; 919-391-7044; thenorthsidedistrict.com
Perennial Cafe Serving Carrboro Coffee Roasters coffee, tea and pastries. 401 W. Franklin St.; 919-914-6045; perennial.cafe
Pho Happiness Pho noodle soup, vermicelli plates and vegetarian/glutenfree options. 508-A W. Franklin St.; 919-942-8201; phohappinessnc.com
The Purple Bowl Acai bowls, toast, smoothies, coffee. 306-B W. Franklin St.; 919-903-8511; purplebowlch.com
Que Chula Authentic Mexican food, tacos and craft tequilas. 140 W. Franklin St., Ste. 110; 919-903-8000; quechulatacos.com
Roots Natural Kitchen Salads and grain bowls. Children 12 years old and younger eat free all day, every day. 133 W. Franklin St., Bldg. A-115; 984-322-5600; rootsnaturalkitchen.com
Saturni Sandwiches, coffee and baked goods. 431 W. Franklin St., Ste. 120; 984-234-3497; saturni-nc.com
Spicy 9 Sushi Bar & Asian Restaurant Sushi, Thai curries, bibimbap and other Asian entrees. 140 W. Franklin St., Ste. 150; 919-903-9335; spicy9chapelhill.com
Talullas Authentic Turkish cuisine; all ABC permits. 456 W. Franklin St.; 919-933-1177; talullas.com
Tea Hill Made-to-order Taiwanese teas and street food. 318 W. Franklin St.; 984-9994580; teahillusa.com
Trolly Stop - The Beach on Franklin Specialty hot dogs and burgers. 104 W. Franklin St.; 919-240-4206; trollystophotdogs.com
Trophy Room A Graduate Hotels concept serving up shareable plates, salads and burgers. 311 W. Franklin St.; 919-442-9000; graduatehotels.com/chapel-hill/restaurant Vimala's Curryblossom Café Traditional Indian tandoori and thali. 431 W. Franklin St., Ste. 415; 919-929-3833; curryblossom.com
YoPo of Chapel Hill Frozen yogurt, treats and shakes with unique flavors since 1982. 106 W. Franklin St.; 919-942-7867; yogurtpump.com
Village Plaza/East Franklin Street/Eastgate Crossing/ Rams Plaza
Alpaca Peruvian rotisserie chicken and sides like maduros and tostones. 237 S. Elliott Rd.; 919-338-2962; alpacachicken.com
Breadman's A variety of burgers, sandwiches, salads and grilled meat, with daily soup and specials. All-day breakfast; catering available. 261 S. Elliott Rd.; 919-967-7110; breadmens.com
Caffé Driade Carrboro Coffee Roasters coffee, bowl-size lattes, local baked goods, beer and wine. 1215-A E. Franklin St.; 919-942-2333; caffedriade.com
The Casual Pint Upscale craft beer market with beer, wine and ice-cream sandwiches. 201 S. Elliott Rd., Ste. 5; 919-967-2626; chapelhill.thecasualpint.com
Cava Customizable Mediterranean bowls, salads, pitas and soups. 79 S. Elliott Rd.; 919-636-5828; cava.com
Chopt Unique salads, grain and quinoa bowls. Eastgate Crossing; 919-240-7660; choptsalad.com
Clean Juice Certified organic juices, smoothies, bowls and snacks. Eastgate Crossing; 919-590-5133; cleanjuice.com
Dunk & Slide at Whole Foods Market All-day breakfast, sushi and more. 81 S. Elliott Rd.; 919-968-1983; wholefoodsmarket.com
Guglhupf Bake Shop European-style breads, pastries and coffee. Eastgate Crossing; 919-914-6511; guglhupf.com/ chapel-hill-bake-shop
Il Palio at The Siena Hotel Italian specialties like butternut squash ravioli. 1505 E. Franklin St.; 919-918-2545; ilpalio.com
Japan Express Hibachi-style meals and sushi. 106 S. Estes Dr.; 919-903-8050
Kipos Greek Taverna Greek cuisine in a relaxed, upscale setting with outdoor dining. Eastgate Crossing; 919-425-0760; kiposchapelhill.com
La Hacienda Burritos, salads, quesadillas, tacos. 1813 Fordham Blvd.; 919-967-0207; lahaciendamex.com
The Loop Pizzas, soups, salads, sandwiches, burgers. Eastgate Crossing; 919-969-7112; thelooprestaurant.com
Min Ga Authentic Korean cuisine like bibimbap, bulgogi and a variety of homemade kimchi. 1404 E. Franklin St.; 919-933-1773; min-ga.com
Monterrey Mexican Grill Tacos, quesadillas, burritos and more. Rams Plaza; 919-969-8750; letsgotomonterrey.com
Mr. Tokyo Japanese Restaurant Unlimited sushi and hibachi. Rams Plaza; 919-240-4552; mrtokyojapanese.com/chapel-hill
Osteria Georgi House-made pasta, braised meat dishes and antipasto. 201 S. Elliott Rd., Ste. 100; 919-375-0600; osteriageorgi.com
Piero's Pasta & Wine A variety of pasta dishes, soups and salads. 1502 E. Franklin St.; 984-999-4826; pierospasta.com
COMING SOON – Pocha Korean Pub & BBQ Korean barbecue and street food. 116 Old Durham Rd.
Rise Southern Biscuits & Righteous Chicken Biscuits, donuts, chicken and coffee. Eastgate Crossing; risebiscuitschicken.com
Shake Shack Fast-casual chain serving up 100% Angus beef blend burgers, crinklecut fries and hand-spun shakes. Eastgate Crossing; shakeshack.com
COMING SOON – Snooze, An A.M. Eatery Breakfast, comfort food lunches and brunch cocktails that come from carefully sourced ingredients. Eastgate Crossing; snoozeeatery.com
S quid's Fresh seafood options include wood-grilled fillets, Maine lobster, fried seafood and oysters. 1201 Fordham Blvd.; 919-942-8757; squidsrestaurant.com
Sunrise Biscuit Kitchen Drive-thru biscuits, sandwiches. 1305 E. Franklin St.; 919-933-1324; sunrisebiscuits.co
Sutton's in the Atrium A cafe version of Sutton's Drug Store with its famous hot dogs, salads and more. 100 Europa Dr.; 919-2404471; suttonsdrugstore.com
Tandoor Indian Restaurant Traditional Indian cuisine, vegan options. 1301 E. Franklin St.; 919-967-6622; tandoorindian.com
Thaiphoon Bistro Thai cuisine, curry, stirfry, soups and salads. 1704 E. Franklin St.; 919-869-7191; thaiphoonbistro.com
Twisted Noodles Thai noodle soups, pan-fried noodles. Eastgate Crossing; 919-933-9933; twistednoodlesch.com 
September/October 2023 chapelhillmagazine.com 83
University Place
Alfredo's Pizza Villa Pizzas, calzones, salads, subs, pasta, desserts. 919-968-3424; alfredospizzavilla.com
bartaco Tacos, fresh-juice cocktails, poke and mole options. 910-807-8226; bartaco.com
OiShii Specialty rolls, teriyaki, stir-fry, sushi. Timberlyne Shopping Center; 919-932-7002; oishiiroll.com
The Pig Barbecue, fried tofu, collards and more. 630 Weaver Dairy Rd., Ste. 101; 919-942-1133; thepigrestaurant.com
PiggyBack Classic cocktails, beer and wine and unexpected, creative bar food. 630 Weaver Dairy Rd., Ste. 102; 919-240-4715; thepigrestaurant.com/piggyback
Pop's Pizzeria & Ristorante Pizzas, calzones, stromboli, pasta. 1822 MLK Jr. Blvd.; 919-932-1040; pops-pizzeria.com
The Poplar Cafe Coffee shop offering tea, wine, mimosas, beer and specialty drinks. 1114 Environ Way, East 54; thepoplarcafe.com
Thai Palace Soup, curries, pad thai. Glenwood Square Shopping Center; 919-967-5805; order.thaipalacechapelhill.com
Meadowmont Village
Bluebird French bistro-style restaurant. 601 Meadowmont Village Circle; bluebirdnc.com
Flying Biscuit Cafe All-day breakfast and Southern favorites like shrimp and grits.919-537-8974; flyingbiscuit.com
Hawkers Inspired by Southeast Asia's street fare, this eatery features homemade favorites, from dumplings to curries. 919-415-1799; eathawkers.com
Maple View Mobile Ice-cream outpost of the iconic Hillsborough shop. 919-244-1949; mapleviewmobile.com
Stoney River Steakhouse and Grill Southern favorites like deviled eggs meet steakhouse mainstays like the legendary 12 oz. filet. 919-914-6688; stoneyriver.com
Trilogy American cafe featuring innovative twists on classic dishes. Outdoor seating available. Silverspot Cinema; 919-357-9887; silverspot.net
Martin Luther King Jr. Boulevard (Airport Road)
Bombolo Brunch, pasta dishes and small plates. 764 MLK Jr. Blvd.; 919-914-6374; bombolochapelhill.com
Hunam Chinese Restaurant Cantonese cuisine. 790 MLK Jr. Blvd.; 919-967-6133; hunamrestaurant.net
Lucha Tigre Latin-Asian cuisine and sake-tequila bar. 746 MLK Jr. Blvd.; 919-914-6368; luchatigre.com
The Root Cellar Cafe & Catering Sandwiches, salads, soups, desserts and more for breakfast and lunch. 750 MLK Jr. Blvd.; 919-967-3663; rootcellarchapelhill.com
Timberlyne/Chapel Hill North Area
Chapel Hill Wine Company Wine store with bottles from all over the globe. 2809 Homestead Rd.; 919-968-1884; chapelhillwinecompany.com
Farm House Restaurant Steaks, salads, potatoes. 6004 Millhouse Rd.; 919-929-5727; farmhousesteakhouse.com
Joe Van Gogh Coffee, tea and pastries. Timberlyne Shopping Center; 919-967-2002; joevangogh.com
Magone Italian Grill & Pizza Italian mains. Timberlyne Shopping Center; 919-904-7393; magoneitaliangrillpizza.com
New Hope Market Breakfast and daily specials like burgers, soups and more. 6117 N.C. Hwy. 86 S.; 919-240-7851
Rasa Indi-Chinese Authentic North Indian and Chinese cuisine, with fusion and Thai dishes. Weekly specials. 1826 MLK Jr. Blvd.; 919-929-2199; rasachapelhill.com
Sal's Pizza & Ristorante Thin-crust and deep-dish pizzas plus an array of Italian comfort food. 2805 Homestead Rd.; 919-932-5125; salspizzaofchapelhill.com
Siam Zap Pho Thai fried rice, curry, pho. Timberlyne Shopping Center; 919-903-8280
Yopop Frozen Yogurt Frozen yogurt shop featuring 14 flavors, bubble tea and smoothies. Timberlyne Shopping Center; 919-537-8229
N.C. 54 East/Raleigh Road
Amante Gourmet Pizza Create-your-own pizzas. 6209 Falconbridge Rd.; 919-493-0904; amantepizza.com
BIN 54 Steaks, seafood and other fine American food. Everything made in-house. Glen Lennox Shopping Center; 919-969-1155; bin54chapelhill.com
Brenz Pizza Co. Specialty pizzas, subs, salads. 3120 Environ Way, East 54; 919-636-4636; brenzpizzaco.com
Coco Espresso, Bistro & Bar
Plant-based, fresh, locally sourced dishes, as well as classic comfort food, cocktails and mocktails, plus coffee, espresso bar, baked goods and pastries. The Gwendolyn, 101 Glen Lennox Dr., Ste. 180; 919-8839003; cocochapelhill.com
elements Cuisine combining classical and modern Asian and European cooking techniques; check out the wine bar with full menu next door. 2110 Environ Way, East 54; 919-537-8780; elementsofchapelhill.com
First Watch French toast, pancakes and specialty omelets. 1101 Environ Way, East 54; 919-537-8488; firstwatch.com
Hawthorne & Wood Fine dining cuisine with an outdoor patio, a fully stocked bar and an extensive international wine list. 3140 Environ Way, East 54; 919-240-4337; hawthorneandwood.com
Jujube Eclectic, modern cuisine inspired by the flavors of China and Vietnam. Glen Lennox; 919-960-0555; jujuberestaurant.com
Nantucket Grill & Bar Clam chowder, lobster rolls and more. 5925 Farrington Rd.; 919-402-0077; nantucketgrill.com
NoDa Brewing Company Tapas Small plates, NoDa beer, wine and specialty cocktails. 1118 Environ Way, East 54.; 919-903-8699; nodabrewingtapas.com
Brixx Wood Fired Pizza Specialty pizzas and salads. 501 Meadowmont Village Circle; 919-929-1942; brixxpizza.com
Kahlovera Mexican bar and grill. 504 Meadowmont Village Circle; 984-999-4537; kahloveratacos.com
Lime & Lemon Indian Grill & Bar Northern and southern Indian specialties including gobi manchurian, paneer tikka, chicken tikka and hariyali murg kebab. 101 Meadowmont Village Circle; lnlrestaurant.com
Meet Fresh Taiwanese desserts and teas. 407 Meadowmont Village Circle; Ste. 101; 984-999-4983; meetfresh.us
Quickly Hot and cold tea drinks in addition to Asian street food. 503 Meadowmont Village Circle; 984-234-0401; quicklychapelhill.com
Southern Village
Al's Burger Shack Gourmet burgers and fries. 708 Market St.; 919-914-6694; alsburgershack.com
COMING SOON
The Critic Opinionated drinking in Southern Village. 620 Market St. (inside The Lumina Theater); thecriticbar.com
Rasa Malaysia Authentic Malaysian dishes. 410 Market St.; 984-234-0256; rasamalaysiach.com
La Vita Dolce Pastries, sorbet, gelato, coffee. 610 Market St., Ste. 101-C; 919-968-1635; lavitadolcecafe.com
Market and Moss American cuisine made with fresh local ingredients. 700 Market St.; 919-929-8226; marketandmoss.com
Rocks + Acid Wine Shop A wine shop and tasting room from award-winning sommelier Paula de Pano. 712 Market St.; 919-428-3564; rocksandacidwineshop.com
Town Hall Grill Sandwiches, steak, seafood, Italian dishes. 410 Market St.; 919-960-8696; thetownhallgrill.com
Weaver Street Market Food bar items, plus grab and go. 716 Market St.; 919-929-2009; weaverstreetmarket.coop
DINING GUIDE 84 chapelhillmagazine.com September/October 2023

September/October 2023 chapelhillmagazine.com 85 A Heavenly Breakfast + Brunch Experience We Cater Any Size Event! 2023 @flyingbiscuitchapelhill Voted Best Eatery & Best Biscuits! University Place- 201 S. Estes Drive, Suite E2, Chapel Hill 919.537.8974
CARRBORO
Downtown
401 Main Upscale dive bar and sandwich shop serving shareable bar snacks, local brews and po'boys. 401 Main St.; 919-390-3598; 401main.com
Acme Food & Beverage Co. Entrees with a Southern touch. 110 E. Main St.; 919-929-2263; acmecarrboro.com
Akai Hana Japanese cuisine including sushi, tempura and teriyaki. 206 W. Main St.; 919-942-6848; akaihana.com
Armadillo Grill Tex-Mex burritos, enchiladas, tacos, nachos. 120 E. Main St.; 919-929-4669; armadillogrill.com
Atlas Bar Uptown drinks in downtown Carrboro. 118 E. Main St.; atlascarrboro.com
Belltree Cocktail Club Prohibition-inspired speakeasy serving creative cocktails, beer and wine. 100 Brewer Lane, A; 984-234-0572; belltreecocktailclub.com
Breakaway
Carrboro
A casual cafe serving breakfast, lunch, dinner and coffee. 410 N. Greensboro St.; breakawaync.co
Carrburritos Burritos, tacos, nachos and margaritas. 711 W. Rosemary St.; 919-933-8226; carrburritos.com
Cham Thai Authentic Thai, Siamese and Chinese cuisine. 370 E. Main St., Ste. 190; 984-999-4646; chamthainc.com
The Cheese Shop at Glasshalfull
Cut-to-order cheese shop offering a diverse selection of cheese, meat and provisions. 106 S. Greensboro St.; 919-967-9784; cheeseshopnc.com
Coronato Pizza Roman-style pizza, snacks and salads. 101 Two Hills Rd., Ste. 140; 919-240-4804; coronatopizza.com
Craftboro Brewing Depot Bottle shop and brewery with taps of craft beer. 101 Two Hills Dr., Unit 180; 919-240-4400; craftborobrewing.com
Glasshalfull Mediterranean-inspired food and wine; outdoor dining; all ABC permits. 106 S. Greensboro St.; 919-967-9784; glasshalfull.net
Gourmet Kingdom Sichuan cuisine. 301 E. Main St.; 919-932-7222; thegourmetkingdom.com
Krave Kava Bar & Tea Lounge Offers a wide range of tea and herbal drinks, all made from kava, a type of plant root. 105 W. Main St.; 919-408-9596; kravekava.com
Lanza's Cafe Coffeehouse serving tea and meads in addition to local pastries, small plates and daily specials. 601 W. Main St.; 919-967-9398; lanzascafe.com
Luna Rotisserie & Empanadas South American cuisine meets the American South. 307 E. Main St.; 919-537-8958; lunarotisserie.com
Mel's Commissary & Catering Pop-up dinners. 109 W. Main St.; 919-240-7700; melscarrboro.com
Napoli Wood-fired pizza, espresso, artisanal gelato made from scratch, teas and local craft beer and wines. 105 E. Main St.; 919-667-8288; napolicarrboro.com
Neal's Deli Buttermilk biscuits on Saturdays and traditional deli fare. 100 E. Main St.; 919-967-2185; nealsdeli.com
Oakleaf "Immediate" cuisine like pastas and seafood using ingredients from the chef's own garden. 310 E. Main St.; 984-234-0054; oakleafnc.com
Open Eye Cafe Freshly roasted coffee by Carrboro Coffee Roasters, tea, beer, wine and baked goods. 101 S. Greensboro St.; 919-968-9410; openeyecafe.com
Paco's Tacos Steak, chicken, seafood and vegetarian tacos. 109 W. Main St.; 919-240-7700
Pizzeria Mercato Pizza, antipasto, soups, fritti and gelato. 408 W. Weaver St.; 919-967-2277; pizzeriamercatonc.com
Speakeasy on Main Cocktail lounge with live music. 100 E. Main St.; facebook.com/ speakeasyonmainstreet
Spotted Dog Vegetarian- and vegan-friendly entrees. 111 E. Main St.; 919-933-1117; thespotteddogrestaurant.com
Tesoro 18-seat neighborhood restaurant with house-made pasta, seasonal plates and classic sweets. 100 E. Weaver St.; 919-537-8494; tesorocarrboro.com
Wings Over 27 flavors of wings. 313 E. Main St.; 919-537-8271; wingsoverchapelhill.com
East Main Square
Amante Gourmet Pizza Create-your-own pizzas, salads and pasta. 300 E. Main St.; 919-929-3330; amantepizza.com
Gray Squirrel Coffee Co. Roastery and espresso bar. 360 E. Main St., Ste. 100; graysquirrelcoffee.com
Haw River Tap & Table Craft beer and flavorful small plates. 300 E. Main St., Ste. C; 919-391-6788; hawriverstore.com
Hickory Tavern Burgers, sandwiches and build-your-own salads. 370-110 E. Main St.; 919-942-7417; thehickorytavern.com
Iza Whiskey & Eats Japanese fusion cuisine serving small plates, sushi, ramen, whiskey, sake and cocktails. 370 E. Main St., Ste. 140; 919-537-8645; izaeats.com
COMING SOON – LA Tequila and Eats
Latin-Asian fusion cuisine. 307 E. Main St. Unit 170
Rise Southern Biscuits & Righteous Chicken Biscuits, doughnuts, chicken and coffee. 310 E. Main St.; 919-929-5115; risebiscuitschicken.com
Carr Mill Mall/ North Greensboro Street
B-Side Lounge
Small plates, like fondue, and inspired cocktails. Carr Mill Mall; 919-904-7160; b-sidelounge.com
Grata Diner From scratch breakfast and lunch. Carr Mill Mall; 919-240-7000; gratacafe.com
Oasis Organic coffee, tea, beer and wine. Carr Mill Mall; 919-904-7343
Tandem Farm-to-table, modern American cuisine with full service bar. Carr Mill Mall; 919-240-7937; tandemcarrboro.com
Thai Station Authentic, fresh Thai dishes. 201 E. Main St., Ste. C.; 984-234-3230; thaistationnc.com
DINING GUIDE 86 chapelhillmagazine.com September/October 2023 LOCAL FRESH FAMILY OWNED AND OPERATED SALADS • WOOD-FIRED PIZZA OLD SCHOOL DELI & SANDWICHES BURGERS • FULL BAR • 41 BEERS ON TAP OUTDOOR PATIO • MUSIC • EVENT SPACE THEMODERNLIFEDELI.COM 919-533-6883 JOIN US. 46 SANFORD RD PITTSBORO, NC 2022
Venable Rotisserie Bistro Upscale comfort food with a heavy emphasis on seasonal ingredients. Carr Mill Mall; 919-904-7160; venablebistro.com
Weaver Street Market Hot food bar items are available as grab and go. Carr Mill Mall; 919-929-0010; weaverstreetmarket.coop
N.C. 54 West/Carrboro Plaza
Aidan's Pizza Pizza, wings and salads. 602 Jones Ferry Rd., Ste. D; 919-903-8622; aidanspizza.hungerrush.com
Anna Maria's Pizzeria Italian cuisine. Carrboro Plaza; 919-929-1877; annamariasnc.wordpress.com
Fiesta Grill Burritos, chimichangas, fajitas, tacos. 3307 N.C. Hwy. 54 W.; 919-928-9002; fiestagrill.us
Monterrey Mexican Grill Traditional Mexican cuisine. Carrboro Plaza; 919-903-9919; letsgotomonterrey.com
Wingman Wings and hot dogs. 104 N.C. Hwy. 54 W.; 919-928-9200; bestwingman.net
The Place to Be!
HILLSBOROUGH
Antonia's Italian cuisine. 101 N. Churton St.; 919-643-7722; antoniashillsborough.com
Big Bob's City Grill Fresh-made burgers and chicken with country sides. 584 Cornelius St.; 919-732-2953
The Colorado Burrito Burritos, fajitas and quesadillas. 122 S. Churton St.; 919-245-3335
Cup-A-Joe Coffee and pastries. 112 W. King St.; 919-732-2008; hboro-cupajoe.com
El Restaurante Ixtapa Authentic fromscratch Mexican dishes. 162 Exchange Park Ln.; 919-644-6944; ixtapa.homestead. com/homepage.html
Hillsborough Bakeshop & Pasta Company Baked goods, coffee, wine and all-day cafe offering pasta, sandwiches and salads. 110 S. Churton St.; 919-732-6261; hillsboroughbakeshop.com
Hillsborough BBQ Company Barbecue plates and sandwiches, sides and desserts. 236 S. Nash St.; 919-732-4647; hillsboroughbbq.com
Hillsborough Wine Company Wine store with bottles from all over the globe. 118 S. Churton Street; 919-732-4343; chapelhillwinecompany.com
Hot Tin Roof Games and specialty cocktails. 115 W. Margaret Ln.; 919-296-9113; hottinroofbar.com
The House at Gatewood Supper club and special events venue. 300 U.S. 70; 919-241-4083; houseatgatewood.com
Jay's Chicken Shack Chicken, buffalo wings, breakfast biscuits. 646 N. Churton St.; 919-732-3591; jayschickenshack.com
J&F Kitchen Italian, American and Balkan dishes. 155 Mayo St.; jandfkitchen.weebly.com
Kim's Bake Shop Homemade baked goods from brownies and doughnuts to "whookies" and pie. 111 N. Churton St.; downtownpies.com
La Muñeca Ice Cream Paletas, esquites and dorilocos. 131 Mayo St.; la-muneca-ice-cream.business.site
Los Altos Mexican dishes, such as tacos and chiles rellenos. 126 W. King St.; 919-241-4177; losaltosmexicanrestaurant.com
Lupita's Meat Market and Taqueria
Authentic Mexican food including tamales, barbacoa and carnitas. 633 Cornelius St.; 919-296-9000
Maple View Farm Country Store
Homemade ice cream. 6900 Rocky Ridge Rd.; 919-960-5535; mapleviewfarm.com
Matthew's Chocolates Gourmet chocolates, frozen treats and baked goods. 104 N. Churton St.; 984-245-9571
Nomad International street food-inspired eatery. 122 W. King St.; 984-217-0179; thenomadnc.com 
DINING GUIDE September/October 2023 chapelhillmagazine.com 87 Serving Breakfast ALL DAY LONG with Classic Lunch and Dinner Fare! OUTSIDE SEATING, TAKEOUT & DINE-IN WE CATER! Call 919.428.4470 261 s. Elliott rd., Chapel Hill 919.967.7110 breadmens.com 2023 THANK YOU! BEST BREAKFAST FOR CATERING OF ANY OCCASION, PLEASE GIVE US A CALL! 508 WEST FRANKLIN STREET, CHAPEL HILL 919 968 4671 italianpizzeria3. com   
CHAPEL HILL FAVORITE FOR 43 YEARS BEST PHILLY CHEESE STEAK IN THE TRIANGLE! 2023 ITALIANPIZZERIAIII
Pizza Cornicione Neapolitan pizzeria and gelateria. 230 S. Nash St.; 919-245-8566; pizzacornicione.com
Pueblo Viejo Traditional Mexican food. 370 S. Churton St.; 919-732-3480
Radius Pizzeria & Pub Wood-fired pizzas, housemade pastas, salads and desserts. Outdoor dining. 112 N. Churton St.; 919-245-0601; radiuspizzeria.net
Saratoga Grill New England-style cuisine. 108 S. Churton St.; 919-732-2214; thesaratogagrill.com
Steve's Garden Market & Butchery Sandwiches, baked goods, pimento cheese. 610 N. Churton St.; 919-732-4712; stevesgardenmarket.com
The Village Diner Southern fare and takeout pizza. 600 W. King St.; 919-245-8915; villagedinernc.com
Vinny's Italian Grill and Pizzeria Italian favorites. 133 N. Scottswood Blvd.; 919-732-9219; vinnyshillsborough.com
Weaver Street Market Food bar items are available as grab and go. 228 S. Churton St.; 919-245-5050; weaverstreetmarket.coop
Whit's Frozen Custard Rotating flavors of frozen custard, treats, pints to go. 240 S. Nash St.; 919-245-8123; whitscustard.com
Wooden Nickel Pub Pub fare and rotating craft beer. 113 N. Churton St.; 919-932-0134; thewnp.com
Yonder Southern Cocktails & Brew Beer, wine, frose and more. 114 W. King St.; yonderbarnc.com
NORTH CHATHAM
Briar Chapel
501 Pharmacy Maple View Farm ice cream, plus malts and shakes. 69 Knox Way, Ste. 110; 984-999-0501; 501rx.com
Breakaway Cafe
A casual cafe serving breakfast, lunch, dinner and coffee. 58 Chapelton Ct., Ste. 100; 984-234-3010; breakawaync.co
Capp's Pizzeria & Trattoria Traditional Italian cuisine including fresh pastas, pizzas and more. 79 Falling Springs Dr., Ste. 140; 919-240-4104; cappspizzeria.com
O'YA Cantina Latin cuisine from all over the world. 72 Chapelton Ct.; 984-999-4129; oyacantina.com
Town Hall Burger & Beer Burgers plus tacos, wings and salads. 58 Chapelton Ct.; 984-234-3504; townhallburgerandbeer.com
Governors Village
Ciao Bella Pizzeria Pizza, pastas, sandwiches. 1716 Farrington Point Rd.; 919-932-4440
Flair Restaurant & Wine Bar Frenchinfluenced food, coffee and Sunday brunch. 50100 Governors Dr.; 919-967-9990; flairfusionrestaurant.com
Gov's Fusion Cantina Americana meets traditional Mexican cuisine. 50050 Governors Dr.; 919-240-5050; govsfusioncantina.com
Tarantini Italian Restaurant Italian cuisine. 50160 Governors Dr.; 919-942-4240; tarantinirestaurant.com
North Chatham Village/ Cole Park Plaza
Captain John's Dockside American seafood dishes. 11550 U.S. Hwy. 15-501 N.; 919-9687955; docksidechapelhill.com
Guanajuato Mexican Restaurant Mexican dishes with vegetarian options. 11552 U.S. Hwy. 15-501 N., Ste. 205; 919-929-8012; guanajuatomexicanrestaurant.net
Moon Asian Bistro An Asian fusion restaurant offering sushi, Chinese dishes like sweetand-sour chicken, Thai curry dishes, rice and noodles. 111 Knox Way, Ste. 100; 919-869-7894; moonasianbistroch.com
Panda Garden Chinese dishes like chow mein and egg foo young. Takeout is available. 11312 U.S. Hwy. 15-501 S., Ste. 303; 919-960-8000; chapelhillpandagarden.com
Ta Contento Mex Fresh Food Authentic Mexican food, like tacos, burritos, guacamole and fajitas. 11620 US 15-501 Hwy. N. Chapel Hill; 919-945-4819; ta-contento.com
Village Pizza and Pasta A neighborhood pizza place serving up subs, calzones, pastas and salads. 11312 U.S. Hwy. 15-501 S., Ste. 300; 919-960-3232; villagepizzapasta.com
PITTSBORO
U.S.
15-501/Fearrington Village
Allen & Son Bar-B-Que North Carolina barbecue. 5650 U.S. 15-501; 919-542-2294; stubbsandsonbbq.com
The Belted Goat Lunch, dinner and wine shop, offering salads and sandwiches. Fearrington Village Center; 919-545-5717; fearrington.com/belted-goat
Cafe Root Cellar American cuisine and "go big or go home" seasonal dishes. 35 Suttles Rd.; 919-542-1062; caferootcellar.com
Carolina Brewery The Triangle's oldest brewery restaurant features Carolina cuisine. 120 Lowes Dr. #100; 919-545-2300; carolinabrewery.com
Compadres Tequila Lounge Mexican restaurant with a variety of classic dishes. 193 Lowes Dr., Ste. 107; 919-704-8374; compadresnc.com
The Fearrington House Restaurant
Contemporary fine dining. Reservations are needed. Fearrington Village Center; 919-542-2121; fearrington.com/thefearrington-house-restaurant
House of Hops Bar and bottle shop with a large craft beer selection on tap. Outdoor seating available. 112 Russet Run; 919-542-3435; houseofhopsnc.com
Mi Cancun Classic Mexican cuisine with a modern twist. Outdoor seating available. 114 Russet Run; 919-542-3858; micancunmx.com
New Japan Hibachi-style Japanese cooking. 90 Lowes Dr.; 919-542-4380
Roost Beer Garden Wood-fired pizza, local brews and live music. Open April through October. Fearrington Village Center; 919-542-2121; fearrington.com/roost
East Street
bmc brewing Beers brewed on-site and cookies made with the byproducts. 213 Lorax Lane; 919-759-1206; bmcbrewing.com
China Inn Chinese dishes, dine in or carry out. 630 East St.; 919-545-0259
Fair Game Beverage Co. Spirits, wine, beer and cider tastings plus snacks and specialty local food items. 220 Lorax Ln.; 919-548-6884; fairgamebeverage.com
Greek Kouzina Made-from-scratch hummus, gyros, kebabs and more. 964 East St.; 919-542-9950; greekkouzina.com
Hwy 55 Burgers, Shakes & Fries Burgers, cheesesteaks and frozen custard. 987 East St.; 919-542-1312; facebook.com/hwy55pittsboro
Metal Brixx Cafe Vortex Roasters' coffee and espresso plus tea, lemonade and gelato. 213 Lorax Ln.; 919-444-2202
Small Cafe B and B Offbeat, eco-friendly eatery offering farm-to-table fare for breakfast and lunch. Offering outdoor dining. 219 East St.; 919-228-8817; smallcafebandb.com
Starrlight Mead Tastings of honey wines and honey. 130 Lorax Ln.; 919-533-6314; starrlightmead.com
West Street
Al's Diner Traditional American classics for breakfast, lunch and dinner. 535 West St.; 919-542-5800; alsdiner.net
The Phoenix Bakery Small-batch and seasonal baked goods and specialty cakes. 664 West St.; 919-542-4452; thephoenixbakerync.com
Hillsboro Street/Downtown
Aromatic Roasters Small-batch coffee shop specializing in Aztec mochas, chai lattes and Thai teas. 697 Hillsboro St., Unit 101; 919-228-8345; aromaticroasters.com
The Beagle Classic and innovative cocktails and small plates like chilled seafood, charcuterie and a selection of sandwiches. 53 Hillsboro St.; 919-533-6589
Buzz Cafe at Chatham Marketplace
Sandwiches, daily changing hot bar, sushi, salads and baked goods. Chatham Mills; 919-542-2643; chathammarketplace.coop
Carolina Cravings Co. Bakery serving traditional treats like pie bars, muffins and nobake peanut butter-chocolate cookies as well as Hispanic favorites like flan, bolillos and tres leches cakes. 84 Hillsboro St.; 919-444-2023
The City Tap Classic bar food. 89 Hillsboro St.; 919-545-0562; thecitytap.com
Davenport's Café Diem Carrboro Coffee Roasters coffee and espresso offerings. 439 Hillsboro St.; 919-704-4239; davenports-cafediem.com
Elizabeth's Pizza Pizza, calzones, sandwiches, salads and pasta. 160 Hillsboro St.; 919-545-9292; elizabethspizzapittsboro.com
DINING GUIDE 88 chapelhillmagazine.com September/October 2023
John's Pizza Restaurant Pizzas, pastas, wraps, calzones and strombolis. 122 Sanford Rd.; 919-542-5027; johnspizzarestaurant.com
The Mod Wood-fired pizza, salads, small plates and a full bar. Outdoor seating available. 46 Sanford Rd.; 919-533-6883; themodernlifedeli.com
Postal Fish Company Fresh seafood from North Carolina's coast. Serving dinner only. 75 W. Salisbury St.; 919-704-8612; postalfishcompany.com
S&T's Soda Shoppe Soda fountain, American fare. 85 Hillsboro St.; 919-545-0007; sandtsodashoppe.com
The Sycamore at Chatham Mills
Upscale steakhouse. 480 Hillsboro St., Ste. 530; 919-704-8731; thesycamoreatchathammills.com
Virlie's Grill Soups, salads, burgers, sandwiches. 58 Hillsboro St.; 919-542-0376; virliesgrill.com
Willy's Cinnamon Rolls Etc. Bakery selling cinnamon rolls, scones, muffins, cookies and bread with '40s and '50s flair. 35 W. Chatham St.; 252-305-9227; willysrolls.com CHM
September/October 2023 chapelhillmagazine.com 89 DINING GUIDE
STAY CONNECTED Chapel Hill Magazine • Chatham Magazine Durham Magazine • Heart of NC Weddings Triangle Digital Partners Chapel Hill, Chatham, & Durham Weekenders Home & Garden Eat & Drink chapelhillmagazine.com/join chathammagazinenc.com/join durhammag.com/join Durham Inc. Weekly Wedding Planner Special Offers & Promotions GO HERE TO SIGN UP: What We're Eating: News from our restaurant community HOME &garden Delivered monthly by DurhamMagazine ChapelHillMagazine & ChathamMagazine Local renovations Professional advice Latest trends Editor's Picks: What to do this weekend! PLAN YOUR WEEKEND
into the woods
The Kersh family found a hidden gem in the wilderness during lockdown
By Leah Josephson
The Kersh family never expected that the wild, forested property they purchased in western Orange County would become a treasured safe haven when the world shut down just three months later.
When a realtor friend posted about the available land in December 2019, the Kershes – Perri, Carter and their
90 chapelhillmagazine.com September/October 2023
HOME & GARDEN
Photography by John Michael Simpson
September/October 2023 chapelhillmagazine.com 91
Floor-to-ceiling windows in the living room overlook the woods, providing a peaceful view.
daughters, Phereby and Ada – jumped at the opportunity. Ada attended The Hawbridge School in Saxapahaw for middle school and the start of high school, and Perri had fond memories of the drive to school from their home in the Lake Forest neighborhood in Chapel Hill.
"I had been up and down this road a million times," Perri says. "Driving out on 54, I just had this happy, driving-out-intothe-country kind of feeling."
While the family hadn't necessarily planned to build a house on the property, at least not any time soon, Perri, the owner of Neat Freak Professional Organizing since 2005, found herself with much more time on her hands during the COVID-19 lockdown.
"I think I ended up taking 10 weeks off during early COVID-19, just because no one was going to have anybody go in their
92 chapelhillmagazine.com September/October 2023
ABOVE Bill Sandoval, Heather Havrilesky, Perri Kersh, Carter Kersh, Phereby Kersh, Allison Sloan Polish and Jeff Polish.
LEFT Carter loves to read and wanted his own little nook to enjoy off the living room.
Driving out on 54, I just had this happy, driving-outinto-thecountry kind of feeling.
– Perri Kersh
Join Hope Renovations for our fall fundraiser on November 4, 2023
Enjoy
Hear from our Founder, CNN 2022 Hero and NAHB "Woman of the Year" Nora El-Khouri Spencer, and from members of the community whose lives have been transformed by our work training underemployed women and genderexpansive people for construction careers and serving older adults in our community with aging-in-place repairs.
Visit hoperenovations.org/gala2023 for more info
Help
Event sponsorships available
September/October 2023 chapelhillmagazine.com 93
dinner and drinks, dance to a live band, bid on incredible items in our silent and live auctions, and help us raise funds for our work as we share our vision for what's next for the Triangle!
us raise money for expansion, empower women into living wagepaying construction careers and support local seniors.
house," Perri says. "But I was kind of climbing the walls, and I just started coming out here all the time and building trails on the land."
As she cleared hiking trails, the undeveloped land slowly evolved into a peaceful refuge for Perri and the rest of the family. They built a clearing with a raised tent platform and fire pit for camping, enabling them to spend more time on the
94 chapelhillmagazine.com September/October 2023 HOME & GARDEN
Specializing in kitchen and bathroom remodeling as well as extensive renovation, we help clients all over the Triangle improve their homes with the kind of caring attention that makes us feel like family. Visit cqchome.com or call 919-971-5119 to schedule your personalized consultation today. YOUR DESIGN BUILD PARTNER
Family photos by local photographer Kathleen Hunter line the hall. Rick Cuarto of Storybook Metal crafted all of the ironwork on the stairs, which are a work of art off the entryway.
2023
"
Lindsay B. and Alan H., Chapel Hill
"
SERVICE AS ELEVATED AS YOUR STANDARDS. Nothing Compares. SHANNON KENNEDY Broker | 919.448.6664 | Shannon.Kennedy@SothebysRealty.com
We loved working with Shannon! As newcomers to the Triangle, we greatly appreciated her diligence, responsiveness, and patient guidance through many neighborhoods and homes from Chapel Hill to Raleigh. She also has an impeccable eye and has become a dear friend. Thank you, Shannon, for navigating us through this major life move!
property. As the lockdown lifted, the Kersh family started hosting outdoor gatherings, including Perri's 50th birthday party, sharing the 7-acre retreat with friends and family even before they considered building a permanent home there.
When Perri brought Sophie Piesse to walk the property, the Carrboro-based modernist architect was inspired by the natural undulations of the land. Sophie suggested building a permanent bridgestyle home that would span one of the
96 chapelhillmagazine.com September/October 2023 HOME & GARDEN
ABOVE The screened-in porch is the family's favorite spot to hang out. Between the fireplace for the winter and the fan for the summer, it's a space they can use year-round.
LEFT The primary bedroom looks over the woods and down to the creek. hey love waking up to nothing but trees.
Your professionalism shines through in everything you do. This includes our meetings with you, all the print and online media, your sense of the market, and so much more!"
- karlton and staci
"What a blessing you are! Your kindness, generosity, patience, excellent communication, professionalism, and the list goes on! Thank you for such a positive experience."
-sarah
September/October 2023 chapelhillmagazine.com 97 Individual MembersIndividual Member 919.942.1141 194 Finley Golf Course Rd, Ste. 102, Chapel Hill morriscommercial.com Investment Properties General Brokerage & Leasing Buyer & Tenant Representation 1031 Exchange Assistance viki pace-morris Broker/Realtor® 919.593.5190 vikipacemorris.com
REPRESENTING BUYERS AND SELLERS in this Southern Part of Heaven
gullies leading down to the creek below. The design of the open concept home would have cleaner lines and reflect a more industrial aesthetic than the family's previous 1970s house, for which Sophie had designed a modern glass addition.
Always excited for a new construction project – the family made updates to their Lake Forest home nine separate times – the
98 chapelhillmagazine.com September/October 2023 HOME & GARDEN Live the dream, let us help you 919 201 9734 • silvestriproperties.com thewestendhillsborough.com For 25 years, we have lived in the area and love what we do. We're Hiring!
The upstairs den doubles as an office for Carter. He often takes calls sitting on the back deck with views of the creek below.
DESIGN | CUSTOM HOMES | RENOVATIONS 2023
WILL JOHNSON BUILDING COMPANY
Discover
Kershes enlisted Sophie and Kevin Murphy of Newphire Building, who happens to live around the corner, to design and build a home that would both fit the family's lifestyle and complement its natural surroundings.
"Once we came up with the bridge concept, I wanted it to feel like a place that the breeze could literally blow through, which it does," Perri says. "We have these big sliders to the screened-in porch, and I can open the dining room windows, and it really feels like you're outside all the time."
The walkway to the front door is bordered by a striking iron installation. Co-designed by Perri, Sophie and Rick Cuarto of Storybook Farm Metal Shop, it features wavy lines that reflect the rises and falls of the land. Unsealed Thermory wood accents on the exterior contrast with dark metal siding. They will weather to a soft gray color over time as they're exposed to the elements.
Inside, the industrial concrete floors and iron accents are balanced by warm wood tones on the walls of the screened-in sunroom as well as the floating staircase and cabinetry that was a collab among Sophie, Rick, Perri and Zach McKinley
A dramatic dark natural stone fireplace is the heart of the open living room, reaching all the way to a soaring ceiling.
But the design's major impact comes from the dozens of floor-to-ceiling windows in the living spaces and four bedrooms, offering picture views of the untamed forest as it cycles through the seasons and hosts wildlife including wild turkeys, owls and deer. 
ABOVE Perri worked with Bo Taylor to create the custom entryway bench. The removable pegs allow for custom hanging for jackets, bags and shelving.
BELOW Light comes in from all angles, and Perri says it's really fun to see how it changes throughout the day.
100 chapelhillmagazine.com September/October 2023 HOME & GARDEN
INSPO
INBOX
home trends, open house events and more by signing up for our monthly home and garden newsletter.
LEFT The open kitchen and living room make for an ideal party space.
Housing Solutions, Inc. is your award-winning Durham, Orange, and Chatham County partner for quality design and craftsmanship. Recently awarded first place for best kitchen and first place for best bath renovations by Durham, Orange and Chatham County Home Builders Association, Housing Solutions specializes in custom whole-house and kitchen and bath renovations, as well as room additions, screened-in porch and deck additions or expansions.
September/October 2023 chapelhillmagazine.com 101 919.942.5051 Free estimates available! Voted Favorite Landscap er by Chapel Hill Magazine Readers 2023 Aeration & Seeding, Season Has Arrived! September to mid-October is the best time to schedule fall aeration/overseeding to rejuvenate your Fescue lawn. Call us to schedule your service today! • Kitchen and Bath Renovation, Room Additions, Screened-in Porches and Decking • Authorized Dealer for Wellborn, Waypoint, Diamond, Green Forest, Kountry Kraft Cabinetry plus Hardwoords and Luxury Vinyl Plank, Luxury Vinyl Tile, Carpeting and More. • In-house Design Utilizing CAD Software • In-house Trade Teams • 5.0««««« Google-Rated Home Renovation and Review Rating Remodeling at its Finest − Craftmanship, Value and Trust housingsolutionsinc.com • 919-296-9073 • contact@housingsolutionsinc.com
Office and Showroom: 230A ORANGE GROVE ST. HILLSBOROUGH, NC Ryan
TOP FORTY UNDER
INDUSTRY PROFESSIONAL by ProRemodeler Magazine
Holden, Housing Solutions owner named: 2023
40
AN ORGANIZER'S DREAM
Here are a few of Perri's favorite organizing takeaways from the design process:
• Carefully consider what you have in your kitchen and design it to fit your things! We included a lot of drawers, keeping our dishes, spices, coffee cups and serving pieces in drawers.
• Assign functions to each space and build the storage you need for those functions. Carter is an avid reader so we built open bookshelves in his office.
• Build storage for the people who live here! Our kids are out of the house so we knew they didn't need huge closets.
HOME & GARDEN SANDERWAY | CARRBORO Walking distance to McDougle schools TRITON WALK | CHAPEL HILL-CHATHAM COUNTY 2-3 acre lots with stream & hardwoods ARDEN LEA AT ST. MARY'S | HILLSBOROUGH 10 acre wooded estate lots BUILD ON YOUR LOT Anywhere in the Triangle 919.374.1144 JFullerhomes.com @JFullerhomes
Carter, a regular at The Monti storytelling events, never shies away from a chance to tell a story. His pal Jeff Polish is the executive director of The Monti.
104 chapelhillmagazine.com September/October 2023 HOME & GARDEN BRUCE'S CARPETS & FLOORING Your Brand Headquarters and Total Flooring Resource MON-FRI 8 AM–5 PM • SAT 8 AM–12 PM • CLOSED SUNDAY 11455 US HWY 15-501 N, Chapel Hill • 919.967.0208 brucescarpets.com
LEFT Perri spent a lot of time planning out every inch of storage in the kitchen. As a professional organizer, having deep drawers and rollouts were key to making this space function well.
RIGHT Perri spends most of her working hours in clients' homes and offices but loves having a quiet office space to manage her team and source products for Neat Freak Professional Organizing.
WHITEHALL ANTIQUES
Tile accents in varying shades of green and teal add pops of color to the 3 ½ bathrooms and laundry area. Perri's friend Allison Sloan Polish of Sloan Polish Design helped her select some key furniture, like a pair of rust-colored chairs in the living room that integrate earth tones beyond the many greens of the tile and trees.
The renovation also served as an opportunity for Perri to start from scratch designing for the family's lifestyle. A first-floor primary bedroom and designated office spaces for both Perri and Carter enable them to live, work and someday age in place. Organization systems include a walk-in pantry and plenty of pullout drawers in the kitchen, as well as built-in cabinets and shelves throughout the house to store the family's many books.
Perri looks out from the lower back deck at the camping platform
September/October 2023 chapelhillmagazine.com 105 HOME & GARDEN A family business proudly celebrating OVER 90 YEARS of providing fine antiques to the Triangle!
From Rococo to Mid Century ModernWhitehall Antiques has provided the Ultimate in Green Solutions for Interior Design to the Triangle since 1930
A Tuscan villa filled with over 7,500 sq. ft. of fine antiques a treasure trove of unique items for your home or collection 1213 E. Franklin St., Chapel Hill 919.942.3179 whchnc@aol.com Mon-Sat: 11am - 6pm WHITEHALLANTIQUES.COM
Father-Daughter Team David & Elizabeth Lindquist
2023
There isn't a stitch of grass on the 7 acres, and Perri and Carter are thrilled to have a low-maintenance yard filled with native plants. Most of the ferns were harvested from the woods and planted around the house.
and picnic tables that got so much use through the pandemic. "We had no idea that we would need this space so much," she says. "There were so many takeout food parties out here. We felt so lucky."
She looks forward to entertaining in the new space. A party for the contractors who supported the build and the neighbors who have warmly welcomed the family as they've gotten settled is at the top
106 chapelhillmagazine.com September/October 2023 HOME & GARDEN
PREMIER DESIGN AND REMODELING FIRM SERVING THE TRIANGLE FOR 31 YEARS
3407 UNIVERSITY DRIVE, DURHAM | 919.490.4922 | THEKITCHENSPECIALIST.COM
2023
108 chapelhillmagazine.com September/October 2023
Thanks – we're thrilled to be voted Best of Home Maintenance & Repair! As a family-owned business – for over 40 years – we know how important your home is to you. It's a place of rest, safety, and comfort. It's where your loved ones gather. That's why we believe in treating our clients like family. Our focus is on building lasting relationships built on mutual trust and respect. HVAC • Plumbing • Electrical • Appliance Repair • Design/Build • Renovations HVAC. PLUMBING. ELECTRICAL. APPLIANCE REPAIR. BudMatthews.com 919.929.0203 We Improve Your Home and Offer You Peace of Mind. 2022 2021 2023
When the sliders and the dining room windows are open, the bridge part of the home has a gentle breeze that blows through and makes you feel like you're eating alfresco.
of the list. While the large living and dining space can easily accommodate a crowd, the forest views that enchanted the Kershes and are central to the home's design will pull guests out onto the several decks. Some will wander even farther onto the trails winding down along the creek, following the family's first footsteps as they explored the land that has come to mean so much to them.
September/October 2023 chapelhillmagazine.com 109 HOME & GARDEN REAL ESTATE & HOME SERVICES GALLERY HOMES CONDOS APARTMENTS COMMERCIAL RYAN HOLDEN,HOUSING SOLUTIONS OWNER NAMED 2023 TOP FORTY UNDER 40 INDUSTRY PROFESSIONAL by ProRemodeler Magazine Remodeling at its Finest Craftmanship, Value and Trust housingsolutionsinc.com • 919-296-9073 5.0««««« GOOGLE-RATED HOME RENOVATION & REVIEW RATING Office and Showroom: 230A ORANGE GROVE ST. HILLSBOROUGH, NC For advertising information, call 919.933.1551 or email advertising@chapelhillmagazine.com IN EVERY ISSUE Showcasing Realtors, Builders, Home Service Providers & Leasing Agents Real Estate & Home Services Gallery Homes • Condos • Apartments • Commercial magazine
CHM
After numerous renovations on their last home, Perri and Carter enjoyed the process of designing and building from scratch so they could create a home that functions exactly as they wanted.
"We cannot express enough gratitude for the outstanding service provided by this amazing duo. Their expertise, professionalism, and dedication to their clients make them a top choice for anyone in need of a real estate agent. If you are looking for a stress-free and successful real estate experience, do not hesitate to choose this exceptional team."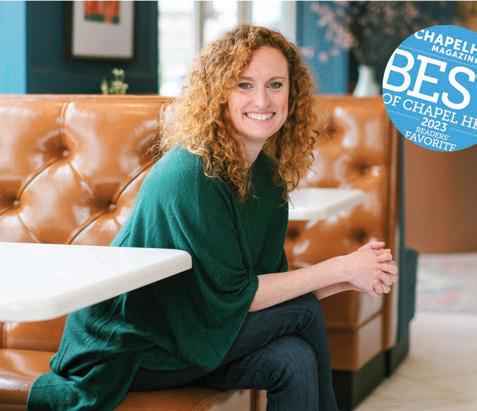 Erika G.
AILEEN & GISELLE
Global Real Estate Advisors 919.360.6423 | 323.635.4759
aileenandgiselle@hodgekittrellsir.com
AileenandGiselle.com
¡Se Habla Español!
REAL ESTATE & HOME SERVICES GALLERY HOMES | CONDOS | APARTMENTS | COMMERCIAL
T o p 1 0 0 T e a m s b y S a l e s V o l u m e Top 5% of agents in the nation NEW: ELECTRICAL SERVICES DEPT. BudMatthews.com 919.929.0203 New electrical service and repairs Electric vehicle charging stations Emergency generators Renovations HVAC • PLUMBING • ELECTRICAL • APPLIANCE REPAIR • DESIGN/BUILD Expanding Our Services to Expand Your Peace of Mind 2022 2023 2021
HOMES | CONDOS | APARTMENTS | COMMERCIAL REAL ESTATE & HOME SERVICES GALLERY WILL JOHNSON BUILDING COMPANY DESIGN | CUSTOM HOMES | RENOVATIONS 2023 John Morris, CCIM President 919-942-1141 (O) | 919.417.2492 (M) jmorris@ morriscommercial.com Individual MembersIndividual Member • Located at the top of the commercial circle. Short walk to neighboring businesses: Town Hall Grill, La Vita Dolce coffee shop, The Lumina movie theater, Weaver Street Market, and more. • Secured building access • Main floor corner suite includes five (5) offices with one being a large executive or multi-person office • Custom cabinetry • Freshly painted • $4500/mo For Lease 600 Market Street, Suite 102 • Southern Village • Chapel Hill, NC please contact viki for a free buyer or seller consultation REPRESENTING BUYERS AND SELLERS in this Southern Part of Heaven viki pace-morris Broker/Realtor® 919.593.5190 | vikipacemorris.com 919.942.5051 | Free estimates, Call today! Voted Favorite Landscaper by Chapel Hill Magazine Readers 2023 James & Kate
REAL ESTATE & HOME SERVICES GALLERY HOMES | CONDOS | APARTMENTS | COMMERCIAL An Eye for Excellence, Design, Marketing & Negotiating I'm a native Chapel Hill business owner and a Durham resident. Put my experience and expertise to work for you! ELindquist@cbadvantage.com 919-656-3325 ELindquist.CBAdvantage.com Coldwell Banker Advantage 1130 Weaver Dairy Rd., Chapel Hill Elizabeth Lindquist, Realtor ALWAYS WORKING FOR YOU 919 201 9734 • silvestriproperties.com thewestendhillsborough.com Integrity • Intelligence • Innovation
Home Specialists Debbie
the top ½ of 1% of all BHHS brokers nationwide
404 Meadowmont Village Circle,
Chapel
Hill, NC 27517 themccormickteam.com T HE M C C ORMICK T EAM Luxury
McCormick 919.270.2937 debbie@themccormickteam.com Mark McCormick 919.632.6542 mark.mccormick95@gmail.com Among
HOMES | CONDOS | APARTMENTS | COMMERCIAL REAL ESTATE & HOME SERVICES GALLERY SANDERWAY | CARRBORO Walking distance to McDougle schools TRITON WALK | CHAPEL HILL-CHATHAM COUNTY 2-3 acre lots with stream & hardwoods ARDEN LEA AT ST MARY'S | HILLSBOROUGH 10 acre wooded estate lots Or build on your own lot anywhere in the Triangle! 919 374 1144 JFullerhomes.com SERVICE AS ELEVATED AS YOUR STANDARDS. Nothing Compares. Broker 919.448.6664 shannon.kennedy@sothebysrealty.com SHANNON KENNEDY
pet resources
A guide to area vets, animal hospitals, groomers, boarders, pet sitters and dog parks
VETERINARY SERVICES
The Animal Hospital of Carrboro 112 W. Main St., Carrboro theanimalhospitalcarrboro.com
919-967-9261
Special services Boarding and self-washing.
Carrboro Plaza Veterinary Clinic 104 N.C. Hwy. 54, Ste. M, Carrboro carrboroplazavet.com
919-929-0031
Special services Laser therapy.
Chatham Animal Hospital 105 Oceana Pl., Cary chathamanimal.com
919-469-8114
Special services Dental care, laser therapy and wellness care.
Chatham County Mobile Veterinary Services chathamcountymobilevet.com
919-239-9362
Special services Equine and farm animal care.
Chatham Veterinary Service 1114 Greensboro Ave., Siler City chathamveterinaryservice.com
919-742-4441
Special services In-clinic diagnostics and digital radiography.
Cole Park Veterinary Hospital 55 Woodbridge Dr., Chapel Hill coleparkvet.com
919-929-3352
Special services Acupuncture, laser, Chinese herbs, dental care and grooming. Boarding and day care for current clients only.
Dogwood Veterinary Hospital & Pet Resort
51 Vickers Rd., Chapel Hill dogwoodvethospital.com
919-942-6330
Special services Dental care, laser therapy, boarding, day care and grooming.
Dr. Adriano Betton Mobile Veterinary Care Serves Chatham and Orange counties. drbetton.com
919-602-4291
Special services Dental care.
Four Paws Animal Clinic
1216 Raleigh Rd., Chapel Hill chapelhillsvet.com
919-942-1788
Friendship Mobile Veterinary Services Serves eastern Chatham and western Wake counties friendshipmobilevet.com
919-267-3572
Special services At-home euthanasia.
Healing Paws Veterinary Hospital 540 Hampton Pointe, Hillsborough healingpawspetcare.com
919-245-3437
Special services Dental care and acupuncture.
Hill Creek Veterinary Hospital 75 Old Graham Rd., Pittsboro hillcreekvet.com
919-542-1141
Special services Dentistry, laser therapy, ultrasound, acupuncture, Chinese and Western herbal medicine, grooming, preventative and wellness care, and senior and hospice care.
HomeVet Mobile Veterinary Care Serves Hillsborough, Chapel Hill, Durham and Efland homevetmobilenc.com
919-644-6400
Hope Crossing Animal Hospital
58 E. Cotton Rd., Pittsboro hopecrossing.com
919-542-1975
Special services Laser therapy.
Jordan Lake Animal Hospital 50-B Chatham Corners Dr., Pittsboro jordanlakeanimalhospital.vetstreet.com
919-542-5424
Special services Dental care and limited boarding and bathing.
Kindred Heart @ Governors Village
50150 Governors Dr., Chapel Hill kindredheartvet.com
919-756-7680
Special Services Veterinarian care and grooming.
Kindred Heart Animal Hospital
101 Two Hills Dr., Ste. 110, Carrboro kindredheartvet.com
919-525-1962
Meadowmont Animal Hospital 190 Finley Golf Course Rd., Chapel Hill meadowmontah.com
919-951-7851
Special services Dental care and exotic pet care.
North Churton Animal Hospital 636 N. Churton St., Hillsborough northchurtonanimalhospital.com
919-644-7387
Piedmont Veterinary Clinic 210 Millstone Dr., Hillsborough piedmontvet.com
919-732-2569
Special services Wellness and sick visits, dental care and routine surgery.
Pittsboro Animal Hospital 1065 East St., Pittsboro pittsboroanimalhospital.com
919-542-5712
Special services Acupuncture and grooming.
Polaris Equine Mobile Veterinary Clinic Serves multiple counties within one-hour radius of Pittsboro polarisequine.com
919-429-9492
Special services Equine and other farm animal care.
Tysor Veterinary Clinic 1401 N. Second Ave., Siler City tysorvet.net
919-742-3646
Special services Dental care, cold laser therapy, grooming, boarding, retail shop and adoption program.
UrgentVet Pet Care Clinic
1728 Fordham Blvd., Ste. 161, Chapel Hill urgentvet.com/location/chapel-hill 984-261-2323
Special services After-hours service for non-life-threatening care.
VCA Timberlyne Animal Hospital 110 Banks Dr., Chapel Hill vcahospitals.com/timberlyne
919-968-3047
Special services Dental care.
Vine Veterinary Hospital
1217 E. Franklin St., Ste. 2, Chapel Hill vineveterinaryhospital.business.site 919-942-5117 
114 chapelhillmagazine.com September/October 2023
September/October 2023 chapelhillmagazine.com 115 Celebrating the people behind our Orange businesses SCAN THE CODE OR EMAIL US TO LEARN MORE  ellen.shannon@trianglemediapartners.com ARE YOU AN ORANGE COUNTY BUSINESS? Chapel Hill Magazine will celebrate the people in your business in our May/June issue. We are offering a special advertising layout and photography to highlight your team. 2024 FACES chapelhillmagazine.com 919.933.1551 chapelhillmag chapelhillmagazine 2021 Wash & Fold is just like you doing your laundry, except we do all the work. we clean & fold you're all set www.acleanerworld.com Right the fırst time or it's free. It's our turn to empty the dryer! 2020 Life is busy. 2021 2020 2022
BOARDING
Companion Camp
3408 Castle Rock Farm Rd., Pittsboro companioncamp.net
919-545-2267
Boarding for dogs and cats.
Country Inn Kennel & Cattery
2088 Elkins Ln., Chapel Hill countryinnkennelandcattery.com
919-537-8885
Boarding and grooming for dogs and cats.
Doggie Spa & Day Care
1101 Dawson Rd., Chapel Hill doggiespa.com
919-932-4738
Boarding, day care, bathing and pet transportation.
Green Beagle Lodge
6805 Millhouse Rd., Chapel Hill, and 120 Lodge Ln., Pittsboro greenbeaglelodge.com
919-929-7387
Dog and cat boarding, grooming, dog training and day care.
Love Overboard Kennels & Grooming
710 W. Rosemary St., Carrboro loveoverboardkennels.com
919-942-6870
Boarding and grooming for dogs and cats.
Noah's Ark Kennel and Cattery
1217 E. Franklin St., Ste. 3, Chapel Hill noahsarkkennel.com
919-932-7322
Grooming and boarding for dogs, cats and exotic pets.
Pettsboro Groom and Room
117 Elf Way, Pittsboro facebook.com/pettsboro.groomnroom
919-542-6214
Dog boarding, grooming, training and day care.
Top Dog Training & Resort
2112 Orange Grove Rd., Hillsborough topdogtrainingandresort.com
919-423-8954
Training, boarding, grooming and day school for dogs.
GROOMING
Awbreys Ark Mobile Pet Spa
Serves the Chapel Hill-Carrboro area awbreysark.com
919-292-7397 Pet grooming.
Hair of the Dog Grooming Studio
11312 U.S. Hwy. 15-501 N., Chapel Hill hairofthedognc.com
919-968-6000
Full-service grooming for dogs, including teeth brush if requested, as well as a selfwash station.
Petco
Eastgate, 1800 E. Franklin St., Chapel Hill stores.petco.com/nc/chapelhill
919-929-8891
Nail trimming and full grooming services only for dogs.
Woof Gang Bakery & Grooming
Chapel Hill
1112 Environ Way, Chapel Hill woofgangbakery.com
919-869-7265
Pet bakery and grooming services.
PET SITTERS
Hickory Hounds
Serves Carrboro and the surrounding area hickoryhounds.com
919-240-7148
Dog behavior rehabilitation, pack walks and training sessions.
Kimie's Kritters Professional Pet Sitting & Dog Walking Serves Hillsborough, Chapel Hill, Carrboro, Efland and parts of Mebane facebook.com/kimieskrittersllc
919-818-7319
Dog walking, daily visits and pet transportation.
Laughing Dog Pet Care
Serves the Chapel Hill-Carrboro and Briar Chapel area laughingdognc.com
919-909-7632
Dog training and pet care.
Marley's Angels Dog Walking & Pet Sitting Service
125 Ellsworth Manor Dr., Hillsborough marleys-angels-dog-walking-petsittingservice.business.site
770-316-4923
Dog walking and daily visits.
Nose, Toes & Tails Pet Care Serves Orange and Durham counties nosetoestails.com
919-418-3899
In-home vacation care, daily dog walks, pet taxi/shuttle, online client accounts and customized care packages.
Steph's Exotic Pet Sitting Serves Orange County exoticpetsitting.com
919-646-4900
Daily visits.
Two Girls and a Leash LLC Serves Hillsborough and Hurdle Mills twogirlsandaleash.com
919-471-4597
Dog walking, daily visits, local petsitting, and horse and farm care.
Walk & Wag
Serves the Chapel Hill-Carrboro area walkandwagchapelhill.com
lisa@walkandwagchapelhill.com
Dog walking, trail walks, daily pet visits, overnight stays and pet transportation.
Wing Hoof and Paws Serves Orange County facebook.com/pg/winghoofandpaws
919-818-5013
Dog walking, daily visits and overnight stays.
PUBLIC DOG PARKS
Gold Park Dog Park
415 Dimmocks Mill Rd., Hillsborough hillsboroughnc.gov
Henry Anderson III Community Park
302 N.C. Hwy. 54 West, Carrboro townofcarrboro.org
Homestead Dog Park
100 Aquatic Dr., Chapel Hill townofchapelhill.org
The Park at Briar Chapel
1015 Andrews Store Rd., Pittsboro chathamcountync.gov
Southern Community Dog Park
1000 Dogwood Acres Dr., Chapel Hill townofchapelhill.org
ADOPTION AND RESCUE ORGANIZATIONS
Beautiful Together Animal Sanctuary beautifultogethersanctuary.com
Nonprofit that hosts monthly adoption events, is always looking for more temporary foster homes for animals and is building a sanctuary on 83 acres of land in Chapel Hill.
Cat Tales Cat Cafe 431 W. Franklin St., Chapel Hill cattalescatcafe.com
The two-story space is home to 12 adoptable cats who can greet guests in a cage-free comfortable lounge. Guests can sip coffee, wine, beer and more while relaxing and playing with kitties. Cat Tales celebrated 625 adoptions in July 2023 and works with Beautiful Together Animal Sanctuary to save lives and get cats out of shelters.
Chatham Animal Rescue and Education chathamanimalrescue.org
Nonprofit that rescues as many animals as it has space for in its volunteer foster caregiver network.
The Goathouse Refuge 680 Alton Alston Rd., Pittsboro goathouserefuge.org
Nonprofit animal sanctuary dedicated to providing cage-free care for cats regardless of age or medical issues.
Orange County Animal Shelter 1601 Eubanks Rd., Chapel Hill orangecountync.gov/155/AnimalServices
Animals are available to adopt on a firstcome, first-served basis at OCAS while volunteers are always needed to take care of and walk adoptable pets. Take advantage of no-cost or low-cost spay and neuter services, and donate to help shelter pets.
Paws4ever 6311 Nicks Rd., Mebane paws4ever.org
A nonprofit offering cat and dog adoptions, dog training, a dog park, a pet supply pantry and other financial and educational resources to support pet owners. Volunteer, foster, donate or shop at the Paws4ever ReSale Store in Hillsborough to support pets in need. CHM
PET RESOURCES 116 chapelhillmagazine.com September/October 2023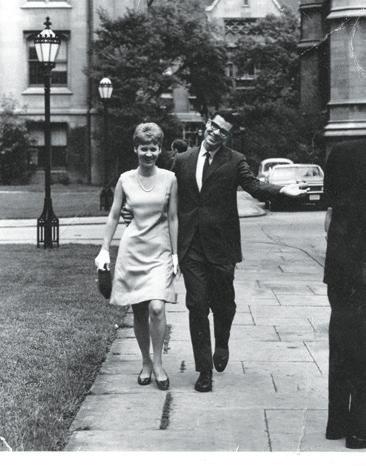 Come to our $4,000,000 Retail Store Closing Sale Starts Friday, September 15 and lasts until inventory is gone. Every item in our inventory will be marked down for immediate sale. After the sale is completed, our retail store will be closed permanently – It's Now or Never! Open Monday, Thursday, Friday, Saturday, Sunday, 10am to 6pm | Closed Tuesday and Wednesday 5634 Durham Chapel Hill Blvd. | Corner of I-40 and 15-501 (Exit 270) | www.persiancarpet.com The Persian Carpet is Closing! It's the End of an Era!
Campbell & Krakow
BY BROOKE DOUGHERTY PHOTOGRAPHY BY JULIA LILLIAN, JULIALILLIAN.COM
Laura Campbell officially met her neighbor William Krakow on the day she was brought home from the hospital in 1997 and he was 1 ½. The families eventually lost touch when hers moved away. A twist of fate brought them back together years later when Laura, a Cedar Ridge High School alumna, and William, an East Chapel Hill High School alumnus, reconnected online 20 years later.
On Laura's birthday on Jan. 30, 2021, William proposed on top of Roan Mountain, their favorite place to hike, on a blisteringly cold day.
They were married on May 1, 2022, in the very same River Park where their relationship blossomed over the years. Hillsborough was where they fell in love, had their first few dates, where they first said, "I love you," and where they eventually lived together. "There was no better place for us to celebrate our marriage than the place [where] our fairy tale came to life," William says.
The wedding colors were peach and light blue, a nod to the couple's time at UNC, and the floral arrangements were done by Fireside Farm Guests, including best man Sam Miner, groomsmen Eli Krakow and Colin Campbell, groomsmaid Emily Shermanski, bridesmaids Whitney Campbell and Katie Krakow, and maid of honor Natsuyo Huneycutt, enjoyed dinner at Nomad and drinks and dancing at Yonder
The couple resides in Chapel Hill with their cocker spaniel, Lincoln, and their cat, Mango. CHM
118 chapelhillmagazine.com September/October 2023 WEDDINGS
September/October 2023 chapelhillmagazine.com 119 CHAPELHILLORALSURGERY.COM Dr. David Lee Hill, Jr. Oral & Maxillofacial Surgeon 77 VilCom Center Drive, Suite 120 Chapel Hill, NC 27514 919-238-9961 Surgery Center, we understand. That is why Dr. Hill has created a top notch facility and a team of professionals whose singular goal is to help you understand your options and make your procedure as stress-free as possible. NIKSCINAGRO ERAC * CLEAN MAKEUP * JOURNALINGSUPPLIE RABR * CLEAN * * O R G A N I C F A C I A L T E M P L E V I B R O - A C O U S T I C S O U N D T H E R A P Y H Y P N A G O G I C L I G H T M E D I T A T I O N C O P P E R B A S I N F O O T B A T H S F L O W E R E S S E N C E L O U N G E B O U T I Q U E R E T A I L S H O P P R I V A T E G A T H E R I N G S G scanheretolearnmore scanheretolearnmore scanheretolearnmore CONNECTED THE ULTIMATE CHECKLIST TOP ANNUAL EVENTS WEEKEND PLANS FAMILY-FRIENDLY ACTIVITIES FOOD AND DRINK SPORTS & OUTDOORS EXPERIENCE THE best IN WAKE, DURHAM, ORANGE AND CHATHAM COUNTIES. CONNECT WITH US! Get @THETRIANGLEWEEKENDER THETRIANGLEWEEKENDER.COM
Aumiller & Stewart
BY LEAH BERRY PHOTOGRAPHY BY BETH ELY, BETHELY.COM
Lillian Stewart, a graduate of Orange High School, and Charlotte native Will Aumiller first crossed paths at Hillsborough pub, the Wooden Nickel. Their growing friendship eventually turned to romance, and they never looked back. On their first date in 2019, the two went magnet fishing along the Eno River. Although they didn't catch anything, the date itself proved to be a hit. It all came full circle on Aug. 24, 2020, when Will suggested that they "try" magnet fishing again. This time, though, Will retrieved a ring and asked Lily to marry him.
On Oct. 6, 2022, the couple tied the knot at Sunnyside at Baldwin Farms in Hillsborough with a co-worker and longtime friend of the groom, Dave Ramirez, officiating the ceremony. Will describes the reception at The Rickhouse in Durham as "flawless, unique and fun," utilizing as many local vendors as possible.
The cakes were from Weaver Street Market, where Will works as a manager, and the groom's cake was from Samantha's Pupusas. The Rickhouse was adorned with floral arrangements from West Queen Studio, and Lily herself did calligraphy for the chalkboards, a skill she showcases on weekends working at the Wooden Nickel, another full circle moment. The two were joined in celebration by Lily's mother, Katy Stewart, her sister, Emma Law, and sister-in-love, Carla Janney Stewart, as well as groomsmen, Patric Yeaman and Steven Barrett.
The couple lives in Hillsborough with their dog, Pearl. Lily works as a legal assistant for Coleman, Merritt, Murphy & Rainsford. CHM
120 chapelhillmagazine.com September/October 2023 WEDDINGS
JOHNSON LEXUS OF RALEIGH 5839 Capital Blvd. Raleigh, NC 27616 (919) 877 - 1800 JohnsonLexusRaleigh.com JOHNSON LEXUS OF DURHAM 1013 Southpoint Autopark Blvd. Durham, NC 27713 (919) 433 - 8800