Aurora is more than a gateway ... IT'S A PORTAL
Long referred to as the "Gateway to the Rockies," the city of Aurora today is home to more than 365,000 people and thousands of businesses, big and small. With myriad options available for recreation, education and consumer opportunities, Aurora is a great place to be. It's frequently among the fastest-growing areas in the country, which brings many new and exciting aspects, local officials say.
Growth and the cost of growing are hot topics in Aurora, as residents and local lawmakers try to strike a delicate balance between evolution and maintaining the level of services Aurorans have grown to expect.
A pessimist might say population growth generates unwanted issues such as lack of housing and health facilities, over-crowded schools and increased road traffic.
These problems do affect a growing community like Aurora — and ultimately the entire state.
On the flip side, population growth also means more dollars spent in the community. It can be positive in the long run, and it's a great contributor to the community's economy. Population growth calls for expanded housing, roadways, education and health facilities. It also necessitates bringing new jobs to the community.
FAST FACTS
History
Year founded: 1891
Original name: Fletcher
More than 350,000 people call Aurora home, making it the third-most populous city in Colorado. Close to 90 percent of the population lives in Arapahoe County, while the rest live in Adams County, which begins north of East Colfax Avenue, and Douglas County.
Aurora has also experienced tremendous ethnic growth and today is one of the most diverse cities in Colorado.
According to 2010 United States Census data, the majority of Aurora's residents are a member of a minority group, with just 47.3 percent identifying themselves as white alone. That's down from 59 percent in 2000.
And while the city's white population makes up a smaller chunk of the overall population than it once did, various ethnic groups have seen their populations boom over the past decade. The number of Aurora residents who identify themselves as at least partially black jumped from 41,519 in 2000 to 51,196 in 2010, a jump of 23 percent.
And the Mexican population has spiked as well, growing 86 percent over the past decade, from 38,276 to 71,225 in 2010, part of a 70-percent jump in the overall Latino population.
Several individual groups also saw sizeable growth, according to Census data, including the Korean, Indian, Chinese, Puerto Rican and Pacific Islander populations.
Name changed to Aurora in 1907
Form
Because of Aurora's cultural variety, the city is now home to a burgeoning ethnic market and restaurant scene, with dozens of Hispanic markets along Colfax and other ethnic businesses dotting the city.
Also on the rise are the numbers of students in the region. The city is served by two districts: Aurora Public Schools in the north half and Cherry Creek School District in the south.
APS has more than 39,000 students, and has a growing number of schools, including the recently opened Edna and John W. Mosley P-8 School. The district also operates a vocational/technical college, Pickens Technical College. About 38 percent of APS students are second-language students, with 90 different languages represented.
With about 54,000 students, Cherry Creek covers more than 100 square miles, but its largest base comes from Aurora. About 32,000 attend its Aurora schools, and that's where most of the growth is happening.
The district has grown 40 percent in the last decade and often plans for more than 1,000 additional students each year. The student body is 54 percent white, 11 percent black, 19 percent Hispanic, 8 percent Asian and 0.5 percent American Indian, with about 6 percent of students belonging to two or more races.
Physical features
2 | SENTINELCOLORADO.COM | roost | 2020
City
of government:
manager Elected council members: 11 (Mayor, 6 council ward representatives and 4 at-large members) Amenities Municipal Parks: 108 Municipal Golf Courses: 6 Public Libraries: 5 Open Space: More than 5,000 acres Number of counties within: 3 (Adams, Arapahoe and Douglas)
Council-city
area: 154 square miles
city elevation: 5,435 feet
City population: 353,108 54th largest city in the US
age: 33.3
household income: $46,507 Education 11 colleges and universities Aurora Public Schools Cherry Creek Schools Douglas County School District Brighton Public Schools A variety of private K-12 institutions
City
Official
Population
Median
Median
@TheAuroraSentinel @SentinelColorado
Timeless Favorites
The Copper Pot at Saddle Rock wins with perfecting comfort food served in a family friendly comfort zone
Think favorites. Your favorite friends. Your favorite dishes. Your favorite memories.
It was that inspiration for the Copper Pot restaurant that has resulted in more than a decade of families turning out to what has become a favorite haunt on Broadway and certain to be the go-to destination in Aurora.
Think tender meatloaf with savory mashed potatoes. Think about your favorite toppings on a char-grilled burger cooked to perfection. Think about a rich pot pie that melds sumptuous textures and tastes in a buttery crust.
"My vision was to bring back that neighborhood restaurant to a community that would appreciate a versatile, scratch made menu that blends my partner, Randa Payne and my upbringings and experiences," said Copper Pot co-owner Joe Jaramillo. "This is the place where our staff knows you by your name and our generations of family has your generations of family over for dinner."
The key? Simplicity and attention to detail, Jaramillo and Payne say. It all started with time-tested favorites that have won their families polls for years. The perfect chicken fried steak, deeply crusted and impossibly tender inside. The 5-cheese baked mac and cheese that never fails to elicit eye-roll satisfaction.
Whether it's the Copper Pot Skillets for breakfast that will become the gold standard that all other skillets will be compared to, or Donny's favorite crunchy-crusted chicken sandwich for lunch or the uncannily comforting combinations in Carla's Buffalo Chicken Alfredo, The Copper Pot is always an instant favorite.
Jaramillo and Payne have succeeded in creating a place that is the easy and fast answer to, "where do you want to go for dinner?"
The Copper Pot staff knows that you want your favorite mini bundt cakes. You want your favorite craft beer. Your favorite homemade soups and breads. You want an easygoing moment to enjoy friends and family with our lighthearted staff making sure you love The Copper Pot as much as they do. Every table is greeted with complimentary fresh chips and Gloria's Avocado Salsa.
"Families have told me that they love how we have brought that old-school community restaurant feeling back," Jaramillo said. "They appreciate the relationships we've built and how it's now their all-time go to place to eat.
Jaramillo says to come in and find your own favorite. It might be the bottomless mimosas they serve every day. It might be a special deal for The Copper Pot weekday happy hour offered from 3 p.m. – 6 p.m.
The Copper Pot in Aurora is in Saddle Rock at 6020 S Gun Club Road. The original Copper Pot in Englewood is an icon at 2796 S Broadway. The Copper Pot opens daily at 11 a.m. and serves Mondays through Thursdays until 9pm. Fridays and Saturday nights The Copper Pot serves until 10 p.m. and closes at 4 p.m. on Sundays. Beginning in April, breakfast at the Copper Pot begins at 9 a.m. Mondays through Thursdays and at 7 a.m. Fridays and weekends.
Follow them on Facebook @ The Copper Pot at Saddle Rock.
2020 | roost | SENTINELCOLORADO.COM | 3
Aurora City Council is a mirror to the community
This Aurora City Council looks different than those in the past. In recent elections the law-making body has started trending more progressive.
In 2019, two progressive candidates were elected, swinging the city dais left-of-center. In 2017, three candidates won a seat on the traditionally conservative council. Council members Juan Marcano, in Ward IV, and Alison Coombs, in Ward V, were elected in close races in 2019. Their terms are up in November 2023. At-large member Allison Hiltz, Ward I member Crystal Murillo and Ward II member Nicole Johnston joined the council after the November 2017 election.
That doesn't mean there hasn't been some wins for conservatives on the non-partisan board, however. Former Republican Congressman Mike Coffman won the mayor's seat and Councilman Curtis Gardner joined the council as an atlarge member, representing the entire city, in 2019.
Many races in 2019 were razor-thin close, as counting lasted more than a week.
The make-up of the city council represents a region of the metroplex that's often considered "purple." Voters are
typically described as being equally one-third Republican, one-third Democrat and onethird independent. For the city council, it's meant the group can easily find itself contending big philosophical points, like the role of local government, as well as nitty-gritty topics like how public safety is keeping up with the city's growth.
Councilmember Francoise Bergan represents Ward VI in southeast Aurora, Marsha Berzins represents central Aurora in Ward III and council members Angela Lawson and Dave Gruber fill out the other two at-large seats.
This council is set until 2021, when those who were elected in 2017 complete their term.
In races for a specific ward, candidates must gather 50 certifiable signatures from residents in that ward.
In at-large races, candidates must gather 100 signatures from residents across the city. Signatures will be verified in September.
To run for municipal office, candidates must be registered voters, U.S. citizens, at least 21 years old, a resident of Aurora for at least one year leading up to the election and, in races for
a specific ward, a resident of that ward for at least one year. Convicted felons are barred from running, as are current city employees.
In 2017 and 2019, the council races attracted a record number of candidates. At one point in 2017, voters had the choice of 12 candidates in the at-large race. Only the top two vote-earners are elected.
This council also represents a new course for the city. In 2018, then-Mayor Steve Hogan died after being diagnosed with cancer. Council members tapped at-large member Bob LeGare to serve as mayor and his seat was filled by Johnny Watson, who previously served on the planning commission.
LeGare vowed to only serve out the rest of the term, bridging the gap between elected mayors.
City council meetings typically occur on Monday evenings at 7:30 p.m. in the council chambers at the Aurora Municipal Center. Council study sessions, which are open to the public, take place before the meeting in the Aurora Room on the first floor. Each member serves on policy committees, which typically occur at least once per month. The public is welcome to attend those, too.
MAYOR: Mike Coffman
mcoffman@auroragov.org
Office: 303.739.7015
Term expires November 2023
WARD I: Crystal Murillo
cmurillo@auroragov.org
Office: 303-739-7502
Term expires: November 2021
WARD II: Nicole Johnston
njohnston@auroragov.org
Office: 303-739-7506
Term expires November 2021
WARD III: Marsha Berzins
mberzins@auroragov.org
Office: 303-739-7508
Term expires November 2021
WARD IV: Juan Marcano
jmarcano@auroragov.org
Office: 303-739-7015
Term expires November 2023
WARD V: Alison Coombs
acoombs@auroragov.org
Office: 303-739-7015
Term expires November 2023
WARD VI: Francoise Bergan
fbergan@auroragov.org
Office: 303-739-7015
Term expires November 2023
AT-LARGE: David Gruber
dgruber@auroragov.org
Office: 303-739-7514
Term expires November 2021
AT-LARGE: Allison Hiltz
ahiltz@auroragov.org
Office: 303-739-7524
Term expires November 2021
AT-LARGE: Angela Lawson
alawson@auroragov.org
Office: 303-739-7518
Term expires November 2023
AT-LARGE: Curtis Gardner cgardner@auroragov.org
Office: 303.739.7015
Term expires November 2019
4 | SENTINELCOLORADO.COM | roost | 2020
cf.auroragov.org/Apps/Portal/ Pages/government.cfm.
Visit
Councilmembers Crystal Murillo, Ward 1, and Juan Marcano, Ward 4, during Murillo's campaign night in 2018. The city council has become increasingly diverse during the past few years. SENTINEL FILE PHOTO
Call for help
If you have questions about city government but don't know where to get answers, your solutions are only 10 digits away at Access Aurora.
The city government hotline, 303-7397000, is a division of the Communications Department of the City Manager's Office.
From 7:30 a.m. to 5 p.m. Monday through Friday, the city staff is standing by to answer questions.
If you're looking for what number to call about that monster pothole at the end of the block, Access Aurora operators can guide you to the proper official in Public Works.
If your neighbor has erected a 50-foot statue of John Elway in his backyard, Access Aurora can put you in touch with the right folks in Code Enforcement. That number, again, is 303-739-7000.
Access Aurora staff are the go-to people in Aurora for questions regarding referrals to community resources, requests for assistance and information on city services from Animal Care to Zoning.
The following is a list of city departments and offices that can help:
Aurora City Council
303-739-7015
City Attorney's Office
303-739-7030
City Manager's Office/ Communications
303-739-7010
Development Assistance
303-739-7345
Fire Administration
303-326-8990
Human Resources
303-739-7225
Information Technology
303-739-7545
Purchasing 303-739-7100
Judicial Administration
303-739-6535
Library, Recreation and Cultural Services
303-739-6640
Mayor's Office
303-739-7015
Municipal Court
303-739-6444
Neighborhood Services
303-739-7280
Parks 303-739-7160
Planning 303-739-7250
Police Administration
303-739-6000
Public Works
303-739-7300
Senior Daycare/Morning Star program
303-326-8323
Utilities
303-739-7370
For more specific problems or questions: Has your dog gotten loose or do you need to know what shots your cat needs? Call Animal Care at 303-326-8280.
Do you want to build an additional room onto your house? Call Building Permits and Inspections at 303-739-7420.
For questions about keeping the neighborhood clean, call Code Enforcement at 303739-7280.
Is there a tree limb hanging by a thread over your street? Call Forestry at 303-739-7177.
Did someone vandalize your business or home with graffiti? Call 303-739-6063.
If you need help getting your ducks in a row in buying that first home, the Home Ownership Assistance Program could help if you qualify for assistance. Call 303-739-7900.
The Human Relations Commission was established in 1968 to eliminate prejudice and promote positive human relations, to take discrimination complaints, to support civil rights legislation, to hold public hearings, forums and workshops and to review agencies. Call them at 303-739-7285.
Local Programming: Your hometown television station is KACT Aurora Cable Television Channel 8. Call them with questions or concerns at 303-326-8888.
Lawn permits: There are specific requirements regarding landscaping and water conservation for new lawn permits and sprinkler systems. For details, call the city's lawn permit office at 303326-8879 or online at vwww.aurorawater.org.
2020 | roost | SENTINELCOLORADO.COM | 5
Who to call to find out about turning on the water, putting up a new fence or turning off the barking dog next door
efirstbank.com/mortgage Member FDIC Mortgages made easy. A Dream Home Deserves a Dream Mortgage. Contact one of our Officers today or visit one of our locations. Hawzien Gebremedhin Vice President 303.696.2912 Hawzienawit.Gebremedhin@efirstbank.com NMLS ID # 1136822 Greg Shields Vice President 720.876.1580 Greg.Shields@efirstbank.com NMLS ID # 1120404 HuyenThi Le Vice President 303.740.5307 HuyenThi.Le@efirstbank.com NMLS ID # 1174616
GETTING AROUND
BY SENTINEL COLORADO
Transportation in Aurora in 2020 hardly resembles the old days when the city's transit scene was dominated by two jam-packed lanes of Interstate 225.
That's thanks in part to renovations and widening of the city's main artery, but also because trains are finally cruising up and down that once-snarled highway.
In 2017, Aurora's very own R Line — which snakes along Interstate 225, connecting the existing Nine Mile station with the A-Line to the airport — opened to the public. And a push from residents kept RTD from making major service cuts on the new line that were under consideration due to lower than expected ridership. Although, low ridership has meant fewer cars traveling the tracks.
Finally, Aurora residents have plenty of options if they want to hop a train into Downtown Denver, or even ride the rails from Aurora to DIA without having to trek all the way to Union Station. And the city's transit scene is due for even more massive changes as Interstate 70 undergoes a significant remodel.
The mammoth task of tearing down Interstate 70's tattered viaduct and burying the highway from Colorado Boulevard to York Street is probably going to grab most of the transportation headlines when the project gets underway this summer.
But to the east — through Aurora — is actually the highway's busiest stretch of road, and one that will see significant construction, too, as the Colorado Department of Transportation redevelops the often-snarled highway.
Rebecca White, spokeswoman for CDOT's Central 70 Project, said the stretch of highway between I-270 and I-225 — which covers several miles through north Aurora — sees the highest traffic volume on the interstate.
But it's also a stretch that can look like a parking lot, with semi trucks and commuters clogging every lane.
"We're hoping to improve that quite a bit," White said.
Fifteen years in the making, the socalled Central 70 Project will bring new toll lanes, a submerged highway capped with a public park and even new affordable housing to various portions of the I-70 corridor, from the highway's intersection with I-25 to Chambers Road in Aurora.
The new lanes in each direction will be similar to the recently-added express lanes on I-25 and U.S. Highway 36, White said. Those lanes require motorists to pay a toll unless they have at least three people in the vehicle.
Once crews start work this summer, construction will take four to five years to complete, White said. It isn't clear yet whether the construction company CDOT chooses will start at the west end of the project, the east end in Aurora, or begin work on both ends simultaneously, she said. But if you want to take the train, here's what you need:
So, let's say you live in one of those southeast Aurora enclaves like Mission Viejo, Saddlerock, or even one of the more far-flung neighborhoods near Southlands. And from that neighborhood you'd like to get downtown for dinner and a show, or to DIA to catch a flight out of town. Here are
the details you'll need to make that trek along the city's shiny, new public transit system.
First you need to decide which station you're going to start from. If you live in the city's southeastern reaches, the best bet is probably the stop at East Iliff Avenue and I-225, or the Nine Mile Station at Parker Road and I-225.
If you select Nine Mile, you will have more than 1,200 parking spots to choose from. Or you could hop on your bike and lock it at one of the station's 16 bike racks. Parking your car at Nine Mile is free for the first 24 hours if you live in the RTD service area. If you call Mission Viejo or the vast majority of Aurora zip codes home, you likely do live in that service area. But to be safe, check out rtd-denver.com/HowToPark for details.If you opt for the new Iliff Park-and-Ride station, which is run by the city of Aurora, you have about 600 parking spots to choose from, and it will cost you $3 per day.
Once you have your car parked or your bike locked up, you're gonna need to buy a ticket. If all you're looking to do is cruise along the R-Line, maybe to Anschutz or all the way down to Park Meadows, it's gonna cost you $2.60 per person for a oneway fare.
If you'd like to ride the train to the airport it's $9, but that covers your ride on the R Line as well as the A Line, which you will transfer to at the Peoria stop at the end of the R Line.
If you'd like to ride from Aurora into downtown you'll have to pay for a regional fare, $4.50 each way. Then you need to hop on one of the existing lines headed in-
to Downtown Denver. You can make that switch at Nine Mile, the Dayton Street stop or several others along Interstate 25.
If you want to ride the whole length of the R Line — that means from the Peoria stop near Peoria and Interstate 70 all the way down to the Lincoln Street stop near Lincoln and I-25 in Douglas County — it'll take you about 55 minutes. The train will reach speeds of about 55 mph along the 10 new miles of track through Aurora.
If you plan on riding the rails and buses multiple times in a day, it might make sense to opt for an all-day pass. Local allday passes cost $5.20 and regional all-day passes cost $9. And discounted passes are available for seniors 65-years-old or older, riders with disabilities, Medicare recipients, elementary, middle and high school students between the ages of 6 and 19 years old. Children 5 years old and younger ride free with a paying adult.
The R Line escaped major service cuts late in 2017 but there remains a strong possibility that RTD could reduce the frequency of trains at some point in the future. Currently RTD has only reduced the frequency of trains on the weekends to 30 minutes at each station.. On weekdays from 4 a.m. to 5 a.m., there's a train every half hour. During the peak weekday times from 5 a.m. to 8 p.m., a train will pull up every 15 minutes. For the late-night crowd from 8 p.m. to 1 a.m., a train arrives every 30 minutes. And on weekends, trains arrive every 30 minutes.
When the R Line train isn't running, the H Line train takes over. It'll get you to the same destination. It just has a different name.
6 | SENTINELCOLORADO.COM | roost | 2020
A guide to traveling around Aurora and the greater Aurora region
Traffic heads westbound on Interstate 70 at the I-225 exit.
DIVERSITY OF AURORA RESIDENTS CREATES A CULTURAL CORNUCOPIA
BY SENTINEL COLORADO
It's no secret Aurora is among the nation's most-diverse big cities.
But this year, this city of almost 375,000 people — where about 60 percent of people identify as non-Hispanic white and where close to one in five residents was born in a different country — consistently receives recognition for its United Nations-levels of diversity.
In 2017, Aurora was one of six cities in the United States to receive a City Cultural Diversity Award from the National League of Cities.
According to a statement from the city of Aurora announcing the prestigious honor, the award recognizes "municipal programs that encourage citizen involvement and cities that develop creative and effective programs to improve and promote cultural diversity through a collaborative process with city officials, community leaders and residents."
The city's Office of International and Immigrant Affairs was recognized with second place among cities of 200,001 to 500,000 residents.
"Aurora is a diverse and international city, with 1 in 5 of our residents having been born outside the United States," Ricardo Gambetta, manager of the Office of International and Immigrant Affairs, said in a statement. "We are honored to be recognized for the efforts we've already made and the plans we have for the future to recognize the strength of that diversity and create a welcoming and productive community for all our residents."
The Office of International and Immigrant Affairs was created "to facilitate the successful integration of immigrants and refugees
into Aurora's civic, economic and cultural life," the statement said.
It works with several other diversity-minded groups, including the Aurora Immigrant and Refugee Commission, Aurora International Roundtable, Aurora Global Fest and the Aurora International Cabinet. Beyond that, the office "leads international efforts focused in the establishment of strategic global partnerships, manage official protocol activities and events, and serve as a liaison to the international community," the statement said.
"The strength of our nation lies in the diversity of our cities and towns," said National League of Cities President Matt Zone. "Across the country, municipal officials are taking the lead on creating policies that are more accessible to and more inclusive of their diverse residents."
And it's not just in the awards or in census data where Aurora proudly shows off its diversity.
Cruise through town and you'll see several shopping centers where neighborhood Asian restaurants sit next to African hair salons and Mexican grocers.
The cultural melange, though unique, is easy to miss along Havana, where assorted ethnic markets, restaurants and community groups fill storefronts. The maze of multicultural strip malls run from East Colfax Avenue south to Yale Avenue.
That medley of cultures, ethnic groups and languages is part of everyday life in Aurora and has played a major role in shaping the city's image as a working-class melting pot where everybody is welcome.
And while the city's white population makes up a smaller
2020 | roost | SENTINELCOLORADO.COM | 7
COLORADO'S ETHNICITY
Dala Gi n, a resident of the Mission Viejo neighborhood, has her head wrapped in a hijab by Yaqin Elmabrouk, at the Meet Your Muslim Neighbor event, March 16 at the Colorado Muslims Community Center. The CMCC, located in Mission Viejo hosted the event so people in the neighborhood and Aurora community could come to the community center and learn about the Muslim culture.
SEE MORE INFORMATION ON PAGE # HUNTER DEEGAN REALTOR & Associate Broker EXIT Realty DTC Cell: 303-667-5918 Office: 303-790-7200 Sell your home for as low as $2,995* when we help you sell and buy Website: www.List2995.com Everyone Has A Story Online 24/7 ›› Continued on page 22 15
Photo by Philip B. Poston/Sentinel Colorado
The
of the matter Art
Aurora community is moving to center stage in the metro arts and culture scene
BY SENTINEL COLORADO Stanley Marketpace
Now considered the pinnacle of cool in Aurora, Stanley boasts 50 businesses, including Denver Biscuit Company, Rosenberg's Bagels, Comida, Infinite Monkey Theorem, Cheluna Brewing Co., a pair of pop-up art galleries and many more. Located in low-income area of the city, Stanley is touted for bringing in retail business. Stanley is located at 2501 Dallas St. For more information on the revamped hub, visit the Stanley Marketplace Facebook page, stanleymarketplace.com or call 720-990-6743.
The Peoples Building
Hailing from New York City, Aaron Vega is leading the charge at the People's Building to draw artists from around the metro and showcase home-grown cultural figures through theater, musical performances, dance, educational programming at more. Swing by the city-owned space near the intersection of East Colfax Avenue and Havana Street for anything from raucous metal bands to ballerinas and boutique pop-up shops. Located at 9995 E Colfax Ave.
PACE Center and Lone Tree Arts Center
Celebrate Life IN JOY
Douglas County is hardly the boonies, but access to big-city culture is still limited for many of the area's nearly 330,000 residents. In the past 20 years, the fringes of southeastern Aurora and beyond have seen rapid residential and commercial growth, a boom that's been supplemented by two multi-million-dollar performing arts complexes. Both the $23-million Lone Tree Arts Center, located off Interstate 25 and Lincoln Avenue, and the $21.7-million Parker Arts, Culture and Events, or PACE, situated right on Parker's Main Street, have opened in recent years. Both facilities target an audience that's looking for high-quality entertainment that's also nearby.
While officials from PACE have underlined the 50,000-squarefoot building's added role as a community and education center, they've also pointed to a growing local arts audience that's been largely underserved. It's a population that includes plenty of Aurora residents, theatergoers living on the southeastern fringes of the city who may be closer to Parker than the Aurora Fox and the Vintage theaters on East Colfax Avenue. Information: pacecenteronline.com or call 303-805-6800; lonetreeartscenter.org or call 720-509-1000.
Aurora Symphony Orchestra
Under the direction of Norman Gamboa, the Aurora Symphony Orchestra has slowly been working to move from relative obscurity to a community powerhouse. The orchestra performs regularly at Gateway High School, located at 1300 S. Sable Blvd., and the community ensemble is working on expanding its repertoire and appeal. For information, call 303-873-6622 or visit www.aurorasymphony.org.
Aurora History Museum
The Aurora History Museum collects, preserves, interprets and exhibits artifacts and documents that tell the story of Aurora from prehistoric times to the present. The museum's permanent exhibit is a portrait of Aurora that illustrates the history of the city, beginning with its humble origins as a big dairy producer called Fletcher. The museum also offers changing exhibits on a variety of topics such as local archaeology, art, life on the Great Plains, women's history, the city's Ethiopian community and manufacturing history.
The museum is located at 15001 East Alameda Parkway. For more information, call 303- 739-6666 or log on to www.auroramuseum.org.
Aurora Cultural Arts District
Many efforts have been made to bring more people to the Original Auro-
8 | SENTINELCOLORADO.COM | roost | 2020
›› Continued on next page
LUXURIOUS LIVING • EXCITING ACTIVITIES • GOURMET DINING CALL 303.693.0200 TO SCHEDULE A PERSONAL TOUR TODAY! 14555 East Hampden Ave. • Aurora, CO 80014 • CherryCreekRetirement.com
good li fe await at our vi brant senior living communit y! Make the most of your retirement and live the ac tive, joyf ul li fest yle you deser ve .
ARTS, from page 8
ra downtown area, which the city has designated as an arts district. The turnaround has been slow, but with about 150,000 people expected to pass through the area in 2017, the metamorphosis is finally starting to take shape, city officials have said.
A new strategic plan for the area calls for enhanced marketing efforts, better lighting and more signage to help patrons find their way around the bohemian corridor. Helmed by former RiNo Arts District guru Tracy Weil, the region is ever-so-slowly starting to mirror its trendy counterparts a few miles to the west.
Teaching art at DAVA
Downtown Aurora Visual Arts is a collaboration of activists and artists that have created a program that allows kids to explore arts instead of boredom and mischief.
Children from ages 7-17 are encouraged to drop in for "any amount of time" to create art, according to DAVA Executive Director Susan Jenson. Teachers and artists volunteer time for the program. Major funding is provided by the the Scientific and Cultural Facilities District, and the city of Aurora also provided funding for a new, 1,200-foot on-site gallery. For more information call 303367-5886 or log on to www.davarts.org.
2020 | roost | SENTINELCOLORADO.COM | 9
The Aurora Fox Arts Center at 9900 E. Colfax Ave. in Aurora.
Michael Keyes rolls ink onto a wood cutting he made as a proof, May 15 at the Red Delicious Press.
Photo by Philip B. Poston/Sentinel Colorado
››
Class acts
The two school districts that serve Aurora educated almost 100,000 students much of this year from diverse neighborhoods in Aurora, Centennial, Glendale and Englewood.
Aurora Public Schools is the state's fifth-largest district by enrollment, with more than 60 schools andabout 37,000 students. With about 55,000 students, Cherry Creek School District is the fourth-largest district in the state, serving much of southern Aurora.
Cherry Creek routinely outperforms other school districts in test evaluations, and its teachers are some of the bestpaid in the state. APS serves a student body that is more diverse and largely low-income and is often criticized for low performance, but is making some strides in test scores and has invested heavily in mental health resources for students.
Until recently both school districts have seen their populations increase yearly and have worked to deal with the needs that come with a rising number of students. However, both districts are losing students as part of metro-wide demographic changes and are trying to adapt their budgets and educational programming.
In 2016, both Aurora Public Schools and Cherry Creek School District had bond measures approved by voters to
help address infrastructure needs. Aurora Public Schools' $300 million bond issue was used in 2017 to expand capacity at Vista PEAK Preparatory
and Rangeview High School, build the new Mrachek Middle School that opened last fall, make improvements to Aurora Central High School and Side
Creek Elementary School and help upgrade both security and data protection across multiple campuses. APS residents also approved a $35 million mill levy override in November 2018 earmarked for student mental health and social services in schools, as well as some teacher salary raises.
Funding for education is scarce in Colorado, thanks to a nest of constitutional amendments making it difficult to raise money for schools. While Aurora Public Schools has money to help improve infrastructure, the school district faced a $31 million budget shortfall in 2017-2018 due to its decrease in student enrollment.
APS closely watches school finance and tax measures at the state legislature, now suspended due to the novel coronavirus. Big funding overhauls were mulled over by state lawmakers but did not materialize.
The $250 million bond issue Cherry Creek School District's voters approved in 2016 financed its 2021 Plan, which included construction of a new elementary and middle school, the glitzy Cherry Creek Innovation Campus along with security and technology upgrades. Voters at the same time also approved a $23.9 million mill levy override to help meet
SCHOOLS
the school's projected budget shortfalls. Cherry Creek officials have been expecting lost state funding because of student drain in the western part of the district, while individual student needs are increasingly specialized.
Cherry Creek welcomed a new leader when school started in fall 2018. Harry Bull, who took over Cherry Creek as its superintendent in 2013, decided to retire at the end of the 2017-2018 school year. Scott Siegfried, who has been with Cherry Creek since 1995, was promoted by the district's school board from deputy superintendent to take over for Bull when the 2018-2019 school year started.
In APS, lawyer and former Colorado Department of Higher Education executive director Rico Munn replaced outgoing APS Superintendent John Barry in 2013. In September 2019, the APS school board extended Munn's contract through the 2022-2023 school year. School board directors Kyla Armstrong-Romero and Marques Ivey voted against the extension just before a school board election solidifying members controlling the board with the endorsement of the Aurora Ed-
10 | SENTINELCOLORADO.COM | roost | 2020
Aurora's two school districts strive for innovation, results
›› Continued on page 20
WITH SPECIAL NEEDS/ YOUTH
ADULT
Mo nt hly Pr ic es EMPOWERING INDIVIDUALS WITH SPECIAL NEEDS (303) 353-9822 WWW.SEBSREC.ORG facebook.com/sebsrecreationcenter 1710 S BUCKLEY RD. UNIT 9 AURORA, COLORADO All OPEN TO
Kelly Hutchings teaches her 8th grade math class at Boston P-8 near Boston Street and Colfax Avenue in Aurora. Boston is part of Aurora Public Schools.
PERSON
(AGES 4-17) $10 YOUNG
(AGES 18-26) $15 ADULT (AGES 27-61) $20 SENIORS (AGES 62+) $10 80 YEARS+ FREE 3 YEARS AND UNDER FREE
As a Colorado company, Lightshade is committed to providing support to the community. Our goal is to increase the vitality of Colorado's diverse neighborhoods and demonstrate our industry's capacity to do good through intentional community investments, volunteer days, and fundraising.
WE DON'T JUST GIVE BACK; WE GIVE FORWARD.
Lightshade believes that being a good neighbor is about more than running a clean, ethical, and compliant business. Being a good neighbor also means providing support for our local communities. With the help of KindColorado, since 2016, we've used our resources to support community projects and nonprofits through our Cannabis Social Responsibility initiative. To date, we've invested more than 500 hours assisting our local communities.
We focus our efforts on people experiencing homelessness, hunger relief, seniors, and veterans. And each of our eight locations is partnered with community agencies and nonprofits to provide support for Colorado's food-insecure populations.
To further our commitment, our employees support the community by participating in company-wide monthly volunteer days, and once every quarter, each store collaborates with their chosen nonprofit to volunteer in the community. We also help to facilitate food drives and fundraising events for our community partners.
We are proud to live and work in this diverse and growing community and believe that it's our responsibility to give back. And we hope that through this work, others within the cannabis industry (and beyond), will feel inspired to join us in our mission to provide support for local populations and communities.
WE CARE.
Collaborate with Community - Whether it's collaborating with women in cannabis to support The Gathering Place, or partnering with community-run agencies to help feed hungry families, collaboration makes doing good, feel great.
Assist in Access - Seniors and veterans face an uncertain future with limited options for holistic medicine and increasing costs to maintain a healthy lifestyle. We support seniors and veterans by providing access to education and products that help to set them on the path to a healthier lifestyle.
Revitalize with Resources - We align our resources with the needs of the communities we serve. We keep an ear to the ground, and as a strategic community partner, use our expertise, volunteers, and wallet to help sustain and revitalize the communities that give life to our business.
Elevate with Education - Education opens the door to understanding, that's why we curate up-to-date and researchsupported education for both experienced consumers and people exploring cannabis for the first time. We want to demystify and destigmatize cannabis to introduce more Coloradoans to the positive effects of this historically misunderstood plant.
Support with Sustainability - Lightshade is committed to reducing the carbon footprint of our grows and retail dispensary locations. We use organic pest control practices, recycle water, install LED lighting, our packaging uses recycled materials, and our newest greenhouse provides a more than 50% reduction in our overall carbon footprint.
2020 | roost | SENTINELCOLORADO.COM | 11 LIGHTSHADE.COM 4 CONVENIENT LOCATIONS SERVING AURORA HAVANA & 6TH AVE | ILIFF & BUCKLEY | DAYTON & ALAMEDA | PEORIA & I-70
A city of Good Sports
BY SENTINEL COLORADO
Aurora is one of the most active places in all of Colorado with new recreation options that seem to spring up nearly every day. If you are moving to town and favor an active lifestyle — inside or outside — there is plenty to keep adults and children of all ages occupied.
The Aurora Parks and Open Space Department has one of the biggest roles in the city, overseeing more than 1,800 acres in more than 100 park sites, part of some 6,000 acres of open space, which includes all undeveloped land, natural areas and reservoirs. The parks often go hand-in-hand with the Aurora Library and Recreation Services, which offers more than 8,000 classes and activities annually, including sports, for thousands of participants of all ages.
The things going on in the city haven't gone unnoticed, locally or nationally, for quite some time. In 2003, Sports Illustrated tabbed Aurora as the best city in Colorado to get involved in sports and recreation programs. The city was designated the 50th Anniversary Sportstown for Colorado and was the subject of a special editorial section of the national magazine.
Things have only blossomed since then with the opening and continued improvement of the 220-acre Aurora Sports Park on Colfax Avenue at Tower Road, which just recently added three artificial turf multi-use fields with lights for night use. Construction on the two-story, approximately 55,000-square-foot Central Recreation Center (located near Tower Road and East Vassar Place) with a $30 million price tag began in the summer of 2017 and opened in 2019. The 20-acre property includes a pool and water slide in the aquatic center, gymnasium, elevated walking/jogging track, fitness area and much more.
The Central Rec Center joins five other existing recreational facilities: Aurora Central for Active Adults, Beck Recreation Center, Expo Recreation Center, Moorhead Recreation Center and the Utah Park Indoor Pool.
The City of Aurora has begun to offer passes to all six rec centers all across the city or specific ones for different costs.
Simply looking at the number of program offerings at these facilities is enough to see why a magazine like Sports Illustrated would take notice. The number and quality of programs continues to grow
to meet the needs of an expanding population.
A small sampling of the offerings include: crafts, cooking, dance, fitness, adult and youth sports, tennis, swimming, performing arts, visual arts, senior adult recreation and services, elderly day care, outdoor recreation, therapeutic recreation, reservoirs, youth school breaks and summer playground programs, preschool, computers and online training, dog training, dance, gymnastics and youth development. Call 303-326-8650 (Monday through Friday, 8:30 a.m.-noon and 1-4:30 p.m.) or 303326-8652 (Espanol), register online (AuroraGov.org/Recreation) or walk into the Recreation Registration & Sports Office on the first floor of the Aurora Municipal Center at 15151 E. Alameda Parkway, Suite 19000, between 8 a.m. and 5 p.m. Monday through Friday.
Recreation Services owns and operates public facilities including recreation centers, indoor and outdoor swimming pools, a theater, a history museum, an environmental day camp and outdoor sports complexes. There is a fee for most programs. Financial assistance is available to residents who meet the income qualifications.
Non-residents are encouraged
to participate and are charged a slightly higher differential fee.
In recent years, an estimated 18,000-plus people have signed up for independent youth and adult sports leagues, along with city-sponsored athletics each year, and that number only continues to rise with the expanding population and new facilities completed periodically.
Aurora offers adult leagues for those 16 and older in kickball, softball, tennis and racquet sports and volleyball. Local, regional and national tournaments are held throughout the year. Tennis leagues, tournaments and clinics are offered year-round. If you want to play, registration starts four to six weeks before the league gets under way. You can receive a registration packet either by mail or fax by calling 303-326-8700. Each sport typically offers a free agent list for people new to the area looking for a team. To be placed on a specific league mailing list, call 303-3268700 of visit TeamSideLine.com/ Aurora. The Sports Office can also be reached by fax at 303-326-8722 or by email at AdultSports@auroragov.org.
Registration for popular spring and summer sports leagues such as youth basketball and tennis is
always high. Thousands of Aurora kids annually participate in the city's basketball leagues, while baseball/softball/t-ball, flag football, lacrosse, soccer, swimming, track and tennis are also very popular. For complete listings and pages of valuable information, see the city's Leisure magazine, which is mailed to over 150,000 households and can be found online. Copies are available at libraries, major grocery stores or by calling the Sports Office at 303-326-8700.
Registration can be done online at www.auroragov.org/recreation, by phone at 303-326-8650 (Monday-Friday 8 a.m.-noon and 1-4:30 p.m.) or fax at 303-326-8722 and also in person at several locations. There is some financial assistance available for residents on limited incomes. Call 303-326-8700 to find out if you are eligible.
The city of Aurora needs volunteers to coach youth teams as well, so call 303-326-8700 if that is how you might want to get involved in your new community and use the same number if you have officiating experience for you sports and would like to get involved with that.
For non-traditional sports enthusiasts, Aurora's Outdoor Recre-
12 | SENTINELCOLORADO.COM | roost | 2020 RECREATION
Overland sophomore Florestan Hukporti, left, competes in the monster truck wheel relay during the 2019 Hog Wars, July 10 at Rangeview High School.
›› Continued on next page
Photo by Philip B. Poston/Sentinel Colorado
ation Office is the place to visit, located on the first floor of the Aurora Municipal Center. The Outdoor office offers canoe trips, fly fishing and family fishing lessons, family archery, hunter education and much more. Call 303-326-8634.
Independent youth leagues in soccer, football, baseball and softball abound throughout the city and are easily found online.
Wheelin' in Aurora
Skateboarders, rollerbladers and BMX bike riders have embraced the 25.3-acre Aurora Wheel Park located at 2500 S. Wheel Park Circle, adjacent to Olympic Park off Yale and Chambers.
The facility, complete with park landscaping and paved onsite parking, includes a BMX (bicycle moto-cross) dirt racetrack, several bicycle freestyle ramps, a remote control car track, two fullsize in-line hockey rinks and an 18,200-square-foot skateboard park featuring a street skating (free-style) course. One of the inline hockey rinks has been repurposed and set up for box lacrosse and mini soccer.
The park also has 163 vehicle spaces. It is the first facility of its kind in Aurora and one of very few venues for skaters on the Front Range, and has access to the Cherry Creek Spillway Trail.
It's open daily 8 a.m. to sunset year round.
Hoops heaven
Besides the basketball leagues offered through the city, Aurora is becoming a haven for basketball players and fans of all ages. In 2006, the city opened Hoops Park at 16300 E. 6th Ave., a 1.4-acre facility which includes three full-sized basketball courts that are open and available to the public. It's another of the special use parks the city has been focusing on in recent years.
The courts are constructed of durable post-tension concrete with a multi-colored acrylic coating. The goals are pre-cast concrete standard, with innovative polycarbonate (clear) backboard and heavy-duty break-a-way flex rims. With this unique design, Hoops Park provides the highest quality
and most durable outdoor courts in the Metro area.
It's open from 8 a.m. to sunset.
On par with courses
If golf is your game, Aurora is a great place to bring your clubs with a handful of municipal courses available.
Recycled wastewater has been key for the city in keeping its golf courses in relatively good condition in the winter.
The City of Aurora Golf Division makes it easy to book a tee time, by offering the ability to do it online at www.golfaurora. com and looking under Book a Tee Time. Aurora residents can book tee times 10 days in advance, while non-residents can do it sev-
en days ahead of time. Golfers can use VISA, MasterCard or their current Aurora Reservation Card to access the times. Every golfer will have to complete a first-time registration through the new online system. Reservations can be made at each pro shop — Aurora Hills (303-739-1550), Meadow Hills (303-326-8450), Murphy Creek (303-739-1560), Saddle Rock (303-326-8460) and Springhill (303-739-6854). Packages for 9 or 18 holes are available with costs varying on time of day.
The city places a lot of emphasis on youth golf, so numerous opportunities exist for children to get on the links for discounted or free rounds. There are annual junior camps in the summer, which teach instruction on fundamentals, grip, stance, full swing, short game, etiquette and more. Juniors can participate in a big tournament when done with their camps, as well as receive discounts on rounds. Keep up with golf happenings in the city on Facebook or Twitter (@golfaurora).
Other activities
For gamblers or family activity, Arapahoe Park continues to be one of the city's best-kept secrets, due in large part to its nearly isolated location in the southeast stretches of the city. Located at 26000 E. Quincy Ave. — just east of E-470 and Gun Club Road on Quincy (just north of the Au-
rora Reservoir) — the horse track is a surprising feature of a largely barren landscape.
Featuring Thoroughbreds, Quarter Horses and Arabians, Arapahoe Park's 2019 racing season runs from May 25 through August 11 (39 race days total) with a special program set for Memorial Day (May 27). It has become low-cost entertainment for an increasing number of residents. Race days are Saturday, Sunday and Monday (with four Fridays as well throughout the summer) with post times of 1 p.m. Families, businessmen, senior citizens and veteran gamblers make up much of the crowd for a typical 12-race menu, which is free for 17-under (when accompanied by an adult) and active duty military (with valid ID) and costs just $1 for adults 55 and over and $5 per adult for admission. Aurora families have been making it a destination for years, as kids like seeing the horses up close and the excitement as they thunder down the stretch. Call 303-690-2400 or visit mihiracing.com for racing and general information.
There are also plenty of volunteer opportunities in the city if you want to get active in the community and make a difference. Thousands of people volunteer each year and opportunities to work with area youth, seniors, animals and others can be found online at AuroraGov. org/volunteer.
Aurora Association of REALTORS® proudly presents Masters Club Achievement Award Recipients
The Masters Club Award recogniz es outstanding professionalism in the real estate industry, including in its criteria exemplary perfor mance in education; a commitment to serving the community; and achievement in sales, property management or appraisal of real property
Masters Club Award Winners
About Aurora Association of REALTORS®
The Aurora Association of REALTORS®, located at 14201 E. Evans Drive, Aurora, CO 80014, was chartered by the National Association of REALTORS® in October, 1957. It has been recognized as the "Voice of Real Estate" in Aurora, CO since that date Serving more than 1000 REALTOR® and Affiliate members, the Aurora Association of REALTORS® (AAR) is one of the largest trade associations in Aurora Our mission is to provide an environment conducive to the success of our members by enhancing the ability and opportunity to conduct their businesses ethically, successfully and profitably; by increasing professionalism, skills, knowledge and community involvement; and by enhancing the public's awareness and confidence in the services they provide Licensed real estate agents who become members of the National Association of REALTORS® can use the REALTOR® trademark and logo with their name They subscribe to a Code of Ethics that defines duties and obligations required in the public interest which are beyond the capacity or power of the law to mandate, and the Code supports the law by requiring a higher sensitivity to the duties and obligations which it imposes Look for the REALTOR® "R" when you select an agent to represent you in the process of buying or selling a home
2020 | roost | SENTINELCOLORADO.COM | 13
›› SPORTS, from page 12
Kevin McElroy looks out over the Frisbee golf course while Jamie Lee Montey takes a break with his dog Shadow on Oct. 9, 2015.
Sunny Banka
D.R. Real Estate Inc.
Tanner
Barb Cline
Realty
Estate
Cher i Long
Inc.
Dave Sullivan Ke y Real Estate Group 720-448-7236 Joan Cox House to Home, Inc. 720-231-6363 David Baber Sr. RE/MAX Professionals 303-718-6644 David DeElena Coldwell Banker Res. Brokerage 720-275-2091 Dave Edwards Ke y Real Estate Group 303-946-3602
Sunny Homes & Associates 303-521-5331 Beth Gillard Blue Ribbon Brokers, LLC 720-353-7015 Aaron Ravdin
303-521-5122
Berkey HomeSmart Realty Group 303-501-5800 Ed Hardey Integrity Real Estate Group 303-324-1731 Barb Riley RE/MAX Alliance Denver Central 303-548-0753
Colorado
NOW, Inc. 303-523-2722 Alex Kishinevsky Ke y Real
Group 720-218-9364
Priority Prope rties,
303-263-2072
Aurora public safety part of the community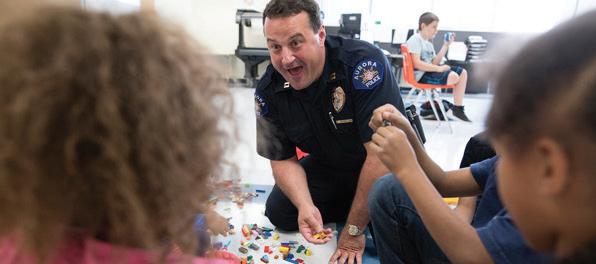 BY SENTINEL COLORADO
If residents need up-to-date information about Aurora police — be it details about recent crimes, a department directory or crime-fighting tips — they can fire up their computer or smartphone.
In recent years, the department has expanded its online presence, with increased use of social media and an improved website.
Police have said they hope the website will help them communicate with the community and help solve crimes. The latest news from the department can typically be found on the organization's Twitter feed: @AuroraPD.
The site can be found at www.aurorapolice.com or through the city's website, www.auroragov.org.
Both links will take users to a site that features details on active investigations and cold cases, online crime reporting and a form that can be used to give police anonymous tips. The site also allows residents to view annual crime reports and other department studies, as well as find ways to contact an officer in their area.
Other technological changes have increased public safety workers' efficiency in the field in recent years.
Police and fire technicians have worked hard over the past several years to outfit patrol cars and fire engines with rugged Microsoft Windows-based laptop computers connected to a radio-based network.
The setup turns a police officer's car or a firefighter's engine into a rolling office, keeping public safety workers on the streets, rather than behind a desk. Officers and firefighters can pull up maps, file reports and search state and federal criminal databases from their cars and check email, too.
The wireless network is also equipped with a high-speed Wi-Fi sub-network that allows technicians to upload large files to
the mobile units without having to touch each one. Complex network management software makes administering the rolling computer network much simpler and less time-consuming.
On top of technological upgrades, local police have consistently worked to update several key facilities in recent years.
About a decade ago, the city opened the Aurora Police District III Station in southeast Aurora's Tallyn's Reach neighborhood. But the 74,000-square-foot Tallyn's Reach facility is more than just a police station. It's also a fire station, emergency dispatch center and library.
Although matching a library with a fire and police station might seem incongruous, city officials say it makes sense when looking at the fact that libraries, police and fire protection are the most called-upon services by residents.
When police officers and firefighters moved into Tallyn's Reach, they left their old communication center behind and built a new, state-of-the-art dispatch center. The city had outgrown the old one at police headquarters at the Aurora Municipal Center.
The new dispatch center, coupled with a new $18-million digital radio system, provides cops and firefighters all over Aurora with better and more reliable communications.
Unlike the old centralized system, the new towers are arrayed throughout the city in a relay system, diminishing the potential for communications failures should one of the new towers become inoperable or need maintenance or repair.
The new communication system also provides better coverage across Aurora's 145 square miles of land.
More than the Tallyn's Reach hub, city officials in 2016 unveiled a new $29-million police and fire training center in far southeast Aurora. The facility includes an administrative building with five classrooms, a five-story drill tower where po-
lice can train in mock motel rooms, elevator shafts and warehouse space, and a burn building.
The facility has long been a dream of city officials, who have said the police and fire departments lacked adequate training space.
Almost a decade ago Aurora and Denver planned an even bigger, $100 million shared facility, but scrapped those plans when the economy cratered in 2008.
But police and fire leaders said the problem of minimal training space persisted.
In 2015, city council signed off on the plan to build the new training center and said they will pay it off in annual payments of about $1.5 million over the next couple decades.
Two years ago, local law enforcement agencies also unveiled a new joint crime lab where experts will be able to test DNA, ballistics and store evidence. The some $13.7 million space serving Aurora police, local district attorneys and nearby sheriff's offices began testing DNA samples there last year. That capability could help alleviate the lingering backlog of cases requiring DNA testing currently facing the state bureau of investigation.
The chief
Aurora is currently between police chiefs. Vanessa Wilson, a longtime department veteran, has been interim chief since late 2019. She plans to apply to become the full-time chief. City management is currently mulling candidates for the chief's position with a slate of finalists expected to be announced later this spring.
Wilson took over for Nick Metz, who retired at the end of 2019. Former Deputy Chief Paul O'Keefe was slated to serve as interim chief but abruptly withdrew his name from the running on Christmas Eve. O'Keefe retired from the department earlier this year after it was uncov-
ered he bungled a prior investigation into an Aurora officer found passed out and drunk in his running cruiser. The officer was disciplined internally, but never faced criminal charges and remains on the force.
Aurora Fire
The city got a new fire chief in 2017 when Fernando Gray took over for Mike Garcia. A longtime Dallas firefighter, Gray's friendly ways and Texas accent have been a hit with rank and file firefighters and city leaders in his three years running the department.
With the population growth on the city's eastern and northern edges, the city has been slowly revamping its suite of firehouses to serve its more distant peripheries.
Opened early last year, Station No. 16 serves the areas around the newly christened Gaylord Rockies Resort & Convention Center in northeast Aurora, near Denver International Airport.
A pair of other new stations were designed to replace existing facilities.
The local fire department unveiled a new Station No. 15 in 2018, replacing a temporary station that was long housed in a residential house in the Murphy Creek subdivision. Another new outpost, Station No. 5, opened earlier this year on Laredo Street on Airport Boulevard.
Courts
Aurora also has multiple courthouses.
Low-level traffic offenses and other violations are heard at the Aurora Municipal Court at 14949 East Alameda Parkway.
Other misdemeanors as well as felonies and most civil matters are heard at either the Adams County Justice Center, 1100 Judicial Center Drive in Brighton, or the Arapahoe County Justice Center, 7325 South Potomac St. Centennial.
14 | SENTINELCOLORADO.COM | roost | 2020
Officer Rob McGregor plays with legos with kids from Yale Elementary as part of the new Friends of the Force program.
PUBLIC SAFETY
City makes good art a public thing
BY SENTINEL COLORADO
Hopping on a train along the R Line in Aurora means you've likely seen some award-winning art that was thoughtfully placed, even if you didn't take the time to absorb it like you might in a traditional gallery.
The city of Aurora and Regional Transportation District were honored by the Colorado Business Committee for the Arts for their partnership in facilitating all of the art along the R Line.
Lindsey Smith, an RTD director and former public art administrator, said working with Aurora to place different installations across the route was relatively simple, as Aurora already has staff that specialize in public art.
RTD's Art in Transit program was established in 1994. Since, there have been dozens of pieces added all over the metro area. But the R Line, which opened in 2017, is the only route to have its own art theme so far. It's what really sets the line apart from the others and made the award from CBCA special, Smith said.
"It's really interesting if you ride the light rail to each station and think about the idea of color, light and motion and how each individual artist interpreted that," said Roberta Bloom, the city of Aurora's public art coordinator. She didn't hold the coordinator position when the partnership was established, but added that the funding from the city for the art has been a way to welcome people into the city as they step off a train.
Each station explores color, light and motion through art in a different way. The installment at the Aurora Metro Center station features the lit-
eral meaning of "Aurora," which is a latin word for sunrise. Passengers can spin the 6-foot-tall story wheel of sunrises. That piece was created by artist John King and recently dedicated.
Down the line at the 13th Street Station is "Bike-nado," a massive, colorful twister-shaped sculpture that seems as if it swept up a path of bicycles in its way. Artist Chris Fennel created it with the help of RTD. They donated abandoned bikes that went through the lost and found process and were never claimed.
A series of 24 windscreens that stretch along the line from station to station feature silhouettes of people from all different backgrounds — which artist George Bates describes on his website as a way to represent the diversity of Aurora. The title of the project, "Omnes Aurora, Omnes Mundi, Omnia Movens," translates to "all Aurora, all the world, all moving."
Pieces such as "Bike-nado" and the windscreens help create a sense of identity for each station, Smith said. People might not realize where 13th Avenue Station is, but they're sure to remember where they saw a dozen or so bikes caught up in a steel pipe twister.
The art also serves a deterrence for vandalism, Smith said. Stations with artistic wind screens are less likely to be damaged. Smith said she believes it's because the community and riders take pride in the beauty of the station. It's no longer just a boring place to wait on a commute.
"People respect it more than you think," she said. Stanley Marketplace in northwest Aurora also received an award for its innovative art partnerships.
SAVEDTHOUSANDS
Duar te Home
Hunte r Deega n
RE ALTO R & Associ ate Broker
EX IT Re al ty DTC
osi ng CA LL ME FO R DETAI LS!
I'm sponsoring exper ie nc ed age nt s if yo ur loo ki ng to sw it ch com pa nie s. Yo u ca n earn more than 10 0% com mi ssions!
I am a Full- Ser vice Li st ing Agen t fo r Se ller s and a Full Ser vice Bu ye rs Agen t wo rk ing fo r all ty pe s of Bu ye rs inc luding Ve te ra ns , Fir st-T ime Bu ye rs , Inve st or s and more. I have he ld the Re al to r de sig natio n since 19 99 and have li ve d in Au ro ra since 19 82 Over the ye ar s I have wo rked fo r seve ra l to p- prod ucing Re al Es tate Co mpanie s. I now im ple me nt the be st ma rketing pr ac tices I've le ar ne d at each of those co mpanie s. Wi th this kn ow le dge I se ll my li sting s fo r an aver age of al most 1% more th an the aver age agen t! Wi th my ex pe rien ce I ty pic ally he lp my bu ye rs acqu ire thei r new ho me wi th su bs ta ntia l savi ng s.
Ca ll me an d my te am at 303- 667- 5918 fo r det ails !
SE LLE RS :
Al ways le ss th an a 1% Li st ing Fee wh en we he lp yo u Se ll & Bu y* !
Se ll yo ur ho me fo r as low as $2 ,9 95* using ou r co mmissio n co mbo* Yo ur ho me will be ma rketed at the hig he st leve l in a mul ti tud e of ad ve rtising fo rmats and a mul ti tud e of Ma jo r Re al Es tate we bsit es like Zillow, Tr ulia , Re al to r.co m, Ho me s.co m, REColor ad o and ma ny more!
Even thoug h I disco unt the Se ller 's co mmissio n, we DO NOT diminish our Re al Es tate se rv ices. See the $2 ,9 95* Co mmissio n Co mbo* de ta il s be low!
Ca ll 303- 667- 5918 to as k ab out ou r exte ns ive ma rket ing pla n!
My husba nd and I had an exce pt io na l exper ie nc e work ing wi th , Hunt er De egan We used hi m to se ll our ho me in or de r to bu y our Dr ea m Ho me ! Hunt er wa s quic k to re spond, incr ed ib ly know le dgeab le , pr ofe ssi onal and ea sy to work wi th We fo und hi m thro ug h a fr ie nd , and I am co nfide nt ex te nd ing that re fer ral - Ni col e K.
Hunt er wa s amazing to work wi th He ga ve us al l the ti me we ne eded to ma ke de ci si ons and wa s avai lab le to show ho uses pr omptly As fi rs t- ti me ho me bu yers he explai ne d al l the fi ne pr int and he lped us thro ug h the pa per work He al so he lped us to se ll af ter my husba nd 's tr ansfer Use Hunt er yo u wo n't re gr et it !! - Carr ie C.
SAVEDTHOUSANDS
Ashley Home
SAVEDTHOUSANDS
Horne Home
SAVEDTHOUSANDS
Mari na Home
2020 | roost | SENTINELCOLORADO.COM | 15
CULTURE
Home Owners Aler t Se lli ng? I'll gi ve yo u a br ea k on com mi ssion due to the curr ent sit ua tion in our eco no my Ca ll to di sc us s! It 's yo ur eq ui ty lets sa ve yo u thousa nd s of do llar s! Se ll yo ur ho me for as low as 2,995* when we he lp yo u se ll and bu y This is the deal I gi ve to my Fr ie nd s and Fa mi ly I am now si mply of fering it to ever yo ne ! Alway s le ss than 1% when I he lp yo u Se ll & Bu y! He lping Veterans wi th $0 down! I so met imes get yo u mo ne y back at cl
The Bike-Nado sculpture which stands at the 13th Ave. RTD station. This installation piece is part of the Art-N-Transit program.
*T he List ing Fee will be $2,9 95 for any home (L is ting of "your " home for sale) under $4 00,0 00 plus the st andard 2. 8% co -op commission to a Buyer's Agen t. The commission for your listed home above $3 99,9 99 increa ses by $2 50 dollars for ever y 25k increa se above $3 99,9 99 *T he Commission Combo Discount is only given if you sell using us as your List ing Agen t - AN D - use us as your Buyers Agen t on a home purcha se wit hin 12 mont hs VISI T OUR WE BSIT E OR CA LL 303 -6 67-5 918 TO DISC US S TH ES E PRICING DE TA IL S. I WILL OF CO URSE SEL L YO UR HOME IF YO U AR E NOT USING TH E SEL L & BU Y CO MBO CA LL TO DISC US S. BUYE RS : Yo u DO NOT pay me a co mmissio n and I he lp yo u th ro ug hou t the en ti re proces s from ge tting pre-q ua li fi ed fo r yo ur lo an , lo ok ing at ho me s, ne go ti ation s while unde r co nt ract , in spe ctio n, app rais al. all the way th ro ug h cl osin g and ha nd ing yo u keys to yo ur new ho me ! Sell your home for as low as $2,995* when we help you Sell & Buy Call for Details or Visit Our Website 303-667-5918 www.List2995.com AS-AT200312_102449
Go Big Go Aurora

Aurora Fox – The Aurora Fox. Your theatre. Your stories. AuroraGov.org/Fox          @The_Aurora_Fox
Aurora Golf – We have a course for you!
GolfAurora.com           @AuroraGolf   @GolfAurora
Aurora History Museum and Historic Sites – Exciting new and rotating exhibits, school trips and lesson plans, and an expansive research archive.
AuroraMuseum.org @AuroraHistoryCO
Aurora Parks, Recreation & Open Space – Enjoy over 97 parks, outdoor pools, state-of-the-art recreation centers, nature centers and reservoirs!
AuroraGov.org/PROS     @AuroraPROS
Aurora Public Library – Your source for information, entertainment and lifelong learning. AuroraLibrary.org          @AuroraLibrary       @APLReadingRocks
16 | SENTINELCOLORADO.COM | roost | 2020
2020 | roost | SENTINELCOLORADO.COM | 17
Aurora
learning.
AURORA'S BEST KEPT SECRET
We know that a traditional New York style thin crust pizza is hard to come by, so stop by and satisfy your cravings.
UP IN THE AIR
BY SENTINEL COLORADO
With a bustling airport nearby and a couple busy highways, northeast Aurora is ripe for large-scale development.
And projects have flocked to the area in recent years, mainly massive distribution centers aiming to take advantage of Interstate 70, the state's main east-to-west artery and one that gives trucks easy access to metro Denver and beyond.
15352 E. Ida Dr., Unit H Centennial, CO 80015
Sun-Thurs: 11-9
Fr i-Sat: 11-10 (303) 693-9196
lubosnypizza.com
Family Owned & Operated • Reser ve our par ty room today!
But beyond the obvious major highways, there isn't much connecting this corner of Aurora with the rest of the region, and there are even fewer major roads that could connect one new development to the next. That's a problem that has bedeviled city leaders and developers looking to take advantage of this vast swath of prairie close to Denver International Airport, the E-470 Toll Road and I-70.
"The barrier to that has always been the transportation connection," said Matt Hopper, managing partner at Summit Strategies, a government consulting company in Denver.
In 2018, leaders from Adams Coun-
OPPORTUNITY AWAITS
CCA OFFERS:
AFFORDABLE TUITION: You'll save thousands of dollars when you start at CCA and transfer to a 4-year institution.
SCHOLARSHIPS: More than $500,000 in scholarship money is awarded to CCA students every year!
SUPPORT SERVICES: Tutoring, extra support for SNAP recipients, mental health counseling, and many other support services are available to CCA students.
SMALL CLASS SIZES: CCA's average class size is 16, which means you'll receive individualized attention and instruction from your professors.
Applying to CCA is easy and FREE! You can apply at any time!
ty and the city of Aurora, along with developers behind a massive mixed-use development planned near I-70 and E-470, announced a new metro district that will pump $180 million — split between the city, county and developer — into infrastructure projects in the region.
The aim, officials say, is to make the long talked about Aerotropolis project a reality.
Hopper, who will serve as president of the Aerotropolis Metro District, said the agency is a crucial part of developing the massive 21,000-acre chunk of land.
"It really does open up an entire region for development," he said.
According to a statement announcing the plan, studies show the region could bring 10 million square feet of retail, 30 million square feet of Class A office space and 40 million square feet of industrial and commercial space. That would add more than 170,000 jobs to the region, the statement said.
"By approving the RTA, Adams County is demonstrating that we are ready to take the next step in making the Aero-
›› Continued on page 19
18 | SENTINELCOLORADO.COM | roost | 2020
APPLY TODAY AT CCAURORA.EDU/APPLY-NOW
tropolis vision more than just a dream," Adams County Commissioner Chaz Tedesco said in the statement. "This agreement will provide the foundation for jobs, businesses and homes, as well as building reliable infrastructure for the future."
One of the first beneficiaries of the new RTA will be The Aurora Highlands, a 5,000-acre mixeduse, master-planned community north of I-70 and near E-470.
"The commitment by the City of Aurora and Adams County to the creation of the RTA shows their dedication to the development and long-term success of the entire Aerotropolis region," Aurora Highlands, LLC Developer, Carlo Ferreira said in a statement. "It also shows their commitment to providing incredible economic opportunities for both current and future residents. The RTA will help both Aurora and Adams County safeguard access to more than 170,000 new jobs, create new communities to call home, and continue to offer all of the amenities that make up the Colorado lifestyle we treasure."
The first phase of Aurora Highlands is expected to cover 2,900 acres, but developers hope the project one day grows to 5,000 acres and home to more than 23,000 families as well as retail spaces, restaurants, parks, office space, and medical cam-
puses.
Ferreria's team is leading the first infrastructure projects at the site, which will include new interchanges on E-470 and I-70 as well as the extension of several other arterials through the development, according to the statement. The work will also include water, electric, sewer and storm drains.
Questions about how close oil and gas development could be to homes in Aurora Highlands remain a potential stumbling block to the project. Hopper said there are "ongoing discussions with the drillers" and officials hope to reach an agreement that allows for some energy development in the area that doesn't encroach on home development.
Hopper said that while 200 years ago most development happened near ports and rivers, and 100 years ago it happened near railroads, the future will look to take advantage of airports the way Aerotropolis is.
"There is a big push nationwide and globally as well for aerotropolis-type developments built around airports," he said.
Meetings of the Aerotropolis Regional Transportation Authority are open to the public and take place every Wednesday at either the Aurora Municipal Center or the Adams County Government building in Brighton.
2020 | roost | SENTINELCOLORADO.COM | 19
OUR EDUCAtional programs & camps DIVE INTO Wild Dreams Overnight Sleep with the sea turtles, rays and sharks! Marine Biologist for a Day Study unique ocean creatures! Zoologist for a Day Encounter amazing wildlife! Sea Safari Camp Experience hands on fun! Scout Group Adventures Earn Badges! Dive with the Sharks or Swim with the Fish Scuba or snorkel adventure! Shark Cage Experience Encounter 5 different shark species. Animal Encounters Meet and greet with an ambassador animal. 700 Water Street | 303.561.4450 downtownaquarium.com
Prairie Light and Color is the installation art piece at the Fitzsimons station, along the R Line. This piece is a part of the Art-N-Transit program.
Aurora Highlands, shown above in a rendering, is expected to cover 2,900 acres, but could grow to up to 5,000 acres and home to more than 23,000 families.
ucation Association teacher union.
APS, serving the main population of the city, faces many hurdles in educating its students: language, poverty and mobility. Few people will say these items are themselves a barrier to learning, but it often becomes the surrounding circumstance that affects children's education.
About 70 percent of APS students qualify for free or reduced lunch due to their family's income. Poverty often means parents, or a single parent, despite their best efforts
to involve themselves in their child's life, must work several jobs or non-traditional hours to make ends meet. It also means the parent could have less formal education and could feel intimidated when asked to help with their child's homework.
Language has become another barrier. About 35 percent of APS' students speak English as a second language. That's one of the highest percentages of any district in the state. Students in the APS district come from more than 130 different countries and speak speak more than 130 languages.
20 | SENTINELCOLORADO.COM | roost | 2020 Serving Seniors since 1931, we know how to care for your loved one. Offering Independent Living, Assisted Living, and Memory Care 2435 S. Quebec St. Denver, CO 80231 • No Masonic affiliation required. www.esmrc.com For more information call 303-731-5918 No matter what type of senior living you are looking for... ...having fun should be at the top of the list! Looking for a church home? Want to be part of acommunity that is welcoming, inclusive, and diverse? Is your heart calling you into acloser relationship with God? Want to be the heart and hands of Christ to others? It'swho we areand that'swhat we do–every day– hereatSt. Stephen's. You'll find awelcome here just as you are. Come and see. Ever y Sunday at 9:00 a.m. | 1 Del Mar Circle, Aurora, CO www.ststephensaurora.org | https://www.facebook.com/ststephensaurora/ ›› SCHOOLS, Continued from page 10 Aurora Public Schools Superintendent Rico Munn, 1085 Peoria St. Aurora, Colo. 80011 Phone: 303-344-8060, ext. 28004 Cherry Creek School District Superintendent Scott Siegfried, 4700 S. Yosemite Greenwood Village, Colo. 80111 Phone: 303-773-1184 Admissions offices APS: Call your local school. CCSD: West, call 720-554-4550, or East, call 720-886-7482 Visit Aurora's HiddenTreasure FRIENDSOF THEAURORAPUBLICLIBRARY BOOKOUTLET Thousandsofgently usedbooksandmedia Incrediblylowprices Allproceedsbenefitthe AuroraPublicLibraries Mon 10-4, Wed 10-6; Fri 10-8; Sat 10-4 2243 South Peoria Street Aurora 80014 • 720-747-7977
It's in the water
Aurora's tap water regularly on top of taste tests and purity standards
BY SENTINEL COLORADO
Ron Scovil can analyze a drop of water on his tongue the same way he can dissect the qualities of a fine wine. So when the local wine maker stepped into the Aurora Sentinel offices for a mildly scientific water taste test, it was no surprise that he described his favorite water sample in much the same way he would have described his favorite adult beverage — in detail.
"A clean taste, some sweetness, you're looking for some minerals but not over the top where it tastes metallic, and you're not looking for the earthy flavor, which is usually dirt," he said.
It was also to no one's amazement that the man with the sophisticated palate unknowingly chose Aurora water — known as some of the best water in the country — as his favorite out of six samples.
And he promised he wasn't cheating.
"It's some of the best water I've tasted going around the country," he said.
Aurora won a water taste test competition at the annual conference of the Rocky Mountain Section of the American Water Works Association. The city beat out 13 other water utilities for the second time in three years
At The Sentinel's taste test, in which about 10 people including Sentinel employees, Aurora water officials and community leaders participated, Aurora water tied for first place with Westminster water.
Aurora's water is praised among water connoisseurs like Scovil. In fact, Scovil thinks Aurora's water is so divine that he will soon be lugging it to Denver where he's opening a wine business, because he says there's no such thing as good wine without good water.
"I'd like to keep everything as natural as possible, and you
can only do that with Aurora water," he said.
Also represented in the blind taste test were water samples from Arvada, Denver, Boulder and finally, Crestview — which didn't fare well.
Aurora Water Spokesman Greg Baker also chose Aurora water as his No. 1 choice. He said he could identify it immediately, and he's not even psychic.
"It's very clean, it's just a slight metallic edge," he said. "It has a very silky consistency and it's almost a pleasure on your tongue."
So what makes Aurora water taste so good?
It's all about testing what's in the water and adjusting the levels of chemicals, said Kirk Watson, supervisor at the Wemlinger Water Treatment Facility.
"We make sure we do everything we can to make it taste good every day," he said.
Staff at the Wemlinger plant test more than 70,000 sample points per year, ensuring all of the water's contaminants are significantly lower than allowed levels mandated by state and federal regulations.
For example, total coliform bacteria, which is naturally present in the environment, can be no more than 5 percent positive per month. The highest monthly percentage found in Aurora's water was .5 percent in 2016, according to Aurora's Water Quality Report
The city's water supply is derived primarily from snowmelt runoff in the Colorado, Arkansas and South Platte river basins. The water is then stored in 12 reservoirs and lakes including Aurora, Homestake, Twin Lakes and Rampart. It's transported to the city from as far as 180 miles away through pipes, tunnels and pumps.
"The best time for Aurora water is during winter because it's pure mountain water, it comes straight down and it hasn't been sitting in our reservoirs long," Baker said.
2020 | roost | SENTINELCOLORADO.COM | 21
Ron Scovil, local wine maker, judges water during a water taste test put on by the Aurora Sentinel.
North America's #1 choice. Call now for your free in-home consultation! Drapery Faux Wood Blinds Cellular Shades Shutters Aurora, Co Mark Nielsen | C'Anne Faumére 303.952.4144 budgetblinds.com/aurora-east-co.com ©2018 Budget Blinds, LLC. All Rights Reserved. Budget Blinds is a trademark of Budget Blinds, LLC and a Home Franchise Concepts Brand. Each franchise independently owned and operated. Blinds • Shutters • Shades • Drapes • Home Automation Mention this ad and receive a FREE kids cone Mention this ad and receive a FREE kids cone "Where imagination is terrific" "Where imagination is terrific" Ice Cream • Snacks • Fun Ice Cream • Snacks • Fun KIDS PLAY PLACE • PARTY PACKAGES Monday - Friday • 2pm - 9pm Saturday + Sunday • 12pm - 9pm 16748 E Smoky Hill Rd #9F at Buckley www.imagirifik.com • (303) 627-2456 "" im ion is Create Your Own Shake 25+ Delicious Flavors Everyone Has A Story Online 24/7
chunk of the overall population than it once did, various ethnic groups have seen their populations boom over the past decade.
The number of Aurora residents who identify themselves as at least partially black jumped from 41,519 in 2000 to 51,196 a decade later, a jump of 23 percent.
And the Mexican population has spiked as well, growing 86 percent, from 38,276 to 71,225 in 2010, part of a 70-percent jump in the overall Latino population.
Several individual races also saw sizeable growth, according to Census data, including Korean, Indian, Chinese, Puerto Rican and Pacific Islander populations.
Because of Aurora's cultural variety, the city is now home to
Won Lee, administrator at H-Mart, said the biggest group of customers at the sprawling Asian market are, like him, Korean immigrants. But they make up only about 25 percent of the customers who come to the supermarket near Parker and Yale Avenue for the eclectic mix of produce, appliances, seafood and thousands of other items.
The rest are a mix of people from other Asian countries and shoppers who simply like the unconventional mix of products. Chief among those items are the store's seafood selection, with several live fish popular in sushi and other fish just a few days removed from the ocean.
"Some stores, they have live lobsters and stuff like that," he said as live Tilapia swam in a tank beneath an ice-covered seafood counter piled high with monk
22 | SENTINELCOLORADO.COM | roost | 2020 Free One-on-One Consultation. Call Today! 303-990-4463 www.PeakRealEstateUS.com Selling, Relocating or Downsizing? Don't Settle. Get the Most for Your Home. $2,000 Closing Credit with code "Sell20" $1,500 Closing Credit with code "Buy20" Pathways to Home Ownership Low Credit Score?* Do you have $2,500? You Can Own A Home. RESIDENTIAL • COMMERCIAL • INVESTORS *Minimum credit score 620 required Metro Broker Owner – Each Office is Independently Owned & Operated.
›› DIVERSITY, from 7
SentinelPrepSports
@AuroraSports
sentinelcolorado.com daily and
Courtney for the hottest prep sports news. sentinelcolorado.com
Crazy for prep sports? Sports reporter Courtney Oakes has you covered. Visit
follow
PREPS COVERAGE
THE POT INDUSTRY
Legal weed makes roots in Aurora
If you're new to the Mile High, you'll quickly see the signs of state's 2014 pot legalization
BY SENTINEL COLORADO
It wasn't all that long ago that Gayle Jetchick couldn't even ponder the possibility of legal marijuana — much less a retail pot shop in her Havana Business Improvement District.
"I probably would have thought that you're crazy," she said. "It hadn't even crossed my mind that recreational marijuana would ever be legalized, but the voters spoke and now you have to make the best of it."
That learned acceptance is something many business owners and policymakers across Aurora have had to deal with over the past few years as retail marijuana shops have slowly inundated the city's many plazas and strip malls.
Since the first gram of legal bud was sold in Aurora in October 2014, many pot shops have sprung up across all corners of the city — from the fringes of Cherry Creek State Park to the bustle of East Colfax Avenue.
In February 2017, the city awarded its 24th and final retail marijuana store license. The city permits four retail marijuana licenses to each of the six council wards within Aurora.
The response from neighboring businesses has been largely positive, according to most pot shop owners and operators in the city. "The businesses around Havana seem to be really accepting," said Jetchick, the former chief of the business district along the Havana Street cooridor.
But despite the open-armed greeting of most established Aurora business owners, there have been a handful of problems.
Rocky Road Aurora was forced to fill out a relocation request with the city in October 2014 after the business park where the company was originally granted a license amended its community covenants to prohibit the operation of any marijuana businesses within in its boundaries.
"The business park's physical configuration is not really a suit-
2020 | roost | SENTINELCOLORADO.COM | 23
›› Continued on page 26
Marijuana bouquets hang in Good Chemistry dispensary in Aurora.
The boxes are just the beginning
BY SENTINEL COLORADO
So you've found a place in the vast ever-expanding reaches of Aurora that suits your living needs, whatever they may be. Before you pack up and move all your things for your exciting new life in Aurora, there are several things you need to do to ensure a transition with as little pain as possible. The following is a list of basic things you can do to make the adjustment smooth and make sure you enjoy your time in the city from the start:
1. Fill out a change of address form at Post Office
To prevent stacks of returned and forwarded mail at your old residence, make sure to get a change of address form filled out as soon as you know the address you are moving to. Drop off a physical copy or submit one for free online (https:// moversguide.usps.com) at least a week before you move into your new place permanently. The post office's moving packet includes several valuable coupons you can use for discounts
on products and services that will help you get settled or put the finishing touches on a new place. If it is later in the year, make sure you inform agencies like the Internal Revenue Service of your new address, so important mailed forms will find you when you need them. For a full list of Aurora post offices, visit www.usps.gov. Aurora's main post office is at 16890 E. Alameda Parkway. The phone number is 1-800-275-8777.
2. Transfer or begin utility service/water
You have a house, condo or apartment now for your things, but you need electricity and water to live in it. Unless you are moving into a place where utilities are part of the rent or are taken care of by the owner, you need to transfer your existing service from Xcel Energy if you are moving locally, or open an account if you are new to the area, which is the same for water service. Make sure you can give companies an accurate move-in date so there won't be problems with your first bill. The City of Aurora has a feature
where you can pay your water bill with a Visa or MasterCard or view your account information online (called Click2Gov) as a one-time payment or set up a monthy automatic payment. All you need is your account number and temporary PIN number (located on your notification letter). The Aurora Water Department can be reached at 303-739-7388 to stop, start or transfer service or for billing questions or payment (also available in Spanish). Call 303-729-7370 for general Water department inquiries and the after-hours emergency line is 303-326-8645. The residential customer service line for Xcel Energy is 1-800-895-2999 or you can open, stop or transfer an account online at www.xcelenergy.com.
3. Communications
It is important that people in both your old area and new one be able to contact you during the moving process. This is easy if you have a cell phone, but if you don't, call the phone company as far ahead of moving day as possible. If you are moving a
short distance, you may be able to port (or transfer) your original phone number. If not, you should be able to find out what your new digits will be ahead of time so you can start passing it out to family, friends and business associates. You can also set the day your previous service is disconnected and when the new one is activated. Ask to have a message put on your old number telling callers what the new one is. If nothing else, get a phone with an answering machine or voicemail set up at your new address so you don't miss any important calls. You can also transfer cable/satellite dish service and several WiFi provider options are available locally.
4. Register and title car if changing states; call insurance company
If you are moving to Aurora from outside of Colorado, you must promptly register your vehicle(s). The state has cracked down in recent years on out-ofstate motorists who try to avoid paying fees by waiting as long as they can before registering. The Colorado Division of Motor Ve-
hicles (DMV) requires you to register your car in the state 30 days after you have established residency in Colorado, which happens once you have lived in the state for 90 consecutive days, have gainful employment in the state and/or own a business. Aurora's main title and registration office for Arapahoe County is located at 490 S. Chambers Road, and is open 7 a.m. to 4 p.m. Mondays through Fridays. The Aurora office for Adams County is located at 3449 N. Chambers Road, Suite A, and is open 7 a.m. to 5 p.m. Mondays through Fridays. Aurora also has a drivers licence only office located at 14391 E. Fourth Ave. with hours from 8 a.m.-5 p.m. Mondays through Fridays. DMV holidays are New Year's Day, Martin Luther King Day, Presidents' Day, Memorial Day, Fourth of July, Labor Day, Veterans Day, Thanksgiving, the day after Thanksgiving and Christmas. Car and home insurance rates change whether you move into a new state or just a different neighborhood, so be sure to call your carrier. It could save you money right away.
›› Continued on next page
24 | SENTINELCOLORADO.COM | roost | 2020 MOVING
Travel the World through Global Cuisines & Experience On Havana Street. 100+ Restaurants PLUS Live Music, Karaoke, Bars, Spas & Bingo Visit OnHavanaStreet.com to Explore!
5. Take care of your accounts
Bills are still bills, no matter how far away you move, so ensuring there are no financial problems is important. If you are moving locally, find a branch of your bank or credit union (if it is a national or statewide chain) near where you are and make sure they have the address and phone change on your account. Many deposit slips have blanks for new information. If you are moving from out of the area, set up a checking account as soon as you arrive at your destination to make sure you have an immediate financial resource if needed.
Many banks and credit unions will wire the balance of your old accounts to your new bank. If you have a mortgage, make sure the lender knows where you are moving and how to get in contact with you. Any lag in receiving a statement or bill could delay your payment and cause complications or costly late fees. Setting up online payment or automatic withdrawal — even temporarily — can help limit problems.
If you know your address and phone number before you pay your credit card bill, fill out the blanks on the stub for a new address and mail it in. Credit card companies also have customer service phone lines that are open 24 hours a day.
Making the change should only take a few minutes. If you know what date your bill is usually mailed out, make a pre-emptive strike and call at least a week before if possible or visit your account online if you have one set up. That should create less chance for your bill to be returned to sender or lost in the forwarding process. And you know you don't want to pick up late fees on credit cards or even raise your blood pressure arguing on the phone.
6. Transfer, begin or cancel newspaper and magazine subscriptions
Don't let the newspapers continue to pile up in front of your door when you no longer live at your old place. Somebody has to deal with them, and it is a waste of the deliverer's time and resources. Transfer your subscription as soon as you know you won't be at your old address anymore. There are many move-in deals you can get for new subscriptions wherever you go. The Sentinel Colorado Home Edition, which is published on Thursdays, is a great way to find out what's going on around town and the best places to find recreation, shopping, entertainment, food and drink. For a move-in special subscription offer to the Sentinel and other tips on how to get all the news you need in Aurora, call us at 303-750-7555.
The Sentinel is also a great source of local, regional and world news, entertainment and sports.
(All of our publications can be found online at www.sentinelcolorado.com or sign up for morning and afternoon emails filled with the latest headlines)
7. Call and set up trash service for certain (and recycling if you like)
Moving generates a lot of trash, and you don't want it to sit around for weeks while you try to get your new place in order. The City of Aurora doesn't have a public trash removal system, so you'll need to contact a private company to set up service. Look in the phone book under Garbage & Rubbish Removal or search online. The previous owner or tenant might have already had a contract that you may be able to simply take over. Check with your chosen hauler if you want to recycle as well, and make sure they take newspaper, household paper (including junk mail) and cardboard, plastics, aluminum, steel cans or glass products. Many reputable haulers can be found online.
8. Make an inventory of all your possessions
If you had the time and foresight before you moved, you might have made a list of items that you were packing and you can check that against things as you unpack. If you used movers to pack and/or transport your things, this is a particularly good way to make sure nothing was lost, damaged or stolen. It can also help the planning process when you are setting up how the new place is going to look. And even if you didn't do it before, you can make a list as you unpack things, taking note of serial numbers and the condition of the items. This will be valuable for insurance purposes. If you do this before the
move, take out an extra policy on your most valuable possessions like jewelry, expensive stereo equipment, digital cameras, televisions, computers, etc. This list will also help you secure renter's insurance, an affordable offering you should strongly consider if you move into a property you don't own.
9. Check out school listings
If you have children at or close to school age, you can find out information about the city's schools located in the education section of this newspaper. Aurora has two school districts, Aurora Public Schools and the Cherry Creek School District. APS serves the city's traditional boundaries, and Cherry Creek is prevalent in the south and southeast parts of the city. Both districts' websites contain a lot of useful information. See APS info at: aurorak12.org and Cherry Creek info at www. cherrycreekschools.org. For those of high school age, private Regis Jesuit High School has separate divisions for boys and girls.
10. Odds and ends
Obtain medical and dental records if switching doctors; find a place to transfer prescriptions; get dry and canned foods packed up early and use up as many perishable items as you can; locate the nearest hospital, police station and fire department. A good resource for virtually any question or concern regarding Aurora is Access Aurora, the city's customer service, information and non-emergency call center: Call 303-739-7000 between 8 a.m. and 5 p.m. Mondays through Fridays, e-mail access@auroragov.org or download the Access Aurora app onto your smartphone. For emergencies, dial 9-1-1. Auroragov.org is a great resource for departments and services around the city.
2020 | roost | SENTINELCOLORADO.COM | 25
›› MOVING, from page 24 Charles H. Torres, P.C. Aggressive Representation FREE CONSULT Former Federal Prosecutor • Criminal Law/DUI • Medicare & Medicaid Fraud Law Office of 30 Years Experience Personal Injur y - Numerous Large Settlements & Verdicts Semi Truck • Motorcycle • Med Malpractice 303-830-8885 www.charlestorrespc.com Nat'l Top 100 Trial Lawyers in Civil & Criminal Litigation
Moving and getting settled can be challenging, but this guide should lend a helping hand.
Live Racing
able one for traffic flow and management of retail businesses where there is an expectation for a steady and constant flow of traffic," said Maureen Wade, managing agent of the Fraser Business Park. "This is not an in-andout place, and you cannot drive through it because you have to back up and back out."
Wade also cited a lack of any other true retailers in the park — she said it mainly houses managerial offices for insurance, tax and law firms — as a reason for amending the park's tenant stipulations.
Rocky Road consulted with its attorneys to see whether the amendment could apply to their operation retroactively, but stopped short of pursuing legal action, according to Julie Patterson, spokeswoman for the city.
Rocky Road eventually set up shop in a strip mall at South Chambers Road and East Mexico Avenue, where it remains today.
In early 2019, the owners of Sweet Leaf, a defunct chain of marijuana shops in the metro area, were sentenced to a year in federal prison for violating the state's racketeering laws. Sweet Leaf used to have a store near East Sixth Avenue and Chambers Road in Aurora, but that location shuttered more than a year ago, according to city officials. A third party has been helping officials sell Sweet Leaf's up-for-grabs retail pot license to a new business entity, Robin Peterson, manager of Aurora's Marijuana Enforcement Division, told The Sentinel. Xclusive Cannabis has since taken over all former Sweet Leaf locations in the metroplex.
Security is the central selling point many pot shops have for any hesitant neighbors, as most of the pot shops have 24-hour surveillance, bullet proof facades and a number of other security features.
"We have great relationships
with everybody in our parking lot," said Pete Williams, coordinator of operations for Medicine Man on South Havana Street. "If anything, we're making it safer with our high definition cameras looking in all directions."
Williams said that Medicine Man paid more than $800,000 for security and general aesthetic improvements for its store on Havana.
"It really was an ugly building for a long time, and now it looks like a medical building or doctor's office, which is great for the whole district," Jetchick said.
Matthew Huron, owner of Good Chemistry on the corner of East Iliff Avenue and South Buckley Road, echoed Williams' thoughts on security and said he looks forward to having his firm mesh with the Aurora business community.
Good Chemistry opened its newest location in Aurora in April 2015. Upon opening, it shared a plaza with a Mexican butcher shop, a boxing gym, a mechanic and several religious facilities, including an ecumenical Catholic church and a mosque.
Huron pointed to the success of his first location on Colfax near the Capitol as evidence that the presence of a pot shop can help turn around a block or neighborhood.
"We moved in and people immediately thought, 'Oh great, a pot shop.'" he said. "But since we've moved in, two new restaurants have moved in right next to us, the street has cleaned up and it's a much safer place."
But even with the success of his first store, Huron admitted that initiating a conversation with neighbors before opening the doors can be difficult.
"It's really hard to go prior to opening and talk to the neighbors because it doesn't matter — there's a stigma," he said. "It's after we're open and they see what we're doing ... actions speak louder than words."
26 | SENTINELCOLORADO.COM | roost | 2020 St. Michael the Archangel Catholic Church in Aurora "God loves you as if you were the only one He created" Join us for Mass every weekend! Saturday - 3:00 pm Confessions; 5:00 pm Mass Sunday - 7:00, 8:45 & 10:30 am, 12:30 and 2:30pm (Spanish) St. Michael's Preschool welcomes your children, too! 19099 E. Floyd Ave - Aurora, CO 303-690-6797 http://www.stmichael-aurora.org/ May2020 12 34 56 789 10 11 12 13 14 15 16 17 18 19 20 21 22 23 24 25 26 27 28 29 30 31 31 SunMon TueWed ThuFri Sat July 2020 SunMon TueWed ThuFri Sat 12 3 4 56 78 910 11 12 13 14 15 16 17 18 19 20 21 22 23 24 25 26 27 28 29 30 31 June 2020 SunMon TueWed ThuFri Sat 1 23 45 6 78 9101112 13 14 15 16 17 18 19 20 21 22 23 24 25 26 27 28 29 30 August 2020 SunMon TueWed ThuFri Sat 1 23 45 67 8 910 11 12 13 14 15 16 17 18 19 20 21 22 23 24 25 26 27 28 29 30 31
23, 2020
Sunday
16, 2020 Every Saturday, Sunday & Monday at 1:00 pm Doors open at 10:00 am www.mihiracing.com
Saturday May
through
August
›› WEED, from 23 Follow the best in prep sports @AuroraSports
Welcome to the community. Meet your new neighbors.
Rock stars to those who know them well, a handful of people who live and work here quietly get unusual things done, almost always under the radar of media and the mighty. They find homes or bikes for those who don't have or can't afford them. They are the voice of people shocked or bewildered in court. They are the muscle behind the exhausting work of survival for endless immigrants. They're key bureaucrats who make it look like everything happens on purpose. Meet nine Aurora people you probably don't know, but whom probably affect your lives or those of someone you know.
The guy with all the answers
JASON BATCHELOR
If a question about a city ordinance, budget or vote goes unanswered for more than 15 seconds during a city meeting, Aurora elected officials start surveying the room for Jason Batchelor, one of three deputy city managers.
It's a rare moment when Batchelor doesn't have an answer, or at least a partial one. He'll appear, seemingly out of nowhere, hands in pockets with a concise explanation that leaves council members satisfied until the next inquiry.
"Having a decade or more is very helpful to have that institutional knowledge," he said. "I'm also blessed to have a really good memory. I'm able to recall things, and that's helpful."
The now-deputy city manager has gotten to know city finances well along with a whole bevy of city oper-
ations. He applied for the job of the city budget officer 11 years ago. At the time, he was doing the same job in Austin, Texas, but he and his wife, who aren't native Texans, "were sort of dying in the Texas summer heat," he said.
Batchelor graduated from West Point, then went on to serve in the Army as a tanker for five years. The southern Maryland native was deployed to Kuwait and Bosnia before taking on the world of municipal finance.
"I figured governmental budgeting was the closest thing to being a tanker," he said with a laugh. For him, the two jobs carry the importance of service to country.
"Your job as a leader is to take care of your soldiers, making sure that you're going to come home safe," he said. "(City government) is about service, making sure our em-
ployees are taken care of."
His Army experience also contributed to his high threshold for stressful situations.
"That (experience) certainly helps," he said.
Aurora has been the change Batchelor said he and his family were looking for, and they have plans to stay. His two kids, ages 9 and 13, keep Batchelor busy on the weekends, he said. There's always a soccer game or extra curricular keeping him on the go. In between traipsing around town with his kids and his time at city hall — Batchelor is a fixture at council meetings, even the ones that last well into the night and sometimes the next morning — he's looking for a trail to hike or a slope to ski.
"We're big skiers," he said. When he got the budget officer
›› Continued on page 28
2020 | roost | SENTINELCOLORADO.COM | 27 ELIGIBLE: ARMY MARINE CORPS NAVY AIR FORCE DoD 100% CONVENTIONAL FINANCING TO $1,000,000 • Great fixed rates • No Private Mortgage Insurance (PMI) required • No down payment or secondary financing required • Seller contribution up to 6% allowed • Closing costs, up to 3% of the sale price, may come from a gift • Loan amounts available up to $1,000,000 Contact our only NFCU local mortgage loan officer DEBORAH GUSTAFSON 720-470-0916 deborah_gustafson@navyfederal.org
job, it was a no-brainer. Soon he was chosen to be the city's finance director and just a little over three years ago he was tapped to be a deputy city manager when then-city manager Skip Noe created an additional position. When Noe announced his retirement in late 2017 Batchelor seemed like a natural fit, as he was filling in Noe's spot while the nation-wide search for the replacement took place.
Batchelor didn't apply. He said people around city hall shouldn't read too much into it. It just wasn't the right time to consider a career move like that. With his kids still young, he wanted to have more time with them.
She walks the walk
LIZETH CHACON
day for years.
When she was 12, she found herself searching for another school and once again walking for miles through sweltering heat. But this time, she was a fresh immigrant to Thornton.
Chacon, now 30, knows firsthand all the barriers she says immigrants and low-income families have to hurdle in the U.S.
Since 2014, Chacon has led the Colorado People's Alliance as its executive director. Under her leadership, the Aurora- and Denver-based advocacy group has won a statewide minimum wage boost, banned high-interest payday loans and shed light on drinking water pollution in Commerce City.
"I started doing this work because of my story, but also my family," she said.
Chacon says her advocacy most benefits low-income workers, immigrants and people of color. She's a big figure for immigrant communities here.
In 2013, Chacon won a "Woman in Leadership" award from the City of Aurora. The next year, she worked with Aurora Public Schools and the city to launch the Aurora Welcome Center. That resource for refugees and immigrants later became the Village Exchange Center, an important hub for residents from all over the world.
Chacon has led many successful political campaigns to get more money in the pockets of workers. In 2016, she co-chaired the campaign that raised Colorado's minimum wage step-by-step to $12 an hour next year, up from $8.31 that year.
That's a big win, she said.
ly was so saddled with medical bills that she worked ceaselessly at fast food joints to pay them off.
"I'm still seeing my family struggle," she said.
Her intimate knowledge of parents struggling to make ends meet drives her conviction that entire segments of the Denver metro also struggle desperately, she said. Colorado People's Alliance is also largely staffed by immigrants.
"To us, it's such a personal work," she said of the group. "We set out to help and make the lives better of folks, but also, we're doing it for our families and ourselves."
The hardship is a tough reality at odds with the prospect of opportunity that lured her family and other immigrants to the U.S.
When Chacon was growing up in Chihuahua — a large northern Mexican state, just two and a half hours from a Texas border — her father was more often than not gone. He'd work all over the U.S. and send money home to the family. For some time he was undocumented, too. Chacon remembers hearing him describe walking through endless deserts and hopping on trains to cross the border and see the family. Then, he'd return to roof houses in Houston.
Meanwhile, Chacon and her family waited 11 years to legally enter the U.S.
When they finally settled in Thornton, Chacon was terrified.
First, her family couldn't find the neighborhood school. They walked for hours in the heat, she said.
people.
Before she began leading Colorado People's Alliance, she spent her days as an organizer for the group. She could be found walking the city, knocking on doors or hanging out at bus stops, listening to people's problems. The group's latest win is a successful 2018 ballot initiative campaign to limit sky-high interest rates at payday loan shops, which, Chacon argued, profited by keeping poor people in a cycle of debt. Voters agreed in November 2018 and approved the ballot initiative.
But Chacon has her sites set on more policies to help low-income people.
She said there may be talks after forthcoming Aurora City Council elections to raise the minimum wage even more in the city. She's preparing for lobbying during the next legislative session.
Colorado People's Alliance will also endorse Aurora City Council candidates this week. In the group's office, near East Second Avenue and Sable Boulevard, big maps of city wards clutter the walls.
Chacon sees big challenges ahead for Aurora.
In fact, she thinks lower-income Aurorans will continue to move out without public policies to put — and keep — more money in their pockets.
"It's a beautiful city," she said. "That's who makes it beautiful: the people that live here and work here."
Though only a portion of what Project Worthmore provides local refugees, the organization's community farm partnerships are largely the fruit of Anello's dozen-year career in the restaurant industry.
About a year after moving from Tennessee to Colorado with his wife, Carolyn, in 2000, Anello got a job as a server at an Outback Steakhouse in Centennial — as a vegan.
Working alongside his wife, who also worked at Outback, Anello spent five years learning the ins and outs of restaurant management before getting a gig at Watercourse Foods in Denver. He eventually got a similar role at Il Posto while taking pre-requisite classes at the Community College of Denver to pursue a degree in nursing. His wife was working as a dental hygienist, and the long-term goal was to parlay their skills into an international medical unit, Anello said.
"We always thought we could combine nursing and dental and go oversees and help people there," he said. "But after living in Park Hill for nearly eight years and realizing that three miles down the street from us there was a huge, diverse community of refugees, I quit going to classes and started helping the community."
It was around that time that Anello became involved with Lutheran Family Services through an Arvada church, and began sponsoring a local Burmese family, helping them find their footing in the U.S.
When Lizeth Chacon walked to school in Chihuahua, Mexico, she'd hike down a cliff and ford a river. The water was sometimes high and dangerous. Once, she and her mother were swept away. But they found their footing and got to the river bank, and then back to their village of just 12 houses.
She repeated the journey every
But she's firmly rooted in her conviction that more needs to be done so that low-income workers — hard workers, she says — cannot just survive, but thrive.
Her aging father, for instance, has worked in a meatpacking plant for almost 20 years, she said. He can't afford to retire.
And when her mother had an emergency health crisis, her fami-
When she finally enrolled, the problem then became her lack of English. Then, she was called a "wetback" and told to go back to Mexico. But she put all of her energy into studying. Her grades were impressive, she said.
In 2010 she graduated from the University of Colorado at Denver with two majors, criminology and political science.
Since then, she's been putting her heart and soul into improving the lives of immigrants and working
A growing passion
FRANK ANELLO
EAT. SH OP.PLAY.
Some of the best dishes in Denver's poshest restaurants have roots in Aurora.
Literally.
And socialites in the Queen City of the Plains largely have Frank Anello to thank for that.
Anello, 45, is the executive director and co-founder of Project Worthmore, a refugee service organization based on Havana Street in north Aurora. The organization provides a bevy of services to thousands of immigrants from across the metroplex, including a farm staffed by five refugees at Aurora's Delaney Community Farm. The group sells some 17,000 pounds of produce — about 140 varieties of vegetables — to several Denver joints that are likely familiar to many area foodies, including City, O' City, Beast + Bottle, Coperta and Annette at Stanley Marketplace.
A couple of years and volunteerof-the-year awards later, the Anellos formally established Project Worthmore as a nonprofit organization.
The organization now employs more than 30 people, roughly half of whom are refugees themselves, and offers six different programs to some 4,000 clients a year from 26 countries: English language classes, community navigators, family partners, the Delaney Community Farm, a dental clinic, and a regular food share.
Anello has worked at the organization full-time since 2013, when a pair of donors he met while assistant coaching cross country at Valor Christian High School provided the group with a donation to cover his salary.
Nowadays, the Tampa native can be seen literally running to or from his Park Hill haunt and 1609 Havana St. in Aurora. Anello said he regularly runs the 3.5 miles to and from work in his Brooks Cascadias, sometimes zigzagging in and out of Stapleton to pad his weekly mileage.
"I need to get out," he said of his ritualistic runs. "It's my peace."
He also regularly heads to Westcliffe to spend time with his wife, two daughters, ages 14 and 10, and their two German short-haired pointers, Winston and Wyatt. He's currently preparing for a 100-mile race there next month.
That masochistic pursuit — vying to traverse 100 miles with some 20,000 feet of elevation gain — speaks to his general personality, Anello said.
"I'm an all or nothing guy," he said.
28 | SENTINELCOLORADO.COM | roost | 2020
TO WN CE NTER ATA UR OR A. CO M | (3 03 )3 44 -9 76 4 | 14 20 0EA LA ME DA AV E, AU RO RA CO 800 12 ›› NEIGHBORS, from 27 ›› Continued on page 29
He's boldly going
QUSAIR MOHAMEDBHAI
rora's testiest legal entanglements in recent years. There were the Cherry Creek School District students who were sexually assaulted by a Prairie Middle School teacher. That netted an $11.5 million settlement last year. There was Naeschylus Carter-Vinzant, who was shot and killed by an Aurora police officer in 2015. That resulted in a $2.85 million payout to the family. And then there was Gary Black, who was shot and killed by an Aurora police officer in his north Aurora home last summer. Mohamedbhai is still negotiating the outcome of that case.
"He's been excellent," Jeanette Black, Gary's widow, said of Mohamedbhai's representation.
The holder of a bachelor's degree in cellular biology from the University of Alberta, Mohamedbhai said he didn't grow up with a desire to be a lawyer. He said he barely knew what lawyers exactly did until he entered law school.
— Mohamedbhai said he spends the bulk of his time in Aurora, often perusing the aisles of Arash International Market on South Parker Road, or shuttling his two sons, ages 8 and 9, to the Colorado Rapids Youth Soccer Center on South Havana Street.
Mohamedbhai is also a familiar face at the mosque on South Parker Road, where he attends services and represents the Colorado Muslim Society on a pro bono basis.
Last October, Mohamedbhai spoke on behalf of the state's some 75,000 Muslims at an emotional ceremony at Temple Emmanuel in Denver following a mass shooting at a synagogue in Pittsburgh. Months later, he coordinated with former Aurora Police Chief Nick Metz and Arapahoe County Sheriff Tyler Brown to organize security at another vigil following the mass shooting at a mosque in Christchurch, New Zealand.
hamedbhai said his firm's 10 civil rights attorneys field some 20 calls a day regarding alleged abuses from across the state.
One of those attorneys is Mohamedbhai's wife, Andrea, who is also a founding partner at Rathod Mohamedbhai in Denver's Five Points neighborhood. The pair met at a Colorado grocery store in the mid-2000s.
"It was just the old; I went up and talked to her," he said with a chuckle.
"I know it sounds so traditional and so old-fashioned."
Between the two of them, the couple speaks a veritable gaggle of languages: She speaks Spanish and Portuguese, and he speaks Urdu and Gujarati. Qusair also reads and write Arabic, and, being from central Canada, was at one time nearly fluent in French.
Making home runs
SHELLEY MCKITTRICK
According to his law partner, Qusair Mohamedbhai's most notable claim to fame is a retweet from Captain Kirk.
Mohamedbhai, 41, admitted with a smirk that was indeed a proud feather in his cap.
"It was a William Shatner tweet," Mohamedbhai said. "I'm really such a nerd."
But there's far more to the Denver-based civil rights attorney than a recycled missive from the skipper of the Starship Enterprise.
Born and raised in Edmonton, Alberta, Canada, Mohamedbhai has represented clients in several of Au-
"I had never even met a lawyer," he said.
But Mohamedbhai's path shifted following the terror attacks of Sept. 11, 2001, which occurred during his first year of law school at the University of Wyoming College of Law.
"That changed everything," he said. "It dramatically changed the relationship of disenfranchised minorities in federal, state and local government and it quickly became a calling to try to preserve the civil rights of our community."
And Mohamedbhai's community is big. Though he works and lives in Denver — albeit by just one block
Despite commending many of Metz's community engagement practices and speaking highly of his character, Mohamedbhai said he sees no issue in lauding Metz while simultaneously litigating against his department.
"To me, it's not inconsistent to honor and respect and appreciate the role of law enforcement in our communities ... and the good they're trying to do, but putting their feet to the fire when they infringe on the constitutional rights of the community," he said. "... I've seen the good, the bad and the ugly of the Aurora Police Department."
Make that the whole state. Mo-
Raised by Tanzanian immigrants, Mohamedbhai's first language was Gujarati, which is primarily spoken in the east Indian state of Gujarat.
The son of a secretary and a university facilities manager, Mohamedbhai's parents may have him beat in the claim-to-fame category: His mother grew up three houses down from Freddie Mercury on the semi-autonomous island of Zanzibar.
"They described him as very kind and helpful," Mohamedbhaid said of the late Queen frontman. "I've been told many times that Freddie was very helpful with people's groceries and such, and no one really knew that he was this world-famous rock star."
In the first six months of working with AIDS patients in Denver, Shelley McKittrick lost 100 clients to the disease. She did that work for 15 more years.
Today, she's the city of Aurora's first-ever homelessness program director, a position that was created out of need and funded by the tax revenue from local marijuana sales. She made the jump into homelessness services because she wanted to refresh her skill set.
Prior to working in Aurora, McKittrick worked in Santa Cruz, California, where she also led a homeless
›› Continued on page 30
2020 | roost | SENTINELCOLORADO.COM | 29 HOUSE OF DANKNESS YOUR LOCAL DISPENSARY COME CHECK US OUT! 10555 E 45th Ave. Denver, CO houseofdankness.com 303.373.7373
›› NEIGHBORS, from 28
services provider. That was a big help in the work she does today, she said.
None of her days look exactly the same. In the winter, she says her job "literally becomes a life-saving mission," as temperatures drop below 20 degrees and threaten to put Aurora's homeless in danger. But this time of year, when it's warmer, McKittrick is working with service provider partners across the Denver metro region to "march toward solutions," as she puts it.
For McKittrick, there is an ultimate solution for homelessness. It's just going to require "not giving up until we do it."
That's meant providing homes —
the city has helped house 900 people through the House Aurora Partnership — and creating and offering resources for them, too.
"Healing comes with housing for most people, which is why we like to house people first then wrap them up with the services after," she said, describing the work she and the assistant she was able to hire last year do.
McKittrick originally had plans for work in cultural anthropology. She earned a master's degree from the University of Virginia in the subject, but stopped short of a doctorate degree when she became frustrated with the academic world.
"I really wanted to get out there and do it," she said.
So she did. Working with HIV
patients came because she'd taken a class on the topic during her undergraduate schooling and found it interesting.
McKittrick started working with HIV patients in a Denver clinic. That's where she met her husband, Al, and fell in what she describes as headover-heels love. They have two teenage daughters now.
Their kids, McKittrick's 96-yearold father who lives with them, two dogs and five cats keep the remaining time in McKittrick's busy life filled up. She admits, though, that she and Al find time to escape to a concert or comedy show.
In city meetings, when McKittrick is giving city council members updates about her work, it's all optimism. But the work is hard, she said,
ARTS ON THE FAX
and it can get discouraging. That is until she interacts with the people the city's resources have helped.
Recently she went along with a HAP client, who had been forced out of the Kings Inn on East Colfax Avenue. Two years ago, to sign a new lease at an apartment.
"I got to watch her open the door with her key and I was good to go for another six months," she said. "It's the most stable she's ever been."
The art of the matter
SATYA WIMBISH
ing has been worth it," she added. And if Wimbish's Tuesday is any indication, it's been a lot of work.
She said she can become frazzled between all of her hats: Paying the bills with web design, taking care of her nieces, writing, volunteering, running the Arts District and creating her own art.
"I scream, I cry, I punch the walls, I pray and them I get back to work," she said. "I just have something inside of me that says, 'keep going,' and to build the community. I have a vision of where the community needs to be, and we are not there yet, but we are moving in that direction."
Wimbish has dedicated herself to lifting up Aurora's culture. But she recently scored a big win for herself.
Her first out-of-state visual art exhibition is debuting in Massachusetts, her birthplace, this fall. She hopes to tour the selection even outside of the U.S.
She's also written a TV show pilot, "Kids on Adventure," about nonwhite kids exploring the outdoors. She's looking for funding, but says that not enough kids of color are represented hiking and camping on TV. The show would change that.
Beyond her hard work, Wimbish approaches life with a whimsical attitude.
Satya Wimbish popped a Tootsie Roll into her mouth. She'd just walked into her office on a whirlwind Tuesday afternoon.
"First thing I've eaten all day," she said — not counting a McCafe Frappucino.
She'd been up since 6:30 a.m. Her day started by shuttling her two nieces to daycare. From 8:15 a.m. on, she sat in meetings, scheming on building up Aurora's arts scene.
Wimbish is a well-known artist in Aurora. She has turned heads by dumpster diving and repurposing trash into art pieces, but mostly, she directs her energy to making sure Aurora's art scene becomes more well known.
Wimbish is the President of the Aurora Cultural Arts District, an organization promoting art on East Colfax Avenue more or less between Chester Street and Geneva Street.
That chunk of Aurora encompasses a thriving scene of galleries and theaters, including Downtown Aurora Visual Arts, the People's Building and the Vintage Theatre.
It's a key piece of Aurora's ambitions to grow as a city. And Wimbish is smack in the middle, leading the charge.
Wimbish, 38, has seen the area become more and more busy over the last few years.
But she said she's seen a "tipping point" in the last few months: Not only are artists and collaborators from outside of Aurora returning her calls and taking her seriously, she said, but they're even calling her and looking for opportunities to create art and cultural events.
"They're calling me!" she said. "Before, I was calling them, and they would say, 'ehhh'. But they're getting in their vehicles, they are coming here. And they see that there is potential here."
"All the work that everyone is do-
She's into whitewater rafting, hiking "fourteeners," going to the park and simply enjoying life. That's something that adults can lose, she said: The ability to play.
Wimbish has big plans in the works for the Arts District that are too early to disclose, she said. But in her free time, she plans to teach her nieces how to skateboard. She said she doesn't feel 38.
"So thank God for that. I'm happy."
Making the Far East so much nearer
HARRY BUDISIDHARTA
College isn't typically front-ofmind for most 14-year-old boys.
But for Harry Budisidharta, it was just part of moving to the United States.
In eighth grade, Budisidharta did so well on an advanced placement exam, administrators determined he could skip a grade. Well, actually four grades.
At 14-years-old, he went from
30 | SENTINELCOLORADO.COM | roost | 2020
vintagetheatre.org AuroraSymphony.org USE THE CODE at eac h Ar ts Organiza tion AND SAVE. Inside Orchestra ACAD Peoples Building AuroraFox.org
›› NEIGHBORS, from 29 ›› Continued on page 31
middle school to college — skipping all of high school. He graduated from California State University, Los Angeles with a degree in political science when he was 19.
"It was a bit of a culture shock as a young immigrant kid still learning the culture," according to Budisidharta, who said he spoke some English upon moving to the U.S., but didn't master the language until he was about 15. "And suddenly you have to skip four years ahead."
He and his older brother had moved to southern California from Semarang, Central Java in Indonesia just two years before. Though technically not refugees, the brothers left their parents to live with an aunt in Los Angeles to flee the collapse of the Indonesian dictatorship in the late 1990s.
After taking a year off after college to work as a court clerk in L.A., Budisidharta headed to Colorado to get his law degree. He graduated from the University of Colorado Law School at the age of 23 in 2007.
He chuckled while recalling how his law school classmates, the majority of whom were several years older than him, looked out for him on his 21st birthday.
"It was good to do with a group of older adults," he said. "They made sure I did not die."
From CU, Budisidharta went on to work in the Adams County Public Defender's Office in Brighton before moving into private practice. Then in 2009, he got a call from the Asian Pacific Development Center to help with a case involving a young Burmese refugee. The boy had brought a knife to school, was caught playing with the weapon, and a teacher reported the incident to police. Budisidharta helped find the boy a court interpreter who understood his native Karen language, and got the crime reduced to a petty offense.
That case slowly mushroomed into a decade of involvement with the Asian Pacific Development Center for Budisidharta, who shortly thereafter began volunteering as an adult counselor at the north Aurora facility.
"As an immigrant myself, I understand how hard it is for a lot of immigrant and refugee kids to straddle that line between two different cultures," he said.
Budisidharta moved from volunteer to board member to full-time policy director in 2015. He took the reins as the organization's executive director two years ago.
Founded more than 30 years ago to serve an influx of refugees coming to the metro area from Vietnam, Laos and Cambodia, the center now provides behavioral and medical healthcare, translation services, adult education classes, youth programming, victim assistance, and health policy advocacy services to local immigrants from all over the world — not just southeast Asia.
The center's clients speak more than 40 languages and APDC staffers are fluent in about 20 tongues, Budisidharta said.
When he's not at the center on Alton Street, Budisidharta, now 35, can often be found running the roads around his Aurora office or his Glen-
dale home, he said. He's run a handful of local marathons and half-marathons, and often takes advantage of the state's hiking and snowshoeing trails, too.
In the immediate future, he's paring down his day-to-day obligations — he recently stepped down from Aurora's Public Defender Commission — to, along with his wife, prepare for the birth of the couple's first son in November.
"I'm looking forward to the sleepless nights" he said with a chuckle.
The mobility king
ERNIE CLARK
the shop who'd had their bikes stolen. Clark turned them loose on the store to pick any bike they'd want, free of charge.
"Damn, that feels good," he remembered thinking.
He's donated bikes to Native American reservations, youth groups in Denver's Five Points neighborhood and beyond.
Clark also gives opportunities to people doing community service for petty crimes. That includes people cited for stealing bikes, he said. Or, struggling and homeless adults and veterans can come work at the store to earn a bike.
Poor kids need the bikes to get to school on time, he says, and many struggling adults can't afford a car or gas. Bikes are the perfect solution to navigating the vast Denver metro on the cheap.
Clark revels in showing people his shop and describing his myriad relationships with Denver metro government agencies, nonprofits and bike shops. He has a steady supply of bikes from the police impounds in Aurora and Parker, and from folding bike shops around Denver.
Running the shop is a herculean feat, he said. He's constantly transporting dozens of bikes to the shop. He once stacked 55 bikes methodically into his rusty truckbed, he proudly showed in a photo.
nie said they rent their current space month-to-month. The prospect of moving those thousands of bikes alone makes him want to throw in the towel once and for all, if he has to.
"Honestly, I would just give it up," he said.
Still, Ernie kept smiling while detailing the shop's woes. Faith clamored for more funding from city government to find a forever home.
But Ernie is upping the ante.
He aims this year to give APS kids 3,000 bikes for free.
"We'll keep on going," he said. "Just keep on going."
Heart and Seoul
PETER LEE
censuses.
Now he's back at it this year preparing for the 2020 census as a volunteer again, having helped form the Asian Pacific Islander Census Complete Count Committee. The group is aiming to increase participation from the demographic, however small it may be. Asians only represent about 6 percent of Aurora's population, and there is little cohesion within the group. Peter said there are about 27 distinct ethnicities that fall under the umbrella term of Asian.
The work the count committee is doing to increase the response rate is crucial, Lee said. With the possibility of a citizenship question, he said it could create even more distrust of the government.
"Some Asians have a fear of government interference and violation of private information," Lee said. "All of that can contribute to them not being responsive."
If Lee can find more hours in the day, he's put them to use advocating at organizations like Asian/Pacific Community Partnership where he serves as co-chair. He has also been on the boards for numerous organizations, from the Heritage Camps for Adoptive Families to the Aurora Chamber of Commerce.
Lee has grabbed hold of many projects.
While surveying the 3,000 square-foot room, jam-packed with bikes of all sizes and shapes, Ernie Clark couldn't stop beaming.
Hundreds of bikes packed the shop in neat rows.
Frames were hung seemingly everywhere from hooks.
And behind those? There were more bikes in rows, several men tinkering with tubes and chains, and a warehouse virtually overflowing with old tires, seats, nuts and bolts and any other part of a bicycle you could think of. They stack 10 feet high, overflowing from boxes and crates.
Then, behind the shop, there was a fenced-in plot filled with — more bikes.
The sheer number of bikes and parts, and the relatively tiny space, make it unlike any bicycle shop you've ever seen.
Clark, 63, built this.
He's the longtime proprietor of Second Chance Bicycle Shop, a nonprofit source of amazement. For about 20 years, he's given thousands of bikes away for free each year to kids, homeless folks and veterans who need them.
Last year alone, Clark says he gave away 2,500 bikes for free to Aurora Public Schools students alone.
Clark showed off the gargantuan collection with genuine joy, like a proud kid with a room full of toys and knick-knacks.
"And over here: More bikes!" he proclaimed as he walked into the warehouse.
Clark is a serial smiler. He's a big guy with a bushy mustache, wild eyebrows, and a pot-belly. His mission in life seems to be getting free wheels for everyone in Aurora who needs them, and he revels in it.
Beaming ear-to-ear, he recalled stories of giving kids free bikes. In one, local cops brought three kids to
If there's anything in this world that makes Clark happier than his shop, it's probably his longtime wife, Faith, 68.
She's done the shop's paperwork since its earliest days. And, she doesn't feel like Clark hogs the limelight and local hero status. Faith matches Ernie's good-natured chatter with gruff, matter-of-fact quips.
But just beneath their contagious happiness, some serious hardship is brewing.
Faith is suffering from an "incurable" cancer, she said. The couple lives on disability payments, and they say they put every penny earned back into the shop.
That leaves them with little else.
They also note that they're on the hook for the nonprofit's space and everything in it, from keeping the lights on to insurance. On a recent hot afternoon, only a lone, tiny fan buzzed near the cluttered front desk.
Ernie said he has to turn off his phone each evening. Otherwise, he'd be bombarded with calls, day and night, he said.
He's a well-known philanthropist of sorts in Aurora, but he's invested deeply in the city for someone who isn't from here and doesn't live here anymore.
The Clarks currently live in Arvada and commute through the Denver metro to get to the shop.
Originally, Ernie was a cop in New Jersey. He didn't like the gig and quickly fell in love with Colorado's mountains 45 years ago. That, and Faith, he said with a chuckle. They're still happy together.
If her cancer is heart-wrenching for Ernie, he didn't let on. He said with a customary smile that they'll keep on keeping on.
But they also have another reliable source of stress: a location.
The nonprofit is periodically punted from other locations and has struggled to find a steady home. Er-
More than a typical, drab, graysuit-wearing health insurance broker, Peter Lee is more the quintessential American dream.
He wears Speedo brand slides with his black suit, abiding by the tradition of taking one's shoes off inside.
Under his black frame glasses, his eyes narrow in seriousness as he talks in a thick accent about how immigration makes America a better country.
"There's a lot of growing pains, but it's a necessity," Lee said.
He came to Colorado in 1988 from South Korea following two and a half years of compulsory military service. He was stationed in the Demilitarized Zone between North and South Korea on sentry duty, standing guard at the border. Some of his fellow soldiers were killed by still-active land mines or enemy spies.
"It's a very humbling experience, it gives you real discipline," Lee said. "I was very fortunate enough to truly go through that and then come out in one piece."
That discipline stuck with him when he followed his parents and younger sister to the US as a 25-year-old. Lee worked full time at Colorado National Bank, now U.S. Bank, and attended classes at Community College of Denver at night. He became a citizen in 1993, which he said was an easy process for him thanks to the political science and English classes he was taking.
Lee worked in banking and small loan sales until the recession in 2008. Underneath the usual career path, he worked his unusual charisma to make big moves for the Asian community in Aurora. He's worked on Asian and Pacific Islander outreach as both a volunteer and a paid employee for the 2000 and 2010
He has worked to make a Korea Town along Havana and a memorial dedicated to those who fought in the Korean War. He's received pretty wide support for both. The city contract for the memorial is expected to close in the coming months and planning will start soon after. The city has awarded a plot of land at General Park estimated at half a million dollars for the project. It will feature busts of soldiers from the 16 countries of the United Nations Forces.
"Sixteen countries besides Korea came to the peninsula almost 70 years ago to fight for a democratic society," Lee said. "All those 16 countries have representatives living in Aurora."
Lee has worked with these groups in the area because he wants to see minorities succeed. In 2008, he volunteered for former President Barack Obama's first campaign. He was excited to see history made when the first non-white person won a major party nomination, and even more so when he was elected President. For Lee, 2008 wasn't about policy or party, it was about busting down the doors for people of color who want to be politicians.
"If my son, or my daughter, or my grandkids someday were trying to run for office and their skin color prevented them from being a politician, that would be a shame," Lee said.
After Obamacare passed in 2014, Peter made the jump from banking to the health insurance industry. He mostly works with the ethnic and immigrant communities of the city, enrolling them in private policies or public healthcare.
Lee has achieved what most would consider the American dream, and he's helping others achieve it too.
"I really think that this country is still the land of opportunity. Despite a lot of bad things happening here and there," Lee said. "How you make it is up to you."
2020 | roost | SENTINELCOLORADO.COM | 31
›› NEIGHBORS, from 30
For almost 70 years, Cherry Creek Schools has inspired students to think, to learn, to achieve and to care.
We can't prepare the next generation without you.
Learn how your tax dollars have supported a thriving culture of innovation.
CherryCreekSchools.org/MappingTheFuture
Together, we can continue our Legacy of Excellence.
32 | SENTINELCOLORADO.COM | roost | 2020