21 minute read
Nordic Architecture and Design – Denmark
Scan Magazine | Special Theme |  Nordic Architecture and Design – Sweden NORDIC ARCHITECTURE AND DESIGN – DENMARK Special  Theme:
How can we live better in the future?
Can a family of four live on 37 square metres? Can we live more sustainably without compromising our quality of life? And can architecture help us to live better? If you are visiting Copenhagen soon, make sure to visit the Living Better Lives exhibition and be inspired to think about architecture in a new way.
This autumn, Danish Architecture Center (DAC) invites you to experience the exhibition Living Better Lives, which zooms in on how we will – or might – live in the future. With sustainability and climate awareness topping every agenda, is it time to re-examine housing? After all, who says an abundance of square metres and a brand-new 'conversation kitchen' bring happiness?
Since the 1970s, the Danish architecture firm Vandkunsten has been demonstrating how living on fewer square metres can allow us to rediscover closeness, togetherness and security when it's most
About Danish Architecture Center (DAC) DAC is an international cultural attraction for anyone who wants to experience and understand how architecture and design create the framework for our lives. DAC is based in the heart of Copenhagen, by the inner harbour in the spectacular building BLOX.
Facts: LivingBetterLives:20 November to 18 April 2022. Danish Architecture Center (DAC) Bryghuspladsen 10 1473 Copenhagen Opening hours: 10am to 6pm daily; Thursdays until 9pm needed. Those values are more topical than ever.
Living Better Lives is structured like a small town with housing, a greenhouse, a communal meeting house and a playground. It's a small community and a living town. The exhibition is based on a manifesto, formulated by the architects, in which they present five principles for the home of the future. The exhibition looks inward into the most private spheres – and the home is the perfect place to start if the aim is to make a difference for yourself, your family and the climate.
Copenhagen is an architecture destination like no other, and DAC is your perfect go-to guide: from our home, BLOX, by the harbour in the city, and onward through guided tours.
See you in Copenhagen, and at dac.dk!
Vandkunsten's manifesto for the home of the future: Let's live smaller and better! Let's share more! Let nature move in! Let's DIY, together! Let it be and enjoy its beauty!
Web: www.dac.dk
Taking low-energy housing to the next level
As Denmark's first construction company completely committed to low-energy housing, Klimahuse has 50 years' experience of building homes and more than ten years of building homes with minimal environmental footprints. Today, the advances in technology and increased interest have led to the creation of a number of larger low-energy housing developments in environmentally friendly and socially sustainable neighbourhoods.
In recent years, the green zeitgeist has motivated many construction companies to branch out into environmental housing. For Klimahuse, however, the commitment to the creation of low-energy housing is neither new nor circumstantial; it is the essence and vision of the company, and it has been so since 2010. "We were the first construction company in Denmark to completely commit to environmentally friendly housing, and that means that we are at the very forefront when it comes to low-energy housing," says Claus Keld Hansen, chairman of the board of Klimahuse. "But now we have taken things one step further – we are currently working with larger projects that aim to create socially sustainable communities as well as environmentally sustainability homes. It's about combining our years of practical
Thanks to advances in technology, Klimahuse can today offer homes that are 100 per cent self-sufficient with regards to electricity and heating.
Right: Klimahuse is working on a number of larger projects, which will see the company's low-energy houses combined with other sustainable features, such as rainwater collection and sustainable communities.
experience within low-energy housing with a bigger and broader vision of a sustainable society." At the same time, Klimahuse has begun to work with the standards of DGNB (German Sustainable Building Council) to get larger projects certified within the organisation's environmental standards.
A win-win business model Amazing as it sounds, applying the newest technologies and tried and tested solutions, Klimahuse can today offer a
home that is completely free from reliance on fossil fuels. This is possible thanks to a combination of high insulation levels, integrated solar panels, water reusage and house batteries for the storage of energy.
However, Klimahuse strives not just to ensure that their houses live up to the company's high environmental standards, but also to ensure that they fulfil all the needs and hopes of their clients, now and in the future. "The greatest job of any of our houses is to be a home, and that includes anything from the overall look of the house to the type of interior design, kitchen and bathroom our client wants and needs," says Hansen. "However, it became clear quite quickly that we wouldn't just help the environment – we would actually help our clients save quite a bit of money, too. It was literally a win-win situation for us, for the environment and for our customers. It wouldn't make sense for us to cut corners or go for anything but high-quality products, because our purpose is so closely tied up in making a house that will still be at the top of its game in years to come. We have to keep up with the newest developments in construction and environmental technology."
Ensuring this longevity also means working closely with clients to make sure that the house they get will meet their needs now as well as in ten or 20 years, creating flexible designs that allow for modification as families increase or decrease in size. Starting with a series of architect-drawn model houses, the company works with each client to choose the house that best meets their needs, then modifies it to fit them entirely, beginning with the layout of each room and ending with materials both inside and out.
Growing ambitions One of the major projects Klimahuse is currently involved in is one of Denmark's first circular housing projects. Located in Holstebro, the project is based on a vison of a neighbourhood that is 100 per cent energy independent, and it will become one of the town's largest ever newbuild projects. As part of the project, Klimahuse has bought 70 hectares of land, which will be transformed into 550 homes due to be ready in 2023. "We have a couple of major projects like this at the moment, and it is allowing us to not just fully exploit the many years of expertise we have in energy efficient construction, but also to work within a greater vision of social diversity and sustainability," explains Hansen, and adds: "We have another similar, large project in Skibby [close to Roskilde], which also includes a local rainwater solution, allowing the water to slowly drain through the ground or via water viaducts to a rainwater lake. As we know, our climate is changing and larger rain falls are to be expected, this is one way of climate proofing the area while reducing the pressure on the existing sewage capacity."
But the homes and the new neighbourhood will provide a holistic approach not just to energy, climate, and the environment, but also to human and social resources. With homes for all age groups and family constellations, as well as communal gardens, conservatories, a
Klimahuse headquarters.
common house, and even a farm area with chickens and sheep, the new neighbourhood in Holstebro is designed to create a strong and largely self-sufficient community, and the one in Skibby will include similar features.
'It is all we do' That Klimahuse is increasingly taking on larger and more ambitious projects within environmental and sustainable housing projects should, says Hansen, not really come as a surprise. With the decades of experience and exclusive focus on environmental construction, the company has gotten a strong head start compared to many of its competitors. "Making environmentally friendly housing has been our one and only goal and focus for the last ten years, and I believe that's our strength compared to many of our colleagues who try to do both – keep one foot in the regular construction industry and at the same time try to get a foothold in low-energy housing," he says. "It is like in the car industry; you clearly see that though most companies are now offering electric models, the one that has been focusing only on electric is miles ahead. That's us in the construction industry – we do nothing but low-energy housing, and we are constantly pushing the limits to take things to the next level."
Web: www.klimahuse.com Facebook: Klimahuse A/S Instagram: @klimahuse Private clients can approach Klimahuse with their own plot of land in mind, ask Klimahuse for help with finding the perfect spot, or buy into one of the large-scale projects Klimahuse is currently building with investors across Denmark.
Jyderup prison.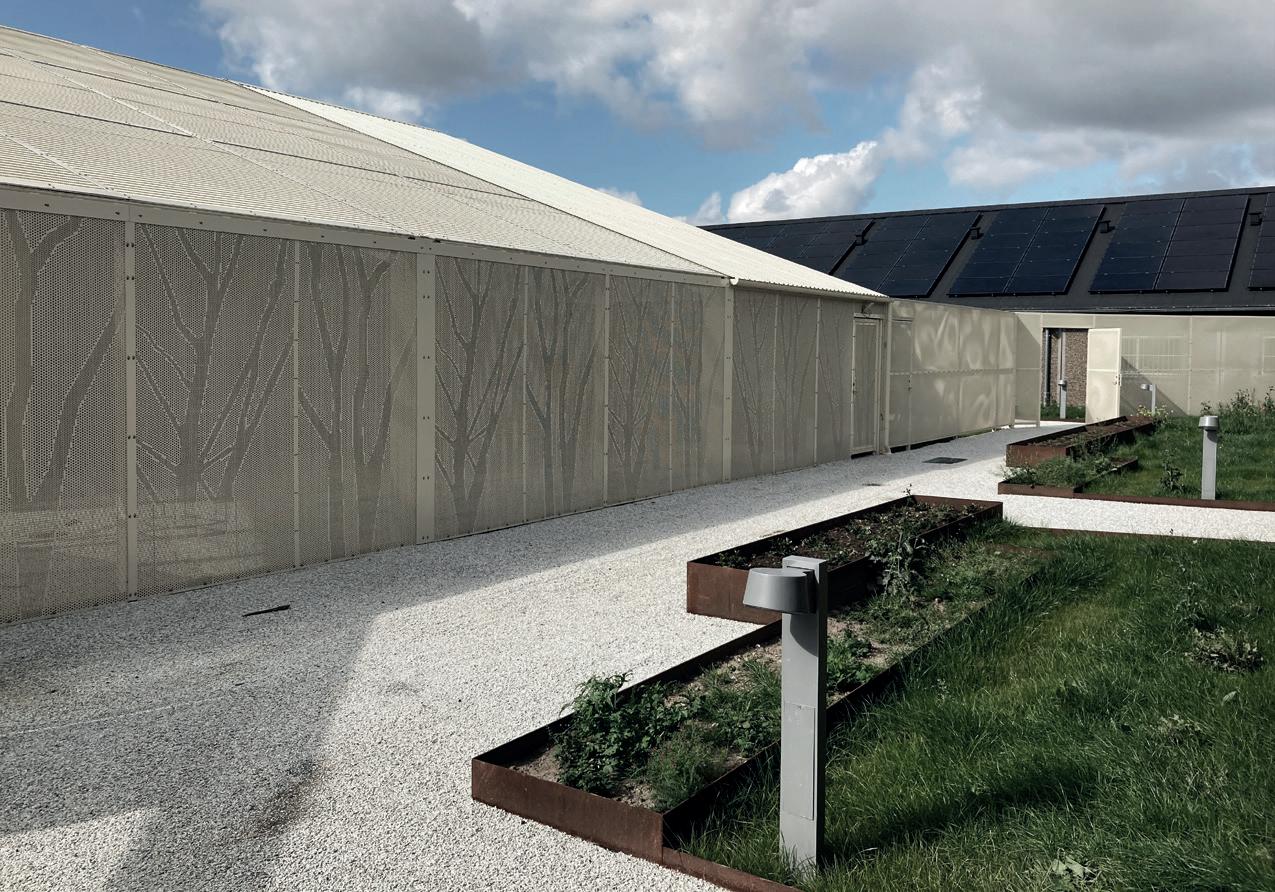 Re-shaping a more sustainable society
A well-established company rooted in the traditions of Nordic architecture, Alex Poulsen Arkitekter strive to engage creatively and consciously with the world around them. Through inventive, socially viable and authentic projects, they aim to participate with and give back to society.
"We believe that our projects have to be of value to the community," explains managing director and partner Jonas Hviid Mønster. Alex Poulsen Arkitekter (APA) do not claim to be unique, nor do they compare themselves with others or point fingers at people who do not follow their ethos. APA do what they love and do it their way. And they evidently enjoy the creative process and overcoming challenges throughout. Recently, two diverse projects did just this, while fitting under what Hviid Mønster calls "the umbrella of society".
Jyderup prison – Denmark's first all-female prison A current APA project is the redevelopment of Denmark's first all-female prison in more than 20 years, when the last prison for women in Amstrup closed its doors. Jyderup prison reopened on 11 October this year, now only housing female inmates. APA has a long history of rebuilding social spaces, aiming to engage with societal needs without compromising on quality, comfort or functionality. The work on Jyderup is a prime example and encompasses many principal values of the company. The focus has been to create a space where all inmates feel safe, and where their everyday lives are markedly improved.
The importance of a sheltered space for female inmates is vital, and APA has been working closely with Kriminalforsorgen, the body in charge of the Danish penal system, to ensure that Jyderup is secure and practical, while being "welcoming and less institutionalised", as Hviid Mønster puts it. Many of the women have children,
Trifolium.
and in this reimagined place, which includes family rooms, they can comfortably spend time with their relatives.
The new prison allows Kriminalforsorgen to provide targeted education and training to, and treatment for, these women, who make up four per cent of current Danish inmates. "We worked very closely with the prison staff and Kriminalforsorgen, ensuring that the day-to-day running of Jyderup remained largely unaffected by the changes we were putting in place," says Hviid Mønster. "This was challenging, but also fun and satisfying to find solutions and overcome potential problems." The changes to the buildings were made while it was still operating as a prison for inmates of different genders, and the logistics of creating a different space in those circumstances were among the bigger challenges. It was a thoroughly planned yet organic project as a result, and the role of APA went beyond their expertise in designing high-security facilities; the ongoing liaison and dialogue with all involved parties was crucial.
Trifolium – A playful universe in Copenhagen's Sydhavn At the other end of the spectrum of APA's portfolio is Trifolium, a creative re-shaping of an exciting property. The firm is staying true to its value DNA in terms of the essence of this project, yet this is a very different kind of space.
What is currently happening in Sydhavn is very exciting. "One of the most exhilarating things about this project is working alongside developers keen to create something truly original and off the scale, and joining forces with people who are already inhabiting some of the spaces in Sydhavn. It's a really fun project to be a part of, genuinely passionate and challenging," says Hviid Mønster.
The playfulness embedded in the development of Trifolium is evident, as is the thrill of teaming up with compatible creative and sustainably focused minds. The attention in the construction work itself is on reusing existing materials, including repairing old windows rather than replacing them, and using structures already in place instead of creating new ones.
Much of Trifolium is re-imagined rather than created, and Hviid Mønster explains how the nature of the place springs from what was already there, rather than being invented anew. The transformations taking place at Trifolium link directly back to the materials and colours originally used in the construction work in the '60s. "It is wonderful to be a part of this development at this stage, because the area still has an unapologetically authentic feel to it. It is inevitable that the nature of this place will change as it is developed over the next many years," Hviid Mønster reflects.
Trifolium is an experiment for creative companies, who all contribute positively to the community, and it houses many different companies, people and passions. It plays an integral part in the redevelopment of the last pocket of undeveloped land in Copenhagen, and it seems fitting that APA plays a crucial part in the regeneration of this unique space.
Web: www.alexpoulsen.dk Instagram: @alexpoulsenarkitekter LinkedIn: Alex Poulsen Arkitekter A/S
Trifolium. Photo: Kriminalforsorgen
Designed to make the most of a new building site, this new home in Ry provides shelter and privacy in an otherwise open and unsheltered space and combines cosy comforts such as an indoor fireplace with a practical and economic layout. Below: Designed in wood all the way through from interior to insulation and exterior, this recently finished holiday home fully utilises the many natural qualities of wood: its ability to create a healthy indoor climate, a negative carbon footprint, and a warm yet elegant aesthetic.
Building an arena for life
We all need a roof over our head, but most of us want more than that. We want something that gives us safety and comfort, but we also want a home that captures and enhances the meaning of our everyday life. For Danish architecture firm Nordpil Arkitekter, enabling the fulfilment of that dream is at the heart of all projects.
Uncovering the core of people's everyday life and creating an architectural framework to lift and enhance that has been the driving vision of Nordpil Arkitekter since the firm's foundation. "Whether it is at work, in your home, or at your child's nursery, the life you live is always the starting point for our designs," explains architect Kim Pretzmann Olesen, who founded Nordpil Arkitekter together with construction architect Bashar Nasouri. "Our designs manifest people's everyday life in all its facets, and we see it as our finest job to increase the quality of that. By bringing in elements that combine functionality and enhanced materiality, we can create spaces where people feel happy and relaxed, spaces with comfortable lighting, a healthy climate and a positive atmosphere for life to unfold in." Since merging their independent companies two years ago, Olesen, Nasouri, and their team of architects, renovations specialists and construction architects, have turned this approach into a string of new homes and holiday houses, renovations and extensions all over Denmark. More recently, the firm has also started designing for larger projects, such as nurseries and residential complexes for commercial developers.
Turning necessity into art While Nordpil Arkitekter's designs all take their starting point in the life of the people who live, work or play in them, that does not mean that any two projects are alike. On the contrary: whether it is a new holiday house, the extension of an old villa, or a nursery design, Nordpil Arkitekter applies what Olesen calls an "architectural opportunism". This means
that each project is shaped by its individual opportunities, financial limitations and practical requirements, and that is not, stresses Olesen, a bad thing.
"We don't believe architecture is architecture when it's just on the paper – it won't be until it has actually been built, and that is why our designs are inspired by both the possibilities and the limitations given by a specific project. That is also why you won't see a specific style that runs through all our projects. We have no desire to be known for that. We prefer to do it the other way around; we take our starting point in the specific site and the people we are working with, and because of that, the architectural and material choices will be unique each time, because humans, budgets and places are all different."
This approach to architecture also entails a dedication to following the project all the way to the end, from the first sketches to planning applications and building-site management.
Sustainable architecture through common sense The focus on individual clients also means that while principles of sustainability and durability are always integrated in Nordpil Arkitekter's designs, it is not about advanced analyses and statistics. "For us and the clients we work with, expensive analysis and data sheets do not really make sense. But it still makes sense to talk about sustainability. It covers so many aspects of what we do, creating places for people to be together, healthy environments, and long-lived solutions," stresses Olesen.
Taking advantage of the natural sustainable qualities of wood is one of the simple but efficient tools often used by Nordpil Arkitekter. Indeed, as a qualified carpenter, Olesen is a great fan of the material and its many advantages. "When you build in wood, it will have absorbed carbon, unlike other materials that generate CO2 in production, and then it has a lot of amazing natural properties. It creates a healthy indoor climate and a warm atmosphere."
Flexible and long-lived Nordpil Arkitekter's ambition to ensure that buildings are as sustainable as practically possible also entails a focus on longevity, space efficiency and flexibility. This means, for instance, ensuring that walls can be moved when a young family member leaves home, or even that entire extensions can be removed and sold when no longer needed. "The best way to make sure that we can defend our designs is to ensure that they are not static – that they can be brought into the future. This also means that it will take longer before new changes and expansions are needed, and in the end, ironically, the most sustainable square metres are those that aren't built," asserts Olesen.
Web: nordpil-arkitekter.dk Facebook: nordpil-arkitekter Instagram: @nordpilarkitekter
Above and bottom left: "Many of the things we work with on a smaller scale, we also apply in larger scale designs," explains Olesen. "In the nursery, we transferred the concept of familiar closeness to create a number of shared spaces. We've melted together some of those spaces with the connecting halls to create a sort of DNA string running through the entire building." Bottom right: Newbuild in Ry.
Research and education centre, new psychiatric hospital in Slagelse, Denmark.
Karlsson Arkitekter: design 'for those who need it the most'
Perched on the bank of a quaint canal in Copenhagen's oldest quarter, design studio Karlsson Arkitekter is the name behind some of Denmark's newest, most innovative healthcare architecture.
Designing Danish welfare Since its founding in 2007, the small firm has seen a windfall of awards come its way. In 2016, they were awarded Denmark's Farvepris for their "conscious use of colour and its interplay with architecture" and landed Architectural Review's inaugural Healthcare Award. They won MIPIM's prestigious Best Healthcare Development prize in 2017, while 2019 and 2021 saw Karlsson pick up two more Danish architecture awards.
Karlsson Arkitekter's admirable portfolio falls under the category of modern public welfare architecture – hospitals, care homes, high-security facilities and the like – in which their approach is unprecedentedly analytical. "We design for a wellprepared society – for people who find it hard to understand and to use the world," explains founder Christian Karlsson.
Slagelse Psychiatric Hospital Karlsson Arkitekter's most notable project is the 1.3 billion DKK psychiatric hospital in Slagelse, completed in 2015. The construction spans 44,000 square metres across multiple interconnected, smaller buildings and a main centre reaching five floors high.
Inside, a cavernous atrium is flanked by balconies of varnished birch and filled with beaming natural light. At each end, elegant twin corkscrew staircases draw the gaze upward to a bright, angled glass ceiling. Outside, small gardens, paths, and open-plan communal areas all conform to the central design principles of transparency and versatility. But despite the impressive scale, the interior never dwarfs. On the contrary, the unobstructed lines of vision encourage a sense of comforting oversight.
'For those who need it the most' Around 800 people use the building each day – short and long-term patients, as well as administrative and healthcare staff. With that in mind, the architecture needs to accommodate diverse needs and routines. "This was exciting. It's an understudied area – there was no reference project for us or for the client," says Karlsson.
A major touchstone of the project was the concept of the recovery process. "From being in a state where you can't manage the world, until the day you step out of the hospital again – it's a constantly evolving process. So your need for space, contact and stimulus also changes a lot," explains Karlsson.
A hierarchy of stimuli But existing psychiatric clinics aren't built on that philosophy – so Karlsson Arkitekter decided to flip it. "We defined some general, recognisable values of wellness and said, 'this is what we're aiming for'. To be part of a normal life where you socialise and meet people," he says.
Especially innovative was the use of interconnected spaces that suited patients' changing needs throughout recovery. The 'hierarchy of stimuli' is a physical reflection of psychological process and transition. Architecturally, this meant transparency between spaces. Karlsson theorised that enabling patients and staff to mingle openly would promote an aura of understanding and enable patients to be a part of their own healing process.
Daylight was another crucial feature. 52 gardens are integrated into the construction. Natural light imbues a tangible sense of the changing hours and seasons to support a natural circadian rhythm and aid sleep – a pivotal factor in wellness.
Ahead of the curve "I think we're ahead of the curve in Denmark. Region Sjælland – who commissioned the hospital in Slagelse – was unusually ambitious, and it paid off. There's a lot of international interest in our work," says Karlsson. Now, all eyes are on the studio's latest completion – a highsecurity hospital in Trondheim in Norway.
Meanwhile, a new project on a beautiful natural site in Kristiansand, southern Norway, will house 80 inpatients over 12,500 square metres. Situated at a forest's edge, the design centres on the interplay between out- and inside so that the rhythm of the day, weather changes and flora and fauna of the surrounds are integrated into the building.
Further afield, Karlsson Arkitekter has also been shortlisted to design a hospital for behavioural and addiction treatment in Charlottetown on Prince Edward Island in Canada.
"Our work includes, besides hospitals for psychiatric treatment, research into new architecture for people with dementia and new centres for the homeless," says Karlsson. "We have a strong welfare model in Denmark. It's exciting and positive to ask how buildings can mirror the social problems and help those who need it the most," he concludes.
Web: www.karlssonark.com Facebook: Karlsson Arkitekter Instagram: @karlssonark