14 minute read
From Vintage Wares to Custom Kitchens
Fashion Diary…
Dropping temperatures make for great style opportunities. This season's chicest option is layering with love. Think wool, cashmere, sustainable materials and durable outerwear that take you through changeable and colder weather with style. Opt for a timeless, earthy palette that is seasonless and pairs well with items already in your wardrobe.
Lightweight, tailored and warm – the Moscow coat from Norwegian Rain is fit for both biting cold and rain, made with materials such as Norwegian wool and a waterproof outer shell. On sunny days, zip off the hood, and on freezing days, pull up the wool-lined collar. A classic, for now and for years to come. Norwegian Rain, The Moscow coat, €1,100 www.norwegianrain.com
A cashmere scarf adds a touch of sartorial elegance to any look. Arket, woven cashmere scarf, €69 www.arket.com
A cardigan in cashmere helps you stay warm both at home and at work. Pair with a thinner turtleneck underneath when the temperatures drop, or leave it open combined with just a plain T-shirt and joggers at home. Soft Goat Cashmere, men's shirt walnut, €245 www.softgoat.com
For the woods, for the rain, the city and beyond, these boots from the recent collaboration between Diemme and Danish brand Rains are classic and durable. The slimmed-down ankle and leather lining offer an elegant contrast to the waterproof rubber sole. Rains x Diemme, Antra boot, €315 www.rains.com
The ideal way to elevate any look is to add some sparkle. Even if you are all snuggled up in comfortable clothing, you deserve to shine brightly. These Afrodita gold-plated hoops from Norwegian brand Crystal Haze add the perfect finishing touch. Crystal Haze, Afrodita hoops, €142 www.crystalhazejewelry.com
A warm, soft scarf that feels like a hug is essential to stay cosy in the cold. This chunky scarf from Swedish brand Soft Goat even doubles up as a blanket. The light beige tone harmonises well with any colour, making the scarf the ultimate wardrobe staple. Wrap it around your shoulders, pair it with a cashmere jumper and loose wool pants, and you are ready to embrace the cold. Soft Goat, chunky scarf, €235 Soft Goat, ribbed, o-neck, €245 www.softgoat.com
An oversized, lightweight coat in wool can easily be used across seasons and shifting temperatures. This loose and light wrap coat from COS is ideal for layering thicker garments underneath during the colder months of the year. The belt adds an elegant element to the relaxed silhouette. Cos, belted wrap coat, €225 www.cosstores.com
The best thing about a chunky pair of leather boots, apart from them being comfortable, functional and perfectly on-trend, is that they do the job when the ground gets wet, slippery and cold. Wear these Acne Studios boots for Sunday walks, on your way to work and everywhere you go in between. Acne Studios, Lug Sole ankle boots, €590 www.acnestudios.com
Get the Scandi Look
With earthy tones and vintage finds, we are loving this homely living-room by Danish Cecilie Kovsted, who shares snippets of her interior universe on Instagram. It's the perfect look for a cosy, autumnal space, don't you think? We share some tips on how to recreate this Scandinavian look with some current design items.
Photo: Cecilie Kovsted, @interiorunivers
Cecilie's sofa is from the Danish brand Sofacompany. If you are after a similar style, the Elvi sofa from MADE is great. With soft seats and traditional button-back details that complement the high back and armrests, it will keep you feeling snug and supported. And if you have guests over, it folds down into a bed in minutes, thanks to a simple click-clack mechanism. Functional and decorative all at once! MADE, 'Elvi' sofa, €399 www.made.com
The table lamp in Cecilie's home is a gorgeous vintage find, but if you want something similar, the Matin table lamp from HAY makes a great alternative. With a contemporary yet poetic design, it consists of a steel wire bent frame finished in polished brass with matte black hardware, and is paired with a pleated cotton shade available in a variety of vibrant colours. HAY, 'Martin' table lamp, €199 www.hay.dk
The Umpu vase from Marimekko has a beautiful, flowing ovoid form and retro style, which fit perfectly in this setting. The long, narrow neck is ideal for supporting both bouquets and single-cut flowers. Place the vase on the coffee table with your favourite colourful flowers inside for a stylish display. Marimekko, 'Umpu' vase, €121 www.nordicnest.com
Adding the perfect vintage look, the LYFA's Divan 2 is a stunning pendant lamp designed by Simon P. Henningsen in 1962, consisting of overlapping brass trapezoids carefully assembled one by one. It not only provides soft, indirect lighting, but also looks incredibly aesthetically pleasing. LYFA, 'Divan 2' ceiling lamp, €728 www.finnishdesignshop.com
1.
3. 4.
Soft accents and warm tones – choose a selection of cushion covers in orange and brown shades to complement the wall colour and light wooden features in the room. For a nostalgic look like this one, go for velvet textures of luxurious quality that enhance the cosiness. 1. 'True' cushion, Ferm Living, €55 2. 'Velv' cushion, House Doctor, €34 3. 'Galore' cushion, Warm Nordic, €189.00 4. 'Sanela' cushion, IKEA, different sizes and prices www.fermliving.com www.nordicnest.com www.warmnordic.com www.ikea.com
A graphic rug can be a great statement piece in any room, and helps to define the style. This Morocco rug in black and white provides balance to the neutral tones in the home, and complements the graphic artwork on the wall perfectly. Trendcarpet, 'Morocco' rug, €94.99 www.trendcarpet.dk
The vintage-style coffee table in Cecilie's home is from Jysk but no longer available, but the In Between lounge table from & Tradition is a great alternative if you want to achieve a similar look. A result of designer Sami Kallio's love for Scandinavian heritage and woodwork, the In Between table is made with traditional techniques out of strong and characterful oak wood. &Tradition, 'In Between' lounge table, €563 www.finnishdesignshop.com
For more inspiration and vintage looks, follow Cecilie Kovsted on Instagram @interiorunivers
A key feature in Cecilie's living space is the wall colour, Impression 12125 by Jotun Lady. This is a golden brown tone, which is warm and works well together with the variety of other brown shades and wood accents. It also makes the wall art pop, and helps to set a retro tone. Jotun Lady, 'Impression 12125' wall paint www.jotun.com
Creating a gallery wall with a selection of wall art you love is an excellent way to add personality to your space. Cecilie has curated a great, minimal wall full of interesting artwork in different sizes, and with different frames, making it the perfect fit for her Scandinavian home with a vintage touch. 1. 'Obejct 01' by TPC x Bycdesign Studio, Poster & Frame, 70x100cm, €137.95 2. Matisse Lithographie poster, Postery, 50x70cm, £24.95 5. 'Perfect Imperfection – No. 3' by Mille Henriksen x Danica Chloe, Poster & Frame, 30x40cm, €48.95 4. 'Intuition Collection 03' by Rune Elmegaard, Poster & Frame, 70x100cm, €104.95 5. 'Carl Newman 03' by Arch Atelier, Poster & Frame, 30x40cm, €26.95 www.posterandframe.com www.postery.com 3.
1.
2.
4. 5.
Dream homes with custom-made solutions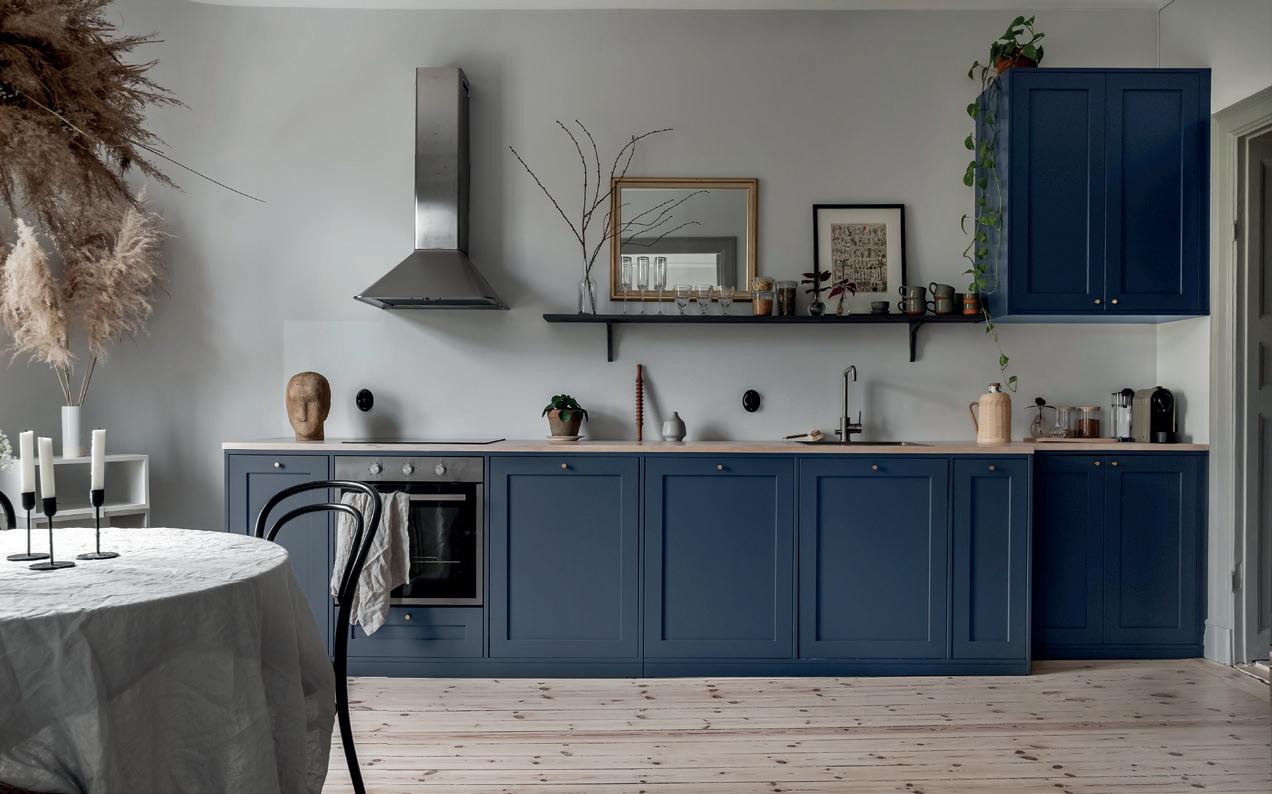 Classic white, elegant wood, or perhaps a modern dark grey? Picky Living tailormakes kitchen and wardrobe cabinet fronts to preferred dimensions, materials and colours – for personal homes, with the environment in mind.
Picky Living is known for creating stylish fronts suitable for IKEA kitchen and wardrobe cabinets. Whether you're building a new kitchen, in need of a wardrobe solution or just wanting to change the IKEA fronts for a new look, this company can make interior dreams come true.
In addition to kitchen and wardrobe cabinet fronts, Picky Living also provides kitchen counters, fittings and legs. Three high-tech factories in Sweden tailor-make orders according to your required dimensions, preferred materials and colours. Thanks to plenty of design experience, technical knowledge and craftsmanship, the team can solve tricky problems and adapt interiors according to customers' wishes. Interior magazines regularly feature Picky Living's solutions, and on the website are house tours with celebrity customers such as retired high jumper Emma Green, alpine ski racer Frida Hansdotter and singer Oscar Zia, all having renovated their homes with the help of Picky Living.
From World Expo to online orders How did it all start? Furniture designer Anders Lagerström and industrial designer Henrik Haij were asked to design and manufacture SEB's exhibition furniture for the World Expo 2000 in Hannover. The project was a success and other requests followed, including event materials, exhibitions and specially designed furniture – and they often used IKEA's cupboard bases.
In 2009, the two childhood friends founded Picky Living, a pioneering concept in the field of custom-made fronts for IKEA
kitchen cabinets. The vision was to offer simple solutions available to order online, to help create more personal homes.
To offer flexible solutions and build with the environment in mind has been part of the company's ethos since the start. "Why throw away entire kitchens if you don't have to?" asks Haij, who argues that the understanding and knowledge among customers is greater these days, and predicts that the sector will grow further. "We strongly believe that kitchen layouts will last longer, as people can keep the cabinets and just change the fronts and still achieve a major change in how their kitchen looks. So, we encourage people to keep as much as possible when they renovate, as this is a great way to save resources."
Design collaborations and sustainability Trends evolve over time, and while classic, white cabinet fronts were big years ago, clients these days are increasingly asking for wood and darker, bolder colours. The company works closely with designers such as Lotta Agaton, one of Sweden's foremost interior designers and stylists, for limited collections. One recent collaboration is Guldkant, a collection of gold-coloured steel fronts with gold-pleated handles and legs, developed in partnership with the lottery Triss. "With Guldkant, we created fronts that really stand out but also keep with a simple and elegant look," explains Haij.
Picky Living also works with Hardware Stockholm, a provider of handles and knobs, to offer exclusive fittings manufactured in Sweden. Together with White Arkitekter, the company has launched an exciting collaboration based on sustainability, Gröna Luckan (which means 'the green hatch'). White Arkitekter is one of Scandinavia's leading architecture practices and works with sustainable architecture, urban design, landscape architecture and interior design for current and future generations. The collaboration is another step towards reducing the environmental impact with the most environmentally friendly kitchen fronts.
Haij's top tips: Buy second-hand IKEA cabinets. It's good for the environment, the cupboards are already assembled, and you get money left over for stylish fronts.
Lagerström's top tips: Cut your IKEA cabinets to desired dimensions, assemble with common wooden screws, and order fronts from us with special measurements.
Web: www.pickyliving.se Facebook: pickyliving Instagram: @pickyliving
Full andempty. Photo: Johnny Korkman Deflated. CottonCandyDrops.
Joy through ceramics
Katja Kotikoski is a Finnish ceramics artist and designer whose inspiration comes from her everyday life experiences. Her passion is to create timeless objects, which bring joy to people's lives. Kotikoski has had numerous exhibitions both in Finland and abroad, and her work is also represented at different public art collections, like the State Art Collection of Finland.
Kotikoski observes the world around her with a curious and optimistic mindset. "I am influenced by everything that happens around me, and that materialises itself through my art," Kotikoski explains. Her work is known for visual minimalism and attention to detail, a combination that spontaneously combines art, design and craft.
Her subjects come from current issues in today's complex world. "I aim to portray imperfection and often handle subjects that might be difficult to talk about, like a feeling of inadequacy, fears or secret desires," she explains. She handles these sensitive topics with kindness, and her playful touch comes across in her designs.
Kotikoski's love for the material and form can be seen in both the visual and the technical details of her work. She uses her own porcelain clay mixes and is known for combining different techniques and inventing new glazes. "I could not imagine using another material, there are so many compelling aspects in ceramics. I often work with moulds and create a series of art, but in the end, every piece is unique," she says. "Ceramics is an endless learning process. You are never ready; sometimes it still surprises me, and that keeps me intrigued."
New retrospective exhibition Kotikoski is celebrating the tenth anniversary of her artistic career with a new exhibition carrying her life motto, Every cloud has a silver lining, as its title. The exhibition takes place in KWUM, the Karin Widnäs ceramics museum in Fiskars, Finland, and runs until March 2022. At the time of writing, Kotikoski is putting the final touches to the last few pieces for the exhibition. "The new pieces are quite different – they are more abstract compared to my earlier, more figurative pieces," she reveals.
Ice cream.
Katja Kotikoski's anniversary exhibition can also be visited virtually at kwum.fi.
Web: www.katjakotikoski.com Facebook: katja.kotikoski Instagram: @katjakotikoski
Left: Seagrass is slick, versatile and functional for perfect dining. Right: The stately, eye-catching illumination Gross. Below: Imperia – an installation and a light source all in one.
The trendy light from the dark Swedish forests
As daylight rapidly disappears and winter approaches, Scandinavians turn their lights on: big statement lights in the ceiling, functional lights for cooking and recharging, decorative lights for giving a cosy feel and pretty lights in the windows, where the curtains are never drawn. It's that time of year, when provider of all things light, By Rydéns, gets extra busy.
In the deep, dark forests of Småland, slap bang in the middle of southern Sweden, charismatic young entrepreneur Arne Rydén had a lightbulb moment in the late '50s. He was going to start a business.
With a flair for marketing, he quickly realised that Stockholm was the place to sell his wares. As demand grew for his trinkets, china cats and household articles, he set up a factory in his hometown, the idyllic Gnosjö. During the late '90s the company changed direction, focusing on providing fellow Swedes with any light source thinkable. The rest is history.
"We took a huge leap onto the European market in 2020. By Rydéns was already working with retailers in Norway and Germany, but last year we followed it up by opening showrooms in both countries. We also have agents in a lot of countries, like Finland and Belgium. Next up is a German web shop!" says market coordinator Annette Schill.
The lamps sold at By Rydéns are not merely a functional light source; they are meant to delight. As is the case with any fashion company, what's on the shelves at By Rydéns won't stay there for long. The company has a clear focus on following trends – and starting their own. "We are keen to provide our customers with something exciting. We design our lights to follow trend themes offered to our customers: 'Scandinavian' for a modern touch, 'Nature' for nature-based products, 'Lobby Lounge' for big and bold pieces, and 'Rebel' for lights with an element of surprise and humour," says Schill. Even after its expansion, By Rydéns is a Gnosjö company through and through. The entrepreneurial spirit of this village is renowned. The company may be taking big steps on the European market, but it still has its feet planted firmly on the ground in Gnosjö. "We want to give something back to our community, so we're inviting customers living close to Gnosjö to come to our By Rydéns Light Factory and buy show products at a good price," says Schill. Because home, as all Scandinavians know, is where the light is.
Web: www.byrydens.com Facebook: ByRydens Instagram: @byrydens