11 minute read
Business & Innovation
Task or relationship?
Are you happy to walk into a meeting full of people you don't know and get straight down to business, or do you feel the need to find out something about them first?
TEXT & PHOTO: STEVE FLINDERS
Interculturalists distinguish between more task- and more relationship-orientated business cultures. This is important to bear in mind when dealing with people from an unfamiliar company or country. My urge when I meet you professionally might be to find out something about you and your background; your interest might be simply to get on with the job in hand. Your reflex might derive from where you come from or simply from who you are – an interpersonal rather than an intercultural phenomenon.
I was once given an example of relationship orientation by a French hotelier who wanted to develop his Saudi clientele. His first visit to the country was a disaster. Although he had arranged a series of meetings before
Issue 13 |  March 2020 hand, his timetable soon fell apart since no one was available when they had said they would be, and he wasted hours waiting for people who never turned up. So he forgot about planning and simply started calling people once he had arrived: it worked. His contacts would invite him to join them for elaborate meals. During three or four trips, he did a lot of socialising with little mention of work. But once the relationships had been forged, the business started flowing in and the significant investment in time and money that he had made paid off.
Whether working internationally or not, task-orientated people must recognise the need others may have to build relationships. Their impatience to get things done may lead them to trample roughshod over others' feelings. Relationship-orientated people, on the other hand, can be so focused on achieving harmony that they lose focus of the essential objective of getting results. As often, it's a question of awareness and getting the balance right.
Steve Flinders is a freelance trainer, writer and coach, based in Malta, who helps people develop their communication and leadership skills for working internationally: steveflind@aol.com.
Southern Europe tomorrow
What's awaiting us tomorrow is a mystery. But, if you want to catch a glimpse of the future, Southern Europe's vibrant start-up and innovation scene might be the place to look. French, Spanish, Italian and Portuguese visionaries are coming up with life-altering ideas daily and manage to turn them into reality in no-time. Welcome to Southern Europe's future.
TEXT: ARNE ADRIAENSSENS  I  PHOTOS: UNSPLASH
TOMORROW'S MUSIC Portable beats As every music aficionado knows, experiencing music is about more than just hearing the tunes play in your ears. It is all about feeling the beats. With BassMe, you can now take those beats with you, anywhere you go. Attach this French plug-and-play device on your chest, connect it to your headphones (by cable or Bluetooth) and it will pump the beats straight through your body without anyone around you hearing a thing.
Issue 13 |  March 2020 TOMORROW'S BEAUTY The make-up robot Doing your make-up takes plenty of valuable mirror time as your skin never looks quite the same as the day before. L'Oréal's brand-new Perso device creates your perfect facial cream in a heartbeat and dispenses it straight away. Based on a selfie you make, your personal data, your preferences and on other factors like the weather, air quality and humidity, it calculates the optimal solution. Two other Perso devices provide you with a custom-made foundation or lipstick every morning. They even allow you to colour-match the colour with your outfit or the latest trends.
TOMORROW'S REHAB Digital detox When plenty of other methods to quit smoking have failed already, the Italian sober-buddy LIFEBOX might be what you need. After determining your dependency level through the app, it calculates your ideal kick-off schedule. The app helps you stick to the plan and motivates you along the way, but it is the electronic cigarette safe that helps you resist the temptation. As it only opens as many times per day as your schedule allows you to smoke cigarettes, it will push you to stick to the plan and be smoke-free in no-time.
Saying that a picture is worth more than a thousand words may sound like a cliché, but it happens to be true. And if we put image and word together, Amagifilms appears: a Madrid-based audio-visual company specialised in conference recordings, event broadcasting and photography in Spain.
TEXT: NINA JAREÑO | PHOTO: AMAGIFILMS
To many companies, thinking about the audio-visual part of their events is a hard nut to crack. That is why Amagifilms offers its clients a personalised, all-round service with a professional production specialist who oversees the entire process,
leaving no room for errors. "An essential ingredient for a company to function is passion for your work. We are committed to every event or project," says Bárbara Sokol, the executive producer at Amagifilms. The cinematic expertise of this audio
visual company, that works in English and Polish as well, allows each project to be treated in a unique, individual way. This is how Amagifilms creates extraordinary videos that fit the customer's vision perfectly. "We specialise in corporate events and take care of it from beginning to end; from the set-up of the equipment, to the recording, broadcasting or event photographing," explains Sokol. The Amagifilms flagship product is the 'aftermovie', a unique video that becomes an audio-visual memory of your event. Barbara Sokol is not wrong in saying that "quality videos or photos project a brand image of trust and excellence." How do you get that? By taking care of every single detail. "Because no project is too big or too small for us." So, if you are organising an event in Spain and you need an audio-visual partner, Amagifilms has all the tools and skills to guarantee your success.
Build your business brain in Barcelona
Barcelona may be one of the top places to consider for a holiday or even to live, but would it be the first place to come to mind when choosing a business school? Barcelona may seem all beaches and festivals, but in fact, it's a great place for business, too. The city holds world-class conferences such as the Mobile World Congress, Retail Brand Experience World Congress, Startup Grind and Smart City World Expo, and attracts lots of new and progressive start-ups.
TEXT: ESME FOX | PHOTOS: ESEI BUSINESS SCHOOL
Its popularity as a holiday destination also means that there's a great many companies dedicated to tourism, from hotels and tour companies to cookery schools, so it's an ideal place to study if you're interested in the business side of hospitality and tourism.
ESEI Business School is essentially a family business, which first opened in 1989 and draws on the city's business opportunities to help teach its students and create innovative courses and projects. Located in a grand and beautiful house on the edge of the city, close to the mountains, this is not your usual campus. It offers a unique
Issue 13 |  March 2020 and elegant space in which to learn and focus. The school offers both Bachelors and Masters programmes in a variety of fields, from business management and digital entrepreneurship to tourism and hospitality management and international relations.
Personal attention The school was founded by Jorge Estera Sanza in order to develop international business in Barcelona. It aims to provide an all-round, internationally-focused education, which combines academic excellence in business studies with humanistic values. With an average of around 250 students and a maximum of 25 per class, ESEI offers a lot of personal attention and can tailor projects around students' interests and needs. All courses are taught in English and pupils are attracted from countries around the world, making the school a very multicultural environment, which sets students up well in the world of business. "We have had up to 90 different nationalities, but currently we have around 35, mostly from Europe, including countries such as the Netherlands, France, Italy and Germany, although we have quite a few from Morocco, too," says business development manager Carlota Estera.
On- and off-campus learning One of the things that sets the courses at ESEI apart from other business courses in the city are its links with businesses and its practical classes and projects, offering real world experiences. One example of this includes its partnership with the Hotel Majestic, one of Barcelona's most luxurious hotels. Through project-based learning, students get to acquire first-hand knowl
edge about the way in which the hotel is run and managed. The school will also be launching a Masters in Sports Management in October 2020, in conjunction with Bruguera's Tennis Academy. Because of its affiliations with businesses in the city, the school also helps organise internships and visits to companies.
Many modules are in fact taught outside the campus, in co-working spaces or in businesses themselves, so that students can network and learn the necessary business skills in the real world. The courses are accredited by UCAM – the Catholic University of Murcia in Spain, and also have connections with a couple of universities in the United Kingdom.
Social and green "In everything we do, we try to look at our social impact and green issues. Our courses also include volunteering in social leadership and a Go Green Project, which teaches about sustainability in business," explains Carlota. When students complete their courses, ESEI prepares them with workshops about getting into the workforce and supports them in their job search or advises them on the processes of starting their own businesses. Each year, they hold a career fair in the garden, giving graduates the opportunity to meet companies and speed network. There are also a variety of Discover France & Spain |  Business & Innovation
other job fairs and conferences in the city, which students can attend.
Hotbed of talent Graduates go on to have careers in everything from tech start-ups and multinational companies to even FTSE 100 and blue-chip companies. Some even go on to start their own businesses and become their own boss. "My favourite thing about our school is our personal touch and care for each student, enhancing their unique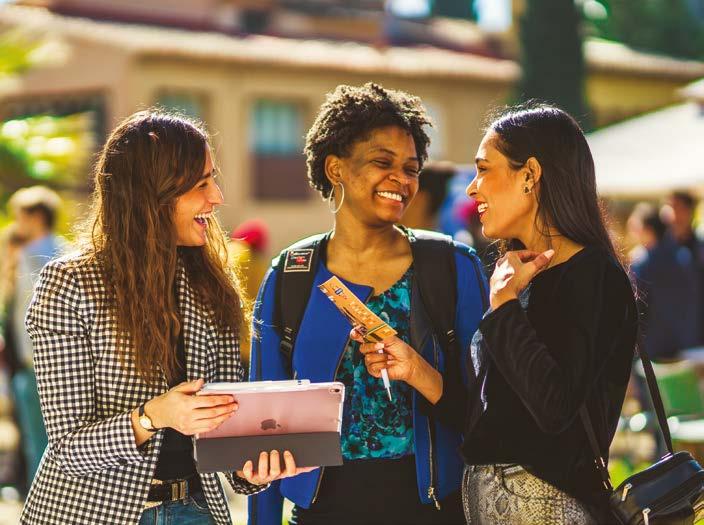 ness. We dream with them and support them both personally and professionally," concludes Carlota.
Barcelona is a great place to learn your trade and network with an international community. Whether you want to build your business locally or internationally, the city offers a hotbed of talent, knowledge and, of course, a great environment in which to learn and network.
www.eseibusinessschool.com
Sustainability is a hot topic. We are now more conscious than ever that how we live affects the planet. Even the houses we choose to live in could have a drastic impact on our carbon footprint.
TEXT: NOELIA SANTANA | PHOTOS: CONRAD WHITE
For some companies, sustainability is nothing new. Blakstad is a design consultancy firm that has been building dreamy, Ibizan-style houses for decades, all the while striving to fit the design into the environment, to maintain harmony with the natural elements.
Rolph Blakstad, founder of the company, was fascinated by how the crystalline houses were part of the land. He described the architecture of Ibiza as "part of an organic, living relationship between man and nature."
Blakstad designs with this premise in mind. "We understand sustainability as a key part of the design, the orientation of the houses, how to maximise the light and ventilation to save energy," says Rolf Blakstad, son of Rolph and head of design. Its ethos is to conserve the cultural significance of the island while combining new and efficient building techniques to suit contemporary lifestyles.
Even though its approach to design is traditional, it keeps up with the latest architectural trends that can improve the design but also minimise the environmental im
pact. Houses are built to make the most of the natural light, placing skylights and windows strategically. It uses materials with a high thermal mass that reduces room temperature during the day, but keeps it warm later in the day.
The key to having a conscious approach to building starts with the design; thinking ahead about how the structure is going to be in harmony with the landscape, studying the terrain and the vegetation to make the most of it but always respecting it.