21 minute read
Stunning chateaux and castillos in France and Spain
France and Spain are both castle-rich countries. Wherever you look, both in the city as in the countryside, you will see majestic palaces, castles and forts – all more impressive and bigger than the next. Yet, the French chateaux and Spanish castillos are more than just relics from the countries' lush pasts. They play an important role in the celebration of their herit age to date; be it as a museum, a hotel, a wedding venue or – true to their initial purpose – a unique and spacious residence. Let's visit some of France and Spain's nicest castles and discover what sets them apart.
Few countries are as known for their castles as France. Their century-old tradition of building chateaux for their happy few has turned the nation into an amusement park for castle afficionados. To really experience the palace immersion, set sail to the Loire Valley, a stunning wine region on the French west coast. Spread over these 32,000 square kilometres of grassland, you can spot well over 300 chateaux. The biggest of them all is Château de Chambord, a Renaissance palace with 440 rooms and 365 towers on a humongous piece of land. The wall surrounding the estate measures no less than 32 kilometres.
A bit further down the Loire river, you will find Château d'Ussé, also known as Sleeping Beauty's castle. This dreamy castle amidst the greenery is said to have been Charles Perrault's inspiration to write the legendary fairy tale. Its big rose garden truly makes you believe that you have entered a fairy-tale book. Architecture aficionados will also enjoy the interesting mix of Gothic style with medieval elements, making it difficult to keep your eyes off it.
Château de Chenonceau (see page 22)
Up to 7,000 chateaux But, of course, France counts way more regal abodes than just those 300 of the Loire Valley. Depending on your definition of the word chateau, you might end up with anywhere between 1,000 and 7,000. The French National Monuments Centre clocks up 6,450 of them. Visiting them all would take a lifetime. That's why we have selected our absolute favourite ones. Head to page 20 to discover Château d'Auvers-sur-Oise; a monumental, 17th-century chateau with a stunning garden, located just a stone's throw away from Paris. On page 22, we take a peek at Château de Chenonceau, one of the Loire's most famous castles. Floating above the water, this palace is as picturesque as they come. Page 24 brings us to Château La Tortinière, a lush, family-owned hotel in the historic surroundings of Tours. Finally, on page 25, we check in at Château de la Treyne, a beautiful retreat in which to enjoy luxury and gastronomy with a view.
The Moorish heritage Yet, France is not the only country that can be proud of its palaces. At the other side of the Pyrenees, in Spain, you find castles aplenty, as well. Yet, here, they call them 'castillos'. While they used to serve the same purpose as their French counterparts, these Spanish fortresses distinguish themselves by their unique style. Where Classicism, Baroque, Renaissance and Gothicism are king in France, Spain counts a lot of Moorish castillos. As the Arabs ruled over the Iberian Peninsula from the beginning of the eight century until the late15th, it comes as no surprise that many of the Spanish architectural mammoths are drenched in Moorish charm.
Most famous, of course, is the stunning Alhambra in Granada. The oldest parts of this palace date back to the late-ninth century. Yet, it only received its current shape during the final decades of the Al-Andalus empire. The colossal fort exists out of three separate royal palaces: the Comares Palace, the Palace of the Lions and the Partal Palace. All of them are as lush as they come – both inside their thick walls as outside in the romantic patios.
Alhambra. Photo: Unsplash
Córdoba and Jerez de la Frontera you will find stunning 'alcázars' as well. These palaces were built (or rebuilt) by the Muslim rulers as their personal residences. In the centre of the country, in cities like Segovia, Toledo and Burgos, you will find stunning alcázars just as easily. Therefore, you can discover the Moorish architecture, anywhere you go.
The Galician Middle Ages Yet, Spain has so much more to offer than just the Arabian palaces. In Galicia, for example, you will discover a very different kind of architecture. On page 26, we head to the medieval Castelo de Soutomaior. If the impressive, robust architecture of this palace doesn't impress you, its story sure will. This castle was owned by lord Pedro Alvarez de Soutomaior, an aristocrat who allegedly faked his death to become his alter-ego Christopher Columbus and discover the Americas.
Alcázar Real de Sevilla. Photo: Unsplash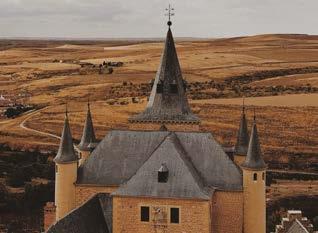 Alcázar de Segovia. Photo: Unsplash
Alcázar de Toledo. Photo: Unsplash
Throwing new light on impressionist landscapes
Just as artists such as Monet and Renoir captured fleeting moments with small, deft brushstrokes, each movement in the 'Impressionist Vision' digital experience is brought to life at the Château d'Auvers. Set in one of the most picturesque castles in the Giverny region, it provides the perfect backdrop to a series of innovative exhibitions inspired by nature.
TEXT: KATE HARVEY | PHOTOS: CHÂTEAU D'AUVERS
It's no secret that gardens were central to the Impressionists' love affair with the natural world. The way the light hit each ornate pond, or each flower in bloom, made for some of the most iconic Impressionist works to date. The Château d'Auvers plunges visitors, both indoors and outdoors, into a corner of their world. Located just 30 minutes outside of Paris and 25 minutes from RoissyCharles de Gaulle airport, there are eight hectares of gardens, ponds and fountains to explore; alongside a picturesque orangery and courtyard. Every detail of this fine estate is a meeting point of artistic ideas. The geometric gardens are a unique blend of English, French and Italianate design; and its 17th-century nymphaeum a tranquil water feature that has stood the test of time.
In fact, the chateau itself served as a holiday resort for painters seeking inspiration in the surrounding landscape: "Vincent Van Gogh spent the remaining 70 days of his life in Auvers-sur-Oise," reveals Delphine Travers, director of the Château d'Auvers.
Dive head-first into the world of Impressionism Watch the magic of Impressionism unfold into a digital masterpiece – inside one of the most breathtaking castles in the Giverny region. The chateau invites visitors to immerse themselves in the 'Impressionist Vision' experience; a multimedia journey through the stages of Impressionism. With light projections, mappings, morphings and giant screens, visitors are taken on an emotional and sensory experience like no other. The exhibition showcases the influence of Impressionism upon the village of Auvers-surOise, as well as the artists' work, alongside later movements such as Proto Cubism, Fauvism and abstraction.
Virtual reality in full bloom In the Giverny region, the artistic potential of the flower is undeniable, and the chateau it
self is home to an oasis of irises, clematises and roses. From 22 until 24 May 2020, visitors can witness flowers come alive at the Fleuramour Festival of Arts and Plants. Walk among more than 140,000 flowers into a fantasy world of petals and pollen, all within the setting of an enchanting French garden. Each one of the flowers has been incorporated into a series of creations to compel and excite.
Photography inspired by humans and nature The chateau also pays tribute to a number of contemporary artists that are continually inspired by the natural world, such as Discover France & Spain |  Stunning chateaux in France
photographer, Nils-Udo. From the Creuse Valley to the ponds of the Chateau d'Auvers, Udo's photography perfectly captures the ephemeral nature of light just as his Impressionist predecessors once did. Set in the chateau orangery, his upcoming photography exhibition will take place between 7 March and 24 May 2020.
From the Impressionists, to the Post-Pictorialists Head to the chateau during the summer months, and witness the evolution of Impressionism across a series of contemporary pieces. From 6 June to 26 July
2020, the chateau will exhibit the work of Tony Soulié, a famous pioneer of the French Pictorialism movement and descendent of Impressionism. Visitors can wander the chateau and admire his bold and flowery prints, alongside a number of other paintings. At the Château d'Auvers-sur-Oise, you're sure to pass the time as the Impressionists once did – one brush stroke at a time.
Bookings can be made online, where it is also possible to reserve the Orangery and Atelier for a private function.
The French chateau fit for an Italian queen
In the heart of the Loire Valley, a region of France teeming with Renaissance chateaux, Chenonceau and its arched gallery have sat across the Cher river since the 16th century. An architectural masterpiece, Chenonceau demarcates itself by combining French opulence and elements of Italian style. Re-imagined by Catherine de Médicis, Chenonceau became a prime example of aesthetics and pleasant living. But beyond the physical edifice, Chenonceau also stands for a rich cultural heritage ranging from gastronomy to wine-making and floral art.
TEXT: PIERRE ANTOINE ZAHND | PHOTOS: CHATEAU DE CHENONCEAU
As one might expect of a French chateau, Chenonceau has a long and eventful history. While the domain itself dates back to the 12th century, the edifice was conceived between 1514 and 1522. Two decades later, in 1547, King Henry II gifted it to Diane de Poitiers, his official mistress. Passionate about the chateau, Diane commissioned an arched bridge straddling the river, as well as flower gardens arranged in eye-catching shapes on the opposite bank. After Henry II's death, his actual wife, Catherine de Médicis, reclaimed Chenonceau from Diane de Poitiers, and proceeded to commission yet more ambitious modifications and expansions. The queen from Tuscany set out to bring an Italian flair to Chenonceau, overseeing, among other things, the development of the chateau's
Issue 13 |  March 2020 stunning Grande Galerie, which was built along the existing bridge. As queen regent, Catherine had ample room to throw lavish parties, and Chenonceau became famous for its night-time celebrations. In 1560, on the occasion of her son's coronation, it hosted France's first fireworks displays. Chenonceau also made the chateau an important point in wine history by implanting the Italian Chenin grape in the Chenonceau vineyard.
Culinary prowess Close to five centuries later, Chenonceau still holds the values of taste, elegance and celebration. Culinary prowess, for instance, is embedded within the chateau's DNA. Again, Catherine de Médicis proved an inspiration for the Chenonceau style: her love of sweet treats prompted her French chefs to learn how to cook France's first sorbets, macaroons and frangipane sweets. Under her, refined royal feasts became a marker of political strength: now, the Orangerie restaurant carries on this culinary legacy by offering a rich menu highlighting local, seasonal products as well as varied vegetarian options. And to accompany the food, the chateau holds a yearly wine-tasting event: on the third Saturday of July, the wine-making association of the Touraine Chenonceaux appellation gather at the domain for free samplings of their red and white offerings. Lucky visitors can even enjoy these wines in the Grande Galerie, occasionally open at night.
Stunning floral bouquets Beyond extraordinary architecture and good cheer, Chenonceau is noteworthy for its horticulture. For over 20 years, the chateau has hosted the 'Atelier Floral' (flower workshop), a unique occurrence in Europe. Every day, two florists work from the one-hectare flower garden, to conceive and realise the stunning floral bouquets for which Chenonceau is known. Headed by Jean-François Boucher, who holds the title
of 'Meilleur Ouvrier de France', the Atelier and its resulting creations are partly responsible for Chenonceau's unofficial status as 'France's most elegant chateau'.
The 80-hectare park that surrounds Chenonceau, nestled deep inland, is bound to appeal to nature lovers, and is home to many free-roaming animals and birds. To that end, visitors are encouraged to walk around the woods as well as in the gardens (pets on a leash are even allowed to join in).
A variety of other activities In the summertime, Chenonceau offers a variety of other activities: visitors may, for instance, rent a barge and go paddling on the Cher river, or take an evening stroll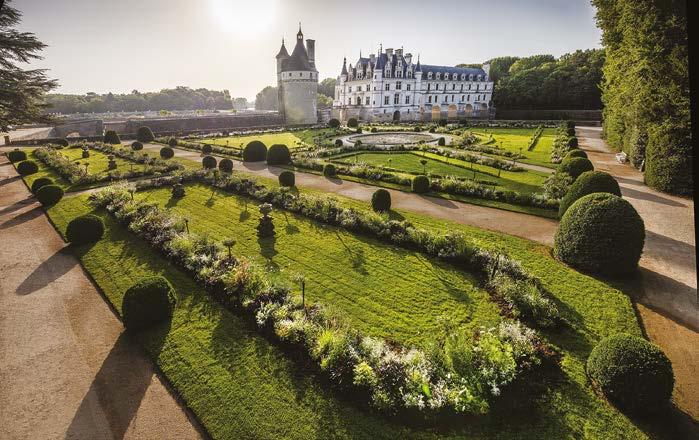 around the gardens. In the spirit of spreading Catherine de Médicis' enthusiasm for good eating and exciting entertainment, the Orangerie restaurant, the historic wine cellar and the gardens can all be booked for private events, including light shows, music and evening-time entrance into the grounds.
In 2020, the Chateau opened the Cabinet de Chenonceau, a curiosity cabinet created by the influential philosopher Jean-Jacques Rousseau in the 18th century. Later this year, for Christmas time, Chenonceau will unveil its 'Paradis Royal'.
A charming chateau stay
The area surrounding Tours is steeped in history. Famed for its abundance of opulent castles, it was favoured by 15th-century aristocrats thanks to its beauty and proximity to Paris. For those who wish to do more than simply visit the castles, La Tortinière also offers a rare opportunity to travel back in time and stay in one.
TEXT: ALEX BEVERIDGE | PHOTOS: LA TORTINIÈRE
Just ten kilometres from the city of Tours, La Tortinière is nestled in the heart of the Loire valley, just one hour from Paris by train. The 15-hectare estate welcomes guests not only in the castle itself, but equally in the former servants' quarters and farmhouses, all transformed into charming and luxuriously modern four-star accommodation. The castle was originally built in the 1800s by the prominent Dalloz family before being bought by the Olivereau family in the 1950s and turned into a magnificent chateau-hotel. Now, three generations later, husband and wife team Anne and Xavier run this family affair, continuing the legacy left by their ancestors and offering an elegant stay in one of France's most enchanting regions.
Issue 13 |  March 2020 The Olivereaus have welcomed many guests over the past 70 years, including Audrey Hepburn and former French president Georges Pompidou, with 26 rooms and six suites that appeal to families and couples alike. Whether it be in the charming chateau, the prestigious pavilion or the gardener's chalets, tradition meets modernity in every room with its antique furniture and striking architecture allowing guests to journey back in time and experience the opulence of the elite of yesteryear, all with the added modern touch of air-conditioning and other essentials.
What makes La Tortinière exceptional is not only its majestic grounds or breathtaking views over the Indre valley, but its ability to
remain refined and luxurious without being ostentatious, a discrete sophistication that many of its surrounding lavish castles fail to achieve. The on-site restaurant is a prime example of this discrete luxury, offering a wide selection of food, from bistro-style to high-end gastronomy, serving local produce in a chic yet casual environment. Sample Sainte-Maure's finest goat's cheese or the Marigny Marmande truffle in this simply stunning setting, all while taking in the view from its terrace.
As well as visiting the historic castles, the estate offers numerous noble activities to keep you busy, from bike rental to billiards, a heated outdoor pool and even a sauna and spa service. There is also a 'barque' (a small rowing boat) available for those who wish to saunter along the Indre river before taking a picnic on its banks. Travel back in time and experience history and high society at this charming chateau, where discrete luxury meets timeless elegance.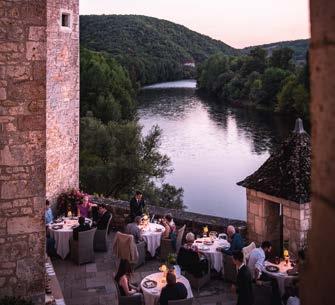 From humble B&B to the height of luxury
A 14th-century fairytale castle on the banks of the Dordogne River, the Château de la Treyne oozes history. It's been a home to knights and noblemen since medieval times, as well as to the Louvre Museum's Egyptian collection during the Second World War. grounds stretch across nearly 300 acres and there's something for everyone, from formal gardens to a forest, plus a heated infinity pool and tennis courts.
TEXT: KATIE TURNER | PHOTOS: CHÂTEAU DE LA TREYNE
Little wonder, then, that current owners, Stephanie and Philippe Gombert, wanted to add their own chapter to the story. "20 years ago, my mother-in-law was running the chateau as a B&B and we used to come down at weekends to help her out," says Stephanie.
The husband and wife team now run the château as a prestigious Relais & Châteaux hotel with its own Michelin-starred chef. "We wanted to give these wonderful old stones a new lease of life," Stephanie continues enthusiastically. "The place was getting a bit run down, but we had grand plans! It's an absolute passion project." Despite having no experience of the hotel trade, Stephanie and Philippe quit corporate life in Paris and never looked back.
The Château de la Treyne now has 17 sumptuous bedrooms each with a unique identity and in keeping with the historic surroundings. The hotel restaurant also now holds a Michelin star. It's run by chef Stéphane Andrieux, who has worked with the couple since the beginning and uses locally-sourced produce and organic vegetables grown on site.
"He's exceptional," explains Stephanie. "He's only ever worked in Michelin-starred kitchens and after coming to the chateau he got his star in a matter of months." The chateau's Stephanie runs the chateau day-to-day, heading a team of 35 staff catering to visitors' every need. "I describe what we offer guests as the 'A to Z' of service. Nothing is too much trouble," she says. "I want guests to really feel at ease here."
The secret to the Château de la Treyne's success? Stephanie is absolutely clear: "You can only make something like this work if you have a wonderful team moving forward together, with the same vision, passion and drive."
www.chateaudelatreyne.com
Exciting history within fortified walls
Spain is a country full of hidden gems and charming spots. And for the discerning traveller itching to explore while learning a thing or two, Galicia is a stunning region where wild nature has adapted to historical landmarks, creating oases of history to enlighten the most inquisitive minds.
TEXT: NOELIA SANTANA | PHOTOS: CASTELO DE SOUTOMAIOR
There is a place in the popular 'Rias Baixas', in the province of Pontevedra, where a powerful fortress brimming with historical significance is waiting to be rediscovered. Nestled in a valley, surrounded by a lush forest and gardens, is Castelo de Soutomaior, where you can learn some fascinating details and fun peculiarities about the making of Spain.
A symbol of Pontevedra Castelo de Soutomaior is a medieval castle dating back to the 12th century. It is one of the few medieval castles still fully standing in all its glory. Over the centuries, it has belonged to some very different owners who have altered the castle to their will, but each modification has added architectural value and enriches the history and narrative of the place.
Issue 13 |  March 2020 Nowadays, the castle belongs to the Pontevedra provincial council and it has become a symbol of the province. The castle is something of a museum and visitors can go around the different rooms on their own or book a guided visit. The rooms are all
dedicated to the different parts of history the castle has gone through, as well as the characters that have played a part in shaping what Castelo de Soutomaior is today. It is the perfect family outing. Even the little ones will feel like a part of the adventure by solving the clues that each room holds in a fun game of 'Detective of the Castle'.
A different experience every month The 19th-century botanical garden surrounding the castle was declared of 'International Excellence' by the International Camellia Society in 2012. What makes this luscious park especially unique is that it's filled with exotic and rare species, even four kinds of trees that are listed as relics. But the protagonist of the garden is the camellia. This oriental flower made its way into Galician territory a long time ago and now there are around 400 types thriving in it, 19 of which are over 100 years old. The flower has become an emblem of the castle that accompanies the visitor throughout the tour of these colourful grounds.
The castle is open all year round and offers a different experience depending on the month. You can visit the vineyards during the harvest or take a walk along the hidden paths of the deep forest and enjoy the picture-perfect autumn scenery. February and March are the perfect time to catch the gardens at their best and, of course, to see the expectant flowering of the camellia.
Hungry after all that walking? There is a cafeteria near the castle, but we recommend a visit to Arcade – around five kilometres away – to try some of the best Galician seafood. Oysters are its speciality.
Key players in the castle's history During the 15th century, the castle became the property of the feudal lord Pedro Alvarez de Soutomaior. He was best known as Pedro Madruga – 'early riser' – and he was an important figure in the history of Galicia. There is also a very interesting theory that suggests that he was none other than Christopher Columbus. According to the theory, Pedro Madruga didn't actually die in 1486, but in
stead changed his identity, a disguise that enabled him to make the pact that took him on his conquest of the Americas with the Catholic Monarchs, who weren't really fond of him. The plot thickens with many more details, but we will leave those to you to find out during your visit.
Later during the 19th century, the marquesses of La Vega de Armijo y Mos made the castle their summer residency. They were very cultured people and during that period the romanticism of the medieval age was trending, so they decided that a medieval castle was the perfect summer home for a family of medieval idealists. They also proceeded to add some architectural alterations, which turned half of the castle into a neo-gothic structure. The botanical garden was probably also started by them, as during the romanticism there was an exaltation for exotic plants, to show off their culture and knowledge of faraway lands.
The castle then passed onto Maria Vinyals, niece of the marquess. An exceptional woman – a feminist, a globe-trotter, versed in many arts – she made the castle a cultural hub for artists and bohemians of her time. Sadly, like many other significant women of the past, her story and input in history are not common knowledge, something Castelo de Soutomaior is trying to change by educating its visitors about the woman that played such an important part in the history of the castle.