KAUAʻI CURATED TRAVEL + LIFESTYLE ʻ
Start Planning CREATE A TRIP • BUILD AN ITINERARY • COLLABORATE WITH FRIENDS DISCOVER FRESH CONTENT • BROWSE CURATED GUIDES MAPS + DIRECTIONS • LIVE SOCIAL FEEDS Download the Savvy360 app and put this magazine—and more— in your pocket. Scan to get the SAVVY 360 app Apple and the Apple Logo are registered trademarks of Apple inc. Google Play and the Google Play logo are trademarks of Google LLC.
arrivedhas
FORGIVENESS |
LASER-LIKE ACCURACY SOUND & FEEL

Our all-new GEN5 Clubs are a master class in PXG style, performance, and forgiveness. With explosive distance, laser-like accuracy, and outstanding mishit performance, just one swing and you'll agree—we killed it with these sticks. Step up to GEN5 and put Kaboom Baby! on your side today.
CANNON-LIKE ANGELIC
DISTANCE |
| INCREDIBLE
NOBODY MAKES GOLF CLUBS THE WAY WE DO. PERIOD.® PXG clubs are only sold direct by PXG. PXG.COM | 844.PLAY.PXG GET DIALED-IN WITH PXG GEN5 GOLF CLUBS IN HAWAII Dial 1.844.PLAY.PXG ON THE PHONE GET FITTED Visit PXG.com ONLINE GET FITTED For the most comprehensive fitting experience, book time with a PXG Fitting Specialist at a PXG Fitting Studio near you. We'll work with you to optimize your new PXG clubs to deliver maximum performance and enjoyment. Book at PXG.com or call 1.844.PLAY.PXG IN-PERSON GET FITTED PXG FITTING STUDIOS ON KAUA'I Poipu Bay Golf Course Outdoor Fittings

CONTENTS
Local Vibe
4
Local Faves
A colossal fish ... eat loco ... a twighlight hunter ... passionate beauty treatment ... learn some local lingo ... and chill out with a tropical libation.
Lay of the Island
Mālama Kaua'i
Resident Joshua Rudinoff shares his insight and treasures of Kaua'i.
Getting familiar with the Garden Isle.
Caring, preserving and protecting the island as a conscious traveler.
3226122732
MĀLAMA KAUA'I
SOUTH SHORE | PO'IPŪ KAUA'I OPEN DAILY TEL: 808-742-9545 THESHOPSATKUKUIULA.COM CULINARY MARKET KAUA'I GROWN AND MADE WEDNESDAYS 3:30 - 6 PM BUBBA EATINGTHECOMPASSBURGERSDOLPHINPOIPUHOUSE1849 BY ROY YAMAGUCHI LAPPERT'S HAWAI'I ICE CREAM & COFFEE LATITUDES FINE ART GALLERY LIVING OLUKAIMERRIMAN'SMALIEMAHINALULULEMONFOODSPOP-UPORGANICSKAUA'I POIPU SURF SALT + URGENTUNCLE'STORITOMMYTABLESOHASKYLINESAVAGESEASHRIMPECO-ADVENTURESLIVING/SOHAKEIKIATPOIPUBAHAMARICHARDSHAVEICECAREATTHECLINIC AT POIPU VITALITY KAUA'I AND MANY MORE! FRIDAYS 5:30 - 7:30 PM KANIKAPILA RELAX TO LIVE MUSIC

6 CONTENTS The Great Protectors The impact of protecting our coral reefs runs deep. The Crafty One Hawai'i's own StartTheandTrendsWhat'ĀinaHotCulturalEatingTheLegendsatAnTimelessHumuhumunukunukuāpua'a.TreasureagriculturalpastremainsfirmlyrootedKilohanaPlantationEstate.andLoremajesticplacesbehindthenames.Globalinfluencesonlocalcuisine.SpotKaua'iWeLoveNowontheculinaryscene—musubi,foodtrucksshaveice.Guidesplanningyourtripwithcuratedguides.464438465462687277 TIMELESS TREASURE 38 THE GREAT PROTECTORS HANALEI VIBES COVER IMAGE BY COLIN PRODUCTIONSANDERSON
Ahuimanu Shopping Center - kilaueafinejewelry.com - (808) 431-4100 Sustainably Created Diamonds by Kilauea Fine Jewelry
8 Itinerary KAUA'I Maha'ulepu Coastal Trail Pō'ipu Hawaiian Lomilomi Massage Anara Spa Cocktails & Lunch Captain's Bar Garden Island from our central adventure or relaxation, this is special ways for you to experience the breathtaking natural beauty of Kaua'i. SHOP + STYLE | 125 BEACHES | 107 GOLF | 117 SEE + DO | 79 EAT + DRINK | 141 ISLAND LIVING | 155 EXPERINCE MARYMICHELLEMUNDANIELKEVINMASTHEADGEIGERDUVALSOKGEIGERLACOURTROYJOHNSTONKRYSTALKAKIMOTOANDREWWALSHKITFURDERERDIGITAL SAVVY360 APP on THE APP STORE/GOOGLE PLAY SAVVY360.COMCONTACT FOR COMMENTS OR QUESTIONS, EMAIL US MAGAZINE@SAVVY360.COMFINEPRINT © 2022 SAVVY360, LLC. ALL RIGHTS RESERVED. No part of this publication may be reproduced, transmitted or distributed in any form without the prior written permission of SAVVY 360. DESIGNED AND PRINTED IN THE UNITED STATES OF AMERICA DOWNLOAD THE SAVVY360 APP MAPS | TRAVELOGUE161 | 170
TIDEPOOLS AT GRAND HYATT KAUAI Ahh, the romance of a tiki-torch lit dinner in thatched roof bungalows floating above a koi-filled lagoon. Here you'll find superb service and modern Hawaiian cuisine featuring the freshest local fish and succulent steaks crafted with a distinct island flair. Free valet parking for diners. For reservations book online on OpenTable or call 808 240 6456.reserved.rightsAllCorporation.Hyatt©2021Corporation.Hyattoftrademarksaremarksrelatedanddesignsnames,Hyatt®GrandandHyatt® GO GRAND grand hyatt kaua'i resort & spa | 1571 POIPU ROAD | KOLOA, HI 96756 | GRANDHYATTKAUAI.COM
Devoted to quality clothing, art, jewelry and Hawaiiana. The Shops at Grand Hyatt Kaua'i offer something for everyone. 1571 PO'IPŪ ROAD, KŌLOA | GRANDHYATTKAUAI.COM Everything Kaua'iIN ONE BEAUTIFUL SPACE The Shops at Grand Hyatt Kaua'i
NA HOKU Na Hoku has been creating Hawaii's finest jewelry since 1924. Their Hawaiian and Island Lifestyle jewelry features hand engraved heirloom, floral and seallife designs. nahoku.com
MARTIN & MACARTHUR Handcrafted Koa furniture and personal accessories made by the finest craftsman in Hawaii for over 50 years. Choose from their collection of Koa wood watches, Eternity Rings, and Koa sunglasses made by their private stock of Big Island Koa. martinandmacarthur.com
SHOE ENVY Shoe Envy features stylish, comfortable resort footwear for the whole family. Step into the latest fashions from brands like Olukai, Pikolinos, and Keen. You will also find unique handmade vintage clutches, leather handbags and accessories. shoeenvypoipu.com
WATER WEAR Water Wear will prepare you for beach life at its finest! Visit the shop for a complete selection of swimsuits, beach tops, sarongs, and beach slippers featuring popular surf brands.
SUNGLASS HUT The ultimate destination for sunglasses. Live for fashion or sport? Sun glass Hut has the best designer brands under the sun. sunglasshut.com
AFEINBERG GALLERY Come experience one of Hawaii's premier fine art photogra phers, Aaron Feinberg. Aaron's work ranges from the grand landscape to the surreal abstract, which will have you second guess ing whether this is a photograph or painting. Specializing in small Limited Edition and even more exclusive Artist Proof prints, all artwork is customizable to your needs and shipped worldwide. afeinbergphotography.com
POIPU BAY GOLF SHOP Within walking dis tance of the resort, you'll find contemporary resort logo wear and accessories for both men and women. The Golf Shop features the newest designer collections for on and off the course. poipubaygolf.com
TORI RICHARD Founded in 1956, Tori Richard is proud to continue their tradition of quality made-in-Hawaii craftsmanship and playful eclecticism for the resort lifestyle. From the finest textile printing techniques and unique fabrications, to the one-of a kind prints that adorn and delight, Tori Richard captures a piece of Hawaii like no other. toririchard.com
ACCENTS From fresh food and drinks to locally made and island inspired accessories and gifts, Accents brings you the best Hawaii has to offer.
LOCAL VIBE
COLOSSAL FISH
12
If you are unfamiliar with a whale shark, you might shudder at the thought of a colossal shark possibly lurking nearby, but fear not. Fortunately for swimmers, this slow-moving, gentle giant won't bite. The whale shark is a filter feeding shark and not an uncommon creature to encounter in the warm tropical waters surrounding the Hawaiian Islands. The species, believed to have originated approximately 60 million years ago, is not a cetacean, so the "whale" part of its title is a bit of a misnomer; instead it is the sole member of the genus Rhincodon. This shark, however, is the biggest "fish" in the sea, and has been known to reach over 40 feet long and weigh in around 47,000 lbs. The whale shark poses little threat to humans with a diet consisting primarily of plankton. If you are lucky enough to spot a whale shark swimming lazily in the ocean with its giant mouth open wide, don't panic—just keep your distance, and enjoy the show.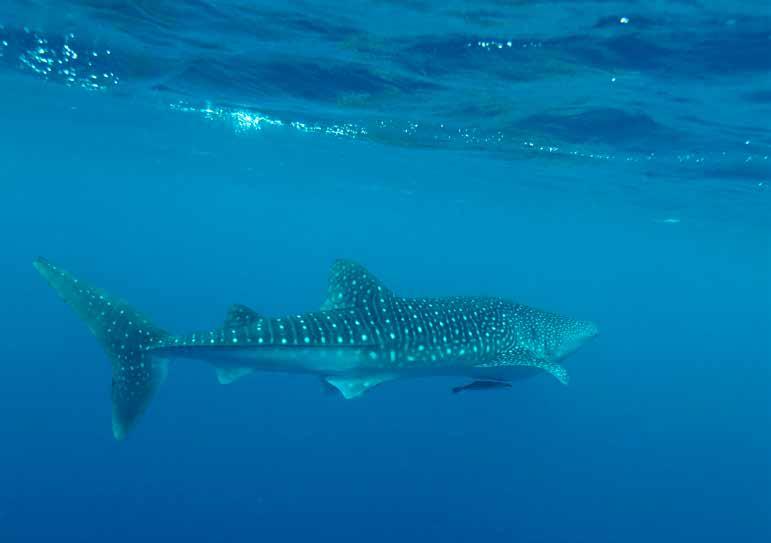 Breathtaking. Thrilling. Worth it. (808) 245-3774
16
In terms of traditional dishes found here, the loco moco is about as local as you can go. Believed to have originated in Hilo in the 1940s, the loco moco has since spread in popularity across the Pacific Islands from Samoa to Japan, and even to the U.S. mainland and has been featured on shows aired on the Travel Channel. The basic loco moco is a scoop of white rice topped with a hamburger patty and a fried egg, then smothered in brown gravy. However, there are many variations of the staple. Meat substitutions are the most common, with favorites being kālua pork, ham, spam, teriyaki beef, or chicken. Loco moco may sound a little odd, but the ingredients manage to combine deliciously. Try a loco moco with fresh seafood such as mahi-mahi or 'ahi (tuna) for a more refined twist.
EAT LOCO!
LOCAL VIBE
"VOTED #1 BEST BOAT TOUR IN THE U.S."
Your island home awaits at Kauanoe o Kōloa in the highly soughtafter resort area of Po'ipū. Here, on the sunny southern shore of Kaua'i, remarkable residences, adventurous days, restorative moments, a rich culture, and unrivaled natural beauty come together to create a truly exceptional place to call home.
Discover Your Place In Paradise
TWO, THREE, AND FOUR-BEDROOM RESIDENCES STARTING AT $1,199,000 © INQUIRE TODAY 808-556-6911 | kauanoeokauai.cominfo@kauanoekauai.com MERIDIAN PACIFIC RB-16590
20
Short legs and an even shorter neck give the 'auku'u, or black-crowned night heron, a laid-back but regal look. However, this demeanor is misleading, for there is nothing relaxed about the way these water-loving species attack their prey. When hunting, the heron waits patiently motionless at water's edge until an unsuspecting fish, frog, mouse, insect or small bird comes by and then snatches the prey quickly with its long sharp beak. Despite its name, the night heron also likes to hunt early morning as well as dusk, and spends its time in aquatic habitats from mountain streams to ponds and the shoreline. Since much of its wetland habitat has been lost, 'auku'u are often seen hunting in golf course ponds, fish farms and even resort ponds awaiting the arrival of its next meal.
LOCAL VIBE
TWILIGHT HUNTER
An Authentic Kaua'i Destination TASTE KAUA'I & EXPERIENCE ALOHA Come join us at Kaua'i's famous plantation estate, where we live and breathe aloha every day. PLANTATION TRAIN THE PLANTATION HOUSE BY GAYLORDS LUAU KALAMAKU KOLOA RUM KAUAI SAFARIS SHOPS 3-2087 Kaumualii Hwy, Lihue 808-245-5608 KilohanaKauai.com
While the liliko'i (passion fruit) is one of the most popular tropical fruits, the striking flower that it stems from gets little of the attention it deserves. Named by Spanish Christian missionaries who arrived in South America in the 1500 and 1600s, the flower has a fascinating structure thought to be a symbol of the Passion of Jesus Christ. Today, the beautiful specimen is used to treat a variety of medicinal issues from insomnia and anxiety to high blood pressure and seizures. Many herbal supplements contain passionflower extract, but it is commonly sipped on in the form of tea. Look for teas that promote sleepiness and relaxation, and chances are passionflower is listed among the ingredients. The extract is also used as flavoring for foods.
22
BEAUTY TREATMENT
LOCAL VIBE
LOCAL VIBE
LOCAL LINGO
24
Puka is the Hawaiian word for hole, and if you hear someone yell it while you follow him through the jungle, watch out! There are many places around the island where collapsed sections of lava flow have created puka in the terrain, and can easily swallow up a foot or more. Kīpuka is a term used for an opening of a small, isolated place of lush forest that have been spared by former lava flows, but are surrounded by the telltale black rock. These kīpuka are often oases inhabited by large communities of native plants and animals. Puka shells are small white shells with a hole in the center used to make jewelry. A Hawaiian riddle: Puka kinikini; puka kinikini; 'a'ohe ona puka e puka aku a (many, many holes; many, many holes; but no hole to go out through). Answer is a fish net.
reserved.rightsAllCorporation.Hyatt©2021Corporation.Hyattoftrademarksaremarksrelatedanddesignsnames,Hyatt®GrandandHyatt® ANARA SPA AT GRAND HYATT KAUAI — Unwind with a soothing facial or massage as traditional healing customs blend with fresh island botanicals leaving you relaxed and refreshed. - Full service hair and nail salon. - FloatPod therapy offers a peaceful space for total relaxation and muscle recovery. - Boutique features luxe skin and hair care plus comfortable island-wear for every occasion. - Weekly and monthly passes available for fitness center and yoga and fitness classes. For a Hawaiian spa experience like no other, call 808 240 6440 or visit grandhyattkauai.com.MAE - 982 GO GRAND
LOCAL VIBE
The original piña colada supposedly came together in 1952 at the Caribe Hilton Hotel's Beachcomber Bar in Puerto Rico. Its inventor, Ramón Marrero Pérez, had been asked to create a signature drink for the bar, and after a few months of formulating, he came up with the beloved beverage. (There are two other Puerto Rican bartenders that claim they concocted the iconic pineapple libation.) The delicious blend of rum, coconut cream, and pineapple juice may be the official drink of Puerto Rico, but it has become a readily adopted favorite on tropical islands across the globe. The sweet cocktail is usually garnished with a fresh pineapple, a maraschino cherry and the adorable, notorious paper umbrella. Blended or on the rocks, a piña colada is a perfect way to chillax on a hot day—especially poolside or staring out into the deep blue.
26
CHILL OUT
K A U A I Poipu Shopping Village, 808-742-7025 • Grand Hyatt Kauai, 808-742-1863 NaHoku.com An incomparable collection of Hawaiian and Island lifestyle jewelry Best HONOLULUofMAGAZINE2020 HAWAII'S BEST People's Choice Awards The Star-Advertiser2021 Readers'MAGAZINEHAWAIIChoiceAward2021 Our Waterfall collection comes in several styles and sizes and is available in 14K Yellow, White or Rose Gold.
28
FAVORITE FOOD: Sushi at Big Monster Sushi Truck in Kōloa. It's fresh, and they are very talented! I love to eat it from the top of Shipwreck Beach cliff.
FAVORITE BEACH: Polihale for surf, sand and sunsets!
IF YOU WERE A VISITOR, YOU WOULD WANT TO KNOW ... How to stay safe in the ocean. When in doubt, don't go out!
FAVORITE HIKE: Nāpali Coast to Hanakāpī'ai Beach then a swim at the falls after a grueling hike! Be sure to get a permit for the day to be at the Ke'e Beach trail.
FAVORITE DRIVE: From Po'ipū to the Kalalau Lookout in Kōke'e State Park. Go from hot to cool with views of the ocean, Ni'ihau Island and the setting sun from the Waimea Canyon ridge.
HANALEI BAY
How long you have lived in Hawai'i? My lifetime of 49 years... KAUA'I
FAVORITE PASTTIME/ACTIVITY: Riding waves. It has been a lifelong dance with nature that keeps me healthy and happy!
FAVORITE HAWAIIAN BAND/ALBUM: "Ku'u Home O Kahalu'u" by Olomana. It reminded me of home when I left for college. The Hawaiian Islands call you home when you travel.
LUCKY YOU LIVE HAWAI'I BECAUSE ... The opportunity to share the Aloha spirit and be an ambassador of what it means to share that love with people. I continue to be inspired by the raw beauty of the islands and the healing power it possesses.
Occupation Sales at Kauanoe O Kōloa
JOSHUA RUDINOFF
FAVORITE HANGOUT: Under my avocado tree in my yard. The shade and the constant risk of a two-pound avocado hitting you. If you get taken out by an avocado, you probably deserve it.
MY
HANAKĀPĪ'AI BEACH
FAVORITE PLACE TO TAKE YOUR GUESTS: Hanalei Bay in the summer. Calm ocean to swim and sand bottom with views that seem too incredible to be real!
FAVORITE PLACE TO CATCH SUNRISE/SUNSET: Sunsets at Polihale Beach with the sun setting next to Ni'ihau and sunrises from Waipouli Beach. Polihale is simply epic; and at Waipouli, you can ride the Kaua'i path on your bike or walk north, getting coffee in old Kapa'a town.
KALALAU
LOCAL FAVES
LOOKOUT
Setting the tone for style, understated and elegant. One-of-a-kind designs.
Taro Patch House
The best of everything locally-made for your home, family, and friends.
Calvary Chapel North Shore. Hapa's Shave Ice. Kilauea Bakery. Palate Wine Bar. The Bistro.
Sushi Girl Kauai Sushi-To-Go, Made To Order, Lunch & Dinner And More…. Aloha Exchange.
Where East meets West in Home, Entertaining, and Fashion.
Explore the art of Hawai'i. Be inspired, learn, create.
Kong Lung Trading
The place aloha wear lovers go for vintage and contemporary fashion Lolo On Kauai Effortless, Vintage-inspired Fashions. Designed on Kaua'i.
Black Dog Gallery and Goods
Constructed of field stones harvested in Kīlauea Town, the Kong Lung building is listed in the Hawai'i and National Registers of Historic Places.
On the road to the Lighthouse 2484 Keneke St., Kīlauea konglungkauai.com
Halia Aloha
One 1ove Boutique
30
The island is roughly the same size as O'ahu, but its population is only some 70,000. Kaua'i has one highway that circles its periphery from Kē'ē Beach to Polihale State Park. The verdant valleys and dramatic emerald cliffs of the Nāpali Coast, however, remain disconnected
from the rest of the island and exclusively viewed by foot, boat or air.
Kaua'i's quiet characteristics are also ideal for relaxation. Full-service resorts around the island provide so many amenities and comforts that guests don't have to leave in order to enjoy the island's rehabilitating attributes. While weather is ideal yearround, keep in mind that rain is more consistent during the winter season when tides also pick up on the North Shore, whereas the summer is hotter and surf kicks into higher gear on the South Shore.
Varied vistas aren't the only reason this island stands apart; there are anthropological reasons as well. Polynesian settlers of the Garden Isle were resilient warriors when it came to protecting their sovereignty and 'āina (land), so Kaua'i was never taken by force, despite the many attempts of powerful rulers from other Hawaiian Islands. Even though Kaumuali'i, the last reigning king of Kaua'i, finally reached an amicable resolution with Kamehameha in 1810, the noble warrior spirit remains a significant part of the unconquered island'sInaccessiblelegacy. regions still abound and nature is more commonplace than buildings, which, by the way, aren't allowed to be taller than a coconut tree. Laid-back sleepy towns like Waimea and Hā'ena abound and kama'āina (residents) are often more inspired by the day's surf than the daily grind.
A rural atmosphere makes Kaua'i the Shangri-La of outdoor adventures. Hike through misty rainforests of Kōke'e State Park, into the dusty red gorge of Waimea Canyon or along the ragged coastline of Māhā'ulepū. Rent a kayak or stand-up paddleboard and coast along the Hanalei or Wailua rivers that are fed by Mount Wai'ale'ale, one of the wettest spots on earth that averages more than 400 inches of rain each year. Swim at celebrated beaches, such as Hanalei Bay, set against the mighty Namolokama Mountain, or the perpetually sunny South Shore's family-friendly, Po'ipū Beach.
LAY OF THE ISLAND
The Garden Isle's fascinating history and unforgettable geographic splendor are reasons why it remains exclusive from other islands in the Hawaiian Archipelago—and throughout the world.
Caring, Preserving and Protecting the Island as a Conscious Traveler
Although not a new concept, regenerative travel and tourism has become an increasingly important endeavor in the past couple of years, especially in destinations with limited resources and more fragile ecosystems. This mindset is a constructive and hopeful way for people to travel, with tourists committing to leave a destination better than when having first arrived. Before the pandemic, concerns were mounting among Kaua'i residents about the detrimental effects of tourism on their lives and the natural resources they cared so much about. Traffic and wait times were rapidly increasing on the one main road around the island. Beaches and natural sites once enjoyed by locals were becoming more crowded. The term "overtourism" popped up to signal the situation was growing beyond control.
-
32
words MARY TROY JOHNSTON
Malama KAUA'I
33
34
The chances for visitors to connect with residents have increased as programs for "voluntourism" have multiplied. Through the partnership of the Hawai'i Visitors and Convention Bureau and the
"You don't realize how much junk there is in the ocean until you start to look really hard between the rocks."
community to protect the ancestral heritage of Hanalei and beyond. The decision-making model embraced by the hui and its partners is described as "community led; government supported." According to Joel Guy, Executive Director of the Hanalei Initiative "the community drove the master planning process." Joel states that "protecting resources was the most important principle" securing their efforts. Excessive footprints and car prints can have devastating effects on an environment, especially a fragile one. What to do before the out-of-control traffic returned to the North Shore was a main concern. The Hanalei Initiative was the result of planning that included meetings attended by concerned citizens, especially the residents affected by the floods. Outcomes to the planning process are still emergent, but what has been accomplished is already impressive. Access to Hā'ena State Park and the beaches and trails beyond it have been redefined. According to Joel, the main element is that visitors must plan to utilize these resources, getting the correct permitting, and familiarizing themselves with new rules. (Specifics are provided online at gohaena.com, which lays out reservations, shuttle details, parking arrangements, and rules for park entry and camping.) The introduction of a shuttle, the Waipā Park and Ride, from the Waipā Foundation to Hā'ena State Park, has proved to be a gamechanger. To illustrate, Joel says that transporting the average of 408 people on the shuttle from the Waipā Foundation takes two hundred cars off the road. The advance permitting process has also been effective in amounting to a total reduction of people in the park from over 3,000 to 900. Residents have expressed the most thanks for reduced traffic. Although some worried about the impact on locals from the more structured access to the park and trails, special rules govern locals so that they can drive up to the park at any time with their Hawai'i ID or drivers' licenses.
The community in tandem with many partners, including the State Parks, County of Kaua'i, Kaua'i Visitors Bureau and the Hawai'i Department of Transportation, spearheaded changes. They were elaborated in the Hanalei Initiative to reset the use of those areas containing precious natural resources. The hui (group that cooperates for a defined purpose) behind the initiative, Hui Maka'āinana o Makana, dates to 1999 but really stepped up after the floods. The hui was determined to involve the
The pandemic provided an opportunity for island residents to reevaluate tourism. Strict entry rules in response to COVID-19—buttressed early on by a 14-day quarantine requirement for visitors—meant that the contagion was relatively contained, but tourism was practically brought to a halt. Added to the changes brought on by the pandemic, the North Shore was twice pounded and flooded by torrential rains, during April 2018 and March 2021. Highway and other infrastructure damage effectively shut down parts of the North Shore for months on end for those who were not residents. Times had not been so harsh since Hurricane Iniki in 1992. Residents of Kaua'i were able to see tourism very starkly as they were presented with a "before and after" scenario, with over-tourism yielding to a long lull in people visiting the island. Strikingly, until road repairs, residents practically had to themselves what lay beyond Hanalei—Ke'e Beach, Hā'ena Beach, Lumaha'i Beach, and the trailhead to the Nāpali Coast. Reports began to filter out that the residents were quite enjoying the peace and quiet, and the fish even joined in with their return to the shore!
To remedy the situation, the idea of going back to traditional values took off and reflected ancient ideals about what is good for people and the environment. Culturally, Hawaiians have traditionally been aware they have a kuleana (responsibility) to help sustain the natural environment that feeds them—physically and spiritually. In a sense, the emphasis on regenerative tourism has presented vacationers on Kaua'i the opportunity to help share the kuleana and connect with residents who are doing the same.
35 GUYINITIATIVE/JOELHANALEICOURTESY:PHOTO
36
37
Tourism has been reimagined, but moreover, the concept has been brought into closer harmony with Hawaiian cultural values of respecting all living things, realizing that life does not stop with humans; it abounds in nature even if we cannot observe the life force of rocks, reefs, mountains, and sea. They, too, deserve to be protected from extinguishment, and everyone seems to agree. The all-around enthusiasm is not surprising considering how much aloha exists for our island.
FOXKATYBOTTOM)(OPPOSITEBADENCHINI;AMYTOP)(OPPOSITECOURTESY:PHOTO
Hawai'i Tourism Authority, the statewide initiative called "Mālama Hawai'i" (mālama meaning to take care, preserve and protect) was developed. Tourists who volunteer their time to leave the island a better place can earn travel benefits, such as discounts or a free night at a hotel. The range of volunteer opportunities on Kaua'i shows the extent to which the contributions of many are needed and the aweinspiring responsibility local planners, activists and volunteers have not only in preserving the natural environment but also in reversing harmful patterns that have damaged traditional resources.
A family (Katy Fox and Carol De Vol and their son, Zachary) and an individual (Amy Otsuka Badenchini), all visitors, who volunteered for Surfrider's beach cleanup spoke about their experiences. Amy revealed that she learned a lot about turmeric farming from one of the local
volunteers she worked alongside. She concluded, "You don't realize how much junk there is in the ocean until you start to look really hard between the rocks." The family was especially enthusiastic about volunteering. Youngest family member, Zach, 11, has a podcast about climate change named We The Children-Kids Talk Climate Solutions, which predisposes him at such a young age to engage in changemaking. All the participants were surprised at how physically challenging the beach cleanup was, especially Zach, who pulled out a large, discarded freezer box more than half his size. All agreed they learned a lot about Kaua'i and wanted to continue their volunteer efforts and wanted to give back to an island they Accordingloved.toarecent study, of the 463 Kaua'i residents questioned, Professor Agrusa at the University of Hawai'i at Mānoa, who conducted the survey, found that 98.7 percent responded favorably toward tourism when it was done for regenerative purposes. Sue Kanoho, Executive Director of the Kaua'i Visitors Bureau, has experienced this overwhelmingly favorable response from volunteers and corporate partners in the tourist industry to the initiative of Mālama Hawai'i. Sue points to many generous actions. For example, Kipu Ranch Adventures has helped by taking proceeds from one of their ATVs and giving to the Kaua'i Food Bank. Grand Hyatt Kaua'i Resort & Spa has established a cultural center with a focus on Mālama Hawai'i. Kit Furderer from Holo Holo Charters boat tour company says that 333 people have signed the Pono Pledge. He helped create the pledge that includes the following: "I will care for the oceans, reefs and all sea life by using only non-toxic reef-safe sunscreen."
The Surfrider Foundation, Kaua'i Chapter explored ways to engage returning tourists in protecting the land and culture. Barbara Levin, who conceived of the organization's Ocean Friendly Visitors (OFV) Program, describes involving tourists in "mālama 'āina" (taking care of the land), which is a core Hawaiian cultural value. Surfrider and Mālama Hawai'i were a match made in paradise, a partnership naturally aligned. In promoting Mālama Hawai'i, Barbara elaborates, "Surfrider provides educational materials for hotel guests, and also provides beach cleanup kits that resort guests can check out to do solo beach cleanups." The Cliffs at Princeville recently joined the Surfrider Kaua'i Chapter as the first hotel partner in its Ocean Friendly Visitors Program. General Manager Jim Braman reports that three to four families each week initiate beach cleanups on their part with the help of the hotel and Surfrider. Barbara also sheds light on visitors' contributions to Surfrider net patrols, led by Scott McCubbins and Barbara Wiedner, reporting that 58 visitors volunteered to remove "dangerous nets and other marine debris from Kaua'i's coasts" joining island participants in the first half of 2022. These efforts account for the incredible statistic that "6,000 pounds of marine debris per month" were removed throughout 2021, according to Barbara.
38
PROTECTORS The Great
"Never meet your heroes," or so the saying goes, as surely you will be disappointed. Instead, I recommend going scuba diving with them. In fact, I recommend going diving to solve most of life's problems, but if you can go with your heroes, you won't be disappointed. I certainly wasn't. It was twenty years ago on the small island South Eleuthera, in the Bahamas, and the famous American marine biologist Sylvia Earle was coming to visit. She was a board member at the school where I worked. It was perched on the edge of the beautiful Bahamian bank, teeming with endless coral reefs and crystal-clear waters as far as the eye could see. I impressed on my students how significant this visit was for me but also what an opportunity it was for them. This was Sylvia Earle, the first female chief scientist at NOAA, record holder for the deepest untethered solo dive of any human, National Geographic Explorer-in-Residence, and all-around lover of creatures in the blue. Her illustrious aliases include "Her Deepness," "Aquanaut," Library of Congress "Living Legend," and more recently Time magazine's "Hero of the Planet," but one more meaningful to me than all the others: my dive buddy. It turns out she was just like us: someone who wanted to see what was out there, under the waves. Despite having more experience in the water than all of us, she still shared that same love and fascination we all experienced every time we hit the water—what else might we discover today and will the beautiful corals exploding with colors, movement, and majesty be as dreamlike today as they were yesterday? Would the mantas come by to see me again, or might the whales sing their melodious melancholic songs, so I can dream of sights, sounds, and sensations that as a child I believed only existed in fairytales. We were, like all children starting out, natural ocean lovers and scientists at various stages of development. I did my best to convince the students to come along for the dive on our huge 100ft underwater aquaculture cage perched a mile offshore, as I was sure it was something they could tell their grandkids about. Sylvia
39
The Impact of Protecting Our Coral Reefs Runs Deep
words ANDREW WALSH
When we returned, Sylvia told the students a story (one I would later hear her tell grand audiences at awards shows) of how she first fell in love with the ocean exploring the seagrass beds and salt marshes of the Gulf of Mexico, her childhood home; how this led her to a life spent understanding and learning from the marine world and ultimately realizing how much it needs our protection; and how much our own protection is linked to protecting the oceans. She spoke so eloquently that even the greats, like Jacques Cousteau and Rachael Carson, didn't at first realize that the ocean was indeed finite and vulnerable. If we kept taking from it all the good things, like food, and putting into it all the bad, like waste and pollution, we would not only be destroying this magical dreamlike oasis, but, as it turns out, our own magic. As the source of life that keeps humans alive, it is the same with the oceans. Lose one, and you lose the
40
hit home when Sylvia spoke about her own experience watching the unprecedented changes she witnessed take place within her lifetime of dying ocean ecosystems, decimated ocean fisheries, and increasing ocean temperatures and acidification. I too was seeing this occur right before my eyes and in the many years since that wonderful joyful dive we shared, as reefs that I once knew and loved were all but dead and devoid of life. Fish I once reliably found were gone as their homes were destroyed. And whole coastlines, ecosystems, and lifestyles were just an echo of times when the world believed the ocean was infinite and would provide for us, despite us not providing for ocean life.
are one of the longest living organisms on Earth. Some corals are known to be up to 5,000 years old (individuals, not the species). The largest living organism on Earth is thought to be the Great Barrier Reef—an underwater dreamscape laid down by reef building coral polyps over thousands of square miles off Australia's northeast coast. Financially, corals also seem skilled at building monetary wealth. They provide ecosystem services to the economy and livelihoods of our societies valued at $30 billion a year. They protect shorelines from the devastating effects of erosion and storm damage, and millions of people rely directly on them for food, jobs, tourism, recreation, and even emerging pharmaceuticals for cancer, arthritis, asthma, ulcers, human bacterial and viral infections, and heart disease. It makes you wonder: how could these tiny creatures be so important to our existence, and yet most of us know little about the crucial role they play in our lives and consequently are allowing them to become endangered to the point of extinction?
other.Itreally
truth of human existence—that corals and all natural resources sustain our individual lives. Corals are physically and spiritually connected to the islands and to the people who call these islands home; and that connection extends to visitors. Just as the mana (spiritual power) infused in the majestic volcanoes anchors these islands to the earth and provides us all with a home and safe footing, corals are the barrier and bridge between the enormous power and potential of the ocean. Whether we realize it or not, all our lives, from the very first breath we took, to the very next breath we will take, depend upon the ocean. Yet the story of corals goes even deeper. So deep, in fact, their story saturates the very fabric of each one of our daily lives.Corals
and I were buddies on the dive, just two happy fish in the sea. It was one more gift the ocean had given me, and one more debt I owed it.
So, what is an ocean lover to do? How about just an air lover, or someone who just likes knowing their kids will have a reliable source of food or an intact biogeochemical cycle that provides them with the nutrients and molecules they need to survive? It all depends on the oceans. We have a responsibility to ourselves to treat the ocean responsibly. And it all can start right here in Hawai'i with the health of our reefs.
Yet, when we swim off Hawai'i's sandy beaches, inviting lagoons, and bays, we expect to see life abound. Residents and visitors alike are deeply connected with the abundance of life just offshore. Since the first Polynesians arrived on our islands, the people of Hawai'i have depended on the reefs for sustenance. In more recent times the tourist economy has become largely dependent on this underwater oasis of life waiting to be discovered. Dive companies, snorkel cruises, hotels, kayak tour operators, and researchers are just a handful of those that have a common dependence on the Island's
Hawai'i's corals are closely connected with the kama'āina (people) and the 'āina (land). The unique biogeography of the Hawaiian Islands presents its residents an opportunity to experience an inviolable
41
Locally, there have been many instances around the islands of damage to reefs. Fish abundance, a critical factor in maintaining healthy reefs, has also declined by 75% since the 1900s in Hawai'i. Even a careless snorkeler or boat owner can damage a reef as the outside layer of the corals is interconnected live tissue. Damage is easily done by any blunt force, such as standing, touching, or dropping a big anchor onto a reef. In short, they are fragile ecosystems trying to survive.
The sobering reality is that natural disturbances are just a fraction of the cause for extensive damage to coral reef communities. Anthropogenic threats, such as the inundation of ecotourism, the aquarium and souvenir industries (illegal in some locations), and overfishing, as previously mentioned, have reached a point where we must go beyond spreading awareness and push for more action.Specifically, fossil fuel consumption releases massive amounts of carbon dioxide into the atmosphere, while heating it up. Much of this carbon dioxide is being absorbed by the world's largest climate stabilizer, the ocean. But as global warming continues to increase and the ocean absorbs increased carbon dioxide emissions, the reaction with sea water creates carbonic acid, which then dissociates to hydrogen and bicarbonate
43
And Hawai'i's unwanted distinction as "the extinction capital of the world" should be an anachronism, as scientists have long known of this catastrophic loss and have the tools to solve many of the problems creating this crisis. With awareness of the present and knowledge of future consequences, environmental destruction should be a vestige of the past. But we continue as a society to deplete the very resources that provide us with clean air, oxygen, water, and food.
Fortunately, there is much we can do to keep our reefs healthy. The first and most crucial step is education. Learn more about the reefs and your effect on them—our grandchildren's children will thank us. When enjoying the ocean, don't stand on or touch corals or other reef organisms. If snorkeling, be mindful of your fins, being careful not to brush against coral. Allow as much time as possible between applying sunscreen and entering the water, and choose coral safe sunscreens, as the chemicals in them are harmful to the reef (Hawai'i is the first state to outlaw the sale of sunscreens containing the coral-harming chemicals oxybenzone and octinoxate).
reef community. It has been estimated that Hawai'i's coral reefs generate $360 million a year for the state, but the total economic, cultural, scientific, and aesthetic value to the community is incalculable.
Although Hawai'i has a relatively stable coral reef population, much of the world's reef systems are in a state of steep decline. Unfortunately, coral reefs are threatened by both human and natural impacts. Overfishing and poor land use practices including development, pollution, recreational overuse, and the introduction of alien species threaten Hawaiian reefs. Global warming has also been shown to increase the risk of invasive species' outbreaks and coral bleaching. Many known instances of sedimentation runoff have killed huge areas of reefs in Hawai'i because of improper upslope land use. Nutrification from storm runoff, sewage overflow, fertilizer, and residential chemical runoff can cause increases in algal blooms and drops in dissolved oxygen, both of which can permanently damage coral reefs. Even the breakdown of plastics and human debris can suffocate an otherwise healthy reef.
Take only pictures, leave only bubbles, and waste only time when out on the reef. Feeding fish, taking home souvenirs, and not disposing of trash properly are all detrimental to the reefs and their inhabitants. Consider the chemicals you use at home and in your daily life. If it goes down the drain, fertilizes the lawn or golf course, or spills on the driveway, it all ends up in the ocean. Understand why your carbon footprint matters. Being respectful of our natural resources will ensure they are there when we need them, and we can start right here with the reefs in Hawai'i. Like my hero once said, "No blue, no green." I'll see you out in the blue.
ions. The problem of acidification (pH goes down) occurs when hydrogen concentration increases and carbonate concentration decreases as a result of higher carbon dioxide absorption, exacerbated by the warmer atmosphere, resulting in a death sentence for corals (and not a field day if you live at sea level). Major bleaching events in Hawai'i and around the world have scientists struggling to preserve the remaining coral reefs and prevent future losses. The situation is so dire that if current trends continue, we could face the potential extinction of world corals by 2050. For the daily consumer it is a passive act of global species extinction occurring throughout the world.
Humuhumunukunukuāpua'a ONEThe Crafty
45
Humuhumunukunukuāpua'a refers to both the reef triggerfish (Rhinecanthus rectangulus) and the lagoon triggerfish (Rhinecanthus aculeatus).
Territorial and aggressive, humuhumu are generally found in isolation and never in dizzying schools. When threatened, a humuhumu's tough scaly body and shape allows it to wiggle itself into coral and rock crevasses, where it puffs itself up and wedges its unicorn-like spine into the space to prevent abduction. Although there is never a shortage of triggerfish in Hawaiian waters, the state fish is generally not considered to be food. Rather, the ancient Hawaiians threw the fish into the fire to grow the flames before roasting their true catch of the day. Nearly a quarter of all fish in Hawaiian waters are endemic to the state (found only in Hawai'i and nowhere else in the world), but not our state fish. The humuhumu are indigenous to the South Pacific Ocean, but have been found as far as the Red Sea and South Africa. Despite their global presence, Hawai'i made the humuhumunukunukuāpua'a the state fish in 1985 due to their abundance in Hawaiian waters. However, the designation expired five years later and the fish was only an unofficial state mascot until Hawai'i Governor Linda Lingle signed a bill in April 2006 permanently reinstating the humuhumunukunukuāpua'a as the official state fish. The next time you are snorkeling or diving into the azure blue waters of Kaua'i, look for this strange, feisty beauty!
hat creature has the color of a Picasso painting, snorts like a wild pig, and looks like it has a chubby mouth full of marshmallows at all times? If you guessed Hawai'i's state fish humuhumunukunukuāpua'a, you'd be right. It's pronounced jokedlongestnoo-koo-noo-koo-ah-pua-ah,""who-moo-who-moo-andisoneofthewordsintheHawaiianlanguageandoftenthatthenameislongerthanthefishitself.
coloration of the triggerfish is most striking and vivid when healthy, happy, and unthreatened.
This Hawaiian name literally translates to "a fish with a snout like a pig." Also true to its name, the fish was named for the pig-like snorting noise it makes when threatened, such as when fleeing predators or pulled out of the water by fishermen. Scientists theorize that the fish makes this grunting pig noise to warn other triggerfish about imminent danger. "Humuhumu," as the locals call them, have exquisitely blue lips and teeth so sharp that they chew through coral and crustaceans and love to feast on sea urchins in Hawai'i's tropical reefs. They don't swim very fast for small reef fish, but can shoot high-powered jet streams of water from its toothy grinning mouth to sift through the sand for food. Humuhumu can also rapidly change their coloration and brightness depending on their mood—such as fading their vivacious coloring while sleeping at night to conserve energy and conceal themselves. The
W
TREASURE
An Agricultural Past Remains Firmly Rooted at Kilohana Plantation Estate
Timeless
words MARY TROY JOHNSTON
soil, Kaua'i offered a promising future for sugar. Eventually, ten sugar plantations dotted the island; hence, King Sugar became the dominant industry and biggest employer on the island. Abner Wilcox and his wife Lucy traveled from New England in 1837 to work as missionary teachers in Hawai'i, first in Hilo on the Island of Hawai'i and eventually in 1846 to Hanalei on Kaua'i. Their heirs went on to become influential in politics and especially successful in the founding of the sugar industry on the island. Their son, George Norton Wilcox, acquired Grove Farm, the farm he had managed, then leased in 1864 and purchased in 1870, which he left to his nieces and nephews. A trained engineer educated at Sheffield Scientific School, now Yale, George was able to accomplish the feat of building the infrastructure to get the muchrequired water from the mountains to the farm for sugar production. At its peak, the plantation reached across 22,000 acres. The next century saw Gaylord Parke Wilcox relocate to Kaua'i to take up residence at Kilohana, a family property previously owned by Albert Wilcox. At the site of the old family home that had been torn down, in 1936 he built the largest mansion on the island at the time and, also, became president of his family's Grove Farm where he had grown up with five other siblings.
W
47
ith the decline and eventual end of the sugar industry in Hawai'i (Alexander & Baldwin was the last company in the state to cease sugarcane farming in 2016.), a watershed moment was presented to plantation owners who had to look to alternative uses of their land. Some landowners leased their agriculturally zoned land to companies and small-scale farmers, while others, like Kilohana Plantation Estate, reinvented themselves to serve the booming tourism industry. Rooted in Kaua'i's agricultural history, today, the 35-acre Kilohana Plantation Estate welcomes locals and visitors to experience fine dining, shopping, live entertainment, and tours of their still operating farm.
When Captain Cook arrived on Kaua'i in 1778, patches of sugarcane (kō in Hawaiian) were already established. Popular with Hawaiians as a food staple and medicine, Cook found a use for sugarcane as well, brewing a beer (to the distaste of his crew), hoping it might provide a good defense against scurvy. It was over half a century before the product—sugar— was commercially mass produced in Hawai'i. 1835 was the year Hawai'i established its first sugar plantation when Ladd & Company was able to secure the first land lease ever granted for acreage and built the island's first sugar mill in Kōloa, Kaua'i. With its abundant rain, amenable climate, and rich
has remained in the Wilcox family for generations. Kilohana was filled with rare objects that bedazzled— large calabashes (hand-carved containers made from exotic local woods of Hawai'i), ornately upholstered couches, hand-dyed and knotted Persian carpets, masterfully rendered oil paintings, and rarities out of every corner of the eye. The architectural style of the house is as alluring, attributed to the Tudor period but also an example of the "territorial style" (dating to the period when Hawai'i was a territory of the United States) in which the connection between outdoors and indoors is closely nurtured. A hallmark of Kilohana is the access to views of the grounds through large glass sliding doors. Even today, both the architecture and the furnishings of the house combine to reflect the cosmopolitan culture that immigration brought to the island during the Plantation Era.
The grounds held their own promise, especially as Albert and Gaylord in the previous century had engaged in an array of agricultural and animal husbandry activities to sustain their lifestyle. Gaylord and his wife, Carol Wilcox, conveyed their vision to the Kilohana partners in terms of continuing the homesteading legacy. Fred Atkins, one of the partners who shared the owners' vision, noted that they provided a property layout showing the locations in the past of "flower gardens, milking stalls, piggeries, and fruit gardens." 2003 was a watershed year for agricultural planning when the partners were able to lease 67 acres from Lihue Land Company (formerly in sugar) and begin thinking in more expansive terms.
"Part of the vision was to open the stately home and grounds for all to see and enjoy..."
As sugar production shifted to places with cheaper labor, the sugar barons on Kaua'i could not keep up. Eventually, the industry died, leaving a huge vacuum on the island in terms of properties, housing, and infrastructure lying idle. Also, the stream of income was no longer coming in to finance the lavish lifestyle of the planters. The owners of the plantations had to find other uses for their holdings. After Gaylord's death in 1970, his grandson, Gaylord Hart Wilcox, and granddaughter, Patsy Sheehan, together decided they wanted to keep the house in the family. Hale 'Ōpio leased the plantation home at Kilohana as a safe home for troubled youth. In 1985 it got yet another lease on life when a partnership entered a long-term agreement to restore the plantation to its former glory and protect a historical property that yielded so much insight into the ways things were done and looked in a previous era. Part of the vision was to open the stately home and grounds for all to see and enjoy, which was a special adventure for locals—most of whom had hardly ever entered beyond the lava post entrance. If the property became beloved by locals, they would be sure to lead visitors
Meticulousthere!attention
48
was paid to heeding the architectural style and continuing with period furnishings. Original family pieces can still be seen in the living and dining rooms. Photographs of the original interiors provided guidance for the restorers who looked everywhere to stage the home so that it would be a true reflection of the past. Indeed, one of the Wilcox relatives was surprised to see a sideboard in Kilohana that was strikingly like the one that
49
50
Estate is also fulfilling another part of its vision— to be a showcase agritourism"for
Plantation
"Kilohana
51
craft distiller and bottler of premium Hawai'i rums, set up shop and a tasting room at Kilohana in September 2009 at the same time the company started producing and bottling rum made from sugarcane. Over a million people have attended the tastings, now averaging several hundred a day. The plantation's newest addition to their onsite activities is an outdoor tasting called the Kauai Rum Safari tour that features farm-to-glass cocktails made with Kōloa Rum and includes a 2-hour exploration of the exquisite landscape, their fruit and vegetable orchards, tropical forest, and valley of the now 105acreForestate.adifferent kind of historical and cultural experience, Kilohana's Lū'au Kalamaku is unique
52
The plantation now boasts enough space for a variety of animals, cattle, pigs and horses, and farmland for experiments in traditional and new exotic fruits, hardwoods, and other crops. To support agriculture on the island, Kilohana grants small farmers one to five acres and the option to sell their produce back to the plantation restaurant or farmers' market. With the construction of a 2.5-mile narrow gauge railroad track and acquisition of a circa-1948, diesel-electric powered engine and cars with mahogany interiors, visitors can now tour the grounds true to the style of the plantation past.
Sugar is currently making its appearance at Kilohana, but in a different form and to the total delight of visitors. Kōloa Rum, a single-batch,
Plantation Estate is also fulfilling another part of its vision—to be a showcase for agritourism—demonstrating to visitors agriculture from the past, but also the potential of agriculture on Kaua'i. Visitors can see for themselves how industrial agriculture has given way to artisan agriculture on Kaua'i. They can take a ride on the historic plantation railway or a walking tour and gain insight into agriculture old (for example, sugar cane and
53
taro) and agriculture new (including "experimental plantings of longan, cashew, hybrid mango, noni and atemoya"). In addition to tasting the bounty of the farm, guests get to interact with the farm animals. It is only a short stroll to the Plantation House by Gaylord's, where guests will find that the restaurant has utilized the exotic fruits for the daily special mojito or juiced the hand-cut sugar cane for the island's best mai tai. The days are long gone since local boys chased the train for burnt cane, though the distant sound of Kilohana's Plantation Train still signals bounty—indeed an incredible agricultural bounty.
because of its location, with the beautiful estate as a backdrop to the full, theatrical depiction of the Polynesians' migration from Tahiti to Kaua'i, and dinner service before the show, which includes some Kilohana-grown food and as many Kaua'i products as possible.Kilohana
words ANDREA HUNTER LEGENDS The Majestic Places Behind the Names and Lore
The lush landscape of Kaua'i is striking and convincingly the most beautiful of all the Hawaiian Islands. The oldest island on the chain, Kaua'i is branded the Garden Isle for its tremendous verdant beauty. In addition to its rugged landscape and stunning terrain, Kaua'i also offers numerous sightseeing attractions and natural marvels, like the Grand Canyon of the Pacific, Sleeping Giant, King Kong, and the famous Bali Hai. However, there is much more to these appealing locations than the enthralling names given to them by the movie industry, famous visitors, and modern culture.Kaua'i's natural beauty and character are created not from names associated with them, but instead are carved by lava, water, and the rich stories that accompany them. Its ancient people have forever preserved the island's mountains, streams and valleys in intriguing legends and lore. Since Hawaiians didn't have a written language until the arrival of American missionaries in the 1820s, the culture, traditions and stories were communicated orally from generation to generation—so accounts vary slightly—but nevertheless, remain intriguing just the same.
The South Shore is known for its sunny weather and layers of lava jutting into the ocean. Here you can find the popular attraction Spouting Horn, a natural blowhole created from an old lava tube known to shoot water up to 50 feet. Legend tells a story about a giant mo'o (lizard) that attacked anyone who swam or fished near the shelf. A brave young man named Liko challenged the lizard and drove a stick into its mouth, then jumped into the ocean to lure him to follow. Liko then outsmarted the lizard by swimming through a small lava tube. When the mo'o chased Liko, it became stuck in the opening. Now, when the waves erupt under the shelf, Spouting Horn sprays water high into the air and you can hear the roar of the ensnared mo'o.
The arid West Side is home to one of the most popular visitor attractions on the island: Waimea Canyon. It's been widely said that Mark Twain coined the moniker "The Grand Canyon of the Pacific," but he never actually had the chance to visit Kaua'i. The name Waimea means red water in Hawaiian. There are many trails throughout Waimea Canyon and numerous tales to go with them. One such trail goes up through the Alaka'i Wilderness Preserve, better known as Alaka'i Swamp. As you climb this trail on the western edge of the canyon you will find a cinder cone in the forest reserve called Pu'u ka Pele, or "Pele's Hill." Legend has it that Pele used this cone as a stepping off point when she leapt to O'ahu, leaving a large crater within the cone.
55
56
57 SPOUTING HORN
58
On to the East Side, where the trade winds cross the ocean to cool the land, one of the most popular sites is the mountain ridge commonly known as Sleeping Giant, rightfully titled because the silhouette resembles that of a large sleeping man with a big stomach, his feet creating the end of the mountain ridge. This ridge is actually called Nounou, which means to pelt. There are several legends about the Sleeping Giant. One tells the story of a helpful giant named Nunui, who was so large that everywhere he stepped, his feet created gaping holes in the earth. The people then planted banana trees in the holes he made. One day the chief decided he wanted large rocks brought down from upper Wailua and 'ōhi'a lehua logs brought from the mountains in order to build a heiau (temple). Nunui gathered the materials and helped build the heiau. When it was finished, the people threw a big celebration, and the giant ate so much that he lay down to sleep and has yet to awaken. You can see this mountain clearly from the road, but if you want a little adventure there are three separate trails on the Nounou Mountain. Avid hikers favor the East Trail for the gorgeous views of the ocean and distant mountains, but it can be quite challenging and precautions should be taken. Spanning approximately 4-miles round-trip, the
Further north, as you drive through Anahola, you will see the first peak of the Anahola Mountain, Hōkū'alele (shooting star). Directly behind Hōkū'alele is a peak that resembles the head of an ape looking out to sea, affectionately called King Kong. Despite its Hollywood persona, the peak's true name is Kalalea, which means "prominent." There are several legends surrounding Kalalea, but none include a gorilla character; instead they are centered around a huge hole at the base of the peak called Kapukalani. One story tells of a large rat that traveled up from Moloa'a Bay to the side of the mountain where it feasted on the Chieftain's 'awa (kava) crops, destroying them in the process. The Chief was so enraged that he offered his daughter in marriage to the man who killed the rat. From the many competitors, Kawelo emerged victorious. He hid behind Makaleha Mountain and when he heard the rat pass by he hurled his spear, piercing a huge boulder on the ridge above. The boulder fell and killed the rat, creating the hole at the bottom of the peak. Unfortunately, the hole has since collapsed and can no longer be easily seen.
trail sees a steady elevation gain of about 1,000 feet from the start. The east side of the trail begins off of Haleilio Road. There is a small parking area near pole 38 near the trailhead.
59
60
Kaua'i's beautiful landscape has an abundance of stunning landmarks, but these notable locations are certainly made even richer by the stories that accompany them. Whether you are hiking a trail or stopping at a scenic overlook, wherever you rest your eyes, you can bet there is a place with a legend behind it.
The North Shore is known for its lush mountainsides, tropical rains and great surf. Travel to the end of the road in Hā'ena State Park to Kē'ē Beach, a narrow white sand strip that marks the beginning of the Nāpali Coast and the famed Bali Hai Mountain peak. Bali Hai is actually called Makana Mountain, which means "gift." Offerings of firebrands, hau or pāpala pieces that burn from the inside out, would be thrown from the top of this peak during 'ōahi (fireworks) celebrations. One legend tells of Nou, a boy who dreamed of becoming a champion firebrand thrower. Because he was young in age, he was not allowed to participate. On the day of the ceremony, Nou decided to secretly follow the fire throwers up the mountain. Along the way, he encountered a Menehune (legendary race of small people) who was stuck under a large boulder. Nou helped the Menehune escape and, as a show of his appreciation, the Menehune helped Nou out-throw the senior fire throwers that night. In a jealous rage, the older fire throwers killed Nou on a subsequent climb up Makana for 'ōahi. Although Nou was killed, the grateful Menehune cursed the fire throwers till the morning sun broke, which is lethal for Menehune and turned him to stone. Nou's killers were cursed with so much aches and pains that they had to abandon the ritual. That same Menehune can still be seen today, looking down from the side of Makana Mountain.
61
62
63 Hawai'i, the melting pot of the Pacific, is home to people from all corners of the planet. They've brought their rich cultural histories and time-honored family recipes to create what's known as local cuisine. Looking back on Hawai'i's alluring history, we see how local cuisine came to be and why it's so important to the people of Hawai'i.
GLOBAL
Lunchtime provided the workers with something to look forward to and it was also a time the different ethnic groups mingled. Sitting in the shade of a tree, the workers opened their lunch containers and while enjoying their meal, they would also exchange food with one another. This generous act of sharing precious food helped them to appreciate food from the other cultures and also laid the foundation for the local cuisine enjoyed in Hawai'i today.
words KRYSTAL KAKIMOTO Eating Cultural Influences on Local Cuisine
Prior to the 19th century, the major ethnic groups in Hawai'i were Native Hawaiians and Europeans. This changed drastically when sugar and pineapple became big business in the islands. With cheap land, high demand for products, and reliable steamship transportation to the mainland, plantations needed to find adequate labor to work the fields. The Hawaiian population was decimated by disease brought by European settlers, and the remaining Hawaiians opted to live off the land by farming and fishing, rather than work on plantations.
The first ship of contracted workers from China arrived in 1852, followed by the Japanese in 1868, the Koreans in 1903, and the Filipinos in 1906. Portuguese whaling ships also arrived, and by the late 1800s, Portuguese sailors and fellow immigrants continued to settle in the islands. It's estimated that nearly 400,000 contracted workers came to Hawai'i from 1850 to 1930. Workers were housed in camps separated by ethnic group in efforts to maintain their ethnic identities, but also to hinder their abilities to unionize. Work days began before the sun was up, and their backbreaking work under the hot Hawaiian sun was grueling to say the least.
The bento dates back to the late Kamakura Period (1185-1333) in Japan when people on hunting trips or long journeys would take cooked and
MANAPUA
dried rice called hoshi-ii stored in small bags with them as takeaway meals. It wasn't until the Azuchi-Momoyama Period (1568-1600) that we see bentos of lacquered boxes similar to the bentos of today. When Japanese immigrants came to Hawai'i to work on the sugar and pineapple plantations, they brought with them the tradition of packing single-portion lunches so they could eat quickly and not have to return home to cook a meal. Stackable aluminum tins called kau kau tins (kau kau means food or let's eat in Hawaiian Pidgin) were carried by plantation workers. The bottom layer usually held rice and some pickled vegetable. The top layer usually held the entrée, which might have been leftovers, canned meats, or scrambled eggs. After the end of the plantations, lunch wagons began serving meals on paper plates, the predecessor of the island favorite "plate lunch."
BENTO
64
Brought to Hawai'i by Chinese immigrants, the first manapua was reminiscent of char siu bao or barbequed pork-filled rolls. The yeast dough was filled with a savory pork filling and rolled into a ball. Once steamed or baked, the roll became a warm lunch on the plantation. The name comes from the Hawaiian name mea 'ono pua'a meaning "delicious pork thing." Manapuas are still popular to this day and can be found everywhere from Chinese dim sum restaurants to grab-and-go shops like 7-Eleven. While char siu pork is still a popular flavor, new fillings include curry, sweet potato, and even pizza.
65
66
Visit any Korean restaurant and you will find their beloved national dish, kimchi (or kimchee). Originally, kimchi was a mixture of cabbage and salt that was fermented in underground jars as a way to store vegetables for the cold winter months around the 7th century—basically, pickling the vegetable for future consumption. The red chili pepper, one of the main ingredients for any type of kimchi, wasn't introduced until early 17th century by the Japanese after their invasion in 1592.
ADOBO
Whilehaupia.theHawaiian
KIMCHI
The first Portuguese immigrants arrived in Hawai'i during the 19th century from the Azores and Madeira. The initial Portuguese whaling ships brought a few hundred sailors; later in the same year, about 3,300 more plantation workers were brought to Hawai'i. Around 1887, there was an estimated 10,000 Portuguese in Hawai'i bringing not only their food, but also their Roman Catholic religious traditions. One community tradition for the Portuguese was using all the butter and sugar before Lent by making malasadas. Malasadas, from the Portuguese word mal-assada meaning "under-cooked," are deep-fried, hole-less donuts rolled in granulated cane sugar with slightly crispy exteriors and light, fluffy interiors. Popular pre-Lent celebrations of Mardi Gras, Shrove Tuesday, and Carnival occurred all over the world, but in Hawai'i this celebration was known as Malasada Day during the 19th century. Today, the traditional malasada rolled in sugar is still popular, but there are other delicious versions filled with custard, chocolate, and even
Islands are far removed from other civilizations, the cuisine is no less global. Take a delicious journey through history, and savor all the delicious diversity the Aloha State has to offer.
67
MALASADA
"marinade" or "seasoning," and it's a flavor that pairs well on meat, pork, and even in fish dishes. Today adobo dishes are found at any Filipino restaurant, but it's also a flavor that many chefs experiment with to create interesting fusion dishes.
Adobo, the unofficial dish of the Philippines, was created out of the need to keep meats fresher longer. Filipinos would marinate meat in a mixture of vinegar and salt, braise the meat, and then simmer it in the sauce. It wasn't until the Chinese traders introduced soy sauce to the Philippines that the more modern marinade of vinegar, garlic, and soy sauce emerged. Adobo is the Spanish word for
On the plantations, families made batches of kimchi to eat with nearly every meal, either as an accompaniment for rice, or cooked into dishes such as porridges, stews, soups or savory pancakes. Today, kimchi is offered as a side dish at restaurants across Hawai'i, and can be found in every major grocery store and flavors everything from ramen noodles to different types of poke (cubed fish). With well over 100 varieties to choose from, there is a kimchi style for every palate, from nappa cabbage and radish to scallions and cucumbers. Kimchi has also been dubbed a superfood for its health benefits and has become a top food trend of late.
words KRYSTAL KAKIMOTO HOT SPOT 'ĀINA KAUA'I
69
Born and raised in Canada, Chef Mitch moved to Seattle to work in technology but found himself settling in San Francisco to escape the rainy weather. Once in San Francisco, Chef Mitch's enthusiasm for fresh, local produce, which he developed during family trips to farms, was reignited. During a trip to Japan, he was introduced to the art of kaiseki-ryōri, a traditional multi-course Japanese meal that draws inspiration from imperial court cuisine, Buddhist temple foods, samurai cuisine, and tea ceremony cuisine which evolved into a culinary artform balancing taste and texture with seasonal ingredients prepared to enhance their flavor.
Speaking with Chef Mitch Muroff, it is hard to miss his love for the island and his thoughtful nature that is captured in each course at 'Āina Kaua'i. Located in the heart of Kapa'a town, the restaurant debuted in December 2021, but this passion project has been a ten-year goal for the chef.
Chef Mitch later opened a pop-up restaurant in his San Francisco home offering guests an opportunity to experience a Northern California kaiseki interpretation. While staging at famed San Francisco izakaya Rintaro, and later in Tokyo, Japan, he was
able to gather more knowledge on the culinary art form that exposes diners to a sense of place while incubating his dream of opening a kaiseki restaurant onAKaua'i.visitor to the islands since the early nineties, Chef Mitch fell in love with Kaua'i and its many unique attributes. While living on the mainland, his desire to offer a dining experience to highlight the flavors and produce of the island was something he could no longer deny. He knew Kaua'i was the perfect place to display his kaiseki style. When Chef Mitch was ready to open 'Āina Kaua'i in December of 2021, he brought Michelin Star chef, Hidebumi Sueyoshi, who earned his Michelin Star while serving as the Executive Chef of Maruya in San Francisco, from Japan to help with the launch.
At 'Āina Kaua'i, Chef Mitch offers his "Kauaian kaiseki" interpretation four nights a week in an elegant and tranquil space. The open format kitchen allows guests to observe the preparation of various courses while the choice "Chef's Table" section features eight exclusive seats where guests can directly interact with the chef throughout their entire meal.
70
In alignment with the tradition of kaiseki, the menu at 'Āina Kaua'i is hyper-seasonal with menus changing daily to reflect the best available ingredients. Despite frequent changes in ingredients, the set nine-course menu offered at 'Āina Kaua'i follows the traditional flow of kaiseki courses. Meals open with a sakizuke course which is like the amusebouche course in French dining. At 'Āina Kaua'i, Chef Mitch has playfully served kakigōri, a Japanese dessert of shaved ice served on home-made shiso sorbet using shiso grown on his farm topped with a lemongrass butterfly pea flower foam. The sarada course follows which can feature local greens and a house-made vinaigrette garnished with vegetables grown on premise. This is followed by the sansho mori course which has featured three vegetables prepared in three ways aiming to mark the seasonality of the meal by highlighting local produce.
Robatayaki (or robata), a Japanese method of fireside cooking, is the fifth course, where guests will witness Chef Mitch grill skewered dishes above the binchotan grill (charcoal-style grill) custom made for 'Āina Kaua'i in Tokyo. One special component of the robata course is the beef Chef Mitch sources from Rancher's Daughter's Reserve, a company owned by a fifth-generation rancher from Kaua'i, Sharleen Andrade-Balmores. Rancher's Daughter's Reserve specializes in local meat processed in small batches making the culinary partnerships they forge
The sakana, fish course, is fourth and features locally caught fish thoughtfully prepared to bring out the best attributes of the fish. One preparation Chef Mitch is fond of is his sous vide technique in which he marinates filet of ono (wahoo) in sake kasu paste before submerging the fish in dashi (Japanese soup stock) to cook at a low and controlled temperature.
special—not only because of the high quality of their product—but also due to the limited availability.
71
Dinner is by reservation only, Thursday to Sunday, with seatings at 5:00 PM and 7:30 PM. Located at 4-985 Kūhiō Highway, Kapa'a, HI 96746; (808) 3784112; ainakauai.com
islands since the days of the Hawaiian Kingdom.
Guests can select libations from their extensive drink menu which is comprised of Japanese beer, red and white wine, sake, and cocktails made from scratch. For those wanting a more complete experience, Chef Mitch offers a drink pairing to accompany the various kaiseki courses.
As Chef Mitch meticulously imagines new menus and deftly crafts the coursed dishes, he aims to invigorate diners with the flavors and nutrients of the island while showing, through food and drink, the relationship between place and time.
The tempura course follows where Chef Mitch selects the finest vegetables from the day's market and dips each sliced vegetable into flour and eggbased batter before frying till delicately crisped. The dinner begins to wind down with a course featuring a clear dashi broth and a bowl of takikomi gohan, a short-grained rice dish featuring seasonal vegetables. The meal ends with a dazzling dessert course when Chef Mitch switches gears to offer a sweet expression of the flavors of Kaua'i. The dessert course will usually begin with a scoop of sorbet such as the Kaua'i-grown Sugarloaf pineapple sorbet featured in his summer menus. Chef Mitch also incorporates local products even in his final course of the kaiseki meal like the chocolate he sources from Lydgate Farms, a family-owned company farming in the
NOW
72
WHAT LOVE
WE
Hand-held and simply delicious, the Spam musubi has become Hawai'i's unofficial State snack. The Musubi Truck serves their OG Spam Musubi that starts with steamed white rice, a thick slice of baked Spam, and a sprinkling of furikake, Japanese seaweed-based rice topping, wrapped in a sheet of nori (dried seaweed). They take this to the next level with a coating of panko (a Japanese breadcrumbs) and a drizzle of g-sauce, kabayaki (eel sauce), and furikake for their Deep Fried OG. For those not in the mood for Spam, The Mu subi Truck also offers a Sooo Tofu Musubi starting with baked tofu topped with fresh cucumbers, carrots, lettuce, and cilantro served with a side of peanut sauce. If their delicious food isn't enough of a draw, The Musubi Truck also works to feed Kaua'i's hungry keiki (children). Their Feed Our Keiki program converts every $5 donated to a voucher for a musubi, bag of chips, and can of juice. These vouchers are distributed to school counselors and social workers to help keiki in need.
73
MUSUBI
4548 Kukui Street, Kapa'a; (808) 378-8328; Open Monday – Friday 7am – 6pm, Saturday and Sunday 10am –5pm; themusubitruck.square.site.
Aromas of freshly brewed coffee and tantalizing baked goods entice visitors to Sunrise Coffee inviting them to take a break from their busy day. Sunrise Coffee offers cups of their hand-crafted specialty cof fees made from coffee beans roasted locally that are rich, robust, and intensely flavorful. Popular lattes include their velvety Mac Nut Latte made with macadamia nut milk and their playful Coco Moco Latte made with coconut milk and a drizzle of dark chocolate sauce. For those not in the mood for coffee, Sun rise Coffee also offers delightful cups of fizzy Italian soda and fresh fruit smoothies. To accompany your drink, you may want to check out their rotating lineup of baked goods or a freshly toasted bagel topped with a thick schmear of cream cheese. Others stop by for a chance to try their famously known Avocado Toast – thick slices of wheat toast are topped with freshly mashed avocado, a generous sprinkling of Everything Bagel topping, and a drizzle of olive oil creating the perfect savory treat or mid-day meal.
74
3-3716 Kūhiō Highway, Līhu'e; (808) 245-6720; Open Monday – Friday 7am – 1pm, Saturday and Sunday 8am – 1pm; Instagram @sunrisecoffeekauai.
WE
WHAT LOVE NOW
SUNRISE COFFEE
Aiming to create new standards for a frosty Island treat, Waikomo Shave Ice offers a more natural shave ice that is healthy while still delicious. Their finely shaven ice is the perfect canvas for delicate fruit syrups, made from a combination of natural fruit puree and organic cane sugar, to colorfully decorate. Their delectable syrups come in an array of tropical flavors such as guava, lychee, passion fruit, and even calamansi, Philippine lime. Their base shave ice starts with a choice of two syrup toppings to adorn the silky-shaven ice. An elevation of this base level is the addition of a scoop of creamy mac nut ice cream to nest below your shave ice. Waikomo Shave Ice is not only aiming to create healthier options for the body but also for the environment. All shave ice is served in compostable cups with earth-friendly spoons and straws while their sovereign bowl is served in a reusable bowl and with a reusable spoon that guests can take home as a souvenir of their trip to Kaua'i.
SHAVE ICE
75
2827 Po'ipū Road, Kōloa; (808) 651-5169; Open daily 12pm – 5pm; waikomoice.com.
We hope you enjoy this very special place. Help us preserve its beauty as you explore with a heightened level of awareness, intention, and respect. Mahalo nui loa.
Tread lightly. Raise your consciousness. Reduce your impact.
This link will take you to the appropriate app store to install the app, where you can create a trip, start building your itinerary, collaborate with friends, and more...
77
HOW THIS GUIDE WORKS
Each guide page is deep-linked within the app. Just shoot the QR code on any guide page, and it will open it in the Savvy360 App. Prefer to keep it offline? Just turn the page and go!
15512510779117141161170
THE GUIDES
SEE + DOWNLOADTRAVELOGUEMAPSISLANDEATSHOPGOLFBEACHESDO+DRINKLIVINGTHESAVVY360APP
Apple and the Apple Logo are registered trademarks of Apple inc. Google Play and the Google Play logo are trademarks of Google LLC. Elevate Your Stay DOWNLOAD THE SAVVY360 APP Scan to get the SAVVY 360 app
GLIDE ABOVE KAUA'I'S GRANDEUR air tour
WATERFALL TRIPLE TRAIL EXPEDITION off-road tour
JURASSIC PARK LANDING ADVENTURE air tour
SUNSET GOLF CART TOUR sightseeing tour
ULTIMATE KAUA'I OFF ROAD RANCH TOUR off-road tour
'ŌPAEKA'A
RUM SAFARI tasting tour
DELUXE NĀPALI SNORKEL boat tour
DOORS-OFF HELICOPTER EXPERIENCE air tour
LŪ'AU KA HIKINA lū'au
GOLF ADVENTURE golf lessons
KAUA'I OCEAN DISCOVERY CENTER museum
WAIMEA CANYON STATE PARK sightseeing & hiking FALLS sightseeing
HANAKĀPĪ'AI FALLS sightseeing & hiking
100808182838485868788899090919293949596979899101102103104105106 79
NĀPALI COAST SNORKEL SAIL boat tour
HISTORICAL TRAIN RIDE AT KILOHANA historical tour
CAPTURE THE MOMENT portraits & photography
SEE + DO
WAILUA FALLS sightseeing
NI'IHAU + NĀPALI COAST SUPER TOUR boat tour
LŪ'AU KALAMAKU lū'au
Snapping the QR code on any guide page will take you there in the Savvy360 app.
SECRET FALLS TOUR kayak & hiking tour
KAUAI CARTS golf cart rental
LUXURY HELICOPTER EXPERIENCE air tour
KĪLAUEA LIGHTHOUSE sightseeing
NĀPALI COAST SUNSET DINNER boat tour
KALALAU VALLEY LOOKOUT sightseeing
MĀHĀ'ULEPŪ HERITAGE TRAIL hiking
WAIMEA CANYON & KOKE'E ADVENTURE sightseeing tour
ExperiencesSights
OFF-ROAD in LĪHU'E
› EXPLORE DIVERSE LANDSCAPES › LEARN ABOUT KIPU RANCH HISTORY › FOR BEGINNERS OR SERIOUS RIDERS
Take a beautiful and breathtaking 3-hour Kauai off-road scenic tour through Kipu Ranch. With diverse landscape, abundant wildlife, and spectacular views, this signature tour makes Kipu Ranch one of the premier eco-tour locations in Hawai'i. Ride through lush green pastures, venture down into tropical Hulē'ia Valley, and ascend under the canopy of the rainforest, as it leads you to the breathtaking backdrop of Mt. Hā'upu, Kaua'i's untouched paradise. Enjoy the historic landscape with photos of famous movie locations such as Jurassic Park, Indiana Jones: Raiders of the Lost Ark, and The Descendants. From kama'āina to visitors from around the world, this tour will leave you speechless!
Ultimate Kaua'i Off-Road Ranch Tour
Kipu Ranch Adventures (808) 246-9288 • kiputours.com 235 Kipu Rd., Līhu'e (Map H, #1, PG 168)
80SEE+DO|EXPERIENCES
Kipu Ranch Adventures (808) 246-9288 • kiputours.com 235 Kipu Rd., Līhu'e (Map H, #1, PG 168)
› TREK ACROSS ALL 3 TRAIL SYSTEMS
81SEE+DO|EXPERIENCES
Experienced guides will lead you through an expansive 3,000-acre trail system on a working cattle ranch, which is full of breathtaking scenery, blockbuster movie hits, cultural history, and Hawaiian legends. You will navigate your own vehicle throughout the different trails and obstacles to a private waterfall, bamboo jungles, and much more! This tour holds nothing back. Here you'll find wellmaintained top of the line ultra-smooth suspension vehicles. The tour is capped at a maximum of eight vehicles for less of a crowd and nearly double the mileage of the signature tours in just three hours. A well thought out and crafted route is where great expeditions begin; and they have mapped out just that. Traverse the best open view, mountain, and jungle sections of all three of their trail systems combined into one epic trip.
Waterfall Triple Trail Expedition
OFF-ROAD in LĪHU'E
› VISIT POPULAR MOVIE SET LOCATIONS
› DRIVE RIGHT UP TO A PRIVATE WATERFALL
Ni'ihau Coast Super Tour
+ Nāpali
BOAT TOUR on WEST SIDE
› 65' KAUA'I-BUILT POWER CATAMARAN › VOTED 2ND BEST US BOAT TOUR › A FULL DAY OF FUN & ADVENTURE!
82SEE+DO|EXPERIENCES
Holo Holo Charters (808) 335-0815 • holoholocharters.com 4353 Waialo Rd., #5A, Ele'ele (Map D, #2, PG 165)
Say yes to adventure and create memories to last a lifetime. Snorkel one of the most remote and pristine tropical reefs off the "Forbidden Island" of Ni'ihau and sightsee the historic Nāpali Coast in one amazing day. Holo Holo Charters is the only company to offer this amazing tour daily. The adventure begins with sightseeing along the world-famous Nāpali Coast. Capture some great memories with picture-perfect backdrops of cliffs, valleys, waterfalls and more. The adventure continues as we head to Ni'ihau to explore the waters of Lehua Crater. Here you will have the opportunity to snorkel in cobalt blue waters, viewing endemic fish, endangered monk seals, underwater lava cathedrals and much more.
Holo Holo Charters (808) 335-0815 • holoholocharters.com 4353 Waialo Rd., #5A, Ele'ele (Map, D, #2, PG 165)
› SNORKELING EQUIPMENT & INSTRUCTION
› ONBOARD WATERSLIDE TO THE NĀPALI
Nāpali Coast Snorkel Sail
83SEE+DO|EXPERIENCES
BOAT TOUR on WEST SIDE
› 50' KAUA'I-BUILT SAILING CATAMARAN
Say yes to adventure with this exclusive Nāpali snorkeling & sailing tour. Holo Holo Charters invites you to go cruising on their Kaua'i-built catamaran for a day of fun, sightseeing, snorkeling, and sailing. Voyage to Kaua'i's world-famous Nāpali Coast with the wind in your sails. Take in the breathtaking 4,000-foot cliffs from sea-level to really capture the scale and beauty of this enchanting place. Complete the trip with a snorkel stop along Kaua'i's coast to view tropical fish, turtles, and other local marine life. Breakfast, lunch, and drinks are all included in this memorable tour for the whole family.
Snorkel
Blue Dolphin Charters (808) 335-5553 • bluedolphinkauai.com 4353 Waialo Road 7B, Eleele, HI 96705 D, #1, PG 165)
84SEE+DO|EXPERIENCES
(Map
Begin your day with our most popular morning tour aboard one of our custombuilt 65-foot catamarans! As you head up to the breathtaking Nāpali Coast, the crew keeps you entertained with local stories about the sights and provides information about the variety of marine life you will see. Dolphin sightings are guaranteed on all of their morning tours! Enjoy a delicious tropical breakfast with coffee, tea, juices, and sodas on the way to your snorkel destination. Once the captain reaches your snorkeling spot, it's time for about an hour of fun in the water! Snorkeling gear is included and wetsuit rentals are available. Seasonal humpback whale watching.
› SEE ASTONISHING SCENERY › ASK ABOUT THE DOLPHIN GUARANTEE › TROPICAL BREAKFAST & DELI-STYLE LUNCH
BOAT TOUR on WEST SIDE
Deluxe Nāpali
and
85SEE+DO|EXPERIENCES
on
›
LŪ'AU-STYLE DINNER › SEASONAL HUMPBACK WHALE WATCHING FROM DECEMBER-MARCH
Nāpali Coast Sunset Dinner
BOAT TOUR on WEST SIDE
Take in breathtaking views as cruise Nāpali Coast a spacious 65foot catamaran this dinner tour. Enjoy sodas, juices, water, snacks while exploring the coastline while the crew keeps you entertained with local stories about the sights on the way. The afternoon lighting is unforgettable as it streams into the valleys of Nāpali Coast. A delicious lū'au-style dinner complete with beer, wine, and mai tais are served as you sail back toward Port Allen. Your tour finishes with the beauty of the Kaua'i sun sinking into the ocean along with a champagne toast at sunset.
Blue Dolphin Charters (808) 335-5553 • bluedolphinkauai.com 4353 Waialo Road 7B, Eleele, HI 96705 (Map D, #1, PG 165)
you
along
for
Jurassic Falls Landing Adventure
Island Helicopters Kauai (808) 245-85883788islandhelicopters.comAhukiniRd,Līhu'e(MapH,#5,PG168)
TOUR in LĪHU'E
•
› THE ONLY WAY TO LAND AT THE FALLS › WALK THE SITE OF FILM, JURASSIC PARK › GREAT VALUE + UNFORGETTABLE ADVENTURE
AIR
86SEE+DO|EXPERIENCES
In this tour offered only by Island Helicopters, you'll land at the epic Manawaiopuna (Jurassic) Falls and learn the fascinating history of this remote area. Discover native plants, geologic formations, and explore the grounds of this breathtaking setting of Jurassic Park with your experienced guide. Island Helicopters' exclusive landing access to the 400-foot falls makes this a one-ofa-kind, high-value experience for Jurassic fans and adventure-seekers alike. In addition to the landing adventure, you'll see Kaua'i's other magnificent landmarks from the sky with the Grand Skies Island Tour included. Island Helicopters flies with custom, ceiling-to-floor windows for optimum viewing and comfort. This tour is 75-80 minutes total and is only offered five days a week.
Island Helicopters Kauai (808) 245-8588 • islandhelicopters.com 3788 Ahukini Rd, Līhu'e (Map H, #5, PG 168)
AIR TOUR in LĪHU'E
› ISLAND HELICOPTERS' SIGNATURE TOUR
Glide Above Kaua'i's Grandeur
87
› LOCALLY OWNED/OPERATED 40+ YEARS
Founded in 1980, Island Helicopters is Kaua'i's most experienced air tour company. With safety and comfort as a priority, all trips fly with doors on and welcome guests of all ages. A signature of Island Helicopters, the Grand Skies Island Tour, soars past Kaua'i's most stunning landmarks, like Waimea Canyon, the Nāpali Coast, and Manawaiopuna Falls (made famous in the blockbuster Jurassic Park). Island Helicopters flies closer to Kaua'i's spectacular landscapes and offers the most affordable rates on the island. All pilots are locals of Kaua'i and possess thousands of hours of flight time. Legacy, safety, and adventure combine to yield an unforgettable journey above this breathtaking island. This tour is 5055 minutes total. Please contact Island Helicopters for more details.
|DO+SEEEXPERIENCES
› BEST RATE FOR A KAUA'I AIR TOUR
Soar around Kaua'i's most awe-inspiring views in the comfort of a 6-passenger AStar, designed for providing a smooth and luxurious ride. From luscious valleys to rugged coastlines to dramatic canyons, bear witness to Kaua'i's unparalleled natural beauty. You will feel like a celebrity in the aircraft's spacious cabin with floor-to-ceiling windows, air conditioning, and Bose noise-canceling headsets. Gain a new perspective of the island on this tour, as over 70% of Kaua'i is inaccessible by car. We can guarantee you will never forget gliding through the Wai'ale'ale Crater and its 3000' waterfalls or flying down the stunning 17-mile Nāpali coastline. Experience (808) 245-3774
AIR TOUR in LĪHU'E Jack Harter Helicopters
88SEE+DO|EXPERIENCES
Luxury Helicopter
• 4231helicopters-kauai.comAhukiniRd,Līhu'e(MapH,#4,PG168) › FLY IN STYLE IN A EUROCOPTER ASTAR › CHOOSE A 60- OR 90-MINUTE TOUR › SPACIOUS CABIN + PLUSH INTERIOR
AIR TOUR in LĪHU'E
89SEE+DO|EXPERIENCES
› NO DOORS = A PHOTOGRAPHER'S DREAM!
Jack Harter Helicopters (808) 245-3774 • helicopters-kauai.com 4231 Ahukini Rd, Līhu'e (Map H, #4, PG 168)
› A 60-65 MINUTE TOUR WITH UP TO 4 PASSENGERS IN AN MD HUGHES 500
Doors-Off Helicopter Experience
Feel the cool breeze on your face and smell the tropical rainforest as you fly in and out of lush valleys. Fully immerse yourself in the beauty of Kaua'i on a thrilling doors-off helicopter tour. Experienced pilots will safely guide you throughout the 60-minute tour, offering interesting facts and history about the area. Witness the jaw-dropping Nāpali Coast, Waimea Canyon, Wai'ale'ale crater, and many others from a bird's-eye-view. There is nothing but your camera between you and the island's most picturesque landscapes, making it the ideal tour for photographers. Not only seeing the grandeur of Kaua'i but truly feeling it is what makes this tour an experience like no other.
Rum Safari
HISTORICAL TOUR in LĪHU'E
Kauai Plantation Railway at Kilohana (808) 245-7245 • kilohanakauai.com 3-2087 Kaumuali'i Hwy., Līhu'e (Map H, #6, PG 168)
Climb aboard this 40-minute conductor-narrated tour of the 105-acre Kilohana Plantation in the same type of locomotive used in the sugarcane fields. Relax in the mahogany and ipe wood cars while you are entertained and educated by knowledgeable conductors. The 2.5-mile rail line passes stands of original island crops like sugarcane and taro, and you will pass groves of mango, banana, papaya, pineapple, and native and exotic hardwoods from around the world. Learn about Kaua'i's agriculture and history. Well out into the heart of the plantation you will disembark to spend time feeding the pigs, goats, sheep, and their friendly donkey, Steiny. For the total experience, enjoy a guided 3.5 hour tour, complete with train ride, lunch from The Plantation House by Gaylord's, history, and a 1.5-mile walk to explore the grounds and sample fruits from twelve acres of exotic tropical trees. There is something for everyone. It's fun for all ages.
Historical Train Ride at Kilohana
TASTING ADVENTURE in LĪHU'E
Kauai Safaris (808) 652-4707 • kauaisafaris.com 3-2087 Kaumuali'i Hwy, Līhu'e (Map H, #7, PG 168)
Step into one-of-a-kind open-air Safari Trucks to explore the beautiful 105-acre Kilohana Plantation. On tour you will enjoy a Koloa Rum tasting, sip on their signature Mai Tai, meet and interact with farm animals, and have a fresh cocktail made with fruits and herbs grown on the plantation. Stroll on a boardwalk through a tropical rainforest to taste the award-winning Koloa Rum at the Jungle Bungalow. Now it's time for a little safari as you ride through an animal pasture to feed a herd of pigs. At their Loi Lanai, your mixologist will whip up a farm-to-glass cocktail that will knock your socks off. We are talking about a drink made entirely from fruits and herbs grown on the plantation.
LŪ'AU in LĪHU'E
› PERFECT VIEWS FROM EVERY SEAT
Lū'au Kalamakū delivers an authentic Hawaiian experience and is a "must-see" for all Kaua'i visitors. The extravaganza held Tuesday, Thursday and Friday evenings is performed "in-the-round," offering great views from every seat. Before the main show, join a traditional imu ceremony. A craft fair featuring local artisans awaits on the lawn. Feast on a delicious buffet of local favorites and enjoy a mai tai from the open bar. The 45-minute main show shares the amazing story of the ancient Hawaiian legend of Kalamakū "child of the new land" and the epic voyage taken by islanders between Tahiti and Kaua'i. Through laughter, fear, and seduction a new legacy is born and culminates with a fantastic fire dream featuring fire poi balls and traditional fire knife dancing.
91SEE+DO|EXPERIENCES
Lū'au Kalamakū
› COME EARLY TO LEARN THE HULA
Located at Kilohana Plantation (808) 833-3000 • luaukalamaku.com 3-2087 Kaumualii Hwy, Līhu'e (Map H, #2, PG 168)
› DELICIOUS LOCAL CUISINE + OPEN BAR
92SEE+DO|EXPERIENCES Lū'au Ka Hikina LŪ'AU on EAST SIDE
› SPECTACULAR OCEAN VIEWS › AN AUTHENTIC CULTURAL EXPERIENCE › MODERN TAKE ON A HAWAIIAN FEAST
You cannot leave Kaua'i without an authentic lū'au experience. Lū'au Ka Hikina takes place in a newly built, open-air event pavilion, Halau Ho'okipa, which boasts unparalleled views over the ocean. From the impressive torch lighting ceremony that kicks off the evening's festivities along with mesmerizing hula kahiko (ancient hula) dances performed under the direction of Leilani Rivera Low, an awardwinning kumu hula (hula master). Lū'au Ka Hikina invites you to experience a memorable evening celebrating Hawaiian and Polynesian culture—complete with a locally sourced, traditional Hawaiian feast with a modern point of view and live music.
(808)
Located at Sheraton Kauaī Coconut Beach Resort 822-3455650sheratonkapaa.comAlekaLoop,Kapa'a(MapE,#4,PG166)
•
Kauai Carts (808) 353-6766 • kauaicarts.com 2545 Kiahuna Plantation Dr., Kōloa (Map B, #5, PG 164)
Looking for a breezy way to get around on the South Shore? Kauai Carts in Po'ipū offers a rental fleet of Polaris GEM electric golf carts in different configurations to meet your transportation needs. Open-air and stylish, with quiet electric power, the four- and six-passenger Polaris GEM carts are the best way to see the South Shore and cruise to the beach for a perfect day in the sun. Pick up the cart at Kiahuna Golf Course or delivery can be arranged in Po'ipū or Kōloa. Drive all over the South Shore, from Shipwreck Beach, all the way to Allerton Beach and to old Kōloa town. For convenience, all their carts are outfitted with custom-made surf racks and rear chair racks, as well as large, locking trunks for all your beach coolers, toys, or groceries.
GOLF CART RENTAL on SOUTH SHORE
93SEE+DO|EXPERIENCES
› COMPLIMENTARY MAP
› DELIVERY CAN BE ARRANGED
Kauai Carts
› A GREAT WAY TO CRUISE THE SOUTH SHORE
94SEE+DO|EXPERIENCES
SIGHTSEEING Makai
on NORTH SHORE Princeville
Golf Course (808) 826-1912 • 4080makaigolf.com/sunsetcarttourLeiOPapaRoad,Princeville(MapI,#3,PG169) › WATCH THE SUN SET BEHIND MT. MAKANA AT ONE OF THE MOST BEAUTIFUL SPOTS ON THE PLANET
The Sunset Golf Car Tour at Princeville Makai Club is one of the most enjoyable, educational, and truly stunning activities on the North Shore. The tour is a guided golf cart tour of the golf course, flora and fauna that make up the North Shore of Kaua'i—intertwined with both cultural and geographical educational elements that will give you a greater understanding for the 'aina (land) and the moana (ocean). Best of all, the final stop on the tour is truly one of the most stunning locations in the world to witness a sunset—the signature par-3, seventh hole on the Princeville Makai Course that makes for the perfect viewing spot and photographable moment.
Golf
Sunset Golf Cart Tour
Hōkūala Golf Adventures
95SEE+DO|EXPERIENCES
› GAIN A NEW APPRECIATION FOR THE ISLAND
Hōkūala Golf Adventures, hosted by PGA Professionals, transcends the destination golf school. Enrich your connection to the Aloha Spirit through golf and excursions. This trendsetting golf academy offers many on-course golf experiences and golfer development programs. Join weekly scrambles that will help scale your new skills and cultivate new friendships. Golf may be in the name, but these adventures are far more encompassing than a four-letter word—and a lot more fun. Uncover and deepen your appreciation for the island and culture. Awaken your Aloha Spirit with The Sunrise Hui Aloha tour. Enjoy a serene stroll to the farm, then enjoy its bounty of fresh island cuisine and signature cocktails. Begin your journey to a deeper enjoyment of golf and the Kaua'i lifestyle.
Ocean Course at Hōkūala (808) 241-6000 • golfhokuala.com 3351 Ho'Olaulea Way, Līhu'e (Map H, #10, PG 168)
› FARM-FRESH CUISINE & LIBATIONS
GOLF INSTRUCTION & FARM TOUR in LĪHU'E
› A NEW TAKE ON GOLF INSTRUCTION
96SEE+DO|EXPERIENCES
Polynesian Adventure Tours (800) 622-3011 • polyad.com 4031 Halau Street Bay #4, Līhu'e (Map H, #3, PG 168) OF THE
Waimea Canyon & Kōke'e Adventure
Journey through the heart of Kaua'i's countryside and ascend a meandering road engulfed by trees to reveal what Mark Twain aptly described as the "Grand Canyon of the Pacific." Marvel at the immense cliffs and deep gorges of the Waimea Canyon. Watch ocean waves propel water through ancient lava rock at the Spouting Horn Blowhole. In a quaint town view Hanapēpē Valley from the lookout. Venture down a nature trail in Kōke'e State Park for an easy trek amidst native Hawaiian flora and fauna. Listen for the lyrical chirping of the rare red 'apapane or 'i'iwi bird species who sip nectar from the blossoms. Stroll the orchards at the Kauai Coffee Plantation along the coast while relaxing in the warm Hawaiian sun before returning to your hotel with memories that'll last long after your vacation.
› "THE GRAND CANYON
PACIFIC" › EXPERIENCE SEVERAL MEMORABLE STOPS ALONG THE WAY
SIGHTSEEING TOUR on SOUTH SHORE
97|DO+SEEEXPERIENCES
440 Aleka Place, Suite #2, Kapa'a (Map E, #1, PG 166)
Secret Falls Tour
› THE PAYOFF COMES AT SECRET FALLS
Paddle the majestic Wailua River, where original settlers paddled over 2,000 miles from the Marquesas Islands to Kaua'i around 1,500 years ago. Hear the legends and learn about the flora and fauna of Kaua'i's most sacred area. After paddling past numerous heiaus along the cliff lines of the Wailua, you will reach Kamokila Village, a replica of an ancient Hawaiian village and traditionally a sacred fishing and farming area. Soon you will come to the North Fork where you will paddle leisurely through the Garden Isle's most beautiful jungle river until you come to the trail head for Secret Falls (Uluwehi Falls). Enjoy a moderate hike through Kaua'i rainforest to an enchanting waterfall, which descends 120-ft into a natural pool surrounded by rocks and vegetation. A sandwich lunch is served with freshcut pineapple served Hawaiian style by some of the best tour guides on Kaua'i.
KAYAK & HIKING on EAST SIDE
Rainbow Kayak Tours (808) 826-2505 • rainbowkayak.com
› AN ACTIVE + HISTORIC ADVENTURE UP THE BEAUTIFUL WAILUA RIVER
PORTRAITS
Furderer Photography kauai-wedding-photographer.com@kitfurderer › PROFESSIONAL PHOTOGRAPHY FOR ANY OCCASION, FROM SUNRISE TO SUNSET › 20+ YEARS OF PROFESSIONAL EXPERIENCE
98|DO+SEEEXPERIENCES
Capture the Moment
& PHOTOGRAPHY on KAUA'I
Kit
Need a creative, passionate, professional Kaua'i Photographer? Then look no further. It would be his honor to capture your dream Kaua'i photoshoot. Kit Furderer is a professional photographer, father, and husband living on the beautiful island of Kaua'i with over 20 years of professional experience, including a classically trained background in fine arts (BFA) with a concentration in oil painting and photography. His photography packages are completely customizable—whether you need a family photographer, couples photoshoot, engagement session, portraits, or a trash the dress underwater shoot—he has you covered while you're on Kaua'i.
MUSEUM in LĪHU'E
Kaua'i Ocean Discovery Center
Located in Kukui Grove Center (808) 246-2861 • kukuigrovecenter.com/kauaioceandiscovery
› CALL FOR WEEKLY SPECIAL EVENTS
Affiliated with the NOAA Office of National Marine Sanctuaries and National Marine Sanctuary Foundation, the Kaua'i Ocean Discovery at Kukui Grove Shopping Center in Līhu'e shares the tradition and knowledge of our ocean connections and inspires stewardship. Learn about humpback whales (koholā), Hawaiian monk seals, sea turtles (honu), albatrosses, and more. Take a tour of the extensive Hawaiian archipelago, including Hawaiian Islands Humpback Whale National Marine Sanctuary, and Papahānaumokuākea Marine National Monument. Visit an underwater world through videos, interactive displays, and hands-on activities. Hear the Hawaiian creation chant, Kumulipo, and see an original mural inspired by it. Nearby in the shopping center, a Keiki Corner provides ocean-themed fun for the little ones. Rotational exhibits feature community and student projects. The facility is free and open to the public.
3-2600 Kaumualii Hwy #1618, Līhu'e (Map H, #12, PG 168)
99SEE+DO|EXPERIENCES
› OPEN WEDNESDAYS & FRIDAYS 2-5PM
› OPEN SATURDAYS & SUNDAYS 11AM-2PM
Located at Wailua State Park in Līhu'e Take Hwy 50 to Ma'alo Rd. for about 3 miles (Map A, #1, PG 163)
Wailua Falls
100SEE+DO|SIGHTS
Nicknamed the Fantasy Island waterfalls for the prominent opening scene of the falls for the hit television show, this stunning 80-foot tiered waterfall is easy to view close to the roadside lookout. It's best to view the falls in the morning when the sun adds to the beauty of the falls, and rainbows are common from the mist.The falls can sometimes appear much taller, as determined by the amount of rainfall farther up the stream. Please do not hike to the bottom of the falls (also advised against by the county and posted signs) as this is a very slippery and dangerous path. This is a simple and quick stop with a great photograph opportunity.
SIGHTSEEING in LĪHU'E
› A VERY PHOTOGENIC SIGHT
› JUST A FEW MINUTES FROM LĪHU'E
› DRAMATIC, BUT VERY ACCESSIBLE
Located just past Kīlauea town (808) 828-0384 • kilaueapoint.org
› FOR NATURE LOVERS, WILDLIFE ABOUNDS
Known today as the Daniel K. Inouye Kīlauea Point Lighthouse, this impressive 52-foot structure is situated on a rocky peninsula 180-feet above the Pacific Ocean. A National Historic Landmark, this lighthouse had the largest clamshell lens of any lighthouse in the world and served as a beacon since it was built in 1913 to guide passing sea and air traffic. The light was replaced in the 1970s with a lowmaintenance light beacon. You can walk into the lighthouse but not the lantern room. The Kīlauea Point National Wildlife Refuge is open Thursday - Saturday from 10am - 4pm. Check for current tour availability and hours. Reservations are required for entry at recreation.gov.
101
SIGHTSEEING on NORTH SHORE
3580 Kīlauea Rd., Kīlauea (Map A, #6, PG 163)
› LIGHTHOUSE RECENTLY FULLY RESTORED
› ONE OF HAWAI'I'S TRUE TREASURES
|DO+SEESIGHTS
Kīlauea Lighthouse
162)
102SEE+DO|SIGHTS
Kalalau Valley Lookout
SIGHTSEEING on WEST SIDE
Located at Waimea Hwy all the the A, #3, PG
top (Map
550
way to
›
Canyon Take
A SHORT WALK UP FROM THE CAR
The lookout provides panoramic views into the majestic valley—without breaking a sweat—from the 18-mile marker. It is one of the most spectacular views on earth with striking sea cliffs and the cobalt Pacific looks into the largest valley in Nāpali. Kalalau Valley is dramatic, with jagged emerald ridges, and is best viewed in the morning to avoid the clouds. Farther ahead is Pu'u o Kila Lookout, which offers even more astonishing views of the valley and the deep blue ocean. Both lookouts are located at the end of the Kōke'e Road.
›
BEST VIEWING EARLY ON A SUNNY DAY › A SCENIC MASTERPIECE
SIGHTSEEING & HIKING on NORTH SHORE
› CHECK WEATHER CONDITIONS BEFORE ATTEMPTING & KEEP SAFETY FIRST!
› A PRISTINE, SURREAL EXPERIENCE
Located on the Nāpali Coast
Hanakāpī'ai Falls
Hanakāpī'ai Falls is without a doubt the best day hike on Kaua'i. It offers both challenges and rewards to satisfy any explorer's dream of an authentic Hawaiian adventure. This hike averages 4-miles round trip if starting at Hanakāpī'ai Beach and 8-miles round trip from Kē'ē Beach. This adventure is just the first leg of the world famous Kalalau Trail, which twists and turns along the mountainous Nāpali Coast. After coming to the Hanakāpī'ai Valley the path becomes a strenuous journey inland, fit for serious hikers. Beginning three-quarters of a mile in, the trail passes through flowing streams. All efforts are rewarded as the sight of the Hanakāpī'ai waterfall graces the path before you as water crashes to a pool below, falling an amazing 300-ft from pure, green cliffs. Hikers should be warned to never attempt the trail in the rain as the streams are prone to flash floods.
103
|DO+SEESIGHTS
Access the trailhead from Kē'ē Beach (Map A, #2, PG 162)
Located near the Grand Hyatt Kauai Park near the trailhead at Shipwreck Beach (Map A, #5, PG 162)
104
HIKING on SOUTH SHORE
Māhā'ulepū Heritage Trail
›
Nestled between a luxurious resort and renowned golf course, it may seem odd to find a hiking trail, well known and well traveled by many adventure enthusiasts. However the Māhā'ulepū Trail near Po'ipū is just that—a wild and scenic stretch of coastline on Kaua'i's South Shore, encompassing sandy pathways and ironwood trees. This hike is a switch from the lush green mountainsides to ocean front views, sandy dunes and saltwater breezes that induce peace and serenity. The trail spans from Shipwreck Beach to Māhā'ulepū, climbing the Makawehi Bluff. Here, hikers can tiptoe to the edge of sand dunes and marvel over the aquamarine sea churning below. As hikers continue on the Māhā'ulepū Trail, the destination will be Māhā'ulepū Beach, one of the last unspoiled treasures on the South Shore.
› THE TRAIL SPANS 4-MILES ROUNDTRIP THE REWARD LIES AT SECLUDED MĀHĀ'ULEPŪ BEACH
|DO+SEESIGHTS
105SEE+DO|SIGHTS
The Grand Canyon of the Pacific is a breathtaking gaping gorge with dramatic ridges and deep ravines shaped by the steady process of erosion and collapse of the volcano that formed Kaua'i. It is roughly 10 miles long and 3,600 feet deep. The canyon is spectacular and majestic with jewel-tone colors of reds and greens. Take the scenic but narrow drive on Waimea Canyon Drive (Rte 550) from Hwy 50, or turn up the steep Kōke'e Road at Kekaha. The two roads merge into Kōke'e Road after a few miles up. Waimea Canyon Lookout is between mile markers 10 and 11. Check out the spectacular vistas from scenic lookouts at Pu'u Hinahina (3,336 feet elevation), where the private island of Ni'ihau can be seen on clear days, and Pu'u Ka Pele where the Waipo'o Falls are visible after a heavy rainfall. Be prepared for cooler weather, and make sure you have some fuel in your car.
SIGHTSEEING & HIKING on WEST SIDE
Located past Waimea town Hwydlnr.hawaii.gov50toHwy 550 for 6 miles to park (Map A, #4, PG 162)
Waimea Canyon State Park
› ENTRANCE FEE FOR NON-RESIDENTS
› SCENIC LOOKOUTS WITH SPECTACULAR VISTAS ON CLEAR DAYS
› THE SURROUNDING AREA IS HOME TO THE LARGEST HEIAU (TEMPLE) ON THE ISLAND
› EASY HIKE TO A 150-FOOT GUSHER
'Ōpaeka'a Falls
Located on the 'Ōpaeka'a Stream in Wailua River State Park Take Hwy 50 to Kuamo'o Rd. (Rte. 580) for about 1.5 miles (Map G, #1, PG 167)
High in the hills of Wailua, once the center of court and religious life on Kaua'i, is the lookout to one of the most consistent and easily viewed waterfalls on the island—'Ōpaeka'a Falls. Shrouded in a heavy forest of trees, ferns and native fauna, this popular waterfall offers visitors dynamic photo opportunities without the strain of a long hike. This beautiful waterfall is the easiest to view, as it tumbles out of the jungle into a dramatic plunge over a high cliff about a 150-feet into the Wailua River. The name means "rolling shrimp," for the days when swarms of shrimp were seen rolling in turbulent waters at the base of the falls. The best time to view the cascading falls is mid-morning, and the best view is from the path along the highway.
|DO+SEESIGHTS
SIGHTSEEING on EAST SIDE
SHIPWRECK (KEONELOA) BEACH south shore
PO'IPŪ BEACH south shore
POLIHALE STATE PARK west side
BEACHES
LYDGATE BEACH PARK east side
ANINI BEACH north shore
107
KALAPAKĪ BEACH līhu'e
PRO TIP A complete beach guide, along with geolocation is available in the Savvy360 app.
SALT POND BEACH PARK west side
HANALEI BAY north shore MAKUA (TUNNELS) BEACH north shore
108109110111112113114115116
Snapping the QR code on any guide page will take you there in the Savvy360 app.
BEACH on SOUTH SHORE
Named America's Best Beach by The Travel Channel, Po'ipū Beach is popular because of the sunny weather and calm water that surrounds the chain of beautiful wide, white sandy beaches. Probably the most popular beach on Kaua'i's South Shore, Po'ipū has something to offer for everyone: snorkeling, swimming, surfing or leisurely walks along the beach. An offshore reef causes the waves to break before they reach the shore making it a keiki-friendly beach. Swimming and snorkeling are great between the offshore reef and the coast while the breaking waves outside the calm waters create surfing and boogie boarding opportunities. Dangerous water conditions can occur during periods of high surf, usually in winter. Beginning surf lessons are available as well as a nearby playground. Lifeguards, showers, picnic tables, charcoal grill pits, pavilions, and restrooms are also available.
108SEE+DO|BEACHES
Located off Po'ipū Rd., south of Ho'owili Rd. Ho'one Rd., Po'ipū (Map B, #1, PG 164)
› LIFEGUARD ON DUTY A TOP NATIONALLY-RANKED BEACH FOR A REASON
›
Po'ipū Beach Park
109SEE+DO|BEACHES
› SURF CAN BE DANGEROUS, BE SMART
Located fronting the Grand Hyatt Kaua'i Resort & Spa Ainako St., Po'ipū (Map B, #2, PG 164)
Shipwreck (Keoneloa) Beach
› NO LIFEGUARD ON DUTY
BEACH on SOUTH SHORE
› SHOWERS & FACILITIES AVAILABLE
Located on the South Shore in the Po'ipū area in front of the Grand Hyatt Kaua'i Resort & Spa, Shipwreck Beach is perfect for sunbathing, long walks, and wading, but not a good swimming beach due to dangerous ocean conditions. But it's a good beach for boogie boarding, surfing, and windsurfing for the experienced. Named for an old and badly damaged small wooden boat on the water's edge that has long disappeared, this beach has become very popular with brave thrill seekers jumping 40 feet into the sea from Makawehi Point's cliffs, as did Harrison Ford and Anne Heche from Six Days, Seven Nights. There is no lifeguard on duty, so be cautious before entering the water. Showers and restrooms are available. Take the public access road between the Grand Hyatt and the Po'ipū Bay Golf Course.
›
110SEE+DO|BEACHES
›
Polihale State Park
Located at the west end of Hwy 50. Take a left onto the bumpy dirt road and drive several miles and follow signs to the beach (Map A, #8, PG 162) 4-WHEEL DRIVE HIGHLY RECOMMENDED NO LIFEGUARDS ON DUTY ROUGH, DANGEROUS SURF
BEACH on WEST SIDE
› VERY
The longest and widest stretch of beach in the Hawaiian Islands, this 7-mile white sandy beach is breathtaking and considered to be one of the most beautiful beaches on Kaua'i. The usually sunny beach is framed by the majestic Nāpali Coast with sweeping sand dunes that can get up to 100 feet high and you can catch amazing sunsets with views of Ni'ihau. This remote area is a great place to stargaze. The only safe place to swim is in the Queen's Pond where the fringing reef offers protection from the extremely strong currents when the surf isn't high; beware of sharp coral. Picnic tables, showers and restrooms are available, but there are no lifeguards. Camping is by permit only. Please note, because the road is not maintained, rental car companies may not allow use of their vehicles on this park access road.
Left off Hwy 50 onto Lele Rd., right on Lokokai Rd. to park (Map D, #4, PG 165)
› BE RESPECTFUL OF SALT PONDS
111|DO+SEEBEACHES
› CAMPING PERMIT REQUIRED
› A LARGE LAGOON & GREAT SNORKELING
BEACH on WEST SIDE
Located near Hanapēpē
Salt Pond Beach Park
The protected reef in this pretty crescent shaped beach with lots of palms is great for swimming, snorkeling, and beachcombing. Snorkeling is a popular activity here, with an abundance of colorful reef fish, coral, sponges, and you may even spot a honu (green sea turtle). Swimming is usually safe year-round in the large lagoon and the sunsets are spectacular. Salt ponds are nearby where generations past made salt by evaporating seawater in red earthen pans and still do today. Please do not enter the salt-making area. Respectfully observe from a distance. The beach is also great for windsurfing, boogie boarding and exploring the tidepools. There is a lifeguard on duty; and amenities include picnic tables, pavilions, grills, camping, restrooms, and showers.
This is a beautiful, white sand, crescent-shaped beach with tranquil water and a great place to learn to surf on the offshore break with great views of Nawiliwili Bay and the Hoary Head Mountains. It's a favorite place to swim when conditions are calm, which is most of the time, but beware of strong rip currents during high surf. There isn't a posted lifeguard, so be aware of water and weather conditions before swimming. If you are looking for some water activities for the family, there are surf lessons and catamaran cruises, as well as water sports rentals nearby. Close to the airport, hotels and cruise port, Kalapaki is conveniently located off Rice St. west of Līhu'e in front of the Royal Sonesta Kauai Resort. There are no set hours or entrance fees. Park in the public parking lot at the hotel.
Located at Royal Sonesta Kauai Resort 3610 Rice St., Līhu'e (Map H, #9, PG 168)
› QUICK ACCESS TO DINING OPTIONS AT THE RESORT AND NEARBY › RENTALS & WATERSPORTS AVAILABLE
112SEE+DO|BEACHES
Kalapakī Beach
BEACH in LĪHU'E
Lydgate Beach Park
BEACH on EAST SIDE
› GREAT PICNIC & FAMILY BEACH PARK
Lydgate Beach is a scenic family beach that is very popular since it offers something for everyone including a park. Considered to be one of the safest places on the island for snorkeling, there are two large rock-enclosed pools great for children and offers safe swimming and snorkeling for beginners. There is a large lava-rock wall that protects swimmers year-round, and the ironwood groves provide shade. Kamalani playground has a wooden volcano and jungle gym, and bright ceramic sea creatures adorn the playground. Amenities include picnic pavilions, grills, showers, and restrooms, and there is a lifeguard on duty. If you are looking for land activity, stroll along the 2.5-mile paved coastal path.
113SEE+DO|BEACHES
Located just south of the Wailua River Leho Dr., off Kūhiō Hwy., Wailua (Map A, #10, PG 163)
› TWO ROCK-ENCLOSED POOLS CREATE A SAFE HAVEN FROM THE OPEN OCEAN
› MOSTLY SANDY SHORELINE
BEACH on NORTH SHORE
› GREAT BEACH FOR KIDS
› ONE OF THE LARGEST REEFS IN HAWAI'I
114SEE+DO|BEACHES
Take Hwy 50 to Kalihiwai Rd., stay left on Anini Rd. (Map A, #11, PG 163)
This beautiful, tranquil white sand beach has one of the largest coral reefs in Hawai'i and has ideal safe water conditions for snorkeling, windsurfing, swimming, and paddle boarding. Although there is no lifeguard posted on Anini Beach, it is still considered one of the safer beaches on Kaua'i's North Shore due to the huge reef that offers protection even in large surf. Because this beach is a popular place for permitted camping and picnicking, there are plenty of picnic tables, grills, pavilions, and shade trees, as well as creature comforts such as restrooms and showers. Anini Beach is usually less crowded than other North Shore beaches and easy to find.
Anini Beach
Located near Princeville
› GREAT BEACH FOR WATER ACTIVITIES
BEACH on NORTH SHORE
Located in Hanalei
115SEE+DO|BEACHES
› ONE OF THE MOST PICTURESQUE, MAJESTIC PLACES ON EARTH
Located on the North Shore of Kaua'i and set between two rivers—Hanalei River to the east and Wai'oli River to the west—Hanalei Bay is probably one of the most majestic places on earth. The sunsets are spectacular and the moonlight over Hanalei Bay is magical. There are four beaches included in the two-mile sandy crescent shaped bay, and all have lifeguards on duty except Waikoko Beach. Black Pot Park is located next to the Hanalei River mouth and is a local gathering place with a variety of water activities. The Hanalei Pavilion Beach Park is a popular spot for picnics. Wai'oli Beach Park is near the center of the bay, set in an ironwood grove. Waikoko Beach is located on the westernmost section, and is protected by Waikoko Reef, so it's popular with snorkelers and families. Picnic area, tables, pavilions, grills, showers, and restrooms are available.
Take Hwy 50 to Hanalei, right on Aku Rd. to Weke Rd. (Map I, #2, PG 169)
Hanalei Bay
›
› PERFECT SPOT FOR SNORKELING BEWARE OF RIP CURRENTS LIFEGUARD ON DUTY
This is one of the best snorkeling beaches on the North Shore due to the widefringing coral reef (so large it can be seen from space) with a huge variety of fish swimming around in the shallow inner and outer reefs. The exceptional beach is surrounded by gently sloping sand and is well protected with incredible mountain scenery popular with swimmers, surfers, windsurfers, and beachcombers. The best snorkeling is in the center by the crescent shaped reef. Scuba divers can explore the underwater caverns near the shore. Beware of sharp reefs, rip currents and dangerous water conditions. There are no facilities at this beach, but the facilities at Hā'ena State Park are nearby, and there is a lifeguard on duty. Take one of two dirt roads off Kuhio Hwy / Route 560 north of Hanalei near the 8-mile marker.
116
Mākua (Tunnels) Beach
BEACH on NORTH SHORE
›
Located past Hanalei on Kuhio Hwy Take one of two dirt roads near 8-mile marker (Map A, #9, PG 162)
|DO+SEEBEACHES
GOLF
OCEAN COURSE AT HŌKŪALA golf course
Snapping the QR code on any guide page will take you there in the Savvy360 app.
PXG golf clubs + apparel
PRINCEVILLE MAKAI GOLF COURSE golf course
120118121122123
KIAHUNA GOLF COURSE golf course
POIPU BAY GOLF COURSE golf course
PXG
Parsons Xtreme Golf (844) 752-9794 • pxg.com
Fittings at Poipu Bay Golf Course, 2250 Ainako St., Po'ipū (Map B, #3, PG 164)
118SEE+DO|GOLF
GOLF CLUBS on SOUTH SHORE
› CUSTOM FITTING EXPERIENCE › THE GEN5s ARE GAME-CHANGERS › CHECK OUT THE PXG APPAREL LINE
All-new PXG 0311 GEN5 Clubs are a master class in PXG style, performance, and forgiveness. Explosive distance, fairway-finding accuracy and outstanding mishit correction puts the "Kaboom Baby!" in every shot. Informed by a process that leaves nothing on the table and incorporating everything PXG understands about performance, PXG 0311 GEN5 Drivers, Fairways, Hybrids, and Irons raze par. Across the lineup, GEN5 Golf Clubs introduce new patented technologies that are both seen and unseen with advancements in materials innovations, precision engineering, and personalized performance. The new golf clubs deliver significantly increased moment of inertia (MOI), faster ball speeds, longer distances, and tighter dispersion, all coupled with the exceptional feel and sound golfers have come to expect from PXG. Whether a golfer is out to win or simply have a good time on the course, PXG 0311 GEN5 Golf Clubs offer something for everyone.
119SEE+DO|GOLF
› A SKILLFUL RTJ, JR. DESIGN › ENJOY WILDLIFE SIGHTINGS › TIGHT FAIRWAYS & PASPALUM GREENS
Kiahuna Golf Club offers challenging resort golf within a fascinating area of ancient Polynesian archeology. Touted as the best greens on the island, enjoy your game surrounded by the lush, natural beauty of sunny Po'ipū Beach. World renowned architect, Robert Trent Jones II, skillfully included many ancient remnants of an authentic Hawaiian village into his design, where you will experience the course's beauty and a sense of the enduring history of Kaua'i and the Hawaiian culture. The Kiahuna Golf Club is a sanctuary for many of Kaua'i's endangered species including the state bird of Hawaii, the nēnē, the rare Hawaiian Stilt and the very shy Moorhen. Take in the views of the golf course or watch daily sports while you dine at the onsite location for Paco's Tacos Cantina.
GOLF COURSE on SOUTH SHORE
Located in Po'ipū (808) 742-9595 • kiahunagolf.com 2545 Kiahuna Plantation Dr., Kōloa (Map B, #5, PG 164)
120SEE+DO|GOLF
Kiahuna Golf Course
Poipu Bay Golf Course
› HOSTED PGA GRAND SLAM FROM '94-'06
121SEE+DO|GOLF
Adjacent to the Grand Hyatt Kauai Resort and Spa on the sunny south shore of Kaua'i, this outstanding course is backed by lush emerald mountains and sculpted from a rolling plateau eight stories above the Pacific Ocean. Nestled among the gentle contours of Po'ipū Bay you'll discover the remains of Hawaiian heiau (places of worship) and ancient stone walls. If this weren't challenge enough, Mother Nature presents you with one distraction after another. From rare Hawaiian monk seals, green sea turtles, and humpback whales, you'll have lots of wild excuses to back your scorecard. Plus, Po'ipū Bay is home to nēnē (Hawaiian goose) which are endemic to Hawai'i, and not encountered anywhere else in the world outside of their native environment. Here, even the most focused golfer will be challenged by the breathtaking views.
(808) 742-8711 • poipubaygolf.com 2250 Ainako St., Po'ipū (Map B, #3, PG 164)
› AN OCEANFRONT CHAMPIONSHIP COURSE
GOLF COURSE on SOUTH SHORE
› A ROBERT TRENT JONES, JR. DESIGN
122SEE+DO|GOLF
GOLF COURSE in LĪHU'E
The Ocean Course at Hōkūala, a Timbers Kaua'i Resort, is the only Signature Jack Nicklaus designed golf course on Kaua'i. While boasting the longest continuous stretch of ocean front golf holes in Hawai'i, Hōkūala's true beauty lies in their signature Aloha Spirit shared throughout the property. Elevate your golf game while enjoying a great Hawai'i experience with the Hōkūala Golf Adventures team. After one visit to the Ocean Course, each guest will leave with a memory that this is truly where aloha begins.
› ONE SIGNATURE HOLE AFTER ANOTHER
Located at Timbers Kaua'i (808) 241-6000 • golfhokuala.com 3351 Ho'Olaulea Way, Līhu'e (Map H, #10, PG 168)
› A COMPLETELY RENOVATED JACK NICKLAUS DESIGN
Ocean Course at Hōkūala
› SIX OF THE HOLES ARE OCEANFRONT
GOLF COURSE on NORTH SHORE
As Mr. Robert Trent Jones Jr.'s first ever solo design, Princeville Makai Golf Course is truly one of the world's most stunning golf and resort locations. Since undergoing an extensive $6 million renovation, the Makai Course has soared to the top of almost all of golf's respected rankings imaginable—including being ranked amongst the Top 100 Greatest Public Golf Courses in America by Golf Digest, within the Top 3 Best Courses You Can Play in Hawai'i by GolfWeek and being named to the list of America's "Top 5 Great Golf Settings" in the world by National Geographic Traveler. With immaculate course conditions and six oceanfront holes, it is impossible for any other golf course on the Hawaiian Islands to rival Princeville Makai's true Hawaiian golf adventure!
Located in Princeville (808) 826-1912 • makaigolf.com
123SEE+DO|GOLF
› A STUNNING RTJ, JR. DESIGN
› PRISTINE COURSE CONDITIONS
Princeville Makai Golf Club
4080 Lei O Papa Road, Princeville (Map I, #3, PG 169)
Visit us at Anchor Cove | www.mauidivers.com
KUKUI GROVE CENTER shopping center
BLUE GINGER boutique & accessories
GOLDSMITHS KAUAI jewelry
125
SHOP + STYLE
MAUI DIVERS jewelry
KILAUEA FINE JEWELRY jewelry
THE SHOPS AT GRAND HYATT KAUAI shopping center
130128126129132132133134135136137138139
KAUAI CULINARY MARKET farmers market
NA HOKU jewelry
KONG LUNG HISTORIC MARKET CENTER shopping center
Snapping the QR code on any page will take you there in the Savvy360 app.
THE SHOPS AT KUKUI'ULA shopping center
guide
MONDAY PAU HANA MARKET farmers market
WAREHOUSE 3540 market
REFILL KAUAI home goods + jewelry
Located in the Grand Hyatt Kauai Resort & Spa (808) 742-1234
Everything Kaua'i in one beautiful space. The Shops at Grand Hyatt Kauai features 12,000 square feet of retail shops, featuring Tori Richard aloha wear, Na Hoku fine jewelry, Shoe Envy, Anara Spa boutique, Waterwear, Sunglass Hut, Hawai'i's own Martin and MacArthur fine woodworking, fine art photography from aFeinberg Gallery, and gifts and sundries from Accents. Within walking distance of the resort, the Poipu Bay Golf Shop offers golf equipment, accessories, and logo wear. Whether you are looking for the perfect gift or a keepsake to treasure, you will find it all at The Shops at Grand Hyatt Kauai.
126SHOP+STYLE
A CURATED MIX OF ISLAND STYLE AND PREMIER BRANDS ›
› EXPERIENCE SHOP, SPA & DINE AT THE GRAND HYATT
1571 Poipu Rd., Po'ipū (Map B, #6, PG 164)
SHOPPING CENTER on SOUTH SHORE
The Shops at Grand Hyatt Kauai
127SHOP+STYLE
On the sunny south shore of Kaua'i, nestled in the renowned resort playground of Po'ipu, The Shops at Kukui'ula is the island's premier shopping, dining and fine art destination. Showcasing architecture that pays homage to Hawai'i's plantation past, the center is home to dozens of unique shops and boutiques, award-winning restaurants and contemporary art galleries. Strolling through The Shops at Kukui'ula stimulates the senses, especially on Friday evenings when live music carries on the breeze; and hosts to some of the South Shore's most cherished weekly, monthly and annual events. Every Wednesday beginning at 3:30pm, The Shops come alive with the lively Kaua'i Culinary Market, offering fresh fruits and vegetables as well as other specialties and local favorites that are all Kaua'i grown and made, supporting local farmers, producers and vendors.
› EXPANSIVE, OPEN-AIR SETTING › SIGNATURE RESTAURANTS & QUICK BITES › LOCAL SHOPS, GALLERIES & BOUTIQUES
SHOPPING CENTER on SOUTH SHORE
Located at the roundabout in Po'ipū (808) 742-9545 • theshopsatkukuiula.com 2829 Ala Kalanikaumaka, Po'ipū (Map B, #7, PG 164)
The Shops at Kukui'ula
128SHOP+STYLE
Blue Ginger
Located in the Shops at Kukui'ula (808) 742-2633 • blueginger.com 2829 Ala Kalanikaumaka St., Suite G145, Kōloa (Map B, #7, PG 164)
› LIVE THE ALOHA LIFESTYLE
› TIMELESS RESORTWEAR
Live the aloha lifestyle in tropical resort wear from Blue Ginger. Perfect for any island occasion, Blue Ginger offers colorful, timeless resort wear sure to bring smiles and warm memories of the islands. Original batik prints inspired by the beauty of the Hawaiian Islands are available in comfortable clothing for all ages. A family run establishment, Blue Ginger has long been an island favorite with kama'āina and visitors alike. With eight locations throughout the Hawaiian Islands, Blue Ginger has something for everyone, from the youngest keiki on up. Colorful sundresses, caftans, aloha shirts, accessories and more. Celebrating 39 years of living the aloha lifestyle, these exclusive prints and fashions continue to delight multiple generations.
› MATCHING FAMILY PRINTS
129SHOP+STYLE
BOUTIQUE & ACCESSORIES on SOUTH SHORE
130SHOP+STYLE
Maui Divers Jewelry was not always a jeweler. In fact, in 1958, they started as a small dive shop offering adventurous diving excursions off Maui. During one expedition, they made the incredible discovery of Hawaiian black coral, which later became Hawai'i's state gem. This moment changed their lives and sparked an exploration into jewelry making. A year later, Maui Divers Jewelry was founded. Every piece of jewelry is inspired by Hawai'i, designed by teams of skilled local artists, and created by masterful jewelers in Honolulu. They welcome you, with Aloha, to join them on their journey and share in the adventure! Hawai'i's favorite and most trusted jeweler since 1959. Visit them on O'ahu, Maui, Big Island, and Kaua'i, or shop online at MauiDivers.com.
JEWELRY in LĪHU'E
Maui Divers Jewelry
› LOCALLY-MADE HAWAIIAN JEWELRY › HAWAI'I STATE GEM (BLACK CORAL) › PEARLS, DIAMONDS, TURQUOISE, & MORE
Located in Anchor Cove Shopping Center (808) 246-2699 • mauidivers.com 3416 Rice Street, #201, Līhu'e (Map H, #13, PG 168)
131SHOP+STYLE
Voted the #1 Kaua'i farmers' market, the Monday Pau Hana Market is a partnership between Kaua'i County Farm Bureau and Kukui Grove Center with the goal of supporting local agriculture. Held each Monday, rain or shine, from 3-5:30pm in the south parking lot, this outdoor market offers seasonal fruit, flowers and produce plus ready-to-eat items. Enjoy a fresh cracked coconut, savor a fresh made lumpia or Filipino delicacy, or sample Kaua'i honey while shopping for what's in season and meeting Kaua'i farmers. More local choices are available at the Food Court restaurants, many of which shop from these same farmers.
Located in the Grand Hyatt Shops • (808) 742-1863 (Map B, #6, PG 164)
Poipu Shopping Village • (808) 742-7025 (Map B, #19, PG nahoku.com164)
Located at Kukui Grove Center (808) 245-7784 • 3-2600kukuigrovecenter.com/marketKaumuali'iHighway,Līhu'e(MapH,#12,PG168)
FARMERS MARKET in LĪHU'E
132
Hawai'i's Finest Jewelers Since 1924. The essence of Hawaiian lifestyle and tradition has been captured in the Na Hoku collection of fine jewelry. Hawaiian for "stars," Na Hoku also stands for incomparable quality and craftsmanship. At Na Hoku, you will find original pieces set with Tahitian pearls, diamonds and colored gemstones, as well as collections by renowned designers such as Kabana®, Le Vian® and Effy®. Every piece of Hawaiian and Island lifestyle jewelry is designed to accent the individuality, taste and style of the one who wears it, and will forever be a memento of a treasured time in the islands.
STYLE+SHOP
Na Hoku
JEWELRY on SOUTH SHORE
Monday Pau Hana Market
INCLUDING TARGET
Kukui Grove Center
in
LOCAL FOOD CHOICES
› 60+ MERCHANTS
› AWARD-WINNING
› EXPLORE KAUA'I
OCEAN DISCOVERY CENTER
133SHOP+STYLE
SHOPPING CENTER LĪHU'E
3-2600 Kaumuali'i Hwy., Li'hūe (Map H, #12, PG 168)
Located in Līhu'e (808) 245-7784 • kukuigrovecenter.com
Nestled on 50 acres in Li'hūe, Kukui Grove Center and Marketplace is the island's largest open-air shopping center. A dynamic mix of more than 60 stores, restaurants, local specialty shops, services and activities amidst outdoor seating and lush tropical landscaping, Kukui Grove is known as "The Place to Be" for Hawai'i residents and visitors seeking to explore authentic Kaua'i eats and style. Stop by for breakfast or lunch at Kaua'i's top food court featuring the diverse flavors of the islands, or come on Aloha Friday night for live music beginning at 6pm. The Center is a community hub for seasonal and cultural programming for all ages, with popular weekend events and a Monday Pau Hana Farmers' Market starting at 3pm weekly. The Keiki Korner children's play area and frequent kids' activities make Kukui Grove a favorite stop for families.
134SHOP+STYLE
Located at The Shops at Kukui'ula (808) 742-9545 • theshopsatkukuiula.com 2829 Ala Kalanikaumaka Road, Po'ipū (Map B, #7, PG 164)
Held each Wednesday from 3:30pm - 6pm, the Kaua'i Culinary Market is an epicurean's delight. Aromas of fresh food being cooked on the grill greet guests while live, local musicians perform in the background and crowds mingle at various booths to taste the offerings of local chefs. Along with a variety of tropical fruits ranging from lychee to starfruit and even the piercingly colored dragon fruit, this market has a variety of vendors offering their handmade pies, jams, fresh cheese, and local coffee. At 5pm, local chefs from across the island participate in live food demonstrations adding to the interactive and personable atmosphere of this market. While some choose to dance to the live music or mingle among the vendors, there is also a relaxing wine and beer garden awaiting those who want to sit back, enjoy their food, and listen to the live music.
Kaua'i Culinary Market
FARMERS MARKET on SOUTH SHORE
› A GREAT MID-WEEK MARKET WITH CHEF DEMONSTRATIONS + LIVE MUSIC › HIT THE MARKET AND STAY FOR DINNER
› IN-HOUSE CUSTOM CREATIONS SOLD EXCLUSIVELY AT THEIR STUDIO
4-356 Kuhio Hwy, Ste 129, Kapa'a (Map G, #2, PG 167)
135SHOP+STYLE
Located on the Garden Island for over 40 years, Goldsmiths Kaua'i has a reputation for excellence and award-winning designs inspired by island motifs in silver, 14kt and 18kt gold, and platinum, many featuring Tahitian pearls, and precious and semi-precious gemstones. They also carry in-house custom creations cast in silver and gold featuring Hawaiian themes, as well as a handpicked selection of fine jewelry in a wide range of prices to suit all styles and occasions. If you don't find that perfect piece of jewelry from their collection, bring your creative ideas to consult with their expert goldsmith, Dana Romsdal, who will interpret and make your own unique, special, one-of-a-kind piece of beautiful jewelry.
› LET THEM CREATE YOUR UNIQUE PIECE!
Goldsmiths Kauai
JEWELRY on EAST SIDE
Located in Kinipopo Shopping Village (808) 822-4653 • goldsmiths-kauai.com
Kilauea Fine Jewelry
136SHOP+STYLE
› ONE-OF-A-KIND DESIGNS › TAHITIAN & SOUTH SEA PEARLS › DIAMOND & GEMSTONE JEWELRY
Located in the Ahuimanu Shopping Center (808) 431-4100 • kilaueafinejewelry.com 2555 Ala Namahana Parkway, Unit 203, Bldg G4, Kīlauea (Map F, #2, PG 167)
JEWELRY on NORTH SHORE
Located in the heart of Kilauea, co-owners Tiffany, Karen and Nicky began making jewelry together as 'ohana, then decided to bring their dreams to life by starting a women-owned business creating one-of-a-kind pearl, gemstone and diamond fine jewelry. Specializing in Tahitian and South Sea pearl jewelry, most of which is handcrafted in their store, they personally select each and every pearl from the most reputable pearl farmers around the globe. Using only ethically-sourced diamonds and gemstones, they have a team of goldsmiths able to customize any piece you can dream up. In addition to a new mens line, these ladies recently launched their signature collection of Sustainably Created Lab Diamond Fine Jewelry which includes an eco-friendly selection of classic engagement rings and bands.
› HAWAIIAN ENTERTAINMENT › LOCALLY-OWNED BUSINESS
Experience the heart of Kīlauea's community and history at this historic markeplace. Here, the town's plantation era merges with stylish, contemporary, and vintage fashion boutiques, home goods, a bakery and coffee shop, art gallery, restaurants, and market. Nestled amongst neatly preserved buildings is an awardwinning photo retrospective titled "Recollections"—15 large outdoor displays with engaging images and details of the life and times of Kīlauea Town. Throughout the decades this quaint marketplace has evolved with Kīlauea, while never letting go of its original charm and integrity of place. It's cozy and comfortable and continues to be the gathering place for locals. This is one of those unique local places where you'll want to soak in the mood, have some conversations, and just take it slowly.
CENTER on NORTH SHORE Located
(Map2484konglungkauai.comKenekeSt.,KīlaueaF,#4,PG167) › SINCE
137SHOP+STYLE
Kong Lung Historic Market Center
SHOPPING in Kīlauea, on the road to Kīlauea Lighthouse 1881
On the south side of Kaua'i, in Lāwa'i Valley, sits this uniquely repurposed warehouse known as Warehouse 3540. In 2015, this historic pineapple canning factory was given a new direction. It wasn't long before the idea of a creative community marketplace began to take root and flourish. Loved by both locals and visitors, this open air market has become home to over a dozen locally owned and operated businesses, each brimming with their own stories and unique artisan goods. Enjoy one of our island's favorite coffee spots, Kind Koffee, a wonderful array of food trucks, and meander from shop to shop for a truly authentic shopping experience. The relaxed and unique environment offers something for everyone! in Lawai (808) 635-6579
138SHOP+STYLE Warehouse 3540 MARKET on SOUTH SHORE Located
• 3540warehouse3540.comKōloaRd.,Kalaheo(MapA,#12,PG162) › COFFEE + FOOD TRUCKS! › CHECK FOR SPECIAL EVENTS › SHOP GOODS FROM LOCAL MAKERS
Refill Kauai is a mindfully curated, eco-conscious retail shop appropriately located in the repurposed Warehouse 3540. This hidden gem is an absolute must see for anyone interested in creating a more sustainable lifestyle. Offering a full line of all-natural cleaning supplies for both home and body, customers are invited to bring their own clean container or purchase one of the pre-labeled glass bottles to fill and pay per ounce. Refill also offers an array of functionally beautiful and sustainable home items as well as an in-house jewelry line. The combination of lovely scents, textures and natural colors help bring to remembrance the longing in each of us to slow down and live more intentionally. Refill has quickly become a favorite for both locals and visitors alike!
Refill Kauai
› CHECK OUT THEIR JEWELRY LINE
Refill Kauai (808) 635-6579 • refillkauai.com 3540 Kōloa Rd., Kalaheo (Map A, #12, PG 162)
› SHOP SUSTAINABLE GOODS FOR LIFE, HOME & BODY CARE
139SHOP+STYLE
HOME GOODS on SOUTH SHORE
reserved.rightsAllCorporation.Hyatt©2021Corporation.Hyattoftrademarksaremarksrelatedanddesignsnames,Hyatt®GrandandHyatt® STEVENSON'S LIBRARY AT GRAND HYATT KAUAI The place for scrumptious sushi and spirits, with ocean views, inventive cocktails, martinis, tropical drinks, aged whiskies, cognacs and ports. Sushi rolled nightly 5:30-10:00pm. Bar open until 11:00pm. Free valet parking for diners. For reservations book on OpenTable or call 808 240 6456. GO GRAND
app.
STEVENSON'S LIBRARY sushi & spirits
THE CROOKED SURF island-inspired MARIACHI'S AUTHENTIC MEXICAN CUISINE mexican BANGKOK HAPPY BOWL THAI BISTRO & SUSHI BAR thai & sushi
THE PLANTATION HOUSE BY GAYLORD'S regional cuisine MOAMOA HAWAIIAN FISH HOUSE island-inspired cuisine
144142145146147148149150151152153
FIRE HEN chicken + hot wings
Snapping Savvy360
HUALANI'S farm to table cuisine
EAT + DRINK
EATING HOUSE 1849 hawaiian & asian fusion cuisine
the QR code on any guide page will take you there in the
TABLE AT POIPU regional cuisine
TIDEPOOLS regional cuisine
141
House 1849
HAWAIIAN & ASIAN FUSION on SOUTH SHORE
Embark on a culinary adventure at award-winning Chef Roy Yamaguchi's creation, offering the perfect opportunity to savor the multicultural flavors of Hawai'i. The celebrated chef famous for international cuisine honors the many different cultures that have made Hawai'i the "melting pot" that it is, and incorporates Portuguese, Filipino and American seasonings, among others, in cravable spicy and savory dishes served in a plantation-style eatery. Paying homage to Hawai'i's vibrant culinary heritage, with a nod to restaurateurs like Peter Fernandez who, the story goes, opened one of the first restaurants in Hawai'i—called the Eating House—back in the mid-1800s, using what was available from local farmers, ranchers, foragers and fishermen. It's here that the easy ambiance and simple flavors of a plantation town meet the dynamic modernity of haute cuisine.
142EAT+DRINK
Located at The Shops at Kukui'ula (808) 742-5000 • royyamaguchi.com 2829 Ala Kalanikaumaka Rd. #A-201, Kōloa (Map B, #8, PG 164)
› A ROY YAMAGUCHI GEM › LOCAL COMFORT FOOD AT ITS FINEST › RESERVATIONS RECOMMENDED
Eating
143EAT+DRINK
•1571grandhyattkauai.comPo'ipūRd.,Kōloa(MapB,#9,PG164) › THE PLACE FOR SUSHI + SPIRITS › EXPANSIVE BAR, VIEWS AND OPEN-AIR LANAI CREATE A WELCOMING VIBE DRINK+EAT
This unique Kaua'i bar boasts the freshest and most delicious sushi and cocktails from sake to Scotch, draft beer to creative martinis and delectable tropical drinks. Savor the delectable flavor combinations, or simply enjoy a cocktail while taking in the sweeping views. The warm woods and intimate seating areas of this classic lounge create a welcoming atmosphere. Take a seat at the 27-foot, handcrafted koa wood bar or sink into a cozy chair or sofa in the book lined room. Scrumptious sushi rolls are sure to please, with sushi served nightly from 5:30pm - 10pm. Bar closes at 11pm. Free valet parking for diners.
SUSHI at the Grand Hyatt Kauai Resort 240-6456
on SOUTH SHORE Located
144
Stevenson's Library
& Spa (808)
REGIONAL CUISINE on SOUTH SHORE
Dine Hawaiian-style in what has been recognized as the island's most romantic restaurant. For the ultimate ambiance and delectable food, Tidepools is the place. Feel the romance in thatched-roof bungalows that seemingly float above a koi filled lagoon at the base of a waterfall. Savor modern Hawaiian cuisine in this extraordinary setting. You'll relish the exceptional service and the fresh local fish and steak creations each prepared with bounty from the island. Tidepools will dazzle you with dishes like Grilled Hawaiian Catch, Macadamia Crusted Mahi or succulent steaks. Salads feature greens from their own garden and the desserts are luscious. Don't miss this treat. Book on OpenTable or call for reservations. Free valet parking for diners.
Tidepools
1571 Po'ipū Rd., Kōloa (Map B, #9, PG 164)
145EAT+DRINK
TRANQUIL, ROMANTIC SETTING
ISLAND-INSPIRED MENU
›
›
Located at the Grand Hyatt Kauai Resort & Spa (808) 240-6456 • grandhyattkauai.com
›
FRESH LOCAL INGREDIENTS
Table at Poipu
CUISINE on SOUTH SHORE
Located at The Shops at Kukui'ula (808) 742-7037 • tableatpoipu.com 2829 Ala Kalanikaumaka St, Suite F207A, Kōloa (Map B, #8, PG 164)
146EAT+DRINK
› SAVE ROOM FOR OUTSTANDING DESSERTS › CLASSIC DISHES WITH INSPIRATION › RESERVATIONS RECOMMENDED
REGIONAL
Looking for the perfect spot for a dress-up dining experience? Chef and owner John-Paul Gordon, a multiple-award-winning chef over 23 years, shares some of his favorite recipes with a noteworthy assemblage of what he does best—keeping the menu fresh while serving up classics. Feast on the fruits of the sea with flavorpacked dishes like Kaua'i Prawn Saffron Risotto and the Seafood Paella; or dig into traditional meat dishes like the Bone-in Pork Chop and 14 oz. Spiced Ribeye. There are even vegetarian options, and all dishes are cooked up with imagination. Chef John-Paul uses locally-sourced ingredients in partnership with Kaua'i farmers and fishermen to cook up meals that are served simply and filled with warmth and aloha.
› SPECIAL FARM-TO-TABLE MENU ON TUESDAYS
Oceanfront dining at Hualani's draws on the palate that the seasons dictate: What's fresh at the Farm at Hōkūala is what's on the menu. From the daily catch, to the morning harvest and a really great burger, the award-winning, farm-totable restaurant has you covered with the best of the island. At the bar, enjoy unique tropical craft cocktails that complement the seasonality of the kitchen. Experience one of the best views on Kaua'i and savor the island lifestyle from an elegant yet relaxed setting at Hōkūala. The mission of the farm is to not only provide fresh ingredients to the restaurant, bar and spa, but to also support the people of Kaua'i with an agriculture-education program for local schools and the community. Hualani's is proud to partner with Surfrider Foundation as an Ocean Friendly Restaurant. Breakfast and lunch daily, dinner service Tuesday - Saturday.
3770 Ala'oli Way, Līhu'e (Map H, #15, PG 168)
147EAT+DRINK
FARM-TO-TABLE in LĪHU'E
› FRESH INGREDIENTS SUPPORTED BY A 16.5-ACRE FARM AT THE RESORT
Hualani's
Located at Timbers Kaua'i (808) 320-7399 • timberskauai.com
Located at Kilohana Plantation (808) 245-9593 • kilohanakauai.com 3-2087 Kaumuali'i Hwy, Līhu'e (Map H, #14, PG 168)
148EAT+DRINK
The Plantation House by Gaylord's
› LOCALLY-SOURCED INGREDIENTS › PLANTATION-LIKE SETTING AT KILOHANA › PLENTY TO EXPERIENCE AFTER YOUR MEAL
Located in Kilohana's original courtyard, The Plantation House by Gaylord's offers Kaua'i's most authentic dining experience with island-influenced dishes by Chef Johnny Saguid. An original working plantation homestead, Kilohana was home to Gaylord Wilcox who operated Grove Farm Plantation, a 23,000acre Sugar Plantation. Today, The Plantation House offers one of Kaua'i's most beautiful settings for lunch and dinner. The kitchen uses only the freshest, seasonal ingredients supporting local farmers and fishermen, and their 67-acre sustainable farm provides much of the produce and herbs used in their dishes and cocktails. After your meal take a walk around the Kilohana grounds, shop in their assorted boutiques, visit the rum shop, take a ride on the plantation train or Safari van. Open Monday through Saturday for lunch and dinner.
LĪHU'E
REGIONAL CUISINE in
› OPEN-AIR DINING ON THE COAST
› FRESH, SEAFOOD-INSPIRED MENU
149EAT+DRINK
650 Aleka Loop, Kapa'a (Map E, #6, PG 166)
Open-air dining while in Hawai'i is as essential as the tropical, pineapple wedgetopped cocktail at Saturday night's meal—and it just so happens that Moamoa Hawaiian Fish House at the Sheraton Kaua'i Coconut Beach Resort offers both. Along with the lovely sips and sites this beachfront restaurant has to offer, the inspired array of Hawaiian cuisine offers well-earned competition for your attention. Miles more curated than your run-of-the-mill resort eatery, Moamoa dreamed up a Tropical Panzanella equipped with Kaua'i-grown heirloom tomatoes, buttery sweet bread, and a pineapple vinaigrette followed by a Cauliflower Katsu with a housemade tonkatsu sauce. Expect the market catch to be seared to perfection and the Warm Butter Rum Cake to be something worth writing home about.
ISLAND-INSPIRED on EAST SIDE
Located at the Sheraton Kaua'i Coconut Beach Resort (808) 320-3653 • sheratonkapaa.com
Moamoa Hawaiian Fish House
› TRY THE DAILY CATCH
› IT'S ALL ABOUT THE SAUCE! › GET DELIVERY THROUGH DOOR DASH › AMAZING FRIED CHICKEN & WINGS
CHICKEN & HOT WINGS on
Located at the Sheraton Kaua'i Coconut Beach Resort (808) 319-4030 • firehenkauai.com 650 Aleka Loop, Kapa'a (Map E, #6, PG 166)
Fire Hen
EAST SIDE
150EAT+DRINK
Marinated for hours, tenderly breaded, and crisped to golden brown in a warm vat of bubbly oil? Fried chicken is an icon of global cuisine with different cultures and cities welcomely taking the liberty to throw in their own innovative adaptations. On the eastern shore of Kaua'i, Fire Hen is doing just that with an emphasis on the sauce. Many would argue that when it comes to French fries, fried chicken, or anything of the dippable sort, we place 10% of our eating desire on the food and 90% on the sauce—and while Fire Hen's chicken delivers moist meat with a crackly exterior, it's their charcuterie of sauces and flavorings that gets you hooked. Guava Habanero, Pineapple Jerk, and "Hawaiian Chili Peppa Wata" make for bold flavors crispy layers are eager to soak up.
Located at the Sheraton Kaua'i Coconut Beach Resort (808) 320-3651 • sheratonkapaa.com
› OCEANFRONT, OPEN-AIR SETTING
› LOCAL FAVORITES ISLAND COCKTAILS
650 Aleka Loop, Kapa'a (Map E, #6, PG 166)
The Crooked Surf
ISLAND-INSPIRED on EAST SIDE
151EAT+DRINK
The Crooked Surf is a sophisticated Tiki Bar experience, inspired from indigenous Hawaiian architecture and features al fresco drinks and food with an understated surf club vibe. The bar overlooks the sweeping vistas of the ocean surrounding this beautiful resort. It features live entertainment in the evening on weekends and a fun, high-energy vibe that will keep your good times going into the night. The menu focuses on island-favorite pupus, Asian-fusion sandwiches and burgers and approachable local plates that are both refreshing and nourishing. Sip a cocktail and indulge in a fresh catch poke bowl or a host of resort favorites and a rotation of specials that highlight the seasonality and culture of Kaua'i.
+
+
› A TIKI BAR VIBE LIVE ENTERTAINMENT
Experience authentic Mexican cuisine from a simple menu of flavorful comfort food homemade with fresh ingredients inspired by family recipes from Mexico and the passion for cooking of owner Hector Portillo's grandmother. The combination of flavors and the traditional Mexican ambiance is what makes Mariachi's a very special restaurant. If you're hungry for non-Mexican dishes, their menu has plenty of American and local Hawaiian favorites, as well as vegetarian options. They offer a margarita bar, with an extensive selection of tropical cocktails, tequilas, and beers, including local options. Whether it's your first time at Mariachi's, or you're a regular, they always strive to provide the best, traditional Mexican cantina experience.
in LĪHU'E + EAST SIDE
152EAT+DRINK
Mariachi's Authentic Mexican Cuisine
MEXICAN
mariachis-hawaii.com (808) 822-1612 • 4-1387 Kuhio Hwy., Kapa'a (Map E, #5, PG 166) (808) 246-1570 • 3501 Rice Street, Līhu'e (Map H, #16, PG 168)
› TWO CONVENIENT LOCATIONS ON KAUA'I › AUTHENTIC MEXICAN CUISINE › CHECK OUT THE MARGARITA BAR
THAI & SUSHI on SOUTH SHORE
Located in Poipu Shopping Village (808) 742-9888 • bangkokhappybowlkoloa.com
Bangkok Happy Bowl Thai Bistro & Sushi Bar
153EAT+DRINK
2360 Kiahuna Plantation Dr., Kōloa (Map B, #10, PG 164)
› TAKE OUT & CATERING › HAPPY HOUR DAILY, FEATURING $2 OFF DRAFT BEERS & SELECT COCKTAILS
A cornerstone in the Kōloa community, this colorful, laid-back bistro serves up authentic Thai cuisine with a sophisticated, modern twist on classic dishes and has been recognized for its outstanding food, excellent service, and friendly staff. Owned by award-winning chef and restaurateur Paula Rungsawang-Coult with husband Kirk Coult, this popular Po'ipū establishment features flavorful dishes made with fresh ingredients—including classic Thai favorites such as curries, and noodle and rice bowls. Don't miss out on their sushi menu, which offers a variety of creative sushi rolls and fresh sashimi. Dine on their lānai and enjoy specialty cocktails from the full-service bar while enjoying the nightly live music. Stop in for their daily happy hour from 3:00 p.m. to 5:30 p.m., with live music nightly from 6:30 p.m. to 9 p.m.
.
.
. JOIN US FOR A VISIT OR A LIFETIME ti mb e r s k au a i . c o m/Savvy Own e r ship | 8 0 8 465.2593 Va c a t i o n R e s e r v a t i o n s | 855.420.9225 T h e O c e an C o u r s e a t H ō k ū ala | 808 .7 2 0 . 6 6 9 3 Hualani ' s R es t au r a n t | 808 3 2 0 7399 T h e Nanea S p a a t T imbe r s K aua'i | 808
.
T h is a d ver t s em en t d oe s n ot c o n s t t u t e a n of er to s el n o r t h e s o ic t a t i o n of a n of fer to p u rch a s e m a d e in a ny u r is d c t o n n o r m a d e to re si d e n t s of a ny j u r is di c t i o n in c u d in g N ew Yo r k w h ere re g is t r a t o n is re q u ire d Towe r K a ua i L a g o o n s L L C u s e s t h e T im b e r s R es o r t ® T m b e r s C o ll e c t i o n ® a n d c er t a n ot h e r T im b er s b r a n d n a m e s u n d er a l m i t e d n on t r a n s fe r a b l e lic en s e in c on n e c t io n w t h t h e s al e s a n d m a r ket in g of t h e H o k ua la K a ua i ™ – A T im b er s R e s o r t ® (t h e P roje c t ) f t h is l c en s e is t er m in a t e d o r ex p ire s w i t h o u t ren ew a l t h e P roj e c t w ill n o l o n g er b e i d en t i fi e d w i t h n o r h a ve a ny r g h t to u s e t h e T m b er s ® m a r k s a n d n a m e s A ren d er n g s d ep c t e d in t h s a d ver t s em en t a re ill u s t r a ti ve o nl y a n d m a y b e ch a n ge d a t a ny t m e A l r g h t s res er ve d
3 2 0 .74 0 0
T I M B E R S C O LL E C T I O N l A s p e n l B a c h e l o r G u l c h l C a b o S a n L u c a s l J u p i te r Ka u a i K i a w a h Isl a n d M a u l N a p a l S c o t t s d a l e l S n o wma s s l So n o m a l So u t h e r n C a l i f o r n i a l S t e a m b o a t l T u s c a n y l U S V rg n sl a n d s V a
O W N S T A Y P L A Y D I N E .
resort living & real estate158156159
ISLAND LIVING
resort living
TIMBERS KAUA'I & LANDING KŌLOA
real estate KOLOA
resort living & real estate KAUANOE O
Snapping the QR code on any guide page will take you there in the Savvy360 app.
› THE FARM AT HŌKŪALA PROVIDES FRESH FOR THE RESTAURANT & SPA
Hōkūala Kaua'i, a Timbers Resort (808) 465-2593 • timberskauai.com 3770 Ala'oli Way, Līhu'e (Map H, #15, PG 168)
› JACK NICKLAUS SIGNATURE GOLF
RESORT LIVING in LĪHU'E
INGREDIENTS
156ISLANDLIVING
Explore the Garden Isle in style from its newest oceanfront luxury resort, Timbers Kaua'i. Here, you'll find an intimate collection of private residences, all offering an oceanfront location like no other on the island. At your doorstep awaits 13 miles of nature trails, an infinity pool, a restaurant, spa, on-site organic farm as well as an award-winning Jack Nicklaus signature course boasting the longest stretch of oceanfront golf in all of Hawai'i. With luxury amenities and a concierge team dedicated to have you living like a local, experience Kaua'i with some serious benefits. With both wholly-owned and fractional ownership opportunities available, Timbers Kaua'i lets you decide how much space you need and how much time you'd like to spend on this beautiful island. Spacious new homes offer three or four bedrooms and wide-open, indoor-outdoor living with multiple private lanais. Whether you come for a visit or a lifetime, you'll never live aloha the same.
Timbers Kaua'i
157ISLANDLIVING
Koloa Landing at Poipu Beach is an exclusive, oceanside resort community located in one of the most coveted locations in the Hawaiian Islands. Nestled next to legendary Po'ipū Beach, it's setting ideally positions you to share in the abundance of natural and cultural treasures of Kaua'i. World class amenities typically found only at exclusive resorts are yours at Koloa Landing. With architecture reflective of Kaua'i's multicultural heritage, the luxury villas combine various styles introduced at different periods in Kaua'i history. The sweeping views of the ocean and sky are framed by generous picture windows. Disappearing glass doors bring paradise inside, providing you with a unique sense of tranquility. Each luxurious amenity is thoughtfully conceived and infused with aloha spirit. You won't visit the island this time, you will feel a part of it.
Koloa Landing Resort (866) 921-4242 • 2641koloalanding.comPoipuRd.,Koloa(MapB,#13,PG164)
Koloa Landing
› 350,000 GALLON MAIN POOL AND THE ADULTS-ONLY LAGOON POOL › RELAX AT THE ON-SITE SPA
158ISLANDLIVING
RESORT
LIVING on SOUTH SHORE
› LOCATED IN SUNNY PO'IPŪ
159ISLANDLIVING
Kauanoe o Kōloa
RESORT LIVING on SOUTH SHORE
Meridian Pacific | RB-16590 (808) 556-6911 • kauanoeokoloa.com 5425 P'au A Laka St, Kōloa (Map B, #20, PG 164)
Your island home awaits on Kaua'i's sunny southern coast at Kauanoe o Kōloa. Situated in the highly desirable Po'ipū Beach area, this small town with a vibrant island lifestyle is known for its gorgeous, sunny weather, beautiful beaches, worldclass restaurants, and golf courses designed by world-renowned architects. This private enclave of only 279 homes encompasses Kaua'i living at its best. Spacious two-, three-, and four-bedroom residences feature open floor plan designs, islandstyle architecture, and amenities to include a clubhouse with a fitness center and restaurant, two swimming pools and spas, a poolside pavilion, barbecue areas, and more! Here, remarkable residences, adventurous days, restorative moments, a rich culture, and unrivaled natural beauty come together to create a truly exceptional place to call home.
› TWO, THREE AND FOUR-BEDROOM RESIDENCES AVAILABLE
Start Planning. CREATE A TRIP • BUILD AN ITINERARY • COLLABORATE WITH FRIENDS DISCOVER FRESH CONTENT • BROWSE CURATED GUIDES GET MAPS + DIRECTIONS • FOLLOW LIVE SOCIAL FEEDS Scan to get the SAVVY 360 app Download the Savvy360 app and put this magazine—and more— in your pocket.
LĪHU'E central
PRINCEVILLE + HANALEI north shore
MAPS
PO'IPŪ south shore
ELE'ELE + HANAPEPE west side
KAPA'A east side
168164162165165166167167169
KŌLOA south shore
KĪLAUEA north shore
Download Savvy360
the
app to use geolocation features for alll of our guides. 161
ISLAND MAP the garden island
WAILUA east side
162 MAP A 3 2 4 5 7 8 9 12
Kekaha PolihaleBeachState Park
Kalalau Valley Lookout
Makua (Tunnels) Beach
Waimea Canyon State Park
Kīlauea Lighthouse
163
Māhā'ulepū Heritage Trail
Lydgate Beach Park
Wailua Hanakāpī'aiFalls Falls
Anini KilohanaRefillWarehouseBeach3540KauaiPlantation
KAUA'I LEGEND See + Do StayEatLiveShopBeachesGolf+Drink 1084321567911121213 1 6 10 11 13
Blue EatingHouseGinger 1849
Poipu Bay Golf Course
Na TheHokuShops at Kukui'ula Kauai Culinary Market
Bowl Thai Bistro & Sushi Bar
Red KoloaKukui'ulaSaltLanding
Kauanoe o Kōloa
PO'IPŪ 8 1 12 2 MAP B 6/1943321556777889910111213141516171820 7 3 4 5 6 9 10 11 13 14 15 16 17 18 19 20
164
Po'ipū
Kauai Carts
Resort
Marriott's Waiohai Beach Club
Kiahuna Golf Course
The Point at Poipu Sheraton Kauai Resort
The Shops at Grand Hyatt Kauai
Table at BangkokTidepoolsPoipuHappy
ShipwreckBeach(Keoneloa) Beach
Koa Kea Hotel & Resort
Kukui'ulaPXG Golf Course
Grand Hyatt Kauai Resort & Spa
165 KOLOA 7 Kauai ATV Koloa KoloaLaKoloaBigSueokaZiplineStoreSaveMarketFishMarketSpeziaMillIceCream & Coffee The Fresh Shave The Tasting Room Dark Horse Coffee Roasters8432115679 1 ELE'ELE (PORT ALLEN) + HANAPĒPĒ Blue Dolphin Charters HoloHolo Charters Kauai Sea Tours Salt Pond Beach Park Talk Story Bookstore The Bright Side Gallery Port Allen Sunset Bar & Grill Kauai Island Brewery & Grill Midnight Bear Breads Bobbie's Restaurant Unkos JapaneseKitchenGrandma's Cafe MCS Grill10843215679111213 MAP C MAP D 2 3 8 4 12 910 1113 1 2 3 4 4 9 6 7 8
166 Rainbow Kayak Tours Jim Saylor Jewelers Coconut Grove Marketplace Lū'au Ka Mariachi'sHikinaAuthentic Mexican Cuisine The Crooked Surf Moamoa Hawaiian Fish House Fire SheratonSam'sChickenAlBubbaOlympicMonico'sOasisHukilau'ĀinaKenjiHenBurgerKaua'iLanaiontheBeachTaqueriaCafeBurgersPastorTacosinaBarrelBBQOceanViewRestaurantKauaiCoconutBeach Resort Waipouli Beach Resort KAPA'A MAP E 10843215666791112131415161718 1 2 3 5 6 7 11 89 10 1213 161415 17184
Java Kai Coffee Roasters
167
Anaina Hou Market
Kilauea Fine Jewelry
Kong Lung Historic Market Center
Common Ground
KĪLAUEA MAP F 843215679 1 'Ōpaeka'a KinipopoGoldsmithsFallsKauaiShopping Center Streetburger Kauai Korean BBQ Hilton Garden Inn Wailua Bay View WAILUA 4321567 MAP G 2 3 1 2 3 4 5 7 6 5 6 4 7 8 9
Kilauea Fish Market
Kauai Juice Co.
Palate Wine Bar & Restaurant
Kong Lung Trading Co.
168 Kipu Ranch Adventures Lū'au PolynesianKalamakuAdventure Tours Jack Harter Helicopters Island KilohanaHelicoptersPlantation Railway Kauai OceanKalapakĪ'AlekokoSafarisFishpondBeachCourseatHōkūala Kilohana Plantation Kukui Grove Center Maui Divers Jewelry The Plantation House by Gaylord's Mariachi'sHualani's Authentic Mexican Cuisine Timbers Marriott'sKaua'iKauai Beach Club Marriott's Kauai Lagoons - Kalanipu'u Royal Sonesta Kaua'i Resort LĪHU'E MAP H 10843215679 20181413121115161719 1 2 3 4 6 7 8 9 10 11 10 14 15 16 17 18 19 20 5 13 12
169 Wai'oli Mission Church Hanalei PrincevilleBayMakai Golf Club Hanalei Farmers Market Billabong Hanalei Ching Young Shopping Village Black PrincevilleHanaleiHalele'aPearlGallerySurfCo.Shopping Center AMA HanaleiBarAcudaRestaurantBreadCompany Tahiti Nui Jojo's Shave Ice Postcards Cafe The Dolphin 1 Hotel Hanalei Bay Club Wyndham Ka Eo Kai Club Wyndham Shearwater Club Wyndham Bali Hai Villas Hanalei Bay Resort Makai Club The Cliffs at Princeville The Westin Princeville Ocean Resort Villas +PRINCEVILLEHANALEI MAP I 1084321567791112 201814131516171921222324 1 42 5 3 6 7 8 9 1011 12 13 14 1615 17 17 18 19 20 21 22 23 24
TRAVELOGUE
NOTES + SKETCHES document your travel adventures, the places you visit, experiences you encounter, or something weird you saw at the pool.
ITINERARY PLANNER prefer to keep it analog? You can still get the most out of your trip and start planning your itinerary here, just grab a pen and do it old school.
DOWNLOAD THE SAVVY360 APP
169170
This link will take you to the appropriate app store to install the app, where you can create a trip, start building your itinerary, collaborate with friends, and more...
Kaua'i MY SKETCHES
Kaua'i MY TRIP DATE / / pg # DATE / /
AFTERNOONMORNINGLUNCHDINNEREVENINGBREAKFAST
What do you want to do today?
AFTERNOONMORNINGLUNCHDINNEREVENINGBREAKFAST Kaua'i MY TRIP DATE / / DATE / /
AFTERNOONMORNINGLUNCHDINNEREVENINGBREAKFAST
What do you want to do today?
Kaua'i MY TRIP DATE / / pg # DATE / /
AFTERNOONMORNINGLUNCHDINNEREVENINGBREAKFAST Kaua'i MY TRIP DATE / / DATE / /
CREATE A TRIP BUILD AN COLLABORATEITINERARYWITHFRIENDSDISCOVERFRESHCONTENTBROWSECURATEDGUIDESGETMAPS+DIRECTIONSLIVECONTENTFEEDS GET THE DISCOVERAPP. KAUA'I. PLAN YOUR STAY. Scan to get the SAVVY 360 app
Kaua' i
Ahuimanu Shopping kilaueafinejewelry.comCenter(808)431-4100