BRAND PRESENTATION S/S 2023 COLLECTION
ABOUT US OUR JOURNEY
Beginning its journey in Belgium more than three decades ago, Sarah Pacini is today an international fashion voice that designs unique knitwear, prêt-à-porter, and accessories for both women and men.
Meticulously produced in Italy and across Europe, its seasonal collections feature contrasting textures, asymmetry, and distinct patterns that engage with precise cuts and clean lines—it's an exchange of ideas that promotes individuality and a natural evolution of style.
A way of life, a way of expression.
03 BRAND PRESENTATION S/S 2023 COLLECTION SARAH PACINI
ABOUT THE COLLECTION WOMEN & MEN
Meticulously produced in Italy and throughout Europe, Sarah Pacini's women's and menswear collections pave new avenues of self-expression.
Urban and resolutely modern, styles cater to those who value substance, individuality, and creativity—men and women with a self-assured sense of style that defies passing trends.
Connected to the world, these individuals favor clean lines, modern designs, attention to detail, and comfort when venturing from one frontier to the next.
05 BRAND PRESENTATION S/S 2023 COLLECTION SARAH PACINI
ABOUT THE BRAND
OUR PHILOSOPHY
VISION
THE ART OF LIFE FOR EXPRESSING YOUR TRUE SELF.
MISSION
IMPACTING THE WORLD OF FASHION WITH STYLE AND SUBSTANCE.
PASSION
CREATE A GLOBAL APPROACH WHERE ART, DESIGN AND FASHION ARE UNITED.
VALUES
LEAD BY EXAMPLE. INTEGRITY. CREATIVITY. HARMONY. CONFIDENCE.
07 BRAND PRESENTATION S/S 2023 COLLECTION SARAH PACINI
ABOUT THE INSPIRATION
S/S 2023
It's time we get back to the gestures that were once so important to us. Now's the moment to reconnect and celebrate the act of telling others how much they mean to us, that we've missed them. No more rushing through life—we must live in the present, taking time for ourselves and the people who matter. We must seize happiness with our family and neighbors, holding onto every instant.
Before emails and instant messaging, we'd put pen to paper and let time wash away, chasing the right words to express the right sentiments. We valued correspondence. And now more than ever, we seek a return to these unhurried exchanges—driven not only by nostalgia but also, most importantly, a longing for thoughtful, reflective communication that expresses our purest emotions.
09 BRAND PRESENTATION S/S 2023 COLLECTION SARAH PACINI
LOOKS WOMEN
SARAH PACINI 10 BRAND PRESENTATION S/S 2023 COLLECTION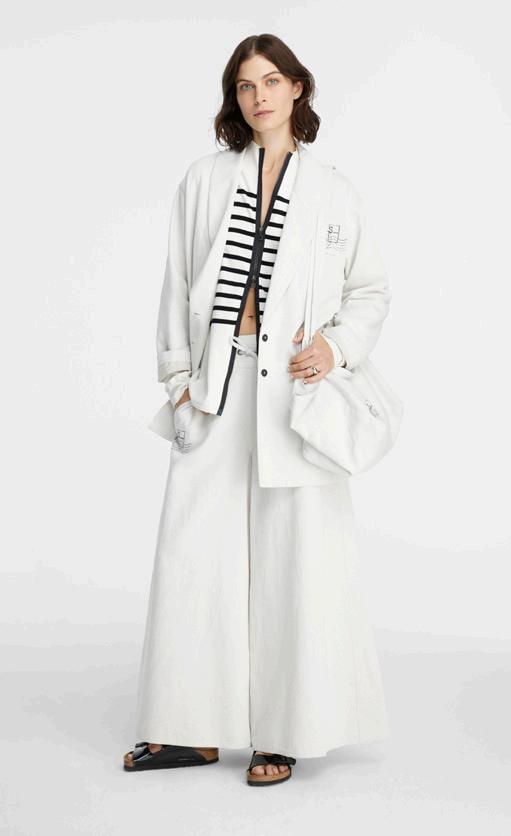 WOMEN BRAND PRESENTATION S/S 2023 COLLECTION SARAH PACINI 13
LOOKS