2 minute read
Backyard Camping Adventures
Plan a Backyard Camping Adventure!
Ready to spend a little time "away" from home? As campgrounds are starting to open, don't overlook the awesomeness of planning an unforgettable adventure in your own backyard! Make it as authentic as possible by cooking, eating and participating in all activities outside. Be sure to unplug! Enjoy all the outdoorsy fun of camping, with the convenience of a bathroom just steps away. Here are ideas to enhance your backyard camping adventure. All details and instructions can be found at www.sandiegofamily.com.
Find a ton of great recipes at www.koa.com/ camping-recipes, including breakfast items, main dishes, desserts and campfire specialties. And check out our s'mores round-up (on this page) for Campfire Cones, ice cream cones filled with roasted, gooey marshmallows and chocolate.
Nature Crafts Leaf rubbings and nature crafts are a fun way to pass the time. Teach children to respect living plants and only use flowers, leaves or objects that are already on the ground. Learn how to make Nature's Paintbrushes at www.sandiegofamily.com/for-the-kids/crafts-for-kids/ paint-with-natural-objects.
Discover 21 Ways to Make S'mores You never know when the urge to eat a s'more is going to hit, so it's wise to have an Emergency S'more handy at all times. Learn how to make them—and discover 21 more delicious smores-themed treats at www.sandiegofamily.com/ things-to-do/dining-andrecipes/21-ways-to-makesmores. Your family will be shouting, "We want s'more!"
Transform a Box into an Oven Here's a fun family project! Learn how to transform a cardboard box into an oven and then bake outdoors. Enjoy freshly baked cookies, muffins, cobbler or homemade pizza at your backyard campsite. Find step-by-step instructions at www.sandiegofamily.com/for-thekids/family-science/making-a-box-oven.
Want to be connected to San Diego's parenting community? Sign up to receive weekly tips, ideas and events at https://www.sandiegofamily.com/things-to-do
Make Campfire Crowns for the Family Kings and queens of the firepit require proper attire: Campfire crowns featuring real marshmallows on a stick (not for roasting, of course)! Learn how to make them at www.sandiegofamily.com/forthe-kids/crafts-for-kids.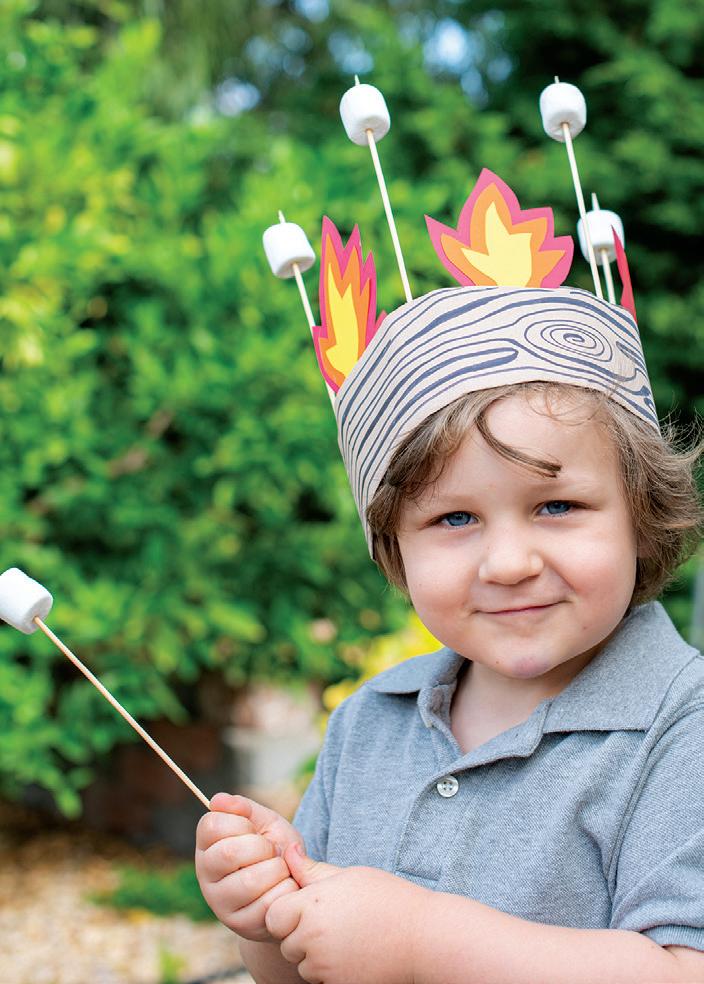 Have any "Pinterest" in this?
• A DIY outdoor handwashing station • How to make a cake in an orange peel • A free printable camping bingo game Find all this and much more on our Camping Fun Pinterest board. www.pinterest.com/sandiegofamily/camping-fun/