3 minute read
Go Outside and Play
Go Outside and PLAY!
Been spending too much time indoors? Yeah, we figured. That's why our summer review (this month and next) highlights kid-tested, parent-approved toys that will transform your backyard into an epic summer destination! Keep these toys in mind for end-of-school gifts or birthday presents, too. Find STEM-related toys, board games and our complete summer review at www.sandiegofamily.com/for-the-kids/kid-tested-toy-product-review.
Antsy Pants Flamingo OR Cactus Ring Toss $24.99; 4+
This bright, festive game provides hours of entertainment outdoors (or in). "This is a fun twist on a classic game that we can play as a family," says mom Elizabeth, "and it's good for hand/eye coordination!"
Zephyr Flyer $165; 5+ www.YardBirdOutside.com
Enjoy carefree summer days swaying back and forth on a Zephyr Flyer, reminiscent of a classic rope swing. Designed for easy installation and built for durability, kids will be swinging in minutes.
WOWmazing Unicorn Kit $16.95; 6+ www.SouthBeachBubbles.com
WOWmazing bubble concentrate and wands are the secret to making exceptional bubbles. "This product makes the best bubbles our family has ever seen," says dad Eric. "We are amazed how large the bubbles are and how long they last in the air!"
Sweet Shop Chalk Play Set $26.99; 3+ www.MelissaAndDoug.com
Draw, trace and stamp designs with colorful chalk in dessert shapes. This adorable 33-piece play set provides tons of creative outdoor fun. "It came with a lot of chalk and stencils for the price," says mom Kari. "We use them to learn our letters."
Primo Foldable Wood Scooter $119.99; 3+ www.Globber.com
Kids (up to 110 lbs.) love cruising around on this sporty threewheel scooter. Features light-up wheels, a wood deck and a push-button folding system.
Inflatable Ride-On Hop 'n' Go Horses $49.98; 5+ www.HearthSong.com
Saddle up, buckaroos! Hop, bounce and race with a friend because this set comes with two ride-ons. Each vinyl horse includes a strap to hang on to for leverage and balance. Perfect for outdoor play!
T-Rex Gigantic Pool Float $44.99; 6+ www.LesliesPool.com
Bring excitement and adventure to your pool with the King of the Pool Floats: T-Rex. This gigantic raft is almost 10 feet long, easily accommodating two adults. "My kids love this—we use it every time we're in the pool!" says dad Damien. "It's extremely durable, and the dinosaur artwork is impressive."
Ice Hopper $8.99; 6+ www.Kess.co
As the Ice Hopper spins around, liquid glitter sparkles inside. "I remember this toy from when I was a child," says Laura. "My daughter picked it up instantly—it's great exercise!" Available in four colors.
Pedal Racer $99.99; 2-6 years www.RadioFlyer.com
Who doesn't love the nostalgia of Radio Flyer! Large 9-inch rear wheels ensure a smooth ride while kids (up to 59 lbs.) drive in forward or reverse. Features a tool-free adjustable seat and durable steel frame. see p. 8
Want to be connected to San Diego's parenting community? Sign up to receive weekly tips, ideas and events at https://www.sandiegofamily.com/things-to-do
Creativity for Kids Mini Garden Mermaid $10; 6+ www.Amazon.com
Decorate, plant and grow a mermaid-themed mini terrarium. Includes potting mix, quick growing chia seeds, mermaid themed stickers, mini figures and colored sand. Seeds start sprouting in 3–5 days. "Mommy, can I water my mermaid? I want to make sure she has everything she needs to grow," says Kaialani.
Carry & Go Track Table $39.99; 3+ www.Simplay3.com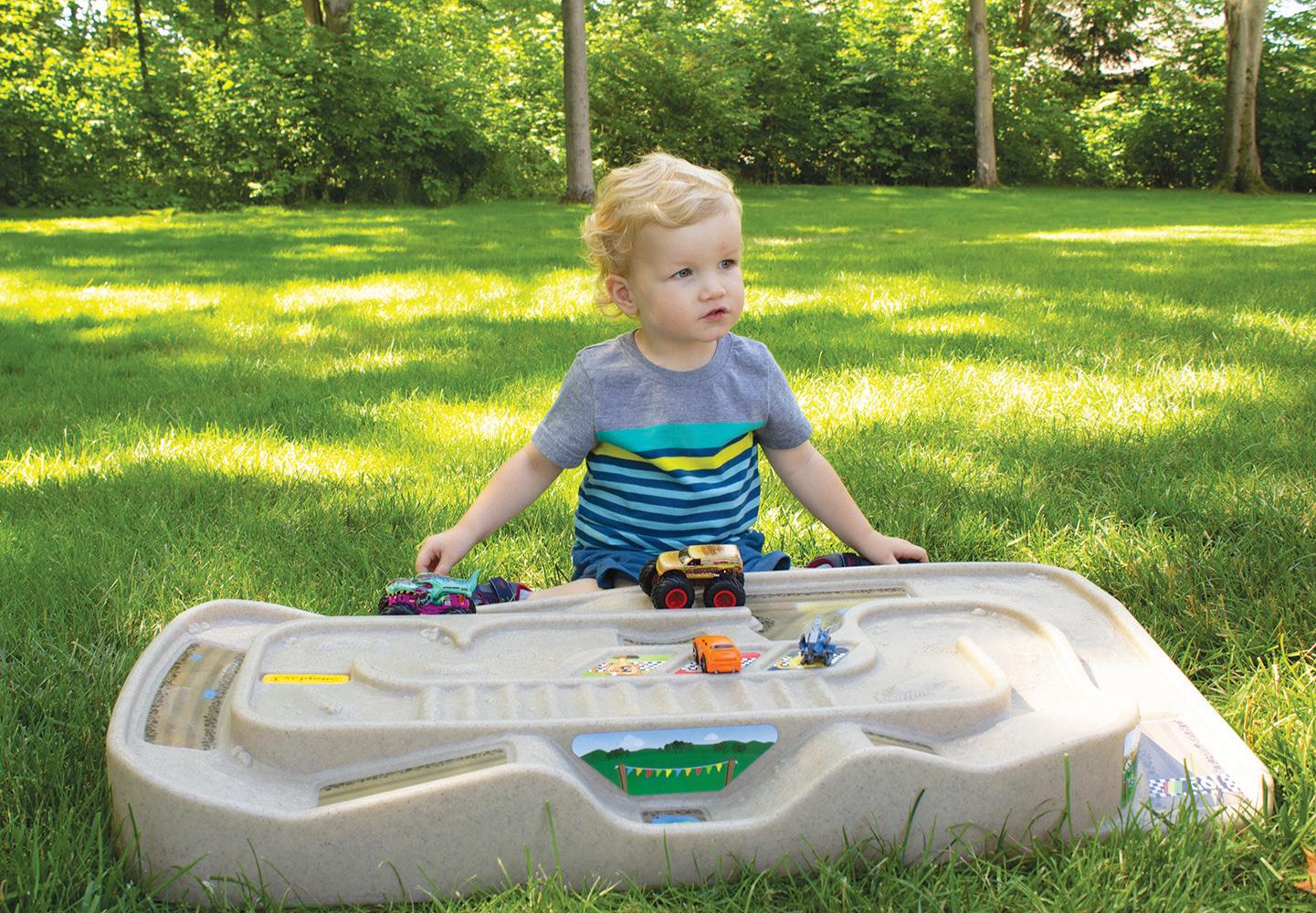 This lightweight, portable table features a racetrack on one side and a train track on the other, inspiring hours of imaginative play. "The kids finally have a place to play inside with their Hot Wheels," says mom Sara. "And the train tracks are standard width, so the trains we already have fit."
Wild Ones Junior Kick Scooter $34.99; 30 months+ www.Razor.com
Perfect for little ones who want to "roll" with the big kids! Features a low deck so feet are closer to the ground, enabling kids to learn balance and build confidence for other two-wheeled rides. Available in unicorn, shark or dinosaur theme.
For more toy and product reviews visit https://www.sandiegofamily.com/for-the-kids/kid-tested-toy-product-review