OUI, YES, SI, DA, JA, NAAM, TO FERMOBPEOPLE!!!
OUI, YES, SI, DA, JA, NAAM ZU FERMOBPEOPLE!!!
2
OUI AU GRIS, NON À LA GRISAILLE !
pages 4 - 7.
Et voici notre Gris lapilli. Attention, couleur fraîche !
YES TO GREY. BUT NOT DREARINESS! Proudly presenting our Lapilli Grey. Beware, fresh colour!
JA ZU GRAU. NEIN ZU TRISTESSE! Vorhang auf für unser Lapilligrau. Achtung, frisch!
pages 22-27.
Die Illustratorin Kera nimmt uns mit zum Humboldt Forum in Berlin — und wir folgen ihr auf Schritt und Tritt.
YES TO HISTORICAL INSPIRATION! Following Kera, an illustrator, around the Humboldt Forum in Berlin.
OUI À L'HISTOIRE QUI INSPIRE L'AIR DU TEMPS ! Kera, illustratrice, nous emmène à l'Humboldt Forum de Berlin, nous la suivons à la trace.
pages 32 - 41.
Une oasis de verdure en plein Marseille. Un mirage ? Non, un jardin atypique.
YES TO GARDENS THAT CULTIVATE ALL KINDS OF LIFESTYLES!
An oasis of greenery in the centre of Marseille. A mirage? No, an atypical garden.
JA ZU GÄRTEN, DIE FÜR JEDEN LEBENSSTIL OFFEN SIND!
Eine grüne Oase mitten in Marseille. Eine Sinnestäuschung? Das nicht — dafür aber ein atypischer Garten.
pages 54 - 63.
Quand Raphaël, skieur freestyle, met ses skis, c'est pour aller dans le ciel ou sur nos tables.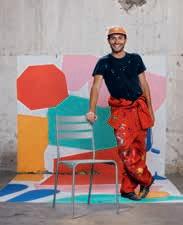 YES TO FREE THINKING!
From the clouds to our table tops, meet freestyle skier, Raphaël!
JA ZUR OFFENHEIT!
Wenn der Freestyler Raphaël seine Ski anschnallt, steht der Abflug kurz bevor — entweder in große Höhen oder mit einem unserer Tische als Rampe.
JA ZU GESCHICHTE, DIE DEN ZEITGEIST NÄHRT!
OUI AU CONTEMPORAIN CONTENT
TOUT LE TEMPS !
pages 8 - 17.
Une maison moderne qui envoie balader les standards, ça vaut le détour.
YES TO CONTEMPORARY CONTENTMENT! A contemporary home that rejects conformity is worth a visit…
JA ZUM ENTSPANNT-MODERNEN STIL! Ein modernes Haus, das mit Standards nichts am Hut hat — das ist einen Abstecher wert.
OUI
SAVOIR-FAIRE !
pages 28 - 31.
À l'usine Fermob, l'homme et la machine travaillent main dans la main.
YES TO A STEEL KNOW-HOW! At the Fermob factory, people and machines work hand-in-hand.
JA ZU STAHLHARTEM KNOW-HOW! Im Fermob-Werk ergänzen maschinelle Prozesse traditionelles Handwerk.
OUI AUX JARDINS OÙ POUSSENT TOUS LES STYLES DE VIE !
pages 44 - 51.
Un home sweet home pour une parenthèse arty et inspirante.
YES TO THE SLOW LIFE! Making space to cultivate inspiration and creativity.
JA ZUM GENUSSVOLLEN LEBEN! Ein trautes Heim - künstlerisch, inspirierend, verbindend.
pages 64 - 71.
Déconnexion assurée dans la maison d'hôtes des Doireau.
YES TO A BREATH OF FRESH AIR! Switch off and unwind in the Doireau guest house.
JA ZU SAUERSTOFFEMISSIONEN! Hängen bleiben, aber nicht im Netz: das Landgut der Doireaus.
LE CASTING !
pages 72 - 73.
POUR VOUS INSCRIRE AU CASTING FERMOBPEOPLE et faire les gros titres de notre prochain album, rendez-vous sur FERMOB.COM/CASTING
THE CASTING! TO REGISTER FOR THE FERMOBPEOPLE CASTING and hit the headlines of our next album, go to FERMOB.COM/CASTING
AU MARIAGE DU FER ET DU
OUI À LA SLOW ATTITUDE !
AB ZUM CASTING ! SO MELDET IHR EUCH ZUM CASTING ALS FERMOBPEOPLE AN und werdet Titelhelden des nächsten Albums: gente auf FERMOB.COM/CASTING
!
OUI AUX ÉMISSIONS D'OXYGÈNE
! 3
OUI AU DÉGEL DES ESPRITS