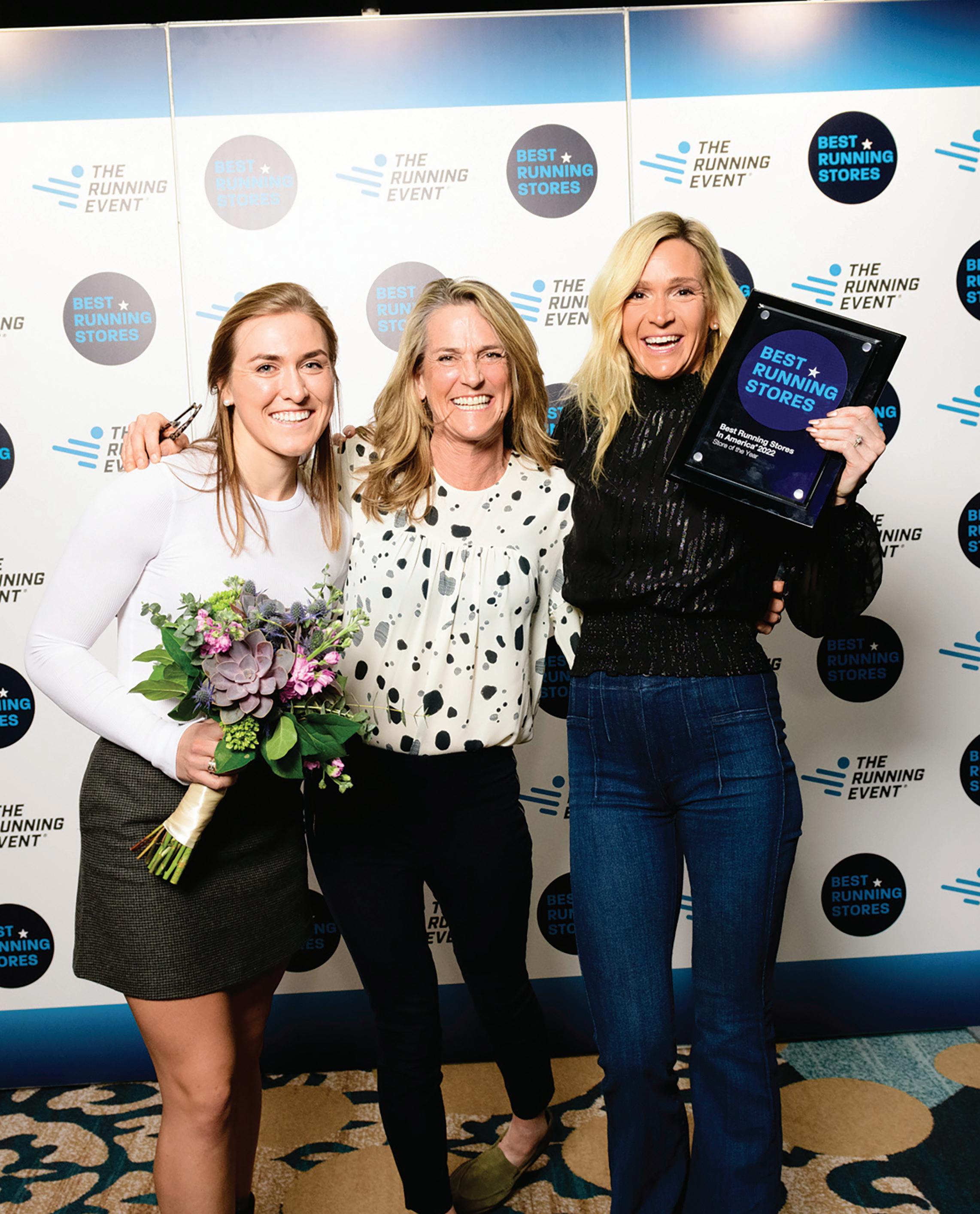 THE NEWSMAGAZINE FOR RUNNING SPECIALTY RETAILERS / RUNNINGINSIGHT.COM 2022 YEAR-END ISSUE bodyglide.com balega.com pro-tecathletics.com currex.us os1st.com footbalance.com powerstep.com A DIVERSIFIED COMMUNICATIONS PUBLICATION Ridgefield Running 2022 STORE OF THE YEAR The Best of the Best were celebrated at The Running Event 2022.
MONT BLANC BOA
DIALED IN
LOCKED IN
CONFIDENT
precision fit with on-the-fly tightening and loosening.
Micro-adjustable,
connected, secure fit for increased
and improved
stability.
A
foot speed
ankle
to perform
the
conditions.
Engineered
in
toughest
WHEN I DIAL IN I KNOW I'LL PERFORM AT MY PEAK. FLORIAN GRASEL 1st Place 2022 Pitz Alpine Glacier Trail 1st Place 2022 Eiger Ultra Trail E250 1st Place 2019 Grossglockner Ultra-Trail
CONFIDENT
Micro-adjustable, precision fit with on-the-fly tightening and loosening.
A connected, secure fit for increased foot speed and improved ankle stability.
DIALED IN
LOCKED IN
Engineered to perform in the toughest conditions.
II
JACKAL
BOA
2022
Champion 1st Place 2021 Transgrancanaria Marathon WHEN I TURN THE BOA DIAL, I KNOW I'LL HAVE A GREAT DAY ON THE TRAILS.
VIRGINIA PEREZ MESONERO
SkySnow World
Footwear Scene
34 Celebrating The Best
RUNNING INSIGHT ® is a registered trademark of Diversified Communications. © 2022 all rights reserved. Running Insight is published monthly, is edited for owners and top executives at running specialty stores and available only via email, with three print issues in June and December. The opinions by authors and contributors to Running Insight are not necessarily those of the editors or publishers. Articles appearing in Running Insight may not be reproduced in whole or in part without the express permission of the publisher. Diversified Communications, 121 Free St, Portland, ME 04101; (207) 842-5500.
6 runninginsight.com © 2022 Diversified Communications
RUNNING INSIGHT EDITORIAL Editor • Michael Jacobsen mjacobsen@divcom.com Senior Writer • Danny Smith Contributor • Cregg Weinmann Fashion Editor • Debbi Page SUBSCRIBE runninginsight.com BACK ISSUES runninginsight.com RUNNING INSIGHT ADVERTISING Publisher Christina Henderson chenderson@divcom.com Daemon Filson dfilson@divcom.com Glenn Dulberg gdulberg@divcom.com The Staff Diversified Communications 121 Free St • Portland, ME 04101 1(207) 842-5500 www.divcom.com On the cover: Ridgefield Running owner Megan Searfoss (center) celebrates with marketing manager Casey Muminovic (left) and buyer Cat Granskog after being named 2022 Store of the Year at The Running Event in Austin, TX.
Justin Elledge, Max Photography 8 Full Speed Ahead More than 3200 run and outdoor specialty retailers, brands and industry professionals made The Running Event 2022 the most important three days on the industry calendar. 12
A look at developments at 15 prominent brands at The Running Event. / By Cregg Weinmann 18 Fast-Forward
Feet Twelve months after acquiring JackRabbit, Fleet Feet's Joey Pointer continues pushing growth. / By Danny Smith 22
There was plenty of action on the show floor and Running Insight photographers were there all three days to capture it.
A night of celebration honors the Best Running Stores in America. Including profiles of the Store of the Year, Finalists and
winner. inside 2022 YEAR-END
Photo:
At Fleet
TRE22 in Pics
every BRS22
ISSUE
844.413.5457 // OS1st.com ORDER NOW FOR SPRING 2023 NEKKID COMFORT PERFORM ANCE SOCKS