JANUARY 2023 revuemag.com Year 31 No. 11 Guatemala's English-language Magazine 20th Annual Photo Issue 20th Annual Photo Issue
La Antigua Interactive Map On the Cover "Coreografía Marítima" Monterrico, Santa Rosa by Javier Alvarez Vassaux For Business Listings, Information, Maps and Events Calendar RevueMag.com fb.com/revuemagazine Guatemala's English-language Ezine Previous Revue articles and Photo Contests RevueMag.com Adve R t I se R IN de X places to go, things to do and fun to be had Restaurants - Hotels Shopping - Services Real Estate - Travel FOR MORE INFORMATION ABOUT THE INTERACTIVE REVUE tel: 5031-0859 consultas@revuemag.com From the Publishers CLICK TO Buy fresh-baked pastries Get your car repaired Find some great restaurants t HI s MON t H IN R ev U e PHOTO CONTEST Theme for Feb., 2023 "Friends & Lovers in Guatemala" click for details
Ana de León
Diego Gordillo Febe Avila
PHOTOGRAPHERS
German
Hadazul
Henry Cukier Jaime B. Montalvo JB & TKB Joel
Javier Alvarez Vassaux
José Carrillo José Miguel Hosttas V. Kevin Beavis Lo Reyes Ludwing Paniagua Luis A. Soto S. Roberto Paz Tono Valdes Warren Capps Zury Adamy Sagche Locon
Janson
Francisco Hernández
Velásquez
Cruz
Lee
Jorge M. Reyes Carrillo
Thor
PAN de ALMeNdRA
tORRe de HUevOs
PAN de BANANO Desayunos, Sandwiches, Hamburguesas Papas Rellenas, Pasteles, Pays & Galletas Breakfasts, Sandwiches, Burgers, Stuffed Potatoes, Cakes, Pies & Cookies
esCANeA Y CONOCe NUestRO MeNÚ
PAsteL de vAINILLA Y FResA
8
9
12
Restaurant Cerro San Cristobal, La Antigua video courtesy of Mexcal-Rhet Filadelfia Coffee Tour in Antigua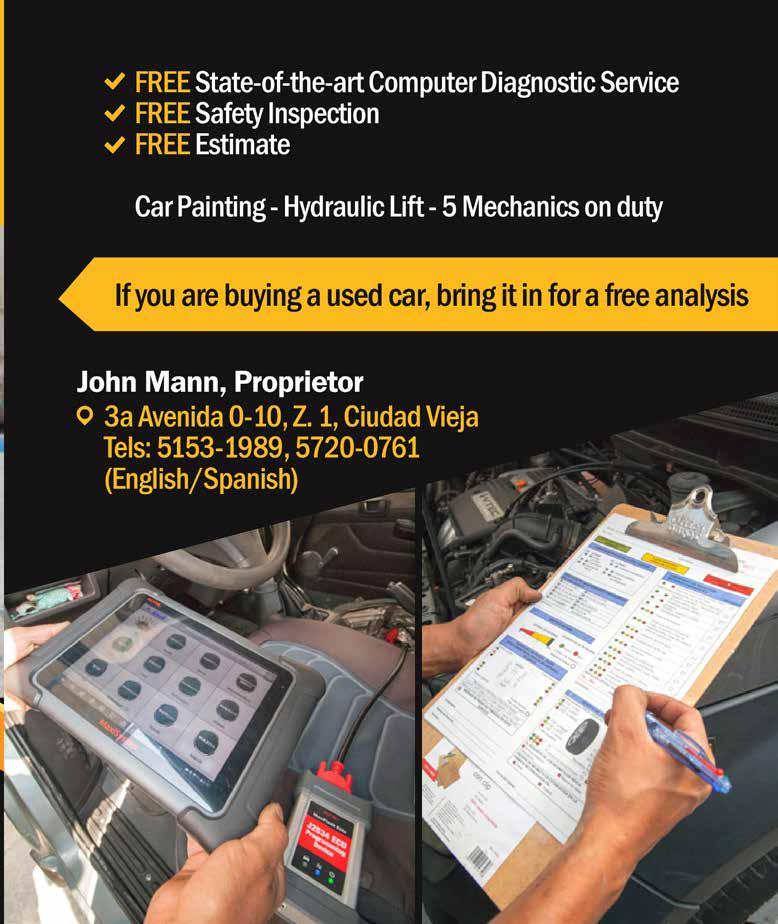 Publishers/editors John & Terry Kovick Biskovich Photography Luis Toribio, César Tián Graphic designer Hadazul Cruz Contributing Writer Mark D. Walker Webmaster/social Media JB systems Luis Juárez, Luis Toribio Publishing Company San Joaquin Producciones, S.A. revue team from the publishers We hope you enjoy this month's tribute to so many talented photogaphers in our 20th Annual Photo Issue. We also wish all of you all of the best in the New Year 2023. —Terry & John Kovick Biskovich
"Parranda en Chichi" Chichicastenango by tonovaldes.com
"Atardecer " Girasoles de Antigua Guatemala
by Febe Avila
"Untitled" by José Carrillo
23
"diligente tejedora" La Ruta del Yalú, Sumpango, Sacatepéquez by Diego Gordillo
"Colorido y esplendor en Chichicastenango" Quiché by José Miguel Hosttas V.
"el Coloso de Fuego"
by Jaime B. Montalvo
"Untitled" by Roberto Paz
"desafiar nuestros límites es el acto más puro de valentía" by Joel Lee
"Nebaj" by Warren Capps
"¡Meu viagem top!" Pasaje Enriquez, Quetzaltenango. by Lo Reyes
ENGLISH FRENCH SPANISH Spoken Dr. Juan Pablo Calderón - Vaccinations - Surgery - X-ray - Dental Clinic Mon-Fri: 8am - 1pm & 2:30 - 6pm - Sat: 9am - 1pm - Ultrasound - Laboratory Services - Emergencies - Export Licenses for pets Tel: 7965 3347 Km. 47 Carr. a Ciudad Vieja Casa #1 San Pedro el Panorama * Gas anesthesia Hospital Veterinario Vet-pro VETERINARY CLINIC
by Luis A. Soto S.
"Atardecer en canal de Chiquimulilla"
"Guatelinda" by Ana de León
"Untitled" by Kevin Beavis
"My Favorite Artist" by Hadazul Cruz
PHOTOS BY German Velásquez
Self
Reflections by JB
Reflections
The new year stands before us, like a chapter in a book, waiting to be written.
— Melody Beattie
Drone View of Fuego by
TKB
thor Janson
thor Janson
thor Janson
thor Janson
Paniagua
Ludwing
Ludwing Paniagua
"Coreografía Marítima" Monterrico, Santa Rosa by
Javier Alvarez Vassaux