Vol. 34 | No. 2 | Fall 2022 106-1780 Wellington Avenue, Winnipeg, MB R3H 1B3 | 204-889-3660 | Toll Free: 1-888-393-8082 | info@rtam.mb.ca | www.rtam.mb.ca RETIRED ASSOCIATIONTEACHERS'OFMANITOBA FALL 2022
CreativeGaylDesign:PunzalanDirector, Blue Ink Media Email: Website:gayl@blueinkmedia.cablueinkmedia.ca :
Editorial
All materials for the next issue of KIT must be emailed with no formatting to kit@rtam.mb.ca and received by November 16, 2022, 5:00 p.m. Materials published here do not necessarily represent the policies or views of RTAM. The Editorial Committee reserves the right to print, reject and/or edit for clarity, all materials received. Published by 106-1780 Wellington Avenue, Winnipeg, MB R3H 1B3 Phone 204-889-3660 • 1-888-393-8082 Email: info@rtam.mb.ca • www.rtam.mb.ca Committee: Chair: Joan Zaretsky Members: Beth Smith, Joan Dawson, JoAnne Hoyak, Peggy Prendergast and Anne Williams E-mail: kit@rtam.mb.ca Board of Directors 2022-2023 President: Linda Blair Vice -President: Joan Zaretsky Secretary: Dave Najduch Treasurer: Pat Bowslaugh Past President: Bill Directors-at-LargeCann Shannon Culbertson Bob ExecutiveAnneAudreyGabeDennisPaulDavidDaviesHarknessHarlandKozakMercierSiemensWilliamsDirector: Sean Seywright Email: seywright@rtam.mb.ca Office Administrator: Denise Bellesia Email: Memberdbellesia@rtam.mb.caServicesCoordinator: Dianne Casar Email: dcasar@rtam.mb.ca
Images
Adobe Stock, FreeePik & Pixabay except the ones provided by the contributors. Copyright © 2022 by RTAM All rights reserved. No part of this publication may be reproduced, distributed, or transmitted in any form or by any means, including photocopying, recording, or other electronic or mechanical methods, without the prior written permission of the publisher. Return undeliverable Canadian addresses to: RTAM, 106-1780 Wellington Ave., Winnipeg, MB R3H 1B3 KEEP IN TOUCH Vol. 34 No.2 • Fall 2022 RETIRED ASSOCIATIONTEACHERS'OFMANITOBA Photo by Andrew Krashewski RTAM Photo Contest Entry President's Message ...............................................................................................3 Executive Director's Report 4 Pension Committee Report ................................................................................5 What is this organization? Who are they? What do they do for you? ............................................................................. 6 Stay tuned for the RTAM Student Awards Winners! 8 RTAM President, Linda Blair Presents a Board Member, Joan Zaretsky 8 Mentoring Your Student Success Portfolio Student(s) ....................... 9 Benefits Committee Report 10 Making the Most of Your Retirement Years.............................................. 11 Wellness Advocacy Report 12 Okanagan Chapter ................................................................................................ 15 Dauphin Chapter 15 Fall Favourites ........................................................................................................ 16 Book Review: Tales From a Snowbank - John Horner 19 RTAM Trips to Haida Gwaii .............................................................................. 20 Book Review: Land Title: A Novel of the Prairies 23 Photography Contest Entries ......................................................................... 24 2 n RTAM KIT Fall 2022
CONTENTS
n 3
President's Message y the time that you are reading this issue of KIT, our summer of 2022 will be ending. I hope that you have been able to enjoy your summer in a much better way this year. COVID restrictions have been lifted. Inperson meetings have become almost normal or a new normal. This summer has been a busy one in our RTAM Office as well as with many of our Board Members. Some of us have been able to steal away for vacations. Our RTAM Trips to Haida Gwaii were special experiences for several of our members and their guests. Leaving Prince Rupert on a boat trip to see the bears was awesome. Watching the eagles swoop in to pick up small pieces of suet thrown out on the water was unbelievably beautiful. Those eagles have big wing spans! Then we went to the island to learn about the people of Haida Gwaii. Totem poles now hold a new meaning for us. Gabe Mercier and his Wellness Advocacy Committee have been busy making plans for events in 2022-2023. Unfortunately, the small number of registrations for the September Photography Workshops meant they had to be cancelled. Look for information on upcoming events scheduled for October and December on the RTAM website. Dave Najduch and the Benefits Committee along with Jessica Simpson from Johnson Insurance have been busy planning presentations to welcome members of the Winnipeg Teachers' Association (WTA) to join our health insurance when their plan will expire in January. RTAM wants the WTA members to be aware of the health insurance benefits of RTAM membership.JoanZaretsky and Bob Davies were busy coordinating and organizing the details of this KIT. This issue is the last one that Gayl Punzalan and her team at Blue Ink Media will be involved in producing with us. We at RTAM wish her all the best in her future endeavors.
ASSOCIATIONTEACHERS'OFMANITOBA
B
RETIRED
Several Board Members have been busy preparing for the start of our 2022-2023 year. Internet connections at remote locations have made some of this planning a challenge. With the return to urban areas, the challenge shouldManylessen.ofyou, our members, have been busy signing up to volunteer with Manitoba Association of Newcomer Serving Organizations (MANSO) and Newcomers Employment and Education Development Winnipeg (N.E.E.D.S.) to assist refugees from Ukraine and Afghanistan. In our first outreach, we at RTAM are aware that 115 members have committed to volunteering, with more than 25% of them coming from rural communities. Well done! If you want to join this group of volunteers, please contact the office. As we officially move into our Fall season, I invite you to keep up to date on RTAM happenings by checking out the RTAM website as well as our Facebook page. "Communication is like riding a bike or typing. If you're willing to work at it, you can rapidly improve the quality of every part of your life." - Brian Tracy  Linda Blair RTAM2022President-2023 RTAM.MB.CA
• Most important to us in the office though, is our work with Wellness Advocacy to increase our program offerings for 2023. Members can look forward to an annual calendar and a robust list of options in 2023 that will bring us together, create new friendships and support a healthy and active lifestyle. There is so much going on and so much progress being made, and as hard as we are working in the office, we are only as successful as our volunteers and their amazing commitment.Simplyputa teacher may retire but will always have a great value to those around them. Their family, their community and their friends all reap the rewards of their dedication and service. No joke. 
hey say the trouble with retirement is that you never get a day off… I love that joke. It's clean, simple and always gets a small smile from people. Either because they like the joke or enjoy its cheesy nature. However, as I work more and more with retirees, I can see the truth in the joke and value our community even more.
Photo by Paul Harland RTAM Photo Contest Entry
There is a great appreciation for our board of directors, committee leaders and volunteers at large who help us with programs and deliverables (like KIT Magazine). While these are all volunteers of RTAM, the fact is at times, many of them put in 20-30 hours of volunteering per week to help the organization deliver all the wonderful things that we can offer our members. For them the aforementioned joke may read that volunteering for RTAM means you never get a day off; which allows me in this forum as the head of our office to simply say – Thank you. The tireless work our volunteers have been doing has been empowering our office to make lots of changes and updates. I will spare you on the boring updates around changes to bylaws, policy and financial management (you're welcome to reach out directly if you'd like to learn more about RTAM), but I will highlight some amazing changes coming for our members in the coming months…
• We look forward to welcoming a wave of new members from the Winnipeg Teachers Association (WTA). It is our hope they find a home and strong benefits within our organization.
• This fall we hope to unveil a series of new member services which will enhance your health coverage and options with no added cost to you. We are working around the clock to add new partners to increase our hearing health options, to help with medication delivery (especially to our rural partners) and to offer support to our members when going to medical appointments.
• We are meeting with our travel partners and looking to increase incentives for those who seek sunnier destinations when the temperature drops during the winter or when there's time to explore Manitoba and Canada during the summer months.
Executive Director's Report
T
RETIRED ASSOCIATIONTEACHERS'OFMANITOBA
4 n RTAM KIT Fall 2022
Sean Seywright Executive Director
Hello from the Pension Committee, everyone; we hope you all had an enjoyable summer with lots of time for yourselves, family, and friends. Our first meeting is to make the transition from last year's goals to this year's goals is August 31. This will keep us busy, as I am new to the committee, and the economic environment is in a rapid state of flux. On the good news front, Bill 208 will be proceeding to the Committee stage, and a number of retired teachers have signed up to speak at the Committee hearings when they are announced later this Fall. Your voices will be heard, and we are optimistic that the Bill will pass. All three parties have stated that they will support the Bill, and James Bedford, MTS President, is on board as well. If this Bill passes, the retired teachers of Manitoba will finally have a voice on the board that governs our pension plan—good news, indeed!
Pension Committee Report
Photo by Ellen Paxton RTAM Photo Contest Entry David Harkness, Chair RTAM.MB.CA
n 5
The bad news, of course, is that inflation took a large uptick this year due to a number of causes. Your TRAF pension is not fully indexed, but we are working on your behalf to encourage government to bring us into the fully indexed fold as quickly as possible. Because full indexing was not built into the Plan from its onset, this will be an expensive undertaking, and governments are very sensitive to expensive undertakings. Better news is that CPP and OAS are fully indexed plans. Usually they are adjusted in January, but the Government of Canada has announced an automatic 10% increase to the OAS payment for those 75 and older, effective July 2022. Whether they will extend this to all CPP and OAS recipients in the future, remains to be seen. You may wish to discuss this with your MP when next you see him or her. Adjustments to CPP and OAS are based on the Consumer Price Index. In 2019 Statistics Canada piloted a Senior's CPI based on data from 2013 and 2015. It found that older adults generally spent relatively more on housing and health care, and relatively less on transport, recreation, clothing/ footwear, and alcohol or tobacco than the national average as a proportion of their budget. For more detail on this study, visit asgc.ca/n1/pub/62f0014m/62f0014m2019004-eng.htm.https://www150.statcan.Now,asagroupwecanbeasvariedandatypicalanyotherdemographicinCanada.Ifyouwantto see where your personal CPI fits into the spectrum (nationally or by province/territory), visit x2020cal-eng.htmwww150.statcan.gc.ca/n1/pub/71-607-x/71-607-https://forStatisticsCanada'spersonal inflation rate calculator. 
COMMITTEE REPORTS
• The limited funding which they have available affects the scope of the work possible by the Executive and Directors. I believe this is a significant reason why I had not heard of them nor did I realize we had such a dedicated organization promoting national priorities on our Atbehalf.theAnnual
• At this year's RTAM AGM, concerns were informally raised related to the annual budget of ACER-CART, the services provided and the fees collected. The primary concern revolved around a national organization operating on an annual budget of well less than $100,000 per year while representing over 160,000 retired teachers. The current ACER-CART fee is just .30 cents per member.
Who
rior to being elected as the Vice-President of RTAM, I can honestly say that I did not know what the acronym ACER-CART represented and their relationship to RTAM. As the VicePresident, I was expected to attend the ACER-CART Annual General Meeting on June 2-3, 2022, held in Ottawa. I was not sure what to expect until I started preparing for the meeting. I came to understand that the ACER part of the acronym represents the French language version – Association Canadienne des Enseignantes and des Enseignants Retraites. The CART stands for the Canadian Association of Retired Teachers. I was surprised to find out we had a national organization. After having attended the AGM, I have learned some facts which I will outline below:
Be it resolved that the ACER-CART Executive develop a three year plan which includes lobbying objectives, member services, and communication strategies. This plan will include appropriate budget allocations and recommend fees to be collected. The plan will be presented for approval to the 2023 Annual General Meeting.
• As of 2021-22, there was 163,964 retired teachers in Canada, who contributed $48,342.30, which comprised the annual budgetary funds.
• There is an Executive and Board of Directors, just like all retired teachers' organizations, which work hard to support a number of national priorities which are re-affirmed annually at their AGM.
COMMITTEE REPORTS
Proposed by: Joan Zaretsky
General Meeting, Dave Najduch attended as an Observer and I as the RTAM Director. Prior to the ACER-CART meeting, we had collaborated with our newly elected RTAM Executive and the ACER-CART President to craft the following Resolution which we presented:
Joan Zaretsky, RTAM Vice President P
6 n RTAM KIT Fall 2022
What
• As RTAM members, you each contribute .30/year to support this organization. Yes, that is 30 cents per year! It comes from our TRAF funds and goes directly to the CART organization.
Rationale:
ACER-CART is this organization? are they? What do they do for you?
Seconded by: Dave Najduch
ACER-CART will attempt to continue elevating the profile of our National Association in our provincial associations and at all levels of government and beyond. 
f) Advocate for an appointed independent Senior spokesperson for each province and territory.
a)organizations,Advocatefor the development and implementation of a National Seniors Strategy.
RTAM.MB.CA n 7
COMMITTEE REPORTS
g) Advocate for a Charter of Rights for older
• At a subsequent meeting with Gerry Tiede, it was revealed that ACER-CART receives additional funding in the form of donations but these are offered inconsistently and prevent the introduction of programs and services for members requiring annual funding. After much discussion, the above motion was drafted by the RTAM Executive and Committee members for Dave and myself to take forward to the ACERCART AGM.
e) Advocate for regulations governing Retirement and Long-Term Care Homes with emphasis on improving patient respect, working conditions, training and staff wages.
à A budget that will fund those goals and objectives.
ACER-CART Priorities 2022-23 ACER-CART will, in collaboration with like-minded
à A fee that each ACER-CART member will be asked to pay to ensure those goals and objectives can be reached.
ACER-CARTadults/seniors.willadvocate for the protection of all retiree pensions, with emphasis on the preservation and enhancement of defined benefit pension plans.
• The motion is intended to provide ACER-CART with: à Time: One year for the Executive to develop a set of clear goals and objectives for this national organization.
d) Advocate for a health care system that prioritizes care in seniors' own homes for as long as possible.
c) Monitor the Canada Health Act and the bilateral health funding agreements with the provinces and territories.
b) Monitor the federal government's implementation of a national universal pharmacare program, including the establishment of a Canada Drug Agency and implementation of a national formulary.
à A three year plan that will be presented for approval at the 2023 ACER-CART AGM. The motion was referred to the ACER-CART Executive, which offered them an opportunity and the time needed to envision what they need to do and want to do in the upcoming three years with a budgetary projection as to how much this will cost per member. The motion passed with a vote count of 11 in favour and 3 opposed. We look forward to the Executive's presentation next year as to how they can better accommodate the needs and issues of retired teachers with some additional funds to support their endeavours. All of their Priorities listed below will benefit each and every one of us and we believe that with some more stable funding, ACER-CART will be better prepared to have a presence at the tables where these national issues are discussed and decisions made.
application: Final Grade 12 Transcript, Community Involvement, School-related Activities and Reference Letter.
8 n
Joan Zaretsky, Chair
RTAM President, Linda Blair Presents a Board Member, Joan Zaretsky
• The deadline date for submission of their Student Awards applications was July 29, 2022 and we received 39 applications this year.
4. I completed my PhD in Inclusive Special Education in 2010 and won the Thomas B Greenfield Award, for the best written dissertation in the area of Educational Administration in Canada in 2010, presented by the Canadian Association for the Study of Educational Administration (CASEA).
5. I teach many different courses to Educational Assistants, including a "Resiliency" course through the University of Winnipeg PACE Department, a 150-hour divisional certificate course sponsored by Seine River School Division and last spring, a Band certificate course sponsored by the Dalles Reserve near Kenora.  RTAM KIT Fall 2022
• For those of you who have been supporting your relative(s) with their Student Success Portfolio, we thank you!
• Four applicants were selected to receive $1000 to be used to support their post-secondary education in the field of study of their choice. Congratulations to these four winning students and thanks to all the students who submitted their applications. The contributions made to their schools and to our communities by all these students were life changing! Stay tuned for the announcement of the four winning Student Award Applicants in the next edition of KIT! 
1. I started Grade 1 in a one room schoolhouse and in April, when I had completed all my Grade 1 work, I brought my doll to school and played alone in the basement for the remainder of the year.
2. My first husband is deceased, and I met my current husband, Rick Zaretsky, through our leadership work with the Interlake Teachers' Association. I have four stepchildren and five step grandchildren who I love dearly!
COMMITTEE REPORTS Stay tuned for the RTAM Student Awards Winners!
• At the end of August, a Committee of four read each and every application and developed a score using a marking rubric.
• The marking rubric assesses the 4 criteria of the
3. I was adopted at six weeks of age and just found my birth family in 2012 after I retired.
• For those of you who assisted your relative(s) who graduated this year with their RTAM Student Award Application, we thank you!
Five things about Joan Zaretsky
• If you are in year two of mentoring your student, you may want to discuss how they will continue to structure their portfolio.
September is here again and the fresh start of a new school year! As a student, it is always exciting to start with your new school clothes, your new texts, your new binders/scribblers and in today's world, perhaps your new tablet. As an RTAM member sponsoring your student relative for the Student Award when they graduate, you and your student may be starting a new portfolio or building on the one you supported your student to develop last year. Either way, the year is full of possibilities, new dreams, new aspirations and lots of fun and work along the way! Here are some hints to get you started. Enjoy your many conversations with your student as you support them with unique ways to structure their •portfolio!LastSeptember, you may recall we posted a "September Monthly Discussion Starter" on our RTAM website. We offered suggested section labels based on the criteria for the RTAM Student Award application. For first time portfolio recipients, you may want to use these as starters.
• For those in year two, your student may want to choose sections which best meet your specific needs or specialties. Some new sections may include Career Interests, University Programs, Scholarship/Award Applications or others which fit their needs in planning for their Graduation and specific career aspirations.
à Will they place all the past year's entries in labelled sections at the back of the portfolio and create new sections for this upcoming year? The 2021-22 artifacts can be placed in unused back portfolio sections and new 2022-23 sections created at the front of their portfolio.
COMMITTEE REPORTS
à Will they simply continue to add to their current sections? If so, will they keep them organized with all their current entries at the front of each section and simply add new items behind them or the opposite way with last years' entries at the back and add new ones to the front of each section? Either way, consider how they will keep new and old entries in chronological order?
Joan Zaretsky, Chair
Your student's portfolio is their domain to create and develop based on their interests and perceived beneficial artifacts to support specialized requirements for their career goals. Have fun with your student developing their portfolio and supporting their collection of artifacts to bolster their applications and resume writing in their future!
If you have questions, please feel free to contact our Membership Coordinator, Dianne Casar, at the RTAM Office, who will forward them to the Student Success Portfolio Committee. All the best to you and your student(s) in 2022-23! 
RTAM.MB.CA n 9
Starting a New School Year: Mentoring Your Student Success Portfolio Student(s)
Benefits Committee Report
Photo by Rae Leaden RTAM Photo Contest Entry
I would like to thank Glen Anderson at MTS for our ongoing talks. RTAM is being provided fifteen minutes at each of the sessions to present information about our Johnson plan. MTS will be speaking about the Blue Cross plan provided through MPSE. RTAM will also be participating in a Question and Answer session after the presentations.Ifyouareinterested in the information being shared, go to the RTAM website and click the banner Welcoming WTA Retirees. Once opened you are able to see exactly what has been made available to date. I would encourage current RTAM members to look at the article Health and Travel Cost Comparison, there is interesting information about travel coverage that could benefit current RTAM members. Go to the RTAM website and click Welcome WTA, then click Health and Travel Cost Comparison. There will be more in a future KIT. I need to thank Dianne, Denise and Sean in the RTAM office for their efforts. Things have been moving quickly on this issue and they have helped me stay on task and have also provided valuable information to many callers looking for clarification. September should be interesting. 
10 n RTAM KIT Fall 2022
Dave Najduch, Chair Over the summer months the activities of the Benefits Committee and the work of the Chair usually slow down. The renewal process by which services and fees for the coming year are to be determined starts in September and will be completed by January of 2023. This routine is well practiced and occurs each year. With the regular work of the committee to start in the fall, RTAM was made aware that the Winnipeg Teachers' Association would be shutting down its Manulife Benefits Plan effective December 31, 2022 and that would impact just over 1400 of their retirees. TRAF mailed a letter out from the WTA to the impacted members in the late spring explaining this. At the RTAM June Executive and Board Meetings, there was discussion about the impact this would have on those retirees and the health coverage they could access. A motion was passed directing the Benefits Chair to begin a process by which WTA retirees could easily obtain information about RTAM. It was clear WTA members were looking for RTAM options given the high volume of calls taken by our office staff. As the Chair, I spoke with MTS about a series of informational meetings they scheduled for September for WTA retirees. Originally MTS had set two in person and one Zoom session. Due to high demand MTS has now scheduled five in person meetings, which are booked to capacity as well as the Zoom meeting. It looks like somewhere between 500-600 WTA members will be in attendance across all of these meetings.
Joan Zaretsky
A
n 11
s retired members of RTAM, we are at an age whereby we may be starting or currently experiencing some changes to our health and our ability to navigate in our home and our life in general. At the ACER-CART meeting held in Ottawa, Sue Lantz offered us some insight as to how to better prepare for our life as we enter its last decades. She has written a very informative book, "Options Open: The Guide for Mapping Your Best Aging Journey", outlining a Five Strategy Framework to support successful aging. She suggests "The most important aspects of our travel are planned, prepared and budgeted for in advance" of the trip. Now is the time we should be charting or mapping our plans for our upcoming years to support our most enjoyable life journey. Sue writes "Successful aging is a process that involves making several transitions." Often we wait until we have to make decisions as a result of failing health or a crisis causing us to change our lifestyle. She proposes the importance of being proactive and preparing in advance so you are ready for unexpected changes when they arrive. Sue suggests our "ultimate goal is to find the right place to live with the right supports for you to successfully Age in Place." Much has been written about the increase in longevity resulting from older adults living in their own homes. "Aging in Place" refers to "the ability to live in the same home or community safely, independently and comfortably as you age". Her Five-Strategy Framework offers strategies to "help you organize your actions, plans and choices to prepare for your best aging experiences." We often plan ahead financially for our retirement but Sue suggests that is only one piece of the puzzle. Sue suggests the five key areas to consider when you look into your future include:
Making the Most of Your Retirement Years
1. Your Health – Maintaining your best physical and mental health is key to your enjoyment of life.
2. Your Home – "When your housing is safe, secure, affordable, well located, designed or modified with universal accessibility features and near social support, you keep your options open to stay there as long as you choose."
3. Your Social Network – "Our social networks of friends, family and neighbors are vital to our health and well-being. Friends, family and peers help us to find and access needed resources. Our neighbors can support us to maintain our health and safety. Community connections can go both ways."
4. Your Caregiving Team – Creating a caregiving team now is important rather than having your family and friends caught in a crisis situation. Collaborative Aging Guidebook Next page → RTAM.MB.CA
Aging In Place:
• Remaining in one's own home allows the individual to remain independent.
12 n RTAM KIT Fall 2022
ACER-CART supports the need for its over 165,000 members to be proactive in planning for the aging process. They outline the following "Benefits for individuals to stay in their own home:
• Older adults will avoid exposure to infections and contaminants often encountered in long term care home situations.
• Older adults and their caregivers can select the level and timing of care.
• Costs of home renovations will likely be less than those associated with living in assisted-living or long-term care facilities."
• Visits from family and friends can follow a more normal pattern.
5. Your Financial and Other Resources – Here Sue reviews a number of different ways your resources can go the furthest. She suggests it will depend upon "if you wish to stay in your home and renovate it to enable individual care to be offered or move to lower-cost housing or co-locate in the same building with a friend." She discusses some unique housing options currently being built across the country to support older adults living in homelike settings.
In upcoming KIT editions, suggested strategies and supports to enable you to have a quality lifestyle longer will be outlined in more depth using this Five-Strategy Framework. If you are interested in learning more about Sue Lantz's book and her writing, she is the Managing Director of "Collaborative Aging" and can be contacted at sue@ collaborativeaging.com . RTAM is looking forward to exploring these five key strategies as introduced at the ACER-CART workshop in upcoming KIT magazines! Together we will learn how to make the most of our retirement years! 
Wellness Advocacy Report
Gabe Mercier, Chair The photography workshops which were to be held on September 8th and 9th have, regrettably, been cancelled due to low registrations. RTAM has provided a full refund to registrants!TheWellness Advocacy Committee is looking to obtain information from the membership to be used in our preparations for 2023, for a year of exciting wellness activities. To help guide activity selection, we are conducting a survey of our membership on activities that are of interest to them. We also need teachers/presenters to teach in our various workshops, and we are trying to develop a database of teachers and interested attendees. We believe that retired teachers have expertise in many areas of interest to other members, and who would like an opportunity to share their knowledge. We have developed four categories for possible workshops: Food for Fun and Health, Seminars and Information Sessions, Hobbies, Crafts and Games and lastly, Truth and Reconciliation. Your input in any of those areas will be appreciated. Please visit gle/6pZgpqAM8r8gExpG7https://forms.to take the RTAM Program Planning survey. You are also invited to email the Wellness Advocacy Committee Chair, Gabe Mercier, to share your ideas for upcoming programs or suggestions for future Workshops. Gabe can be reached by email atWegmercier@rtam.mb.ca.wouldliketothank
Sean Seywright for helping in setting up the categories. 
Sue discusses the need to "understand the different roles and types of help you may need based on your lifestyle and the housing you choose."
• Remaining in the familiar surroundings of one's own home contributes to better mental health.
S h a r o n T o d info@rtam.mb.ca Register by Email: U p c o m i n g R T A M S e m i n a r s Please register by calling the office or by emailing our info team. Our email address and phone number are listed below. S T M A R Y ' S L A W ( L L P ) October 7, 2022 - Estate Planning for the Future: Power of Attorney, Healthcare, Estates Online Only - RTAM ZOOM 1pm to 3pm 204-889-3660 Register by Phone: C h r i s t i n e C r o s s I N D U S T R Y S P E C I A L I S T December 7, 2022 - Death Doula: Information about the process with a Q & A session Online Only - RTAM ZOOM 9:30am to 11:30am
Donna H. Winstone – Matlock, MB
April 2022 Morris Boychuk – Portage la Prairie Aileen M. Huss – Winnipeg, MB May 2022 Karen P.M. Boughton – Toronto, ON Genevieve E. Brown – Killarney, MB M. Viola Dufresne – Winnipeg, MB Helen M. Hawthorne – Spruce Grove, AB Stanley Lesniewski – Miami, MB
April 2022
In Memoriam
(Presented at age 90 to RTAM members)
Alexander G. Boyes – Winnipeg, MB Anne Brow – Winnipeg, MB
Roy E. Halstead – Winnipeg, MB Walter Stoyko – Winnipeg, MB Joe Tachinski – Buffalo Point, MB
Laurette M. Tinguely – Montreal, QC
Donna M. Watts – The Pas, MB February 2022 Elsie Heppner – Waldheim, SK March 2022
Anette M. Bouchard – Winnipeg, MB Virginia D. Coffield – Lancaster, MN (USA)
Brian D. Franklin – Deloraine, MB Abram J. Friesen – Steinbach, MB
December 2021
Guy R. Boulianne – Winnipeg, MB Rita A. Covernton – Winnipeg, MB Mike F. Ganczar – Headingley, MB Phyllis M. Gillespie – Calgary, AB
Life Members
Janet E. Goldack – Winnipeg, MB GeorgiaDay E. Hall – Winnipeg, MB Margaret E. Heise – Hamiota, MB Pauline Ignash – Winnipeg, MB Meroslaw Lakusta – Winnipeg, MB Enos J. Legge – Dauphin, MB Miriam Maltz – Winnipeg, MB Edna J. McCreath – Nanaimo, BC Michelle S. McLeod – Winnipeg, MB Marilyn B. Nazar – Headingley, MB Katherine Peters – Steinbach, MB John C. Sparling – Ile de Chenes, MB June 2022
Rose M. Penner – Landmark, MB "The above RTAM members who have passed, were regretfully missed from previous editions of KIT. We sincerely apologize to their families."
Gladys J. Bodnarus – Winnipeg, MB
Joyce E. Grant – Portage la Prairie, MB John Hildebrand – Carman, MB William Ingleson – Surrey, BC Harry Koop – Rosenort, MB Delbert V. MacPherson – Souris, MB Mildred M. McAuley – Altona, MB Allan E. McCulloch – Treherne, MB Shelagh R. McDowell – Winnipeg, MB M. Lucille Muldoon – Ottawa, ON Rudy A. Schulz – Winnipeg, MB Teresa A. Wielgosh – Beausejour, MB May 2022
William J. Hutton – Winnipeg, MB Ronald J. Ledoyen – Winnipeg, MB Helen M. Lo – Vancouver, BC Helen E. Loeppky – Winnipeg, MB Grace Moore – Chilliwack, BC Franz J. Neufeld – Winnipeg, MB Paul Neustaedter – Ottawa, ON Casimir J. Peniuta – Winnipeg, MB Dale E. Scott – Winnipeg, MB Laurel E. Shewchuk – High River, AB Myrna Singer – Winnipeg, MB
July 2022 G. Bernice Giesbrecht – Winnipeg, MB William R. McMurray – Saskatoon, SK Pauline S. Morris – Winnipeg, MB Peter Podhorodeski – Brandon, MB
Walter D. Stefanchuk – Winnipeg, MB Margaret Wiens – Winnipeg, MB
Margaret C. Young – Winnipeg, MB
StockAdobe|BoardNatalie 14 n RTAM KIT Fall 2022
Edward G. Mann – Winnipeg, MB P. Joyce Tomchuk – Portage la Prairie, MB Ivan L. Traill – Neepawa, MB June 2022 Elinor Francisco – Winnipeg, MB
auphin Area Retired Teachers' Assoc. was asked to volunteer at the Intermountain Watershed District's Water Festival on June 8 & 9 in Ethelbert. We assisted with the serving of the lunch for the students attending from schools within the Mountain View School Division. The students spent the day moving between stations set up within the grounds to learn about the different aspects of water and its affect on the landscape and the wildlife.  L to R: Joyce McGinnis, Stephanie Bernat, Marlene Kentner, Lil Urichen and Joan Smith
Nancy Kostiuk T
Top-Middle: The boys at the barbecue.
Upcoming in September is our Wellness Event at Summerwood Retirement Resort in Kelowna.  Thanks to Jim Patterson for Lorne's apron.
Left (front): Don and Lorraine Cameron; Marion, Doris H., Sue L., Lorna Right: Doris and Leon Thonn
Okanagan Chapter
Top: Drawing for prizes: Wilma, Lorna and Doris. Joyce McGinnis RTAM.MB.CA
Dauphin Chapter D
Thank you to Sue Forsyth, Lorna Rothwell, and Roy Lycar for capturing the event in photos.
n 15
he annual RTAM – Okanagan BBQ and Potluck was held on July 19, 2022, in the Sonoma Pines Clubhouse, West Kelowna, with 23 members and guests. Margaret Ingebrigtson of Oliver invited her guest, Gail Farevaag of Ottawa, a former colleague in their Churchill days. Nancy Kostiuk brought her guests, Vel and Don McAdam, who had motored in from The Pas. One new member attending was Lorraine Uberig Cameron and her husband, Don Cameron, from Winnipeg #1 School Division. Wilma Griffin also joined us. All enjoyed the fabulous variety of the potluck and Lorne Lisik mastered the BBQ. Thank you to RTAM for the Chapter Initiative Grant which enabled us to rent the facility and purchase prizes. Our goal was to support a local business and Lorna chose Paynter's Market, which carries a wide variety of food products made locally in the Okanagan from our gardens and orchards.
Topping: • 2 ½ teaspoons brown sugar
A healthy alternative to cereal or muffins, these baked cups are fat free, gluten free and low in sugar.
Oatmeal Cups Anne Williams
• 1 teaspoon baking powder • ½ teaspoon salt • 2 large eggs, lightly beaten • 1 teaspoon vanilla extract • 1 cup low-fat milk
2. Sift flour, sugar, baking powder, cinnamon, and ginger. Add the drained raisins.
• ½ cup unsweetened applesauce • 1 cup frozen blueberries
16 n RTAM KIT Fall 2022
• 3 cups rolled oats (quick, not instant)
9. Cool in the pan for 10 to 15 minutes, then turn out onto a wire rack. Serve warm or at room 10.temperature.Refrigerate leftovers.
3. Combine milk, butter, egg, and pumpkin.
Directions: 1. Preheat the oven to 375 degrees Fahrenheit. Coat a 12-cup muffin tin with cooking spray or line with parchment cups.
3. Combine oats, brown sugar, lemon zest, baking powder, and salt in a large bowl.
• 1 egg, slightly beaten • ½ cup solid pack pumpkin
6. Divide the mixture among the prepared muffin cups.
• Sugar (white or icing) (Omit sugar or use sugar substitute for low calorie)
Ingredients:
8. Mix lemon juice and sugar in a small bowl then pour over the oatmeal cups (about 1 teaspoon each).
• Use seasonal berries or a mixture of frozen fruits. Pumpkin Muffin Oatmeal Breakfast Cup Audrey Siemens A light fragrant favourite that is low in sugar and fat, but high in flavour.
• 1 cup packed light brown sugar
• ½ cup sugar • 2 teaspoons baking powder • ½ cup raisins (soak in warm water and drain to plump them)
4. Add liquid ingredients to dry and stir until no dry ingredients are visible. Do not overmix. Divide batter into 12 muffin cups.
Options: • Substitute orange juice for lemon and cranberries for blueberries.
• 1 teaspoon cinnamon • ½ teaspoon ginger • ½ cup milk
Ingredients:
Fall Favourites
Members of the RTAM Board share nutritious recipes for healthy eating.
• 1 Tablespoon grated lemon zest
2. Zest the lemon. Juice the rest and reserve it for the topping.
7. Bake about 25 minutes until a toothpick inserted in the center of a cup comes out clean.
Topping: • Juice of 1 lemon
5. Sprinkle with topping.
• ½ teaspoon cinnamon
5. Fold in frozen blueberries.
4. Add eggs, vanilla, milk, and applesauce to the dry ingredients.
Directions: 1. Preheat the oven to 400 degrees Fahrenheit. Put paper liners in 12 muffin cups.
• ¼ cup melted butter (or canola oil)
Baked Breakfast Blueberry
• 1 ½ cups oat flour (or wheat flour)
6. Bake at 400 degrees Fahrenheit for 20 to 25 minutes until an inserted toothpick is clean.
7. If using an Instant Pot, seal it and set it to 15 minutes pressure, then release. If using a stovetop pot: bring to a boil, then cover and simmer 20 minutes. For both: bring to a boil, then add the noodles and the shrimp.
• 1 pound (450 grams) frozen shrimp with shells and tails off • ¼ cup (60 milliliters) lemon juice
4. Cut the lemongrass stalks into about 4 inch (10 centimetres) lengths, and then make 2 cuts at 90 degrees to each other 2/3 of the way up each stalk to form what looks like a brush. Add them to the pot.
David Harkness Servings: 4 Ingredients: • 1 pound (450 grams) sliced mushrooms (mix and match to taste) • 4 cups (1 litre) No Salt Added Chicken Broth
• 2 stalks lemongrass • ½ pound (225 grams) shredded cabbage or coleslaw mix • 3 Tablespoons (45 milliliters) red Thai curry sauce or 1 Tablespoon (15 milliliters) red Thai curry paste
Options: If you can find them, try tapioca starch noodles, sweet potato starch noodles, or konjac noodles (but if you use the konjac noodles you should put them in at the start). Konjac noodles may be marketed as shirataki noodles or Miracle noodles. You can raid the garden for fresh, fragrant herbs in the mint and basil families. Thin slices of onion would also not be amiss at the end.
2. Transfer them to a pot or an Instant Pot. 3. Deglaze the pan with a bit of the broth and add that to the pot.
5. Add the cabbage/coleslaw mix to the pot. 6. Add the curry sauce/paste and give it a good stir to disperse it.
n 17
8. Cook for three minutes after it returns to the boil, then add the lemon juice, remove from heat for a few minutes, and serve.
Directions: 1. Spray a frying pan and brown the mushrooms over medium heat.
• ½ pound (225 grams) rice vermicelli noodles
Lemongrass Shrimp Noodle Soup
3. Gluten-Free: use oat flour and gluten free baking powder
Notes: If it's a hot day and you decide that this is all you're having for lunch or supper, be warned that three of us cleaned out a batch that filled the Instant Pot to the Maximum Fill line. RTAM.MB.CA
Healthy Options: 1. Dairy Free: substitute oat milk 2. Calorie Reduced: a. Instead of adding raisins, sprinkle 2 or 3 on the top of each muffin. b. Use brown sugar substitute. c. Use canola oil instead of butter
KIT MAGAZINE Starting with the Winter Edition of KIT Magazine, RTAM will only be mailing copies to those who opt-in to the KIT mail service. 4 Issues a Year 9,500 Copies per Issue 32 Pages per Copy A Total of 1,216,000 pages of paper and ink supplies annually! RTAM Currently prints: We are reducing print quantities to help improve our carbon footprint and environmental impacts. This process will also save us money on printing, supplies and Canada post, which will lead to more RTAM programs and events for our members! GOING DIGITAL! TO OPT-IN, PLEASE REGISTER AT: HTTPS://FORMS.GLE/JCHMVSVW8GMMXUTN6 For more information, please visit www.rtam.mb.ca, and remember to receive a print issue, you MUST OPT-IN! 18 n RTAM KIT Fall 2022
By Jack Warkentin Do you remember what it was like growing up without any of the modern conveniences we enjoy today? Add isolation, extreme cold, and polar bears to the mix and you've got the coming-of-age true story, Tales from a Snowbank by John Horner. With the use of vivid imagery, the author takes you on a roller coaster ride through his life in the 1950s and 60s, tumultuous as it was, in Churchill, Manitoba and Fort Churchill, the military base commonly known as 'Camp'. The Churchill years were few for Horner, but as he says, those years came at a critical time in his life, although he did not realize it then. The North combined with the close-knit fabric of a small community at the end of the rail line gave him and his friends a unique experience. Quoting the author, "Where else on Earth could one be guaranteed a chance meeting with a great white bear, which was hopefully not hungry; experience the wonders of the Northern Lights as they dance in an infinite wave of colours and patterns across the sky's ballroom; and watch rockets hurl themselves at mind-bending speeds into the depth of space?" As awesome as that sounds, and as integral as those experiences were to the inhabitants, they were not the things that drew families from many parts of Canada and overseas. It was the quest for work and good paying jobs - in other words, money! For that, they would endure the hardships of living in the North in order to help build and operate the military base for Arctic testing of arms and equipment in preparation for a possible war with the Soviet Union. Interesting times! "Tales from a Snowbank" is chock full of humour and metaphors, in an easy-to-read style. Horner has a way of turning the hardships hilarious, and you will find yourself chuckling out loud as you read through each of the interestingly-named chapters. Along with an inside look at family life and teenage adventures, Horner weaves in elements of the historical significance of the area and times. A page-turner, indeed! Enjoy! Find out more about the author and where to buy the book at: www.johnalanhomer.com 
Tales From a Snowbank - John Horner
RTAM.MB.CA n 19
Book Review
20 n RTAM KIT Fall 2022
RTAM Trips to Haida Gwaii
Bill Cann, RTAM Past President I
n June 2022, RTAM organized with Trip Merchant two group tours to Haida Gwaii (formerly the Queen Charlotte Islands). Each tour was all inclusive for eight days/seven nights and accommodated between 20-22 RTAM members. A third tour is planned for September 11-18. More information is available at Discover Haida Gwaii: September 11-18, 2022 – RTAM (tripmerchant.ca) Rather than review the above itinerary, I would like to share a few highlights from the first tour. Overall, the tour to one of the most beautiful tourist destinations in North America was reasonably priced, offered excellent meals and was very rewarding. The day after flying into Prince Rupert, our group boarded a large catamaran and sailed along the Great Bear Rainforest Coast to the Khutzeymateen Grizzly Bear Sanctuary. The catamaran captain was very skillful and navigated us to within 15 yards of a young grizzly bear digging for clams along the shoreline. We spent approximately two hours taking pictures of some 13 different grizzly bears within the sanctuary. On the return trip, we encountered a humpback whale as well as a pod of 8 sealions. Shortly thereafter, the boat stopped in the middle of nowhere and we all were looking around, seeing nothing but gentle ocean swells. The captain announced over the intercom to get our cameras ready as the crew tossed pieces of suet into the water. Suddenly we were graced by approximately twenty bald eagles swooping down to within ten yards of the catamaran to capture the suet in their talons. This was the first time I had ever seen bald eagles in the wild. I was mesmerized with both the beauty of the eagles as well as their incredible fishing skill. A five-hour BC ferry ride took us to Haida Gwaii, where our bus picked us up and transported us to the Sea Raven Motel in the small town of Queen Charlotte.Thefollowing day we travelled by bus to Masset on the northern tip of the island. There, our amazing Haida Watchman guide provided us with a fascinating explanation of the symbolism, history and construction of the Haida totem poles. We bused 10 kilometers east to the Naikoon Provincial Park where we enjoyed a picnic lunch. Half our group then hiked up to Tow Hill while the rest walked a boardwalk trail to a blowhole. Both sites provide majestic views of the ocean and rocky shoreline.Wetoured an active forestry area around Port Clements and learned about the past conditions of the forest industry in Haida Gwaii. Nearby we hiked along the Golden Spruce Trail. The trail is named after the Golden Sitka Spruce that grew at the end of the trail for nearly 300 years and had a mutation causing the spruce to grow needles of a golden yellow colour. Our day ended with a traditional Haida feast in the home of a Haida elder. Every part of the meal was prepared from natural ingredients
Dorothy Young and Bill Cann RTAM.MB.CA
n 21
picked from the family garden or fished from the ocean that same day.
22 n RTAM KIT Fall 2022
The final highlight of our journey was a three-hour private tour of the magnificent Haida Heritage Centre by our wonderful Haida Gwaii watchman guide. Our tour was blessed with unexpectedly sunny weather. The forecast was for rain on 5 of our 8 days. Instead, it only rained the one day we visited the Heritage Centre. The only disappointment was the cancellation of the boat trip to SGang Gwaay Llnagaay (Ninstints) on Anthony Island and the ancient Haida village and UNESCO World Heritage Site. The cancellation was due to safety concerns about the rough seas. Thanks to Trip merchant and Anderson Travel Agency each RTAM member was fully reimbursed for this cancellation. I hope that other RTAM members will take advantage of the many travel opportunities provided by Trip Merchant. RTAM members can sign up for the free Trip Merchant bi-weekly newsletter to access exciting travel destinations, deals and contests. 
I became quite invested in the characters, especially Howahkan whose story arc turned out quite differently than I had expected. It was an altogether engaging story that left me wanting more.Myonly complaint about "Land Title" is that the manuscript would have benefitted from a more thorough edit before publication. There are too
Writers of historical fiction have the two-fold challenge of making a ripping-good yarn that is coherent while treating real events and people accurately. Even skilled writers often sprinkle the text gratuitously with historical factoids to bolster the impression that they "know their stuff". In my view, there should only be as much historical detail as necessary to set the story in space and time and advance the narrative. In this respect, Terry Dann has done a masterful job with his first work of fiction which is set mostly in western Manitoba between 1883 and 1929. The book interweaves three initially unrelated stories that ultimately come together: Howahkan, a mechanically-gifted Dakota boy who joins White society but is never fully accepted; Ontario-born Violet and Harry Hartney who seek new lives as farmers; and ne'er-do-well Angus McLennan who abuses his power and privilege for personal gain. Along the way, Dann deals with significant events in Manitoba's past: the woeful treatment of Indigenous peoples in residential schools, the conversion of the prairies to an agricultural landscape by settlers from around the world, the home front during the First World War, the Flu Pandemic of 1918-1919, and more.
Book Review
RTAM.MB.CA n 23
Land Title: A Novel of the Prairies by Terry Dann, independently published, 2020, ISBN 9798582453079. Dr. Gordon Goldsborough, Head Researcher, Manitoba Historical Society many small spelling and grammatical errors, but they did not compromise my enjoyment of the story. "Land Title" can be purchased at McNally Robinson, Chapters/Indigo, Tergeson's store in Gimli, and Amazon. 
RETIRED ASSOCIATIONTEACHERS'OFMANITOBA Photography Contest Entries Winter Categories:2021Candle & Water (Other entries were used throughout this issue) 24 n RTAM KIT Fall 2022
RTAM.MB.CA n 25
26 n RTAM KIT Fall 2022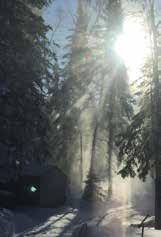 RTAM.MB.CA n 27
© 2022 Johnson Inc. A member of Intact Financial Corporation. Johnson Insurance is a tradename of Johnson Inc., a licensed insurance intermediary, and operates as Johnson Inc. in MB. Johnson administers the EHC Plan and the options for Prestige Travel and Dental Care ("Options"). The EHC Plan and Dental Care Option are underwritten by Desjardins Financial Security ("DFS"). Coverage under the EHC Plan is subject to proof of enrolment in the applicable Provincial Pharmacare program. Prestige Travel Insurance is underwritten by Royal & Sun Alliance Insurance Company of Canada ("RSA"). Valid provincial/territorial health plan coverage required. Johnson and RSA share common ownership. Travel assistance is provided by Global Excel. Eligibility requirements, limitations and exclusions may apply and/or may vary by province/territory. Home insurance is available through Johnson Inc., a licensed insurance intermediary. Policies are primarily underwritten by Unifund Assurance Company. Eligibility requirements, limitations and exclusions may apply.
0210_20 Contact Johnson today 1.877.989.2600 | www.johnson.ca/rtampbservicewest@johnson.ca Johnson Insurance has worked closely with RTAM to arrange helpful service and products that take care of your insurance needs. With Johnson, RTAM members have access to: • Extended Health Care • Dental Care • Prestige Travel with Trip Cancellation • Additional Stand Alone Trip Cancellation • Guaranteed Issue Life Insurance • Term Life Insurance • Home Insurance NO MATTER HOW YOU SPEND BYWE'RERETIREMENT,YOURALWAYSYOURSIDE. Education Professionals 28 n RTAM KIT Fall 2022