COMPLIMENTARY Volume 12 Issue 26 www.therealestatejournal.com The Journal Real Estate The Largest Community Full Color Real Estate Guide! Featuring Over 500 Properties throughout the Central Susquehanna Valley and West Branch Valley! 570-233-5652 email: rej1@ptd.net RealEstateoftheWestBranch&CentralSusquehanna-GOTO>>www.therealestatejournal.com Visitalllistingsinyourareaatwww.therealestatejournal.com 2022 December COMPLIMENTARY The Journal Real Estate Good news. Rates just got lower. State Farm Mutual Automobile Insurance Company, State Farm Indemnity Company, Bloomington, IL State Farm County Mutual Insurance Company of Texas, Richardson, TX I'm excited to announce auto insurance rates just went down. I can help you find coverage that works for you. LET'S TALK TODAY. 1901155 Dean Showers Jr., Agent dean@yourinsuredpa.com yourinsuredpa.com Bus: 570-368-8671 Dean Showers Jr., Agent dean@yourinsuredpa.com yourinsuredpa.com Bus: 570-368-8671 CALL BOB BOOB CENTURY 21 1ST CHOICE REALTY 570-321-0544 OFFICE 570-220-0741 CELL READY TO START YOUR VERY OWN BUSINESS VENTURE? Call Rebecca Noviello today for your showing 272-215-2998$450,000 Keller Williams Advantage Realty 1948 East 3rd Street , Williamsport, PA 17701 570-326-3333 CUSTOM-BUILT HOME IN HUGHESVILLE $550,000 Call Beth Myers 570-971-2361 ROBIN REAL ESTATE VILLAGE SHOPPE COMPLEX , P.O. BOX 46 EAGLES MERE PA. 570-525-3929 WHAT'S YOUR HOME WORTH?? LEWISBURG PARADISE $795,000 Keller Williams Advantage Realty Keller Williams Advantage Realty 1948 East Third St- Ste A , Williamsport PA 17701 570-326-3333 CALL BOB BOOB CENTURY 21 1ST CHOICE REALTY 570-321-0544 OFFICE 570-220-0741 CELL WHAT'S YOUR HOME WORTH?? HABLO ESPAÑOL I can save you up to $ 5,000 on your closing cost Let Me Help You Find Your Dream Home!! Christian Castro 570-898-5686 I can save you up to $5000 on your closing costs! 2006 W Market St Lewisburg, Pa 17837 A MILLION DOLLAR VIEW! Nestled in the country! This 4 bedroom home with Mother-in-law or guest suite has so much to offer! Was aIso used as a Bed & Breakfast! It is a must see for your self home! As you walk into this home you will feel a peaceful Elegance that surrounds each room. All the kitchens have solid cherry wood cabinets. The Main kitchen has caesarstone countertops, sub-zero refrigerator, advantium baking microwave and wine rack/bar area. The pool has a new liner, cover and fence. There is a full house generator. MLS:225601 $599,000 Century 21 Select Group 702 N Church St Hazleton, PA 18201 Office - (570) 455-8521 Call Louise Gresh (570) 233-8252
REJ 2 See it all! www.therealestatejournal.com REJ is Published by On The Fly Publishing, PO Box 482, Conyngham, Pa. 18219(570) 233-5652 ©2008 REJ All rights reserved. Lewisburg 570-523-1000 Danville 570-275-7696 See it all at www.BHHSHodrickRealty.com Call or text Lena Melaragni at 610-574-6024 for more information. 1100 W. Market St., Lewisburg 1070 Bloom Rd., Danville 82+ ACRES Happy Holidays! Make this Holiday season special with a new home Danville Danville 4BR • $155,500 Catawissa Multi Unit • $149,900 Marion Heights 3BR • $184,900 3BR • $89,000 Berwick 4BR • $289,900 Catawissa Commercial • $239,900 Bloomsburg 2BR • $69,000 $749,999 • Coal To Turn-Key Whole l ownship esale h Berwick 2BR • $125,500 New Berlin 3.6 Acres • 255,000 Danville 1,339 SqFt. • $179,900 ilo H ypp osHihetkaM ya ay ya ay dilo Shamokin Dam 4BR • 3 BATH • $375,000 Ranch with 2 Car Garage meho wen l wiacepnssoase e cwwonhrae o l T To osNlulaC h a til w plenhae c r t Careers e Grow W We l olaC Shamokin 4BR • 4.5 BATHS • $325,000 i a $625,000 • Danville enisurbiehwtorsgtnega oyHa wa awh ta at e Hrihs kr rk ngaral e a M Me netLxer t r mo gnichaogcnidivorypsbse laeckRirdosHecivreSemo o 4 f fo 20647 74 5-01t 6 . otthgierhdtnganiniar,tg g nipleohdtettimmoscyitl noitamr of fon nf e irr mo .sloo g
See it all! www.therealestatejournal.comREJ 3 Call 866-978-1792 enter number on photo! 1100 W Market Street, Lewisburg PA Last house being built in Paris Meadows. Open floor plan with lots of extras. Up graded Kitchen with granite counter tops, family room with fireplace. Ready to move in Spring. Pack your boxes. MLS#20-92055 Still going after 46 Years of Service! New construction-Ready in Spring with lots of updates. Great View from this raised ranch with 3 bedroom, 2 baths and 2 car garage. Kitchen with granite and center island. MLS#92067 Beautiful woode Mountain Land located off Furnace Road. Some Hardwoods. Elevated from Ridge to Hills. Wildwild delight, bald eagles and butterflies. 11 Acres. MLS#20-90887 Par L Kitchen extras.of lots ast Pack ReadytomoveinSpring ve tops, counter granite with k LSS#20-92055ML e in Spring. to mov V garage. iew from this raised ranch w Vi 2 baths and 2 car iew Great r 2 ca LS L S#20-90887ML l butterfl ight, Laand Furnace R L 11 Acres. Wildwild de to521N.DerrDrive,Lewisburg,PA17837 (570)523-3244 Sabra Karr 570-428-5765 sabra-karr@villagerrealty.com PENNSCREEKPARADISE!This2BR,1bath,cabinhasexcellentfrontagewithaccess& spectacularviews.Largegreatroomfeaturesastonefireplace&vaultedceiling.Loft abovewasusedastheprimarybedroom.Nicecoveredfrontporchplusaside&rear deckforoutdoorenjoyment.Vinylwindows&anewermetalroofonthewestside. Propertyisbeingsoldasiswhereis.$$209,000mls#20-92841 www.therealestatejournal.com/106262 LANDFORSALEBuildinglotinOrchardHillsclosetoRoutes11/15in ShamokinDam.R-2HighDensityresidentialzoningallowsforsinglefamily homes,townhousesorapartmentbuildings.Publicwaterandseweravailable. Naturalgasisnearby.CallSabraKarrat570-428-5765fordetails.$$53,000 mls#20-91062www.therealestatejournal.com/655671 LOTINNEWCOLUMBIAWoodedcountrylotinWhiteDeer Township.9.10AcreszonedAgricultural.LittleBuffalo Creekbordersthepropertytothewest.$$50,000 mls#20-91308www.therealestatejournal.com/657436 BUILDINGLOTINNEWCOLUMBIABuildyourdreamhomeonthis1.15acre countrylotwithpastoralviewsofNittanyMountain.Nicelywoodedwithsome recentclearingforaccess.Somedeedrestrictionsapply.ContactSabraKarrat 570-428-5765fordetails!$$55,000mls#20-92550 www.therealestatejournal.com/662041 521N.DerrDrive,Lewisburg, PA17837 PA r Sab 570-42 i @v r ar a-k r ab s r ar K a 8-5765 m o c y t eal r er ag l l PENNSCREEKPARADISE!This views.Largegreat spectacular abovewasusedasprimarthe deckforoutdoorenjoyment. Propertyisbeing www This2BR,1bath,cabinhasexcellentfrontage greatroomfeaturesastonefireplace&vaulted primarybedroom.Nicecoveredfrontporchplus Venjoyment.inylwindows&anewermetalroofon soldasiswhereis.2 209,000mls#20-9 frontagewith&access vaultedLoftceiling. plusasiderear& theside.west 841 LANDFORSALEBuilding ShamokinDam.R-2High townhousesaparor homes, Naturalgasnearbyis.Call BuildinglotinOrchardHillsclosetoRoutes zoningallowsforHighDensityresidential apartmentbuildings.Publicwaterandsewer CallKarSabrarat570-428-5765fordetails. in11/15 familysingle available.sewer details.0 nearbygas53,00 mls#20-91062 LOTINNEWCOLUM www.therealestatejournal.com/655671 BIAWhite WcountroodedylotinDeerWhite Township.9.10Acres Creekbordersthe mls#20-91308www AcreszonedAgricultural.Little properthetytothewest.5 www.therealestatejournal.com/657436 BuffaloLittle 0,000 BUILDINGLOTINNEWC countrylotwithpastoralviews recentclearingforaccess. 570-428-5765 www.therealestatejour OLUMBIAthisBuildyourdreamhomeon viewsofNittanyMountain.Nicelywooded access.Somedeedapplyrestrictions.Contact 570-428-5765fordetails!5 55,000mls#20-925 .therealestatejournal.com/662041 thisacre1.15 woodedsomewith KarSabraatr 0
ONLY
Call Lise. Lewisburg $66,000 - $73,000 www.therealestatejournal.com/659932
$409,900 (20-92468S) www.therealestatejournal.com/656259
HUGE BRICK DOUBLE UNIT. Right downtown near local shops. Both are 4-bedroom units with plenty of opportunities to grow your property portfolio. Off-street parking and a storage building on the rear parcel. Fully occupied to keep the income flowing. Call Tom. Mifflinburg $195,000 (20-92089U) www.therealestatejournal.com/658863
LOOKING TO ADD a new property to your investment portfolio? This double unit could be it. Quiet street close to parks and downtown Mifflinburg. Large yard with a storage shed and offstreet parking. It also has long term tenants. What else could a new owner ask for? Call Tom! Mifflinburg $175,000 (2092088U) www.therealestatejournal.com/658862
MOVE RIGHT INTO this brand new home! Built in 2022 By Champion Homes is this 3 bedroom, 1.75 baths open floor plan home with over 1100 Sq. Ft. Large kitchen with center island and plenty of cabinet space and stainless steel appliances. Level lot with a shed. Call Doug. Watsontown $102,985 (20-92053N) www.therealestatejournal.com/655629
CLASSIC TWO STORY! This beautiful, updated home has plenty of new, with all the old charm remaining. Wood floors, granite counters, 4 bedrooms, 2.5 baths, living with fireplace, dining room, built-ins, pantry area and spacious kitchen. Cedar lined closets on the second floor, balcony, and a full attic. Call Doug. Milton $199,750 (20-92013N) www.therealestatejournal.com/655516
REJ 4 See it all! www.therealestatejournal.com Call 866-978-1792 enter number on photo!
CONVENIENT LEWISBURG LOCATION, 45+ acres with a magnificent view of the Susquehanna River. Land extends down to the river bank. Consider timbering or clearing the trees for a dock. Or, subdividing. Located along the West Branch Highway. Call Martha for additional information. Lewisburg (20-88589U) www.therealestatejournal.com/654245
BEAUTIFUL WOODED BUILDING LOT in Lewisburg School District. Lot 4 has two perc sites and a Penn Dot road permit. Driveway cut in place with a shale base. Corners are marked. Topography allows for a walk out lower level, a Bi-level or Raised Ranch would be lovely on this lot overlooking the woods with small stream, perfect for family and friends picnics. Call Martha. Lewisburg $62,500 (2089648U) www.therealestatejournal.com/653562
WATERFRONT LOCATION ON PENN'S CREEK with every amenity.
Exterior tile bath house, Indoor Sauna and Hot Tub, Master Suite. Elevator makes bringing in items a breeze. Lovely yard & wooded lot. Guest house with studio living room/kitchen, bed and bath. Both homes have decks overlooking Penn's Creek. Two insulated garages and a storage building. Call Doug! Millmont $865,000 (20-91044U) www.therealestatejournal.com/654959
SPACIOUS HOME full of windows with tile and carpet. Perfect for entertaining. Sit quietly by the fireplace in the hearth room. The kitchen is fully equipped and spacious, perfect for the gourmet cook. Oversized deck offers a view of the grounds overlooking the rear yard. Over 5 acres of private environment with stately trees, shrubs and evergreens and seven foot high waterfall stretching over the pool. Call Martha. Sunbury $990,000 (20-92717N) www.therealestatejournal.com/661656
4 LOTS LEFT in popular Smoketown Fields development! Build your dream house with an experienced builder!
THE TAWSTY FLOWER! Set in the heart of Lewisburg, this thriving B&B would also be a divine residence with a detached 2 bedroom, 1 bath cottage. Remodeled with an expanded kitchen & family room, equipped laundry, en suite bathrooms in all bedrooms, & a 1st floor Master bedroom. Landscaped
fenced yard and patio area. Off street parking for 9 vehicles. Call Lise. Lewisburg TURNKEY B&B $787,400 RESIDENCE ONLY: $743,600 (20-90699, 2090700U) www.therealestatejournal.com/104962
THIS FEDERAL STYLE BUILDING has a myriad of possibilities for offices, retail, multi-units, or an escape room! Open entry with stained glass and palladium windows, 2 bank vaults, 3-zone oil hot water heat plus central A/C, 3 half baths, built-in cabinetry, and 4 off street parking spaces. Call Lise. Shamokin $179,800 (20-91051N) www.therealestatejournal.com/654963
5 BEDROOM HOME SET ON 1 ACRE BETWEEN LEWISBURG & SELINSGROVE! Completely remodeled throughout including an addition with Master suite & 2 other bedrooms, kitchen with granite counters, living room with fireplace, bathrooms with oversized showers, some original hardwood floors, 1st floor laundry, oversized 2 car garage, large rear pole building, & a fenced yard! Call Lise. Winfield
PRIME LOCATION at the corner of Rt. 15 and Rt. 45. Real Estate, license for beer distributorship, retail beer sales. Included is a 3 Bedroom, two story house at 920 W. Market Street. Call Peg. Lewisburg $599,000 (2092810U) www.therealestatejournal.com/102663
wet bar & views of the pool. Magnificent kitchen. Spacious half bath & laundry. The Master Suite will take your breath away. The upper level is equally impressive. Call Mark. Lewisburg $685,000 (20-91060U) www.therealestatejournal.com/655592 RECENTLY REBUILT three unit apartment building. UnitThree Bedroom, 1 bath, Unit-Four Bedroom, 1 bath, UnitEffeciency, 1 bath. Gas heat. Landlord pays for sewer and water. Call Peg! New Berlin $300,000 (20-91246U) www.therealestatejournal.com/657506 LOVELY COUNTRY SETTING with In-ground Pool. This split level has 3 bedrooms, 2.5 baths, lower-level family room with fireplace, 1/2 bath and laundry area, and an office. Unfinished 4th level. Entertain in the pool with deck space. Heated garage with a movie screen built in. Call Doug. New Columbia $338,750 (20-91918U) www.therealestatejournal.com/651965
STUNNING BRICK POOL HOME. Welcoming foyer to the living room with gas FP, Great room surrounded by space for multiple living areas, wood FP,
LAND WITH A LITTLE STREAM! This lovely Laurelton town lot with .52 of an acre, previously had a mobile home on it. Public sewer and well on site. Call Doug. Millmont $39,875 (20-92829U) www.therealestatejournal.com/662027
THIS BEAUTIFUL RANCH has wood floors, brick wood burning fireplace, spacious kitchen, sunroom with amazing views, 2 bedrooms with large closets, full basement, shed, and a 1 car oversized heated garage. The lot is .80 acre and only minutes to town. A rare opportunity for a move in ready home in a lovely subdivision. Call Doug. Millville $191,650 (20-92818C) www.therealestatejournal.com/661976
BIG LOVEABLE RANCH HOME! This spacious home will wow with all the useable space. Large living room and dining area, kitchen with a bar and breakfast area plus tons of cabinet space, 3 bedrooms, central air, 1.75 baths, laundry area/dressing room, closets, hardwood floors, and a full basement. Enclosed back porch and a big deck. Call Doug.Milton $234,900 (20-92820N) www.therealestatejournal.com/661975
RANCH ON 10+ ACRES next to Bald Eagle State Forest! This property has 3 bedrooms, living room, full bath with garden tub, and a walk out basement. Stay warm with the automatic Harmon coal stove. Relax on the deck or hang out on the patio by the pond. Integral 1 car garage, detached buildings with room for 4 vehicles, shed, and a cold cellar/bunker. Call Doug. Mifflinburg $327,300 (20-92763U) www.therealestatejournal.com/661779
FARM AND BUSINESS OPPORTUNITY! This 84 acre farm has a 5 bedroom, 1.75 bath home with a wrap around porch. Outside there is a beautiful big red barn. On the property is a crematory business. It is a fully functional pet crematory. Seller has connections to established businesses in the area. Amazing chance for a farm property with income too. Call Doug. Middleburg $2,150,000 (20-92716S) www.therealestatejournal.com/661639
www.therealestatejournal.com/661530
BEAUTIFULLY RENOVATED TWO STORY! This stunning home has 3 bedrooms, 1.5 baths, 1st floor laundry room, stainless steel appliances, double living rooms, pocket doors, family room, new windows and plenty of off street parking. This is one move in ready home. Call Doug. New Columbia $199,500 (20-92587U) www.therealestatejournal.com/661079
SPACIOUS 4 BEDROOM! This lovely and updated home has a living room, dining room, wood floors, 1st floor bedroom and bath. The second floor has large 3 bedrooms. Outside there is a fenced in yard, 1 car garage, wrap around porch, yard, and close to the school. Call Doug. Mifflinburg $163,750 (20-92552U) www.therealestatejournal.com/660852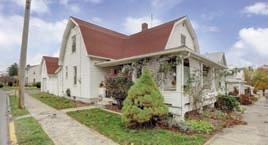 BIG LOT WITH A RIVER VIEW! This two story home sitting on .72 acre lot has 3 bedrooms, 1.5 baths, enclosed porch, and a large detached 3 car garage. Front and back open porches to enjoy the sunrise and sunsets. Call Doug. New Columbia $142,500 (20-92283U) www.therealestatejournal.com/654717
COUNTRY LOCATION with 2 acres! This lovely setting is ready for you to build your dream home. Close to Route 15 and Interstate 80 and minutes to Danville, Lewisburg and Williamsport. Call Doug. New Columbia $119,000 (2092271U) www.therealestatejournal.com/654712
ALMOST 40 ACRES OF PRISTINE land in a secluded setting. Large residence, horse barn, arena, fenced pastures, walking trails, pond. Solar panels for minimal electric costs. The finished lower level provides a perfect space for visitors. Second house and barn on the property currently rented. Call Ruth or Doug. Middleburg $695,000 (20-92174S) www.therealestatejournal.com/659646
WELL MAINTAINED RANCH in great, walkable neighborhood. Kitchen/dining area with counter space & stainless steel appliances. Two Fireplaces. Lower level also has a third bedroom, full bath, bonus room, office and laundry. Call Jodie! Lewisburg $325,000 (20-92103U) www.therealestatejournal.com/658868
See it all! www.therealestatejournal.comREJ 5 Call 866-978-1792 enter number on photo! Instantly gain access to full listing information: Visit www.coldwellbankerpennone.com/rej.html (570) 524-7500 331 Market Street, Lewisburg, PA 17837 ® 2010 Coldwell Banker Penn One Real Estate Corporation. Coldwell Banker® is a registered trademark of Coldwell Banker Corporation. An Equal Opportunity Company. Equal Housing Opportunity. Each office is Independently Owned and Operated.
STATELY BRICK HOME! Looking for a project home? This may be the one. 3 bedrooms, 2 baths, central air and natural gas heating. Enclosed porch and kitchen, large first floor full bath and laundry area that leads to the enclosed porch. Potential to expand the full bathroom. Some bedrooms are walk-through. Call Doug. Watsontown $119,900 (20-92652N)
she shed. Midd-West School District. Call Today to Make it Yours. $185,000 mls#20-92444

BE PREPARED

REJ 6 See it all! www.therealestatejournal.com Call 866-978-1792 enter number on photo! ThinkingofSelling?CallAVillagerAgentToday! JIM HOLTZAPPLE 570-490-4663 SABRA L KARR 570-428-5765 TERRY MCLAUGHLIN 570-490-1002 RENEE VONADA 570-490-1340 RAYMOND BEACHY 570-713-5910 KELLY SEIGEL 570-713-8503 ANDY ANDERSON 267-716-4506 TERRY CONRAD 570-428-3160 TAMMY STAMM 570-412-9223 BEATRIZ BENEDIT 570-768-8801 DUANE SWEIGARD 570-238-5007 Land for Sale New Columbia 9.10A on Fort Titzel Rd $50,000 mls#20-91308 1.15A on Furnace Rd $55,000 mls#20-92550 Shamokin Dam .22A Lot C22-A Baldwin Blvd $53,000 mls#20-91062 Lewisburg 3 Acres 25 Classic Hills Dr $119,000 mls#20-85483 3 Acres 36 Classic Hills Dr $119,000 mls#20-85484 MIFFLINBURG HOME WITH LOTS OF CHARACTER Beautiful woodwork, pocket door, open stairway, eating area off kitchen overlooks the landscaped lot & garage. 3BR, 1.5BA, in main house & 1BR & 1BA plus laundry in the in-law suite or apartment. In-law suite has separate utilities. Current tenant pays $500 & their own utilities. Easy access to the Rail Trail. Great property with many updates. $292,000 mls#20-92445(10G) RANCH HOME IN BEAVERTOWN Perfect starter home or downsizing. Cute 2 bedroom 2 bath home with a beautiful view, nice back porch to enjoy your morning coffee and the patchwork of fall color of the trees. Perfect size yard with your very own
NEWLY REMODELED MIFFLINBURG HOME NEW PRICE! This home has 4 Bedrooms, 2.5 Baths, 2072 sq ft. and includes a newer
and breakfast
first floor and a
SPACIOUS HOME IN WINFIELD 2,918sqft Home in Gilead Estates on 1A lot that is professionally landscaped & partially wooded. 4BR, 2.5BA including large master suite. Three season heated sunroom, formal dining room, large living room w/lots of windows & family room w/ brick fireplace. Full, dry, unfinished basement for lots of storage. Heat pump, C/A & 2 car garage.
$384,900 mls#20-92303(10)
kitchen
area on the
master bedroom and bath on the second floor. Nice deck on the rear of home. A great exercise room
in
the basement. New siding and roof. $299,900 mls#20-92154
BEAUTIFULLY RESTORED HOME IN HISTORIC DOWNTOWN LEWISBURG! Charming home on a double-lot. Beautiful 9 ft. ceilings, original refinished floors & floor-toceiling windows in the living room w/a gas fireplace. Fully renovated kitchen includes Bosch appliances, custom Wolf cabinets & quartz countertops. 3BR each w/ensuite baths & a 2nd-floor balcony. Tankless gas water heater. Two heat zones w/dedicated natural gas heat pumps. $1,150,000 mls#20-92044
MUST SEE RANCH HOME
on
3
acres in Northumberland. 3 Bedrooms with Hardwood under carpeting. Unique sunken bathtub in main bath. This home sits back from highway without Route 11 noise. Newer central heat pump. Some of the electric baseboard is still useable. $389,000 mls#20-91967
CABIN ON 6 ACRES! NEW PRICE! On this One Bedroom Cabin on 6 Acres. This property is surrounded by State game lands. There is a well on the property. Wired for generator. No Sewer. A hunter's paradise. Check out the unique shower set up! $189,000 mls#20-92072
HOME NEW PRICE! On this brick
with 3,040sqft of living space. Lots of character, hardwood floors, 4/5 bedrooms, 1.5 baths, fireplace with built-in bookshelves on each side, new gas furnace, large front porch. 2 car detached garage & storage shed. Built in 1918. Property is being sold 'as is'. $239,900 mls#20-91316 COMMERCIAL PROPERTY Great Highway Commercial Property in Northumberland! Many allowable businesses. Finished area is 30' x 40'. $249,900 mls#20-90957 WELL-KEPT RANCH IN SELINSGROVE Lovely 3 BR, 1.5 BA Ranch with custom cabinetry in kitchen. Flooring is in excellent condition. Spacious attached 2 car garage & small fenced in backyard. Basement has lots of room for storage, or can be converted to extra living space. Located on a low traffic street. Local schools, Susquehanna U, shopping & restaurants nearby. Ready to move-in! $239,000 mls#20-92497(10G)
TO BE WOWED! From the view, to the kitchen with open floor plan, to the heating sources... this 4BR, 4BA, Millmont home is like none other. Just walk out your front door to Penns Creek. And it is out of the flood zone. Heating gas on demand hystatic mini split system with radiant heat. The additional garage is heated & has it's own bathroom. $535,000 mls#20-92015 SPACIOUS MILTON
home
See it all! www.therealestatejournal.comREJ 7 Call 866-978-1792 enter number on photo! R Villager Inc ealty Of Other th You Serve to ficesffi ff Danv Old 236 Northum 570-47 www.village . , Highway ille berland 3-7300 ty.comrrealty lleDanviil Lewisburg Commercia tionRelocati
l
CONTRACT UNDER---------- ---J He 71 Beverly son Attkis 850-2963 essica rman 6-2068 3 Karen Lagerman 898-6295 Seth Moyer 94-2487 Barb Scholl 847-2275 Jo Bobbie Sprenkle 847-4480 Pam tenightWhite 441-6597 Ted Yeager 274-6445
570-275-8440 570-523-3244
570-523-3244 570-523-3244
NEW IN COGAN STATION Recently updated, 3 bedroom cape with new kitchen, updated bath, new flooring, and a freshly painted interior! Features a den with fireplace, 2 screened porches, a patio, carport, shed, and replacement windows. Located on 2.4 acres with creek access! Park nearby for recreational fun. $169,900 www.therealestatejournal.com/661757
NEW CONSTRUCTION! NEW PRICE! Brand new ranch on corner lot in Hughesville. Features 3 bedrooms, 1.75 baths, open floor plan, heat pump, central air, master suite with 3/4 bath, full basement with exterior entry and 9' Superior Walls, front porch, back patio & a 1 year home warranty! $224,900 Call Walter Reed at 570447-6005. www.therealestatejournal.com/658690
Anne Steinbacher, Assoc. Broker 546-0314
Scott Steinbacher 337-9247
Denise Gearhart 772-1812
Karen Kisberg 971-0305
Walt Reed 447-6005
Eric reed 733-3741
Dawn Ramiza 916-4043
COGAN STATION Get creative with this 3 bedroom cape offering a first floor bedroom, replacement windows, covered porch, expandable attic space, a detached garage and on site well and septic, so no monthly water and sewer bills!. Endless possibilities with the space! Large 1/2 acre lot! $114,900 www.therealestatejournal.com/660441
NEW LISTING IN HUGHESVILLE! Enjoy the changing seasons and lovely views from this country ranch in the East Lycoming School District! On a 1.09 acre lot, this 3 bedroom, 2 bath home is move-in ready and offers a 2 card garage, 30' of covered patio, and a 14' x 30' utility shed! $157,500 Call Dawn Ramiza at 570-916-4043. www.therealestatejournal.com/660154
BAR AND RESTAURANT Popular bar and restaurant now offered! Be your own boss! This fun establishment offers a new outdoor patio area, bar, kitchen, dance floor, & additional parking lot across the street. Furnishings, fixtures, bar and restaurant equipment, and liquor license included with the sale of the real estate. $295,000 www.therealestatejournal.com/659619
NEW LISTING IN WILLIAMSPORT! Large, brick double with separate utilities paid by tenants. Three bedrooms in each unit. $95,000 www.therealestatejournal.com/662022
ENJOY THE VIEW! Enjoy the privacy! Enjoy the wildlife! Mobile home (14 W X 76 L) situated on 2 acres with well and septic. Detached 2 car garage. Workshop. Call Dawn Ramiza for more details. 570-916-4043. $130,000 www.therealestatejournal.com/661755
TROUT RUN! Fully renovated, 3 bedroom, 2.5 bath home! Spacious kitchen with open floor plan to dining & family rooms, fireplace, rear deck, central air, a 2 car garage, and utility shed. Situated on a 1.1 acre lot with new septic system. Call Karen for your tour today 570- 971-0305. $298,497 www.therealestatejournal.com/105246
MUNCY - REDUCED! This affordable Clarkstown home offers 4 bedrooms, 2 baths, and a spacious, open dining and family room combination for all your holiday entertaining! Situated on a 1/2 acre lot. Also includes a heated, detached workshop building or at-home business possibility. Call Dawn Ramiza at 570.916.4043. $200,000 www.therealestatejournal.com/660910
AFFORDABLE! At just $59,500, this 2 bedroom brick home is easy on the wallet! Partially renovated interior, gas heat. Detached, 2 car garage. www.therealestatejournal.com/650225
NEW IN WILLIAMSPORT Take a look at this affordable, traditional, 3 bedroom, 2 story home. Gas heat, 3 car detached garage. Convenient location on the bus line and close to services. $90,000 www.therealestatejournal.com/661601
NEW LISTING IN WILLIAMSPORT! Investors - Don't miss this opportunity to make this property your new winter project! It's centrally located with easy access to public transportation and services. This traditional style home offers 3 bedrooms, 1 bath, and rear &side porches. Call Karen 570 971-0305 to schedule a showing. $32,900 www.therealestatejournal.com/660232
REJ 8 See it all! www.therealestatejournal.com Call
enter number on
Each Office Independently Owned and Operated. When you choose CENTURY 21 Betty Steinbacher Real Estate, you'll have the market intelligence of experienced professionals on your side, providing you with the personalized service that you deserve.
866-978-1792
photo!
We're
21TM
1008 Washington Blvd. Williamsport, PA 17701 326-3587 • 546-2544 398-1620
Specialists in Relocation askbetty@aol.com Betty Steinbacher 570-326-3587 askbetty@aol.com CENTURY
See it all! www.therealestatejournal.comREJ 9 Call 866-978-1792 enter number on photo!
Riccardo ABR, GRI, MBA
VERY SHARP HAVEN HOME on a corner lot in Dunnstable Twp! This two bedroom home features newer roof, a fancy in-ground swimming pool and patio area, and a very large covered driveway in the rear, not to mention sweeping views of the mountains. Don't forget to check out the bar in the basement. Call Wilson Riccardo at (570)748-8222 for your private tour today! $230,000 WB-95364
REJ 10 See it all! www.therealestatejournal.com Call
on photo!
866-978-1792 enter number
Beth
GREAT BUSINESS OPPORTUNITY IN WESTERN CLINTON COUNTY This charming little gas station has great potential for a little rest stop in the mountains. Near Quiet Oaks Camp Ground, Kettle Creek State Park, and directly across the street from Dominion Transmission Corporation, the main building does need a little refreshing, but with a little elbow grease, this location could become a great destination in and of itself. $190,000 WB-92536
ONE STORY COMMERCIAL BRICK BUILDING suitable for many commercial uses, previously used as a bank with drive through attached. Asphalt parking area with 20+ off street parking spaces. Located along the scenic Fishing Creek, but high and dry, not in flood zone. 3 office spaces with windows plus lobby on first floor. Use as office or retail space, zoned commercial. Kitchenette, 2 half baths, janitor closet, vault storage, storage in full basement. Two staircases at either end of building. Bank drive through lanes intact. $375,000 WB-96071
See it all! www.therealestatejournal.comREJ 11 Call 866-978-1792 enter number on photo! Jackson Real Estate 230 Allegheny Street Jersey Shore, Pa. 17740 570-398-1201 in Jersey Shore since 1961 www.MJacksonRE.com Melanie McLane 570­660­9671 Josie McLane 570­279­2166 Michele Hensler 570­506­7674 Katharine Sanso 570­560­9827 Lindsey Swales 570­263­2874 Melanie McLane 570­660­9671 Josie McLane 570­279­2166 Michele Hensler 570­506­7674 Katharine Sanso 570­560­9827 Lindsey Swales 570­263­2874
REJ 12 See it all! www.therealestatejournal.com Call 866-978-1792 enter number on photo!
See it all! www.therealestatejournal.comREJ 13 Call 866-978-1792 enter number on photo! 1st Choice Realty 570-321-0544 CALL US TODAY TO SELL FOR TOP DOLLAR!! CALL US TO SELL FOR THE TOP PRICE!! VIDEO TOUR MARKETING! BOB BOOB 570-220-0741
REJ 14 See it all! www.therealestatejournal.com Call 866-978-1792 enter number on photo! Fish REAL ESTATE 220 N. Jay Street Lock Haven, PA. 17745 SARA
TO VIEW VIDEO TOURS AND ALL PROPERTIES VISIT www.FishRE.com (570) 893-4220 YOURGREATEST ESCAPE AWAITS.... JUST BRING
136 Catawissa Avenue, Office #1Williamsport, PA 17701 570-651-9205 dawn@sunriserealestate.net STORAGE UNITS AVAILABLE!!! Conveniently Located Just off Rt. 220 in Linden near Sheetz.! Storage Unit Complex with Units Available! Varying Sizes, Prices and Availability! Available Immediately! Contact Dawn Cohen - Broker - Sunrise Real Estate - 570.651.9205 www.therealestatejournal.com/518636 COMMERCIAL RENTAL IN MONTOURSVILLE - NEW PRICE!!! Beautiful Commercial Rental on Broad Street in Montoursville available immediately! Formerly an accounting firm. There are 5 Rooms currently set up as offices. Owner is renting it fully furnished with very nice office furniture. Many Options! Off Street Parking available. Call for your personal showing! $2,950 per month plus utilities negotiable. www.therealestatejournal.com/620617 Listing, Selling and Property Management.Sellers, Buyers, Landlords and Tenants – A Full Service Real Estate Company! 136 Catawissa Avenue, Office #1 Williamsport, PA 17701 570-651-9205 dawn@sunriserealestate.net "Its a New Day at Sunrise Real Estate" Do you own a rental property ? Are you overwhelmed with all that goes along with it? * Tenant screening * Property Safety * Evictions * Inspections * Lease addendums * Terminating leases * Handling security deposits * Rent collection * Performing Maintenance * Paying utilities and mortgages Call Sunrise Real Estate Services TODAY! We can help you get the most out of your property. 570-651-9205 Dawn R. Cohen Broker/Owner cell: 570-916-6480
EGGLER Mobile: (570) 502-3241 Email: seggler@fishre.com
YOUR CLOTHES! This gorgeous, well maintained, 10 bedroom, 5300+ sq ft cabin boasts pine finishes through-out, gas appliances, restaurant grade oven / range with griddle, 20 ft ceilings in the kitchen & family room areas, large fireplace, 2 wood stoves, propane heat, ALL FURNISHINGS, a paddle boat & row boat to enjoy the pond, boat house, new generator/ generator house, and is situated on over 50 acres of hunt-able land. Property also includes an over-sized 2 car garage, gated access to property, and bear- proofed windows & doors. WB-95165 $739,900
See it all! www.therealestatejournal.comREJ 15 Call 866-978-1792 enter number on photo!
with announcing our new brand identity, delivers rich new content in a modern, clean, and organized layout to provide visitors with easy access to the most current listings through sale in Central Pennsylvania.
our new look, we remain committed to providing our clients with the exceptional service and quality they have come to expect from Real Estate Excel's agents. Real Estate Excel, A Girio Realty Co. is proud to announce the launch of our new company logo and brand identity. We have grown and evolved over the years, and we felt it was time for a change. We chose a new logo that reflects a more modern look and captures our mission to deliver excellent quality, performance, and service to our clients. 1737 E. Third Street Williamsport, PA 17701 570.322.1991 2467 Route 405 Highway Muncy, PA 17756 570.505.5468 welcomehomepa.com
Along
With
999 N Loyalsock Ave, Ste 1 , Montoursville PA 17754 888-397-7352 x: 691
Susan Rowles 570-419-7864
521 N. Derr Drive
Lewisburg, PA 17837 Office: (570) 523-3244
Tammy Stamm 570.412.5857
Tammy-Stamm@villagerrealty.com
1ST TIME ON THE MARKET Be prepared to be Wowed !!! From the view, to the KITCHEN WITH OPEN FLOOR PLAN, to the heating sources to the walls... This home is like none other. With all the bells and whistles and a beautiful view, if you like to fish walk out your front door to Penns creek. and it is out of the flood zone. HEATING GAS ON DEMAND HYSTATIC MINI SPLIT SYSTEM WITH RADIANT HEAT. More photos to come. The additional garage has it's own bathroom and heated. Room for all your toys!! Seller's requiring all prospective buyers to have pre approval or proof of funds prior to scheduling a showing. $535,000 mls#20-92015
PERFECT STARTER HOME OR DOWNSIZING cute 2 bedroom 2 bath home with a beautiful view, nice back porch to enjoy your morning coffee and the patchwork of fall color of the trees. Perfect size yard with your very own she shed. Call Today to Make it yours. Call Tammy Lynn 570-412-9223 $185,000MLS #20-92444
REJ 16 See it all!
on
www.therealestatejournal.com Call 866-978-1792 enter number
photo!
susanerowles@gmail.com 4 BEDROOM IN LOYALSOCKSellers are open to offers! This 4 bedroom, 2 bath bi-level in Loyalsock has the space you need! The main floor offers a nice size living room, dining area off the kitchen, 3 bedrooms and a bathroom with a double vanity & water closet that connects to the main bedroom. The lower level has a family room, an office area, full bath, Bedroom #4 plus an additional bonus room! The deck off the dining area leads to the above ground pool and large yard. Perfect for outdoor entertaining during the warmer months. Contact Susan Rowles for your personal tour, 570-419-7864. $239,900 www.therealestatejournal.com/661994
Kimble Realty 217 Maynard Street Williamsport, PA 17701 Office: 570-327-1600 Ekko Stimson 570-916-9024 ekko.kimblere@gmail.com Ben Boyles 570-337-3686 ben_boyles@yahoo.com Benjamin Kimble 570-337-5011 benlkimble@gmail.com Call us today to list your home and turn for sale into SOLD!! The Real Estate Journal Get us in Print>>>on the Web>>>>available to the World Listings are shared with Zillow, Wall Street Journal, USAhomesearch and others. VACANT LOT with driveway access ready for you to build! Quiet street in the Boro! Access to public water, sewer, and natural gas. Call / text Ekko for more information 570-916-9024 $54,900 WB-95977 VACANT LOT with driveway access ready for you to build! Quiet street in the Boro! Access to public water, sewer, and natural gas. Call / text Ekko for more information 570-916-9024 $42,900 WB-95977
See it all! www.therealestatejournal.comREJ 17 Call 866-978-1792 enter number on photo! (570) 524-7500 331 Market Street Lewisburg, Pa. 17837 Peggy Bouton, GRI (570) 847-7500 E-Mail: pegbouton@hotmail.com www.coldwellbankerpennone.com PRIME LOCATION at the corner of Rt. 15 and Rt. 45. Real Estate, license for beer distributorship, retail beer sales. Included is a 3 Bedroom, two story house at 920 W. Market Street. Call Peg. Lewisburg $599,000 (20-92810U) 220 N. Jay Street Lock Haven, PA. 17745 SANDRA HALERZ Mobile: (570)419-1832 Email: SHalerz@FishRE.com TO VIEW VIDEO TOURS AND ALL PROPERTIES VISIT www.FishRE.com (570) 893-4220 RENOVO House was gutted to studs and upgraded in 2008 New walls, ceilings, oil furnace, total new wiring, 3 types of heat in house, new kitchen & half bath, great porch in rear, large beautiful level lot with stream @ rear of property. Also house wired for generator. Large detached garage with pellet stove & it has electric. WB-96117 $169,500 NORTH BEND Great Hunting Camp - Open Floor Plan - Large 2nd floor bunk room located on 2+ acres. Ride ATVs,, hunting, Kettle Creek Nearby - call Sandy Halerz 570-419-1832 for appt. WB-96236 $160,000 570.321.1010 Dee Roan, Realtor (570) 220.7490 www.REMAXwestbranch.com STATELY VICTORIAN ERA HOME Take a look! 4 bedroom, 3 bathroom home! This is a beautiful Victorian era home with wooden floors, pocket doors and lots of old world charm! Large foyer, formal dining room, nice pantry, bonus room, replacement windows, newer gas furnace, huge covered porch, fenced in yard and 1/2 bath on the first floor. Offered at $140,000. Call Dee Roan at 570.220.7490 Each Office Independently Owned and Operated. Equal Housing Opportunity 1719 Four Mile Drive, Williamsport, PA 17701 Ph: 570.321.1010 570.321.1010 Dee Roan, Realtor (570) 220.7490 www.REMAXwestbranch.com MONTGOMERY CHARMER
a look at this two story home in Montgomery. Not in flood zone. Home needs a little TLC but has good bones. Seller loved to garden - there is a grape vine, roses, lilac, rose of sharon, butterfly bush plus others. Inside you'll find wood floors, dining room with architectural display case and chandelier, pantry with stove & more. Offered at $160,000. Call Dee Roan at 570.220.7490 Each Office Independently Owned and Operated. Equal Housing Opportunity 1719 Four Mile Drive, Williamsport, PA 17701 Ph: 570.321.1010
Take

REJ 18 See it all! www.therealestatejournal.com Call 866-978-1792 enter number on photo! To Do List: CALL THE REAL ESTATE JOURNAL TO MARKET MY LISTINGS!!! 570-233-5652 Office: 1948 E 3rd Street, Williamsport 570.326.3333 www.UseKW.com Each Office Independently Owned and Operated. Equal Housing Opportunity OPEN HOUSE, SEPT 11 Need room for extended family or a home office? Here's the PERFECT solution. Come take a look at the Open House! Nancy Ulrich, REALTOR Mobile: 570.447.8851 Office: 570.326.3333 57 LORSON DRIVE EXTENSION, SOUTH WILLIAMSPORT This beautiful home offers a new 2 year old In-Law apartment that would also be perfect for a home office or home school! The possibilities are endless! Private entrance keeps the main house separate from the in-law suite, providing all the privacy you'd need for any use. Main house offers 2 bedrooms PLUS an office/den and a a lower level family room with additional office currently used as a bedroom by the current owners. This home's floor plan is so flexible that it'll suit anyone's needs. And don't miss the 1 car and 2 car garages with 2nd floor storage, the 1 acre lot with hillside views, rear deck, patio and so much more! It's a MUST SEE property offered at $380,000. Dir: From So. Wmspt, take Route 654 to Nisbet, Village Drive, to left on Johnson Drive, to right on Lorson Drive, thru stop sign to house on left. Watch for signs. Your Hostess: Nancy Ulrich 570.447.8851 Chris Wallace Realtor Direct 570-666-4516 Contact Chris Wallace 570.220.2897 THIS 2 UNIT would be a perfect owner occupied residence. It is situated on a corner lot. The rear 1 bedroom unit could help you pay the mortgage!! The front unit has 3 bedrooms. Photos are of the front unit at # 117. REDUCED $147,000 117-119 HUMES STREET Jersey Shore, PA 17740 WB-94787 Call Chris @ 570-666-4516 for info! www.TheChrisWallace.com http://usah.co/182
1948 East Third Street
Williamsport, Pa 17701
570-326-3333
VERY SPACIOUS 2 STORY home in Roaring Branch. Sitting on 1.5 acres, this property offers an attached four car garage and large breezeway connecting the garage to the house. Once inside you will find many possibilities of how you could make this home your own. The first floor features the kitchen area with walk-in pantry/storage room, formal dining room and living room, a family/game room, full bath, office area, and enclosed front porch. The 2nd floor has plenty of room to spread out in the 5 bedrooms, 2 bathrooms, and multiple walk-in closets. Lots of space for the price. Come take a look at the possibilities today!
$159,500 WB-95853 www.therealestatejournal.com/660352
TROUT RUN RANCH One floor living in Trout Run. 1.4 acres of level land within 2 miles of highway access. Beautifully renovated eat-in kitchen, with new flooring, cabinetry, appliances, and countertops. 1st floor stackable washer/dryer off the 3/4 bathroom. 2, 1st floor bedrooms and a bonus room - most currently used as a den. The lower level of the property has potential for additional square footage, but it is not completely finished. Could potentially be a family room, and more bedrooms. Double detached garage with 2nd floor storage. Front covered deck and attached carport. New metal roof was installed this year. This property has lots of potential, so come take a look today! $179,900 WB-95950 www.therealestatejournal.com/660334
SPACIOUS CAPE COD IN THE EAST END OF WILLIAMSPORT Don't let this Cape Cod home in the East End of Williamsport deceive you from the outside. Once you step inside you will be pleasantly surprised to find space galore. Spacious 1st floor layout consists of a formal living room, large eat-in kitchen, mudroom/laundry room, a cozy family room, 2 bedrooms and an updated 3/4 bath. The 2nd floor has 2 additional bedrooms, a full bath, and a bonus area that would make a great office space. Gas heat and central air. The outdoor space of the home is just as amazing with beautiful mature landscaping and patio areas throughout the yard, which consists of 2 lots. There is a detached single car garage with off street parking. $219,900 WB-95845 www.therealestatejournal.com/660337
LOOKING FOR COMMERCIAL PROPERTY? Real Estate ONLY. Look no farther than this well maintained property in Montgomery currently housing a dental & accounting office. Located approximately 2 miles from Route 15 Hwy and approximately 6 miles from I-180. Parking for 15, including handicap accessibility. Dental Office portion of building features a waiting room, reception office, main office, 4 exam rooms, sterilization room, 2 half baths, additional rooms, and unfinished rooms for potential expansion. The accounting office features a seperate entrance, reception area, half bath, and large office area. Many possibilities for this property sitting on 1.52 acres. Property was completely rebuilt in 2001. $435,900 WB-94331 www.therealestatejournal.com/103522
THE DEB WILLIAMS TEAM!
Deb Williams - Associate Broker 570-916-1643
Melissa Astin - 570-337-7910
See it all! www.therealestatejournal.comREJ 19 Call 866-978-1792 enter number on photo!
REJ 20 See it all! www.therealestatejournal.com Call 866-978-1792 enter number on photo! Howard Hanna Realty Pioneers 11564 Route 6 Wellsboro, PA 16901 www.stevensrealtors.com Office: 570-723-1600 "Home of the 100% Money Back Guarantee" Sandra Stevens 570.772.3778 thad@penn.com Let my experience benefit you. I have been listing & selling real estate for a total of 50 years, 39 in the Pine Creek Valley area of Potter and Tioga Counties. I would love to help you!
See it all! www.therealestatejournal.comREJ 21 Call 866-978-1792 enter number on photo! 607.286.0888 WWW.KENARRI.COM Ginny Chamberlain Judy JohnstonHazel Cummings Amanda Robicheaux Becky Birdsall Heather Borden Lindsey Johnson Hailey Williams licensed real estate salesperson PA licensed real estate salesperson PA licensed real estate salesperson NY/PA licensed real estate salesperson PA licensed real estate salesperson PA licensed real estate salesperson NY/PA licensed real estate salesperson NY/PA licensed real estate salesperson NY Stephanie Johnston c: 607.738.6446 stephanie@kenarri.com licensed real estate broker NY, PA & FL c: 607.738.1923 ginny@kenarri.com c:607.742.8682 christina@kenarri.com c: 570.478.3979 hazel@kenarri.com c: 570.529.4666 amanda@kenarri.com c:607.240.9404 becky@kenarri.com c: 570.529.1367 heather@kenarri.com c: 607.795.6132 lindsey@kenarri.com c: 607.333.5928 hailey@kenarri.com What's your destination? PA NY FL Scan the QR code to search properties to find your dream destination
LOOKING FOR A CAMP AWAY FROM THIS FAST PACED WORLD??
Tired of renting....here is an affordable home looking for some TLC and a new owner. 3 BR home overlooking town. Large yard for pets, gardening or just relaxing. A first floor bedroom with 2 additional bedrooms on second floor. A back room area off the dining room that can be finished as living space or used as a workshop as previous owners did. M MLS#31715800...$84,900 www.therealestatejournal.com/661661
TOP OF THE LINE DOUBLEWIDE! Stream with great views. Fireplace in the large living room to enjoy on a cold winter night. The living room opens to the kitchen and dining room. Nice heated & insulated 2 car garage for the toys, or autos. Soaker tub and walk-in shower in master bath as well as large walk-in closet. Large laundry/mudroom to come in out of the backyard. M MLS#31715698. . . . .$199,999 www.therealestatejournal.com/661413
LOOKING FOR A NEW BUSINESS VENTURE????? This popular, established pub/restaurant is looking for a new owner. The pride of ownership shows from the moment you walk thru the door. There is a malt beverage license that allows you to produce & sell your own beer as well as sell Pennsylvania ciders, wines & liquors. The license is included as well as the restaurant & brewing equipment.
MLS#31715499...$479,500 www.therealestatejournal.com/651668
OGM'S WILL TRANSFER WITH PROPERTY!!! This land is just over half an acre and has an old foundation but no information on the well or septic. The oil, gas and mineral rights will transfer with the property. A new driveway will need to be made as no one has been on the property in awhile. M MLS#31714425...$15,000 www.therealestatejournal.com/659451
3 BR FARMHOUSE IN THE COUNTRY!!! 3 BR Farmhouse in the country but still close to the boro limits of Wellsboro. This home has a large kitchen with island, large dining and living room for those large gatherings. The coal insert in the fireplace gives plenty of warmth on those chilly winter nights. A covered back porch with a view of the open fields thru out the neighborhood.
MLS#31714369...$184,900 www.therealestatejournal.com/655815
LARGE RENOVATED COMMERCIAL BUILDING!!! Large renovated commercial building on Rte 6 in town with many different income potentials. The downstairs currently houses a full-service Salon, the back part of the main floor is an efficiency apartment, and the upstairs is a 4-bedroom apartment with laundry. Outside entries to the apartments separate from the salon with a small, fenced yard for the upstairs tenant. M MLS#31714361 & MLS#31714409...$318,500 www.therealestatejournal.com/654606
INVESTORS!!! Starting near the edge of town in Blossburg, this property has the highly
SERIOUS PROPERTY
HIGH VISIBILTY & IN TOWN! Need a spot to house your business? This 1200sf cement block building on 0.83 acres could be just what you're looking for. With three overhead doors, a large walk-in refrigerator/cooler, and restroom, this former produce stand is waiting for a new owner. Appliance repair shop, wood working or metalwork shop, or auto repair shop are a few of the many business possibilities. M MLS#31714130. . . . . .$197,600 www.therealestatejournal.com/660211
MOTIVATED
MLS#31713919...$219,900 www.therealestatejournal.com/657636
BACK FROM UNDER CONTRACT!!! This doublewide has been updated with new flooring, new appliances and a lot of other upgrades. This is a large 3 bedroom 2 full bath home that sits in a little village at the end of a road. The home has a mostly open concept which makes for great entertaining! The yard is perfect for a garden and enjoying the outdoors. There is a nice sized barn/garage. MLS#31713852...$164,900 www.therealestatejournal.com/656919
REJ 22 See it all! www.therealestatejournal.com Call 866-978-1792 enter number on photo!
LOVELY BUILDING LOT WITH NICE POTTER COUNTY VIEWS!!! The lot is 1.67 acres and has a partial septic installed. There is electric, cell and internet service available. You can ATV or snowmobile out your front door. This is very close to Denton Hill, Cherry
Dark Skies and to State Land.
BUILDING OF A FORMER RESTAURANT LOOKING FOR NEW OWNER!!! Dining area, open view of kitchen....pretty much a clean slate just looking for your imagination and dream. Call for your tour today to see if it will work for you.
FOR SERIOUS
desirable feature of having twenty rental lots as part of Briar Patch Estates providing steady monthly income with all necessary preliminary work done for expansion. Current sites are all long-term renters. Three Seller owned properties ( 2 houses + 1 trailer ) will transfer as part of the sale. M MLS#31714202...$769,000 www.therealestatejournal.com/105977
Springs
MLS#31714082...$44,000 www.therealestatejournal.com/105485
MLS#31713963...$249,000 www.therealestatejournal.com/658332
in the country with great view looking for a new owner. This home has lots of character.
vinyl
to eliminate the upkeep of the logs.
to
or
would
with
to store
SELLER! Price Reduction. 3 BR 2 BA home
Once a log home that was
sided
Beautiful stone fireplace, back sunporch
watch the wildlife in the back field. Convenient to Williamsport, Mansfield
Corning. Home
also make a great camp/getaway
State Forest Land & trails not too far away. A large 2 car detached garage/workshop
your toys or hobbies in and still have a 1 car attached to the house.
LOOKING TO HAVE A BUSINESS & HOME ALL IN ONE? Bring your business to this ideal property boasting plenty of parking. It's only 1/2 mile to UPMC hospital in downtown Wellsboro PA . Formerly a chiropractic clinic layout is set up with 11 exam rooms, reception area, office, waiting room, a bthrm in patients room plus a 1/2 bath in the waiting area this space could be converted to apts. Adjoining the building is a nicely appointed 4 bdrm home to live in or rent! MLS#31713802 & 31713999...$465,000 www.therealestatejournal.com/656295 CHECK OUT THIS NEW WOODED SUBDIVISION!! Looking for a quiet, peaceful location to build your get away camp or home? This sale is for Lot # 10 that totals 2.85 acres and has access off Back Rd. only. Tri- County is the electric provider and the area has good cell service. Perc and probe test will be provided ASAP. Modular style homes may be acceptable with the sellers approval. MLS#31713542...$32,900 www.therealestatejournal.com/650362 OPPORTUNITY OF A LIFETIME!!! Whites Corner Automotive Garage is a great property for an investor or anyone who has dreamed of owning their own business. This well established local business is highly profitable and comes with a book of existing clientele. Fully equipped with two auto repair bays including 2 separate lifts, full size automotive paint booth, sand blasting station, tire balancer, parts wash station, leaf break machine, 20 ton press. M MLS#31713017...$299,757(2.53Acres) MLS#31715514...$334,757 (11.00 Acres) www.therealestatejournal.com/102571 LOOKING FOR A PEACEFUL LOCATION TO BUILD YOUR GET AWAY CAMP OR HOME? If so, you need to check out this new wooded subdivision! This sale is for lots 1&2 combined that total 5.18 acres and have access off Back Rd. or possibly from a 50' deeded right of way running through the middle of the subdivision. Tri- County is the electric provider and the area has good cell service. Perc and probe test will be provided ASAP. M MLS#31713525...$62,800 www.therealestatejournal.com/650129 GREAT BUSINESS LOCATION! Large lot with approx. 122' of road frontage and a mere half mile from the Rt.15/I-99 interchange. Plenty of parking on an already paved driveway. Prime business location close to Lowes, Walmart, and other large corporate offices and businesses. A sewer permit will have to be obtained to reconnect the sewer line from a previous building that was removed several years ago and there is an existing well. M MLS#31712983. . . .$89,900 www.therealestatejournal.com/660219 A GREAT COUNTRY LOCATION JUST MINUTES FROM TOWN!! This large multi-family home has great income potential. It was one large farm house converted into two rental units with separate utilities. This property is conveniently located 12 minutes from Wellsboro and approx. 20 minutes from Corning, NY. MLS#31712855...$199,900 www.therealestatejournal.com/652613 FOR SALE NOW!!! This cute little home is a great starter home or great for an individual. On the edge of town, close commute to Mansfield or Corning. MLS#31712819...$69,900
INCOME POTENTIAL GALORE!! This 2 acre (+or-) property has endless possibilities for INVESTORS or Home owners. This 2 unit can be converted to a single family home or leave it set up as is to help pay your mortgage! There is a 2 bedroom upstairs apartment and a 2 bedroom downstairs. It also has a 8 dog kennel completely set up and ready to open your grooming or boarding business!
Wellsboro Office 11564 Route 6 Wellsboro, PA 16901 1-570-723-1600 Coudersport Office 336 Route 6 West Coudersport, Pa. 16915 814-260-1464 Licensed in PA & NY • www.howardhannaprofessionals.com
www.therealestatejournal.com/651636
MLS#31711599...$195,000 www.therealestatejournal.com/100263
1948 East Third St. Ste A Williamsport, PA 17701 570-326-3333
Dave Williams Associate Broker
570-971-0371 Email: dwilliamskrcb@aol.com
Looking for a retreat in ''The Mountains''? This 81+ acre property in northern Lycoming County just off of the Steam Valley exit of Route 15 may just do! The property offers a nice mix of tillable land, woodlot, hilltop views, atv trails, tree stands and plenty of wildlife. The two story 2300+ sf home/cabin offers 5 bedrooms, 1 1/2 baths, large kitchen/dining area and great room complete with a wood burning fireplace and wet bar. It is being offered fully furnished, so gather the gang and head to ''The Mountains'' for your own private retreat! Call or text Dave Williams @ 570-971-0371 to schedule a tour of this getaway being offered for $550,000. (OGM'S are not available)
''Pizza 2 Go'' has been serving the Jersey Shore community for over 20 years by providing their fresh ''made from scratch'' pizza, legendary wings, sandwiches, homemade soups, salads and more for dine in, pick up on the go or free delivery within their service area. Their new 3650+ sf facility has a 1300+ sf climate controlled kitchen designed and equipped for turning out the quality and quantity of food prepared there daily. The 950+ sf upper level has 2 offices, private bath and break area. This stable and profitable business is being offered ''Turn Key'' and includes the real estate, equipment (FFE), R Liquor license (dine in/carry out), proprietary recipes and transition/training for the new Owner. Call Dave Williams @ 570-971-0371 for details on this business offered for $1,395,000
See it all! www.therealestatejournal.comREJ 23 Call 866-978-1792 enter number on photo!
REJ 24 See it all! www.therealestatejournal.com Call 866-978-1792 enter number on photo! 1-855-298-2361 In as little as 3-5 days! Our refacing process delivers a new look and upgraded functionality to your kitchen in a fraction of the cost and time! We Make It Easy To Transform Your Kitchen! Less Mess Save Time $ Save Money Customized 24 * MONTHS 0% INTEREST SPECIAL OFFER *Offer expires: 1/15/2023. Offer valid with purchase of custom cabinet renewal from Kitchen Saver. Must be presented and used at time of estimate only. details. Cabinet style and feature availability varies by location and may be different than pictured. PA HIC #PA063180, DE Contractor #2013605887, Ohio NO INTEREST UNTIL 2025!
THIS FARMHOUSE IS IN A PERFECT LOCATION! The house is move in ready and waiting for some TLC to make it their own! With 2 septic tanks the property also boasts rental income from a trailer on the northwest corner. There is a large barn on the property for the hobby farmer to have a few animals or even a workshop. $149,900 MLS 31715851 www.therealestatejournal.com/655727
THIS MAGNIFICENT VICTORIAN HOME IS AVAILABLE FOR RENT! The first floor has an updated kitchen with newer cabinets and countertops, living area with a sitting room, formal dining area, bedroom&bathroom. The 2nd floor has a master bedroom with a walk in closet, 2 more bedrooms, office/bedroom, laundry room, storage area&bathroom. $ $2,500/month MLS 31715687 www.therealestatejournal.com/655226
LOCATION, VIEW&PRIVACY JUST OUTSIDE OF TOWN, THIS PROPERTY HAS IT ALL! Views of Cowanesque Lake from the kitchen window, porch&yard to enjoy breath taking sunrises&sunsets in this 4 bedroom, 2 bath raised ranch. The full basement boasts a finished bedroom and 3/4 bath while the additional room has finished walls&ceilings with concrete floors $ 215,000 MLS 31715824 www.therealestatejournal.com/661694
THIS 3 BED 2 BATH CAPE COD SITS ON 12 ACRES BORDERS STATE GAME LAND! 2 car garage with attached stable along with fenced in area is perfect for a hobby farmer. The grounds include a pavilion&access to a stocked pond. This home is full of potential with a first floor master and 3/4 bath. Living room has wood stove, perfect for cold winter nights. $269,900 MLS 31715805 www.therealestatejournal.com/652976
ABSOLUTELY ADORABLE HOME! Property offers garage with new roof, paved driveway and very large back yard. Home features bright cheerful rooms, large open kitchen with dining area, 3 or 4 bedrooms, new carpet, many new windows, and some hardwood flooring. All this on a quiet back street. $ $149,000 MLS 31715803 www.therealestatejournal.com/652150
LOCATION, LOCATION! THIS HOUSE HAS THAT AND SO MUCH MORE. Spacious two Bedroom, 2 bath home. Was once a three-bedroom home and could easily be converted back. Plenty of room to spread out and enjoy this yard, which has wonderful shade trees to relax on a warm day. Conveniently located to nearby shopping and walking distance to town. M MLS 31714480 $229,950 www.therealestatejournal.com/650611
LOCATION! LOCATION! LOCATION! 4 acres of wooded bliss offers the privacy and convenience of being just outside of town. This home is handicapped accessible and has a new metal roof. Property is perfect as a fixer upper or build your own dream home or cabin with gorgeous views of the countryside. M MLS # 31714451 $125,000 www.therealestatejournal.com/659759
PRESTIGIOUS HOME LOCATED IN THE QUANT TOWN OF HOLIDAY! Owners have renovated with many upgrades. The kitchen has all-new stainless-steel appliances & built-in microwave, refrigerator, wine cooler, & washer and dryer. 5 bedrooms, attached 2 car garage with heated workshop. Short walk to State Land for the hunting enthusiast. $347,900 MLS 31714325 www.therealestatejournal.com/653922
WELL MAINTAINED 3 BEDROOM HOME IN DOWNTOWN WELLSBORO. Lots of cosmetic updates&beautiful wood floors, this home offers a large living area & an easy flow to dining&kitchen areas. At the back of the house you will find a large family room with a brick gas fire place and pegged oak floors. Detached garage with paved shared driveway. $ $189,900 MLS 31715773 www.therealestatejournal.com/661599
THIS INVITING 1 ACRE LOT WILL PROVIDE YOU PEACEFUL ENJOYMENT. Nestled in the beautiful, picturesque hills of Canton. A true handy-man's special needs an extreme flip or park a camper or RV and build your dream home. Utilities at the road, however it has been cut at the house and will need to be reconnected. Also located on the property is a detached concrete/block single car garage. MLS# 31714040 $ 57,000 www.therealestatejournal.com/105331
See it all! www.therealestatejournal.comREJ 25 Call 866-978-1792 enter number on photo!
135 W. Main Street Westfield, PA 16950 E­Mail: reallyruralrealestate@verizon.net Office: (814) 367­2222 Fax: (814) 367­5195
READY FOR YOUR DREAM HOME IN THE COUNTRY...ON 2.13 ACRES! Turnkey modular on full partially finished walkout basement and 2.13 acres. Open kitchen-dining area with beautiful tile in a herringbone pattern that continues down the hallway. Large master bedroom with a huge en suite. Beautiful hardwood floors in living room and all upstairs bedrooms and beautiful tile in kitchen, dining and bathrooms. New roof this year, new windows, new flooring, you name it it's been replaced. An enclosed in back porch complete with a hot tub for you to relax in after a long day. The deck at the front of the house comes with an enclosed storage area beneath. Sit on your porch enjoy your favorite drink and watch the sunrise or sunset while taking in the peace and quiet. You never know you may even see a buffalo or two, or a herd of elk.Take a look today this one won't last long. $ $295,000 www.therealestatejournal.com/661943
QUAINT 3 BEDROOM HOME located on a large double lot in "Rubber Town". 2 car attached garage with spacious upstairs. Could be a man cave or extra storage. Spacious kitchen for entertaining.2 baths for a busy family. Coudersport Schools. Take a look. You will be impressed. $185,000 R-1005 www.therealestatejournal.com/661749
LOOKING FOR LAND? Check out this 47.53acre plot in Clymer Township Tioga County. The lot is open and wooded. Fronts on a township road and has been perced for a conventional system. Take a look. Build you dream home here or use it for recreational purposes.
$242,303 R-1004 www.therealestatejournal.com/661748
COUNTRY SETTING T4 bedroom, 3 bath home on 2 acres is awaiting a new family. Full walkout basement, forced air heat and lots of space for all. Home needs some TLC built in 2010. Taxes are $2550. Northern Potter Schools. Take a look. R Reduced $225,000 R1002 www.therealestatejournal.com/661574
BEAUTIFULLY REMODELED 4/5 BEDROOM HOME ON QUIET STREET
Recently reduced by motivated seller!!! Beautifully remodeled 4/5 bedroom 2 bath home on quiet street in Westfield. Fenced back yard with a portion being for pet and other for human enjoyment. Enclosed back porch and covered front. Kitchen has a breakfast bar and a dining area. Downstairs bath is spacious and also has a jacuzzi tub. Lots to see here. Call today for your appointment. $ $165,000 MLS 31715552 R-1001 www.therealestatejournal.com/656233
LET'S GO TO THE COUNTRY! 177 acres of open and wooded land. Lots of road frontage on paved road. This property is located in Harrison Twp. Potter County. Enjoy the 4 bedroom, 2.5 bath home that needs a few finishing touches. Full basement with a 4 zoned hot water baseboard heat. Your dream come true. $ $799,000 R-999 www.therealestatejournal.com/659449
AFFORDABLE HOME OR CAMP Single wide mobile home with an addition on .75 acre in Genesee Township. 4 bedrooms, 1 full bath, 100 amp service and partial basement. Plenty of space to entertain outside. Not too far to Coudersport or Wellsville, NY. Take a look. $75,000 R-998 www.therealestatejournal.com/650926
REJ 26 See it all!
Call
www.therealestatejournal.com
866-978-1792 enter number on photo!
R ural eally R
"Our Job Is To Get You Moving."
REAL ESTATE www.reallyruralre.com Sally DeLong 814-848-7349 Angela Gorg 570-404-4209
See it all! www.therealestatejournal.comREJ 27 Call 866-978-1792 enter number on photo! Helpi aPlulls ngamsbec dre exterfesroriesto o omeeality r aitarestorndone-ngifoor Free matesstiE Fully and mates censed bmadre 7)075(2 w uolloF mogsllc.cildinub 6 2-7 202 skocebo onFa d Helpi aPlulls ngamsbec dre exterfesroriesto o omeeality r aitarestorndone-ngifoor Free matesstiE Fully and mates censed bmadre 7)075(2 w uolloF mogsllc.cildinub 6 2-7 202 skocebo onFa d
REJ 28 See it all! www.therealestatejournal.com Call 866-978-1792 enter number on photo!---- - -
Dori
220-7638
Kristi Gee . . . . . . . . . . . . . . . . . . . . .(607) 425-7085
Annette Harmon . . . . . . . . . . . . . .(570) 447-3923
Scott Wilcox . . . . . . . . . . . . . . . . . .(570) 971-8002
Wayne Zohner . . . . . . . . . . . . . . . .(570) 220-3043
Sandra Wilson, Broker . . . . . . . .(570) 724-5921
Suzeahn Hunt . . . . . . . . . . . . . . . . .(607) 857-9749
Kristy Hartman . . . . . . . . . . . . . . .(570) 439-9186
Jon Wheeler . . . . . . . . . . . . . . . . . .(570)-463-1987
Jodi Niver . . . . . . . . . . . . . . . . . . . . .(570)-404-0910
See it all! www.therealestatejournal.comREJ 29 Call 866-978-1792 enter number on photo! CENTURY 21 Gold Star Real Estate 78 Main Street • Wellsboro, PA 16901 (570) 724-5921 e-mail: c21wd@yahoo.com Visit our website at: www.century21goldstarrealestate.com
.
Becker . . . . .
. . . . . . . . . . . . .(570)
Each Office Is Independently Owned and Operated WELL MAINTAINED RANCH HOME ON 1/2 ACRE LOT!Between Wellsboro and Mansfield. Eat in kitchen/dining, large living room, 2 bedrooms & bath, on first floor. Basement has a bedroom, laundry room and an area used as a family room. Fenced in lawn, deck, 2 car detached garage, and a paved driveway on a beautifully landscaped lot. New Generac generator and water softener included with sale. MANSFIELD REJ#31714200 $239,900 www.therealestatejournal.com/655262
REJ 30 See it all! www.therealestatejournal.com Call 866-978-1792 enter number on photo! © 2022 Consumer Cellular Inc. Terms and Conditions subject to change. New service activation on approved credit. Cellular service is not available in all areas and is subject to system limitations. New customers receive $50 for a new account activated by December 31, 2022. Offer will be applied as two monthly credits of $25. Credits will be made to customers invoice and will not be in excess of the monthly total. If the balance is less than $25, remaining credit will be forfeited. Promotional credits will be applied to customer's account and remain valid only for accounts remaining in service. If account becomes inactive for any reason prior to receiving the full amount, any remaining credits will be forfeited. Offer may be modified or discontinued at any time and may not be combined with other limited time offers. Offer not redeemable for cash, has no cash value and is not transferable or refundable. Offer cannot be redeemed in retail locations. Half the cost savings based on the cost of Consumer Cellular's single-line, 5GB data plan with unlimited talk and text compared to the lowest cost single line post-paid publicly offered by all major wireless carriers, August 2022. All other products are trademarked by their respective manufacturers. Phones are limited to stock on hand. For J.D. Power 2022 Wireless Customer Care Mobile Virtual Network Operator Study award information, visit jdpower.com/awards AARP commercial member benefits are provided by third parties, not by AARP or its affiliates. Providers pay a royalty fee to AARP for the use of its intellectual property. These fees are used for the general purposes of AARP. Some provider offers are subject to change and may have restrictions. AARP MEMBERS RECEIVE A 5% DISCOUNT ON MONTHLY SERVICE. CALL CONSUMER CELLULAR 844-437-0962 NOW THROUGH DECEMBER 31, 2022 ON ANY NEW ACCOUNT THIS HOLIDAY SEASON! USE CODE: GIFT50 Get $5O AWARDED BY J.D. POWER 13 TIMES IN A ROW "#1 in Customer Service among Value MVNOs." EXACT SAME PREMIUM COVERAGE As the Major Carriers for Half the Cost NO CONTRACT PLANS We offer unlimited talk and text with a flexible data plan starting at just $20/month. NATIONWIDE COVERAGE PLANS
BEAUTIFULLY REMODELED and ready for new owners! This stately two story home located just outside of Mansfield has been through an extensive renovation. First floor has a brand new kitchen with new appliances, cabinets and a large dining area. There is a bedroom, laundry room and full bathroom on first floor as well! Large Living room with beautiful original hardwood floors and a large picture window. Head upstairs and you will find two more bedrooms and a Half Bath. New Roof, siding, windows, heating system, deck, sidewalk, insulation, septic system, electrical upgrade, flooring, and many more improvements in 2022! Nice covered front porch and a new rear covered deck to enjoy the views of the rolling hills of Pennsylvania. Zoned both Residential and Commercial, this 1.46 acre property is conveniently located on Route 6 just minutes from Wellsboro and Mansfield and the Route 15/I99 interchange for a quick commute to Corning or Williamsport. Call for your tour today!
31715855 $269,000 www.therealestatejournal.com/661942
Terry Bryant, Broker (570) 724-8000
Dawn Avery (570) 439-1869
Misty Gardner (570) 439-6444
Scott Lewis (570) 439-0116
Cathy Shumway (570) 787-3259
Tony Hilfiger 570-463-5171
HERE'S A VERY SPACIOUS RANCHER hidden on 3.1 acres in the countryside of Germania. This nicely kept 3584 sq ft home, built in 2003, has poured-wall foundation, 200-amp service w/generator hookup, Central air, and 2 levels of living space. The 1st floor offers open kitchen and dining area, 2 living areas separated by the entry foyer, powder room/laundry room, 3 bedrooms, 2 full baths (master bath has a whirlpool tub): the lower level offers a spacious (555 sg ft) recreation room w/bar, bedroom, 3/4-bathroom, office/bunk bedroom, cold storage area, amply workshop/utiltty area with ground level walkout. This property also has central air and a generator hook-up. This is all situated just uphill from the center of town, the General Store, Trails End at the Waldheim restaurant, and the Germania Hotel. There's a large 1,625 sq ft storage/meeting building with gas, electric, and water just below the home. Snowmobile and four-wheeler trails are right there in the area.
REJ31715779 $340,000 www.therealestatejournal.com/661937
Kathy Zavetsky (570) 404-1900
John Johnston (570) 439-6007
Dick Pino (570) 404-0852
Diane Young (570) 724-8000
Nancy Furlong (570) 916-1863
Mark Spencer 570-916-54085
See it all! www.therealestatejournal.comREJ 31 Call 866-978-1792 enter number on photo! SAVINGS SUGARLOAFWEST HAZLETONBLOOMSBURG OPENT O O DOORT HE L opy e lra n@e airb k! oobecanFFa s odun iF Fi AF AR G SU 788-6620 (570) 788-6639 x (570) T HA SEW (570) x (570) moc.ycnega lli .c ycnega lli opye r c o m f fo o.c ecna ursin eir o eo t G il ate t d cdu d p n e aur snec li NOT LEZ 459-5060 459-6476 MSB OOLB 16-003(570) yna mpo G UR 65 Main Street, Wellsboro, PA 16901 (570) 724-8000 www.pennoakrealty.com
REJ 32 See it all! www.therealestatejournal.com Call 866-978-1792 enter number on photo! • RE/MAX BRIDGES 2006 W. Market Street Lewisburg, PA 17837 570-768-4792 • RE/MAX RIVER VALLEY REALTY 166 Eighth Street Northumberland, PA 17837 570-473-8888 • RE/MAX Bridges - Watsontown 210 Main Street Watsontown, Pa.17777 570-538-2582 Keith Crebs 570.850.8420 keithcrebs@remax.net Katie Hilliard 570.847.8922 katiehilliard@remax.net Christian Castro 570.898.5686 christiancastro@remax.net Helen Martin 570.274.1950 helenmartin@remax.net Jessica Brooks 570.473.8888 jessica.brooks@remax.net Tiffany Forman 570.490.6039 tiffany.forman@remax.net Steve Slotter 570.850.6300 steveslotter@remax.net Lewisburg Agents.............. Northumberland Agents.............. Ann M. Hilliard Broker 570.850.7329 annhilliard@remax.net As we celebrate and give thanks, what better time to tell you, our clients, howgrateful we are for your confidence in our business. Working with you year-round is an honor and a privilege, and we look forwardto continuing our partnership next year. Wishing you and your loved ones a very Merry Christmas and a Happy New Year! Joe Meehan 215.407.3873 joseph.meehan@remax.net