2022/23 Experience Guide
Go for a pedal-powered urban adventure Calgary is yours to explore
and the Canadian Rockies
visitcalgary.com/visitor-hub chat now Chat with our local experts for insider tips on things to see and do. Skydive indoors. See Elton John's piano. Try gravity powered Mario karting.
GET INSIDER ADVICE, VISITOR INFO & SERVICES
Value your time – whether you are planning or need a quick question answered about Calgary, chat with our local experts for insider tips on safely exploring, discovering hidden gems, hot deals, maps, guides and more!
7 TRAVEL TIPS TO SAFELY EXPLORE DURING THE PANDEMIC
Check on current domestic and provincial travel guidelines and restrictions before you visit. COVID-19 TRAVELLER UPDATE
RESOURCES
Plan ahead with advanced booking, timed-entry ticketing and knowing safety measures put in place by the businesses. Many attractions, tours, experiences and events require pre-booking before you visit.
Be prepared with your proof of vaccine or a privately paid negative COVID test (within 72 hours) to enjoy dining in, nightlife, attractions, events and more.
Stop by the Calgary International Airport InfoCentres in the domestic terminal upon your arrival for in-person visitor information.
Calgary maps and guides can be found year-round at the Calgary Tower (101 - 9 Ave., S.W.).
Travel Alberta Visitor Information Centres are located throughout the province. Go to travelalberta.com for a full list and map.
Head to visitcalgary.com/visitor-hub for inspiration on where to shop, eat or drink and what to do and experience in the city, including what's happening, accommodation information and deals.
Bring your device! Many food and drink menus are now accessed by scanning a QR code on the table.
Follow directional signage and maintain two-metres distance when possible in shops, restaurants and attractions.
Confirm operating hours by checking directly on business websites and social channels.
Support local businesses and leave an online review.
3
WITH TOURISM CALGARY 7 DAYS A WEEK BY:
CONNECT
LiveChat on visitcalgary.com Facebook Messenger info@tourismcalgary.com 1-800-661-1678
SHARE YOUR EXPERIENCES ON SOCIAL MEDIA @TourismCalgary #CaptureCalgary @TourismCalgary #CaptureCalgary facebook.com/tourismcalgary
1
2
3
4
5
6
7
PHOTOGRAPH: AJ_WATT, COURTESY i STOCK TIPS & VISITOR INFORMATION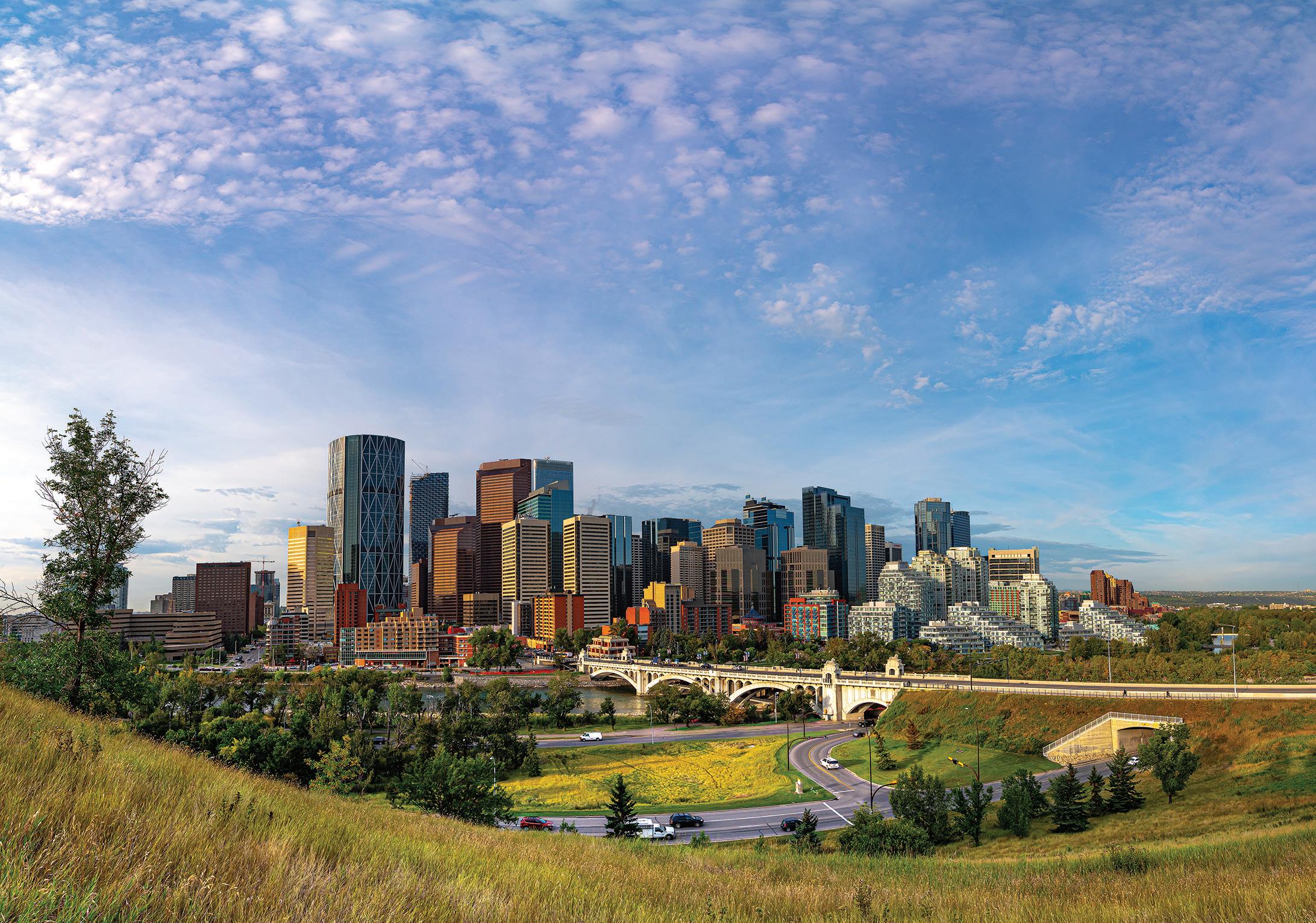 TIPS & VISITOR INFORMATION � � � � � � � � � � � 3 GETTING AROUND How to navigate the city 6 EVENTS IN CALGARY � � � � � � � � � � � � � � � � � � 8 SNAPSHOT HOT SPOTS The most scenic and intriguing places to snap a photo 10 ALBERTA'S FIRST PEOPLES Delve into rich Indigenous cultures and history 12 SADDLE UP Experience Wild West activities and exhibits 13 ALL GOOD IN THE NEIGHBOURHOOD Discover the best of Calgary's unique districts 14 MUST-SEE ATTRACTIONS IN CALGARY � � � � � 20 URBAN RIVER ADVENTURES 22 RAINY DAY GUIDE � � � � � � � � � � � � � � � � � � � 23 ROCK THE CITY Where to hear live music � � � � � � � � � � � � � � � � � � � 24 CHEERS! Tour Calgary's craft breweries and distilleries 25 7 SIGNATURE FOODS Where to taste dishes made with local ingredients 26 PERFECT PATIOS � � � � � � � � � � � � � � � � � � � � 27 THE WINTER WONDERLAND WEEKEND GUIDE 28 THE ULTIMATE CALGARY SUMMER WEEKEND GUIDE � � � � � � � � � � 30 DISCOVER MORE 32 BEYOND THE CITY Mountains, fossils and more just a short drive away4 34 IN THIS GUIDE Calgary and the Canadian Rocky Mountains Summer/Fall 2021 Experience Guide Every effort is made to ensure the information is accurate at time of publishing. Tourism Calgary assumes no responsibility for any unpredictable errors, changes and/or omissions. Content may not be reprinted without written permission from Tourism Calgary. PRINT THIS GUIDE For best quality, download this guide to print 4
In partnership with
PHOTOGRAPH: COURTESY i STOCK