The Rant
SARAH STRONG
The nation's top HS basketball prospect leads one of the nation's best teams
OCTOBER 2023 TAYLOR'SVERSION NEW RENDERINGS OF SPORTS COMPLEX | FAMILY DAY AT THE JETPORT | HALLOWEEN EVENT CALENDAR
SARAH STRONG GRACE CHRISTIAN SCHOOL
FALL IS HERE!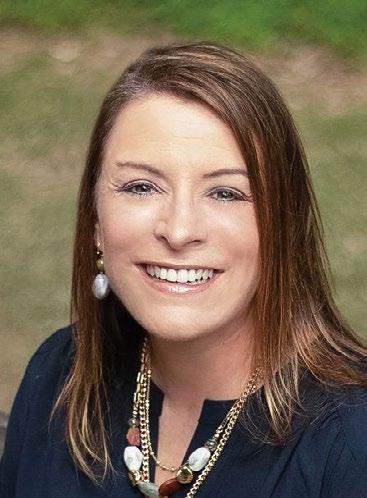 2 | October 2023 @therant905
Gina Allen
Rachel Beauchemin
Michael Davis
Amy Lyczkowski
John Ramsperger
Jenn Tinsley
Roger Lyons
Kellie Klein
Lena Jamerson
Trusted Real Estate Professionals that know this market and are ready to help you.
Matt Dilworth
The RantMonthly
September 2023 | Sanford, North Carolina
A product of LPH Media, LLC
Vol. 5 | Issue 10 | No. 55
Editorial
Gordon Anderson | gordon@rantnc.com
Billy Liggett | billy@rantnc.com
Jonathan Owens | jonathan@rantnc.com
Richard Sullins | richard@rantnc.com
Advertising
Brandon Allred | brandon@rantnc.com
(919) 605-1479
Contributors
Ben Brown, Charles Petty
Editorial Board
Peter Robbins, Sally Dryer, Christopher Shea, Cathy Steinberg, Bill Melendez, Glenn Mendelson, Ann Altieri, Lisa DeFaria and Gabrille Ritter
Find Us Online: www.rantnc.com
Facebook: facebook.com/therant905
Twitter: twitter.com/therant905
Podcast: rantnc.podbean.com
The Rant Monthly is located in beautiful Sanford, North Carolina. Please address all correspondence to LPH Media LLC, 3096 South Horner Boulevard #126, Sanford, NC, 27332. Editorial email: gordon@rantnc.com or billy@rantnc.com. Advertising: brandon@rantnc.com.
The Rant Monthly is published monthly.
The Rant Monthly is wholly owned and operated by LPH Media LLC, a North Carolina corporation. Submissions of all kinds are welcome. This publication is free — one per reader, please. Removal of this newspaper from any distribution point for purposes other than reading it constitutes theft, and violators are subject to public flogging and ridicule. Printed by Restoration News Media LLC in Raleigh, NC.
Copyright 2023, LPH Media LLC, all rights reserved.
The Rant Monthly | 3 rantnc.com
The best in the nation, playing in our backyard
Remember the name "Sarah Strong." She's not just a great basketball prospect playing for possibly the best girl's basketball team in the state.
She is the top basketball prospect in the nation, and she and her Grace Christian Crusader teammates have a lot expected of them heading into this season.
That's a lot of pressure for anybody, much less a teenager. But in our short time spent with Sarah, her father Danny Strong and her coach Chad Revelle for this month's cover story, we've come away with the impression that the spotlight doesn't bother her. As impressive as she is on the basketball court, she has a positive attitude and a genuine respect for the game, her opponents and her teammates that will carry her far.
Those of us who are parents and those of us who encourage our kids to try sports may not expect our kids to one day become "the No. 1 prospect in the nation." But like that feeling when you buy that Powerball ticket with impossible odds, there's a sliver of hope that the boy or girl who can barely dribble a basketball, kick a soccerball or throw a baseball will one day be a pro.
When it does happen — and when it happens in your backyard — it's a big deal. In the past, The Rant has dedicated cover stories to Desmond Evans — now a defensive end for the nationally ranked UNC football team — and Thomas Harrington,
Friend of The Rant and photographer extraordinaire Ben Brown spent an afternoon at Grace Christian School in September to capture images of Sarah Strong and her Crusader teammates as they prepare to defend their back-to-back state titles this year.
a first-round Major League Baseball draft pick and All-American in college.
As talented and dedicated to their sports as Evans and Harrington were and are, they never had the weight on their shoulders that Sarah Strong will carry this season. Our cover story celebrates her success and the success of her Grace Christian teammates, and we hope it gains her new fans in a community that's becoming quite the hotbed for high school sports.
— Billy Liggett
4 | October 2023 @therant905
The
OCTOBER 2023 TAYLOR'SVERSION NEW RENDERINGS OF SPORTS COMPLEX FAMILY DAY AT THE JETPORT HALLOWEEN EVENT CALENDAR The nation's top HS basketball prospect leads one of the nation's best teams SARAH STRONG GRACE CHRISTIAN SCHOOL
Rant
SARAH STRONG
FOUR
HALLOWEEN
COSTUMES EVERYBODY WILL WEAR IN '23
Barbie & Ken This one's obvious. You can counter the trend by going as Oppenheimer this year.
Wednesday Adams Everybody wore this one last year, and they'll wear it again this year.
Taylor & Travis
All you need is a bedazzled bodysuit and a Chiefs jersey and you're all set.
COLD OPEN 119 Wicker
10-5
us on social media for our latest looks @shopmorgansmenswear Search Morgan's Menswear
The Rant Dress like your favorite local journalists, and you'll be a Halloween Hit!
Street Downtown Sanford Hours:
Tuesday-Friday, 10-4 Saturday Find
The Rant Monthly | 5 rantnc.com
SUBDIVISIONS, TRAMWAY WAFFLE HOUSE COMING TO SANFORD SOON
An agenda for the Sanford-Lee County Planning Department's Technical Review Committee September showed plans for a new Waffle House restaurant in Tramway and two new subdivisions totaling more than 350 homes.
The Waffle House is proposed for the intersection of U.S. 1 and Tramway Road, behind the Circle K and Dunkin' Donuts locations in the area.
The subdivisions, Tucker Townes and Adams Village, are proposed for the intersection of West Garden Street and Firetower Road and the intersection of Lee Avenue and Wilson Road, respectively.
SANFORD CONTRACTORS AWARDED BID TO BEGIN WORK ON SPORTS COMPLEX
By Richard Sullins richard@rantnc.com
A local contracting company will be leading the construction work to create Lee County's Multi-Sports Complex following a unanimous vote in September by the county board of commissioners. Unless some unforeseen circumstances come up, equipment could be on-site and moving earth as early as the first of November.
Sanford Contractors submitted the lowest base bid for the project, coming in at $26,817,160. Two other firms also submitted bids for the complex, BAR Construction Company of Greensboro ($27,517,000), and Conti Civic of Garner ($42,961,442).
Sanford Contractors' bid also includes bids for two add-ons to the project if funds are available after the base bid is completed. The first is $3,628,437 for additional restrooms and two natural turf fields. The second alternate would construct a compacted earth walking trail at the complex at a cost of $116,796.
A separate series of votes paved the way for financing the project. The commissioners approved the issuance and sale of $25 million in Limited Obligation Bonds for initial funding, along with the execution of the legal documents to authorize the sale.
The Local Government Commission approved the sale of the bonds on the morning of Sept. 19, and before the end of
business that afternoon, they had been sold for just under $26.7 million.
A LONG AND WINDING ROAD
It's been nearly three years since Lee County voters approved a $25 million bond referendum that approved the complex in the November 2020 election by more than 58 percent, but progress toward the start of actual construction has characterized by fits and starts.
The property itself is located near the intersection of the U.S. 421 bypass and Broadway Road, on a 119.82 acre lot. A portion of the land was donated to the county by the Stewart family and the remainder was purchased from the
Tucker Townes would consist of "67 dwellings, including 25 rear-loaded townhomes fronting existing thoroughfares," according to the agenda. Adams Village would be 300 homes total, with a mix of townhomes and single family residences.
The agenda also shows the committee will review proposals for a new 11,300 square foot manufacturing, science, and technology structure on the Pfizer campus, a Triangle Ready Mix concrete facility on Industrial Drive, and a proposal to use an existing building at 1715 Spring Lane, Spring Lane Assembly of God, for a residential group care facility called Sandhills Teen Challenge.
The Technical Review Committee is comprised of local officials from various city and county government entities representing Sanford, Lee County and Broadway. The committee meets monthly to review commercial projects and major subdivisions for compliance with the codes and policies of various local departments. Committee members make no guarantee that the projects submitted for review will be developed — only that they fall under compliance.
The Rant Monthly | 7 rantnc.com
CONTINUED, NEXT PAGE MULTI-SPORTS COMPLEX
Lee County released several digital renderings of the Multi-Sports Complex, which could begin construction as early as November following a vote to award construction to Sanford Contractors.
Myrtle Matthews Poe property in 2021 for $1,914,000. The county had spent the early part of that year performing due diligence work at the site before making its investments.
The McAdams firm from Durham, a civil engineering, land planning, landscape architecture and geomatics company, was selected as design firm in 2022, and it was when McAdams brought its first cost estimate the same year that things went sideways. A shortage of building materials and runaway inflation brought on by the COVID-19 pandemic caused the projected costs for the project to more than double, ballooning from $25 million to more than $70 million.
The commissioners paused all plans for the project to consider whether it could even be done in the prevailing economic environment. As inflation began to cool late in the summer of 2022, they voted by a 6-1 margin to authorize McAdams to move forward with creation of the construction drawings.
Hard decisions were made in November when McAdams returned with plans to bring the project under budget, but it meant the elimination of "championship" fields for soccer and baseball. The final plans do include
four baseball and softball diamonds, one of which could be used by the Sanford Spinners — the city's local summer league squad — and several fields for soccer.
The final designs were completed in the spring of this year, and they went out for bid to contractors in late July. (Editor's note: the complex does still include fields for baseball, just not a "championship" field as had been previously planned. See clarification here.)
But there is still plenty to take care of if construction is to start on time. The state Department of Transportation has determined that no enhancement fee will be required for the control of access break across the widened section that is being planned of Broadway Road at the entrance to the complex, and roadway improvements and driveway permits have yet to be negotiated. Contract negotiations with Sanford Contractors must be concluded, and all necessary construction permits will have to be obtained.
PROJECTED ECONOMIC IMPACT
The commissioners' vote in September clears the last major hurdles toward the startup
8 | October 2023 @therant905
I am authorized to do business in the state of North Carolina. Guild Mortgage Company; NMLS #3274; Equal Housing Opportunity; www.nmlsconsumeraccess.org. All information, loan programs & interest rates are subject to change without notice. All loans subject to underwriter approval. Terms and conditions apply. Always consult an accountant or tax advisor for full eligibility requirements on tax deduction. Scan me Chet Mann Area Manager NMLS ID# 171268 212 Hawkins Ave Sanford, NC 27330 M: 919.356.7272 teamchet@guildmortgage.net Apply Online guildmortgage.com/chetmann We've moved! I've joined Guild, a top mortgage lender with a track record of customer excellence for 60+ years.
of the engines on the giant earthmoving equipment where the complex will one day serve the many youth soccer programs in the county, as well as serving as the host site for regional soccer tournaments.
Families from across central and eastern North Carolina, and potentially even from neighboring states, are projected to come to Sanford for weekend contests, which could turn into an economic bonanza for restaurants, hotels, and merchants in Lee County.
Jimmy Randolph, CEO of the Sanford Area Growth Alliance, spoke to the commissioners in February 2022 about the importance of the complex to the region's growing economy.
"As the demand for our labor force has continued to grow, it's world-class amenities like this that will help our community to continue to grow even more," he said at the time.
"As more and more high-quality residential options become available in Lee County, it may be that amenities like the MultiSports Complex determine whether a new generation of citizens decides to become tax paying citizens or live somewhere else."
Lee County released several digital renderings of the MultiSports Complex, which could begin construction as early as November following a vote to award construction to Sanford Contractors.
The Rant Monthly | 9 rantnc.com
10 | October 2023 @therant905
Be Aware. Take Action. Fight Breast Cancer.
Schedule a mammogram today.
Be Aware. Take Action. Fight Breast Cancer.
Schedule a Mammogram Today.
October is Breast Cancer Awareness Month. But battling cancer requires more than awareness. The best way to fight cancer is to detect it early – when the odds of successful treatment are highest.
October is Breast Cancer Awareness Month. But battling cancer requires more than awareness. The best way to fight cancer is to detect it early – when the odds of successful treatment are highest. This month, step beyond awareness into action by scheduling your screening mammogram. Most women should get their first mammogram at age 40, and repeat based on their provider's recommendations.
This month, step beyond awareness into action by scheduling your screening mammogram. Most women should get their first mammogram at age 40, and repeat based on their provider's recommendations.
With awareness and action, you'll be empowered to fight breast cancer.
To schedule your mammogram, call 919.774.2157
With awareness and action, you'll be empowered to fight breast cancer.
To schedule your mammogram, call: [phone number]
The Rant Monthly | 11 rantnc.com
© 2023 CSR-WF973908, EOE
KUDOS TO THE TEACHERS WHO SPOKE UP
We already knew that Lee County has some pretty amazing teachers. They can be variously described as thoughtful, dedicated, resourceful, passionate and more. In September, we learned about another quality our teachers possess: bravery.
When Lee County Board of Education Chair Sherry Womack took credit for an increase in standardized test scores at Lee County High School — "last year's performance validates the many vital changes the Lee County Board of Education began since last December," she said in a Sept. 6 press release touting the increase — that didn't sit right with four teachers in the school's Math Department.
They knew the countless hours of work both on their part and on the part of their students that went into removing LCHS from the state's "low-performing" status. They knew the current school board majority took over in December, just a month before the first round of testing. They probably also noticed that Womack didn't make any mention of "vital changes" that, by her logic at least, were responsible for other schools which earned lower grades.
So they decided to do something about it. Three of the teachers attended a school board meeting a week later to put to rest the idea that it was anything other than hard work by all involved — students and teachers — that led to the increase. A fourth wrote a letter to the board expressing the same sentiment.
It was a risky move. Teachers work for principals, and principals work for the superintendent, who works for the school board. But it's the school board that has the final say on contracts for teachers. And although it would be an enormous blunder to retaliate against any teachers in a time when it's incredibly difficult to find them at all, it's hard to be inside the minds of people who appear to be comfortable taking credit for someone else's work.
Congratulations to these four teachers for speaking truth to power. They've proven again that they are assets to their community and examples for their students that are as valuable as any academic achievement.
OPINION
TEACHERS APPLAUDED FOR SCHOOL BOARD CHALLENGE
A group of Lee County teachers pushed back against the idea that the Lee County Board of Education should get credit for recent improvements in state rankings for Lee County High School. The story in The Rant in September drew more than 100 comments. Below are a few of them:
I am so proud of Kirby for standing up for her students. Lee County will lose outstanding teachers like Kirby, if the Board of Education can not at least acknowledge a job well done by staff and students. Teaching is a hard job. I did it for 30 plus years. If I were a member of the BOE, I would not want Womack speaking for me. What an embarrassment, at the least. Start showing appreciation for teachers, or Lee County schools will see more of their dedicated teachers leaving. And who could blame them?
Jackie Frie
Mrs. Womack has proven to be a self-serving opportunist since she has entered this school board. I witnessed her show up at a Head of Class celebration honoring an amazing school and staff that overcame huge barriers to help their students succeed beyond even their own belief. Students gave inspirational speeches and were recognized, as well as staff and teachers. As a board member, she showed up at the very end, took selfies with the banner to post on social media that she was there, then proceeded to exit the building without speaking to a single staff member or precious student from the school being recognized. Until our school board goes back to not being partisan — or our community starts looking into local candidates for more than their social media posts instead of just voting "straight ticket" — we will be stuck with humans like Mrs. Womack negatively affecting the future of our youth and community for their own selfish motives.
Daniel Lewis
"Dang right I'm excited to get out there and play. I was 10 years old when they first announced this sports complex."
A school board seat should not be a political position. As long as it remains so, and people vote straight tickets, we will have idiots with agendas on the school board. Is there any way to remove the political aspects of the school board election?.
Kathie Ziegler
I fully support Kirby Forbes and the other math teachers for standing up for themselves, their school and students. When was the last time you saw a school board member teach a class, let alone walk the halls to even know what's going on in OUR schools? Good job, Kirby. And if I'm not mistaken, a few of the board members are former teachers. Shame on them for trying to take credit away from the people who actually deserve it.
Brian McDonald
I am so proud of Kirby and her coworkers for standing up for the students of Lee County. Their hard work should be celebrated. We are surrounded by counties with higher supplements, which makes leaving Lee County a reasonable choice. No one wants to go to a county that doesn't value its employees.
Jill Bray
I commend her for standing up for the teachers. Teachers, support staff, etc. are what pushes the ranks for the school system. Yes, the BOE plays a role in it, but credit needs to be given where credit is due. Most teachers go above and beyond what is asked of them to ensure our students get the best foundation for their futures. If the teachers feel unappreciated and overlooked, that will reflect in their classroom.
Amber Locklear
12 | October 2023 @therant905
DEGENERATIVE AI
The legend of Scary Jerry
Long before social media — back when private lives were still mostly "private" — part of the excitement entering your freshman year of college was the mystery of that first roommate. In the summer of 1994, all I knew heading into my first semester was the name of the guy who would become the first nonfamily member to share living quarters with me.
We'll call him Jerry.
We'd be friends, I had no doubt. He'd like video games. We'd watch football together on Saturdays and Sundays. He'd have a girlfriend, and she'd introduce me to her roommate. We'd hit it off. Twenty years later, Jerry and I would vacation with our families and complain about our guts while staring at burgers on the grill, our kids smacking our legs with whiffle ball bats.
Yep. I had big plans for Jerry, even if all I had to go on was a white index card with his name and hometown in dot matrix ink.
Then came August. I finally met Jerry.
He'd already made himself at home in our 12-by-15 closet of a dorm room at my small university in the piney woods of East Texas. As I walked in carrying a laundry basket of freshly folded school clothes — my new backpack slung over my shoulder — Jerry was wearing a long-sleeved hoodie (it was 90 degrees that day), facing the window and doing Rocky-inspired calisthenics while blasting Guns 'N Roses on his portable "boom box" at Volume 11. He was unaware of my presence. When he did realize he was no longer alone, Jerry turned around and dropped the hoodie.
"Hey," he said with a casual, cocky nod. "Jerry. Too loud?"
"Nah," I gulped, setting my basket on my bed. Jerry wasn't what I imagined. Jerry was odd. Jerry was also 30. Seriously, he was 30.
I was crushed. Gone was this grand idea of whom my first college roommate would be — one of those people it's a given will have an impact on your life, like a kindergarten teacher, first girlfriend, your cool uncle or that one coach who always believed in you.
And before you think this story ends with
me finally realizing I shouldn't have judged a book by the cover — before you think 30-year-old Jerry turned out to be a great friend and even a mentor, let me stop you.
Jerry was everything you imagined a 30-year-old college freshman with no car who chose to stay in freshman dorms rather than an apartment would be. He was quiet and to himself. He didn't like the lights or my TV on in the room after 10 (if I wanted to study late, which happened occasionally, I went to the lobby). I had to drive him to the grocery store every other weekend if his parents weren't in town. He had a habit of deleting voicemails without telling me (pre-cellphone era).
He did the weird calisthenics thing.
Look, he was nice. He didn't murder me. That's a plus. We did have lunch occasionally. He once walked me home after a night of too much freshman college fun when I really needed the "help."
But we were square pegs. Not even of the same generation.
And for a kid who had big ideas of what his college experience was going to be — and someone who hoped his roommate would be that first friend in a strange land full of strange people — Jerry was a disappointment.
But here's the happy ending you expected a few paragraphs earlier. That friend I hoped Jerry would be — I did meet him the following year. We didn't share a dorm room, but he lived on my floor, just down the hall. He was my age. We had similar backgrounds. He owned a Sega Genesis.
By incredible coincidence, both of our careers led us to North Carolina. Our families would one day share a beach house together for a few days, and at one point, we'd find ourselves standing over a grill, watching burgers and hot dogs cook while debating the use of lighter fluid versus coals alreadysoaked in it.
Our kids played nearby. One of them smacked me in the leg with a bat.
If you're reading this, Jerry, email me at billy@rantnc.com, and let's catch up.
The Rant Monthly | 13 rantnc.com
o
Elizabeth Smith (919) 721-3303 esmith@smithgrouprealtyllc.com Brenda Brown (919) 777-3297 bbrown@smithgrouprealtyllc.com Angie Hegwer (919) 356-6678 ahegwer@smithgrouprealtyllc.com Randy Howell (919) 410-4785 rhowell@smithgrouprealtyllc.com Jean Moore (919) 880-4168 jmoore@smithgrouprealtyllc.com Jennifer Williams (919) 353-1396 Jwilliams@smithgrouprealtyllc.com Linda Vance (919) 499-8635 lvance@smithgrouprealtyllc.com Jason Pate (919) 592-1570 jpate@smithgrouprealtyllc.com Leslie Oldham (919) 708-3138 loldham@smithgrouprealtyllc.com Kristen Lind Rogers (704) 467-0866 krogers@smithgrouprealtyllc.com Together we can discover your dream home! 131 Charlotte Ave., Ste 101 Sanford, NC 27330 www.smithgrouprealtyllc.com (919) 718-9027
ESPNW'S NO. 1-RATED GIRLS HIGH SCHOOL BASKETBALL PLAYER | CLASS OF 2024
SARAH STRONG
By Billy Liggett
Sarah Strong was on the other side of the world in Debrecen, Hungary — site of this year's FIBA 3-on-3 U18 World Cup — when the then-No. 2 girls high school basketball player in the nation got a phone call with the big news. Sarah, entering her senior year with Grace Christian School in Sanford, learned she had moved up to No. 1 in the ESPNW Class of 2024 rankings. Just days away from leading Team USA to its third consecutive gold medal in the annual global tournament, Sarah took the news in stride.
"When I called her room and told her, I was pretty excited," says her father, Danny Strong, who played basketball for NC State in the mid 90s before going on to an 16-year pro career overseas. "But she didn't act like it was a big deal. She told me, 'Oh, that's cool. I'm playing charades with the girls. I gotta go.'"
Senior Sanford Sarah Strong is ranked No. 1 in the country in the class of 2024 per ESPN's HoopGurlz. This summer, she led Team USA to the gold medal in the U18 3-on-3 international tournament in Hungary. Photo by Ben Brown
The country's top player is the centerpiece on a juggernaut of a basketball team at Grace Christian that has won back-toback state championships with a combined 62-4 record. The entire roster returns from last year's team — joining Sarah are team-
mates and fellow college prospects Icyss Storm, Isa Roman, Serenity McNair, Halisi Whitley and Miyah Campbell — and the schedule appears to be much more difficult with more games against nationally ranked schools and a few possible nationally televised appearances.
As a junior, Sarah averaged nearly 23 points a game and led the Crusaders in rebounds (13.9), assists (4.4), steals (3.4) and blocks (2.2). In both Team USA's 3-on-3 semifinal win over Japan and gold medal clincher over France, she led the team in scoring.
14 | October 2023 @therant905
The nation's top-rated high school basketball player leads one of the nation's best teams at Sanford's Grace Christian School
SARAH STRONG | GRACE CHRISTIAN School
COVER STORY
As a junior for Grace Christian School in 2022-23, Sarah Strong averaged nearly 23 points a game and led the Crusaders in rebounds, assists, steals and blocks. Grace has a 62-4 combined record with back-to-back state titles in her sophomore and junior seasons. They have scheduled a tougher slate this year with games against some of the top schools in the country. Photo by Ben Brown
She's the real deal, and when her storybook run at Grace Christian comes to an end next spring, the choice is hers when it comes to where she'll play next. In just the last month, she's visited defending national champion LSU and Oregon and has had coaches from UConn, UNC, NC State and South Carolina come see her practice in Sanford.
"She's going to go far because beyond all the attention and the expectations. She loves the game, she has a good heart, and she loves her teammates," says her coach for the past three years at Grace, Chad Revelle. "She is not a high-maintenance person who wants to make all of this about her. Extremely humble, and I genuinely mean that. Her dad and her mom know the game, and she's been raised
right. They've taught her that it's not all about 'me, me, me.' That's going to serve her well."
IN HER BLOOD
Danny Strong was one of the best all-around athletes to come out of South Carolina, where he was all-state in football and basketball at Great Falls High School between Charlotte and Columbia. He started 63 games for NC State from 199597 and averaged over 12 points and nearly 5 rebounds a game. He played professionally in France, Spain and Italy from 1999 to 2011, and was a four-time All Star in the French National Basketball League, where he led his team to a title in 2005.
The Rant Monthly | 15 rantnc.com
Sarah's mother, Allison Feaster, has an even better resume. She was the first athlete to be named Ivy League Player of the Year three times at Harvard, where she led the nation in scoring (28.5 points) in 1996. She also became the first Ivy Leaguer drafted into the WNBA when she became the fifth overall pick by the L.A. Sparks in 1998. She spent 10 years in the WNBA — playing for Charlotte and Indiana along the way — and spent many of her offseasons playing overseas in Spain.
When she found out she was pregnant with Sarah in 2005, Feaster remained in the Charlotte Sting lineup for three months until she had to start cutting her shorts at the waist to make them fit. So technically, Sarah already has WNBA minutes, if you count the womb
Sarah was born in Madrid, Spain, later that year, and like most kids in Europe, her first sport wasn't basketball, but soccer. Even on the pitch, she excelled.
"She played on co-ed teams with boys, and she played with kids who were a few years older, and she did very well," her dad
recalls. "I remember one game she played with her age group, and at one point, the coach wouldn't let her score any more than four goals a game."
She eventually took up the game she was born to play — considering her family history — but even before then, Danny says she showed great basketball IQ by critiquing her parents' games. She would point out their strengths and weaknesses, he says, and it would all make sense, even coming from a kid. When she was 12, Sarah moved to North Carolina with her father, and it was here where the focus really turned to basketball.
"In the U.S., she began playing against some of the boys I was coaching, and she showed she could really handle herself, especially the physical part of the sport," Danny says. "Her hand-eye coordination was excellent, even then, and she was able to make reads and think her way through situations beyond her age. Just to be able to compete against that kind of competition at that point, that's when we really knew she had it."
call
16 | October 2023 @therant905
Looking for a New Career in 2024? Enrolling Now for Next Year! 1902 N Sandhills Blvd. • Aberdeen 910-695-1900 Sandhillsdentalcareercenter.com Achieve Your Career Goals Become a Dental Assistant in 11 Saturday Sessions 16 years of proven job placement success! Grants Available Class size is limited, so
us today!
Sarah Strong works out in a private gymnasium near Grace Christian School in Sanford on Sept. 26. The senior from Fuquay-Varina was named a first-team MaxPreps All-American in 2023 and is listed as the No. 1 Class of 2024 girls basketball prospect heading into this season. Photo by Ben Brown
Sarah attended Fuquay-Varina High School as a freshman and flashed immediate potential in the 14-game COVID-shortened season, averaging 25 points a game (20 points more than then team's second-leading scorer) and 19 rebounds. When Fuquay-Varina, like most public schools, went to an online-only format that spring in 2020, her parents began looking for an alternative, as he felt — both academically and athletically — Sarah would struggle in a "virtual-only" environment.
Enter Grace Christian School, nearly 30 miles southwest of their home. Danny was familiar with Grace's new girls basketball coach, Chad Revelle, as his football-playing days at NC State crossed over with his time on the Wolfpack basketball team in the mid-90s. But more importantly, Sarah liked the environment at Grace.
For all the tenacity and vocal leadership she shows on the court, Sarah Strong is somewhat reserved off the court. Some might even say introverted. Feeling comfortable in her surroundings was important when it came to choosing a new
The Rant Monthly | 17 rantnc.com Welcoming new patients Appointments may be made by calling 919.775.2304 CentralCarolinaHosp.Com Specializes in: Welcome Hakeem O. Yusuf, MD Board-certified in Obstetrics and Gynecology Central Carolina Women's Health Center 1140 Carthage Street Sanford, NC 27330 Medical School: St George's University St George, Grenada Residency: SUNY Downstate Health Sc ence Center Brooklyn, NY  Obstetrical care  General gynecological care  Postpartum care  Hormone replacement therapy  High-risk pregnancy  Contraceptive counseling  Menopause management
Grace Christian's girl's basketball team returns all of its roster from last year's state championship squad. After opening the season in Greensboro on Nov. 16, the team will travel to Tennessee to take on Class 4A semifinalist Sevier County.
Photo by Ben Brown
school, and Sarah says the fact that she felt welcomed and accepted from the first visit played a big part in her decision to come to Sanford.
"Everyone was just really nice, and it felt like they really cared," she says. "I like that it's a smaller school — to have more time with teachers and to have them really get to know you. And I really liked the fact that it's a Christian school."
"We'd been to other schools before this, and this was the first and only time Sarah felt this connection right away," Danny adds. "Before we even got in she said this was the place she needed to be."
BUILDING A POWERHOUSE
In her first season at Grace, Sarah Strong averaged 25.5 points per game, 17.6 rebounds and 5.2 assists. The Crusaders went 29-1 — their only loss to a talented program out of South Carolina — and had wins with scores like 89-3, 90-8, 82-11 and 100-29 along the way. Four wins came via forfeit. There were close calls, too, with a few single-digit wins over teams from
18 | October 2023 @therant905
Sarah Strong with Team USA FIBA 3-on-3 U18 gold medal teammates Mikaylah Williams, Sahara Williams and Katie Fiso. The squad went undefeated at the U18 World Cup held in Hungary this summer. Photo courtesy of FIBA
Durham, Wake Forest and, in the state title game, Charlotte.
But the season marked the arrival of Sarah in Sanford, as well as the arrival of Grace Christian as a potential basketball powerhouse.
Grace would have a 103-3 win in its third game the following year against a private school in Raleigh, and the team won its first 11 games before a trip to Florida for a tournament against some of the top teams in that state. After starting off with a close win against a strong DME Academy from Daytona Beach, Grace lost its next two against St. Thomas Aquinas (a state champion from Fort Lauderdale) and Miami Country Day (also a state champion).
That trip, says Revelle, was more of a learning experience for his team than the previous year's state championship run. Despite the losses, it showed him and his girls that they could play against anybody.
"We beat a great DME Academy after being down by 11 with four minutes to go," he says. "Then against St. Thomas Aquinas, we turned the ball over 24 times against a team that hit everything they saw. And
Miami Country Day was the No. 2 team in the state at the time. But the girls learned that, yes, they can play against the best, but they can be defeated, too. Our schedule this year will be more of a challenge, and we are better prepared for that fight."
For one, Grace Christian will not be in a conference this season — the Crusaders will be more of an "independent" team with more variety (tougher opponents) in their schedule. There will be big games in Tennessee, South Carolina and Washington, D.C., this year. And Revelle has been contacted by ESPN about possibly covering one or more than one Grace Christian games this year.
Sarah will be the main attraction, but Revelle is quick to point out that it's not a one-woman show. Senior Icyss Storm is coming off a 13.8 points, 8.4 rebounds per game junior season and is a solid D1 college recruit. Halisi Whitley, also a senior, averaged 11.1 last season, and juniors Miyah Campbell averaged 9.6 points in just her sophomore year.
"Sometimes, when really good players are all on the same team, it doesn't always come
together, because gos can get in the way," Revelle says. "But with this team, it's been a blessing to see how they've come together and really embraced the culture here. These girls get it.
"They understand we have a special, unique situation here."
THE ROAD AHEAD
Revelle's introduction to Sarah Strong was a short, grainy cell phone video sent by her father, asking for a chance to try out for the team at Grace, which had enjoyed success with 14-11, 25-10 and 22-14 records in the three seasons before his arrival.
Revelle invited Sarah for an in-person workout, and he saw obvious talent and potential from the start. But what really made him realize that he had someone special was the first time he saw her compete against another team.
"She locks in like no player I've ever coached," he says. "Coaches go ga-ga over scoring ability, and for obvious reasons, but Sarah … she's the 21st Century version of Magic Johnson. She can shoot as
"She locks in like no player I've ever coached," says Grace Christian head coach Chad Revelle. "Sarah is the 21st Century version of Magic Johnson."
The Rant Monthly | 19 rantnc.com
Whole Family! 3611 Hawkins Avenue Sanford, NC 27330 Wigs & Makeup Masks & Accessories Decor Open Mon-Fri 9-6, Sat 9-5, Sun 1-5
We Have Costumes For the
Photo by Ben Brown
well as anyone, but watch her play and watch the passes she can make. She's led our team in assists the last two seasons, and she's not a point guard. She's willing to get other people involved. And when the moment gets big in a game, she responds in a big way."
The past two seasons at Grace, her experience with the U18 FIBA 3-on-3 World Cup team, the season ahead and her experience playing for her father's nonprofit Lady Strong programs are all leading to that "next step" for Sarah, and all signs are pointing to college basketball at the highest level. With schools like LSU, South Carolina, Oregon and UConn all doing their best to get Sarah's attention, it's safe to say the choice is hers. So what will be the deciding factor?
"It's hard to say," says Sarah. "I'm doing a lot of visit and learning a lot about all of these schools. When I know, I'll know. But I can't really explain what the deciding factor will be. I'll just know."
"Her mother and I think it's got to be a school that genuinely cares about the player both on and off the court," says Danny. "The coach has to be someone who's going to push her to be the best student she can be, but also develop her and her dream of becoming a professional basketball play-
er. Both of these are going to be very important."
Sarah dismisses the idea that being the No. 1 high school recruit means extra pressure. Instead, she says her focus for her senior year at Grace is simple — to lead her team and to develop her skill set. Whether she's the top player or the 200th-ranked player, this focus doesn't change.
"I just want to get better," she says. "I have to keep working hard to prepare for college and to get into college shape. It's different when you get to that level. The pace is faster, and the competition is better. So this year is about getting better — better shape, better fitness, better everything."
Her coach says Sarah has handled the jump to "top-rated player" better than anyone could imagine. "It's been interesting to see how the modern 'top tier' athlete gets recruited these days. It can be a bit overwhelming," Revelle says. "But I'm thankful for Sarah's dad and her mom — they're with her on this journey, and they are protecting her. And it's been good to see the community at Grace make her feel protected and at home here. Grace is a great place, and they've treated not only Sarah well, but myself and the other players so well through all of this. I definitely want to applaud that."
20 | October 2023 @therant905 www.harringtondumpsterrentals.com 12, 16, 20 yard Dumpters Perfect selection for whatever job you have. Locally owned & operated Clean out, clean up, yard waste or remodel, Harrington's dumpster rentals has you covered! Call/text or book online to schedule your dumpster today
Grace Christian senior Sarah Strong is being recruited by the top college basketball programs in the nation like defending champion LSU, Oregon, South Carolina and UConn, to name a few. Photo by Ben Brown
The Rant Monthly | 21 rantnc.com
U.S. Army Staff Sgt. and Southern Lee High School coach Marcus Gilbert and his fellow soldiers in the 82nd Airborne Division All-American Chorus have shot to fame in the last eight months since their TikTok rendition of "My Girl" went viral in July.
The group advanced all the way to the finale of the popular NBC talent competition show "America's Got Talent," and they opened the Season 18 finale with an emotional performance called "Freedom." The group earned a spot in the finale on with their version of Pink's "I Am Here."
Gilbert is an assistant coach on the Southern Lee men's soccer team and resides in Sanford with his wife, Jessica.
The viral video has led to "15 minutes of fame," Gilbert joked back in May, including appearances at high-profile events and a spot on The Today Show. Their original America's Got Talent appearance aired on May 20. Since then, he's done events up and down the east coast and will head to Normandy, France, for the D-Day memorial event in November.
"It took a lot of convincing with the Army to let us compete on the show," Gilbert said. "That's not something we do as soldiers."
Gilbert's singing gig is a sharp contrast to his day job as a "chemical soldier," a part of the Army's Chemical, Biological, Radiological, Nuclear, and Explosives (CBRNE) team.
The 82nd Airborne did not win the finale, as Adrian Stoica and his dog Hurricane took home the $1 million prize.
RALEIGH EXEC JETPORT
FUN ON THE RUNWAY
Jetport's
event will, for the first time, feature a flyover, activities center
Family Day @ the Jetport, an annual community aviation celebration, returns to Raleigh Exec on Oct. 7, with aircraft displays, a Bandits Flight Team flyover, community group exhibits, food trucks and more.
The free event runs from 10 a.m. to 3 p.m. and features corporate jets, vintage airplanes and recreational aircraft. The Bandits Flight Team is currently scheduled to perform a flyover and, for the first time, Central Electric Membership Corp. will
operate an activities center where youth can enjoy aviation-related games, have their photos taken as pilots and see a bucket truck and Tesla electric car.
"This is the third straight year we've held Family Day, and it seems to grow a little more every time," said Airport Director Bob Heuts. "We offered a more elaborate event years ago, but had to pause that because of ongoing airport expansion projects and then the pandemic. But since it's returned, Family Day seems to have
found a very dedicated and enthusiastic following."
Family Day was created to introduce young people to aviation, invite everyone out to see the rapidly expanding airport and thank the community for their support. Since then, other public events have been added to the airport's annual calendar. Young Eagles Day, offered with EAA Chapter 1114 based in Apex, provides free discovery flights for youth and was held most recently in June.
22 | October 2023 @therant905
Family Day @ the Jetport is Raleigh Exec's annual "open house." Much like the big car show at the civic center in September, Family Day features a display of small jets and other recreational aircraft. This year's event will be held on Oct. 7.
annual Family Day has grown over the years, and this year's
SOUTHERN LEE COACH PERFORMS IN FINALE OF AMERICA'S GOT TALENT
And the airport has just announced Behind the Scenes at Raleigh Exec, described as "a small-group, insider's airport tour for youth." In fact, the first quarterly tour will be offered as part of Family Day.
Community groups also visit the airport regularly. In August, Raleigh Exec hosted local Boy Scout Troop 952 as they worked on aviation merit badges and the Kitty Hawk Ninety-Nines association of licensed women pilots as they planned an upcoming Girl Scout Day presentation.
Heuts said events like these are part of the airport's ongoing effort to serve the regional community and help everyone learn more about general aviation. "People are fascinated with aviation and it's becoming more important every day. But there aren't that many opportunities for them to see different kinds of aircraft up-close and maybe even get a chance to sit inside the cockpit.
"When you see their reactions — especially for the children — you can see why this is such a valuable event."
More than a dozen airplanes and helicopters are currently scheduled to be on display — along with an ambulance and
fire engine. Pilots will often be available to talk with guests and answer any questions about the aircraft and flying experience.
Family Day is offered free of charge with financial assistance from area companies and organizations. They include gold sponsors Campbell Oil, Carolina Commercial Contractors, Central Electric Membership Corp., Chatham Economic Development Corporation, Elite Aircraft Services, LeeMoore Capital, Mertek Solutions, Michael Baker International, M.R. Stoner Electric and Sanford Area Growth Alliance. Silver sponsors include Bankers Insurance, Brad Womble Aviation, Chatham Park, Express Employment International, First Bank, MAG Aerospace, RS&H, Sanford Contractors and Wings of Carolina Flying Club. Because some aviation exhibitors must wait closer to an event date to confirm their participation, additional aircraft may be on display — with some displays and events subject to change based on weather conditions.
Is the Sanford real estate market really this strong?
If you've been hearing rumors about an impending market crash, it's time to set the record straight. Let's delve into why the market is stable, what's keeping inventory low, and why it's still very much a seller's market.
It's a Seller's Market, Not a Crashing One
Despite what your well-intentioned neighbor or Uncle Bob might tell you, the Sanford real estate market is not crashing. Recent hikes in interest rates led some to predict a decline, but several factors prove this theory wrong.
For the latest updates on Family Day, follow Raleigh Exec on Instagram, Facebook, X and Threads.
SATURDAY, OCTOBER 21
8:00AM - 12:00 PM
Downtown Sanford
The Sanford Children's Business Fair inspires children to discover their inner entrepreneur. This one-day market gives children the opportunity to showcase their very own businesses, in conjunction with the Sanford Farmers' Market.
More Info: ChildrensBusinessFair.org/Sanford-Chamber
Low Inventory and "Lock-in Syndrome"
One of the biggest misconceptions was that rising interest rates would lead to increased listings and decreased buyers, resulting in a surplus of inventory. However, many homeowners who secured 3% interest rates are reluctant to sell only to buy a new house at a 6-7% rate. This "lock-in syndrome" has curtailed the number of new listings, maintaining the supply-demand equilibrium.
Foreclosures Aren't a Concern
Another assumption was that the end of forbearance programs during COVID-19 would unleash a wave of foreclosures. However, current foreclosure rates are low, even lower than during the 2007-2008 crash years. Plus, mortgage qualification standards are much more stringent now, keeping delinquencies at bay.
Deceleration vs. Depreciation:
While it's true that the rate of price increases has slowed, this is not the same as a decrease in home prices. The market has simply gone from a steep incline to a more gradual one. Sanford, in particular, has been resilient to national trends, maintaining steady growth.
The Future Looks Bright
Leading industry experts expect interest rates to decrease again, potentially heating up the seller's market even further. Sellers who were hesitant due to higher interest rates may enter the market, balancing out the surge of buyers. So, the market could experience even more activity and potentially higher home prices.
Market Offers Opportunity
Currently, homes in Sanford are taking around 11 days to go under contract and approximately 41 days from listing to closing. While nearly half of the homes are selling under asking price, about 30% are going above, particularly those that are well-prepared and properly marketed. This unique window of opportunity allows you to sell high and buy under asking price, maximizing your investment.
Conclusion: Seize the Moment
Sanford's real estate market offers a unique opportunity right now. Whether you're buying or selling, you could get the best of both worlds before the market heats up even more. If you're contemplating a move, now is the time to act.
For personalized real estate advice and market insights, we'd love the opportunity to earn your business. Contact us today.
The Rant Monthly | 23 rantnc.com
o
Paid content
Sanfordsurrounded.com • 919-261-3163
LEE COUNTY SCHOOLS
LCHS teachers to board: 'You stole our credit' on school grade
By Richard Sullins richard@rantnc.com
Three teachers from the Math Department at Lee County High School came to the Sept. 12 meeting of the Lee County Board of Education with a message of betrayal for its chair, Republican Sherry Lynn Womack, saying she used a hardwon moment of student achievement to grab the glory for herself and the school board she leads.
Their appearance came just days after the North Carolina Department of Public Instruction released its annual report on School Performance Grades, which uses a formula created by the state legislature to assign a letter grade to public schools in the state based on their achievement and growth during the previous year.
Those rankings showed Lee County High School had risen from a "low performing" status with a D in 2021-22 to an improved ranking of C in 2022-23.
A press release from the Lee County Schools on Sept. 6 gave highlights from the year's rankings, noting how schools had moved up or down on the scale. But it was a statement from Womack contained in the release that brought the teachers to the September meeting. It read, "Last year's performance validates the many vital changes the Lee County Board of Education began since last December."
The problem is that Womack and the Republican majority didn't take control of the board until December of 2022. By that time, half of the school year had already gone by. The math teachers compared the timeline of student performance measured against the roughly six months since the new board had taken office. Their comments accused Womack of claiming credit for outcomes they felt the school board had little or nothing to do with.
John Mathis, who serves as the department's head, was the first to speak. He told the board how a fully staffed depart -
ment in 2019 was now missing faculty in key positions, forcing some math teachers to teach four blocks per day instead of the normal three.
"It's tough," he said, "but we do it for the students. Everything we do is for the students."
He said when he learned that the high school had increased its overall grade for the year from a D to a C, he immediately congratulated all of his Math 4 classes "because they are the students, the juniors and seniors, who were a major part of that success from last year."
Mathis said when he read Womack's quote, he felt "discouraged, perplexed, and upset." The first set of tests that reflected the improved score were in January, just a month after the new majority was sworn into office. The second round of testing took place in June, six months after December.
He said he kept reading the press release, feeling sure it would contain praise for the high school's students, its faculty and administration, and for parents.
"But none was to come," he said.
A second teacher, Shannon Monteiro, described how faculty members decided in the fall of 2022 to come together and rise from the blemish of being a low performing school. When the scores arrived on Sept. 6, teachers and students began to celebrate as the press release was read. But that exuberance turned quickly to "disappointment, sadness, and, quite frankly, anger" after finding no credit had been given to the students and teachers whose hard work made the improved scores possible.
It was a third LCHS math teacher, Brandi Johnston, who had the sharpest barbs for Womack's claim that the credit belonged to her board.
Johnston said she, too, had "frantically" read the press release in hopes of finding words of congratulations and encouragement for the students and faculty. She
24 | October 2023 @therant905
said she'd hope to see such sentiments because students had "hurdled over learning gaps that resulted from the pandemic and online learning," resulting in individual growth that helped them "to grow and excel, and to fall in love again with learning."
"What changes did this board make that made my students want to perform better than they have ever performed before? What changes did you make in December that motivated the students to keep up and step up for the state exams in January? What changes did this board make that made me want to be the best educator that my students could possibly ever have?" she asked. "I'm disappointed
that this board's first thought was about themselves, and not those that made those changes. I'm ashamed that when given the opportunity, this board stole the credit from our students. You stole their praise. You stole their effort. You stole their validation and claimed it as your own. I'm just a measly old teacher and I don't get a lot to say in what you get to do. But I do advocate for my students with the ferocity of a lioness, and this performance was not your validation. Be cautious about building your validation on the backs of those whose work goes unnoticed."
A fourth teacher, LCHS Beginning Teacher of the Year Kirby Forbes, sent an email to each of the seven members of
the board with an attached letter that said she was personally offended by Womack's comments, but also "heartbroken for the students in my classrooms who worked diligently all throughout the semester to grow so much on their (end of course testing)."
She told board members of feeling "offended for students who told me on the first day of class that they hated math and had never been able to understand it, and just a few short 18 weeks later were able to stand in the halls of LCHS with tears of joy and smiles of excitement after receiving their passing EOC score."
Teachers are employed by the Lee County Board of Education, so to have a one publicly criticize the leadership of
the organization for which they work can be seen as a risky move. The entirety of the teachers' remarks can be seen here, beginning around the 7:20 mark.
The school board doesn't usually engage with speakers during public comments, choosing instead to include their remarks along with other portions of the meeting that become a part of the public record. But often, Womack has chosen before the meeting is adjourned to say a few sentences about a subject one or more speakers raised during the public comments period. That didn't happen on Sept. 12, and there has been no public statement issued on the subject since the meeting was adjourned.
The Rant Monthly | 25 rantnc.com
Sanford man convicted in January 6 insurrection case
By Richard Sullins richard@rantnc.com
A 30-year-old Sanford man charged in 2022 in connection with the events that took place at the U.S. Capitol on Jan. 6, 2021, was convicted on Aug. 31 in a Washington, D.C., courtroom on five felony and three misdemeanor charges.
While he awaits sentencing later this fall, David Joseph Gietzen remains free on his own recognizance. Given the manner in which other defendants who have faced similar charges resulting from their roles in the breach of the Capitol, his conviction could result in years spent in prison.
Gietzen's trial began Aug. 28 with the selection of twelve jurors and two alternates. He found guilty on one count of civil disorder and aiding and abetting; two counts of assaulting, resisting, or impeding certain officers; one count of assaulting, resisting, or impeding certain officers
using a deadly or dangerous weapon; and one count of entering and remaining in a restricted building or grounds with a deadly or dangerous weapon, all of which were felonies punishable by a year or more in prison.
The jury also found Gietzen guilty of three related misdemeanor offenses, including disorderly or disruptive conduct in a restricted building or grounds; engaging in physical violence in a restricted building or grounds; and acts of physical violence in the Capitol grounds or buildings.
Testimony in the trial took two days, as the U.S. Attorney's Office called officers of the D.C. Metropolitan Police Department and agents from the FBI and the Secret Service. The jury in the case deliberated for two hours before returning its verdicts.
His conviction on entering and remaining in restricted grounds or building related to the presence of the vice president in the Capitol at the time of the insurrection.
26 | October 2023 @therant905
FBI photos show David Joseph Gietzen of Sanford taking part in the Jan. 6 insurrection at the Capitol Building in Washington, D.C.
While most sections of the Capitol Building are open to the public during regular business hours, portions, or in some cases the entire complex, can become restricted when persons such as the president or vice president are there to conduct official business.
Beginning with the start of business on Jan. 6, the Capitol complex had been restricted to persons authorized to be working there, and that included Vice President Mike Pence, who was inside the Capitol presiding over a joint session of Congress to count and certify the electoral votes of the states resulting from the 2020 election.
THE GOVERNMENT'S CASE
The U.S. Attorney's Office presented its case against Gietzen over two days as jurors listened to witnesses and viewed exhibits. Through Capitol surveillance cameras, Gietzen's movements that day were able to be established on an almost minute-by-minute basis, and other photographs and video recordings were able to provide details about his actions during the melee.
Evidence showed Gietzen traveled to D.C. with his brother to attend the "Stop
the Steal" rally on the Ellipse behind the White House at approximately 12:30 p.m. Gietzen told the FBI that in the confusion of the crowd as it marched to the base of Capitol Hill, he never set foot on the grounds of the Capitol or crossed police lines, despite evidence established by the videos and pictures.
After Trump's remarks brought the rally behind the White House to a close, Gietzen marched along with thousands of others who crossed police lines illegally along a security perimeter that had been established around the Capitol grounds.
In the days that followed the insurrection, the FBI and Metropolitan Police Department received tens of thousands of tips from people who believed they recognized a person in the crowd gathered there along the police lines, but the sheer volume of photographs and video recordings meant that combing through them meticulously to make identifications would be a painstaking process.
It was one such tipster who contacted the FBI on Valentine's Day in 2021 and first identified Gietzen after seeing his picture posted on the agency's website
collection of unidentified participants in the riot.
A second person also positively identified him from the same photograph and provided screen shots of group text messages indicating Gietzen had participated in the riot and assaults on the officers. It was this second tipster who also provided photographs to the FBI of Gietzen taken on the grounds of the Capitol on January 6. A third person, who also knew Gietzen and examined the previously provided photographs said they were both "definitely" of Gietzen.
The man from Sanford was wearing a distinctive green jacket that afternoon and through the earliest moments of conflicts with police officers on the Capitol's West Terrace, he can also be seen wearing what appears to be a white football-type helmet as fighting breaks out between the rioters and the officers. Those identifying features made it possible to follow Gietzen's movements and establish his actions in real time.
For example, the photos and video show Gietzen carrying a long pole and appearing to strike an officer with it in the gap between his police helmet and the shoulder
connection to his protective vest. He told investigators that his action was an attempt to force the officer to move.
Closed circuit security footage made by Capitol Police cameras shows him actively involved in the confrontations with officers for 17 minutes at the very beginnings of the riot, and he appears again on the recordings just before 4 p.m. at the entrance to the West Front tunnel, pushing with others in the mob to overrun the officers' final line of defense. These were the bloodiest moments of the fighting.
Gietzen is the only defendant known to have been publicly identified as being in Washington for the riot at the Capitol and again for the presidential inauguration 14 days later.
In the 32 months since the first attack on the U.S. Capitol since the British burned it in 1814, 1,106 persons have been charged from nearly all of the 50 states for crimes related to the breach of the Capitol, including 350 people charged with assaulting or impeding law enforcement officers. At least 500 of the rioters have entered guilty pleas in the two and a half years since the riot took place.
The Rant Monthly | 27 rantnc.com
The first TRIPLE CROWN CHARITY CAR SHOW at the Dennis A. Wicker Civic Center in September was a success, despite the storms that Saturday. Hundreds of cars were on hand, and thousands made their way Sanford to see the "Legends" display that included a rare 1969 Yenko Camaro (above), an original Shelby Cobra (opposite page), Lamborghinis, Ferraris, McLarens and other rare supercars from across the state and region. According to organizers — many of whom are part of the planning committee for the popular monthly Cars & Coffee Morrisville event — plans are already in place for the 2024 Triple Crown show. Learn more about the event in the September edition of The Rant Monthly Photos by Billy Liggett
28 | October 2023 @therant905
Welcoming new patients Appointments may be made by calling 919.776.7640 CentralCarolinaHosp.Com Specializes in: Welcome Paul Heimbecker, MD Board-certified in Obstetrics and Gynecology Central Carolina Gynecology and Aesthetics 127 N. Steete Street Sanford, NC 27330 Medical School: St Louis University St Louis, MO Residency: St Johns Mercy Medical Center St Louis, MO  Gynecology  Preventive health  Advanced laparoscopic surgery  Menopause  Obstetrics  Minimally invasive surgery  Urinary incontinence  Infertility and sterilization
The Rant Monthly | 29 rantnc.com
City honors SFD crew for life-saving rescue
By Richard Sullins richard@rantnc.com
It's not often that heroes actually get the recognition deserved for their deeds, but the City of Sanford got the chance last week to extend its gratitude to four firefighters whose gallantry recently made the difference to a man whose life was hanging in the balance.
Mayor Rebecca Wyhof Salmon said the first order of business at a recent Sanford City Council meeting was also probably its most important — the recognition of the Engine 2-C's shift whose action saved the life of a man during a response to a fire call last month.
Sanford Fire Chief Matt Arnold recounted the details of the story for council members, how the fire department received a call at 8:52 p.m. on July 3 about a potential fire at a residence on Aspen Drive, and how the shift was dispatched to
XTRATUF BOOTS AVAILABLE IN MEN'S, WOMEN'S, AND YOUTH!
30 | October 2023 @therant905
Sanford Fire Department
Firefighter Finch Kiker, Driver/Operator Josh Jones, Firefighter Clay Vaughan and Capt. Rodney Nordan were honored by the Sanford City Council in August for their life-saving rescue on July 3.
the scene.
When the team, consisting of Captain Rodney Nordan, Driver/Operator Josh Jones, Firefighter Clay Vaughn, and Firefighter Finch Kiker, arrived within two minutes of receiving the dispatch, they found that the front door to the apartment was locked and were told by bystanders that an occupant was thought to be inside.
Arnold said that "after forcing the front door, the crew found an unconscious male victim inside a smoke-filled apartment. Working as a team and in very short order, the crew established a water supply should it have been needed, removed the victim, began emergency medical care prior to the arrival of EMS, and controlled the event which had originated in the kitchen."
"Without their prompt response, rapid entry, and immediate life-saving care of this patient, the occupant of this apartment would have no doubt suffered a different fate," Arnold continued. "While we recognize that saving lives is a part of our jobs, we should never underestimate the impact these firefighters had on this man's life."
Salmon told the team of four "on this day, you stepped up and did something that truly made a difference for one of our residents that will never be forgotten. From the bottom of our hearts, we just want to say thank you for what you do every day, and for what your entire department does every day, to protect the residents of this city."
The presentation of the Unit Citation certificates was also attended by a large number of firefighters from across the city who came to support their brothers, all wearing their ceremonial dress uniforms. Salmon said the opportunity to pay tribute to the bravery of the city's firefighters was one of the rare moments in life when it was actually possible to see "heroes walking among us."
The recognition of Engine 2-C's Shift came on the same night the council was informed that the fire department had been awarded the largest grant in the state so far in the current federal fiscal year that ends Sept. 30, a total of $338,176.19 in the form of an Assistance to Firefighters Grant from the Federal Emergency Management Administration.
The Rant Monthly | 31 rantnc.com (919) 276-0558 • wrslawfirm.com • 1502 Woodland Avenue • Sanford, NC 27330 • Automobile Accidents • Personal Injury • Accidental Death Claims • Workers' Compensation • Civil Litigation • Family Law • Criminal Law Servicio En Español! Free Consultation. No Recovery, No Fee.
County for 10 Consecutive Years Thank You Lee County! Seving Lee Conty Since 1977
Voted Best of Lee
1614 Hawkins Ave., Sanford • (919) 356-6954 Classes held in Sanford and Siler City Kids Safety & Training Classes now available Private Instruction, Group Rates and Women's Only Courses Available Check out our $75 Concealed Handgun Carry Course Find Us on Social Media! Scan here to register for an upcoming class now or visit carolinafirearmstraining.com
Your
It's how Brian Mathis was named a 2022 Forbes Best-in-State Wealth Advisor and continues to make a difference in clients' lives.
AVOID THESE INVESTMENT MISTAKES
We all make mistakes, but many of them are minor. However, some mistakes can be costly — especially those connected to investing.
503 Carthage Street, Suite 200 Sanford, NC 27330
Here's one common mistake: Too much buying and selling. Excessive trading can run up fees and taxes, but just as important, it can disrupt your long-term financial strategy.
(919) 775-4443
brian.mathis@edwardjones.com
Another big mistake: Failing to create a good mix of investments. Owning too much of any one investment can be risky. It's also a mistake to try to "time" the market. "Buy low and sell high" sounds like good advice, but no one can really predict when prices reach low or high points — and this type of guesswork can result in poor investment decisions.
BRIEFS
BUCKELS HOLDS ON TO WARD 4 CITY COUNCIL SEAT
Sanford City Councilman Byron Buckels turned back a Democratic primary challenge from Tamekia Dowdy on Sept. 12, earning more than 87 percent of the vote.
The win means Buckels will go on to a third full term representing Ward 4 on the city council. He does not have a Republican challenger in the fall election. In fact, none of the seats available in the fall election are contested, meaning the only change in the council's makeup is likely to be Democrat Walter Ferguson replacing fellow Democrat Jimmy Haire in one of the council's two at large seats. Haire did not file for re-election this year.
Although Buckels' victory was decisive, turnout in the primary was low. Just 185 people cast votes in the Ward 4 Democratic primary.
Buckels posted a thank you message on Facebook, saying he wanted to "keep Sanford moving forward for future generations."
WOMAN KILLED IN WORKPLACE ACCIDENT AT PENTAIR
A woman was crushed to death in a machine at Pentair's facility on Hawkins Avenue on Aug. 28.
family. Our thoughts are with our employee's family during this time."
Pentair manufactures products for various water applications.
MEN'S CLOTHING STORE OPENS IN DOWNTOWN SANFORD
The famous designer Tom Ford once said "dressing well is a form of good manners."
If that's the case, men in the Lee County community will have a chance to get their manners polished up soon with a new store now open in downtown Sanford.
Morgan's Menswear, which opened its doors on Oct. 1, is a locally owned men's store that will help to better dress men who are in need of stylish, quality clothing.
Owner Ashley Whitaker, who also owns and operates Added Accents at 124 S. Steele St., saw creating Morgan's as an opportunity to diversify the shopping options for men locally. Whitaker said she and her husband Jeremey both share a love of small business ownership and helping to better their community.
The store, at 119 Wicker St. in the former Brenda's Jewelers location, is also rooted in a piece of Sanford's history. Whitaker's grandfather, father and uncle ran a men's clothing shop in the Kendale shopping center in Jonesboro called Morgan's Limited from the 1960s through the 90s, and the memories of the Kendale store are still strong in her mind. She said the nostalgia of growing up with a family who had a menswear store, and the need for such a business locally drove her decision to create a boutique exclusively catering to men's fashion.
One more mistake occurs when investors don't understand their investments and develop unrealistic expectations.
Finally, don't make the mistake of simply comparing your investment results to those of a market index, such as the S&P 500. The only comparison that matters is how your portfolio measures up to the results you need to help achieve your goals. Investing will always have its challenges — but you can help make it easier on yourself by staying away from as many mistakes as possible.
Ranking Methodology: Data provided by SHOOK Research, LLC. Data as of 6/30/21. Source: Forbes.com (April 2022). Forbes Best-in-State Wealth Advisors ranking was developed by SHOOK Research and is based on in-person, virtual, and telephone due diligence meetings to measure best practices, client retention, industry experience, credentials, review of compliance records, firm nominations; and quantitative criteria, such as: assets under management and revenue generated for their firms. Investment performance is not a criterion because client objectives and risk tolerances vary, and advisors rarely have audited performance reports. SHOOK's research and rankings provide opinions intended to help investors choose the right financial advisor and are not indicative of future performance or representative of any one client's experience. Past performance is not an indication of future results. Neither Forbes nor SHOOK Research receive compensation in exchange for placement on the ranking. For more information, please see www.SHOOKresearch.com.SHOOK is a registered trademark of SHOOK Research, LLC.
Member SIPC
According to a Sanford Police Department report, the victim, Jennifer Lynn Petree, 54, was working at the plant and became caught in the machine around 8:15 p.m. Monday. Officers said she sustained severe head trauma and was pronounced dead at the scene.
Sources indicated the machine in question was an injection molding machine.
"Pentair is deeply saddened to share that an employee has died following a tragic accident that took place on Aug. 28 at our manufacturing facility in Sanford," Pentair wrote in a statement following the accident. "The safety of our employees is our primary concern and we are focused on taking all necessary steps to address the situation while we continue to support the
"There are numerous boutiques for women to shop in downtown, so it would be a great addition to have a store for men," she said.
The store will carries brands including Johnnie O's, Onward Reserve, Duckhead, Fish Hippie, Brooks Brothers, and more, with an emphasis on business style, with options for casual clothing as well.
"The store will be a great draw to that side of Wicker Street and will be a great feature to the many amazing stores already in downtown," she said.
— by Charles Petty
32 | October 2023 @therant905
TAL-13149A-A-AD > edwardjones.com | Member SIPC
Brian Mathis Edward Jones Financial Advisor
goals. His priority.
> edwardjones.com | Member SIPC Brian Mathis Edward Jones Financial Advisor
(919) 775-4443
goals. His priority.
how Brian Mathis was named a 2022 Forbes Best-in-State Wealth Advisor and continues to make a difference in clients' lives. Ranking Methodology: Data provided by SHOOK Research, LLC. Data as of 6/30/21. Source: Forbes.com (April 2022). Forbes Best-in-State Wealth Advisors ranking was developed by SHOOK Research and is based on in-person, virtual, and telephone due diligence meetings to measure best practices, client retention, industry experience, credentials, review of compliance records, firm nominations; and quantitative criteria, such as: assets under management and revenue generated for their firms. Investment > edwardjones.com Member SIPC Brian Mathis Edward Jones Financial Advisor 503 Carthage Street, Suite 200 Sanford, NC 27330 (919) 775-4443 brian.mathis@edwardjones.com Your goals. His priority. It's how Brian Mathis was named a 2022 Forbes Best-in-State Wealth Advisor and continues to make a difference in clients'
503 Carthage Street, Suite 200 Sanford, NC 27330
Your
It's
lives.
REGISTRATION FOR SALVATION ARMY ANGEL TREE PROGRAM
The Salvation Army of Lee County's Angel Tree JOY Program helps provide clothing and toys for Christmas to eligible children up to 12 years old (born after Dec. 25, 2011).
Registration will take place from 9 a.m. to 3 p.m. and 5 p.m. to 8 p.m. on Oct. 12 at First Presbyterian Church, 203 Hawkins Ave. in Sanford.
To sign up, a valid picture ID and proof of current Lee County address (a utility bill from August, September or October; a copy of your lease, child's school enrollment letter for 2022-23, or your child's free/reduced lunch letter for the current year), proof of income (current Medicaid card for each child, free/reduced lunch
paperwork, food stamp award letter, or paycheck stubs from the past two pay periods), an ID for each child showing date of birth and official custody or guardianship papers if you are not the biological or adoptive parent are required.
Assistance cannot be given without proper documentation. Children will not be allowed at registration Applicants will be asked for clothing and shoe sizes for each child and two toys the child would enjoy. Electronics may not be requested. Bicycles may be requested but are not guaranteed.
Direct questions to Robin Saenz at robin.saenz@uss.salvationarmy.org.
The Salvation Army does not guarantee the quantity or quality of gifts, which are all given through the generosity of people in our community.
The Rant Monthly | 33 rantnc.com
Come in and try the new INTRODUCING COLLECTION Founded 1946 215 Wicker Street Sanford, NC 27330 (919) 775-7237 Family Owned & Operated www.dossenbachs.com
Residents of the Carolina Trace community who volunteer for North Carolina's Adopt-A-Highway program were awarded a Distinguished Star Award for 30 years of participation in that program on Sept. 1.
The award was presented via the North Carolina Department of Transportation for volunteers' 30-year dedication to cleaning a two-mile segment of N.C. 87 in Lee County six times each year.
The award reads: "30th Adopt-A-Highway, NC Department of Transportation, Carolina Trace, In appreciation for your ongoing commitment and dedication for keeping NC roadsides clean. 1993-2023."
On Sept. 9, volunteers commemorated this milestone by affixing 30-year stars on each of their two roadside signs. Carolina Trace resident and Adopt a Highway Coordinator Debbie Betts thanked the residents who have been dedicated to this program over the years, and added, "It's a joy to make such a difference in keeping part of NC-87 clean."
SANFORD'S FIRST SHEETZ CELEBRATES GRAND OPENING
Sanford's first Sheetz gas station — located at South Horner Boulevard and Main Street — opened its doors on Sept. 21 to a large crowd and lines of cars looking to take advantage of sub-$3 gas that day.
The location is the 115th Sheetz to open in North Carolina and the 704th Sheetz nationwide.
34 | October 2023 @therant905 919-775-5616 harris@centralcarolinalawyers.com Social Security DISABILITY Denied? Call us, we can help! Harris Post Social Security Disability Advocate CAROLINA TRACE HONORED FOR DEDICATION IN KEEPING
MAINTAINED
HIGHWAY
HARRINGTON WRAPS UP FIRST PROFESSIONAL SEASON
Former Southern Lee High School and Campbell University pitcher and Major League Baseball first-round draft pick Thomas Harrington wrapped up a successful first pro season in September with the Greensboro Grasshoppers, part of the farm system for the Pittsburgh Pirates organization.
Pitching for the Pirates' high-A affiliate, Harrington posted a 3.53 ERA and 146 strikouts in 127 innings pitched. The highlight of his season came on Aug. 3, when he tallied 11 strikes and gave up just one run in seven innings against the Asheville Tourists.
According to Baseball America: "Harrington is one of the more exciting prospects in a deep Pirates system, boasting a pair of above-average offerings to go with plus control.
4th Generation of Our Family Serving Your Family
In remembrance of Jose Guadalupe Gonzalez, who suddenly passed away 8 years ago on June 22, 2015. Born on March 29, 1954, Jose was survived by his wife Rosalina and his three sons Gerardo, Saul and Adrian. An immigrant, but long time resident of Wake County, he is remembered for his bravery and sacrifice. May he live vicariously through his children.
The Rant Monthly | 35 rantnc.com
509 Carthage Street • Sanford, NC 27330 (919) 775-3535 www.rogerspickard.com
Rogers-Pickard Funeral Home, Inc. & Cremation Services Since 1913
OCTOBER 7
FAMILY DAY AT THE JETPORT
Raleigh Exec Jetport will host Family Day from 10 a.m. to 3 p.m. The annual free event is a celebration of aviation and features displays of military aircraft, corporate jets, vintage airplanes and recreational aircraft. There also will be some demonstrations, activities, food vendors and more. The Jetport will also welcome young guests for its first-ever, hour-long look behind the scenes at Raleigh Exec. Follow them on Facebook @RaleighExec for updates leading up to the big day.
SEND YOUR EVENT
The Rant Monthly's community calendar has returned, and we're doing our best to track down everything going on in Sanford and Lee County. Send us your events by email at billy@rantnc.com and include the date, time, location and a brief description.
EVENT CALENDAR
OCT. 5-7: The Mann Center will host Student Arts Show, a showcase of talented Lee County juniors and senior is a curated and juried art competition.
OCT. 5-8: The Shakori Hills GrassRoots Festival of Music & Dance features 64 bands — including favorites Donna the Buffalo and Kabaka Pyramid — in Chatham County. Tickets run $160 for all four days and $39-$58 for single-day tickets. See the full lineup at shakorihillsgrassroots.org.
OCT. 6: Smokin' Pines will perform at Smoke and Barrel in downtown Sanford at 8:30 p.m.
OCT. 6: Hugger Mugger Brewing Company's monthly First Friday event will be held from 6 to 9 p.m. at the brewery in
downtown Sanford. Tons of vendors and food trucks outside and beer inside. Live Music begins at 6 p.m.
OCT. 7: Raleigh Exec Jetport will host Family Day from 10 a.m. to 3 p.m. The annual free event is a celebration of aviation and features small planes and other flying machines on the jetport's runway.
OCT. 7: Family Movie Night at Kiwanis Family Park starts at 7 p.m. The October 7 movie is "Dirty Dancing." Snacks will be available for purchase.
OCT. 7: White Hill Farm's annual Fall Festival will be held from 9 a.m. to 4 p.m. at the farm located at 5020 South Plank Road in Cameron. Enjoy a day of pumpkins, antique tractors, food vendors, bluegrass music and more. Tickets are $10, with children 2 and under free. Learn more at whitehillfarms.com.
OCT. 12: Deep River Sporting Clays will host the October Shoot'n'Shuck Oyster Roast from 3 to 7 p.m. Treat yourself and a loved one to an afternoon of shooting clays, drinking beer, smoking cigars and enjoying great seafood.
OCT. 12-28: The Boo & Brew Ghost Tour returns to downtown Sanford. Experience a frighteningly awesome fall experience during this pub crawl and self-guided audio tour, which pairs local shops, restaurants and bars with a bone-chilling ghost story.
OCT. 12-29: Temple Theatre's production of Ken Ludwig's "Baskerville: A Sherlock Holmes' Mystery" will run Thursdays through Sundays, Oct. 12-29. Tickets and showtimes at templeshows.com.
OCT. 13: 80s Unleashed will perform at Smoke and Barrel in downtown Sanford at 8:30 p.m.
36 | October 2023 @therant905
OCT. 14: The Downtown Sanford StreetFest & Fireworks show will be a day-long celebration with music, art, entertainment, food trucks and fireworks on the streets of downtown Sanford.
OCT. 14-21: The 58th annual Art Show, a family-friendly annual event that celebrates the diverse artwork of visual artists in Sanford and Lee County, will run throughout the week beginning Oct. 14. The show receives support from the North Carolina Arts Council and the Lee County Arts Council.
OCT. 20: The Mann Center of North Carolina will host Art After Dark from 6 to 8 p.m. Come support the Lee County Arts Council.
OCT. 20-21: The 2023 Quilt Show comes to the Dennis A. Wicker Civic Center from 10 a.m. to 5 p.m. on Oct. 20 and 10 a.m. to 4 p.m. on Oct. 21. Admission is $7 and free for children 12 and under. Come celebrate the beauty and comfort that can be found in a quilt.
OCT. 21: The Stone Dolls will perform at Smoke and Barrel in downtown Sanford at 8 p.m.
OCT. 25-29: The Bowl and Vessel Show comes to the Mann Center of North Carolina. The show is a judged event encompassing three-dimensional art mediums in the form of bowls or vessels regardless of their food-safe nature. This show is open to all North Carolina-based artists. SBPC Membership is not required.
OCT. 26-28: Deep River's Family Halloween Adventure & Trail of Terror comes to Deep River Sporting Clays for three nights, from 6 to 11:30 p.m. each night. Join them for food, fun, beer, hayrides and spooky excitement.
OCT. 27: Ethan Hanson performs at Smoke and Barrel in downtown Sanford at 8:30 p.m.
OCT. 27-29: Back To Dirt Conservancy is presenting the Sanford Trail Festival, an annual event showcasing our area's mountain biking trails. The Sanford Trail Festival weekend will encompass a wide variety of events and activities to promote Sanford and Lee County's outdoor recreation opportunities, as well as the entertainment and dining opportunities available to our residents and visitors. Learn more: backtodirtconservancy.com.
OCTOBER 1-29
GROSS FARMS CORN MAZE
The Gross Farms Corn Maze and Pumpkin Patch will run through Oct. 29 (Fridays 4-8 p.m., Saturdays 11 a.m.-8 p.m., Sundays 11 a.m.-5 p.m.). Take part in many activities including the corn maze (try navigating this 10-acre labyrinth), hayrides, bounce pillows, slides, children's play area, cart racing, face boards for photo opportunities and more. There will be live music provided at times. There is food and ice cream on site. Stroll the pumpkin patch and pick out your favorite. Shop the produce barn as well.
OCT. 28: Downtown Sanford family-friendly trick or treating will be held on Oct. 28. Visit participating businesses that have a paper pumpkin in their window.
OCT. 28: HAVEN of Lee County presents the 22nd annual No Scare Fair at the Dennis A. Wicker Civic Center from 11 a.m. to 4 p.m. More details coming in October.
OCT. 28: The Enrichment Center of Lee County will host its Fall Festival from 8 a.m. to 2 p.m. Purchase from more than 50 tables filled with woodcarving, jewelry, paintings, baked and canned goods, homemade soaps and lotions, candles, Christmas decor, hand-sewn items and so much more. Food and refreshments.
MONDAYS: Circle M City hosts its Monday Bluegrass Music Jam each Monday at 6 p.m. at 74 Cowboy Lane in Sanford.
SATURDAYS: The Sanford Farmers' Market will run through Nov. 11 from 8:30 to noon each Saturday in downtown Sanford (behind the Buggy Building).
The Rant Monthly | 37 rantnc.com
12 Premium Craft Beers on Tap! Sanford's premier neighborhood spot for food and fun. C'mon out and see your friends! 120 S. Steele Street Sanford, NC 27330 919-292-1374 Live Music! • Great Bourbon Selection! • House-smoked pork & brisket • Deli-style sandwiches • Daily specials including ribs & chicken • Much more!
CROSSWORD: The 2000s
ACROSS
1. Interest in a venture
6. Hundredweight, acr.
9. Med. sch. requirement
13. ____ the tail ___ the donkey
14. Duran Duran's 1982 hit
15. All plants and animals
16. Part of an eye, pl.
17. Go for the bull's eye
18. Reduction/oxidation portmanteau
19. *Best selling author of the 2000s
21. *Billboard's music artist of the 2000s
23. Chicken ____ ____ king
24. From a thrift store
25. Class-conscious grp.
28. Formerly, once
30. Marine mammal in famous Beatles' song
35. Fabled fliers
37. Jealous biblical brother
39. Averse
40. *"He's Just Not That ____ You" (2009)
41. Acrylic fiber
43. Arabian chieftain
44. Apartments, e.g.
46. *Friendster or Facebook, e.g.
47. 5,280 feet
48. Metal detector, e.g.
50. Goose egg
52. Cry of horror in comics
53. Made a basket
55. *Frodo Baggins and Samwise Gamgee or Nemo and Dory, e.g.
57. *Name for 2000s
60. *Popular social network of the 2000s
64. K-pop country
65. Woody creeper
67. Teletype machine, for short
68. Picture within a picture, e.g.
69. *"____ Smart" (2008)
70. Make a canyon, e.g.
71. Furniture wood
72. Utmost degree
73. Financing values
DOWN
1. Horse prod
2. *Popular DVR device
3. All over again
4. Eucalyptus-eating marsupial
5. Store in a silo
6. Mountain goat terrain
7. *Xbox competitor
8. Libraryful
9. Dignified manner
10. *"The Da Vinci ____," best selling book of the 2000s
11. A-bomb particle
12. Levy
15. Like "something new" boutique
20. Beginning of sleeping disorder
22. Feline sound
24. Put to work
25. *Toyota Hybrid introduced worldwide in 2000
26. 1,000 kilograms
27. Play a part (2 words)
29. *2002-2004 zoonotic epidemic cause, acr.
31. Rich soil
32. China grass
33. Handy
34. *First ever recipient of Oscar for Best Animated Feature
36. Chronic drinkers
38. Post-it slip
42. Like #59 Down
45. *Pink's 2008 hit (2 words)
49. Break down
51. Dismissal or ejection
54. "Peace" with fingers
56. "Madame Butterfly", e.g.
57. First rate (2 words)
58. Sky's Major one
59. *Like Best Buy's Squad
60. Urban legend
61. Tons (2 words)
62. Relinquish, as in property
63. *Jennifer Aniston and Brad Pitt, after 2005
64. *American Girl ____ Kittredge
38 | October 2023 @therant905
The Rant Monthly | 39 rantnc.com