Darren Caplan  Seven areas for advocacy Ewan McDermott  Living the dream and using it to inspire others
Huddersfieldof
September 2022 Beating the metal thieves and ensuring the railways are crime-free
ANDREA GRAHAM FOR RAIL INDUSTRY LEADERS
EXCLUSIVELY
Olivia Cayley  Saving lives on the railway Professor Paul Allen  A decade rail research institute
For more information phone 01952 588 885 or browse www.eliteprecast.co.uk or email sales@eliteprecast.co.uk Everywhere on rail networks Elite products are seen in useBritishmade Suppliers to 2012 London Olympics, 2014 Glasgow Commonwealth Games and approved suppliers to Tideway, Crossrail and HS2 (fully compliant transport) Get on track with Elite blocksinterlockingandbarriers KM 642263 KM 658166 Workforce protection barriers avoiding all line closures with adjacent line open Rockfall prevention with our multi-purpose Jersey barriers Hoarding stabilisation utilising Elite Duo interlocking blocks Large ballast bays with walls constructed from our Legato interlocking blocks Large scale embankment retention using the versatile Legato blocks Workforce safety refuges built from Elite Duo blocks
Struggling with platform re-gauging & tight possessions? d2 Dura Platform cuts install time by up to 65%.
Rail Director magazine is part of the Business Daily Group of companies, which includes the hugely popular railbusinessdaily.com. We deliver more than 70 stories a week to +50,000 rail industry professionals who now subscribe to our 7am daily newsletter. Please subscribe and encourage your colleagues and team members to do the same. It's free and it's easy: www.railbusinessdaily.com. This is the very best way to keep abreast of what is happening on Britain's railways. There is a digital copy of Rail Director on our website.
Our butaregreatestindustry'sassetourpeople,wecannevereverforgetoursocialpurpose
Chris Leech MBE Group Managing Director Rail Business Daily Chris
railbusinessdaily.com Introduction Rail Director | September 2022 | 3
Welcome to the latest edition of Rail Director. As the holiday season draws to a close, this has been without doubt a summer of discontent. Rail Business Daily has always remained neutral, but the team and I are firm believers that we are better working together and collaboratively.
I hope you enjoy reading the latest edition and do reach out if you have a story to share, of if you'd like to showcase your product or service to the decision makers of the railway industry. We are here to support you and, come rain or shine, we are in this together.
Those who know me will know that I am a people person and as I travel the length and breadth of our network, I am acutely aware of the strain our people and communities are under. I urge all parties to reconvene and find a solution and a compromise in regards to the ongoing industrial action. Our industry's greatest asset is are our people, but we can never ever forget our social purpose.
All the best.
We must stick together to ensure the industry thrives
This month I am delighted to feature on our cover Andrea Graham, the new head of crime and security for the Transpennine Route Upgrade (TRU), who shares her story of juggling motherhood with more than two decades
When you have finished reading this issue of Rail Director, please pass it to colleagues to enjoy or put it in your reception area.
As we embark on our fifth year, the challenge is to continue our stealth-like growth remaining true to our roots, having been created by railway professionals for railway professionals. The monthly Rail Director is at the heart of that.
Unique surface is BS 7976 tested to 1m footfalls with amazing 95% anti-slip retention.
+44 (0)1255 info@duracomposites.com440291 www.duracomposites.com
Heavy-duty, 2-man lift GRP Dura Platform panels can be walked on-site to ensure work is completed within engineering hours. Over 20,000 metres already installed across the network, meeting Network Rail load and fire criteria and 60+ year design life.
I mentioned earlier the strain our people and communities are under, and that is particularly evident when it comes to railway workers. Times are tough but I feel health and wellbeing is as high on the agenda as it has ever been.
This month Olivia Cayley, Samaritans' head of rail programme, has spoken about the incredible work people in the rail industry are doing to save lives. Earlier this year, 25,000 rail employees completed its half-day Managing Suicidal Contacts (MSC) course. Many of those have already put the learnings into practice and saved lives. This really highlights the power of rail workers and our willingness to go above and beyond.
Despite the ongoing issues, there is a lot to be thankful for and the hard work by everyone involved in the rail industry continues. Evidence of that is over the August bank holiday, where upgrade works worth more than £90 million were scheduled to take place.
Here at Rail Business Daily I am thoroughly enjoying settling into my role as group managing director. As the largest media and profile and enhancement company in UK rail, our job is to provide critical friendship to our clients and our community, accurately reporting the news and taking great pride in celebrating and amplifying your achievements.
at British Transport Police, Network Rail and now the TRU. I got to know Andrea many years ago when she was an embedded inspector for Northern and know with her passion and expertise that the TRU is in safe hands.
This month we feature an interview with Network Rail's John Halsall about the fantastic Rail Wellbeing Live initiative, which returns in October. I viewed many events last year so can definitely recommend taking some time out to register and have a look at what is on offer.
Olivia Cayley, Samaritans' head of rail programme, on a training milestone and keeping staff and passengers safe around the railway
Darren Caplan, chief executive of the Railway Industry Association, explains his seven areas for advocacy ahead of the party conference season
4 | Rail Director | September 2022 railbusinessdaily.com Contents
Alan McLeish, managing director and founder of the QTS Group, writes why he couldn't be prouder to have dedicated his career to the world of rail
International News 70
Saving lives on the railway 32
All of us should advocate confidently 64 at the political party conferences
The government describes it as one of the inaugural projects under the Rail SPEED scheme, which aims to deliver rail projects quicker at lower costs
Professor Paul Allen, the new IRR director, reflects on the success so far and the aspirations of the future
Putting customers at the heart 38 of the UK railway
Andrea Graham is the new head of crime and security for the Transpennine Route Upgrade. She talks about juggling motherhood with a successful career
A visit to the heart of Swiss rolling 58 stock manufacturing
Plans approved for National Railway 46 Museum's Central Hall
London's transport commissioner Andy Byford describes the news as another giant leap for the public transport system
and 3D laser survey expertise
Turning the dial on the wellbeing 26 of rail workers
no-maintenance
The first request-stop kiosk on the Far North line has gone on trial at Scotscalder station
surface.
Beating the metal thieves and 5 ensuring the railways are crime-free
Living the dream and using it to inspire others 16
Sick of Constant Daggerboard Maintenance?
price of GRP alternatives.
Young Rail Professional and Great Western Railway's Ewan McDermott discusses his journey in the rail industry and why working on the railway as a neuro-divergent person ticks many boxes
install. Our
Transport Secretary signs rail 22 partnership with Israel Grant Shapps says it helps Britain's world-leading rail industry extend its expertise to friends overseas
Movers and shakers 73
Farewell to the wave 78
Registration for this year's Rail Wellbeing Live on 2 and 3 November has opened with chair of the alliance behind it, John Halsall, hoping more than 20,000 workers will sign up
£161 million announced to transform 36 Oxford station
It is full steam ahead for the new Central Hall building, which will transform the attraction and herald the start of delivering the York Central development
d2 Dura Dagger Boards have a NWR approved Class B-s1 d0 fire rating with a woodgrain Dura Daggerboards are half the weight and Supplied in 2.1 x 1.2 metre sections for faster and cheaper CNC enables exact replicas of beautiful heritage with
designs
Ten years of Huddersfield rail 12 research institute
Celebrating 30 years of innovation 50 and three decades of success in rail
Stephen Mackinnon, head of accountancy and tax at MPA, writes about the importance of succession or exit planning
Next phase of Elizabeth line to open 10 in early November
The CEO of the Rail Delivery Group, Jacqueline Starr, on delivering exceptional services and her new role at Journey4
News 8
Sir Stephen Timms has recently undertaken his second trip to Switzerland as the Prime Minister's Trade Envoy to Switzerland and Liechtenstein, which included a visit to Stadler Rail Group's headquarters in Bussnang
Succession planning: 24 Exploring two options
turnkey 2 week lead time. +44 (0)1255 info@duracomposites.com440291 www.duracomposites.com WoodgrainSurface Tel: 0800 046 7320 Sales: 020 7062 6599 Managing Editor Nigel nigel@rbdpublications.comWordsworth Editor Danny danny@railbusinessdaily.comLonghorn Designer/Production Manager Chris Cassidy/Jesse Hagger Production Editor James Jackaman Director of Marketing Rachael Dean Subscriptions Danielle Burwood Advertising Team Christian Wiles – chris@rbdpublications.com Freddie Neal – freddie@rbdpublications.com Amy Hudson – amy@rbdpublications.com Published by RBD Media 15 Mariner Court, Calder Park, Wakefield WF4 3FL Printed by Stephens & George © All2022rights reserved. Reproduction of the contents of this magazine in any manner whatsoever is prohibited without prior consent from the publisher. For subscription enquiries and to make sure you get your copy of RailDirector please ring 0800 046 7320 or Thesubscriptions@rbdpublications.comemailviewsexpressedinthearticlesreflect the author's opinions and do not necessarily reflect the views of the publisher and editor. The published material, adverts, editorials and all other content is published in good faith. ANDREA GRAHAM EXCLUSIVELY FOR RAIL INDUSTRY LEADERS Olivia Cayley  Saving lives on the railway Darren Caplan  Seven areas for advocacy Ewan McDermott  Living the dream and using to inspire others September 2022 Beating the metal thieves and ensuring the railways are crime-free 2022September railbusinessdaily.com
Andrea Graham is driven by an enthusiasm to succeed. More than two decades at British Transport Police (BTP) including as Detective Chief Inspector, and more recently for Network Rail, she is now the driving force in ensuring the Transpennine Route Upgrade (TRU) is free of crime.
Andrea Graham is the new head of crime and security for the Transpennine Route Upgrade. She talks about juggling motherhood with a successful career
Beating the metal thieves and ensuring the railways are crime-free
Andrea's latest challenge has seen her take on the role of head of crime and security, employed through her work for The HSQE partnership, bringing with her a 360 degree view of the industry – having been the first officer to be seconded from BTP to train operator Northern in 2004.
The multi-billion-pound TRU will see major rail improvements between Manchester, Huddersfield, Leeds and York, with 76 miles of fully electric, digital railway – the biggest investment in this line since it was built in the 1870s.
Need NWR Approved Driver Hop Ups Fast? Safe, non-conductive GRP Driver Hop Ups designed to Network Rail load specifications from our unique d2 product range. Hop-Ups pre-assembled at our ISO 9001 and ISO14001 Fabrication Centre for rapid on-site installs. +44 (0)1255 info@duracomposites.com440291 www.duracomposites.com railbusinessdaily.com Rail Director | September 2022 | People5
"It has been a juggling act at times, but both my career and kids are important to me and I feel I've achieved my career aspirations without missing anything out from the kids' lives, including recently seeing my daughter graduate with a law degree. Sometimes you've just got to stand your ground and prioritise."
"I didn't have a degree and I didn't even go to college, it was pure motivation around wanting to progress my career," said the mother-ofthree. "The key has been a really strong support network, being quite assertive, and particularly during my time with the police when you're only five foot three, your mouth is your best tool.
"The key for me is having that proactive deterrent, such as forensically marking the cable so if it does get stolen and taken into a scrap metal dealer then it can be identified back to the project and we know exactly where it has been stolen
She will need all that experience for her new role, ensuring the TRU – which once complete will be nearly 80 miles in length and span between York and Manchester via Leeds and Huddersfield – will be crime-free.
"It is incredible that I haven't turned up at cable theft crime scenes and not found a dead body as these thieves are hacking at live cables carrying thousands of volts," she said.
Andreamillion.ispassionate that the TRU won't add to those stats and that the theft of signalling cables, overhead power lines and metal fences won't be happening along the route.
Surprise scrap dealer site visits are also regularly taking place to remind traders of their obligations under the Scrap Metal Dealers Act 2013, which means that by law dealers must ensure traded metal is legally sourced and that sellers' details are recorded and kept as part of any sale.
"Metal theft is something the industry has been tackling for many years, but with COVID and the quieter railways, incidents have been increasing, with people who would normally shoplift or commit house burglaries now
turning their heads to other acquisitive crime such as stealing from the railway and catalytic converters," said Andrea.
"Obviously the most proactive way of stopping it is to arrest and prosecute the people stealing, so overt action, educating staff and making sure local forces are working together, along with private security patrollers, are all key in tackling this".
"The punishment for scrap metal dealers paying for illegal metal is also harsher than it is for those stealing it, and if you don't have handlers you shouldn't have thieves."
But Andrea admits there is an underground scrap metal market, which is harder to tackle, but one in which the railway is working with other industries to share intelligence.
Andrea added: "We have to make sure stealing isn't lucrative for the criminals. A few years ago the law changed so scrap metal dealers can't pay cash out (it's got to be done by bank transfer or cheque). This has reduced the opportunity for a quick cash gain.
The TRU project plans include: Electrifying the whole route between Manchester and York via Huddersfield and Leeds; Installing a new digital signalling system along the Transpennine route; Doubling the number of tracks from two to four between Huddersfield and Westtown in StationDewsbury;improvements along the route to enhance customer experience, comfort and Improvingaccessibility;the railway on diversionary routes to allow more trains to run, to help keep passengers and freight moving while the core Transpennine route is closed to deliver essential upgrades. This will provide capacity and reliability improvements for the future. 6 | Rail Director | September 2022 railbusinessdaily.com People
Proactive deterrent
Thefrom."issue of metal theft is one felt widely across the industry, so much so a widespread operation is under way to mark railway property with forensic solutions that can transfer to thieves and are only visible under special police torches, so metal can be found and identified and offenders identified.
Harsher punishments
"My role is a bit unique really as I have the police and railway knowledge giving a good insight into the view from both sides and collaboration," she said. "During my time at BTP I worked with the likes of Northern as an embedded inspector. Latterly I was at Network Rail as its head of crime and security in the north west and central region."
"We won't tolerate crime on this project and we will be doing everything we can to make sure it is not possible to steal from us, both for the sake of passengers but also for the people stealing.
Among the priorities will be metal theft, which is causing huge problems on the railways with nearly 300,000 minutes lost to delays over the past five years, at an estimated cost of just shy of £16
"I sit on the steering group to work with electricity companies and power companies to work together to ensure we share information so we know where the hotspot locations are," she"Althoughsaid.
I'm looking forward to using all my experience from BTP and Network Rail to make TRU successful."
Featuring the latest Lithium Hybrid technology, Welfare Hire's ECO site lighting minimises fuel use and CO2 emissions, delivering proven performance to hit ESG targets for trackside projects. With the brightest lights, they promote HSE compliance and productivity on site too.
Rising through the ranks
Andrea added: ""It is really exciting being involved in the project and once I establish myself in the role I'll be looking at new innovative technology. There is so much technical equipment out there that we can put in to stop and detect crime.
and Arup delivering the upgrade to the west of Leeds; and VolkerRail, Murphy and Siemens carrying out the work on the eastern leg) looking at the best options to ensure the railway is safe and crime-free.
Never settle for second best.
"It is good that we are going to be able to trial some of those things that will reduce the opportunity of crime and bring some of the specialist criminals to answer the questions about the danger and disruption they are causing.
Andrea took on the role at TRU in July this year, joining after more than four-and-a-half years at Network Rail, where she started out as an incident officer in February 2018, before going into special project manager route crime and then moving up as head of crime and security north west and central.
As part of the role Andrea will bring together the alliance delivering TRU (Amey, BAM Nuttall
"I need to make sure everyone is proactive in reporting, and gathering intelligence," she said. "It is quite a specialist area with some people having the police knowledge and others the rail knowledge, not a lot have got both, hence why my role is unique".
Get in touch now to discuss sustainable lighting for your next project.
She said: "I was happy at Network Rail, but this seemed a great opportunity to build my own strategy to make it a much safer place for not only the employees working on the railway, but to make sure it is crime-free.
"At the minute I am writing a strategy and I need to decide the best options for target hardening our locations as the project moves up towards Leeds and to make sure staff are embedding a culture of security awareness."
Modernising rail projects with the UK's largest fleet of specialised ECO lighting 0845info@welfarehire.comwww.welfarehire.com6006670
Technological solutions
It is incredible that I haven't turned up at cable theft crime scenes and not found a dead body as these thieves are hacking at live cables
During her time at BTP she worked closely with train operators such as Northern to reduce youth crime and was one of the first BTP officers seconded to work with train operators, going into Northern as an embedded inspector.
the price of copper is starting to come down, ultimately it is the highest it has been for more than 20 years, so it makes it attractive for both organised crime groups and opportunists. But it really isn't worth the risk and by the time you look at the risk factor and overall gain, it would be better for them to just get a job."
railbusinessdaily.com Rail Director | September 2022 | People7
The significantly smaller 200kVA generator's power difference is bridged by pairing it with an energy storing flywheel system developed and supplied by Silverstone-based engineering specialist PUNCH Flybrid.
The technology matches the power of larger, thirstier generators by using the 200kVA generator's surplus power during the crane's low load periods to charge the spinning flywheel to very high speeds, equivalent to a ground speed of 550mph. The kinetic energy stored
Work to build the second mile of new track on the Levenmouth Rail Link, in Scotland, is now under way. The second phase of track work continues to take the railway closer to Leven and is the first section of the reinstated railway that will be double-tracked.
ScotRail plans to replace 65 per cent of its train fleet between 2027 and 2035. Setting out its plan in a notice for legal services on the government portal, it said nine of the 11 sub-fleets of trains currently operated will be replaced as leases expire and it becomes uneconomical to life-extend trains for continued operation. As part of this programme, ScotRail will decarbonise its entire train fleet.
PUNCH Flybrid-supplied unit, the 35cm-diameter flywheel is housed in a vacuum chamber to all but eliminate energy-sapping resistance that would result from contact with the air.
The 100th repainted SWR Desiro unit
company behind Britain's new high-speed rail network is trialling technology developed for Formula 1 (F1) motorsport to dramatically cut fuel consumption, carbon emissions and improve air quality at one of its London construction sites.
The site, where HS2's London tunnels surface, is operated by the project's tier one civils contractor Skanska Costain STRABAG joint venture (SCS JV).
HS2 uses F1 tech to help drive carbon emissions cut
railbusinessdaily.com8 | Rail Director | September 2022 News
Representatives from South Western Railway (SWR), Siemens Mobility and Angel Trains joined members of the train painting team as unit 450100 was displayed in its shiny new livery.
News in brief
HS2 innovation manager Rob Cairns said: "Delivering Britain's zero carbon, high-speed rail network for the 21st century is a national endeavour that is drawing on skills and technology both in and beyond the rail and construction sectors.
Incorporated inside the
by the flywheel can then be quickly released to support the generator when the crane demands maximum power to lift heavy loads.
"Our trial work with PUNCH Flybrid is another great example of how investing in long-term national infrastructure programmes creates opportunities to draw on technology from across the economy that could potentially unlock significant benefits for our industry."
well as all the train painters at Bournemouth for their hard work."
As part of HS2 Ltd's Innovation programme, a tower crane on the railway's Euston approaches site that would normally be powered by a 500kVA diesel generator to lift loads of up to 24 tonnes is instead being driven by one less than half that size.
LNER partnership raises more than £400,000 for CALM
ScotRail plans to replace 65 per cent of train fleet
Next phase of Levenmouth Rail Link work
Each four-car unit takes seven days to paint, requires 210 litres of paint and 7,500 metres of masking tape, and once the work is finished the train undergoes a deep clean.
SiemensImage:
SWR's deputy engineering director James Wale said; "It's great to see the 100th Desiro unit repainted and ready to go back into service, where our customers will soon be able to enjoy the benefits of its repainting and cleaning. It has shown how much we can achieve when we work collaboratively, and I'd like to thank our partners Siemens Mobility and Angel Trains for their cooperation and enthusiasm as
The UK firm's expertise was originally deployed in F1 motorsport and was subsequently put through its paces in endurance racing, including the famous Le Mans 24 Hour, before both sports opted to focus exclusively on electric batterybased hybrid technology – now widely used in passenger cars.
London North Eastern Railway (LNER) says more than £400,000 has been raised for its partner charity Campaign Against Living Miserably (CALM) thanks to fundraising activities supported by customers and colleagues. The major milestone has been achieved less than four years since the partnership was launched, with the money raised helping to support the charity's work to help prevent suicide through its life-saving helpline.
The final phase of restoration of Barmouth Viaduct is to be split, with the aim of reducing passenger disruption as it benefits from additional repairs. Network Rail has confirmed the Grade II listed viaduct will be open for the busy October half term and Christmas period, with extra work planned to secure the vital rail link's future for generations to come.
The 100th repainted Desiro unit has been unveiled at Bournemouth Traincare Depot.
Final phase of Barmouth Viaduct works
The
The Desiro train was first brought into service in 2004 by SWR's predecessor South West Trains and when the franchise was awarded to SWR in 2017, a programme was announced to repaint the trains in SWR's corporate colours.
Insurers will continually review financial information and provide a line of credit on each customer. Insurers' credit limits may decrease or increase in light of financial information that the insurers obtain.Many clients then use credit insurance to increase sales –offering higher levels of credit to their customers with the confidence that comes from knowing the credit risk is insured.
You don't have to insure all of your customers. When you work with our trade credit experts, they will look to
What is trade credit insurance? ACII NEBOSH,
Feature railbusinessdaily.com Rail Director | September 2022 | 9Advertorial Insurance We Are A Rail Specialist Insurance Broker (RISQS Link up approved) Offices in London and Birmingham. Nationwide coverage. Jobson James Insurance Brokers Limited are authorised and regulated by the Financial Conduct Authority www.jobson-james.co.uk/rail WE INSURE •RRV and Plant Companies •S&T, S&C, SMTH, OLE and Civils contractors •Rolling Sock Turnkey Modifications companies •Manufacturers, Wholesalers and Installers of rail products •ROSCOs and TOCs supply chain •Rail Consultants, Surveyors and Engineering Companies WHY US? •Specialist Rail •NEBOSH/SafetyKnowledgeapproach producing lower premiums •Contractual Liability checking •Better Technical advice •Specialist rail safety consultancy site audits funded by insurers Contact Keven Parker on 07816 283949 / 0121 4528717 / 0207 9839039 Email: Keven.parker@jjrail.co.uk GENERAL RAIL ELECTRICAL SERVICES CONTRACTOR - £6M TURNOVER • We identified that the current insurance policy contained the wrong risk profile for the client. • A site visit took place for one of the clients contracts and a report was compiled detailing the nature of the work. • We successfully reduced their EL PL Premium by 50% resulting in an annual saving of £27,000. • Their Pi premium was reduced by 75% despite improvements in the cover. £27,000 SAVING ON INSURANCE PREMIUM TURNOVER£6M SAVING50% REPORTCROSSRAIL20-PAGESITE INSURERSRISK20-PAGEREPORTTO HAPPY RECOMMENDTO Offices in London and Birmingham. Nationwide coverage. Jobson James Rail is a trading name of Aston Lark Limited. Authorised and regulated by the Financial Conduct Authority. www.jjrail.co.uk
Claims will usually be settled within 30 to 60 days of the claim and supporting documents being submitted, depending on the value/ complexity of the claim. You will typically receive 90 per cent of the value of the insured debt.
Keven Parker, ACII NEBOSH
Credit insurance is a highly costeffective way to replace a bad debt reserve and to free up cash that can be put to much better use in your business.Invoice finance is different – it is a funding solution that may or may not include credit insurance (or debtor protection). Debtor protection linked to invoice finance may or may not be the most suitable or cost-effective way to manage
Trade credit insurance, also known simply as credit insurance, covers the risk of bad debt when a customer is unable to pay for goods or services that have been provided on credit terms. It guarantees that the debts will be paid even if a customer is insolvent.
your own company's trade credit risk.Our team of trade credit insurance specialists at Jobson James Rail will advise on alternatives, so you can make an informed decision.
Keven Parker, chartered insurance risk manager
The premium level is dependent on a variety of factors, including the nature of your business, the quality of your credit management processes and the strength of your customers.Tradecredit insurance is a niche product that requires careful risk assessment. It is therefore important to work with an insurance broker who has specialist expertise and capabilities in trade credit insurance to ensure your business has the appropriate cover in place.
In general terms, a credit insurance policy provides cover in circumstances where your customer is unable to pay. That will most often be due to insolvency but may also include other financial difficulties.
head of rail at Jobson James Rail
provide you with exactly the cover you want. That may be individual contracts, individual customers, a selection or all of your customers.
Keven Parker, Chartered Insurance Risk Manager ACII NEBOSH, Head of Rail, Jobson James Rail. Contact Keven on 07816 283949.
The next stage of the Elizabeth line has been confirmed by Transport for London (TfL), with direct trains from Reading and Heathrow to Abbey Wood and from Shenfield to Paddington set to begin this November.
It's great news that from November, Elizabeth line trains will run directly from Reading and Heathrow to Abbey Wood, and from Shenfield to Paddington
Next phase of Elizabeth line to open in early November
The Mayor of London Sadiq Khan said: "The opening of the new Elizabeth line has been a landmark moment, not just for London but for the entire country, helping to contribute £42 billion to the national economy.
London's transport commissioner Andy Byford describes the news as another giant leap for the public transport system
"I am excited to see the Elizabeth line unlock quicker and better journey options, greater accessibility, and further connectivity to jobs and leisure for even more people. This will be another
Landmark moment
giant leap for London's public transport system, which supports economic growth in the capital and right across the country."
Exciting achievements
From Sunday 6 November, the lines from Reading, Heathrow, and Shenfield will connect with the central tunnels of the Elizabeth line –opening up new direct journeys across the capital. This means that customers travelling from Reading and Heathrow will be able to travel east
Andy Byford, London's transport commissioner, said: "When we delivered on our promise to open the central section of the Elizabeth line in the first half of this year, I further promised that Bond Street station would open this autumn and that the next phase of the line opening would also be achieved within that timeframe.
all the way to Abbey Wood without changing at Paddington.Customers travelling from Shenfield will be able to travel west all the way to Paddington without changing at Liverpool Street. Journeys to onward destinations, including to Heathrow Airport or towards Reading, can be made by changing trains on the same platform at any of the central London stations.
TfLforNicholsonTomImage:
The new Bond Street Elizabeth line station is also due to open by November, described by TfL as another boost to London's recovery from the pandemic.
"It's great news that from November, Elizabeth line trains will run directly from Reading and Heathrow to Abbey Wood, and from Shenfield to Paddington, seven days a week. Services running on Sundays through central London will also make thousands more journeys quicker, easier and more comfortable.
10 | Rail Director | September 2022 railbusinessdaily.com Major Projects
COST EFFECTIVE SIGNALLING DESIGN SOLUTIONS Keep your overheads to a minimum Over 100 years combined experience Flexible support without the need for full scale mobilisation We can work as a delivery partner or part of a project team Capabilities for single discipline or multi-disciplinary schemes TALK TO US TODAY T: +44(0)800 924 7922 E: contact@mosaicrail.com w: mosaicrail.com
"This enhanced capacity on the Elizabeth line will play a crucial role in encouraging people to make the most of the capital and will help support businesses in the heart of our city."
railbusinessdaily.com Rail Director | September 2022 | 11 Major Projects
Bond Street Elizabeth line station expected to open ahead of the new services on the railway. The step-free station will provide a new link to one of the busiest shopping districts in the UK and relieve congestion at Oxford Circus station.
"From November, even more passengers will be able to benefit from this fantastic line with the introduction of Sunday services, direct journeys to Berkshire and Essex and a new station at Bond Street."
Two new ticket halls at street level with an abundance of natural light – one at Davies Street, the other at Hanover Square – will lead passengers to the Elizabeth line platforms. In addition to station improvements, Crossrail has worked alongside Westminster Council on improvements to the urban realm surrounding the station.
Secretary of State for Transport Grant Shapps said: "Just under three months ago, I had the pleasure of riding on the very first Elizabeth line service, which thanks to £9 billion of government investment, has already created 55,000 jobs across the UK and seen a whopping 11 million journeys.
TfLforNicholsonTomImage:
"Along with founding colleagues we have grown the institute to 35 full-time research staff. Simon has been an inspiring and successful leader, and I'm confident going forward we will go from strength to strength as we have an amazing team and platform to build on and some great ideas on moving forward."Thekey though is to continue to remain plugged into the industry and work closely with our university partners and the wider rail sector."
Working together
We're well known for railway vehicle, track and overhead line interaction dynamics, but I want us to explore other areas
12 | Rail Director | September 2022 railbusinessdaily.com Innovation
Professor Paul Allen, the new IRR director, reflects on the success so far and the aspirations of the future
few days in Huddersfield. "We had some lovely new offices the university built for us which consisted of a small laboratory and our one-fifth scale roller rig. The institute was formerly opened in 2012 by then Secretary of State for Transport and now Lord Patrick McLoughlin.
The journey continues
"I was one of nine staff that originally formed the IRR team," said Paul, reflecting on the first
"It all really started with the RTU in Manchester which grew to a group of nine fulltime research staff performing a mixture of rail vehicle dynamics and wheel-rail interface engineering research and consultancy and quite a bit of work on the research side looking at switches and crossings".
Now, as the IRR celebrates its 10th birthday, Paul has formally taken over from his former mentor as its second ever director, and is passionate to build on a decade of world-class railway research and collaboration with the industry to ensure innovations developed have an impact on safety and performance.
A decade ago the team packed up data logging equipment and one-fifth scale roller rig in the back of a van and made their way to West Yorkshire to create an organisation focusing on the interaction between railway vehicles and track, with research informing development of techniques to optimise the wheel-rail interface and to improve services.
"It is an honour to take on the role of IRR director, having been present from the start of our journey and helping grow our institute as it is today."I'mexcited by the prospect of exploring where we can take the institute in the next chapter of its development," he said.
It has already been some journey for the IRR team and particularly for Paul, who was one of the original members who made the journey from Manchester Metropolitan University's RTU to form the IRR at Huddersfield.
It was three decades ago that Professors Simon Iwnicki and Paul Allen first crossed paths. Simon was lecturing in mechanical engineering at Manchester Metropolitan University, while Paul was one of his students.
The relationship and the impact on the industry continued to flourish. Simon became Paul's PhD supervisor while studying contact mechanics and wheel-rail interaction on a scaled railway roller rig, and the pair have since worked together with founding colleagues to form the Rail Technology Unit (RTU) and subsequently the Institute of Railway Research (IRR) at the University of Huddersfield.
Ten years of Huddersfield rail research institute
Paul Allen (left) with Simon Iwnick (right)
Paul added: "We established that core team and over a period of 10 years we worked away in growing, developing and building a strong reputation for excellence in our field. It was 2011 when the University of Huddersfield first invited Simon over and asked if he'd consider moving over the Pennines to form a new railway research group.
"We all got together and thought 'this sounds like a great idea', and in discussion with the university we developed the concept of forming the model for a research institute. We subsequently became the first of what is now a number of leading research institutes at the University of Huddersfield."
"Time-wise it doesn't feel like 10 years, but in terms of what we've collectively achieved, the amazing facilities we have built and having grown to a team of 35, it does feel like the accumulation of 10 years' work," Paul said.
Transformation
World-leading test facilities have also been developed including HAROLD: a full-size bogie rolling test rig, THOMoS: A passenger environment test platform, and PANTHER: A high speed pantograph test rig. The team's efforts haven't gone unnoticed and in 2019 the IRR received the award of the Queen's Anniversary Prize "for
Pantograph test rig at the IRR
Its site at the University of Huddersfield is also unrecognisable compared to how it was when the team arrived. As part of its Northern Powerhouse and ERDF-funded Smart Rolling Stock Maintenance Research Facility (SRSMRF), a £1.5m new laboratory facility was recently commissioned to explore the application of smart technologies and robotics to railway maintenance.
railbusinessdaily.com Rail Director | September 2022 | Innovation13
Ten years later and the IRR team can be incredibly proud of what has been achieved. As part of the UK Rail Research and Innovation Network (UKRRIN) – of which it was a founding member – it has led the way in the partnership between the railway industry and the leading academic institutions carrying out railway research. The IRR hosts the UKRRIN Centre of Excellence in Rolling Stock, alongside with the University of Newcastle and Loughborough University.
research and development that has brought significant improvements to the railway industry".
But Paul doesn't have too much time to reflect having taken over as the new director and he already has several ideas, with collaboration at the heart of the IRR moving forward.
"We will look to diversify further to meet the sector's needs. We're well known for railway vehicle, track and overhead line interaction dynamics, but I want us to explore other areas including the potential in smart maintenance and robotics, particularly at a time when the industry is looking to reduce costs right across the board; the work we are doing is helping to create potential savings to the end user.
"I am incredibly proud of what has been achieved; working alongside our key funding partners including RSSB and Network Rail, our research has helped to improve the knowledge in which railway vehicles interact with the track, including key performance aspects such as suspension performance, wheel-rail contact, traction and braking.
Railway bogie test rig based at the IRR
"We need to ensure we continue to collaborate as a network of universities working together as a collective," he said. "That is the strength of UKRRIN and it is exciting to have a place at that table.
"I am particularly excited about the Global Centre for Rail Excellence, which will provide us with the capability to test new equipment on railway vehicles, new technologies and enable us to be a little braver in addressing some of the challenges, reducing costs and making better use of digital and autonomous systems," he said.
The IRR team celebrating its tenth birthday
"There is also the potential for furthering research around the 'railway depot of the future', whereby we can explore how we can extract some real benefits from smart and predictive maintenance techniques, because at the minute if you look at the way the aerospace industry operates, the railways are quite a long way off that.
"The digital side of things, the autonomous and robotics is definitely something I'd like to think we can look to explore in the future, the signalling side, capacity, European Rail Traffic Management System (ERTMS); the third level of
"But it is very much an emerging picture and other university partners and industry stakeholders are working on ideas and strategies as to what we think is the right way to go. But overall, it is an exciting time to work in railway research and particularly with the creation of Great British Railways I am optimistic for strong thought leadership at the top and building even more effective collaborations between industry and academia."
It's an opportunity he is relishing, bringing more than 20 years of experience as a leading railway researcher and industrial consultant, leading a wide range of research and consultancy projects for many clients and collaborators in the UK and internationally, including wheel-rail interface engineering, vehicle dynamics, and train brake system development.
Paul added: "We need to ensure trains can stop even in the lowest of adhesion conditions, so looking at technologies such as adhesion independent braking, adhesion detection and mitigation systems on trains so they can understand their own braking performance and optimise it, and then you start unlocking further potential capacity.
control whereby to extract maximum potential capacity benefit you must understand and optimise the adhesion available between the wheel and rail.
"I'd like to see further expansion of our facilities at Huddersfield, maybe looking at switches and crossing optimisation or on the materials side of things, but the key is to look at collaboration with other UKRRIN universities as to what the big picture looks like and where we can pitch in."
Continued collaboration
"If you'd have said to us when we moved a decade ago that we'd have millions of pounds of laboratory facilities and 35 staff I don't think I'd have believed you!"
"From an IRR perspective we have benefited from a huge amount of investment over the past five years, we need to capitalise on that investment and ensure our facilities do not gather dust. I have no doubt that won't be the case because we've been very careful in selecting equipment that meets industry's needs, and we've been tremendously successful in the areas we've worked in.
14 | Rail Director | September 2022 railbusinessdaily.com Innovation
"We also have a fantastic team leading the way in the simulation and testing of pantograph and overhead line dynamics, collectively our research is having a real impact in terms of safety, reliability and cost savings."
Optimised braking
Looking to the longer-term future and Professor Allen mentions potential funding bids to expand the UKRRIN network, working alongside academic partners and the new Global Centre for Rail Excellence in Wales.
INNOVATE. BUILD. OPERATE. MAINTAIN. • Delivering maintenance for high fleet reliability and availability from a dedicated maintenance facility at the RTC in Derby • Field base maintenance capabilities across mixed OTM, Engineering and Freight train fleets • Providing turnkey engineering solutions to boost fleet performance • All maintenance provided to meet Entity in Charge of Maintenance regulations Call us: 07554 939 396 Email us:#LoramRailOpscommercial@loram.co.uk • Our industry focused, highly skilled, experienced Engineers are the best in their field and work on innovative projects shaping the future of rail • Our willingness to share risk, enjoy the rewards and work together with our world wide customer base underpins our commitment to long term relationships • Local vehicle build capabilities from our dedicated, fully equipped depot in the UK • Major fleet enhancement and conversion capabilities • UK wide operations capabilities giving you piece of mind that the vehicle can be in location when required • Management of all collection, delivery, testing and commissioning responsibilities through Loram 365 Control
Despite being relatively new to the rail industry, Ewan is as passionate about supporting those new to the industry or looking to get a job in the railways as he is about progressing his own railway career, including supporting others as an operations customer service apprentice mentor.
"It is a fantastic industry to work in for someone on the autism spectrum, as I like to
"I've always had a passion for the railway and from a very young age I was fascinated with the way it worked and how everything ran strictly by the minute; every second counts," he said."The first thing I do when I get up in a morning is look at my watch. You are constantly clock watching all the time on the railway, because time is "Theimportant.technical aspects and how the railway functioned have always fascinated me, particularly around rolling stock, operations and infrastructure. When I was younger I enjoyed watching the Pendolino trains tilt as they went around corners, these particular trains are capable of tilt between six and eight degrees on a high-speed elevated curve, which is phenomenal."
Living the dream and using it to inspire others
"Keep at your goals and don't let your differences define you." That's the ethos for Ewan McDermott, who is living the dream working in the railways.
From a young age if he wasn't travelling on trains, he'd be watching them go past on the West Coast main line from his grandparents' back garden in Watford.
But that hasn't stopped him from succeeding whatsoever. The places he used to turn to for calm and comfort growing up are now his places of work; from working in customer service for Great Western Railway (GWR), to his heritage railway work on the Avon Valley Railway on diesels, and with Gloucester & Warwickshire with steam locomotives.
It hasn't been the simplest of journeys. He struggled with school in many ways, was diagnosed with mild autism aged seven and on top of this had a slight speech delay, only starting to talk fully when he was six.
follow structure, processes and rules. However, sometimes the railway can throw unexpected challenges in many different ways on a daily basis. But being able to face the unexpected and knowing how to deal with it efficiently is what is important."Iparticularly enjoy problem solving, as well as the busy atmosphere and diversity and meeting different people from all walks of life.
He got his first taste of the rail industry in 2016 aged 16, when he started selling tickets for the Avon Valley Railway, before progressing to work on the diesels. Two years later he joined GWR as an operations apprentice based out of Bristol Parkway station.
Childhood dreams
After Ewan's apprenticeship he left home aged 18 for his first role on the railway based in
16 | Rail Director | September 2022 railbusinessdaily.com People
Young Rail Professional and Great Western Railway's Ewan McDermott discusses his journey in the rail industry and why working on the railway as a neuro-divergent person ticks many boxes
the Thames Valley at Newbury, near Reading. Newbury covers a huge chunk of the Kennet and Thames Valley area, which manages up to 17 stations.Hesaid: "The experience of working at a different location that I wasn't familiar with was certainly a good experience. I was able to gain an in-depth understanding of how different regions and parts of the railway network operate, and how some stations are different to one"I'veanother.hadto change my mindset from simply enjoying the railway to a more professional approach, but despite having had a lot of selfdoubt throughout my school life and worrying a lot about my future, I have always been very goal-driven and I have never lost my ambition to work in the railways.
"I like enhancing my knowledge and learning different operational skills. It can take time to learn some elements, but learning something and being able to do it practically is extremely rewarding."
When it comes to manufacturing concrete for the rail industry, Anderton go a lot further. Our cost effective, bespoke concrete offering means a client's very own concept can be both designed and built in-house at the Anderton factory.
You know we make troughing. But our rail solutions don't stop there.
With a proven track record for bespoke solutions, our experienced team has successfully completed projects this year for Feltham Resignalling, Werrington Separation, Durham Coast and Birmingham New Street to name but a few. What's more, our own on-site mould manufacturing facilities ensures quicker lead-times, better availability and saves you time on site. So, if you're thinking bespoke, speak to Anderton.
Call 0333 234 3434 or visit www.andertonconcrete.co.uk
organisations to look at different recruitment techniques to ensure talent isn't being wasted due to that first impression or based on an hour-long interview."Although someone might have the skills, the opportunity can come down to a one-hour interview and people might freeze and not know how to present themselves," he said. "I did struggle with interviews and I have got better thanks to practice so now I take it in my stride to help coach these people.
"I see things in black and white, I'm quite an optimistic person but also want to do things the right way, I like to see the positive in every situation. Regardless of the situation, I think it is about embracing the change and making sure people have the opportunities to build themselves as an individual and as a railway person as well, giving them the chance to prove themselves.
More recently, the group collaborated with the London and South East region for an event with Hitachi Rail, giving members an opportunity to learn something different about the opportunities that are available to people from all backgrounds in management and rolling stock
He is the head regional chair for the Western region at the Young Rail Professionals (YRP) and has already organised several well received events, giving members a new perspective to the industry. Ewan has worked with Paul Stephenson (recently recruited as vice chair for the Western region) in relaunching the region and organised a classroom session around train driving, including operating the simulator facility.
"There's simply nothing worse in life than doing something you don't enjoy. You've just got to get up, grab the opportunity with open arms and do the very best you can. Each and every one of us are different to one another, there's no such thing as 'normal', none of us are normal. We are all unique."
It is estimated that one in 100 people are on the autism spectrum (according to the National Autistic Society), and in a bid to help those struggling Ewan has written several books raising awareness of neurodiversity and autism, drawing on his own personal experiences. He's also worked with the National Autistic Society to raise awareness and funds for the society.
Tel: +44 (0)1775 821222 - Email: info@premierpits.com - Web: www.premierpits.com MAINTENANCE AND INSPECTION TRANSFORMING ROLLING STOCK Premier Rail Pits offer the following benefits: • Welded construction to ensure a water tight finish • Quicker installation time compared to precast concrete • High quality finish • All internal service ducts fitted prior to installation • Easy to clean • Rail attachments fitted prior to installation • Full or part installations are available A full range of accessories and safety products are also available Improve the efficiency of your workshop with our range of pre-fabricated steel maintenance and inspection pits, built to CE certified standards Being able
To ensure the rail industry continues to attract a wide variety of applicants, Ewan is encouraging
"Nothing is ever impossible, and it is all about mindset changing. There are thousands who work in our industry who live with autism and I'd even say working on the railway as neurodivergent ticks many industry boxes."
it
"I know some industries that interview people in slightly different ways, for example a one or two-week working programme, and you judge their work ethic based on what they're doing and their
"As I said to them, his differences are not going to define him a single bit. I mentioned that I lived on the spectrum and I managed to get into the career of my dreams, and although it can be extremely hard work at times, being resilient and with perseverance, you can go far.
"When I was 16 I wrote two books, one was on mental health and the other was called 'Through the eyes of me' and its aim was to give that perspective of what it is like to be autistic," said Ewan, who wrote the books just before finishing his"IGCSEs.generally struggled in school with English and I never saw myself writing books, but it helped me and I thought my experiences could also be inspirational and raise awareness of neurodiversity and mental health and how it impacts people. to face the unexpected and knowing how to with efficiently is what is
Raising awareness
deal
important 18 | Rail Director | September 2022 railbusinessdaily.com People
Themaintenance.Westernregion is holding a relaunch event on 15 September at the Engine Shed in Bristol, featuring Nick Millington (acting route director at Network Rail) as one of the main speakers."I'vehad lots of individuals approaching me to ask questions about joining the industry, and one who stuck with me was a woman who asked if her son could still apply for a railway job despite having been diagnosed with autism and struggling with dyslexia," he said.
autistic and being in this industry is advantageous, because I can follow and retain a lot of information at once and it can help me perform my tasks.
"Forcompetence.mebeing
Wider knowledge
He said: "I enjoy working on the Class 31 and 08 Locos. They are both different in their own ways."I've also recently joined the Gloucester &
Times House, Bravingtons Walk, Regent Quarter, London N1 9AW | +44 (0)20 7042 9961 | david.hiscock@rmf.co.uk www.rmf.co.uk RMF is a leading provider of railway reservation based international settlement and clearing services, providing sophisticated revenue and cost allocation, including business critical management information. railbusinessdaily.com Rail Director | September 2022 | People19
Warwickshire Railway based in Toddington in the steam department and recently passed my PTS exam so can now get some experience on the footplate. There's a lot of dedication and perseverance, but I feel I have that in abundance and despite the setbacks I've carried on and I'm passionate I will succeed.
In 2016, he took the opportunity to ride up front in a Virgin Pendolino from London Euston to Birmingham New Street and back, a moment he described as the most exhilarating he had ever experienced.
"Travelling at 125mph was incredible. I could feel the engine working hard behind me, the grinding of the breaks when an application was made, the movement of the set going over high speed junctions and curves. It was all fantastic."
On the heritage railway side of things, Ewan started as a ticket inspector but has also helped with a lot of different restoration projects. Three years ago he was given an opportunity to progress to the diesel footplate and has been given the experience of coupling trains, splitting coaches and will soon be doing his pass out exam.
"It can sometimes take years to progress in the steam footplate, but with support and guidance anything is possible. My main goal this year is to gain more familiarity with different types of steam traction and to learn each and every component, the science around the engines and so much more. I really enjoy
"More recently I had a surprise ride up front of a GWR high-speed train from Bristol to London Paddington. It was a fantastic experience which I will always remember.
hands-on work and I enjoy teamwork and doing tasks the right way.
Looking to the future and as well as a passion to help the next generation of rail workers, Ewan hopes one day to fulfil a lifelong ambition of becoming a mainline train driver and to work within the operations management grade.
Opportunities
"It was a case of pushing myself out of my comfort zone, which is something I've always looked at doing to develop myself as a person. I'm currently writing another book on learning about the behaviours of autism from an in-depth cognitive perspective."
"I didn't see myself working closely with steam engines, however I wanted to take myself out of my comfort zone and learn something new.
"The future of the railway is in the younger generation's hands, so I want to represent the younger generation of rail workers because we are the future and I want to be a good role model to those people. Every single day is a learning day, and mistakes might be made, but we will learn from those mistakes. We've got to take the rough with the smooth and we've got to embrace that change and make sure we are an industry for all."
"I'm always busy, but the end result for me is knowing that I keep learning and knowing that I can use my experience to help young people. For me it is about learning, learning, learning, and giving something back.
"The tilting around the curves at Wolverton and Rugby were fantastic! It was very surreal and that day sealed my ambition to become a main line train driver in the future," he said.
"Good health is good business and because your employees are your most valuable asset, it makes sense to safeguard their health and provide a safer working environment," said general manager Steven Morley.
INFRA Skill's general manager Steven Morley and occupational health nurse Thandiwe Mandimutsira discuss INFRA Health, the all-in-one solution for workplace wellness
"Good health is good business and because your employees are your most valuable asset, it makes sense to safeguard their health"
20 | Rail Director | September 2022 railbusinessdaily.com IndustryFeature Spotlight Advertorial
Higher morale, lower staff turnover
"Employee wellbeing initiatives and developing a work environment that lowers hazards and protects against illness and injury have their own set of advantages.
"Higher employee morale and lower staff turnover translate into advantages that can give your business a competitive edge. A motivated and loyal workforce is more likely to achieve better results if they are happy and healthy."Itcanbe challenging for businesses to know where to begin and how to establish a strong health culture that is ongoing rather than a one-time event, which is why INFRA Skills created INFRA Health to tackle this and make workplace wellness a priority.
"It is beneficial to reduce the risk of disruptive sickness and absence, injury or disablement, compensation claims, or criminal prosecution," added Steven, who prior to joining INFRA oversaw and managed a diverse range of training programmes within the prison sector.
ShutterstockImages:
A platform to workplace health
Its programmes are provided in two ways: a managed service with a dedicated advisor, and an on-demand screening service mandated after a risk Thandiwe,assessment.anoccupational health nurse, said: "It's very important that rail organisations ensure they have a fit and healthy workforce and a service like INFRA Health ensures they can be proactive rather than reactive. Prevention is better than cure.
INFRA Health focuses on four key areas: Monitoring employees at risk from exposure to working methods/processes.
It is costing the sector hundreds of millions of pounds a year through illness-related absenteeism, with an absence rate in the railways more than double the rate reported across the private sector.
t makes excellent business sense to invest in workplace health, whether it's through preventative screening, early intervention, absence management or first aid training.
I
"We develop partnerships with clients to create custom programmes that meet their needs and budgets."
Ill health and injury prevention.
Absence management following ill health or Employeeinjury. wellbeing and health promotion.
This is particularly important in the rail industry, where working pressures, hours, shift patterns and exposure to potentially traumatic events can lead to many people struggling.
Providing a platform to change that by providing prevention over cure is INFRA Health, an all-in-one solution for workplace wellness that's part of INFRA Skills and specialises in occupational health services for the infrastructure sector, particularly rail and construction.
Supportive service
"Taking care of your staff might lower insurance costs and even get insurers to contribute to risk assessments and health surveillance. You can also relax knowing that you're doing everything possible to guarantee legislative and regulatory compliance.
"There is a lot more employers can offer to improve the health of their workforce and we can help them provide that, at a time they need it most post-COVID, dealing with the cost of living crisis, a lack of availability of GP appointments, and many other factors affecting people's physical and mental health."
"There is a lot more employers can offer to improve the health of their workforce and we can help them provide that"
Absence management, including fitness for duty and return-to-work evaluations.
"We deliver a range of services covering health, safety, resourcing and training to the highest possible standards from our training suites in Birmingham, Cwmbran and Doncaster."
INFRA Health is part of the INFRA Skills organisation, which provides commercial training and assessments, funded learning and occupational health services.
Workplace health assessments. General medical health evaluations.
ShutterstockImage: railbusinessdaily.com Rail Director | September 2022 | Feature21Industry Spotlight Advertorial
DSE evaluations and eyesight tests.
What INFRA Health offers: Health surveillance and screening.
One area the company is promoting is the Know Your Numbers campaign, which encourages people to understand their cholesterol, blood pressure, blood sugar, weight and body mass index (or BMI) numbers to raise awareness, increase detection of cardiovascular disease and diabetes and enable people to make healthier lifestyle choices.
Job-specific MedicalManagementmedicals.referrals.examinationsfor new staff.
For more details www.infraskills.co.uk/infrahealthvisit:
"It is helpful for all employees as this is a tool intended to help businesses and employees get a sense of their overall health, something that can put people on the right path to making a huge difference in improving their health," said Thandiwe."During the consultation we will help you understand cholesterol, and what good and bad cholesterol means; blood pressure, and what it can do to our long-term health; blood sugar, and what we can do to keep it under control; and why you should keep your weight and BMI in a healthy range.
"Our service-driven philosophy is embedded into all aspects of the business and is backed up by our dedicated training team.
Drug and alcohol screening.
Medicals for capacity and ill health.
Steven added: "The INFRA Skills team are all experts in their field. By ensuring our trainers and management team are fully credited and diverse in their experience, we ensure the very best outcomes for all.
"The programme is aimed at business owners and HR professionals who wish to have a better understanding of their employees' overall health as part of their duty of care."
Medical and lifestyle assessments for Medicalsexecutives.for hazardous substances.
Safety critical medicals.
Comprehensive eye tests.
Putting people on the right path
Transport Secretary Grant Shapps
For example, the UK's Crossrail International will offer advice to Israel on design, safety and standards of new train lines across the country. Expertise will also be shared on ensuring the build of transport projects is as green and sustainable as possible.
of State for Transport Grant Shapps for his visit to Israel and for the ground-breaking cooperation we have created together.
memorandum of understanding (MoU) signed between the UK and Israel to share expertise on large-scale rail projects is set to unlock fresh business opportunities and potential new jobs.
Grant Shapps says new memorandum of understanding helps Britain's world-leading rail industry extend its expertise to friends overseas This BritishopportunityismemorandumafantasticforourengineersandadvisorstosharetheiringenuitywithIsrael
22 | Rail Director | September 2022 railbusinessdaily.com Business
Merav said: "Transport is a national security issue. This is accepted and understood around the world, and I am happy to strengthen ties and enter into agreements with other countries that make Israel stronger.
A
"I would like to thank my colleague Secretary
Global expertise
As part of the Transport Secretary's visit to Israel last month, he has visited the building site of Tel Aviv's new light rail line and met with the Israeli transport minister Merav Michaeli.
"I am confident that the know-how we have shared and the agreements we have signed will result in better transportation in both countries, and particularly greener, shared transport that the world needs so much as we face the climate crisis."These steps contribute to strengthening the relations between Israel and the United Kingdom and are a cornerstone of our important bilateral ties. This is how we are moving Israeli transport several steps forward."
Transport Secretary Grant Shapps said: "The partnership further ingrains our commitment to a global Britain, helping our world-leading rail industry to extend its expertise to friends overseas, while unlocking fresh business opportunities to boost the UK economy.
Pumped economy
The new memorandum will allow both countries to share experience and best practice in relation to large-scale transport projects.
Transport Secretary signs rail partnership with Israel
In July, the UK launched negotiations with Israel to upgrade the current trade deal, which is currently worth £5 billion and supports 6,600 UK businesses. The upgraded agreement would establish a modern, revamped trading relationship between two of the world's services superpowers. This includes seeking improved access to major public sector contracts for UK businesses and boosting opportunities for the services sector.
The UK-Israel MoU comes as Israel undertakes a multi-billion-pound mass transit project in Tel Aviv – the country's largest and most complicated infrastructure project to ever exist.
In 2021 alone, the UK imported £144 million of transportation services from Israel, highlighting the close relationship between the two nations.
"It was a pleasure to visit the project site this week to see first-hand the ongoing work to build such a revolutionary transport hub which will help millions of passengers get from A to B quicker, easier and more sustainably."
The scheme is being supported by the DfTowned Crossrail International, a specialist advisory company that offers its expertise across the globe to deliver complex rail projects. The project will see the build of three light rail and metro lines to serve 27 local authorities and three million passengers daily.
The MoU follows the launch of the Elizabeth line in the UK, with the benefits of the stateof-the-art line extended overseas through the Department for Transport's (DfT) Crossrail International advisory company.
The Elizabeth line project is estimated to pump £42 billion into the UK economy and has created more than 55,000 jobs and 1,000 apprenticeships while expanding central London's rail capacity by 10 per cent.
"Crossrail International is extremely proud to be a partner of this MoU and to act as a conduit of UK knowledge, skills and expertise that will support the Israeli Ministry of Transport in the delivery of its transformational rail transit portfolio."
"Following the successful launch of our iconic Elizabeth line earlier this year, this memorandum is a fantastic opportunity for our British engineers and advisors to share their ingenuity with Israel as they undertake their largest ever rail project in Tel Aviv.
Paul Dyson, chief executive officer of Crossrail International, said: "Our aim is to share good practice, lessons learned and innovation to provide better outcomes and wider benefits for our respective societies.
McAndrewChrisImage:
Supporting a sustainable railway is a key priority for Wabtec UK. Through our refurbishment, overhaul, upgrade and maintenance services, we are committed to reuse and recycle as much material as is possible. Sustainable rail is in our DNA REUSED RECYCLED WASTE >18,700TONNES >3,700TONNES TONNES<66 83.2% 16.5% 0.3% Note: Top 14 UK projects by volume in 2020
For owners, no CGT is paid when disposing assets into an EOT, and it may be a particularly attractive option if you want to retain some ownership (up to 49 per cent). It could be a quicker exit route than through private sale, but also offers more opportunity to phase leadership succession.
If you're able to transfer assets ahead of death, giving assets as outright gifts or gifts to trusts may be also make sense and could be done free of tax with the right advice. As there are also inheritance tax considerations if this is the case, good planning is key here.
These are just two options for business owners looking to exit in the immediate or long-term future, but there are many more. If you need help succession planning or want tax advice for you or your business, get in touch with MPA for a no-obligation discussion.
If you have the option to pass your business to family it's sensible to put some legal, financial, and operational standards in place well in advance of yourLegally,exit. consider whether you have shareholder or partnership agreements, or articles of association, that restrict who you can pass shares to and when. Some agreements, for example, state that shares must be offered to existing shareholders before you can offer them to outsiders – like family members not already part of theOperationally,business. you need to agree how much involvement you'll still have in the business once you transfer ownership. While you may still want to be involved, it can make transition complicated if leadership responsibilities aren't clear. On the flip side, your successor might not yet be ready for full responsibility, and you may want to maintain some degree of influence.
www.mpa.co.uk
Employee Ownership Trusts Employee share schemes, and in particular Employee Ownership Trusts (EOT), are growing in popularity and might be an equally (potentially more) tax-efficient route to explore.
Stephen Mackinnon, head of accountancy and tax at MPA
For many SMEs, its owners like you who are heavily linked to the success of the business. Advanced succession and exit planning gives the chance to impart knowledge and experience to others, and to ultimately leave your business in a place where it can not only operate but continue to thrive without you.
Whether your long-term goal is to sell your business, pass it to family, or even to ultimately wind it down, making plans now gives you peace of mind, and the opportunity to make tax-efficient decisions.Here,professional services provider MPA looks at two succession options: the transfer of ownership to family, and to employees.
EOTs put the interests of the business at the heart of succession planning; offering employees share options incentivises performance, encourages engagement and improves retention, which all clearly impact long-term success.
If eligible and done correctly, a more taxefficient route might be to extract funds in one go or across a short period of time, which would be taxed at capital gains tax (CGT) rates rather than at higher income tax rates.
Valuable legacy
If you need to continue receiving funds after you've left the business, you may want to retain some shares with preferential rights to dividends, which would be subject to dividend tax.
If you need help succession planning or want tax advice for you or your business, get in touch with MPA for adiscussionno-obligation
more information. 24 | Rail Director | September 2022 railbusinessdaily.com Business
Family takeover
Business asset disposal relief (BADR) may also be available when selling shares in a trading
EOTs transfer majority or significant ownership of a company to a trust, which then allocates shares to employees. They're different to Individual Share Ownership and are usually easier to set up and administer.
For employees, profits can be shared as bonuses (as opposed to dividends), which can be paid income tax free.
company. The highest rate of CGT on shares in 20 per cent (without BADR); if you qualify for BADR this could be reduced to 10 per cent.
Succession planning: Exploring two options
Running a business is time consuming so some things inevitably get put to the back of the to do list. Succession or exit planning shouldn't be one of them.
Financially, how and when you choose to transfer control to a family member or members, and to what extent, have different tax implications.
Stephen Mackinnon, head of accountancy and tax at MPA, writes about the importance of succession or exit planning
Visit for
www.railtex.co.uk Exhibit at Railtex 2023, the UK's number one rail event and benefit from three days of uninterrupted business. The exhibition profile includes: Organiser: Rolling RailwayStockCivil Engineering Track Design, Supply & Construction Track & Infrastructure Maintenance Safety & Security Systems Electrical Products & Equipment Station Equipment & Passenger Technology Information Technology 9 – 11 MAY 2023 | NEC, Birmingham SHOWCASE YOUR PRODUCTS AND SERVICES TO A SPECIALISED AUDIENCE BOOK YOUR STAND NOW PLAY A KEY ROLE IN THE RAIL INDUSTRY OF TOMORROW
Ill health in the industry is estimated to cost £790 million per year with a 3.9 per cent absence rate due to mental and physical issues – more than double the private sector average.
John Halsall, MD of Network Rail southern region
"As an industry we are putting our workers' wellbeing to the top of the agenda and talking more openly. Rail Wellbeing Live is a platform to accelerate the impact."
This year musician Professor Green, TV personality Gail Porter, war veteran Simon Weston CBE, hypnotist Paul McKenna, and author Tracey Cox are among the list of celebrity speakers joining wellbeing experts and rail people on Wednesday 2 November and Thursday 3 November.
Registration for this year's Rail Wellbeing Live on 2 and 3 November has opened with chair of the alliance behind it, John Halsall, hoping more than 20,000 workers will sign up
Suicides of people working in the rail industry are among the highest in the UK workforce, and you are more likely to have a day off work as a result of a mental health issue than any form of accident at work.
Inspiration and guidance
"As well as the impact on the individual, it also saves the organisation a lot of money as sickness costs businesses a fortune, so why not invest in health and wellbeing and stop those things from occurring."Foremployers there is a compelling reason for investing in health and wellbeing initiatives and the underlying point for me is that a happy workforce is an efficient and a hardworking workforce."
"The aim of the two days isn't to say to go to the gym three hours a day, but more if you dial this up, dial that down, do that a little bit different and you will be happier," said John.
"We're really excited with this year's line-up in which there will be something for everyone,"
added John. "It doesn't matter where you work in the rail industry, so long as you have a mobile device or access to a computer, you can join us or watch on-demand for two weeks after the event."The content is free, so I would urge organisations to allow their staff some time to attend a few sessions as we'd like as many
"As an industry we are good at solving complicated problems, but not always so good at spotting them. Rail Wellbeing Live looks to address this by seeing all of the complexities of physical and mental health and as we start to see them, we will start to fix them."
Online event is turning the dial on the wellbeing of rail workers
John Halsall, managing director of Network Rail's southern region, is quite frank in his admission of the impact, and has tragically had to come to terms with the fact some members of his team have taken their own lives in recent years.But, as part of his role as chair of the Rail Wellbeing Alliance, he believes the dial is turning, the industry's workers are becoming more open about how they are feeling, and providing that platform to further improve the situation for workers is the annual Rail Wellbeing Live.
Rail Wellbeing Live is a two-day online event that gives Britain's 240,000-strong rail workforce a chance to come together for free and connect with industry and high-profile speakers to get inspiration, tips and guidance on how to tackle a wide range of issues.
Individual impact
John Halsall presenting the opening session live from London Bridge station 2021
people to benefit from this event as possible. We know that the event has helped change lives with people saying previous events have made a difference, and it is helping us to turn the dial on wellbeing.
"We need to talk about health and wellbeing and we need to do all we can to ensure rail workers are happy," he said. "Tragically, we all know people who have taken their own lives or tried, and if we can just create a work environment where people feel they can go and recover then we are saving lives.
26 | Rail Director | September 2022 railbusinessdaily.com Health & Wellbeing
done some amazing things in terms of wellbeing should get in touch through our website and make a nomination to celebrate these wonderful people."Alongside
Rail Wellbeing Live, the Rail Wellbeing Alliance hosts a Wellbeing Wednesday on the first Wednesday of every month – a live stream with an ever-changing panel of exciting guests.
Rail Wellbeing Live is the biggest health and wellbeing movement in the history of the rail industry. It was set up in 2020 by a crossindustry group, the Rail Wellbeing Alliance, with a simple mission to improve the health and wellbeing of everyone who works in rail. And that mission only became more crucial, as COVID swept in and created a mental and physical health crisis on a scale that we are still trying to understand.
28 | Rail Director | September 2022 railbusinessdaily.com Health & Wellbeing
This year, the organisers want to celebrate wellbeing heroes in the rail industry and are urging organisations to nominate colleagues and teams as part of the two-day event.
Rail Wellbeing Live was created to help address these challenges, to together improve the collective health of the rail industry. The annual online event brings together many people from across our industry, all committed to finding out how they can become fitter and more resilient as individuals and organisations, both now and in the future.
The unique working environment of the railway means workers face a unique set of health challenges. Accidents and traumatic events can have a deep and lasting impact for mental health. Occasional aggressive customer behaviour can cause additional anxiety, stress and, in rare cases, physical injury. Clearing vegetation, laying ballast and cleaning trains is physically demanding and can lead to muscle
John said: "There is some fantastic work going on by individuals and teams across the industry, so this year we really want to celebrate the hard work and highlight the incredible efforts of those railway
Rail Wellbeing Live is the brainchild of the Rail Wellbeing Alliance, a cross-industry rail group made up of train operating companies, suppliers and industry bodies.
"Anybodyworkers.who knows someone who has
keep the industry moving, whether you're driving our trains, maintaining our infrastructure, staffing stations or making sure everyone gets paid.
and bone injuries later in life. The weight of responsibility in keeping passengers safe on trains every day weighs heavier in some roles, and that can also take its toll.
The health of our country's railways depends on the health of the 240,000 colleagues who
Visit railwellbeinglive.co.uk for more details or to register for this year's event scan the QR code on the right
engineering solutions to the rail sector STRATA Geotechnics, part of the Van Elle group, has the expertise and specialist equipment to perform on and off track ground investigation (GI) projects for the rail network. Full end-to-end capabilities, as a trackside POS and Principal Contractor; From ground investigation, design, and temporary works through to all types of ground engineering and geotechnical solutions A track record of 450+ completed Network Rail projects; Including over 200 stations, major electrification schemes, re-signalling projects, track bed stabilisation, slope retention, sheet piling and ground investigation ScrewFast Foundations, the UK's leading helical piling and steel modular company, is now part of the Van Elle Group, offering additional design and construction solutions for the rail network. Track Bed Stabilisation is a system unique to Van Elle and is used to stabilise the track bed without the need for removing the track or ballast Off site manufacturing and other modern methods of construction (MMC) has the potential to transform the delivery of construction activity Van Elle has the in house ability to design and manufacture off site, for both steel and precast concrete in our in house factories and workshops
Experts ground
in delivering on and off-track
"It makes it a much easier programme to plan, and it is a lot cheaper and more efficient, while keeping workers safer. It is win-win for everyone and I think we're going to see more of it in the future."
"There are actually all sorts of different ways to get to where we need to and using this technique we are not actually going anywhere near the track"
"There are actually all sorts of different ways to get to where we need to and using this technique we are not actually going anywhere near the track to get there. It is guaranteeing that the work gets done and without the need for line blocks and possessions.
Transforming the inspection and surveying of earthworks
GeoAccess is helping to change the way Network Rail carries out earthwork inspections, saving the organisation time and money while also keeping workers safer and reducing the need for line blocks and possessions.
30 | Rail Director | September 2022 railbusinessdaily.com IndustryFeature Spotlight Advertorial
The bespoke asset management company, which is on the Earthwork Examination Framework for Western and Wales routes and Southern region for Network Rail, is breaking that traditional way of thinking using the latest innovation and outside the box thinking.
In the past workers would have walked trackside – sometimes several miles – to get to the assets, which understandably for worker safety would involve line blocks and possessions.
Alternative approach
Mark said: "The bit we're interested in for the inspection is between the ballast shoulder to the back of the boundary fence, so rather than walk trackside to get there, we've been coming in from the boundary".
into work inspections to bring it into the 21st century."Despite the success of using the latest technology, the big success with Network Rail has been a change of mindset in how workers access areas to carry out earthwork inspections.
Tackling every job
Mark Coleman, managing director at GeoAccess, discusses the journey in becoming a class leader in asset management
"Among our techniques include drones to enhance the network inspections, LiDAR (Light Detection and Ranging) and some other really clever remote monitoring technology for earthwork failures, bringing all this fancy tech
"At GeoAccess we take great pride in our ability to tackle every job no matter how big or small, with the same professional flexible approach, believing that anything is possible," said Mark Coleman, the company's managing director.
"We did quite a bit of work with the route teams to come up with this kind of alternative access approach where we're coming in through third party land boundary fences. This does depend on getting permission, but in about 99 per cent of cases that has been granted.
"The company was initially set up to service Amey for rope access work on the railway doing inspections and it just developed and evolved with a lot of hard work from there to where we are now, growing exponentially in the last few years," said Mark, a graduate from the University of Portsmouth with a BEng (Hons) in engineering geology and geotechnics.
"Basically we are an asset management company, specialising in the difficult-to-get-to assets, so inspection work is predominantly what we do and we love anything to do with roped access, drones, confined space, underwater, anything that is a bit different, difficult to access.
"Earthworks is our bread and butter, but we also do structural inspection, so we can do retaining walls, tunnels, airshafts, the whole civil environment, we've got the competencies needed to do either earthwork or structural inspections."Markhas always had a head for dizzying heights with a career spanning ground and site
It is this kind of thinking that has earned GeoAccess its reputation nationwide with a whole host of high-profile organisations, from Network Rail, through to Transport for London.
"The inspection process is very visual, but it can be quite tactile as well, especially when you move away from the rail work we currently do and go into more bespoke work which is very hands on, it is hard to replace that with technology," he said.
Using its highly experienced geotechnical and structural engineers, coupled with unmanned aerial vehicle, remotely operated underwater vehicles, rope access and confined space techniques, it looks at every job holistically.
Exciting future
railbusinessdaily.com Rail Director | September 2022 | Feature31Industry Spotlight Advertorial
"For the visual side of things drones are amazing and there are some great benefits,
The company was established in 2014 by Mark Coleman and David Frost (operations director) to address the need for inspections on difficult access sites in the rail industry.
a firm believer that regardless of the challenge, it is always possible, even if you have to be a little creative to find a solution for the client," he said.
"At the minute about 95 per cent of our work is in the railways so the aim is to be seen as the specialists for the whole country on rail and then look to roll out into other disciplines."
"We have got a really good way of collecting all sorts of clever bits of data these days, but we will be looking at being able to share them. It is about using technology smarter, collecting more usable data and being able to understand what our clients can and can't use and to try to fill that gap."
Visit www.geoaccess.co.uk for more details.
"We're really good at that, good at understanding what our clients want, working collaboratively and fulfilling their needs and exceeding them as well, that is us."
Looking to the future and the GeoAccess team is excited about what Great British Railways will bring, with Mark hoping many of the barriers of entry that SMEs face will be removed and there will be an increase in collaboration and innovation."Thefuture is really exciting and as long as we can work safely, smarter and drive further efficiencies I think it will be bright," he said. "GeoAccess has an important role to play in this because not only are we incredibly knowledgeable about earthwork inspections, but it is the way we think outside the box and come up with alternative suggestions."Clientscome to us and we break down what they are after to find these different ideas and concepts to realise their goal. Particularly now it is about driving efficiencies so if you can come up with a different way that's safer and more efficient it is a massive tick in the box.
investigation across the railway, highways and utilities sector, as well as being a small aircraft pilot."I'm
"At the minute about 95 per cent of our work is in the railways so the aim is to be seen as the specialists"
Mark thinks the key to achieving this is by using tried and tested methods as well as implementing highly innovative cutting-edge techniques in ensuring cost-effective solutions to the clients' needs.
Difficult to get to, is our thing
but they are not the answer for every situation, LiDAR and all these other fancy payloads you can get really help build up a really rich picture that can be shared.
"As a business it has been a great start and we've got a great team and some really good collaborative working relationships. The plan is to continue building that to ensure we are the go-to company for earthwork inspections and other assets.
"It has been humbling and really touching to be involved and I am really proud of what has been achieved, particularly those working in the railway who have embraced the programme, going above and beyond to save lives," she said."I've learned so much about suicide and I don't think I realised before this job quite how much a small act can have this massive ripple effect in someone's life and the stories from those who have intervened really brings that to the fore for me."
Samaritans partnership more significant than ever
32 | Rail Director | September 2022 Samaritans
"It was a fantastic achievement to hit that key milestone, but it is scraping the surface and we know we still have so many more people we want to train in how to spot the signs of someone in distress, trust their instincts and then make an intervention using human connection and listening skills," she said.
Olivia Cayley is immensely proud of the work between the rail industry and Samaritans, and particularly the way in which the sector's workers have taken it upon themselves to keep both fellow workers and passengers safe
Olivia Cayley, Samaritans' head of rail programme, on a training milestone and keeping staff and passengers safe around the railway
But as footfall figures at the UK rail hubs return to pre-pandemic levels alongside change on the horizon for the industry and a cost of living crisis, the partnership between the charity and the railway is more important than ever.
It was 2010 when Samaritans first started working with Network Rail to prevent rail suicides and supporting those affected by them, with Olivia leading the partnership for the past two years.
Training milestone
Earlier on this year, Samaritans celebrated the 25,000th rail industry worker to complete its half-day managing suicidal contacts (MSC) course, which teaches rail staff how to identify, approach and support a potentially suicidal person, using essential listening skills that underpin the charity's services. Staff also learn how to refer a person to other services such as Samaritans and the British Transport Police (BTP) to receive further support.
Providing a lifeline
humbling but it is exactly what feeds it, it is their voice saying this makes a difference."
trauma support, and two train the trainer (MSC) courses each year.
Are increasedexperiencingyoucosts for chemical products?cleaning Talk to our experienced team today 100% vendor rating for quality, environmental impact, health & safety, security of our products and technical support +44(0)sales@gardchemicals.comwww.traincleaning.com1924403550CarriageDetergentsWash Pit DegreasersRoad HandCleanersBash Non Acidic Iron Oxide Removers I
Passing on knowledge
"I don't think anything can speak as strongly as a member of rail staff saying this training made a difference to them and helped them to intervene."Wedeveloped two promotional videos this year using real case studies and the things they
"We're finding that is particularly helpful for organisations where they maybe have track workers who can't attend our Monday to Friday offering, so they need to deliver it on an evening or a weekend, and it enables them to just adapt it to their own operating model. It is brilliant because it means more people can access that course and build their skillset."
"They can attend our trauma support courses at any time, because it really is about a preventative approach to helping people understand trauma and its impact, and how they can safeguard themselves and their colleagues".
The training is just one element of the charity's work on the railways along with its Small Talk Saves lives campaign, in partnership with Network Rail and BTP. don't think I realised before this job quite how much a small act can have this massive ripple effect in someone's life
said were incredible in terms of the impact it had in enabling them to help someone in need. The engagement from rail staff is always quite
"Our third offer to the sector has been the stepdown model which we refer to as 'train the trainer', enabling already experienced facilitators and learning and development managers to learn how to deliver the MSC content and step that down inside their own organisation.
"Now more than ever, with the impact of the global pandemic and the cost of living crisis, programmes such as this that are supporting the general public and staff are really needed, so it is vital we continue doing the work as we head into more uncertain times."
"We have our well-known MSC, we then have our lesser well-known trauma courses, which are focused on how we support staff in the immediate aftermath of an incident that might have occurred on the rail," said Olivia, who added they are delivering 150 MSC, 40
railbusinessdaily.com Rail Director | September 2022 | Samaritans33
Between April 2021 and March this year, rail staff have helped more than 650 people to safety, potentially saving their lives, according to intervention data from the charity, Network Rail and "WhenBTP.you are trying to move the dial on a really complex social issue such as vulnerability to suicide, that takes time, and the success we are seeing is down to the continued hard work and commitment over the 12 years of the partnership. The rail industry should be proud of seeing it through and being patient with it, investing in a long-term method," said Olivia.
Earlier on this year, Samaritans was commissioned by train operator Great Western Railway and the Department of Transport to lead a new research study on mental health and wellbeing support for the rail industry, in partnership with Mental Health at Work.
The campaign aims to encourage the public to use the skills they already have by simply starting a conversation if they see someone who needs help.
as a recent Rail Safety and Standards Board survey found that those working in the railway experience 1.5 times higher rate of anxiety compared to the rates seen in the general population. The same survey also found that 43 per cent of workers have a mental health condition and more than half of those said they experienced
There is also the annual Brew Monday, supported by Network Rail and the wider industry, which this year involved volunteers at dozens of stations across the UK to show their support for those using the rail network, including vital key workers and rail staff, and highlighting the importance of reaching out to talk.
"We also offer post-incident support where Samaritans volunteers, trained specifically on the railway and its language, can go out to a station and talk to commuters, the general public and staff in the aftermath of an incident. We have qualitative evidence that once staff have someone to listen to them who is independent of their manager or their organisation, they really open up. It is almost as if they didn't know they needed it until it is there."
"Samaritans has worked in partnership with Network Rail since 2010, which has developed into an industry-wide programme," Olivia said. "In 2020 we embedded a new regional structure for the team so we can address issues and impact at community and local level.
Help for all "I think it is sometimes a misconception of the programme that we are only there for the vulnerable person, and of course we are and they are central to our work and how we think, but equally we are there for the workforce, who are sometimes the forgotten people that have cumulative exposure to quite stressful incidents so we are there for them too," said Olivia.
34 | Rail Director | September 2022 railbusinessdaily.com Samaritans
"The study is going to culminate in a report next March that includes a set of recommendations looking at the experiences of those working in the sector and provision of mental health support.
Research mandate
For more information on Samaritans' rail programme and how you can get involved, email charge,volunteersWhateverrailcompanies@samaritans.orgyou'refacing,Samaritansaretheretolisten24/7,freeofon116123oremailjo@samaritans.org
"This has been revolutionary for the programme and for the first time we have mirrored the rail sector with my team sitting in the regions in which they work. It has been fantastic in terms of the local stakeholder engagement we can achieve.
The study will provide good practice recommendations for mental health provision, so that the industry can raise awareness for its staff and support those experiencing mental illness. It aims to highlight existing barriers, as well as encourage a culture shift to destigmatise conversations around mental health.Itcomes
"As much as we as a team are focused on the rail environment and what might drive a vulnerable person there, actually this is situated in the context of a community and how the local authority, the local NHS trust, and other community actors all play a role in how we think about vulnerability to suicide within that local area and how we respond to those issues."
psychological or mental health issues because of their work in the rail industry, but only half had sought help.
VOID | TEMPERATURE | TILT | WIRELESS We provide an innovative range of products and services specific to the rail industry. From manual to automated monitoring solutions for track infrastructure and other critical assets. Rail monitoringinfrastructureandsolutionsdywidag.com For more information please contact sales.uk@dywidag.com
RailNetworkImage:
Oxford station is one of the first projects delivered through the government's new scheme SPEED (Swift, Pragmatic and Efficient Enhancement Delivery), which aims to halve the time it takes to complete a rail infrastructure project and slash the cost of project delivery, helping local areas to build back better through investment.
Rail Minister Wendy Morton said: "This £161 million will truly transform the region, increasing the number of services for passengers, boosting economic growth by connecting people to new opportunities and increasing freight services between the South and Midlands."
The government describes it as one of the inaugural projects under the Rail SPEED scheme, which aims to deliver rail projects quicker at lower costs
Mike CSURVEYONSULTANCY LTD Chartered Land and Engineering Surveyors 36 | Rail Director | September 2022 railbusinessdaily.com Stations
O
significantly enhance capacity for increases in passenger numbers and future services such as East West Rail."
The introduction of a new track and platform to be added alongside the existing platform 4, creating an island platform on the west side of the station;
Mike Gallop, Network Rail's Western route and strategic operations director, said: "We are delighted to have been awarded this significant amount of funding from the Department for Transport, which will enable us to make positive, substantial improvements to Oxford station and the railway for the benefit of our passengers and freight"Oxfordcustomers.station has been near capacity and in need of a transformation for some time, which this funding will now make a reality. A new entrance, new additional track and platform, and improved accessibility will start to transform this station so that is fit for the 21st century and
£161 million announced to transform Oxford station
The key changes include:
A new western station entrance that will be built next to Botley Road and will link up to the new platform via a subway, stairs and lift. The new entrance will make the station more accessible to people living to the west of the station, reducing walking time;
Improvements to the nearby road network and replacement of Botley Road bridge including the lowering of the road to enable standard doubledecker buses to pass underneath for the first time. The new bridge design will also include a four-metrewide cycle/footpath on each side to encourage sustainable transport and improve safety;
The upgrades will play a central role in boosting economic growth and opportunities in the local and surrounding areas and increasing freight services to the equivalent of about 500 lorries per day between Southampton Ports container hub, the Midlands and North West – increasing supply chain resilience while supporting the environment.
xford station is set for a £161 million revamp, which will deliver quicker journeys, increased freight and passenger services and a new fully accessible entrance. The upgrades are due to be completed by 2024.
Reduced journey times thanks to three new crossovers, which allow trains to switch tracks at Oxford North Junction.
Bryan has been involved in the rail industry for a decade, having joined TXM in 2015 from Knorr-Bremse. Before that he was in the British Army for more than 25 years.
railbusinessdaily.com Rail Director | September 2022 | Feature37Industry Spotlight Advertorial
TXM
Bryan said: "We have the experience and for us it is more than just the delivery, it's about adding value through the expertise of our team and their vast knowledge when it comes to the railways to make a significant change to the industry and our customers.
TXM Projects and TXM Consult have merged, to create Turnkey Solutions service offer. Director Bryan Bennett explains more
"I want us to continue to be part and parcel of the original equipment manufacturers and the operators to be their solution or their go-to supplier that can provide them with innovation, maintenance, refurbishment and also through life management of their products."
Increased integration
Improved service offering
Visit www.txmgroup.com
Projects has now become one of TXM Consult's core service offerings under the label 'Turnkey Solutions'. The move is the latest exciting development for the TXM Group, which was founded in the UK in 2005, and has grown to a £220-million-turnover business with a global workforce of more than 300 employees.
"The group merger brings us a lot closer together with a broader spread of the opportunities and capabilities that the group offers to support the old projects business into being more sustainable and to offer the customer a better service solution.
Turnkey Solutions will provide current and future clients in the UK and Australia with a more integrated solution. They will have access to a whole host of services under one roof, and a simplified customer experience with improved support for their project delivery requirements –all from within the same business.
"Existing TXM Projects clients can be reassured that they will receive the same high-quality service with the added benefit of working with one organisation and a single management team, mitigating risk and opening up the opportunity to access the full suite of TXM Consult services."
It will sit alongside strategic advisory services; digital infrastructure and systems integration; portfolio, programme and project management (P3M); and engineering, asset management and maintenance (EAMMS).
TXM Consult is part of the TXM Group, a global organisation providing consultancy and resourcing solutions worldwide, specialising in the engineering, healthcare and technology services.
Bryan added: "This positive impact will only grow with Turnkey Solutions, giving a holistic opportunity to deliver a service, whether it is refurbishment system installation, corrosion repair, door system overhauls or maintenance programme."Thisisthe thin edge of the wedge with the expansion following the pandemic. The plan is to have the capability to grow exponentially as the industry starts to revive and the footfall starts to come back to the trains. I want us to be delivering a full consultancy service that has got turnkey solutions embedded within the business."
Strengthening its global consultancy capabilities
"It's about adding value through the expertise of our team and their vast knowledge when it comes to the railways"
Turnkey Solutions offers a range of onsite installation and rail vehicle care services to the rail industry, from systems installation, heavy maintenance, refurbishment, and structure to end-to-end rolling stock projects solutions.
"I came from a very regimented and deliverable background, while also gaining valuable experience and knowledge of productionisation and change management, so I've been able to utilise those blended skills and leadership capabilities to drive change and add value to the industry".
"I'm excited to see what the future holds for us as a unified business and for our clients, who will see great value in this merger," said Bryan Bennett, who was managing director of TXM Projects and is now director of Turnkey Solutions, responsible for defining, shaping and delivering TXM Consult's turnkey offering.
Putting customers at the heart of the UK railway
Jac was previously customer experience director within the design office at Barclays and prior to that she held a head of customer experience role at O2, head of customer experience and loyalty at Orange/France
The CEO of the Rail Delivery Group, Jacqueline Starr, on delivering exceptional services and her new role at Journey4
GroupDeliveryRailImage:
Telecom and various operational roles within BT where she started her career.
"We should be delivering exceptional services and it's been my mission since joining the rail industry to make sure that we put the customer at the forefront of the industry and then everybody has clarity on their role and their influence in doing so."
Jacqueline Starr
"T he customer is the raison d'être, it's why we are here, and without the customers there is no rail service, it is as simple as that." That is the explanation Jac Starr, chief executive officer (CEO) of the Rail Delivery Group (RDG) gives for her passion about putting the customer at the centre of organisations.
Her career spans more than 30 years majoring in customer experience through a variety of roles in banking and telecoms prior to joining rail seven years ago, ensuring organisations and industries put the customer at the very heart of what they do.
I joined the rail industry because I saw a improveopportunitymammothtoUKrail
"I joined the rail industry because I saw a mammoth opportunity to improve UK rail," said Jac, who joined RDG as director of customer experience, progressing to chief operating officer before being appointed CEO.
Forefront of the industry
membership online application www.tbf.org.uk apply now! ALL ABOUT PEOPLE people working in public transport...people like you! Financial and medical benefits, a wide range of complementary and alternative therapies, bereavement grants and welfare advice available in times of need, hardship and distress. £1.25 a week covers you, your live-in partner and dependent children. Apply online today! Transport Benevolent Fund CIO, known as TBF, is a registered charity in England and Wales, 1160901, and Scotland, SC047016. 38 | Rail Director | September 2022 railbusinessdaily.com People
"You don't need to change the world in order to deliver great customer experience," she said. "I spend enough time on the network myself to know the ins and outs of all the things that could make a difference for our customers and some of those are quite simple.
"These steps are providing the groundwork and demonstrating the change we need, with the changes offered through the creation of GBR set to address the mechanisms in the industry holding us "Anythingback. that makes it easier to deliver and cuts through the weeds of process has to be a good thing because ultimately there's only one person that loses out in terms of things being delayed and that is the customer."
"What Journey4 can do for the industry is bring tools, processes and mechanisms to enable people to have clarity on their roles and influence in doing so. But they can also help in terms of some of the softer aspects, such as helping people develop a broader and more mature understanding of the benefits of customerJourney4focus."has been working with transport operators and commissioners for the past 20 years to align their services around changing customer needs and to deliver excellent customer experience in an increasingly competitive market.
"We need to understand and continue to understand what the basics are, continue to fix those basics and have plans in the future," she said."But I also think we should take it one step further and be bolder in our commitments to customers so we should talk openly about what we hope to deliver for the future and then demonstrate incremental progress against those aspirations."Sometimes we will be in a position in which we will have to change course, because of the likes of technologies, political climate changes and social challenges. And that is fine, we can be really transparent about that, but take our customers and those we wish to travel with us in the future on that journey with us and create that relationship beyond what we have today."
In her role at Journey4 she will not only advise on the transport sector operations at Journey4, but also across its other sectors such as utilities, and government, where customer centricity is seen as a key driver of improved performance.
We need to understand and continue to understand what the basics are, continue to fix those basics
"There's a genuine passion to do what I think is the right thing in delivering change because no one wants to be working in an industry which is deemed in some areas to be perhaps lagging," said Jac.
"What really struck me was the strategic nature of the customer approach they took and their ability to look at all aspects of customer implementations," she said. "So not just customer products or outputs, but also the people-focused and performance related aspect of customerdriven"Havingtransformation.theluxury of being able to see the detail of that and how they were developing much needed customer-focused plans within GBRTT gave me an appreciation of what I felt they could do for the industry, which struck a chord with my personal beliefs, passion and experience, and that's where the relationship began."
It aligns with the creation of the new public body Great British Railways, whose purpose is to integrate the railways and deliver customerfocused travel with simpler, modern fares and reliable services.
"The role at Journey4 is a personal investment for me, but it is more through the lens of me being able to continue that mission and growth of customer centricity within the rail industry, utilising the tools available to me through joining the Journey4 board to champion the cause of the customer," she said.
"We are maturing in terms of our understanding around the customer and from my own personal experience if I assess where we were seven years ago to where we are now it is very much on the agenda, it's discussed at board level and is regularly around the top table.
Improved performance
railbusinessdaily.com Rail Director | September 2022 | People39
Among several high-profile projects includes working on a customer-led business strategy for train operator Northern, and being commissioned to advise the GBRTT on how to adopt a customer-led approach from the outset and to
"I do think as well that we have some really strong emerging strategies in different areas, but they're a long time coming and the ability within the industry to deliver them in the timescales which I feel are necessary, I think will be challenging, particularly in the current environment."
Genuine passion
build the required customer capabilities within the organisation.Itwasduring the latter project that Jac first came across the organisation.
As well as her role at RDG, Jac has recently joined Journey4 as an advisor to the directors of the customer-driven growth and business transformation consultancy.
The aim of the RDG is to create a railway that delivers real improvements in customer experience, driving growth in both the number of customers and the number of journeys and allows for the creation of a simpler and better railway.
"The comms and dialogue around Great British Railways Transition Team (GBRTT) is not just around how GBR will deliver for the industry, but how the industry should organise itself around the customer as a whole.
"We've positioned ourselves at the intersection point," added Ben. "Traditional consultants would come in and advise in traditional ways, then bring in an IT or data science company that may not have knowledge of the complex industry we work in.
Discussing its decision to move into international markets, Ben said: "COVID made us look beyond the UK, which coincided with us founding our Australian subsidiary at the
"We've gone East, as it connects up with Australia, and means that we can share timezones," Ben explained.
New systems
Following a period of growth, the consultancy and engineering technology business is preparing to exhibit at InnoTrans for the first time. Speaking to Rail Director, CEO and co-founder Ben Craze explained that he and his team would use the world's leading transport technology trade fair as a brand-building opportunity.
International markets
A unique approach
Naturally, the large suppliers of trains, signalling equipment, track and electrification systems will all be there. But so will a myriad smaller companies, making everything from seats and carpets to rail clips and sleepers. Many, these days, have digital offerings, so their stands feature large computer displays as they show off what they can offer.
This global agreement involves providing 24/7 service support, which Infinitive has been able to deliver with the help of its Australian arm.
This innovative approach marries management and advisory services with a range of data acquisition, analytics, harvesting, and storage solutions, designed for the transportation, smart cities, and utilities sectors.
Infinitive Group's CEO and co-founder, Ben Craze, discusses an upcoming trip to InnoTrans to showcase its unique capabilities as an information technology specialist
It is the international aspect of InnoTrans that attracts Ben. In 2018, the last time the event was held, it attracted over 161,000 visitors from 149 countries."Forus, it's about continuing that international growth, and connecting with the export market," he added.
After a break due to COVID-19, the 2022 exhibition takes place from 20 to 23 September.
In addition to this international growth, the pandemic was the impetus behind Infinitive's decision to invest in its management systems.
"As a start-up moving into the SME world, it's about reinforcing our message and getting our name out there," he said. "We are unique in our view, and how we approach things."
40 | Rail Director | September 2022 railbusinessdaily.com IndustryFeature Spotlight Advertorial
recommendations that you can then blend into useful systems. It's about transforming data into useful information that will drive better decisionmaking."
For Infinitive, the show will also be an opportunity to shout about key projects and partnerships –including with McLaren Applied, whose marketleading seat reservation and occupancy system it has an exclusive licence to the technology and associated patents.
"We've got the operational know-how to utilise this knowledge, making meaningful
This decision has enabled Infinitive to provide effective 24/7 support for McLaren Applied, technology delivering seat reservation data from booking systems to trains, and monitors seat occupancy."Webuilt the out-of-hours support into our service model, rather than outsourcing it to a call centre, which could have had an impact on the quality of service," Ben said.
The business has also moved into Europe, the Middle East, the Far East, and Asia.
Achieve and deliver sustainable engineering excellence
Probably the leading rail industry exhibition in the world is InnoTrans. Held every other year in Berlin, Germany, it attracts international exhibitors and visitors like no other event, filling 42 halls of the Berlin Messe and with larger exhibits displayed on 3.5km of track outside. More than 3,000 exhibitors took part last time, representing 60 different countries.
"As a start-up moving into the SME world, it's about reinforcing our message and getting our name out there"
Infinitive Group, an SME from the UK, will appear be using the event to showcase its unique capabilities as an information technology specialist with peerless operational know-how.
beginning of 2020. The pandemic focused us, pushing us to diversify in terms of what we could offer outside rail, but also to the global market."
Infinitive's agile management system supports its own cutting-edge products – including Artemis, an analytics platform that uses realtime data to deliver insights geared towards risk mitigation, cost optimisation, or increasing revenue."We've sold Artemis into rolling stock companies such as Porterbrook and Angel Trains, and it's being leveraged by train operating companies like West Midlands and Northern to name a few," Ben said. "It was founded on a system called Apollo, which we delivered for London Underground as part of its maintenance modernisation programme.
"Now implemented across London Underground's Bombardier and Alstom trains, Apollo is the grandfather to our system Artemis. It was built from that original pedigree, and we're now starting to offer it out to industry. We're investing a lot into it and looking at how it can be used to drive better decision-making from the data."
"While we've been focusing a lot of our attention on machine and system data, we were light on human interaction data with the industry or transport systems," Ben said. "Occupancy was the main driving focus for us on the seat reservation system, so we've developed a very accurate radar system to track objects."
poor quality, or contradictory," he added. "We're working to bring everything together, which is where Artemis comes in."
Analysing data
Radar sensor
This integrated system has streamlined both project and service management, ensuring that issues are reported to the correct teams, and resolved quickly and efficiently.
"All our project management now feeds into one system," Ben explained. "It's not disparate; it's connected and well-oiled."
Ben believes that Artemis will help companies to glean better insights from data that is often siloed or disparate.
This product will provide granular data around occupancy, enabling users to gain an understanding of, not just demand for services, but how passengers are moving through and interacting with rolling stock.
"So, for example, did they get on Coach F, and then turn right and carry on walking through the whole of the car because there were no seats available?" Ben added. "You can then blend that with station data and get some really good insights into how you can communicate better to the customer, and what information should be presented to them. You can get some quite powerful views on that data."
Infinitive can work closely with customers to identify issues and develop solutions. A recent project saw Ben and his team establish that, by moving station furniture and rolling stock markers, ongoing door issues could be resolved.
"The industry is very data-rich, but truthfully the information derived from it can often be of
"We are we are uniquely positioned in the centre between technology and management and advisory services"
railbusinessdaily.com Rail Director | September 2022 | Feature41Industry Spotlight Advertorial
Indeed, it's this ability to deliver, not just innovative products, but insights and advisory services, that sets Infinitive apart from its competitors."AtInnoTrans, what we really want to convey is that, while we're an IT and data company, we're not just an IT and data company," Ben added. "We are we are uniquely positioned in the center between technology and management and advisory services."
Infinitive will be showcasing these innovative platform products at InnoTrans, alongside a ground-breaking new radar sensor.
Infinitive can also work with existing systems, providing intelligence and knowledge that will help customers to achieve the best results.
Whereas Artemis is designed to analyse real-time data, Infinitive's Ramus platform of products can harvest legacy data from a range of sources."You've got lots of legacy systems with old protocols, and there wasn't a 'plug-and-play' system that could fit them all," Ben said. "That's why we've engineered our own hardware, which can interface with any type of protocol. We then harvest and decode that data and begin to synthesise it together in order to create algorithms that can drive predictions and decision-making."
After a successful pilot trial in Scotland, Network Rail is now in the process of rolling out a new national Access Control System – known as Smart Locks.
With security threats on the rise, Network Rail is looking to secure REBs at its nationwide sites to prevent unauthorised access.
Building rail networks, connecting passengers
The new system can remotely enable and disable smart keys and provides an advanced site access database system to record visits, replacing the existing system.
Smart Locks for Network Rail – a safer, intelligent locking system Kelly Rail is a partner on the Network Rail Telecom framework. 2020 saw the firm successfully deliver a forensic detection project in a bid to solve a major issue with vandalism and batteries being stolen within Network Rail's Relocatable Equipment Buildings (REBs)
The locks will also offer improved key handling allocation and authorisation controls for Network Rail users, using a bespoke, intuitive app and Bluetoothactivated keys.
"Kelly Group launched its dedicated rail division, Kelly Rail, to target the opportunitiesandnetwork,wide-rangingsignallingcommunicationsavailable"
This summer has seen the firm begin work on two major national rail infrastructure security contracts at Network Rail and Scotrail stations across the UK, as it continues to expand its project portfolio.
Today, the firm is a leading principal contractor to the rail industry with an exceptional safety record, strong culture and a national presence. From humble beginnings, the Kelly Group has grown and diversified to meet the needs of clients and customers in a variety of industries, including telecoms, rail and metro, civils and utilities.
Robert Burnside, Kelly Rail Managing Director
Kelly Rail's telecoms engineers also provide forensic checks, performing a battery and communications cabinet audit to check for forensic marking and, if required, mark any changes in assets since the original marking exercise. This work is ongoing and set to continue to the end of 2022.
The work involves the installation and testing of a new Mechatronic cylinder device, as well as testing the REB door solenoids to ensure the door opens correctly once the key system is inserted.
Kelly Rail is part of the Kelly Group, which has been at the forefront of the telecommunications industry for more than 37 years
REBS are modular buildings designed to house railway signalling, telecoms and power systems such as UPS systems, alongside the track, allowing safety-critical data to be delivered locally.
From cable to rail Kelly Group was established in 1985, beginning life as Kelly Brothers, to support the emerging UK cable television market. The firm's very first installation was in New Addington, London, on the 17th of September 1985 for Croydon Cable.
Kelly Rail is currently working on the installation of the new access control system at 2,300 locations across the UK.
In the early nineties, Kelly Communications' level of service provision evolved to include a complete network turnkey, planning, construction and maintenance service that led to the development of a group structure, where divisions were established to expand into existing and new markets.
42 | Rail Director | September 2022 railbusinessdaily.com IndustryFeature Spotlight Advertorial
Discussing the Smart Locks rollout, Network Rail Telecom's (NRT) physical security manager Peter Brand said: "At Network Rail, we're constantly striving to make the railway safer for our colleagues and passengers. Recognising the importance of key control as a sensible security measure in protecting assets, NRT looked to smart technology as a solution.
In the early 2000s, Kelly Group launched its dedicated rail division, Kelly Rail, to target the wide-ranging network, signalling and communications opportunities available in the UKAsindustry.itsoffering has evolved from traditional telecoms projects, Kelly Rail now offers a broad range of rail infrastructure services, including installations of station information and surveillance systems (SISS), signalling, mechanical and electrical (M&E) works, lineside civils and electrification – both high voltage (HV) and low voltage (LV).
The work involves the installation and testing of a new Mechatronic cylinder device
"The new systems we are installing for Johnston Controls will ensure these stations in the central belt of Scotland all have a modern surveillance system fit for the 21st century."
Robert explained: "Since our early days we've really developed our offering in the rail industry and we're now much more than a traditional telecoms business. We can offer a genuine one-stop solution to rail infrastructure projects, whether that's through early contractor involvement, consultancy, design and build, testing and commissioning, entry into service or maintenance."Wealso have the strength of a wider group structure to support us, with significant telecommunications, civils, utilities and fleet expertise, meaning we are united in our ability to deliver innovative services for our rail clients and their customers."
As Kelly Rail continues to deliver on projects in CP6 and prepares for CP7, its ambition is to continue growing its reputation as a leading tier one contractor for a wide range of rail schemes.
Surveillance solutions
"With smart technology, keys cannot be copied as use is authorised through a bespoke smartphone app that communicates with the smart key. We began our rollout of the Smart Locks in July 2022 with Kelly Rail and installations are being tracked on a weekly basis."
The firm was also recently awarded a contract to provide the supply and installation of station information and security systems (SISS) at the new Dalcross Station, working with BAM Nuttall.
Future ambitions
"Our contract with Johnston Controls spans a huge portfolio – 59 stations Scotland"across
Robert Burnside
railbusinessdaily.com Rail Director | September 2022 | Feature43Industry Spotlight Advertorial
Since Kelly Rail was formed, the firm has delivered high-profile work on projects nationwide for clients such as Network Rail, Transport for London, Strathclyde Partnership for Transport, and BAM among others and is looking to continue growing its offering as a principal contractor to major UK rail industry service providers, across both mainline and metro systems.
Discussing this work, Kelly Rail managing director Robert Burnside explained: "Our contract with Johnston Controls spans a huge portfolio – 59 stations across Scotland, and as such, we have to make sure works are carefully planned to avoid disruptions to passengers using the facilities.
Kelly Rail is also currently delivering a major installation of replacement and additional CCTV video surveillance at 59 Scotrail stations across Scotland on behalf of Johnston Controls.
The beginning of 2022 saw Kelly Rail undergo a significant restructure with the aim of diversifying its offering to the rail industry. As well as appointing a new managing director, the firm has promoted a regional operations director for the north and a new regional operations director responsible for delivering existing projects in the south while developing a comprehensive business strategy together with targeting new future business.
of a variety of upgrades, including signalling, telecommunications, security and fire alarm systems and installation of copper, fibre, data, audio and RF cables.
Kelly Rail is currently installing Smart Locks at Network Rail sites across the UK
Diversifying the offering
The work scope involves Kelly Rail's telecoms engineers installing new Category 6 cable, utilising existing containment where possible, to install and replace existing CCTV cameras at the stations. The new technology will provide Scotrail with the coverage required to allow antitrespassing analytics and highlight any potentially vulnerable people on or near the railway lines.
The work involves the supply and installation of various systems at the new station, including customer information screens, CCTV, long line public address systems, passenger help points, ticket vending machines, station and car park lighting, new mains DNO cubicles, EV charging units and a battery inverter cubicle.
Kelly Rail's growing reputation for outstanding delivery has seen the firm involved in several prestigious modernisation projects this year. It was awarded a package of works on the £290 million Glasgow Subway modernisation project by Hitachi Rail in November 2021, consisting
The company continues to expand and is currently recruiting for a range of engineering and operative roles from the South of England, Northern Ireland and the Highlands of Scotland to meet its ambitious targets for the remainder of 2022 and beyond.
across the UK, which means there are more than 200,000 employee owners. Businesses range from manufacturers, to community health services, to insurance brokers.
Theretax.are
Rowe Hankins: Leadership, people and resilience
Laura said: "For many years the Hankins family have successfully led the company, first my father and then my brother Michael, with a clear vision and entrepreneurial spirit. Now it's time to hand that leadership over to our coalition directorship, made up of three highly experienced individuals (Paul Briscoe – finance director, Alex Emmerson – engineering director and Mark Nolan – sales director), and we believe their combined vision will grow the business exponentially with the support of the team as the new beneficiaries."
"It is a proven fact that EOTs boost morale, productivity and pride in the activities of the company and therefore the innovation, quality and customer services delivered to our clients. Ownership directly incentivises the employees to buy into the strategy and vision to drive the companyLaunchedforward."bythe government in 2014, EOTs provide a clear framework for employee ownership and offer significant tax advantages
Laura Crawford, Rowe Hankins' chair, on leading the way in trainborne and wayside safety products and components
Together they deliver four per cent of UK GDP annually, with this contribution growing. They are united by an ethos that puts people first, involving the workforce in key decision-making and realising the potential and commitment of their employees. The John Lewis Partnership is perhaps the most well-known EOT and is currently the largest employee-owned business in the UK.
According to the Employee Ownership Association 'The employee owned business sector in the UK is growing because co-owned companies tend to be more successful, competitive, profitable and sustainable'.
The Rowe Hankins team
Stepping away to build a career as a largescale change manager for the likes of Lloyds bank, HSBC and Sainsbury's, she is now back at the company as chair and leading the organisation on an exciting new journey as an Employee-Owned Trust (EOT).
If these conditions are met, then those selling the shares may do so without incurring capital gains tax, and annual bonuses up to £3,600 per person can be paid to its employees free of income 470 employee-owned businesses
44 | Rail Director | September 2022 railbusinessdaily.com IndustryFeature Spotlight Advertorial
Growth sector
Laura Crawford has worked at Rowe Hankins, the British-based manufacturer of electronic sensing equipment for the rail industry, since she was four years old. Founded by her father Toni nearly 40 years ago, from a young age she would help post catalogues, clean the offices and even wrote the first HR manual.
"A business like ours is all about its people; their ideas and innovation, their client partnerships and their ability to drive change forward at pace, and resilience. That is the key to any successful business," said Laura.
for both buyers and sellers. All the employees of a company must be included in the arrangement, and the trust must own more than 50 per cent of the company's shares. The Rowe Hankins EOT owns 95 per cent of the shares.
"We have withstood two recessions, six Prime Ministers, three large-scale wars, and a global pandemic. These events might slow us down sometimes, but we adapt and grow. With the new EOT structure and our investment in the next generation of engineering, I believe we have the recipe for many more years of success."
"I'm so proud to be part of the Rowe Hankins journey and I'm very excited about the future of the business. It's been a difficult few years for all businesses across the globe, but our team have adapted and focused on what needed to get done despite the world being turned upside down," said Laura.
Rowe Hankins has an unparalleled expertise in traction and trackside solutioning. They can partner with a client from the very earliest stages of conception, through development and supply, and continue to partner with the rail industry to service and maintain devices.
"Rowe Hankins have made some changes to the company that will allow and promote a positive and forwardthinking approach to product, service development, client partnerships and innovation from the great powerhouse of the North West of England"
Building partnerships
Mark Nolan
Alex Emmerson, engineering director, said: "Our design and project team have worked in collaboration to build services to help achieve sustainability, cost effectiveness and environmentally positive solutions to our
Rowe Hankins specialises in innovative trainborne and wayside products and systems for the world's railways. Working closely with rolling stock manufacturers, fleet operators, track owners and infrastructure contractors, its experienced engineers have a long and successful track record of providing a high level of service to rail projects worldwide.
"By nurturing old and developing new partnerships, new services and products geared around the modern digital rail network, we will provide the industry with cutting-edge technologies".
Rowe Hankins supplies speed probes, circuit protection, roll back protection and wheel flange lubrication. They were one of the first companies to introduce a DC earth leakage device, the twochannel speed sensor that could detect speed and direction, and the new four independent channel device meeting Safety Integrity Level 4 (SIL4) requirements.MarkNolan, sales director, said: "We have a fantastic foundation to build from with almost 40 years of success and the history that has been established with OEMs (original equipment manufacturer), rolling stock companies, operators and service companies.
growing list of clients, both in the UK and across the"Weglobe.are now keen to invest in the future of engineering and our industry through an expanded apprenticeship scheme and investment in the career development of our workforce. We want to nurture the innovation and new creativity within the next generation of engineers."
Recipe for success
For more details, visit rowehankins.com or email Mark Nolan at mark.nolan@rowehankins.com
Recently, Rowe Hankins developed the world's first intelligent wheel flange lubrication system that lubricates the train wheel with a biodegradable fluid. The system knows where the fluid needs to be applied automatically and economically, saving wear on the wheel, the rail track and, most importantly, protecting the environment. This system is already in operation on Alstom's Class 345 trains that are running on the newly opened Elizabeth line.
"We stayed open throughout COVID in order to ensure we met the needs of our clients and our team were brilliant throughout.
Rowe Hankins will be showcasing its product range, including iWFL, and launching its new independent four-channel speed sensor and tachometer at InnoTrans in Berlin at the end of September.
Products and services include: Intelligent wheel flange lubrication systems. Top of rail friction modifiers systems. 1, 2 and 4 channel speed sensors. Signalling approved non-intrusive current monitors (primarily for wayside signal proving and logging). RCBOs, residual current breaker with over-current. AC/DC earth leakage units. CCTVTachometers.sensors and video. Refurbish and overhaul. Innovation and project management. Design, testing and manufacture. railbusinessdaily.com Rail Director | September 2022 | Feature45Industry Spotlight Advertorial
Central Hall itself will feature a Railway Futures Gallery showcasing the latest innovations in rail technology, a café overlooking the new museum square, a shop, flexible event space and new visitor facilities.
Environmentally friendly Sustainability is at the heart of the Central Hall design, with environmentally friendly design principles and materials which are in keeping with York's rich railway history and the surrounding area.
FowlesFeildenMuseum/RailwayNationalImage:
Feilden Fowles designed the new building and Montagu Evans acted as heritage consultant. GRAHAM has also been appointed to deliver pre-construction services for Central Hall.
This vision also includes Wonderlab: The Bramall Gallery, an interactive gallery aimed at inspiring children to think like engineers through experience, interactivity and play.
Central Hall will be a new welcome space and gallery located between the museum's Great Hall and Station Hall. It will connect the existing museum buildings and is a cornerstone of Vision 2025 – the museum's journey to transform its offer and become the world's railway museum.
Impression of the new Central Hall
Our recordhasexperiencedhighlyteamastrongtrackofworkingtodeliversharedprojectgoals 46 | Rail Director | September 2022 railbusinessdaily.com Heritage
Plans approved for National Railway Museum's Central Hall
The Central Hall plans form an early stage of the delivery of York Central, the 45-hectare regeneration site which is a partnership with Network Rail, Homes England, City of York Council and the museum.
"As we move towards construction, we will continue to engage with residents and visitors to ensure that the world-class museum we are creating can act as a true community resource for our evolving neighbourhood."
Neil McFarlane, strategic projects director at GRAHAM, said: "We are delighted to have been appointed as the preferred bidder for the National Railway Museum's Central Hall project.
"We understand the significance of this project for the Science Museum Group and recognise their aspirations for Central Hall to become the gateway to the transformed museum."Ourhighly experienced team has a strong track record of working to deliver shared project goals. We will be responsible for ensuring key project milestones are achieved under the PreContract Services Agreement."
for York and the wider region. This approval will allow the museum to realise its potential as the 'world's railway museum' by improving our offer, welcoming more visitors, and helping us to inspire the next generation of engineers and problem solvers.
Judith McNicol, director of the National Railway Museum, said: "We are very pleased the planning committee has approved the Central Hall plans, which will have transformative benefits
Next year start
Work is expected to start in early 2023 with completion in time for the celebrations in 2025.
It's full steam ahead for National Railway Museum's new building, which will transform the attraction and herald the start of delivering the York Central development after plans were approved by City of York Council
"The museum aims to be the cultural heart of York Central and this decision brings us a step closer to realising that ambition. We remain on track for opening Central Hall in in autumn 2025, in time for the museum's 50th anniversary.
RED, LOC and DNO foundations and platform installations (GI, Design & Install)
Trial ExcavationHoles and installation of concrete bases
Visit our website for more information or give us a call: 01442 731 www.fortisfoundations.cominfo@fortisfoundations.com321 5 Concorde Drive, Gadebridge, Hemel Hempstead, HP2 4AW
Embankment stabilisation & Cess retention
Erection and installation of OHL Gantry structures (masts, booms)
Platform renewals and refurbishments
Providing civil engineering products and services, with expertise in foundations and piling to the Rail, Civils, Energy, Residential and Water sectors
Installation of all Piled foundation - bored, driven & screw piles
Cess walkways and throughing routes
With over 20 years of Rail and Construction industry experience, our familyrun company provides expert advice and cost-effective solutions to all sectors looking for experts that they can rely on. Delivering safe and sustainable solutions at the forefront of innovation and technology, ensuring the highest quality results first time, every time. We can assist clients from advisory and design to compliance and delivery, providing tailor-made solutions to meet clients' needs.
Fencing and Access stairways
Site compound establishment and access road
PilingDe-vegetationandSoil nails Walls
Rabbit Netting Gabian
Work is under way on building the first of two rail grinders, which will be available to service the network with additional capacity. It will also be European compliant, able to carry out grinding works on the continent all the way to the Middle East.
Loram delivering on aspirations for accelerating growth
But Andy Watson, director of international business development, says this is just the start as the organisation grows apace six years on from completing its acquisition of RVEL – the UK specialist rolling stock engineering and operating company.
48 | Rail Director | September 2022 railbusinessdaily.com IndustryFeature Spotlight Advertorial
Loram offers a complete range of rolling stock engineering, maintenance and restoration services, RISAS-approved bogie line, plus advanced trackfocused infrastructure services, rail grinding and innovative maintenance of way. It is uniquely qualified to support both vehicular and on-track engineering and maintenance needs for the industry across the UK and internationally.
Growing confidence
Andy Watson, Loram's director of international business development, discusses cementing the company's place as a leading service provider to world's railways
Growing the European presence for Loram OEM equipment and service
Sixteen months ago, Andy spoke to Rail Director about the journey since the acquisition of RVEL and the three priorities in ensuring Loram's growth continue. This month, he gives an update on the success in each of the areas and the plans for the future.
"The last few years have really seen the company grow and there is a real level of confidence among staff as to what the future holds, with a shared vision and sense of purpose," said Andy, who has been with the company for seven-and-a-half years.
"We've been well-established as a maintainer for a long, long time, but we're now moving into the realms of being recognised as an operator which ensures we offer a more joined up, full service, that can only be of benefit to us and the industry."Recently we've invested in our assets and facilities and realigned the senior leadership team. This has been reduced from nine to six members, which has led to a more efficient decision-making process and allowed us to be more agile."
"The last few years have really seen the company grow and there is a real level of amongconfidencestaff"
Loram is accelerating its growth in the UK and beyond. Recent months have seen the rail and rolling stock maintenance specialist start on two major Network Rail contracts, continue work on a new grinding machine, and implement a change to the management structure to make the company more agile.
The second involves Loram operating and maintaining a small specialist fleet of rail vehicles used for inspections and track recording and analysis of switches and crossings integrity.
"These service contracts are particularly important to us because they are operating maintenance contracts, which means we have to both manage from the position of drivers, drive these things across the network, and also maintain them.
Gain more long-term service contracts
"That's proven to be the right decision as we are now in a better position to create a rhythmic production line, with the production phase really ramping up towards the end of this year and into the next when we will start pushing out around four wagons a week.
Loram this year commenced two contracts with Network Rail to support its infrastructure monitoring fleet.
"We can move machines around the network to either deliver a service, or for other customers the joined-up service would be to collect a rake of vehicles and bring them to our base at the RTC business park for maintenance work, overhauls or upgrades."Itisbeing able to give that full service which is more cost effective and operationally effective in terms of its delivery."
The 130-strong workforce, which is based in 100,000sq ft of workshop space at the RTC business park in Derby, is set to continue to expand its support of the vehicular, on-track engineering and maintenance needs of the industry across the UK and internationally.
The company has built a solid reputation when it comes to rolling stock maintenance and engineering solutions, with both the expertise andDespitefacilities.the growth in other areas of the business, Andy says the progress in this area continues to be strong.
"Having the locomotives and drivers enables us to offer the rail sector the service it needs to move commodities around the network, including new stock, old stock, wagons, intermodal, or test equipment and test trains," added Andy.
"Production activity on the repurposing of Network Rail side tipper wagons will soon get under way," he added. "Initially we made the decision to ensure all design approvals, gauging studies, and customer acceptance was complete on prototype before we rushed into fleet fitment.
"We are really going for it and with the calculated investment comes a huge amount of excitement."
"Investment and growth have opened doors and brought contracts that were a significant long shot to acquire when we started out in 2016, and we are moving into new markets and offering a more diverse service, taking new services to existing customers and moving across Europe.
we continue to forge a close working relationship with Transplant, the maintenance team within Transport for London, Bayer Crop Science in respect of their extremely sophisticated weed spray train, and NTS with wagon overhauls and upgrades".
The first involves maintaining 65 dedicated rail vehicles that Network Rail uses to digitally measure and analyse track and structural assets.
Stabilise and maintain project business
The UK business currently owns one rail grinder that it services Network Rail with, but in the UK it has an additional five machines that are all owned by Network Rail. The first of the two machines being built in Derby is due to be completed in 2023, with the second in 2024.
"Additionally,again.
"This effort is off the back of completing a year-long grinding campaign with Etihad Rail, which includes grinding their new network with our speciality grinder RGS8 and dedicated crew who worked on rotation from our UK workforce. I fully anticipate this first year to be the bedrock of a significant presence in the Middle East both in the UAE and beyond."
"Next year we are seeking growth in every one of the three key areas," said Andy. "The first area will grow by default of the rollout of the two new rail grinding machines, the maintenance contract will see growth as a result of maximising the operation, and the third through the production flow process of the wagons.
Moving on
"2023 will be about ensuring we become as effective and efficient as we can to deliver the contracts we won this year, which also gives a lot of top cover for the team to establish what's next. They're a hungry bunch."
Visit www.loram.co.uk for more details. You can contact Andy at Andrew.watson@loram.co.uk
"This is really exciting for the future of the business, with the two machines focused on the European market, and we've already received interest from Europe and the Middle East," said Andy."The UK market will be one of the target customers, but these machines are being built to technical specifications for interoperability across Europe and ETCS (European Train Control System) loaded ready for the European network.
"The contracts secure the current workforce with the second contract leading to the employment of 15 new staff to service that contract uniquely," said Andy.
"This will then realise another element of our strategy, when we are collecting the wagons, carrying out repurposing and then taking them back
A key to the success has been a bravery to invest in capital assets and the company's people, with new facilities for staff. Loram has also bought locomotives to serve the network and is predicted to have more than a dozen drivers on its books by the end of the year.
"2023 will be about ensuring we become as effective and efficient as we can"
railbusinessdaily.com Rail Director | September 2022 | Feature49Industry Spotlight Advertorial
I was 32 years old when I took the plunge into self-employment and founded QTS. Fast forward 30 years and we are one of the UK's leading rail contractors, with a turnover of more than £100 million, nine offices nationwide and almost 600 employees delivering first-class work for clients across the UK.
30 years of innovation and three decades of success
Now, 30 years later, I couldn't be prouder to have dedicated my career to the progressive and dynamic world of rail.
As a business, QTS has grown from its original roots in arbour to specialise in rail infrastructure and maintenance, having diversified its offering over the past three decades. I put much of the firm's success down to our ambitious and determined nature, as well as our ability to pivot our offering when needed to facilitate growth.Attimes, the early days of QTS meant some personal sacrifices for me but it was all worth it to witness our organic success. The creation of our headquarters in 2000, at Rench Farm in South Lanarkshire, was a turning point for the business as we transitioned from being a sole trader to a limited company with more than 40 employees.
Through ambition and determination, I qualified as a tree surgeon and rose to the role of contracts manager, making me one of the youngest people in the UK to hold the position at the time. From this, I took the risky decision to branch out on my own and, with a £300 loan from my mum, QTS, was born.
Alan McLeish, managing director and founder of the QTS Group, writes why he couldn't be prouder to have dedicated his career to the world of rail
50 | Rail Director | September 2022 railbusinessdaily.com People
Early learnings and finding a base
Now, as QTS approaches its milestone 30th birthday, I have taken the opportunity to look back on the last three decades and share my experiences of working in rail. I know I'm biased, but it's one of the most exciting and innovative industries in the world.
At times, the early days of QTS meant some personal sacrifices for me but it was all worth it to witness our organic success
Born in Glasgow to parents who worked several jobs, I aspired to be a professional sportsman or join the Armed Forces, but a teenage job as a seasonal gardener evoked a love for being outdoors and I soon found myself working in forestry.
RAIL ENGINEERING, INFRASTRUCTURE, ELECTRIFICATION & TRAINING
Working with East Ayrshire Council, we have also launched the UK's first Rail Skills Academy, with the first 10 young people graduating in August 2022. Five of them have joined the QTS family and the rest have gone onto other routes into
52 | Rail Director | September 2022 railbusinessdaily.com People
When our HQ opened, QTS Group was split into separate divisions, comprising QTS Construction Ltd, QTS Civil Engineering Ltd and QTS Rail Ltd. However, construction and civil engineering were failing to be profitable, while the rail subsidiary of the business went from strength to strength.
QTS brought the world's first Mega Chipper to the railway, followed a few years ago by the Mega Chipper V2, an improvement on this technology. We are also the only company with a rail mounted Forwarder that we utilise on vegetation sites. It's a joy to watch some of the kit we have created and developed get on track.
We also work within local schools offering support and guidance and have a proud involvement with an array of local and national organisations including Women in Rail, Darvel FC and Ayr Rugby Club.
Predictions for the sector
People were at the heart of the three businesses and every employee from the divisions ceasing operations was offered the chance to move to the rail subsidiary. Much of the staff transferred, many of whom are still with QTS today and have grown alongside the company. After streamlining the business to focus on what we did best, we have grown exponentially.
on-track plant training in 2009, to ensure the highest quality of training and development could be provided to our workforce.
After three decades, one of my biggest learnings has been that investing in your people is key. At QTS, we promote from within and give our staff the opportunity to move forward with additional training and development. All our board members have worked their way up internally, and seeing that there is real progression available to those who work hard helps to motivate, retain and attract great staff. It also helps to ensure our employees feel proud to work at QTS and are confident in their roles, which allows them to deliver pioneering rail projects.
QTS has always been at the forefront of plant machinery and creating innovative ways to generate efficiencies and improve safety, and I look forward to seeing how far the industry goes over the next 30 years.
With further investment in people and innovation across the sector, I truly believe that the rail industry will continue to create more jobs and promote positive socioeconomic change throughout the UK.
Sincerail.
Investing solely in rail
Our commitment to innovation is also something that will help our business and the industry moving forward, something that we demonstrated with our inaugural 'Future of Rail' event, hosted at our HQ in summer 2022.
QTS headquarters at Rench Farm in South Lanarkshire
Professional development and social value
In 2018, after 26 years at the helm, I decided to sell the company to Renew Holdings. For me, it was the right time to seize the opportunity to push QTS into new territory, with an aligned team dedicated to building on the firm's legacy as a leader in rail innovation. Since then, QTS acquired Rail Electrification Ltd in June 2021, adding electrification to our already impressive portfolio.
I founded QTS, social value has been part of our company DNA and we aim to deliver genuine support to the communities we operate in. From sponsoring young athletes to being involved with the Youth Philanthropy Initiative in Scotland, some of our success can be contributed to our social responsibility work outside of the day job.
This move facilitated our evolution into rail infrastructure and provided employees with a much-needed base and a strong direction; two things that I've found are crucial to building teams that can flourish.
We also seek out less traditional routes in finding skilled labour. For example, in 2021, QTS Group signed up for the government's Kickstart Programme, a scheme that provides funding to enable businesses to create new jobs for 16 to 24-year-olds on Universal Credit, who are at risk of long-term unemployment.
Our rail offering demonstrated resilience and strong growth and I made the difficult decision in 2011 to cease trading of QTS Construction and QTS Civil Engineering. Owning your own business and having so many people depend on you for their livelihoods always make these decisions incredibly tough, however, the unrivalled success of QTS Rail over the next decade proved it was a wise one and another example of how essential agility is to a company.
For me, the importance of investing in staff cannot be overestimated and QTS has long been an advocate for training and developing workforces to build, attract, and retain the best talent. That's why we launched QTS Training Ltd, an NSAR gold-rated provider of railway safety critical and
I believe the best way to grow the rail industry is to invest in young talent and offer the key skills needed to tackle the ongoing talent shortage. The rail industry hasn't always been considered an exciting and viable career choice for young people, but we're committed to changing the narrative to create a youthful workforce fit for the future.
Plant innovation is one of my personal passions within the industry. I am so proud of the development of our fleet over the past 30 years.
Proudly supporting Darvel FC
For more details, call our specialised team to discuss your particular project on: 01233 639039 www.sunraydoors.co.uksales@sunraydoors.co.uk SECURITY DOORS FOR THE RAIL INDUSTRY ● SPECIALIST RAIL SOLUTIONS - Overground, Underground/TFL, DLR ● REFERENCE PROJECTS - Crossrail, DLR, TFL, EuroTunnel ● BESPOKE SOLUTIONS - Tailored designs to meet project criteria. ● INSTALLATION & MAINTENANCE - Qualified, Compliant & Trained Operatives ● TECHNICAL SUPPORT - Consultative advice with complete back up concept to installation.
However, this is not an exhaustive list of products, and major contributing factors to the arsenal of STAUFF are innovation and development to drive design for cost improvements and mass reductions.
Bringing the best solution possible
Ken Cleal, STAUFF 's head of UK production and global product manager, on introducing the right processes for customers
A major consideration in all developments has been weight reduction, while retaining strength, which is prevalent in the research and development programme.
safety solutions and other ancillary products, such as hand rails, door handles, seat frames and luggage racks.
supply package. Over the past few years STAUFF globally has invested heavily in equipment, training of staff, technologies, and the logistics of the business, not only to satisfy current demands but also look ahead to future requirements.Thisisnever an easy task, however, close relationships with clients and the collaboration of STAUFF's experienced team with design engineers has also been of great assistance with shaping the future where assembled, tested and sealed kits, ready to 'plug and play' are shipped directly to OEM's (original equipment manufacturers) production lines on a JIT (just in time) basis.
An exchange of ideas
Many techniques developed in other areas of the STAUFF business have been incorporated into rail vehicle manufacture supply and vice versa, products such as the world-renowned clamping solutions have been tried and tested to withstand and combat the rigours of service life in transportation scenarios, such as noise and vibration suppression, and major contributions to safety with the use of railway compliant fire retardant materials.
Based in the heart of the South Yorkshire industrial city of Sheffield, the Rail Projects Division operates as an integral part of STAUFF at the company's UK headquarters.
With the benefit of a wide range of products and services, STAUFF delivers a complete kit of products to the rail vehicle manufacturing industry incorporating fluid power delivery, vehicle waste management systems, cable management systems and tube manipulation requirements including
54 | Rail Director | September 2022 railbusinessdaily.com IndustryFeature Spotlight Advertorial
These combined with the offering of a local supply chain puts the business in an advantageous position to bring clients much shorter lead times of the complete system
A very logical, simple and effective process, STAUFF Line is unrivalled by other manufacturing suppliers and although established in the rail sector, it can be applied across numerous industries.
And for the future? STAUFF strives to achieve the continuous improvement ethos of the company, not only in product manufacture, equipment investment and services, but in the growth and excellence of its teams, to bring clients the best solution possible.
STAUFF Line is a proven process, presenting in kit form a tested and ready for immediate installation solution bringing OEMs reduced logistic, production, inventory and administration costs.
A unique product
than that: we discuss the client's needs with them, help them source the relevant products, in compliance with all of the highest rolling stock requirements such as EN45545-2 HL3 and ISO15540, and mainly but not solely from
Ken Cleal, head of UK production and global product manager – tube and tube manipulations, said: "We have streamlined and developed over several years the manner in which STAUFF provides products to rail vehicle manufacturers."Themajority of companies still supply in piece part format, leaving the rail vehicle OEM the massive and expensive task to store, assemble, fit and test products, but STAUFF streamlines the whole process, vastly reducing inventory, reducing administration costs, and also hugely decreasing installation times at lineside, again highlighting a cost-saving benefit."We know the process works as we have great working relationships with our clients and regularly collaborate with the industry experts.
Visit www.stauff.co.uk for more details.
FeatureIndustry Spotlight railbusinessdaily.com Advertorial Rail Director | September 2022 | 55
"Our offering to the industry is not just a supply of quality product, it reaches much further
relationships with our clients and collaborateregularlywiththeindustryexperts"
We relish the thought of working with experienced engineers and equally new professionals to the industry who want to know more about the process [STAUFF Line] and how they can apply it to their assembly lines.
Through collaboration and many years of communication, a major contributing factor to the success of the company (both in the rail vehicle and other sectors) is the implementation of the STAUFF Line process.
"Helen has always fully supported me in both my ambition to create Yellow Rail and also to dedicate the past 15 years to its continued growth.
New MD Nigel Day (left) with Andy Kevins (CEO)
Yellow Rail has grown into a £15 million engineering service business supported by 215 talented staff deployed across seven different locations in the UK. Providing a wide portfolio of services to the passenger and freight sectors, the company currently has an order book in excess of £47 million.
In 2021, Yellow Rail became the first SME in the UK to achieve RISAS accreditation for material supply as well as having the accreditation for its bogie overhaul services. This is further supported by ISO9001:2015
"The reputationcompany'shascontinuedtogrowasthe'goto'forremotepassengerandfreightfieldservices"
The latest star in the company's portfolio has been the successful introduction of Yellow Rail's certified engineering design services in early 2021. These services are being delivered to both passenger and freight clients across the UK.
"For some years I wanted to see if I could create and grow my own business. I felt I was ready to do that in 2007, so I got up at 3.30am one morning and mapped it out on my whiteboard. The rest is Yellow Rail history.
"I have had a very fortunate career that has included the military, working in senior roles for world-leading companies such as Schlumberger, Alstom and Bombardier and global roles with SMEs, however there are few more challenging and exciting ventures than starting a new business," said Andy
Founded 15 years ago when Andy Kevins had an idea to create a new rail service company, Yellow Rail delivers safety critical services to the passenger and freight sectors.
56 | Rail Director | September 2022 railbusinessdaily.com IndustryFeature Spotlight Advertorial
Yellow Rail strengthening leadership team on 15th anniversary
"One of the primary objectives was to create a business that was profitable and sustainable, the foundation of any successful company. Having secured a number of long-term contracts which run up to 2031, we believe we have achieved this."
"Some of our proudest achievements include the award of the seven-fleet depot based delivery of Northern Rail's digital train project, securing a wagon maintenance contract on behalf of VTG UK where we maintain more than 600 wagons from the Merehead and Whatley facilities in Mendip, and the provision of turnkey support services to the UK's only wagon manufacturer, WH Davis, for its coal hopper to MegaBox wagon conversion project."
Current managing director Andy Kevins and his replacement, Nigel Day, talk about the aims and aspirations for the rail service company's future
"After 15 years we can look back at some tough times," Andy said. "Following the recession, the banks were not supporting many SMEs and we didn't always know where the next order was coming from. Having to trade through these times made us wiser, stronger and more determined to succeed.
(UKAS Approved), RISQS (Audited) and ISO14001:2015 accreditation.
"Every success the company has achieved has involved my wife and business partner Helen," Andy explained. "As with many successful teams, we have very complementary skills which have been a significant factor in the business's success.
Business growth
"Both Helen and myself are very proud of what we have achieved and how hard we have worked to get where we are today, however, the real praise goes to our customers for giving us the opportunities and our staff and suppliers for ensuring we continue to deliver our services."
"Collaboration is key and an initial aim for me to is to further increase the number of longerterm contracts that allow us to develop those relationships and create more innovative solutions for clients," he said.
For further information please contact Michelle Sillett, sales and marketing support manager, via michelle.sillett@yellowrail.org.uk
railbusinessdaily.com Rail Director | September 2022 | Feature57Industry Spotlight Advertorial
"Yellow Rail is a great place and although we have our competitors, I genuinely believe the company stands out from the crowd for all the right reasons, and that will only increase with the plans moving forward.
"Finding a leader who we totally trusted and who we believed could further strengthen the capability of the company was no easy task; we believe Nigel's reputation, experience, capability and drive are ideally suited to what the company needsAndtoday."itisachallenge that Nigel is relishing. He is proud to be taking on the mantle and building on the company's success
"In her time with Yellow Rail, Helen has managed projects, bids, finance, HR and procurement, and has excelled in all. This diversity of capability was essential in the early days of the company's development, when the team was much smaller than it is now.
A new era
"The board felt it was time to enhance the leadership team and bring in a new business leader with fresh ideas and new energy, to support the next stage of the company's five-year plan," said"ItAndy.alsocreates an opportunity for me to spend more time on a longer-term business strategy, while still being available to support Nigel and his management team.
"One thing that is really important to me is to see people working with a smile on their face and ensuring Yellow Rail remains a great place to work. The culture comes from leadership, support and empowerment from the bottom up, not top down.
"The staff are the assets, so it is my job to ensure they have the right environment to flourish, make their own decisions, and the opportunity to grow as individuals as well as helping Yellow Rail to grow. We are in it together."
He said: "I'm delighted to be joining Yellow Rail as managing director and building on the platform Andy and the team have built creating an innovative engineering service company.
"The company's reputation has continued to grow as the 'go to' for remote passenger and freight field services, bogie overhaul and repair, material supply services, RaiLatheTM wheel lathe products and services and engineering services within the UK.
Working together
Nigel is familiar with Yellow Rail's expertise and commitment through his work at VTG Rail UK over the previous five years.
"I am excited to be joining a flexible, customer-focused business to help it achieve its long-term plans. Yellow Rail's portfolio and capability will allow me to adapt services to what I feel I always wanted when procuring them. I see part of my new role is to ensure our customers and UK rail get innovative, flexible and cost-effective solutions."
"After 15 years on passenger design, build, maintenance and consultancy, then moving to freight leasing and maintenance for a further 20 years, my new role at Yellow Rail is a perfect opportunity for me to be a part of both passenger and freight sectors.
TF25 bogies ready to go at the Derby site
As the team starts its 16th year, it is entering an exciting new era with the appointment of new managing director Nigel Day. Nigel joins from VTG Rail UK, where he was engineering director, responsible for the performance, quality, costs and safety of 4,200 rail freight wagons.
A visit to the heart of Swiss rolling stock manufacturing
There are currently about 400 employees at Stadler's service sites in the UK, and the number is projected to increase
Sir Stephen Timms, who received a knighthood for his political and public service, has recently undertaken his second trip to Switzerland as the Prime Minister's Trade Envoy to Switzerland and Liechtenstein. In this article, he describes his visit to Stadler Rail Group's headquarters in Bussnang – one of the two main rolling stock manufacturing sites in the country
Sixty per cent of the UK rail network has not yet been electrified, offering an opportunity for Stadler. Its bi and tri-mode trains are equipped with power units which, depending on the network, can be equipped with a diesel generator and/or batteries and/or a hydrogen motor.
buying substantial local – specifically, North East – content. Stadler has established bases across the UK to service its trains, in Norwich, Glasgow, Newcastle and Liverpool, and in Wales.
Touring the impressive factory located on the side of an Alpine valley, I saw trains being built for Transport for Wales. They are tri-modal, with diesel, electric and battery power. I noted the movable step bridging the gap between train and platform, with a sensor to adjust for the platform level and how far the step extends. I also saw a hydrogen train being developed for San Bernardino County Transport Authority in California.
The company has its roots in an engineering office set up by Ernst Stadler in 1942. It expanded rapidly into export markets in the 1990s, but for a long time avoided the UK as a complex and demanding market. Its push into Britain started with an order from Transport for London for trams for Croydon ahead of the London 2012 Olympic and Paralympic Games. Success encouraged it to press further, with Ralf taking theStadlerlead.
There are currently about 400 employees at Stadler's service sites in the UK, and the number is projected to increase. Transport Scotland, Northern Rail and others plan tenders for new rolling stock in the near future.
In Bussnang, I was met by Ralf Warwel, marketing and sales director United Kingdom and Ireland for Stadler (who told me that dealing with Britain is never boring) and Dennis Laubbacher, chief operating officer at Stadler's plant in Bussnang. Stadler builds single decker trains and tailor-made rolling stock at Bussnang.
Push for Britain
Increased tenders
quickly secured a £610 million order from Abellio Greater Anglia for 58 FLIRT (Fast Light Innovative Regional Train) units, of which 24 operate with both diesel and electric power. As well as the Transport for Wales trains I saw, further
58 | Rail Director | September 2022 railbusinessdaily.com Trains
In addition to manufacturing rolling stock, Stadler also offers innovative service and signalling solutions. It was explained to me that Stadler specialises in customised trains, including orders for a single train. Bespoke manufacturing has been a hallmark of Stadler since Ernst Stadler founded the company.
orders have included 17 trains with an automated driverless system for Glasgow Subway; electric trains for Merseytravel; further trams and, most recently, a major order for the new Tyne and Wear Metro, for which Stadler is committed to
ASSET DrainageStructuresEarthworksINSPECTIONS ACCESSRopeSOLUTIONSAccessUnderwaterDrones Confined Space T: 01543 411994 E:www.geoaccess.co.ukinfo@geoaccess.co.uk WEWECOLLABORATEINNOVATEWESOLVE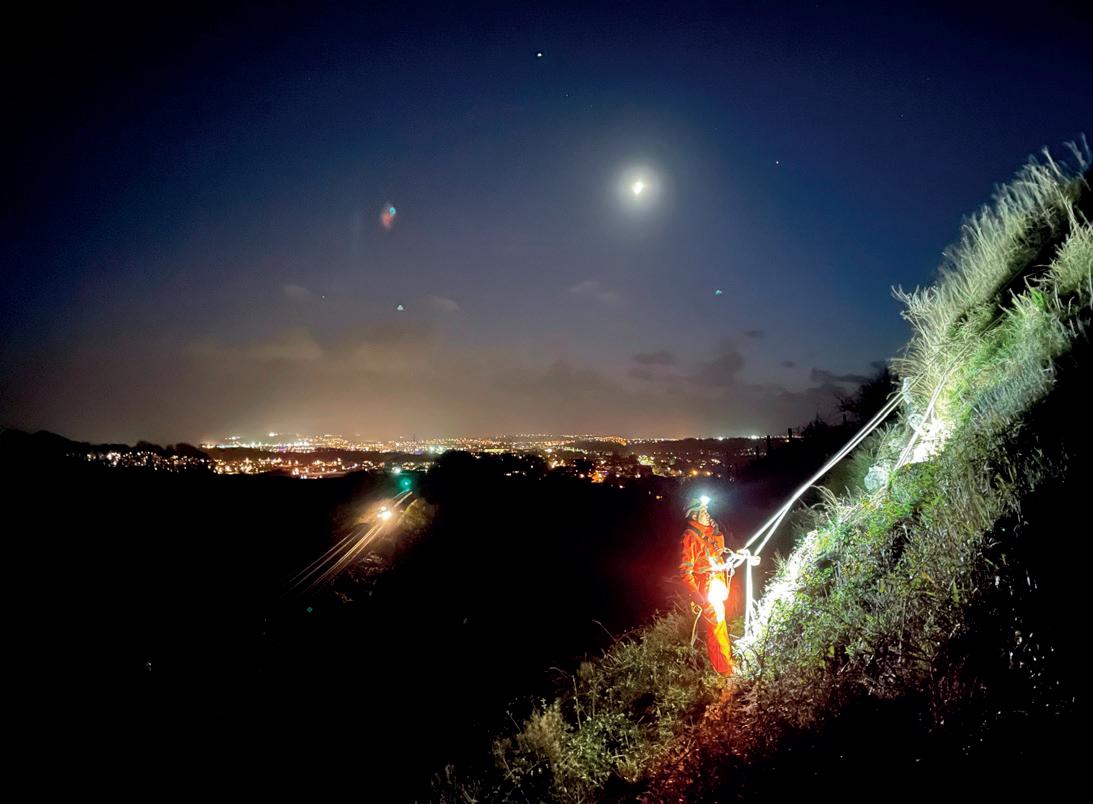 60 | Rail Director | September 2022 railbusinessdaily.com Trains
On lines which have been only partially electrified, for example, a battery kicks in where there are no overhead power lines. When the overhead lines resume, they power the train and recharge the battery.
Stadler's signature FLIRT is available in a battery-powered version, the FLIRT Akku. Stadler recently won an award for the longest distance travelled with a battery train, and has already signed three large contracts for such trains for the German market. This could be attractive in the UK, as net zero commitments mean that dieselonly trains will be banned beyond 2040 (2035 in Scotland).
Daniela Schild, +41 79 285 74 39, daniela.schild@fcdo.gov.uk
deal followed bilateral talks between the Prime Minister and the President of Switzerland in London in April. Following the recent consultation on what the agreement should cover, negotiations are due to begin in earnest early next year.
UK railways, also presents an opportunity. Ralf thinks train operators may gain longer rolling stock leases than with the former franchising system – perhaps 14 to 15 years rather than only six-plus years. This promises more serious commitment to rolling stock, and larger investments.Theforthcoming Free Trade Agreement also presents an important opportunity to increase UK-Swiss trade. The commitment to an enhanced
The contact for railrelated enquiries at DIT in Switzerland is:
Stadler recently won an award for the longest distance travelled with a battery train
Delivering railway signalling courses and training programmes to members of the Rail Signalling Industry. Specialising in Technical Training and Development, Competence Assurance and Technical Consultancy Want to know more? Contact us today 01332 343585 | signetsolutions.comenquiries@signet-solutions.com
The Trade Envoy programme
I will also welcome opportunities to support UK readers of Rail Director to access opportunities in the Swiss market – for example, by linking firms up with the specialist expertise provided by the Department for International Trade (DIT) through its impressive, Swiss-based team.
The drive for rail freight Decarbonisation is also driving freight onto rail. The intermodal and rail freight market opportunity in the UK is huge, and there is an acute shortage of freight rolling stock. Stadler has announced a collaboration with GBR Railfreight and Beacon Rail to supply CoCo locomotives, strengthening Stadler's position in the UK market and opening up a new area of business for six-axle locomotives.Thecreation of Great British Railways, following the recent Williams-Shapps review of
The Trade Envoy programme was launched by David Cameron in 2012. There are currently 32 envoys, all serving parliamentarians in the House of Commons or House of Lords, covering 67 markets. Each is appointed by the Prime Minister as a personal representative to a market or markets having a high commercial priority to the UK. The envoy's mission is to promote trade to the market, and investment into the UK from it. The appointments are unpaid and are reviewed at each general election and when there is a change of Prime Minister.
Astute works with more than 50 franchises, offering you a wealth of choice. And should you hit any bumps along the way, utilise the team of experienced application engineers to seek suitable alternatives.
The high-reliability requirements for components in rail to help reach these digital goals and ensure safety means it's even more important to avoid sub-standard counterfeit components.Astutehas been supplying into highreliability sectors since its inception. And its grasp on functioning in a volatile marketplace has seen it keep ahead of the game in terms of understanding the market and tackling the shortage issue. Astute's design, fulfilment, support approach can help companies keep away from the dangers too.
Despite this, many industries, including rail, are still striving for new technologies. Digitalisation is playing a major role in upgrading the rail sector as well as ongoing maintenance of long-life assets and continued improvement of safety and services.
Supply chain demand outstripping capacity has also created gaps for criminals and there has been a rise in counterfeit activity.
Component shortages don't need to be tackled alone
railbusinessdaily.com Rail Director | September 2022 | Feature61Industry Spotlight Advertorial
these are legitimate, and their quality confirmed. Astute's global leading counterfeit avoidance programme helps shield you against inferior quality products.
Global component shortages have been causing chaos for the past two-anda-half years and there is little sign of this relenting with experts projecting shortages will continue well into 2023.
Standard lead times have increased by over 60 per cent on commodity lines, prices for raw material like copper are up by 30 per cent in the last year, and the largest wafer foundries have increased prices by 35 per cent.
Just one missing part can stop your whole supply chain. With shortages proving to be an issue for a considerable while longer, taking precautions at every stage can keep your supply chain moving.
Visit www.astutegroup.com to get the latest market updates
Support – ongoing measures
you throughout the design cycle, selecting components that will meet requirements such as space and weight restrictions, as well as offering parts that are less likely to go obsolete.
Choosing the right approach and components from the start could help you avoid shortages issues in the future as well as reducing the chances of obsolescence issues when the technology being introduced will stay in service for a long Workingtime.with a company that not only understands sourcing but also has the expertise to work with you from the outset, helping
The rise in cost and battle for allocation could force desperate measures.
If you're beyond the design stage, trying to keep up with maintenance and updates, the shortages may well have hit harder and led to delays and loss of equipment while replacement parts are found.
Once you've designed in or finally sourced that component, it's time to make sure to have ongoing support and to take preventative action to keep issues from arising or having to source parts again. Successful obsolescence management is integral to keeping costs down and re-design to a minimum throughout a product'sWorkinglifecycle.witha supply chain specialist like Astute can keep you ahead of the game with periodic BOM checks teamed with proactive market sweeps at the first sign of a stock drop and long-term storage that gives you the security that your components will always be there when you need them.
Design-in as you mean to go on With investment and work on HS2 well under way, combined with the £7.6 million given to the rail industry in April this year to help modernise rail travel with new and innovative technology, the design process is in the spotlight.
Astute explains how the complete design>fulfilment>support approach can see you through the difficulties of shortages
Fulfilment – Keeping your supply chain secure
But in the rail industry, where so many people rely daily on the services to run on time and keep them safe, risking purchasing counterfeit parts could be Workingdisastrous.withprocurement experts who can safely source parts or alternative options through regulated avenues can greatly mitigate the risk. Furthermore, as we slowly start to move out of the shortages crisis and stock starts to become available, it is still vital to make sure
Even the terminology can be hard to understand. Science-based targets specify how much and how quickly a company needs to reduce its greenhouse gas emissions to futureproof its growth.
There are still many unanswered questions. Are batteries or hydrogen the best way to power trains off the mainline network, where electrifying the line may be cost-prohibitive? Also, where is all our future energy going to come from? Can renewables provide everything we need? Is nuclear power a genuine clean alternative?Andhow will heavy freight trains be powered where no electrified lines exist? Or is the only answer to electrify the entire network, including lightly used and freight-only lines?
Understanding contributing factors
But what of smaller contractors and suppliers, of which many are SMEs? How will they cope with understanding the legislation and implementing the various standards?
Barry Harwell, project specialist at Auditel, on working with clients to measure and report carbon footprints following the PAS2060 standard
62 | Rail Director | September 2022 railbusinessdaily.com IndustryFeature Spotlight Advertorial
For an organisation to be carbon neutral, it needs to calculate its annual carbon emissions and then purchase carbon credits to counter them. It is expensive – carbon credits need to be purchased every year – but comparatively simple to do once the initial calculations have beenThemade.alternative is to reduce carbon output as much as possible, to get as close to zero as
most organisations, the reality lies somewhere between both these extremes, with carbon neutral being a starting point in the journey towards Net Zero by making year-onyear incremental reductions in carbon.
is feasible, and then offset the small remaining balance. It is still expensive to do, but the cost of carbon reduction is only incurred once and then the annual bill for carbon credits is as small as canForbe.
The first stage is therefore to understand what carbon is being created directly by the organisation's own processes, and what is being 'bought in' from the supply chain. That's a specialist task, and infrastructure owners, train operators and major contractors have large teams of specialists working on both the initial calculations and on developing plans to reduce carbon output.
First of all, what is net zero carbon? Is it the same as being carbon neutral? The answer is no – but then again yes.
Whatever the answer to these questions, one thing is clear. For the railway to be net zero carbon, the entire rail supply chain also needs to be net zero carbon. And that could be a problem for many.
Removing diesel-powered trains from the network will greatly assist. Diesel passenger trains will be off the network by 2040 (2035 in Scotland) and the entire railway aims to be 'net zero carbon' by 2050 (2045 in Scotland). Electricity to power trains will be from 'clean sources', so reducing carbon output.
Best options
The government's desire to reduce carbon affects all aspects of UK life and will be a challenge for everyone. Achieving a zero carbon railway will also not be easy, but it is starting from a good base as many lines are currently electrified, with trains powered either from overhead lines or a third-rail system (or fourth rail on London Underground).
"A lot of absolutelycompaniessmallhavenoideawheretheyareintermsofcarbon" reachingcarbonReducingandnet zero
"Any company can become carbon neutral tomorrow, it just takes money. Whereas net zero – working towards zero – it takes time and effort to actually go through a process to root out or reduce the carbon wherever you can find it.
The remaining carbon emissions can be offset, and then the whole system independently assessed to validate the results.
"You don't want to tie yourself up in knots or set your boundary too high – you've got to keep it manageable, because if you can't keep it manageable, how are you going to actually achieve any reductions?"
Identify areas of inefficiency and improve overall Makeperformance;cost savings by reducing energy consumption and bills;
Making sense of what you have to do
and carbon solution companies in the UK. Its specialists work alongside a client's existing finance, operational and procurement teams, providing the external guidance each organisation requires on its journey to net zero without the usual associated costs – for many it is self-funding and for some its actually profitable.
The goal is to get every company in the railway supply chain to achieve net zero carbon. So, a tier 2 supplier not only has to achieve this, and document it to satisfy its tier 1 customer, but it also has to work with the tier 3 suppliers it uses, and the tier 4 suppliers they use, to achieve overall success.
environment."Alotofsmall
Specialist advisers
Understanding what is required can be a major headache for small organisations. As a result, many turn to specialist advisers to help them understand the complexities and come up with an achievable and affordable plan.
Barry Harwell is a project specialist with Auditel, working with clients to measure and report carbon footprints following the PAS2060 standard. He and his colleagues also identify the most appropriate options for carbon reduction and offsetting, aiming to satisfy and support the client's corporate responsibilities, sales proposals, operational costs and the
"I'm not against offsetting, you have to offset at the end of the day as you will never hit true zero. So sometimes the advice might be to spend the first two or three years just reducing, and then to go carbon neutral.
companies have absolutely no idea where they are in terms of carbon," Barry told Rail Director. "So, we help them identify where they are, set boundaries and validate their achievements."It'safour-stage process. The first is to measure the company's current carbon footprint using one of various international standards and methodologies. Once that is established, plans can be drawn up to implement realistic and achievable projects that reduce the amount of carbon released every year.
"And net zero requires you to work with suppliers, and that's not going to be instantaneous, is it? Depending on the size of your company, it might turn into a collaborative project that could last a few years."
"That's a business decision, and it depends on whether the company is required to be carbon neutral as soon as possible. Personally, I think it better to spend the money on permanently reducing emissions – getting as close to zero as possible – as that's a permanent reduction. So, concentrate on making changes – altering processes, using different materials or whatever –as that's a one-off cost whereas offsetting isn't, it's an annual cost.
Specialists such as Auditel help companies make sense of what they need to do, and then guide them through implementation and validation.
"There is an argument that while you're working towards net zero, you should be doing the offsetting"
"There is an argument that while you're working towards net zero, you should be doing the offsetting," Barry said. "And then, as you get near to zero, you can bring your offset down because you are now saving carbon. But should you be going for neutrality early on?
BSI claims that the use of PAS 2060 will help organisations:Meetcustomer, stakeholder, industry, and legal Reduceexpectations;GHG emissions and quantify their carbon footprint;
A carbon emissions target is defined as sciencebased if it is in line with the scale of reductions required to keep global temperature increase below 2°C above pre-industrial temperatures.
"We can assist with the science-based targets," Barry continued. "We help people set them up. We can then help with their carbon-reduction plans. We hold discovery workshops, to explain to staff and help them to understand where to set the boundaries – that's one of the most difficult things, understanding where you set the boundary of your own footprint. Where do you stop accounting for the carbon both upstream and downstream?
There are a number of documents to 'help' companies on their path to reducing GHG (greenhouse gas) emissions. One of these is PAS2060 from the British Standards Institute – "the only recognised international standard for carbon neutrality". A 40-page document, available for just £120 from BSI (the full Net Zero Solution pack is £1,230).
Gain credibility with a consistent carbon neutrality statement.
One of those advisers is Auditel, originally founded in 1994 to help organisations make effective and informed procurement decisions. It has since built up a strong network of more than 100 procurement and carbon specialists and is now one of the leading cost, procurement
railbusinessdaily.com Rail Director | September 2022 | Feature63Industry Spotlight Advertorial
It remains the case that the UK needs worldclass rail, and that the railway should not be regarded as a drain on the public purse. Rather, in addition to the railway's vital role in connecting the country for passengers and freight, it should actually be seen as a provider of thousands of jobs and billions of pounds of investment and tax revenues; and we should remember that for every pound spent on rail, £2.50 is generated in the wider economy.
The UK Government ultimately needs the rail supply sector to help build more infrastructure and rolling stock capacity for the future, with freight and passenger numbers and revenues clearly returning just a few months on from the ending of pandemic restrictions. We should be planning for a vibrant future in rail, not managed decline.
1. Firstly, we need to promote the fact that the return to rail has been much more positive than was expected after the pandemic and is sometimes reported.
There will be much focus by everyone on new Prime Minister, Liz Truss, and the frontbench team as well as priority issues such as inflation, the cost of living, and concerns about recession. However, all of us in the rail supply sector should not only listen to what the parties have to say on rail policy, but we should not shy away from lobbying on rail industry issues too.
Given rail is a long-term 20-30 year game, we clearly have a buoyant future and now is not the time to take our foot off the pedal of rail investment for the years ahead.
Future-proofing rail
where 93-95 per cent was recorded every single day. Furthermore, senior rail players across the industry are now reporting 80-85 per cent of pre-pandemic revenues too, with every prospect this will increase further in the months to come.
All of us should advocate confidently at the political party conferences
Rail can help the political priority to level up and create and support jobs and the economy during turbulent times.
Darren Caplan, chief executive of the Railway Industry Association (RIA), explains his seven areas for advocacy ahead of the party conference season
The Railway Industry Association and our members will be attending a number of the party conferences over the coming weeks to make the case. So, what will we be saying to the politicians? Here are seven areas for our advocacy:
September marks the start of the party conference season. Over the next few weeks, the three main UK political parties will be gathering around the country, with the Liberal Democrats in Brighton, Labour in Liverpool and the Conservatives in Birmingham, and the main nationalist parties of Wales and Scotland, Plaid Cymru and the Scottish National Party, meeting in Llandudno and Aberdeen respectively.
Freight returned to pre-COVID levels relatively quickly, and national rail passenger numbers – despite industrial action and heatwaves –are recovering quickly now too. On 10 August, passenger numbers reached the milestone of 95 per cent of pre-COVID levels in a week
64 | Rail Director | September 2022 railbusinessdaily.com Darren Caplan
2022 As an Internationally recognised rail infrastructure service supplier, we offer a comprehensive range of services, covering S&T, civils, operational communications & overhead line equipment. Our Services RailwayDeliveringInclude:EngineeringSolutions • System Design • System Integration • System Assurance • Installation, Test Commisioning • Surveying • Civils • Life Extention Works • Isolation & Possession Management xrailgroup.com +44 (0) 3450 600 700 Engineering Together
4. We need efficient and timely completion of the Great British Railways (GBR) restructure. The UK Government must ensure there is no hiatus in current work while the development of GBR is going on, and that there is transparency and a partnership approach with rail suppliers and a commitment to financial sustainability. There also needs to be an ambitious approach to the restructure, leaving a positive legacy when it comes to safety, decarbonisation, exports and the economy.
We need a plan giving certainty and smooth investment for the five years of CP7, between 2024 and 2029, to at the least maintain the spending levels of CP6.
2. We need the government and opposition parties to commit to providing certainty of work and smoothing the work pipeline. This is the best way to keep costs down and to deliver value for money for the tax and fare payer.
7. And there needs to be an increase of R&D (research and development) and innovation funding in rail, to find cleaner and more efficient ways of operating trains and maintaining and enhancing our infrastructure.
NOTHING TO SNOOZE AT
Subscribe today for all the best news in UK rail from 7am daily news.railbusinessdaily.com 66 | Rail Director | September 2022 railbusinessdaily.com Darren Caplan
Delivering on the above seven points will go a long way to not only benefiting the rail supply sector but also boosting the UK economy too, crucial in these turbulent times. The coming weeks of the party conferences season are an ideal time for rail supply to confidently make its case.
We need the Rail Network Enhancement Pipeline to be published, now more than 1,000 days (as of this summer) since the last iteration was announced, so we can get on and accelerate enhancement schemes.
3. We need a commitment to improve national transport connectivity by building major projects such as HS2 in full, including reinstating the Eastern Leg and the Golborne Link (or an effective replacement), as well as delivering the full Northern Powerhouse Rail and other schemes such as Midlands Rail Hub, East West Rail and Crossrail 2.
5. We need political encouragement and support for digitalising the railway promptly, if we are going to replace 65 per cent of current signalling with digital in the next 15 years and exploit the digital opportunities to improve customer service.
6. The industry needs a commitment to accelerate plans on electrification, as well as hydrogen and battery train technology, if the ambition to eliminate diesel-only trains by 2040 and decarbonise rail as a whole by 2050 is to be hit.
We clearly have some difficult times ahead, but if we in rail cannot be confident and promote positively the prospects and 'asks' of our sector, whoMywill?plea to fellow railway industry advocates is not to talk the sector or its prospects down; rather we should be doing thePoliticiansreverse. and the Treasury in particular need to know that UK rail is not only returning but will grow in the future too, and that all of us in the railway industry are committed to helping that trajectory along the way. For every pound spent on rail, £2.50 is generated in the wider economy
07816www.jjrail.co.ukkeven.parker@jjrail.co.uk283949
01952www.reinforcedearth.co.ukinfo@reinforcedearth.co.uk204357
TVS's technology-led ethos allows us to transform supply chains through building resilience and growthready solutions that are scalable.
07342www.tvsscs.comandy.lawrence@tvsscs.com999504
railbusinessdaily.com Directory Rail Director | September 2022 | 67 Goss Consultancy Ltd (GCL) are working across the Rail Industry to hardwire access and inclusion into project management and delivery. Our services include: • Access and Inclusive Design Appraisals • Access and Inclusive Design Training • Access and Inclusion Project Management Support • Access and Inclusion Strategy Reviews • Access Audits/Reviews • Digital Accessibility Reviews • Diversity/Equality Impact Assessment Training and Development • Equality, Diversity and Inclusion Audits/Reviews • Inclusive Customer Service Training Policy/Practice Development • Stakeholder Engagement We are supporting the transport sector to future-proof the Rail Industry, for all. Clients include: Promoting a world of opportunity accessible to all. Get in touch, email us at: info@gossconsultancy.com or call on: 01442 877117 Development J93665 GCL Railway Magazine Ad.indd 1 16/02/2022 12:16
ITAL works with businesses looking for productivity improvements in both the management of people and systems. We bring technology improvements to generate efficiencies that positively impact the bottom line, employees and customers.
Kelly Rail is a principal contractor to all major UK industry service providers, specialising in multi-disciplinary solutions including telecommunications, SISS, signalling, M&E, lineside civils and electrification HV & LV.
01295www.norbar.comrail@norbar.com753600
020www.kelly.co.ukinfo@kellyrail.co.uk84240909
08445www.ital-uk.comryan.leather@ital-uk.com447327
Reach 17,000+ senior rail industry professionals
List your business here for just £200
Contact Christian Wiles – Chris@RBDPublications.com
As the leading torque control specialist, designing, developing and producing only torque tightening and measuring equipment, we want torque safely and accurately applied across the rail industry.
Global market leader in low carbon structures for rail. Fully geosynthetic pre-cast or green faced solutions for bridge abutments, embankments, retaining walls and green bridges.
Pre Metro Operations works with UK transport companies and investors to provide low-cost light rail solutions that connect communities across the West Midlands. Future-proofed. Green. Reliable. Award-winning. 01384www.premetro.co.ukinfo@premetro.org441325
Jobson James Rail is a national specialist railway insurance broker, the market leader in the UK by a huge margin with over 325 rail clients across the UK, Middle East and Australasia.
"Five years ago we moved operations to a unit in Ingleton with a warehousing section that allowed us to start keeping some stock," he said. "It was from there that the company really started to grow.
"We went beyond just supplying the attachments – customers wanted to tap into our experience. They trusted us to provide them with the right attachment for their machine and the job they needed it to do.
including flails and mulchers for vegetation management and railway maintenance, log grabs, tree shears, stump grinders, post drivers, compaction plates and breakers.
Dave admits that the rail industry wasn't a sector he had in mind initially when setting up the business, although it is one that is proving a big success, and one that is only going to increase further in the future.
Robustrack supply a variety of hydraulic attachments to the rail sector and beyond,
Robustrack founders Dave and his partner Roberta first began importing into the UK in 2012, and their philosophy then remains just as true today: to deliver first-class products with first-class service.
We offered not only the attachment itself but brackets, custom fabrications, service and spare parts. It was peace of mind for our customers knowing they could rely on us for everything from initial sale to after-sales support and has been a big factor in our success."
"It really is a specialist piece of kit and has received high praise from many within the industry for its implications on safety, precision and potential cost savings. After years of development, testing and Network Rail approval, the model that Tim Dean (formerly of Sandhurst) has now presented really is fine tuned to its job and is UK patented.
"It is unmatched in its ability to handle complex and weighty structures, from steel masts, h-sections, beams, poles and timber baulks, and we have units working all over the world including in Germany, Australia, France, Switzerland as well as here in the UK."
Dave Cerca, managing director at Robustrack Ltd, discusses a decade of importing hydraulic attachments into the UK
A decade ago, Robustrack started life as a small family enterprise. Today, the company boasts an experienced team of employees and two advanced workshops in Ingleton, North Yorkshire, and Oldbury, West Midlands, that supports the supply of Italian hydraulic attachments.
Dave described the success they had seen with their unique, design-engineered Articulator™, a multi-handler developed specifically for overhead line equipment installation applications.
68 | Rail Director | September 2022 railbusinessdaily.com IndustryFeature Spotlight Advertorial
"In the early days we were working from our home office, which was simply the kitchen table with attachments stored at the bottom of our garden," said Dave, who moved to the UK in 2009 following a successful career within the excavator industry importing rubber tracks.
The gateway between Italian manufacturing and the UK market
Bespoke equipment
"At the heart of it all however is our dedication to our customers and our promise to continue to provide the sales, service and support we have always prided ourselves on."
Despite the challenges, Dave is incredibly optimistic about the future and particularly around the role of Robustrack to the UK rail industry."Wehave lot of new opportunities in the pipeline. We are currently in the process of seeking Network Rail approval for our range of stump grinders, which we see as being a great asset to the industry," he said.
Dave said: "Brexit has had a massive impact. Things are more expensive and with all the bureaucracy it is a much longer and more complex process to get our products here.
railbusinessdaily.com Rail Director | September 2022 | Feature69Industry Spotlight Advertorial
A very good year
"At Robustrack we always aim to react quickly, but in the rail industry that is particularly important, especially when working to strict deadlines. It is important for us to not just do the sale and disappear, but to be there to support on that"Reliabilityjourney. is also an important factor. We have a mulcher working on a rail maintenance contract currently that has worked non-stop for six months. The customer has said they'd never been able to achieve so much in the same space of time. That emphasises our passion to do things well and really highlights the fact that the rail industry can benefit from our customer-orientated approach. We know safety, speed and reliability is crucial and are here to support that."
"Overall, when people think 'I need a tree shear', 'I need a mulcher', 'stump grinder', we strive to be the organisation they call. We have the equipment and the knowledge to ensure a successful partnership."
"It has led to us changing the business model to adapt with the changing situation.
"As a company, we have always been known for our flails and mulchers. Many of our mulchers were out working with railway maintenance contractors," he said. "When we looked into it, we discovered that many of our attachments suited the industry need and so we initially did a few pilot projects to ensure we had the equipment and knowledge to serve the sector.
"We've structured ourselves in order to deliver the attachment ready to work, with more elements fabricated in house in order to reduce costs and ensure we can provide the same high level of service. We are a reactive and resilient team and are dynamic in the way that we look strategically to the future.
"Our goal is to become more and more the point of reference for hydraulic attachments in the UK. We are continuing to launch and develop Robustrack rental, our hire fleet, which we know is of great benefit to our customers, particularly for those who only need an attachment for a one-off job.
Visit www.robustrack.co.uk for more details.
Despite the difficulties the last few years have presented with COVID-19, Brexit, and rising costs, remarkably 2020/21 saw Robustrack celebrate its best year yet.
Looking ahead
"We are incredibly proud and privileged to be able to showcase our products this year at the Bauma trade show, in München. It is a huge show and one that I haven't had the opportunity to attend previously and so I am looking forward to it immensely. We'll catch up with many old friends and colleagues, and being able to present our products to such a wide and influential audience is very exciting.
"We now supply to the rail industry in a range of applications and have been developing our brand with attendance at events such as Rail Live. The event this year was fantastic, and I thoroughly enjoyed the opportunity to meet new friends and colleagues and gain more insight into the industry.
"At Robustrack we always aim to react quickly, but in the rail industry that is particularly important"
Hitachi Rail and Rio Tinto have marked another significant AutoHaul milestone with the commissioning of the autonomous rail transport system for the new GudaiDarri iron ore mine in Western Australia's Pilbara.
Rachael@RailBusinessDaily.comFIND OUT MORE TODAY
The greenfield mine development has involved the construction of a 166km rail spur to connect the new mine to Rio Tinto's existing AutoHaul rail network in the region.
Rio Tinto operates the world's largest integrated portfolio of iron ore assets and has a tangible commitment towards net zero
Moving grain from Ukraine to Spain
Hitachi Rail is a world leader in autonomous and signalling technology and recently, also in Australia, began a major contract to install innovative technology to automate elements of Queensland's New Generation Rail (NGR) fleet. The AU$107m contract will see Hitachi Rail install Automatic Train Operation over European Train Control System Level 2 technology on all NGR trains.
A specially adapted train comprising 25 40-foot containers filled with bags has got under way as part of a new pilot project to help Ukraine export its grain. The effort, launched by Spain's Ministry of Transport, Mobility and Urban Agenda (Mitma), aims to mitigate problems suffered by sea transportation because of incidents at Ukraine's sea ports in the Black Sea. Spanish state-owned Renfe Mercancias sent the containers to the border between Poland and Ukraine to transport 600 tons of Ukrainian corn to Spain.
Date set for ForrestfieldAirport Link project Operations for the $1.86 billion METRONET Forrestfield-Airport Link project in Australia are due to begin on 9 October. The complex testing and commissioning, which includes a series of emergency response exercises, is in its final stages, with driver training also under way. When complete, the link will provide an 18-minute train journey from the CBD to Perth Airport, with new railway stations also at Redcliffe and High Wycombe. It's expected an average of 20,000 passenger trips will be made each day on the new rail line in its first year of operation, increasing to 29,000 by 2032.
subsequent successful system commissioning.HitachiRail Australia senior director Roslyn Stuart said: "The Gudai-Darri AutoHaul network expansion project is a natural extension of Hitachi Rail's longterm collaboration to deliver innovative rail transport solutions for Rio Tinto. The project has seen Hitachi Rail and the Rio Tinto AutoHaul team deliver another 'first', with back-to-back loading (high-performing automated train loading) to be introduced on the Gudai-Darri mine rail loop."
News in Brief Hitachi Rail hails 'world-first' fully automated AutoHaul network
All systems and software are now operational following the first production test run and
Raise your profile in rail through the industry's largest media business LIMITEDTIMEOFFER
HitachiImage:
The world's first fully automated heavy-haul, long-distance rail system, AutoHaul enables 220 trains, which are monitored remotely from an operations centre in Perth, to travel safely and efficiently across more than 1,866km of track from mines to ports without the need for onboard drivers.
70 | Rail Director | September 2022 railbusinessdaily.com International News
As the technical lead behind AutoHaul's development, Hitachi Rail has provided the systems and software to connect the new section of rail for Gudai-Darri. This has included onboard and control centre technology, trackside equipment, radio base stations, and automatic train operation (ATO) interface software for locomotive control, level crossing safety and location tracking.
carbon emissions. The Gudai-Darri mine will also deploy autonomous haul trucks, fully autonomous water trucks and autonomous training solutions, and will be partially powered by a 34 megawatt photovoltaic solar farm solar plant.
British Transport Police is looking for youth members to join our Independent Advisory Groups.
We want to hear how what we do affects you and how we can improve our service. We'd like to hear your views no matter what background you're from. You won't even need to leave your house – we'll meet for a couple of hours, four times a year via MS Teams or in person.
If you're aged 13-17 we'd love for you to join us.
Do you fancy helping us make a difference?
Empowering change
If you're interested and would like to find out more, let's talk! Ping an email to btp-volunteers@btp.police.uk
Scan to find out more Scan to find out more www.RBDRailRecruiter.com Start your search, upload your CV today The Rail Jobs Board Find jobdreamyourrailtosearch SeniorjobsExecutive Commercial and Procurement jobs
He said: "I am excited to be joining Achilles as it builds on a 30-year history and leverages the functionality and usability of the new MyAchilles platform. My sincere thanks to Jay for his warm welcome and thoughtful handover – he has done an incredible job steering this business through the pandemic and the re-platforming simultaneously.
Phillip Terry has joined UKTram as lead engineer, to help deliver on ambitious plans to boost the growth of light rail across the country.
SLCImage: railbusinessdaily.com Rail Director | September 2022 | 73 Movers and Shakers
"His broad experience will prove invaluable as we forge closer partnerships with stakeholders to support innovation, share best practice and explore new technology that will ultimately help remove the barriers to sector expansion."
Andrew has 20 years of experience in market forecasting and undertaking economic appraisals of transport schemes. He began his career at Steer Davies Gleave (now Steer) before continuing as a freelance consultant.
"I am delighted to be able to do this as part of the UKTram team alongside our stakeholders from across the light rail sector."
Ian Walters, managing director of SLC Rail, said: "COVID has resulted in many changes to the
"That's why we're delighted to welcome Andrew to our business; his experience and understanding will build on the work with forecasting teams to help our clients create compelling business cases and have a comprehensive view of the future."
"In six years, we have transformed the organisation both from a technology standpoint and a cultural one; it is truly a purpose-driven organisation, and there is a genuine belief and passion in the vision to create a more sustainable future delivering supply chains that are ethical, effective and efficient."
Paul, who joined last month, has vast experience as a CEO and nonexecutive director including roles at Global Navigation Solutions and Retail Decisions.
SLC grows strategy team with new addition
Engineering appointment strengthens UKTram team
"He remains an active supporter of the business, and I wish him well in the next phase of his career. I am looking forward to working with chair Craig Rodgerson and the wider board and investment team at Bridgepoint Development Capital. Most importantly, I am excited by what we can deliver for our customers and the engagement with the excellent global team at Achilles."
"I am really proud of all we've achieved at Achilles, and I have been extremely lucky to have had a great team throughout this journey.
LC Rail, the rail development and delivery specialist, has appointed Andrew Helm as head of economic appraisal.
New CEO for Achilles
Phillip has joined UKTram from Nottingham Trams Limited, where he held the position of technical support manager.Hefirst started working on Nottingham's tram network in 2002 as one of six infrastructure technicians responsible for new light rail track, power, signalling, supervisory, control and communication systems.
This new appointment is a direct response to the changing economic landscape, which will allow SLC to further help clients assess and convey the value and benefits of rail projects.
UKTramImage:
"Combine this with a tough economic environment and it's never been more challenging for non-industry railway scheme promoters to bring about change and make social, economic, and environmentally important rail investments a reality.
Phillip said: "I'm looking forward to sharing my experience of asset maintenance and management while fulfilling a desire to learn, improve standards and assist in the implementation and sharing of best practice.
With a wealth of engineering experience, including two decades working in light rail, he has joined the sector's representative organisation and will be responsible for driving a series of keyJamesinitiatives.Hammett, UKTram managing director, said: "We are delighted to welcome Phillip to the organisation as we look to deliver objectives set out in our recently published three-year business plan.
In the years that followed, he completed an MSC in railway systems engineering and integration from Birmingham University, led the expansion of Nottingham's Wilkinson Street depot and played an important role during the city's phase two tram expansion project. One particular area of expertise for Phillip is overhead line maintenance, and he recently completed a PWI electrification engineering diploma.
Achilles has appointed Paul Stanley as chief executive officer (CEO), taking over from Jay Katzen, who is leaving the business after six years.
Outgoing CEO Jay Katzen said: "After six great years at Achilles, I've decided now is the time to step down as CEO. Following the successful sale of the business to Bridgepoint last October, and feeling very good about the foundations we have in place across the organisation, it feels like the right time to hand the reins over, to relax and spend more time with my family.
S
way the rail industry can plan and forecast demand for transport.
John's long career at Arcadis from 1995 to 2022 was interrupted for three years from 2014, when he joined Capita Real Estate and Infrastructure as managing director
of management services.
John said: "I'm extremely proud of what many thousands of my colleagues have achieved since SGN began life. We've had a great start but now it's time for a new chapter, so I want to wish Mark every possible success and thank everyone I've worked with over the years."
"Expert project management that provides certainty of delivery is essential, especially at a time when clients are experiencing a rapid change in demand and market uncertainty."
He said: "I've seen a distinctive culture of collaboration at Currie & Brown that provides a strong foundation for my brief to take client experience to another level. I'm supported in that by a refreshed and energetic senior management team.
"This is both a privilege and a responsibility which I am taking
CoombesTaliesinImage:
very seriously. As the original Light Railway, K&ESR holds a very special place in both railway and preservation history, and its contribution to tourism, education and community cohesion should not beRobinunderestimated."startedhis career at British Rail as an architect and project manager in the 1980s, moving into marketing for several BR networks and then transferring his skills to the National Welsh Omnibus Company. His next move took him to renowned international heritage tourism and sustainability consultancy Eres, where he led landmark transformational projects both in the UK and abroad, including the 50-year masterplan for the Welsh History
Mark, who led the opening of the Elizabeth line, stepped down as part of an agreed plan to pass leadership of the programme to Transport for London (TfL) once the line was Markopen.said: "It's incredibly exciting to be joining SGN as the company prepares to meet the net zero challenge through worldleading innovation and engineering excellence."Ilookforward to making sure we are best placed to do that while maintaining our essential roundthe-clock service to keep millions of people safe and warm."
Robin Coombes has more than 30 years' experience working with both the railways and in heritage tourism, latterly as the company secretary for the Vintage Trains Group. He has also worked in construction, in marketing, and advised successive governments on regionalPledgingdevelopment.tochannel the spirit
The Kent & East Sussex Railway (K&ESR) has appointed one of the heritage industry's most respected and experienced professionals as its new full-time general manager, taking over from Shaun Dewey who retired in July.
In the new role of group head of project management growth and as a member of Currie & Brown's operational executive, John will lead the ongoing development and transformation of the firm's project management service line.
Former Arcadis partner John Graham joins Currie & Brown
Kent & East Sussex Railway appoints Robin Coombes as general manager
Brown&CurrieImage: 74 | Rail Director | September 2022 railbusinessdaily.com Movers and Shakers
Association in 2014-15 reconnected him with his passion for rail. A full time PhD in governance and sustainability from 2016-2021 saw him assisting the Rail Regulator (ORR) to develop the heritage section of new industry standards. ORR subsequently adopted his '12 Tablets for Good Governance' and the Rail Safety and Standards Board (RSSB) is set to roll this out to the wider rail Robin'sindustry.most recent role has been as a research fellow working on two heritage rail projects: the first at Birmingham University, for the reopening of the Jamaica State Railway, and the second at Northumbria University to establish the Heritage Rail Knowledge Network, funded by a grant from the National Environment Research Council.Announcing the appointment, K&ESR Chair Simon Marsh said: "We are delighted that Robin has agreed to join us and are excited for what this means for the future of the railway. He comes with a wealth of experience in the heritage railway sector and more widely. I am confident that he will successfully lead the K&ESR through all the challenges that we face as a heritage operator and take us to the next level in our development."
Former Crossrail boss joins SGN
of the railway's founder, Colonel Stephens, Robin said: "In joining K&ESR, I'm fulfilling a true childhood ambition to one day become a railway general manager, having first found a passion for trains watching tank engines from the platform of Cardiff General station."I've worked in many different fields and tackled many challenges in my career, but nothing has given me as much pleasure as being handed the opportunity to walk in the footsteps of one of the railway giants – Colonel Stephens.
John Graham has joined construction consultancy Currie & Brown from Arcadis, where he was an equity partner and ultimately global account leader and managing director for the technology, manufacturing and industrial sector.
However,Museum.a role as the Independent Review Chairman of the West Somerset Railway
CEO of Crossrail, Mark Wild, has joined gas company SGN, following John Morea's retirement last month.
John leaves SGN after a 42-year career in the energy sector. He started as a power engineer and progressed to managing SSE's electricity distribution and transmission networks before switching to gas when joining SGN.
He reports directly to Alan Manuel, who became group CEO in January 2022 as part of a new leadership team driving twin commitments to collaboration and sustainability throughout the global business of over 2,000 people in more than 60 countries.
Transforming lost and found for public transport For a free demonstration contact: russ@notlost.com manualAutomatetasks Free up valuable staff Improvetimevisibility of lost property and comply with GDPR Deliver a modern, mobile experience for travellers Reassure your passengers, save time & money and return more items of lost property with our lost and found software. notlost.com Trusted by MManaging lost and found across a large fleet that is always moving can be a challenge. NotLost simplifies that job and frees up our colleagues to get on with value-adding work. Head of Customer Experience, Oxford Bus Company
"The principal objective of the dashboard has been to provide a simplified and streamlined experience for businesses in rail – essentially creating one place where everything rail businessrelated be found to support a successful business strategy for growth.
Taking the community to a new level
For more details www.community.railbusinessdaily.comvisit:
This is an exclusive benefit for members and offers a new dimension to membership. The dashboard provides a single point of access to a wealth of tools and resources and has been purposely designed to support growth and business development in addition to marketing and profile raising.
76 | Rail Director | September 2022 railbusinessdaily.com
Building a strong community
Registered users of the dashboard will now be able to quickly view their membership benefits, and more importantly, take advantage of those benefits in addition to being able navigate seamlessly around the platform to easily get to the locations they want to use.
"We are extremely proud of what's been achieved here – it's been a real team effort"
In addition to the various events and activities we have reported on over the past few months, there have been some exciting developments taking place behind the scenes.
As an entity that exists to support businesses working in rail, it is really important that we continuously innovate and develop the community offer to meet the evolving needs of the members –which is why we are excited to announce the launch of the RBD Community dashboard.
Our next stop will be Berlin where the RBD Community team will be looking forward to meeting members, colleagues and contacts from across the industry at InnoTrans. Look out for our InnoTrans review on our return. Until then, we look forward to sharing more RBD Community news with you next month.
Eli Rees-King, head of RBD Community, said: "We are extremely proud of what's been achieved here – it's been a real team effort and from what we are hearing from members in the community, this dashboard fits the need perfectly.
An international and export section is packed full of useful information and links to expertise to support a successful export strategy and is linked to a whole suite of other business support tools which has been developed specifically to focus on sustainability, innovation, and health and safety.
Single point of access
For example, someone with a marketing responsibility will now have a dedicated toolset including everything from a free website audit, sponsorship opportunities and discounts on marketing bundles to comprehensive marketing reports, design tips and media resources.
In addition to developing the dashboard, you may have noticed the RBD Community "Better Together" campaign designed to demonstrate how it is more important than ever for us all to work together and build a strong community where we can support each other. We will be supporting the Great British Railways Transition Team as we move into this new era of rail and firmly believe that we are all better together.
For users responsible for business growth and development there is an area dedicated to the latest bids and tenders and funding opportunities in addition to industry reports and insights.
"This is a game changer for RBD Community members who are set to gain from having this all at their fingertips without having to spend significant time and effort to search for the information or advise what they need – a single source of truth about what's going on in the sector and the tools available to get ahead."
Eli Rees-King, head of RBD Community, writes about the launch of a new dashboard
Join today www.community.railbusinessdaily.com Created by railway professionals, for railway professionals Bids • Tenders • Directory • Events • Policies • Reports Marketplace • Industry Updates • Exclusive B2B Discounts We're creating a simpler, better community for everyone in BETTER,railTOGETHER
Farewell to the wave
Advantages
In addition to the installation of the requeststop kiosks, Network Rail has upgraded existing radio communication masts and antennas and installed new equipment at Muir of Ord, Invergordon, Kildonan and Wick stations to enhance radio coverage.
Network Rail has put in place a 'request-stop' kiosk at Scotscalder station, on the Far North line, as part of a wider £5 million investment in the line's radio signalling system. If the technology works well, seven other stations will get the Withunits.thekiosk in place, people don't have to wave and hope for the best anymore – now they can hail the train electronically.
trial prove a success, the other seven stations due to receive the technology in the coming months are Altnabreac, Kinbrace, Kildonan, Dunrobin Castle, Rogart, Invershin and Culrain. Not everything will be cutting edge just yet: passengers on board wishing to leave the train at Scotscalder will have to continue to speak to the guard or conductor, as at present.
"Enabling the driver to be alerted in advance to the need to stop in the station, rather than being reliant on hand-signalling, delivers a safer and more reliable system, and means that trains don't need to slow down at stations where there are no passengers waiting.
RailNetworkImage:
Easy to use Cara Healy, Network Rail's development manager for the work on the Far North line, said: "Enhancing the radio network will make the experience of using request-stop stations more straightforward for local people and for the increasing number of tourists visiting the area.
"Once the trial period is complete at Scotscalder, we are confident that the system will be ready to be rolled out to improve performance and the overall passenger experience for those travelling on the railway.
"This will improve performance and it's a really positive step for the operation of the route.
This will aperformanceimproveandit'sreallypositivestepfortheoperationoftheroute
"We look forward to a successful trial and the technology being rolled out to other stations on the Far North line."
For many of us, flagging down a train as you would a bus would seem a little odd. But for those who use around 150 of the most remote stations throughout the UK, it is part of everyday life. But maybe not for much longer.
This has resulted in better reliability and resilience of the communications network across the route, improving the overall passenger experience for those travelling on theDavidline. Simpson, ScotRail service delivery director, said: "We are delighted to welcome request-stop kiosks on to the network with the improvements they will offer to our passengers using this rural line.
The trial at Scotscalder station will be closely monitored to ensure safety and reliability. Information will also be available on platforms, initially to highlight the change to passengers, and a period of dual running will be in place to test the enhanced system extensively prior to it being rolled out at the other locations.
Shouldsightsee."thekiosk
The request-stop kiosk on the Far North line has gone on trial at Scotscalder station
"This new system will make it easier to use
first
some of the most remote stations on our network and hopefully help encourage more people to travel into the Highlands to walk, climb, cycle and
78 | Rail Director | September 2022 railbusinessdaily.com And finally...
E-Mail: OrdersRailUK@mosdorfer.comCatenary Clamps Droppers Insulators Safety Equipment
Mosdorfer Rail Ltd.
FOR TODAY´S AND FUTURE CHALLENGES
Bonding Connectors
E-Mail:
INFRASTRUCTURERAILWAY SOLUTIONS
Our Expertise for Railway and Tramway:
- Railway Catenary Systems - Tensioning - Insulation technology - Power supply - Safety equipment
- Railway Catenary Systems - Tensioning - Insulation technology - Power supply - Safety equipment
Spring Automatic Tensoning Device
Phone: +44 114 3878370
Our Expertise for Railway and Tramway:
INFRASTRUCTURERAILWAY SOLUTIONS
Mosdorfer Rail Ltd.
Phone: +44 114 3878370
2 – 4 Orgreave Place, Orgreave Sheffield S13 9LU, South Yorkshire, UK
OrdersRailUK@mosdorfer.comCatenary Clamps Droppers Insulators Safety Equipment
FOR TODAY´S AND FUTURE CHALLENGES
Bonding Connectors
TENSOREX C+:
2 – 4 Orgreave Place, Orgreave Sheffield S13 9LU, South Yorkshire, UK