VISITOR GUIDE VisitMarshallCounty.org PLYMOUTH • CULVER • BOURBON BREMEN • ARGOS
Welcome to Marshall County!
Whether it is your first, tenth or hundredth time visiting Marshall County, we hope you discover, explore, and unwind with us, while you're here.
Discover our hidden gems and annual celebrations. The Barn Quilt Trail will wind you along beautiful countryside and through charming towns, revealing "gems" as you go. Then, every year, we invite you to the largest four-day festival in Indiana, The Blueberry Festival, during Labor Day weekend.
Explore our attractions. Lake Maxinkuckee is the second largest natural lake in Indiana offering a beautiful beach with swimming. Many outdoor attractions are scattered across the county offering fishing, biking trails, hiking trails, splash pads, disc golf, and many more outdoor amenities.
Unwind with us. Enjoy a day on the greens or at the spa. Play or relax in our scenic parks. Check out local boutiques and antiques. Linger at our local restaurants, then take in an outdoor concert or a nostalgic movie at the drive-in theater.
We welcome you with a smile to Marshall County. We hope you enjoy our home as much as we do.
About the Cover:
During your visit to Marshall County, explore breathtaking views on our beautiful lakes. Location: channel between Lawrence and Dixon Lakes. Photographer,BrandiSullivan
2
3 Lake Michigan CHICAGO 65 65 74 74 74 94 80 90 80 90 465 469 265 265 70 69 69 69 64 64 65 69 70 31 31 30 30 MARSHALL
INDIANAPOLIS Ft.Wayne Richmond Lafayette Evansville Vincennes TerreHaute Bloomington Columbus Jeffersonville Madison South Bend Gary Kokomo
Contents Map of Communities 4-5 Our Cities 6-7 Lake Max 8-9 Golf 10 Parks 11 Trails 12-13 Chief Menominee 14 Potawatomi Wildlife
15 Culver
16 The
17 Museums 18-19 Arts
for this icon
Spots
explore.
Memorable
Dining
Indiana Foodways
Wine, Beer, Spirits 32-33 Farmers Markets
Shopping
Stay
Weddings
Seasons
MC
MC
Festivals
COUNTY INDIANA
Table of
Park
Academies
Center at Donaldson
and Entertainment 20-21 Barn Quilt Trail 22 Marshall County is located in Northern Indiana about 2 hours North of Indianapolis and 1.5 hours West of Fort Wayne. Look
for the Perfect Selfie
to
Heartland Artists Gallery 23
in Marshall 24-27
28-29
30-31
34-35
36-37
38-39
40-41
in
42-43
Blueberry Festival 44-45
and Events 46-47

4 Plymouth-LaPorteTrail 31 6 30 30 8 17 17 117 17 10 10 10 OldUS30 Michigan Rd Plymouth Culver La Paz Lake Maxinkuckee Lawrence Lake Myers Lake Cook Lake Pretty Lake Koontz Lake Pretty Lake Golf Club Price's Memorial Park Woodbury Golf Course Tri-Way Family Golf Center Kreighbaum Lake Lake Latonka Public Access Chief Menominee Monument Culver Academies Culver Acad. Golf Course Culver Park and Beach Culver Marina Swan Lake Golf Club, Resort and Conference Center 9.2 miles between La Paz and Bremen 11.9 miles between Bremen and Bourbon 11.1 miles
Bourbon and Argos 9.8 miles
Argos and Culver 13.7 miles
Culver and Plymouth 8.1 miles between Plymouth and La Paz Between Cities: AT-A-GLANCE Marshall County La Paz • Small-town charm • Blueberry patches everywhere! Culver • Lake Maxinkuckee • Culver Park and Beach • Culver Academies
between
between
between
5 31 31 6 30 10 331 331 331 Michigan Rd Argos River Tippecanoe
Bourbon To South Bend Lake of the Woods WaToFort yne To Indianapolis Bourbon Park & Splash Pad Potawatomi Wildlife Park Bremen • Splash Pad • American Historic Water Landmark – "standpipe" • Amish community Plymouth • County seat • Nine public parks • Home of the Marshall County Blueberry Festival Argos • Splash Pad • Summer Kick-Off Festival • Home to the Marshall County Fair Bourbon • Potawatomi Wildlife Park, just south in Tippecanoe • Historical Native American encampment • Bourbon Park & Splash Pad
Bremen
Our Cities
ARGOS
Located on historic Michigan Road, one of Indiana's first highways, you will find this charming town. Argos offers three parks, two with fishing ponds, sports fields, disc golf, walking trails and splash pad. A family-fun destination, Argos is home to The Summer Kick-Off Festival and the annual Marshall County Fair.
BOURBON
Bourbon has a small-town atmosphere. Head over to the park and let the kids enjoy the refreshing splash pad Visit the Potawatomi Wildlife Park, just south of Bourbon in Tippecanoe, featuring historical Native American encampments, the Stephen Benack village, a portion of the Goshen-Logansport trail and the Tippecanoe River Ford.
BREMEN
Located in the northeast corner of the county, Bremen is home to an American Historic Water Landmark known as the "standpipe". Erected in 1882, the standpipe had a 30,000-gallon capacity and is now a treasured 101-foot landmark. Enjoy a bite to eat and shopping downtown before heading to Rentown, the Amish Community. Here you will find shopping, dining, and an abundance of cheese to sample and take home!
6
CULVER
ARGOS BOURBON
LA PAZ
Although small, you will find a few hidden gems in La Paz. Blueberries are in abundance when you visit the blueberry patches during season. Find great food, fresh produce, flowers and more. For hometown and homemade goodness, stop by the family-owned diner.
CULVER
On the shores of Lake Maxinkuckee you will find the town of Culver. Enjoy a day at the beach or on the water. During the winter, enjoy ice skating on the frozen lake. Downtown offers quaint shopping and family-owned dining. Just outside town, you will find Culver Academy, a premier college prep school. The academy is known for the famous Black Horse Troop, which has been invited to escort presidents, emperors, kings and queens.
PLYMOUTH
At the crossroads of Northern Indiana sits the city of Plymouth; where you will find small-town living with a bigger city feel. Enjoy shopping, dining or one of the nine different parks. In 1966, Plymouth's sesquicentennial celebration became the first Marshall County Blueberry Festival Labor Day weekend. It continues today as a 4-day-event, bringing tens of thousands in attendance.
7
PLYMOUTH BREMEN
LA PAZ
Lake Maxinkuckee
Spanning 1,864-acres, Lake Maxinkuckee is the second-largest natural lake in Indiana. The lake is 2.6 miles long and 1.6 miles wide. The average depth is 24 feet with some areas being as deep as 88 feet.
Lake Max, as it is known locally, is accessible on the west end. Once on the lake, you will find that it is a pristine home to a variety of fish such as bass, walleye, and perch. Needless to say, fishing is a year-round activity in Culver. Recreation includes tubing, skiing, sail boating, Culver Academy rowing, and more. On site, there is a marina with boat access.
On the north end of the lake, the visitors' dock allows access to Culver Beach, a playground, shelters and other amenities.
In the summer months, check the schedule for live entertainment at the Damore Amphitheater, which is located close to the beach.
8
9
Whether you are looking for casual play, championship golf courses or a renowned golf academy, you've scored in Marshall County! In particular, Swan Lake Resort has two 18-hole championship courses, a golf academy and a luxurious resort that's perfect for a wedding!
10
Pretty Lake Golf Course 18 Holes 10055 Pretty Lake Trail, Plymouth 574-936-4543 Swan Lake Golf Course 36 Holes 5203 Plymouth Laporte Trail, Plymouth 574-935-5680 Tri-Way Family Golf Center Putt-Putt, 18 Holes 4400 Michigan Rd, Plymouth 574-936-7936 Woodbury Golf Course 18 Holes 12641 7B Rd, Plymouth 574-936-4405
GOLF
PARKS
No matter which community you are visiting, you will find a beautiful park, most with a long list of amenities.
ARGOS
• Argos Community Park
• Foker Park
• Memorial Park
Soccer fields, baseball/ softball/t-ball diamonds, basketball court, sand volleyball, bag toss game, disc golf, sledding hill, walking paths, wetland, playgrounds
BREMEN • Shadyside Park • Sunnyside Park • Shumaker Westside Park • Jane's Park
Baseball/softball/ t-ball diamonds, tennis courts, basketball court, horseshoe pit, sand volleyball, soccer fields, little league football field, pool, splash pad, ice rink, sledding hill, wetland, dog park, walking paths, skate park
BOURBON
• Bourbon Community Park • Westwood Park
Baseball/softball/t-ball diamonds, splash pad, playground, basketball court, dog park
CULVER • Culver Park
Sand Volleyball, playground, water sport rental, Culver Beach, dog beach
PLYMOUTH
Centennial Park
Magnetic Park
Founder's Park
Gill Park
Hand Park (Webster Recreation Center)
Freedom Park (Packard's Woods) • River Park Square • Poplar Street Park
Tennis courts, basketball courts, baseball/softball/tball diamonds, shuffle board, soccer fields, disc golf course, sand volleyball, splash pad, pool, Price's pond and beach, dog park, greenway trails, skate park, playground, sledding hill
11
•
•
•
•
•
•
TRAILS
12
Argos Community Park
Trail around Lake Maxinkuckee - Culver
The Greenway Trail - Plymouth
Potawatomi Wildlife Park
Home to many scenic trails for biking, hiking or walking.
The Great Bike Routes offer three different trails totaling 63 miles. Start at Webster Elementary School in Plymouth and continue through the southeast side of the county.
Multi-use trails for hiking and biking are located at Parks Mill Pond Trails. Wooded and scenic, the three miles of trails were created to showcase natural beauty. 12512 S Rose Rd. • Plymouth
The Greenway Trail in Plymouth offers trail links from Downtown Plymouth through Centennial Park. There are many stops along the way for dining, shopping and site seeing.
Argos offers a walking trail within Argos Community Park as well as trails that go around the pond at the newly renovated Foker Park . Both trails offer a picturesque way to enjoy the outdoors.
The Shumaker Westside Park in Bremen offers a gravel trail loop for walking.
Lake Maxinkuckee's trail circles the lake. Enjoy stunning lake views as you take a casual stroll or power walk. Check out the shopping and dining you will encounter along the way.
To be completely immersed in nature, head out to Potawatomi Wildlife Park just south of Bourbon. There are three different hiking trails that are one, three, and five miles long. 16998 State Road 331, Tippecanoe
13
Chief Menominee & The Trail of Death
In memory of the peaceful Potawatomi chief, Menominee, a statue was erected of him in 1909 in Plymouth, on South Peach Road. It is the only publicly commissioned statue of a Native American in Indiana.
On West 12th Road is a plaque that marks the probable location of Chief Menominee's village and first chapel. The chapel was discovered in 1827 by a French Catholic Priest. Unfortunately, after the tribe was forced to leave, the village and chapel were destroyed. A replica of the chapel was constructed at the University of Notre Dame, which also marks the beginning point of the Trail of Death. On this trail, over 150 members of the Potawatomi tribe were forced to leave their home and move to a Kansas reservation in 1838. 12380 Peach Rd., Plymouth, IN
14
Potawatomi Wildlife Park
This quiet 317-acre wildlife park preserves important prehistoric and historic sites. Native American Encampments, the Stephen Bennack Potawatomi Village, a portion of the Goshen-Logansport Trail and the Tippecanoe River ford, where early Indiana trails crossed the river, are all located here.
Potawatomi Wildlife Park is officially deemed Indiana's first "Dark Sky Preserve". Due to the lack of light pollution, many astronomical societies, schools and individuals come to the park to observe the night sky.
There are many activities available to enjoy at park which include bird watching, kayaking, hiking, fishing, geocaching environmental programs, and more. 16988 State Rd. 331, Tippecanoe
15
Culver Academies
On the shores of Lake Maxinkuckee sits the prestigious Culver Academy, a world-renowned preparatory school for students, grades 9-12. The campus is situated on 1,700 acres with CollegiateGothic buildings overlooking Lake Maxinkuckee.
Memorial Chapel is a living tribute to the 6,500 Culver men who served in the Armed Forces from 1941 to 1945. The Tudor-Gothic style chapel overlooks Lake Maxinkuckee.
The academy is also home to Vaughn Equestrian Center and the famous Culver's Black Horse Troop and Equestriennes. The Black Horse Troops have ridden in 18 presidential inaugural parades, dating back to 1913. The Equestriennes have appeared in nine inaugural parades.
The R.H. Ledbetter is a favorite among local residents. This 54-foot, 3 mast, square-rigger moored at the Culver Academy pier occasionally launches into the water and creates quite a spectacle!
16
Photo courtesy of Culver Academies
The Center at Donaldson
Home to five ministries focusing on art, earth, education, spirit and body, the Center at Donaldson is truly unique. The Center offers a labyrinth to walk, a place to pray, and attend college courses or learn a new hobby. Also located at the campus are independent living apartments, a long-term nursing care and rehabilitation facility, and a retreat and conference center.
MoonTree Studios offers art classes and on display are art forms including clay, textiles, painting and wood/metal creations. See page 21 for more details.
Known as The Chapel in the Cornfield, the Ancilla Domini Chapel is breathtaking. The Neo-Gothic columns are decorated with ancient Greek and Roman designs. Baroque-style stained-glass windows and wood carved statues were created by German artisans. Finished in golden oak in 1923, the large pipe organ is considered a masterpiece.
While visiting, you can purchase local natural beef from Ancilla Beef and Grain Farm which will help sustain the The Center at Donaldson.
17
MUSEUMS
Marshall County Historical Society Museum and Crossroads Center
The Marshall County Historical Society Museum and Crossroads Center features interactive exhibits that will immerse you in local history, culture and lore. Experience the themed train room with model train exhibits and the sports room that showcases local victorious legends. The transportation exhibit in the Crossroads Center illustrates how five important highways and byways intersect in Marshall County.
123 N Michigan St. • Plymouth • 574-936-2306
Culver Academies Museum & Gift Shop
The Culver Academies Museum & Gift Shop provides insight into this storied institution. Learn about their mission to cultivate character through developing and nurturing their students' minds, bodies and spirits. Explore their core values which are taught and exhibited on campus.
102 S Main St. • Culver • 574-842-7815
18
History Center and Historic Depot
The Bremen History Center in Downtown Bremen chronicles the life of prominent local resident, Doc Bowen. Bowen was a politician and physician who served as the 44th Indiana Governor and as Secretary of Health and Human Services in the Cabinet of President Ronald Reagan. In addition, learn about the Bremen standpipe, the Old Opera House and rich local railroad history.
History Center Historic Depot 111 N. Center St. 810 Douglas Rd Bremen Bremen 574-315-8327 574-315-8327
19
and Historical Society of Culver at Culver High School
and Historical Society of Culver showcases the history of Culver,
and Culver Academics through artifacts, documents and photos.
Antiquarian
Antiquarian
Lake Maxinkuckee
701 School St. • Culver • 574-635-0053
ART & ENTERTAINMENT
There are many types of art created and displayed throughout Marshall County.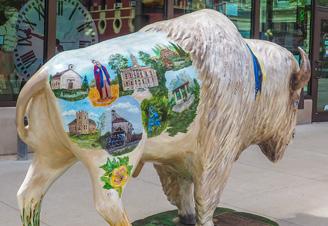 The Barn Quilt Trail features colorful quilt blocks erected on barns, homesteads and public places. See page 22.
The Bison-tennial Bison was a state-wide public art project that helped celebrate Indiana's 200th birthday.
Artists from the Heartland Artists Gallery showcased their talent by painting Jibey, located in downtown Plymouth. Also visit Psi the Bison in Bremen.
The Blueberries of Marshall County are scattered across the county, each uniquely painted by local artists.
20
Artist :Jeff Stillson River Park Square
Artists: Heartland Artist Gallery Members
MoonTree Studios, located on the beautiful grounds at The Center at Donaldson, offers classes including clay, textiles, painting, wood/metal and glass. Exhibits by regional artists are on display. Find respite at the Lindenwood Retreat and Conference Center for multiday art experience. moontreestudios.org
Located in an historical building in downtown Plymouth, Wild Rose Moon is a not-for-profit performing arts center scheduling live performances throughout the year.
21
The Maxinkuckee Players and Singers is a community theater arts organization comprised of auditioned performers from all over northern Indiana.
Barn Quilt Trail
In 2009, traveling throughout the county became even more colorful with the development of the Marshall County Barn Quilt Trail, the first one in Indiana. On the trail, you will discover colorful, quilt-pattern murals adorning historic barns, family homesteads and public spaces.
This trail was created to celebrate the history of agriculture, the time-honored tradition of quilting and our passion for Hoosier hospitality.
The self-guided trail connects all six of the communities with four loops, all offering a variety of barn quilts in different colors and sizes. The quilts are painted by community volunteers, with assistance from location owners. Two volunteers, Thom and Connie Kleckner, have painted, designed and built the frames for a majority of the quilts.
Find a Barn Quilt Trail map at the visitor center or download a pdf at VisitMarshallCounty.org.

More than 75 colorful quilt blocks appear throughout 150 miles of Marshall
22
County.
Heartland Artists Gallery
Much more than a gallery, the Heartland Artist Gallery is a comprehensive visual arts organization. It is a place to create, teach and share art. Every month, a new regional artist's work is on display and for sale. Twice a year, juried art shows are organized by Heartland's curator. Every July, ARTS in the Street is scheduled in downtown Plymouth with nearly 50 artist booths, live music, activities and festival food vendors. For students aged 6-95+, classes for novices and experienced artists are offered year-round. The gift shop offers local art pieces and jewelry for sale. Gallery admission is free. This member supported not-for-profit organization is dedicated to promoting multi-media, visual art forms to Marshall County and the surrounding areas.
23
heartlandartgallery.com
Memorable in Marshall
Tri-Way Drive-In Theatre
Located in Plymouth, this theatre has been showing movies since June 4, 1953. As of 2020, Tri-Way Drive-In is one of only 321 drive-in theaters left in the country.
24
Blueberry Statues Have some selfie fun! Find all the blueberries statues throughout the county. Don't forget to tag them! #BlueberryArt fb.com/ blueberriesinmarshallcounty
The Clemens Vonnegut Jr. House
Built in 1889, this seven-bedroom, 3,800 sq. ft. home was a summer retreat for Vonnegut's family, whose primary residence was in Indianapolis. Perched upon a shoreline bluff on Lake Maxinkuckee, this home is available to book for short-term stays.
Step back in time at the
Drive your classic cars to Mobilgas Cars and Coffee events for a cruise-in. Check fb.commobilgascc for dates and times.
25
Mobilgas Museum in Plymouth.
Lake Max is perfect for ice skating, ice fishing or sailing.
Plymouth Motor Speedway
is a three-eighths-mile banked asphalt track with races running May through October. You can check out their full schedule at plymouthmotorspeedway.com/schedule/.
Splash Pads
Marshall County has three public Splash Pads, free of charge, which are located at River Park Square in Downtown Plymouth, the Bourbon Park , as well as the Argos Community Park.
26
Splatter Room
Stop by CR8-UR-CANVAS in Bourbon for fun and laughter while splattering your canvas and the walls, and maybe friends or family too! Enjoy your favorite music, people and art all at the same time!
Boat Launches
Lake of the Woods - Southwest of Bremen, accessible on West Shore Drive
Dixon Lake - Southwest side of Plymouth
Lawrence Lake - Olive Trail, 2.5 miles south of Plymouth Myers Lake - Great place for fishing, across the road from Lawrence Lake
Koontz Lake - Northwest corner of Marshall County
27
DINING
Whether you are looking for a home-cooked style meal, fine dining, or an old-fashioned car-hop, you'll find it in Marshall County. If your sweet tooth is calling, stop by our bakeries, ice cream or coffee shops.
28
Dutch Maid Eatery & Gifts - Bremen
Four locations: Argos, Bourbon, Culver, Plymouth
The Original Rootbeer Stand - Culver
29 Create your own ice cream masterpiece at Sweet Swirlz in Plymouth. 18 flavors and over 50 toppings!
Enjoy a sundae and shop for antiques at The Standard in Bourbon. Sweets & Coffee Treats
French Press Coffee Co.Plymouth
30 OH... Cristo's Family Restaurant - Plymouth The Lakehouse Grille - Culver • Cafe Max • Christo's Family Restaurant • Log House Restaurant • Mila's Mini Market • The Chophouse • The Dutchmaid Eatery & Gift • The Lakehouse Grille • The Mean Bean Bistro & Brew Indiana Foodways Alliance™ celebrates the authentic food culture of Indiana. Members are the best local eateries in the state! Visit Marshall County Restaurants honored by IFA are:
31
YUM!
Mila's Mini MarketPlymouth
Mean Bean Bistro & Brew - Bremen
The Log House Restaurant - Argos Learn more about the restaurants featured on the Foodways Trail!
Cafe Max - Culver
32 The Office (City Center and Opie's) 114 N Michigan St. Plymouth 574-935-3366 opiesdeli.com The Brass Rail Bar & Grill 225 N. Michigan St. • Plymouth • 574-936-7004 thebrassrailbar.com Wine, Beer and Spirits The Breakroom Pub & Grill 138 S Michigan • Argos 574-892-6485 fb.com/ thebreakroompubandgrill Fessor's Brewery 110 S Michigan St. Argos 574-598-2506 fb.com/FessorsBrewery
Hoople's 108 E. Plymouth St. • Bremen 574-209-0566 fb.com/Hooples-179541969072199/
MARKETS
Farmers Market Tuesdays, 6pm-8pm May-September Corner of Main and Center Streets
Farmers Market Wednesdays, 4pm-7pm May-September Corner parking lot of Plymouth and South Jackson Streets
Farmers Market Saturdays, 9am-1pm May-October Culver Beach Lodge 819 E Lake Shore Dr. Check out our local farmer's markets for locally grown, hand-crafted items and baked goods. Find everything from fresh produce, honey, flowers to antibiotic-free beef, wool and homemade goodies from local farms. Culver Year 'Round Market 107 N Main St. localline.ca/culver-farmersmarket Plymouth Farmers Market Saturdays, 7:30-11:30am May-October River Park Square plymouthfarmersmarket.com
FARMERS
Bourbon
Bremen
Culver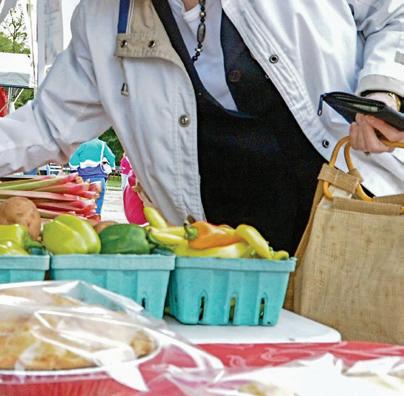 SHOPPING
Enjoy a day or two of shopping in our quaint downtowns and specialty shops, jewelry stores, apparel, décor, and antiques like the Burr Oak Whistle Stop in Culver. Start your day at Amish-owned Rentown Country Stores in Bremen for a hearty breakfast, fresh produce, deli meats and cheeses, and shopping at the country store. If you are looking for a unique shopping experience, stop at The Standard for antiques AND ice cream, all at one place.
36
37
The Standard - Bourbon
STAY Relax
Resorts
Swan Lake Resort
Includes a hotel, cabins and villas, two 18-hole championship golf courses, a year-round golf academy, two restaurants and plenty of amenities. 5203 Plymouth-LaPorte Trail, Plymouth • 800-935-5616
Culver Cove Lakeside Condominiums
Featuring lakeside beach access to Lake Maxinkuckee, The Culver Cove is one of Northern Indiana's finest condominiums. It is located within walking distance to popular shopping and dining locations. 319 East Jefferson St., Culver • 800-843-2683
Bed & Breakfasts
Scottish Bed & Breakfast
Located on 2 acres in the heart of Amish Country, this charming Bed & Breakfast offers guests an indoor heated swimming pool, a hammock and gazebo. 2180 Miami Trail, Bremen • 574-220-6671
The Culver Cottage
This 1906 Queen Anne Victorian Bed & Breakfast offers modern amenities within a mile of Lake Maxinkuckee. The guest rooms are spacious and ornate offering original Victorian detail throughout the house. 203 South Main St., Culver • 57-842-2746
Inn by the Lake
This quaint Bed & Breakfast is conveniently located within walking distance of Culver Academies, shopping, food and Culver beach. Enjoy a fresh breakfast and private rooms.
830 Lake Shore Dr., Culver • 866-417-5088
Biddle Point
Located on a 9-acre estate, this family-owned and operated boutique inn includes a private event venue and upgraded amenities. 7290 Michigan Rd., Plymouth • 574-936-9190
38
Campgrounds
Pla-Mor Campground & Recreation Center
This modern campground offers 30- and 50-amp electric sites as well as full hook-up. Features include beautiful, natural ponds, mature wooded areas, and lush green grasses. With 560 camp sites, they accommodate primitive to Class A motorhomes. 2162 U.S. 6, Bremen • 574-546-3665
Rupert's Resort Campground
Located on Lake of the Woods, this full-service facility with 100 campsites is nestled among mature trees with plenty of shade. The campground offers pontoon, rowboat and paddle boat rentals, live bait, a beach, picnic area and a boat launch. 3408 W. Shore Dr., Bremen • 574-546-2657
Jellystone Park Camping Resort
Includes cabins, RV sites and tent sites, a fishing pond, corn hole, horseshoe pit, two swimming pools, kids' games/crafts and more. 7719 Redwood Rd., Plymouth • 574-936-7851
Hotels
Comfort Suites
2513 N Michigan St., Plymouth 574-540-4276
Holiday Inn Express 2619 N Michigan St., Plymouth 574-936-2444
Super 8 Motel 2160 N Oak Rd.,Plymouth 574-936-8856
Days Inn
2229 N Michigan St., Plymouth 574-935-4276
39
Unwind
Weddings
In Marshall County, we offer a variety of venues to host the wedding day of your dreams.
Flowers
Scan here for the full list of Wedding Venues, Photographers, Florists, Bakeries, Caterers and Wedding Services.
40
Venues
Cashen Creek Florist
The Garden by Elizabeth
Wooded Knot
Whether you are going for rustic-chic, lakeview luxury or elaborate elegance, we have the perfect match for your perfect day. Visit Treat's Bridal Shop or Fernbaugh's Jewelers, both in Plymouth, to get the planning started.
Cakes
41
Ancilla Domini Chapel
Photo courtesy of Shgarrity Photography
Photographers
Mrs. T's Cakes
La D'zert Cafe
Seasons in MC
There is always something happening in Marshall County, no matter the season. As long as you are
AS
SPRING
ARRIVES,
dust off your clubs and head to one of our championship golf courses or enjoy disc golf in Argos Community Park and Centennial Park in Plymouth. If you're itching to get out and pedal, our new bike trail at Mill Pond is the perfect place to take in the views.
SUMMERS IN MC
are an ideal time to explore the waters. Fishing, boating and all types of water recreation are just a few ways to enjoy summer. Festivals, live music and entertainment are scheduled throughout the county.
42
Izaak Walton League - Argos
River Park Square - Plymouth
ready to discover, explore and unwind, you are bound to create lasting memories while visiting.
IN
THE FALL,
the vibrant foliage along the hillsides and lake's edges will dazzle your senses, setting the perfect backdrop for Fall Festivals or a walk at Potawatomi Wildlife Park .
DURING THE WINTER,
Marshall County is bustling with sledding, snow-shoe hikes, ice fishing and sailing! Celebrate the holidays with tree lightings, shopping events and even some caroling. Check out our website for seasonal festivals and events.
43
Potawatomi Wildlife Park
Marshall County Blueberry Festival
Drawing close to 500,000 visitors over four days, the Marshall County Blueberry Festival began in 1966 and is celebrated annually on Labor Day Weekend.
Visitors from all over come to Centennial Park in Plymouth for live entertainment, decadent festival food, unique shopping, an exciting carnival, sports tournaments and a shiny car show.
Sunday evening, witness one of the best fireworks shows in the Midwest. Then, Labor Day morning, cheer on the Blueberry Stomp runners. As the stomp concludes, the Blueberry Festival Parade marches through town showing off floats, bands, dancing, music and more. It is an action-packed weekend of festival fun... and, blueberries, of course!
44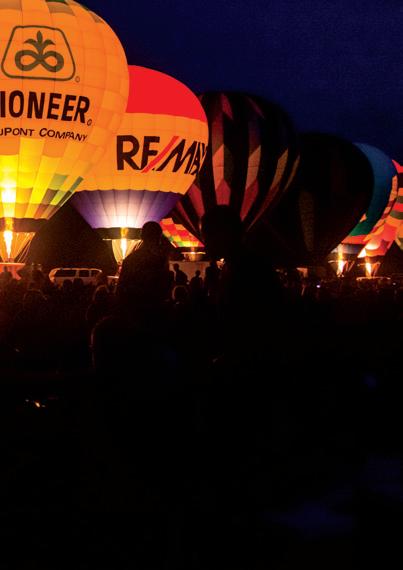 45
Fun Festivals & Exciting Events
Marshall County is home to a long list of festivals and events. Scheduled throughout the year, each one is a special celebration. For a more detailed calendar, scan the QR code.
46
JANUARY Culver Winterfest and Polar Plunge JUNE P-town Cruz'n Car Show - Plymouth Argos Summer Kickoff Festival Summer Sippin' Brewfest - Plymouth Bremen's Fireman's Festival JULY Marshall County Fair - Argos Culver Fireman's Festival Culver Lion Club Corn Roast Art in the Streets - Plymouth AUGUST Lake Max Triathlon - Culver Bourbon Summer Fest SEPTEMBER Culver Paint Out Marshall County Blueberry Festival Rentown Old Fashion Days OCTOBER Culver Fall Fest Argos Octoberfest NOVEMBER Argos Christmas Tree Lighting Bourbon Christmas Tree Lighting Bremen Town Christmas Lighting Plymouth Christmas Tree Lighting DECEMBER Holy Walk - Bremen 47 FRIDAY EVENINGS IN THE SUMMER Food Truck Fridays - Bourbon TGIF - Argos
DISTANCES
Chicago, IL – 95 Miles
Springfield, IL – 260 Miles
Indianapolis, IN – 119 Miles
Fort Wayne, IN – 67 Miles
Terre Haute, IN – 180 Miles
Louisville, KY – 235 Miles
Detroit, MI – 230 Miles
Lansing, MI – 165 Miles
St. Louis, MO – 350 Miles
Cincinnati, OH – 225 Miles
Cleveland, OH – 275 Miles
Columbus, OH – 230 Miles
Toledo, OH – 170 Miles
Plymouth-LaPorteTrail 31 31 31 6 6 30 30 30 8 17 17 117 17 10 10 10 10 331 331 331 OldUS30 Michigan Rd Michigan Rd Argos River Tippecanoe Plymouth Bremen Culver Bourbon La Paz Lake Maxinkuckee Lawrence Lake Myers Lake Cook Lake Pretty Lake Koontz Lake Pretty Lake Golf Club Price's Memorial Park Woodbury Golf Course Tri-Way Family Golf Center To South Bend Kreighbaum Lake Lake Latonka Lake of the Woods WaToFort yne To Indianapolis Public Access Chief Menominee Monument Culver Academies Culver Acad. Golf Course Culver Park and Beach Bourbon Park & Splash Pad Potawatomi Wildlife Park Culver Marina Swan Lake Golf Club, Resort and Conference Center
FOLLOW US ON Marshall County Convention and Visitors Bureau 108 North Michigan St. • Plymouth, Indiana 46563 (800) 626-5353 visitmarshallcounty.org