IDOYALL.COM 2023
MODERN COUPLES SOUTHERN STYLE
Settings
BY US, Inspired
Let us bring your special day to life at the Courtyard Marriott Gulfport Beachfront. Our experts will go above & beyond to make your vision & your dream come true for an unforgettable happily ever after!
Beach
1600 E
BY YOU. Blvd / Gulfport, MS CoastalBallroom.com • 228.864.4310
gulfport beachfront
TM Thousands of Special Plus Size Gowns Sizes 0-34 Boutique Area Brinkley, Arkansas Personal Consultant for Each Bride Appointment Required. Please Call 870-734-3244 or Visit lowsbridal.com Semi Annual 1/2 Price Sale December 9, 2022 - February 4, 2023 and June 16, 2023 - August 5, 2023
Publisher's Trend Report
What an amazing year 2022 was for weddings! After the previous years of scaled-back events and record-breaking elopements, this year's couples brought back large gatherings with tons of details and full-scale glam!
We are so excited to share some of the new trends we are expecting in 2023. We are anticipating even more elegance, more glam, and more over-the-top events. There are a lot of projections out there for the new year, but here are just a few of our favorites. We can't wait to see what trends you'll embrace and what new ones you'll create!
COLOR
Viva Magenta may be the Pantone color of the year, but couples have been scouring Pinterest for wedding details in palettes of terracotta, copper, rust, and burnt orange. These colors have been the most searched for hues this season, so expect to see lots of coppery tones in linens, florals and wedding party attire in 2023.
For those obsessed with the idea of a burnt orange palette, we've included a Scottish Highlands styled shoot in this issue that embraces these autumnal tones. The shoot's creative team borrowed heavily from the popular television show Outlander for their design, and while a themed wedding may not be your style, there are some steal-worthy details you can snag for your own event.
DRAMATIC CEILINGS
We did say we are expecting 2023 events to be over-the-top, didn't we? While draped walls with dramatic lighting will stick around, (What says drama more than swooping drape?) 2023 couples won't stop with adorning walls. Multiple floral and lighting installations will take this year's events to another level. Don't just add one chandelier - add five, or more! Add a ceiling full of twinkle lights to resemble the night sky or combine dramatic lighting with hanging florals for an ultra-glam experience.
MAXIMALISM
There's nothing wrong with sweet and simple, but sometimes more is more. More florals, more details, large, elaborate centerpieces, and swooping floral arches will create opulent looks in this year's events. We're also expecting more ballgowns and lots of embellished dresses with large bows, florals, and billowing sleeves on this year's fashions. Don't be surprised to see color on wedding gowns as well in shades of icy blue and pink.
No matter what trends you embrace, do what makes you happy. We love when couples think out of the box. Make yours a themed wedding based on your personal fandom. Have an intimate affair with tons of personal details, or go high glam and add all the dramatic elements you want. If there is ever a time to be EXTRA it is your wedding day!
Happy Planning!
| I DO Y'ALL WINTER 2023 2
Amy
Cultivating Memories
IDOYALL.COM | 3
| I DO Y'ALL WINTER 2023 4 COVER DESIGN ON THE COVER Jasmine Gerald & Kyle Domin...............................61 Whole Hearted Photo ARTICLES DESIGN 21 Attendant's Responsibilities ............................. Destination Planning Timeline........................... First Impression ...................................................... Getting There in Style .......................................... Unplugged Weddings .......................................... Why to Attend a Wedding Show .................. 114 54 96 108 42 72 Disco Devotion........................................................ Steph Powell Creative Highland Delight..................................................... Him and Her Photography 34 22 GUEST CONTRIBUTORS Best Wedding Exit Ideas .................................... 5 Things to Do After You're Engaged ......... 126 120 PUBLISHER/EDITOR-IN-CHIEF Amy Wallace CHIEF FINANCIAL OFFICER Gregg Wallace GULF COAST SALES MANAGER Brie Lybrand Garza CONTRIBUTING WRITERS Alyssa DiCicco, Publisher of Nashville Bride Guide CONTRIBUTING PHOTOGRAPHERS Him and Her Photography Our Ampersand Photo Steph Powell Creative Kayce Stork Photography
IDOYALL.COM | 5 ENGAGEMENTS REAL WEDDINGS ENGAGEMENTS 7 Chandler + Ben Leslie + Andrew Linsey + Stan REAL WEDDINGS 41 Mary + Morgan Natasha + Katarina PHOTOGRAPHY 13 Bridal Boudoir for Two...........................................48 Creating a Wedding Album .................................20 Kerfoot-Burnett Rehearsal Dinner.....................15 Brabston-Kreiger.................................................... Carnall-Fauci............................................................. Davis-Petit.................................................................. Gerald-Domin........................................................... Kadinger-Macaluso................................................ Landry-Sclafini................................................. Lott-Winsett.............................................................. Mason-Goodhart..................................................... Ortega-Garcia........................................................... Patterson-Ngo.......................................................... Pratt-Stuben.............................................................. Shepherd-Rhodes................................................... Sprowell-Eley............................................................ Williams-Wilson....................................................... Wilson-Storie............................................................ 43 49 55 61 67 73 79 85 91 97 103 109 115 121 127 idoyall.com Copyright©2022 Premier Publishing, Inc. All rights reserved. Reproduction or use in any manner of editorial or graphic content herein without the express written permission of Premier Publishing, Inc. is strictly prohibited. We (Premier Publishing, Inc.) do not endorse or recommend any products, services, treatments, procedures, advertisements herein. Views and opinions of authors and advertisements expressed do not reflect those of this publication. P.O. Box 755, Slidell, LA 70459 hello@idoyall.com
| I DO Y'ALL WINTER 2023 6 FUN, ELEGANT WEDDINGS IN A RESORT SETTING 7600 Country Club Circle Diamondhead, MS 228-255-2917 theclubatdiamondhead.com @ClubatDiamondhead Diamondhead... A place like no other. Where everyone is welcome!
engagements
IDOYALL.COM | 7
DOES THIS RING MAKE ME LOOK ENGAGED?
Chandler Smith & Ben Miller Fairhope, AL PHOTOGRAPHER
Kristen Marcus Photography
| I DO Y'ALL WINTER 2023 8
Carreiro & Andrew hardison Asheville, NC PHOTOGRAPHER
IDOYALL.COM | 9
Leslie
Jessica Merithew Photography
| I DO Y'ALL WINTER 2023 10
Linsey
Johnson & Stan Linton Memphis, TN PHOTOGRAPHER Wandering Creative
& Morgan Reese Memphis, TN
IDOYALL.COM | 11
Mary Medley
PHOTOGRAPHER Wandering Creative
Natasha White-Alonso & Katarina Kristensen Biloxi, MS PHOTOGRAPHER JL Photos
| I DO Y'ALL WINTER 2023 12
photography
IDOYALL.COM | 13
CAPTURE
MOMENT
EVERY
| 14
IDOYALL.COM | 15 JESSICA-PAIGE KERFOOT CHRISTIAN BURNETT DECEMBER 31, 2021 | BIRCHWOOD, TN REHEARSAL DINNER
| I DO Y'ALL WINTER 2023 16 BALLOON DECOR Blow Up Chattanooga BAR Tipsy Inn/Riverside Events BOUNCE HOUSE Luxe Bounce CATERING Il Primo - Ooltewah DONUTS Tasty Donuts FLOWERS Blue Thistle Design LINENS White Table PHOTOGRAPHER Our Ampersand Photo PLANNER Wildflower Wedding Planning PLATES Southern Events RENTALS Luma Designs VENUE Howe Farms The Pavillion
IDOYALL.COM | 17
| I DO Y'ALL WINTER 2023 18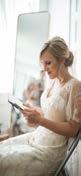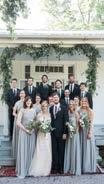 | I DO Y'ALL WINTER 2023 20
your wedding album details groom getting ready ceremony decor bride's family reception decor reception send off groom's family couple at sunset ceremony wedding party first look bride & groom portraits pre-ceremony bride getting ready VENUE, DRESS, SHOES, FLOWERS, RINGS, INVITATIONS JACKET, TIE, CUFFLINKS, & SHOES FLOWERS, SET UP, & AISLES HAIR & MAKEUP, CANDID, GIFT EXCHANGE WHEN HE SEES YOU FOR THE FIRST TIME DOWN THE AISLE, GROOM'S REACTION, & FIRST KISS MOM, DAD, & FAMILY TABLES, CENTERPIECES, CAKE, FLOWERS, MENU MOM, DAD, & FAMILY CUTTING THE CAKE, FIRST DANCE, TOSSES & TOASTS KISSES, RINGS, & POSING BRIDESMAIDS & GROOMSMEN FIRST PHOTOS OF THE MARRIED COUPLE DOWN THE AISLE ONE LAST TIME & DRIVING AWAY BUTTONING DRESS & PUTTING ON SHOES
creating
IDOYALL.COM | 21
DESIGN
design
YOUR DREAM WEDDING
| I DO Y'ALL WINTER 2023 22 highland delight PHOTOGRAPHY him and her photography VENUE THE LITTLE CHAPEL AT HAVEN RIDGE PLANNER HIM AND HER PHOTOGRAPHY BRIDAL BOUTIQUE THE MAGNOLIA BRIDE GROOMSWEAR AMAZON FLOWERS HIM AND HER PHOTOGRAPY CAKE ARTSEY CAKESY STATIONERY STYLED SHOOT ESSENTIALS H AIR & MAKEUP BEAUTY BY HALEY GARBER R ENTALS EVENTFUL NC Submitted Styled Shoot
IDOYALL.COM | 29
| I DO Y'ALL WINTER 2023 34 BRIDAL BOUTIQUE RAW GOLDEN RENTALS GROOMSWEAR STITCH AND TIE EV ENT DESIGN MOONBEAM WEDDINGS & EVENTS FLOWERS KATO FLORAL DESIGNS HAIR & MAKEUP CRYSTAL NICOLE ARTISTRY CAKE YESSIE C3 CONFECTIONS VENUE SOHO SOUTH LINENS BBJ LA TAVALA SIGNAGE REID'S CUSTOM STATIONERY MOONBEAM WEDDINGS & EVENTS Submitted Styled Shoot disco devotion PHOTOGRAPHY steph powell creative
| I DO Y'ALL WINTER 2023 36
| I DO Y'ALL WINTER 2023 38
real weddings
LOVE, LAUGHTER, & HAPPILY EVER AFTER
IDOYALL.COM | 41
Unplugged Weddings
The what and why of going unplugged
In our technology-crazed world, it's become a habit to check our phones every few minutes, to post a constant stream of status updates to TikTok and Facebook, and to document any and everything on Instagram. At an unplugged wedding, the couple kindly asks that everyone in attendance turn off cell phones, cameras, and other digital distractions during the ceremony and/or reception.
Be Fully Present
In the midst of all this online connectedness, we're viewing the world through our phone screens and missing out on true human connections. Brides and grooms want to have face-to-face connections with their guests — especially during the ceremony — instead of staring out into a sea of electronics. If guests are experiencing your big day from behind a screen, are they truly experiencing it? Your wedding is comprised of some of the most important moments of your life; making it unplugged encourages guests to live in the moment with you.
Social Media Spoilers
Imagine: You haven't seen the groom all day. You can't wait for that "first look." While you're getting ready, the Maid of Honor snaps a photo of you in your dress and veil. She has a few minutes of down time, so she posts the photo on Instagram. The groom, also with a few minutes to spare and out of habit, checks for Instagram updates and the first look is spoiled. A first look via social media isn't exactly the stuff of dreams! Brides and grooms are avoiding such spoilers altogether by declaring their wedding "unplugged."
Leave It to the Professionals
There are few things that annoy a professional photographer more than an amateur trying to do their job. Uncles who jump in the aisle and cousins waving their phones in the air, at best, are an eyesore in your professional photos and can completely ruin once-in-a-lifetime moments. Imagine your "kiss the bride" moment blocked by an uncle who stepped into the aisle to snap a photo. The professional photographer didn't see it coming and his hands are tied. Nothing can bring that moment back — it's lost to a grainy photo on Uncle Al's smart phone.
There are so many ways to make sure your wedding is unplugged without hurting the feelings of your friends and relatives. You can purchase adorable signage like this one from Amazon or have one custom created at Etsy or by an artistic friend. Add an unplugged message to your schedule of events placed in ceremony chairs, and have your officiant make an announcement before the ceremony begins. If you're really worried about that one relentless relative who always has to take non-stop photos, nominate a friend or relative as the "Unplugged Police." It's their job to make sure that overzealous guest keeps their phone in their pocket.
| I DO Y'ALL WINTER 2023 42
IDOYALL.COM | 43 MEGHAN BRABSTON PATRICK KREIGER OCTOBER 1, 2022 | FAIRHOPE, AL REAL WEDDING
| I DO Y'ALL WINTER 2023 44 BRIDAL BOUTIQUE Over the Moon Bridal Boutique BRIDESMAID GOWNS Revelry CAKE Amy Risner CATERING Mama's on Dauphin FLOWERS Sarah Beth's Florist GROOMSWEAR Generation Tux HAIR & MAKEUP Identity Salon INVITATIONS Sally G Designs MUSIC Teddy Williams Duo PHOTOGRAPHER Kristen Marcus Photography PLANNER Mae Winters & Harley Parker RENTALS Port City Rentals TRANSPORTATION Gulf Coast Tours VENUE The Steeple VIDEOGRAPHER Cole Howard
IDOYALL.COM | 45
| I DO Y'ALL WINTER 2023 46
Bridal Boudoir...for two
Hebert Photography
Bridal boudoir is back – not that it ever really went away – but more and more brides are opting for boudoir sessions than ever before.
The appeal of boudoir photography is obvious. Today's boudoir photographers are skilled artists who make women feel beautiful, sensual, and empowered in their sessions.
While brides have traditionally scheduled these sessions as surprise gifts for their husbands, we are seeing more couples participating in a boudoir session together, some adding, or even substituting, boudoir to their engagement sessions.
Couple boudoir photos can capture a couple's personality, moving from sweet and romantic to fun and playful to steamy – all within a few frames. With results like these, how could we not recommend adding bridal boudoir for two to your wedding "To Do" list?
| I DO Y'ALL WINTER 2023 48 Exquisite escapesplanned perfectly. www.TieTheKnotTravel.com • Destination weddings • Honeymoons • Exotic locales • Tropical getaways • Exclusive resorts Kristi Conner, Travel Consultant 228.826.0471 · Kristi@TieTheKnotTravel.com
DK
IDOYALL.COM | 49
CARNALL
JUNE 18, 2022 | NEW ORLEANS, LA REAL WEDDING
MELISSA
MEGAN FAUCI
| I DO Y'ALL WINTER 2023 50 BRIDAL BOUTIQUE Nouvelle Amsale, Couture Bridal Outlet BRIDESMAID GOWNS JJ's House CAKE Debbie Does Doberge CATERING Capulet FLOWERS Herbivore Floral Designs HAIR Hydie Knight INVITATIONS Minted MAKEUP Blush & Bashful NOLA MUSIC Toast Entertainment PHOTOGRAPHER Josh Williams Photography PHOTO BOOTH Toast Entertainment PLANNER Southern Belle Events RENTALS Decor on a Dime TRANSPORTATION Big Easy Limos VENUE Capulet VIDEOGRAPHY John Reyes Networks
51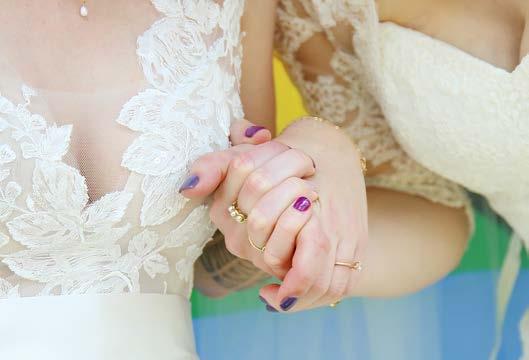 | I DO Y'ALL WINTER 2023 52
IDOYALL.COM | 53
Destination Planning Timeline
Resort destination weddings can be a great way to have a unique wedding experience without all the stress of planning a large, local event. Once of the benefits of destination weddings is that most resorts have on-site wedding coordinators to help with the details. There are some things that you will still need to handle to make sure you have a smooth running event.
12 MONTHS BEFORE • choose date & venue • contact venue's on-site wedding planner • research airfare & room rates • review legal marriage requirements
9 MO NTHS BEFORE • visit resort • tour venue & guest rooms • ask about group discounts • send out save-the-dates & hotel info • update passports if necessary
6 MONTHS BEFORE • reserve block of rooms • book travel • purchase travel & wedding insurance • confirm cake, flowers, menu, & decor
3 MONTHS BEFORE • send formal invitations • create wedding day itinerary
1 MONTH BEFORE • discuss final details with wedding planner • release extra rooms from room blocks • have programs printed, ship favors, etc. to resort
2 WEEKS BEFORE • make sure you have proper documents to obtain marriage license • collect all necessary documents paperwork
1 WEEK BEFORE • share itinerary and contact info with wedding party and guests • final check with wedding planner SASs Photography
| I DO Y'ALL WINTER 2023 54
LAUREN DAVIS PIERCE PETIT
IDOYALL.COM | 55
SEPTEMBER 18, 2021 | NEW ORLEANS, LA REAL WEDDING
| I DO Y'ALL WINTER 2023 56 BRIDAL BOUTIQUE Yvonne LaFleur BRIDESMAID GOWNS Kennedy Blue CAKE Joe Gambino's Bakery CATERING Bella Luna Catering FLOWERS Something Borrowed Blooms GROOMSWEAR Perlis GUEST HOTEL The Roosevelt New Orleans HAIR Jessica Jackson INVITATIONS Gem Printing LIGHTING Orpheum Theater MAKEUP Stephanie Hingle MUSIC B Street Benny PHOTOGRAPHER Josh Williams Photography PLANNER Iris and Oak Events VENUE The Orpheum Theater VIDEOGRAPHER Stuart Sox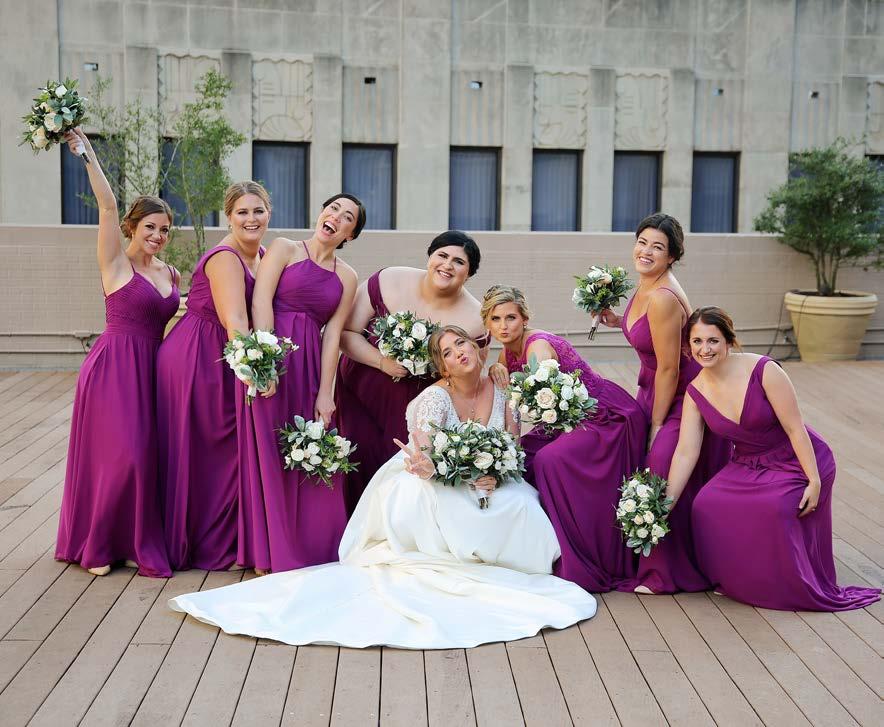 IDOYALL.COM | 57
| I DO Y'ALL WINTER 2023 58
| I DO Y'ALL WINTER 2023 60 IDOYALL.COM | 89 @atpfloraldesign aftertheproposal.com @aftertheproposalweddings @atpweddingsandevents (228) 326-4853 Planning & Designing Creating dream weddings on the Mississippi Coast and beyond
IDOYALL.COM | 61 JASMINE GERALD KYLE DOMIN OCTOBER 22, 2022 | OCEAN SPRINGS, MS REAL WEDDING
| I DO Y'ALL WINTER 2023 62 BRIDAL BOUTIQUE Bridal and Formal Boutique BRIDAL GOWN Martina Liana BRIDESMAID GOWNS Revelry CAKE French Kiss Pastries CATERING Southern Flavor Catering FLOWERS After The Proposal Weddings & Events GROOMSWEAR Hockerty GUEST HOTEL The Roost Ocean Springs HAIR The Avenue Salon INVITATIONS Carol De Lucca LIGHTING /RENTALS ABC Rental Center LIVE ARTIST Samia Lynn Design MAKEUP Robin Malone MUSIC Mike Rob & the 601 Band OFFICIANT Gulf Coast Wedding Officiant PHOTOGRAPHER Whole Hearted Photography PLANNER After The Proposal Weddings & Events VENUE The House of the Jackson Pearl VIDEOGRAPHY Nick Arnold
63
| I DO Y'ALL WINTER 2023 64
| I DO Y'ALL WINTER 2023 66
IDOYALL.COM | 67
AUGUST 13, 2022 | NEW ORLEANS, LA REAL WEDDING
MADISON KADINGER ROSS MACALUSO
| I DO Y'ALL WINTER 2023 68 BRIDAL BOUTIQUE Linen Jolie Bridal BRIDESMAID GOWNS Bella Bridesmaids New Orleans CAKE Sugar Daddy Bakery CATERING Capulet FLOWERS Petals & Stems GROOMSWEAR The Black Tux GUEST HOTEL NOPSI Hotel HAIR Bridals by Karlie INVITATIONS Minted LIGHTING/MUSIC Omega Sound & Entertainment MAKEUP Bell Beauty PHOTOGRAPHER Josh Williams Photography PLANNER Uncommon Camellia RENTALS Distressed Rentals & Revival TRANSPORTATION Alert Transportation VENUE Capulet VIDEOGRAPHY Mary M. Cinema
69
| I DO Y'ALL WINTER 2023 70
IDOYALL.COM | 71
WHY YOU SHOULD ATTEND A wedding show
Planning a wedding is exciting, and you can get so many ideas from blogs, magazines, social media and even real weddings you attend. But one of the most valuable resources can be attending a wedding show where you can start relationships with multiple wedding professionals at one time. From beauty to backdrops, these pros make it their business – literally – to make your wedding your best day ever.
While it can be so convenient to research wedding professionals by scrolling through Instagram or Pinterest, what you see on a beautifully designed website or a vendor's frequently updated social media account does not necessarily mean a wedding vendor is a good fit. Before you put down a non-refundable deposit, we recommend that you meet them first.
Talking with wedding professionals face-to-face allows you to make that all important personal connection where you can directly communicate your visions for your big day. While you won't
have time for a full consult at a show, you can learn more about how your potential vendor conducts business, and see examples of their work up close. Wedding shows give you the opportunity to "interview" potential vendors. You can cross off those you don't think are a good fit and begin those next steps with the ones you love.
A lot of wedding show exhibitors will offer showonly specials or discounts that can save you money. Large shows usually have tons of free gifts and giveaways, while boutique shows have smaller events full of carefully cultivated, toptier vendors.
Wedding planning is serious business, but wedding shows are lots of fun. From runway fashion shows, free champagne, gifts, and prizes, to great food and wedding cake tastings, wedding shows are the perfect place to start your planning, find those last minute details or just celebrate being engaged and in love!
| I DO Y'ALL WINTER 2023 72
IDOYALL.COM | 73 HOLLY LANDRY C.J. SCLAFINI DECEMBER 1 0 , 2 022 | BILOXI, MS REAL WEDDING
| I DO Y'ALL WINTER 2023 74 BRIDAL BOUTIQUE Bridal & Formal Boutique BRIDESMAID GOWNS Bridal & Formal Boutique CAKE French Kiss Pastries CATERING Southern Flavor Catering FLOWERS After The Proposal Weddings & Events GROOMSWEAR House of Tux HAIR Styled by Maylin LINENS ABC Rental Center MAKEUP Lauren Riley Hair & Makeup MUSIC Nightshift Sounds PHOTOGRAPHER Kayce Stork Photography + Films PHOTO BOOTH Shotz in a Box PLANNER After The Proposal Weddings & Events TRANSPORTATION King Limo VENUE Slavonian Lodge VIDEOGRAPHY Michael Terrell Videography
75
| I DO Y'ALL WINTER 2023 76
IDOYALL.COM | 77
| I DO Y'ALL WINTER 2023 78 DJ AJC 769.798.5150 AJCANDTHEENVELOPEPUSHERS.COM SHARON COKER PHOTOGRAPHY CONTACT ADAM FOR BOOKING
IDOYALL.COM | 79 HALEY LOTT DARREN WINSETT APRIL 30, 2022 | CELESTE, TX REAL WEDDING
| I DO Y'ALL WINTER 2023 80 BAR HD Liquid Catering BRIDAL BOUTIQUE Grace Loves Lace BRIDESMAID GOWNS Bella Bridesmaids CAKE Ruthi Hutson Cakes CATERING Five Star Events FLOWERS Haute Poppies GROOMSWEAR The Black Tux HAIR & MAKEUP Tease to Please Hair & Makeup INVITATIONS Minted LINENS AM Linen Rental MUSIC Inkredible Sounds OFFICIANT North TX Wedding Officiant PHOTOGRAPHER Bushel + Peck Photo PLANNER Creative Events & Designs TRANSPORTATION Premier Transportation VENUE Davis & Grey Farms
81
| I DO Y'ALL WINTER 2023 82
| I DO Y'ALL WINTER 2023 84
IDOYALL.COM | 85
MASON GREGG GOODHART SEPTEMBER 17, 2022 | GULFPORT, MS REAL WEDDING
KASHA
| I DO Y'ALL WINTER 2023 86 BRIDAL BOUTIQUE Bridal & Formal Boutique CATERING Centennial Plaza DRAPING Southern Event Productions FLOWERS After The Proposal Weddings and Events LIGHTING Southern Event Productions PHOTOGRAPHER Lisa Tilley Photography PLANNER After The Proposal Weddings and Events VENUE Centennial Plaza
IDOYALL.COM | 87
| I DO Y'ALL WINTER 2023 88
| I DO Y'ALL WINTER 2023 90 WEDDINGS | CORPORATE EVENTS | OFFICE DELIVERY | OFF-SITE CATERING | BAR/ALCOHOL SERVICE FULL STAFF | VENUE REFERRALS | FOOD FUSION | CUSTOM MENUS ON-SITE CATERING FOR THE DOCK VENUE ON GULFPORT LAKE SOUTHERN FLAVOR CATERING 228.697.0150
IDOYALL.COM | 91
NOVEMBER 11, 2022 | SEVIERVILLE, TN REAL WEDDING
CATALINA ORTEGA MARIO GARCIA
| I DO Y'ALL WINTER 2023 92 BRIDAL BOUTIQUE Chic Parisien BRIDESMAID GOWNS Isabelle Maurice Shop CAKE Catie Cakes FLOWERS Echelon Florist & Gifts HAIR Power Pony Studios MAKEUP Beauty by MC PHOTOGRAPHER Jessica Lee Photographic Art PLANNER Elite Event Planning RENTALS All Occasions Event Rentals VENUE The Trillium Venue VIDEOGRAPHY Studio Motion Films
93
| I DO Y'ALL WINTER 2023 94
IDOYALL.COM | 95
THE FIRST impression
THE PERFECT INVITATION
When your guests receive their wedding invitation, they will immediately form an impression of the ceremony to come. That is why selecting the invitation - the paper, the style, the wording - is an important first step in your wedding plans.
Experienced stationers are your best guide, and their advice is available at no charge when you purchase your invitations in their store. Not only do stationers offer assistance on the invitations, but they can also provide helpful hints on when to order and mail them while also determining proper postage budgeting and a myriad of other details.
Take time to select your invitations and put thought into the decision. Feel the paper samples. What impression do they give? Understated elegance? Fun? Whimsical? Romantic?
Your stationer will know the etiquette for proper wording, including unusual situations such as divorced parents, second marriages, professional titles, religious customs, and so on. Envelopes should be hand addressed in black or charcoal gray ink. You may also choose professional hand calligraphy or an automated calligraphy machine for the envelopes.
To determine how many invitations to order, count each couple and single guest, each attendant, parents, family and clergy. Order extra invitations to handle surprises and extra envelopes for addressing mistakes. Be certain to pre-stamp reply cards, weigh the complete invitation to ensure correct postage and remember to select attractive stamps.
| I DO Y'ALL WINTER 2023 96
MbM Photography
ALI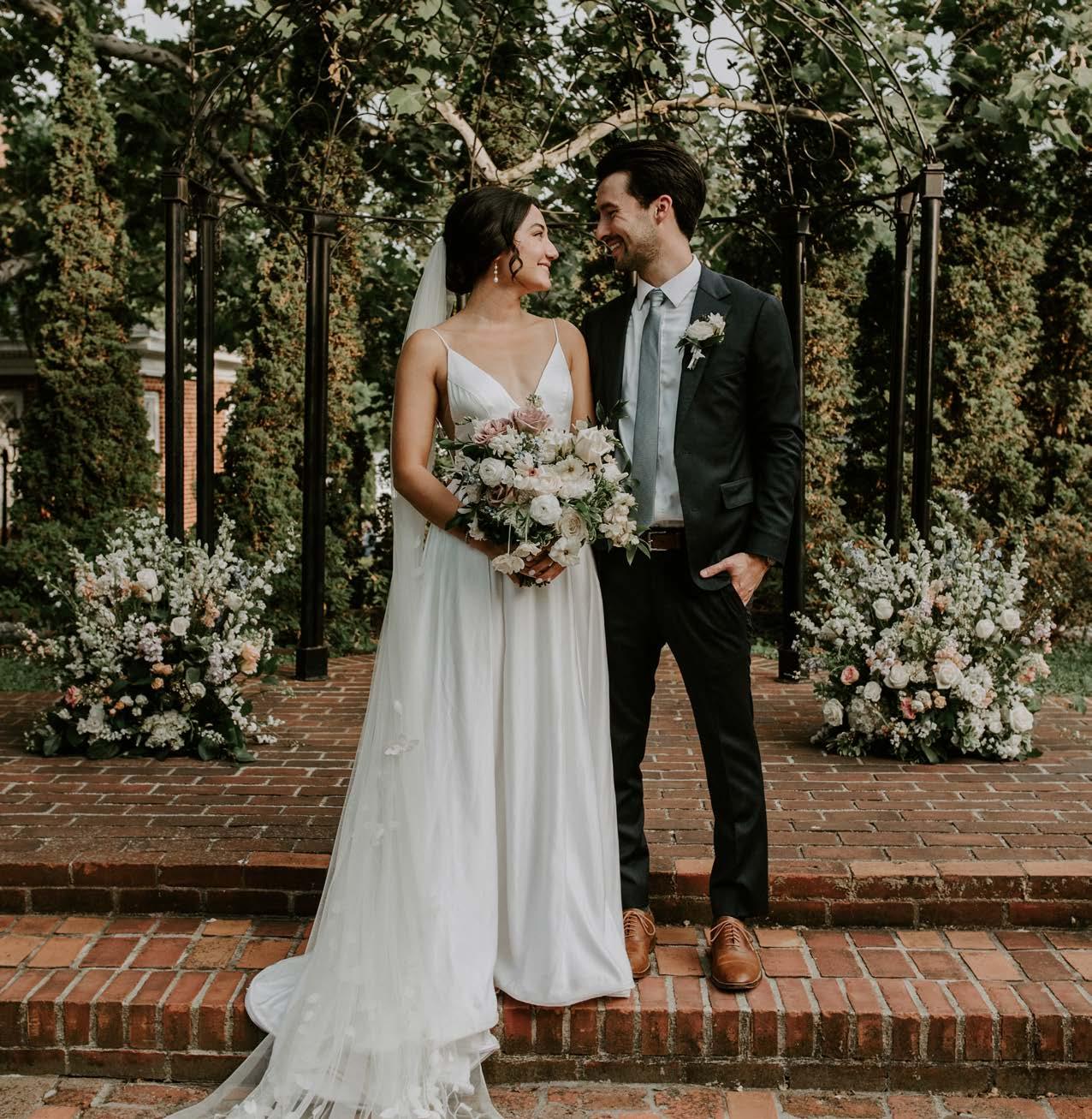 IDOYALL.COM | 97
MAY 21, 2022 | RICHMOND, VA REAL WEDDING
SUE PATTERSON XANDER NGO
| I DO Y'ALL WINTER 2023 98
BOUTIQUE Lovely Bride CAKE Carytown Cupcakes CATERING Mosaic Catering and Events FLOWERS Weddings by Vogue GROOMSWEAR Indochino HAIR Boho Braids by Ivy MUSIC Two Rivers Chamber PHOTOGRAPHER Images by Bri PLANNER Historic Mankin Mansion RENTALS Classic Party Rentals of VA TRANSPORTATION James Limousine VENUE Historic Mankin Mansion VIDEOGRAPHY Sweetheart Cinema
BRIDAL
99
| I DO Y'ALL WINTER 2023 100
| I DO Y'ALL WINTER 2023 102
IDOYALL.COM | 103
CHRISTOPHER STUBEN APRIL 16, 2022 | NEW ORLEANS, LA REAL WEDDING
NANCY PRATT
| I DO Y'ALL WINTER 2023 104 BRIDAL BOUTIQUE Olivier Couture BRIDAL GOWN Eddy K Italia CAKE Gambino's Bakery CATERING The Gallery Venue FLOWERS Petals and Stems GROOMSWEAR Rome's Tuxedos HAIR & MAKEUP Flawless Bride MUSIC The Groove OFFICIANT Paul Pratt PHOTOGRAPHER Josh Williams Photography PHOTO BOOTH Limitless Entertainment PLANNER Uncommon Camellia RENTALS JHarden Luxury Events & Props SECOND LINE Frenchmen Street Productions VENUE The Gallery Venue VIDEOGRAPHY Morris Media Group
105
| I DO Y'ALL WINTER 2023 106
IDOYALL.COM | 107
Getting There in Style
The moments between the ceremony & reception are exciting ones too, and it's only fitting to be whisked off in style with your loved ones.
FIRST HOW MANY?
First decide how many people you'll be moving. Do you want just the bride and groom in a vehicle, or is the entire wedding party heading to the reception together? What about their spouses or dates? Once you make those decisions, you can start searching around for transport based on size.
LIMOS
If there is a day to splurge on this iconic luxury vehicle, your wedding day is it. Unlike some other forms of transport, a limo can be booked for an entire day, and most companies have a one or two hour minimum. If you want a car for both going and leaving the ceremony, it might be more affordable to hire two separate cars rather than pay for the vehicle to sit during a long reception. A formal limousine seats four, but to include the wedding party opt for a stretch limo for six to 10.
CATCH THE COACH
For larger parties, a party bus or luxury coach is a great way to travel. Offering all the amenities of a luxury limousine, these elaborate options have room to spare. For even larger groups, a passenger coach or party bus can seat 21 to 49 people. For a small wedding, this is a fun way
to get all the guests in on the party right away. Like limousine services, passenger and luxury coach companies require a minimum number of hours.
TAKING THE TROLLEY
A fun and picturesque alternative to a limo or passenger coach is a trolley. They'll generally accommodate between 20 and 35 people, so they're great for larger parties or adding on some family members. With this antique look and old world charm, they'll lend a lovely, elegant touch to this wedding day detail. Since most have outdoor decks, these are especially fun in small towns or neighborhood weddings so you can take a peek outside and watch onlookers wave at the newlyweds.
UNIQUE ALTERNATIVES
A horse-drawn carriage is a romantic, vintage option, and like vintage cars, are also great photo ops. As with other details in the wedding, make sure your transportation reflects your personality. Does the groom ride a motorcycle? Ride off together on your own bike. Do you share a love of mountain biking? Don't be afraid to wheel over on a tandem together. Personality is what makes weddings memorable.
| I DO Y'ALL WINTER 2023 108
Aislinn Kate Weddings
IDOYALL.COM | 109 AYSHE SHEPHERD
JUNE 4, 2022 | COVINGTON, LA REAL WEDDING
NATHAN RHODES
| I DO Y'ALL WINTER 2023 110
BOUTIQUE The Bridal Path BRIDESMAID GOWNS Show Me Your Mumu
Cocoa Bean Bakery CATERING The Southern Hotel
Delphine Floral Design GROOMSWEAR Men's Wearhouse
& MAKEUP Signature Beauty Group MUSIC Four Unplugged
Haleigh Kirkland Photography
Girls in Black
The Southern Hotel
Louisiana is for Lovers
BRIDAL
CAKE
FLOWERS
HAIR
PHOTOGRAPHER
PLANNER
VENUE
VIDEOGRAPHER
IDOYALL.COM | 111
| I DO Y'ALL WINTER 2023 112
attendants' RESPONSIBILITIES
MAID OF HONOR BEST MAN
Assist bride in setting a date to have bridesmaids' dresses fitted and coordinate other bridesmaids to ensure they get to the proper location on time.
Attend all pre-wedding parties and host a bridal shower with other bridesmaids, preferably one in keeping with the bride's own taste.
Arrange the bride's veil and train before the grand walk down the aisle.
Hold the bride's bouquet during wedding ceremony.
Hold the groom's ring during the wedding ceremony.
Stand next to the groom in the receiving line and sit to his left at the head table.
Sign the marriage license as a witness, if the bride asks.
May dance with the best man during the first dance.
Help the bride bustle her train, remove her headpiece and change into going away outfit.
Attend to the bride throughout the day, running errands and tying up loose ends, calming nerves and otherwise ensuring the success of the wedding celebration.
May assume responsibility for transporting the bride's gown home or to the cleaners.
May assist the best man with transporting gifts to the bride and groom's home.
Assist groom with wedding details such as accommodations for out-of-town groomsmen and ushers.
See that the groom is properly attired and at the ceremony site on time. Tie bow ties, provide drinks, if applicable and otherwise support the to-be-wed.
Give the minister a sealed envelope with payment (from the groom) immediately following the ceremony.
Sign the marriage license as a witness, if the groom asks.
Hold the bride's ring during the wedding ceremony.
Sits to the bride's right at the reception, providing charming conversation throughout.
May dance with the maid/matron of honor during the first dance.
Propose the first toast to the newlyweds at the reception.
Hold luggage under lock and key until the bride and groom depart.
Escort the bride and groom to their limousine or drive them to the hotel.
Return all formalwear rentals on time, and to the correct formalwear shop.
Assist maid of honor in transporting gifts to the bride and groom's home.
| I DO Y'ALL WINTER 2023 114
Xistence Photography
IDOYALL.COM | 115
SPROWELL
SEPTEMBER 10, 2022 | GULFPORT, MS REAL WEDDING
CIERRA
KELON ELEY
| I DO Y'ALL WINTER 2023 116 BRIDAL BOUTIQUE The Wedding Collection BRIDESMAID GOWNS Azazie CAKE Sam's Club CATERING Centennial Plaza GROOMSWEAR Men's Wearhouse HAIR Dallas Robinson LIGHTING Southern Event Productions MAKEUP Angel Tisdale MUSIC DJ Mixx Maestro PHOTOGRAPHER JL Photos PHOTO BOOTH Spin-Sational 360 Photobooth RENTALS ABC Rental; Southern Event Productions VENUE Centennial Plaza
IDOYALL.COM | 117
| I DO Y'ALL WINTER 2023 118
5 Things To Do After You Get Engaged
Create Your Vision
What's your wedding style?
This is the fun part where you get to look at some awesome wedding magazines, search Pinterest for inspiration, and browse real weddings on wedding blogs. This is when you start the brainstorming process – don't feel like you need to make any major decisions at this point. It's more to gather thoughts around the look of your wedding.
Think About Hiring a Wedding Planner
You're Engaged, Now What?. From #ringselfies to wedding venues, we covered most topics you'll want to start thinking about after you get engaged.
by Alyssa DiCicco
Celebrate Your Engagement
Enjoy the moment! Tell your engagement story! Make those #ringselfie posts. Then, take a deep breath and take it all in. Don't feel like you need to have all the answers friends + family members are going to ask you. Relax and enjoy this time with your fiancè – pour some champagne and celebrate the moment!
Think About the Time of the Year You Want to Get Married
The first question people ask you is "What's the date?". Don't feel like you need to have an exact answer. However start thinking about what time of year you'd like to get married. Maybe you've always dreamed of that spring wedding with blooming flowers, or maybe the fall leaves and crisp autumn air are more your style. Once you nail down the season, then you can start focusing on an actual date.
This is the point where you'll want to hire some help for planning your wedding. Think about it – you won't want your mom or sisters running around trying to put out any fires that may occur on your wedding day. Leave the logistics and behind the scenes part of your day to a professional. Plus, wedding planners can help you stick to your budget and shop for the best wedding professionals to fit your budget.
Look at Venues
Your wedding planner can help you find venues that fit within your budget and also within your style (think back to steps 3 + 4!). There are so many different styles of wedding venues to choose from! Do you want to get married downtown? Or maybe you like the countryside and a barn might be the best choice for you! Think about these things and start scheduling venue tours.
| I DO Y'ALL WINTER 2023 120
Samantha Jean Becker
IDOYALL.COM | 121 SHAM WILLIAMS KAM WILSON SEPTEMBER 24, 2022 | BILOXI, MS REAL WEDDING
| I DO Y'ALL WINTER 2023 122 BRIDAL BOUTIQUE Sew Gifted by Sherry Wilson, BRIDAL PARTY Kyris Customs, David's Bridal CAKE Dolce Bake Shop COORDINATOR Toni Taylor FLOWERS Willie McGee HAIR Beauté Salon LIGHTING Alpha-Lit MS Gulf Coast MAKEUP Tapped by Leondra MUSIC Chris Banks PHOTOGRAPHER Lisa Tilley Photography PLANNER Ladidadi Evnet Planning TRANSPORTATION King Limo VENUE White House Hotel VIDEOGRAPHY ASVP Weddings
123
| I DO Y'ALL WINTER 2023 124
IDOYALL.COM | 125
The Best Wedding Exit Ideas
Sparklers, Pom Poms, + More!
by Alyssa DiCicco
Exciting times call for exciting wedding photos, which is why I'm rounding up some of my favorite wedding exit ideas for some pretty creative wedding exits!
Sparklers
As one of the most common wedding exit ideas, a sparkler tunnel is a beautiful choice! Plus, it makes for some incredible photos! Remember, the longer the sparkler, the better. Depending on how much wait time you are allowing or how far away your getaway car is, don't let the spark run out on your guests' sparklers. And check with your venue to make sure they allow a sparkler exit before you make any plans.
Confetti or Rice
Purchasing some biodegradable confetti or rice is SUCH a fun option for your wedding exit! Walking through a veil of confetti is a great way to end the best day of your life. Rice is very traditional and would work so well for any wedding that vintage and classic. Again, be sure to check with your venue on their clean up policies – it may cost you a bit more to have a confetti exit.
Glow Sticks
Glow sticks can be a fun novelty at your wedding. Breaking them out (literally!) on the dance floor at the end of the night will also make for some memorable photos! And keeping them going for your wedding exit gives off a modern night clubby vibe at the end of your special day. Tip: buy glow sticks that are within your color scheme for your wedding (make it all come full circle!).
Pom Poms and Ribbons
From metallic tinsel pom poms to elegant ribbons, this trend is alive and well for brides thinking of wedding exit ideas. This is one of my new favorite wedding trends and I'm hoping to see more of it this coming year! With pom poms, you can literally create your own cheer squad as you leave your wedding and enter into marital bliss!
| I DO Y'ALL WINTER 2023 126
Haleigh Kirkland Photo
IDOYALL.COM | 127 ASHLEN W ILSON J A M ES STORIE SEPTEMBER 4, 2022 | GULFPORT, MS REAL WEDDING
| I DO Y'ALL WINTER 2023 128 CAKE French Kiss Pasteries CATERING Southern Flavor Catering FLOWERS After The Proposal Weddings & Events GROOMSWEAR Men's Wearhouse HAIR & MAKEUP Behind the Scenes INVITATIONS Carlson Craft MUSIC Nightshift Sounds PHOTOGRAPHER Lisa Tilley Photography PLANNER After The Proposal Weddings & Events VENUE The Venue at Southern Oaks VIDEOGRAPHY Michael Terrell Videography
| I DO Y'ALL WINTER 2023 130
IDOYALL.COM | 131
THE BRIDE AND GROOM INFORMATION | Please include the bride's maiden name. Write names how you would like them to appear in your featured wedding.
PHOTO SUBMISSION REQUIREMENTS
By providing this information, you give Premier Publishing, Inc. the right to edit and use this information and photographs for photography feature, Cover (if selected), and other materials and media related to Premier Publishing, Inc. You may submit photos electronically, 300 dpi via gallery link at submit@idoyall.com. Pictures may be horizontal or vertical. Note: Premier Publishing, Inc. has the right to crop and edit photos to fit editorial and other said materials above and below.
Completion of this form and a Dropbox folder of photos OR a gallery link to photos with download permissions is required for submission to be considered. Please note, any submitted real wedding is subject to our submission and review process and there is no guarantee of publication in magazine or feature on blog. We must have the completed form with subject signature in order to review real weddings. Please note, completion of the form is in no way a guarantee of publication or feature. Only submissions accepted for print will be notified.
FLOWERS
GROOMSWEAR
GUEST
INVITATIONS/PAPER
HAIR STYLIST
LIGHTING
MAKEUP
MOTHERS'
MUSIC
ENTERTAINMENT
OFFICIANT
PHOTO
PHOTOGRAPHER
PLANNER
RENTALS
RINGS
TRANSPORTATION
VENUE
VIDEOGRAPHER
OTHER
BRIDE
hello@idoyall.com
agree that Premier Publishing, Inc. may publish my wedding and use my photographs, and I attest that I have permission from the above photographer(s) to use the submitted photographs in I Do Y'all magazine, I Do Y'all Real Weddings, idoyall.com, and other materials and media related to Premier Publishing, Inc. and PB Publishers Associations and their subsidiaries. Submission does not guarantee publication.
CATEGORY NAME WEBSITE INSTAGRAM HANDLE BRIDAL GOWN DESIGNER @ BRIDAL BOUTIQUE @ BRIDAL REGISTRY @ BRIDESMAID'S BOUTIQUE @ CAKES | DESSERTS @ CATERER @
@
@
ACCOMMODATIONS @
@
@
@
ARTIST @
BOUTIQUE @
|
@
@
BOOTH @
@
@
@
@
@
@
@
@ BRIDE | GROOM NAME PHONE #
| GROOM NAME WEDDING DATE EMAIL ADDRESS CITY & STATE OF EVENT LOCATION PHOTOGRAPHER PHOTOGRAPHER'S EMAIL
I
BRIDE or GROOM SIGNATURE DATE
Submission Form or photographer if styled shoot Real WeddingStyled Shoot Rehearsal Dinner Engagement Bridals Party (bach/shower)Boudoir
WWW.IDOYALL.COM Follow our social medias for giveaways, the latest wedding inspiration, and more!
modern couples. southern style.
idoyall.com
MODERN COUPLES SOUTHERN STYLE