Annual Report 2021-2022 Season
The 2021-2022 Season
A Return to Live Performance
The 2021-2022 season was unlike any in the history of the Pioneer Center. As we prepared to launch the season, we were also navigating a return to programming at full capacity after 18 months of disrupted operations due to the pandemic. During that time, we watched the population of northern Nevada continue to expand while the national and local performing arts scenes struggled to regain their footing. It was important for the Pioneer Center to make strategic plans for growth to meet community needs while also balancing fiduciary responsibility.
We recognized that the time was right to grow our staff, secure strategic partnerships, invest in necessary capital improvements, restructure management roles, and open the door to new ways of programming. We expanded the Broadway Comes to Reno series to a full week run of every show and reopened the series with our largest undertaking to date—a 16 performance run of the mega musical Hamilton.
This Annual Report serves as a snapshot of our programming and community engagement from September 2021 through August 2022. We are passionate about the work that we do and pleased for this opportunity to offer more insight into what goes on "behind the curtain."
As I reflect upon the 2021-2022 season, I am confident that the future of the Pioneer Center shines as bright as our iconic gold dome. Our success is directly tied to the support from our incredible volunteers and the northern Nevada community who navigated the pandemic right alongside us. Thank you for recognizing the value that the performing arts bring to the quality of life in our region. We look forward to serving you as a leader in this community for years to come.
Sincerely,
Dennyse Sewell Executive Director
Table of Contents
1. Mission, Vision, & Values 3. The Pioneer Center, a Brief History 5. The Facility 7. Broadway Comes to Reno 9. Local Resident Companies 10. Touring and Local Programming 11. Dog Days of Summer Dance Festival 13. Pioneer Center Education 15. Economic Footprint 17. The Community 18. Our Sponsors and Supporters
Mission & Vision
The mission of the Pioneer Center is to cultivate exceptional performing arts experiences in our historic venue and throughout the region.
We envision a community that is connected, enriched, and inspired through the power of live performance.
"The Pioneer Center stands as an iconic location for music, dance, and theater, helping us to be better humans for seeing, hearing, and experiencing diverse performers and multicultural talent."
- Ann Silver, CEO of Reno + Sparks Chamber of Commerce and Pioneer Center Board Member
1
Our Values
WE ARE ALL STRONGER TOGETHER. As the region's leading performing arts center, we maximize our impact by fostering collaboration with other arts organizations and actively practicing the power of partnership.
THE ARTS ARE FOR EVERYONE. We are dedicated to presenting a broad range of high quality programming that reflects and celebrates the diversity of the human experience. We strive to provide arts access in an environment where all people feel respected and welcome.
EDUCATION IS FUNDAMENTAL TO A THRIVING COMMUNITY.
The arts strengthen educational outcomes and inspire creative, compassionate citizens. We are committed to facilitating and providing dynamic arts education opportunities.
WE ARE STEWARDS OF A CULTURAL TREASURE. We honor our responsibility to the community and to future generations by adhering to the highest standards of integrity and sustainability in the preservation of our historic building and in our business practices.
2
The Pioneer Center, a Brief History
By Alicia Barber, Reno Historian and Pioneer Center Board Member
THE HISTORY
The Pioneer Theater-Auditorium, now called the Pioneer Center for the Performing Arts, opened in January of 1968 and has been an anchor of Northern Nevada's vibrant artistic and cultural scene ever since.
At the time of its construction in the 1960s, Reno was a rapidly growing city with a thriving tourist trade and flourishing arts scene. The Washoe County Fair and Recreation Board planned the downtown facility to serve as both a performing arts venue and a convention hall, with a large auditorium and a collection of meeting rooms on its lower level.
In 1988, the building was renamed the Pioneer Center for the Performing Arts and incorporated as a private nonprofit 501(c)(3) organization. In 2012, Washoe County deeded the land, and the RenoSparks Convention and Visitors Authority (the successor to the Fair and Recreation Board) deeded the building to the nonprofit Pioneer Center, which remains its sole owner.
History
3
THE ARCHITECTURE
From its dazzling gold dome to its gleaming midcentury modern interior, the Pioneer Center for the Performing Arts is an unforgettable architectural and cultural landmark.
The building's bold design was intended to express an unbounded optimism in Reno's future. Its crowning feature is its iconic gold-anodized aluminum geodesic dome, comprised of 500 interlocking panels. Geodesic domes were patented and popularized by the architect, designer, inventor, and futurist Richard Buckminster Fuller.
The building is often referred to as "the Golden Turtle," but its actual name derives from the statue of a pioneer family that stands on the front plaza. Entitled "Humanity," the statue of a couple and their daughter looking westward to the Sierra Nevada range was created by the sculptor Byron S. Johnson in 1939 and previously stood in front of the State Building, which was demolished in 1966 to make way for the theater.
4
The Facility
Italo Crocco Technical Director
"Technology and production standards continue to demand more of regional performing arts centers. As a registered historic property, we continue to perform a balancing act of making upgrades that meet the needs of a modern industry while honoring the legacy of the Pioneer Center itself."
FACTS ABOUT THE PIONEER CENTER
• The Pioneer Center has operated continuously as the region's largest dedicated performing arts center since opening for business on January 7, 1968.
• The Mainstage Auditorium contains 1,488 seats. This includes 17 ADA accessible locations and 12 wheelchair locations.
• The Exhibition Hall is 3,224 square feet. Adjacent is the Pioneer Underground, an intimate 150-seat cabaret-theater.
• The E.L. Cord Plaza is a seasonal third venue for performances and events.
• The Pioneer Center is listed on the National, Nevada State, and City of Reno Registers of Historic Places. In 2022, we became a member of the League of Historic American Theatres.
• Pioneer Center for the Performing Arts is a private 501(c)(3) nonprofit organization that owns and operates the facility.
5
2021 - 2022 STRATEGIC FACILITY UPGRADES
Dressing Rooms
• Expansion of both chorus dressing rooms to allow for larger productions and cast sizes.
• New custom countertops and mirrors in all principal and chorus dressing rooms.
Mainstage Auditorium
• Fabrication and installation of new side railings.
• Construction of centrally located wheelchair accessible seating area.
• Additional ADA-compatible and companion seats.
Guest Services
• New custom countertops and sinks in upstairs lobby restrooms.
• New assistive listening devices.
• Concessions equipment and ticket scanner upgrades.
Stage Equipment
• New and upgraded theatrical lighting fixtures and 4 new mounting locations.
• New stage risers and marley dance flooring. These risers are also used to create a full-size outdoor stage on the E.L. Cord Plaza.
6
Broadway Comes to Reno sponsored by First Independent Bank
Since 1995, the Pioneer Center has been bringing nationally touring professional Broadway productions directly to our mainstage from New York City. Broadway Comes to Reno is presented in partnership with Nederlander National Markets, a subsidiary of the Nederlander Organization.
Total Broadway Comes to Reno attendance in the 2021-2022 season was 74,775 patrons.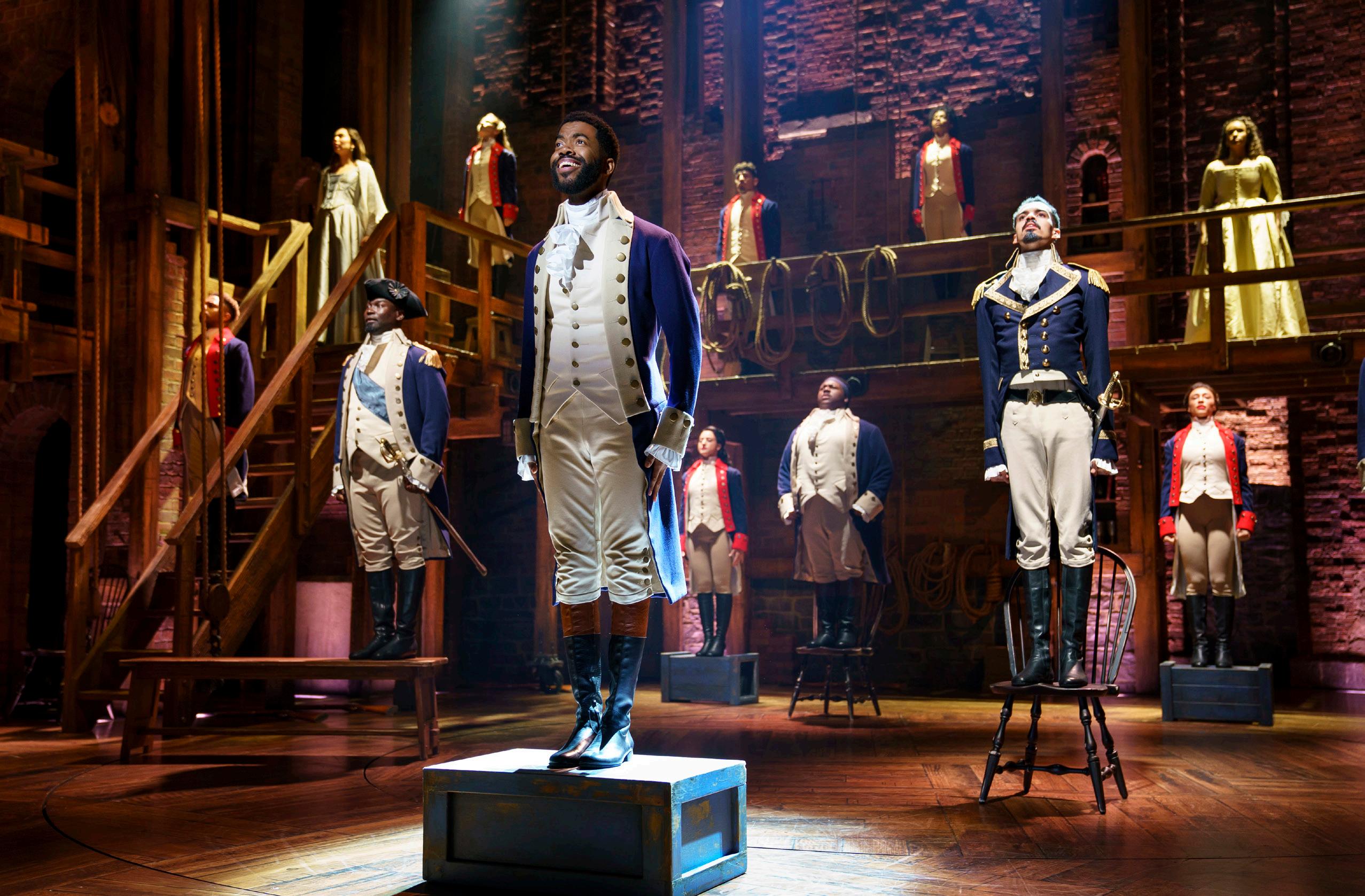 7
Photo Credits (clockwise from top left): Joan Marcus, Joan Marcus, Jeremy Daniel, Matthew Murphy & Evan Zimmerman, Matthew Murphy, T Charles Erickson
May
2021 16 performances
2022
performances
2022 5 performances
November
January
8
February
2022
performances
2022 8 performances
2022
performances
8
June
July
8
Hamilton Fiddler on the Roof
Christ Superstar
8
Waitress Jesus
CATS Hadestown
Local Resident Companies
In the 2021-2022 season, our three resident companies accounted for 37 total performances and a total attendance of 29,977 patrons.
Offered 12 different concerts with live streaming including the Classix Series, Ode to Joy, Phil Disney, Youth Orchestra, and Spirit of the Season
Presented Martha Graham Dance Company
9
Performed Sleeping Beauty, The Nutcracker, and Beauty & the Beast
Touring and Local Programming
Breana Edgerton Events Director
"The Pioneer Center hosts a wide range of programming each season. From international touring companies to local student recitals, we aim to provide a welcoming space and high-quality experience for a variety of artists and organizations."
The Pioneer Center is proud to have hosted 31 performances and events by touring and local arts organizations, attended by 18,129 patrons. Thank you to:
MAINSTAGE PERFORMANCES
• Benise
• Conservatory of Movement
• Core Connection Dance Company
• Divorciémonos Mi Amor
• Jesse Cook
• Mystery Science Theater 3000
• Nevada Music Educators Association
• Paula Poundstone
• Reno Dance Company
• Shen Yun
• Sierra Nevada Ballet
• UNR Medical School
• Washoe County School District Honor Concerts
• Xscape Performing Arts Center
E.L. CORD PLAZA PERFORMANCES & EVENTS
• Heart and Sole Dance Academy
• Sierra Arts Foundation
10
Dog Days of Summer Dance Festival
The Pioneer Center produced this free community event as our 2021-2022 season finale. The three-night outdoor festival featured six local dance companies performing on the E.L. Cord Plaza stage and was a spotlight benefit for SPCA of Northern Nevada.
Photo Credits: Andy Barron
11
Alex Kaskie, Guest Artist Ballet Folkórico Pueblo Nuevo
Reno Taiko Tsurunokai
Collateral & Co.
"The best part of the festival was the energy and excitement emanating from everyone involved. My lasting memory will be how proud I was to see our young dancers soak in the moment and perform with such ease and professionalism."
Presented with support from Bloch Inc., City of Reno Arts & Culture, Design on Edge, Healthy Performers Nevada, and Reno+Sparks Chamber of Commerce
12
Charitable Fund/Community Foundation of Northern Nevada
Around the Stage
Nevada Dance Company
Reno-Sparks Indian Colony Pow-wow Dance Group
- Oliver-Paul Adams, Co-Director, Nevada Dance Company
Pioneer Center Education
Adam Cates Education & Development Manager
"Arts education is a proven pathway to better test scores, pursuing higher education, volunteering in one's community, and developing creative and social emotional skills. The Pioneer Center is dedicated to providing dynamic arts education opportunities that also support artists and educators across our region."
PIONEER CENTER YOUTH PROGRAMS
• Presented 58 performance programs in elementary schools and public libraries across Reno, Sparks, Carson City, Dayton, Minden, Gardnerville, Fallon, Lovelock, Incline Village, & Zephyr Cove
• In-person artists: Aria 51, Brüka Theatre for Children, In-Tune Tales, Larry Wilson Magic, Nazanin Arastoo Puppet Theatre, Petroglyph, Reno Taiko Tsurunokai. Virtual artists: Boxtales Theatre Company, Molodi
• All PCYP performances are presented free to individual audience members.
• Supported by grants from the Arthur & Mae Orvis Foundation, City of Reno Arts & Culture, National Endowment for the Arts, Nevada Arts Council, Nell J. Redfield Foundation, NV Energy Foundation, and Thelma & Thomas Hart Foundation.
• Served 7,361 children and 1,227 adults, for a total of 8,588 people.
Total number of audience members served per region by Pioneer Center Youth Programs in the 2021-2022 season
13
BROADWAY BEHIND THE CURTAIN
• High school theatre students and educators were invited to observe an hour of the scenic load-in process and participate in Q&As with touring crew and Pioneer Center staff for the Broadway tours of Fiddler on the Roof and Jesus Christ Superstar.
• A combined total of 91 students and educators attended these two events representing Damonte Ranch, Dayton, Incline Village, Long Valley Charter, McQueen, Sage Ridge, and Wooster High Schools.
• This opportunity was provided free to all attendees.
BACKSTAGE EDUCATIONAL OUTREACH
• The Pioneer Center provides facility tours free-of-charge to groups upon request. Tours include insight on the Pioneer Center's history and how productions come together on our stage, along with exclusive access to nonpublic areas. This season saw groups from Innovations High School and TMCC.
• Incline High School students participated in a "work experience" internship program in Spring 2022. Four special needs students and their teachers assisted House Manager, Dianna Krueger, and Facilities Supervisor, Derek Smith, on a variety of tasks, helping to build resumes and confidence.
SCHOOL FIELD TRIPS
• The Pioneer Center is proud to partner with the Reno Phil and Sierra Nevada Ballet to facilitate matinee performances for elementary school children who are bussed to our venue during the school day.
• In December 2021, Sierra Nevada Ballet presented The Peanutcracker for 2,414 students and teachers.
• In March 2022, the Reno Phil presented their Young People's Concert for 1,728 students and teachers.
14
Economic Footprint
Devenney Leijon Managing Director
"Partnerships are a deeply valued part of our organization — from the stagehand union and contracted security team, to neighboring restaurants and hotels, to our resident companies, rental clients, and other local nonprofits. Our wider reach extends not only through the power of the art creation onstage, but also the meaningful economic impact we provide for and with the community as a whole. "
THE FINAL NUMBERS
Total Number of Full-Time Staff: 13
Total Performances & Events: 120
Total Season Attendance: 123,731 patrons
Total Educational Outreach Attendance: 8,697 people
Total General Operating Expenses: $3,130,309.00
THE ARTS COMMUNITY IMPACT
The Pioneer Center serves primarily as a rental facility for performing arts organizations, both local and national. Our Box Office sells tickets on behalf of rental clients and distributes the collected funds to those clients upon settlement after the show. The Pioneer Center also pays the IATSE Local 363 union stagehands who provide theatre tech labor for every performance and event at our venue.
• Combined total of Box Office ticket sales received by all arts organizations utilizing our venue: $8,942,043.00
• Combined total of Box Office ticket sales received by local arts organizations utilizing our venue: $1,516,674.00
• Total wages paid to local union stagehand laborers: $660,202.00
15
THE REGIONAL IMPACT
The Broadway League, the national trade association for the Broadway industry, estimates that just the 2021-2022 Broadway Comes to Reno season alone made a $22.65 million economic impact on the Reno/Sparks metropolitan area. Their formula for estimation takes into account gross ticket sales, area population, adjacent local businesses, and common demographic spending patterns of Broadway patrons and productions.
Americans for the Arts, a national nonprofit arts advocacy organization based in Washington DC, uses a similar calculation to estimate the local economic impact of arts organizations. According to their estimation, the entire 2021-2022 Pioneer Center season:
• Helped to sustain 547 full-time equivalent jobs.
• Helped to create $15.73 million in total expenditures, including the local restaurants, bars, hotels, parking garages, and other neighborhood businesses who see a crossover of patronage whenever productions play a performing arts center.
• Helped to add $11.89 million to household incomes across our community.
• Helped to generate $1.6 million in revenue for state and local governments.
16
The Community
Nettie Oliverio Board President
"During COVID, we all learned how important coming together for shared experiences is for keeping a community strong and vital. As we celebrate 55 years of entertainment and community engagement, the Pioneer Center is grateful to our family: our incredible staff and volunteers, our beloved patrons, and those who create magic onstage as the lights dim and the curtain rises. It does, indeed, take a village."
PIONEER CENTER STAFF
ADMINISTRATIVE STAFF
Dennyse Sewell - Executive Director
Devenney Leijon - Managing Director
Korona Phelps - Comptroller
Anette Christensen – Administrative
FRONT OF HOUSE STAFF
Breana Edgerton – Events Director
Adam Cates – Education & Development Manager
Clark Demeritt – Box Office Manager
Dianna Krueger – House Manager
Logan Veith – Marketing Coordinator
Jesse Spooner – Box Office Ticket Lead
Chris Daniels – Theatre Services (2021)
Bryan McAuliffe – Concessions Assistant
BACK OF HOUSE STAFF
Italo Crocco – Technical Director
Bryce Hall – Assistant Technical Director
Eric Skye - Assistant Technical Director
Derek Smith – Facilities Supervisor
Taylor Ichord – Facilities Technician
ON-CALL BOX OFFICE REPS
Thomas Chubb, Sam Crabtree, Kaylyn Duncan, Natalie Gonzalez, Madyson McGraw, Riley
McKinney, Maddison Regrut, Vanessa Ribeiro, Alyssa Von Eberstien
ON-CALL BARTENDERS
Nancy Butler, Scott Davis, Terrie Doidge, Anne Fatigate, Cianna Gransbery, Lauren Haug, Nancy Horowitz, Melissa McEnaney, Lynda McLellan, Brandon Nolan, Celia Perialas, Connie Simmons, Divine Smith, Rachel Walker, Shannon Wiebke, Nancy Wise
BOARD OF DIRECTORS (2021-2022)
EXECUTIVE BOARD MEMBERS
Nettie Oliverio - President
Maxine Harmatta - Treasurer / Vice President of Finance
Rebecca Bruch - Secretary / Vice President of Administration
Alicia Barber - Vice President of Community Relations
Christine Fey - Vice President of Development
BOARD MEMBERS
Jim DeVolld - incoming Board President
Debra Moddelmog - incoming VP of Community Relations
Mark Salinas
Ann Silver - incoming VP of Development
Scott Walquist
Alex Woodley
The Pioneer Center is an honored recipient of the 100% Giving Board Award from the Community Foundation of Northern Nevada
17
The Community
Dianna Krueger House Manager
"Our volunteers share countless hours of their own time to help us create an exceptional experience for patrons of the Pioneer Center.  The volunteers provide the real human interaction when a patron enters the venue and help determine how the experience will go from there."
VOLUNTEERS
Total Hours Volunteered: 14,477 Hours
VOLUNTEER USHERS AND EVENT STAFF
Active Volunteers Sept. 2021 – Aug. 2022: Kathleen Ahrens, Kerrie Andow, Judy Bacon, Kenya Baggett, Jennifer Bailie, Tanya Barron, James Bernardi, Carolyn Berney, Heather Boni, Angelina Boothe, Kim Bowman, Becky Bradley, Marge Breister, Mary Brooks, Donna Brown, Renata Brown, David Bugli, Elinor Bugli, Margaret Butler, Alan Butson, Christine Butson, Marie Byrne, Billie Calvin, Connie Caughlan, Michael Caughlan, Gil Chaput, Grace Chu, Tim Chu, Dale Clark, Shari Clark, Rachael Clawson, Alyce Cloutier, Joan Craig, Linda Curtis, Ruth Cuthbert, Kathy Daily, Claudia Davis, Linda Davis, Lisa Davis, Cindy DeBlose, Laurel Dempsey, Nancy Deras, Sheryl Derme, Christine Diaz, Linda Doerr, Terri Durgin, Don Eberlein, Mary Ann Eberlein, Linda Ellenwood, Susan Englesby, Susanne Etter, Betsy Fish, Leslie Flynn, Terry Forde, Dyanne Foster, Marianne Foster, Joel Fowler, Veronica Fraser, Mary Frey, Steven Frincke, Jim Gallaway, Cody Galloway, Royal Gamber, Karin Gardner, Annie Goni-Stewart, Rachel Gorbet, Jeanne Gregory, Kathryn Gregory, Mark Gregory, Jacqueline Grossman, Gary Gurling, Paula Hafer, Juliana Hanski, Birdie Hanson, Penny Harlass, Jill Harper, Michael Hartman, Monica Hartman, Jane Harvey, John Hasenau, Karen Hastedt, Judy Heath, Hans Hortig, Carol House, Cathy House, Shellie Hughes, Dan Javinsky, Judi Jensen, Mike Jessup, Joan Johnson, Gordon Kazmer, Leslie Kearney, Susan Kelly, Cindy Kemmerly, Marcella Kess, Marybeth King, Barbara Kinnison, Terrie Kinsman, Kasey La Foon, Mary Lamont, Sharon Lane, Kristine Lee, Pamela Leiken, Teresa Lennon, Angel Lerma, Nancy LeSage, Amy Levy, Miko Lorenzo, Cliff Low, Loretta Low, Judy MacKay, Peter Maddy, Elza Major, Kashmir Martin, Kathy Marton, Laurie Martin, Brenda McCarthy, Carl McGall, Konnie McGruder, Thomas Melville, Kathryn Miles, Patricia Monahan, Neita Montague, Maria Muñoz, Sharlene Neddenriep, Cindy Neff, Robert Newberry, Theresa Nielson, Judith Novak, Deb Oetjen, Valerie Oetjen, Dinah Oldham, Joan O'Lear, Carol Oliver, David Oliver, Ashleigh Ota, Laura Palma-Lopez, Claudia Patraw, Anita Pepper, Sally Phelps, Maryann Peirgrossi, Diane Pilloud, Alicia Powers, Meg Price, Eileen Puterski, Robert Puterski, Carol Quinn, Thelma Reindollar, Margaret Robertson, Judy Rounds, Nancy Satmary, Grace Shoenfeld, Janet Shultz, Deisy Serrano, Lisa Simmons, Elisa Siudzinski, Martin Siudzinski, Judy Smith, Rita Smith, Karen Solberg, Suzanne Southern, Dolores Steele, Sue Steph, David Stevenson, Lisa Stevenson, Michele Stewart, Barbara Stockton, Marga Strickland, Gregory Stuart, Rose Stuart, Meredith Swanson, Wayne Taddy, Alex Talmant, Victoria Taylor, Donald Unruh, Lea Unruh, Wendy Vail, Debby VanDenburgh, Holly Verbeck, Susan Walker, Toni Walsh, Mary Weber, Ron Weber, Christine Welch, Diane Williams, Laurel Wilson, Angiolina Wiskocil, Newton Yco, Nichole Yco, Joanna Yonson, Carol Zinke, Donald Zinke, Carol Zwick, Joe Zwick
18
The Community
MASTER GARDENERS OF NEVADA (UNIVERSITY OF NEVADA, RENO EXTENSION)
All landscaping and plant care at the Pioneer Center is performed by the Master Gardeners of Nevada, a University of Nevada, Reno Extension, who donate time and expertise weekly from March – November each year.
Total Master Gardener Hours Volunteered: 108 estimated hours
NONPROFIT ENGAGEMENT
The Pioneer Center is proud to use our visibility and resources to spotlight and support other local area nonprofit organizations working to benefit our community. In the 2021-2022 season, the Pioneer Center was proud to:
• Collect 1,191 lbs. of non-perishable food items (equal to 993 meals for families) for the Food Bank of Northern Nevada.
• Sponsor the Sierra Arts Foundation grant for Individual Artists.
• Collect over 3,000 food, hygiene, clothing, and first aid items for The Karma Box Project, and also house our own Karma Box on the E.L. Cord Plaza.
• Collect 350 pet food and pet care items for the Nevada Humane Society
• Sponsor the Nevada Gay Men's Chorus concerts.
• Facilitate ticket donations to be auctioned at fundraisers for 16 local schools and nonprofits.
• Partner with and collect donations for SPCA of Northern Nevada during the Dog Days of Summer Dance Festival.
19
The Community
THANK YOU TO OUR KEY COMMUNITY PARTNERS WHO WORK WITH US ON ALL EVENTS AT THE PIONEER CENTER
Design on Edge
Courtney & Chris Meredith, Owners/ Creative Directors
IATSE Local 363 Stagehands Union
John Olszewski, Chapter President
Martin Ross Security
Jason Patterson, President & CEO
SUPPORTERS
The Pioneer Center Board of Directors and staff wish to extend our sincere gratitude to the individual donors, in-kind donors, foundations, and corporate donors who provided support in preparation for and throughout the 2021-2022 season. Thank you for your investment in the performing arts and the work that we do.
The Pioneer Center is proud to receive operational grant support from:
20
100
775.686.6610 pioneercenter.com
S. Virginia St.
Reno, NV 89501
To learn more about our current season, upcoming events, donation campaigns, sponsorship opportunities, and more, please visit our website: pioneercenter.com