Küchen und Möbel Kitchens and furniture
AUTHENTIC KITCHEN
2023 2022 –
IST ES EINE NUDEL ODER DER WEG ZUR PERFEKTEN LÖSUNG? INNOVATION HEISST: AUSPROBIEREN! IS IT A NOODLE OR THE PATH TO THE PERFECT SOLUTION? INNOVATION SAYS: TRY, TRY AGAIN! WHAT´S NEXT?
nx510 nx640 + nx510
The Icons #4 – next 125 Der Trolley / The Trolley nx870 + nx620 nx912 + nx505 nx510  nx950 + nx912 nx670 Materialien / materials
12.5 Fragen / Questions
Edition 2022 – 2023 What´s next 003 004 010 016 018 026 030 032 034 038 042 044 045 048 056 058 067 070 078 082 084 088 092 094 096 102 103 106 112 116 118 120 124 128 132 135 140 142 143 144 149 154 160 161 next 125 – Authentic kitchen Creative
Valentina Teinitzer de Pasquale
Claus Friedrich Rudolph: Die Wolke / The Cloud
Die
display unit
Das
Makers –
&
INSPIRATION nx660 + nx960 The Icons #1 – next 125
Vitrine / The glass
nx670 + nx912 nx510 + nx640 The Icons #2 – next 125
Pocketsystem / The pocket system nx505 nx505 + nx650 nx510 + nx505 Open Mindset: Unzählige Möglichkeiten / Countless possibilities Farben / Colours 12.5 Fragen / Questions – Thomas Pfister, Head of Design nx510 The Icons #3 – next 125 Das Sideboard / The sideboard Creative Makers – Caesar Zumthor: 3 Häuser / 3 houses 12.5 Fragen / Questions – Caesar Zumthor, Architekt / architect
– Melanie Zechmeister, Food-Bloggerin / food-blogger nx510 nx870 + nx650 The Icons #5 – next 125 Der Kochtisch / The cooking table nx510 nx960 + nx620 Creative Makers – Design Story, Echt / Authentic Made in Germany FEATURES Korpusausführungen / Carcase designs Griffvarianten / Handle versions Ausstattungsvarianten / Equipment versions: Schübe & Züge / Drawers and pull-outs Ausstattungsvarianten / Equipment versions: Innenausstattung / Interior equipment Ausstattungsvarianten / Equipment versions: Flex-Boxen / Flex-Boxes Cube System: Aufbewahrung / Storage system Fronten / Fronts Systemo: Arbeitsplatten, Wangen und Nischenverkleidungen /  Worktops, sidepanels and recess claddings Küchenfachhändler in Ihrer Nähe / Kitchen specialist dealer next to you Impressum / Imprint 4
AUTHENTIC KITCHEN
Entdecken Sie kreative Macher, Designer, Architekten, Künstler, die Menschen, die mit unseren Möbeln leben. Entdecken Sie neue Küchen, inspirierende Räume und ikonische Möbel, die die Zeit überdauern.
Im next 125 Journal.
Discover the creative makers, designers, architects, artists and people that live with our furniture.
Discover new kitchens, inspiring spaces and iconic furniture, that will stand the test of time.
In the next 125 journal.
Editorial
1
DIE UNBESCHWERTE nx 510 AUF SEITE 106 2
THE CAREFREE nx 510 ON PAGE 106 3
AUTHENTIC KITCHEN, MADE IN GERMANY NEXT125.COM
MAKE 4 CREATIVE MAKERS
Valentina Teinitzer de Pasquale
Claus Friedrich Rudolph
Making of
Die Wolke
The Cloud
5 CREATIVE MAKERS
CREATE
6 CREATIVE MAKERS
Die Wolke
The Cloud
EXPERIMENTIERFREUDIG
EINE NEXT 125 KANN ZIEMLICH VIEL, NICHT NUR KÜCHE. Aber wir wollten auch wissen, was man mit und aus einer next 125 alles machen kann. Also haben wir zwei Kreative eingeladen, unsere Sicht der Dinge, Küche und Technik mit Kunst und Natur zu vereinen, einfach mal weiterzuspinnen. Creative Makers unter sich: next 125 im Dialog mit der Botanical Set-Designerin Valentina Teinitzer de Pasquale vom Studio De Pasquale und dem Fotokünstler Claus Friedrich Rudolph.
FÜR DIE BEIDEN EINE HELLE FREUDE, sich frei von Regeln und Vorgaben mit Formen, Farben und Materialien im Kontext Küche zu beschäftigen. Zu zeigen, dass man eine next 125 auch im Spannungsfeld von klaren, geometrischen Linien und einer Art floralem Traumgebilde zu einem sinnlichen Erlebnis verdichten kann.
ARRANGIERT. Wie man diesem Freigeist von Küche beikommt? Einerseits mit der für next 125 typischen Reduktion auf das Wesentliche und einer schwebenden Leichtigkeit; andererseits durch die Lust am Experimentieren. So stellen die Künstler der funktionalen Verbindlichkeit der Küche einen verträumt-magischen Entwurf gegenüber – und lassen damit eine tiefe emotionale Verbundenheit entstehen.
"CLAUS HAT GESAGT, WIR SIND WIE ZIRKUSKINDER", SAGT VALENTINA. "Und genauso habe ich mich gefühlt am Set: immer am Raufklettern, irgendwas heben, ständig am Rumspringen, sich die tollsten Dinge ausdenken." Da ist sie wieder, die kindliche Freude am Choreografieren. Doch bei aller künstlerischen Freiheit bleibt das Wesen der next 125 erkennbar – die Küche als Wohlfühlinsel, die uns erdet und gleichzeitig nach den Sternen greifen lässt. In der wir verweilen und uns emotional aufladen können. Und die wir am liebsten nicht mehr verlassen möchten. Weil sie in uns die kindliche Freude am Spielen, Machen und Tun lebendig hält. Und wir uns geborgen fühlen wie einst das Kind im Mutterleib.
EXPERIMENTAL
A NEXT 125 KITCHEN CAN BE QUITE A LOT MORE THAN JUST A KITCHEN. But we wanted to know what you can make with and out of one. So we invited two creatives to combine our vision, kitchens and technology with art and nature, just to explore that idea further. Creative makers meet: next 125 in dialogue with Botanical Set Designer Valentina Teinitzer de Pasquale
FOR BOTH ARTISTS, IT BRINGS GREAT JOY to work with shapes, colours and materials in a kitchen environment, free from the shackles of rules and specifications. To show that a next125 kitchen can be condensed into a sensual experience that combines clear, geometric lines with a kind of floral, dream-like creation.
NATURE AS INTERIOR DESIGN, MASTERFULLY ARRANGED WITH 60 BUNCHES OF GYPSOPHILA AND 30 KILOS OF LEMONS. How to handle this free spirit of a kitchen? On the one hand, with next125's typical approach of paring things down to the essentials, combined with an airy lightness; and, on the other, through a desire for experimentation. That's how the artists contrast the functional reliability of a kitchen with a dreamy, magical design – while creating a deep emotional connection.
"CLAUS SAID WE'RE LIKE CIRCUS KIDS," SAYS VALENTINA. "And that's exactly how I felt on set: constantly climbing on things, lifting things up, jumping around, coming up with the coolest things." There it is again, the childlike joy of choreography. But despite their artistic license, the essence of next125 can still be seen – the kitchen as an island of well-being that grounds us, while enabling us to reach for the stars. That goes beyond its pure and simple function – and enables us to surpass ourselves. In which we pause and recharge our emotional battery. And that we ideally never want to leave again. Because it keeps the childlike joy of playing, making and doing alive within us. And we feel safe, like a child in the womb.
Valentina Teinitzer de Pasquale studiodepasquale.de
Claus Friedrich Rudolph clausrudolph.wordpress.com
DIE NATUR ALS INNENARCHITEKTUR, MEISTERHAFT MIT 60 BUND SCHLEIERKRAUT UND 30 KILO ZITRUSFRÜCHTEN
from Studio De Pasquale and Photo Artist Claus Friedrich Rudolph.
7 CREATIVE MAKERS
8 AUTHENTIC KITCHEN
AUTHENTISCHE KÜCHEN, WOHNWELTEN UND IKONISCHE EINZELSTÜCKE. PURISTISCH, KLAR UND REDUZIERT. AUTHENTIC KITCHENS, LIVING SPACES AND ICONIC PIECES. PURIST, CLEAR AND MINIMALIST. INSPIRATION 9 AUTHENTIC KITCHEN
Im Studio zuhause DIE INDIVIDUELLE –In the home studio THE INDIVIDUAL 10 nx660 + nx960
11 AUTHENTIC KITCHEN
nx 660
nx 960 12 PORTRAIT
OFFEN FÜR ALLES
Die Details
nx660
Holzfront mit Design Rahmen F634 Eiche elegant natur
nx960 Ceramicfront, Rahmen onyxschwarz C2785 Ceramic bianco beige Systemo Arbeitsplatte C2780 Bianco beige
The Details
nx660 Wood front with design frame F634 Elegant natural oak nx960 Ceramic front, frame onyx black C2785 Ceramic bianco beige Systemo Worktop C2780 Bianco beige
ZUM BEISPIEL FERDINAND, DER MODEDESIGNER, TÄTIG FÜR NAMHAFTE LABLES. Was liegt hier näher, als ein Kreativstudio in einem ehemaligen Umspannwerk selbst zur Marke auszubauen? Staunen und inspirieren lassen ist die Devise, wenn Kunden zu Besuch in sein Atelier am Naviglio Grande in Mailand kommen und Ferdinand schon mal zum Business-Lunch in seine Küche bittet. Die Wahl fiel auf eine offene, luftige Lösung, eine Art "Schauküche", die wie eine verlängerte Werkbank des Kreativen anmutet. Herzstück ist eine Insel mit Fronten in Ceramic bianco beige. Ein Farbton, der die Robustheit des Materials sanft bricht und in seiner feinen Maserung stilistisch zur Nischenzeile und zu den Hochschränken überleitet, wo sie in den Rahmenfronten als natürliche Fladerung im Furnier Eiche elegant natur weitergespielt wird. Kühl- elegantes Glas, harter Stein, wärmendes Holz –eine Küche wie ein souverän zusammengestelltes Outfit; dazu Englische Züge, die eine weitere Spielart zur Geltung bringen: den Wechsel von geschlossenen und offenen Fronten, haptisch und sinnlich, ruhig, klar und belebt.
MEET FERDINAND, THE FASHION DESIGNER WORKING FOR LEADING BRANDS. What could be more natural than growing his creative studio in a former substation into a brand? Clients are left feeling amazed and inspired after a visit to Ferdinand's studio on Naviglio Grande in Milan and an invite to a business lunch in his kitchen. He opted for an open, airy solution, a kind of "open-plan kitchen", like an extension of the designer's workbench. The centrepiece is an island with ceramic bianco beige fronts. A shade that gently softens the sturdiness of the material, and with its fine grain, leads stylistically to the recesses and tall units where it is carried over into the natural grain of the frame fronts in elegant natural oak veneer. Cool, elegant glass, hard stone, warming wood – a kitchen like a confidently curated outfit; and English pull-outs that highlight another feature: the alternation between closed and open fronts, tactile and sensual, calm, clear and animated.
–
13 PORTRAIT
Open to everything
nx660 + nx960
14 nx660 + nx960
HOLZ, KLASSE!
Eine Küche, die nichts zu verbergen hat: Ein beleuchtetes Wandregal bietet Platz für Dekoratives. Und die Unterschränke mit Englischen Zügen geben diskrete Einblicke in das Kochverhalten ihrer Nutzer.
WOOD, AMAZING!
A kitchen with nothing to hide. An illuminated shelf provides space for decorative items. And the base units with English pull-outs offer a discreet glimpse into the user's cooking habits.
15 nx660 + nx960
1
16 GLASS DISPLAY UNIT
ICONS
THE
DIE VITRINE
The glass display unit
FÜR JÄGER UND SAMMLER: Mit der Vitrine liefert next125 den passenden Rahmen, um Kostbarkeiten und andere Schätze adäquat zur Geltung zu bringen. Das liegt einerseits am Materialmix aus onyxschwarzem Metall, Echtholz, Glastüren in Ultragrey und am edlen Griff in Lederoptik; zum anderen an den sechs Regalböden, die reichlich Fläche zum Präsentieren bieten. Auch zum Repräsentieren. Denn Form und Inhalt bedingen sich gegenseitig. Nicht nur, dass die Vitrine als ästhetisches Gebrauchsmöbel jeden Einrichtungsstil aufwertet. Mit ihrer dimmbaren LED-Beleuchtung lässt sie auch tief blicken – und rückt das Stelldichein aus Erbstück, Flohmarktfund, Souvenir und Shoppingausflug überhaupt erst ins rechte Licht. Die Vitrine kann sowohl frei im Raum platziert als auch in eine Hochschrankreihe eingebettet werden. Aber wie auch immer: Sie ist ein Schmuckstück in Ihrer Wohnung.
THE COLLECTOR'S CHOICE: With the glass display unit, next125 provides the perfect setting to show off valuables and other treasures in style. That's down to the combination of onyx black metal, real wood, glass doors in ultragrey and the elegant leather-look handle, as well as six shelves, providing plenty of space to display and impress, as form and content go hand in hand. Not only does the glass display unit enhance any interior design style as an aesthetic piece of utility furniture, with its dimmable LED lighting, it reveals deep inside and puts a spotlight on your collection of heirlooms, flea market finds, souvenirs and shopping hauls. The glass display unit can be free-standing or built into tall units. Either way, it's the gem of your home.
–
next 125 Vitrine – links F734 Asteiche natur gebürstet, G933 Glas glanz ultragrey next 125 Glass display unit – left F734 Natural knotty oak, brushed, G933 Glass gloss ultragrey 17 AUTHENTIC KITCHEN The Icons
Ein Apartment auf dem Dach DIE GLAMOURÖSE –An apartment on the rooftop THE GLAMOROUS 18 nx670 + nx912
19 AUTHENTIC KITCHEN
nx 912
670 20 PORTRAIT
nx
nx670 + nx912
EINE EINLADENDE GESTE
An inviting gesture
Die Details
nx670
Holzfront mit vertikalen Rillen F685 Nussbaum natur nx912
Glasfront matt, Rahmen onyxschwarz G582 Glas matt basalt metallic Systemo Arbeitsplatte K187F SensiQ onyxschwarz feinmatt AFP
ZUM BEISPIEL
GASTGEBERIN IST. Spätestens, als diese monatelang schließen musste, stand für die vielfach ausgezeichnete Küchenchefin fest: Eine eigene Hausbar musste her. Etwas Repräsentatives, mit Fläche zum Lagern, Kühlen, Ausstellen und Vorbereiten; damit fiel das meiste wie eine Anrichte oder ein Barwagen mangels Platzangebot oder Flexibilität schon mal weg. Zumal sich die künftige Hausbar stilistisch in ihr Ambiente fügen sollte, das aus ausgewählten Space-Age- und Mid-CenturyStücken besteht. Fündig wurde Georgia bei next 125, wo für die Pocket-Elemente nun auch eine Bareinteilung vorgesehen ist – als Aufsatz auf Unterschränke – bestehend aus Frame-Nischenregalen mit Spiegelrückwand, Effektbeleuchtung, Wandsteckboard, Gläserhalterung, großzügigen Schüben sowie einem Kühlschrank für Weine und Champagner. Was Georgia mit den auffallend roten Haaren besonders gefällt: Die individuell gestaltbare Rückwand nebst Fronten wertet ihr Einrichtungskonzept auf. Dafür sorgt eine Vielzahl an Werkstoffen und Farbgebungen.
The Details
nx670 Wood front with vertical grooving F685 Natural walnut nx912 Glass front matt, frame onyx black G582 Glass matt basalt metallic Systemo Worktop K187F SensiQ onyx black fine matt AFP
MEET GEORGIA WHO, BESIDES HER JOB AT A MICHELIN- STARRED RESTAURANT, LIKES TO BE A GOOD HOSTESS. After being forced to close for months, the multi-award-winning chef came to a conclusion: she needed her own home bar. Something impressive, with space for storage, keeping things cool and showcasing and preparing drinks. Most options like a sideboard or trolley could be ruled out due to a lack of space and flexibility. In particular, her future home bar needed to blend in stylistically with its surroundings, featuring a selection of Space Age and mid-century pieces. Georgia found what she was looking for at next125, which provides a bar partition for pocket elements – as a base unit attachment – with frame recess shelving with a mirrored back panel, feature lighting, a floating shelf, a glass holder, deep drawers and a transparent fridge for wine and champagne. The hostess with striking red hair particularly likes the fact that the customisable back panel and fronts enhance her interior design concept without diluting it, thanks to the wide range of materials and colourways.
GEORGIA, DIE AUCH ABSEITS IHRES JOBS IN DER STERNEGASTRONOMIE GERN EINE GUTE
–
21 PORTRAIT
OFFEN OPEN MINDED
22 nx670 + nx912
23 nx670 + nx912
24 nx670 + nx912
FÜR DIE SINNE
Das Regal von next 125 spielt mit den Sinnen. Neugierig tasten die Finger an der gerillten Front entlang, gleitet das Auge über offene und geschlossene Fächer – geleitet von der eleganten Lichtführung.
FOR YOUR SENSES
The shelves by next125 are a treat for the senses. Your fingers feel their way inquisitively along the grooved front, your eyes follow the open and closed compartments –guided by the elegant lighting.
25 nx670 + nx912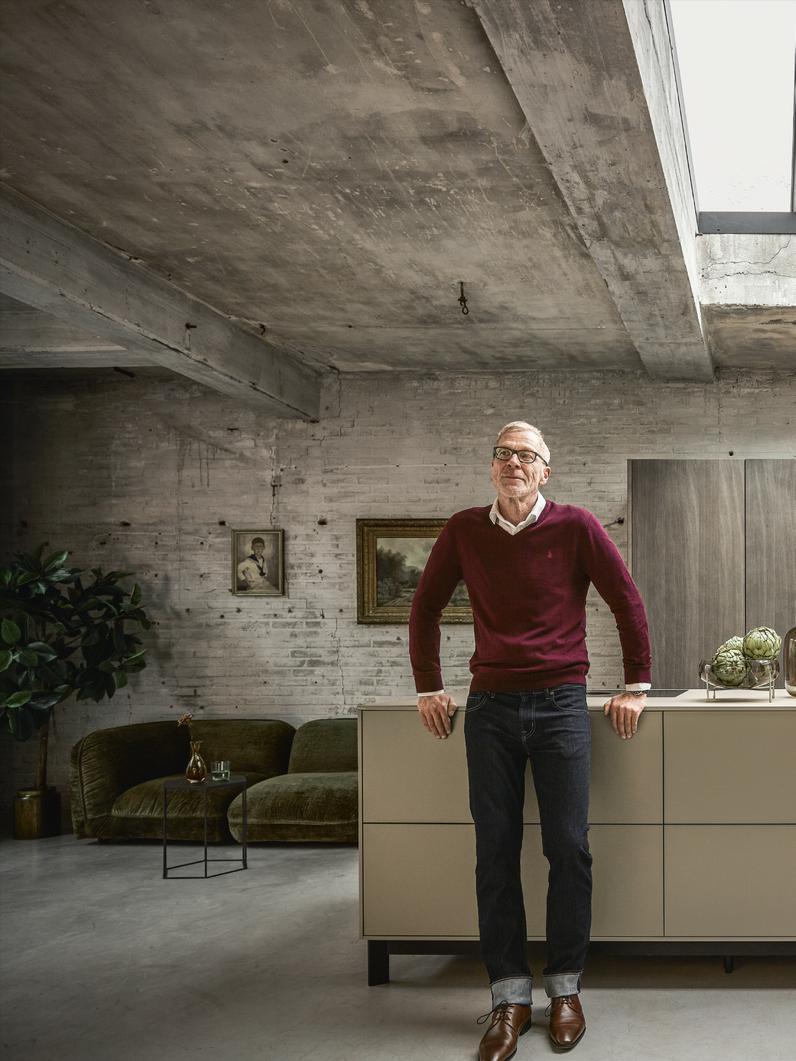 Wohnen im Farbrikloft DIE PURISTISCHE –Living in a factory loft THE PURIST 26 nx510 + nx640
27
LOFT UND LIEBE
EINE NEUE FORM DES WOHNENS ENTSCHIEDEN HABEN: Eine zum Loft umgebaute, alte Möbelschreinerei in einem alten Industrieareal. Ein Leben inmitten von offenporigen Wänden und dem rauen Charme von Sichtbetonflächen. Ein Leben auf einer Ebene, getragen von spannenden Blickbeziehungen zwischen den verschiedenen Funktionsbereichen – mit ihrer neuen Küche als Dreh- und Angelpunkt. Allem voran der kommunikative Solitär in Form einer großzügigen Kochinsel, flankiert von einem Pocketsystem; beides wie geschaffen für anspruchsvolle Küchenarchitekturen. Denn die beiden zentralen Gestaltungselemente vereinen sämtliche Funktionen wie Vor- und Zubereiten, Kochen, Spülen, Kühlen und Verstauen. Alles ist griffbereit, wenn es gebraucht wird, und doch ästhetisch hinter Fronten, Türen, Schüben und Zügen verstaut. Dabei bringt die Insel mit ihrem filigranen, onyxschwarzen Sockelgestell eine geradezu schwebende Leichtigkeit in den Raum. Und genau dieses Gefühl überträgt sich auf jedes Gericht von Franka und Ralph.
Die Details nx510
Samtmatt-Lackfront L202M Saharabeige samtmatt AFP nx640 Holzfront F644 Eiche elegant perlgrau
Systemo Arbeitsplatte K202F SensiQ saharabeige feinmatt AFP
LOFT AND LOVE
MEET FRANKA AND RALPH, WHO OPTED FOR A NEW KIND OF HOME IN THE PRIME OF THEIR LIVES: a loft conversion in a former furniture workshop on an old industrial site. A life surrounded by porous walls and the raw charm of exposed concrete surfaces. A life across one level, driven by exciting visual connections between the various functional areas – with their new kitchen as the hub and focal point. Not to mention the sociable standalone centrepiece in the form of a large kitchen island flanked by a pocket system, both tailor-made for the ambitious kitchen architects. Both central design elements work together for full functionality, such as food preparation, cooking, washing up, refrigeration and storage. Everything is within reach when needed, yet aesthetically tucked away behind fronts, drawers and pull-outs. With its sleek onyx black plinth frame, the island gives the space a light and airy feel. And that sense of ease comes through in every dish prepared by Franka and Ralph.
The Details
nx510 Matt velvet lacquer front L202M Sahara beige matt velvet AFP nx640 Wood front F644 Elegant oak pearl grey
Systemo Worktop K202F SensiQ Sahara beige fine matt AFP
28 nx510 + nx640
ZUM BEISPIEL FRANKA UND RALPH, BEIDE IM BESTEN ALTER, DIE SICH FÜR
29 nx510 + nx640
2
30 POCKET SYSTEM
ICONS
THE
DAS POCKETSYSTEM
The pocket system
AUF, ZU, AUF, ZU, AUF ZU NEUEN UFERN! Das Pocketsystem ist eine Art offenes Geheimnis. Sein Wert findet Ausdruck in einem Spiel aus Bergen und Verbergen. In geschlossenem Zustand wirkt es in seiner raumbildenden Ausprägung wie ein architektonisches Puzzleteil, strahlt Ruhe, Eleganz, Erhabenheit aus. Durch Antippen weichen die großen Falttüren zur Seite und verschwinden fast schwebend im Korpus. Das Pocketsystem macht aus dem Möbel einen Verwandlungskünstler, der mal als Homeoffice-Lösung, mal als Barschrank fungiert oder beliebig viele Funktionen der Küche aufnehmen kann, bis hin zur voll funktionsfähigen Pantry-Küche. Bei aller Ästhetik ist es bestückt mit Elektrogeräten, Schubladen und Arbeitsflächen praktisch, und durchdacht bis ins Detail. Und Künstler ist er auch deshalb, weil kontrastierende Farben und Materialien ein gestalterisches Ausrufezeichen setzen können.
OPEN, CLOSE, OPEN, CLOSE, OPENING DOORS TO NEW HORIZONS! The pocket system is like an open secret. Its value is expressed by a play of revealing and concealing. When closed, it's like an architectural puzzle that defines the space around it, exuding calm, elegance and nobility. With a simple tap, the large folding doors move to the side and disappear into the unit, as if floating. The pocket system is like a quick-change artist; it can serve as a home office solution or a cocktail cabinet. It can take on any function you need in the kitchen, even a fully functional kitchenette. It's not just a pretty face, as it's also equipped with electrical appliances, drawers, work surfaces that are practical and well thought-out down to the last detail. And it's truly artistic, as contrasting colours and materials can make a creative statement.
–
next 125 Pocketsystem – links nx640: F644 Eiche elegant perlgrau nx505: L190 Lavaschwarz satin next 125 Pocket System – left nx640: F644 Elegant oak pearl grey nx505: L190 Lava black satin The Icons 31 POCKET SYSTEM
next 125 Pocketsystem nx505: L275 Achatgrau satin nx240: K122F SensiQ kristallgrau feinmatt AFP next 125 Pocket System nx505: L275 Agate grey satin nx240: K122F SensiQ crystal grey fine matt AFP KOMPAKT UND WUNDERSCHÖN –Compact and beautiful The Icons 32 POCKET SYSTEM
nx 505 33 POCKET SYSTEM
34 AUTHENTIC KITCHEN
Ein Haus im Grünen DIE EDLE –A house in nature THE REFINED 35 nx505 + nx650
Die Details nx505 Satinlack-Front L335 Jaguargrün satin nx650 Holzfront F805 Alteiche Systemo Arbeitsplatte C2160 Marmor Carrara Nachbildung The Details nx505 Satin lacquer front L335 Jaguar green satin nx650 Wood front F805 Old oak Systemo Worktop C2160 Marble Carrara effect 36 nx505 + nx650
DER FEINE UNTERSCHIED
Eine Küchenformation, so außergewöhnlich wie ihre Farben und Materialien: Zum massiven Küchenblock gesellt sich ein Umfeld, das aussieht wie aus einem Block Carrara Marmor herausgeschnitten. In ihrem kühl-strahlenden Weiß bildet sie einen schönen Kontrast zum edlen Satinlack-Ton in Jaguargrün, einem von vier Koloriten der Klasse "Elegant" der next 125 Farbkollektion. Das Prinzip der Vielfalt, eingefangen als gedämpfter Chic mit leuchtenden Akzenten, weckt die Lust am Kombinieren und lädt ein, den Freiraum Küche höchst persönlich zu interpretieren.
A FINE LINE
A kitchen layout that's as exceptional as the colours and materials, as the huge kitchen unit is complemented by a design that looks like it has been cut out of a block of Carrara marble. In cool, radiant white, the front beautifully contrasts the sleek satin lacquer in jaguar green, one of four elegant shades in the next 125 colour collection. The principle of variety, captured through a muted chicness with bright accents, awakens the desire to mix and match, inviting you to put your own spin on the open-plan kitchen.
37 nx505 + nx650
Die Details nx510 Samtmatt-Lackfront L187M Onyxschwarz samtmatt AFP nx505 Satinlack-Front L235 Steingrau satin Systemo Arbeitsplatte K187F SensiQ onyxschwarz feinmatt AFP The Details nx510 Matt velvet lacquer front L187M Onyx black matt velvet AFP nx505 Satin lacquer front L235 Stone grey satin Systemo Worktop K187F SensiQ onyx black fine matt AFP 38 AUTHENTIC KITCHEN
Ein Apartment für zwei DIE URBANE –An apartment for two THE URBAN 39 nx510 + nx505
FLIESSENDER ÜBERGANG
Eine Szenerie, typisch für next 125: Sie erzählt von der gelungenen Entgrenzung der Küche einerseits und der Einbeziehung des wohnlichen Umfelds andererseits. Allem voran die kubische Insel mit integrierter Bar in Steingrau satin. Zusammen mit dem rückwärtigen Pocketsystem aus Onyxschwarz und expressivem Indischrot entsteht eine kultivierte Küchenlandschaft von ebenso zurückhaltender Ausstrahlung wie zweckmäßiger Präsenz, darunter reichlich Stauraum: Die Küche als architektonisches Ausrufezeichen.
A SEAMLESS TRANSITION
It's a typical scenario for next125: the kitchen has been successfully transformed into a boundless space while retaining a homely environment. And the cubic island with an integrated bar in stone grey satin is the star of the show. The rear tall unit with retractable doors in onyx black and expressive Indian red creates a refined kitchen setting with both a subtle charm and functional presence thanks to ample storage space – the kitchen as an architectural statement.
40 nx510 + nx505
41 nx510 + nx505
MINDSET OPEN
42 AUTHENTIC KITCHEN
Open Mindset
UNENDLICHE MÖGLICHKEITEN
Unlimited options
–
43 AUTHENTIC KITCHEN
FARBEN
BUNT FÜRS LEBEN: Natürlich wissen wir, dass Weiß in der Küche ein Evergreen ist. Doch wir wissen auch: Das Leben ist nicht nur eintönig. Deshalb haben wir unsere Palette auf 18 sorgfältig kuratierte Farben erweitert. Wir unterscheiden jetzt zwischen essentiellen, eleganten und außergewöhnlichen Farben. So bringen Sie Ihre Individualität noch besser zum Ausdruck.
AS COLOURFUL AS LIFE ITSELF: we are, of course, aware that white kitchens will be forever popular. But we also know that life is far from monochrome. We've therefore expanded our range to include 18 carefully curated colours and differentiate between essential, elegant and extraordinary shades, so you can better express your individuality.
COLOURS
44 THE ESSENTIALS
WORKSHOP
Thomas Pfister Designer
FRAGEN
12 5
QUESTIONS
45 CREATIVE MAKERS
WIE DIE KÜCHE ZUM ERLEBNIS WIRD
#1 – WIE FINDET MAN DIE RICHTIGE FARBE UND DAS RICHTIGE MATERIAL? Sich fragen, ob und wie viel Farbe es sein darf. Wenn man unsicher ist, empfehle ich, von diesem Ton ein Muster anfertigen zu lassen – und es zu Hause bei verschiedenen Tageszeiten und Lichtstimmungen auf sich wirken zu lassen.
#7 – WAS IST BEI OFFENEN, GROSSZÜGIGEN GRUNDRISSEN ZU BEACHTEN? Die Funktionsbereiche zonieren; von rückwärtiger Zeile über Kochinsel und Hochschränke bis zu Tisch und Bänken. Mit einer Bar als Übergang zur Wohnfläche.
#2 – WAS RATEN SIE MENSCHEN, DIE FARBEN
SKEPTISCH GEGENÜBERSTEHEN?
Lieber die Küche dezenter halten und Farbe über Accessoires oder Wände in den Raum bringen; im Zweifel ist eine Wand schneller gestrichen oder die Dekoration einfacher erneuert als die komplette Küche getauscht.
#3 – UND WAS MACHE ICH, WENN ICH MEHRERE FARBEN KOMBINIEREN MÖCHTE? Eine Führungsfarbe wählen, dazu Akzentfarben. Oder in Blöcken denken: Der Küchenblock in einer Farbe, der Hochschrankbereich in einer anderen. Wer Bedenken hat, kann schon vorab ausprobieren, wie das wirkt. Dafür gibt es Visualisierungen.
#4 – WAS GEHÖRT NOCH ZU EINER GUTEN KÜCHENGESTALTUNG? Ein gut beleuchteter Arbeitsplatz, ein Funktionslicht. Idealerweise ist es dimmbar, damit ich nach dem Kochen eine andere Stimmung in den Raum bringe, vielleicht auch über die Farbtemperatur. Mit einem warmen Licht klingt der Tag doch ganz anders aus. Gerade in der Küche, wo erfahrungsgemäß viele Einladungen oder Familienzusammenkünfte enden.
#5 – WELCHE
LICHTSITUATIONEN SOLLTE
ICH
#8 – WELCHES ELEMENT FINDEN SIE BESONDERS SPANNEND IN DER KÜCHE? Die Arbeitsplatte und alles, was oberhalb davon an der Wand hinten so ist, zum Beispiel ein offenes Regalsystem. Also diese Aktionsfläche, wo das Vorbereiten, Kochen und Nachbereiten stattfindet. Offene Bereiche verraten viel über die Menschen.
#9 – GIBT ES TYPISCHE FEHLER BEIM PLANEN DER KÜCHE? Zu viel zu wollen, selbst wenn man es kaum nutzt. Und dafür wertvolle Arbeitsfläche zu opfern. Grundsätzlich: Anschlüsse einplanen und Platz zwischen Kochfeld und Spüle.
#10 – WELCHE VERÄNDERUNG BEOBACHTEN SIE BEI FARBE UND MATERIAL? Dass die Menschen experimentierfreudiger werden, weg von Weiß-, Beige- oder Grautönen gehen und Farbe bekennen. Auch beim Material zeichnet sich mehr Lust an der Vielfalt ab: neben Kunststoffen und SensiQ vermehrt auch Quarzstein, Keramik, Massivholz.
#11 – WIE SIEHT IHRE EIGENE KÜCHE AUS? Relativ schlicht (lacht). Unterschränke, ein Wandbord aus Massivholz. Und ein Hochschrankblock, in dem von Kühlschrank bis Backofen alles drin ist.
IDEALERWEISE EIN-
PLANEN? Ein Arbeitslicht, das von oben oder vorn kommt; dazu Akzentbeleuchtung, etwa über Sockel, Griffmulde, die Unterseite von Oberschränken oder rückwärtigen Paneelen.
#6 –
WIE BRINGT MAN AUCH BEI KLEINEN RÄUMEN ÄSTHETIK INS
SPIEL? Sich aufs Wesentliche konzentrieren. Eher einseitig mit raumhohen Möbeln arbeiten. Und die andere Seite atmen lassen. Für ein klareres Raumgefühl.
#12 – WELCHEN STELLENWERT HAT DESIGN FÜR SIE PERSÖNLICH? Ich bin ein gestaltungsaffiner Mensch, das geht bei mir weit über Produktdesign hinaus. Denn Küche ist nicht losgelöst von dem Raum zu sehen, in dem sie später mal steht. Damit eine Küche funktioniert, muss man zum Beispiel auch wissen, wie sich Lichtstimmungen auf sie auswirken. Ich würde sagen, dass mich alles anspricht, wo Form und Material harmonieren. Auch gute Architektur.
Eine Küche sollte unbedingt ... … eine next 125 sein (lacht)! Im Ernst: Sie muss funktionieren, am besten auch nach vielen Jahren noch gefallen. Die Abläufe müssen stimmen. Und sie darf auch emotional ansprechen. Allgemein gesprochen: Sie sollte ihre Nutzer widerspiegeln.
UND WAS UNS NOCH INTERESSIERT ... 12
FRAGEN
5
QUESTIONS
Thomas Pfister
46 CREATIVE MAKERS
Thomas Pfister
TRANSFORMING A KITCHEN INTO AN EXPERIENCE
#1 – HOW DO YOU FIND THE RIGHT COLOUR AND MATERIAL? Ask yourself how much colour you want, if any. If you're unsure, I recommend getting a sample in this shade and looking at it at different times of the day and in different lights at home.
#2 – WHAT IS YOUR ADVICE FOR PEOPLE WHO ARE SCEPTICAL ABOUT COLOUR? Keep the kitchen more subtle and add colour to the room through accessories or walls; if in doubt, it's quicker and easier to paint a wall or update the decor than replace an entire kitchen.
#3 – WHAT SHOULD I DO IF I WANT TO COMBINE SEVERAL COLOURS? Choose a dominant colour, then accent colours. Or think in blocks: the kitchen island in one colour, the tall units in another. If you're unsure, you can test how it would look beforehand with a visualisation.
#4 – WHAT ELSE DO YOU NEED FOR A SUCCESSFUL KITCHEN DESIGN? A well-lit workspace with functional lighting. Ideally, dimmable lighting to add a different feel to the room after you've finished cooking, perhaps through the colour temperature too. The end of the day feels very different with warm lighting, particularly in the kitchen, where, in my experience, parties and family gatherings tend to end.
#5 – WHAT KIND OF LIGHTING SHOULD I IDEALLY INCLUDE? A work light that comes from above or in front; then accent lighting above plinths, grip ledges, the undersides of wall units or rear panels.
#6 – HOW DO YOU BRING AESTHETICS INTO PLAY IN SMALL SPACES? Focus on the essentials. Work on one side of the room with floor-to-ceiling furniture, and let the other side breathe for a clearer sense of space.
#7 – WHAT SHOULD YOU KEEP IN MIND WITH OPEN, SPACIOUS LAYOUTS? Divide the functional areas into zones; from the rear units, kitchen island and tall units, through to the table and benches. Use a bar as a transition into the living area.
#8 – WHAT PART OF THE KITCHEN DO YOU GET PARTICULARLY EXCITED ABOUT? The worktop and everything above on the wall behind, like an open shelving system. So the workspace where you prepare, cook and clean up. Open areas reveal a lot about people.
#9 – WHAT ARE THE CLASSIC MISTAKES WHEN PLANNING A KITCHEN? Wanting too much when you'll hardly use it, and therefore sacrificing precious workspace. In general, you should factor in transitions and space between the hob and the sink area.
#10 – WHAT CHANGES ARE YOU SEEING IN THE CHOICE OF COLOURS AND MATERIALS? People are becoming more experimental, moving away from white, beige and grey tones and showing their true colours. And there is a greater desire for variety when it comes to materials: in addition to laminate and SensiQ, quartz, ceramic and solid wood are becoming more popular.
#11 – WHAT DOES YOUR OWN KITCHEN LOOK LIKE? Pretty plain (laughs). Base units, a floating shelf made of solid wood. And a block of tall units that houses everything from the fridge to the oven.
#12 – HOW IMPORTANT IS DESIGN FOR YOU PERSONALLY? I'm a design-conscious person. To me, it goes far beyond product design. The kitchen shouldn't be seen as separate from the room it's going to be a part of. For a kitchen to function, you also need to know what effect light, for example, will have. I'd say I like it best when form and material are in harmony. And good architecture.
And lastly: A kitchen should absolutely... ... be a next125 kitchen (laughs). In all seriousness, it needs to function, and ideally you should still like it after many years. Everything needs to flow. And it needs to appeal to your emotions. Generally speaking, it should reflect its user.
FRAGEN
12 5
AND WHAT ELSE INTERESTS US ...
QUESTIONS
47 CREATIVE MAKERS
Ein Haus am Meer
DIE NATÜRLICHE –
A house by the sea THE NATURAL
48
nx510
49 AUTHENTIC KITCHEN
nx 510 50 PORTRAIT
nx510
DER FELS IN DER BRANDUNG
Beacon of calm
Die Details nx510 Samtmatt-Lackfront L097M Muschelweiß samtmatt AFP Systemo Arbeitsplatte und Umfeld Q1330 Poblenou matt
The Details
nx510 Matt velvet lacquer front L097M Seashell white matt velvet AFP Systemo Worktop and design Q1330 Poblenou matt
ZUM BEISPIEL SABINA UND ADRIAN,
HAT SICH EINEN LANG GEHEGTEN TRAUM ERFÜLLT: ein Hideaway direkt am Meer. Doch Abstriche in Sachen Lebensqualität waren kein Thema für sie, die Küche galt als gesetzt. Allerdings sollte sie das Haus, das im Wesentlichen aus einem großen, locker möblierten Raum besteht, nicht dominieren. Zudem wünschten sich die beiden Stauraum, um auf der Wohnfläche ohne Schränke auszukommen, die den Blick auf die See nur getrübt hätten. So kam es zu der L-förmigen Zeile mit deckenhohen Schränken und einem vorgelagerten Küchenblock, der den Übergang zum Essbereich und in die Lounge markiert. Großflächige Fronten im Farbton Muschelweiß greifen das maritime Flair auf, korrespondieren mit der hellen Zimmerdecke und der Sandsteinwand – und bringen eine geradezu meditative Ruhe in den Raum. Und das vielleicht Beste neben ihrer Ausstattung für kulinarische Unternehmungen jeglicher Art: Die vielen Fächer und Regalböden bieten weiteren wertvollen Stauraum – und lassen die Küche damit stets aufgeräumt erscheinen.
MEET SABINA AND ADRIAN, THE COUPLE THAT MADE A LIFE-LONG DREAM COME TRUE: a seaside hideaway. For them, compromising on quality of life was out of the question. The kitchen was set in stone. But they didn't want it to dominate the house, which is essentially a large, casually furnished room. The pair also wanted storage, so they could do without cupboards in the living area, which would only obscure the view of the sea. So they opted for L-shaped kitchen units with floorto-ceiling cupboards and an island in front, which marks the transition between the dining area and lounge. Large fronts in seashell white capture the maritime charm, match the bright ceiling and sandstone wall, and give the room an almost meditative sense of calm. It's a kitchen that's equipped for any kind of culinary venture, but perhaps what's even more impressive is the many drawers and shelves for yet more precious storage space, while making the kitchen look clean and tidy at all times.
DAS PAAR
–
51 PORTRAIT
52 nx510
FREI  RAUM
FREE  SPACE 53 nx510
HOME SWEET HOMEOFFICE
Mehr als ein raffiniertes Möbelstück für die Küche: Bewundernde Blicke sind sicher, wenn der Besuch entdeckt, was sich hinter der Front des Pocketsystems verbirgt: ein perfektes Homeoffice.
HOME SWEET HOMEOFFICE
It's more than just an elegant piece of kitchen furniture. Jaws are bound to drop when guests discover what's hiding behind the front of the tall unit with retractable doors: the perfect home office.
54 nx510
next 125 Sideboard
F685 Nussbaum natur, G933 Glas glanz ultragrey
next 125 Sideboard
F685 Natural walnut, G933 Glass gloss ultragrey
55 SIDEBOARD
3
56 SIDEBOARD
ICONS
THE
DAS SIDEBOARD
The sideboard
EIN MÖBEL FÜR ALLE FÄLLE: DAS SIDEBOARD IST WIE DAS WEISSE HEMD ODER DIE SCHWARZE HOSE; es gehört zu jedem stilbewussten Haushalt, weil es immer passt. Ob in der Küche, im Essbereich – oder als Solitär, etwa als Hausbar im Wohnzimmer. In seinem Namen steckt "Seite", was es gut trifft. Denn wenn es eines ist, dann vielseitig. Es gibt die Sideboards mit abgesenktem Ablagetray, mit Regaleinschüben oder Englischen Zügen; bodennah, mit Fußgestell oder auf filigranen Beinen stehend. Wer es puristischer mag, greift zu einer geschlossenen Front in Satin- oder Samtmattlack. Wie wär's zum Beispiel mit einem SensiQ-Schichtstoff oder einem edlen Furnier? Oder einem Mix aus Holz und Lack? Um es noch persönlicher anzugehen, stehen zudem verschiedene Korpushöhen und -breiten zur Wahl. Damit Ihr Sideboard weder das gleiche und schon gar nicht dasselbe ist wie das Ihrer Freunde. Sondern so einmalig wie Sie.
A PIECE FOR EVERY OCCASION: THE SIDEBOARD IS LIKE A WHITE SHIRT OR BLACK TROUSERS; every stylish household has one, as it goes with everything, whether it's in the kitchen or the dining area – it can even be a standalone unit, like a home bar in your living room. The"side" in "sideboard" is rather apt. Because if it's anything, it's many-sided. There are sideboards with sunken storage trays, shelf inserts and English pull-outs. They can be on the ground, on a pedestal or on filigree legs. If you like a purist look, opt for a closed front in satin or matt velvet lacquer. How about a SensiQ laminate or an elegant veneer, for instance? Or a mix of wood and lacquer? To customise it even more, you can also choose from a range of carcase heights and widths. That way you'll be sure your sideboard stands out from your friends' and is just as unique as you.
–
57 AUTHENTIC KITCHEN
next 125 Sideboard – links L292M Indischrot samtmatt AFP, Englische Auszüge in F734 Asteiche natur gebürstet next 125 Sideboard – left L292M Indian red matt velvet AFP, english style pull-outs in F734 Natural knotty oak, brushed
The Icons
MAKE 58 CREATIVE MAKERS
3 Häuser
3 Houses
Basel
Caesar Zumthor Architekten
59 CREATIVE MAKERS
Caesar Zumthor Architects
60 CREATIVE MAKERS
Ackermätteli – Basel
GSPublisherVersion 0.92.100.7
61 CREATIVE MAKERS
Claramatte – Basel
CREATE
Wohnhaus – Oberwil
62 CREATIVE MAKERS
Residential building – Oberwil
Für
Groß und Klein
LEBEN UND BAUEN IM KONTEXT
NATÜRLICH DENKT MAN UNWEIGERLICH AN SEINEN BERÜHMTEN ONKEL, WENN MAN SEINEN NAMEN LIEST. An Caesar Zumthor ist irgendwie alles groß: sein Vorname, der im römischen Kaiserreich Bestandteil sämtlicher Herrschertitel war. Sein Nachname, den er mit Peter Zumthor teilt, dem spätberufenen Architekten und Pritzker-Preisträger, bekannt geworden vor allem durch seine stilbildende Therme in Vals.
UND DANN IST DA DIE IMPOSANTE KÖRPERGRÖSSE VON 1,95 METERN, mit der er die meisten seiner Zeitgenossen überragt, zumal ihn sein aufragender Haarschopf, die dunkle Brille und seine schwarze Garderobe von Haus aus als ebenso markante wie elegante Erscheinung ausweist.
WER CAESAR ZUMTHOR IN SEINEM BASLER BÜRO BESUCHT, das einmal Teil einer Druckerei war und ganz früher auch Pferdestallungen umfasste, lernt einen angenehm zurückhaltenden 40-Jährigen kennen, der gern reflektiert und eigentlich kein großes Federlesen um seine Arbeit macht. Eher verwundert nimmt er das Interesse an seiner Person zur Kenntnis; was nicht heißt, dass er nicht bereitwillig über sich und seine Projekte Auskunft gibt. Spontan führt er seinen Besuch später sogar durch die Stadt, um ihm das eine oder andere Projekt näherzubringen: zwei der kultigen Pavillons, von denen noch die Rede sein wird.
INMITTEN VON STATTLICHEN SUKKULENTEN SIND DERZEIT ACHT KREATIVE UNTERSCHIEDLICHER NATIONALITÄTEN FÜR CAESAR ZUMTHOR ARCHITEKTEN TÄTIG. Überall im Büro hängen Moodboards, sind Architekturmodelle zur Schau gestellt, verweisen Fotos und Skizzen auf den Stand der Leistungsphasen. Was auffällt, lässt man einmal Bauten wie das Basler Department für Sport, Bewegung und Gesundheit, die Schweizer Botschaft in Afrika oder das Gewerbe- und Bürogebäude Polyfeld außer Acht: Caesar Zumthor mag es auch kleinmaßstäblich.
AUF DEM BESPRECHUNGSTISCH STEHT EIN MODELL, DAS ZWEI KOMPAKTE, WEISS GEKALKTE BAUKÖRPER ZEIGT, umfriedet von getrockneten Pflanzen, die das üppige Grün des heimischen Rosenfeldparks beschreiben. Ein zur Baukunst erhobenes Abortgebäude für die flanierende Parkgesellschaft im grünen Zentrum der pulsierenden Schweizer Industriemetropole.
DANEBEN, IM SCHWERLASTREGAL, DER ENTWURF FÜR EIN ZWEIFAMILIENHAUS IN DER BASLER AGGLOMERATION IN OBERWIL. Eine aus Betonelementen und Glas bestehende, nach oben hin abgestufte Wohnskulptur, von der Zumthor sagt, sie wächst aus der gewachsenen Villenlandschaft aus den 70erJahren heraus. Und doch wirkt dieser spätmoderne Vertreter eines poetic brutalism wie eine harmonische Nachverdichtung, was einerseits an der geschickt in die Topografie modellierten Setzung liegen mag.
ANDERERSEITS MACHT DIE INHALTLICHE AUSGESTALTUNG ES DEN NACHBARN LEICHT, nicht mit dem Nachzügler zu fremdeln: helle Sichtbetonflächen, wohin das Auge reicht, sanft aufgebrochen durch eine Amboss-ähnliche Kochinsel – und aufgewärmt durch vereinzelte Holzmöbel wie ein Sideboard, eine Esstisch-Gruppe und die hölzernen Stufen einer Treppe. Selten hat man ein minimalistischer anmutendes Inventar gesehen.
OB EINE WC-ANLAGE AUS TRASSKALK, POETISCH ANKLINGENDE PRIVATHÄUSER, EINE ORNAMENTAL VERBRÄMTE TRAFOSTATION ODER HÜSLI für die jüngste Zielgruppe des Architekturbüros, die in der Schweiz populären Kindertankstellen, im Gespräch mit Zumthor wird deutlich: Er sucht das Zwiegespräch mit der Natur, mit der Kultur eines Ortes, an dem seine Gebäude manifest werden. Und er gibt Bauherrn das Gefühl, die Idee für ein Projekt entspringe durchaus ihrem eigenen Horizont. Er beteiligt sie, damit sie verstehen. Er will – sagt Zumthor – aus seiner Disziplin keine Raketenwissenschaft machen. Bauen ist eigentlich ganz einfach. Zumindest lässt er es einfach aussehen. Forscht nach den richtigen Antworten und, vielleicht noch wichtiger, formuliert die richtigen Fragen.
ENTGEGEN KOMMT ZUMTHOR SEINE KULTURELLE OFFENHEIT, DIE NICHT NUR BERUFLICH MOTIVIERT IST. Während eines Studienjahrs in São Paulo lernte er seine brasilianische Frau kennen. Daraus resultierte auch der Auftrag für ein Wochenendhaus für die Schwiegerleute. Zumthor hat zu jener Zeit viel über lokale Baugepflogenheiten und Materialkunde gelernt. Das gilt auch für das Botschaftsgebäude in Kamerun, das Jahre auf Eis lag und nun seinem Happy End entgegensteuert.
IMMER WIEDER FÄLLT DAS WORT "MATERIALECHTHEIT". In Yaoundé ist viel von klimafreundlichem Bauen
63 CREATIVE MAKERS
die Rede, davon, ressourcenschonend zu wirtschaften. So fand unter anderem ein spezieller Schweizer Öko-Zement Verwendung. Auch ging man dazu über, statt Ziegel zu brennen, einfach nur zu pressen und trocknen zu lassen; was wiederum aufwändige Tests mit sich brachte, damit die Bauqualität gewährleistet bleibt.
DER DISKURS MIT DENEN, DIE SPÄTER DIE ARCHITEKTUR "BEDIENEN", IST FÜR ZUMTHOR ESSENTIELL. Denn die Qualität einer Bauaufgabe zeigt sich im Regelbetrieb. Am Ende des Tages muss Architektur funktionieren. Sie misst sich daran, wie nutzerfreundlich sie ist. Ob sie das Leben derer, für die sie gedacht ist, steigert, eine Situation nachhaltig verbessern hilft.
ZUMTHOR HAT SICH
ERARBEITET. Eingebettet in die Parks der Stadt Basel sind mittlerweile drei seiner nutzwertigen Pavillons zu finden. Es sind Häuser en minature, jedes für sich ein Unikat. Mal aus Holz, wie eine Gartenlaube, mal mit Misapor, ein bauteilaktivierender Dämmbeton, dem eine haptisch reizvoll-poröse Außenhaut zu eigen ist, um das Binnenklima des Gebäudes zu regulieren.
EIN DRITTES WIEDERUM, GEWISSERMASSEN HISTORISIEREND, SCHMIEGT SICH AN MÄCHTIGE KASTANIEN IN DIE OEKOLAMPAD ANLAGE – mit Bitumendach, hochkant angeordnetem belgischem Klinker, innen holzverkleidet und mit Blickbeziehungen in den Park und auf die umliegende Bebauung. Jedes Hüsli, erzählt Zumthor, folge seiner eigenen Typologie, trete zu seiner Umgebung und den dort lebenden Menschen auf vielerlei Arten in Beziehung. Die sogenannten Kindertankstellen verfügen über einen Spielzeugverleih, eine kleine Gastronomie mit Küchenzeile, dazu sanitäre Einrichtungen.
EINE FAHRT ZU IHNEN, MIT DER TRAM ÜBER DEN RHEIN, DER GROSS- VON KLEINBASEL TRENNT, konfrontiert Zumthor zwangsläufig mit der eigenen Biografie. Ein paar Jahre arbeitete der gelernte Hochbauzeichner und studierte Architekt für Herzog & de Meuron, die gestalterischen Schwergewichte mit Basler Genen. In dieser Zeit verantwortete er den Innenausbau des ersten der beiden zweieiigen Zwillingstürme des Pharmariesen La Roche, eine fast 180 Meter hohe, terrassiert angelegte Hochhauslandschaft am Ufer des Flusses.
NEBENBEI SCHRUBBTE ZUMTHOR WETTBEWERBE. Einen davon, den Auftrag zum Neubau der Schweizer Botschaft in Kameruns Hauptstadt Yaoundé, gewann er prompt. Für ihn Anlass, den sicheren Schoß der Vollbeschäftigung aufzugeben und den Weg des unbekannten Glücks zu gehen. Seit 2012 unterhält er nun die luftige, loftartige Büroetage in einer verkehrsberuhigten Straße nahe der historischen Äußeren Stadtmauer, von der freilich nur noch Rudimente wie das nahe SpalenTor zeugen.
AM ERSTEN PAVILLON ANGEKOMMEN, ist der Quartierstreff an diesem sonnigen Donnerstagnachmittag bevölkert von Jung und Alt. Kinder sausen mit ihren Wägli den U-förmigen Parcours auf und ab, es gibt frisch gepufftes Popcorn und Eis am Stiel. Die Szene mutet an wie in einem Wimmelbild des Illustrators Ali Mitgutsch.
KEINE FRAGE, DAS KONZEPT GEHT AUF, DIE ARCHITEKTUR MACHT ETWAS MIT DEN MENSCHEN. Sie berührt und verwandelt sie. Und mit ihnen das gesamte Viertel. Das gleiche Bild am Pavillon Claramatte, der ergänzt um ein Bassin etwas von einem Strandbad hat. Gemein ist den Park-Magneten ihre funktionale Ästhetik, was insofern ungewöhnlich ist, da es letztlich ja immer noch um Infrastrukturgebäude geht.
ZUMTHOR SAGT, MAN DÜRFE SICH NICHT TÄUSCHEN LASSEN, ABER DEM ERGEBNIS GEHE EINE OFT JAHRELANGE PLANUNGSPHASE VORAUS. Die Stadt, die Anwohner, Fauna und Flora, die späteren Nutzergruppen – alle und alles will berücksichtigt sein. Dafür ist die Identifikation später hoch, das WirGefühl Formsache.
WOBEI ZU VIEL DEMOKRATIE MANCHMAL AN IHRE GRENZEN STÖSST. Weil Kids ein Trafohäuschen als Torwand ausmachten, brachte ein lärmempfindlicher Nachbar hölzerne Ornamente an. Zumthor war gefragt, den Funktionsbau zu arrondieren und stilistisch aufzumöbeln. Für die Kids wird's ob der vielen Alternativen im Park verschmerzbar gewesen sein.
Caesar Zumthor Architekten caesarzumthor.com
IM LAUFE DER JAHRE AUCH DEN RUF EINES QUARTIERERNEUERERS
64 CREATIVE MAKERS
For big and small
LIVING AND BUILDING IN CONTEXT
OF COURSE, YOU CAN'T HELP BUT THINK OF HIS FAMOUS UNCLE WHEN YOU SEE HIS NAME. Somehow everything about Caesar Zumthor is grandiose. His first name, the title used by Roman emperors. His surname, shared with Peter Zumthor, the late-blooming architect and laureate of the Pritzker Architecture Prize, and made famous by his trend-setting thermal baths in Vals in the Swiss Alps.
AND THEN THERE'S HIS IMPOSING HEIGHT AT 6'3", at which he towers above most of his contemporaries, as well as his signature tousled hair, dark glasses and black clothes that give him a distinctive and elegant look.
IF YOU WERE TO VISIT CAESAR ZUMTHOR AT HIS BASEL OFFICE, which was once part of a printing house and even comprised horse stables a long time ago, you would meet a pleasant, modest 40-yearold who likes to reflect and makes no bones about his work. If anything, he's puzzled by people's interest in him, but that doesn't mean he's reluctant to talk about himself and his projects. Later, he even takes his guests on a spontaneous tour of the city to show them a couple of projects: two of the iconic pavilions that we'll be talking about later on.
EIGHT CREATIVES OF VARIOUS NATIONALITIES CURRENTLY WORK FOR CAESAR ZUMTHOR ARCHITEKTEN, SURROUNDED BY MAJESTIC SUCCULENTS. All over the office, moodboards hang on the wall, architectural models are on display, and photos and sketches allude to the progress of their projects.
If you overlook buildings like the Basel Department of Sport, Physical Activity and Health, the Swiss Embassy in Africa and the Polyfeld office and commercial building, what's striking is that Caesar Zumthor also likes small-scale projects.
A MODEL SITS ON THE CONFERENCE TABLE, DEPICTING TWO COMPACT, WHITEWASHED STRUCTURES surrounded by dried plants to represent the lush greenery of the local Rosenfeldpark. A toilet block, elevated into an architectural masterpiece, designed for visitors strolling around the green heart of the vibrant industrial Swiss city.
THEN, ON A HEAVY-DUTY SHELF, PLANS FOR A DUPLEX IN OBERWIL IN THE SWISS AGGLOMERATION OF BASEL. A tiered residential sculpture made of concrete and
glass, which according to Zumthor landed like a UFO in the established 70s villa landscape. And yet this late-modern example of poetic brutalism has the effect of harmonious densification, perhaps due to its carefully designed placement in the topography.
THEN AGAIN, THE INTERIOR DESIGN MEANS THE NEIGHBOURS won't feel alienated by the new kids on the block: bright exposed concrete surfaces as far as the eye can see, gently broken up by an anvillike kitchen island – with a handful of wooden furnishings that add a touch of warmth, like a sideboard, dining set and the wooden steps of the staircase. Rarely do you see a more minimalist-looking decor.
WHETHER IT'S A TRASS LIME TOILET BLOCK, POETICALLY RESONANT PRIVATE HOMES, AN ORNAMENTALLY CLAD SUBSTATION OR "HÜSLI" ("miniature houses") for the architectural firm's youngest end-users, the popular children's pavilions in Switzerland, two things becomes evident when talking to Zumthor: he seeks a dialogue with nature, with the culture of the places where his buildings will stand. And he makes developers feel like they came up with the idea for a project themselves. He involves them so that they understand. "I don't want my profession to be rocket science," says Zumthor. "Building is actually quite easy." At least, he makes it look easy. He looks for the right answers and, perhaps even more importantly, asks the right questions.
ZUMTHOR'S CULTURAL OPEN-MINDEDNESS DOESN'T JUST STEM FROM HIS WORK. He met his Brazilian wife during a year abroad in São Paulo, which also resulted in him working on a weekend cottage for his in-laws. At the time, Zumthor learned a lot about local building practices and materials. The same goes for the embassy building in Cameroon, which was put on hold for years and is now getting its happy ending.
THE NOTION OF "MATERIAL AUTHENTICITY" COMES UP A LOT. In Yaoundé, there's a lot of talk about environmentally friendly building and saving resources, which is why they used a special Swiss eco-cement, for example. And rather than burning bricks, they were simply pressed and left to dry, although this did involve costly tests to guarantee the build quality.
65 CREATIVE MAKERS
FOR ZUMTHOR, IT IS ESSENTIAL TO ENGAGE IN DIALOGUE WITH THOSE WHO WILL GO ON TO "USE" THE ARCHITECTURE. After all, it is in everyday use that the quality of a construction project becomes apparent. At the end of the day, architecture needs to be functional. It is measured by how user-friendly it is, whether it enhances the lives of those for whom it has been designed and makes a long-lasting improvement to a situation.
OVER THE YEARS, ZUMTHOR HAS ALSO EARNED A REPUTATION FOR REVIVING NEIGHBOURHOODS. Today, you can find three of his much-loved pavilions nestled in the city of Basel's parks. They're miniature houses, each one unique. One made out of wood, like a summer house, one built with Misapor, a component-activating insulating concrete with a porous exterior that's delightful to the touch, which regulates the building's internal climate.
THE THIRD, HOWEVER, IS SOMEWHAT HISTORICIST IN STYLE, NESTLED IN THE MIGHTY CHESTNUT TREES IN THE OEKOLAMPAD COMPLEX – with a bitumen roof, vertical Belgian brickwork, interior wood panelling and views of the park and the surrounding buildings. Each Hüsli, says Zumthor, has its own typology and relates to its surroundings and the people that live there in many ways. The children's kiosks comprise a toy rental shop, a small café with a kitchenette and toilet facilities.
AS HE TAKES THE TRAM TO THE HÜSLI OVER THE RHINE, WHICH SEPARATES GROSSBASEL FROM KLEINBASEL, Zumthor is bound to be confronted with his past. For a few years, the trained structural draughtsman and architect worked for Herzog & de Meuron, the design heavyweights with Basel in their DNA. During this time, he was responsible for the interior construction of the first of the non-identical twin towers for pharmaceutical giant Roche, an almost 180-metre, terraced high-rise on the river bank.
ZUMTHOR ENTERED COMPETITIONS ON THE SIDE. He soon won one, a contract to build the new Swiss Embassy in Cameroon's capital Yaoundé. It was an opportunity to escape the comfort of full-time work and take the path towards a new sense of happiness. Since 2012, he's worked in an airy, loftlike office on a pedestrianised street near the historic city walls, of which only traces remain, like the nearby Spalentor gate.
AS WE APPROACH THE FIRST PAVILION, the local hangout is full of people, both young and old, on this sunny Thursday afternoon. Children zoom up and down the U-shaped path on their toy cars. Others enjoy fresh popcorn and ice lollies. The scene looks like something out of a hidden picture book by illustrator Ali Mitgutsch.
IT GOES WITHOUT SAYING THAT THE CONCEPT WORKS. ARCHITECTURE DOES SOMETHING TO PEOPLE. It moves and transforms them. And with them, the entire neighbourhood. It's the same at the Claramatte pavilion, which, with its basin, looks a bit like a lido. What the park hubs share is their functional aesthetic, which is unusual because they are essentially just infrastructure buildings.
ZUMTHOR SAYS WE SHOULD NOT BE DECEIVED; OFTEN YEARS OF PLANNING GOES INTO A PROJECT BEFORE THE FINAL RESULT. The city, the locals, the fauna and flora, the end-users – everything should be taken into account. And that's why it is easy to identify with the buildings; they create a sense of togetherness.
BUT SOMETIMES DEMOCRACY REACHES ITS LIMITS. Children were once using the wall of a substation as a goal, so a neighbour aggravated by the noise decorated it with wooden ornaments. Zumthor was asked to complete the functional building and revamp the design. At least the park will have offered plenty of alternatives to keep the children happy.
66 CREATIVE MAKERS
Caesar Zumthor Architects caesarzumthor.com
Zumthor
67 CREATIVE MAKERS
Caesar
Architect FRAGEN 12 5 QUESTIONS WORKSHOP
WO DIE KÜCHE SICH ENTFALTET
#1
– WIE SIEHT DER PERFEKTE RAUM FÜR EINE KÜCHE AUS?
Er sollte die sozialen Aspekte widerspiegeln, die heute im Zusammenleben wichtig sind. Bei uns erfüllt er ganz viele Anforderungen, auch, weil vieles, was früher im Wohnzimmer stattfand, sich in die Küche verlagert hat. Der perfekte Raum ist ein hybrides Zentrum zwischen einer soliden Funktionalität und informeller Aneigenbarkeit, ob man nun die Ferien plant, sich mit den Kindern über die Erlebnisse im Kindergarten austauscht oder unter Erwachsenen diskutiert.
#2
– WIE WIRD MAN DER KÜCHE ALS "HERZSTÜCK DES HAUSES"
GESTALTERISCH GERECHT? Indem sie offen an der Schnittstelle zu den anderen Räumen geplant wird, vielleicht auch mit Anschluss zum Außenraum. Die zentrale aber individuelle Verankerung der Küche innerhalb der Wohnung finde ich ganz wichtig.
#3 – WIE
HÄNGEN RAUMNUTZUNG UND GESTALTUNG ZUSAMMEN?
Je besser ich mich in die Räume und ihre Nutzung versetzen kann, umso emphatischer die Planung. Zu fragen ist: Wie nutze ich das, wie fühlt es sich an?
#4 – WO FANGE ICH GEDANKLICH AN, WENN ICH EIN HAUS BAUEN MÖCHTE? Zunächst ist der Ort wichtig: Stadt oder Land? Dann natürlich auch Fragen wie: Wie lang will ich dort wohnen? Bewohne ich es ständig selbst oder für wen ist es noch gedacht? Darauf fangen wir an schematische Visionen zu umreißen und eine Collage zu erstellen, welche sich langsam zu einem architektonischen Konzept extrahiert.
#5 – WIE SCHAFFE ICH ES, RÄUME EMOTIONAL AUFZULADEN? Hier spielen Licht und Akustik eine große Rolle. Also die Setzung der Fenster, sowohl der Räume zueinander. Die Wahl der Materialien, wie sich der Schall an ihnen bricht. Nicht zu vergessen sind jedoch auch persönliche Erfahrungen welche der oder die Bewohner/in aus beispielsweise Ferienaufenthalten adaptiert.
#6 – WELCHE MATERIALIEN FÜR WELCHE STIMMUNG? Will ich Ruhe und Klarheit in den Raum bringen, mich erden, dann neige ich zu materialechten Stoffen welche im natürlichen Ökosystem einen Bezug zueinander haben. Wobei auch eine interessante Kombination bzw. Spannung entstehen kann, wenn ich natürliche Materialien wie Hölzer mit Kunststoffen zusammenbringe.
#7 – WAS EIGNET SICH GUT FÜR DIE GESTALTUNG IN DER KÜCHE? Ich finde Linoleum ein fantastisches Material. Es ist organisch, zeitlos und bietet großes Potenzial.
#8 – INWIEWEIT VERÄNDERT SICH DIE ATMOSPHÄRE IN KLEINEN UND GROSSEN RÄUMEN? Größere Räume sind für mehr Menschen geeignet, daher kommt, wie gesagt, dem Thema Akustik hier eine größere Bedeutung zu. Die Raumgröße sollte immer auf die spätere Nutzung abgestimmt sein. Dabei ist auf eine geschickte Lenkung der Oberflächen zu achten. Vielleicht braucht es Vorhänge, die den Schall absorbieren. Licht, welches je nach Einfall zu einem starken individuellen Charakter verhilft. Persönlich ist mir die Akustik ein besonderes Anliegen: Man stelle sich nur eine Party vor, die Küche voller Menschen. Da spielen lautstark Kinder, jemand verräumt schnell das Geschirr oder holt Pfannen aus dem Regal – wie ich die Geräuschkulisse empfinde, hat großen Einfluss auf mein Wohlbefinden.
#9 – WAS IST DAS WICHTIGSTE ELEMENT IM RAUM? Wichtig ist, dass die verschiedenen Elemente gut zusammenspielen, eine harmonische Balance schaffen. Allen voran die Beleuchtung und eben auch die Akustik.
#10 – WELCHE ROLLE SPIELEN DETAILS IN EINER REDUZIERTEN ARCHITEKTUR? Sie rücken dann umso mehr in den Vordergrund und werden umso wichtiger. Da steckt viel Arbeit drin, auch wenn wir versuchen, es einfach aussehen zu lassen. Zum Beispiel, wie der Übergang von Küche und Boden gelingt. Oder zwischen Wand und Decke. Eine sensible Ausarbeitung dieser Details führt das Werk über in einen sensibilisierten Raum, welcher die Bewohner in ihrem Alltag umschließt.
#11 – WAS MACHT EINE ARCHITEKTUR IKONISCH UND ZEITLOS? Indem sie auf den Ort abgestimmt ist, auf die Nutzung. Und ein durchgängiges Konzept verfolgt, dem eine Idee zugrunde liegt: einfach, klar, mit Charakter auf das Wesentliche reduziert.
#12 – WIE FINDE ICH HERAUS, WELCHE RAUMGESTALTUNG ZU MIR PASST? Offen durchs Leben gehen, erkunden, experimentieren, Eindrücke sammeln – und dann mit einem Profi eine Lösung erarbeiten.
Eine Küche sollte unbedingt ...
… funktional sein – die Möglichkeit bieten, Kräuter aufzustellen; nicht versteckt, sondern im Blickfeld und immer griffbereit. Ich liebe es, und Kinder lieben es, wenn man den Oregano oder Koriander frisch pflücken und direkt verwenden kann.
WAS UNS NOCH INTERESSIERT
UND
...
Caesar Zumthor
12 5 FRAGEN
68 CREATIVE MAKERS
QUESTIONS
Zumthor
WHERE THE KITCHEN SHINES
#1 – WHAT DOES THE PERFECT KITCHEN SPACE LOOK LIKE? It should reflect the social aspects that are important to coexistence today. For us, it fulfils a lot of requirements, as many things that used to take place in the living room have now shifted to the kitchen, The perfect room is a hybrid of reliable functionality and its ability to become an informal setting for when you're planning your holidays, listening to your kids' stories about their experiences in school or simply having a conversation.
#2 – HOW DO YOU MAKE THE KITCHEN "THE HEART OF THE HOME" THROUGH ITS DESIGN? By opening it up and putting it at the intersection of other spaces, perhaps by connecting it to the balcony or garden. So I think it's very important to anchor the kitchen in the house.
#3 – HOW IS THE WAY WE USE A SPACE CONNECTED TO DESIGN? The better the planning, the better I can inhabit and use the space. You need to ask yourself, how do I use it and how does it feel?
#4 – WHAT'S THE FIRST THING I SHOULD THINK ABOUT IF I WANT TO BUILD A HOUSE? Firstly, the location is important: city or countryside? Then obviously you should ask yourself things like, how long do I want to live there? Will I be living there alone all the time or who else am I designing it for? This is what we start with when we outline our visions and create a collage which slowly turn into an architectural concept.
#5 – HOW DO YOU CREATE EMOTIONALLY CHARGED SPACES? Here, light and acoustics play a key role, So, window placement and where the rooms are in relation to each other, as well as the choice of materials and how they absorb sound. But you can't forget about the personal experiences that the owner adapts from their holidays, for example.
#6 – WHICH MATERIALS FOR WHICH AMBIENCE? If I want to introduce peace and clarity into a room and ground myself, then I tend to use authentic materials that are related to each other in the natural ecosystem. But putting natural materials like woods next to plastics can also make for interesting combinations or contrast.
#7 – WHAT WORKS WELL WHEN DESIGNING A KITCHEN? I think lino is a fantastic material. It's organic and timeless and has great potential.
#8 – HOW DOES THE ATMOSPHERE CHANGE IN SMALL AND LARGE ROOMS? Larger rooms are great for more people. Like I said, acoustics are very important here. The size of the room should always be adapted to its future use. Make sure you choose surfaces wisely. You might need curtains to absorb sound. And light; the lighting can also be carefully controlled. But nothing works without acoustics: just imagine the kitchen full of people at a party. The children are playing loudly, someone's quickly putting the dishes away or getting pots off a shelf – how I perceive background noise has a big influence on my well-being.
#9 – WHAT IS THE MOST IMPORTANT ELEMENT IN A ROOM? It's important that the various elements work well together and create a nice balance, particularly lighting and, of course, acoustics.
#10 – WHAT ROLE DO DETAILS PLAY IN MINIMALIST ARCHITECTURE? They come even more to the forefront and become even more important. A lot of work goes into them, even if we try to make them look simple. For example, the transition from kitchen units to the floor. Or from wall to ceiling. Planning these details in a conscientious way means the architecture transitions into a conscientious space that surrounds its occupants in their day-to-day lives.
#11 – WHAT MAKES ARCHITECTURE ICONIC AND TIMELESS? By adapting it to the location and its use, and having a consistent concept based on a single idea: simple, clear and pared down to the essentials.
#12 – HOW DO I FIND OUT WHAT INTERIOR DESIGN SUITS ME? Go through life with an open mindset, explore, experiment, collect experiences – and then work with a pro to find a solution.
A kitchen absolutely needs to... … be functional – and there should be somewhere for you to have your herbs on display, fully visible and within reach instead of hidden away. The children and I love picking fresh oregano and coriander and using it straight away.
WE'D ALSO LIKE TO KNOW...
Caesar
FRAGEN QUESTIONS 12 5 69 CREATIVE MAKERS
70 AUTHENTIC KITCHEN
In der Ferne so nah DIE INTERKULTURELLE –So far and yet so near THE INTERCULTURAL 71 nx510
nx 510 72 PORTRAIT
nx510
Die Details
nx510
Samtmatt-Lackfront L417M Azurblau samtmatt AFP L262M Terragrau samtmatt AFP
Systemo Arbeitsplatte und Umfeld K417F SensiQ azurblau feinmatt AFP K262F SensiQ terragrau feinmatt AFP
INS BLAUE HINEIN LEBEN
Out of the blue
The Details
nx510 Matt velvet lacquer front
L417M Azure blue matt velvet AFP L262M Terra grey matt velvet AFP
Systemo Worktop and design
K417F SensiQ azure blue fine matt AFP K262F SensiQ terra grey fine matt AFP
ZUM BEISPIEL JANNIK
JAHRE NACH TEL AVIV ENTSANDT WURDEN. Neue Wohnung? Gerne! Aber nicht ohne die alte Küche. Vieles, was sie schon daheim liebgewonnen hatten, wurde verschifft, etwa das Ensemble aus Tisch und Bänken in Asteiche natur für den Essbereich. Oder der Trolley. Anderes, wie die wandhängenden Elemente in griffloser Ausführung ihrer azurblauen Küche, wurde vor Ort neu aufgebaut. Und um passende Oberschränke im gleichen Farbton ergänzt. Überhaupt hat der spezielle Grundriss nach einer individuellen Lösung verlangt: einer Küche, die sich über die Wohnfläche erstreckt und mit vorhandenen Nischen spielt. Neben dem "Tableau" mit der Kochzeile tut sich hinter einem gotischen Bogen die Speisekammer auf. Der farblich mit Möbeln in Terragrau samtmatt abgegrenzte Bereich versammelt weitere Küchenhilfen, bietet deckenhohen Stauraum und einen Weinkühler als Eyecatcher. Effektvoll illuminiert ist hier auf offenen Regalböden auch Platz für Küchenutensilien, Kunst und viel Dekoratives.
MEET JANNIK AND DALIAH, WHO WERE TRANSFERRED TO TEL AVIV FOR A FEW YEARS BY THEIR EMPLOYER, A SWISS PHARMACEUTICAL COMPANY. New apartment? Yes, please! But not without the old kitchen. Many things they had fallen in love with at home were shipped over, like the table and bench set in natural knotty oak for the dining area. And the trolley. Other things, like the handleless, wall-mounted elements in their azure blue kitchen were rebuilt on site and complemented by matching wall units in the same shade. The special layout required a unique solution: a kitchen that extends across the living area and plays with the existing recesses. Next to the kitchenette "tableau", the pantry opens up behind a Gothic arch. This colourfully demarcated area with terra grey matt velvet furnishings houses additional kitchen appliances and offers floor-to-ceiling storage with an eyecatching wine cooler. The impressively lit pantry also provides space for kitchen utensils, art and decorative items on the open shelves.
UND DALIAH, DIE VON IHREM ARBEITGEBER, EINEM SCHWEIZER PHARMAUNTERNEHMEN, FÜR EIN PAAR
–
73 PORTRAIT
RUHE INSEL
REST ISLAND
74 nx510
75 nx510
76 nx510
EIN BACK-UP FÜR DIE KÜCHE
Effizienter kann man Küche kaum gestalten: Der gekonnte Mix aus Regalböden mit geringer Tiefe, Zügen und Schüben sowie Einbaugeräten lässt einen erweiterten Funktionsraum entstehen.
A BACK-UP KITCHEN
You can't get more efficient when designing a kitchen. The clever mix of shallow shelves, pull-outs, drawers and built-in appliances provides additional functional space.
77 nx510
Die Details
nx640 Holzfront
F646 Eiche elegant graphitgrau nx510 Samtmatt-Lackfront
L142M Kobaltgrün samtmatt AFP Systemo Arbeitsplatte K187F SensiQ onyxschwarz feinmatt AFP
The
Details nx640 Wood front
F646 Elegant oak graphite grey nx510 Matt velvet lacquer front
L142M Cobalt green matt velvet AFP Systemo Worktop K187F SensiQ onyx black fine matt AFP
78 AUTHENTIC KITCHEN
Eine alte Werkstatt DIE ESSENTIELLE –An old workshop THE ESSENTIAL 79 nx640 + nx510
TOUGH, ROUGH, LOVE
Ein Raum, wie mit dem Meißel behauen. Darin eine Zeile von Küche, ebenso kernig wie elegant. Fronten aus Eiche graphitgrau treffen auf kobaltgrüne Lackmöbel. Und alles voll auf Funktion getrimmt. Der Herd mit Knöpfen zum Drehen, die Arbeitsplatte aus Ceramic, dahinter das hinterleuchtete Regalsystem Frame – mit den besten Freunden des Profikochs: ausgesuchte Gewürze, scharfe Messer, feine Gläser und Gefäße.
TOUGH, ROUGH, LOVE
A room that looks like it has been carved with a chisel. With a row of kitchen units, as robust as they are elegant. Fronts in oak graphite grey combined with furnishings lacquered in cobalt green. And everything is optimised for full functionality. The stove with rotating knobs, the ceramic worktop and the back-lit 'Frame' shelf system behind – complete with a pro chef's best friends: a selection of spices, razor-sharp knives, fine glassware and receptacles.
80 nx640 + nx510
81 nx640 + nx510
ICONS 4
82 TROLLEY
THE
DER TROLLEY
The trolley
EIN MÖBEL AUF REISEN: Natürlich ist der BarTrolley die geborene Küchenhilfe, etwa im Pas de deux mit unserem Kochtisch. Doch genauso zu Hause fühlt er sich im Homeoffice. Oder in der Bastelwerkstatt. Oder als Servierhilfe im Essbereich. Oder, oder, oder. Der praktische Trolley macht in jeder Situation und überall eine gute Figur. Denn seine vier parkettfreundlichen Rollen, die einen Korpus aus onyxschwarzem Metall mit Tablaren in Eiche Natur tragen, machen ihn zu einem selbstbewussten Statement gleitender Eleganz. So ist er immer dort, wo er von Nutzen ist. Ein stummer Diener, der aber ganz schön umtriebig sein kann. Ein Möbel mit Ecken und Kanten, sprich: einer Griffleiste und einer Fläche zum Anrichten und Vorbereiten. Mit Stauraum für alles, was nicht griffbereit sein muss, jedoch immer wieder einmal zur Hand. Ein Individualist, inspiriert von der Formensprache der next 125 Familie.
FURNITURE ON THE MOVE: The bar trolley is of course a born kitchen aid, as if in a pas de deux with our cooking table. But it belongs just as much in the home office. Or in a craft studio. Or as a serving aid in the dining room. The list goes on. The practical trolley cuts a fine figure in any situation, anywhere. Its four parquet-friendly castors, supporting an onyx black metal frame and natural oak shelves, make it a self-assured statement piece with gliding elegance. So it's always there when you need it. A silent (yet diligent) waiter. An edgy piece with its grip ledge and space for presenting and preparing, as well as storage for everything that doesn't need to be at hand, yet still within reach. An individualist, inspired by the next125 family's design language.
–
next 125 Trolley – links Onyxschwarz next 125 Trolley – left Onyx black 83 AUTHENTIC KITCHEN
The Icons
84 AUTHENTIC KITCHEN
Vom Leben auf dem Land DIE NATURSCHÖNE –Life in the country THE NATURAL BEAUTY 85 nx870 + nx620
AUG IN AUG MIT DER NATUR
DRAUSSEN DIE UNBÄNDIGE NATUR, SATTES GRÜN, WOHIN DAS AUGE REICHT. Durch die großflächige Fensterfront darf sie auch ungehindert nach innen strömen, wo sie, visuell gefiltert und gerahmt, sozusagen als erdiges, von Menschenhand gemachtes Möbel, gespiegelt wird. Bis unter den Sturz baut sich der Raumteiler auf, der vor allem ein Bücherregal ist. In seiner Verlängerung: Eine Kochinsel, die in ihrer mokkabraunen Oberfläche maximal pur und ursprünglich wirkt; fast schon wie ein Stück Braunkohle. Und auch die Zeile, eine architektonisch geformte Hochschrank-Einheit, macht mit ihren Fronten aus Nussbaum natur Anleihen bei der Natur. Auch, weil die Systemo Oberflächen der Rückwand aussehen, als habe sie fließendes Gewässer in Tausenden von Jahren weichgespült. Apropos: Sämtliche Geräte nehmen sich in ihrer reduzierten Formensprache angenehm zurück, werden förmlich eins mit den sorgsam im Raum platzierten Küchenmodulen. In Erinnerung bleibt eine modern interpretierte Feuerstelle, die sich mit ursprünglichen Farben und Materialien umgibt. Und die Küche damit umso naturwüchsiger und harmoni scher erscheinen lässt.
Die Details
nx870
Vollkernfront SensiQ feinmatt AFP, Rahmen onyxschwarz V492F SensiQ mokkabraun feinmatt AFP nx620 Holzfront F685 Nussbaum natur Systemo Arbeitsplatte und Umfeld K492F SensiQ mokkabraun feinmatt AFP C2240 Travertin dunkel matt Nachbildung
The Details
nx870
Solid core front SensiQ fine matt AFP, frame onyx black V492F SensiQ mocha brown fine matt AFP nx620 Wood front F685 Natural walnut Systemo Worktop and design K492F SensiQ mocha brown fine matt AFP C2240 Travertine dark matt effect
FACE TO FACE WITH NATURE
OUTSIDE, UNRULY NATURE AND LUSH GREENERY AS FAR AS THE EYE CAN SEE. It flows, unobstructed, through the large windows and into the kitchen, where, visually filtered and framed, it is mirrored by the earthy, handmade furniture. A bookshelf stretching from the floor to the lintel serves as a partition. Out of it protrudes a kitchen island, ultra pure and primal with its mocha brown surfaces, like a piece of brown coal. Even the row of architectural tall units are inspired by nature, with their natural walnut fronts and the coated Systemo surface on the back panel, which looks like it has been softened by flowing water over thousands of years. The minimalist appliances are pleasantly restrained, becoming one with the carefully positioned kitchen units. It's like a modern take on a fireplace, surrounded by natural colours and materials that give the kitchen an even more harmonious look.
86 nx870 + nx620
87 nx870 + nx620
88 AUTHENTIC KITCHEN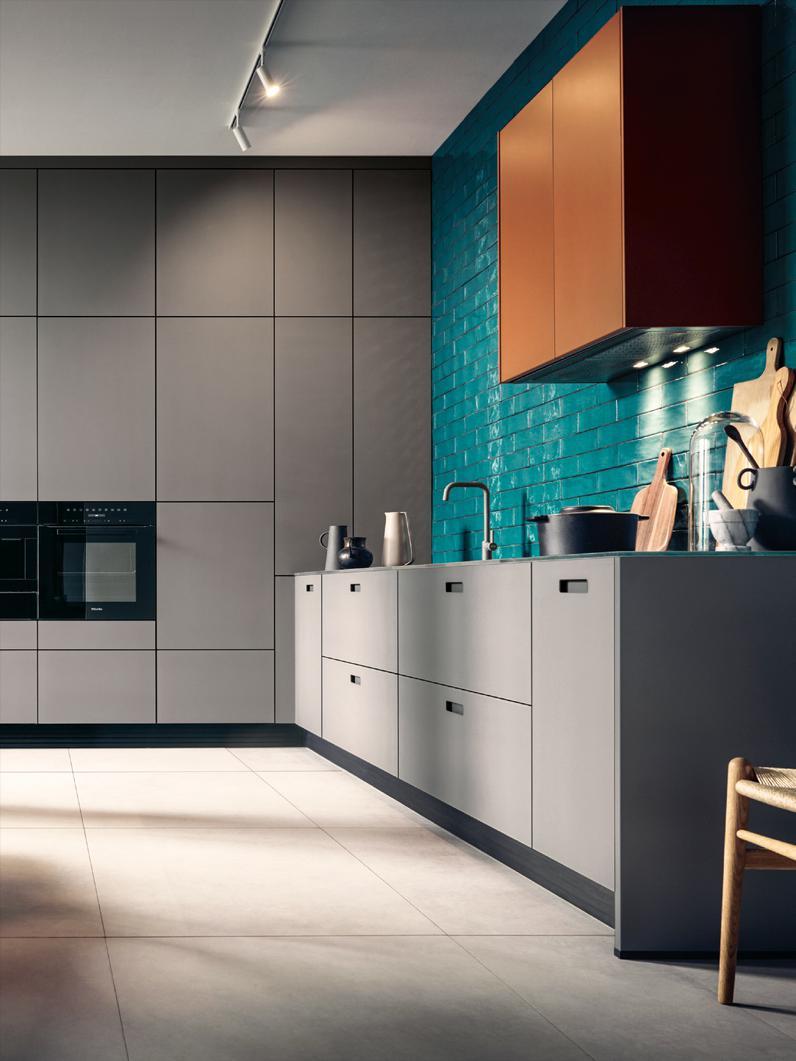 Raum zum Atmen DIE LUFTIGE –Room to breathe THE AIRY 89 nx912 + nx505
GRÖSSER ALS DIE ALTE. Das Projekt entwickelte eine Eigendynamik. Am Ende war die Wand zum Essbereich weg und ein großzügiger Raum entstanden, der vieles vereint: kochen, genießen, gemütlich beisammensitzen; ein Tummelplatz für das Paar und seine Gäste. Was auch mit dem ungewöhnlichen wie gekonnten Stilmix zu tun hat. Blaugrüne Wandkacheln, inspiriert von chinesischen Teppichen und Keramiken der Kanton Region, kontrastiert von einem Oberschrank in Cognac satin. Den stilistischen Bogen zum eher wohnlichen Bereich mit Gaskamin, Bücherwand und einer skandinavischen Sitzgruppe spannt die achatgraue Zeile in Glas matt nebst raumhoch geplanten Schrankelementen. Ihre grifflose Ausführung macht sie zum ästhetischen Vergnügen; zudem offenbart sich hinter dem streng geometrisch verlaufenden Fugenbild ein wahres Stauraumwunder. Für das Paar eine Wohltat mit perfekt organisierten, ergonomischen Arbeitsabläufen.
Die Details
nx912
Glasfront matt, Rahmen onyxschwarz G277 Glas matt achatgrau nx505 Satinlack-Front L405 Cognac satin Systemo Arbeitsplatte G277A Glas matt achatgrau AS
OUT WITH THE OLD, IN WITH THE NEXT125
MEET EVA AND GEORGE WHO LOOKED AT EACH OTHER ONE EVENING AND THOUGHT: WE NEED A CHANGE OF SCENERY, A NEW, BIGGER KITCHEN. The project really took off. By the end, the dining room wall was gone, making way for a large, multi-functional space for cooking, dining, lounging and spending time together as a couple and with guests, thanks, in part, to an unusual, yet skilful mix of styles.
Turquoise wall tiles, inspired by Chinese rugs and ceramics from Canton Province, contrast the wall unit in cognac satin. The agate grey units in glass matt and ceiling-high cupboard elements create a stylistic link to the cosy living area with its gas fireplace, bookcase and Scandinavian table and chairs. The units, with their aesthetically pleasing handleless design and strong geometric joint pattern, provide ample storage space. For the couple, everyday tasks are a delight in this perfectly organised, ergonomic environment.
The Details
nx912
Glass front matt, frame onyx black G277 Glass matt agate grey nx505 Satin lacquer front L405 Cognac satin Systemo Worktop G277A Glass matt agate grey AS
AUS ALT MACH' next 125
90 nx912 + nx505
ZUM BEISPIEL EVA UND GEORGE, DIE SICH EINES ABENDS ANSCHAUTEN UND DASSELBE DACHTEN: EIN TAPETENWECHSEL MÜSSE HER, EINE NEUE KÜCHE,
91 nx912 + nx505
Die Details nx510 Samtmatt-Lackfront L277M Achatgrau samtmatt AFP L092M Kristallweiß samtmatt AFP Systemo Arbeitsplatte und Umfeld C2750 Marmor bianco Nachbildung The Details nx510 Matt velvet lacquer front L277M Agate grey matt velvet AFP L092M Crystal white matt velvet AFP Systemo Worktop and Design C2750 Marble bianco effect 92 AUTHENTIC KITCHEN
Über den Dächern
DIE KOMPAKTE –
From the rooftops THE COMPACT
93
nx510
Die Details
nx950
Ceramicfront, Rahmen edelstahlfarben C2765 Ceramic Marmor grigio Nachbildung nx912
Glasfront matt, Rahmen onyxschwarz G187 Glas matt onyxschwarz Systemo Arbeitsplatte und Umfeld C2760 Marmor grigio Nachbildung
The Details
nx950
Ceramic front, frame stainless steel coloured C2765 Ceramic marble grigio effect nx912
Glasfront matt, Frame onyx black G187 Glass matt onyx black Systemo Worktop and design C2760 Marble grigio effect
94 AUTHENTIC KITCHEN
Küchen-Party mit Stil DIE INDUSTRIELLE –A classy kitchen party THE INDUSTRIAL 95 nx950 + nx912
DIE
Ein Bungalow zum Verlieben
96 nx670
VIELSCHICHTIGE –The bungalow you'll fall in love with THE ECLECTIC
97 AUTHENTIC KITCHEN
nx 670 98 PORTRAIT
nx670
VOLL AUF LINIE, ABER UNANGEPASST
–
Contemporary, but unconventional
Die Details
nx670
Holzfront mit vertikalen Rillen F628 Eiche elegant bianco hell Systemo Arbeitsplatte und Umfeld C2260 Marmor Dolomiti Nachbildung
The Details
nx670 Wood front with vertical gooving F628 Elegant light oak bianco Systemo Worktop and Design C2260 Marble Dolomiti effect
ZUM BEISPIEL STEPHANE UND CELINE, DIE EINE SCHWÄCHE FÜR ARCHITEKTENHÄUSER HABEN. Und für gutes Essen. Als das Objekt zum Kauf stand, stand auch die Frage nach der richtigen Küche im Raum. Eine, die es mit dem speziellen Zuschnitt des Bungalows aufnimmt. Die das Handwerk ehrt und es mit Technik verbündet. Die Charakter hat, bewusst mit Gegensätzen spielt – und eine in Haptik, Materialität und Form von allen klassischen Regeln befreite Schöpferkraft freisetzt; schon in der Planung, vor allem jedoch in der täglichen Nutzung. Noch immer fühlt es sich für die beiden an wie frisch verliebt, wenn sie in ihrer Küche werken; das Auge fasziniert über die vertikale Rillenfront in Eiche elegant bianco hell streift, sich an der Äderung des in Schwarz- und Brauntönen schillernden Marmordekors weidet, das Arbeitsplatte, Rückwand und Insel ziert – und in Wahrheit Ceramic ist. Typisch next 125, Ästhetik und Funktion unter einen Hut zu bringen. Denn das aus der Labortechnik entlehnte Material ist hart im Nehmen und lässt sich filigran verarbeiten. Entstanden ist ein Kunstwerk von hohem Gebrauchswert.
MEET STEPHANE AND CELINE, WHO HAVE A SOFT SPOT FOR ARCHITECTURAL HOUSES. And good food. So when the property came on the market, there was the question of finding the right kitchen. One that could accommodate the bungalow's unique floor plan. That celebrated craftsmanship and combined it with technology. That had character, played deliberately with contrasts and unleashed a creative power free from the traditional rules of texture, materiality and form, in its design but above all in everyday use. For the couple, using the kitchen still feels like falling in love for the first time; the eye, mesmerised, sweeps over the vertical grooved fronts in elegant light oak bianco, feasting on the veining the iridescent black and brown marble effect of the worktops, back panel and island – which is, in fact, ceramic. Quintessentially next125, it unites aesthetics and function. The material, used in laboratory technology, is hard-wearing and can be elegantly processed. The result is a highly practical work of art.
99 PORTRAIT
100 nx670
FREIHEIT BEIM KOCHEN
Gradlinigkeit in der Gestaltung und ungezählte Möglichkeiten in der Umsetzung gehen bei uns immer Hand in Hand. Außergewöhnliche Oberflächen mit einer außergewöhnliche Haptik runden die Küche ab.
FLEXIBILITY IN THE KITCHEN
Simple design and countless execution options always go hand in hand at next125. Exceptional surfaces with unique textures round the kitchen off.
101 nx670
MATERIALIEN
EIN AUGENSCHMAUS! Wenn Arbeitsplatten und Fronten das Gesicht der Küche sind, dann sind die Materialien seine mimischen Facetten. Ob Glas, glänzend oder matt, hochverdichtetes Ceramic, gebeizte Rahmen- oder Rillenoptik, markante Holzfurniere oder auch feinmatter Schichtstoff – sie definieren die Ausstrahlung einer Küche. Und erzählen von der Stimmung des Raums. Ganz ohne Worte.
A FEAST FOR THE EYES! If worktops and fronts are the face of the kitchen, the materials are its facial expressions. Whether glass, glossy or matt, high-density ceramic, striking wood veneers, fine matt laminate, or with a stained frame or grooved look, materials lend the kitchen its charisma and personality and set the mood of the entire room – no words necessary.
MATERIALS
102 THE ESSENTIALS
WORKSHOP
Melanie Zechmeister dasmundwerk.at
FRAGEN 12 5 QUESTIONS
103 CREATIVE MAKERS
QUESTIONS
WAS ES ZUM LEBEN BRAUCHT
#1 – WELCHE ROLLE SPIELT DIE KÜCHE FÜR DICH ALS FOODBLOGGERIN? Sie ist Zentrum des Geschehens, wo meine Familie und ich mehrmals am Tag zusammenkommen. Das ist ein schönes, buntes Miteinander zum Kochen und Diskutieren, zum Besprechen und Mitarbeiten.
#2 – WELCHE DREI WORTE BESCHREIBEN DEINEN WOHNSTIL AM BESTEN? Einladend, natürlich und authentisch.
#3 – HOLZ SPIELT IN DEINEM ZUHAUSE EINE WICHTIGE ROLLE, WARUM? Das ist eine Lebensphilosophie. Wir wollten was Massives, außerdem haben wir Weingärten, und das Haus sollte auf Augenhöhe mit der Natur sein.
#4 – WIE FINDET MAN DAS MATERIAL, DAS ZU EINEM PASST? Es geht um ein stimmiges Gesamtbild. Mein Haus ist innen mit Lehm verputzt, und ich dachte: Ok, Lehm, Stein, Holz – das sind so die Grundelemente, das ist das Natürlichste, was es gibt. Und das ist das, was ich in meinem Zuhause haben will.
#5 – WAS WAR DIE GRÖSSTE HERAUSFORDERUNG BEI DER KÜCHENPLANUNG? Wir haben rund um die Küche sehr viel Holz, einen Holzboden und einen offenen Dachstuhl aus Weißtanne. Die Challenge war also, für die Küche ein Holzfurnier zu finden, das nicht mit den anderen Holzarten konkurriert, sondern harmoniert. Zumal die Küche sockellos ist und direkt am Boden aufsitzt. Und dann wollten wir auch noch den Blick durch die Fenster erhalten.
#6 – STAURAUM IST GOLD WERT, WAS GILT ES HIER IN DER KÜCHE ZU BEACHTEN? Immer genügend einplanen, zumal wir keinen Keller haben. Aber mit der Kochinsel und ihren Schubladen ringsum kriegt man extrem viel rein.
#7 – WARUM HAST DU DICH FÜR EINE OFFENE KÜCHE ENTSCHIEDEN? Das war mir ganz wichtig, weil dort alles passiert. Das Haus wurde sozusagen um Küche und Wohnbereich herum gebaut (lacht).
#8 – WIE GELINGT EIN REDUZIERTES UND DOCH WOHNLICHES DESIGN MIT CHARAKTER? Bei mir stehen immer Blumen oder Pflanzen da. Und ich mag irrsinnig gerne dekorative, selbstgestaltete Objekte im Regal. Auch deshalb habe ich auf Oberschränke verzichtet. Offene Bereiche bringen Leben in die Küche.
#9 – WAS TUN, WENN ICH MIR DORT NOCH MEHR PERSÖNLICHKEIT WÜNSCHE? Schwarze Griffe etwa, passend zu den Elektrogeräten. Sie setzen sich von Wänden und Holzfronten ab, wie ein Fluss in einer Schneelandschaft.
#10 – INWIEFERN IST NACHHALTIGKEIT EIN THEMA IN DEINER KÜCHE? Indem ich auf eine gut verarbeitete Küche geschaut habe, die lang hält. Lieber verändere ich mit der Zeit mal die Griffe oder rüste hier und dort nach.
#11 – WAS RÄTST DU JEMANDEM, DER GERADE SEINE KÜCHE PLANT? Sich Zeit nehmen, mit anderen Menschen über ihre Erfahrungen sprechen. Und auf einen Küchenplaner seines Vertrauens setzen.
#12 – WEISST DU NOCH, WAS ES AM ERSTEN TAG IN DEINER NEUEN KÜCHE GAB? Eine Pasta mit getrockneten Paradeisern, Oliven und frischen Kräutern, dazu einen Frizzante von der blaufränkischen Traube aus eigenem Anbau.
Eine Küche sollte unbedingt ... … zu einem passen. Das ist ein ganz wichtiger Punkt: Dass man sich da immer wohlfühlt, sich wie zu Hause fühlt, und sie immer wieder aufs Neue gerne nutzt. Mit anderen Worten: Sie muss für das eigene Leben stehen.
UND WAS UNS NOCH INTERESSIERT ...
Melanie Zechmeister
12 5 FRAGEN
104 CREATIVE MAKERS
Melanie Zechmeister
WHAT IT TAKES TO LIVE
#1 – WHAT ROLE DOES THE KITCHEN PLAY FOR YOU AS A FOOD BLOGGER? It's the heart of the action, where my family and I gather several times a day. A place of beautiful and vibrant coexistence for cooking, sharing, talking and working together.
#2 – WHAT THREE WORDS BEST DESCRIBE YOUR INTERIOR DESIGN STYLE? Inviting, natural and authentic.
#3 – WOOD PLAYS AN IMPORTANT ROLE IN YOUR HOME. WHY IS THAT? It's a way of life. We wanted something solid. We also have a vineyard, so we wanted the house to be at one with nature.
#4 – HOW DO YOU FIND A MATERIAL THAT SUITS YOU? The overall look has to be coherent. My house is plastered with clay, so I thought, "Okay, clay, stone, wood – those are the basic components and the most natural materials available. And that is what I want in my home".
#5 – WHAT WAS THE BIGGEST CHALLENGE WHEN DESIGNING YOUR KITCHEN? We have a lot of wood around the kitchen, with a wooden floor and an open roof truss made of silver fir. So the challenge was finding a wood veneer for the kitchen that would go with the other types of wood, rather than competing with them. And the kitchen doesn't have any plinths; it sits directly on the ground. We also wanted to keep the view through the windows
#6 – STORAGE IS PRICELESS. WHAT SHOULD YOU KEEP IN MIND IN THE KITCHEN? Careful planning, especially as we don't have a basement. But you can fit a lot in the kitchen island and the drawers around it.
#7 – WHY DID YOU OPT FOR AN OPEN-PLAN KITCHEN? It was really important to me as everything happens there. The house was basically built around the kitchen and living area (laughs).
#8 – HOW DO YOU ACHIEVE A MINIMALIST YET HOMELY DESIGN WITH CHARACTER? I always have flowers and plants around the place. And I really love having decorative, personal objects on the shelves. That's why I didn't choose to have wall units. Open areas bring the kitchen alive.
#9 – HOW CAN I ADD MORE PERSONALITY TO MY KITCHEN? Black handles, perhaps, that match the appliances. They contrast with walls and wood fronts, like a river in a snowy landscape.
#10 – HOW DOES SUSTAINABILITY COME INTO YOUR KITCHEN? I looked for a well-made kitchen that will last a long time. Over time, I like to change handles and upgrade things here and there.
#11 – WHAT ADVICE WOULD YOU GIVE SOMEONE DESIGNING A KITCHEN? Take your time, talk to other people about their experiences and use a kitchen designer you trust.
#12 – CAN YOU REMEMBER THE FIRST THING YOU MADE IN YOUR NEW KITCHEN? Pasta with sun-dried tomatoes, olives and fresh herbs, and a sparkling wine with Blaufränkisch grapes from our own vineyard.
WE'D ALSO LIKE TO KNOW...
A kitchen should absolutely... … suit you. It's really important to always feel comfortable and at home there and enjoy using it over and over again. In other words, it needs to reflect your life.
FRAGEN QUESTIONS 12 5 105 CREATIVE MAKERS
Im rechten Licht DIE UNBESCHWERTE –In the right light THE CAREFREE 106 nx510
107 AUTHENTIC KITCHEN
nx 510 108 PORTRAIT
nx510
IM DSCHUNGEL DER GEFÜHLE
In the jungle of emotion
Die Details
nx510
Samtmatt-Lackfront
L292M Indischrot samtmatt AFP L142M Kobaltgrün samtmatt AFP L397M Olivgelb samtmatt AFP
Systemo Arbeitsplatte
K292F SensiQ indischrot feinmatt AFP K142F SensiQ kobaltgrün feinmatt AFP
ZUM BEISPIEL POONAM, DIE ALS STYLISTIN FÜR IHRE KLIENTEN RUND UM DEN ERDBALL REIST. Verständlich, dass der Wunsch nach einem Fixpunkt mit der Zeit immer größer wurde. Wie aber könnte eine Oase der Ruhe aussehen, wenn man nicht ständig aus dem Koffer leben möchte? Ganz einfach: Man holt sich den Duft der weiten Welt einfach nach Hause. Im Mittelpunkt steht eine next 125 in den Primärfarben Indischrot, Kobaltgrün und Olivgelb, welche die verschiedenen Funktionsbereiche des Küchenensembles betonen. So finden im Unterschrank Wasseraufbereitungssysteme ihren Platz; das Regal mit Schiebetür bietet Stauraum der dezenten Art. Und hinter den Zügen und Schüben ist das Besteck – in haptisch ansprechendem Formvlies gebettet – bestens aufgehoben. So fühlt sich auch Poonam, die trotz der stolzen Maße ihre neue Küche als schwebeleicht empfindet; auch dank des Alu-Systemgestells und der zurückhaltenden Griffschalen. Formsprache, Farbgebung – lobende Worte für ihr visuelles Statement ist die Stylistin mittlerweile gewohnt. Vor allem, wie sehr die Küche modernste Funktionsabläufe und gestalterische Highlights vereint.
The Details
nx510 Matt velvet lacquer front
L292M Indian red matt velvet AFP L142M Cobalt green matt velvet AFP L397M Olive yellow matt velvet AFP
Systemo Worktop
K292F SensiQ Indian red fine matt AFP K142F SensiQ cobalt green fine matt AFP
MEET POONAM, A STYLIST WHO TRAVELS THE GLOBE FOR HER CLIENTS. It's understandable that her desire for a base grew greater and greater over time. But what would such a haven look like to someone who doesn't want to live out of a suitcase all the time? It's simple: bring the big wide world into your home. The focal point is a next125 kitchen in primary colours Indian red, cobalt green and olive yellow, which highlight the various functional areas of the kitchen ensemble. Water treatment systems are tucked away in the base unit; the shelf with a sliding door provides discreet storage space. And in the pull-outs and drawers, the kitchen utensils –nestled against moulded non-woven material that is pleasant to the touch – are right at home. And that's how Poonam feels as well in her new kitchen. It's a dream to use despite its indulgent proportions, thanks to the aluminium system frame and inconspicuous recessed handles. "Design language", "colour scheme" – the stylist is used to hearing words of praise for her visual statement, especially how the kitchen successfully combines modern function with design highlights.
–
109 PORTRAIT
110 nx510
OASE
OASIS 111 nx510
112 AUTHENTIC KITCHEN
Stadl statt Stadt DIE GRENZGÄNGERIN –Swapping city life for barn life THE BORDER CROSSER 113 nx870 + nx650
CHARMANTE ERSCHEINUNG
Bestes Beispiel: eine Hütte im Nirgendwo, das ideale Refugium für ein gepflegtes Wochenende unter Freunden. Der Charme des Urwüchsigen und Verwitterten bleibt erhalten, während die Küche sich wie ein maßgefertigtes Bühnenbild vor das historische Setting schiebt – ein Akt gelungener innenarchitektonischer Fusion. Das hölzerne Grundgerüst aus dem 16. Jahrhundert zeigt sich lebendiger denn je. Und das next 125 Ensemble, bestehend aus Kochtisch, Hochschrankzeile, Anrichte und Wandpaneel, darf seine ganzen charakterlichen Eigenschaften an den Tag legen. Onyxschwarz feinmatt beschichtete Oberflächen und Furniere aus geräucherter und gebürsteter Lärche feiern das rustikale Lokalkolorit und zeugen von einem gelungenen Beispiel, wie alt und neu geschickt ineinander aufgehen. Kombiniert mit der Bestückung aus Geräten, Armaturen und den rückwärtig eingehängten Küchenhelfern der Cube Serie ergibt sich ein harmonisches Raumgefühl, das erscheint wie über die Jahre gewachsen.
Die Details
nx870
Vollkernfront SensiQ feinmatt AFP, Rahmen onyxschwarz V187F SensiQ onyxschwarz feinmatt AFP nx650 Holzfront F600 Lärche geräuchert gebürstet Systemo Arbeitsplatte und Umfeld K187F SensiQ onyxschwarz feinmatt AFP L187M Onyxschwarz samtmatt AFP
A CHARMING LOOK
PEOPLE HAVE A LOT TO SAY ABOUT NEXT125 KITCHENS; THAT THEY'RE PLEASANT, STRIKING AND TIMELESS. And this one's a shining example: a hut in the middle of nowhere, the ideal retreat for a self-care weekend with friends. The primitive, weather-beaten charm has been retained, while the kitchen stands out like a tailor-made theatre set against its historical backdrop – a successful interior design fusion. The 16th century timber framework appears more alive than ever. And the next125 ensemble, comprising a cooking table, tall unit, sideboard and wall panel, brings out all its character. Onyx black fine matt coated surfaces and veneer made of smoked and brushed larch celebrate the rustic hues and are a fine example of how old and new can be skilfully merged. The combination of appliances, taps and wallmounted kitchen utensils from the cube series gives the space a harmonious feel, as if it's developed organically over years.
The Details
nx870
Solid core front SensiQ fine matt AFP, frame onyx black V187F SensiQ onyx black fine matt AFP nx650 Wood front F600 Larch smoked, brushed Systemo Worktop and design K187F SensiQ onyx black fine matt AFP L187M Onyx black matt velvet AFP
114 nx870 + nx650
MAN SAGT EINER NEXT 125 VIELES NACH: DASS SIE GEFÄLLT, DASS SIE AUFFÄLLT, DASS SIE NIE AUS DER ZEIT FÄLLT.
115 nx870 + nx650
5
116 COOKING TABLE
ICONS
THE
DER KOCHTISCH
The cooking table
BITTE ZU TISCH – WER KÖNNTE DER AUFFORDERUNG WIDERSTEHEN ANGESICHTS DIESES SOLITÄRS? DER KOCHTISCH IST DIE VERSCHLANKTE FORM DER KOCHINSEL. Er bricht mit der starren Funktionsteilung von Arbeit und Freizeit. Als Animateur in eigener Sache lädt er zur Teilhabe am Geschehen, das sich nicht auf Kulinarisches beschränkt. In seiner Natur als multifunktionales Möbel liegt es, Menschen um sich zu versammeln, die sich sowohl auf die Kunst der Essensgänge als auch auf jene des Müßiggangs verstehen. So hat der Kochtisch das Zeug, zum Stammtisch für Familienmitglieder und deren Freunde zu werden: von Profi- und Hobbyköchen, von Liebhabern und Genießern, von Jung und Alt. Die Möglichkeit, ihn stehend und sitzend zu bespielen, zeigt seine Nutzungsvielfalt und stärkt die Aufenthaltsqualität. Ein filigranes Stück – selbst dann, wenn er mit Unterbauschrank, Hightech-Kochfeld, Dunstesse oder Muldenlüfter komplett ausgestattet ist.
DINNER'S SERVED! AND WHO COULD RESIST THE PULL OF THIS STANDALONE UNIT? THE COOKING TABLE, A STREAMLINED VERSION OF OUR KITCHEN ISLAND. It breaks away from the rigid functional separation of work and free time. A host in its own right, it invites you into the heart of the action, and we don't just mean cooking. As a multifunctional piece, it naturally attracts those who know a thing or two about the art of dining and leisure. The cooking table has what it takes to become the hub of the home for family and friends, whether pro or amateur chefs, foodies or connoisseurs, young or old. It can be used while standing or sitting, offering a variety of uses and creating a pleasant environment. An elegant piece – even when it's fully equipped with a base unit, high-tech hobs, extractor hood or downdraft extractor.
–
next 125 Kochtisch – links F685 Nussbaum natur, K187F SensiQ onyxschwarz feinmatt AFP next 125 Cooking Table – left F685 Natural walnut, K187F SensiQ onyx black fine matt AFP 117 COOKING TABLE The Icons
DER SOLOKÜNSTLER
Pure joy THE SOLOIST
Ein puristisches Vergnügen
118 nx510
–
Die Details nx510 Samtmatt-Lackfront L092M Kristallweiß samtmatt AFP Kochtisch F729 Asteiche bianco hell glatt Systemo Arbeitsplatte Q1340 Blanco Zeus matt
The Details nx510 Matt velvet lacquer front L092M Crystal white matt velvet AFP Cooking table F729 Light knotty oak bianco, smooth Systemo Worktop Q1340 Blanco Zeus matt
119 AUTHENTIC KITCHEN
120 AUTHENTIC KITCHEN
Ein Case Study House neu interpretiert DIE EXPERIMENTELLE –A new take on a Case Study House THE EXPERIMENTAL 121 nx960 + nx620
Die Details
nx960 Ceramicfront, Rahmen onyxschwarz C2775 Ceramic Marmor nero Nachbildung nx620 Holzfront F685 Nussbaum natur Systemo Arbeitsplatte und Umfeld C2770 Marmor nero Nachbildung H689 Nussbaum natur geölt
The Details
nx960 Ceramic front, frame onyx black C2775 Ceramic marble nero effect nx620 Wood front F685 Natural walnut Systemo Worktop and design C2770 Marble nero effect H689 Natural walnut, oiled
122 nx960 + nx620
WER WAGT, GEWINNT
Eine Küche ist auch ein Experimentierfeld. Etwa, wenn dunkle Fronten in Ceramic Marmor nero Nachbildung auf warmes Nussbaumholz treffen. Eine wandhängende Unterschrankzeile mit einem schwebenden und hinterleuchteten Wandregal interagiert. Oder eine markante Arbeitsplatte und Nische mit filigranen Nischenprofilen für das Ordnungsprinzip next 125 Cube in Verbindung tritt. Individuell und einzigartig kombiniert.
WHO DARES WINS
A kitchen is also a place for experimentation, when dark fronts in ceramic marble nero effect meet warm walnut, when wallmounted base units are enhanced by a floating, backlit shelf, or when a striking worktop and filigree recess profiles come together to form the next125 Cube principle of order. Individual and unique combinations.
123 nx960 + nx620
124 CREATIVE MAKERS
MAKE
DESIGN  STORY ECHT! –AUTHENTIC! 125 CREATIVE MAKERS
DIE INDUSTRIELLE EVOLUTION
ANFANGS HABEN SIE AN ANDERE GEDACHT. Haben angefertigt, was der Markt von einer aufstrebenden Schreinerei eben verlangt. Doch irgendwann war das Verlangen größer, als nur Küchenbuffets in Lizenz herzustellen, oder später Einbauküchen. Sie hatten einen Traum, hier in Herrieden, das nicht gerade als Epizentrum der Küchenindustrie gilt. Gut, Palo Alto sieht man auch nicht an, dass dort an der Zukunft des Internets gearbeitet wird – und so machten sie sich in der fränkischen Kleinstadt daran, das nächste große Ding zu entwerfen.
EINE KÜCHE,
next 125
12,5 ZENTIMETERN STEHEN. Eine Rasterküche also, mit der Schüller sein Terrain um Premium erweiterte und damit in der Branche ein mittleres Beben auslöste. Weil next 125 eine nie gekannte Vielfalt in der Planung von Korpushöhen, -tiefen und -breiten ermöglicht, dazu eine reiche Auswahl authentischer Materialien. Das alles geformt zu hochfunktionalen und dabei ansprechenden Küchen, ergänzt um lifestylige Möbel, mit denen nicht zuletzt die Entgrenzung der Küche und ihre Einbeziehung in den Wohnbereich vorangetrieben wird. So erscheint mit der jungen Marke next 125 der Raum, in dem das Herz der eigenen vier Wände schlägt, plötzlich in einem völlig neuen Licht. "Wobei wir zunächst nie von einer Marke gesprochen haben", sagt Markus Schüller, der Geschäftsführer, "sondern nur von Premium, von einem anderen Marktsegment, anderen Handelsstrukturen und anderen Zielgruppen." Und Thomas Pfister, Head of Design, ergänzt: "Gesetzt war nur die Rasterlogik." Die Küche sollte sich gut im Raum integrieren und kombinieren lassen und technisch ganz vorne mitspielen. "Mit der Vorgabe, formvollendete Unikate in Serie fertigen zu können."
Form follows function
Die Form unserer Küchen und Möbel folgt ihrer Funktion. Es ist eine nutzwertige Funktion, immer am Leben der Menschen orientiert. Ziel ist das Streben nach einer funktionalen Ästhetik, die die Küche zu einem langlebigen Gebrauchsgut macht, mit dem man sich täglich gerne umgibt. Alles, was eine next 125 auszeichnet, folgt einer klaren Linie: die Reduktion aufs Wesentliche, eine zeitlose Gestaltung, die wir von ihrer Produzierbarkeit her denken und die untrennbar mit der Emotion des Authentischen verbunden ist. So treiben wir, ganz im Geiste des Bauhaus, die Demokratisierung des Designs voran.
entpuppt sich dabei als Standortvorteil. Im Weinbau spricht man von autochthon, also Rebsorten, die unabhängig von äußeren Einflüssen in ihrem eigenen Terroir – und nur dort – gedeihen, sich dort in Ruhe entwickeln dürfen. Gepaart mit der Leidenschaft, etwas nachhaltig auf- und auszubauen, führt das letztlich zu eigenständigen Produkten – zumal ein reiferer Wein besser schmeckt. Die Rückbesinnung auf die eigenen Werte war ein weiterer Glücksfall. Das Authentische, diese Bodenhaftung, und trotzdem offen im Denken und Tun, zeichnet den Menschenschlag hier aus. Über 2.000 Mitarbeiter bauen rund 165.000 Küchen im Jahr, ein Drittel davon für den internationalen Markt. "Wir sind ein bisschen gewachsen – und uns dabei treu geblieben", sagen sie hier. "Ohne angegliederte Zulieferer haben wir sehr viel in die Wertschöpfung des eigenen Unternehmens gesteckt", sagt Markus Schüller. Das führe zu einer hohen Fertigungstiefe. Fast alles werde vor Ort gesteuert und produziert. Auch ein ausgeprägter Sinn für Kreativität konnte sich so, weit weg vom Wettbewerb, entwickeln.
DASS
MIT DEM ERFOLG KAM DAS MARKENBEWUSSTSEIN, DAS "MARKENSELBSTBEWUSSTSEIN", WIE THOMAS PFISTER ES NENNT. Geblieben ist der Blick auf next 125, das kein elitäres Anschauungsobjekt sei, sondern sich immer an seinem Wert als Gebrauchsgut messen lassen müsse. "Aktuell", so Marketingleiterin Annette Schumacher, "bespielen wir unser Pocketsystem als Homeoffice-Lösung." Das allein zeige die Nutzungsflexibilität unserer Küchen. Allgemein gesprochen geht es um eine gute Balance zwischen dem künstlerischen Entwurf und der technischen Machbarkeit. Eine Synthese, die next 125 von der BauhausSchule entlehnt hat. "Im Grunde treiben wir mit unserer Küche die Demokratisierung des Designs voran", resümiert Annette Schumacher.
Kitchen Possible
BEZEICHNENDERWEISE
GENANNT, WOBEI DIE ZAHLEN FÜR DAS METRISCHE RASTERMASS VON
MAN DEN MARKT FERNAB DER GROSSSTADT VON HINTEN AUFROLLT,
126 CREATIVE MAKERS
THE INDUSTRIAL EVOLUTION
AT FIRST, THEY CAME UP WITH OTHER THINGS. They manufactured exactly what the market expected from an aspiring joiner's workshop. But eventually they wanted to do more than just produce kitchen sideboards, and later fitted kitchens, under licence. They had a dream, here in Herrieden, which wasn't exactly the epicentre of the kitchen industry. Then again, Palo Alto doesn't look like the kind of place that would be shaping the future of the internet – and so they set about developing the next big thing in the small Franconian town.
A KITCHEN, EMBLEMATICALLY NAMED NEXT125, WHERE THE NUMBER STANDS FOR THE METRIC GRID SIZE OF 12.5 CENTIMETRES. A grid system with which Schüller expanded his territory to premium kitchens and shook up the industry, as next125 offers unprecedented versatility when designing carcase heights, depths and widths, as well as a wide selection of authentic materials. Everything came together to create a highly functional, emotionally charged collection of kitchens, complemented by stylish furniture, which ultimately drives the dissolution of the kitchen boundaries and its integration into the living area. And with it, the young next125 brand suddenly showed the beating heart of the home in a completely new light. "At first we never talked about a brand," says CEO Markus Schüller. "We only talked about premium kitchens, a different market segment, different commercial structures and different target audiences." Thomas Pfister, Head of Design, adds, "The grid system was the only thing set in stone." The kitchen had to integrate well into the space, combine well with other features and be at the forefront of technology. "And we had to be able to mass-produce perfectly designed, one-of-a-kind pieces."
Form follows function
The shape and form of our kitchens and furniture are designed with function in mind – and their function is to serve people in their daily lives. The goal is to achieve a functional aesthetic that makes the kitchen a durable commodity that people enjoy being surrounded by every day. Everything that sets a next125 piece apart follows a clear line: reduction to the essentials and a timeless design that is based on producibility and inextricably linked to the emotion of authenticity. In this way, we're adhering to the Bauhaus philosophy and continuing to promote the democratisation of design.
THE FACT THAT NEXT125 IS REVOLUTIONISING THE MARKET FAR AWAY FROM THE BIG CITY has turned out to be a major advantage. In viticulture, people talk about native grape varieties flourishing in their own terroir – and only there – as they are able to grow in peace, unaffected by external influences. Paired with a passion for building and developing something sustainable, this ultimately leads to independent products – after all, wine tastes better with age. Returning to their own values was another stroke of luck. That down-to-earth, yet open-minded authenticity in everything they think and do is what sets the people at next125 apart. Over 2,000 employees build around 165,000 kitchens a year, a third of which is for the international market. "We have grown quite a bit – but we've stayed true to ourselves," they say. "We've invested a lot into bringing added-value to our own company without affiliated suppliers," says Markus Schüller. That has resulted in a high level of vertical integration. Nearly everything is managed and produced on site, and so a strong sense of creativity could develop, far away from the competition.
WITH SUCCESS CAME BRAND AWARENESS, OR "BRAND SELF-AWARENESS" AS THOMAS PFISTER PUTS IT. But the vision for next125 has stayed the same; it's not an elite showpiece, rather it should always be measured by its value as a commodity. "Today," says Head of Marketing Annette Schumacher. "We are designing our pocket system as a home office solution." That alone shows the flexibility of use of our kitchens. Generally speaking, it's about getting a good balance between artistic design and technical feasibility. It's a fusion that next125 has borrowed from the Bauhaus school of art. "We are essentially promoting the democratisation of design with our kitchens," concludes Annette Schumacher.
Kitchen Possible
127 CREATIVE MAKERS
CREATE
128 CREATIVE MAKERS
MADE IN GERMANY
Designed in Germany
FÜR DEN MADE-IN-COUNTRY-INDEX WERDEN VERBRAUCHER IN MEHR ALS 50 LÄNDERN GEFRAGT, WELCHE HERKUNFTSBEZEICHNUNG DIE GRÖSSTE WERTSCHÄTZUNG WELTWEIT GENIESSE. Made in Germany ist meist vorn, was Qualität, Erfindergeist, Ingenieurskunst und Sicherheit angeht. next 125 geht noch weiter: Made in Herrieden – entlang der ganzen Wertschöpfungskette. Ohne Anspruch auf Vollständigkeit: Pioniergeist und der Mut zur Innovation, Leidenschaft, Machen, Premium, Kunst, Technik, Produktion, Verwaltung, Logistik, Automatisierung, Prozesssteuerung, industrielle Highend-Fertigung, nachhaltiges Energiemanagement, vorausschauende Küchengestaltung: Was wir selbst machen können, machen wir selbst. Vielleicht sind wir auch mehr Made in Germany, weil unsere Küchen von den Ideen des Bauhauses inspiriert sind. Gestaltet im metrischen Rastermaß von 12,5 Zentimetern, das next 125 den Namen gegeben hat, entstehen bei uns Unikate in Serie. Sinnlich und schön, reduziert in der Form und optimiert im Gebrauch, langlebig und perfekt verarbeitet. Denn auch das ist next 125: so viel Funktion wie nötig, so viel Emotion wie möglich.
FOR THE MADE-IN-COUNTRY INDEX, USERS IN OVER 50 COUNTRIES WERE ASKED WHICH COUNTRY OF ORIGIN IS THE MOST RESPECTED WORLDWIDE. "Made in Germany" usually comes out on top when it comes to quality, ingenuity, engineering and safety. But next125 is taking it a step further: "Made in Herrieden" – along the entire value chain. The list is by no means exhaustive: a pioneering spirit and the courage to innovate, passion, making, premium, art, technology, production, management, logistics, automation, process control, highend industrial manufacturing, sustainable energy management, forward-thinking kitchen design. If we can do it ourselves, we will. And maybe we're even more "Made in Germany", as our kitchens are inspired by the Bauhaus philosophy. We mass-produce one-of-a-kind pieces designed according to the 12.5-centimetre metric grid size that gave next125 its name. Sensual and beautiful, minimalist in form and functionally optimised, long-lasting and perfectly crafted, because that's also what next125 is all about: as much function as necessary, as much emotion as possible.
–
129 AUTHENTIC KITCHEN
The Icons
130 AUTHENTIC KITCHEN
FLEXIBEL UND INDIVIDUELL. AUTHENTISCHE MATERIALIEN. QUALITÄT UND PERFEKTION MADE IN GERMANY. FLEXIBLE AND INDIVIDUAL. AUTHENTIC MATERIALS, QUALITY AND PERFECTION MADE IN GERMANY. FEATURES 131 AUTHENTIC KITCHEN
next125
Carcase designs
Korpushöhe 75 cm Carcase height 75 cm Sockelhöhen
5 cm, 7,5 cm, 10 cm, 12,5 cm, 15 cm, 17,5 cm und 20 cm
Plinth heights 5 cm, 7.5 cm, 10 cm, 12.5 cm, 15 cm, 17.5 cm and 20 cm
Korpushöhe 81,25 cm Carcase height 81.25 cm Sockelhöhen
5 cm, 7,5 cm, 10 cm, 12,5 cm, 15 cm, 17,5 cm und 20 cm
Plinth heights 5 cm, 7.5 cm, 10 cm, 12.5 cm, 15 cm, 17.5 cm and 20 cm
Korpushöhe 87,5 cm Carcase height 87.5 cm Sockelhöhen
5 cm, 7,5 cm, 10 cm, 12,5 cm, 15 cm, 17,5 cm und 20 cm
Plinth heights
5 cm, 7.5 cm, 10 cm, 12.5 cm, 15 cm, 17.5 cm and 20 cm
Wandhängend Wall-mounted
next 125 – DER NAME GEHT AUF DAS RASTERMASS VON 125 MM ZURÜCK. Eine Küche lebt durch maßgeschneiderte Planungen, die auf die Ergonomie des Menschen und die Architektur des Raumes abgestimmt sind. Zusätzlich zu den bestehenden Korpushöhen 75 cm und 87,5 cm sorgt das neue Maß 81,25 cm ab sofort für noch mehr Freiraum bei der Gestaltung. Erhältlich für Planungen mit Griffmulde und der Kombination aus Griffmulde und TIP-ON können dadurch noch mehr individuelle Ansprüche und räumliche Gegebenheiten gelöst werden. Durch das einheitliche Raster der Front bleibt das homogene Erscheinungsbild erhalten. Ob Ergonomie, Stauraum oder Optik: next 125 bietet für vielfältige Anforderungen die ideale Lösung.
next 125 – THE NAME IS BASED ON THE GRID SIZE OF 125 MM. Planning a kitchen calls for made-to-measure designs that are tailored to the ergonomics of its users and the architecture of the room. In addition to the existing carcase heights of 75 cm and 87.5 cm, our new 81.25 cm dimension now offers even more design freedom. Available for designs with grip ledges or a combination of grip ledge and TIP-ON, this new option makes it even easier to meet individual and spatial requirements. The homogeneous appearance is retained thanks to the uniform grid for the fronts. Whether in terms of ergonomics, storage space or visual appeal, the next125 system offers the perfect solution for the broadest range of requirements.
KORPUSAUSFÜHRUNGEN –
132 FEATURES
KÜCHEN UND AUSSTATTUNGEN
–
133 FEATURES
Kitchens and features
LINE
TIP-ON SINGLE LINE
with TIP-ON
Beispiel: Korpushöhe 87,5 cm Example: Carcase height 87.5 cm 134 FEATURES
Mit Griffen oder mit Griffen und TIP-ON With handles or with handles and TIP-ON Grifflos oder grifflos mit TIP-ON Handleless or handleless with TIP-ON SINGLE
Grifflos in Kombination mit
Handleless in combination
Mit TIP-ON With TIP-ON
GRIFFVARIANTEN
Handle versions
Griffschalen Shell handles
Griffstangen Handle bars
Griffmulden Grip ledge profile Griffe Handles
ZUM ÖFFNEN VON TÜREN, SCHÜBEN UND ZÜGEN gibt es verschiedene Möglichkeiten. Eine beliebte und puristische Lösung ist die grifflose Variante, die in drei Ausführungen erhältlich ist und zusätzlich durch einen TIP-ON-Mechanismus unterstützt werden kann. Für Liebhaber von funktionalen oder dekorativen Griffen stehen Griffausführungen in verschiedenen Stilen zur Wahl.
THERE ARE VARIOUS OPTIONS FOR OPENING DOORS, DRAWERS AND PULL-OUTS. A popular and purist solution is the handleless option, which is available in three versions and can be additionally assisted by a TIP-ON mechanism. Admirers of practical or decorative handles can choose from a wealth of different designs.
–
next125 135 FEATURES
401 Edelstahlfarben / Stainless steel coloured
402 Onyxschwarz / Onyx black
463
Onyxschwarz / Onyx black
205 OceanIX Plastic schwarz / OceanIX Plastic black 547 Edelstahlfarben / Stainless steel coloured
457 Nickel matt / Matt nickel
475 Edelstahlfarben / Stainless steel coloured
485 Schwarz / Black
518 Edelstahlfarben / Stainless steel coloured
519 Schwarz / Black
484 Edelstahlfarben / Stainless steel coloured 776 Edelstahlfarben / Stainless steel coloured
778 Edelstahlfarben / Stainless steel coloured
Stangengriff / Bar handle
770
700 Edelstahlfarben / Stainless steel coloured GRIFFVARIANTEN / HANDLE VERSIONS
LA 192 / 320 LA 128 700 / 770 LA 160 LA
192 Griffe / Handles
Edelstahlfarben / Stainless steel coloured 136
710 / 711 / 712 935 / 936 945 / 946
710
Edelstahlfarben / Stainless steel coloured
Griffstange / Handle bar
Farblich abgestimmt auf die essentiellen Farben aus dem Colour Concept / Colour matched to the essential colours from the Colour Concept
935 Edelstahlfarben / Stainless steel coloured
Griffleiste / Grip ledge
712 Kristallweiß / Crystal white 936 Schwarz / Black
711 Onyxschwarz / Onyx black
946 Onyxschwarz / Onyx black
Griffmulde / Grip ledge profile
945 Edelstahlfarben / Stainless steel coloured 7173
Edelstahlfarben / Stainless steel coloured
7237 Steingrau matt / Stone grey matt
7092 Kristallweiß matt / Crystal white matt
7097 Muschelweiß matt / Seashell white matt
7122 Kristallgrau matt / Crystal grey matt 7277 Achatgrau matt / Agate grey matt
7202 Saharabeige matt / Sahara beige matt 7492 Mokkabraun / Mocha brown
7192 Lavaschwarz matt / Lava black matt
7262 Terragrau matt / Terra grey matt
7185 Onyxschwarz / Onyx black
137 GRIFFVARIANTEN / HANDLE VERSIONS
L 194
6122 Kristallgrau matt / Crystal grey matt 6097 Muschelweiß matt / Seashell white matt 6173 Edelstahlfarben / Stainless steel coloured 6092 Kristallweiß matt / Crystal white matt
Farblich abgestimmt auf die essentiellen Farben aus dem Colour Concept / Colour matched to the essential colours from the Colour Concept 6202 Saharabeige matt / Sahara beige matt 6237 Steingrau matt / Stone grey matt 6277 Achatgrau matt / Agate grey matt 6262 Terragrau matt / Terra grey matt 6492 Mokkabraun matt / Mocha brown matt 6192 Lavaschwarz matt / Lava black matt 6187 Onyxschwarz matt / Onyx black matt
9261 Glanz terragrau / Gloss terra grey 9276 Glanz achatgrau / Gloss agate grey 9201 Glanz saharabeige / Gloss Sahara beige 9571 Glanz platin metallic / Gloss platinum metallic 9576 Glanz bronze metallic / Gloss bronze metallic 9491 Glanz mokkabraun / Gloss mocha brown 9581 Glanz basalt metallic / Gloss basalt metallic 9191 Glanz lavaschwarz / Gloss lava black 9186 Glanz onyxschwarz / Gloss onyx black 9091 Glanz kristallweiß / Gloss crystal white 9096 Glanz muschelweiß / Gloss seashell white 9121 Glanz kristallgrau / Gloss crystal grey 9236 Glanz steingrau / Gloss stone grey Griffschale / Shell
138 GRIFFVARIANTEN / HANDLE VERSIONS
nx901 / nx911 Farblich abgestimmt auf die Frontfarben / Colour matched to the front colours
handle

Griffschale / Shell handle
Farblich abgestimmt auf die Frontfarben / Colour matched to the front colours 9262 Matt terragrau / Matt terra grey 9277 Matt achatgrau / Matt agate grey 9202 Matt saharabeige / Matt Sahara beige 9572 Matt platin metallic / Matt platinum metallic 9577 Matt bronze metallic / Matt bronze metallic 9492 Matt mokkabraun / Matt mocha brown 9582 Matt basalt metallic / Matt basalt metallic 9192 Matt lavaschwarz / Matt lava black 9187 Matt onyxschwarz / Matt onyx black 9092 Matt kristallweiß / Matt crystal white 9097 Matt muschelweiß / Matt seashell white 9122 Matt kristallgrau / Matt crystal grey 9237 Matt steingrau / Matt stone grey
Farblich abgestimmt auf die Frontfarben / Colour matched to the front colours 8187 SensiQ onyxschwarz feinmatt AFP / SensiQ onyx black fine matt AFP 8092 SensiQ kristallweiß feinmatt AFP / SensiQ crystal white fine matt AFP 8237 SensiQ steingrau feinmatt AFP / SensiQ stone grey fine matt AFP 8202 SensiQ saharabeige feinmatt AFP / SensiQ Sahara beige fine matt AFP 8492 SensiQ mokkabraun feinmatt AFP / SensiQ mocha brown fine matt AFP 8257 SensiQ inox feinmatt AFP / SensiQ inox fine matt AFP nx950 / nx960 Farblich abgestimmt auf die Frontfarben / Colour matched to the front colours 2775 Ceramic Marmor nero Nachbildung / Ceramic marble nero effect 2275 Ceramic arctic black / Ceramic arctic black 2785 Ceramic bianco beige / Ceramic bianco beige 2765 Ceramic Marmor grigio Nachbildung / Ceramic marble grigio effect 2075 Ceramic beton grau Nachbildung / Ceramic concrete grey effect 2055 Ceramic grafit / Ceramic graphite nx930 / nx940 139 GRIFFVARIANTEN / HANDLE VERSIONS
nx902 / nx912
nx860 / nx870
AUSSTATTUNGSVARIANTEN FÜR SCHÜBE UND ZÜGE
EINE IDEE FÜR SCHÜBE UND ZÜGE: UNSERE FLEX-BOXEN AUS FORMVLIES. Das weiche Vliesmaterial ist haptisch angenehm und dämpft die Geräusche von Besteck, Küchenwerkzeugen oder Porzellan. Es gibt 7 Formvliesteile, die sich individuell zu einer Innenausstattung zusammenstellen lassen. Die Flex-Boxen aus Formvlies können bestens mit den Flex-Boxen aus Eiche kombiniert werden, da beide Ausführungen maßlich aufeinander abgestimmt sind. Die Reinigung der Flex-Boxen aus Formvlies erfolgt ganz einfach durch Absaugen oder Auswischen (mit einem feuchten Lappen).
AN IDEA FOR DRAWERS AND PULL-OUTS: OUR FLEX-BOXES MADE FROM MOULDED NON-WOVEN MATERIAL. The soft material is pleasant to the touch and softens the noise of cutlery, kitchen utensils and china. There are seven such inserts that can be combined as desired to create unique interiors. The Flex-Boxes made from moulded non-woven material can be optimally combined with those made from oak as the two types are size coordinated. They can be easily cleaned by vacuuming them or wiping them (with a damp cloth).
–
Equipment versions for drawers and pull-outs
next125 140 FEATURES
Besteckeinsatz, Messerblock, Kochutensilieneinsatz und Einlegematte aus Formvlies in Kombination mit vier Porzellanschalen.
Cutlery insert, knife block, cooking utensils insert and anti-slip mat made from moulded non-woven material in combination with four porcelain bowls.
Besteckeinsatz, Flex-Boxen und Einlegematte aus Formvlies in Kombination mit Flex-Boxen aus Echtholz.
Cutlery insert, Flex-Boxes and anti-slip mat made from moulded non-woven material in combination with real oak Flex-Boxes.
Flex-Boxen
Tellerhalter aus Formvlies in Kombination mit Lochplatte und Trennstegen aus Echtholz.
Plate rack made from moulded non-woven material in combination with a perforated baseboard and separating strips in real wood.
und Einlegematte aus Formvlies in Kombination mit Flex-Boxen aus Echtholz. Flex-Boxes and anti-slip mat made from moulded non-woven material in combination with real wood Flex-Boxes.
141 AUSSTATTUNGSVARIANTEN / EQUIPMENT VERSIONS
INNENAUSSTATTUNG PRIMUS
Die Natur des Purismus: Das intelligente, variable Ordnungssystem in elegantwarmer Eiche natur organisiert sämtliche Küchenutensilien.
Besteckeinsatz, 2 Porzellanschalen, Folienabroller für 3 Rollen und 4 Serviettenringe
Cutlery insert, 2 porcelain bowls, film dispenser for 3 rolls and 4 napkin rings
Besteckeinsatz, Ahorn-Schneidebrett mit Abstellrost, 2 Porzellanschalen und 4 Serviettenringe Cutlery insert, maple chopping board with trivet, 2 porcelain bowls and 4 napkin rings
Besteckeinsatz, 4 Serviettenringe, 2 Porzellanschalen und Messerblock
Cutlery insert, 4 napkin rings, 2 porcelain bowls and knife block
Besteckeinsatz, 12 Gewürzdosen, 4 Porzellanschalen und 4 Serviettenringe
Cutlery insert, 12 spice jars, 4 porcelain bowls and 4 napkin rings
Lochplatte mit Trennstegen: Die Lochplatte ermöglicht eine individuelle Platzierung der Trennstege Perforated baseboard with separating strips: the perforated baseboard makes it possible to position the separating strips as desired
Deckelhalter aus Metall: Töpfe lassen sich bequem stapeln. Deckel finden sicher Halt und klappern nicht mehr Metal lid holder: pans can be conveniently stacked. Lids can be securely stored and no longer clatter
INTERIOR EQUIPMENT PRIMUS
The nature of purism: The intelligent, variable classification system in elegant and warm natural oak organizes all kitchen utensils.
142 FEATURES
FLEX-BOXEN AUS ECHTHOLZ
Die praktischen Flex-Boxen aus Echtholz sehen hochwertig aus und sorgen für aufgeräumte Schränke. Sie sind genau auf die Maße der next 125 Schränke zugeschnitten, extrem vielseitig und flexibel. Stapelbar und verschiebbar, nehmen sie selbst kleinste Dinge auf. Und in den entstehenden Zwischenräumen der Flex-Boxen wird gleichzeitig Platz für Töpfe und Pfannen geschaffen.
REAL WOOD FLEX-BOXES
The practical real wood Flex-Boxes ooze quality and keep cupboards neat and tidy. They are precisely tailored to the next 125 units, extremely versatile and highly flexible. They can be stacked and moved around to accommodate every last item, no matter how small. And in the gaps between the FlexBoxes, there is still plenty of room for pots and pans.
143 FEATURES
CUBE
Cube storage systems
UNSER NEXT 125 CUBE SYSTEM IST EIN ECHTES NISCHENPRODUKT. Es macht das Arbeiten in der Küche um vieles leichter und schneller. Mit einem Griff ist alles zur Hand. Lösungen, die aus der Praxis kommen. Die Küchenrolle zum Aufwischen – ein Griff. Das Gemüsemesser aus dem Block – parat. Keramikschalen in unterschiedlichen Größen, Borde als praktische Abstellflächen. Selbst Gewürze, Kochlöffel, Olivenöl und frisches Basilikum ... alles direkt erreichbar. Notizen und Rezepte werden nicht mehr vergessen, denn next 125 Cube berücksichtigt einfach alles.
OUR NEXT 125 CUBE SYSTEM IS A REAL NICHE PRODUCT. It makes working in the kitchen far easier and quicker. Everything instantly at hand. Practical solutions. Kitchen roll to wipe up mess – right there. The vegetable knife in the knife block – ready and waiting. Ceramic bowls in various sizes and convenient shelves as practical storage space. Spices, utensils, olive oil and fresh basil – everything is within reach. Notes and recipes are no longer forgotten, as next125 Cube takes care of everything.
AUFBEWAHRUNGSSYSTEME –
next125 144 FEATURES
ZWEI FARBEN
cube_01_Küchenrolle: Optimaler Zugriff auf die verdeckte Rolle, auch bei geschlossener Tür cube_01_Kitchen rolls: Optimal access to the hidden roll even when the door is closed cube_06_Hakenleiste: Immer zur Hand und dennoch unsichtbar –4 Haken für Küchenwerkzeuge und mehr cube_06_Hook rail: Always accessible nevertheless invisible –4 hooks for kitchen tools and even more cube_02_Schalen: Raumsparend untergebracht – die 5 stapelbaren Porzellanschalen (spülmaschinenfest) cube_02_Bowls: Space-saving – 5 stackable china bowls (dishwasher proof) cube_07_Steckdosenleiste: 3 Steckdosen da, wo man sie braucht: sichtbar oder versteckt cube_07_Multiple socket outlet: 3 sockets placed where you need them –visible or hidden cube_09_Schalen: Bietet Platz für 3 kleine und 1 große Porzellan schale (spülmaschinenfest) cube_09_Bowls: Provides space for 3 small and 1 large china bowls (dishwasher proof) cube_08_Essig- und Ölflaschen direkt im Zugriff. Ausgestattet mit zwei Edelstahlböden cube_08_Vinegar and oil bottles at your fingertips. Equipped with two stainless steel shelves
Das next 125 Cube System ist in Edelstahlfarben oder in Onyxschwarz erhältlich.
The next 125 Cube system is available in aluminium stainless steel coloured or in onyx black. 145 CUBE
TWO COLOURS
cube_53_Hakenset: Mit 3 Einzel haken, zum Aufhängen von Kochen utensilien cube_53_Hook set: with 3 individual hooks for hanging up cooking utensils cube_05_Messerblock: Griffbereit oder aufgeräumt – mit 2 Einsätzen für je 3 Messer cube_05_Knife block: Within reach or tidy –with 2 inserts for 3 knives each cube_51_Paneelgarten ohne Beleuchtung: für frische Kräuter in der Küche cube_51_Panel garden without lighting: for fresh herbs in the kitchen cube_44_Messerblock: Schöner Schutz – 6 Messer finden sicher ihren Platz cube_44_Knife block: Beautiful protection – 6 knives securely find their place cube_03_Allzweckbehälter: für alles alles, was man gerne griffbereit hat cube_03_All-purpose containers: for anything you like to have at hand cube_40_Regalbord: Eine praktische Ablage für die Aufnahme von Porzellanschalen (Schalen optional) cube_40_Shelf: a practical option for holding porcelain bowls (bowls optional) 146 CUBE
cube_47_Abstellfläche: Essig und Öl immer im Blick und schnell griffbereit cube_47_Storage shelf: Vinegar and oil always in view and quickly within reach cube_50_Tablethalter: Hängt und steht gut sichtbar in der Küche cube_50_Tablet holder: for clear visibility in the kitchen whether suspended or standing
cube_41_Bord abgehängt: Ob hoch oder niedrig, für alle Porzellanschalen passend (Schalen optional) cube_41_Suspended shelf: Whether big or small – suitable for all china bowls (bowls optional) cube_54_Gewürzregal: Aus Metall, mit Gewürzdosen für unterschiedliche Gewürze cube_54_Spice rack: made of metal with jars for various spices
cube_46_Köcher: Praktisch – abgehängtes Board mit hoher Porzellanschale (spülmaschinenfest) cube_46_Bowl: Practical – suspended board with high china bowl (dishwasher proof)
147 CUBE
cube_43_Aufnahme für Kücherolle: Damit liegt die Küchenrolle bequem im Zugriff cube_43_Kitchen roll holder: for easy access to kitchen roll
cube_30_Bilderrahmen: 1 Rahmen, 2 Möglichkeiten – als Bilderrahmen oder Memoboard verwendbar cube_30_Picture frame: 1 frame, 2 possibilities – usable as a picture frame or as a memo board cube_31_Hakenleiste mit Glas: 6 Haken vor klarem Glas cube_31_Hook rail with glass: 6 hooks in front of clear glass cube_21_Flaschenregal: Dekorativ aus massiver Eiche natur, für 5 Weinflaschen geeignet cube_21_Bottle rack: Decorative in natural oak, suitable for 5 wine bottles cube_42_Hakenleiste: Küchenutensilien schnell zur Hand –Hakenleiste mit 6 Haken cube_42_Hook rail: for kitchen utensils within easy reach – a hook rail with 6 hooks 148 CUBE
FRONTEN –Fronts
149 FEATURES
nx240
Schichtstoff-Front SensiQ feinmatt AFP / Laminated front SensiQ fine matt AFP
PGR 2 / K092F
SensiQ kristallweiß feinmatt AFP / SensiQ crystal white fine matt AFP
PGR 2 / K097F
SensiQ muschelweiß feinmatt AFP / SensiQ seashell white fine matt AFP
PGR 2 / K277F
SensiQ achatgrau feinmatt AFP / SensiQ agate grey fine matt AFP
PGR 2 / K262F
SensiQ terragrau feinmatt AFP / SensiQ terra grey fine matt AFP
PGR 2 / K187F
SensiQ onyxschwarz feinmatt AFP / SensiQ onyx black fine matt AFP
nx501
Hochglanzlack-Front High gloss lacquer front
PGR 4 / L091
Kristallweiß hochglanz / Crystal white high gloss
nx505
Satinlack-Front Satin lacquer front
PGR 3 / L090 Kristallweiß satin / Crystal white satin
PGR 2 / K202F
SensiQ saharabeige feinmatt AFP / SensiQ Sahara beige fine matt AFP
PGR 2 / K122F
SensiQ kristallgrau feinmatt AFP / SensiQ crystal grey fine matt AFP
PGR 2 / K237F
SensiQ steingrau feinmatt AFP / SensiQ stone grey fine matt AFP
PGR 2 / K492F
SensiQ mokkabraun feinmatt AFP / SensiQ mocha brown fine matt AFP
PGR 2 / K192F
SensiQ lavaschwarz feinmatt AFP / SensiQ lava black fine matt AFP
PGR 3 / L275
Achatgrau satin / Agate grey satin
PGR 3 / L260
Terragrau satin / Terra grey satin
PGR 4 / L111G
Brillantweiß hochglanz / Brilliant white high gloss
PGR 4 / L121
Kristallgrau hochglanz / Crystal grey high gloss

PGR 3 / L405
Cognac satin / Cognac satin
PGR 3 / L290
Indischrot satin / Indian red satin
PGR 3 / L095
Muschelweiß satin / Seashell white satin
PGR 3 / L120 Kristallgrau satin / Crystal grey satin
PGR 3 / L235 Steingrau satin / Stone grey satin
PGR 3 / L335
Jaguargrün satin / Jaguar green satin
PGR 3 /L490
Mokkabraun satin / Mocha brown satin
PGR 3 / L200 Saharabeige satin / Sahara beige satin




PGR 3 / L395
Olivgelb satin / Olive yellow satin
PGR 3 / L345
Toskanagelb satin / Tuscany yellow satin
PGR 3 / L415
Azurblau satin / Azure blue satin
PGR 3 / L550
Tiefblau satin / Deep blue satin
PGR 3 / L140
Kobaltgrün satin / Cobalt green satin
PGR 3 / L190
Lavaschwarz satin / Lava black satin
PGR 3 / L185
Onyxschwarz satin / Onyx black satin
150 FRONTEN / FRONTS
Samtmatt-Lackfront
PGR
PGR 3 / L097M
PGR 3 / L122M
PGR 3 / L237M
Steingrau samtmatt AFP / Stone grey matt velvet
PGR 3 / L277M
PGR
PGR 3 / L202M
Saharabeige samtmatt AFP /
Sahara beige matt velvet

PGR
PGR 3 / L347M
PGR 3 / L407M
Cognac samtmatt AFP / Cognac matt velvet AFP
PGR 3 / L337M
Jaguargrün samtmatt AFP / Jaguar green matt velvet AFP
PGR 3 / L292M
Indischrot samtmatt AFP / Indian red matt velvet AFP
PGR 3 / L417M
Azurblau samtmatt AFP / Azure blue matt velvet AFP
PGR 3 / L552M
Tiefblau samtmatt AFP / Deep blue matt velvet AFP
PGR
PGR 3 / L192M
PGR 3 / L187M
PGR 3 / L142M
Kobaltgrün samtmatt AFP / Cobalt green matt velvet AFP
PGR 5 / F737 Asteiche seidengrau gebürstet / Silk grey knotty oak, brushed
PGR 5 / F646 Eiche elegant graphitgrau / Elegant oak graphite grey PGR 5 / F641 Eiche elegant tabak / Elegant oak tobacco www.next125.com Weitere Informationen zu den Ausführungen unserer Küchenfronten finden Sie auf unserer Homepage / Further information on the kitchen front versions available can be found on our website PGR 5 / F628 Eiche elegant bianco hell / Elegant light oak bianco PGR 5 / F637 Eiche elegant seidengrau / Elegant oak silk grey PGR 5 / F634 Eiche elegant natur / Elegant natural oak PGR 5 / F644 Eiche elegant perlgrau / Elegant oak pearl grey nx640 Holzfront Wood front PGR 5 / F746 Asteiche graphitgrau gebürstet / Graphite grey knotty oak, brushed PGR 5 / F741 Asteiche tabak gebürstet / Tobacco knotty oak, brushed PGR 5 / F744 Asteiche perlgrau gebürstet / Pearl grey knotty oak, brushed nx620 Holzfront Wood front PGR 5 / F728 Asteiche bianco hell gebürsted / Light knotty oak bianco, brushed PGR 5 / F685 Nussbaum natur / Natural walnut PGR 5 / F734 Asteiche natur gebürstet
/ Natural knotty oak, brushed
Lavaschwarz samtmatt AFP / Lava black matt velvet AFP
3 / L492M Mokkabraun samtmatt AFP / Mocha brown matt velvet AFP
Onyxschwarz samtmatt AFP / Onyx black matt velvet AFP
AFP
AFP
AFP
3 / L262M Terragrau samtmatt
/ Terra grey matt velvet
Toskanagelb samtmatt AFP / Tuscany yellow matt velvet AFP
3 / L397M Olivgelb samtmatt AFP / Olive yellow matt velvet AFP
AFP
Achatgrau samtmatt AFP / Agate grey matt velvet
nx510
Matt velvet lacquer front
Muschelweiß samtmatt AFP / Seashell white matt velvet AFP
3 / L092M Kristallweiß samtmatt AFP / Crystal white matt velvet AFP
Kristallgrau samtmatt AFP / Crystal grey matt velvet AFP
151 FRONTEN / FRONTS
AFP
nx901 / nx911
nx901
Glasfront hochglänzend, Rahmen edelstahlfarben / Glass front high gloss, frame stainless steel coloured
nx911
Glasfront hochglänzend, Rahmen onyxschwarz / Glass front high gloss, frame onyx black
PGR 6 / G091
Glas glanz kristallweiß / Glass gloss crystal white
PGR 6 / G096
Glas glanz muschelweiß / Glass gloss seashell white
PGR 6 / G121
Glas glanz kristallgrau / Glass gloss crystal grey
PGR 6 / G236
Glas glanz steingrau / Glass gloss stone grey
PGR 6 / G576
Glas glanz bronze metallic / Glass gloss bronze metallic



PGR 6 / G276
Glas glanz achatgrau / Glass gloss agate grey


PGR 6 / G261
Glas glanz terragrau / Glass gloss terra grey
PGR 6 / G201
Glas glanz saharabeige / Glass gloss Sahara beige

PGR 6 / G571
Glas glanz platin metallic / Glass gloss platinum metallic
PGR 6 / G581
Glas glanz basalt metallic / Glass gloss basalt metallic
nx902 / nx912 nx902
Glasfront matt, Rahmen edelstahlfarben / Glass front matt, frame stainless steel coloured nx912
Glasfront matt, Rahmen onyxschwarz / Glass front matt, frame onyx black
PGR 7 / G092
Glas matt kristallweiß / Glass matt crystal white
PGR 6 / G491
Glas glanz mokkabraun / Glass gloss mocha brown
PGR 6 / G191
Glas glanz lavaschwarz / Glass gloss lava black
PGR 6 / G186
Glas glanz onyxschwarz / Glass gloss onyx black
nx860 / nx870
nx860
Vollkernfront SensiQ feinmatt AFP, Rahmen edelstahlfarben / Solid core front, SensiQ fine matt AFP, frame stainless steel coloured nx870
Vollkernfront SensiQ feinmatt AFP, Rahmen onyxschwarz / Solid core front, SensiQ fine matt AFP, frame onyx black
PGR 7 / G277
Glas matt achatgrau / Glass matt agate grey
PGR 7 / G097
Glas matt muschelweiß / Glass matt seashell white
PGR 7 / G122
Glas matt kristallgrau / Glass matt crystal grey
PGR 7 / G237 Glas matt steingrau / Glass matt stone grey
PGR 7 / G582 Glas matt basalt metallic / Glass matt basalt metallic
PGR 7 / G262
Glas matt terragrau / Glass matt terra grey
PGR 7 / G202
Glas matt saharabeige / Glass matt Sahara beige
PGR 7 / G572
Glas matt platin metallic / Glass matt platinum metallic
PGR 7 / V092F
SensiQ kristallweiß feinmatt AFP / SensiQ crystal white fine matt AFP
PGR 7 / G492
Glas matt mokkabraun / Glass matt mocha brown
PGR 7 / G192
Glas matt lavaschwarz / Glass matt lava black
PGR 7 / G187 Glas matt onyxschwarz / Glass matt onyx black
PGR 7 / V202F
SensiQ saharabeige feinmatt AFP / SensiQ Sahara beige fine matt AFP
PGR 7 / V492F
SensiQ mokkabraun feinmatt AFP / SensiQ mocha brown fine matt AFP
PGR 7 / G577 Glas matt bronze metallic / Glass matt bronze metallic PGR 7 / V187F SensiQ onyxschwarz feinmatt AFP / SensiQ onyx black fine matt AFP PGR 7 / V237F SensiQ steingrau feinmatt AFP / SensiQ stone grey fine matt AFP
152 FRONTEN / FRONTS
nx930 / nx940
nx930
Vollkernfront SensiQ inox feinmatt AFP, Rahmen edelstahlfarben / Solid core front, SensiQ inox fine matt, frame stainless steel coloured nx940
Vollkern-Front SensiQ inox, Rahmen onyxschwarz / Solid core front, SensiQ inox fine matt, frame onyx black
nx650
Holzfront, Wangen nur in 1,3 und 2,5 cm erhältlich, keine Sichtseiten möglich / Wood front, support panels are only available in 1.3 and 2.5 cm, no visible sides
nx950 / nx960
nx950
Ceramicfront, Rahmen edelstahlfarben / Ceramic front, frame stainless steel coloured nx960
Ceramicfront, Rahmen onyxschwarz / Ceramic front, frame onyx black
PGR 9 /V257F
SensiQ inox feinmatt AFP / SensiQ inox fine matt AFP
nx660
Holzfront mit Design Rahmen / Wood front with design frame
PGR 8 / F805 Alteiche / Old oak
PGR 8 / F600
Lärche geräuchert gebürstet / Larch smoked, brushed
nx670
Holzfront mit vertikalen Rillen / Wood front with vertical grooving
PGR 9 / C2075
Ceramic beton grau Nachbildung / Ceramic concrete grey effect
PGR 9 / C2785
Ceramic bianco beige / Ceramic bianco beige
PGR 9 / C2765
Ceramic Marmor grigio Nachbildung / Ceramic marble grigio effect
PGR 9 / C2775
Ceramic Marmor nero Nachbildung / Ceramic marble nero effect
PGR 9 / F628
Eiche elegant bianco hell / Elegant light oak bianco
PGR 9 / C2275
Ceramic arctic black / Ceramic arctic black
PGR 9 / F646
Eiche elegant graphitgrau / Elegant oak graphite grey
PGR 9 / F634
Eiche elegant natur / Elegant natural oak
PGR 9 / F637
Eiche elegant seidengrau / Elegant oak silk grey
PGR 9 / C2055
Ceramic grafit / Ceramic graphite
PGR 9 / F644
Eiche elegant perlgrau / Elegant oak pearl grey
PGR 11 / F628
Eiche elegant bianco hell / Elegant light oak bianco
PGR 9 / F641
Eiche elegant tabak / Elegant oak tobacco
PGR 11 / F685
Nussbaum natur / Natural walnut

AFP = Anti-Finger-Print / Anti Finger Print
153 FRONTEN / FRONTS
ARBEITSPLATTEN, WANGEN UND NISCHENVERKLEIDUNGEN
WER IN SEINER KÜCHE DESIGN UND FUNKTION VERBINDEN WILL, bekommt mit Systemo die ideale Voraussetzung dazu. Arbeitsplatten, Nischenverkleidungen und Wangenelemente schaffen die perfekte Basis, authentische Optik mit angenehmer Haptik zu vereinen. Darüber hinaus bieten die Oberflächen aus Ceramic, Quarzstein, SensiQ, Glas und Massivholz optimale Funktionalität und sind lebensmittelecht. Jedes Material besitzt einzigartige Produkteigenschaften. Ceramic-Arbeitsplatten zeichnet beispielsweise eine besonders hohe Kratzfestigkeit aus. Bei hochwertigen Planungen wird empfohlen, Wandverkleidung und Arbeitsplatte aufeinander abzustimmen. Um Sie zu den vielfältigen Planungsoptionen beraten zu können, steht Ihnen gerne der qualifizierte Fachhandel zur Verfügung.
SYSTEMO IS THE IDEAL STARTING POINT FOR THOSE LOOKING TO COMBINE DESIGN AND FUNCTION IN THEIR KITCHEN. Worktops, recess cladding and support panel elements form the perfect basis for an authentic look and a pleasant feel. Ceramic, quartz, SensiQ, glass and solid wood surfaces also offer optimal functionality and are safe for use with foods. Each material has its own unique product characteristics. Ceramic worktops, for example, are particularly scratch-resistant. When designing premium kitchens, the wall cladding should ideally match the worktops. Our specialist retailers will gladly advise you on the wide range of planning options.
154 FEATURES
–Worktops, side panels and recess claddings Arbeits- & Barplatte Worktop & bar panel Nischenverkleidung Recess cladding Wangenelement und Wangenseite Support panel element and support side panel next125 & Systemo
next  125 & Systemo –155 FEATURES
QUARZSTEIN Quartz stone MASSIVHOLZ Solid wood
SENSIQ GLAS Glass CERAMIC
156 next125 & Systemo
DIE MATERIALIEN
The materials
Ceramic Widerstandsfähigkeit trifft auf Eleganz – aufgrund seiner herausragenden Eigenschaften wird Ceramic in der Labortechnik und Raumfahrt gerne genutzt. Die innovative Funktionalität macht das Material zum Liebling der Küchenprofis. Da die porenlose Oberfläche weder Flüssigkeiten noch Fette absorbiert, ist sie pflegeleicht und hygienisch.
Quarzstein
Quarzsteine sind hybride Materialien aus natürlichen Mineralien und recycelten Materialien, die der Oberfläche eine außergewöhnliche Resistenz verleihen. Die Kombination der Bestandteile und das Fertigungsverfahren sorgen dafür, dass Quarzsteine ähnliche Eigenschaften besitzen wie ein hochwertiger Naturstein.
SensiQ
SensiQ besteht aus einer Schichtstoff-Oberfläche aus verschiedenen Lagen. Durch die Elektronenstrahlhärtung erhält die Ober fläche ihre matte Optik und samtweiche Haptik. Das Material besticht mit tollen Eigenschaften. Dank einer innovativen Anti-Finger-PrintEigenschaft gehören lästige Fingerabdrücke der Vergangenheit an.
Glas
Aufgrund seiner einmaligen Eigenschaften und vielfältigen Gestaltungsmöglichkeiten ist Glas bestens für Arbeitsplatten geeignet. Die speziell behandelte Oberfläche des satinierten Opti-White-Glases punktet mit einer hohen Widerstandsfähigkeit gegen Kratzer und Schnitte.
Massivholz
Die verwendeten Hölzer stammen aus nachhaltiger Forstwirtschaft und werden von uns mit einem hochwertigen Massivholzöl vorbehandelt. Bei der Produktion unserer Arbeitsplatten verwenden wir ausschließlich hochwertige Hölzer und legen besonderen Wert auf handwerkliche Verarbeitung.
Ceramic Durability meets elegance! Thanks to its extraordinary properties, ceramic is frequently used in laboratory technology and the aerospace industry. Its innovative functionality makes the material a favourite among professional chefs. The non-porous surface absorbs neither liquids nor grease, making it easy to clean and hygienic.
Quartz
Quartz is a hybrid material made from natural minerals and recycled materials, which make the surface incredibly durable. The combination of the components and production method gives quartz similar properties to high-quality natural stone.
SensiQ
SensiQ comprises a laminated surface made of different layers. Electron beam hardening gives the surface its matt look and velvety soft feel. The material boasts excellent properties. Thanks to innovative anti-fingerprint technology, those pesky fingerprints are a thing of the past.
Glass
Its unique properties and many design possibilities make glass ideal for worktops. The satinated optiwhite glass benefits from a special surface treatment that is highly resistant to scratches and cut marks.
Solid wood Our timber comes from sustainably managed forests and is pre-treated with a high-quality solid wood oil. When producing our worktops, we exclusively use high-quality timber and are committed to offering outstanding workmanship.
–
157 next125 & Systemo
Systemo

C2770 Marmor nero Nachbildung* / Marble nero effect* C2260 Marmor Dolomiti Nachbildung* / Marble Dolomiti effect* C2310 Marmor Venezia Nachbildung* / Marble Venezia effect* C2760 Marmor grigio Nachbildung* / Marble grigio effect* C2240 Travertin dunkel matt Nachbildung* / Travertine dark matt effect* C2180 Terrazo grigio / Terrazo grigio C2230 Travertin hochglanz Nachbildung* / Travertine high gloss effect* C2280 Alpenschiefer grau* / Alpine slate grey* C2160 Marmor Carrara Nachbildung* / Marble Carrara effect* C2750 Marmor bianco Nachbildung* / Marble bianco effect* C2270 Arctic black / Arctic black C2190 Luna grigio / Luna grigio C2080 Eisenglimmer braun / Iron glimmer brown C2730 Eisenglimmer grau / Iron glimmer grey C2050 Grafit / Graphite C2070 Beton grau Nachbildung* / Concrete grey effect* C2290 Beton braungrau* / Concrete brown grey* C2300 Quarzit grau* / Quartzite grey* C2040 Lavaschwarz / Lava black C2250 Alpina nero / Alpina nero C2780 Bianco beige / Bianco beige C2220 Porto nero hochglanz / Porto nero high gloss C2210 Concrete grey / Concrete grey Q1320 Seaport matt / Seaport matt Q1330 Poblenou matt / Poblenou matt Q1350 Et. Marquina matt / Et. Marquina matt Q1370 Et. Calacatta Gold matt / Et. Calacatta Gold matt * Dieses Dekor hat in der Fläche unterschiedliche Einläufe / This decor has different colour gradients in the surface AFP: Anti-Finger-Print / Anti Finger Print Q1300 Negro Tebas 18 poliert /  Negro Tebas 18 polished Q1310 Cemento Spa poliert / Cemento Spa polished Q1360 Calypso matt / Calypso matt Q1340 Blanco Zeus matt / Blanco Zeus matt Ceramic Quarzstein Quartz 158 next125 & Systemo
K092F
SensiQ kristallweiß  feinmatt AFP / SensiQ crystal white fine matt AFP
K277F
SensiQ achatgrau feinmatt AFP / SensiQ agate grey fine matt AFP
K097F
SensiQ muschelweiß feinmatt AFP / SensiQ seashell white fine matt AFP
K122F
SensiQ kristallgrau feinmatt AFP / SensiQ crystal grey fine matt AFP
K262F
SensiQ terragrau feinmatt AFP / SensiQ terra grey fine matt AFP
K347F SensiQ toskanagelb feinmatt AFP / SensiQ tuscany yellow fine matt AFP
K257F
SensiQ inox feinmatt AFP / SensiQ inox fine matt AFP
K292F
SensiQ indischrot feinmatt AFP / SensiQ Indian red fine matt AFP
K202F
SensiQ saharabeige feinmatt AFP / SensiQ Sahara beige fine matt AFP K142F
SensiQ kobaltgrün feinmatt AFP / SensiQ cobalt green fine matt AFP
K192F
SensiQ lavaschwarz feinmatt AFP / SensiQ lava black fine matt AFP
K187F
SensiQ onyxschwarz feinmatt AFP / SensiQ onyx black fine matt AFP
K237F
SensiQ steingrau feinmatt AFP / SensiQ stone grey fine matt AFP
K492F
SensiQ mokkabraun feinmatt AFP / SensiQ mocha brown fine matt AFP
K417F
SensiQ azurblau feinmatt AFP / SensiQ azure blue fine matt AFP
G277A Glas matt achatgrau AS / Glass matt agate grey AS G202A Glas matt saharabeige AS / Glass matt Sahara beige AS G577A Glas matt bronze metallic AS / Glass matt bronze metallic AS G492A Glas matt mokkabraun AS / Glass matt mocha brown AS G582A Glas matt basalt metallic AS / Glass matt basalt metallic AS G262A Glas matt terragrau AS / Glass matt terra grey AS G192A Glas matt lavaschwarz AS / Glass matt lava black AS G572A Glas matt platin metallic AS / Glass matt platinum metallic AS G097A Glas matt muschelweiß AS / Glas matt seashell white AS G122A Glas matt kristallgrau AS / Glass matt crystal grey AS G092A Glas matt kristallweiß AS / Glass matt crystal white AS G237A Glas matt steingrau AS / Glass matt stone grey AS G187A Glas matt onyxschwarz AS / Glass matt onyx black AS H749 Asteiche natur geölt / Natural knotty oak, oiled H689 Nussbaum natur geölt / Natural walnut, oiled H789 Eiche natur geölt / Natural oak, oiled SensiQ Glas Glass Massivholz Solid wood 159 next125 & Systemo
Die next 125 Küchencheckliste hilft Ihnen, Ihre individuellen Wünsche, Vorlieben und Bedürfnisse zu erkunden: Die perfekte Vorbereitung für ein persönliches Beratungsgespräch mit einem Fachhändler in Ihrer Nähe
The next 125 kitchen checklist helps you to explore your individual wishes, preferences and needs: The perfect preparation for a personal consultation with a specialist dealer in your neighbourhood Technische Änderungen und drucktechnisch bedingte Farbabweichungen vorbehalten. All rights reserved for technical changes and variations in shade and colour due to printing quality.
ZERTIFIZIERUNGEN / CERTIFICATIONS
20 20 40 60 Verband der Deutschen Möbelindustrie e.V. MÖBEL • FURNITURE Hersteller-Nr. / manufacturer-no. Programm program Modell / model GERMANY MADE IN RAL-RG 0191 dgm-moebel.de/mmig Zertifiziert durch die DGM H20060124 next125 20 60 80 120 140 H20060124 20 20 40 60 A A B C D H20060124 15-012-20 next125 Finden
Find
160 IHRE KÜCHE / YOUR KITCHEN
next 125
Sie den Küchenfachhändler in Ihrer Nähe.
the kitchen specialist dealer next to you.
FOLLOW US What´s next Edition 2022 – 2023 HERAUSGEBER PUBLISHER Schüller Möbelwerk KG Rother Straße 1 91567 Herrieden Germany Tel +49 (0) 9825 83-0 Fax +49 (0) 9825 83-1210 info@next125.de .next125.com KONZEPT UND GESTALTUNG CONCEPT AND DESIGN Strichpunkt – Agentur für visuelle Kommunikation GmbH .strichpunkt-design.de CREATIVE MAKERS Valentina Teinitzer de Pasquale Claus Friedrich Rudolph Melanie Zechmeister Caesar Zumthor FOTOGRAFIE PHOTOGRAPHY Gieske Studios GmbH & Co. KG Korbinian Seifert BILDBEARBEITUNG IMAGEWORKS F&W Perfect Image GmbH .medien-und-printpartner.de
COOPERATION PARTNERS Wir danken unseren Kooperationspartnern für die Zurverfügungstellung ihrer Produkte für die Fotografie unserer next 125 Küchen: Our thanks are due to our cooperation partners for providing their products for the photographs of our next 125 kitchens: COR Sitzmöbel Helmut Lübke GmbH & Co. KG .cor.de WALTER KNOLL AG & Co. KG .walterknoll.de LYS Vintage GmbH .lys-vintage.com Tobias Grau GmbH .tobiasgrau.com flex! mid-century vintage design .flex-nbg.de Rosenthal GmbH .rosenthal.de DRUCK PRINT Mayr Miesbach GmbH .mayrmiesbach.de
KOOPERATIONSPARTNER
IST ES EINE PUSTEBLUME ODER DER ZÜNDENDE FUNKE? INNOVATION HEISST: INSPIRIEREN! IS IT A BLOWBALL OR THE INSPIRING SPARK? INNOVATION MEANS: INSPIRE THE NEW! WHAT´S NEXT?
Sinnvoll und sinnlich. In der Form. In Material, Funktion und Gebrauch. Kreativ, innovativ und überraschend anders. Reduziert, essentiell und zeitlos elegant. Inspiriert vom Bauhaus, gestaltet und gefertigt in Deutschland.
Das Wesen macht die Persönlichkeit. Der Fokus auf das Wesentliche macht next 125 authentisch.
Sensible and sensual. The form and the material, the function and the use. Creative, innovative and surprisingly different. Minimalist, essential and timelessly elegant. Inspired by the Bauhaus, designed and manufactured in Germany. The essentials are what personality is made of. The focus on the essential makes next 125 authentic.
NEXT125.COM FOLLOW US ON INSTAGRAM, PINTEREST & FACEBOOK