MAGAZINE JUPITER ALEXIS BROCK: REIMAGINING DOWNTOWN PALM BEACH GARDENS OUR ANNUAL LIST OF MOVERS + SHAKERS TO KEEP AN EYE ON ONES TO WATCH 2022
High Performing Healthcare
When you're faced with a health diagnosis that requires specialized treatment, you deserve Jupiter Medical Center's exceptional care. Our High Performing Hospital ratings are a testament to our commitment to providing you clinical excellence. Visit jupitermed.com to learn more.
Daniel M. Casel, DMD
Extended Hours for Your Convenience Trusted & Affodable Dental Care Emergencies & Same-Day Services Premier Dentistry JUPITER • WEST PALM BEACH High-quality, comprehensive dental care at both of our locations!
Smile! You're in good hands. Handling all aspects of general, cosmetic, and implant dentistry. WWW.YOURPREMIERDENTIST.COM 561.747.7111 1001 W Indiantown Rd #106 Jupiter, FL 561.686.2077 1501 Presidential Way STE 15 West Palm Beach, FL
br Ain HEALtH the and STEM Education
Future of
FAU Stiles-Nicholson Brain Institute's 58,000-squarefoot neuroscience building is currently under construction on the Jupiter Campus and is slated to open in Fall 2022.
Learn more: fau.edu/ibrain
J.S.
The presence of on-site, worldrenowned partners Scripps Research and Max Planck Florida Institute for Neuroscience creates a critical mass of high-caliber, collaborative research and technological capabilities in the areas of science, technology, engineering and math (STEM), specifically the concentrations of neuroscience, biotechnology, bioengineering, bioinformatics/data science, and chemistry. David Nicholson
FAU Jupiter,5353BrainStiles-NicholsonInstituteParksideDrive,FL33458 The ofscientificbiggestchallengetodayisto gain a evermostunderstandingbetterofthecomplexcomputerfound , the human brain. Understanding will beget solutions to —Campus."onflourishingisecosystemexcitingJoinplaguerampantdiseasesneurodegenerativewhichareandmostfamilies.insupportingtheneurosciencethatgrowingandFAU'sJupiter David J.S. Nicholson Chair, FoundationStiles-Nicholson Join
Building
in fueling groundbreaking brain science research and revolutionary STEM training programs that will open new doors for the next generation of scientists. For more information about FAU StilesNicholson Brain Institute funding opportunities, contact Kerry Kruckel at 561.799.8505
Florida Atlantic University's StilesNicholson Brain Institute is situated in Northern Palm Beach County on the Jupiter Campus, where topperforming scientists and students thrive through groundbreaking programs and unmatached opportunities.
The Stiles-Nicholson Brain Institute is made possible by a generous $10 million gift from David J.S. Nicholson, which expands on an initial investment from the State of Florida of $35 million, and ushers in a new era of research and collaboration that originates in South Florida but will touch all corners of the world.
renderingConceptual
HARRIET L. WILKES HONORS COLLEGE FLORIDA ATLANTIC UNIVERSITY FAU's Harriet L. Wilkes Honors College in Jupiter provides groundbreaking programs and unmatched opportunities for high-achieving students from diverse backgrounds. 5353 Parkside Drive, Jupiter, FL 33458 fau.edu/honors @WilkesHonorsFAU Be a dream maker. LEARN MORE about Wilkes Honors College giving opportunities for scholarship and academic excellence. CONTACT: Kerry Kruckel, Assistant Vice President for Institutional Advancement 561.799.8505 UF SCRIPPS Biomedical Research MAX PLANCK FLORIDA INSTITUTE for Neuroscience CAMPUS PARTNERS FAU Harriet L Wilkes Honors College Big Dreams HE R E. H A PPEN
This fall, The Waterford in Juno Beach will begin our $200 million expansion and renovation, setting a new standard of casual elegance in senior living. Secure your place in our future with a fully refundable deposit.
For the full story, call 561-944-5740 or visit ExpansionAtTheWaterford.com.
Everywhere you've gone, you've left your mark. Few places have left that kind of mark on you. Here you can do it all. You're going to love life here.
for that feeling of having no place to be, this is the place to be.
A LIFESPACE COMMUNITY | Independent Living | Skilled Nursing | Rehabilitation Skilled Nursing Facility ID 1587096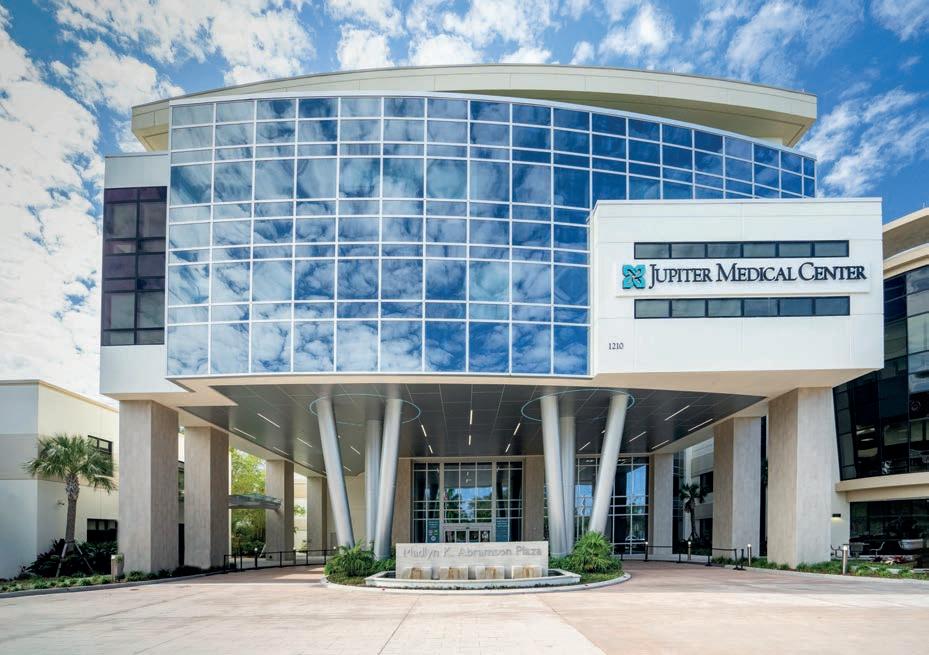 Saturday, September 17, 2022 11:00 a.m.-2:00 p.m. $30 per ticket Tickets: www.pbcfoodbank.org/ebgardens All proceeds benefit the Palm Beach County Food Bank to fight hunger here in the community Scan registerto Empty Bowls is a national event hosted on a local scale in the beautiful city of Palm Beach Gardens where attendees enjoy a simple meal of soup and bread. The theme is to "EAT SIMPLY SO OTHERS CAN SIMPLY EAT." Local community leaders, restaurants, and volunteers donate their time and soups to create a miraculous event for all. Please come join us for this very special event and help make a difference in the lives of so many. Downtown Palm Beach Gardens 11701 Victoria Gardens Ave. Palm Beach Gardens, FL 33410
TGH.orgPrimary teaching hospital for the USF Health Morsani College of Medicine AND YOUR BEST CHOICE FOR LIFESAVING CARE. NAMED ONE OF THE NATION'S BEST HOSPITALS For a consultation, please call (561) 644-0125. ONE OF THE NATION'S BEST • Diabetes & Endocrinology • Ear, Nose & Throat • Gastroenterology & GI Surgery • Obstetrics & Gynecology • Orthopaedic Surgery • Pulmonology & Lung Surgery • Rehabilitation TOP 10% IN THE NATION • Cancer • Cardiology & Heart Surgery • Geriatrics • Neurology & Neurosurgery • Urology Tampa General Hospital continues to lead the nation with award-winning care powered by academic medicine. For nearly two decades, TGH has been recognized on a national stage. Our specialized team performs more procedures, has more expertise and delivers better outcomes. We'd like to thank our team of physicians, nurses and health care professionals for their collaboration and commitment to best-in-class care.
52 Drama Queen
Step into the spotlight this fall in diva-worthy looks with a vintage vibe Photography by Olga Aleshina
Jupiter resident and artist Arielle Yebba at her studio in Palm Beach Gardens
36 Ones to Watch 2022
Our annual "hot list" of local movers and shakers you may want to keep an eye on
JUPITER | SEPTEMBER 20228SEPTEMBER 2022 Contents Features 36 MARTINESTEVEN
By Linda Marx
BOYNTON772.291.5526561.677.2184BEACHSTUART PALM BEACH WELLINGTON561.564.0201GARDENSCROSSING561.678.0255
Retire in style. Whether it's fine dining and luxury spa experiences or endless events and personalized care you're seeking, our south Florida communities have you covered. Discover how luxury senior living allows you to thrive in an engaging and vibrant community like our HarborChase communities of Wellington Crossing, Boynton Beach, Stuart and Palm Beach Gardens. This is HarborChase. Come celebrate with us.
HarborChaseLivingExploreat EXPLORE LUXURY SENIOR LIVING IN SOUTH FLORIDA!
YOURELEVATELIVING
Pomales
Off the Charts
The Caryl
Beasley family made their Florida vacation a permanent one— and bought a new fishing vessel from Young Boats for their new life 28 Wellness 4 delicious and healthy fall fruits and veggies to add to your grocery list ASAP 30 Style Fall looks for every occasion, shopped at local boutiques 34 The Goods Treat your pooch to some swanky swag this season ©2022 Palm Beach Media Group North LLC. All rights reserved. Jupiter Magazine is published monthly except June and August by Palm Beach Media Group North LLC, P.O. Box 3344, Palm Beach, FL 33480. Known office of the publication 1000 N. Dixie Hwy., Suite C, West Palm Beach, FL 33401. Postage paid at West Palm Beach, FL and at additional mailing offices. POSTMASTER: Send address changes to: Jupiter Magazine c/o Palm Beach Media Group North LLC, P.O. Box 3344, Palm Beach, FL 33480. Subscription price: $29.95 per year. Outside U.S. add $35 per year for postage and handling. Send subscription orders to: Subscription Department, Jupiter Magazine, P.O. Box 3344, Palm Beach, FL, 33480 or email circulation@palmbeachmedia.com. Vol. 22, No. 7, September 2022. Jupiter Magazine and Palm Beach Media Group North LLC retain exclusive rights to all editorial and photographic materials used, which cannot be reproduced in any manner without our written consent. 89 23ON COVERTHE Photographer: Steven Martine / Jupiter resident Alexis Brock shot by Jupiter Magazine on location at Downtown Palm Beach Gardens 110 Have You Any Wool,
JUPITER | SEPTEMBER 202210 Contents VOLGYESLIBBYMARTINEZIRVING In Every Issue 16 Editor's Note 18 Publisher's Note 89 Flavor Foodie news and dining guide 106 Hot Shots Photos from recent events 110 Calendar What to do and see this month 112 Surf Report What's up on jupitermag.com, plus "Instaworthy" reader pics The Local 23 Around Town This season's hottest bridal trends, a yoga studio for all, beauty picks for fall 26
GEODE CHANDELIER
Leonor
Digital
JUPITER | SEPTEMBER 202212 © 2022 Palm Beach Media Group North, LLC. All rights reserved. Jupiter Magazine is published 10 times a year by Palm Beach Media Group North LLC, P.O. Box 3344, Palm Beach, FL 33480 561.659.0210 • Fax 561.659.1736 jupitermag.com JUPITER MAGAZINE
Gustine
Imaging Specialist
Melissa Puppo
Senior
Editor Kelly Rogers
Allison Wolfe Reckson Lande
Abigail Shorr, Spivak, Staggs
in Chief
Jr.
Photo
Alvarez-Maza
ArtDESIGNDirector
Editor
Olga M.
ManagingEDITORIALEditor
Editor
Fashion Editor Katherine
Craig R. Cottrell
Michelle Lee Ribeiro
Web Editor
Valerie
Duffy CONTRIBUTORSWriters George LaBonte, Linda Marx, Emily Pantelides, Holland Smith Paterno, Kerry
Photographers Olga Aleshina, Steven Martine, Jason Nuttle Social Photographers Tracey Benson, Capehart, Gail V. Haines Fashion Stylist Zlata Kotmina SUBSCRIPTIONS 800.308.7346
Creative Director
Liza Grant Smith, Mark
A family office style byPersonalizedapproachadvicebackedagloballeader 3825 PGA Blvd, Floor 9, Palm Beach Gardens, FL 33410 1450 Brickell Avenue, Floor 15, Miami, FL jpmorgan.com/sylviawealthmanagement33131 Kurt Sylvia Managing Director Wealth Partner kurt.sylvia@jpmorgan.com561.694.5652 Colin Hickey Vice President colin.hickey@jpmorgan.com561.694.5626 Kurt Sylvia Managing Director and Wealth Partner awards and recognition1 Best-in-State Wealth Advisors Forbes 2022, 2021, 2020, 2019 America's Top Wealth Advisors 2017,Forbes2016 Top 400 Financial Advisors Financial Times 2018, 2017, 2016, 2014, 2013 Top 1,200 Financial Advisors 2022,Barron's2021, 2020, 2017, 2016, 2015, 2014, 2013, 2012, 2011, 2010, 2008, 2006 Top Advisor Ranking in Florida 2022,Barron's2021, 2020, 2017, 2016, 2015, 2014, 2013, 2012, 2011, 2010, 2008, 2006 1 Awards or rankings are not indicative of future success or results. For more information on any listed ranking methodology for the award(s), please visit jpmorgan.com/awards. J.P. Morgan Wealth Management is a business of JPMorgan Chase & Co., which offers investment products and services through J.P. Morgan Securities LLC (JPMS), a registered broker-dealer and investment advisor, member FINRA and SIPC. Annuities are made available through Chase Insurance Agency, Inc. (CIA), a licensed insurance agency, doing business as Chase Insurance Agency Services, Inc. in Florida. Certain custody and other services are provided by JPMorgan Chase Bank, N.A. (JPMCB). JPMS, CIA and JPMCB are affiliated companies under the common control of JPMorgan Chase & Co. Products not available in all states. © 2022 JPMorgan Chase & Co. All rights reserved.
Jeffrey Rey, Anaely J. Perez Vargas
Circulation Manager
HOUR MEDIA, LLC CEO Stefan
In Memoriam J. Woods (1935-2013)
Circulation Assistant Elizabeth Gillespie
Selene M. Ceballo
Keith Gonzalez
Advertising Services Coordinators
Rebecca Desir, Elizabeth Hackney
Publisher Tanya Lorigan
PALM BEACH
Kathy Breen
Production Manager
Digital Pre-Press Specialist
ME DIA GROUP Publisher Terry Duffy Director Deidre Wade Director Daphne Nikolopoulos Todd Schmidt
Production Coordinator
Judy Heflin
ProductionPRODUCTIONDirector

Accounts Receivable Specialist Ana Coronel Wanczyk John Balardo
Advertising Design Coordinators
Distribution Manager
Logistics Manager Omar Morales
Sales
Brendan Everson
George Davis
Accounting Specialist Mary Beth Cook
President
Kayla Earle
Group
Ileana Caban
Digital Production Coordinator
AccountADVERTISINGExecutive
JUPITER MAGAZINE 6230 W Indiantown Rd Suite 7 Jupiter, FL 33458 Bringing Colombian flavor & style to Jupiter! 561.727.5012 | alfredobarrazaboutique.com
Editorial
Ronald
Circulation Promotions Manager Marcos Alviar
JUPITER | SEPTEMBER 202214 PUBLISHERS OF: Palm Beach Illustrated • Naples Illustrated • Fort Lauderdale Illustrated • Jupiter Magazine • Stuart Magazine • Aventura • Vero Beach Magazine • Florida Design • Florida Design Naples • Florida Design Miami • Florida Design Sourcebook • Palm Beach Charity Register • Naples Charity Register • Palm Beach Relocation Guide • Southwest Florida Relocation Guide • Traditions: The Breakers • Fifth Avenue South • Palm Beach 100 • Naples 100 • Art & Culture: Cultural Council for Palm Beach County • Pinnacle: Jupiter Medical Center Foundation • The Jewel of Palm Beach: The Mar-a-Lago Club • Naples on the Gulf: Naples Chamber of Commerce • Waypoints: Naples Yacht Club • Community Report: Collier Community Foundation • Advances: Tampa General Hospital • Fisher Island Club Magazine Naples Realtor: Naples Area Board of REALTORS
Chief Operating Officer
OPERATIONSITManager
Marjorie Leiva
Michelle Lee Ribeiro
Peace and blessings,
On another note, it's Flavor Palm Beach month, which means we all get to indulge in the special prix fixe tasting menus at some of the best restaurants in town. Leading up to September, I was invited to a few events to sample menus, and I have to say you are in for a treat! Thank you to Flavor Palm Beach and to the local chefs for having me (special shout-out to Chef Jeremy Ford at The Butcher's Club at PGA National and Chef Erik Pettersen at Evo Italian).
On the cover is Alexis Brock, who has been instrumental in the rebranding and revitalization of Downtown Palm Beach Gardens. Get to know her and the other "Ones to Watch" profilees beginning on page 36.
Recently, I met up with Jupiter native Tyler Cameron and had the chance to learn about his charity, The Andrea C. Cameron Foundation. Tyler and his brothers, Austin and Ryan, started the foundation to honor their late mom, who was a dedicated philanthropist. They award annual academic scholarships to JHS students and are super passionate about their mission. They're hosting a black-tie gala and a charity golf outing later this month to raise money for the foundation, so let's do what we can to support them! Learn more about how you can participate on page 111.
Editor's note PHOTOLILA©
JUPITER | SEPTEMBER 202216
Movers and shakers
Last summer, our team was brainstorming ideas for the future and decided we wanted to launch some kind of annual feature highlighting some of the many interesting people in our community who are doing all kinds of cool things. Lots of magazines have these types of packages, "30 Under 30" and the like, but we didn't want to exclude anyone by putting an age stipulation on it. We asked for your recommendations (thanks to everyone who nominated someone!) and did our own hunting to come up with a dozen or so folks, each we feel are worthy in their own unique ways. Let me tell you, it wasn't easy narrowing down the options. But our goal was to cover a wide range of endeavors, so inevitably there were some really great nominees that we had to leave out this time around. There is always next year, and I hope going forward you will continue to let us know about people we should have our eye on.
W
Enjoy the issue—and get out there and eat!
Tyler and me at Evo
L oca L c harity a Lert @mleeribmichelle@jupitermag.com
hat an incredible summer it has been! I was able to make it up to Cape Cod, my eternal happy place, to spend some time with my family at the cottage. I did a lot of paddleboarding and biking and beaching here in Jupiter. And I got to meet a ton of amazing folks around town as I hopped from photo shoot to photo shoot for our inaugural "Ones to Watch" editorial package, which we are launching in this issue and plan to make an annual thing.
Let me explain a bit about the idea behind "Ones to Watch."
NORTH PALM BEACH JUPITER WEST PALM BEACH DELRAY BEACH 1400 Old Dixie Hwy. 225 E. Indiantown Rd. 1810 S. Dixie Hwy. 117 NE 5th Ave. 561.845.3250 561.748.5440 561.249.6000 561.278.0886 @excentricities EXCENTRICITIES.COM
The September issue always energizes me. Our slower summer season comes to an end, our children are back to school, the snowbirds begin their southern migration, and we flow back into our routines. I'm especially looking forward to reading the "Ones to Watch" feature our editorial team put together for this special issue, profiling some of the movers and shakers in our community. This may be one of my favorite issues of theSeptemberyear!
also allows me to begin the rewarding work of supporting and sponsoring upcoming events and charities. There are so many worthwhile organizations and individuals doing much-needed and inspiring work. If I haven't reached out to you already to discuss how Jupiter Magazine might be able to work with you, please contact me—we are here to help! And be sure to keep an eye out for our annual Charity Datebook appearing in the October issue to aid in your planning.
In the meantime, I've been meeting with local business owners and organizations as we all witness the growth here in northern Palm Beach County. Many of us have mixed emotions about it, but I feel this growth will ultimately bring in more opportunities, business, and support for the community.
From summer to season
Tanya Lorigan tlorigan@palmbeachmedia.com
W
Publisher's note
hat a busy summer it has been! My husband and I attended two weddings and spent quality time with family in the Northeast to escape the heat. During our travels, I met many interesting people from all over the country who are yearning to move to Florida and make this their full-time home. We've tried to keep our area a secret, but the word is out!
PHOTOGRAPHYDREAMACHASIN
I hope you enjoy this issue and continue to visit jupitermag.com, where you can sign up for our weekly Insider's Guide newsletter to keep up with current events and news. Thank you for your readership, and feel free to reach out to me anytime.
I couldn't believe that the traffic never really eased up in Jupiter like it typically does in summer, and every time we went out to eat, the restaurants were still busy. Speaking of restaurants, I'm excited for this month's Flavor Palm Beach, where many of our favorite dining spots offer amazing prix fixe menus. I'm absolutely salivating at the prospect of the special menus our local restaurants have put together.
JUPITER | SEPTEMBER 202218
OVER $ MILLION63 SOLD AND PENDING IN THE LAST 24 MONTHS According to Beaches MLS and Waterfront Properties Records as of 8/3/2020-8/3/2022 HARRISON ALLEN PRODUCING RESULTS FOR BUYERS AND SELLERS IN NORTHERN PALM BEACH COUNTY
825 Parkway Street, Suite 8; Jupiter | WATERFRONT-PROPERTIES.COM HARRISON ALLEN PRODUCING RESULTS FOR BUYERS AND SELLERS IN NORTHERN PALM BEACH COUNTY 100 Beach Rd. 302 | Rep. Buyer $2,650,000 11670 Lake Shore Pl. | Rep. Seller $4,500,000 5801 Whirlaway Rd. | Rep. Buyer $1,900,000 172 Beacon Ln. | Rep. Buyer $2,250,000 845 Harbour Isles Pl. | Rep. Buyer and Seller $3,850,000 16613 Hidden Cove Dr. | Rep. Seller $1,650,000 17296 SE Conch Bar Ave. | Rep. Buyer $2,150,000 Jupiter | Rep.Seller LIST PRICE $4,500,000 SOLD SOLD SOLD SOLD SOLD SOLD SOLD UNDER CONTRACT CURIOUS WHAT YOUR HOME IS WORTH IN TODAY'S MARKET? CALL HARRISON TO FIND OUT! HARRISON ALLEN | 561.517.5288 | HARRISON@WFPCC.COM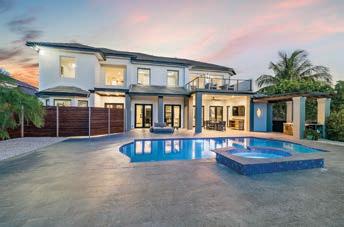 Lawyers are only as good as their team.
• A former Chair of the Marital and Family Law Board Certification Committee;
Visit our website to find out about our qualifications.
fisherpotterhodas.com | 561.832.1005 | West Palm Beach
• A former President of the Florida Bar;
• Partners from Yale and Harvard law schools; and
The FPH team includes:
• Four former federal law clerks;
• Partners who have taken cases with billions of dollars in dispute to trial.
• A former federal prosecutor;
Blushing Bride
AROUND TOWN OFF THE CHARTS
With a natural affinity for wedding accessories, Oritz began designing hair accessories and wedding clutches out of antique jewels and lace embellishments as a side hustle while working at a local bridal boutique. "I loved selling, and I also realized I loved everything about weddings," says the Jupiter Farms resident.
Localthe
each with his or her own aesthetic. "They all have something unique," says Ortiz. "Herve Paris offers gorgeous European lace at affordable prices. Kenneth Winston from California designs beau tiful, romantic, dreamy dresses that fit really well. Blue Willow from Anna Barge in Atlanta offers that classic, timeless look."
Brides can even customize their dresses without breaking their bridal budget. "Elizabeth Lee is a husband-and-wife team," says Ortiz. "They have amazing fabrics and details that can be customized at a good price."
|
K
As she plans for the upcoming bridal season, Ortiz is looking to add some new designers and continue to carve out the perfect experience for brides. "I want brides' time here to be a relaxed and fun experience," she says. Turn the page to find out what's trend ing in bridal this season.
pinkpetalbridal.com —Valerie Staggs
The gowns at Pink Petal Bridal include beachy looks and classic designs, many from newer designers. "I love emerging designers," says Ortiz. "Brides come in and say, 'I've never seen anything like that!'" At the moment, Pink Petal Bridal carries four designers,
im Ortiz has the best job in the world: She makes dreams come true. As the owner of Pink Petal Bridal in Jupiter, she helps brides find the wedding dress of their dreams for one of the most memorable days of their life.
PHOTOGRAPHYSULLOMARIEGINA
Located in Jupiter's Driftwood Plaza, Pink Petal Bridal is new to the bridal scene, opening this past January. But it is quickly becom ing one of the most coveted appointments for wedding dress shoppers. The boutique is stocked with a vast collection of designer bridal gowns, and Ortiz schedules just one bride at a time so she can focus on making the experience truly special. "Our appointments are private, so each bride is the only one in the shop," she says. "She can stay and try on as much as she likes."
Pink Petal Bridal owner Kim Ortiz has curated a unique selection of gowns and accessories in Jupiter.
| WELLNESS | STYLE | THE GOODS
23SEPTEMBER 2022 | JUPITER
or Brittany McKay and Jamie Tarasuk, the practice of yoga goes far beyond the 75-minute classes they teach at their Jupiter studio. Since becoming owners of Hamsa Power Yoga in 2019, the women have used yoga to teach love, inclusivity, and mindfulness both in their studio and in the world around them. "When people walk into our space, I want them to feel at home and to feel seen," says Tarasuk. Adds McKay: "We are openly inclusive. There is a beautiful rainbow of people here."
For Tarasuk and McKay, the Welcome Mat is an extension of their yoga philosophy, which encourages individual expression in and out of classes. "We teach that there is no one way," says Tarasuk. "In every class, people need to feel safe to do whatever they need. Let your intuition guide you." hamsapoweryoga.com —V.S.
EMBELLISHMENTS3D
Style
Pink Petal Bridal owner Kim Ortiz shares 3 hot bridal trends for 2023
F
BOWS
JUPITER | SEPTEMBER 202224 / AROUND TOWNLocalthe
"Bridal dresses are taking on new dimension as experimentdesignerswith florals, crystals, and otherwillofthree-dimensionalembellishmentstogivegownsalook.Thesetypesembellishmentsalsobeseenonglovesin2023."
BALL GOWNS
The yogis are doing what they can to help improve the lives of homeless individuals through the studio's Welcome Mat program. To participate in a class at their studio, clients can opt to donate personal hygiene items in lieu of paying the class fee. McKay says she was inspired to launch the donation-based initiative after she encountered an old friend she learned was now homeless. "I like to ask people, 'Do you live yoga off the mat?'" she says. "I believe yoga is social activism in movement."
Yo
"Bridal dresses with big bows on the back or small bow details will be popular this season. Small bow hair accessories and sleek ponytails tied with a bow are trending."also for Good
How two instructors are using their practice to benefit those in need
TREND Alert!
MARTINEZIRVING Spotlight COLLECTIONWILLOWBLUETHEBARGE,ANNEOFCOURTESY COLLECTIONWILLOWBLUETHEBARGE,ANNEOFCOURTESY COLLECTIONWILLOWBLUETHEBARGE,ANNEOFCOURTESY
Additional donations can also be dropped off anytime during studio hours, and the studio offers free classes to firefighters, police officers, military personnel, and veterans.
"Ball gowns are making a bold comeback in 2023.
embellishments."ruffltulleeverythingballbrides,traditionhomagePayingtotheofprincessthisseason'sgownsfeaturefromunderskirtsandedtierstofloral
About Face matte fluid eye paint in Sky Blue, $16, aboutface.com
NATURAL FLUSH Saie dew blush in Chilly, $24, saiehello.com
he change of season is a great time to adjust your beauty routine. Trade your white polish for a darker color, experiment with a bold makeup trend, and greet autumn with a new look.
Sol de Janeiro Glowmotions body oil, $35, soldejaneiro.com
Michael Todd Beauty Sonic
by EMILY PANTELIDES
Skim pore extractor and serum infuser spatula, $100, michaeltoddbeauty.com
Blue eye makeup is still trending, so if you want to give it a try, check out the bold colors from Halsey's clean beauty line, About Face. Autumnal tones should factor into your blush too: Try Saie's dewy blush in the shade Chilly and see what all the TikTok hype is about. Just remember, a little goes a long way.
Sundays No.18 nail polish, $18, dearsundays.com
For brows, stencils are hot this season, and this new powder kit from The Brow Trio is all the rage. Enhance your eyes further with a Lashify DIY lash extension kit. It takes some practice to master, but the results are worth it.
I love wearing lighter nail polish in the summer, but this time of year I prefer a bit of contrast. An elegant, deep berry shade like No. 18 from Sundays, a cruelty-free vegan polish, looks great with a gold glitter accent nail.
My final fall must-have is this Glowmotions oil from Sol de Janeiro You may know the brand for its famous Brazilian Bum Bum Cream, but this oil will transform your entire body. It's the perfect product to use when you want to fake a summer glow all year round. xo, Emily
T
PERFECT SHAPE
LASH MAGIC Lashify customized lash kit, $145, lashify.com
PAINT THE TOWN
The Brow Trio stencil kit, $38, thebrowtrio.com
SKIN DEEP
PIGMENT PLAY
Emily's Picks Fall Beauty
If you want to give your skin a boost, Port St. Lucie–based online retailer Michael Todd Beauty carries this pore extractor and serum infuser spatula. I can't tell you how much it has changed my skin!
25SEPTEMBER 2022 | JUPITER
In that short time, they realized that the area's beach lifestyle was a perfect fit for their family—and by June of 2021, they were settled into their new home in Palm Beach Gardens.
F
Clockwise from top: The Beasleys' new Young 27; Brook Beasley; the boat's custom family nameplate.
On their return trip from the Keys, a sudden school cancellation back home resulted in the Beasley family extending their stay by another month at an Airbnb rental home in Jupiter.
.
JUPITER | SEPTEMBER 202226
TestingNEWWATERS
AN UNEXPECTED BUT EXCITING MOVE TO THE AREA MEANT THE BEASLEY FAMILY NEEDED A BOAT FOR THEIR FISHING EXCURSIONS. THEY FOUND THE PERFECT FIT IN THE YOUNG 27
or Brook Beasley and his wife, Olivia, what began as an impromptu vacation to the Florida Keys during the 2020 COVID lockdowns unraveled a series of events that would see the pair and their four children uproot their lives in North Carolina and become permanent residents of South Florida.
by GEORGE LABONTE
LABONTEGEORGEPHOTOSALL / OFF THE CHARTSLocalthe
LENGTH: 27 feet, 7 inches
for 40 years. He also hosts the national television series Florida Sportsman Best Boat and Florida Sportsman Project Dreamboat. To book a charter with Captain LaBonte, visit edgesportfishing.com—and be sure to check out his new YouTube channel ("George LaBonte") devoted to his many fishing adventures.
was fitted with a custom whilekidsbackrestwraparoundtokeepthesecurelyseatedunderway.Additionally,theboat
captainedfishermanLaBonteresidentSoundGeorgeisanavidwhohaslocalcharters
DRAFT: 17 inches
With their new boat sit ting comfortably on a lift behind the Beasleys' water front home, the convenience of dropping in for a quick evening ride is a luxury to be appreciated. The family looks forward to the many Bahamas fishing excursions to come as well as exploring the waters off the northern Palm Beaches. ❖
The Young 27 can be configured in a number of ways, and for Brook and his family, a boat that combined all of the attributes of an inshore and offshore boat was critical. Their model would include a full tower with controls for cruising the shallows and sight fishing, plus a 36V Minn Kota trolling motor for both spotanchoring offshore and quietly stalking the shallows. A Power-Pole Blade stake anchor was fitted for trips to the Jupiter sandbar with the kids, and dual Garmin MFD units were added inside the lower helm station. Transom width seating across the aft casting platform
WEIGHT: 5,900 pounds (without engines)
BEAM: 9 feet, 4 inches
DEADRISE: 20 degrees
27SEPTEMBER 2022 | JUPITER
POWER FILE
After spending a season using various rental boats in Jupiter, they decided it was time to find their own vessel. The Beasleys were on the lookout for a vessel that would appeal both to Olivia and the kids, who enjoy inshore boating, and to Brook, who was quickly becoming addicted to offshore big game fishing. After seeing a review of the Young 27 from Young Boats, Brook was sold on the model and set about placing a custom order.
Clockwise from top: A pair of Mercury V8s give the boat a maximum speed of 600 HP; top-quality hardware includes Gemlux carbon fiber outrigger poles; a 36V Minn Kota trolling motor allows anglers to stalk the shallows; dual Garmin MFD units at the lower helm.
FUEL: 160 gallons
MAX HP: 600 youngboats.com
Hobe
ABOUT THE WRITER
was outfitted with top-quality hardware, such as Gemlux carbon fiber outrigger poles and upgraded seating at the helm by Llebroc, which adds an element of luxury that makes long boat rides easier to bear for the captain. For power, Brook elected to use the maximum recommended horsepower at 600 HP—a pair of Mercury 300-HP FourStroke Cold Fusion V8s deliver all the torque, topend speed, and economy one might ever need on a boat this size.
Try This:
PUMPKIN
BRUSSELS SPROUTS
Cook pumpkin into a soup or roast it with other vegetables. Use roasted pumpkin seeds as a crunchy snack or a topping on salads and yogurt.
A aroundisutumnright
With their vibrant color and earthy flavor, beets add natural beauty to your plate—plus, they are root vegetables so they're full of antioxidants, essential vitamins, and minerals. Not only are beets high on the nutrient scale, but they are also low in calories and provide a good dose of folate, which plays a key role in heart health. Beets have been studied for their role in lowering blood pressure, which is likely due to their high concentration of nitrates, which help dilate vessels.blood
Try This: Pears can be eaten raw as a snack or added to dishes like oatmeal or salad.
❖ / WELLNESSLocalthe 4 seasonal fruits and veggies to add to your grocery list ASAP
Fall's BOUNTY
WEB BONUS!
Pears are an excellent addition to fall menus given their impressive nutrition profile and versatility. They are a good source of antioxidants and are rich in potassium, vitamin C, and fiber. Many of the nutrients that help fight inflammation and may also aid in weight loss are found in the peel.
the corner, and with it comes a bevy of seasonal fruits and veggies. For a little guidance in the produce section, holistic dietitian and nutrition coach Phara J. Taylor of The Nutrition Clinic in Port St. Lucie lends her insight on the season's most nutritious and delicious farm-fresh picks and how you can incorporate them into your diet. thenutritionclinic.net
Get some delicious and healthy new recipes this season at jupitermag.com/fallsbounty
PEARS
by ABIGAIL DUFFY
Try This: Brussels sprouts make for an easy and tasty side dish. Simply drizzle them with olive oil, salt, and pepper and bake until crispy.
BEETS
Try This:
Add beets to salads or roast them with other vegetables like carrots for a colorful and appetizing plate.
I love the color and flavor of pumpkin in savory and sweet dishes alike. Pumpkin is nutritious, loaded with fiber, and boasts a range of vitamins and minerals for a well-balanced diet. It packs a good amount of beta carotene and vitamin C, both of which are important in supporting immunity. If you're aiming for weight loss, pumpkin is low in sugar and high in fiber, which may improve metabolic efficiency.
JUPITER | SEPTEMBER 202228
Brussels sprouts are superpacked with nutrients— especially fiber, vitamin C, and vitamin K, which supports blood clotting and healthy bones. These veggies are especially great for diabetics because their high fiber content can help lower blood sugar levels. A half-cup of sprouts contains 2 grams of fiber, which has been shown to reduce the risk of heart disease, among other health benefits.
C c | B
SEPTEMBER 2022
Maygel Coronel Atenas black pearl-strap bikini set ($360), Mignonne Gavigan Mini Pernielle gold hoop earrings ($75), Illesteva Leonard II E black sunglasses ($240), Tkees glossy black leather sandal ($50), Melissa Odabash Lola white knit cover-up romper ($253), Kayu St. Tropez black and white pom-pom straw tote ($150), Lola Dré, Jupiter, loladre.com
WE VISITED SOME OF THE BEST STORES IN TOWN TO PUT TOGETHER THREE PERFECT FALL LOOKS TO ADD TO YOUR CLOSET THIS SEASON
Seaside
o create a resort wear look, I headed straight to Lola Dré. The Jupiter boutique has a perfectly curated collection of pieces from designers around the world (and their sister store, Sand by Lola Dré, is a one-stop shop for your next vacation!). When you think of resort wear, it's easy to go bold and colorful, but I love the idea of staying neutral and just mixing textures. I chose this swimsuit from Lola Dré because every woman needs a little black bikini that makes her feel her best, and this one has pearl detailing on the shoulders that gives it some edge. I paired it with this chic white cover-up to keep the look neutral and classic—just toss it on after a swim for a beachside cocktail. The lace of the cover-up balances the woven bag perfectly.
/ STYLELocalthe
Boutique
T
by HOLLAND SMITH PATERNO
Paterno's career as a personal shopper began in her native Mississippi during her sophomore year of high school when her mother's best friend hired her to pick out Christmas gifts for her husband and their three young sons. With an intuitive ability to find stylish designs at affordable price points, she quickly formed a loyal customer base of friends and school peers. She sustained her side hustle while studying marketing at Ole Miss, working in women's boutiques, and interning at Jimmy Choo.
Holland Smith Paterno has delighted in the art of shopping since she was 6 years old. "My mom says I was born to shop," shares the 27-year-old Tequestabased fashion stylist. "Every time we were in a store, I would automatically turn around so she could see whether the clothes fit me or not. She likes to say, 'I knew we had an issue then.'"
Date
31SEPTEMBER 2022 | JUPITER
odern femininity is a big fall trend that's all about women feeling their best in things like light colors, lingerie-inspired pieces, feathers, and fringe. I fell in love with this amazing fringe kimono dress from Alfredo BarrazaBoutique in Jupiter. This new store curated by Barraza and his niece, Ana Tyson, has added some Colombian flair to Jupiter since it opened this past February. This kimono dress immediately caught my eye with its gorgeous fringe detail and fun print. It's the perfect base for a date-night outfit since it really captures that feminine vibe that's going to be all the rage this season. Western-style footwear has been a big trend since spring and will continue into fall, so I paired the dress with these fun, bold metallic western boots. The Cult Gaia clutch adds a nice pop of color and really ties the outfit together.
Alfredo Barraza Ana kimono dress ($160),Alfredo Barraza Boutique, Jupiter, alfredobarrazaboutique.com; Lili Claspe Jules lariat necklace ($110)and Gina twist gold hoop earrings ($100), liliclaspe.com; CultGaia Enid clutch ($328), cultgaia.com; Dolce Vita Shiren boot ($295), dolcevita.com
In 2016, she launched a fashion and style blog called The Brunette Friend; five years later, she rolled out her eponymous website, hollandpaterno.com. Today, when Paterno isn't dressing clients for high-profile events, she enjoys showing off fashionable pieces she uncovers on Amazon and sharing her favorite things from brand partners like Steve Madden with her dedicated social media following, which includes nearly 150,000 combined followers on Instagram and TikTok. In November, look out for a downloadable holiday gift guide on her website. —Kerry Shorr
y BABBSHAYE N t
M
his outfit was based around the bold and beautiful prints available at Sea Lustre, a local boutique in Tequesta owned by designer Brooke Hartman. Her pieces are all made in Bali and inspired by the culture and beauty found on the island. The bell sleeve and length of this floral-print maxi dress take you seamlessly into the fall season, and I paired the dress with timeless freshwater pearl accessories that can be worn with almost anything. I love this look for a casual girls' weekend getaway, whether you're doing a staycation in Palm Beach or a road trip down to the Keys.
Girls'
T
JUPITER | SEPTEMBER 202232
/ STYLELocalthe
Ge y
Sea Lustre Grace Gown in Nikko blue ($172), Palm sandal ($82), gold triple freshwater Bora bracelet ($118), freshwater pearl gold Infinity hoop earrings ($105), Sea Lustre, Tequesta, sealustrejewelry. com; Lack of Color Melodic fedora in ivory ($130), lackofcolor.com; Dolce Vita Nashe bootie in vanilla nubuck ($160), dolcevita.com
CONNECTINGREALPEOPLEINREALLIFE Start Living & Loving Your Best Life! ♥ NOT Online Dating ♥ Love Local ♥ 90% Success Rate ♥ Private & Confidential ♥ All Clients Pre-Screened ♥ Photos & Bios Created In-House ♥ One-on-One Matchmaking ♥ Representing Ages 21-80+ PALM BEACHES: 561.630.XOXO (9696) TREASURE COAST: 772.932.HERE (4373) REVOLUTIONDATING.COM YEARS of MATCHMAKING est1991 31 Kelly Leary, M.S. THE Florida Matchmaker #MenMagnets #TellYourFriends Changing the way we find love, one date at a time.
JUPITER | SEPTEMBER 202234 / THE GOODSLocalthe POOCH Panache TREAT YOUR LOYAL PAL TO SOME SWANKY SWAG THIS SEASON 2 3 5 8 7 guacamole dog bowl toy with avocado, lime, and chip, $23, and Haute Diggity Dog Casamuttgos tequila dog toy, $14, Palm Harbor Boutique, Jupiter | 2. Louis Vuitton classic monogram canvas dog bag with plush carpet, soft ventilation net, and adjustable shoulder strap, $3,500, Louis Vuitton, The Gardens Mall, Palm Beach Gardens | 3.Skout's Honor lilac and linen puppy shampoo and conditioner with avocado oil and topical probiotics, $21, Woof Gang Bakery & Grooming, Jupiter Farms 4. Anita's Casa locally handmade dog bed cover with vibrant trim accent in choice of tropical fabric, $54 (cover only; doesn't include bed), etsy.com/shop/anitascasa | 5.Ava's Pet Palace salmon chips made with human-grade, wild-caught salmon with Omega-3 fatty acids to support the immune system, $14, JUPdog, Singer Island | 6.Symmetrical Pottery personalized ceramic dog bowl, from $38 (prices vary depending on size and personalization), symmetricalpottery.com | 7. One Fur All Pet House Candles made with 100 percent natural soy wax in various intoxicating scents to neutralize pet odors, $24 each, Gigi's Pet Market, Jupiter | 8. Walk in the Bark posh dog accessories in various prints and motifs, $26-$34/collars, $28/leashes, $23/waste bag dispensers, etsy.com/shop/walkinthebark 6


561-747-4539 • 950 Jupiter Park Dr, Jupiter • www.mauricesfurniture.com Maurice's Furnishings Family Owned and Operated Since 1981 IMPORTED & CUSTOM FURNITURE • LIBRARIES & BUILT-INS • ENTERTAINMENT CENTERS SOFAS • ACCESSORIES & LIGHTING • ANTIQUES & ARCHITECTURALS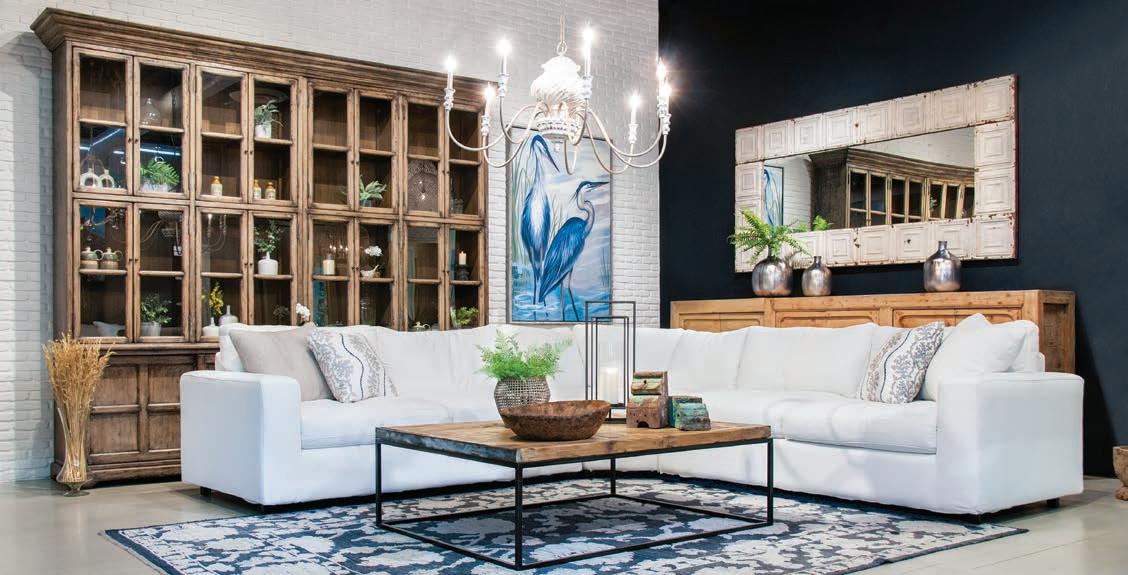 Alexis
MagazineJupiter's
Brock loves to be creative while helping her community. As regional marketing manager of ShopCore Properties, the national company that owns Downtown Palm Beach Gardens, she is heavily involved in rebranding the retail area to give guests the best overall experience. "We want to lead the revitalization of the PGA corridor," says Brock, 32, who grew up in Palm Beach Gardens and now lives in Jupiter. "We are being strategic in our design to make great improvements for shoppers." Brock's vision has led to a slew of recent projects: The team has renovated the carousel, which was relocated to the lakeside; added four colorful art panels reflective of the South Florida lifestyle, painted by local artist Emmanuel Gonzales; created tropical landscaping; designed Downtown Blooms, six large stainless steel dandelion bloom structures that are interactive and change colors; and added new furnishings. In addition, Brock led the installation of the company's new beehive initiative. "This is part of our sustainability focus," she says. "We installed the hives in honor of Earth Day, and a local beekeeper will maintain them and harvest the honey to gift to the community." While she thrives on being innovative and meeting challenges at work, Brock knows how to have fun and enjoys riding her bike, taking her dogs to the beach, and traveling in Europe. "There is never a dull moment in my life," she says, "and that's the way I like it!" downtownpbg.com
Shot on location at Downtown Palm Beach Gardens
MARTINESTEVEN
The Downtown Visionary: ALEXIS BROCK
JUPITER | SEPTEMBER 2022 ONES36WATCH 2022 TO
OUR ANNUAL "HOT LIST" OF LOCAL MOVERS AND SHAKERS YOU MAY WANT TO KEEP AN EYE ON
by LINDA MARX
37SEPTEMBER 2022 | JUPITER
NICK RICHMAN NUTTLEJASON
from a family of doctors and lawyers and says he's the "black sheep" of the family because of his career choice. But he is quickly seeing the payoff of embracing his passion. In 2014, his short film Goodbye, Darling was part of the Miami Film Festival and other regionals in Nashville and Brooklyn. And in 2020, his freelance work for Military Makeover turned into a full-time job. "We just wrapped our thirtieth season with Justin and Kristie Ziegler, a Jupiter Farms family," he says of the recent taping in town. While he likes to hike and go to the beach, film is what makes him tick. "I love to wake up and take on my work of writing the script, talking to the veteran and the interior designer, then being creative with the show," says Richman. "It makes me feel like a kid again."
Richman's propensity for risk-taking has paid off. The showrunner and senior producer for Lifetime TV Network's reality series Military Makeover with Montel (Williams) fell in love with movies while growing up in Palm Beach Gardens. At age 6, he began analyzing films, cultivating his own imagination for the dramatic. "I held a clapboard and wanted to be a director," says Richman, 28. "In the sixth grade, I got a camera for my birthday and starting filming in the area." Eventually, he enrolled in acting classes—some at the local Burt Reynolds Institute for Film and Theatre. While in school at Palm Beach State College, he worked part-time as a production assistant, an extra, a director for networks like Comedy Central and TNT, and a writer on short films. But when balancing classes with his gigs became too frustrating, he dropped out of college to pursue his dream full-time. "I don't jump out of airplanes, but I am a risk-taker," he says. Richman comes
Instagram:@nnickrichmann
Shot on location in Jupiter Farms
Nick
The TV Producer:
personal experiences steering her career, Indian-born Pranoo Kumar Skomra, 36, of Juno Beach, wants all students to feel safe in the classroom. The self-described "edu-preneur" and teacher is an advocate for diversity, dignity, compassion, inclusion, and accessibility in children's education. Last year, Skomra founded Rohi's Readery, a children's bookstore and learning center at The Square in West Palm Beach that offers workshops, books, and events for kids to teach them about diversity and inclusion. She has since expanded to work with the Town of Jupiter to bring similar programs to the northern county area. "I want to see more inclusion because I grew up in the South experiencing racism and oppression in school," says the mother of two. "I tried to grow socially, mentally, and spiritually but struggled with my identity empowerment. My parents tried to find me safe spaces so I could assimilate, but I felt isolated and depressed." To help others, she has devoted her life to teaching at elementary schools and developing programs that ensure all children experience social justice. With Rohi's Readery, her dream is to provide an inclusive space where all children can feel safe and see themselves in the pages of a book. "If you come in, read a book, and take what you have learned to make change in the world, then the Readery will have accomplished its mission," she says. rohisreadery.com
With
RICHARDSONVAN
The Edu-preneur: KUMARPRANOO SKOMRA
More
than 15 years ago, Angel and Marc Chernoff started a blog to catalog their daily lives. The fun and happiness described in their early personal development posts became a vehicle to help overcome the grief they felt at the sudden losses of a family member and a friend. "The blog (Mark and Angel Hack Life) turned to necessity to pour out our heart and soul," says Angel, 40. "We started out writing for others, then we wrote for ourselves." As their social media took off, the couple received many comments from people who empathized with their pain. From there, the Jupiter
The Life Coaches: ANGEL and MARC CHERNOFF
HOFFERMEGAN
residents continued improving their site, which today offers more than 900 articles on topics like happiness, self-improvement, and productivity and boasts 200 million page views and 200,000 subscribers. The Chernoffs also co-authored The New York Times best seller Back to Happy: Change Your Thoughts, Change Your Reality, and Turn Your Trials into Triumphs, a book that augments their blog, and work as life coaches with clients all across the country. "We are both on call for individual and group activity," says Marc, 41. "Our niche is group coaching." marcandangel.com
LEAH LOGUE
Florida. But with an ever-growing list of decorating clients, including movie stars and business moguls, she is concentrating more on that aspect of her business at the moment. Born and raised in Palm Beach County, Logue's South Florida roots have influenced her "pop of coastal" design aesthetic. "I merge modern decor with coastal accents and colors, concentrating on a younger take when it comes to wallpaper, ceilings, etcetera," says the current Palm Beach Gardens resident. "My work feels like a hobby, and when clients say they love the results, I get the most satisfaction. It's amazing!" loguedecorators.com
The Decorator to the Stars:
Leah Logue has managed to turn a hobby into a booming career. After graduating from the University of Florida in 2007 with a degree in advertising and marketing, she realized she enjoyed the creative aspect of home decor and decided to start remodeling homes. Soon she was working on projects throughout the Southeast. "I started flipping houses in Nashville and loved it!" says Logue, owner of Logue Decorators. With an extensive knowledge of construction and a professional team of craftsmen, she has flipped a lot of real estate, including many homes here in South
LAURENZANOMICHAEL
Thirty-seven-year-old
JUPITER | SEPTEMBER 202242As
a young boy growing up in Jupiter, Jakob Takos was shy about showing off his musical talents. "I was overly critical of my own work because I never thought it was good enough," he says. "As the years went by, I realized the only way to get over this was just to put my talents out there." In 2019, he released five singles (and music videos) under the album title Create to Connect, working with different musicians on each track. The 27-yearold is also the owner of Nothing Negative Co., a Jupiter-based creative services company that helps businesses and entrepreneurs with branding through digital media, videography and photography, events, and more. "I play [music], sing, write, work in visual arts, and even taught myself photography," says Takos, who is the founder of Jakob Takos & The Connection, an eclectic group of musicians whose three-track EP, Sunshine Soul, is out now. (They recently finished recording volume two, which Takos hopes to launch by the end of the year.) In 2020, his interest in photogra phy led to a gig shooting pictures for a local edition of an international guidebook series, 111 Places in Palm Beach That You Must Not Miss. His creative soul has even led him to film—he has a small scene as an actor in the newly released Paramount Plus streaming film The Day the Music Died: The Story of Don McLean's American Pie. Says Takos: "I love the creative life that I have made for myself. I value creating and connecting with people and have funneled all of my passions into doing what I love." nothingnegativeco.com
The Creator: JAKOB TAKOS
Shot on location at Echo Beach Studios in Jupiter
NUTTLEJASON
43SEPTEMBER 2022 | JUPITER
The Waste Reducers: ELANA and STEPHEN SMITH
And they've taken their mission a step further by launching One World Collective, a nonprofit that aims to help both the environment and local residents. "We donate locally sourced organic fruits, vegetables, and goods to those who are sick or in need," explains Elana. As part of the collective, some of the donations/funds are used to educate the community on planting native species and edible fruit trees in public areas and teaching children the importance of maintaining the health of the environment. "We are even planting and building a 'food forest' on our own Jupiter Farms property," shares Elana. "We also have a wholesale business and a franchise unit so more and more communities around the country can help reduce waste and save the environment while their residents lead healthier, happier lives." oneworld-zerowaste.com
Shot on location at One World Zero Waste in Tequesta NUTTLEJASON
In
2018, after an enlightened honeymoon in India, Elana and Stephen Smith returned to their Jupiter Farms home eager to teach people how to reduce waste in their lives. "We saw waste in your face in India that was a constant reminder of the problem," says Elana, 29. When the couple got back to Florida, they decided to do something about it and opened the sustainable retail store One World Zero Waste in Tequesta. "It's easy to forget about the problem here, so we want to show people how simple it is to reduce waste," says Elana. One World Zero Waste specializes in environmentally responsible products like plastic-free reusable alternatives to single-use plastic products, including the popular "Unpaper towels," reusable wipes, and more. Elana and Stephen, 31, design many of the products themselves and enlist locals to make them. The store has been such a big hit, the Smiths have decided to expand with a second outlet in Delray Beach, set to open this month.
Altruistic
MARTINESTEVEN
Instagram: @iam_aricharis
Charis Yebba grew up with art in her blood. Both of her parents and her maternal grandmother were artists, so she picked it up at a young age. Having that creative outlet helped her later in life when she separated from the father of her two children. "I came from a bad situation in my own life and built myself back up with art," says Yebba, 31, who lives in Jupiter. "I empowered myself through art. It was therapeutic." Inside her Palm Beach Gardens studio, she paints portraits, mostly women, with a focus on spirituality. She tries to capture the energy of life with vibrant contrasting colors and provocative compositions. During SunFest in April, she painted a portrait of the soul band Black Pumas and was asked to go backstage, where she signed the work for the band. She has created pieces for the National Coalition of 100 Black Women and has done live-painting at a National Democratic Black Caucus event and at the Norton Museum's recent Juneteenth Festival. Currently, she is contracted to paint murals for a couple of Palm Beach County schools and to design a custom skateboard that will be auctioned off for charity. Yebba also offers lessons at the Edna W. Runner Tutorial Center in Jupiter. "I teach with a nod to mental health," she says. "This encourages people to try new things and to develop themselves at a higher level. The freedom of art is the best way to be aware. When you have freedom, you can float and fly and embrace everything about life." Don't miss Yebba's upcoming show September 17 (with fellow local artist Anthony Burks Sr.) at Zero Empty Spaces in Palm Beach Gardens.
Arielle
Shot on location at Yebba's art studio, located at Zero Empty Spaces in Palm Beach Gardens
The Artist: CHARISARIELLE YEBBA
F46rances
Shot on location at TBC in Tequesta
FRANCES ANDREWLEVICH
The Beer Master:
JUPITER | SEPTEMBER 2022
Andrewlevich is so smitten with quality beer that he often brews as early as 5:30 a.m. "I love the chemistry, sensory experience, and machinery," says the Jupiter resident. "I like the smell and art of brewing." Growing up in Pennsylvania, his parents owned a bar, and he became interested in the brewing process at a young age. After graduating from Johnson & Wales culinary school in Charleston, Andrewlevich moved to Florida in 1994 and worked for various establishments in the area before opening up his own bar, Tequesta Brew ing Co. (TBC), in 2011. Today, he is the owner of three local breweries: TBC, which features 11-foot ceilings and beautiful antiques like a wooden bar, old mirrors, and pillars; Twisted Trunk Brewing Co. in Palm Beach Gardens, a large space surrounded by Banyan trees with a bar carved from a 100-year-old elm tree and a cleverly simulated Banyan tree inside the bar; and Steam Horse Brewing Co. in West Palm Beach's Warehouse District, located in a 1928 building with the cool design of a turn-of-thecentury train station. "There were very few local brewers when I started out in Florida about 25 years ago," says Andrewlevich, who also heads the Jupiter Craft Brewers Festival at Roger Dean Stadium each January. "Now there are many, but we are set apart because of our quality balanced beer. I am still fascinated by the process and how the ingredients come together." tequestabrewing.com; twistedtrunkbrewing.com; steamhorsebrewing.com
MARTINESTEVEN
47SEPTEMBER 2022 | JUPITER
When powerhouse New York publicist Susan Magrino brought her firm to South Florida two years ago, she knew just whom she wanted to help her infiltrate the market. She recruited Jupiter native Dana Pucci and her Miami Beach partner, Kim Nolan, who run the South Florida public relations firm KNPR. "We were a good fit for the agency's clients," says 35-year-old Pucci, whose KNPR agency specializes in hospitality, travel, and real estate clients between Jupiter and Miami. While earning a degree in public relations from Loyola University in New Orleans, Pucci, who also holds a master's degree in communications from the University of Miami, developed a strong interest in cuisine, which steered her toward certain clients at the beginning of her career. "When I got into this field, it was the food clients that intrigued me," she says. Pucci has a lot of experience in the local food realm, including working with Palm Beach Gardens–based Brickhouse Public Relations to implement PR strategies for Coolinary, Cactus Grille & Tequila Bar, and Jupiter's new Lewis Steakhouse.
The Power Player: DANA PUCCI
NUTTLEJASON
"I get a high from delivering results to clients," she says. "I work hard and have stressful days, but I am proud of my long-standing clients and the relationships I've built over the years. I am lucky to be able to do what I love and make money at it!" kn-pr.com
Shot on location at Pucci's home in Abacoa
Shot on location at Pumphouse Coffee Roasters at Grandview Public Market in West Palm Beach
The Brew Brothers: ALEX CHRISTIANand LE CLAINCHE
NUTTLEJASON
While growing up in South Florida, brothers Alex and Christian Le Clainche visited their grandfather's coffee plantation in the Blue Mountains of Jamaica. Years later, after they both finished college at the University of Central Florida, they began producing coffee with top-notch beans from Jamaica and other locations and launched their own business, Pumphouse Coffee Roasters. "Alex came to me and wanted to produce freshly roasted coffee in Jupiter," recalls Christian, 33, who holds a law degree and an MBA. "We both wanted to broaden the craft by employing our own special techniques to develop the flavor, sweetness, and body of the coffee. We work well together because I am analytical, and he is creative." Today, they wholesale the beans to local retail outlets including Hobe Sound Social & Coffee, Perk Coffee House in Tequesta, Sole Rebel in Jupiter, and the eateries at Charlie & Joe's at Love Street in Jupiter. "We like to improve the quality of coffee while growing and connecting with our audience," says 35-year-old Alex, who resides in Jupiter. The brothers are in the midst of expanding their coffee empire even more: They recently added 8,000 square feet to their West Palm Beach location at Grandview Public Market, which will serve as both a roastery and a retail coffee bar where customers can watch the coffee being made. The new iteration of Pumphouse, dubbed "The Pumphouse Pouratorium," is set for a soft opening this month and a grand opening in October. "We want to help others improve their days with a cup of Joe," says Alex. "We love going to work where people are happy to see us!" pumphousecoffeeroasters.com
JUPITER | SEPTEMBER 2022A50photographer
for 28 years, Jason D. Page stumbled upon his unique craft of "light painting" in 2004 by chance. "I bumped my camera by accident on a full moon night, and I used that light to create designs in the sky," says the 45-year-old Hobe Sound resident. It was an epiphany of sorts for Page, who took the experience and transformed it into an art form he calls light painting. "Since then, I started using my camera to record light," he says. "It can be a challenge to work in total darkness, but the end results are quite rewarding." When he's shooting a portrait, both he and the subject are in total darkness except for flashes of light. He "paints with light" using a long-exposure technique—when the shutter closes, his camera compresses the light into one single frame. "It's like watching a magic show and then the reveal," describes Page, who is out creating light paintings two or three nights a week, often at Jonathan Dickinson State Park. When he's not working on his art, he's running his online side business selling a system of patented tools, including light-painting brushes that he designed to help others create similar images. "What's important to me is to try and make the world a brighter place," says Page. "I want to bring light to dark places." jasondpage.com ❖
Illuminated Being #6, a self-portrait light painting by Jason D. Page
The Light Painter: JASON D. PAGE
PAGED.JASON
51SEPTEMBER 2022 | JUPITER
SemSem tuxedo sleeveless jumpsuit ($995), vintage Kathrine Baumann limited edition Cham pagne clutch ($2,495), Fivestory Palm Beach; vintage navy silk chiffon cape ($145), Dina C's Fab and Funky Consignment Boutique, West Palm Beach; gold belt ($98), gold earrings ($75), The House of Perna, Delray Beach
Shot by Jupiter Magazine on location at The Lyric Theatre in Stuart
Drama QUEEN STEP INTO THE SPOTLIGHT THIS FALL IN DIVA-WORTHY LOOKS WITH A VINTAGE VIBE
photography by olga aleshina
Cinq à Sept Loisa embellished blazer ($795), Saks Fifth Avenue, The Gardens Mall, Palm Beach Gardens; vintage Oleg Cassini cream satin full maxi skirt ($125), Dina C's Fab and Funky Consignment Boutique, West Palm Beach; vintage Lanvin neck lace ($995), Fivestory Palm Beach
Vintage Chanel pink tweed jacket and miniskirt ($3,200), vintage Chanel pearl earrings ($1,500), Dina C's Fab and Funky Consignment Boutique, West Palm Beach; DeMellier gold metallic tote ($465), Saks Fifth Avenue, The Gardens Mall, Palm Beach Gardens
Vintage Chloé silk dress ($725), vintage Chanel seven-strand pearl choker ($1,500), vintage Chanel chicklet necklace ($2,000), Dina C's Fab and Funky Consignment Bou tique, West Palm Beach; Valentino Garavani Rockstud medium flat pouch ($750), Saks Fifth Avenue, The Gardens Mall, Palm Beach Gardens
Vintage Camille black ruffle layer tie-front blouse ($175), Dina C's Fab and Funky Consignment Boutique, West Palm Beach; Stella McCartney wide-leg pant ($1,095), Saks Fifth Avenue, The Gardens Mall, Palm Beach Gardens
Louis Vuitton straight coat (price upon request), bi-material flounced skirt (price upon request), Archlight slingback pump ($1,460), Capucines BB handbag ($9,300), Louis Vuitton, The Gardens Mall, Palm Beach Gardens
Amanda Perna Couture gown ($10,000), Amanda Perna, Delray Beach; Aquazzura metallic leather ankle-tie sandal ($750), Saks Fifth Avenue, The Gardens Mall, Palm Beach Gardens
Fashion editor: Katherine Lande Stylist: Zlata Kotmina Hair and makeup: Alina Bondarevska Model: Klaudia Kapuscinska, Elite Model Management, Miami
Vintage Elie Saab blush silver beaded gown ($1,495), vintage Jimmy Choo silver strap heel ($295), Fivestory Palm Beach; vintage Kokin white leather drum majorette hat ($425), Dina C's Fab and Funky Consignment Boutique, West Palm Beach; earrings, stylist's own
REACH THE MOST INFLUENTIAL RESIDENTS IN JUPITER AND BEYOND. ADVERTISE ON OUR PAGES AND GET NOTICED. Contact: jupitermag.com/contact-us
These community leaders excel in their chosen industries, and it's time for their well-deserved moment in the spotlight. They told us their stories, and now we're here to tell them to you.
2022
SPECIAL ADVERTISING SECTION
SPECIAL ADVERTISING SECTION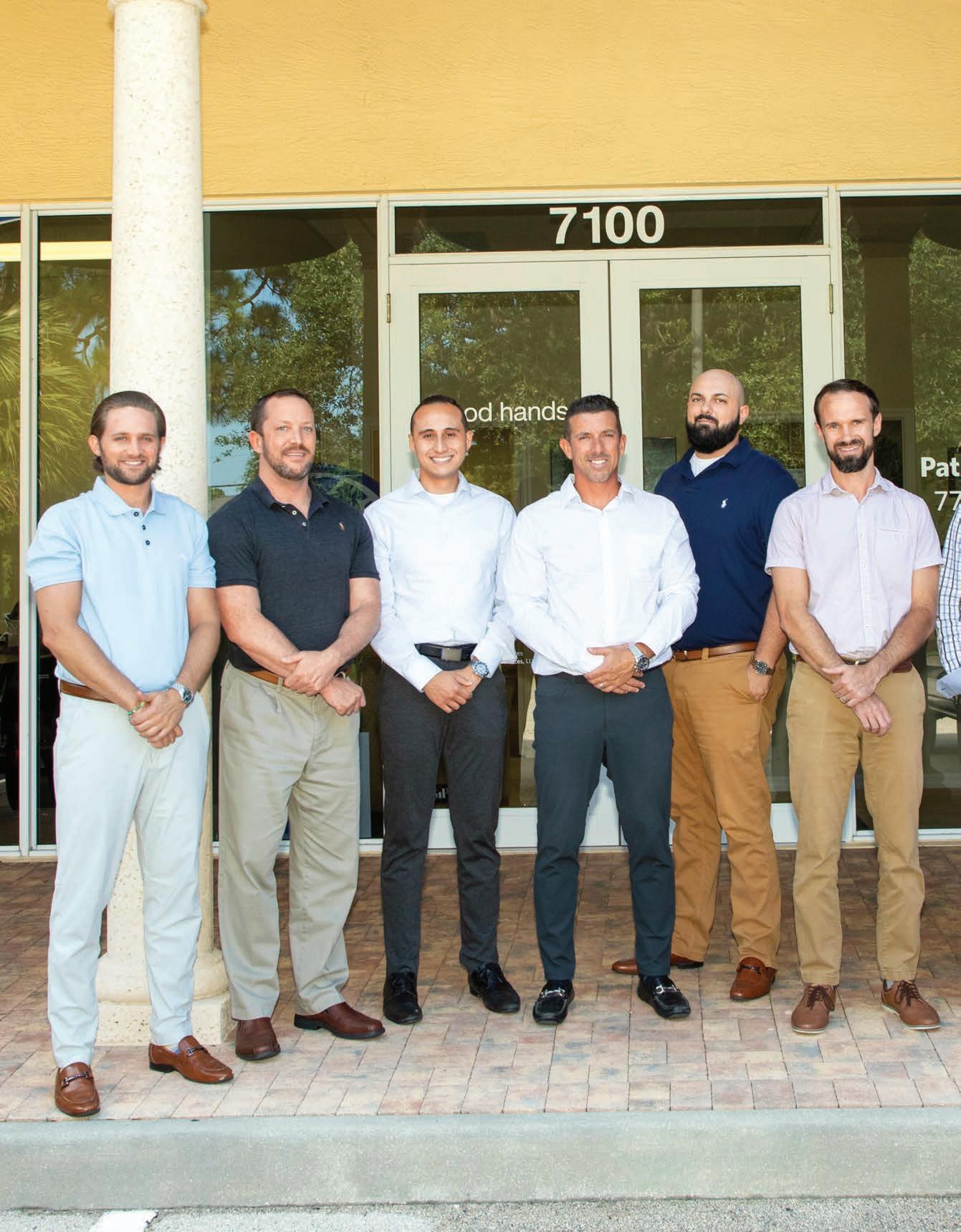 SERVICESINSURANCE
7100 S. Kanner Hwy. • Stuart 772.223.6007 • patrickgambale@allstate.com
Patrick Gambale Allstate – Gambale Insurance Group THE LEADER OF
SEPTEMBER63 202 2 | JUPITER
The Gambale Insurance Group, led by agency principal Patrick Gambale, was founded in 2008 and specializes in personal-lines insurance such as home, auto, and life. His team of licensed agents takes an educational approach in explaining to clients what their insurance needs are. "Service is the backbone of what makes us different from the competition and is the catalyst as to why we are the largest and fastest-growing independently owned Allstate agency on the Treasure Coast," says Gambale. A former local standout pitcher for Cardinal Newman High School, he has taken his drive and passion into building a highly successful business that ranks in the top one percent of Allstate agencies nationwide and consistently is recognized as one of the state's best agencies. "As an agency with more than 14,000 policyholders, our team works together ensuring our customers are taken care of when the unexpected occurs," he says. "The most rewarding part of this business is knowing we assisted a client in a time of need." When he is not working, the avid angler is out on the water with friends and family, including his wife Toney and his daughters Gabriella and Giuliana.
SPECIAL ADVERTISING SECTION
Mark A. Pinsky, MD and Vincent Chavanon, MD Pinsky Plastic Surgery

NATURAL AESTHETIC BEAUTY
Patients seeking to achieve their ideal body or facial aesthetic in West Palm Beach have seen unparalleled results from Pinsky Plastic Surgery. Founded in 1991 by distinguished plastic surgeon Dr. Mark A. Pinsky, the practice is guided by leaders in the specialty of beauty and aesthetics. Pinsky and Dr. Vincent Chavanon appreciate each patient's unique characteristics and aesthetic goals before developing a beauty plan. This allows them to artistically reveal a patient's natural beauty, rather than create the all-too-often "overdone" result.
Pinsky and Chavanon have been recognized as South Florida's top plastic surgeons. They firmly believe in using only the latest, most effective technology. As a Food and Drug Administration investigator, Pinsky brought the immensely popular dermal filler Juvéderm—as well as other products and technologies—to market. Now Pinsky and Chavanon lead their practice annually in extensive
SEPTEMBER65 202 2 | JUPITER
This new technique uniquely integrates FaceTite, MyEllevate, and liposuction with very little downtime required. The Pinsky Profile tightens the underlying neck musculature, tightens the skin, and removes excess fat along the neck, jawline, and lower face to create a more youthful, aesthetically elegant profile.
research to determine the safest, most effective solutions for their patients. In recent years, Pinsky Plastic Surgery has added Morpheus8, FaceTite, MyEllevate, Emsculpt Neo, Aveli, and other breakthrough modalities to their vast list of innovativeAdditionally,treatments.withan exceptional eye for beauty paired with experience in innovation, the practice has developed Pinsky Profiles—a new, minimally invasive in-office procedure to lift and tighten the neck and lower face.
THE LEADERS OF 11020 RCA Center Drive, Suite 2010 • Palm Beach Gardens • 561.881.8800 • pinskymd.com
Pinsky Plastic Surgery prides itself on creating beautiful results for its patients.
Lickstein Plastic Surgery and Lickstein Plastic Surgery Medical Spa
SURGICAL BODYNONSURGICALANDSCULPTING
THE LEADERS OF Lickstein Plastic Surgery 5540 PGA Blvd., Suite 200 • Palm Beach Gardens Lickstein Plastic Surgery Medical Spa 11701 Lake Victoria Gardens Ave., Suite 3110 Palm Beach 561.571.4000Gardens•licksteinplasticsurgery.com
Board-certified plastic surgeons David A. Lickstein, MD, FACS and Craig M. Forleiter, MD combine worldclass training with compassionate individualized care to offer both an outstanding experience and outstanding results to their patients. For patients seeking bodysculpting surgeries (including abdominoplasty, liposuction, "mommy makeovers," gynecomastia surgery, and more) or body-sculpting injectables (such as Kybella, Sculptra, and Qwo), Drs. Lickstein and Forleiter are superbly skilled in this field. Following a national survey of board-certified plastic surgeons, Newsweek magazine ranked Lickstein in the Top 100 plastic surgeons in the nation for liposuction, breast augmentation, and face-lift surgery. Forleiter has developed a following for outstanding outcomes in mommy-makeover and gynecomastia surgery. Forleiter is sought out for his ability to successfully combine multiple treatment modalities to achieve a lifted buttock without the risk of BBL surgery. Trish Bender, an aesthetic registered nurse and body-sculpting specialist with more than 20 years of experience in women's health care, is growing a national reputation for excellence in combining nonsurgical energydevice treatments—such as Coolsculpting Elite, Emsculpt Neo, and Emsella—to provide patients with fat-reduction, muscle-building, and core-strengthening solutions for areas resistant to diet and exercise. Schedule a consultation to discover which treatments are right for you.
JUPITER | SEPTEMBER 202 662
David A. Lickstein, MD, FACS; Trish Bender, RN; and Craig M. Forleiter, MD
SPECIAL ADVERTISING SECTION
The agency, proudly celebrating 15 years in busi ness, is in the top 15 agencies within the GreatFlorida franchise—ranked at number 5.
Michelle Silvester GreatFlorida Insurance
Silvester remains at the top of her game. In her free time, she enjoys spending time boating around Jupiter's waterways with her three daughters and two boxer pups.
JUPITER | SEPTEMBER 202 682
With two agencies—one in Jupiter, the other in Palm Beach Gardens—Silvester and her team have the north county insurance market covered!
As Michelle Silvester celebrates 15 years in business, it's crystal clear that diligence, compassion, a great staff, and top-notch carriers comprise the cornerstone of her success as a GreatFlorida Insurance agent.
The property-insurance market in Florida is in a state of turmoil, but Silvester's group continues to excel. Why? As independent agents, they partner with a vast array of insurance companies to give clients choices while maintaining five-star ratings in customer service. This level of service gives GreatFlorida Insurance the winning edge. Silvester's achievements include Agent of the Year, and she also earned the coveted Silver Agency Award from Progressive Insurance. Her clients can earn additional savings by bundling auto and home insurance through Progressive. Only a few agencies in the state have access to the program.
Additionally, the GreatFlorida Insurance team has access to The Hartford's elite auto insurance program, which has been helpful to the senior market.
PROTECTIONASSET THE LEADER OF 250 S. Central Blvd., Suite 201 A • Jupiter 561.658.4077 • jupiter.greatflorida.com SPECIAL ADVERTISING SECTION
Cleve Mash, Scott Frielich, and Angelo Abbenante Blackbird Modern Asian
When it comes to trailblazing hospitality, few do it better than Scott Frielich, Angelo Abbenante, and CleveWithMash.60years of combined expertise, they are the powers behind some of the top dining rooms, bars, and nightclubs in the Palm Beaches. As vice president of Subculture Group, Frielich helped launch 16 concepts between West Palm Beach and Miami Beach. Abbenante helms Lynora's fleet of Italian eateries, and Mash operates world-class nightlife venues like Clematis Social and Radius.
Growing up in Palm Beach County, the tight-knit trio developed their decades-long friendship running in the same professional circles. After years of working on separate ventures, they jumped at the opportunity to collaborate on an appealing side project—a beachstyle taco shop—that evolved into Papichulo Tacos. In 2017, they opened their first eatery in Jupiter followed by an outpost in Royal Palm Beach.
Blackbird, their highly anticipated modern Asian concept in Jupiter, expanded the empire even further. Inside the sumptuously designed space, restaurantgoers are transported to a glamorous watering hole featuring partner and executive chef Tim Nickey's dramatic take on Far East–inspired fare.
SEPTEMBER69 202 2 | JUPITERSPECIAL ADVERTISING SECTION
HOSPITALITYANDRESTAURANTVISIONARYNIGHTLIFE
THE LEADERS
OF 1511 N. Old Dixie Hwy. • Jupiter 561-589-7505 • blackbirdmodernasian.com
"It's a love letter to the old-school Chinese cuisine my partners and I enjoyed growing up," Frielich says. "After months of planning, it's gratifying to see Blackbird fly."
The Gibsons first met at Jupiter Community High School and soon became creative collaborators on their weekly short films featured on the morning announcements. Fast-forward five years: They married and founded Pineapple Films, a luxury wedding videography business. "The best love stories all have a happy ending," says Shelley, coowner of Pineapple Films. "Ours is that we decided to make a career out of it."
Photographed at the Pelican Club
Telling love stories is a passion of the Gibsons, and it shows in every one of the personalized wedding films they create for couples. They undertake every edit with the singular intention of artistically showcasing the couple and their unique relationship on their wedding day.
Eric Gibson and Shelley Gibson Pineapple Films
Shelley and Eric Gibson's cinematic filming style is sought after by brides internationally. With more than a decade in the industry, Pineapple Films has been featured on Married in Palm Beach, on LoveStories TV, and in The Knot. It also has won the Wedding Wire Couple's Choice Award multiple years in a row. The company had its biggest year yet, booking more than 70 weddings in 2021.
VIDEOGRAPHYWEDDINGLUXURY THE LEADERS OF 561.818.8992 • pineapplefilms.com
JUPITER | SEPTEMBER 202 702 SPECIAL ADVERTISING SECTION
Kato received the 2012 Council's Choice Muse Award from the Cultural Council for Palm Beach County, the 2013 Silver Palm Award from the South Florida Theatre League for Outstanding Contribution, and the 2019 Richard G. Fallon Award for Excellence in Professional Theatre. Kato also has been honored as a Leader of Distinction by Florida Weekly and nominated as one of Palm Beach County's 100 Most Influential Business Leaders by Palm Beach Illustrated three years in a row. He is a proud graduate of Florida State University and member of the Society of Directors and Choreographers.
Andrew Kato is celebrating his seventeenth season at the Maltz Jupiter Theatre as producing artistic director/chief executive. During his tenure, he has produced more than 70 productions, and the theater has grown to be one of the most successful regional theaters in the Southeast.
He is excited to bring live performances back to the main stage this fall and celebrate the completion of the theater's $40 million expansion.
THEATERREGIONAL
For 13 years, Kato was the creative consultant/ coordinating producer on the Tony Awards. He was a producer on the Broadway productions of Jelly's Last Jam and Angels in America as well as the OffBroadway production of Cryptogram
THE
Andrew Kato Maltz Jupiter Theatre LEADER OF
1001 E. Indiantown Road • Jupiter 561-743-2666 • jupitertheatre.org
SPECIAL ADVERTISING SECTION
SEPTEMBER71 202 2 | JUPITER
Specializing in a wide range of properties in Palm Beach and Martin counties
Douglas Elliman Top Producer with over $300M in residential sales since 2016*
Ranked #1 Douglas Elliman Agent in Jupiter in 2020 and 2021**
Ranked #6 Douglas Elliman Florida Realtor for Sales Volume in 2020*
Experience the Difference
Executive Director of Luxury Sales M matthias.fretz@elliman.com561.676.3824
Responsive, professional, possesses local knowledge, and delivers proven results
Ranked #17 Douglas Elliman Realtor Nationwide in 2020*
LUXUR Y HOMES NEW WATERFRONT CONSTRUCTION 5BR/6.5BA + Club Room + Theatre + Study + Loft | 4-Car Garage | 8,009 Living Sq. Ft./11,233 Total Sq. Ft. Open-concept overlooking the historic Loxahatchee River, with eastern exposure Private dock with easy Intracoastal and Ocean Access Price Upon Request MIKE IVANCEVIC | 561.202.7102 SPECIAL ADVERTISING SECTION COMING SOON! Jupiter, FL ®
Leaders in Reputation and Closed Sales from Palm Beach to Jupiter Island Our Most Recent Testimonial I enjoyed working with you tremendously on the Birkdale sale. It was such a privilege learning from the best of the best! I admired your demeanor with all parties involved in the transaction and your solutions-oriented approach. These qualities, along with integrity and honesty, are hard to find in this industry. It was a relief that Greg and Michelle (and the Seller) had an agent that posessed all these great qualities. I hope our paths cross again - in golf or real estate!
- Liz Lynch
SOLDSOLDSOLD PENDINGSOLDSOLD SOLDSOLDSOLD14598 PALMWOOD RD | $14,750,000 2842 OLD CYPRESS N | $3,595,000 12284 SE BIRKDALE RUN | $2,200,000 12048 SE INTRACOASTAL TERR | $6,950,000 1454 POINT WAY | $4,500,000 521 CARRARA CT | $1,895,000 10730 RIO HERMOSO DR | $3,595,000 2430 EDWARD RD | $3,200,000 5070 N OCEAN DR #19A | $1,250,000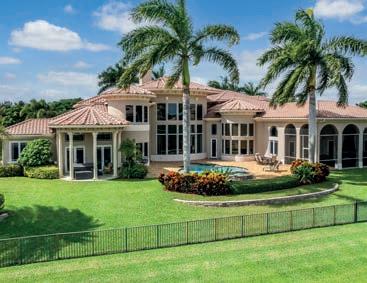 Jennifer Hyland | The Hyland Group | 561.632.4042 Contact Jennifer for more information, or to schedule a private showing. Equal Housing Opportunity. All information furnished regarding property for sale or rent or regarding financing is from sources deemed reliable, but Corcoran makes no warranty or representation as to the accuracy thereof. All property information is presented subject to errors, omissions, price changes, changed property conditions, and withdrawal of the property from the market, without notice. All dimensions provided are approximate. To obtain exact dimensions, Corcoran advises you to hire a qualified architect or engineer. "The Best in the Business" Presenting our Exclusive Listings... EXQUISITE MODERN WATERFRONT ESTATE IMPECCABLE HOME W/ DOCK BOATER'S PARADISE! PRIME LOCATION 14646 WATERMARK WAY, PALM BEACH GARDENS 5 BR | 5.3 BA | 8,452 Total SF | Deepwater Dock | $13,750,000 4 BR | 4.1 BA | 5,461 Total SF | $3,600,000 3 BR | 3 BA | Dock | $950,000 JUST LISTED
Additional details include easy to use "Control 4" automated home system, newer air conditioning units, abundant storage including a built in temperature controlled wine storage. The heated pool and spa is surrounded by lush tropical landscaping, stunning water features and a fire pit. The Old Palm Golf Club is a manned gated community with high-level security protocols and safety measures for its residents. They have fully renovated the championship 18hole golf course, fine and relaxed dining venues, luxurious men's and women's locker rooms, state-of-the-art gym, and 5-hole practice facility and learning center. Full concierge services are available throughout the club.
Catch a glimpse of the built-in saltwater fish tank as you pass through the foyer into the open format living area and chef's kitchen, lined at the rear with floor-to-ceiling windows that create indoor-outdoor unity with the pool, covered lanai and outdoor kitchen. Take the elevator upstairs to the master suite, which features two large walk-in closets, an en suite bathroom with lux finishes, and a covered balcony overlooking the pool and water feature. One of the guest bedrooms has been converted into an additional show closet with custom built-ins and displays - a fashion lover's dream.
Elina11757Ct 561-741-4422 www.hughesbrownegroup.commallory.hughes@compass.comtomhughes@compass.comjeremybrowne@compass.com 6 Bedrooms • 6.5 Bathrooms • 6,970 SF Old$11,500,000Palm Not intended to solicit currently listed property. Compass Florida, LLC. Equal Housing Opportunity. All information furnished regarding property for sale or rent or regarding financing is from sources deemed reliable, but Compass makes no warranty or representation as to the accuracy thereof. All property information is presented subject to errors, omissions, price changes, changed property conditions, and withdrawal of the property from the market, without notice.
2455 Snook Trail Snook$5,950,000Hole|PBG 4 BD • 4.5 BA • 4,762 SF Proud to have represented the buyer on this Off-Market deal, setting the bar for prices Old Palm Golf Club! Situated on 2+ acres with lake & golf course views, this one of a one a kind home features an exquisite outdoor lounge area, summer kitchen and private tennis court. The Old Palm club offers a resort style pool, fitness center, fine dining, sports bar and casitas for visiting guests! Your Tillinghastexperts...local12203Circle Old$22,500,000Palm 426 Via Del Orso Drive $6,000,000 The Bears Club | Jupiter 5 BD • 6.5 BA • 4,800 SF 243 River Drive TCC$6,250,000|Tequesta 3 BD • 4.5 BA • 3,228 SF Recently Sold... PENDING REPRESENTATIONBUYER
Executive Director of Luxury Sales M matthias.fretz@elliman.com561.676.3824 A Current Selection of my Luxury Listings Newly Listed | 19370 Loxahatchee River Road | Jupiter | $19,995,000 One of the finest properties ever to come to market on the coveted Loxahatchee River, on approx. 3.64 acres. Web# RX-10803908 135 Chilean Avenue | Palm Beach | $10,900,000 | This fully-restored, 3 BR, 3 BA, mid-century residence is a move-in ready, Bermuda-style home, situated in town. Web# RX-10804126 Just Listed | 172 N County Road | Palm Beach | $7,990,000 | 8-unit CBS building boasting high elevation consisting of two 1 BR, 1 BA units and 6 studios. Amazing income-producing opportunity. Web# RX-10802670 Pending | 12907 S Shore Drive | Palm Beach Gardens | $6,500,000 Newer construction residence with approx. 80ft of waterfrontage on approx. half an acre adjacent to the intracoastal. Web# RX-107840 Sold | Represented buyer and seller | 20 W Riverside Drive | Jupiter $5,200,000 | Once-in-a-lifetime opportunity to own and create a compound on the highly coveted river. Web# RX-10797936 Just Listed | 19805 Pinetree Drive | Jupiter | $3,995,000 | 4 BR, 4.5 BA new construction home developed by Bright Homes on approx. 1.07 acres. Estimated delivery 4th quarter 2023. Web# RX-1079652
elliman.com Sold | 2113 Radnor Court | Juno Isles | $2,800,000 | Boater's dream with approx. 91ft of waterfront, no fixed bridges, approx. 70ft dock, with water, electric and 10,000 lb boat lift. Web# RX-10807525 10179 SE Sandpine Lane | Medalist Village, Hobe Sound | $3,175,000 Brand-new construction 3 BR home with a cabana bath and detached 1 BR casita, developed by prestigious AR homes. Web# RX-10803972 Sold | Represented buyer and seller | Palm Beach Gardens | $5,250,000 Stunning custom-built home with easy access to the intracoastal and ocean with no fixed bridges. Full smart home with all-impact windows. Just Listed | 144 Tierra Lane, 13 | Jupiter | $1,950,000 | Spectacular newer construction luxury town-home. Ideally situated along the Jupiter Riverwalk, with all high end finishes throughout. Web# RX-10806767 Newly Listed | 1391 Dakota Drive | Jupiter | $1,549,000 | This stunning single-story 4 BR home with a bonus office in the primary bedroom features impact windows and doors and more. Web# RX-10792916 11700 SE Shell Avenue, 1f, 1b, 2a | Hobe Sound | $799,000 per unit One-of-a-kind auto art gallery developed by Bright Homes. 12 luxury storage condos. 50% available. Web# RX-1072933
BENJAMIN HARTMANCHRISTIAN DEMERS BROKER ASSOCIATE REALTOR ASSOCIATE 561.247.2076 561.789.4606 bhartman@ipre.com cdemers@ipre.com benhartman.ipre.comchristiandemers.ipre.com 561.626.7000 561.626.7000 WORK WITH THE HARTMAN DEMERS TEAM OVER 50 PROPERTIES SOLD IN 2021 MORE OPPORTUNITIES AND NEW WATERFRONT COMING SOON CONTACT US FOR DETAILS EXPERIENCE, PROFESSIONAL SERVICE AND INTEGRITY PENDING TO CLOSE 290 SW BEACHWAY AVE, PALM CITY | REPRESENTING THE BUYER | ASKING $1,400,000 7012 VENETIAN WAY, LAKE CLARKE SHORES - NEW WATERFRONT LISTING | $685,000
"Specializing in palm Beach'S FineSt ReSidential pRopeRtieS." 245 Sunrise Avenue • Palm Beach, Florida 33480 (561) 655-5510 • Fax: (561) LAWRENCEwww.moensrealestate.com655-6744A.MOENSASSOCIATES, INC. excluSive DIRECT OCEANFRONT RESIDENCE MANALAPAN, FLORIDA A wonderful beach house is now available for purchase with lakeside dock included. More than two acres of waterfront land. Over 10,000 square feet of living space with two swimming pools and privacy from ocean to lake. Certainly a rare $49,000,000opportunity. Broker has investment interest in this property.
613 S. Beach Road, Jupiter Island 18970 SE County Line Rd., Jupiter Ready for what's next? Meet the #1 sales agent in our Jupiter office. 6 BEDS | 7.1 BATHS | 5,958 SF | $21,995,000 5 BEDS | 7.2 BATHS | 7,692 SF | $8,995,000 Spectacular ocean to intracoastal front home located on the coveted 600 block of Jupiter Island. The intracoastal side has its own beach area with a dock and a boat lift. Located only minutes to the Jupiter Inlet. Treat yourself to the life of luxury and elegance you deserve with this spectacular riverfront custom estate set on 1.1 acres of land. Anyone who appreciates flawless architectural design will fall head over heels for this remarkable residence. © 2022 ONE Sotheby's International Realty. All rights reserved. ONE Sotheby's International Realty fully supports the principles of the Fair Housing Act and the Equal Opportunity Act. Each franchise is independently owned and operated. CARLA CHRISTENSON 561.307.9966 GLOBAL REAL ESTATE ADVISOR CARLACSOLDIT.COMCCHRISTENSON@ONESOTHEBYSREALTY.COM
Greenview Construction, LLC. is a construction firm o ering professional services in construction and construction management. We service a wide range of new construction and renovations to adaptive reuse and historical restoration. The prime philosophy of Greenview Construction, LLC is to provide a collaborative environment and to provide our clients with services that are both personal and professional. Greenview Construction, LLC is proud to o er these 4 spec home projects located in the Jupiter and Palm Beach Gardens area. BRITISH WEST INDIES STYLE 76th Trail, PBG, FL 33418 6,273 Total Square Feet | 1.32 Acres 5 Beds | 5 Baths | $2,499,000#RX-10790314 KEY WEST STYLE 15014 72nd Drive North, PBG, FL 33418 7,335 Total Square Feet | 1.15 Acres 6 Beds | 4.5 Baths | $1,999,000#RX-10789600 TRADITIONAL STYLE 75th Way North, PBG, FL 33418 4,134 Total Square Feet | 1.25 Acres 4 Beds | 4 Baths | $1,899,000#RX-10790680 153rd Court North, Jupiter, FL 33478 4,134 Total Square Feet | 1.25 Acres 4 Beds | 4 Baths | $1,699,000RX-10790502 Christopher C. Tyson CGC 1513540, CA W065212 715 Commerce Way W, #14, Jupiter, FL 33458 | 561.727.5013 ctyson@GreenviewConstruction.com | GreenviewConstruction.com PREMIER BROKERS INTERNATIONAL REAL ESTATE Joelle Nieves, Listing Agent Joelle@LivingSouthFlorida.com | 561.603.7878
SOLD SOLD 114 Lighthouse Drive • Jupiter inLet CoLony reCorD Breaking saLe 23 oCean Drive • Jupiter inLet CoLony off Market reCorD saLe 173 BeaCon Lane • Jupiter inLet CoLony off Market saLe Marie has a reputation for getting the best value for customers. In the last 18 months a number of her clients have been surprised when she was able to sell their properties at 30-40% above comp. – JIC Resident Marie rosner • Jupiter inLet CoLony • Jupiter isLanD SOLD SOLD 115 Lighthouse Drive • Jupiter inLet CoLony reCorD Breaking saLe 189 sheLter Lane • Jupiter inLet CoLony reCorD Breaking saLe 157 BeaCon Lane • Jupiter inLet CoLony reCorD Breaking LanD saLe SOLD SOLD 116 Lighthouse Drive • Jupiter inLet CoLony reCorDing Breaking saLe 180 BeaCon Lane • Jupiter inLet CoLony Buying siDe 44 south BeaCh roaD • Jupiter isLanD vaCant LanD saLe MARIE ROSNER Luxury Home Specialist Jupiter Inlet Colony, Jupiter Island, Jupiter and Tequesta Marie.Rosner@Elliman.com561.371.8451Contact 400 S. U.S. Hwy. 1, Suite C1 • Jupiter SOLD SOLD SOLD
561.762.2772 | LYNNSBYRD@GMAIL.COM | LYNNSBYRD.COM FRENCHMAN'S CREEK BEACH & COUNTRY CLUB RESIDENT EXPERT LYNN S. BYRD 13602 VERDE DRIVE | FRENCHMAN'S CREEK BEACH & COUNTRY CLUB Spectacular expanded Patio A model. Light & bright featuring private triple fairway & lake views. Newly remodeled kitchen w/ all upper tier appliance. Generous screened patio w/pool & raised spa and expansive tile summer kitchen. Beautiful southern exposure. OFFERED at $2,220,000 4 BDRMS | 4. 5 BATHS | 2.5 CAR GARAGE | 3,749 AC SF #4 TOP PRODUCER COMPANYWIDE OVER $1B IN LIFETIME SALES VOLUME
Paradise found in this nearly new construction home in Prado of Jupiter. Enjoy year 'round South Florida sunshine, with all the space you need for family and friends. This single-story home offers 5 bedrooms, 5 full bathrooms, plus a half bathroom and a wonderful open floor plan perfect for entertaining. A fully fenced backyard includes an oversized pool with sun deck and hot tub. Located near great schools, this home is a short drive to Jupiter's beautiful beaches, Palm Beach International Airport, and surrounded by some of the best golf courses in the country.
Brand new waterfront construction with panoramic water views. An open-concept first floor overlooks the historic Loxahatchee River, with eastern exposure, and features plenty of room for entertaining with a great room, separate family room, a club room, theatre, guest bedroom, and a study. A chef's kitchen with double island and top-of-theline appliances boasts a huge pantry. Second floor offers 4 bedrooms plus a loft, including an impressive, oversized master bedroom with sitting room and a private balcony. All upstairs bedrooms lead to an expansive balcony with dramatic water views. Outdoors, enjoy a resort-style pool and spa, summer kitchen, and a private dock, with easy access to the v Waterway, Jupiter Inlet, and the Atlantic Ocean.
963 DOLPHIN COURT, JUPITER
561.202.7102 | MIKE@MIKEIVANCEVIC.COM | MIKEIVANCEVIC.COM | 1405 N ALT A1A, #103, JUPITER
8254 SE OLD PLANTATION CIRCLE, JUPITER
Updated 4BR/3BA single-family home on a deep-water canal with 175 feet of water frontage. New seawall in 2019. Private dock with room for several boats. New dock and boat lifts in 2019. Just one lot from the Intracoastal and 5 minutes to the Inlet! Spacious veranda overlooking a tropical backyard, free-form pool that was redone in 2019, and panoramic water views. New standing seam metal roof installed in 2019. Expansive great room; luxurious master bathroom en-suite that was totally remodeled in 2020. Enjoy the ultimate Jupiter waterfront lifestyle, only minutes to the sandbar or the Jupiter Inlet.
COMING SOON! NEW CONSTRUCTION IN JUPITER
LET US FURNISH YOUR HOME INSIDE & OUT! 815 S US HWY 1, Jupiter, FL 33477 // Open Mon.–Sat., 10 a.m. to 6 p.m. & Sun., 12:30 p.m. to 5 p.m. 561.781.3696 // SUMMERHOUSEFURNITURE.COM Bedroom • Dining • Barstools • Sofas • Sectionals • Theater Seating • Patio • Home Decor

T
89SEPTEMBER 2022 | JUPITER Flavor
Tuna avocado at AquaGrille
by MARK SPIVAK
behind a slew of eateries in the area including 1000 North and the four restaurants at Charlie & Joe's at Love Street—Beacon, Lucky Shuck, Topside at the Beacon, and The Tacklebox. His latest venture, AquaGrille, opened in Juno Beach's Logger head Plaza this past spring, offering a contemporary, coastal American dining experience. (Turn the page to keep reading.)
Coastal Cuisine
op Chef alum Stephen Asprinio began his culinary training at age 14, and today he is a familiar name to many South Florida diners. The chef, somme lier, and entrepreneur opened his first restaurant, Forte di Asprinio, on Clematis Street in downtown West Palm Beach in 2004. Since then, he has been the creative force
VOLGYESLIBBY
The restaurant's eclectic menu blends Asian and Caribbean influences with what Asprinio calls "reimagined classics"— everything from wings and ribs to a slow-roasted prime rib French dip. He's particularly fond of plant-based dishes such as brussels sprouts (served with mango and passion fruit kung pao), Caribbean mussels with tom kha broth, vadouvan curry and lacquered shiitakes, and guava soy-grilled Faroe Island salmon. Under the direction of Executive Chef Peter Bartalini, the menu will change seasonally.
JUPITER | SEPTEMBER 202290 Flavor
Although he sees AquaGrille as a brand that could potentially expand throughout Florida and up the southeastern coast, Asprinio is invested in Juno Beach at the moment. "I live here, and it was important that we do the right thing for the community," he says. "The goal was to create a restaurant that reflects Juno Beach and appeals to a wide clientele."
The best way for a first-time visitor to experience AquaGrille is during Social Hour. Offered Monday through Friday from 4 to 6 p.m. in the bar and lounge, Social Hour specials allow customers to sample some of the most popular dishes paired with draft beer, craft cocktails, and select wines. aquagrillejuno.com
VOLGYESLIBBY WALKERCJ
VOLGYESLIBBY
"South Florida is a new epicenter of dining," says Asprinio. "I think we're ready for the next level of hospitality, and AquaGrille plays to the direction of the Florida market."
Asprinio'sbreweries.goal with AquaGrille was to create a nostalgic and comforting experience with a contemporary approach. "I wanted to use all of my experience in fine dining to create a situation that was ap proachable, affordable, and unstuffy," he says. "The idea was to have an atmosphere that feels familiar and fun but also pushes some boundaries with vibrant flavors."
VOLGYESLIBBY
As you would expect from Asprinio's sommelier background, the exceptionally
Clockwise from top left: Baked Alaska; indoor dining at AquaGrille; appletini cocktails; an array of oysters.
well-chosen wine list blends some familiar names with small-batch properties around the world. A Reserve List features gems from California, Burgundy, Bordeaux, and Tuscany. The cocktail program emphasizes riffs on classics such as the appletini, Singapore sling, and mai tai; despite their conventional appearance, many contain up to a dozen homemade, labor-intensive ingredients. Nearly 30 beers are offered on tap, half of which are sourced from local Florida
ISLAND Comfort
M
Patricia Gorney is an ambassador for Bahamian-style mac and cheese. Originally from Nassau, she grew up in a large family and began cooking at age 13. "My mom was a workaholic, so my job was to cook the meals," recalls the Jupiter resident. "Every day, I'd call one of my seven aunts, tell her what I was supposed to be making, and ask for a recipe."
Subscribe Today Jupitermag.com@
GORNEYGREGORY
acaroni and cheese may be a childhood staple in America, but the dish has taken on a life of its own in the Bahamas. Flavorful and decadent, the Bahamian version's ingredients are usually baked into a casserole and served in squares like lasagna. It reigns as one of the most popular side dishes at an island dinner.
Auntie Trisha's Bahamian macaroni and cheese; Patricia Gorney.
Gorney is planning to expand her retail footprint and hopes to sell her products throughout Florida as well as surrounding states. "I want to bring the different and diverse flavors of Bahamian cooking to people who have never visited the islands," she says. "We're in 25 stores right now, and our target is 100 in a few years." bahamianfoodsspecialties.com
Gorney came to Florida in 2019 and started Auntie Trisha's Bahamian Food Specialties the following year with her husband, Greg, who has a background in natural foods. She whips up her distinctive mac and cheese—flavored with sharp cheddar, onions, bell peppers, and spices— in a commercial kitchen in Jupiter, and her creations are now available in several dozen local retail outlets including Carmine's Gourmet Market in Palm Beach Gardens and Hobe Sound Produce. She also prepares traditional foods like Bahamian Bowls (pigeon peas and rice, kidney beans and rice, or okra and white rice); Island Root Vegetable Soup; and Guava Duff, a sweet dessert consisting of dough stuffed with guava shells and topped with a guava sauce.
91SEPTEMBER 2022 | JUPITER
gastropub-style eats. 1203 Town Center Drive #116, Jupiter; dascraftbeer.com; 561.776.8669
BLUE POINTE BAR AND GRILL
Chef-owner Frank Eucalitto has augmented the menu with influences from Latin America and Asia, using local fish and produce, plus an extensive wine list. 4533 PGA Blvd., Palm Beach Gardens; cafechardonnay.com; 561.627.2662
supreme in hand-cut fries and creamy frozen custard desserts. Alternative options are also available for non-meat-eaters. 2466 PGA Blvd., Palm Beach Gardens; 561.508.5422; 147 Soundings Ave., Jupiter; 561.203.7438; 6230 W. Indiantown Road, Jupiter; 561.658.9738; burgerfi.com
An open-air café, Dune Dog offers a "happy island," family-friendly atmosphere with burgers and hot dogs, sandwiches, and fish. 775 N. Alt. A1A, Jupiter; dunedog.com; 561.744.6667
ENTRE NOUS BISTRO
JIM'S PLACE
CENTER STREET NOOK
A local favorite since 1978, this family-owned breakfast joint serves up hearty breakfast options in addition to sandwiches, soups, and salads for lunch. 901 W. Indiantown Road Suite 6, Jupiter; jimsplacerestaurant.com; 561.746.6216
Known for serving 100-percent all-natural Angus beef burgers, this burger joint also reigns
BURGERFI
CROSBY KITCHEN & BAR
J. ALEXANDER'S
FARMER'S TABLE
AQUAGRILLE
This sleek chain offers modern American cuisine in contemporary settings—a reliable choice when having trouble deciding where to eat dinner. 4625 PGA Blvd., Palm Beach Gardens; jalexanders.com; 561.694.2711
DUNE DOG CAFE
Flavor
JUPITER | SEPTEMBER 202292
Chef Jason Laudenslager fuses homestyle cooking with gourmet fare at this neighbor hood eatery. 123 U.S. Hwy. 1, North Palm Beach; entrenousbistro.com; 561.863.5883
1000 NORTH
AMERICAN
This newly expanded space by Tim and Jenny Lipman features the Parched Pig bar concept combined with a kitchen to serve up creative cuisine. 4580 Donald Ross Road Suite 100, Palm Beach Gardens; thecoolpig.com; 561.249.6760
CAFÉ CHARDONNAY
DAS BEER GARDEN
A bright, spacious taproom offering selections of beer and kombucha, and a menu of American
HONEYBELLE
Led by Chef Lindsay Autry, this PGA Resort res taurant offers a little bit of everything to satisfy all guests. Enjoy bites like wood-fired pizzas, poke bowls, and Autry's famous fried chicken. 400 Ave. of the Champions, Palm Beach Gardens, pgaresort.com/dine/honeybelle; 561.627.7015
Gastropub serving locally sourced, farm-to-table fare from Chef David Schroeder. Enjoy poutine with bone marrow gravy, buttermilk chicken sand wiches, and more that pair well with an extensive bar menu featuring barrel-aged cocktails and seasonal sips. 1153 Town Center Drive Suite 101, Jupiter; brickandbarrelpub.com; 561.623.0916
3800 OCEAN RESTAURANT & LOUNGE
A Selection of Area Restaurants Local Dining Guide
Beach house–inspired decor and a chill vibe entice diners at the new AquaGrille, where coastal American dining reigns supreme. 14121 U.S. Hwy. 1, Juno Beach; aquagrillejuno.com; 561.355.0438
Snack on oysters, surf and turf, flatbreads, and more at this family-owned outdoor spot along the Intracoastal. Plus: live music seven days a week, a swimming pool, and a "catch and cook" op tion. 18701 SE Federal Hwy., Tequesta; bluepointe barandgrill.com; 561.406.6270
A community restaurant offering a variety of dishes for all types of diners. Enjoy brunch, happy hour, and dinner with outstanding beverages, including garden-to-glass cocktails and elixirs. 951 N. U.S. Hwy. 1, North Palm Beach, dinefarmerstable.com; 561.691.3430
COOLINARY
A Napa-style tasting room greets diners at this Illinois-based chain, where dishes like red wine–braised short ribs are listed beside the bin number of its perfect Cooper's Hawk wine pairing. 3101 PGA Blvd., Palm Beach Gardens; chwinery.com; 561.209.8466
BRICK & BARREL
This stylish American bistro offers classic cocktails and tasty small bites in Manhattan-meets-Palm Beach digs. 1406 S. Cypress Drive, Jupiter; crosby kitchenandbar.com; 561.902.9757
Enjoy an evolving menu of fresh, locally sourced ingredients at 3800 Ocean at Palm Beach Marriott Singer Island Beach Resort & Spa. Dine indoors or on the outdoor dining terrace overlooking the ocean. 3800 N. Ocean Drive, Singer Island; marriott.com; 561.340.1795
COOPER'S HAWK WINERY & RESTAURANTS
If you're looking for a classic American diner experience—the food, the prices, the service, and the setting—this locally beloved spot is the place for you. 223 Center St., Jupiter; 561.745.7477
The Jupiter Lighthouse serves as the backdrop for Chef Jason Van Bomel's global takes on classics. Elegant environs and more than 40 rare wines by the glass complete the picture. 1000 N. U.S. Hwy. 1, Jupiter; 1000north.com; 561.570.1000
THE BISTRO
THE CHEESECAKE FACTORY
TOPSIDE AT THE BEACON
partnership with Burrito Bros. Food Truck. 16891 Jupiter Farms Road, Jupiter; jupiterfarmhouse cafe.com; 561.747.8221
UNCLE JOE'S CHINESE RESTAURANT
Enjoy dinner and a show at the hibachi grill and savor fresh fish from Japan at the sushi bar. 1200 Town Center Drive Suite 125, Jupiter; hokkaido hibachi.com; 561.799.7999
Located at Harbourside Place, The Woods is Tiger Woods' flagship restaurant and sports bar. Refuel on sophisticated dishes like lamb with an espresso rub and chocolate cherry gastrique or grab a drink to unwind. 129 Soundings Ave., Jupiter; thewoods.tigerwoods.com; 561.320.9627
A contemporary American brasserie brought to town by Chef Matthew Byrne and his wife, Aliza. This sister concept to their West Palm Beach out post features elevated twists on classic dishes. 5250 Donald Ross Road Suite 100, Palm Beach Gardens; kitchenpb.com; 561.328.8825
This family-owned restaurant has been serving breakfast and lunch for more than two decades. Fill up on flapjacks, waffles, or crepes in the morning and come back for soup, salad, or a sandwich at lunch. 13967 U.S. Hwy. 1, Juno Beach; junobeachcafe.com; 561.622.1533
MRS. SMOKEY'S REAL PIT BAR-B-Q
Grab a burger and a beer at this casual sports bar next to Roger Dean Stadium in Abacoa that offers indoor and outdoor seating. 1203 Town Center Drive, Jupiter; stadiumgrilljupiter.com; 561.630.9669
Known for its unique and plentiful tap options, Yard House offers an electric atmosphere and
Chef Charlie Soo blends power and delicacy to create beautifully traditional Thai and Japanese dishes, without compromising either culture's tastes. 7100 Fairway Drive, Palm Beach Gardens; thaipalmbeachgardens.com; 561.691.5662
Originally a six-table establishment and a sushi bar, Asian Fin has expanded with a full bar and lounge. Enjoy Asian fusion cuisine from steaks and sushi to spare ribs and carpaccio. 4650 Donald Ross Road Suite 106, Palm Beach Gardens; asianfin.net; 561.694.1900
KITCHEN NORTH
Extensive bar and pizzeria serving American eats in an upscale, rustic warehouse setting complete with live music. 157 N. U.S. Hwy. 1, Tequesta; joscobarandoven.com; 561.972.7337
A recognizable American chain offering large portions from a vast menu and, of course, cheesecake galore. 11800 Lake Victoria Gardens Ave., Palm Beach Gardens; thecheesecakefactory. com; 561.776.3711
A Jupiter favorite since 1974, The Connection provides subs, sandwiches, salads, soups, and chili to hungry locals. In addition, there are also delectable specialty items like spaghetti and meatballs and chicken cordon bleu. 141 Center St. Suite 2, Jupiter; jupitersubsherosgrinders.com; 561.746.2344
This waterfront bar and grill serves up fresh favorites and will even cook your catch. A sunny, colorful place for live music and good eats. 18487 SE Federal Hwy., Tequesta; tiki52tequesta.com; 561.744.9113
This 16-year-old establishment in Juno Beach offers award-winning crab cakes and a famous happy hour. 841 Donald Ross Road, Juno Beach; kirbysonline.com; 561.627.8000
At this recognizable Florida chain, enjoy homemade comfort foods and Jewish deli favorites like matzo-ball soup and corned beef. 11701 Lake Victoria Gardens Ave., Palm Beach Gardens; 561.622.8131; 4050 U.S. Hwy. 1, Jupiter; 561.627.5555; toojays.com
OLD FLORIDA BAR & GRILL
The spot offers a wide selection of classic Chinese food items like lo mein, spring rolls, and dim sum. 4367 Northlake Blvd., Palm Beach Gardens; unclejoeschinesefood.com; 561.799.9883
SUSHI JO
KABUKI
JUPITER RINALDI'S
CAFÉ
The menu is inspired by fresh ingredients that are locally sourced and mindfully prepared. Artisan cocktails, wines, and microbrewed draft beers are a huge draw at its indoor and outdoor bars. 4610 PGA Blvd. Suite 100, Palm Beach Gardens; thecooperrestaurant.com; 561.622.0032
Enjoy dishes prepared with quality ingredients as you sip on a selection of wines and coffee. 2401 PGA Blvd. Suite 194, Palm Beach Gardens; angrymooncafe.com; 561.694.7945
Miami native Joseph Clark's local chain offers a large selection of classic sushi options as well as hot Thai foods and Asian-inspired desserts. 14261 U.S. Hwy. 1, Juno Beach; sushijo.com; 561.691.9811
TOO JAY'S
For authentic pit barbecue and soul food to boot, Mrs. Smokey's offers ribs and brisket and sides of corn, collards, and coleslaw. Grab a platter or combo and get a fried biscuit too. 5430 Military Trail, Jupiter; mrssmokeys.com; 561.557.3800
NITROGEN BAR, GRILL, AND SUSHI
TAYLOR FARMHOUSE CAFÉ
JOSCO BAR AND OVEN
Enjoy delicious pours of reasonably priced wines paired with a fusion of flavors in the form of goat cheese-stuffed dates to braised short rib. 5530 PGA Blvd. Suite 101, Palm Beach Gardens; salute2u.com; 561.425.5651
JUNO BEACH CAFE
Stop by this deli for breakfast, lunch, or dinner. Rinaldi's serves up breakfast specials all day in addition to ultimate options for sandwiches, pasta dishes, and even protein smoothies. 245 Toney Penna Drive, Jupiter; rinaldisjupiter.com; 561.781.3160
This list is compiled by our editors as a service to our readers. It is not all-inclusive; we rotate the listings to comply with available space, which means not every establishment appears in every issue. If you are a business owner who would like to submit your restaurant, please email mpuppo@palmbeachmedia.com.
TIKI 52
Offering selections "for everyone," dishes range from seafood and steaks to flatbreads and salads. 250 W. Indiantown Road Suite 101, Jupiter; oldfloridabarandgrill.com; 561.203.2302
an array of hearty American entrées. 11701 Lake Victoria Gardens Ave. Suite 4016, Palm Beach Gardens; yardhouse.com; 561.691.6901
HOKKAIDO HIBACHI & SUSHI
For an intimate night out, come for traditional and modern sushi in a dimly lit environment. 5080 PGA Blvd. Suite 105, Palm Beach Gardens; kabukiwpb.com; 561.776.8778
Impeccable sushi rolls, innovative hot dishes, and one of the area's best burgers. 6779 W. Indiantown Road Suite 18, Jupiter; nitrogen brasserie.com; 561.972.2944
KIRBY'S SPORTS GRILLE
93SEPTEMBER 2022 | JUPITER
A cozy bistro with a lush and live patio area offering American eats with a European twist. 2133 S. U.S. Hwy. 1, Jupiter; thebistrojupiter.com; 561.744.5054
This rooftop bar offers stunning views of the lighthouse and inlet. The small plates menu features Basque-inspired bites and an extensive wine and beer list. 1107 Lighthouse Promenade, Jupiter; topsidejupiter.com; 561.532.3270
TALAY THAI CUISINE
THE WOODS
SALUTE MARKET
ANGRY MOON CAFÉ AND WINE BAR
THE COOPER
ASIAN FIN
A bright, cozy, rustic café in Jupiter Farms offering American classics, such as alligator bites, as well as a spacious outdoor area and a
YARD HOUSE
ASIAN
HONG KONG WOK N GRILL
This Chinese restaurant puts a modern twist on classic dishes ready for dining in or taking out. 185 E. Indiantown Road Suite 217, Jupiter; hongkong wokngrill.com; 561.746.6798
ABOUT THIS GUIDE
STADIUM GRILL
THE CONNECTION
FRENCH
VOODOO BAYOU
CAJUN/CREOLE
GREEK/MEDITERRANEAN
dishes in an intimate setting. The stellar wine list accompanies the deft and elegant cooking of Chef Leonardo Cuomo. 2145 S. U.S. Hwy. 1, Jupiter; buonaserajupiter1993.com; 561.744.0543
CARMINES COAL FIRED PIZZA
From the team that brought Calaveras Cantina to the area, Voodoo Bayou offers Cajun biscuits, fried chicken, gator bites, and more. 11701 Lake Victoria Gardens Ave. Suite 5095, Palm Beach Gardens; voodoobayou.com; 561.888.6703
TEAPOTS & TREASURES CAFÉ
MANA GREEK FUSION
THE LOKOMOTIVE
CASA MIA TRATTORIA & PIZZERIA
ANTHONY'S COAL FIRED PIZZA
Flavor
CAFÉ DES ARTISTES
Traditional French cooking, from bistro fare to elegant dinners, served waterfront at Jupiter Yacht Club Marina. 318 S. U.S. Hwy. 1, Jupiter; cafedes artistesfrenchbistro.com; 561.747.0998
Fast and fresh Mediterranean fare—stop in for a bowl, appetizers, or a family dinner, finished off with baklava. 2632 PGA Blvd., Palm Beach Gardens; oliveugrill.com; 561.500.0103
BUONASERA RISTORANTE
SUBCULTURE COFFEE JUPITER
Family-run casual eatery serving pasta dishes, pizza, and authentic Philly cheesesteaks. 791 N. U.S. Hwy. 1, Tequesta; baldinositalianrestaurant. com; 561.743.4224
EVO ITALIAN
turned into favorites like pastitsio, mousaka, and cheesecake baklava. 117 N. Coastal Way, Jupiter; managreekfusion.com; 561.532.4275
ITALIAN
Experience old-world Italian fare in a quaint bistro setting. Find your favorite pasta entrée from
KRAVE FRENCH RESTAURANT
STAGE
PERK COFFEE HOUSE
Bucatini pasta "cacio e pepe" in a lavender and jasmine cream sauce, a special creation from Chef Erik Pettersen at Evo Italian
Chef Pushkar Marathe delivers flavor-forward Indian cuisine with influence from all over the world. Staples like curries are complemented by lentil fritters, Korean barbecue ribs, fried chicken, and more. An on-site garden provides fresh herbs and botanicals for creative cocktails. 2000 PGA Blvd. Suite 5502, Palm Beach Gardens; stagepga. com; 561.408.3685
Chef Erik Pettersen uses only the freshest and finest quality ingredients available, including Italian imports such as extra virgin olive oil, San Marzano tomatoes, buffalo mozzarella, and a variety of olives and Italian cheeses. 150 N. U.S. Hwy. 1, Tequesta; evoitalian.com; 561.745.2444
Committed to delivering a true Italian experience a la Florence or Milan, this restaurant cooks its pizzas in a 900-degree coal-fired oven, producing a perfectly crispy crust. 4575 Military Trail Suite 101, Jupiter; carminescfp.com; 561.340.3930
RABINOWITZJERRY
This unassuming restaurant packs a punch with exquisite meals crafted by accomplished Chef David Hoquet. 626 U.S. Hwy. 1, Tequesta; kraverestaurant.com; 561.575.9222
California meets Florida in this café serving specialty drinks and a healthy menu with vast vegan options—all in a bright atmosphere. 384 Tequesta Drive, Tequesta; perkcoffeetequesta. com; 561.406.5551
PARIS IN TOWN
THE PARISIAN RESTAURANT & WINE BAR
Laz and Anna Chasomeris bring their Greek family recipes to life inside this Mediterranean eatery. Ingredients are flown in from Greece and
OLIVE U MEDITERRANEAN GRILL
CARMINE'S LA TRATTORIA
DORIS ITALIAN MARKET & BAKERY
GIOVANNI'S
Carmine's waterfront ambience is a perfect backdrop for an Italian fine dining experience. 2401 PGA Blvd. Suite 172, Palm Beach Gardens; carmineslatrattoria.com; 561.775.0186
Known for quality pizza and Italian soul food, Anthony's also impresses with popular favorites like meatballs with ricotta and margherita pizza. 2680 PGA Blvd., Palm Beach Gardens; acfp.com; 561.804.7777
Doris' has evolved into South Florida's premier specialty supermarket. Stop by to shop specialty grocery items, pick up a dessert from the bakery, or simply enjoy a meal prepared in-house. 11239 U.S. Hwy. 1, North Palm Beach; dorismarket.com; 561.517.8488
Teahouse with a selection of teas and beverages served by the pot, a menu including sandwiches, soups, and salads, and multiple tea services to choose from for a more elaborate affair. 14137 U.S. Hwy. 1, Juno Beach; teapotsandtreasures cafe.com; 561.881.0447
THE GREAT GREEK MEDITERRANEAN GRILL
Classic and perfectly executed Northern Italian
Featuring only authentic Italian, from-scratch recipes made with quality ingredients—including wood-fired pizzas, seafood pastas, and delectable desserts—Casa Mia specializes in every aspect of Italian cooking. A strong wine selection, lively happy hour, and rotating specials keep regulars coming back time and time again. 337 E. Indian town Road Suite E10, Jupiter; casamiajupiter.com; 561.972.6888
JUPITER | SEPTEMBER 202294
Exclusive French wines and updated classics like coq au vin served in a relaxing ambience. The elegant desserts are worth saving room for. 201 N. U.S. Hwy. 1 Suite D9, Jupiter; theparisian restaurant.com; 561.360.2224
Moody and antique coffee shop with a traditional drink menu, breakfast sandwiches and toasts, smoothies, and acai bowls. Don't miss the special music and trivia events. 107 Front St., Jupiter; subculturecoffee.com; 561.320.6005
Greek chain newly expanded into Florida offering all the classic Greek cravings and sides like dolmades, spanakopita, and grilled steak souvlaki. 11300 Legacy Ave. Suite 120, Palm Beach Gardens; thegreatgreekgrill.com; 561.360.2748
INDIAN
BALDINO'S ITALIAN RESTAURANT
This casual outpost offers pastries, crepes, and more in an authentic French setting. 11460 U.S. Hwy. 1, North Palm Beach; parisintown.com; 561.626.6017
Located inside the family-owned specialty market known as Ferro Via, The Lokomotive is a must-visit for a cup of joe or tea, plus pastries and grab-and-go items. 103 Center St., Jupiter; theferrovia.com; 561.972.7447
BLUE WATER TACO CO.
MEXICAN
Every day is Cinco de Mayo at Rocco Mangel's high-energy Mexican-themed eatery. 5090 PGA Blvd., Palm Beach Gardens; roccostacos.com; 561.623.0127
TACO CHULA
Italian restaurant serving fresh pastas made in-house daily, meats, seafood, and celebrated Italian classics. The extensive wine list features something to complement every dish. 2000 PGA Blvd. Suite 3110, Palm Beach Gardens; limoncellopbg.com; 561.622.7200
Immerse yourself in the Mexican culture with not only authentic Mexican fare, but also traditional clothing, furniture, and cookery. 711 W. Indiantown Road Suite C4, Jupiter; elfogoncitorestaurant.com; 561.250.6295
ROCCO'S TACOS & TEQUILA BAR
NONNA MARIA
LATIN AMERICAN/CUBAN
PAPICHULO TACOS
PORTOBELLO CUCINA ITALIANA
FIREFIN GRILL
While unassuming from the outside, La Esquina has a hold on the best, most authentic Guatemalan cuisine in the area. 208 Hibiscus St., Jupiter; facebook.com/laesquina208; 561.768.9137
Prosecco Café delivers contemporary sustainable cuisine with Mediterranean and Asian accents. Dive into fresh baked goods, salads, sandwiches and flatbreads, creamy gelato, and a selection of coffee, wine, and beer. 4580 PGA Blvd., Palm Beach Gardens; proseccocafe.com; 561.622.3222
SURF TACO
PROSECCO CAFÉ
This local eatery features inspirations from Baja, the Caribbean, and the Palm Beaches. Favorites include the grouper taco, Sonora style shrimp burrito, and beef tostada. 2525 Military Trail Suite 105, Jupiter; bluewatertaco.com; 561.277.9954
Flavor Palm Beach is back for its fifteenth year this month, offering special prix-fixe, multi-course meals for lunch and dinner at dozens of restaurants from Tequesta to Boca Raton. Enjoy the flavors of your favorite local restaurants, including AquaGrille, Cucina Cabana, La Masseria, Evo Italian, The Butcher's Club, The Twisted Tuna, and more. Or be adventurous and try something new! The event runs through the end of September; get all the details at flavorpb.com.
DIVE BAR
more than two dozen different options, or opt for a chicken or fish-based dish. 3900 Northlake Blvd., Palm Beach Gardens; giovannisristorante.net; 561.799.7998
this third-generation outpost offers dishes like lomo saltado (traditional Peruvian stir fry con sisting of marinated sirloin, onion, tomatoes, and French fries). 1447 10th St., Lake Park; cevichearigato.com; 561.863.8877
A cross between Peruvian and Japanese cuisines,
LA MASSERIA
Enjoy classic Italian dishes and specialty pizzas, all available along with plenty of seafood options such as cod, salmon, and shrimp, which can be added to any salad. 14133 U.S. Hwy. 1, Juno Beach; nickandjohnnysosteria.com; 561.318.5466
SEAFOOD
FireFin features award-winning sushi, fineaged steaks, and craft cocktails. 2401 PGA Blvd. Suite 160, Palm Beach Gardens; firefingrill.com; 561.472.7900
95SEPTEMBER 2022 | JUPITER
DUKE'S TACOS AND MARGS
CEVICHE ARIGATO
This cozy, tropical grill serves only fresh and locally sourced seafood dishes, with options including swordfish, mahi, salmon, snapper, shrimp, and more. 11340 Legacy Ave. Suite E-100, Palm Beach Gardens; coolafishbar.com; 561.622.2227
AVOCADO CANTINA
PERU WOK
Try a range of informal Mexican dishes in the colorful indoor dining area or outside on the patio. Customize your tacos and burritos, from the filling to the toppings. 10800 N. Military Trail Suite 108, Palm Beach Gardens; tacochula.com; 561.530.7755
NICK & JOHNNY'S OSTERIA
Farm-to-table Italian restaurant sourcing ingredients from local farmers and fishermen. There's something fresh for everyone on the menu. 4580 Donald Ross Road Suite 119, Palm Beach Gardens; grandesflorida.com; 561.932.0840
LYNORA'S
A native New Yorker and restaurateur, owner Eddie Lubic's passion for authentic Italian cuisine has been passed down through generations. 4050 S. U.S. Hwy. 1 Suite 307, Jupiter; uncleeddies ristorante.com; 561.508.7799
UNCLE EDDIE'S RISTORANTE
Try plates like leche de tigre (diced fish, marinated in ceviche broth and served in a cocktail glass) and chaufa, a Peruvian fried rice served with sesame seeds and veggies with a choice of protein. 711 W. Indiantown Road Suite B7, Jupiter; facebook.com/ peruwokcuisine; 561.745.0058
The latest venture from Chef Julien Gremaud of Avocado Grill, Avocado Cantina features the same vibe but with a Mexican flair. 11701 Lake Victoria Gardens Ave., Palm Beach Gardens; avocado cantina.com; 561.766.2430
Inspired by Puglia's ancient farmhouses, La Masseria brings a taste of Italy from its original location in the heart of Manhattan to sunny South Florida. 5520 PGA Blvd. Suite 104, Palm Beach Gardens; lamasseriapbg.com; 561.660.8272
A family-owned restaurant that blends Cuban and Caribbean cuisines in a tropical setting. 1209 Main St. Suite 101, Jupiter; copacabanacubancuisine. com; 561.360.3378
Located at Harbourside Place, Calaveras Cantina provides a festive setting for Mexican staples like street corn and enchiladas. 125 Dockside Circle, Jupiter; calaverascantinas.com; 561.320.9661
Jupiter; papichulotacos.com; 561.250.7274
A true family affair, Lynora's excels at modernizing classic Italian dishes. 1548 U.S. Hwy. 1, Jupiter; lynoras.com; 561.203.2702
CALAVERAS CANTINA
CHOWDER HEADS
DON'T MISS!
Thomas Op't Holt helms the kitchen with creative riffs on Floribbean street tacos along with creative margaritas. 1155 Main St. Suite 120, Jupiter; dukestacos.com; 561.619.5177
Sip cocktails and wine at the bar or enjoy seafood tacos, fresh sandwiches, or tasty salads at this casual favorite of locals. 12846 U.S. Hwy. 1, Juno Beach; captaincharliesreefgrillfl.com; 561.624.9924
GUANABANAS
GRANDE'S ITALIANO RISTORANTE PIZZERIA & BAR
A casual eatery with traditional New England seafood dishes like lobster rolls, oysters, and New England clam chowder. 2123 S. U.S. Hwy. 1, Jupiter; chowderheadsusa.com; 561.203.2903
COPACABANA CUBAN CUISINE
This high-concept Italian restaurant features dishes with a French twist. The interiors are simple with white tablecloths, allowing the meal to take center stage. Dinner service includes three-course prix-fixe meals, two-course dines, and a la carte options. 529 Northlake Blvd., North Palm Beach; nonnamarianpb.com; 561.863.6584
Good vibes accompany good food. Besides the expected chicken and beef options, add cod, mahi, or salmon to your tacos, burritos, wraps, or bowls and enjoy the laid-back atmosphere at this coastal-inspired Mexican restaurant. 4050 U.S. Hwy. 1, Jupiter; surftaco.com; 561.508.7679
LIMONCELLO RISTORANTE
EL FOGONCITO
Mexican street-style food inspired by Mexico, Cuba, Peru, and Argentina, plus a bar stocked with fresh juices, tequila, and cocktails. 1556 U.S. Hwy. 1,
Dine on the water at the Jupiter Yacht Club Marina along the Jupiter Riverwalk or sit at the open-air bar surrounding a large saltwater aquarium. 318 S. U.S. Hwy. 1, Jupiter; divebarrestaurant.com; 561.747.4767
CAPTAIN CHARLIE'S REEF GRILL
COOL'A FISHBAR
Portobello feels like a home away from home with its top-notch hospitality and the aroma of spices and authentic Italian cooking. 351 U.S. Hwy. 1, Jupiter; portobellojupiter.com; 561.748.3224
LA ESQUINA GUATEMALTECA
Opened by Jupiter surfers as a sandwich shop in 2004, Guanabanas has become an institution in northern Palm Beach County for its tropical setting, Caribbean cuisine, cocktails, and live music. 960 N. Hwy. A1A, Jupiter; guanabanas. com; 561.747.8878
This spot features a variety of seafood like spicy lobster and shrimp rolls and tuna poke bowls and is ideal for take-out lunch best enjoyed at one of the outside seating areas. 1116 Love St., Jupiter; tackleboxjupiter.com; 561.532.3332
The famed sportswear retailer translates its island sensibility to lunch, dinner, and happy hour at Harbourside Place. Enjoy fresh seafood, regional produce, and handcrafted cocktails inside or alfresco on the outdoor patio. 126 Soundings Ave., Jupiter; tommybahama.com/restaurants/ jupiter; 561.406.6631
More than just a vegan restaurant, Christopher's is a gathering place where health-conscious eaters can experience Chef Albert Crifaci Molla's unrelenting passion for the finest living foods in a warm and friendly setting. 4783 PGA Blvd., Palm Beach Gardens; christopherskitchenfl.com; 561.318.6191 ❖
A mix of Italian and Spanish, Portofino's blends favorites from both cuisines like calamari alla griglia (grilled calamari with sherry pepper vinaigrette) and gambas al ajillo (garlic shrimp). 891 Donald Ross Road, Juno Beach; portofino bistromediterraneo.com; 561.355.5936
VEGETARIAN/VEGAN/HEALTHY
Enjoy New England–inspired seafood like fried clams and scallops, oysters, and pasta dishes in a lively setting. 4595 Northlake Blvd., Palm Beach Gardens; 561.622.2259; 181 U.S. Hwy. 1, Tequesta; 561.406.5000; lolasseafood.com
A sister restaurant to the one based in Port Salerno, this restaurant is home to delectable sushi rolls, seafood dishes, and a raw bar, in addition to an array of Italian favorites. A bottomless bloody Mary brunch is available on Sundays. 353-R S. U.S. Hwy. 1, Jupiter; thetwisted tuna.com; 561.406.2188
Alaina's is focused on good food that's good for you. Their fresh, local, and organic selections— from macaroons to ribeye—are available for brunch, lunch, and dinner. 4377 Northlake Blvd., Palm Beach Gardens; alainasbakeshoppe.com; 561.318.6945
3NATIVES
Come to this casual locals' favorite and enjoy some of the freshest and most creatively prepared seafood in the area. Head next door to Maxi's Lineup after for live music and beer. 103 U.S. Hwy. 1 Suite D3, Jupiter; littlemoirsjupiter. com; 561.741.3626
LUCKY SHUCK OYSTER BAR & TAPHOUSE
THE CAPITAL GRILLE
The Palm Beach Gardens outpost of BrickTop's overlooks the North Palm Beach Waterway and features a chic tiki bar. 2373 PGA Blvd., Palm Beach Gardens; theriverhousepbg.com; 561.720.2595
Fast-expanding Floridian chain focused on healthy ingredients and bold flavors served in a bowl with your choice of bases, proteins, veggies, add-ons, and sauces. 1697 W. Indiantown Road Suite 1, Jupiter; 561.658.9258; 5320 Donald Ross Road, Palm Beach Gardens; 561.437.6620; bolay.com
THE BUTCHER'S CLUB
THE RIVER HOUSE
CHRISTOPHER'S KITCHEN
THE TACKLEBOX
JUPITER | SEPTEMBER 202296
THE TWISTED TUNA
WAXIN'S
JETTY'S WATERFRONT RESTAURANT
BOLAY
Grab a craft beer or glass of wine while enjoying the daily catch or other seafood dishes. Make sure to leave room for one of the dessert options, all served with berries, whipped cream, and toasted coconut. 451 University Blvd., Jupiter; littlemoirs jupiter.com; 561.627.6030
THIRSTY TURTLE SEAGRILL
This waterfront restaurant boasts a tropical sand beach, open-air dining, an entertainment stage, and views of the Jupiter Lighthouse from the buzzing bar. Its casual menu includes Caribbean seafood, lobster rolls, sushi rolls, oysters, and wings. 1095 N. Hwy. A1A, Jupiter; utikibeach.com; 561.406.2210
LEWIS STEAKHOUSE
The stunning views overlooking the Jupiter Lighthouse paired with fresh seafood make Jetty's a winner. 1075 N. Hwy. A1A, Jupiter; jettysjupiter. com; 561.743.8166
Flavor
SINCLAIR'S OCEAN GRILL
THE CATCH SEAFOOD & SUSHI
SPANISH
ANDALUCIA TAPAS BAR
This local landmark is a little piece of paradise with wide views of the Jupiter Inlet and its famous lighthouse. Relish drinks and casual fare while watching top local acts hit the stage and boats sail by. 1111 Love St., Jupiter; squaregrouper.net; 561.406.6417
ALAINA'S CAFÉ & BAKE SHOPPE
With a fusion of Latin, Caribbean, and Eastern Pacific flavors, the menu is as diverse as it is delicious at this eatery. 279 U.S. Hwy. 1, Tequesta; hogsnappersshackandsushi.com; 561.401.9309
An authentic oyster bar serving exquisitely prepared fresh seafood delivered daily from the cold north Atlantic waters. 4560 PGA Blvd., Palm Beach Gardens; spotos.com; 561.776.9448
A locals' favorite, this simple eatery is open for breakfast and lunch. The menu features tasty dishes like Acapulco toast (multi-grain toast topped with avocado mash) and gluten-free honey pancakes. 3755 Military Trail, Jupiter; berryfresh.cafe; 561.401.5693
This sophisticated eatery overlooks the Jupiter Beach Resort pool and serves locally sourced seafood ranging from cedar plank salmon to tuna tataki. 5 N. Hwy. A1A, Jupiter; sinclairsocean grill.com; 561.745.7120
SWEDISH
This successful, upscale chain offers classic steak house fare, complemented by a remarkably well-trained staff and stellar wine portfolio. 11365 Legacy Ave., Palm Beach Gardens; thecapital grille.com; 561.630.4994
BERRY FRESH CAFÉ
LOLA'S SEAFOOD EATERY
This Spanish tapas concept offers traditional croquetas, meats, seafood and meat entrées, and paellas. Live Latin music and flamenco shows set the scene. 5187 Tequesta Drive, Tequesta; andaluciatapasbar.com; 561.406.6509
Check out Chef Jeremy Ford's newest steak house at PGA National Resort. Succulent cuts are served in a timeless, elegant atmosphere. 400 Ave. of the Champions, Palm Beach Gardens; pgaresort. com/dine/the-butchers-club; 561.627.4852
Who doesn't love a laid-back, tiki-hut style bistro to kick off the weekend? Head to The Catch for seaside views paired with seafood and cocktails. 766 Northlake Blvd., North Palm Beach; thecatch seafoodsushi.com; 561.842.2180
HOG SNAPPERS
U-TIKI BEACH
LITTLE MOIR'S FOOD SHACK
Florida health chain offering smoothies, acai bowls, salads, bagels, wraps, juices, and shots in a relaxed, beachy environment. 4601 Military Trail Suite 107, Jupiter; 561.328.8361; 6671 W. Indiantown Road Suite 51, Jupiter; 561.320.9457; 251 U.S. Hwy. 1, Tequesta; 561.203.7980; 12216 U.S. Hwy. 1, North Palm Beach; 561.223.3469; 4373 Northlake Blvd., Palm Beach Gardens; 561.370.3450; 3natives.com
JUMBY BAY ISLAND GRILL
SPOTO'S OYSTER BAR & BLUEPOINT LOUNGE
Enjoy Gulf Coast cuisine, with a raw oyster bar and fresh fish and shellfish, as well as Southern-inspired specialties. 1116 Love St., Jupiter; luckyshuckjupiter.com; 561.532.3331
Enjoy fresh fish, bar eats, and brews at this busy watering hole while watching the big game. 13981 U.S. Hwy. 1, Juno Beach; thirstyturtlefl.com; 561.627.8991
TOMMY BAHAMA RESTAURANT
LITTLE MOIR'S LEFTOVERS CAFE
Jupiter's newest steak house, from the family who opened the beloved Okeechobee Steakhouse in 1947. 6390 Indiantown Road Suite 59, Jupiter; lewissteakhouse.com; 561.277.9188
In the heart of downtown Abacoa, Jumby's is known for tropical-inspired dishes, inventive tipples, a dog-friendly patio, and its relaxed beach house feel. 1203 Town Center Drive Suite 101, Jupiter; jumbybayislandgrill.com; 561.630.2030
SQUARE GROUPER TIKI BAR
STEAK HOUSE
Stop in this industrial-chic, Swedish-American restaurant and dine in one of the five unique seating areas. Pair your fine dining with wine in the chef's room or get cozy in the casual living room with drop-in seating and televisions. 5300 Donald Ross Road Suite 130, Palm Beach Gardens; waxins.com; 888.892.9467
PORTOFINO BISTRO MEDITERRANEO

1700 S. Dixie Hwy, West Palm Beach, FL 33401 (561) 284 6292 www.lagouluepalmbeach.com OC T OB ER 1FLAVORMARTIN.CO30M COMINGSOON
Hot Shots JUPITER | SEPTEMBER 2022106 Hot Shots BENSONTRACEY 3 4 6 5 1 2 7 8 The Event: EXECUTIVE WOMEN OF THE PALM BEACHES FOUNDATION 38TH ANNUAL WOMEN IN LEADERSHIP AWARDS LUNCHEON When/Where April 21, 2022 | Kravis Center, West Palm Beach 1. Marti LaTour, Lois Pope 2. Amy Emiko Hever, Jo-Ann Clynch 3. Palm Beach County Commissioner Gregg Weiss, Michele Jacobs 4. Amy Brand, Stephanie Glavin 5. Julie Littky-Rubin, Natalie Alvarez 6. Lauren Whetstone, Trina Holmsted 7. Elizabeth Hamma, Beth Stibal 8. Lakeisha Thomas, Jo-Ann Clynch, Christina Willson
107SEPTEMBER 2022 | JUPITER CAPEHART 3 4 5 6 7 8 1 2 The Event: AMERICAN HEART ASSOCIATION GO RED FOR WOMEN LUNCHEON When/Where April 27, 2022 | The Pelican Club, Jupiter 1. Dr. Vicki Britton, Erica Whitfield, Darcy Davis 2. Jennifer Herron, Beth Fishel, Jennifer Nawrocki, Stephanie Lewis 3. Ashley Vertuno, Ashleigh Walters 4. Deb Caplan, Dawn Nichols 5. Juliet Roulhac 6. Tracy Rice, Stefanie Daddono, Stacey Nyburn 7. Event scenery in front of the Jupiter Inlet 8. Encompass Health team
Hot Shots JUPITER | SEPTEMBER 2022108 HAINESVGAIL 5423 6 1 7 8 The Event: ART CONNECTS: ACROSS THE AGES OPENING RECEPTION When/Where May 5, 2022 | Lighthouse ArtCenter Gallery, Tequesta 1. Elizabeth Dashiell, Michael Faria 2. Bud and Pat DeAloia 3. Janeen Mason, Pat Williams 4. Patricia and Ned Reagan 5. Marthe Harwell, Janet James 6. Teryn and Karl Weintz 7. Jill, Poppy, and Matthew Hamilton 8. Jordan Weber, Serin Leas, Sofia Hinger, Tom Adkisson
109SEPTEMBER 2022 | JUPITER 3 4 5 6 7 8 1 2 The Event: SELFLESS LOVE FOUNDATION DREAM TANK COMPETITION When/Where May 13, 2022 | The Breakers, Palm Beach 1. Melissa Peterman, Ed and Ashley Brown, Kaitlynn Hanson, John Paul DeJoria 2. Michael and Andrea Michalski 3. Garry Singer, Ed Brown, Hatem Diab 4. Kristin and Diego Urrutia 5. Pattriel, Asher, and Brittney Toles 6. (Standing) Demarco Mott, Kaitlynn Hanson, Lucan Phillips, Delgadina Santos; (in front) Bailey Johnson, Kayleigh Register 7. Douglas Kegler, Zorely Faneite 8. Ashley BrownBENSONTRACEY Submit your event photos to: michelle@jupitermag.com
17 Empty Bowls in the Gardens, benefiting Palm Beach County Food Bank,
Mimosas for Mutts, benefiting Mutty Paws Rescue, Crosby Kitchen & Bar, Jupiter, free. (crosbykitchenandbar.com)
SEPTEMBER 2022
15 Blowing Rocks Preserve Shoreline Cleanup, Blowing Rocks Preserve, Jupiter Island/Hobe Sound, free. (nature.org)
AQUARIUMANDCENTERSCIENCECOXOFCOURTESY
"Peace, Love & Woodstock" '60s-Themed Dress-Up Dance Party, Elliott Museum, Stuart, $20/advance, 25/door. (hsmcfl.com)
Science Party with Mad Science of South Florida, Nordstrom Court, The Gardens Mall, Palm Beach Gardens, free. (thegardensmall. com)
Lighthouse Moonrise Tour, Jupiter Inlet Lighthouse & Museum, also September 14, 21, 28, $20/member, $25/ nonmember. (jupiterlighthouse.org)
Tuna Butcher'scevichecoconutatTheClub
12 Twilight Yoga at the Light, Jupiter Inlet Lighthouse & Museum, also September 19 and 26, $10. (jupiterlighthouse.org)
by ABIGAIL DUFFY
Tour de Trash Kickoff Party & Beach Cleanup, benefiting Loggerhead Marinelife Center, Juno Beach Pier, Juno Beach, free. (marinelife.org)
COURTESYOFTHELYRICTHEATRE
RIBEIROLEEMICHELLE
7 Lighthouse Sunset Tour, Jupiter Inlet Lighthouse & Museum, also September 14, 21, 28,
$20/member, $25/nonmember. (jupiter lighthouse.org)
Humane Society of the Treasure Coast Pet Adoption Day, in the courtyard at the Court House Cultural Center, Stuart, free. (martinarts.org)
1 Flavor Palm Beach, various restaurants, to September 30, prices vary. (flavorpb.com)
2 First Friday Art Walk, The Creek District, Stuart, free. (thecreekdistrict.org)
Arts & Culture
Clockwise from top left: Flavor Palm Beach at various restaurants in the county September 1-30; Dinosaur Explorer at the Cox Science Center and Aquarium September 15 to April 30; John Németh at The Lyric Theatre September 17; Daughtry at the Kravis Center September 16.
22 The Andrea C. Cameron Foundation First Annual Gala, Pelican Club, Jupiter, ticket prices and sponsorship options vary. andreaccameronfoundation2022)(one.bidpal.net/
9 Food Truck Invasion, downtown Abacoa, free. (abacoa.com)
Calendar
Crafts for Kids, North Palm Beach Library, North Palm Beach, free. (village-npb.org)
JUPITER | SEPTEMBER 2022110
Downtown Palm Beach Gardens, $30. (pbcfoodbank.org)
HAPPENINGS
PERFORMANCES
10 Free Movie Summer Presents Forrest Gump, The Lyric Theatre, Stuart, also September 11, free. (lyrictheatre.com)
21 KISS, iThink Financial Amphitheatre, West Palm Beach, from $39.50. (westpalmbeach amphitheatre.com)
Open Spaces: A Natural Movers Dance Performance Series, Norton Museum of Art, West Palm Beach, free with paid museum admission. (norton.org)
MUSEUMS & GALLERIES
THESE EVENT DETAILS ARE CURRENT AS OF PRESS TIME, BUT PLEASE CONTACT THE VENUE OR PRESENTER FOR THE MOST UP-TO-DATE INFORMATION.
2 Michael Franti, Abacoa Amphitheater, Jupiter, from $32.50. (tixr.com)
John Németh, The Lyric Theatre, Stuart, contact for ticket prices. (lyrictheatre.com)
Gol ng for GOOD
20 Wu-Tang Clan & Nas, iThink Financial Amphitheatre, West Palm Beach, from $29.50. (westpalmbeachamphitheatre.com)
Couch Potato, Deborah LaFogg Docherty
17 Family Day, courtyard at the Court House Cultural Center, Stuart, free ($5 donation accepted). (martinarts.org)
Lighthouse ArtCenter, Gallery & School of Art, Tequesta. Boys & Girls Clubs of Palm Beach County 2022 ImageMakers exhibit, September 6 to October 1. (lighthousearts.org)
111SEPTEMBER 2022 | JUPITER ARTSCANVASPHOTO
3 Free Movie Summer Presents Big and Catch Me If You Can, The Lyric Theatre, Stuart, also September 4, free. (lyrictheatre.com)
OneRepublic, iThink Financial Amphitheatre, West Palm Beach, from $30.50. (westpalmbeach amphitheatre.com)
One Night with Nikki Glaser, Kravis Center, West Palm Beach, $30-$150. (kravis.org)
This month, The Andrea C. Cameron Foundation will host its First Annual Gala and Golf Outing. The black-tie gala will take place September 22 at the Pelican Club in Jupiter, followed by the golf outing September 23 at Palm Beach Par 3 Golf Course. Proceeds from the events will benefit the foundation, which was started by local residents and brothers Austin, Ryan, and Tyler Cameron (of TV's Bachelor fame) to honor their late mother, Andrea. The foundation continues Andrea's philanthropic spirit by offering academic college and technical school scholarships to Jupiter Community High School students. Learn more about the foundation at andreaccameronfoundation.com; to purchase tickets to the gala or golf outing, visit one.bidpal.net/andreaccameronfoundation2022.
23 The Andrea C. Cameron Foundation First Annual Golf Outing, Palm Beach Par 3 Golf Course, Palm Beach, ticket prices and sponsorship options vary. cameronfoundation2022)(one.bidpal.net/andreac
Court House Cultural Center, Stuart. MartinArts Dog Days of Summer (and Other Pets Too!) art exhibition benefiting local animal rescues and pet adoptions, to October 1. (martinarts.org)
4 Palm Beach Gardens Jazz Brunch, Carmine's La Trattoria, Palm Beach Gardens, also September 11, 18, 25, free. (carmineslatrattoria.com)
Norton Museum of Art, West Palm Beach. Years of Glass: The Norton Collection 1982-2002 and Summer Silk: Qing Dynasty Robes and Signs of the Season, to September 4; A Remarkable Gathering: The Fisher Landau Family Collection and Dürer, Rembrandt, and Picasso: Three Masters of the Print, to September 11; The Howard and Judie Ganek Collection, to September 25; Lalla Essaydi: Un/Veiled, to November 6; Autumn Mountains and the Light of the Harvest Moon, to January 15, 2023; Henry Ossawa Tanner: Intimate Pictures, to March 12, 2023; Beaching the Boat (Afternoon Light) by Joaquín Sorolla y Bastida, to June 25, 2023. (norton.org)
13 Sunset Concert Honoring Hispanic Heritage Month, Court House Cultural Center, Stuart, free ($5 donation accepted). (martinarts.org)
30 Luke Bryan, iThink Financial Amphitheatre, West Palm Beach, from $41. (westpalmbeach amphitheatre.com)
Spyro Gyra Jazz Concert, The Lyric Theatre, Stuart, $50. (lyrictheatre.com)
Cox Science Center and Aquarium, West Palm Beach. Mindbender Mansion, to September 4; Dinosaur Explorer, September 15 to April 30, 2023. (coxsciencecenter.org)
24 JoJo's Farmers Market, Carlin Park, free. (jojosfarmersmarket.com)
Vero Beach Museum of Art. Simple Pleasures: The Art of Doris Lee, to September 18; Picasso, Matisse & Friends: Drawings from a Private Collection, September 17 to January 8, 2023. (vbmuseum.org) ❖
16 Daughtry, Kravis Center, West Palm Beach, $35-$349. (kravis.org)
Tour de Trash Kickoff Party & Beach Cleanup to benefit Loggerhead Marinelife Center at the Juno Beach Pier September 2 (left); MartinArts' Dog Days of Summer (and Other Pets Too!) exhibition at the Court House Cultural Center until October 1 (below).
Historical Society of Palm Beach County, West Palm Beach. Celebrating Hispanic Heritage, September 15 to October 15. (pbchistory.org)
Photography by 150 young members of the Boys & Girls Clubs of Palm Beach County will be on view at the Lighthouse ArtCenter in Tequesta beginning September 6. The 2022 ImageMakers exhibit features blackand-white, color, digital, and alternative-process images by club members aged 6 to 18. The photos were entered into the Southeast Regional ImageMakers Competition, and six local members will represent the Boys & Girls Clubs of Palm Beach County at the national competition. Stop by for an opening reception September 9 and learn more about the showcase at jupitermag.com/imagemakers
The Palm Beach County Food Bank will host its first Empty Bowls event at Downtown Palm Beach Gardens September 17. Chefs from local restaurants will prepare and donate soups and fresh bread to be served by local leaders in support of the food bank's hunger relief work in the area. For every ticket purchased, guests will receive a handcrafted bowl to take home as a reminder that hunger is a daily issue for many in our community. Get involved at jupitermag.com/emptybowlspbg
JUPITER | SEPTEMBER 2022112 INSTAWORTHY Tag us on Instagram for a chance to see your post on this page @jupitermagazine
Surf Report
Eating Simply OP
CAPEHARTCOUNTYBEACHPALMOFCLUBSGIRLS&BOYSOFCOURTESY "Once upon a time in Juno Beach" @mr.pjdavis "Red, white, and Jup!" @victoriaruddle "Weather bright and sunny or is it rainy season?" @robinredbeers May the Strongest Girl Win, Brielle M.
by ABIGAIL DUFFY
>>> GET WEEKLY UPDATES ABOUT LOCAL HAPPENINGS BY BECOMING A VIP INSIDER: JUPITERMAG.COM/INSIDER <<< WHAT'S HAPPENING ON JUPITERMAG.COM
/jupitermagazine @jupitermagazine PHOTO
Outdoor Wicker • Aluminum • Teak Marine Grade Polymer • Fire Pits Concrete & Stone Tables • Fountains Recycled Resin • Accessories • & MORE 1527 N. Old Dixie Hwy. • Jupiter, FL 33469 Mon. - Sat. 10 a.m. - 5:30 p.m. Sunday 12:30 p.m. - 5 p.m. 561.748.3433 • patioandpoolside.com CASUAL LIVING PATIO & POOLSIDE Largest Display of Outdoor Furniture in Jupiter, Tequesta and Hobe Sound