LOCAVORE LOVE
COUNTING DOWN LAUDY'S FAVORITE EATS
HOP TO IT
OUR PICKS FOR BROWARD'S BEST BREWERIES
FOOD & DRINK
GRAB & GO
NEXT-LEVEL TAKEOUT
+
Paula DaSilva
To experience the Collections visit one of our flags hip s howrooms
DOWNSVIEW of JUNO
12800 U.S. Highway 1 - Suite 100,Juno Beach, FL (561) 799-7700www.downsviewofjuno.com
DOWNSVIEW of DANIA
1855 Griffin Road - Suite C-212,Dania Beach, FL (954) 927-1100www.downsviewofdania.com
DOWNSVIEW of BOSTON
One Design Center Place - Suite 241,Boston, MA (857) 317-3320www.downsviewofboston.com
DOWNSVIEW KITCHENS 2635 Rena Road, Mississauga, Ontario
The Downsview cabinetry collection is custom crafted in North America and available exclusively through select kitchen design showrooms
Kitchens 14, 2020
nc e
1 967
si
1967
Canada L4T 1G6 Telephone (905) 677-9354 @downsviewkitchens visit our website www.downsviewkitchens.com
PREVIEW BENEFICIARY OFFICIAL CULTURAL PARTNER REGISTER FOR VIP STATUS AT ARTPBFAIR.COM/VIP-APPLICATION
VIP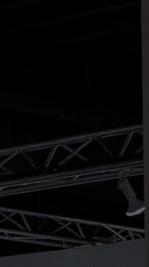 an international fair presented by art miami MARCH 23-26 | 2023 VIP PREVIEW MARCH 23 PALM BEACH COUNTY CONVENTION CENTER THE MOST IMPORTANT CONTEMPORARY + MODERN ART FAIR OF THE SEASON! WWW.ARTPBFAIR.COM TICKETS AVAILABLE ONLINE ONLY
CONTENTS
MARCH/APRIL 2023 | FORTLAUDERDALEILLUSTRATED.COM FOR THE LATEST IN ALL THINGS LUXURY
FEATURES
44 FORT LAUDERDALE FOOD BY THE NUMBERS
From superstar chefs to foodie finds (and everything in between), we're counting down the best of Broward's dining scene
By Christiana Lilly
52 BROWARD BREWS
Seven breweries that are leveling up the local craft beer game
By Joe Pye
Monochromatic
4 FORT LAUDERDALE ILLUSTRATED
60 THE ART OF STYLE
looks with an artistic edge are trending for spring
EVAN PIERCE 44 Fogo de Chão's seafood tower is a fan favorite at the newly opened outpost on Las Olas Boulevard
Photography by Gabor Jurina
Upgrade date night with a PREMIUM fare and Brightline+
Make it a night to remember when you add Brightline+ to your PREMIUM fare.
Plus up your fare and get a private ride from the world's largest rideshare, complimentary within 5 miles of any station. Wait for your train in style with wine, beer, and hors d'oeuvres in the PREMIUM lounge, all included with your fare. Toast to your adventures ahead with cocktails on board in your extra-roomy handstitched leather seats, and let the magic of your journey unfold.
Now there are even more places to explore with stations in Miami, Aventura, Fort Lauderdale, West Palm Beach, and Boca Raton. Scan the QR code to book your next ride with Brightline+.
CONTENTS
DEPARTMENTS
14 FROM THE EDITOR
THE CURRENT
17 AROUND TOWN
Intel on the tenth anniversary of Tortuga Music Festival, FTL Gals help form friendships, a new direct-to-Europe flight lands in Laudy, updates from the Gay Men's Chorus of South Florida, and more
22 OUTINGS
Shop and dine the day away at Hollywood's Yellow Green Farmers Market
24 PROFILE
A humble picnic bench in this chef's backyard is the hardest-to-snag table in town
26 FLI GUIDE
When hunger hits, call these takeout stars STYLE
29 THE LOOK
Brands that give back, plus goddessinspired looks
31 JEWEL BOX
Shoulder-duster earrings make their mark
32 THE EDIT
Our editors' picks for spring essentials
33 BEAUTY
Bath products for hair, face, and body JOURNEYS
35 WANDERLUST
Experience the American West at ultra-luxe Amangiri
40 QUICK TRIPS
Onward to Orlando, two ways
42 HIGH SEAS
Speed reigns supreme on Mystic Powerboat's M5200
EAT + DRINK
85 OPENINGS
Mexican seafood shines at Aida
86 LOCAL BITES
Three spots for delightful dock-anddine destinations, the Las Olas Wine & Food Festival returns to Fort Lauderdale in April, plus our guide to select Broward County eateries
88 MINDFUL MIXOLOGIST
Let your spirits soar with this pineapple-based aperitivo
INTERIORS Modern, tropical vibes abound in a young couple's Fort Lauderdale home
94 BY DESIGN
Spice up your kitchen with these tips and top trends
98 INSPIRED LIVING
Three types of transformations for accent walls
101 SOCIAL STUDIES
Fort Lauderdale's most fabulous events PARTING SHOT
104 KEEP ON TRUCKIN' Food in Motion's monthly food truck showcase puts tasty meals on wheels
ON THE COVER: PHOTOGRAPHER: RICARDO MEJIA, RMSTUDIO
MODEL:
CHEF PAULA DASILVA
LOCATION: THE RITZ-CARLTON, FORT LAUDERDALE
6 FORT LAUDERDALE ILLUSTRATED
X
88 93 33
HOME
93
96 ELEMENTS Bamboo brings a taste of the tropics to home decor
SEEN
ASHLEY MEYER
COURTESY OF ALEXIA FODERE
G Y ORGY PAPP
Editorial Director
Daphne Nikolopoulos
Editor in Chief
Kristen Desmond LeFevre
Creative Director
Olga M. Gustine
Executive Editor
Mary Murray
Associate Editor
Karina Wensjoe
Fashion Editor
Katherine Lande
Automotive Editor
Howard Walker
Travel Editor
Paul Rubio
Web Editor
Abigail Duffy
Social Media Editor
Roxy Rooney
DESIGN
Senior Art Director
Ashley Meyer
Art Directors
Airielle Farley, Jenny Fernandez-Prieto
Digital Imaging Specialist
Leonor Alvarez-Maza
CONTRIBUTING EDITOR
Allison Wolfe Reckson
CONTRIBUTING WRITERS
Jules Aron, Alena Capra, Christiana Lilly, Melissa Puppo, Joe Pye, Jesse Scott, Liza Grant Smith, Jess Swanson
CONTRIBUTING PHOTOGRAPHERS
Alexia Fodere, Gabor Jurina, Ricardo Mejia, Gyorgy Papp
SUBSCRIPTIONS
800-308-7346
8 FORT LAUDERDALE ILLUSTRATED Fort Lauderdale Illustrated Published by Palm Beach Media Group North, LLC, P.O. Box 3344, Palm Beach, FL 33480, 561-659-0210 • Fax: 561-659-1736 ®Fort Lauderdale Illustrated is a registered trademark of Palm Beach Media Group North, LLC fortlauderdaleillustrated.com
Russ Kodner, G.G., AAA CALL NOW FOR YOUR FREE EVALUATION KODNER GALLERIES 45 South Federal Highway Dania Beach, FL 33004 954.925.2550 www.kodner.com Highest prices paid for your Jewelry, Diamonds, Watches and Modern Art.
This is Your Year
This is your place in the sun
100 SOUTH OCEAN BLVD. MANALAPAN FL 33462 | EAUPALMBEACH.COM
This is your year for warm, sandy beaches. For multiple distinct dining venues. For newly re-imagined kids' and teen clubs. For an award-winning spa. This is your year for Eau Palm Beach Resort & Spa. Florida Residents save 15% off our best available rate.* FOR RESERVATIONS, CALL 877 853 0761 OR CONTACT YOUR TRAVEL PROFESSIONAL. *Valid for travel through December 18, 2023. Blackout dates apply. Based on availability.
Emerging Designers Personal Style
ROYAL PALM PLACE - BOCA RATON 561-367-9600
LAS OLAS - FT. LAUDERDALE 954-524-2585
CRYSTAL COVE COMMONS - NORTH PALM BEACH 561-410-5700
DeborahJames.com
Publisher Terry Duffy
ADVERTISING
Sales Director Deidre Wade, 561-472-1902, dwade@palmbeachmedia.com
Associate Publisher Melissa Zolin Schwartz, 561-542-3104, mschwartz@palmbeachmedia.com
Account Manager Steven Sumlin, 954-218-6514 ssumlin@palmbeachmedia.com
Advertising Services Coordinator
Elizabeth Hackney
Marketing Manager
Rebecca Desir
PRODUCTION
Production Director
Selene M. Ceballo
Production Manager
Lourdes Linares
Digital Pre-Press Specialist
George Davis
Advertising Design Coordinators
Anaely J. Perez Vargas, Jeffrey Rey
Production Coordinator
Ileana Caban
Digital Marketing Manager
Tyler Sansone
OPERATIONS
Chief Operating Officer
Todd Schmidt
Accounting Specialist
Mary Beth Cook
Accounts Receivable Specialist
Ana Coronel
Distribution Manager
Judy Heflin
Logistics Manager
Omar Morales
Circulation Manager
Marjorie Leiva
Circulation Assistant
Britney Stinson
Circulation Promotions Manager
David Supple
IT Manager
Keith Gonzalez
SUBSCRIPTIONS
800-308-7346
In Memoriam Ronald J. Woods (1935-2013)
HOUR MEDIA, LLC
CEO Stefan Wanczyk
President John Balardo
PUBLISHERS OF:
10 FORT LAUDERDALE ILLUSTRATED
Palm Beach Illustrated • Naples Illustrated • Fort Lauderdale Illustrated Palm Beach Charity Register • Naples Charity Register • Florida Design • Florida Design Naples • Florida Design Miami • Florida Design Sourcebook • Palm Beach Relocation Guide Southwest Florida Relocation Guide • Fifth Avenue South • Palm Beach 100 • Naples 100 • Art & Culture: Cultural Council for Palm Beach County • Pinnacle: Jupiter Medical Center Foundation • Waypoints: Naples Yacht Club • Naples on the Gulf: Greater Naples Chamber • Jupiter • Stuart • Aventura • Vero Beach Magazine • Community Report: Collier Community Foundation • Advances: Tampa General Hospital • Naples Realtor: Naples Area Board of REALTORS • Official XII FIP World Polo Championship Magazine AVANT TOI MARSELL RICK OWENS GILDA MIDANI NORMA KAMALI MOUSSY PETER COHEN
TRANSIT
Not intended to solicit currently listed property. © Compass Florida, LLC. Equal Housing Opportunity. All information furnished regarding property for sale or rent or regarding financing is from sources deemed reliable, but Compass makes no warranty or representation as to the accuracy thereof. All property information is presented subject to errors, omissions, price changes, changed property conditions, and withdrawal of the property from the market, without notice. Peter Barkin, P.A. Realtor 954.675.6656 BarkinGroup.com Discover the Fort Lauderdale Lifestyle Intracoastal Living | Mid-Century Modern 100 Feet Direct Intracoastal • 4 Bedrooms | 3 Full Bathrooms • Media Room | Rooftop Terrance Offered at $8,750,000
PETER BARKIN FOUNDING AGENT
THE BARKIN GROUP | COMPASS
PHILLIP DUNLAP
DIRECTOR
BROWARD COUNTY CULTURAL DIVISION
KIRK ENGLEHARDT
VP, MARKETING & COMMUNICATIONS
COMMUNITY FOUNDATION OF BROWARD
STACY RITTER
PRESIDENT & CEO
VISIT LAUDERDALE
DURÉE ROSS
PRESIDENT & CEO
DURÉE & COMPANY
SHARON S. TURNAU, CTC
12 FORT LAUDERDALE ILLUSTRATED
OF PRACTICE • EMPLOYMENT-BASED VISAS • INVESTMENT VISAS • EXTRAORDINARY ABILITIES VISAS • LABOR CERTIFICATION • STUDENT VISAS • FAMILY BASED VISAS/ ADJUSTMENTS • ASYLUMS • NATURALIZATIONS • DETENTION AND REMOVAL • VICTIMS OF DOMESTIC VIOLENCE • VISAS FOR CRIMINAL ACTS WITNESS • AUTOMOBILE ACCIDENTS • SLIP/ FALL INCIDENTS • PRODUCTS LIABILITY • PRE/POSTNUPTIAL AGREEMENTS • DIVORCES • PATERNITY/ CUSTODY • CHILD SUPPORT/ ALIMONY IMMIGRATION PERSONAL INJURY FAMILY LAW ELIZABETH AMARAN, ESQ. ATTORNEY AT LAW FREE CONSULTATION Payment Plans Available (305) 931.3500 ELIZABETH AMARAN, ESQ. Aventura View 2999 NE 191st Street Suite 704 Aventura, FL 33180 *HIRING AN ATTORNEY IS AN IMPORTANT DECISION AND SHOULD NOT BE BASED SOLELY ON ADVERTISEMENT. BEFORE YOU MAKE A DECISION, REQUEST FREE WRITTEN INFORMATION ABOUT OUR QUALIFICATIONS AND EXPERIENCE. •EMPLOYMENT-BASEDVISAS•INVESTMENTVISAS•EXTRAORDINARYABILITIESVISAS •LABORCERTIFICATION•STUDENTVISAS•FAMILYBASEDVISAS/ADJUSTMENTS •ASYLUMS•NATURALIZATIONS•DETENTIONANDREMOVAL•VICTIMSOFDOMESTIC VIOLENCE•VISASFORCRIMINALACTSWITNESS•AUTOMOBILEACCIDENTS •SLIP/FALLINCIDENTS•PRODUCTSLIABILITY•PRE/POSTNUPTIALAGREEMENTS •DIVORCES•PATERNITY/CUSTODY•CHILDSUPPORT/ALIMONY•ENFORCEMENTACTIONS We Speak English Spanish Russian
AREAS
LANDMARK TRAVEL ADVISORY BOARD
1500 NORTH FEDERAL HIGHWAY, FORT LAUDERDALE, FL 33304 www.1500DENTAL. com | 954.715.1000 Our mission is to transform lives by restoring hope, health, and smiles. One patient at a time. All of the dentists, specialists, and laboratory in one center. Andrew Forrest, D.M.D., M.S. Periodontist & Implant Dentistry University of Florida Rafaella Correa, D.M.D. Cosmetic & General Nova Southeastern University Javier Martinez, D.M.D. Cosmetic & Reconstruction University of Florida Janise Morales, D.M.D. Orthodontist Seton Hall University Alejandro Alvarado, D.M.D. Cosmetic & General Florida Institute for Dentistry Michael London, D.D.S. Oral & Maxillofacial Surgeon Emory University Complete Exam, X-Rays, Regular Cleaning, Teeth Whitening, Hygiene Kit, & Toothbrush! $79 NEW PATIENT PROMO
XEDITOR'S PICKS
GOODS THAT GIVE BACK
As a Florida native, I'll admit to having an Everglades obsession. I'm loving J.McLaughlin's commitment to helping heal our River of Grass: Every purchase from a new collection benefits the Everglades Foundation's efforts to restore and protect the fragile ecosystem (page 29).
BACKYARD BLISS
I've been on the waiting list to belly up to the picnic benches at Regina's Farm for some time now (ICYMI, it's the toughest reservation in town), so I was thrilled when writer Jess Swanson was able to snag a seat and an interview with the locale's namesake, Regina Rodrigues. Read her story on page 24.
STAY HUNGRY
Fort Lauderdale's dining scene was once bound by chains—that is, the city and its environs were dotted with a swath of well-known national chain restaurants and just a few standout independent stars. In recent years, however, the foodie scene has started to break free and find new ground, from modest strip mall joints to high-end dining destinations helmed by Laudy locals. That's why this month's issue of Fort Lauderdale Illustrated is dedicated to all things food and drink in Broward County.
If the new dining landscape has you feeling adrift, we've got the cuisine countdown you need. Turn to page 44 for Christiana Lilly's "Food by the Numbers" feature story. From 10 new restaurants to try to six must-sip cocktails to three chefs to follow, you're sure to find a local meal with meaning.
For those who love a taste of international flavors (and those who love to shop for bargains in between bites), Jesse Scott's "Market Moves" on page 22 offers a plan for the perfect Saturday outing or Sunday Funday at Hollywood's Yellow Green Farmers Market, where you can try nearly every cuisine under the sun.
There are days when appetite adventures have you heading out of the house with enthusiasm … and then there are days when leaving the comfort of your couch for a meal is just too much to bear. Luckily, Laudy's takeout scene has stepped up its game (thanks, COVID-19). Check out "You Can Take it with You" on page 26 for our FLI Guide to 10 of our favorite at-home indulgences that can be delivered directly to your door.
Perhaps a liquid diet is what you crave. If so, don't miss Joe Pye's roundup of seven of Broward's best breweries in "Broward Brews," beginning on page 52, featuring craft brewers who are keeping the local beer industry hopping.
I hope you savor this month's issue. Don't forget to connect with us on Instagram (@fl illustrated) for behind-the-scenes content, around-town happenings, and more!
Kristen Desmond LeFevre klefevre@fortlauderdaleillustrated.com
14 FORT LAUDERDALE ILLUSTRATED
FROM THE EDITOR
CAPEHART
"The
Visit our website to learn more CFBROWARD.ORG/BE- BOLD
expert team at the Community Foundation
Broward
dollar I give
BOLD
in Broward.
peace-of-mind
endowed charitable funds
empowering women.
the Foundation
side, I'm
to build a brighter
person
an opportunity to
a legacy of optimism and
that will
on forever."
CAN BE BOLD, LIKE PHILANTHROPIST
of
ensures that every
creates
impact
I have great
knowing my
will provide lasting benefits towards issues that are important to me, like social justice and
With
by my
helping
future where every
has
succeed. It's
hope
live
YOU
BURNADETTE NORRIS-WEEKS
THE CURRENT
COVETABLE FINDS, HOT HAPPENINGS, AND MUST-ATTEND EVENTS
EVENTS
TURN THE
It's time to dust off your cowboy boots and pull out your bathing suit because Fort Lauderdale's biggest beach concert of the year, Tortuga Music Festival , returns April 14-16, and this year's tenth anniversary promises an even bigger and better lineup and host of events. We're talking headliners including Eric Church, Shania Twain, and Kenny Chesney, plus a slew of other favorites such as Wiz Khalifa, Carly Pearce, and Brett Young, making for one eclectic weekend of music. Three-day general admission, VIP, and Super VIP passes are available along with single-day tickets.
(tortugamusicfestival.com)
—Melissa Puppo
FORTLAUDERDALEILLUSTRATED.COM | MARCH/APRIL 2023 17
V
PAGE FOR
ROCK THE OCEAN GUIDE
FLI'S
TO ALL THINGS TORTUGA 2023.
THE CURRENT
EVENTS
BEST OF THE FEST
4
MAKE A PLAN
3
Know the set times of your must-see performers and get to the specific stage at least 20 minutes prior to the first drumbeats. During downtime, be sure to check out the array of vendors—from fashion to food and everything in between.
REHYDRATE AND RECHARGE
Pack a reusable water bottle for free refills at the various hydration stations to avoid paying exorbitant prices for bottled water throughout the day. Be sure to keep a lightweight reusable battery in your backpack or fanny pack so you can recharge your smartphone to stay in touch with your crew and record videos without worrying about your battery crashing.
Girl Gang
FIVE TIPS FOR MAKING THE MOST OF THIS YEAR'S TORTUGA MUSIC FESTIVAL 5
ARRIVE IN STYLE
Let's be real: A lot (and we mean a lot!) of people attend this concert. Avoid Uber surge pricing and long waits by opting for transportation via Water Taxi. A three-day pass costs $75, but the real perk is having peace of mind.
GO VIP
1 2
If you're a die-hard fan or simply want the best view, opt for a VIP pass, which includes complimentary beer, wine, and cocktails, access to VIP food vendors and the Grove pool, plus unlimited reentry and more.
BEAT THE HEAT
Wear a hat, lather on the sunscreen (don't forget to reapply), and opt for a bit of shade time away from the sun, which can be brutal this time of year. —M.P.
ON THE FLI
SAMANTHA MCGRAW AND SHELLY TEAL HAVE DISCOVERED THE BEST WAY TO BRING LAUDY'S LADIES TOGETHER. THE FORT LAUDERDALE TRANSPLANTS LAUNCHED FTL GALS LAST YEAR WITH THE GOAL OF FINDING QUALITY GIRLFRIENDS. "WE USE IT AS A TOOL TO NETWORK AND CREATE RELATIONSHIPS," MCGRAW SAYS. THE DUO STARTED OUT BY CONNECTING ON INSTAGRAM. BUT EVENTUALLY, MCGRAW SAYS, THEY "BECAME BEST FRIENDS, AND OUR IDEA FOR THE FTL GALS BEGAN TO COME TO THE FOREFRONT." SINCE ITS INCEPTION, FTL GALS HAS HOSTED FESTIVE BAR CRAWLS, GROUP WALKS, AND HOLIDAY PARTIES WITH GUEST LISTS OF MORE THAN 100 LOCAL WOMEN LOOKING TO MAKE FRIENDS. MONTHLY EVENTS ARE POSTED ON THEIR INSTAGRAM ACCOUNT, @FTLGALS. CHECK IT OUT TO SEE WHAT'S HAPPENING IN THE UPCOMING MONTHS. —M.P.
BERLIN Bound
Traveling to Europe from Laudy just got easier with Norse Atlantic Airways' new direct flights from Fort Lauderdale to Berlin. This marks the start-up airline's second launch out of Fort Lauderdale-Hollywood International Aiport, following its inaugural direct flights to Oslo, Norway. Flights will operate three times a week with fares as low as $155, a price that reflects the company's pledge to offer "affordable value and a quality traveling experience to all." (flynorse.com) —M.P.
18 FORT LAUDERDALE ILLUSTRATED
Samantha McGraw, Shelly Teal
The Next Move Is Yours
340 ROYAL POINCIANA WAY, M302 PALM BEACH, FL 33480. 561.655.8600 © 2023 DOUGLAS ELLIMAN REAL ESTATE. ALL MATERIAL PRESENTED HEREIN IS INTENDED FOR INFORMATION PURPOSES ONLY. WHILE, THIS INFORMATION IS BELIEVED TO BE CORRECT, IT IS REPRESENTED SUBJECT TO ERRORS, OMISSIONS, CHANGES OR WITHDRAWAL WITHOUT NOTICE. ALL PROPERTY INFORMATION, INCLUDING, BUT NOT LIMITED TO SQUARE FOOTAGE, ROOM COUNT, NUMBER OF BEDROOMS AND THE SCHOOL DISTRICT IN PROPERTY LISTINGS SHOULD BE VERIFIED BY YOUR OWN ATTORNEY, ARCHITECT OR ZONING EXPERT. EQUAL HOUSING OPPORTUNITY. elliman.com
Fort Lauderdale | 2724 Sea Island Drive $34,995,000 | 5 BR, 7.5 BA | WEB#F10352131 Julie Jones: M 954.328.3665 Fort Lauderdale | 40 N Compass Drive $7,495,000 | 5 BR, 5.5 BA | WEB#F10346435 Hedy Tufo: M 516.830.0269 Fort Lauderdale | 1719 SE 12th Court $35,000,000 | 6 BR, 7.5 BA | WEB#F10352972 Marc Brandt: M 954.445.3033 Pompano Beach | 708 Briny Avenue, 2 $6,900,000 | 4 BR, 4.5 BA | WEB#F10345276 Stefano Fontana: M 954.494.4561 Virtually Rendered Virtually Rendered
UNITED IN SONG CULTURE
Fort Lauderdale's two powerhouse choral groups have become one with the recent unification of the Fort Lauderdale Gay Men's Chorus (FTLGMC) and the Gay Men's Chorus of South Florida (GMCSF). Under the direction of now-retired founder Gary Keating, FTLGMC has entertained for 36 years and was the first gay performing arts organization in the state. "Both choruses have such a strong legacy in our community," shares FTLGMC past president Justin
Knight. "We felt it was time to join forces with GMCSF as we are stronger together and can better achieve our missions together." GMCSF executive director Mark Kent agrees, noting how uniting builds a more focused force "for opening minds and changing hearts" in advancing people's understanding of LGBTQ+ individuals. "I am really excited about what is happening for our organization right now," says Kent.
"It is exciting to be part of this purpose-driven work. In June, we will bring a wonderful collection of the most beloved music from Disney to the stage. To have such a strong family-focused institution as Disney develop a concert for performance by a gay chorus is a great validation." (gmcsf.org) —M.P.
TWO TO TRY
HOT HAPPENINGS
Family Fun
To infinity and beyond! Toy Story favorites and other Pixar character fun are on full display this month thanks to Pixar Putt, a new pop-up, open-air mini-golf experience at The LOOP (Las Olas Oceanside Park). Bring the whole family to explore 18 interactive, Instagrammable holes inspired by some of Disney and Pixar's most beloved films, such as The Incredibles, Monsters, Inc., Finding Nemo, Coco, Inside Out, and more. A Pixar Putt After Dark option is available for those 18 and older. Catch all the fun now through March 26.
(pixarputt.com/fortlauderdale)
Love Fest
If you're seeking some highlevel wisdom, don't miss global best-selling author, podcaster, and former monk Jay Shetty, who will appear at the Broward Center March 3 as part of his first world tour, dubbed "Love Rules." The 90-minute experience promises to take audience members on a journey of finding, keeping, and letting go of love. Enjoy a transformational evening complete with live meditations, experiments, and demonstrations. (jayshettytour.com; browardcenter.org) —M.P.
20 FORT LAUDERDALE ILLUSTRATED THE CURRENT
Above: The Gay Men's Chorus of South Florida; artistic director Gabe Salazar leads the group in a recent performance.
Par-tee with family and friends at Pixar Putt, where every moment is magical.
« «
GINNY DIXON
OUTINGS
MARKET MOVES
YELLOW GREEN FARMERS MARKET IS BROWARD'S DOWNTO-EARTH FOODIE HEAVEN
BY JESSE SCOTT
Sure, South Florida is chock-full of multicultural experiences. But there is perhaps no better place to take in so much of the world under one roof—from pupusas handcrafted by an abuela to customized tropical juice blends mixed before your eyes—than at Yellow Green Farmers Market in Hollywood.
There is more to this regional hot spot (located just southwest of the Sheridan Street exit off I-95) than picking over fresh tomatoes, avocados, and mangoes. The outdoor shopping utopia spans approximately 190,000 square feet and includes more than 325 homegrown operations and small businesses appealing to foodies, wellness buffs, shoppers on the hunt for deals, and all the good vibe–loving folks in between.
Where other market experiences may be meticulously polished and borderline hoity-toity, Yellow Green Farmers Market is far from that scene (in the best way possible). Its grounds are anchored by a towering tin-roof structure—with large fans for air circulation —and rows of indi -
EATS WE LOVE
BIG'UMMS
Don't miss the muffuletta sandwiches, red beans with brown rice, or the chicken jambalaya at this New Orleans–style booth. Dessert? Just pick anything with the word "praline" in the description.
CHILELIMON FUSION
Stop by this Peruvian-Mexican
vidually crafted booths to saunter past on a leisurely weekend jaunt.
Don't miss clothing and jewelry outposts like Crystal Treasures (for all your metaphysical needs), Red Hot Vintage (a curated selection of throwback tees, sweatshirts, and other vintage wearables), and Blush and Wood (selling handmade perfumes, soaps, and body oils). In between, peruse produce stands piled high with exotic options, herbal remedy suppliers, and seemingly endless possibilities at food vendors offering delicacies from Ethiopia, Thailand, Germany, Indonesia, and everywhere in between.
When it's time to give your feet a rest, head to the outdoor Happytizer Bar, which boasts a menu of ice-cold brews, a pool table, and live musicians churning out reggae beats to soothe your shoppedout soul. (ygfarmersmarket.com)
fusion spot serving up tacos, ceviche, and tortillas made on site. Feeling adventurous? Order up a plate of cricket tacos.
PURO TINTO
Visit this family-run Colombian coffee shop to score a cold brew, the perfect pick-me-up on a hot day at Yellow Green.
KNOW BEFORE YOU GO
• THE MARKET IS OPEN ON SATURDAYS AND SUNDAYS FROM 10 A.M. TO 7 P.M.
• ARRIVE EARLY TO SNAG THE BEST SELECTIONS AND TO BEAT THE HEAT.
• PARK IN THE NORTH LOT FOR THE BEST DEAL. A FLAT $10 FEE GRANTS YOU ALL-DAY PARKING AND ACCESS TO A HANDY TRAM THAT WILL WHISK YOU TO THE MARKET'S ENTRANCE.
LA TAULA
This Spanish outfit offers sizzling paella and master-sliced jamón Ibérico that will melt in your mouth.
J.O. THAI STREET FOOD
Everything at this spot is prepared with fresh, authentic ingredients, but we're partial to their made-toorder crab fried rice.
LOCOS X GRILL
Bring your appetite to this Chinese-Venezuelan barbecue joint offering all the meats you can eat (including festive Sunday asados). The mashup is unique and delicious—Venezuelan parrilla paired with Chinese fried rice? We're sold.
22 FORT LAUDERDALE ILLUSTRATED THE CURRENT
Yellow Green Farmers Market offers produce at its peak, fashion finds, delicious dishes, and more.
Big'Umms
FO RT LA UDER DA LE Licensed nurse on-site 24/7 | Circle of Friends® award-winning memory care | Urgent care telehealth Dedicated Alzheimer's care | Physical therapy, rehabilitation and fitness | Nationally-recognized, highly trained staff
1998,
unparalleled senior living experience for thousands of families. Collaborations with
the
top universities and healthcare institutions,
Health, have
our national leadership in demonstrably effective cognitive health and wellness programs.
the
of hospitality and care,
life worth living. A LIFE WELL LIVED. A LIFE WELL EARNED. BelmontVillage.com/FortLauderdale | 954-324-4386 ©2023 Belmont Village, L.P. | ALF #AL13484
Since
Belmont Village has safely delivered an
experts from
nation's
including Baptist
established
Combining
highest levels
our communities make
THE CURRENT
FARM FRESH
REGINA'S FARM FEATURES A RUSTIC TASTE OF BRAZIL
BY JESS SWANSON
After immigrating to Fort Lauderdale with her husband and two sons in 1994, Regina Rodrigues was homesick. The Brazilian native longed for the bucolic lifestyle of her youth, when she lived on her family's farm in her home state of Minas Gerais. "I was raised cooking on a wood stove, going to the cow and taking the milk and drinking it right there," Rodrigues recalls. "We had cows, we had pigs, we had everything."
But the Rodrigueses' backyard in Fort Lauderdale's Sailboat Bend neigborhood wouldn't accommodate cows and pigs (nor would the city's zoning laws). However, her husband built her a set of woodburning stoves, a few picnic tables, and a chicken coop. "I decided that I needed to be happy where I am," she says. "If I cannot go back to Brazil, then I'm going to bring Brazil to my backyard."
Rodrigues soon began inviting folks over after the conclusion of religious services at Las Olas Worship Center (which happens to be right across the street from her home), serving up homemade soup, pão de queijo (cheese bread), and other Brazilian specialties. She found that cooking for family and friends in her backyard— beneath subtropical foliage with chickens and rabbits scurrying underfoot—was all she needed to acclimate.
For the first few years, the Rodrigueses didn't dare charge for the feasts they prepared each Sunday. ("We don't charge people to eat
in our home!" her husband would insist.) But, in 2006, she began hosting informal fundraisers to benefit the church and hired staff to help feed the crowds. In 2013, Regina's Farm achieved nonprofit status. So far, Rodrigues has raised $60,000 and hosted fundraisers benefiting Broward College, victims of the Parkland shooting, coral reefs, an orphanage in Haiti, and more.
Regina's Farm is only open for dinner on Saturdays and certain Sundays, with space for up to 150 people at a time. The prix fixe all-you-can-eat menu includes more than six types of gluten-free soups, pão de queijo , yucca, plantains, chicken wings, oxtail, and 15 types of desserts.
"People would say, 'How are you going to let strangers into your home?'" Rodrigues recalls. "But I didn't want just friends and family to come here; I want everyone to know that they can come."
The homespun charm of Regina's Farm spread first throughout the Brazilian community. What was once Fort Lauderdale's best-kept secret has now become the hottest reservation in town: The earliest availability isn't until 2029.
While some have tried to nudge Rodrigues toward opening a brick-and-mortar restaurant in downtown Fort Lauderdale, she says she has no desire to ever leave the rustic utopia of her urban farm.
"I don't feel homesick anymore," Rodrigues says with a smile. «
24 FORT LAUDERDALE ILLUSTRATED
PROFILE
At Regina's Farm, Regina Rodrigues serves a variety of authentic Brazilian dishes, offering guests a chance to sample the country's flavors in a cozy backyard setting.
SARA LUDMIR (786) 256-0817 sara.ludmir@floridamoves.com | SaraLudmir.com ENGLISH/ESPAÑOL LIST WITH ME TO SELL IT NOW I SHOWCASE YOUR HOME TO STAND APART FROM THE COMPETITION The Parc at Turnberry # 1032 | 2BR + Den, 3BA | Four balconies & great views Mystic Pointe T 500 # 3009 | 3BR, 2BA | Incredible views & beautifully remodeled Hamptons
All new
high-end
|
10
| $1,250,000 JUST REDUCED JUST REDUCED 20 YEARS' EXPERIENCE SELLING LOCALLY Representing the Top 3% of Coldwell Banker® Agents Worldwide
West # PH14 | Corner large 2 BR, 2 BA | Stunning ocean views
with
finishes
Turnkey |
Ft. ceilings
FLI GUIDE
YOU CAN TAKE IT WITH YOU
LAUDY'S TAKEOUT GAME HAS NEVER BEEN STRONGER. HERE ARE 10 OF OUR GOTOS FOR DELICIOUS DISHES TO EAT AT HOME.
BY KRISTEN DESMOND LEFEVRE
TEMPLE STREET EATERY
If you're craving ramen but want to eat it on the couch in your jammies, this Asian American comfort food joint is your best bet. Their ramen and noodle soups are homemade daily. (templestreeteatery.com)
PHAT BOY SUSHI
PRIMANTI BROTHERS
With two locations in Fort Lauderdale, this Pittsburgh favorite offers stacked sandwiches filled with grilled meat, melted cheese, coleslaw, tomato slices, and french fries between thick slices of Italian bread that has made the joint famous since 1933. (primantibros.com)
FRESH FIRST
Takeout can be tough when you've got dietary restrictions, allergies, or sensitivities. Fresh First makes literally everything on its menu from scratch in its certified glutenfree kitchen, offering delicious fare for conscious eaters of all stripes. (freshfirst.com)
Putting a modern twist on traditional Japanese fare, Phat Boy produces sushi rolls that are out of this world. Go with a classic or try a signature roll like the Samurai, made with tuna, salmon, whitefish, and asparagus and topped with seared ribeye, jalapeño, fried onions, and a tangy house sauce. (phatboysushi.com)
8 1
PADRINO'S CUBAN CUISINE
Call on this third-generation, family-owned restaurant for takeaway treats like picadillo, lechon asado, ropa vieja, or a classic Cuban sandwich. (padrinos.com)
TALKIN' TACOS
What started as a food truck in Miami has made its way north to Broward County. Order in for authentic halal tacos made with the freshest of ingredients. Our picks? The birria tacos are killer, or go seafood-centric with the bang bang shrimp tacos (but only if you can take the heat) (talkintacos.net)
CEVICHES BY DIVINO
The brainchild of brothers Christian and Frank Encalada, this Pembroke Pines spot is the place for Peruvian flavors—namely delicious ceviches and tiraditos. Place your order for the trio de ceviches and thank us later. (cevichesbydivino.com)
BOMBAY DARBAR
5 6 2 3 7
This mom-and-pop shop is a can't miss for Indian dishes. From tikkas to tandooris to vindaloos, it's all there for your ordering pleasure. Don't forget to add a side of fluffy onion-flecked kulcha naan. (bombaydarbar.com)
4 9 10
LASPADA'S ORIGINAL HOAGIES
When you're over Pub subs, get your fill of these sandos prepared with the freshest Italian ingredients. Established in 1972, LaSpada's has perfected its hoagie architecture—starting with a base of meats and cheeses, followed by veggies and fixings, and topping it all off with a second layer of meat known as a "meat blanket." (laspadashoagies.com)
WILTON WINGS
Whether you need wings to watch the big game or just want to indulge in a little athome hot sauce hedonism, this is the place to call. Choose from 16 specialty sauces and dry rubs, from traditional Buffalo to Parmesan Thai chili to Old Bay. (wiltonwings.co)
26 FORT LAUDERDALE ILLUSTRATED THE CURRENT
STYLE
CURATED FINDS, LUXE ACCESSORIES, AND RUNWAY REPORTS
SHOP FOR GOOD
SUPPORT CHARITIES WHILE STAYING STYLISH WITH BRANDS THAT GIVE BACK
BY KATHERINE LANDE
1. Spes goddess pendant with diamonds set in 18-karat gold ($9,300), Faraone Mennella, Via Coquina, viacoquina.com, a portion of proceeds will benefit the Hope for Depression Research Foundation. | 2. Handmade jewelry (prices start at $19.50), Oiya, shopoiya.com, each Oiya purchase feeds a child for a day through the charitable organization ShareTheMeal. | 3. Everglades Foundation collection (prices vary), J.McLaughlin, jmclaughlin.com, a portion of sales will benefit the Everglades Foundation's Everglades Literacy Program and efforts to restore and protect the greater Everglades ecosystem. | 4. Bombé ring with rock crystal and hammered gold ($25,000), David Webb, Macklowe Gallery, macklowegallery.com, Macklowe Gallery has teamed up with the Promise Fund of Florida to fight breast and cervical cancer, with 10 percent of proceeds benefiting the organization. | 5. Online collection (prices vary), Veronica Beard, veronicabeard.com, proceeds from every online
FORTLAUDERDALEILLUSTRATED.COM | MARCH/APRIL 2023 29
1 2 3 4 5 7
order through the end of March will benefit the Jed Foundation, which protects emotional health and prevents suicide for American teens and young adults. | 6. Pickleball paddles ($110 each), J.McLaughlin, jmclaughlin.com, 15 percent of proceeds from the pink paddles and special in-store and pop-up events will benefit Play for P.I.N.K., a fundraising organization dedicated to breast cancer research and supporting patients. | 7. Assorted pajamas (prices start at $78), Trousseau, trousseaulinens.com, 100 percent of proceeds will benefit underprivileged children and their families through the Little Lighthouse Foundation.
6
ARTWORK BY @ANATHEAVOCADO VIA @ARTFORMENTALHEALTH
THE LOOK
GOOD GODDESS
GLAMOUR RETURNS WITH FASHION THAT FOSTERS YOUR INNER GREEK GOD
BY KATHERINE LANDE
HAVE A BALL Fana top-handle bag ($898), Cult Gaia, Miami, cultgaia.com
MOUNT OLYMPUS Spring/Summer 2023 metal bracelet ($4,875), Chanel, Miami, chanel.com
GOLD STANDARD Gold napa leather sandals ($590), Michael Kors Collection, michael kors.com
ANCIENT HISTORY
Dionysus metallic lizard small shoulder bag ($6,200), Gucci, Miami, gucci.com
OCEAN GEMS
Large pearl collar necklace ($1,650), Dior, Miami, dior.com
ROUND AND ROUND
Sculpted cable hoop earrings in sterling silver and gold ($1,350), David Yurman, Aventura, Bal Harbour, davidyurman.com
STYLE NOTES X
MIXED METALS: Shine brightly with both gold and silver.
DETAIL ORIENTED: Wear the look with serpent or oversize pearl accents.
GO LOW:
Opt for a metallic or embellished flat for evening.
GIORGIO ARMANI SPRING 2023
A wardrobe classic never fades with a one-shoulder diaphanous gown.
COME SLITHER
Mini crystal dust tote ($4,850), Bulgari, Miami, bulgari.com
LITTLE LIFT
Cleo flat gray jewel sandals ($1,490), René Caovilla, Bal Harbour, renecaovilla.com
30 FORT LAUDERDALE ILLUSTRATED STYLE
JEWEL BOX
Great LENGTH
MODERN SHOULDER DUSTERS GO BEYOND THE STRAIGHT AND NARROW
BY MARY MURRAY
1. WRECKING BALL Katherine Jetter cage drop earrings with diamonds set in 18-karat gold, $7,900. (marissacollections.com)
2. STARDUST Graziela earrings with diamonds set in 18-karat gold, $19,950. Neiman Marcus, Coral Gables (neimanmarcus.com)
3. THREE OF A KIND Provident Jewelry chandelier earrings with diamonds set in 18-karat white gold and platinum, $175,000. Provident Jewelry locations (providentjewelry.com)
4. FRUIT PUNCH Eden Presley statement earrings with mixed tourmalines and diamonds set in 14-karat gold, $8,995. (edenpresley.com)
5. HOLD YOUR HORSES Sig Ward Manifest earrings with pearls and diamonds set in 14-karat gold, $5,780. (sigwardjewelry.com)
6. OPULENT OVALS Anita Ko Hudson pear diamond drop earrings with diamonds set in 18-karat white gold, $6,775. The Webster, Miami (thewebster.com)
7. BLUE BLOOD Cicada chandelier earrings with aquamarine and diamonds set in platinum, $13,200. Neiman Marcus, Coral Gables (neiman marcus.com)
8. MORNING DEW Guita M floral drop earrings with aquamarine and white agate set in 18-karat gold, $10,200. (guitam-jewelry.com)
9. DROPS OF JUPITER Misahara Plima drop earrings with pink tourmalines and diamonds set in 18-karat rose gold, $3,300. (misahara.com)
FORTLAUDERDALEILLUSTRATED.COM | MARCH/APRIL 2023 31 2 1 7
9
5 6 4
3
8
STYLE
NEW VIEWS
Triomphe 04 sunglasses in Milky Peach acetate ($510), Celine, celine.com
Shifting into spring mode always makes me feel like I'm suddenly seeing the world in a whole new way. From my point of view, there's no better way to celebrate a new season (and make your outlook as stylish as possible) than with a pair of Easter-egg-hued sunnies by fashion-girl favorite Celine.
THE EDIT
Full Bloom
—Kristen Desmond LeFevre, editor in chief
COFFEE TALK
Party Pink espresso
coffee mug ($28), Egg Back Home, Wolf & Badger, wolfandbadger.com
Having been gifted an espresso machine for Christmas, I am now on the hunt for adorable espresso cups. This handmade ceramic mug by Portugal-based Egg Back Home gives me just the excuse I need to enjoy hot coffee even as temperatures rise. —Mary
Murray,
executive editor
HAUTE HOME
Aqua Universalis scented laundry detergents and fabric softener ($50 each), Maison Francis Kurkdjian, franciskurkdjian.com
Who said freshening up for the season can't be impossibly chic? Breathe new life into your home care routine with a scent experience by French fragrance house Maison Francis Kurkdjian. Recalling a beautiful spring day, the aromas of Calabrian bergamot, Sicilian citron, lily of the valley, and mock orange evoke the simple bliss of sun-kissed laundry.
RAIN OR SHINE
Harlequin umbrella ($300), Aspinal of London, aspinaloflondon.com
This spring, I'm looking forward to greeting seasonal showers or sunbeams in style. Aspinal's chic umbrella in a cherry blossom harlequin print and gray ombre with a leather handle and silver-plated collar certainly sets the tone while providing maximum coverage from the elements. —Allison Wolfe Reckson, contributing editor
DINNER IS SERVED
Peacock two-tone pink linen placemats ($115 for set of two) and napkins ($98 for set of two), Themis Z, Via Coquina, Palm Beach, viacoquina.com Spring, when the hurried pace of season starts to slow down, is my favorite time to entertain outdoors.
To complement everything blooming, I like to set a cheerful table, and these linens with their happy pink swirls really say "spring" to me. Throw in a cocktail with some edible flowers and the scene is set. —Daphne
Nikolopoulos, editorial director
FLOWER POWER
Virgule flower bow slingback pumps in yellow ($2,125), Roger Vivier, rogervivier.com
Everything is coming up roses with these (almost) too-pretty-to-wear kitten heels. The pastel floral appliqués and pink bows not only look like mini bouquets, but they're also perfect accents to dress up your go-to pair of denim or cocktail mini. —Katherine Lande, fashion editor
32 FORT LAUDERDALE ILLUSTRATED
PUT SOME SPRING IN YOUR STEP WITH OUR EDITORS' FAVORITE SPRINGTIME ACCESSORIES AND HOME ESSENTIALS
—Abigail Duffy, web editor
Have a ball in the bath with pampering, decadently fragrant products for hair, face, and body: Krigler Villa America 220 Soap with notes of sagebrush, magnolia, amber, and sandalwood ($85, krigler.com); Borghese Roma Advanced Fango Active Purifying Mud Mask with Siberian ginseng root, chaga mushroom, and bentonite clay ($50, borghese.com); Barneys New York Beauty Sentiage Body Wash Better Than Ever with scent-in-trap technology ($48, barneys-beauty.com); Noeud Soaps in sandalwood-scented Soft White and olive-scented Olive Green ($24, 54celsius.com); Leland Francis Twenty-Nine Botanical Serum with anti-inflammatory, balancing, hydrating, and nourishing sea buckthorn, tamanu, alfalfa, and jasmine oils to protect and brighten ($90, lelandfrancis.com); Kevin Murphy Scalp.Spa Treatment Calming Foam Masque ($45, kevinmurphy.com.au); and Shikohin Revitalizing Body Scrub with exfoliating hemp fiber and rice extract ($36, shikohin.com). —Abigail Duffy
DIVE IN
FORTLAUDERDALEILLUSTRATED.COM | MARCH/APRIL 2023 33
BEAUTY ASHLEY MEYER
Naples Botanical Garden
FRIDA AND HER GARDEN
Now – September 10, 2023
 ARTE VIVA !
COMES TO LIFE IN COLLIER COUNTY !
Experience Hispanic culture in Naples, Marco Island and the Everglades! The celebration continues this year, with one-of-a-kind art, music, and cultural events. Plan your trip to one of these amazing events and many more as you discover the beauty of ¡ARTE VIVA!
ARTE-VIVA.COM
Naples Art Institute
ISABELLE DE BORCHGRAVE AND THE WORLD OF FRIDA KAHLO
March 4 – June 11, 2023
Artis—Naples
THREE DEGREES OF SEPARATION: Artistic Connections in the Permanent Collection
March 18 – July 30, 2023
Photo Credit: Diego Rivera (Mexican, 1886-1957). Enrielando, Moscú (Sawing Rails, Moscow), 1927. Conté crayon on paper, 25 x 19 in. Artis—Naples, The Baker Museum. Gift of Harry Pollak, 2002.2.057
JOURNEYS
YOUR PASSPORT TO THE MOST FASCINATING CORNERS OF THE GLOBE
FANTASY DESERT
MORE THAN DREAMY INSTAGRAM FODDER, AMANGIRI IS THE PINNACLE OF ULTRA-LUXURY IN THE HEART OF THE AMERICAN WEST
BY PAUL RUBIO
It's no secret that social media has fostered an alternate reality enhanced through stateof-the-art filters, artistic apps, and savvy influencers crafting aspirational content. Nothing is spared from excessive revision nowadays, including travel destinations and resorts. Yet among the virtual noise, it's still possible to discover raw beauty in its purest form, something that equally wows on screen and off.
Such is the case at Amangiri, a remote retreat that's set Instagram ablaze as a veritable architectural dreamscape ensconced among the red-rock bluffs, high-rising mesas, and striking canyons of the Utah-Arizona border. Using the 165-million-year-old Colorado Plateau—a weathered land painted by geology—as a blank canvas, Amangiri designers created an extraordinary space for appreciating the magic of the American West while becoming a part of it. At the same
FORTLAUDERDALEILLUSTRATED.COM | MARCH/APRIL 2023 35
time, the property delivers on all the ultra-luxe hallmarks synonymous with Aman Resorts—exclusivity, privacy, serenity, and excellence in gastronomy, wellness, and service—culminating in quite possibly the top resort in the United States and a spot every bit worth the online hype.
After snaking through the desolate desert roads of northern Arizona to reach Canyon Point, Utah, a mirage of Amangiri begins to take shape. At closer approach, it's clear this is no optical
illusion: A 34-suite modernist resort is at once delicately etched into the sandstone itself and thoughtfully strewn across vast acreage.
At Amangiri's core lies a sprawling living and dining space, dotted with crackling fireplaces, edged by double-story windows, and linked to a heated swimming pool hewn into the rugged terrain. With its one-ofa-kind design, the pool surfaces as a peninsula framed by umbrella-capped daybeds on one side, chaise lounges and towering raw earth on the others. A series of suites can be found past both ends of the main pavilion, accessible through open-air concrete corridors embellished with almond trees, hydrotherapy features that mimic the erosion process, and seating nooks for taking in the ethereal scene. Each outward-facing suite is a study in understated elegance, where clean lines cross over natural timbers, white stone floors, and oversize glass panes, channeling attention to the desert panoramas that surround. A private outdoor
36 FORT LAUDERDALE ILLUSTRATED
JOURNEYS
Clockwise from top left: At Amangiri, marvel at the pool etched into the surrounding sandstone, the high-design fitness center, the loungers among the desert terrain, the toasty wellness pavilion, and the dramatic views from the beds.
lounge and fireplace heightens the red rock immersion.
Amenities and programming capitalize on Amangiri's location within the Navajo nation. The Aman Spa offers therapies rooted in the Navajo concept of hózhó , a state of being in tune with oneself and in balance with the world. Each evening, local artisan gifts are placed bedside, from dream catchers to handcrafted oakmoss and sage candles. Daily cultural encounters on-site may include Navajo storytelling, Native American hoop dancing, and dream catcher workshops, while seasonal menus at Amangiri Restaurant feature selections inspired by traditional dishes from the regional Native American communities. A recent Spirit of the Journey tasting menu included a Navajo blue corn fry bread popover, a mesquitesmoked duck salad, and a chili-rubbed crusted elk loin, complementing the greater menu's pan-Asian and Southwestern fare.
Another highlight of Amangiri's tribal association is exclusive access to select picturesque slot canyons within northern Arizona. Thanks to Peter Lik's mind-blowing screensaver photos, the voluptuous and striated Antelope Canyon is now a bucket-list destination. But inch over to Rattlesnake Canyon and Owl Canyon and it's possible to revel in the red rock glory without the crowds.
These neighboring labyrinths are reserved for Aman guests only, translating to deep thoughts, endless photo shoots, and ambles at your leisure. Back on property, other activities speak to Amangiri's extra-special experiences. A Via Ferrata course—one of just a handful in the United States— means scaling mountainsides via cables and ladder rungs and crossing mountaintops over suspension bridges under the tutelage of a skilled mountain guru. A hot-air balloon ride provides a bird'seye view of the undulating, multihued desert backdrops, while horseback rides and designated foot trails offer closer looks on firm ground.
Throughout an Amangiri stay, the service feels elevated without being in-
FORTLAUDERDALEILLUSTRATED.COM | MARCH/APRIL 2023 37
Activities, clockwise from top left: Hot-air balloon ride; private excursion to slot canyons; yoga amid nature; a Via Ferrata course; crossing cliffs via suspension bridges.
trusive or dizzying. This extends to the guides, waitstaff, and an entire team dedicated to making your visit one for the books. The off-the-charts eclectic cuisine is bundled into the rate, meaning there's no reason to head elsewhere for meals. And given the experiential nature of the activities and unparalleled location of the property, there's every reason to leave the outside world behind and venture off-site only for guided encounters. Spend a few days at Amangiri, and it's hard to believe the concept was envisioned and executed in a time
before social media. The backdrops are some of America's finest, the architecture skews modern minimalist, and the experience is exactly what desert dreams—and top Instagram content—are made of. The pictures, videos, and curated content may dominate social media, but that doesn't mean Amangiri is a contrived online fantasy. Rather, it's a singular resort that has the goods and excellence to back up its high profile and deliver an American West adventure filled with defining moments in real time and in real life. (aman.com)
OUR DOCTORS
SERVICES & TREATMENTS
38 FORT LAUDERDALE ILLUSTRATED
Asthma Management • Drug Allergy Testing • Ear Lavage • Food Allergy Testing Immunotherapy (Allergy Shots) • Insect Allergy Testing Patch Allergy Testing for Contact Dermatitis Penicillin Testing • Pulmonary Function Test (PFT) Skin Allergy Testing • Sublingual Immunotherapy (Allergy Drops) • Xolair
Zevy Landman, MD • Sharlene J. Llanes, MD Walter M. Ryan III, DO • Kfir Shamir, MD Barry J. Mark, MD REQUEST AN APPOINTMENT ONLINE PH. 954-772-3366 FORT LAUDERDALE MAKE AN APPOINTMENT TODAY www.florida-allergy.com 1.877.4.ALLERGY (1-877-4-255-3749) SCAN ME PH. 954-344-8100 CORAL SPRINGS PH. 954-981-9180 HOLLYWOOD PH. 954-472-4848 PLANTATION
JOURNEYS
From left: Cross through the soothing water entrance to the Aman Spa and later take a dip in the spa's heated pool, which is idyllic for après-spa relaxation.
«
Cuba: The Natural Beauty
An exhibit of works by world-renowned photographer Clyde Butcher
Now through April 29, 2023
For more than 50 years, Clyde Butcher has preserved on film the untouched areas of the landscape, drawing the viewer into a relationship with nature.
In Cuba: The Natural Beauty, Butcher's powerful and stunning black and white photography captures and reveals the seductive beauty, subtle grandeur and majesty of this diverse island.
A partner event with ¡ARTE VIVA! — a year-long celebration of Hispanic Arts and Culture on Southwest Florida's Paradise Coast featuring over 50 local events, exhibits, performances, concerts and more. For event schedule, visit arte-viva.com.
PRESENTING
239.252.1440 |
SPONSOR @themihs
@colliermuseums
themihs.org
Salto el Rocio 4 © Clyde Butcher Galleries
QUICK TRIPS
Orlando TWO Ways
WHERE ART MEETS TECH
From an art-filled lobby to a 50,000-square-foot sculpture garden, a stay at the Lake Nona Wave Hotel feels like you've booked a room atop Orlando's hottest gallery. The property's Welltech suites are a showcase in the art of technology, inclusive of Bryte beds that customize, elevate, and score your slumber, as well as drapery and lighting that enhance your circadian rhythms. Here, we spotlight three places to check out at the hotel and in the surrounding community. (lakenonawavehotel.com)
At this Michelin Guide–recommended restaurant inside the Wave, watch transfixed as chef Guillaume Robin prepares dish after delicious dish in his opentheater kitchen. Order a selection of plates to share, including globally inspired standouts like smoked scallops a la plancha, charred pulpo, and ceviche-style hamachi. (bacanlakenona.com)
Jump on the Beep (Lake Nona's autonomous electric shuttles, available just outside the hotel's front door) to enjoy hot musical acts and cold beverages at this lively outdoor venue composed of 12 repurposed shipping contain -
ers. Discover a range of culinary concepts and catch live bands and DJs Thursdays through Sundays. (boxiparklakenona.com)
Staying at the Wave earns you access to this adjacent facility that will wow even the most jaded gym rat with its cuttingedge equipment, classes, courts, tracks, pools, saunas, climbing gym, and more. Visit the Edge Sports Performance and Recovery facilities to rehab your hardworking muscles and joints, or unwind at the world's only Chopra Mind-Body Zone and Spa, where you can stimulate your senses through add-on meditation sessions, sound bath rituals, and Ayurvedic massages and facials. (lakenonaperformanceclub.com)
—Kristen Desmond LeFevre
GRANDE ADVENTURE
Visiting Orlando with kids used to mean schlepping all around town to check every box: easy access to theme parks, a luxe hotel, fine dining, elevated poolside experiences, sporting activities, and all the aquatic adventures. With the recent completion of its new waterpark, Grande Lakes Orlando puts all that (and then some) in one resort destination.
The 500-acre Grande Lakes encompasses The Ritz-Carlton Orlando and JW Marriott Orlando, as well as golf, tennis, a 40,000-squarefoot spa, multiple pools with decked-out cabanas, and a dozen dining venues, including the Michelin-starred Knife & Spoon. But the
biggest attraction is the new Grande Lakes Waterpark with six zones of fun. Here you'll find not only a water slide, but an entire slide tower with three slides ranging from mellow to rocketfast. Splash Cove offers activities in and out of the water, including the PlayVenture playground with climbing structures and lawn games. AquaVenture ratchets up the thrills with an obstacle course featuring balance beams, bridges, climbing, and slides. After a day of play, kids love to float down the Lazy River, while parents hang out on swim-up daybeds at the Sanctuary, an adults-only island within the waterpark.
It seems Grande Lakes has accomplished the impossible: making everyone in the family happy. (grandelakes.com) —Daphne Nikolopoulos
40 FORT LAUDERDALE ILLUSTRATED
JOURNEYS
WHETHER YOU'RE INTO TECHY DIGS OR COOL AQUATIC ADVENTURES, THESE PROPERTIES AIM TO PLEASE
1. BACÁN
2. BOXI PARK
3. LAKE NONA PERFORMANCE CLUB
1 2 3
JANUARY 27 – APRIL 8, 2023
palmbeachculture.com/exhibitions
DISRUPTION
Florida artists are uniquely positioned to observe the effects of climate disruption, as the state is on the front lines of sea level rise, climbing temperatures, catastrophic storms, devastation of coral reefs, and disappearing seagrasses.
This exhibition, with more than 40 works by 15 Palm Beach County-based professional artists, will explore the effects of climate disruption and engage audiences in considering topics such as endangered species, shrinking habitats, pollution, and coastal resiliency. Opportunities to learn about these important topics through family-friendly educational programming produced by Cox Science Center and Aquarium will be included in the exhibition.
Robert M. Montgomery, Jr. Building 601 Lake Avenue, Lake Worth Beach, FL 33460 Tuesday – Saturday, 12 – 5 p.m. Free and open to the public
Generously sponsored by:
Gisela Pferdekamper, It's All About Balance, 2022, Oil on canvas, 48 x 30 inches
VISUALIZING CLIMATE
Presented by:
Frances and Jeffrey Fisher
In partnership with:
Into the Wild Blue Yonder
MYSTIC POWERBOATS' SUPER-LUXE M5200 IS A 2,400-HORSEPOWER ROCKET SHIP
BY HOWARD WALKER
There's fast and then there's Mystic fast. The new Mystic M5200 waterborne cruise missile can top out at 80 mph, which results in roughly the same kind of watery eyes as peeling a dozen onions.
This exhilarating, heart-palpitating performance comes courtesy of the latest speed demon from DeLand, Florida–based Mystic Powerboats, a needle-nosed, 52-foot center console with a quartet of 600-horsepower Mercury Verado V12s hanging off the transom. If you're counting, that's 2,400 horseys in total.
This is Mystic's biggest center console to date, and it joins the go-very-fast boatbuilder's smaller M4200 and M3800 models. While the M5200 is built for speed, it's also built for comfort. There's more diamond-quilted, contrast-
stitch upholstery than in a Bentley Continental, as well as seating for 27, a cozy cabin for weekend jaunts, and more cupholders than in a Dodge Caravan. Yes, it makes for a great fishcatcher, but who'd want all that blood and guts messing up the faux-teak flooring?
Best seat—make that seats—in the house? That would be on the forward deck, where you'll find three stretch-out loungers with armrests, headrests, footrests, and bolstered sides. A surprising omission? Seatbelts. At 80 mph across the Gulf Stream, you might need them.
Then there are all the seating options on the back deck, like the four rear-facing loungers and the four forward-facing seats on the other side. Throw in the three individual race-style pews behind the helm, along with two rows of
four seats behind those, and it's about as much seating as you'll find at an AMC multiplex.
While there's no shortage of supersized, highhorsepower center consoles on the market— from HCB to Valhalla to Pursuit—what sets the Mystic apart is its very cool design. I love the wraparound windshield, and the swept-back, carbon-fiber hardtop seems to house more speakers than at an AC/DC concert.
The wave-piercing hull of the M5200 is an evolution of the proven M4200's, featuring a foam core with infused epoxy and carbonfiber reinforcements. There are bank vaults less impenetrable. And powering the hull are four magical Verado V12 outboards, which, according to Mystic, can punch the 52 on to the plane from just 17 knots, helped by the Mercs' two-
42 FORT LAUDERDALE ILLUSTRATED JOURNEYS
HIGH SEAS
speed transmissions. If you're so inclined, you could opt for Mercury 450R power, in combos of either four, five, or six. But with the V12s being so technically advanced and smoother than hot molasses, why would you?
Time to drop the hook and let the party begin. The aft cockpit can be spec'd with a grill, fridge, icemaker, and separate pullout cooler, while the entire rear deck can be shaded by a retractable awning. And if the only rock and roll you want is on the disco-grade stereo, there's a Seakeeper 9 gyro stabilizer on the options list to stop the rock and roll at anchor.
While the cabin isn't exactly generous in size for a 52-footer with a 14-foot beam, it's plenty big enough for overnights and weekends. There's the usual forward V-berth that converts into a double, plus a small rear cabin under the cockpit for a couple of kids. The cabin's best feature may be its spacious head with a separate, full-headroom shower and a glass bowl sink. And at the touch of a button, you can activate the kind of air-conditioning
POWER FILE
PRICE: FROM $2.4
MILLION LENGTH: 52 FEET
BEAM: 14 FEET ENGINES: 4 X MERCURY VERADO
V12 POWER: 4 X 600 HP
TOP SPEED: 80 MPH WHY WE LOVE IT: BECAUSE GOING FAST HAS NEVER LOOKED SO STYLISH.
that would give polar bears the shivers.
After taking a walk-through of the M5200 at the 2022 Fort Lauderdale International Boat Show, where it was making its global debut, I found the boat's most impressive asset to be its peerless quality. The glass-fiber gel coat, the panel fit and finish, and the stitching on the upholstery are all remarkable—which they should be for Mystic's $2.7 million nicely loaded asking price. But to be fair, you simply cannot put a price on pulling up to your favorite waterside eatery in this supercar of the seas. «
FORTLAUDERDALEILLUSTRATED.COM | MARCH/APRIL 2023 43
Food
THE NUMBERS
Struggling to pick a spot to eat or grab a round of drinks in Fort Lauderdale? With places popping up all over town, it's easy for a case of analysis paralysis to leave you all-out hangry and reaching for your UberEats app. Whether you're looking for breakfast for lunch, a must-try strip mall hole-in-the-wall, a do-itup-right dinner, or a dessert worthy of your Instagram grid (and beyond), we've got your guide to Broward's best noshes and sips.
BY CHRISTIANA LILLY
NEW RESTAURANTS 10
PUKARA ON THE BEACH
New to Deerfield Beach's dining landscape is Pukara on the Beach, serving authentic Peruvian cuisine. Delight in mussels, grilled octopus, paella, chicharrón, and, of course, ceviche. Don't skip the ceviche carretillero: a juicy corvina fish with all the ceviche fixings and topped with calamari. (pukaraonthebeach.com)
ATMOS IMMERSIVE DINING
There are restaurants that claim to be immersive and experiential, and then there's Atmos. Tucked inside Sistrunk Marketplace, this 14-seat, single-table restaurant hosts themed dinners that take guests on a culinary excursion. As dishes representing different countries make their way to the communal table, projections of corresponding international vistas cover every square inch of the room—letting you travel via tummy. (atmosdining.com)
44 FORT LAUDERDALE ILLUSTRATED
EVAN PIERCE
AQUI BAR AND KITCHENS
New to Flagler Village, this three-kitchen restaurant and bar opened its doors in January with chef Gino Pérez-Ferrari at the helm. Diners can choose from the Asian, Mediterranean Craft, and Mexican Kitchens, showcasing scratchmade dishes and authentic ingredients that are reverent to each region. (aquibar.com)
LA FUGA
With the reimagining of the Kimpton Shorebreak Fort Lauderdale Beach Resort came the opening of La Fuga, where executive chef Michael Mayer has created an ode to Italian coastal flavors. Think house-made lobster ravioli, made-to-order pizza, and veal meatballs. Meaning "escape" in Italian, La Fuga pays tribute to the original name of an iconic Laudy beachfront hotel that George Gill Jr. built in 1949. (shorebreakfortlauderdale.com)
SOUTH
POMPANO IS POPPIN', AS THEY SAY, AND MIKE LINDER'S TEAM WILL OPEN THIS APTLY NAMED RESTAURANT IN DOWNTOWN, SERVING SOUTHERN DISHES STRAIGHT FROM THE MEAT SMOKER AND INFUSING CAJUN AND CREOLE FLAVORS. LOUISIANA VIBES ABOUND IN THE RESTAURANT'S COCKTAIL MENU, WHICH WILL INCLUDE A ROBUST SELECTION OF PREMIUM BOURBONS. (SOUTHPMP.COM)
HULA KAI
Tiki is all the rage in Fort Lauderdale. That's why Old School Hospitality (the brains behind Quarterdeck) has plans to open Hula Kai this year, a two-story tiki bar on 17th Street. Expect a more modern take on tiki bar culture while still paying homage to everyone's favorite Rum Runner and Mai Tai mainstays. (oldschoolhospitality.com)
FLAMINGO SEAFOOD
GAS STATION FOOD ISN'T JUST FOR ROAD TRIPS ANYMORE. SET IN A FORMER GAS STATION, FLAMINGO SEAFOOD BOASTS SIT-DOWN DINING WITH A RAW BAR, RETAIL MARKET, AND WHOLESALE STORE OFFERING LUXE GROCERIES AND READY-MADE DISHES FOR THOSE DAYS WHEN YOU JUST DON'T HAVE TIME TO COOK. (FLAMINGOSEAFOOD.COM)
FRANK PEPE PIZZERIA NAPOLETANA
The arrival of Frank Pepe to Plantation set social media afire (particularly for transplants from the Northeast). The nearly 100-year-old institution got its start in Connecticut, cranking out New Haven–style slices with its iconic crispy-but-somehow-also-chewy crust, including its famous White Clam Pizza. (order.pepespizzeria.com)
FOGO DE CHÃO
Fogo de Chão's ribbon-cutting ceremony (done with a steak knife, of course) welcomed the lunch and dinner spot to downtown Fort Lauderdale, with a hefty buffet bar and gauchos piling up cuts of meat on your plate. Don't leave without a taste of the pão de queijo (cheese bread) and queijo assado (fried cheese drizzled with honey). (fogodechao.com)
STALK AND SPADE
Affordable, plant-based, dairy-free comfort food will no longer be hard to come by when this Minnesota-made vegan chain opens its new outpost at the Promenade at Coconut Creek. The health- and flavorforward concept will serve up meatless burgers, so-called "chick'n" sandwiches and nuggets, fries, wraps, and oat milk–based shakes. (stalkandspade.com/coconutcreek)
FORTLAUDERDALEILLUSTRATED.COM | MARCH/APRIL 2023 45
EVAN PIERCE
9 STRIP MALL
NOT TO OVERLOOK
CHARM CITY BURGER COMPANY
CAFÉ VICO
This unassuming restaurant is sandwiched between a Supercuts salon and a vehicle tag agency, but it's been a mainstay in Fort Lauderdale since 1996. The family-run Café Vico serves up traditional Italian dishes, a daily happy hour, and fun at the piano bar. In 2021, the restaurant expanded with the opening of a second location in Galt Mile. (cafevicorestaurant.com)
GABOSE
CALYPSO
Tucked inside a humble shopping plaza, Calypso and its Caribbean dishes can't be ignored. Think: conch salad, pepperpot, pigeon peas and rice, cutters, roti, and a host of delicious curries. (calypsorestaurant.com)
FISH SHACK
When you have a hankering for seafood dishes, make your way to Lighthouse Point's Fish Shack. From conch fritters and smoked fish dip to crab cakes and mahi fingers, everything on the menu is a winner. (fishshacklhp.com)
TEQUILA SUNRISE
THERE'S NO SHORTAGE OF MEXICAN FAST FOOD AROUND TOWN, BUT WHY MAKE A RUN FOR THE DRIVETHROUGH WHEN THERE ARE PLACES LIKE TEQUILA SUNRISE? ORDER A $4 HAPPY HOUR MARGARITA AND TAKE YOUR PICK FROM A MENU OF CHICKEN MOLE, BURRITOS, CHIMICHANGAS, ENCHILADAS, FAJITAS, AND MORE. (TEQUILASUNRISE.US)
Blink and you might miss it, but step inside this Deerfield Beach joint for a burger and you'll never forget it. Charm City is known for its massive burgers—from the Volcano with pepper jack cheese, pickled jalapeños, and volcano sauce, to the half-pound Emperor served with mushrooms, aged Gruyère, truffle aioli, and seared foie gras. (charmcity burgerco.com)
FOXY BROWN
This popular brunch spot may have moved locations, but the chicken and waffle sliders and homemade beefaroni are still our go-tos for comfort food. Other favorites are the raspberry and white chocolate pancakes, doughnut holes, and the patty melt that got the restaurant its start. (foxybrownftl.com)
This family-owned Korean restaurant is comprised of two establishments: Gabose and Gabose Pocha, its trendier younger sibling. But what they have in common is a bevy of Korean classics, including barbecue cooked over tableside grills. Feast on thinly sliced bulgogi, jungol hot pot soup, and bibimbap, and end the night with some karaoke and K-pop. Pro tip: Order the watermelon punch bowl for the table. (gabosebbq.com)
TOA TOA
FOR AUTHENTIC CHINESE FOOD, HEAD WEST. THIS SUNRISE DIM SUM RESTAURANT SERVES UP THE GOOD STUFF ALL DAY LONG, FROM SIU MEI AND STEAMED SPARE RIBS, TO BAKED BARBECUE BUNS AND EGG CUSTARD TARTS. (TOATOADIMSUM.COM)
CAFÉ SEVILLE
Don't discount this strip mall joint, located just before the bridge on Oakland Park Boulevard. Guests are transported to Spain at this family-run restaurant thanks to a healthy dose of tapas like chorizo, scallops and mushrooms, and Serrano ham. For the main course, there's paella full of fresh fish, shrimp, scallops, calamari, mussels, clams, chicken, chorizo, and pork, all atop saffroninfused rice. (cafeseville.com)
46 FORT LAUDERDALE ILLUSTRATED
JADE TEA HOUSE
GET YOUR MILK TEA FIX AT THIS DAVIE SHOP. THE MENU INCLUDES SUCH FAVORITES AS THAI MILK TEA, OOLONG MILK TEA, AND MATCHA MILK TEA, AS WELL AS FRUITY TEA COMBINATIONS LIKE GUAVA PEAR, LYCHEE LEMONADE, AND MANGO DRAGONFRUIT. OTHER OPTIONS INCLUDE SMOOTHIES, COFFEE, AND SOFT SERVE ICE CREAM. (JADETEAHOUSE COMPANY.COM)
SWEETER DAYS BAKE SHOP
Sweeter Days is a local go-to for all things made of cake. Create a custom confection from a choice of dozens of flavors, or pick up some seasonally inspired treats when you need a little sugar rush. (sweeterdaysbakeshop.com)
JAXSON'S ICE CREAM PARLOR & RESTAURANT

At Laudy's sweet tooth mecca, choose from an endless array of sundaes, banana splits, ice cream goblets, shakes, floats, and ice cream–topped waffles. Or, go big with the Original Kitchen Sink. Enough for four diners, the dessert includes a pound of ice cream per person, plus bananas, homemade whipped cream, and a sparkler—all served in an actual kitchen sink. (jaxsonsicecream.com)
WORTH THE CALORIES
FIREMAN DEREK'S
Owned by a fireman-turnedbaker, Fireman Derek's is famous for its pies—and Laudy locals used to have to drive to Miami to get them. That all changed last year when the bakery opened in Fort Lauderdale. Now you can score a slice of Key Lime, Cookie Monster, Nutella, or Brownie Bomb pie whenever the mood strikes. (firemandereks.com)
BLUEPRINT COOKIES
This shop boasts two Broward locations (Fort Lauderdale and Plantation), each with a rotating cookie menu. Those with dietary restrictions don't have to sit out on the fun either, as Blueprint always includes two vegan and gluten-free cookie options in its lineup. (blue printcookie.com)
HOF'S HOUSE OF SWEETS
AT HOF'S HOUSE OF SWEETS ON LAS OLAS BOULEVARD, YOU'LL FIND CHOCOLATES, DOUGHNUTS, WAFFLES, SHAKES, ICE CREAM, SPIKED GOODIES, AND CHOCOLATE-COVERED EVERYTHING FROM PRETZELS TO POTATO CHIPS. THE SHOP, WHICH ALSO SERVES WINE AND BEER, IS A GREAT SPOT FOR GIFTING. OUR FAVORITE? THE GREATEST HITS BOX FILLED WITH SUGARY FAVORITES. (HOFS HOUSEOFSWEETS.COM)
LOVELEE BAKE SHOP
Fort Lauderdale's 13th Street is a corridor on the move, and the opening of LoveLee Bake Shop was a sweet addition. Baker Lee Mazor is known for her cakes, cookies, cinnamon buns, treat platters, and festive holiday confections. Prefer your goodies straight out of the oven? Stop in and pick up a batch of her cookie doughs to make at home. (loveleebakeshop.com)
AUBI & RAMSA
The Hard Rock might not be top of mind when you're craving ice cream, but the next time you find yourself trying your luck at the blackjack tables, make a stop at Aubi & Ramsa. The 21-and-up shop serves alcohol-infused ice creams with flavors like Jack and Chocolate, Key Lime Martini, and Passion Fruit Margarita. Pick your poison and enjoy your cocktail with a spoon. (aubiramsa.com)
FORTLAUDERDALEILLUSTRATED.COM | MARCH/APRIL 2023 47 8
COURTESY C&I STUDIOS
COURTESY JAXONS
BREAKFASTS WAKING UP FOR
O-B HOUSE
Named for its famed oven-baked pancakes, this restaurant on Himmarshee Street uses only cage-free eggs, organic flour, and produce brought in daily. Choose from a dozen unique pancakes (or create your own) as well as breakfast sandwiches, biscuits, omelets, and more. (o-bhouse.com)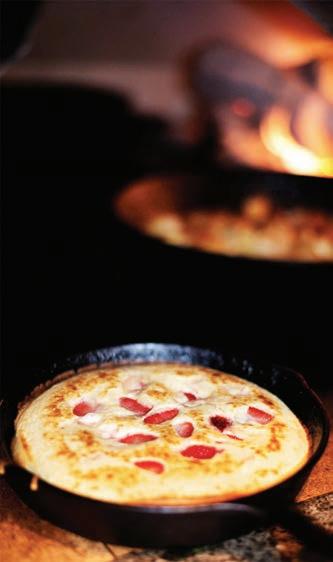 THE FLORIDIAN
No matter what time you eat breakfast, this diner on Las Olas Boulevard has you covered. The Floridian opened its doors in 1957 and has been serving up breakfast dishes 24 hours a day ever since—from eggs your way with toast and sausage to the cheeky Fat Cat Breakfast for two: a decadent New York strip steak and two eggs, home fries or grits, toast or biscuit, and a bottle of Dom Pérignon. We'll toast to that. (thefloridiandiner.com)
MOM'S KITCHEN
DOES ANYTHING BEAT A MEAL MADE BY YOUR MOM? WHEN THAT'S NOT AN OPTION, THERE'S MOM'S KITCHEN. THE ALL-DAY BREAKFAST MENU INCLUDES A QUICHE OF THE DAY, HUEVOS RANCHEROS, CHICKEN AND WAFFLES, OMELETS, AND BREAKFAST SIDES, PLUS MIMOSAS, BELLINIS, AND BLOODY MARYS. (MOMSKITCHENRESTAURANT.COM)
THE DANDEE DONUT FACTORY
If you believe that doughnuts should be enjoyed at any hour of the day, then head to Dandee Donuts. With locations in Deerfield Beach, Margate, and Pompano Beach, the restaurant serves more than 50 flavors of doughnuts as well as breakfast plates, omelets, and bagels. The Margate location even has a drive-through window. (dandeedonuts.com)
STORK'S CAFÉ & BAKERY
WILTON MANORS' STORK'S HAS BEEN A PART OF THE SCENE SINCE 1997, EARNING A FOLLOWING FOR ITS MEDITERRANEAN-INSPIRED BREAKFAST, LUNCH, AND DINNER. THE CAFÉ CRANKS OUT BAGELS, PANINIS, SCRAMBLED WRAPS, OMELETS, FRITTATAS, AND OTHER FAVORITES FOR BREAKFAST ON-THE-GO OR AT THE TABLE. (STORKS BAKERY.COM)
PETER PAN DINER
Whether you're in need of an early morning meal or a greasy dish after a wild night out, Peter Pan Diner is your go-to. The 24-hour diner boasts an impressive menu of every breakfast dish we can think of, plus cold platters, soups, burgers, sandwiches, Greek and Italian food, seafood, low-carb options, grilled meats, and more. (mypeterpandiner.com)
HEN AND HOG
Starting at 6 a.m., early risers can get their breakfast fix at this homey Pompano Beach eatery. Expect all the classics, like eggs and bacon, omelets your way, and home fries, as well as hearty shrimp and grits and surf and turf eggs Benedict. Or get a sweet start with the panino fragole e nutella: a pancake-based pressed sandwich stuffed with nutella and topped with strawberries. (thehenhog.com)
THE WILDER

The Wilder sets the standard for the art of the Fort Lauderdale cocktail. This ornate bar features velvet furnishings, wooden arches, and, of course, eye-catching cocktails. The Pistache, Yo!, for example, ups the ante on your run-of-the-mill tequila libation, presenting a spicy cocktail garnished with a peacock feather to match the decor. (intothewilder.com)
COCKTAILS
3030 OCEAN
Many a chef has gotten their start at this oceanfront restaurant inside the Fort Lauderdale Marriot Harbor Beach, but the cocktail menu deserves an applause of its own. Our favorite? The Thai Butterfly: a butterfly pea flower elixir served in a martini glass and topped with a violet pansy. (3030ocean.com)
48 FORT LAUDERDALE ILLUSTRATED
6
7
MARINA GRANT POUPART
UNION KITCHEN & BAR
When it comes to cocktails, tasting good is a requirement. One that puts on a show? That's extra credit. Try the Japanese Old Fashioned at husband-and-wife-owned Union Kitchen & Bar in Wilton Manors. The drink arrives on a wooden stand covered by a glass dome and releases a flurry of smoke when exposed. Made with Japanese whisky from the Kurayoshi Distillery and chocolate bitters, it's a fun take on the traditional recipe. (unionkb.com)
NO MAN'S LAND
Speakeasies like No Man's Land capture the imagination. Nestled within an unassuming strip mall, this cozy bar prioritizes presentation, with cocktails like the Baijiu Tea, a mix of white rum, Chinese baijiu liquor, Lillet Rosé, jasmine honey, lemon, and ginger lavender served in a dainty teacup. (nomans landftl.com)
ROXANNE'S
A dive bar, but make it fashion. The hidden-in-plain-sight Roxanne's keeps it simple while also surprising patrons with cocktails like Le Karen and Watermelon Sugar High. The bar rotates through its drink menu seasonally, so you'll always find something new to sip on. (roxannesftl.com)
TO CRAVE
HERITAGE BY CERBONE
A little bit of Italian tradition plus a dash of rock and roll commingle at this MASS District restaurant by Rino Cerbone.
Photos of such icons as Guns'n'Roses' Slash and artifacts like Frank Sinatra's mugshot keep you company while you wait for your pizza—regardless of whether you're ordering the traditional Bronx cheese pizza or the decadent squash blossom and cold-pulled burrata pie. (heritageftl.com)
PIZZA CRAFT
Located just steps from the Broward Center for the Performing Arts, Pizza Craft is an excellent choice for woodfired pizzas and heaping plates of pasta before catching a show. Or return after the curtain call for a nightcap at speakeasy bar The Apothecary 330, which is nestled in the back of the restaurant. (pizzacraftpizzeria.com)
PATIO BAR & PIZZA
PETE'S-A-PLACE
Pete Licata opened this family-run restaurant in 1989, and its been slinging New York–style pies out of a converted farm store ever since. The pizzeria's charm comes from its simplicity, as well as its cheesy slices paired with garlic knots, calzones, sandwiches, and other comfort food. (eatatpetesaplace.com)
ROOM 901
Do you have the secret code? You'll need it to enter Room 901 at the Hyatt Centric in downtown Fort Lauderdale. Once inside, indulge in a cocktail or two in the swanky surroundings of the speakeasyinspired bar. The menu includes tropical flavors with tequila and fruit as well as muskier old fashioned–style pours. (roomnine01.com)
INSIDE FLAGLER VILLAGE, THE COURTYARD BEHIND LASER WOLF HAS BEEN TRANSFORMED INTO THIS NEW INDOOR-OUTDOOR PIZZERIA COMPLETE WITH FIREPITS. NOSH ON BRICKOVEN PIZZAS WHILE ENJOYING LIVE MUSIC ON FRIDAYS AND SATURDAYS. (PATIOBARPIZZA.COM)
LUIGI'S
When you want a classic Neapolitan pizza, head to Luigi's on Las Olas. Founding chef Luigi DiMeo hails from Naples, Italy. He made his way stateside in 2005 and now makes pizzas that follow (most) of the guidelines from the Associazione Vera Pizza Napoletana. (luigiscoalovenpizza.com)
FORTLAUDERDALEILLUSTRATED.COM | MARCH/APRIL 2023 49
5
JORDAN
C. BRAUN
BERT OCHOA
JOINTS WE LOVE
BODEGA
At this cool hangout, choose from a selection of 15 traditional and specialty tacos, including vegan tacos made from Impossible chorizo. If you're looking for more, make your way through the porta-potty to enter Bodega's speakeasy lounge for some tequila cocktails. (bodegataqueria.com)
BAR RITA
TACOS ARE THE PERFECT PARTY FOOD, SO IT MAKES SENSE THAT THE OWNERS OF TAP 42 TAPPED INTO THAT MARKET WHEN THEY OPENED BAR RITA IN 2019. THE TWOSTORY RESTAURANT OFFERS TACO PLATTERS, INCLUDING DROOLWORTHY WAGYU BEEF BIRRIA AND CARNE ASADA TACOS, AS WELL AS A VEGAN-FRIENDLY IMPOSSIBLE SUPREME TACO. (BARRITAFTL.COM)
QUVO TACOS
The go-to pairing with tacos is usually a margarita—but not at Quvo. With a suds enthusiast at the helm, this restaurant offers dozens of craft beers on tap or by the bottle. (quvo tacos.com)
LONA COCINA TEQUILERIA
It's Mexican with a waterfront view, as this restaurant at the Westin sits along Fort Lauderdale Beach. Opt for an alfresco table to dig into Baja fish or carne asada tacos, or treat yourself to Mexican ribs. You can also celebrate Taco Tuesday with $5 tacos and margaritas. (lonarestaurant.com)
TO FOLLOW
PAULA DASILVA
This James Beard "Best Chef: South" semifinalist first made her mark in Fort Lauderdale while working under chef Dean James Max at 3030 Ocean. That gig led to a spot on Gordon Ramsay's Hell's Kitchen in 2009. DaSilva finished the show as a runner-up and a fan favorite, turning her new celeb status into a job as the executive chef at 1500 Degrees at the Eden Roc Hotel in Miami Beach. But Broward soon called DaSilva home, and she returned to 3030 Ocean. For her next role, she moved up the beach, where she's currently the director of culinary and beverage at The Ritz-Carlton, Fort Lauderdale.
50 FORT LAUDERDALE ILLUSTRATED 4 3
COURTESY OF LONA COCINA & TEQUILERIA
RICARDO MEJIA, RMSTUDIO
GIOVANNI ROCCHIO
Rocchio made a splash when he opened Valentino Cucina Italiana in 2006 (before relocating to a fancier spot in downtown Fort Lauderdale) and then One Door East in 2016. Here, he churned out homemade pastas and other Italian fare that got the attention of critics and foodies alike. Burnt out, he closed both restaurants in 2019, later mounting a resurgence as the head chef at Holly Blue when the First Evangelical Lutheran Church was converted into a dining space. Rocchio is on the go again, though, teaming up with fellow Fort Lauderdale chef Angelo Elia to expand his bakeries, as well as spearheading a new project on Fort Lauderdale Beach to be revealed this spring. Wherever chef Rocchio goes, we're sure to follow.
TIMON BALLOO
Balloo grabbed attention within the Miami food scene when he was appointed executive chef of Sugarcane, which the James Beard Foundation nominated as a "Best New Restaurant" semifinalist in 2011. After carving his own path with the opening of Balloo Restaurant, he received the semifinalist nod again, this time for "Best Chef: South." In 2021, he brought his talents to Broward County and opened The Katherine with his wife, Marissa (the restaurant honoring his wife's middle name). Together, they created a menu that pays homage to his Chinese and Trinidadian roots—and garnered yet another "Best Chef: South" nomination.
SPOTS
TAKATO
Japanese for "I leave it to you," omakase is a sushi lover's dream, with the chef taking the lead on your meal. Experience the tradition firsthand at Oku, a private omakase room with just 10 seats inside The Conrad's Takato restaurant. Diners indulge in more than 15 courses planned by executive chef Taek Lee, who combines Japanese and Korean flavors that will take your taste buds on a journey through East Asia. (takatorestaurant.com)
SUSHI LAB
Father-and-son restaurateurs Hank and Brandon Freid are bringing New York to Broward with the acquisition of the Residence Inn Marriott at Pompano Beach and its restaurant, Sushi Lab. Beyond the "exploratory sushi" experience the duo promises, the restaurant also features two omakase menus: the Chef's Selection with 11 signature pieces of sushi and the Lab Experience with 15 pieces—some topped with fresh black truffles, caviar, and gold leaf. (sushilab.com/#florida)
UNLIKE ANY OTHER
CAP'S PLACE
Travel back to the 1920s at the nearly century-old Cap's Place, a seafood restaurant located on an island off Lighthouse Point and only reachable by boat. Its origins run deep in the rum running and gambling trades of early Florida, when Cap and Lola Knight, along with Al Hasis, put together a group of wooden shacks on a barge in Miami and floated it up the Intracoastal Waterway to Broward. Today, Cap's is known for its laidback island dining with plenty of surf and turf dishes that draw celebrities, locals, and visitors to the Gold Coast. A serious can't miss here? The Okeechobee hearts of palm salad, served the same way as when Cap was still at the helm. (capsplace.com) «
FORTLAUDERDALEILLUSTRATED.COM | MARCH/APRIL 2023 51 2 1
GYORGY PAPP
COURTESY SUSHI LAB POMPANO BEACH
CREDIT

DECADE AGO, ORDERING A BEER IN FORT LAUDERDALE MEANT CHOOSING FROM BIG DOMESTIC BRANDS (AND MAYBE A HANDFUL OF IMPORTS). BUT TODAY THERE ARE DOZENS OF CRAFT BEER BRANDS BORN AND BREWED RIGHT HERE IN BROWARD COUNTY. HERE ARE SEVEN OF OUR LOCAL FAVORITES.
BEERS AND BITES
3 SONS Brewing Company
Before going pro, 3 Sons Brewing Company's co-owner Corey Artanis started brewing beer at home 12 years ago. He garnered the 2018 title of "Best New Brewer in the World" from RateBeer (which houses the largest collection of beer reviews worldwide), even before opening his Dania Beach brick-and-mortar location.
The 11,000-square-foot brewery, taproom, and restaurant also houses a wood-fired oven, making it the best place around to enjoy a chef-driven meal (think: charred octopus, ceviche, and duck sliders) with your craftmade brew.
Just ask Guy Fieri, who visited 3 Sons Brewing on a 2020 episode of Diners, Drive-ins, and Dives. On the Food Network show, Fieri raved about the wood-fired shrimp pizza and dashi butter chicken wings. "I know the beer here is dynamite," Fieri told former head chef Nicolay Adinaguev on the episode. "Often the kitchen plays the second fiddle. But what you guys have, I hear dueling banjos." (3sonsbrewingco.com)
ABEERS TO TRY
« Dania Pointe 5.5 percent ABV New England pale ale: New England–style beers typically have a nearly tropical flavor with a yellow-orange color and a sweeter hop aroma and taste. This is a great hazy beer to introduce someone who's new to the style.
« Smoooth Ops 6 percent ABV piña colada smoothie-style seltzer: While not technically a beer, this hard seltzer is thicker than usual and made with intense flavor, giving it a vibe very similar to a piña colada.
FORTLAUDERDALEILLUSTRATED.COM | MARCH/APRIL 2023 53
1
INVASIVE SPECIES Brewing Co.
With a taproom full of taxidermy, Invasive Species may be the most Floridian brewery around. Co-owner Phil Gillis likens his Fort Lauderdale spot to a natural history museum. Legend has it that Gillis and co-owner Josh Levitt caught the animals themselves, but the duo says many were donated by customers and friends.
Legends aside, Gillis and Levitt were up-and-comers on the local beer scene before it was robust enough to even be called a scene. The two got their start working for large production breweries in the early days of South Florida craft beer. There were strange breaks along the way: Levitt moved from sales to brewing when a co-worker at a Doral-
BEERS TO TRY
« Florida Yacht Club 4.5 percent ABV German pilsner: As the name implies, this light, crisp, easy-drinking beer is made for the Florida lifestyle—great for hot summer days out by the beach or the pool.
« Ninja Juice 9 percent ABV sake/beer hybrid: This is one of the more interesting drinks Invasive Species typically has on draft. It's a beer made with rice and an ancient Japanese brewing technique, giving it serious appeal for sake aficionados.
based brewery had to leave after suffering third-degree burns to his feet when another co-worker accidentally poured hot liquor in his boots. Gillis took the more academic route, studying at the prestigious Siebel Institute of Technology's brewing vocational school, eventually landing a role as an assistant brewer at Oakland Park's Funky Buddha. With those experiences fueling their fire, Gillis and Levitt can take any beer style and perfect it. After five years in the business, there's no denying Invasive Species is a hub for South Florida beer fans who want to embrace the Laudy lifestyle while drinking the finest beer in the area. (invasivespeciesbrewing.com)
54 FORT LAUDERDALE ILLUSTRATED
2
FLORIDIAN FIND
A FAMILY AFFAIR
GULF STREAM Brewery & Pizzeria
In 2018, Ty and Sharee Erick opened Gulf Stream Brewing on 13th Street in Fort Lauderdale, complete with an ocean-themed tasting room offering awardwinning brews. The location also houses a fantastic in-house pizzeria called Pizzeria Magaddino—because what's better than a cold brew and a fresh pie?
If you're looking for a place you can bring the kids (and the fur-kids; Gulf Stream is pet-friendly), this is your spot. There's even a jukebox for the whole fam to jam along with. (gulfstream beer.com/artisan-pizza)
BEERS TO TRY
« Transplant 5 percent ABV pilsner: This award-winning beer differs from other pilsners, thanks to its New Zealand style. Its light and crisp body is rounded out with subtle hints of lime and stone fruit from Wakatu hops, which are grown in Nelson, New Zealand.
« Everyone Under the Sun 6.5 percent ABV hefeweizen: This beer embodies everything that a German wheat beer should. Hefeweizen directly translates to "yeast wheat," an ingredient that imparts its light color. The finished beer has notes of both banana and bubble gum.
FORTLAUDERDALEILLUSTRATED.COM | MARCH/APRIL 2023 55
3
4
ORCHESTRATED Minds
In 2019, owners Davy and Jaime Martin opened South Florida's smallest brewery with a big attitude. Martin first started as a homebrewer, passing his beer out for free at monthly art walks in Flagler Village. Long before opening his nanobrewery, he perfected his New England IPA, a hazy, tropical, hop-forward beer style, as well as big, chocolate- and coffee-forward stouts.
Orchestrated Minds Brewing has come a long way since its humble beginnings in a one-barrel brewhouse. The Martins recently upgraded to a three-barrel system, giving them the ability to make a bigger mark in South Florida craft beer.
But beer-lover beware: If you belly up to the Orchestrated Minds bar on a Friday and fall in love with the beer you ordered, know that it may not be there when you place your order next week. That's because the Martins focus on small batches and quality. They frequently rotate their 10-tap handles, and almost no brews stay on for more than two weeks at any time.
If you love barrel-aged dark stouts, this is the spot for you; Orchestrated Minds has regularly been called a "stout house," consistently releasing some of the hottest and mostsought-after bottles of the style. (orchestratedmindsbrewing.co)
BEERS TO TRY
« Touch of Grey 5.2 percent ABV blonde ale: Brewed with Earl Grey tea, this is one of the few beers regularly rotated on Orchestrated Minds' tap list. It's light and well-balanced, with unique flavors from the tea.
« Change is Necessary 8.2 percent ABV double dry-hopped New England IPA: This is a fantastic example of Orchestrated Minds' focus on this style of beer. In color, it's a beautiful bright yellow. In taste, you'll get tropical melon and pineapple notes upfront, with slight bitters on the backend.
SMALL-BATCH SITE
5
LOCAL'S FAVORITE
TARPON RIVER Brewing
This gastropub and brewery has been a local favorite since it was born as a collab between Julian and Lisa Siegel of the Riverside Market and Adam and Jill Fine of Native Brewing and Fresh Beer. Back in the early aughts, building a brewery was a dream. But eventually, Fort Lauderdale's Tarpon River Brewing opened in a former 11,000-squarefoot horse barn built in the 1920s.
That sense of history lends a unique local charm. The brewing system is on full display from the taproom, where you can order anything from a golden ale to a hoppy IPA, from dark lagers to fruity sours,
or even stouts and wild ales. The gastropub offers an upscale spin on traditional bar food like burgers and chicken wings. Don't miss Yo Soy Brussels (oven-roasted brussels sprouts with a soy glaze) or the roasted buffalo cauliflower.
This is a spot dedicated to the local community, with many of Tarpon River's employees having grown up with the Siegels' own sons. (tarponriverbrewing.com)
BEERS TO TRY
« InZane 5 percent ABV lager: Many of Tarpon River's beers are named after landmarks and regulars. This light American flagship lager honors a friend of the Siegels (named Zane) who passed away.
« 17th Street Haze 6 percent ABV hazy IPA: Named after the 17th Street Causeway in Fort Lauderdale, the can's label pays homage to Julian's love for hot rods, depicting one of his faves cruising down the city's iconic thoroughfare.
FORTLAUDERDALEILLUSTRATED.COM | MARCH/APRIL 2023 57
ODD BREED Wild Ales
If you're looking for a little education on craft beers and their many flavor profiles, then a visit to Pompano Beach's Odd Breed Wild Ales should be on your to-do list. This is not your average craft brewery; instead of large metal tanks, all the beer here is made similarly to wine—mostly aging in wine barrels before it's sold.
It's the brainchild of owner and head brewer Matt Manthe, who boasts some of the highest accolades of any brewer in the entire state. Manthe's focus is on a sophisticated Lambic-inspired style of beer—and he was influenced to take this route while studying at Berlin's prestigious institute for master brewers, Versuchsund Lehranstalt für Brauerei.
That influence is evident in everything from Manthe's beers to his taproom. Its sleek marble counter and row of barrels filled with actively aging beer make sitting at the bar
feel as if you've been transported to the European breweries where he first mastered his craft.
Odd Breed's products reveal complexity in both taste and aroma that many sommeliers would envy. Maybe that's why Manthe's brews have won gold and multiple bronze medals at the Great American Beer Festival, arbiter of the largest and most prestigious beer awards in the world. (oddbreed. com)
« Artistic Bugs 9.5 percent ABV golden wild ale: This beer sums up the appeal of Odd Breed Wild Ales well. It is named after the three microbes that give this brew its signature sour flavor, having been aged in French oak barrels for just under two years. On the nose are notes of ripe pineapple, mango, and orange.
« Tilling Season 8 percent ABV saison farmhousestyle beer: Aged 16 months in French oak barrels, this brew then spends another five months in emptied Ardbeg Scotch barrels. The complexity of aromas and flavors is astounding. In 2022, it won a bronze medal at the world's largest craft beer competition.
58 FORT LAUDERDALE ILLUSTRATED
6
TO TRY
OVER A BARREL
BEERS
HIPSTER HOPS
YEASTY BREWS
Artisanal Beers
Only open Thursday through Sunday nights, this small brewery in Lauderhill has become a hot spot for millennials and Gen Z craft beer fans. It makes sense: Owners Daniel Pfaffenbach and Denielle Mizrahi are the same age as their customer base, and they have created a taproom as colorful and vibrant as the drinks made on-site.
Pfaffenbach has an eightyear-long tenure in the beer industry. While learning the ins and outs of brewing at Fat Point in Punta Gorda and LauderAle, he dedicated his nights and weekends to making beer at home for his nonbeer-drinking girlfriend, Mizrahi (now his wife).
Yeasty Brews is known for tropical and refreshing libations, including perfected recipes for the best hard seltzers in South Florida. (yeastybrews.com)
BEERS TO TRY
« Hula Girl 6 percent ABV cream ale with guava and passion fruit: This is a light, fruity, and all-around refreshing beer. The natural fruits add a fresh layer of complexity.
« The Banana Slinger 5.5 percent ABV hefeweizen with lactose and vanilla bean: This is the beer that put Yeasty Brews on the map. It has no fruit; the banana flavor comes from the hefeweizen yeast. It's a fantastic modern spin on a very old German-style beer.
7
T Art STYLE
EMBRACE A MONOCHROMATIC PALETTE WITH LOOKS THAT TELL A TRUE COLOR STORY
60 FORT LAUDERDALE
ILLUSTRATED
PHOTOGRAPHY BY GABOR JURINA
Shot by Fort Lauderdale Illustrated on location at the Armory Art Center, West Palm Beach
FORTLAUDERDALEILLUSTRATED.COM | MARCH/APRIL 2023 61
Oscar de la Renta caftan gown
Opposite page: Dolce & Gabbana demi couture dress, bra, gloves, boots, bag; ceramics by artist Debbie O'Hara. For buying information, turn to page 100.
Fashion editor: Katherine Lande
62 FORT LAUDERDALE ILLUSTRATED
Michael Kors Collection gown, silver cuffs; Jimmy Choo sandals; drawing studio.
Opposite page: Proenza Schouler jersey dress; Sportmax boots; sculpture studio. For buying information, turn to page 100.
FORTLAUDERDALEILLUSTRATED.COM | MARCH/APRIL 2023 63
FORTLAUDERDALEILLUSTRATED.COM | MARCH/APRIL 2023 65
Gabriela Hearst blazer, pants; Valentino Garavani pumps; Cult Gaia clutch. Opposite page: Chanel jacket, skirt, ring, earrings; artist John Lark's studio. For buying information, turn to page 100.
FORTLAUDERDALEILLUSTRATED.COM | MARCH/APRIL 2023 67
Alexander McQueen corset, skirt, gloves, boots, cuffs, earrings
Opposite page: Sportmax dress, boots; figure studio. For buying information, turn to page 100.
68 FORT LAUDERDALE ILLUSTRATED
Model: Pavla P, The Source, Miami Hair and makeup: Colleen Stone, Creative Management, Miami
Digital tech: Tony Lai
Carolina Herrera strapless midi-dress; Alexander McQueen cuff; painting studio.
Opposite page: Valentino pleated gown; sculpture studio. For buying information, turn to page 100.
FORTLAUDERDALEILLUSTRATED.COM | MARCH/APRIL 2023 69
72 // Beautiful Smile 73 // Biological Dentistry and the Mouth Body Connection 74 // Dental Implant Surgery and Implant Prosthodontics 75 // Enhanced Vision 76 // Fort Lauderdale 77 // Fort Lauderdale's Exclusive Artist 78 // Greater Fort Lauderdale 79 // Hair Restoration and Transplant Surgery 80 // Luxury Real Estate 81 // Marital & Family Law 82 // Philanthropy 83 // Public Relations and Marketing Fort Lauderdale Illustrated presents THE FACES behind some of the most successful organizations in our region Faces of 2023 FORT LAUDERDALE FORTLAUDERDALEILLUSTRATED.COM | MARCH/APRIL 2023 71
Faces of
BEAUTIFUL SMILE The Face of ANDREW
FORREST, DMD, MS — 1500 DENTAL
As a third-generation periodontist, creating a beautiful, healthy smile is part of Dr. Forrest's DNA. He's a leader in periodontics and implant dentistry. For 20 years, Dr. Forrest has discovered the ultimate patient experience necessitates a "team approach." His team includes six dentists specializing in cosmetic, implant, and general dentistry as well as orthodontics and oral surgery. He completed research at the University of Miami on cancer treatment, irradiation therapy, and surgical implantology as well as periodontics internships at New York
University and Harvard University. He obtained three years of specialty at the University of Florida, where he earned his master's degree in oral immunology and retains a teaching appointment. Dr. Forrest has placed more than 20,000 dental implants and lectures nationwide. He serves patients in South Florida and nationwide, treating the most complex cases. Dr. Forrest's goal is to improve his patients' quality of life and, most importantly, to help people smile.
SPECIAL PROMOTIONAL SECTION
1500 N. FEDERAL HIGHWAY, FORT LAUDERDALE, FL n 954-715-1000 n 1500DENTAL.COM
2023 FORT LAUDERDALE
The Face of
With the belief that a smile unlocks an individual's full potential in life, Dr. Maya Georges Assi has made her professional goal to study, understand, and replicate to the best of her abilities the beauty of a confident and healthy smile. Understanding the health of the oral cavity as it relates to the rest of the body is a key factor in treatment planning and open discussion with her patients. Biological dentistry is the passion that drives her practice.
Dr. Maya is a proud Nova Southeastern College of Dental Medicine
graduate and, among her certifications is being an active member of the International Academy of Oral Medicine and Oral Toxicology, member of the International Academy of Biological Dentistry, certified in Ozone therapy, certified in SMART removal of mercury fillings, and a certified BIOCLEAR provider.
Dr. Maya always encompasses a biological approach to modern dentistry. Truly loving her craft, she continues to learn and elevate the high quality approach to treating all her patients.
SPECIAL PROMOTIONAL SECTION
6268 W. SAMPLE ROAD, SUITE 401, CORAL SPRINGS, FL n 954-575-0033 n ALPHADENTALPRACTICE.COM MOUTH BODY CONNECTION BIOLOGICAL DENTISTRY AND THE MAYA GEORGES ASSI, DMD — ALPHA DENTAL PRACTICE AND IMPLANT CENTER
2023 FORT LAUDERDALE
Faces of
Faces of 2023
AND IMPLANT PROSTHODONTICS DENTAL IMPLANT SURGERY
Dr. Assi is a leading expert in the field of implant dentistry. As a diplomate of the American Board of Oral Implantology and a graduate of the prestigious Misch Implant Institute, Dr. Assi provides his patients with cutting-edge technology utilizing the most advanced techniques available.
While the list of credentials that Dr. Assi holds is extensive, he is most passionate about using those qualifications to help thousands of patients regain their confidence to smile, their ability to enjoy food, and improve their overall quality of life. Dr. Assi specializes in
both, dental implant surgery and dental implant restorations from a single implant to full arch implant reconstruction all while changing lives, one smile at a time. His true joy is seeing firsthand the life transformation that occurs when health is restored and forging lifelong relationships with his patients.
Dr. Assi is passionate about sharing his knowledge and expertise. When he is not in the office performing surgery, he can be found lecturing and teaching nationally and internationally with the most prestigious implant organizations.
SPECIAL PROMOTIONAL SECTION
6268 W. SAMPLE ROAD, SUITE 401, CORAL SPRINGS, FL n 954-575-0033 n ALPHADENTALPRACTICE.COM
TAREK ASSI, DDS, DMD, FAAID, FAGD, DICOI, DABOI — ALPHA DENTAL PRACTICE AND IMPLANT CENTER
The Face of FORT LAUDERDALE
ENHANCED VISION The Face of
ALAN D. MENDELSOHN, MD — EYE SURGEONS & CONSULTANTS
For decades, South Florida physicians have called Dr. Mendelsohn "the physician's physician." He has the honor and privilege to serve as the ophthalmologist to thousands of families throughout Florida. Doctors know which physicians have certain areas of expertise and seek out the best of the best medical and surgical care for themselves and their family members. As a pioneer of five-minute laser cataract surgery, Dr. Mendelsohn is recognized by fellow
physicians as a preeminent expert in laser cataract surgery. From start to finish, this painless procedure takes only five minutes and includes implantation of an intraocular lens (IOL). There are no shots, no stitches, and no patches! Patients resume normal activities the very next day and enjoy enhanced quality of vision for the rest of their lives.
SPECIAL
PROMOTIONAL SECTION
n 954-894-1500 n MYEYESURGEONS.COM Faces of 2023 FORT LAUDERDALE
4651 SHERIDAN STREET, SUITE #100, HOLLYWOOD, FL
Faces of 2023
The Faces of
FORT LAUDERDALE
ANDREINA JAVITA, MD, DAVID JATIVA, MD — NEW FACE MD
A love story is making Miami more beautiful than ever. Dr. David Jativa—a prestigious plastic surgeons—and his wife Dr. Andreina Javita—a sought-after celebrity dentist—specialize in plastic surgery and minimally invasive procedures at New Faces MD.
Dr. David loves is passionate about helping people look their best. He is a dedicated surgeon and charismatic entrepreneur. Similarly, Dr. Andreina is a pioneer of aesthetic dentistry, using new techniques to build beautiful smiles. She strives to provide her patients an out-of-the-
ordinary experience.
Both doctors have well-followed social media accounts where they showcase their work. They strive to transform lives and are proud to help patients change the way they look and feel, helping them to regain self-confidence.
Just one look at their social media will certify that many people are delighted with the stories, personalities, and human qualities of Florida's most desired couple.
SPECIAL PROMOTIONAL SECTION
14358 BISCAYNE BOULEVARD, NORTH MIAMI BEACH, FL n 305-848-0008 n NEWFACEMD.COM
FORT
LAUDERDALE
The Face of
EXCLUSIVE ARTIST FORT LAUDERDALE'S ARIEL ORTEGA — ARIEL ART, LLC
Ariel Ortega has epitomized the meaning of original in the South Florida art scene. Proprietary mediums and raw philosophical statements put Ariel in his own category. The avant-garde nature of his creations stems from an in-depth experience of fine home designing, absorbing the principles of manipulating crude materials and conceptualizing them into being. Since 2004, Ariel has professionally produced artistic works alongside the region's top interior design echelons. This has led him into a closed market
of 2023
where the need to purchase through an art dealer became obsolete. In 2020 the intrepid artist went independent and opened a private gallery in the heels of downtown Ft. Lauderdale. His latest solo exhibition HUNDO (Fall 2022) at Las Olas River House Galleries, debuted works previously only seen in select designer collections. Ariel's unique pieces reduce the perfect synergy of humanity and modernity for a refined audience of contemporary art collectors.
SPECIAL PROMOTIONAL SECTION
441 S.W. 2ND AVENUE, #441, FORT LAUDERDALE, FL n 954-228-3665 n ARIELORTEGAART.COM
Faces
FORT LAUDERDALE
Faces
of 2023
As president and chief executive officer of Visit Lauderdale, Stacy Ritter is the visionary behind the Greater Fort Lauderdale community's new brand as the most welcoming destination in the world. Under her direction, the area's diversity, inclusivity, and accessibility has been positioned front and center to extend a warm welcome to everyone under the sun.
Ritter is a licensed attorney, but her background reflects her passion for Greater Fort Lauderdale: She served one year as mayor
of Broward County, 10 years on the Broward County Board of County Commissioners, and eight years in the Florida House of Representatives.
Today, Ritter is ushering in a whole new era of possibility. After year one of the new brand campaign, the destination achieved the second highest leisure occupancy in Florida, surpassing even Orlando and Miami. Her leadership will no doubt continue to create an exceptional culture of inclusion in Greater Fort Lauderdale.
SPECIAL PROMOTIONAL SECTION
101 N.E. THIRD AVENUE, SUITE 100, FORT LAUDERDALE, FL n 954-765-4466 n VISITLAUDERDALE.COM GREATER FORT LAUDERDALE STACY RITTER — VISIT LAUDERDALE
The Face of FORT LAUDERDALE
The Face of
HAIR RESTORATION
AND TRANSPLANT SURGERY
Dr. Alan Bauman is a full-time, board-certified hair restoration physician who has treated over 33,000 patients. He has performed over 12,000 hair transplant procedures and over 12,000 PRPs since starting his medical hair loss practice, Bauman Medical, in 1997.
Dr. Bauman is one of only approximately 200 physicians worldwide to achieve certification from the esteemed American Board of Hair Restoration Surgery (ABHRS). He has pioneered numerous technologies in the field of hair restoration, including minimally invasive FUE (follicular unit extraction); VIP|FUE™ no-shave hair transplant; eyelash transplants; low-level laser therapy; PRP (platelet-rich plasma); PDOgro™ , a "lunchtime" procedure performed under painless local anesthesia; and
his latest needle-free, pain-free treatment for hair shedding and hair loss, TED (transepidermal delivery).
Dr. Bauman was voted "No. 1 Top Hair Restoration Surgeon" in North America by Aesthetic Everything for the sixth consecutive year as well as "Top Hair Restoration Surgeon of the Decade." He also received the 2022 Lifetime Achievement Award in Hair Restoration. He was recognized by Forbes as one of "10 CEOs Transforming Healthcare in America."
Don't fret over hair loss. Schedule a consultation at Bauman's 12,000-square-foot, state-of-the-art "Hair Hospital" in downtown Boca Raton on South Dixie Highway or virtually from the privacy of your home.
1450 S. DIXIE HIGHWAY, BOCA RATON, FL n 561-867-6777 n BAUMANMEDICAL.COM
ALAN J. BAUMAN, MD, ABHRS, IAHRS — BAUMAN MEDICAL
SPECIAL PROMOTIONAL SECTION Faces
2023 FORT LAUDERDALE
of
Faces
of
Peter Barkin has successfully supported the real estate dreams of buyers and sellers in South Florida for 25 years. The Barkin Group is a highly respected, successful, and proven brand within the South Florida real estate community. Widely acclaimed prestigious recognitions include closed sales in excess of $1 million for eight consecutive years and No. 1 large team by sales volume in Fort Lauderdale (previously ranked by Real Trends in partnership with The Wall Street Journal) Peter Barkin believes real estate is more than a business; it's
his passion. He blends traditional relationships with cutting edge technology, providing his buyers and sellers with an unparalleled advantage. Exceeding client expectations defines the culture of the Barkin Group.
His areas of expertise include Harbor Beach, Rio Vista, Las Olas Isles, Colee Hammock, Victoria Park, Sunrise Key, Sunrise Intracoastal, Coral Ridge and Coral Ridge Country Club, Bay Colony, beachfront and waterfront properties, and new construction.
SPECIAL PROMOTIONAL SECTION
1200 E. LAS OLAS BOULEVARD, SUITE 103, FORT LAUDERDALE, FL n 954-675-6656 n BARKINGROUP.COM LUXURY REAL ESTATE PETER BARKIN — BARKIN GROUP | COMPASS
The Face of 2023 FORT LAUDERDALE
The Faces of
Founded by managing partner Rae Chorowski in 1994, Chorowski Clary Saoji & Epstein, P.A is a preeminent marital and family law firm in South Florida. With nearly 60 years of combined experience in family law matters, the attorneys at CCSE specialize in complex cases for high-net-worth clients. Known for uncompromising dedication and skillful management of emotionally charged issues in family disputes, this dynamic team is committed to providing excellent, effective, and ethical legal representation. While successfully resolving most cases
through negotiated settlements and mediation, the firm's attorneys are excellent trial lawyers superbly equipped to litigate cases in the courtroom when settlement cannot be reached. For divorcing couples or parents who seek superior legal representation but wish to avoid going to court, partners Rae Chorowski and Meghan Clary are also trained in collaborative law, which provides another method for resolving family disputes in an equitable fashion.
SPECIAL PROMOTIONAL SECTION
600 S. ANDREWS AVENUE, SECOND FLOOR, FORT LAUDERDALE, FL n 954-525-6566 n CCLAWPA.COM
CHOROWSKI CLARY SAOJI & EPSTEIN, P.A.
MARITAL & FAMILY LAW
2023 FORT LAUDERDALE
Faces of
Faces of 2023
The Faces of
PHILANTHROPY
Trevor Fried, Tom and Leslie Tworoger, and Dr. Hayward Benson envision Broward as a vibrant place where all people can thrive, feel connected and have the opportunity to reach their full potential. These bold philanthropists partner with the Community Foundation of Broward to ensure every dollar they give makes life better for people in our community.
The Community Foundation's expert team identifies innovative, strategic ways for giving to fuel real-world solutions to the issues closest to philanthropists' hearts. By establishing endowed charitable funds at the Community Foundation, Trevor, Tom, Leslie, and Hayward
are cementing their legacy of impact, which will last for generations to come.
These bold philanthropists have peace of mind knowing that with the Community Foundation by their side they are shaping Broward's future – for good, forever.
Are you ready to BE BOLD? Create your own endowed charitable fund today or through your estate plan. Contact Community Foundation vice president of philanthropic services Nancy Thies at nthies@cfbroward.org or 954-761-9503.
SPECIAL PROMOTIONAL SECTION
910 E. LAS OLAS BOULEVARD, SUITE 200, FORT LAUDERDALE, FL
n 954.761.9503 n CFBROWARD.ORG
TREVOR FRIED, TOM AND LESLIE TWOROGER, DR. HAYWARD BENSON — COMMUNITY FOUNDATION OF BROWARD
FORT LAUDERDALE
The Face of
AND MARKETING PUBLIC RELATIONS
Durée Ross is the founder of Durée & Company, an award-winning results-driven public relations and marketing agency with offices in Fort Lauderdale, Florida, and Aspen, Colorado. Durée inspires, creates, and elevates the practice of public relations and marketing, bringing success to clients through creative, tactical, and benchmark-setting programs.
Durée generously shares her passion for innovative public relations and marketing strategies with her diverse client base of local, national, and international consumer brands, landmark industries, business leaders,
and philanthropists. The agency's practice areas include nonprofit, hospitality, business, real estate, lifestyle, health and wellness, yacht and marine, and legal clients and have expanded to include cannabis, psychedelics, and other emerging industries.
Building the agency's reputation, brand, and impact through community service, Durée devotes time and resources to missions that resonate for her personally and professionally.
SPECIAL PROMOTIONAL SECTION
10620 GRIFFIN ROAD, SUITE 208, FORT LAUDERDALE, FL n 600 E. HOPKINS AVENUE, SUITE 303, ASPEN, CO 954-723-9350 n DUREEANDCOMPANY.COM n CANNABISMARKETINGPR.COM
DURÉE ROSS — DURÉE & COMPANY
2023 FORT LAUDERDALE
Faces of
A Kentucky Derby Party
saturday, may 6, 2023
5:30 pm – 7:30 pm
Join us for the 4th annual A Bourbon A air, presented by Holman, a Kentucky Derby Party and private bourbon tasting experience at Lobster Bar Sea Grille in Fort Lauderdale. Guests will enjoy 10+ high-end bourbons, lite bites and celebrate the 2023 Kentucky Derby. Derby attire encouraged.
Benefiting
For more information, please visit trustbridge.com/event/bourbona air
Presenting Sponsor
Exclusive Magazine Sponsor
EAT+DRINK
BOLD FLAVORS, COOL COCKTAILS, AND LOCAL FAVORITES
OPENINGS
COASTAL CRAVINGS
On the heels of its one-year anniversary in Miami's Coconut Grove neighborhood, Mexican seafood concept Aida has brought its flavor-rich, ocean-to-table creations to Fort Lauderdale's Flagler Village. The foodie hot spot has opened to a groundswell of rave reviews, wowing diners with the likes of succulent ceviches, aguachiles , shrimp tacos, and whole roasted snapper—all served in a contemporary, high-design space fitting of the trendy neighborhood.
One obligatory starter is the tiradito de atun, a plate of thinly sliced, meltin-your-mouth, grade-A bigeye tuna in a morita chile pepper marinade. Another is the dish voted "Best Ceviche in Miami" at the 2022 South Beach Seafood Festival: the ceviche verde de camaron, which features large pink shrimp dressed in a powerful blend of cilantro kimchi, red onion, and cucumber. When it comes to mains, don't miss the huachinango a la talla, a whole red snapper deboned, butter-
flied, and prepared in a Mexican dry pepper rub, served alongside corn tortillas. Finally, save room for one—or more—offerings from the dessert menu, the highlight of which are the apple crumb churros, a handful of piping-hot, crispy churros with fresh apple compote and crumble, topped with dulce de leche ice cream. (aidarestaurant. com) —Paul Rubio
FORTLAUDERDALEILLUSTRATED.COM | MARCH/APRIL 2023 85
Clockwise from left: apple crumb churros; ceviche verde de camaron; tiradito de atun.
NAUTICAL NOSHING
Picks for Docking and Dining Delights
Fort Lauderdale's yachting and dining cultures unite at these Intracoastal-fronting restaurants, all primed for guests arriving via boat and ready to indulge in sea-inspired fare
BY PAUL RUBIO
15TH STREET FISHERIES
The waterfront views of Lauderdale Marina are a major part of the allure at this two-story seafood mainstay; the savory seafood fare is the other. For casual dining, try the dockside menu. Served day and night, it features the likes of conch fritters, coconut shrimp, mahi-mahi sandwiches, and spiny tail lobster. (While you're waiting for your food, make your way to the dock to feed or just observe the schools of giant tarpon circling the pilings.) For a more formal experience, head to the dinner-only upstairs restaurant for a menu that includes spicy Bahamian conch chowder, grilled tuna tataki, and thoughtfully composed mains like the pan-roasted grouper with red and golden quinoa, wild mushrooms, baby clam meat, white Vermont cheddar cheese, crispy fried onions, and garlic cream sauce. (15streetfisheries.com)
SHOOTER'S WATERFRONT
BOATYARD
This reinvented landmark restaurant off 17th Street is a daily celebration of the Fort Lauderdale good life. An 80-seat dockside patio lounge faces the scenic Intracoastal and its excess of water toys. It's a convivial space for enjoying fine wines, droolworthy seafood selections, premium cuts of beef, local catches, and more among the city's casually chic boating elite. Ooh and aah over the Captain's Seafood Tower piled high with East Coast oysters, shrimp cocktail, Maine lobster, tuna poke, and ceviche, or go for the charred Spanish octopus and sugar-laced Bimini bread. Then, move on to wood-fired steaks or day-caught fish sourced by local fishermen, prepared on a wood-burning grill, and accompanied by the sauce of your choosing, from citrus butter to lemon herb vinaigrette. There's also an expansive nautical-inspired indoor restaurant if the weather's uncooperative (or if air-conditioning calls) and a bustling bar for enjoying a nightcap or two. (boatyard.restaurant)
Imbibe and dine alfresco at this circa-1982 dockside institution overlooking the Intracoastal. Get cozy at a waterside table under canvas, or plant yourself at one of three bar areas and feast on coastalinspired comfort food like crispy calamari with chipotle garlic lime aioli, smoked fish dip, and thick maki rolls (our favorite is the Bamboo, filled with shrimp tempura, cream cheese, avocado, jalapeño, and hibachi sauce).
Monday to Friday, enjoy happy hour from 4 to 7 p.m., with half-off cocktails and beer and wine by the glass plus select appetizers for $12 and under.
(shooterswaterfront.com)
86 FORT LAUDERDALE ILLUSTRATED EAT+DRINK 3
HAPPENINGS
Las Olas Wine & Food Festival 2023
LAUDY'S SINGLE-DAY FOODIE FESTIVAL RETURNS FOR ITS TWENTY-SEVENTH EDITION
It's once again time to delight in the annual grand showcase of Fort Lauderdale's best food and drink, as the Las Olas Wine & Food Festival returns April 21. The one-night, four-block takeover on Las Olas Boulevard (between S.E. 6th Avenue and S.E. 11th Avenue) plays out as a vibe-heavy grand tasting village featuring top local restaurants and international wineries alongside live music and DJs. Look forward to sampling from more than 200 wines and snacking on small plates from some 30 restaurants, including Casa Sensei, Louie Bossi's, The Wilder, and Yolo. Tickets begin at $150 and all proceeds benefit the South Florida American Lung Association to help fight lung cancer, the leading cause of cancer deaths in the United States. (lasolaswff.com) —P.R.
A selective guide to Broward County restaurants
THE LISTINGS
The Broward County dining scene has something for everyone, from funky Fort Lauderdale gastropubs to iconic waterfront restaurants dotting the county coastline. Here, find a listing of area standouts, organized by cuisine type, with descriptions, contact information, and price details for each. What the icons mean:
$ Dinner entrees under $25
$$ Most entrees $25-$40
$$$ Most entrees $40 or more
While not all-inclusive due to space limitations, our dining listings may vary every month and are constantly updated to showcase the culinary diversity of the area. Find more information on local dining options on fortlauderdaleillustrated.com.
NOTICE TO RESTAURATEURS: The establishments listed and their descriptions are printed at the discretion of the editors of Fort Lauderdale Illustrated They are not a form of advertisement, nor do they serve as a restaurant review. For more information, email editorial@palmbeachmedia.com
AMERICAN
5 O'CLOCK SOMEWHERE BAR & GRILL This rustic indoor-outdoor dockside bar on the Intracoastal serves bar bites and creative drinks with a side of live entertainment. 1111 N. Ocean Drive, Hollywood (margaritaville hollywoodbeachresort.com) $
AMERICAN SOCIAL A cool atmosphere and elevated comfort food classics are the hallmarks of this Las Olas hot spot. 721 E. Las Olas Blvd., Fort Lauderdale (americansocialbar.com) $
ATLAS COCKTAIL LOUNGE The Conrad's sophisticated lobby bar features signature cocktails, wines, and bar bites, like the duck confit tostada and ratatouille pizzetta. Conrad Fort Lauderdale Beach, 551 N. Fort Lauderdale Beach Blvd., Fort Lauderdale (conradfortlauderdale.com) $
BANG SHACK The creators of the Shark Tank–famous Bang Shack chicken dip own this kiosk where three versions of their dip are sold to go with any culinary creation. 120 S. 20th Ave., Hollywood (thebangshack.com) $
BIG BUNS Order a "damn good burger" and enjoy the river views from this Las Olas joint. Don't forget to pair your meal with a shake or beer. 221 SW 1st Ave., Fort Lauderdale (eatbigbuns.com) $
BIG CITY TAVERN The aroma of house-made breads, pastas, and desserts combined with rustic, tavern-style interiors evoke an inviting atmosphere in the sprawling dining room. 609 E. Las Olas Blvd., Fort Lauderdale (bigcitylasolas.com) $
BLUE MARTINI Live entertainment pairs well with one of the bar's quintessential martinis and a margherita flatbread or luscious brie baked in puff pastry to share. The Galleria at Fort Lauderdale, 2432 E. Sunrise Blvd., Fort Lauderdale (bluemartini.com) $
BULEGREEN CAFÉ YARD Head to this Oakland Park outpost for all-day brunch favorites (think smoked salmon sandwiches and the OMG Waffle) and signature, old-fashion-style coffee. 3299 N. Dixie Hwy., Oakland Park (bulegreen.us) $
BURGERFI This eco-friendly burger joint has something for everyone, including chicken sandwiches, hot dogs, and vegan and vegetarian options. 1465 SE 17th St., Fort Lauderdale (burgerfi.com) $
CALIFORNIA PIZZA KITCHEN Stop by for innovative and authentic California-style cuisine in a casual environment. 2301 N. Federal Hwy., Fort Lauderdale (cpk.com) $
THE CHEESECAKE FACTORY Find an extensive menu with more than 200 pastas, seafood dishes, steaks, salads, sandwiches, and cheesecakes. 600 E. Las Olas Blvd., Fort Lauderdale (thecheesecake factory.com) $$
CHICK'NCONE This MASS District fast-casual spot offers handheld waffle cones piled with crispy chicken bites available for pick-up and delivery. 920 N. Flagler Dr., Fort Lauderdale (chickncone.com) $
DICKEY'S BARBECUE PIT Founded in Dallas, Dickey's brings the joys of Texas barbecue to South Florida. 23 S. Pointe Drive, Dania Beach (dickeys.com) $
FORTLAUDERDALEILLUSTRATED.COM | MARCH/APRIL 2023 87
FRANCESCACOVIELLO
MINDFUL MIXOLOGIST
SOARING into March
THIS MONTH PROMISES NEW BEGINNINGS AND CELEBRATIONS
BY JULES ARON
Whether you're honoring women's rights and achievements on International Women's Day, observing the beginning of spring, or celebrating St. Patrick's Day, you'll have no shortage of opportunities to toast in March. Enter the Pineapple Express. A playful riff on the Jungle Bird—a tropical negroni that debuted in the 1970s—this version is as light and vibrant as the month itself. By blending a decidedly botanical rum with juicy pineapple, a bright aperitivo , and a touch of (green!) aromatic basil, a new bird takes flight.
Pineapple Express Ingredients
1 1/2 oz. Pa'lante Botanical Rum
3/4 oz. Cocchi Americano Bianco
1/2 oz. fresh lime juice
1/2 oz. agave syrup
1 1/2 oz. basil and pineapple juice
(recipe below)
Combine all ingredients in a shaker with ice. Strain into an old-fashioned glass filled with crushed ice.
Basil and Pineapple Juice Ingredients (makes 1 cup)
1/3 pineapple, peeled, cut, and heart removed
1 small bunch basil
Add all ingredients to a juicer or blender and juice/blend before straining.
88 FORT LAUDERDALE ILLUSTRATED
EAT+DRINK
GYORGY PAPP
FLORIDIAN RESTAURANT This classic diner has served an extensive selection of breakfast, lunch, and dinner comfort food favorites since 1937. 1410 E. Las Olas Blvd., Fort Lauderdale (thefloridian diner.com) $
FRESH FIRST Innovative gluten-free breakfast and lunch dishes make this casual eatery a favorite among conscientious diners. Renaissance Fort Lauderdale Cruise Port Hotel, 1637 SE 17th St., Fort Lauderdale (freshfirst.com) $
GEORGIA PIG BBQ RESTAURANT Live oak wood and North Georgia–style sauce are the flavor focal points at this family-run, open-pit barbecue joint. 1285 S. State Road 7, Fort Lauderdale (georgiapig.com) $
HARBORWOOD URBAN KITCHEN One of the Hyatt's restaurants with locally sourced ingredients in downtown Fort Lauderdale. Hyatt Centric, 100 E. Las Olas Blvd., Fort Lauderdale (hyatt.com) $
HARD ROCK CAFE Grab a bite between shows at the Hard Rock's diner-inspired dining room, where great music is always playing. 1 Seminole Way, Hollywood (seminolehardrockhollywood.com) $$
J. MARK'S Casual decor, a bustling bar, and crowdpleasing plates make this an ideal dining experience to share with friends. 1245 N. Federal Hwy., Fort Lauderdale (jmarksrestaurant.com) $$
KALUZ This upscale modern restaurant has lunch and dinner options along with an extensive wine and cocktail menu. 3300 E. Commercial Blvd., Fort Lauderdale (kaluzrestaurant.com) $$$
MARTI'S NEW RIVER BISTRO A favorite among theatergoers, the Broward Center for the Performing Arts' waterfront bistro also serves one of the best brunches in the city. 201 SW 5th Ave., Fort Lauderdale (browardcenter.org) $$
MATCHBOX Whether you're shopping at Sawgrass Mills or cruising down Las Olas, make a pit stop at Matchbox for a fun-to-share menu of wood-fired pizzas, mini burgers, fresh salads, and more. 221 S.W. 1st Ave., Fort Laurderdale; 1860 Sawgrass Mills Circle #5100, Sunrise (matchboxrestaurants.com) $$
RAINFOREST CAFÉ Favorites like Pastalaya and Jungle Safari Soup are best enjoyed among exotic fish tanks, animatronic fauna, and indoor "thunderstorms." 12801 W. Sunrise Blvd., Fort Lauderdale (rainforestcafe.com) $$
REDLANDS GRILL BY J. ALEXANDER'S Wood-fired fare from steaks to grilled artichokes are on the menu at this modern American spot. 2415 N. Federal Hwy., Fort Lauderdale (redlandsgrill.com) $$
ROCK BAR This bustling space perfectly captures Fort Lauderdale Beach's vibrant nightlife. 219 S. Fort
Lauderdale Beach Blvd., Fort Lauderdale (itsbetter onthebeach.com/rock-bar) $$
ROOFTOP @1WLO Head to this tapas bar for views of Fort Lauderdale's skyline plus special cocktails and small apps. 1 W. Las Olas Blvd. #700, Fort Lauderdale (rooftop1wlo.com) $$$
ROSIE'S BAR & GRILL This alfresco eatery captures patrons' hearts with adventurous menu items, festive decor, and a warm staff. 2449 Wilton Drive, Wilton Manors (rosiesbng.com) $
ROYAL 350 This gastropub tantalizes patrons with elevated American dishes as well as a weekend brunch with bottomless mimosas and Bloody Marys. 350 E. Las Olas Blvd., Fort Lauderdale (royal350.com) $$
S3 Nouveau American cuisine that embraces the three pillars of Florida life: sun, surf, and sand. Hilton Fort Lauderdale Beach Resort, 505 N. Fort Lauderdale Beach Blvd., Fort Lauderdale (s3restaurant.com) $$$
SEA LEVEL RESTAURANT & OCEAN BAR
This seaside eatery serves fresh seafood and "Garden to Glass" cocktails with ingredients from the chef's organic plot. Marriott Harbor Beach Resort, 3030 Holiday Drive, Fort Lauderdale (marriot.com) $$
FORTLAUDERDALEILLUSTRATED.COM | MARCH/APRIL 2023 89
are you on the list? Subscribe Today @ fortlauderdaleillustrated.com
SEASONS 52 This resto's health-conscious, seasonally minded menu packs a serious flavor punch while staying light under 600 calories. The Galleria, 2428 E. Sunrise Blvd., Fort Lauderdale (seasons52.com) $$
SOBEVEGAN A modern vegan pivot on typical American cuisine that even meat-eaters will crave. 401 N. Fort Lauderdale Beach Blvd., Fort Lauderdale (sobev.com) $$
STEELPAN KITCHEN & BAR Steelpan strikes Caribbean-American fusion gold with the callaloo artichoke dip, jerk chicken and dumplings, grilled skirt steak, and pineapple rum cake. 999 N. Fort Lauderdale Beach Blvd., Fort Lauderdale (steelpanftl.com) $$
TAP 42 Rotating daily drink specials, live music, and a diverse menu make this taproom-restaurant an ideal place for a gastronomical rendezvous. 1411 S. Andrews Ave., Fort Lauderdale (tap42.com) $$
THE KATHERINE This neighborhood gem offers a representation of chef Timon Balloo's travels and at-home favorites cooked in a cozy setting. 723 E. Broward Blvd., Fort Lauderdale (thekatherine restaurant.com) $$
TOP ROUND SoCal flavor dwells between two buns at this sandwich shop, where the meats are slow-roasted for 10 hours, and the custard is made fresh. 35 N. Federal Hwy., Fort Lauderdale (eattopround.com) $
TOWER CLUB The Tower Club's Trade Bar and Dining Room offer an exclusive setting for a business lunch with views of the bustling port and city skyline. 100 S.E. 3rd Ave., Fort Lauderdale (clubcorp.com) $$$
UNION KITCHEN & BAR A neighborhood restaurant inspired by the essence of South American and Northern Italian cuisines. 2309 N. Dixie Hwy., Wilton Manors (unionkb.com) $$
VALE FOOD CO. Build your own bowls with tasty and flavorful ingredients at this fast-casual outpost with a
healthy bend. 2420 N. Federal Hwy., Fort Lauderdale (valefoodco.com) $
ASIAN
BOMBAY DARBAR Intoxicating spices perfume the air and rich Indian masalas, curries, and kormas beset the tables at this Las Olas jewel. 1521 E. Las Olas Blvd., Fort Lauderdale (bombaydarbar.com) $
CHRISTINA WAN'S MANDARIN HOUSE Christina Wan continues her family's legacy of bringing traditional Chinese cuisine to South Florida. 664 N. Federal Hwy., Fort Lauderdale (christinawans.com) $$
EVE ON THE WATER This elegant, riverfront dining destination offers Japanese and Thai dishes with creative sushi rolls. 1111 E. Las Olas Blvd., Fort Lauderdale (evelasolas.com) $$
MAMA ASIAN BISTRO Patrons can satisfy their sushi, ramen, and Thai noodle cravings at this modern Pan-Asian eatery. 4437 Lyons Rd., Coconut Creek (mamaasianbistro.com) $$
P.F. CHANG'S CHINA BISTRO Chinese, Japanese, and Korean cuisines intersect to celebrate the continent's flavors and traditions. 2418 E. Sunrise Blvd., Fort Lauderdale (pfchangs.com) $
SUSHI BY BOU A hidden gem for Japanese cuisine plus an elegant omakase-style dinner. 500 E. Las Olas Blvd., Fort Lauderdale (sushibybou.com) $$$
TAKATO The waterfront restaurant at The Conrad features a fusion menu of sushi, Korean appetizers, fresh fish, and meat. 551 N. Fort Lauderdale Beach Blvd., Fort Lauderdale (takatorestaurant.com) $$$
THAI SPICE No tour of South Florida's culinary triumphs would be complete without a meal from this delightful Pan-Asian destination. 1514 E. Commercial Blvd., Fort Lauderdale (thaispicefla.com) $$
CAFÉ / COFFEE
CYTH & CO. This café with many special seasonal drinks and baked goods has an inclusive menu for vegans and gluten-free eaters alike. 3446 NE 12th Ave., Oakland Park (cythco.com) $$
ITALIAN
CAFÉ MARTORANO Known as being a top Italian restaurant in Fort Lauderdale for the past 27 years, Café Martorano and chef Steve Martorano don't disappoint. 3343 E. Oakland Blvd., Fort Lauderdale (cafemartorano.com) $$$
CAFÉ VICO Owner Marco Vico Rodrigues knows there's no better way to welcome his guests than with a kind smile and to-die-for pasta. 1125 N. Federal Hwy., Fort Lauderdale (cafevicorestaurant.com) $$
CAFFÉ EUROPA A go-to spot for lunch or dinner, Caffé Europa's Calabrian-inspired fare is perfect for sharing with friends and family. 910 E. Las Olas Blvd., Fort Lauderdale (caffeeuropalasolas.com) $$
IL MULINO CUCINA Luscious saffron-infused pasta is a standout on this menu of classic Italian favorites. 1800 E. Sunrise Blvd., Fort Lauderdale (ilmulinofl.com) $$
NOODLES PANINI Along with the restaurant's namesake menu items, the homemade mozzarella, bruschetta, braised beef short ribs, and special fish dishes are also must-haves. 821 E. Las Olas Blvd., Fort Lauderdale (facebook.com/noodlespanini) $$
RIVIERA BY FABIO VIVIANI The illustrious chef Fabio Viviani breathes new life into his Italian dishes. 525 S. Fort Lauderdale Beach Blvd., Fort Lauderdale (rivierabyfabioviviani.com) $$
90 FORT LAUDERDALE ILLUSTRATED EAT+DRINK
Redonculous Reese's Shake from Big Buns
Maine lobster roll from Matchbox CHRIS SCHWALM CHRIS SCHWALM
SCOLAPASTA BISTRO Family is at the heart of this farm-to-table Italian bistro that puts a contemporary twist on its old-world heritage. 3358 NE 33rd St., Fort Lauderdale (scolapastabistro.com) $$
SERAFINA TRATTORIA ITALIANA Candlelit views of the Middle River, toothsome pasta dishes, and a spectacular vino selection promise a romantic evening at this Victoria Park nook. 926 N.E. 20th Ave., Fort Lauderdale (serabythewater.com) $$
SETTE BELLO RISTORANTE Settle into a seat at chef Franco's fine-dining locale, where delectable Italian cuisine makes patrons feel right at home. 6241 N. Federal Hwy., Fort Lauderdale (settebellofla.com) $$
LATIN AND MEXICAN
CARLOS & PEPE'S Colorful motifs and authentic Mexican-American fare have earned this laid-back eatery a reputation all its own since 1979. South Harbor Plaza, 1302 S.E. 17th St., Fort Lauderdale (carlosandpepesfl.com) $$
CUBANO'S BY MARIO Owner Mario Flores shares the comforts of his childhood at this stylish restaurant, where Cuban-Spanish goodness is served. 1611 N. Federal Hwy., Fort Lauderdale (catalina restaurant.net) $$$
EATAPAS An authentic Spanish menu is available with plenty of tapas to accompany a great atmosphere with live music and Flamenco dancing. 4140 N. Federal Hwy., Fort Lauderdale (eatapasfl.com) $$
LA BAMBA Featuring the best from cuisines across Latin America, this multifaceted eatery's savory and filling dishes are a hit. 4245 N. Federal Hwy., Fort Lauderdale; 17 St. 1901 Cordova Rd., Fort Lauderdale; 5452 W Sample Rd., Margate; 10169 W. Sunrise Blvd., Plantation (labamba123.com) $$
LONA COCINA TEQUILERIA The waterfront restaurant brings the flavors of Mexico to Fort Lauderdale Beach. 321 N. Fort Lauderdale Beach Blvd., Fort Lauderdale (lonarestaurant.com) $$
MEDITERRANEAN
FERDOS GRILL Authentic Mediterranean dishes meet local Florida ingredients at this neighborhood favorite, featuring staples like gyros, shish kabob, and "everyone's favorite" hummus. 4300 N. Federal Hwy., Fort Lauderdale (ferdos-grill.jimdosite.com) $$
GREEK ISLANDS TAVERNA The spirit of the Aegean is alive and well at this gem that serves traditional Greek dishes rooted in bright flavors and savory spices. 3300 N. Ocean Blvd., Fort Lauderdale (greekislandstaverna.com) $$
ILIOS Panoramic ocean views and seasonally inspired Mediterranean dishes are on the menu at this sixth-floor dining room. Hilton Fort Lauderdale Beach Resort, 505 N. Fort Lauderdale Beach Blvd., Fort Lauderdale (hilton.com) $$
JAFFA Enjoy fresh Israeli and Mediterranean cuisine by famed chef Yaniv Cohen. 701 N. Federal Hwy Suite 101, Hallandale Beach (jaffamiami.com) $$
MOREA This Mediterranean-inspired restaurant and bar offers small plates to taste, explore, and enjoy with friends and family. 701 N. Fort Lauderdale Beach Blvd., Fort Lauderdale (moreadining.com) $$
SEAFOOD
3030 OCEAN Chef Adrienne Grenier's intuitive and masterful approach to upscale seafood shines in this sophisticated beachside dining room. Marriott Harbor Beach Resort & Spa, 3030 Holiday Drive, Fort Lauderdale (3030ocean.com) $$$
ARUBA BEACH CAFÉ The magic of Caribbean flavors meets the idyllic Florida coastline at this beachside seafood shack. 1 Commercial Blvd., Lauderdale-by-the-Sea (arubabeachcafe.com) $$
BILLY'S STONE CRAB Stone crab is king at Billy's, but guests can also enjoy lunch or dinner featuring the day's fresh and locally caught Florida sea fare. 400 N. Ocean Drive, Hollywood (crabs.com) $$$
BLUE MOON FISH CO. Chef-owners Baron Skorish and Bryce Statham dream up Louisiana-inspired interpretations of locally caught seafood at their upscale dining room along the Intracoastal. 4405 W. Tradewinds Ave., Lauderdale-by-the-Sea (bluemoonfishco.com) $$$
BUBBA GUMP SHRIMP CO. Enjoy shrimp as Bubba intended and nods to Forrest Gump at this casual eatery serving everything from fresh fish to slowroasted ribs. 429 S. Fort Lauderdale Beach Blvd., Fort Lauderdale (bubbagump.com) $
BURLOCK COAST SEAFARE & SPIRITS This innovative restaurant-café-market-bar channels the creativity of Prohibition-era rum runners. The Ritz-Carlton,
1 N. Fort Lauderdale Beach Blvd., Fort Lauderdale (ritzcarlton.com) $$$
OCEANIC The Pompano Beach Pier provides ample ambiance for the bright and inventive seafood menu. 250 N. Pompano Beach Blvd., Pompano Beach (oceanicpompano.com) $$
OCEAN 2000 This elegant dining room is devoted to regional cuisine with a hint of Latin influences. Pelican Grand Beach Resort, 2000 N. Ocean Blvd., Fort Lauderdale (pelicanbeach.com) $$$
STEAK HOUSE
COUNCIL OAK STEAKS & SEAFOOD A signature raw bar, a wine room boasting more than 400 labels, and an open kitchen complement the Hard Rock favorite's USDA-certified cuts. 1 Seminole Way, Hollywood (seminolehardrockhollywood.com) $$$
FOGO DE CHÃO Hailing from Brazil, this full-service churrascaria features an array of proteins and the famous caipirinha cocktail. 201 E. Las Olas Blvd. Suite 100, Fort Lauderdale (fogodechao.com) $$$
NYY STEAK Located in Seminole Casino Coconut Creek, NYY Steak presents five-star seafood and steak offerings in an atmosphere that honors one of baseball's finest teams, the New York Yankees. 5550 NW 40th St., Coconut Creek (nyysteak.com) $$$
STEAK 954 This uber-chic coastal alcove features decadent dishes, while the dining room boasts a hypnotizing jellyfish tank. W Hotel, 401 N. Fort Lauderdale Beach Blvd., Fort Lauderdale (steak 954.com) $$$
FORTLAUDERDALEILLUSTRATED.COM | MARCH/APRIL 2023 91
Saucy Legs from Fogo de Chão
MANNY RODRIGUEZ
Winner! Best Showroom in the USA! SARASOTA, FL 3055 FRUITVILLE COMMON BLVD. 941.900.HOME (4663) BOCA RATON, FL 1351 NWBOCA RATON BLVD. 239.261.HOME (4663) NAPLES, FL 2777 TAMIAMI TRAIL N 239.261.HOME (4663) FORT MYERS, FL Coming Soon! IB26001785 INSPIRATION STARTS HERE! AWARD-WINNING | INTERIOR DESIGN | FINE FURNISHINGS | CLIVEDANIEL.COM ■ 70,000 sq. ft. of Inspiration ■ Exclusive Products ■ Beautiful Styles In Stock
HOME
FROM CITY TO SHORE, THE FINE ART OF LAUDY LIVING
TROPIC LIKE IT'S HOT
INTERIORS When a Fort Lauderdale couple set out to create a space where their style could shine through, they hired lead designer Anahi Carrillo and creative director Ivonne Ronderos of Dkor Interiors
"The design concept behind this project was 'tropical festival of life,'" Carrillo says, "The home is the perfect place to have a ceremony to celebrate and share life together. We wanted their home to be a space that invites itself to be discovered."
To bring the concept to life, the design team used organic patterns and textures to soften the space's hard edges and also added vivid colors. "Inspired by the tropics, the palette we
chose features shots of color like soft coral, warm teal, and a deep, gray-tinged navy," Carrillo says.
The living room was inspired by the clients' love of entertaining. "[It] needed to have a playful and not typical layout," Carrillo says. "That's why we decided on a rounded arrangement. ... The rounded rug, hanging chair, and other elements included bring playfulness to the living space."
In the dining room, the team incorporated a home bar. "We wanted to create a complete social space for entertainment ... providing
easy access to beverages without the need to leave the dining area," Carrillo says.
"We love how it turned out," she concludes. "Each design feature tells you a story and invites you to discover the rooms and experience tropical living." (dkorinteriors.com) — Kristen
Desmond LeFevre
FORTLAUDERDALEILLUSTRATED.COM | MARCH/APRIL 2023 93
COURTESY OF ALEXIA FODERE
AMPED UP APPLIANCES
WHEN IT COMES TO APPLIANCES, THERE ARE TWO WAYS TO GO. FIRST, YOU CAN MINIMIZE THEM BY PANELING TO MATCH THE CABINETRY—A POPULAR CHOICE ESPECIALLY FOR REFRIGERATORS AND DISHWASHERS. OR, YOU CAN GO THE OPPOSITE ROUTE AND MAKE A STATEMENT. MANY BRANDS LIKE CAFÉ APPLIANCES, SAMSUNG, SMEG, AND TRUE RESIDENTIAL OFFER CUSTOMIZATION OPTIONS WITH FINISHES AND COLORS THAT ARE A STRIKING ALTERNATIVE TO STAINLESS STEEL.
DAZZLING DETAILS
Hardware is often said to be the "jewelry" of cabinetry—a finishing touch that really pulls the design together. Make a statement in unique materials like glass or leather. On the flip side, there is also the option to have no hardware at all (another big trend). This look, which is often referred to as channeled cabinetry, works nicely in modern kitchens.
CAPTIVATING CABINETRY
BY DESIGN
WHAT'S COOKING?
TIPS FOR SPICING UP YOUR KITCHEN
BY ALENA CAPRA
Since the kitchen is the heart of the home, why not show the space some love when updating or building new? As a certified master kitchen and bath designer, I am always keeping up with what's current in the industry. Here are five of the top trends we are seeing in kitchen design for 2023. (alenacapradesigns.com)
BOLD BACKSPLASH
A backsplash really draws your eye in a kitchen. Try going with a full-height backsplash to serve as a continuation of your countertop. Alternately, a tile backsplash can add contrast through color, pattern, or texture. There are so many options when it comes to tile—from shape and size to a wealth of materials like glass, ceramic, metal, natural stone, and porcelain.
Two-tone cabinetry (using a main color for most of the cabinetry and an accent color on the island or base cabinets) is having a moment. Consider playing with textures and finishes, like mixing high-gloss lacquer with matte lacquer or pairing a textured wood grain door with a painted door. You can even use two different door styles, as long as they relate well.
MIXED METALS
Mixed metals have been trending in home design and kitchens are no exception, with options from matte black to black nickel, from brushed brass to matte gold, and beyond. Many plumbing fixtures now come in two-tone finishes too. Think about using one finish for your light fixtures and hardware, and adding a contrasting finish on the faucet and kitchen furnishings such as counter stool accents.
94 FORT LAUDERDALE ILLUSTRATED HOME
TRUE RESIDENTIAL
GOLDENWARM HARDWARE
DARRYL NOBLES
DARRYL NOBLES
561.686.7757 | WWW.SPECIALEVENTRESOURCE.COM | BY APPOINTMENT DREAM WEDDINGS | BESPOKE EVENTS | WORLD CLASS DESIGN
HANG IN THE BALANCE
A gorgeous marriage of form and function, Wildwood's bamboo chandelier ($1,907) offers six-light illumination in a chinoiserie frame. Capitol Lighting, Fort Lauderdale (capitollighting.com)
ELEMENTS
BAMBOOZLED!
IMPART A TONY TASTE OF THE TROPICS WITH DECOR MADE FROM AND INSPIRED BY BAMBOO
BY LIZA GRANT SMITH
UPON REFLECTION
The sophisticated shape and modern detailing of this Two's Company bamboo mirror ($340) make it a glam way to accent an underperforming console.
Liba Style, Miami (libastyle.com)
TABLE MANNERS
Effortlessly chic and fresh, Pomegranate's block-printed napkins ($56 for set of four) feature a geometric bamboo pattern. Mandolin Back House, Miami (mrsmandolin.com)
SIDE GIG
Easily garnering the award for best supporting actor, this bamboo side table ($2,994) by Modern History will be a welcome addition to your interior design cast. Monica James & Co., Miami (monicajames.com)

RIMMING WITH CONFIDENCE
The bamboo trim on Juliska's dinnerware (priced by piece) exudes a casual elegance that can be dressed up or down. Bloomingdale's, Aventura (bloomingdales.com)
STEP OUTSIDE
Alanna Kleiner of Agsia
Design collaborated with SDH Studio on this chill outdoor area with a bamboo wall backdrop. "Our goal for this space was to create a smooth transition between interior and exterior by selecting outdoor furniture pieces that provide an exterior look but are still comfortable and inviting," Kleiner explains. "We chose pieces with a see-through element and neutral colors for the larger items [so as] not to interfere or block the beautiful lake view. We decided to add pops of color to make the space more fun and casual." Miami (agsia.com; sdhstudio.com)
BARREL OF FUN
PASSPORT TO STYLE
Charlotte Moss' travels to Tanzania inspired the hand-painted bamboo trellis pillow ($279) she created in collaboration with Eastern Accents Baer's Furniture locations (baers.com)
An airy take on the traditional barrel chair, the Brody chair ($840) from Made Goods pairs a bamboo frame with a double-rail back and handwoven rattan.
Judith Norman, Hollywood (judithnorman. com)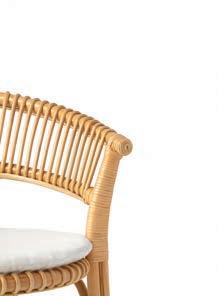 96 FORT LAUDERDALE ILLUSTRATED HOME
PHL SERVICE
SETTING THE STANDARD
Palm Beach Media Group is a renowned publishing company with print publications representing a mix of proprietary titles and custom magazines, along with digital solutions, serving the entire state of Florida and more.
art&culture: Cultural Council for Palm Beach County Time and Treasure: Guide to Better Giving Florida Design Southwest Florida Relocation Guide Florida Design Miami Edition Florida Design Annual Sourcebook
Florida Design Naples Edition Fisher Island Magazine Club Braman Magazine Advances: Tampa General Hospital
Naples on the Gulf: Greater Naples Chamber Waypoints: Naples Yacht Club
Naples Illustrated Naples Charity Register Palm Beach Illustrated Palm Beach Charity Register Naples Realtor Magazine Palm Beach Relocation Guide Vero Beach Magazine The Jewel of Palm Beach: The Mar-a-Lago Club Jupiter Magazine 5th Avenue South: 5th Avenue South Business Improvement District Aventura Magazine Naples 100
Magazine
Community
Fort Lauderdale Illustrated
PALMBEACHMEDIA.COM PUBLISHER OF:
Stuart
Community Report: Collier
Foundation
Palm Beach 100
Pinnacle: Jupiter Medical Center Foundation Vero Beach Magazine: Vero Beach Handbook
INSPIRED LIVING
Off the Walls
WE SPOTLIGHT THREE WAYS TO TRANSFORM AN UNINSPIRED ACCENT WALL INTO A CONVERSATION STARTER
BY LIZA GRANT SMITH
A WALL MURAL 1
Murals create an instant focal point in a space. While wallpaper continues to trend, murals present an opportunity to go bigger and bolder. They can depict everything from florals and botanicals to landscapes and exotic environs, meaning they're an easy and elegant way to bring the outdoors in. In contrast to traditional wallpaper, which offers a seamlessly repeating print, wall murals contain scenes in panels. Adhesion methods, finishes, and sizes vary, so be sure to do your research to ensure you select the best option for your desired result. Visit the West Palm Beach wallpaper showroom of Chelsea Lane and Company to peruse an extensive library of wallpaper murals, including those from Naples-based company Daisy Bennett Designs. (chelsealaneco.com)
98 FORT LAUDERDALE ILLUSTRATED HOME
A LIVING WALL
While people's affinity for biophilic design (which centers around incorporating natural elements into indoor spaces) started well before COVID-19, the quarantine and post-pandemic fallout spurred an uptick in its popularity. A prime example of this is living walls. Once reserved for hotel lobbies and luxe shopping plazas, living walls are now popping up in home interiors. Lindsay Scherr Burgess and her team at Green Wallscapes in West Palm Beach create unique moss art walls without the maintenance— no watering or special lighting are necessary. She offers a variety of styles (like Amazonia and Botanica) and the choice of a subtle neutral palette or a bolder look with succulents and ferns added into the mix. (greenwallscapes.com)
3D WALL PANELS
The idea of 3D wall panels is new to many. Essentially, it involves covering a wall with a decorative material that has three-dimensional surface patterns. These panes create instant dimension and texture in a more minimalistic way. Materials range from wood, metal, and glass to plant fibers and plastic, and aesthetics run the gamut from traditional to contemporary. Depending on your choice of material, many can be primed and painted in just about any hue. In South Florida, Victoria and Emmanuel Soler, the husband and wife behind CSD3DWalls, have been transforming spaces with 3D wall panels since 2016. Their team meets with clients to discuss design and color options as well as lighting and other environmental considerations before the final installation. (csd3dwalls.com)
FORTLAUDERDALEILLUSTRATED.COM | MARCH/APRIL 2023 99
2 3
ESTABLISHED 1987
Unique home accessories, gifts, fabulous clothing, handbags and jewelry.
2118 N.E. 123rd St., North Miami, Florida 33181
(across the bridge from Bal Harbour Shops)
Tel: 305.893.7559
THE ART OF STYLE BUYING
INFORMATION
PAGE 60
Silk veil demi couture dress ($5,545), satin balconette bra ($365), satin laminated gloves ($525), satin laminated boots ($1,025), polished calf skin Sicily bag ($1,595), Dolce & Gabbana, Bal Harbour Shops, Miami Design District, dolcegabbana.com
PAGE 61
Ruffled cape-back caftan gown ($5,290), Oscar de la Renta, Saks Fifth Avenue, Bal Harbour Shops, saksfifthavenue.com
PAGE 62
Asymmetric cutout gown ($3,290), silver cuffs ($350 each), Michael Kors Collection, michaelkors.com; Aveline 100 dove blue sandals with asymmetric grosgrain mesh fascinator bows ($995), Jimmy Choo, Aventura Mall, jimmychoo.com.
PAGE 63
Jersey dress ($1,685), Proenza Schouler, Saks Fifth Avenue, Bal Harbour Shops, saksfifthavenue.com; satin boots (price upon request), Sportmax, sportmax.com
PAGE 64
Coated fantasy tweed jacket ($6,200), coated fantasy tweed skirt ($3,150), metal and strass ring ($700), metal and strass earrings ($1,500), Chanel, Aventura Mall, Miami Design District, chanel.com
PAGE 65
Double-breasted cashmere blazer ($2,090), flare-leg crepe pants ($1,090), Gabriela Hearst, Saks Fifth Avenue, Aventura Mall, saks fifthavenue.com; Valentino Garavani pumps ($920), Valentino, Bal Harbour Shops, Miami Design District, valentino.com; Eos marbled acrylic clutch ($348), Cult Gaia, Saks Fifth Avenue, Bal Harbour Shops, Miami, saksfifthavenue.com
PAGE 66
Dress ($1,950), satin boots (price upon request), Sportmax, sportmax. com
PAGE 67
Corset ($2,790), skirt ($6,290), gloves ($940), boots ($1,890), cuffs ($1,690 each), earrings ($590), Alexander McQueen, Miami Design District, alexandermcqueen.com
PAGE 68
Strapless ruched silk midi-dress ($3,590), Carolina Herrera, Saks Fifth Avenue, Bal Harbour Shops, saksfifthavenue.com; cuff ($1,690), Alexander McQueen, Miami Design District, alexandermcqueen.com
PAGE 69
Pleated gown ($12,500), Valentino, similar styles, Bal Harbour Shops, Miami Design District, valentino.com
100 FORT LAUDERDALE ILLUSTRATED
In Memory Of My Beautiful Mother Susan. Statements will remain open and I will continue our legacy of excellence in fashion and service.
HAVE YOU MADE A STATEMENT LATELY?
SOCIAL STUDIES
SEEN ON THE SCENE IN BROWARD
DINING IN THE DARK
WHO: Lighthouse of Broward WHAT: Dining in the Dark: Fire & Ice presented by the Josephine S. Leiser Foundation WHERE: The Westin Fort Lauderdale Beach Resort
HIGHLIGHTS: Participants raised $175,000 for Lighthouse of Broward, which supports people who are blind or visually impaired.
FORTLAUDERDALEILLUSTRATED.COM | MARCH/APRIL 2023 101
DOWNTOWN PHOTO
MARIANNE FINIZIO, VON FREEMAN, CARMEN MILLER
JULIE GUY, ELLYN DROTZER, TAMARA GANT
VON FREEMAN, BETH AND SCOTT MCCULLOUGH, AMY FREEMAN
KAMARI AND DARIA SYMENS WITH ELVIS
STU STEWART, ELLYN DROTZER, LAURENCE GORE, MARIANNE FINIZIO, VON FREEMAN, CARMEN MILLER
STU STEWART, ELLYN DROTZER, JAMES MONROE
AMERICAN HERITAGE SCHOOL ORCHESTRA STUDENTS, JOSE LOPEZ MASSO, CARLA DULZAIDES, ELLEN WAYS
ROSALIND PERLMUTTER RICK AND TAVA LATTA
DOUGLAS AND TRACY SEATON, CARLA DULZAIDES, JOSE LOPEZ MASSO, DIANE FIORE, LAURENCE GORE
SOCIAL STUDIES
ALL THE WORLD'S A STAGE
WHO: Broward Performing Arts Foundation
WHAT: Annual reception WHERE: Broward Center for the Performing Arts' Au-Rene Theater, Fort Lauderdale HIGHLIGHTS: The foundation kicked off its 2022-2023 performance season, including a performance from the Broadway show Six
102 FORT LAUDERDALE
ILLUSTRATED
LITTLE'S PHOTOGRAPHY
ROBERT LOCHRIE, ANN BURRIS, GEORGE LEMIEUX, LISA KITEI, DEV MOTWANI
SONEET AND PRABODH KAPILA, NANCY BRYANT, JERRY TAYLOR
TOM SCHON, BARBARA WELLS
DEBORAH WENDT, ROBERT KAGAN, BONNIE BARNETT
GEORGE LEMIEUX, LISA KITEI, KELLEY SHANLEY
BARBARA LANDRY, CARYN BOTKNECHT, LAURIE ERMER
HEATHER GERONEMUS, NOREEN SALAH BURPEE, GEORGE TAYLOR
STEVE KALAGHER AND CAROL HARRISON KALAGHER
ROBERT LOCHRIE, CHRIS WELCH, KURT AND PATTY ZIMMERMAN, BROOKE LOCHRIE
JARETT LEVAN, SANDY AND KENNY TATE, SUSAN AND BARRY SOMERSTEIN
NEW GROUND
WHO: Oak Capital and Fortune International Group WHAT: The Ritz-Carlton Residences, Pompano Beach groundbreaking ceremony WHERE: Pompano Beach HIGHLIGHTS: Developers broke ground on the the first Ritz-Carlton residence on Florida's East Coast to offer two distinct towers.
EDUARDO IMERY, LUIS REVUELTA, MAYOR OF POMPANO BEACH REX HARDIN, RICARDO DUNIN, ANA CHRISTINA AND EDGARDO DEFORTUNA, KATHY AND ANDY MITCHELL, BOB MOSS, RON CHORON
KATHY MITCHELL, ANA CRISTINA DEFORTUNA GABRIELA VALLE, JENNIE KING
EDGARDO DEFORTUNA, MAYOR OF POMPANO BEACH REX HARDIN, RICARDO DUNIN, ANDY MITCHELL
JENNIE KING, GRANT LUNDBERG, SIVAN KOSTER, HARVEY DANIELS, CARMEN CASADELLA, EDGARDO DEFORTUNA, ANDRES DEFORTUNA, ANA CRISTINA DEFORTUNA, GABRIELA VALLE
DIEGO FONSECA, SIVAN KOSTER, GRANT LUNDBERG, GABY MENDOZA, HARVEY DANIELS
BOB MOSS, ANDY MITCHELL
AURELIO LEON, BOB MOSS, BRETT ATKINSON
WORLD RED EYE FORTLAUDERDALEILLUSTRATED.COM | MARCH/APRIL 2023 103
HARVEY DANIELS, JENNIE KING
PARTING SHOT
KEEP ON TRUCKIN'
Nothing has the power to bring people together quite like food. Whether you're a glorified foodie or you simply enjoy trying out new flavors, a must-not-miss local gathering is Food in Motion at Fort Lauderdale's Peter Feldman Park. Taking place the second Friday of each month (next up are March 10 and April 14), Food in Motion offers a diverse array of cuisines for the ultimate picnic under the stars. Choose from dozens of food trucks hawking everything from Mozz Arepas' namesake freshly made arepas and Pepeye's Hey Babe! barbecue grilled cheese sandos to Icestacy's handmade Italian ices and Pink Love's doughnuts, plus so much more. Live music, local makers selling artisan goods, and a farmer's market round out this food-forward event. (@flaglerfoodinmotion) —Melissa Puppo
104 FORT LAUDERDALE ILLUSTRATED
CEEBZ GERARD
Location:
Ft. Lauderdale
3471 North Federal Highway #202 Ft. Lauderdale, FL 33306
Phone: 954.799.5559
Hours: Mon-Thurs: 8:30am – 5:00pm; Fri: 8:30am – 4:00pm
Services:
Allergy and Sinus Disorders
Ear and Hearing Care
Airway, Swallow and Voice Disorders
Head and Neck Disorders
Sleep Testing and Treatment
FOLLOW US ON SOCIAL MEDIA
southfloridaent southfloridaentassociates
Schedule Appointments Online
It's easy at SouthFloridaENT.com or scan this code on your smartphone.
Your Trusted Ear, Nose & Throat
Provider
Kendall L. Han MD, FACS
Travis L. Lewis MD
DO • General Ear, Nose & Throat Care • Sinus & Allergy Care • Hearing Aid Services Copyright © 2022 South Florida ENT Associates. All rights reserved. 870 816 1 BAYVIEW DR. Coral Ridge Country Club
Sabine V. Hesse MD, FACS Meghan Brooking