INTO THE WILD CAPTURING CONSERVATION IN THE EVERGLADES
EARTH ANGELS
SUSTAINABLE SWAPS TO SAVE THE PLANET
GOING GREEN
+
ECO ART
A MIAMI MURALIST TAKES FOUND ITEMS FROM TRASH TO TREASURE
Luca Martinez
Aventura: 305.931.9484 Coral Gables: 305.774.0004 Doral: 305.639.9969 Brazil 25 Locations artefacto.com @artefactomiami UNIT 17A | 2000OCEAN.COM DESIGNED BY @MOTHEDESIGN
LUXURY FURNISHINGS TURNKEY RESIDENCES HOME STAGING
50 ANDREA LORENA, @FUJIFILMGIRL Tips, tricks, and simple swaps you can use to integrate sustainable practices into your day-to-day life. 2 AVENTURA MAGAZINE CONTENTS AUGUST 2023 | AVENTURAMAGAZINE.COM FOR THE LATEST IN ALL THINGS LUXURY FEATURES 40 DEEP FOCUS Photographer Luca Martinez tells the story of the Everglades through a new lens By Kristen Desmond LeFevre 50 EARTH FIRST Our guide to saving the planet, one small change at a time By Jess Swanson 60 EN PLEIN AIR Eco-chic vibes drive the design of an outdoor oasis in South Miami By
Altman-Yee
Riki

An invitation to Style, Functionality and Elegance. alfredo leon ABITAR DESIGN GROUP LLC www.alfredoleon.net • (754) 234 0871 • alfredoleon63@aol.com MIAMI • FT. LAUDERDALE • PALM BEACH
CONTENTS
DEPARTMENTS
10 FROM THE EDITOR AVENTURIST
13 SPOTLIGHT
Miami artist David Anasagasti (aka Ahol Sniffs Glue) turns trash into treasure
16 ECO-CHIC
On the court or in your closet, three ways to shop local and stay sustainably stylish
18 PROFILE
Mike Lloret is taking a bite out of the American crocodile's threatened species status at Florida Power & Light's Turkey Point nuclear power plant
20 ANIMAL INSTINCTS
Four spots to see (and help save) threatened wildlife in the Magic City
22 LIVING WITH IVEY
Unlock the health benefits of produce by eating the rainbow
STYLE
25 THE LOOK
Chic destination collabs, plus finds that channel understated elegance
28 THE EDIT
Our favorite office essentials
30 JEWELRY BOX
Sparkle and shine in August's primary birthstone, peridot
32 BEAUTY
Summer's must-have hair care heroes
33 GOOD NATURE
Embrace a slow and intentional mindset
JOURNEYS
35 WANDERLUST
Smooth sailing aboard The Ritz-Carlton Yacht Collection's Evrima
38 HIGH ROAD
Mercedes' all-electric EQS 580 SUV
SIP & SAVOR
69 OPENINGS
Once a New York-only mainstay, Pastis brings its iconic French bistro vibes to Wynwood
70 LOCAL BITES
Six sandwiches to crave now, Sexy Fish Miami rolls out new cocktails and tasting menus, a trio of must-try dishes at Tablé by Bachour, and a cocktail recipe made with sustainably minded gin
X 77
74 MINDFUL MIXOLOGIST
Beat the extreme summer heat with a papaya-forward blended cocktail
HOME
77 INTERIORS
Art inspires the design of a condo at The St. Regis Bal Harbour
78 BY DESIGN
Tracking the top trends in tile
80 ELEMENTS
Brighten your decor with selections for stylish sunrooms
SOCIAL STUDIES
83 SEEN ON THE SCENE
Pics from Miami's most fabulous events
LAST LOOK
88 WINDS OF CHANGE
A Coral Gables firm designs the future of eco-friendly power
EMILIO COLLAVINO
JOSHUA PEREZ
4 AVENTURA MAGAZINE
ON THE COVER: PHOTOGRAPHER & MODEL: LUCA MARTINEZ LOCATION: EVERGLADES NATIONAL PARK 69
PRODUCT SHOWN: YOLONDA SECTIONAL
PRODUCT SHOWN: MANCHESTER BEDROOM SET
AVE
33020
(754)703-5225
3600B N 29TH
HOLLYWOOD FL
T:
Editorial Director
Daphne Nikolopoulos
Editor in Chief
Kristen Desmond LeFevre
Creative Director
Olga M. Gustine
Executive Editor
Mary Murray
Fashion Editor
Katherine Lande
Automotive Editor
Howard Walker
Travel Editor
Paul Rubio
Web Editor
Abigail Duffy
DESIGN
Art Directors
Airielle Farley, Ashley Meyer, Jenny Fernandez-Prieto
Digital Imaging Specialist
Leonor Alvarez-Maza
CONTRIBUTING EDITOR
Allison Wolfe Reckson
CONTRIBUTING WRITERS
Riki Altman-Yee, Jules Aron, Alena Capra, Tammy Fender, Ivey Leidy, Christiana Lilly, Jesse Scott, Liza Grant Smith, Jess Swanson
CONTRIBUTING PHOTOGRAPHERS
Steven Brooks, Nathan Coe, Luca Martinez
SUBSCRIPTIONS
800-308-7346
6 AVENTURA MAGAZINE Russ Kodner, G.G., AAA CALL NOW FOR YOUR FREE EVALUATION KODNER GALLERIES 45 South Federal Highway Dania Beach, FL 33004 954.925.2550 www.kodner.com Highest prices paid for your Jewelry, Diamonds, Watches and Modern Art.
Published by Palm Beach Media Group North, LLC, P.O. Box 3344, Palm Beach, FL 33480, 561-659-0210 • Fax: 561-659-1736 Aventura magazine is a registered trademark of Palm Beach Media Group North, LLC • Corporate Headquarters: P.O. Box 3344, Palm Beach, FL 33480 aventuramagazine.com FOLLOW US
ID & DESIGN INTERNATIONAL FINAL DESIGN 05.02.2023 JEWELRY & FINE RETAIL AREA OPTION 1 226A Worth Avenue Palm Beach, FL 561-833-0550 PROVIDENTJEWELRY.COM I PROVIDENTFINEART.COM Moving to NEW Location Fall 2023 EXPERIENCE THE ULTIMATE LUXURY DESTINATION
AREAS OF PRACTICE
Publisher Terry Duffy
ADVERTISING
National Accounts Manager
Deidre Wade, dwade@palmbeachmedia.com
Account Managers
Alex Bari, abari@aventuramagazine.com
Sima Kohen, skohen@aventuramagazine.com
Libby Lekach Roffe, lroffe@aventuramagazine.com
Digital Account Manager
Ryan Hollihan, rhollihan@aventuramagazine.com
Advertising Services Coordinator
Elizabeth Hackney
Marketing Manager
Rebecca Desir
PRODUCTION
Production Director
Selene M. Ceballo
Production Manager
Lourdes Linares
Digital Pre-Press Specialist
George Davis
Advertising Design Coordinator
Jeffrey Rey
Production Coordinators
Ileana Caban, Anaely J. Perez Vargas
Digital Marketing Manager
Tyler Sansone
OPERATIONS
Chief Operating Officer
Todd Schmidt
Office Manager
Tanya Gomez
Accounts Receivable Specialist
Ana Coronel
Distribution Manager
Judy Heflin
Logistics Manager
Omar Morales
Circulation Manager
Marjorie Leiva
Circulation Assistant
Britney Stinson
Circulation Promotions Manager
David Supple
IT Manager
Keith Gonzalez
SUBSCRIPTIONS
800-308-7346
In Memoriam Ronald J. Woods (1935-2013)
HOUR MEDIA, LLC
CEO Stefan Wanczyk
President John Balardo
8 AVENTURA MAGAZINE
PUBLISHERS OF: Palm Beach Illustrated • Naples Illustrated • Fort Lauderdale Illustrated • Palm Beach Charity Register • Naples Charity Register • Florida Design • Florida Design Naples Florida Design Miami • Florida Design Sourcebook • Palm Beach Relocation Guide Southwest Florida Relocation Guide • Fifth Avenue South • Palm Beach 100 • Naples 100 Art & Culture: Cultural Council for Palm Beach County • Pinnacle: Jupiter Medical Center Foundation • Waypoints: Naples Yacht Club • Naples on the Gulf: Greater Naples Chamber Jupiter • Stuart • Aventura • Vero Beach Magazine • Community Report: Collier Community Foundation • Advances: Tampa General Hospital • Naples Realtor: Naples Area Board of REALTORS • Official XII FIP World Polo Championship Magazine
• EMPLOYMENT-BASED VISAS • INVESTMENT VISAS • EXTRAORDINARY ABILITIES VISAS • LABOR CERTIFICATION • STUDENT VISAS • FAMILY BASED VISAS/ ADJUSTMENTS • ASYLUMS • NATURALIZATIONS • DETENTION AND REMOVAL • VICTIMS OF DOMESTIC VIOLENCE • VISAS FOR CRIMINAL ACTS WITNESS • AUTOMOBILE ACCIDENTS • SLIP/ FALL INCIDENTS • PRODUCTS LIABILITY • PRE/POSTNUPTIAL AGREEMENTS • DIVORCES • PATERNITY/ CUSTODY • CHILD SUPPORT/ ALIMONY IMMIGRATION PERSONAL INJURY FAMILY LAW ELIZABETH AMARAN, ESQ. ATTORNEY AT LAW FREE CONSULTATION Payment Plans Available (305) 931.3500 ELIZABETH AMARAN, ESQ. Aventura View 2999 NE 191st Street Suite 704 Aventura, FL 33180 *HIRING AN ATTORNEY IS AN IMPORTANT DECISION AND SHOULD NOT BE BASED SOLELY ON ADVERTISEMENT. BEFORE YOU MAKE A DECISION, REQUEST FREE WRITTEN INFORMATION ABOUT OUR QUALIFICATIONS AND EXPERIENCE. •EMPLOYMENT-BASEDVISASINVESTMENTVISAS•EXTRAORDINARYABILITIESVISAS •LABORCERTIFICATION•STUDENTVISAS•FAMILYBASEDVISAS/ADJUSTMENTS •ASYLUMS•NATURALIZATIONS•DETENTIONANDREMOVAL•VICTIMSOFDOMESTIC VIOLENCE•VISASFORCRIMINALACTSWITNESS•AUTOMOBILEACCIDENTS •SLIP/FALLINCIDENTS•PRODUCTSLIABILITY•PRE/POSTNUPTIALAGREEMENTS •DIVORCES•PATERNITY/CUSTODY•CHILDSUPPORT/ALIMONY•ENFORCEMENTACTIONS We Speak English Spanish Russian
18801 NE 29 Ave. Aventura, FL 33180 OPEN MON. - FRI. (9AM-5PM) www.aventuradermatology.com BERTHA BAUM, DO Board Certified Dermatologist Book Online in Seconds! BeforeAfter 754-544-9030 Hablamos Español! WHERE ART MEETS SCIENCE
XEDITOR'S PICKS
GAME ON
Whether you're playing poolside or beating the heat indoors this summer, unplugged gaming with family and friends is as chic as it gets with Jonathan Adler's botanyinspired backgammon set featuring Mother Nature's flights of fancy (page 80).
Getting the GREEN LIGHT
Sustainability isn't a new conversation—but it's perhaps more critical than ever. In this green-themed issue of Aventura, we're bringing you the stories of local folks working to keep eco-consciousness trending in our daily dialogue.
Nuclear power plants might not spring to mind when you think of places playing a key role in wildlife conservation. But Mike Lloret, a biologist with Florida Power & Light's Crocodile Management Program, says Homestead's Turkey Point has given the American crocodile a haven, helping to shift the species' status from "endangered" to "threatened." Don't miss Jess Swanson's profile of Lloret in "Croc 'N' Roll" on page 18.
You can't visit the crocs that Lloret works with. But turn to page 20 for "Where the Wild Things Are." Jesse Scott details four Magic City spots where you can see (and even help save) endangered local wildlife—from exotic species like tigers and lemurs to Florida's native animals like alligators and panthers.
But where the wild things truly live here in Miami-Dade County is the Everglades—and 18-year-old photographer Luca Martinez wants you to see the river of grass with new eyes. Through his viral videos and stunning still images posted to social media, Martinez is introducing millions to the rarely experienced beauty of the Everglades. Turn to "Deep Focus" on page 40 to see his striking pictures and read about his mission to swap the swamp narrative and influence local youth to connect to this remarkable local landscape.
As residents of a key coastal city, Miamians know first-hand the threat of rising waters, climate change, and other eco-woes. Even still, incorporating Earth-friendly practices into our everyday routines can be cumbersome. That's why we're making it easier to go green in "Earth First" starting on page 50—offering a wealth of doable ways to make eco-conscious choices at home, on your plate, in your wardrobe, on the road, and beyond.
I hope this month's issue will inspire you to keep the sustainability conversation going and make saving the Earth plan A (because there is no Planet B).
IN THE BAG
Make the choice to be sartorially sustainable (and support a local business) with bags from Piper & Skye.
The Coral Gables–based brand makes all its leather goods using skins that have been humanely harvested from invasive or overpopulated species—including the pirarucu used in this cobalt blue Lola crossbody bag (page 16).
Kristen Desmond LeFevre klefevre@aventuramagazine.com
10 AVENTURA MAGAZINE FROM THE EDITOR
CAPEHART
Smile Design
Veneers
Reach your smile goals in one visit - no more waiting! Discover a symmetrical, natural-looking brighter and whiter smile with our transformational tooth orientation technique.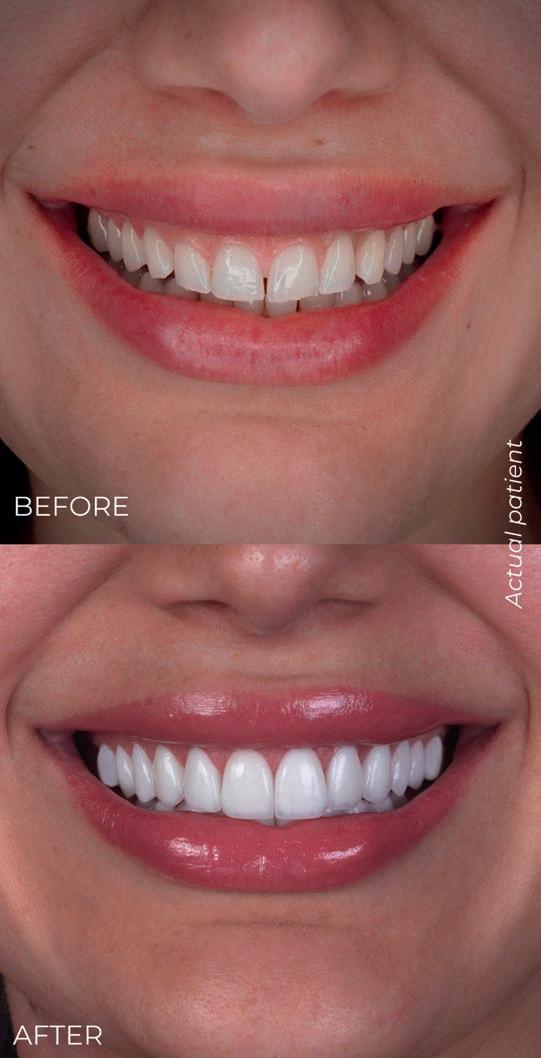 Smile with confidence!
Gingivectomy
Natural-looking, bright, and symmetrical smile in just one-visit.
Natural-Looking results!
Invisalign
High-precision gum trimming for a more symmetrical and harmonious smile.
Get a symmetrical smile!
Implants
No more hiding your beautiful smile, no more feeling self-conscious about missing teeth - our tooth implants are here to save the day.
Impress with your smile!
Miami - Orlando SCAN ME 786-751-6088
andreinajativa
SPOTLIGHT
Found ART
A refrigerator, milk jug, barrels, an umbrella— David Anasagasti (better known as graffiti artist Ahol Sniffs Glue) doesn't know what his next "canvas" will be until he sees it. He hits the streets of the Magic City on his bike each day, armed with spray cans, markers, stickers, a Bluetooth speaker, and a joint in search of his next piece on which to quickly paint his signature drowsy eyes. "I keep my brain sizzling all the time," he says. "If I come across something that's interesting, I'll see if I can work with it." Turn the page to follow along on Anasagasti's journey through what he calls his "Geographies of Trash."
—Christiana Lilly
AVENTURIST
THE INSIDE TRACK TO ALL THINGS NEW AND NOW IN MIAMI-DADE
AUGUST 2023 13
Found Art
CONTINUED
For nearly three years, Anasagasti has logged 10 to 15 miles a day on his bike, wandering through spots like Key Biscayne, Miami Beach, downtown, Overtown, and Cutler Ridge in search of inspiration. The less planned the better. When he's completed a new piece, he snaps a photo, uploads it to social media and Discord, and waits for followers to make their way to the location to claim the piece as their own—for free. Aventura caught up with Anasagasti to talk about making art eco-friendly and accessible to the masses. (aholsniffsglue.com)
X
AVENTURA: HOW DID YOU GET STARTED WORKING WITH FOUND ART?
Anasagasti: As somebody who isn't formally trained or didn't go to any specific schooling for art or whatever, I'm kind of like a "by any means necessary" type of dude. WHAT DRAWS YOU TO YOUR NEXT CANVAS?
When I'm out on the bike, the weirder the stuff the cooler it is for me. If it's between a cardboard box and a refrigerator, I'm going to paint the refrigerator. The more interesting the actual surface, the more of an interesting piece that it makes. When I take the picture, I try to make it as well composed as possible so it looks like a dope picture. I don't just stop at every single piece of trash; I'm trying my hardest to curate it as I go to paint the most interesting piece possible. HOW DOES YOUR BIKE PLAY INTO THE PROCESS?
For me, it's [about getting] the ride in and painting on the trash is the bonus. Keeping
No
PHOTOS BY LLXMIA
the people guessing, keeping the project as gamified and fair as possible is my objective. And also letting go—encouraging people to do what they want with the trash. YOU OFFER SOME ART AS NFTS. TELL US ABOUT THAT.
There's something new at the Kaseya Center, and it's not just the arena's name. It's NDO H2O, the newly crowned official water for the home of the Miami Heat. Creator Manning Sumner (best known for his Legacy gyms and personal training sessions with top athletes) wanted to produce a premium water and package it in a sustainable way. "It had to be something that wouldn't harm the environment but also not harm our bodies," he explains. For almost two years, Sumner worked to create a seven-step purification process and develop a proprietary blend of minerals to create NDO H2O. He named the water for "no days off," a mantra he uses in his personal life and his fitness practice. The canned water is available on Amazon and in more than 200 stores across Florida. (drinkndo.com)
14 AVENTURA MAGAZINE AVENTURIST
Artist David Anasagasti (Ahol Sniffs Glue) rides his bike through Miami-Dade County in search of found items that can be repurposed from trash into art.
There's just so many different ways to play around with stuff and make things that will live forever on the blockchain. Not everything has to be the currency upfront. [It's about] making work that is memorable and is going to be something that withstands the test of time. «
Days Off
ROMAN RAMIREZ
5 Bedrooms / 4.5 Bathrooms / 4,138 SF OFFERED AT $3,499,000 18101 COLLINS AVE #1404, SUNNY ISLES BEACH TRUMP TOWER 2 Bedrooms / 2.5 Bathrooms / 1,348 SF OFFERED AT $1,750,000 319 HOLIDAY DR, HALLANDALE BEACH GOLDEN ISLES VACANT LOT / 12,750 SF LOT 3415 N OCEAN DR, APT 405, HOLLYWOOD POSITANO BEACH 3 Bedrooms / 2.5 Bathrooms / 4,485 SF ©2023 BHH Affiliates, LLC. An independently operated subsidiary of HomeServices of America, Inc., a Berkshire Hathaway affiliate, and a franchisee of BHH Affiliates, LLC. Berkshire Hathaway HomeServices and the Berkshire Hathaway HomeServices symbol are registered service marks of Columbia Insurance Company, a Berkshire Hathaway affiliate. Equal Housing Opportunity. VISIT MY WEBSITE SELLING OR BUYING? Call Scott ! 27 OF EXPERIENCE OVER YEARS BILLION IN CLOSED SALES NEARLY A EXPOSURE LOCAL & INTERNATIONAL SOLD $2,690,000 1120 HATTERAS LANE, HOLLYWOOD NEWLISTING HARBOR ISLANDS 150 FT 85 FT SOLD $1,650,000
ECO-CHIC GREEN SCENE
THESE THREE FASHION BRANDS DON'T JUST TALK THE TALK WHEN IT COMES TO SUSTAINABILITY—THEY SHOWCASE IT IN EACH AND EVERY PIECE THEY SELL
BY CHRISTIANA LILLY
SERVING SUSTAINABILITY
WHEN METEOROLOGIST-TURNEDENTREPRENEUR JACKIE MERETSKY WANTED TO CREATE A SUSTAINABLE TENNIS APPAREL LINE, SHE HAD HER WORK CUT OUT FOR HER. "I MADE THAT DECISION REALLY WITHOUT KNOWING JUST HOW CHALLENGING AND EXPENSIVE IT IS," MERETSKY SAYS. BUT SHE FOUND A WINNER: ALL OF HER JGAME GARMENTS ARE MADE WITH RECYCLED POLYESTER FROM WATER BOTTLES, AND EVERYTHING FROM THE BRAND IS MADE IN NEW YORK'S GARMENT DISTRICT UNDER ETHICAL WORKING CONDITIONS. "I DON'T THINK YOU CAN REALLY SEPARATE HAVING AN ETHICAL BUSINESS FROM A SUSTAINABLE BUSINESS," SHE SAYS. MERETSKY'S HARD WORK HAS CAUGHT ON: CANADIAN TENNIS PLAYER GABY DABROWSKI WORE JGAME WHILE PLAYING IN WIMBLEDON IN 2022. MERETSKY, WHO SPLITS HER TIME BETWEEN THE BIG APPLE AND MIAMI, IS ALSO PARTNERING WITH FIRST SERVE MIAMI, PROVIDING HER ACTIVEWEAR TO KIDS WHO LACK RESOURCES TO COMPETE IN THE GAME. (JGAMENYC.COM)
SHOP FOR GOOD
For fashionphiles supporting sustainable brands, there's The Canvas in Wynwood (not to be confused with nearby Canvas MIA). The new 5,000-square-foot concept store boasts upcycled clothing and accessories, vintage pieces, and new eco-friendly finds. "It has to start with the design," says Devin Giomartin, CEO and founder of The Canvas. "If you are designing something, it doesn't matter how sustainable it is if it's not a good product. You just put something into the world that's not going to have a home and it's going to end up in a landfill." The Sunshine State outpost follows five New York locations of The Canvas. This branch features Miami-centric looks from Clandestina, Aline Yaneli, Sandrine B. Jewelry, A Line of Kope, Argot Swim, Lovyt, and Zellerfeld. More than 300 companies are on the waiting list to have their goods sold at The Canvas, and all must comply with at least two of the 17 United Nations Sustainable Development Goals. (thecanvas.global)
SKIN IN THE GAME
At 10 feet long and weighing around 500 pounds, the South American pirarucu is one of the largest freshwater fish in the world—and it is the inspiration for a new line of leather goods from Coral Gables–based Piper & Skye. Joanna MacDonald founded the brand with a mission to create handbags using leather from only invasive or overpopulated species (including pirarucu and American alligator). To further Piper & Skye's eco-mission, all the skins sourced for its collection—ranging from cardholders to duffle bags—are humanely and legally harvested by suppliers who align with the brand's goals of human rights, fair wages, and reducing the use of hazardous chemicals. When it comes to how she leads her company, MacDonald cites this quote from her grandfather:"'Business is not about numbers; it's about people and relationships.' I extend that even further from people to planet. It's organically built into my nature to care." (piperandskye.com)
3 16 AVENTURA MAGAZINE AVENTURIST
1 2
CROC 'N' ROLL
WILDLIFE BIOLOGIST MIKE LLORET AND FLORIDA POWER & LIGHT GIVE CROCODILE CONSERVATION NEW ENERGY
BY JESS SWANSON
Florida Power & Light's (FPL) Turkey Point nuclear power plant in Homestead has been credited with supplying the region with electricity for 50 years. It's an enduring feat that can sometimes overshadow the utility site's decades-long legacy in wildlife conservation. Since the Crocodile Management Program at Turkey Point was established in 1978, the number of American crocodile nests documented across FPL's 11,000 acres has grown exponentially, from one or two in those early years to 33 in 2022.
"The American crocodile was downgraded on the endangered species list from 'completely endangered' to 'threatened' in 2007 in large part to the conservation work that we do here at Turkey Point," explains Mike Lloret, a wildlife biologist at FPL who specializes in crocodiles. "This is just a reflection of FPL and their investment in environmental stewardship. Large corporations taking care of the environment—it's conservation of the future."
Lloret has worked with FPL for more than five years, but his fascination with local wildlife dates back to his childhood. As a kid, he
spent his days exploring South Florida's canals with his grandfather, studying the diversity of the fish, birds, and reptiles they encountered. Of all the area's wild creatures, Lloret says he is especially drawn to crocodiles, which can only be found nationally in South Florida (owing to the species' aversion to cold weather).
"They're so misunderstood, underappreciated, and often overlooked," he says of the scaly vertebrates. "The numbers are completely stacked against them. However, when they hatch, they already know how to hunt and swim. They're evolutionarily wired to survive."
A nuclear power plant might seem like an unlikely site for wildlife conservation. But the vast majority of Turkey Point's property consists of undeveloped freshwater wetlands that are inhabited by more than 60 species, including 17 on the endangered list. The 168-linearmile cooling canal system that removes heat produced by the plant has become an
unexpected sanctuary for crocodiles, perhaps because it's free of some of the species' biggest threats (think: development, road collisions, and flooding). The area's elevated and maintained berms have proven to be an ideal nesting habitat for the cold-blooded reptiles, too.
"There's no big fenced-in area," Lloret says. "The crocodiles can come and go as they please, whether it's walking or swimming."
Lloret is part of FPL's Environmental Services team that oversees everything from conducting adult crocodile counts to water sampling the cooling canals to clearing nesting sites of overgrown vegetation. But crocodiles aren't the only species he encounters.
"We're dealing with all different types of calls, whether it's relocating rattlesnakes [or] removing invasive species like Burmese pythons and tegus," Lloret says. "There's no average day. Every day is different, and that's the beauty of it." «
18 AVENTURA MAGAZINE AVENTURIST PROFILE
Wildlife biologist Mike Lloret works on FPL's Croc Team at Turkey Point nuclear power plant. The surrounding property is a protected habitat for the American crocodile, helping to pull the native species back from endangered status.
SARA LUDMIR (786) 256-0817 sara.ludmir@floridamoves.com | SaraLudmir.com ENGLISH/ESPAÑOL LIST WITH ME TO SELL IT NOW I SHOWCASE YOUR HOME TO STAND APART FROM THE COMPETITION Representing the Top 2% of Coldwell Banker® Agents Worldwide 20 Years' Experience Selling Locally Hamptons West # TW7 | 3 BR, 2.5 BA | Spectacular views | 10 Ft. ceilings | $995,000 #1708 | 3 BR, 2.5 BA | Gorgeous Ocean & Intracoastal views | $950,000 #PH10 | 2 BR, 2 BA | Ocean Views from every room | 10 Ft. ceilings | * $675,000 Bonavista # PH4 | 1BR+Den, 1.5 BA | Breathtaking views Fully remodeled | Easy to reconvert to a 2 BR, 2 BA | $375,000 Aventura Isles | 724 NE 191 St | Largest 4 BR, 2.5 BA model Beautiful vaulted ceilings | Private backyard | $795,000 Mystic Pointe T 500 # 3009 | 3 BR, 2 BA | Incredible views Nicely remodeled | Under contract in 21 days | $640,000 Hamptons West # PH14 | Large 2 BR, 2 BA Highest price per square foot ever sold in The Hamptons | Sold for $1,075,000 BREAKINGRECORDSALE NEWCALLFOR PRICE! *CALLFOR NEWPRICE! PENDING PENDING
ANIMAL INSTINCTS
1
HARBOR SEABIRD STATION
Where the Wild Things Are
THESE FOUR ORGANIZATIONS ARE WORKING TO PRESERVE, PROTECT, AND REHABILITATE MIAMI'S THREATENED AND ENDANGERED WILDLIFE
BY JESSE SCOTT
X 2
Located in South Miami, the Zoological Wildlife Foundation (ZWF) and its efforts to educate locals and visitors alike on endangered animals date back to 2000. It was then that Mario and Maria Tabraue, a CubanAmerican couple, first met and subsequently opened their five-acre zoo. Today, the space is as interactive as it gets, with opportunities to feed camels, toucans, lemurs, and other animals that have been rescued from inhumane habitats—many of which were born in captivity.
Reservation-only tours are held daily. If you fall in love with a critter during your visit, the nonprofit offers a unique opportunity for individuals and businesses to "adopt" that animal, enabling you and a guest to have an up-close encounter with your owl, lemur, or otter (and more) up to 50 times. Sure, the animal
will continue to live at ZWF in order to receive appropriate care, but talk about a cool way to make a longtime friend. (zoologicalwildlife foundation.com)
We've all seen those long-beaked brown pelicans floating above Biscayne Bay waiting to scoop up a fish. The species' vitality in our region can be thanked, in part, to Pelican Harbor Seabird Station (PHSS). Tucked just north of the JFK Causeway in Miami, this nonprofit specializes in the rehabilitation and placement of brown pelicans and other birds, reptiles, and mammals. Since its founding in 1980, PHSS has treated more than 41,000 individual animals, including 300 species of birds.
Miamians who encounter an injured animal can turn to PHSS for help. The organization offers a safe facility to drop off an animal in need, 24 hours a day, 365 days a year.
Looking to help PHSS' cause? Volunteers 18 and older are actively needed to feed its resident animal patients and keep their living quarters tidy. You can also support PHSS (and learn more about our local wildlife) on one of its two-hour seabird cruises on Biscayne Bay offered twice a month. During the cruise, you'll hear all about Miami's marine ecosystem and get up close and personal with the mangroves of Bird Key, which is home to nearly three dozen bird species, from egrets to cormorants and, of course, pelicans. (pelicanharbor.org)
20 AVENTURA MAGAZINE AVENTURIST
PELICAN
ZOOLOGICAL WILDLIFE FOUNDATION
Last year, Everglades Outpost Wildlife Sanctuary (EOWS) celebrated its thirtieth year of serving Florida's wild and endangered animals. The Homesteadbased organization is now the Sunshine State's largest nonprofit alligator sanctuary, housing more than 200 gators that would otherwise be euthanized. All the animals at EOWS have been confiscated from illegal situations by either the U.S. Department of Agriculture or the Federal Wildlife Commission, or they were surrendered at the sanctuary. A true animal-lover's paradise, EOWS houses a diverse array of species, including tigers, possums, foxes, panthers, lemurs, zebras, camels, and more.
The operation is run by volunteers who give
guided tours, present wildlife shows, and feed the animals—which is no small task, considering that EOWS rescues more than 1,000 animals annually and uses more than 50,000 pounds of meat and 12,000 pounds of hay to feed the critters in its care. Wildlife tours are bookable by appointment Mondays through Thursdays. Or opt for walk-up tickets on weekends from 10 a.m. to 5 p.m. (everglades outpost.org)
FLAMINGO GARDENS
Davie's Flamingo Gardens is more than just a pink-feathered paradise. Its 60-acre grounds are home to one of the oldest botanical gardens in the state, dating back to 1927. Among its standout flora are 18 Florida Champion trees, including the largest tree in the state. Travel back in time at the circa-1933 Wray Home Museum and pay homage to the site's founders, Floyd and Jane Wray.
The top draw, however, is the wildlife. Opened in 1990, Flamingo Gardens' wildlife sanctuary offers a variety of experiences, including the namesake flamingo pond; an American crocodile habitat; a 25,000-square-foot aviary
4
filled with more than 250 birds; a center devoted to birds of prey like owls, vultures, and hawks; a turtle walk; a river otter pool; habitats for panthers and bobcats; and a black bear exhibit where the 600-pound Josh the Bear saunters about (you can even book a date with him for a fee).
No animal is turned away, a fact that's evident in Flamingo Gardens' statistics: The nonprofit rescued and rehabilitated nearly 600 animals last year alone. (flamingogardens.org)
X
AUGUST 2023 21
3
EVERGLADES OUTPOST WILDLIFE SANCTUARY
LIVING WITH IVEY
EAT THE RAINBOW
COLOR IS KEY TO UNLOCKING THE HEALTH BENEFITS OF PRODUCE
BY IVEY LEIDY PHOTOGRAPHY BY NATHAN COE
Growing up, my mother always used to tell me that the richer in color a fruit or vegetable is, the healthier it is. The phytonutrients that pack produce with specific vitamins, minerals, fiber, and antioxidants also determine their color and benefits. And when it comes to boosting immunity, fighting inflammation, supporting detoxification, and preventing disease, having a variety of color in your diet is more beneficial than any pill or supplement. Read on to discover a rainbow of foods that could be your key to improved health.
RED
FOODS: tomatoes, beets, radishes, cherries, strawberries, red peppers, watermelon
BENEFITS: Support heart health, fight inflammation, regulate hormones, and boost skin health. Foods like tomatoes and watermelon contain the powerful antioxidant lycopene, which can decrease one's risk of developing certain types of cancer.
ORANGE AND YELLOW
FOODS: orange peppers, sweet potatoes, pumpkin, oranges, peaches, mango, papaya, persimmons, carrots (raw carrots help to rid the body of excess estrogen)
BENEFITS: Rich in alpha- and beta-carotene, antioxidants that boost bone and eye health and help balance hormones.
GREEN
FOODS: broccoli, kale, spinach, leafy greens, watercress, parsley, arugula
BENEFITS: Rich in vitamin K to support blood health as well as compounds like chlorophyll to help detoxify the body. This is especially true of cruciferous vegetables.
BLUE AND PURPLE
FOODS: blueberries, blackberries, grapes, figs, purple carrots, eggplant
BENEFITS: Rich in antioxidants that boost brain function and regulate blood sugar.
WHITE AND BROWN
FOODS: cauliflower, garlic, onions, mushrooms, potatoes, parsnips, daikon radish, jicama
BENEFITS: Boost gut health and are antibacterial and antimicrobial, preventing infection and chronic disease.
X X X X X
SMART SWAPS
Kale or spinach: Dark leafy greens pack in far higher amounts of vitamin C, potassium, vitamin K, and calcium than less pigmented greens. Opt for darker greens instead of iceberg or romaine when making your next salad.
Rainbow carrots: Although orange car-
rots are beneficial in and of themselves, try rainbow next time for the extra antioxidants like lycopene and anthocyanin present in purple carrots.
22 AVENTURA MAGAZINE AVENTURIST
DRESS COURTESY OF HIVE FOR HER
RAINBOW SALAD WITH THAI VINAIGRETTE
INGREDIENTS
2 cups kale, chopped
3 rainbow carrots
1 red onion
RAINBOW SMOOTHIE
Sweet potato fries: Instead of traditional french fries, go for sweet potato fries and get a huge uptick in vitamin A (the natural retinol for healthy skin).
healthy skin).
Cauliflower rice:
In lieu of white rice, buy your cauliflower pre-riced or rice a whole head to boost your fiber and nutrient intake. Another tip: Add cauliflower to your smoothies. They won't taste like cauliflower, but they will be extra creamy and packed with vitamin C and fiber.
1 radish
1 red pepper
1 cup cherry tomatoes
1/4 cup parsley
1 avocado
THAI VINAIGRETTE INGREDIENTS
2 tbsp. lime juice (from about 1/2 lime)
2 tbsp. rice wine vinegar
2 tbsp. almond butter
1 tbsp. coconut aminos
1 garlic clove, grated
1 tsp. fresh ginger, grated
3 tbsp. toasted sesame oil
» To make the vinaigrette, whisk together all ingredients except toasted sesame oil. Add in sesame oil slowly and gradually while whisking to emulsify. Set aside.
» Massage kale with hands to soften. Peel carrots into long strips. Thinly slice the red onion, radish, and red pepper. Halve the cherry tomatoes. Wash and chop the parsley. Combine all prepared ingredients in a large serving bowl or platter and drizzle with the vinaigrette.
»
INGREDIENTS
Red Layer
1/4 cup frozen raspberries
1/4 cup frozen strawberries
1/4 cup coconut water
Yellow Layer
1/4 cup frozen mango
1/4 cup frozen pineapple
1/4 cup unsweetened almond milk
» Blend ingredients for each layer separately. Place each layer carefully and equally in a tall glass using a spoon until your rainbow appears.
Green Layer
1/4 cup kale
1/2 banana
1 tsp. hemp seeds
1/4 cup almond milk
Purple Layer
1/4 cup frozen blueberries
1/4 cup frozen blackberries
2 tbsp. frozen riced cauliflower cup almond milk
1/4
AUGUST 2023 23
»
Cindy Orlinsky
Your Aventura Special ist *
Cindy, a serial entrepreneur, attorney, successful business executive, and dynamic real estate broker-agent, has founded and launched the house&hive team. With a focus on serving buyers and sellers of luxury and commercial real estate in South Florida, Cindy brings a unique perspective to the rapidly evolving real estate marketplace. The name "house&hive" represents the disruptive nature of the industry, driven by a commitment to delivering exceptional results and client service at the highest level. With her extensive background and expertise, Cindy is well-equipped to guide clients through the complexities of this changing market.
Welcome to Williams Island, Florida's Riviera, and The Ultimate Lifestyle
Cindy Orlinsky Broker Associate Executive Director of Luxury Sales
cindy.orlinsky@elliman.com
houseandhive.com
elliman.com
1021 KANE CONCOURSE, BAY HARBOR ISLANDS, FL 33154. 305.866.4566. © 2023 DOUGLAS ELLIMAN REAL ESTATE. ALL MATERIAL PRESENTED HEREIN IS INTENDED FOR INFORMATION PURPOSES ONLY. WHILE, THIS INFORMATION IS BELIEVED TO BE CORRECT, IT IS REPRESENTED SUBJECT TO ERRORS, OMISSIONS, CHANGES OR WITHDRAWAL WITHOUT NOTICE. ALL PROPERTY INFORMATION, INCLUDING, BUT NOT LIMITED TO SQUARE FOOTAGE, ROOM COUNT, NUMBER OF BEDROOMS AND THE SCHOOL DISTRICT IN PROPERTY LISTINGS SHOULD BE VERIFIED BY YOUR OWN ATTORNEY, ARCHITECT OR ZONING EXPERT. EQUAL HOUSING OPPORTUNITY. *PER CINDY ORLINSKY INTERNAL RECORDS.
Miami | 2000 Island Boulevard, 708 | 2 BR | 2 BA | Approx. 1,560sf | $640,000 | Come in to this exquisite designer home and be transported to a world where the elegance of New York City seamlessly blends with the allure of Florida. The impeccable split floor plan embodies luxury and refined taste, offering a spacious and inviting atmosphere. Indulge in the open chef's eat-in kitchen, complete with a stylish breakfast bar, where culinary delights come to life. The expansive living space exudes grandeur, providing the perfect setting for relaxation and entertainment. Prepare to be captivated by the harmonious fusion of sophistication and comfort found within this
remarkable residence. Web# A11352952
M 305.469.3222
STYLE
CURATED FINDS, LUXE ACCESSORIES, AND RUNWAY REPORTS
READY, SET, JET SET!
REGARDLESS OF WHETHER YOU'RE TRAVELING NEAR OR FAR, THESE DESTINATION COLLABORATIONS WILL KEEP YOU IN THE VACATION SPIRIT
BY KATHERINE LANDE
1. Woven jute tote bag (price upon request), Loro Piana x La Réserve à la Plage, us.loropiana. com, discover the Loro Piana Summer Resort 2023 collection at La Réserve à la Plage beach club in Ramatuelle, France, through September 30. | 2. Dioriviera pop-up and Le Jardin des Rêves Dior spa cabana, Dior x The Beverly Hills Hotel, dior.com, visit the iconic hotel to indulge in Dior Beauty treatments in this haute indoor-outdoor cabana. | 3. The Ocean Club Conch Helm men's slippers ($650), Stubbs & Wootton x The Ocean Club, stubbsandwootton.com, these handcrafted, leather-lined, flax-linen slippers pay homage to one of the Bahama's chicest properties. | 4. Le Jardin Français by Schumacher, Le Bristol Paris x Schumacher, oetkercollection.com/hotels/lebristol-paris, Le Bristol Paris enlisted textile house Schumacher and designer Marie-Caroline Willms to reimagine its Le Jardin Français and sunlit corridor. | 5. Eden Rock shoreline swim shorts ($390), Orlebar Brown x Eden Rock St. Barths, boutique.oetkercollection.com, embrace la belle vie in these exclusive-edition trunks featuring a photographic print of the Eden Rock St. Barths shoreline.
AUGUST 2023 25
2 1 3 4 5
THE
LOOK
QUIET LUXURY
UNDERSTATED ELEGANCE HAS NEVER FELT SO APROPOS FOR THE CURRENT TIMES
BY KATHERINE LANDE
SLOUCH AROUND
Medium leather hobo bag ($1,700), Khaite, khaite.com
RISE
ABOVE
Fendi First highheeled slingbacks ($1,450), Fendi, multiple locations, fendi.com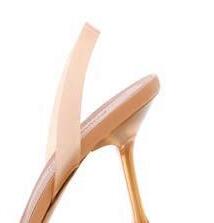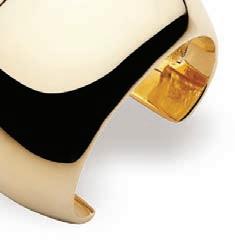 FERRAGAMO PRE-FALL 2023
Sharp tailoring, simple silhouettes, and polished metal details form the DNA of a timeless look.
NINE LIVES
Kitten heels with straps ($950), Celine, Miami, celine.com
EBB AND FLOW Globe cuff ($995), Jennifer Fisher, jennifer fisherjewelry.com
RULE OF THREE
Stella earrings in gold vermeil ($630), Agmes, agmesnyc.com
STYLE NOTES X
CLEAN CURVES: Opt for a minimalist hobo handbag for every day.
POINTED PEAKS:
The pointed pump should be your shoe of choice.
ACUTE ACCENTS: Accessorize with bold sculptural jewelry.
CRYSTAL CLEAR PVC slingback pumps ($780), Amina Muaddi, modaoperandi.com
CROSS PATHS
Small intrecciato leather bag with metallic top handle ($4,200), Bottega Veneta, Miami, Bal Harbour, bottegaveneta.com
DEAD OF NIGHT
Half Moon leather bag ($1,390), The Row, therow.com
26 AVENTURA MAGAZINE STYLE
All true one of the best professional realtors in our business today. —Mike B.
Very professional and an experienced negotiator. I'd recommend to anyone looking for a results driven and a market knowledgeable professional able to help you realize the full market potential of your property. It also helps that he is multilingual and able to deal in several languages. Bravo and thanks Rafael for helping us. —Stan D.
SOLD $2,250,000
SELL? RAFAEL SZYDLOWSKI, MBA, PA 786.385.4824 | rafszy@gmail.com | www.rafaellistingrealestate.com RAFAEL SZYDLOWSKI REAL ESTATE MIAMI RAFSZYDL HABLO ESPAÑOL
2% OF COLDWELL
WORLDWIDE
8834
FROUDE AVE SURFSIDE
LOOKING TO BUY OR
RAFAEL SZYDLOWSKI. YOUR RELIABLE & TRUSTED AWARD WINNING REALTOR. TOP
BANKER AGENTS
SOLD IN 6 DAYS
3600 MYSTIC POINTE DRIVE #PH13 AVENTURA
3530 MYSTIC POINTE DRIVE #2014 AVENTURA
UNDER CONTRACT
SOLD
FOR SALE
10203 COLLINS AVE #201 BAL HARBOUR
$3,600,000 905 NE 27 AVE #905 TOWNHOUSES OF VENETIAN PARK HALLANDALE
$649,000
FOR SALE $540,000
19195 MYSTIC POINTE DRIVE #2808 AVENTURA
20201 NE 25 AVE MIAMI
FOR SALE $489,000 TO BUY OR SELL START HERE
20505 E COUNTRY CLUB DRIVE #2234 AVENTURA
20201 E COUNTRY CLUB DRIVE #603 AVENTURA UNDER
SOLD $1,900,000
CONTRACT
THE WRITE STUFF
Sunflowers Decomposition books
($6-$15) and pencils ($14 for pack of 12), Decomposition by Michael Roger, decomposition.com
As a habitual notetaker, I am constantly replenishing my stock of pencils and notebooks. And thanks to Decomposition by Michael Roger, I can accumulate stacks on stacks without fretting about the carbon footprint. These made-in-theUSA books are created from 100-percent postconsumer recycled paper, and the pencils come from sustainably harvested incense cedar.
—Mary Murray, executive editor
You Better Work
UP YOUR PROFESSIONAL GAME WITH OUR EDITORS' FAVORITE OFFICE ESSENTIALS
SINGLE FILE
Five-drawer cabinet ($120), Bisley, containerstore.com
LAPTOP LOVE
Captain Sleeve Suite portable laptop case and stand ($265), Oleada, oleadanyc.com
Working remotely has a whole new look thanks to the innovative Captain Sleeve Suite by Oleada. More than just a sleek way to protect your computer on the go, its foldable design lets you transform the case into an ergonomic laptop stand. The removable clutch is a perfect place to stash your power cord and mouse. Better still: It's crafted from recycled plastic that feels and wears like leather. —Kristen
Desmond LeFevre, editor in chief
SHED SOME LIGHT
Video conference lighting kit ($80), Lume Cube, lumecube.com
—Abigail Duffy, web editor
Workspace clutter is a thing of the past thanks to this sweet retro-chic desktop cabinet. Available in sophisticated neutrals and happy rainbow hues, this miniature take on the beloved Bisley filing cabinet will add a playful pop to any work-from-home setup, with plenty of room for pens, papers, electronics, and more.
IT'S A DATE 2023-2024
Soho weekly agenda ($295), Smythson, smythson.com
Even with all of today's modern tech tools, I still prefer to organize my schedule using a classic agenda. Smythson's showstopping version from the Mara collection in jade crocodile-embossed calf leather with its week-to-view layout caught my eye as a must-have for memorializing everything from meetings to milestones.
—Allison Wolfe Reckson, contributing editor
Love them or not, video conferences are here to stay and looking professional on camera is not optional. The secret? Good lighting. I'm loving Lume Cube's portable, adjustable light that mounts to any device and illuminates evenly regardless of environment
—Daphne Nikolopoulos, editorial director
28 AVENTURA MAGAZINE STYLE
THE EDIT
THE GOOD LIFE JUST GOT BETTER! www.Williamsislandrealty.com 305-937-7800 Joel Matus is the Broker and Owner of Williams Island Realty. For the past 22 years he has been the #1 producer, selling multi-billion dollars in real estate at Williams Island. Joel is not only dedicated to his work in Williams Island, but is a full time resident as well. Joel believes in the luxurious lifestyle of our community and represents it in all transactions. JOEL MATUS - OWNER/BROKER - 305.409.0000 - JOEL@WILLIAMSISLANDREALTY.COM 4100 ISLAND BLVD, UNIT 2001 For Sale – $1,700,000 | 2235 SQ. FT. – 3 BR / 3 BA 2600 ISLAND BLVD, UNIT 1601 For Sale – $1,995,000 | 2580 SQ. FT. – 3 BR / 3 BA 2800 ISLAND BLVD, UNIT 3005 For Sale – $1,595,000 | 2154 SQ. FT. – 2 BR / 2.5 BA 7000 ISLAND BLVD, UNIT 2102 For Sale – $1,379,000 | 2770 SQ. FT. – 3 BR / 3.5 BA
2 5
1 4 7
JEWELRY BOX
Easy GREENBeing
AUGUST BABIES SHINE BRIGHT IN PERIDOT, THEIR PRIMARY BIRTHSTONE

BY MARY MURRAY
1. LYING ON THE GRASS Guita M necklace with a peridot oval center, peridot drops, Biwa pearl, banded agate beads, black onyx beads, and 18-karat gold, $5,600. (guitam-jewelry.com)
6
6
3 9 8


2. SUMMER'S SUN David Yurman DY Lumina pendant with a peridot and diamonds set in gold, price upon request. David Yurman, Aventura, Bal Harbour (davidyurman.com)
3. WAVING FIELD Marei New York Isadora earrings with peridot, tourmaline, and tsavorite garnet set in 18-karat gold, $4,950. (mareinewyork.com)
4. SHADOW OF THE VINE Bea Bongiasca Vine Wrapped cocktail ring with yellow enamel, peridot, rock crystals, diamonds, and tsavorites set in rose gold, $3,500. (beabongiasca.com)
5. BEYOND THE STARS Marlo Laz Starburst earrings with peridot and diamonds set in 14-karat gold, $6,000. (marlolaz.com)
6. SALT AIR Pacharee pearl petal earrings with peridot and pearls set in 18-karat gold, $2,250. (pacharee.com)
7. SILVER LEAVES Provident Jewelry earrings with peridot and diamonds set in 18-karat gold, $6,000. Provident Jewelry locations (providentjewelry.com)
8. CALIFORNIA PINE Jenna Blake bracelet with peridot set in 18-karat gold, $10,400. (jennablake.com)
9. FAIR BLOSSOMS Effy Jewelry ring with a peridot and diamonds set in 14-karat gold, $4,795. Macy's, Miami Beach (macys.com)
30 AVENTURA MAGAZINE STYLE
HAIR FOR DAYS
Volume, shine, and hydration, oh my! There's not a hair out of place thanks to these covetable concoctions that cover your hair care routine from root-to-tip, from nourishing leave-on treatments to frizz-fighting styling saviors and essentials for tress touch-ups: Drybar Southern Belle VolumeBoosting Mousse ($29) and Gin Twist Edge Control Gelée ($26, Sephora locations); R+Co Bleu Vapor Lotion to Powder Dry Shampoo ($65) and Reflective Shine Hairspray ($39, Bluemercury locations); Style Edit Instant Root Cover-Up Cream to Powder Stick ($36, styleedit.com); Kevin.Murphy Scalp.Spa Treatment Calming Foam Masque ($45, kevinmurphy.com.au); Fekkai Clean Stylers Prime Mist ($28, Ulta Beauty locations); John Masters Organics Nourishing Hair Mask with rose and apricot ($32, johnmasters.com); and Balmain Paris Hair Couture Riviera headband with 18-karat gold–plated logo ($350, balmainhair.us). —Abigail Duffy
32 AVENTURA MAGAZINE
STYLE
ASHLEY MEYER
BEAUTY
GOOD NATURE
SLOW AND STEADY
HOW A LANGUID YET INTENTIONAL MINDSET CAN OPEN UP YOUR WORLD
BY TAMMY FENDER
As a holistic practitioner, I've advocated for slow care for many years. I encourage my clients to move at nature's pace and embrace long-term wellness solutions rather than short-term quick fi xes.
By taking it slow, you give yourself the opportunity to experience the world in a whole new way. You might take in sounds that you otherwise would have missed—a trilling bird call, the hushed rhythm of the ocean. When you live with slow intention, your sense of smell is heightened. You can also see with more clarity, both externally and internally, enabling your own realizations to rise to the surface of consciousness. This is something I see often in my treatment room. By pausing for that hour, clients allow new thoughts and ideas to appear in a way that feels magical. We all have the ability to access the beauty of our own wisdom when we simply slow down.
For many of us, however, this is easier said than done. I've seen people rush into the treatment room for a relaxing session and then rush right back out again. Still, I know that taking our time and being intentional amplifies every gesture we make toward wellness. And, while hurrying self-care is better than no self-care at all, the summertime offers a wonderful opportunity to dissolve some of our expectations around getting things done, especially in South Florida, where the heat necessitates a more measured tempo.
Watching the dragon fruit, mango, and avocado trees in our garden helps me pace myself. I love to observe the vibrant blossoms gradually transform into the most delicious fruit. It instills within me a reverence for the plant's understanding of time: never rushing, but never stagnant.
Another great invitation for slowness comes in letting go of the body's weight—in a pool or the ocean, a hammock or a swing, anything that has a cradling effect. Through our sense of proprioception, we can invite the nervous system to decelerate, thereby shedding resistance and surrendering both physically and mentally. After all, fall, with all its excitement and busyness, will be here soon enough. There's no better way to meet the season than refreshed, renewed, and relaxed. «
AUGUST 2023 33
DISCOVER AVENTURA MATTRESS: 10 REASONS TO CHOOSE US
1. Dream-Worthy Quality: Experience blissful comfort and rejuvenating sleep with our high-quality mattresses.
2. Sleep Your Way: Find your perfect match from our extensive range of options, tailored to your unique sleep preferences.
3. Personalized Pillow Talk: Our friendly team will guide you to the mattress that suits your needs for a dreamy sleep experience.
4. Sweet Dreams on a Budget: Enjoy competitive pricing without compromising on quality.
5. Snooze-Button Worthy Service: Same-day delivery brings the comfort straight to your doorstep.
6. Sleep Now, Pay Later: Flexible financing options make it easier to enjoy the mattress of your dreams.
7. Sleep Green, Sleep Clean: We prioritize sustainability with eco-friendly materials and practices.
8. Support Local ZZZ's: Choose us to support a local business and become part of our sleep-loving community.
9. Rave Reviews, Dreamy Nights: Join our satisfied customers who love our mattresses and exceptional service.
10. Your Comfort, Our Promise: Our 30-day comfort exchange ensures you find the perfect fit for your sleep needs.
Choose Aventura Mattress for dream-worthy quality, personalized service, budget-friendly options, convenient delivery, sustainability, local support, rave reviews, and sleep satisfaction guaranteed. Experience Aventura Mattress for a dreamy sleep experience.
15516 Biscayne Blvd, North Miami Beach, FL 33160 AventuraMattress.com 305.627.3755
JOURNEYS
YOUR PASSPORT TO THE MOST FASCINATING CORNERS OF THE GLOBE
SEA CHANGE
THE RITZ-CARLTON BRAND EXPANDS FROM LAND TO SEA WITH THE HIGHLY ANTICIPATED DEBUT OF EVRIMA
BY PAUL RUBIO
Ever since The Ritz-Carlton announced plans to launch a series of luxury ocean liners, brand loyalists and jet-setters have counted the days until they could set sail on the Ritz's innovative extension at sea. Six years later, the wait finally ends as Evrima, the first of three planned superyachts from The Ritz-Carlton Yacht Collection, journeys between and within the Caribbean and Mediterranean, delivering a next-
generation resort experience on the water.
Evrima redefines cruising with a sleek, contemporary aesthetic—inside and out. The 11-deck, 25,400-ton ship features a dazzling tiered design, with a cutting-edge trapezoidal framework that impresses visually and maximizes outdoor space both forward and aft. A total of 149 suites are found throughout, each with a terrace and floor-to-ceiling windows
AUGUST 2023 35
JACK HARDY
Scenes from The Ritz-Carlton Yacht Collection's Evrima, clockwise from top left: Alfresco dining at Mistral; onboard infinityedge pools; two-story Loft Suite bedroom; spa terrace; Grand Suite living and dining area.
(lending to unobstructed ocean views) and handsomely dressed in dark wood furnishings that recall a sophisticated big-city hotel room. Suites range from the entry-level, 300-square-foot Terrace Suite up to the colossal Owner's Suite, with the most popular category being the mid-tier, 587-square-foot Grand Suite, which boasts a separate bedroom and living and dining area plus a double-vanity bathroom with a soaking tub.
A collection of infinity-edge pools, whirlpools, open-air restaurants, and chic bars are housed among the upper decks, with an old-school humidor lounge on the tenth deck accompanied by an observation lounge crowned by a sprawling sky roof. At the opposite end, below deck at the Marina, exterior walls unfold and project outward, creating a transitional space between the ship and sea. Deployed only while at anchor in select ports, the Marina and its eponymous terrace evoke the feel of a private beach club with sun loungers, seating nooks, a bar, and a water sports center off the ship's edge.
Another hallmark of the Ritz-Carlton Yacht Collection is culinary excellence, the highlight of which is signature restaurant S.E.A., designed by chef Sven Elverfeld of Aqua, the threeMichelin-starred restaurant at The Ritz-Carlton, Wolfsburg. The caviar-laced, multicourse, multisensory affair is everything you'd expect from a chef of Elverfeld's caliber: immaculate presentation matched with exceptional taste. While S.E.A. carries a surcharge, all other dining and drinking venues are included in standard rates (as are endless pours of Moët & Chandon and free-flowing cocktails). The eclectic selections at the ship's
36 AVENTURA MAGAZINE JOURNEYS
JACK HARDY
JACK HARDY
JACK HARDY
CHRISTOPHER CYPERT
FRANCISCO MARTINEZ
myriad restaurants will prevent boredom—even on long sailings—and are solid enough to be an appealing alternative to dining off-ship in ports of call. Standouts from a recent sailing included the Thai prawn curry and spicy tuna roll at Asian restaurant Talaat Nam, the mezze at Mediterranean-inspired Mistral, and the daily catch ceviche from the Pool House.
Beyond inventive design and gastronomy, life onboard presents a more restrained yet still familiar version of what you'd find on bigger cruise ships. While a casino, a theater, and afternoon bingo are intentionally absent, travelers can expect group fitness classes, wine tastings, trivia contests, jazz by the pool, and a Latin dance night in the observation lounge. As with its larger counterparts, this ship's sun loungers can be hard to come by and servers difficult to flag down, especially on sea days. Some ports of call such as Nassau, Santo Domingo, Barcelona, and Livorno overlap with major cruise lines, but most of Evrima's stops skew yacht-centric, with destinations like Gustavia, St. Barts, Jost Van Dyke, the British Virgin Islands, and St. Tropez. At all anchorages, a variety of tours are available through the Ritz and can be prebooked with a ship concierge.
For the foreseeable future, Evrima will spend November to March in the Caribbean, and April to October in the Mediterranean (buffered by two transatlantic sailings), with voyages ranging from four to 12 nights. In September 2024, the second superyacht in The Ritz-Carlton Yacht Collection, Ilma, is set for an inaugural sailing between Athens, Greece, and Haifa, Israel. Once afloat, the freshly minted 228-suite, 46,750-ton ship will boast the highest ratio of space per guest at sea and further build on the Ritz's pioneering expansion beyond land. (ritzcarltonyachtcollection.com) «
AUGUST 2023 37
The 25,400-ton Evrima superyacht (below) boasts 11 decks, 149 luxury oceanfront suites, an observation lounge with a sky roof (right), and a variety of creative culinary and cocktail offerings (above).
JACK HARDY
MATTHEW KINER
QUENTIN BACON
QUENTIN BACON
CHRISTOPHER CYPERT
HIGH ROAD
KNIGHT
BY HOWARD WALKER
Let's talk about silence. I quite like this quote by Leonardo da Vinci: "Nothing strengthens authority so much as silence." It's up there with this line from the Dalai Lama: "Silence is sometimes the best answer." Or leave it to novelist Sarah Dessen: "Silence is so freakin' loud!"
Gliding across Alligator Alley in the newly minted, all-electric Mercedes-Benz EQS SUV, all I can think about is this family hauler's astonishing silence. Yes, there's the faintest timpani of tires on blacktop, the merest fizz of wind whisper from around the doors, a distant hum from somewhere deep in the bowels. But Marcel Marceau screamed louder than this.
That's the beauty of electric motivation and a slippery shape that's as smooth and aerodynamic as a bar of Dove. When the boffins at
Mercedes were developing the EQS, they must have had a single-minded focus on quelling noise. They've accomplished just that with electric motors, innovative door and window seals, and acoustic foam in every body cavity.
Based on Merc's low-slung EQS sedan (aka the electric S-Class), this new EQS SUV satisfies our love affair with roomy, versatile, tall-riding 4x4s while piquing our growing curiosity with zero-emission batterification. Granted, it won't win any beauty contests. In profile, it looks like it might have plopped out of a Jell-O mold. But then its closest rival—the bloated Tesla Model X—is no stunner either. Elon himself once described it as the Fabergé egg of cars. No yolk.
But there's plenty of visual drama in the Merc's blacked-out, solid-front fascia (being
electric, there's no need for a traditional grille). I love the multitude of tiny, backlit Mercedes tristars swirling around that central three-pointed star, as well as the line of wafer-thin LED running lights beneath the contoured hood.
The interior is very much inspired by the EQS sedan but with considerably more headroom and space way in the back for a third row of seats. And like the sedan, opting for the Hyperscreen dashboard delivers a 56-inch wall of screens. Being the S-Class of electric SUVs also means hedonistic levels of luxury and comfort—from the La-Z-Boy-like, diamondstitched seats to the biz-jet-roomy second row with individual 11.6-inch touchscreens.
Of course, it's the EQS SUV's electric powertrain that grabs headlines, and here it
38 AVENTURA MAGAZINE JOURNEYS
IF SILENCE IS THE TRUE MEASURE OF AUTOMOTIVE LUXURY, THEN MERCEDES' NEW ALL-ELECTRIC EQS SUV HAS PLENTY TO SHOUT ABOUT
SILENT
POWER FILE
PRICE: EQS 580 FROM $125,950 ENGINE: TWIN
ELECTRIC MOTORS POWER:
536 HP TORQUE: 633 LB-FT
RANGE: 285 MILES 0-60: 4.5
SECONDS TOP SPEED: 131
MPH LENGTH/WIDTH: 202/77
INCHES WEIGHT: 6,228
POUNDS WHY WE LOVE IT: BECAUSE IT OFFERS FULL-SIZE SUV SPACE AND VERSATILITY IN AN INSANELY SILENT, ELECTRIFYING PACKAGE.
comes in a trio of flavors. The entry EQS 450+ (from $104,400) features a single 355-hp electric motor mounted in the rear axle with a range of up to 305 miles. Step up to the 450+ 4Matic (from $107,400) and you add a motor at the front axle to give all-wheel drive. While the range drops to an estimated 285 miles, zeroto-60 sprinting goes from 6.5 to 5.8 seconds.
But for awesome power, performance, and
refinement you're going to want the twinmotor EQS 580 (from $125,950) that I've been driving. With 536 hp and 633 lb-ft of torque, there's power a plenty to catapult this whopper from rest to 60 in a mere 4.5 seconds. And it will still run for 285 miles on a charge.
As drivers have come to expect from highhorsepower electric vehicles—hello, Tesla Model X Plaid—off-the-line acceleration is heart-stoppingly instant. And, in the case of the EQS, eerily silent. The thing just rockets.
The surprise here, however, is the car's ath-
leticism and agility through the curves. With standard rear-wheel steering, coupled with precise, super-responsive steering, the big EQS feels nimble and, dare I say, fun to drive. It's even capable and competent off-road. That being said, this big Benz truly excels as a relaxed cruiser. Air springs at each corner provide a magic carpet–like ride, with variable damping and smart suspension design reining in any hint of body roll. Given these qualities, this Alabama-built EQS 580 SUV is definitely worth making some noise about. «
At The Sterling Aventura, you or your loved ones will receive high-quality care while soaking in the excitement of our sunny neighborhood. Our experienced staff prioritizes all-around wellness at a price that's hard to come by anywhere else in South Florida.
AUGUST 2023 39
Look on the bright side when planning for the future. Learn more by calling Mark at 786.386.0573 or emailing MMonaghan@TheSterlingAventura.com. 2777 NE 183rd Street | Aventura, FL 33160 TheSterlingAventura.com Assisted Living | Memory Care Assisted Living Facility License #10117 NEW APARTMENT RENOVATIONS COMING SOON! Discover the bright side of senior living.
Deep Focus
LUCA MARTINEZ SEES THE EVERGLADES AS SOMETHING WORTH SAVING, AND AT JUST 18 YEARS OLD, HE IS USING HIS PHOTOGRAPHY SKILLS AND SOCIAL MEDIA SAVVY TO INSPIRE A NEW GENERATION
BY KRISTEN DESMOND LEFEVRE | PHOTOGRAPHY BY LUCA MARTINEZ
logging through chest-deep water in an Everglades slough isn't the stuff of viral social media posts for most teens. But for Luca Martinez, an 18-year-old self-taught photographer from Miami, the images and videos of his excursions into Florida's famed River of Grass are exactly what's drawing eyeballs—to the tune of millions of likes and views on TikTok and Instagram—and now an even bigger audience in the form of partnerships with Nikon and National Geographic, a film documentary in the works with Oscar-nominated
producer Phil Fairclough, and other exciting projects still under wraps and on the horizon.
But Martinez hasn't let the attention go to his head. For him, the real star is the Glades itself. In a mature move, he's turned the accolades he's receiving as a wildlife photographer into a platform for conservation, eschewing individual fame in an effort to inspire young people to care about a place that's often overlooked, misunderstood, and feared.
Looking at it now, Martinez's success seems like
40 AVENTURA MAGAZINE
S
pure chance—a stroke of good algorithmic luck. But the way he sees it, it was all "meant to be." He says that from an early age, his favorite pastime was going out into nature. With a GoPro camera in tow, he often went reef diving in Key Largo with his grandfather. He recalls the day, at 7 years old, that inspiration struck as he watched an osprey dive to catch a fish just a few yards away. Martinez says he felt a deep urge to share what he'd seen. "I got my first real camera soon after
AUGUST 2023 41
"
I BEGAN TO REALIZE THE FUTURE—NOT ONLY OF THE EVERGLADES, BUT OF ALL THE WORLD'S WILD PLACES—IS DIRECTLY TIED TO THE YOUTH'S CONNECTION TO IT."
Inset: Photographer Luca Martinez holds his underwater camera deep in a mangrove forest in Everglades National Park. Opposite page: A barred owl's early morning flight through the fog.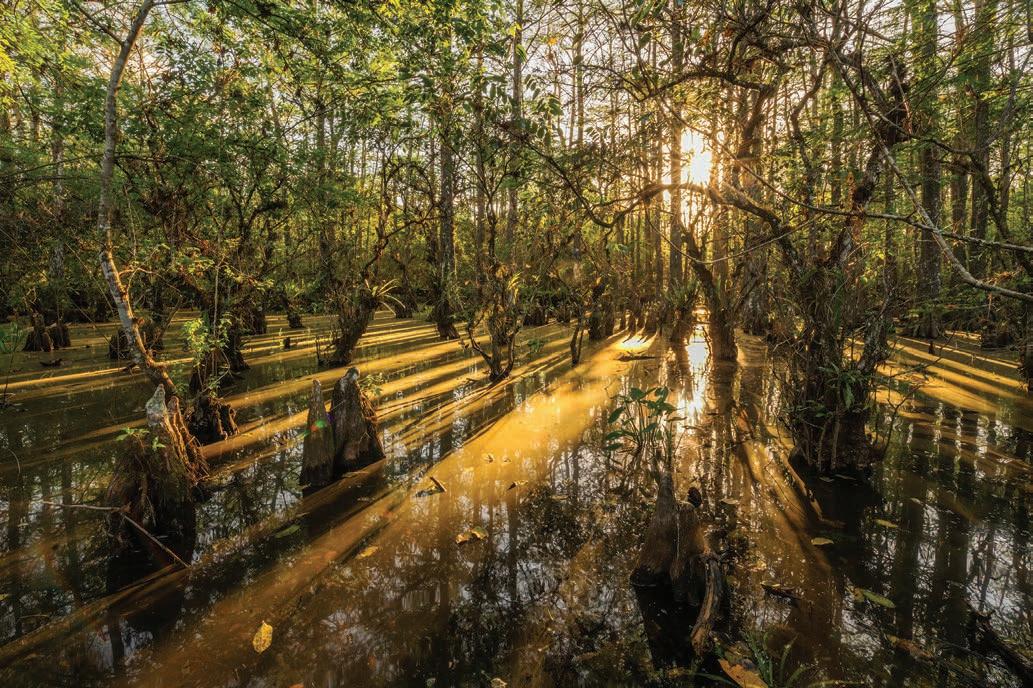 42 AVENTURA MAGAZINE
This page, from top left: A white-tailed deer pauses in a burnt marl prairie; sunset in the slough. Opposite page: Martinez hikes through a pond apple slough in the Everglades.
that experience," he says.
Martinez's love of photographing ospreys in his family's Miami neighborhood and local parks further piqued his curiosity. He wanted to know more about where these birds came from, and his online research kept leading him back to the Everglades. Amid the pandemic—when the world was on lockdown and Palmer Trinity High School (where Martinez was a sophomore)
was closed—he grabbed his camera, bummed a ride from his dad, and followed his research west to Shark Valley, two natural estuaries at the heart of Everglades National Park, to see what he could find.
"It was there on a foggy morning that I fell in love with a place," Martinez recalls. Like many folks, he had envisioned the Everglades "as just a swamp." But, he says, what he found was "so far different than the
uninspired version I had in my mind. I knew from that point on I'd be spending a lot of time out there. And that's exactly what I did."
Martinez began to get to know the Everglades—and himself as a photographer—on dry land. "I was going on boardwalks and trails for a year or more," he recalls. But soon he wanted to see more of what the landscape had to offer, and he knew that meant getting wet. "I started discovering the
AUGUST 2023 43
off-trails and the cypress domes. And what kept me going back was that crystal clear water and those aquatic plants." Intrigued, Martinez saved up enough money to buy an underwater housing for his camera that would allow him to photograph what lies beneath the surface.
His social media posts of his dry-land Everglades shoots had garnered a decent following. There was video he'd shot of a barred owl in 2021 that racked up 5 million views. But the footage Martinez captured his first time out with his newly waterproofed equipment was next-level, and he knew it. The scene he saw beneath the water's surface blew him away—and the internet agreed. "People couldn't believe that was the Everglades underwater," he recalls. "I to-
tally got it. I was just as stunned as my viewers. I had never seen this world anywhere, this underwater Everglades world," he says of the video he titled Come Dive with Me in the Florida Everglades that clocked in at 12 million views. "People were freaking out," he says, laughing.
Martinez calls the impact of that social media blow-up "affirming and motivating."
"I started posting my images and videos on TikTok and Instagram not to say, 'Oh look at what I did,' but because I wanted to target my age group," he explains. "I began to realize the future—not only of the Everglades but of all the world's wild places—is directly tied to the youth's connection to it. And the fastest way I can connect young people to this place is by posting videos and hopefully
them going viral."
When you think of a swamp, you may think "dangerous" or "dirty." But Martinez wants you to think differently. His images and videos show a new view of the Everglades in a way that he hopes will change the narrative. "The truth is that when you go out into the national park and you look in the culverts and you're in the cypress domes, the water is crystal clear," he says. "Remember that it's a river. It flows. It moves."
Even still, he acknowleges, there are dangers associated with this place. Martinez is careful to take a buddy with him on his excursions, especially when he's shooting in the water or hiking off-trail. "You can really get lost out there," he says. Add to that the
44 AVENTURA MAGAZINE
This page, from above: A great blue heron wades through the sawgrass; alligator hatchlings. Opposite page: A ghost orchid hovers gracefully in a remote Glades slough.
"
AUGUST 2023 45
THE BIGGEST THREAT IS THE FACT THAT SO MANY OF US ARE DANGEROUSLY DISCONNECTED FROM OUR WILD PLACES."
risks of injury in a place so remote. "Ankles are super susceptible to fracturing and twisting," he says of the concerns that are top of mind for him.
Most people would start that list with fears of the Everglades' famous toothy predators. But for Martinez, they're not much of a worry. "When you're out in the remote
wetlands, an alligator's natural instinct is really to stay as far away from you as it can," he says. "You can hike for hours and not see a big animal." Still, he takes precautions. "I do make noise if I'm out in a remote slough so that they know I'm there."
For Martinez, the impact his images are making on his viewers greatly outweighs the
risks he takes to capture and share them.
"Developments take 100,000 acres of wild Florida annually, but that's not the biggest threat to places like the Everglades," he explains. "The biggest threat is the fact that so many of us are dangerously disconnected from our wild places."
Martinez admits it's a disconnection he
46 AVENTURA MAGAZINE
AUGUST 2023 47
This page, from top right: Florida Bay flats from above; a barred owl's side of the sunset. Opposite page: Aquatic plants in Big Cypress National Preserve.
48 AVENTURA MAGAZINE
once felt personally. "I went from one year to the next hating Florida, wanting to leave it, not caring about the future of it, to completely falling in love and knowing I couldn't leave until I left my mark on the story. I know that same transformation could happen with every single person here."
He hopes that the mark he's leaving behind the lens will create connection. "All it takes is connection, because you'll fight for something you love," he says. "At least one person who sees one of my videos could find that connection with this place they live so close to."
Miami's moniker as the Magic City isn't lost on Martinez. "The real magic of this city lies in the bond between our incredible coastal metropolis and our resilient River of Grass," he says. "It's so unique. That's the connection I'm hoping to spark. That's the bond I'm hoping to save." «
AUGUST 2023 49
" THE REAL MAGIC OF THIS CITY LIES IN THE BOND BETWEEN OUR INCREDIBLE COASTAL METROPOLIS AND OUR RESILIENT RIVER OF GRASS."
Star trails in the evening sky over Big Cypress Swamp
EARTH
First ON YOUR PLATE
INTEGRATING SUSTAINABLE PRACTICES
BY
INTO YOUR DAY-TODAY LIFE, YOU CAN DO YOUR PART TO SAVE THE PLANET
BY JESS SWANSON
Reduce Your FOOD MILES
It's been roughly 12,000 years since humans transitioned from largely nomadic, hunter-gatherer lifestyles to permanent settlements centered around agriculture and livestock. In modern times, however, food itself has become nomadic: Food products typically travel more than 1,300 miles in the United States. With that in mind, one of the most proactive ways to reduce your food's carbon footprint is to source it locally.
South Florida boasts some of the best farmers markets around. The Farmers Market at Merrick Park and the Surfside Farmers Market operate seasonally, but the Lincoln Road Farmers Market is held every Sunday. "South Florida's farmers markets are extremely vibrant," says Laurie Landgrebe of Laurie's Pantry granola, a staple in the farmers market scene. "You'll not only find the best products in the community but also in the country."
50
AVENTURA MAGAZINE
Imagine Farms produce
Another way to source locally is through a community-supported agriculture (CSA) subscription. In this direct-to-consumer model, participants receive weekly, biweekly, or monthly boxes of a farm's freshest greens, fruits, vegetables, and herbs. And, while greenhouse gas emissions from plant-based foods are considerably lower than those from animals, a sustainable alternative for carnivores is a beef share from purveyors such as South Florida's Sol City Farm (solcityfarm.com).
Green-thumbed residents can also dwindle their food miles down to zero by establish-
Pro Tip: Avoid a north-facing g den.
"From September to May the Earth starts to tilt, and walls, fences, and buildings will cast long shadows to the north," McCobb says. "If you plant a north-facing garden, it might not see any sunlight until spring. You want to avoid the north and opt for a garden facing the east, west, or south. A south-facing garden is going to be the hottest garden with the most sunlight."
Try is: LOCAL CSA PROGRAMS
• Aloha Redland, Homestead (aloharedland.com)
• Empower Farms, Florida City (empowerfarms.com)
• Imagine Farms, Miami (imaginefarms.com)
• Kai-Kai Farm, Indiantown (kaikaifarm.com)
• Nana's Greene CSA, Homestead (nanasgreenecsa.com)
• The Sacred Space, Miami (sacredspacemiami.com)
• Swank Specialty Produce, Loxahatchee (swankspecialtyproduce.com)
ing an urban garden. Professionals like Jason "Farmer Jay" McCobb (myfarmerjay.com) offer services to help homeowners design and build sustainable gardens. And if you're concerned with reducing single-use plastics within your food consumption, consider bringing your own containers to Verde Market's zero-waste grocery stores in Fort Lauderdale and Miami (verdemarket.co). Stock up on more than 300 items, including beans, seeds, grains, nuts, dried fruits, milk, pasta, flours, spices, coffees, oils, and vinegar, which are all sold at their tare weight.
• Tiny Farm, Miami (tinyfarmmiami.com)
Jason "Farmer Jay" McCobb
Nana's Greene CSA
Swank Specialty Produce Lisa Merkle and Cheryl Arnold of Imagine Farms
ANDREA LORENA, @FUJIFILMGIRL
ANDREA LORENA, @FUJIFILMGIRL PAPPHOTO
AT HOME
NATIVE AND Sustainable Landscaping
Sustainscape Inc. founder Dennis de Zeeuw has heard it time and time again: "People think that they can't have a clean-looking landscape if they're going to go native and sustainable," he says.
But that's where de Zeeuw comes in. Since 2009, his sustainable landscape design company has specialized in finding eco-friendly solutions to traditional lawns. In lieu of grass sod, chemical fertilizers, and 18,000-gallon-amonth sprinkler watering systems, de Zeeuw opts for plants native to South Florida, such as
the indigo berry, coco plum, beach creeper, and Simpson's stopper.
That's not to say that de Zeeuw believes you should eliminate every non-native plant. He finds value in many edible fruit trees, including avocados, mangos, and lychee, even though most are not indigenous. "The only native fruit tree [in South Florida] is the papaya, but a lot of fruit trees have sustainable qualities because they provide food for the property," he notes.
If a homeowner chooses to pursue a more native landscape design, de Zeeuw has found that beneficial insects, such as butterflies, bees, moths, and ladybugs, will come too. In addition to being pollinators, these critters will eliminate bad bugs and help to bring a better balance to your garden.
By design, a native landscape is one attuned to South Florida's wet and dry
seasons. In turn, it will require significantly less maintenance. De Zeeuw works to wean clients' lawns off sprinklers whenever possible. If that's not feasible, he recommends low-flow sprinklers, which can reduce the output of water per minute from 1,500 gallons per cycle to 400 gallons.
Other methods to conserve water when working outdoors include using a broom
52 AVENTURA MAGAZINE
Dream GREEN HOME
Many South Florida homebuilders employ sustainable materials and practices. Steelhomes (steelhomes.us), a modular home construction company located in Miami's Opa-locka neighborhood, uses 100 percent recycled material to build prefabricated steel structures that are energy-efficient, noncombustible, and hurricane-resistant. Based in the Port St. Lucie and West Palm Beach areas, Synergy Homes (synergyhomesfl.com) specializes in "tight thermal envelopes," strategic floorplans that prevent coolair transfer, resulting in homes that are estimated to be 50 percent more efficient than other new-construction homes. When creating energy-efficient and hurricane-resistant residences, Jupiter-based Green Building Construction (greenbuildingconstructioncorp.com) incorporates green building practices by using recycled materials and insulated concrete for exterior-wall construction. They also offer sustainability consultations for homes and businesses.
Steelhomes
instead of a hose to clean driveways, sidewalks, and patios. You can also add mulch to your garden and lawn to reduce evaporation and help plants lock in moisture. And consider harvesting rainwater to wash your car or water plants and your lawn. But be aware that this water is not for human consumption and cannot be used to water plants that you intend to eat. (sustainscapeflorida.com)

Did You Know?

SOLAR POWER
"Going solar is a critical way that folks can generate the cleanest electricity and reduce their footprint at home," says Alissa Jean Schafer of the Energy and Policy Institute. "If you own your own roof, whether on your home or your business, you [can] generate your own clean energy by using solar and solar-plus batteries. The cost of these systems, including the batteries, has come down dramatically over the last decade. The rooftop solar program in Florida is called net metering. You're still a Florida Power & Light (FPL) customer, you're still connected to the grid, but you are getting credit for the energy that your solar panels are generating, and that balances against the amount of energy that you're using. If you have a solarbattery system and there's a power outage from a storm, for example, you can temporarily disconnect from the grid, and that solar battery is providing backup power even when the electrical grid is down. But on a day-to-day basis, you're still connected to the grid and getting a bill from FPL. It's just going to be significantly lower because you're generating most of the electricity that you're using with your own panels, battery, and system."
THE ONLY NATIVE FRUIT TREE [IN SOUTH FLORIDA] IS THE PAPAYA, BUT A LOT OF FRUIT TREES HAVE SUSTAINABLE QUALITIES BECAUSE THEY PROVIDE FOOD FOR THE PROPERTY."
" AUGUST 2023 53
Steelhomes
Small Changes ADD UP
As the research and communications manager at the Energy and Policy Institute, Alissa Jean Schafer believes that everyone has the potential to reduce their carbon footprint at home. She notes that one of the most direct actions we can take is to use less electricity; this is especially vital in Florida because the bulk of our electricity still comes from fossil fuels and natural gas. Here, Schafer shares four easy changes.
Clean and replace appliance filters. "Anything that has a filter needs to be cleaned on a regular basis or replaced in order to run efficiently," Schafer says. This includes air-conditioners, washing machines, and dishwashers. Keep the area around the refrigerator and dryer clear, too, and clean out your dryer vent regularly.
Check your home's seal. Schafer advises to check windows, doors, and electrical outlets frequently to make sure cool air isn't slipping out. Door jams, seals, and caulk are small investments that can quickly pay for themselves.
Switch off lights and fans when not in use.
"I know it's obvious but just getting in the habit of turning the light off is important," Schafer says, explaining that both light bulbs and fans emanate heat while in use.
Electrify your cooking range. Gas stoves emit methane even when not running. The good news, Schafer says, is that new technology has elevated the electric cooking range experience. Induction burners, for example, can boil water in 2 minutes or less.
IN YOUR BINS RECOMMIT toRecycling
Washing empty yogurt containers and collapsing cardboard boxes is hardly anyone's definition of fun. It's especially discouraging when the Florida Department of Environmental Protection reports that not only did the state not meet its 75 percent recycling goal in 2020, but recycling rates have plummeted to 19 percent in Miami-Dade County, 31 percent in Broward, and 45 percent in Palm Beach.
However, Alita Kane, Florida's community program manager for national nonprofit The Recycling Partnership (recyclingpartnership.org), urges residents to continue separating their recyclables from their trash. "In order for people to recycle," she says, "you have to give them the right informa-
54
AVENTURA MAGAZINE
1 2 3 4
Did You Know? THREE WAYS FORWARD
Sweden's pneuma c h chut .
More than 20 percent of households in Stockholm as well as new developments in 44 cities across the globe are upending the traditional garbage and recycling truck routes. In their place are chutes for food scraps, recyclables, and mixed waste that use pressurized air to shuttle waste underground to a central collection point. The idea is that waste will become part of a city's infrastructure, similar to water, sewage, and electrical services. The new system will reportedly lower carbon emissions by limiting
tion and make them feel empowered and that they [can] trust in the system."
The Reuter Recycling Center in Pembroke Pines—which services Miami-Dade, Broward, and Monroe counties—reports a 30 percent contamination rate, which means that about a third of what comes is not recycled. The high rate is attributed to a phenomenon known as "wish cycling," or when residents put an item in the recycling bin thinking it might be recyclable without checking if it is.
That's why it's important to decipher the number within the three-arrow recycling triangle on plastic containers because the symbol doesn't necessarily mean an item can be recycled. The higher numbers (three and up) are usually lower quality and generally not recyclable. Other common misconceptions include that glass isn't recyclable (it is), and that plastic bags can be recycled (they can't).
TRY THIS:The Three Bs of Comp ng
The Basics
Organic materials like coffee grounds, eggshells, and vegetable stems naturally decompose into a nutrient-rich soil that can act as a fertilizer or mulch. To start your compost heap, you'll need enough outdoor space to build a pile and maintain the right balance between carbon- and nitrogen-rich materials.
The Balance
the number of garbage trucks on the street and make it easier for municipalities to track how much waste households and businesses are tossing out.
Municipal
get crea
ve. While waste is a planetary issue, it is one that's tackled at the municipal level. Over the years, a handful of local governments have found winning solutions to reduce waste and increase recycling rates. In 2009, San Francisco, which now boasts an 81 percent recycling rate, became the first municipality in the country to require all residents and businesses to separate their recyclables, compostables, and landfill trash, or risk being fined. South Korea, which recycles 60 percent of its waste, requires residents to separate food, trash, recyclables, and bulky items into color-coded bags, and those who do not comply are fined.
Superwor . A 2022 study of the larvae of darkling beetles offers some promising insight about a material once considered nonbiodegradable: polystrene, or plastic foam. Researchers at the University of Queensland in Australia analyzed the insect's ability to eat polystrene and produce enzymes that break down the plastic. While giant worm farms with plastic as feed have been posited as one solution, the researcher explained that creating an "enzyme cocktail" emulsion that could transform the plastic into a recyclable product could potentially hold more promise.
A compost pile should maintain roughly one-third nitrogen-rich materials and two-thirds carbon-rich materials. Food and vegetable scraps, grass clippings, coffee grounds, and crushed eggshells are nitrogen-rich, whereas dry leaves, twigs, wood chips, and shredded brown bags and cardboard are carbon-rich.
The Build
The U.S. Environmental Protection Agency recommends starting a compost heap with a 4- to 6-inch layer of bulky carbon-rich materials and then piling carbon-rich and nitrogen-rich layers "like lasagna." Compost piles can be built in the ground or inside a bin made of wire, wood, or cinder blocks. Commercial bins are also available. They can be placed in the sun or in the shade but should be near a water source.
IN YOUR CLOSET
Cloth Belong in Cl eʦ, NOT LANDFILLS

"There's so much textile waste: postindustrial waste, which comes from industries making the garments, and post-commercial waste, which is the byproduct of an industry such as hotel towels and linens," explains Gabriella Smith of UpCycle Project. "But we as individuals have the responsibility to reduce our postconsumer waste."
Before chucking a used clothing item in the trash, take it to a seamstress to zhuzh it up,
whether it be with new buttons or a reimagined hemline. Alternatively, consider donating pieces to a charity such as Miami's Lotus House Women's Shelter (lotushouse.org), which services homeless women and children, or Dress for Success (dressforsuccess. org), which provides women in the Miami and Palm Beach areas with professional attire and development tools to gain employment.
When shopping for new pieces, opt for something that's new to you instead. Check out thrift stores such as Goodwill and the Salvation Army, as well as South Florida's plethora of consignment and vintage shops. Highlights include Consign of the Times on Miami Beach (consignofthetimes.com), Miami Twice (miamitwice.com), Church Mouse on Palm Beach (bbts.org/church-mouse), The RealReal on Palm Beach (therealreal.com), and Kismet Vintage in West Palm Beach (kismetvintage.com). Online alternatives include Poshmark (poshmark.com) and ThredUp (thredup.com)
ThredUp (thredup.com)
Sustainability Spotlight: GABRIELLA SMITH
In 2017, Gabriella Smith launched the nonprofit UpCycle Project to host sustainable design workshops for local students. She has since expanded to include consultations on sustainable sourcing, curating ethically made products, and closing the loop in textile waste. Smith has partnered with Design and Architecture Senior High in Miami, Istituto Marangoni in the Miami Design District, and the Miami Fashion Institute at Miami-Dade College, providing
students with textile waste to upcycle, including secondhand denim, abandoned items from drycleaners, and Soho Beach House's discarded bedsheets, towels, and linens.
"Sustainability starts with the designers," Smith says. "The designer has the first decision to make about which materials they're going to use and knowing where their garments are going to be made. And where do designers start? In schools and colleges."
Through the sale of UpCycle Project's recycled fabric T-shirts, 4.2 million plastic bottles and 3.7 million kilograms of textile waste have been kept out of landfills. This year, UpCycle Project is launching a take-back program to recycle school uniforms.
"Fashion works in a take-make-waste model," Smith adds. "It's a linear model, but we want it to be a circular model, so you don't have to 'take' from the environment anymore." (upcycleproject.com)
56 AVENTURA MAGAZINE
RK I S
OLLERUBMAT
Kismet Vintage
Consign of the Times
The RealReal KRIS TAMBURELLO
Did You Know? BIODEGRADABLE MATERIALS
As the fashion industry finds environmental solutions to its waste problem, new materials are emerging to replace their nonbiodegradable counterparts. Last year, vegan designer Stella McCartney released the Frayme Mylo, a luxury handbag made from mycelium, the root-like threads of fungi. In Vogue's April 2023 issue, McCartney introduced the experimental BioSequin jumpsuit, featuring
biodegradable, plastic-free, nontoxic sequins made from plant-derived cellulose. While these new advancements in biodegradable textiles are becoming more widely available, Smith also stresses the importance of natural materials like hemp, cotton, and linen. "Learn to read the clothing tag as if it were a nutrition label and move away from synthetic ingredients, such as polyester or rayon," she says.
Defining ECOFASHION
In 1995, when South Florida native Marci Zaroff coined the term "ecofashion," it became the sole listing on Google. "The term has become ubiquitous for the global movement driving the fusion of ecology and fashion," she says. "It's about leveraging the power of fashion to transform the world." Zaroff 's Ecofashion Corp now comprises four sustainable brands, including YesAnd, which specializes in fairtrade apparel for young women. And while brands and retailers as a whole are becoming more sustainably conscious, ultimately, individuals hold the power. "The roadblock historically was accessibility, affordability, or design compromise," adds Zaroff. "But today you can get everything you want. So, it's not why would you buy sustainable fashion, but why wouldn't you?" (ecofashioncorp.com)
AUGUST 2023 57
Above: Marci Zaroff's YesAnd brand features chic basics made from organic and sustainable fabrics. Left: Stella McCartney's Frayme Mylo bag is made from mycelium.
ON A BUDGET
2023 CHEVROLET BOLT EV
Motor: Electric lithium-ion battery
Power: 200 hp
Starting price: $26,500
Mileage: 259 miles on a full charge 0 to 60: 6.5 seconds
ON THE ROAD
Try Th : PURCHASING EVS AND HYBRIDS
2023
TOYOTA PRIUS
Engine: 2-liter gas engine/ lithium-ion hybrid
Power: 194 hp
Starting price: $27,450
Mileage: 57 mpg (combined)
0 to 60: 7.1 seconds
LOOKING TO SPLURGE
2023
FERRARI 296 GTS
Engine: 3-liter V6/lithium-ion
plug-in hybrid
Power: 819 hp
Starting price: $350,000
Mileage: 15 miles electric range
0 to 60: 2.9 seconds
2023 TESLA
MODEL S PLAID
Motor: Electric lithium-ion battery
Power: 1,020 hp
Starting price: $104,990
Mileage: 396 miles on a full charge 0 to 60: 2 seconds
58 AVENTURA MAGAZINE
Sustainability
Spotlight:
Rotary phones are to iPhones what combustion gas engines are to electric vehicles—at least according to Michael D. Farkas, CEO and founder of Blink Charging, a provider of electric vehicle charging stations headquartered in Miami Beach. "In my lifetime, the phone became digitized and is no longer an analog instrument," explains Farkas. "What we're experiencing now is the digitization of the automobile and the complete evolution of transportation."
As more electric vehicles began hitting the roads, Farkas identified a need for charging infrastructure. Blink deployed its first charging station at an Aventura condominium roughly 10 years ago. Today, the company operates more than 59,000 across 25 countries.
But Farkas predicts there will be increased demand for electric charging stations now that legisla-
MICHAEL D. FARKAS
tion to ban new gas-powered passenger vehicles by 2035 was passed in California and a tax credit of upwards of $7,500 on certain new electric vehicles has incentivized consumers to switch.
When looking at the sticker price of electric vehicles, which tend to cost slightly more than their gas-powered cousins, he says it's important to factor in lifetime savings on maintenance and fuel.
"There are 90 percent fewer moving parts on an EV than an internal combustion engine car: You're not changing brake fluids, you have regenerative braking systems, you're not changing transmission fluids. The cost to maintain and service the car is much, much, much less. When it comes to fueling the car, you're spending 10 to 20 cents on the dollar using electricity compared to gasoline." (blinkcharging.com)
WITH YOUR WALLET
Support South Florida companies that promote sustainability
Roots Pharm
While many self-care essentials come packaged in single-use plastic, eco-friendly alternatives do exist. This woman-owned business in West Palm Beach offers bar cleansing products, including shampoo, conditioner, and pet shampoo, as well as skin cleansing bars and baby bath bars. These items, which are sold online and at area retailers, are locally sourced, biodegradable, and free of plastic, sulfates, phosphates, and petrochemicals. (roots-pharm. myshopify.com)
Sleep on Green
After Fidenzio Bizzotto's son was bedridden following a motorcycle accident in 2007, the family realized the importance of a natural, breathable mattress. They developed a chemical-free, biodegradable, and hypoallergenic mattress made of wool, cotton, natural latex, and coconut. Try it out at their showroom in Miami. (sleepongreen.com)
SevenSeas Swimwear
Miami native Nina Salci set out to design a swimwear line in step with her sustainable lifestyle. Since the bikinis are handmade, a collection
can take up to four months to produce. All the fabric is ethically sourced in the United States and from Italy, and the brand only uses eco-friendly ink. Each sale includes a donation to nonprofit groups dedicated to protecting the oceans and marine life. (sevenseasswimwear.com)
Zuke's Refillery
Since this low-waste general store in Delray Beach is BYOC (bring your own container), shoppers "only pay for the product, not the packaging." It boasts sustainable swaps, such as bamboo toothbrushes and stainlesssteel takeout containers, plus a refill station with kitchen and hygiene products. (zukesrefillery.com)
Jar the Zero Waste Shop
Based in Lake Worth, Jar offers an array of zero-waste personal care and cleaning products. One of the most innovative is Bestowed Essentials' dishwashing soap, which can cut through grease sans toxic ingredients. Create a lather by rubbing a damp sponge or dish scrubber atop the soap bar, or slice off a small chunk and allow it to dissolve in hot water. (jarzerowaste.com) «
59
EN PLEIN AIR
BY RIKI ALTMAN-YEE PHOTOGRAPHY BY STEVEN BROOKS
60 AVENTURA MAGAZINE
GORGEOUS GREEN SPACES CREATE AN EARTH-FRIENDLY CONNECTION TO NATURE, ART, AND ARCHITECTURE IN SOUTH MIAMI
AUGUST 2023 61
Architect Rafael Portuondo says the aluminum screens he used throughout the home's exterior not only protect the glass from the intense sun, but also remind him of the old wood jalousie shutters that used to be popular in South Florida dwellings during the 1950s and '60s.
Above: "[In this outdoor space], the dining room is centered on one half of the koi pond," says Portuondo, "and the living room off the other. "
Left: One of landscape architect Lewis Aqüi's so-called "mementos," this seating area is located near the kitchen and wine cellar. The freestanding wall mimics the home's exterior architecture and serves as a brutalist backdrop.
When a couple of well-known Miami entrepreneurs decided to build a 15,000-square-foot home catering to their passion for cooking and entertaining, they knew their outdoor space needed to be treated as thoughtfully as the interiors. For that, they would need the ideal team on their side. After some research, the winning trio for the project emerged: architect Rafael Portuondo, project manager Jorge Landa, and landscape master Lewis Aqüi. All three were equally enamored with the residence and its exterior potential.
"It's what I call modern classicism," says Portuondo. "[The house] has the bone structure of a classical [structure], but with a modern vocabulary."
62 AVENTURA MAGAZINE
The home's austere concrete shell is balanced by palms and other plant life. Originally, the landscape architecture called for water curtains with water jets, but the homeowners and landscaping team opted for bubblers instead.
AUGUST 2023 63
Left: Varieties of plants include a row of Ever Red loropetalum shrubs that provide a bold color accent. At the end of the property stands a gumbo limbo tree that survived Hurricane Irma in 2017.
Aqüi, a Miami-based landscape architect who has more than three decades of experience transforming green spaces throughout Florida and the Caribbean, knew he had latched onto something special when he saw the parcel's architectural plans. He wanted to ensure the homeowners felt that as well by providing them with scenery of the vegetation from every room indoors. "The house has a lot of glass," he says, "and you can see the garden from every point inside."
Avid collectors of South American, Caribbean, and Asian art, the homeowners threw another must Aqüi's way when they asked him to incorporate many of their cherished acquisitions in various strategic alfresco spots. Plus, with two new babies in tow, they wanted spaces with distinct personalities and purposes. "I had to design the garden to be looked at and be interactive," says Aqüi. "Double duty."
For his part, and because the lot is much narrower than it is deep,
64 AVENTURA MAGAZINE
Above: Hidden inside the sunken grotto is a fire pit wrapped in Dominican coral. "The fire pit is the terminus at the back of the property," explains Aqüi. "It's the centerline of the fish pond and the water lily pond. Everything is aligned."
Portuondo proposed various zones, starting with the auto court at the very front. Anchored by a baobab tree, the layout of the court's parking pads hints at the linear nature of the home itself, yet a giant stone sculpture off to the side also suggests the surprise elements that are to come.
Guests first enter the home by walking past a watery basin with a welcoming committee of koi in a pond marked by a bronze sculpture and a living green wall. Shortly after comes the front door and then views of a middle courtyard with a pool, hardscaped in porous materials and shaded by the home's second story. Aqüi says that seeing how the light hit the various parts of the property informed his material and plant selections: "I
did a study of angles. When the house comes out of the ground, that's when things change."
Directly across from the pool and in close proximity to the home's indoor and outdoor kitchens is a loggia with seating that can easily be rearranged for evening cocktails or intimate dining. Located at the tip of what would be a perfect triangle with the loggia and pool area as the base is a serene lily pond anchored with a black metal sculpture. "I proposed a transitional element [to give the area] a soft look and character," says Aqüi. "It's like a mirror, a vanishing point, and the house is reflected in the water." A path from here ends in front of two accessory dwelling units (ADUs) sitting behind lush foliage. "Overall, the garden is organized
AUGUST 2023 65
Above:
two
storage
and even a classroom
Dominican
The residence's
outdoor structures have been used for everything from guest quarters to art
space
during the COVID-19 pandemic.
coral was used for the hardscape to give the property a warm quality.
and symmetrical to go with the architecture, which is austere," says Aqüi. "This part is more organic." Steps from here, overlooking a sunken seating area with a firepit, are examples of the plant life used throughout the property: coconut, old man, and ruffled fan palms and philodendron Burle Marx among them, all of which were carefully chosen by the landscape architect together with the homeowners at various nurseries throughout Homestead.
"I try to use every single inch of a property for the creation of outdoor living spaces, which I call mementos," says Aqüi. "In this home, those took the form of the water features, the lily pond, the sunken grotto… a sequence of spaces that lead you from one to the next. It's like walking through a secret garden. It encourages people to discover, experience, and slow down their pace." «
AUGUST 2023 67
Above and right: Two views of the lily pond, one of the landscape architecture's most cherished features. "The lily pond softened that corner of the property architecturally," says Aqüi, "and the sculpture becomes the focal point of the main rear courtyard."
Opposite page: Covered by the home itself, this expansive outdoor entertaining space is often used for large gatherings.
BE IN THE KNOW! DISCOVER AVENTURA'S HOTTEST EVENTS AND HIDDEN GEMS. Sign up now to receive "INSIDER'S GUIDE," Aventura Magazine's weekly eNewsletter. aventuramagazine.com
SIP&SAVOR
BOLD FLAVORS, COOL COCKTAILS, AND LOCAL FAVORITES
OPENINGS
And Just LIKE THAT
In late spring, the Big Apple's most iconic French bistro, Pastis , touched down in Wynwood, keeping with a trend of big-deal restaurants finding second homes in the Magic City. The original Keith McNally–backed Pastis ruled the New York City dining
scene in the early 2000s as a prime hangout for glitterati and was often name-dropped— even featured—in Sex and the City episodes (fun fact: Sarah Jessica Parker actually had a baby shower there). The celeb-frequented institution closed in 2014 but was revived in 2019 in collaboration with Stephen Starr of Starr Restaurants.
The much-hyped Miami outpost mirrors the interiors of the original—signature subway tiles, red banquettes, and curved zinc bar included. Unique to the new loca -
tion is a year-round outdoor dining garden with its own bar. The Miami menu embraces its counterpart's distinctly French portfolio of bistro classics perfected. Think: onion soup bubbling over with gruyère, escargots drenched in garlic-parsley butter, moules frites simmering in a tangy white wine broth, and a variety of steak frites, including entrecôte with sauce béarnaise. And just like that, the colorful streets of Wynwood erupt with another powerhouse NYC restaurant. (pastismiami.com) —Paul Rubio
AUGUST 2023 69
STARR RESTAURANTS
JOSHUA PEREZ
Pastis serves up French favorites at its indoor bistro and outdoor dining garden in Wynwood.
JOSHUA
PEREZ
STARR RESTAURANTS
ON A ROLL Sandwich SUPERSTARS
WHO DOESN'T LOVE A GOOD SAMMIE? WE'VE ROUNDED UP A HALF-DOZEN OF OUR FAVORITE LOCAL HANDHELDS IN HONOR OF NATIONAL SANDWICH MONTH.
BY PAUL RUBIO
SLOPPY JOSE
THE ALL-AMERICAN SLOPPY JOE GETS A CUBAN MAKEOVER AT LOST BOY DRY GOODS IN DOWNTOWN MIAMI, WHERE A THICK POTATO ROLL OVERFLOWS WITH CUBAN PICADILLO, A HEARTY GROUND MEAT STEW WITH TOMATOES, BELL PEPPERS, GREEN OLIVES, AND MORE. (LOSTBOYDRYGOODS.COM)
POLLETTO PANINO
Among the primo lunch selections at Italian mainstay Osteria Morini Miami Beach is this thick and juicy chicken panini, an assembly of grilled chicken breast, baby kale, and Swiss cheese on ciabatta, kissed with pickled chili and rosemary aioli. Having FOMO over the rest of Morini's craveworthy dishes? Not to worry: The $35 daily lunch special allows for an appetizer or salad of your choice plus a sandwich. (osteriamorini.com)
This lunch-only sandwich at Michelin-starred and James Beard Award–nominated Korean steak house Cote Miami in the Design District adds a clever seafood spin to the Korean fried chicken craze. Minced sweet shrimp is combined with thinly pounded organic chicken to create a savory patty that is breaded, fried, and then covered in American cheese and tartar sauce and served on a La Provence Bakery bun. (cotemiami.com)
THICC-FIL-A SANDWICH
1-800-Lucky in Wynwood feeds our appetite for Asian street market flavors. Among the pan-Asian greatness, try this twist on a fried chicken classic at Jeepney, a Filipino haunt by New York City restaurateur Nicole Ponseca. Breaded and fried white meat tenders are tossed in banana ketchup, stuffed into a locally made brioche bun, garnished with atchara pickles (shredded green papaya, carrots, and bell peppers pickled for 48 hours in a classic Filipino vinegar brine), and finally drizzled with Jeepney barbecue sauce and Kewpie aioli. (1800lucky.com)
LOVE LIFE BURGER
Plant-based eatery Love Life Café in Wynwood is home to many of Miami's top vegan delights, but the savory signature burger ranks among the best of the best. With a homemade superfood patty at its core (made from black beans, sweet potato, chickpeas, beets, and oats), the burger is blanketed in plant-based cheddar and layered with homemade guacamole, a marinated kale and cilantro aioli, and pickles. It's accompanied by a side of sweet potato herb fries. (lovelifecafe.com)
954 CHEESESTEAK
At his upscale Fort Lauderdale beachfront steak house, Steak 954, Stephen Starr merges his Philadelphia roots with South Florida extravagance to deliver the ul-
timate Philly cheesesteak, featuring slices of American Wagyu, caramelized onions, truffled cheese whiz, and flakes of black truffle on a freshly baked 12-inch brioche roll. Served on the side is a cold glass of Laurent Perrier Brut Champagne, which helps justify the $85 price tag. (steak954.com)
70 AVENTURA MAGAZINE SIP&SAVOR
CRISPY "SHICKEN" SANDWICH
STEVE LEVINE
GESI SCHILLING
ANDREA GRIECO
GARY HE
LOVE LIFE CAFÉ
OSTERIA MORINI
BRINGING SEXY BACK
One hundred and ten percent: We got our sexy on when the Asian-inspired resto-lounge Sexy Fish Miami debuted downtown in early 2022, with its dramatic food presentations, next-level libations, stylish patrons, and dazzling interiors. Still, Sexy Fish has remained cognizant that every good relationship needs a bit of spice and change to keep the excitement alive. Hence, 18 months in, they've reinvented the cocktail menu (hello: whisky-spiked Tamarind & Honeycomb and gin-forward Marshmallow & Raspberry), introduced new food items, and unveiled three new shared tasting menus, each with a minimum of 10 dishes, curated by chef director Bjoern Weissgerber. Our favorite is the premium Ludicrous tasting menu ($287 per person), served on a 14-leg metal octopus stand, each tentacle showcasing a representation of the restaurant's best, from
barbecue King crab to Wagyu smoked kimchi to premium sashimi. At the more value-conscious end, the Hiro tasting menu ($95 per person) is a multicourse dinner of timeless favorites underscored by yellowtail sashimi, crispy duck and watermelon salad, and spicy beef tenderloin. In the middle of this threesome emerges the Sekushi tasting menu ($156 per person), which celebrates seasonality and currently features oysters and shiso, plus smoked tofu and morel gyoza. (sexyfishmiami.com) –P.R.
AUGUST 2023 71
REINVENTION
ARCE PHOTOGRAPHY LLC
Sexy Fish Miami's new Ludicrous tasting menu is delivered to the table atop 14 metal octopus tentacles.
Ooh La Love
Pastry chef royalty Antonio Bachour reveals outstanding talent beyond his award-winning sweets at Tablé by Bachour, his chic new Parisian brasserie-inspired venue in the Miami Design District. The winning recipe behind the European-influenced hot spot includes equal parts high-design restaurant, cool cocktail hangout, chill café, and traditional bakery, with dine-in and grab-and-go options aplenty. Here are three standouts from Tablé's multiple menus. (tablebachour.com) —P.R.
PULP FRICTION
YELLOWFIN TUNA TARTARE
XFresh, finely diced yellowfin tuna is lightly dressed in a house-made soy vinaigrette, frosted with whipped avocado, and crowned with cucumber and radish coins. This light crudo dish, which presents in the eye-catching fashion of a typical Bachour dessert, is found on both the lunch and dinner menus.
Tablé's 10 signature cocktails are each a thoughtful exercise in mixology and precision, a highlight being this balanced, smoky-yet-sweet blend of mezcal, white port, and tamarind pulp, served in a rocks glass rimmed with spicy salt.
VANILLA BEAN CRÈME WITH BERRIES
Bachour's background as a dessert impresario shines through this simple (yet highly Instagrammable) dish of perfectly sweet hand-spun cream and fresh berries, from raspberries to gooseberries.
72 AVENTURA MAGAZINE SIP&SAVOR
A TRIO TO TRY
DRINK UP
SUSTAINABLE Spirit
Rooted in the green movement, Gray Whale Gin is made from sustainably minded and wild-harvested California botanicals and packaged with biodegradability and recyclability in mind. A percentage of profits are donated to Oceana, the largest organization on the planet devoted to ocean conservation. The gin's super-smooth taste and eco-slant has made it a favorite among bartenders nationally, with some 30 banding together to share their gin-spiked recipes in The Shift Cocktail Book by Gray Whale Gin, released in May. One featured recipe, The Coastline, comes courtesy of Miamibased César Valdivia, sommelier and bartender at JW Marriott Miami Turnberry Resort & Spa in Aventura. (graywhalegin.com) –P.R.
Ingredients
11/2 oz. Gray Whale Gin
1 oz. fresh lemon juice
3/4 oz. herb simple syrup
3/4 oz. Sauvignon Blanc
1/4 oz. aquafaba (vegan egg white alternative)
Tajín (for garnish)
Combine all ingredients in a cocktail shaker and dry shake with no ice. Add ice and shake vigorously. Double strain into a coupe glass. Garnish with a sprinkle of Tajín.
AUGUST 2023 73
X
Created by Miami's own César Valdivia, The Coastline cocktail features sustainably minded Gray Whale Gin.
CESAR VALDIVIA (MIAMI) FROM THE SHIFT COCKTAIL BOOK BY GRAY WHALE GIN
FRANCESCACOVIELLO
MINDFUL MIXOLOGIST
Blender BLISS
BEAT THE HEAT WITH THIS FULLBODIED BLENDED COCKTAIL
BY JULES ARON
Ah, August. The second full month of summer and typically one of the hottest of the year. If you, like me, like piña coladas and don't mind brain freeze, then prepare to temper the extreme heat with a slightly elevated blender recipe that will have you excited about the dog days ahead. The subtle spices and bitters from the habanero rum and the aperitif crafted from papaya, citrus, and passion fruit lend an unconventional flavor profile to this frozen sip. The fresh tropical fruit and citrus, on the other hand, add a refreshing sweetness and a pop of acidity that blossoms on the finish.
Isla de Papaya
Ingredients
1 1/2 oz. Pa'lante Habanero Rum
1 oz. Munyon's Paw-Paw
1/2 cup fresh papaya, cubed
1/2 oz. fresh lime juice
2 drops Szechuan oil (optional)
Combine all ingredients in a blender with ice and blend for 10 seconds. Pour into a chilled Collins glass and brain freeze away.
TIPS FOR THE PERFECT BLENDER COCKTAIL
Start out with equal parts crushed ice and liquid. You can always add more ice later for a thicker consistency or add more juice to thin out your creation.
Crushed ice ensures a smoother consistency. To make your own, crush regular ice in your food processor or add ice cubes to a Lewis bag or kitchen towel and break them up gently with a mallet.
All other ingredients should be cold before being blended. Chill your glasses ahead of time too.
74 AVENTURA MAGAZINE SIP&SAVOR
GYORGY
«
PAPP X
3
« « «
SUBSCRIBE TODAY aventuramagazine.com/qr AVM_2023_PrintAd_Subscription Ad_quarter.indd 1 6/19/23 2:11 PM Leonard Pianko M.D FACC Graduate of Mount Sinai Medical School. Voted "Best Doctor" by Castle Connolly. Board Certified in Internal Medicine & Cardiovascular disease. Best of VIP care. House calls, nursing home & assisted living visits. Accredited Nuclear Stress, Ultrasound & Echo Labs. We love our and it shows patients Aventura Cardiovascular Center 21097 NE 27th CT., Suite 110, Aventura, Fl 33180 305.932.2441
561.686.7757 | WWW.SPECIALEVENTRESOURCE.COM | BY APPOINTMENT DREAM WEDDINGS | BESPOKE EVENTS | WORLD CLASS DESIGN
For Art's SAKE INTERIORS
HOME FROM CITY TO SHORE, THE FINE ART OF MIAMI LIVING
Benedict Morelli, an attorney based in New York, and his wife, Arlene, spent hours touring units at The St. Regis Bal Harbour Resort, the tony residential tower across from Bal Harbour Shops. When they finally set foot in a nineteenth-floor, 3,500-square-foot residence with high ceilings and ample terraces, they knew they had found "the one." Once the sale was settled, Arlene sought a designer to transform the condominium into a glamorous, art-forward home. Her research led her to Sofia Joelsson, a tastemaker well-versed in vertical living.
"They wanted something modern, clean, and understated, with warmth and comfort," says Joelsson. "It was important to them that the apartment didn't feel like a showroom."
The attention soon turned to the Morellis' art collection. Arlene and
Joelsson opted for architectural furniture to enhance and anchor the artworks, but they didn't shy away from color. One example of this approach is found in the living room, where chartreuse velvet chairs offset a busy figurative painting titled Protest Color Tagged 2 by the Ivorian-born artist Aboudia.
Benedict's only request was a wine storage area equipped to display his prized labels. Joelsson delivered with a custom wine wall, complete with bronze handles and stainless-steel pegs. This setup in the dining room is the ideal partner for a series of 10 blackand-white drawings by Kaws. Here, a bronze-and-glass dining table from Roche Bobois is all but unused, as the more casual Morellis prefer to dine alfresco on any of the nearby terraces. These outdoor perches have also come in handy for regular Zoom sessions with friends and family. "We don't mind when people visit as long as it's virtually," Benedict jokes. "It's less messy that way."
(sofiajoelsson.com) —Riki Altman-Yee
AUGUST 2023 77
EMILIO COLLAVINO
Inset: The dining room features a series of black-and-white drawings by Kaws. Below: Joelsson chose upholstery colors to complement a favorite painting by Aboudia.
BY DESIGN
TILE STYLE
A LOOK AT SOME OF TODAY'S TOP TILE TRENDS
BY ALENA CAPRA
When it comes to selecting durable and beautiful surfaces for your home, tile is the perfect choice. Not only is it scratch-resistant, stainresistant, and fade-resistant, but it can be manufactured to resemble exotic natural stone, cement, or even wood (without any of the maintenance). Each year, trends in tile are showcased at Coverings, the largest tile and stone exhibition in North America. Fresh from my visit to the show, I'm sharing everything trending in tile. (alenacapradesigns.com)
BIG TILE, Big Impact
When it comes to creating drama on surfaces, sometimes bigger is better. This is certainly the case with porcelain panels and slabs, which now come in sizes as large as 5 feet by 10 feet. They are available in a multitude of options that resemble concrete, natural stone, wood, and terrazzo, as well as solid colors and geometric patterns. Not only are they beautiful, but they're also durable, meaning they're ideal for walls, floors, countertops, and even to clad surfaces like cabinetry, doors, and furnishings.
CONCRETE JUNGLE
WITHOUT A DOUBT, THE COLOR OF THE MOMENT IN HOME DESIGN IS GREEN—IN EVERY SHADE FROM SAGE TO EMERALD, MINT TO OLIVE. TILE IS NO EXCEPTION TO THIS HOT COLOR TREND, WITH MANY BEAUTIFUL OPTIONS TO CHOOSE FROM. TRY OUT A GREEN HUE ON A BOLD ACCENT WALL, A POWDER ROOM BACKSPLASH, OR A KITCHEN COUNTERTOP FOR A MODERN AND RICH POP OF COLOR.
BRICK BY BRICK
When you think of the most classic tile shape, a smaller brick might come to mind—much like what we've seen in subway tile for years. This trend embodies the look of traditional brickshaped tile, but with new twists like fun colors and textures. Trending installations include both vertical stacks and horizontal applications. The possibilities are endless with smaller brick tiles, as they work well for accent walls, curved walls (when installed vertically), backsplashes, and shower walls. This is definitely a trend you can get creative with by trying out different colors and installation orientations.
Porcelain tile that looks like concrete is a strong choice for a subtle floor tile or even shower walls when you're going for that modern, industrial vibe. This on-trend option brings a clean and contemporary look. We are seeing concrete-style tile in a variety of colors including gray, warm beige, taupe, cream, dark charcoal tones, and even some bright colors.
Another popular trend soon to be seen everywhere is the look of travertine but replicated in porcelain tile. From warm tones to cool taupes and grieges, this is the next big thing for indoor and outdoor applications. We've also seen travertine accents in furnishings and accessories lately, so this tile trend may be a great way to complement interior color schemes.
78 AVENTURA MAGAZINE HOME
X
CERAMICA FONDOVALLE
B L E S
DARRYL NO
Travertine with a TWIST
SCIMARECKRAMDNAL GREEN ON THE SCENE
FIANDRE
STONE
CERAMICA SANT'AGOSTINO
SAREEN
A faucet that's as flexible as your life demands.
IS FOUND AT FARREY'S.
Whether a shared apartment or a family: the more people living together, the more different their needs will be. The Finoris lavatory faucet meets these demands with minimalist design and maximum flexibility, as a pull-out spray with two spray modes makes bathroom routines much more convenient. The new faucet is the top choice for fans of linear design.
Find the Finoris single-hole faucet and all of Hangrohe's products at Farrey's.
We know your projects require more than just a come in and buy approach, which is why we tailor our services to assist you, understanding that the sale doesn't end with the purchase. We've been helping our customers through the ever-changing complexities of the products we sell for over 95 years. Come and see why.
Visit us or call for an appointment. 1850 NE 146th Street in North Miami - 305-947-5451 3000 SW 28th Lane in Coconut Grove - 305-445-2244 Farreys.com Se habla Español.
Serving South Florida since 1924
ELEMENTS
Catch Some RAYS
FIND YOUR PLACE IN THE SUN WITH THESE BRIGHT SELECTIONS FOR A STYLISH SUNROOM
BY LIZA GRANT SMITH
FLIGHT OF FANCY
Wing your way to hours of competitive diversion with Jonathan Adler's high-gloss Botanist backgammon set ($425). Jonathan Adler, Miami (jonathanadler.com)
FLOWER POWER
TO A TEA
The Joanna Buchanan handcrafted ruffle-edge straw coasters ($48 for set of four) can turn everyday sipping endeavors into truly cool occasions. Neiman Marcus, Bal Harbour, Coral Gables (neiman marcus.com)
Hinkley's sculptural Flora chandelier ($2,200) features handmade, hand-painted blooms that cradle the interior bulbs. Benson's Lighting and Fans, Miami (bensons lighting.com)
LET THE SUNSHINE IN Joshira Raposo of Design by Casandra proved that looking past the traditional perception of a sunroom can result in a striking end product that reflects the owners' personality. "We [wanted] to create a curated and timeless space that reunites different styles," says Raposo, pointing to the Moroccan coffee tables and pendant lamps from Tighemi and the classic, clean design of the Bruno chairs from RH. "We decided to go for a mix of styles and textures and a palette of neutral colors, which, despite their difference in styles and characteristics, results in a space that reflects peace and invites you to relax." Hialeah (designbycasandra.com)
PLANT THE IDEA
First published in 1950, ACC Art Books' The Art of Botanical Illustration ($45) chronicles more than 3,000 years of stunning plant portrayals. Books & Books locations (booksand books.com)
ROLL WITH THE PUNCHES
Load the Juliska Provence bar cart ($995) with cocktail (or mocktail) accoutrements and you'll be at the ready for a happy hour on wheels. Cactus Flower, Fort Lauderdale (cactusflower.myshoplocal.com)
POP OF PATTERN
Sophisticated stripes make this Smith Sincerity Ebony pillow ($155) the perfect exclamation point for the end of your seating sentence. Living Alfresco, Miami (living-alfresco.com)
VIP LOUNGE
With its cutout back and natural rattan, Arteriors' Zanzibar lounge chair ($4,900) delivers sophisticated resort vibes yearround. Farrey's, North Miami, Coconut Grove (farreys.com)
80 AVENTURA MAGAZINE HOME
1 OAK STUDIOS
Elaine
REACH THE MOST INFLUENTIAL RESIDENTS IN AVENTURA AND BEYOND. ADVERTISE ON OUR PAGES AND GET NOTICED. Contact: aventuramagazine.com/contact-us
IS YOUR MARKETING CAMPAIGN MAKING YOU NUTS?
Every business needs to deploy effective marketing campaigns to reach and convert customers. BUT, WHO HAS THE TIME OR MANPOWER? Adding digital tactics to your campaigns will increase touch points and research shows combining traditional media like print with digital increases your ROI.
IT'S JUST LIKE HAVING A BALANCED DIET OR DIVERSIFYING YOUR INVESTMENT PORTFOLIO. SMART AND VITAL TO SUCCESS.
|
|
CONTACT US TODAY SO WE CAN BETTER UNDERSTAND YOUR MARKETING NEEDS. 1000 North Dixie Highway, Suite C
West Palm Beach, FL 33411
561.472.1908 We can help.
SOCIAL STUDIES
SEEN ON THE SCENE IN SOUTH FLORIDA
REAL ESTATE REPORT
WHO: ISG World WHAT: Annual Miami Report
WHERE: The Mandarin Oriental in Brickell Key HIGHLIGHTS: Celebrating Miami's thriving real estate market, guests mingled and heard remarks from speakers including Miami Mayor Francis X. Suarez.
AUGUST 2023 83
MARCOS FASJA, CRAIG STUDNICKY, RON BLOOMBERG
FRANCIS X. SUAREZ, CRAIG STUDNICKY
ANGELA STROL, DANIEL CASTAÑEDA
MICHAEL MARKLE, ROBERT ESPOSITO, ZENAIDA FIGUEROA
DORA KOVACS, JULIAN OSUNA
ISG WORLD
CULLEN MAHONEY, PHIL GUTMAN
MAILE AGUILA, SAM MAZMAN, LIAN OTEIZA, STEVE OWENS
ANTONIO PRIMO, FRANCIS X. SUAREZ, JOSEPH DAGROSA, CRAIG STUDNICKY
MARBER ARELLANO, ADRIANA VERGARA, SOFIA LARGACHA, PIEDAD BARONA
SOCIAL STUDIES
CENTER CELEBRATION
WHO: Adrienne Arsht Center for the Performing Arts
WHAT: Seventeenth Anniversary Gala: Labyrinth of Enchantment WHERE: John S. and James L. Knight
Concert Hall, Miami HIGHLIGHTS: The masquerade ball featured a flamenco performance by two-time Latin Grammy nominee Siudy Garrido.
84 AVENTURA MAGAZINE
WORLD RED EYE
HOLLY GAINES, ANDREA GUERRERI, ERIC JOHNSON, JANET GOLDMAN
THARRIE AND JOHANN ZIETSMAN, OLGA MARTINEZ, JORGE PLASENCIA
SABRINA AND BENJAMIN LEON IV
CHERYL AND Y. DAVID SCHARF
ERIC HANKIN, DANIELLA LEVINE CAVA, RICHARD MILSTEIN
CAROLE HALL, SHIRLEE FERNANDEZ, JAMES KELLY III, RODNEY AND MICHELLE ADKINS, BARBARA AND JOHN JACOBS
PATRICK AND CAMILLE MCDOWELL, JAMES DOW
DAN AND TRISH BELL ADIA KAMARIA, KEON HARDEMON
STEVEN GREEN, SIUDY GARRIDO, DOROTHEA GREEN
SIUDY GARRIDO
AUGUST 2023 85 WORLD RED EYE
NICHOLE SCOTT, BARBARA SCOTT, ROBIN ORGANEK, BARBARA AND MANNY ORGANEK
OHAD ELHELO, KY GABRIEL
KAREN AND JONATHAN FRYD
LEE CAPLIN, GITA KARASIK
GERALD AND JENNIFER GRANT
SOCIAL STUDIES
HOSPITAL HOPES
WHO: Baptist Heath South Florida WHAT: Reception to celebrate the expansion of Doctors Hospital WHERE: Private home, Coral Gables HIGHLIGHTS: Sid and Ashley Perkins hosted a reception in honor of prominent surgeon Dr. John Uribe to support the expansion plans for Doctors Hospital, part of Baptist Heath South Florida.
86 AVENTURA MAGAZINE
AIXA MONTERO HOLT
ASHLEY AND SID PERKINS
JUDY AND JOHN ZEDER
MARA AND JUAN SUAREZ, JAVIER HERNANDEZ-LICHTL
ANA MILTON, BRENDA MOREIRA, JUDY ZEDER
NINA AND CAMILO MIGUEL, RUPA TAK
MARC TROISI, LISSETTE EXPOSITO
JUDY ZEDER, GAETANO AND JACQUELINE CALTAGIRONE
DANIELLE AND ANTHONY CARAVETTA
SID PERKINS, JUDY ZEDER, JOE NATOLI
CECIL MILTON, ANA MILTON, FRANK MILTON
JOHN URIBE, SID PERKINS
AUGUST 2023 87 In Memory Of My Beautiful Mother Susan. Statements will remain open and I will continue our legacy of excellence in fashion and service. 2118 N.E. 123rd St., North Miami, Florida 33181 (across the bridge from Bal Harbour Shops) Tel: 305.893.7559 ESTABLISHED 1987 Unique home accessories, gifts, fabulous clothing, handbags and jewelry. HAVE YOU MADE A STATEMENT LATELY? AIXA MONTERO HOLT
BEN MOLLERE, JUDY ZEDER, RUPA TAK, THAD AND ANA ADAMS
JUDY ZEDER JOHN URIBE, JUAN SUAREZ
ALEXIS AND PRISCIL ZOUL S, KRISTEN MCMAHON, JESSICA AND GAUTAM YAGNIK
LENNIE AND SIERRA GU N, ASHLEY PERKINS
LAST LOOK
WINDS OF CHANGE «
Giant ocean-based wind farms may power the future—and a Coral Gables firm is working to design them. Someday, much of the United States' energy could be harvested using offshore wind farms filled with turbines that convert ocean winds into clean, renewable energy. Today, however, most ocean turbines are located in shallow water, since erecting them on deeper ocean sites (where the most robust winds blow) can be tricky. That's why engineers at Coral Gables' Esteyco are developing new floating "Wheel" platforms that can support massive turbines in the swells and storms of the deep sea. The firm recently became one of eight companies to win a U.S. Department of Energy grant. It's money that José Serna, Esteyco's chief technology officer, says the company will use to further develop this promising form of green energy. "It can be a good competitive solution," he says of the technology's possibilities. Serna adds that the company plans to launch a pilot project in the Canary Islands, set to be completed in 2025. "This will bring relevant lessons learned for the eventual application in the U.S.," he explains. (esteyco.com) —Kristen
Desmond LeFevre
88 AVENTURA MAGAZINE
Your Premier Destination for Luxury Senior Liv ing OPENING EARLY 2024 Contemporary Sophistication E levated Lifestyle Unparalleled Amenities & Service Be among the first. Secure your place as an inaugural resident and enjoy exclusive privileges in our vibrant community. For more i nfor m ation and to schedule your visit, call: 786-882-6645. The International at Aventura Independent Living, Assisted Living and Memory Care 21290 Biscayne Blvd. | Aventura, FL 33180 | 786.882.6645 | Hello@TheInternationalSL.com | TheInternationalSL.com Florida Assisted Living License Pending