THIRST TRAPS
5 COCKTAIL QUENCHERS TO BEAT THE HEAT
BOYS OF SUMMER
30 REASONS TO LOVE THE MIAMI MARLINS
SUMMER EVER BEST
GLAZY DAYS
THE SALTY'S FOUNDERS THROW A SWEET SOIREE
+
Aventura: 305.931.9484 Coral Gables: 305.774.0004 Doral: 305.639.9969 Brazil 25 Locations artefacto.com @artefactomiami UNIT 17A | 2000OCEAN.COM DESIGNED BY @MOTHEDESIGN
LUXURY FURNISHINGS TURNKEY RESIDENCES HOME STAGING
CONTENTS
FEATURES
42 30 REASONS TO LOVE THE MIAMI MARLINS
We celebrate 30 years of the Magic City's hometown team
By Jess Swanson
50 THIRST TRAPS
Five fresh and flavorful cocktails to savor this summer
By Jules Aron
58 HOLE FOODS
Going nuts for doughnuts with the founders of Wynwood's favorite sweet shop, The Salty
By Linda Marx
64 DEEP DIVE
Make a splash with easy, breezy summer essentials
by Nick Mele
2 AVENTURA MAGAZINE
JUNE 2023 | AVENTURAMAGAZINE.COM FOR THE LATEST IN ALL THINGS LUXURY
64 NICK MELE
Photography
Farm Rio ombré graphic bikini top, farmrio.com; Lafayette 148 New York silk-linen shorts, lafayette148ny.com; Roger Vivier metal buckle slingback pumps, rogervivier.com
An invitation to Style, Functionality and Elegance. alfredo leon ABITAR DESIGN GROUP LLC www.alfredoleon.net • (754) 234 0871 • alfredoleon63@aol.com MIAMI • FT. LAUDERDALE • PALM BEACH
17 ON EXHIBIT
73 OPENINGS
Seafood-centric Joliet is the newest restaurant from hospitality brand Lost Boy & Co.
74 LOCAL BITES
Celebrate Pride month with colorful culinary creations, sip rosé all day with help from South Florida–based brand Sip Channé, Abiaka returns to the Seminole Hard Rock Hotel after a three-year hiatus, and global vibes reign supreme on the new menu at Gala & Muse Bar in Aventura
HOME
79 INTERIORS
A designer blends culture with color and a mid-century modern vibe on Privé Island
80 BY DESIGN
Window treatments with a wow factor
81 ELEMENTS
Essential earth tones to accent your abode
SOCIAL STUDIES
83 SEEN ON THE SCENE
Pics from Miami's most fabulous events
LAST LOOK
88 COOL FACTOR
Summer strolls are made in the shade at CityPlace Doral
ON THE COVER:
PHOTOGRAPHER:
NICK MELE
MODEL:
LAUREN LAYNE
MERCK
LOCATION:
WEST PALM BEACH
FASHION EDITOR:
KATHERINE LANDE
HAIR AND MAKEUP:
HEATHER BLAINE
CLOTHING: LAUREN
LAYNE SWIM WHITE CROSS BANDEAU TOP AND BOTTOMS, LAURENLAYNESWIM. COM
4 AVENTURA MAGAZINE
CONTENTS DEPARTMENTS
AVENTURIST
10 FROM THE EDITOR
time out
hot
Eliad Cohen makes Miami home 24
Top tips and tools for hurricane prep STYLE 27 STYLE
upcycled collections, plus ocean-inspired accessories 30 THE EDIT
editors share their picks for Father's Day presents 32 JEWELRY BOX Pearls exude timeless sophistication 34 BEAUTY BEAT Sustainable selections with star power JOURNEYS
WANDERLUST
into one of the official five-starplus Palaces of Paris
Center
Get wrapped up in the past at the Frost Science Museum, where the world's largest touring collection of mummies is on display 18 THE MIX Discover two ways to meet, mix, and mingle with new girlfriends, and take
for tea at Lily's Café 20 CULTURE Embrace the live music scene at these three Little River
spots 22 PROFILE LGBTQ+ icon and businessman
HOW-TO
One-of-a-kind
Our
37
Check
40 HIGH ROAD What awaits at the expanded Porsche Experience
in Atlanta SIP & SAVOR
X 22 79 74 17
KRIS TAMBURELLO
Editorial Director
Daphne Nikolopoulos
Editor in Chief
Kristen Desmond LeFevre
Creative Director
Olga M. Gustine
Executive Editor
Mary Murray
Associate Editor
Karina Wensjoe
Fashion Editor
Katherine Lande
Automotive Editor
Howard Walker
Travel Editor
Paul Rubio
Web Editor
Abigail Duffy
Social Media Editor
Roxy Rooney
DESIGN
Art Directors
Airielle Farley, Ashley Meyer, Jenny Fernandez-Prieto
Photo Editor
Lydia Harmer
Digital Imaging Specialist
Leonor Alvarez-Maza
CONTRIBUTING EDITOR
Allison Wolfe Reckson
CONTRIBUTING WRITERS
Jules Aron, Alena Capra, Jeanne de Lathouder, Christiana Lilly, Linda Marx, Skye Sherman, Liza Grant Smith, Jess Swanson
CONTRIBUTING PHOTOGRAPHERS
Nick Mele, Jerry Rabinowitz, Gyorgy Papp
SUBSCRIPTIONS
800-308-7346
6 AVENTURA MAGAZINE Russ Kodner, G.G., AAA CALL NOW FOR YOUR FREE EVALUATION KODNER GALLERIES 45 South Federal Highway Dania Beach, FL 33004 954.925.2550 www.kodner.com Highest prices paid for your Jewelry, Diamonds, Watches and Modern Art.
Published by Palm Beach Media Group North, LLC, P.O. Box 3344, Palm Beach, FL 33480, 561-659-0210 • Fax: 561-659-1736 Aventura magazine is a registered trademark of Palm Beach Media Group North, LLC • Corporate Headquarters: P.O. Box 3344, Palm Beach, FL 33480 aventuramagazine.com FOLLOW US
2118 N.E. 123rd St., North Miami, Florida 33181 (across the bridge from Bal Harbour Shops) Tel: 305.893.7559
Publisher Terry Duffy
ADVERTISING
Sales Director
Deidre Wade, dwade@palmbeachmedia.com
Account Managers
Daisy Abreu, dabreu@aventuramagazine.com
Alex Bari, abari@aventuramagazine.com
Sima Kohen, skohen@aventuramagazine.com
Libby Lekach Roffe, lroffe@aventuramagazine.com
Digital Account Manager
Ryan Hollihan, rhollihan@aventuramagazine.com
Advertising Services Coordinator
Elizabeth Hackney
Marketing Manager
Rebecca Desir
PRODUCTION
Production Director
Selene M. Ceballo
Production Manager
Lourdes Linares
Digital Pre-Press Specialist
George Davis
Advertising Design Coordinator
Jeffrey Rey
Production Coordinators
Ileana Caban, Anaely J. Perez Vargas
Digital Marketing Manager
Tyler Sansone
OPERATIONS
Chief Operating Officer
Todd Schmidt
Office Manager
Tanya Gomez
Accounts Receivable Specialist
Ana Coronel
Distribution Manager
Judy Heflin
Logistics Manager
Omar Morales
Circulation Manager
Marjorie Leiva
Circulation Assistant
Britney Stinson
Circulation Promotions Manager
David Supple
IT Manager
Keith Gonzalez
SUBSCRIPTIONS
800-308-7346
In Memoriam Ronald J. Woods (1935-2013)
HOUR
CEO Stefan Wanczyk
President John Balardo
PUBLISHERS
8 AVENTURA MAGAZINE
MEDIA, LLC
OF: Palm Beach Illustrated • Naples Illustrated • Fort Lauderdale Illustrated • Palm Beach Charity Register • Naples Charity Register • Florida Design • Florida Design Naples Florida Design Miami • Florida Design Sourcebook • Palm Beach Relocation Guide Southwest Florida Relocation Guide • Fifth Avenue South • Palm Beach 100 • Naples 100 Art & Culture: Cultural Council for Palm Beach County • Pinnacle: Jupiter Medical Center Foundation • Waypoints: Naples Yacht Club • Naples on the Gulf: Greater Naples Chamber Jupiter • Stuart • Aventura • Vero Beach Magazine • Community Report: Collier Community Foundation • Advances: Tampa General Hospital • Naples Realtor: Naples Area Board of REALTORS • Official XII FIP World Polo Championship Magazine In Memory Of My Beautiful Mother Susan. Statements will remain open and I will continue our legacy of excellence in fashion and service.
YOU MADE A STATEMENT LATELY?
ESTABLISHED 1987 Unique home accessories, gifts, fabulous clothing, handbags and jewelry. HAVE
820 WASHINGTON STREET, HOLLYWOOD 4 Bedrooms / 4.5 Bathrooms / 4,385 TOTAL SF OFFERED AT $3,650,000 552 PALM DRIVE, HALLANDALE BEACH 7 Bedrooms / 5 Bathrooms / 5,448 SF OFFERED AT $4,995,000 883 CAPTIVA DRIVE, HOLLYWOOD HARBOR ISLANDS Waterfront / 5 Bedrooms / 4.5 Bathrooms / 4,138 SF OFFERED AT $3,650,000 TRUMP PALACE SUNNY ISLES BEACH 18101 COLLINS AVENUE #140 2 Bedrooms / 2.5 Bathrooms / 1,348 SF OFFERED AT $1,750,000 ©2023 BHH Affiliates, LLC. An independently operated subsidiary of HomeServices of America, Inc., a Berkshire Hathaway affiliate, and a franchisee of BHH Affiliates, LLC. Berkshire Hathaway HomeServices and the Berkshire Hathaway HomeServices symbol are registered service marks of Columbia Insurance Company, a Berkshire Hathaway affiliate. Equal Housing Opportunity. VISIT MY WEBSITE SELLING OR BUYING? Call Scott ! 27 OF EXPERIENCE OVER YEARS BILLION IN CLOSED SALES NEARLY A EXPOSURE LOCAL & INTERNATIONAL UNDERCONTRACT
EDITOR'S PICKS
XYAS, CAKE!
The tastiest way to celebrate LGBTQ+ Pride this month?
Icebox Café's rainbow cake (page 74).
SUMMER LOVE
June in South Florida means more than just heat, humidity, and hurricane season (don't miss "Prep and Protect" on page 24 for our roundup of tools and tips you can use to weather any storm). For many of us, the advent of summer brings a much-welcomed slower season, when we can enjoy longer days filled with fewer social engagements—and hopefully less traffic. That's why our June issue of Aventura is chock-full of ways to make this summer your best one ever.
While Miami's weather pretty much ensures that we're bathing suit–bound year-round, peak swimsuit season kicks off this month. Catch the latest looks from Lauren Layne Merck's chic sun-and-swim offerings and more summer essentials in "Deep Dive" on page 64.
Even if you're keeping cool by the pool or the water, let's be honest: In this kind of heat, you'll need to stay hydrated—and you'll want to do it in style. Our resident mixologist, Jules Aron, has stirred up five summer sips sure to quench your parched palate in "Thirst Traps" beginning on page 50.
The Miami Marlins are celebrating all summer long and beyond, because this season marks the Major League Baseball team's thirtieth year in the Magic City. Dig out your vintage ball caps or grab one of the newly reissued throwback options and turn to page 42 for "30 Reasons to Love the Miami Marlins" before heading out to catch a game or two during this month's series of home stands. Here's to all things sweet and summery!
SHELL GAME
This seashell-forward bracelet from Grainne Morton is the perfect reminder that there's no better time to embrace your inner mermaid than summertime (page 28).
Kristen Desmond LeFevre klefevre@aventuramagazine.com
10 AVENTURA MAGAZINE FROM THE EDITOR
CAPEHART
BY DR. BERTHA BAUM
BY DR. BERTHA BAUM
BY DR. BERTHA BAUM
BY DR. BERTHA BAUM
BY DR. BERTHA BAUM
BY DR. BERTHA BAUM
BY DR. BERTHA BAUM
BY DR. BERTHA BAUM
WHERE ART MEETS SCIENCE
WHERE ART MEETS SCIENCE
WHERE ART MEETS SCIENCE
WHERE ART MEETS SCIENCE
WHERE ART MEETS SCIENCE
WHERE ART MEETS SCIENCE
WHERE ART MEETS SCIENCE
WHERE ART MEETS SCIENCE
NOW ACCEPTING CONSULTATIONS
NOW ACCEPTING CONSULTATIONS
NOW ACCEPTING CONSULTATIONS
NOW ACCEPTING CONSULTATIONS
NOW
NOW ACCEPTING CONSULTATIONS
NOW ACCEPTING CONSULTATIONS
ACCEPTING
Dr. Bertha Baum is joined by Board Certified Dermatologists and Dermatology Trained Physician Assistants who specialize in providing Clinical, Surgical & Cosmetic Dermatologic Services. These services include Neurotoxins, Fillers, Lasers, Skin Tightening, Biostimulators, and a range of other aesthetic services, such as body treatments. We also offer Full Body Exams, Acne Evaluations, Visia Evaluations, and skin cancer treatments.
Dr. Bertha Baum is joined by Board Certified Dermatologists and Dermatology Trained Physician Assistants who specialize in providing Clinical, Surgical & Cosmetic Dermatologic Services.
Dr. Bertha Baum is joined by Board Certified Dermatologists and Dermatology Trained Physician Assistants who specialize in providing Clinical, Surgical & Cosmetic Dermatologic Services. These services include Neurotoxins, Fillers, Lasers, Skin Tightening, Biostimulators, and a range of other aesthetic services, such as body treatments. We also offer Full Body Exams, Acne Evaluations, Visia Evaluations, and skin cancer treatments.
Dr. Bertha Baum is joined by Board Certified Dermatologists and Dermatology Trained Physician Assistants who specialize in providing Clinical, Surgical & Cosmetic Dermatologic Services. These services include Neurotoxins, Fillers, Lasers, Skin Tightening, Biostimulators, and a range of other aesthetic services, such as body treatments. We also offer Full Body Exams, Acne Evaluations, Visia Evaluations, and skin cancer treatments.
These services include Neurotoxins, Fillers, Lasers, Skin Tightening, Biostimulators, and a range of other aesthetic services, such as body treatments. We also offer Full Body Exams, Acne Evaluations, Visia Evaluations, and skin cancer treatments.
Dr. Bertha Baum is joined by Board Certified Dermatologists and Dermatology Trained Physician Assistants who specialize in providing Clinical, Surgical & Cosmetic Dermatologic Services. These services include Neurotoxins, Fillers, Lasers, Skin Tightening, Biostimulators, and a range of other aesthetic services, such as body treatments. We also offer Full Body Exams, Acne Evaluations, Visia Evaluations, and skin cancer treatments.
Dr. Bertha Baum is joined by Board Certified Dermatologists and Dermatology Trained Physician Assistants who specialize in providing Clinical, Surgical & Cosmetic Dermatologic Services. These services include Neurotoxins, Fillers, Lasers, Skin Tightening, Biostimulators, and a range of other aesthetic services, such as body treatments. We also offer Full Body Exams, Acne Evaluations, Visia Evaluations, and skin cancer treatments.
Dr. Bertha Baum is joined by Board Certified Dermatologists and Dermatology Trained Physician Assistants who specialize in providing Clinical, Surgical & Cosmetic Dermatologic Services. These services include Neurotoxins, Fillers, Lasers, Skin Tightening, Biostimulators, and a range of other aesthetic services, such as body treatments. We also offer Full Body Exams, Acne Evaluations, Visia Evaluations, and skin cancer treatments.
Aventura, FL 33180
OPEN MON. - FRI. (8AM-5PM)
FL 33180
OPEN MON. - FRI. (8AM-5PM)
OPEN MON. - FRI. (8AM-5PM)
OPEN MON. - FRI. (8AM-5PM)
"Our passion is your skin"
"Our passion is your skin"
"Our passion is your skin"
"Our passion is your skin"
OPEN
Aventura,
MON. - FRI. (8AM-5PM)
"Our passion is your skin"
18801 NE 29 Ave. Aventura, FL 33180 OPEN MON. - FRI.
(8AM-5PM)
"Our passion is your skin"
NOW ACCEPTING CONSULTATIONS
Aventura, FL 33180 OPEN MON. - FRI. (8AM-5PM)
"Our passion is your skin"
NOW ACCEPTING CONSULTATIONS
Aventura,
OPEN MON. - FRI. (8AM-5PM) "Our
FL 33180
passion
is
your skin" WHERE ART MEETS SCIENCE
Dr. Bertha Baum is joined by Board Certified Dermatologists and Dermatology Trained Physician Assistants who specialize in providing Clinical, Surgical & Cosmetic Dermatologic Services. These services include Neurotoxins, Fillers, Lasers, Skin Tightening, Biostimulators, and a range of other aesthetic services, such as body treatments. We also offer Full Body Exams, Acne Evaluations, Visia Evaluations, and skin cancer treatments. CONSULTATIONS
Book Your Appointment! Visit our office 18801 NE 29 Ave. Aventura, FL 33180 OPEN MON. - FRI. (8AM-5PM) www.aventuradermatology.com 754-544-9030 Hablamos Español! "Our passion is your skin"
BY DR. BERTHA BAUM
Dr. Bertha Baum is joined by Board Certified Dermatologists and Dermatology Trained Physician Assistants who specialize in providing Clinical, Surgical & Cosmetic Dermatologic Services.
These services include Neurotoxins, Fillers, Lasers, Skin Tightening, Biostimulators, and a range of other aesthetic services, such as body treatments. We also offer Full Body Exams, Acne Evaluations, Visia Evaluations, and skin cancer treatments.
American Heritage Schools
#1 School in Florida for the Highest Number of National Merit Scholars and Presidential Scholars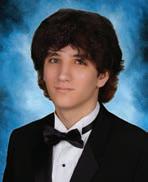 Evan Burkeen Yale, UPenn, Brown, Cornell, Duke, Northwestern, Vanderbilt, WashU-St. Louis Emory, Georgetown
Alicia Ramirez MIT, Columbia
Alexis Cohen Cornell
Matthew Jeong Michigan
Amari Porter Stanford, Yale, Cornell, Duke, Vanderbilt, Emory, UNC-Chapel Hill, USC
Sophia Abati Johns Hopkins, Dartmouth, Cornell, UVA
Hernando Ardila MIT
Carolina Silva MIT, NYU
Maya Dobrinsky Vanderbilt
Luke Freed Cornell, Columbia, NYU, Michigan, UNC-Chapel Hill
Grace Perkins NYU Leonid Cherevko Dartmouth
Brian Fadel Northwestern, Vanderbilt, Michigan
Jonathan Wang Carnegie Mellon, Emory
Laney Rakofsky NYU
Brian Cordero UChicago
Ethan Roytman UPenn, Emory, UVA
Clayton Zipperian Northwestern, Wake Forest
Rafael Frias Emory
Kayana Coradin MIT, Cornell, Columbia, Vanderbilt, WashU-St. Louis
Jack Gonzalez Brown, NYU, UVA
Mudit Marwaha UPenn, Rice
Christopher Gaski Tufts
Hailey Diaz Cornell
John Diaz Carnegie Mellon
Diane Li Northwestern
Elon Litman Stanford, Cornell, WashU in St. Louis, Johns Hopkins
Katherine Denning NYU
Learn More Broward Campus 954.472.0022 ext. 1 Visit Us At www.ahschool.com Palm Beach Campus 561.495.7272 ext. 1
Gabriela Goncalves Vieira Cornell
Andrea Carbonell WashU-St. Louis
Srijan Deoraj UNC-Chapel Hill
Dev Jayram Stanford, Brown, Columbia, USC
Grace Odom-Montbrun Vanderbilt, Emory, Michigan, USC
Aaden Albury Johns Hopkins, Tufts
Natalie Block Harvard
Ella Charland Dartmouth
Victor King US Air Force Academy
Alan Wu UCLA
Alejandra Abramson Michigan
Maximiliano Gonzalez Cornell, Bowdoin
Erin Zhou Emory, NYU, UNC-Chapel Hill
Yash Singam Duke
Aanya Doshi Carnegie Mellon
Srihith Nooka WashU-St. Louis
Anagh Sangavarapu Carnegie Mellon
Mariana Hincapie Vargas NYU
Samara Rashid Vanderbilt
Nolan Wen UPenn
Jack Edelstein WashU-St. Louis
Matthew Hinds Georgetown, UVA
Denise Michalopoulos UChicago
Ryan Patterson Notre Dame
Mariella Narvilas NYU
Sebastian Biricik Wake Forest
Ana Sanchez Emory
Congratulations to the Members of the Class of 2023
Jin Yang Li Princeton, Harvard, Stanford, Yale, Brown, Vanderbilt, Rice, Carnegie Mellon
American Heritage Schools
#1 School in Florida for the Highest Number of National Merit Scholars and Presidential Scholars
Nadia Haffizulla Emory
Rebeca Lopez-Anzures Columbia
Vasaki Mahesan Berkeley
Dylan McClish Princeton, Yale, UPenn, Dartmouth, Brown, Cornell, Columbia, Michigan, U.S. Naval Academy
Joshua Ramos Northwestern
Michel Kaiser Emory
Ruby Levenston Northwestern
Andrei Codreanu Cornell, Wake Forest
Morgan Bromer Emory, Wake Forest
Pavan Kumar Dartmouth, WashU-St. Louis, UCLA, Carnegie Mellon, USC
Natalia Blanco Krumhansl USC
Nikolas Simpfendorfer Cornell
Gabriele Barrocas Vanderbilt
Lia Lapidot Berkeley UCLA, Carnegie Mellon, Michigan
Aarav Bejjinki UCLA, UNC-Chapel Hill
Carina Wang Cornell, Berkeley, USC
Madeline Shullman Michigan
Nyela Calnek Vanderbilt
Trace Binder NYU
Deeksha Kumaresh MIT, Johns Hopkins, UNC-Chapel Hill
Lauren Wald Emory
Andrew Klis Dartmouth
Max Kaplan Carnegie Mellon, NYU
Anita Thereza Lerner Duke
Sarah Liu Oxford, Amherst
Emma Leonard Wake Forest
Mateo Mina NYU
Mary Abi-Karam UNC-Chapel Hill
Learn More Broward Campus 954.472.0022 ext. 1 Visit Us At www.ahschool.com Palm Beach Campus 561.495.7272 ext. 1 Congratulations to the Members of the Class of 2023
Jocelyn Chen Berkeley, UCLA, Tufts
Robert Gioia Michigan
Daniel Bednar NYU
Julia Azevedo-Karrer Emory, Michigan
Juan Otero Carnegie Mellon, MIT
Shyamal Vasireddy NYU
Kiran Spencer Dartmouth, Rice, Carnegie Mellon, Emory, Georgetown, UVA
Aurora Lai UVA
Wenshi Chen Rice, Pomona, Wellesley
Yasmeen Patel Emory
Jasmine Nguyen NYU
Jacob Itzkowitz U.S. Military Academy at West Point
Sean Collins Northwestern
Jennifer Chiou Brown, UCLA
Savanah Lares UChicago
Fabiana Szauer Northwestern, Emory
Olivia Askowitz Cornell, Rice, Carnegie Mellon
Daniela Guarino NYU
Ziwen Pan Berkeley, Emory
Kenneth Lin UCLA
Maya Neeranjun Carnegie Mellon, Michigan
Noelle Crichton Emory, WashU-St. Louis
Sharvaa Selvan MIT, UPenn, Northwestern, Berkeley, Carnegie Mellon
Sarah Dufays MIT, Brown, Columbia, Duke, Vanderbilt, Rice, USC
Rosa Wu Harvard, Vanderbilt, Berkeley, UCLA, Michigan
Sebastian Salaues UPenn, Vanderbilt, Georgetown, NYU, Michigan, USC, UVA, UNC-Chapel Hill
Amy Liu Emory, Michigan
Carly Aikens Emory
2050
T:
(754)707-9154
SW 30TH AVE HALLANDALLE BEACH FL 33009
(754)217-3249 3600B N 29TH AVE HOLLYWOOD FL 33020 T:
AVENTURIST
THE INSIDE TRACK TO ALL THINGS NEW AND NOW IN MIAMI-DADE
ON EXHIBIT WRAPPED
UP
« Ancient civilization comes to life in "Mummies of the World: The Exhibition," the world's largest touring collection of mummies, now on display at the Frost Science Museum . Take a gander at the mummified remains of humans and animals, plus artifacts from all over the globe. That's right, it's not just mummies hailing from the time of King Tut: The exhibit also grants visitors access to the remains of a German nobleman who was buried in leather boots, a mummified Hungarian family discovered in 1994, Scottish medical mummies from the early 1800s, shrunken heads from South America, and interactive multimedia stations for history buffs of all ages. The exhibit runs through September 4. (frostscience.org) —Christiana Lilly
South America, and interactive multime-

JUNE 2023 17
Clockwise from inset: A sarcophagus used in the burial rites of a wealthy ancient Egyptian woman; The sarcophagus of Egyptian Priest Nes-Hor from the Temple of Min; MUMAB, regarded as the first modern ancient mummy; the mummified remains of an Egyptian cat.
Paris native Sophie Kagan says she's never felt more at home than she does in Miami. Even so, something was missing. "I love Miami, but the only thing I missed from France was my tea," she says. To cure her nostalgia, Kagan opened Lily's Café , a Frenchinspired tearoom and bakery in Sunny Isles Beach. At Lily's, folks can fancy themselves up to meet friends for a cup of Mariage Frères tea served on fine china adorned with palm trees and monkeys, but also casually pop by during their morning routine for a self-care pick-me-up. Co-owner Naor Jerbi recently added a host of standout savory dishes to the classic menu of macarons, Russian cakes, and gelato. It's all part of the Lily's Café reimagination: earlier hours, more breakfast items, and even new Kosher options. In the end, Kagan says, the goal is to become everyone's "happy place." (@lilycafesunnyisles) —C.L.
GET-TOGETHER GOALS FOR GIRLS WHO JUST WANNA HAVE FUN
WALK IT OUT
TWO to Try FROM PARIS, With Love
Inspired by the pandemic-induced social media trend known as "hot girl walks," Monica Villegas and Lucia Di Tore launched Hot Girl Walk Miami in the summer of 2022 to bring the ladies of the 305 together. The event initially hit the pavement at Brickell Key, but the group grew so large that they were forced to relocate. Now participants spend each Saturday striding around Edgewater, Coconut G rove, Coral Gables, and Aventura Mall before catching up at a coffee shop or restaurant.
"We get moms with their strollers, we have women who are new to Miami and want to make new friends, and girls who have been here for a couple years and don't feel they've made that connection," Villegas says. Stay tuned as the duo gears up for a special one-year-anniversary celebration this summer. (@hotgirlwalkmiami)
Left: Hot Girl Walk Miami co-hosts Lucia Di Tore and Monica Villegas
ACING IT
Feel the rush of a tennis match with the Slice Girls, a local tennis club founded by four Miami women. "Tennis is a very stiff sport, but not for us," says co-founder Carole Hollant. "We're kids on the court." What started in 2022 as a foursome playing matches at Moore Park in Allapattah grew after Instagram posts of their cute tennis 'fits garnered positive comments—and interest from other women who wanted to join the court crew. By that summer, they'd structured the club into weekly sessions and a monthly clinic. As a nod to the '90s girl group the Spice Girls, they dubbed their group the Slice Girls. The clinics draw more than 50 women each month, ranging from women who have never held a racket to heavy hitters. "Bring your sisters, bring your cousins, your classmates, your colleagues—this a fun space where everybody can come together and blow off some steam," Hollant says. (@slicegirlstennisclub) C.L.
18 AVENTURA MAGAZINE AVENTURIST
TEA TIME
CULTURE
Tuning In
THREE WAYS TO EMBRACE ALL THINGS LOCAL IN LITTLE RIVER'S BUSTLING LIVE MUSIC SCENE
BY CHRISTIANA LILLY
In ecology, the understory is the layer of vegetation that grows in the shade of the forest's canopy. In Little River, Understory is the music and art spot where patrons can find new acts below the surface of what's popular and mainstream. "Ultimately, it's a little bit crunchy," owner Will Thompson says with a laugh. "It's jazz and figure drawing. It's not EDM and Bitcoins." Thompson is also the brains behind the restaurants Jaguar Sun and Sunny's Steakhouse (which is currently undergoing renovations). Open since January, Understory's 21,000-square-foot event space showcases local talent in art and music, hosts food and drink tastings, presents fairs filled with local vendors, and produces recurring events like Good Friday and Jazz in the Jungle. "People are coming to us more and more with these incredible ideas for events and activations," Thompson says. "Everything coming together feels like magic that this space in this neighborhood can allow us." (@understorymia)
SIMPLYGOOD DEBUTED IN THE NEIGHBORHOOD IN 2017. LIKE UNDERSTORY, IT'S A MAGNET FOR CREATIVITY. "TO ME, IT'S AN INCUBATOR," EXPLAINS FOUNDER MAX PIERRE. "IT'S FLEXIBLE BECAUSE THERE [ARE] SO MANY OPPORTUNITIES TO INCUBATE GREAT IDEAS AND SHOWCASE [THEM]." ON THE SCHEDULE ARE COMEDY NIGHTS, FOOD POP-UPS, VINYL NIGHTS, COLLABS WITH OOLITE ARTS, AND MONTHLY LIVE JAM SESSIONS WITH JAZZ MUSICIANS. PIERRE IS ALSO USING SIMPLYGOOD TO PROMOTE AMAPIANO, A SUBGENRE OF HOUSE MUSIC THAT HE HEARD (AND FELL IN LOVE WITH) DURING HIS TRAVELS TO LONDON. "MUSIC IS AT THE CORE OF EVERYTHING. SO WHETHER IT'S SHOWCASING NEW MUSIC OR DOING OUR VINYL NIGHTS AND HAVING VINYL DJS, MUSIC HAS ALWAYS BEEN AN INTEGRAL PART OF THE SPACE." (@SIMPLYGOODMIAMI)
Celebrating its one-year anniversary this summer is Low Key, a venue that keeps community top of mind. That means punk shows in the rain, Perreo dance parties with hundreds of fans jamming on an inflatable stage, markets run by local creators, and culinary popsups—including Vietnamese food from Tâm Tâm on Fridays and Saturdays. "We chose Little River because the neighborhood aligns with our vision and philosophy," says owner Brian Griffith.
"There is a mindfulness for history as well as a vision for the future." (@lowkeymiami_)
20 AVENTURA MAGAZINE AVENTURIST
1 2 3
Live beats abound in Little River at hip locales such as Understory, Simplygood, and Low Key.
LOOKING FOR A COMFORTABLE AND RESTFUL NIGHT'S SLEEP? Look no further than Aventura Mattress, the premier mattress company founded by Tania Yumbla, a true expert in the industry with over 20 years of experience.
At Aventura Mattress, we understand that a good night's sleep is essential to your overall well-being. That's why we're committed to providing the highest quality products and unmatched customer service. Our mattresses are crafted with care and attention to detail and built to last.
But don't just take our word for it – our loyal customers rave about the quality of our products and the level of service they receive; we have something to suit every sleep preference and budget.
So why settle for a subpar mattress when you can experience the ultimate in comfort and relaxation with Aventura Mattress? Visit us today and discover why we're the trusted name in the mattress industry.
15516 Biscayne Blvd, North Miami Beach, FL 33160 AventuraMattress.com 305.627.3755
PRIDE of Place
AFTER YEARS OF TRAVELING THE GLOBE TO PROMOTE ENTERPRISES SUPPORTING THE LGBTQ+ COMMUNITY, ELIAD COHEN SETTLES DOWN IN THE MAGIC CITY
BY JESS SWANSON
Before Eliad Cohen was a fitness model, a party producer, and an LGBTQ+ icon with 1.4 million Instagram followers, he was a young man from Northern Israel who was afraid to come out as gay.
"When I was 21, I was sure I was not going to tell anyone," Cohen recalls. "I was going to get married, have kids, and not disappoint the people around me. But then I realized, I won't disappoint anyone but myself. You can't live your life based on what others will feel, but what you believe in."
To Cohen's surprise, his mother, friends, and colleagues from his military service were supportive. While working as a personal trainer and bartender in Tel Aviv roughly 14 years ago, Cohen began promoting the Arisa party series—considered the world's first gay Middle Eastern party—through comical YouTube videos. The clips went viral, and Cohen soon found an international following.
It wasn't long before Cohen founded Papa Party alongside Tel Aviv Gay Pride, featuring events in the United States, Europe, and Latin America. "It became one of the biggest gay parties in the world very fast," Cohen says. "Everybody is going through something, whether it's a breakup or something at work or with family, and they want to disconnect for five hours and listen to good music. It means a lot to me that I can bring happiness to people."
Soon, Cohen found himself appearing on the cover of Spartacus International Gay Guide for its 2011-2012 issue, and being voted one of the top 10 most eligible bachelors in Out magazine.
As he ping-ponged from continent to continent to promote his parties, Cohen identified the need for a space where people could access LGBTQ+-friendly vacation rentals. He co-founded Gay-ville, a global vacation and apartment online rental network catering to
the LGBTQ+ community.
"Today we're living in a different world," Cohen notes. "We can get married in the U.S., but 13 years ago it was different. In Eastern Europe, for example, being gay wasn't accepted by everyone, so there was a big need."
Cohen relocated to Miami in early 2020, which he considers "the best decision ever."
Though he has since sold Gay-ville, the entrepreneurial spirit of the Magic City appealed to him: Last year, he co-founded Pride Icons, the largest collection of NFT-inspired art with representations of 100 queer legends (RuPaul, Andy Cohen, and Cher, to name a few) to benefit LGBTQ+ causes including GLAAD, The Trevor Project, and the HetrickMartin Institute for LGBTQIA+ Youth. Cohen also fueled his love for fashion by launching a
Whereas Cohen would previously "travel every weekend," he finds himself staying put in Miami and traveling for parties once a month. He's made new inroads in the real estate industry, launching the Eliad Cohen Group with Douglas Elliman. The work keeps him rooted in Miami and allows him to connect people to their dream homes in South Florida. In doing so, he gets to witness the excitement of his clientele, which has now shifted from partygoers to homebuyers.
"For a time, being gay was my biggest weakness," Cohen says. "But now I consider it my biggest gift. My whole life and career is built around that. If I was in the closet, what would I do?" (eliadcohengroup.com) «
spring/summer menswear line during Miami Swim Week 2022.
22 AVENTURA MAGAZINE
PROFILE
AVENTURIST
LGBTQ+ icon Eliad Cohen is making new waves in the red-hot South Florida real estate market.
SARA LUDMIR (786) 256-0817 sara.ludmir@floridamoves.com | SaraLudmir.com ENGLISH/ESPAÑOL LIST WITH ME TO SELL IT NOW I SHOWCASE YOUR HOME TO STAND APART FROM THE COMPETITION Representing the Top 2% of Coldwell Banker® Agents Worldwide 20 Years' Experience Selling Locally The Parc at Turnberry # 1032 | 2BR + DEN, 3BA Four balconies & great views | Sold for $675,000 Hamptons West # 1708 | 3 BR, 2.5 BA | Nice upgrade Gorgeous Ocean, Intracoastal & Golden Beach views | $995,000 $950,000 Hamptons West # PH14 | Large 2 BR, 2 BA | Stunning views All new with high-end finishes | Turnkey | 10 Ft. ceilings | $1,250,000 Hamptons West # TW7 | 3 BR, 2.5 BA | Largest balcony Open concept | Incredible views and sunsets | 10 Ft. ceilings | $1,100,000 $995,000 Mystic Pointe T.400 # 3108 | 3 BR, 3 BA Some upgrades & gorgeous views | Sold for $735,000 SOLD SOLD NEWCALLFOR PRICE! JUST REDUCED! JUST REDUCED!
HOW-TO
PREP AND PROTECT
HURRICANE SEASON RETURNS JUNE 1, SO GET READY WITH THESE INNOVATIVE TOOLS AND EXPERT TIPS
BY SKYE SHERMAN
FIX IT
GET LIT
Order a few of these lightweight LuminAid PackLite lanterns ($30 each) to keep in your hurricane prep kit. They can be charged via USB or solar and can last up to 24 hours on a single charge. (luminaid.com)
A WORD OF ADVICE
Conlan Kennedy, senior communication strategist at Florida Power & Light (FPL), shares a few tasks for your pre-storm to-do list. (fpl.com/storm)
• Photograph or record your home—inside and out—for insurance purposes.
• Clear tree and vegetation debris quickly; trash pickup will be suspended when a hurricane warning is issued.
Leatherman
Your toolbox might not be handy to grab in an emergency, but this all-in-one Wave Plus multitool ($120) with wire cutters, scissors, a ruler, a screwdriver, and can and bottle openers can be. (leather man.com)
KEEP IN MIND
STAY HYDRATED
Forget hoarding plastic water bottles: The WaterBob emergency drinking water containment system ($35) lets you store up to 100 gallons of potable water in your bathtub. (waterbob.com)
EAT SAFE
Did you know that frozen food can spoil if left at room temperature for two hours? The ColdTi freezer meter ($10) is a helpful way to confirm that food is still safe to eat after a power outage. (amazon.com)
MOST FLOOD INSURANCE POLICIES REQUIRE A MINIMUM 30-DAY WAITING PERIOD, AND YOU CAN'T PURCHASE NEW HOMEOWNERS' INSURANCE (OR INCREASE YOUR LIMITS) IF A NATURAL DISASTER IS IMMINENT. WANT TO MAKE CHANGES TO YOUR POLICY OR UP YOUR COVERAGE? TAKE ACTION NOW.
BLOCK FLOODS
Instead of packing and stacking back-breaking sandbags, set up these water-activated Quick Dam flood barriers ($20 for one pack). As it rains, they absorb water and grow to a height of 3.5 inches. (quickdams.com)
• Hire a qualified professional to trim any vegetation growing on or near overhead power lines.
• Turn off all swimming pool pumps and filters and wrap them in waterproof materials.
• Set your refrigerator and freezer to their coldest settings ahead of time to keep food fresh longer in the event of a power outage.
• Save your FPL account number on your phone, bookmark fpl.com/outage, and add 1-800-4-OUTAGE (1-800468-8243) to your contacts to easily report and track the status of power restoration.
• Make sure ladders or scaffolds are at least 10 feet away from power lines so you can work safely without the risk of electrocution.
24 AVENTURA MAGAZINE
AVENTURIST
All true one of the best professional realtors in our business today. —Mike B.
Very professional and an experienced negotiator. I'd recommend to anyone looking for a results driven and a market knowledgeable professional able to help you realize the full market potential of your property. It also helps that he is multilingual and able to deal in several languages. Bravo and thanks Rafael for helping us. —Stan
D.
SOLD $2,250,000
RAFAEL SZYDLOWSKI, MBA, PA 786.385.4824 | rafszy@gmail.com | www.rafaellistingrealestate.com RAFAEL SZYDLOWSKI REAL ESTATE MIAMI RAFSZYDL HABLO ESPAÑOL
8834 FROUDE AVE SURFSIDE
LOOKING TO BUY OR SELL?
RAFAEL SZYDLOWSKI. YOUR RELIABLE & TRUSTED AWARD WINNING REALTOR. TOP 2% OF
COLDWELL BANKER AGENTS WORLDWIDE
SOLD
9401 COLLINS AVE #805 SURFSIDE
$1,050,000
FOR SALE
3530 MYSTIC POINTE DRIVE #2014 AVENTURA
$665,000
SOLD
FOR SALE
10203 COLLINS AVE #201 BAL HARBOUR
$3,600,000 19195 NE 36 CT #1602 AVENTURA
$479,000
FOR SALE $524,000
3400 NE 192 ST #709 AVENTURA
SOLD
21050 NE 38TH AVE #2902 AVENTURA
$1,240,000
FOR SALE $499,000 TO BUY OR SELL START
20505 E COUNTRY CLUB DRIVE #2234 AVENTURA
HERE
20201 E COUNTRY CLUB DRIVE #603 AVENTURA
SOLD $1,900,000
Creative natural or preserved luxury arrangements designed with only top quality flowers for you. From our one on one consultation to your final high-end product, I will be there to bring your vision to life. @petaliabyleslie 305.606.7101 petaliabyleslie.com
STYLE
CURATED FINDS, LUXE ACCESSORIES, AND RUNWAY REPORTS
UPCYCLE CHIC
BY KATHERINE LANDE
JUNE 2023 27
1. Rowing Boat jacket ($2,300), LilyEve, lilyeve.store, this limited-edition collection features vintage Hermès towels and blankets repurposed into jackets, coats, and cabana tote bags. | 2. La Puerta Block ($2,795), J. Logan Home, jloganhome.com, Florida-based artisan J. Logan Horne gives vintage designer scarves a fashionable new life in the form of decor block cubes, apparel, and accessories.| 3. Dr. Scholl's clog sandals ($295), double-waisted pencil skirt ($495), Re/Done, shopredone.com, this concept fashion brand creates repurposed designs with an eye toward mindful production and sustainability.| 4. Labadee mini tote ($215), SVNR, svnrshop.com, each bag and jewelry piece is handmade from found, reused, upcycled, and natural materials. | 5. Buru x Sarah Bray Bermuda sun hats (prices vary), Sarah Bray Bermuda, sarahbraybermuda.com, this sustainable collection spotlights woven sea grass and palm leaf sun hats adorned with ribbons made from vintage and deadstock fabrics.
1 2 4 5 3
WHAT'S OLD IS NEW AGAIN, BUT THIS TIME AROUND, RECYCLED AND REWORKED INTO ONE-OF-A-KIND COLLECTIONS
MODERN MERMAID
CHANNEL A SEA GODDESS WITH THESE OCEAN-INSPIRED ACCESSORIES
BY KATHERINE LANDE
CONNECT THE DOTS
Small Lady Dior handbag with embroidered resin pearl motif ($9,100), Dior, Miami, dior.com
SHE SELLS Shell charm drop bracelet in 18-karat gold-plated silver ($895), Grainne Morton, moda operandi.com
SAFETY NET Crystal net slingback pumps ($1,520), Miu Miu, Miami, bergdorf goodman.com
TIP THE SCALES
Silver stretch lace-up sandals ($1,250), Bottega Veneta, Miami, bottegaveneta.com
SPRING 2023 layered mesh and metallic dress gives goth-on-thebeach vibes.
Come rain or shine, a
KEEP SWIMMING
Embellished Pucci P fish earrings ($785),
Emilio Pucci, Miami, pucci.com
STYLE NOTES X
MESH AROUND: Mesh accessories will instantly update a summer look.
SHELL QUEEN: Opt for accents embellished with pearls and shells.
SEA SIREN: Add a pop of shine to a neutral color palette with mixed metallics.
SUNKEN TREASURE
Metal shell clutch ($495),
Simkhai, simkhai.com
pearl embellishment ($1,995), Jimmy Choo, Miami, jimmychoo.com
STYLE
THE LOOK
MAGAZINE
AVENTURA
SPINE AND WELLNESS SPINE AND WELLNESS
For the past 10 years, Spine and Wellness Centers of America has been serving patients in Aventura and South Florida with the highest level of care and compassion using minimally invasive techniques to treat pain.
We're proud to have helped thousands of patients improve their lives and are excited to celebrate our 10-year anniversary with you. We remain committed to providing exceptional care and support to our patients and look forward to continued success in the future.
TOP PAIN MANAGEMENT SPECIALISTS TOP PAIN MANAGEMENT SPECIALISTS DOUBLE BOARD-CERTIFIED PHYSICIANS DOUBLE BOARD-CERTIFIED PHYSICIANS
Michelle Weiner, DO, MPH
Christian González, MD
Maria A. De La Peña, MD Sandee Bristow, MD Leon Anijar, MD
Thank You for being part of this exciting journey!
AMERICA CENTERS OF AMERICA 10 years serving Aventura + South Florida
Adam Nassery, MD Bruce Mann, MD Zachary Mirsky, MDMark Abumoussa, MD, MS Michael Silva, MD
CENTERS OF
www.SpineWellnessAmerica.com
SWCA LOCATIONS: MIAMI, MIAMI BEACH, KENDALL, HALLANDALE BEACH, AVENTURA FORT LAUDERDALE, BOCA RATON, TAMARAC, DELRAY BEACH, ATLANTIS AND JUPITER 10 Celebration 305.974.5533
HIGHLAND HEIRLOOM
Handcrafted leather case and binoculars ($2,641), The Fife Arms, shop.thefifearms.com
For the gentleman adventurer, a great pair of binoculars is a must.
The Fife Arms, a landmark hotel in the Scottish Highlands, has commissioned an exclusive set comprised of Leica Trinovid 8x42 HD binoculars in an exquisite bridle-leather case by McRostie. It's designed to accompany him on his travels and be handed down as an heirloom.
—Daphne Nikolopoulos, editorial director
THE EDIT
Father's Day FINDS
SPOIL THE DADS IN YOUR LIFE WITH THESE EDITOR-APPROVED PRESENTS
DRINK TO THAT
The Macallan Double Cask 15 Years Old Whisky ($173), The Macallan, themacallan.com
This double-cask whisky is matured for 15 years in separate Oloroso Sherry–seasoned American and European oak casks. The result is a sweet and smooth whisky with a creamy finish and notes of vanilla, dried fruits, and toffee. Encourage Dad to enjoy it neat or over ice for the ultimate tasting experience. —Paul
Rubio, travel editor
MOVIE MAGIC
The Criterion Channel subscription ($11 per month, $100 per year), The Criterion Collection, criterionchannel.com

For dads who spend the hours after bedtime watching prestige movies, there's no better gift that keeps on giving than The Criterion Channel. Not only will he gain access to a vast catalogue of films, but Criterion also curates themed collections, so he can deep dive on a specific director, genre, actor, and more.
—Mary Murray, executive editor
SNEAKERS WITH SOLE
Men's Rantulow mixed-media low-top sneakers ($945), Christian Louboutin, neimanmarcus.com
Forget dad sneakers; these fashion-forward kicks (featuring a rubber version of Louboutin's signature red soles) will elevate his outfits from boardroom meetings to boardwalk outings.
—Kristen Desmond LeFevre, editor in chief
TURKISH DELIGHT
Halfeti ($275 for 100 ml), Penhaligon's, penhaligons.com
Named after an ancient town on the east bank of the Euphrates River, this unisex fragrance is long-lasting and sophisticated, making it the ideal cologne for every father. A blend of fruits, spices, and deep notes commingles with pinches of bergamot, oud, and black rose for a woody, enigmatic scent evocative of this sunken city.
Denon, denon.com
If the first thing your dad would grab in a fire is his vinyl collection (after his children, of course), a turntable upgrade is in order. Give his favorite records the best seat in the house with this sleek Denon turntable that will pair perfectly with his audiophile setup. —Abigail
Duffy, web editor
30 AVENTURA MAGAZINE STYLE
—Karina Wensjoe, associate editor
OUR DOORS ARE ALWAYS OPEN WELCOME HOME TO PERL 2420 NE MIAMI GARDENS DR. MIAMI, FL 33180 // 786 654 2854 // PERLRESTAURANT.COM
1 2 6 5 7
3
JEWELRY BOX
The Power OF PEARLS
JUNE'S BIRTHSTONE EXUDES
TIMELESS SOPHISTICATION
BY MARY MURRAY
4 9 8

1. LINE UP Assael New Deco ring with diamonds and Japanese akoya pearls set in platinum, $35,000. Neiman Marcus, Bal Harbour, Coral Gables (neimanmarcus.com)
2. GARDEN PARTY Fred Leighton necklace with pearls and diamonds set in platinum, price upon request. (providentjewelry.com)
3. ALL FALL DOWN Baggins drop earrings with pearls and diamonds set in 14-karat gold, $3,520. (marissacollections.com)
4. THINK PINK Marlo Laz Squash Blossom bead collar necklace with pink pearls set in 14-karat gold, $24,000. (marlolaz.com)
5. ICE QUEEN Nadine Aysoy Tsarina Ice Flake and Baroque Pearl earrings with blue topaz, baroque pearls, and diamonds set in 18-karat white gold, $6,420. (nadineaysoy.com)
6. GRIP OF THE GRAPE Tamara Comolli Tahitian Grapes bracelet with Tahitian pearls and diamonds set in 18-karat gold, $15,400. (us.tamaracomolli.com)
7. SHADES OF GRAY Hamilton Jewelers Private Reserve ombre pearl necklace with cultured South Sea pearls and Tahitian pearls set in 14-karat white gold, price upon request. (hamiltonjewelers.com)
8. CURVE BALL Anita Ko coil earrings with pearls and diamonds set in 18-karat gold, $2,850. The Webster, Miami (thewebster.com)
9. IN THE ROUND Lugano Diamonds ring with a natural pink Kasumi pearl and diamonds set in 18-karat white gold, price upon request. (lugano diamonds.com)
32 AVENTURA MAGAZINE STYLE
THE GOOD LIFE JUST GOT BETTER! www.Williamsislandrealty.com 305-937-7800 Joel Matus is the Broker and Owner of Williams Island Realty. For the past 22 years he has been the #1 producer, selling multi-billion dollars in real estate at Williams Island. Joel is not only dedicated to his work in Williams Island, but is a full time resident as well. Joel believes in the luxurious lifestyle of our community and represents it in all transactions. JOEL MATUS - OWNER/BROKER - 305.409.0000 - JOEL@WILLIAMSISLANDREALTY.COM 4100 ISLAND BLVD, UNIT 2001 For Sale – $1,700,000 | 2235 SQ. FT. – 3 BR / 3 BA 4000 ISLAND BLVD, UNIT 805 For Sale – $775,000 | 1495 SQ. FT. – 2 BR / 2 BA 3000 ISLAND BLVD, UNIT 2701 For Sale – $1,695,000 | 2667 SQ. FT. – 3 BR / 3.5 BA 7000 ISLAND BLVD, UNIT 2102 For Sale – $1,399,000 | 2770 SQ. FT. – 3 BR / 3.5 BA
SUSTAINABLE SUPERSTARS
Zero-waste living never looked so good. Clean up your beauty routine with vegan, good-for-the-earth formulas for the whole body in recycled, reusable, and biodegradable packaging: Saje Natural Wellness Jute & Joy Liquid Sunshine Soap-filled Wash Pad ($14, saje.com); Boscia Probiotic Exfoliating Powder Refill for Face + Scalp, a gentle and clarifying exfoliator in packaging made from postconsumer recyclables ($38, Ulta Beauty locations); Kérastase Resistance
Strengthening Shampoo Refill Pouch and Reusable Bottle ($68, kerastase-usa.com); Butter & Me Lavender Rosemary Choco Body Scrub ($18, butterandme. co); Fekkai Clean Stylers Sheer Dry Shampoo EarthFriendly Aerosol with Solstice, a non-ozone-depleting aerosol ($27, Ulta Beauty locations); Augustinus Bader
The Rich Cream Face Moisturizer with TFC8 ($180 for 1 fl. oz., Nordstrom locations); and Valdé Beauty Armor + Refillable Lip Set in Soar Gold on Gold with Ritual Creamy Satin Lipstick in Faith ($199, valdebeauty.com).
—Abigail Duffy
34 AVENTURA MAGAZINE STYLE
BEAT ASHLEY MEYER
BEAUTY
SETTING THE STANDARD
Palm Beach Media Group is a renowned publishing company with print publications representing a mix of proprietary titles and custom magazines, along with digital solutions, serving the entire state of Florida and more.
art&culture: Cultural Council for Palm Beach County Time and Treasure: Guide to Better Giving Florida Design Southwest Florida Relocation Guide Florida Design Miami Edition Florida Design Annual Sourcebook
Florida Design Naples Edition Fisher Island Magazine Club Braman Magazine Advances: Tampa General Hospital
Naples on the Gulf: Greater Naples Chamber Waypoints: Naples Yacht Club
Naples Illustrated Naples Charity Register Palm Beach Illustrated Palm Beach Charity Register Naples Realtor Magazine Palm Beach Relocation Guide Vero Beach Magazine The Jewel of Palm Beach: The Mar-a-Lago Club Jupiter Magazine 5th Avenue South: 5th Avenue South Business Improvement District Aventura Magazine Naples 100
Magazine
Community Foundation Fort Lauderdale Illustrated Palm
PALMBEACHMEDIA.COM PUBLISHER OF:
Stuart
Community Report: Collier
Beach 100
Pinnacle: Jupiter Medical Center Foundation Vero Beach Magazine: Vero Beach Handbook
JOURNEYS
YOUR PASSPORT TO THE MOST FASCINATING CORNERS OF THE GLOBE
ONCE UPON A TIME IN PARIS
BEGIN YOUR PARISIAN FAIRY TALE IN THE REQUISITE SETTING: AN OFFICIAL FIVE-STAR-PLUS PALACE
BY PAUL RUBIO
Four Seasons Hotel George V
Twelve exalted properties in the City of Light carry official Palace status, a distinction above five stars and indicative of a starring role in French heritage, culture, and gastronomy. Among this elite group, a prime example of Parisian perfection is Four Seasons Hotel George V, a 1928 Art Deco landmark off the Champs-Élysées defined by exemplary design and impeccable service.
First impressions of the gilded lobby merely preview the magnifi-
cence that lies within. Dramatic floral arrangements (an ever-changing vision of 14,000 blossoms by the hotel's artistic director, Jeff Leatham) accent a double-story marble entryway that overlooks a manicured courtyard known for its seasonal pop-ups and installations. The most affable of staff greet and assist in freshly pressed uniforms, confirming—and later delivering—an expectation of excellence.
At the far end of the lobby and surrounding the courtyard, three world-renowned gastronomic sanctuaries come into view: Le Cinq,
JUNE 2023 37
COURTESY OF FOUR SEASONS
which represents the apex of French cuisine; Italian-Mediterranean hot spot Le George; and plant- and seafood-forward L'Orangerie. Combined, they carry five Michelin stars, the most under one roof in Europe.
Underground at Le Spa, a haute wellness experience awaits in a Pierre-Yves Rochon–designed haven, featuring a lap pool, cocoon lounge beds, a heated vitality pool, a mosaictiled hammam, and coral-tinged treatment rooms. Upstairs, guest rooms and suites embrace a delightfully restrained take on classical Louis XVI style, characterized by uncluttered configurations of period furnishings and a soothing palette of sky blue and cream.
Within rooms, indulge in the finer sensorial details, touching the high-thread-count linens, smelling the abundance of flowers, and melting in the comfiest terry robes imaginable. Then, zoom out on views of the pristine courtyard, daily life along Avenue George V, or even the twinkle of the Eiffel Tower (if staying in the
penthouse or select specialty suites). Next, step out on your oversize balcony or terrace—most rooms have one—and pop the first of many bottles of Champagne. The scene is set and it's time to toast the start of an epic Parisian adventure. (fourseasons.com/paris)
Le Royal Monceau - Raffles Paris
Despite the pressure for an official Palace hotel to skew traditional, Le Royal MonceauRaffles Paris stands out as an artsy and edgy maverick, branding it a favorite among the creative elite and rebel-spirited.
The vibrant property is steeped in arts and culture, with a private collection of more than 300 works spread throughout, a contemporary art gallery and bookstore, and a secret 99-seat theater. A dedicated art concierge oversees onsite programming while also coordinating guided tours at local museums and galleries, visits to artists' studios, private viewings, and more.
The imaginative interiors blend the whimsical with the surreal, culminating in designer Philippe Starck's most intricate and impressive work to date. Exposed brick and faux–stained glass windows envelop the principal staircase, nodding to the building's genesis as a home for nuns. Purgatory calls from the ground-floor smoking room, an all-red inferno padded with leather-cushioned walls and punctuated by jagged furnishings. Hallways boast floor-toceiling mirrors intended to channel inescapable self-reflection, a theme that resurfaces in each guest room through a colossal, 360degree mirrored bathroom and dressing room.
Unique room decor heightens Starck's eccentricity. In the junior suites, for example, find a shapely Murano glass lamp that honors Picasso, a random acoustic guitar that's meant to be played, and an intentionally crooked writing
38 AVENTURA MAGAZINE JOURNEYS
Scenes from the Four Seasons Hotel George V, clockwise from below: Lap pool at Le Spa; the all-day dining lounge serves tea and sweets plus dishes by chef Alan Taudon; lobby with floral arrangements by Jeff Leatham; Parisian Suite.
COURTESY OF FOUR SEASONS
desk imprinted with a Paris map that denotes Starck's preferred hangouts. Framed above the nightstands and embroidered on the duvet are love letters and poems by poet Jean Cocteau.
At the MyBlend by Clarins Spa, Starck's once-signature all-white aesthetic is deployed across multiple heavenly spaces, including an advanced hydrotherapy circuit, a swimming pool, and seven treatment rooms. Rounding out the scene are the hotel's five restaurants and lounges, each offering a distinct aesthetic and culinary experience. A highlight is the Michelin-starred Il Carpaccio, with its Sicilian, Baroque-style interiors and remixed Italian cuisine rooted in transalpine ingredients. (leroyalmonceau.com)
Le Bristol Paris
Le Bristol was the first hotel in France to be awarded Palace status—and for good reason. To start, it's the epitome of timeless French elegance in the most esteemed district in Paris, Faubourg Saint-Honoré.
Since its debut in 1925, Le Bristol has been a magnet for the cultural and fashion set, with famed regulars such as Cristóbal Balenciaga,
Coco Chanel, and Pablo Picasso. Nowadays, as part of the prestigious Oetker Collection, the property remains equally pertinent and popular by excelling in the kind of elevated Parisian stay that travelers desire.
Given the hotel's recent property-wide renovation and even newer addition of three presidential suites, guests can look forward to Louis XVI refinement across residential-style units, where touches by top interior design and style names abound (think: Loro Piana cashmere throws and Pierre Frey fabrics). Fresh takes on
neoclassical furnishings balance past and present across pastel-tinged interiors that feel light, spacious, and soft. In the common areas, elements such as the glass-and-wrought-iron birdcage elevator and centuries-old art and tapestries endure thanks to museum-quality upkeep.
French celebrity chef Éric Fréchon (a name synonymous with Parisian haute cuisine) oversees the property's four restaurants, meaning every meal is one to remember. The best is Epicure, which is decorated with three Michelin stars and features some of the most celebrated dishes to be found in this global capital of gastronomy. Two such standouts are the Candele Macaroni, a daintier take on cannelloni stuffed with black truffle, artichoke, and duck foie gras, gratinated in black truffle juice with mature Parmesan; and a creation called Leek, a caramelized giant leek in seaweed butter, partitioned by tartar of petite white pearl oysters.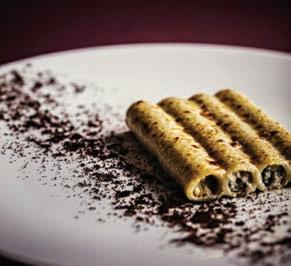 Overall, Le Bristol is unapologetically Parisian and unequivocally chic in all facets of its operation. It represents yet another idyllic Palace at which to stage your City of Light fairy tale. Now the narrative is entirely yours to script. (oetkercollection.com) «
JUNE 2023 39
Scenes from Le Royal Monceau - Raffles Paris, clockwise from above: Mirrored bathroom and smoking room, both designed by Philippe Starck; dish at Il Carpaccio.
Le Bristol Paris is home to three-Michelinstarred Epicure (right), which boasts plates such as Candele Macaroni (above).
@PATRICK LOCQUENEUX
@THETRAVELBUDS
CLAIRE COCANO
HIGH ROAD
BACK ON TRACK
BY HOWARD WALKER
Remember that scene in Top Gun: Maverick when Tom Cruise catapults off the USS Theodore Roosevelt in his F/A-18 Super Hornet fighter jet? The clenched teeth. The facial contortions. The sharp intake of breath. Exciting stuff.
It's precisely the same sensation you get when executing a launch-controlled acceleration run in the latest 640-horsepower, $230,000 Porsche 911 Turbo S rocket ship. Same clenched teeth. Same grimaced expression. Same tingle in the fingers.
And the best part? To experience this kind of thrill ride, you don't have to travel to an aircraft carrier bobbing around in the middle of the Pacific Ocean. How about Atlanta instead?
We've come to the new and expanded
Porsche Experience Center a stone's throw from the Hartsfield-Jackson Airport, where the German sports machine maker has just added a second driver development complex called the West Track. The center itself has been open since 2015, and the original 1.6mile South Track has seen more than 400,000 car enthusiasts line up to drive the latest and greatest Porsche models.
This new West Track, which will operate in addition to the old South Track, takes things up a notch. It includes a 1.3-mile ribbon-ofasphalt Handling Circuit that incorporates grin-inducing elements from some of the world's most iconic racetracks. Drivers can spiral down a section inspired by the infamous Corkscrew at California's Laguna Seca, sweep around a version of the banked, wall-of-death Carousel from Germany's Nürburgring circuit, and even snake through a section of curves reminiscent of the Tail of the Dragon road in the Smoky Mountains.
The fun doesn't stop there: This 33-acre expansion includes some serious skillenhancing activities, such as a 196-foot diam-
40 AVENTURA MAGAZINE
JOURNEYS
THE NEWLY EXPANDED PORSCHE EXPERIENCE CENTER IN ATLANTA MIGHT JUST BE THE ULTIMATE THEME PARK FOR DRIVERS
eter skidpan, aka the Low-Friction Circle. This huge asphalt pad has a polished surface that, when drenched with water, offers Teflon-like grip. You can test your drifting skills and research the handling differences between, say, a rear-engined 911 GT3, a mid-engined Cayman, and an all-wheel-drive Panamera. Fun doesn't even come close to describing it.
Then there's the brand-new Ice Hill feature for those who want to know what it's like to drive in Minnesota in January. With its 8 percent slope and water-soaked polished surface, it's a test of driver and machine to reach the top. An all-wheel-drive Macan SUV is pretty impressive here.
Move across to the new Autocross course to engage off-the-line acceleration and then test your handling and braking techniques through a series of slaloms. But nothing compares to a launch-controlled zero-to-60-mph blast in a 911 Turbo S or a spookily silent, all-electric Taycan Turbo S, both of which clock in at 2.6
seconds. The technique involves planting your foot hard on the brake pedal while you mash the throttle, then simply come off the brakes.
But for the ultimate thrill drive, a couple laps on the Handling Circuit behind the wheel of a 502-horsepower 911 GT3 will give you enough grins to last a lifetime. The sheer precision and agility of this speed machine, its balance and poise, not to mention its monumental stopping power are nothing less than otherworldly.
That's the beauty of this program: variety. With pretty much every model in the Porsche lineup to choose from (the fleet is around 130 cars) you can drive everything from a 300-horsepower 718 Boxster to a gutwrenching 750-hp electric Taycan Turbo S.
The sessions are typically 90 minutes and come with a Porsche driving coach in the passenger seat. Prices range from $450 for a customizable session in a Boxster or Cayman, to $1,275 for back-to-back blasts in a 911 Turbo S and 911 GT3. Book it for a special occasion, to sharpen your driving skills, or just because you've always wanted to drive a Porsche in anger. Or book it to be like Tom. You won't be disappointed. (porschedriving.com) «
JUNE 2023 41 WELCOME TO PETBAR! WELCOME TO PETBAR! 305-778-6950 2440 NE Miami Gardens Dr. Full Wash & Self Wash Dogs and cats grooming MEMBERSHIP PRICES Nail trimming and polish Paw massage and balm Hair color Cologne Flea & tick treatment Deshed treatment Dematt Ear cleaning Free treats Scan me Scan to make your appointment online
REASONS TO LOVE THE MIAMI MARLINS
THE MIAMI MARLINS MADE THEIR FIRST SPLASH IN THE MAGIC CITY IN 1993. SINCE THEN, THEY'VE WON TWO WORLD SERIES, UNDERGONE A SLEW OF REBRANDS, AND MOVED INTO A NEW STADIUM BUILT ON THE HALLOWED GROUND OF THE ORANGE BOWL. IN HONOR OF THE TEAM'S THIRTIETH ANNIVERSARY, WE TAKE A LOOK AT THE MANY REASONS TO LOVE OUR HOMETOWN HITTERS.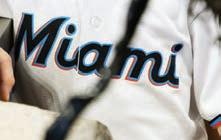 BY JESS SWANSON
3
1. Color Story
The team's current color scheme was set in 2019, featuring Miami blue, caliente red, slate gray, and midnight black. (Founding owner Wayne Huizenga's original pitch of a pink and green color palette was rejected.)
2. The Name Game
On July 5, 1991, the team was introduced as the Florida Marlins. "It's a strong fish. That's why my dad named the team 'Marlins,'" Ray Goldsby-Huizenga, Huizenga's son, told the
Miami Herald. "If you've seen how fast a blue Marlin can move through the water and how powerful they are, it's a natural choice." It was also an homage to the AAA minor league team called the Miami Marlins that first played in the Magic City in 1956. In the early 1990s, there were no other MLB teams in the state, so giving the Marlins a Florida association (as opposed to a Miami moniker) made sense. The team replaced "Florida" with "Miami" in its official name in 2012.
3. Museum Marvels
To commemorate the team's thirtieth anniversary, the Marlins Museum (located in left field on loanDepot Park's promenade level) features trophies from the team's World Series wins in 1997 and 2003, special-edition caps and pins, and a wall of old-school televisions replaying highlights from over the years. "The museum will let fans walk down memory lane with artifacts from the organization's past," says Marlins majority owner Bruce Sherman.
JUNE 2023 43
Inset: Miami Marlins manager Jared "Skip" Schumaker gives pitcher A.J. Puk a high five. Opposite page, clockwise from top left: loanDepot Park; pitcher Johnny Cueto; a young Marlins fan.
When the team debuted in 1993, players wore white and teal pinstriped uniforms with the word "Marlins" across the chest. But in the lead-up to the team's tenth anniversary, then-owner Jeff Loria made changes to the uniform with black pinstripes and lettering. Then in 2012, the Marlins switched to uniforms in orange, yellow, and blue. The pinstripes were out, and a sleek new font that read "Miami" was in. But fashion is cyclical. For the thirtieth anniversary, the team will wear the 1993-style teal pinstriped uniforms, helmets, and hats at "Flashback Friday" home games. "We actually went right back to the original style," explains Miami Marlins president of business operations Caroline O'Connor. "We were able to get our uniform provider, Fanatics, to make the 1993 uniform again." Marlins manager Jared "Skip" Schumaker is excited about the new outfits, adding, "The throwback uniforms are incredible. I remember facing the Marlins when they had the teal." Even 25-year-old pitcher Jesús Luzardo fondly recalls the iconic teal pinstripes: "My dad would take me to games at the old ballpark when the team was wearing the teal uniforms we get to wear now on our Flashback Fridays."
Throwback Uniforms are Back, Baby 5
Logo Love
On April 5, 1993, Jeff Conine played in the very first Marlins game. During the 1995 All-Star Game, Conine was dubbed Most Valuable Player (MVP) after he famously pinch-hit a home run in the eighth inning to clinch a victory. Since Conine is the only Marlins player to have played in the inaugural season and both World Series Championships, fans have given him the moniker of "Mr. Marlin." After Conine's playing career ended, he joined the Marlins as a special assistant. However, he was not retained after Loria sold the team to Sherman. But this season, Sherman made sure to bring Conine back into the fold. "I love talking to fans, I love talking to season ticket holders, and I love talking to sponsors," Conine says. "I just love being an ambassador for the Marlins." Sherman calls Conine an icon. "His perspective and knowledge of the history of the Marlins franchise and South Florida community will be invaluable," he says.
X X X
For the first nine years of the Marlins' existence, the team logo was teal and silver and featured a marlin leaping across a baseball.
With the name change and new stadium came a new logo to match in 2012. Today, the team is back to black. The current logo
harks back to the original logo with a leaping Marlin and allusions to the red stitching on a baseball in the center.
44 AVENTURA MAGAZINE
6. Mr. Marlin
4
Bob Along with the Bobbleheads
More than 500 bobbleheads grin at viewers on the main concourse in center field at loanDepot Park. The musuem is considered the largest permanent public display of bobbleheads in Major League Baseball.
7. The Man on the Mic
For 19 seasons, Fox Sports color analyst Tommy Hutton called games for the Marlins until his contract was not renewed in 2015. Fans missed Hutton's commentary, and the new Marlins management encouraged Fox (now BallySports) to rehire him in 2022. "I'm happy to be back. I'm happy to do what I do. I love it," Hutton says. "You go to a game—and God knows how many I've been to—you're usually going to see something that you've never seen before, and that uniqueness of baseball is the part I love."
8. A Standout Stadium
After sharing their home field with the Miami Dolphins football team at Hard Rock Stadium in Miami Gardens, the Marlins got a home of their own at loanDepot Park, which opened March 5, 2012. The stadium seats a maximum of 37,442 spectators and sits on the grounds of the former Orange Bowl. Dating back to 1937, it was the longtime home of the University of Miami football team. After its
demolition in 2008, construction on loanDepot Park began the following year. To commemorate the Hurricanes' color scheme, the first seat installed at loanDepot Park behind the third-base dugout was painted red, while the last one in the top deck was painted green.
9. Time Capsule Treasures
When building the new stadium in 2009, the team buried a metal case full of memorabilia from its inaugural season in 1993, its two World Series Championship seasons, and other items inside a wooden beam reinforced with concrete, essentially building "their foundation on two World Series Championships" as the team said at the time.
10. Raising the Roof
Sitting in rain- or sun-drenched seats was once considered a rite of passage for any true Marlins fan. But the new stadium boasts an amenity that players and fans both love: a retractable roof to shield them from the elements. "You're not going to get those rain showers anymore because of the retractable roof," Hutton notes. "It's made a difference because, man, it'd be so hot and we'd sit through two-hour ran delays."
11. Extra Points for EcoFriendliness
Topped by a thermoplastic white membrane to reflect heat, loanDepot Park's retractable roof is the first of its kind to receive Gold LEED status from the U.S. Green Building
crown jewel in the Marlins' sustainability practice, which includes a comprehensive recycling plan, reduced water and energy use, regional sourcing, and low-emitting interior finishing materials for paints, coatings, and sealants.
13. Fish Food
LoanDepot Park caters to a wide range of tastes by serving sushi, tacos, and even fourfoot-long Cuban sandwiches. Don't worry, purists: conventional stadium hot dogs, popcorn, and pretzels are also available. "We have a lot of local Miami food vendors," O'Connor says. "Being here every day, I never run out of things to choose from."
JUNE 2023 45
8
12 7
Inset: Where the Miami Orange Bowl once stood is now home to the loanDepot Stadium, packed with Miami Marlins fanatics as seen from this bird's-eye view.
14. Two out of Three Ain't Bad
The Marlins qualified—always as a wild card—for the postseason in 1997, 2003, and 2020. During those first two runs, they went on to win the World Series. But the Marlins' only postseason series loss came against the Atlanta Braves in the 2020 National League Division Series. "I know there have been a lot of losing seasons and that's frustrating," explains Hutton. "But people forget this is a franchise that has won two World Series in 30 years."
15. PostSeason Pennants
Homer: Love it or Hate it?
When building loanDepot Park, Jeff Loria commissioned a $2.5 million, seven-story neon obelisk known as "Homer" from artist Red Grooms in order to meet Miami-Dade's public art requirement. For six seasons, Homer and its kitschy flamingos, flying marlins, and spouting fountains whirred to life for 29 seconds in left center field each time the Marlins hit a home run. In 2019, Homer was moved outside the ballpark thanks to thenMarlins executive Derek Jeter's genuine hatred for the sculpture. Now it goes off every afternoon at 3:05 p.m. as a quirky homage to the city's area code.
The National League (NL) dates back to 1876. Though the Marlins have only been around for a fraction of that time, they've secured two NL pennants, after defeating the Atlanta Braves in 1997 and the Chicago Cubs in 2003. It's been two decades since the Marlins have made it to the National League Championship Series, but Sherman is hoping that will change. "My expectation is to be in the playoffs," he says. "There's no other reason to do this other than to make the playoffs and take it all the way."
16. Infield Home Run Roundup
In 2008, the Marlins placed fourth in the NL East, missing the postseason. But they still set a significant league record when each member of their infield hit more than 25 home runs each that season: Shortstop Hanley Ramirez hit 33, first baseman Mike Jacobs hit 32, second baseman Dan Uggla hit 32, and third baseman Jorge Cantu hit 29.
19. NoHitter
Highlights
The MLB recognizes a "no-hitter" when a team's pitchers do not allow any hits during the course of a game. It's a feat that the Marlins have accomplished six times thanks to Al Leiter in 1996, Kevin Brown in 1997, A.J. Burnett in 2001, Aníbal Sánchez in 2006, Henderson Álvarez in 2013, and Edinson Vólquez in 2017.
20. That Short But Sweet Pandemic Season
Opening day for the Marlins' 2020 season was all set for March 26—but then the COVID-19 pandemic hit and opening day was pushed back to July 24. But during the
Trophies Times Two
In just 30 years, the Marlins have brough home two World Series Championships—against the Cleveland Indians in 1997 and the New York Yankees in 2003. Put that in perspective: Older teams like the Milwaukee Brewers (founded in 1969), the San Diego Padres (founded in 1969), the Texas Rangers (founded in 1972), and Colorado Rockies (founded in 1991) have never won a World Series title.
46 AVENTURA MAGAZINE
18 17 14
shortened 60-game season, the Marlins clinched their first playoff berth since 2003, when the team defeated the New York Yankees and secured second place in the NL's East division.
21. The Soul of the Cycle
Considered one of the rarest feats in baseball, a cycle is completed when a player hits a single, double, triple, and home run all in the same game. On April 11, 2023, Marlins infielder Luis Arráez hit the cycle for the first time in Marlins' franchise history against the Philadelphia Phillies. "I want to do everything I can to help the Marlins get back [to the playoffs] this season," Arráez says. "We have great pitching and hitting. Now it's about putting it together as a team."
22. Star Hitters
On May 8, 2002, Luis Castillo started a streak that lasted for 35 straight games—the longest hitting streak the MLB has seen since Hall of Famer Paul Molitor hit in 39 straight
games for the Milwaukee Brewers in 1987.
Miguel Cabrera played 720 games as a Marlin, but he hit the ball 842 times (and won the Silver Slugger Award twice) during that time.
Giancarlo Stanton finished the 2017 season with 59 home runs, joining an elite club including Babe Ruth and Ken Griffey Jr. to pass the 55 home run mark in a single season. Stanton also boasts hitting the ball with the highest exit velocity in MLB history at 122.2 miles per hour.
23. Star Pitchers
Dontrelle "D-Train" Willis signed with the Marlins during the 2003 season. He was pivotal in securing the Marlins' second World Series win and was awarded NL's Rookie of the Year. Known for his wide-leg kick, Willis remained the Marlins' all-time winning pitcher until Ricky Nolasco usurped the honor in 2012.
Nolasco currently leads all pitchers in Marlins history with total innings pitched,
appearances, starts, and strikeouts.
José Fernández was considered one of the Marlins' best emerging pitchers until he died in a boating accident in 2016 at the age of 24. He struck out opposing hitters 253 times in 182 innings—an impressive average of more than 12 strikeouts per game.
24. Star Fielders
Rightfielder Gary Sheffield played in the Marlins' inaugural season and was a crucial component in securing the team's first World Series win in 1997. In 1996, Sheffield hit 42 home runs and 120 runs, earning him the Silver Slugger Award. The following year, he signed a $61 million six-year extension deal with the Marlins, which at the time was the largest contract in baseball history.
Centerfielder Juan Pierre played in every inning of all 162 games during the championship-winning 2003 season. Pierre received the Lou Brock Award for stealing the most
21
22 24
Luis Arráez (inset and above) completed the first cycle in Miami Marlins' history; Miguel Cabrera (center right); Bobby Bonilla, Alex Fernandez, and Gary Sheffield (far right).
Women on Top
The Marlins are led by the two-highest ranking women in professional sports: general manager Kim Ng and president Caroline O'Connor. "We are focused on diversity, but a lot of it happens naturally because of the way we make our hiring decisions and going out to the community to find people with broad perspectives and experiences that can reflect the diversity of our fan base," O'Connor says.
Now in her third season, Ng is the first woman to become a general manger of a professional North American men's sports team and the first female AsianAmerican general manager in MLB history. "There were many challenges throughout my journey," she says. "But there's an adage: 'You can't be it if you can't see it.' I suggest to our future women leaders in the game that now you can see it."
bases in the National League, with 65 stolen in a single season (a team record).
Leftfielder Cliff Floyd played for the Marlins for six seasons, including the 1997 World Series Championship Series. In 2001, the left-handed slugger hit 31 home runs and was selected to play in the Major League Baseball All-Star Game.
26. Put Me In, Coach
Last October, the Marlins named Jared "Skip" Schumaker manager, taking over as Don Mattingly's successor. This marks Schumaker's managerial start, having previously played for the Cardinals, the Dodgers, and the Reds. After his first win as Marlins manager against the Mets in 2023, the team put him in a laundry cart, wheeled him into the showers, and drenched him with beer, water, and protein powder. "I know the win goes on my record, but the credit goes to our entire team as they went out and owned the game," Shumaker says. "Players win games. I'm just glad to be a part of it."
27. Money Talks
The Marlins' opening day payroll is estimated at $90,350,000—including pitcher Sandy Alcantara's five-year $56 million deal, outfielder Avisaíl García's four-year $53 million deal, and outfielder Jorge Solder's $15 million contract this season (with a $9 million option for 2024). "We have the second highest payroll in the history of the Miami Marlins this year," Sherman says of the season's spend. "We take every incremental dollar we earn and put that right into the team. It's about baseball at the end of the day. It's not about profits."
48 AVENTURA MAGAZINE
25 27 26
Leadership at the Marlins includes president Caroline O'Connor (far left) and general manager Kim Ng (top left). Ng is pictured at left with manager Jared "Skip" Schumaker (also below) and majority owner Bruce Sherman.
28. Owning It
After the Los Angeles Times reported that the Marlins "could go up for sale soon" earlier this year, Sherman doubled down on his commitment to the team as its principal owner. "I am more deeply invested in the team's success," Sherman says. "I'm looking forward
to reaching the playoffs again and making this community proud of its hometown team." 29. Nurturing the Next Generation
The Marlins Youth Academy hosts a handful of events and programs geared toward the team's youngest fans, such as sports-based youth programs to promote interest in baseball in underserved areas across South Florida, and an initiative that donates uniforms, hats, and equipment to lower the entry barrier.
In 2022, the Marlins Youth Academy donated 10,123 pieces of equipment and uniforms to local youth baseball and softball players in 32 neighborhoods in Miami, Broward, and Palm Beach counties.
"We're out here trying to get to know the community through our youth baseball and
softball initiatives," O'Connor says. "We have great players who go out to these events to try to get to know the kids and really be a part of our community. Our hope is that the community will come and support us and these great players, too, and ultimately have a great family experience at a baseball game at loanDepot Park."
The Curse of the Billy Goat
As legend has it, Chicago resident and Billy Goat Tavern owner William Sianis cursed the Chicago Cubs when he and his pet goat were asked to leave Wrigley Field for bothering fans during Game 4 of the 1945 World Series. The Cubs didn't return to the World Series for another 71 years. They eventually broke that curse in 2016, but the Marlins had a hand in keeping it alive during
Game 6 of the 2003 National League Championship Series. The Cubs had won three games in the series against the Marlins and needed to win Game 6 to advance to the World Series. It seemed like a sure thing, since the Cubs were ahead 3 to 0 in the eighth inning. That is, until Cubs fan Steve Bartman attempted to catch a foul ball off Marlins' second baseman Luis Castillo's bat and
deflected it away from Cubs outfielder Moisés Alou. If Bartman hadn't intervened, Alou would've caught the ball and it would've been the second out. Instead, the Marlins went on to score eight runs, defeating the Cubs and keeping the team from reaching the World Series that year—making Cubbies faithful wait another 13 years to finally break the famous curse. «
JUNE 2023 49
29 30
28
ThirstTRAPS
BY JULES ARON
BY GYORGY PAPP
Sweet Sin-phony
Peas and Thank You
50 AVENTURA MAGAZINE
PHOTOGRAPHY
IF THE SUMMER SEASON HAS YOU FEELING HOT AND BOTHERED, WET YOUR WHISTLE WITH THESE SULTRY SIPS
Passion and Plum
Fire and Ice
Grape
Expectations
JUNE 2023 51
Peas and Thank You
Provoke your taste buds with the uplifting aromatics of a summer garden and the intoxicating allure of Italian bergamot, plus the fresh flavors of crisp cucumber and the subtle sweetness of snap peas. Sherry adds a touch of balancing salinity, while a topper of sparkling coconut water amplifies the aromas in this transportive low-proof cocktail.
INGREDIENTS
4 cucumber slices
4 sugar snap peas
1 Meyer lemon slice
1 1/2 oz. Italicus Rosolio di Bergamotto
3/4 oz. fino sherry
3 oz. sparkling coconut water
Muddle the cucumber slices, peas, and lemon slice in a shaker. Add the Italicus and sherry. Add ice and shake well. Double strain into a glass with ice. Top with sparkling coconut water and lavishly garnish with cucumber ribbons, edible flowers, and pea shoots.
52 AVENTURA MAGAZINE
Fire and Ice
Flirt with fire and ice in this unexpected blended beauty. Finding itself somewhere on the blissful intersection of the piña colada and the frozen margarita, this fruity, creamy, and spicy quencher might be the coolest respite from the heat.
INGREDIENTS
1 1/2 oz. Ghost Tequila
1/2 oz. Pierre Ferrand Dry Curaçao
1/4 cup pitaya chunks
1/2 oz. lime juice
1/2 oz. agave syrup
1/4 cup fresh coconut or 1 oz. coconut cream
Add all the ingredients to a blender with crushed ice. Add more as you blend until you've achieved your preferred texture. Pour into a tiki mug or coconut shell for optimum enjoyment.
54 AVENTURA MAGAZINE
Sweet Sin-phony
Seduce your senses with this midsummer tipple. With luscious red fruit and bright citrus essence, this hauntingly complex grog comingles with aged notes from the añejo and warm botanicals from the aperitif for a sensual adventure.
INGREDIENTS
8 raspberries
1 tbsp. fig preserves
1/2 oz. pineapple juice
1/2 oz. lemon juice
1 oz. Munyon's Paw-Paw Premium Florida Liqueur
1 1/2 oz. Uni Tequila Añejo
Muddle the raspberries gently in a shaker. Add the fig preserves, pineapple and lemon juices, liqueur, and tequila. Add ice and shake well. Double strain into a chilled coupe. Top with a flower-infused ice sphere and enjoy.
JUNE 2023 55
Grape Expectations
Entice your guests with this juicy white negroni variation that spins grapes three ways. Instead of gin running beneath the bright flavor, this drink uses a base of pisco (a Peruvian grape distillate) and vermouth bianco (a sweet, fortified wine), topped with sparkling rosé for a trifecta of grape-ness.
INGREDIENTS
1 oz. pisco
1 oz. vermouth bianco
1 oz. Luxardo Bitter Bianco
1 oz. sparkling rosé
Combine the first three ingredients into a mixing glass with ice. Stir until chilled and strain into a coupe. Top with sparkling rosé. Garnish with an expressed orange peel and a small cluster of frozen grapes.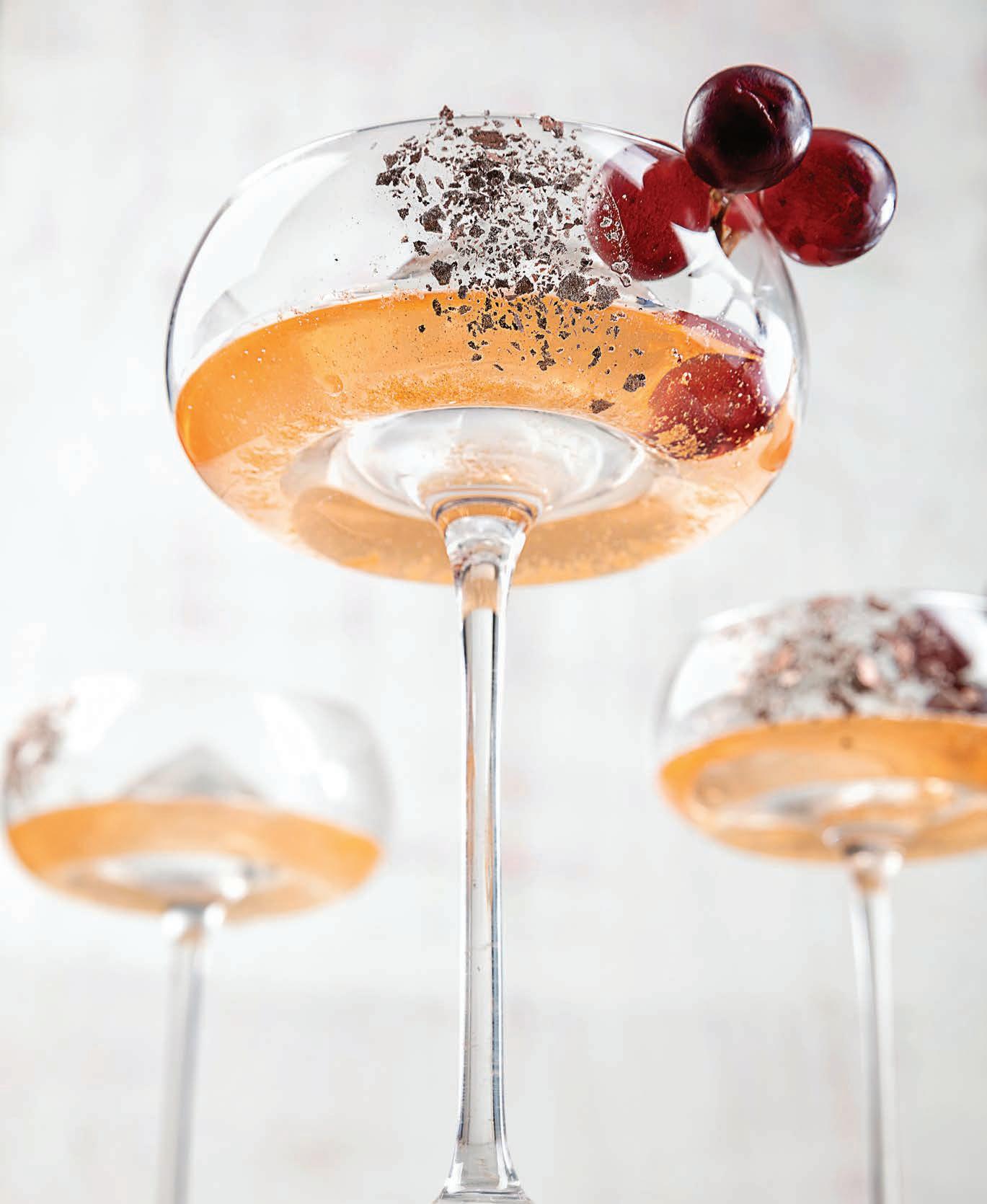 56 AVENTURA MAGAZINE
Passion and Plum
Spice up your next gathering with a fiery number. This crushable, tropical cobbler with rum, ginger beer, and passion fruit has unexpected exotic notes of Asian pickled plums that will leave you puckering up for more.
INGREDIENTS
1 tbsp. umeboshi, pitted and chopped
1/2 oz. freshly squeezed lime juice
1 oz. amontillado sherry
1/4 oz. Chinola Passion Fruit Liqueur
1 oz. botanical rum such as Ron Pa'lante
3 oz. ginger beer
Gently muddle the umeboshi at the bottom of the serving glass. Fill the glass with crushed ice and add the lime juice, amontillado, passion fruit liqueur, and rum. Stir thoroughly to combine. Top with ginger beer and garnish with thinly sliced kumquats and fresh plums.
JUNE 2023 57
HOLE FOODS
THE FOUNDERS OF THE SALTY DOUGHNUT SHOP HOST A SWEET SOIREE IN THEIR CORAL GABLES HOME
BY LINDA MARX | PHOTOGRAPHY BY JERRY RABINOWITZ
58 AVENTURA
MAGAZINE
Opposite page: Doughnut entrepreneurs Andy and Amanda Rodriguez at their Spanish Mediterranean home in Coral Gables; inset: Amanda decorated their dining table with flowers, oranges, and candles.
Before Amanda Pizarro Rodriguez and Andy Rodriguez tied the knot in 2017 (after meeting on Match. com in 2013), they bonded over their mutual love of doughnuts. The pair traveled to New York, Chicago, Atlanta, and Portland to visit the country's most crave-worthy doughnut spots like Sidecar, The Doughnut Project, Dough, and Voodoo Doughnuts.
They didn't know then that they would eventually open The Salty—and expand to locations across three states. It's hard to imagine, but Amanda can recall a time when she was "in awe that artisanal doughnuts were even a thing." The big epiphany came while she and Andy were visiting Portland, Oregon, in 2014. "The first thing we searched for was the best doughnut shop, Blue Star Donuts," she says. "We kept the doughnuts for like four days, which you aren't supposed to do, but we didn't know."
Not only did the pair realize that artisanal doughnuts were "a thing," they also realized they had the potential to be money makers. "There were lines outside with not much seating and often no coffee," says Andy, who knows a thing or two about the importance of coffee—his grandfather owned a handful of Cuban cafés in Miami. "[Amanda and I] realized after sitting in various shops over time that this could become a real business, and we wanted to revolutionize it."
That's when inspiration struck. "Nobody had married craft artisan doughnuts with great coffee options and a beautiful space," Andy notes. Add to that a community vibe: "We wanted to create a place where you could celebrate a birthday, just feel good, or meet someone for a first date," says Amanda. And they wanted to do it in Miami, where they were raised.
As a child, Amanda had run a small cake-making business out of her parents' Weston home, but she and Andy needed input from a trained chef to make their dream a reality. Enter pastry consultant Max Santiago, who signed on in late 2015 to develop recipes for what would become The Salty.
60 AVENTURA MAGAZINE
Two months later, Andy and Amanda maxed out their credit cards and got financial support from friends and family to launch The Salty out of a 1950s Aljoa camper in a Wynwood parking lot during Art Basel. Their scratch-made sweet treats and craft coffee offerings attracted Miamians, who lined up around the block to get their hands on four-inch doughnuts in six flavors—including traditional glazed (with a Tahitian vanilla bean coating), guava and cheese (topped with cookie crumbles), and maple bacon (crafted with candied bacon from Miami Smokers and a porter beer reduction from Wynwood-based J. Wakefield Brewing).
That first weekend, The Salty crew made hundreds of doughnuts and sold out in just a few hours—a pattern that continued for six months. On Fridays, Saturdays, and Sundays, customers would queue up well before the truck's 11 a.m. opening time, waiting anywhere from one to one-and-a-half hours to purchase doughnuts that cost $4 to $6 a piece. Soon, the nearby shared commercial kitchen Amanda and Andy used to produce their wares couldn't keep up with demand. In May 2016, The Salty opened its own kitchen in Little Haiti, allowing the team to double production.
That same year, Andy and Amanda opened their first brick-andmortar store in Wynwood to serious fanfare and more lines around
JUNE 2023 61
the block. Today, The Salty boasts Florida locations in Miami, West Palm Beach, and Orlando, plus three in Texas and one in North Carolina. Expansion is in the works: A Coconut Grove outpost, two Tampa locations, and three new Atlanta-area stores are opening later this year. Pastry chef Audrey Scheib leads doughnut innovations, working closely with Andy and Amanda to direct flavor testing and recipe creation across the brand. Each location of The Salty
The couple served hamachi belly crudo (above) as well as Iberico pork chops, acorn squash, and miso Caesar salad with doughnut croutons.
features its own chef and sous chef—guaranteeing chef-made doughnut offerings that showcase the freshest local ingredients and are tailored to each community. All that effort is getting the brand noticed, too: Thrillist recently named The Salty one of the "31 Best Doughnut Shops in America."
Amanda and Andy believe it's the emphasis on family and commuity that has made The Salty such a success. Since they each grew
up in homes filled with food, family, and fun, they know how important a meal is to making people feel full— in both their hearts and their bellies.
As they do when running The Salty, the couple divides duties at their Coral Gables home when entertaining guests: Amanda handles logistics while Andy is all about the food.
"I do step into the kitchen to play sous chef to Andy when needed," she says. "But my main responsibility is the party experience, vibe, decor, and music, just like at The Salty. I love to collect candles, antique vases, and every color of linen napkin. I am like my own catering store."
At a recent family affair at their Spanish Mediterranean home, Andy prepared the food and Amanda designed the decor with a happy color scheme of purples and pastels. "I wanted a very upbeat table setting," she says of her arrangements of ranunculus, lisianthus, and spray roses.
Guests noshed on signature baked goods and an assortment of blueberry tarts from The Salty, plus layered ham and cheese rolls
62 AVENTURA MAGAZINE
Andy and Amanda share their love of doughnuts with their 4-year-old son, Jordi (bottom left). Guests at this home party enjoyed a variety of doughnuts and ham and cheese rolls (above).
paired with Chartogne-Taillet Le Rosé Brut Champagne. "We try to be adventurous and push people to try new food and wine that they never have had before," Andy says.
Andy prepared miso Caesar salad with furikake doughnut croutons, sous vide heirloom Iberico pork chops marinated in shio koji and finished on the hearth, and acorn squash with yogurt, pomegranate, garden herbs, and warm honey. As they ate, guests sipped a 2006 Pernand-Vergelesses Premier Cru by Domaine-Rapet and a 2010 Mayacamas Vineyards Chardonnay. Dessert included doughnuts, of course, plus warm brown butter chocolate chip cookies served with The Salty's famous coffee.
Danny Pizarro, Amanda's brother and the chief marketing officer for The Salty, says coming to a party in his sister's home is always a good time. "Put your party pants on here," he says, laughing. Amanda agrees. "We like to be funky and creative when we entertain, and we always put family first. Any excuse for a get-together is good for us." «
JUNE 2023 63
DEEP DIVE
SUSTAINABLE SWIMWEAR, PLAYFUL DRESSES, AND LAID-BACK LAYERING PAVE THE WAY FOR SUMMER FUN
Photography by NICK MELE
64 AVENTURA MAGAZINE
White cross bandeau top ($80), white ruffle swimsuit bottoms ($69), Lauren Layne Swim, laurenlayneswim.com
Opposite page: Swing dress with feathers ($940), La Double J, ladoublej.com; metal buckle slingback pumps ($875), Roger Vivier, rogervivier.com
Fashion editor: Katherine Lande
The Maison silk shirt (price upon request), J. Logan Home, thewebster.com
Opposite page: Ombré graphic bikini bottoms ($85), Farm Rio, farmrio.com; crinkled organic linen bomber ($1,398), Lafayette 148 New York, lafayette148ny.com.
Ombré graphic bikini top ($85), Farm Rio, farmrio.com; silk-linen shorts ($498), Lafayette 148 New York, lafayette148ny.com.
JUNE 2023 69
Opposite page: Black tie top ($80), black skirt ($98), Lauren Layne Swim, laurenlayneswim.com
70 AVENTURA MAGAZINE
Distressed denim shirt ($990), deconstructed denim shorts ($590), Stella McCartney, stellamccartney. com; Gigi bikini top ($70), Lauren Layne Swim, laurenlayneswim.com.
Opposite page: Cotton poplin midi dress ($1,350), natural palm necklace ($550), Johanna Ortiz, johannaortiz.com
Model: Lauren Layne Merck
Hair and makeup: Heather Blaine, Creative Management, Miami
Location: 233 Cortez Road, West Palm Beach, property listed with
Brown Harris Stevens, agents
Whitney McGurk and Liza Pulitzer
REACH THE MOST INFLUENTIAL RESIDENTS IN AVENTURA AND BEYOND. ADVERTISE ON OUR PAGES AND GET NOTICED. Contact: aventuramagazine.com/contact-us
SIP&SAVOR
BOLD FLAVORS, COOL COCKTAILS, AND LOCAL FAVORITES
OPENINGS
NEIGHBORHOOD NEWBIE
The latest endeavor from beloved Miami-based hospitality brand Lost Boy & Co. is Joliet, a cozy, laid-back, seafood-centric bistro tucked into a quiet stretch of 17th Street on South Beach near Sunset Harbour, with seating that spans indoors and out. The menu leans heavily into Big Easy and low-country influences through starters like New Orleans–style barbecue prawns (in Worcestershire sauce and garlic butter with toasted baguette tips to sop up the sauce) and mains such as gumbo (in a dark Cajun roux with okra) and grilled skirt steak (sliced and topped with a scoop of Cajun butter and accompanied by herb salad and layered potatoes Joliet). However, it's also deeply rooted in a raw bar selection that counters the more
decadent items—and gives us every reason to pop in for oysters and bubbles at happy hour even when we're not craving a full meal. Raw bar highlights include an everchanging variety of East and West Coast oysters with a choice of flavored mignonettes like Calabrian chili, passion fruit, and fine herb; raw scallops lightly dressed in buttermilk yuzu kosho; and seasonal seafood towers of shrimp, oysters, clams, crab, and local fish crudo. Finally, as part of the Lost Boy & Co. empire—a name synonymous with the best in Miami's cocktail trends— expect drinks that are smooth, balanced, and sublime. We recommend the spiced grapefruit spritz for early evening and the classic Sazerac, perfected, for late night. (jolietmiamibeach.com) —Paul Rubio
JUNE 2023 73
Clockwise from inset: oysters with Calabrian chili, classic, passion fruit, and fine herb mignonettes; spiced grapefruit spritz.
JCKC PHOTOGRAPHY
PATRICK MICHAEL CHIN
Somewhere Over the Rainbow
JUNE IS INTERNATIONAL GAY PRIDE MONTH. CELEBRATE WITH THESE COLORFUL CREATIONS AT SOME OF OUR FAVORITE MIAMI HOT SPOTS.
BY PAUL RUBIO
RAINBOW CHURROS AND THE UNICORN MARTINI AT R HOUSE WYNWOOD
Gay-owned and -operated R House Wynwood is best known for its feel-good weekend drag brunches, but the restaurant also features a flavorful Latin-forward dinner menu Wednesday through Saturday nights. After a hearty meal of chili chicken arepas, mojo pork empanadas, Florida blue crab croquetas, or carne asada, opt for the obligatory dessert: multicolored, sugar-dusted churros with sides of spiced, gooey chocolate and whipped cream for dipping. Instead (or in addition), slurp down the ultimate liquid treat: the Unicorn Martini, a piña colada topped with whipped cream, marshmallows, rainbow sprinkles, and edible glitter. (rhousewynwood.com)
RAINBOW CAKE AT ICEBOX CAFÉ
This queer-positive cake is a six-tiered, multicolored marvel layered with a whipped cream filling and topped with whipped cream frosting. Icebox Café's statement-making treat began as a Pride special in June 2022, but high demand has resulted in its perennial presence at both locations in Miami Beach and Hallandale Beach, available by the slice or as a whole cake. (iceboxcafe.com)
MIAMI PRIDE COCKTAIL AT MATADOR BAR
It's an annual tradition at the Miami Beach Edition to add a limited-time, Pride-forward cocktail to the lineup at Matador Bar. This year's Insta-worthy invention is a flowery and fruity blend of vodka, fresh pineapple juice, house-made ginger syrup, lime, kiwi chamomile tea, creamy egg white, and prosecco. Best of all, a portion of sales are directed toward an LGBTQ+ organization; this year's pick is the Stonewall National Museum. (editionhotels.com/miami-beach)
RAINBOW SLIDERS AND RAINBOW BRITE MILKSHAKE AT SUGAR FACTORY
Sandwiched between five individually color-toasted slider buns are the daintiest burger patties (your choice of beef, chicken, or veggie), topped with American cheese, pickles, crispy onions, and Sugar Factory's signature creamy sauce. Double down on the Technicolor food fiesta at Sugar Factory's new location on Alton Road in South Beach with the Rainbow Brite milkshake: a vanilla shake served in a tie-dye-patterned mug with a massive slice of rainbow cake on top, blanketed in confetti candy stars for good measure. (sugarfactory.com)
74 AVENTURA MAGAZINE SIP&SAVOR
PRIDE
« «
EVERYTHING'S COMING UP ROSÉ
Television personality and South Florida resident Kavita Channe admittedly wasn't a fan of rosé at fi rst sip. But after traveling through Provence, France, and drinking plenty of the good stuff, she changed her tune. So much so that she took matters into her own hands and created Channé Rosé , a crisp pink wine for the U.S. market that spoke to her love affair with coastal French rosé.
After meeting with more than 100 winemakers, she found her match in the personalities, grapes, and soil of a small, multigenerational, family-run estate in Hyères, some 25 miles outside of St. Tropez, and created a proprietary blend of Grenache, Cinsault, and Mourvèdre varietals. "I wanted to develop a blend that could work well in steak houses but also have a light Mediterranean feel," Channe explains.
Since launching in South Florida in 2017, Channé Rosé has
expanded to eight states and currently reigns as a popular by-the-glass pick at such Miami restaurants as Lobster Bar Sea Grille on South Beach and Fiola in Coral Gables. In 2022 Channe debuted her second wine, Channé Blanc, a traditional Provence-style blend of Sémillon and Ugni Blanc that is now making its way into small regional retailers and local restaurants, but can also be purchased online. (sipchanne.com) —P.R.
JUNE 2023 75 @lentrecoteusa www.lentrecoteusa.com The world famous concept is finally here in Miami. Call or visit us online to reserve your table. 305-974-0043 18146 Collins Ave Sunny Isles Beach, FL 33160
WINE TIME
DID YOU KNOW THAT NATIONAL ROSÉ DAY IS JUNE 13? WE'LL CHEERS TO THAT!
RESTAURANT REDUX
HARD ROCK HAVEN
Hidden among casino gaming, flashy shows, and raging nightlife, Seminole Hard Rock Hotel and Casino's unexpected gastronomic treasure, Abiaka, returns after a threeyear COVID hiatus. The dinner-only restaurant marries the flavors of North and South America over live fire, a Josper charcoal oven, and an menu that ranges from bone-in beef rib with guava jam, a grilled shrimp cocktial, and "fire water" scallops (a modern take on Mexican aguachile).
Dinner begins with a basket of piping hot cheddar and chive biscuits, brushed with hot honey and delivered with the first—of many—Florida-inspired cocktails. The attention to detail and craftsmanship that follows is exceptional. Even the roasted hearts of palm salad features fresh palm cores flown in from Hawaii, which are then prepared two ways: juli-
enned raw or sliced into circles and quick-roasted in the Josper oven. The combo is accompanied by the freshest of avocado, Florida grapefruit, and heirloom cherry tomatoes and topped with crispy Peruvian quinoa and a tangy tamarind dressing. Similarly, the Maine lobster feast is a 2-pound stunner cooked to perfection over the wood-fire grill and served with house-made chimichurri and lime-mustard butter. In short, you can't go wrong with any plate at Abiaka. It's a memorable, multisensory journey into bold flavor combinations that will entice you to come back for more.
(seminolehardrockhollywood.com) —P.R.
76 AVENTURA MAGAZINE SIP&SAVOR IS YOUR MARKETING CAMPAIGN MAKING YOU NUTS? CONTACT US TODAY SO WE CAN BETTER UNDERSTAND YOUR MARKETING NEEDS. 1000 North Dixie Highway, Suite C | West Palm Beach, FL 33411 | 561.472.1920 We can help. AVM_2023_Nuts_HALF_HORZ.indd 1 4/7/23 9:25 AM
GLOBAL GOURMET
Travel by DISH
On the seventh floor of the Four Diamond Hilton Aventura Miami sits Gala & Muse Bar, a refined South American fusion restaurant with a new menu crafted by Venezuelan executive chef Marcos Flores. Drawing on his experiences working in restaurants from Chicago to Dubai, Flores has transformed Gala into a place where foodies can explore cross-cultural flavor mashups.
For a little pre-dinner debauchery, try a signature cocktail (or two) at Muse Bar. Let your taste buds travel to South America with a Chile-Rita, made with Sauza Silver, Triple Sec, lime juice, and habanero.
When it's time to dine, don't miss the Causa Peruana, a traditional potato cake filled with chicken salad and avocado, topped with crispy sweet potato, and complemented by a creamy lime-avocado sauce. Or try the reimagined crab cakes, with each patty perched atop a slice of banana bread and finished with mango salsa, rum butter sauce, and micro cilantro. For something sweet and salty, savor the woodland mushroom flatbread with roasted mushrooms, goat cheese, caramelized onion, and a fig balsamic drizzle. A must-order entrée is chef Flores' signature beef barbacoa short ribs on polenta puree with barbacoa sauce and roasted root vegetables. House-made desserts at Gala are winners in both presentation and taste. Opt for the passion fruit torte with hazelnut praline and coated with a mango gelee, or the warm Venezuelan chocolate cake with tropical fruits and a passion fruit gelato, and thank us later. (galaandmusebar.com) —Karina
Wensjoe
JUNE 2023 77 SUBSCRIBE TODAY aventuramagazine.com/qr AVM_2023_PrintAd_Subscription Ad_Half Horz.indd 1 10-Apr-23 17:45:58
Clockwise from above: Gala's main dining room; executive chef Marcos Flores; beef barbacoa; Muse Bar's Chile-Rita cocktail.
Luxury gets personal with the AXOR MyEdition faucet line.
IS FOUND AT FARREY'S.
AXOR MyEdition offers perfectly coordinated, multisensory experiences.
Brilliant, reflective, durable, AXOR MyEdition mixers for wash basin, bidet and bathtub come in chrome as well as in various AXOR FinishPlus surfaces. These surface finishes create visual statements that harmonize with other materials in the bathroom.
Find them at Farrey's.
We know your projects require more than just a come in and buy approach, which is why we tailor our services to assist you, understanding that the sale doesn't end with the purchase. We've been helping our customers through the ever-changing complexities of the products we sell for over 95 years. Come and see why.
Visit us or call for an appointment. 1850 NE 146th Street in North Miami - 305-947-5451 3000 SW 28th Lane in Coconut Grove - 305-445-2244 Farreys.com Se habla Español.
Serving South Florida since 1924
HOME
FROM CITY TO SHORE, THE FINE ART OF MIAMI LIVING
INTERIORS
PRIVACY PLEASE
Interior designer Tamara Feldman demonstrated the breadth of her talents in her latest project on Aventura's elite Privé Island, a secluded eight-acre enclave boasting twin 16-story towers. "The homeowners value their privacy, and the island offers that," says Feldman. The design team was tasked with transforming a 3,500-square-foot "white box" into a true home, blending the residents' Mexican culture with vibrant color and mid-century modern sentiments.
Feldman opted for blue tones on the walls and layered in terra-cotta hues, compelling artwork, and sculptural furnishings, all while mainting a clean aesthetic. To better define the areas within the open floor plan, the designer incorporated contemporary architectural features, including custom white oak millwork throughout. The formal living and dining areas display water views from an expanse of floor-toceiling windows. The adjacent kitchen and family room, divided by bespoke panel slats, also feel connected to the vista beyond.
"To see how we transformed the apartment into this amazing, sophisticated, yet warm and inviting home is always exciting," says Feldman. "We were able to create exactly what our clients envisioned feeling and experiencing—family gatherings, a home that is welcoming, comfortable, and sophisticated." (tamarafeldman.com) —Jeanne
de Lathouder
JUNE 2023 79
KRIS TAMBURELLO
BY DESIGN
THROWING SHADE
YOUR GO-TO GUIDE FOR CHOOSING WINDOW TREATMENTS WITH A WOW FACTOR
BY ALENA CAPRA
Here in sunny South Florida, window treatments are a must—not only for blocking sun glare, but for privacy and even ensuring a good night's sleep (thank you, blackout shades). In addition to all the practical aspects of window treatments, they're also a beautiful way to enhance your space. Check out my tips for selecting the right products for any window in your home. (alenacapradesigns.com)
Motorized or Manual
No matter if you go for shades or drapery, you'll want to consider whether your window treatments will be operated manually or via motor. Motorized window treatments are convenient but costly. I always suggest to go with motorization in your most used areas like the main living room and primary bedroom, and to save manual options for guest rooms, offices, kitchens, dens, and bathrooms. (Pro tip: If a window is so high that it's hard to access, a motorized option is your best bet.)
DIY DRAPERY
If you want to go DIY with your drapery, pre-fabricated options are available in standard heights from 84 inches to 120 inches to fit most windows. Try pairing a blackout-lined drapery with a set of sheer panels behind it for a luxe look. When it comes to hardware, choose your favorite from a variety of today's most popular finishes—matte black, brushed gold, polished nickel, or chrome. Finish with a fun set of finials for extra flair.
GO WITH A PRO
WINDOW TREATMENTS MUST BE PRECISE, AND MEASURING PROPERLY CAN BE TRICKY. IF YOU HAVE VERY TALL, CURVED, OR ARCHED WINDOWS, CONSIDER LETTING A PROFESSIONAL HANDLE THE JOB.
TOP IT Off
If you want to add a pop of color or a lively fabric pattern to your windows but want to avoid overkill on yards of drapery, consider adding interest above the windows with a valance. Soft roman valances give a tailored look, or you can even go with a cornice.
ON A ROLL
Roller shades provide a clean look. They do the job of cutting the sun's glare and come in a variety of colors and sun-control options. Rollers are the perfect choice when you've got a beautiful view that you don't want to block with stacks of drapery, or if you prefer a sleek, minimal aesthetic. For a softer vibe, try pairing them with sheer drapery or even fixed panels.
SHEER Elegance
My favorite window treatments for a bedroom or living room are ripplefold sheers because they add softness and elegance. White and off-white are timeless colors that will last through future design refreshes, but sheers with a modest texture or pattern can also help to elevate a room.
80 AVENTURA MAGAZINE HOME
X
NO B L E S
DARRYL
ELEMENTS
DOWN TO EARTH
CREATE
A GROUNDING
SPACE
FOR YOUR
ABODE WITH MODERN EARTH TONES
BY LIZA GRANT SMITH
ROUND AND ROUND
Encircle culinary creations with a satisfying hue courtesy of Haviland & Parlon's Lexington presentation plate in vanilla ($165 each).
The Island Shop, Key Biscayne (theislandshop.com)
ON NEUTRAL GROUND
Jessica
WARE IT'S AT
Monochromatic flatware is so last season. Up your tablescape game with Mepra's Italian Fantasia flatware ($99 for a five-piece set) in your choice of 16 handle colors. Pottery Barn locations (potterybarn.com)
VOLCANIC ACTIVITY
While simple and classic in design, the volcanic ivory finish of the Aerin Culloden lamp ($529) will light up any room with refined glamour. Visual Comfort & Co., Miami (visual comfort.com)

HOLDING PATTERN
A sophisticated border pattern gives this hemp pillow ($450) by Alessandra the go-ahead for style impact. Fifth Avenue locations (saksfifthavenue.com)
THROW FOR A LOOP
With a wealth of color options, the Alicia Adams Alpaca classic throw ($475) does double duty as snuggling accessory and standout decor accent. ThreadCount, Miami (tcmiami. com)
POLISHED AND POWERFUL
Deliver angles for days with this geometric garden stool ($330) by Emissary Jalan Jalan Collection, Miami (jalan miami.com)
MID-CENTURY MOMENT
High-performance fabric in creamy white adds a modern touch to this Four Hands chair ($849) with its wrapped frame of honey-finished solid oak. Scan Design, North Miami Beach (scandesign.com)
JUNE 2023 81
Jaegger of Jaegger Interior Design brought a warmer feel to the interior of this existing residence. "Envisioning a modern, Brazilian aesthetic, we designed walnut paneling throughout," says Jaegger. "Earth tones create an elegant and modern, organic appeal, starting with the Julep sofa from Tacchini and neutral-toned area rug from Artefacto." Miami (jessicajaegger.com)
JAEGGER INTERIOR DESIGN
Lili Saks
Culloden
Leonard Pianko M.D FACC Graduate of Mount Sinai Medical School. Voted "Best Doctor" by Castle Connolly. Board Certified in Internal Medicine & Cardiovascular disease. Best of VIP care. House calls, nursing home & assisted living visits. Accredited Nuclear Stress, Ultrasound & Echo Labs. We love our and it shows patients Aventura Cardiovascular Center 21097 NE 27th CT., Suite 110, Aventura, Fl 33180 305.932.2441 BE IN THE KNOW! DISCOVER AVENTURA'S HOTTEST EVENTS AND HIDDEN GEMS. Sign up now to receive "INSIDER'S GUIDE," Aventura Magazine's weekly eNewsletter. aventuramagazine.com
SOCIAL STUDIES
SEEN ON THE SCENE IN SOUTH FLORIDA
LUXE ABODES
WHO: Artefacto WHAT: Launch of Origin Residences by Artefacto WHERE: Artefacto, Aventura
HIGHLIGHTS: Guests were treated to a preview of the new luxury boutique condominium project now under construction in Bay Harbor Islands.
JUNE 2023 83
LEVY PR
ANGEL STROLL, CAITLIN MANLEY
ALICIA CERVERA JR., PAULO BACCHI, MAURICIO MOYA, ALFREDO REYES, SERGIO GUZMAN, CARLA GUILHEM, JESSE OTTLEY
MACRENA ALINAS, SERGIO GUZMAN
MARIA GALLI, ALFREDO REYES
MERVE GUMUSYAZICI, JENNIFER CERVERA
PAULO BACCHI, ALICIA CERVERA, ALICIA CERVERA JR.
OMAR TAWFIK, BEA RUIPEREZ
CARLA GUILHEM
TASHIE BLACK
ALICIA CERVERA JR., PAULO BACCHI
SOCIAL STUDIES
READY TO WEAR
WHO: Louis Vuitton WHAT: Spring/Summer 2023
Women's Miami Trunk Show WHERE: Pérez Art Museum Miami (PAMM) HIGHLIGHTS: Artistic director Nicolas Ghesquière showed his Spring/Summer 2023 women's line. The collection was first unveiled in October 2022 at the Cour Carrée at the Louvre in Paris.
84 AVENTURA MAGAZINE
GNAZZO GROUP
SILVANA MOJICA, DAVE PORTNOY
SIRA PEVIDA
PAM ARIAS
LOOK 22
MONIQUE RODRIGUEZ, JEREMY HAYNES
ZORANA JOVANOVIC
ISABELA GRUTMAN, CAROLINA LINDO
CAMILLE CESAR
JUNE 2023 85
GROUP
GNAZZO
PAIGE MASTRANDREA
CAROLINA LINDO
LOOK 46
LOOK 38
CHRISTINA COFFMAN
ISABE GRUTMAN
SOCIAL STUDIES
SEEING RED
WHO: Greater Miami & The Keys Chapter of the American Red Cross WHAT: Thirty-Eighth Annual Red Cross Ball
WHERE: Loews Coral Gables Hotel HIGHLIGHTS: Guests celebrated "A Passion for Red" and honored Trish and Dan Bell. The event raised more than $660,000 to benefit the American Red Cross' programs and services.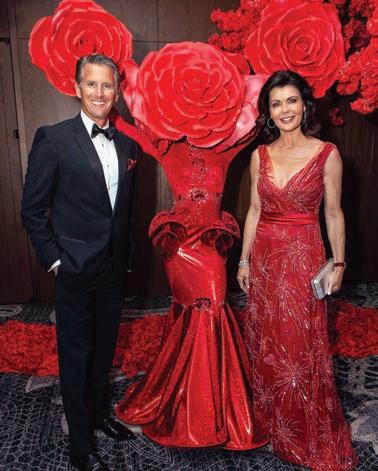 86 AVENTURA MAGAZINE
COURTESY OF AMERICAN RED CROSS
DAN AND TRISH BELL, LEAH AND PHILLIP SYLVESTER
MARILE AND JORGE LUIS LOPEZ
JOSH SALMAN AND LAURIE JENNINGS
JENNI COBA
CHRIS GRANGER AND MICHELE REESE GRANGER
DAN AND TRISH BELL, RITA AND RON MAGILL
SHIRLEY ENGLISH, BRITTNIE BASSANT, BALDWYN ENGLISH
ALEC AND JESSY MILTON, ANA VEIGAMILTON AND CECIL MILTON
AR LOPEZ AND VALERY AGUIAR
AREAS OF PRACTICE
JUNE 2023 87
• EMPLOYMENT-BASED VISAS • INVESTMENT VISAS • EXTRAORDINARY ABILITIES VISAS • LABOR CERTIFICATION • STUDENT VISAS • FAMILY BASED VISAS/ ADJUSTMENTS • ASYLUMS • NATURALIZATIONS • DETENTION AND REMOVAL • VICTIMS OF DOMESTIC VIOLENCE • VISAS FOR CRIMINAL ACTS WITNESS • AUTOMOBILE ACCIDENTS • SLIP/ FALL INCIDENTS • PRODUCTS LIABILITY • PRE/POSTNUPTIAL AGREEMENTS • DIVORCES • PATERNITY/ CUSTODY • CHILD SUPPORT/ ALIMONY IMMIGRATION PERSONAL INJURY FAMILY LAW ELIZABETH AMARAN, ESQ. ATTORNEY AT LAW FREE CONSULTATION Payment Plans Available (305) 931.3500 ELIZABETH AMARAN, ESQ. Aventura View 2999 NE 191st Street Suite 704 Aventura, FL 33180 *HIRING AN ATTORNEY IS AN IMPORTANT DECISION AND SHOULD NOT BE BASED SOLELY ON ADVERTISEMENT. BEFORE YOU MAKE A DECISION, REQUEST FREE WRITTEN INFORMATION ABOUT OUR QUALIFICATIONS AND EXPERIENCE. •EMPLOYMENT-BASEDVISAS•INVESTMENTVISAS•EXTRAORDINARYABILITIESVISAS •LABORCERTIFICATION•STUDENTVISAS•FAMILYBASEDVISAS/ADJUSTMENTS •ASYLUMS•NATURALIZATIONS•DETENTIONANDREMOVAL•VICTIMSOFDOMESTIC VIOLENCE•VISASFORCRIMINALACTSWITNESS•AUTOMOBILEACCIDENTS •SLIP/FALLINCIDENTS•PRODUCTSLIABILITY•PRE/POSTNUPTIALAGREEMENTS •DIVORCES•PATERNITY/CUSTODY•CHILDSUPPORT/ALIMONY•ENFORCEMENTACTIONS We Speak English Spanish Russian AMARAN,
ADRIANA VERDEJA, IGNACIO ARANGO
EVERETT AND MARISA WILSON
BETTY LOPEZ-CASTRO AND CANDIDO QUINTANA TRISH AND DAN BELL, DANIEL LEVINE CAVA SWANEE DIMARE
COURTESY
DAN AND TRISH BELL, MARILE AND JORGE LUIS LOPEZ
OF AMERICAN RED CROSS
LAST LOOK
COOL FACTOR
Summers in the Magic City can turn alfresco strolls into a heatstroke waiting to happen. But CityPlace Doral has devised a gorgeous workaround. From now until June 30, Miamians can promenade beneath a canopy of 1,300 umbrellas in a rainbow of happy hues. The Instaworthy installation (visitors are invited to take a selfie and tag @cityplacedoral and #umbrellasovercityplacedoral) coincides with the introduction of the area's Oasis experience, featuring Adirondack chairs for lounging plus oversized games like chess, cornhole, Connect Four, and more. Rain or shine, it's an ideal way to get some fresh air without melting in the summer sun. (cityplacedoral.com) —Karina
Wensjoe
88 AVENTURA MAGAZINE
Frolic around CityPlace Doral beneath the sunshaded safety of a multicolored umbrella canopy—and don't forget to snap a photo (or two).
WISE WOLF MEDIA
OF YOU ©2023 California Closet Company, Inc. Each California Closets ® franchised location is independently owned and operated. CALIFORNIACLOSETS COM CALL OR VISIT US ONLINE TODAY TO SCHEDULE YOUR COMPLIMENTARY DESIGN CONSULTATION MIAMI – NEW SHOWROOM COMING SOON 305.623.8282 @caliclosetsmiami
MAKE ROOM FOR ALL