BUY A 2022 FAJARDO REPLICA
SHERCOUSA.COM @ SHERCOUSA_OFFICIAL @ SHERCOUSA
GET THESE FREE Contact your nearest Sherco Dealer for more information. ShercoUSA.com Sherco USA reserves the right to substitute the free product at an equal to or greater than the current value. Product images may also not reflect actual items as styles and colors vary.
THE ALL NEW BETA XTRAINER
ENTRY LEVEL MEETS PERFORMANCE
Smooth Power Delivery » Adjustable Power Valve » Counter Balanced Engine XTRAINER
New redesigned air filter box increases air flow » New graphics and plastics
New translucent fuel tank » New rear subframe
FEATURES
» Electric Starter » Diaphragm Clutch for Easier Clutch Pull » Lower Seat Height
plastics inspired by the RR Models provide a modern, simple, and refined look subframe enhances the look while narrowing side panels
LEARN MORE AT
2O23
2-Stroke - 300
GABRIEL MARCELLI AIMS HIGH
In his debut season as part of the Repsol Honda Trial Team, Gabriel Marcelli had a tumultuous year, ultimately taking fifth in both indoor and outdoor world championships, but the win in the Spanish National Championship. Kevin P. Murphy met with Marcelli earlier this year to learn more about the young rider. Read the interview on page 96.
PHOTO COURTESY OF REPSOL HONDA
120 DAYS OF RIDING!
Abigail Buzzelli made it her goal to get better at riding trials. Setting a 10x12 challenge, she did just that... and more. Read more about Abigail's successful 2022 season, and her challenge for you, on page 84.
PHOTO BY STEPH VETTERLY
CONTENTS FEATURED
ARTICLES
USSE SEASON PREVIEW - PG 58
SUPER ENDURO ROUND 1POLAND - PG 70
120 DAYS OF RIDING - PG 84
RIDER PROFILE: GABRIEL
MARCELLI - PG 96
DEPARTMENTS World News 14 Local News 22 Trial Stuff Tested 46 Product Spotlight 48 Seat Time 52 ZachAtk1 54 GasGas Trials Guides 56 SXCS Season 60 Bernie Schreiber School 64 Good Old Times Blog 138
INSIDE SCOOP WITH TONI BOUPG 112
2023 DAKAR PREVIEW - PG 128 THE
ON
COVER -
Husqvarna Factory Racing's Billy Bolt takes a solid start to the 2023 Super Enduro World Championship season, going for a perfect 1-1-1 finish.
photo courtesy of Husqvarna
PUBLISHER/EDITOR
Steph Vetterly
ADVERTISING
Steph Vetterly
stephanie@onthepegsmagazine.com
CONTRIBUTORS
Jason Wright
Brian Pierce
Zach Cleland
Shan Moore
Nancy Sabater-Schlag
Kirk Mayfield
Abigail Buzzelli
Chris Buzzelli
Kevin P. Murphy
Kenneth Olausson
Observing the Trials and Enduro community with a single-track mind.
CLICK HERE TO SUBSCRIBE! IT'S FREE
2023 FIM ISDE - 97TH EDITION
courtesy of FIM
Following on from the initial announcement at the close of this year's event, the FIM and the local organizer are pleased to confirm dates for the 2023 FIM International Six Days of Enduro (ISDE), which will take place from Monday, November 6th, through to Saturday, November 11th, at San Juan, Argentina.
The ninety seventh edition of this historic off-road competition will be based out of the brand-new Circuito San Juan Villicum, which is more normally known for hosting the FIM Superbike World Championship and other national circuit racing events. San Juan is in the
WORLD NEWS
2018 ISDE in Viña del Mar, Chile
western part of Argentina and is part of the Cuyo region. The surrounding terrain is mostly covered by mountains and green valleys, ideal for enduro and thanks to its sunny climate it is also perfect for good wine production too.
Argentina last held the ISDE back in 2014, when again San Juan was the host city. Those that competed in the eighty ninth edition have fond memories of their visit thanks to the area's incredible natural landscape, enduro-passionate
region, and exceptional organizing committee. An entirely new course layout is being drawn up for 2023, meaning those who raced here last time can also expect new terrain and trails to enjoy.
Back in 2014, France were the winners in the World Trophy category, USA secured victory in the Junior World Trophy and Australia took home the Women's World Trophy, whilst the Argentinean team was strongly represented by thirteen high-level riders led by Augusto
Freytes. Amongst the riders who officially represented the country on that occasion was the 2021 Dakar Rally winner, Kevin Benavides, as well as Luciano Benavides, and Franco and Stefano Caimi. Argentina was well represented in 2014 as they placed fifth in both the World Trophy and the Junior World Trophy.
So, the countdown to the 2023 FIM International Six Days of Enduro has officially started, with the paddock due to open on Tuesday, October 31st ahead of the opening parade of nations on Saturday, November 4th next year. With planning already underway the local organiser is looking forward to welcoming riders and teams from all over the World to South America.
David Eli, Event Director and local organizer of the 2023 FIM ISDE said: "We are very excited to host the most important enduro competition in the world once again in our country.
San Juan is an outstanding location to celebrate the Six Days, thanks to the magnificent range of sceneries that the province offers. This new edition will be extremely
challenging and will demand both physical and technical skills from the riders. We look forward to welcoming all the teams.
I would particularly like to thank the authorities of the province of San Juan for their proactive involvement in this historic sporting event, which will certainly be unforgettable."
ON THE PEGS // PAGE 16 WORLD NEWS
John Collins, FIM Enduro Commission Director added:
"The FIM ISDE remains a competition very close to our hearts and continues to be one of the most important events each year in the FIM calendar. The history of this event captures perfectly what motorcycling means to so many of us and is always a great occasion with so many of our
national federations present with their official teams. It is good to have the ISDE back in South America after five years, and I have every confidence that it will be another memorable edition that will be well organised and enjoyed by all the riders who take part."
Stew Baylor, 2018 ISDE, Chile
IT'S GO-GO FOR RETRO!
courtesy of FIM
Following on from a very successful inaugural event earlier this year, the Trial Vintage Trophy returns in 2023 with a two-day celebration of all things retro at Auron in France on September 8 and 9.
Once again being staged over the weekend of the FIM Trial Des Nations, the competition on the Friday and Saturday will be split between the main Trial Vintage Trophy riders and a support class with two mountain routes – one blue, one green – catering for all abilities.
In addition, the coveted Trial Vintage Motorcycle Trophy for the best performance with an authentic vintage motorcycle will be up for grabs.
Along with a cocktail dinner and other entertainment there will be a vintage motorcycle exhibition featuring a selection of iconic Trial machinery.
"After enjoying the 2022 Trial Vintage Trophy in Monza, Italy, I am looking forward to riding the 2023 Vintage Trial in Auron and soaking up the unique
atmosphere," said 1981 FIM TrialGP World Champion and Trial Vintage Ambassador Gilles Burgat. "Auron is such a great place to ride Vintage Trial and I will be pleased to see my good friends from the La Gaude Moto Club.
ON THE PEGS // PAGE 18 WORLD NEWS
"I hope to see a lot of Trial riders from all over the world enjoying the 2023 Trial Vintage Trophy in Auron, France. Come join us on September 8 and 9."
FIM Trial Commission Director
Thierry Michaud is delighted to be joining forces with his compatriot and fellow TrialGP World Champion.
"We are delighted to know that Gilles Burgat, former French
World Champion and fervent Vintage rider, has agreed to be the Ambassador of this organisation through his former club in Auron, France," he said. "We are also working on some new features to make this event an exceptional meeting."
VOL. 8 ISSUE 1 - JANUARY 2023 // PAGE 19
ALFREDO GÓMEZ TO RIEJU
words RIEJU
For season 2023, Rieju has chosen Alfredo Gómez, one of the best Hard Enduro riders in the world, he started his career in this modality in 2012 and since then has achieved great successes. He will compete with his MR300 and we will see him in action as part of the RIEJU FACTORY TEAM in the Hard Enduro World Championship and in some Superenduro World Championship races.
Alfredo Gómez will make his debut in the first round of the World Superenduro Championship in Poland.
ON THE PEGS // PAGE 20 WORLD NEWS
MARTÍNEZ AND SPREAFICO WITH VERTIGO
Vertigo announced that Pau Martinez will enter his 5th season with the brand. The 2021 Trial125 World Champion and this year's 3 Jours de la Truyere winner will be one to watch in the 2023 Trial2 World Championship. He will also focus on getting the Spanish TR2 title after finishing 2nd this year. Mattia Spreafico has also extended his contract for another year. The Italian experienced his best season so far in the World Championship being a regular Top10 runner in the Trial2 class. 2023 will see him compete in the same category in the world stage and the premier class of the Italian Championship with Vertigo Italia.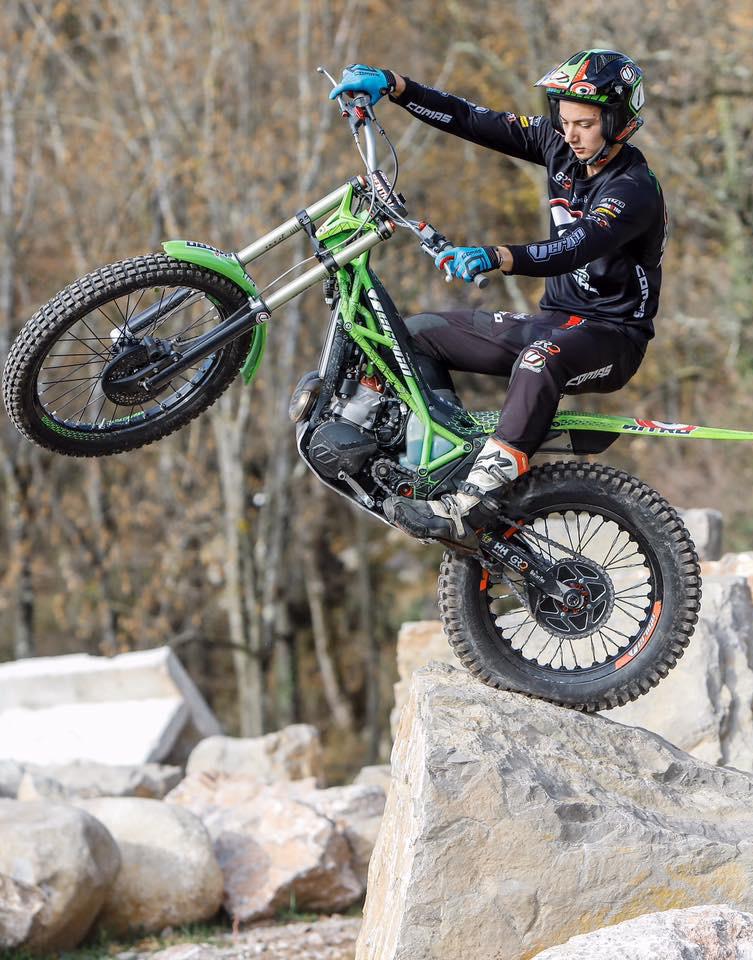 VOL. 8 ISSUE 1 - JANUARY 2023 // PAGE 21
words and photo courtesy of VERTIGO
BAYLOR BACK WITH TELY ENERGY RACING
Back to the orange, Steward Baylor Jr has returned to Team Tely Energy Racing for 2023.
Prior to his stint on the AmPro Yamaha team, Baylor secured multiple National Enduro championships, as well as help Team USA take a podium finish at the 2018 ISDE in Chile, and an overall team win at the 2019 ISDE in Portugal.
After a rough start to the 2022 GNCC season, which saw him finish eighth overall, and some serious competition in the National Enduro series, in which he ended fourth overall, we know this ghost-riding speed demon has set his sights to be back on the top step in 2023.
ON THE PEGS // PAGE 22 LOCAL NEWS
ZANE ROBERTS RE-SIGNS WITH BETA
Beta Motorcycles announces that Zane Roberts has re-signed with Liqui Moly Beta Racing for another two years. The signing solidifies that Roberts will continue to compete in the National Hare and Hound and the West Hare Scrambles. Zane enjoyed a successful 2022 campaign on his Factory 480 RR. He has finished on the podium in more than half the events in both series. Roberts finished second for the overall point total in the West Hare Scrambles and 3rd in points for the National Hare & Hound.
"I'm stoked to be back with the Beta USA team for the next two years!" says Roberts. "I've been with Beta for nearly four years now and have experienced considerable growth as a rider and racer in that time period, largely due to the support of the amazing team we have. While I've had some wins, and a fair share of podiums, I've still got a lot left to achieve in my career and I know that this team is more than capable of getting me there. From top to bottom, we've got a solid group of individuals who are all striving to see the best out of myself and my teammates. I'm excited to see what we can achieve in the years to come!"
"Zane is a great asset to our team," says Carlen Gardner, current Liqui Moly Beta Racing Team Manager. "He puts in the work and has a great attitude which compliments his talents as a rider. We are looking forward to having Zane remain a part of our race team for at least the next two years. "
VOL. 8 ISSUE 1 - JANUARY 2023 // PAGE 23
SEER TAKES A YEAR OFF
Recently announced, the South East Extreme Riders (SEER) group will be taking a pause from hosting events in the 2023 season. After several years of successful racing, hosting events that began to draw in several of the nation's top-level enduro riders, the SEER staff will be donning their riding gear and joining in the racing fun.
We look forward to seeing the series return, and wish every SEER staff member and volunteer the best for the coming season.
BRS RACING SPONSORS RYAN WHEATLEY
Black Rock Synthetics has recently announced that Ryan Wheatley has joined the BRS Racing team for the 2023 season. Wheatley had a successful 2022 season competing in the B Veteran class of the East Coast Enduro Association's (ECEA) Hare Scramble series. Despite a rough start in the first round, Wheatley stepped up his game for the remainder of the season, finishing no worse than fifth, for an overall fifth place. For 2023, Wheatley has stated that he will be moving up to the A class.
ON THE PEGS // PAGE 24 LOCAL NEWS
Built for the challenge.
enduro trails are unpredictable by nature, and where they are the toughest, the te 300 reigns supreme.
New dark blue graphics with electric yellow accents and new metallic blue frame.
A two-piece carbon fiber composite subframe WP XPLOR front forks and WP XACT monoshock
VOL. 8 ISSUE 1 - JANUARY 2023 // PAGE 25 VOL. 7 ISSUE 10 - OCTOBER 2022 // PAGE 57
Please make no attempt to imitate the illustrated riding scenes, always wear protective clothing and observe the applicable provisions of the road traffic regulations! The illustrated vehicles may vary in selected details from the production models and some illustrations feature optional equipment available at additional cost.
www.kiska.com husqvarna-motorcycles.com
Photos: M. Campelli, KISKA GmbH
TE 300
2023 FMF KTM FACTORY RACING TEAM
words KTM USA photos SIMON CUDBY
KTM North America, Inc. officially unveiled its FMF KTM Factory Racing offroad team for the 2023 season, including six riders who amassed a total of six titles during the 2022 season. In addition to its four returning veterans, the team is excited to welcome two newcomers – Mateo Oliveira and Johnny Girroir – who are both set to make their official debut in the premier division in 2023. Tim Weigand returns as Team Manager of the talented squad, guiding the team and sharing his vast knowledge and experience.
Highlighting the team's returning lineup is reigning WORCS and NGPC Champion, Dante Oliveira, who is ready
to hit the west coast once again in 2023, joined by multitime champion and teammate Taylor Robert. Trystan Hart will look to top a successful 2022 campaign with a title defense in the AMA U.S. Hard Enduro Series and KTM-veteran Ben Kelley is back in action and ready to reclaim the GNCC crown in 2023.
Kelley and Girroir will be headlining the east coast effort, with Kelley competing on a KTM 350 XC-F in the GNCC Series and AMA National Enduro Championship, while Girroir will concentrate on the GNCC Series (XC1 Open Pro) and the AMA U.S. Sprint Enduro Series (Pro), also competing on the very capable KTM 350 XC-F.
LOCAL NEWS
"I'm really excited to join the FMF KTM Factory Racing Team and I'm looking forward to seeing what the future holds! I am looking forward to lining up on the front row in GNCC, and ready to fight for wins and championships in both series."
BEN KELLEY
"I'm looking forward to another season of GNCC and National Enduro racing with the KTM offroad team. I'm coming back from a major injury, and I'm determined to get back to my previous winning form and hope to fight to reclaim the GNCC Championship, while working towards my first National Enduro Championship during the 2023 season."
VOL. 8 ISSUE 1 - JANUARY 2023 // PAGE 27
KTM 350 XC-F
JOHNNY GIRROIR KTM 350 XC-F
On the west coast, Dante Oliveira will be defending his AMA National Grand Prix Championship (NGPC) title on a KTM 450 XC-F, as well as competing in the AMA West Hare Scrambles Series (WHS). Meanwhile, Dante's brother, Mateo Oliveira, will make his full-time Pro-class debut in NGPC and WORCS events, also aboard a KTM 450 XC-F.
Trystan Hart is back to defend his 2022 AMA U.S. Hard Enduro Series Championship after dominating the series in 2022 on a KTM 300 XCW, claiming victories at all seven rounds of the schedule, plus adding a third-place finish at the famed Erzberg Rodeo along the way. Hart
will also ride a KTM 350 EXC-F in the 2023 AMA EnduroCross series, a title he barely missed out on in 2022. Taylor Robert returns to action after missing most of last year due to a season-ending injury he sustained in April. In 2023, Taylor will ride select events on a KTM 450 XC-F in preparation for his goal of leading team USA to a third World Trophy at ISDE, which will be held in Argentina.
"I'm happy to be working with the team for 2023! I'm going to be changing it up, getting back to where I started out racing dirt bikes in West Hare Scrambles, also working hard to defend my GP Championship."
ON THE PEGS // PAGE 28 LOCAL NEWS
DANTE OLIVEIRA KTM 450 XC-F
MATEO OLIVEIRA
"I'm super excited to be a part of the FMF KTM Factory Racing Team. It's been a dream of mine to get to race for this team and to be following in my brother's footsteps, alongside him, is surreal. Working with Timmy and the crew is going be a blast, I can't wait to get started!"
"I am very excited to be a part of the FMF KTM Factory Racing Team for my 10th year in a row. This year is all about raw speed for me. I'm going to go out there with the objective of being as precise and fast as possible. Using select races throughout the year to prepare me for the end goal of helping team USA win its third World Trophy at ISDE."
VOL. 8 ISSUE 1 - JANUARY 2023 // PAGE 29
TAYLOR ROBERT KTM 450 XC-F
KTM 450 XC-F
TRYSTAN HART
KTM 300 XC-W / 350 EXC_F
"As we embark on my third year on the team, KTM and I are both looking for more wins and championships. Winning Erzberg is very high on my list for 2023."
TIM WEIGAND FMF KTM FACTORY RACING TEAM MANAGER
"It is with great pleasure that we announce the 2023 FMF KTM Factory Racing offroad team. We are as strong as ever, with six very talented and determined riders that are ready to tackle the new year. We are looking forward to another successful year."
ON THE PEGS // PAGE 30 LOCAL NEWS
ANTTI KALLONEN DIRECTOR OF OFFROAD RACING
"Once again, we have been able to strengthen our team by securing the current and future champions of the sport. Tim manages the team very well and has assembled the best possible support to find success. The strengthened partnership with Ranch Russell will provide our athletes with state-of-the-art facilities for the physical and mental training needed to win races and championships."
ROCKSTAR ENERGY HUSQVARNA FACTORY RACING ANNOUNCES 2022 OFFROAD TEAM LINEUP
words HUSQVARNA photos SIMON CUDBY
The Rockstar Energy Husqvarna Factory Racing team is pleased to announce its six-rider off-road team for the 2023 season, covering AMA GNCC, NGPC, National Enduro, National Hare and Hound, EnduroCross, U.S. Hard Enduro and West Hare Scrambles across the United States.
Returning to the GNCC and National Enduro series for his sophomore year in the premier Pro division is Pennsylvania native Craig DeLong. Building off of a strong 2022 season in both series, DeLong is knowledgeable of what it will take to consistently put his FX 350 on the podium in 2023.
Like DeLong, teammate Trevor Bollinger will also be returning to the GNCC and National Enduro series aboard the FX 350. Bollinger suffered through a challenging year in 2022, sustaining an injury halfway through the season, but the North Carolina native collected some impressive results to close out the year and he looks to come out swinging in the new season.
Austin Walton will certainly be a championship contender on his FX 450 in 2023, finishing runnerup last year in the NGPC series. Walton will also be entering the West Hare Scramble series this season, which will be a change of pace for him but with a background in hare scrambles, the Nevada native will get up to speed quickly.
ON THE PEGS // PAGE 32 LOCAL NEWS
CRAIG DELONG
"I'm excited for the upcoming season! After a full rookie year, grabbing some podiums and being a runner-up in the GNCC XC1 class, I'm ready to be battling for podiums and wins consistently all year long and to be in the championship hunt. The FX 350 also has some exciting changes that I'm looking forward to going into the 2023 season."
TREVOR BOLLINGER
"I'm looking forward to the 2023 season. It is going to have its challenges coming off of an injury, but I've been here before and I'm confident that I will come out stronger than ever."
VOL. 8 ISSUE 1 - JANUARY 2023 // PAGE 33
LOCAL NEWS
Making his return to the Rockstar Energy Husqvarna Factory Racing team, California's Dalton Shirey will join teammate Walton in the NGPC series for the upcoming season. The 2022 National Hare and Hound Champion will also look to retain the #1 plate in the series and keep his FX 450 on top of the podium in 2023.
Colton Haaker is excited to show the capabilities of the new models in the
US Hard Enduro series and will also be gunning for his sixth EnduroCross series title in 2023. Colton will be riding his FX 350 in the EnduroCross series and a TE 300i in the US Hard Enduro series.
Last but not least, Ryder LeBlond is the youngest and newest member to the team. The Pennsylvania native will be competing in the U.S. Hard Enduro and EnduroCross series alongside Haaker for 2023. Determined to showcase his speed and skill atop the podium at all the races he enters, LeBlond will be riding an FX 350 in the EnduroCross series and a TE 300i in the US Hard Enduro series.
AUSTIN WALTON
"I'm very excited to be walking into 2023 healthy and with a really good base in the off-season. I'm super excited to pick up a new series for this next year with West Hare Scrambles, going back to the old roots of what I grew up doing, while keeping the NGPC as the second series and jumping on a new re-vamped bike for the new season. I'm very excited to put that new R&D to work and start getting some wins and championships with those bikes. I'm feeling excited for the season and ready to kick it off!"
ON THE PEGS // PAGE 34
"I'm super excited for 2023. The possibilities are endless. I'm super thankful for Anthony DiBasilio and the whole crew for seeing something in me and giving me this chance to once again be a part of the team. I can't wait to start working with everyone again!"
COLTON HAAKER
"I'm excited for the 2023 season for a lot of reasons, getting back to winning being the biggest! The team, new bikes and morale are on point. Now it's just a matter of execution!"
RYDER LEBLOND
"I'm really looking forward to the 2023 race season. After 2022, I'm hungry for some wins in the Hard Enduro and EnduroCross series! I can't wait to get the new season going with the new team, keep making improvements and grow with the team and everyone involved around me!"
DALTON SHIREY
ANTHONY DIBASILIO TEAM MANAGER
"I've got my first full season under my belt as a Team Manager and I'm excited to apply what I learned to the 2023 season. We have a strong team that's capable of winning races and championships in every discipline
we enter. I have no doubt that each one of our riders will achieve their goals in 2023. The mechanics and all the team personnel are determined to make 2023 a standout year. Let's go racing!"
ON THE PEGS // PAGE 36 LOCAL NEWS
ANTTI KALLONEN DIRECTOR OF OFFROAD RACING, KTM GROUP NORTH AMERICA
"Our team is ready to shine come the 2023 season. I'm looking forward seeing our athletes up front, led by Anthony who proved that he is a perfect fit to manage the Rockstar Energy Husqvarna Factory Racing squad this past season in his first season as manager. We
have improved our program from all aspects, including strengthening our partnership with Ranch Russell to ensure our athletes are physically and mentally ready to win races and championships."
VOL. 8 ISSUE 1 - JANUARY 2023 // PAGE 37
2023 ENDURO ENGINEERING GASGAS OFF-ROAD RACING TEAM
words ENDURO ENGINEERING
JOSH TOTH
Josh comes to the team with an impressive resume including GNCC XC2 Championship, US Sprint Enduro Championship, AMA National Enduro race wins, and multiple other race wins. Josh will be competing in a full AMA National Enduro schedule as well as select events nationally including motocross, sprint enduro, GNCC, hillclimb, hard enduro, flat track and more! Josh will be racing multiple different GasGas motorcycles both 2 Stroke and 4 Stroke.
Josh will also be racing in the mountain bike world as well. Josh will be racing in select MTB Downhill and MTB Enduro events as well showcasing the Enduro Engineering MTB products.
ON THE PEGS // PAGE 38 LOCAL NEWS
MACKENZIE TRICKER
We also would like to welcome Mackenzie Tricker to the Enduro Engineering GasGas Off-Road Team. Mackenzie also boasts an impressive resume throughout her pro career. Starting out in motocross winning multiple Loretta Lynns championships before moving to off-road. Mackenzie has been able to rack up multiple GNCC WXC wins, multiple AMA National Enduro Women's Elite wins, multiple Sprint Enduro and other off-road wins as well. Most impressive is Mackenzies 4 consecutive AMA National Enduro Women's Elite Championships from 2019-2022. Mackenzie will be looking to make it 5 in a row come 2023 as well as racing in Sprint Enduros and other select events.
VOL. 8 ISSUE 1 - JANUARY 2023 // PAGE 39
Broc Hepler is welcomed back to the the Enduro Engineering Race team for the 2023 season. Broc is currently rehabilitating from a back injury suffered racing earlier this year. Broc will play a big role in the Enduro Engineering
GasGas team as a team mentor for both Josh and Mackenzie. Once Broc is healed, select AMA National Enduro events may be in the future for the 2023 season as well in the NE Pro2 Class. Broc comes with a ton of racing experience at a high level from Motocross and Supercross into the off-road world as well.
ON THE PEGS // PAGE 40 LOCAL NEWS
CODY WEBB SIGNS EXTENSION
words ENDURO ENGINEERING
JOSH TOTH
Josh comes to the team with an impressive resume including GNCC XC2 Championship, US Sprint Enduro Championship, AMA National Enduro race wins, and multiple other race wins. Josh will be competing in a full AMA National Enduro schedule as well as select events nationally including motocross, sprint enduro, GNCC, hillclimb, hard enduro, flat track and more! Josh will be racing multiple different GasGas motorcycles both 2 Stroke and 4 Stroke.
Josh will also be racing in the mountain bike world as well. Josh will be racing in select MTB Downhill and MTB Enduro events as well showcasing the Enduro Engineering MTB products.
VOL. 8 ISSUE 1 - JANUARY 2023 // PAGE 41
CODY WEBB SIGNS EXTENSION
words FACTORYONE SHERCO photos JACK JAXSON
Cody Webb, The former World Champion, multi-time AMA EnduroCross Champion, and multitime AMA Hard Enduro Champion has signed a multi-year extension with the FactoryONE Sherco team. Webb has been with the Texasbased team since their inception in 2020.
During his tenure with FactoryONE Sherco, Webb has finished on the podium in the majority of all events he has entered. He won the AMA Hard Enduro Championship in 2020. He finished P2 in the AMA EnduroCross Championship that same year. He was the AMA West Hard Enduro Champion in 2021. Cody was forced to miss the majority of the 2021 AMA EnduroCross due to a wrist injury the day after the Tennessee Knockout. With that, he did come back to win the final two rounds that year. A second wrist injury would end his 2022 FIM SuperEnduro season as well as the entire 2022 AMA Hard Enduro season. He would finish P3 in the 2022 AMA EnduroCross season despite having had some misfortune in round one. He would
have four total podiums and he won the final round in Reno.
"We are grateful to Cody for having put his trust in our brand back in 2020 and we are just as grateful to be able to continue that into the future," said team President Ron Sallman. "In that time, he has been on the podium countless times, he has won several races and he has been on the cover of the likes of CycleNews Magazine, Dirt Bike Magazine, and others. We couldn't ask for a better brand ambassador for Sherco. We can attribute the sale of hundreds of motorcycles due to 'The Cody effect' as I like to call it. He has also been an integral part of the research and development process with the motorcycles, not only for our race team but for Sherco globally. We are so thankful to have Cody, Morgan, and Teddy back with us."
"I am so thankful for the opportunity to continue my racing career with FactoryONE Sherco," Said Cody Webb. "In just a few short years, we have turned some heads by winning races and proving that the Sherco brand is the real deal. We are
ON THE PEGS // PAGE 42 LOCAL NEWS
continuing to make big gains and I am excited to see where the next few years take us," continued Webb. "I especially would like to thank Ron and Rhonda Sallman for their trust in me. I also need to thank my technician, Cody One (Richelderfer)
for always having my Sherco dialed to perfection. Last but not least, my wife Morgan and my son Teddy for allowing me to continue to pursue my dream job."
VOL. 8 ISSUE 1 - JANUARY 2023 // PAGE 43
FLORIDA TRIALS ASSOCIATION TO HOST RAY PETERS RIDING SCHOOL
words and photo STEPH VETTERLY
The Florida Trials Association announced they will be hosting a Ray Peters riding school for FTA members on May 6th and 7th. Space will be limited and participation determined by work days at Promise Ranch. The most work days will earn first priority in the class.
ON THE PEGS // PAGE 44 LOCAL NEWS
CLICK HERE TO VISIT FLORIDA TRIALS ASSOCIATION
The Mecatecno factory in Barcelona, Spain, has resumed its production plans with a whole new concept of the DragonFly adult trials bike. Midwest Mototrials is now (September) receiving its first test/demo unit. Pending a successful testing program here and at other European importers, production is expected to start this November. Prices and delivery dates are yet to be determined. Further updates will follow next month.
• The T-18 Dragonfly is direct-drive from the motor to the rear wheel
• An easy-pull diaphragm clutch for maximum control and traction
• New M4 39mm Aluminum AIR FORKS are the lightest on the market
• Linkless Ohlins shock direct to the swing arm
• 5 hour+ quick change and fast charge battery
• Weight 132 pounds
• Seat can be added for trail riding comfort
words and photos by JASON WRIGHT
TRS Air Filter Spring Compressor
Calling all TRS owners, this month I have a nifty little doodad from MotoTrialsParts on Etsy.com. Changing the air filter on some trials bikes can be a challenge to do, the TRS is no exception. TRS' design is better than others but the downfall is the retention spring. While removing the filter, there is a chance that the spring can snag the filter and tear it.
MotoTrialsParts solves this problem with a 3d printed block that slides over the spring and spring post. This holds the spring back, giving plenty of clearance to change the air filter. This genius little device makes changing the air filter a breeze.
Once it was slid down in place, I did find it was a little difficult to remove the device. The 3d print lines create a texture on the inside of the block. Simply using a round file to
clean up the lines makes the device work brilliantly. Just lift up on the rear most tab and it slides right off.
This is available on Etsy.com for less than $10. While you are over there, check out his many other trials related products. If you have an idea for a product, feel free to contact him.
There is a link to his Etsy page as well as a link to a video demo on the device.
ON THE PEGS // PAGE 46
HERE TO VISIT MOTOTRIALSPARTS ON ETSY CLICK HERE TO VISIT
CLICK
JASON'S YOUTUBE CHANNEL
VOL. 8 ISSUE 1 - JANUARY 2023 // PAGE 47 CLICK HERE TO WATCH
PRODUCT SPOTLIGHT
SHERCO - LEFT LOWER FORK LEG GUARD
Protect the bottom side of the fork leg with this Left Lower Fork Leg Guard. The bottom of the fork is down low and prone to hit on debris along the trail. This guard will protect that area while still having the opening necessary to make suspension clicker adjustments. Pairs well with the Right Side Lower Fork Leg Guard.
PART # 32-9319 (LEFT)
PART # 32-254 (RIGHT)
Current Price: $49.95
SHERCO 125 SPARK ARRESTOR END CAP
• USFS Approved Spark Arrestor End Cap.
• Cost effective option vs. replacing the whole silencer.
• Designed to offer maximum performance; in our testing we found no power loss from the stock end cap.
• The EE Screen type spark arrestor makes maintenance very easy, by simply removing 2 bolts, the screen can be removed for replacement or servicing.
• Screen can be removed while riding on a closed course location
PART # 40-9021
Current Price: $119.95
ON THE PEGS // PAGE 48
SPOTLIGHT
SUZUKI DRZ400/ KLX400 SKID PLATE SKID PLATE MOUNTED LINKAGE GUARD
Full aluminum construction to give the maximum protection. Side wings come up to protect vital parts of the engine as well as guarding the frame rails and foot peg mounts. Strategically placed vent holes to allow airflow as well as debris to fall out of the skid plate during rides. Skid Plate Mounted Linkage guard also available (Sold Separately)
PART # 24-3000
Current Price: $149.95
• Protect the shock linkage from rocks, logs, and other debris.
• Help prevent dirt or mud from packing into the shock linkage helping the longevity of the bearings.
• Made from an ultra-slick flexible plastic, it is strong and flexible but will glide right over debris.
• All Installation hardware is included
PART # 31-4117
Current Price: $44.95
VOL. 8 ISSUE 1 - JANUARY 2023 // PAGE 49 CLICK EACH PRODUCT TO LEARN MORE
TRIALS TRAINING CENTER TRIALS TRAINING CENTER
423-942-8688 • Train With A Pro!
instruction by top national riders • Riding Park
on our 650 acre Mountain Resort Beautiful trails, streams and vistas • Lodging, Cabin Rentals, RV sites and Tent sites
• Full Service HeadquartersMotorcycle We sell Gas Gas, Sherco, Beta, Montesa & Scorpa
2023 SCHEDULE
March 10-12: Downhill Southeast Bicycle Race
March 18-19: Trials Training Days
May 20-21: STRA Spring Splash
June 26-29: Family Camp
June 30-July 2: East Coast Youth Nationals & Women's Open
August 18-20: TKO: 13th Annual Red Bull Kenda Tennessee
Knock Out Extreme Enduro
October 14-15: 31st Annual 58K Fall Trial (STRA)
December 2: Toy Trial * All dates are subject to change
ON THE PEGS // PAGE 50
www.trialstrainingcenter.com
Expert
Train
Bolt It On Rack Updated in the MotoVan
courtesy of BRIAN PIERCE
The Seat Time MotoVan is finally getting worked on again. Not only are we updating the Bolt It On Rack to their latest and greatest version, but we're adding a gear pole!
The MotoVan build has been a very long journey. Looking back on it, it's because I didn't have a plan put into place. I just hoped I would remember to get to it. Luckily there are companies out there like Bolt It On that create products that allow me to move the ball forward a bit quicker. I didn't have to do anything except "bolt it on."
This updated version of the Bolt It On Rack has updated wheel chocks, multiple attachment points, and a gear pole! The Pro Wheel Chocks allow for dirt bikes or bicycles. In our family, those bicycles are mountain bikes, but they could easily be gravel or road bikes. The Pro Wheel Chocks do need straps for our dirt bikes, but they hold the bicycles without straps.
As we stated in the video, this system is extremely secure and would do a hell of a job holding the bikes in incase of an accident. If you're using self-tapping screws to mount a different setup, be prepared
for a loose canon in the event of an accident.
The Gear Pole is a great addition for any van build. I use it for hanging my sweaty gear after a ride, but also for gear storage. My head light is always hanging in the same place and my sleeping bag has a spot off the ground. I will say it makes wandering around the van a bit awkward, but removing the rack isn't the worst if you're boondocked somewhere for an extended period of time.
FINAL THOUGHTS
The Bolt It On Rack system isn't cheap, but it is a quality American made product that makes your life a hell of a lot easier because it does what it says it will do and then some.
ON THE PEGS // PAGE 52
Make it as Fun as Possible
Jason Hamborg is a Hard Enduro influencer on Instagram and Youtube. I never thought I would type those words, but here we are! The past 8 years for Jason has been a lot of practice, consistency, and GETTING SEAT TIME! That steadiness is paying off for him, as he's making partnerships and planning for the future. We chat about what it took for him to get to where he's at today as a rider, and as an influencer. He recently raced Red Bull Outliers in Canada (where he lives), which he hopes he can continue to find more hard enduro events to take on. Craziest thing of all, he rides a YZ250X and kills it. Hopefully y'all enjoy the last Seat Time podcast of 2022.
EP 22.12 | Jason Hamborg
CLICK HERE TO VISIT WWW.SEATTIME.CO CLICK HERE TO LISTEN TO THE PODCAST
Race Review
2022 TENNESSEE KNOCKOUT
DATE LOCATION
It is snow season up here in the Northeast so a look back to August at the 2022 Tennessee Knockout will be a refreshing warmup! While most of the coverage from this race was of the Sunday "pro" day with the best hard enduro riders in the world battling it out, the amateur perspective in the Saturday qualifier had just as much action. This year's course had a nice
August 12-14, 2022
Sequatchie, TN
change of pace with more difficult sections replacing some of the open road transfer sections used in years past. The intensity of this one lap race made even the slightest mistake critical as 500+ riders strived to make the top 30 cutoff for qualification. With the longer rock gardens and steeper hill climbs, the 2022 TKO was one of the most exciting and fun events to ride and spectate.
with Zach cleland
TRACK LAYOUT
COURSE DIFFICULTY
VOL. 8 ISSUE 1 - JANUARY 2023 // PAGE 55
// FACEBOOK // INSTAGRAM // YOUTUBE
WWW.ZACHATK1.COM
VENUE
HERE
MORE INFO ON
HARD ENDURO
OVERALL CLICK
FOR
US
CLICK HERE TO WATCH
GasGas has released a full selection of trial riding videos, all designed to help riders of all skill levels become more confident at their favorite sport.
Hosted by GasGas Factory Racing Team Manager Albert Cabestany, the tutorial videos will cover everything from bike setup, to basics, to the most advanced maneuvers.
Follow along as we showcase a new video each month, or check out the full series on GasGas.com.
ON THE PEGS // PAGE 56
Different obstacles call for different techniques in order to master them perfectly. By the end of this must-see episode, you'll know how to use your bike and body as one to clean the most daunting of sections effectively.
VOL. 8 ISSUE 1 - JANUARY 2023 // PAGE 57
THE VIDEO CLICK HERE TO VISIT WWW.GASGAS.COM
CLICK TO WATCH
2023 SEASON PREVIEW
courtesy
US Sprint Enduro Series, the Premiere AMA Sprint Enduro Series, has announced its schedule for the upcoming season. The eight-round series kicks off with its annual US Sprint Enduro Awards Presentation Dinner on Friday, January 27, (see website) followed by the first two days of racing on January 28-29 at the iconic South of the Border MX in Hamer, South Carolina.
A number of big-time Pro1 and Pro 2 riders are slated to ride this year's series, including 2017 AMA 250MX Champion and 2020 AMA 450MX
Champion Zach Osborne, on an AMPRO Yamaha. Also confirmed making a return to US Sprint Enduro from AMPRO Yamaha is 2022 GNCC WXC National Champion Rachel Archer.
KTM will be fielding a team consisting of 2021 Pro 2 champion Johnny Girroir, who is moving up into the Pro1 ranks for this year, as well as three-time WORCS champion and 2016 ISDE individual winner, Taylor Robert, who will ride select events in 2023 in an effort to return to form in hopes of
ON THE PEGS // PAGE 58
of SHAN MOORE
helping to bring back the ISDE World Team Trophy to the United States. Meanwhile, Coastal Racing GasGas will have new team member Thad DuVall riding the Pro1 class. And, Husqvarna will have Tayla Jones back to defend her Women's Pro title.
In the Pro 2 division, Phoenix Honda Racing's Cody Barnes will be back to defend his 2022 title, and will be pitting alongside teammates Mike Witkowski and Ruy Barbosa.
This year's series also incorporates a three-day ISDE Qualifier, which will be held at Carolina
Adventure World on February 25, 26 and 27. Letter of Intent riders will participate in the three-day event, which runs Saturday, Sunday and Monday, while those only wishing to race the US Sprint Enduro round will compete on Saturday and Sunday only however; those riders will have an option to sign up for the additional day of racing.
The series adds six new venues for 2023, including trips to Hephzibah, Georgia on February 11-12; as mentioned before, Carolina Adventure World, Virginia International Speedway on March 26-27; Arvonia, Virginia, on April 8-9; Promised Land MX in Oldtown, Maryland on April 29-30; and High Voltage Raceway in Dilliner, Pennsylvania on May 27-28. The series wraps up at the familiar Harleywood Raceway in Bristol, Virginia.
Off-road superstar and former ISDE individual winner Ryan Sipes will be holding Sprint Enduro Clinic at the series opening on Friday morning. Spaces for this clinic are limited so – don't wait! (Tickets for this will only be sold online).
In addition to the US Sprint Enduro Series, promotors Trail Pros will once again be hosting the three-day Sprint Enduro World Championship on Labor Day weekend.
2023 US SPRINT ENDURO SERIES SCHEDULE
• Jan 28-29
• Feb 11-12
• Feb 25-26
• Mar 25-26
• Apr 8-9
South of Border, Hamer, South Carolina
Hephzibah, Georgia
Carolina Adventure World, Winnsboro, South Carolina
Virginia International Raceway, Alton, Virginia
Arvonia, Virginia
• April 29-30
• May 27-28
• Jun 17-18
Promised Land MX, Oldtown, Maryland
High Voltage Raceway, Dilliner, Pennsylvania
Harleywood, Bristol, Virginia
VOL. 8 ISSUE 1 - JANUARY 2023 // PAGE 59
2023 SEASON PREVIEW
courtesy of NANCY SABATER SCHLAG
The Country's 1st Three-Format OffRoad Championship Series!
This six-round race series runs three different formats for one AMA Feature Championship. The formats are
(2) Grand Prix, (2) Cross Country and
(2) Sprint Enduros which are co-sanctioned with the US Sprint Enduro series. SXCS has over 40 classes including Vintage, so you won't have a problem finding a couple classes to suit you!
We're already a couple rounds into the '23 season, and so far, the racing
has been awesome! The first two rounds were Grand Prix which are two 30-minute motos for adults or two 20 minute motos for youth racers. The GP course is a super fun blend of moto and flowy woods, and with opportunities to race multiple classes, it's possible to maximize your race day to three hours of seat-time! The GP format really blends the motocross and off-road disciplines which encourages racers to expand their race craft.
The GP race day schedule is pretty tight, and we have so many classes
ON THE PEGS // PAGE 60
its kind of wild – the motos are broken down so our racers can race multiple motos and at the end of the day any of our racers that sign up for 3 classes are in the running for the IRON MAN
AWARD which is figured out once we tally up everyone's race times and how many laps they did. We're able to offer the Iron Man Award when we run our Cross-Country races as well. You are a true Iron Man running these races and getting that much seat-time!
The SXCS series is a really fun race series and very family-oriented. Our race weekends usually start with a trail ride or some sort of Family Fun Day on Saturday and include Stacyc and Strider Exhibitions for the little rippers. For instance, at Round 1 - which was at a brand-new track called Promised Land MX in Western Maryland, we held a Trail Ride, The Great Pumpkin Buddy Challenge, Costume Contests and a Pit Bike Race under the lights! Then Sunday we got to business with our GP Race. We like to think we have something for everyone!
Next up in our SXCS series is the Iconic Hangover Hare Scramble
at Wicomico Motorsports Park in Southern Maryland, January 8th. This will be a classic CrossCountry race. The Hangover Hare Scramble has been around since
VOL. 8 ISSUE 1 - JANUARY 2023 // PAGE 61
SXCS Pro-Am points leader, Henry Symanski photo credit: Memories Photography
the 70's – different clubs have put it on throughout the years, however, since 2016, Trail Pros, the promoters of Sprint Cross Country Series and US Sprint Enduro, have been hosting it. This race event is usually quite memorable due to the unpredictability of Mother Nature this time of year and the wide range of racers who attend from all over!
While the SXCS sprint enduros won't start until April, many racers absolutely love the race format
and find themselves signing up for the entire US Sprint Enduro Series (USSE), which starts at the end of January in South Carolina.
It has been awesome to see our SXCS racers step into USSE – they get that national-caliber race feel with a much wider rider competition base.
US Sprint Enduro has really brought the SXCS Community to another level and that has been exciting for
ON THE PEGS // PAGE 62
the Trail Pros team. They are two different series but both offer that family-fun vibe. We have definitely brought some of our fun SXCS-type antics along to some of the USSE races! Last year we put together a "SLOW RACE" which was super fun to watch and participate in – there was a great battle between Pro racers, Liam Draper and Josh Toth, as well as a host of others! At our final round we had a Fathers Day Hill Climb… Another fun time!
We hope to continue to grow the race communities and look forward to creating top quality courses and events. You'll want to fit SXCS in your schedule – you'll have a great
race experience in a fun family friendly atmosphere!
If you haven't been to either SXCS or USSE – we hope you'll take some time and check out the schedules and maybe we'll see you at the races!
VOL. 8 ISSUE 1 - JANUARY 2023 // PAGE 63
CLICK HERE TO VISIT SXCS
Bernie Schreiber Trials School

courtesy of KIRK MAYFIELD
World Champion Bernie Schreiber returning to the USA in 2023 Former World Trials Champion and Scottish Six Days Trial winner Bernie Schreiber will return once again to the USA in 2023 to conduct another ZeroBS Master Class two-day trials school on May 13,14, 2023 in Tulsa Oklahoma. The event will be hosted by one of the oldest clubs in the USA, the North Eastern Oklahoma Trials Team, founded in 1969 by one of the legendary names in US trials history Mike McCabe, who became the first American competitor of the Scottish Six Days Trial in 1972.
In 2022 a very successful ZeroBS trials school was held in Montana hosted by Rich Hilbun. This celebrateted the 40th anniversary of his double US National Championship victories in 1982. For 2023 the school will be held in Tulsa, Oklahoma where it will be more central and accessible to students from across the USA. This venue became a reality after conversations with Dr. David Klein of Texas at the FIM Vintage Trial Trophy in Monza, Italy on September 24, 2022. Klein put Schreiber in contact with his long-time friend, another US trials legend Kirk Mayfield of Oklahoma who
ON THE PEGS // PAGE 64
photo credit Eric Kitchen
VOL. 8 ISSUE 1 - JANUARY 2023 // PAGE 65
competed in the 1973 Scottish Six Days Trial on one of Mick Andrews factory Yamahas. Mayfield and Schreiber competed together in the Turkey Creek US National in September of 1975, an event that included many of the best riders in US history.
Schreiber said, "I'm excited for this opportunity in 2023 to teach, ride and encounter friends again in such a memorable place. It really is an honor to host a school with Kirk Mayfield after all these years and he is someone that many people do not realize was such an excellent rider in the history of US trials. To revisit the famous Route 66 or Mother Road is always a special experience as well. Looking forward to meet N.E.O.T.T. club members and current President Jason Shackelford who leads one of the oldest Trials clubs in American history."
Mayfield, who is one of only six riders to have been granted life time membership in the N.E.O.T.T. Said, "We have hosted many prestigious events here at our club in Tulsa, but it is such a privilege to host the USA's only World Trials Champion and my friend for so many years here in Tulsa. Everyone is really looking forward to this, because we can share all our experiences from riding overseas and have Bernie's instruction on how he became a world champion!"
For more information about the 2023 Schreiber Masterclass Experience on May 13 & 14, contact: Kirk Mayfield at: kirkmayfield@gmail.com
Note: Limited Spaces Available
ON THE PEGS // PAGE 66
photo credit Len Weed
VOL. 8 ISSUE 1 - JANUARY 2023 // PAGE 67
ON THE PEGS // PAGE 68
VOL. 8 ISSUE 1 - JANUARY 2023 // PAGE 69
SUPERENDURo
FULL
FULL HOUSE AT SUPERENDURo POLAND
words courtesy of SUPERENDURO photos FUTURE7MEDIA
Hosted in the Tauron Arena in Kraków, Poland, Husqvarna Factory Racing's Billy Bolt made a strong start to the 2023 season taking the Superpole win as well as going 1-1-1 in the main heats.
A short, technical track was on the menu for the opening round. Soft dirt opened up additional challenges as the track became more and more rutted with each passing lap. Racing began with the Superpole, a single, timed lap which served to both set the starting order of the night's first heat, as well as offer more championship points to the three fastest riders.
Continuing to prove that he has found his groove, Bolt set the fastest time, earning three championship points before the actual racing even began. GasGas's Taddy Blazusiak set the second-fastest time, slightly more than a second behind. GasGas's Dominik Olszowy, current Jr World Champion, has moved up to the Prestige class.
Making a statement for his debut race, Olszowy set the third-fastest Superpole lap, earning one point towards the 2023 championship.
Taking the Airoh holeshot, Beta's Jonny Walker zoomed out front. Walker was a bit calculated on the log crossing; seeing this change in speed, Bolt took the inside line for the pass and the lead. Despite
admitting that his fitness was not quite where it needed to be (a sentiment he would repeat after each heat), Bolt easily pulled away from the pack, setting his own pace and focusing on consistency. Walker would be able to keep a hold on second place as he crossed the finish line, with Lady Luck smiling on FactoryONE Sherco's Cody Webb,
TADDY BLAZUSIAK
his debut on his new ride, taking the Airoh holeshot. Just before the end of the first lap, Blazusiak was able to make the pass, but only kept the lead for a few seconds - by the time the race clock showed only
capitalize for the pass, Webb right behind in fourth.
In the final head of the night, it was Walker again with the Airoh holeshot, with Bolt on his rear
wheel. Just as before, less than 1:20 seconds into racing, Bolt was out front, slowly pulling away from the 13 other racers, even lapping Blazusiak just before the race finished. Walker would be able to hold onto second place, with Webb triumphantly keeping a firm grasp on third.
"I'm so pleased to be back racing," said Bolt. "To make my comeback with a clean sweep of wins and taking SuperPole is the dream start to the championship I had hoped for. It's felt like a long and tough five months off the bike, but I'm chuffed to be back on the bike and racing hard again. It's what I love to do. Although tonight went to plan, I feel like I've some work to do to get back to my very best. We've a couple of weeks until round two in Germany, so I'll keep working hard to be even stronger there."
"I was very happy with my performance on an extremely technical and complex track like Krakow," said Walker. "I have never finished on the podium here, so I was happy to achieve that. This result builds on the motivation I have to do well and perform at my highest in 2023 on my factory Beta 300 RR."
"I am so stoked to be back on the podium after the awful 2022 SuperEnduro season," exclaimed Cody Webb! "I felt like we were able to capitalize on the momentum from
the EnduroCross season back home. My mechanic Cody Richelderfer has the SEF 300 dialed. We made some adjustments going into the 2022 EX season and they have paid off. This field is so stacked, so I am really pleased with how my night went. The track was a bit sketchy but we managed it well."
In the Junior class, it was the #12 of Mitch Brightmore who made a solid statement in his first-ever SuperEnduro World Championship. The former trials rider followed Bolt's plan, taking a win in each of the night's heats, stating that his nine years of trials training helped to make the course just a little bit easier.
In the first heat, it was the #5 of Milan Schmueser and #248 of Kacper Dudzic who put the pressure on Brightmore, but some stumbling in the rock garden reshuffled the order. While Schmueser kept his hold on second place, it was the #7 of Ashton Brightmore, Mitch's younger brother, who slowly picked his was up to round out the first podium.
The second heat saw a repeat of the first, but Ashton was overtaken by the #15 of Raul Guimera. Coming into the final heat of the night, it was Ashton Brightmore with the Airoh holeshot. The Brightmore brothers took the lead, battling with Schmueser the entire race. Mitch made his first fumbles of the night,
later admitting that he was starking to get tired and was making silly mistakes. It would be Mitch, Ashton, and Milan who would round out the final podium.
CLICK
HERE
ON THE PEGS // PAGE 80
Round 2 will be held on January 7th in Riesa, Germany. FOR WWW.SUPERENDURO.ORG
PRESTIGE OVERALL:
1. Billy Bolt (HSQ)
2. Jonny Walker (BET)
3. Cody Webb (SHE)
4. Taddy Blazusiak (GG)
5. Cooper Abbott (SHE)
6. Alfredo Gomez (RIE)
8. William Hoare (GG)
9. Eddie Karlsson (KTM)
VOL. 8 ISSUE 1 - JANUARY 2023 // PAGE 81
7. Tim Apolle (BET)
10. Blake Gutzeit (TM)
KTM 300 XC-W
KTM 300 XC-W
KTM 300 XC-W
KTM 300 XC-W
RISE ABOVE
Please make no attempt to imitate the illustrated riding scenes, always wear protective clothing and observe the applicable pro visions of the road traffic regulations! The illustrated vehicles may vary in selected details from the production models and some illustrations feature optional equipm ent available at additional cost.
ABOVE
VOL. 7 ISSUE 10 - OCTOBER 2022 // PAGE 5
ON THE PEGS // PAGE 84
120 Days of Riding
VOL. 8 ISSUE 1 - JANUARY 2023 // PAGE 85
ON THE PEGS // PAGE 86
words by ABIGAIL BUZZELLI
photos
by CHRIS BUZZELLI AND STEPH VETTERLY
Like many off-road enthusiasts, I can't wait to get on my motorcycle and conquer more challenging and scenic terrain in the new year. Like every other motorcycle enthusiast I've met, I hope to ride and practice even more than the year before, but one of the hardest things to do is self-initiate practice. In 2022 I came up with a new program, the 10x12 Challenge, where the goal is to ride 10x per month or 120 times per year. Creating this challenge dramatically changed my approach to practice and solved my self-initiation problem.
VOL. 8 ISSUE 1 - JANUARY 2023 // PAGE 87
A resolution kept and a new social media challenge for riders.
I enjoy competing, so in 2021 my practice schedule was driven solely by event preparation. This meant that most of my practice would lead up to events and it would drop off dramatically after each one. The local trials season has frequent gaps between events, so this led to significant down time. With no events immediately on the horizon, getting the bike out of the garage for self-initiated practice just wasn't happening.
It's widely recognized that there are two key things required for improvement: 1. Quality Coaching, and 2. Frequent, Quality Practice. I am fortunate enough to have exposure to quality coaching; I was lacking that quality practice. While I'd never turn down the opportunity to ride with friends, the lack of solo practice came to be a limiting factor for improving my skill.
Sitting in my office about this time last year, I studied my big full-year wall calendar trying to figure out how to fix my dilemma, because I had bigger goals than my current trajectory could meet, which is when I decided that I would ride ten days per month. 120 total days of riding would have to improve my riding, right?
I decided on 10 because it would require more than just weekend dedication in hopes it could fix my consistency problem. After all, I wouldn't expect my fitness to
ON THE PEGS // PAGE 88
VOL. 8 ISSUE 1 - JANUARY 2023 // PAGE 89
improve if I went to the gym fewer than two times per week, and this was about the same frequency. It would also get me to that magic 120 number in manageable steps.
2022 GOAL: Ride 120 days, no matter what. (Avg. 10/month)
THE RULES:
1. Riding had to be at least 30 minutes
2. Any riding counted (Events, practice, fun riding, etc.)
3. It's a Yes or No based on whether I hit the minimum time within each 12am-12am span. (So if I rode 7 hours in two sessions in one day, it was still only 1 day of riding.)
With this big goal in mind, my big wall calendar, and a couple of Expo markers, I was off to the races.
THE RESULTS: I rode more than 120 days, though not always 10/month. My newfound consistency and confidence helped me hit obstacles I never would have considered the year before. The consistent practice eliminated the post-event regression I had experienced previously and dramatically improved my overall connection to the bike.
Consistency was the key, and the predetermined commitment to ride, no matter what the conditions were, fixed the solo practice problem. Because the decision to ride had already been made, I just had to figure out which ten days of each month I would be riding.
ON THE PEGS // PAGE 90
On top of that, even on days when I wasn't thrilled about getting the bike out after work, I far exceeded the minimum time requirement on my practices.
Did riding 10x per month work?
Consistent practice created steady, noticeable improvement which led to better results at events. This year I competed in my first National MotoTrials event (NATC) and won the West Coast Clubwoman Championship. I won all 3 days of the Women's Open in the Advanced Class. I moved up a class in my
local series (STRA) where I took third for the year. Across the NATC MotoTrials nationals, the Youth & Women's Open, local trials, and fun trials, I had 9 wins, 17 podiums, and earned 3 Championships (AMA and FIM.)
All in all, the experiment was a huge victory, and the extra riding translated to achieving success at events. I'm preparing to do it all again and to use the momentum from the end of this year to gain more month-to-month consistency in 2023.
VOL. 8 ISSUE 1 - JANUARY 2023 // PAGE 91
The Challenge for 2023
Because I found this to be so enjoyable and fruitful, I've decided the best way to improve it for the new year is to share it with friends and fellow riders. Open to riders of all motorcycle disciplines, please join me in 2023 for 120 days of riding, as the 10x12 Challenge.
HOW TO PARTICIPATE:
1. Ride ten days each month for a year.
2. Multiple rides in the same day (12am-12am) only count as 1 "day"
3. You have to spend at least 15 minutes riding or practicing on the pegs for it to count.*

4. Post to Instagram using #10X12Challenge to be eligible for giveaways (share about how the challenge is going!)
5. I'll also be releasing Vinyl stickers unique to each month of the challenge, so be sure to follow me @HappiAbi for updates and to be notified when the form becomes available to request your sticker.
*When the weather is cold or it's dark, 15+ minutes of static balance practice counts, indoors or outdoors.
I'll be putting out specific practice themes for each month if you're looking for ideas for all that newfound peg time.
In 2023, I'll be tracking both riding and exercising again with this method in hopes of achieving some new personal bests.
I hope you'll join me, and I can't wait to see your progress photos.
VOL. 8 ISSUE 1 - JANUARY 2023 // PAGE 93
#10X12Challenge
ON THE PEGS // PAGE 94 ON THE PEGS // PAGE 58
RIDER PROFILE Gabriel Marcelli
ON THE PEGS // PAGE 98
With the proliferation of social media and online content, it is easier than ever to find and follow racing series that are outside of the mainstream sports feed. The FIM Trial World Championship is one of those lesser publicized series. And, if you are a fan of the sport, you probably already know that this series hosts some of the best trials riders in the world.
One of these riders who has worked his way to the top is twenty-two year old Gabriel Marcelli (pronounced, Mar-SAY-ee). Gabriel has been a rising star in the Spanish and World Trials arenas for almost a decade. His steady rise through the ranks took him to first place in the Trial2 World Championship in 2019. He
VOL. 8 ISSUE 1 - JANUARY 2023 // PAGE 99
words KEVIN P. MURPHY photos REPSOL HONDA
then went on to finished sixth in the 2020 season riding in the premier TrialGP class. Gabriel finished the 2021 season with seventh place in TrialGP, third in the 2021 Spanish national championship, and fourth place in the challenging indoor X-Trial World Championship which included a strong runner-up spot at Barcelona's Palau Sant Jordi event. All of this was accomplished while riding for the Spanish RG Montesa Team.
For 2022, Gabriel was signed to ride for the prestigious Repsol Honda Team as teammate to multi-time world champion Toni Bou. I wanted to reach out to Gabriel for an interview and introduce the newest talent of the Repsol Honda Team to the On the Pegs readers:
Hola Gabriel! Congratulations on your advancement to the Repsol Honda Team! This has been a long time coming and I am sure you are pleased to be riding at the top tier,
ON THE PEGS // PAGE 100
of a world-class trials team. I know there has been a lot of work that has gone into your progression. But, before we get into that, let's go back to the beginning.
Q. How did you get started in trials? Did you start on bicycles? And, if so, when did you transition to the mototrials side?
A. I started riding trials when I was nine years old with a Beta 80. But, before that I was already
riding motocross. I started riding motocross when I was four, and moved to Trial after a few years. I never did much Trial bicycle. I started riding Trial bicycle after the motorbike. So, there wasn't any transition really.
Q. Was there anyone in particular who trained you, or had a major role, in your early progression?
A. Just my father and nobody else really. But, my father never did
VOL. 8 ISSUE 1 - JANUARY 2023 // PAGE 101
ON THE PEGS // PAGE 102
trials, so it was quite hard to keep improving year after year. Training alone and without a professional teacher was hard.
Q. Was there a particular professional rider who you looked up to, or tried to emulate growing up? Why that rider?
A. Toni Bou has been my favorite rider since I was a child. I always tried to copy his movements and watching videos was the only way for me to keep improving and understanding more and more. You need to copy and learn from the best.
Q. When did you make the decision to become a professional rider?
Were you hesitant about making that choice?
A. I made the decision to become a professional rider twice. The first time was when I moved to Barcelona and I was 16 years old, as I'm from the opposite part of Spain (Galicia). Then I left studies to focus on trials when I was 18 years old. I knew I wanted to become a professional rider but I didn't want to leave school. So, it wasn't easy to make the decision. But, luckily I couldn't be happier with my choice.
Q. What are some things that you feel took your riding from the National level to the World level?
A. That's a good question. You need to have talent and then the most important thing is to be professional, I mean doing good quality training, reinforcing your skills with gym work, and riding hours, hours, and more hours.
VOL. 8 ISSUE 1 - JANUARY 2023 // PAGE 103
ON THE PEGS // PAGE 104
Q. What does your typical week look like? Do you have any particular schedule for training on and off of the motorcycle?
A. A typical week for me is trials training in the mornings Monday to Friday, between 10:00 to 14:00 (4h training), and gym from 20:00 to 22:00. I try to relax on the weekends and relax with my friends. But, we normally have races, events, shows or things related to trial.
Q. Do you have particular days that you focus on particular fitness topics; cardio, legs, balance?
A. Yes, depending if we're in the offseason or during races but normally I train cardio one or two days every week, weights three days per week and balance one day. That's my training off the bike.
VOL. 8 ISSUE 1 - JANUARY 2023 // PAGE 105
Q. It always feels good to attain a goal that has been in place for a long time. Speak to us for a moment about how you got the call, and how it felt to get the call, to be on the Repsol Honda Team?
A. It's something that happens so slowly that you [don't] have enough time to assimilate it. It's not like you win the lottery that happens from one day to the next one, and from nothing to everything. You start talking about this, months before happening, and slowly it gets real. The main day is when you sign the contract for sure, it's when you can officially say "I'm a Repsol rider". It's another big dream that comes true. Now is time to go for the next ones!
Q. Do you maintain your own practice bike? Or do you have a mechanic for that?
A. I have two minders and one mechanic, so I don't have to prepare the bike myself. Normally my minders do the basic maintenance and twice per week the bike goes to the factory to check that everything is fine, and that is when they do the main maintenance.
Q. What does your home shop look like?
A. Smaller than how it should be (laughter). My garage is not really big and I don't have parts for the bike, not much at least. If we need
ON THE PEGS // PAGE 106
VOL. 8 ISSUE 1 - JANUARY 2023 // PAGE 107
something we pick it up at the factory. You can fit a car and not much more really. But, I manage to prepare anything I need there.
Q. Where do you ride your motorcycle when you are home? Is this private property or a public park?
A. We move around all of Catalonia for training, not just one place. We mix private areas with mountains, as there aren't many private lands here. We normally go to Parcmotor Castelloli, Taradell, Motoclub Centpeus, DSB Trials area, etc. We try to move around as much as possible.
Q. What is your method of transporting your practice bike to and from your training area?
A. I normally drive my van with the bike inside as any other trials rider. Sometimes the bike is moved by my minder with his van.
Q. Do you have a dog, or other pets?
A. No, I don't have dogs, cats or pets in general, I would like to have a dog. But, it takes time that I don't have (laughter).
Q. Is there any story or meaning behind your 2022 helmet design and colors? It reminds me of the GT racing cars of the 1960s.
A. (Laughter) It's the colors of my main sponsor (TJR). But, yeah it looks like the Lola T70 Gulf and all those cars (laughter).
ON THE PEGS // PAGE 108
VOL. 8 ISSUE 1 - JANUARY 2023 // PAGE 109
Q. What advice would you give club level Trials riders in the U.S. who are working at taking their skills to the next level?
A. It depends on the level of the rider. But, the most important thing is to get as many hours on the bike as you can, quality hours for sure, not just riding. Try to focus on your weaknesses and change the training locations as well. Always training the same sections, with the same steps, isn't the way to move forward.
Thank you for taking the time with us. We wish you all the best in this season and beyond. We look forward to seeing your progress to higher achievement in the years to come.
ON THE PEGS // PAGE 110
VOL. 8 ISSUE 1 - JANUARY 2023 // PAGE 111
INSIDE SCOOP WITH TONI BOU
With the Trial season now over, and the Repsol Honda Trial Team confirmed for 2023, it is time to take stock and begin laying the foundations for the forthcoming season. World champion Toni Bou assesses the year's experiences and gives some self-evaluation. Spoiler: this year wasn't a 10.
Seven TrialGP wins in 2022 and three runner-up spots. Four wins in X-Trial and one runner-up place, plus nine bonus points out of a possible ten. This is the Toni Bou 2022 tally, concluding with another two world crowns for the Repsol Honda Team rider, who now holds 32 titles to his name. A mighty feat.
ON THE PEGS // PAGE 114
words and photos courtesy of REPSOL HONDA
VOL. 8 ISSUE 1 - JANUARY 2023 // PAGE 115
ON THE PEGS // PAGE 116
It was a great season for the Repsol Honda Team. Once again, Toni, you have won all the titles up for grabs, taking your tally to 32 world titles. And you have not stopped reminding us all season that, not just you, but the rest of the team too, have done a great job, especially over the winter. Now it's winter and, knowing you, you're probably already thinking ahead to 2023. Is that the case?
Yes. Certainly we have already started working towards 2023. We had a short break in November to get some rest and for Honda Thanks Day. That was when we officially got the 2023 pre-season underway and in December we started both the fitness preparation as well as the preparation for the bike. Last year we did something similar, but without going to Japan. It was great to see the engineers again and work with them for a few days. It was highly productive and our intention was to improve on the work done the previous winter.
What have you worked on in the pre-season?
It's difficult. We are at a time when things are going very well and when you improve, it is hard to improve at everything. That is to say: sometimes you improve on a point that you need, but you lose something you already had. That puts you into a tricky situation.
VOL. 8 ISSUE 1 - JANUARY 2023 // PAGE 117
Over the year we made some changes, looking to improve certain aspects and we realise how tough it is. Sometimes there are some things that the rider can make up for with his riding, but other times less so. We try to make the bike as
consistent as possible and it's up to the rider to do the rest (with my riding style at least), but sometimes it's not just about power; it's about how to handle the bike.
ON THE PEGS // PAGE 118
Have you had to do a lot of work on the Cota this year?
Well, this year I competed on two "different" bikes in the Indoor and Outdoor championships. I'm happy because we were a bit daring in X-Trial and it really paid off, winning the first four trials with the new bike. Then, in the outdoor, it didn't feel so right, so we took a small step back and I think that's the way forward: where I can't make it, the bike can, and when the bike can't make it, then I can. That's what we are aiming at and we know it's not easy to keep up. Good years like these recent ones… it's difficult to achieve so many successes! We've had an amazing year, everything went very
well but… it wasn't our best year. It's difficult to start up again and do things well and keep up that high motivation. You say it wasn't the best year because you didn't manage to win all the trials?
It's hard to have a perfect season, but there have been some years when we have managed it. To repeat a perfect season is super-difficult: you have to win everything. 2022 was not our greatest year because we failed and we have failed less in other years when we performed better than this time. I am ultracompetitive, but also realistic. I'm
VOL. 8 ISSUE 1 - JANUARY 2023 // PAGE 119
very clear about things: it's been a very good year; we worked very hard; we did things well… but it wasn't our best season.
What grade would you give yourself for 2022?
I would never give myself a 10 because you can always improve. This 2022 season has been a 7 or 8; a good season. The team, a 10. They've worked hard. They did a great job. They have done everything I could possibly have asked from them and I'm very grateful for that. They put a lot of effort into it and have kept up the motivation. This was the first year with Carles and also with Fuji as Team Manager and
it went very well. I am very happy and I think we are going to get better.
It was also your first year with Gabriel Marcelli as team-mate. How has it been to share the team with him?
I get on really well with Gabriel. He is a very easy-going guy and he has a great character. Having team-mates like him is very positive. He has a very high level. I have helped him as much as I could and I think he is a rider with a great future.
I see him doing better on the bike than is
ON THE PEGS // PAGE 120
reflected in his results. At the end of the season he has been doing more than is expected of him, besides, being in this team is not easy. He's been working well and settling in… A lot of new things…
VOL. 8 ISSUE 1 - JANUARY 2023 // PAGE 121
With the new Team Manager Takahisa Fujinami there was not much time to adapt.
It was tough because with Miquel Cirera we had won everything. The first year is complicated because, after 15 years of winning everything… imagine if, for whatever reason, you lose a title… it could happen, because it's something that will eventually happen. We can't win all the time. Fujinami has worked hard, he had no timetable, but the best thing is that he understands us as riders. He is there for whatever we need. We have seen so many times how things are done, so maybe it was easier, but whatever can be improved upon, he will certainly do it.
Physically you were in great shape at the start of the competition.
Perfect! Physically I've been on form all year and I've felt really good. There have been moments when I've been very good on the bike, better than some other years, but it's also true that we've also made some mistakes. It's true that the rivals push us hard, but we also messed up sometimes. Hopefully the 2023 season will be as good as this year.
Part of your methodology is to train a lot and constantly improve!
It's a very complicated thing. And because I'm very demanding, I know
ON THE PEGS // PAGE 122
VOL. 8 ISSUE 1 - JANUARY 2023 // PAGE 123
ON THE PEGS // PAGE 124
I can improve. Even the good seasons we've had could have been improved upon. Anything that can be improved on the bike could help me to take a step forward. As far as riding goes, I think I am close to my limit, but if we improve on the bike we can keep moving ahead.
If we talk about rivals… it seems that they never let up. On the contrary, this year you have had, in addition to your great rival of the last 16 years (Adam Raga), Jaime Busto, and Matteo Grattarola.
– I think there are two or three very important points: there is a group with more top riders than other years, with five riders who can win trials or be on the podium. Also, the trials are easier,
VOL. 8 ISSUE 1 - JANUARY 2023 // PAGE 125
so more people are in the fight and more things could happen. At the moment, this has benefited us because being more regular than others has given us a title with a big points advantage: when we haven't won, we've finished runner-up. With seven wins and three second places, it is a super all-round championship and those who have finished second and third, in several trials have ended up off the podium. This gives you more peace of mind in the championship.
When I say that we have made mistakes, it is precisely that: in some trials we were close to finishing fifth or sixth. This year it was really easy
for that to happen as there is no room for any mistakes!
The current sections are something that conditions the results: easy trials lead to more equality and a greater number of rivals in the battle for the win.
It's partly normal, because it's more even; but this is entertainment, and you have to put on a show. There have been easy trials, with few marks, and others that have been less easy. I think the level of the riders is so high among the frontrunners that it guarantees that points are scored. If the level were any lower, there would be no show.
ON THE PEGS // PAGE 126
Let's talk about the 2023 season. It looks like there will be a few more trials than in 2022 and in X-Trial a split championship with a few more events. What is your take?
This comes after a few years with just a few events, so having 8 indoor trials and 12 outdoor races is already good. It is important to have more dates in the calendar in both competitions. It is also true that we would like to hold one competition and, once it is over, start another one. If we don't finish the indoor championship and start the outdoor
one, it's not the best thing, but if instead of having just 4 events there are going to be 8, then… so be it!
Let's work towards the 33rd…
Let's go!
VOL. 8 ISSUE 1 - JANUARY 2023 // PAGE 127
45th Dakar Preview
photos courtesy of RED BULL CONTENT POOL, RIEJU, HUSQVARNA
As this issue goes live, the 45th edition of the Dakar Rally will be underway, returning to Saudi Arabia. With some of the world's best off-road racers facing off against almost 5,000 km of special tests, this route is a true test of extreme endurance.
The origins of the Dakar Rally has its origins in 1977 when French motorcycle racer Thierry Sabine got lost on his motorcycle in the Libyan desert during the AbidjanNice Rally. After navigating his way out of the desert, the Frenchman was determined to design a race that drew on his experience with a route starting in Europe, continuing to Algiers and crossing Agadez before eventually finishing at Dakar. Since that time, the Dakar Rally has evolved from racing in Africa to South America and now to Saudi Arabia.
The classification of each of the 14 stages (in addition to a prologue) is made up of the times set in the special stage plus any sporting penalties. The race requires precise navigation, which is done via a roadbook provided by the organizers
and handed out at the start of each stage. The starting order of each test will be based on the times set in the timed sector of the previous stage, taking any penalties into account (such as speeding or missing waypoints).
This year will be the longest route since the 2014 route through Chile, Bolivia, and Argentina. The route begins at the Sea Camp, then heads inland towards Alula. With stops in Ha'il, Al Duwadimi, Haradh, and Shaybah, racers will see the checkered flag as they head to the finish in Dammam.
There has been a rule change to this year's competition. A system of time bonuses is now in place to reward the bikers who 'open the road' on each stage. The bonus sections are in place during the first 200km of the timed special stage. It will be possible for a rider to have a total of five minutes deducted from their daily time if they lead the way throughout the opening 200km. It's a huge prize to aim for, but also comes with a massive amount of risk – with no tracks to follow the chances of getting lost is bound to increase.
ON THE PEGS // PAGE 128
Defending Dakar and FIM World Rally-Raid Championship bike champion Sam Sunderland (GBR) will represent Red Bull GASGAS Factory Racing as he targets a third Dakar victory.
"All the hard work's been done and we're pretty much good to go!," said Sunderland. "I can't wait to get stuck in and I think the first week will be really tough. It's looking pretty technical and rocky but the second week is more in the dunes,
which I prefer. There's no feeling like preparing for the Dakar. Every year you're excited, nervous, and all the rest of it. It's such an incredible race and I can't wait to get out there and get this thing started."
After his incredible Dakar debut in 2021 where he placed a stunning fourth, Daniel Sanders confidently entered the 2022 edition with high hopes of claiming a spot on the podium. Topping the timesheets on two of the first six stages to lie
VOL. 8 ISSUE 1 - JANUARY 2023 // PAGE 129
third overall entering week two, he clearly indicated his ability, until an unfortunate crash and serious elbow injury on stage seven ruled the hardcharging Aussie out of the race. After rehabbing for almost a year, Sanders is back and ready to roll up his sleeves and get stuck into Dakar 2023.
"It's been a long time since I raced and a long time recovering from my crash last year but we're here and pretty much ready to go," said Sanders. "My elbow isn't quite 100% but once I get out there riding, I know it'll be just fine. It's probably going to be the toughest race of my career having been off the bike for so long, especially with there being two more stages this time around, but I'm pumped to be back racing. I'll be looking for a steady start to the race with the ultimate goal of reaching the finish line. It's a modest goal but it's been a long road to get back racing and I can't wait to get back out there in the dunes and be racing with the boys again."
The Rieju team is facing its third consecutive Dakar with returning riders Dani Nosiglia and Patricio Cabrera, and with Diego Llanos and Sandra Gómez, who are making their debut.
Spanish rider Sandra Gomez arrives at the Dakar 2023 with a hunger for victory among the women, remembering her second place in
ON THE PEGS // PAGE 130
VOL. 8 ISSUE 1 - JANUARY 2023 // PAGE 131
ON THE PEGS // PAGE 132
this category in the 2022 edition, the year of her debut. Now, after overcoming mononucleosis and competing in the last two rallies, she feels stronger and more experienced to fight for the final victory with the Rieju Team.
"I'm pretty good, I'm looking forward to it," says Gomez. "I think it's something very important because it has been a very complicated year for me, I had mononucleosis during the summer and health-wise it has been a difficult year, but this is like a prize, a gift to have overcome the disease and start to be stronger. Now I feel much better, I've been able to train for a few months, ride in Morocco and Andalusia, I'm more prepared than last year for sure, I know what I'm coming to mentally and how it is physically, although they say it will be a tough Dakar. We already tested the bike in the shakedown and everything is in order and ready, so let's rest what little we have left and hit the gas!"
Patricio Cabrera can achieve a world record by becoming the youngest Legend rider in the history of the event, therefore, the Chilean rider will wear green, in commemoration of the Legend collection that Rieju has presented on the occasion of its 80th anniversary.
"We are very happy, this is a very special Dakar for me," says Cabrera. "I'm becoming Legend this year because it is my tenth Dakar rally
VOL. 8 ISSUE 1 - JANUARY 2023 // PAGE 133
and this will make me the youngest rider in the history of the rally to be Legend. I am very happy to be part of the Rieju team again, they are very professional people. I hope it will be a good Dakar, they say it's going to be one of the hardest, it's much longer than last year, so you have to ride very smart and enjoy yourself on the bike. Let's hope it will be a tremendous Dakar rally, we can do it".
Husqvarna Factory Racing's Skyler Howes and Luciano Benavides are excited to get their 2023 Dakar Rally campaigns underway. Following their stellar 2022 season, both FR 450 Rally riders are motivated and confident ahead of the start of the opening round of the 2023 FIM World Rally-Raid Championship, held in Saudi Arabia.
Coming into the 2023 Dakar Rally, Skyler Howes has shown incredible pace over the past 12 months, including a win at the tough Rallye du Maroc – Howes' first world championship victory. The speed and results are due in part to the hard work put in by the whole team in developing the latest 2023 model FR 450 Rally.
Feeling fit and better prepared than ever to take on the gruelling 8,500 kilometres of the 2023 Dakar, the American is fully focused on delivering his best ever performance at the iconic event. With 14 full stages to cover and over 4,700
ON THE PEGS // PAGE 134
VOL. 8 ISSUE 1 - JANUARY 2023 // PAGE 135
ON THE PEGS // PAGE 136
kilometres raced against the clock, Howes feels the long nature of the rally, as well as the increased value placed on accurate navigation, should suit his skills and style.
"I'm really looking forward to beginning the 2023 Dakar Rally adventure that awaits us. I'm super excited to get started actually, this year I feel a lot more relaxed than at previous Dakars, and that is great for my confidence. Of course, there is still a lot of riding and racing that faces us over the next two weeks or so, and it's definitely going to be a tough Dakar. But it's these longer, more challenging events that seem to suit my riding and my mindset. There are going to be a lot of changes this year with new the rules and that means different strategies, but I think it's good. It's always tricky when they bring in these rule changes, but we're all in the same boat here and we'll have to figure it out as best we can. At the end of the day, all I can do is my best, and that's what I plan to do – have a cool, fun time racing my Husqvarna through Saudi Arabia."
Only time will tell who comes out on top. Racing kicks off December 31, 2022, finishing January 15th.
VOL. 8 ISSUE 1 - JANUARY 2023 // PAGE 137
CLICK HERE TO VISIT WWW.DAKAR.COM
catch of the year
GOOD OLD TIMES BLOG
words KENNETH OLAUSSON photos courtesy of HUSQVARNA
On a murky autumn day in 1980, a Swedish photographer made a highly unusual discovery. Getting rid of his waste in a nearby recycling area, Ludde De Geer found a huge batch of photos in the form of old glassnegatives. It took him 25 years and some new technology to save his 'catch of the year'. Among the shots was an epic Christmas show Husqvarna photograph from 1934…
"I went there after a tip-off from a friend," says Ludde De Geer, "a few 10-year-old boys were playing around this container when I discovered the big heap of negative-glasses. The boys helped me in taking care of the delicate glass plates and I managed to load my car
up with them, before the rain set in. It could have spoilt the entire find. I guess I turned up just in time".
The absurd discovery was met with doubt. "I just couldn't believe my eyes," says Ludde De Geer. "Who in the world would throw away such treasure without thinking twice?" It turned out that the well-known photo company All-Foto in Stockholm had cleaned out their warehouse and had abandoned part of their archives to make space for a more modern inventory.
A telephone call to All-Foto confirmed his findings. Now, Ludde was good to go. However, de Geer's archive digging and fishing out glass negatives
ON THE PEGS // PAGE 138
resulted in a disappointing experience at first. "The poor quality did not give me a chance to rescue the photos," said de Geer, "I had to be content with the glass originals, which were all messed-up from unprofessional handling. The damages had to be dealt with by investing much time and energy, and lots of devotion".
Then, after more than 20 years, the computer age changed the circumstances. Suddenly, a Photoshop program was available, which solved Ludde's problems with his worn glassplates. All that was needed now was time and energy, which he fortunately had. "I understood that the digital technique would be the solution to my problems". Ludde could work with the pictures in
VOL. 8 ISSUE 1 - JANUARY 2023 // PAGE 139
Photoshop and eliminate all the dust-traces found on the old motives. But it was one hell of a task. The container findings consisted of more than a thousand glass-plate negatives. "I have worked with photos and pictures all my adult life, when starting my laboratory in the beginning of the 70s" told de Geer. "I have been copying black-and-white pictures as a way of making my living. So, it was quite amazing when I found all the glassplates, it made me very happy, indeed".
The biggest surprise for Ludde de Geer was when he discovered the wedding photo of his parents. "That really threw my off balance. Imagine, I had the original picture from the wedding ceremony of my parents. Mind you, this picture was from the middle of our last century."
Another important discovery came when an important Husqvarna photo glass was detected. In the final racing year of the factory, a TT machine (a road racing machine today) was displayed at Husqvarna's Stockholm depot. Together with various success photos from 1934, it was a kind of saying goodbye to racing after many years of
motorcycle top achievements. As can be detected from the light bulbs on the windowscreen, this picture was taken in December – just in time for celebrating Christmas. Window shoppers now had their last chance of seeing the official Husqvarna racer, which had captured so many trophies for the Swedish Weapons factory. In the future, there would be no official racing-representation with factory support in the TT races. People could also lay their eyes on a huge photo of the Husky star Ragnar Sunnqvist, who had conquered the Saxtorp opposition in 34, and some of the trophies captured during this season. A special poster-like frame came from the famous Solvalla race in the autumn of 1934, where Husqvarna scored great success. The Swedish factory had fast, reliable machinery, which suited the 1,000-meter horseracing track in the suburban Stockholm area.
And, of course, in the centrecourt behind the window, you can see a framed photograph of his master's voice himself – Folke Mannerstedt, reigning in the middle behind the shop-window glass. It was an important timeframe with a hedonistic heritage.
ON THE PEGS // PAGE 140
VOL. 8 ISSUE 1 - JANUARY 2023 // PAGE 141